Argentina is huge and far too big to squeeze into two weeks – try as you might. But you can still make a good dent in the 8th largest country in the world if you plan it right. This 2 weeks in Argentina itinerary will have you weaving around the country, and by the end of your trip you'll have seen incredible architecture, eaten delectable food and hiked through some of the world's most beautiful landscapes.
If you're lucky to have more than two weeks in Argentina, I've included some bonus locations to add to your Argentina itinerary, so feel free to mix and match to suit your tastes and interests.
I love, love, love Argentina and was lucky enough to live there for almost two years. During my time there, we travelled the country extensively so these are my personal recommendations of the best places to visit in Argentina if this is your first time here.
You can also download this itinerary so you can print it and start planning your own Argentina trip! Just click here to grab your PDF copy.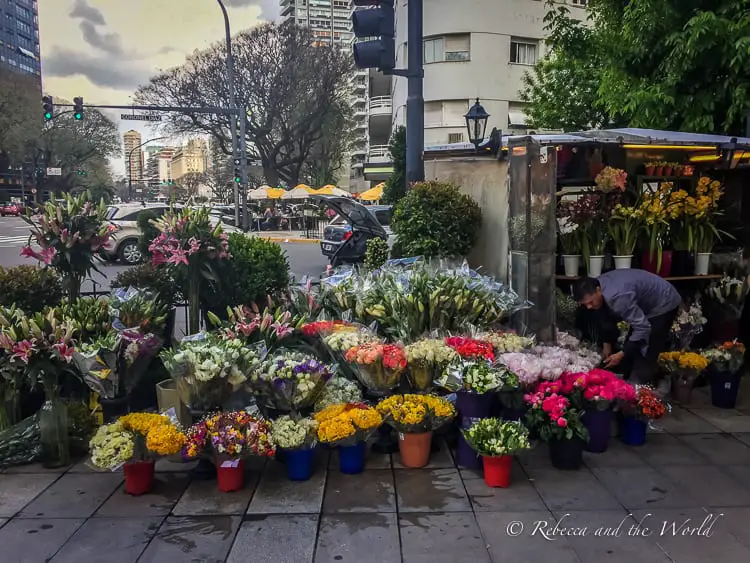 This post was updated in August 2022. I've done my best to check that information remains current in light of the pandemic, but please check with individual businesses before booking. If you see any errors, please let me know so that I can keep this article updated.
Your 2 weeks in Argentina itinerary
I'll say it again: Argentina is huge. You're not going to see everything in two weeks. This 2 week Argentina itinerary hits the highlights – my favourite parts of the country – but it is a tight itinerary and there's not a lot of time in here for resting. But, as they say, you can sleep when you're dead!
If you do want to slow this down and not feel so rushed, then alter this Argentina in 2 weeks itinerary to take off the north of the country (Salta and Jujuy) or the Patagonia portion and stay a few extra days in one of the other cities mentioned. Or you could cut out Iguazú Falls to save some extra flying time.
If you've only got 10 days in Argentina, then spend 3-4 days in Buenos Aires and 5-7 days in either Patagonia or the north of Argentina.
Once you've read through this post, feel free to drop me a line in the comments below or send me an email if you have questions about crafting the perfect Argentina trip – I'm happy to help!
This blog post may contain affiliate links, meaning if you book or buy something through one of these links, I may earn a small commission (at no extra cost to you).
Here's an overview of what this two weeks in Argentina itinerary covers:
3 days – Buenos Aires, the stunning capital of the country
5 days – hiking mountains and trekking on glaciers in Patagonia
2 days – wandering around the raging waters of Iguazú Falls
4 days – the otherworldly north of Argentina
Let's get into it!
Map of Argentina itinerary
Days 1-3: Buenos Aires
The seductive capital of the country and the most European of all the cities in South America, it'll be hard to drag yourself away from Buenos Aires. Start your Argentina trip here for three days exploring stunning architecture, eating juicy steak, drinking full-bodied wines and watching an intimate tango show.
What to do in Buenos Aires
For a day-by-day Bueno Aires itinerary, follow my guide to 3 days in Buenos Aires.
The architecture in Buenos Aires is dazzling, and just walking along the streets will make you gasp in delight. The Recoleta Cemetery is a must – if a little creepy wandering around tombs. Head inside historical buildings like Palacio Barolo, Teatro Colón and El Ateneo Grand Splendid. Consider booking a walking tour so you can squeeze in all the key sites.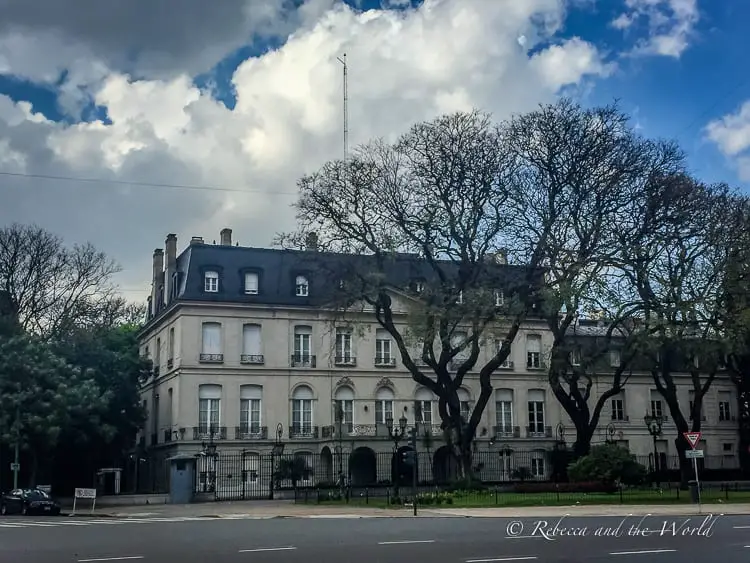 Top tip: make sure you look down as well – Porteños (people who live in Buenos Aires) aren't good at picking up after their dogs, and you don't want to step in anything gross!
Buenos Aires' love of art and culture is on display in many of its museums, including the Museo Nacional de Bellas Artes and the Museo de Arte Latinoamericano de Buenos Aires.
Step back in time in the antique shops that line San Telmo's cobblestoned streets. Every Sunday the entire neighbourhood comes alive with a huge street market. Plan your 2 weeks in Argentina so that you have a Sunday in Buenos Aires just so you can experience this market.
If you're interested in having a custom leather jacket made, stop in at one of the many tailors in Buenos Aires (check out my guide to the best shopping in Buenos Aires). Do this at the start of your trip, as a leather jacket can usually be turned around in 24-48 hours.
Eating will be a highlight of your visit to Buenos Aires – and indeed across the entire country, especially if you're a fan of steak. The city is filled with restaurants for all budgets as well as many secret bars.
To learn about the culture of Argentina, sign up for a food experience with Steaks by Luis or The Argentine Experience. Both are group activities that teach guests about food in Argentina – you'll certainly be more comfortable about ordering food in restaurants for the rest of your 2 weeks in Argentina. Another fun food activity is an empanada making class and wine tour.
End the night with a tango show. I recommend Bar Sur for its intimate setting. The lavish Faena Hotel has a raunchy Rojo Tango performance – and the hotel itself is worth checking out for its eccentric design.
If you're looking for more things to do in Buenos Aires, check out the other posts I have written about the city:
Where to stay in Buenos Aires
Days 4-8: El Calafate and El Chaltén
For many people, Patagonia is right at the top of their bucket list. It is, of course, one of the most incredible things to do in Argentina.
In El Calafate you can walk on a thousands-of-years-old glacier – truly an amazing experience.
Adventure lovers will be in their element in El Chaltén with so many options to hike in pristine parks. These two towns will give you a taste of Patagonia's wildlife and beauty.
What to do in El Calafate and El Chaltén
You can fly from Buenos Aires direct to El Calafate (see the information guide at the end of this post about transportation in Argentina). Of course, you can also take a bus, but with only 2 weeks in Argentina, flying will get you everywhere faster.
El Calafate is popular as the jumping-off point for Perito Moreno Glacier, located in Los Glaciares National Park.
Book a trek across the ice or take a boat tour or simply view the glacier from the series of boardwalks built around the park. Hearing the glacier calve – its thunderous crack and the boom as the ice hits the freezing waters below – is a sight and sound you'll never forget.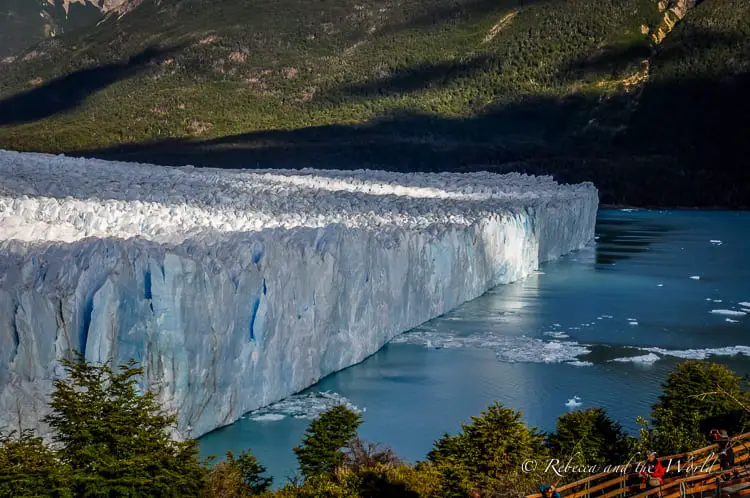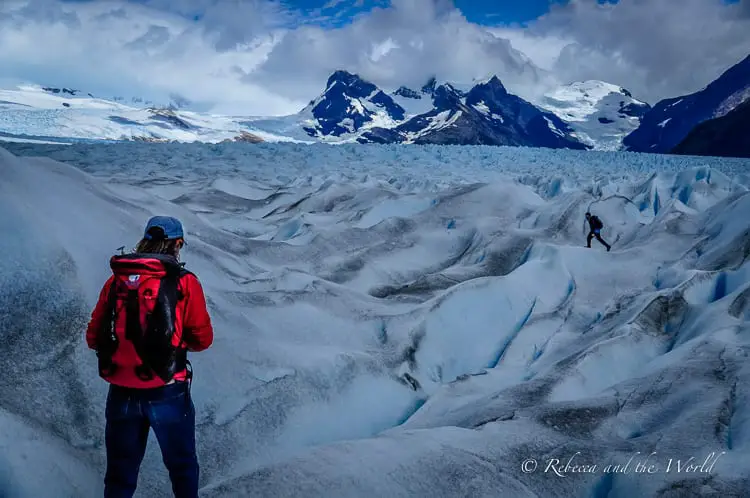 After you've explored the glacier, check out the town of El Calafate itself. Rug up for a visit to the bar de hielo (ice bar) in the Glaciarium or spot flamingos on Lago Argentina, the country's largest freshwater lake.
After a day or two in El Calafate, take a bus for the two-hour journey to El Chaltén to hike one of the many trails around Monte Fitz Roy and Cerro Torre. Foggy weather can mean it's difficult to see the peaks of these mountains, but on a clear day the views are spectacular. I've got a guide to a handful of the best hikes in El Chaltén.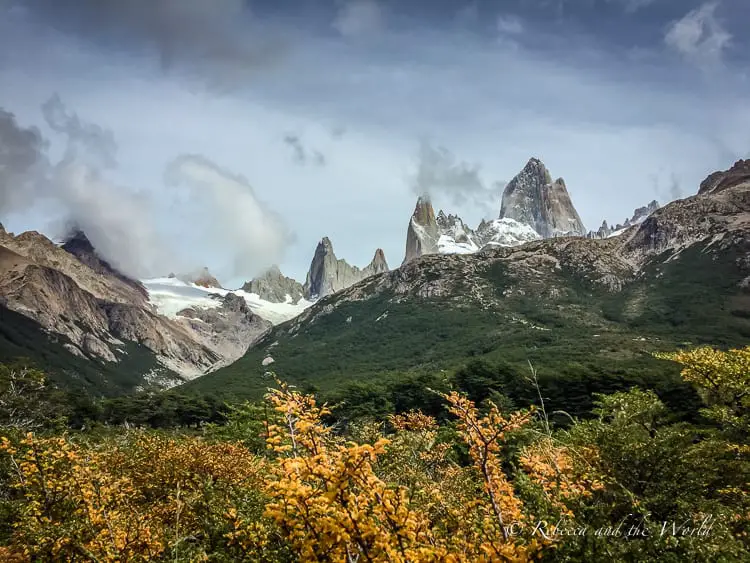 Despite its small size, there's plenty to keep you occupied in El Chaltén beyond hiking. You can go mountain biking, kayaking, horseback riding or rock climbing.
After all that exertion, you'll be thankful to know that the town has a thriving craft beer scene. Wander the main street of town (it's not a long street!) and pop in at each pub, followed by a hearty snack of empanadas.
Where to stay in El Calafate
Where to stay in El Chaltén
Days 9-10: Iguazú Falls
Imagine three kilometres of waterfalls, some up to 80 metres high, some you can get right underneath, another one a wild, gushing spiral that's so powerful you can't see the bottom. That's Iguazú Falls – the largest waterfall system in the world.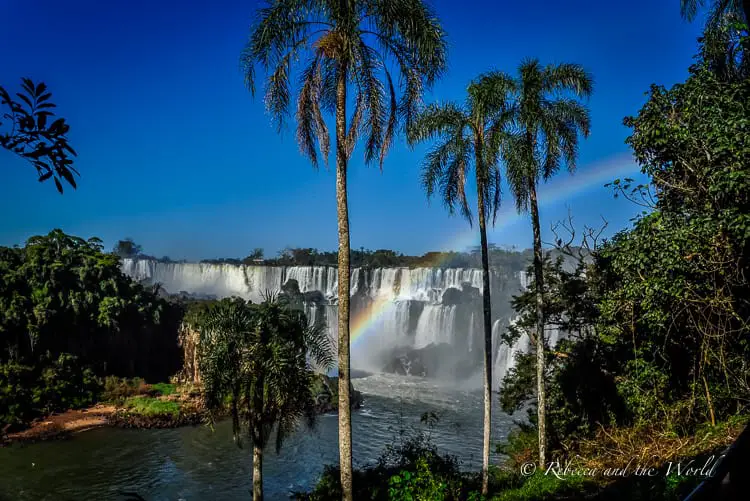 What to do in Iguazú Falls
Catch an early morning flight from El Calafate to Puerto Iguazú; you'll most likely need to connect in Buenos Aires.
When you arrive in the afternoon, head straight out to the Argentine side of Iguazú Falls. There's a series of well-maintained catwalks that get you up close to the thunderous waterfalls. You can do it yourself or book a guided tour that includes a boat ride that zips right under the waterfalls – it's wild fun and you will get drenched! It's definitely something you'll remember from your 2 weeks in Argentina!
If you've arranged your visa for Brazil (if needed), you can cross the border the next day to see the waterfalls from the Brazilian side. Like in Argentina, boardwalks crisscross through and around the waterfalls and in some parts prepare to get wet as you cross underneath one of the powerful waterfalls. You can arrange a pick up from Puerto Iguazu to the Brazil side of the waterfalls.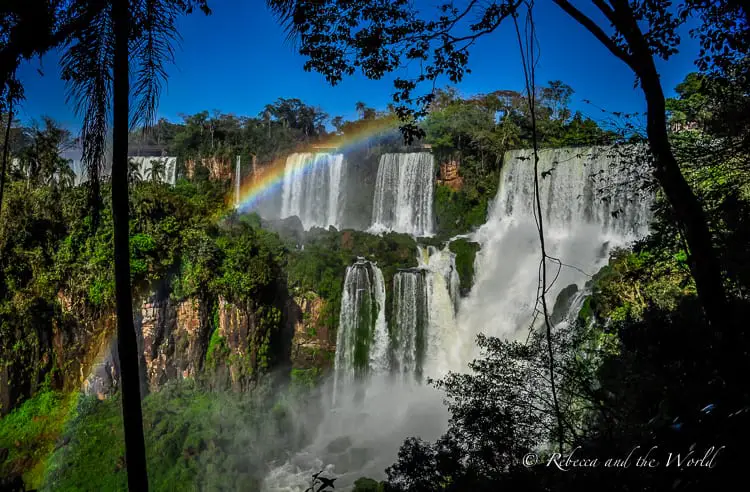 If you don't have a visa for Brazil, then one day in Puerto Iguazú is enough. I actually think the Argentina side of Iguazú Falls is more spectacular, so don't feel too bad if you don't have time to skip across the border. You can read my guide to visiting Iguazú Falls where I compare the two sides.
Where to stay in Iguazú Falls
Luxury: If you've got cash to burn and like understated luxury, then book a villa at Awasi Iguazú. Villas are located deep in the rainforest and have private decks and plunge pools. Book an amazing stay online
Mid-range: If you want to be located only a stone's throw from the falls, then choose Gran Melia Iguazú. This is where my husband and I stayed when we visited Iguazú Falls. Book a stay online at Booking.com or HotelsCombined
Budget: Simple but clean, Igauzu Falls Hostel gets great reviews from guests, and has a swimming pool. Check the latest rates at HotelsCombined
Days 11-14: Salta and Jujuy
It's now time to head on to the spectacular landscapes of the north of Argentina.
Yes, adding northern Argentina into your two week Argentina itinerary adds a lot more flying – but it's truly spectacular and markedly different from the rest of the country. It's one of my favourite places to visit in Argentina because of the otherworldly landscapes, delicious wines and intriguing culture. Whenever anyone asks me about visiting Argentina, the north is where I always encourage them to go.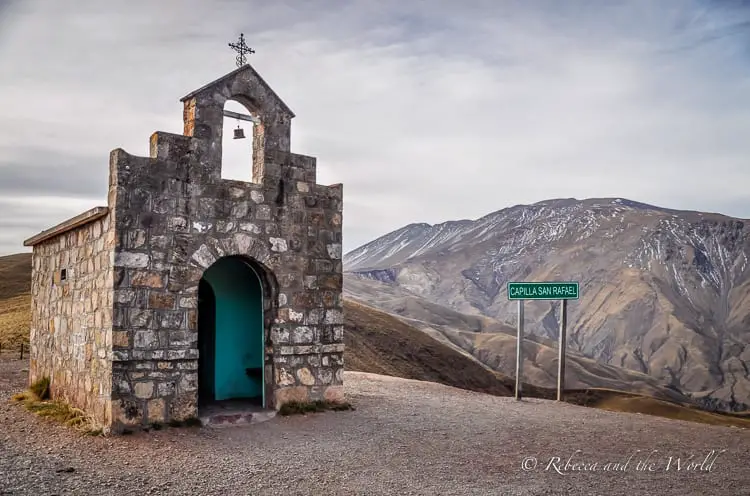 What to do in north Argentina
Fly into Salta to begin a north Argentina road trip through landscapes that you won't soon forget. From Puerto Iguazú, you can fly non-stop to Salta with Aerolíneas Argentinas on Wednesday and Sunday (on their current schedule – I recommend checking yourself as well just in case it's changed); any other day and you will need to connect via Buenos Aires (one of the frustrating parts of travelling around Argentina).
In Salta, rent a car and spend the next few days exploring the dusty towns of Humahuaca, Tilcara and Purmamarca.
In Humahuaca, scour the markets for artisanal blankets and rugs, pottery and clothing for the perfect souvenirs.
Tilcara is home to the Pucará ruins, a pre-Incan fort.
Base yourself in Purmamarca to see the majesty of the Cerro de los Siete Colores (Hill of Seven Colours), layer upon layer of pastel-coloured rock that is best seen at sunset.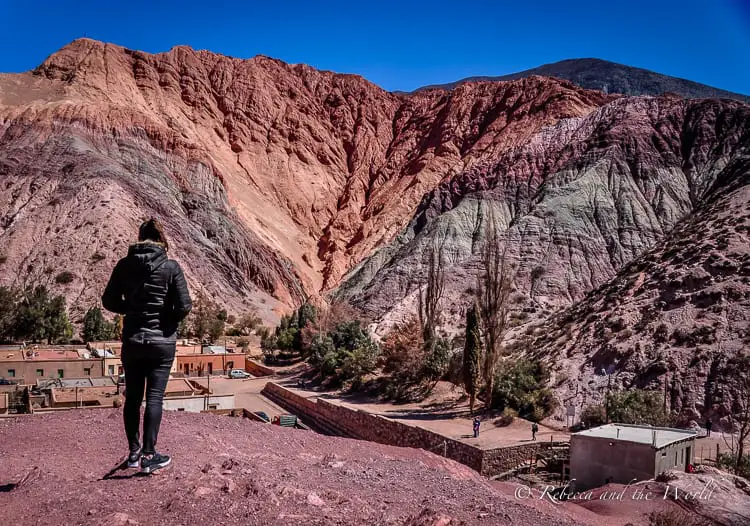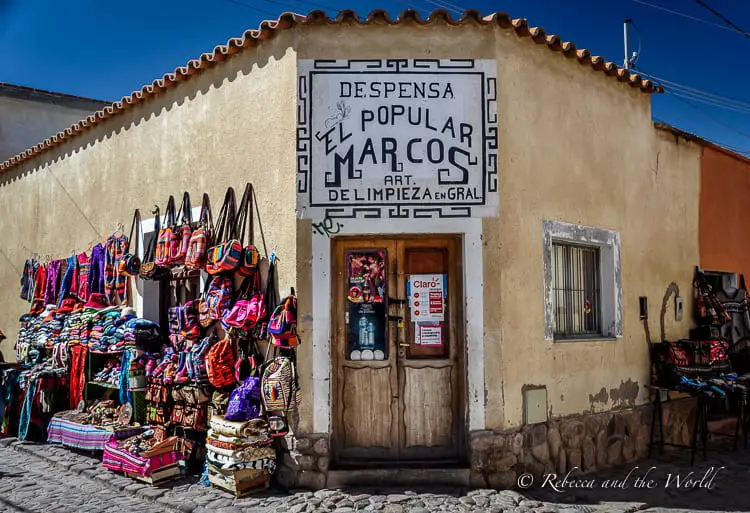 If you don't want to hire a car, you can take day trips from Salta, or tour operators can arrange multi-day trips to the highlights, including to Salinas Grandes, the second largest salt flats in South America.
Next, head south to Cafayate, Argentina's second wine region, where you can taste your way through several wineries. The Torrontés varietal is what's famous here and it's one of my favourite wines. Here's a guide to the Cafayate wine region.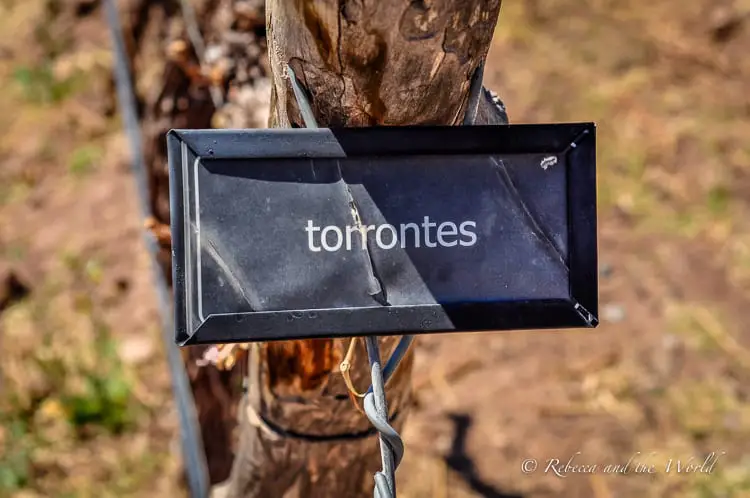 Before you fly out, spend a day in Salta, the attractive capital city of the province of the same name. Join a walking tour of the city or explore the Museo de Arqueología de Alta Montaña. Here you will see the mummified bodies of sacrificed Incan children. Only one child is displayed at a time, mesmerisingly frozen in time.
Where to stay in Salta
Luxury: Hotel Legado Mítico is a delightful townhouse filled with leather armchairs, cowhide rugs and antiques. This cozy hotel epitomises stereotypical northwest Argentina, but in a sophisticated way. Check rates and make a booking at Booking.com or HotelsCombined
Mid-range: Design Suites Salta (where we stayed) is a modern hotel with spacious bedrooms. It's located within walking distance of the main area of the city. Book your stay at Design Suites Salta today on Booking.com or HotelsCombined
Budget: Donna Alda Casa has nice rooms and breakfast included. Book a bed on HotelsCombined
Where to stay in Purmamarca
Luxury: Located at the foothills of the Cerro de los Siete Colores, El Manantial del Silencio is designed like an old estancia. Rooms are decked out with wrought-iron beds and terracotta tiled-floors. Check the latest rates on Booking.com
Mid-range: The views of the surrounding mountains are the drawcard of Huaira Huasi, a collection of terracotta-coloured adobe buildings. Book your room online at Booking.com or HotelsCombined
Budget: The rooms at La Valentina are small, but you won't spend much time in there when you can be outside admiring the views of the Cierro de los Siete Colores from the patio. Check prices on Booking.com
If you prefer to stay in Humahuaca, find the best hotel with Booking.com or HotelsCombined here. Alternatively, Tilcara has some good options on HotelsCombined or Booking.com.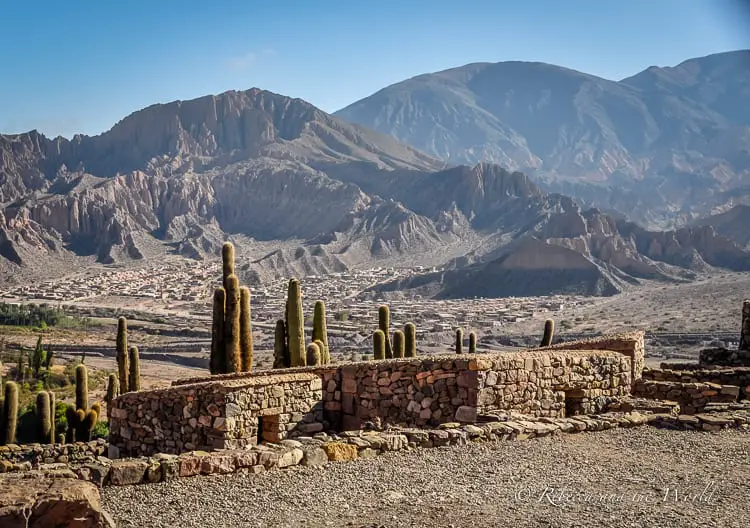 Where to stay in Cafayate
Luxury: Just a few minutes outside the wine town of Cafayate, the rooms at Grace Cafayate have huge bathtubs and great views over the vineyards. Compare rates at Booking.com and HotelsCombined
Moderate: Hotel Asturias is a country-style hotel with cute little balconies. Rooms are comfortable and it's right in the heart of Cafayate. Book a room on Booking.com
Budget: Book a room at Rusty-K Hostal and enjoy the large outdoor area that's beautiful on a sunny day. Check the latest rates on Booking.com
From Salta, find a late departure back to Buenos Aires. I can guarantee that you will be gloomy when you board your final plane home – Argentina truly is a country of passion, different landscapes and culture that will capture your imagination.
Wondering how to plan a trip like this Argentina itinerary? Check out my 15 easy steps on how to plan a trip from start to finish!
More places to add to your Argentina itinerary
It was incredibly hard to narrow down this Argentina itinerary to just two weeks! There are so many parts of the country that I love. If you've got a bit more time up your sleeve or other interests (maybe you want to spend more time hiking, maybe you – quite rightly! – want to go wine tasting, maybe you enjoy exploring cities) you can add on some extra regions to your Argentina travel itinerary.
Again, if you need help planning two weeks in Argentina, drop a comment below and I'll help you out.
Mendoza
Wine is Mendoza's drawcard – you can easily spend a day (or two, or three!) tasting Malbecs at the many wineries throughout the three wine-producing regions.
Pamper yourself in the thermal spas near Mendoza city.
Discover Mendoza's charm and its pretty plazas and leafy avenues.
Get adventurous with whitewater rafting, horse riding or mountain biking.
Bariloche
Ushuaia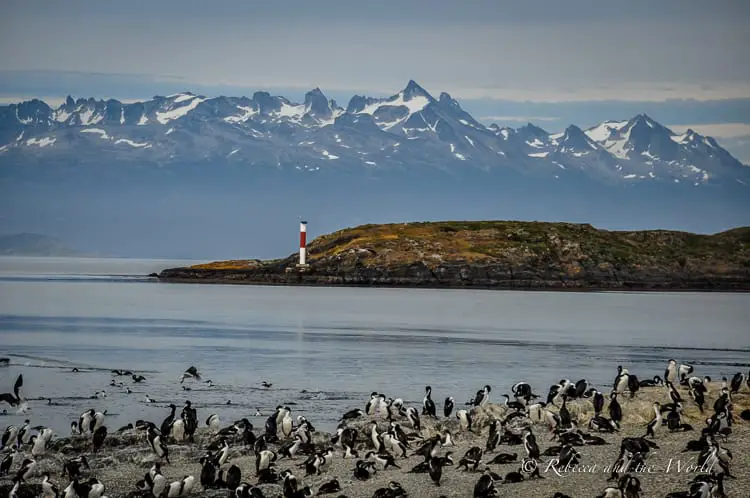 Península Valdés
Go on a tour to see penguins in Peninsula Valdés.
You can also see sea lions, elephant seals and whales in the area.
Córdoba
If you visit around Oktoberfest, join in the celebrations in Villa General Belgrano.
Explore the beautiful cabildo and cathedral in the city centre.
Have a picnic in Sarmiento Park and watch local families spending time together on the weekend.
Esteros del Iberá
Spend time exploring the Iberá wetlands and spot capybara, caiman, black howler monkeys, the maned wolf, deer and more than 300 bird species.
Argentina is an amazing country, and however you decide to spend your two weeks, you'll go home with unforgettable memories!
Essential info to know for your Argentina trip
Visiting Argentina for the first time can be daunting. Where should you go? How long do you need? How do you get around the country? Where do you get money?
I've written a whole guide to everything you need to know before you visit Argentina that covers these questions and more. Check out my Argentina travel tips and don't hesitate to contact me if you have more questions!
ARGENTINA TRIP ESSENTIALS
What would you include on your 2 weeks in Argentina itinerary? Or need help planning your own Argentina trip? Leave your tips and questions in the comments below!
PIN IT FOR LATER: