Argentina is huge and far too big to squeeze into two weeks – try as you might. But you can still make a good dent in the 8th largest country in the world if you plan it right. This 2 weeks in Argentina itinerary will have you weaving around the country, and by the end of your trip you'll have seen incredible architecture, eaten delectable food and hiked through some of the world's most beautiful landscapes.
If you're lucky to have more than two weeks in Argentina, I've included some bonus locations to add to your Argentina itinerary, so feel free to mix and match to suit your tastes and interests.
I love, love, love Argentina and was lucky enough to live there for almost two years. During my time there, we travelled the country extensively so these are my personal recommendations of the best places to visit in Argentina if this is your first time here.
You can also download this itinerary so you can print it and start planning your own Argentina trip! Just click here to grab your PDF copy.
This post was updated in March 2021. The world is obviously a different place right now. Efforts have been made to check that information remains current in light of the pandemic, but please check with individual businesses before booking. If you see any errors, please let me know, as I continue to keep this article as up to date as possible for when we can travel to Argentina again.
This blog post may contain affiliate links, meaning if you book or buy something through one of these links, I may earn a small commission (at no extra cost to you).
Your 2 weeks in Argentina itinerary
I'll say it again: Argentina is huge. You're not going to see everything in two weeks. This 2 week Argentina itinerary hits the highlights – my favourite parts of the country – but it is a tight itinerary and there's not a lot of time in here for resting. But, as they say, you can sleep when you're dead!
If you do want to slow this down and not feel so rushed, then alter this Argentina in 2 weeks itinerary to take off the north of the country (Salta and Jujuy) or the Patagonia portion and stay a few extra days in one of the other cities mentioned. Or you could cut out Iguazú Falls to save some extra flying time.
If you've only got 10 days in Argentina, then spend 3-4 days in Buenos Aires and 5-7 days in either Patagonia or the north of Argentina.
Once you've read through this post, feel free to drop me a line in the comments below or send me an email if you have questions about crafting the perfect Argentina trip – I'm happy to help!
Here's an overview of what this two weeks in Argentina itinerary covers:
3 days – Buenos Aires, the stunning capital of the country
5 days – hiking mountains and trekking on glaciers in Patagonia
2 days – wandering around the raging waters of Iguazú Falls
4 days – the otherworldly north of Argentina
Let's get into it!
Map of Argentina itinerary
Days 1-3: Buenos Aires
The seductive capital of the country and the most European of all the cities in South America, it'll be hard to drag yourself away from Buenos Aires. Start your Argentina trip here for three days exploring stunning architecture, eating juicy steak, drinking full-bodied wines and watching an intimate tango show.
What to do in Buenos Aires
For a day-by-day Bueno Aires itinerary, follow this guide to 3 days in Buenos Aires.
The architecture in Buenos Aires is dazzling, and just walking along the streets will make you gasp in delight. The Recoleta Cemetery is a must – if a little creepy wandering around tombs. Head inside historical buildings like Palacio Barolo, Teatro Colón and El Ateneo Grand Splendid. Consider booking a walking tour so you can squeeze in all the key sites.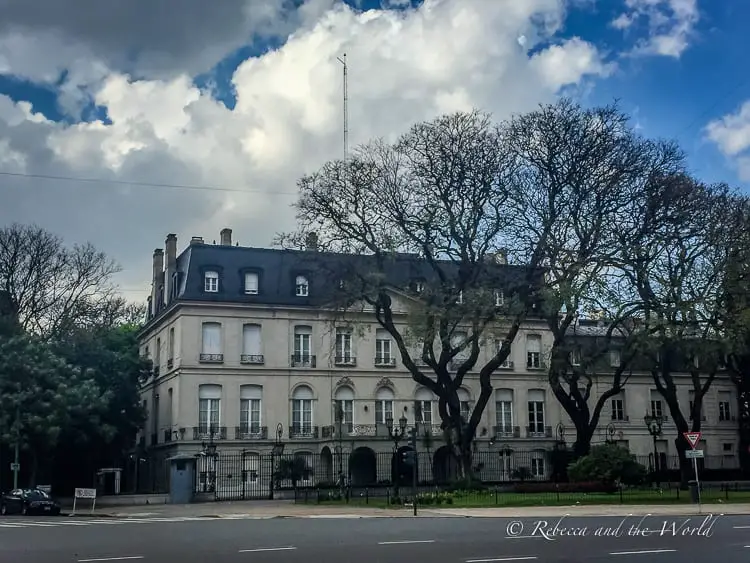 Top tip: make sure you look down as well – Porteños (people who live in Buenos Aires) aren't good at picking up after their dogs, and you don't want to step in anything gross!
Buenos Aires' love of art and culture is on display in many of its museums, including the Museo Nacional de Bellas Artes and the Museo de Arte Latinoamericano de Buenos Aires.
Step back in time in the antique shops that line San Telmo's cobblestoned streets. Every Sunday the entire neighbourhood comes alive with a huge street market. Plan your 2 weeks in Argentina so that you have a Sunday in Buenos Aires just so you can experience this market.
If you're interested in having a custom leather jacket made, stop in at one of the many tailors in Buenos Aires (check out my guide to the best shopping in Buenos Aires). Do this at the start of your trip, as a leather jacket can usually be turned around in 24-48 hours.
Eating will be a highlight of your visit to Buenos Aires – and indeed across the entire country, especially if you're a fan of steak. The city is filled with restaurants for all budgets as well as many secret bars.
To learn about the culture of Argentina, sign up for a food experience with Steaks by Luis or The Argentine Experience. Both are group activities that teach guests about food in Argentina – you'll certainly be more comfortable about ordering food in restaurants for the rest of your 2 weeks in Argentina. Also, consider a gourmet food tour around Recoleta, Buenos Aires' most exclusive neighbourhood.
End the night with a tango show. I recommend Bar Sur for its intimate setting. The lavish Faena Hotel has a raunchy Rojo Tango performance – and the hotel itself is worth checking out for its eccentric design.
If you're looking for more things to do in Buenos Aires, check out the other posts I have written about the city:

Where to stay in Buenos Aires
Days 4-8: El Calafate and El Chaltén
For many people, Patagonia is right at the top of their bucket list. It is, of course, one of the most incredible things to do in Argentina.
In El Calafate you can walk on a thousands-of-years-old glacier – truly an amazing experience.
Adventure lovers will be in their element in El Chaltén with so many options to hike in pristine parks. These two towns will give you a taste of Patagonia's wildlife and beauty.
What to do in El Calafate and El Chaltén
You can fly from Buenos Aires direct to El Calafate (see the information guide at the end of this post about transportation in Argentina). Of course, you can also take a bus, but with only 2 weeks in Argentina, flying will get you everywhere faster.
El Calafate is popular as the jumping-off point for Perito Moreno Glacier, located in Los Glaciares National Park.
Book a trek across the ice or take a boat tour or simply view the glacier from the series of boardwalks built around the park. Hearing the glacier calve – its thunderous crack and the boom as the ice hits the freezing waters below – is a sight and sound you'll never forget.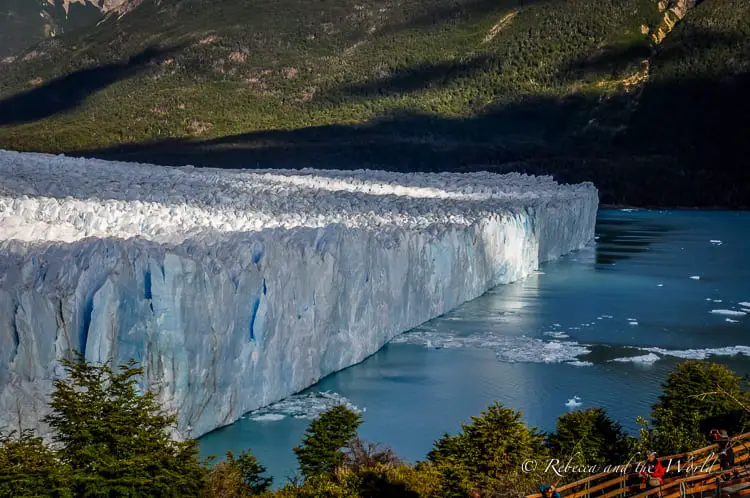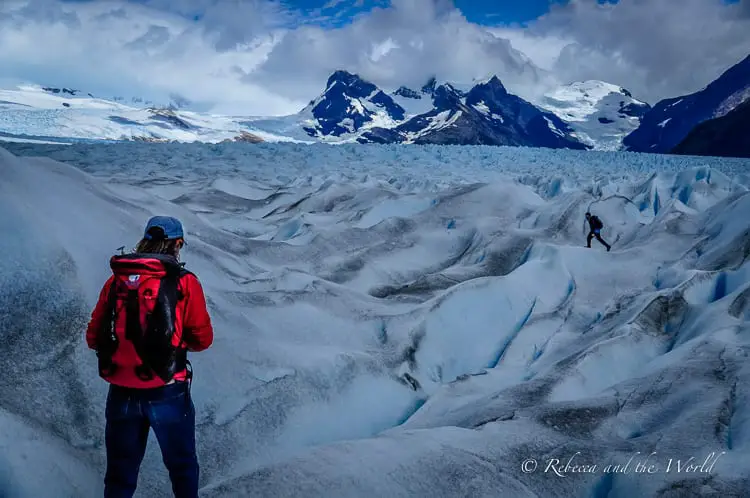 After you've explored the glacier, check out the town of El Calafate itself. Rug up for a visit to the bar de hielo (ice bar) in the Glaciarium or spot flamingos on Lago Argentina, the country's largest freshwater lake.
After a day or two in El Calafate, take a bus for the two-hour journey to El Chaltén to hike one of the many trails around Monte Fitz Roy and Cerro Torre. Foggy weather can mean it's difficult to see the peaks of these mountains, but on a clear day the views are spectacular. I've got a guide to a handful of the best hikes in El Chaltén.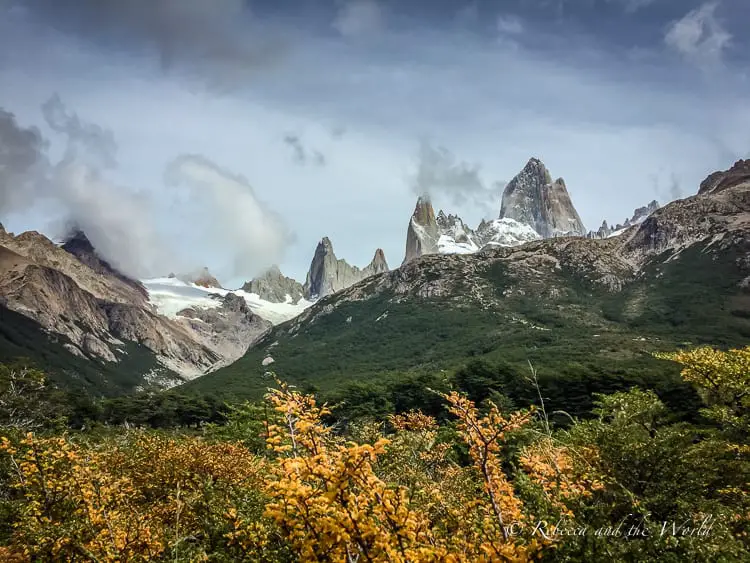 Despite its small size, there's plenty to keep you occupied in El Chaltén beyond hiking. You can go mountain biking, kayaking, horseback riding or rock climbing.
After all that exertion, you'll be thankful to know that the town has a thriving craft beer scene. Wander the main street of town (it's not a long street!) and pop in at each pub, followed by a hearty snack of empanadas.
Where to stay in El Calafate
Where to stay in El Chaltén
Days 9-10: Iguazú Falls
Imagine three kilometres of waterfalls, some up to 80 metres high, some you can get right underneath, another one a wild, gushing spiral that's so powerful you can't see the bottom. That's Iguazú Falls – the largest waterfall system in the world.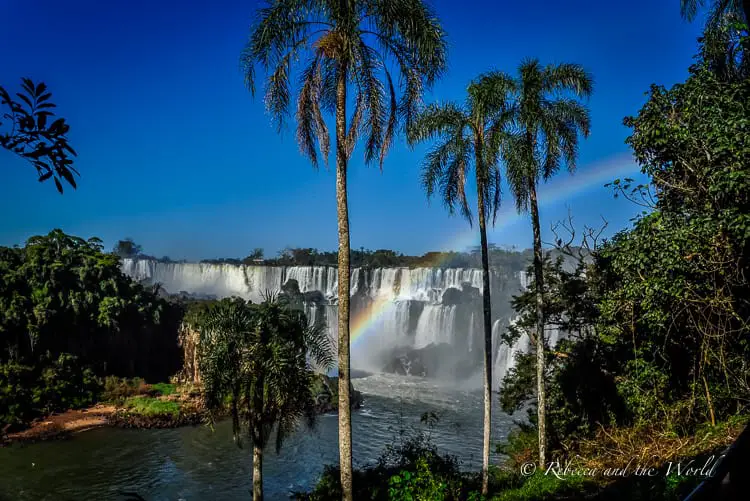 What to do in Iguazú Falls
Catch an early morning flight from El Calafate to Puerto Iguazú; you'll most likely need to connect in Buenos Aires.
When you arrive in the afternoon, head straight out to the Argentine side of Iguazú Falls. There's a series of well-maintained catwalks that get you up close to the thunderous waterfalls. You can do it yourself or book a guided tour that includes a boat ride that zips right under the waterfalls – it's wild fun and you will get drenched! It's definitely something you'll remember from your 2 weeks in Argentina!
Time your trip to see Iguazú Falls by moonlight. These trips only happen during full moons. Looking down at the Devil's Throat waterfall underneath the silvery moonlight is something you won't ever forget.
If you've arranged your visa for Brazil (if needed), then you can cross the border the next day to see the waterfalls from the Brazilian side. To see their full power, take a helicopter ride above the falls. Like in Argentina, boardwalks crisscross through and around the waterfalls and in some parts prepare to get wet as you cross underneath one of the powerful waterfalls.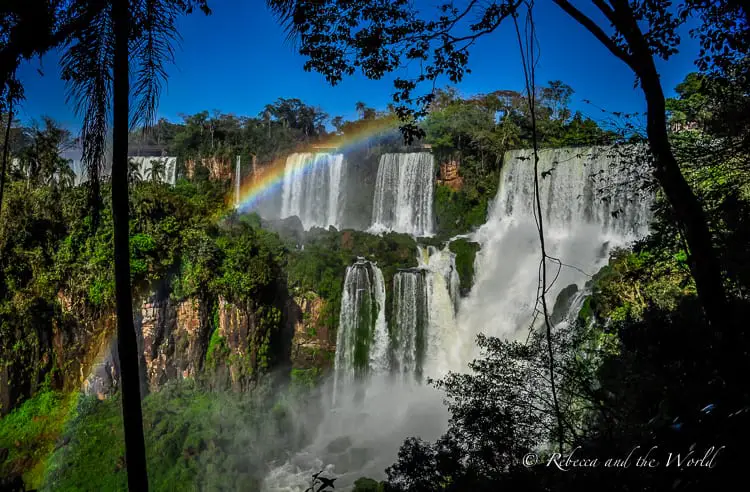 If you don't have a visa for Brazil, then one day in Puerto Iguazú is enough. I actually think the Argentina side of Iguazú Falls is more spectacular, so don't feel too bad if you don't have time to skip across the border. You can read my guide to visiting Iguazú Falls where I compare the two sides.
Where to stay in Iguazú Falls
Days 11-14: Salta and Jujuy
It's now time to head on to the spectacular landscapes of the north of Argentina.
Yes, adding northern Argentina into your two week Argentina itinerary adds a lot more flying – but it's truly spectacular and markedly different from the rest of the country. It's one of my favourite places to visit in Argentina because of the otherworldly landscapes, delicious wines and intriguing culture. Whenever anyone asks me about visiting Argentina, the north is where I always encourage them to go.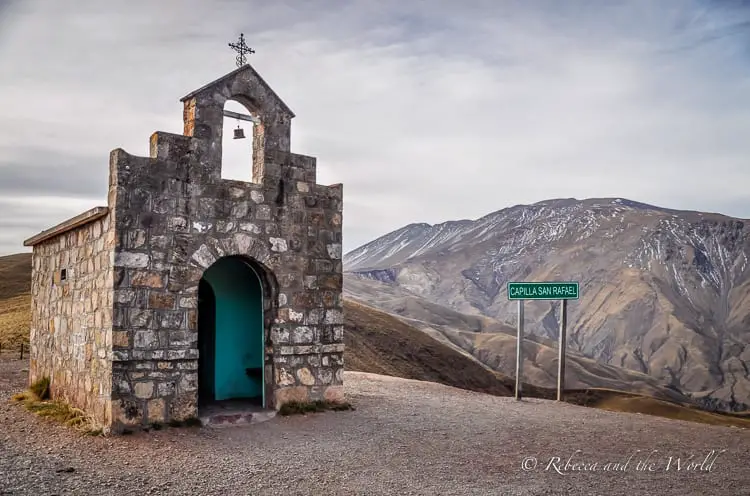 What to do in north Argentina
Fly into Salta to begin a north Argentina road trip through landscapes that you won't soon forget. From Puerto Iguazú, you can fly directly to Salta with Aerolíneas Argentinas on Monday, Wednesday and Friday; any other day and you will need to connect via Buenos Aires (one of the frustrating parts of travelling around Argentina).
In Salta, rent a car and spend the next few days exploring the dusty towns of Humahuaca, Tilcara and Purmamarca.
In Humahuaca, scour the markets for artisanal blankets and rugs, pottery and clothing for the perfect souvenirs.
Tilcara is home to the Pucará ruins, a pre-Incan fort.
Base yourself in Purmamarca to see the majesty of the Cerro de los Siete Colores (Hill of Seven Colours), layer upon layer of pastel-coloured rock that is best seen at sunset.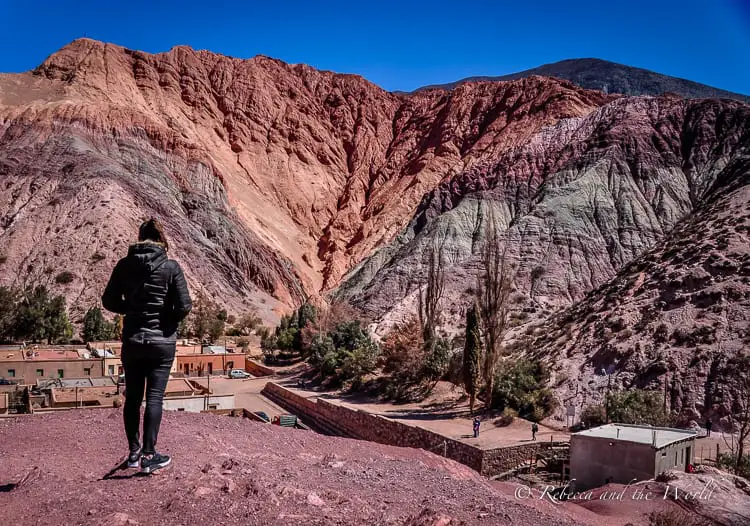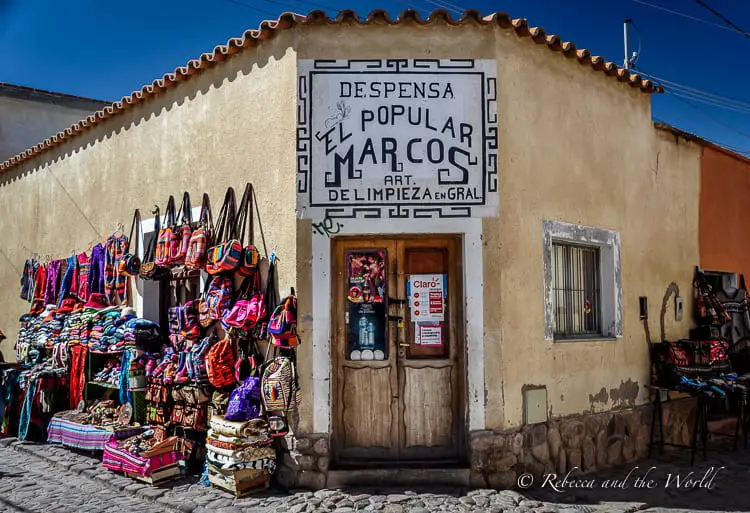 If you don't want to hire a car, you can take day trips from Salta, or tour operators can arrange multi-day trips to the highlights, including to Salinas Grandes, the second largest salt flats in South America.
Next, head south to Cafayate, Argentina's second wine region, where you can taste your way through several wineries. The Torrontés varietal is what's famous here and it's one of my favourite wines. Here's a guide to the Cafayate wine region.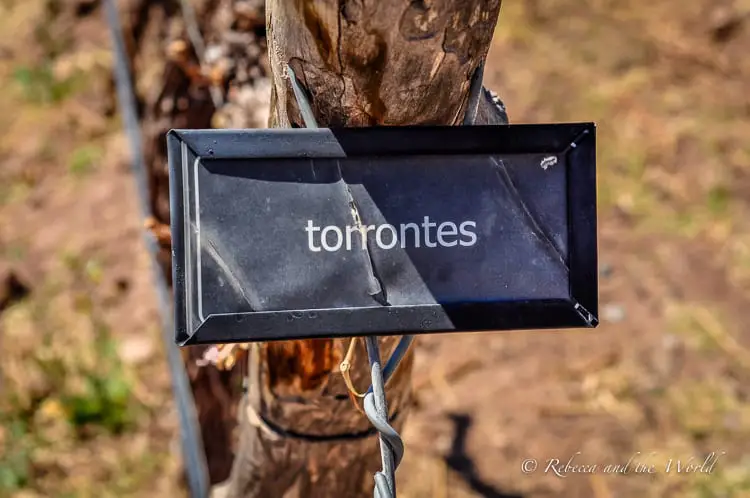 Before you fly out, spend a day in Salta, the attractive capital city of the province of the same name. Join a walking tour of the city or explore the Museo de Arqueología de Alta Montaña. Here you will see the mummified bodies of sacrificed Incan children. Only one child is displayed at a time, mesmerisingly frozen in time.
Where to stay in Salta
Where to stay in Purmamarca
If you prefer to stay in Humahuaca, find the best hotel with Booking.com or HotelsCombined here. Alternatively, Tilcara has some good options on HotelsCombined or Booking.com.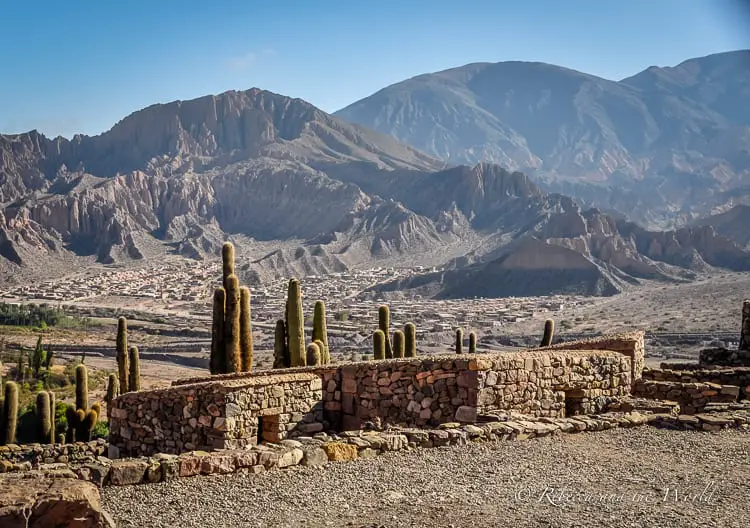 Where to stay in Cafayate
From Salta, find a late departure back to Buenos Aires. I can guarantee that you will be gloomy when you board your final plane home – Argentina truly is a country of passion, different landscapes and culture that will capture your imagination.
More places to add to your Argentina itinerary
It was incredibly hard to narrow down this Argentina itinerary to just two weeks! There are so many parts of the country that I love. If you've got a bit more time up your sleeve or other interests (maybe you want to spend more time hiking, maybe you – quite rightly! – want to go wine tasting, maybe you enjoy exploring cities) you can add on some extra regions to your Argentina travel itinerary.
Again, if you need help planning two weeks in Argentina, drop a comment below and I'll help you out.
Mendoza
Wine is Mendoza's drawcard – you can easily spend a day (or two, or three!) tasting Malbecs at the many wineries throughout the three wine-producing regions.
Pamper yourself in the thermal spas near Mendoza city.
Discover Mendoza's charm and its pretty plazas and leafy avenues.
Get adventurous with whitewater rafting, horse riding or mountain biking.
Bariloche
Taste chocolate in Argentina's chocolate capital. Or take a food tour to discover more of Bariloche's culinary delights.
Explore the Ruta de los Siete Lagos – a stunning drive through the area's seven lakes. If you've got more time, you can even bike the route!
Discover the natural beauty of Arrayanes forest.
Bike the Circuito Chico for beautiful views.
Book an incredible degustation dinner overlooking Lago Nahuel Huapi at Butterfly (reservations only), just a few kilometres out of the city.
Ushuaia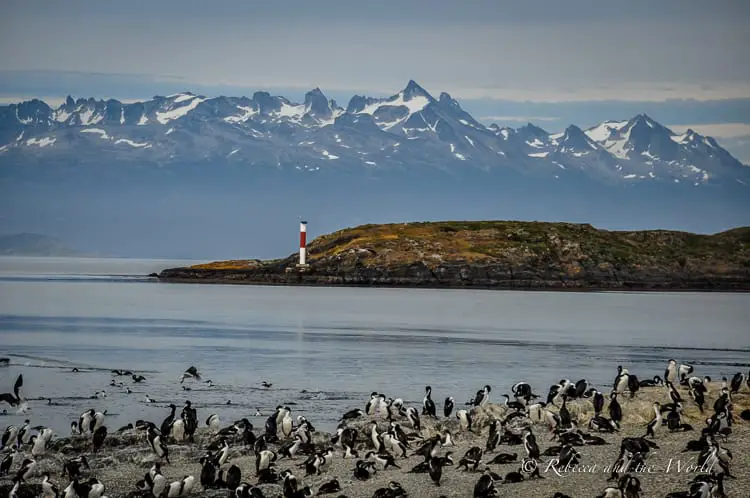 Península Valdés
Go whale watching in Peninsula Valdés.
You can also see sea lions, elephant seals and penguins in the area.
Córdoba
If you visit around Oktoberfest, join in the celebrations in Villa General Belgrano.
Explore the beautiful cabildo and cathedral in the city centre.
Have a picnic in Sarmiento Park and watch local families spending time together on the weekend.
Esteros del Iberá
Spend time exploring the Iberá wetlands and spot capybara, caiman, black howler monkeys, the maned wolf, deer and more than 300 bird species.
Essential info to know for your Argentina trip
Visas for Argentina
In the past few years Argentina has suspended the costly "reciprocity fee" that Australians, Canadians and Americans had to pay to enter the country. It's now possible for Canadians, Australians, U.S. and New Zealand nationals, and citizens of most Western European countries to arrive without a visa.
As always, when it comes to visas, don't rely on me because things change regularly. Check with your local embassy or consulate for the latest information.
How to get to Argentina
There are direct flights to Buenos Aires, the capital city of Argentina, from North America, the United Kingdom, Australia, Europe and South Africa, as well as from most South American countries.
Buenos Aires has three airports: Ezeiza (EZE), which serves international flights, Aeroparque Jorge Newbery (AEP), which handles domestic flights and some international flights to Uruguay and other nearby countries, and El Palomar (EPA) which is the hub for low-cost carriers. Ezeiza and Aeroparque are 41 kilometres apart, so if you do have a connection upon arrival in Argentina, make sure you plan your travel accordingly, as the trip between the two can take more than two hours in peak hour traffic.
There are overland border crossings into Argentina from Chile (a stunning journey across the Andes that I would love to take; multiple border crossings), Uruguay (multiple border crossings; the ferry between Buenos Aires and Colonia del Sacramento is the most popular), Brazil (at Puerto Iguazú), Bolivia and Paraguay.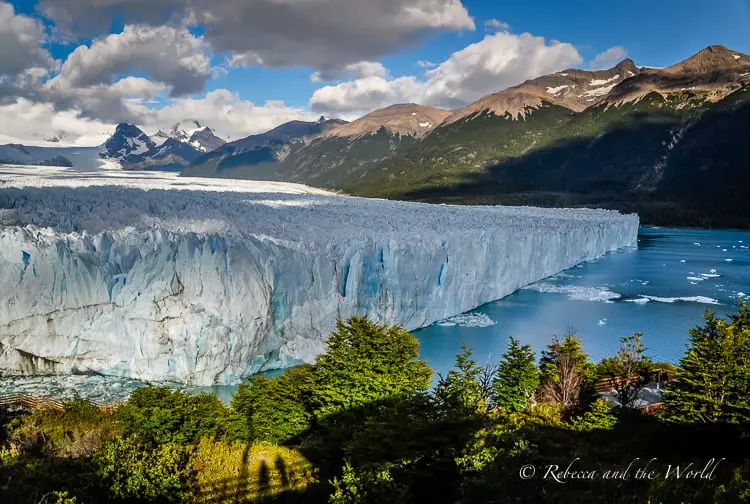 How to travel around Argentina
As I've mentioned more than once already, Argentina is a HUGE country. To see Argentina in 2 weeks, flying is going to be your best bet.
The major airline in Argentina Aerolíneas Argentina (LATAM previously operated there but has indefinitely cancelled its operations as of June 2020). Aerolíneas has an extensive network throughout the country. A few other low-cost carriers have also recently popped up, including FlyBondi and JetSmart.
Be aware that you often need to connect in Buenos Aires if you're flying around the country. This means you need to carefully plan 14 days in Argentina. While this is improving and there are more direct routes on offer, but there are still major cities that aren't directly connected by air. Domestic flights can sometimes be expensive, and foreigners are often charged more.
If you're okay with taking long-distance buses (and planning overnight travel to maximise your 2 weeks in Argentina) then the country has an excellent bus network, offering comfortable seats and food on board in many cases. Bus rides are long here – a trip between Buenos Aires and Puerto Iguazú, for instance, takes around 20 hours. That trip also only costs around US$50 so it is far more economical than flying. Rome2Rio is a good site for checking out bus travel options.
The Estación Terminal de Omnibus (Avenida Ramos Mejía 1680) in Buenos Aires, also known as the Retiro Bus Station, is the hub for all long-distance buses.
Best time to visit Argentina
You can visit Argentina all year round, but deciding the best time to visit Argentina really depends on what you want to do during your 14 days in Argentina.
December to February is summer and is the best time to visit Patagonia. Buenos Aires can get very hot at this time of year. It's quieter as people pack up to head to their beach homes or on vacation elsewhere.
September to November is a lovely time to visit Buenos Aires. The avenues bloom with purple jacarandas – truly a beautiful sight. This is also a nice time to visit the north of the country when it's not too hot.
Winter is manageable in Buenos Aires (the average temperature is 12 to 14 degrees Celcius), but it does come with rain. Patagonia at this time of year is often completely inaccessible in some parts (including El Chaltén, which pretty much shuts down).
What to eat in Argentina
One of the highlights of a visit to Argentina is the food – and wine! During your 2 weeks in Argentina, make sure to try some traditional favourites:
Steak – vegetarians beware! You can't go anywhere in Argentina without seeing steak on the menu. There are many different cuts, but most will be familiar. For steak lovers, 2 weeks in Argentina will be heaven for you!
Empanadas – you're going to eat SO many of these pasty-type delights on your Argentina visit.
Choripan – a sausage (chorizo-style but rarely spicy) that's served in bread. Smother it with chimichurri sauce.
Locro – a traditional stew made of beans, corn, vegetables and meat, it's mostly found in the north of Argentina.
Provoleta – a disc of cheese that's cooked on the grill and then served still bubbling in a small cast iron skillet. Usually served as an appetiser.
Dulce de leche – a creamy caramel sauce.
Alfajores – sandwich cookies that are filled with dulce de leche. They're often then smothered in chocolate.
Ice cream – ice cream stores are everywhere in Argentina. The country's Italian heritage has produced deliciously creamy ice cream, and you must try dulce de leche flavour of course!
Medialunas – croissant-like pastries that are usually eaten for breakfast or merienda (afternoon tea).
Language in Argentina
The official language of Argentina is Spanish. But your high school Spanish won't cut it here. Argentines actually speak Castellano and with a whole lot of hand gestures thanks to their Italian and Spanish heritage. People use vos instead of tú, and "y" and "ll" sounds are completely different. Good luck! Either way, try to learn a few key phrases – it'll make your 2 weeks in Argentina much easier!
Many people do speak English, especially in Buenos Aires.
Money in Argentina
The economy in Argentina is… complicated, to say the least. Even though I lived in Argentina for almost two years, I'm still no expert. Suffice to say that the country's currency, the peso, is continually fluctuating and prices change rapidly and regularly.
It's wise to always have cash on hand, particularly smaller notes. Credit cards are accepted in larger touristy restaurants and in hotels, but elsewhere may not be accepted at all.
The famous mercado azul, or blue market (basically the black market), is an interesting aspect of Argentina's economy, and can often result in a better exchange rate if you're changing U.S. dollars. The situation changes regularly, so always check the latest.
Safety in Argentina
Argentina is a fairly safe country. However, take precautions.
In Buenos Aires, watch out for pickpockets, especially on buses, the subte and in marketplaces. I've been pickpocketed in Buenos Aires so I can unfortunately vouch for their tremendous skills! Keep your bags close to you, especially at restaurants and bars. Don't pull out your phone in busy places or leave it on the table while you're eating.
Motochorros are common. These are thieves on motorbikes who ride past and snatch bags or even phones out of the hands of people sitting in taxis.
My tips for staying safe in a big city like Buenos Aires:
Learn some basic Spanish, enough so that you can get by in taxis and on public transport
Travel by private transport at night, like a taxi rather than a public bus
Be careful with your cash and only carry with you what you need. Also, put money in different spots. Some could go in your wallet, some in another pocket, some (for the ladies) inside your bra
Don't flash around pricey cameras and phones. These items are expensive in Argentina and enticing for thieves
Try to blend in. Don't walk around with a map in your hand and camera slung around your neck, don't speak loudly in English
Don't carry your passport around with you, take a copy instead
If something does happen, don't fight back! Valuables can be replaced, your life cannot
Beyond a few rogue characters, you'll find Argentines to be incredibly friendly and welcoming and you should have a safe visit.
Always buy travel insurance! You'll be covered if anything gets lost or stolen, or if you are in an accident. Check out World Nomads for affordable prices and they cover hundreds of countries, including Argentina.
Health in Argentina
Argentina has good health and dental services available and it's affordable – sometimes even free. Always make sure you have good travel insurance that covers medical evacuations in the event you develop a life-threatening condition. I always buy my travel insurance through World Nomads.
Check out the Center for Disease Control for recommended vaccinations for visiting Argentina – for most people, it'll be standard vaccinations.
Movies and books about Argentina
Read up about Argentina before you visit or watch some of the country's classic movies. So you can get a feel for Argentina culture, here are a few of my faves:
Books
Movies
Relatos Salvajes (Wild Tales) – hands down one of my favourite movies ever. The series of 6 short stories are all captivating and wickedly funny or sad
El Secreto de Sus Ojos (The Secret in Their Eyes) – a thriller that won the Oscar for Best Foreign Language Film in 2010
The Clan – a true story (yes, it's really true and you'll constantly ask yourself this question as you watch it) about a family involved in a series of kidnappings during the "Dirty War" of the 1970s
SPENDING 2 WEEKS IN ARGENTINA – YOUR TRIP ESSENTIALS
What would you include on your 2 weeks in Argentina itinerary? Or need help planning your own Argentina trip? Leave your tips and questions in the comments section below so I can help you!
This post was originally published in 2018, and was updated in January 2019, October 2020 and March 2021.
PIN IT FOR LATER: