Planning on visiting Iguazu Falls? This guide covers both the Argentina and Brazil sides and has all the info you need to know for your visit!
When I first started planning our visit to Iguazu Falls, the thought of spending two days looking at waterfalls seemed absurd. Surely nothing could be that incredible that it deserved a whole weekend?
Well, I was wrong. There's something undeniably awe-inspiring about almost 300 waterfalls spread across 3 kilometres, pouring out 1,500 cubic metres of water every second in a thunderous flow. From the ground, on the water or from above, it's a spectacular sight.
Straddling the Argentina and Brazil borders, it's possible to visit both sides and see the waterfalls – which truly are different in each country.
After visiting both sides of Iguazu Falls, I've pulled together this guide to answer all your questions about this South America gem. It covers everything you need to know about visiting Iguazu Falls, from how to get there, what to see and do, and where to stay. Most guides online focus on info for just one side of the waterfalls, but in this guide I'm sharing how you can visit both sides.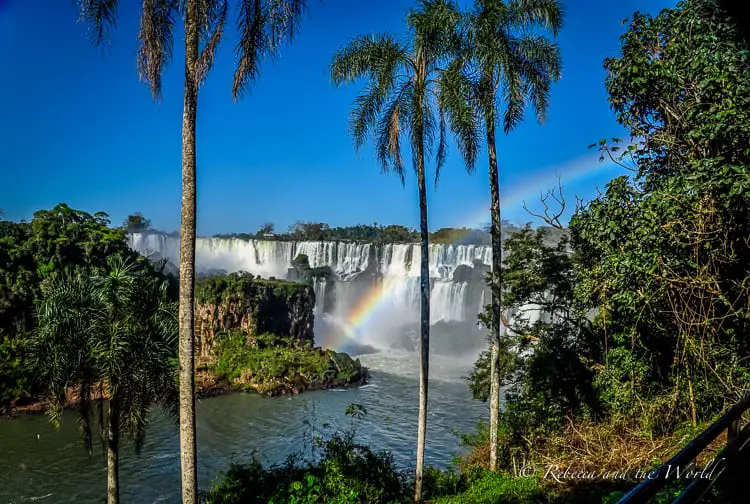 This blog post may contain affiliate links, meaning if you book or buy something through one of these links, I may earn a small commission (at no extra cost to you).
1. Where is Iguazu Falls?
Iguazu Falls is a spectacular set of waterfalls that straddles the border of Brazil and Argentina. Located in northwest Argentina, about a 3.5-hour flight from Buenos Aires, it's one of the largest waterfalls in the world.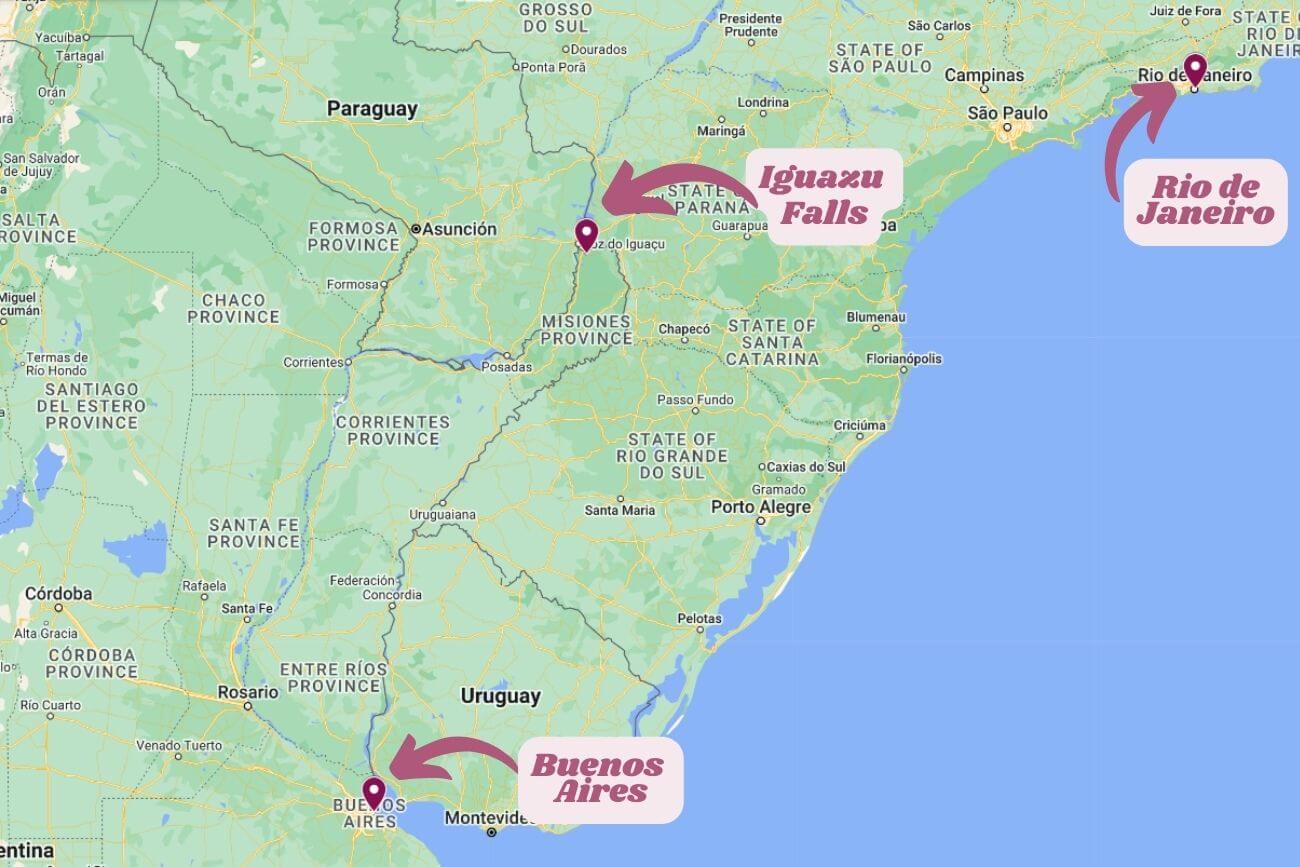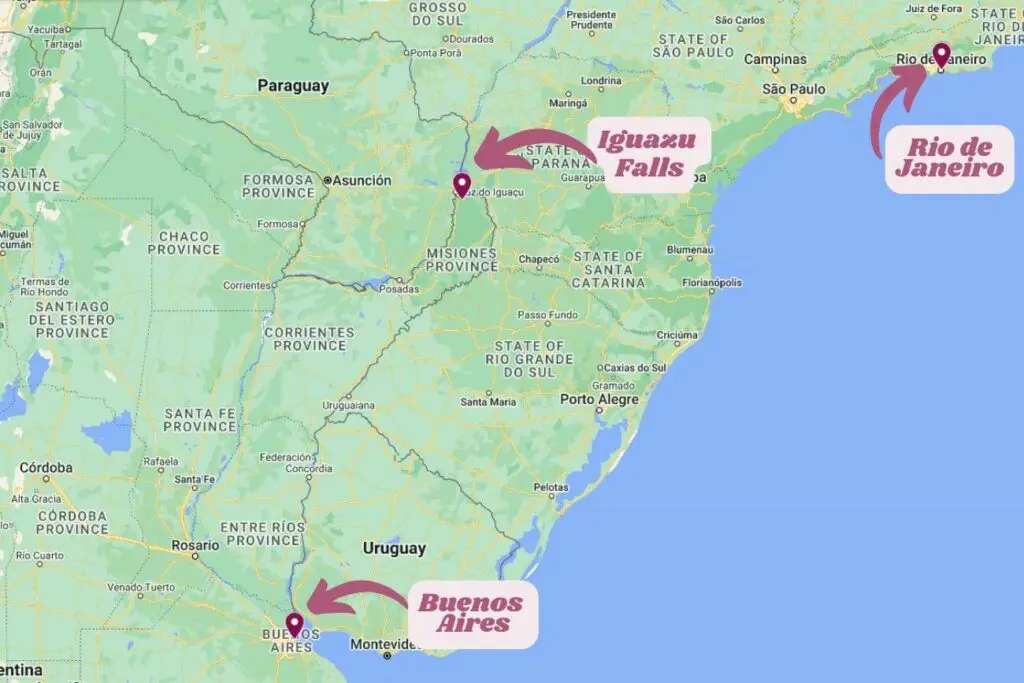 2. What's so special about Iguazu Falls?
Iguazu Falls really have to be seen to be believed. This stunning natural wonder is one of the best reasons to visit Argentina.
Here's what you'll experience when you visit: Imagine 200-300 waterfalls spread across 3 kilometres, pumping out 1,500 cubic metres of water every single second. While the number of waterfalls fluctuates seasonally, with more waterfalls appearing (obviously) during the wet season, it's a spectacular sight year-round.
Iguazu Falls is one of the biggest waterfalls in the world. While Victoria Falls in Zimbabwe/Zambia is taller than Iguazu Falls, Iguazu is wider. Iguazu Falls is also twice as tall as Niagara Falls (and, again, much, much wider).
The name "Iguazu" comes from the Guarani language (spoken by the indigenous people of the area) and rather aptly means "big water". You'll see various spellings: Iguazu Falls (English), Iguazú Falls (Spanish) and Iguaçu Falls (Portuguese). I've also seen it spelled Iguassu Falls.
There's a legend about how the falls were created. A serpent god named Mboi lived in the river. He planned to marry a beautiful woman called Naipí, the daughter of the chief. But she escaped with her lover, Tarobá, in a canoe.
Angry at this betrayal, Mboi whipped his body, causing a huge crack in the river and creating the waterfalls. The two lovers drowned, but, according to the legend, Tarobá became a rock in the river and Naipí turned into a palm tree on the riverbank, and they are forever condemned to see each other without being together. Ugh, so heartbreaking!
Now that you've learned few interesting Iguazu Falls facts (at the very least, they may help you at trivia night!), let's jump into the practicalities of visiting.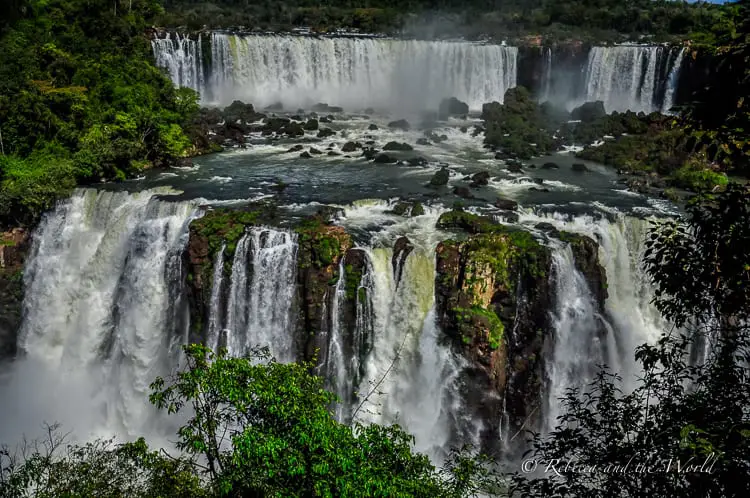 3. Is visiting Iguazu Falls worth it?
100% YES. There's nothing quite like visiting Iguazu Falls – one of the country's natural wonders. The thundering waters cascading down, the smell and sounds of the jungle, the wildlife – it's one of the best things to do in Argentina.
Even if you think you're not normally into nature, I dare you not be in awe of this place.
4. When is the best time to visit Iguazu Falls?
The great news is that it's possible to visit Iguazú Falls all year round. Depending on when you go, the river and waterfalls may have swelled to almost 300 waterfalls, or may be drier with fewer and smaller waterfalls.
The wet season – and hence when the waterfalls are at their most powerful – is from December to March. These are also the hottest months and the rainiest. There's the risk that some parts of the parks may close if the rains are too heavy (the park actually briefly closed in November 2023 because of heavy rains). Flash flooding in the area does happen.
January and February are the busiest months to visit, with both Argentines and Brazilians on summer holidays.
While it rains throughout the entire year at Iguazu Falls, May to August are the drier months. The weather is also a little cooler, so this is the best time to visit Iguazu Falls.
Our last visit was in late August and we had a bit of rain but nothing that hampered our plans. In fact, I think the waterfalls made us wetter than any rain could! I was in awe of the waterfalls at that time, so I can only imagine how incredible they are in the peak of the wet season.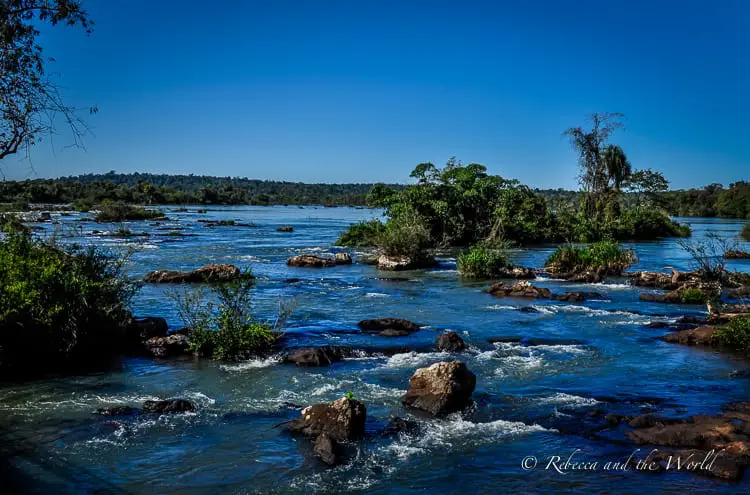 5. Which side of Iguazu Falls is better – Argentina or Brazil?
Ah, the big question. I actually think you should see both sides and you can easily do this if you have two days for your Iguazu Falls itinerary. Spend a day exploring the Argentina side of the falls, and half a day on the Brazil side of Iguazu Falls.
If you just don't have the time, then which side you choose will depend on where you're coming from. If you're travelling in Brazil, then the Brazil side is obviously going to be easier to visit, and the same goes if you're already in Argentina.
In terms of which side of Iguazu Falls is more impressive? I loved both sides for different reasons, but if I'm honest I think the Argentina side is better. It's more developed with more things to see and do. Plus, I lived in Argentina for two years so I'm always slightly biased toward my former home!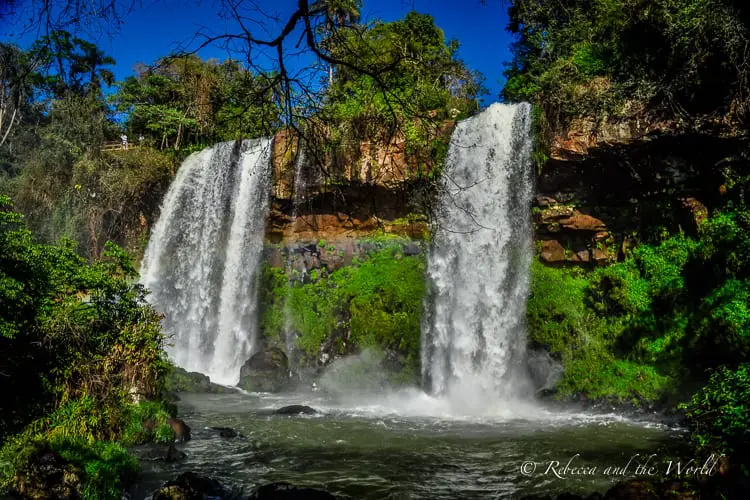 6. How many days do you need in Iguazu Falls?
Visiting Iguazu Falls will take a few days of your Argentina itinerary, but you won't regret it.
Personally, I think you should factor in two days to visit Iguazu Falls, especially if you're planning to visit both sides. Having said that, you could easily spend two days just on the Argentina side.
Can I visit Iguazu in a day?
If you mean visiting Iguazu from Buenos Aires in a day then yes… it's technically possible, but why would you want to rush such an experience?
You can fly up and back in a day, but it'll leave you only a few hours to see the falls.
If you're really set on just doing a day trip, I've suggested a few Iguazu Falls tours later on in this article (jump to the tours).
Can you visit Argentina and Brazil sides in a day?
Again, you could – but why? You won't get to experience both sides properly, and you're putting your hands in border bureaucracy which may or may not be working toward your own personal schedule.
7. How much time do you need at Iguazu Falls?
I think you need 5-7 hours hours to explore the Argentine side, and 3 hours minimum for the Iguazu Falls Brazilian side (more if you want to do the optional tours).
8. How do you get to Iguazu Falls?
Depending on which side you're planning to visit you can base yourself in the towns of Puerto Iguazú in Argentina or Foz do Iguaçu in Brazil when you travel to Iguazu Falls.
Buenos Aires to Iguazu Falls
The quickest way to get from Buenos Aires to Iguazu Falls is by plane. Aerolíneas Argentínas and FlyBondi fly to Puerto Iguazú daily.
To save some money, you can take a bus from Buenos Aires to Iguazu Falls, but be warned that this is a 17+ hour journey!
Rio de Janeiro to Iguazu Falls
Foz do Iguaçu also has an airport. LATAM, Gol, and Azul Brazilian Airlines fly into Foz do Iguaçu from Rio de Janeiro and other cities within Brazil.
Puerto Iguazu to Iguazu Falls
Getting to Iguazu National Park is pretty straightforward on public transport.
From Puerto Iguazú to Argentina side of falls: Buses run every 30 minutes or so from the main bus terminal in Puerto Iguazú. The trip takes around 40 minutes.
From Puerto Iguazú to Brazilian side of falls: Buses run from the main bus terminal in Puerto Iguazú direct to the falls regularly. The trip takes around 45 minutes and Rio Uruguay is the bus company to look out for. Take your passport for the border crossing.
Foz do Iguaçu to Iguazu Falls
From Foz do Iguaçu to Brazilian side of falls: Buses run every half an hour or so from the main bus terminal in Foz do Iguaçu. The trip takes around 35 minutes.
From Foz do Iguaçu to Argentina side of falls: Rio Uruguay operates bus services to the Argentine side of the falls. The trip takes roughly 1 hour and 20 minutes. Don't forget your passport.
Private transport
For private transport to Iguazu Falls, ask your hotel or hostel for options. This could be either a taxi or a private driver, both of which are reasonably priced.
This is the route my husband and I chose when visiting the Brazilian side of the falls, because we didn't want to have to worry about crossing the border on public transport (there was a protest the day we arrived that had actually closed the border for a few days).
As well as asking your hotel for recommendations, there are companies that can arrange transport, including across the border. Check rates online here.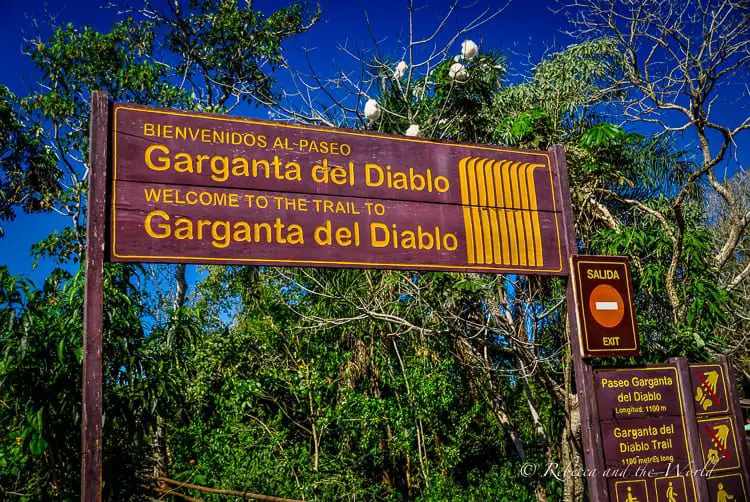 9. Can you visit Iguazu Falls without a tour?
Absolutely! A tour isn't necessary at all. Most people visit the falls independently – like we did.
But if you would like to leave the planning up to someone else, then this tour from Puerto Iguazú in Argentina or this tour from Foz do Iguaçu (to the Brazilian side of the falls plus a boat ride) are both highly rated.
What are the best day tours to Iguazu Falls from Buenos Aires?
If you really insist… as I mentioned earlier, it is possible to do a day trip to Iguazu Falls from Buenos Aires.
But I really, really don't recommend it. The flight from Buenos Aires to Puerto Iguazú takes 3.5 hours each way (not to mention travel time to and from the airport, waiting time, delays etc!). You'll travel all that way and only have a few hours to see one of the most spectacular sights in the world.
If you really do only have one day, then this day tour from Buenos Aires has good ratings.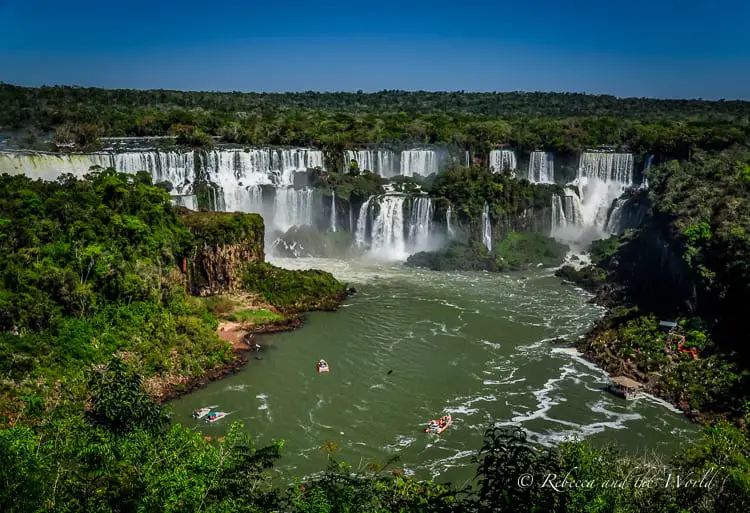 10. How much does it cost to enter Iguazu Falls?
The entry fee for adults on the Argentina side is ARS$20,000. You can book tickets online and choose an entrance time, or buy a ticket at the gate with cash (Argentine pesos only) or a credit or debit card. With inflation running rampant in Argentina, please check prices as they change frequently!
You get 50% off for your second day at the park.
The Argentine side of the park is open from 8am to 6pm daily.
It costs $R86 for foreigners to enter the Brazil side (entrance to the park which includes the bus and access to the Path of the Falls). Credit cards are accepted at the ticket machines at the gate or you can buy tickets online in advance and choose an entrance time.
The Brazil side is open from 9am to 4pm Monday to Friday, and 8.30am to 4pm on Saturday and Sunday.
These prices are current as of November 2023. I try to update this article once or twice a year.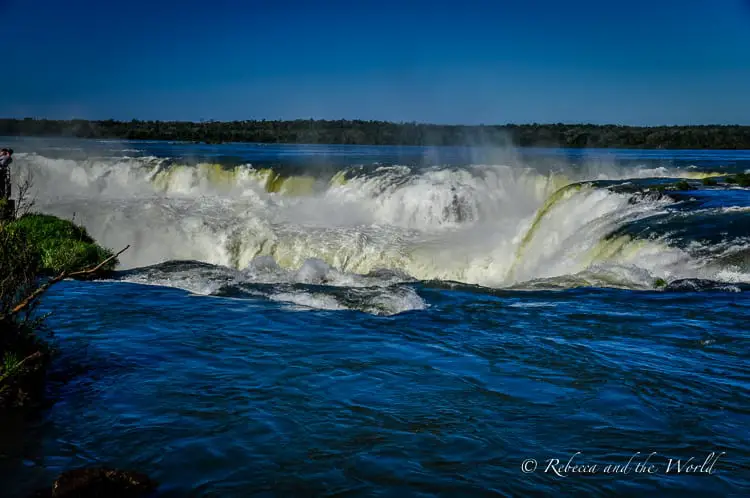 11. What are the best things do at Iguazu Falls Argentina side?
So, what to do once you arrive at Iguazu Falls? I recommend planning to spend a whole day on the Argentina side of the falls.
Wander the upper and lower circuits
Wander the Paseo Inferior (the lower circuit). This series of boardwalks is around 1.5 kilometres long, and I think you should start here before the crowds descend. The early morning light is also great for photos.
Later, hike through the Paseo Superior (upper circuit). These upper catwalks are just under a kilometre long and loop above the various falls that you've just walked under.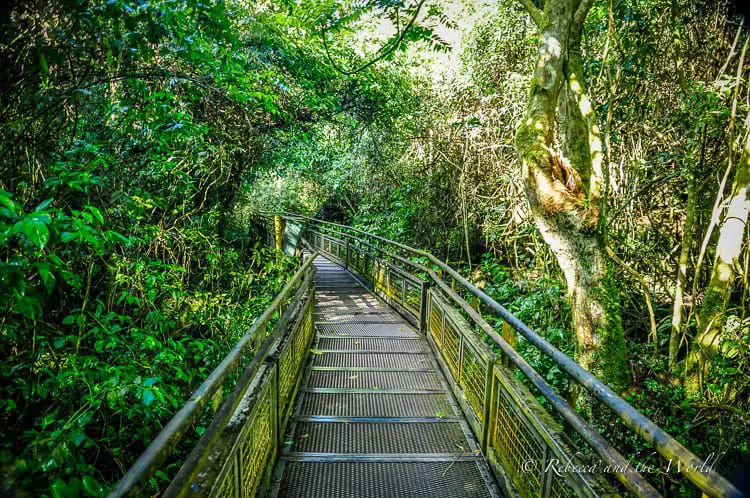 Take a boat ride under the falls
Get really wet and up close to the waterfalls on the Paseo Aventura Náutica, a boat ride that takes you literally under the waterfalls.
The Iguazu Falls boat ride is probably one of the most fun things to do in Iguazu Falls.
Warning: you will get saturated so avoid wearing jeans or other heavy clothes. You receive a dry bag to put your valuables in and there's time for photos before the boat speeds into the water. There's also an option to purchase a video of the experience afterwards.
Book the boat ride online here.
Be amazed by the Devil's Throat
End the day with the biggest and most spectacular sight of the falls: the Garganta del Diablo (Devil's Throat). Standing over this gaping hole, listening to the roar of the water, you will appreciate the power of Mother Nature.
You can take the train to Garganta del Diablo or walk 2.5 kilometres along a flat dirt road. By walking you'll see many butterflies of all colours and sizes and avoid the long queues at the train.
Take a full moon tour
Consider timing your visit to Iguazú Falls with the full moon. There are special Iguazú Falls full moon night tours which are a spectacular way to see the waterfalls by the silvery moonlight. Check dates and book the Iguazu Falls full moon tour online here.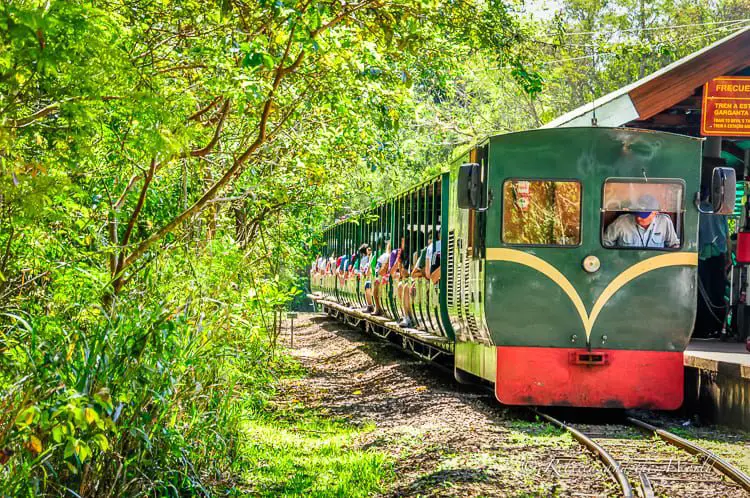 12. What are the best things to do at Iguazu Falls Brazil side?
There are also plenty of things to do on the Brazil side of Iguazu Falls.
There's a bus that takes you from the park entrance to the various activities in the park, so it's very easy to get around.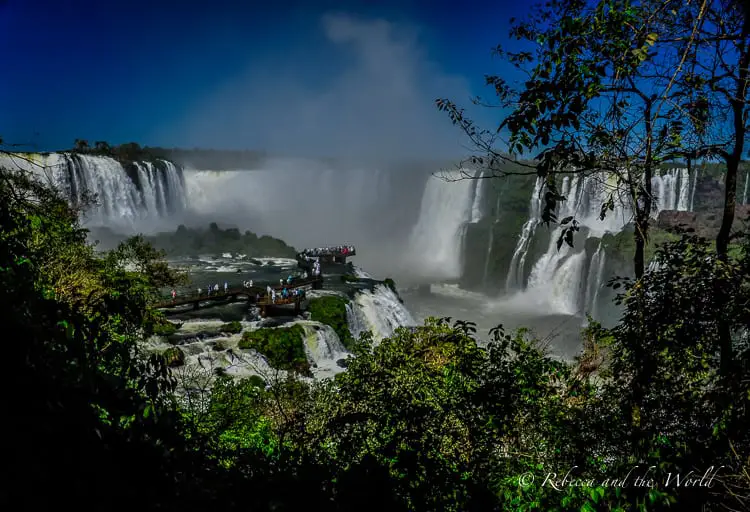 Take the Path of the Falls
The 1.5-kilometre Path of the Falls provides scenic views of the falls and across to Argentina. The path crosses almost under the falls – prepare to get wet in some parts (you can purchase ponchos although some people are kind enough to hand theirs over once they've returned). 
There's an elevator or stairs to the top of the falls where you will see its full power. The thunder of thousands and thousands of litres of water rushing over the edge every second is incredible.
Take a helicopter ride
While the falls are incredible from the ground, seeing them from the air is even better. Take a helicopter ride over the falls. It's an expensive 10 minutes but will be worth it!
13. Can I pat the cute coatis at Iguazu Falls?
No!
All throughout the park, and especially near picnic areas and restaurants, you'll see cute animals called coatis. Whatever you do, don't attempt to pat them (they bite and scratch!) and DON'T feed them. These animals have become habituated to humans.
The same goes for monkeys. Don't feed them.
Just enjoy looking at the wildlife – in the park you may be lucky to see toucans and if you're really, really lucky, a jaguar!
14. What to pack for your trip to Iguazu Falls
You're going to get wet at Iguazu Falls, so pack accordingly! I recommend bringing along:
A poncho or raincoat – Women: I love this cute polka dot poncho | Men: this light rain jacket. If you forget, don't worry as they sell plastic ponchos at the falls
Quick dry towel – you'll need it!
Rain cover for your backpack
You might even like to wear waterproof shoes like these Tevas. I wore regular sneakers and they dried off pretty quickly
Drink bottle – avoid throwaway plastic and bring your own refillable water bottle like this one
Camera – there are so many photo opportunities!
Sunscreen, hat and sunglasses
What not to wear to Iguazu Falls? Jeans. They'll get sodden.
Visas
Regardless of which side of Iguazu Falls you choose to visit, if you do plan to cross the border make sure you've done your research on the required visas. This post would be rather long if I included visa information for every country in the world, so check with your relevant government embassy or consulate. Your Iguazu Falls trip will be ruined if you don't plan ahead!
Check out my full travel guide to planning a trip to Argentina which covers visa information, where to go, what to eat and more. iVisa can also provide information on whether you need a visa for Argentina or Brazil.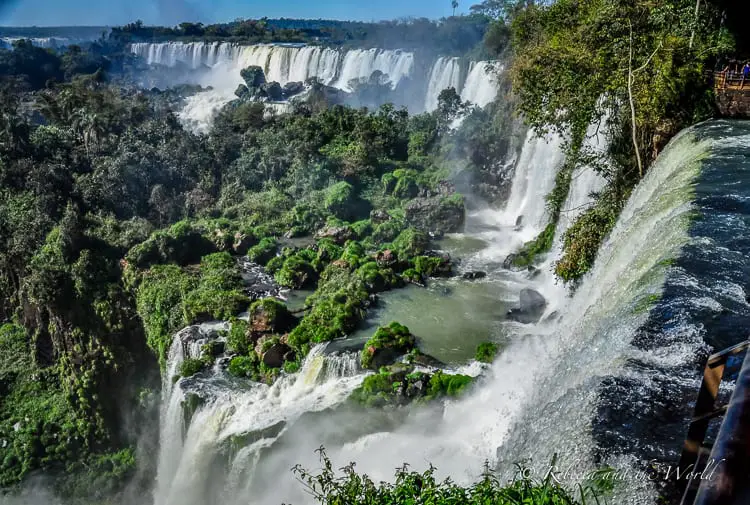 15. Where should I stay near Iguazu Falls?
Puerto Iguazu
Now on to where to stay in Iguazu Falls. There are plenty of hostels and hotels in Puerto Iguazú for all budgets.
We stayed at the Gran Melia Iguazú. This is the place to stay if you want to beat the crowds, as it's located within Iguazú National Park. From the hotel balcony, you can see the mist rising from the waterfalls, and it's a quick walk down to the entrance. It really can't be beat for location. | Check rates and availability online at Booking.com and Expedia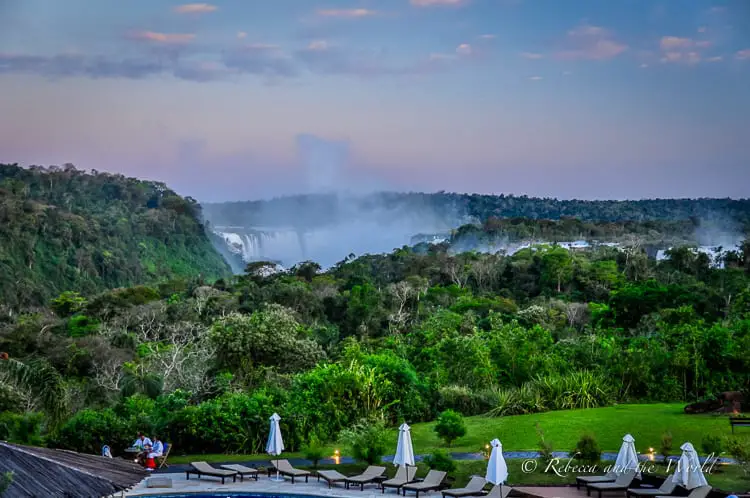 If you're travelling on a budget, consider the simple but clean and colourful Iguazu Falls Hostel. It gets great reviews from guests, and has a swimming pool. | Check the latest rates at Iguazu Falls Hotel and book online
For more budget-friendly accommodation, this guide to the best hostels in Puerto Iguazu has some great suggestions.
Foz do Iguaçu
I've not stayed in Foz do Iguaçu so I don't have any personal recommendations, but these hotels have great reviews online:
For more accommodation in Foz do Iguaçu, check rates on Booking.com or Expedia.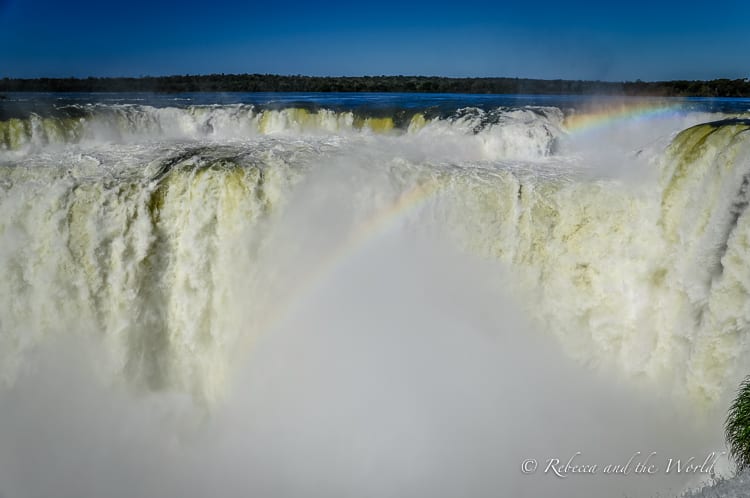 Final thoughts about visiting Iguazu Falls Argentina and Brazil
Iguazu Falls is one of the most spectacular places to visit in Argentina and Brazil and if you have the time, can't be missed. With two days (and the right visas), you can easily see both sides of the falls. It's a sight and sound you won't soon forget!
Do you have any more questions about visiting Iguazu Falls? Ask away in the comments below!
---
Related posts
Before you go… you might like these Argentina and Brazil travel articles:
ARGENTINA TRIP ESSENTIALS
PIN IT FOR LATER:
Like this article? Save this guide to visiting Iguazu Falls to Pinterest.