When I first started thinking about visiting Iguazu Falls, the thought of spending two days looking at waterfalls seemed absurd. Surely nothing could be that incredible that it deserved a whole weekend?
Well, I was wrong. There's something undeniably awe-inspiring about 200-300 waterfalls spread across 3 kilometres, pouring out 1,500 cubic metres of water every second in a thunderous flow. From the ground, on the water or from above, it's a spectacular sight.
Straddling the Argentina and Brazil borders, it's possible to visit both sides and see the waterfalls – which truly are different in each country.
After visiting both sides of Iguazu Falls, I've pulled together this guide to everything you need to know about visiting Iguazu Falls, from how to get there, what to see and do, and where to stay.
If you want to save this guide to visiting Iguazu Falls so you can read it later, just click on the "Save" button the images below to save it to Pinterest.
This blog post may contain affiliate links, meaning if you book or buy something through one of these links, I may earn a small commission (at no extra cost to you).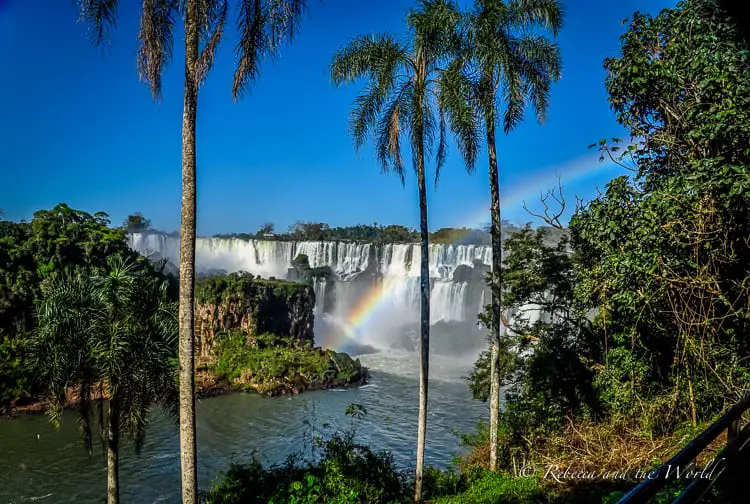 Visiting Iguazu Falls: Practical information
A few interesting facts about Iguazu Falls
Before we begin, here are some interesting things to know about Iguazu Falls (at the very least, they may help you at trivia night!).
If you missed it in the intro above, Iguazu Falls is made up of 200-300 waterfalls spread across 3 kilometres. The number of waterfalls fluctuates seasonally, with more waterfalls appearing (obviously) during the wet season.
Every second, 1,500 cubic metres of water gushes out of the falls.
While Victoria Falls in Zimbabwe/Zambia is taller than Iguazu Falls, Iguazu is wider. Iguazu falls is also twice as tall as Niagara Falls (and, again, much, much wider).
The name "Iguazu" comes from the Guarani language (spoken by the indigenous people of the area) and rather aptly means "big water".
You'll see various spellings of the falls: Iguazu Falls (English), Iguazú Falls (Spanish) and Iguaçu Falls (Portuguese). I've also seen it spelled Iguassu Falls.
There's a legend about how the falls were created. A serpent god named Mboi lived in the river. He planned to marry a beautiful woman called Naipí, the daughter of the chief. But she escaped with her lover, Tarobá, in a canoe. Angry, Mboi whipped his body, causing a huge crack in the river and creating the waterfalls. The two lovers drowned, but, according to the legend, Tarobá became a rock in the river and Naipí turned into a palm tree on the riverbank, and they are forever condemned to see each other without being together.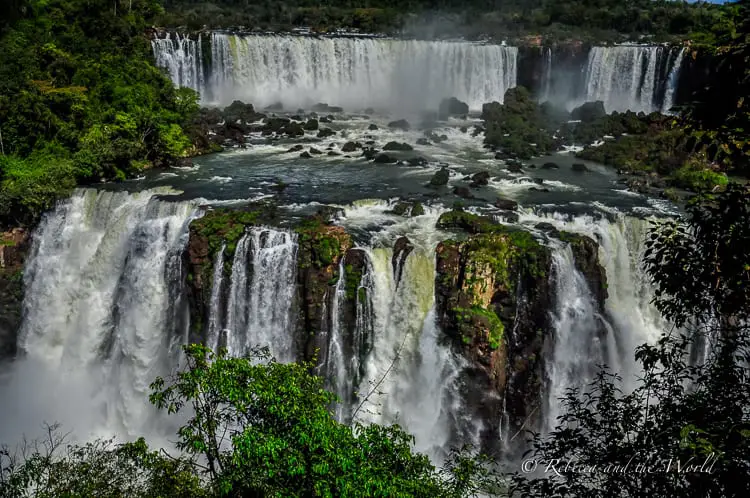 READ MORE: 15 incredible places to visit in Argentina
Best time to visit Iguazu Falls
It's possible to visit Iguazú Falls all year round. Depending on when you go, the river and waterfalls may have swelled to almost 300 waterfalls, or may be drier with fewer and smaller waterfalls.
The wet season – and hence when the waterfalls are at their most powerful – is from December to March. These are also the hottest months and the rainiest. There's the risk that some parts of the parks may close if the rains are too heavy. Flash flooding in the area does happen.
January and February are the busiest months to visit, with Argentines and Brazilians on holidays.
While it rains throughout the entire year at Iguazu Falls, May to August are the drier months. The weather is also a little cooler.
I visited in late August and we had a bit of rain but nothing that hampered our plans – in fact, I think the waterfalls made us wetter than any rain! I was in awe of the waterfalls at that time, so I can only imagine how incredible they are in the peak of the wet season!
How to get to Iguazu Falls
Depending on which side you're planning to visit (more on that later) you can base yourself in Puerto Iguazú in Argentina or Foz do Iguaçu in Brazil.
The quickest way to get from Buenos Aires to Iguazu Falls is by plane. Latam and Aerolíneas Argentínas fly to Puerto Iguazú daily and ticket prices vary depending on the time of year.
To save some money, you can take a bus from Buenos Aires to Iguazu Falls, but be warned that this is a 19-hour journey!
Foz do Iguaçu also has an airport. LATAM, Gol and Azul Brazilian Airlines fly into Foz do Iguaçu from Rio de Janeiro and other cities within Brazil. There are also direct flights to Foz do Iguaçu from Santiago de Chile and Lima.
To get to the falls themselves from Puerto Iguazú or Foz do Iguaçu, you have a few options: do-it-yourself using public transport, join a group tour or take private transport.

Iguazu Falls tours
I don't think you need to take a group tour, but if you aren't confident in organising your visit to Iguazu Falls yourself, then this tour from Puerto Iguazú in Argentina or this tour from Foz do Iguaçu (to the Argentina side of the falls) are both highly rated.
Public transport
Getting to Iguazu Falls is pretty straightforward on public transport.
From Puerto Iguazú to Argentina side of falls: Buses run every 20 minutes or so from the main bus terminal in Puerto Iguazú. The trip takes 20-25 minutes.
From Puerto Iguazú to Brazilian side of falls: Buses run from the main bus terminal in Puerto Iguazú direct to the falls regularly. The trip takes around 45 minutes and Crucero del Norte and Rio Uruguay are the bus companies to look out for. Take your passport!
From Foz do Iguaçu to Brazilian side of falls: Buses run every half an hour or so from the main bus terminal in Foz do Iguaçu. The trip takes 30-40 minutes.
From Foz do Iguaçu to Argentina side of falls: Rio Uruguay and Crucero del Norte operate bus services to the Argentine side of the falls. As stated above, the trip takes roughly 45 minutes. Don't forget your passport.
Private transport
For private transport, ask your hotel or hostel for options. This could be either a taxi or a private driver, both of which are reasonably priced.
This is the route my husband and I chose when visiting the Brazil side of the falls, because we didn't want to have to worry about crossing the border on public transport (there was a protest the day we arrived that had actually closed the border for a few days).
We didn't need any transport for the Argentina side, because we stayed in a hotel right at the entrance to Iguazu Falls (details coming up in the accommodation section of this guide).
Visas
Regardless of which side of Iguazu Falls you choose to visit, if you do plan to cross the border make sure you've done your research on the required visas. Both Argentina and Brazil have recently changed visa requirements for certain countries. This post would be rather long if I included visa information for every country in the world, so check with your relevant government embassy or consulate. Your Iguazu Falls trip will be ruined if you don't plan ahead!
Check out my full guide to planning a trip to Argentina which covers visa information, where to go, what to eat and more.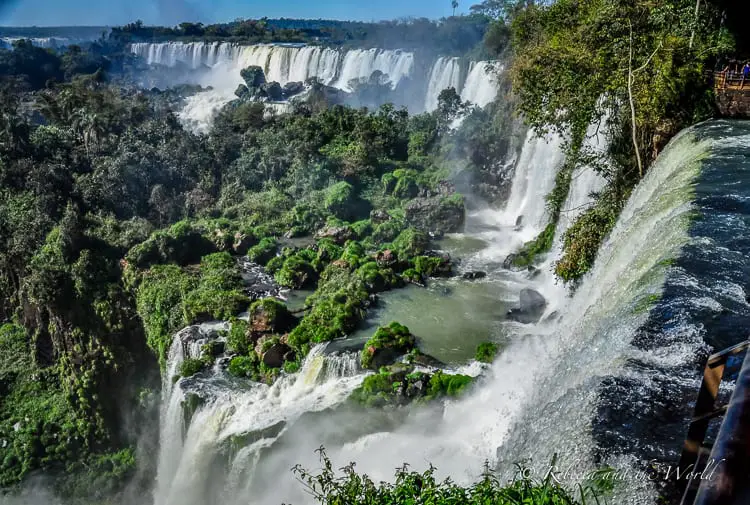 Where to stay near Iguazu Falls
There are plenty of hostels and hotels in Puerto Iguazú. We stayed at the Melia Iguazú (formerly the Sheraton Iguazú). This is the place to stay if you want to beat the crowds, as it's located within Iguazú National Park. From the hotel balcony, you can see the mist rising from the waterfalls, and it's a quick walk down to the entrance. While it's not the most luxurious of Melia hotels, it really can't be beat for location.
Book a stay at the Melia Iguazú online | Read reviews of the Melia Iguazú online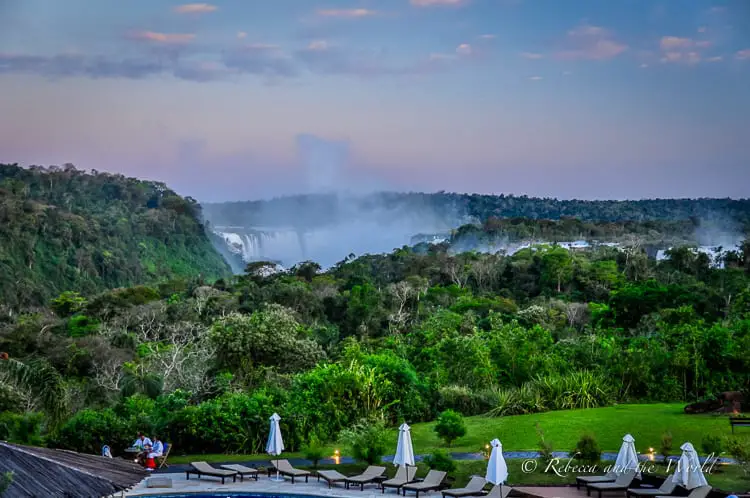 If you've got serious cash to burn, then book a villa at Awasi Iguazu. Each villa is located deep in the rainforest and has a private deck and plunge pool. Villas have a private guide and 4WD vehicle (whoa!) so you can explore the area at your own pace.
Book an amazing stay and read reviews of Awasi Iguazu online 
The budget-conscious should consider the simple but clean Butterfly Hostel. It has an outdoor swimming pool and barbecue area which are perfect for mingling with other backpackers. The hostel serves a continental breakfast daily.
Check the latest rates at Butterfly Hostel and book online | Read reviews of Butterfly Hostel online
For more budget-friendly accommodation, this guide to the best hostels in Puerto Iguazu has some great suggestions.
I've not stayed in Foz do Iguaçu so I don't have any personal recommendations, but these hotels have great reviews online:
If you want to wake up to views of Iguazu Falls, then Belmond Hotel das Cataratas is perfectly placed. This luxury hotel is right inside the national park. The rooms look absolutely gorgeous, with wooden floors and large beds. It's certainly one of the more spectacular Iguazu Falls hotels. Book a stay at Belmond Hotel Das Cataratas online | Read reviews of Belmond Hotel das Cataratas online
The new Bourbon Foz do Iguaçu Hotel is modern with great rooms and friendly, helpful staff. It's well located and people love the breakfast served. Check rates and book a stay at Bourbon Foz do Iguaçu Hotel online | Read reviews of Bourbon Foz do Iguaçu Hotel online
For more accommodation in Foz do Iguaçu, check rates on Booking.com or HotelsCombined.
What to pack for your trip to Iguazu Falls
You're going to get wet at Iguazu Falls, so pack accordingly! I'd recommend bring along:
A poncho or raincoat – I love this cute polka dot poncho for the ladies, or this light rain jacket for guys. If you forget, don't worry as they sell plastic ponchos at the falls
Quick dry towel – you'll need it!
Rain cover for your backpack
You might even like to wear waterproof shoes. I wore regular sneakers (my favourite Keds!) and they dried off pretty quickly
Drink bottle – avoid throwaway plastic and bring your own refillable water bottle like this one
Camera – there are so many photo opportunities! I love the Sony A6300 (although the photos in this blog post weren't taken with that camera)
Sunscreen, hat and sunglasses of course
Visiting Iguazu Falls: Should you see the Argentina or Brazil sides?
Ah, the big question. I actually think you should see both sides and you can easily do this if you budget two days into your itinerary to visit Iguazu Falls. Spend a day exploring the Argentina side of the falls, and half a day on the Brazil side of Iguazu Falls.
If you just don't have the time, then which side you choose will depend on where you're coming from. If you're travelling in Brazil, then the Brazil side is obviously going to be easier to visit, and the same goes if you're already in Argentina.
In terms of which side of Iguazu Falls is more impressive? I loved both sides for different reasons, but if I'm honest I think the Argentina side is more developed with more things to see and do. Plus, I lived in Argentina for almost two years so I'm always slightly biased!
Day trip to Iguazu Falls from Buenos Aires
Whatever you do, don't attempt to do a day trip to Iguazu Falls from Buenos Aires. I really, really don't recommend it. The flight from Buenos Aires to Puerto Iguazú takes 3.5 hours (not to mention travel time to and from the airport, waiting time, delays etc!). You'll travel all that way and only have a few hours to see one of the most spectacular sights in the world.
BUT if you absolutely only have one day and you're dead-set on seeing Iguazu Falls, then this tour offers day trips to Iguazu Falls from Buenos Aires, and they get good reviews online. Flights are included. Book your spot online.
Things to do in Iguazu Falls: The Argentina side
So, what to do once you arrive at Iguazu Falls? I'd recommend planning to spend a whole day on the Argentina side of the falls.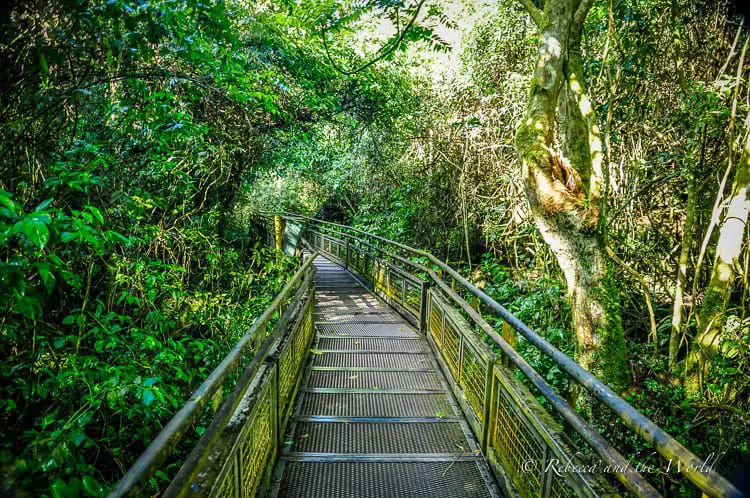 Wander the Paseo Inferior (the lower circuit). This series of boardwalks is around 1.5 kilometres long, and I think you should start here before the crowds descend. The early morning light is also great for photos.
Hike through the Paseo Superior (upper circuit). These upper catwalks are just under a kilometre long and loop above the various falls that you've just walked under.
Get really wet and up close to the waterfalls on the Paseo Aventura Náutica (additional fee), a boat ride that takes you literally under the waterfalls. The Iguazu Falls boat ride is probably one of the most fun things to do in Iguazu Falls. Warning: you will get saturated so avoid wearing jeans or other heavy clothes. You receive a dry bag to put your valuables in and there's time for photos before the boat speeds into the water. You'll also have the option to purchase a video of the experience afterwards.
End the day with the biggest and most spectacular sight of the falls: the Garganta del Diablo (Devil's Throat). Standing over this gaping hole, listening to the roar of the water, you will appreciate the power of Mother Nature.
You can take the train to Garganta del Diablo or walk 2.5 kilometres along a flat dirt road. By walking you'll see many butterflies of all colours and sizes and avoid the long queues at the train.
Consider timing your visit to Iguazú Falls with the full moon. There are special Iguazú Falls full moon night tours which are a spectacular way to see the waterfalls by the silvery moonlight.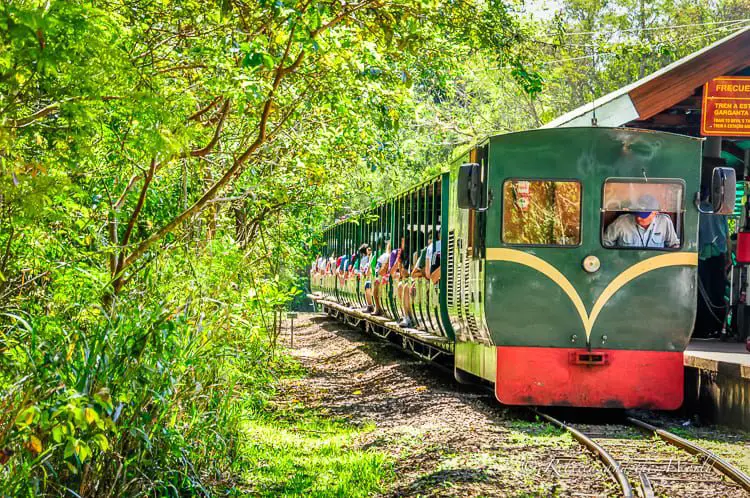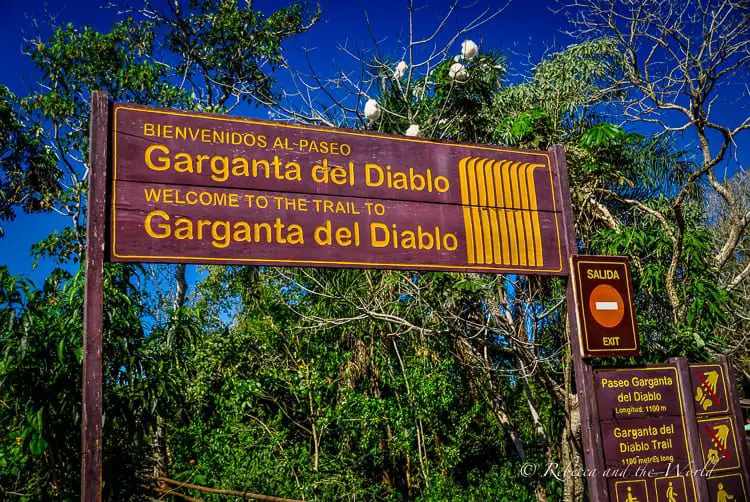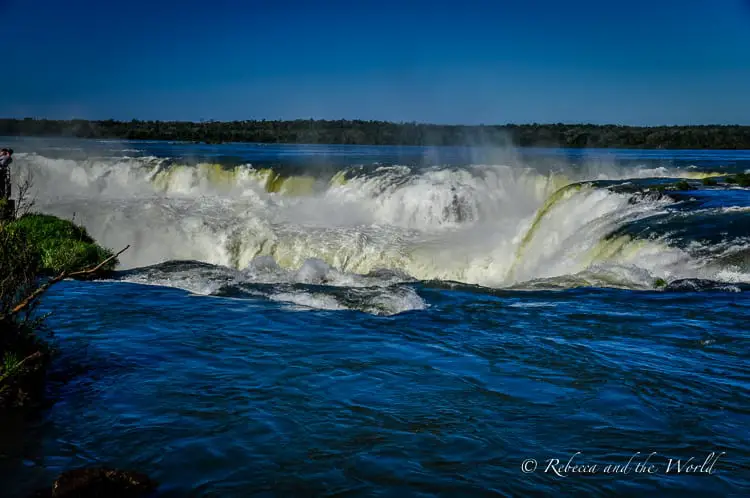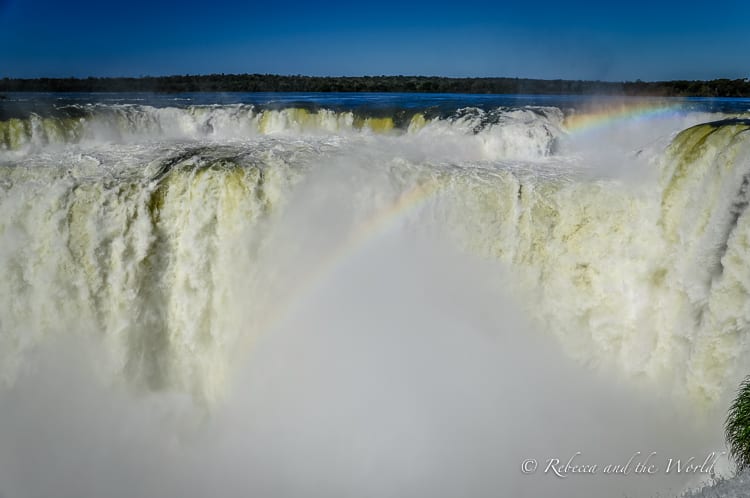 Helpful information about visiting Iguazu Falls Argentina side
Entrance fee: ARS$800 for an adult. Cash (Argentine pesos only) and credit card accepted.
Opening hours: 8 a.m. to 6 p.m. daily
Time required: 5-7 hours to do all the trails 
What to do in Iguazu Falls: The Brazil side
There's also plenty of things to do on the Brazil side of Iguazu Falls, but you'll probably only need half a day here.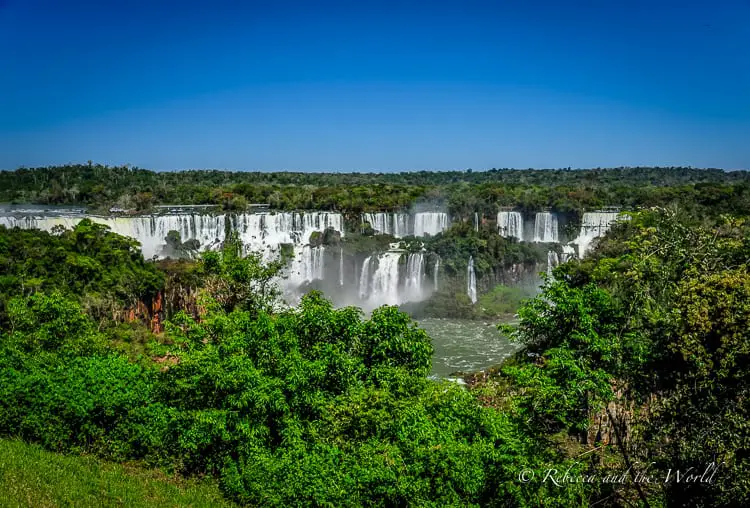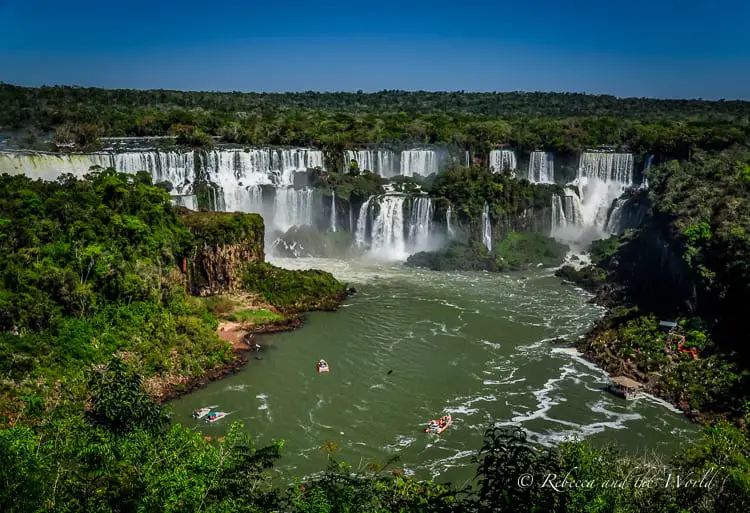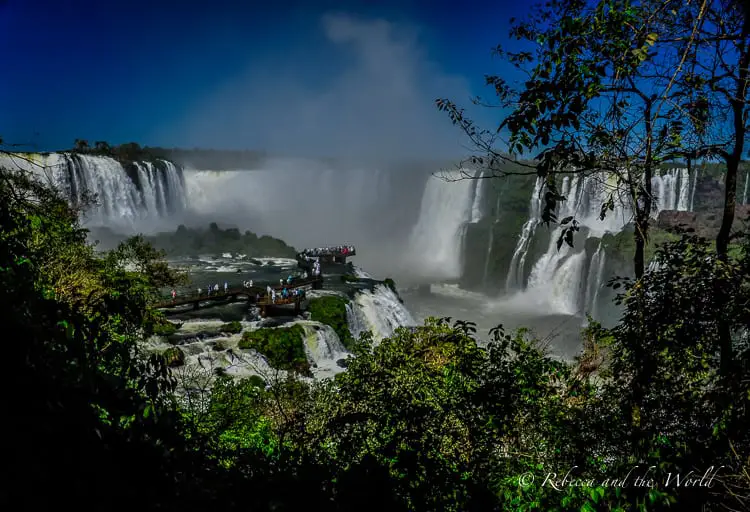 There is a bus that takes you from the park entrance to the various activities in the park, so it's very easy to get around.
The 1.5-kilometre Path of the Falls provides scenic views of the falls and across to Argentina. The path crosses almost under the falls – prepare to get wet in some parts (you can purchase ponchos although some people are kind enough to hand theirs over once they've returned). There's an elevator or stairs to the top of the falls where you will see its full power. The thunder of thousands and thousands of litres of water rushing over the edge every second is incredible.
Hop on a wet-and-wild boat ride or go trekking or bird-watching with Macuco Safari. (Additional fee.)
Hike or rent a bike or electric cart to complete the guided 9-kilometre Poço Preto Trail Tour. (Additional fee.)
Do the 2.5-kilometre Bananeiras Trail Tour, which ends with a kayak on the river. (Additional fee.)
Take a helicopter ride over the falls.
Helpful information about visiting Iguazu Falls Brazil side
Entrance fee: $R72 (entrance to the park which includes the bus and access to the Path of the Falls). Credit cards are accepted
Opening hours: 9 a.m. to 5 p.m. daily
Time required: At least 3 hours, more if you wish to do the optional tours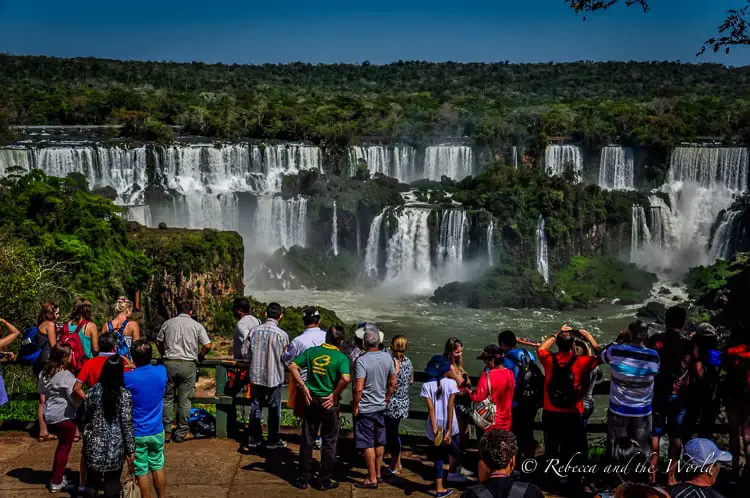 Wildlife at Iguazu Falls
All throughout the park, and especially near picnic areas and restaurants, you'll see cute animals called coatis. Whatever you do, don't attempt to pat them (they bite and scratch!) and DON'T feed them. These animals have become habituated to humans.
Elsewhere, you may be lucky to see monkeys, toucans and if you're really lucky, a jaguar!
Do you have any questions about visiting Iguazu Falls? Ask away in the comments below!
VISITING IGUAZU FALLS – YOUR TRIP ESSENTIALS
This post was published in September 2015, and updated in December 2018 and November 2019.
PIN IT FOR LATER: