Ushuaia, the so-called "end of the world". In the far, far south of Argentina, the city is most well-known as the jumping off point for people travelling down to Antarctica via boat. Most people only spend a day or two in the southernmost city in the world, but if you have more time, you'll find plenty of things to do in Ushuaia to keep you occupied for weeks!
This city is a hub for adventure, with all number of tour operators offering boat rides, trekking, off-road 4×4 exploring and horse-riding excursions, as well as snow-related activities in winter.
Pronounced Usss-u-WHY-a, it's an extremely walkable town with great food and plenty to keep you busy. So, if you're planning to visit Ushuaia, here are our recommendations for what to do in Ushuaia – prepare to get active! You'll also find at the end a guide to the best time to visit Ushuaia, how to get to Ushuaia and recommended restaurants in Ushuaia.
This blog post may contain affiliate links, meaning if you book or buy something through one of these links, I may earn a small commission (at no extra cost to you).
What to do in Ushuaia, Argentina
Here are my top recommendations for what to add to an Ushuaia itinerary, covering everything from food to outdoor adventures to wildlife experiences.
Sail on the Beagle Channel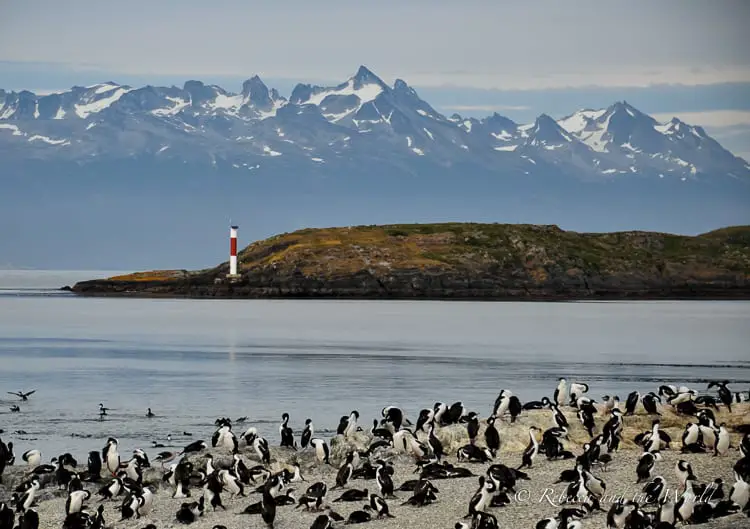 Head down to the wharf and book a boat ride out on the Beagle Channel for the morning. A strait that runs through numerous islands belonging to both Argentina and Chile, its waters are home to rocky outposts where sea lions sunbathe and cormorants gather. Some boat trips disembark at Bridges Island where you can hike across the island's rocky outcrop and spot interesting plants and wildlife.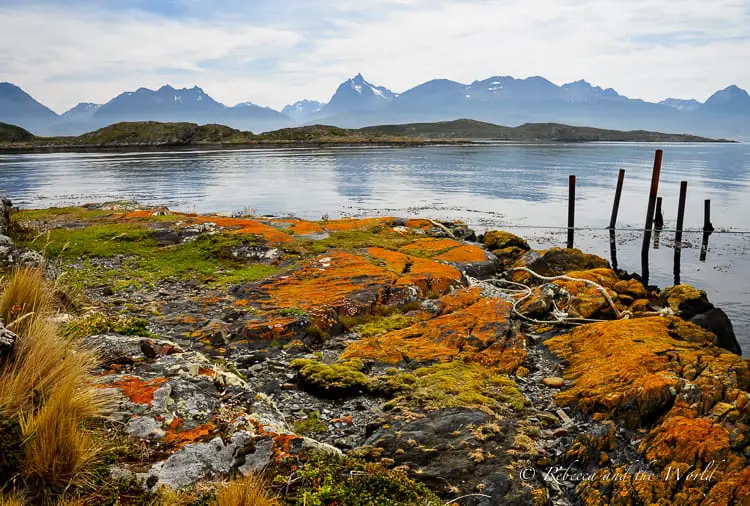 Boats travel to Faro Les Eclaireurs, the lighthouse (erroneously) made famous from Jules Verne's The Lighthouse at the End of the World.
As you return to Ushuaia, the views of the town from the water are spectacular.
There are several tour companies that provide this tour, and prices are around ARS$1700 per person for a half-day trip. Don't forget to bring a jacket – it gets quite windy!
Walk with penguins in Ushuaia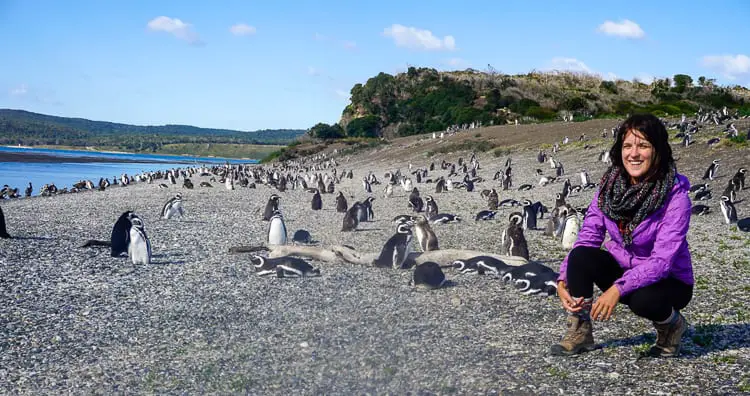 The main reason I traveled to Ushuaia was to walk among thousands of penguins, a lifelong dream of mine. The penguins live on Martillo Island. This island is only accessible by organised tours, so you need to book with a tour company in advance.
On the day of the tour I arrived in excitement at the tour office where I was given my penguin boarding pass to get on the bus. After a beautiful two-hour drive through the gorgeous landscapes of Ushuaia and a short boat ride, we arrived on Martillo Island.
As soon as we got off the boat, hundreds of Magellanic penguins came to greet us. Walking around the island, we also saw a small colony of Gentoo penguins and one lone king penguin. I loved this tour because it's an eco-friendly way to see three different penguin species up close in their natural habitat.
The best time to see the penguins in Ushuaia is between November and February as the population is highest then. However, I was there in March and saw many penguins. Just make sure to visit before April as that's when the penguins start heading north to migrate. If you are a lover of penguins or wildlife encounters, visiting the penguins of Martillo Island is one of the most beautiful things to do in Ushuaia.
Submitted by Lora of Explore with Lora
Go camping in Tierra del Fuego National Park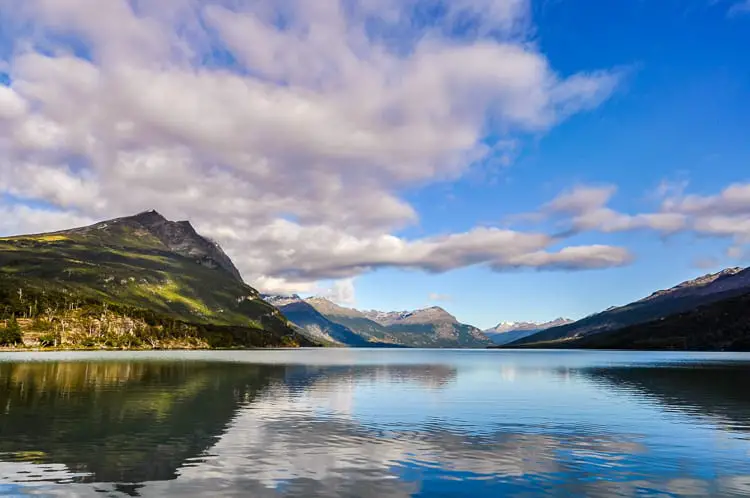 One of the highlights of any trip to Argentina is a visit to Ushuaia and the nearby Tierra del Fuego National Park. Its unique flora and fauna, together with the feeling of being far away from everything, make it a fascinating hiking destination.
The best way to get the most out of the Tierra del Fuego National Park is dedicating a couple of days to hiking there and camping in the national park itself. The campsite is found near the precious lake called Lago Roca, a pretty basic campsite with toilet and wooden tables. There are also typical Argentinean barbecues to cook your meals.
There are many lovely trails in the park. You can't miss out on Beaver Dam, for instance, an easy walk around the many small ponds created by the beavers when they were introduced. There's another short walk around the dark-coloured Laguna Negra.
The Tierra del Fuego National Park is situated merely 12 kilometres from Ushuaia and there are buses almost every hour (in high season) to get there. The round trip costs ARS$200. The entrance fee (just as for most national parks in Argentina) is around ARS$560 per person.
Submitted by Gábor of Surfing the Planet
Hike up Martial Glacier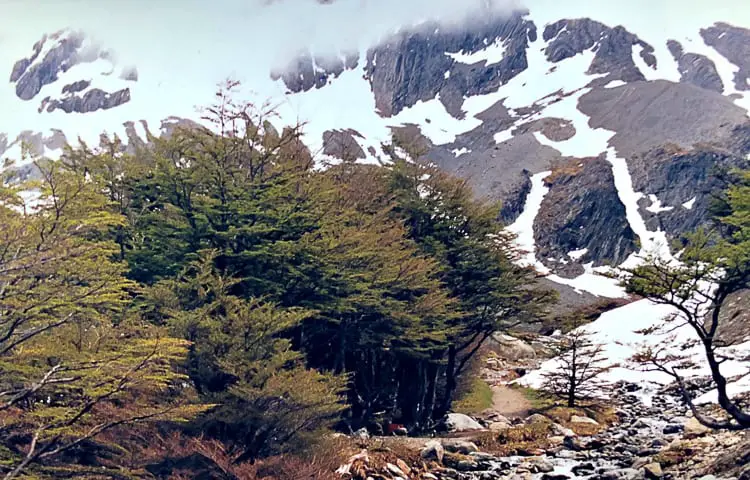 One of the best things to do in Ushuaia is to hike up to the Martial Glacier, which is on the hill behind town.
You can walk directly from town, as I did, or take a taxi to the café at the base of the abandoned ski lift. Once out of town, the road winds up the hill in a series of switchbacks, but a hiking path cuts up more steeply between the curves of the road. Taking a taxi will save you this 7km walk and there are always return taxis waiting for the trip back into town.
From the end of the road it is a steep hike up the hill to the top of the chairlift (no longer functioning), then another hour or so walk over and among snow even in December, alongside a small river to the glacier.
The glacier is not much more than a snow drift these days, but the views from there are incredible. There is a dramatic snow-covered cliff in one direction and a breathtaking panorama in the other direction looking down over Ushuaia, the Beagle Channel and Chile beyond.
This hike can in theory be done all year round, but keep in mind that the weather changes quickly here, so dress appropriately. You can stop off at a café near the bottom of the chairlift to warm yourself up before walking or taking a taxi back into town.
Submitted by James of Travel Collecting
Explore the hiking trails in Tierra del Fuego National Park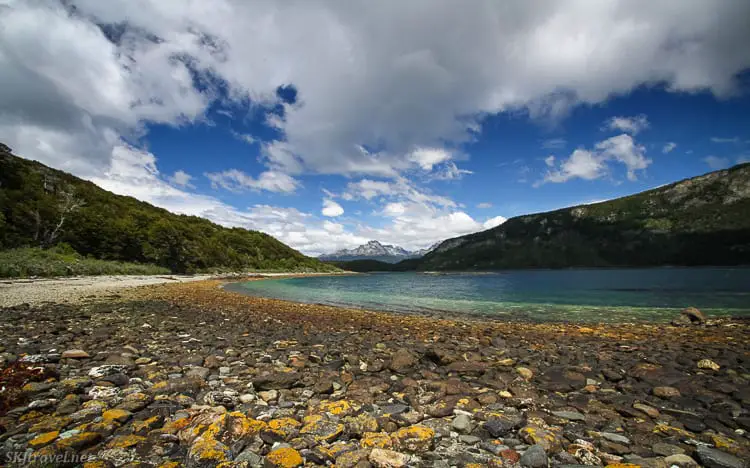 Hiking through Tierra del Fuego National Park is one of the Ushuaia activities that shouldn't be missed!
Though you have to pay the admission fee every day (no discounted week passes), it's worth spending at least a couple of days exploring the landscape at the southern tip of the South American continent. Furthest south in the park is Bahia Lapataia, where the Pan-American Highway on the Argentina National Route 3 reaches its end after beginning in Prudhoe Bay, Alaska.
From the parking lot at the bay, you can walk down a short path to look out over the frigid ocean water, where it seems like it's the end of the world in a fable where no ship returns from beyond that horizon. You'll find interesting geology in the surrounding rocks, wild orchids growing along the forest path, and dramatic clouds passing over the nearby peaks.
Elsewhere in the park, you can walk along the historically significant Beagle Channel, named for the ship that carried its most famous explorer, Charles Darwin, through it. You will likely spot beavers near the shore. And if you like skipping stones, my husband claims it's lined with some of the best skipping stones he's ever seen!
Another highlight (my personal favorite) is Lago Roca. Hiking along its edge takes you through stretches of interesting beach rocks and lush, mossy forests, flanking beautiful green- and blue-coloured water, with sharp peaks marking the lake's far shore in the distance.
There are many interesting birds in the forest; my favorite was the green parrot. And they do make quite a ruckus!
For easiest transport through the park, rent a car in Ushuaia. Otherwise, hook up with a group shuttle van or hitchhike. My husband and I picked up several hitchhikers in our car, it's very common.
We packed picnic lunches to eat along the trails, but there is also a lodge with a cafeteria and souvenir shop (which also makes for a good happy-hour beer stop at the end of the day).
Wear water-resistant footwear and bring your rain coat! You might think you don't want to hike in the rain, but it's this climate that makes for the bountiful green forests and kaleidoscope skies.
Submitted by Shara of SKJ Travel
Visit the Prison and Maritime Museum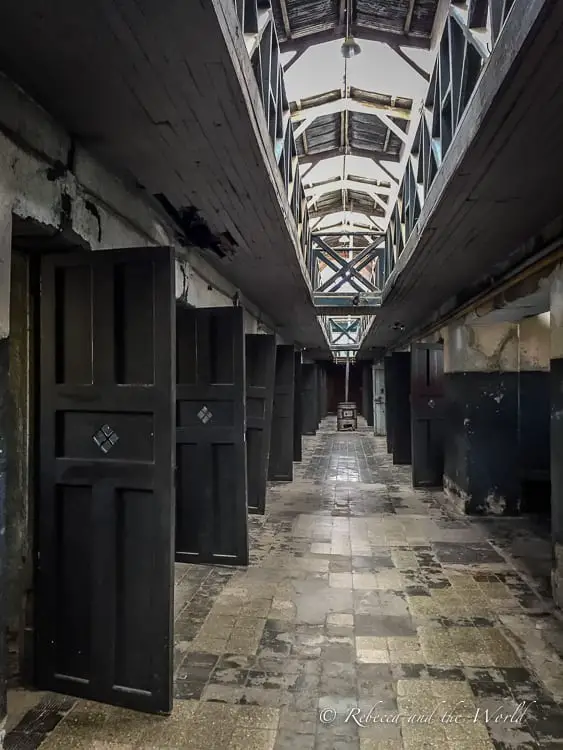 A great way to while away a few hours, this interesting complex houses not only the Prison Museum but also the Maritime Museum, Antarctic Museum and the Marine Art Museum.
Wander through the cold, eerie cellblocks and try to imagine life as a prisoner here in the early 1900s. The prisoners built the prison itself along with the End of the World Train. Conditions here were harsh for both the prisoners and the guards, and many people perished.
There are plenty of interesting exhibits with descriptions in English and Spanish and there are often special temporary exhibitions on display.
You can only buy tickets in person, and they cost ARD$5,000 for non-residents.
Try centolla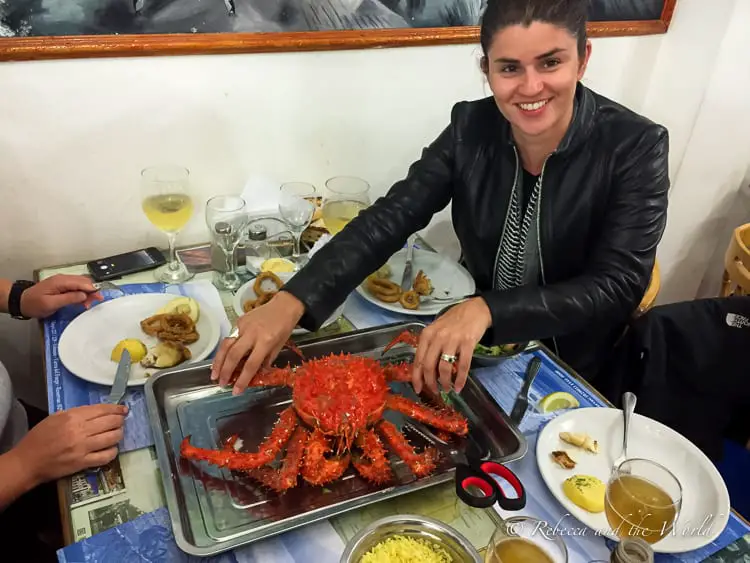 A specialty of the area, you'll find centolla (king crab) in many restaurants in Ushuaia. Restaurants serve this sweet-tasting crustacean in huge portions so share a crab between two or three people.
We first ate centolla at El Viejo Marino (Avenida Maipú 227) and loved the kitschy interior and friendly staff. It's a family-owned restaurant and you pick your crab from the huge tanks in the front window.
Other restaurants recommended for centolla are:
La Cantina Fueguina de Freddy (General San Martín 318)
Volver (Avenida Maipú 37)
Go 4×4 driving and canoeing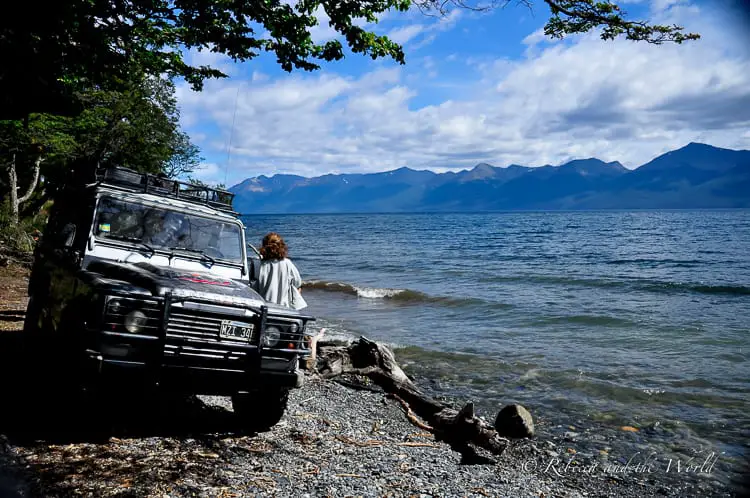 Ushuaia is one of the best places to visit in Argentina for adventure, and we knew on our visit to Ushuaia that we wanted to do something adventurous. The trouble was picking from all the different options on offer! We finally settled on a 4×4 and canoeing day trip with Tierra Turismo and it was such a fun and varied day.
The tour started with an exciting 4×4 drive through muddy trails and even through the shallow edge of a lake, before stopping for spectacular views over Lake Fagnano. We then did an easy trek through the forest, even spotting a curious fox.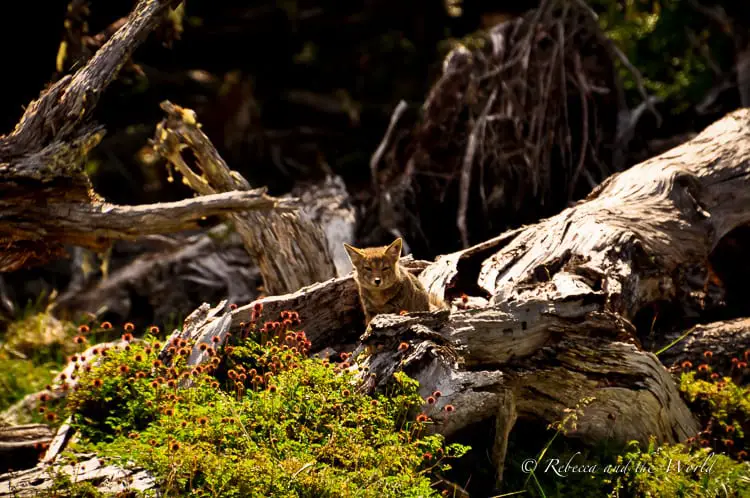 Lunch was at a shelter owned by the tour company. In the peaceful setting we ate antipasti, asado (barbecue) and salad, all washed down with wine of course.
The day ended with a canoe ride on Hidden Lake before we were taken back to Ushuaia.
Want to get active in Ushuaia? Check out some of these tours:
Hunt down a bargain trip to Antarctica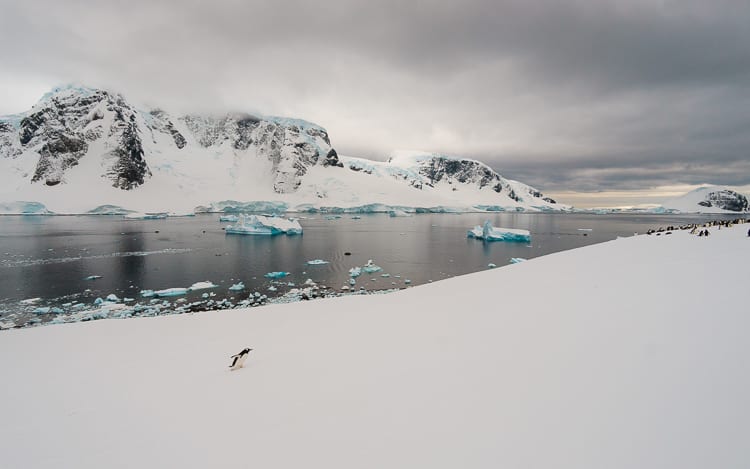 While Ushuaia is a destination in its own right, it also serves as a launching point for one of the most exciting and adventurous places on the planet: Antarctica.
With the average price for a cruise to Antarctica being close to US$10,000, it is hardly a budget-friendly destination but many local tour agencies in Ushuaia offer heavily discounted "last minute" cruises. As outlined in my comprehensive post on the subject, if you write to some of the agencies ahead of time, they will put you on an email list with the latest sales, but another easy way to score an amazing deal on a cruise to Antarctica is to head to Ushuaia and talk to some agencies once you're there.
This is how my husband and I found a 10-day cruise to Antarctica that was only US$3,900 per person. The agency that offered that price didn't advertise it online and it was only offered locally. It ended up being the cheapest price I have seen for a cruise of similar length to Antarctica. So if seeing the surreal beauty of the frozen continent is on your bucket list, head to Ushuaia and make it happen!
If this list is any indication, you will have more than enough things to do while you wait for your cruise to leave.
Submitted by Thea of Zen Travellers
Ushuaia travel guide: What to know before you visit Ushuaia
I've got a full guide to handy Argentina travel tips if it's your first time visiting the country, and here's some essential info you should know about visiting Ushuaia.
What to pack for your visit to Ushuaia
The weather in Ushuaia can change quickly, so come prepared. Here are a few things I'd recommend you pack when visiting Ushuaia.
It's cold in Ushuaia, even in summer, so pack a windbreaker like this one (for women) or this one for men.
Good walking shoes – there are plenty of hills in Ushuaia town, and there's also some great hiking options around Ushuaia. I recommend these hiking boots (for women) and these for men.
It may be chilly in Patagonia but the sun's still strong, so don't forget sunscreen!
You'll need a great camera for all the photos you'll be taking in Ushuaia. Check out this Sony A6300 which takes amazing photos and videos.
A hat and sunglasses are essential to protect you from the sun.
When to visit Ushuaia
The best time of year to visit Ushuaia is the summer season of December to March but even then the weather can be unpredictable! December to February are the busiest months.
From late March to April, you'll be able to see the foliage changing colours as the season changes to autumn.
From October to November, the weather can be fine but windy, but you'll beat the busy summer period. Winter (June to August) is the time to visit for ski activities.
Pack clothing for all weather, and have a back up plan if flights are cancelled because of bad weather.
How to get to Ushuaia
You can fly from Buenos Aires to Ushuaia, which takes around 3 hours. There are daily direct flights from Buenos Aires to Ushuaia daily on Aerolíneas Argentinas. Flights leave from Jorge Newbery Airport (Aeroparque) in Buenos Aires.
If you've been hiking in El Chaltén or trekking on Perito Moreno Glacier in El Calafate, you don't need to head back to Buenos Aires to get to Ushuaia. There's a direct flight from El Calafate to Ushuaia on Aerolíneas Argentinas daily during the high season.
For those who love buses (and torturing themselves) it's a two-day bus trip from Buenos Aires to Ushuaia. The 40-hour bus trip travels over 3,000 kilometres. You can break it up into chunks to make it easier, stopping in places like Puerto Madryn and Rio Gallegos along the way.
You could also do the same by car if you'd prefer to hire a car and do the drive yourself. Check car rentals here.
How to get around Ushuaia
Ushuaia itself is fairly small, so it's easy to get around by foot or bike. Many hotels and hostels have bikes for guests for free or for rent.
If you're taking one of the many tours in Ushuaia, most include hotel pick up. Check this before you book. If they don't, your hotel or hostel can arrange a taxi.
Where to stay in Ushuaia
Because many people are in the city to travel from Ushuaia to Argentina, there are plenty of hotels in Ushuaia to suit all budgets. Here are a few options that cover all price ranges.
Luxury: The 5-star Los Cauquenes Resort and Spa will be hard to leave. With only 55 rooms it doesn't have the feel of other large resorts. The resort has a Jacuzzi, indoor pool, sauna and Turkish steam bath. Check the latest rates and book a room at Booking.com or HotelsCombined.
Moderate: The views at Hostería Tierra de Leyendas will wow you. Popular with couples, the rooms at this rustic inn are generously sized. Check availability online now at HotelsCombined.
Budget: Guests rave about the friendly staff and location of Antarctica Hostel. The hostel has a mix of private rooms and dorms. There are cozy communal areas for reading, playing music or making new friends. Book a bed online at Booking.com.
Where to eat in Ushuaia
There are plenty of restaurants in Ushuaia, most serving local seafood or traditional Argentinian food. Here are some recommendations to add to your Ushuaia itinerary.
Ramos Generales – we ate here multiple times during our visit to Ushuaia. The food was homey and comforting, and the restaurant itself is gorgeously rustic. A must-eat!
La Cabaña Casa de Té – when you've hiked up Martial Glacier, stop for a cup of tea at this cute tea house. In Argentina, I always recommend order a submarino, a hot chocolate which involves melting a bar of chocolate into a warm cup of milk.
Kalma – lamb is a specialty in Patagonia, so if it's on the menu at Kalma, order it! Bonus: Leonardo DiCaprio ate here when filming The Revenant.
Kaupé Restaurant – high-end, beautiful dining experience.
María Lola – popular restaurant which is always buzzing.
Dublín – even the end of the world can't avoid an Irish pub! This place is cozy and fun for a night out or bite to eat.
Don't forget the centolla restaurants I recommended earlier in this article!
I hope this guide has helped you plan an amazing Ushuaia trip!
Looking for more Argentina travel inspiration? You might also like these:
Would you like to visit the end of the world to discover the best things to do in Ushuaia? Leave your tips in the comments below.
ARGENTINA TRIP ESSENTIALS
PIN IT FOR LATER:
Save this Ushuaia travel guide to Pinterest!