Across the calm waters, green forest rises up across the mountains in front of us. There's a collective happy sigh from those surrounding us on the boat. A gaggle of eager people rise and start to make their way to the front in the hope of being the first to disembark.
Arriving at Ilha Grande in Brazil, just a four-hour journey from Rio de Janeiro via bus and ferry, the first thought I have is about colour: the rich azure of the sky, the whispers of white clouds floating above the thick verdant jungle.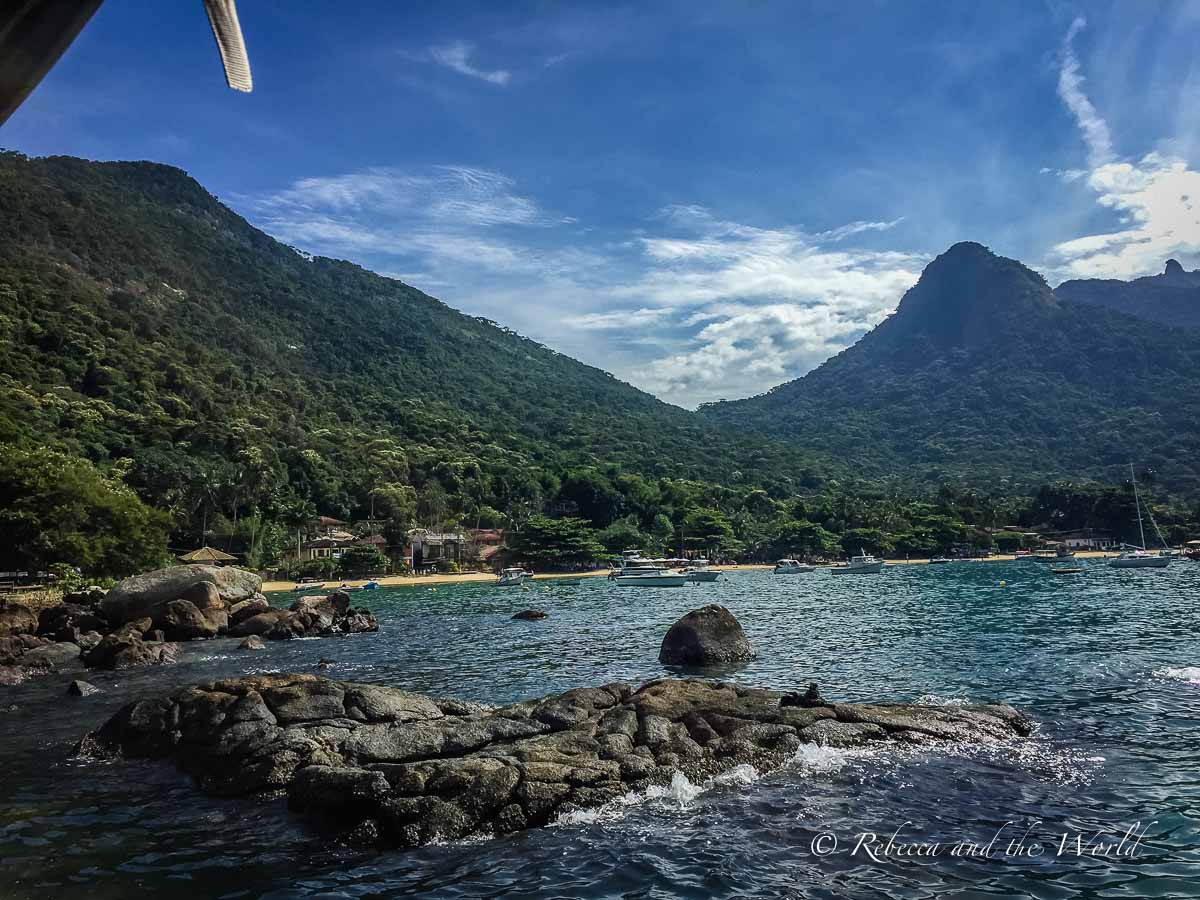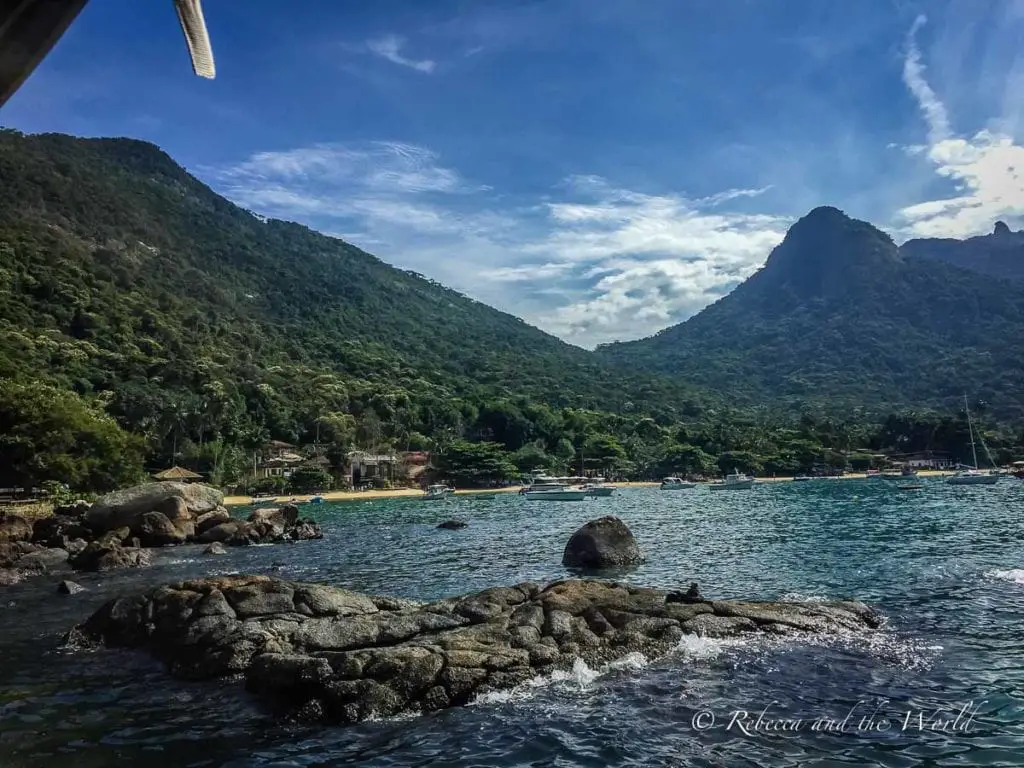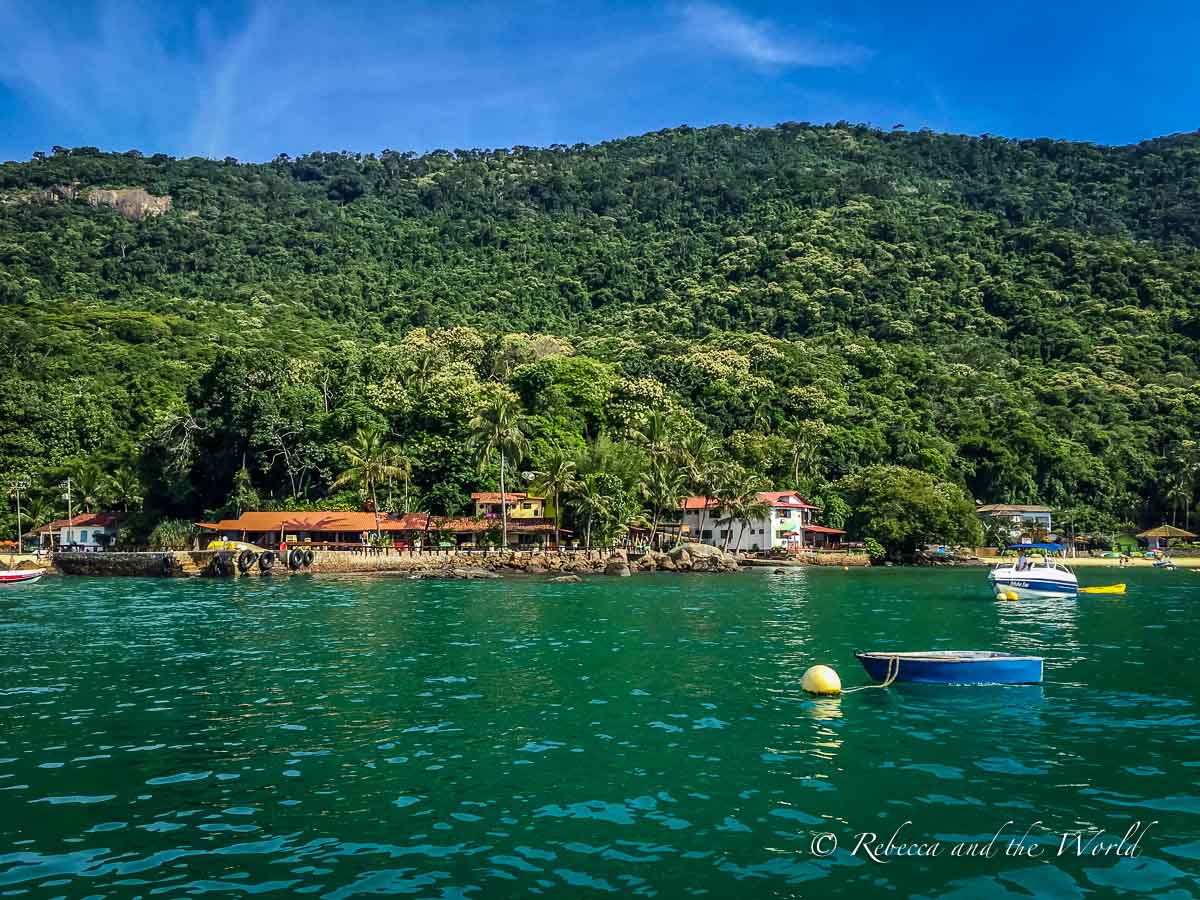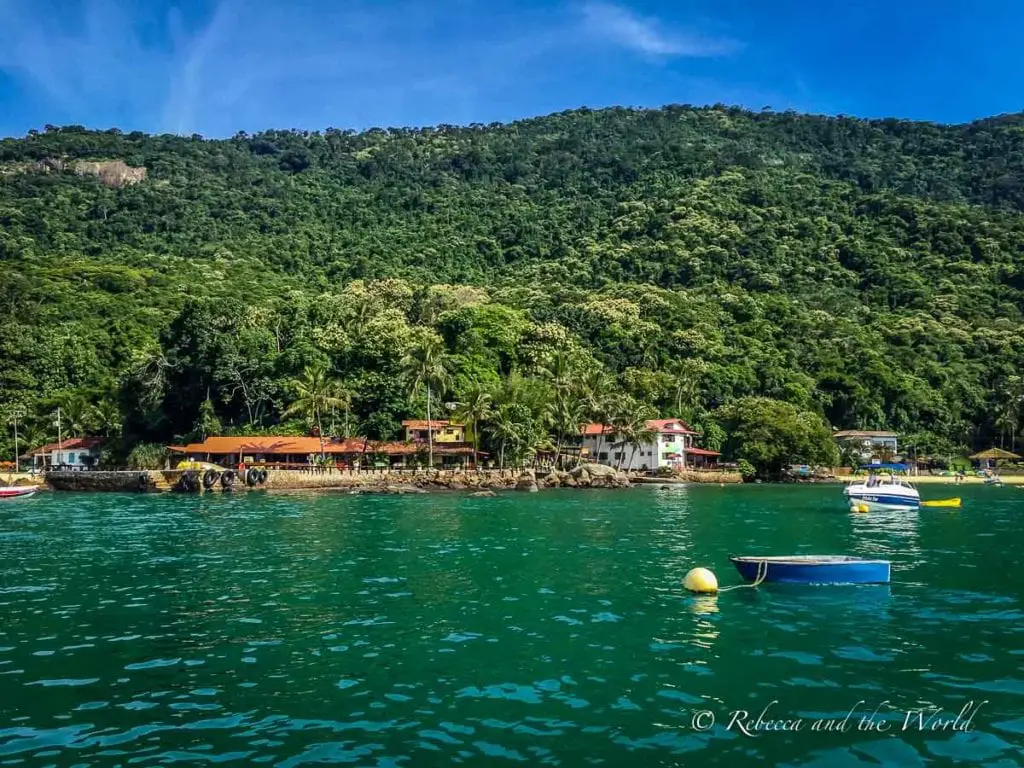 My second thought is about getting off this boat as quickly as I can so that I can sink my toes into the soft sand, preferably with a caipirinha in hand.
Ilha Grande (which means "big island" in Portuguese) is only 17 kilometres long and, owing to the lush jungle that covers it, feels far more remote and secluded than one might imagine. The remoteness of the island was perfect for its former life as a penal colony and then leper quarantine, but the ruins of those places are slowly being overtaken by the jungle as tourists flock here for a slice of paradise.
It's a place where you can do as little as you like, or spend days hiking the various routes that crisscross the island and exploring beaches. Here are my tips on the best things to do in Ilha Grande. I've also included some handy travel tips and information on how to get to Ilha Grande and where to stay.
This blog post may contain affiliate links, meaning if you book or buy something through one of these links, I may earn a small commission (at no extra cost to you!).
Relax!
You may be tempted to do all the hiking and swimming and snorkelling and diving while you're on Ilha Grande (and I'll encourage it), but make sure you start or end your trip to Ilha Grande with some downtime. This island feels like paradise (clichéd, I know, but true) – you're in one of the best places to visit in Brazil after all! – so enjoy it.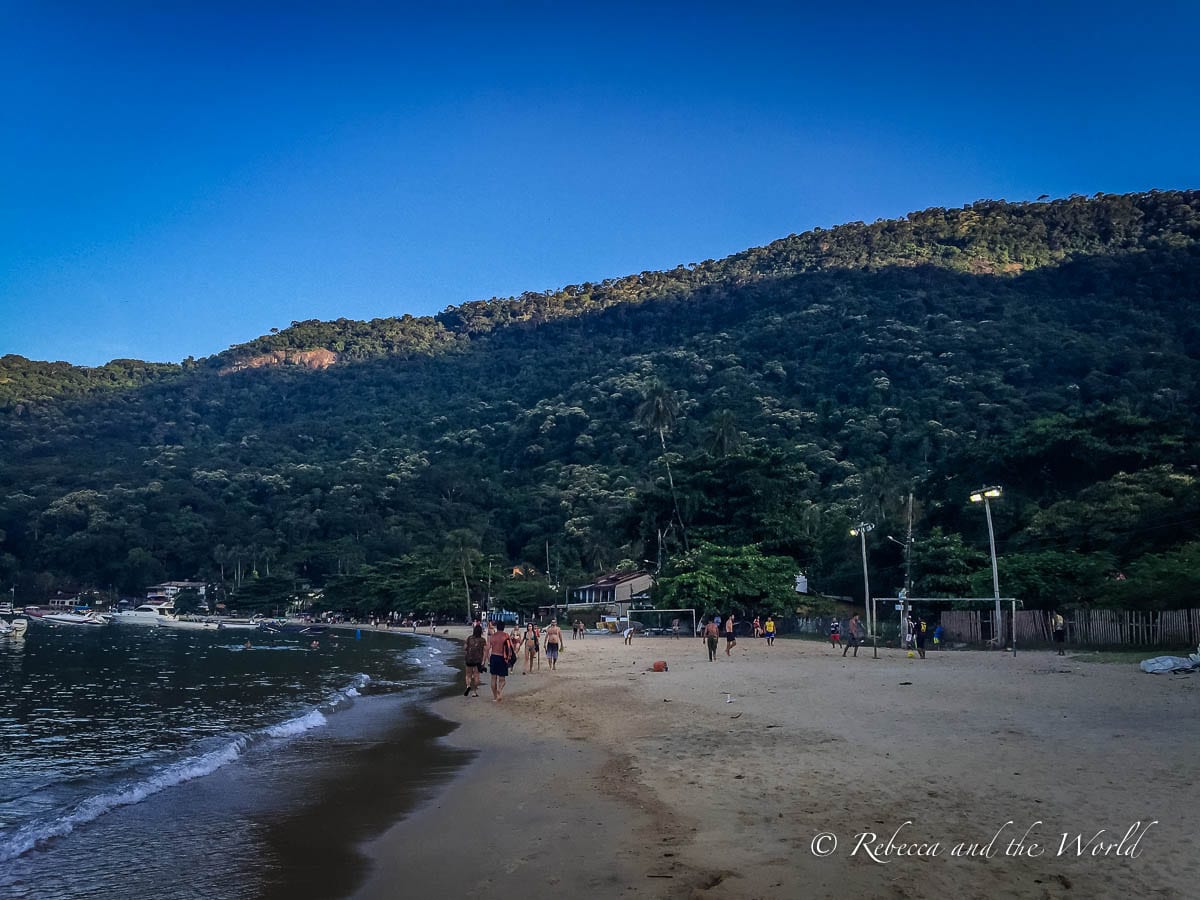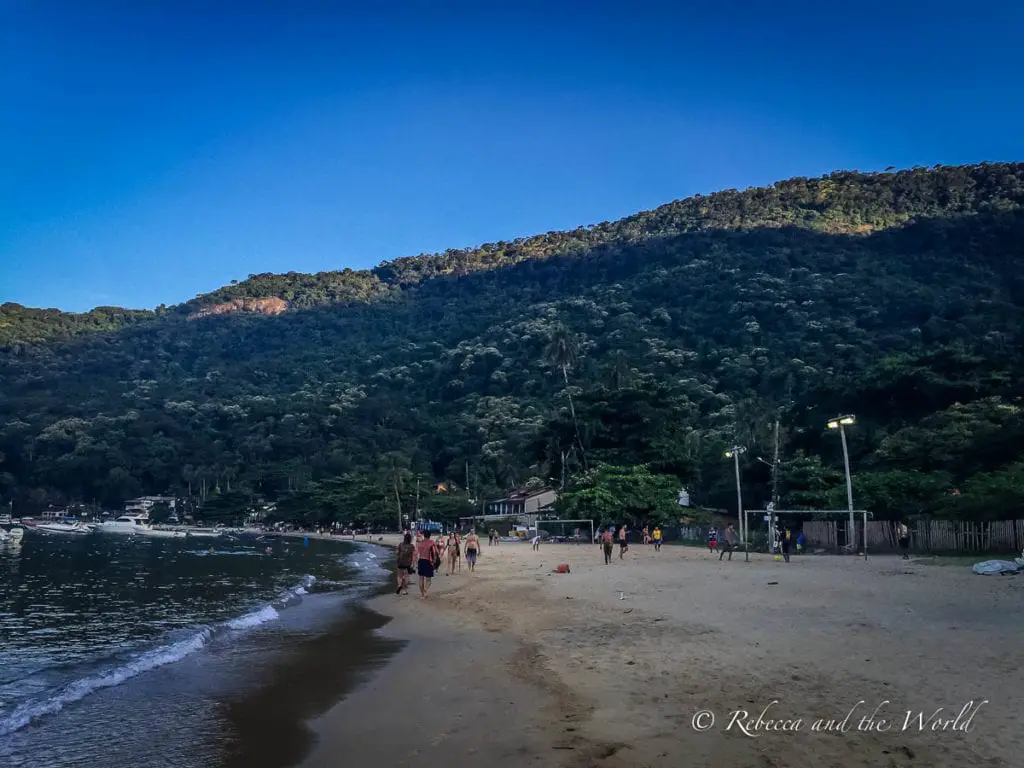 Lounge on Lopes Mendes Beach
There are two ways to get to this remote beach on the southeastern corner of the island. You can either make the sweaty 3 to 4-hour hike through the jungle to the beach, or take a taxi boat. I'm not ashamed to say that I did the latter. From the boat drop-off point it's a 15-minute walk through the jungle to the beach. You'll hear the beach before you see it – roaring waves that wash up on a blindingly-white beach where the sand squeaks underfoot. Bring some snacks and cold drinks and you've got the perfect day.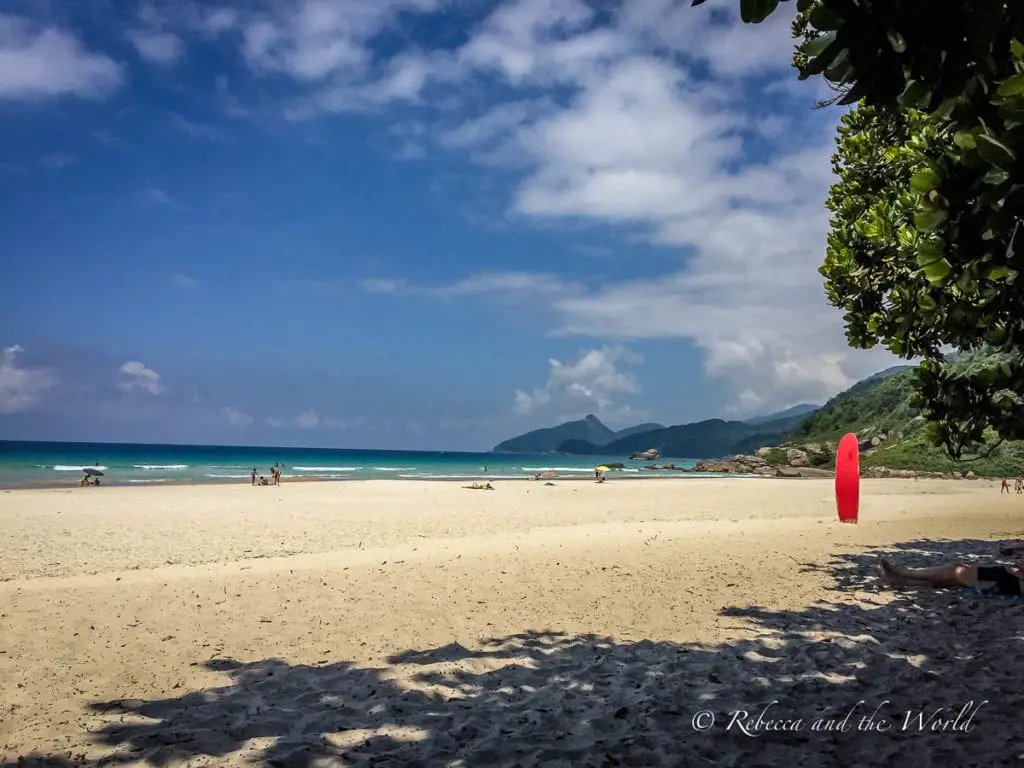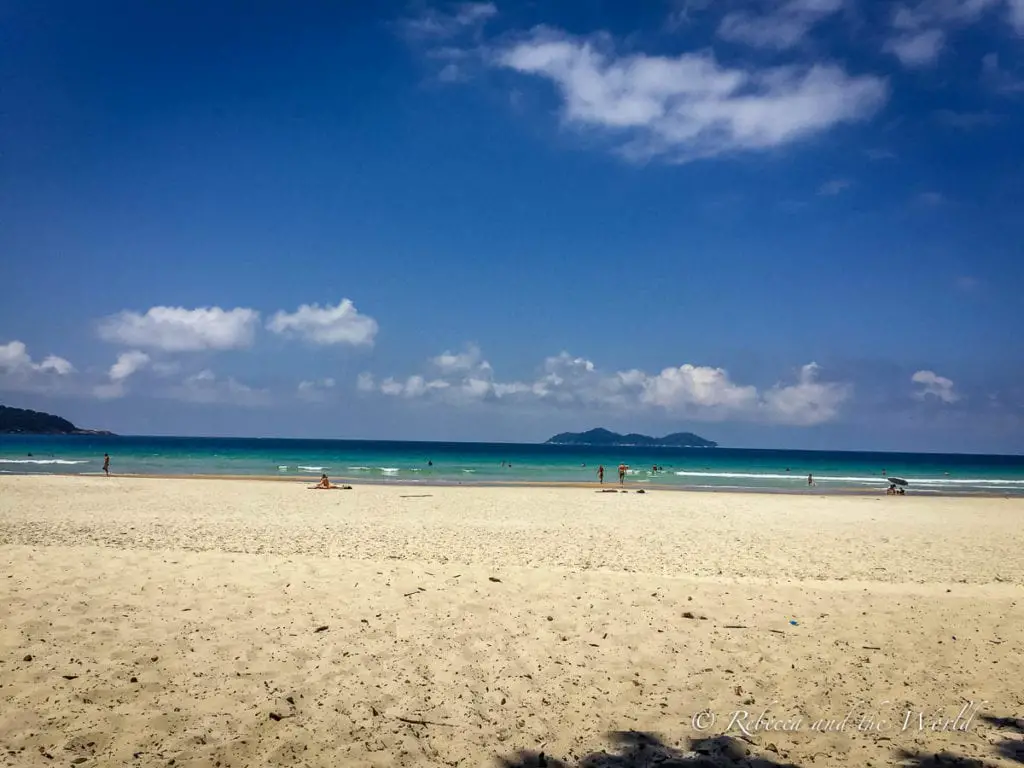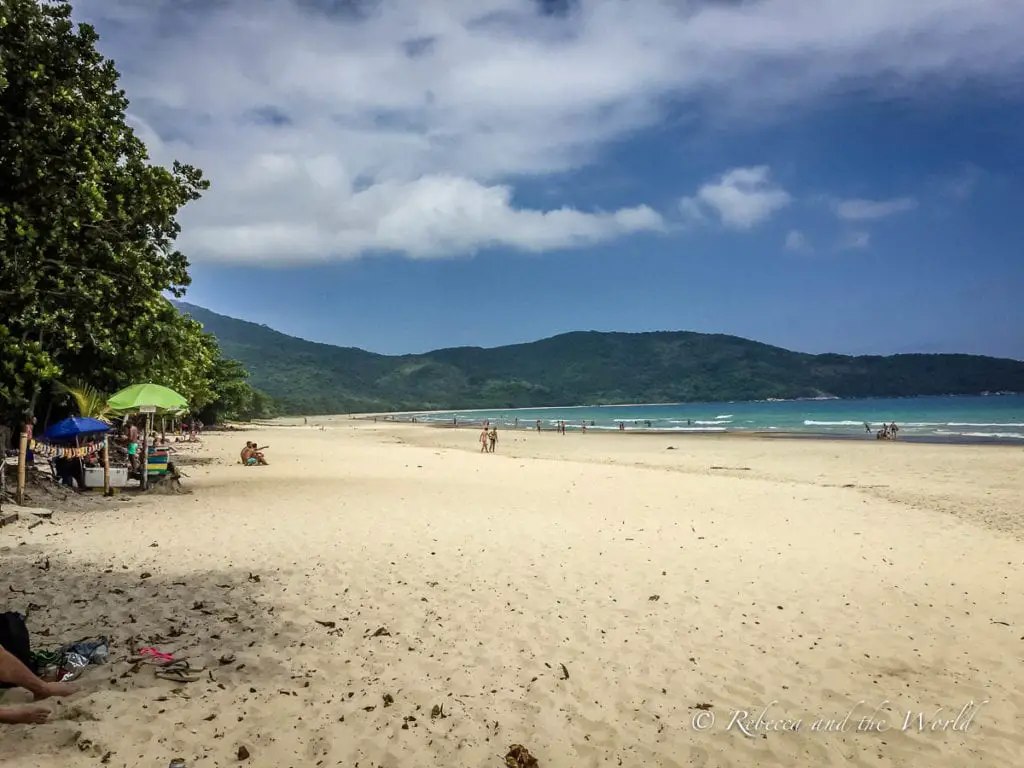 Sip on caipirinhas as the sun goes down
The sunsets on Ilha Grande are beyond spectacular. Every night we loved joining the tables of people spilling out of the restaurants and on to the street and beach, a caipirinha in hand while we watched the sunk sink below the shimmering horizon.
Many bars have happy hour, but don't go too wild, the caipirinhas here are pretty strong!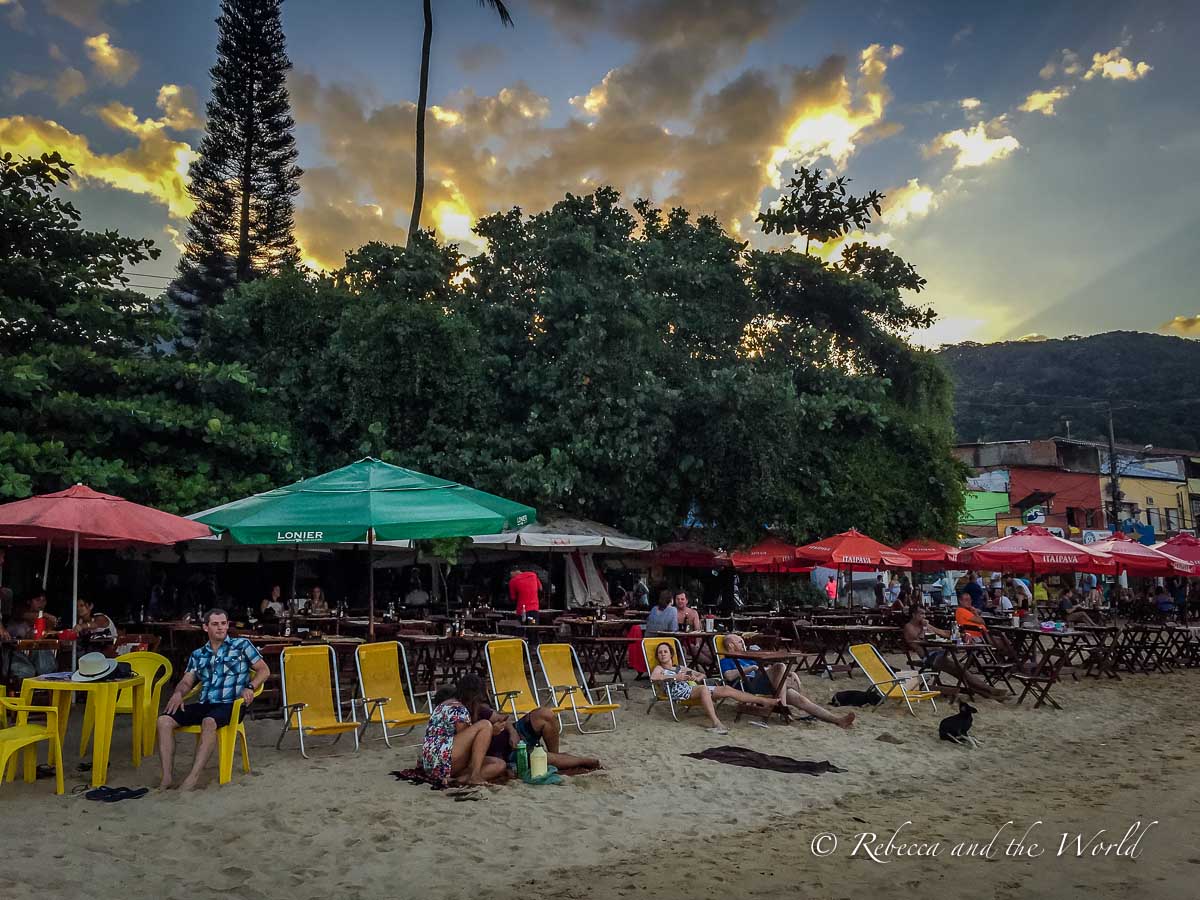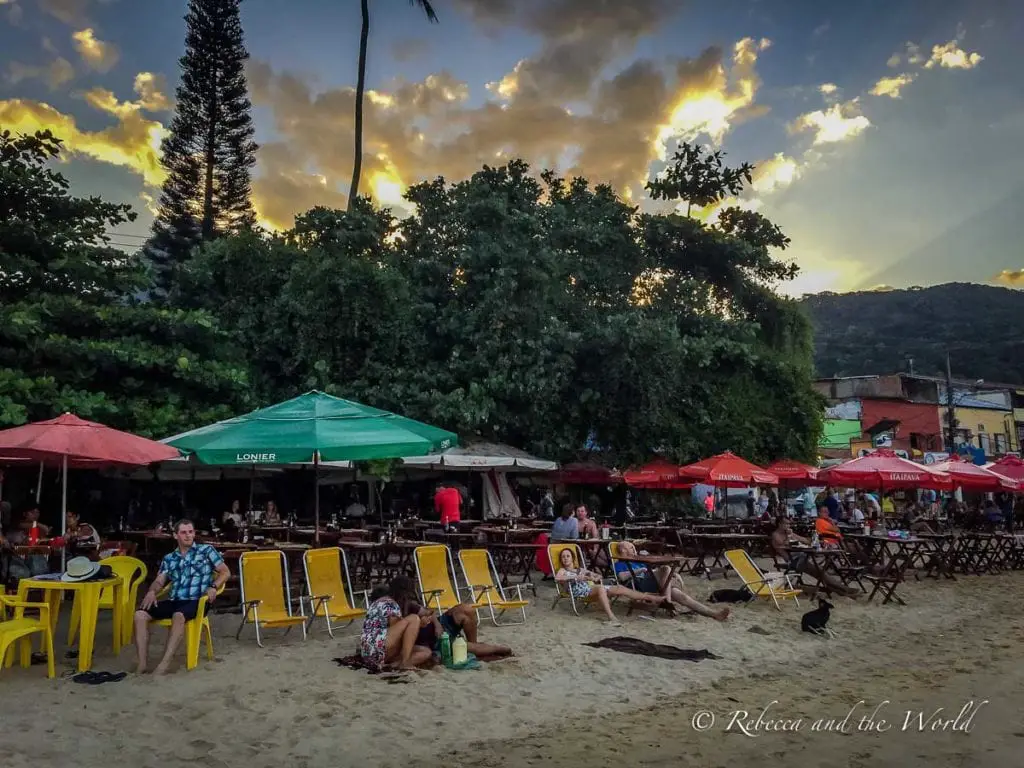 Eat fresh seafood
Every Ilha Grande restaurant serves up fresh seafood, so take advantage of it. Every night, we would eat dinner on the beach, digging our bare feet into the sand and gorging on fresh seafood including local fish, prawns and other shellfish.
Often, an erratic power cut would make for an impromptu romantic candle-lit dinner!
Some good restaurants in Abraão to try include:
Lua e Mar
O Pescador
Dom Mario
Café Do Mar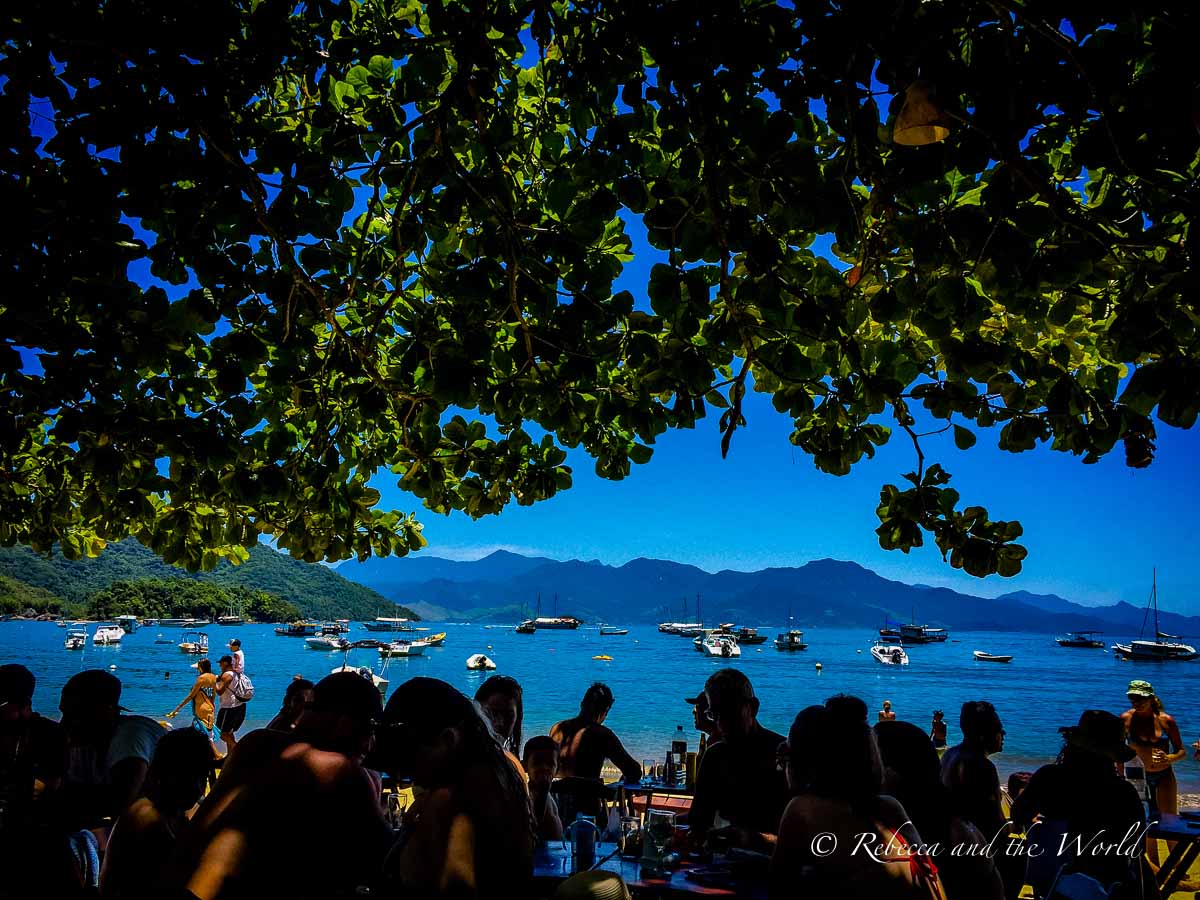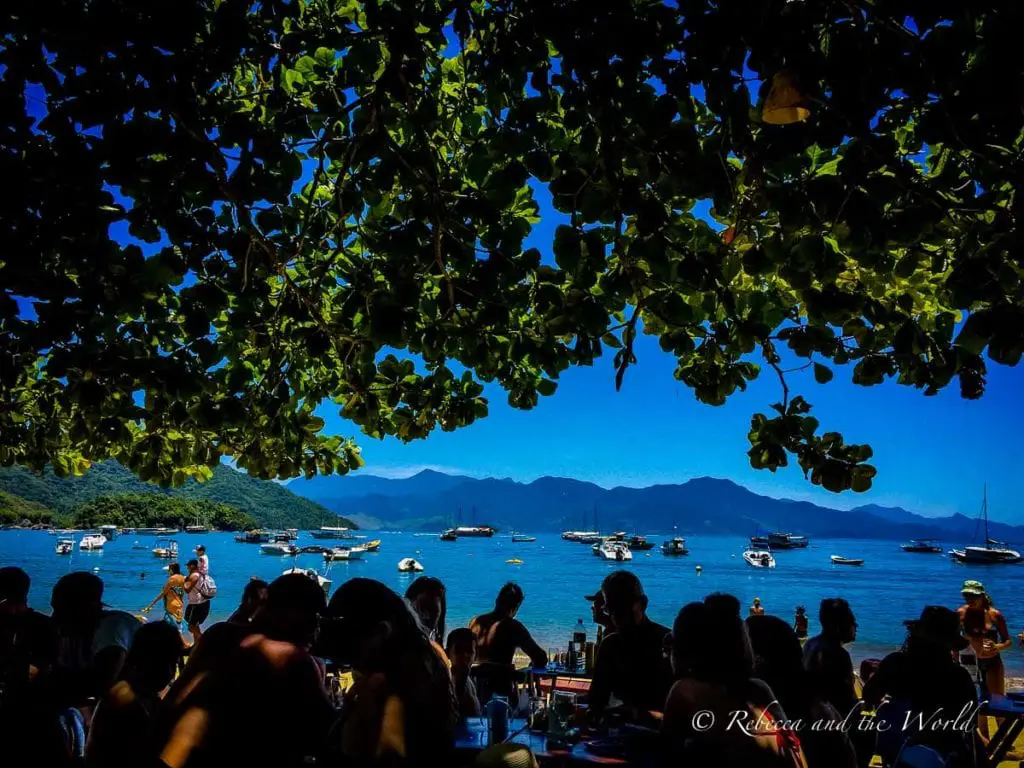 Book a boat tour
Just to the left of Abraão port you'll see storefronts offering a myriad of boat tours to explore the beaches around Ilha Grande. We spend the days swiftly tripping over the baking sand in search of shade, or snorkelling in the crystal-clear waters of aptly-named places like Lagoa Azul (the water really is very blue) or Lagoa Verde (the water really is quite green).
You could easily fill a couple of days taking each of the different tour options on offer. They're all quite affordable, too, and every operator sells the tours at roughly the same price.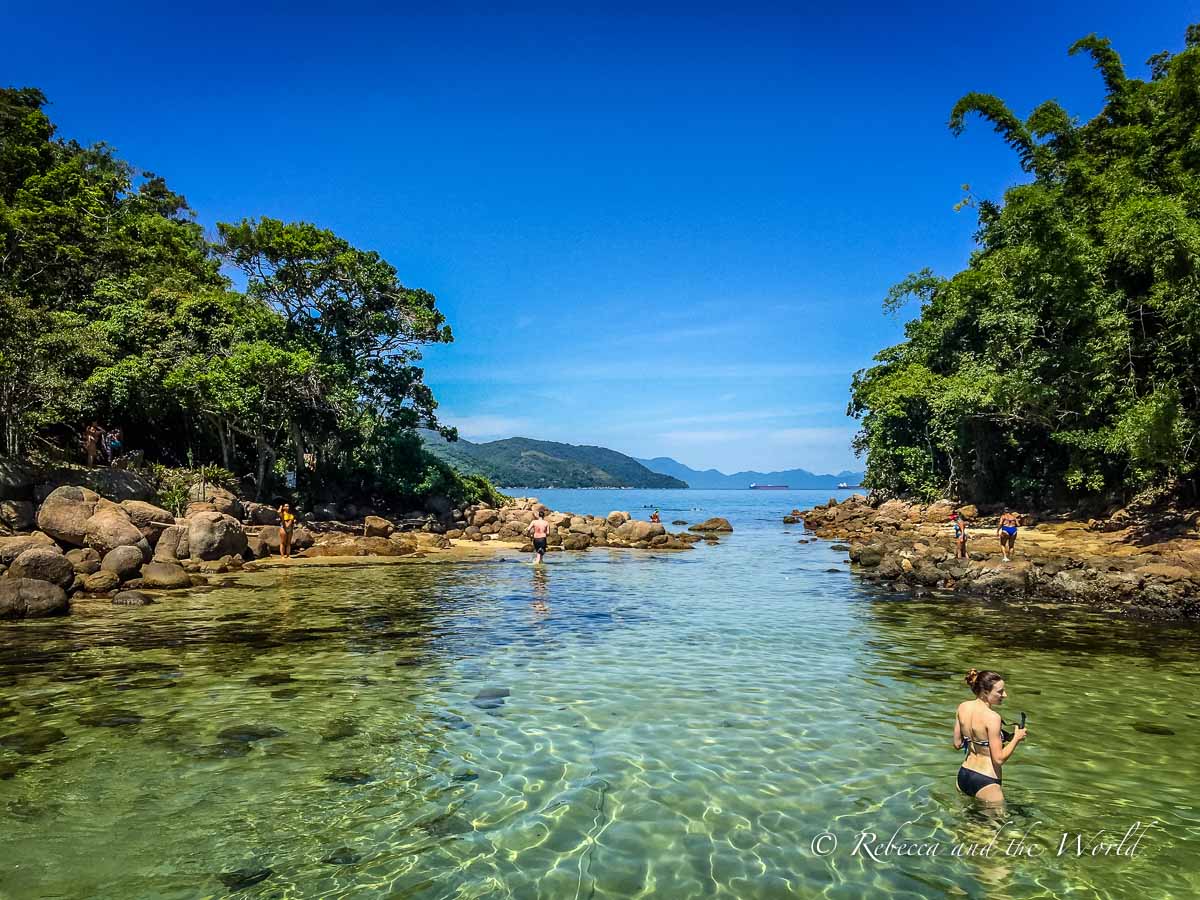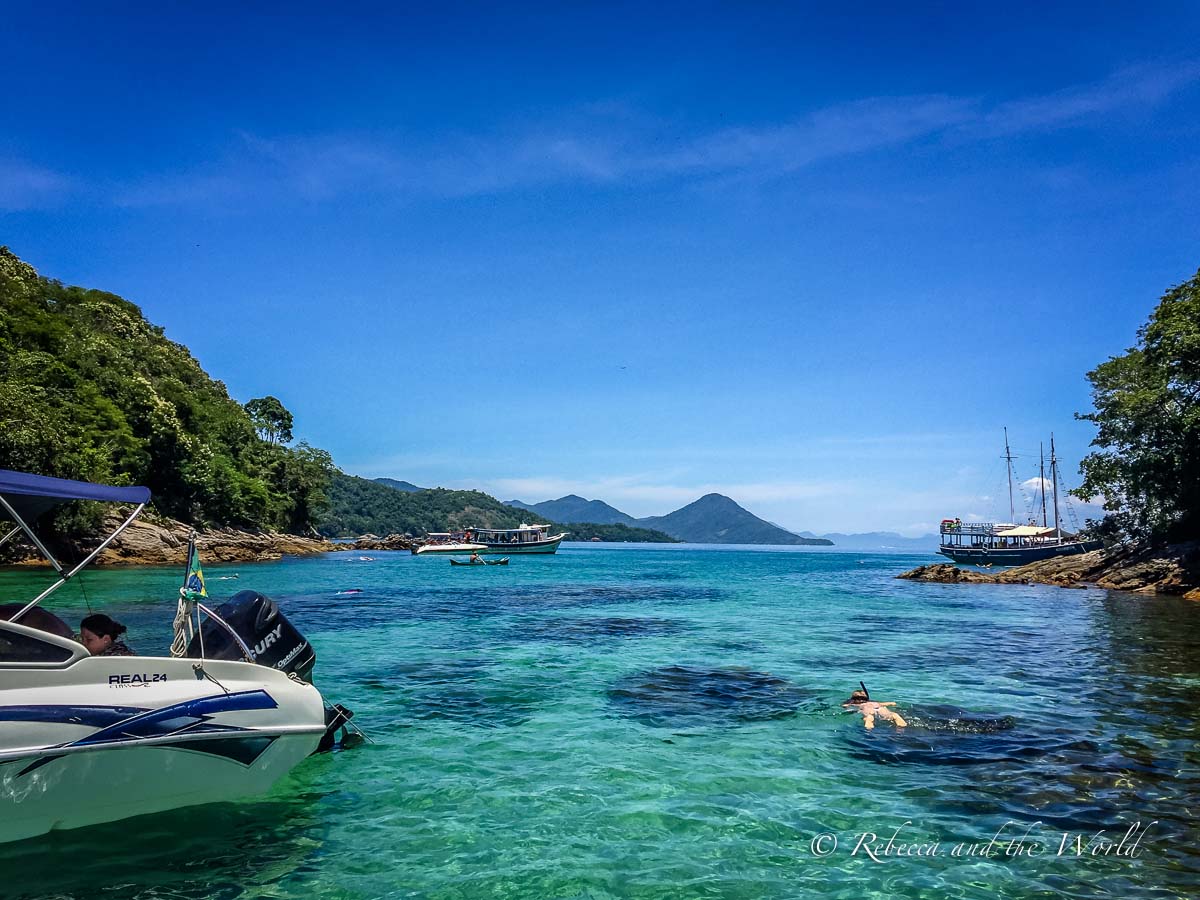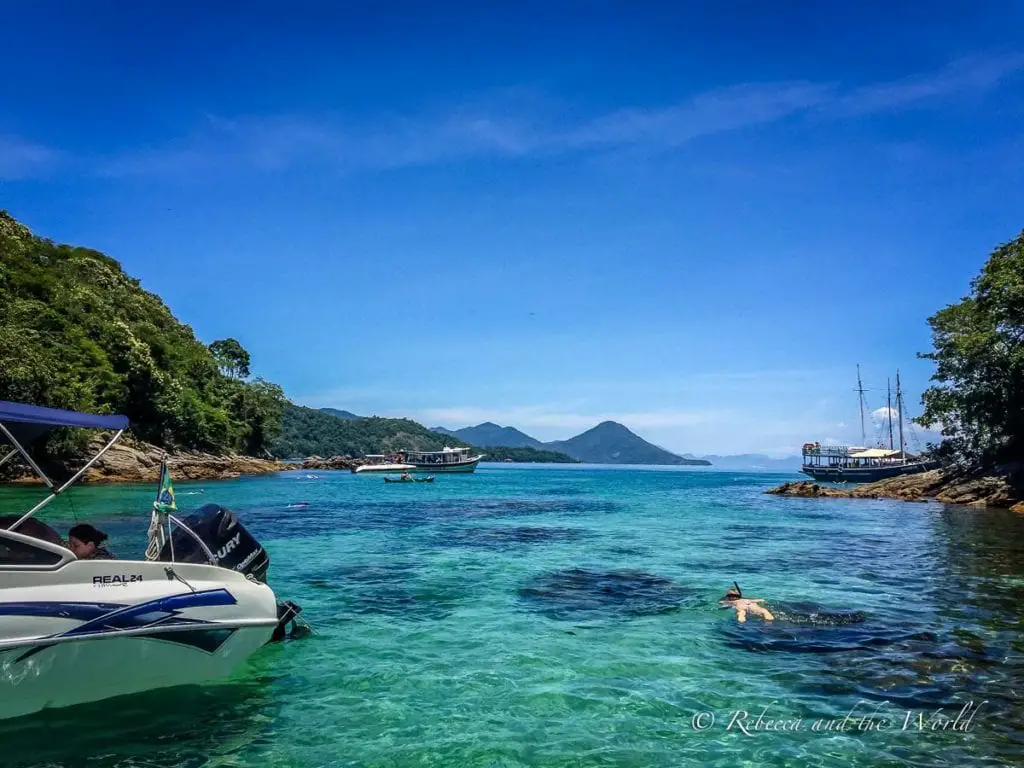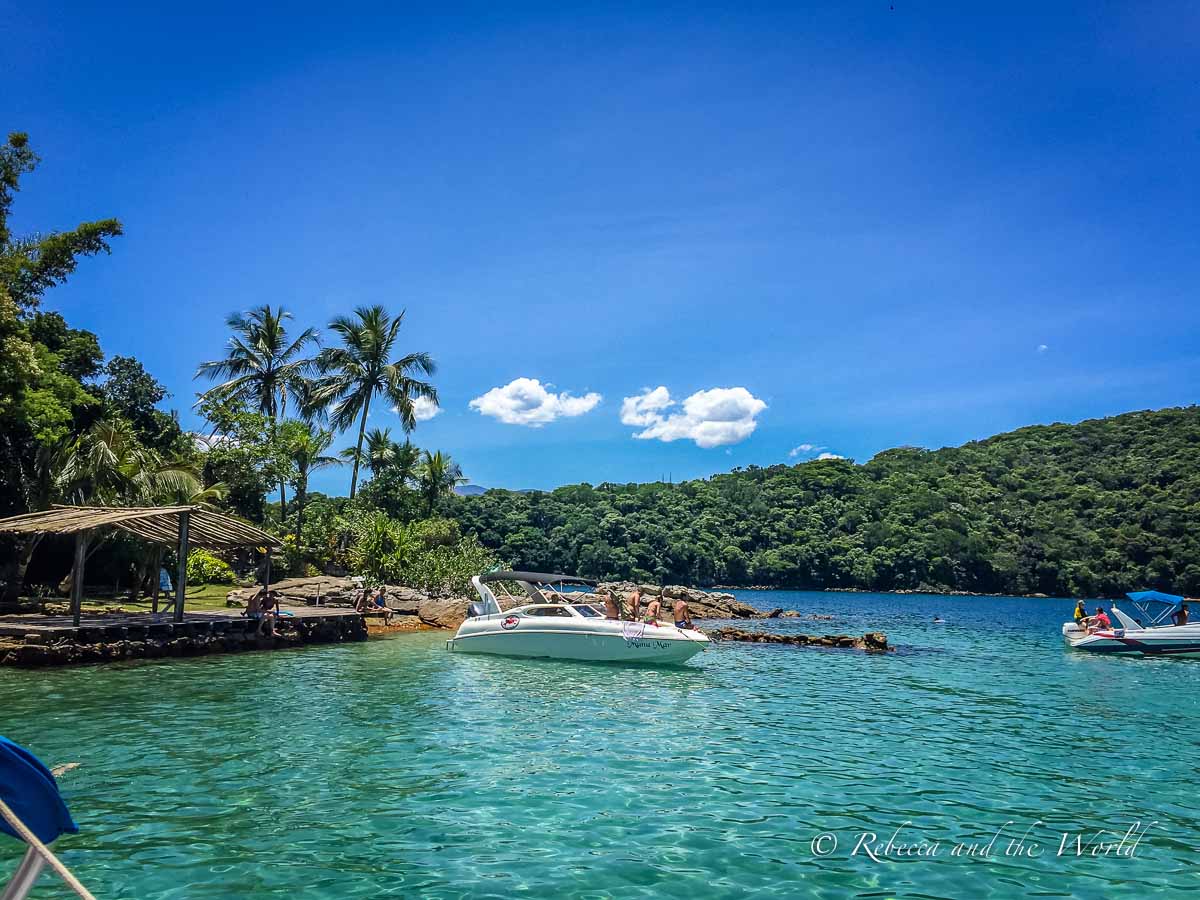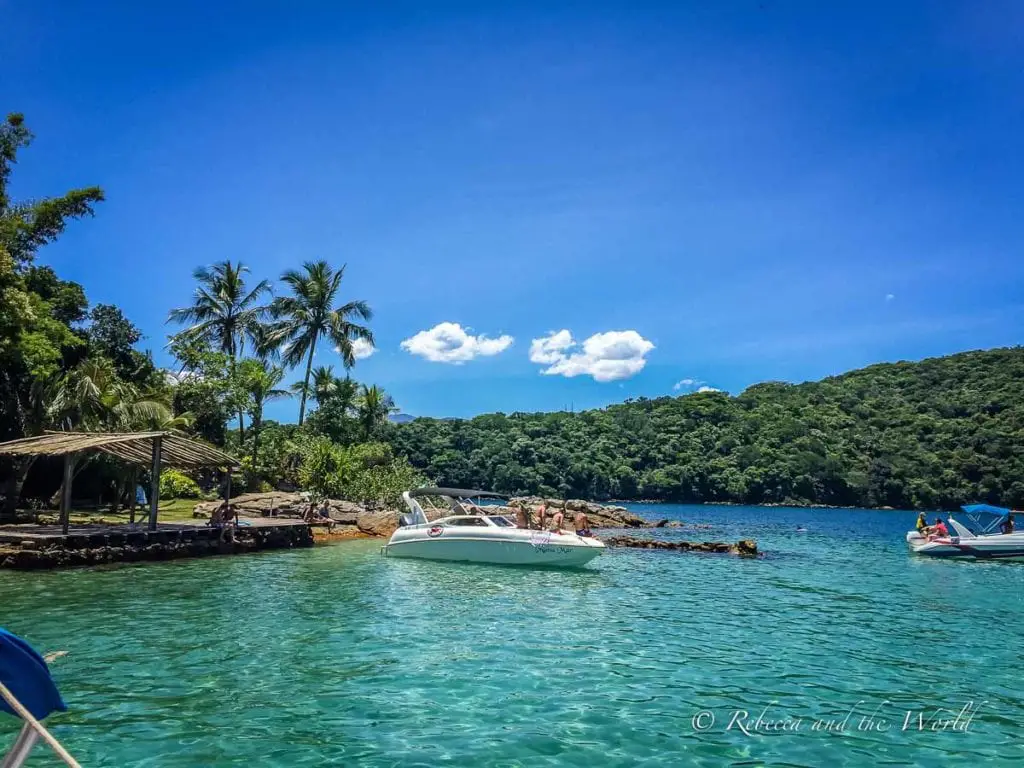 Spot local wildlife
The jungle that covers Ilha Grande is teeming with wildlife and birds. You'll see plenty of camouflaged crabs peeking out at you as you relax on the beach. Monkeys also abound. On the way back to the boat taxi after chilling out on Lopes Mendes Beach, a tiny capuchin monkey grabbed our attention, its minute hands deftly shoving bits of banana into its even tinier mouth.
Linger over dessert
Brazilians know how to do dessert. And the best thing on Ilha Grande is that dessert comes to you. Each night after dinner, we'd hunt out the "dessert carts": big wheeled carts with perspex lids showing off the various desserts that lie underneath, just waiting to be licked off sticky fingers.
Brigadeiros, Brazillian fudge the size of golf balls, so sweet they send shivers through your teeth, are a great choice. But it's difficult to choose when they're competing with flan, cocada (made with eggs and shredded coconut) and other tempting treats.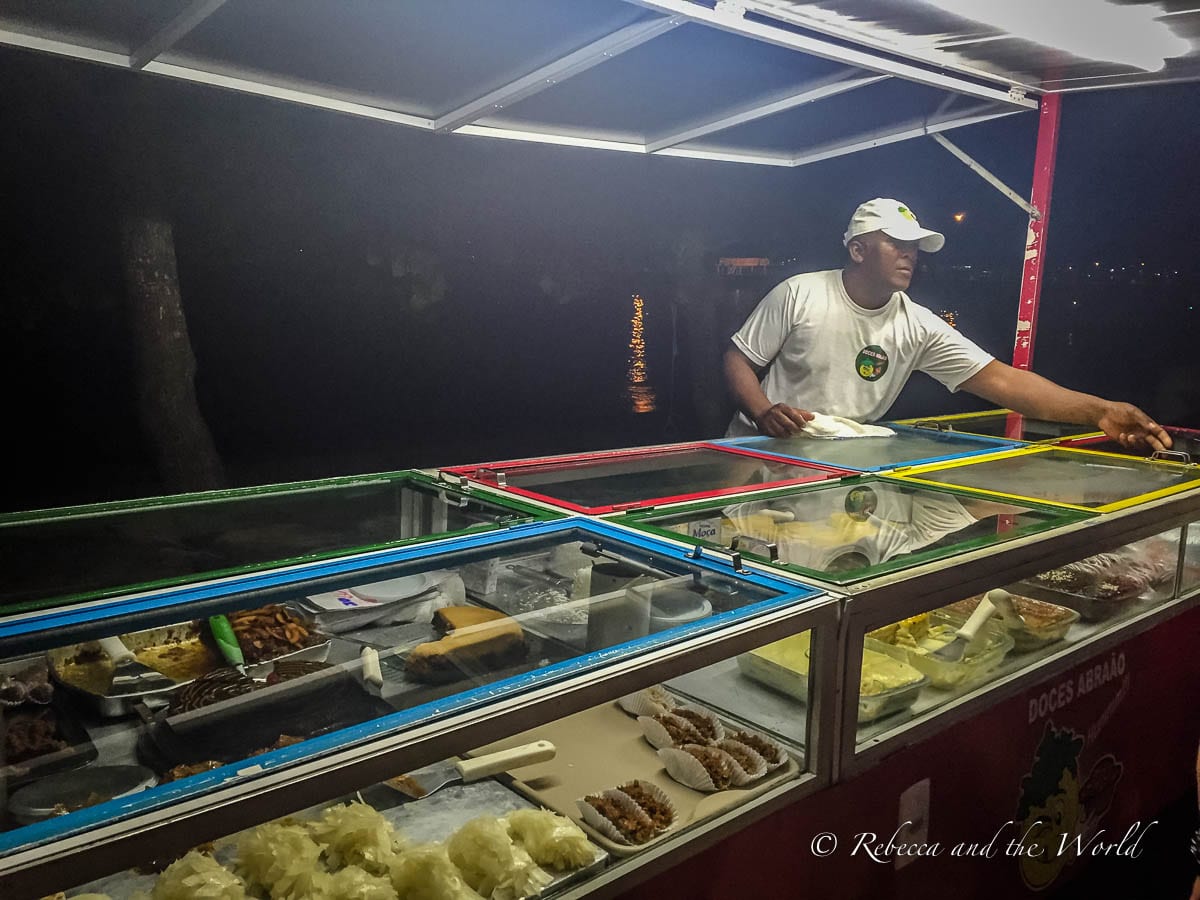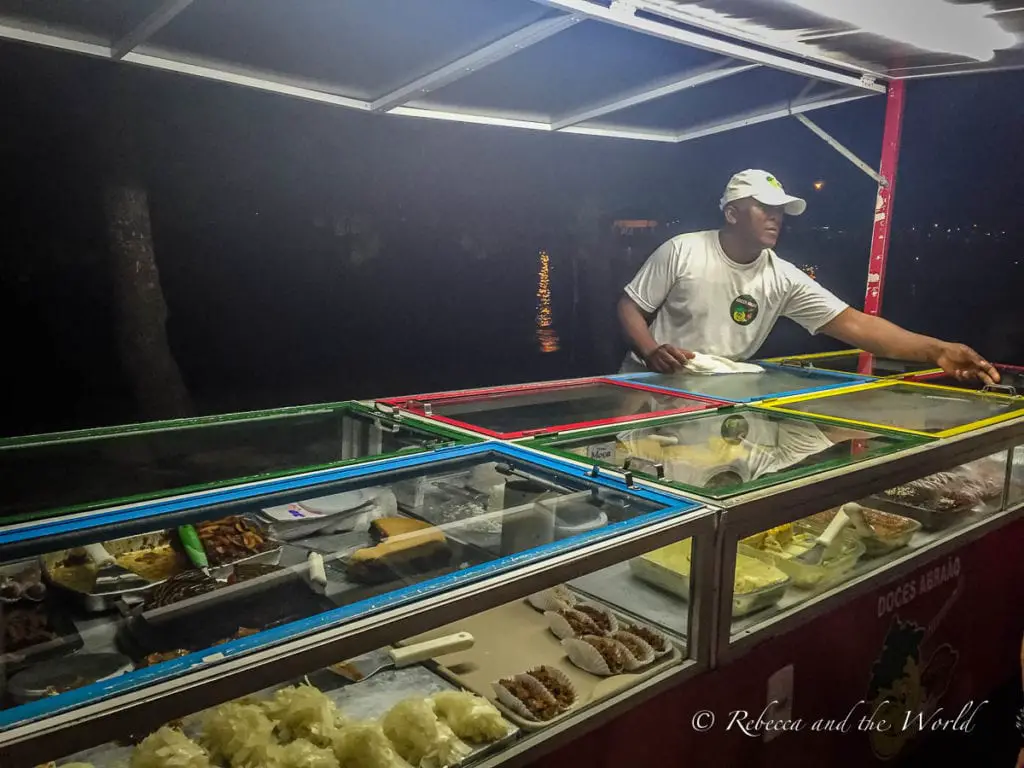 Eat huge bowls of açai
After a few too many caipirinha-induced hangovers, we discovered the perfect cure: a huge bowl of açai for breakfast. You're no doubt aware of the açai berry, a superfood touted for its anti-aging and weight loss benefits. In a small supermarket just down the road from our pousada we found huge bowls of açai topped with sliced banana and granola.
Ilha Grande travel tips
Now that you know what to do in Ilha Grande, here are a few travel tips and practical information about visiting.
There are no cars on Ilha Grande (save a few emergency response vehicles) which makes for a tranquil, chill environment. But keep this in mind when packing and choosing your accommodation – you don't want to be lugging a heavy suitcase down the dirt road for miles.
Bring plenty of cash. When I visited there was no ATM on the island and I couldn't find out whether that's changed since I was there. Most pousadas, hostels and restaurants accept credit card but not all, so come prepared.
Check the visa situation before you come to Brazil. Brazil recently changed the visa requirements for citizens of Australia, Japan, the U.S. and Canada, but you still need to apply for an e-visa if you're from one of those countries. It's always best to check with the embassy in your country for the latest information.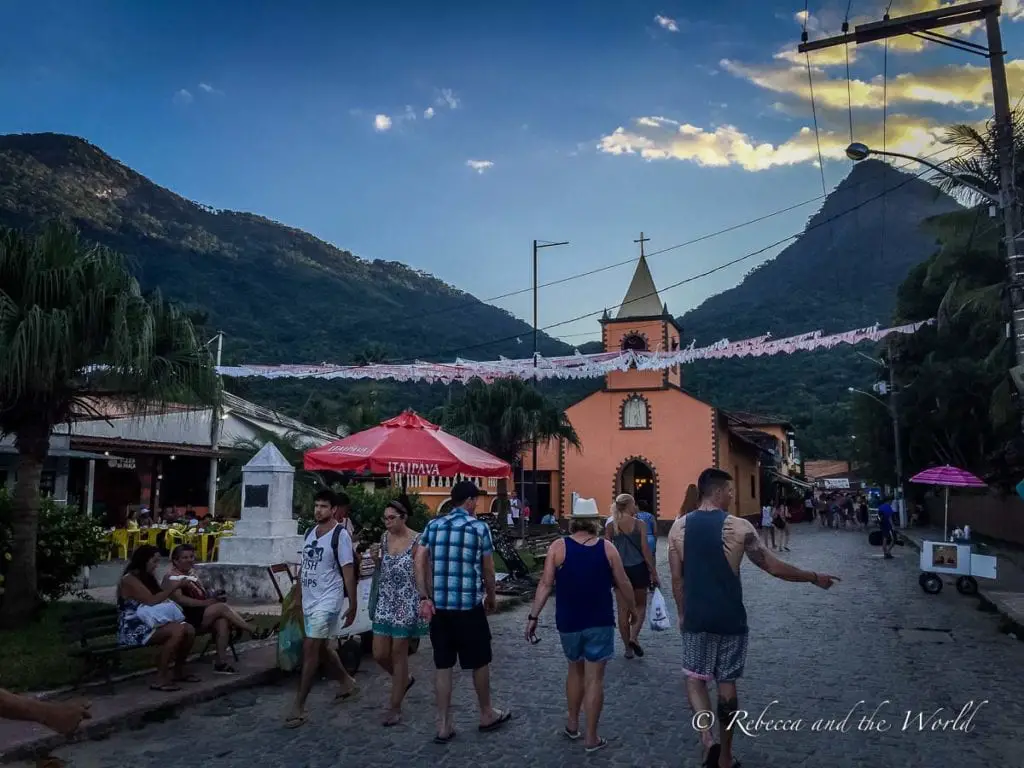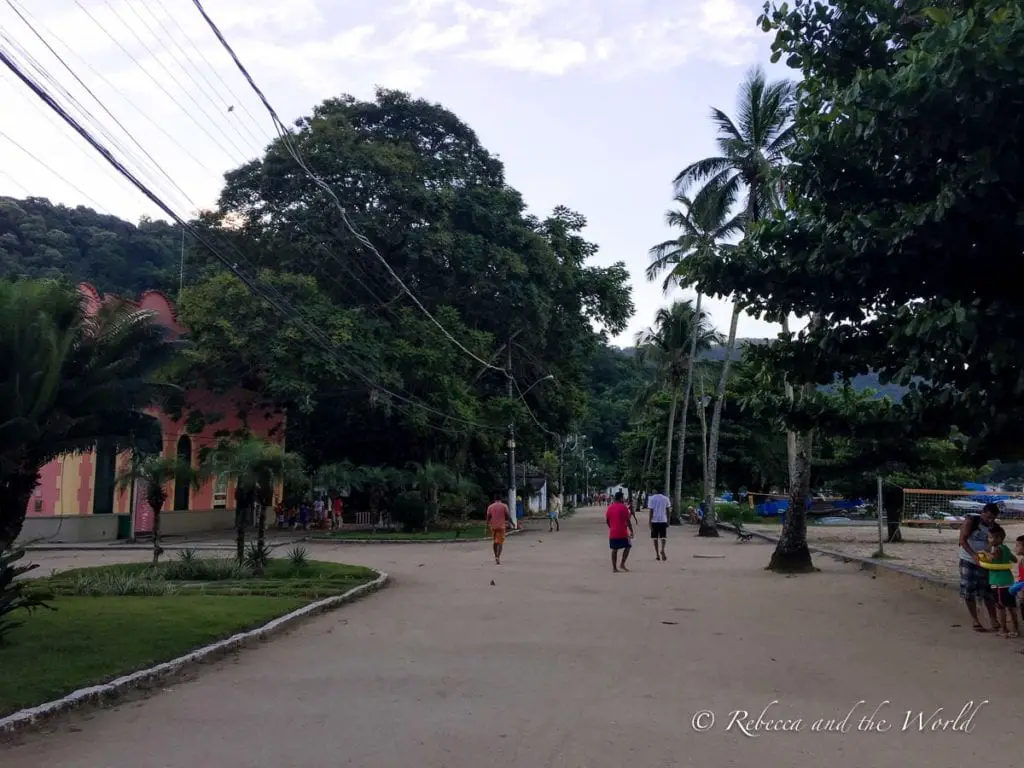 How to get to Ilha Grande
To get to Ilha Grande, you'll take a combination of a bus or van and a ferry (it is an island after all!).
From Rio de Janeiro
If you're travelling from Rio de Janeiro to Ilha Grande, there are a few ways to get to the island. You can take a boat to Ilha Grande from either Mangaratiba, Angra dos Reis or Conceição de Jacareí to the main dock at Vila do Abraão, which is the main town on Ilha Grande.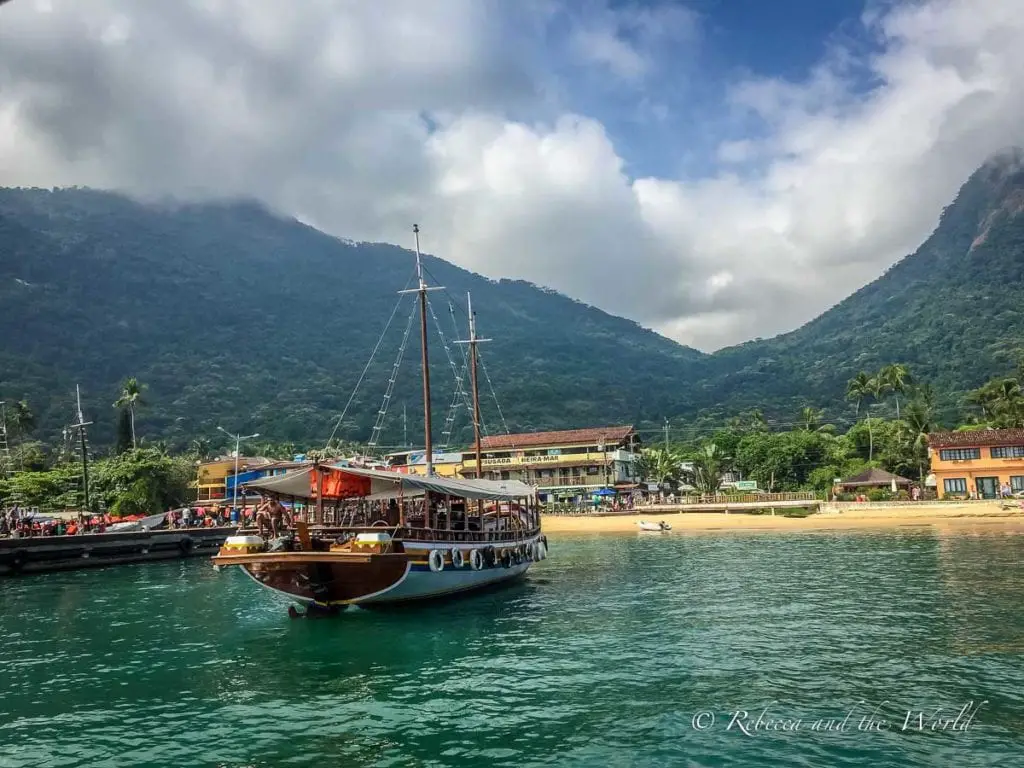 A boat from Mangaratiba will take between 1 ½ and two hours, from Angra dos Reis the journey is an hour to 1 ½ hours, and from Conceição de Jacareí it's a quick 20-minute journey.
You'll need to take a bus from Rio to any of these towns. Costa Verde is the bus company to take.
You can arrange the trip from Rio to Ilha Grande yourself or you can book a seat on one of the transfer companies that can make all of the arrangements for you, which is what we did. We booked with Easy Transfer. A van picked us up from the hotel, took us to the dock at Conceição de Jacareí and organised tickets for the boat. It was super easy and meant I didn't have to figure out timetables. I'd definitely recommend this if you have limited time to visit Ilha Grande or don't speak Portuguese.
Green Toad is another popular company that arranges transfers from Rio de Janeiro to Ilha Grande.
From Paraty
Many people tack on a trip to Paraty as well, when they're visiting Ilha Grande. It's also easy to get from Paraty to Ilha Grande (or vice versa). Take a Colitur bus from Paraty to Angra dos Reis or Conceição de Jacareí and take the ferry to Abraão.
Alternatively, book a boat directly from Paraty to Ilha Grande, which takes around 1 ½ hours.
Where to stay in Ilha Grande
Abraão has the most options for accommodation. The best choice is a pousada in Ilha Grande. Pousadas are small inns or B&Bs. We stayed at Pousada Tropicana, close to the main port and directly across the road from the beach. It was simple but comfortable. Book a room online now.
Another popular option is Pousada Naturalia. More upscale, each room faces the ocean and has a balcony with hammock. Check availability now.
You can check other options in Abraão online here with HotelsCombined.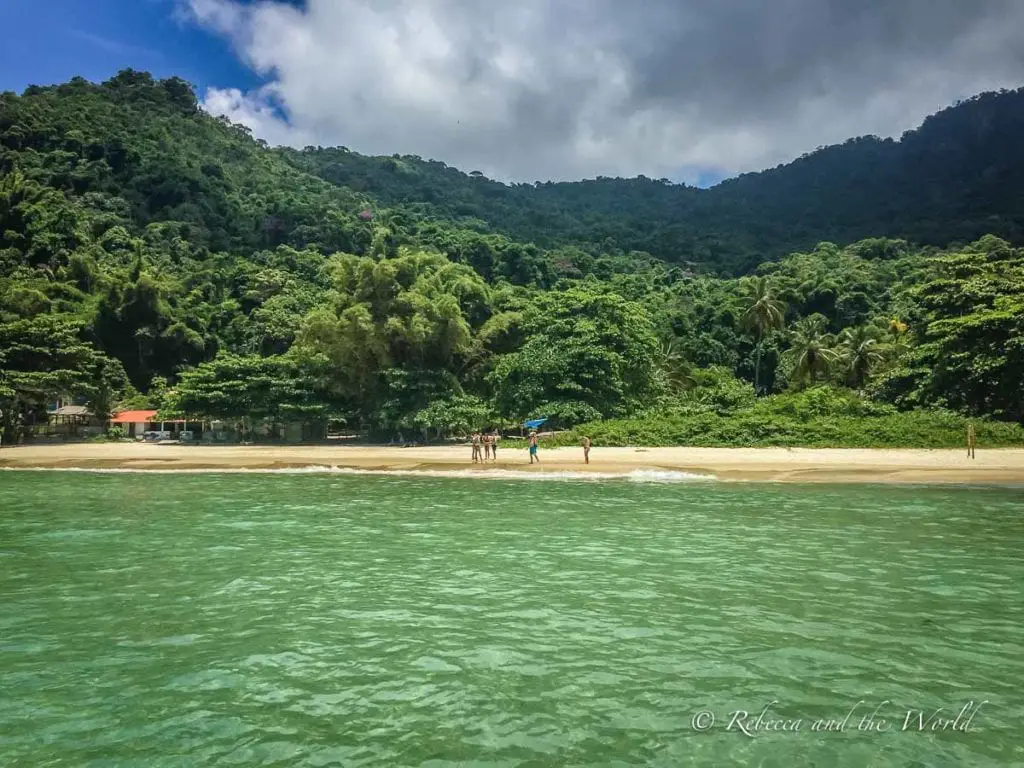 When to visit Ilha Grande
The hottest time to visit is between December to March. It's also the busiest, as foreign visitors swarm in, but also Brazilians on their summer break. Book accommodation well in advance if you're coming during these months.
From May to early October the weather in Ilha Grande is still lovely (around 21 to 23 degrees Celsius / 70 to 73 degrees Fahrenheit). The crowds are also far fewer.
VISIT ILHA GRANDE, BRAZIL – YOUR TRIP ESSENTIALS
Have you ever been to Ilha Grande?
This post was published in April 2016, and updated in August 2019.
PIN IT FOR LATER: