Papua New Guinea festivals are rarely a dull affair. Quite the opposite, in fact. Which shouldn't be surprising for a country that's made up of hundreds of different cultures and more than 800 distinct dialects.
Colourful displays of costume and make up, thundering drumbeats, and the melodic sound of hundreds of voices singing in unison show how old traditions in this country are staying strong despite an increasingly modernised society.
Across Papua New Guinea (PNG), there are dozens of singsings (festivals) held each year, each one celebrating unique traditions, yet equally stunning. If you're planning to visit Papua New Guinea, then timing your trip with one of these spectacular cultural festivals is the way to go. They really are one of the best Papua New Guinea tourist attractions.
I lived in Papua New Guinea for 4 years, and have attended a handful of these festivals (and still plan to attend a few more!). Here's my guide to nine of the best PNG festivals, each of which should be on your travel bucket list.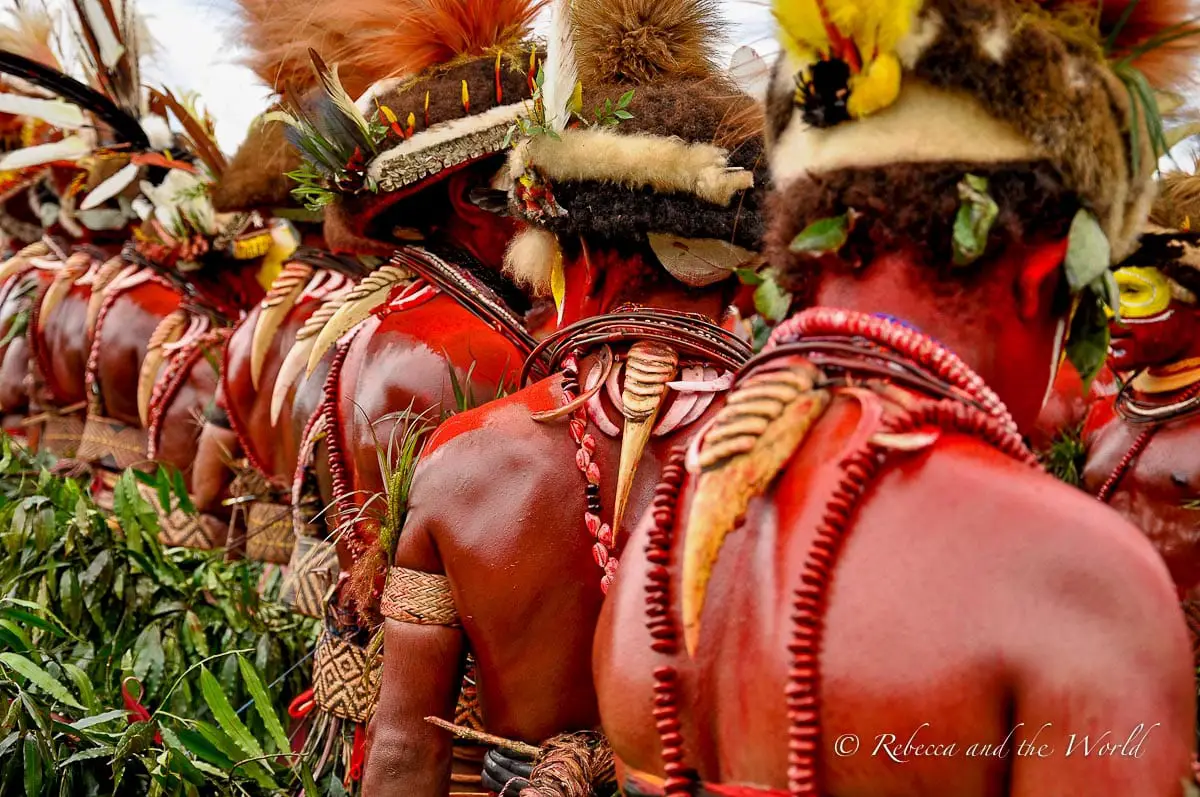 This blog post may contain affiliate links, meaning if you book or buy something through one of these links, I may earn a small commission (at no extra cost to you!).
If you want to save this guide to the best Papua New Guinea festivals so you can read it later, click on the below images to pin it to Pinterest!
Papua New Guinea festivals
Papua New Guinea's festivals are scheduled throughout the year, with many provinces hosting at least one or two festivals.
National Mask and Warwagira Festival: July
Sepik River Crocodile Festival: August
Enga Show: August
Hagen Show: August
Goroka Show: September
Kutubu Kundu and Digaso Festival: September
Hiri Moale Festival: September
Morobe Show: October
Kenu and Kundu Festival: November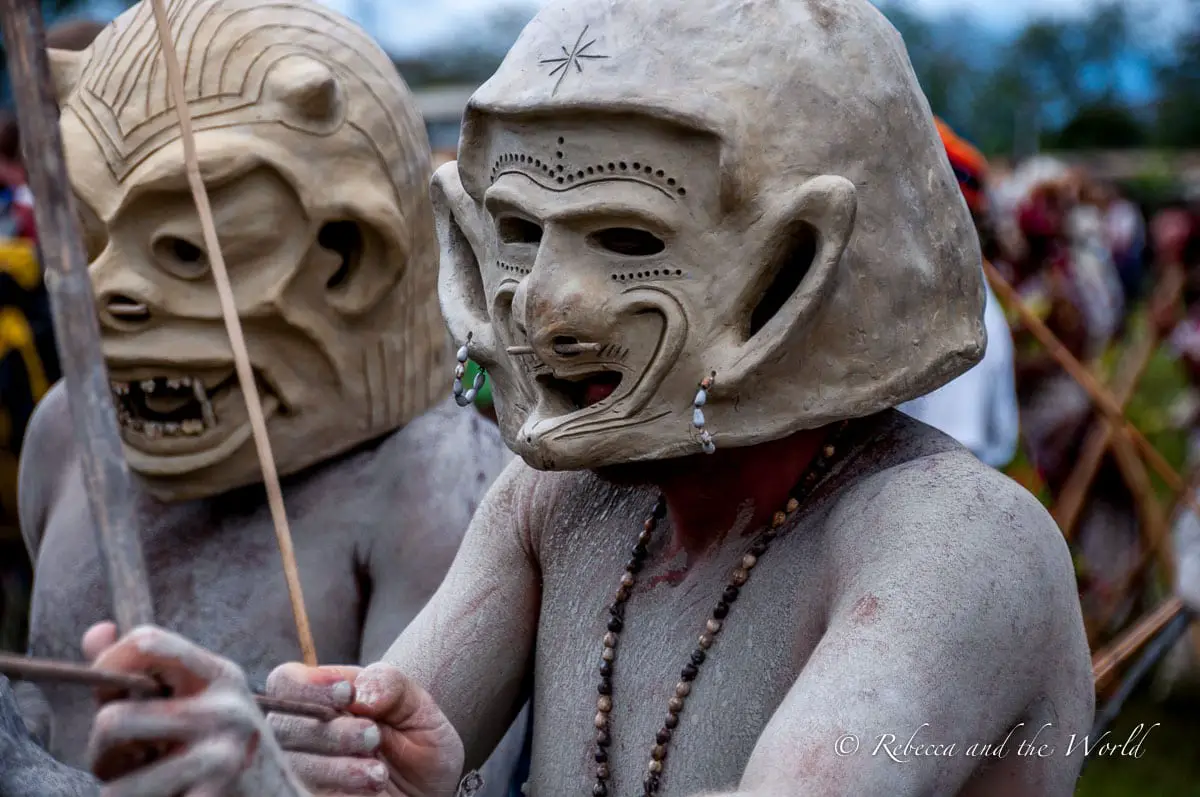 Map of Papua New Guinea Festivals
If you're not familiar with the places to visit in Papua New Guinea, here's a map of Papua New Guinea showing the location of these 9 festivals.
Travel PNG – what you need to know before you go
Papua New Guinea remains mystifying to many foreigners. It's no secret that it's a challenging place for outsiders to travel to and within.
Here are my personal tips and advice for travelling around Papua New Guinea. I'd also recommend you check out the Papua New Guinea Tourism Promotion Authority's website. They've got a huge amount of information (which I don't recall being there when I lived in Papua New Guinea).
One thing to note is that Papua New Guinea travel is not cheap. Logistical challenges, a high rate of imports and a veritable lack of competition mean high prices for everything from food to transport to accommodation.
Many people choose to travel to PNG on group tours to absolve them of the logistical headaches of organising travel within the country, but it is possible for the intrepid traveller to travel independently. I've listed ideas for both options throughout this article.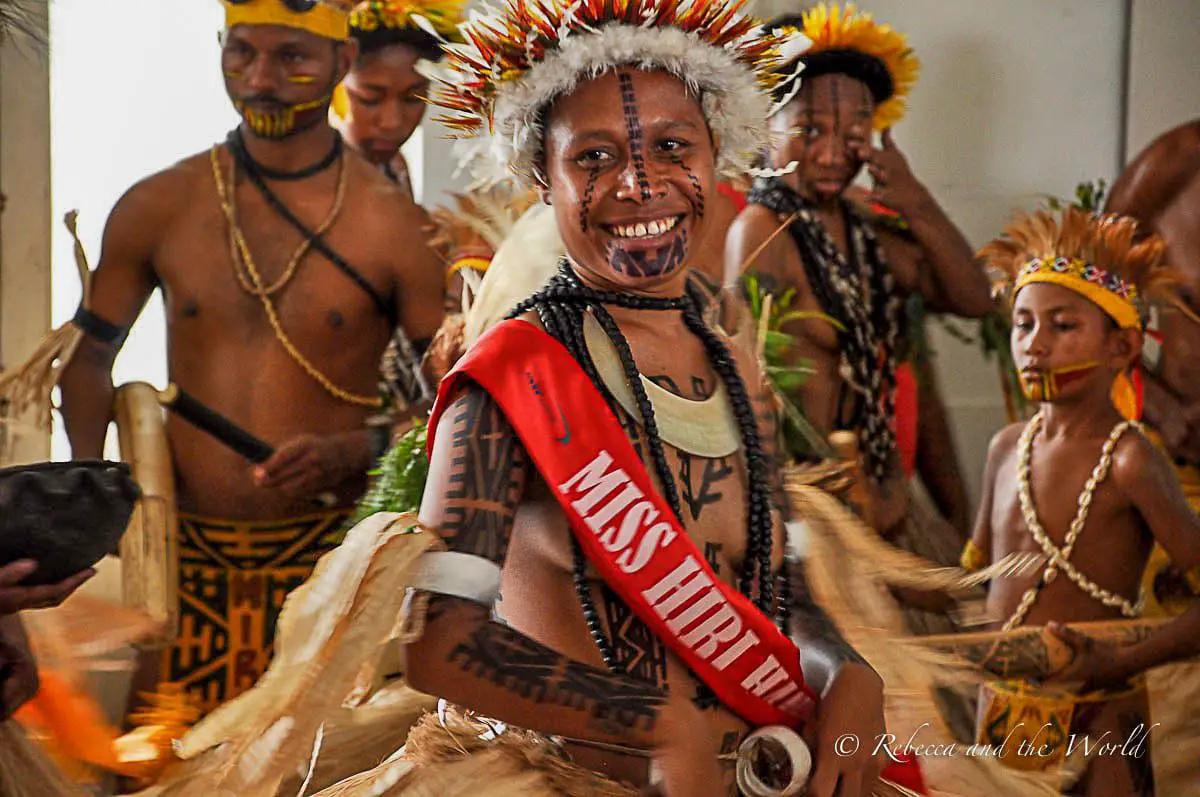 How to get to PNG
Papua New Guinea is Australia's closest neighbour, so it makes sense that the easiest way to get to Papua New Guinea is via Australia. There are direct flights daily from Brisbane and Cairns, and regular direct flights from Sydney.
Other cities with direct flights to Port Moresby are Hong Kong, Honiara, Singapore, Tokyo, Manila and Bali.
There are also a number of cruises that have popped up recently, most of which dock at Alotau or Kokopo/Rabaul.
How to get around Papua New Guinea
With limited highways, air travel is the easiest way to get around PNG. There are two domestic airlines in PNG: Air Niugini and PNG Air. There are also charter companies like MAF and TropicAir (but this gets expensive!).
You can hire cars in major cities, but be aware that most major cities aren't connected by road (for example, there's no road between Port Moresby and Lae or between Port Moresby and Goroka) so don't plan on road tripping around the country.
Roads are also generally not in the best condition, so expect landslips, washed out sections and roadblocks if you do choose to hire a car. Go with a 4WD if you do.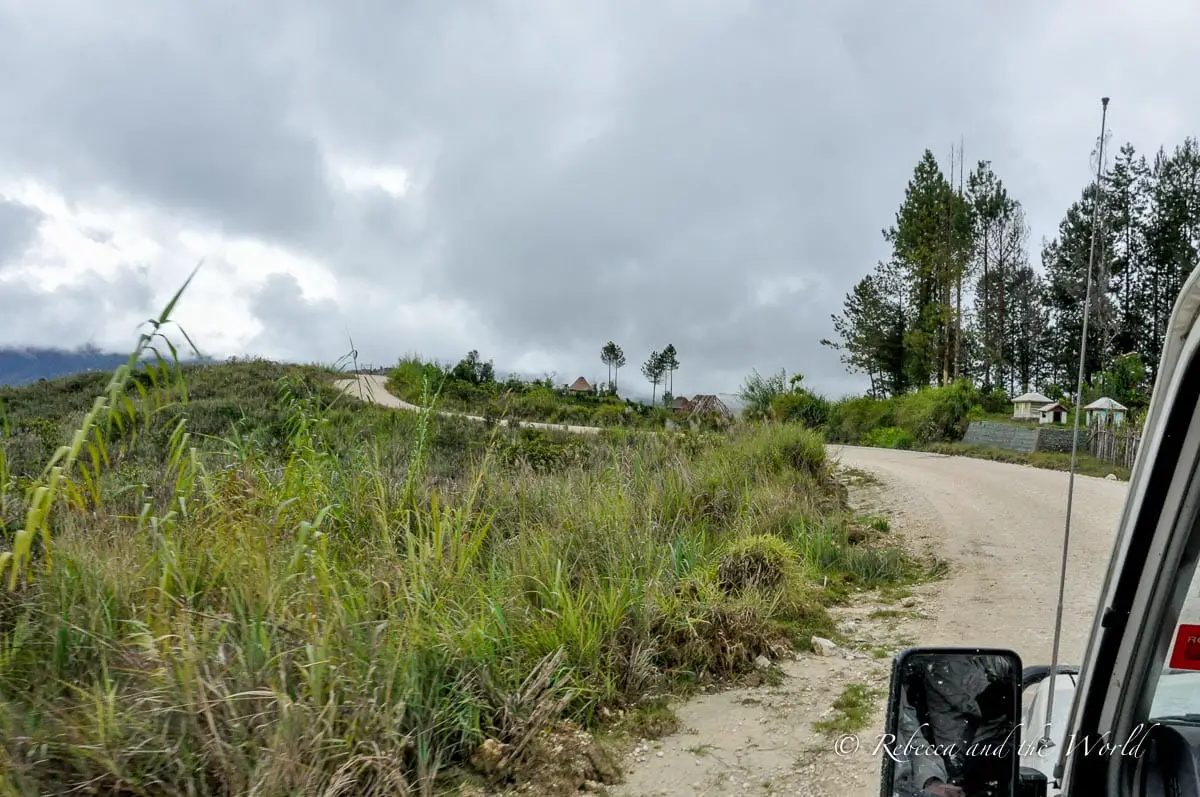 It's also important to note that if you hit someone (or something, like a pig), the response will likely be swift and severe. Many a foreigner has had to immediately leave the country after getting into a car accident. The general rule if you are in an accident is: don't stop, find the nearest police station and report the accident.
PMVs (public motor vehicles) are an affordable way to travel – prepare yourself for an adventure! In cities, PMVs are generally minibuses that follow specific routes. Outside of the major cities PMVs could be a minibus, flat-tray ute (truck) or tractor. PMVs can be found in all major cities and towns, as well as traversing the Highlands Highway between Lae and the Highlands region.
Visas
All visitors to PNG need a visa. Some countries can obtain a visa on arrival, other nationalities need to arrange a visa in advance. The best thing is to check with your nearest PNG mission.
Safety
Google PNG and I bet plenty of safety warnings pop up. PNG has a reputation as a dangerous place, but like all countries, with some commonsense and precautions you'll have a safe visit. I lived there for four years and never had one safety issue.
The Australian Government's advice is "Exercise a high degree of caution", with "Reconsider your need to travel" to the Porgera and Tari townships.
The United States Government advises "Level 2: Exercise increased caution".
If you've read about "tribal fighting", be aware that it rarely affects tourists. Talk to people about the current situation and if you hear anything about fighting, stay away from the area.
If you're nervous about travelling to Papua New Guinea, consider a tour company that knows the lay of the land, has guides that speak tok ples (the local language of the area in which you're travelling) and has a reputation for keeping their guests safe.
Tips for attending festivals in PNG
Learn about the cultures
Papua New Guineans are extremely friendly and fiercely proud of their culture. All of these festivals welcome foreign visitors, and participants are happy to share information about their own culture.
Just within one festival you could be exposed to dozens of different cultures. So, don't just stand there taking photos, talk to people and ask questions to find out what their costumes represent and what their dances and songs mean. It won't take long to find out just how fascinating Papua New Guinea culture is and make some new friends.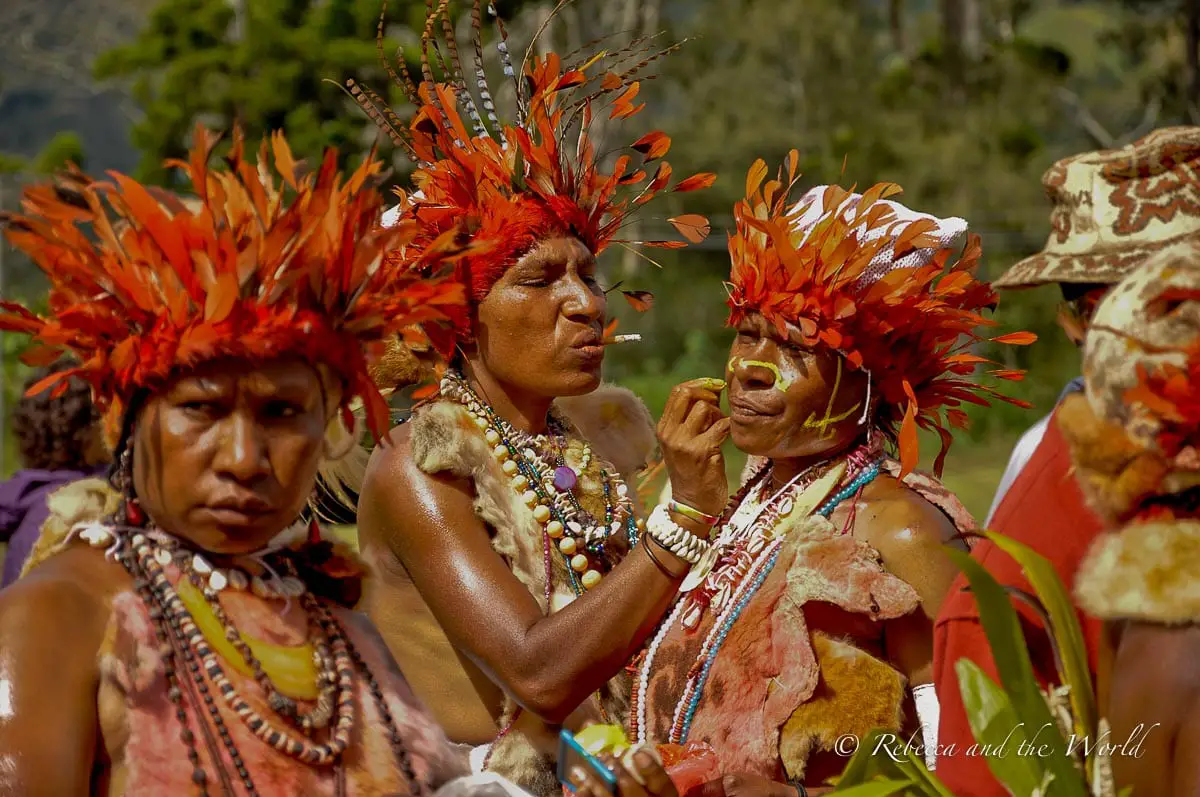 Dress appropriately
Papua New Guinean bilas (costume) is jaw-dropping. From metre-high headdresses to swishing grass skirts to thick body paint to elaborate shell jewelry, you'll develop a crick in your neck from turning your head around so fast to try to see everything.
What you'll probably also see are topless women. While toplessness is common in some cultures, PNG is actually a fairly conservative society, so as a foreigner you should show respect and cover up. This means wearing long pants or a skirt and a t-shirt that covers your shoulders.
Ask before taking photographs
Everyone in the festivals is there to show off their bilas and most people love to be photographed, but don't snap away willy-nilly. Check first by asking if it's ok to take someone's photo. Or, nod your head at your camera with a questioning smile. I'd say 99% of the time people will smile back and say yes, but not always. It's best to ask first.
Take cash
Take some cash (kina is the Papua New Guinea currency) with you. While I've never been asked for money to photograph someone at a festival (I have in other places in PNG), it doesn't hurt to have a few small Kina notes with you just in case.
Plus, you can support some local artists and craftspeople by buying locally made goods that will no doubt be for sale at the festivals. You'll get some great souvenirs: jewelry, bilums (bags), masks, carved ornaments and other lovely reminders of your PNG trip.
Remember you're on Melanesian time
The one rule for Papua New Guinea travel? Come with a relaxed attitude and you'll be fine. In PNG you're on Melanesian time and that means that things don't always stick to a schedule. Go with the flow.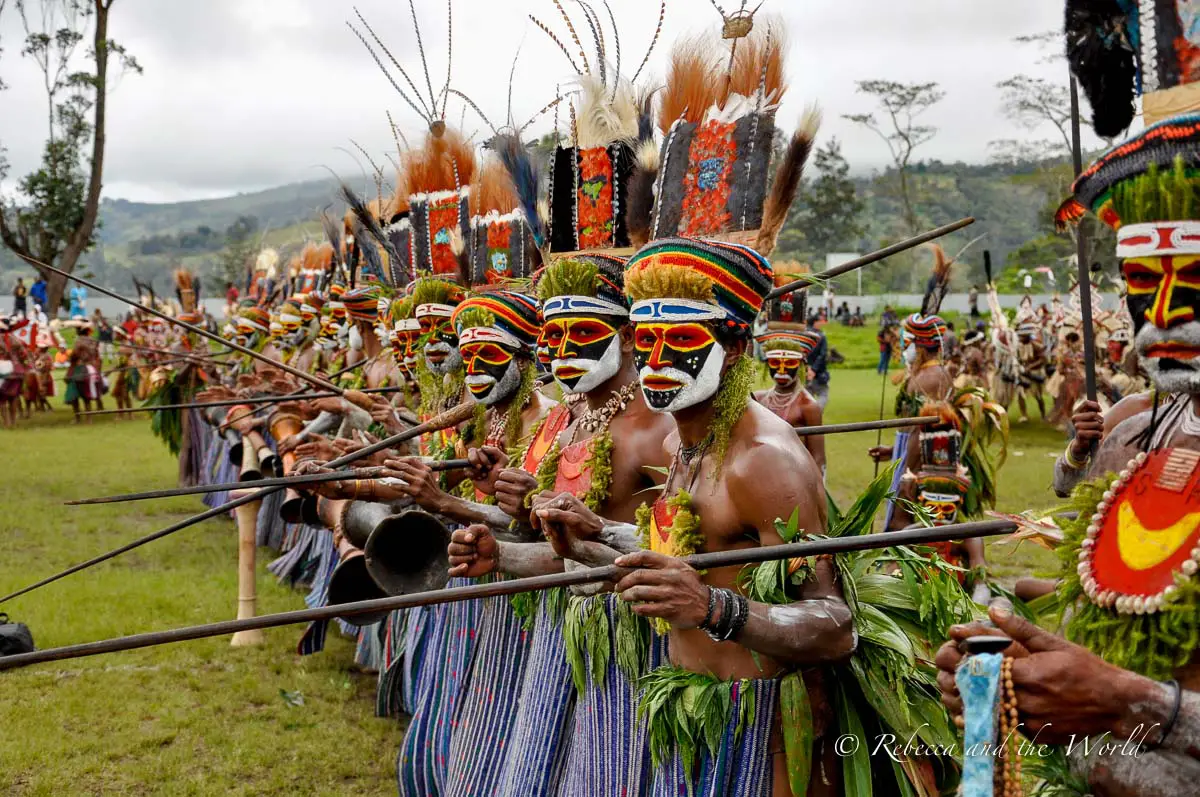 The best PNG festivals
National Mask and Warwagira Festival
East New Britain is one of the most beautiful places in Papua New Guinea. Travel here to experience the National Mask and Warwagira Festival, which celebrates the centuries-old mask-making traditions of the Tolai, Pomio and Baining people.
The mask festival has been running for 25 years, and is held at the Ralum showground in Kokopo (one of my favourite places to visit in PNG – it's seriously gorgeous).
During the festival, visitors witness the arrival of the dukduks (with their distinctive cone-shaped masks above a bushy cape of leaves) and tumbuans, the Tolai shell money exchanges, and the incredible Baining fire dance, where dancers walk through bonfires. It's hypnotic and like nothing you've ever seen before.
When: July
How to visit: Air Niugini has daily direct flights to Rabaul (1.5 hours).
For tickets for the festival, contact the National Mask and Warwagira Festival steering committee. Their email is [email protected] and phone number is +675 7279 5014.
Where to stay: I love Kokopo Beach Bungalow. It's on the beach so the sunsets are incredible, and there's a lovely outdoor restaurant where you can dine in the leafy garden. It's also close to town so you can easily walk to the Kokopo Market to pick up fresh fruit and veggies.
Another great alternative is Rapopo Plantation Resort, which is a way out of town but is also right on the water. It has a great pool and bar and the restaurant serves up tasty food.
Sepik River Crocodile Festival
The pukpuk (crocodile) is culturally significant to the people that live along the great Sepik River, a river that stretches more than 1,100 kilometres through a remote part of Papua New Guinea.
Every August, the Sepik River Crocodile Festival celebrates the crocodile and the life-giving river with a three-day cultural spectacular. Groups tell stories about their unique relationship with the crocodile through song and dance.
Visitors may have the chance to see the skin-cutting initiation ceremony, where young men have their skin cut to mimic the skin of a crocodile. You'll also no doubt see plenty of live crocodiles (mostly strapped to participants' chests).
The Sepik region is also renowned for their mask craftsmanship, so it's a great place to pick up a souvenir to bring home.
This is one festival that I have had on my bucket list for years – ever since I moved to PNG – and I'm planning to attend in 2020.
When: August 
How to visit: This is one of the trickier festivals to visit independently, as far as I can figure out. Contact the Sepik River Crocodile Festival for recommendations for tour providers that can arrange access to the festival, boat transportation and accommodation in villages.
If you want to visit independently, your best bet is to fly into Wewak and then negotiate river transportation with someone as well as paying locals to stay overnight and for food. Bring plenty of kina with you.
Where to stay: Most of the accommodation around the festival will be staying in locals' houses. Ambunti Lodge has a few rooms, but you'll need to reserve in advance.
Enga Cultural Show
Enga remains a relatively "new" province when it comes to contact with people outside of PNG. It was less than 100 years ago when Australian explorers made their way to the province. The annual Enga Show is an example of how Engans have preserved their traditional ways since that "first contact" and their aim to maintain them for generations to come.
At the Enga Show you can expect performances from dozens of groups from across Enga as well as visiting groups from other provinces in the Highlands region. Colourful costumes, feathered headdresses and hypnotising dancing and singing showcase the ancient ways.
While other major PNG festivals (namely the Goroka and Hagen Shows) are firmly planted in the itineraries of international tour companies, the Enga Show doesn't see many tourists, so you're guaranteed an authentic and intimate experience.
When: August
How to visit: The festival is held in the capital of Enga Province, Wabag. There are daily flights to Wabag (Wapenamanda) from Port Moresby on Air Niguini and Air PNG. From the airport, there's a free shuttle bus to and from town, and there are PMVs.
The Enga Show organisers have a fantastic website with plenty of information about attending the show.
Where to stay: Check out the Enga Show website for accommodation options.
Hagen Show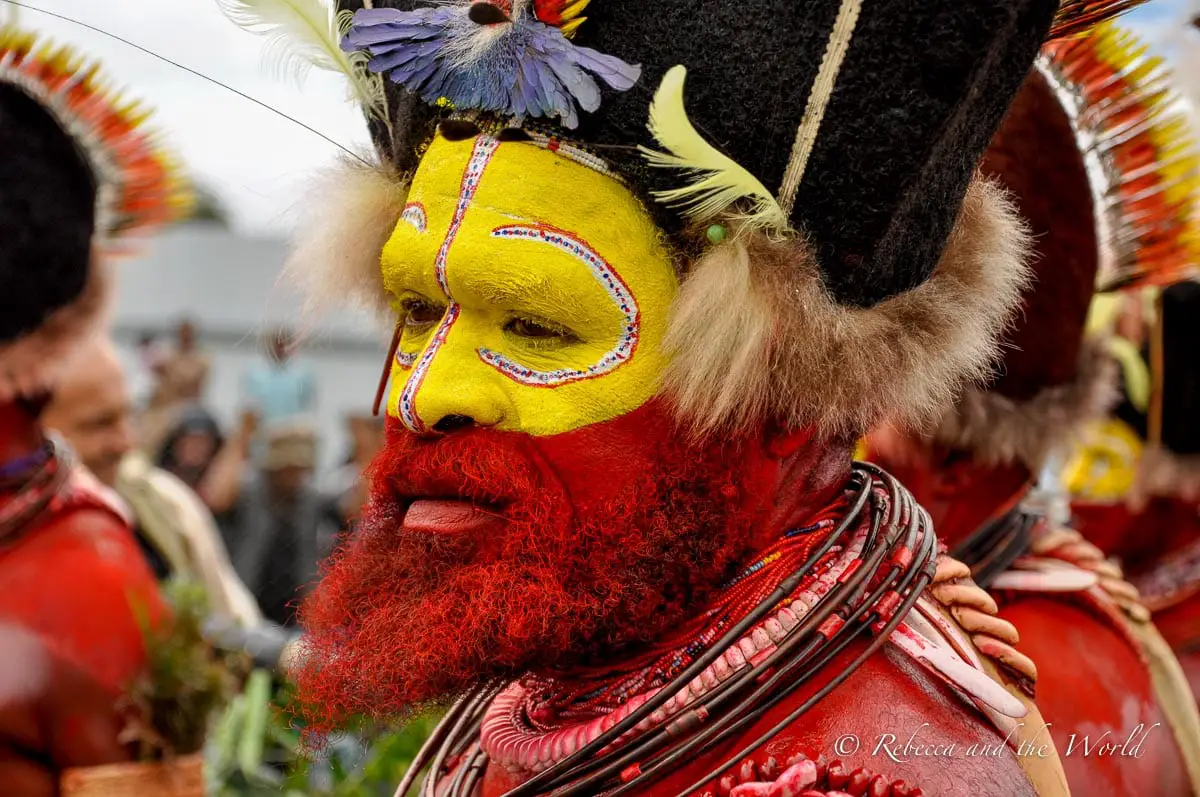 The Hagen Show is held every August. It draws crowds from across the PNG Highlands, the nation and from around the world. This is one of the biggest singsings in Papua New Guinea.
Between 50 and 100 groups from the Western Highlands, Southern Highlands, Jiwaka, Enga, Chimbu and Hela provinces descend upon the Kagamuga showground in Mount Hagen to show off their incredibly colourful bilas.
A cacophony of singing, yelling and drum beats, and a blur of colours create a mind-blowing scene over two days.
A highlight is seeing the famous Huli Wigmen, with their headpieces made out of human hair.
One of the best things to do is to wander through the groups outside the stadium before the performances begin. You'll see everyone applying their bilas: painting their faces, adjusting enormous headdresses festooned with bird of paradise feathers, and practicing their dances and songs.
As well as watching each group's performance, you can pick up beautiful, locally made bilums (bags) and other crafts to take home.
When: August
How to visit: There are several organisations that arrange tours to PNG and include the Hagen Show on the itinerary. Most of these are foreign organisations, however. Most employ Papua New Guineans as guides. Do your research before deciding.
Trans Niugini Tours is a well-known operator in PNG with a great reputation. WanderTours has an option that covers the Sepik region, Hagen Show and Goroka Show.
If you want to attend the Hagen Show independently (as I did), buy tickets in advance through one of the major hotels in Mt Hagen or contact the Hagen Show Cultural Committee on +675 7685-8183.
There are direct flights daily from Port Moresby to Mount Hagen.
Where to stay: I stayed at the Highlander Hotel when I went to the Mount Hagen Show. My room was comfortable but don't expect anything too flashy. It's in a good spot close to town.
If you're looking for something fancier, try Rondon Ridge, which is owned by Trans Niugini Tours. The lodge is a 40-minute drive from Mt Hagen but it's located in a beautiful spot, surrounded by lush rainforest and plenty of birdlife. I've only been here for lunch.
Goroka Show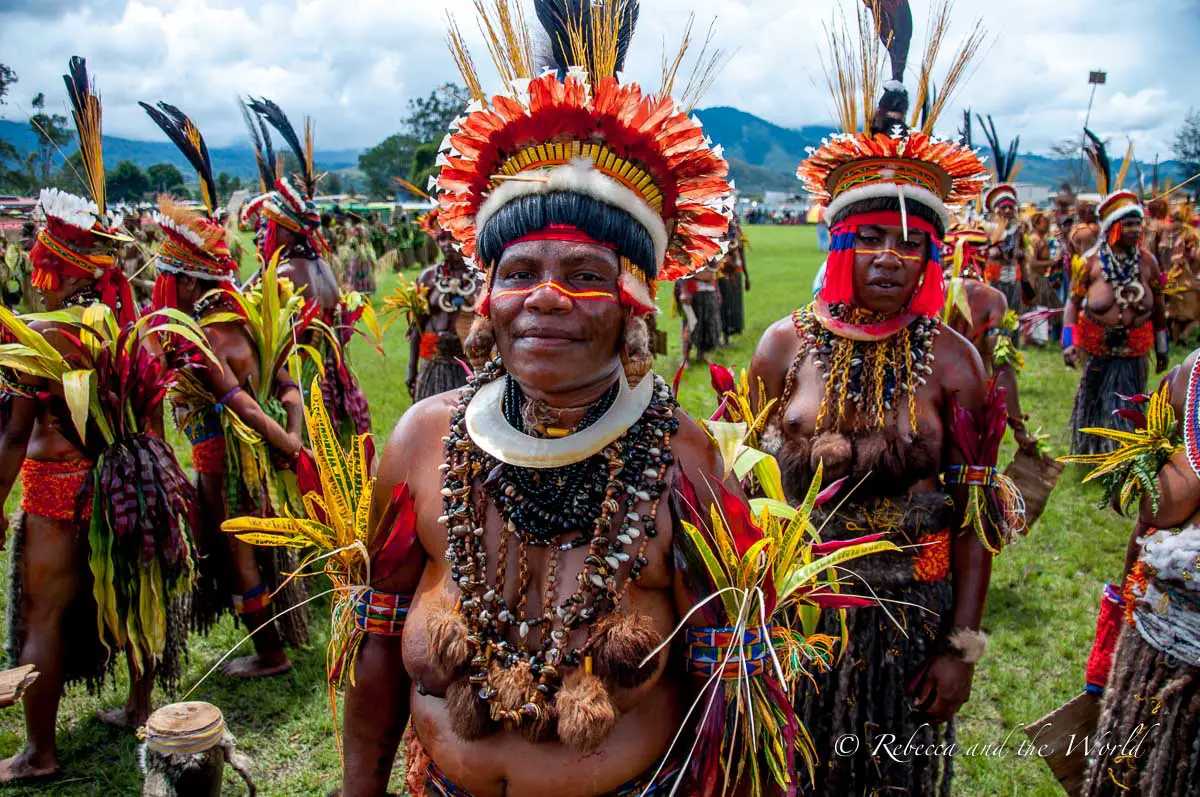 The Goroka Show is Papua New Guinea's largest festival and one of the most popular things to do in Papua New Guinea. Each year, groups representing various regions of the country arrive in Goroka in September. Some come from as far as Manus and New Ireland to show off their dancing and singing skills.
The air is thick with excitement. Groups mill about, warming up with strong beats and chants, slow movements. Yet other groups are straggling in, while others are still perfecting the feathers, furs and plants that make up their amazing costumes.
Once the performances are in full swing, it's hard to drag your eyes away. While more and more tourists attend each year, the Goroka Show is not a spectacle put on for tourists, this is as authentic as it comes.
Keep an eye out for the Asaro Mudmen with their mud-smeared bodies and huge clay masks.
When: September
How to visit: With daily flights from Port Moresby to Goroka, it's easy to get to the Goroka Show. In fact, when I visited I went up and back in a day.
If visiting independently, contact the organisers in advance for tickets. Email the team at [email protected] or phone +675 532 2644.
Where to stay: Book in advance to secure accommodation for the Goroka Show. The Bird of Paradise Hotel is a good option if you do stay overnight. I haven't stayed here myself, but I have eaten lunch here.
Kutubu Kundu and Digaso Festival
I still regret not taking the opportunity to attend the Kutubu Kundu and Digaso Festival, one of the more difficult of PNG's festivals to visit.
This festival highlights the rich culture of the Lake Kutubu people in the Southern Highlands province. The Foe, Faso, Bosavi and Huli people come to participate in singsings, with the festival's namesake kundu (drum) beats echoing off the lake.
During the festival, visitors can take a tour of a long hausman, a traditional dwelling used only by men as well as watch canoe races on Lake Kutubu and take canoe rides.
Lake Kutubu itself is spectacular. There are many fish in the lake that are endemic, with 10 out of the 14 species of fish found in this lake only.
Lake Kutubu is a beautiful lake and flying over it has always given me goosebumps – I can only imagine what it's like to be down on the ground for the Kutubu Kundu and Digaso Festival.
When: September
How to visit: It's difficult to get to the Kutubu Kundu and Digaso Festival. To travel independently, you'll need to fly into Moro and then arrange transportation to the festival. I recommend contacting the festival organisers for assistance – they have an active Facebook page with information about the festival.
Where to stay: As mentioned above, contact the festival organisers to arrange accommodation in the vicinity of the festival.
Hiri Moale Festival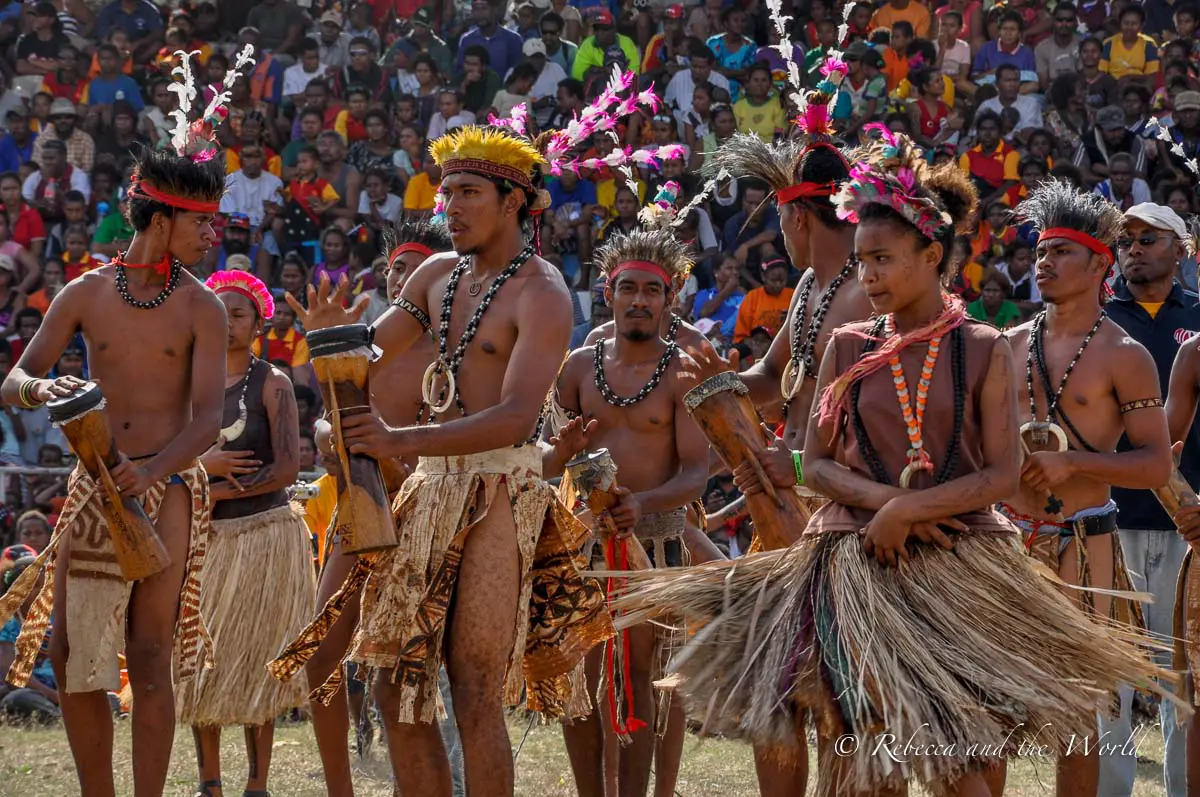 Held in the capital of Papua New Guinea, Port Moresby, the Hiri Moale Festival is the most easily accessible festival in Papua New Guinea.
Each year around Independence Day, the spectacular three-day Hiri Moale festival celebrates a centuries-old tradition of the Motu people.
Hundreds of years ago, the Motu people would build huge, hand-crafted canoes called lakatois. They would sail to the Gulf of Papua to trade clay pots and artifacts for food. The Hiri Moale festival celebrates this long journey, as well as the return home when the women would greet their men and hold feasts to rejoice their safe return.
These days, the festival starts with the lakatois (still handcrafted) arriving at Ela Beach in Port Moresby, and ends with the crowning of the Hiri Queen.
When: September
How to visit: Chances are you've already flown into Port Moresby so you're close to the festival. Contact the Motu Koita Assembly (the organisers of the Hiri Moale festival) in advance to get tickets. Email [email protected], or phone them on +675 340-1551, or check out their Facebook page.
Where to stay: There are plenty of hotels in Port Moresby. I used to live at the back of the award-winning Airways Hotel. There are several restaurants and bars onsite, and it's only a 20-minute drive from the centre of Port Moresby. It's also close to the Port Moresby airport.
For something closer to town, try the Grand Papua. I've never stayed there but from what I can tell the rooms are pretty luxe. The food there is fantastic, as is the onsite spa.
Morobe Show
PNG's second-largest city, Lae, hosts the annual Morobe Show every October.
The Morobe Show differs to other PNG festivals. As well as cultural performances, the Morobe Show features entertainment including livestock and agriculture demonstrations, cowboy events, beauty pageants and daredevil bike riders. It's a bit more commercial and diverse in its entertainment.
The show has been around since 1959, and is organised by the non-profit Morobe Province Agricultural Society.
When: October
How to visit: There are daily flights to Lae from Port Moresby.
For tickets, contact the Morobe Province Agricultural Society at [email protected] or phone +675 7353 0126 or 7199 9497, or visit the Morobe Show website.
Where to stay: The Melanesian Hotel and Lae International Hotel are Lae's top accommodation.
Kenu and Kundu Festival
In beautiful Alotau, canoes and drums celebrate the many traditions, ceremonies and rituals of the Milne Bay people at the Kenu and Kundu Festival. People in Milne Bay still carve canoes and drums in the same way they were thousands of years ago.
The bellowing echo of a conch shell at dawn opens the festival. Over the following three days visitors are treated to canoe races, arts and crafts displays, song and dance, dazzling costumes and drama performances.
When: November
How to visit: Air Niugini has daily flights from Port Moresby to Alotau.
To purchase tickets for the Kenu and Kundu Festival, contact the organising committee at [email protected] or phone +675 7008 7861. They also have a Facebook page.
Crooked Compass has a 5-day tour that includes the Kenu and Kundu Festival.
Where to stay: Driftwood Resort is a gorgeous place to stay, with a handful of waterside bungalows.
The Alotau Waterfront Lodge has spacious rooms and is ideally located for sunset views.
Are you planning to visit PNG? Which of these Papua New Guinea festivals would you attend? Leave your thoughts in the comments section below.
VISIT PAPUA NEW GUINEA – YOUR TRIP ESSENTIALS
This post was originally written in June 2012, and was updated in January 2020.
PIN IT FOR LATER: