So you're going to Buenos Aires. You've got your Buenos Aires itinerary sorted, you've picked out a few amazing Buenos Aires restaurants. But now there's another big question to answer: where to stay in Buenos Aires?
Buenos Aires is a big city and it can be confusing to decide where to base yourself for your visit. Don't worry, I've got your back! I lived in Buenos Aires for almost two years, so I've pulled together this guide that covers the best areas to stay in Buenos Aires. As a bonus, I've even thrown in a few accommodation options in each neighbourhood to make the planning process a whole lot easier.
So, read on to find out where to stay in Buenos Aires and pick your fave neighbourhood.
This blog post may contain affiliate links, meaning if you book or buy something through one of these links, I may earn a small commission (at no extra cost to you).
Quick overview of where to stay in Buenos Aires
I go into more detail later on about each of these barrios (neighbourhoods/suburbs), but here's also a quick guide to the best Buenos Aires neighborhoods for visitors.
Where to stay in Buenos Aires for:
First-time visitors: Palermo or Recoleta
Nightlife: Palermo
To be close to the main sights: Recoleta or Microcentro
Beautiful architecture: Recoleta (and most of the city!)
Families or people looking for a quiet area: Villa Crespo
Budget accommodation: San Telmo
Central location: Microcentro
Luxury accommodation: Recoleta or Puerto Madero
The great thing is that no matter where you choose to stay in Buenos Aires, you're never going to be too far from the action. The city may be big, but there's a great network of taxis and public transport so you can easily get around.
Looking for things to do in Buenos Aires? Here are my guides for what to do in Buenos Aires as you plan your trip:
Or, read about how to spend 2 weeks in Argentina. If it's your first visit, I've pulled together some helpful travel tips for planning a trip to Argentina.
Now let's get into my guide to where to stay in Buenos Aires!
Palermo
If it's your first trip to Buenos Aires, you're likely to end up staying in Palermo – and it's a great choice.
Palermo is actually a really huge neighbourhood, made up of many smaller neighbourhoods. The most well-known are Palermo Soho and Palermo Hollywood. They're also where you'll find most restaurants and Buenos Aires attractions in this area. These are the trendiest barrios in town, so you'll find plenty of eating, drinking and shopping options.
I love this area, and most visitors end up enjoying spending time around here as well. I personally think it's the best area to stay in Buenos Aires for first-timers.
The only downsides are that public transport can be a bit far, so you might need to walk a bit to get to the main streets where buses run. But with so many taxis in Buenos Aires, I don't think this is such a big issue.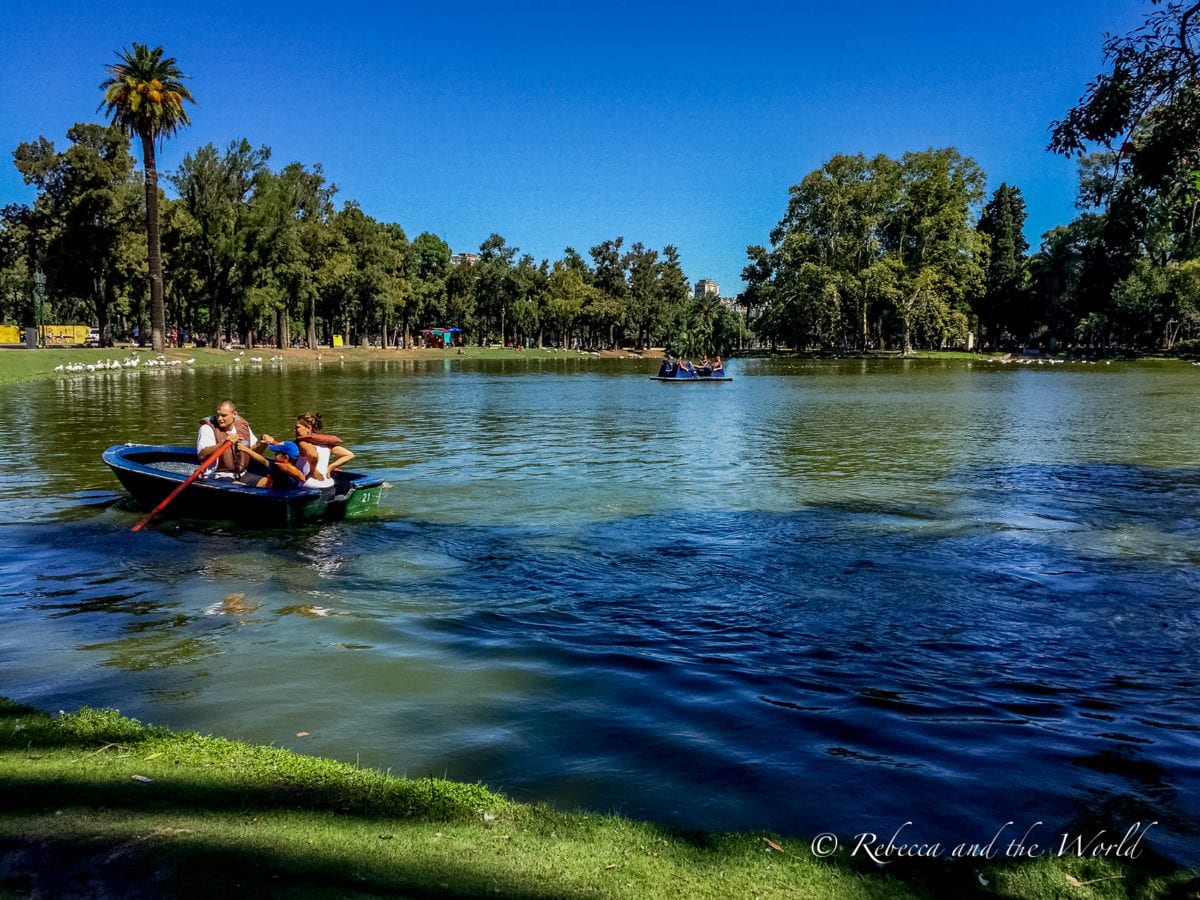 Things to do in Palermo
Go shopping in the neighbourhood boutiques
Relax in enormous Bosques de Palermo, a green space filled with parks, lakes and buildings like the Planetarium. The parks are a great place especially on the weekend, when Porteños are hanging out with friends and family, so there's a really fun vibe
Wander through Jardín Japonés, one of the largest Japanese gardens outside of Japan
Check out MALBA (the Museo de Latinoamericano de Buenos Aires), one of Buenos Aires' most impressive museums with permanent collections of Latin American artists
Where to eat in Palermo
Don Julio is one of the most popular steak restaurants in Buenos Aires – and even though it's always busy and you'll need to line up for a table, it's still worth a visit
One of the more modern steak restaurants is La Carnicería
I love Pain et Vin for a glass of wine with some cheese or a sandwich
Ninina is a great cafe for breakfast, brunch, lunch or just a coffee
Best hotels in Palermo
BE Jardin Escondido by Coppola looks more like someone's home than a hotel. With rooms filled with gorgeous touches like vintage suitcases and cozy little reading nooks, you're sure to feel at home here. The garden pool is a bonus for the hot Buenos Aires summers. Check rates and book online | Read reviews on TripAdvisor
Located in trendy Palermo Hollywood, Home Hotel is a popular place to stay. I've never stayed here myself but I've always lusted after the images of the gorgeous garden and spa. The rooms are minimalist and stylish. There's an onsite restaurant, but of course you have some of the best restaurants in Buenos Aires right at the doorstep. The staff here are very much in the know and can share plenty of hidden Buenos Aires gems. Check rates and book online | Read reviews on TripAdvisor
Best Airbnbs in Palermo
If you'd prefer the comfort of a vacation rental, then check out this studio apartment in Palermo Soho has access to a pool and gym
This 3-bedroom house is a typical Buenos Aires PH style and has been recently renovated
Travelling with a group of friends or family? There are several larger vacation rentals in Palermo, including this amazing place that sleeps 10 and has a private rooftop terrace with a jacuzzi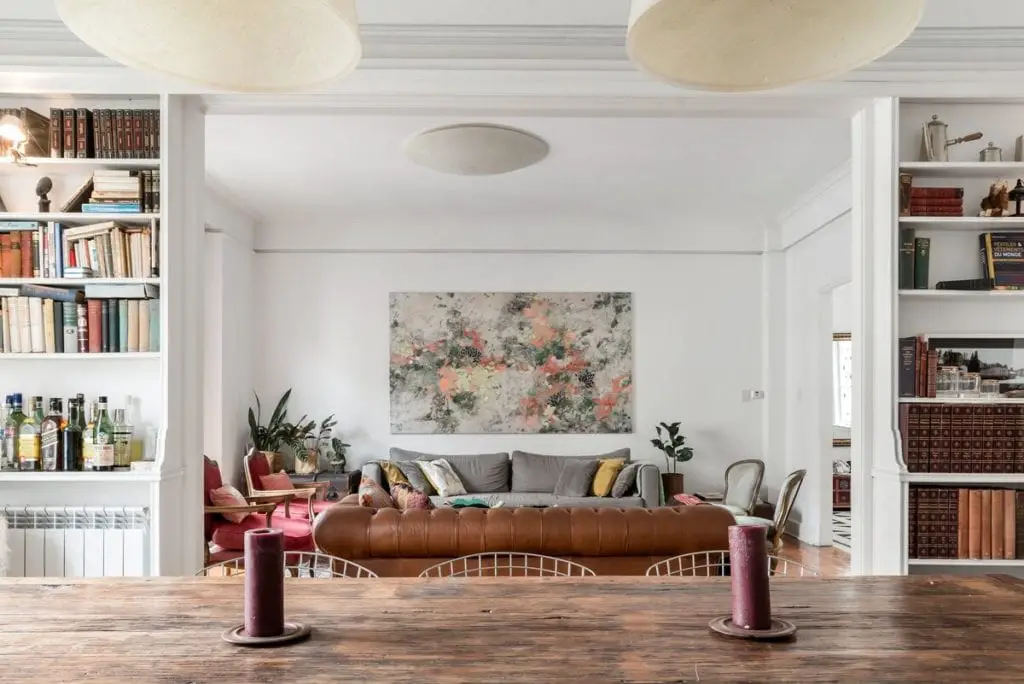 Best hostels in Palermo
It's not hard to tell that Caravan BA Hostel Boutique is owned by travellers – they've put in all the touches every traveller wants and needs in a hostel. The gorgeous garden has a pool and bar, rooms are clean with comfy beds and the staff can help visitors with tips for Buenos Aires or onward travel plans. Definitely one of the funkier and cooler hostels I've seen. Ready to book a bed? Check rates and book online | Read reviews on TripAdvisor
Recoleta
Filled with mansions, expensive shops, plazas and grand statues, Recoleta awakens memories of bygone Buenos Aires. It's one of the most upscale neighbourhoods in the city.
I lived here when I lived in Argentina and loved how tranquil and elegant the neighbourhood is. It's also close to many of the popular Buenos Aires tourist attractions, so you can easily walk to most places.
It is considered pretty expensive, but you can still find decently priced accommodation. Recoleta also doesn't have the nightlife options that Palermo offers, but there are still some very cool bars here, including my favourite in the whole city, Florería Atlántico (well, technically it's in the nearby neighbourhood of Retiro, but it's just on the border so I'm including it here).
Things to do in Recoleta
Visit the Museo Nacional de Bellas Artes, the city's fine arts museum
A cemetery may be an odd tourist attraction in most cities, but the Recoleta Cemetery is a beautiful place to visit, with hundreds of intricate tombs and headstones. It's home to Evita's grave and the graves of many important Argentine figures
Where to eat in Recoleta
Cumaná is a colourful restaurant serving up steak and traditional dishes like locro, a hearty stew
El Sanjuanino is known for its empanadas. While I love their empanadas, I think you can find better steak elsewhere
My absolute all-time favourite steak restaurant in Buenos Aires is Parrilla Peña. It's just on the border of the Recoleta neighbourhood. I love that the waiters wear waistcoats, and they have the best chimichurri in town
For something upmarket, Elena in the Four Seasons Hotel is a stunning restaurant that does a great Sunday brunch
Florería Atlántico is one of my favourite bars in Buenos Aires. Guests enter through a fridge door in a florist upstairs. Downstairs is a cool bar that serves yummy and substantial bar snacks. It just made the list of the world's top 50 bars (again)
Buenos Aires has tonnes of amazing ice cream places, but my favourite is Rapa Nui (there are several locations around the city, including in Recoleta)
Best hotels in Recoleta
Best Airbnbs in Recoleta
Best hostels in Recoleta
San Telmo
Retaining its bohemian vibe, San Telmo is a grungier area than Palermo and Recoleta, but it's beautiful with its cobblestone streets, old churches and historic buildings.
It's close to tourist sites like Plaza de Mayo and other attractions in Buenos Aires, and has a happening nightlife scene.
On the downside, San Telmo does have a reputation for being a bit seedy at nighttime, but you can avoid trouble by catching taxis and sticking to the main streets. I've never had any issues when visiting this barrio at night, however.
Things to do in San Telmo
Every Sunday, the Feria de San Telmo takes over the streets of San Telmo and it's a fun place to wander and shop, grab lunch, and watch tango dancers and other entertainers. Don't get there earlier than noon; that's when things really start to get lively
Not to be confused with the Sunday market, the San Telmo Market is a permanent structure filled with antique stores and vendors selling fresh produce
El Zanjón de Granados isn't often on the tourist radar, but it's a fascinating foray into the network of underground tunnels underneath San Telmo
Where to eat in San Telmo
I like the fun, casual vibe at La Brigada, most famous for the way they cut your steak at your table with a spoon to demonstrate how tender it is
If you've had too much steak in Buenos Aires, Hierbabuena's delicious plant-based menu will be just the cure
Best hotels in San Telmo
Best Airbnbs in San Telmo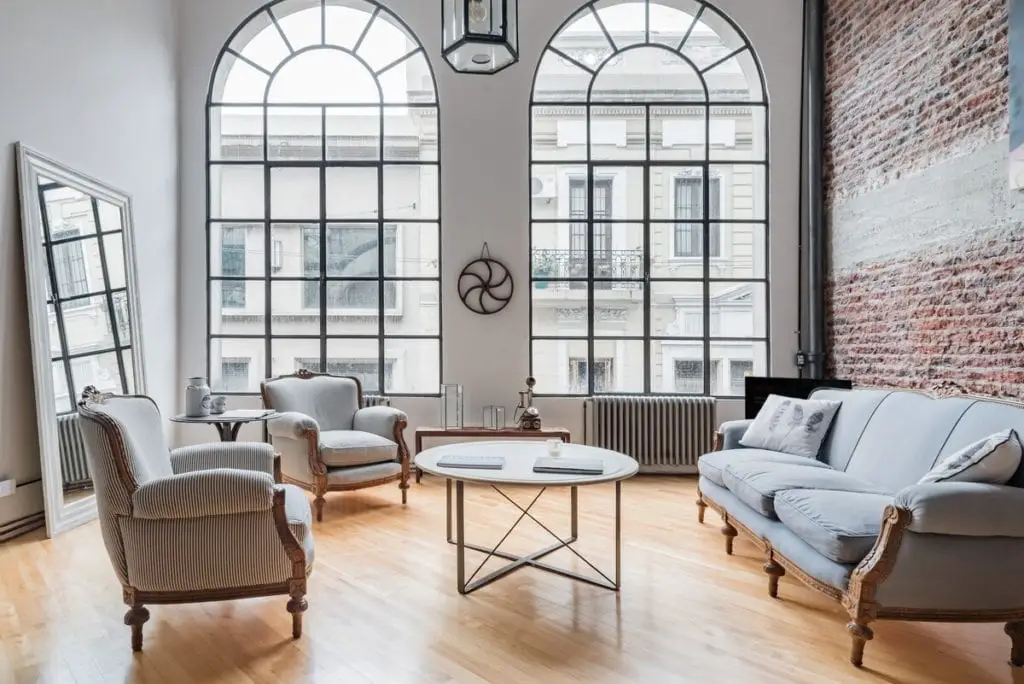 Best hostels in San Telmo
Centro
The Microcentro (or Centro) is the heart of Buenos Aires. It's the financial district and where big businesses have their offices, so during the week it's bustling with crowds of workers.
On weekends and at night it's quieter and some streets are deserted – be careful around here (but not overly cautious).
While there are plenty of hotels in this area, I do think it lacks the character of other barrios.
Things to do in Microcentro
The Plaza de Mayo is the oldest public square in Buenos Aires, and an important gathering place in the city. It's surrounded on three sides by the Casa Rosada (the presidential office), the Catedral Metropolitana (where Pope Francis used to lead mass when he was Archbishop of Buenos Aires) and the Cabildo (the town hall). On weekends, there are free tours in English of the Casa Rosada – you can even stand on the balcony where Evita addressed crowds
Palacio Barolo is one of the most interesting buildings in Buenos Aires. It's designed after Dante's 14th century poem, Divine Comedy. There are fantastic views of the city from the top, which you can see on a Palacio Barolo tour
Step inside Teatro Colón to gawk at the painted ceiling, gilded details and lush velvet curtains. Tours are offered daily, or plan ahead and attend a concert or ballet here
Standing in the middle of Avenida 9 de Julio, the Obelisco rises up 67 metres high. There's nothing to do here except take a selfie in front!
Cruise Calle Florida – it's busy, it's touristy, but there's also plenty of activity and shopping along this pedestrian-only street
Where to eat in Microcentro
I used to love grabbing lunch from El Patio, a lovely little restaurant inside the San Ramon Convent. It's an unexpectedly gorgeous little oasis in the city – and the food is really well priced
Chan Chan serves up delicious Peruvian food and has a great vibe, day or night
Grab a table or lean up at the bar at Pizzería Güerrin for a taste of Argentine pizza with its thick crust and mounds of cheese
Many famous artists and writers have spent time at historic Café Tortoni, one of the city's bar notables. Grab a coffee and something sweet to start your day, or watch a tango performance at night
Best hotels in Microcentro
One of the best hotels in the Microcentro is the Alvear Art Hotel. It's just on the edge of Microcentro (I'd actually say it's in Retiro, still a good location). It's a modern hotel with a pool, 24-hour reception and a bar. Guests rate the bed quality highly. Check rates online and book | Read TripAdvisor reviews
S&T Apartments is in a good location, close to Avenida 9 de Julio but not on that street (which can be very noisy!). If you want to cook a few meals yourself, this is the ideal place to book (make sure you check though – only some of the apartments have ovens and cooktops). There's AC and the rooms are pretty spacious. Check rates online and book 
Best hostels in Microcentro
While I didn't have the need to stay in a hostel while I lived in Buenos Aires, I know a few people who stayed at Milhouse Hostel Avenue and loved it. It's in an old refurbished building with parquetry floors and a terrace. There's a bar, common kitchen and barbecues. It's got a reputation for being a bit of a party house, though! Check rates and book online | Read TripAdvisor reviews
Puerto Madero
This is Buenos Aires' newest neighbourhood, built on reclaimed land. It's filled with many high-rise luxury apartments and office buildings. I used to work in this area.
It's more modern than other areas, and the hotels are quite fancy, which means higher price tags than other areas of the city. Puerto Madero is clean and feels very safe. On a nice day, it's lovely to walk along the waterfront.
But, it can feel isolated, and public transport is difficult to access from here. Some roads in and out of Puerto Madero also often close when vessels are passing through the waterways. It shouldn't be too much of a hassle when you're visiting Puerto Madero, but it was always a pain when I was trying to get home from work!
There's very little in the way of nightlife other than restaurants.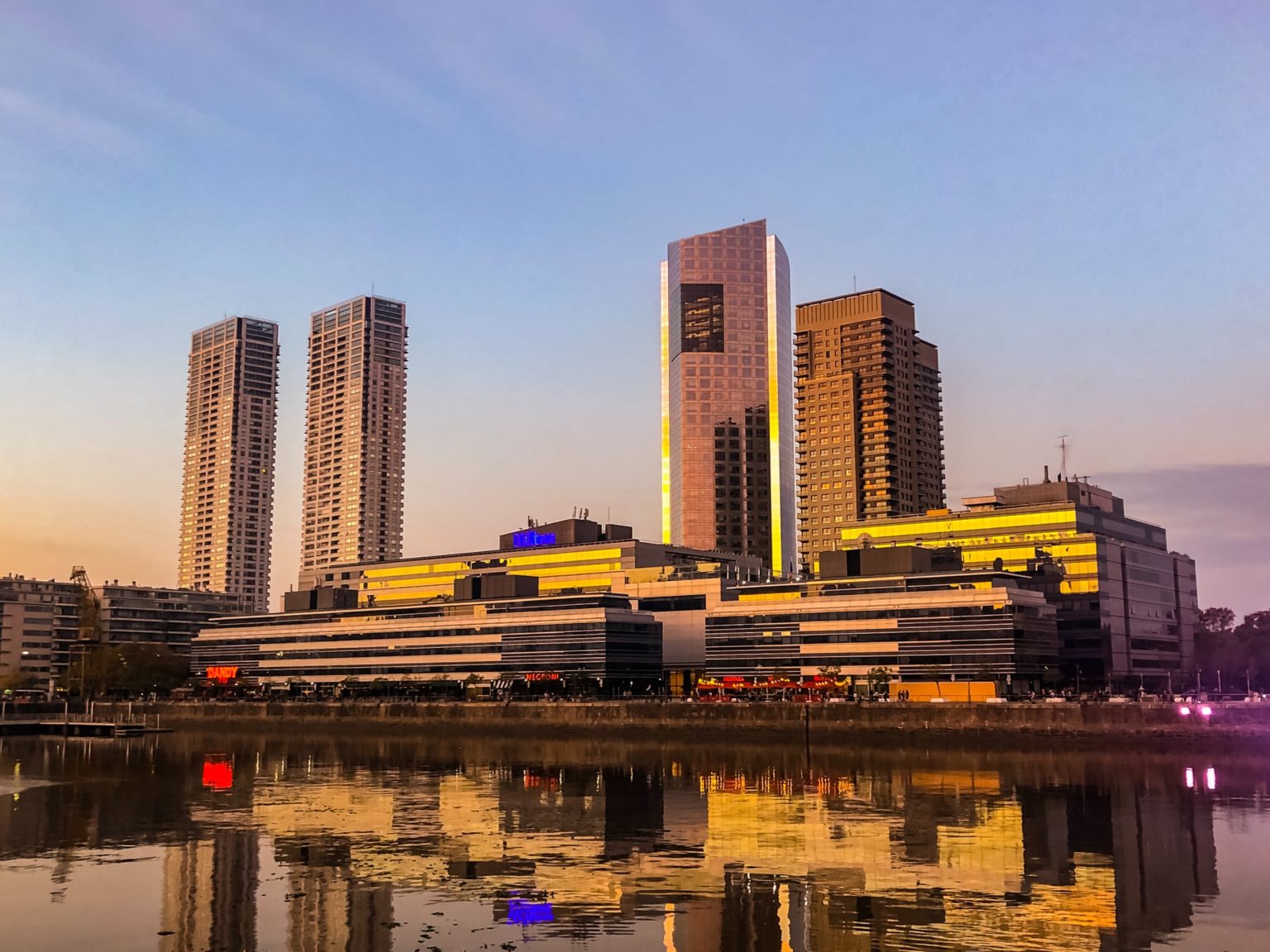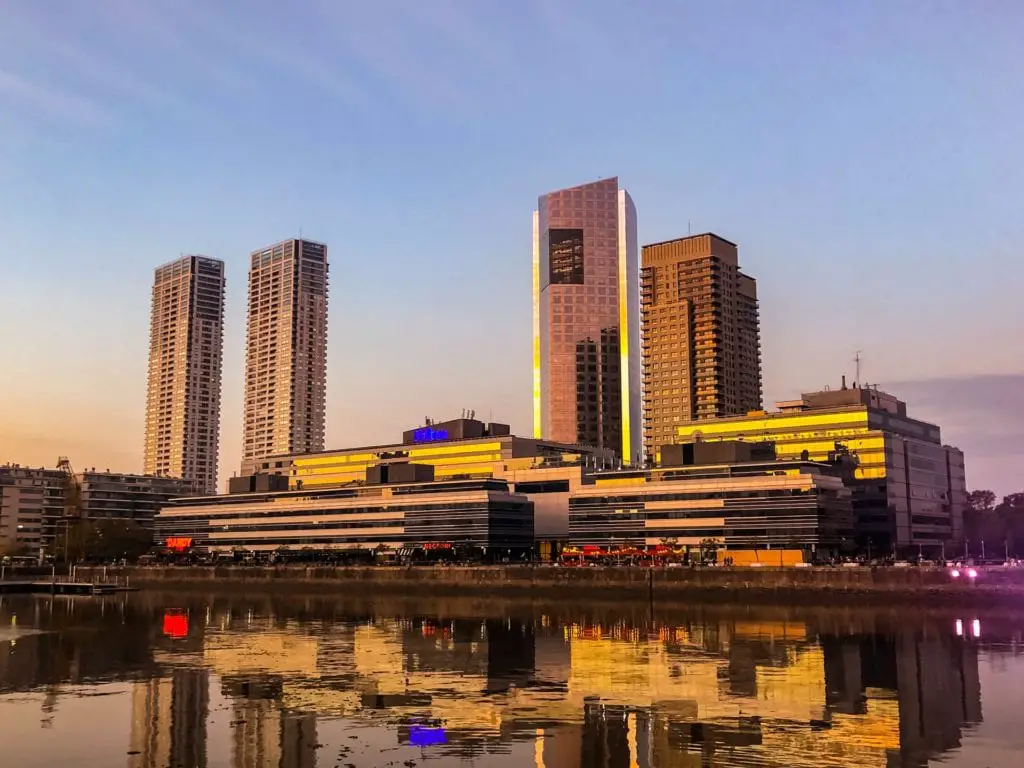 Things to do in Puerto Madero
The Reserva Ecológica Costanera Sur is a 350-hectare nature reserve that's great for walking, biking, picnicking and birdwatching
Rojo Tango, at the incredible Faena Hotel, is a sexy tango performance held a few nights each week
Stroll along the waterfront, admiring the Puente de la Mujer (Women's Bridge) and the former warehouses that are now fancy loft apartments and restaurants, or step onto the Fragata Sarmiento or Corbeta Uruguay, two naval vessels
The Colleción de Arte Amalia Lacroze de Fortabat shows off the incredible art collection of the late Amalia Lacroze de Fortabat who was at one stage Argentina's wealthiest woman
Where to eat in Puerto Madero
Chila is a gorgeous, sophisticated restaurant with a degustation menu of either three or seven plates
For something more casual, iCentral Market sells sandwiches and salads (but you can also have a sit-down lunch or dinner)
Go really casual by picking up a choripan, a delicious sausage in bread smothered in chimichurri sauce, at one of the street vendors along Avenida Intendente Hernán M. Giralt and Avenida Tristán Achával Rodríguez
La Parolaccia does a great lunch set menu
Best hotels in Puerto Madero
Best Airbnbs in Puerto Madero
There are a few vacation rentals in Puerto Madero. I like the look of this stylish and bright loft – they offer a variety of rooms, some with one bedroom (plus a sofa bed in the living room) and some with two bedrooms
Can't afford a night at the Faena Hotel? Book one of their apartments instead. You'll get you access to the hotel pool, spa and other amenities
Villa Crespo
Villa Crespo is a residential neighbourhood that's just west of Palermo. There's not a lot to do here, but it's one of the best places to stay in Buenos Aires for those seeking a quieter area to stay in the city where you can get a feel for local life.
Those same great qualities can also be downsides if you're looking for a more happening area to stay in Buenos Aires. But, even if you do end up here and you're missing the nightlife, Palermo is super close, so you can have the best of both worlds.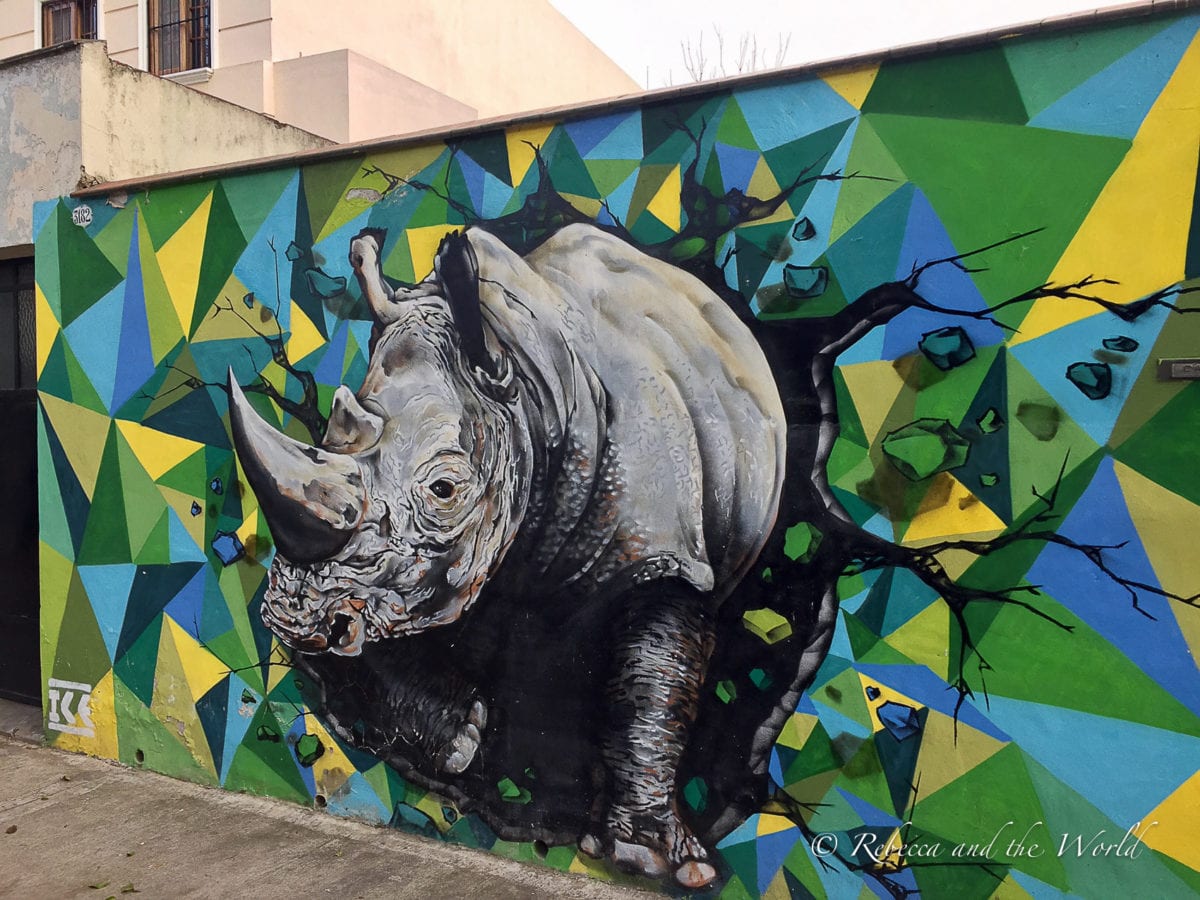 Things to do in Villa Crespo
Villa Crespo is known for having some of the best street art in Buenos Aires. Join a tour or do a solo street art hunt
Want to get a leather jacket made? Murillo is one of the best streets to find a tailor to whip you up a jacket or a skirt or a new bag. Tailors can usually turn items around in 24-72 hours
Where to eat in Villa Crespo
If you've had enough of steak, try the Armenian food at Sarkis, a buzzing restaurant. You'll need to line up early to get a table as they don't take bookings
La Cava Jufré is a lovely wine bar that serves a few cheeses and other charcuterie items
Where to stay in Villa Crespo
Villa Crespo isn't known for hotels, so I'd recommend booking an Airbnb here. You may see some online sites now referring to "Palermo Queens" – this is the new nickname for Villa Crespo that hasn't quite caught on. Here are a few Airbnbs in Villa Crespo that I think look great:
Hopefully this guide to Buenos Aires neighborhoods has helped you figure out where you'll base yourself when you visit Buenos Aires. Enjoy your visit!
So, there you have it, a guide to where to stay in Buenos Aires from someone who's lived there. Where will you be staying? Drop me any questions in the comments section below.
ARGENTINA TRIP ESSENTIALS
PIN IT FOR LATER:
Save this guide to where to stay in Buenos Aires to Pinterest so you can plan your Argentina trip later!