There are so many incredible things to do in Argentina, and one I never expected would blow my mind is trekking Perito Moreno Glacier. In fact, before I moved to Argentina, I'd never even heard of Perito Moreno. But now it's something I recommend to everyone who asks me what to do in Argentina.
Trekking on this thousands-and-thousands-and-thousands-of-years-old glacier was an incredible experience. Words can't express the feeling of awe as a huge chunk of ice breaks off the glacier and crashes into the icy waters below, or the echo as you peer into a bright blue ice cave.
So that you can experience this for yourself, I've pulled together this guide on what to expect on a Perito Moreno Glacier tour, along with practical information on where the glacier is and how to get there.
This blog post may contain affiliate links, meaning if you book or buy something through one of these links, I may earn a small commission (at no extra cost to you).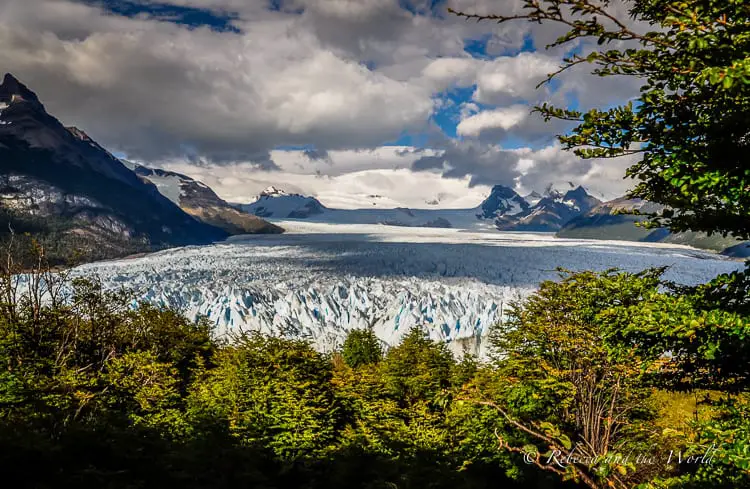 About Perito Moreno Glacier
Perito Moreno Glacier (Glaciar Perito Moreno in Spanish) is a glacier in Argentine Patagonia, located in Los Glaciares National Park in Santa Cruz province. Los Glaciares National Park itself is the largest national park in all of Argentina, and is a UNESCO World Heritage Site.
Perito Moreno Glacier is a big one: this 250-square-kilometre ice formation is 30 kilometres long! It's hard to fathom just how big it is, even when you're standing right on it.
The glacier was named after Francisco Moreno, an Argentine explorer and academic who has been credited for his work to protect Argentine territory during border disputes with Chile.
Perito Moreno Glacier is one of the more unique glaciers in the world. While most glaciers are receding, Perito Moreno actually grows up to two metres every day (but loses a bit every day, too).
Where is Perito Moreno Glacier?
If you looked at a map, you'd probably make a pretty sensible deduction that Perito Moreno Glacier is near the town of Perito Moreno. But, no, don't make the mistake of booking a ticket to Perito Moreno town – it's actually 600 kilometres away from the glacier!
The closest town to Perito Moreno Glacier is actually El Calafate, in Santa Cruz province. This attractive town on the shores of Lago Argentina, the largest freshwater lake in Argentina, has grown rapidly over the past decades as a tourist hub. Perito Moreno Glacier is around 80 kilometres west of El Calafate, towards the Chilean border.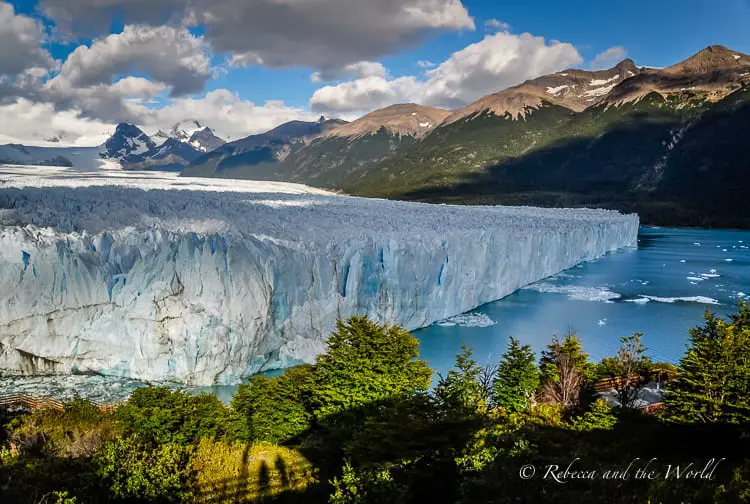 Is Perito Moreno Glacier worth visiting?
Just in case you missed my introduction… YES! 100% Perito Moreno Glacier is worth visiting. It's one of the best places to visit in Argentina and is a highlight of any Patagonia trip – indeed, it's one of the most popular tourist attractions in Argentina.
While it can be pricey, especially if you book a tour to trek across the glacier (more on that later), it's one of those once-in-a-lifetime things that you should splurge on. I mean, how many people do you know who've trekked on a glacier?
If you're visiting Argentina, and especially if you plan to visit Patagonia, you should definitely include a day tour to Perito Moreno Glacier on your Argentina itinerary.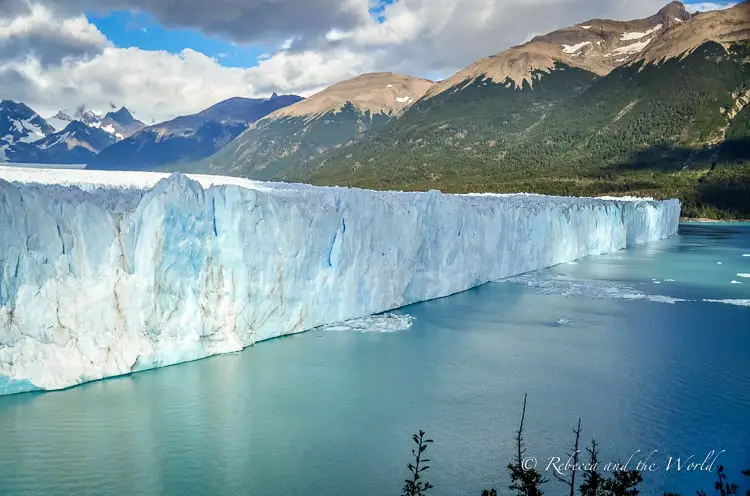 When to visit Perito Moreno Glacier
The best time to visit Perito Moreno Glacier is summer, from December to February. It's also, of course, the busiest time. Although, having said that, when we visited in the height of the peak season, I never felt that the glacier was "overrun" with people.
During the summer months, the days are longer and the chances of sunny days are higher. Which means that you're more likely to see the ice "calve" spectacularly. There's no snowfall to block roads, and little rain.
The shoulder seasons of spring and autumn are also great times to visit Perito Moreno Glacier, especially if you want to avoid the peak tourist season.
Tours on the glacier run from mid-July to the end of May, although Los Glaciares National Park is open year-round.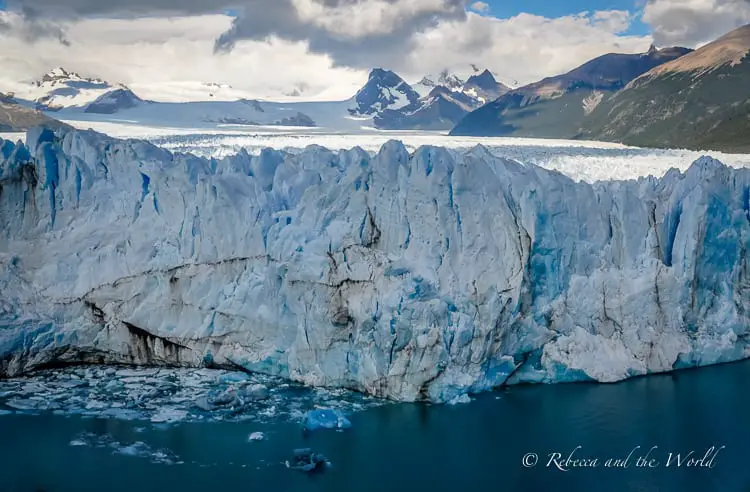 How to get to Perito Moreno Glacier
As mentioned, the nearest town to Perito Moreno Glacier is El Calafate. You can fly into El Calafate non-stop from Buenos Aires or Ushuaia. If you're on a budget and have time, buses also travel here – but the trip is long. From Bariloche to El Calafate, for instance, the trip is 24 hours.
From El Calafate, you'll have the choice of joining a Perito Moreno Glacier tour or getting there independently. Here's some Patagonia travel information to help you figure out which way you'd like to do it.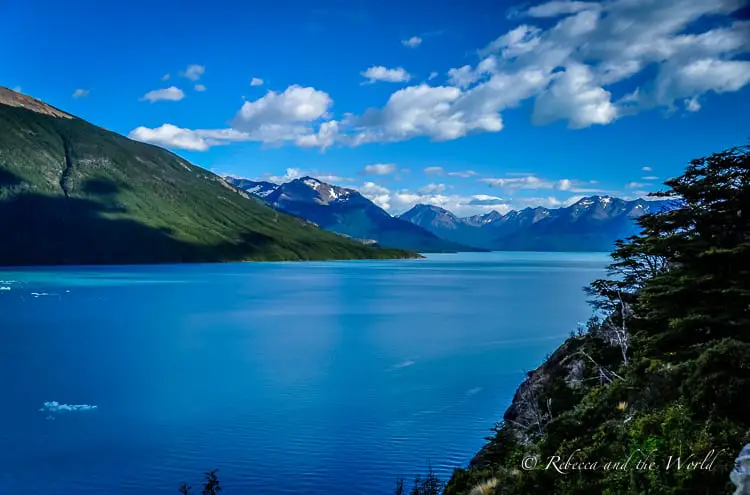 Perito Moreno Glacier tour
Not only can you visit Perito Moreno Glacier, you can actually hike on it, too!
But you can't do this independently, you must organise it through a tour. There are two Perito Moreno Glacier tour options: Big Ice and Minitrekking.
The difference between the two tours is the time you'll spend on the ice, trekking Perito Moreno Glacier. The Minitrekking tour has visitors on the glacier for around 1.5 hours, while the Big Ice tour is more physically demanding with 3.5 hours on the glacier. There are age restrictions for both tours.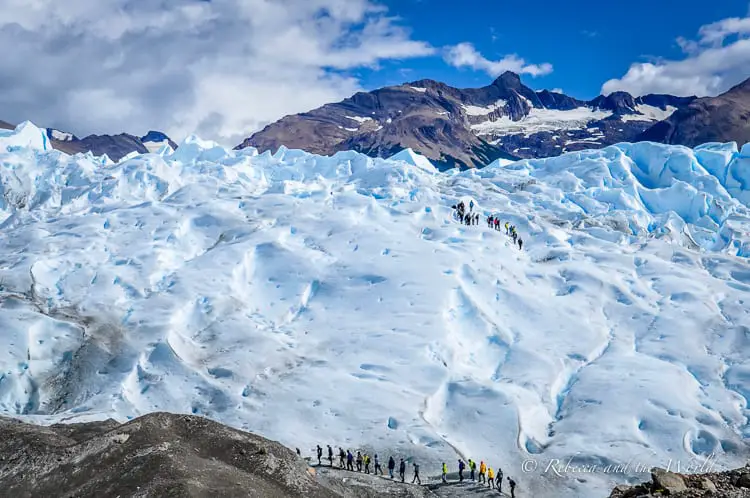 When we visited, we did the full-day Big Ice trek. Although expensive, it was worth every penny for a once-in-a-lifetime opportunity.
Both tours are full day trips and can include hotel pickup. You'll need to bring your own packed lunch (our hotel arranged this for us).
What to expect on a glacier tour
Our tour started with some time wandering the impressive network of catwalks set up to allow for panoramic views of the glacier.
We were lucky to see the incredible sight of ice "calving" and breaking off. First, there's a rumble, then a crack fills the air, and then a huge sheet of ice falls into the lake, causing tsunami-size waves. We saw this happen two or three times but were never quick enough to capture it on video!
Next, we boarded a boat and were taken to a spot across the lake. Our larger group was split into smaller groups of around 10 people, and each group was given two guides.
We then hiked for a short while and before we stopped to strap on crampons. It took a little while to get the hang of the crampons, lifting our feet up and out of the ice with each step to avoid face planting.
Our guides then carefully led us up and over the low, undulating waves of the glacier's surface. Along the way, they explained how Perito Moreno Glacier was formed and showed us interesting caves and crevices.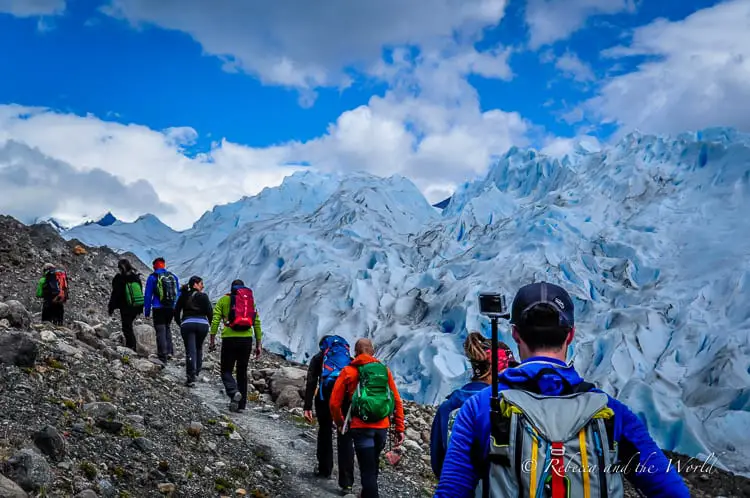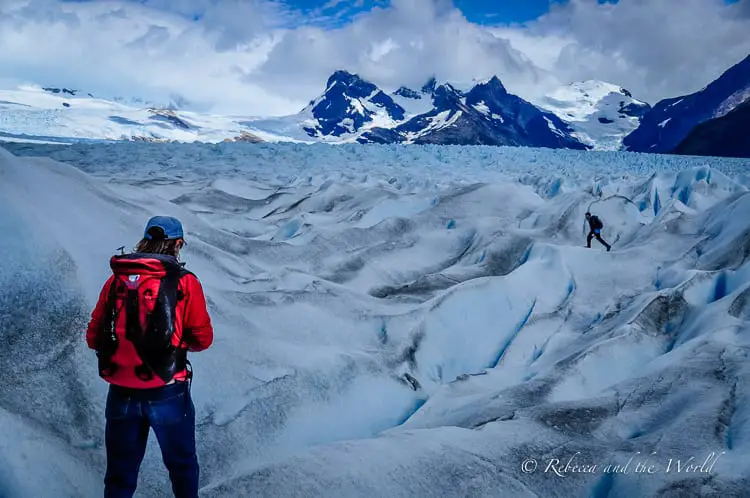 Running out of water was never a problem, as we could fill our bottles with fresh water direct from the glacier.
Our guides made sure that we didn't fall into any of the fissures that cover the glacier. We stopped for lunch by a small pool, created by melting ice.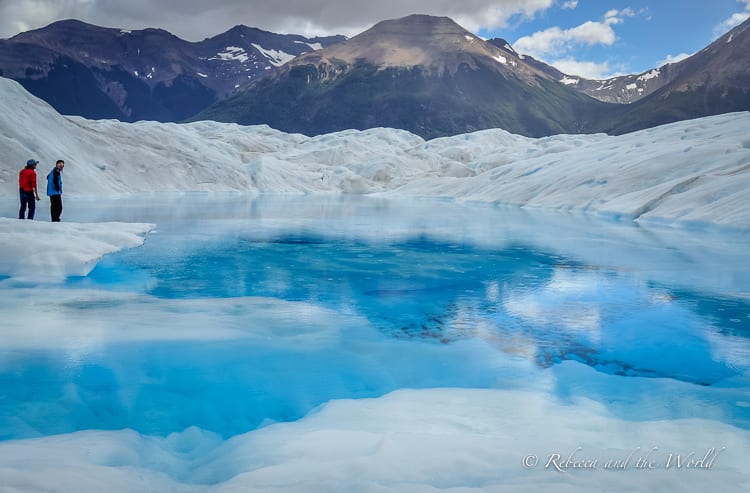 By the time we returned to the boat, we were exhausted from the walking. That's something to keep in mind – the Perito Moreno Glacier hike is far more strenuous than simply walking on ground. The crampons require a lot of extra effort.
There was a nice surprise waiting for us when we boarded the boat back to the other shore – but I won't ruin it here (although you'll probably guess what it is from the picture below!).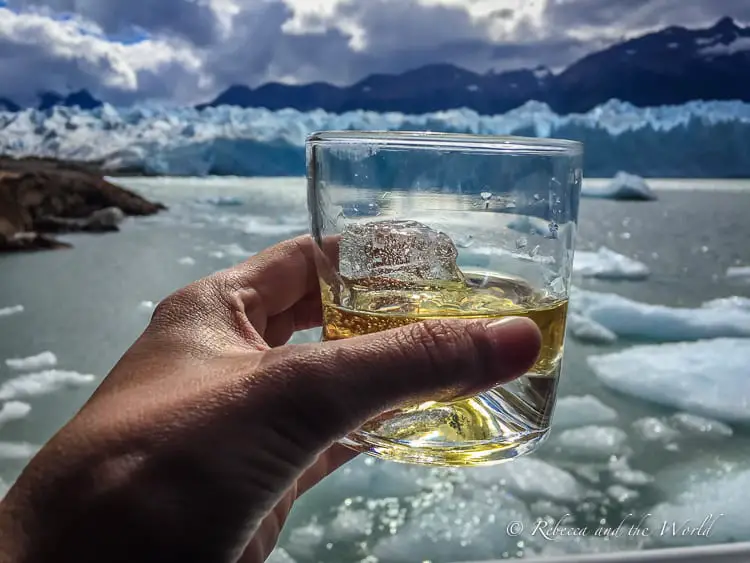 Perito Moreno Glacier tour details
While the trekking tours aren't cheap: Minitrekking costs around US$200 with transfers and the Big Ice trip costs US$400 with transfers (prices as of October 2022 but prices fluctuate regularly in Argentina because of the economic situation there). Neither trip includes the entrance to the Los Glaciares National Park (an additional ARS$4,000, cash only) or lunch (you'll need to bring a boxed lunch with you).
Book well in advance if you're going during high season (middle of December to February) as the tours sell out.
As well as trekking on the glacier, there are other cool tours available: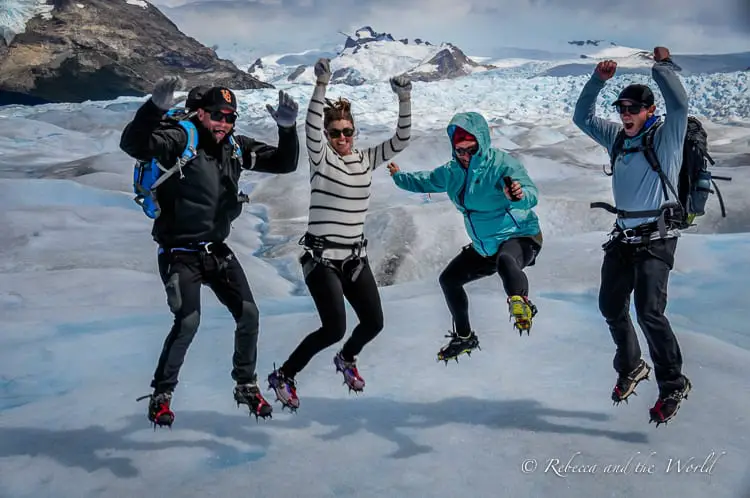 How to visit Perito Moreno Glacier independently
If budget is an issue, you can visit Perito Moreno glacier independently. Buses depart regularly from the El Calafate bus station for the 90-minute trip to the glacier. To make the most of the day at Perito Moreno, aim to be on an early morning bus (8.30 a.m. or 9 a.m. would be ideal). Buses return to El Calafate at 4 p.m.
Alternatively, rent a car or take a taxi. Or try hitchhiking if you're game!
When you arrive at the park, you'll need to pay the ARS$4,000 entrance fee (cash only). Once at the park, you can wander around the well-signed boardwalks by yourself or take a boat tour.
There's no need to arrange to arrange a boat ride in advance, as you can easily buy a ticket there. The boat tours last 90 minutes or so.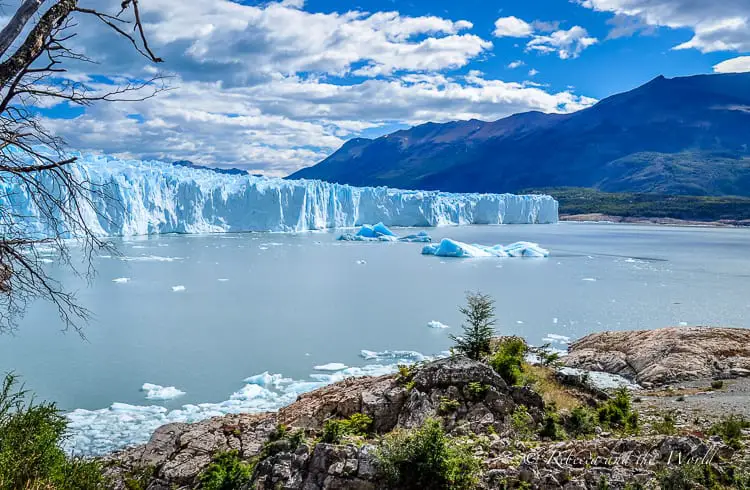 What to pack for a visit to Perito Moreno Glacier
Come prepared for trekking Perito Moreno Glacier with a few essentials:
Lunch – we arranged this with our hotel and they provided a sandwich, fruit and snacks
Sunglasses
Sunscreen
Hiking boots for Big Ice, or sneakers with laces for Minitrekking (it's a good idea to bring along waterproof footwear)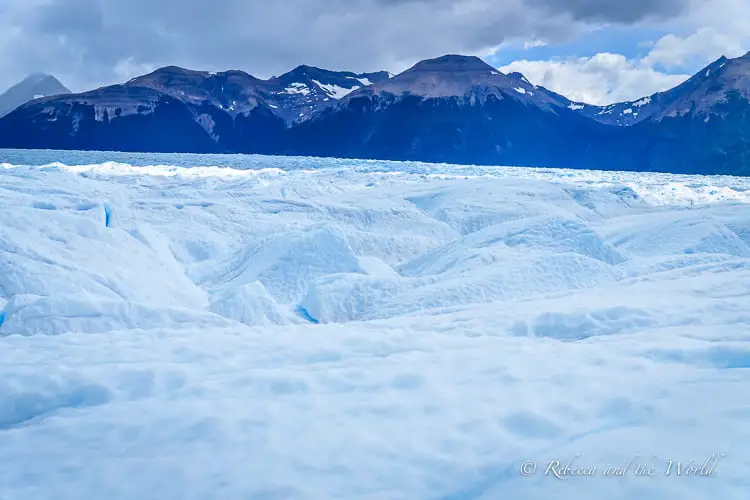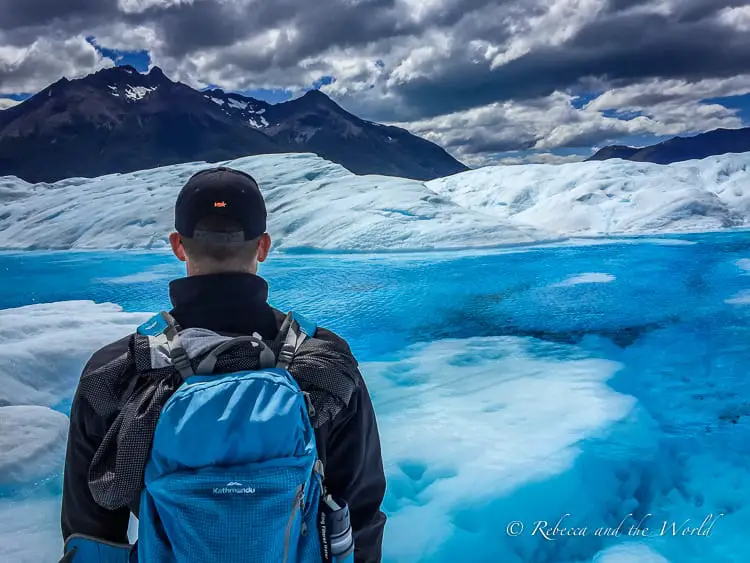 Other things to do in El Calafate
You should plan a whole day for visiting Perito Moreno Glacier. But if you've got a few extra days, here are suggestions for a few other things to do in El Calafate:
See the pink flamingoes on the shore of Lago Argentino
Visit the Glaciarium to learn more about glaciers
Have a drink at an ice bar – there's one at the Glaciarium
Rent a bike and cycle around Lago Argentino
Head to El Chaltén for great hiking – this is where you'll find the famous Monte Fitz Roy
El Calafate hotels
We stayed at the stunning Hostería La Estepa, which has sweeping views over Lago Argentino. Rooms are generous with comfy beds, and there's a cozy reading and games area on the second floor which is perfect for a glass of wine as the sun is going down. The restaurant whips up delicious meals. Book a room at Hostería La Estepa online | Check reviews of Hostería La Estepa online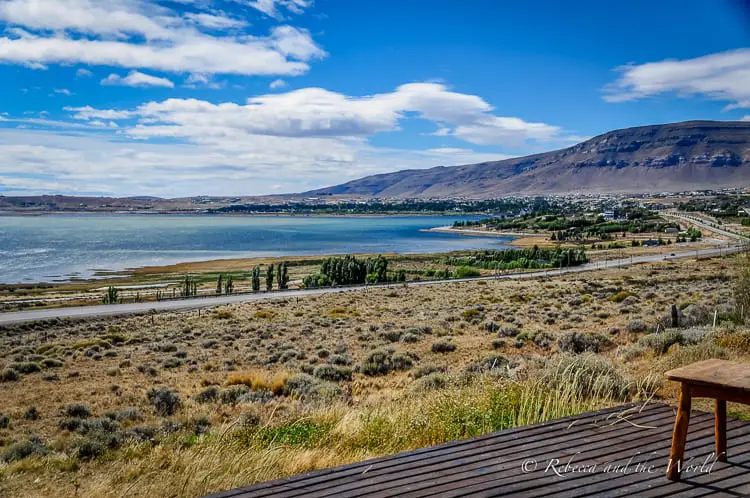 A popular budget option is America del Sur Hostel, which is ideally located near downtown. This timber, cabin-style El Calafate hostel also has beautiful views. Book a room online | Read reviews of America del Sur Hostel online
I hope this guide has helped you plan your trip to Perito Moreno and made you excited for the experience.
Would you enjoy trekking Perito Moreno Glacier? Drop any questions in the comments section below.
ARGENTINA TRIP ESSENTIALS
PIN IT FOR LATER:
Save this guide to trekking Perito Moreno to Pinterest so you can plan your visit later.