So, you're planning your trip to Buenos Aires. Your first question is likely to be: how do I figure out what to do in Buenos Aires?
Luckily, there's plenty to do! I lived in this vibrant city for almost two years and after exploring a tonne of the best things to do in Buenos Aires, I've pulled together a list of my recommendations. Here you'll find my favourites: things to do, bars, restaurants, museums, tours and markets. It's just a matter of whittling the list down into something that fits your interests and the time you have in Buenos Aires. Pick and choose according to what you love to do and build your own awesome Buenos Aires itinerary.
This is a long list, so if you'd prefer not to have to make so many decisions, then check out my guide to 3 days in Buenos Aires with day-by-day recommendations, as well as my advice on where to stay in Buenos Aires.
Or, if you're visiting Argentina beyond Buenos Aires, I've put together this 2 weeks in Argentina itinerary which covers all my favourite places to visit in the country. First time visiting Argentina? My guide to planning a trip to Argentina has you covered.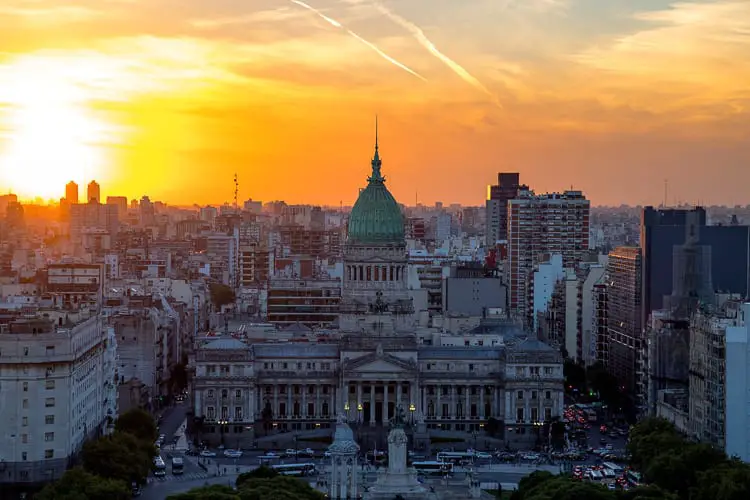 This blog post may contain affiliate links, meaning if you book or buy something through one of these links, I may earn a small commission (at no extra cost to you).
Map of what to do in Buenos Aires
To help you visualise the city and plan your trip, I've included a map of Buenos Aires and highlighted everything that's listed in this post. It's even colour-coded for ease (red denotes things to do in Buenos Aires, while green are all the things to eat and drink).
You'll notice that throughout this article I've included addresses and websites where possible, but not prices. That's because Argentina's peso fluctuates wildly, and prices change regularly here.
Things to see in Buenos Aires
Let's start off this Buenos Aires bucket list with all the amazing things to do and see in Buenos Aires. Here, you'll find something for all interests – architecture, history, and those iconic places to visit in Buenos Aires that you've read about in guidebooks or seen on Instagram.
Plaza de Mayo
In the heart of the city lies the Plaza de Mayo, a 19th-century central square. This is a great place to start your tour of Buenos Aires, as it's centrally located to many of the Buenos Aires must-see spots and barrios (neighbourhoods). On weekends you'll find the plaza awash with tango dancers and buskers, as well as tourists snapping photos.
On Thursday afternoons, the mothers of the desaparecidos (the "disappeared" – people who went missing during the military dictatorship in the late 70s and early 80s) protest here, a somber experience.
Address: Av. Hipólito Yrigoyen
Casa Rosada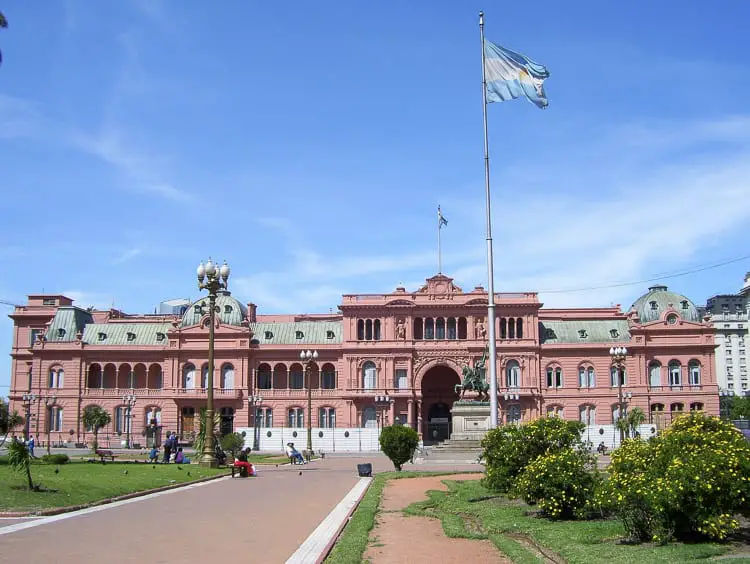 From the Plaza de Mayo there's a great view of the Casa Rosada, the presidential office. The Casa Rosada is so called because of its pink-washed walls. If you're interested in seeing what the building looks like inside or the balcony from where the beloved Evita addressed her adoring fans, on weekends there are free guided tours of the Casa Rosada. Tours in English are offered on Saturday at 12.30 p.m. and you'll need to book in advance (however their website hasn't been working for some months now!).
Address: Balcarce 50
Website: https://www.casarosada.gob.ar/
Cabildo
Across the other side of Plaza de Mayo, opposite the Casa Rosada, sits the Cabildo. If you're interested in Argentine history there's a small museum inside which is free to visit. From the second-floor balcony there are great views over the plaza.
Address: Bolívar 65
Website: https://cabildonacional.cultura.gob.ar/
Catedral Metropolitana
As archbishop of Buenos Aires, Pope Francis used to work at the Catedral Metropolitana, also located on the Plaza de Mayo. There's a small gift shop inside selling plenty of pope memorabilia. The cathedral also holds the remains of General José de San Martín, the "liberator" of Argentina, Chile and Peru.
If you're interested in learning more about the pope and his life in Buenos Aires, then check out this tour. It covers sites around the city that had an influence on Pope Francis' early years.
Address: San Martín 27
Website: https://catedralprimadabue.wixsite.com/buenosaires
Bar Notables
Café culture is a huge part of Argentina. There are many historic cafes where notable figures from the literary, musical and political worlds would meet to discuss ideas over a cup of coffee or glass of wine. The city of Buenos Aires has declared more than 70 of these cafes bares notables, recognising their role in the city's cultural fabric. With the décor of each carefully preserved, you'll feel as if you've stepped back in time when you enter one of these lovely cafés.
Some important bares notables to put on your list include:
Café Tortoni, Avenida de Mayo 825 (downtown)
El Faro, Avenida de los Constituyentes 4099 (Parque Chas)
Confiteria las Violetas, Avenida Rivadavia 3899 (Almagro)
Bar El Federal, Perú and Carlos Calvo (San Telmo)
El Banderín, Guardia Vieja 3601 (Almagro)
El Preferido de Palermo, Borges 2108 (Palermo)
Palacio Barolo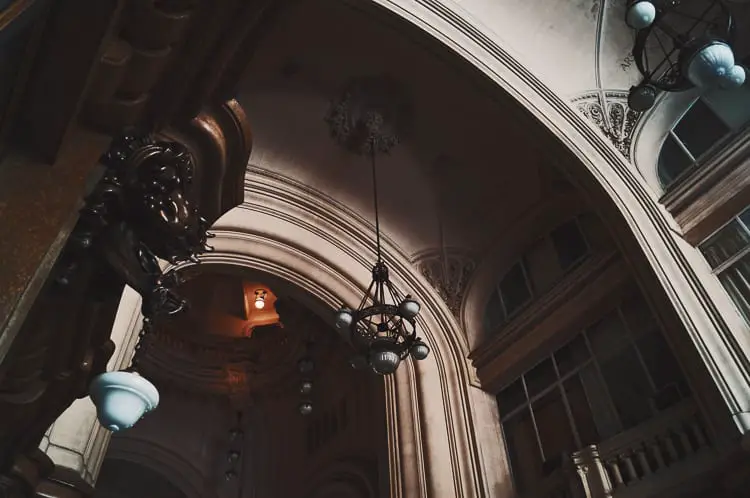 One of the most interesting buildings in Buenos Aires is also one that I don't think many visitors know about.
Palacio Barolo was inspired by Dante's 14th-century poem, Divine Comedy. Dante's ashes were supposed to end up here, but that never happened. The building is divided into three parts that represent the stanzas of Divine Comedy. The basement and ground floor are Hell, the first to fourteenth floors are Purgatory, and floors 15 to 22 are Heaven. There are amazing views of Buenos Aires from the lighthouse at the top of the building. I've written a post on what to expect when you go inside Palacio Barolo.
Book a ticket online in advance. Tours take around 90 minutes and are in English on Monday, Wednesday, Thursday, Friday and Saturday.
You might even get lucky and your visit to Buenos Aires may coincide with one of the unique evening and night tours held with a tango show and wine tasting.
Address: Avenida de Mayo 1370
Website: https://palaciobarolo.com.ar/?lang=en
Teatro Colón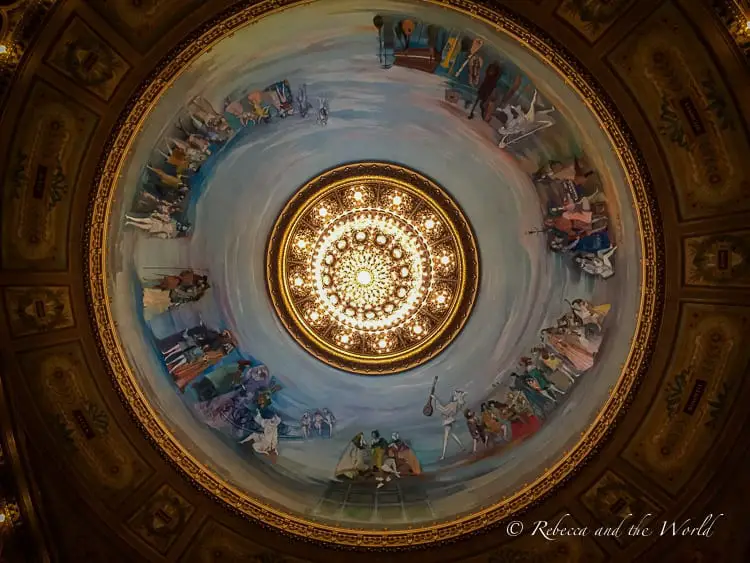 Teatro Colón is one of the most stunning buildings in Buenos Aires. This theatre regularly hosts opera, ballet, orchestras and concerts. It's one of my personal favourite attractions in Buenos Aires.
If you can't time your visit to Buenos Aires with one of these events, then join a guided tour to check out the interior of the building: lush fabrics, ceilings dripping with chandeliers and ornate carved columns. Guided tours are held daily, every 15 minutes between 9 a.m. and 5 p.m., and cost ARS$3,800. English tours are held at 1pm and 3pm. Book at the door or sign up online with this guided tour.
Address: Cerrito 628
Website: http://www.teatrocolon.org.ar/
Recoleta Cemetery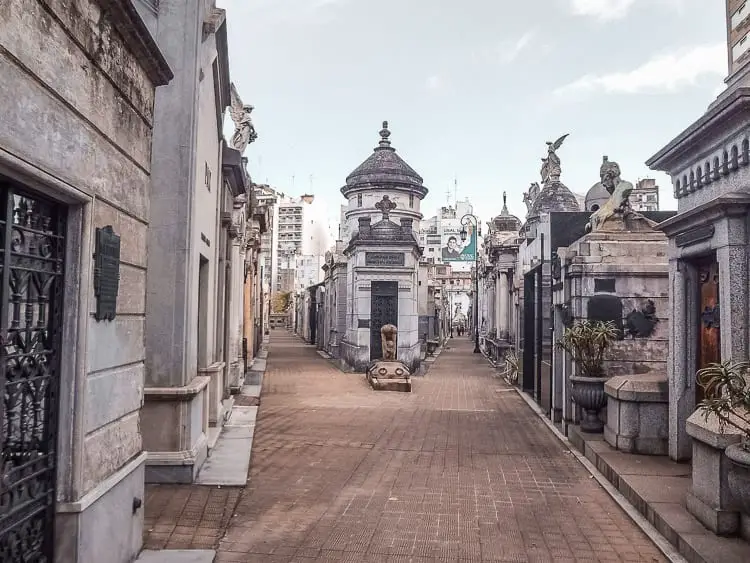 Wandering through a cemetery may not be something you'd normally do when you visit a city, but as soon as you step through the gates of the Recoleta Cemetery you'll understand why you should see this one.
Rows and rows of ornate tombs house the remains of some of Argentina's most notable and wealthy figures. You can simply wander through the tombs yourself, buy a map at the entrance, or hire a guide to take you through to learn some of the stories of the people who "live" here. There are often guides offering tours at the entrance, or here's a guided walking tour which shares stories of Recoleta's famous and not-so-famous guests.
Address: Junín 1760
Palacio del Congreso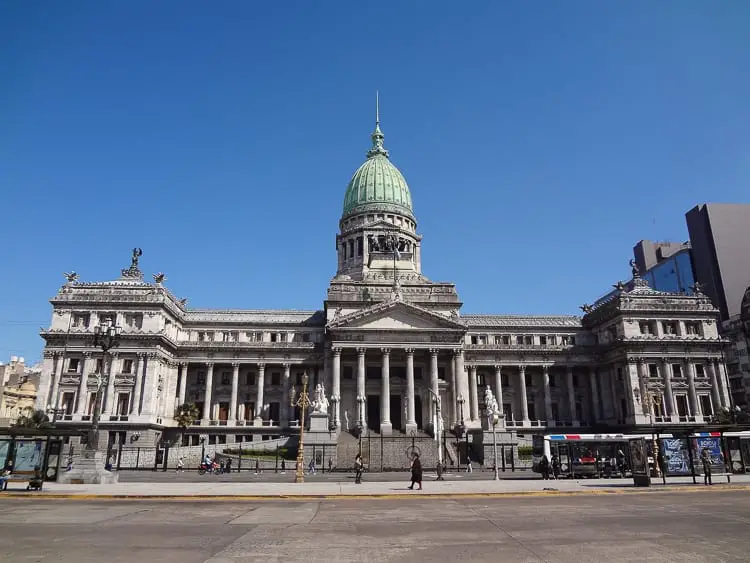 The striking green-domed Palacio del Congreso was completed in 1906. Take some photos from outside or go inside for a free tour of the building. Tours are held in Spanish and English on Monday, Tuesday, Thursday and Friday at 12.30 p.m. and 5 p.m. Make sure you're at the entrance at least 15 minutes before the tour begins, and bring photo ID.
Address: Avenida Rivadavia 1864 (entrance for tours is at Hipólito Yrigoyen 1849)
Website: https://www.congreso.gob.ar/
Chacarita Cemetery
If you're really into cemeteries, there's actually another cemetery in Buenos Aires that's bigger than Recoleta. Cementerio de la Chacarita is home to Carlos Gardel, the most famous tango singer.
Address: Avenida Guzmán 680
Avenida Alvear
Avenida Alvear is one of the most beautiful streets in Buenos Aires, lined with lavish buildings, expensive hotels, luxury shops and towering statues. It's worth a stroll along the avenue for a glimpse at how the other half live.
I actually lived right on this street when we lived in Buenos Aires, and we always felt out of place surrounded by the older women in their fur coats!
Torre Monumental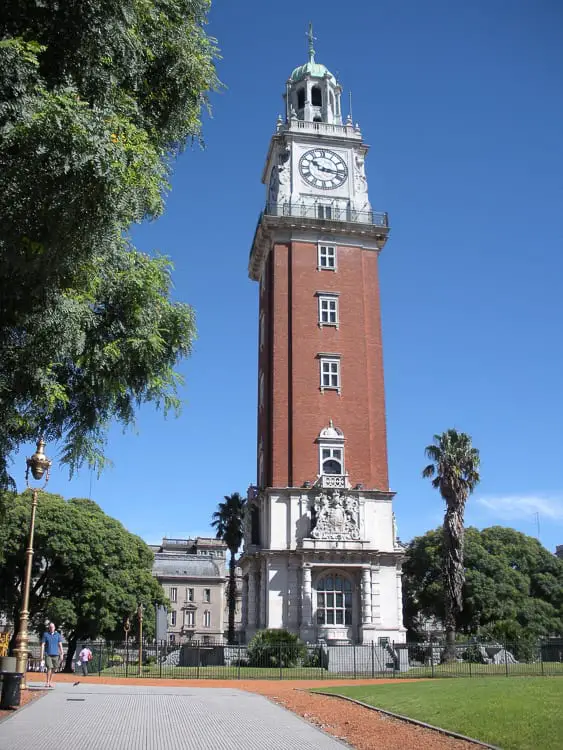 Nicknamed the Argentine Big Bend, this clock tower was a gift to Buenos Aires from the English community living in the city. Following the Islas Malvinas / Falklands Islands War, the tower was renamed to Torre Monumental, but most people still refer to it as the English Tower. You can go to the top for a view over the city.
Address: Avenida Dr. José María Ramos Mejía 1315
El Ateneo Grand Splendid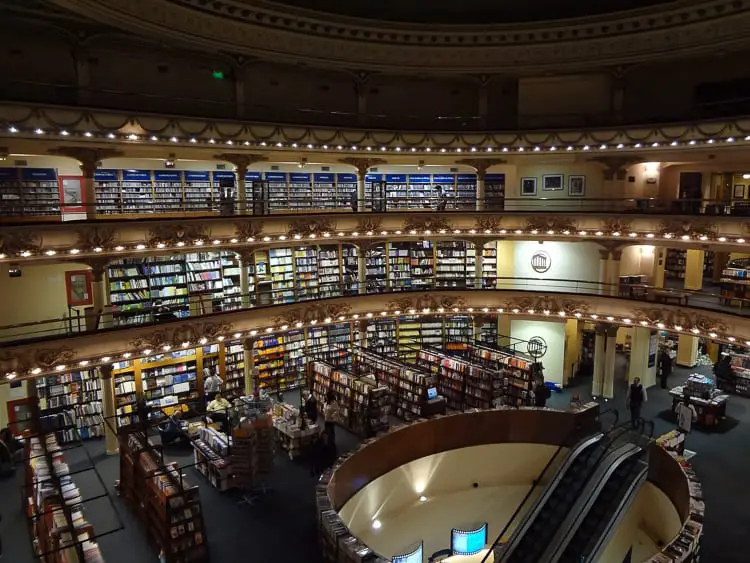 Regularly lauded as one of the most beautiful bookstores in the world, El Ateneo is a former theatre that was converted into a bookstore in the early 21st century. Browse the huge range of books for sale here or take a coffee in the café which now occupies the former stage. It's one of the most popular attractions in Buenos Aires because of it's majestic beauty.
Address: Avenida Santa Fe 1860
Website: https://www.yenny-elateneo.com/local/grand-splendid/
Pasaje de la Defensa
You may recognise the inside of this building from movies like Focus starring Will Smith and Margot Robbie. The building was originally built in the late 1800s for a wealthy family, but after the yellow fever outbreak of 1871 it later became a tenement home that housed more than 30 families. Now you'll find some lovely little antique shops around the sunny patio.
Address: Defensa 1179
Basílica de Nuestra Señora del Pilar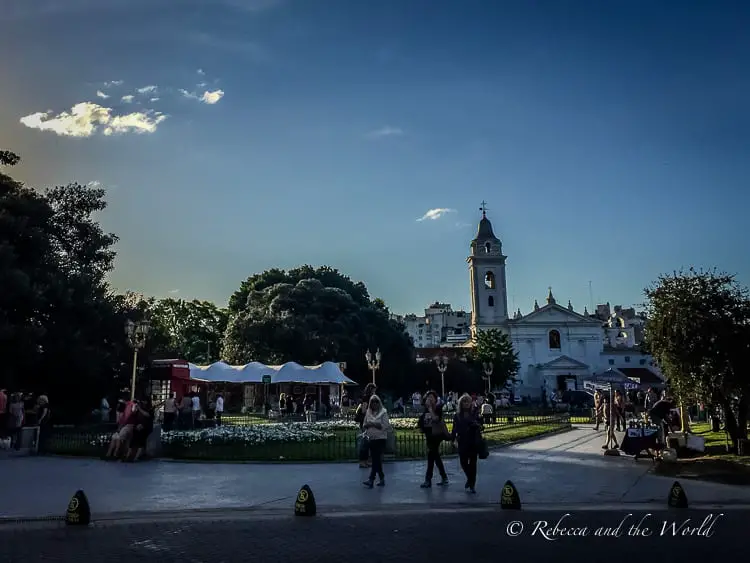 Visit this gleaming white church next door to the Recoleta Cemetery. Built in 1732, there's now a small museum inside.
Address: Junín 1898
Website: http://www.basilicadelpilar.org.ar/
El Zanjón de Granados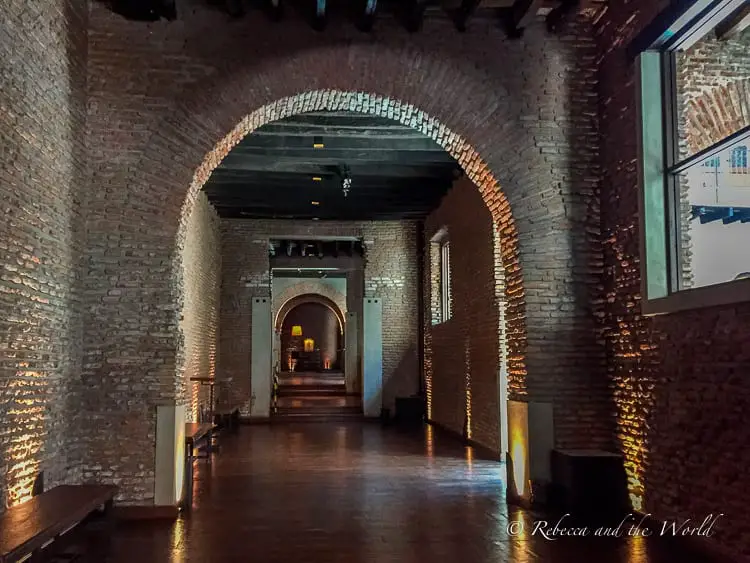 Not many people notice the entrance to El Zanjón de Granados. But I wanted to include some of the more unusual things to do in Buenos Aires in this Buenos Aires travel guide. A tour of this 1800s building takes you underground to explore a series of tunnels that previously crisscrossed the city. Some historians even say that this spot is where Buenos Aires was first settled in the 1500s.
Fifty-minute guided tours in English are offered daily at 12 p.m. and 4 p.m. Tours cost ARS$3,700.
Address: Defensa 755
Website: http://www.elzanjon.com.ar/
Walk around Palermo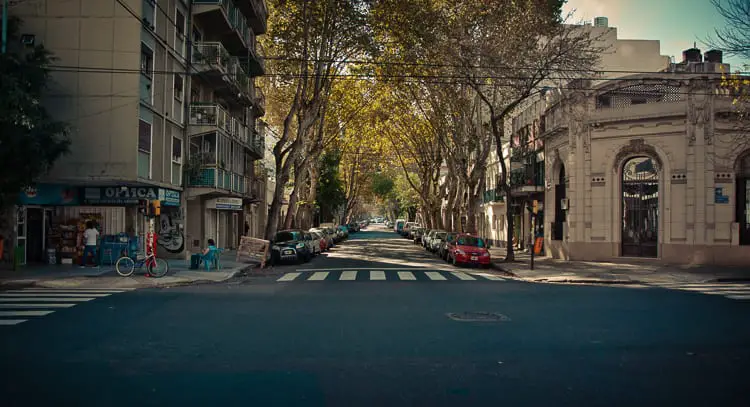 Palermo is the coolest area in Buenos Aires, and most visitors end up here at some point or another. Made up of several smaller barrios, with names like Palermo Soho and Palermo Hollywood, it's here that you'll find great shopping, lovely parks and plenty of restaurants and bars.
La Boca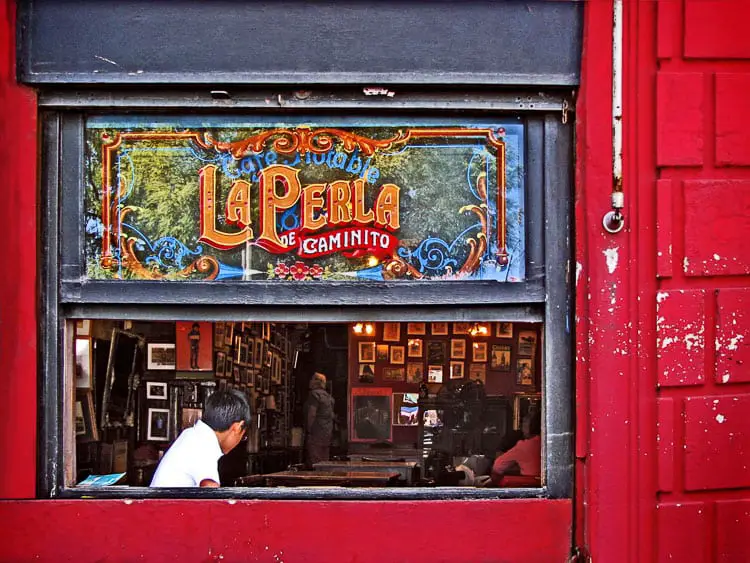 No doubt you've seen the colourful buildings of La Boca on the cover of a guidebook. This area is not my favourite – it's the only place you'll go in Buenos Aires where you have touts attempting to lure you into their restaurants or stores – but it is iconic so I had to include it in this Buenos Aires travel guide.
Wander the Caminito and explore the souvenir stores. There's a great museum, Usina del Arte (Agustín R. Caffarena 1), to visit, as well as La Bombonera (Brandsen 805), home of the Boca Juniors.
Be careful around La Boca, though. Stick to the main Caminito area and steer away from the streets surrounding it as the area tends to be a bit dodgy.
9 de Julio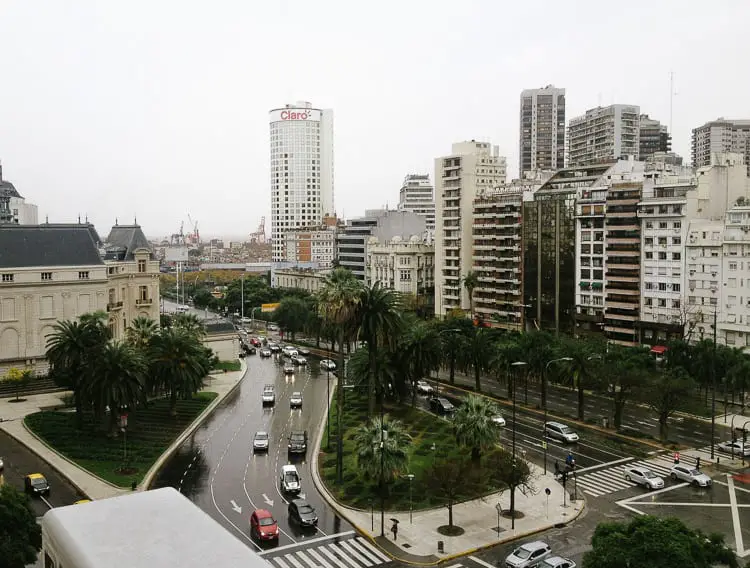 You'll read that Buenos Aires lays claim to the widest street in the world, although I think that's been taken over now. In any case, Avenida 9 de Julio, named for the date of the country's independence, is still pretty wide, and I challenge you to cross its entirety in one traffic light crossing!
During spring, the jacaranda trees along Avenida 9 de Julio bloom and the purple flowers make for a beautiful sight.
Obelisco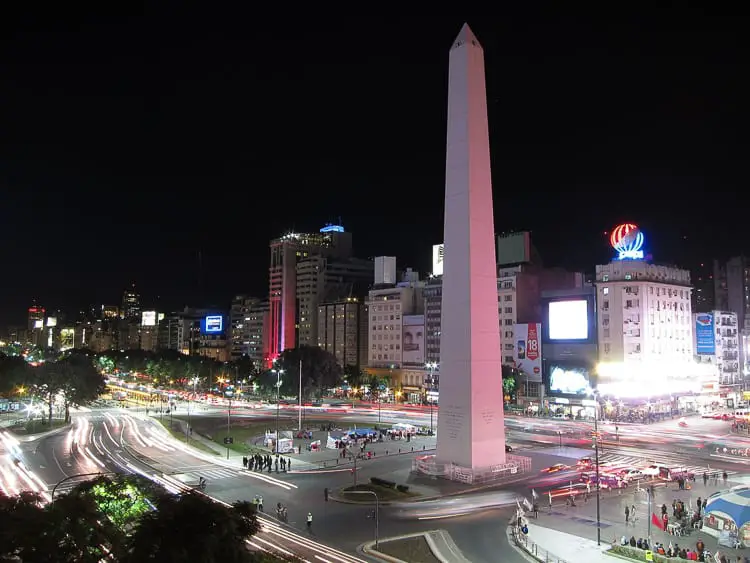 Rising almost 70 metres, the Obelisco monument is one of the most photographed spots in Buenos Aires. Snap a picture here. After major soccer matches, fans often gather here to celebrate.
Address: Avenida 9 de Julio
Walk around Puerto Madero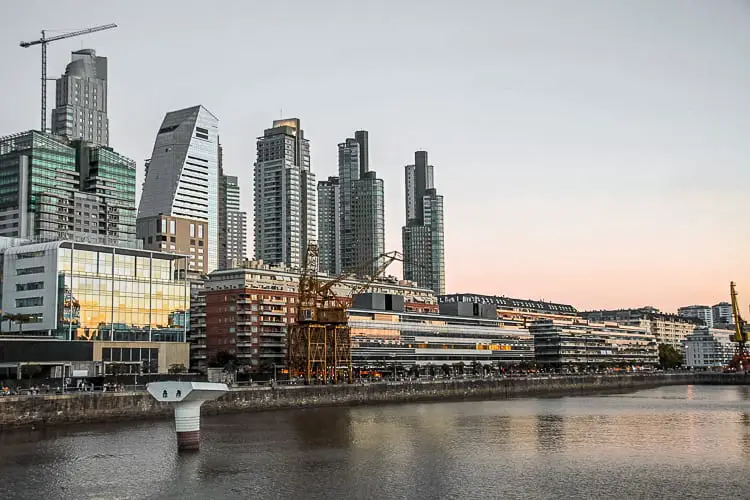 Puerto Madero is Buenos Aires' "newest" neighbourhood. Built on reclaimed land, it's a small strip filled with apartment buildings and restaurants. While the area lacks the atmosphere of Palermo or Recoleta, it's still worth a stroll through here. I used to work in this barrio and have dined at many of the delicious restaurants along the canal.
Puente de la Mujer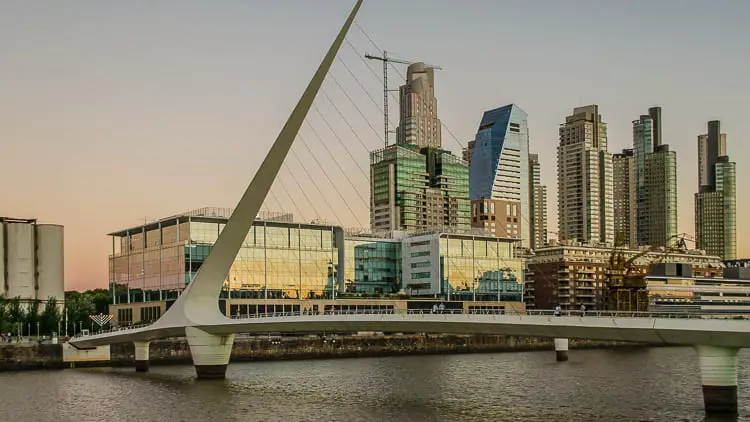 Designed by Spanish architect Santiago Calatrava, Puente de la Mujer ("Woman's Bridge in English) is an unmissable sight in the Puerto Madero barrio. I recommend snapping a few photos at night when the pedestrian bridge is lit up.
Fragata Sarmiento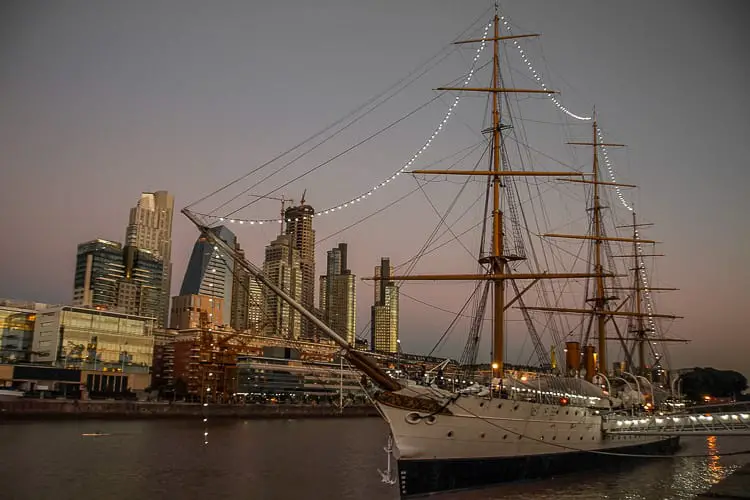 If you're into naval history, take a peek inside Fragata Sarmiento. This 85-metre sailing vessel travelled the world almost 40 times between 1899 and 1938 but never saw combat. It sits right on the canal in Puerto Madero.
Address: Darsena 3, Av. Alicia Moreau de Justo 900
Website: http://www.ara.mil.ar/
Chinatown
While Buenos Aires' Chinatown has nothing on San Francisco or New York or London, it's the place to go for Asian food. Many expats in Buenos Aires end up here in search of hard-to-find foods they're craving like quinoa and peanut butter, as well as dumplings and Chinese delicacies.
Address: Arribeños 2149
Tierra Santa

For something really unusual, it doesn't get quirkier than Tierra Santa, a religious theme park on the outskirts of Buenos Aires. During a visit, you'll witness Jesus as he's "resurrected".
Address: Avenida Costanera Rafael Obligado 5790
Website: http://www.tierrasanta.com.ar/
People watch
Buenos Aires is a great city to simply wander, take a seat and watch all the people going past!
Learn Spanish
Got a few weeks in Buenos Aires? Why not learn Spanish. Sure, the accent in Argentina takes a little while to pick up, but once you can understand it, it is beautiful to hear.
There are plenty of affordable Spanish schools in Buenos Aires. When we first moved to Argentina, my husband took lessons at Expanish, a school located right in the heart of the city. They have lessons for everyone from the beginner to the advanced speaker. Learning Spanish is also a great way to meet fellow travellers and Argentines!
Where to eat and drink in Buenos Aires
Prepare to put on a few kilos when you visit Buenos Aires – you won't be able to say no to the pastries, dulce de leche and steak.
Here are some recommendations of things to eat when you're in Buenos Aires, along with where to sample them. For more food-related goodness, I've got a whole post on where to eat in Buenos Aires, as well as recommendations for the best bars to visit.
Steak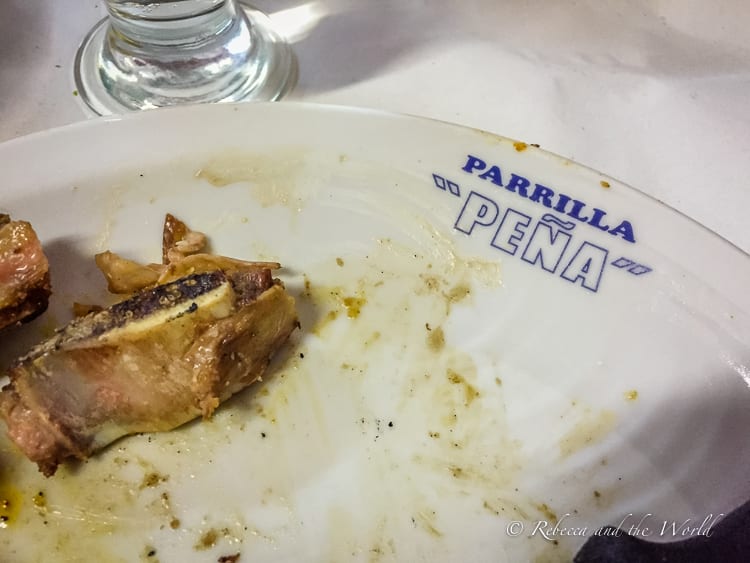 We'll start off with the most obvious food to eat in Buenos Aires: steak. Argentina consumes the most meat of any country, and you'll find a steakhouse on almost every block of the city. My favourite steak restaurants in Buenos Aires are:
Parrilla Peña (Rodríguez Peña 682) – a buzzing steakhouse with a regular clientele, this is one of those places that people have been going to for years (if not decades). My favourite is entraña (flank steak) smothered in chimichurri sauce. Bonus: you'll get a free empanada when you sit down!
Don Julio (Guatemala 4699) – this popular steak restaurant regularly tops the list of the best restaurants in the world. You'll need to reserve in advance or prepare for a long wait (which is not so bad – you'll get a glass of champagne while you're waiting).
La Carnicería (Thames 2317) – where all the hip people go for traditional food with a modern twist. It's a tiny restaurant with only a few tables.
Empanadas
The ideal snack, empanadas are small, pastry turnovers that are baked or fried. They're filled with cheese or meat or chicken. Argentines can tell what's inside each just by looking at them, because each empanada is folded in a certain way according to its filling. Try the empanadas at:
Pizzeria Güerrin, Avenida Corrientes 1368
La Cocina, Pueyrredón 1508
Parrilla Peña, Rodríguez Peña 682
Locro
Locro is a traditional Argentine stew that's super hearty and comforting. It's usually made of beans, corn, vegetables and meat.
La Paceña, Echeverría 2570
Choripan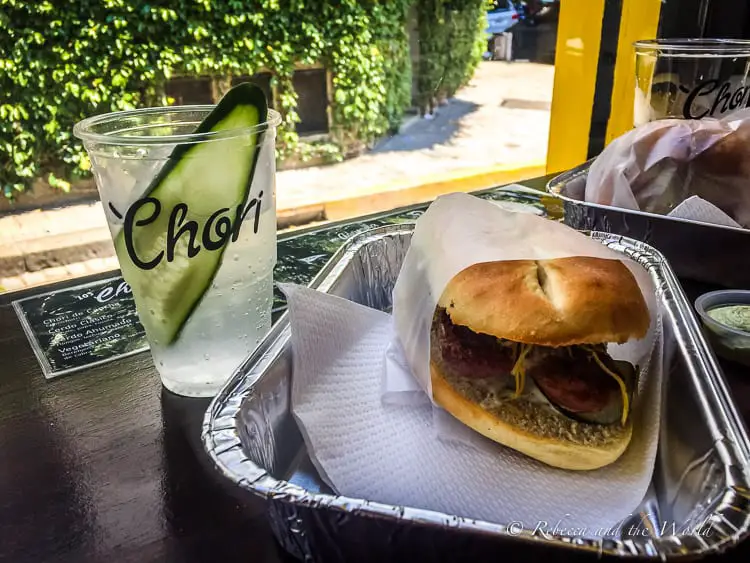 A sausage served in a bread roll may not sound very exotic, but it's a great snack, especially when it's loaded up with chimichurri sauce. Find the best choripan at:
Chori, Thames 1653
All of the good steak restaurants serve choripan as a starter
Also try the food stands that pop up around Tres de Febrero (the park) in Palermo – just follow your nose!
Provoleta
Does cheese cooked on a grill and slapped on the table so hot it's still bubbling sound delicious? If you're wondering what the answer to that question is, it's YES. Provoleta is basically the Argentine version of Americans' queso. It's usually served as a starter in steak restaurants – definitely order this when you're ordering steak.
Pizza
While I'm not a huge fan of the pizza in Argentina, I'd be remiss not to include it here. The pizza in Buenos Aires is usually thick and absolutely smothered in melty, gooey cheese. One or two slices of this rich pizza is usually enough.
Also try fugazzeta (pizza base, raw onions and cheese – I DESPISE onions so I've never tried this) and faina (made out of chickpea flour). They're not to everyone's taste, but they're very Argentine.
To try authentic Argentina pizza, stop in at:
Pizzeria Güerrin (Corrientes 1368) – try a slice at this Buenos Aires institution
El Cuartito (Talcahuano 937) – another classic, the walls of this pizza place is covered with memorabilia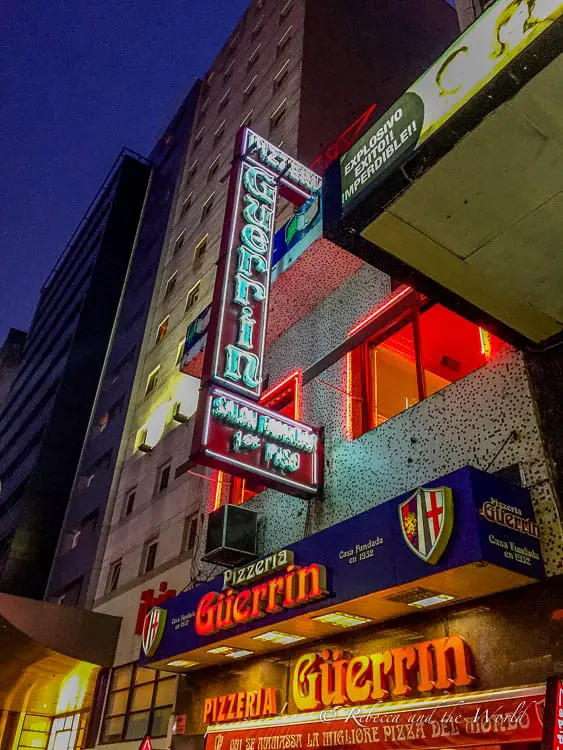 Medialunas
Argentines don't eat big breakfasts; they usually start the day with a coffee and a medialuna, a croissant-like pastry. Every Wednesday in my office there was a huge pile of medialunas and other pastries and I blame them for the many fillings I needed after two years of living in Buenos Aires.
Every café has medialunas and you usually can't go wrong (although avoid touristy restaurants, I've found the medialunas here are often dry and slightly stale). Some favourite bakeries for medialunas are:
Alimentari, multiple locations
Lucio, Raúl Scalabrini Ortíz 2402
Guber, multiple locations
Dulce de leche
Another reason for my many cavities is dulce de leche. This creamy caramel sauce is ahh-mazing and we always had a jar of it in our fridge (they never lasted long, though). You can pick up a jar from any supermarket or specialty food store in Buenos Aires, and you'll also find it stuffed into medialunas and other pastries.
Alfajores
Alfajores are cookies that are filled with dulce de leche. Sometimes those cookies are even then dunked in chocolate. They're delicious. To find them, stop by any Havana store – you'll see them everywhere. It's a chain store, sure, but they do the best alfajores, packaged up nicely so you can even buy a box as a gift (if they make it home without being eaten…). I also love the cheap Jorgito brand which are in every supermarket.
Ice cream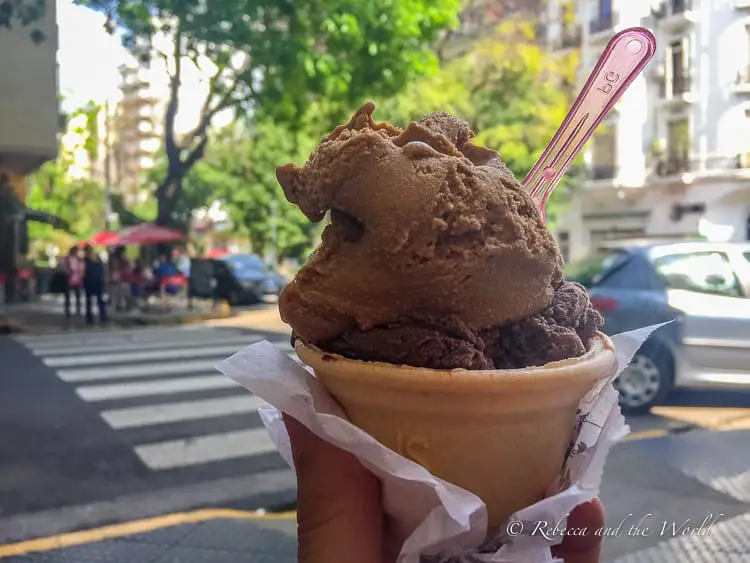 With an Italian heritage, you better believe that you can find great ice cream in Buenos Aires. There are ice cream stores everywhere – make sure to try the dulce de leche flavour (of course), of which there are usually 5-7 varieties! The best ice cream can be found at:
Rapa Nui, multiple locations
Freddo, multiple locations
Mate
The national drink of Argentina isn't wine, it's mate. A bitter, caffeinated tea, this beverage is part of the cultural fabric of Argentina. It's served in a mate (the cup) and sipped through a bombilla (straw). Friends (and even strangers) sip from the same cup and straw. It's a drink for everyone – a colleague of mine even shared mate with the pope when he visited the Vatican a few years ago!
The best way to try this is to meet some Argentines (they're a friendly bunch, it won't take long!) or join a cultural tour or experience (I've listed a few later on where you're likely to try mate).
Coffee
Argentines take their coffee strong and simple, you won't find caramel syrups and pumpkin spice lattes here. The best coffee shops in Buenos Aires include:
Coffee Town, Bolivar 970 in the San Telmo Market (I'm not a coffee drinker, but they have the BEST hot chocolate as well!)
Lab, Humboldt 1542
Lattente, Thames 1891
I've got a few more recommendations for restaurants in Buenos Aires that don't fit neatly into the categories above.
Take high tea at the Alvear Palace Hotel's L'Orangerie restaurant (Alvear 1891). Put on your fanciest clothes for this one! High tea is held every afternoon and must be pre-booked to guarantee a seat.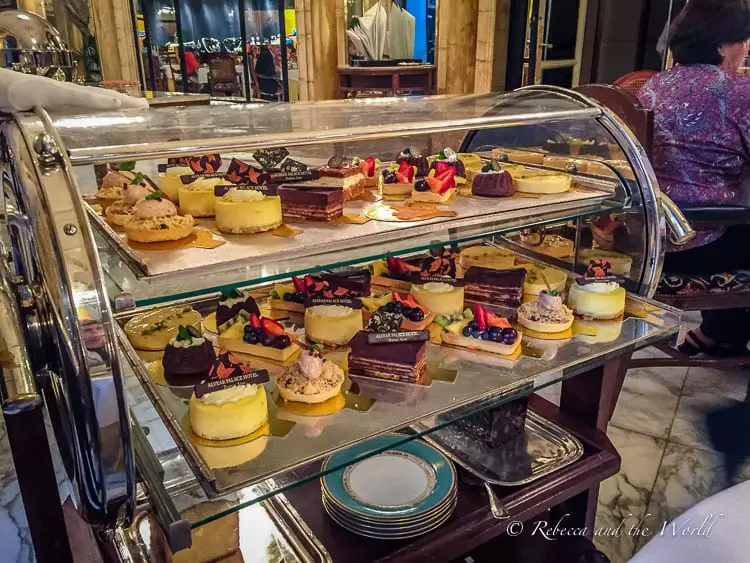 Buenos Aires has a huge Peruvian population which means amazing food. Try Chan Chan (Hipólito Yrigoyen 1386) or La Conga (La Rioja 39) for casual eats, or for something fancier (and pricier) try La Mar (Arévalo 2024).
For a break from Argentine food, try the to-die-for fried chicken sandwiches from NOLA (Gorriti 4389) or Armenian at Sarkis (Thames 1101).
Buenos Aires also has a surprisingly high number of great burger places. My faves are at Burger Joint (Jorge Luis Borges 1766) and Dellepiane Bar (Luis Dellepiane 685).
For something healthier, try Hierbabuena (Caseros 454).
There's not a lot of great Asian food in Buenos Aires, but some good options are Asian Cantina (Humboldt 1626) and Gran Dabbang (Raúl Scalabrini Ortíz 1543). Sudestada (Guatemala 5602) also gets good reviews.
If you've got some cash to splash, then fine dining in Buenos Aires is amazing – but still affordable. I highly recommend Chila (Avenida Alicia Moreau de Justo 1160) and Mishiguene (Lafinur 3368).
Wine bars
In a country that's renowned for its wine, you'll find plenty of great wine bars in Buenos Aires.
Pain et Vin, Gorriti 5132
La Cava Jufré, Jufré 201
Hache Almacén, Angel J. Carranza 1670
If you've only got a few days in Buenos Aires, consider booking this wine tasting tour where you'll get to know Argentina's local varietals, particularly Malbec.
The best bars in Buenos Aires
Cocktails are aplenty in Buenos Aires. The city also has a booming speakeasy scene where you need secret passwords or enter through a secret door. The most fun speakeasy bars are:
Frank's (Arévalo 1445) – check the Facebook page for clues, figure out what the password is, give it to the doorman who'll then give you a code which you'll enter into a phone booth. Sounds easy, right?
Florería Atlántico (Arroyó 872) – enter this bar through a giant refrigerator inside a lovely florist store. The bar snacks are great, as are the cocktails on the extensive menu.
Harrison Speakeasy (at the back of Malabia 1764) – you'll need to first eat dinner at Nicky NY Sushi and then when you get your bill, ask the waiter for the details of how to access the bar.
Uptown (Arévalo 2030) – a new speakeasy that opened after I moved from Buenos Aires. It sounds incredible: the whole place is a reconstruction of a (clean) New York City subway. You'll need to call ahead to put your name on the guest list.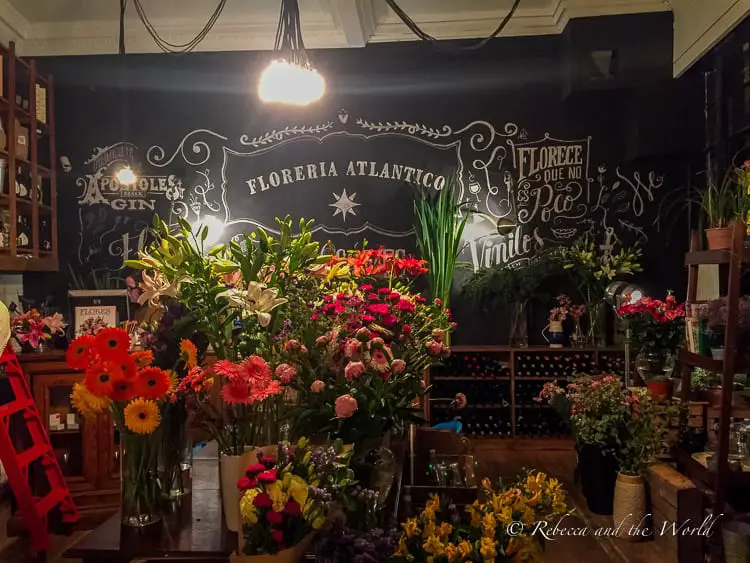 Beer and casual bars
If beer's more your thing, Buenos Aires is home to a burgeoning craft beer scene. Check out the beers at a few of the best beer places:
Darsena, Jose Antonio Cabrera 4354
La Birreria, Honduras 5618
The Temple Bar, Costa Rica 4677
Buller Pub & Brewing, Roberto M. Ortiz 1827
La Puerta Roja, Chacabuco 733
The best museums in Buenos Aires
Buenos Aires is bursting with museums that cover art, notable figures and history.
Museo Nacional de Bellas Artes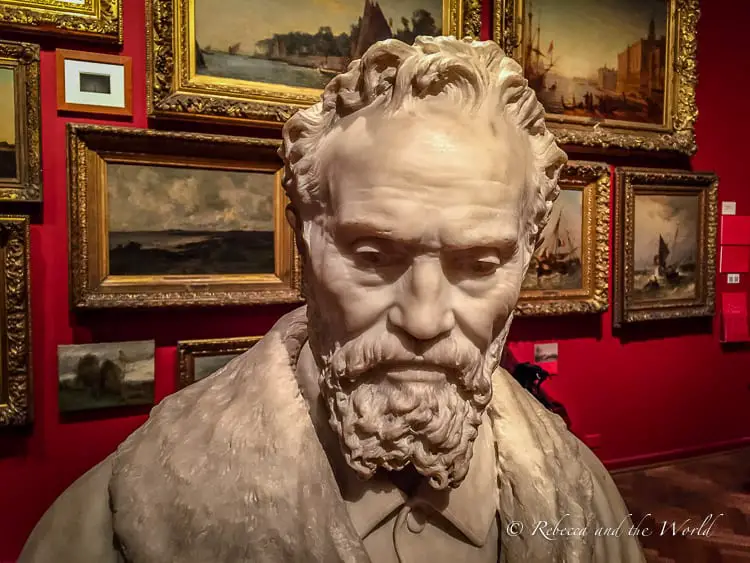 Housed in a former water pumphouse, the Museo Nacional de Bellas Artes is one of the best museums in Buenos Aires. Here, you'll find works by Argentina and other Latin American artists, as well as from the European masters.
Address: Avenida del Libertador 1473
Website: https://www.bellasartes.gob.ar/
Museo de Arte Latinoamericano de Buenos Aires (MALBA)
Probably the most popular museum in Buenos Aires, the Museo de Arte Latinoamericano de Buenos Aires, or MALBA for ease, has a mix of permanent and temporary exhibitions, all of which feature Latin American artists.
Address: Avenida Pres. Figueroa Alcorta 3415
Website: https://malba.org.ar/
Coleccion de Arte Amalia Lacroze de Fortabat
This art museum holds the private collection of the late Amalia Lacroze de Fortabat, a businesswoman, philanthropist and socialite.
Address: Olga Cossettini 141
Website: https://www.coleccionfortabat.org.ar/
Carlos Gardel museum
Go inside the house of tango's most famous performer, Carlos Gardel, to learn about his life and tragic death. You'll of course be able to hear his songs, including what is arguably his most famous, Por Una Cabeza.
Address: Jean Jaures 735
Website: https://www.buenosaires.gob.ar/museos/museo-casa-carlos-gardel
Evita Museum
For anyone enamoured with Argentina's iconic heroine, this museum is a must. Museo Evita houses a collection of books, photos and items from her wardrobe. If you don't know much about Eva Perón, this is the place to start.
Address: Lafinur 2988
Website: http://web.museoevita.org.ar/
Palacio de las Aguas Corrientes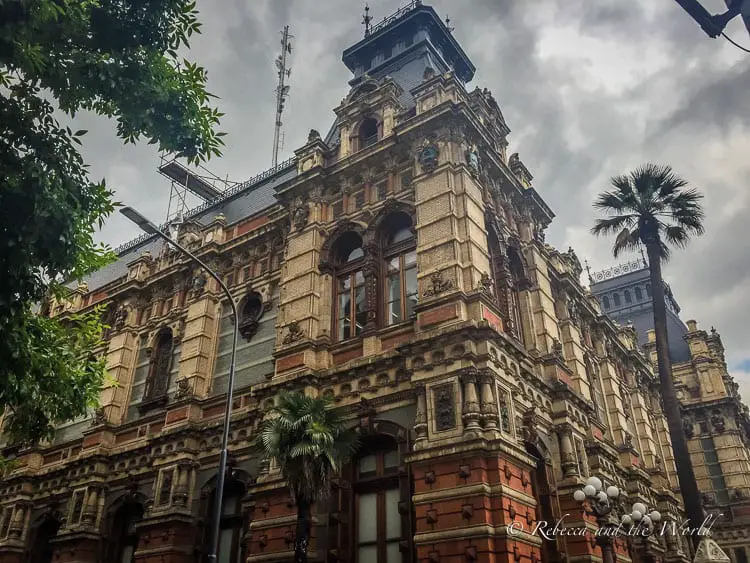 The water company palace may not sound very exciting, but as soon as you gaze up at the exterior you'll be absolutely wowed. Built in 1894, more than 300,000 bricks were used in the building.
If you want to go inside (highlights include a room full of toilets!), you can join a guided tour on Monday to Friday at 11.30 a.m. and 3 p.m. You'll need a solid understanding of Spanish, however, as tours are only offered in Spanish.
Address: Riobamba 750
Website: https://www.aysa.com.ar/
Museo Malvinas
The topic that can still result in a fiery debate decades later? The Islas Malvinas (Falkland Islands). Learn about Argentina's claim to sovereignty over the islands and the resulting 1982 war which lasted 10 weeks.
Address: Santiago Calzadilla 1300
Website: https://museomalvinas.cultura.gob.ar/
Museo Sitio de Memoria ESMA
This harrowing museum occupies the site of a former secret detention centre where thousands of people were tortured and killed during the military dictatorship that lasted from 1976 to 1983.
The site has been largely preserved so that you can see spaces where people were held and tortured, and the room where women gave birth to children who were then taken and given to other families to secretly raise as their own. It's gruesome, but important for those who want to learn more about this disturbing time in Argentine history.
Address: Libertador 8151 / 8571
Website: http://www.museositioesma.gob.ar/
Parks and gardens in Buenos Aires
City life can get overwhelming, but luckily there are plenty of places to escape in Buenos Aires. The city has some beautiful green spaces, which also double as great people-watching spots.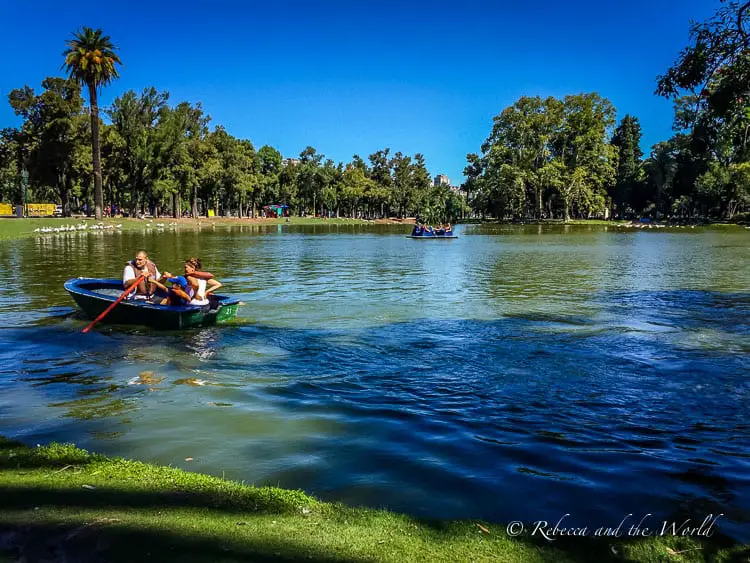 Palermo
In Palermo, the huge Tres de Febrero park (also known as the Bosques de Palermo) is the perfect place to unwind. Relax on the grass, watch Porteños exercising or going about their day, or stroll around the lake. On Sundays the park is usually packed – watch out for the rollerbladers weaving their way along the roads!
The park also houses a garden with more than 8,000 roses. The Rosedal de Palermo is also dotted with the busts of famous literary figures.
Also in Palermo is the Jardín Japonés, the tranquil Japanese gardens, one of the largest outside of Japan.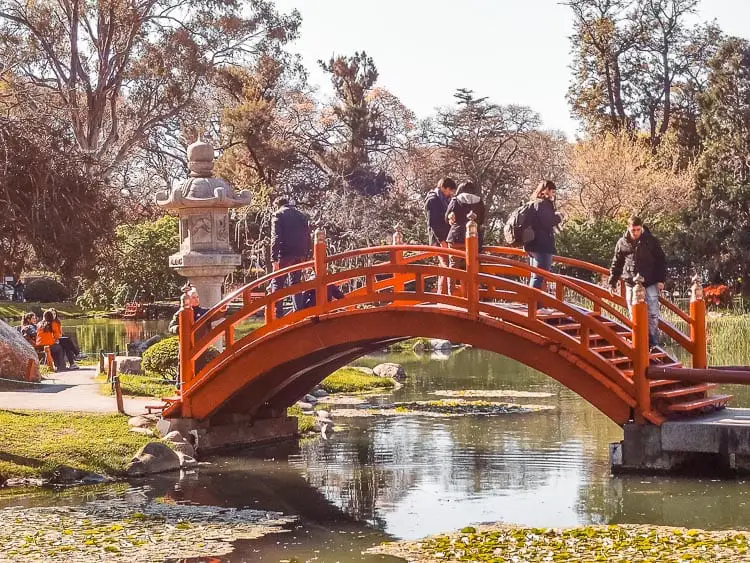 The Jardín Botánico Carlos Thays (named after the French landscape architect who designed the gardens) is another spot to chill out in. Inside the gardens are some gorgeous winter-houses.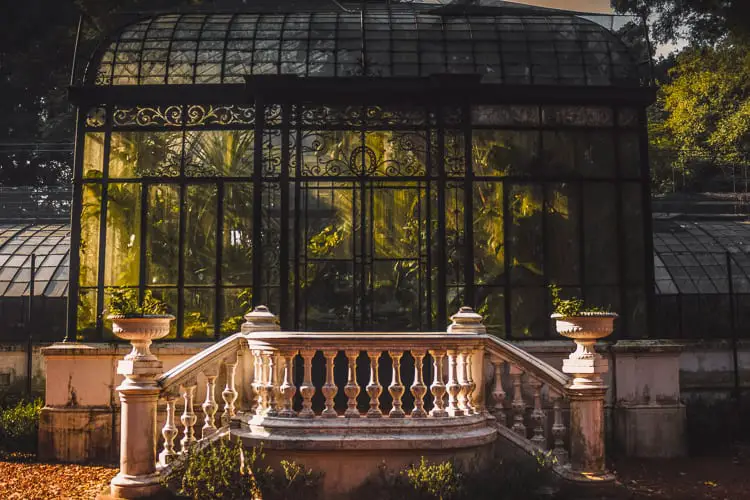 Recoleta
In Recoleta, there are plenty of green spaces and squares to enjoy. We used to love taking our dog to the park that houses the Floralis Genérica, a giant metal flower sculpture that opens and closes in the morning and evening (when it's actually working properly…).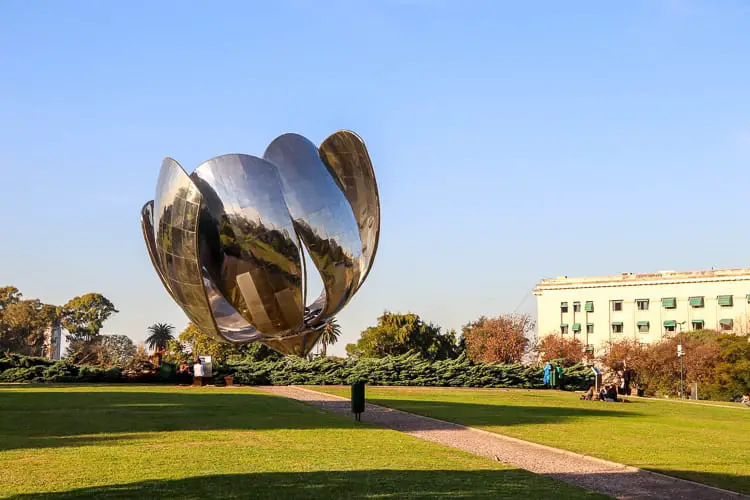 Retiro
In Retiro, the shady Plaza General San Martín is home to a huge statue of San Martín on horseback (as he is in all his statues) and a monument to those who fell during the Malvinas/Falklands war. It's a lovely spot that I would walk through every day to and from work, but be careful around here as the area is known for pickpockets.
Puerto Madero
One of the biggest green spaces in Buenos Aires is the Reserva Ecológica Costanera Sur. On the weekend, Argentines head here for a relaxing walk or bike ride. Once deep inside the reserve, you won't even know you're in a city.
Bootcamp
If you've really been hitting the steak and medialunas hard, then hunt down my friend Freddy for one of his bootcamps. An expert in calisthenics and boxing, I trained with him while I lived in Buenos Aires, meeting up with him once or twice a week in a park to attempt to reverse the effects of medialunas.
His bootcamp classes are also a great way to meet Argentines and expats.
Address: Gorriti 3642
Website: https://freddiesfitclub.com/
The best nightlife in Buenos Aires
Ready to hit the town? Here are some fun ideas for things to do in Buenos Aires at night.
Tango shows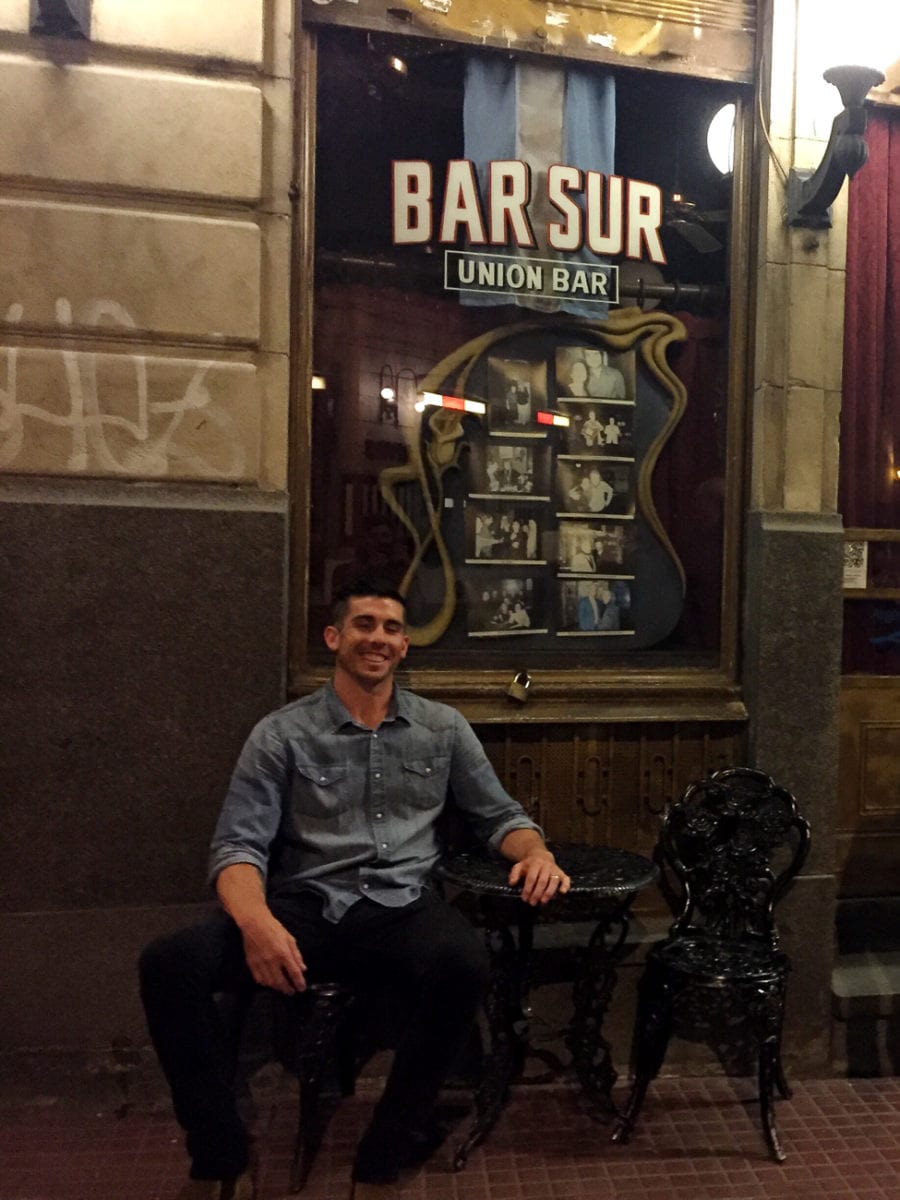 Tango is synonymous with Argentina. If you're interested in seeing a seductive tango show, here are a few recommendations.
Bar Sur, Estados Unidos 299
Café Tortoni, Avenida de Mayo 825
Rojo Tango, Martha Salotti 445 (inside the Hotel Faena), book online here to guarantee tickets.
Café de los Angelitos, Avenida Rivadavia 2100, book tickets online.
El Viejo Almacen, Avenida Independencia 299
Milonga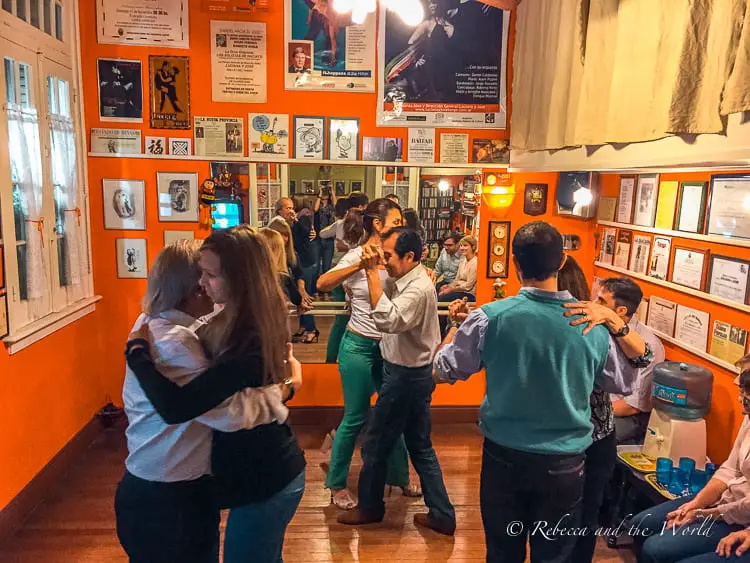 If you actually want to participate in tango, then a milonga could be for you. Some milongas are for serious dancers only, others welcome newcomers and even offer free dance lessons before the actual milonga begins. Some popular milongas include:
La Catedral, Sarmiento 4006
La Viruta, Armenia 1366
Salong Canning, Raúl Scalabrini Ortíz 1331
If the thought of just turning up at a milonga makes you nervous, then book a tour like this one or book a private tango lesson before you hit the milonga floor.
Dance the night away at a boliche
Porteños are night owls. In Buenos Aires, you won't see any Argentines eating dinner before 9 or 10 p.m., nor will you see them out at the clubs before 2 a.m.
If you want to party in Buenos Aires, you need to spend the afternoon napping and then head out around midnight. Then head to a boliche around 2 a.m. knowing full well you're not going to be in bed until 5 or 7 a.m. Best of luck to you!
Some of the best boliches to party at include (I had to ask my friend for recommendations because I'm such a grandma!):
Tequila, Avenida Rafael Obligado 6211
Jet, Avenida Rafael Obligado 4801
Afrika, Junín 1787
La Bomba de Tiempo
On Monday night the Konex Cultural Center comes alive with the rhythm of a 17-person percussion group. Over three hours you'll be grooving and shaking your booty with hundreds of other people in a pulsing party. It's one of those great activities in Buenos Aires that is fun but keeps you moving, too!
Address: Ciudad Cultural Konex, Sarmiento 3131
Website: http://www.labombadetiempo.com/
Football match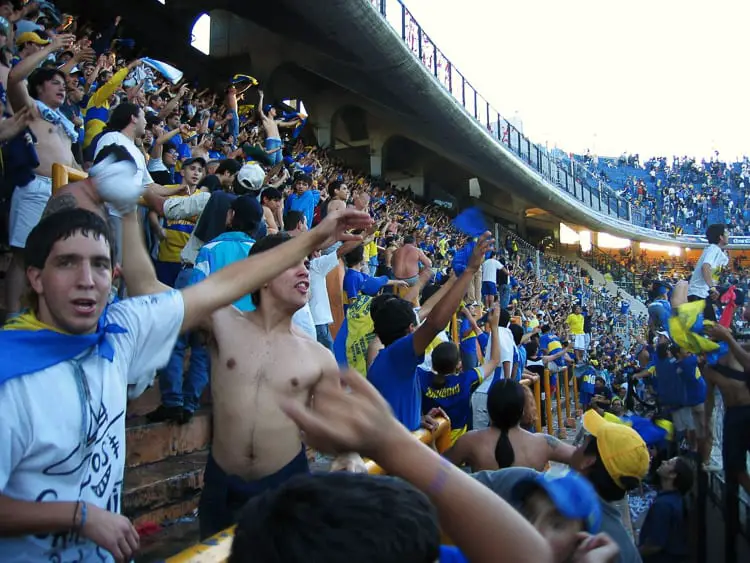 If you think your country has fanatic football fans, then you haven't been to Argentina. If you can, join the heaving, sweating, screaming crowd at a football match in Buenos Aires for a deep dive into Argentine culture. The ultimate would be to catch a superclasico game where rivals Boca Juniors and River Plate face off against each other.
Matches are held during the day and at night. Going to a football match in Buenos Aires can be a pretty intense experience, so leave it to a local to organise it all and go with you on this tour.
Where to go shopping in Buenos Aires
You can't leave Buenos Aires without picking up a souvenir or two to take home. I've written a whole post on what to buy and where to go shopping in Buenos Aires so check it out for more information.
You can pick up some great souvenirs from the many local markets that spring up around the city, usually on the weekend. Here are a few of the best markets in Buenos Aires.
Feria de San Telmo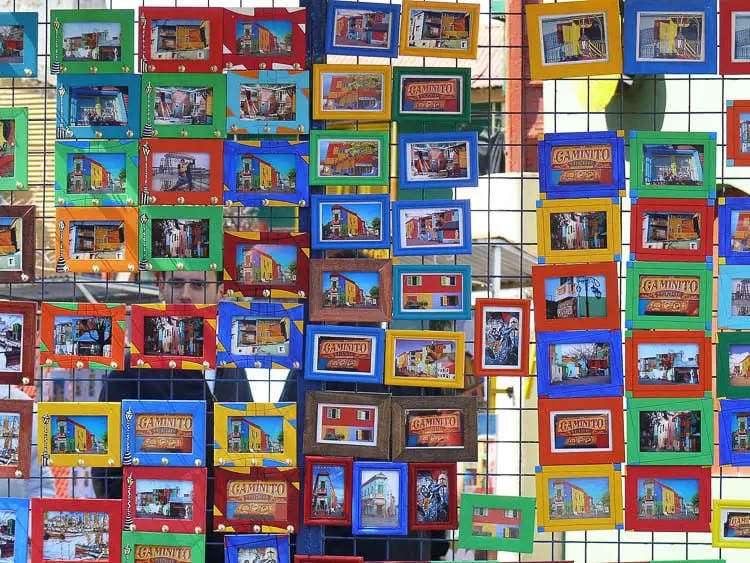 Every Sunday the streets of San Telmo come alive as a huge street market springs up, covering dozens of blocks in the neighbourhood. Here, you can find antiques, leather goods, clothing and all sorts of knick-knacks. Head over around noon when all the stalls are set up and plan to spend a good half of the day here.
Calle Defensa
Indoor San Telmo Market
If you can't make it to the Sunday market, San Telmo has a great permanent indoor market. Vendors sell fresh fruit and vegetables and antiques, and the popular Coffee Town café started here.
Chile 594
Mercado de las Pulgas
This flea market is mecca for antique lovers. The permanent market is home to vendors selling furniture, light fixtures, mirrors, antique glassware and more.
Avenida Dorrego 1650
Feria de Plaza Francia
On Saturday and Sunday (and public holidays), you can pick up handmade leather bags, wooden boxes, edible goods and ponchos from the stands that pop up in Plaza Francia. The market is right next to the Recoleta Cemetery.
Plaza Francia, Avenida Libertador
Feria de Mataderos
You'll need to take a bus about an hour from the city to experience the Feria de Mataderos, a market that brings the country to the city. Gauchos (Argentine cowboys) perform for the crowds, and vendors sell mates and bombillas, ponchos and silver goods. It's a great place to try traditional foods like locro.
Avenida Lisandro de la Torre and Avenida de las Corrales
Get a leather jacket made
If you've got a few days in Buenos Aires, consider getting a leather jacket made. You can having something custom designed and made, and you'll pay far less than what would you to buy a factory-made jacket in the United States or Europe. Bring a photo of your design, get measured up, and you'll have your jacket in 24-72 hours. Recommended tailors are:
Bettina Rizzi, Maipu 929 – this is where I got my leather jackets made
Uru Recoleta Vicente López 2132
Silvia Eisele, Recoleta, by appointment only
Best Buenos Aires tours
Sometimes you want someone else to handle everything for you when you visit a new city. Or you want a local to put some context to the interesting buildings and places you're seeing. There are plenty of tours in Buenos Aires that can help with this.
Walking tours
There are plenty of free walking tours in Buenos Aires, all of which visit many of the places I've listed here already. BA Free Tours has two free tours (and can organise private tours on request): the Buenos Aires City Tour that covers downtown and the Recoleta tour which guides visitors through the elegant neighbourhood.
The Buenos Aires city government also has a range of walking tours, some in English. Tours cover various barrios.
Or you can pay for a private tour that can be customised to your needs. When we moved to Buenos Aires, this is the first thing we did: a private walking tour that helped us to familiarise ourselves with the city (but also gave us insights into the culture and how things work, essential info as new expats!). Check out private walking tours.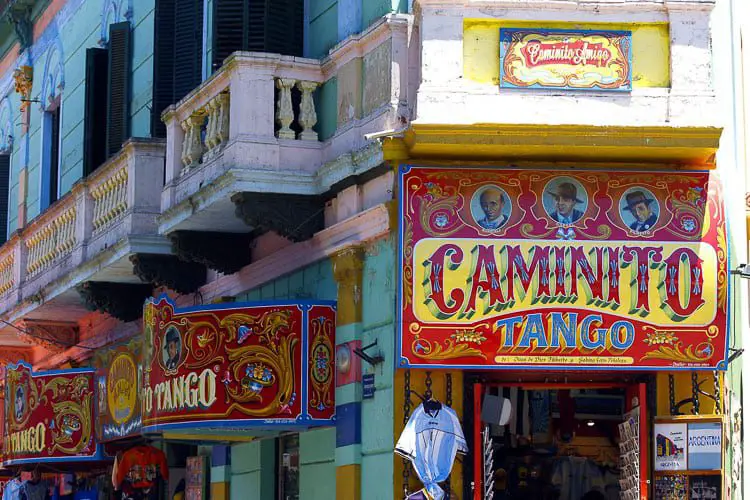 Bike tours
If you want to see more in a short time, then book a bike tour around the city. Try this half-day tour or a full-day bike tour if you've got more stamina. Buenos Aires is an easy city to bike around, with no hills.
Foodie tours
An experience I highly recommend to first-time visitors – even though it's totally aimed at tourists – is The Argentine Experience. It aims to share Argentine culture through food.
The Argentine Experience is great for families. You'll learn how to make empanadas, pick up some Argentine slang and hand gestures, and stuff yourself silly on steak. Book your fun night online!
The staff are very generous with pouring wine!
Here are some other recommended foodie-focused tours:
Street art tours
Like many big cities around the world, Buenos Aires also has an amazing street art scene. There are plenty of tours that can show you the hidden street art through the city. I've done a tour with Graffiti Mundo and they were great, and this tour and this tour also come highly recommended.
Buenos Aires festivals
Time your visit to Buenos Aires with one of the many incredible festivals the city hosts throughout the year. Here's a list of just a handful of the best festivals and events in Buenos Aires.
BA Fashion Week
February and August draws fashionistas from around Argentina and the world to attend BA Fashion Week (BAFWEEK). Over four days, up and coming designers and well-known labels showcase their collections to thousands of fashionistas. Website
Feria del Libro
Book lovers rejoice! The 3-week Feria Internacional del Libro de Buenos Aires (Buenos Aires International Book Fair) brings together editors, publishers, authors and booksellers, including many famous Latin American and international writers. It's one of the top five book expos in the world and is held every April. Website
International Film Festival
Every April, cinephiles come together to celebrate up-and-coming local film directors and international talent during the Buenos Aires International Festival of Independent Cinema (BAFICI). Throughout the city, films and documentaries are premiered and venues host talks with film directors. Website
Feria Masticar
This 4-day food festival held each June or July gives visitors a chance to sample food from Buenos Aires' most acclaimed chefs and restaurants. There are cooking classes and demonstrations and plenty of samples. Website
Tango Festival
Every August, tango dancers the world over flock to Buenos Aires to compete in the Tango Buenos Aires Festival y Mundial. During the festival, not only can you watch tango dancers perform and compete, but you'll be able to learn about tango, listen to tango singers and take a tango class. Website
Argentine Polo Open
Argentina has some of the most famous polo players, so it's no surprise that each year in November and December polo players gather here for the Argentine Open. The competition is held in Palermo at the Campo Argentino de Polo and draws the expected glamorous crowds.
Day trips from Buenos Aires
If you've got more time in Buenos Aires – say, a week – there are plenty of day trips from Buenos Aires to keep you busy.
Tigre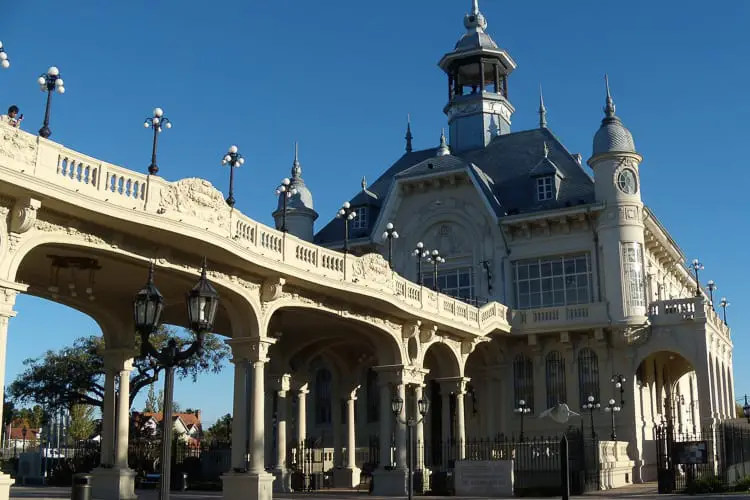 Just a short trip outside of Buenos Aires lies a huge delta which makes for a great day trip. Many Porteños vacation in the Tigre Delta and there are many homes that sit along the delta and "islands". Boats are the transport of choice in this area.
The easiest way to get to Tigre is to join a group tour where all transport (and sometimes lunch) is arranged for you.
There are several recommended day tours to Tigre:
Learn to play polo
As the birthplace of many of polo's greatest players, why not try your hand at playing polo in Argentina? Just outside of Buenos Aires are many polo fields, and when competitions aren't being played they open up to teach newbies how to play a chukka or two. Book a tour to learn how to play polo, which includes a lesson and lunch.
Visit an estancia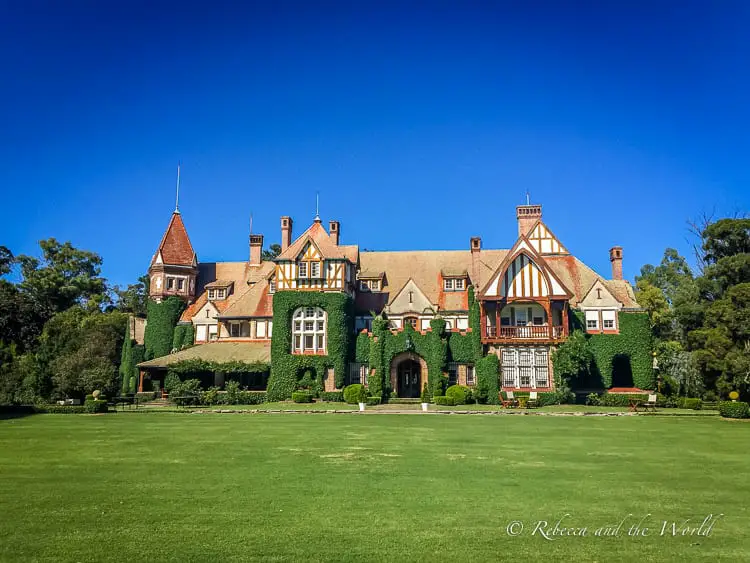 A great way to escape the craziness of the city is to head to the countryside and spend a night or two at an estancia, essentially a ranch. I've previously written about the best estancias near Buenos Aires to give you some recommendations.
Become a gaucho for a day
If you don't have enough time to spend a night at an estancia, the next best thing is to spend a day at one. Plenty of companies organise tours where you can relax at an estancia, learn some gaucho (cowboy) skills and enjoy an asado and local wine. It's a really fun way to see the countryside and learn more about Argentine culture.
Head to Colonia del Sacramento in Uruguay
Want to add an extra country to your list? Head to Uruguay on a day trip from Buenos Aires!
You can easily catch a ferry to the charming town of Colonia del Sacramento, just across the river in Uruguay. Wander the cobblestoned streets, explore the lighthouse and "Street of Sighs" and tuck into a traditional Uruguayan chivito (steak sandwich).
If you'd prefer some help to arrange the trip, then these tours look good:
How to get around Buenos Aires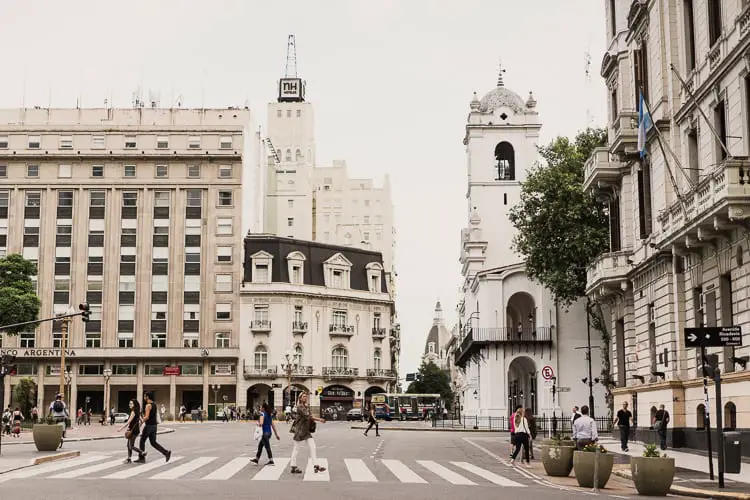 Buenos Aires is an easy city to get around. Taxis are everywhere – just step out on to the street and hail one by raising your arm. Check that the driver turns on the meter before you take off. Before you get in the taxi, know the cross streets of your location, as that's how taxi drivers navigate Buenos Aires.
Uber exists but the company doesn't have a great reputation among taxi drivers in Buenos Aires. As a visitor, you'll be able to use Uber with your foreign credit card (some residents still have trouble using their Argentine cards).
Public transport is cheap in Buenos Aires and there's an extensive network. There are colectivos (buses), the subte (underground train) and the train (aboveground, these tend to go to the outer suburbs). To take public transport, you'll need a SUBE card. Purchase one from the Subte ticket window or from a kiosko (convenience stores). Plan ahead by downloading the Cómo Llego app, which provides the best way to get from A to B.
If you only have a few days in Buenos Aires, consider the hop-on, hop-off bus which hits most of the major Buenos Aires tourist attractions.
There's a lot here but plenty to keep you busy during your visit to Buenos Aires!
You might also like these Buenos Aires articles:
Phew, that was a HUGE list! Have you visited Buenos Aires? Is there anything else you'd else to this list of what to do in Buenos Aires? Drop your ideas in the comments below!
ARGENTINA TRIP ESSENTIALS
PIN IT FOR LATER:
Liked this post? Then save it to Pinterest!