Argentina. Before I became an expat in Argentina, the name conjured up images of sultry tango, juicy steaks, deep red wine, gauchos on horseback. Living there showed me that it was all of this but so, so much more.
Across the country's almost 3 million square kilometres you will find so many amazing things to do in Argentina: bustling cities that elegantly meld the old with the new, waterfalls so powerful you'll need to plant your feet to stay still, glaciers that crack majestically, and a vast variety of landscapes that will blow your mind. Here's just a taste of some of the incredible things to do in Argentina.
I originally started this blog post about what to do in Argentina with just a few bucket list items, but it has grown and grown! I think you'll find plenty of inspiration here for your Argentina travel planning. If you're planning a trip, sign up here to receive my downloadable 2-week Argentina itinerary.
This blog post may contain affiliate links, meaning if you book or buy something through one of these links, I may earn a small commission (at no extra cost to you).
Explore Buenos Aires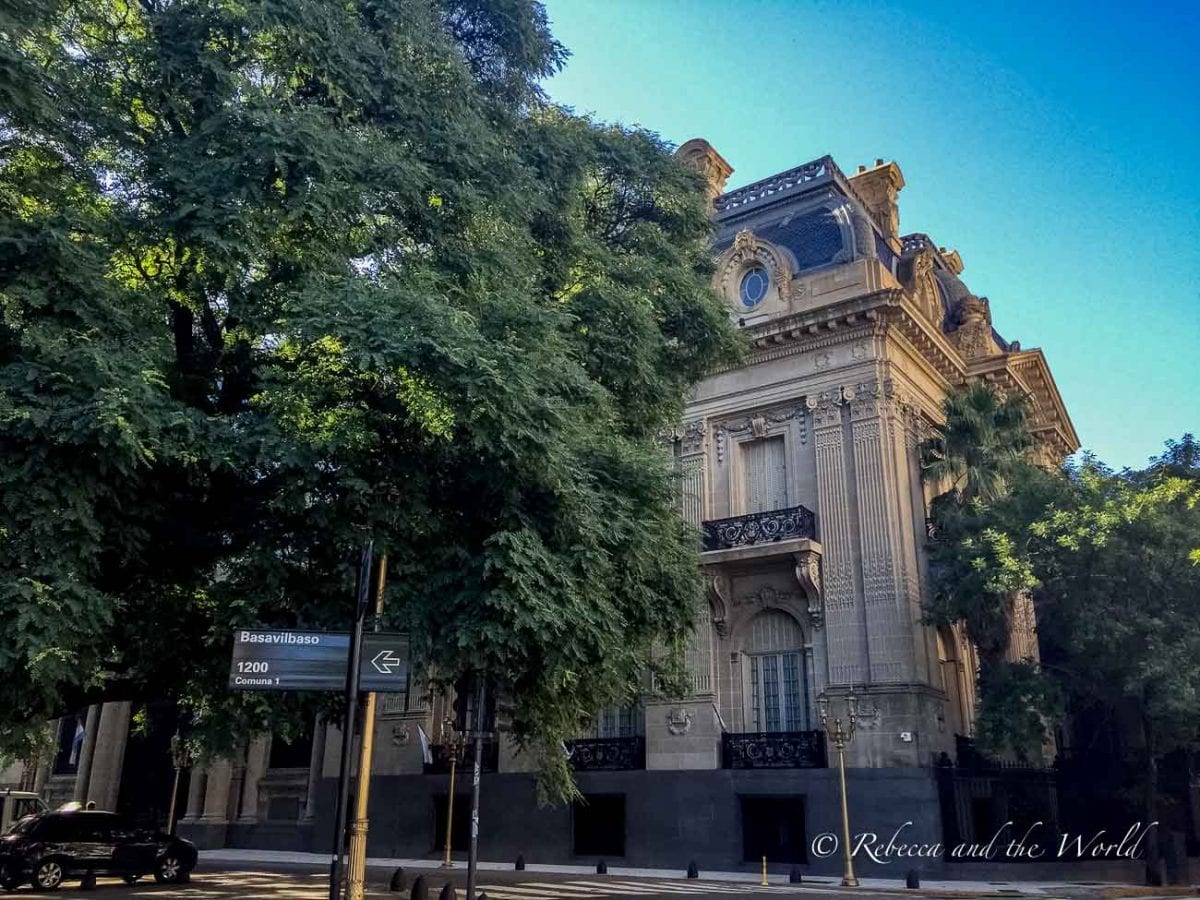 In my humble opinion, Buenos Aires is up there with the top cities in the world, and it should be on everyone's bucket list to visit. There are so many Buenos Aires attractions to lure you here: European architecture, award-winning restaurants, secret bars, green parks to relax in and museums to explore.
Buenos Aires is most likely the first place you'll visit when you arrive in Argentina (unless you're crossing into the country by land) and it's a good starting point to get a handle on the food and culture of the country.
You could easily spend a week here, but if you don't have that much time, check out my guide to 3 days in Buenos Aires, or browse my list of more than 101 things to do in Buenos Aires. Trust me, I lived here for almost two years and didn't tick off everything on my Buenos Aires bucket list!
If you want to get your head around Buenos Aires with the help of a local guide, book this full-day bike tour or this 3-hour, small-group tour or this customisable tour with a local. I love landing in a city and starting off with a tour to understand a bit more about the layout of the city and get the best food recommendations.
How to get to Buenos Aires
Buenos Aires is usually the first city you'll land in when you arrive in Argentina. There are two airports in Buenos Aires, but if you're flying in from another continent, you'll most likely be landing in Ezeiza airport (EZE). If you're flying in from Uruguay or Brazil, you'll probably come in via Aeroparque Jorge Newbery (AEP). EZE is 22 kilometres outside of the city, while AEP is right in the heart of Palermo.
Where to stay in Buenos Aires
As a cosmopolitan city, there are plenty of accommodation choices in Buenos Aires to suit all budgets and styles. I've got a whole guide to where to stay in Buenos Aires, but if you're after some quick recommendations, the best hotels in Buenos Aires include:
READ NEXT: How to spend 3 days in Buenos Aires
Watch tango – or learn a few steps yourself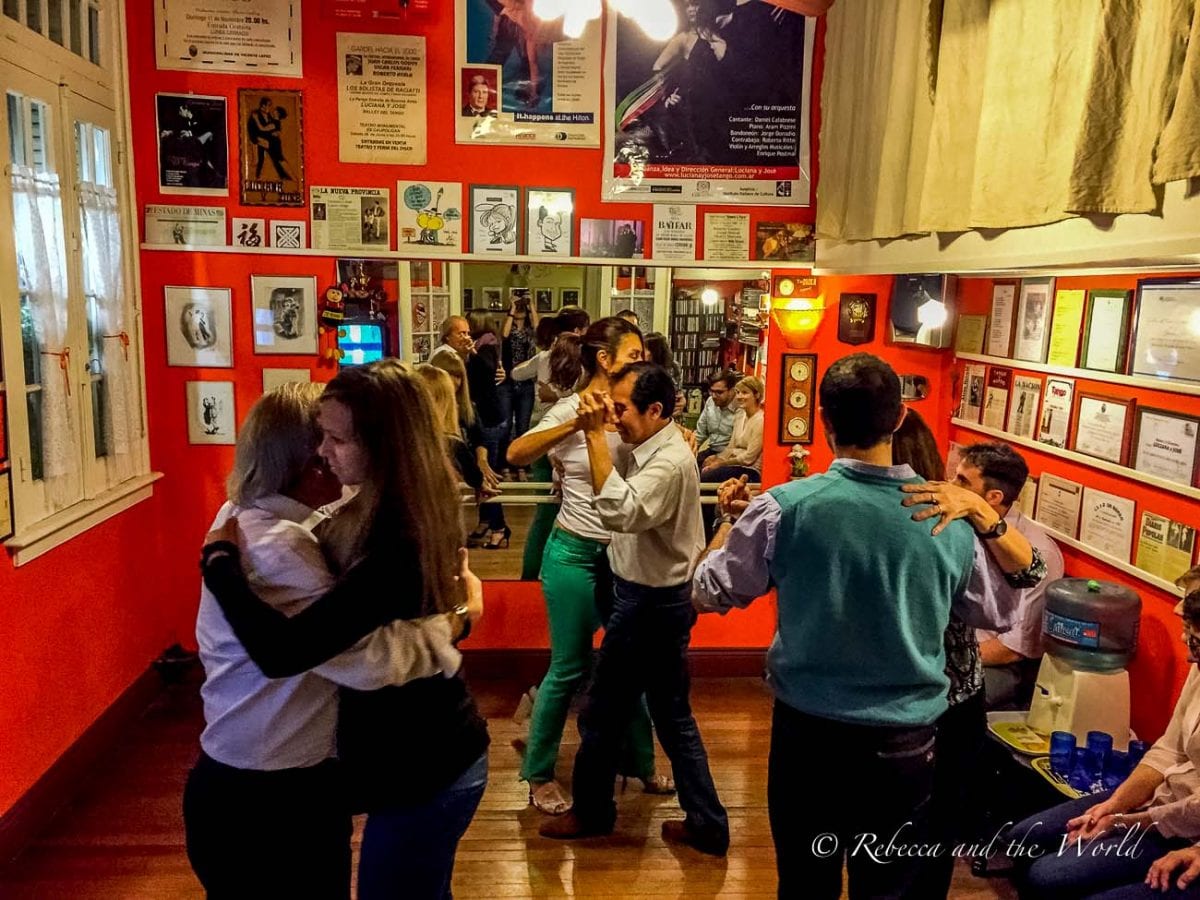 Tango. The sultry dance with its origins in the lower-class neighbourhoods of Buenos Aires is now world famous and some people visit Argentina with the sole focus of learning how to dance.
If you wander some of the more touristy areas of Buenos Aires – La Boca, San Telmo (especially on Sundays) or Calle Florida in the centre of the city – you're bound to come along couples with their cheeks pressed against one another, slowly dancing to the famous tango songs that you've probably already heard before.
You can take tango lessons in Buenos Aires or head to a milonga, basically a tango dance party. Some milongas welcome beginners and even have free tango lessons before the serious dancers step in, while other milongas are for dancers who know what they're doing.
If the thought of just turning up at a milonga makes you nervous, then book a tour like this one or book a private tango lesson before you hit the milonga floor.
Some popular milongas in Buenos Aires are:
La Catedral, Sarmiento 4006
La Viruta, Armenia 1366
Salon Canning, Raúl Scalabrini Ortíz 1331
If you're not interested in dancing yourself, then there are plenty of tango shows in Buenos Aires where you can marvel at the moves and the music. Here are a few recommended tango shows:
Bar Sur, Estados Unidos 299
Café Tortoni, Avenida de Mayo 825
Rojo Tango, Martha Salotti 445 (inside the Hotel Faena), book online here to guarantee tickets.
Café de los Angelitos, Avenida Rivadavia 2100, book tickets online.
El Viejo Almacen, Avenida Independencia 299
Dine at a puerta cerrada
One of the most unique things to do in Buenos Aires is to dine at a puerta cerrada, which literally means "closed door" in Spanish, and refers to the wave of secret restaurants that have popped up in Buenos Aires.
These restaurants can be found in people's homes or in spaces owned by people with a passion for food. Most only open a few nights of the week, and usually have a set menu. For some, you likely won't get the address until a few days beforehand, and you need to reserve in advance. Others are now more mainstream. They're a great way to taste local ingredients, meet Porteños (people from Buenos Aires) and chat with other travellers.
While the puerta cerrada scene has certainly changed recently – many of the original puerta cerradas became so popular and profitable that the owners have opened up permanent businesses – there are still many great restaurants you can check out. A few recommended puerta cerradas in Buenos Aires are:
Visit the world's most beautiful bookstore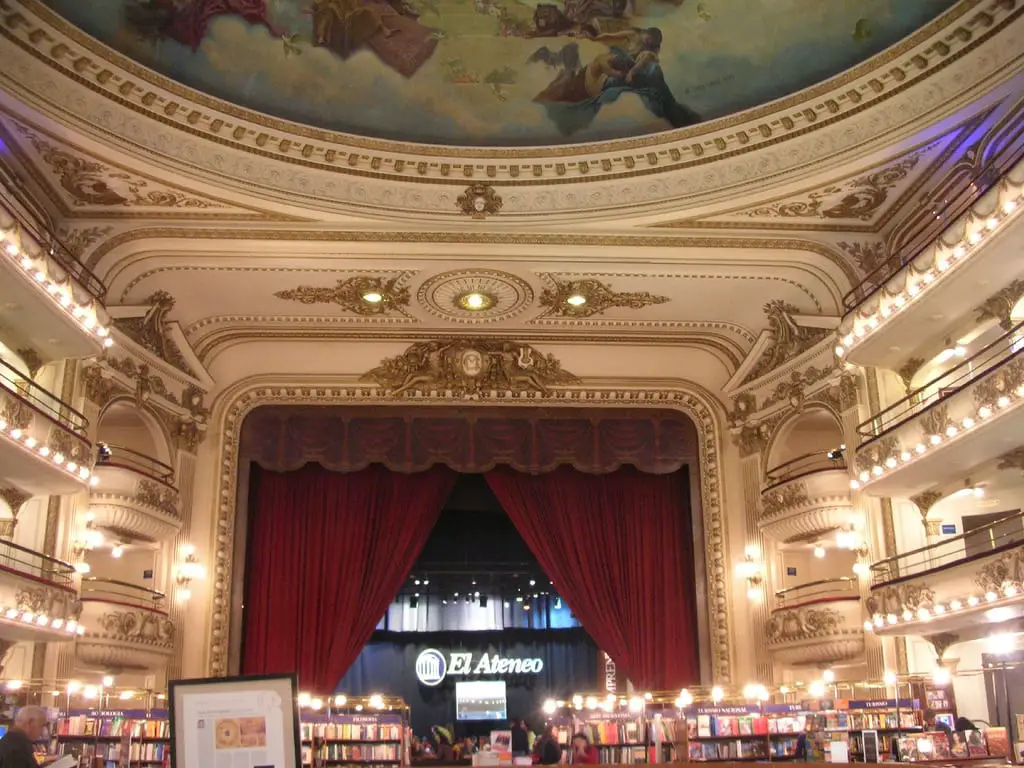 Of all the places to visit in Buenos Aires, make sure you head to El Ateneo Grand Splendid. Squeezed in between the stores that line bustling Avenida Santa Fe in Buenos Aires, this is one of the world's most beautiful bookstores. Housed in a former theatre, El Ateneo is a beautiful spot to flick through the rows and rows of books on sale. Reading a book and sipping on a cortado in the on-site café is one of the best things to do in Buenos Aires.
Avenida Santa Fe 1860, open daily
Eat your bodyweight in steak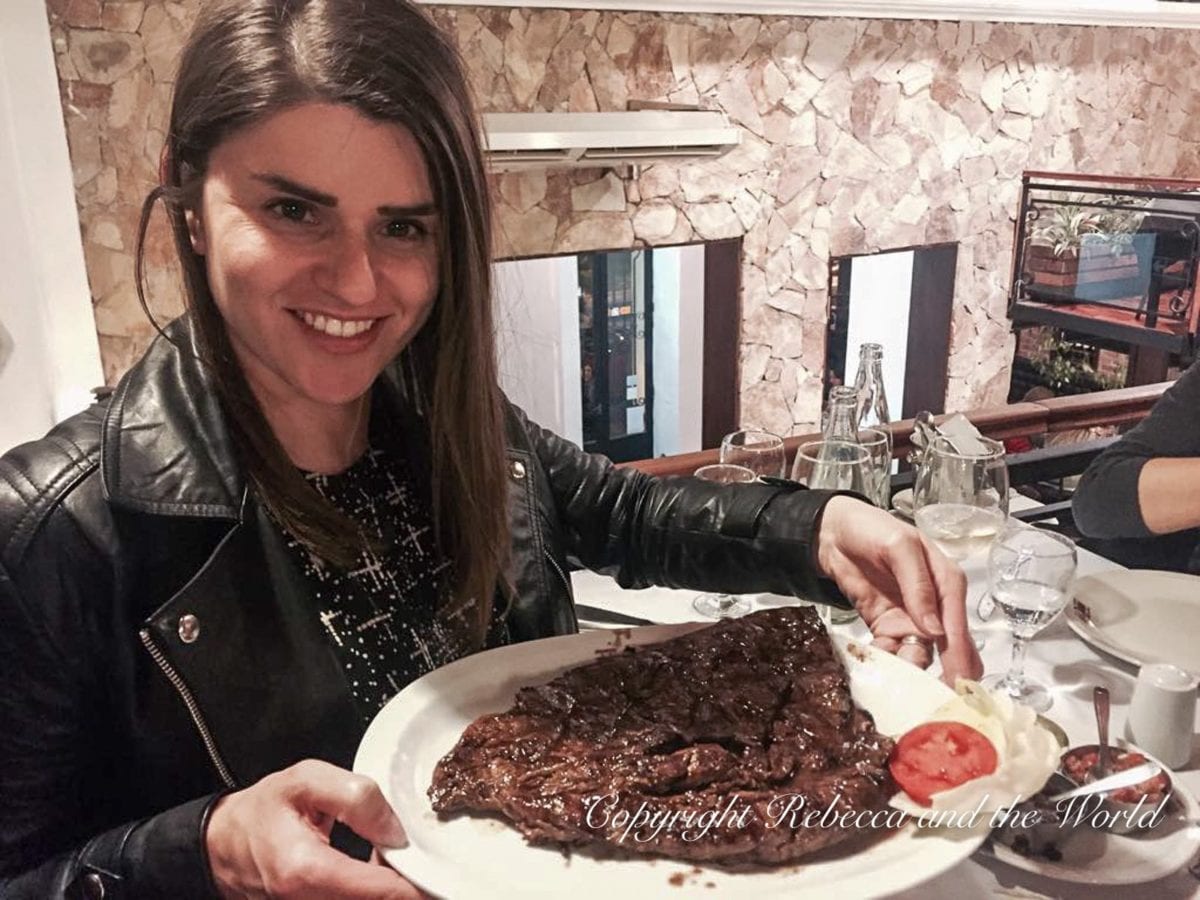 One of the top things to do in Argentina? Eat!
It's no secret that Argentines love their steak. In fact, they eat almost 50 kilos of beef each year. Compare that to the United States where people consume around 38 kilos.
You can't walk down a street in Argentina without smelling an asado underway. Argentina's steaks are famous worldwide and for good reason.
Where to find the best steak in Buenos Aires:
Don Julio, Guatemala 4691
Parilla Peña, Rodriguez Peña 682
La Carniceria, Thames 2319
Secret Parilla Tito's, Dorrego 2720
La Brigada, Estados Unidos 465
If you're a foodie, book a night at The Argentine Experience to learn more about food culture. It's touristy but it's really fun!
But it's not just about the steak in Argentina. You will be kept well-fed with empanadas, facturas (the most famous of all, medialunas, were served every Wednesday in my office and were responsible for giving me several cavities), choripan, milanesa, dulce de leche, ice cream, provoleta and alfajores. When you visit Argentina, come with an appetite and some stretchy pants!
READ NEXT: Where to eat and drink in Buenos Aires
Wander among the dead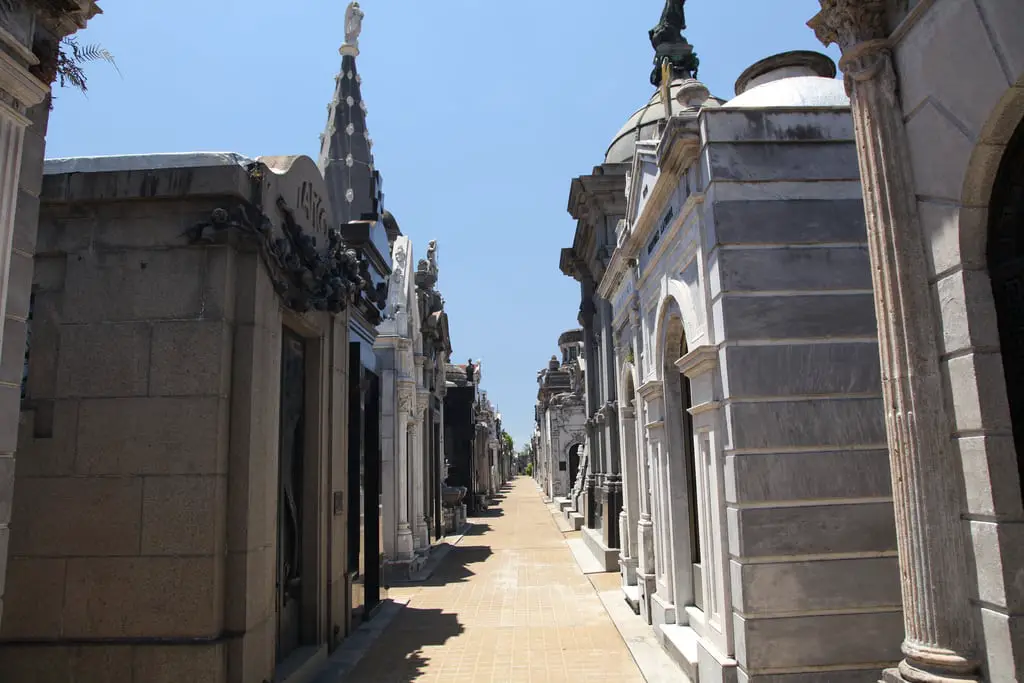 One of Buenos Aires' most famous landmarks is the Recoleta Cemetery, home to the remains of Eva Perón, many Argentine presidents and generals and other notable people.
You could spend hours wandering through the tombstones, marvelling at the grandiose monuments. I recommend taking a guided tour to hear the fascinating stories of its less famous residents. It may be macabre, but this is one of the top Argentina tourist attractions.
The cemetery is located in Recoleta and is close to parks, museums and restaurants. The nearby park hosts a bustling weekend market every Saturday and Sunday.
Junín 1760, open daily
Learn about Evita
If you want to know more about Recoleta Cemetery's most famous resident, visit the Evita Perón Museum to learn about how Argentina's beloved Eva Perón met her husband and became a key figure in Argentina's history. The museum is filled with her outfits and mementos from her life, from childhood up until her death at the age of 33.
Lafinur 2988, closed Mondays
READ NEXT: 101+ things to do in Buenos Aires!
Shop for antiques in Buenos Aires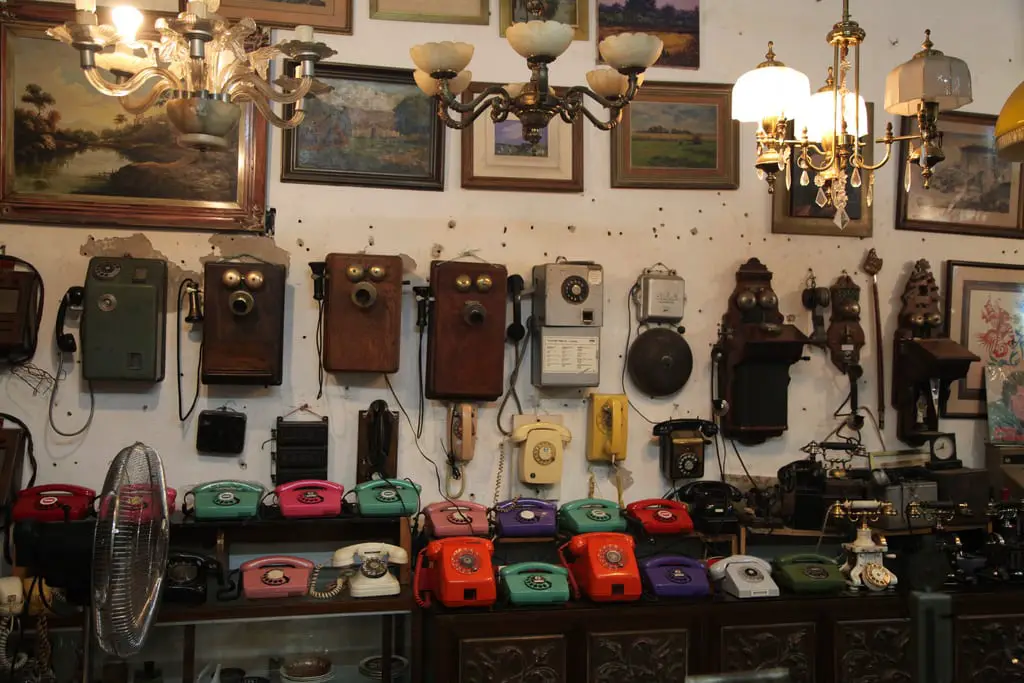 For unique souvenirs, head to the San Telmo market in Buenos Aires. On Sundays you will find more than 15 blocks of stalls featuring arts and crafts, local souvenirs, clothing and all sorts of bric-a-brac from days past. The market starts mid-morning but is best visited in the early to mid-afternoon to experience the vibrancy of this area.
If you prefer to avoid the crowds, San Telmo is filled with antique shops that are far quieter during the week.
Watch a game of fútbol
There's only one way to attempt to understand Argentina's fanatic football (soccer) fans, and that's to go to a fútbol match. Here, you'll be pressed against the heaving crowd, joining in the mayhem and singing the songs that echo endlessly off the stadium walls.
It can be hard for visitors to get tickets to a fútbol match (not to mention that sometimes the fans go a little too far and matches can quickly descend into violence), so consider booking a tour with a local guide. They'll organise the tickets, tell you more about fútbol, and keep you safe.
Try Fernet and Coke
While Argentina is most famous for its wine, there's another drink you should try when visiting: Fernet.
This bitter Italian spirit is incredibly popular in Argentina, with more than 75 percent of production consumed here. In Argentina, you'll find most people mixing it with Coke, but it's also served in cocktails or sipped solo.
It's got a bitter, medicinal flavour, so it's not for everyone (I'm definitely not a fan but my husband loves it!), but it's worth trying when you visit Argentina.
Even the Pope is apparently a fan of Fernet and Coke!
Visit secret cocktail bars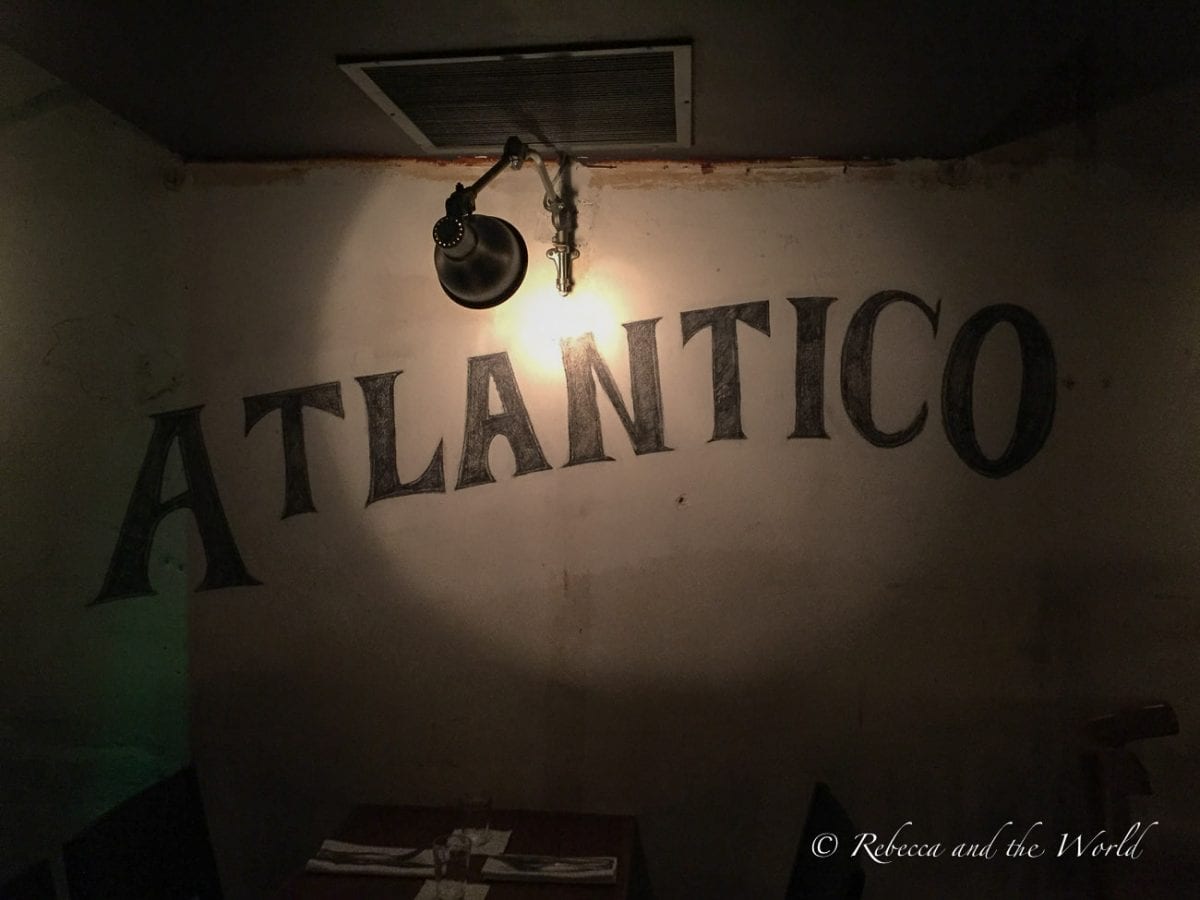 Along with secret restaurants (see the section on puerta cerradas above), you'll find plenty of hidden bars around Buenos Aires. While hidden, they're no longer so secret, as locals and visitors alike have caught wind of this trend. A few speakeasies in Buenos Aires you should check out are:
Frank's (Arévalo 1445) – you'll need a password to get into this bar (which you enter through a phone booth!).
Florería Atlántico (Arroyó 872) – probably the most popular speakeasy in Buenos Aires, this bar is below a gorgeous florist in the Retiro barrio. You enter the bar through a giant refrigerator door.
Harrison Speakeasy (at the back of Malabia 1764) – the only way to get into this bar is to eat at Nicky NY Sushi. When you get your bill, ask the waiter for access details.
Uptown (Arévalo 2030) – one of the newest speakeasies on the Buenos Aires scene, this bar is a reconstruction of the New York City subway. You'll need to call ahead to put your name on the guest list.
If wine's more your thing, then book a wine tasting tour here.
Sip mate
On your first visit to Argentina, you may be curious about what people are pouring out of thermoses and drinking from gourds. It's mate (mah-tay), a bitter, caffeinated tea that is part of the cultural fabric of Argentina.
This drink is all about sharing and socialising. Friends (and even strangers) sip from the same mate (the cup) and bombilla (straw).
Argentines are ridiculously friendly people and love to meet friendly foreigners. I have no doubt that if you see a group of people sipping mate in a park in Buenos Aires and you ask a few questions about mate, they'll happily ask you to join them!
READ NEXT: How to spend 2 weeks in Argentina
Visit the Casa Rosada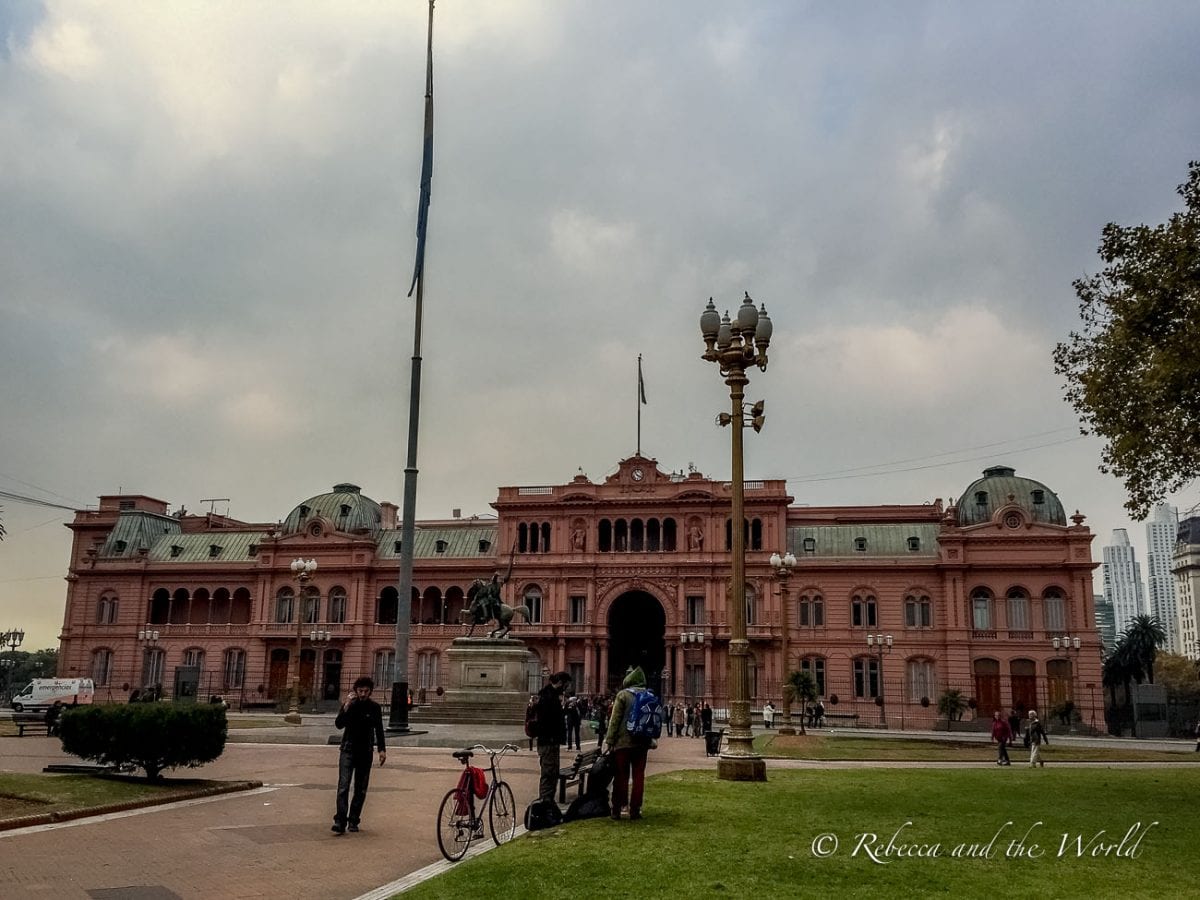 Argentina's version of the White House is in fact pink. It's located in the Plaza de Mayo, a square that's a great place to wander through when you first arrive in Buenos Aires.
The Casa Rosada now offers public tours, so you can go inside to see the luxe interiors and stand on the balcony from where Evita addressed her adoring fans below. Tours are only offered on weekends, with tours in English on Saturdays at 12.30 p.m. You'll need to book online in advance.
Balcarce 50, book a tour online
Relax in Buenos Aires' parks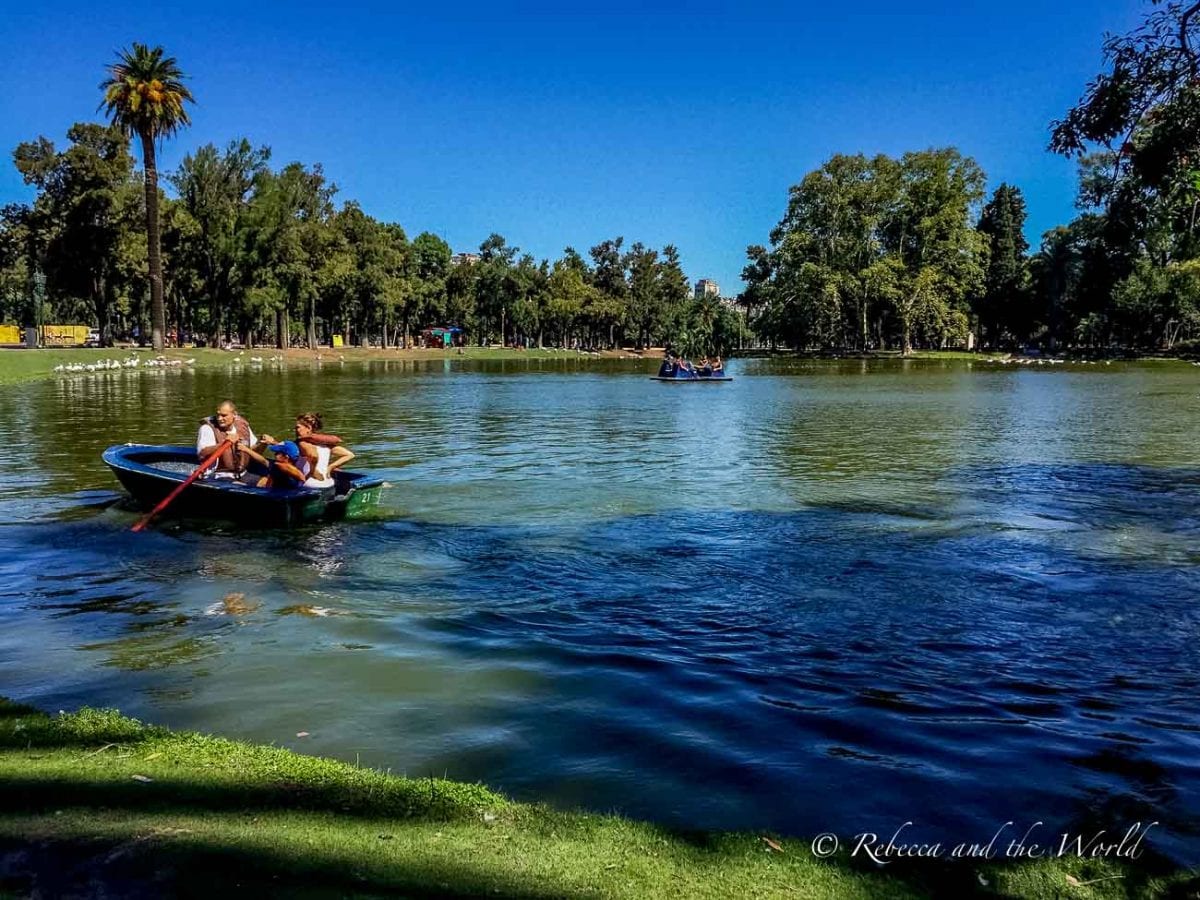 Like any big city, Buenos Aires can be noisy and exhausting at times. Luckily, there are plenty of green spaces to escape to. Most parks are well-maintained and filled with Argentine families or groups of friends, especially on weekends. My favourite parks in Buenos Aires are:
Tres de Febrero (also known as the Bosques de Palermo)
Rosedal de Palermo, a rose garden with more than 8,000 roses
Jardín Japonés, one of the largest Japanese gardens outside of Japan
Jardín Botánico Carlos Thays
Floralis Genérica, with its giant metal flower sculpture
Reserva Ecológica Costanera Sur, a huge park in Puerto Madero
Learn Spanish
If you've got more time in Argentina, consider taking a few Spanish lessons. The accent in Argentina is different to the rest of South America and it takes a little while to get the hang of it, but there are plenty of affordable Spanish schools across the country.
One of the most popular Spanish schools in Buenos Aires is Expanish. My husband studied here when we first moved to Argentina, and they're equipped to teach everyone from total newbies to advanced speakers.
You'll also probably pick up a few lunfardo words (Argentine slang) along the way. Che is an interjection that you'll hear everywhere and of course refers to the Argentine revolutionary, Ernesto "Che" Guevara. Quilombo is my absolute favourite lunfardo word and basically means "a mess" or "chaos", as in "Que quilombo!" – what a total mess. I've used the word in reference to the traffic situation in Buenos Aires more than once.
Indulge your sweet tooth
No country does sweet stuff like the Argentines do. I think I've had about five fillings since I left Argentina. No joke. This is one cavity-inducing country.
Start with dulce de leche, a creamy caramel sauce that we used to eat with a spoon out of a jar. It's also usually stuffed into other desserts or treats, including alfajores, cookies that are sandwiched together with dulce de leche and then often dunked in chocolate.
Facturas in Argentina can either refer to invoices and bills, or a range of delicious pastries (I prefer the latter). One of the most famous is the medialuna, a croissant-like pastry that's shaped like a half moon. Most Argentines will start the day with one or two of these with their morning coffee.
With a strong Italian heritage, ice cream is also something that's done really well in Argentina. Rich and creamy, there are ice cream shops to be found almost on every street block. My favourite ice cream shop in Buenos Aires is Rapa Nui (multiple locations around the city), while Freddo is a chain store that even delivers ice cream to your door.
Visit Buenos Aires' many markets and malls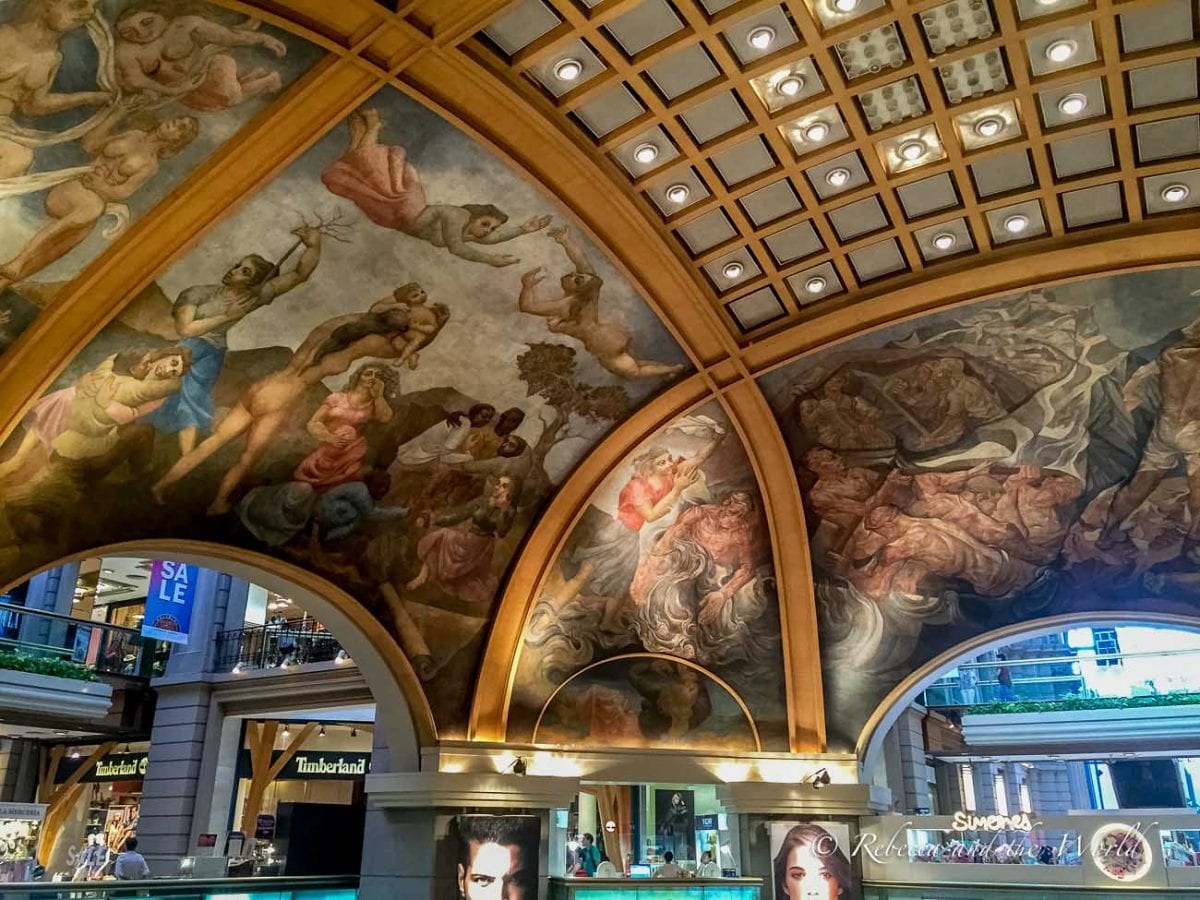 You have to pick up a souvenir or two when in Argentina, and one of the best places to shop in Buenos Aires is at one of the city's many markets.
Outdoor markets pop up every weekend across the city. Some of the best markets to visit include:
Feria de San Telmo, held every Sunday in San Telmo
Recoleta's Feria de Plaza Francia, an open-air market held every Saturday and Sunday
Feria de Mataderos, a market that "brings the country to the city". You'll need to take a bus about an hour from the city, but it's worth the trip to see gauchos (Argentine cowboys) performing and taste some great food
If you love to shop, click through to read my guide to what to buy and where to go shopping in Buenos Aires.
See a performance at the Teatro Colón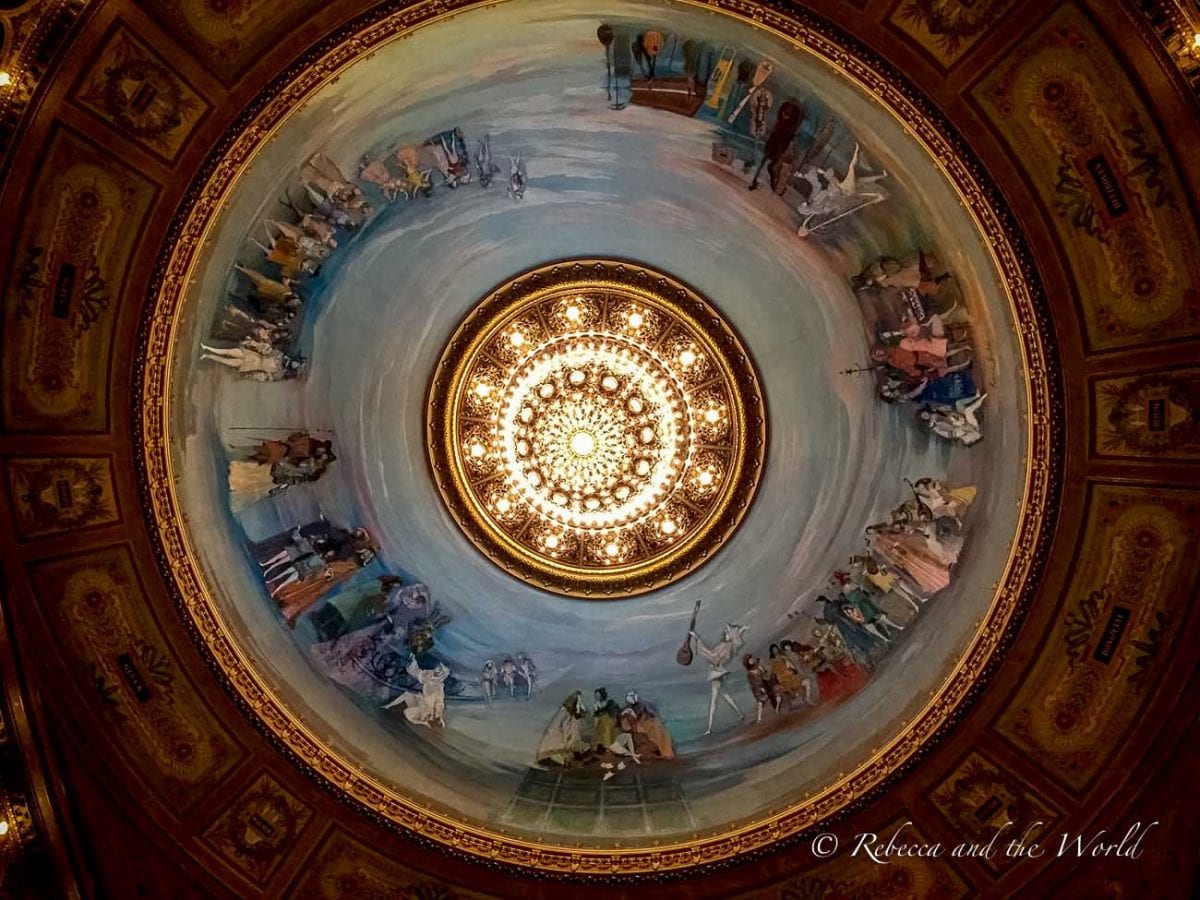 The legendary opera singer Luciano Pavarotti once complained that the only flaw of the Teatro Colón in Buenos Aires was that the acoustics were so perfect that if you made even one tiny mistake the audience would hear it.
If you're ever wondering what to do in Argentina, visiting this gorgeous theatre should be one thing you add to your Buenos Aires itinerary. Book tickets for the ballet, a play, orchestra, concert or any other performance at the Teatro Colón during your visit to Buenos Aires.
If you can't time your trip to catch a show, then you can take a guided tour of the theatre to gawk at the rich red tapestries, dripping chandeliers and gold leaf details. Guided tours are held daily, every 15 minutes between 9 a.m. and 5 p.m. (English tours at 1 p.m. and 3 p.m.), and cost ARS$1,800. Book at the door or sign up online with this guided tour.
Cerrito 628
Experience gaucho life at an estancia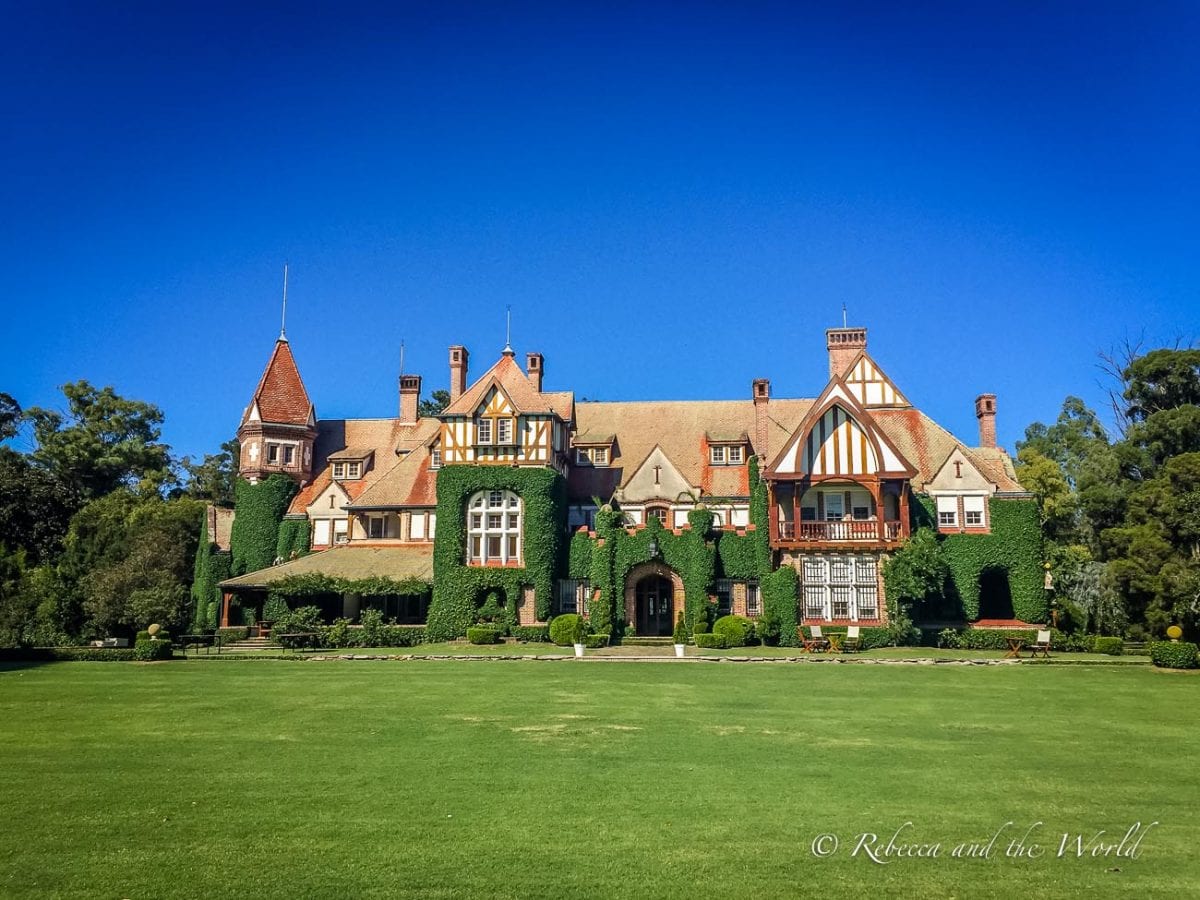 Not far from Buenos Aires are a number of estancias (ranches) where you can experience the life of a gaucho. Gauchos are essentially Argentine cowboys, and on a day trip you can learn how to ride a horse, enjoy an asado (barbecue) and some local wine, or simply relax. If you don't have a car to get out to an estancia, this tour and this tour look like fun!
If you've got a night or two, you can even stay at an estancia. Here are a few of the best estancias near Buenos Aires.
Learn about history in La Plata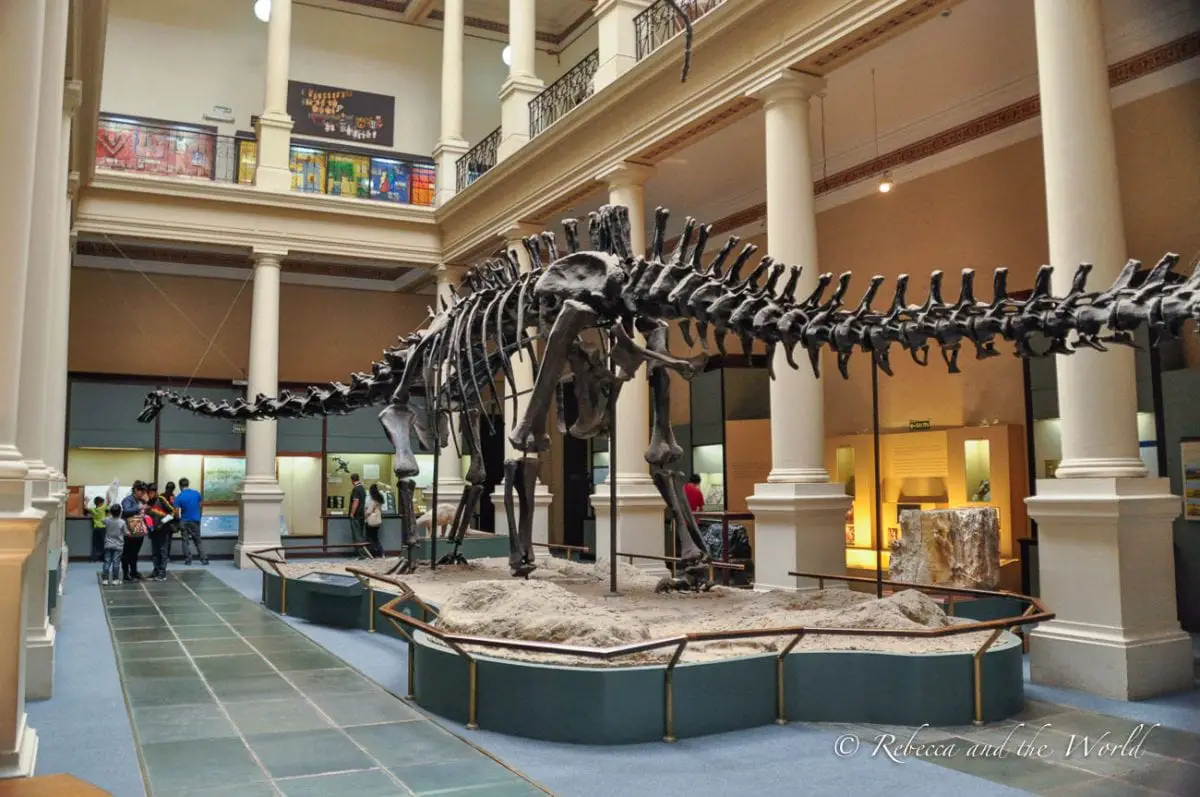 If you've got a car, head to La Plata, about an hour outside of Buenos Aires for city life on a smaller scale.
One of the best things to do in La Plata is visit the Museo de La Plata, which houses dinosaur bones, rooms and rooms filled with taxidermy animals, and artifacts from Incan times.
This is a day trip from Buenos Aires for history lovers or the budding paleontologist.
Take a day trip to Uruguay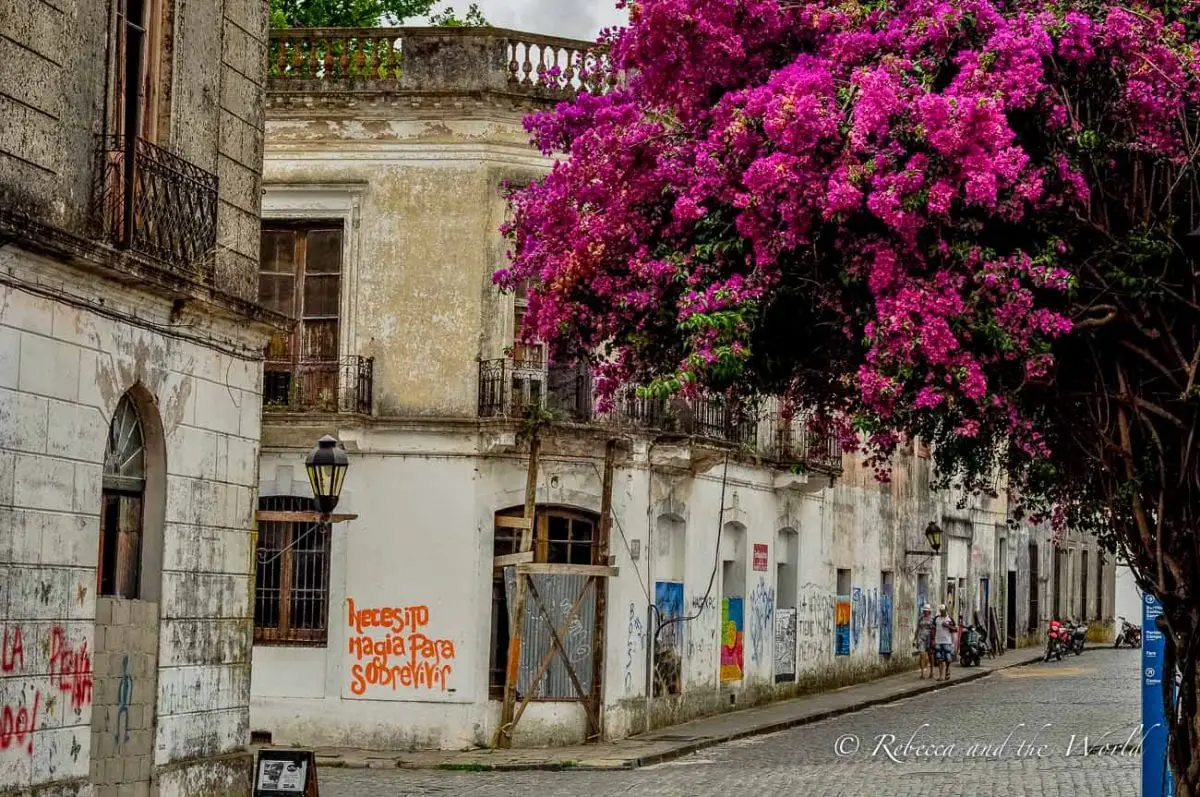 Uruguay is just a short ferry ride across the Rio de La Plata and can easily be visited on a day trip from Buenos Aires.
If you've only got a day, spend it in Colonia del Sacramento. You can time the ferries to leave Buenos Aires early in the morning and then return later in the day. You can have someone arrange the ferry ticket for you, if you'd prefer, by booking this tour option here (which includes an optional walking tour in Colonia del Sacramento).
In Colonia del Sacramento, wander the cobblestoned streets, climb the historic lighthouse and eat some delicious Uruguayan food.
If you've got some more time, hire a car and take a coastal Uruguay road trip.
Walk on a glacier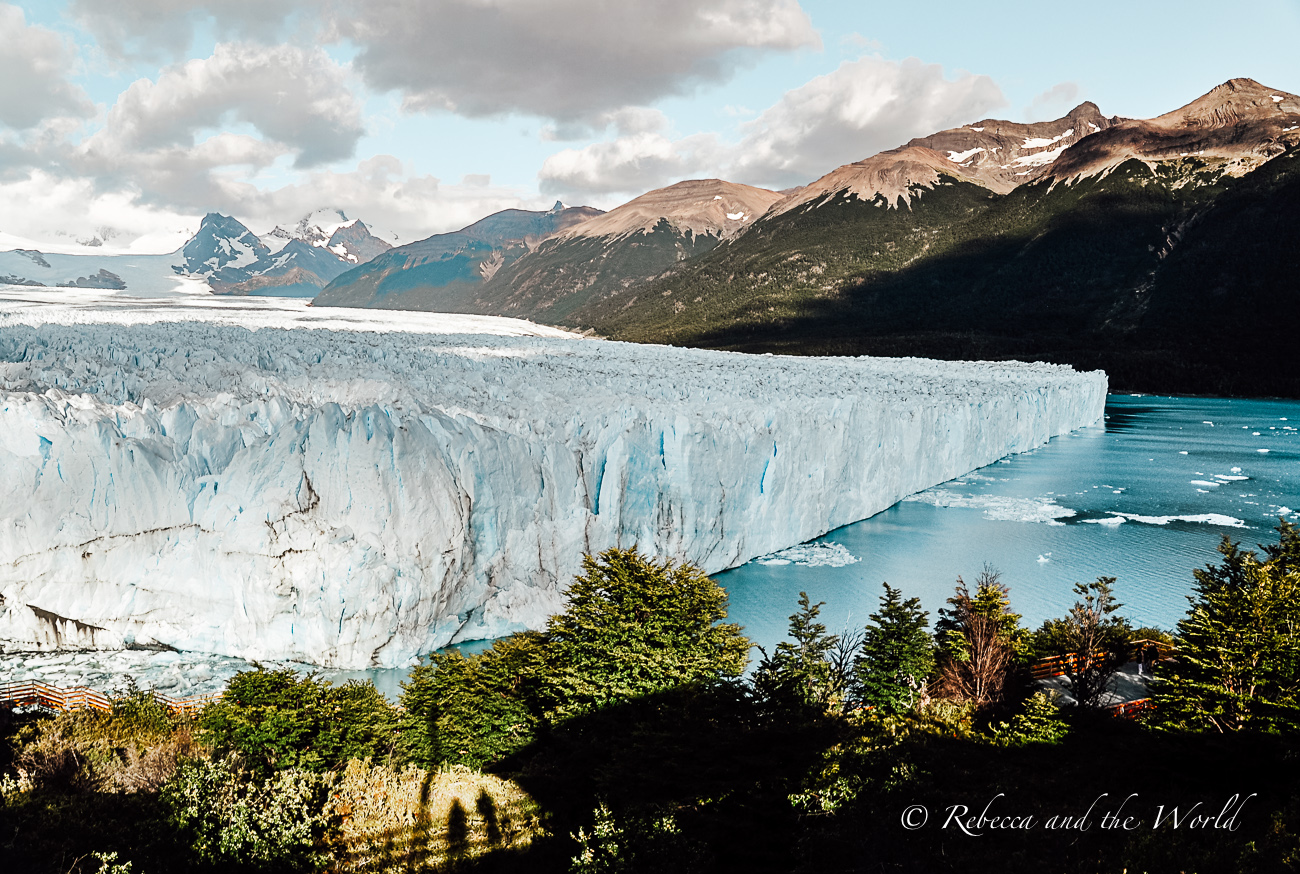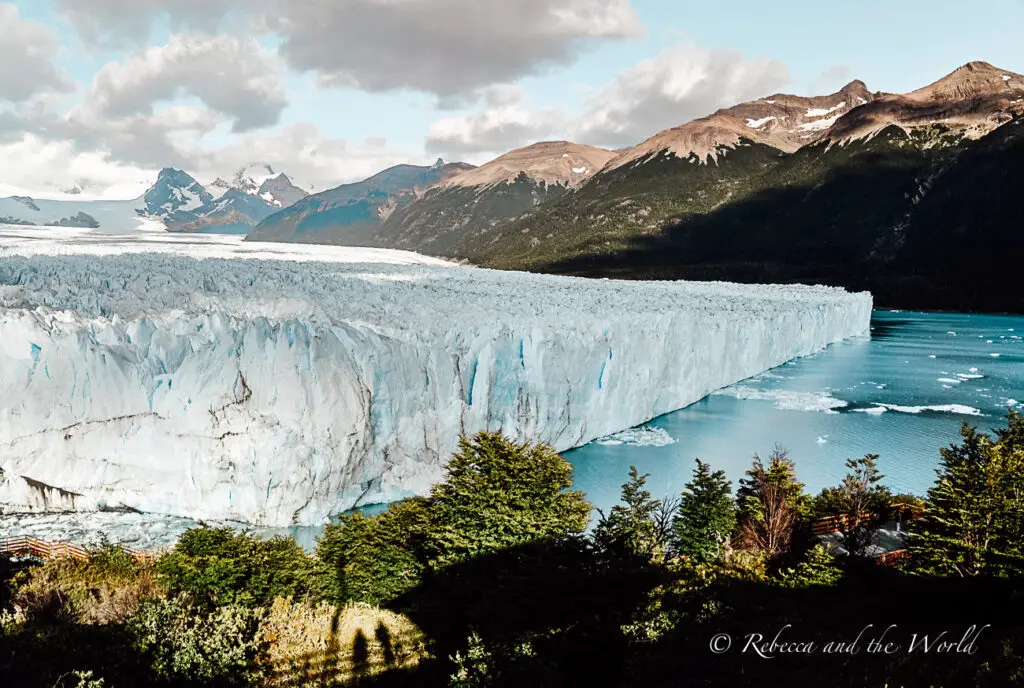 One of the most incredible things to do in Argentina is walk on a glacier. In Patagonia's Los Glaciares National Park, the Perito Moreno Glacier is unusual in that it is advancing up to two metres per day – when most glaciers are retreating.
You can see the glacier up close by hiking on it. There are two tours you can take, both of which afford the opportunity to hike across a small portion of the 30-kilometre-long glacier. The Minitrekking tour is a 1.5-hour experience, while Big Ice is more physically demanding with 3.5 hours on the glacier.
Of all the Argentina tourist attractions, this is one you should definitely add to any Argentina itinerary. It's not cheap but it's worth the splurge.
READ NEXT: How to trek on Perito Moreno Glacier
How to get to Perito Moreno Glacier
Don't get confused – the closest town is not Perito Moreno (which is actually 600 kilometres away!). Rather, the nearest hub El Calafate, a town about 80 kilometres to the west of Los Glaciares National Park. It's a nice town on Lago Argentina with plenty of tour operators and restaurants. You can fly here, connecting from Buenos Aires, Ushuaia or Bariloche, or take a bus (but be warned it's a long ride; coming from Bariloche, for example, is a 24-hour journey).
To get to the actual glacier, join a tour (not cheap but definitely worth it for the opportunity to trek on the glacier) or you can travel independently as I've outlined here.
Where to stay near Perito Moreno Glacier
If you're looking for something else, search accommodation in El Calafate on Booking.com or HotelsCombined.
Watch the ice calve at Perito Moreno
Nothing quite compares to the first time you hear a thousands-of-years-old glacier calve. Chunks the size of cars crack and then crash into the icy waters below with a deafening boom.
I saw this first hand while visiting Perito Moreno Glacier, and it's a sound and sight I'll never forget. It is without a doubt one of the most magical things to see in Argentina.
The best place to see the ice calve is from the catwalks that cross in front of the glacier. They're the first section you'll visit in Los Glaciares National Park.
Sip whiskey at a glacier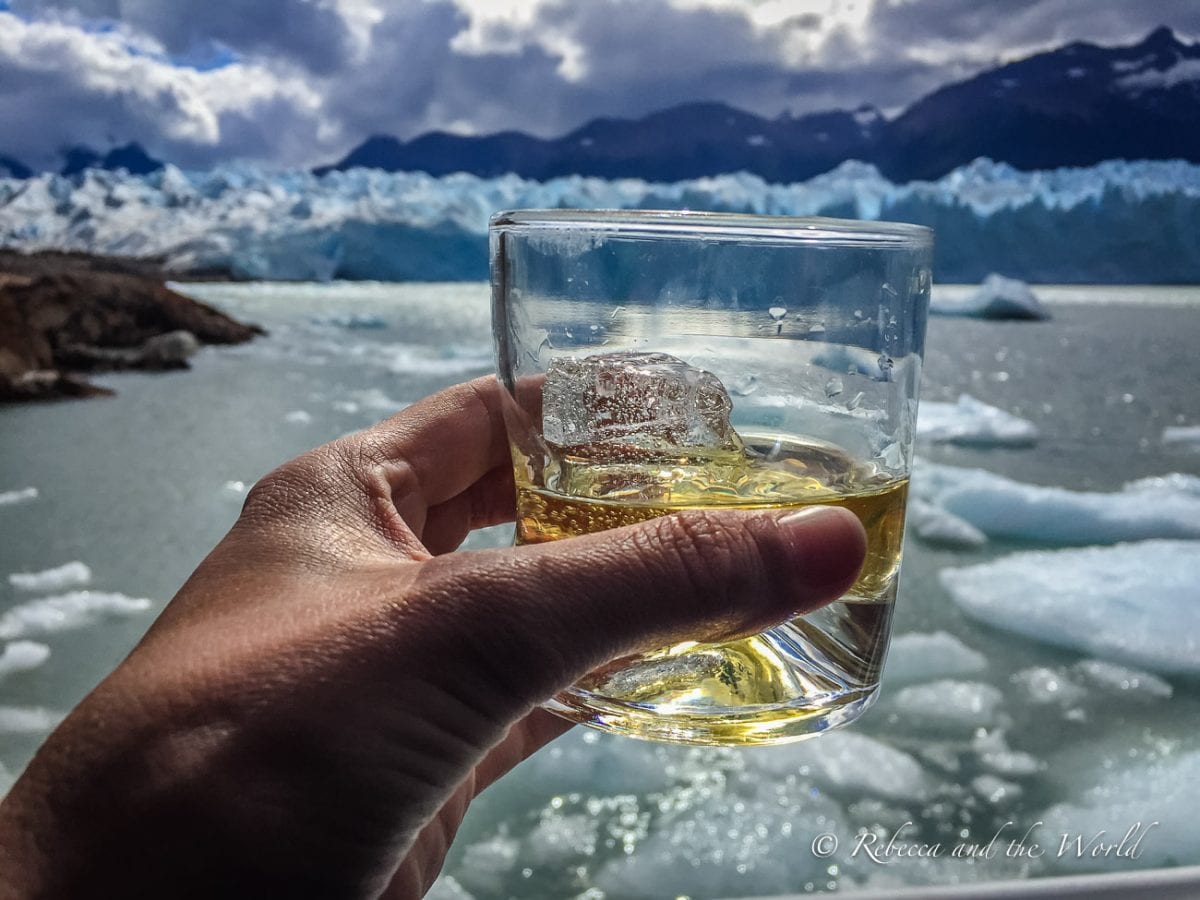 If you're not interested in hiking across Perito Moreno Glacier, then take a boat trip instead. From the water, you'll gaze up at the enormous glacier – and hopefully see a few chunks break off.
You might even be lucky enough to end the trip with a glass of whiskey cooled with a chunk of the glacier itself.
Hike in El Chaltén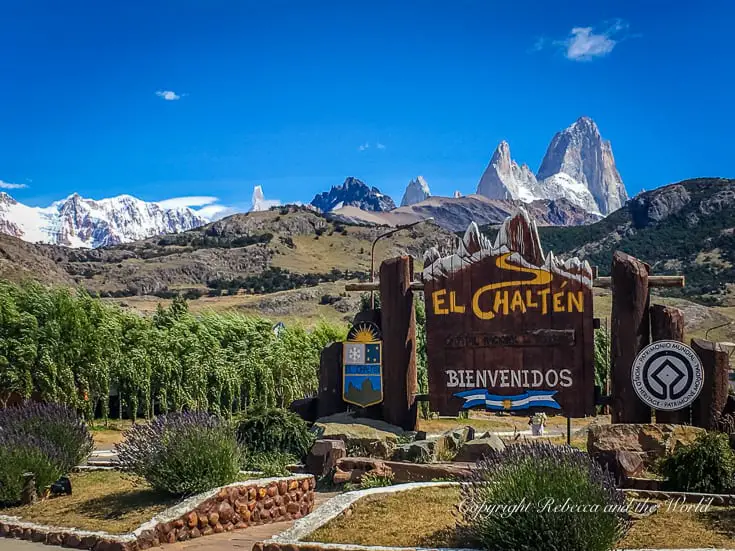 Patagonia is even more incredible than you can imagine – photos do not do it justice. Hiking in Patagonia is one of the top things to do in Argentina and something for the bucket list.
One of the best places to hike in Patagonia is El Chaltén, a small town in the south of Argentina.  From El Chaltén, there are several trails that offer views of Monte Fitz Roy and Cerro Torre. I've written a guide to the best El Chaltén hiking trails.
When you've had enough of hiking, you can go horseback riding, mountain biking or rock climbing, or simply enjoy the local craft beer scene. For such a small town, El Chaltén boasts a surprising number of cervecerías (breweries) – all perfect for relaxing after a long day of outdoor activities.
READ NEXT: The best El Chaltén hiking trails
How to get to El Chaltén
There's no airport in El Chaltén, so you will need to take a bus from El Calafate (220 kilometres) on the smooth, paved road. There are several companies that operate the El Calafate to El Chaltén bus route, including TAQSA and Caltur and Chalten Travel. We chose Chalten Travel, and found that the buses were very comfortable. If you're travelling in high season, book tickets online (recommended in high season) or buy a ticket at the office in advance. Check online for the latest timetable.
Where to stay in El Chaltén
There are several options in El Chaltén, but make sure to book ahead if you're planning to visit in January or February (the busiest months). We stayed at Patagonia Travellers Hostel which is centrally located and has both private rooms and dorms.
Journey to the end of the earth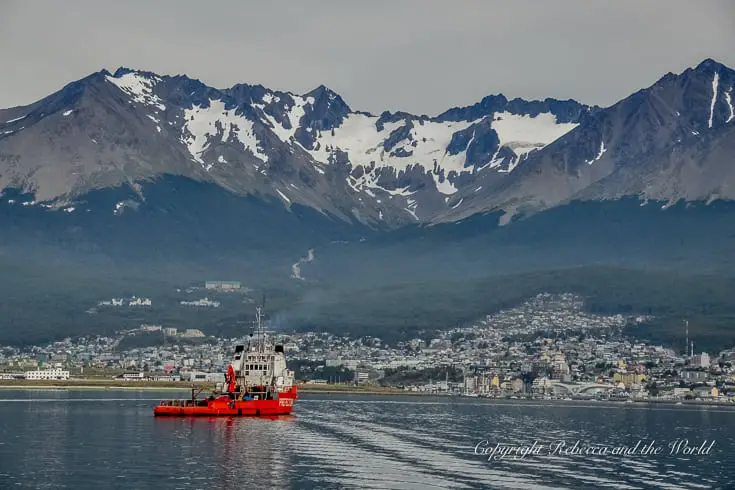 The jumping off point for ships headed to Antarctica, Ushuaia is the southernmost city in the world.
It's also a hub for adventure, with tour operators offering boat rides, trekking, off-road 4×4 exploring and horse-riding excursions, as well as snow-related activities in winter. Filled with scented forests, nearby Tierra del Fuego National Park is a stunning spot for easy day hikes.
READ NEXT: The best things to do in Ushuaia, Argentina
How to get to Ushuaia
Like all other major regional cities in Argentina, there are regular flights to Ushuaia from Buenos Aires. Long-haul bus travel to Ushuaia is not as easy but is possible if you have the time – the trip takes almost 50 hours!
Where to stay in Ushuaia
I can't recommend the place we stayed in Ushuaia (it was noisy and crowded), but Posada del Fin del Mundo comes highly recommended.
Cruise the Beagle Channel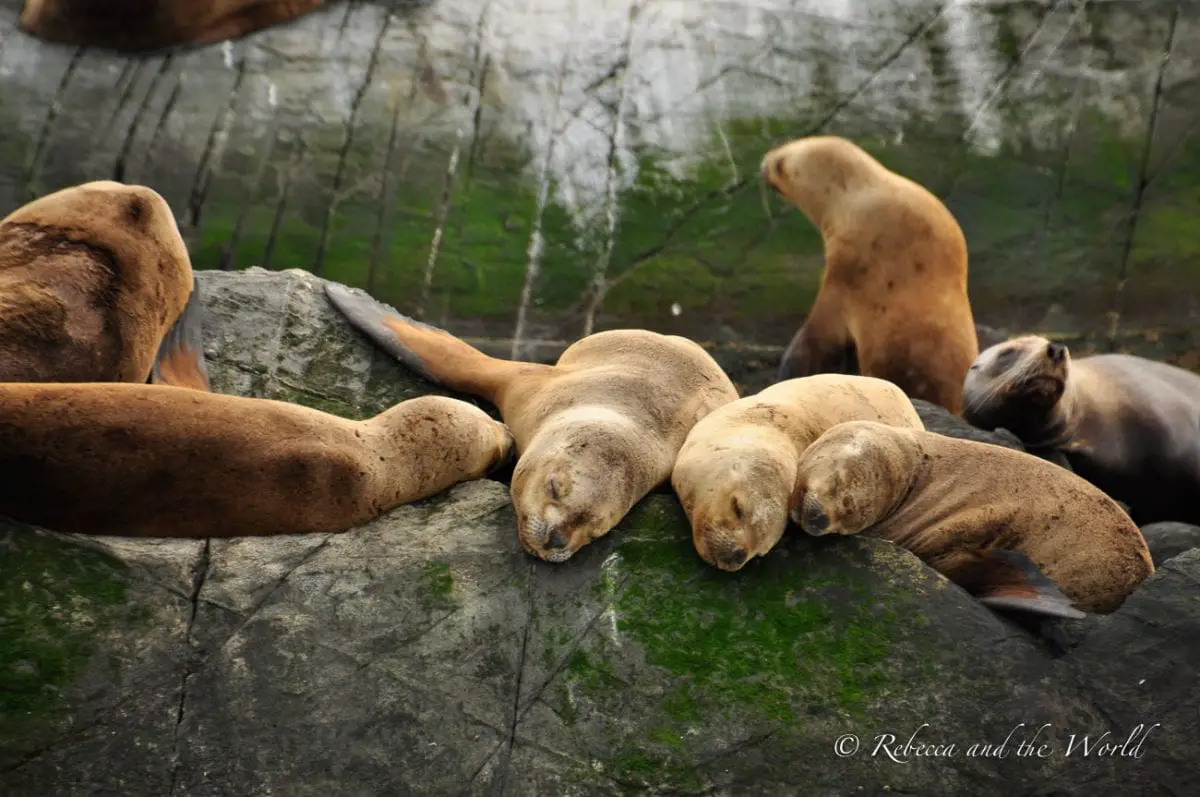 One of the most popular things to do in Ushuaia is a boat cruise on the Beagle Channel.
On the trip, you'll see birdlife, sea lions, seals and penguins; it's one of the best places to visit in Argentina to see wildlife. On board the boat is often an expert who can tell you the difference between a seal and a sea lion, and point out the various birds that roost on the rocky islands.
Boats also circle the Les Éclaireurs lighthouse, a picturesque red-and-white-striped lighthouse that is often mistaken for the lighthouse made famous in Jules Verne's The Lighthouse at the End of the World.
It's easy to book a boat ride. Book online here or simply head down to the tourist wharf in the morning and book a ticket. Boats head out regularly.
See penguins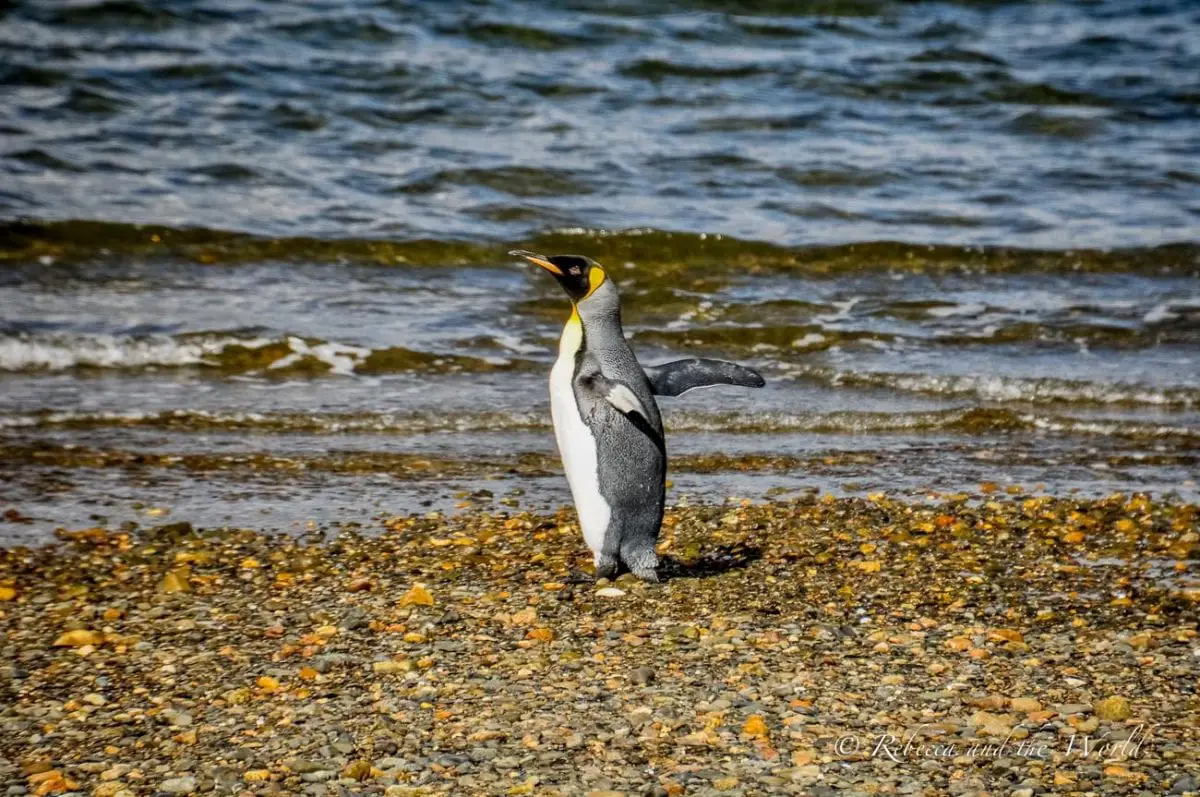 There are plenty of places in Argentina to spot penguins, but one of the best places to see them is around Ushuaia.
You'll need to leave town to see this lovable creature and take a boat to one of the surrounding islands. On some tours you'll only be allowed to see the penguins from your boat. On other tours you can walk (in small groups) among the waddling penguins.
The islands around Ushuaia are home to three types of penguins: Magellanic, Gentoo and King penguins.
The other places to see penguins in Argentina are along the Península Valdés and the coastal area around the peninsula.
Eat huge crab in Ushuaia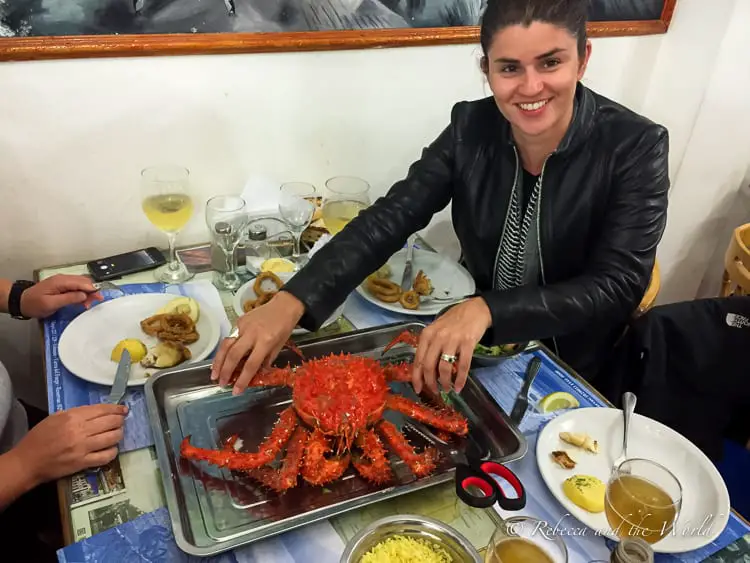 One of the specialty foods in Ushuaia is centolla or king crab. There are plenty of restaurants serving this sweet-tasting crustacean. The crabs are huge, so plan to share it with a few friends.
My favourite place to try centolla in Ushuaia is El Viejo Marino (Av. Maipú 227).
La Cantina Fueguina de Freddy (General San Martín 318) and Volver (Calle Maipú 37) are also highly recommended.
Head to Antarctica
While I don't want to encourage you to leave Argentina just yet, if Antarctica is on your bucket list, then Argentina is the place to head first.
Boats leave daily from Ushuaia and make the journey to the world's southernmost continent.
Most people book their Antarctica trips months (if not years) in advance, but it is still possible to get discounted deals for Antarctica trips in Ushuaia, as companies fill the last open seats. Companies place signs around the wharf advertising any available passages.
See dinosaurs in Patagonia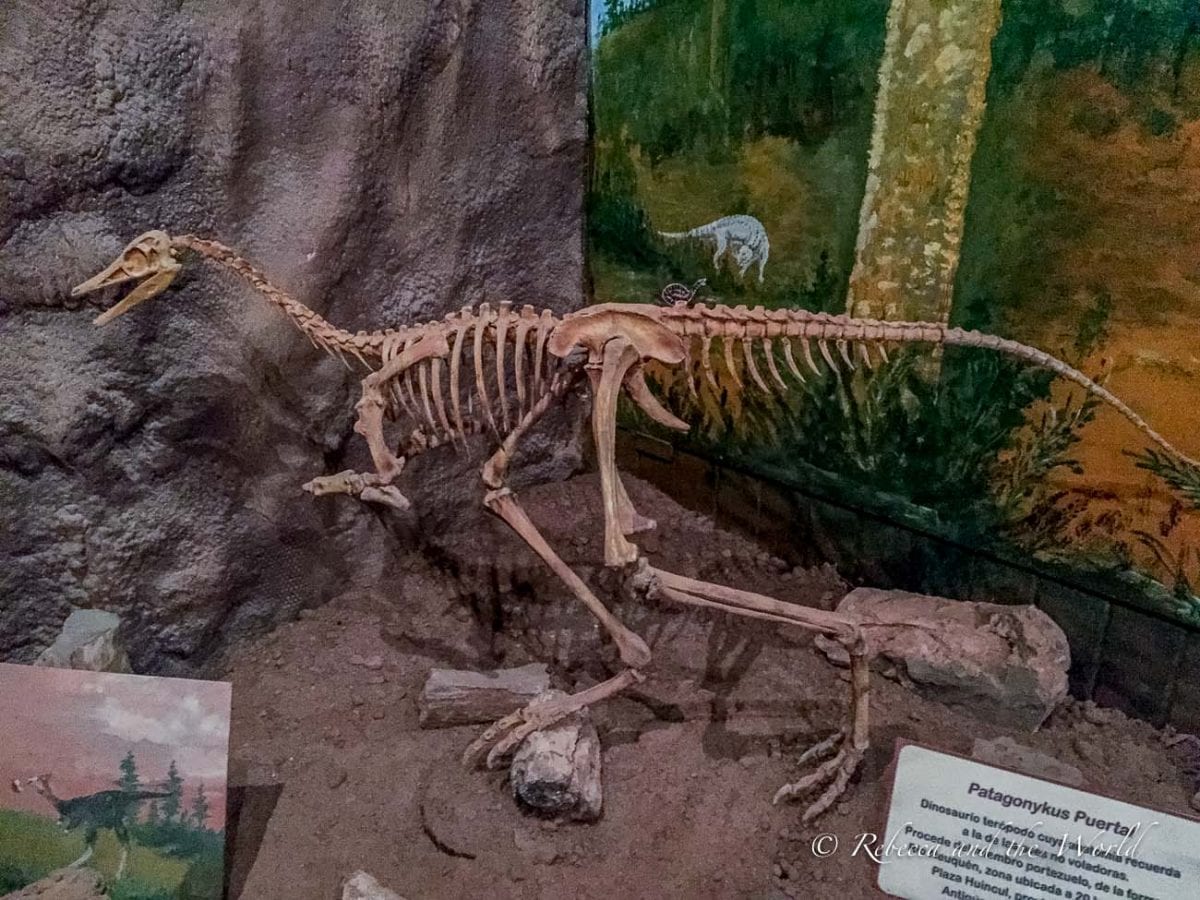 Parts of Patagonia are literal dinosaur cemeteries, and discoveries are still being made to this day. The province of Neuquén is a particular hot spot. There are several museums (and perhaps some more bones?) to discover on drives from the capital of Neuquén City.
The Museo Municipal Carmen Funes houses a replica of Argentinosaurus huinculensis, the largest known dinosaur. Bones from this dinosaur were discovered in the late 80s, and paleontologists figure that the dinosaur measured around 40 metres long!
The Centro Paleontológico Lago Barreales is another museum close to Neuquén City. There are other smaller museums and facilities to explore, including the Museum Argentino Urquiza in the town of Rincón de los Sauces.
These dinosaur bones are one of the secret Argentina attractions I don't think many people know about.
Marvel at the beauty of Salta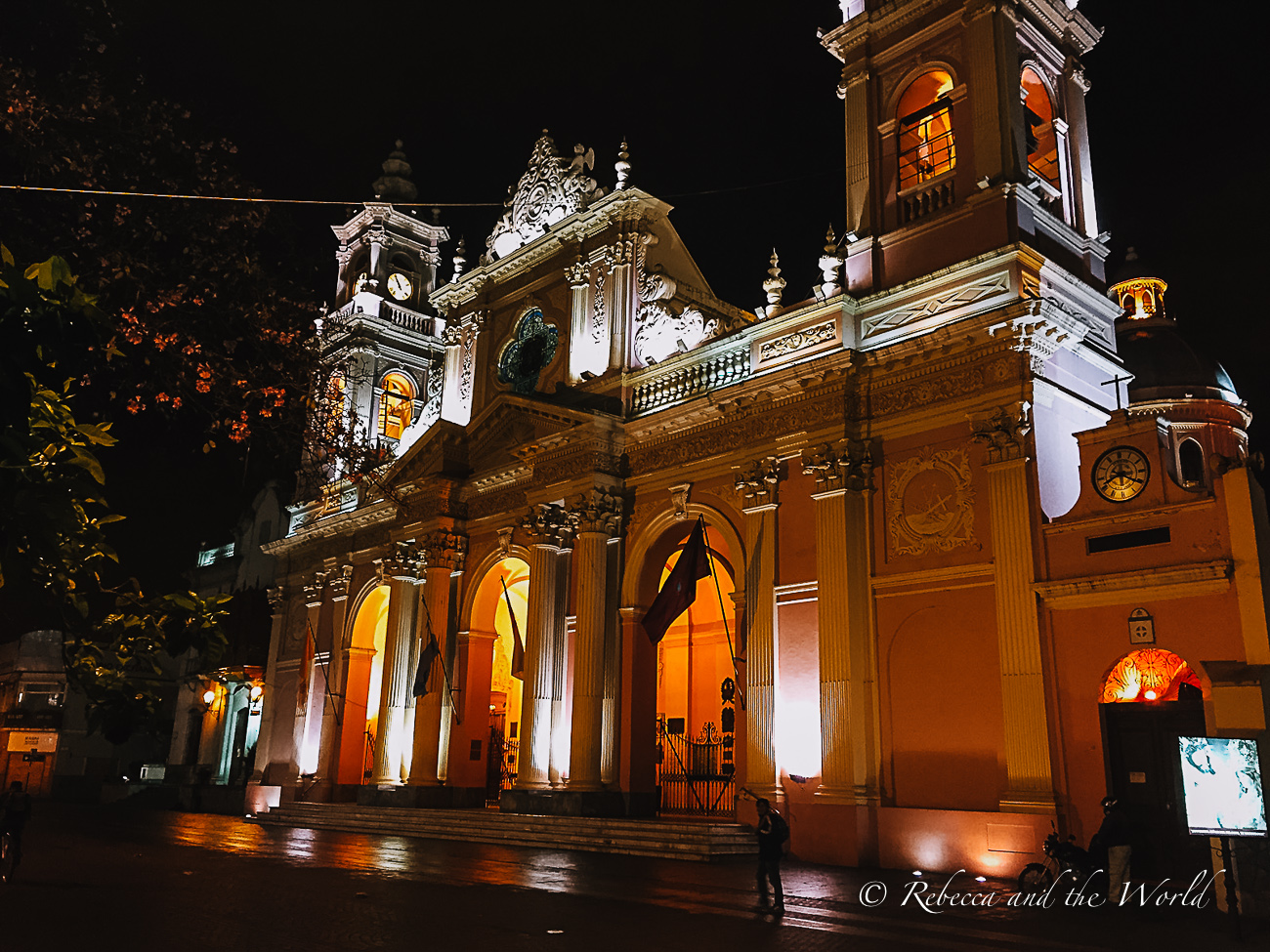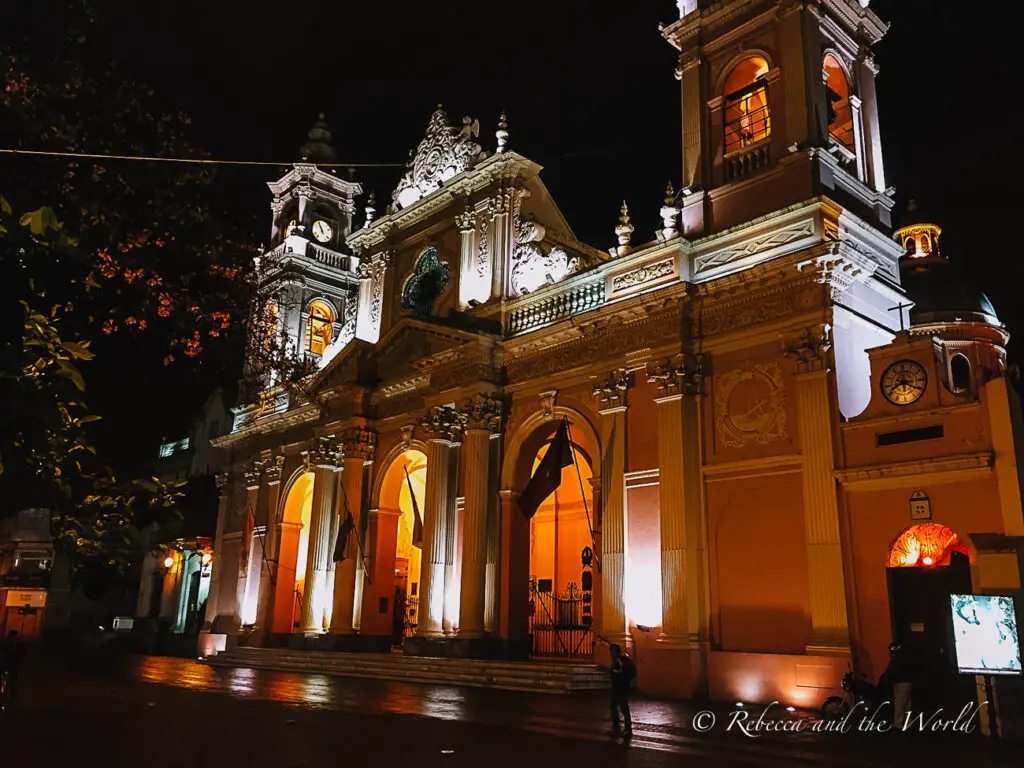 Salta isn't called Salta La Linda (Salta the beautiful) for no reason. It's a city full of attractive buildings and peaceful plazas, and is the perfect a base for exploring the north of Argentina.
Salta is full of gorgeous churches and grand architecture. You can easily pass a day or two wandering the streets, hanging out in Plaza 9 de Julio or taking a walking tour to see the best of the city.
READ NEXT: Road tripping through the north of Argentina
How to get to Salta
There are daily flights from Buenos Aires to Salta, or an 18-hour bus ride.
Where to stay in Salta
Design Suites is modern and centrally located and where we stayed on our trip to Salta. It's comfortable with spacious rooms.
See Incan children in Salta
Before I visited Salta, I had no idea that the Incans even made it as far south as Argentina. If you visit the Museo de Arqueología de Alta Montaña (and you should – it's one of the best things to do in Salta) you'll learn this and more about Incan culture.
The highlight of the museum is the three Incan children whose bodies are on display. These children were found in 1999 and were believed to have been sacrificed on Volcán Llullaillaco. The three bodies are rotated every six months. It's fascinatingly eerie to gaze at their faces, so perfectly preserved because of the icy conditions on the top of the mountain where they were discovered.
Take a road trip through the north of the country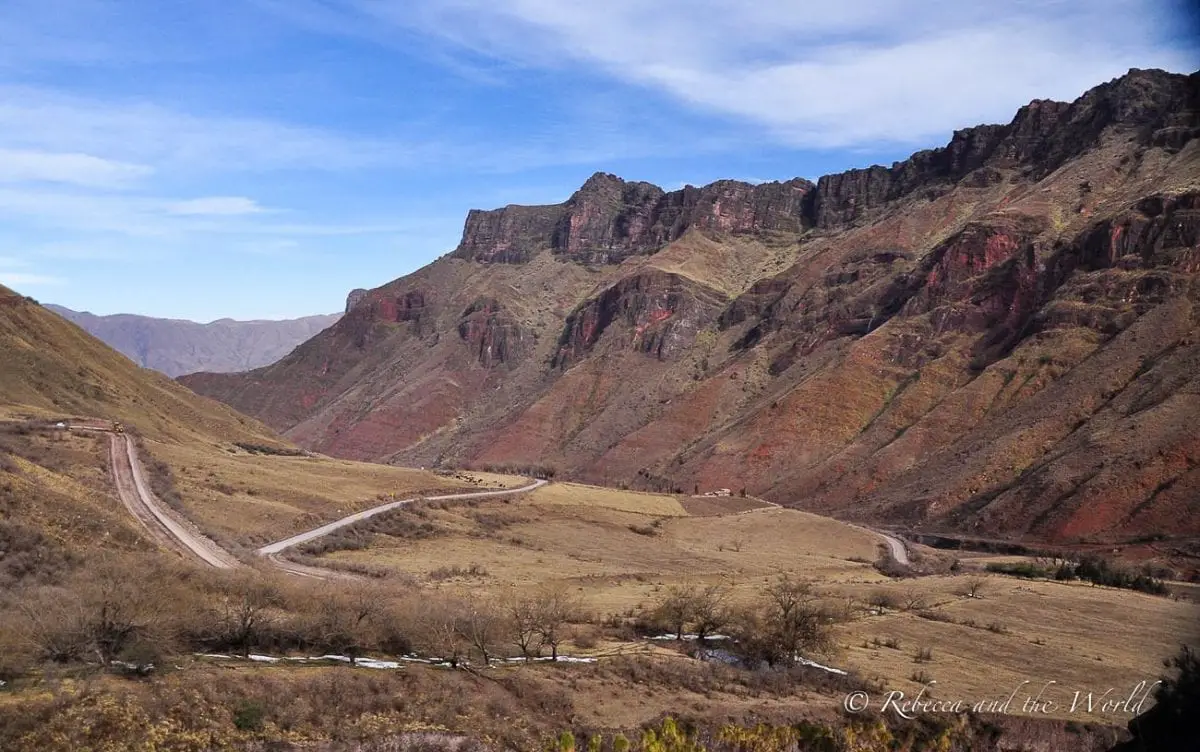 One of my favourite places to visit in Argentina is the north of the country. It's the perfect area for a road trip.
Remote towns and villages, ancient culture, out-of-this-world landscapes and wine all meld to create the perfect road trip itinerary. On parts of the trip you'll even be driving along the famous Ruta Nacional 40, the longest route in Argentina.
I've done this amazing north Argentina road trip and recommend starting and ending in Salta. I've written a longer blog post which details a 9-day north Argentina road trip itinerary along with some tips.
Gaze at the Cerro de los Siete Colores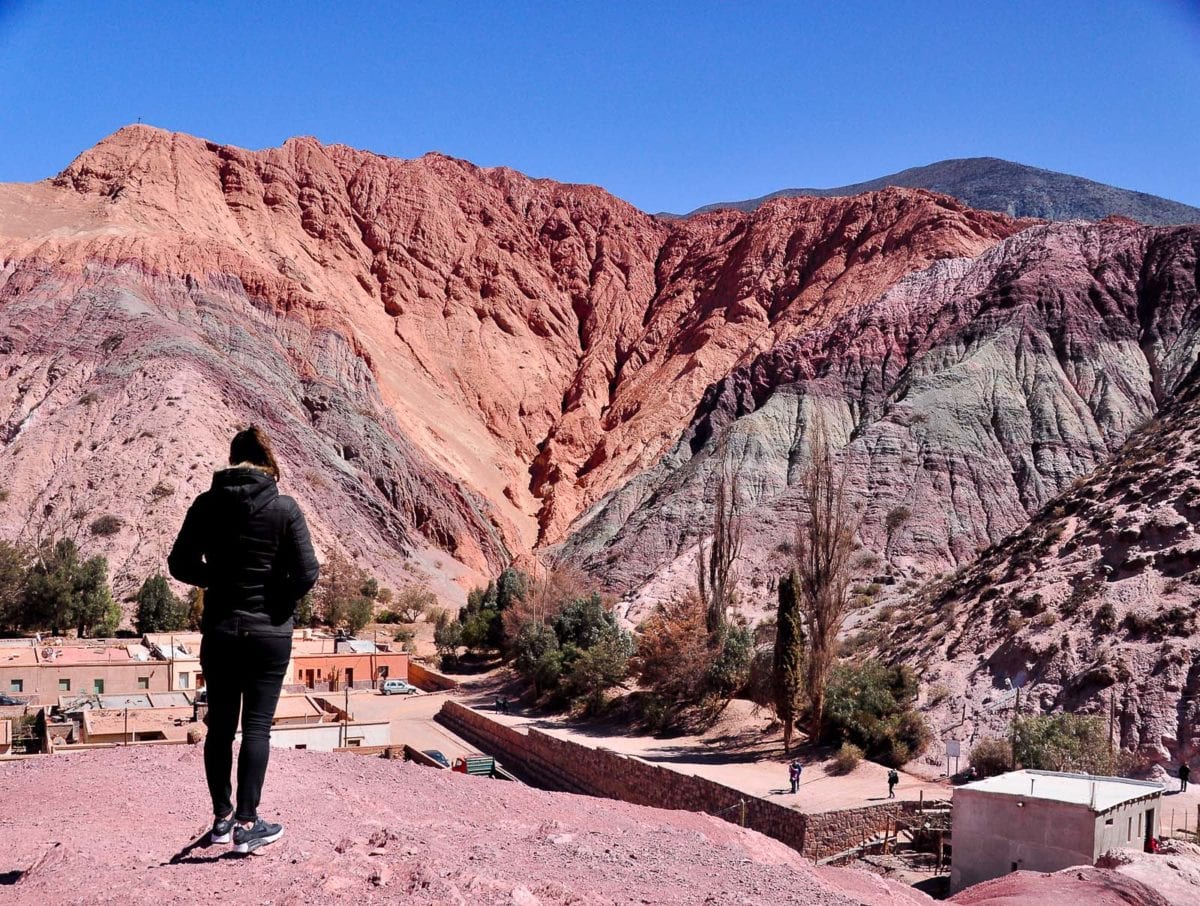 No doubt you've seen the Cerro de los Siete Colores in your Argentina guidebook: a geological phenomenon that's made up of layers of pink, purple, orange, yellow, green and white sediments, formed over hundreds of millions of years.
This stunning sight is located on the edge of the tiny town of Purmamarca in north Argentina. Base yourself here so you can catch a glimpse at the Cerro de los Siete Colores as the sun is coming up or going down – it's most spectacular in this lighting.
Take photos at the Salinas Grandes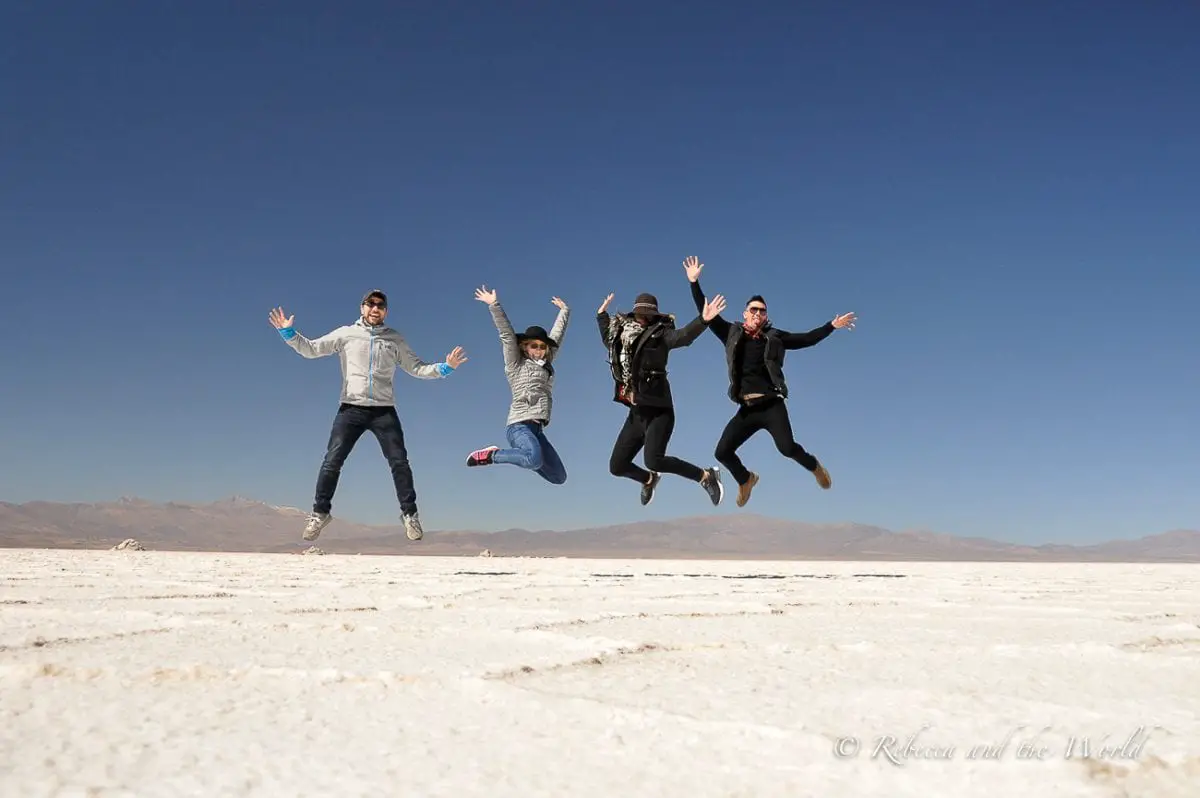 Argentina is home to the second-largest salt pan in the world, the Salinas Grandes in Salta province. These salt flats are located more than 3,000 metres above sea level, and are the result of a dried-up lake.
You can reach the Salinas Grandes from the town of Purmamarca. It's easiest to do it with your own car (or hire a driver) rather than relying on public transport.
Once at the Salinas Grandes, guides take you out on to the flats (they know where to drive and where not to). Here, you can practice forced perspective photos. You know, those photos where people look like they're squashing each other? We found out that it's actually a lot harder to create than it looks!!
Sip wine in Cafayate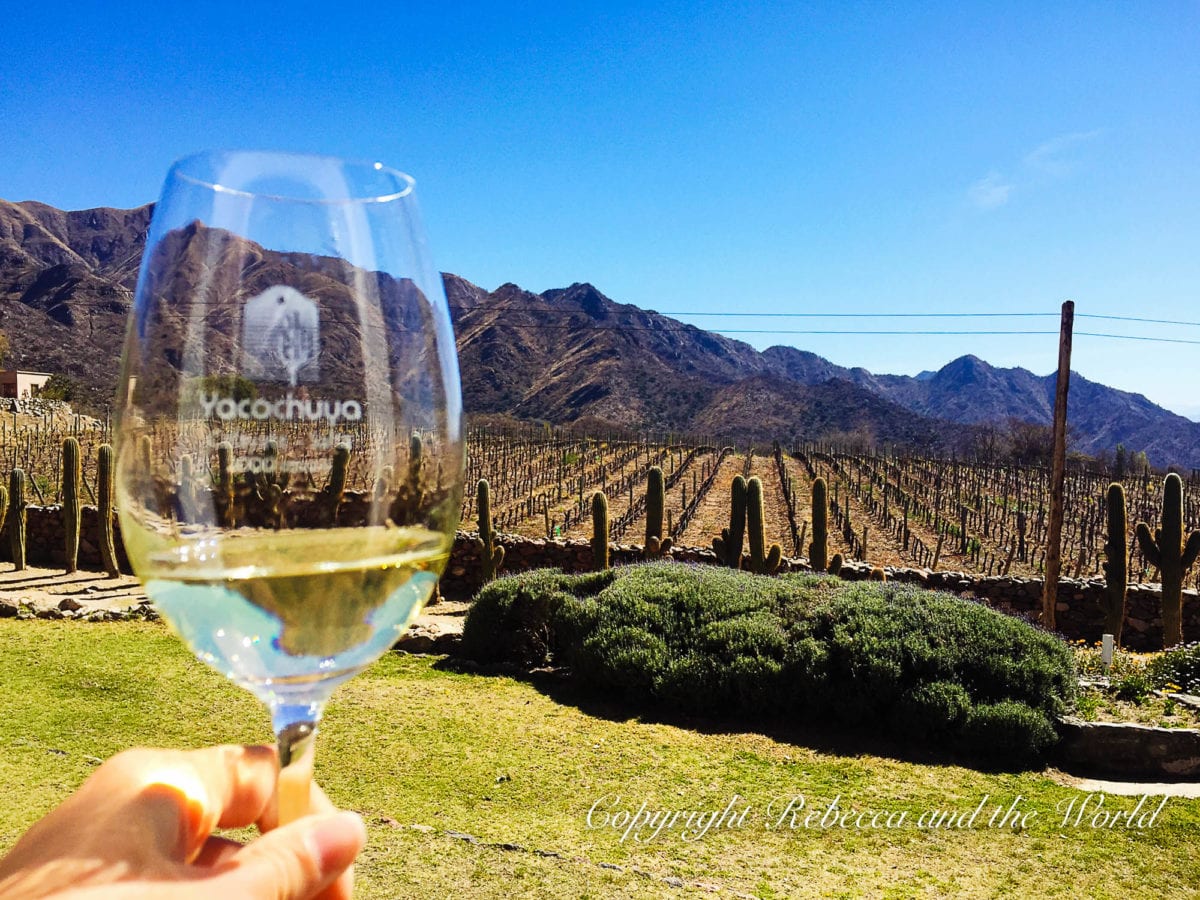 When we moved to Argentina, I discovered a love for Torrontés, a fresh, aromatic grape varietal. In Cafayate, Argentina's "other" wine region, you'll find the source.
We spent a few days exploring this relaxed area and tasting as many wines as we could. Visiting this region is one of the more unique things to do in Argentina, as not many visitors make it to this wine-growing area.
READ NEXT: How to explore the wineries of Cafayate in northern Argentina
How to get to Cafayate
Your best bet is to rent a car and drive to Cafayate from either Salta or Tucumán. Combine it with a road trip through north Argentina.
Where to stay in Cafayate
I highly recommend Grace Cafayate, a stunning spa hotel with a vineyard on site. Rooms are comfortable, with huge bathtubs.
Travel through moon-like scenery in northern Argentina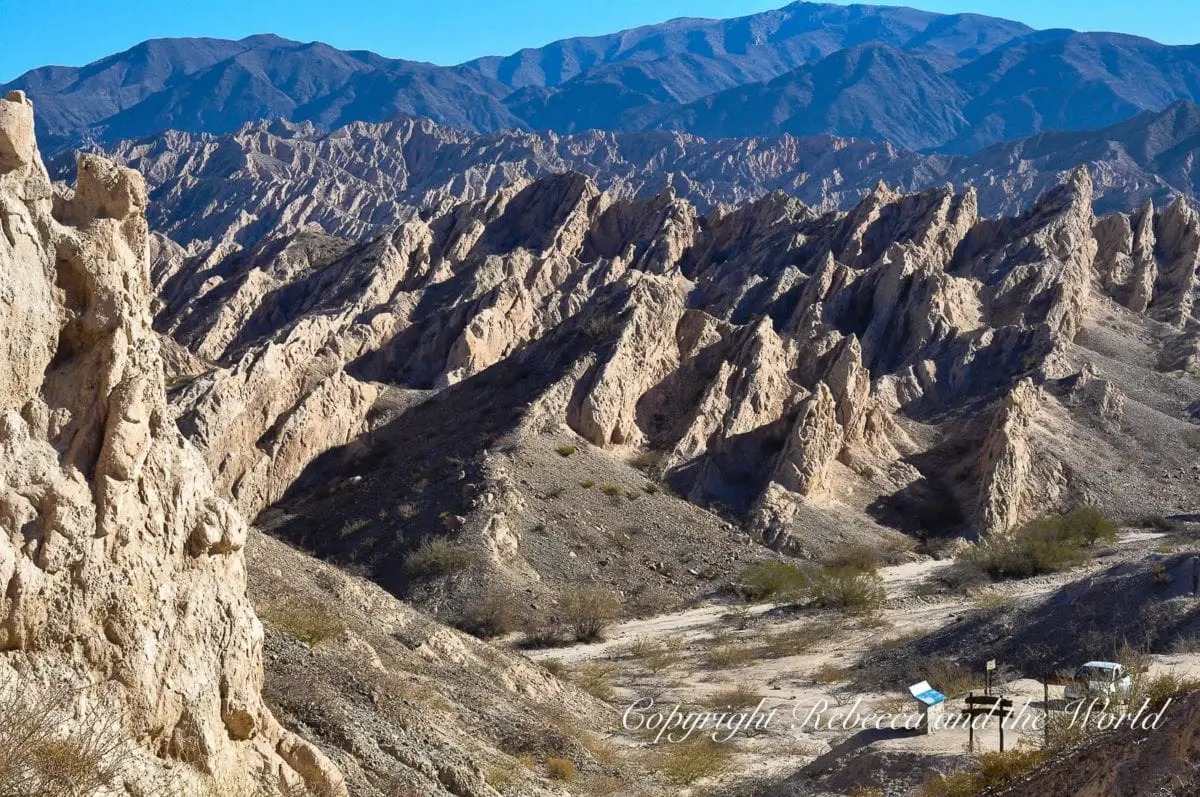 The north of Argentina surprised me with its variety of landscapes, none more so than the Quebrada de las Flechas (Arrow Ravine). It is named for the thousands of rocks shaped like arrow heads. It's a barren but beautiful area, and the famous Ruta 40 winds through this area.
How to get to Quebrada de las Flechas
You'll discover Quebrada de las Flechas as you're driving between Cachi and Cafayate on Argentina's famous Ruta Nacional 40.
Wind your way up to Iruya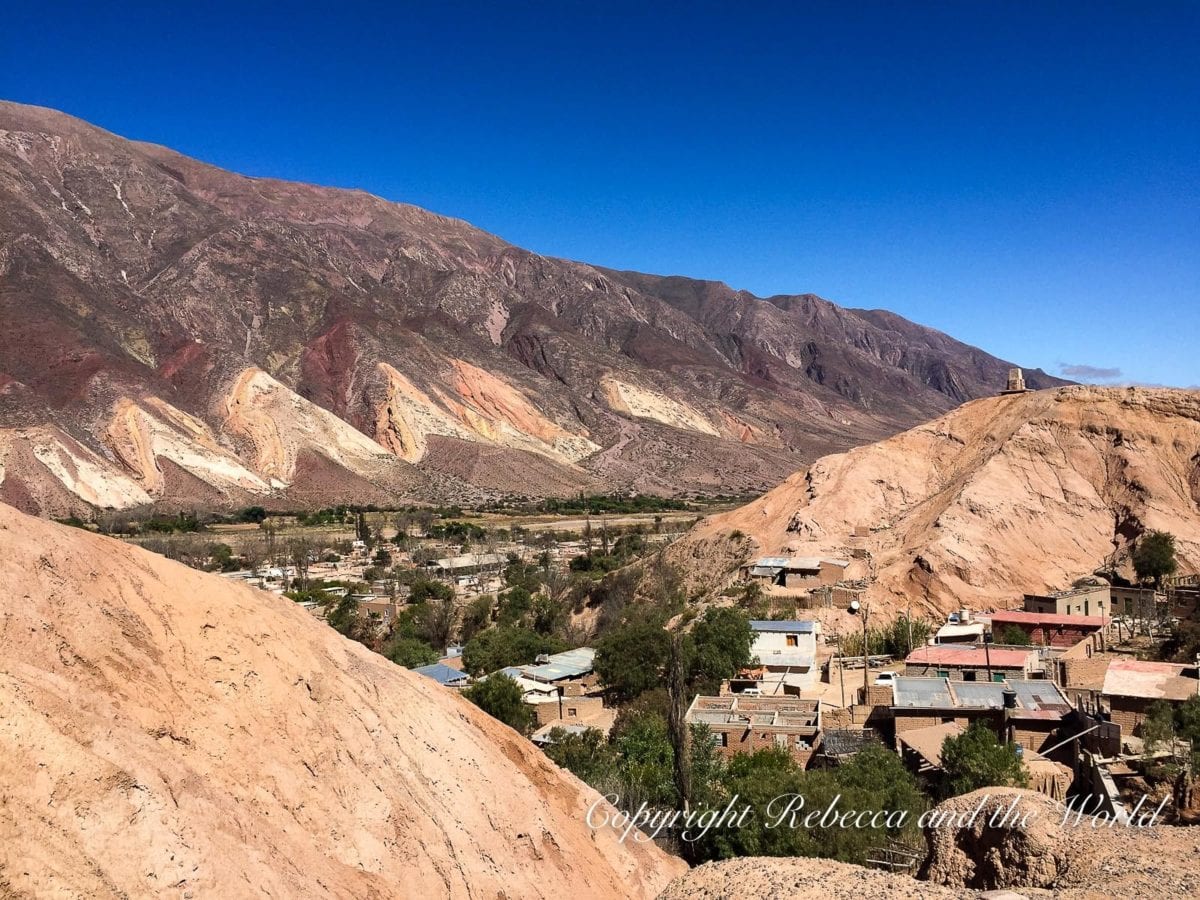 More than 300 kilometres from Salta is Iruya, a tiny, cloud-shrouded town perched on the side of a mountain. The last 50 kilometres of the trip is on a bone-jarring dirt road that winds through, over and around mountains. It's a route best done in a four-wheel drive.
The journey will take you to 4000 metres above sea level at the crossing between the Salta and Jujuy provinces. It comprises an array of stunning landscapes, from dusty flat towns to mountains rippled with layers of brown, red, green, purple and grey earth. Iruya itself is laidback and it's easy to pass a few days wandering the cobblestoned streets or hiking nearby.
How to get to Iruya
Come by car or brave the local buses that zoom around every corner. Don't look down as you hug the edge of the road. The journey is 288 kilometres from Salta.
Where to stay in Iruya
Hotel Iruya is a good option, at the top of the hill and with a nice restaurant on site.
Chug beer at Oktoberfest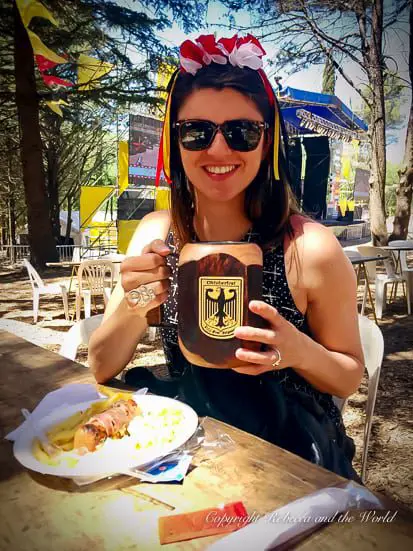 The last place I ever thought I'd experience Oktoberfest was in Argentina.
German Argentines apparently are the fourth-largest ethnic group in Argentina. In many enclaves around the country you can still find German language newspapers for sale.
Each year, a special village opens up in Villa General Belgrano, near Córdoba city, serving thousands of litres of cerveza to beer lovers. If you happen to be in Argentina at the time, make sure to add Oktoberfest to your list of things to do in Argentina – it's a fun experience.
Also nearby is the quaint German village of La Cumbrecita. It's a pedestrian-only town with a huge cuckoo clock that greets you at the entrance. There are German restaurants, shops selling homemade goods, walking trails through the alpine forest, and swimming holes and waterfalls. It's one of the cutest places to visit in Argentina.
If you want to stick around the area, read on for how to spend two days in Córdoba.
How to get to Villa General Belgrano
Fly (1.5 hours) or take a bus (10 hours) from Buenos Aires to the provincial capital of Córdoba. Córdoba is one of the loveliest cities to visit in Argentina city, worth a day or two of your time. From here, either take local buses or rent a car to travel to Villa General Belgrano.
Where to stay near Villa General Belgrano
The hosteria we stayed at is unfortunately no longer open. However, Terrazas de Belgrano looks amazing, with a great pool and beautiful views.
Visit Che Guevara's house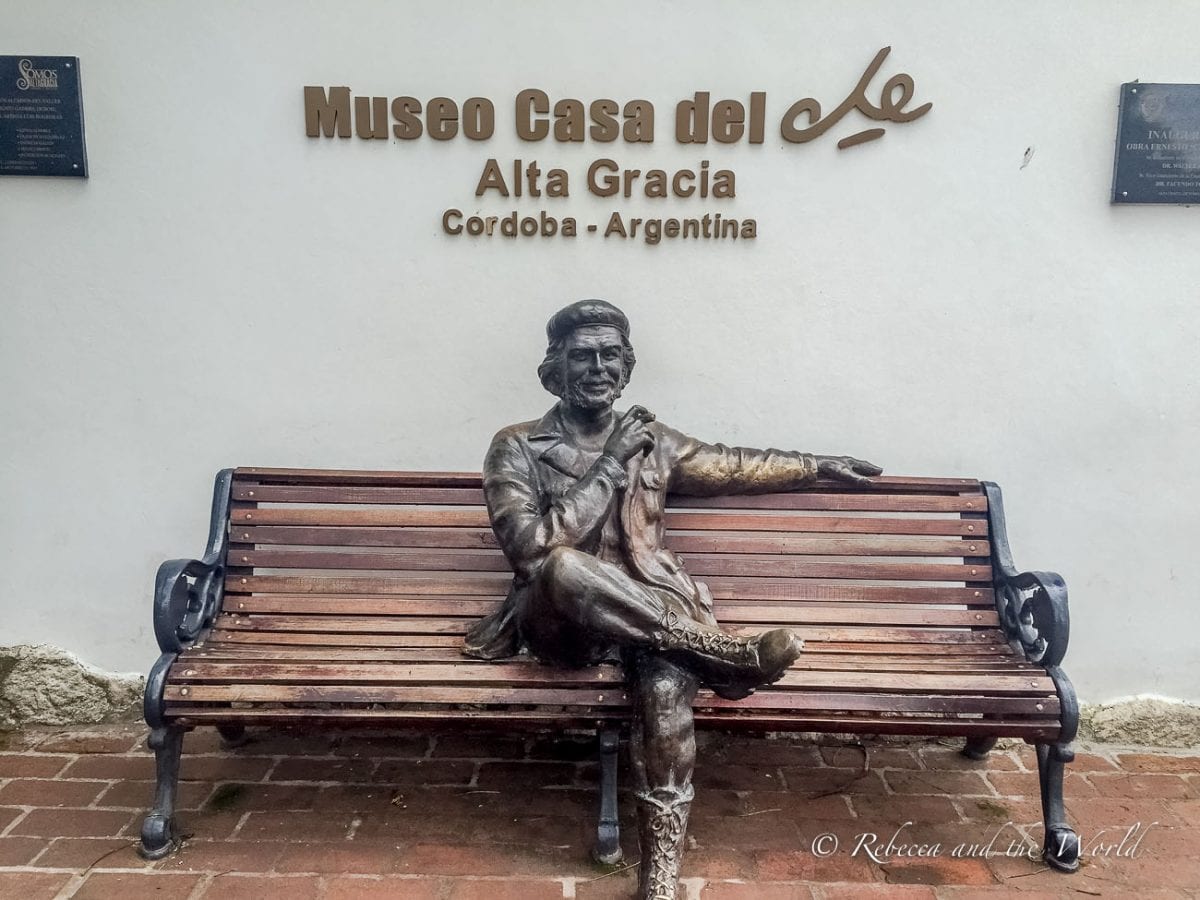 The famous Cuban revolutionary was in fact an Argentine. Ernesto "Che" Guevara was born in Rosario just north of Buenos Aires, but spent most of his childhood in Alta Gracia, near Córdoba, after a doctor recommended the move to help with Che's asthma.
The family's home is now a museum. The Museo Casa de Ernesto Che Guevara has mementos from Che's early life, including a reproduction of his childhood bedroom.
Avellaneda 501, open daily (hours differ each day)
Wind along the Ruta de los Siete Lagos in Bariloche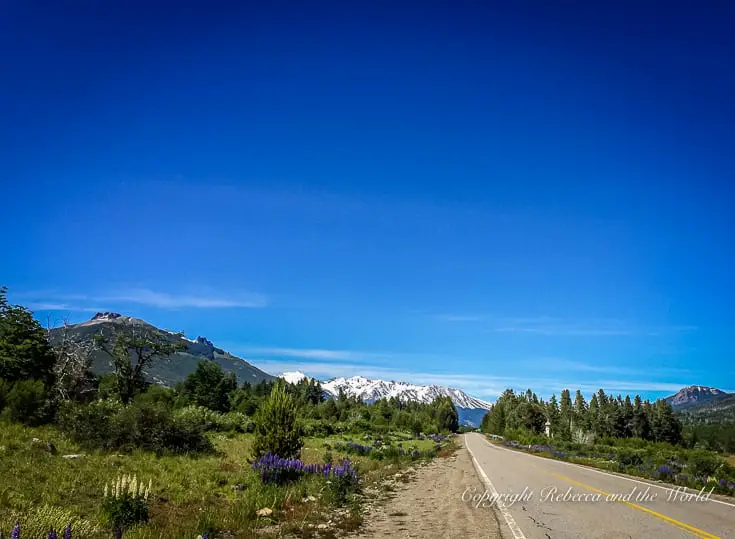 Bariloche is one of the most popular places for an Argentina vacation. In the winter, Bariloche draws avid skiers. In summer, people flock to this part of the world for other outdoor adventures.
One of the most picturesque things to do in Bariloche is take a drive along the Ruta de los Siete Lagos (Road of the Seven Lakes), which can be easily done by car or bus in a day trip. Each of the seven lakes is a calm, deep blue or green, with snow-capped mountains providing a stunning backdrop. It's one of the most beautiful things to do in Argentina. For those without a car, you can book a full-day trip from Bariloche.
If you're feeling more adventurous, you can even bike the Ruta de los Siete Lagos. Over three days, you can bike from Bariloche to San Martin de los Andes to enjoy the views at a slower pace. There are several hospederias to stay the night. We did this trip, with the help of Bike Cordillera.
READ NEXT: How to visit La Ruta de Los Siete Lagos by bicycle
How to get to Bariloche
There are daily flights or a 21-hour (!) bus ride to Bariloche from Buenos Aires. There are several bike rental companies in town and all hostels have maps of the walking trails.
Where to stay in Bariloche
Design Suites Bariloche has spacious rooms with views of the lake and the surrounding mountains.
Bike the Circuito Chico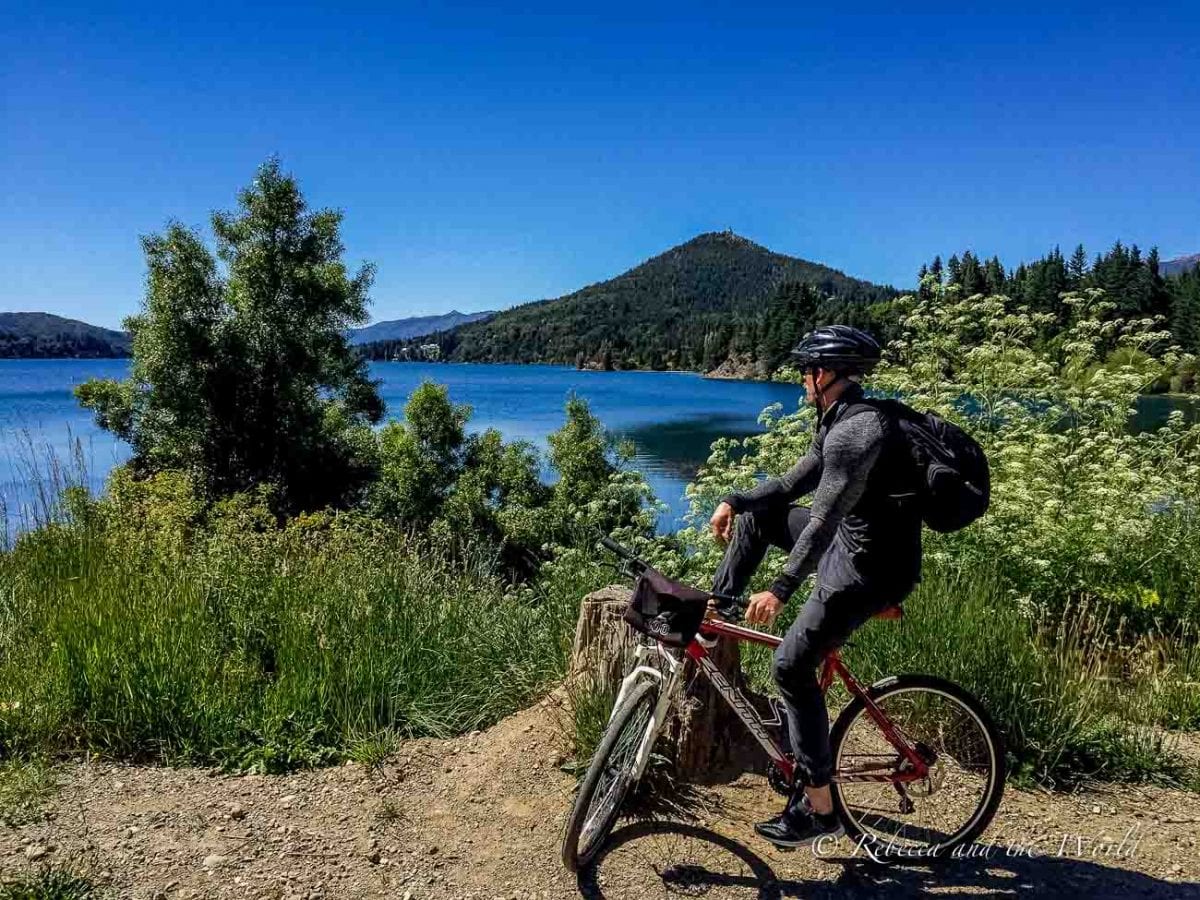 There's no shortage of stunning scenery around Bariloche, and one of the best short drives is the Circuito Chico. This loop winds from Bariloche, around lakes and through forests, before returning to Bariloche.
As well as driving the route, you can bike it. Catch a bus to Bike Cordillera and hire a bike there, which will cut out a significant chunk of the route and leave you with just the most stunning spots. The ride is hilly in many parts, but manageable, and there are restaurants and shops to stop along the way for sustenance.
Taste chocolate in Bariloche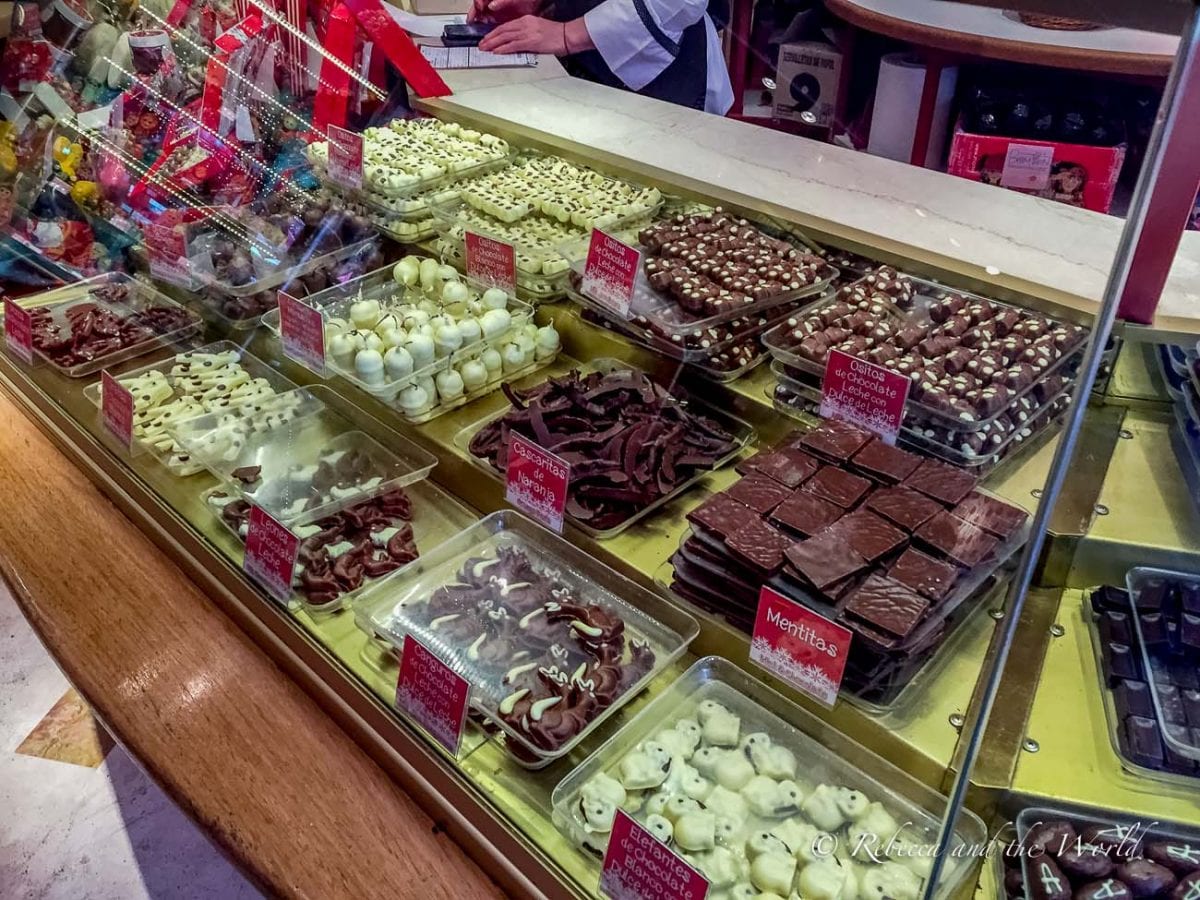 As one of the premier action-packed cities in Argentina, Bariloche has plenty to keep you occupied. But after all that activity you'll need some fuel, and the chocolate in Bariloche will most definitely satisfy.
This Swiss-styled town is known as Argentina's capital of chocolate, and there are plenty of stores in town just waiting to tempt you. I recommend starting at Rapa Nui or Mamuschka, and then just make your way down Calle Mitre, stopping to try all the delectable chocolate!
Explore Mendoza by bike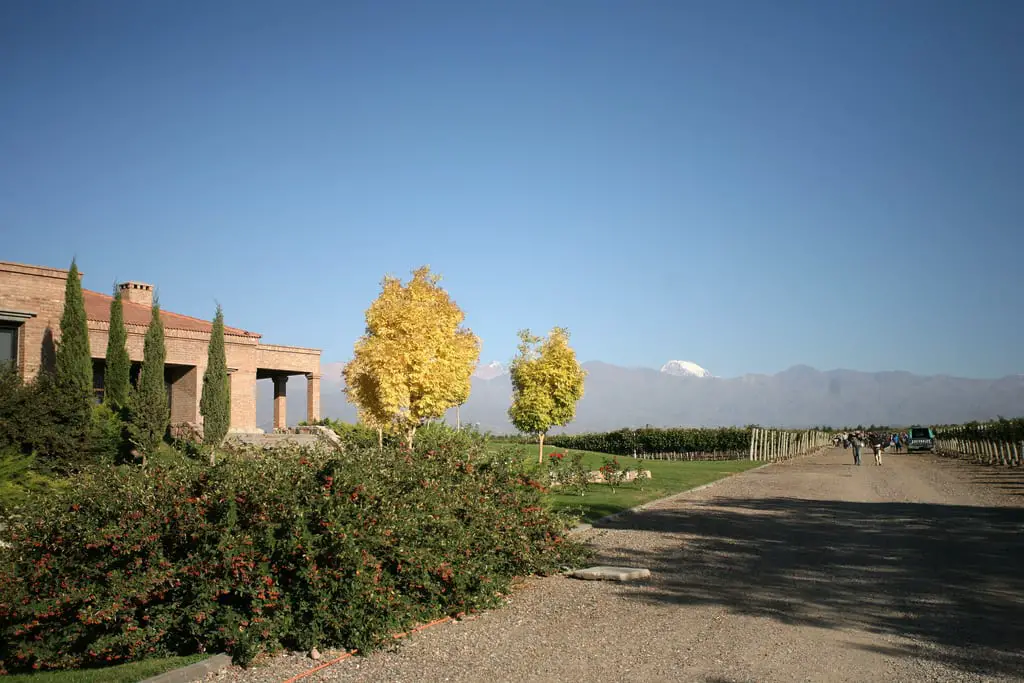 Mendoza is one of the most famous wine regions of the world, known mostly for its malbec.
People often choose to explore this area by car or on a guided tour, but one of the most fun things to do in Mendoza is to visit the wineries by bike. Try Martin's Bikes and they'll even arrange transportation for any bottles you pick up on the way. A must-do when you visit Argentina.
READ NEXT: The 8 most romantic places for an Argentina honeymoon
How to get to Mendoza
There are several daily flights from Buenos Aires to Mendoza. Mendoza is a major transport hub for buses (15 hours to Buenos Aires, 20 hours to Bariloche).
Where to stay in Mendoza
Bohemia Hotel Boutique is located in the quiet residential streets of Mendoza, yet still close to the main areas. It's a good choice.
Relax at the Termas Cacheueta
Just outside of Mendoza is the town of Cacheuta, known for its medicinal thermal waters.
The Termas Cacheuta has a range of indoor and outdoor pools with waters from 30 to 42 degrees Celsius. Here, you can relax in the pools, gaze out at the rocky mountainous scenery or get a massage.
There's also a thermal waterpark next door which is more suited to families and groups of people.
Be amazed by Mother Nature at Iguazú Falls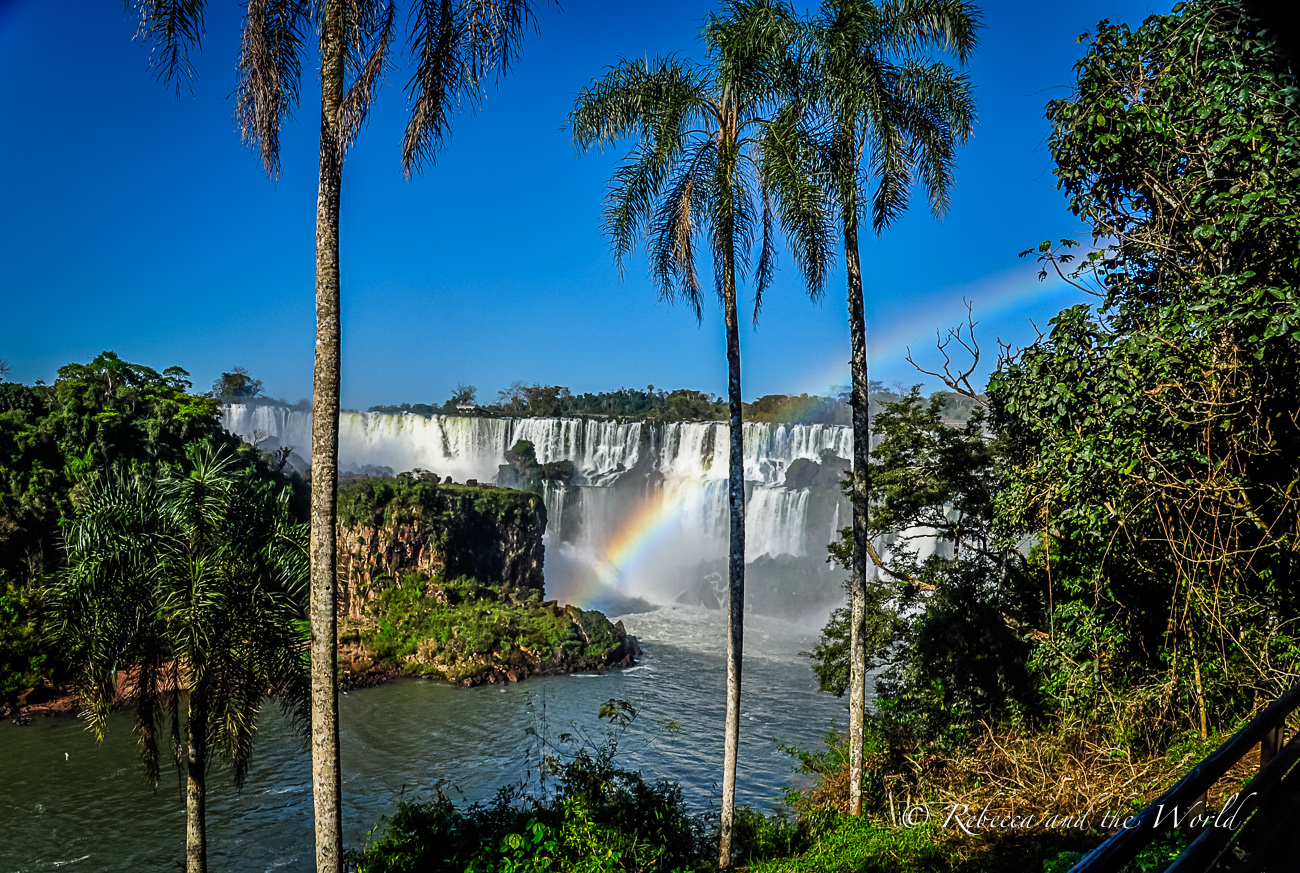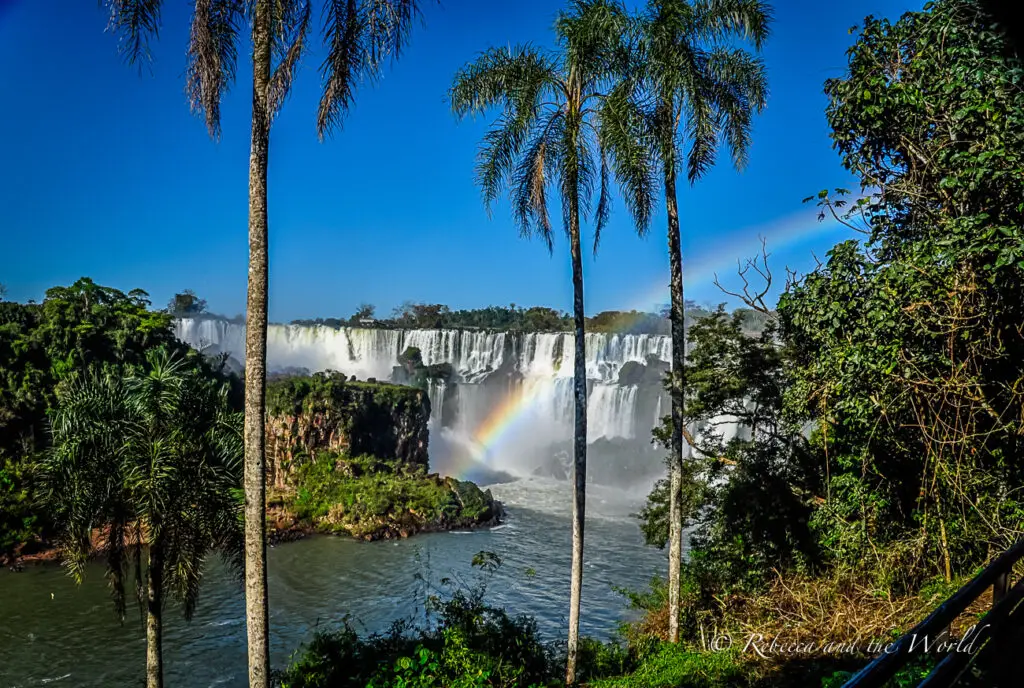 Iguazú Falls deserves at least two days of your time – one day to see it from the Argentina side, and another to see it from across the border in Brazil. The thunderous waterfalls will leave you drenched and in awe of Mother Nature.
Depending on water levels, there are between 150 and 300 waterfalls that make up the 3-kilometre chain. They vary between 62 and 80 metres high. The catwalks and infrastructure around the falls are well-maintained. In some parts you can get up so close that you'll end up absolutely soaked through.
READ NEXT: Visiting Iguazú Falls from both the Argentina and Brazil sides
How to get to Iguazú Falls
Iguazú Falls is one of the most popular places to visit in Argentina. There are several daily flights to the town of Puerto Iguazú from Buenos Aires (two hours). Alternatively, you can brave the 17-hour bus ride from Buenos Aires.
Where to stay near Iguazú Falls
We wanted to make the most of the weekend we visited, so we stayed at the Melia Iguazú (formerly the Sheraton Iguazú). It's located in Iguazú National Park, a few minutes' walk from the catwalks that surround the waterfalls, which means you can beat the crowds in the morning. It has a great pool, and we saw a flock of toucans fly overhead one evening.
Argentina travel guide
If it's your first time visiting Argentina, check out my extensive guide to planning a trip to Argentina. I cover how to get to Argentina, where to visit, what to eat and how to get money, among many other things.
ARGENTINA TRIP ESSENTIALS
Are you planning to visit Argentina? Let me know if you need any more tips on things to do in Argentina in the comments below.
PIN IT FOR LATER:
Save this guide to the best things to do in Argentina for your trip!