Looking for the perfect 3 days in Buenos Aires itinerary for your first time in the city? You've come to the right place!
Let's start with the obvious: 3 days in Buenos Aires, the beautiful capital city of Argentina, is not enough! If you're anything like me, you will immediately fall in love with the city's architecture, the food, the parks, the laidback culture and the people.
But if you really, truly do only have three days, then this Buenos Aires itinerary will help you make the most of those days. It's entirely possible to hit the highlights in a short amount of time.
I lived in Buenos Aires for almost two years, and this post is my personal guide to the best things to do in Buenos Aires and how to organise them into the perfect itinerary for first-time visitors.
Vamos!
Buenos Aires in 3 days map
Below, you'll find what to see in Buenos Aires in 3 days laid out on a map. This map of Buenos Aires is colour-coded day-by-day according to the itinerary. Click the little arrow button in the top left-hand corner to open up the map details.
Snapshot: Buenos Aires itinerary
Here's what this itinerary includes:
Day 1: Downtown Buenos Aires, San Telmo
Day 2: Recoleta, Teatro Colon and tango
Day 3: Palermo neighbourhood
Day 1: Downtown, Plaza de Mayo, San Telmo
Start your three perfect days in Buenos Aires in the centre of the city. All Porteños begin their day with a cortado, a shot of espresso with a little milk. While very touristy, Café Tortoni (Avenida de Mayo 825) is a good place to do the same. Many famous artists and writers have spent time here, so you'll sip your cuppa surrounded by history. You can also begin your foray into the dizzying world of Argentine sweets and pastries – a medialuna (small croissant) is a good choice to nibble on with your coffee.
Next, make your way to Plaza de Mayo (corner Avenida de Mayo and San Martín). The plaza is surrounded on three sides by the Casa Rosada (the presidential office), the Catedral Metropolitana and the Cabildo (town hall).
The cathedral holds the tomb of General José de San Martín, an important figure in Argentina's history. It's also where Pope Francis used to lead mass when he was Archbishop of Buenos Aires.
On weekends, the Casa Rosada opens up for free guided tours, which must be reserved in advance. Here you'll have a chance to step out on to the same balcony where Evita addressed the crowds of her adoring fans.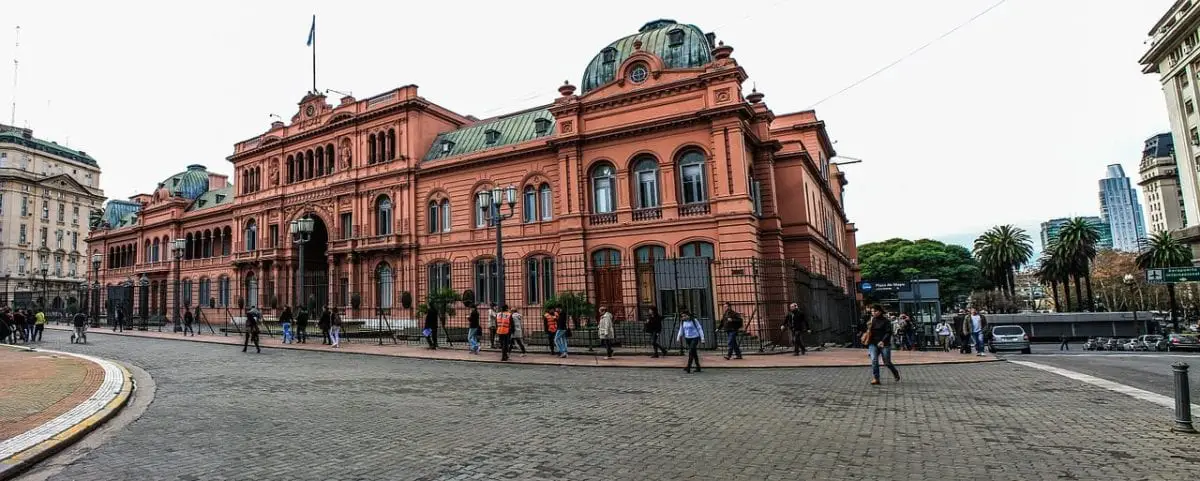 Head south to the barrio (neighbourhood) of San Telmo. This area was once full of the very wealthy, but a yellow fever epidemic in the late 19th century pushed them to Recoleta. The mansions were then subdivided to house poor people – in many cases, dozens of families lived in one home.
San Telmo retains a bohemian vibe, and is filled with store after store of unique antique shops. It's best visited on a Sunday when the San Telmo market is on.
If you're interested in exploring more of the area's history, take a tour of El Zanjón de Granados (Defensa 755), a network of tunnels and sewers that lie beneath the streets. There are some very cool stories to learn about the people who lived here! This is one of the more unique places to go in Buenos Aires and I rarely see it listed in travel guides.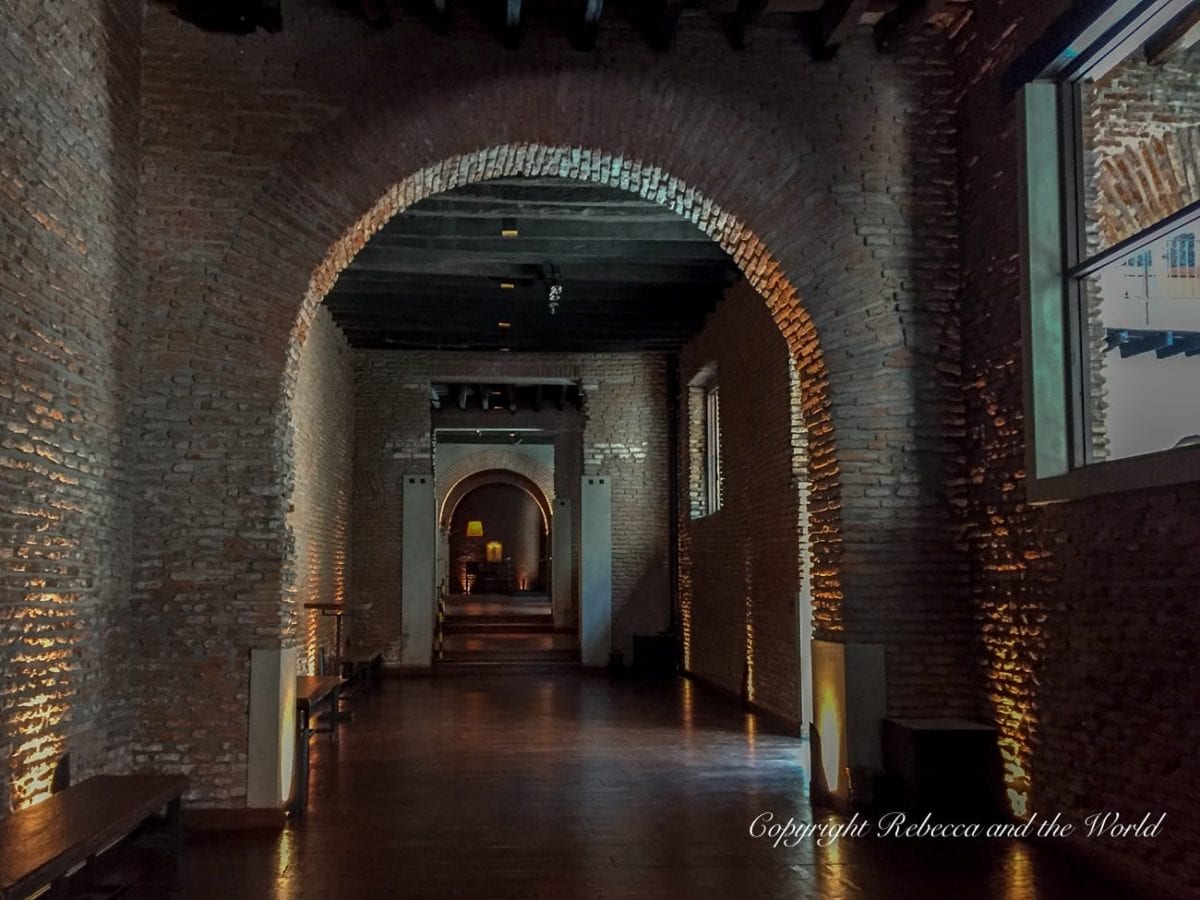 Take a break inside San Telmo Market (block of Defensa, Bolívar, Carlos Calvo and Estados Unidos) and fuel up with another coffee at Coffee Town (and, of course, another medialuna).
If it's time for lunch, head to La Brigada (Estados Unidos 465), famous for having steak so tender the waiter cuts it with a spoon at your table.
Now, board one of the hop on hop off buses (buy tickets online in advance). Sure it's touristy, but it's a quick way to get you around the city if you only have 3 days in Buenos Aires. And you get to hit the main tourist attractions with interesting commentary. Go a few stops to La Boca, home to the colourful El Caminito.
Browse the small arts and crafts market or watch tango dancers in the street. This is a very touristy area, so every shop and restaurant will try beckon you inside to get your business. Also be careful around the edges of El Caminito – La Boca is a poorer suburb and robberies do happen. This tour of La Boca is a great way to learn more about the area.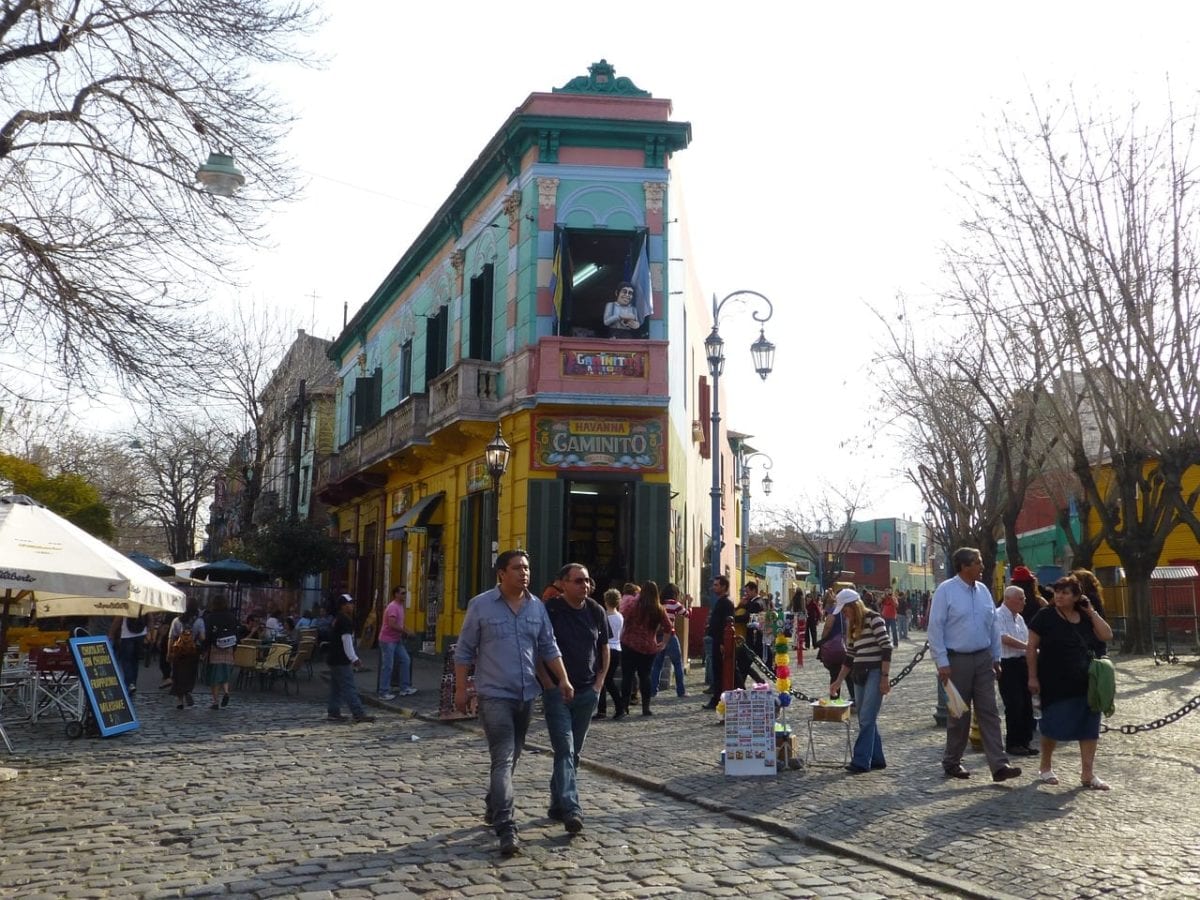 You can either continue on the hop-on hop-off bus to any of the stops on the route, but by this time you're probably pretty tired, so head back to your hotel for a rest.
In the evening, learn about the food culture of Argentina at The Argentine Experience. The Argentine Experience is not quite a cooking class, but you do get hands-on in the making of empanadas. It's a lot of fun. They're also very generous with wine… trust me.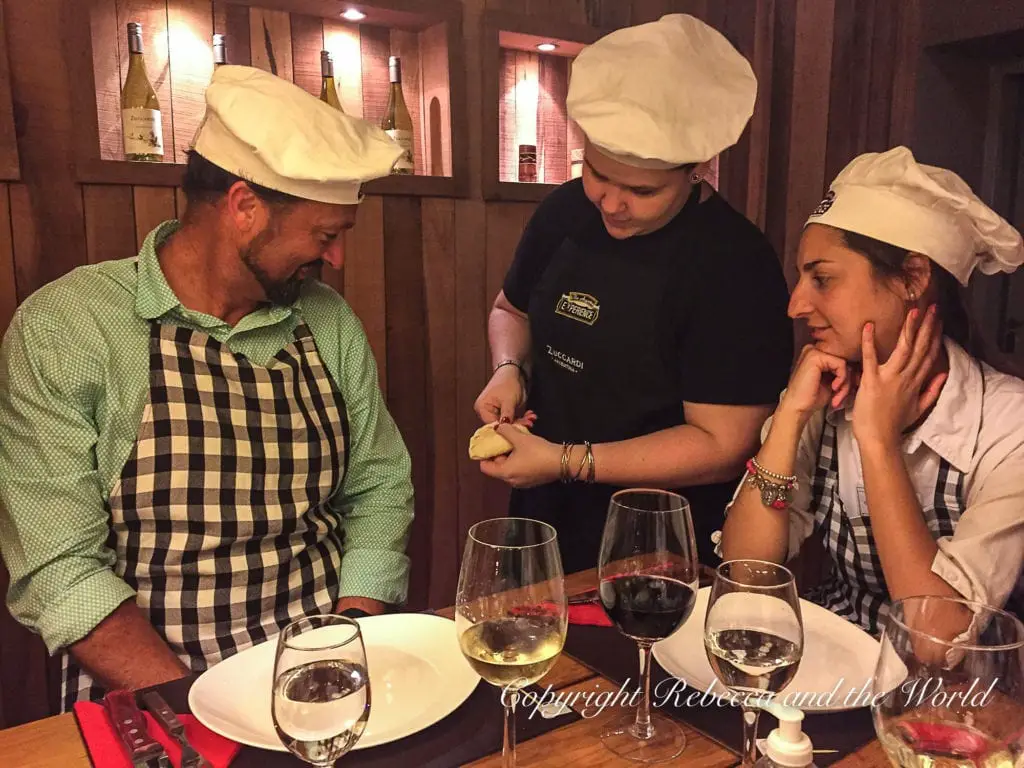 If you're not already tipsy, hit up a nearby bar afterwards – there are so many great bars in Buenos Aires. In Palermo Soho / Palermo Hollywood, good options are Rey de Copas (Gorriti 5176), Victoria Brown Bar (Costa Rica 4827), Festival (Gorriti 5741) or Ferona (Humboldt 1445).
If you're staying in Recoleta or Retiro, try Milión (Paraná 1048) or open the secret door in a florist shop to enter one of the best bars in Buenos Aires, Florería Atlantico (Arroyo 872).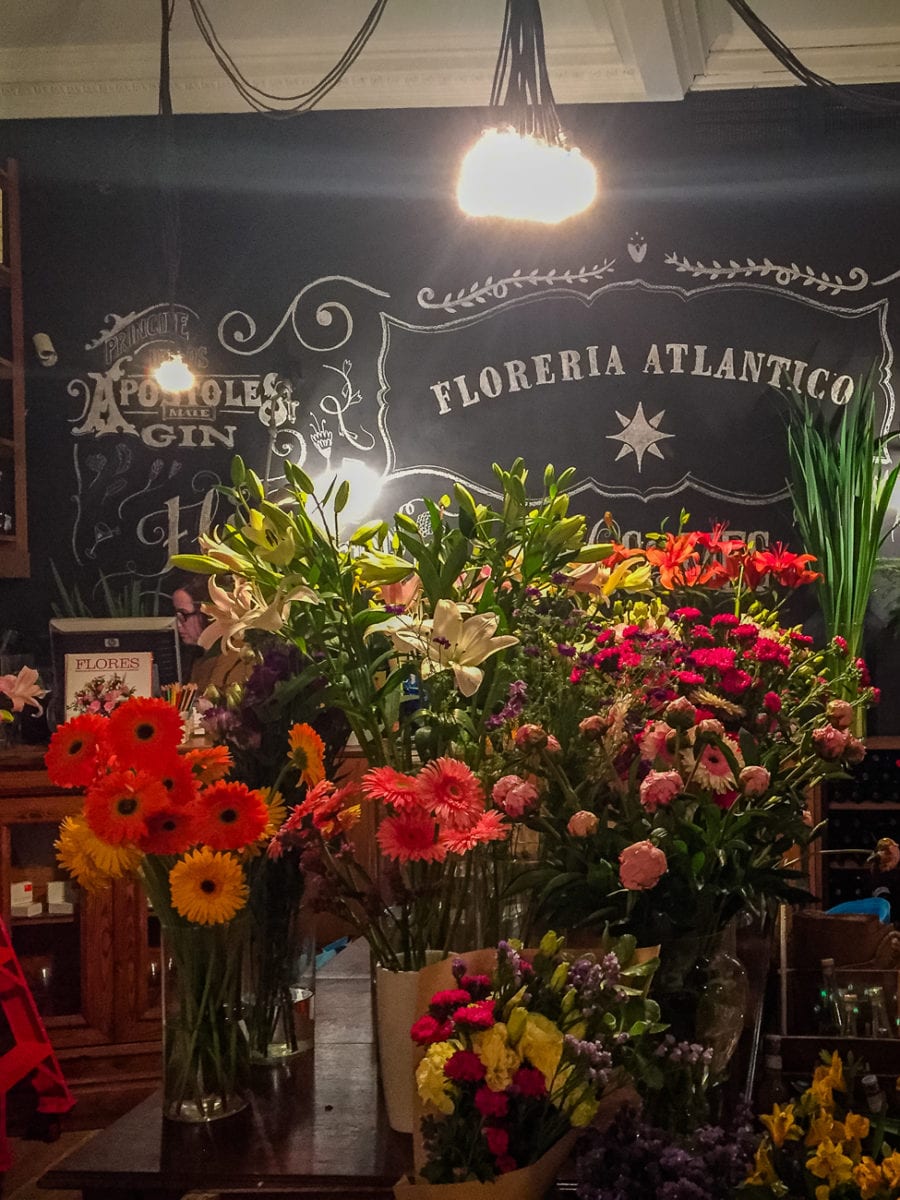 Day 2: Recoleta, Teatro Colon and tango
On day two, you're heading to Recoleta. This is the barrio that I used to live in and the architecture here is just gorgeous.
Have breakfast at Le Pain Quotidien (Posadas 1402) and then make a beeline for Teatro Colón to join a free walking tour with Free Walks Buenos Aires (3-hour tour, Monday to Saturday). This is a great way to squeeze all of the main sights into your Buenos Aires itinerary.
The free walking tour doesn't include a visit inside Teatro Colón (Cerrito 628), so if you'd like to see the stunning inside then head here earlier to join a guided tour. Pavarotti reportedly once said that only flaw of Teatro Colón is that its acoustics are so perfect the audience can hear any mistakes. Whether that's true or not, it's undoubtedly one of the most beautiful places to visit in Buenos Aires.
The free walking tour ends at the Recoleta Cemetery (Junín 1760), probably one of the most famous Buenos Aires tourist attractions. Take some time to explore the tombs and graves. You'll spot the lavish final resting spots of some of the country's most well-known people, including Evita. You can book a guided tour of the cemetery, but it's easy enough to explore on your own.
If you'd prefer a more intimate tour of Buenos Aires, book a private tour that's completely customisable to your interests. This way, you'll get to see more of the city in three hours.
Wander south and stop for a coffee inside the world's most beautiful bookstore (in my opinion!), El Ateneo Grand Splendid (Avenida Santa Fe 1860), a former theatre.
Have a late lunch at classic Parilla Peña (Rodríguez Peña 682). This was our local steakhouse when we lived in Buenos Aires and I miss it so much! Here, the waiters wear waistcoats and greet regulars by name, some of whom have unfinished bottles of wine stored on the shelves for their next visit. You'll start with a free empanada on arrival. This must be followed by entraña (flank steak) smothered in chimichurri sauce and flan mixto (flan served with whipped cream and dulce de leche).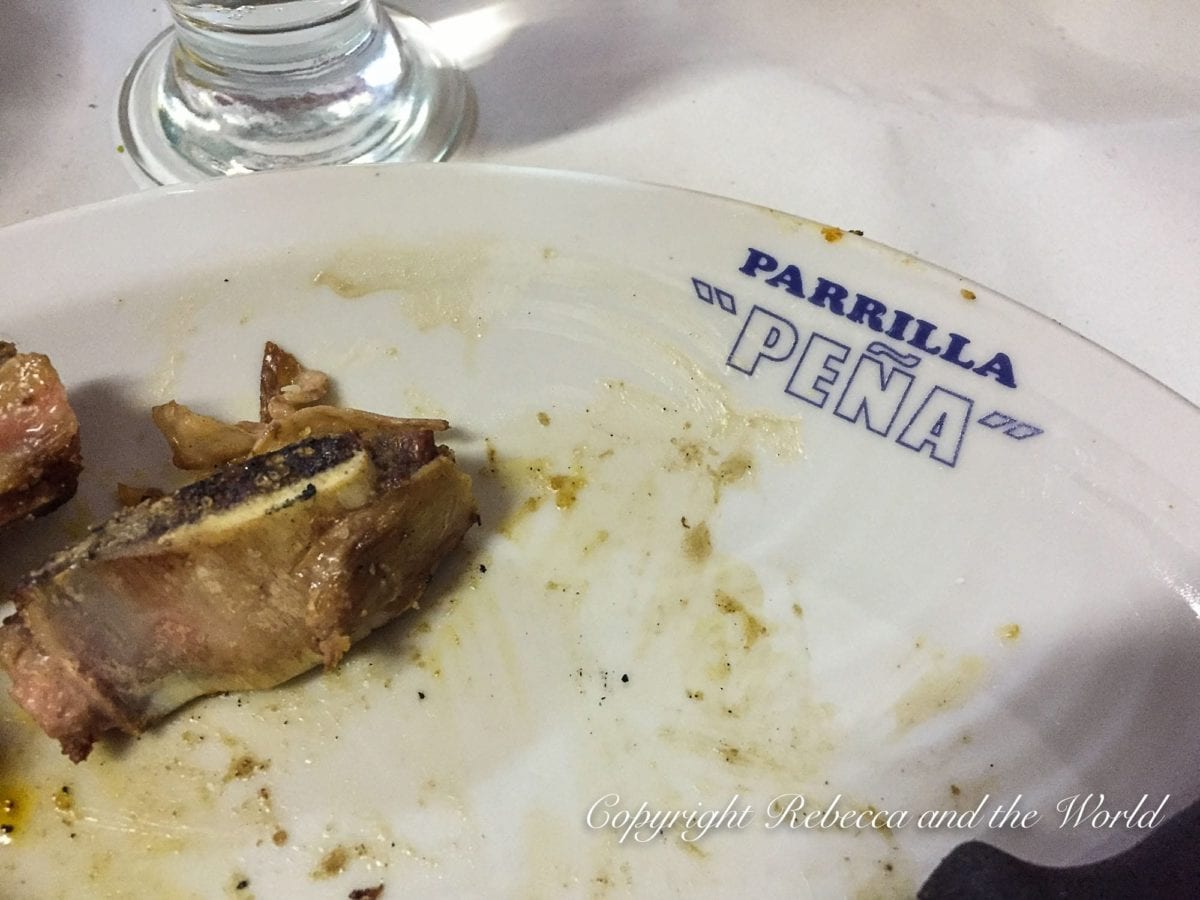 If you have any space left at all (unlikely!) try the dulce de leche ice cream at Rapa Nui (Arenales 2302) or at any Freddo ice cream shop (multiple locations).
You can't spend 3 days in Buenos Aires without experiencing tango. Book a ticket in advance for the evening tango show at Bar Sur (Estados Unidos 299), an intimate bar notable in San Telmo. Or try a tango lesson followed by a trip to a milonga (tango hall) to show off your new skills.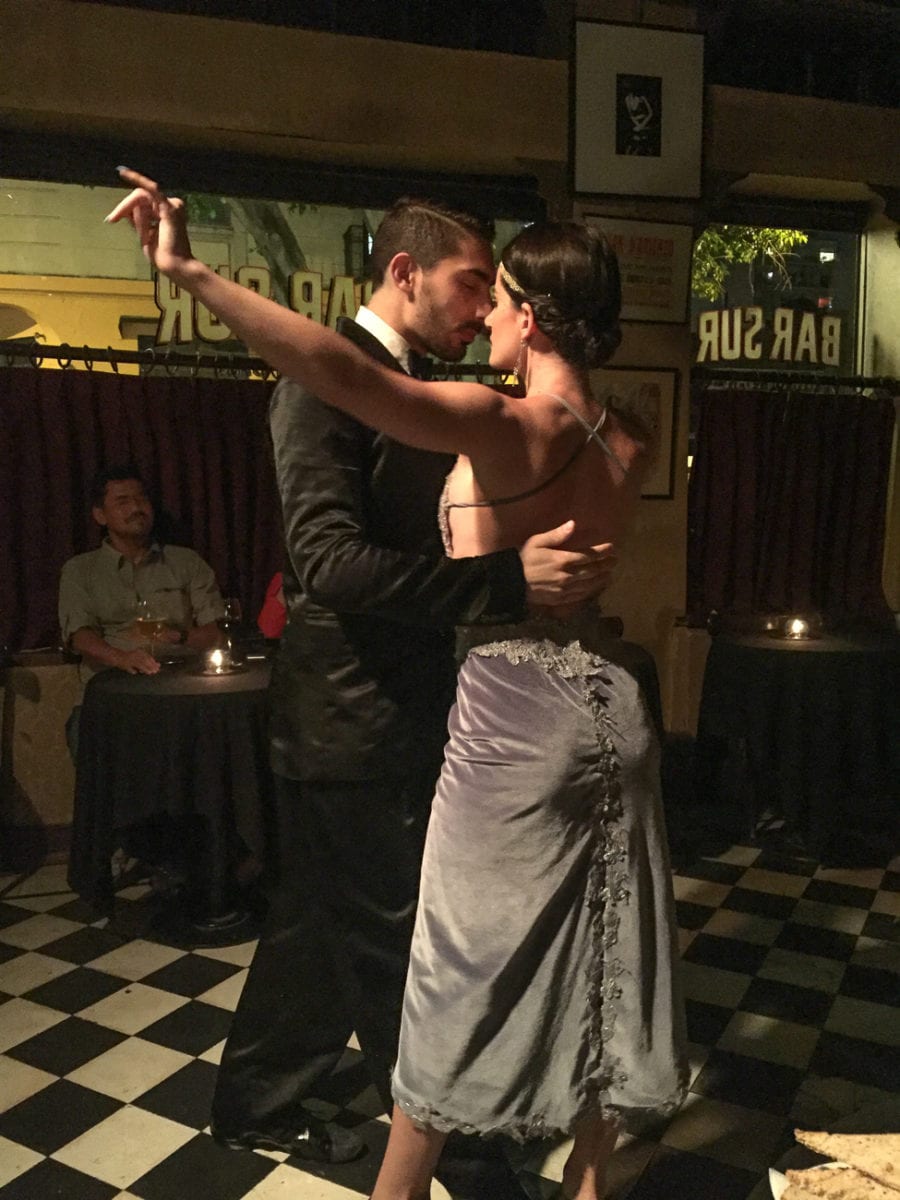 Don't bother with the food at Bar Sur, because after the show you'll be dining like Porteños do – late. Try Café San Juan (San Juan 450) for Argentine food, Che Taco (Balcarce 873) for Mexican or El Banco Rojo (Bolivar 866) for burgers.
Day 3: Palermo, shopping and steak
It's been a busy couple of days on this Buenos Aires 3-day itinerary, so feel free to sleep in today. When you do emerge, fuel up with breakfast at Ninina Bakery (Gorriti 4738).
For the morning, you've got several options: do some shopping in Palermo Soho or Palermo Hollywood, see some of Argentina's most important art pieces at Museo de Arte Latinoamericano de Buenos Aires (Avenida Figueroa Alcorta 3415) or wind down by wandering through the parks of Palermo and visiting the Jardín Japonés (corner Avenidas Casares and Berro). The parks are some of the most relaxing places to visit in Buenos Aires, but also provide an insight into daily Porteño life, as people exercise and hang out with friends and family.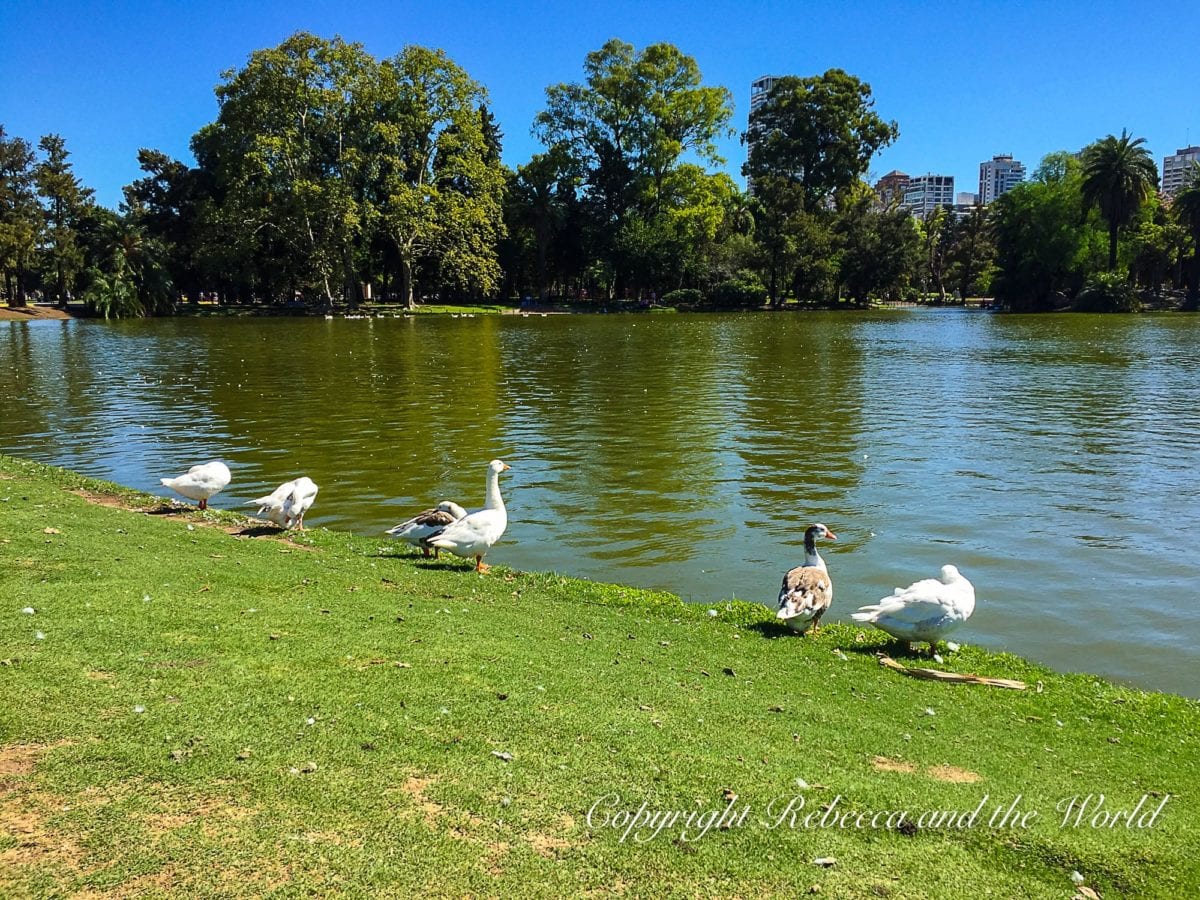 Have lunch (with a glass of wine) at Pain et Vin (Gorriti 5132) and then join an afternoon tour to see the best street art in Buenos Aires with Graffiti Mundo.
Book well in advance as these tours fill up quickly. The organisers work closely with local street artists, and it's not uncommon to stumble upon artists in the process of creating a new work. You'll visit areas of the city outside the usual tourist circle.
It's your last night in Buenos Aires and even though you've probably already eaten a lot of steak, we've saved the best for last: Don Julio (Guatemala 4699).
This restaurant regularly tops the list of best steak places in Buenos Aires and is one of the most popular places to visit in Buenos Aires. It's busy every night, so if you can't get a reservation in advance, line up and enjoy a glass of sparkling wine while you wait. It's a delicious way to end three perfect days in Buenos Aires!
If you have more than 3 days in Buenos Aires…
Perhaps you've wondered how many days in Buenos Aires is enough. I'd say three days is the minimum (which is why I've written this itinerary this way!), but ideally you'd have more time.
If you're lucky enough to have a few more days in this vibrant city, here are additional ideas to tack on to your Buenos Aires itinerary:
Visit Palacio Barolo, an incredible building with impressive views of the city
Learn about the beautiful art of fileteado on a tour of San Telmo
If you love quirky museums, visit the Palacio de las Aguas Corrientes, or the "Toilet Museum" – it's a fascinating place! Free to visit, open Monday to Friday.
Join the heaving, chanting crowds at a fútbol match (go with a local so you avoid the confusion of buying tickets!) – book a tour online here
Take a food tour with food writer and cook Kevin Vaughn to discover the food culture of Argentina, or explore the food of Buenos Aires on this parrilla tour or this pizza tour
Take a day trip to Tigre, a water oasis filled with cute cafés, shops, galleries and antique stores
Stay at an estancia near Buenos Aires, where you can ride horses, eat barbecue and relax
Visit the lovely town of San Antonio de Areco to spend a day learning about gaucho life
Cross the river and visit Colonia del Sacramento in Uruguay
Where to stay in Buenos Aires
So, now that you know what to do in Buenos Aires in 3 days, it's time to figure out where to stay in Buenos Aires. I've got a whole article that outlines the best Buenos Aires neighborhoods. There are six neighbourhoods that I recommend:
Palermo
Recoleta
San Telmo
Microcentro
Puerto Madero
Villa Crespo
They all have their own pros and cons, but my recommendation is to stay in Palermo when you visit Buenos Aires.
I love this area because it's close to amazing restaurants and bars, and not too far from all the main Buenos Aires attractions. Home Hotel and Be Jardin Escondido by Coppola (as in Francis Ford) are my top picks for Palermo hotels.
You can check out the full guide to where to stay in Buenos Aires which will help you to choose a neighbourhood and provides hotel and Airbnb recommendations.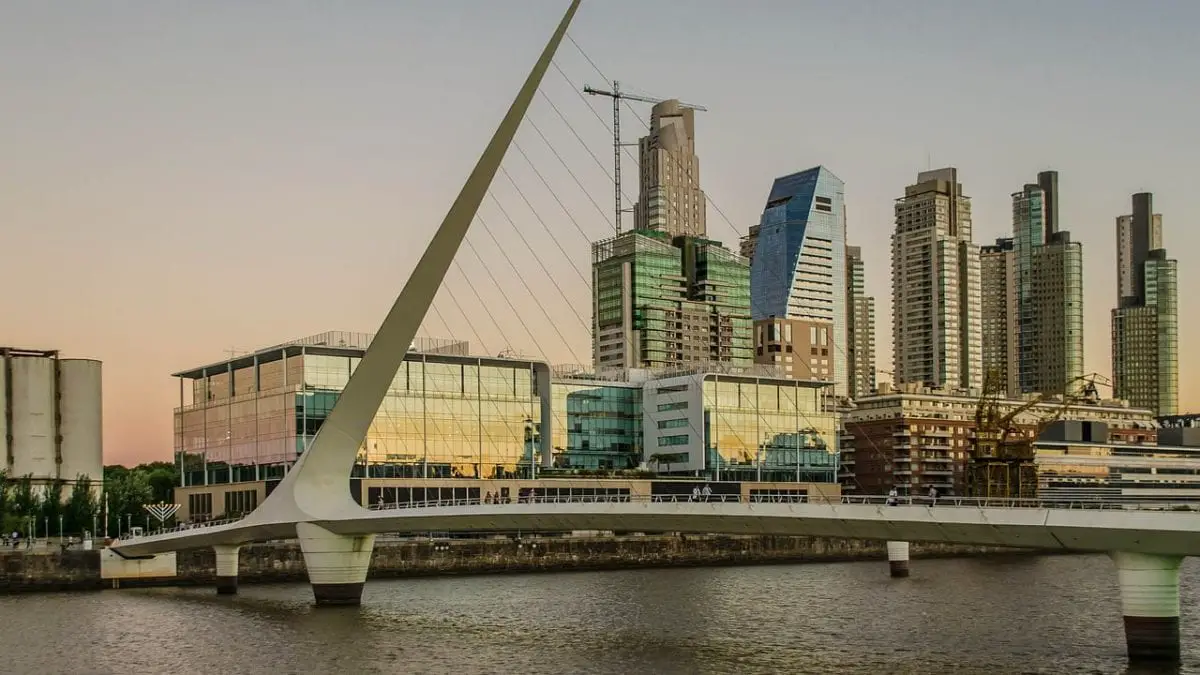 When to visit Buenos Aires
The best time to visit Buenos Aires is spring or autumn when the weather is milder. In spring the jacarandas come out in full bloom and are a stunning sight. If you're visiting Buenos Aires during this time, make sure to stroll down Avenida 9 de Julio to see the flowering trees.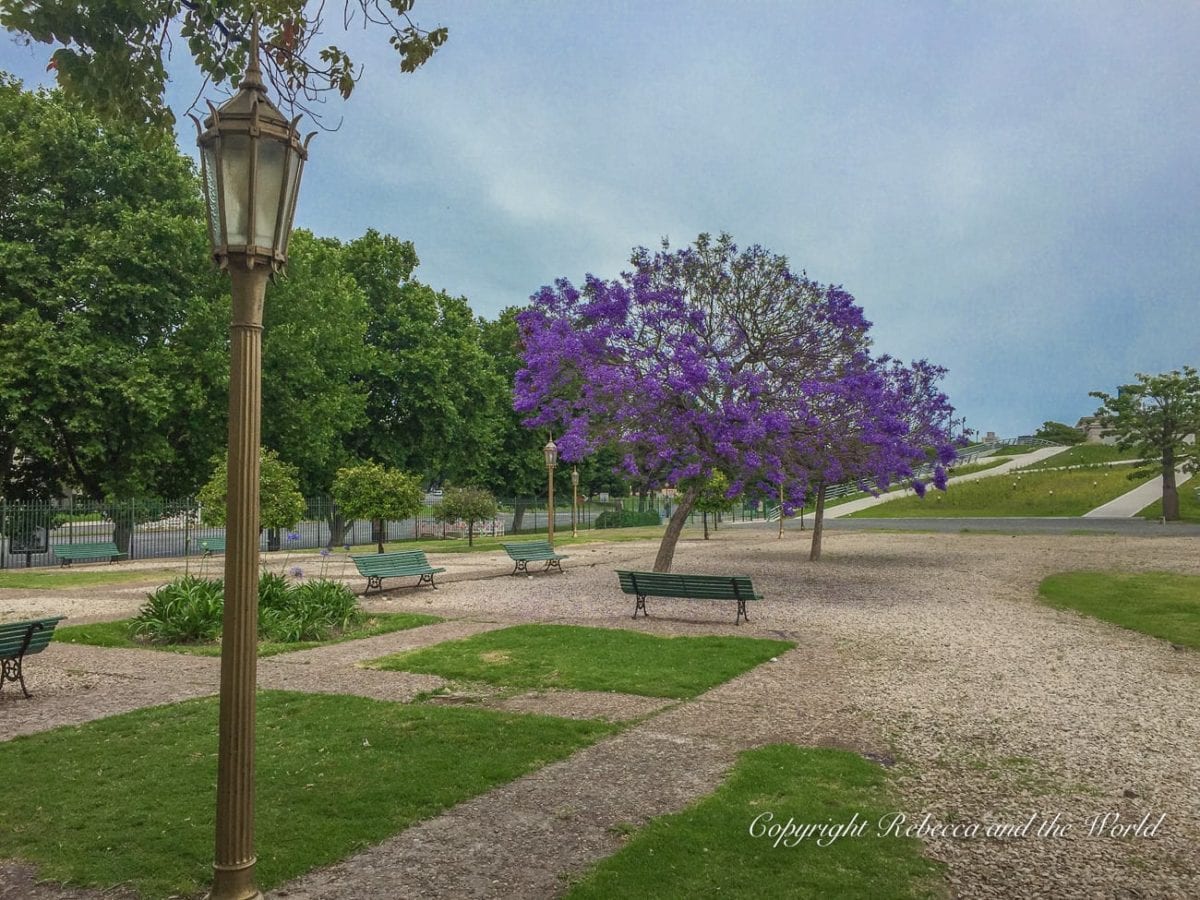 Summer brings hot, humid weather. Christmas and New Year are times for families, so many places close down and you don't get the full experience of the city.
In winter, while it doesn't snow in Buenos Aires, it can be miserably cold and rainy.
How to get around Buenos Aires
Getting around Buenos Aires is very easy. Taxis are plentiful and easy to hail from the street. Make sure the driver turns on the meter. It's always good to have checked the best route before getting in. While most taxi drivers are honest, every once in a while you'll come across one who tries to take the long route. It's also handy to know the cross streets as drivers will use those to navigate.
Uber exists but the company doesn't have a great reputation among taxi drivers in Buenos Aires. As a visitor, you'll be able to use Uber with your foreign credit card (some residents still have trouble using their Argentine cards). Another ride-sharing option is Cabify.
Public transport is cheap in Buenos Aires and there's an extensive network. There are colectivos (buses), the subte (underground train) and the train (aboveground, these tend to go to the outer suburbs). To take public transport, you'll need a SUBE card. Purchase one from the Subte ticket window or from a kiosko (convenience stores). Plan ahead by downloading the Cómo Llego app, which provides the best way to get from A to B.
Safety in Buenos Aires
One of the questions I often get from readers: is Buenos Aires safe to visit? Like most major cities, you need to be aware of your surroundings at all times. There is a lot of petty theft – I myself was victim to a pickpocket. The thief was so good I didn't even know it was happening! My full guide to planning a trip to Argentina has information about safety, but here are a few tips.
One common crime in Buenos Aires is that of the motochorro. These are thieves on a motorbike who grab your bag or camera as they speed past. So, don't walk down the street with your phone or camera in your hand.
Never leave valuables on the table while you're eating. They can be easily snatched.
Make sure you have travel insurance when you visit Argentina to cover any valuables.
For women, you'll likely be the recipient of piropos, men openly commenting about you. It's the Buenos Aires version of catcalling and can be off-putting. Ignore them and keep walking.
Not really safety related, but one thing to always keep an eye out for on your Buenos Aires trip is dog poo on the footpath. At times it's like dodging a minefield!
Final thoughts: Buenos Aires in three days
Buenos Aires is one of the main reasons to visit Argentina – you can't miss this city. This Buenos Aires 3 day itinerary should help you plan an amazing trip that hits the highlights of the city.
3 Day Buenos Aires: FAQs
Certainly! Here are the answers to your FAQs about visiting Buenos Aires:
Is 3 days enough in Buenos Aires?
Three days in Buenos Aires is sufficient to explore the key highlights and get a feel for the city's vibrant culture. You can visit major attractions like Plaza de Mayo, La Boca and Recoleta, experience the local cuisine and perhaps catch a tango show. However, if you want to delve deeper into the local neighbourhoods, culture and take day trips outside the city, you'll need 5 or 7 days.
Is Palermo or Recoleta better to stay in?
The choice between Palermo and Recoleta depends on your preferences. Palermo is known for its trendy vibe, with cafes, bars, boutique shops and vibrant nightlife. Recoleta, on the other hand, is more upscale, known for its elegant architecture, cultural sites and refined dining options.
Can you walk around Buenos Aires at night?
Walking around Buenos Aires at night can be safe, especially in well-lit and busy areas such as Palermo, Recoleta, and parts of the city centre. However, as with any large city, stay aware of your surroundings. Avoid less crowded and poorly lit areas, and consider taking a taxi or ride-sharing service when traveling late at night or through unfamiliar neighbourhoods.
Is Buenos Aires expensive to visit?
Compared to other major cities in South America, Buenos Aires is moderately priced. Accommodations range from budget-friendly hostels to luxurious hotels. Dining out can be affordable, especially if you eat at local parrillas rather than upscale restaurants. Public transportation is relatively inexpensive, but activities like tango shows or guided tours can add to your expenses.
Have you been to Buenos Aires? Is there anything you'd add to this three days in Buenos Aires itinerary? Leave your tips in the comments below.
---
Related posts
Before you go… you might also like these Buenos Aires articles:
PIN IT FOR LATER:
Save this 3 days in Buenos Aires itinerary and plan your upcoming visit!