Oh, Argentina. The world's 8th largest country is a stunning mix of beautiful landscapes, vibrant cities, rich culture, delicious wine, and undoubtedly one of the most incredible South American destinations. There are plenty of reasons to plan a trip to Argentina – but also a few things you should know as you plot out the details of your visit. This Argentina travel guide will help you navigate the ins and outs of your first visit.
I lived in Argentina, in the capital of Buenos Aires, for two years and did my best to try to see as many corners of the country as I could. While I haven't been everywhere, I have done quite a bit of travelling around Argentina, so here are my 19 Argentina travel tips to help any first-time visitor organise the trip of a lifetime.
So, if you've decided on a trip to Argentina, dive in and let's get planning!
This blog post may contain affiliate links, meaning if you book or buy something through one of these links, I may earn a small commission (at no extra cost to you).
Essential info to know for your Argentina trip
Capital: Buenos Aires
Language: Spanish
Population: 46,109,678
Area: 2,780,400 square kilometres (1,073,500 sq miles)
Currency: Argentine Peso
Emergency numbers: 

General emergencies (in Buenos Aires): 911
Police: 101 
Fire: 100
Medical emergencies: 107

Electricity: 230V 50Hz Type I connectors (same as Australia, New Zealand and Uruguay)
Telephone country code: +54
1. Can I visit Argentina right now?
It makes sense to address this one first: is it safe to travel to Argentina right now? Can you actually even visit?
Like every other country around the world, Argentina was severely impacted by the pandemic. After a lengthy closure, the country's borders have now reopened to international tourism. 
There is no need to be vaccinated to enter the country, and a PCR test is no longer required.
As always, check the latest COVID-19 requirements before you travel.
Argentina tourism has really suffered, so I hope that you can get there soon and support the country!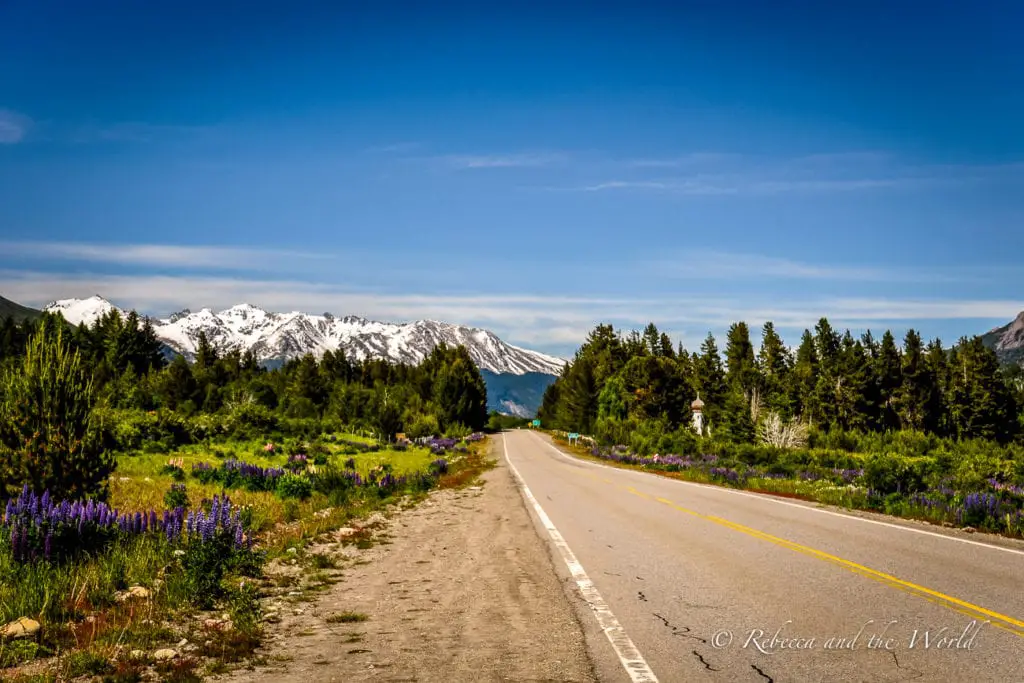 2. Visas for Argentina
Visa requirements for Argentina differ from nationality to nationality, but many tourists can arrive in Argentina without a visa and stay for up to 90 days. That includes the United States, Australia, the UK, Canada, and citizens of many Western European countries, among many others. 
As always, when it comes to researching the Argentina visa for your particular situation, don't rely on me because things change regularly. Check with your local embassy or consulate for the latest information. This should be one of the first steps as you plan a trip to Argentina.
3. Best time to visit Argentina
You can visit Argentina all year round, but deciding the best time to visit Argentina really depends on what you want to do during trip to Argentina.
Argentina is in the southern hemisphere, so December to February is summer. Buenos Aires can get very hot at this time of year. It's quieter as people pack up to head to their beach homes or on vacation elsewhere. This also means that it's busy everywhere else, especially in January, as Argentines take their holidays. This can make it an expensive time to visit.
This is the best time to visit Patagonia when towns and attractions are accessible – but also the busiest. 
September to November is a lovely time to visit Buenos Aires. The avenues bloom with purple jacarandas – truly a beautiful sight. This is also a nice time to visit the north of the country when it's not too hot.
Winter is manageable in Buenos Aires (the average temperature is 12 to 14 degrees Celsius), but it does come with rain. Patagonia at this time of year is often completely inaccessible in some parts (including El Chaltén, which pretty much shuts down).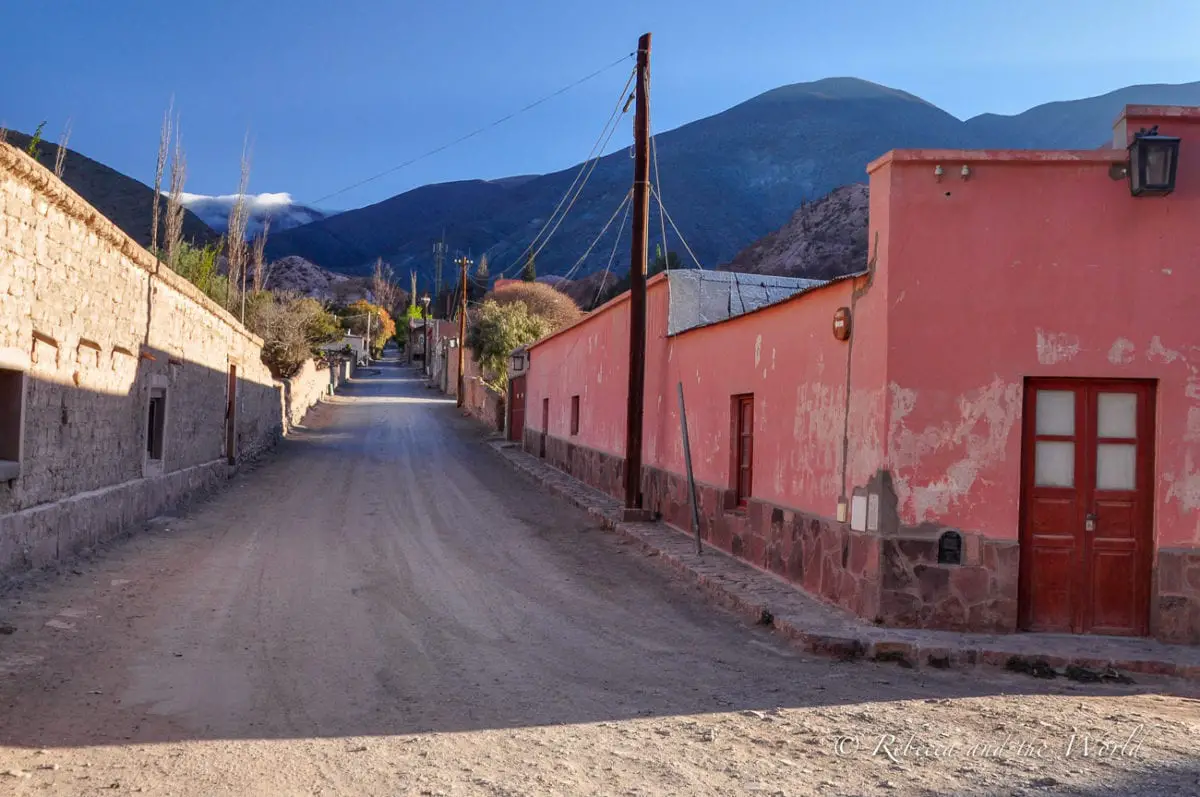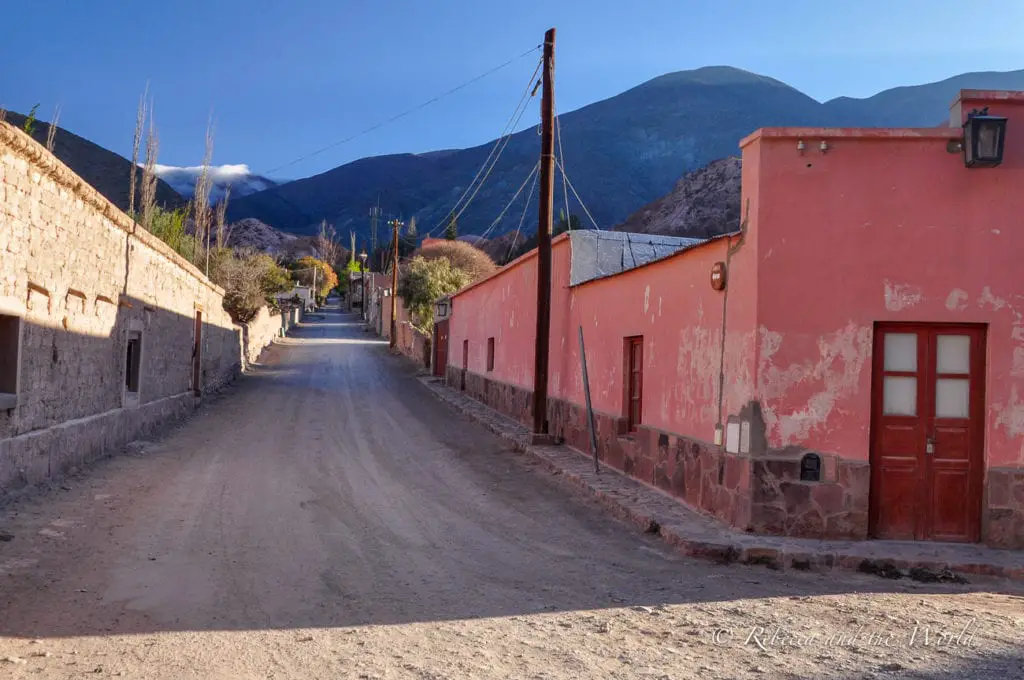 4. How much time do you need in Argentina?
Argentina is HUGE – did I mention already that it's the 8th largest country in the world? Many people underestimate just how much time they'll need here – both because there are so many incredible things to do in Argentina and so many beautiful places to visit in Argentina and because the distances are enormous.
If you've only got a short amount of time – say, 2 weeks in Argentina – then you will need to plan your trip to Argentina well. Pick the few places you want to see and organise your trip around those. Don't try to see everything in just a few days or weeks – it's impossible.
I guarantee that you'll either want to extend your trip by weeks or come back to see more of the country!
5. It's easy to travel independently
Travelling in Argentina is very easy to do independently. There are good transport networks, many people speak English, and accommodation to suit all tastes and budgets.
I don't think that you need to book a tour to visit Argentina (unless that's your preference). If you do need help planning an itinerary, there are services available – or read through my many free resources on the blog.
If you do want to take a tour, there are several companies that organise guided visits to Argentina. I don't have any particular recommendations, but I'm happy to help you review a few options.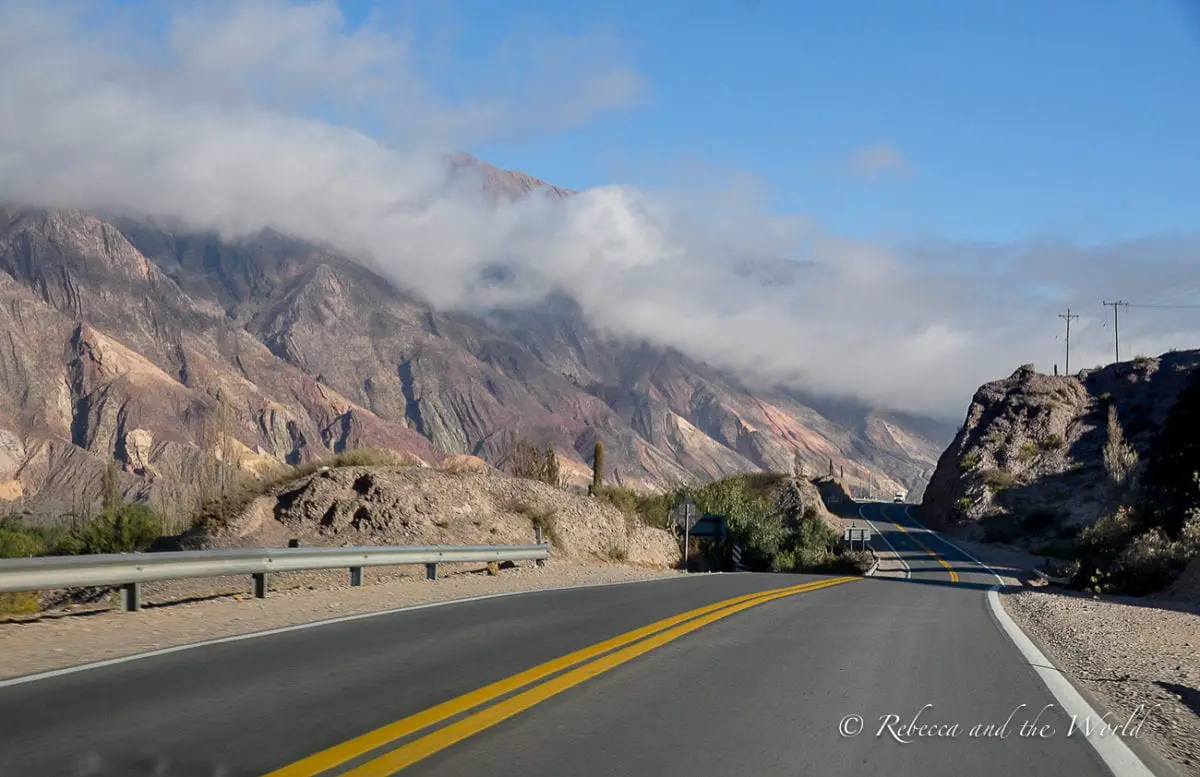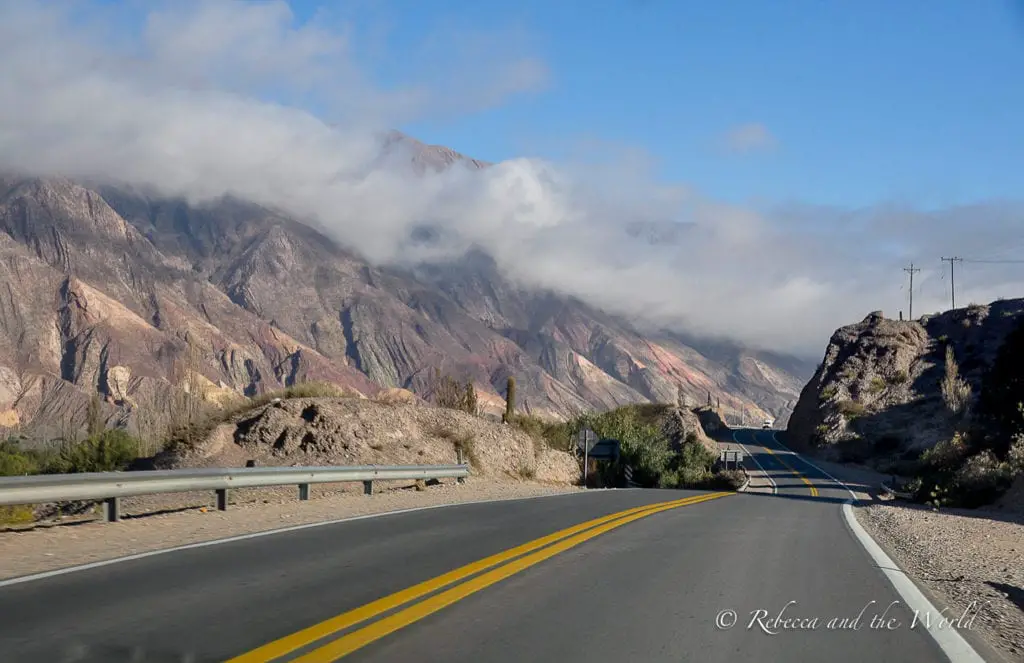 Want even more tips on travel planning? Check out my 15 easy steps on how to plan a trip from start to finish!
6. How to get to Argentina
There are direct flights to Buenos Aires from North America, the United Kingdom, Australia, Europe and South Africa, as well as from most South American countries.  
I like to begin the flight booking process by checking routes and prices on sites like Skyscanner and Momondo. Skyscanner is particularly great because you can set up price alerts and also search for the cheapest days to fly. Click here to try it out.
Buenos Aires has two airports: Ezeiza (EZE) serves international flights, while Aeroparque Jorge Newbery (AEP) handles domestic flights and some international flights to Uruguay and other nearby countries.  
Ezeiza and Aeroparque are 41 kilometres (25 miles) apart, so if you do have a connection upon arrival in Argentina, make sure you plan your travel accordingly. This is because the trip between the two airports can sometimes take more than two hours in peak hour traffic. You don't want to miss your connecting flight!
There are overland border crossings into Argentina from Chile (a stunning journey across the Andes that I would love to take; multiple border crossings), Uruguay (multiple border crossings; the ferry between Buenos Aires and Colonia del Sacramento is the most popular), Brazil (at Puerto Iguazú), Bolivia and Paraguay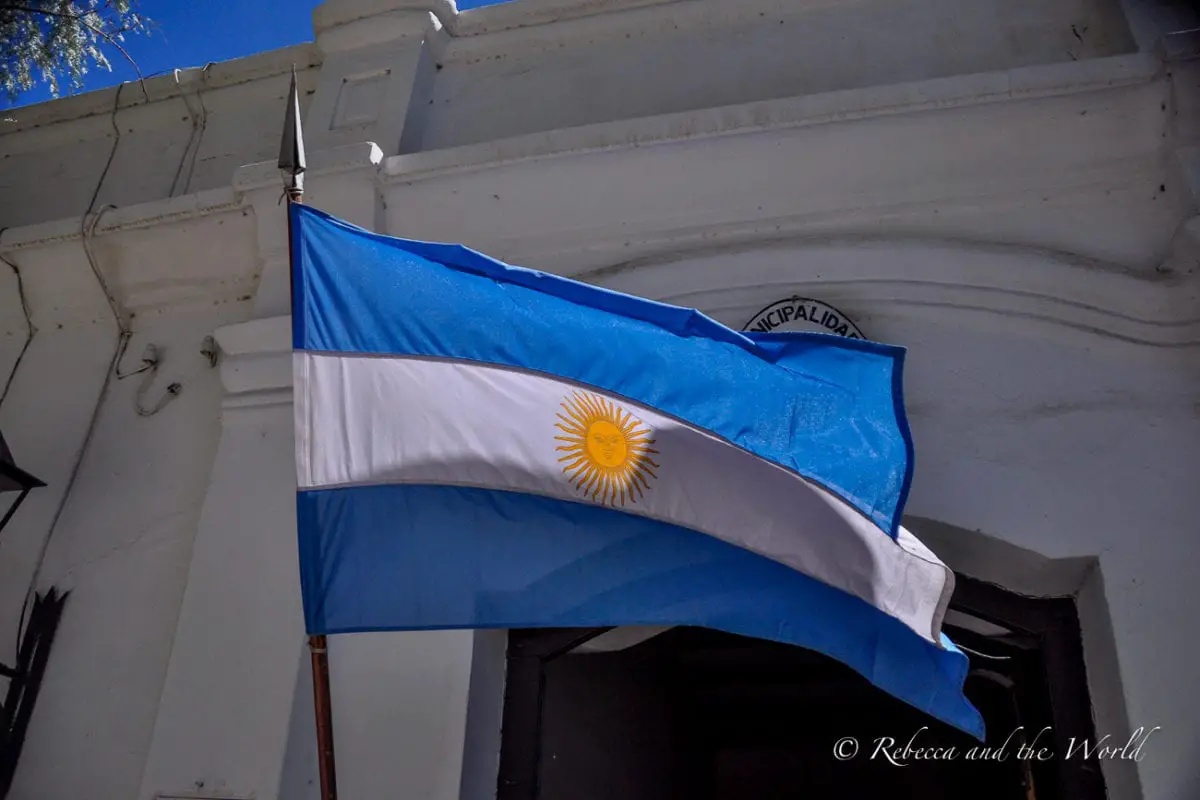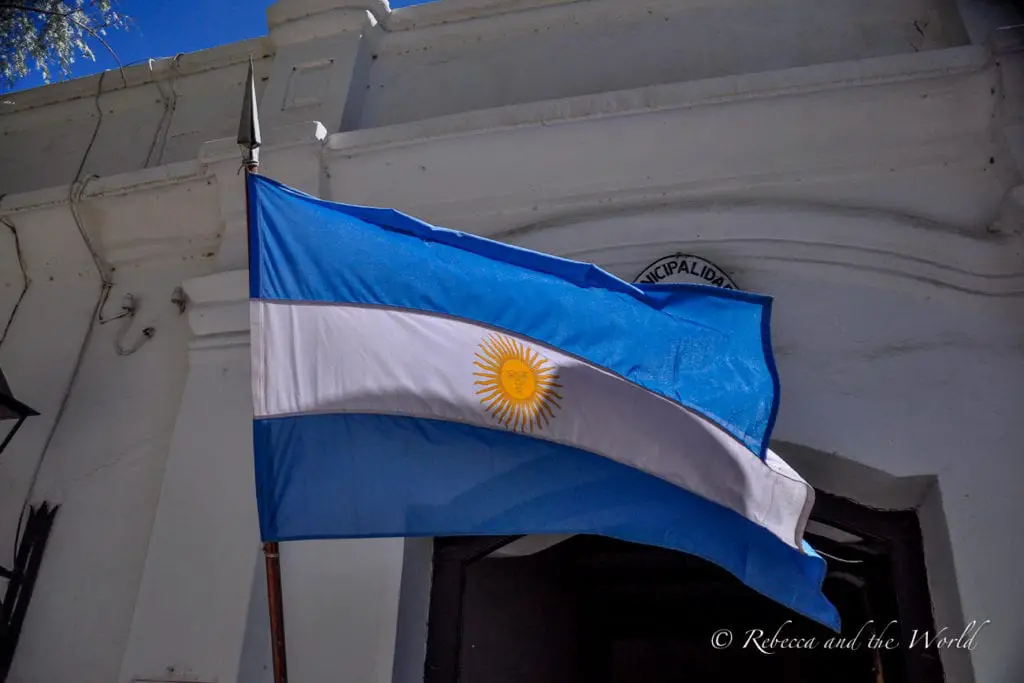 7. How to travel around Argentina
As I've mentioned more than once already, Argentina is a HUGE country. The easiest and quickest way to travel Argentina is to fly.
Flying in Argentina
The major airline in Argentina is Aerolíneas Argentina. Aerolíneas has an extensive network throughout the country. A few other low-cost carriers have also recently popped up, including FlyBondi and JetSMART. 
(LATAM previously operated throughout the country but has indefinitely cancelled its domestic operations as of June 2020. They do still operate still international flights via LATAM's other affiliates.)
Be aware that you often need to connect in Buenos Aires if you're flying around the country. This means you need to carefully plan your trip to Argentina. While this is improving and there are more direct routes on offer, but there are still major cities that aren't directly connected by air. So, you may need to play around with the flights on your itinerary to find the most direct routes.
Domestic flights can sometimes be expensive, and foreigners are often charged more. But the prices I've seen lately online have been very reasonable!
Of course, all that flying isn't great for the environment, so consider carbon offsets.
Buses in Argentina
If you have some time and you're okay with taking long-distance buses, the country has an excellent bus network, offering comfortable seats and food on board in many cases. 
Bus travel in Argentina is long – a trip between Buenos Aires and Puerto Iguazú, for instance, takes around 20 hours. That trip costs around US$85-$120. Rome2Rio is a good site for checking bus travel options and prices.
The Estación Terminal de Omnibus (Avenida Ramos Mejía 1680) in Buenos Aires, better known as the Retiro Bus Station, is the hub for long-distance buses from Buenos Aires to the rest of the country.
Self-driving in Argentina
Most likely you won't need a car in Argentina – especially in Buenos Aires. But if you travel out to other regions of the country, like the north of Argentina (my favourite part of the country!) or Patagonia, then a car will be handy.
You can book a car through Rentalcars.com or Discover Cars, where you can compare the major car rental brands.
A few things to know about driving in Argentina:
Major roads are generally in good condition, although if you're travelling to more remote areas you may encounter some dirt roads and a few potholes
Driving is on the right-hand side of the road
Many rental companies only have manual cars, so check this carefully before booking
Many major roads have toll booths, so you'll need to have some small money easily at hand
You must have your headlights on while driving, even during the day (we were fined for not doing this, oops!)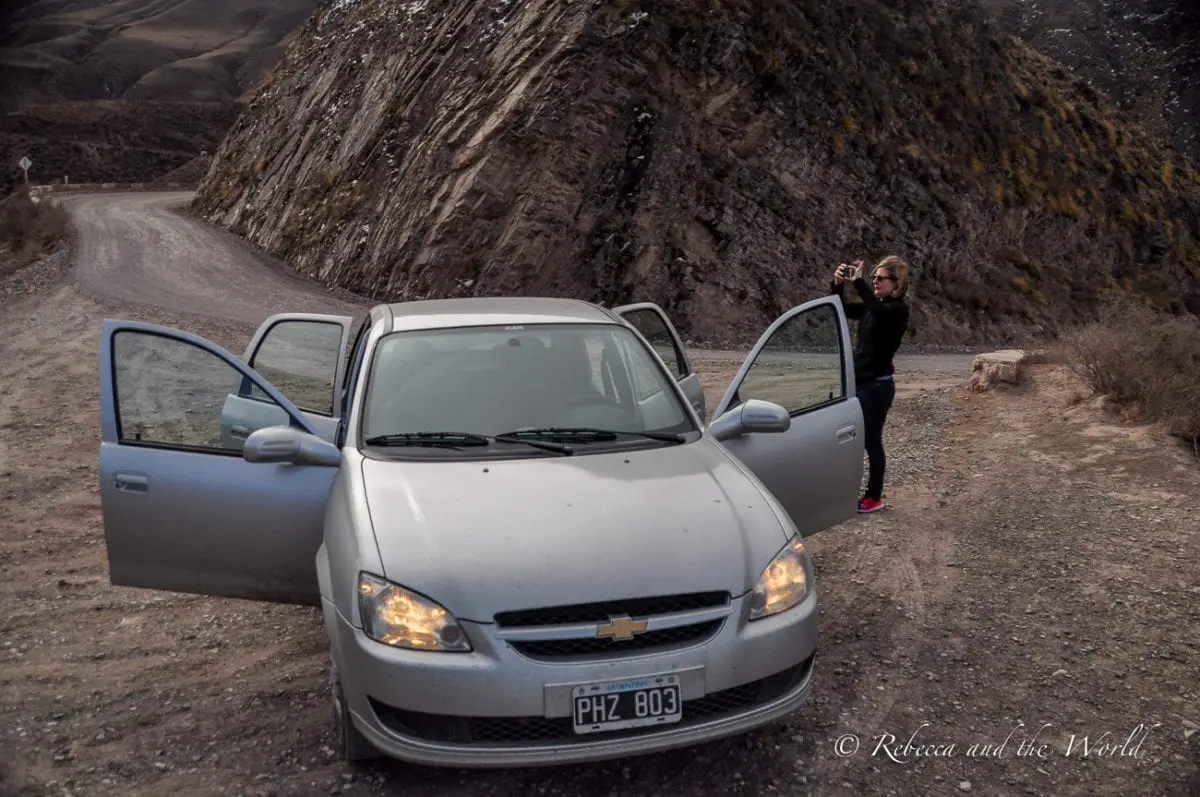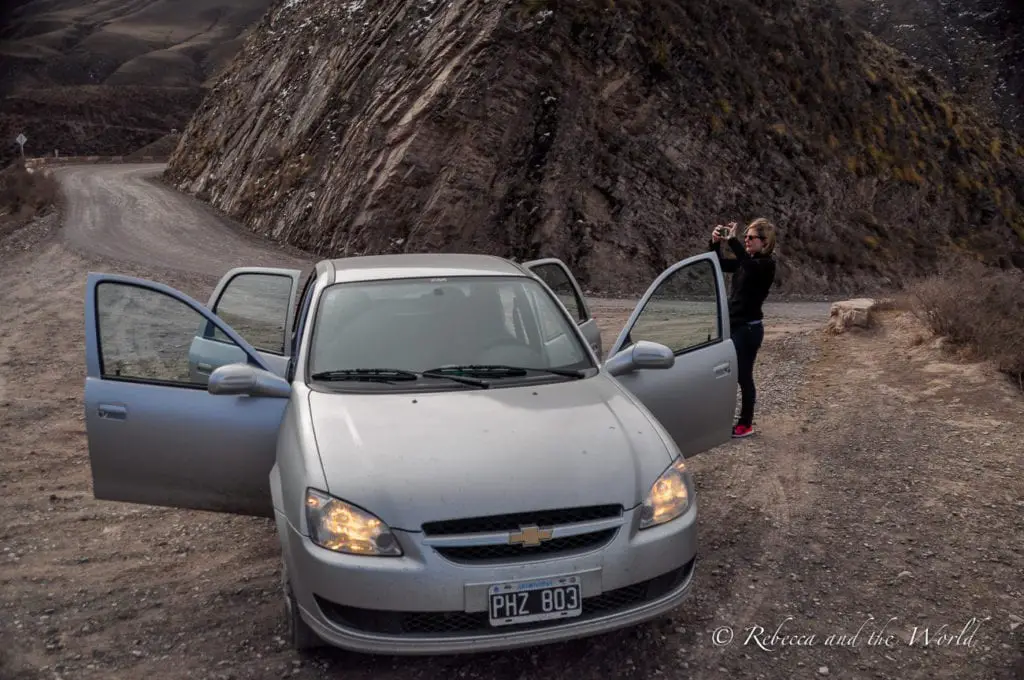 8. Getting around Buenos Aires
Getting around Buenos Aires is easy. Taxis are plentiful and easy to hail from the street. Make sure the driver turns on the meter when your trip begins. It's also handy to know the cross streets closest to your destination, as drivers will use those to navigate (rather than an actual address). 
It's also wise to check the best route before getting in a taxi. While most taxi drivers are honest, every once in a while you'll come across one who tries to take the long route. 
Uber exists but the company doesn't have a great reputation in Buenos Aires and there has been some violence against Uber drivers by taxi drivers. Still, it is possible to use Uber in Buenos Aires.
Public transport is cheap in Buenos Aires and there's an extensive network. There are colectivos (buses), the subte (underground train) and the train (aboveground, these tend to go to the outer suburbs). Plan ahead by downloading the Cómo Llego app, which provides the best way to get from A to B.
To take public transport, you'll need a SUBE card. Purchase one from the Subte ticket window or from a kiosko (convenience store). 
9. Best places to visit in Argentina
There are so many incredible places to visit in Argentina, and deciding where to focus your travel attention will be difficult.
Here are just a few of my favourite Argentina destinations. It's a by-no-means exhaustive list but it may just help kickstart your Argentina itinerary planning. Adding just a few of these will give you a taste of the best of Argentina. You can read about even more amazing places to visit in Argentina in my full blog post.
Buenos Aires
A visit to Argentina's alluring capital is a must. From the grand architecture to the wild nightlife to the incredible food, the most European of all the South American cities will enchant. Plan to spend at least 3 days in Buenos Aires to get a feel for the city.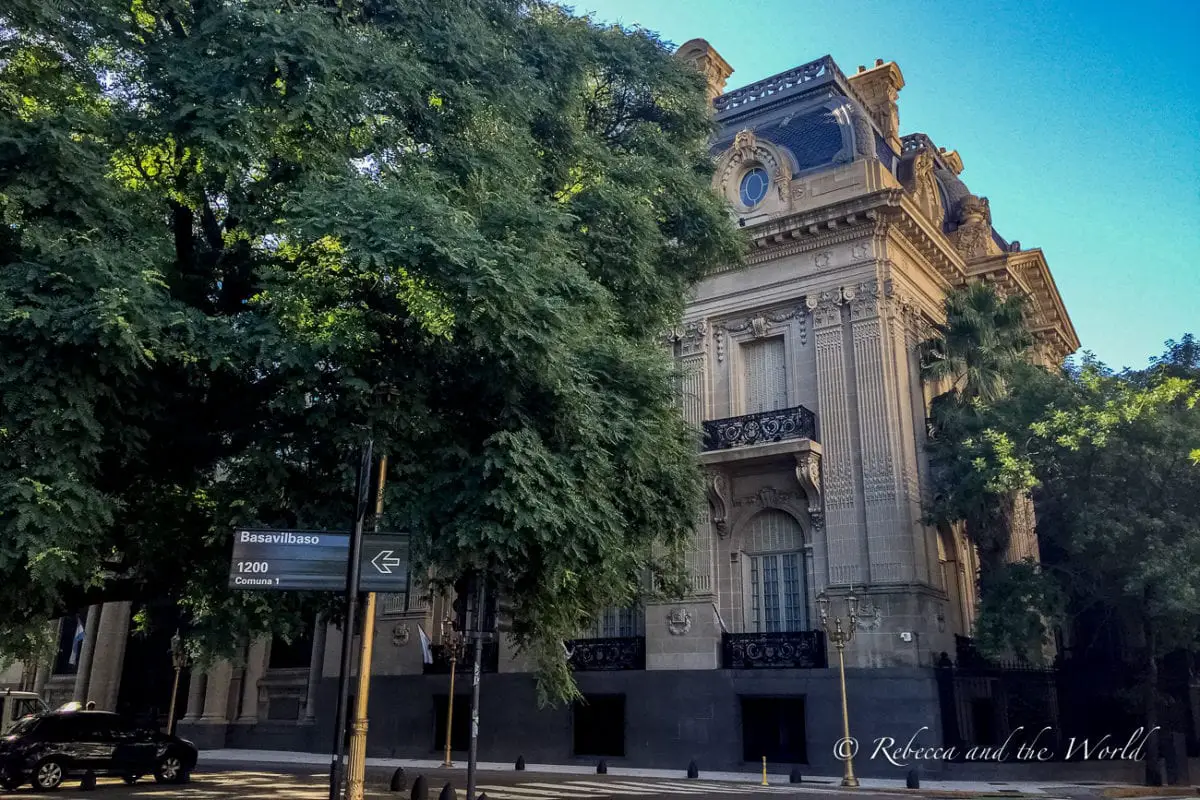 Mendoza
Argentina's most famous wine region is home to the rich and juicy Malbec varietal. Spend a few days visiting wineries by car or by bike. The area is also a magnet for outdoor adventurers looking to enjoy thermal hot springs, mountain climbing and hiking.
Iguazu Falls
You won't quickly forget the thunderous rush of these waterfalls that straddle the Argentina and Brazil borders. Spend a day or two exploring the falls. I have a full guide to visiting Iguazu Falls from both Argentina and Brazil.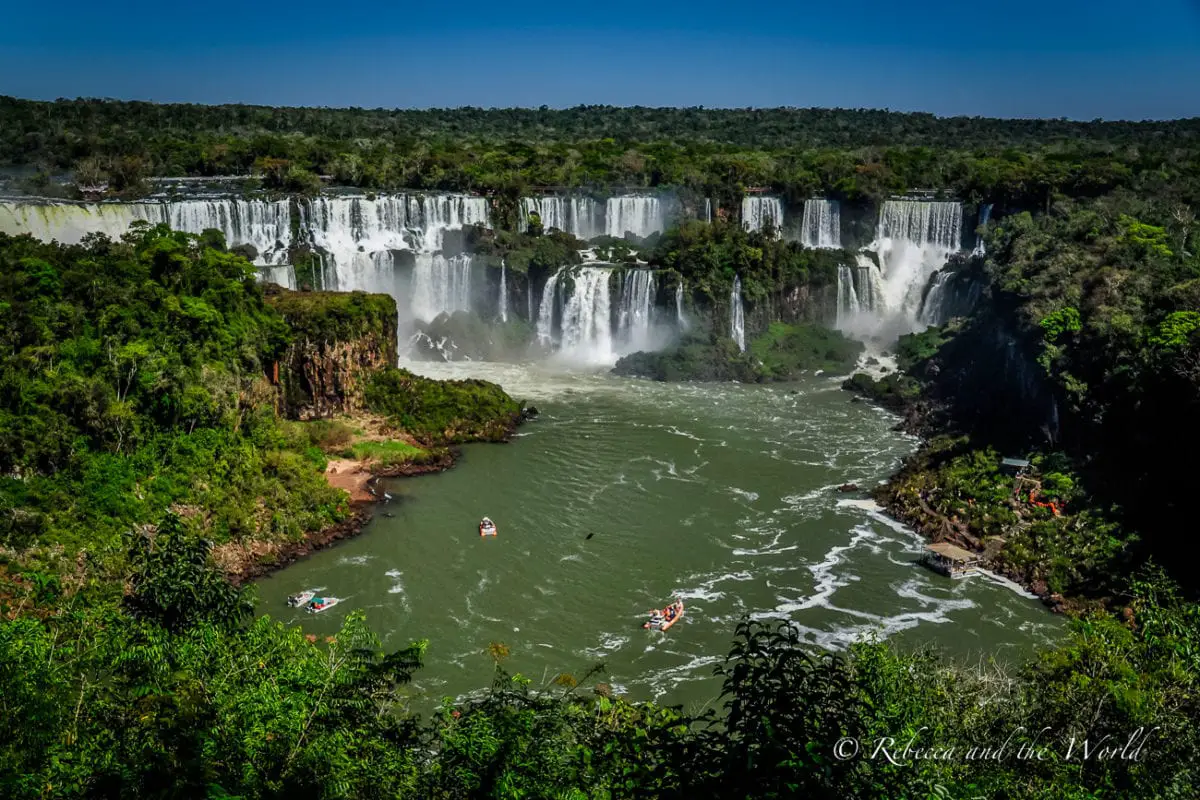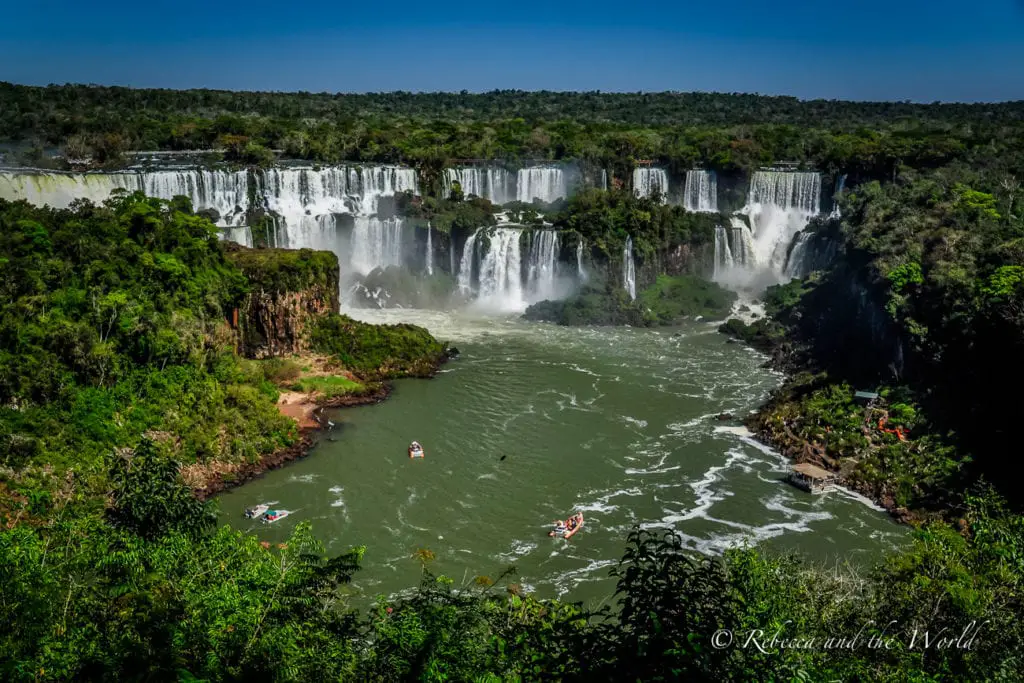 North Argentina
Without a doubt, my favourite part of Argentina is the north of the country. Otherworldly landscapes, delicious wines and intriguing culture: making the trip up here is worth it. Check out my guide to roadtripping north Argentina.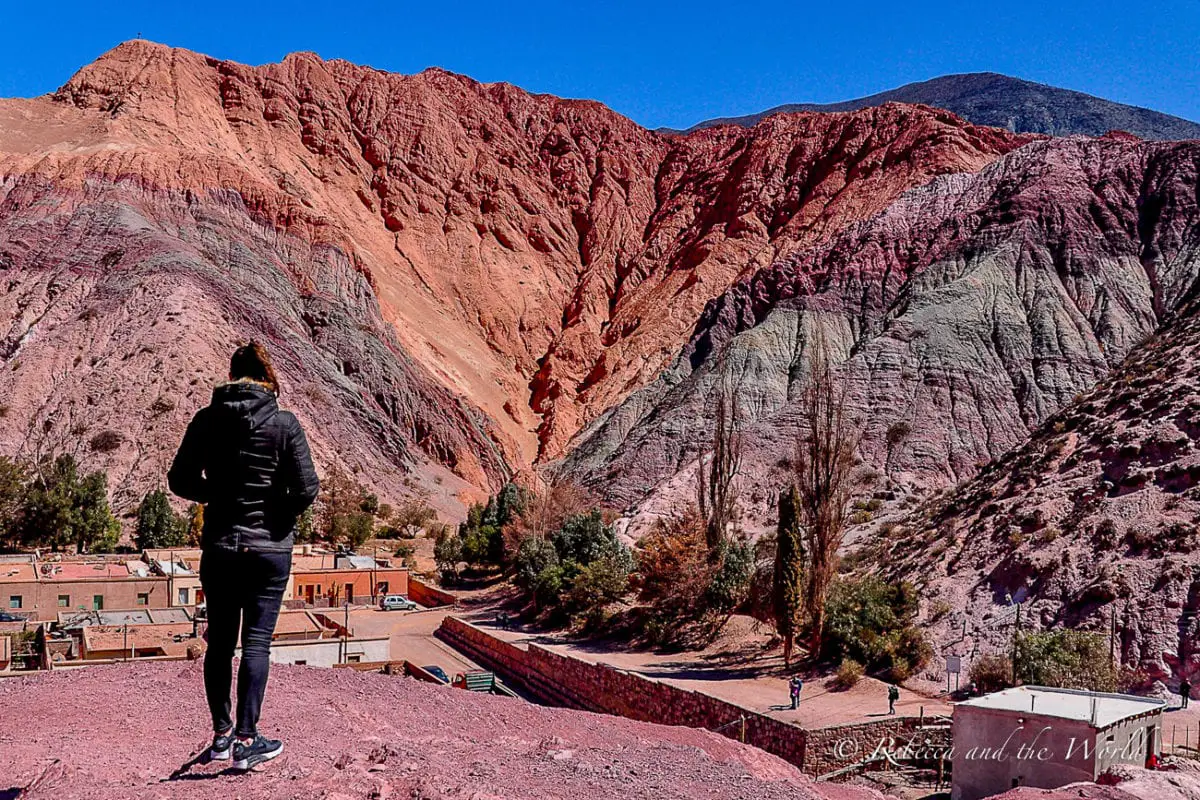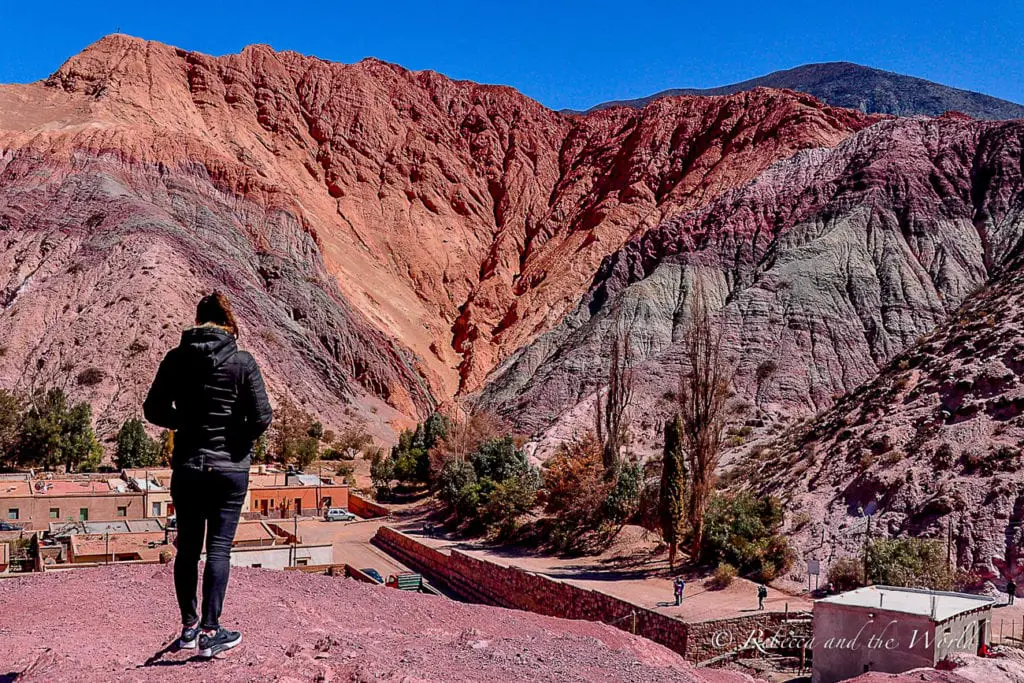 El Chaltén
Adventure lovers will be in their element in El Chaltén, with so many options to hike in pristine parks. Home to the craggy peaks of Monte Fitz Roy, there are some amazing hikes in El Chaltén to tackle for all levels of expertise and fitness.
Perito Moreno Glacier
If you've ever wanted to walk on a glacier, here's your chance. Located in Los Glaciares National Park, this thousands-and-thousands-and-thousands-of-years-old glacier will inspire awe as huge chunks of ice break off the glacier and crashes into the icy waters below. Learn more about trekking on Perito Moreno Glacier.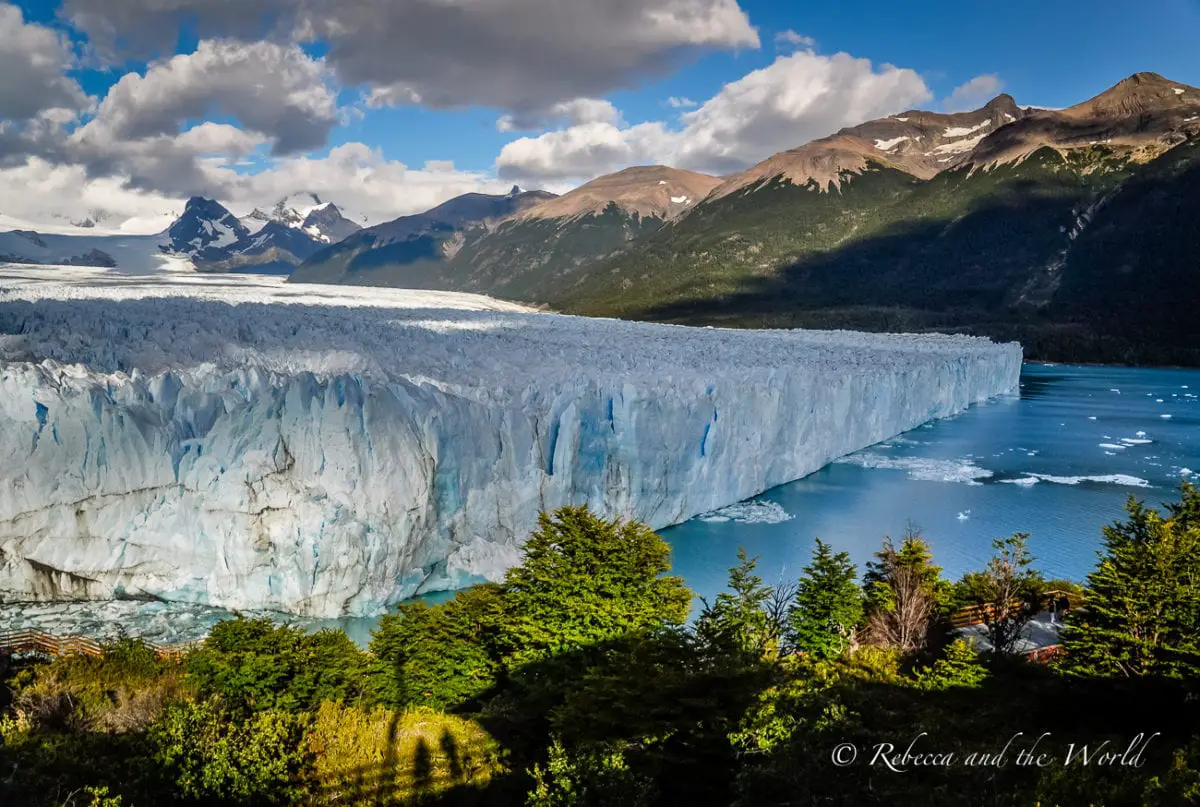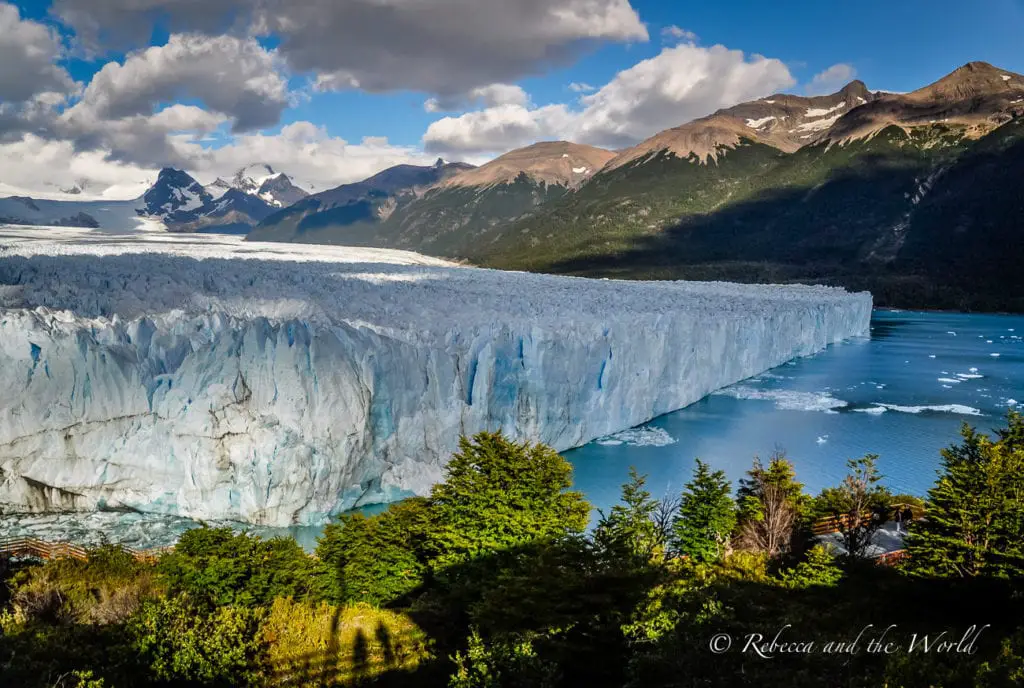 Bariloche
Bariloche in northern Patagonia is a dream to visit year-round. In the warmer months, go hiking, fishing and biking, and in winter hit the ski slopes. A must-do is a drive (or bike ride) along the Ruta de los Siete Lagos.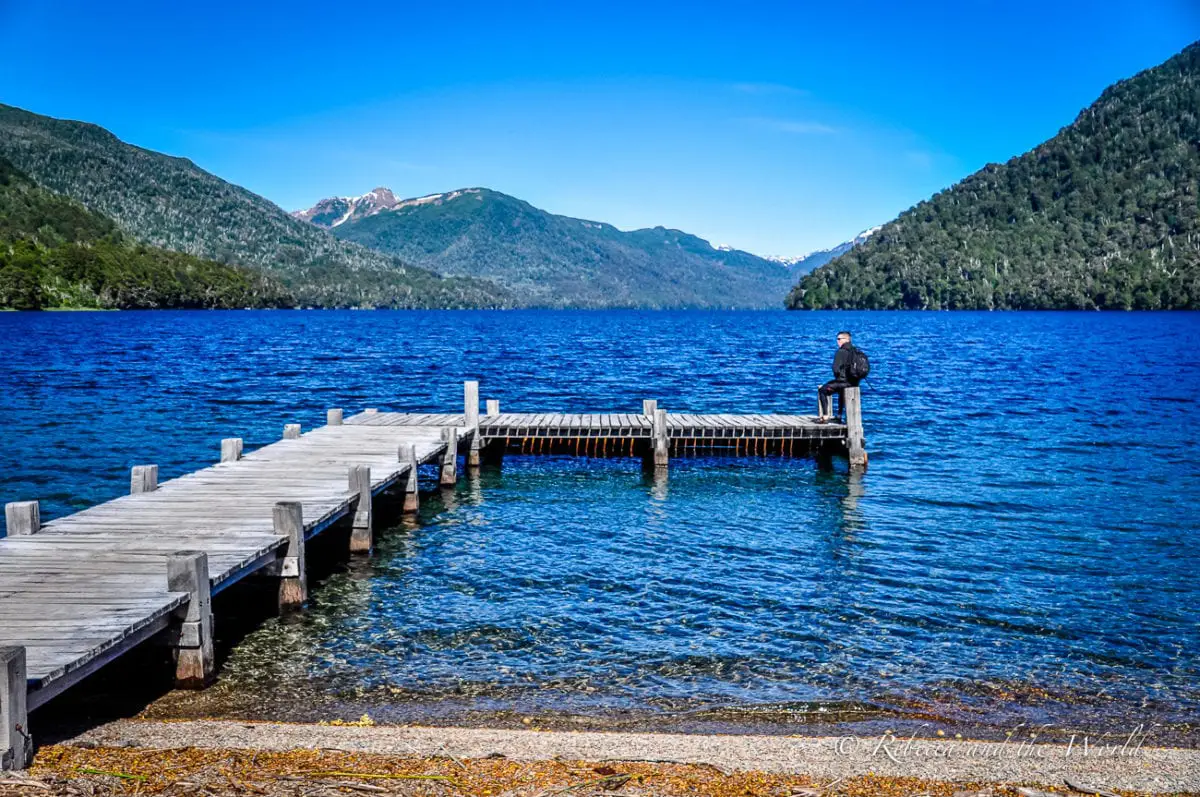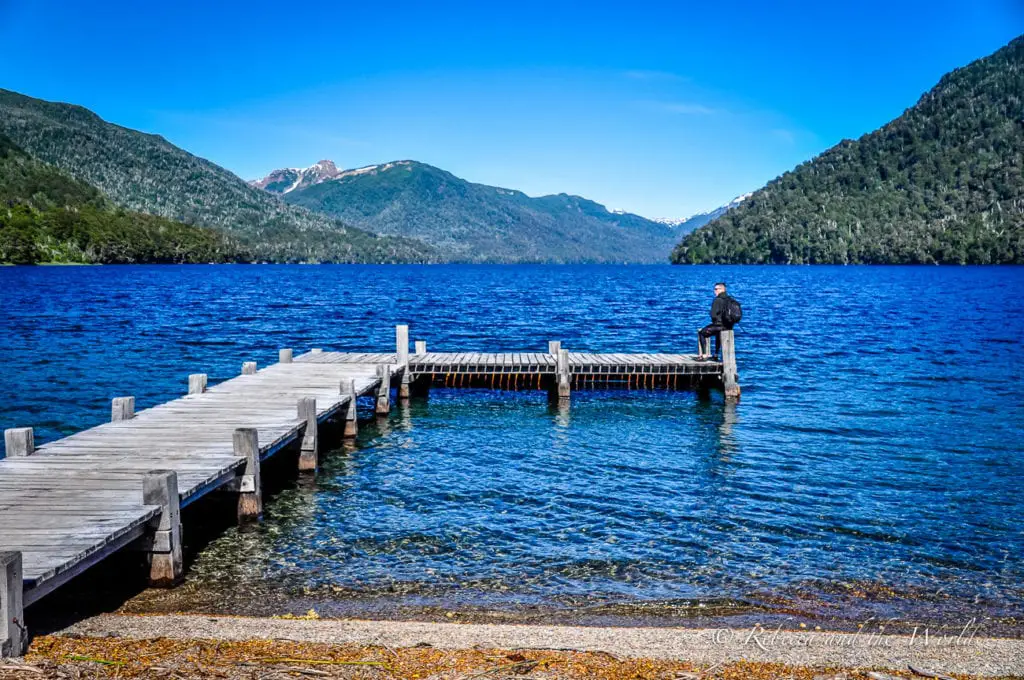 10. Health in Argentina
Argentina has good health and dental services available and it's affordable – sometimes even free, including for foreigners. 
One thing I always buy is travel insurance. World Nomads offers simple and flexible travel insurance. Buy at home or while traveling and claim online from anywhere in the world.
Check out the Center for Disease Control for recommended vaccinations for visiting Argentina. For most people, it'll be standard vaccinations. While there are no required vaccinations to enter the country, it's recommended to be up to date with your COVID vaccines.
11. Language in Argentina
The official language of Argentina is Spanish. But your high school Spanish won't cut it here. Argentines actually speak Castellano and with a whole lot of hand gestures thanks to their Italian and Spanish heritage. 
People use vos instead of tú, and "y" and "ll" sounds are completely different (pollo sounds more like posho, with the sh as in sshh). 
Even though many people in Argentina speak English, especially in Buenos Aires, you should try to learn a few key phrases. Watch a few Argentine movies (I've suggested some later on) so you start to get your head around the accent.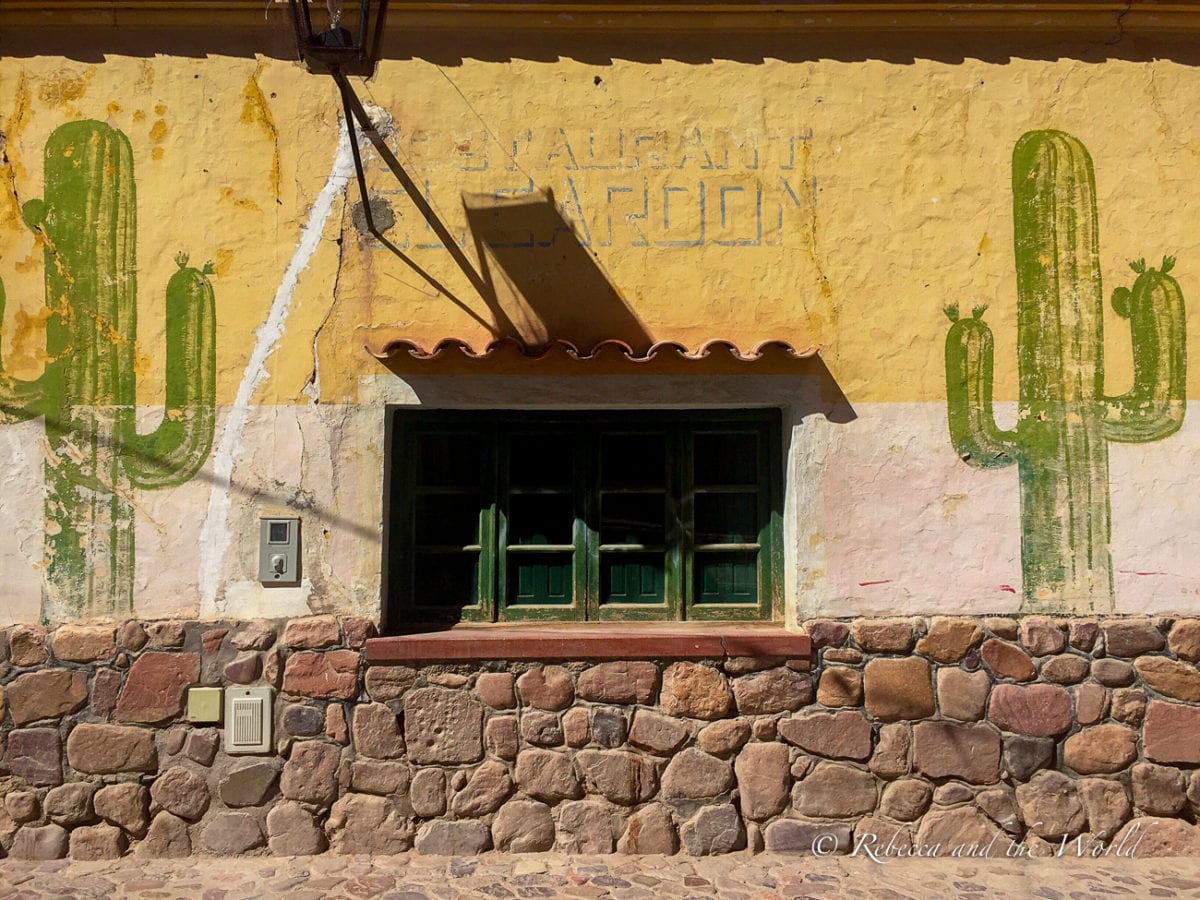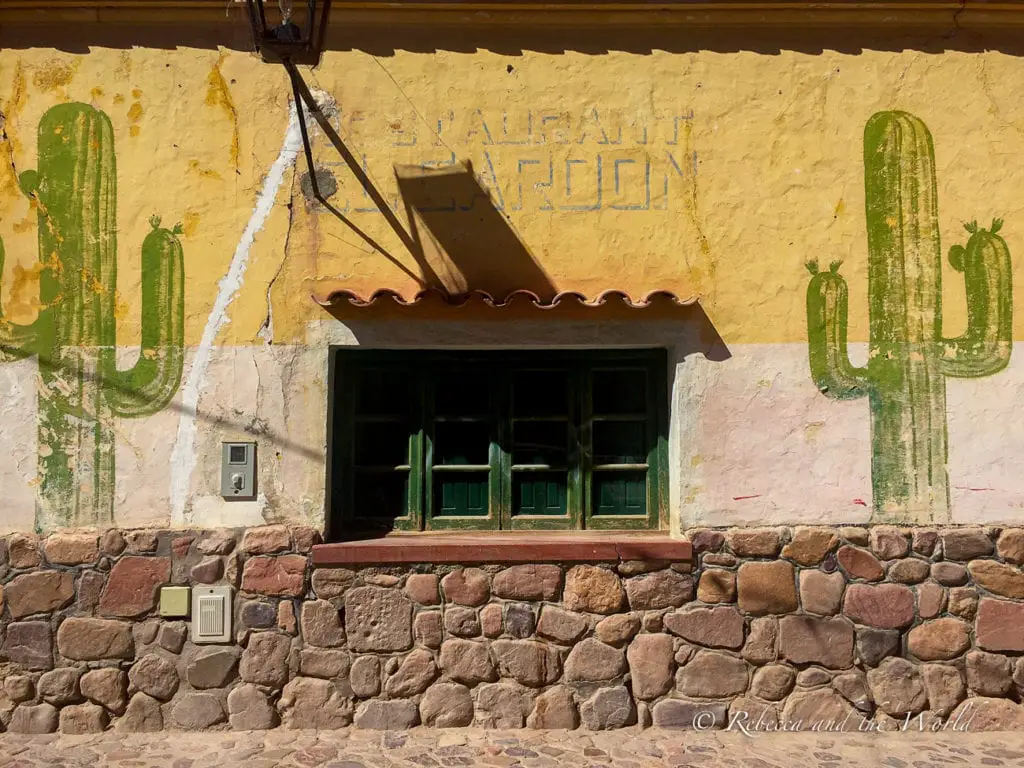 12. Money in Argentina 
Oof, now we're on to the tricky subjects. 
The economy in Argentina is… complicated, to say the least. And it's going to cause you a headache during your trip to Argentina.
Even though I lived in Argentina for almost two years, I'm still no expert. To put it very simply, the country's currency, the peso, is continually fluctuating and prices change rapidly and regularly. Policies change dramatically with governments. It's caused a lot of anxiety and financial stress for Argentines over many decades.
For travellers, it's also challenging. Here are a few money in Argentina tips.
Always have cash on hand
One of my biggest travel tips for Argentina is to always have cash (pesos) on hand, particularly smaller notes. This helps shopkeepers with providing change. Don't be surprised in small shops if you get a few sweets in place of a few pesos – they may not have enough change to give you.
Credit cards are accepted in larger touristy restaurants and in hotels, but elsewhere may not be accepted at all. Most people want to be paid in cash. Visa cards are best as well as Mastercard. I wouldn't even bother attempting to pay with American Express. Some stores will also want to see photo ID when you pay with your card, so take along your driver's license or a copy of your passport. 
ATMs are expensive
ATMs are in all major cities, but they have strict limits on how much you can withdraw in each transaction and high transaction fees which will add up quickly. Withdrawal amounts vary, but you'll usually only be able to get around US$100 out each time. 
ATMS often run out of money, especially around holiday periods and long weekends. 
I've often had difficulties with certain cards at times, so bring several bank cards with you if you have the option.
Bring U.S. dollars or Euros
The best way to handle your travel money in Argentina is to bring cash with you, specifically U.S. dollars or Euros. This is how you'll get the best exchange rate in Argentina. 
Have a plan to keep your cash safe as well – don't take it out with you when you leave your hotel or accommodation, and stash it in different places in your bags and suitcases.
Some vendors will accept USD. They'll usually have the coto (exchange rate) listed at the cash register.
Exchanging money in Argentina
But how do you actually exchange foreign currency into Argentine pesos?
Definitely don't do it before you arrive in the country – you'll get the same terrible rate as the banks.
One way is to exchange money in hotels. They'll offer you the same (probably terrible) rate as the banks but you won't have to pay the withdrawal fees, so you will be slightly better off.
But where you'll get the best rate is through the mercado azul, or blue market, which is basically the black market. 
You'll be able to see what the dólar informal (also called the dolar blue) is on a website like Ambito so you can compare it to the dólar oficial (the details are right at the top of the website). 
The dólar oficial is the rate you'd get changing money at a bank or withdrawing pesos from an ATM, while the dólar informal is the black/blue market rate.
As of the time of writing, the difference was almost ARS$130 between the two.
Armed with this information, find an arbolito (which translates to "little tree" in Spanish but in Argentina is a money changer). In Buenos Aires, you'll find them easily on La Florida in the Microcentro, calling "cambio, cambio". They'll probably take you inside a newsstand or shop where the exchange will happen. You'll get a better rate with larger bills (US$50 or US$100) and always have clean, untorn notes. Often, they'll use a machine to check your money for counterfeits.
Money changers can also be found in smaller towns. 
It's best to ask someone at your hotel or accommodation for a recommendation for a money changer. It can be a bit daunting the first time you do it! 
Just to give you an idea of how I used to get my money when I lived in Argentina: I rarely used the ATM. Instead, I would change stacks of U.S. dollars (which were challenging to get as an Australian, especially since the exchange rate was shocking when I lived in Argentina). I would call up a guy, he'd pick me up from the front of my apartment or office, we'd drive around the block and I'd get out with a paper bag full of pesos. I felt like I was in a movie doing a dodgy drug deal!
Either way, the situation changes frequently, and by the time you read this it's probably already out of date!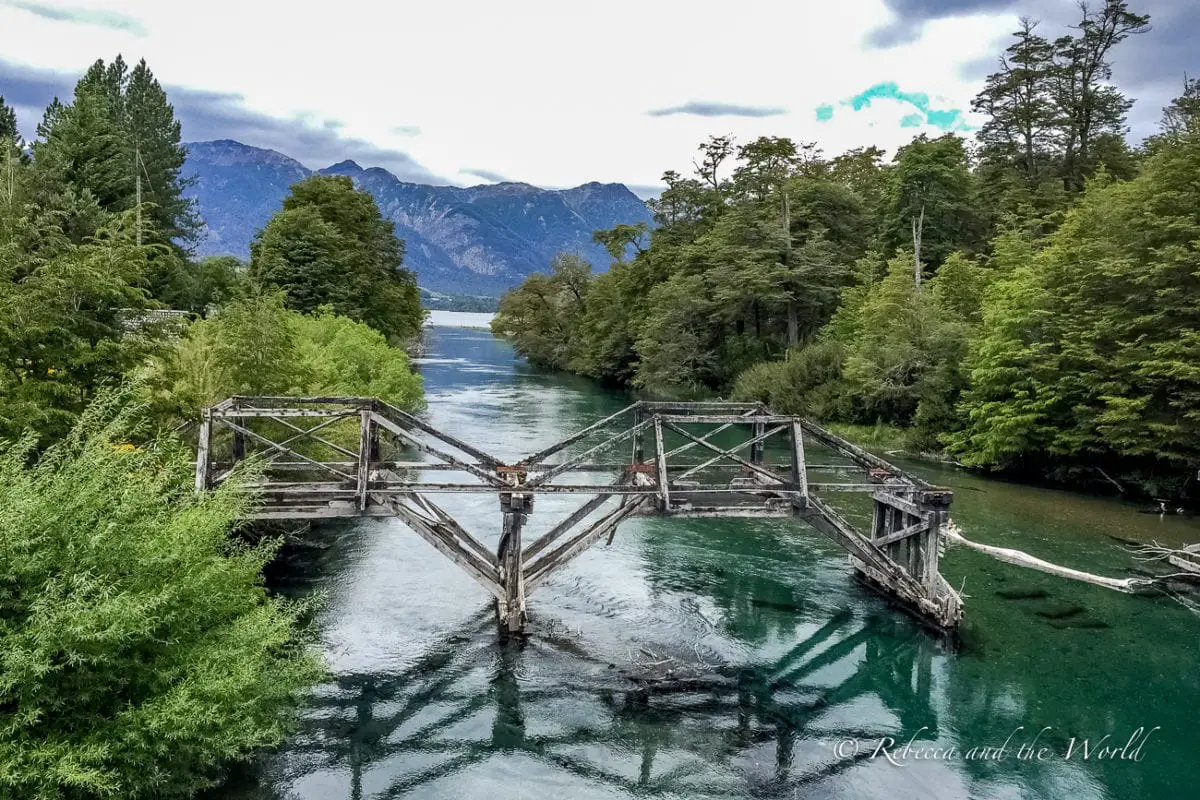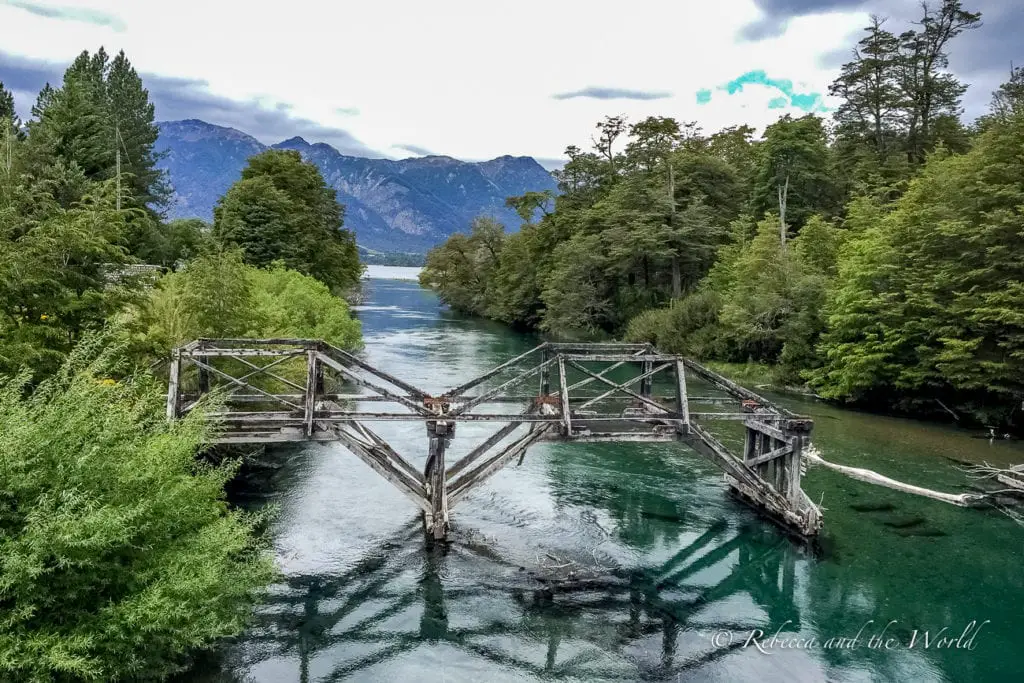 13. Safety in Argentina
Argentina is a relatively safe country. However, take precautions when you visit Argentina, because crime is on the increase as pandemic restrictions have eased. 
In Buenos Aires, watch out for pickpockets, especially on buses, the subte and in marketplaces. I've been pickpocketed in Buenos Aires so I can unfortunately vouch for their tremendous skills! 
Keep your bags close to you, especially at restaurants and bars and while on public transport. Don't pull out your phone in busy places or leave it on the table while you're eating. Never leave your handbag on the back of your chair.
Motochorros are common. These are thieves on motorbikes who ride past and snatch bags or even phones out of the hands of people sitting in taxis. Always have your window up and the door locked when you're in a taxi or car.
My tips for staying safe in Argentina:
Learn some basic Spanish, enough so that you can get by in taxis and on public transport
Travel by private transport at night, like a taxi rather than a public bus
Be careful with your cash and only carry with you what you need. Also, put money in different spots. Some could go in your wallet, some in another pocket, some in your shoe, some (for the ladies) inside your bra
Don't flash around pricey cameras and phones. These items are expensive in Argentina and enticing for thieves
Try to blend in. Don't walk around with a map in your hand and camera slung around your neck, don't speak loudly in English
Don't carry your passport around with you, take a copy instead
If something does happen, don't fight back! Valuables can be replaced, your life cannot. Violent crime does happen in Argentina
Keep an eye out for protests, which happen frequently in Argentina. You may be curious to see what's going on, but they can turn violent
Beyond a few rogue characters, you'll find Argentines to be incredibly friendly and welcoming and you should have a safe visit.
14. What to eat in Argentina
One of the highlights of a visit to Argentina is the food – and wine. 
My best Argentina travel tip? During your trip to Argentina, forget about the diet and enjoy!
Some of the must-eat foods to plan a trip to Argentina around are:
Steak – you can't go anywhere in Argentina without seeing steak on the menu. There are many different cuts, but most will be familiar. 
Empanadas – you're going to eat SO many of these pasty-type delights on your Argentina visit.
Choripan – a sausage (chorizo-style but rarely spicy) that's served in bread. Smother it in chimichurri sauce.
Locro – a traditional stew made of beans, corn, vegetables and meat, it's mostly found in the north of Argentina.
Provoleta – a disc of cheese that's cooked on the grill and then served still bubbling in a small cast iron skillet. Usually served as an appetiser.
Dulce de leche – a creamy caramel sauce.
Alfajores – sandwich cookies that are filled with dulce de leche. They're often then smothered in chocolate.
Ice cream – ice cream stores are everywhere in Argentina. The country's Italian heritage has produced deliciously creamy ice cream, and you must try dulce de leche flavour of course!
Medialunas – croissant-like pastries that are usually eaten for breakfast or merienda (afternoon tea).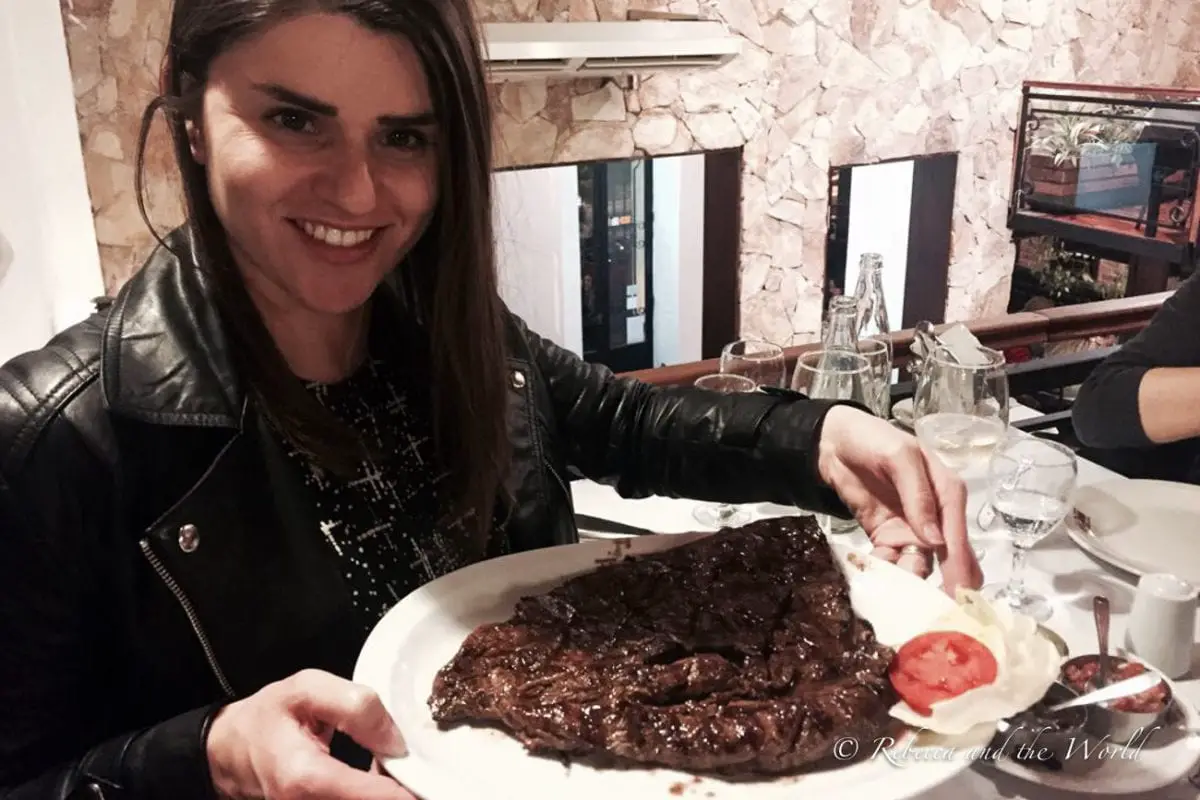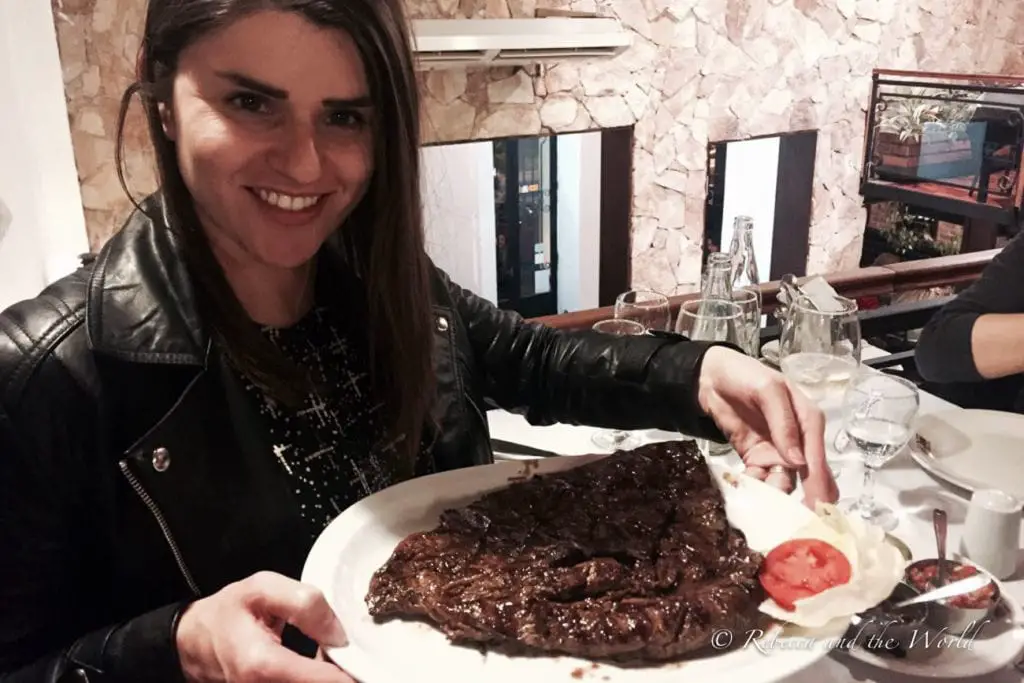 Vegetarians may struggle, but there are other options served in most restaurants like pasta and pizza. Or load up on salad. You won't starve, but you may get sick of carbs by the end of your trip.
As for eating culture, Argentines eat tiny breakfasts, mostly just a coffee and a medialuna. At many hotel buffets you'll probably have the option of basic cereals, slices of ham and cheese, yoghurt, fruit and, of course, medialunas. Lunch will generally be the biggest meal of the day.
Eating out in restaurants is slow – people sit and enjoy their meal rather than being rushed out the door. Waiters will generally leave you alone and you may have to beg them to bring you the bill at the end of the meal!
Tipping isn't required, but you should plan to round up your bill so you leave around 10%. You'll notice on the bill a "service charge" which is basically to cover your bread, cutlery and so on. This isn't the tip.
15. Argentines share drinks
When you visit Argentina, you may at first be surprised to see people gathered together sharing mate (pronounced mah-tay) from the same cup.
Mate is a tea made from yerba leaves and drunk from a cup (also called a mate) and a shared straw (called a bombilla). It's part of the cultural fabric of Argentina (and Uruguay). 
You'll see friends sharing it and strangers sharing it. When we were getting our DNIs (our resident cards), we even saw another lady sharing it with the bureaucrat processing her request!
If germs don't bother you, then sharing mate is something that you should partake in if you're offered. I personally am not a fan of the bitter flavour, but my husband loved it and I'd often come home to find him sipping on mate with the porteros (doormen) at our apartment or our Spanish teacher. It's a great way to connect with people.
16. What to pack for Argentina
I'd recommend wearing your normal clothing in Argentina – tourists traipsing around in zip-off pants and waist packs stand out from a mile away and could make you a target for thieves. 
Wear basics like jeans and t-shirts to help you to blend in. Definitely bring some comfy walking shoes because you're going to be racking up the steps on your trip to Argentina.
Do pack a nice outfit for going out for dinner or to a tango show.
If you're planning on going hiking or doing any other outdoor activities, it's best to bring your own gear. Hiking gear including shoes, trekking poles and so on can be quite expensive in Argentina.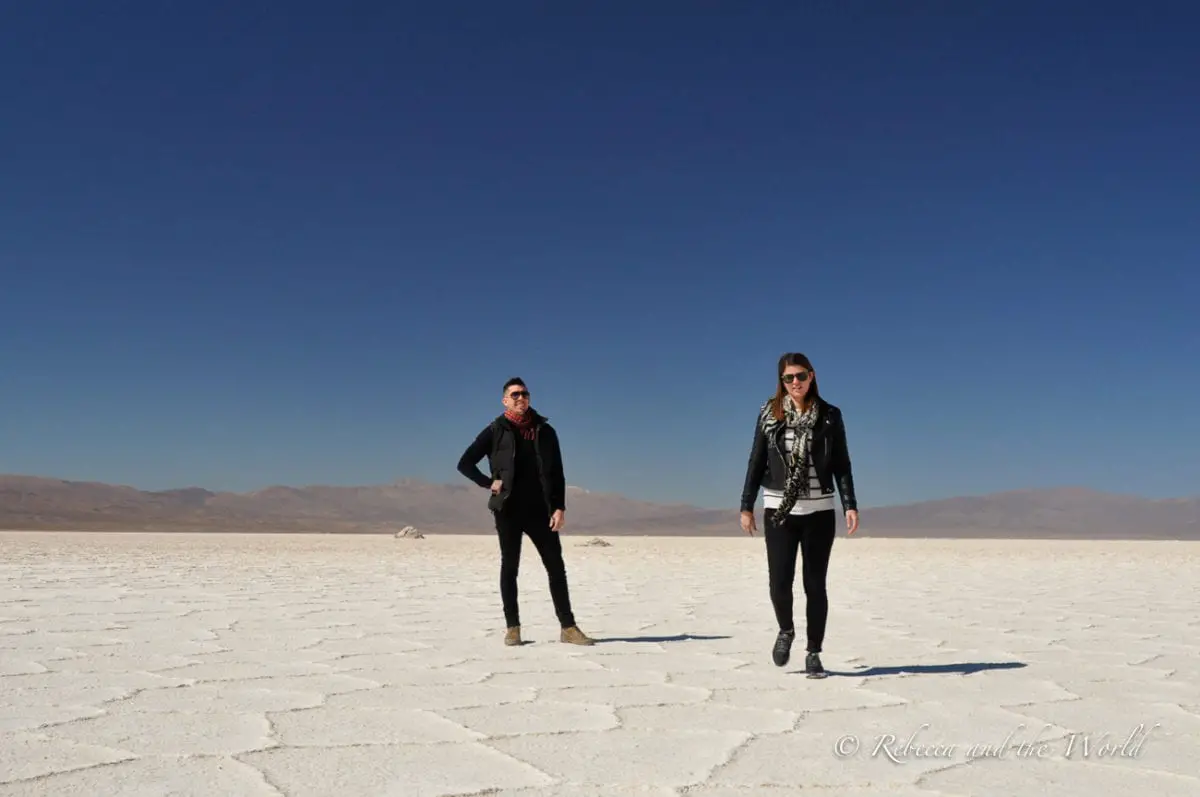 Some other key must-have items:
17. Bring your own phone
If you're wondering what to do in Argentina to stay connected, then here are a few tips.
Mobile phones are expensive in Argentina, so it's best to bring your own (unlocked) phone on your trip to Argentina and get a sim card when you arrive in the country. 
There are three main providers in Argentina: Personal, Movistar and Claro. There's a Personal stand in Ezeiza airport, so you can easily buy the sim card there. Otherwise, find a store in the city – they're all located in Microcentro – and get your sim card there. You will need your passport to purchase.
Topping up is easy. Wherever you see a kiosko (like a small general store) with a sign "recarga aqui" (recharge here) and the logo of the provider your sim card is with, you'll be able to top up.
18. Watch out for perros – and their caca
You'll often see packs of dogs while wandering around Argentina. Some are tethered to their dog walkers (called paseo perros) in humourously large groups, while others roam free. They're usually pretty friendly, but be wary.
The biggest danger with dogs, in my opinion, is the poop you'll see everywhere!! Dog owners in Argentina don't seem to care about picking up after their pups, so beware the footpaths littered with caca!!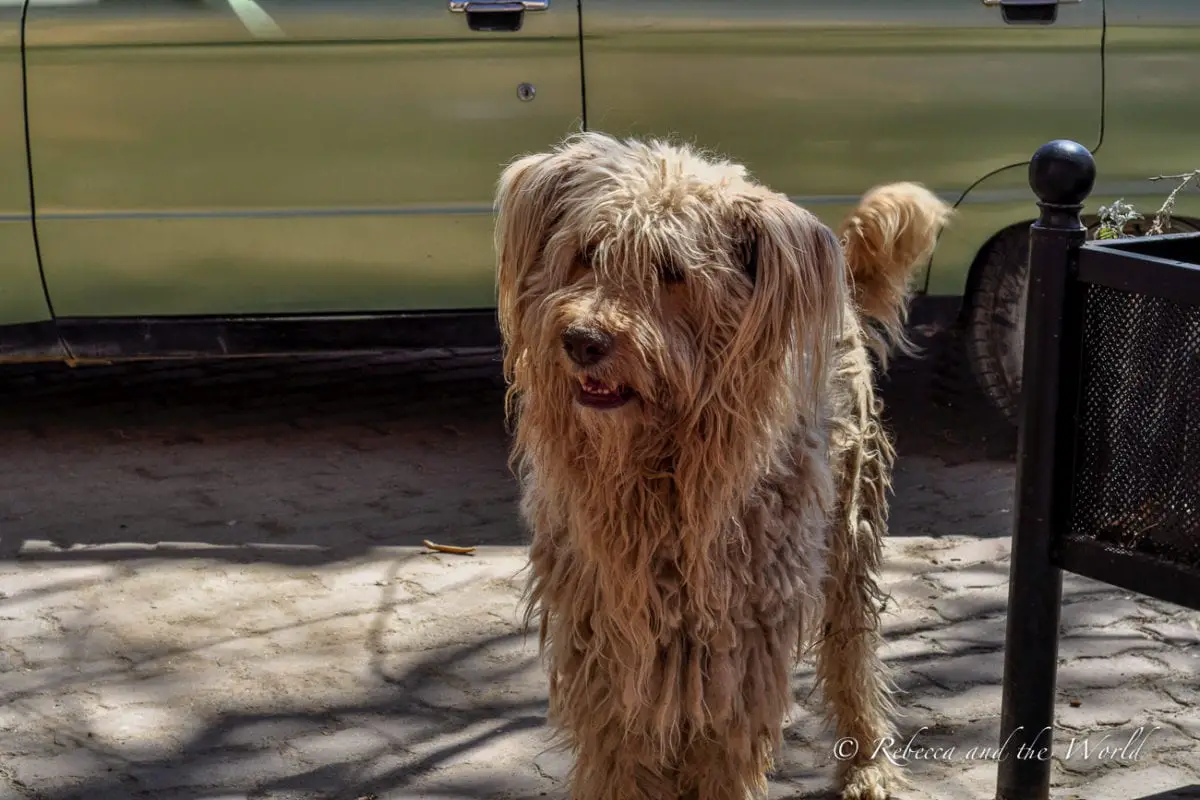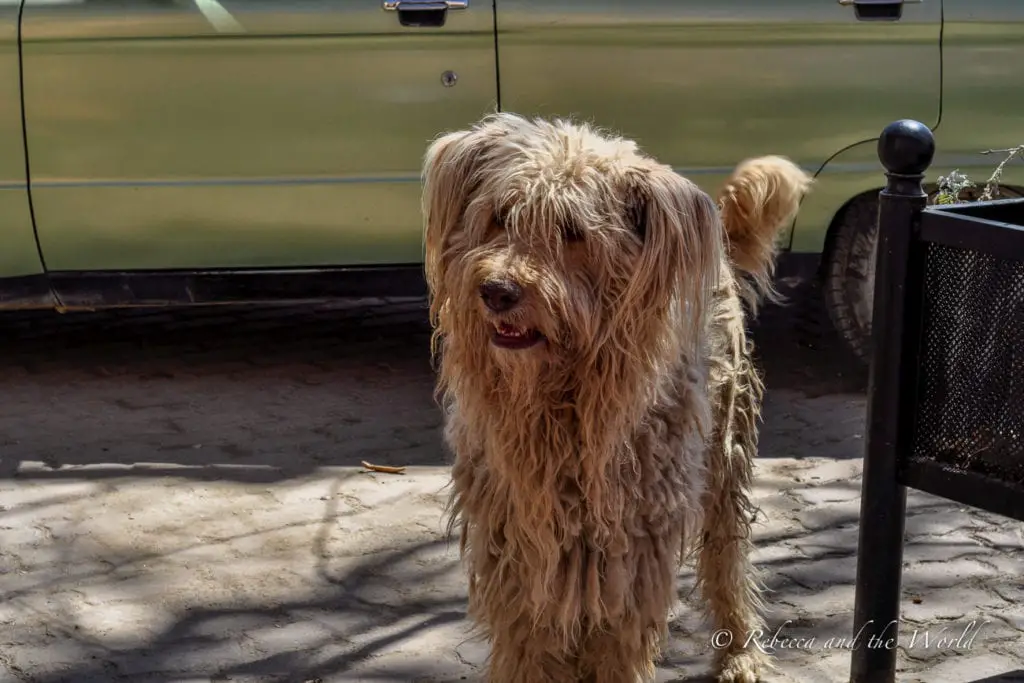 19. Check out some movies and books about Argentina
One of my favourite travel tips for Argentina is to read up about the country before you visit or watch some classic movies. 
So you can get a feel for Argentina culture, here are a few of my faves:
Books
Movies
Relatos Salvajes (Wild Tales) – hands down one of my favourite movies ever. The series of 6 short stories are all captivating and wickedly funny or sad
El Secreto de Sus Ojos (The Secret in Their Eyes) – a thriller that won the Oscar for Best Foreign Language Film in 2010
The Clan – a true story (yes, it's really true and you'll constantly ask yourself this question as you watch it) about a family involved in a series of kidnappings during the "Dirty War" of the 1970s
Final thoughts on planning a trip to Argentina
Argentina remains one of my favourite countries. It could be because I lived there and got to learn about the culture, food, language and traditions, but I think any visitor will very quickly fall in love during their time in the country.
With a bit of careful pre-planning and these handy travel tips for Argentina, you'll have an amazing time.
ARGENTINA TRIP ESSENTIALS
TRIP TO ARGENTINA: PIN IT FOR LATER
Save this guide to help you plan your trip to Argentina by clicking on any of the images below to save it to Pinterest.