One of the amazing things about travelling in Argentina is the varying landscapes. And one of the places that most surprised me was north Argentina. In fact, after a road trip through the region, it's now my favourite place to visit in Argentina, and I find myself constantly recommending anyone who's travelling to Argentina to put the north of the country on their itinerary.
Hiring a car and tracing the windy roads of the provinces of Salta and Jujuy on an Argentina road trip is the best way to experience northwest Argentina. Along the way you'll see surprising rock formations, taste incredible wines and experience a culture that is distinctly different to other areas of Argentina.
This part of Argentina is a little off the beaten path, so if this sort of trip is up your alley, I've put together the perfect 9-day itinerary to help you experience the highlights of the north of Argentina. This follows the route that my husband and our friends took, plus some advice for things I'd do differently next time.
Seriously, if you're thinking about visiting Argentina, please consider the north of Argentina – it blew my mind and I know it will amaze you, too!
This blog post may contain affiliate links, meaning if you book or buy something through one of these links, I may earn a small commission (at no extra cost to you).
North Argentina road trip logistics
Before we get into the details of the north Argentina road trip itinerary, here are a few logistics to consider. You should also stop by and read my full guide to planning a trip to Argentina.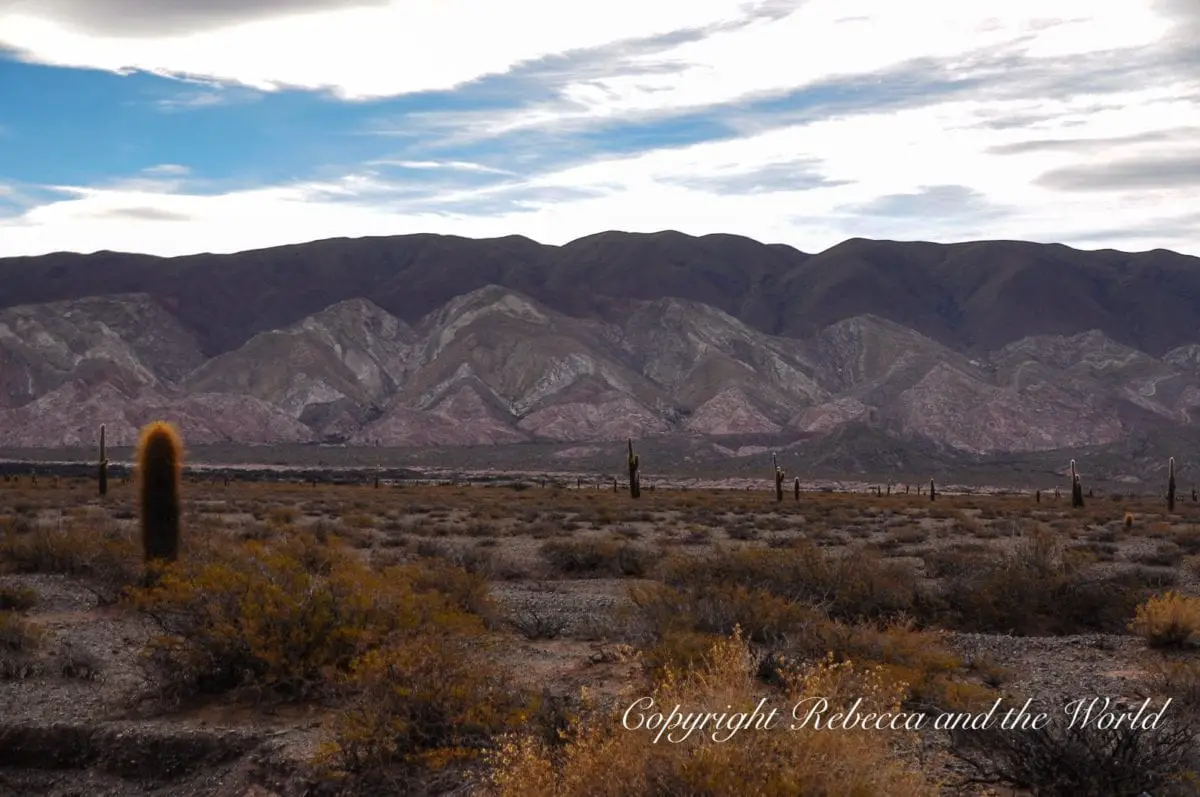 When to visit north Argentina
We travelled to north Argentina in early September and it was perfect. It wasn't super hot during the day, but also not too cold at night (do I sound like Goldilocks?). We did wake up to frost some mornings. We needed jackets but they were often peeled off during the daytime. The great thing about the timing of our trip was that it was low season, so it wasn't very busy and the other tourists we saw were mostly Argentines.
Most people recommend April to November as the ideal time to visit north Argentina. Summer (December to February) can be too hot for most visitors.
No matter the time of year, do keep an eye on the weather, especially if rain is forecast. Heavy rains can cause roads to become impassable and it's not uncommon for roads to wash away.
How to get to north Argentina
To do this trip, fly into Salta or Jujuy. We flew into Salta and did a sort-of figure eight loop beginning and ending there.
You could also mix up this itinerary to avoid looping back and fly into Salta and out of Jujuy; simply alter the order of the itinerary.
Aerolíneas Argentinas flies daily to Salta and Jujuy, as does low-cost carrier FlyBondi.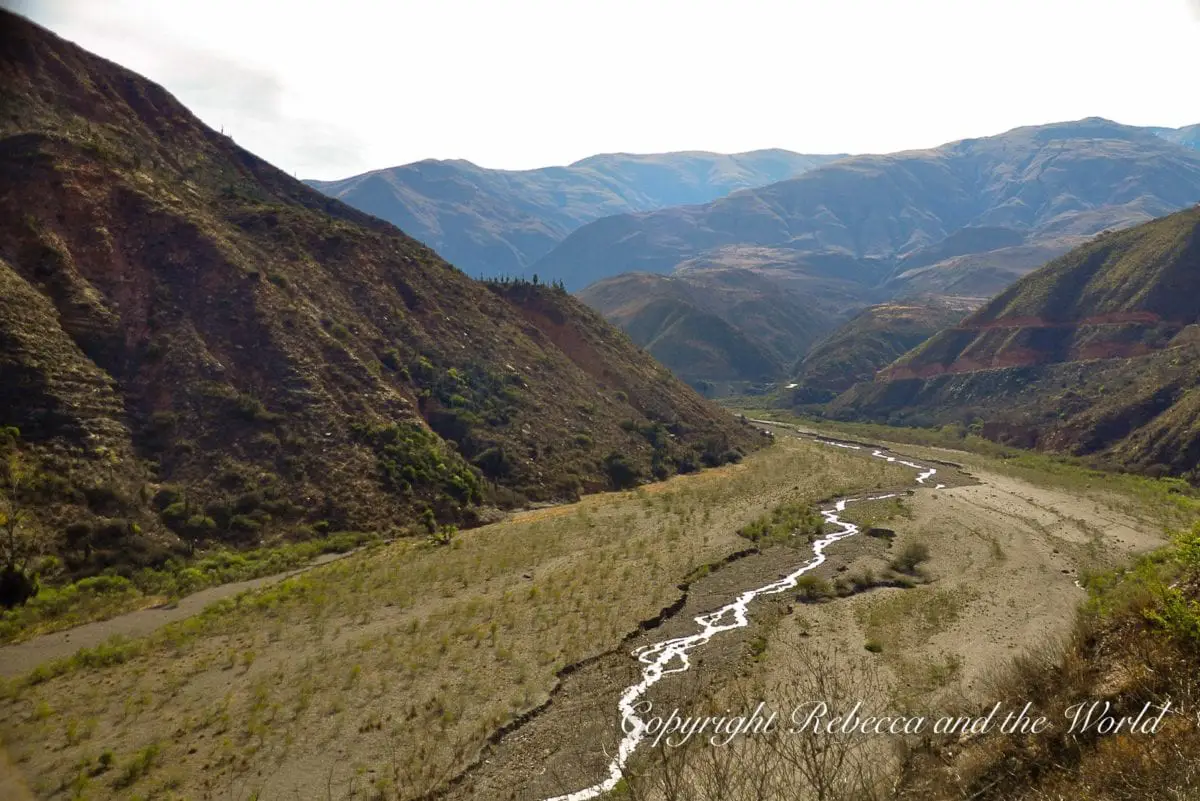 How to get around northern Argentina
The best way to experience north Argentina is to hire a car and drive it yourself. This gives you time to experience the north, stop in small towns that pique your interest, and relax as you drive around this beautiful area. It means you'll have the smaller towns without the crowds in the evenings.
We hired a car through a company that I think has now gone bust, so book online with RentalCars or Discover Cars instead. There are several car rental companies in Salta and you can easily book a car to pick up at the airport. We had a teeny-tiny car that was fine for the four of us but was a little hairy in some parts, so consider a four-wheel drive (nice but not necessary). 
The thought of driving around north Argentina may be a little intimidating, so there are plenty of tours that can take you on multi-day trips or day trips to the highlights that I'll be outlining in this blog post. A few that I've found online that come recommended are:
But, if you can, I highly, highly recommend DIY-ing this one and renting a car for the ultimate Argentina road trip!
Tips for a north Argentina road trip
So now, hopefully I've convinced you that a self-drive road trip is the best way to get around the north of the country. If you do go down this path, here's some Argentina travel advice for a safe trip:
We didn't hire a four-wheel drive, but in hindsight it would have been a far better option, especially on the road to Iruya. So, yes, if Iruya is on your itinerary, I would recommend a four-wheel drive.
Check that your car has a spare tyre. We got a flat on our final day (ugh) and were thankful that we knew there was a spare in the boot (the trunk). Having said that, make sure you actually know how to change a flat tyre! (The funniest part about our flat tyre is that it happened on the smoothest tarmac of our trip, not on the bumpy, rocky roads we'd traversed the days before!)
Fill up with fuel whenever you can. Distances can be long here and you don't want to end up in the middle of nowhere with an empty tank.
It's the law in Argentina to drive with your headlights on when on a highway – even during the daylight hours. If you don't, expect a hefty fine at one of the many police checkpoints along the way. 
While most of the towns along the way do have ATMs, bring cash. Cards aren't accepted in all restaurants and you will need cash to purchase souvenirs sold in the marketplaces. Anyway, cash is always king in Argentina.
North Argentina road trip itinerary
Let's get into it! First up, here's a map of the northern Argentina itinerary so you can visualise the suggested route that follows.
Map of northwest Argentina
Day 1: Salta
Off we go! We're starting the Argentina road trip in Salta. They call this city Salta la Linda, and it's easy to see why, with its beautiful buildings and peaceful plazas.
Make sure to visit the Museo de Arqueología de Alta Montaña. One of the top things to do in northern Argentina, here you'll see the mummified bodies of the sacrificed Incan children discovered in 1999 on the top of Llullaillaco mountain. Only one of the three children is displayed at a time, mesmerisingly frozen in time. It's incredible to see the details in their faces still so well preserved after hundreds of years.
You can easily pass a day wandering the streets, people-watching in Plaza 9 de Julio and admiring the city's colourful churches. Join a walking tour to see the best of the city.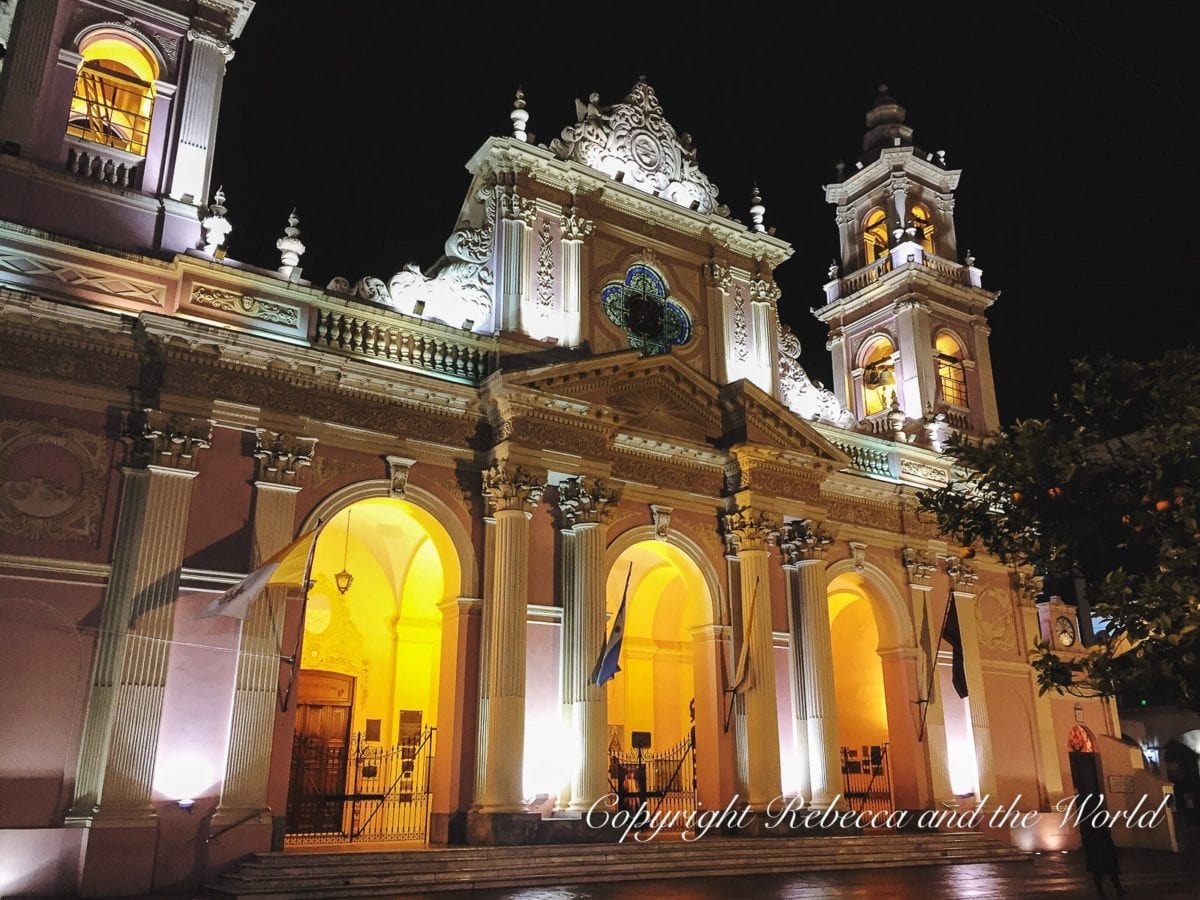 Where to stay in Salta
On our first night in Salta, we stayed in Design Suites Salta, a modern hotel with spacious bedrooms. It's located within walking distance of the main area of the city. | Book your stay at Design Suites Salta today on Booking.com or HotelsCombined
Another hotel that gets great reviews is Legado Mitico, a boutique hotel in the heart of the city. It's a contemporary hotel with a old-world style and charm. | Check rates now on Booking.com or HotelsCombined
Where to eat in Salta
We ate steaks the size of our heads at El Charrúa (Caseros 221) – photo evidence below. Also try Doña Salta (Córdoba 46) for empanadas and José Balcarce (Necochea 590) for traditional regional dishes.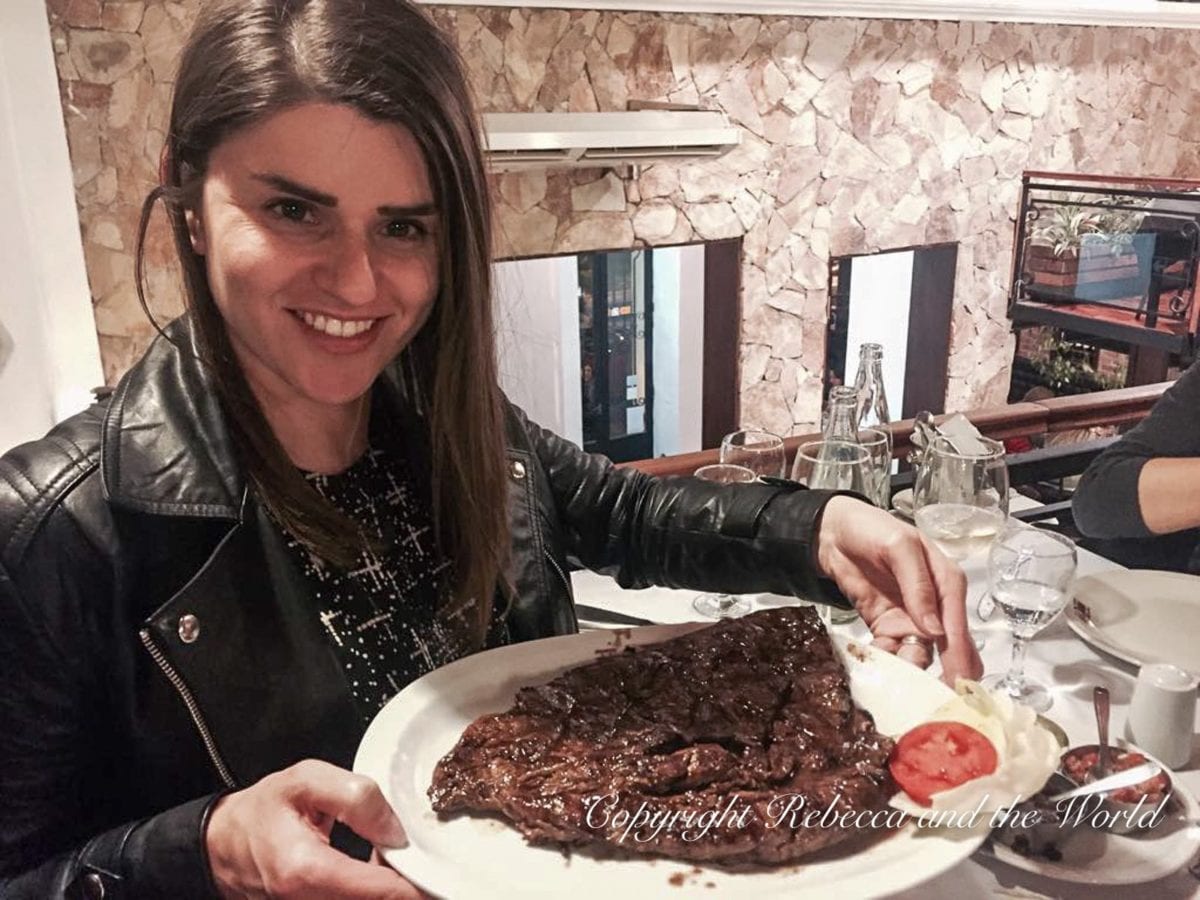 Day 2: Iruya
Pick up your hire car in the morning and begin the 320-kilometre journey to Iruya, a tiny, cloud-shrouded town perched on the side of a mountain.
This town is waaaayyyyy north Argentina. It's one of the more remote places to visit in Argentina, but worth it! The last 50 kilometres of the trip is on a bone-jarring dirt road that winds through, over and around mountains (so this is where a four-wheel drive would come in handy).
The journey will take you to 4,000 metres above sea level at the crossing between the Salta and Jujuy provinces, and comprises an array of stunning landscapes, from dusty flat towns to mountains rippled with layers of brown, red, green, purple and slate-grey earth.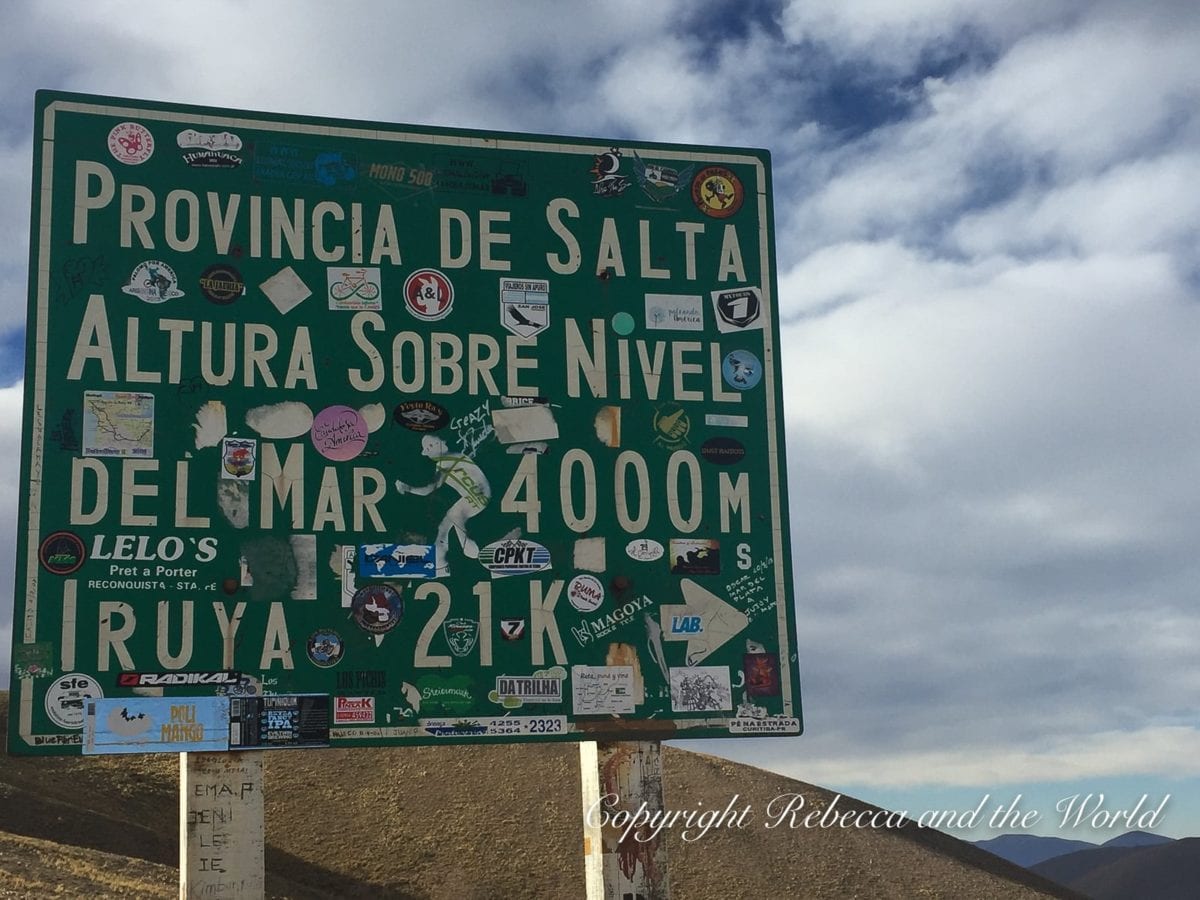 In town, you can wander the cobblestoned streets or spend a few extra days to go hiking in the area. We stayed here only one night, but if you have the time, I'd recommend staying here for at least two nights, as the drive here is difficult.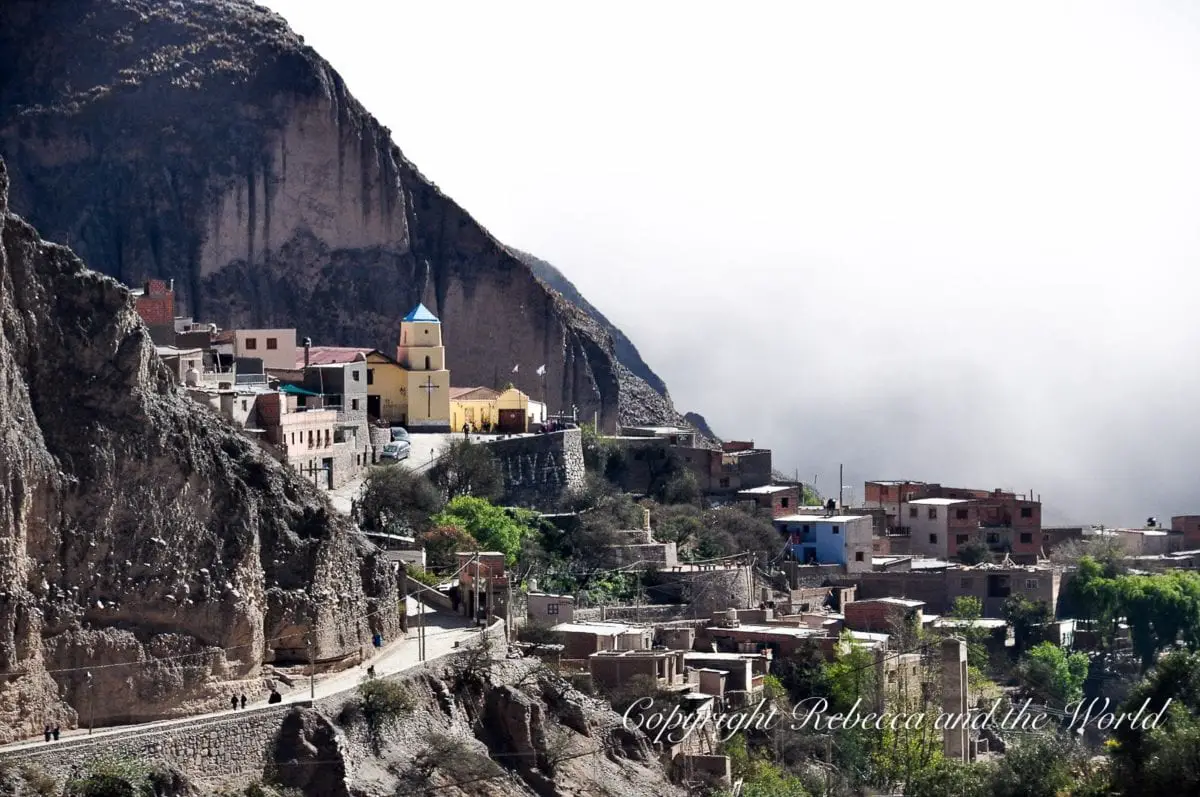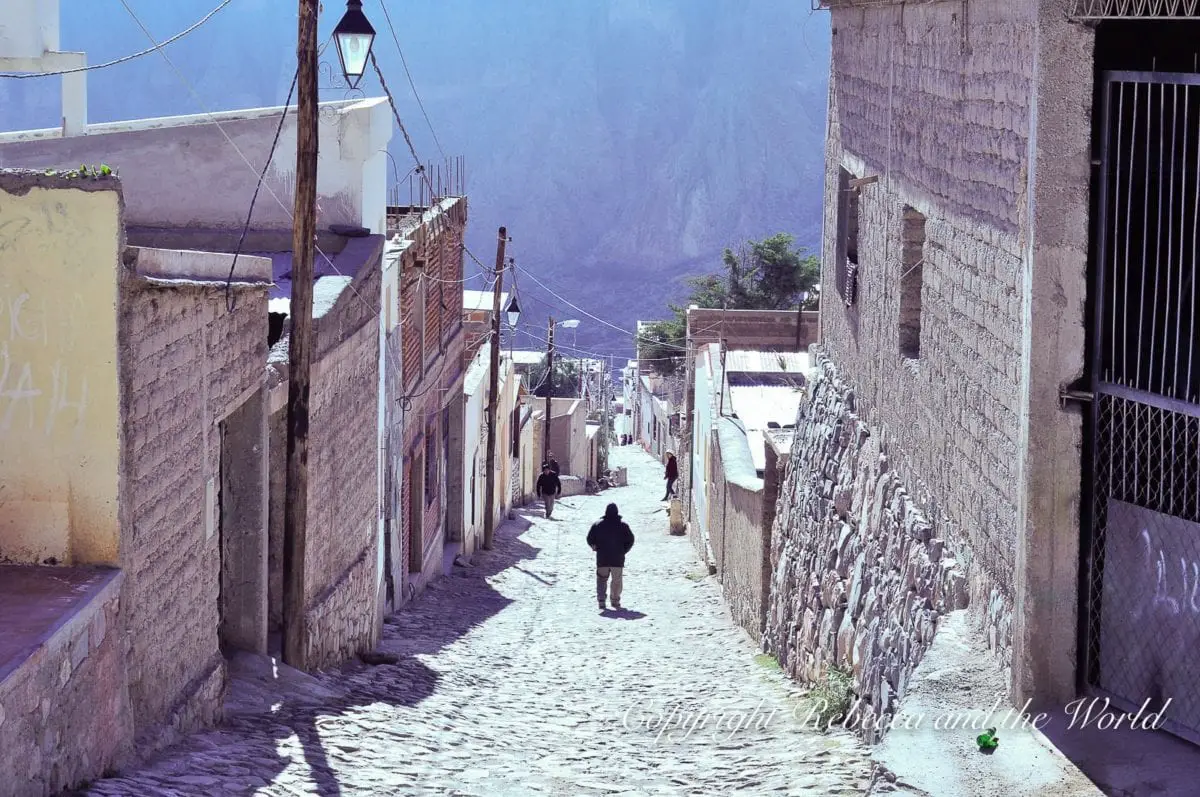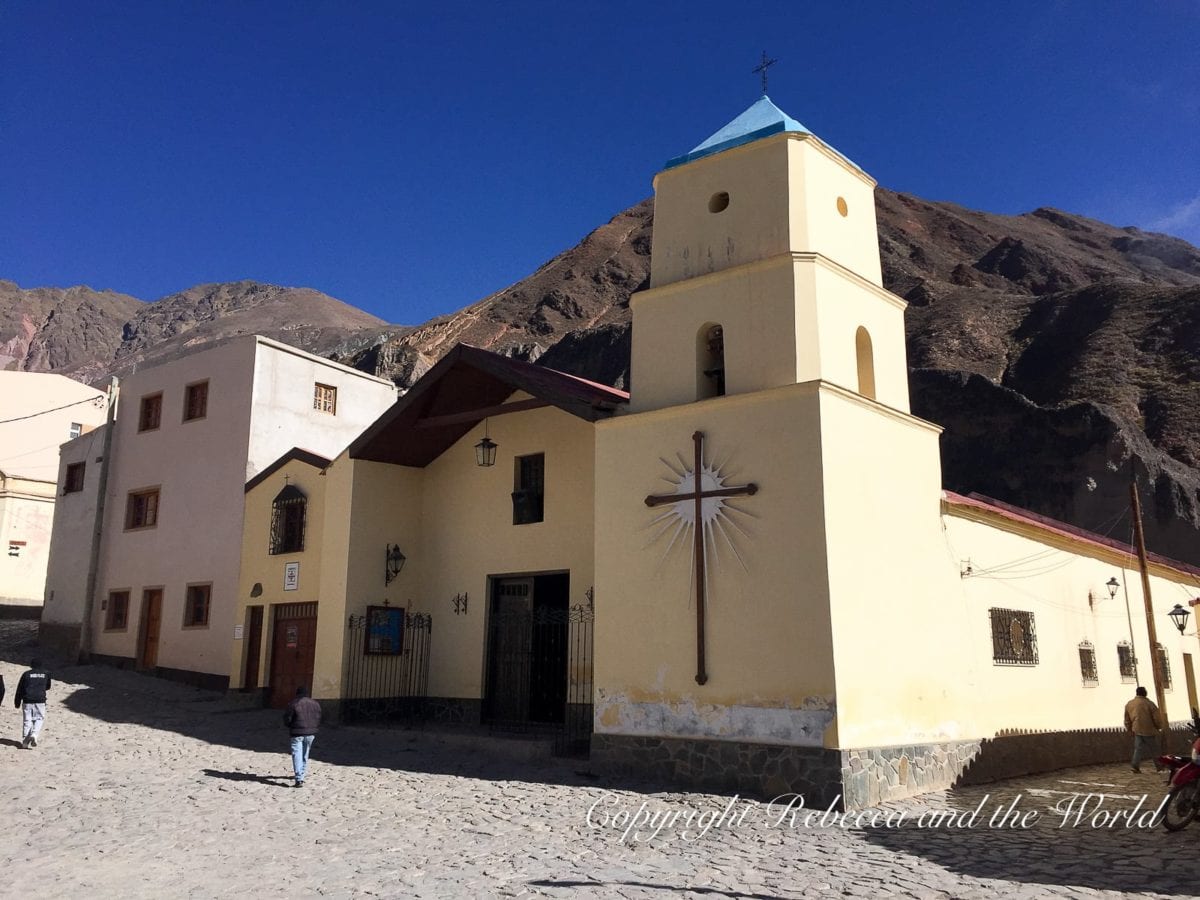 If you haven't already chowed down on them in Salta, you can try your first empanadas salteñas, crispy pastries filled with meat and vegetables. The empanadas in this region are different to those you'll find elsewhere in Argentina. My top tip: always ask for them fried (rather than baked). Not as healthy, of course, but so tasty. There's a small shop in the square opposite the church that sells stellar empanadas (unfortunately, I never wrote down the name of the shop!).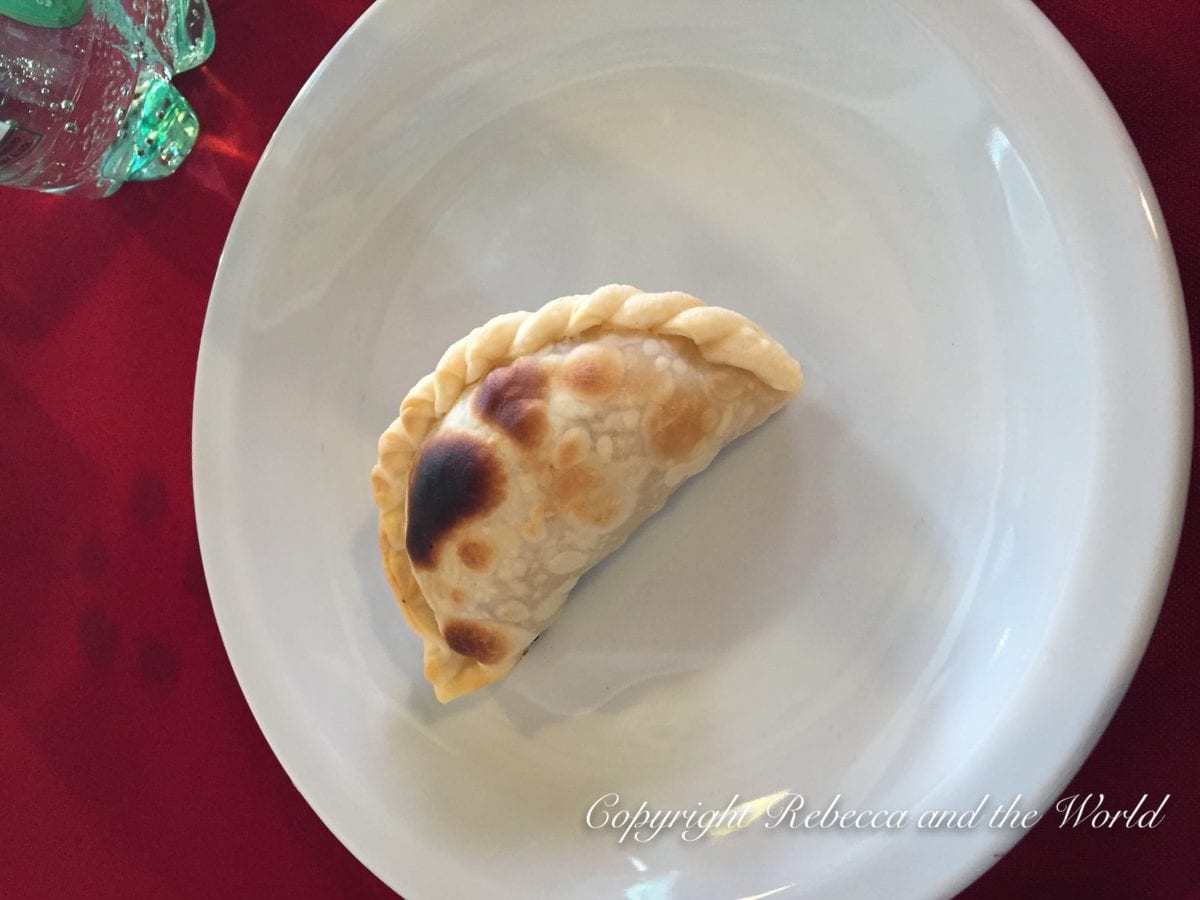 Note that this part of the trip is completely optional, because it is a tough drive. You could skip Iruya and spend an extra day in Humahuaca, Tilcara or Purmamarca instead.
Where to stay and eat in Iruya
Hotel Iruya is perched at the top of the hill (San Martín 641). The restaurant serves surprisingly good food. | Check the latest prices and book your stay at Hotel Iruya online with Booking.com
Days 3 and 4: Humahuaca, Tilcara and Purmamarca
Get back in your car and return the same way you came, stopping along the way to have lunch in the photogenic town of Humahuaca. The restaurant Pachamanka (Buenos Aires 457) serves great tamales and traditional dishes.
You can pick up handcrafted goods here including blankets and rugs, pottery, clothing and ornaments. There's certainly no lack of options for authentic souvenirs in north Argentina.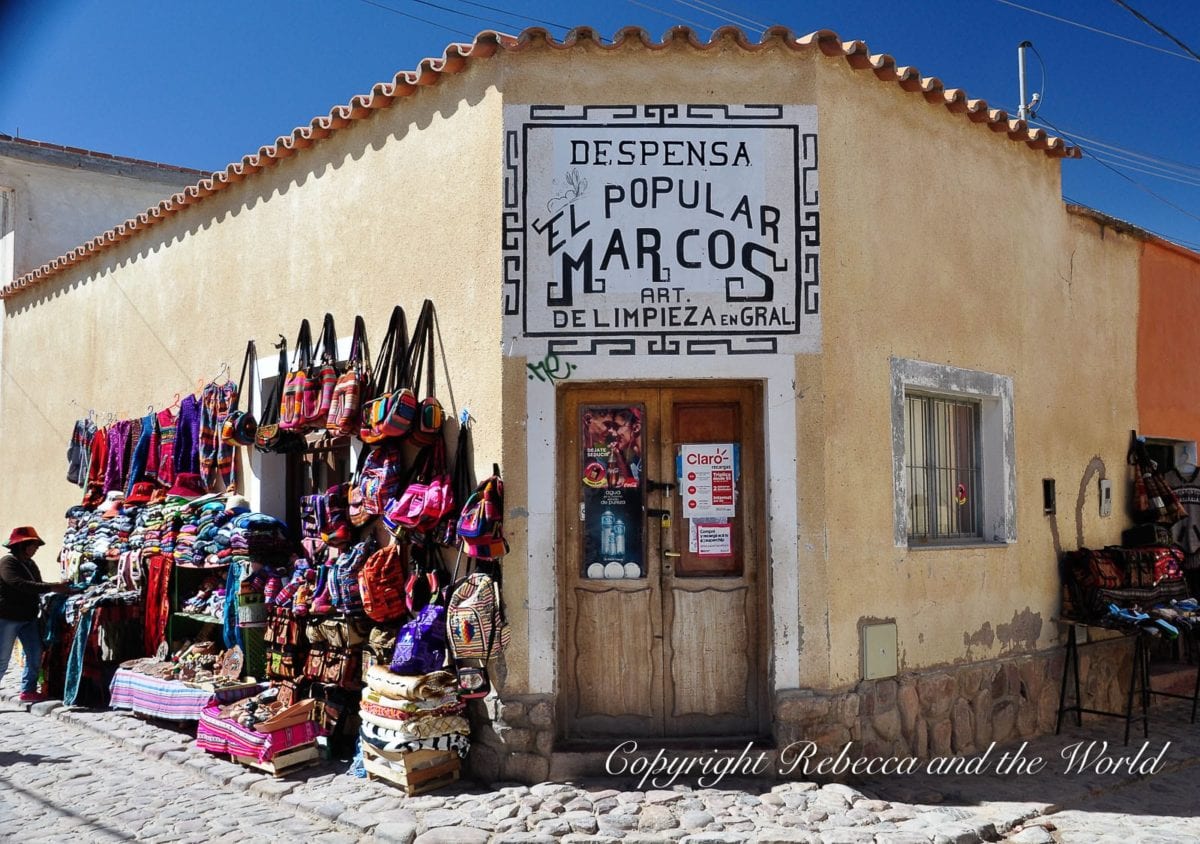 Continue south to Tilcara where you can visit the Pucará ruins, a pre-Inca fortification. This site was strategically chosen, as it offered views across the valley and plenty of chances to see any enemies approaching. Wander through the cactus-filled ruins, but be aware that it can be windy at times. Given how prices change so quickly in Argentina, I'm not sure how much it costs to visit the site, but the entrance fee was ARS$100 when we visited in 2016.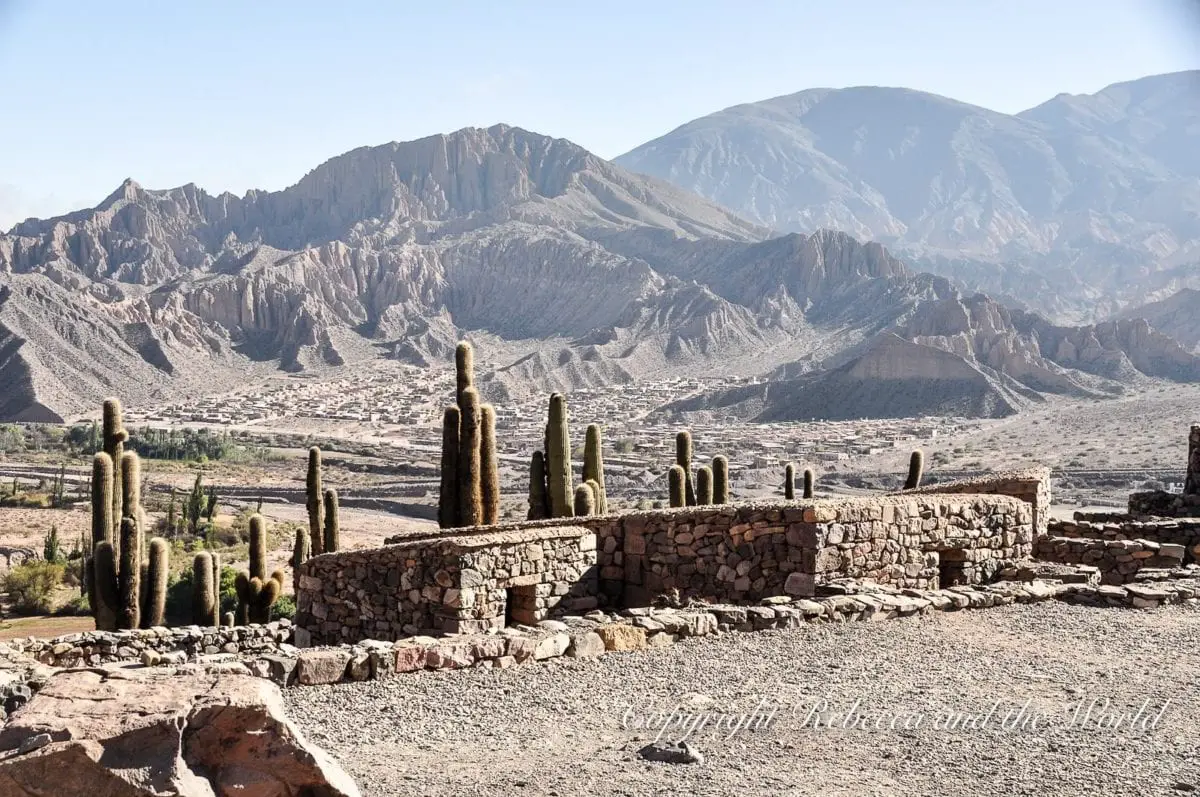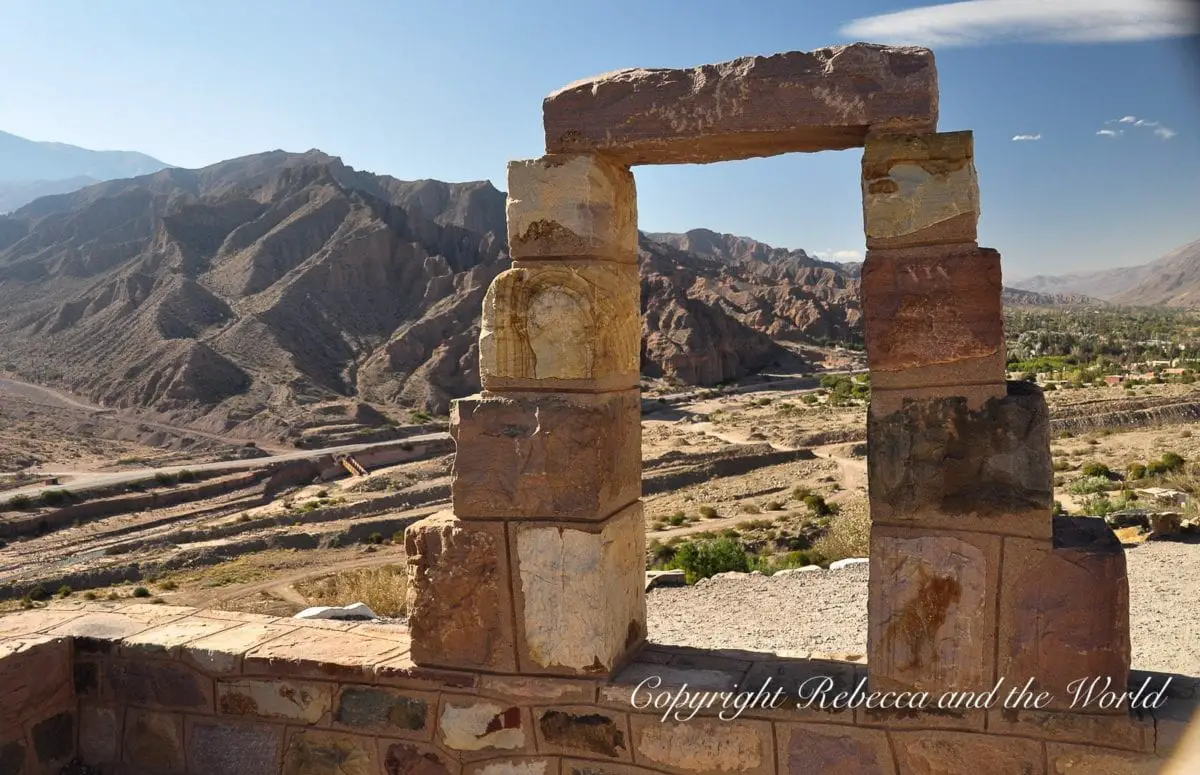 You can stay the night in Humahuaca or Tilcara, but we chose to base ourselves in Purmamarca.
Looming over this tiny town is the stunning Cerro de los Siete Colores (Hill of Seven Colours), one of the best places to see in Argentina. Staying here will allow you to visit the various viewpoints before and after the busloads of tourists that pour in for their photo opps of this Argentina tourist attraction have left.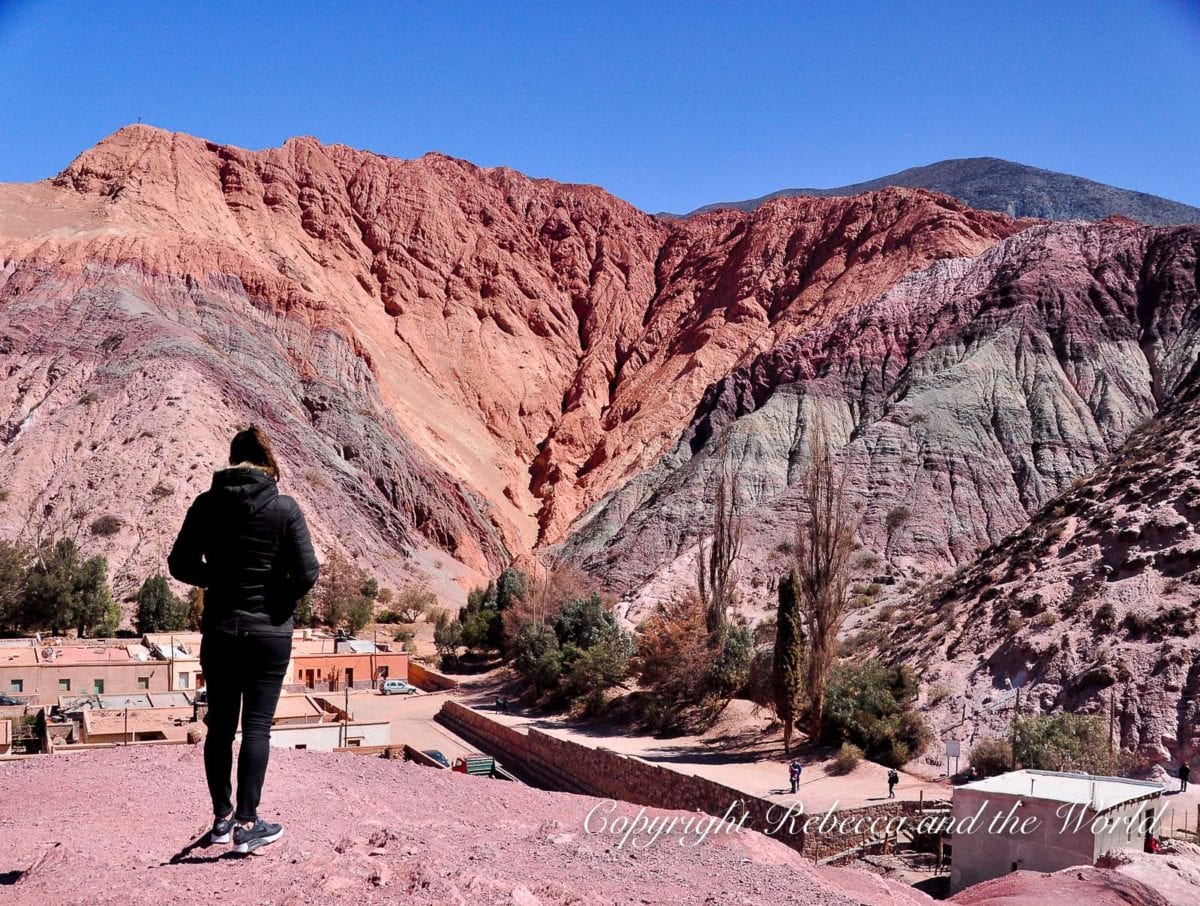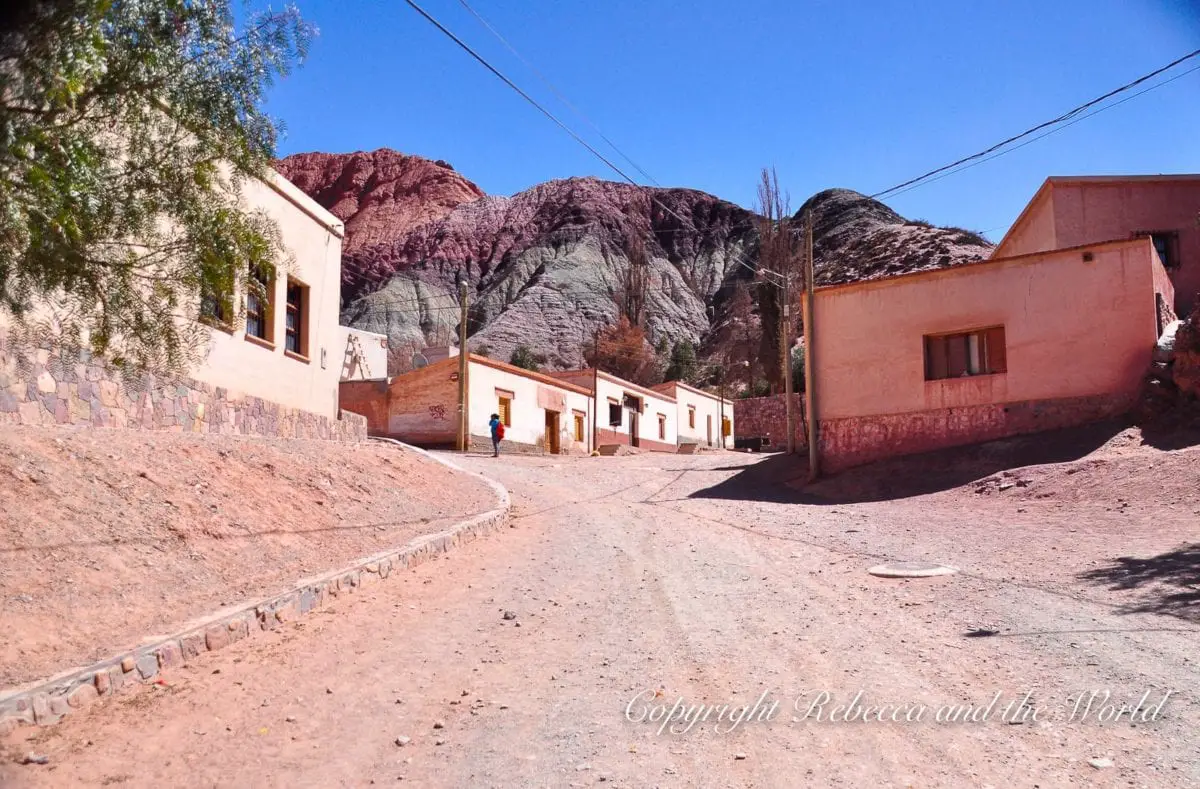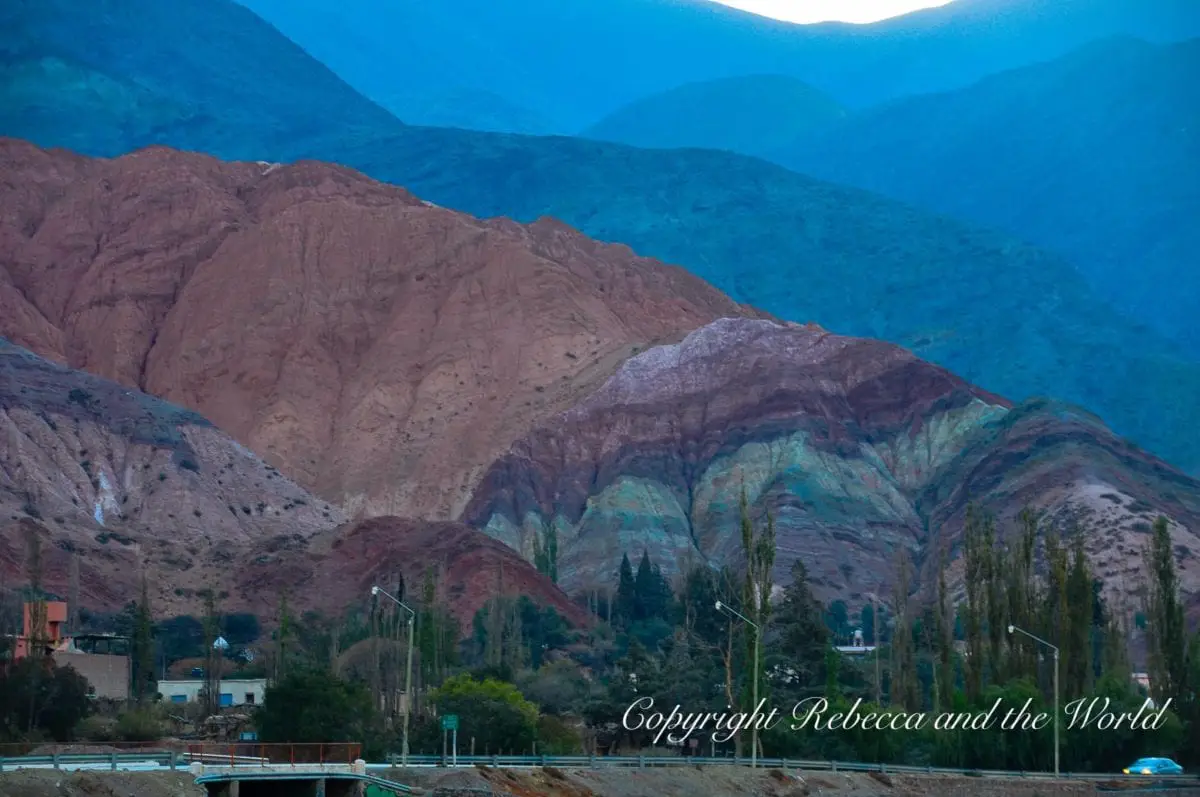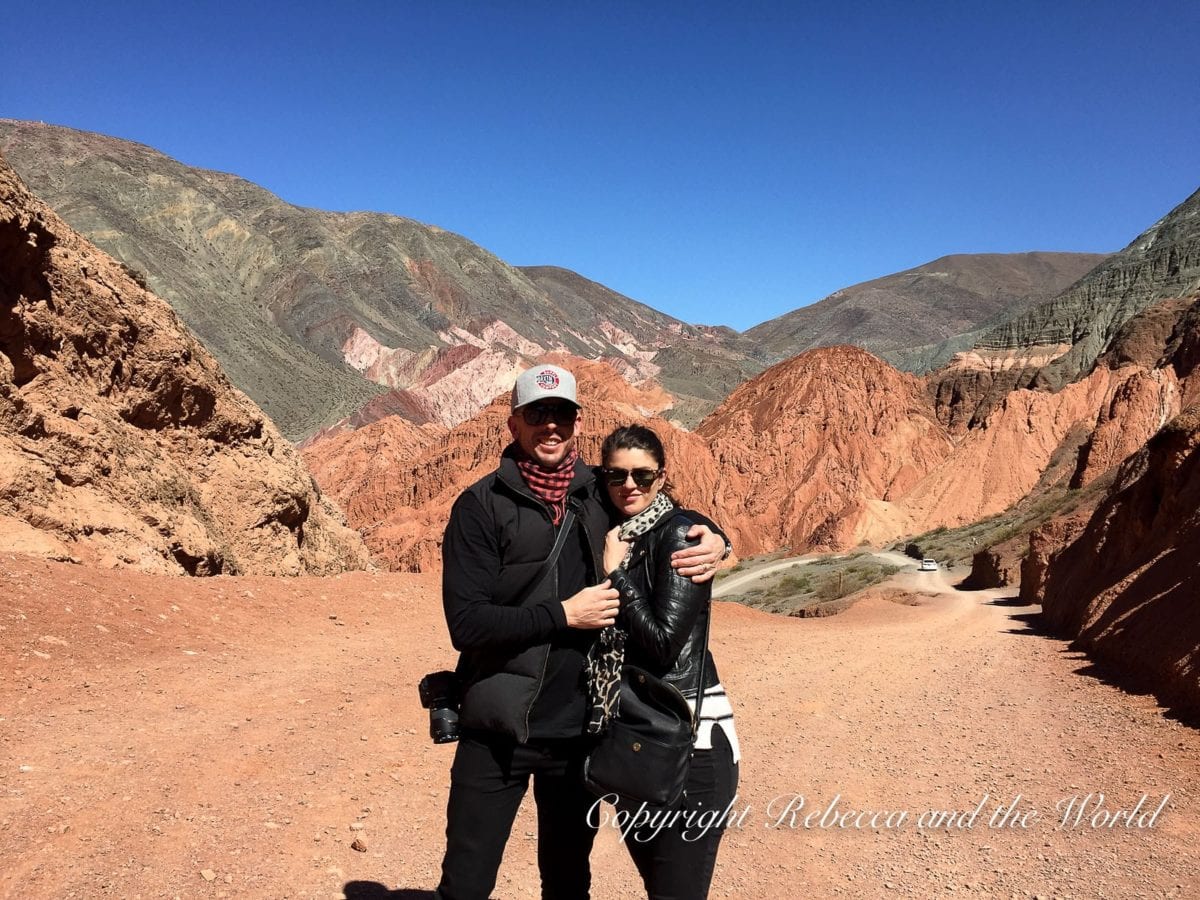 On day four, take a day trip along the winding road to the Salinas Grandes. This is the second largest salt pan in the world. This is one of those Argentina destinations that few people know exist. Guides will take you out to the flats (for a reasonable price, negotiate first). One of the most fun things to do in Argentina is practice your forced perspective photos in the Salinas Grandes (or fail to do so, as we did!).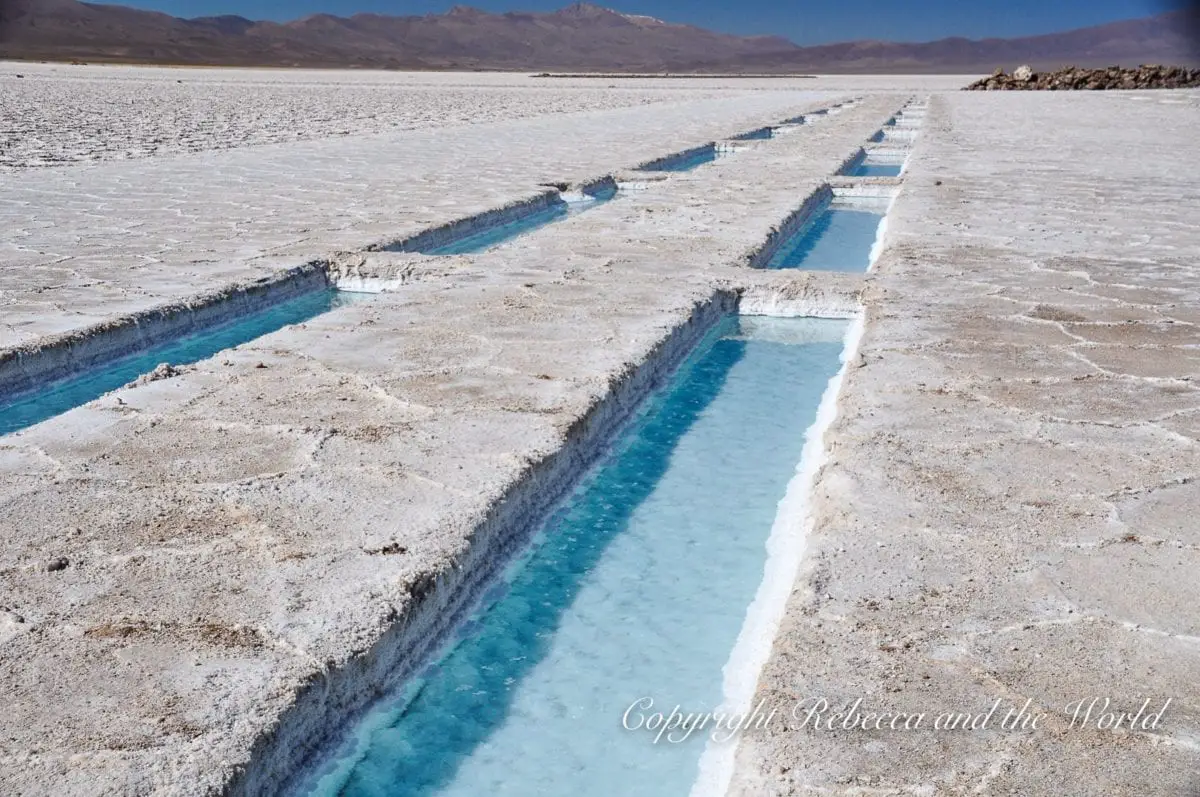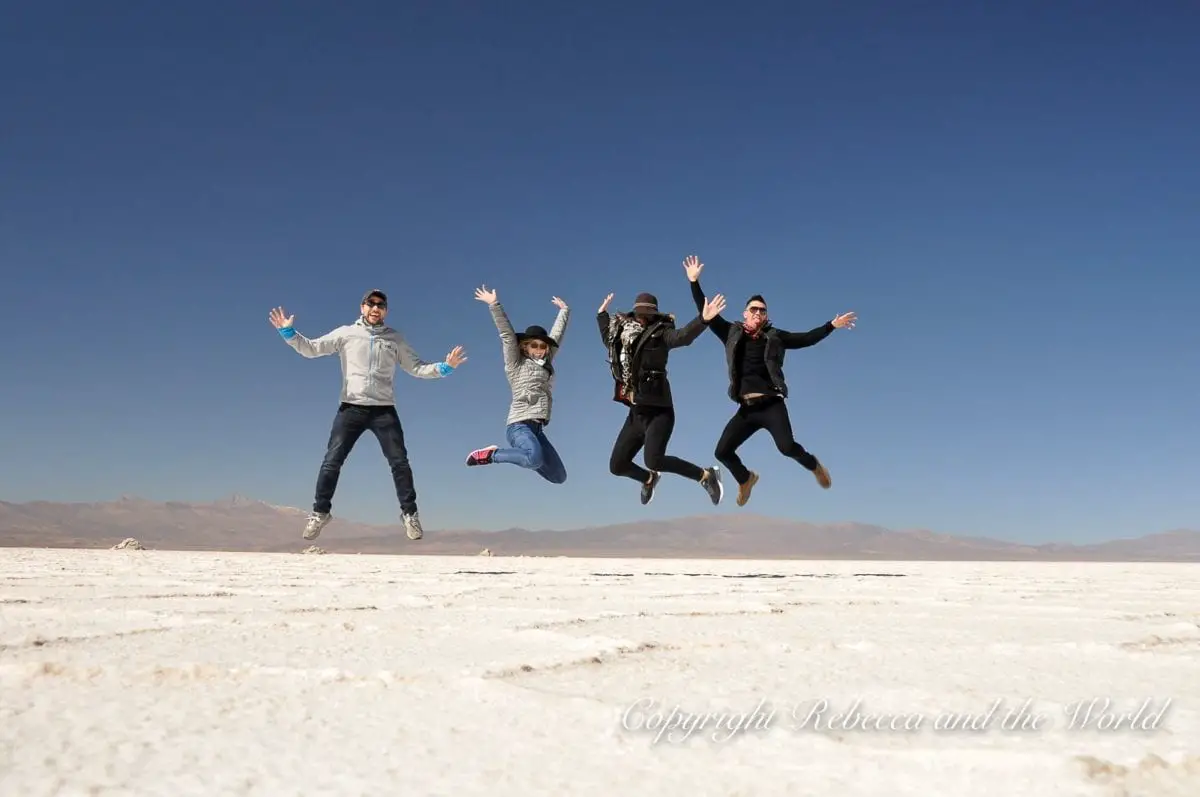 Back in Purmamarca, do the easy hike around the Cerro de los Siete Colores to see its layered colours from all angles.
Where to stay and eat in Purmamarca
El Manantial del Silencio (Ruta Nacional 52, Km 3.5) is built to look like an old estancia. We stayed here and thoroughly enjoyed it. It has a good restaurant serving local fish and meat. | Book online with Booking.com to get the best prices
If you prefer to stay in Humahuaca, find the best hotel with Booking.com. Alternatively, Tilcara has some good accommodation options on HotelsCombined or Booking.com
Days 5 and 6: Cachi
Get back on the road for more stunning north Argentina scenery, passing back through Salta.
Cachi is a charming village where you can take a few days to relax and wander the streets. It's one of the best places to visit in Argentina to chill out. But if you're after something more adventurous, local companies offer hiking and biking trips; ask around.
Head out to Miraluna (7 kilometres from Cachi in the small village of La Aguada) for a tour of the bodega. It's one of the highest wineries in the world. Take a bottle (or two) of their great Malbec back to your hotel to enjoy with a picada plate (Argentina's version of charcuterie).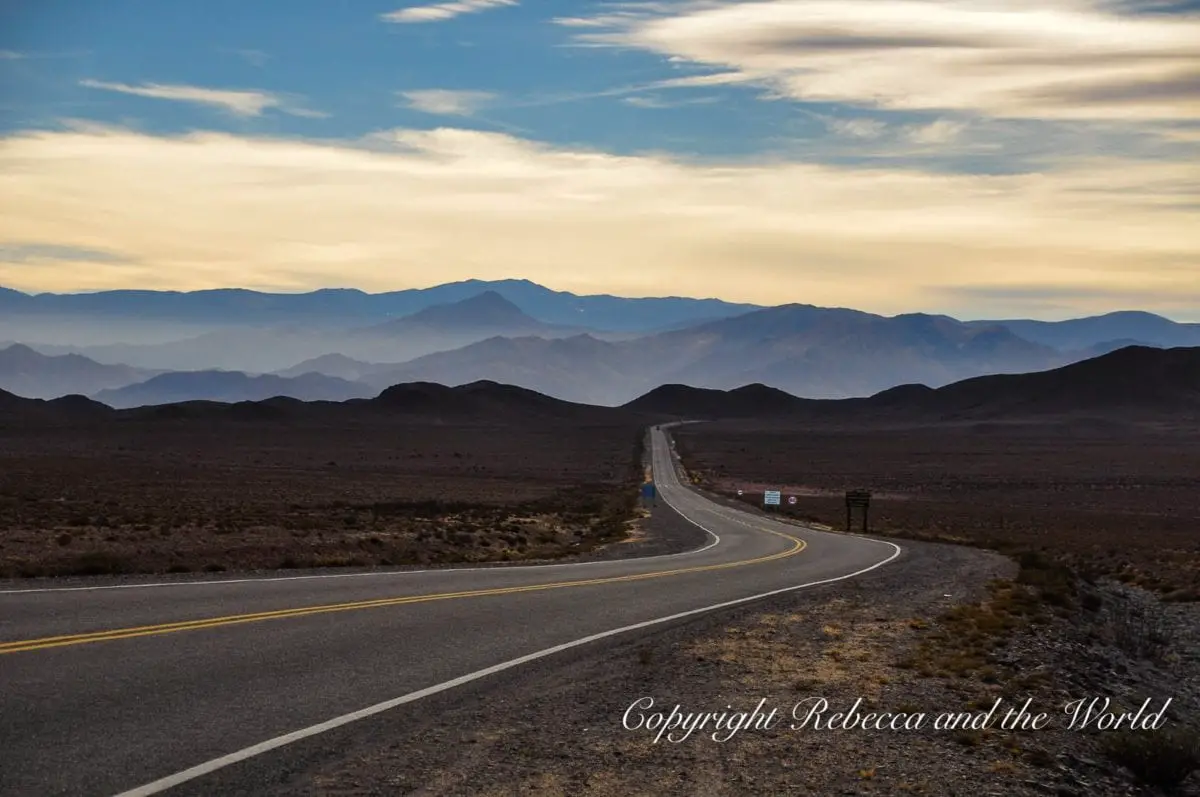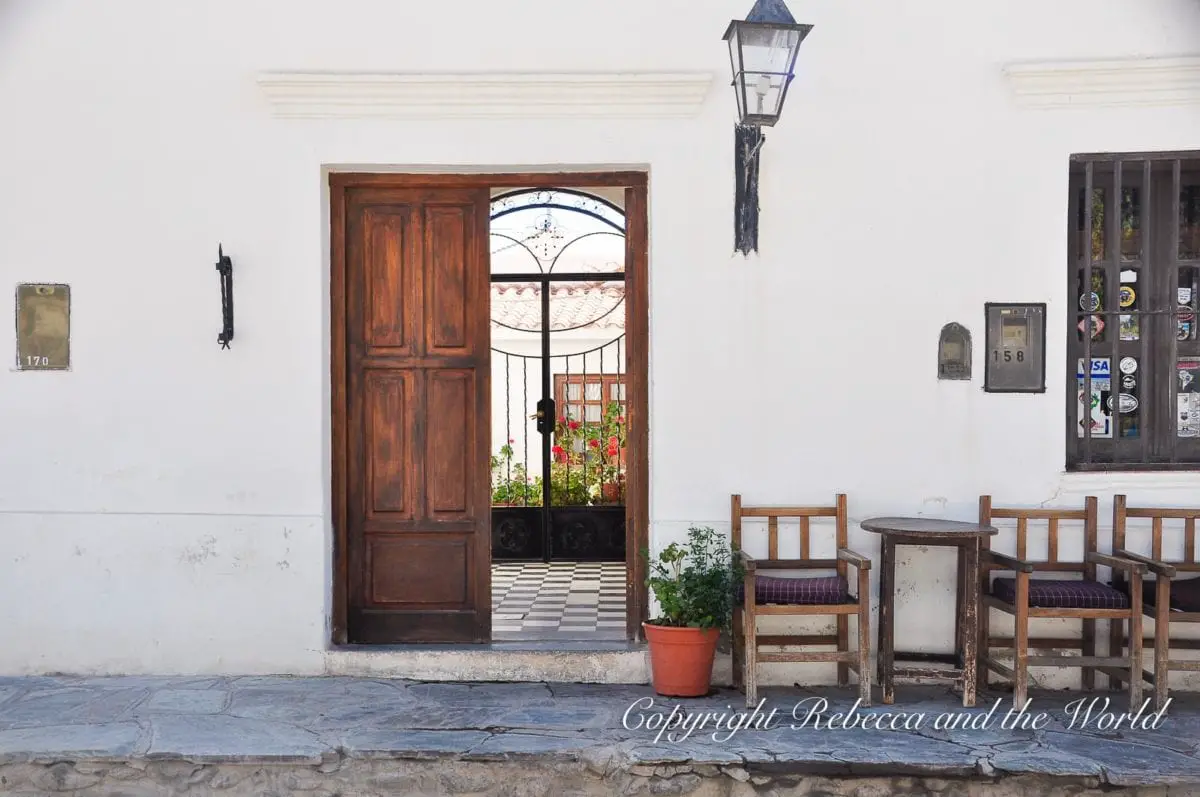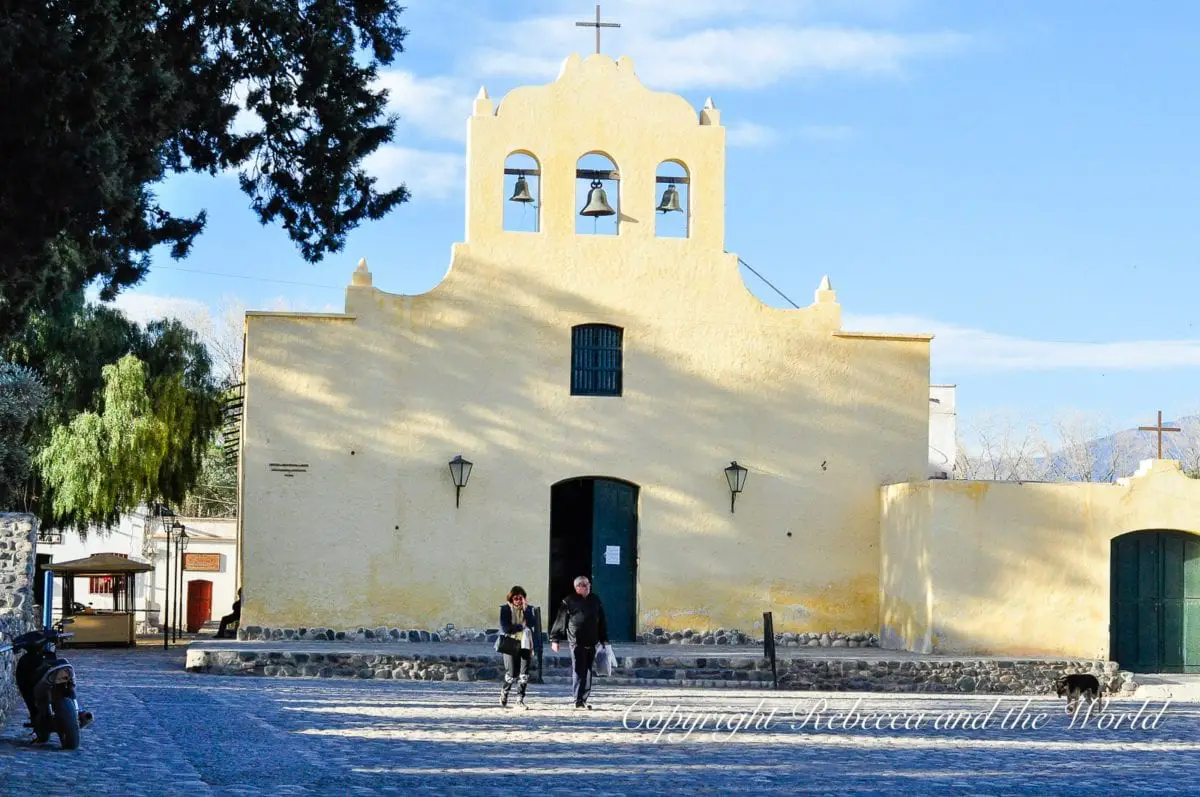 Where to stay in Cachi
La Merced del Alto (Fuerte Alto 4417) is a white-washed adobe building with ceramic-tiled floors. The service is detailed and attentive. | Book your stay at La Merced del Alto online with Booking.com or HotelsCombined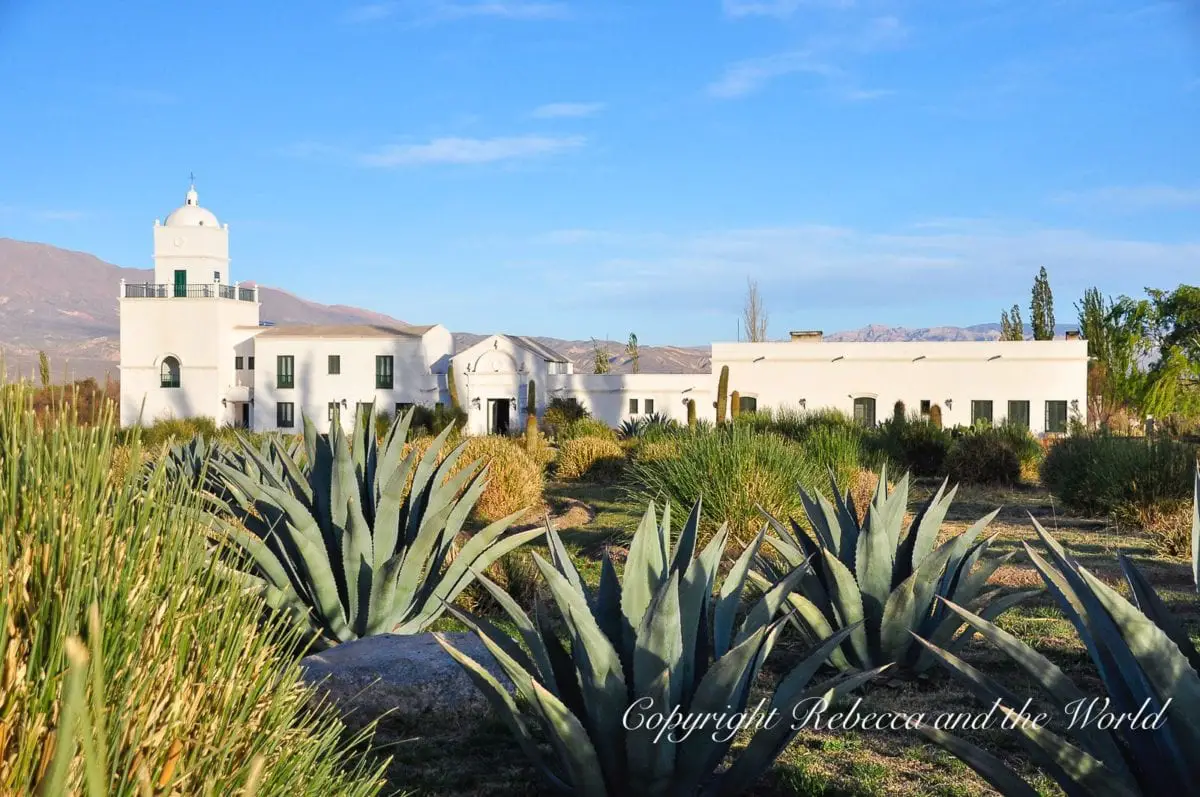 Where to eat in Cachi
El Antigal for cheap and delicious food. There's no written menu, so the staff will simply verbally reel off a list of what they have available that day.
Days 7 and 8: Cafayate
More driving ahead of you. Stop by Colomé (18 kilometres west of the town of Molinos) for lunch and a tour of the mind-blowing James Turrell Museum. The museum displays Turrell's works of light and perception. I'm completely unable to describe it in words so you need to see it for yourself!
Follow up lunch with a tasting of their famous wines. Advance bookings are essential. The road to Colomé is rutted and bumpy so carefully pack any bottles of wine you've bought as you leave!
After lunch, continue on to Cafayate. The journey will take you through the Quebrada de las Flechas, a lunar-like place with leaning limestone structures that resemble quivers of arrows.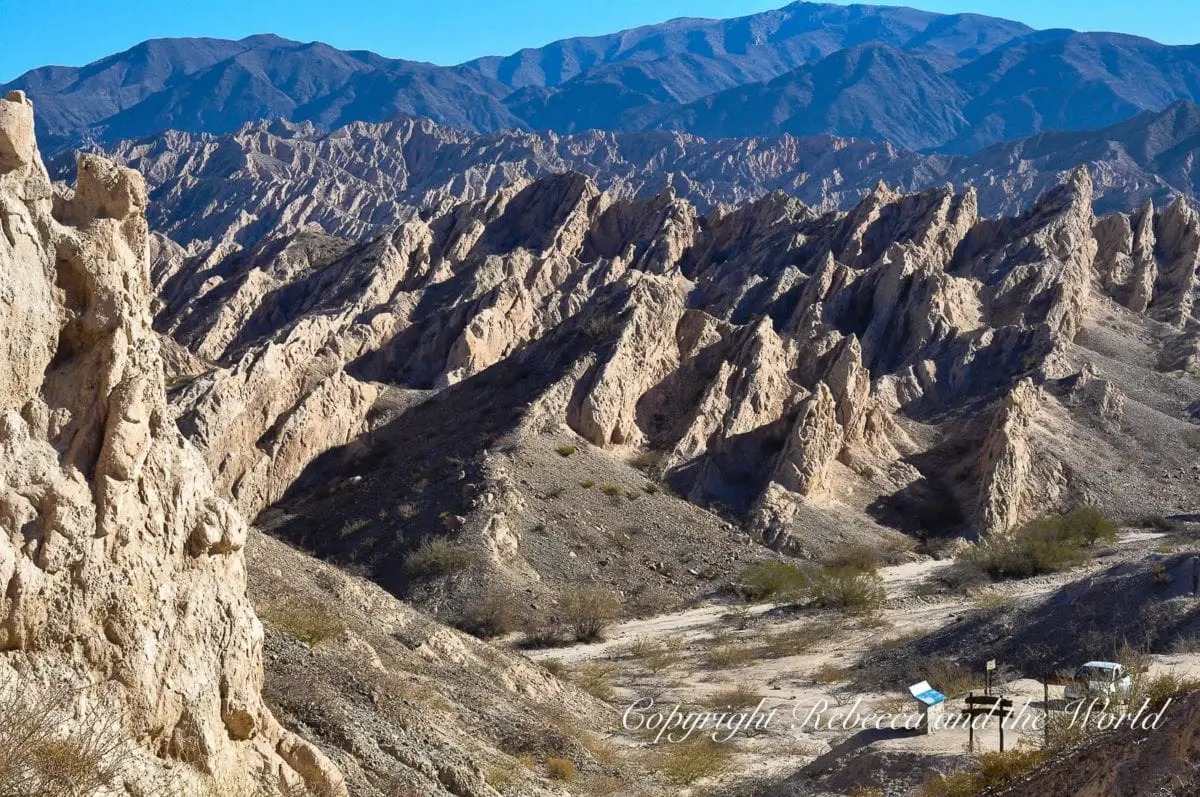 In Cafayate, hit as many wineries as you can possibly handle in two days. Start with San Pedro de Yacochuya (Ruta Provincial No 2, Km 6), Piattelli (Ruta Provincial No 2, Km 3) and El Porvenir (Córdoba 32). I've written a guide to the best wineries in Cafayate, so check it out and plan your visit to Cafayate accordingly.
Try the Malbec and Torrontes-flavoured ice creams at one of the many stores around Plaza San Martín and pick up a box of alfajores at one of the stores nearby. Finish the day off at Chato's Wine Bar (Nuestra Señora del Rosario 132) with a degustation of (more) wines and a picada plate.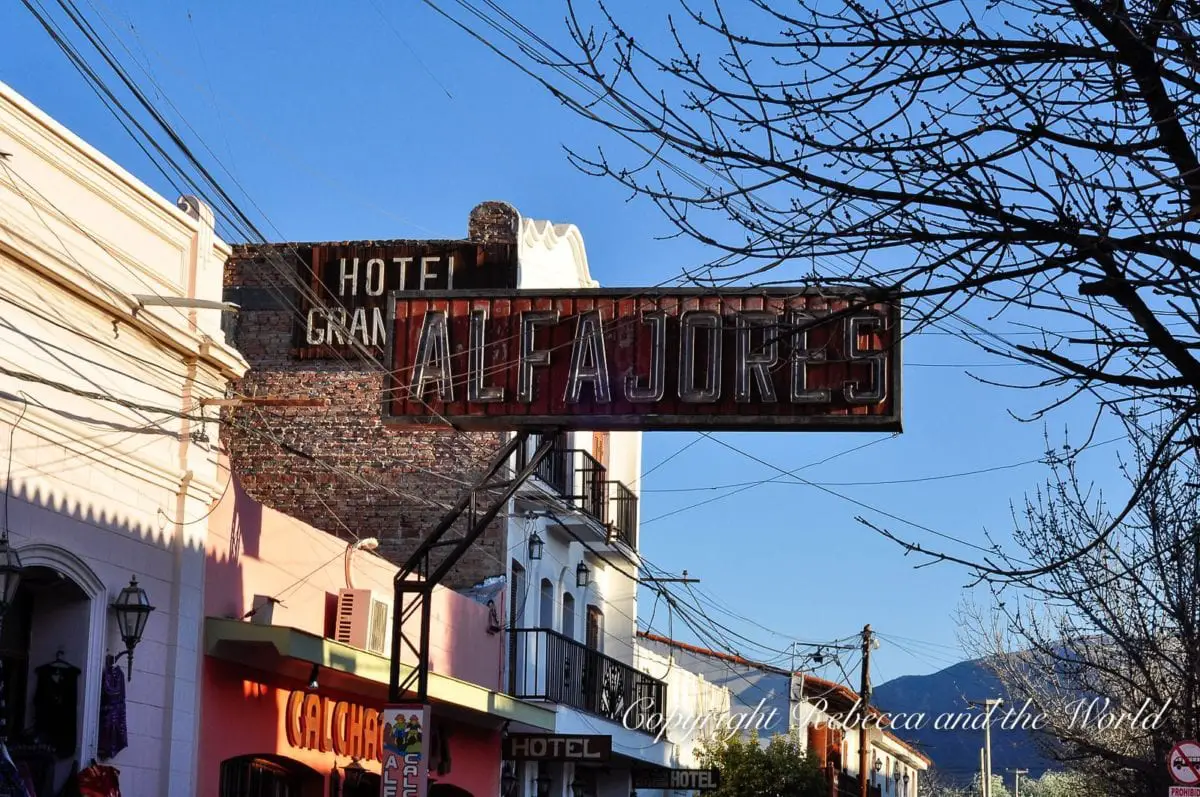 Where to stay in Cafayate
Splash out for a room at Grace Cafayate (Ruta Nacional 40, Km 4340). It's located in a winery and has comfortable rooms. Ours had a huge bathtub. | Book your stay at Grace Cafayate online with Booking.com or HotelsCombined to get the best rates
Where to eat in Cafayate
Grab a table at Pacha Cocina de Autor (Avenida General Güemes Sur 143). Casa de las Empanadas (Mitre 24) serves cheap and delicious empanadas.
Want tips on how to plan a trip like this north Argentina road trip? Check out my 15 easy steps on how to plan a trip from start to finish!
Day 9: Back to Salta
Heading back to Salta, you'll pass through the astonishing Quebrada de Cafayate. It's one of Argentina's most amazing drives. You'll see colours of all tones in the rock formations that have been carved out by the Río de las Conchas.
Along the way, stop at El Anfitreatro. Here, you'll most likely come across a musician using the natural amphitheatre to entertain visitors. Garganta del Diablo (Devil's Throat) is a huge cavern a little further along.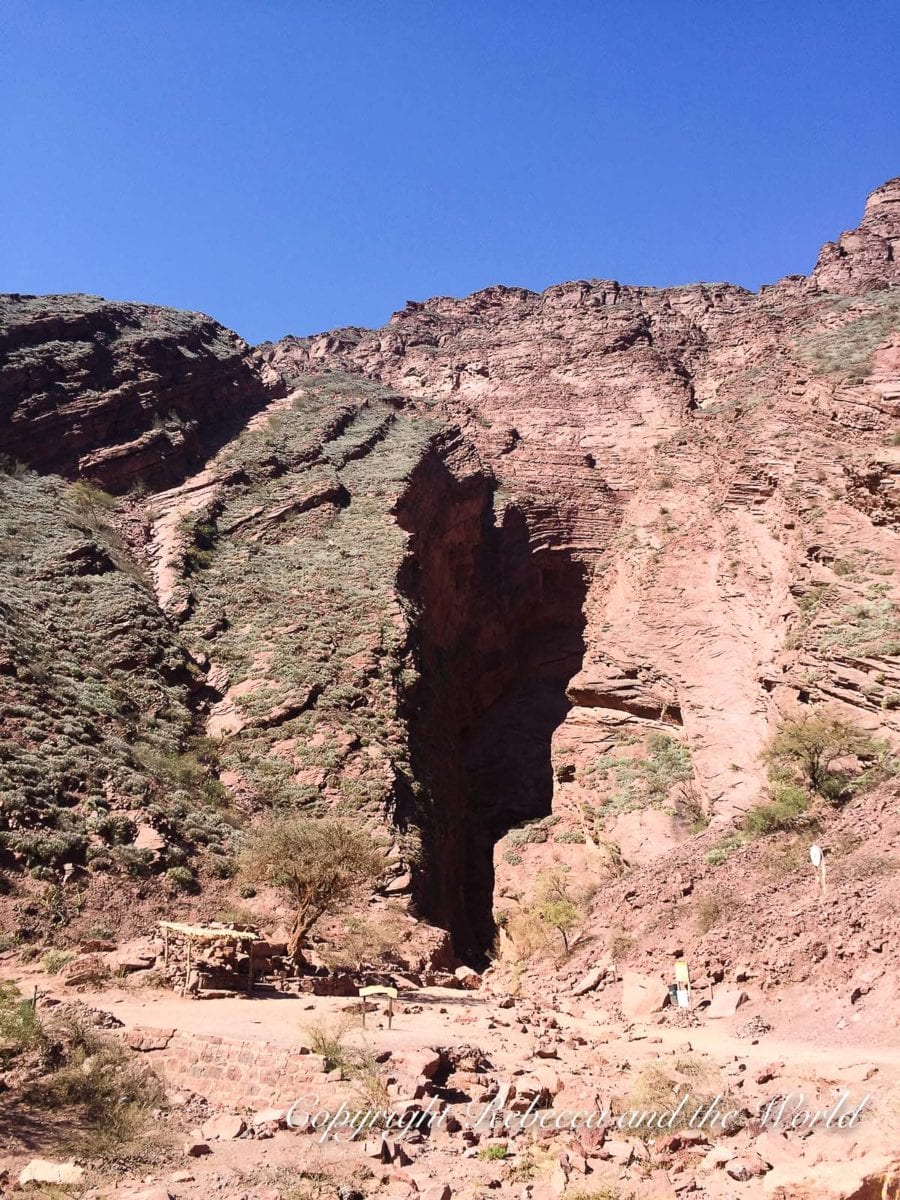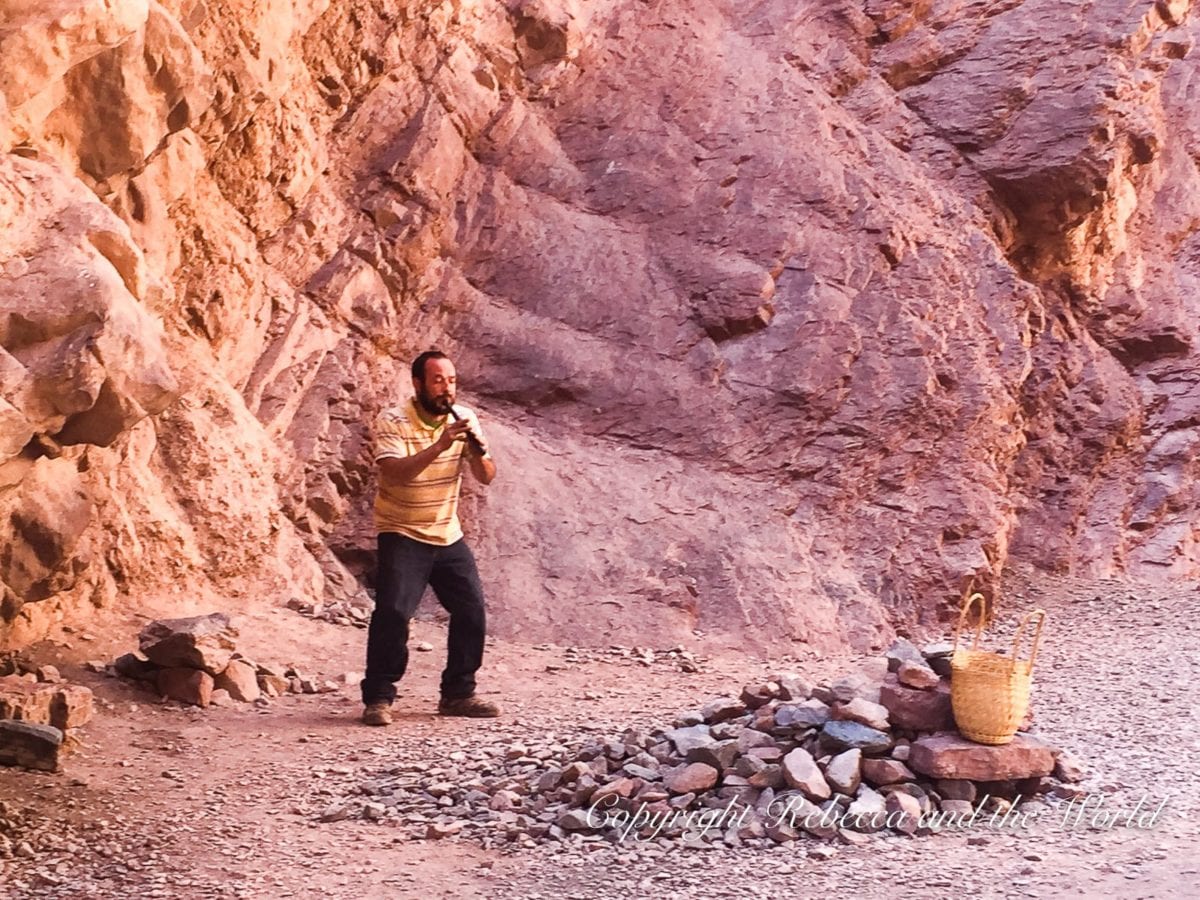 End your north Argentina road trip back in Salta. You can either fly out that same day or stay another night to prolong your time in Argentina.
Either way, I can guarantee this region will have captured your heart and you'll leave Argentina wanting to come back!
You might also like these Argentina articles:
Have you been on a road trip through north Argentina? What was your favourite part? Leave your tips, advice and thoughts in the comments below.
ARGENTINA TRIP ESSENTIALS
PIN IT FOR LATER:
Liked this North Argentina road trip itinerary? Save it to Pinterest for later!