Considering a honeymoon in Argentina? Here are my top recommendations for honeymoon destinations in this incredible South American country.
Argentina is a place of romance. From seductive tango, to sipping fine wine in a cozy bar, to the passionate nature of Argentines themselves, it's the perfect country for newlyweds to head to for their honeymoon.
In fact, if I could do it all over again, I'd honeymoon in Argentina (although I didn't get a honeymoon there, I did end up living in Argentina for two years!).
But with so many incredible destinations to choose from, where exactly should you go for your honeymoon in Argentina?
Well, it all depends on what you and your partner are looking for. Are you drawn to bustling cities and vibrant nightlife? Or do you prefer secluded beaches and peaceful nature?
Luckily, Argentina has something for everyone. Here are the best places to add to an Argentina honeymoon itinerary. Choose just one or two places on this list or turn it into a longer visit to Argentina. I've even included recommendations for romantic hotels in Argentina that'll make your honeymoon extra special.
Why you should honeymoon in Argentina
Why visit Argentina on your honeymoon? Argentina has long been a favourite destination for couples seeking a mix of adventure, romance and cultural richness.
In Argentina, you can have any type of honeymoon.
Want to live it up in the city? Then take in the sultry tango clubs in the vibrant city of Buenos Aires, known as the "Paris of South America". Dine at world-class restaurants and have cocktails at one of the many chic bars.
Looking for a more adventurous honeymoon? Head to Patagonia to hike and trek through mountains, glaciers and stunning landscapes.
Prefer a relaxing honeymoon? Explore the beautiful wine regions in Mendoza or Salta, where you can sip on delicious wines while also taking in breathtaking scenery.
Want a honeymoon centred on nature? Then Iguazu Falls and Tierra del Fuego National Park should definitely be on your itinerary. These natural wonders will leave you in awe and make for some incredible honeymoon memories.
These romantic honeymoon locations in Argentina tick these boxes.
Fun story: after we got married in October 2014, my husband and I wanted to honeymoon in Argentina. Unfortunately, I didn't have enough annual leave (that's vacation time for you North Americans) and the trip from Papua New Guinea (where we were living at the time) to Argentina was around 30 hours, which would have eaten into the precious few days that I did have left.
Instead of an Argentina honeymoon, we went closer to home, settling on Thailand. After all, you can't go wrong with a beach honeymoon and we had a wonderful time.
It was on that honeymoon, while we were sitting on the beach in Thailand, that I got a call from my boss telling me where my next assignment would be. And wouldn't you know it, I was being sent to Argentina.
So, while we didn't get an Argentina honeymoon, we did end up living there and exploring much of the country.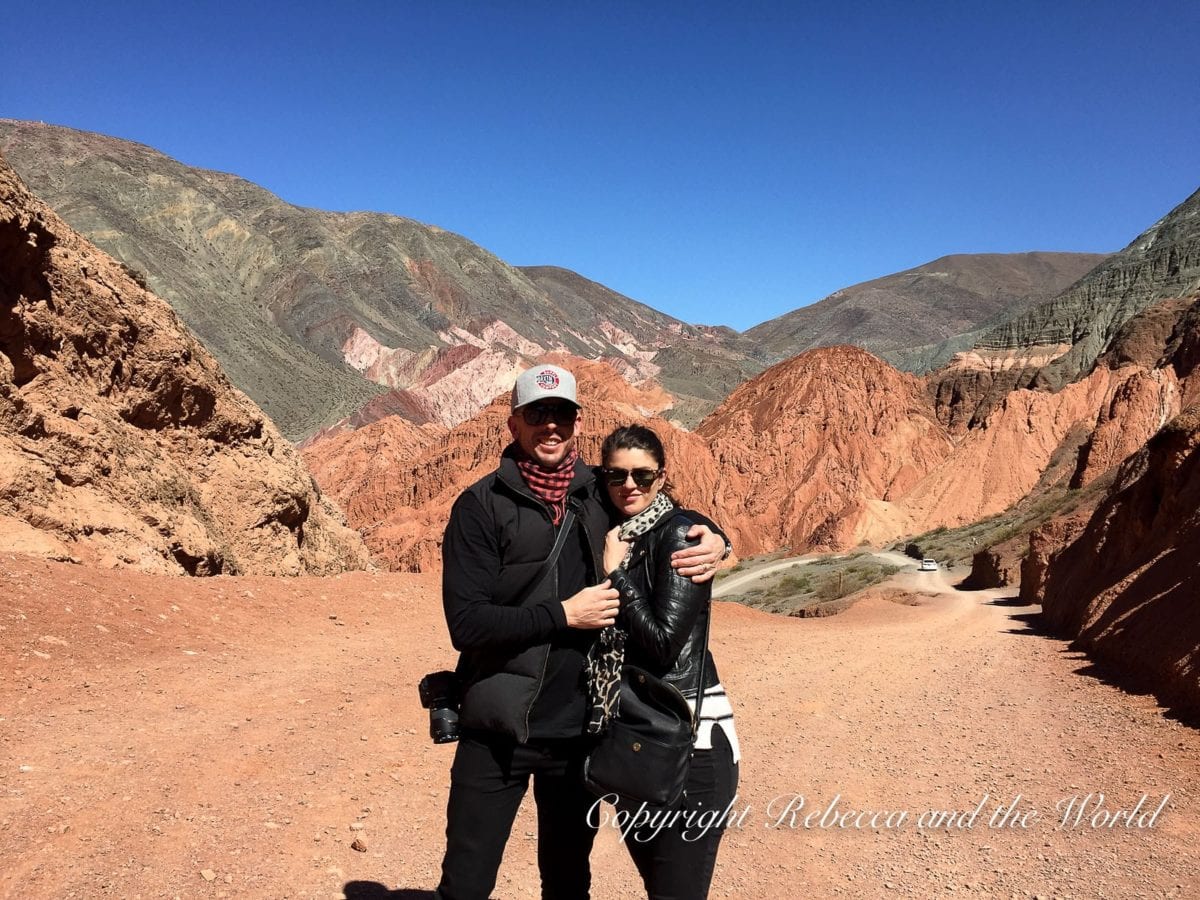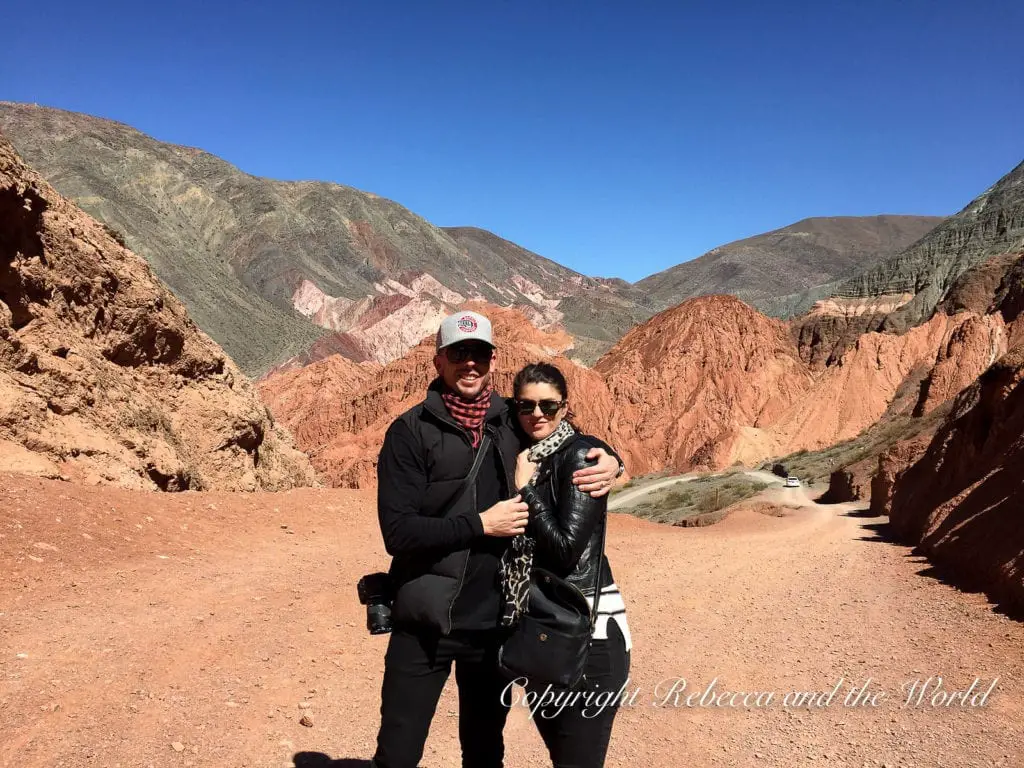 The most romantic spots to honeymoon in Argentina
Here are my recommendations for honeymoon destinations in Argentina. I've also included suggestions on things to do in each location (based on my own experiences) and some special hotels to consider booking.
1. Buenos Aires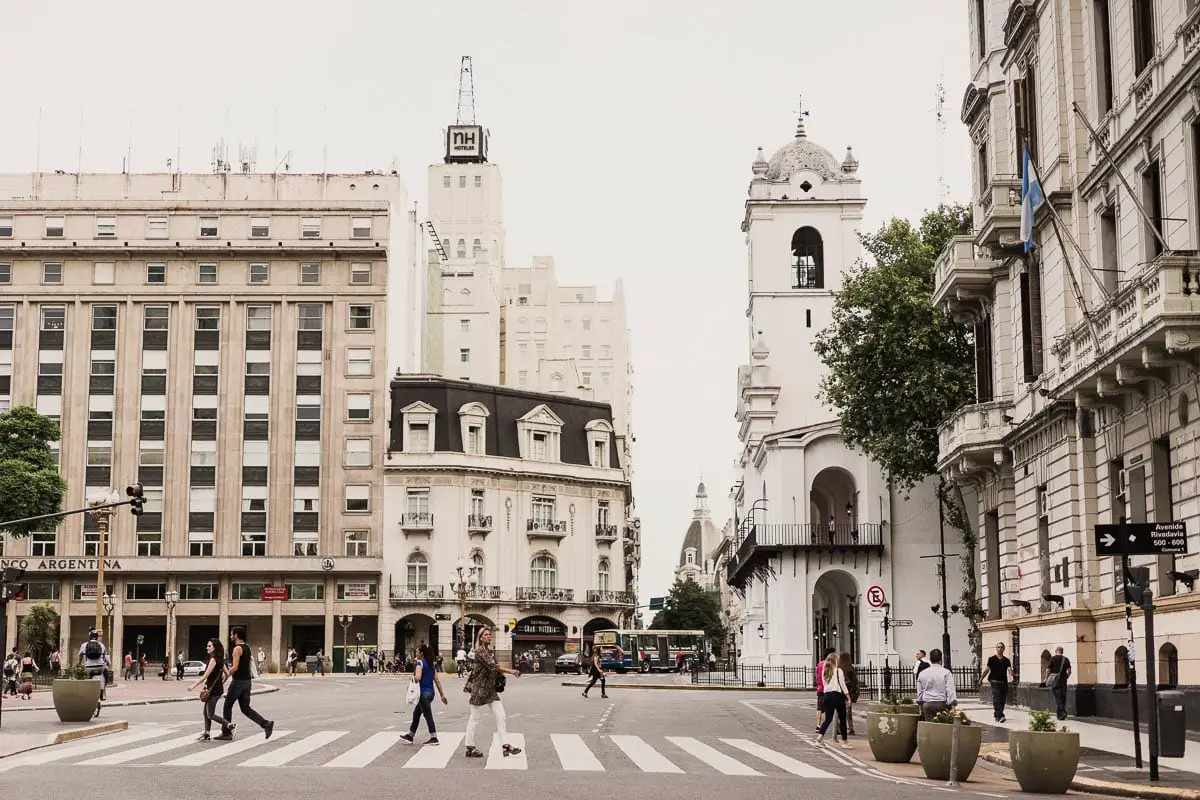 The so-called Paris of South America, Buenos Aires has to be one of the most romantic cities in the world.
Wander the streets, awestruck by the stunning architecture, then get caught up in a passionate tango show or take a tango lesson.
Have a picnic underneath an ornate statue in one of the city's many lush parks. Book a night out at the opera or ballet at the exquisite Teatro Colón.
With 8 restaurants on Latin America's Best Restaurants list, you can share many romantic dinners in Buenos Aires – at far more affordable prices than elsewhere. I've got several fine dining options in my Buenos Aires food guide. My top picks are Chila (an incredible degustation dining experience) and Mishiguene (upscale Jewish cuisine).
Loving the food in Argentina? Why not try a cooking class to learn how to make empanadas and dulce de leche yourself.
Romantic hotels in Buenos Aires
Here are my picks for the most romantic hotels for a honeymoon in Buenos Aires. I also have a more detailed guide on where to stay in Buenos Aires which includes an overview of the best neighbourhoods.
---
2. Mendoza
One of the best honeymoon spots in Argentina is Mendoza. Argentina's most famous wine-producing region, many of its wineries are located in the shadow of the Andes mountains, which makes for a picturesque backdrop to any wine tasting.
There are three wine regions in Mendoza: Maipu, the closest to Mendoza city and therefore the easiest to visit, Lujan de Cuyo, my favourite area, and the Uco Valley, which is gorgeous, gorgeous, gorgeous.
If you're on your honeymoon I recommend hiring a private driver. They can recommend the best wineries to visit in Mendoza and organise everything for you so all you need to do is turn up and grab your tasting glass. This private wine tour will take you to three wineries in the stunning Uco Valley, with a gourmet lunch included. Or consider a multi-day luxury Mendoza tour that will cover all your honeymoon details.
If you'd like to get a bit more active, then consider a bike tour of the wineries. We loved our tour with Martin's Bikes (which included a wonderful lunch), and I've also heard good things about Baccus Biking.
After all that wine tasting on your Mendoza honeymoon, head to the thermal spa outside of the city for some pampering.
Mendoza honeymoon hotels
Here are some beautiful hotels for the perfect honeymoon in Mendoza:
---
3. Iguazú Falls
Wake up to the thunderous roar of the almost 300 waterfalls that make up Iguazú Falls. Spend a day wandering through the catwalks that weave in and around – and sometimes under! – the falls.
There are two circuits. The Upper Circuit is fairly short and only takes around an hour to traverse. One this route, the catwalks are over the waterfalls so you can see down.
The Lower Circuit is longer, with more paths to explore. From this circuit, you can even book a seat on a boat that will take you right under the waterfalls – prepare to get very wet! It's really fun and a wild way to experience the power of Iguazú Falls.
The Garganta del Diablo – the Devil's Throat – is mind-blowing. This 70-metre-deep chasm can be reached by a 1-kilometre-long catwalk. It's the furthest thing to see at Iguazú, but very much worth it.
If you time your honeymoon with the full moon, you can take a moonlight tour of the waterfalls. How much more romantic can it get!
Romantic hotels in Puerto Iguazú
Here are some recommendations for hotels in Puerto Iguazú (the closest town in Argentina to the waterfalls). I've stayed at the Gran Melia Iguazú and it was lovely – and very close to the falls.
---
---
4. El Chaltén
More adventurous couples could consider a Patagonia honeymoon. El Chaltén, the trekking capital of Patagonia, is the place to start. From here, you can choose treks of varying difficulties that get you up close to the Fitz Roy and Cerro mountains.
While hiking is the main drawcard of El Chaltén, this small town (population: 1,600) also has mountain biking, rafting and horseback riding. After all that activity, there's also plenty of beer to reward yourself: for such a small town, El Chaltén has a surprising number of craft beer places.
Consider also spending a few days in nearby El Calafate and go trekking together on the thousands-of-years-old Perito Moreno Glacier. To get to El Chaltén you need to fly into El Calafate, anyway, so it's worth a stop.
Romantic hotels in El Chaltén
Here are my picks for hotels in El Chaltén, both of which are great for people who love hiking.
---
5. San Antonio de Areco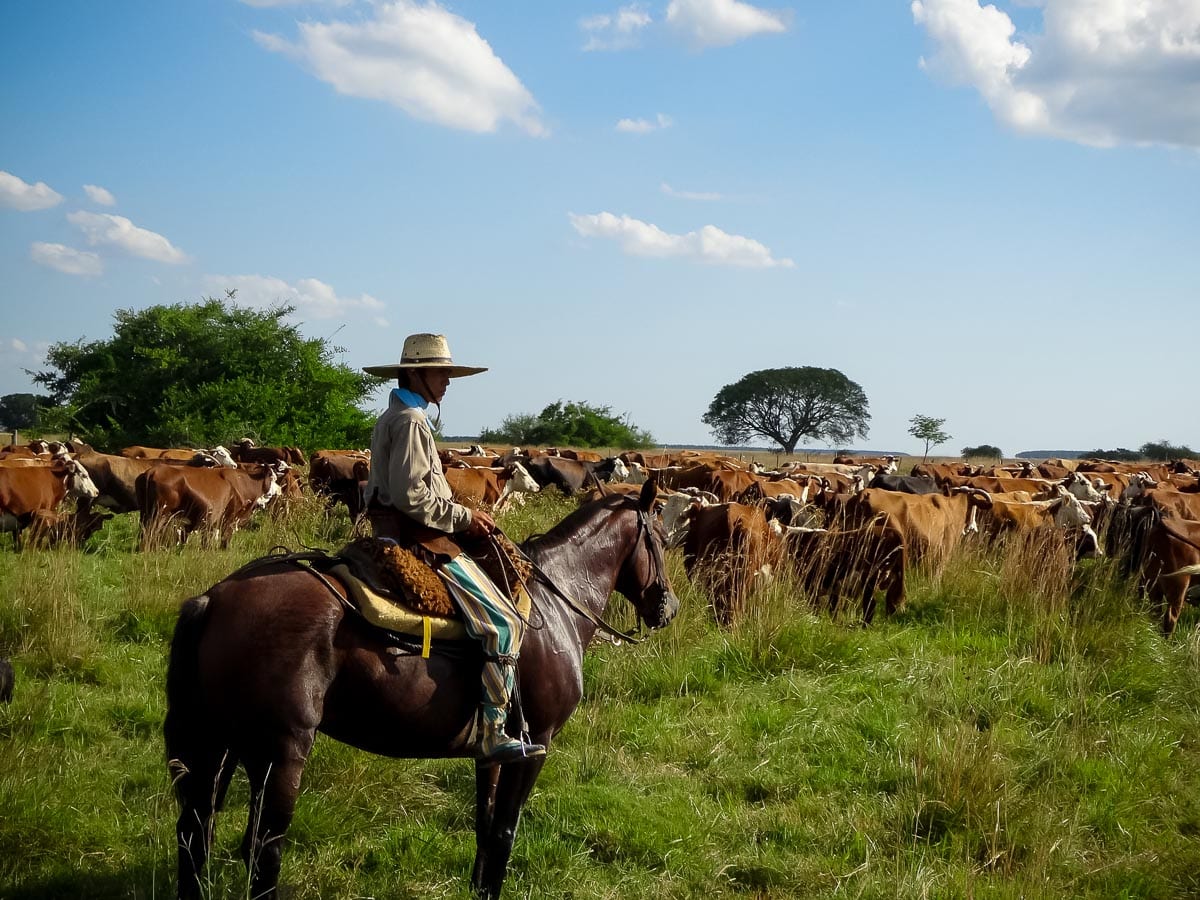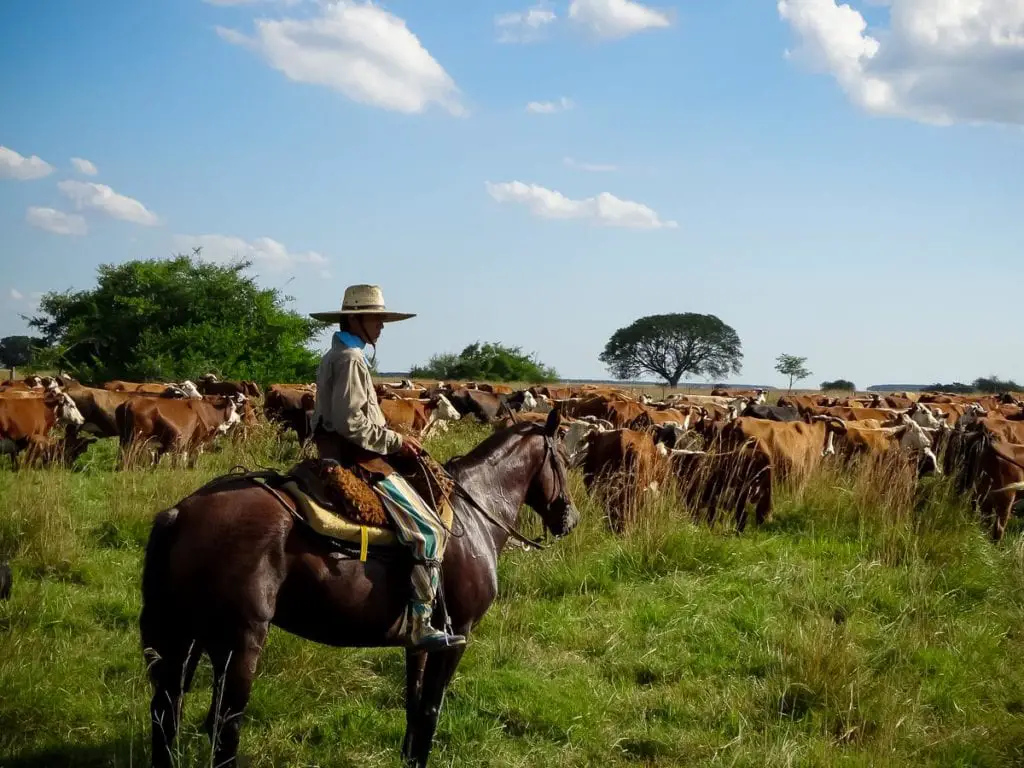 A short trip from Buenos Aires, sleepy San Antonio de Areco is gaucho territory.
Learn more about these Argentine cowboys, go horse riding or shop for handcrafted leather goods. Stay at one of the area's beautiful estancias and experience the charms of rural life in Argentina.
This Argentina honeymoon destination is for those looking for relaxation with some culture thrown in.
Romantic hotels in San Antonio de Areco
Argentina is well known for its estancias, the local version of ranches. They're lovely to stay at.
---
6. Salta and northern Argentina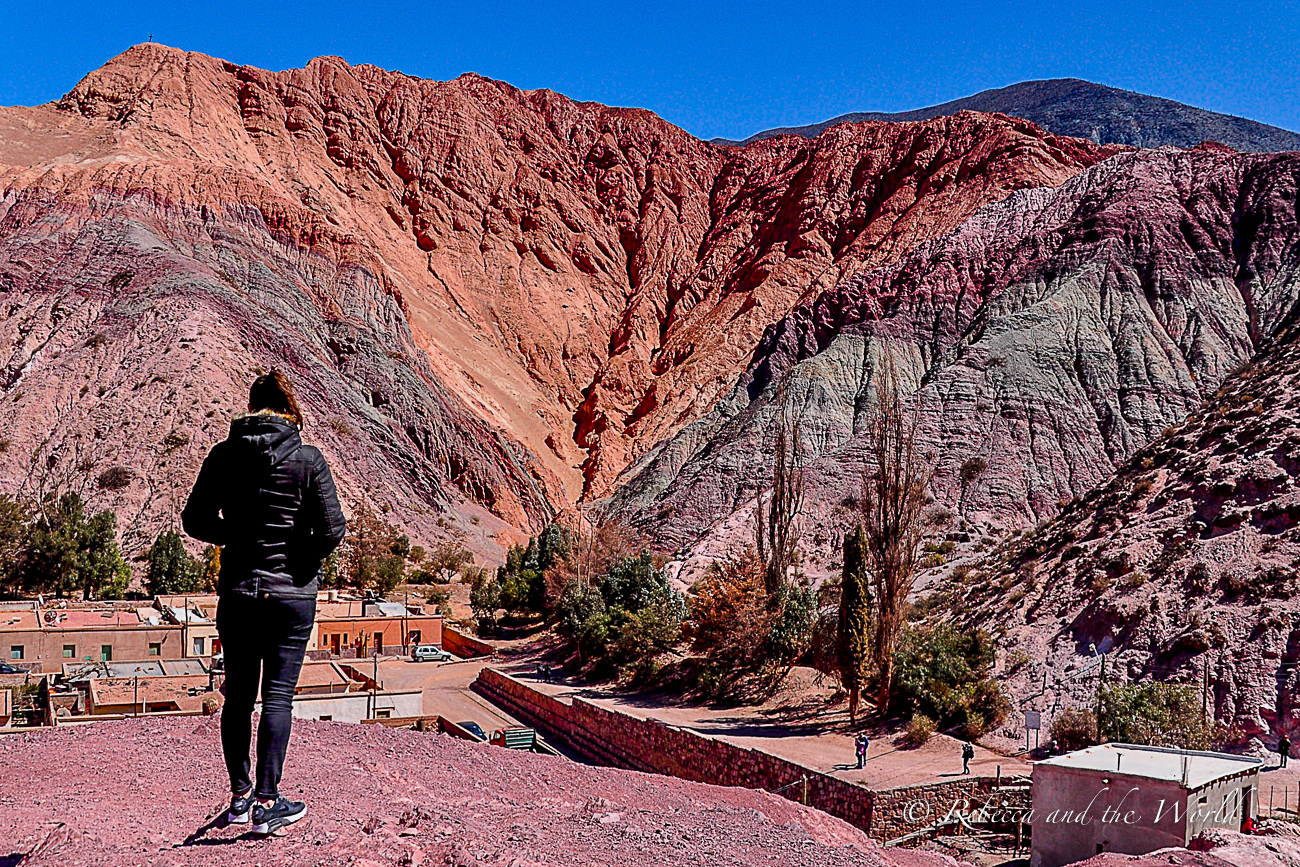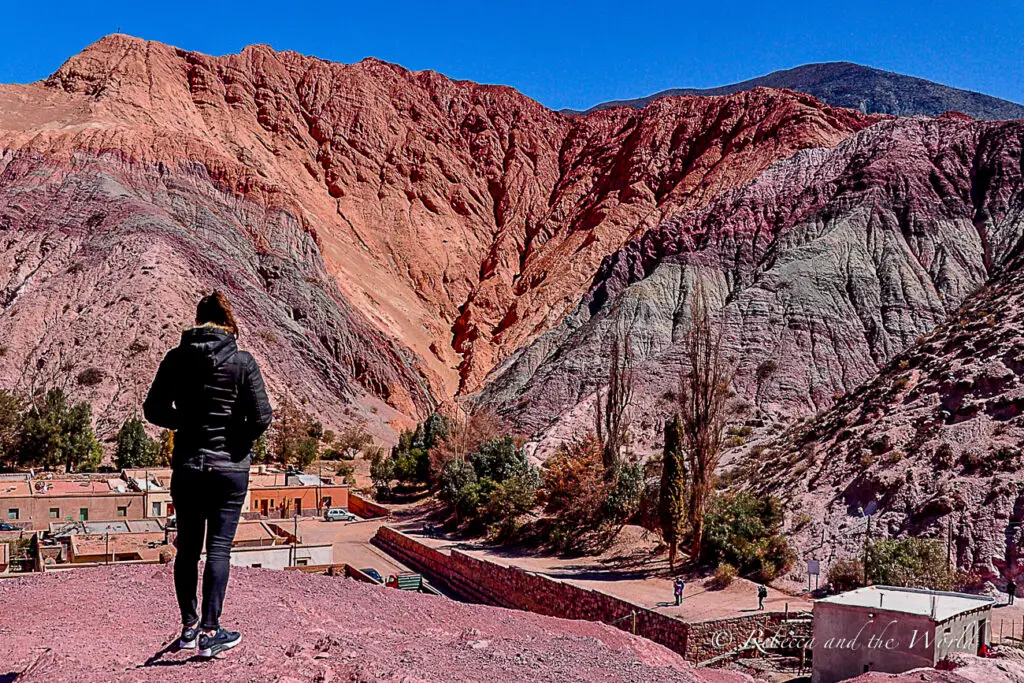 My top pick for a honeymoon in Argentina would be the north of the country, spectacular in its dusty deserts and otherworldly landscapes.
Spend some time in the city of Salta or head further out to Purmamarca to take in the Cerro de los Siete Colores, a layer cake of pastel colours that blazes in the evening sunset.
In Tilcara, shop for handmade colourful blankets and pottery at the street markets, or explore Pucará de Tilcara, a pre-Incan fort.
If you do get to this part of Argentina, then you must visit Argentina's "other" wine region, Cafayate. The region is famous for its fruity Torrontes variety. There are many wineries to visit, as well as the attractive town of Cafayate itself.
This area is more challenging to get to and more remote, but I've put together a north Argentina road trip itinerary that steps through how to get around the area and what to do each day. It's my favourite part of Argentina!
Romantic hotels in north Argentina
There are some gorgeous hotels in the north of Argentina. The options I've listed here cover a few different towns.
---
---
7. Esteros del Iberá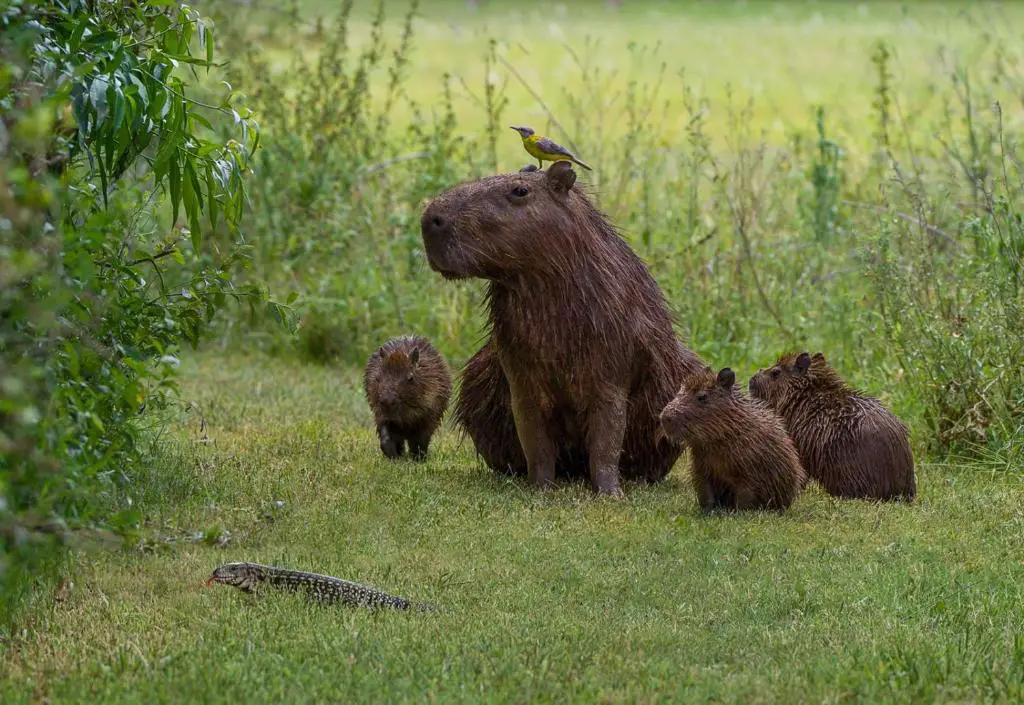 Nature-loving couples should spend time in Esteros del Iberá and explore the wetlands that are on par with the more well-known Pantanal in Brazil.
The wetlands are home to capybara, caiman, black howler monkeys, the maned wolf, deer and more than 300 bird species. Spend each day of your honeymoon watching nature in this protected area.
This is one area of Argentina I haven't personally visited – yet! – but it was so high on my list when I lived there.
Romantic hotels in Esteros del Iberá
For a remote area, the hotels in Esteros del Iberá are rather luxurious. Here are a few recommendations.
---
8. San Carlos de Bariloche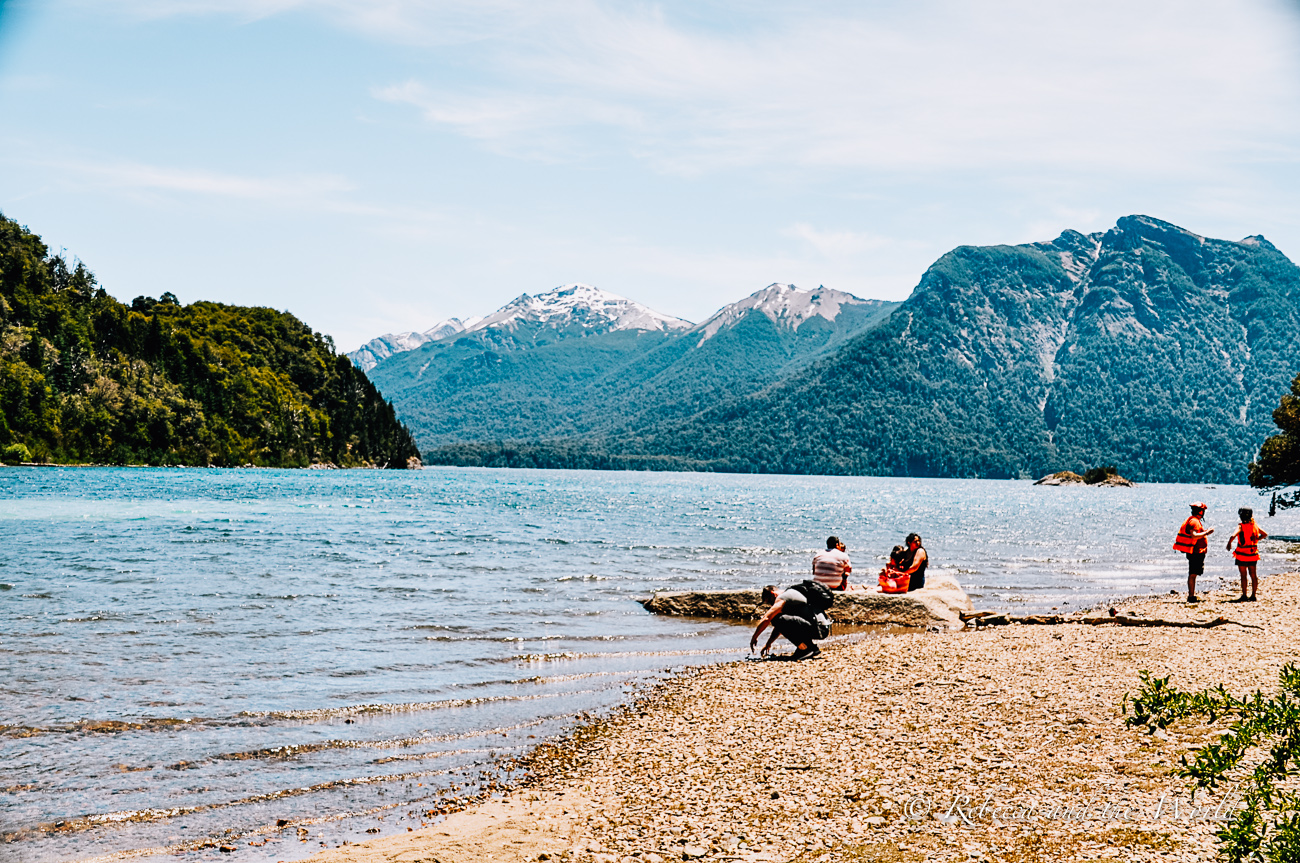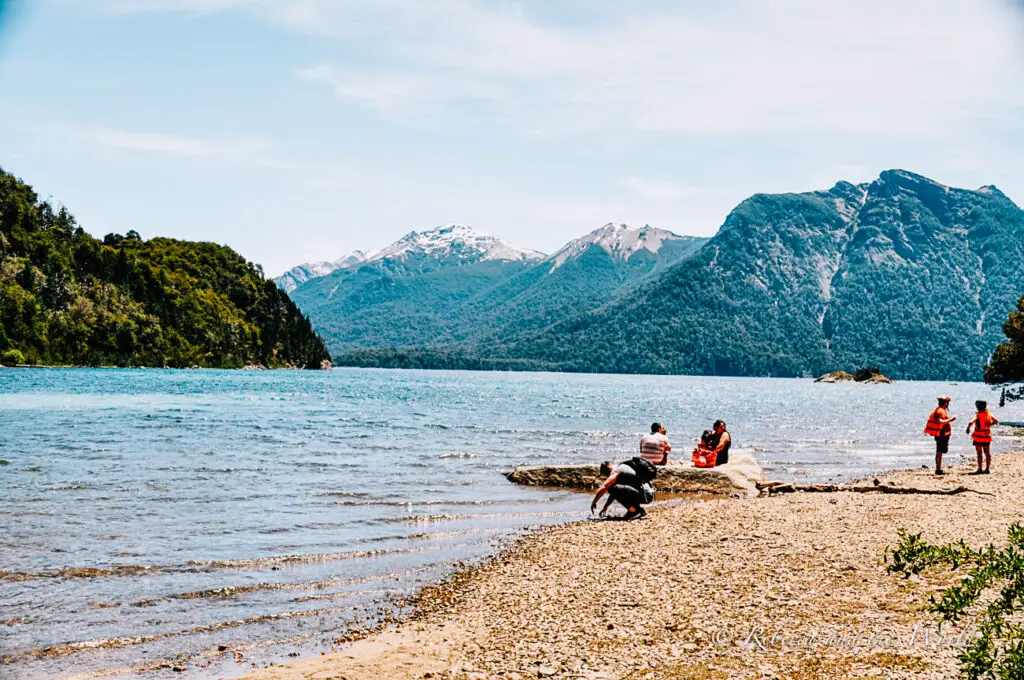 Located in northern Argentine Patagonia, you can't help but feel the romance in this city with its Swiss-style chalet buildings and endless lake views.
The Bariloche town centre is small and easy to stroll around – make sure to stop in at the chocolate and ice cream shops, this is the chocolate capital of Argentina.
Rent a car to drive the Ruta de los Siete Lagos, a route that will take you past turquoise-coloured lakes and around snow-capped mountains. Or spend the afternoon in El Bolsón, a small town just a few hours' drive from Bariloche, and known for its cheeses and beer.
There are plenty of hiking, fishing, kayaking and other outdoor activities in Parque Nacional Nahuel Huapi, the oldest national park in Argentina.
Romantic hotels in Bariloche
Here are two suggested hotels in Bariloche to consider for your honeymoon:
---
9. Tierra del Fuego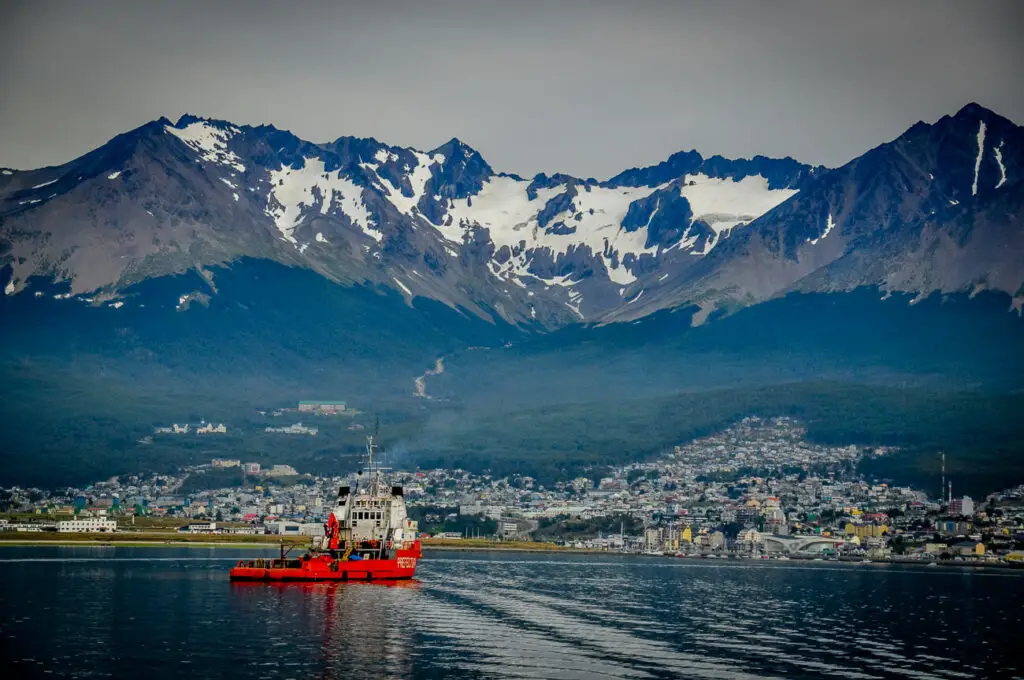 Get loved up in the enchanting wilderness of Tierra del Fuego, often referred to as the end of the world. Here you'll find snow-capped mountains, glistening glaciers and dense forests.
This remote region and national park, famed for its dramatic landscapes, is idyllic for couples seeking a unique honeymoon experience. The isolation and untouched beauty of the area are the perfect setting for intimacy and connection.
The activities in Tierra del Fuego are plentiful and cater to all types of couples. For the adventurous, embark on thrilling hikes through the rugged terrains of Tierra del Fuego National Park, exploring the diverse wildlife and breathtaking vistas. For water lovers, a boat trip along the Beagle Channel means encounters with sea lions, penguins and an array of bird species.
If relaxation is more your thing, indulge in gourmet dinners in Ushuaia, the southernmost city in the world. There's plentiful fresh seafood (try the centolla, which is huge crab) and locally sourced meats, along with the usual exquisite Argentine wines.
Where to stay in Ushuaia
Plan your Argentina honeymoon
Now that you've got some Argentina honeymoon destinations to consider, here's the logistical information you need to help you plan your Argentina honeymoon itinerary. You can also read more handy travel tips in my full guide to planning a trip to Argentina.
Best time to visit Argentina
Honeymoons in Argentina are a great idea, because the country can be visited year-round. Here's a guide to when to visit Argentina.
December to February is summer and is the best time to visit Patagonia. Buenos Aires can be hot at this time of year. The city is also quieter as people pack up to head to their beach homes or on vacation elsewhere.
September to November is a lovely time to visit Buenos Aires and is also when jacarandas bloom with their beautiful purple flowers – truly a beautiful sight. This is also a nice time to visit the north of the country when it's not too hot or crowded.
Winter (June to August) is manageable in Buenos Aires (the average temperature is 12 to 14 degrees Celcius), but it can rain. Patagonia at this time of year is often completely inaccessible in some parts (including El Chaltén which pretty much shuts down). This is a great time to visit the north of the country, including Salta and Puerto Iguazu.
How to get to Argentina
There are direct flights to Argentina's capital, Buenos Aires, from North America, the United Kingdom, Australia, Europe and South Africa, as well as from many South American countries. Use Skyscanner to compare flights and find the best routes and prices.
Buenos Aires has two airports: Ministro Pistarini International Airport, more commonly referred to as Ezeiza (EZE), which serves international flights. Aeroparque Jorge Newbery (AEP) handles domestic flights and some international flights to Uruguay and other nearby countries.
You're most likely going to be flying internationally into Ezeiza and then flying domestically from Aeroparque. These two airports are 41 kilometres apart, so if you do have a connection upon arrival, make sure you plan your travel accordingly, as the trip between the two can take more than two hours in peak hour traffic. Not a way you want to start your honeymoon!
How to travel around Argentina
Argentina is a HUGE country, so flying is the best way to get around. As mentioned above, you're probably going to be flying from Aeroparque to the romantic destinations in Argentina that I've listed in this article.
The major airline in Argentina is Aerolíneas Argentina. Aerolíneas has an extensive network throughout the country. A few other low-cost carriers have also recently popped up, including FlyBondi and JetSMART. 
Be aware that you often need to connect in Buenos Aires if you're flying around the country (ie. from north to south you'll need to stopover in Buenos Aires if there aren't direct flights between your destinations). I'd recommend checking this before you book everything, so that you know what you can fit into your itinerary.
If you've got plenty of time on your Argentina and don't mind spending hours in buses, then there's an extensive, well-run bus system through Argentina. But distances are enormous! It can take 24 hours, for example, to travel between Buenos Aires and Bariloche.
Final thoughts: Argentina honeymoon
Argentina is one of the best honeymoon destinations in South America, if not the world. You can have any kind of honeymoon experience you want, surrounded by natural beauty and amazing food and wine, with gorgeous hotels and resorts to choose from.
If you're planning a honeymoon in Argentina, I hope you have a wonderful, romantic time!
Honeymoon in Argentina: FAQs
Is Argentina safe to visit for tourists?
Argentina is safe for tourists, but like any travel destination, it's wise to stay alert. Keep an eye on your belongings, be cautious in crowded places, and avoid carrying large amounts of cash. Make sure you purchase travel insurance.
Do we need to know Spanish to travel comfortably in Argentina?
While many Argentinians speak English, particularly in tourist areas, it would be helpful to know some basic Spanish phrases. This can enhance your interactions with locals and your overall travel experience.
What should we pack for a honeymoon in Argentina?
What you pack will depend on the season and regions you plan to visit. In general, pack comfortable walking shoes, sunscreen, a hat and layers for cooler evenings. Pack nice outfits for evenings – Argentines are stylish. If you plan to visit more remote areas for hiking or skiing, make sure to bring appropriate gear and equipment. Finally, don't forget to pack a camera to capture the beautiful scenery and memories of your honeymoon in Argentina!
Are you planning a honeymoon in Argentina? If you have any questions please leave a comment below, because I'd love to help you plan your special trip.
---
Related posts
Before you go… you might like these articles:
PIN IT FOR LATER:
Plan an incredible honeymoon in Argentina – save this guide for later.