Argentina is a place of romance. From seductive tango to sipping fine wine in a cozy bar to the passionate nature of Argentines themselves, it's the perfect country for newlyweds to head to for their honeymoon. In fact, if I could do it all over again, I'd honeymoon in Argentina.
Fun story: after we got married in October 2014, my husband and I wanted to honeymoon in Argentina. Unfortunately, I didn't have enough annual leave (that's vacation time for you North Americans) and the trip from Papua New Guinea (where we were living at the time) to Argentina was around 30 hours, which would have eaten into the precious few days that I did have left. Instead of an Argentina honeymoon, we went closer to home, settling on Thailand. After all, you can't go wrong with a beach honeymoon and we had a wonderful time.
It was on that honeymoon, while we were sitting on the beach in Thailand, that I got a call from my boss telling me where my next assignment would be. And wouldn't you know it, I was being sent to Argentina.
So, while we didn't get an Argentina honeymoon, we did end up living there and exploring much of the country.
For anyone considering honeymooning in Argentina, here are the best places to add to an Argentina honeymoon itinerary. Choose one or two places on this list or turn it into a longer visit to Argentina. I've even included some recommendations for romantic hotels in Argentina that'll really make your honeymoon special!
If you're planning a honeymoon in Argentina, click the "Save" button on the images below to save this post to Pinterest.
This blog post may contain affiliate links, meaning if you book or buy something through one of these links, I may earn a small commission (at no extra cost to you).
Plan your Argentina honeymoon
Before we get stuck into my recommended honeymoon destinations, here's some logistical information to help you plan your Argentina honeymoon itinerary. You can also read more handy travel tips in my full guide to planning a trip to Argentina.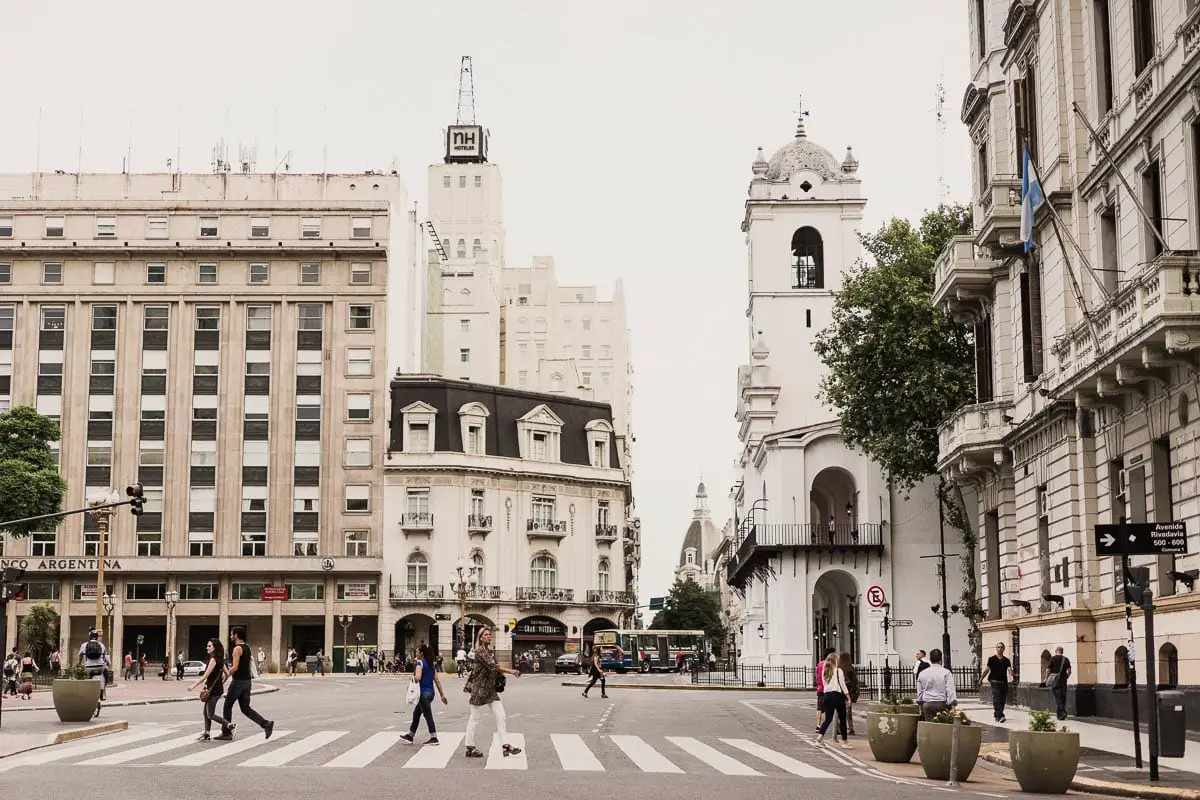 How to get to Argentina
There are direct flights to Argentina's capital, Buenos Aires, from North America, the United Kingdom, Australia, Europe and South Africa, as well as from many South American countries. Use Skyscanner to compare flights and find the best routes and prices.
Buenos Aires has three airports: Ministro Pistarini International Airport, Ezeiza (EZE), which serves international flights, Aeroparque Jorge Newbery (AEP), which handles domestic flights and some international flights to Uruguay and other nearby countries, and El Palomar (EPA), which handles low-cost domestic airlines.
You're most likely going to be flying internationally into Ezeiza and then flying domestically from Aeroparque. These two airports are 41 kilometres apart, so you do have a connection upon arrival, make sure you plan your travel accordingly, as the trip between the two can take more than two hours in peak hour traffic. Not a way you want to start your honeymoon!
How to travel around Argentina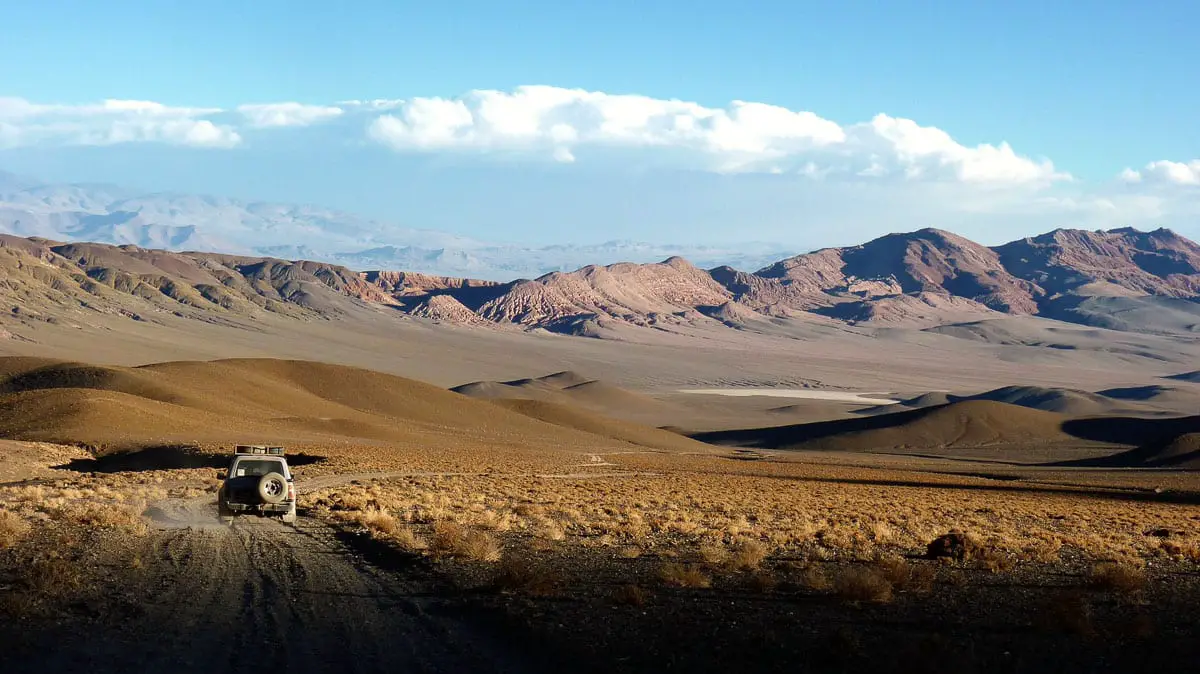 Argentina is a HUGE country, so flying is the best way to get around. As mentioned above, you're probably going to be flying from Aeroparque to the romantic destinations in Argentina that I've listed in this article.
The two major airlines in Argentina are Latam and Aerolíneas Argentina, which both have an extensive network throughout the country. Be aware that you often need to connect in Buenos Aires if you're flying around the country (ie. from north to south you'll need to stopover in Buenos Aires if there aren't direct flights between your destinations). I'd recommend checking that before you book everything so that you know what you can fit into your itinerary.
If you've got plenty of time on your Argentina and don't mind spending hours in buses, then there's an extensive, well-run bus system through Argentina. But distances are enormous! It can take 24 hours, for example, to travel between Buenos Aires and Bariloche.
Best time to visit Argentina
Argentina can be visited year-round, so it makes for a great honeymoon destination. December to February is summer and is the best time to visit Patagonia. Buenos Aires can be hot at this time of year. The city is also quieter as people pack up to head to their beach homes or on vacation elsewhere.
September to November is a lovely time to visit Buenos Aires and is also when jacarandas bloom with their beautiful purple flowers – truly a beautiful sight. This is also a nice time to visit the north of the country when it's not too hot or crowded.
Winter (June to August) is manageable in Buenos Aires (the average temperature is 12 to 14 degrees Celcius), but it can rain. Patagonia at this time of year is often completely inaccessible in some parts (including El Chaltén which pretty much shuts down).
The most romantic spots to honeymoon in Argentina
Let's get stuck into this list! I've included my recommendations, along with a few suggestions on things to do and some special hotels to consider booking.
Buenos Aires
The so-called Paris of South America, Buenos Aires has to be one of the most romantic cities in the world.
Wander the streets, awestruck by the stunning architecture, then get caught up in a passionate tango show. Have a picnic underneath an ornate statue in one of the city's many lush parks. Book a night out at the opera or ballet at the exquisite Teatro Colón. I've written a whopper list of more than 101 things to do in Buenos Aires, or I've put together an itinerary for 3 days in Buenos Aires to help make planning your honeymoon in Buenos Aires easier.
With 10 restaurants on Latin America's Best Restaurants list, you can share many romantic dinners in Buenos Aires – at far more affordable prices than elsewhere. I've got some fine dining options in my Buenos Aires food guide. If you don't have time to read that, then here are my top picks: Chila (an incredible three- or seven-step dining experience) and El Baqueano (which celebrates local Argentina ingredients and culture).
Romantic hotels in Buenos Aires
Here are my picks for the most romantic hotels in Buenos Aires. I also have a more detailed guide on where to stay in Buenos Aires which includes an overview of the best neighbourhoods.
In the heart of the upscale Recoleta neighbourhood, the Palacio Duhau is grandeur at its best. Chandeliers adorn the ceilings, marble tiles cover the floors and plush beds greet newlyweds on their honeymoon. There are plenty of cosy nooks to grab a glass of wine together and restaurants that serve up sumptuous Argentine feasts or international cuisine. The hotel's spa, Ahín, is one of the city's best and can put together treatment packages for couples. Compare rates at Booking.com and HotelsCombined and book a Buenos Aires honeymoon | Read reviews on TripAdvisor
The Faena Hotel Buenos Aires is like no other hotel in Buenos Aires. Located in Puerto Madero in a restored silo that once produced grain for post-war Europe, its décor screams glamour. Red velvet curtains, eclectic artworks and dark wood create spaces that are intimate, romantic and quirky. Check the latest rates on Booking.com or HotelsCombined | Read reviews on TripAdvisor
Mendoza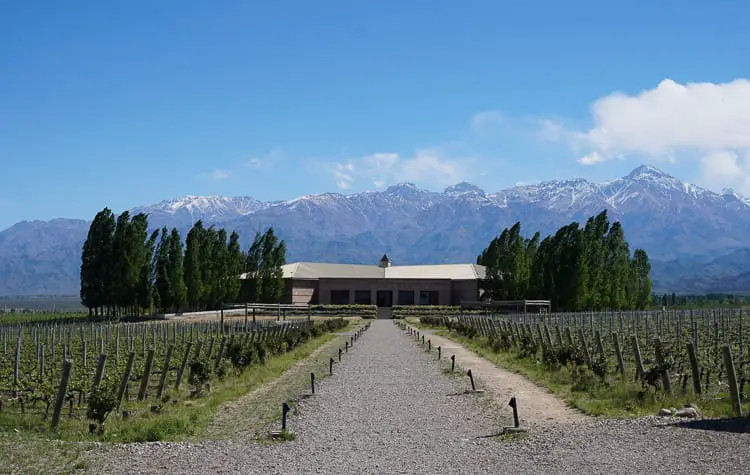 One of the best honeymoon spots in Argentina is Mendoza. Argentina's most famous wine-producing region, many of its wineries are located in the shadow of the Andes mountains, which makes for a picturesque backdrop to any wine tasting.
There are three wine regions in Mendoza: Maipu, the closest to Mendoza city and therefore the easiest to visit, Lujan de Cuyo, my favourite area, and the Uco Valley, which is gorgeous, gorgeous, gorgeous.
I'm not going to list the best wineries to visit in Mendoza here, because if you're on your honeymoon I recommend hiring a private driver. They can recommend wineries and organise everything for you so all you need to do is turn up and grab your tasting glass. This small-group tour covers Maipu and Lujan de Cuyo, while this private tour will take you to the stunning Uco Valley. Both include a gourmet lunch.
If you'd like to get a bit more active, then consider a bike tour of the wineries. We loved our tour with Martin's Bikes (which included a wonderful lunch), and I've also heard good things about Baccus Biking.
After all that wine tasting, head to the thermal spa outside of the city for some pampering (this tour includes a transfer if you don't want to hire a car while you're in Mendoza).
Romantic hotels in Mendoza
Here are some beautiful hotels for the perfect honeymoon in Mendoza:
Casa de Uco Vineyard & Wine Resort is seemingly an extension of the stunning landscape that surrounds the hotel. Neutral colours, natural wood, thick columns and huge glass ceilings are designed to blend into the nearby mountains and vineyards. Dishes served are created with ingredients from the hotel's seasonal garden, and an onsite sommelier can help find the perfect wine to go with any meal. Find the latest rates and book your Argentina honeymoon online with Booking.com or HotelsCombined | Read reviews on TripAdvisor
Imagine waking up, stepping out onto your private terrace and finding yourself surrounded by views of the snowcapped Andes and Malbec vineyards. Entre Cielos makes that vision come true. In the heart of Luján de Cuyo, one of Argentina's most famous wine regions, you can spend the evening sipping wine under the star-filled night sky after a day of exploring local wineries. With only 24 beautifully decorated rooms, you're guaranteed dedicated service by the hotel's staff. The onsite spa and hammam offers grape-based treatments to soothe and revitalise guests. Check rates at Booking.com and HotelsCombined | Read reviews on TripAdvisor
Does a room with a private deck, vintage soaking tub, private plunge pool and fireplace sound like somewhere you'd like to spend your honeymoon? Just a half hour from Mendoza city, each of the 18 rooms at Cavas Wine Lodge offers these luxuries and more. Wake up to spectacular views of the Andes before spending the day checking out local wineries. If you don't want to leave – and who would blame you? – you can explore the hotel's underground cellar. Book your stay online with Booking.com or HotelsCombined | Read reviews on TripAdvisor
Iguazú Falls
Wake up to the thunderous roar of the almost 300 waterfalls that make up Iguazú Falls. Spend a day wandering through the catwalks that weave in and around – and sometimes under! – the falls.
There are two circuits. The Upper Circuit is fairly short and only takes around an hour to traverse. One this route, the catwalks are over the waterfalls so you can see down. The Lower Circuit is longer, with more paths to explore. From this circuit, you can even book a seat on a boat that will take you right under the waterfalls – prepare to get very wet! It's really fun and a wild way to experience the power of Iguazú Falls.
The Garganta del Diablo – the Devil's Throat – is mind-blowing. This 70-metre-deep chasm can be reached by a 1-kilometre-long catwalk. It's the furthest thing to see at Iguazú, but very much worth it.
If you time your honeymoon with the full moon, you can take a moonlight tour of the waterfalls. How much more romantic can it get!
Romantic hotels in Puerto Iguazú
Here are some recommendations for hotels in Puerto Iguazú (the closest town in Argentina to the waterfalls). I've personally stayed at the Melia Iguazú.
The rainforest surrounds each villa at Awasi Iguazú, and you'll fall asleep and wake up to the tranquil sounds of wildlife. The villas have private decks and plunge pools and spacious living areas decorated with traditional textiles and baskets woven by the indigenous Guarani people. Villas have a private guide and 4WD vehicle so you can explore the area at your own pace. Book an amazing honeymoon stay at Booking.com or HotelsCombined | Read reviews on TripAdvisor
Another jungle boutique hotel, Casa Bemberg is a more affordable offering. Completely renovated the hotel is surrounded by trails, trees and jungle flora and fauna. Each room's large windows offer jungle views and the hotel can arrange all types of excursions and activities. Find the latest rates online at Booking.com | Read reviews on TripAdvisor
If you want to be located only a stone's throw from the falls, then choose Gran Melia Iguazú. From the hotel you can easily walk down to the series of catwalks that crisscross through the falls. While it doesn't have the luxurious feel of other Melia hotels, the hotel can't be beat for its location. Book a stay online at Booking.com or HotelsCombined | Read reviews on TripAdvisor
El Chaltén
More adventurous couples could consider a Patagonia honeymoon. El Chaltén, the trekking capital of Patagonia, is the place to start. From here, you can choose treks of varying difficulties that get you up close to the Fitz Roy and Cerro mountains.
While hiking is the main drawcard of El Chaltén, this small town (population: 1,600) also has mountain biking, rafting and horseback riding. After all that activity, there's also plenty of beer to reward yourself: for such a small town, El Chaltén has a surprising number of craft beer places.
Consider also spending a few days in nearby El Calafate and go trekking together on the thousands-of-years-old Perito Moreno Glacier. To get to El Chaltén you need to fly into El Calafate, anyway, so it's worth a stop.
Romantic hotels in El Chaltén
Here are my picks for hotels in El Chaltén, both of which are great for people who love hiking.
Destino Sur Hotel de Montaña & Spa is located close to the trails, so you'll beat the morning hiking crowds. This mountain lodge has spacious rooms with plush beds, and you'll be thankful for the sauna after a long day of hiking. Massages are also available in the hotel spa. Check the latest rates and book online at Booking.com or HotelsCombined | Read reviews on TripAdvisor
If you're looking for a unique experience on your honeymoon, then Patagonia Eco Domes is the choice for you. These spacious, padded domes have amazing views of the surrounding mountains, all of which can be seen through the transparent "windows". There's no mobile phone coverage or internet so you'll have a chance to really connect with each other and with nature. Domes have solar energy supply and private bathrooms. This is glamping at its best. Book online at Booking.com or HotelsCombined | Read reviews on TripAdvisor
San Antonio de Areco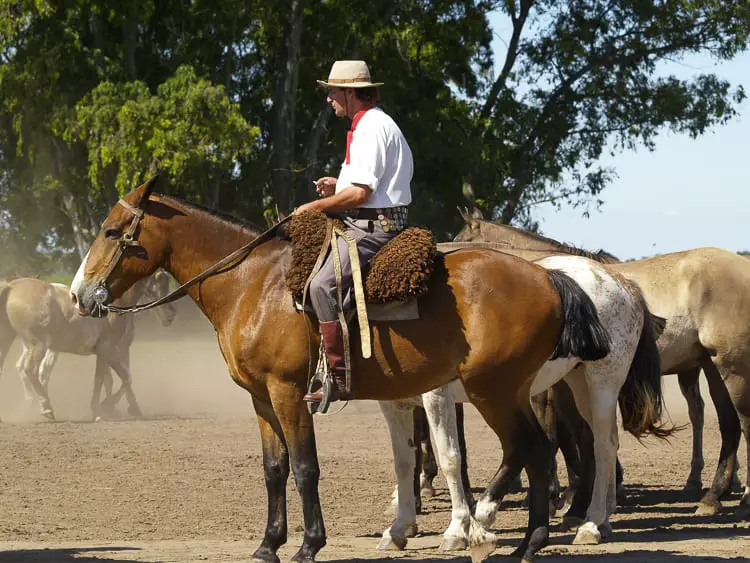 A short trip from Buenos Aires, sleepy San Antonio de Areco is gaucho territory.
Learn more about these Argentine cowboys, go horse riding or shop for handcrafted leather goods. Stay at one of the area's beautiful estancias and experience the charms of rural life in Argentina. This Argentina honeymoon destination is for those looking for relaxation with some culture thrown in.
Romantic hotels in San Antonio de Areco
Argentina is well known for its estancias, the local version of ranches. They're lovely to stay at.
One of the oldest estancias in Argentina, La Bamba de Areco offers guests an insight into country life in Argentina. Each room is named after a famous polo horse and has lovely views over the outdoor gardens, park or polo fields. There are no televisions or telephones, keeping the romantic atmosphere alive. Meals are communal and taken in a different part of the estancia. Spend a few days on horseback rides or mountain bikes, enjoy the huge swimming pool, wander through the gardens or book a hot stone massage. During polo season, you can even watch the daily polo matches. Check out the latest rates online
Salta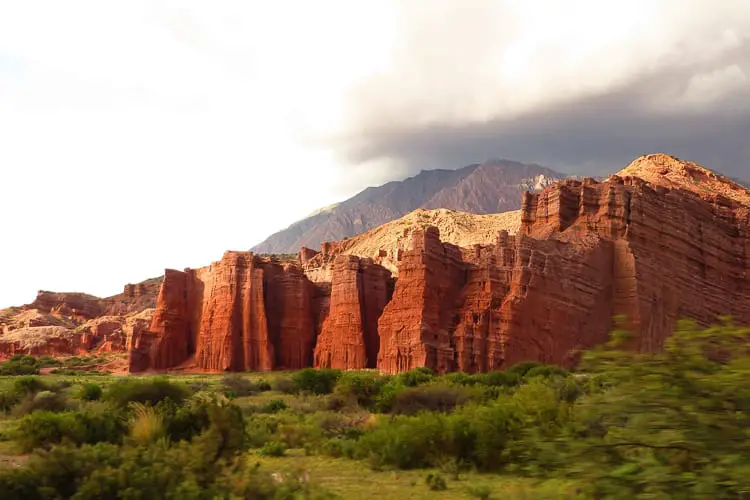 My top pick for a honeymoon in Argentina would be the north of the country, spectacular in its dusty deserts and otherworldly landscapes.
Spend some time in the city of Salta or head further out to Purmamarca to take in the Cerro de los Siete Colores, a layer cake of pastel colours that blazes in the evening sunset.
In Tilcara, shop for handmade colourful blankets and pottery at the street markets, or explore Pucará de Tilcara, a pre-Incan fort.
If you do get to this part of Argentina, then you must visit Argentina's "other" wine region, Cafayate. The region is famous for its fruity Torrontes variety. There are many wineries to visit, as well as the attractive town of Cafayate itself.
This area is more challenging to get to and more remote, but I've put together a north Argentina road trip itinerary that steps through how to get around the area and what to do each day. It's my favourite part of Argentina!
Romantic hotels in north Argentina
There are some gorgeous hotels in the north of Argentina. The options I've listed here cover a few different cities and towns.
In the city of Salta, capital of the province of the same name, you'll find Hotel Legado Mítico, a delightful townhouse filled with leather armchairs, cowhide rugs and antiques. While there's no pool, spa or restaurant, the friendly staff can book an in-room treatment or direct you to the best restaurants in the city. This cozy hotel epitomises stereotypical northwest Argentina, but in a sophisticated way. Check rates and make a booking at Booking.com or HotelsCombined | Read reviews on TripAdvisor
Set among the vineyards just a few minutes outside the wine town of Cafayate, Grace Cafayate is a chill hotel to hang out in after a long day of wine tasting. The rooms have huge bathtubs and great views over the vineyards. Compare rates at Booking.com and HotelsCombined | Read reviews on TripAdvisor
Located at the foothills of the Cerro de los Siete Colores, El Manantial del Silencio is designed like an old estancia. Rooms are decked out with wrought-iron beds and terracotta tiled-floors. It's simple, elegant and comfortable and the reading room is perfect for a newlywed couple to curl up together with a glass of wine. Check the latest rates on Booking.com | Read reviews on TripAdvisor
Esteros del Iberá
Nature-loving couples should spend time in Esteros del Iberá and explore the wetlands that are on par with the more well-known Pantanal in Brazil.
The wetlands are home to capybara, caiman, black howler monkeys, the maned wolf, deer and more than 300 bird species. Spend each day of your honeymoon watching nature in this protected area.
This is one area of Argentina I haven't personally visited – yet! – but it was so high on my list when I lived there.
Romantic hotels in Esteros del Iberá
For a remote area, the hotels in Esteros del Iberá are rather luxurious! Here are a few recommendations:
Rincon del Socorro is a rural lodge developed as part of a conservation project. It's in a restored old cattle ranch and has kept the Spanish colonial rural style architecture while modernising the interior. While the style is simple, the service is not: here you'll be treated like royalty and have access to expert nature guides who lead safaris during the day and night, bike rides, horse rides and nature walks. Book a nature-lover's honeymoon online at Booking.com | Read reviews on TripAdvisor
If you don't want to travel too far, Puerto Valle is a good option. Just an hour's drive from Posadas airport, it's accessibly located on the edge of the Iberá wetlands. The recently renovated 19th-century estancia has just over a dozen rooms, all with views of the Paraná River. The restaurant serves fresh ingredients straight from the hotel's garden. The hotel can arrange excursions on both the river and land. Check the latest rates at Booking.com | Read reviews on TripAdvisor
Bariloche
Located in northern Argentine Patagonia, you can't help but feel romantic in this city with its Swiss-style chalet buildings and endless lake views.
The Bariloche town centre is small and easy to stroll around – make sure to stop in at the chocolate and ice cream shops, this is the chocolate capital of Argentina.
There's plenty of hiking, fishing, kayaking and other outdoor activities in Parque Nacional Nahuel Huapi, the oldest national park in Argentina.
Rent a car to drive the Ruta de los Siete Lagos, a route that will take you past turquoise-coloured lakes and around snow-capped mountains. Or spend the afternoon in El Bolsón, a small town just a few hours' drive from Bariloche, and known for its cheeses and beer.
A must for a romantic dinner is Butterfly, a gourmet restaurant overlooking Nahuel Huapi Lake. The multi-course dinners are elegantly put together.
Romantic hotels in Bariloche
Here are two suggested hotels in Bariloche to consider for your honeymoon:
One of South America's most famous hotels, Llao Llao has hosted many famous guests. The dramatic scenery over the Moreno and Nahuel Huapi lakes and the nearby mountains make for a stunning location. Rooms are decorated in the warm style of a mountain lodge. While there are more than 200 rooms, staff make every guest feel special. The hotel also has a renowned 18-hole golf course. Make your booking at Booking.com or HotelsCombined | Read reviews on TripAdvisor
Wake up to a view of sparkling Nahuel Huapi lake from your comfortable bed at Las Balsas, located near the charming town of Villa La Angostura. The blue façade of the hotel has become its trademark, and it houses rooms that feel more homely than hotel. The wine cellar holds more than 150 bottles of Argentine wines, and the heated indoor/outdoor pool and jacuzzi and sauna can be enjoyed year-round. See the latest rates at Booking.com and HotelsCombined | Read reviews on TripAdvisor
If you're planning a honeymoon in Argentina, I hope you have a wonderful, romantic time!
ESSENTIALS FOR PLANNING YOUR HONEYMOON IN ARGENTINA
Are you planning a honeymoon in Argentina? If you have any questions please leave a comment below, because I'd love to help you plan your special trip.
This post was written in December 2018 and updated in September 2019.
PIN IT FOR LATER: