Buenos Aires, the capital of Argentina, is known for its architecture. The city's reluctant moniker is, of course, the "Paris of the South" and all it takes is a stroll along any street to understand how this name stuck. One of the more unique and overlooked building in Buenos Aires is Palacio Barolo, located in the heart of the city.
I initially came across Palacio Barolo on our first weekend living in Buenos Aires. As newbies to this vibrant city, we'd decided to take a walking tour with a local tour company to learn more about the city, its neighbourhoods, Argentine culture – and basic things like how to use public transport.
As we walked along the wide Avenida de Mayo in downtown Buenos Aires, we strolled past Palacio Barolo, gazing up at its curious facade. Because it was a Sunday it was closed. But an inquisitive peek inside the huge glass doorway was all it took for me to go home and immediately book a Palacio Barolo tour.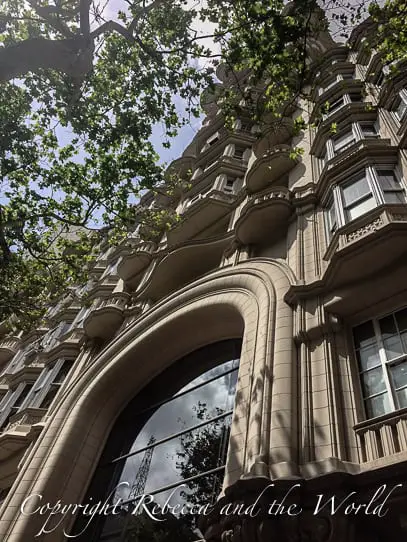 This building isn't your average high-rise. It has one of the most unique back stories.
Commissioned by Italian immigrant and businessman Luis Barolo, it was built in 1923, after only four years of construction. The building's design was inspired by Dante's 14th-century poem, Divine Comedy. Barolo was such a fan of Dante's that he petitioned to have Dante's ashes housed here – but, alas, they never ended up here.
This blog post may contain affiliate links, meaning if you book or buy something through one of these links, I may earn a small commission (at no extra cost to you).
Palacio Barolo design
So, how does the building mimic Dante's famous poem?
Palacio Barolo is divided into three parts: the basement and ground floor are Hell, the first to fourteenth floors are Purgatory, and floors 15 to 22 are Heaven. At the top, there is a lighthouse with a light so powerful it can be seen in Uruguay.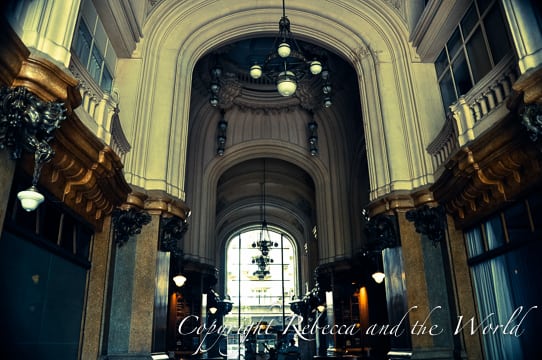 At 100 metres (one metre for each canto of the Divine Comedy) it was the tallest building in South America, until 1935 when Edificio Kavanagh (also in Buenos Aires, not far from Palacio Barolo) was completed.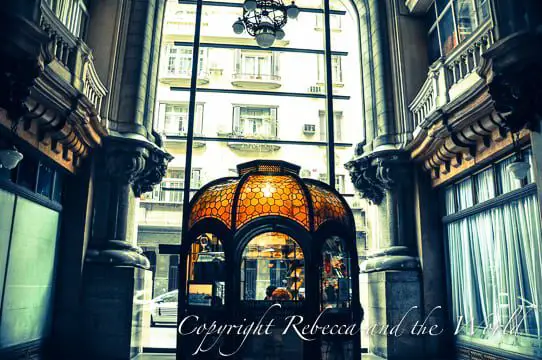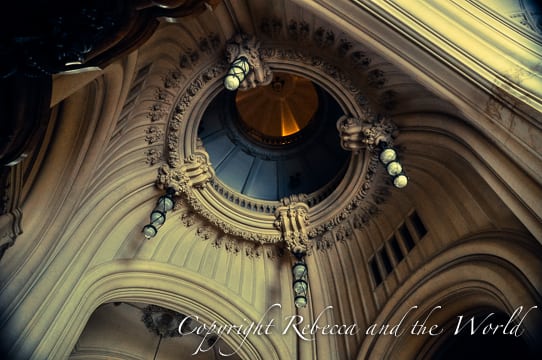 Palacio Barolo is now full of offices (ironically, the offices are actually located on the "Purgatory" floors – but still, what an iconic building to work in!) but you can still see the splendour of the architecture and of a building built during a time where no expense was spared.
Latin inscriptions are carved into the ceiling in the lobby, and an antique elevator slowly lifts visitors to the higher levels. Statues adorn the columns, and the smooth marble floors and walls would have cost a pretty penny.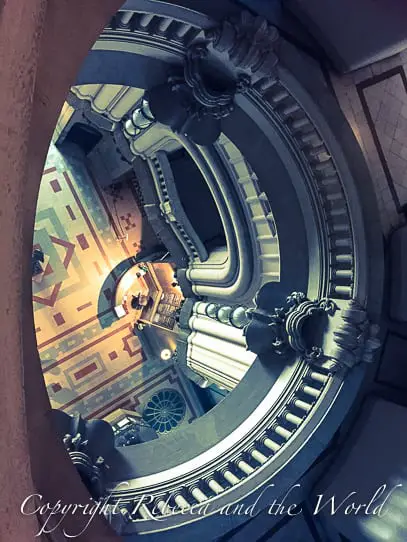 In "Heaven", you'll find the most incredible views across Buenos Aires. Palacio Barolo is one of the few places in Buenos Aires with such vistas across the city. Until we arrived up here, I had no idea just how far and wide we'd be able to see. Even if you're not interested in the history and architecture of the building, the views alone are worth coming on a tour!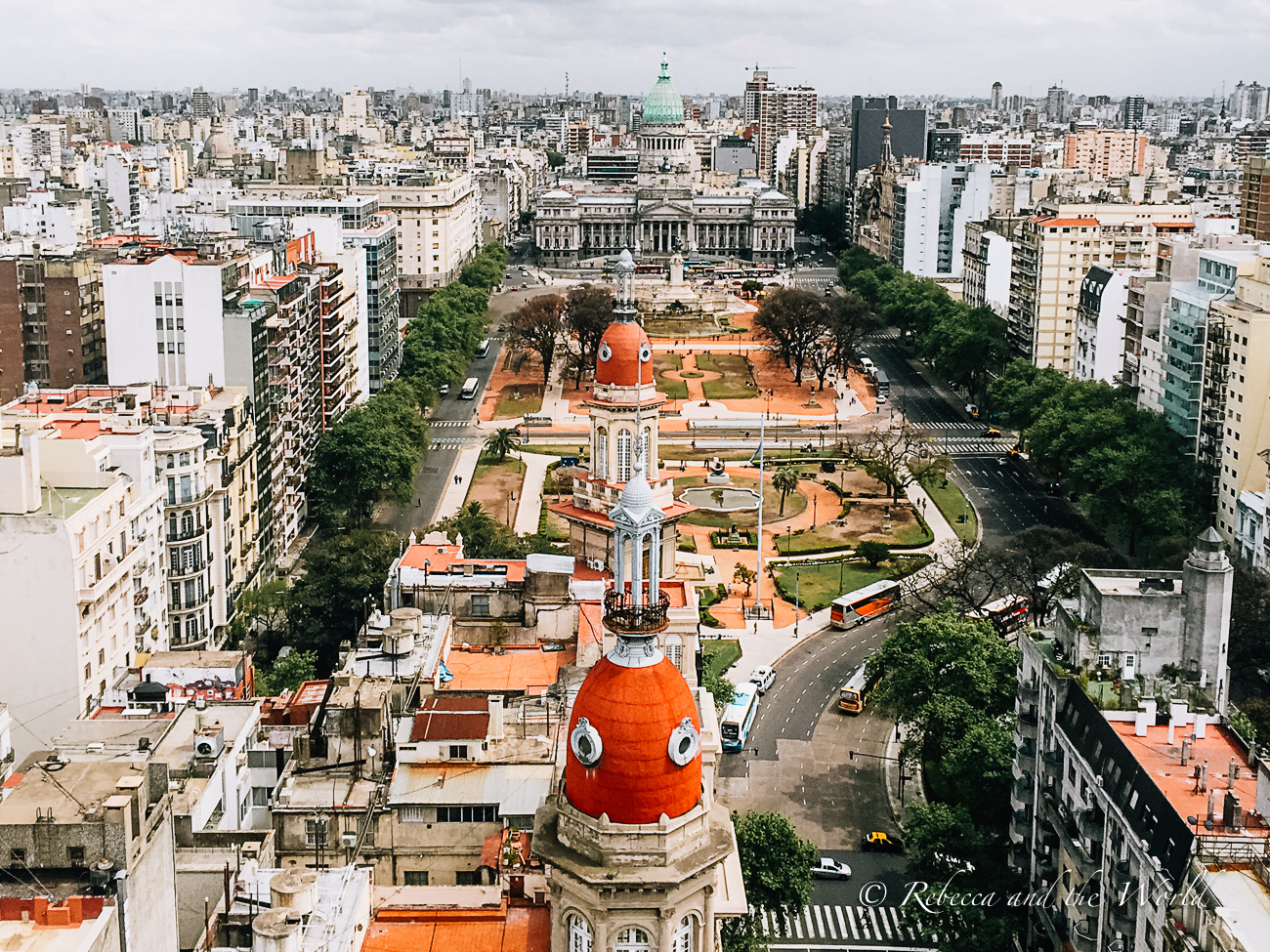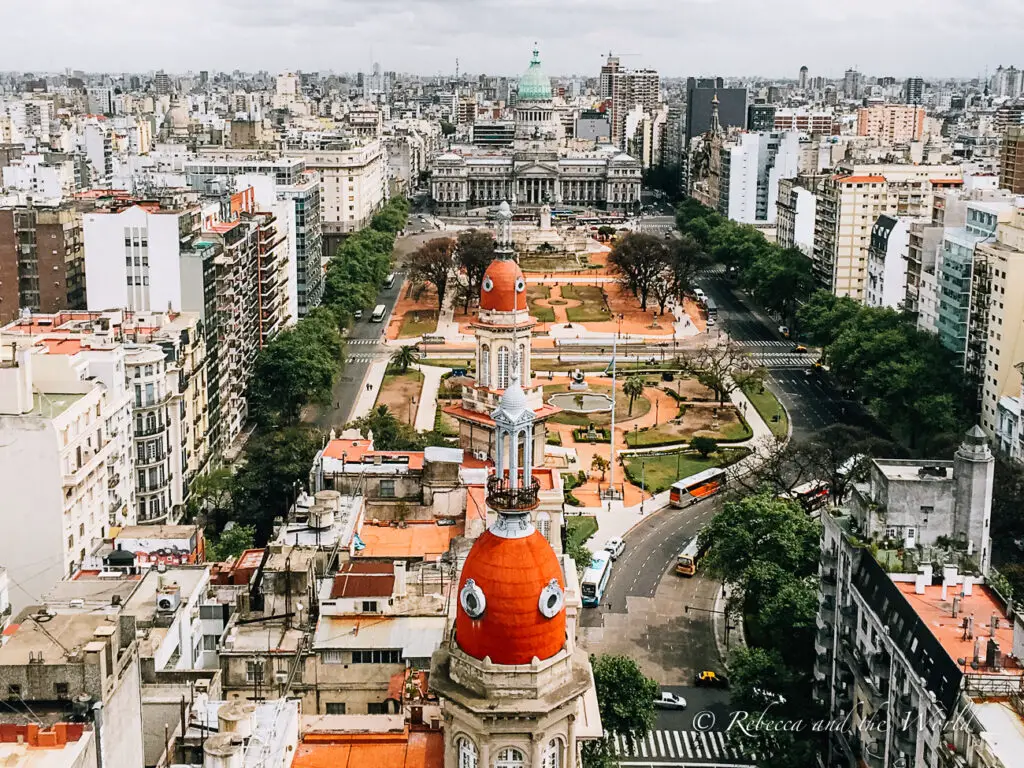 How to book one of the Palacio Barolo tours
The only way to get inside Palacio Barolo is on a guided tour. It's one of the more unique things to do in Buenos Aires – and when we visited, there weren't that many foreign tourists on the tour.
Palacio Barolo tours are in English and Spanish (at the same time) on Monday, Wednesday, Thursday, Friday and Saturday. The tour takes about 90 minutes and costs ARS$5,500 for non-residents at time of publication (October 2022).
You can book a spot on a Palacio Barolo tour on their tour company website, paying by bank transfer (I wouldn't attempt this as a foreigner) or credit card. If you have trouble with the booking, the team is very responsive on email at [email protected].
Be warned that the tour does involve some steep climbing in tight stairwells as you get closer to the top. It's really steep and if you have a fear of small spaces, you may not want to go all the way to the top of the building – but that is where the best views are!
If you want to do something really special, Palacio Barolo runs evening and night tours, also on Monday, Wednesday, Thursday, Friday and Saturday. These tours cost between ARS$6,500 and include a glass of wine. I unfortunately never did one of these tours but they look like a lot of fun!
So, will you take a tour of Palacio Barolo when you visit Buenos Aires?
You might also like these Buenos Aires articles:
Have you ever visited Palacio Barolo? What's your favourite building in Buenos Aires?
ARGENTINA TRIP ESSENTIALS
PIN IT FOR LATER:
Save this guide to Palacio Barolo tours to Pinterest!