Looking for the best estancias near Buenos Aires? You've come to the right place! These amazing getaways are all within a short distance from Argentina's capital.
I'm a big fan of cities – it's usually where I travel to most. But every now and then, it's nice to get away from the hustle and bustle and escape to the countryside. So, when city life in Buenos Aires gets too much – or if you're after a unique experience when you visit Argentina – it's not difficult to find that escape.
In fact, if you're visiting Buenos Aires, escaping can be a great way to get a taste for some local culture. In just under an hour you can be whiling away a lazy day by a pool, or riding horses, or chowing down on a traditional Argentine asado (barbecue) at one of the many estancias near Buenos Aires.
You may be wondering, what is an estancia? An estancia is essentially the Argentine version of a ranch, and there are many within a short distance from Buenos Aires. They range from the super luxurious with in-house spas and gourmet food, to the more traditional with basic lodgings where you can experience life as a gaucho (cowboy).
You can stay overnight (or longer) or simply head out for the day as part of an organised dia de campo (day in the countryside) where you'll have the chance to ride horses and enjoy an asado. Some are more touristy than others, some have retained their original traditions, and some are still working estancias where you can join in rounding up cattle and discover life as a gaucho.
This blog post may contain affiliate links, meaning if you book or buy something through one of these links, I may earn a small commission (at no extra cost to you).
My estancia experience
On my first visit to an estancia in Argentina, I escaped with friends to Estancia Villa Maria, a gorgeous Tudor-style property on sprawling grounds. Built in the late 1920s, it's been beautifully restored and boasts many a celebrity visit, including Michel Bublé when he married his Argentine sweetheart in 2011.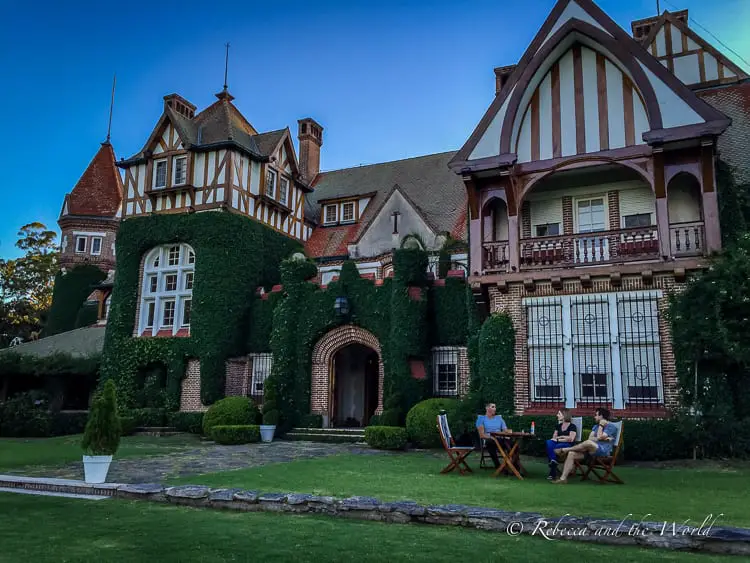 Unfortunately, the weather didn't cooperate on our first day at the estancia. Rather than exploring outdoors, we relaxed inside the property's beautifully preserved rooms and lingered over a bottle of wine with our three-course lunch. There were games, books and DVDs on offer for just this sort of day, but we decided to wait the rain out (that bottle of wine helped us pass the time).
When the sun did finally come out, we hopped on bikes for a leisurely ride around the estate. The estancia also has horse riding, and during high season there are polo matches, tango dancing and gaucho skills on display.
In the evening, after another three-course meal, we sipped wine and enjoyed being able to see the stars, away from the bright city lights.
If you're visiting Buenos Aires and have the time, consider a trip to one of these estancias near Buenos Aires. It's also a perfect day trip or weekend getaway for those living in Buenos Aires. Here are a few of the best estancias near Buenos Aires.
6 gorgeous estancias near Buenos Aires
Estancia Villa Maria
This is my favourite estancia in Argentina – because it was the first one that we visited. The grounds are gorgeous, staff attentive yet discreet and the food delicious. There's a swimming pool for those hot Buenos Aires days. It's so peaceful, away from the city.
Estancia Villa Maria is close to Ezeiza international airport, so you could even spend your final night in Buenos Aires here.
Check prices and book a romantic stay or a weekend away with friends with Booking.com | Read reviews on TripAdvisor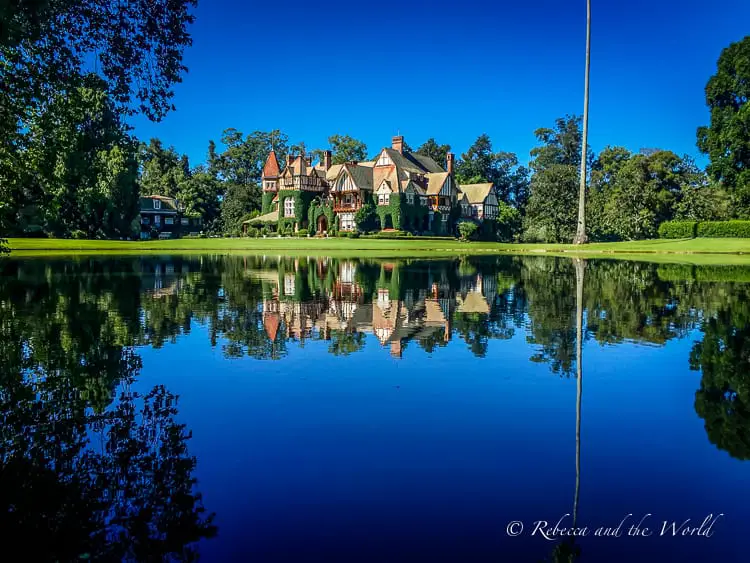 Estancia Don Manuel
Most well-known as one of Argentina's premier polo schools, Estancia Don Manuel can arrange a multi-day polo holiday where you spend your days playing chukkas and learning polo skills.
If that's a bit too strenuous, head out there on a "ranch day". You'll learn a few polo techniques, watch a polo match and enjoy an asado on a day trip. Or you can use the swimming pool, jacuzzi, tennis and volleyball courts or go bike or horseback riding.
Book Estancia Don Manuel online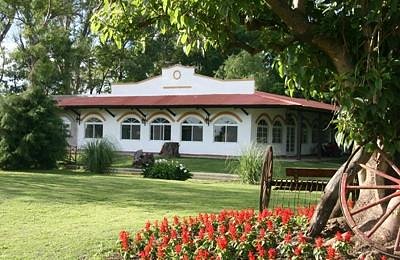 La Bandada
Recently renovated, you'll immediately feel at home in the warm surroundings of this working estancia. La Bandada's property covers 250 acres – plenty of space for horse riding, polo, walking, biking or swimming. There's even an adorable French Bulldog to snuggle with!
The onsite chef whips up dishes featuring seasonal vegetables directly from their own garden. You're even free to pick a few veggies yourself. Of course, Argentina's famous meat products are on display with each meal (rest assured vegetarians are catered for), and the staff can't promise that you won't leave without putting on a little weight!
Check prices online with Booking.com | Read reviews on TripAdvisor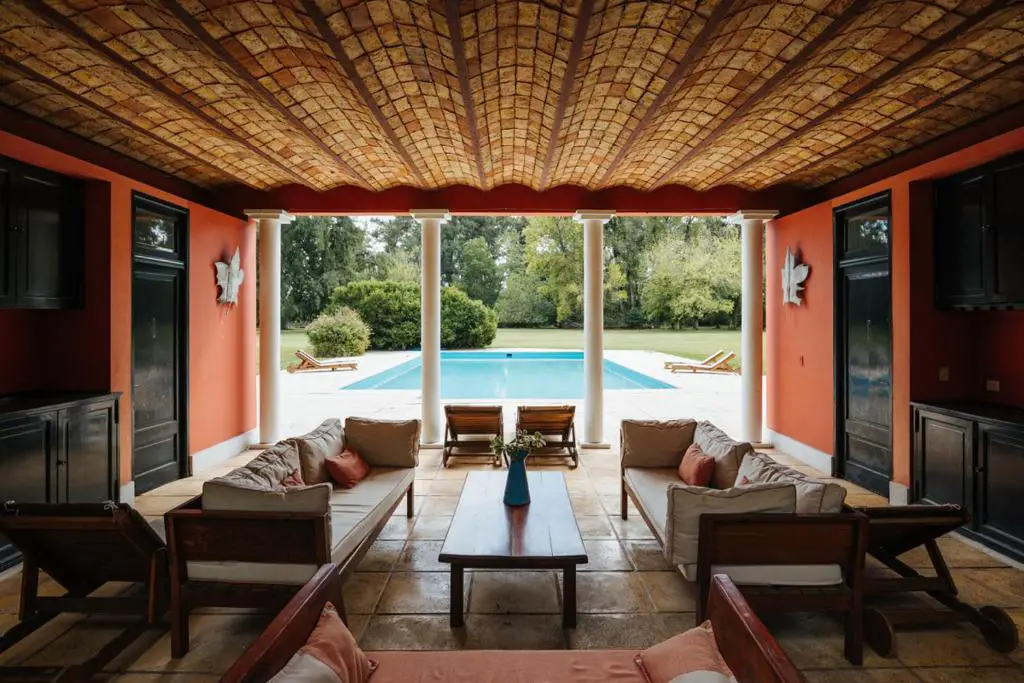 Estancia La Bamba de Areco
One of the oldest estancias in Argentina, La Bamba de Areco is also one of the best luxury estancias near Buenos Aires. Each room is named after a famous polo horse and has lovely views over the outdoor gardens, park or polo fields. There are no televisions or telephones, so it's perfect for those who really want to escape (in luxury).
Meals are communal and taken in a different part of the estancia. Like other estancias, you can spend a few days on horseback rides or mountain bikes, enjoy the huge swimming pool, wander through the gardens or book a hot stone massage. During polo season, you can even watch the daily polo matches. 
Check out the latest rates and book online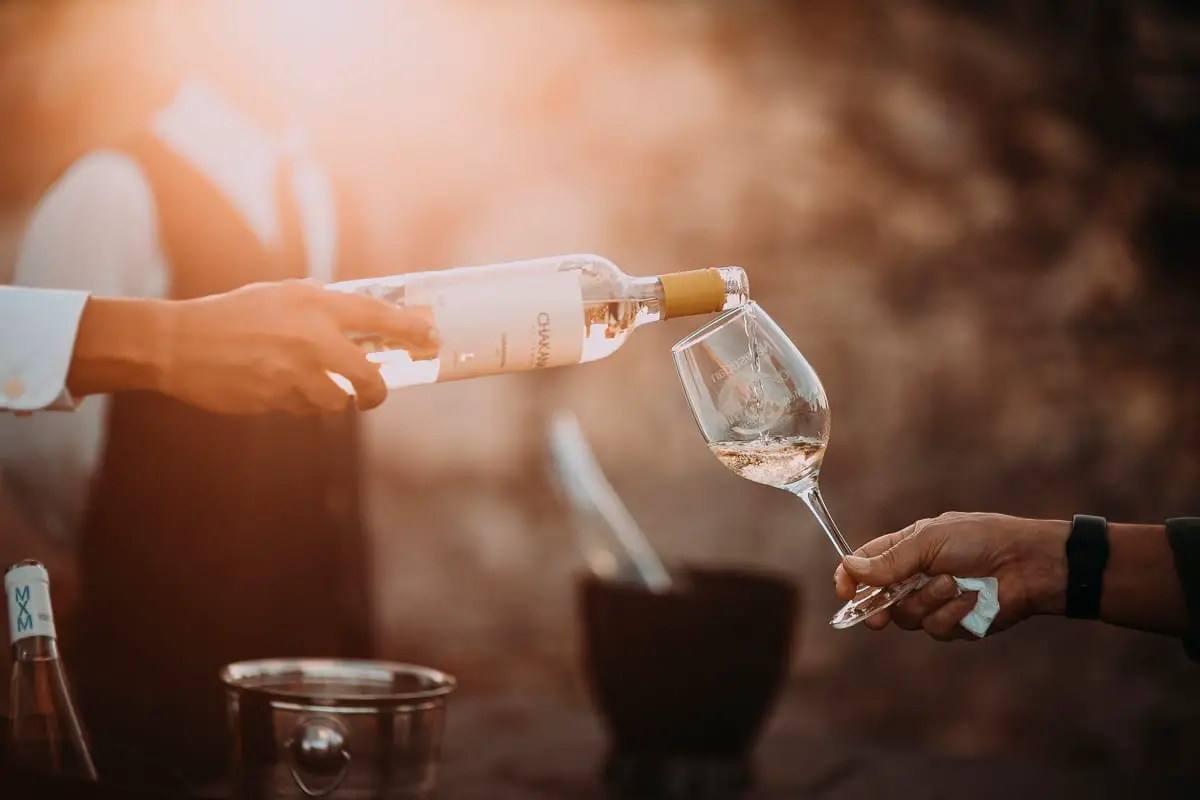 Estancia La Candelaria
From the moment you roll up in front of the castle – that's the only way to describe it! – you'll be blown away.
The 100-acre park was designed by renowned landscape architect Carlos Thays and features 240 species of trees. Prepare for pure luxury in the comfortable yet ornate rooms in one of the best estancias in Argentina.
If you're heading out for the day you can experience La Candelaria's famous fiesta gaucha or día de campo.
Book your amazing visit online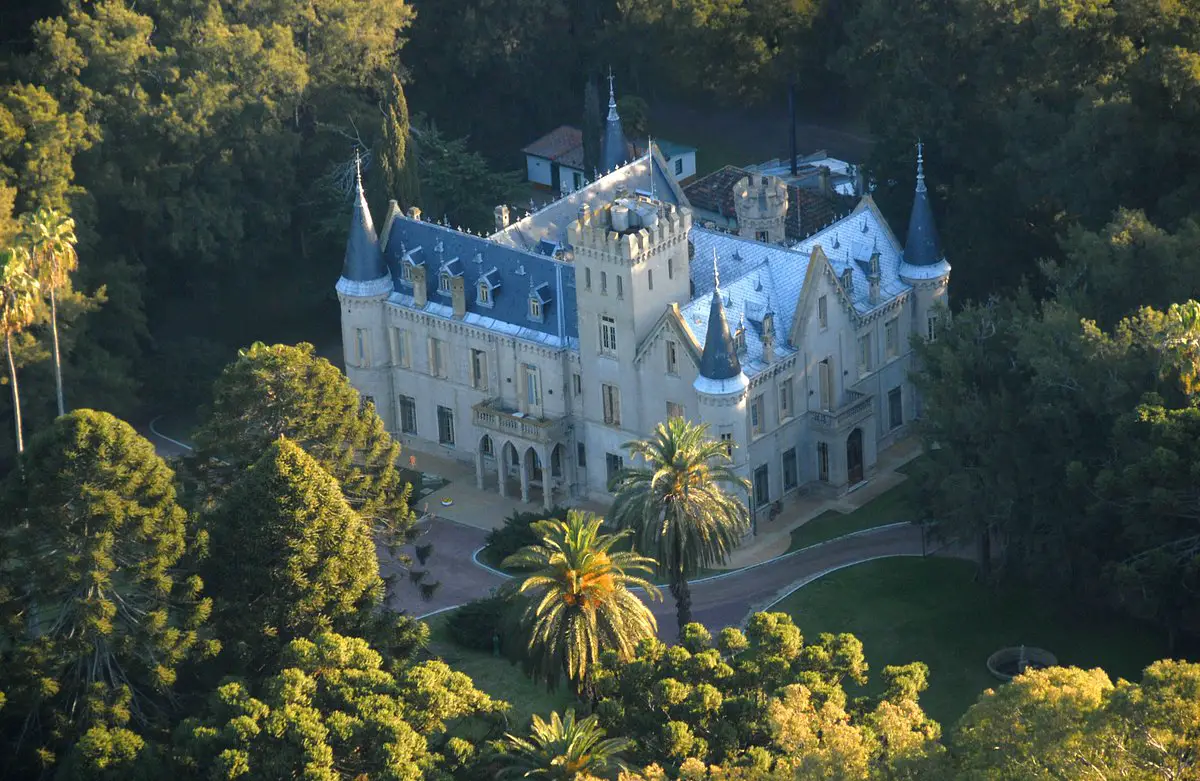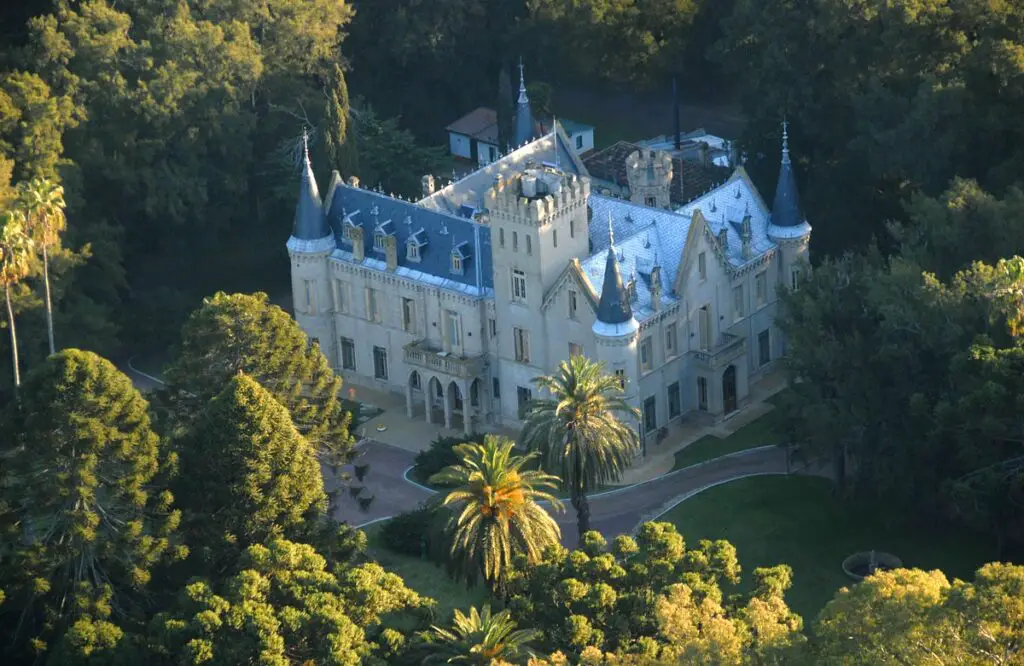 Estancia Los Dos Hermanos
Another estancia near Buenos Aires, Estancia Los Dos Hermanos is more traditional than others.
Come here for a día de campo. Spend a day riding horses followed by a full asado with plenty of Malbec. You'll need to take a siesta after all the food!
Check prices online and book your stay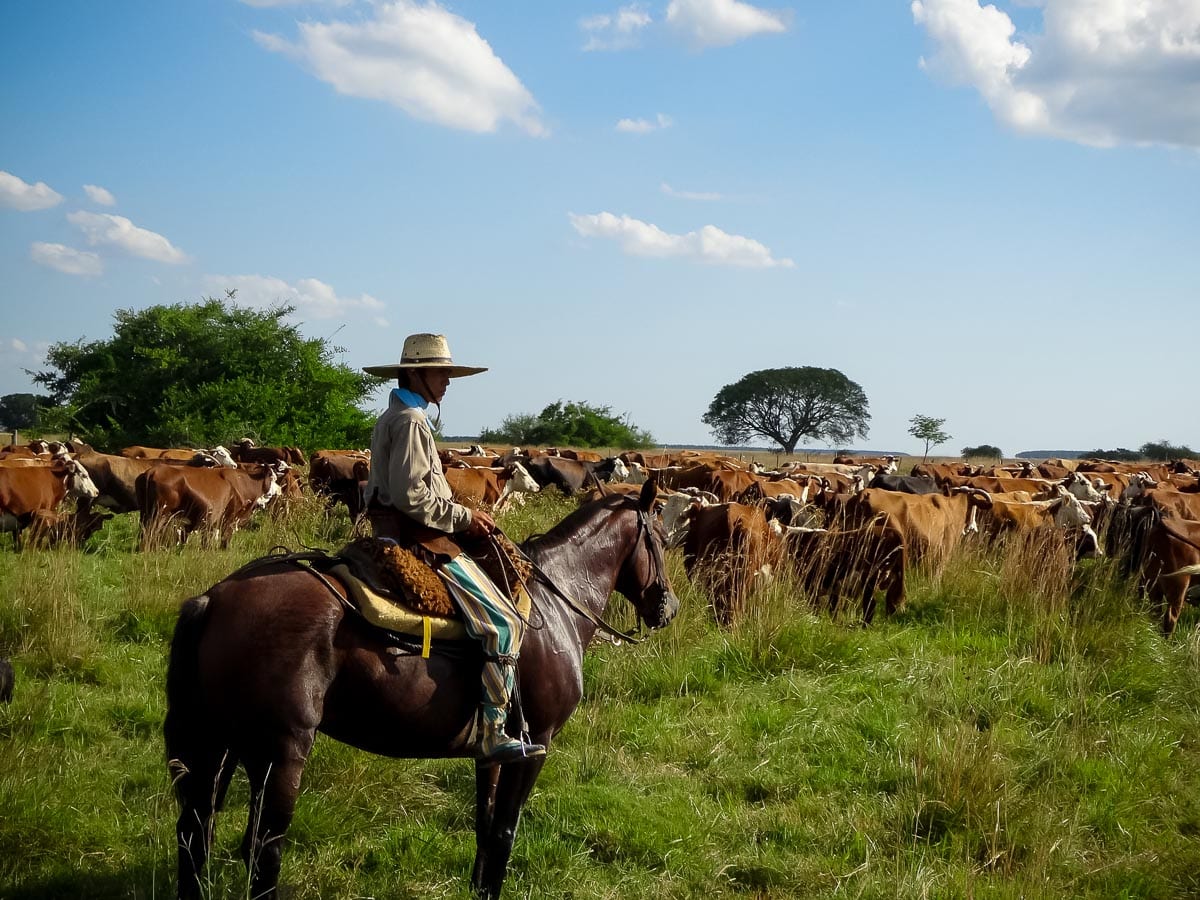 Visit an estancia on a day trip from Buenos Aires
If you don't have enough time to stay a night or two at an estancia near Buenos Aires, then there are plenty of tours that can arrange a day trip to one. These day trips tend to focus more on a gaucho experience and look like a lot of fun!
Have you visited an estancia in Argentina before? Which of these estancias near Buenos Aires would you like to visit? Let me know in the comments below.
You might also like these Buenos Aires articles:
ARGENTINA TRIP ESSENTIALS
ESTANCIAS NEAR BUENOS AIRES, ARGENTINA: PIN IT FOR LATER: