Known as the trekking capital of Patagonia – and perhaps the hiking capital of South America – the lure of El Chaltén hiking trails draws trekkers from around the globe. Home to the famous Mount Fitz Roy, what makes El Chaltén so great is that there's something for everyone. From world-class mountaineers to travellers simply wanting to take in the beauty of the area, there's an El Chaltén hiking trail for all levels of experience.
But this small town in the Santa Cruz province of Argentina has a lot more to offer than just stunning hikes. There are plenty more things to do in El Chaltén, from horseriding and kayaking, to simply relaxing with a locally made craft beer.
Read on to find out more about hiking in El Chaltén, how to get there, and what to see and do beyond hiking.
This blog post may contain affiliate links, meaning if you book or buy something through one of these links, I may earn a small commission (at no extra cost to you).
When to visit El Chalten
First up, we need to address the best time to visit El Chaltén. This is Patagonia, and Patagonian weather is unpredictable and erratic, so you do need to plan ahead for a visit.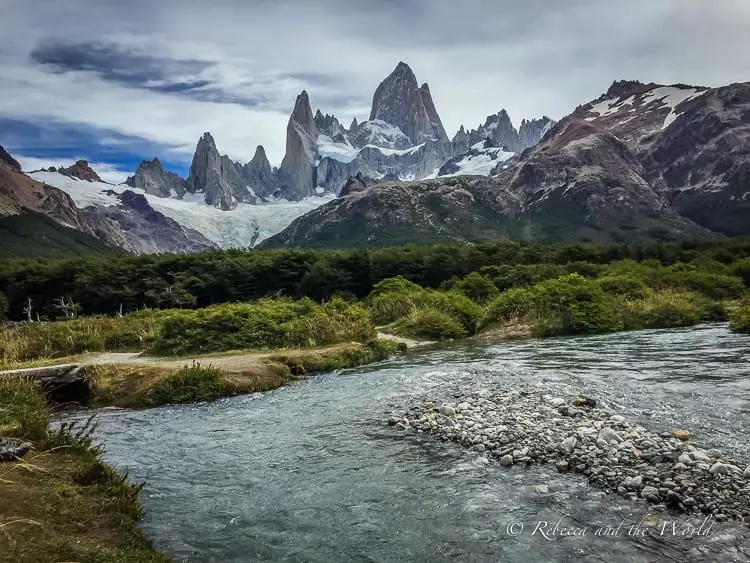 The best time to visit El Chaltén is between November and April, which is late spring, summer and early autumn in Argentina. December to February are the peak months for visitors travelling to El Chaltén, so make sure you book accommodation in advance if you're planning Patagonia trekking at this time of year. March and April are still busy but definitely calmer with fewer visitors.
However, even during these summer months the weather can be unpredictable. Summer is when the Patagonian winds are strongest through El Chaltén. But at this time of year you're more likely to get sunny days and there's little chance of snow to interrupt your El Chalten trekking adventures. Plus, the days are longer which means more time for being outdoors.
Autumn brings the changing of the leaves, so expect red and gold leaves framing those famous views of Monte Fitz Roy.
May to August is winter and, with strong snowfalls, many businesses shut down during this period. It can be hard to find accommodation willing to accept guests at this time of year.
How to get to El Chaltén
From Buenos Aires, fly into El Calafate (which is also the hub for visiting Perito Moreno Glacier). The El Calafate airport is quite modern. From here, head into town and take the three-hour bus trip to El Chalten. Aerolíneas Argentinas flies direct from Buenos Aires to El Calafate, as does FlyBondi.
There are several companies that operate the El Calafate to El Chaltén bus route, including TAQSA and Caltur. We went with Chalten Travel. The buses are comfortable and usually depart on time. You can book tickets online (recommended in high season) or buy a ticket at the office. Check online for the latest timetable.
We booked the front seats on our double-decker bus so we had an amazing view of the trip. The drive is stunning, with glimpses of turquoise lakes dotted among the flat, barren and windblown landscape.
Along the way you may be lucky to see small groups of guanacos (brown, llama-like animals) huddled beside the road here and there, or even a fox like we did. The little guy darted out across the tarmac in front of our bus, causing us to be thrown forward in our seats as the bus driver quickly braked (the fox safely made it to the other side of the road!).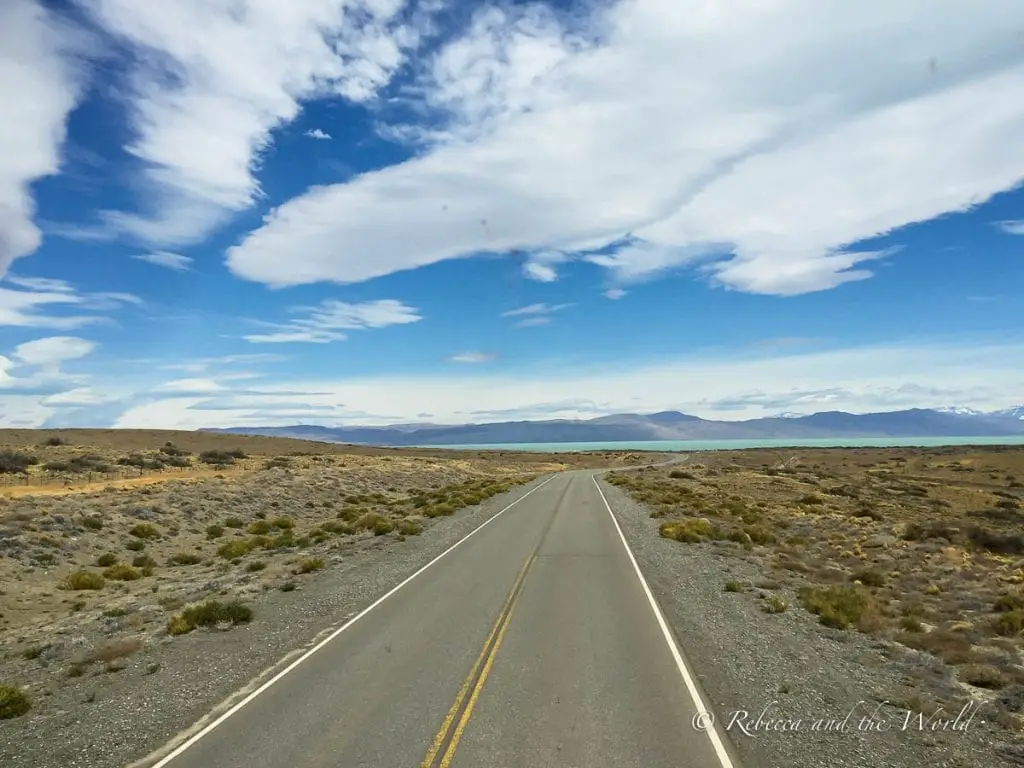 The bus makes a stop halfway at a café for snacks and a toilet break, but be warned that it is windy here!
The bus also stops at the ranger station on the edge of town for a compulsory briefing. El Chaltén is located inside the Parque Nacional Los Glaciares and care is taken to maintain the ecological value of the area. Rangers provide a briefing, hand out an El Chaltén hiking map, and encourage visitors to report any rare animal sightings.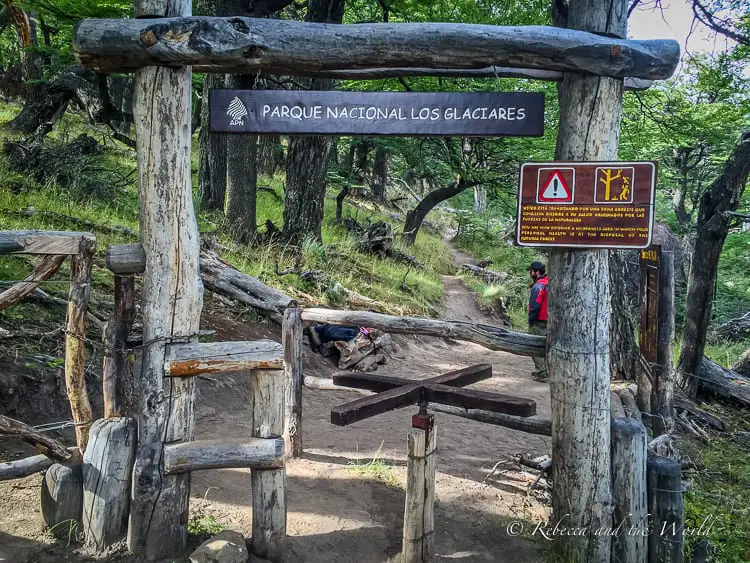 After the briefing, buses terminate at the El Chaltén bus terminal at the edge of town. From here, you can walk to your accommodation or take a taxi.
Alternatively, you could hire a car in El Calafate. The road to El Chaltén is nicely paved.
Around El Chaltén, you won't need a car very much as the town is small and walkable. To get to some trailheads you can walk (most are only a few minutes' walk from the centre of town), take a taxi, or hostels can arrange shuttle services.
Useful things to know before visiting El Chaltén
Plan to spend a few days in El Chaltén. The weather here is unpredictable, so having a few days here will increase your chances of a sunny day for hiking – and for seeing the peak of Mount Fitz Roy peeking out of the clouds.
Bring cash with you to El Chaltén because you can't rely on the ATMs either working properly or actually having any cash. Because of poor wifi, some hotels won't be able to accept credit cards, so pay in advance if you can, or make sure you have enough cash to foot your accommodation bill.
El Chaltén is remote, so don't expect much mobile phone coverage or strong wifi, even in town (and definitely no mobile coverage out on the trails). It pays to download any helpful El Chaltén maps and information before you arrive so you have access to any important documents.
I recommend bringing your hiking (and camping if you're planning on that) gear with you. There are a few places around town that sell or rent out equipment, but it can be quite expensive.
What to pack for a trip to El Chaltén
Come prepared for all types of weather, and have good hiking gear, especially if you're planning to tackle the full-day hiking trails.
Here's a list of El Chaltén hiking essentials:
Daypack with a water bladder
Hiking boots or trail running shoes
Quality hiking socks (like these Darn Tough ones)
Hiking pants or leggings
Packable windproof and waterproof jacket (like this lightweight, breathable jacket)
Layer up with a lightweight, wicking t-shirt and maybe a long sleeve depending on the weather
Cap to protect against the sun (or a hat with a brim and drawstring so it doesn't blow off your head on windy days!)
Gloves for cold mornings / evenings
Reusable water bottle (I use this Nomader bottle which also compresses when it's not full)
Minimum SPF50+ sunscreen (I like this brand for its non-greasy formula which means I can use it on my face as well as the rest of my body)
Sunglasses
Toilet paper (or tissues)
Snacks and water for your hikes
Head torch or handheld torch
Camera (I love my Sony A6300)
Portable charger (I don't leave home without one of these lightweight chargers!)
Travel insurance – no matter where you're going, don't leave home without travel insurance! I use World Nomads when I travel internationally (get your own quote here)
The best El Chaltén hiking trails
So, let's get into what you came here for: information about the best El Chaltén hiking trails! I've outlined five El Chalten hikes here – only day hikes – listed in order of difficulty and length.
A few things to keep in mind before you head out on your hike:
There are no rubbish bins on the trails, so make sure you pack out anything you bring with you (leave no trace!).
There are also no toilets, so bring along toilet paper – and remember you'll need to take that out with you, too!
You can fill up on water from streams along the way – the water is safe to drink. But, if you're a bit worried about this, then bring along a water filter bottle like this popular Grayl bottle.
Watch the forecast, as the weather is unpredictable. Be mindful of high winds, especially when hiking the final section of the Laguna de los Tres trek.
Most of these hikes are out and back routes, unless I've included an alternative.
All these hikes can be done independently, but if you'd prefer to have a guide, you can find several companies around El Chalten. Alternatively, you can book full-day guided hikes online (but they're not cheap), like this Laguna de los Tres hike or this Laguna Torre hike.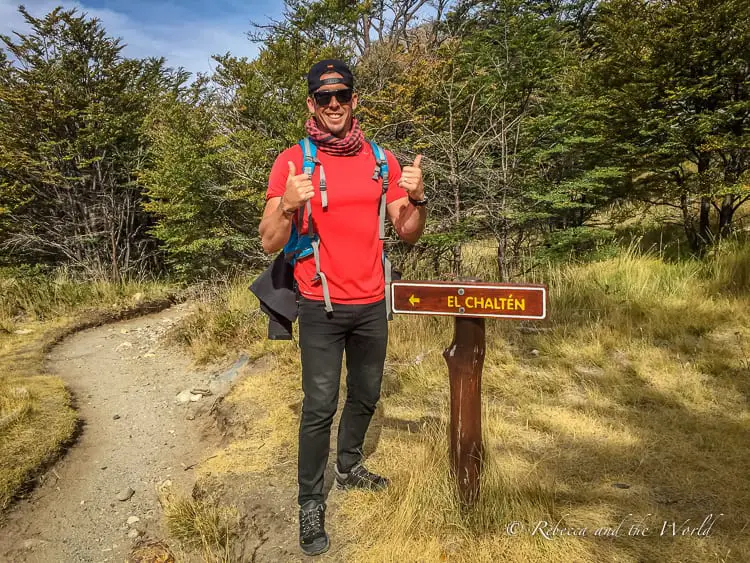 Mirador Los Cóndores / Mirador Las Águilas
Distance: 4-6 kilometres, 2 hours round trip
Difficulty: Easy
This easy hike is good for everyone. There are a few gentle slopes but for the most part it's flat. The trailhead begins at the Los Glaciares National Park Visitor Centre. The best time to hike it is early morning, so you can catch the sunrise. If you're not an early bird, then it's also lovely at sunset.
The first lookout is at Mirador Los Cóndores, which has spectacular views over El Chaltén and the surrounding mountains, including Monte Fitz Roy and Cerro Torre. The viewpoint is named after the condors that fly through the valley.
The path to Mirador Las Águilas is just before the Condor lookout. From Las Águilas, there are panoramic views over Lake Viedma, Cerro Huemul and Cerro Piramide.
Chorillo del Salto
Distance: 4 kilometres, 1-5-hour round trip
Difficulty: Easy
Another easy El Chalten hike, we did this on the afternoon we arrived in El Chaltén.
The trailhead begins at the end of Avenida San Martín. The first part is fairly boring alongside the road (you could get a lift to the Chorillo del Salto trailhead directly which cuts out 2 kilometres of the walk).
It's a flat walk through a forested area, the Ñires forest. The hike ends at the Salto Falls, a 20-metre waterfall.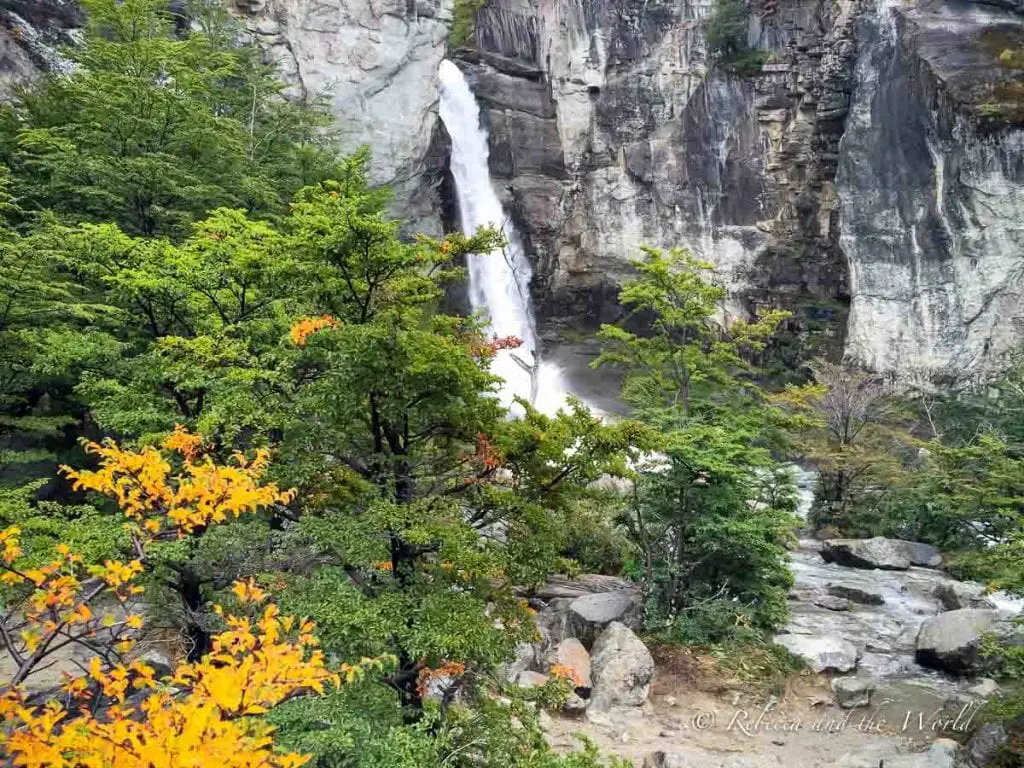 Laguna Capri
Distance: 8 kilometres, 4-5 hours round trip
Difficulty: Easy
An easy hike that begins from Avenida San Martín, this hike does start with a fairly steep ascent. After that, the trail is flat, weaving through forested areas until arriving at Laguna Capri.
The reward for the hike is the stunning views of Mount Fitz Roy, perfectly framed above the lake (if you've got a sunny day and can actually see the peak!). If it's a hot day, brave the chilly waters (even in summer they are frigid!).
There is a free campsite here if you want to stay the night (and have the necessary camping equipment with you).
Laguna Torre
Distance: 20 kilometres, 7-8 hours round trip
Difficulty: Moderate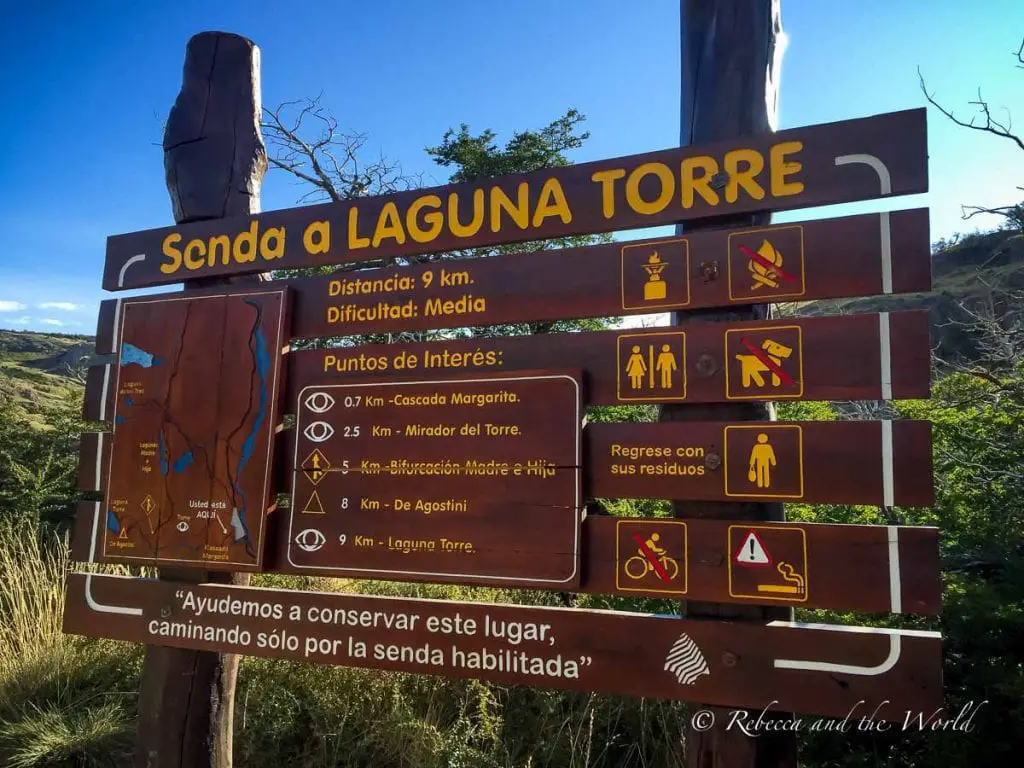 One of the most popular hikes in El Chaltén, this is a full-day hike so come prepared with food and water. Start early so you can return to town before darkness. It's well signed, and the trailhead is on a hill just behind town (from here there are great views over the town).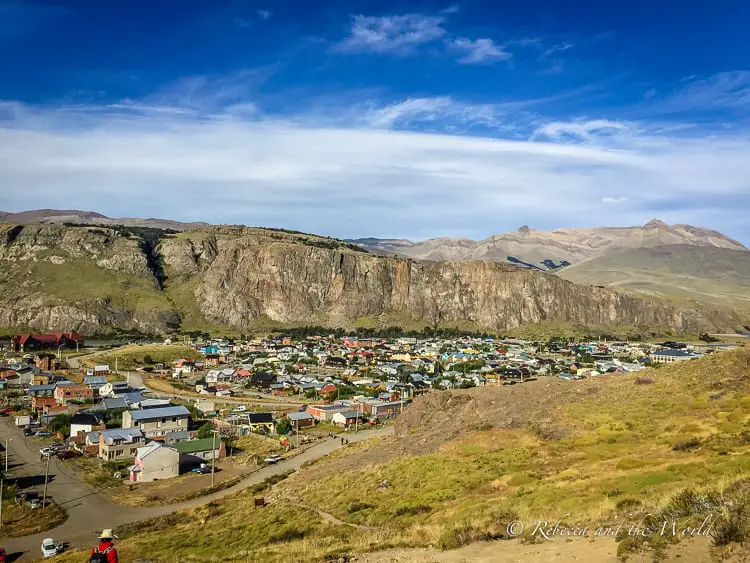 Like all the other hikes in El Chaltén, the views are jaw-dropping (so make sure you have a camera with you). The beginning is quite steep. The trail runs alongside a stream, through a forest, and then leads to views of Cerro Torre and the Torre Valley.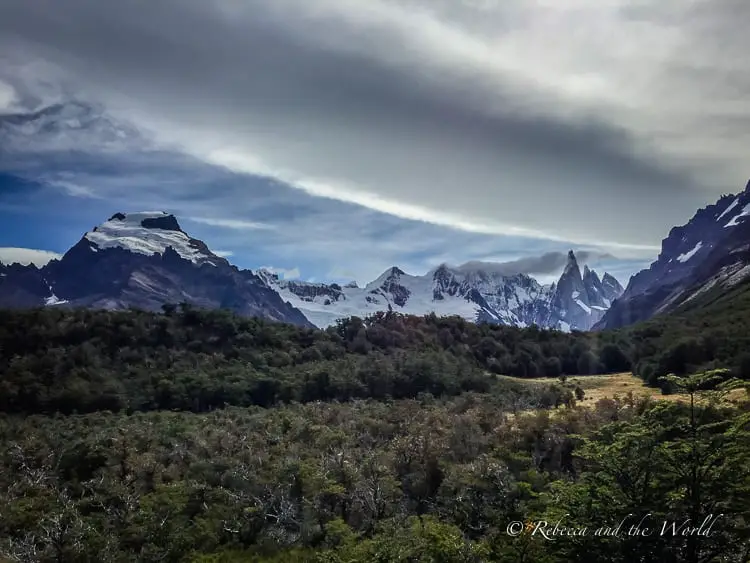 When you arrive at Laguna Torre, you may see floating icebergs (I dare you to take a dip in the water!). There's an additional track from here which leads to Mirador Maestri for views of the glaciers and lake below.
There's a campsite here, De Agostini. If you stay the night, you can plan to get up early in the morning to watch the sunrise over Cerro Torre, which lights up the rocky face of the mountain in flaming orange.
Laguna de los Tres
Distance: 25 kilometres, 8-9 hours round trip
Difficulty: Moderate to difficult
This is one of the more challenging hikes in El Chaltén, but it cannot be missed! One of the most famous Patagonia hiking trails, Laguna de los Tres leads to the most spectacular views of Mount Fitz Roy. While it's mostly on flat ground through forested area, there are some steep inclines, particularly the last section which shouldn't be attempted in high winds.
Similar to Laguna Torre, start this hike early, as it's a long, long day (even longer if you make a wrong turn, as we did…).
The trailhead for Laguna de los Tres begins at the end of Avenida San Martín – you can't miss the huge sign. BUT, I recommend getting a taxi or shuttle to Hostal El Pilar, a few kilometres outside of town. If you start here, it means you won't be hiking in and out on the same track, so there's a bit of variety to your day of walking.
The hike from Hostal El Pilar is mostly flat and pleasant. The trail winds through a tranquil forest for several hours.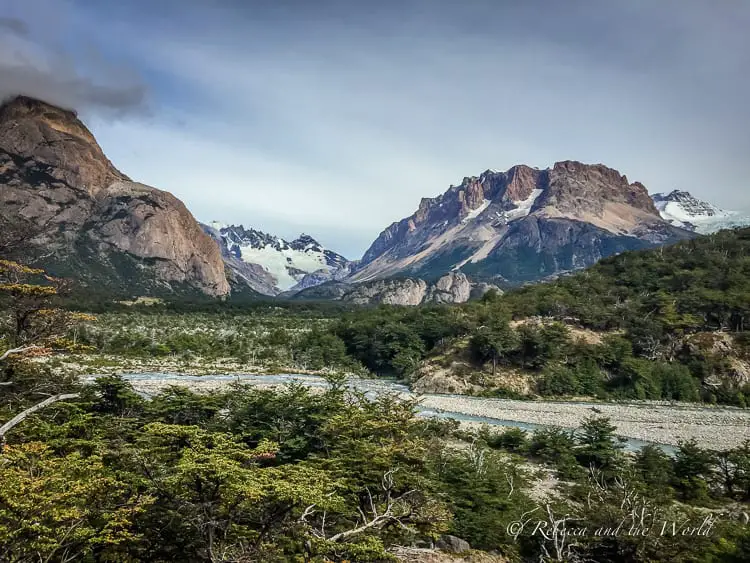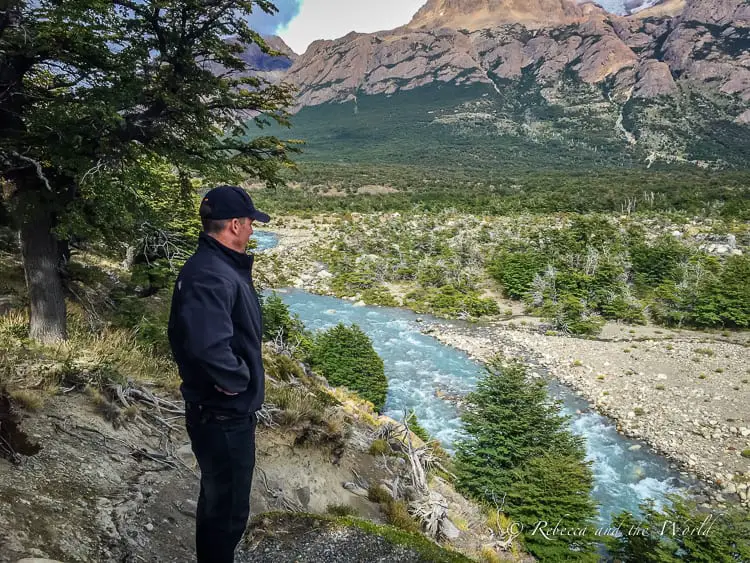 There are a few clearings with glimpses of Mount Fitz Roy and the Piedras Blancas Glacier.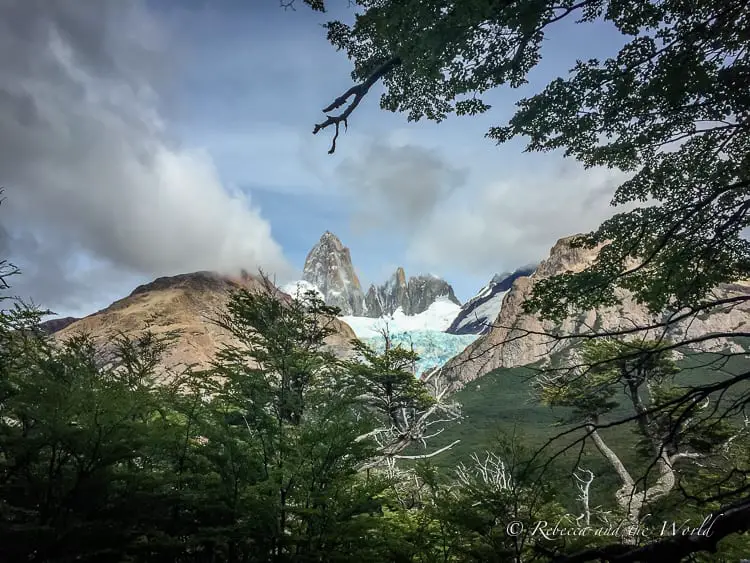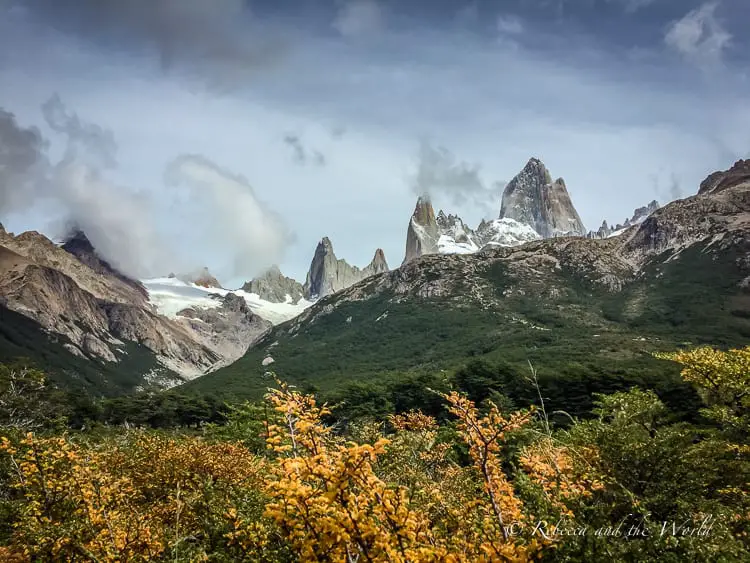 The path leads through the Poincenot camping ground (a good place to stop and eat your packed lunch).
It's after here that you face the tough part: the 1-kilometre ascent to the lagoon. This is very challenging and we saw many people turn back. It's a steep, rocky, slippery path, and there are signs clearly warning hikers not to attempt this part if it's windy or raining. We luckily had a clear, still day.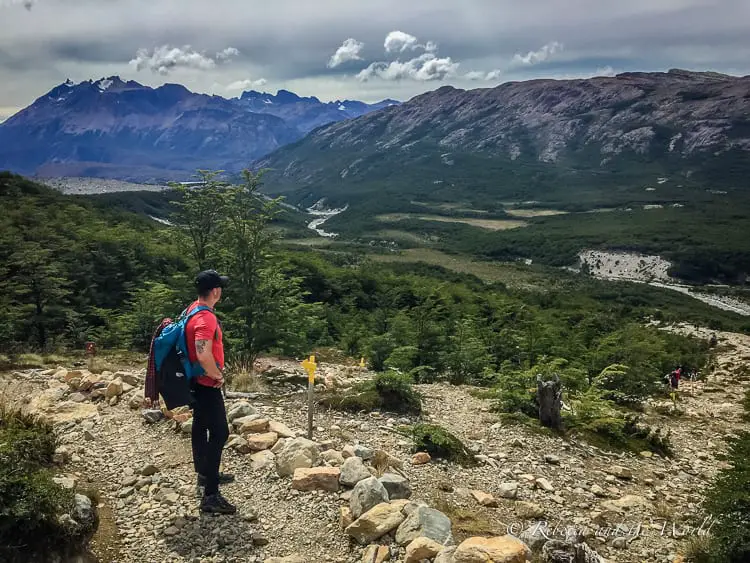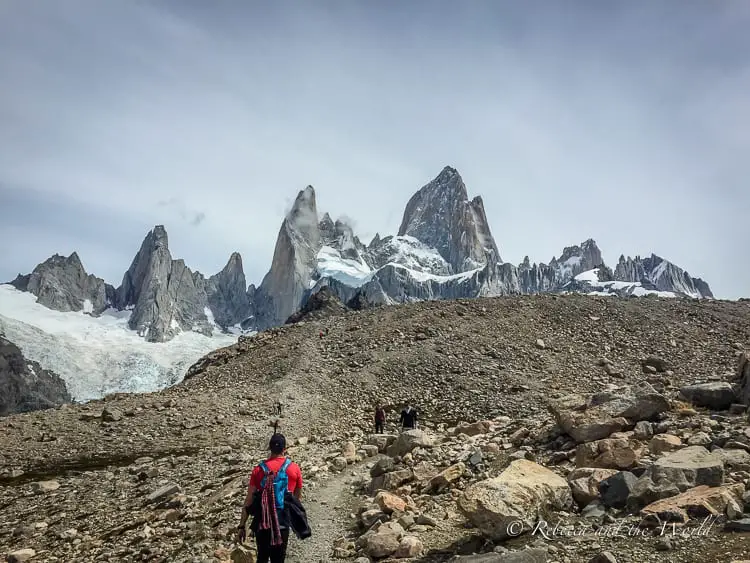 From the lagoon there are views from the foot of the rocky peaks of Mount Fitz Roy above the deep turquoise water. We saw some people strip off and jump into the freezing water – their shocked shrieks echoed around the lagoon, which was a clear sign I wouldn't be getting in there.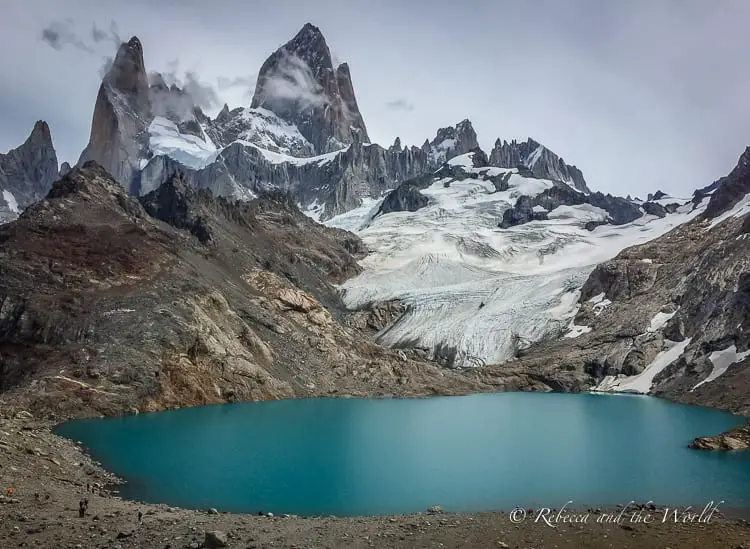 After spending a while here admiring the view, head back down and follow the signs that point back to El Chaltén.
Just don't do what we did and not pay attention! We somehow missed the sign pointing back to El Chaltén and made our way along a path that connects the Laguna de los Tres trail with the Laguna Torre trail.
While we got lucky and ended up with some unexpected views of Cerro Torre, it added another 18 kilometres on top of the 16 kilometres we'd already walked that day! By the time we realised our mistake, we were too far along the path to turn back, so we spent our final hours of hiking alternating between laughing at our stupidity, frustration and tired anger. But it makes for a great hiking story!
What to do in El Chaltén beyond hiking
While El Chaltén is known as a hiking town, there are other things to do in El Chaltén to keep you occupied.
Go horseriding through the beautiful valleys around town. Check around town for providers. We booked through one of the hostels, but I wouldn't recommend them as our guide was not very friendly.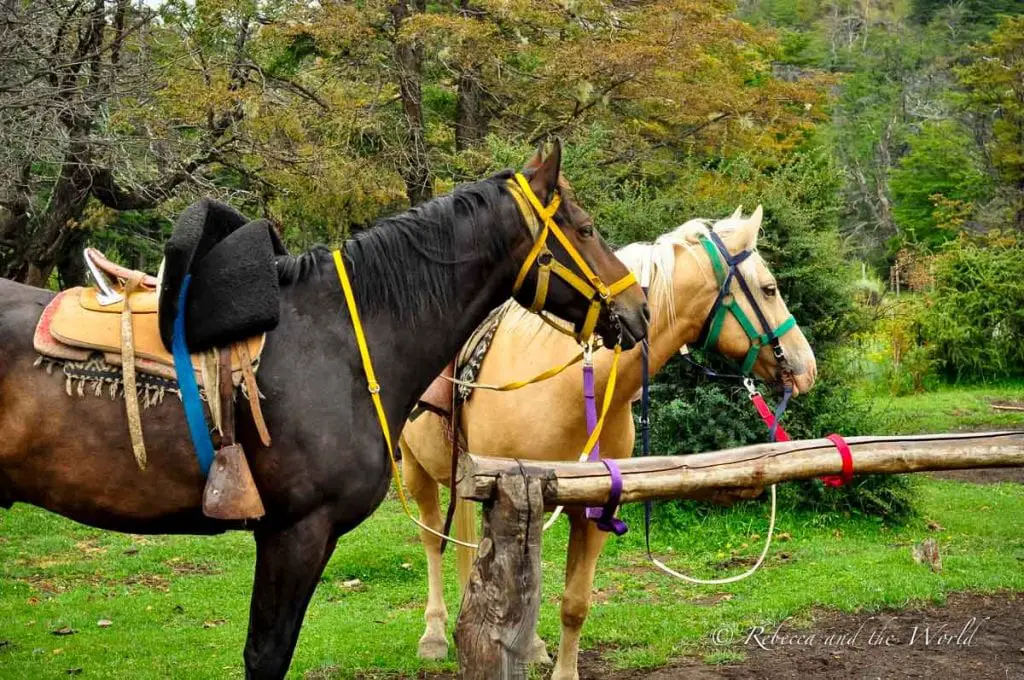 Go kayaking down the Rio Las Vueltas on this day trip. The kayak tour begins with some instruction, so don't worry if you're a complete kayaking novice. I can only imagine the stunning views from the water! If this sounds like fun, book online here.
After all that hiking and exercise, get a spa treatment. I had a sublime foot massage at Spa Yaten on Avenida San Martín.
Make sure to try some of the local beer. La Cervecería Chaltén is a great place for a fun, low-key night out.
Simply chill out and enjoy being off the grid! There aren't many places in the world where you can really disconnect these days in a place of such beauty, so go ahead and relish the opportunity.
Where to stay in El Chaltén
There are a range of El Chaltén accommodation to suit all budgets. If you're visiting in December, January of February, book well in advance.
Moderate
Located close to the trails, you'll beat the morning hiking crowds when you book a room at Destino Sur Hotel de Montaña & Spa. This mountain lodge has spacious rooms with plush beds, and the sauna provides relief after a long day of hiking. Book a room online | Read reviews of Destino Sur Hotel de Montaña & Spa online
Looking for something off the grid? Then book one of the spacious, padded dome tents at Patagonia Eco Domes. There's definitely no mobile phone coverage or internet here so you really will feel remote. Solar energy powers each dome. Book a room online | Read reviews of Patagonia Eco Domes online
Budget
You'll find competitive rates at Condor de los Andes. There's a mix of shared dorms and private rooms and breakfast is included in the rates. A fully-equipped kitchen and living room with fireplace will make your stay comfortable. Book a room online | Read reviews of Condor de los Andes online
Where to eat in El Chaltén
There are plenty of restaurants in El Chaltén. A few recommended places to eat include:
La Oveja Negra for asado (barbecue) meats
Fuegia Bistro for delicious lamb dishes
Domo Blanco for ice cream
Don Guerra for rustic loghouse vibes and homely meals
There's a supermarket in town but prepare to be disappointed. The selection is limited, so if you do want to prepare your own meals, then bring food with you.
Hopefully this guide has got you dreaming of El Chaltén hiking trails!
You might also like these Argentina articles:
Have you been to Patagonia? Which of these El Chaltén hiking trails would you like to tackle?
ARGENTINA TRIP ESSENTIALS
PIN IT FOR LATER:
Save this guide to El Chalten hiking trails and get prepped for your trip!