Looking for a guide to visiting the Ruta de los Siete Lagos in Argentina? Here, I share my tips for the 7 Lakes Route, including how you can drive, tour and even bike this stunning route!
There are many spectacular things to do in Argentina, but the trips that I remember most from my time living in Argentina are the ones that involve road trips.
And in Neuquén province in northern Patagonia, you'll find one of the best road trips in Argentina: the Ruta de los Siete Lagos.
This stunning 110-kilometre scenic route (in English, it's the Road of the Seven Lakes) winds through – you guessed it – seven lakes, each a shade of teal or turquoise that have to be seen to be believed.
If you're planning to visit Argentina, this is an area you should definitely put on your Argentina itinerary. The great thing is that there are multiple ways to traverse La Ruta de los 7 Lagos and I'm going to show you how to do each one.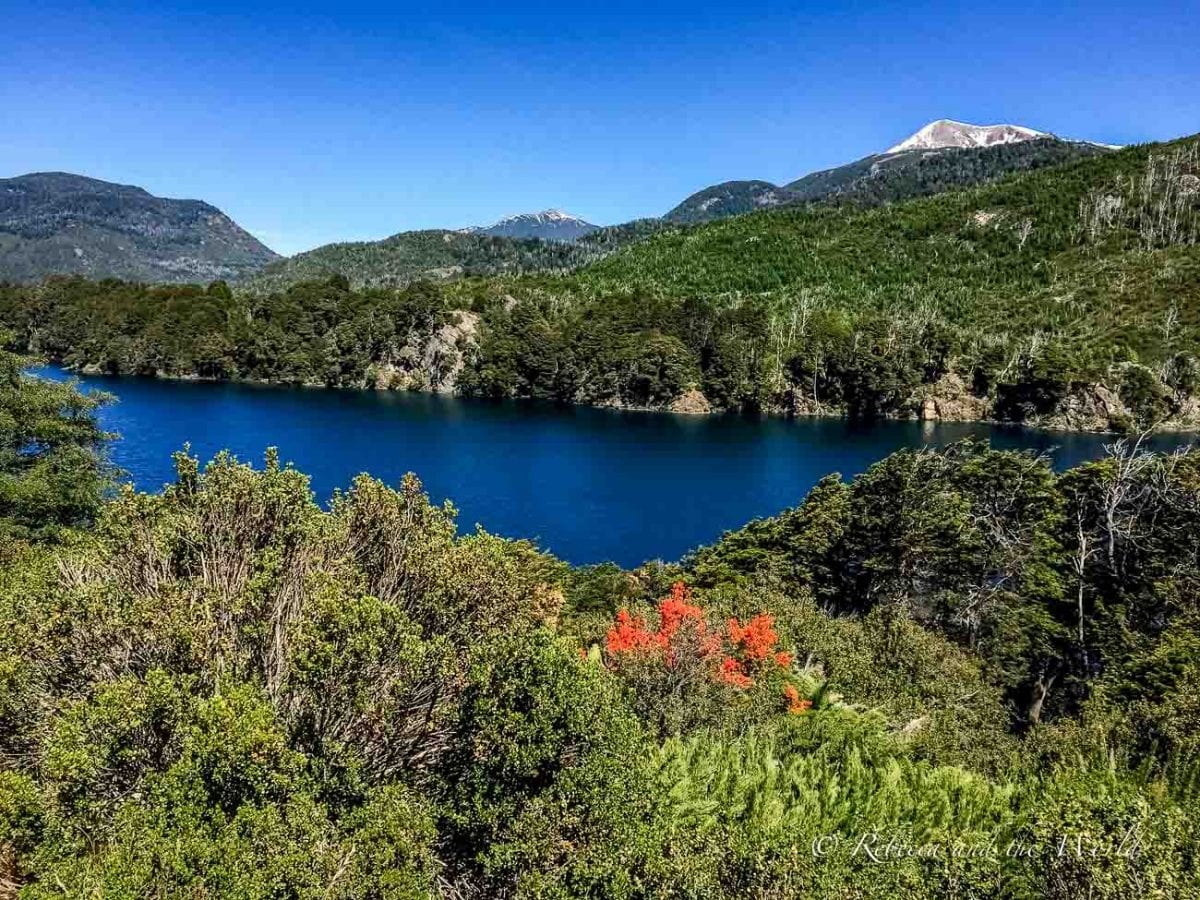 This blog post may contain affiliate links, meaning if you book or buy something through one of these links, I may earn a small commission (at no extra cost to you).
What is the Ruta de los Siete Lagos?
The Ruta de los Siete Lagos connects the two towns of Villa la Angostura (near Bariloche, a popular town year-round) and San Martin de los Andes. You can either  take the route from north to south (from San Martin de los Andes to Villa la Angostura) or south to north.
We did the route from south to north because we had based ourselves in the larger town of Bariloche.
The Camino de los Siete Lagos is on Argentina's famous Ruta Nacional 40, a highway that traverses the length of the country (it's a dream of mine to drive the whole thing one day!). The 7 Lagos Route is a two-way, paved highway which is in good condition. Some of the lakes can only be reached by dirt roads that shoot off the main highway, but we found these to be in pretty good condition, with compacted roads – just watch the potholes.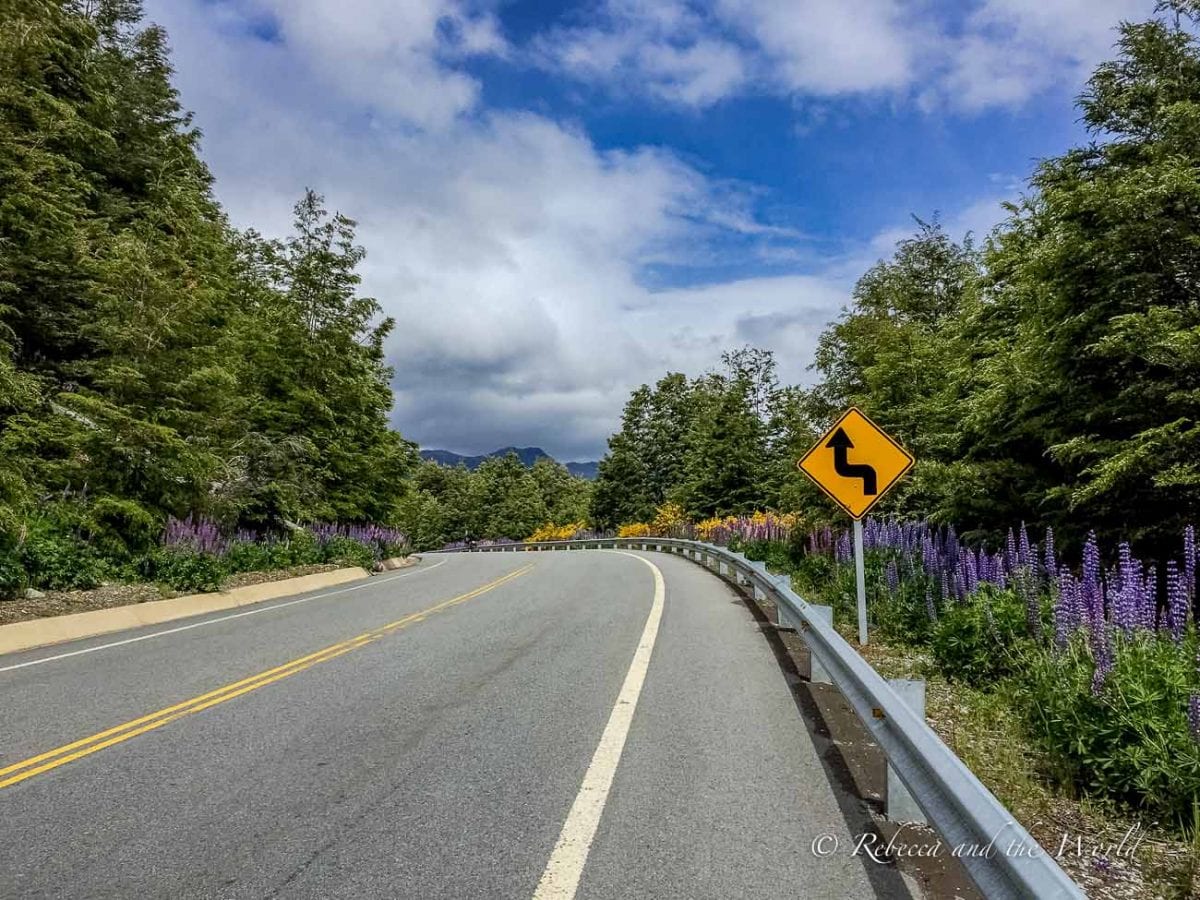 The 7 lakes
The name of the route is actually a misnomer. There are more than seven lakes to see along the route.
I did plenty of research to try to figure out which are the "official" seven lakes, but every source listed different lakes! Instead, here are the lakes that you'll see along the way, listed from north to south:
Lago Lácar
Lago Machónico
Lago Meliquina
Lago Pudú Pudú
Lago Hermoso
Lago Villarino
Lago Falkner
Lago Escondido
Lago Traful
Lago Correntoso
Lago Espejo Chico
Lago Espejo Grande
Lago Nahuel Huapi
In my opinion, it doesn't matter which are the official lakes and which aren't. They're all gorgeous and you'll enjoy this trip along the Seven Lakes Road regardless!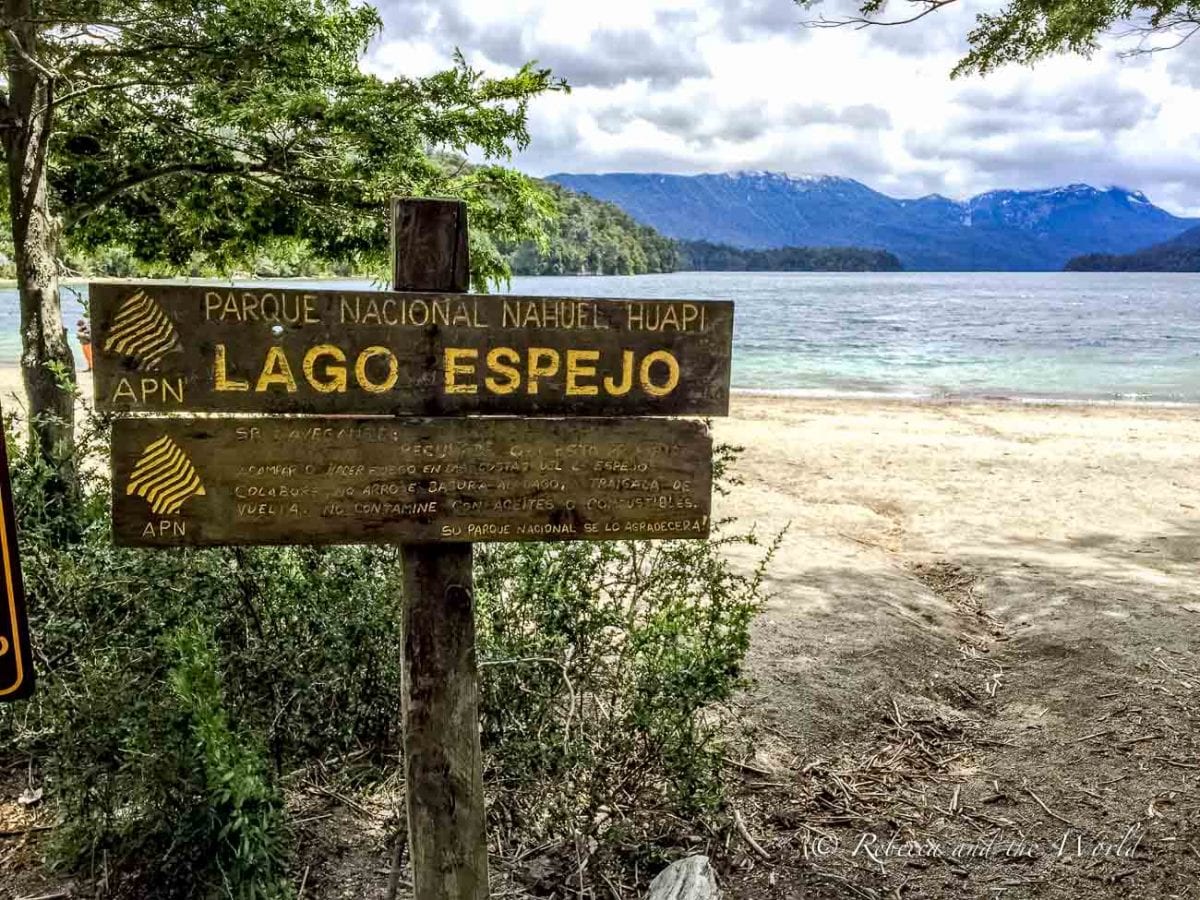 Ruta de los Siete Lagos map
When to visit the Ruta de los 7 Lagos
The best time to visit the Ruta de los Siete Lagos is in summer or spring (remember, that's southern hemisphere summer and spring, so from September to February).
In summer, you'll find the warmest weather, which means sunny days and the chance of taking a dip in one or two of the most beautiful lakes in Argentina. Camping sites are open, as are the stores along the route that sell food and supplies.
We visited in spring and had mostly good weather, although there was one day where a light shower turned into a full day of fairly heavy downpour. The lake water was also definitely too cold to even dip a toe in! Some campsites may not yet be open. It's worth it during this season – the colourful flowers are so beautiful!
If you're set on visiting in winter, you'll need to be prepared for snow and extremely cold weather.
How to visit the Ruta de los Siete Lagos
There are three ways you can traverse the Ruta de los Siete Lagos:
By car
By guided tour
By bike
I guess there's also a fourth way: hitchhiking! I've never hitchhiked before, though, so I have no tips or experience to offer here. What I can say is that the Ruta de los Siete Lagos gets a lot of traffic, so I imagine it wouldn't be too difficult to get a ride. Argentines are also super friendly so I'm sure you'd meet some fun people!
Before we get into more details about the three ways I recommend visiting the 7 Lakes Route, let's talk about how you actually get there.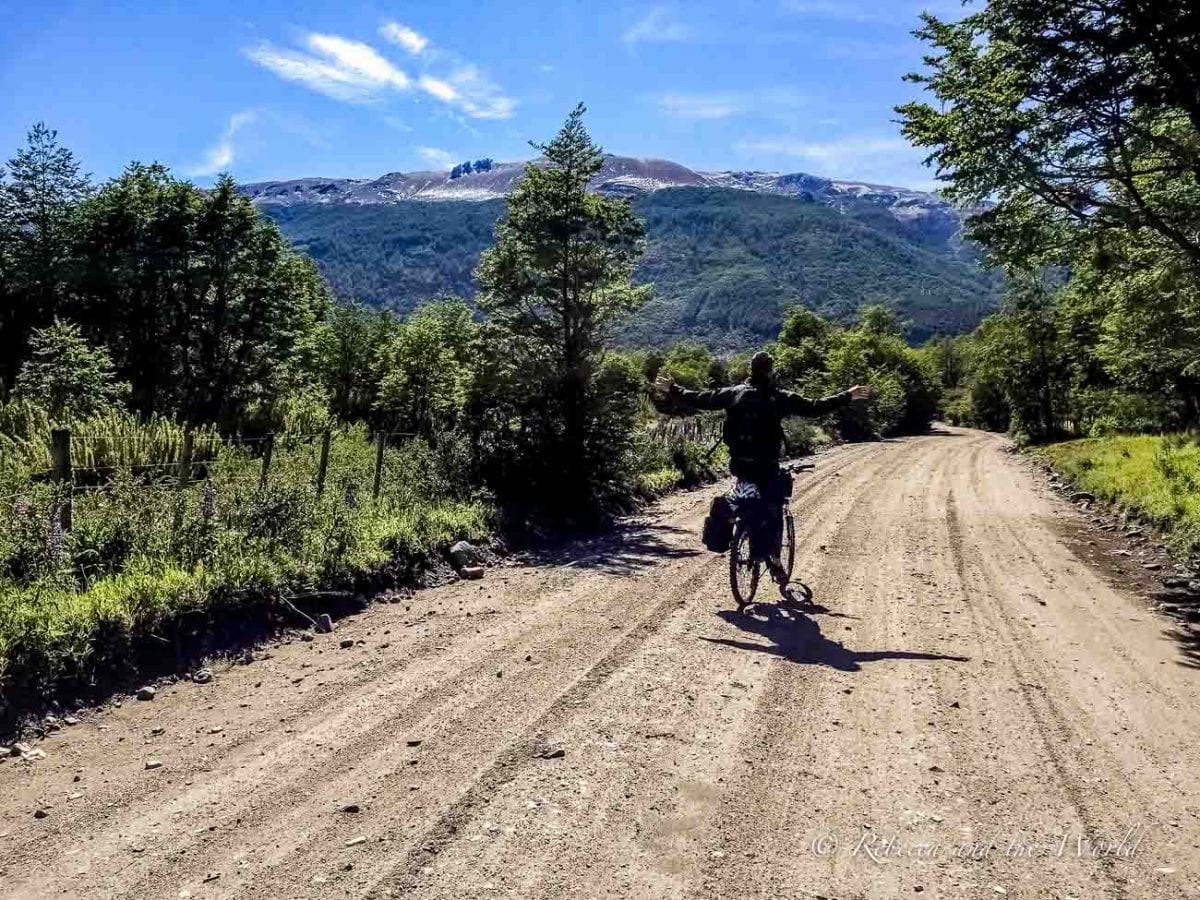 How to get to the Ruta de 7 Lagos
Depending where you're starting or what else you plan to do while you're in the region, fly into either Bariloche (officially San Carlos de Bariloche) or San Martin de los Andes. You can also fly into one town and out the other.
Bariloche is the larger of the two towns, and there are plenty of things to do there to keep you busy before and after your meander along the Ruta de los Siete Lagos. Aerolíneas Argentinas flies to Bariloche daily. | Search for flights from Buenos Aires to Bariloche on Skyscanner
Buses from Buenos Aires to Bariloche take around 20 hours. You can then take a bus to Villa la Angostura, which takes 1 hour, or rent a car while you're here.
Aerolíneas Argentinas flies daily to San Martin de los Andes. San Martin is a smaller version of Bariloche and is a wonderful place to wander around. | Search for flights from Buenos Aires to San Martin de los Andes on Skyscanner
It's a 20+ hour bus ride from Buenos Aires to San Martin de los Andes.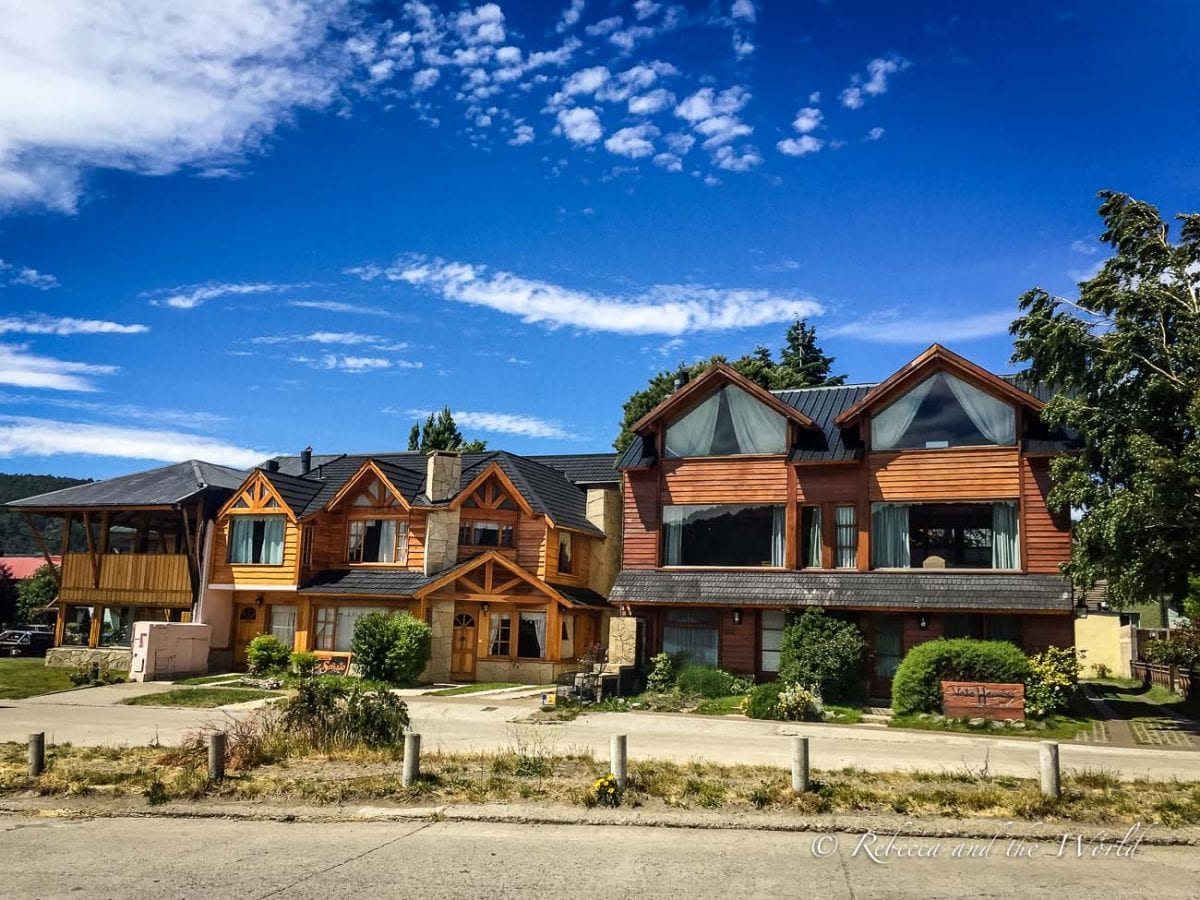 Want more handy Argentina travel tips? Check out my full guide to planning a trip to Argentina.
Driving the Ruta de los Siete Lagos
The quickest and easiest way to see the Ruta de los Siete Lagos is by car. Renting your own car means you can be flexible and stop at the lakes that YOU want to stop at.
The lakes are (mostly) well signed so you won't miss them along the way.
It's very easy to rent a car (check out my full guide to renting a car in Argentina), and you can hire a car in Bariloche, San Martin de los Andes and Villa la Angostura. | Book online with Discover Cars
You won't need a 4WD – a small car is fine, even for the dirt road sections that branch off the main highway. If you're visiting in the peak summer season, book your car rental well in advance (same goes for hotels).
You can easily do the route in a day, with plenty of time stopping at miradors (viewpoints) and getting off the main highway to see some of the other lakes.
Spend most of the day slowly driving along the route, and factor in about 2 hours for the return drive (3 hours if you're returning to Bariloche). It'll take you around 10 hours, so start early in the morning. It's a big day, so plan to share the driving with someone else.
A better option is to take your time and do the route in two days. On day 1, stop at a few lakes on the way, and then visit the rest of the viewpoints on your return trip on day 2. There are hosterias and camping sites along the way to spend a night or two in.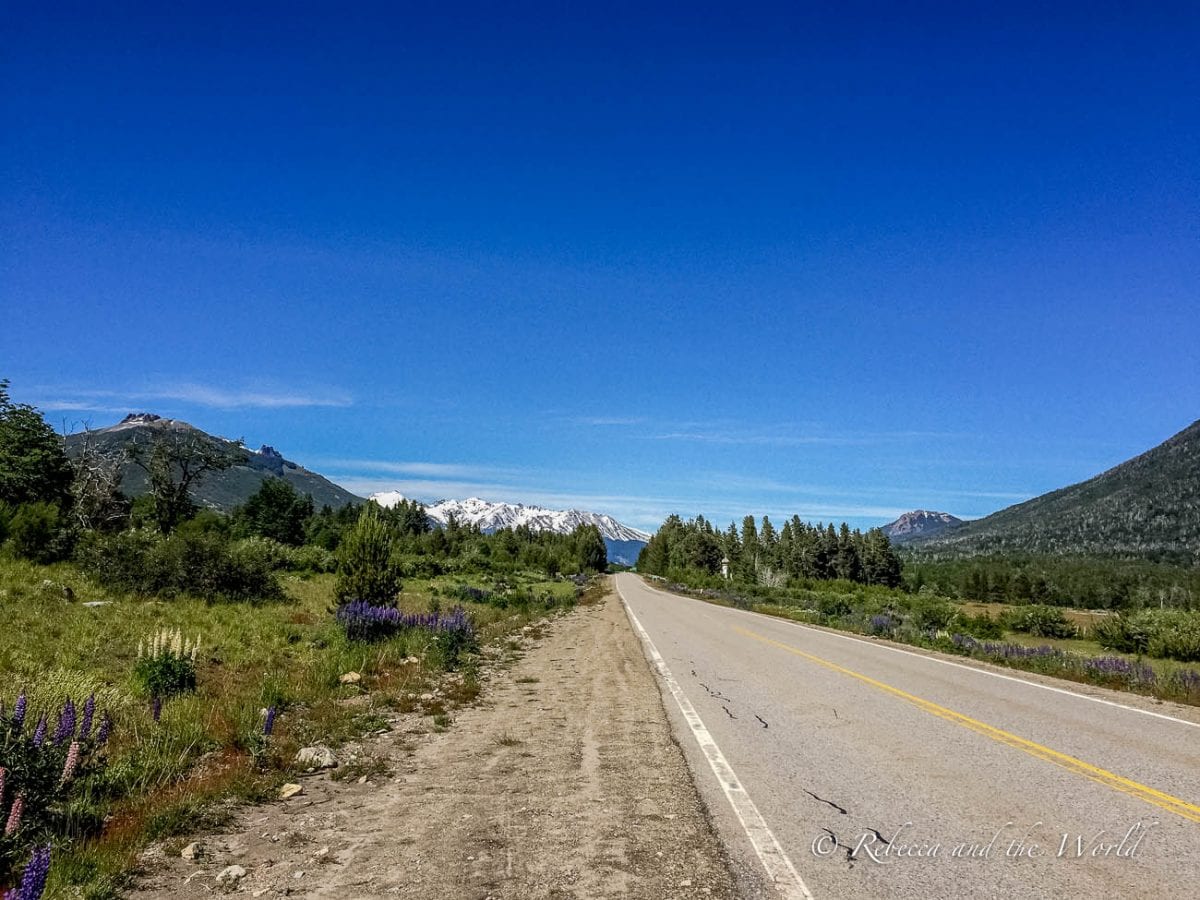 Taking a guided tour of the Ruta de los Siete Lagos
If you don't want to rent a car, then your next best option to see the Ruta de los 7 Lagos is on a guided tour.
These tours take all the stress out of driving and planning the trip – leave it in someone else's hands and just enjoy the views.
There are a couple of Ruta de los Siete Lagos tour options:
All three tours depart from and return to Bariloche.
Biking the Ruta de los Siete Lagos
Got a few more days and an adventurous spirit? Then bike the Camino de 7 Lagos!
Doing the Ruta 7 Lagos en bici is how my husband and I did the trip and it was one of the most spectacular adventures we've ever done. The 7 lagos bike tour took us 3 days, biking between 4-6 hours each day.
Want to tackle the Ruta de los Siete Lagos on two wheels like we did? There are several bike rental companies in Bariloche, but after much research we chose Cordillera Bikes and I couldn't recommend them highly enough. Get in touch with Danny and tell him I sent you!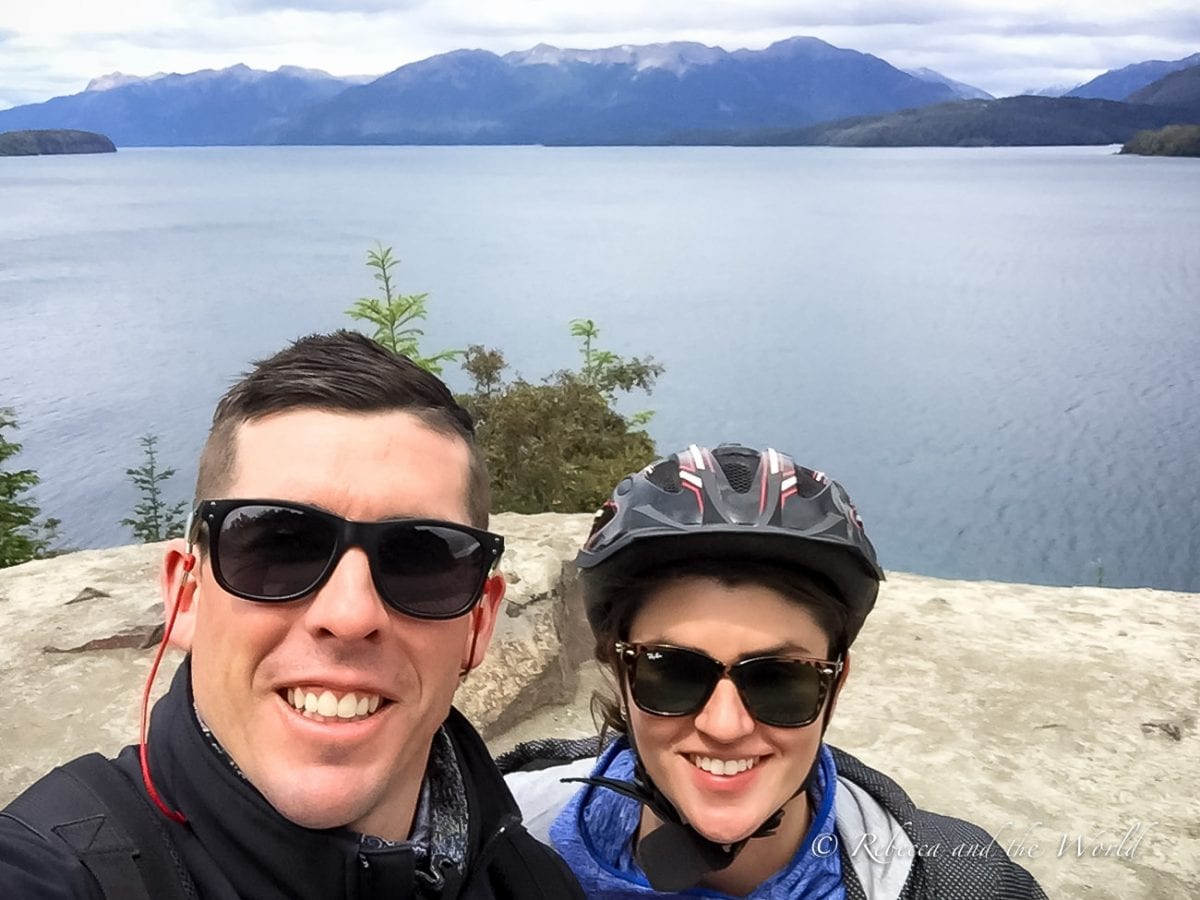 What to expect
Danny, the owner of Cordillera Bikes, was available on Skype in the weeks in the lead up to our trip and organised everything for us. He provided the bikes, panniers, tools and spare parts, and a map for us to follow. He pointed out some secret spots for us to stop at along the way. Danny also called ahead to arrange our accommodation in advance, and it was nice to know that we had somewhere confirmed for the two nights.
Our first night was in a family-run hosteria. They cooked our food, with a delicious and huge milanesa for dinner and a warming submarino (hot chocolate) when we arrived.
For our second night, we stayed in a cute cabin with a small kitchen. We packed food for this night (pasta), and also packed snacks for the journey.
For water, we collected it at the accommodation each night, as well as from streams along the way (take water purification tablets).
The Ruta de los 7 Lagos biking route Danny recommends normally starts in Parque Nacional Los Arrayanes, in Villa la Angostura. You can catch a ferry from Bariloche, but unfortunately for us we couldn't get tickets for the morning ferry. The afternoon ferry would have gotten in too late, meaning we'd end up riding in the dark, which I wasn't entirely comfortable doing.
Instead, Danny's team drove us from Bariloche to Villa la Angostura early in the morning. The team also picked us up from San Martín de los Andes and drove us back to Bariloche.
The start of the road (out of Villa la Angostura) includes a section that is a major trucking route to Chile, but the traffic thins out after a while.
Alternatively, you could bring your own bikes and equipment and do this trip entirely yourself. There are campsites along the way, many with well-stocked general stores and bathroom facilities.
Do you need to be fit to bike the Ruta de 7 Lagos?
This was probably one of the first questions I asked Danny! After biking the route myself, I would say that you definitely need a moderate to high level of fitness. I struggled on some of the steeper hills and even the gradual inclines got to me.
Prepare in advance if you plan to bike the 7 Lakes Route.
I'm also not a very experienced bike rider but managed to get through the three days fairly easily and without any falls off the bike!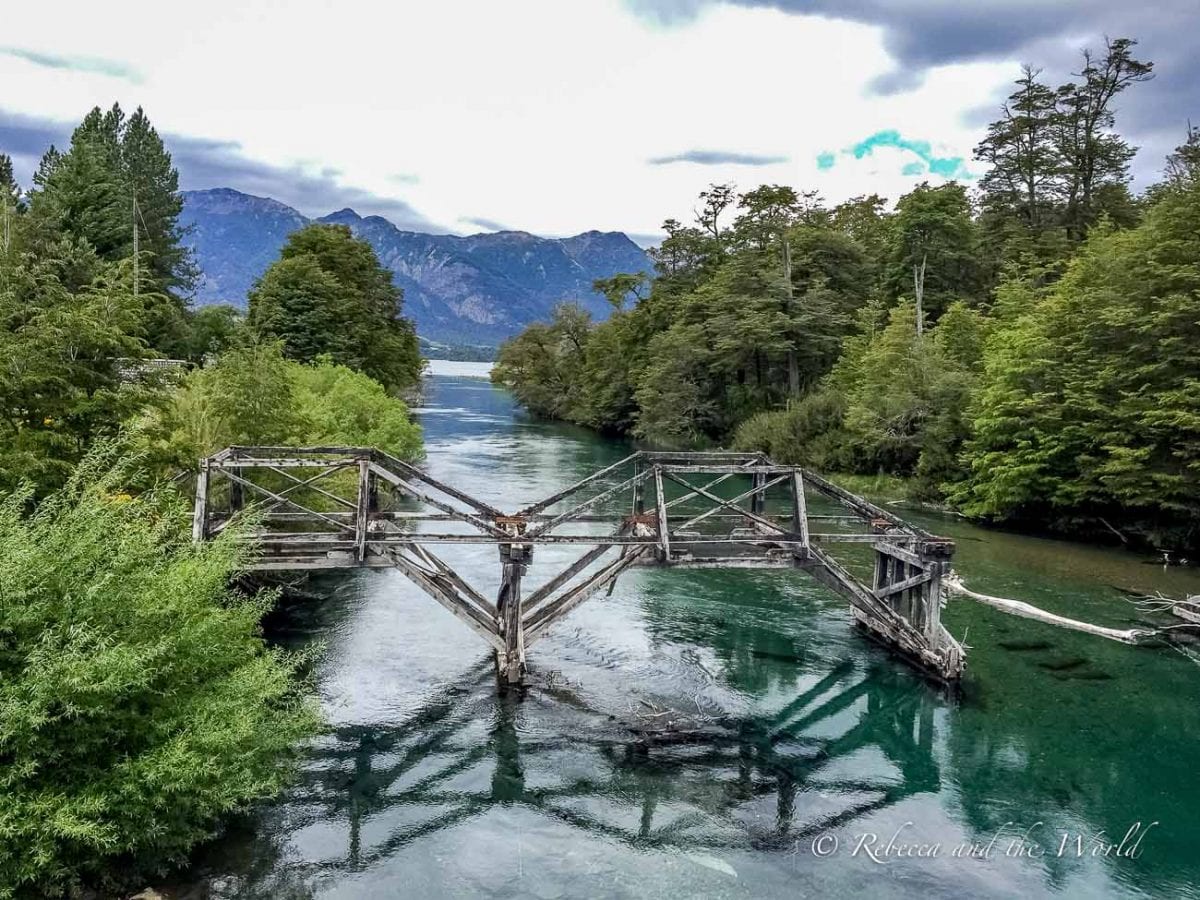 What to pack for biking the Ruta de los Siete Lagos
Don't pack too much! Your paniers are pretty small and you need room for the spare parts and tools that Cordillera Bikes provides. Here's what I recommend you take:
Helmet (provided by Cordillera Bikes)
Cleats if you know how to use them (I don't and don't feel comfortable with them on so I didn't use them, but my husband did)
1-2 changes of clothes (we wore the same thing each day and washed it each evening)
Sweater for night time
Rain jacket if the weather looks like it will bring rain (it did for us all day on our second day!)
Padded bicycle shorts to protect your tush – a must pack!! | Buy padded bicycle shorts on Amazon
Gloves for the cold mornings (we bought some in Villa la Angostura because I'd forgotten them!) | Buy gloves on Amazon
Sunscreen, hat and sunglasses
Water purification tablets – the water we collected from streams along the way looked clean but better to be safe than sorry!
Snacks and food if you're staying at campsites or self-contained accommodation – and a bottle of wine to celebrate your achievements each night!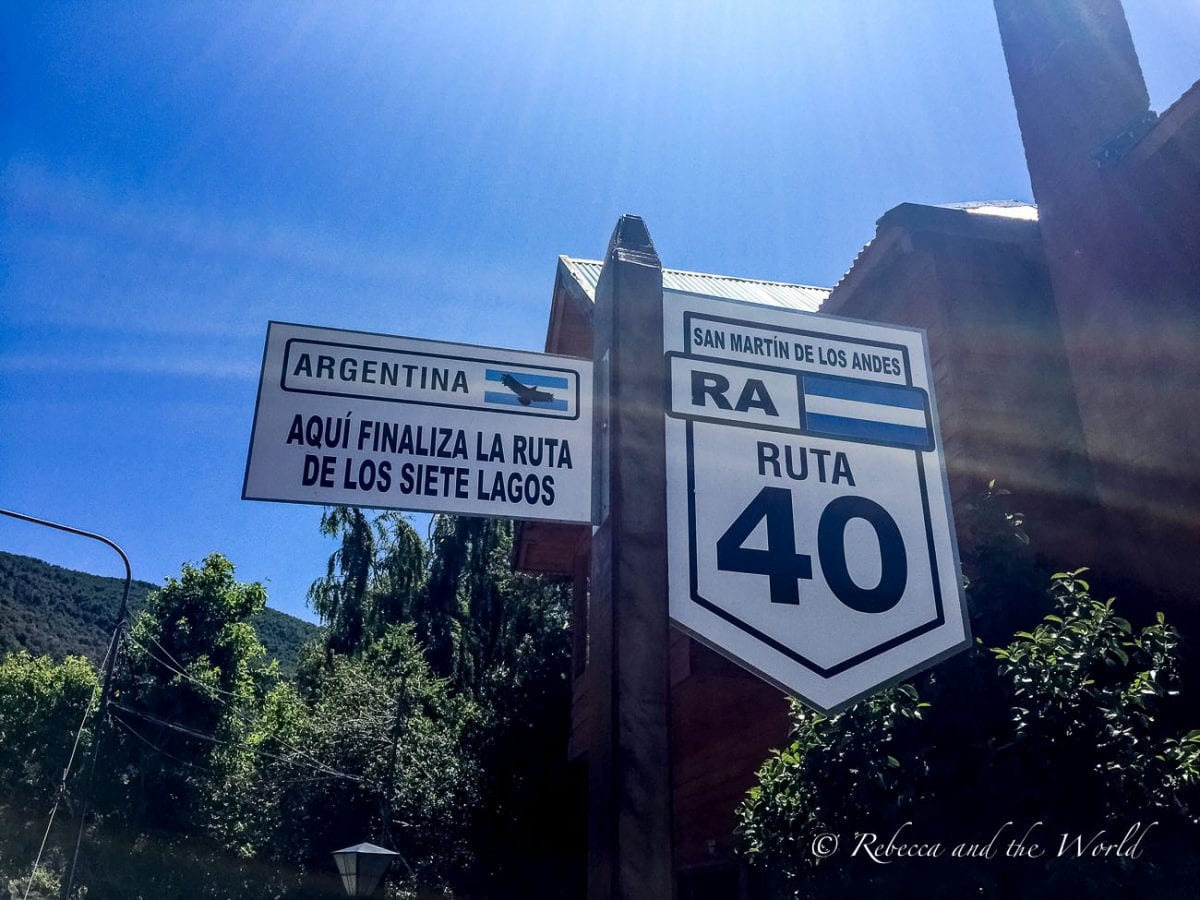 Where to stay along the Ruta de los Siete Lagos
As three popular towns, there are plenty of accommodation options in Bariloche, Villa la Angostura and San Martin de los Andes.
Recommended hotels in Bariloche include: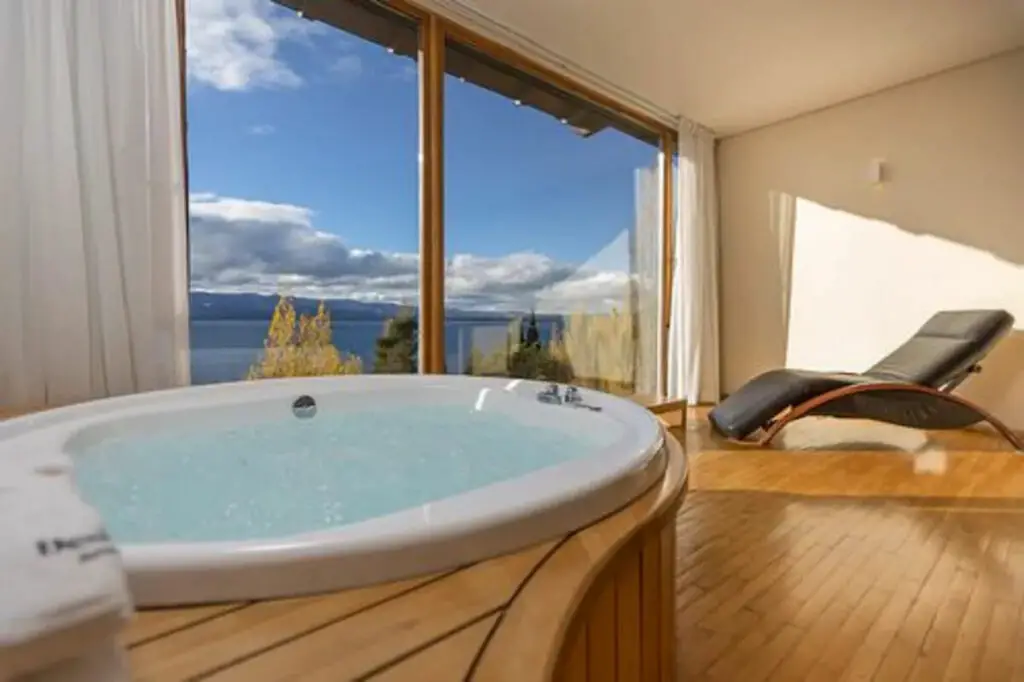 ---
Llao Llao Hotel is where President Obama stayed when he visited Argentina in 2016. It's super fancy – and has the price tag to match. It's about 30 minutes from Bariloche.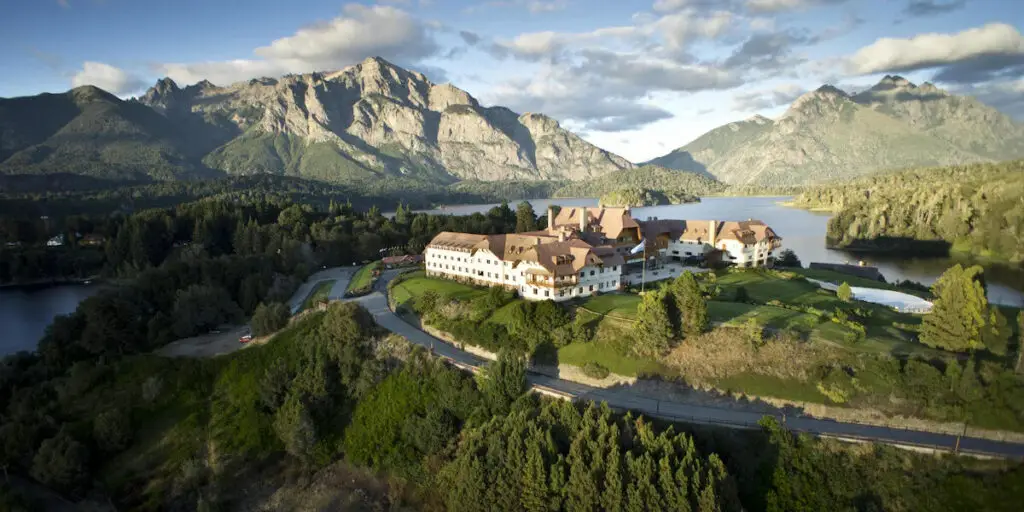 ---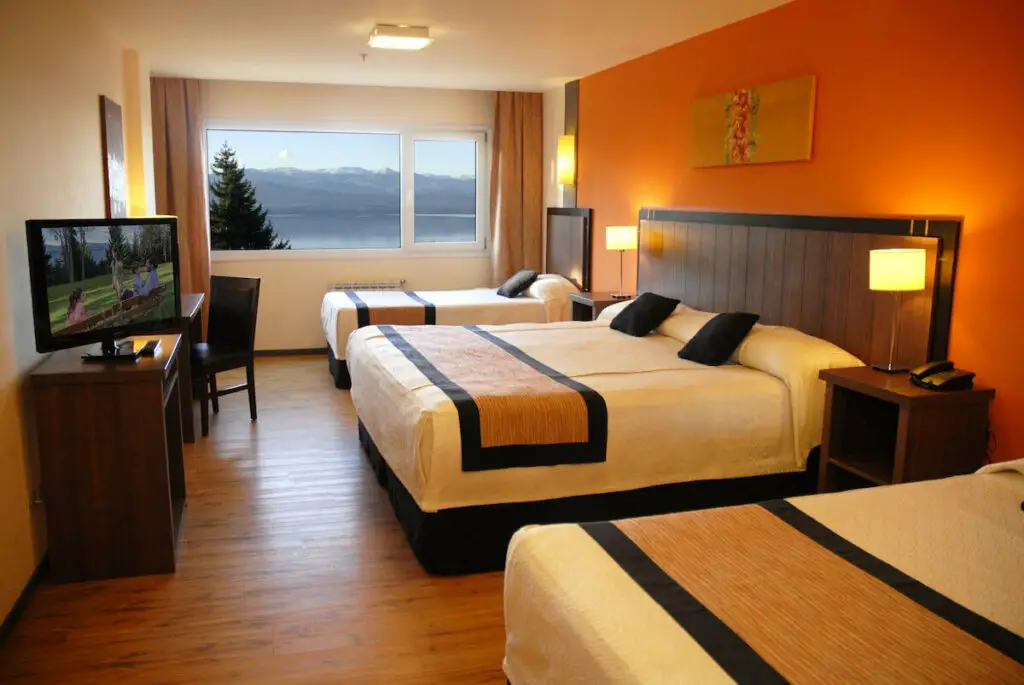 ---
In Villa la Angostura, book your accommodation at one of these highly rated hotels: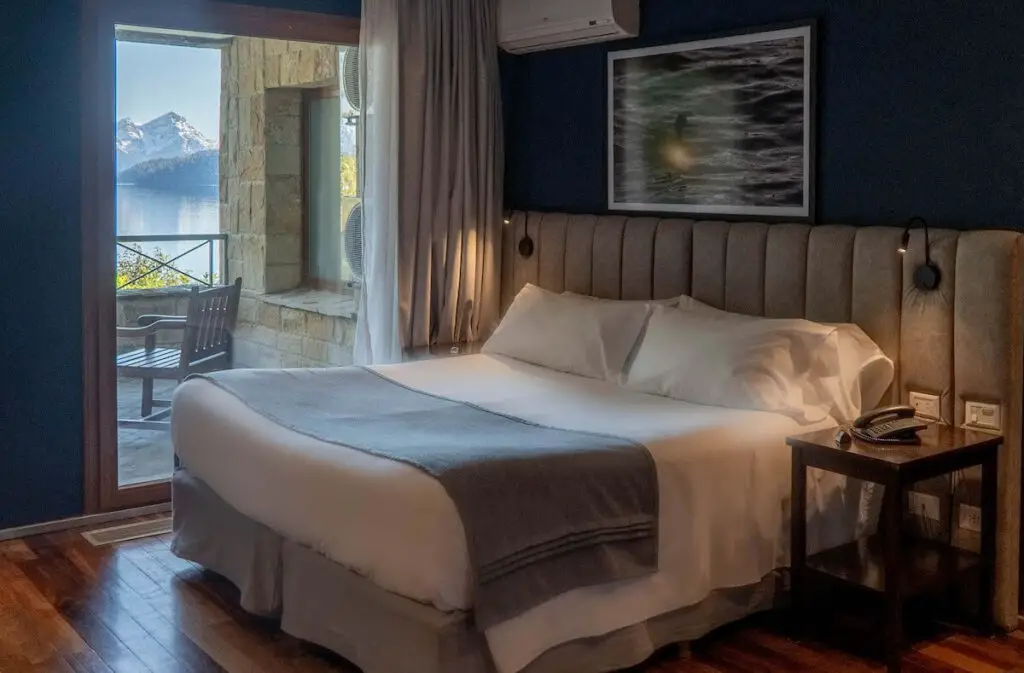 The windows throughout El Faro Boutique Hotel & Spa offer panoramic views over Lago Nahuel Huapi, making it a perfect hotel to begin your journey along the Ruta de los Siete Lagos.
---
With a private beachfront on Lago Nahuel Huapi, the views at La Escondida Casa de Huespedes & Spa are spectacular every day. The hotel has spacious rooms, a heated pool, sauna and plenty of areas for relaxation and quiet.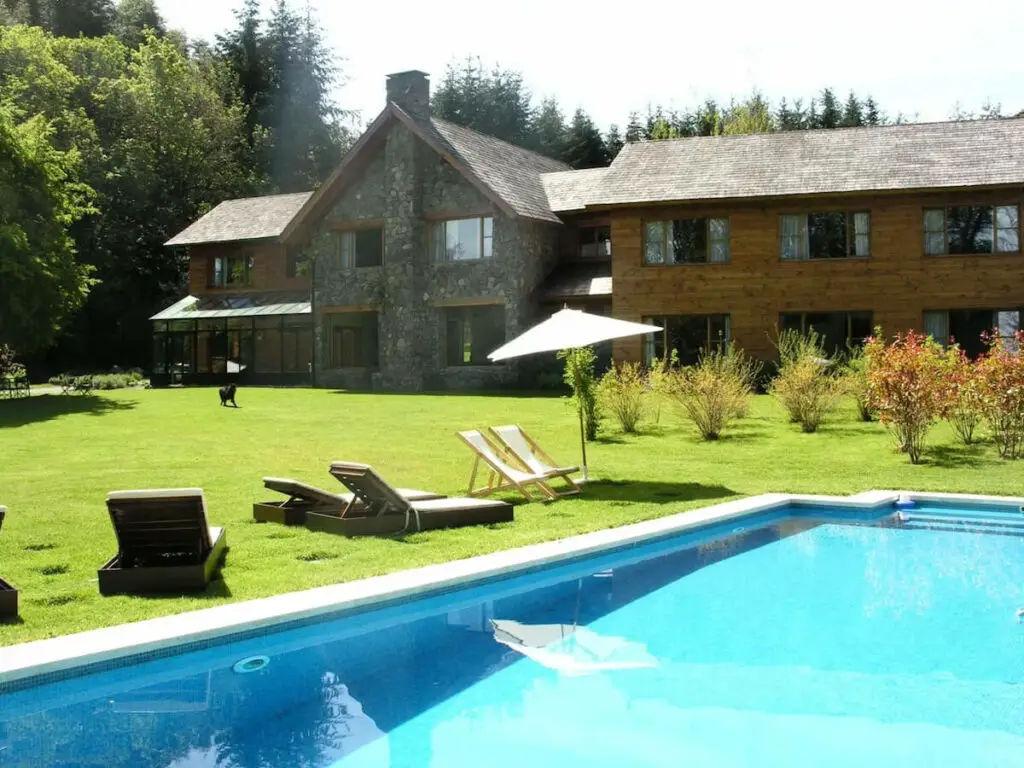 ---
In San Martin de los Andes, consider booking a night or two at one of these hotels: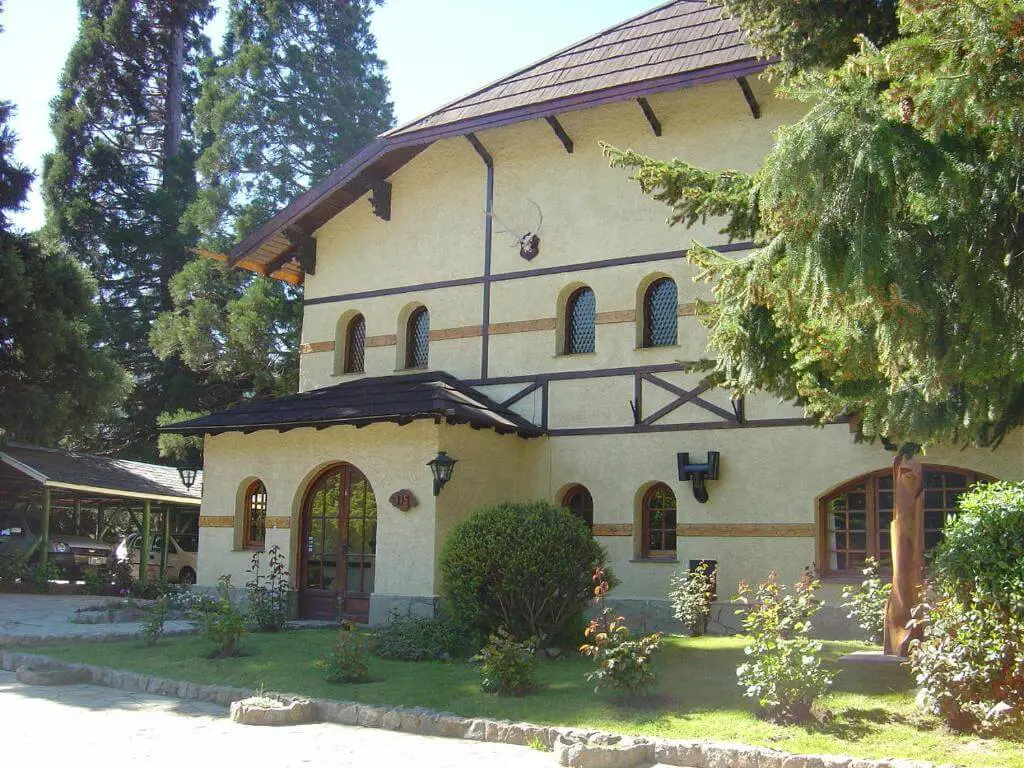 Hosteria La Posta Del Cazador is perfectly located, just a hop, skip and jump from Lago Lácar. This Alpine-style hotel is family-owned and operated, and has a snack bar available all day.
---
Antares Patagonia Suites & Eventos is a great choice for those seeking a modern lodge with plenty of activities to keep you busy. The hotel has a pool, spa and games room, and can help arrange excursions to nearby attractions.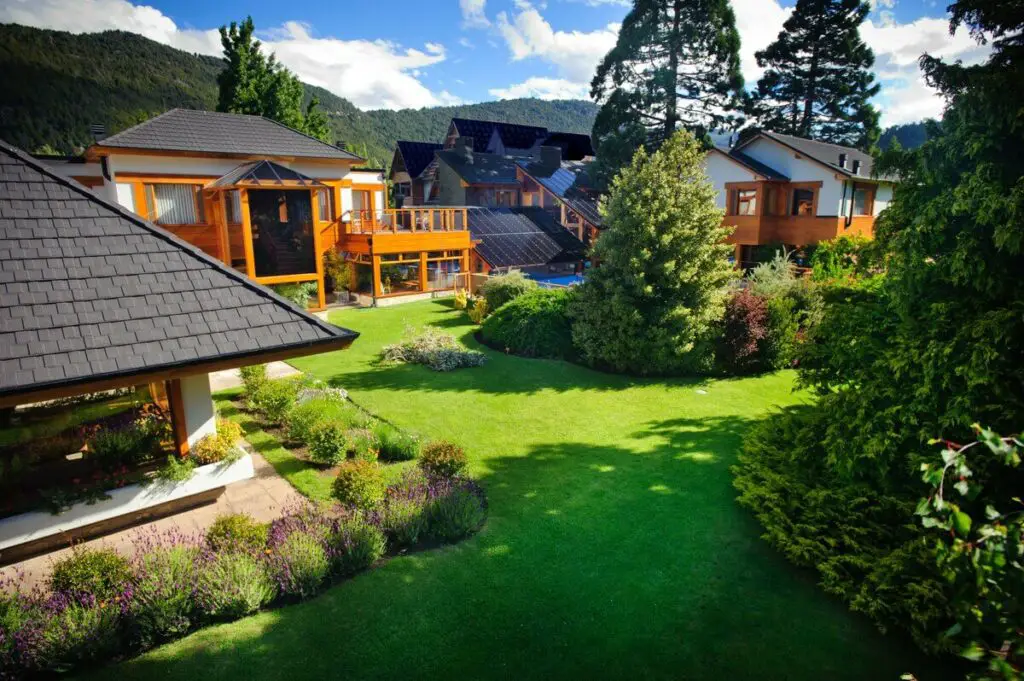 Visiting the Ruta de los Siete Lagos: Final thoughts
Regardless of how you decide to navigate the Ruta 7 Lagos, it's a spectacular drive with plenty of stunning sights along the way! It's one of the best things to do in Argentina and a reason to visit Bariloche in northern Patagonia.
Have you ever visited the Ruta de los Siete Lagos, either on two wheels or in a car? Share your stories in the comments section below!
---
Related posts
Enjoyed this post? You might also like these other Argentina articles:
ARGENTINA TRIP ESSENTIALS
PIN IT FOR LATER:
Save this guide to travelling the Ruta de los Siete Lagos to Pinterest so you can plan an incredible trip soon!