Looking for the perfect travel gift for that travel-obsessed person in your life? It can often be a challenge! But I've got you covered. From books to inspire an epic travel experience to eco travel goods to must-have travel tech, this gift guide has 25 awesome gift ideas to make your holiday shopping easier.
This gift guide for travellers (or for yourself…?) will help you find the perfect gift for that special someone in your life with a serious case of wanderlust. Many of these items I own and love myself, while others are dreamy gifts that I have on my own wishlist.
Happy shopping!
This blog post may contain affiliate links, meaning if you book or buy something through one of these links, I may earn a small commission (at no extra cost to you).
1. Get Your Guide gift card
While I'm an independent traveller, I really enjoy having the insights and knowledge of a local guide when I visit a new city. Walking tours, cooking classes and foodie experiences enable a deeper understanding of a place and provide the chance to interact with locals who want to share what's great about their city.
I usually buy tours direct with a company, or through a provider like Get Your Guide. If you're not sure what someone will like, then buy them a gift card and they can choose from thousands of different tours across the world.
2. Language classes
Does the special someone in your life love to learn new skills? Perhaps they want to learn a few words of Spanish before they jet off to Mexico? Check local language schools in your area to see what classes are on offer.
I'm a big fan of iTalki because you actually speak with someone, which is the best way to learn a language. Classes are online, so they're affordable and iTalki teachers are native speakers.
3. Electronics organiser
I never realised that I missing an essential item in my life until I got myself an electronics organiser. Who knew?
This electronics organiser is such an organisational life-saver. On our recent USA road trip, no longer did we have to rifle through bags trying to find an iPhone charger as we desperately watched our phones drain to 1%. All our electronic bits and bobs were kept neatly together. It's well-padded to protect all your precious gear, too.
I also couldn't believe how much it could fit: I jammed in a Kindle, three iPhone cords, a large multi-port, camera USB cards, camera cables, a portable hard drive – and still had room.
4. Travel pillow
No one wants to wake up from a flight or road trip with drool dribbling down their chin and a crick in their neck.
While there's not much you can do about the drool, you can help your loved ones avoid a sore neck by buying them a travel pillow. Don't bother with those blow-up travel pillows you see in the airport shops, instead go for something that's actually useful and comfortable.
I LOVE my Trtl travel pillow. It wraps around your neck like a scarf but has an insert that props your head up so that it doesn't jerk around as you nod off. The outer layer is really soft and it's machine washable (to get rid of that drool). It also packs up pretty small, so it's easily transportable.
There's another travel pillow I keep seeing everywhere: the Ostrichpillow Go. It's stylish and compact so it's easy to carry on a flight.
5. Travel coffee mug
Every coffee drinker (or tea/hot chocolate drinker) should have a travel coffee mug, for travelling and when they're at home. They avoid the need for takeaway coffee cups, most of which aren't recyclable and end up in landfill.
There are plenty of travel mugs on the market, so take your pick. These Contigo travel mugs are vacuum-sealed to avoid spillage, and this highly rated travel cup is good for hot and cold beverages.
6. Packing cubes
I know I'm showing my true travel nerdery here, but if you're not on the packing cubes bandwagon yet, then you are not a good traveller.
Joking.
But seriously, these little babies are great at keeping clothes organised. It's the only way I travel now. I put all my tops in one cube, bottoms in another, dresses in another (and so on and so on). It means I'm not rifling through my whole suitcase trying to find one thing. I simply pull out my colour-coded (oh how nerdy do I sound?) packing cube and voilà! You can also keep dirty clothes away from your clean stuff.
I most recently bought these Bagail packing cubes and really like them, but I also have a few Eagle Creek packing cubes. Peak Design also has highly rated packing cube products (although their products are on the higher price end).
And don't forget: roll your clothes before packing them!
7. Reusable water bottle
Who drinks throwaway plastic bottles anymore these days? Not me, that's for sure. I always travel with a reusable water bottle and fill it up whenever and wherever I can. It feels so good to not be buying plastic bottles that likely end up in landfill!
I have this BPA-free Nomader water bottle. It's especially great because when it's not full of water, it rolls up. This is perfect for stuffing in your bag before you go through the security line, and then filling up once you're inside the airport.
And if your frequent traveller friend or loved one is someone who often travels to places where the water quality ain't so good, then I've heard great things about both the Grayl water bottle and Life Straw bottle. Both these bottles filter dodgy water into drinkable liquid.
8. Travel guidebooks
Is your friend or family member planning an upcoming trip? Or do they need some inspiration for their next post-pandemic trip? Get them a guidebook so they can start planning.
I'm partial to Lonely Planet books; I've been using them since my first overseas trip. I love the detailed history and culture sections, and being able to flip back and forth through a physical book.
I especially love the new Lonely Planet wine trails series, and their road trip guides.
Other popular guidebook brands are Fodor's and Rick Steves. Both have great reputations and catalogues that cover a mind-boggling number of countries and specialist topics.
9. Eco-friendly travel essentials
Much like the water bottles I mentioned earlier, plenty of people are making conscious choices about reducing the waste they create when they travel. Help this movement with some handy gifts!
I have a few of these bamboo cutlery sets which are great for replacing plastic knives and forks when travelling. The set wraps up in a holder with buttons, so they're easily transportable and fit nicely into a handbag or backpack.
These bamboo toothbrushes are compostable, so they also make a great, eco-friendly gift.
Everyone should have a reusable tote bag with them at all times, and these bags are great. When stuffed into its collapsible bag, it's only 7 cm x 10 cm, but it opens out into a full-size shopping bag.
Beeswax wrappers are great for wrapping sandwiches and snacks and keeping food fresh, for people who like to cook when they travel. I have these ones in both the honeycomb and bees + bears prints.
10. Travel jewellery organiser
I hate when my necklaces get tangled up when I travel, or I lose earrings or rings in the bottom of a bag. So a travel jewellery organiser is a great present for someone who travels with a few decorative pieces to jazz up their travel outfits.
The one I own is from Home Goods so I don't have a link to share. But if I had to replace it, this Bagsmart organiser would be my top choice. It looks pretty, and it's fairly big – but not too big that it won't fit into a weekend bag.
This Brouk and Co travel organiser is for both cosmetics and jewellery and made it to the coveted Oprah's favourite things list last year!
11. Expandable backpack
I'm like Goldilocks when it comes to backpacks. I find one that looks great but it's just too small. Then another one just isn't comfortable. This Knack Pack, however, is just right. It can fit the basics for when you're exploring during the day, but it also expands so that it squeezes in what's needed for 2-3 days of travelling.
It also looks fantastic and is a great bag for business travellers who don't want to cart a wheelie bag around with them.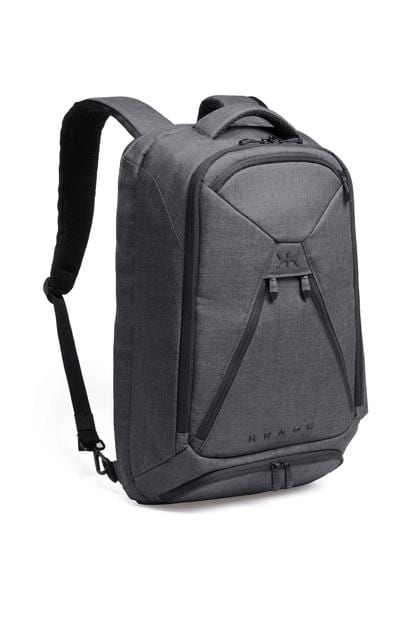 12. Travel adapter
I remember the days when I used to have a travel adapter for every country. Nowadays, travel adapters have really… erm, adapted… and you can find every type of country plug on one tool.
Any frequent traveller should have one of these travel adapters in their bags at all times. If you know someone who's constantly having to buy an adapter at the airport for whichever country they're heading to, then a travel adapter would be a great gift.
13. Carry-on liquids case
No more searching for throw-away plastic bags to stuff liquids into when flying. These small toiletry bags are reusable and are the right size for making it through security check lines. All your liquids will fit easily into these structured bags. I have several of them, and they have lasted for years.
14. Travel set
Plane travel can be brutal, so frequent flyers need some goodies to comfort them on the way. (PS. I have a whole guide to long haul flight essentials as well!)
This gorgeous cashmere travel set with blanket, socks and eye mask will make even the longest flight a little comfier. Because it's 100% cashmere, each product is super soft. It also includes a case so nothing gets lost – and the case can even be used as a pillowcase for airline cushions.
15. Wine bags
You can't visit any wine region without picking up a few bottles of the local drop. Help your wine-loving friends keep them safe with a few protective wine bags. I have several of these wine bags and have never lost a bottle!
(PS. Looking for inspiration on wine regions? Check out my guides to La Rioja in Spain and Cafayate in Argentina!)
16. Travel journal
A travel journal is the perfect gift for the person who loves to write a record of their trips, or who enjoys sketching or simply jotting down the details of their holiday.
Personally, I'm a fan of a simple Moleskin notebook. They fit neatly into a handbag and the paper is good quality. These pens are also lovely for writing with and I like having a bit of colour in my journal.
This Elan field notebook is apparently indestructible: it's waterproof, tear-proof and weatherproof. This mindful travel journal encourages travellers to use creative thinking and mindfulness techniques to record their journey.
17. Noise-cancelling headphones
Babies on planes. Snorers. The guy in the seat in front cackling at the movie. We've all wanted to shut out these annoying noises on a long-haul flight and the only way to really do it well is with noise-cancelling headphones.
With noise-cancelling headphones, you can be alone – even if you're on a crowded train, bus or plane.
These Sony headphones come with a hefty price tag but they're like magic, immersing you in whatever music or white noise you're listening to. They're light, too, weighing only 9 ounces.
If you're searching for a gift that's more affordable but doesn't scrimp on brand name, then these Bose headphones are a good choice. Lightweight and comfortable, you can wear them all day long.
18. Cocktail set
Have a friend who's always whipping up cocktails from scratch? (PS. Who are they – I want to be their friend!) Then they'll love this travel bartender kit. This 17-piece kit has everything they need (except the booze) to mix, pound, stir, shake, swizzle, strain and pour the perfect cocktail.
Bonus: it's all stored in a very sophisticated bartender roll.
19. Bluetooth speaker
Many people head to the Great Outdoors for silence, to listen to nature and escape noise. But others love having music as they explore new hiking trails or set up camp.
A portable bluetooth speaker is a great gift idea for the latter group. Most speakers are lightweight and some are even waterproof, which means they can bring it home and use it in the shower or by the pool.
20. Picnic basket
On a beautiful warm day, there's nothing better than heading to a park with some friends or family for a relaxed picnic. But then comes the issue of finding non-breakable plates and cups, and then a bag to fit them in. And there's the inevitable knife or fork that goes missing.
A picnic basket solves all those issues! You can opt for a traditional wicker picnic basket, or something easy to carry like this "picnic backpack", both of which hold enough for four people. Another option is a picnic cooler bag to keep your food fresh.
21. Pocket blanket
Ever been out for a walk and you feel like sitting down but the grass is wet? This pocket blanket is what's needed.
This teeny-tiny blanket folds to a square just a little bigger than a matchbox. It's so small you can keep it in your bag (or pocket) at all times. It's waterproof and it's been pretty handy for us a few times when we've been travelling.
22. Camera strap
A super affordable gift for a travelling photographer is a camera strap. I love this flower-patterned camera strap a friend gifted to me (even though my husband says it's too girly for him to use!).
More professional photographers or people with quality camera gear will appreciate this heavy-duty camera strap from Peak Designs.
23. Kindle
A Kindle is a great gift to buy someone who loves to read. These lightweight devices can hold dozens of books.
There are a few questions to consider if you're thinking about buying a Kindle for someone. How many books will they read on their trip? Do they prefer the feel of a real book? Will they have access to electricity so they can keep it charged?
I love my Kindle (which is a much older, heavier version) but I also love flipping through the pages of a book, so I alternate between the two.
24. Prints
Give someone a reminder of their favourite city or quote with a print that they can put on their wall. Etsy has so many prints online you're bound to find something.
A few gorgeous ones I found are this travel definition print and these city posters (the Made Out Of Line shop on Etsy has many more cities to choose from).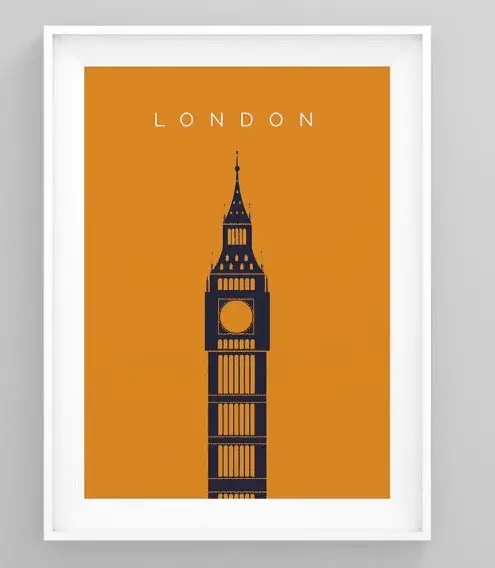 25. Leather luggage tag
These gorgeous leather luggage tags can be personalised with images, quotes and colours and are a great idea for a stocking stuffer gift. A stand-out leather tag helps any suitcase or bag stand out on the chaotic luggage carousel.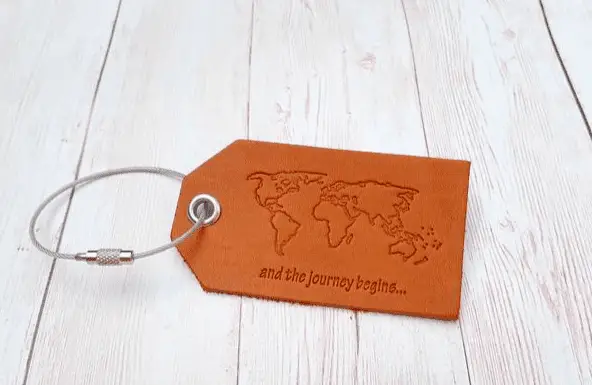 So, there you have it, plenty of gift ideas to consider. I hope something in this gift guide will help you to buy a present for that special someone in your life who is obsessed with travelling!
What's on your wish list? Let me know in the comments below if there's something you love that I should add to this gift guide.
PIN IT FOR LATER:
Save this travel gift guide to Pinterest and make your shopping a breeze!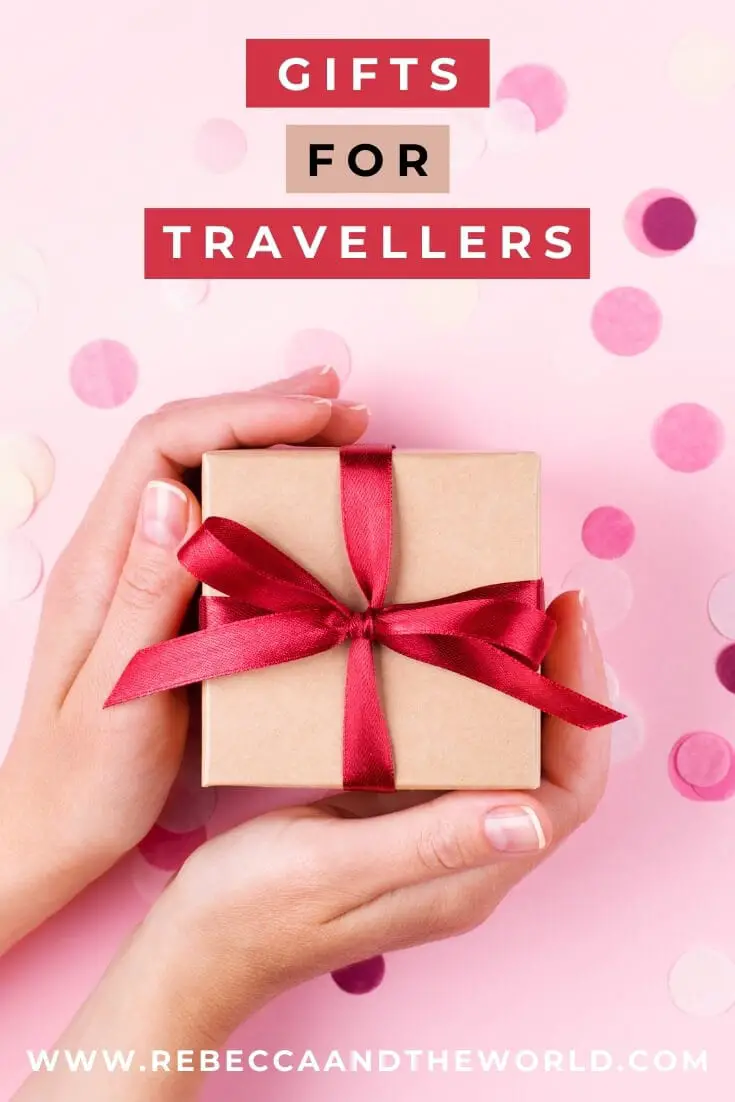 Featured image by Kira auf der Heide on Unsplash