Looking for what to eat in San Francisco and the best restaurants in Sonoma? Here are my personal recommendations.
Our long weekend in San Francisco and Sonoma was pretty wonderful. It was one of those trips where I really, really didn't want to go home to reality.
And, no surprise, one of the best parts of our long weekend was all the food and the variety that northern California has to offer. From mouth-watering Mexican to delicious dim sum, to ice cream sundaes, we did not go hungry in San Francisco and Sonoma. Read on for what to eat in San Francisco as well as a taste of some of the best restaurants in Sonoma.
Map of San Francisco food
The map below lists all the restaurants from this post so you can plan your own eating adventure.
What to eat in San Francisco
Zucchini pancakes from Mymy
We started our trip with a great breakfast at Mymy. It was a tough decision between the soufflé pancakes (banana and lemon ricotta flavours) and the zucchini pancakes. I finally ordered the zucchini pancakes and knew I'd made a good choice when I took my first bite. They were super fluffy and flecked with crispy parmesan. It's a small place, but the service was quick and friendly.
1500 California St
Open daily, 9 a.m. to 2 p.m.
Read reviews on TripAdvisor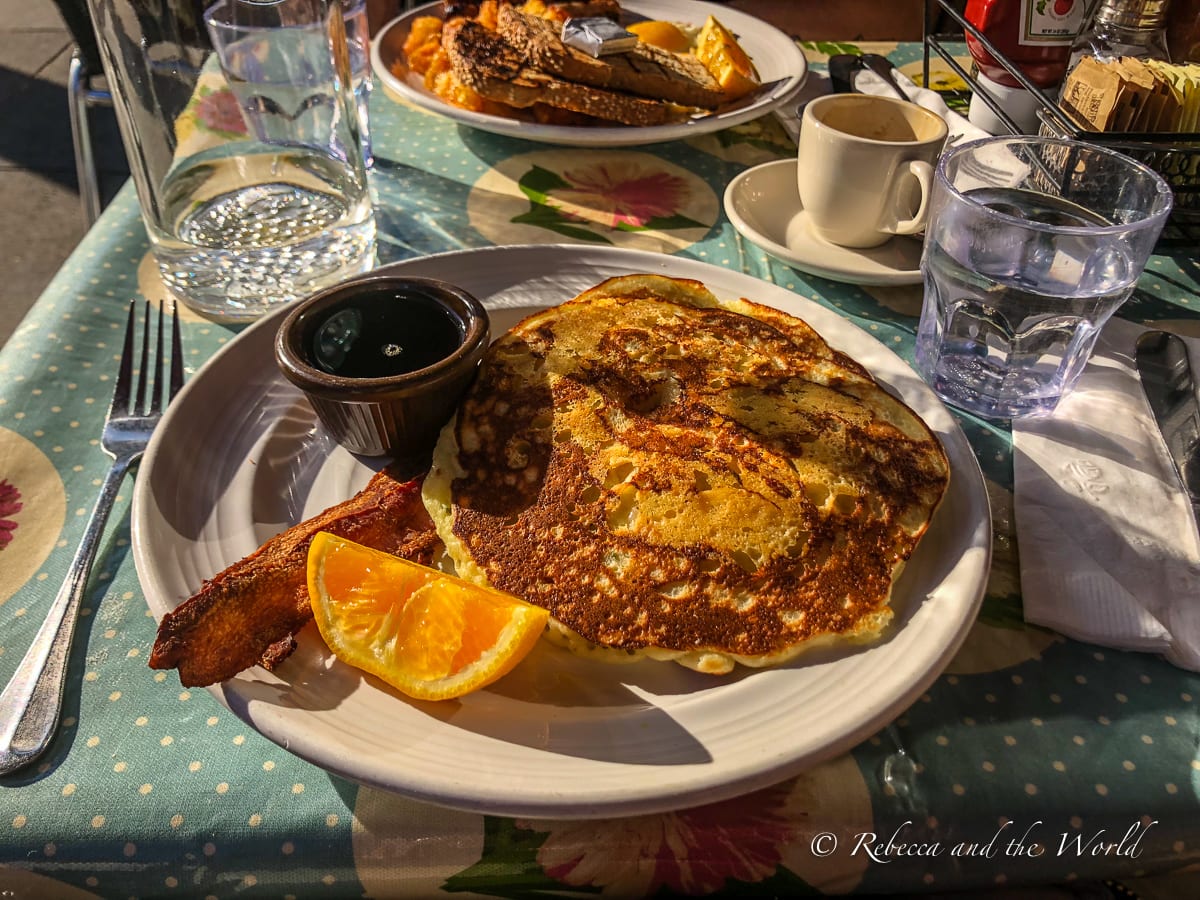 Delicious Dim Sum
I can't remember where I got the recommendation for Delicious Dim Sum. We strode through the streets of Chinatown looking for it. I'd been expecting a restaurant, but instead we were surprised to find a shop with glass cabinets stuffed with dim sum and one lonely table in the back, surrounded by sacks of flour and cooking pots.
We hesitated in the doorway, but a customer beckoned us in, enthusiastically telling us how great the food was and then pointing out all her favourite items. We sat down at the table and ordered from the huge menu on the wall (in English and Chinese): pork buns, spring rolls and siu mai. People streamed into the shop, happily carrying containers stuffed with dim sum out with them.
Our total bill was around $12 – and we were stuffed.
It was one of those times where we didn't know what to expect, but then afterwards felt like we'd discovered a local gem.
752 Jackson St
Open daily (except Wednesday), 7 a.m. to 6 p.m.
Read reviews on TripAdvisor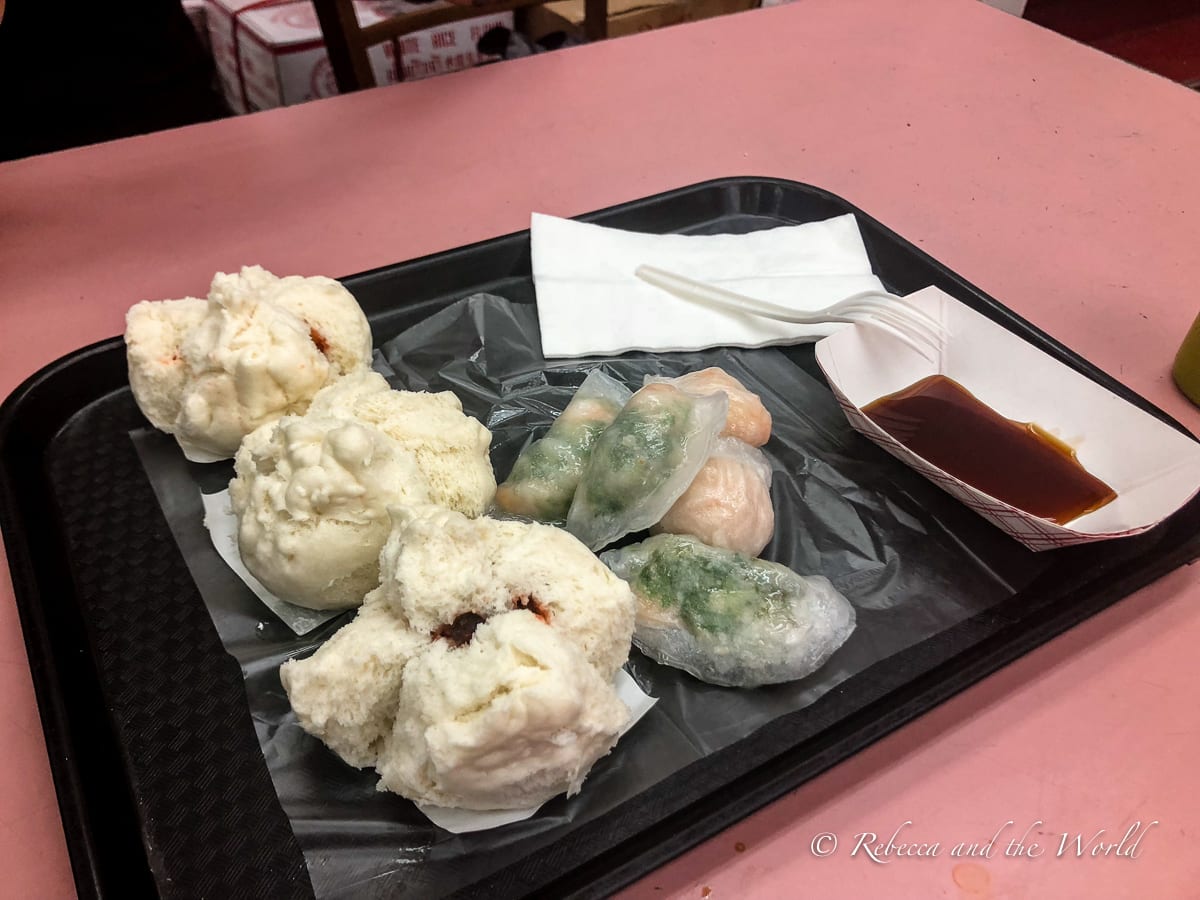 Ferry Building Farmers Market
Every Tuesday, Thursday and Saturday, the Ferry Building comes alive with a farmers market. Vendors sell fresh produce, cheese, breakfast tacos, and honey and jams. We wandered through the market and then entered the Ferry Building to try empanadas from El Porteño. They were enormous and stuffed with Malbec-marinated lamb and humita (corn).
Ferry Building Marketplace
1 The Embarcadero
Read reviews on TripAdvisor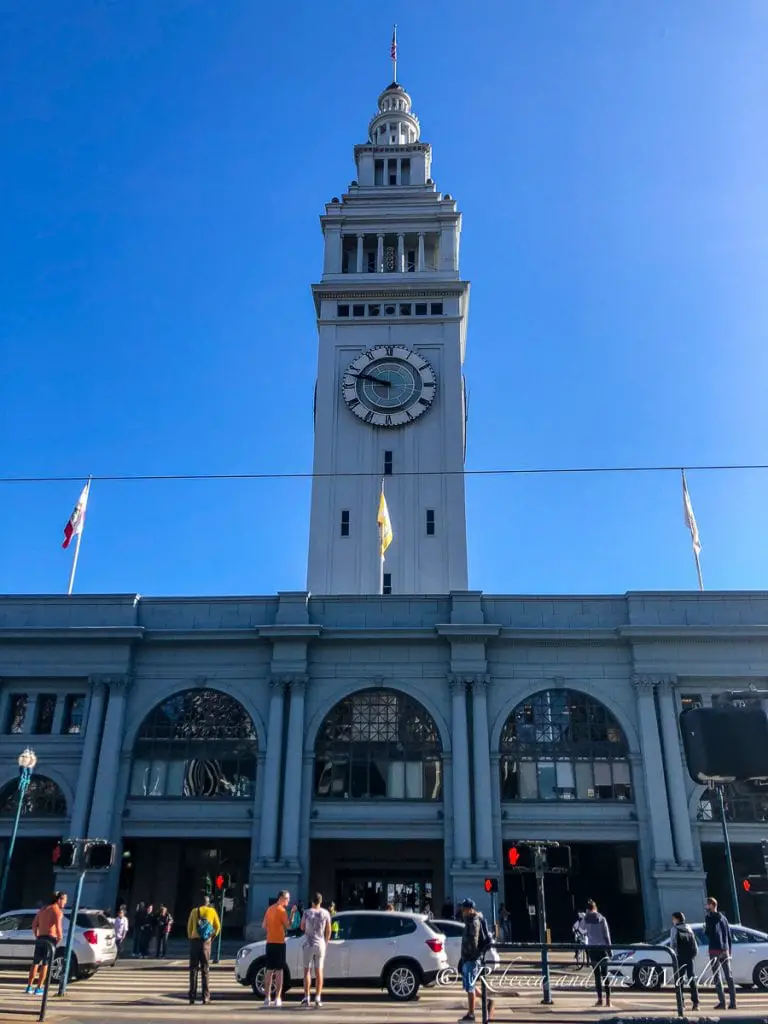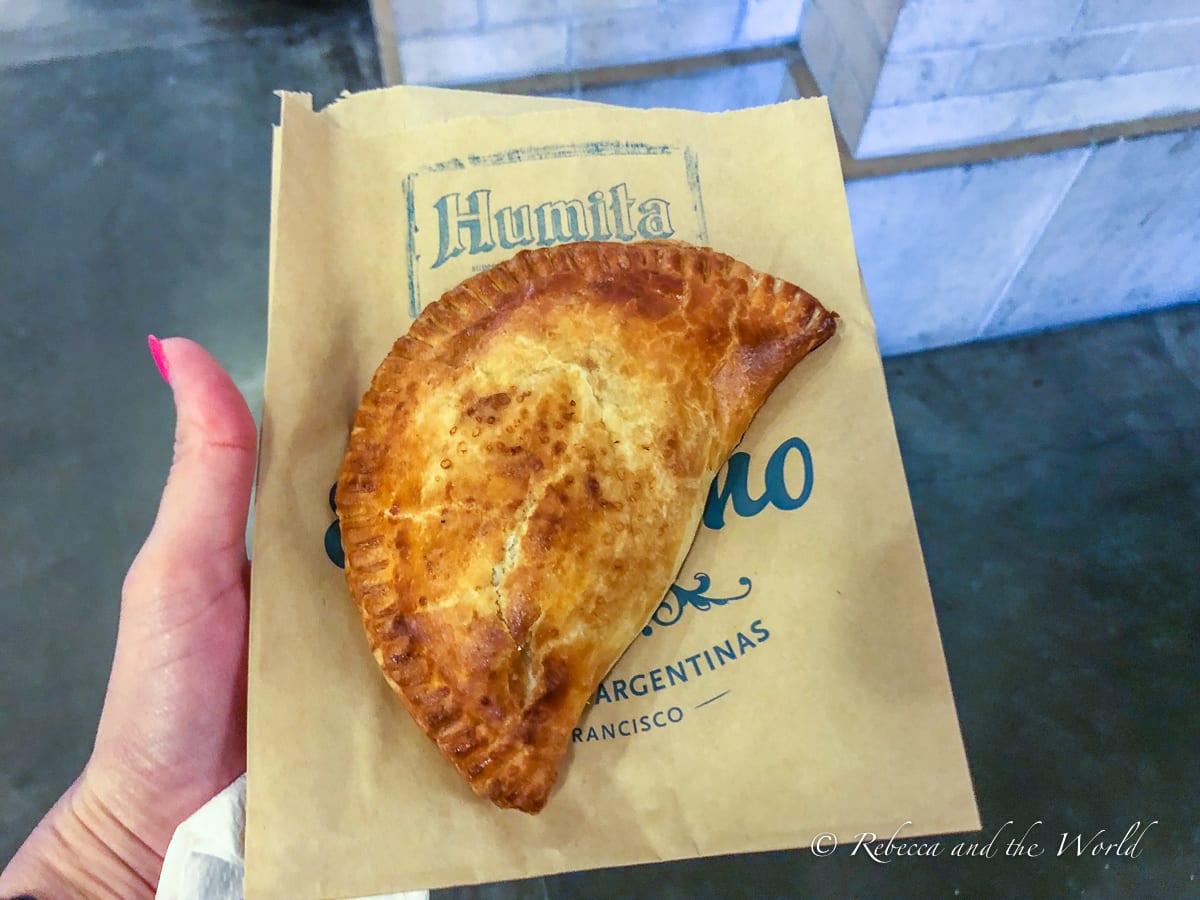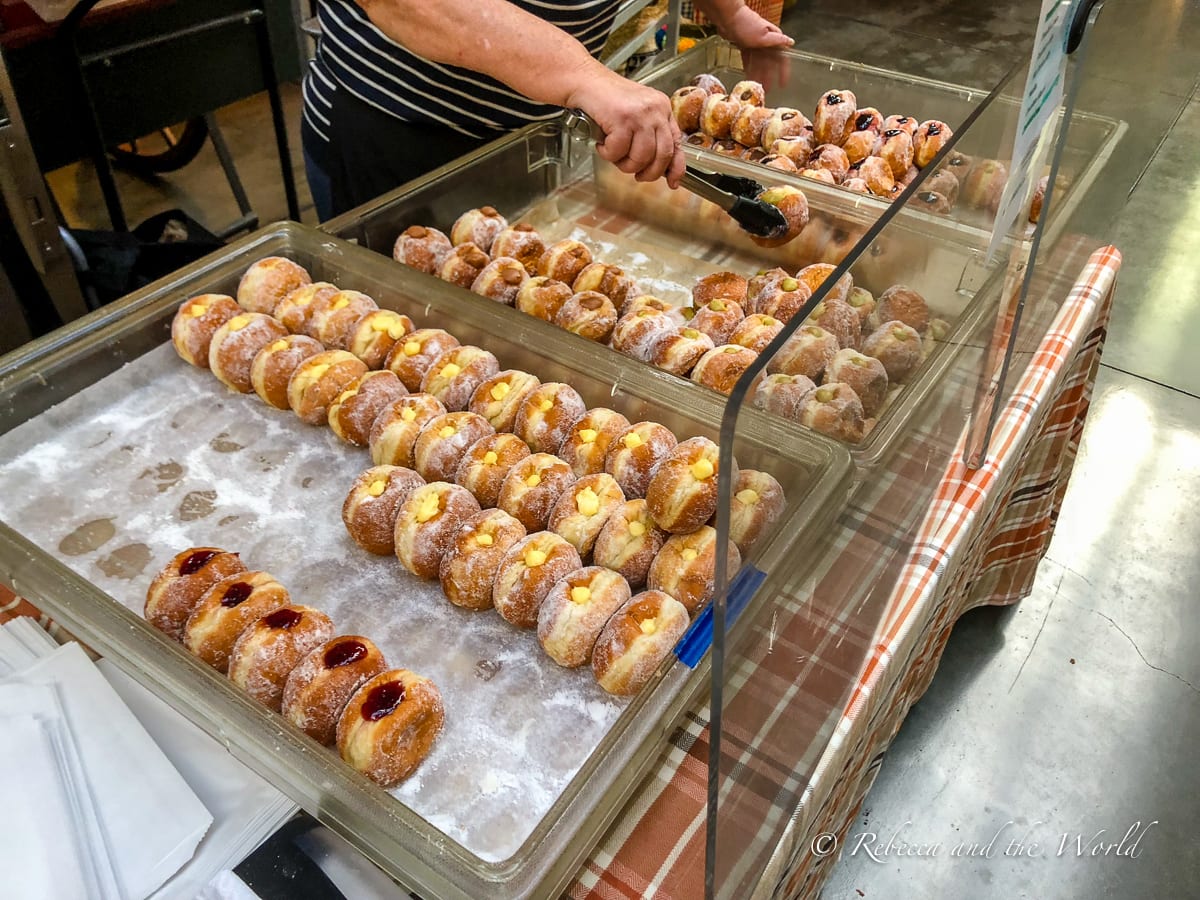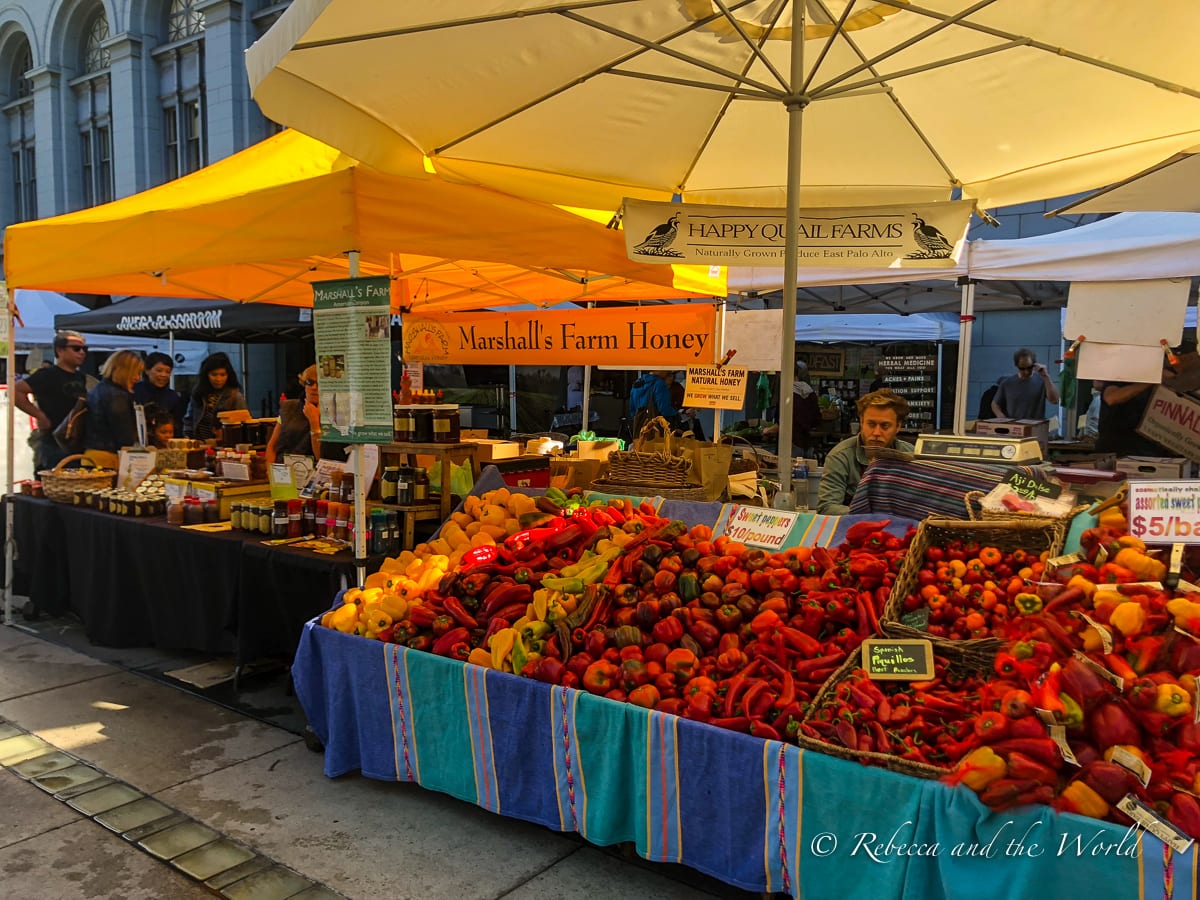 Burrito from La Taqueria
I don't know what it takes to become the best burrito in the world, but whatever La Taqueria is doing, that's exactly where their burrito has ended up.
Located in the Mission District, every day La Taqueria has streams of people out the door, everyone obediently lining up to order the famous burrito, tacos or a quesadilla. I went straight for the burrito, stuffed with aromatic grilled steak, avocado, sour cream. They're pretty basic but very tasty and fresh.
La Taqueria has plenty of competition in the area. If the line's too long here, head to El Faro (2399 Folsom St) or Taqueria El Buen Sabor (699 Valencia St) – but you'll likely find queues here too!
2889 Mission St
Open Wednesday to Sunday, 11 a.m. to 8.45 p.m. (closes 7.45 p.m. on Sunday)
Read reviews on TripAdvisor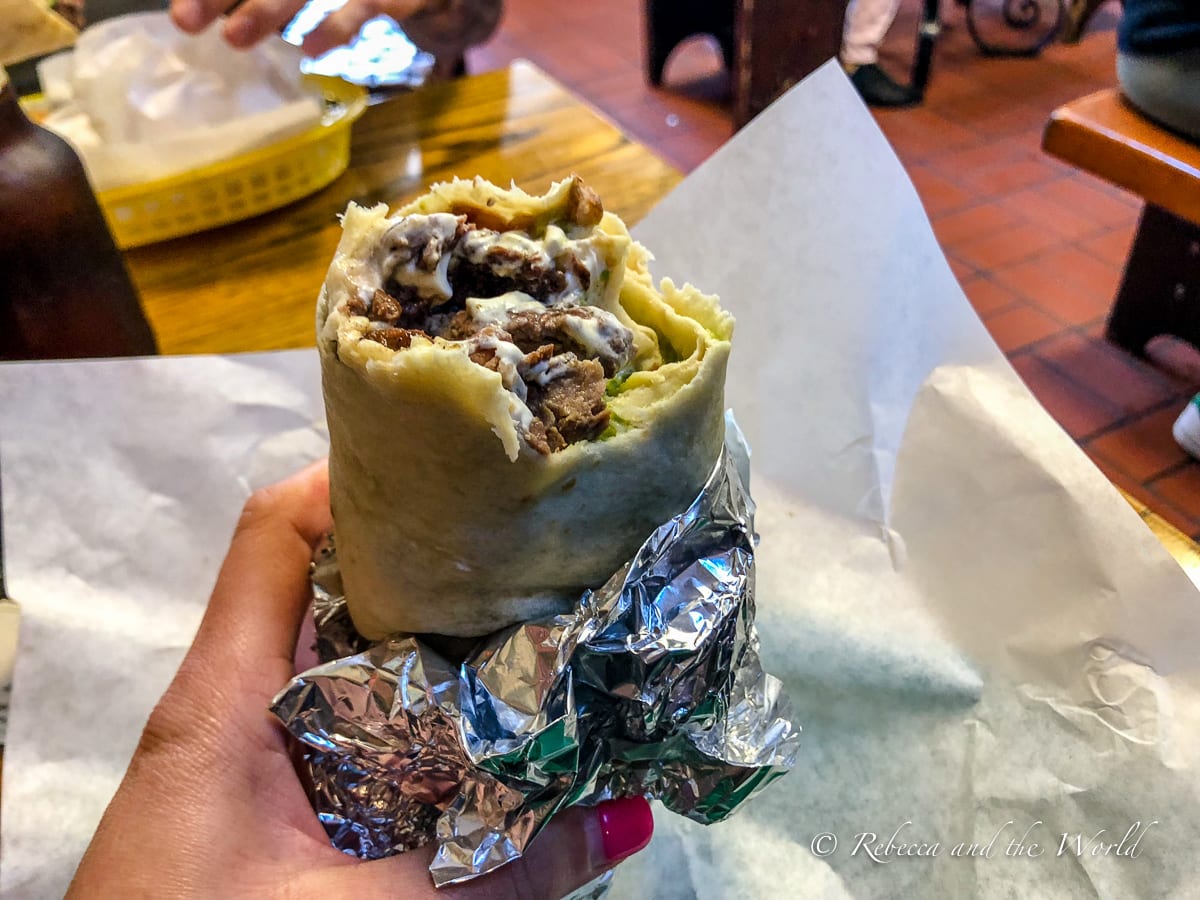 Ice cream
We had such beautiful weather in San Francisco – perfect for ice cream. On our walk around the Russian Hill neighbourhood we stopped in at Ghirardelli, the famous chocolate makers. I ordered the enormous ice cream sundae which came layered with chocolate sauce and topped with a brownie, whipped cream and a cherry.
The one thing I hate about the United States? Why the hell does every restaurant put the calorie count on every item? I just want to enjoy my ice cream sundae, not know that I'm consuming almost a thousand calories in one sitting!! Either way, I felt I'd earned it after slogging up those hills!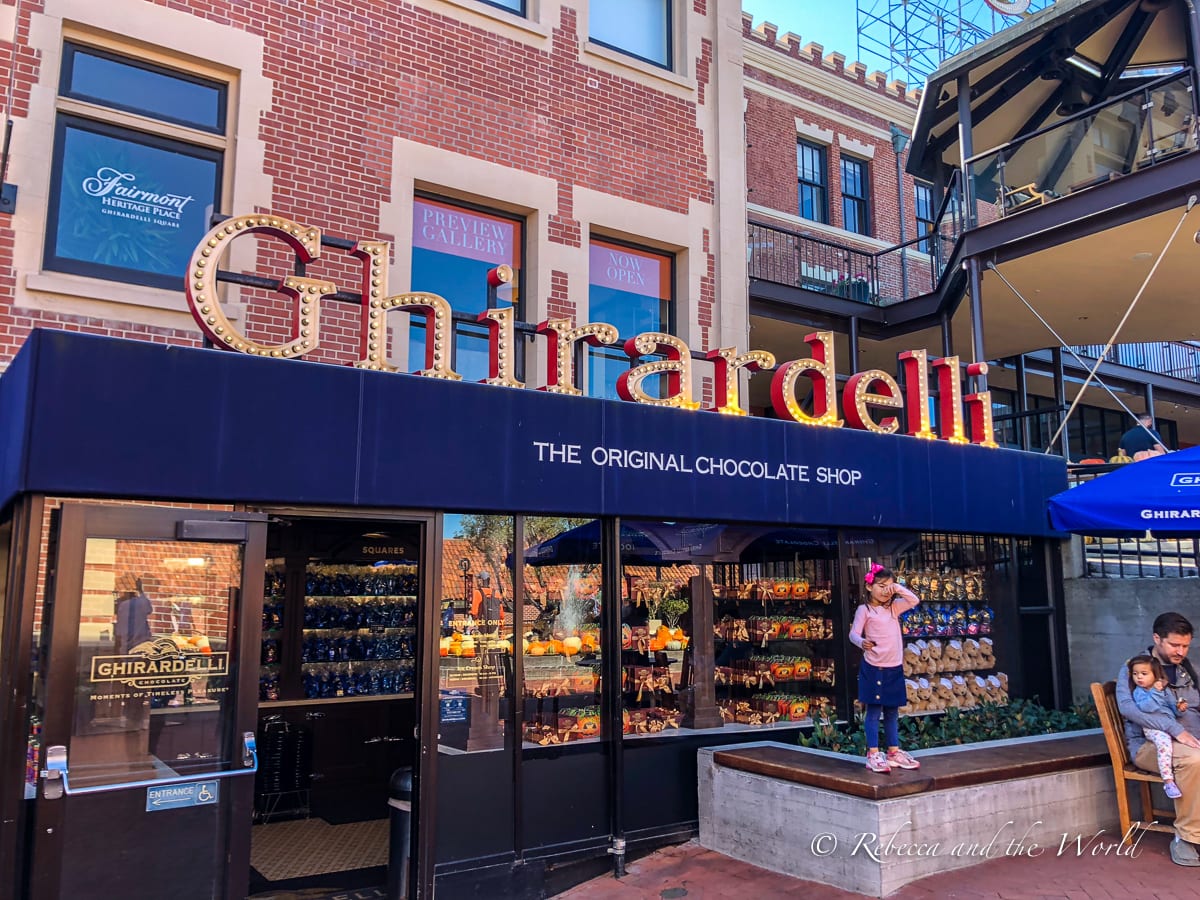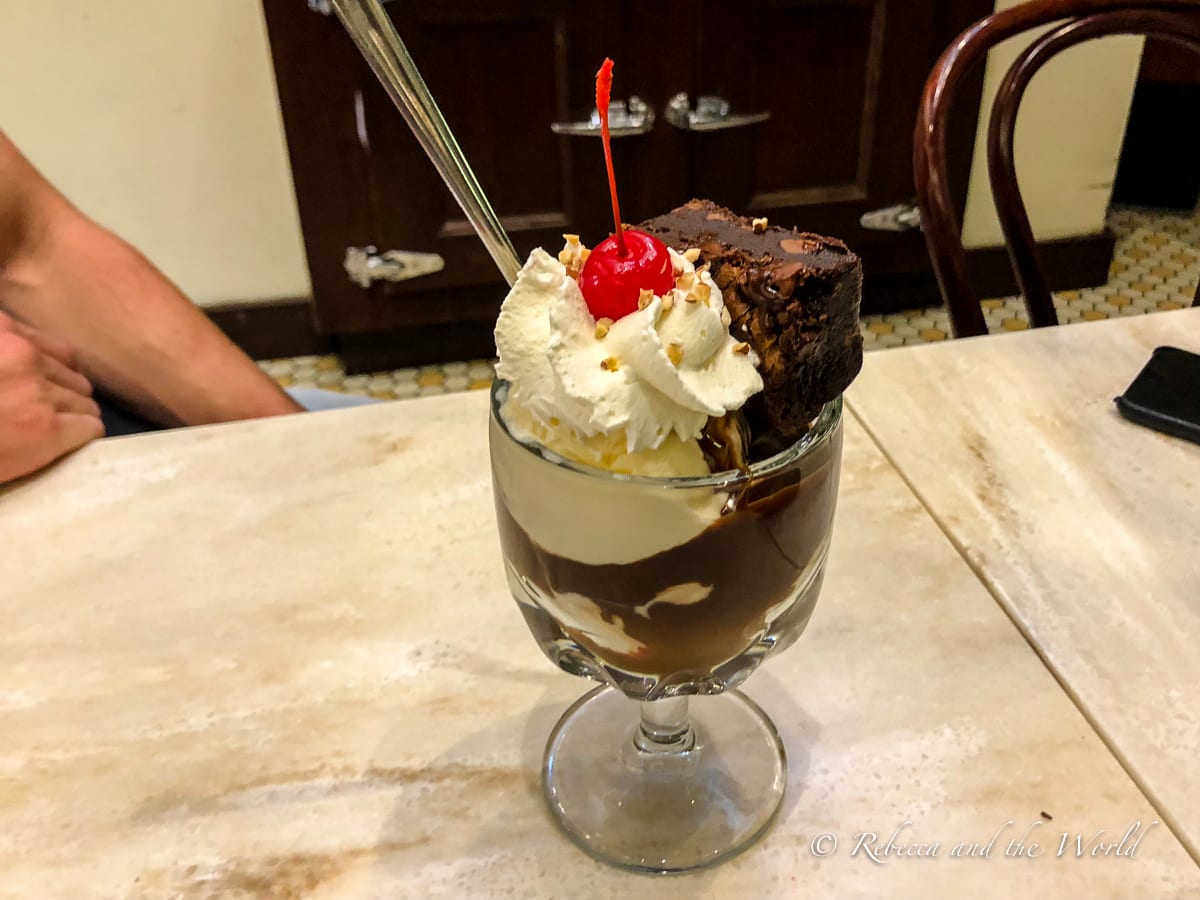 We also wandered over Mission Dolores Park after lunch at La Taqueria and stopped by Bi-Rite Creamery for a small cup of malted vanilla with peanut brittle and milk chocolate ice cream. Delicious, but it melted quickly in the warm sun.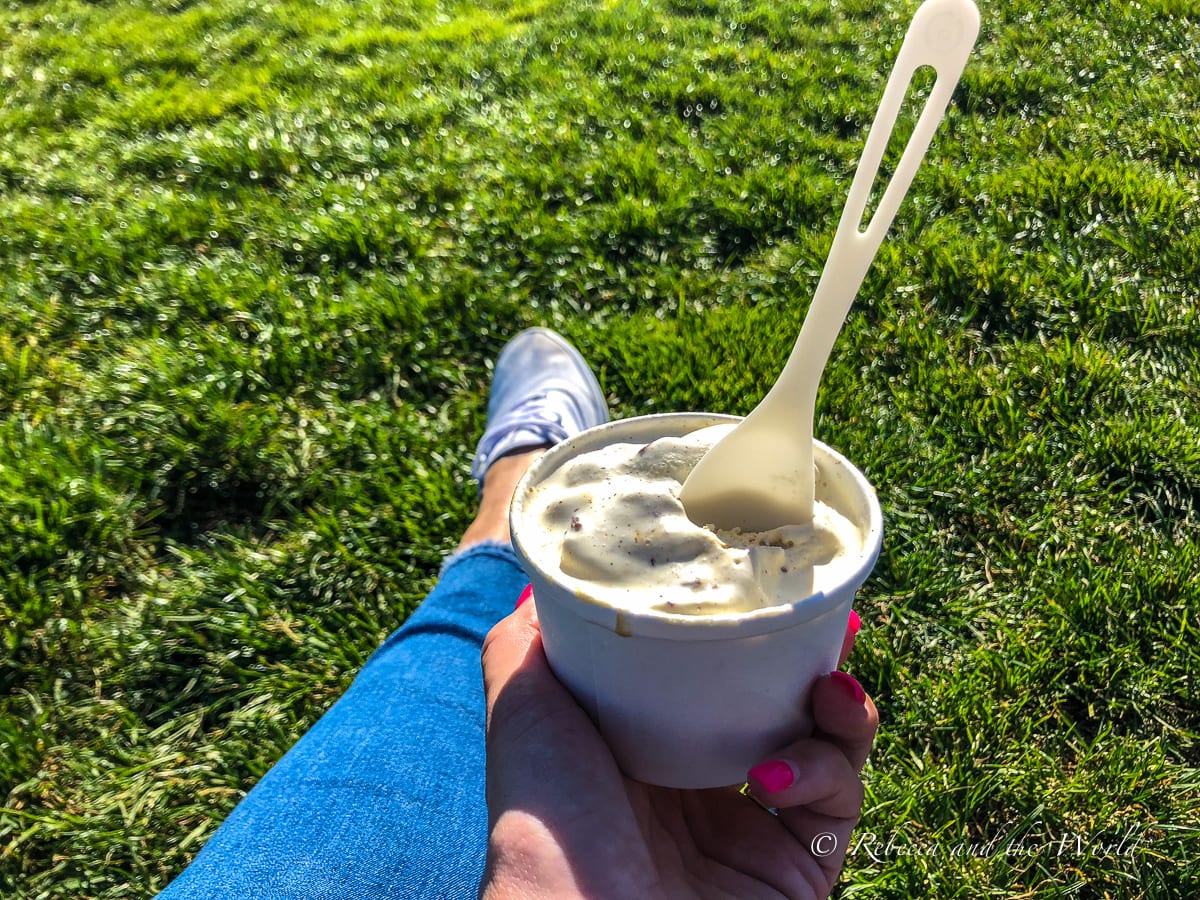 Ghirardelli
Ghirardelli Square
Open daily, 11 a.m. to 10 p.m.
Bi-Rite Creamery
3692 18th St
Open daily, 12 p.m. to 9 p.m.
Spanish tapas at Coqueta
After disembarking from the night tour of Alcatraz, we went looking for some food. I'd already spotted Coqueta along the Embarcadero, so we made a beeline for it and luckily nabbed a table outside. At 9.30 p.m., it was still pumping, the indoor restaurant filled with happy guests.
A Spanish restaurant, the tapas and raciones menu was substantial, and we chose grilled octopus, the patatas bravas and chicken croquettes. The patatas bravas were crumbed and fried and served with two dipping sauces, and I dare say are the best patatas bravas I've ever eaten. They also make a great gin and tonic.
Pier 5, The Embarcadero
Open daily for lunch and dinner
Read reviews on TripAdvisor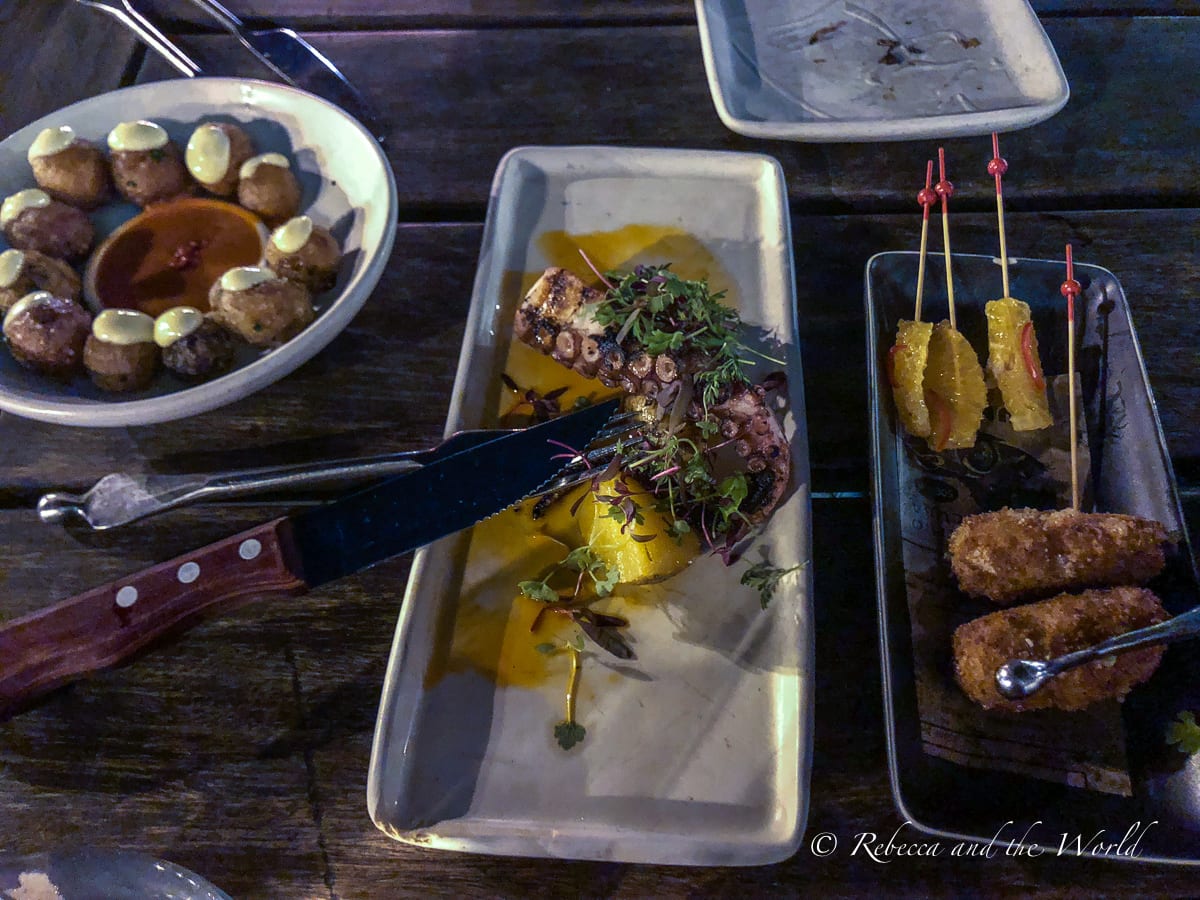 Best restaurants in Sonoma
The deliciousness didn't end in San Francisco. We found some tasty eats when we headed over to Sonoma, too.
Brunch at Le Garage
On our way to Sonoma, we stopped in Sausalito at the recommendation of a friend. Just across the Golden Gate Bridge, this small town is right on the water, with sail boats bobbing by the docks.
We had brunch at Le Garage, a cute French bistro located in a converted auto shop right on the water. The oeuf a la coque was delicious, 2 soft-boiled eggs served with black truffle butter mouillettes, prosciutto, potatoes and mushrooms.
85 Liberty Ship Way
Open daily for lunch and dinner
Read reviews on TripAdvisor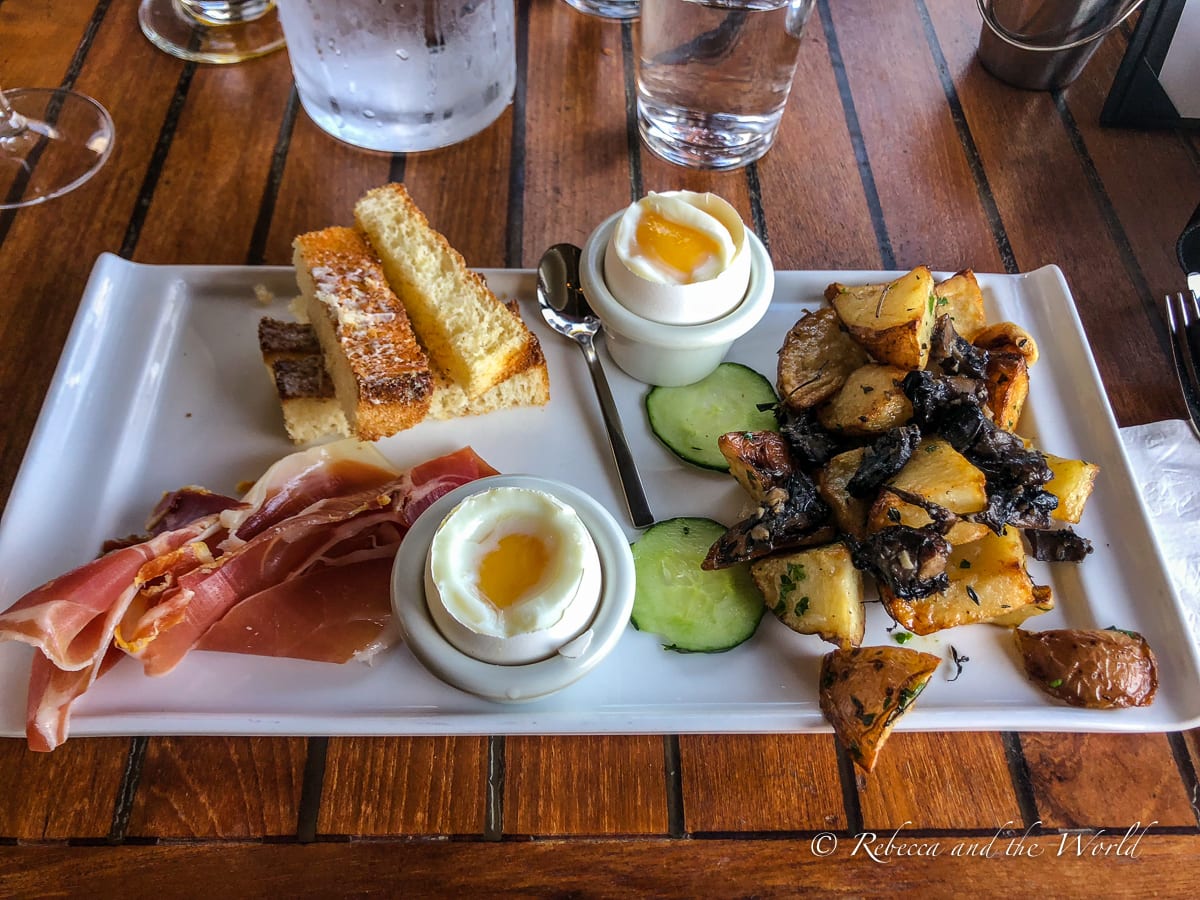 French country fare at the girl & and the fig
This rustic bistro has been a mainstay of Sonoma for more than two decades and it's easy to see why. Lovely, carefully-prepared food, friendly service and an expert wine list. the girl & the fig is located right on Sonoma Square and has a big outdoor patio (although it was windy the night we went and several glasses of red wine ended up on the ground!).
I chose the steak frites. The steak was perfectly cooked and there was a huge mound of French fries piled on the side. Matt had the crispy chicken thighs which came with lemon spaetzle.
You MUST end the meal with the chocolate chip cookies. On the menu, they're served with a milkshake, but that just felt wrong after drinking wine all afternoon, so the waitress suggested we replace it with a scoop of ice cream instead.
110 W Spain St
Open daily for lunch and dinner
Read reviews on TripAdvisor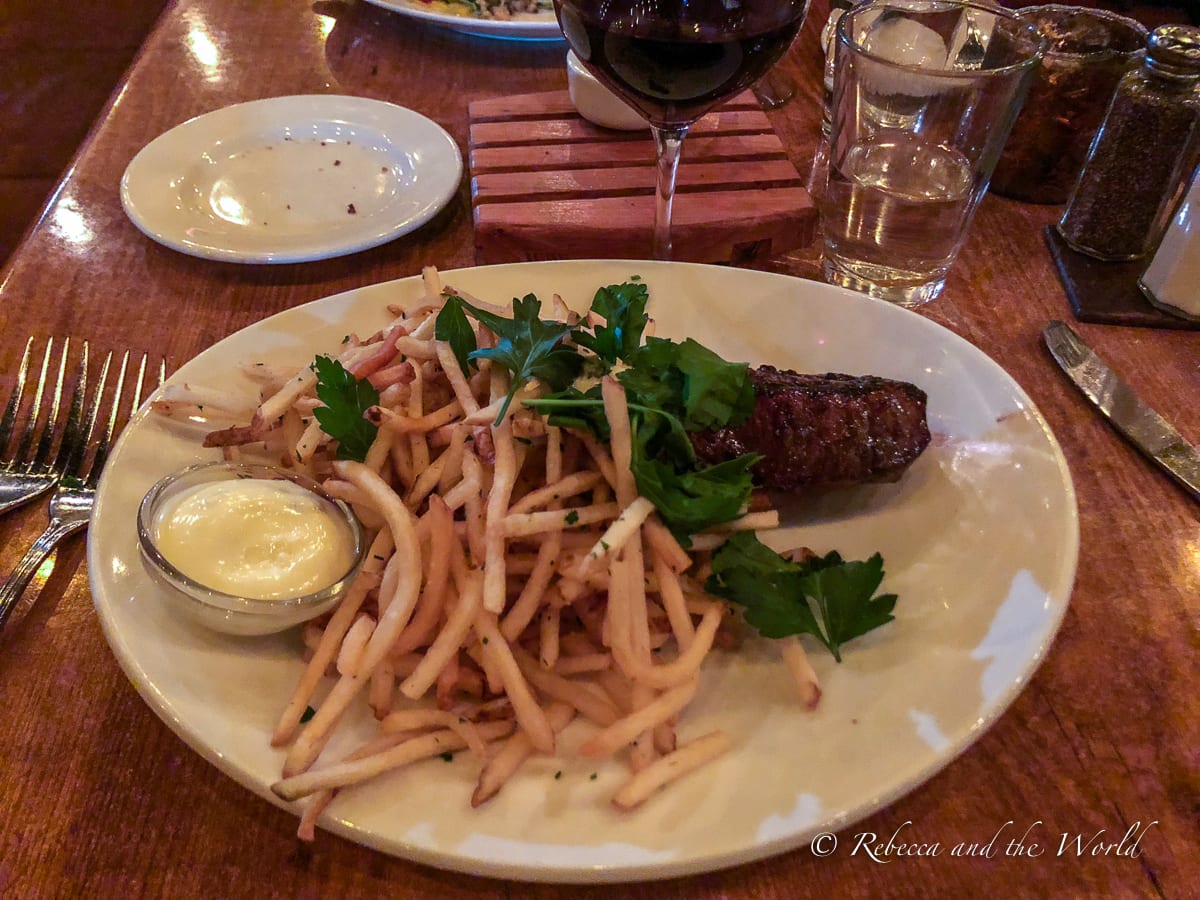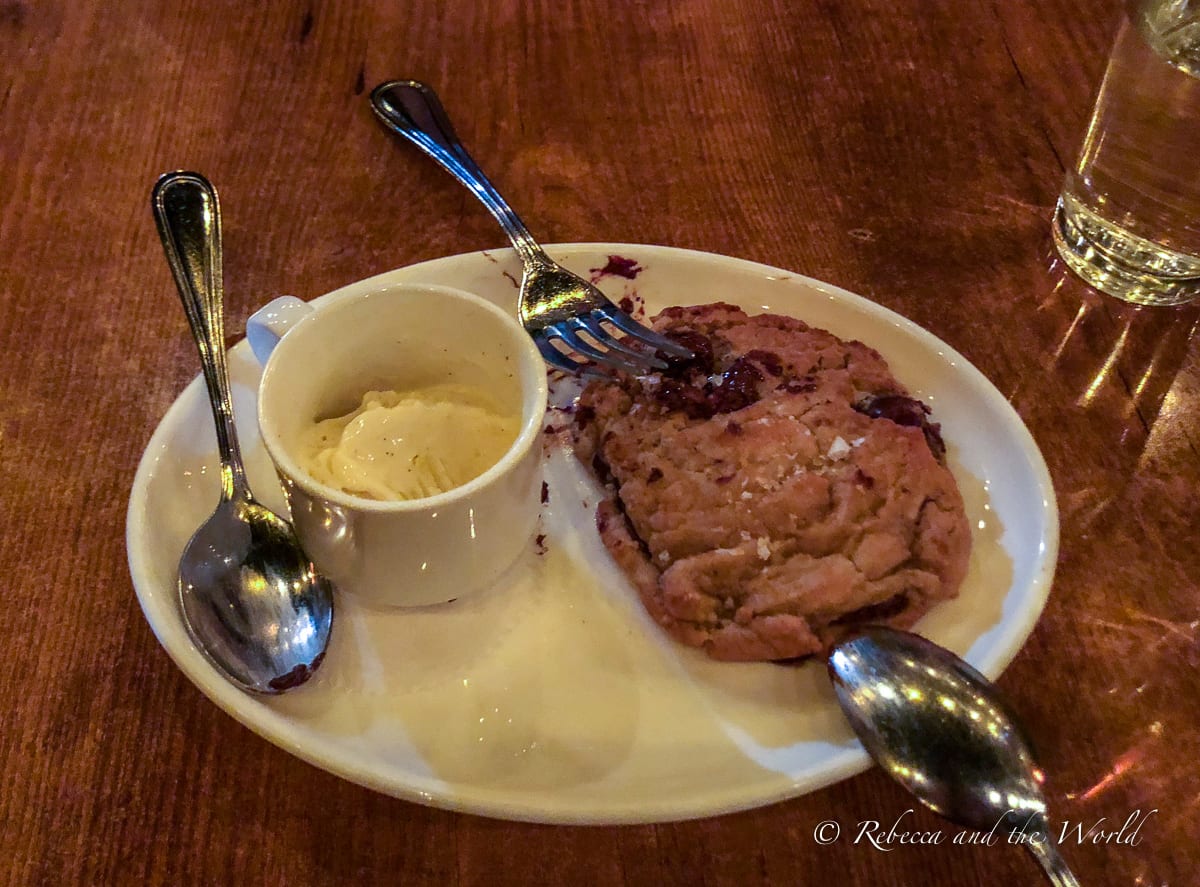 Asian fusion at El Dorado Kitchen
After a boozy day visiting wineries in a vintage VW with West Wine Tours, we needed something to soak up all the wine. We'd spotted El Dorado Kitchen the day before so decided on an early dinner there.
We munched on tuna tartare piled into crispy wanton "tacos" with a delicious sesame dressing and a simple chicken quesadilla (which also ended up being our breakfast the next day as we headed to the airport).
405 First Street West
Lunch and dinner daily, 11.30 a.m. to 8.30 p.m.
Read reviews on TripAdvisor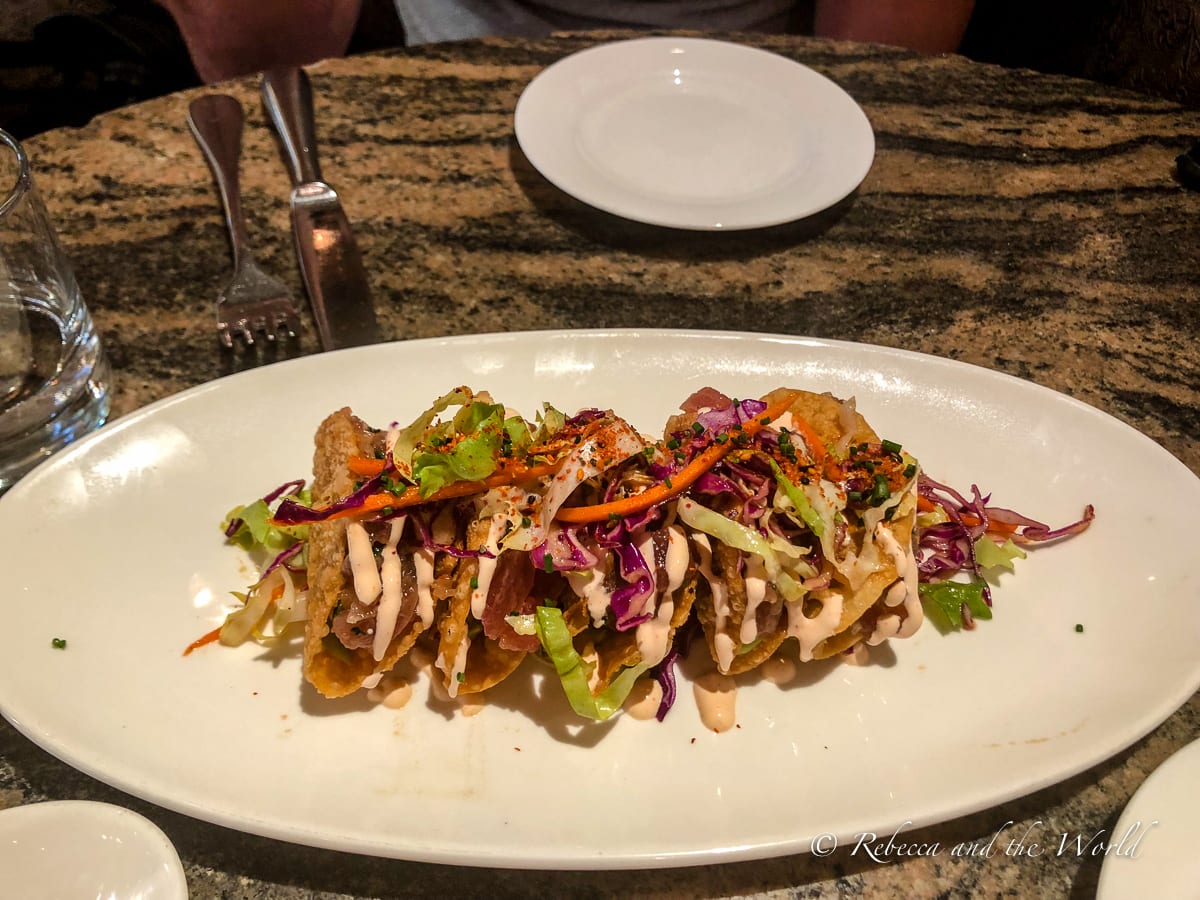 For a small town, we were really impressed with the food scene in Sonoma.
As usual, I didn't get to every restaurant I had on my list, but we made a pretty good effort.
Where would you recommend eating in San Francisco?
This post was published in November 2018, and was updated in June 2020 and January 2023.
PIN IT FOR LATER: