Wondering what to eat in Boston, Massachusetts? I've got you covered with this guide to the Boston must-eats you have to add to your itinerary.
I didn't go to Boston for the food, but somehow I still came back a few pounds heavier (even despite all the walking we did). Boston has a rich history – not only when it comes to its place in charting the course of the history of the United States, but also for the many well-known foods that have origins in New England.
If you're headed to Boston soon, read on for a guide for what to eat in Boston, personally tasted by yours truly. I tried all the touristy food in Boston (and I didn't regret it for a second) and found a few hidden gems.
This blog post may contain affiliate links, meaning if you book or buy something through one of these links, I may earn a small commission (at no extra cost to you).
Boston food map
Here's a map of all the restaurants and eateries listed in this blog post, to help you plan your Boston itinerary.
What's in this Boston food guide
I've outlined 8 must-eat Boston foods, including where to try them. These are:
Cannoli
Clam chowder
Lobster rolls
Tapas
Pizza
Boston Cream Pie
Pasta
Brunch
I've also got plenty of ideas for things to do in Boston when you're not stuffing your face, see the end of the post.
Boston food tour
I generally like to explore foodie cities by myself, but every now and then when I'm short on time I'll take a food tour to hit the best spots in town.
In Boston, this Politically Incorrect Food Tour is my favourite food tour. It's a lighthearted tour (with a smattering of swearing) with plenty of food. I've written a whole post about it here.
But there are plenty more Boston food tours to choose from, including tours themed around pizza and donuts, as well as guides that throw in some history as well. Below are some options to explore.
Cannoli
The first food-related article I read about Boston was about the "cannoli war" between Mike's Pastry and Modern Pastry. Both located on Hanover Street in Boston's North End – the city's Little Italy – these two bakeries attract long lines on weekends as patrons clamour to try each establishment's version of cannoli to decide which is their favourite.
Of course, we also had to try both to see what all the fuss was about.
I quickly discovered that cannoli aren't easy sweet treats to eat. As the crunchy shell cracks, the creamy ricotta filling oozes out over your hands, creating quite a mess that's delicious to lick up.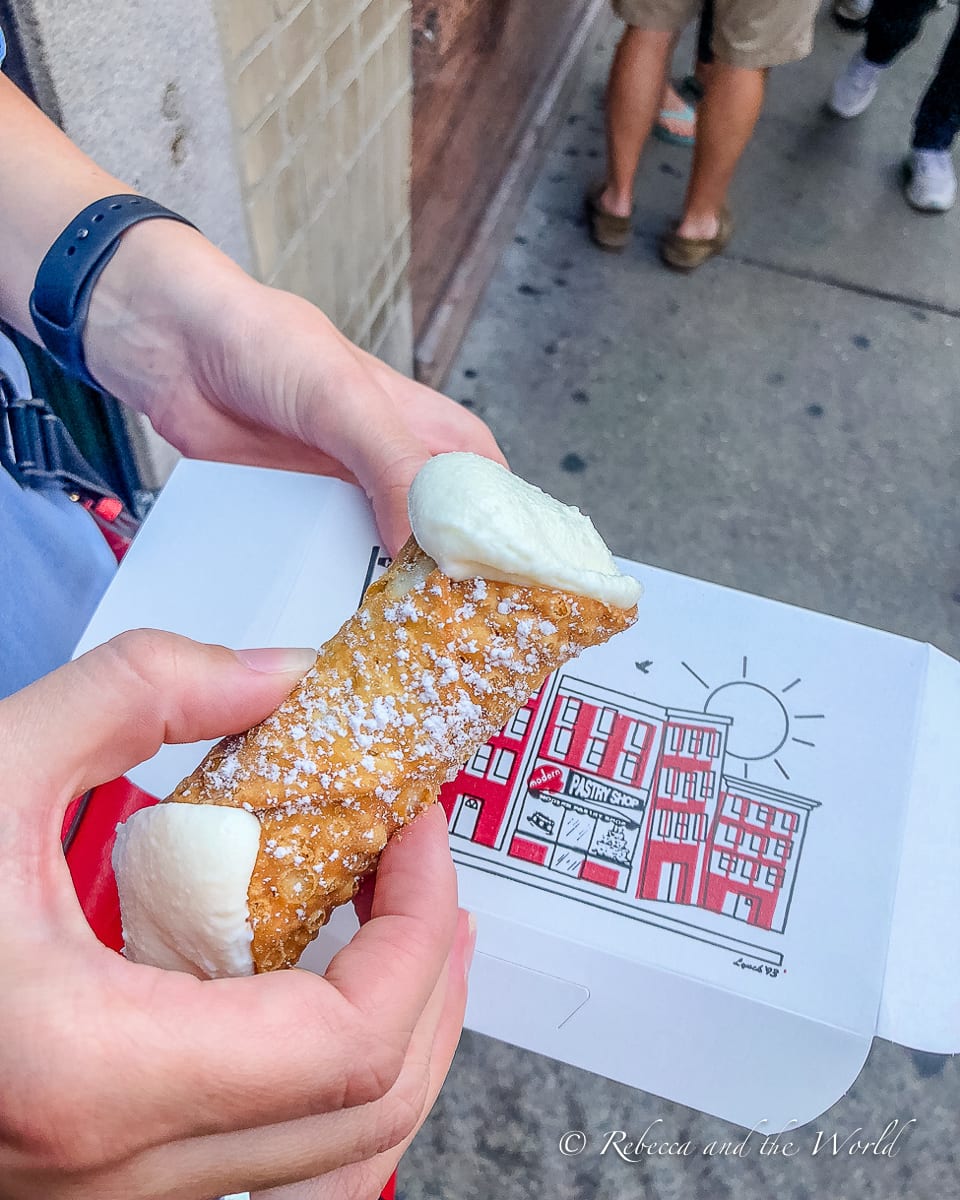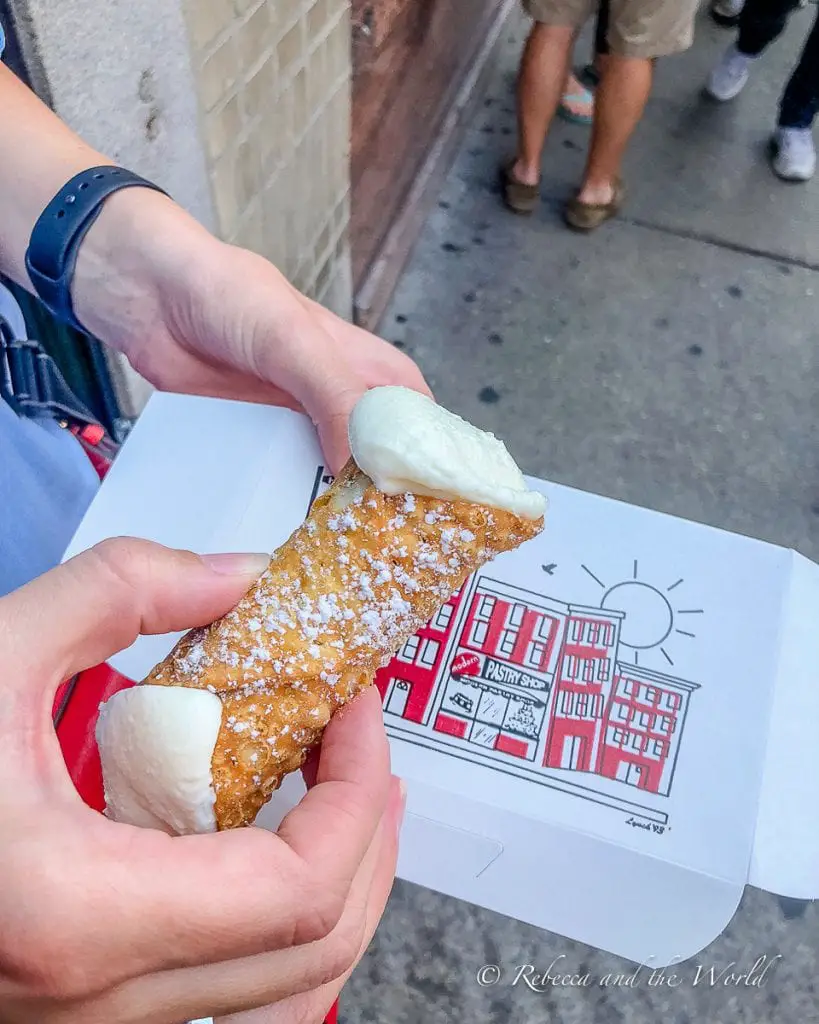 Did I decide on a winner between the two? Well, no. I thought they were both delicious – neither was too sweet and both had a good balance of crunchy and creamy textures.
Modern Pastry is more traditional with its four simple fillings. Mike's Pastry, on the other hand, is attracting the masses with flavours like key lime pie, hazelnut and chocolate chip.
From what I could gather, Mike's is loved by tourists, while locals prefer Modern.
This is one that you'll just have to try for yourself and then make up your own mind.
Modern Pastry
257 Hanover St
Open daily 
Mike's Pastry
300 Hanover St
Open daily
Clam chowder
I wasn't sure if I'd like clam chowder. Clams aren't something I've ever ordered at a restaurant, as I find them quite fishy tasting. So I was surprised to find myself slurping down every last drop of my bowl of this famous Boston food as I sat at the bar of Union Oyster Company.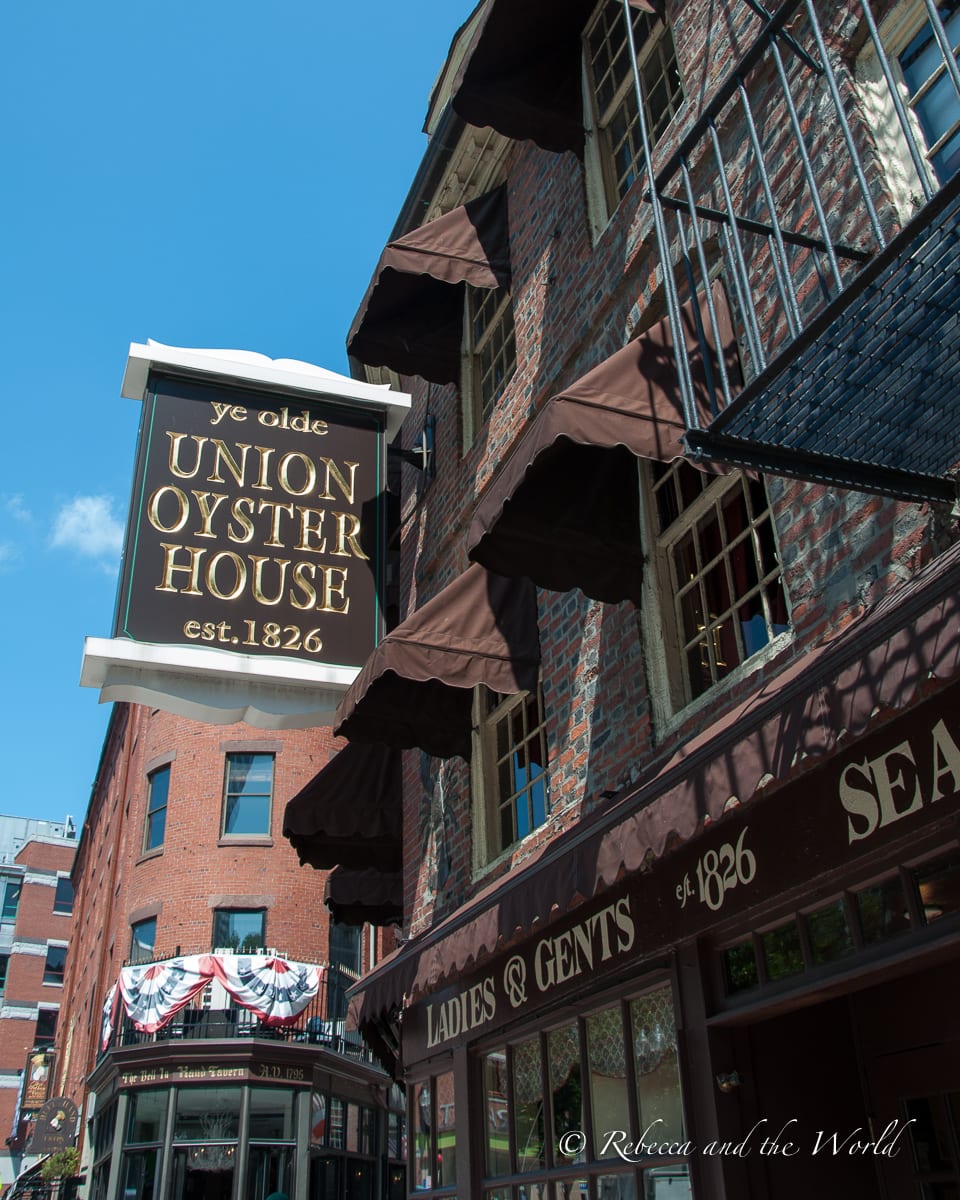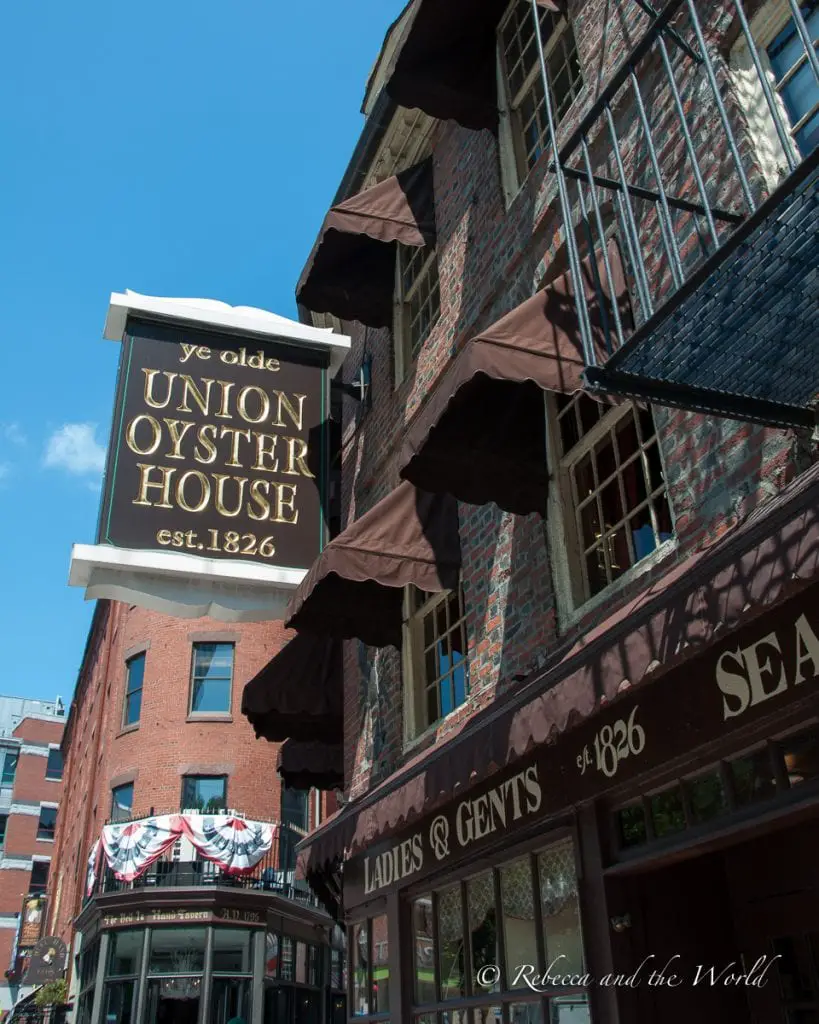 Accompanied by a slice of cornbread, the chowder was creamy and generously dotted with chunks of potato and sweet clams.
You can also get a bit of a history lesson here. The Union Oyster Company is the oldest continuously operating restaurant in the entire United States and is believed to have started serving the cream-based clam chowder in the 1830s. JFK loved to dine here, and it's also known as the place that the toothpick was first used in the United States!
Union Oyster House
41 Union St
Open daily
Lobster rolls
If there's one thing that always tops the list of what to eat in Boston, it's lobster rolls. I highly recommend trying a couple of them.
We started at Luke's Lobster. Overwhelmed by FOMO, I picked the trio of rolls, which came with a half roll each of lobster, crab and shrimp. The shrimp roll here was actually my favourite, but the lobster roll bode well for the rest of our foodie trip: a generously buttered, soft brioche roll was stuffed with chunks of cold lobster.
For our final meal in Boston we went a little more upscale and pulled up stools at the bar of Saltie Girl, a narrow, nautical-themed restaurant inside a Brownstone. The server recommended the warm lobster roll and I watched through the servery window as the kitchen staff stuffed chunks of lobster into the bursting-at-the-seams roll and then ladled over a buttery sauce. Homemade salt and vinegar chips were served on the side. Let's just say, I was in heaven.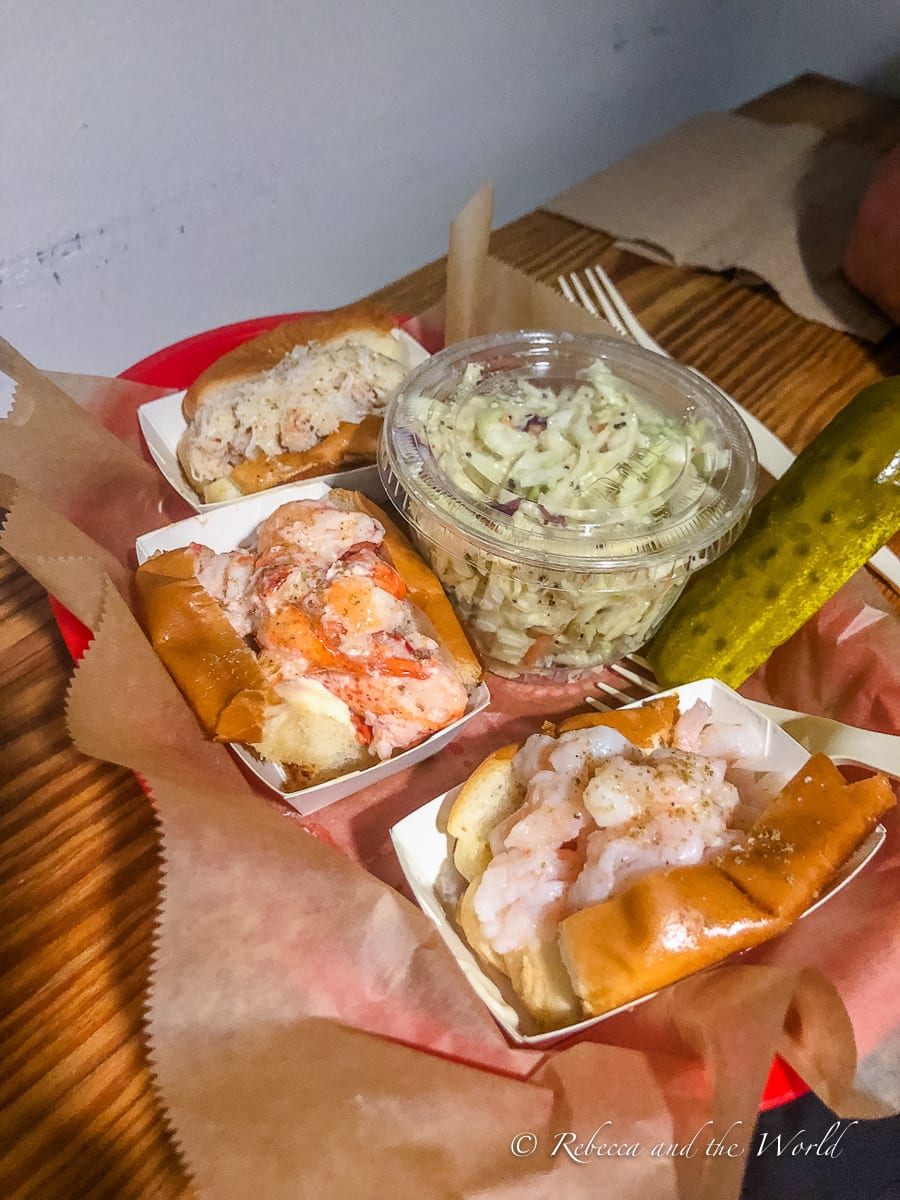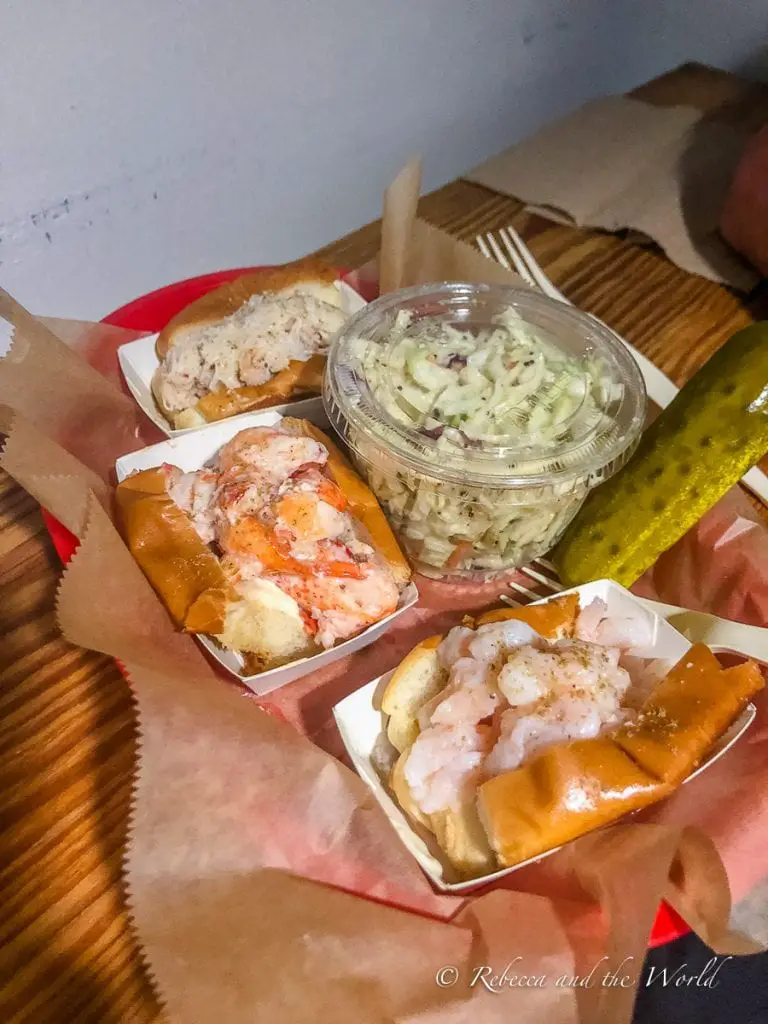 Lobster rolls aren't cheap, regardless of where you go – you'll pay a minimum of $16, and anywhere up to $35+ in better establishments.
Luke's Lobster
Various locations throughout the city, we went to the one at 75 Exeter St
Open daily 
Saltie Girl
279 Dartmouth St
Open daily
Come early to nab a table or seat at the bar
Tapas at Toro
Looking for something a little different, we headed to the South End neighbourhood. Toro is a tapas restaurant that "brings Barcelona to Boston". It's one of the hottest places to eat in Boston and doesn't take reservations, so plan to get there early otherwise you'll be looking at a wait of 30 minutes to more than an hour.
I love tapas because you get to try little bits of everything, and we ended up with a table full of delicious bites: jamón bellota (recalling our days road tripping through Spain and eating tapas in Seville), grilled octopus, and a clay bowl of the most delicious gambas al ajillo (garlic shrimp) I've ever eaten. Definitely some of the best food in Boston.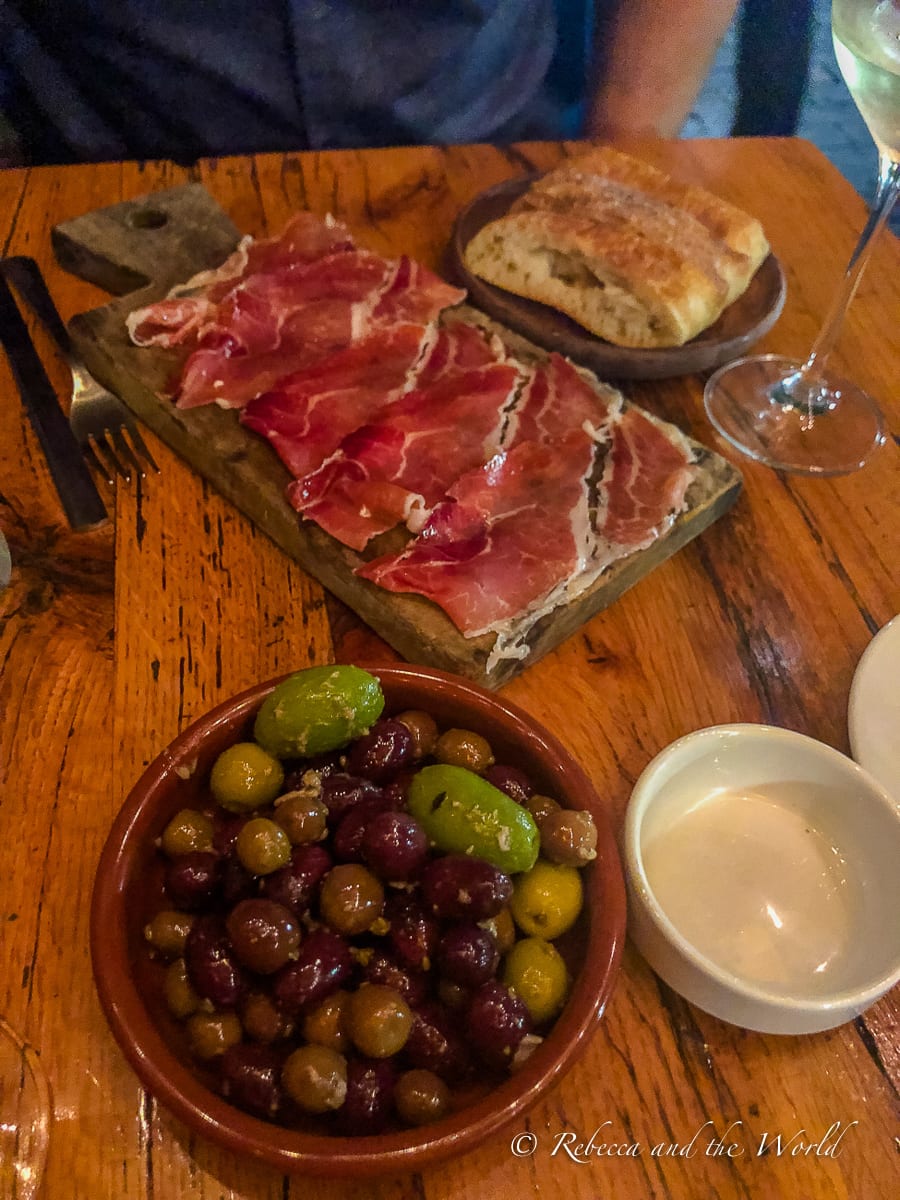 Top tip: don't book a restaurant called Toro in NYC thinking that it's this place in Boston. Slightly embarrassing, but apparently we weren't the first to do it that evening.
Toro
1704 Washington St
Open daily, hours vary
Pizza
When you're in Boston's North End, there's going to be pasta and of course there's always going to be pizza.
Arriving on a Saturday afternoon, we found ourselves amidst the crowds of the Saint Anthony's Feast festival. There was no chance of getting a table at Regina Pizzeria, what's probably considered Boston's most famous pizza place, but luckily all the restaurants in the area had small stalls lining the street, so we bought a slice to share.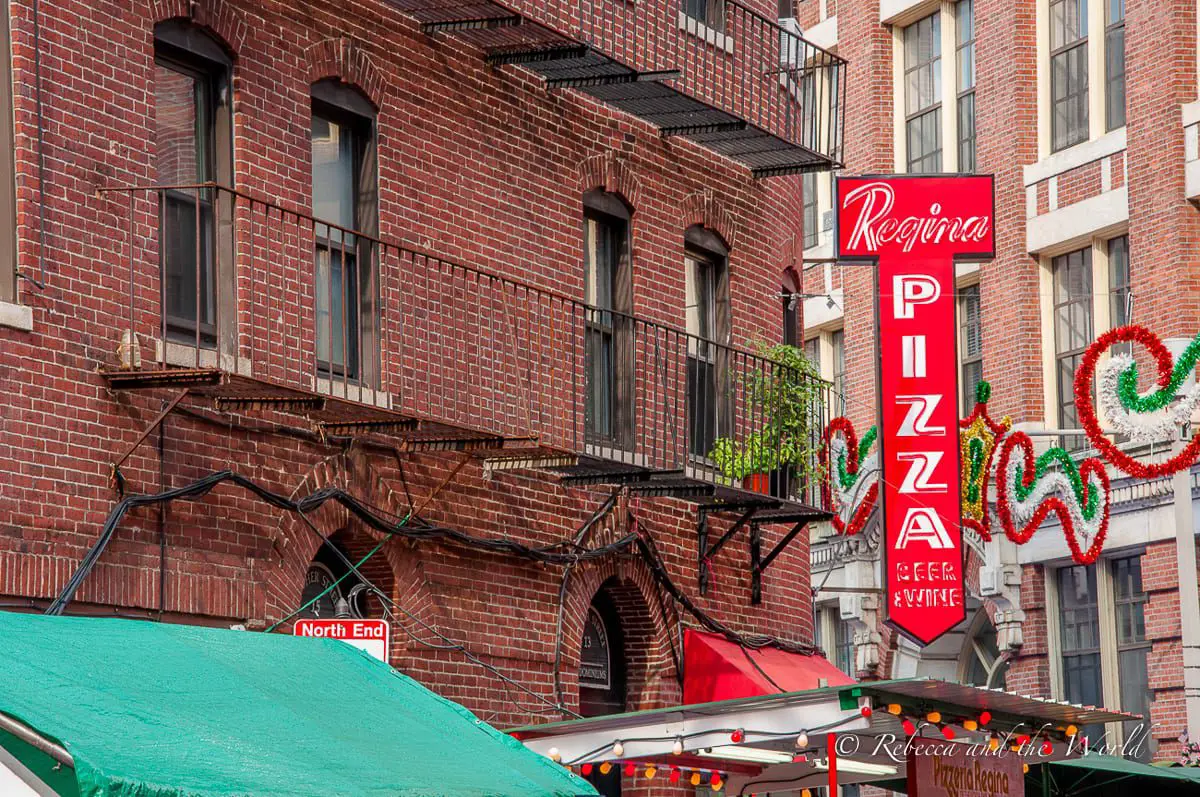 The pizzas here are wood-fired and they have a crunchy, chewy crust and just the right amount of tomato sauce and cheese.
We also ended up devouring a few more slices at Mama Maria's dining room table on our Boston food tour.
Regina Pizzeria
Various locations around the city, original is at 11 ½ Thatcher St
Open daily
Boston cream pie
Despite the fact that I hadn't had a proper lunch, we made a beeline for the Omni Parker House Hotel, famed for inventing the Boston cream pie in 1855.
The Boston cream "pie" is in fact a soft sponge-cake filled with cream and topped with chocolate. I was expecting something sickly sweet, but it was actually not too sweet and not overly filling.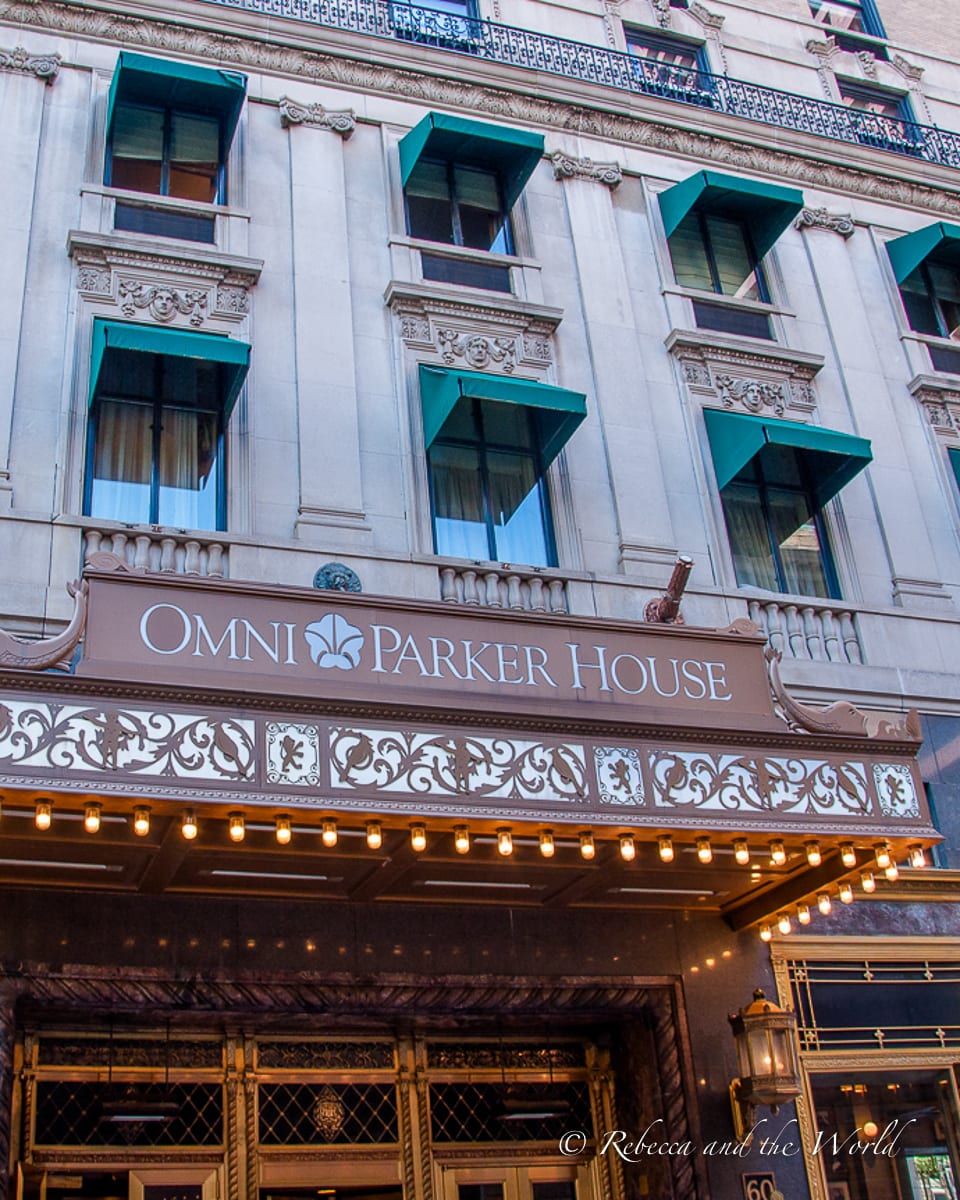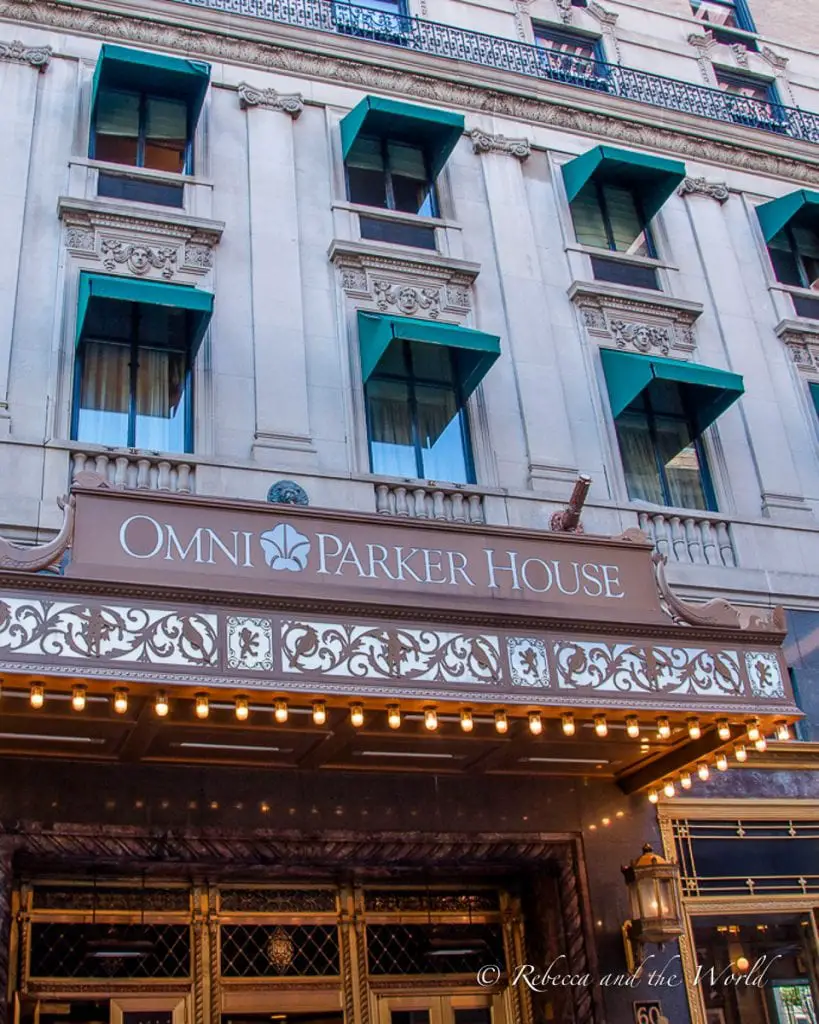 Omni Parker House Hotel
60 School St
Pasta
I'm not actually a huge pasta fan, but I couldn't pass up a bowl of Mama Maria's pasta on our Politically Incorrect Food Tour.
Sitting at Mama Maria's dining table in her narrow house in Boston's North End, we enjoyed a plate full of rigatoni smothered in a rich Bolognese sauce. It was the highlight of the tour (you can book the Politically Incorrect Food tour here).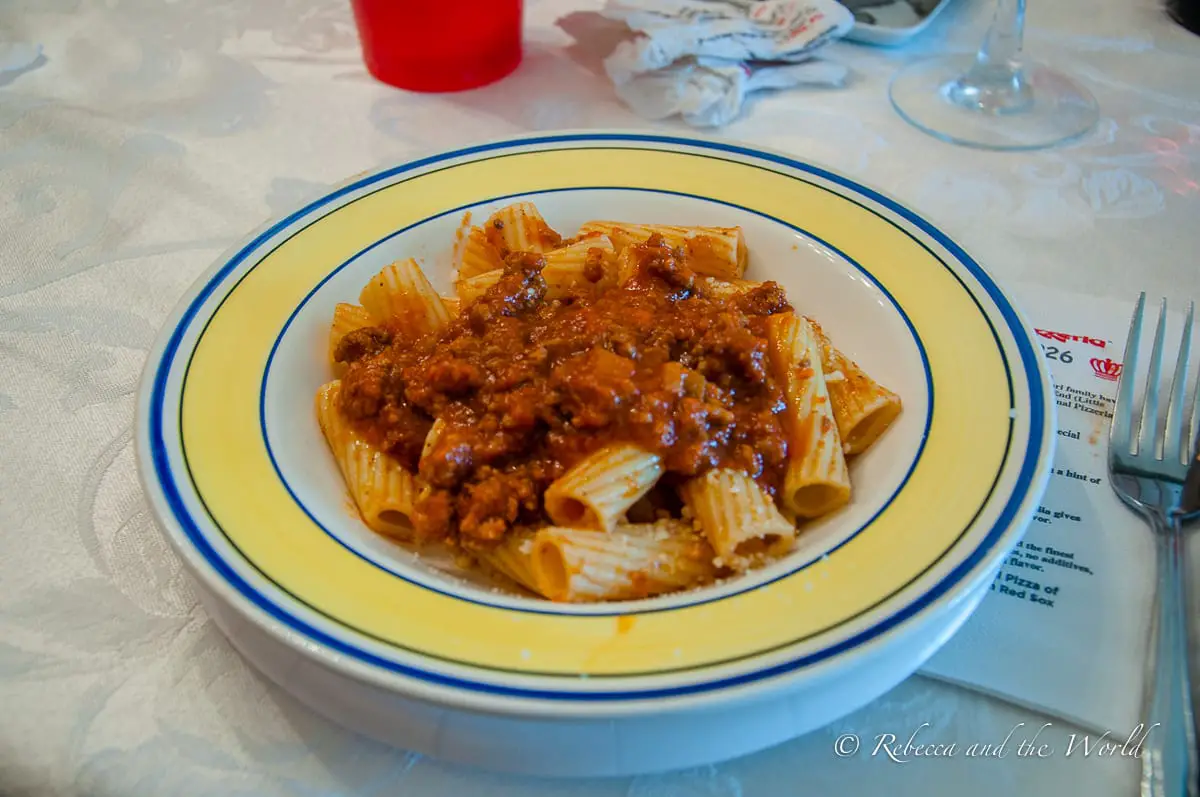 Only available on the Boston Politically Incorrect Food Tour
Brunch at Stephanie's
On our trip to Boston we had lovely weather, so we sat at one of the small tables outside at Stephanie's, a restaurant located on the famous Newbury Street. Stephanie's is well known for being a celebrity favourite, but alas there were no celebrity sightings during our brunch.
The brunch menu is huge and after much indecision I ordered the crab cakes Benedict. Two thick crab cakes were covered in a delightful béarnaise sauce and topped off with poached eggs.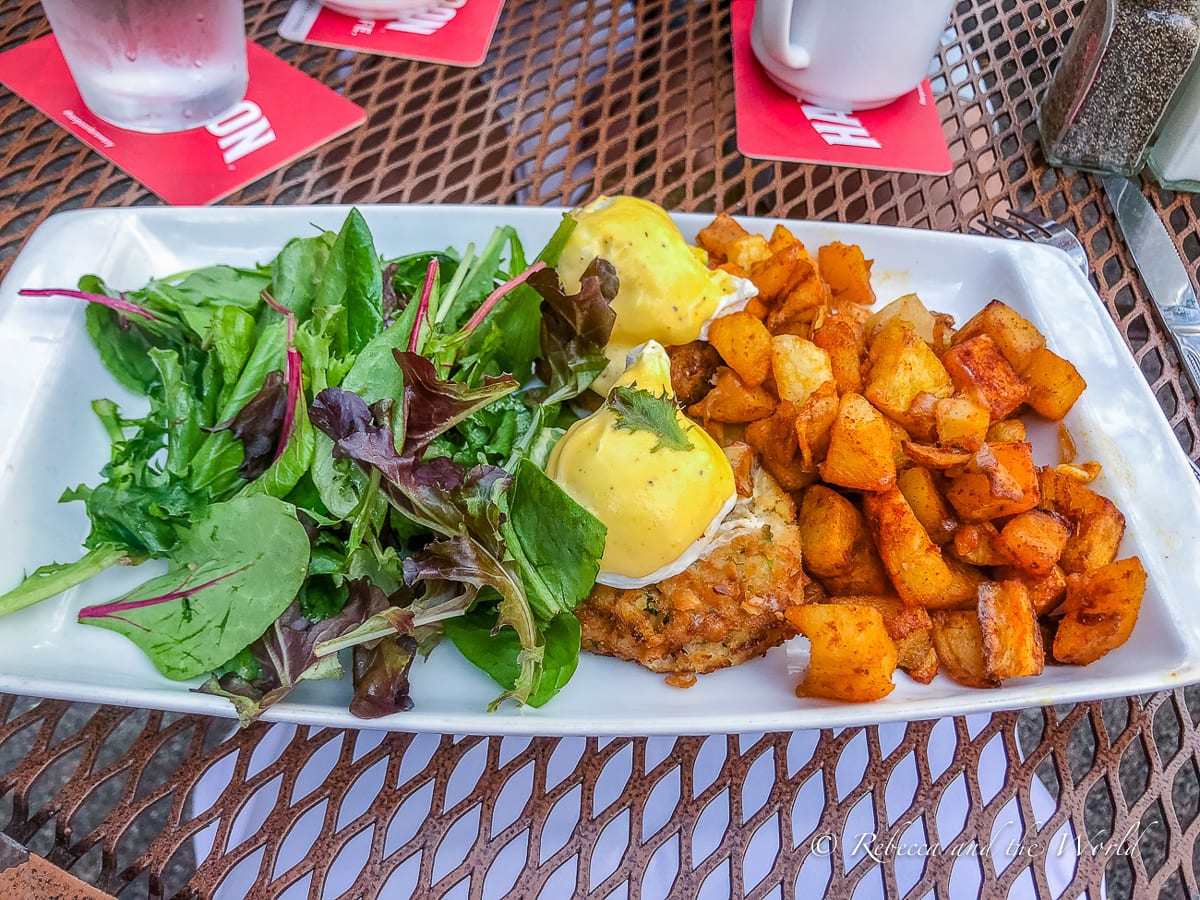 Stephanie's on Newbury
190 Newbury St
Open daily
There were so many Boston restaurants on my list, but not enough time to visit them all (nor enough room in my stomach). I still have a long list just waiting to be ticked off.
What to do in Boston (besides eating)
We struggled to fit everything into a weekend in Boston. Here are a few ideas for things to do in Boston (beyond just eating):
Walk the famous Freedom Trail
Go shopping at the Boston Public Market
Wander through the Beacon Hill neighbourhood for beautiful architecture, making sure to stop by the Scarlett O'Hara house
Visit the Isabella Stewart Museum
Learn about the world at the Mapparium
Discover a secret sneaker store
Take a sobering walk through the outdoor Holocaust Memorial
Hang out in Copley Square
See inside the stunning Boston Public Library
Take a stroll along the Rose Kennedy Greenway, stopping in for a drink at Trillium
Catch a baseball game at Fenway Park
Follow the Black Heritage Trail, an alternative to the Freedom Trail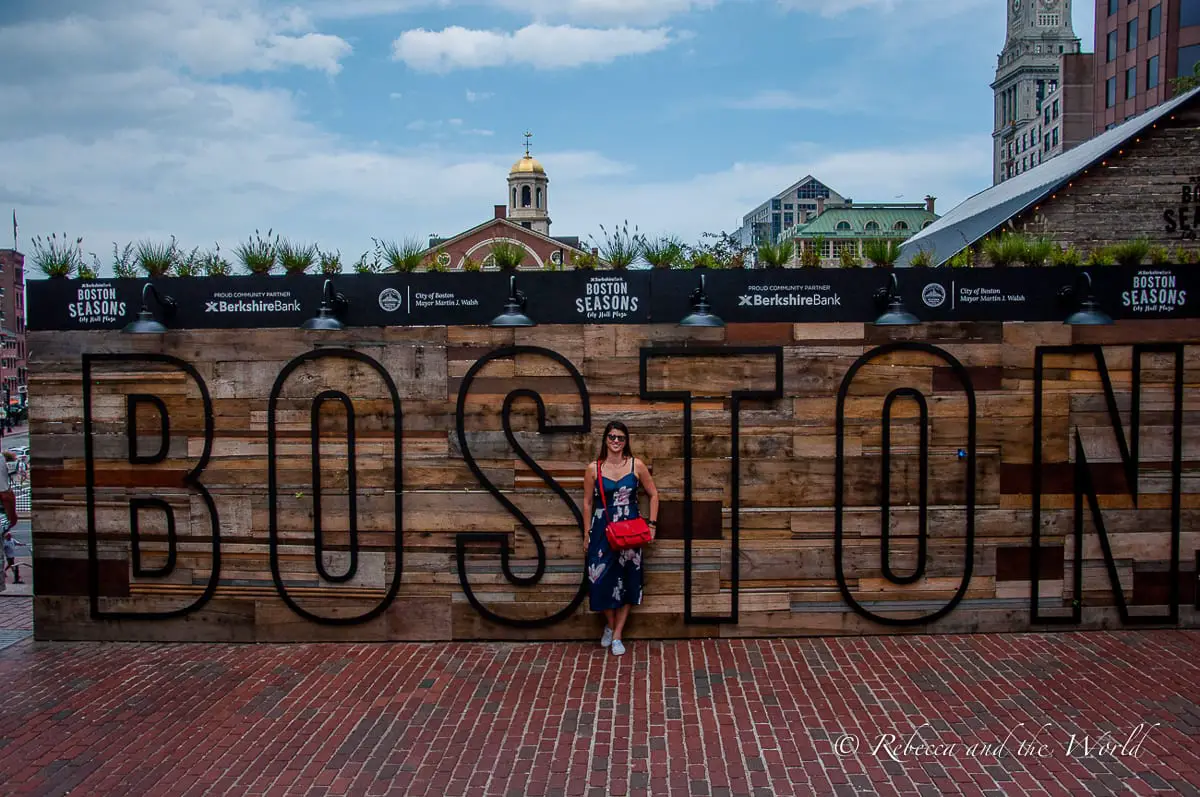 What to pack for Boston
Don't forget a few simple items when you're packing for your trip to Boston.
What are your recommendations for what to eat in Boston? Leave your tips in the comments below so I can eat well when I return to Boston!
USA TRIP ESSENTIALS
Book flights to and around the USA online with Skyscanner or Kayak. I usually compare flights on the two sites to find the best deals.
Find a great hotel in the USA. Check prices on Booking.com and HotelsCombined online.
Check out the huge range of day tours throughout the USA on GetYourGuide or Viator. There's something for everyone.
A copy of the Lonely Planet guide to the USA will be handy.
One thing I always purchase is travel insurance. World Nomads offers simple and flexible travel insurance. Buy at home or while traveling and claim online from anywhere in the world.
PIN IT FOR LATER:
Don't forget to save this guide to Boston restaurants to you can plan your delicious trip!