Looking for a 2 days in San Francisco itinerary? Well, I've got you covered – and I'm even throwing in a bonus Sonoma itinerary if you've got time for a side trip! Read on.
San Francisco has always been a city on my USA bucket list. As soon as I saw that big red bridge and those colourful houses on the opening credits to Full House when I was a young girl, I knew I'd visit one day.
But, dig a little deeper than the many television cameos, and you'll find a liberal city that's filled with art, friendly communities, and great (and diverse) food. Despite the city's small size (it's only 7 miles wide and 7 miles long!), there's plenty to pack in to a San Francisco itinerary. Here, I'm sharing my guide to 2 days in San Francisco, aimed at first-time visitors.
My husband and I arrived here to celebrate our 4th wedding anniversary. We spent two days in San Francisco as well as two days in Sonoma wine country. I'm adding in our Sonoma itinerary here, because it's a great addition to a trip to San Francisco if you can wrangle an extra long weekend.
Let's get into it!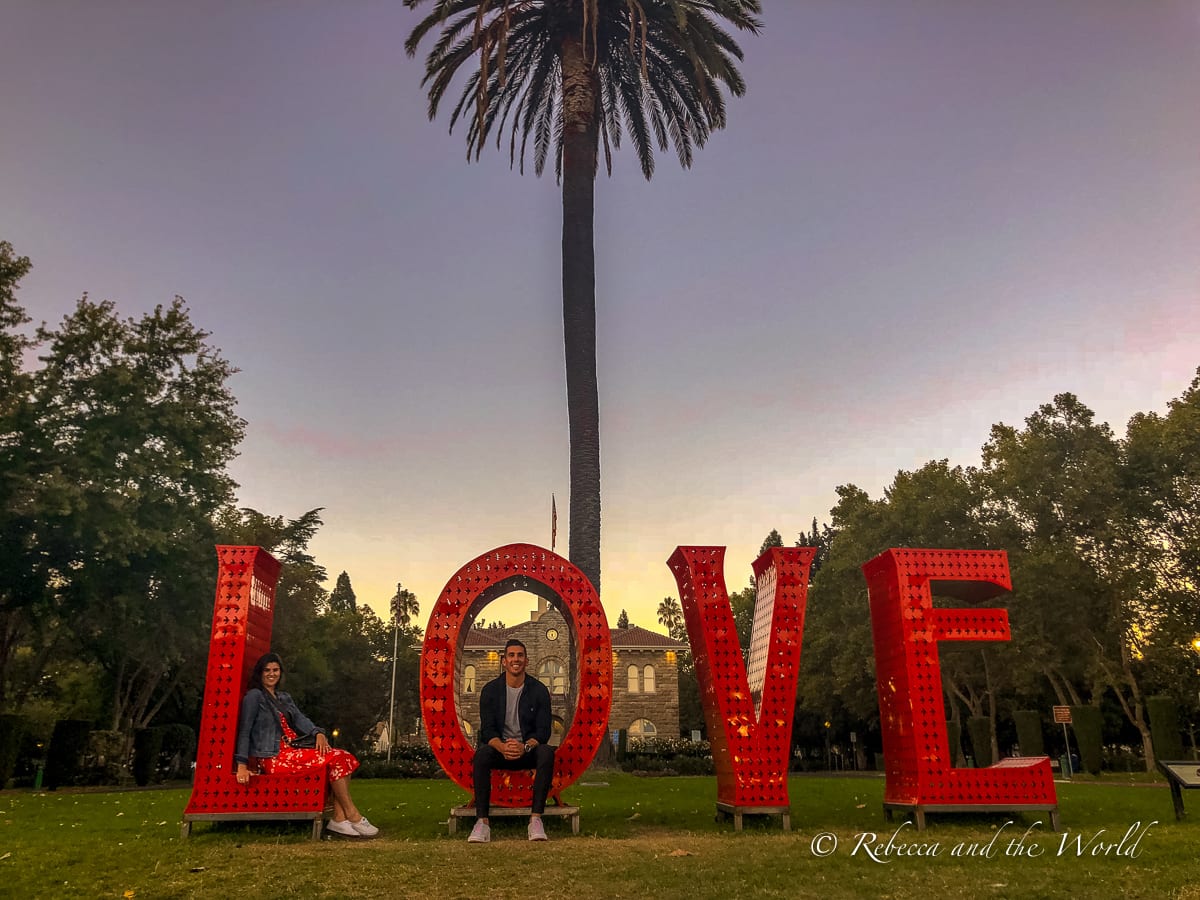 This blog post may contain affiliate links, meaning if you book or buy something through one of these links, I may earn a small commission (at no extra cost to you).
San Francisco itinerary: Day 1
Start your San Francisco itinerary with breakfast at Mymy (1500 California St). Grab a seat in the sun outside and squeeze in as many delicious pancakes as your belly will fit. The zucchini pancake is a great balance of sweet and savoury.
Our first day in San Francisco was a Friday, so we planned to do more of the touristy stuff to avoid the weekend crowds. I recommend a walking tour to start your trip and get your heads around the key sites in San Francisco.
You've got two options: if you'd prefer to have someone guide you around, there are plenty of tours to suit all interests. Get Your Guide is where I always start when researching city tours.
But you can so easily explore the city without a guide, which is what we did.
Start at the Ferry Building (1 The Embarcadero), which dates back to the late 1800s. This ferry terminal has recently been revived and is now full of restaurants, food markets and cute shops. On Tuesdays, Thursdays and Saturdays, stalls snake their way around the building for the farmers market. Vendors sell fruit and veggies, homemade condiments, cheeses and snacks, and it's a great place to spend an hour or two.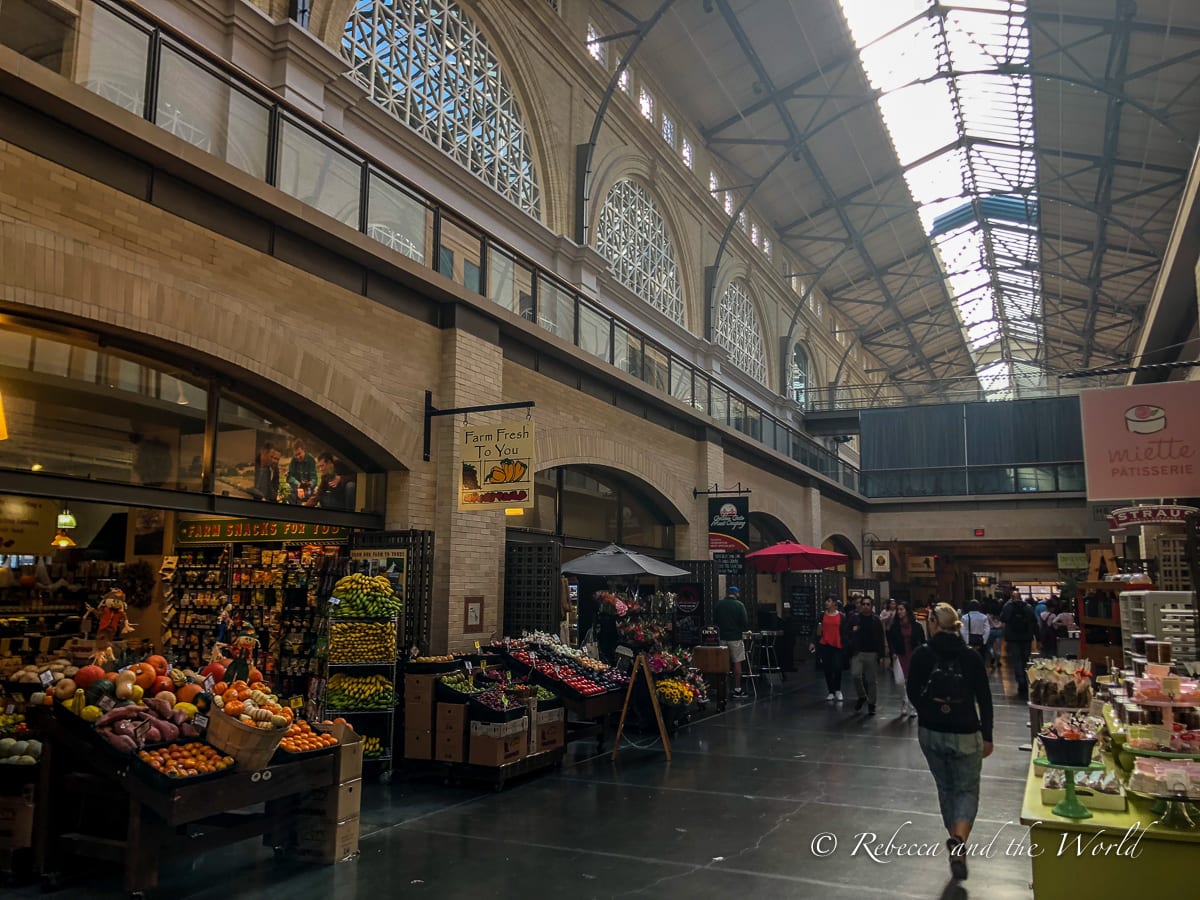 If you don't make it for the market, you'll still find something to eat inside the Ferry Building, including delicious empanadas from El Porteño and cakes from Recchiuti Confections.
After you've had your fill, continue south along The Embarcadero. You can pop in to some of the piers along the way. Some have great views of the city, others have restaurants, and others are home to famous San Francisco attractions like the Exploratorium (Pier 15 The Embarcadero), which is a science and art museum.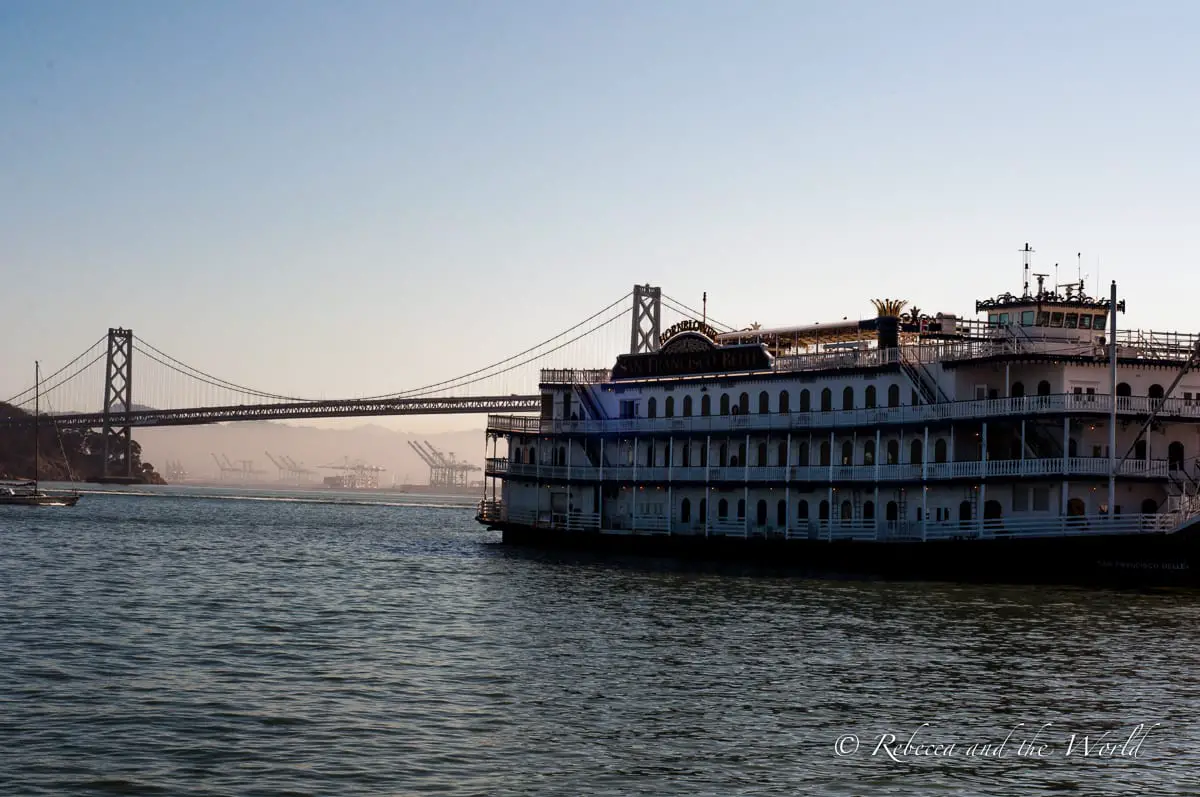 You'll reach Pier 39 which is a super touristy spot, but still worth checking out as part of your San Francisco itinerary. Continue around to see the seals basking in the sun on the wooden docks. These guys are noisy!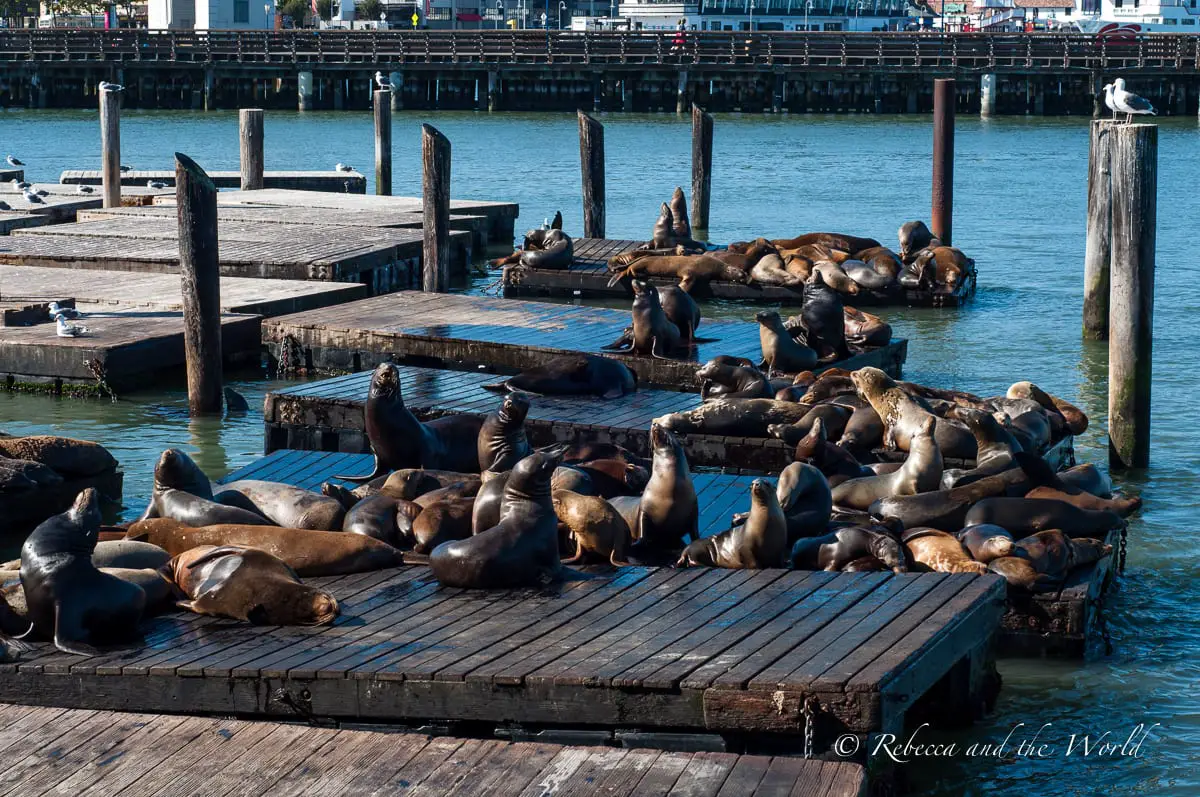 Pier 39 is also home to the aquarium and well-known restaurants like Bubba Gump and the Hard Rock Café. I recommend having a quick look and then moving on – these places were a bit too touristy for my liking, but still a fun atmosphere.
At Fisherman's Wharf you can visit the Musée Mécanique (Pier 45, Fisherman's Wharf), a museum filled with more than 300 old penny arcade games, some of which still work. Some are modern games, some are just downright creepy!
Keep going to Ghirardelli Square where all your chocolate-y dreams will come true. Wander through the shops – not all are filled with chocolate, there are also some cute stores selling clothes and trinkets, as well as a brewery. One thing you have to make sure you do is eat a decadent ice cream sundae from Ghirardelli. After all the walking, I think I deserved it!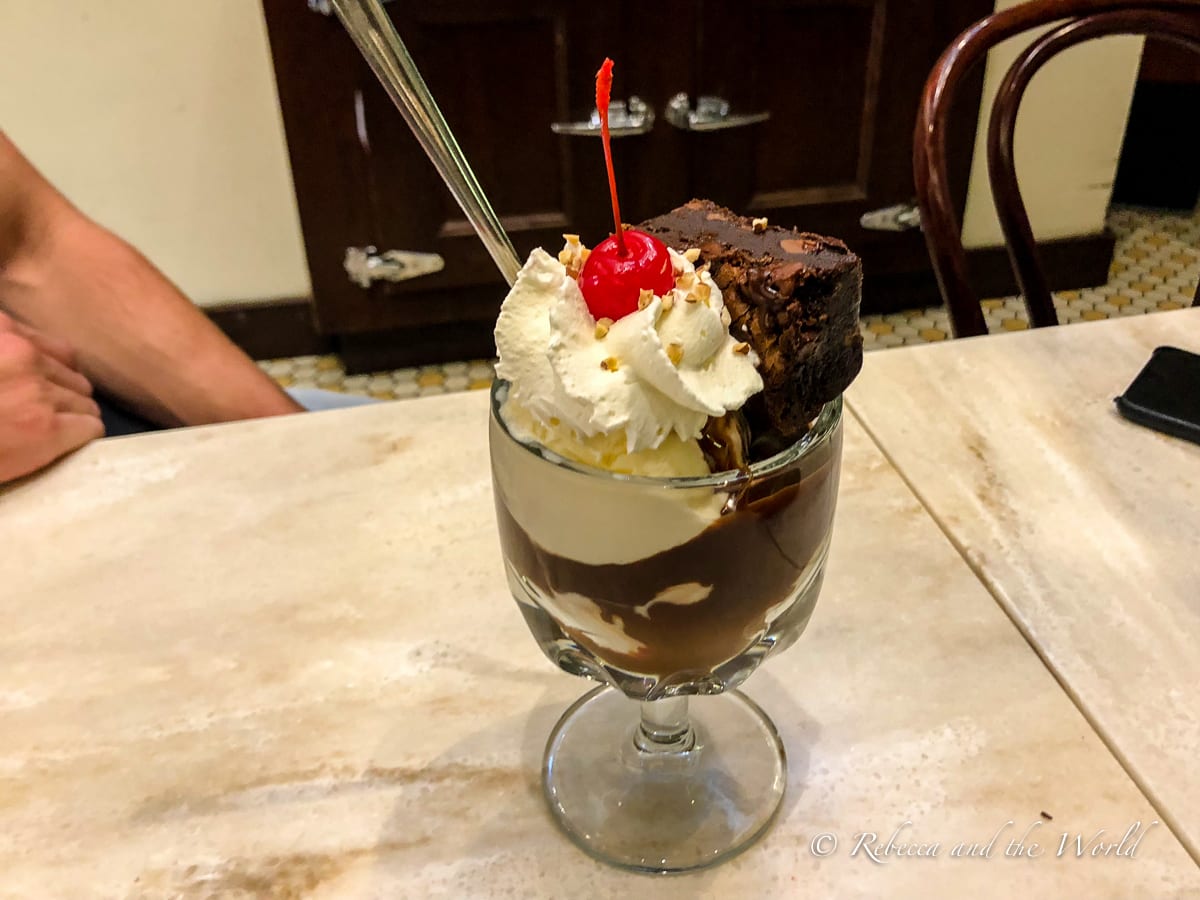 San Francisco's hills are famous for being steep. You can either do the calf-burning hike up to the Russian Hill neighbourhood, or catch the cable car along Hyde Street. It's on to Lombard Street to walk down the "most crooked street" in San Francisco. Fun fact: it's actually not the most crooked street in San Francisco, but it is pretty with its pastel-coloured houses and flower beds and it's fun to watch cars slowly navigating their way down.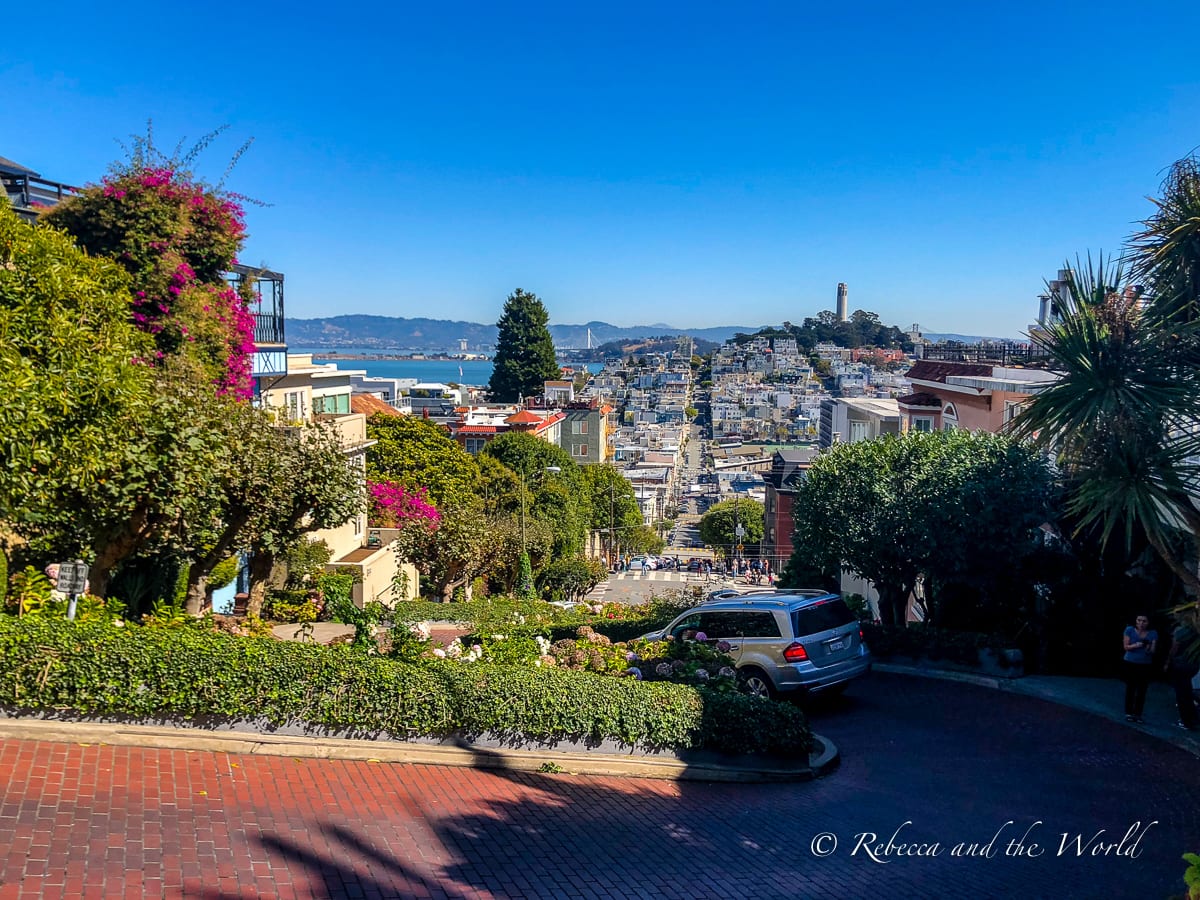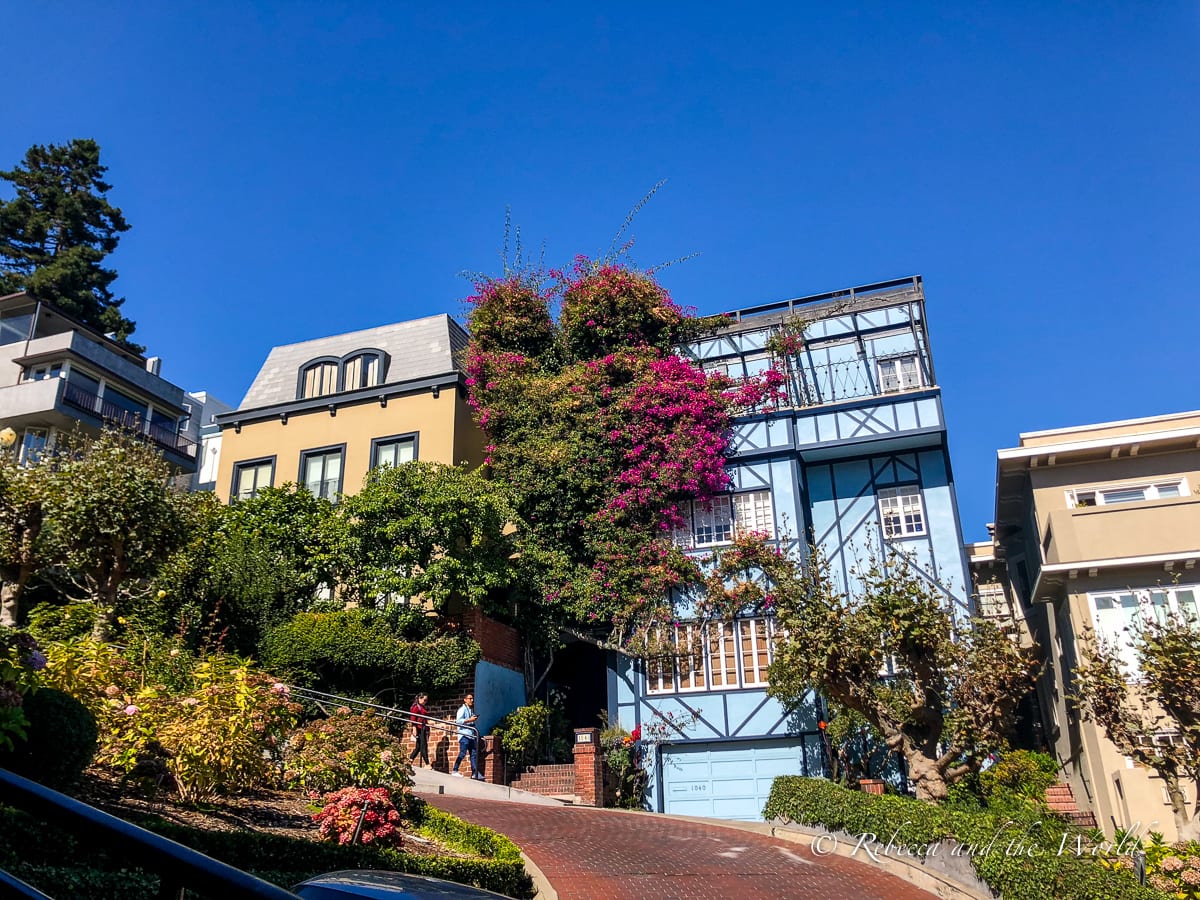 You're not far from Chinatown, so head there and wander beneath the lantern-bedecked streets and past the fruit and veggie vendors selling all sorts of exotic and strange produce.
Grab some lunch from one of the many dim sum places. Our favourite was Delicious Dim Sum (752 Jackson St). Here, there are no carts wheeled about – there's only one table squeezed into the back of the shop. But the food is delicious (as its name suggests) so if you can nab that table, do it. Otherwise, grab some dumplings to go.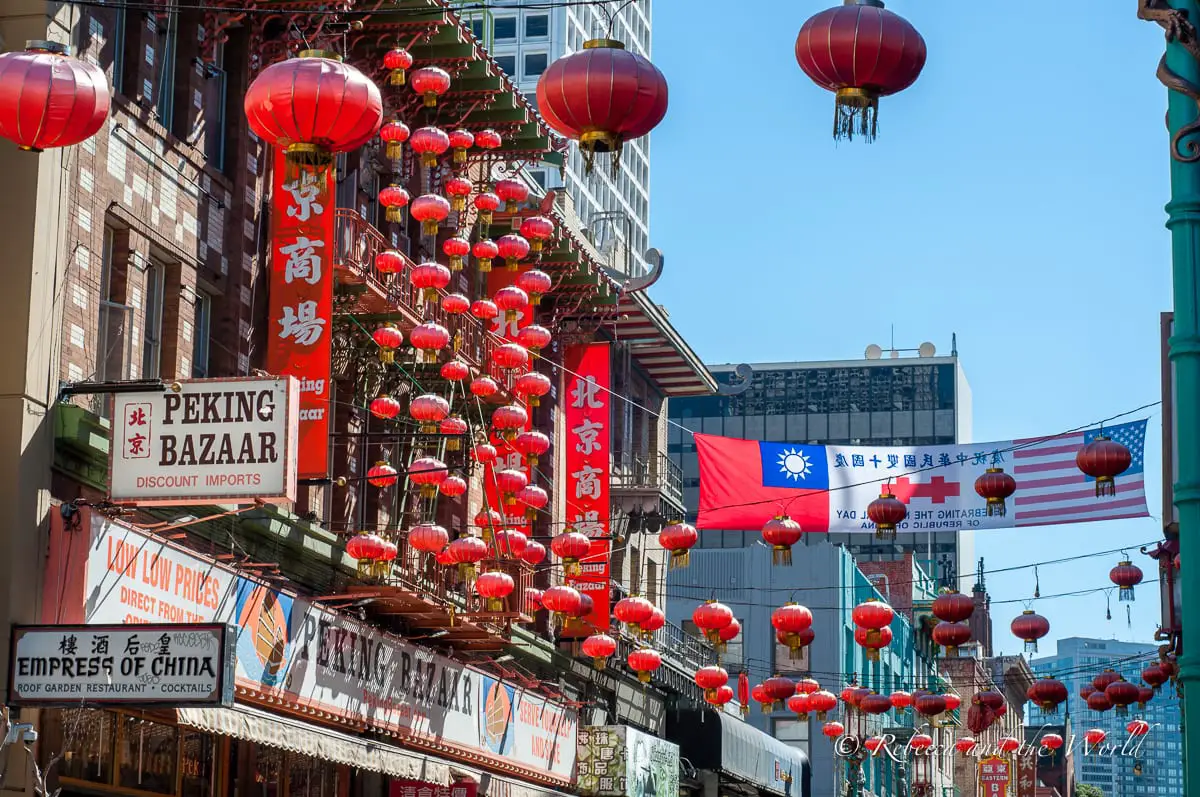 Consider doing a food tour through Chinatown. I had planned to do this but we just didn't have enough time on our San Francisco itinerary.
While in Chinatown, stop in at one of the many massage places for a quick foot rub – you'll need it after all this walking.
In the evening, head back over to Pier 33 to take the boat to Alcatraz. You can do tours during the day, but the Alcatraz night tour is different – it's definitely a little spookier wandering through the cells in the dark! Book your Alcatraz tour tickets well in advance as they sell out sometimes months ahead.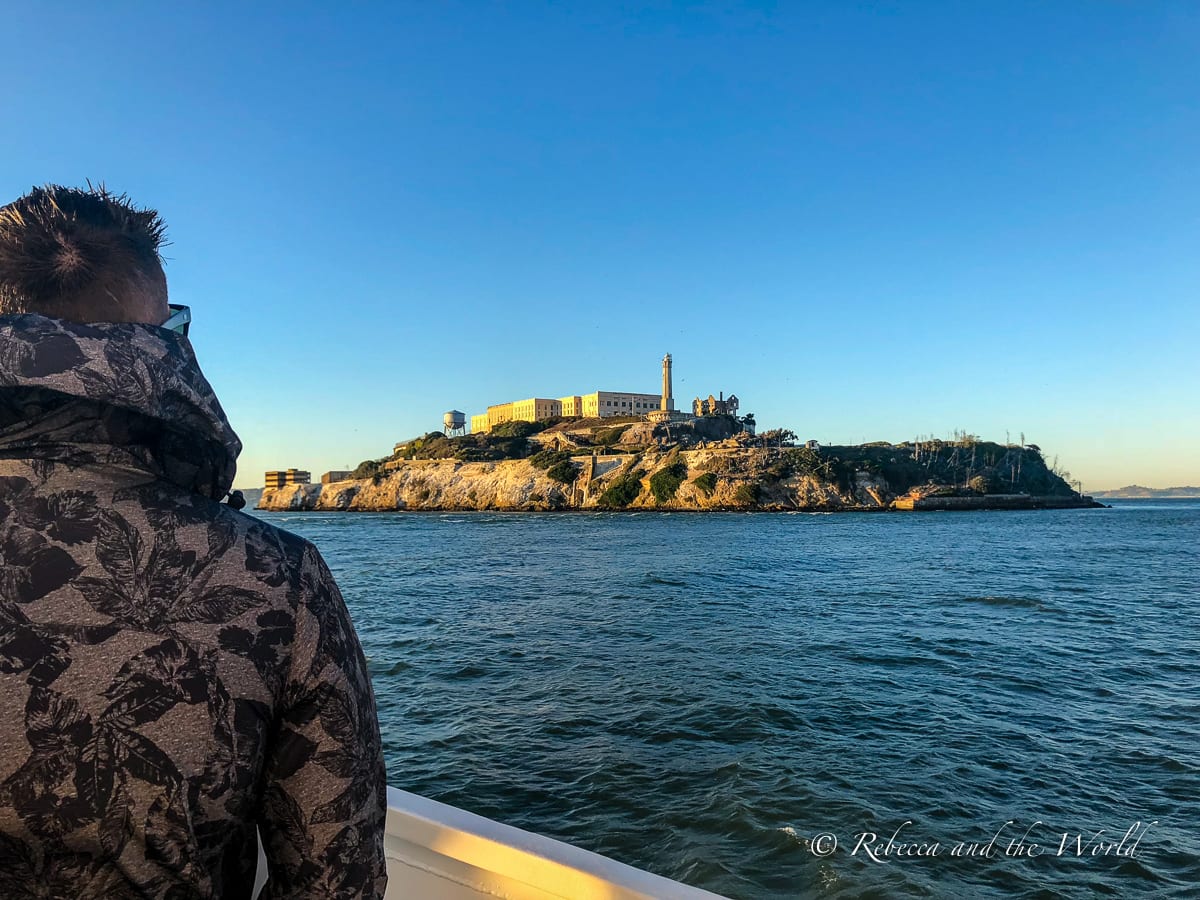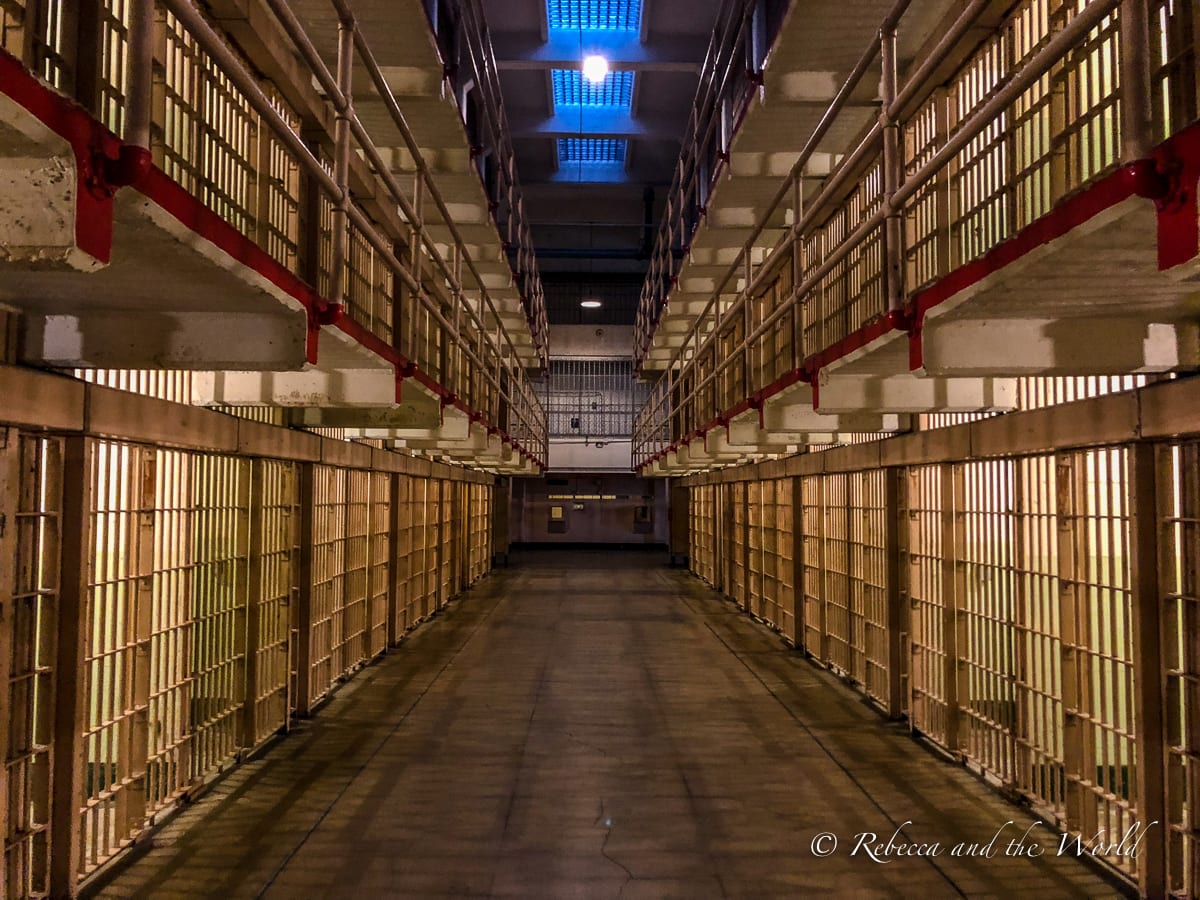 You'll be hungry when you return from the Alcatraz night tour, so make a beeline to Coqueta (Pier 5 The Embarcadero) for delectable Spanish tapas and cocktails.
San Francisco itinerary: Day 2
On day two, start with brunch at Copas (2223 Market St). There's plenty more walking today, so make sure you eat plenty to sustain you.
Today we're off exploring some of San Francisco's colourful and culture-filled neighbourhoods. Start in the Alamo Square neighbourhood to snap a picture in front of the Painted Ladies, famed for their starring role in the opening credits of 90s sitcom Full House.
From Alamo Square Park there's also a lovely view into the city.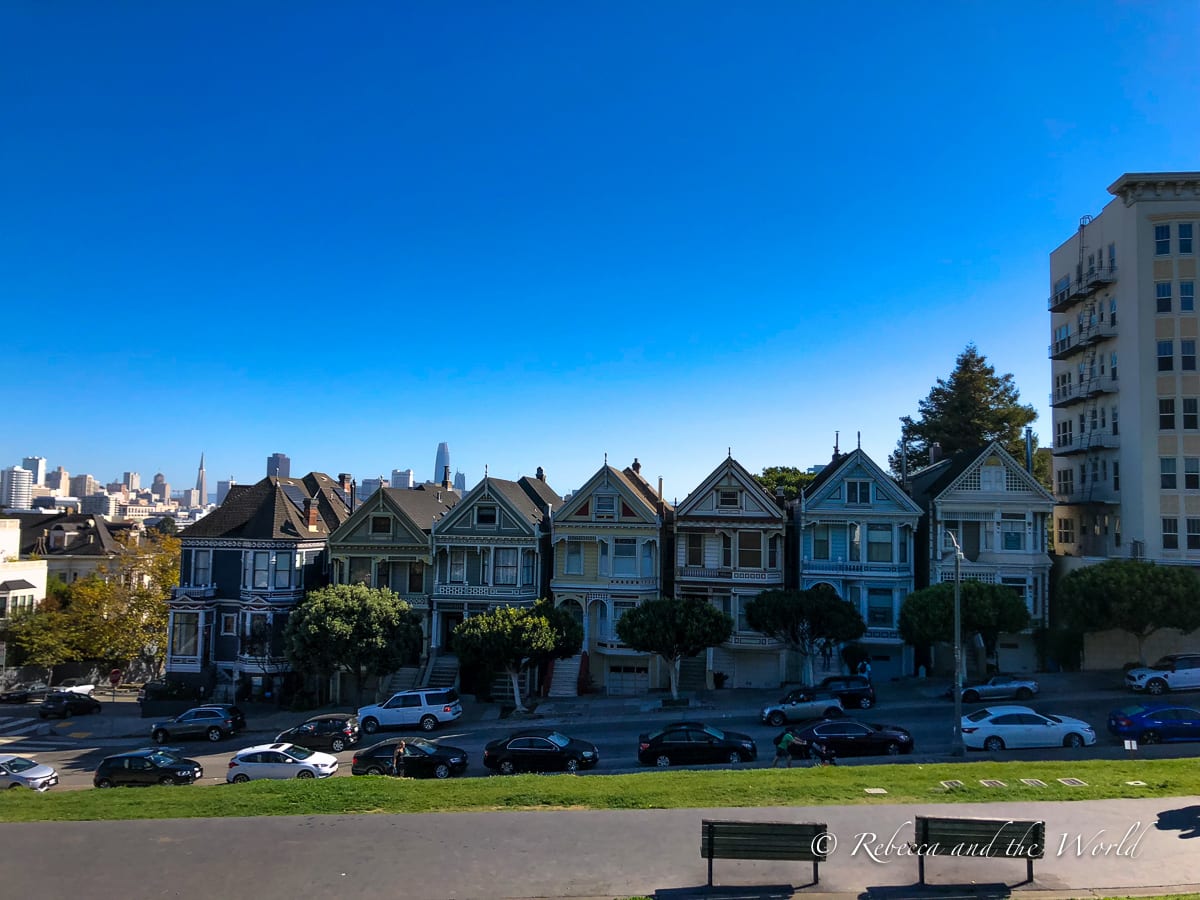 From the Painted Ladies, it's not too far to walk to Haight-Ashbury, so head to Haight St to explore this quirky neighbourhood. The streets are lined with vintage shops with racks and racks of amazing second-hand clothing in great condition (think brands like Burberry and Chanel as well as more affordable labels). My husband picked up some boots in great condition.
There's also Amoeba Music (1855 Haight St), by far the biggest record store I've ever been in to.
It's a long walk over to the next neighbourhood, Mission District, so take a bus or an Uber. Named for Mission Dolores, which was built in the late 1700s, this lively neighbourhood has deep Latino roots. Here you'll find performers on the street surrounded by crowds dancing in the middle of the day and shop signs largely written in Spanish.
Grab lunch at one of the many popular burrito joints – they'll all have long lines, especially on a weekend. Try the "best burrito in the world" at La Taqueria (2889 Mission St), or head to El Faro (2399 Folsom St) or Taqueria El Buen Sabor (699 Valencia St).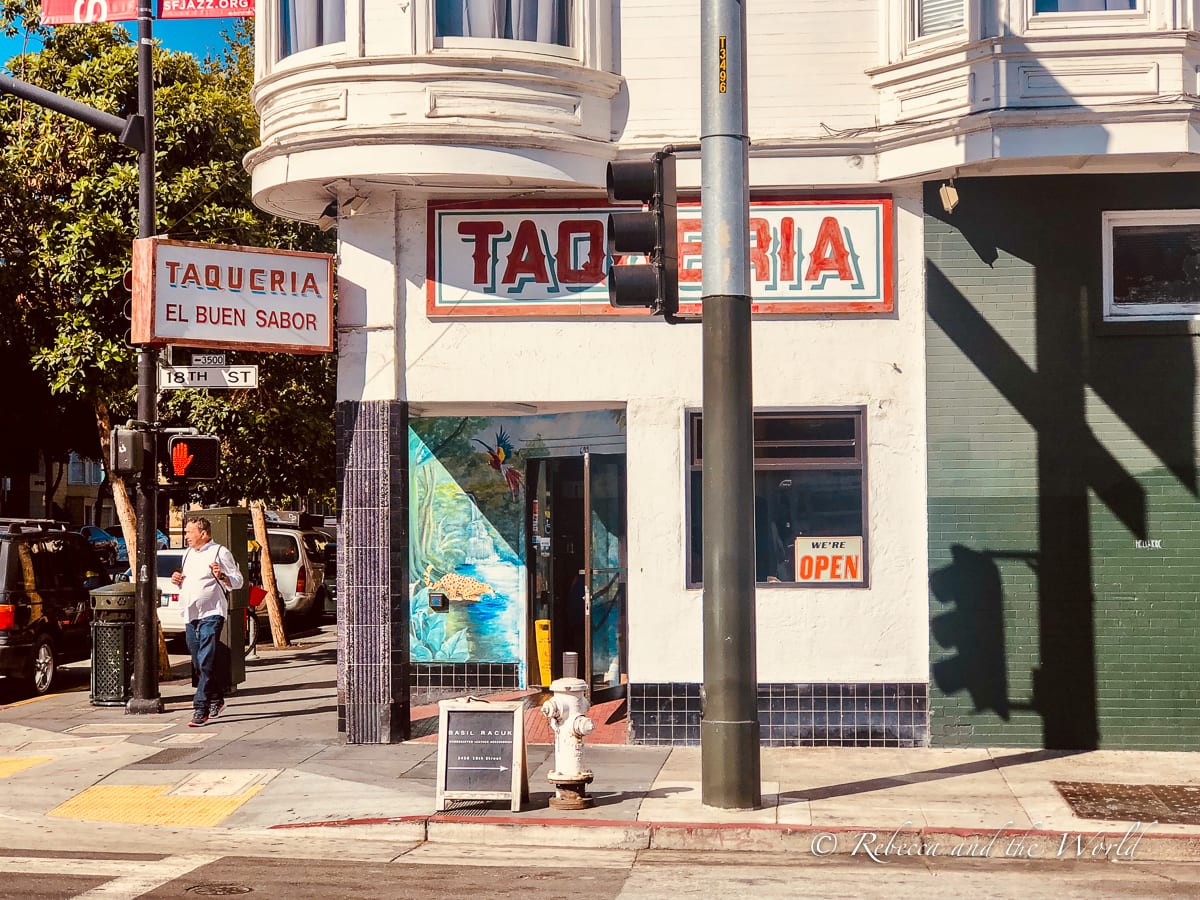 Wander the streets and check out the beautiful murals that adorn many of the walls. Clarion Alley is famous, and the Santana mural at 19th and Mission Streets is so lifelike.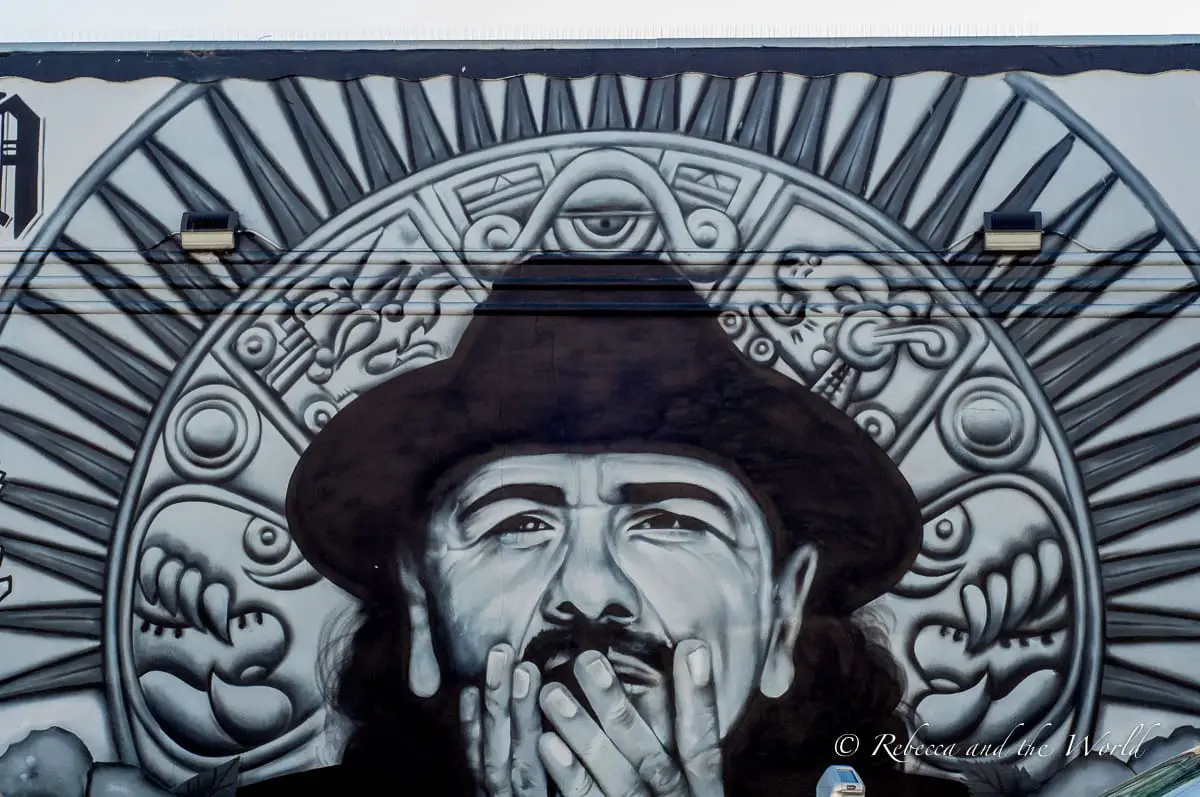 But the one that absolutely blew me away was the mural splashed across the Women's Building on 18th Street. This colourful artwork depicts the power of women throughout history.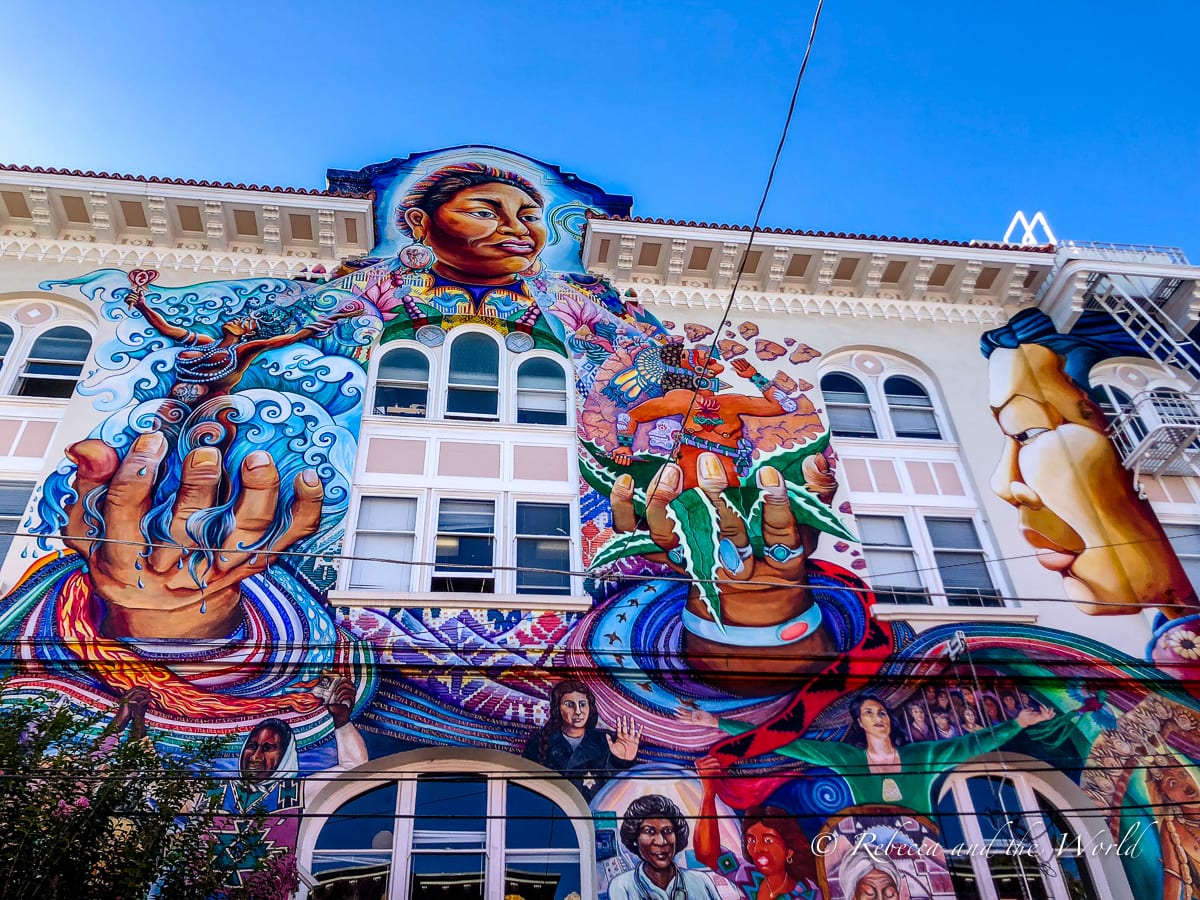 You're not far from Mission Dolores Park. On a weekend this park is jam-packed and great for people watching. Don't be surprised to smell the tell-tale whiff of Mary Jane here or for people to wander by selling edibles!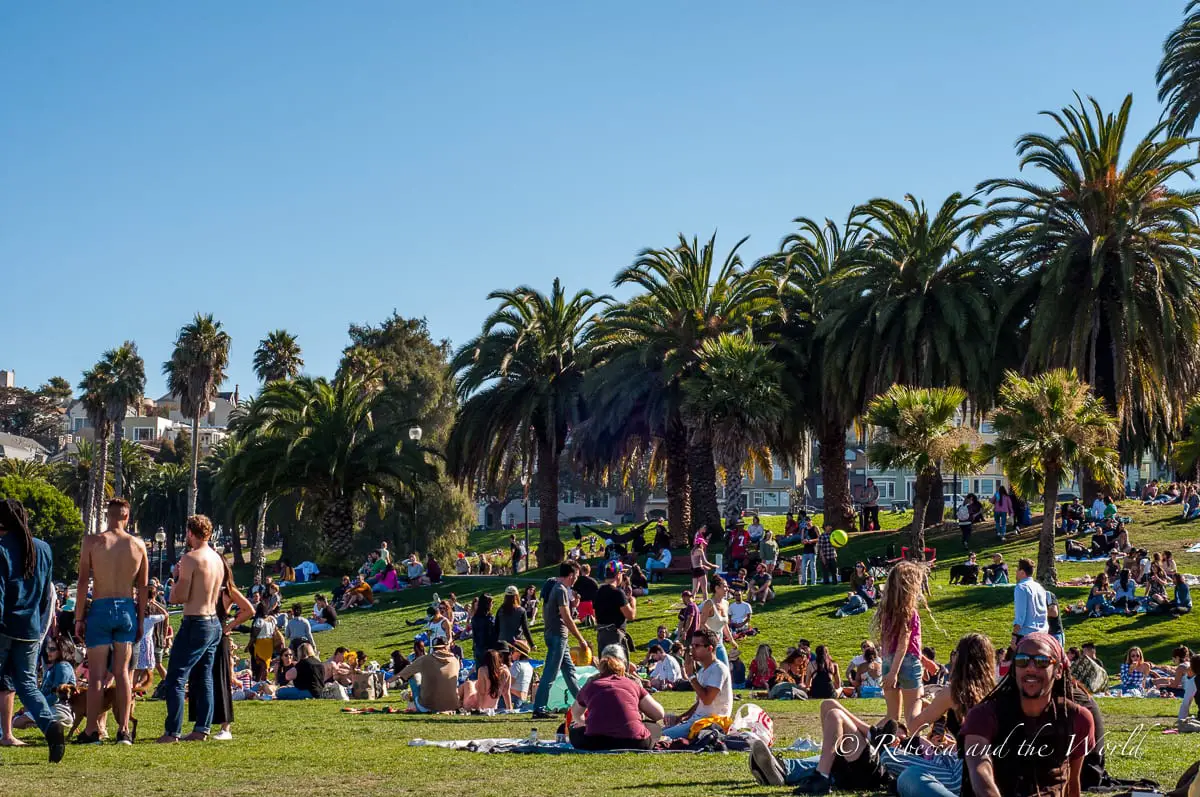 After basking in the sun for a little while, head back to your hotel for a rest and to freshen up.
For dinner, stick around the Mission District neighbourhood and try Foreign Cinema (2534 Mission St), Lolinda (2518 Mission St) or Loló (974 Valencia St).
If your trip is only focused on San Francisco, I'll leave you here – I hope you've enjoyed your time in the city!
Sticking around to head out to Sonoma's wine country? Then read on.
Sonoma itinerary
Day 1
While San Francisco is one of the coolest cities to visit in the USA, it's time to leave to enjoy a different part of California. In San Francisco, pick up a rental car in the morning. Discover Cars is my preferred site to compare car rentals.
Head across the Golden Gate Bridge to Sausalito for brunch. Don't forget to stop at some of the viewpoints so you can see the vermillion bridge in all her glory. Hopefully Karl isn't out to block your view!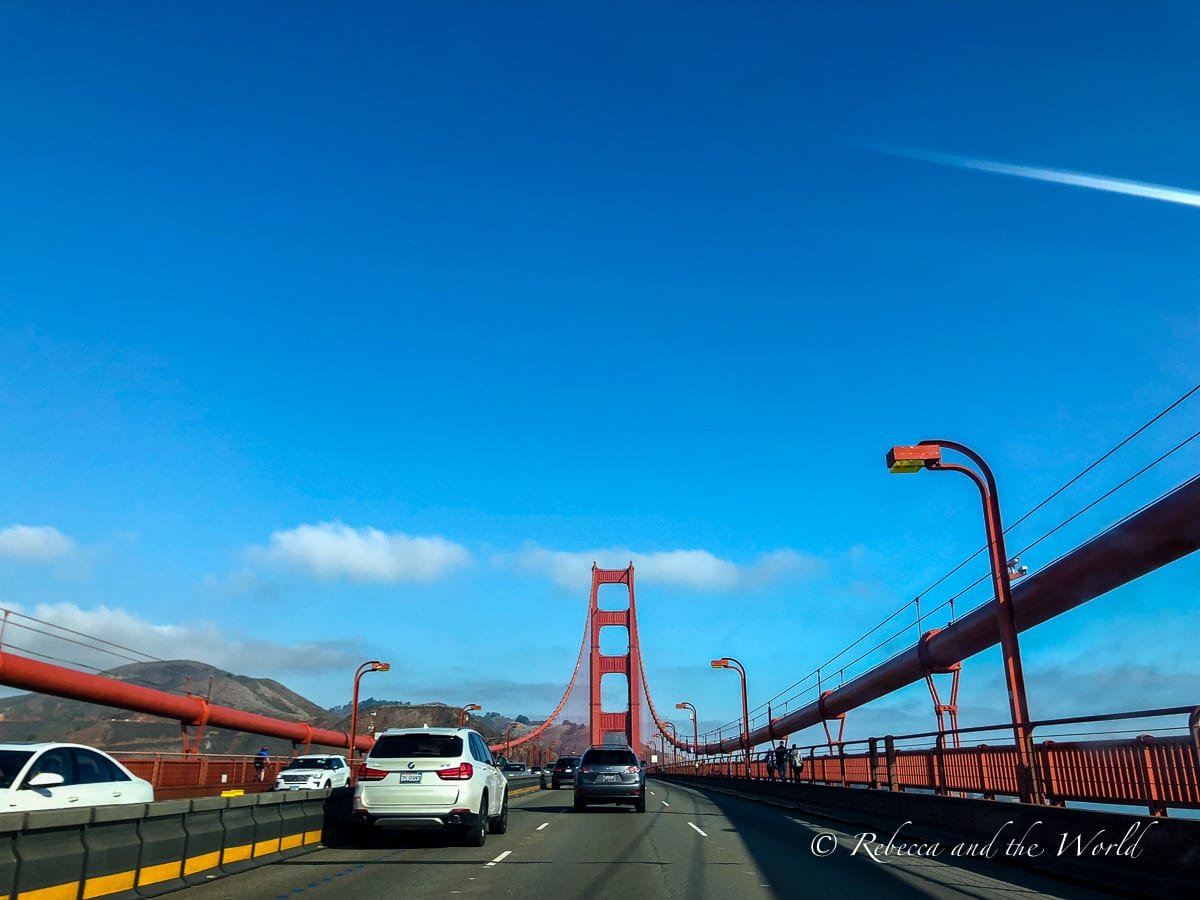 Sausalito is a small town known for its houseboats. Brunch at Le Garage (85 Liberty Ship Way) will see you munching on French-inspired food while looking out across the docked boats.
Sonoma is only a 50-minute drive further along a peaceful country road. We tossed up Sonoma vs Napa before we arrived, and I'm so glad I took the advice of my friend Nichola and headed to Sonoma. We found Sonoma is definitely quieter, just as beautiful and wine tastings are more affordable.
Before you arrive in Sonoma town, make sure to stop in at some of the wineries before town for some wine tastings. However, check online first to see if you need to make a reservation for any of the wineries in Sonoma – it's worth doing so during high season.
Viansa is a good option, with wine tastings ranging between $15 and $20. The property has a generous deck with beautiful views over the vineyard.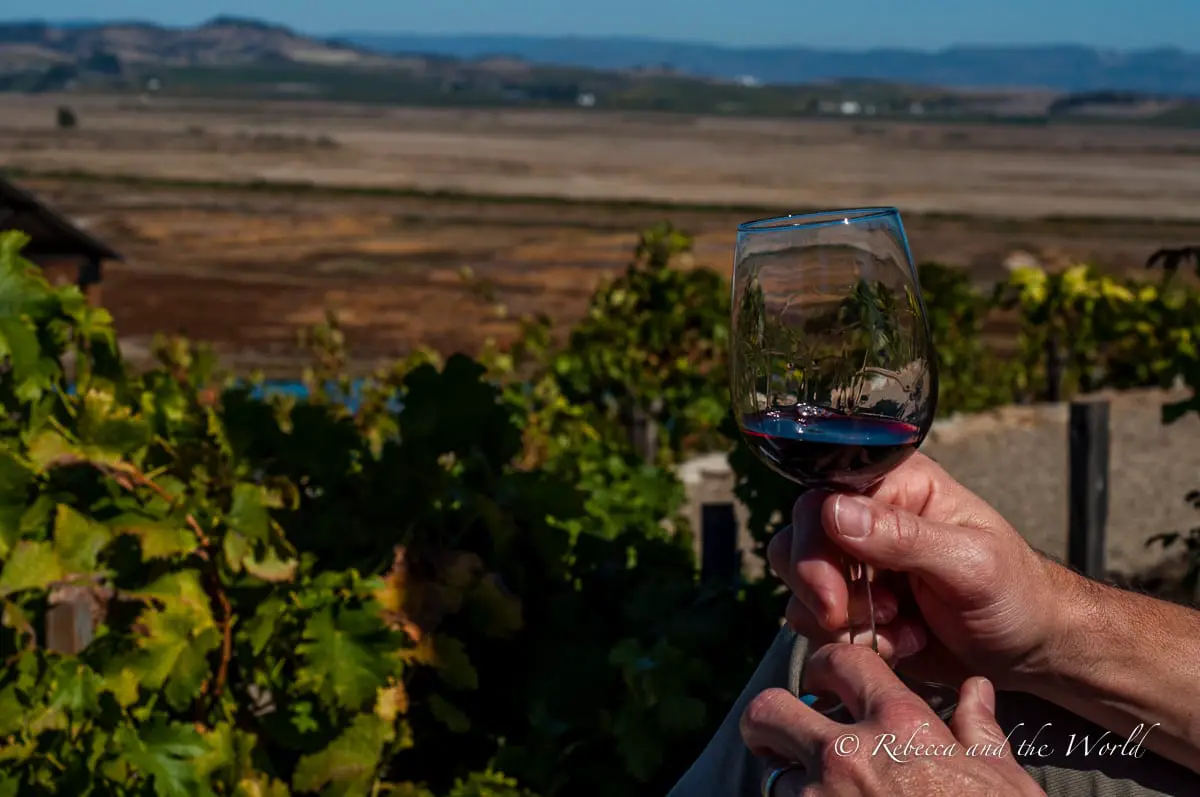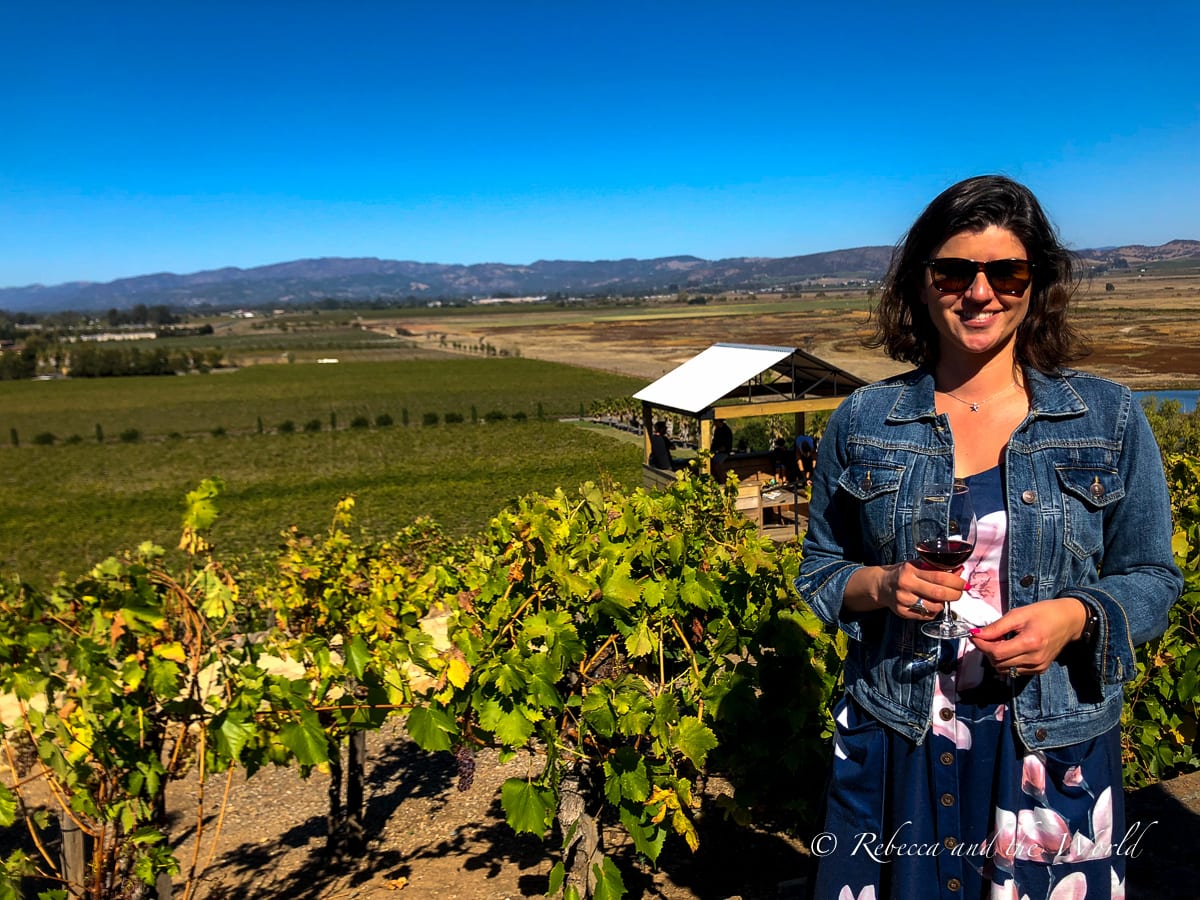 Head into Sonoma town and spend some time wandering around the pretty plaza. There are more than 30 wineries located around Sonoma Square and you can pop in for a tasting at a few. Good choices are Three Sticks Wines, Roche Winery and Vineyards and Pangloss Cellars.
One of our favourites was Sigh (120 W Napa St), a champagne bar where you can taste sparkling wine or champagnes. The walls are covered in some fun champagne-related quotes from famous names.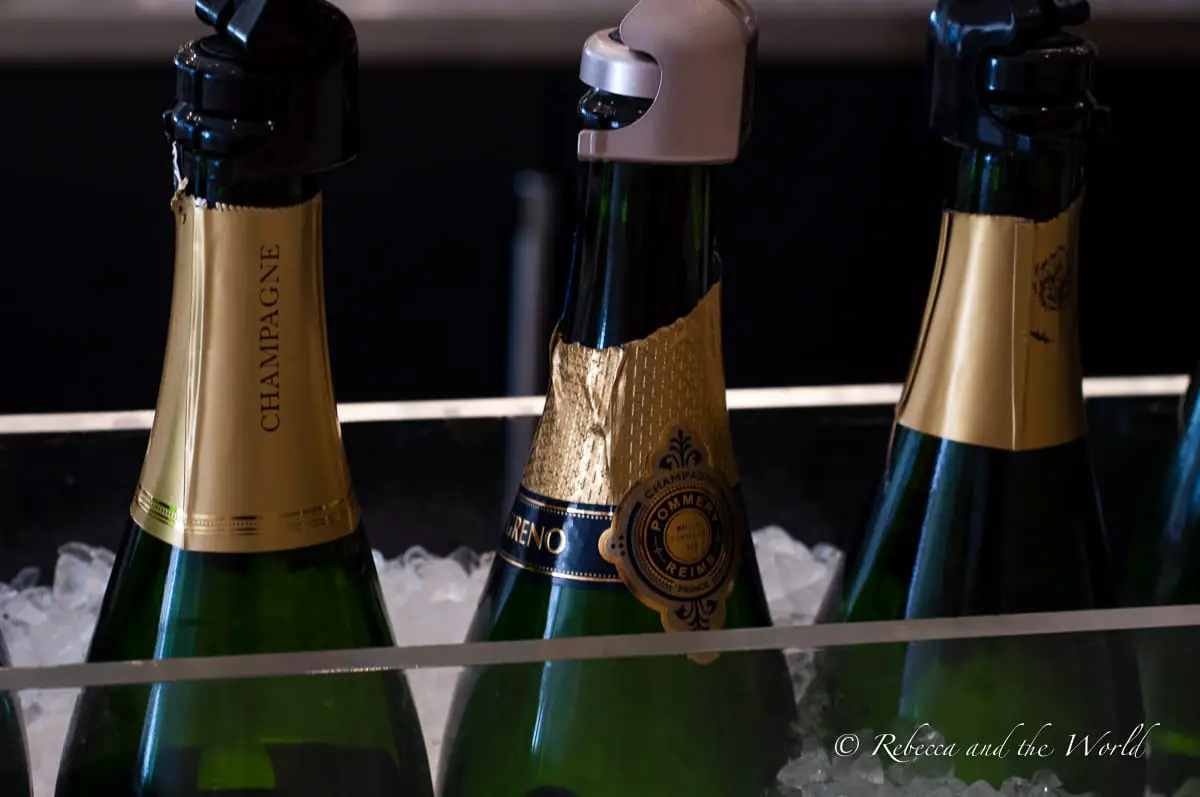 Book a table for dinner at the girl & the fig (110 W Spain St), a French-inspired farm-to-table restaurant. If it's on the menu, a good choice for dessert is the still-warm cookies and milkshake (although I recommend subbing the milkshake for a scoop of ice cream instead).
I highly recommend staying at The Lodge at Sonoma Renaissance Resort & Spa, which spoiled us rotten for our wedding anniversary. The rooms are huge and the staff were very friendly and helpful in directing us to the best wineries in Sonoma to visit.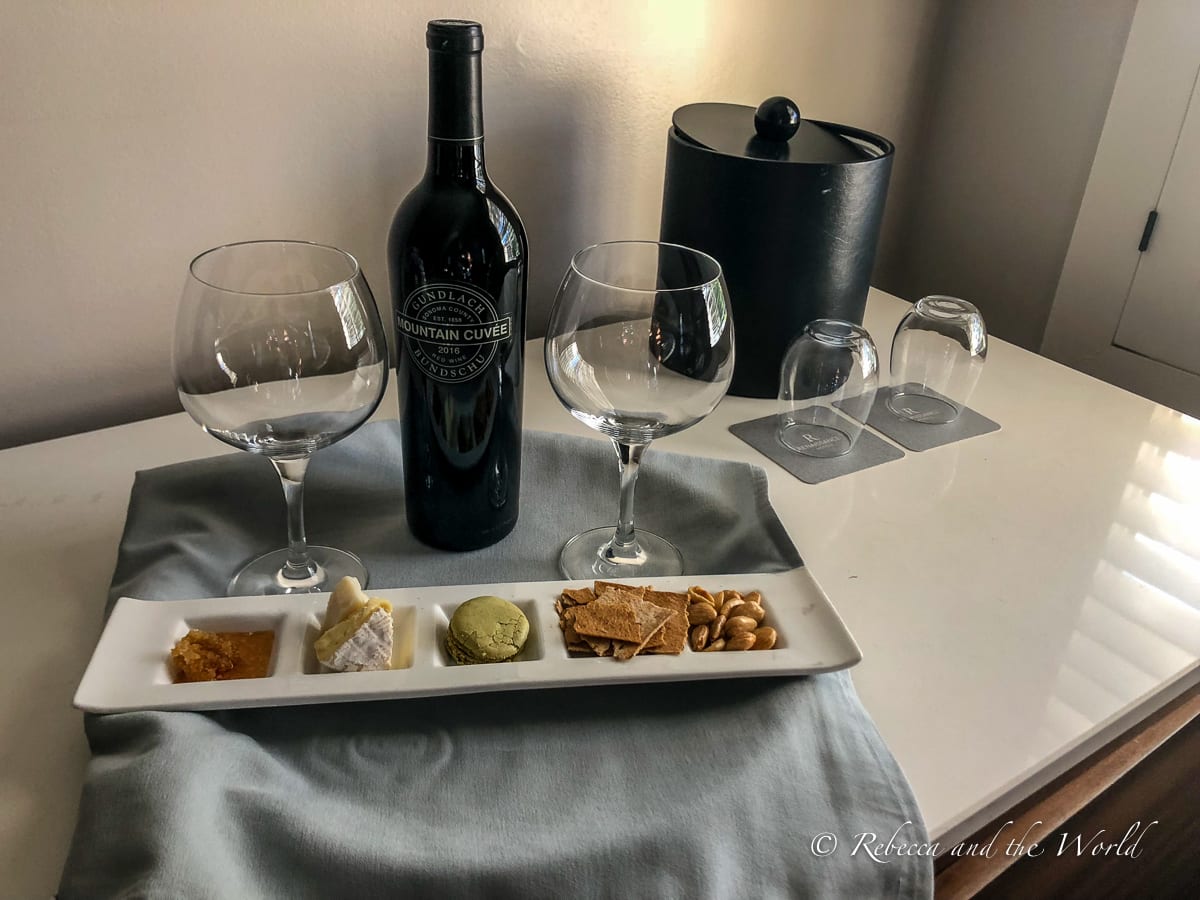 Day 2
With a second day in Sonoma, fuel up for a fun day with breakfast at Carneros, the restaurant located at The Lodge at Sonoma Renaissance Resort & Spa. The Croque Madame is decadent, as are their delicious pancakes.
The only responsible way to get around the wineries in Sonoma is with someone else driving – and what's more Instagrammable than a wine tour in a vintage VW? Operated by West Wine Tours, this fun and relaxed tour drives to three different wineries, all local. The tour is from 10.30 a.m. to 4 p.m., and wine tastings aren't included in the fee.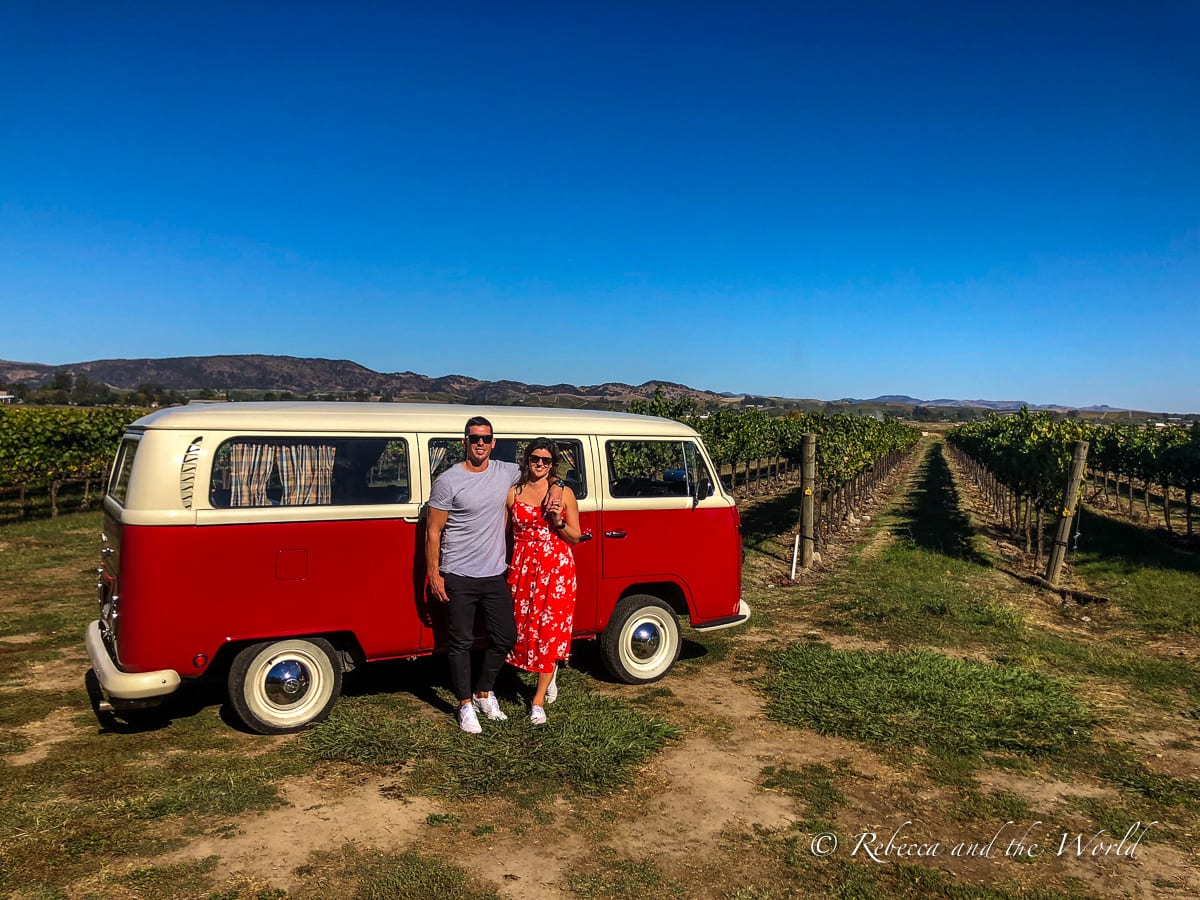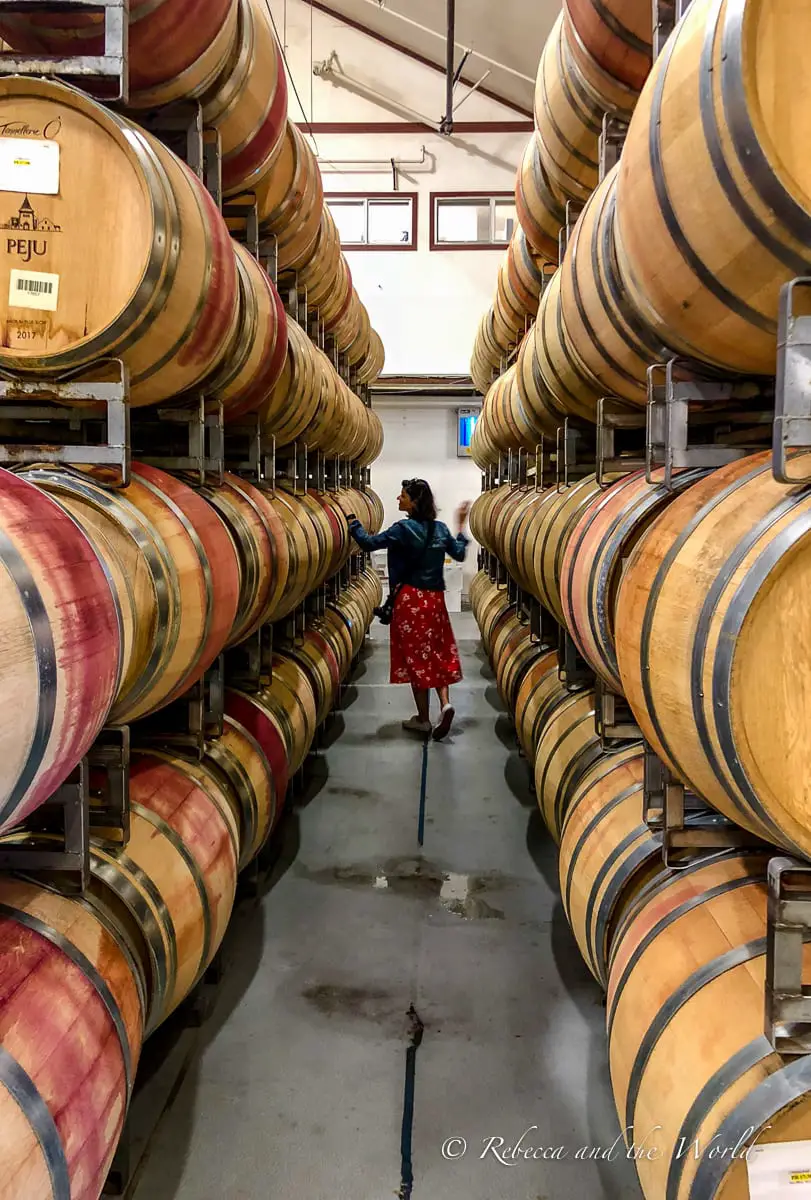 If driving around in a cool van isn't your scene, there are plenty of other companies offering private tours to the best Sonoma wineries.
Soak up all the wine you've drunk with bites from the California-Mediterranean menu at El Dorado Kitchen (405 1st St).
And that's how to spend a long weekend in San Francisco and Sonoma!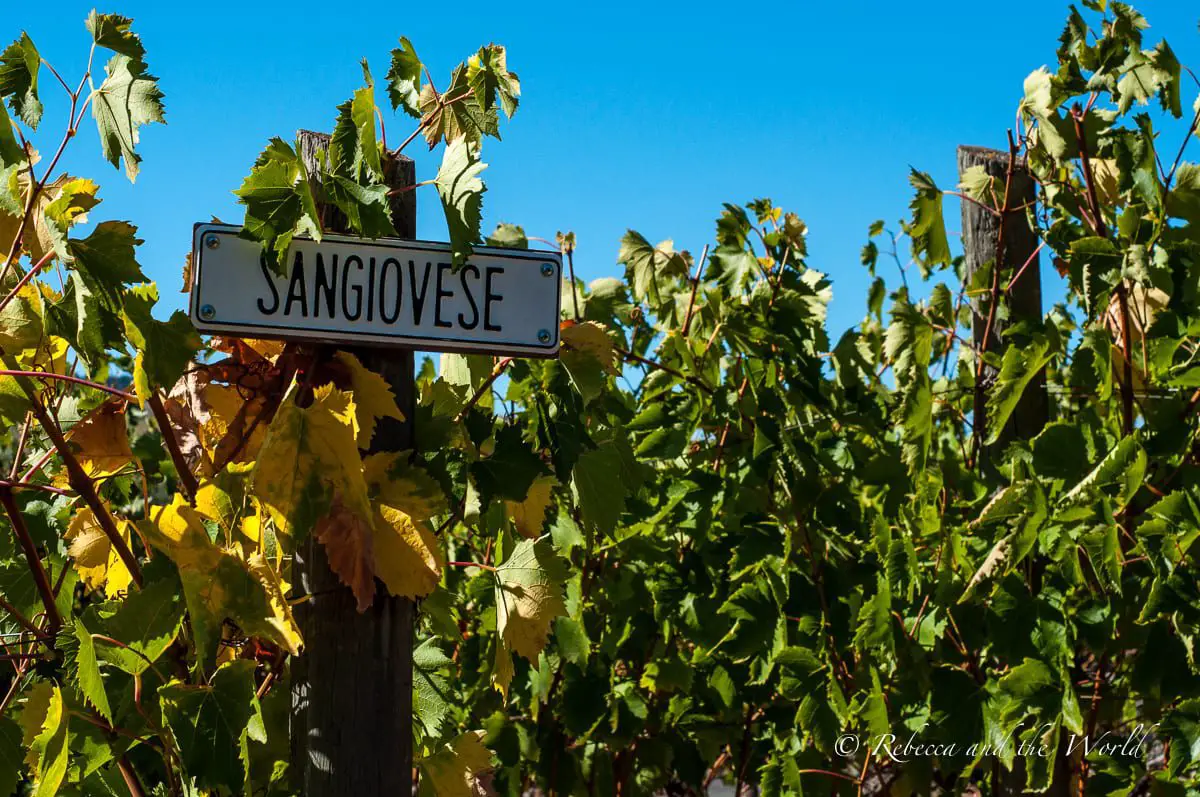 San Francisco trip logistics
Here are some travel tips so that you can plan the perfect visit to San Francisco and Sonoma.
When to visit San Francisco and Sonoma
The best time to visit San Francisco is in autumn, between September and November. The chance of rain is low, the temperatures are mild (but sometimes the warmest of the year) and there are fewer crowds.
But be warned of San Francisco's unpredictable weather – you can be in a t-shirt in one neighbourhood and then need to get rugged up by the time you cross into another neighbourhood. Pack accordingly! We visited in October and it was just perfect. We couldn't have asked for better weather.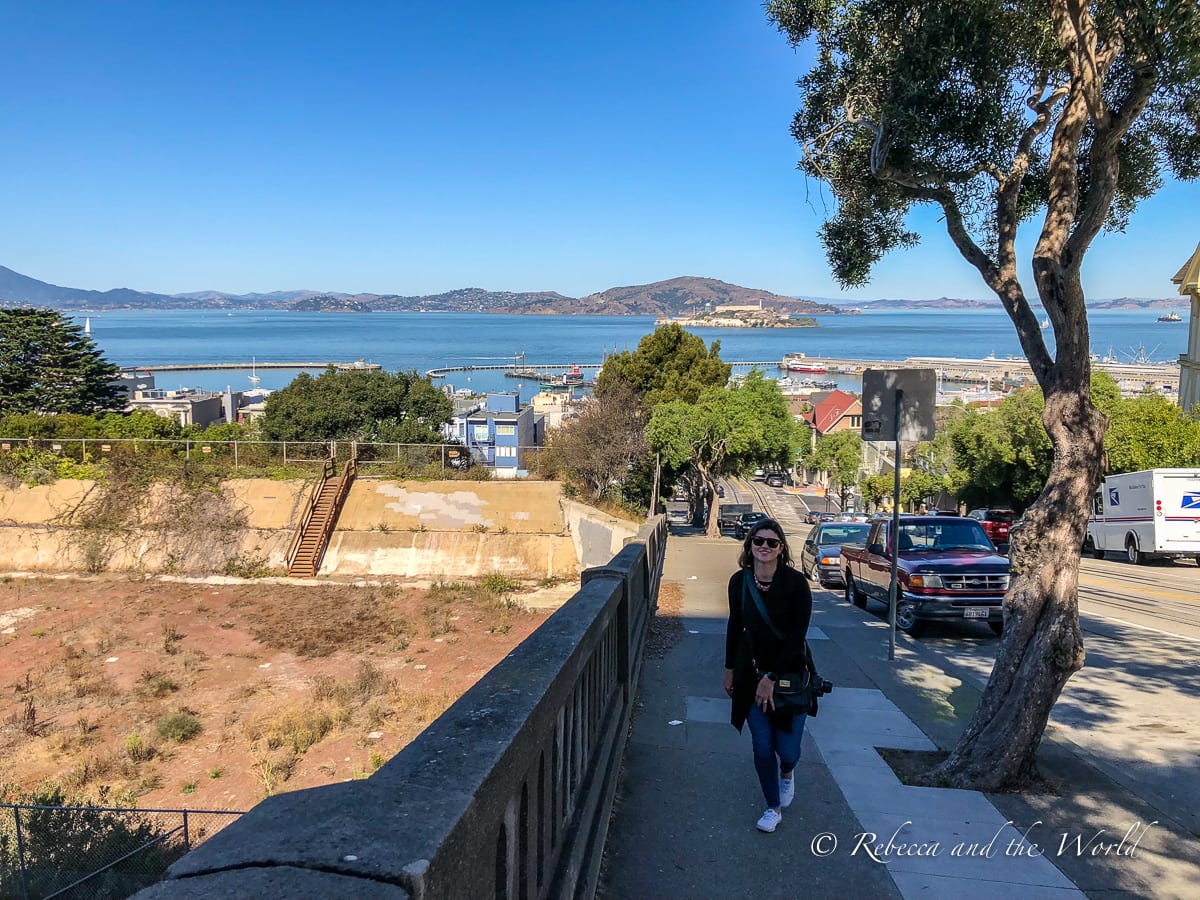 For Sonoma, June to October is the best time to visit. But, of course, that means crowds. During our visit in mid-October we found it to be fairly crowd free which meant we headed straight to the counter for our wine tastings.
How to get around San Francisco
San Francisco has a good public transport system. The Muni is the public transportation system and it's worth downloading the app when you visit. We purchased daily passes ($13 each) which meant unlimited rides on buses, trains and the cable cars.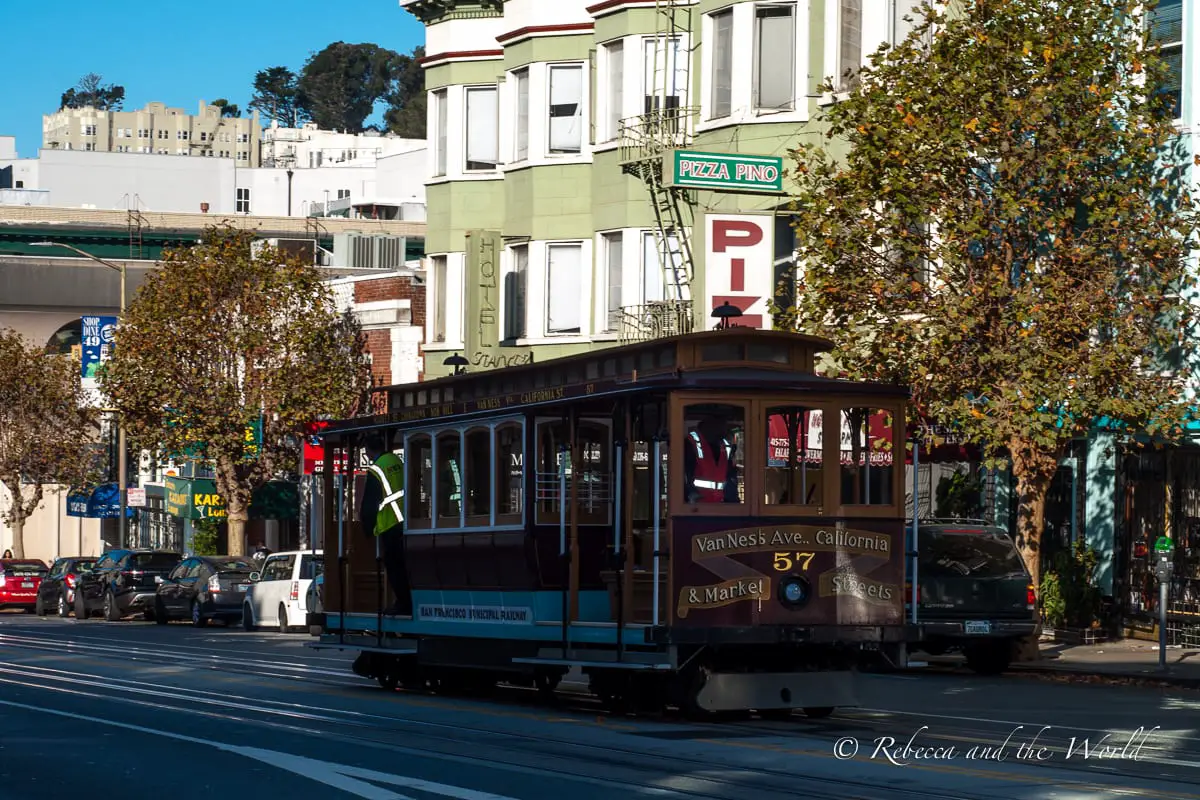 The city has cable cars, some historic, that are lifesavers when faced with San Francisco's hills. If you're planning to take more than one cable car trip (and you will – those hills are killer!) then buy the Muni daily pass because it will save you a lot of money.
The buses go everywhere you'll need to go on your visit to San Francisco.
San Francisco is the birthplace of ride sharing, so Ubers and Lyfts are of course everywhere.
How to get to Sonoma
We rented a car for our trip from San Francisco to Sonoma. As far as I can tell, there aren't many buses (if any at all?) from San Francisco to Sonoma. Renting a car was the easiest way for us to get to Sonoma and then make our way around the region.
Once in Sonoma, there's a wine trolley that runs through town, and many hotels provide courtesy shuttles to and from Sonoma Square.
Be safe and have a driver take you around if you're planning a full day of wine tasting!
Where to stay in San Francisco
I knew San Francisco would be expensive, but still I was shocked when I saw hotel prices. Basic chain hotels sell rooms for $200+ per night, so be prepared.
Luxury hotels in San Francisco
Mid-range hotels in San Francisco
Budget hotels in San Francisco
Where to stay in Sonoma
We were thrilled with our accommodation in Sonoma. The Lodge at Sonoma Renaissance Resort & Spa is centrally located, comfortable and has a spa and all the amenities one needs.
The service is amazing: when I told the staff we were visiting Sonoma for our wedding anniversary, we were upgraded and received a bottle of wine, snacks and a complimentary breakfast. Even if they hadn't spoiled us so much, I'd still recommend staying there. Check rates online here with Booking.com | Read reviews on TripAdvisor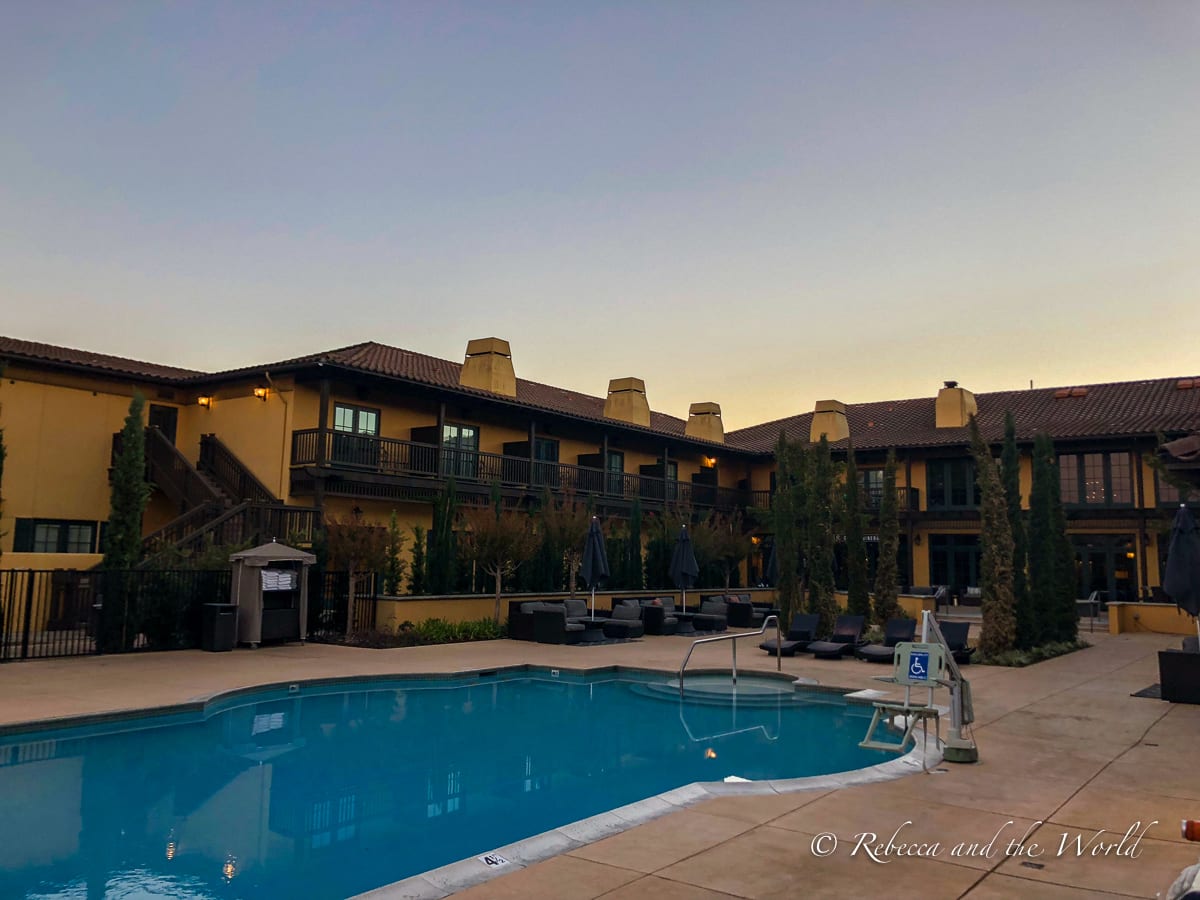 Enjoy your visit to San Francisco and Sonoma!
What did we miss on our Sonoma and San Francisco itinerary? Leave your tips in the comments below!
Looking for more USA city break ideas? You might like these articles!
USA TRIP ESSENTIALS
Book flights to and around the USA online with Skyscanner or Kayak. I usually compare flights on the two sites to find the best deals.
Find a great hotel in the USA. Check prices on Booking.com and HotelsCombined online.
Check out the huge range of day tours throughout the USA on GetYourGuide or Viator. There's something for everyone.
A copy of the Lonely Planet guide to the USA will be handy.
One thing I always purchase is travel insurance. World Nomads offers simple and flexible travel insurance. Buy at home or while traveling and claim online from anywhere in the world.
PIN IT FOR LATER:
Save this 2 days in San Francisco itinerary to Pinterest so you can plan your trip to this awesome city!