After living in the U.S. for over two years, it was shameful that I hadn't been to Memphis to experience and feel the Home of the Blues, the Birthplace of Rock 'n' Roll. So, when we were planning our 4-month USA road trip, it wasn't hard to decide on our first stop: it had to be Memphis. We spent a few days here and – along with the food, the music, the history, the friendly people – I quickly discovered just how fantastic the museums in Memphis are and what makes this city one of the coolest places to visit in the US.
Whether you're into music, history or art, there's a museum in Memphis to tickle your fancy. Here's a rundown of some of the best Memphis museums – put one or all of them on your list for when you visit!
To save this guide to the best Memphis museums so you can read it later, simply click on the "Save" button on any of the images below to save it to Pinterest.
This blog post may contain affiliate links, meaning if you book or buy something through one of these links, I may earn a small commission (at no extra cost to you).
Music museums in Memphis
Sun Studio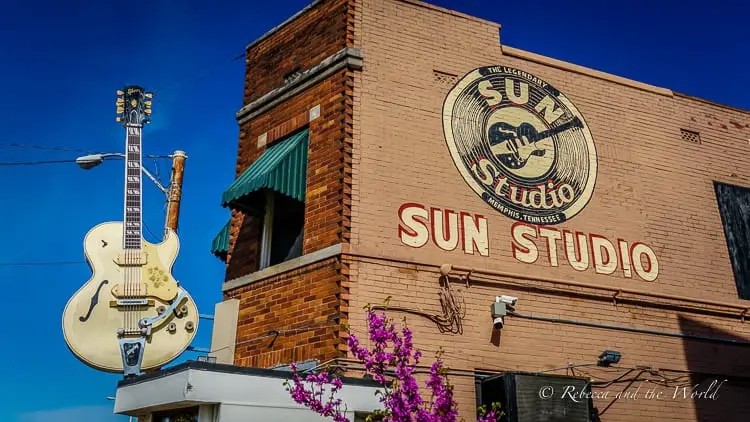 On a blistering hot summer day in August 1953, a handsome young man walked through the doorway of Sun Studio in Memphis. His plan was to record a couple of songs and make it big, but it took a while for the owner, Sam Phillips, to warm up to the dashing singer who didn't "sound like nobody". It wasn't until a year later that they found their hit, and the singer's career launched in a spectacular way, changing the trajectory of music forever.
That young man was, of course, Elvis Presley.
Elvis Presley wasn't Sun Studio's only big-name star: before Presley, the recording studio discovered stars B.B. King, Rufus Thomas, Howlin' Wolf and Ike Turner, and later drew Johnny Cash, Roy Orbison and Jerry Lee Lewis into the recording booth.
While it's still an operational recording studio, you can visit Sun Studio during the day to see where these household musical names recorded and learn more stories about some of music's biggest legends – including that famous Million Dollar Quartet jam session. You can only visit on a 45-minute tour, which is led by guides with fantastic story-telling skills and who have access to original recordings. You'll hear about the rise and demise of Sun Studios, and get to stand in the very spot where Elvis first recorded (just don't put your mouth to the microphone!).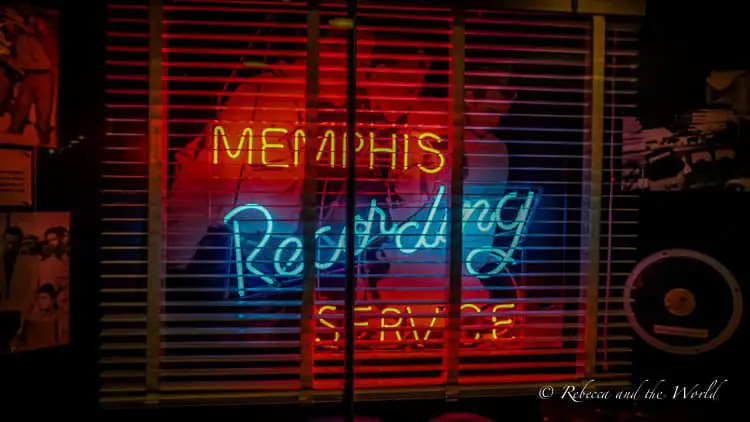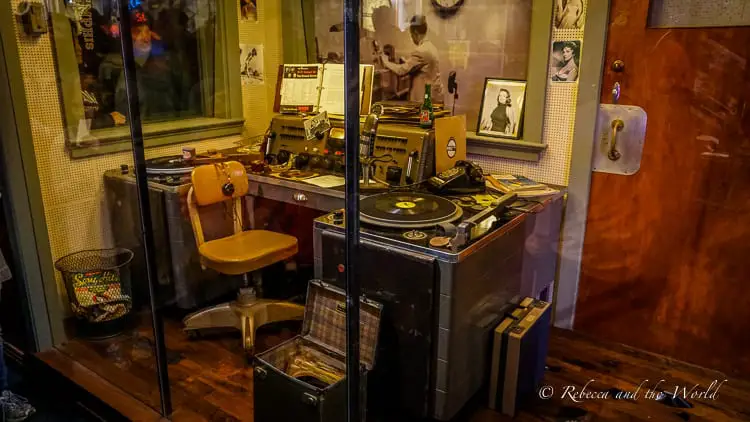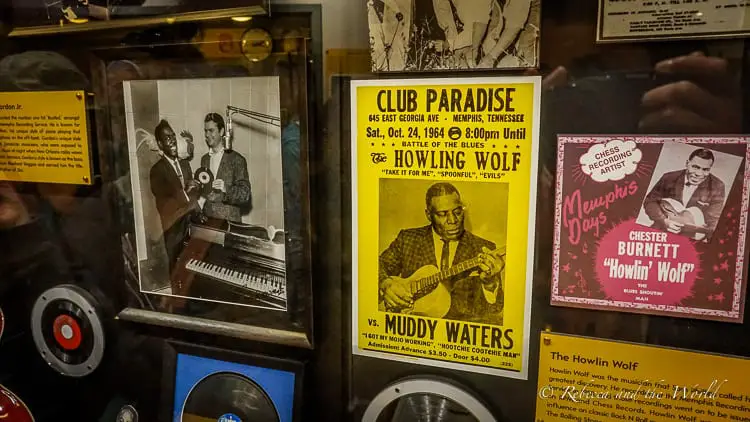 Whether you're a music lover or not, Sun Studio is a must on any Memphis itinerary.
Address: 706 Union Avenue, Memphis
Details: Sun Studio offers guided tours (the only way to visit) on the bottom half of every hour from 10.30 a.m. to 5.30 p.m. It's one of the most popular Memphis attractions, so I recommend aiming to get here earlier in the day. Open seven days a week (except Thanksgiving, Christmas and New Years Days. Adult tickets cost $14 and kids aged 5 to 11 are free. There's a shuttle that runs between Sun Studio, Graceland and the Rock 'n' Soul Museum. Free parking behind the building.
Stax Museum of American Soul Music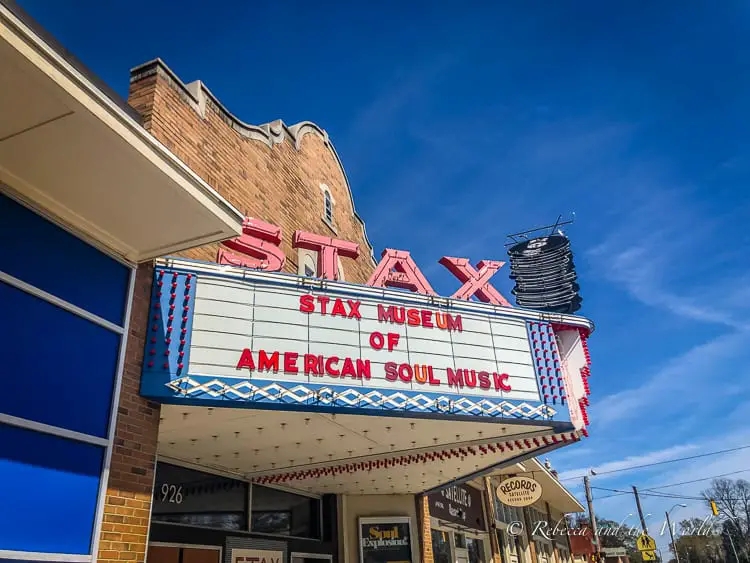 Located in the Memphis neighbourhood of Soulsville, the Stax Museum of American Soul Music pays tribute to some of the biggest names in soul music history, as well as many of the social and racial events playing out when soul music was growing in popularity. The museum is housed on the original site of the Stax Records studio in Memphis, through whose doors walked Otis Redding, Isaac Hayes, Carla Thomas and Booker T. & the M.G.'s.
After decades of success, the studio went bankrupt and the building sat vacant until the early 1980s when it was sold to the Church of God in Christ for a mere $10. The building was later razed. It wasn't until the late 1990s that the community banded together to revitalise the area, opening the Stax Museum of American Soul Museum to tell the Stax story and celebrate soul music.
Visiting this essential Memphis museum, you'll start off with a guided introduction to the history of the building, before watching a video that takes you through the history of Stax Records. Visitors then begin in a real, early 1900s Mississippi Delta church – the true birthplace of soul music. After that, you can dance to some tracks on the Express Yourself dance floor (a fun thing to do in Memphis!), stand in a replica of Studio A, listen to some classic tracks at the museum's listening station and then pop your eyes at Isaac Hayes' custom Cadillac Eldorado (peep the 24-carat gold trim and white fur carpeting!).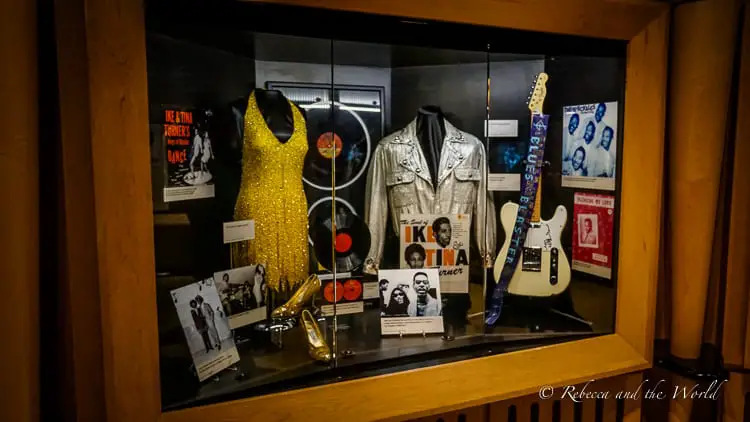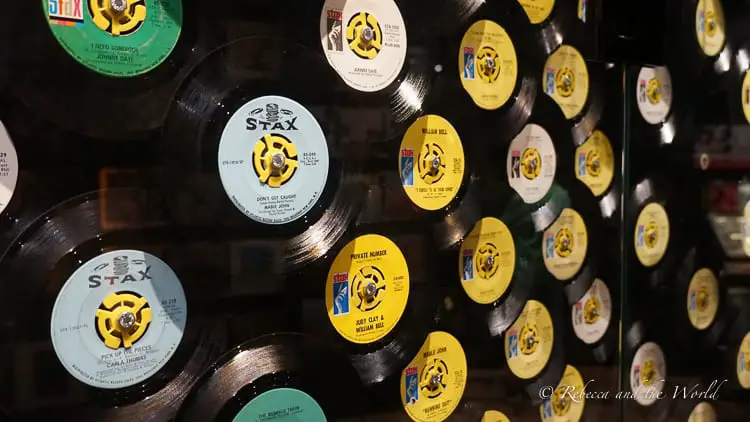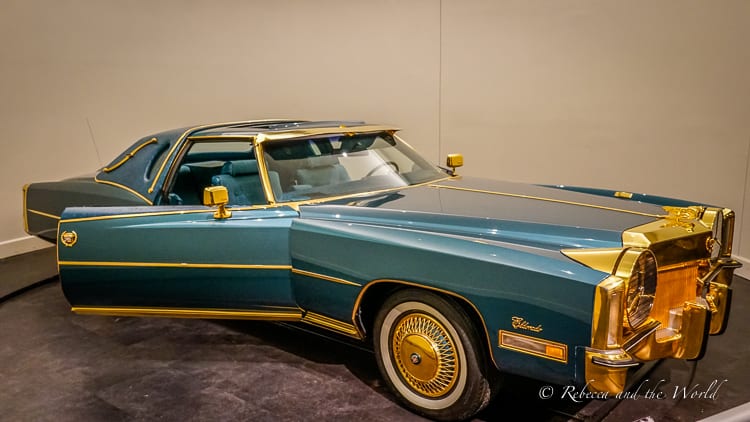 Address: 926 E. McLemore Ave, Memphis
Details: Open six days a week (closed Mondays) from 10 a.m. to 5 p.m. (also closed Easter Sunday, Thanksgiving Day and Christmas Day). Adult tickets are $13, tickets seniors (62+), active military and students with ID cost $12, children aged 9 to 12 are $10 and children 8 and under can enter for free.
Graceland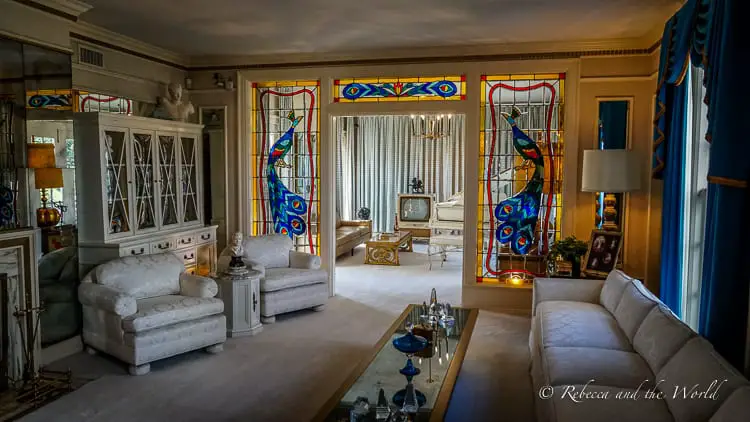 Elvis Presley features heavily at many museums in Memphis, but none more so than at his former home, Graceland, now open to the public. This isn't a cheap museum to visit, but Elvis worshippers will feel like they've landed at Mecca. Fun fact: this is the second most-visited home in the United States (after the White House).
I recommend getting the Elvis Entourage VIP package to skip the queues. The tour starts with an interactive iPad tour of the Graceland mansion (hosted by none other than John Stamos). The mansion is incredible – the décor of some rooms is completely outrageous (including the famous Jungle Room) and the money spent to build the home of Presley's dreams will blow your mind. The mansion tour ends in the Meditation Garden where Elvis and his beloved parents are buried. The exhibits conveniently skip over Elvis's problems with addiction and womanising, but do highlight his humble beginnings and how he gave back to people in need.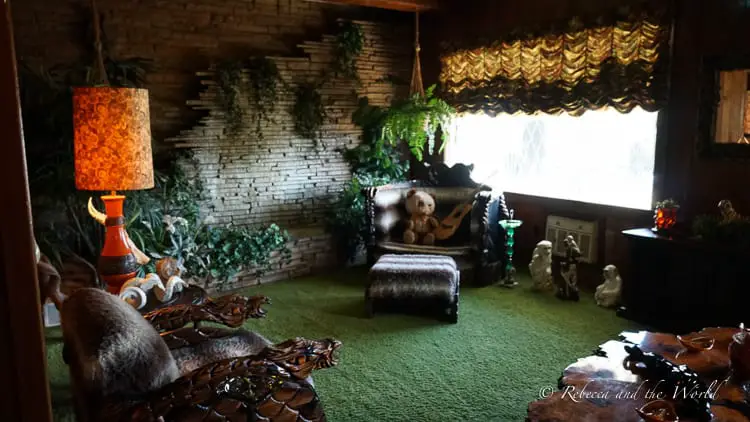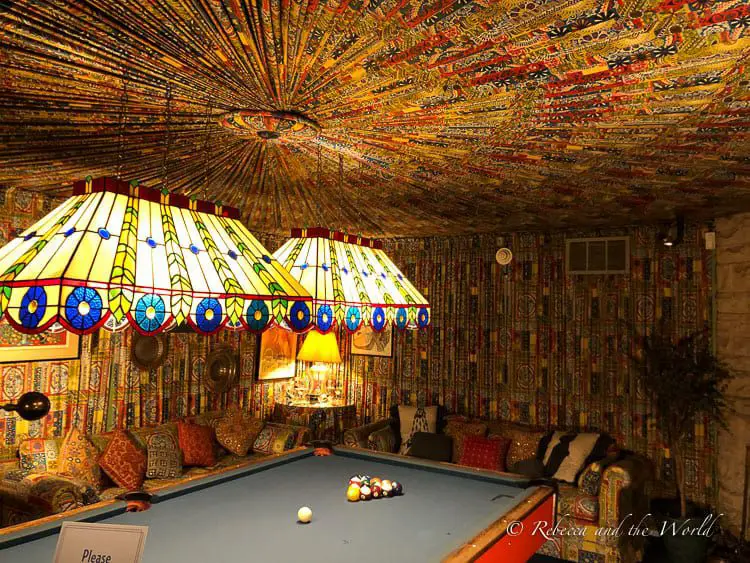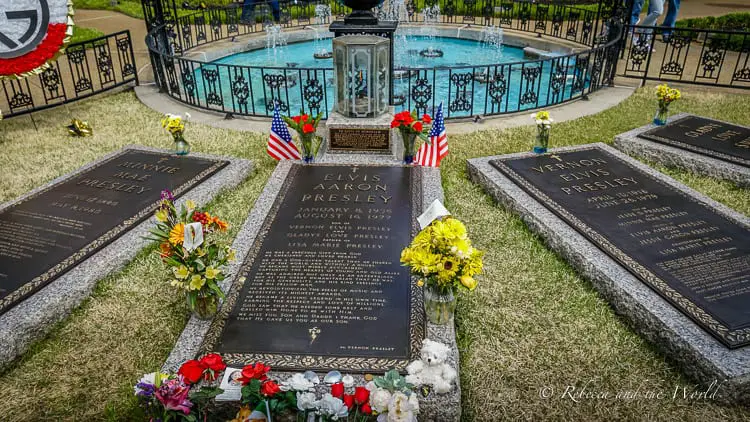 As well as the mansion, there are several exhibitions that showcase Elvis's cars and motorbikes, his time in the army, and cases and cases filled with his extravagant signature stage costumes. The wall showing his awards will dazzle you. For an extra $5, you can also wander through two of his planes.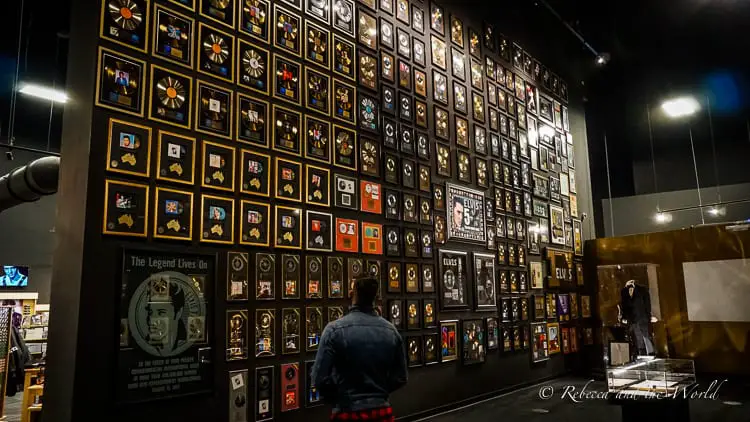 Graceland is busy – it's one of the most popular Memphis attractions, so come during the week if you can. It'll still be busy but quieter than weekends.
Address: Elvis Presley Blvd, Memphis
Details: Graceland is open throughout the year, but opening hours vary so check the website for the latest. There are a variety of ticket packages available with different inclusions: the Ultimate VIP Tour starts at $174, the Elvis Entourage VIP starts at $99, the Elvis Experience Tour starts at $61 and access to Graceland Mansion only starts at $41. Sun Studio runs a shuttle between the studio and Graceland.
Blues Hall of Fame Museum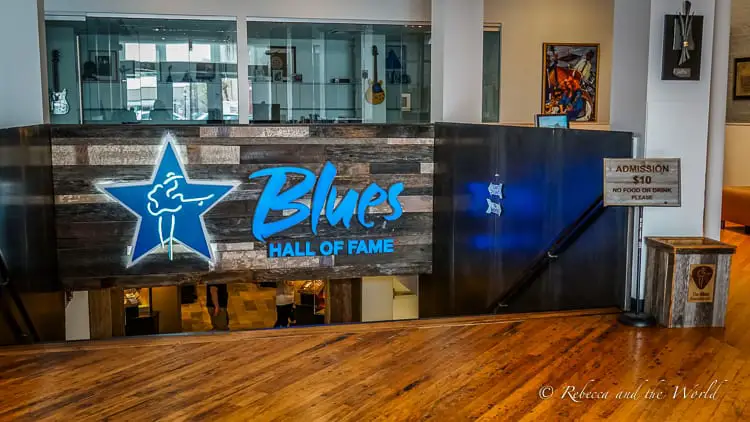 The Blues Hall of Fame Museum highlights inductees and shares a tonne of cool memorabilia as well as information about the history of blues music. While a small museum, it has amassed a huge collection from the world's most famous blues music performers, including Charlie Musselwhite's harmonica, one of Muddy Waters' jackets and a Koko Taylor dress.
This museum will be most interesting to serious blues fans who will pore over every detail behind the glass exhibits – although people with little knowledge of blues music will still find it interesting.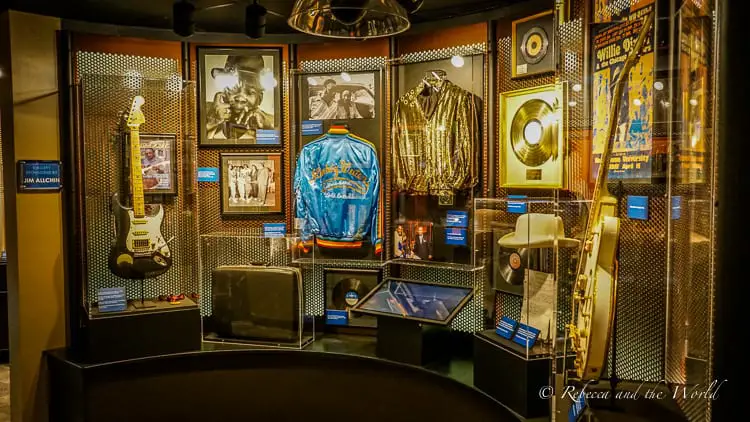 Up top, in the entry area, there's a space with a revolving exhibit. When we visited this Memphis museum, there was a photography exhibit showcasing the photographer's trip through the Mississippi Delta blues trail – the Delta blues trail was next on our list, so looking through the photos gave us a taste of what was to come on our road trip.
Address: 421 S. Main Street, Memphis
Details: Open daily: Monday to Saturday, 10 a.m. to 5 p.m.; Sunday, 1 p.m. to 5 p.m. Adults cost $10, students $8, military and children 12 and under free.
Memphis Rock 'n' Soul Museum
We didn't have time to visit the Memphis Rock 'n' Soul Museum and I was so bummed about it! This Smithsonian Institution museum shares the story of the birth of rock and soul music, as well as the racial and socioeconomic obstacles musicians faced as they passionately shared their music with the world.
It touches on the history shared in some of the other music museums in Memphis – Sun Studio, the rise and fall of Stax Records – and you can listen to more than 100 songs throughout the whole museum.
Address: 191 Beale St, Memphis
Details: Open daily, 9.30 a.m. to 7 p.m. (closed Thanksgiving, Christmas Eve and Christmas Day). Admission is $13 for adults, $10 for kids and free for kids aged 4 and under. There's a shuttle that runs between Sun Studio, Graceland and the Rock 'n' Soul Museum.
Memphis museums that focus on history
National Civil Rights Museum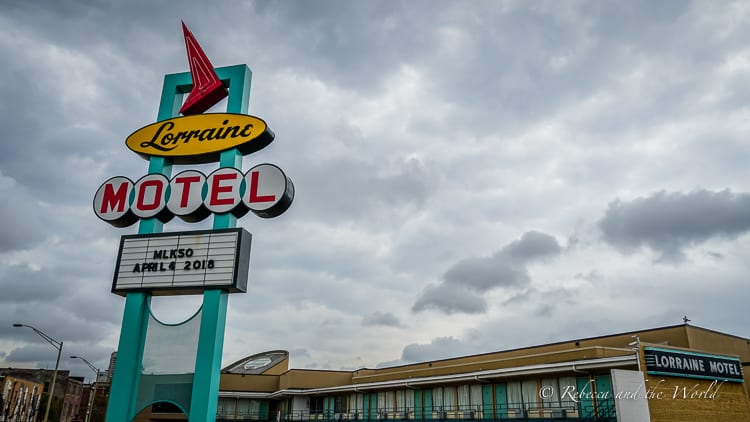 If there's one museum in Memphis that I think everyone should visit, it's the National Civil Rights Museum. I was incredibly moved by this museum, which educated me on five centuries of oppression and violence toward African Americans in the United States.
The museum is built in and around the Lorraine Motel, where Martin Luther King, Jr. was shot and killed on April 4, 1968. Start in the main exhibit area where you'll do a self-guided visit through the key moments in the U.S. Civil Rights Movement, including slavery and the brave resistance of slaves, the Montgomery Bus Boycott, the student sit-ins and the Freedom Rides. The last exhibit is the hotel room that Martin Luther King was staying in when he was tragically assassinated, carefully preserved as it was that night.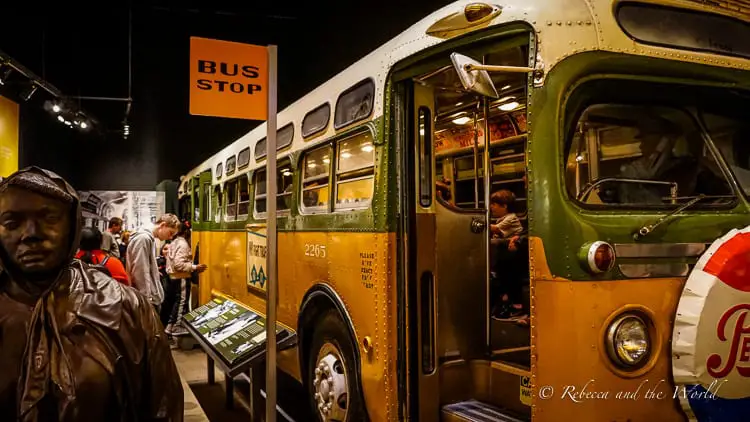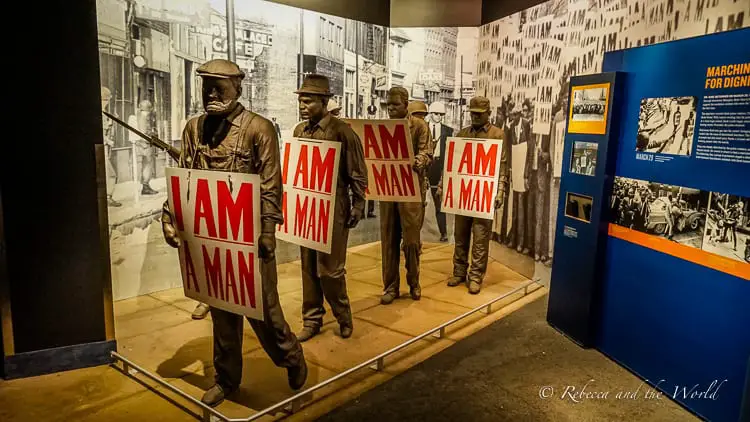 For me, it was overwhelming, seeing the violence and terror that has been perpetrated against African Americans – much of it so recent – and the struggles that people have gone through to ensure their voices were heard and rights recognised. But it was also highly educational, especially as an Australian who had only the slightest understanding of these historical events.
Bring tissues – you will need them.
Across the road is the Legacy Building, the former boarding house from where King's assassin is believed to have shot him.
Address: 450 Mulberry St, Memphis
Details: Open daily (except Tuesday) 9 a.m. to 6 p.m. Adult admission costs $16, seniors and student $14, children 5 to 17 years $13 and kids 4 and under are free. Active U.S. military also free.
Slave Haven Underground Museum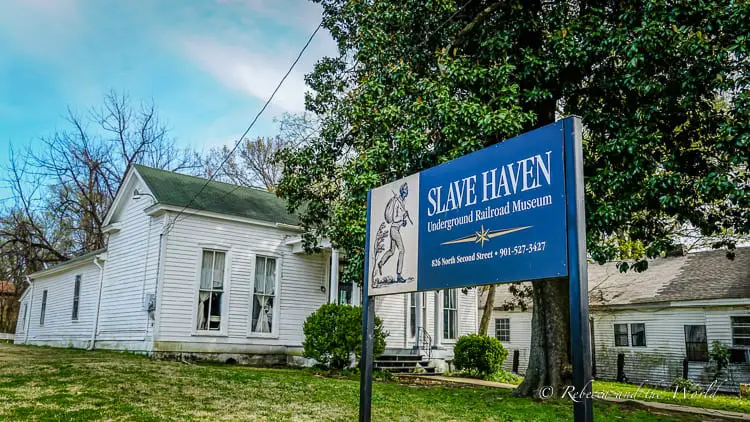 It wasn't until I'd done a lot of digging around on the internet for things to do in Memphis that I came across the Slave Haven Underground Museum. We visited one afternoon and joined a small group of around 10 people as we learned more about this unassuming house that had a significant role in helping escaped slaves.
Our guide, Asia, first guided us through the beginnings of slavery and how slaves arrived in the United States (including several disturbing images of the way in which slaves were transported in ships), and the physical and psychological torture they experienced. She also shared with us information about the brave abolitionists who helped the equally brave runaways escape on the so-called Underground Railroad.
Which is where this house comes into play. It was originally owned by a German immigrant named Jacob Burkle in the mid-1800s, who risked his life harbouring escaped slaves in his home as they made their way to freedom in the North. We were invited to descend the steps into the damp, dark cellar where many – no one knows for sure how many – slaves waited until the cover of darkness to sprint to the Mississippi River to begin the journey. It was hard to imagine how terrified these people would have been, waiting here for hours, or days, or weeks, not knowing whether they would get away to safety.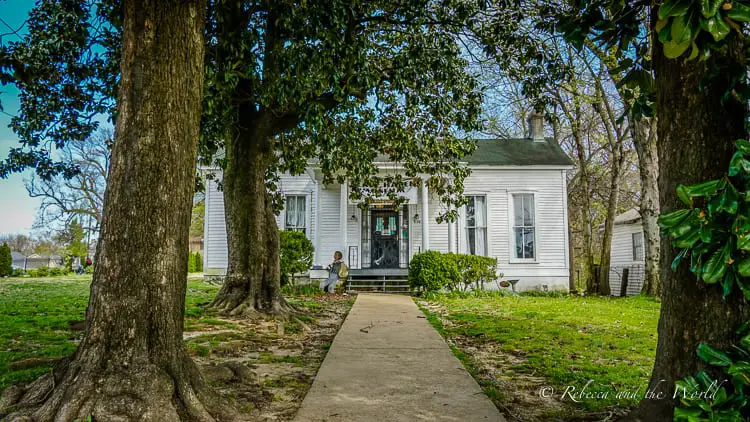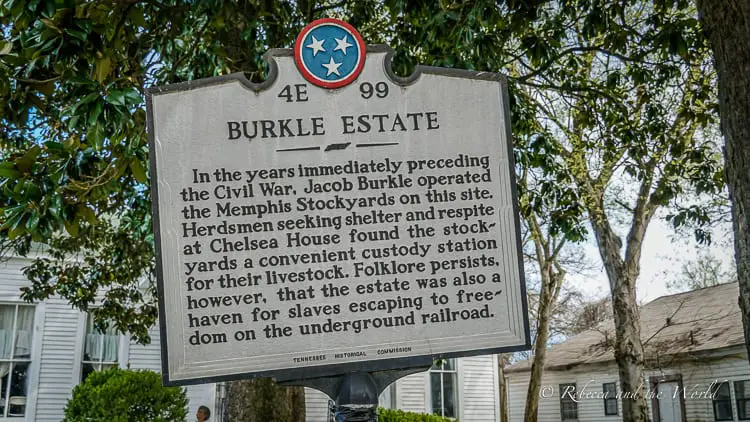 Address: 826 North Second St, Memphis
Details: Tours are offered Monday to Saturday, 10 a.m. to 4 p.m. From June to August, closing is 5 p.m. Entrance is $12 for adults, $11 for students (aged 4 to 17), $11 for college students, and $11 for seniors (65+). No photos allowed (except for outside the house).
Other Memphis museums to visit
There were several other museums in Memphis we just didn't have time to get to – but there may be a few here that pique your interest!
Pink Palace Museum
Located inside a huge pink mansion once owned by Clarence Saunders (he's the guy behind the Piggly Wiggly supermarket chain – that name always makes me giggle!), the Pink Palace Museum has exhibits on dinosaurs and Native American history. It even has a replica Piggly Wiggly store inside!
Memphis Brooks Museum of Art
The oldest and largest art museum in Tennessee, the Memphis Brooks Museum of Art has both indoor and outdoor exhibits.
National Ornamental Metal Museum
A museum devoted to the art and craft of metalwork? Yep, it exists in Memphis! Check out this unique Memphis museum, the Metal Museum, if you're a lover of art.
Mud Island River Park and Mississippi River Museum
Mud Island has a scale model of the Mississippi River, as well as a museum exploring the 10,000-year history of this important river. Access to Mud Island is via an aerial tram (recognisable from the Tom Cruise movie, The Firm.)
Where to stay in Memphis
While you're choosing a few museums in Memphis to visit on your trip, make sure you book your accommodation – Memphis accommodation can sell out well in advance, especially if there are big-name concerts or events on. We stayed in an Airbnb during our time (it was ok, but I wouldn't recommend it here – you can find plenty of other Airbnbs in Memphis here). Alternatively, check out some Memphis hotels via Booking.com or HotelsCombined.
Many thanks to Memphis Travel for providing me with complimentary tickets to the National Civil Rights Museum, Stax Records Museum and Sun Studio during our stay in Memphis. As always, I've offered my honest opinion in reviewing these Memphis museums!
Have you visited any museums in Memphis? Which are your favourites?
PIN IT FOR LATER: