It's hard not to fall in love with Sedona, Arizona. The magic of the red rocks that tower above the town, the gorgeous hikes, the food and culture. A weekend in Sedona is a great mix of escaping to nature and experiencing life in this fun small city.
If you're planning to visit Sedona for a weekend – and you should be planning to! – here are the top things to do in this magical town. It is undoubtedly one of the most beautiful places to visit in the United States.
So, take these recommendations for the best things to do in Sedona, and create your own incredible Sedona itinerary. At the end of this 3 days in Sedona guide, I've also got some Sedona travel tips as well as recommendations for where to stay in Sedona.
This blog post may contain affiliate links, meaning if you book or buy something through one of these links, I may earn a small commission (at no extra cost to you).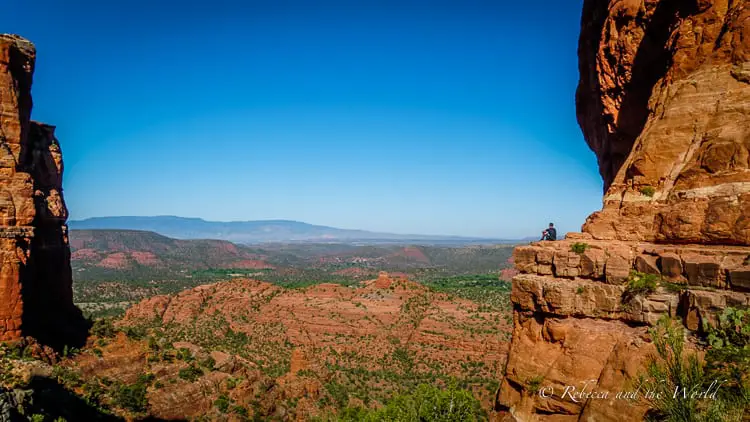 Things to do in Sedona
Here are all my favourite things to do in Sedona. Mix and match these activities for an awesome Sedona weekend getaway.
1. Get outdoors and go hiking
With all those jaw-dropping red rocks surrounding Sedona, you'd be crazy not to want to get out and explore them. There are several hikes in the area of varying lengths and difficulties. This website lists all the best hikes in Sedona, but here are my personal favourite Sedona hikes:
Devil's Bridge Trail – this is a short hike that is quite steep at the end. I found myself basically scrambling up some rocks towards the end of the hike, but the views at the end are worth it. This is a really popular hike, so go early.
Bell Rock – Bell Rock doesn't really have much of a defined path, which isn't the type of hike I normally like (I like to know exactly where I'm going!). But the views as we got up higher were just gorgeous.
Cathedral Rock Trail – this hike is rated difficult, so come prepared with plenty of water and good hiking shoes. In some parts you are basically rock climbing. If you have a fear of heights, this isn't the hike for you! The views from the top are outstanding.
Sugarloaf Loop – we did this hike at sunset and were rewarded with incredible views over Sedona. It's fairly flat. The Sugarloaf Loop takes you around a small peak, but make sure to head up to Sugarloaf Summit for the best views.
With a weekend in Sedona, you can easily tackle a few of these hikes.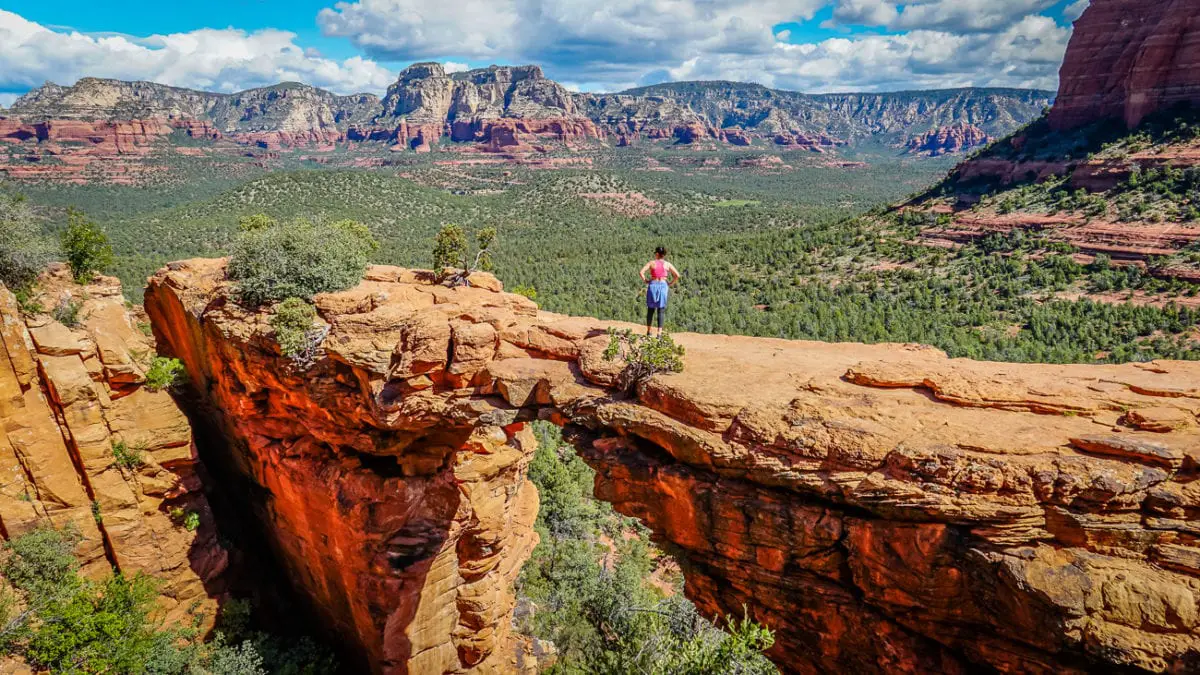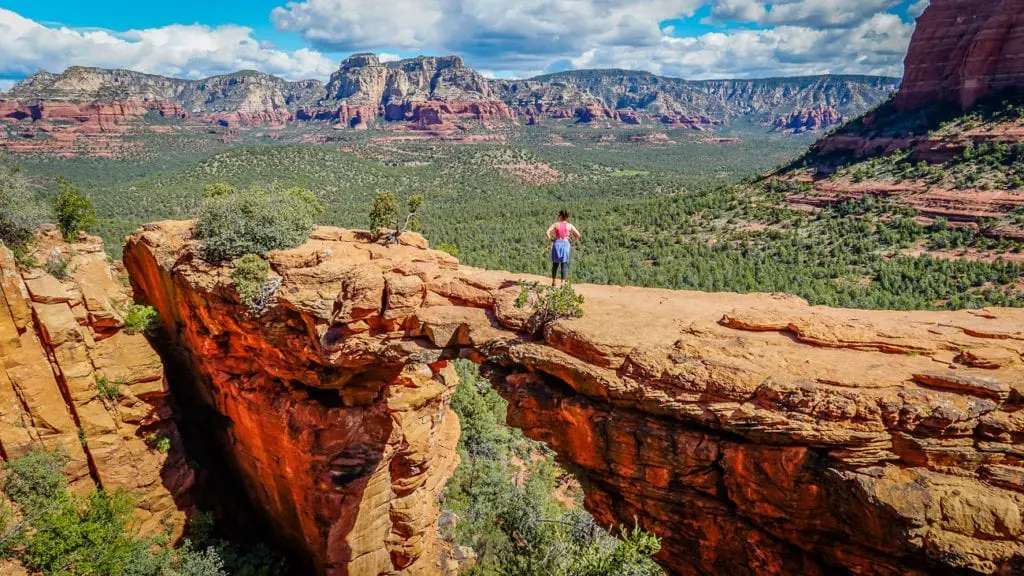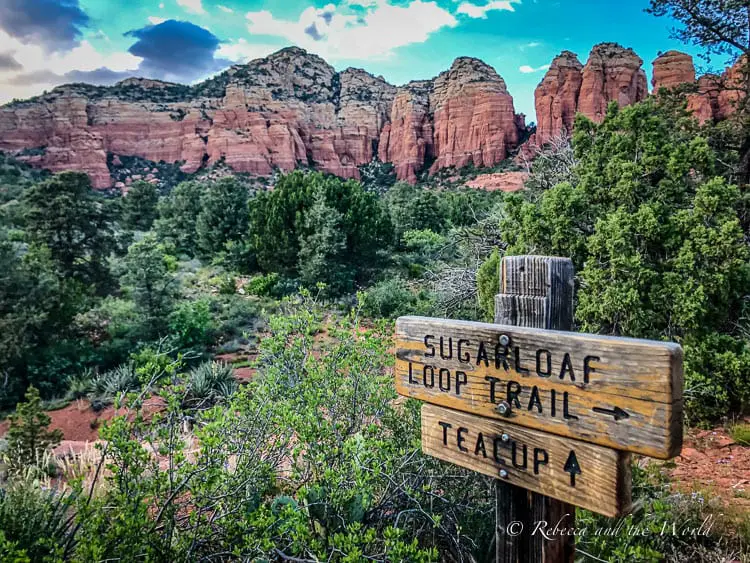 The most important thing to keep in mind when hiking in Sedona is to start early! It's hot in Sedona and the hikes are all popular, so many of the car parks are already filled by about 8 a.m.
In carparks of some trailheads you will need to purchase and display a Red Rock Pass in your car. Machines sell the daily passes for $5 (you can also buy weekly and annual passes if you're planning to spend more than just a weekend in Sedona).
Keep in mind that Sedona is at 1,330 metres (4,350 feet), so take it easy to begin with as you may start to feel the effects of elevation (at least, that was my excuse for all my huffing and puffing!).
2. Explore Sedona's magical vortexes
Many people are drawn to Sedona for its vortexes. I'd never heard of a vortex before I visited Sedona, but what I understand these Sedona attractions to be are areas alive with energy that are helpful for healing and spiritual enlightenment.
All of Sedona is considered to be a vortex, but there are a few sites where the energy is more powerful – and they're all located on or near hiking areas so you can combine two in one! Sedona's most powerful vortexes are located at Cathedral Rock, Bell Rock, Boynton Canyon and Airport Mesa.
While I'm interested in spiritual stuff, I'm not entirely connected to it, so I don't recall feeling anything when I visited sites near the vortexes. But go explore them for yourself to see what impact they have on you!
Guided option: There are also guided tours if you'd like insights from someone who knows all about vortexes, like this one or this private tour.
3. Drive the scenic byway
The Red Rock Scenic Byway traverses highway 179 south of Sedona to Village of Oak Creek, and it's one of those drives where you'll want to stop every mile to take photos. It's definitely one of the most beautiful things to do in Sedona – and that's saying something, as there's a lot of competition for that title!
Plan a half day along the byway and stop at the Chapel of the Holy Cross and Bell Rock before lunch in Village of Oak Creek.
4. Sip some Arizonan wine
Did you know that there's a wine industry in Arizona? I had no idea – and they're actually quite good! When you visit Sedona you can test out a few of the state's wines.
Just 20 minutes outside of Sedona are four great wineries, and we spent an afternoon exploring most of them. You can also check out the Verde Valley Wine Trail if you have some extra time to go further afield to taste more wines.
Start the furthest away and work your way back to Sedona. At Page Springs Cellars you can do a tasting inside or step outside on to the patio to sip your wines. There are several tasting options available, some whites only, others mixing reds and whites. Alternatively, grab a glass of wine and some snacks and take a seat overlooking the bubbling creek that passes through the winery. Tastings range from $11 to $25 and include a souvenir glass to take home.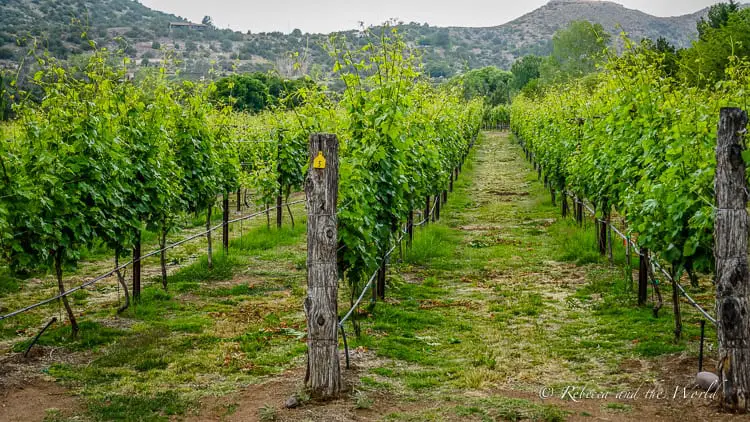 Half a mile away is Oak Creek Vineyards and Winery, a boutique vineyard with an outdoor patio overlooking their vines. Tastings are $10. Plan your visit for happy hour on Friday evening where most drinks and snacks are almost half price. Bonus: it's dog-friendly if you've bought your pup along on your 3 days in Sedona!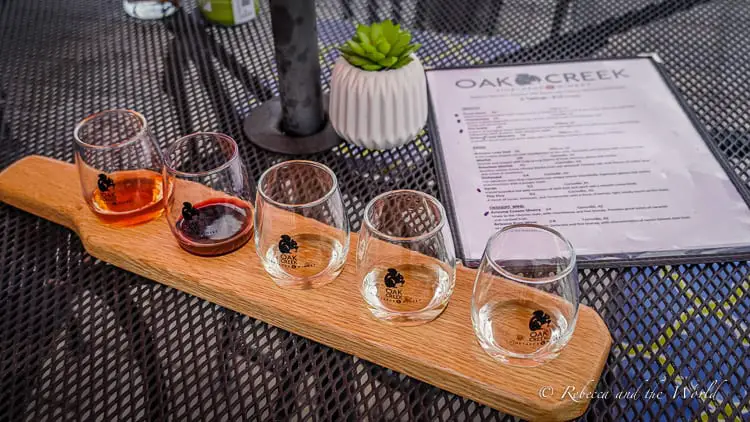 We skipped Javelina Leap because we'd already sipped quite a bit of wine, but you should plan to go so you can taste wines at their saloon-style bar – the largest wine tasting bar in northern Arizona.
Our favourite of the wineries was without a doubt DA Ranch. We loved tasting wines both in the kitchen (where we felt like we were sipping wine in a friend's kitchen) and outside in the huge, lush garden. Check tasting times in advance because the estate is often closed for weddings and private events.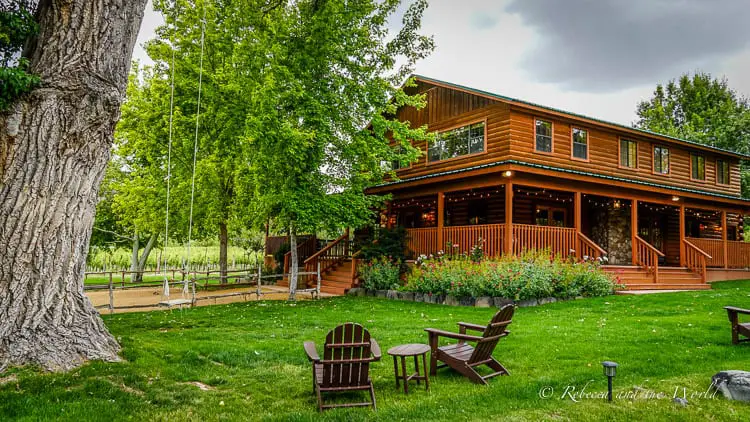 If you're looking for still more wine, stop by Up The Creek Bistro and Wine Bar. This former gas station is now a restaurant with views over Oak Creek. They offer lunch, dinner and wine tastings.
5. Enjoy Sedona's culinary scene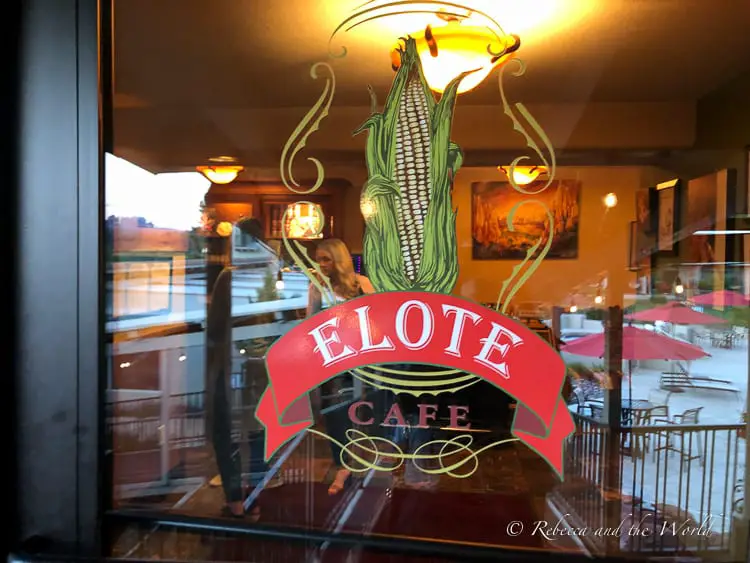 With so many visitors coming into Sedona, the city has developed a healthy foodie scene with plenty of mouth-watering options to fill a weekend in Sedona. Here are a few top choices for where to eat in Sedona:
6. Slip down Slide Rock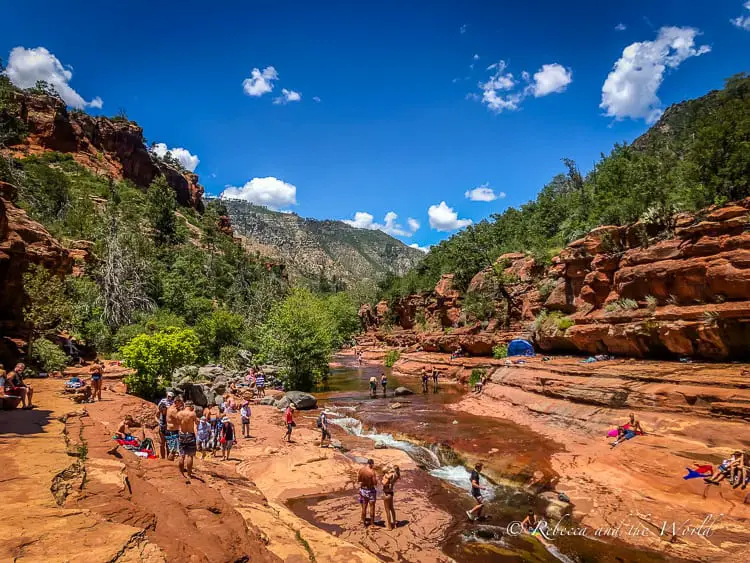 One of the most unique things to do in Sedona is to slip down the natural "slide" at Slide Rock State Park. A strong, natural current and algae on the rocks propel those game enough to give it a go! There are also natural pools where you can swim around in, and some rocks for daredevils to jump or dive off.
When we visited, even thought it was a hot day, the water was shockingly cold! I could only go along the slide once before I needed to thaw out on the red rocks.
It's a great place to cool off on a hot day, but keep in mind you won't be the only one – on hot days the park is full.
Bring snacks and drinks (we saw people with small coolers), towels, plenty of sunscreen, and even portable lawn chairs and a sun shade if you're planning to spend several hours there.
As well as the swimming area, there's also a historical museum about the history of the park and some hikes if you prefer to earn your cool dip.
The park is open from May to October. It costs between $10 and $30 per car depending on the time of the year and day of the week. Check the website for up-to-date pricing.
7. Wander Main St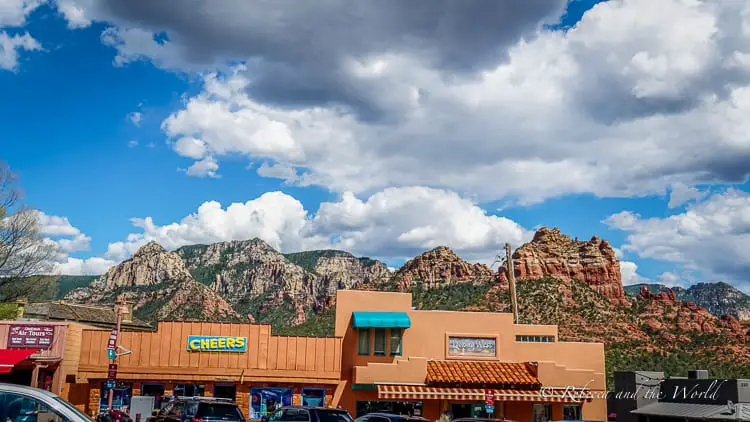 The main street of Sedona (referred to as both Uptown and Downtown Sedona) is jam-packed with art galleries, restaurants, shops filled with crystals and souvenirs, and palm readers. It's worth spending a few hours during your weekend in Sedona walking around and popping in and out of the shops.
After all that shopping, make sure to stop in to 89Agave for a prickly pear margarita – they're not cheap but it seems to be the state drink of Arizona, so you have to try one!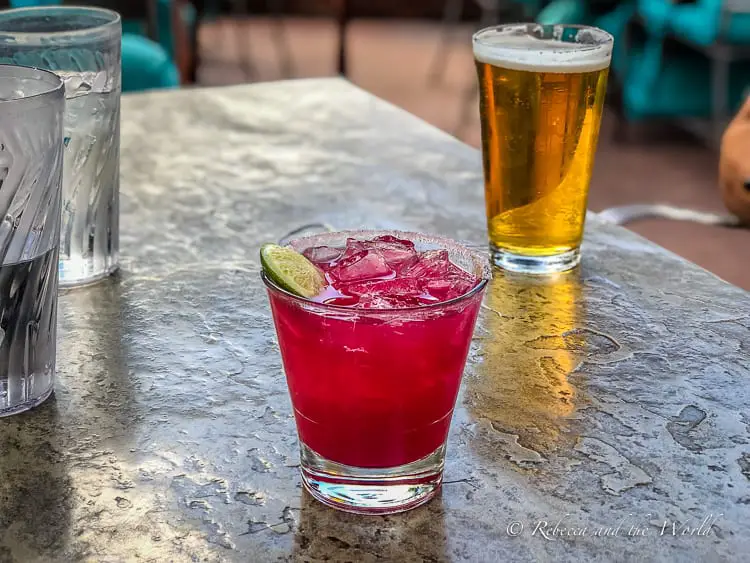 8. Visit the Chapel of the Holy Cross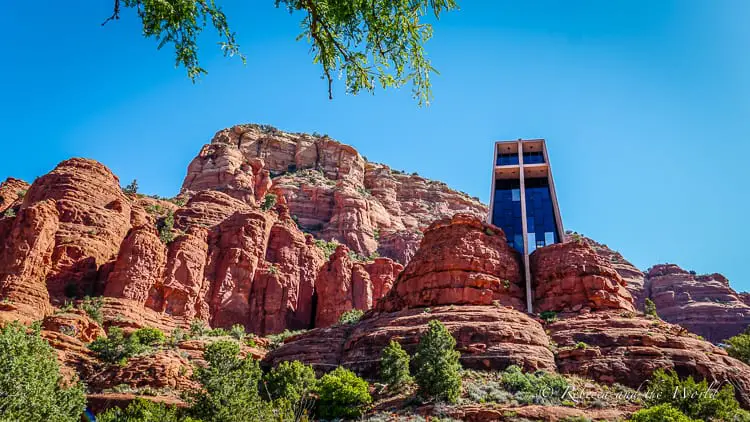 After you're done hiking the Bell Rock and Cathedral trails, stop in at the Chapel of the Holy Cross. One of the most popular things to do in Sedona, this unique church is snugly and stunningly built into the red rock formations.
The inspiration for this Roman Catholic chapel came in 1932 but it wasn't until 1956 that construction was completed.
You can stop to take some photos from the parking area at the main entrance or head up to the car park and enter the chapel. Inside, you can light a candle and check out the incredible views.
9. Treat yourself with a spa session
After hitting all of Sedona's hiking trails, it's time for some relaxation and pampering. There are plenty of day spas in Sedona for massages, body scrubs and nail care. Check out the Visit Sedona website for a list of spas.
But you're in spiritual Sedona, so why not try something really unique? A holistic pedicure with Deb Lovejoy not only treats your tootsies but rolls in crystal therapy, tuning forks, card reading, chakra balancing and numerology into a 90-minute spiritual session. It was one of the best things I did on our weekend in Sedona.
10. Shop for unique arts and crafts
Stop by Tlaquepaque Arts and Crafts Village for a souvenir to take home with you as a reminder of your weekend in Sedona. Dozens of art galleries, jewelry stores and restaurants and bars are housed in sprawling stucco-covered buildings.
We didn't visit Tlaquepaque on our most recent weekend in Sedona, but we did on our first visit to Sedona and had a great lunch (and my first-ever prickly pear margarita!) at the Oak Creek Brewery and Grill.
11. Take an off road adventure in a Sedona jeep tour
Driving through the desert in a pink jeep is one of the most popular Sedona activities. While we didn't book a trip this time, you can't avoid seeing these pink jeeps zipping around town and out in the desert.
The tours take you off road through the desert, over the red rocks and into areas surrounding Sedona that you likely wouldn't be able to explore by yourself. The 2-hour Broken Arrow Tour is a popular one.
12. Head out on a day trip to the Grand Canyon
If you're lucky enough to have a long weekend in Sedona, you can even take a day trip to the Grand Canyon. It's only a two-hour drive from Sedona to the Grand Canyon's south entrance. You can easily visit the Grand Canyon in a day by car, although it will of course be a long day.
What to pack for a weekend in Sedona
Make sure to pack these items for your weekend in Sedona to help you stay cool and protected from the sun!
Reusable water bottle to stay hydrated (and avoid buying plastic bottles from the supermarket!)
Sunscreen and a good hat to protect yourself from the sun
A great camera – Sedona is one of the most photogenic places I've visited!
Sunglasses
Good hiking boots or sneakers with grip if you're hitting the trails on your Sedona weekend
Moisturiser to keep your skin hydrated in the dry desert air – this Brazilian Bum Bum Cream smells divine and is one of my favourites (even if it does have a funny name!)
Swimming attire – ladies, have you seen these gorgeous (and very affordable!) swimsuits from Cupshe?
Where to stay in Sedona
Sedona has plenty of accommodation options suitable for couples, families and friends, so you'll find something wonderful for your weekend in Sedona.
Unfortunately the Airbnb we stayed in on our trip isn't available any longer. So here are a few other options.
If you're travelling with a group or family on your weekend trip to Sedona, this 3-bedroom home is a great option. There are two bedrooms inside the main house, with a 3rd bedroom (and bathroom) in a detached apartment by the front door. There's a full-size kitchen for cooking family meals (plus a kitchenette in the detached apartment) and plenty of space for shared dinners. Surrounded by trees, the property feels secluded and private. I think this is a great choice if you're planning an Arizona vacation with your family.
You can also check other available Sedona properties on VRBO.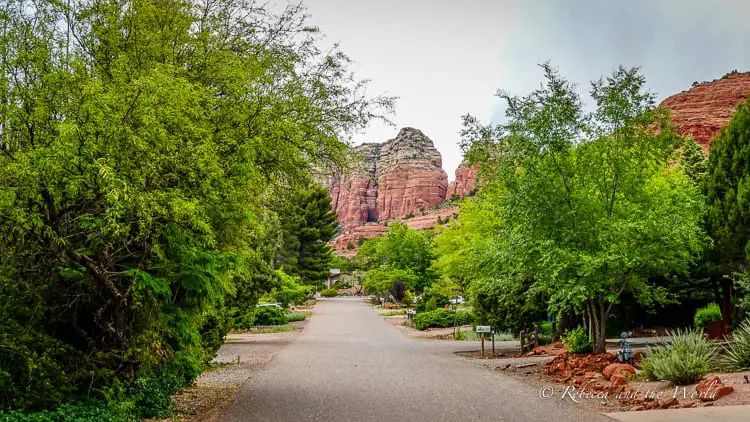 If you want luxury for your weekend in Sedona, then check out L'Auberge de Sedona. It has breathtaking views of the red rocks and creekside rooms. The resort has rooms, suites and cottages available. Check to see if L'Auberge has availability for your weekend in Sedona on Booking.com or read a review on TripAdvisor.
Another option is Enchantment Resort in Boynton Canyon. You can stay active here with a fitness centre, golf course and tennis courts. Check rates for Enchantment Resort on Booking.com or read reviews on TripAdvisor.
Review more Sedona hotels online here.
For those who want to get off the grid during your time in Sedona, consider renting an RV through RVShare. This website lists some RV campgrounds in the Sedona area.
When to visit Sedona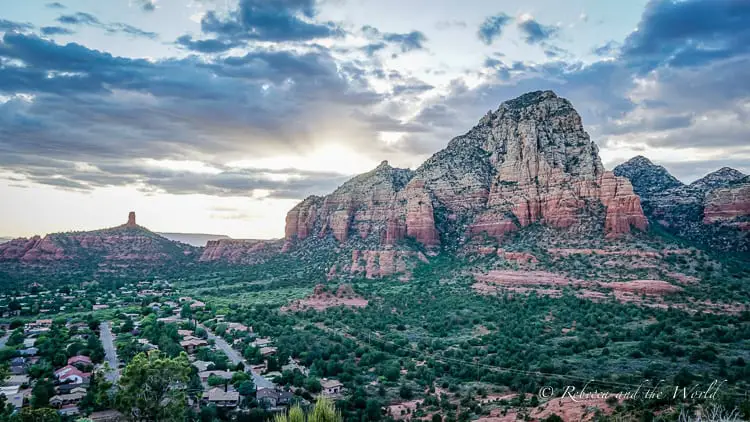 While Sedona has a fairly moderate climate and has four seasons (unlike some other parts of Arizona), it's best to visit Sedona during spring and autumn (fall) when temperatures are far more manageable. Of course, this means peak season, so make sure to book your accommodation well in advance. The streets will be packed, so prepare to be patient and you may need to wait for a table at some restaurants.
We visited in late May and it was still fairly temperate. The days were sunny and warm and the evenings brought a nice, light breeze.
Summer brings super-hot weather, so expect temperatures in the mid to high 90s (mid to high 30s Celsius).
While it does often snow, winter is still a great time to visit Sedona, with fewer crowds.
How to get to Sedona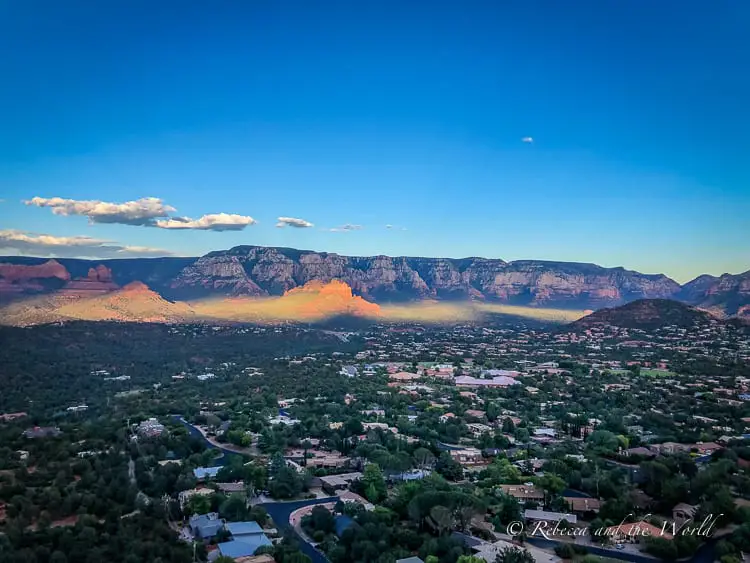 The closest airports to Sedona are Flagstaff and Phoenix (check Skyscanner for the best flights and prices). Flagstaff is about an hour from Sedona (and you may need to connect through Phoenix when coming from certain cities). It's about two hours to Sedona from Phoenix.
Rent a car at the airport as you'll need a car so that you can do all the things in Sedona that I've listed in this article. Coming in from either airport offers a stunning drive into Sedona!
There's also a small airport in Sedona if you've got access to a private plane!
Have I inspired you to plan a weekend in Sedona? Drop any questions in the comments below so that I can help you plan your Sedona itinerary.
BOOKING A TRIP SOON? HERE ARE SOME HELPFUL LINKS
Book your flight online with Skyscanner or Kayak. I usually compare flights on both sites to find the best deals and schedules.
Find a great hotel on Booking.com.
Need a rental car? Compare prices and vehicles on Discover Cars and RentalCars.
Omio is a great site for booking buses, trains and ferries.
Check out the huge range of day tours throughout major cities and countries on GetYourGuide, Klook or Viator. There's something for everyone.
One thing I always purchase is travel insurance. World Nomads offers simple and flexible travel insurance. Buy at home or while traveling and claim online from anywhere in the world.
Stuff I always pack? A reusable water bottle, packing cubes and a handy electronics organiser.
WEEKEND IN SEDONA: PIN IT FOR LATER