Planning a weekend in Scottsdale, Arizona? Great idea! Here are my tips for making the most of a break in this great little city.
I don't know about you, but whenever I'm planning a weekend away, I'm usually looking for somewhere with sunshine. And I've discovered a place with a lot of sunshine. More than 300 days of sunshine a year, to be precise.
Where is it? Scottsdale, Arizona.
Now, you may have heard that Scottsdale's the place to go if you're retired and love golf. Forget that. This city, part of Greater Phoenix, has so much to offer everyone of all ages: outdoor adventures, culinary delights, relaxation and pampering, and art and culture.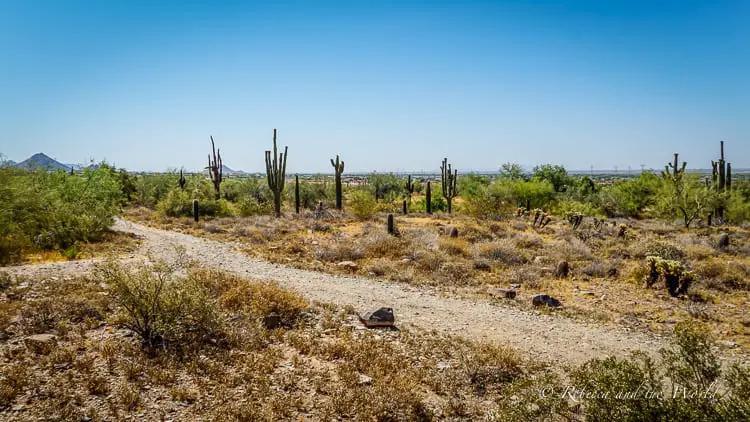 We spent almost a week in Scottsdale and Phoenix, but here I've distilled the best of the best into a weekend in Scottsdale itinerary so you can start planning your own getaway. I discovered 3 days in Scottsdale really isn't enough, but hopefully this guide will give you an idea of how to make the most of a weekend!
Pro tip: plan to fly in on Friday evening and out early on Monday morning to maximise your Scottsdale visit.
This blog post may contain affiliate links, meaning if you book or buy something through one of these links, I may earn a small commission (at no extra cost to you).
Day 1 of your weekend in Scottsdale: Check in
Head straight from the office to the airport and board a flight to Phoenix. As soon as you land, make a beeline for Scottsdale to check in to the Andaz Scottsdale Resort & Bungalows.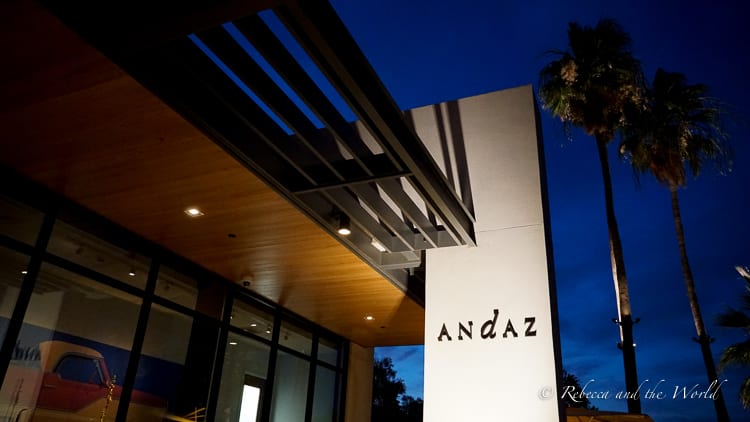 The check-in here process is slick – there's no check-in desk, just a handful of staff milling about with their handheld tablets, ready to whisk you through the check-in process in minutes. Oh, and offer you a complimentary beer or wine on arrival – yes, your weekend in Scottsdale is starting off right!
Stay close to the hotel this evening and grab a table on the patio of Weft & Warp Art Bar + Kitchen, the Andaz Scottsdale's signature restaurant. The menu is inspired by fresh, local Arizona ingredients and changes regularly.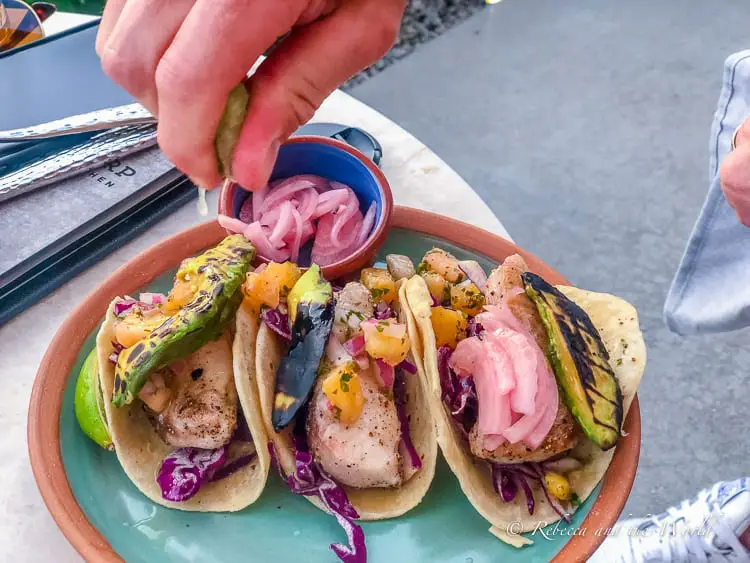 If you're lucky, you're dining as the sun's going down. We had some spectacular sunsets from here during our stay, overlooking the glittering pool with the Camelback mountain range in the background.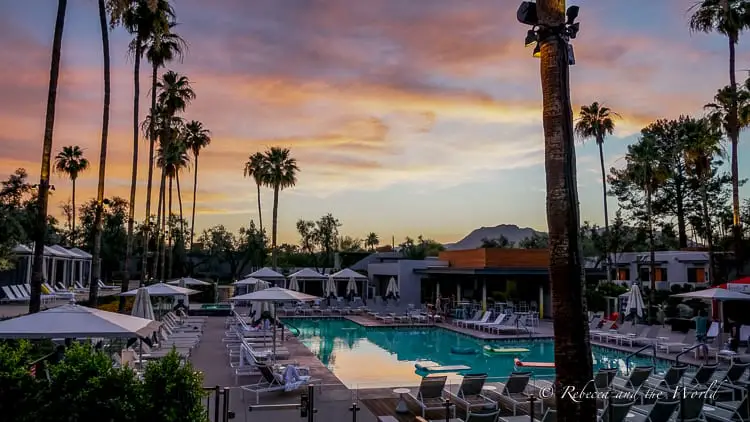 Day 2 of your weekend in Scottsdale: Hiking, architecture and the arts
Morning
On any weekend getaway, there's bound to be some indulgence (in fact, I encourage it!), so make sure you prep your body for what's to come by starting off with a hike in the desert.
At more than 30,000 acres, the McDowell Sonoran Preserve is the largest urban preserve in the United States. Even though it's hot here, hiking and outdoor activities are one of the most popular things to do in Scottsdale, and the McDowell Sonoran Preserve has plenty of hiking options for all levels of fitness.
The Gateway Loop Trail – one of the Preserve's most popular trails, this 4.5-mile (7.2 kilometres) loop trail has great views
Marcus Landslide – an easy 3.7-mile (6 kilometres) loop trail with some interesting boulders to check out
Granite Mountain Loop Trail – hike through boulders and stunning views on this 6.1-mile (9.8 kilometres) trail of moderate difficulty
Whichever hike you choose, you'll see plenty of saguaro cacti – it's like you're in your own Western movie! This cactus variety is only found in the Sonoran Desert, can live to 150 to 200 years old, and is the largest cactus in the country.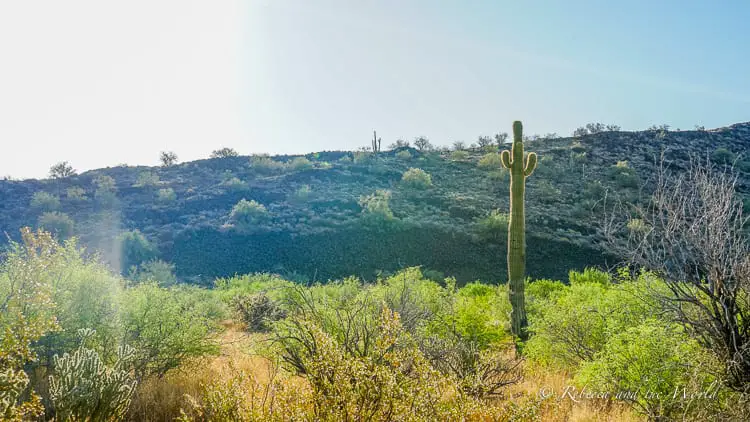 You may also spot coyotes, roadrunners, javelinas and jackrabbits in the Sonoran McDowell Preserve. A friend even saw a desert tortoise, which I never knew existed!
If you want to really push yourself, hike iconic Camelback Mountain. There are two short trails, both of which are classed as difficult and are only recommended for experienced hikers. This is serious stuff, so don't attempt this if you're not fit. Unprepared, inexperienced hikers are regularly evacuated from the summit by helicopter.
If you're visiting Scottsdale in summer, as I did, plan to hike early in the morning – the temperature can hit 90 degrees Fahrenheit (32 degress Celsius) by 8 a.m. Take plenty of water, sunscreen and a hat.
You can do any of these hikes alone, but if hiking in the desert makes you a little nervous, then join a group guided hike.
Late morning
If a Bloody Mary is your drink of choice, then your eyes will pop when you stop off to refuel with brunch at Hash Kitchen. This popular spot has more than 50 items in its build-your-own-Bloody-Mary bar – I'm talking bacon, olives, cheese, eggs. I've never seen anything like it before.
But be responsible and team that Bloody Mary with something edible to line your stomach. Whatever you choose, make sure to end brunch with the fried-to-order cannoli donuts.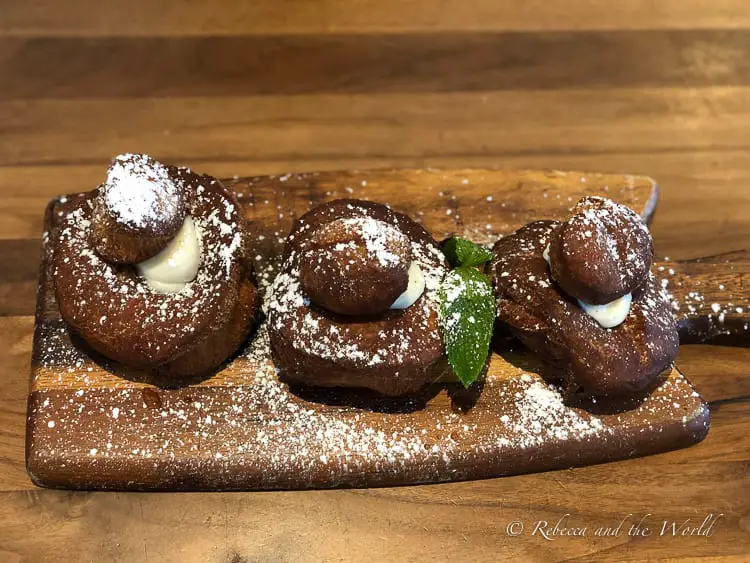 After brunch, head out to Taliesen West, the former winter home of architecture great Frank Lloyd Wright. This UNESCO World Heritage site and National Historic Landmark was (and still is) Wright's architecture school. On a 90-minute In-Depth Guided Tour (one of the most popular Scottsdale attractions – reserve your spot on the tour ahead of time), you'll learn more about the man himself, including that he had no formal education in architecture, something I never knew.
You'll also explore Taliesen West's close link to nature and see for yourself how it was built in harmony with its surroundings, a philosophy that echoes across all of Wright's designs.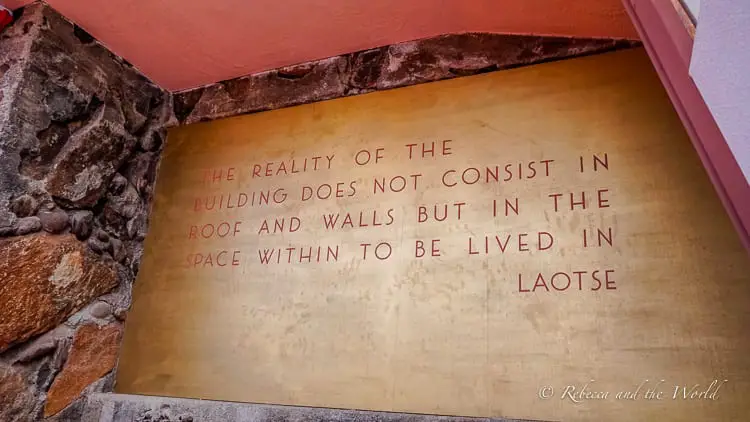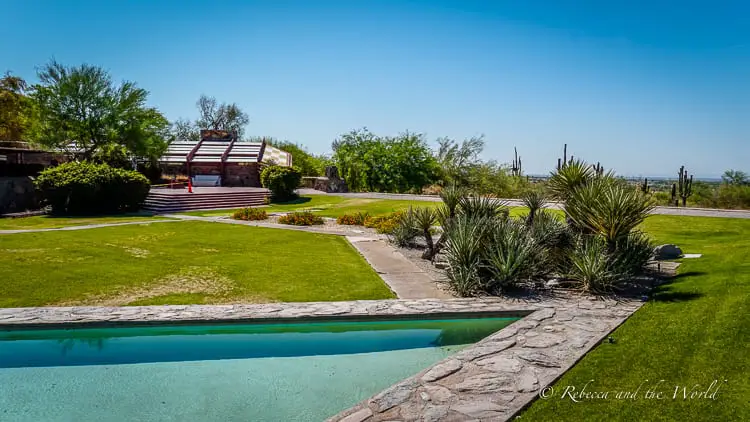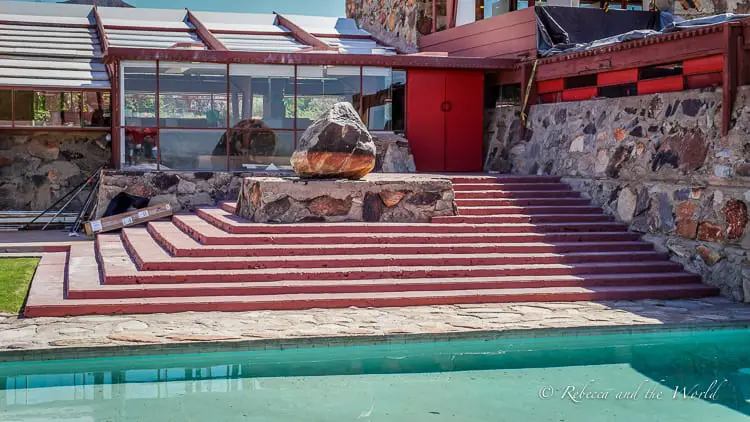 As a side note, if you're an architecture fan, make plans to check out Cosanti, the gallery and studio (and former residence) of the late Italian-American architect Paolo Soleri. It's one of the secret things to do in Scottsdale – not many people know about this place.
Soleri constructed the earth houses here himself, many of which are partially underground, providing year-round insulation. Stroll through the myriad doorways and secret paths for a glimpse of still-running workshops and buildings that blend into their surroundings.
Tours are offered Thursday to Monday at 9.30 a.m., 11 a.m. and 2 p.m.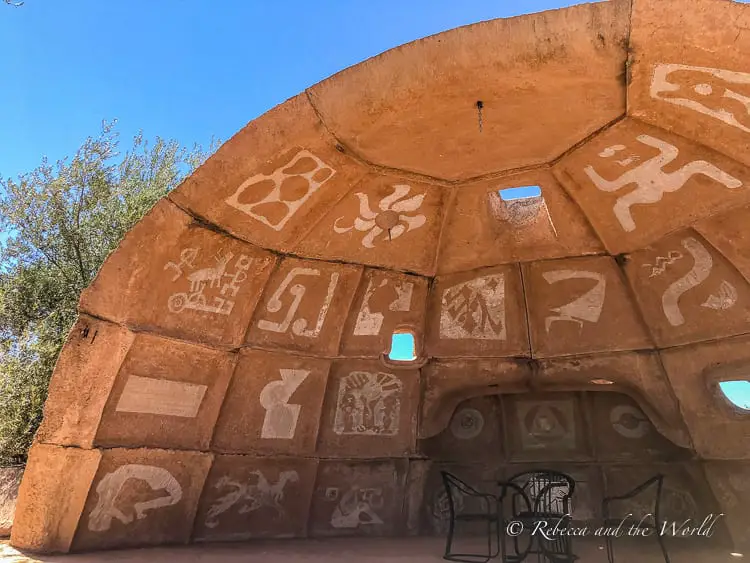 Afternoon
Head over to Old Town Scottsdale for the afternoon. Stop for lunch at Hula's Modern Tiki, which whips up Polynesian fusion dishes. The menu is huge, but you can't go wrong with the macadamia-encrusted mahi, smothered with a mango-papaya sauce.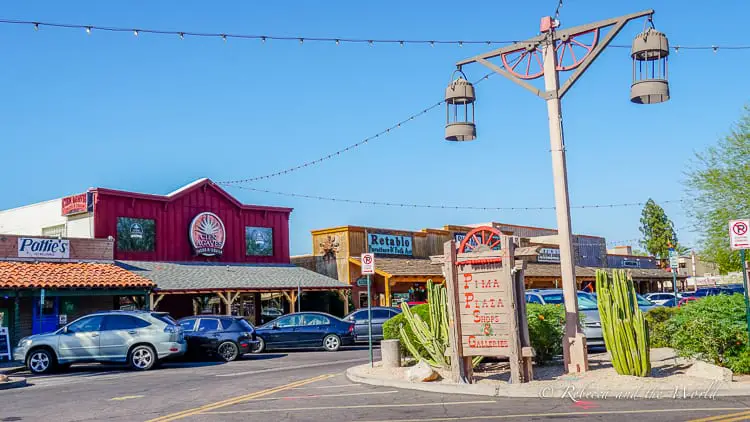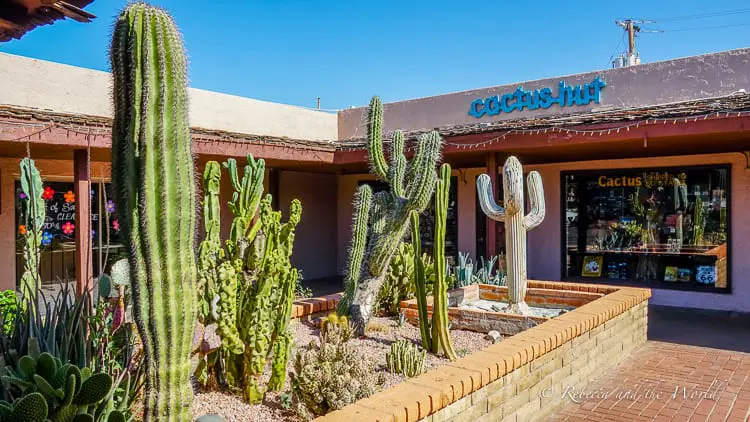 There's plenty to keep you occupied in Old Town Scottsdale for an afternoon. Depending on your interests, here are a few things I recommend to check out: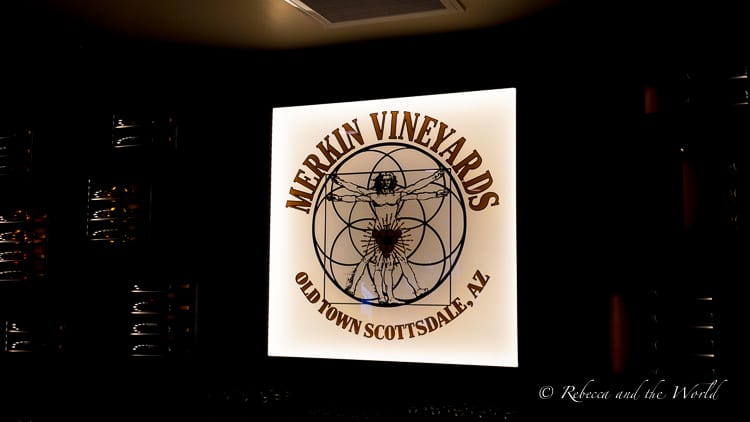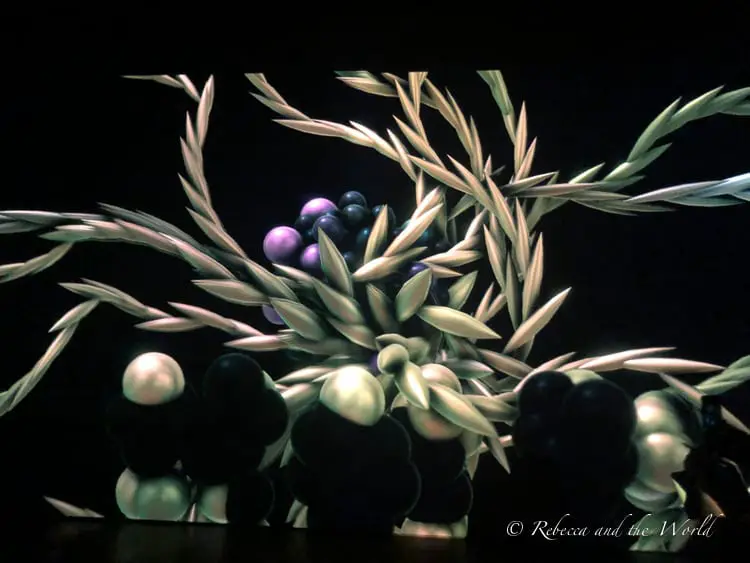 Evening
Have an early dinner at The Mission, a Scottsdale favourite. Avocados are king here, so start with an order of the guacamole. The staff whip up a fresh bowl of guac right at your table.
The Mission is also known for its avocado margarita (I had the regular margarita, which was delicious, but friends of mine loved the avocado version!). If you've only got 3 days in Scottsdale, then you've only got 9 meals. The Mission should definitely be on your eating list for one of those meals.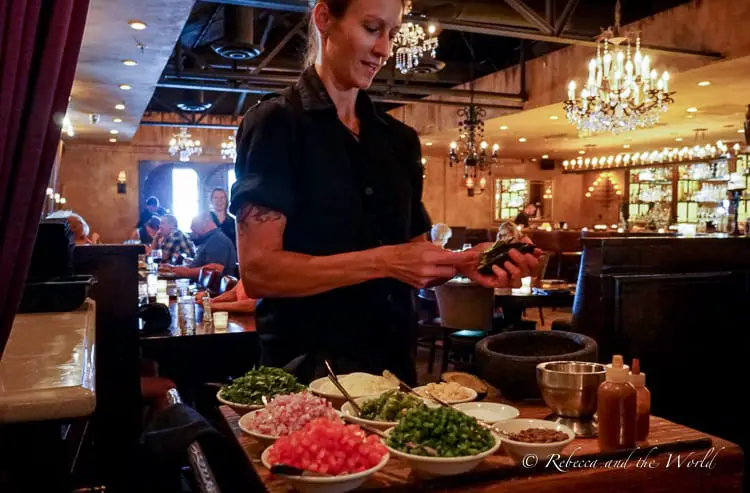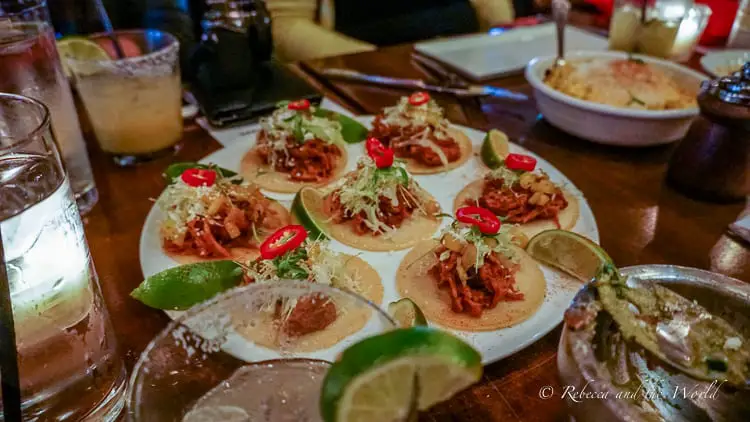 Check out this guide for more delicious places to eat in Scottsdale.
Day 3 of your weekend in Scottsdale: The desert from above and relaxation
Morning
Today, you're getting up early. Really early. Like, alarm-going-off-at-3-am-early.
I know there haven't been any sleep-ins on this weekend in Scottsdale itinerary, but trust me, it'll be worth it. The desert is stunning in the morning.
You're up early to see the desert from above, on a hot air balloon ride with Hot Air Expeditions. It's rather spectacular to see the sun rise over this barren landscape, watching the shadows creep over the mountains, and looking for wildlife scampering about far below. Bonus: there's a champagne breakfast at the end!
The boarding location is a half-hour drive from Scottsdale, and transfers can be arranged.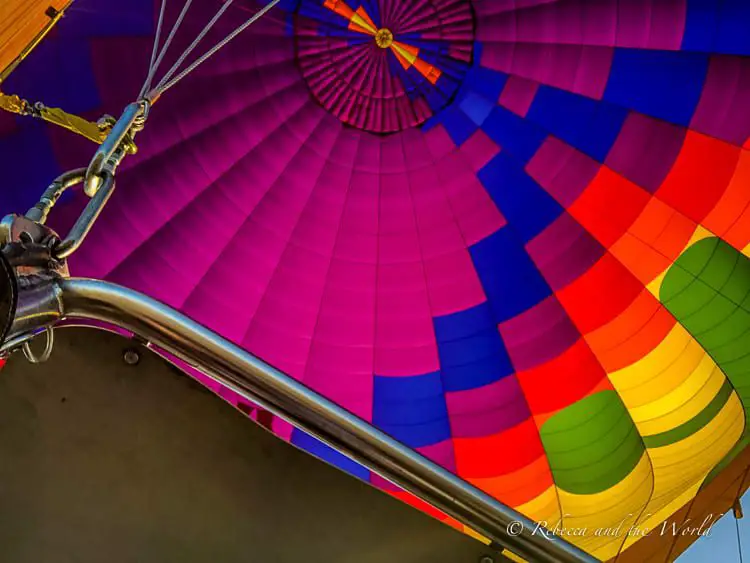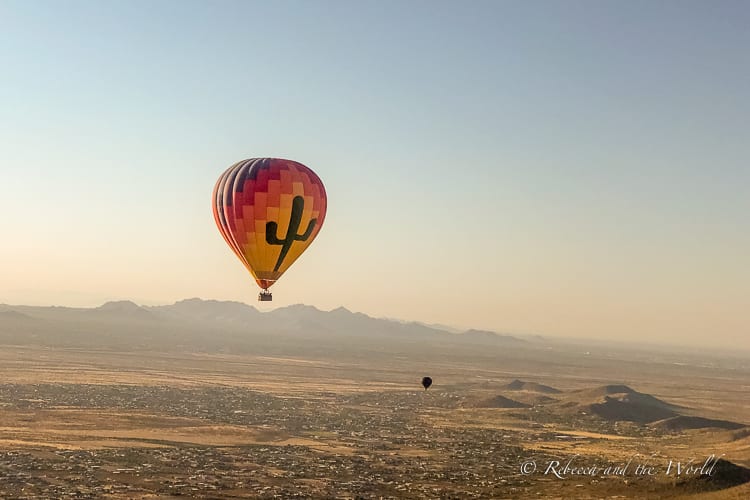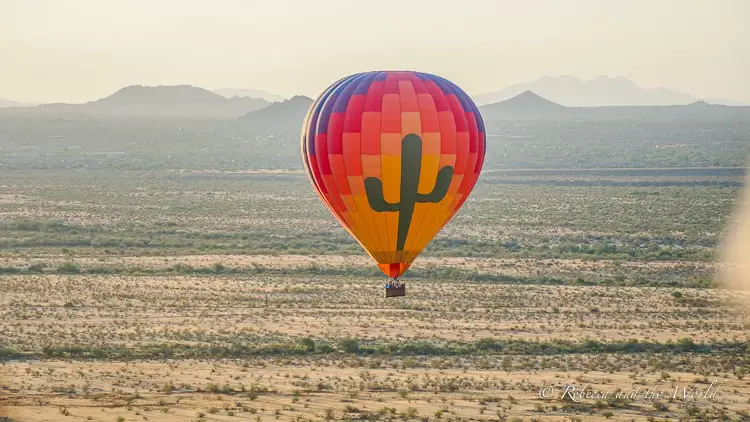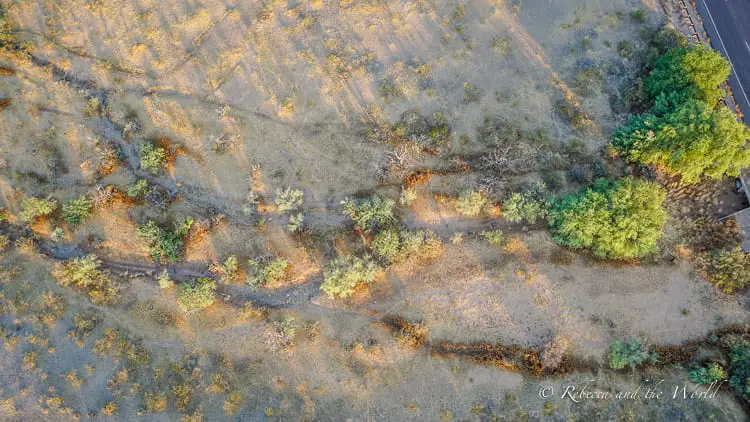 (If you've already been on a hot air balloon ride before, I give you permission to skip this activity and enjoy a sleep in!)
You should be pretty well satiated after the breakfast provided by Hot Air Expeditions, but you may have also been eyeing off that Nutella French toast on Weft & Warp's brunch menu. Go on, go ahead and enjoy it.
After that early wake up, take some time to relax at one of the more than 50 spas in Scottsdale – that calculates to about three per square mile!
I highly recommend the Prickly Pear Wrap treatment at Andaz's Palo Verde Spa & Apothecary. The prickly pear seed has oils that are rich in essential fatty acids perfect for protecting and nourishing the skin. The treatment will see you scrubbed, wrapped and smothered in products made from prickly pear. This was 90 minutes that I never wanted to end.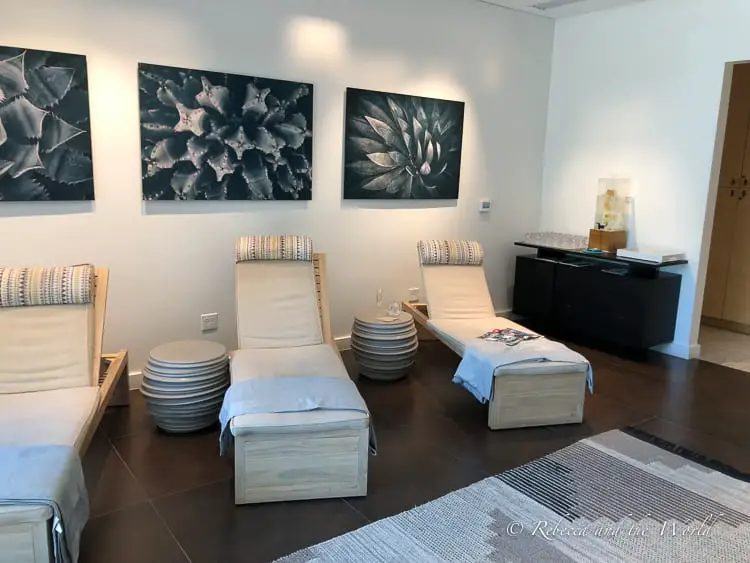 Afternoon
Fully pampered, head into Scottsdale for lunch at waterfront Olive and Ivy Restaurant + Marketplace. This Mediterranean-inspired restaurant is always buzzing, no matter the time of day. Share a mix of the bruschetta, or one of the huge salads or flatbreads.
An alternative option is Diego Pops for some fun Mexican. The California burrito is messy and delicious, and the fried plantains are sticky and sweet. Great margaritas, too!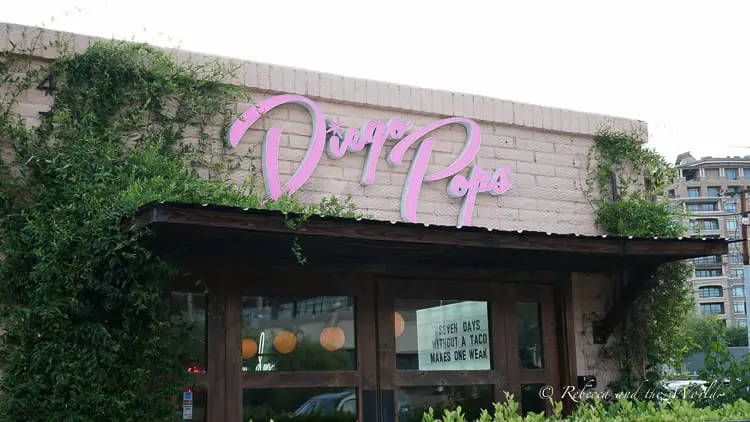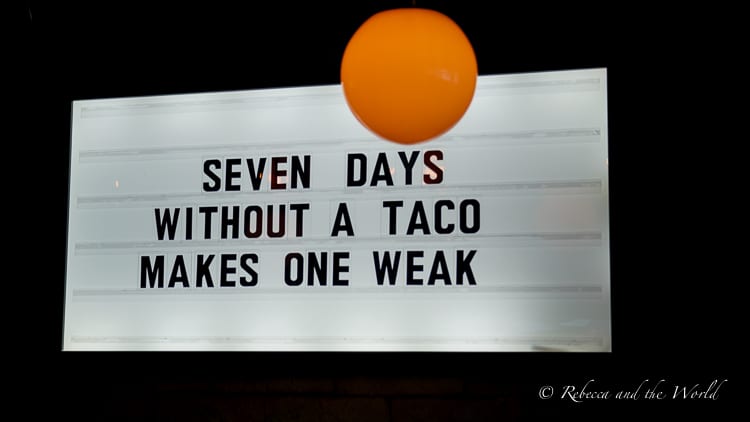 After lunch, explore Wonderspaces. The first permanent location of the popular art pop-up is inside Scottsdale Fashion Square. I'm not a huge fan of museums, but I couldn't help but enjoy the diverse, interactive exhibits at Wonderspaces.
Exhibits change regularly, but when we were there, we found ourselves "painting" artwork by dancing and moving, exploring a UFO abduction through virtual reality, and submerging ourselves in a beautiful landscape of more than 8,000 coloured lights.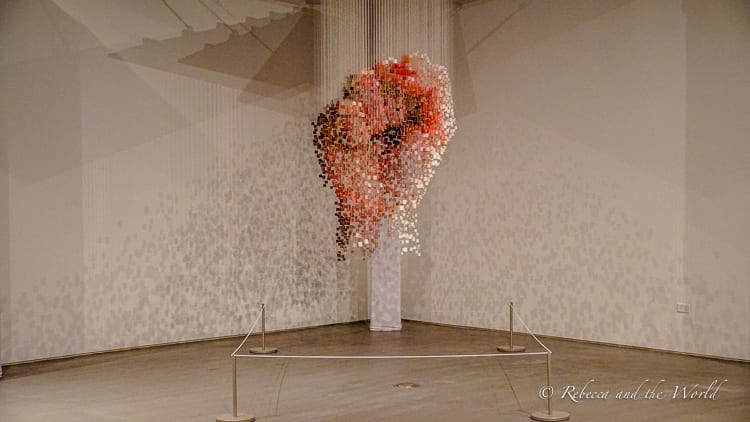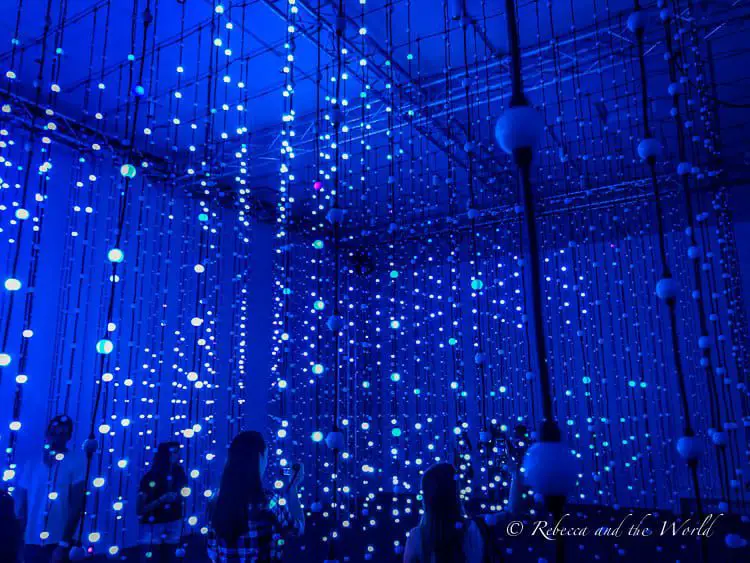 You can't visit Scottsdale without some pool time, so for the rest of the afternoon, lounge by the Andaz Scottsdale's pool – you've deserved it. Reserve a private cabana in advance so that you can alternate between reclining in the shade and sipping a cocktail in the pool.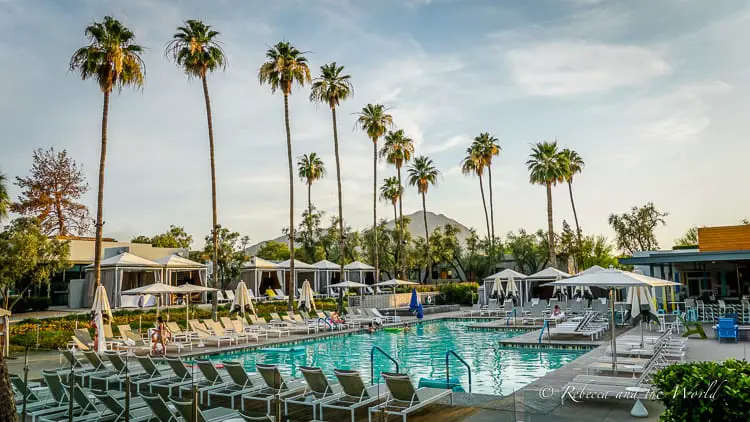 Later on, book a table at Postino for a relaxed dinner. Share a few of the restaurant's so-called "snacky things" (the skewers are divine) or keep it simple with a charcuterie board and glass of wine.
The next morning, fly out and start planning another weekend in Scottsdale!
Before you go: What to know when planning a weekend in Scottsdale
Where to stay in Scottsdale
Andaz Scottsdale Resort & Bungalows
I stayed at the Andaz Scottsdale Resort & Bungalows. All 185 guest rooms are private bungalows and each has a private patio (some larger than others). It was lovely to sit out on the patio each morning as the sun came up. The rooms have a minimalist design, and large, comfortable beds.
The Andaz's resort-style pool area is a huge draw, and is usually buzzing on the weekend. When I stayed, there was a mix of families enjoying a splash in the pool, as well as groups of friends sipping cocktails, so the hotel really is for everyone.
The hotel even has a Tesla that will take you anywhere you want to go within five miles of the hotel. Doesn't sound far, but it's plenty because the Andaz is located close to all the top Scottsdale attractions.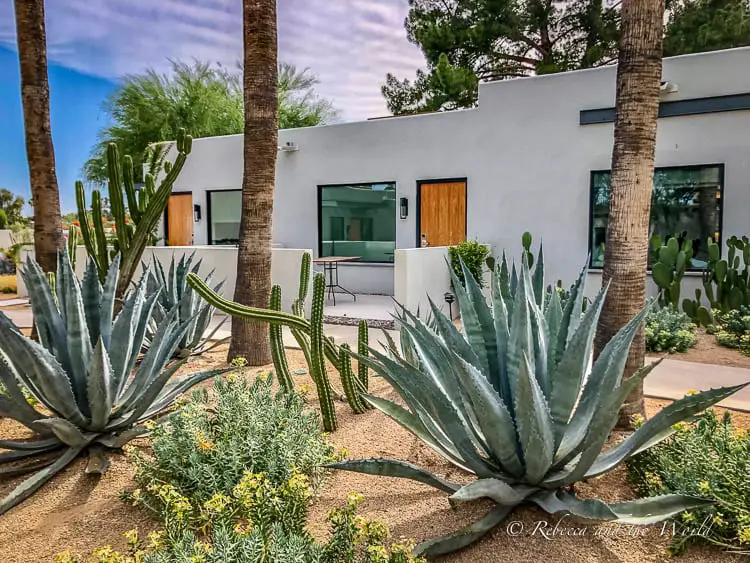 And if you can't leave your furry friend behind on your weekend in Scottsdale, no problem – the Andaz Scottsdale is pet-friendly (with a fee). Diego got his daily dose of cuddles from the friendly staff across the resort!
Check the latest rates and book a weekend in Scottsdale online now.
The Phoenician
We spent an evening at The Phoenician. Across the sprawling property there are plenty of rooms to choose from, and a huge pool complex – I could definitely see myself relaxing there!
The Phoenician has eight options for dining, so you'll never run out of choices for food on a weekend in Scottsdale.
Check rates for The Phoenician online.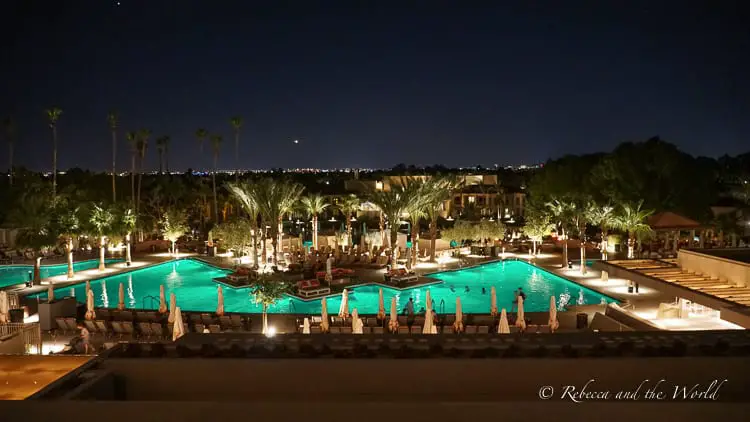 Scottsdale vacation rentals
If you're travelling with a group of friends or family, a vacation rental might be a great choice. And there are some absolute stunning properties in Scottsdale! Check out VRBO for options.
What to pack for a weekend in Scottsdale
Here are a few essentials to pack for your weekend in Scottsdale:
Sunscreen, sunscreen, sunscreen! You can never have enough sunscreen in Scottsdale. This Sun Bum brand is great
Reusable water bottle to stay hydrated in that dry desert heat
Sunglasses – I thought I lost my sunglasses when I was in Scottsdale, and spent a morning squinting from the glare
Moisturiser to keep your skin hydrated in the dry desert air. This one is my favourite – it smells divine (and comes in travel size which is perfect for a weekend getaway to Scottsdale)
Swimwear for those lazy afternoons by the pool. I like the gorgeous and affordable swimsuits from Cupshe
How to get to Scottsdale
Scottsdale is only a 20-minute drive from Phoenix's Sky Harbor Airport (PHX), which receives more than 1,200 flights daily, including international arrivals.
I recommend renting a car to get around Scottsdale. There's Uber, of course, but if you want to be flexible, a car is your best bet. I always check the vehicles and prices at Discover Cars.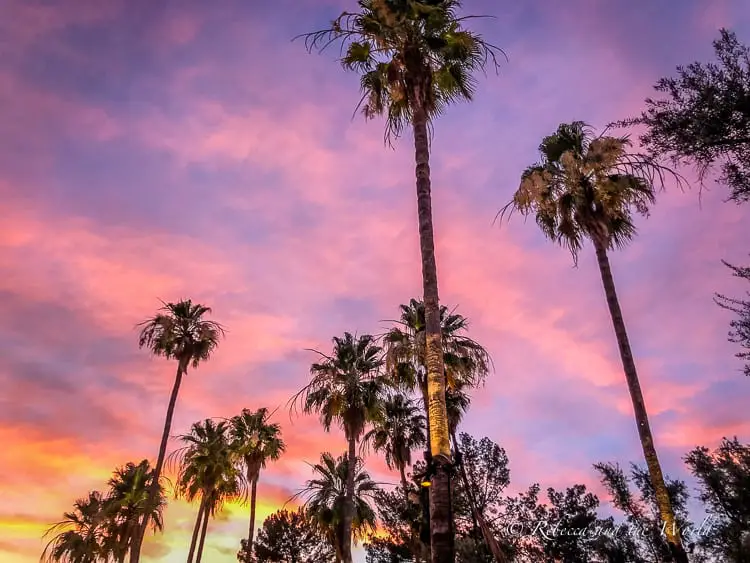 When to visit Scottsdale
Scottsdale is a year-round destination.
If you visit Scottsdale in summer, you'll no doubt complain about the heat. Probably multiple times. And every time a local will say "but it's a dry heat". Dry heat, wet heat, it doesn't matter: as soon as you step outside you'll feel like a turkey roasting in an oven on Thanksgiving.
So why would you visit Scottsdale in the summer? Because you can get crazy discounts! Resorts offer up to 60 percent off and every resort has an incredible pool to cool down in.
Everything I've outlined in this weekend in Scottsdale itinerary I did myself in the soaring heat of summer – and really enjoyed it.
If that's just too hot for you, then in spring and autumn you'll find milder temperatures of between 47 degrees Fahrenheit (8 degrees Celsius) and 87 F (31 C). These two seasons are a great time to explore Scottsdale's outdoor activities.
Even in winter, Scottsdale's temperature hovers between 40 F (4 C) and 70 F (21 C) – still perfect for outdoor adventures.
Have I got you planning a weekend in Scottsdale, Arizona? Drop any questions you have in the comments below!
Looking for more USA travel inspiration? You might like these articles!
USA TRIP ESSENTIALS
Book flights to and around the USA online with Skyscanner or Kayak. I usually compare flights on the two sites to find the best deals.
Find a great hotel in the USA. Check prices on Booking.com and HotelsCombined online.
Check out the huge range of day tours throughout the USA on GetYourGuide or Viator. There's something for everyone.
A copy of the Lonely Planet guide to the USA will be handy.
One thing I always purchase is travel insurance. World Nomads offers simple and flexible travel insurance. Buy at home or while traveling and claim online from anywhere in the world.
PIN IT FOR LATER:
Save this guide to a weekend in Scottsdale and starting planning your own trip!