One of the top items on our USA bucket list is visiting the national parks in the United States – and my goodness does this country have some great ones! When I first started to do research, I kept coming back to the national parks in one state: Utah. With five national parks in Utah, epic scenery and plenty of outdoor activities, it wasn't long until I was planning a Utah national parks road trip.
The Utah road trip we ended up doing remains one of my favourite adventures in the United States. All up, we spent seven days on the road in Utah visiting the so-called Utah Mighty 5 – with a quick side trip into Arizona – and couldn't believe how different and beautiful each national park was.
Here's how you can also plan a trip to Utah national parks and do the same trip we did. I'd recommend at least a week – but if you have two weeks to road trip Utah's national parks, that would be even better so that you can really explore the incredible national parks of Utah.
If you want to save this Utah road trip post to read later, click on the below images to pin it to Pinterest!
This blog post may contain affiliate links, meaning if you book or buy something through one of these links, I may earn a small commission (at no extra cost to you).
Tips for planning a Utah national parks road trip itinerary
Before we dive into the Utah itinerary, here are some tips for visiting the national parks in Utah.
If you're planning to visit Utah's national parks, consider buying the America the Beautiful annual pass. If you visit three or more parks in a year, you'll save a tonne of money! The pass is valid at any national park in the entire United States. We bought it just before our Utah road trip, and have now used it at almost a dozen different national parks across different states.
Rent a campervan or an RV when you visit Utah's national parks – it's a great way to combine both your transport and accommodation costs. See below for some options, including the company we hired our campervan through.
If you're not planning to sleep in your wheels, book accommodation in advance. Hotels, lodges and camping sites can be booked out months – even a year – in advance in high season. I've listed hotel suggestions later on under each national park. I use Booking.com or HotelsCombined to book accommodation.
Do your research on each park's website in advance – there's a huge amount of information available online. This will help you plan your days to get the most out of each park. And when you arrive at each park, stop by the visitor centre to pick up a map and talk to the rangers. They know the best time to visit each location for the perfect photos and which hikes to do to maximise the time you have.
Get some good hiking shoes for your Utah trip. I couldn't believe how many people we saw hiking in sandals and even heels (what?!). If you're serious about seeing the trails, then get serious about your footwear. For everything else you'll need to bring, check out this packing list for camping in the national parks, and I also have some ideas listed below.
You can also download and print your own Utah national parks road trip planner. Enter your details below to get it in your email!
Best time to visit Utah's national parks
We visited in early June and found it to be a great time to visit the Utah Mighty 5 – just before school vacation so the crowds were not quite in full force, and the weather was warm and sunny, but not yet suffocatingly hot. When planning your Utah national parks itinerary, keep the following in mind:
Spring and autumn / fall
These are the best seasons to visit the national parks in Utah – but also the most popular. Temperatures are milder, so hikes will be more manageable, but you'll have to battle the crowds.
Summer
It goes without saying that summer is the hottest time to visit the national parks of Utah, with temperatures creeping toward 40 degrees Celsius (100 degrees Fahrenheit). If you must visit during these months, plan your visit carefully and aim to hike either early in the morning or late in the afternoon. And always have plenty of water with you.
Winter
The winter months can bring temperatures below freezing at night – and snow. I've seen photos of some of the national parks during winter and it looks stunning with snow-dusted peaks and few crowds, but make sure to come with adequate winter clothing.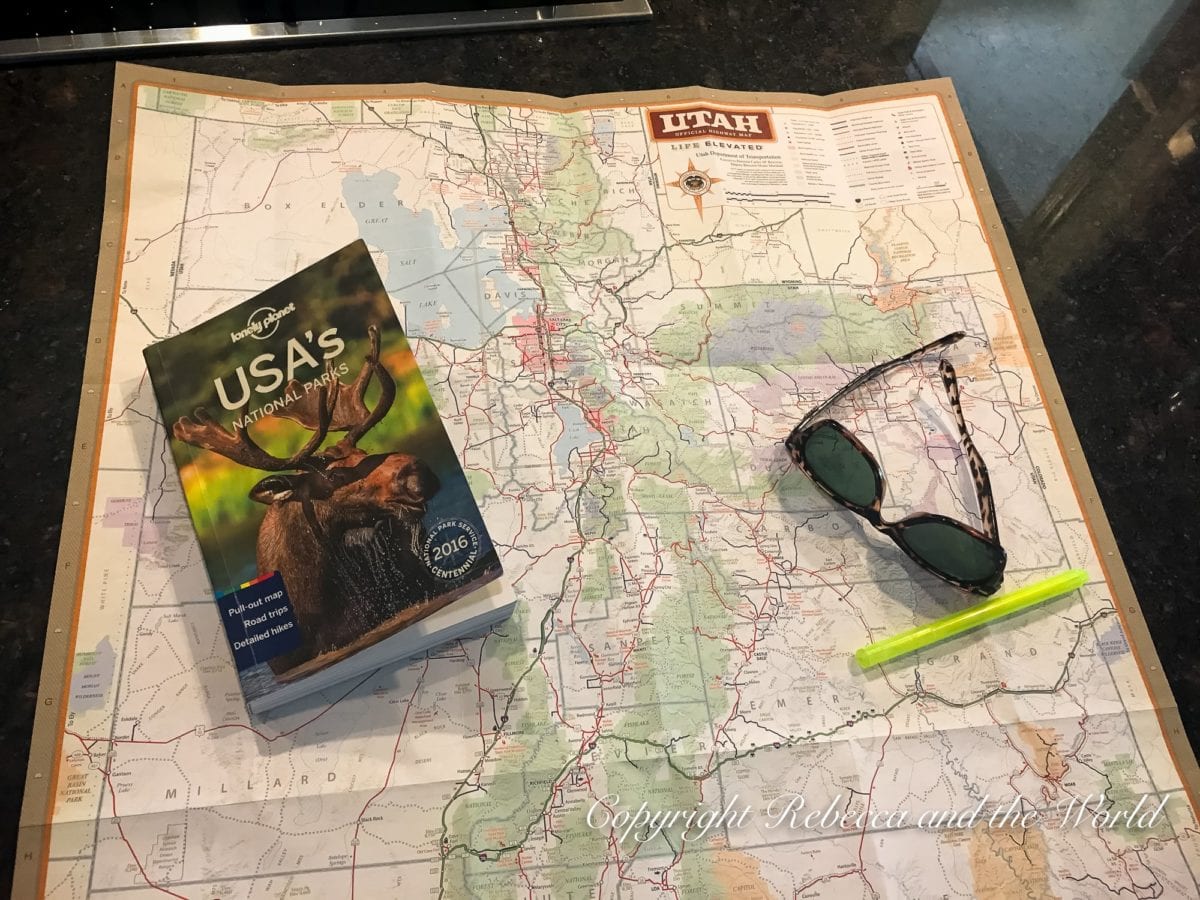 What to pack for a Utah national parks road trip
When you're visiting the national parks in Utah, come prepared. Here are a few items I'd recommend packing, and I have a longer road trip packing list guide with more ideas:
Utah national parks map
Before I get into the nitty gritty of the Utah national parks road trip itinerary, here's a map of where you'll be going if you follow this route. I'll talk about this later, but you can also start or end your trip in Las Vegas, instead of Salt Lake City.
Day 1: Salt Lake City to Zion National Park
First up on this Utah national parks itinerary: pick up your campervan. We rented our wheels through Lost Campers but there are plenty of campervan rental options, including Escape Campervans and Jucy Rentals.
If I did this trip again (or any RVing trip through the United States), I'd probably rent an RV through RVshare. This company is like the Airbnb of RVs, where RV owners connect with renters. There are so many types of RVs available to rent for as long as you need, and at very affordable rates. Many have ensuite bathrooms for that extra level of comfort. RVshare is definitely an option you should consider for this Utah national parks road trip, so check RV rental Salt Lake City online. You can book online here!
*Disclosure: RVshare sponsored this section of this blog post. As always, I did my research on the company and love their business model and the options for renting RVs, and opinions here are 100% my own.
Our van, named Rachel, was our home for the week. She was kitted out with a mini kitchen (everything AND the kitchen sink!), a portable gas stove, a surprisingly comfortable mattress, and cutlery, crockery and cooking utensils. It was great value, particularly if you consider that we had transport and accommodation all sorted.
We got our van in Salt Lake City, but another option for this trip is to start your itinerary in Las Vegas and then work your way in a loop around the parks and end in Salt Lake City, or vice versa. If I were to do this trip again, that's what I'd do to save a little bit of repetitive driving.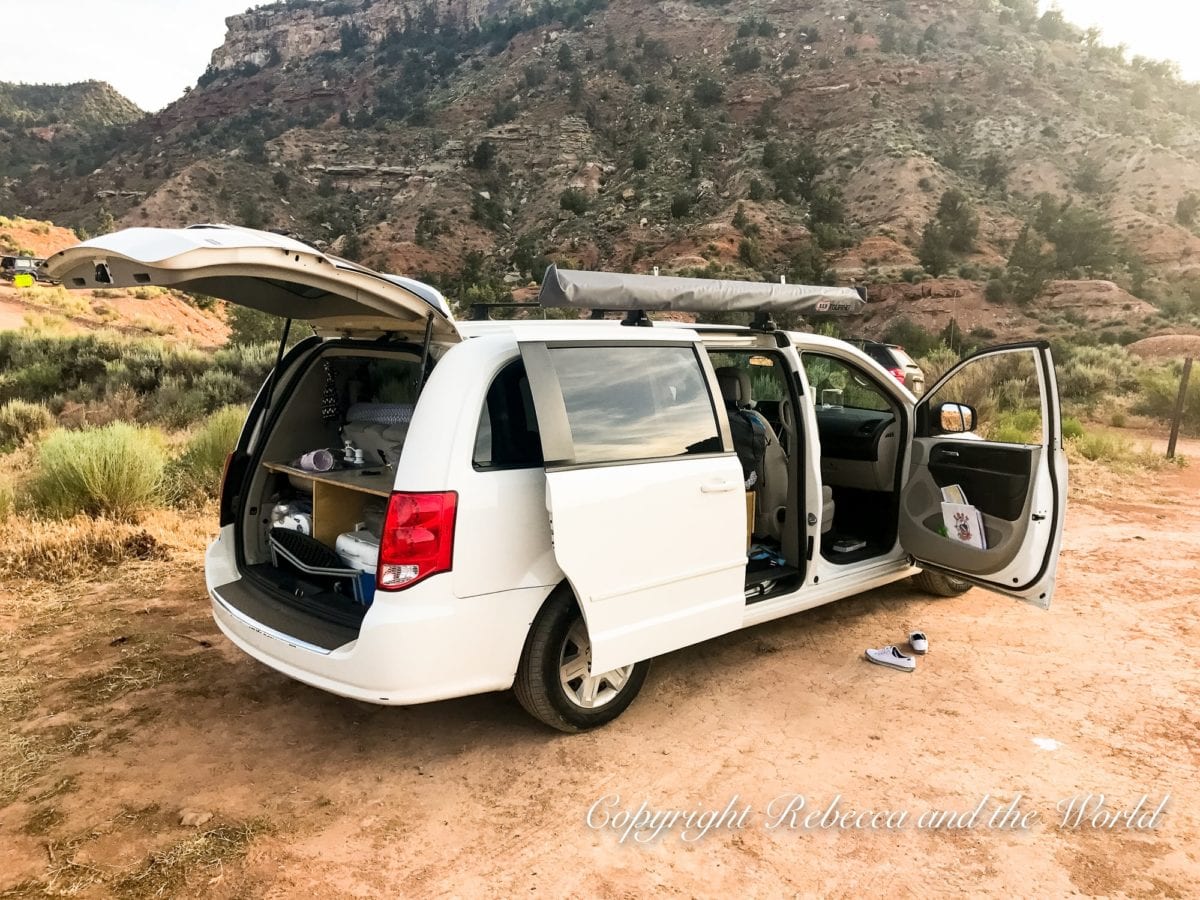 Once you have your van, stop by Walmart or another supermarket to pick up supplies. Then, hit the road and head toward Zion National Park, about 3 1/2 hours' drive from Salt Lake City.
Alternatively, plan to spend some time in Salt Lake City before you head to the national parks – here's a guide to the best things to do in Salt Lake City.
When you arrive in Springdale, the town just outside of the entrance to Zion, the first thing you want to do is sort out where you'll be parking your van.
Zion National Park has three campgrounds: South, Watchman and Lava Point. You can reserve South and Watchman in advance (campsites are $20 per night); Lava Point only has six primitive campsites. If you can't reserve in advance, you can still plan to arrive at the campgrounds at around 10 or 11 a.m. just in case there's a site that's become available.
In our case, it was late in the afternoon when we drove into town and all the campsites in Zion National Park were already fully booked. If you find yourself in the same situation, ask at one of the visitor's centres about the free BLM campsites in the area. They'll direct you to a couple of locations outside of town.
You'll want a car with a high clearance as you may need to make your way along some bumpy roads to access free camping sites in Utah. Keep in mind there are no facilities on the free BLM sites (no toilets, no showers, no running water) so come prepared with everything you need. The upside is that you'll probably have a spectacular sunset all to yourself.
Hotels near Zion National Park
If you're looking for a hotel near Zion National Park, here are a few recommended options:
Airbnbs near Zion National Park
Springdale also has several Airbnb properties. My picks for an Airbnb near Zion National Park:
Day 2: Zion National Park
Zion National Park is the busiest Utah national park, with more than 4.5 million visitors each year. Despite the crowds, it's a must-visit on a Utah parks road trip.
You can't drive your car very far into Zion National Park during high season (March to November), but the park has a fantastic shuttle bus system to get around. The shuttle stops at all the key trailheads and loops around fairly frequently. There's also a shuttle bus that links to the Zion Canyon Shuttle from Springdale, convenient if you're staying in town.
Wake up early (yes, maybe even 5am) to get a head start on the Angel's Landing hike. This hike is very popular, and starting early helps to avoid both the crowds and the heat of the day. It's a beautiful but fairly strenuous hike with some pockets of shade.
The final ascent to Angel's Landing is a narrow ridge with steel chains as the only barrier to keep you falling hundreds of metres off the side. I'm not shy in admitting that I just couldn't bring myself to do this final section – it was too scary for me. I stayed below while my husband did the final section. He said that it was hairy in some parts, but the views are worth it if you don't have a fear of heights.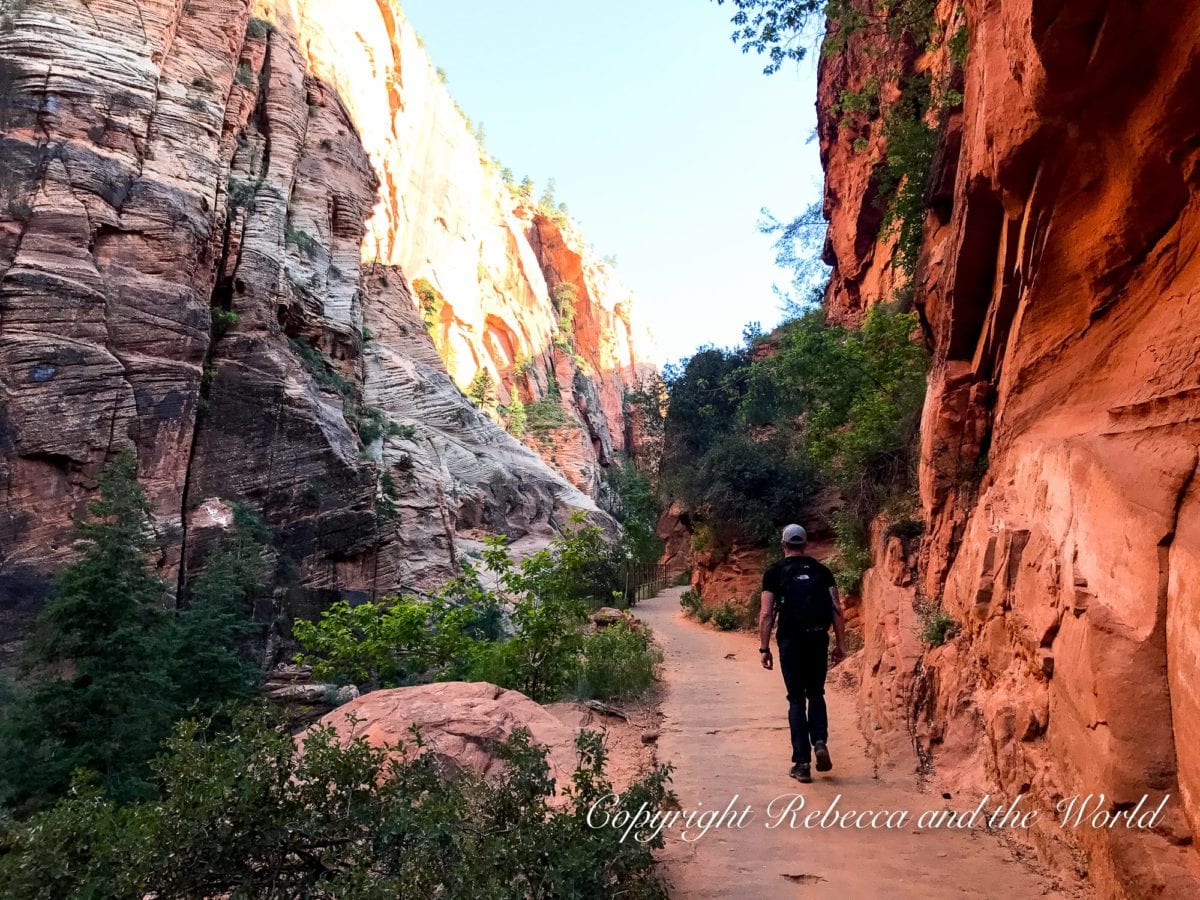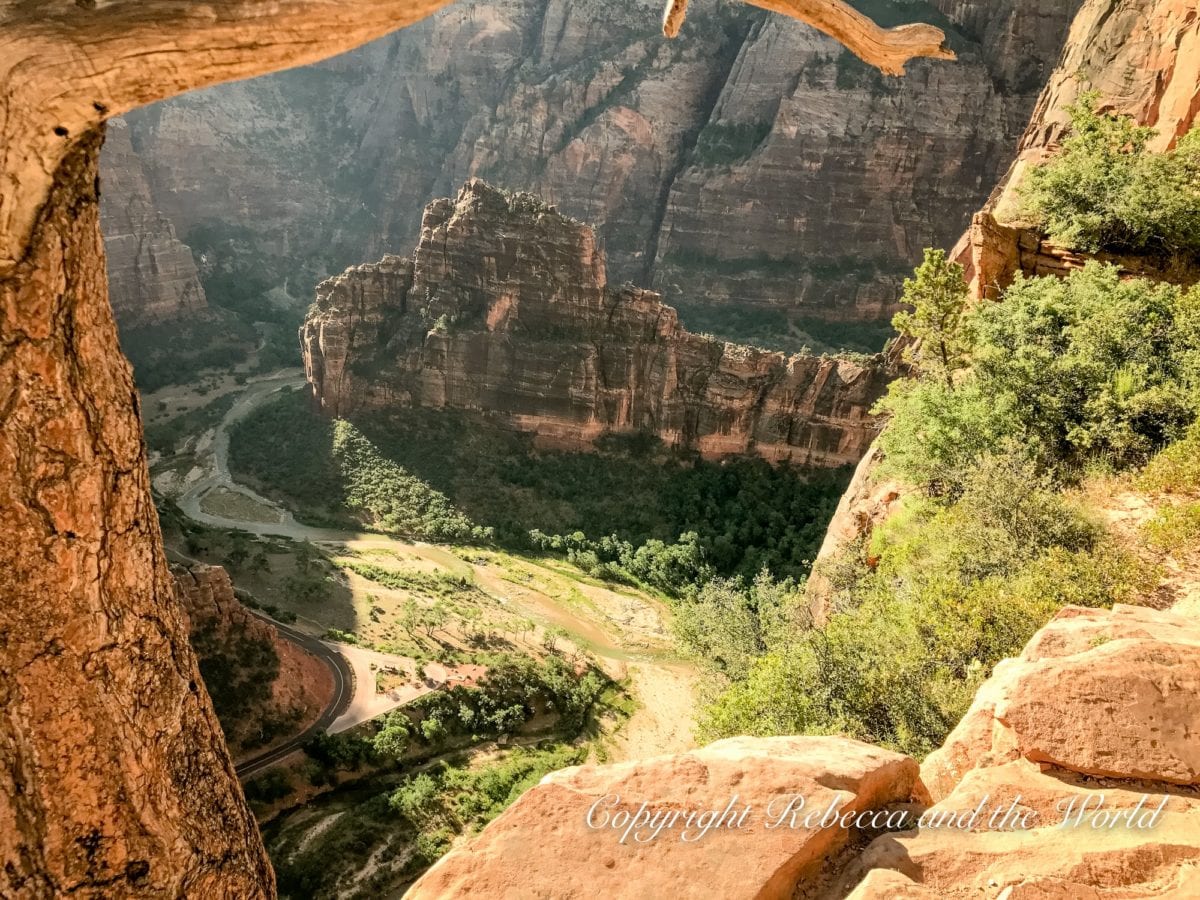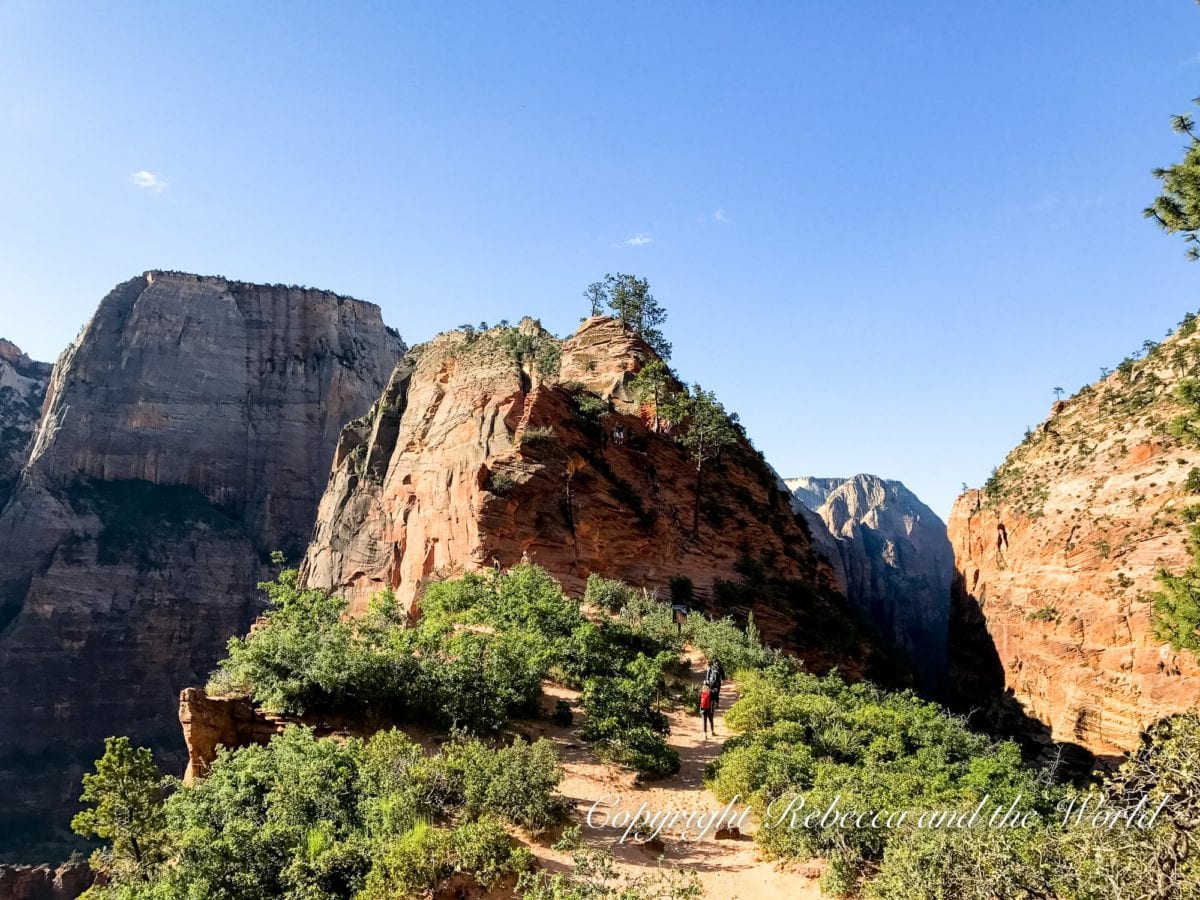 Later in the afternoon, take off on your next hike along the Riverside Walk. If you can brave the icy water, end the day by wading through the start of The Narrows hike. We only did a small portion of this, and I would love to come back and do it completely. If you want to do The Narrows, plan for a whole day.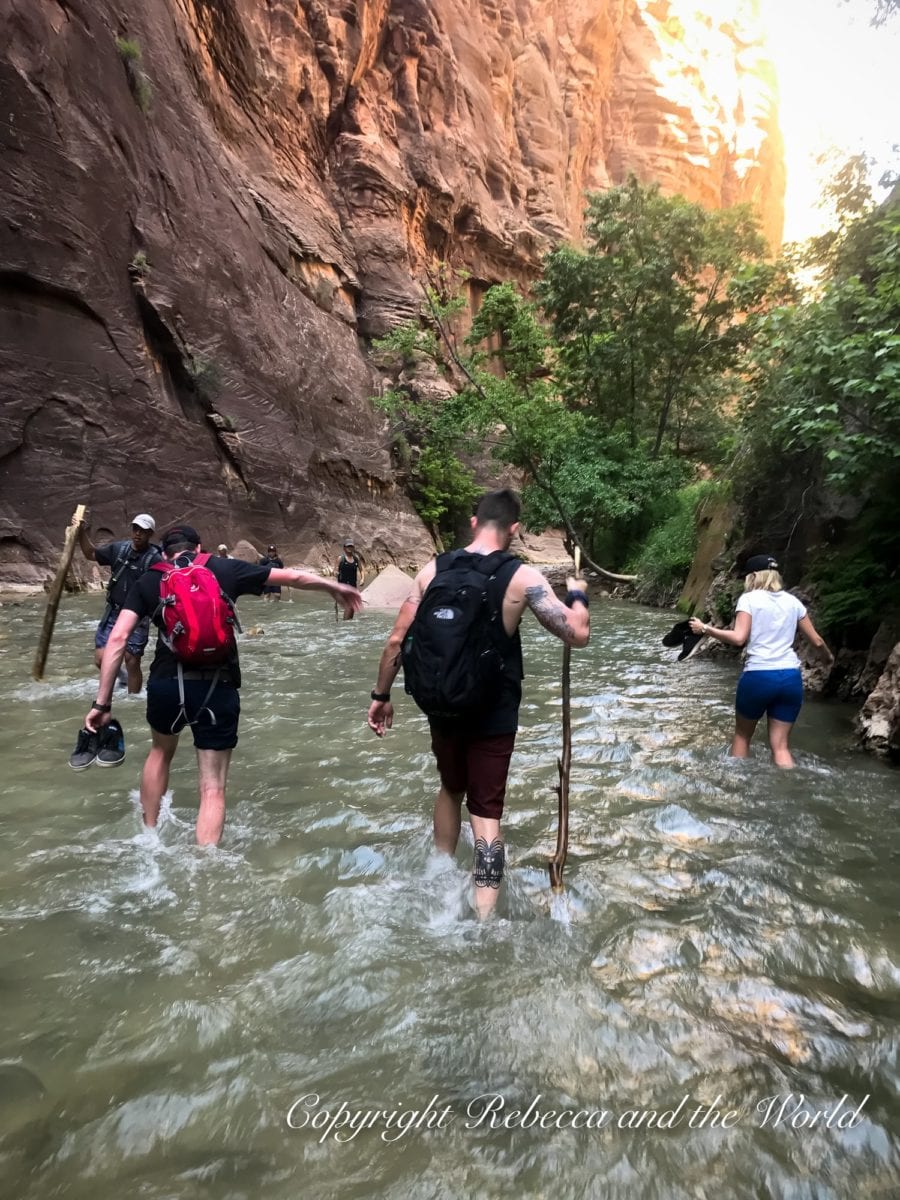 Best hikes in Zion National Park
Angel's Landing (5.4 miles, strenuous)
Observation Point (8 miles, strenuous)
Canyon Overlook Trail (1 mile, moderate; easier alternative to Angel's Landing)
Riverside Walk (2.2 miles, easy)
Weeping Rock Trail (0.4 miles, easy)
The Narrows (9.4 miles, strenuous; high water levels can mean this is closed at some times during the year)
Day 3: Bryce Canyon National Park
Leaving Zion National Park on your way to Bryce Canyon, traverse the scenic 12-mile Zion-Mt Carmel Highway, passing through the historic tunnel. It's a beautiful, winding road that exposes the red rocks of Zion.
When you arrive at Bryce Canyon National Park (75 miles, 1.5 hours), the first thing you need to do is nab a campsite. There are two campgrounds in Bryce Canyon: North Campground and Sunset Campground (campsite, $20 per night). Both are close to the visitor centre.
The campsite booking system here is a little different to Zion. Here, you pick up an envelope from the registration kiosk at the campground entrance, deposit your money in a locked box and then find an available campsite. Park rangers drive around regularly to check each site, making sure there are no freeloaders.
Outside of Bryce Canyon, Ruby's Inn has an RV park and campground.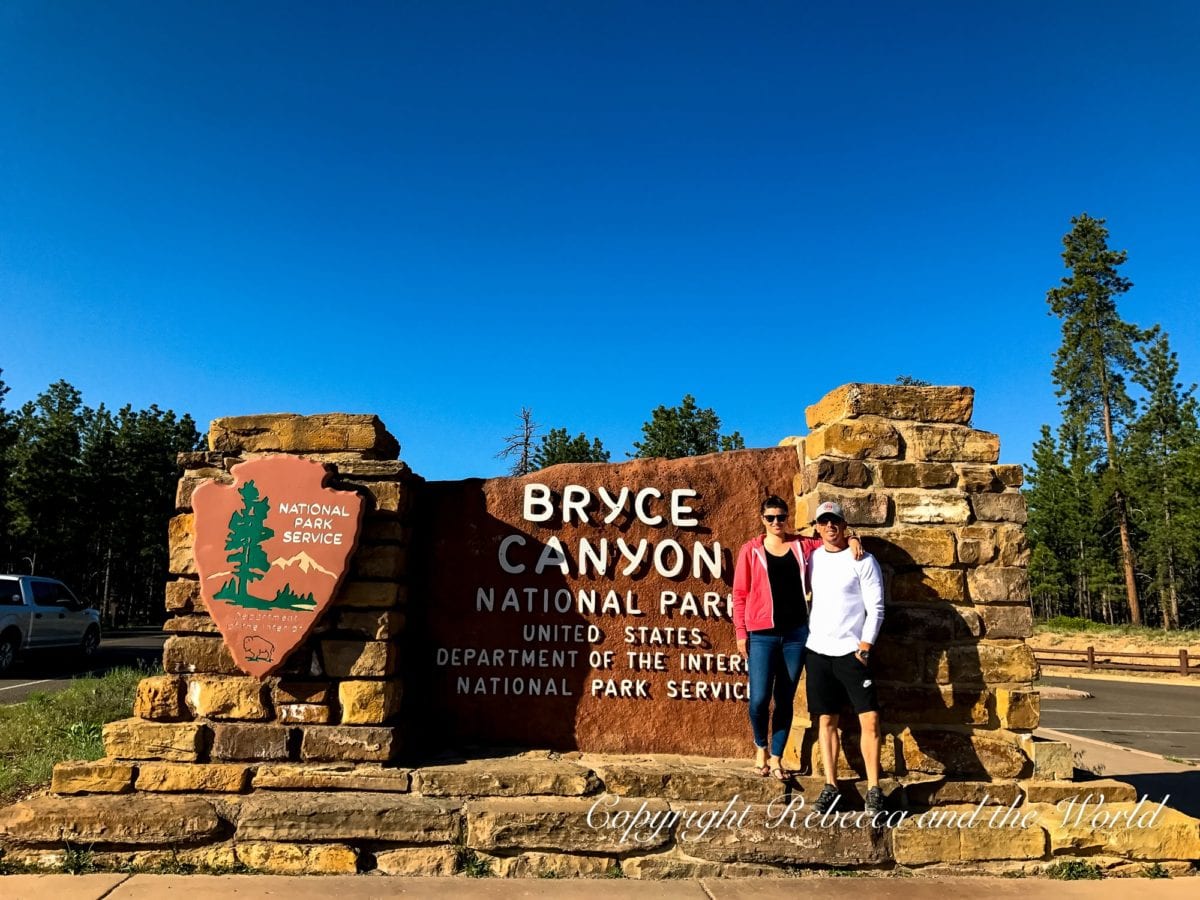 Now it's time to see just how different Bryce Canyon National Park, with its orange and white hoodoos, is to the deep red rocks of Zion National Park. In my opinion, Bryce Canyon is the best national park in Utah. The landscape is out of this world and it was far quieter than Zion.
Hike the Navajo Loop / Queen's Garden trails which take you down into and back up the canyon and past Thor's Hammer. Later, hike a section of the Rim Trail, and stand above the hoodoos to get an idea of what Mars surely must look like.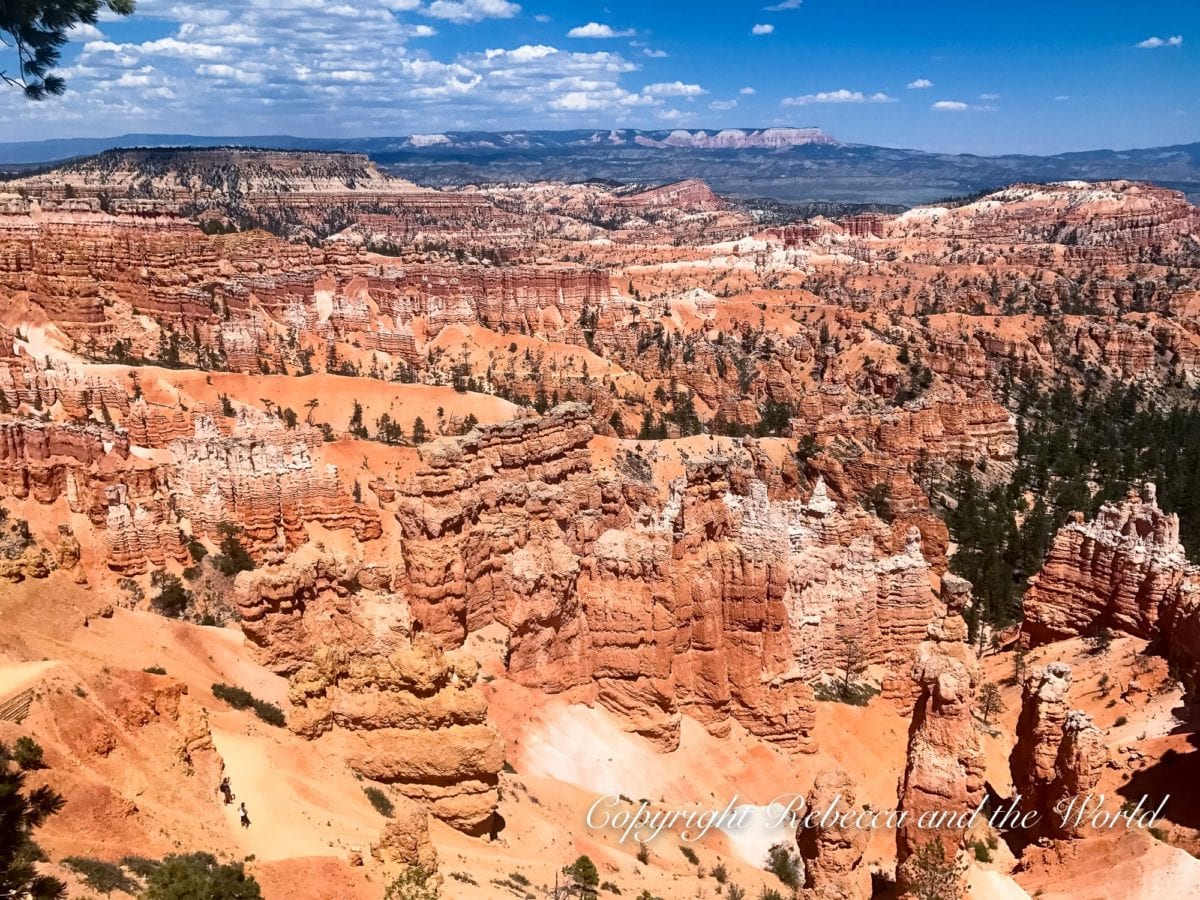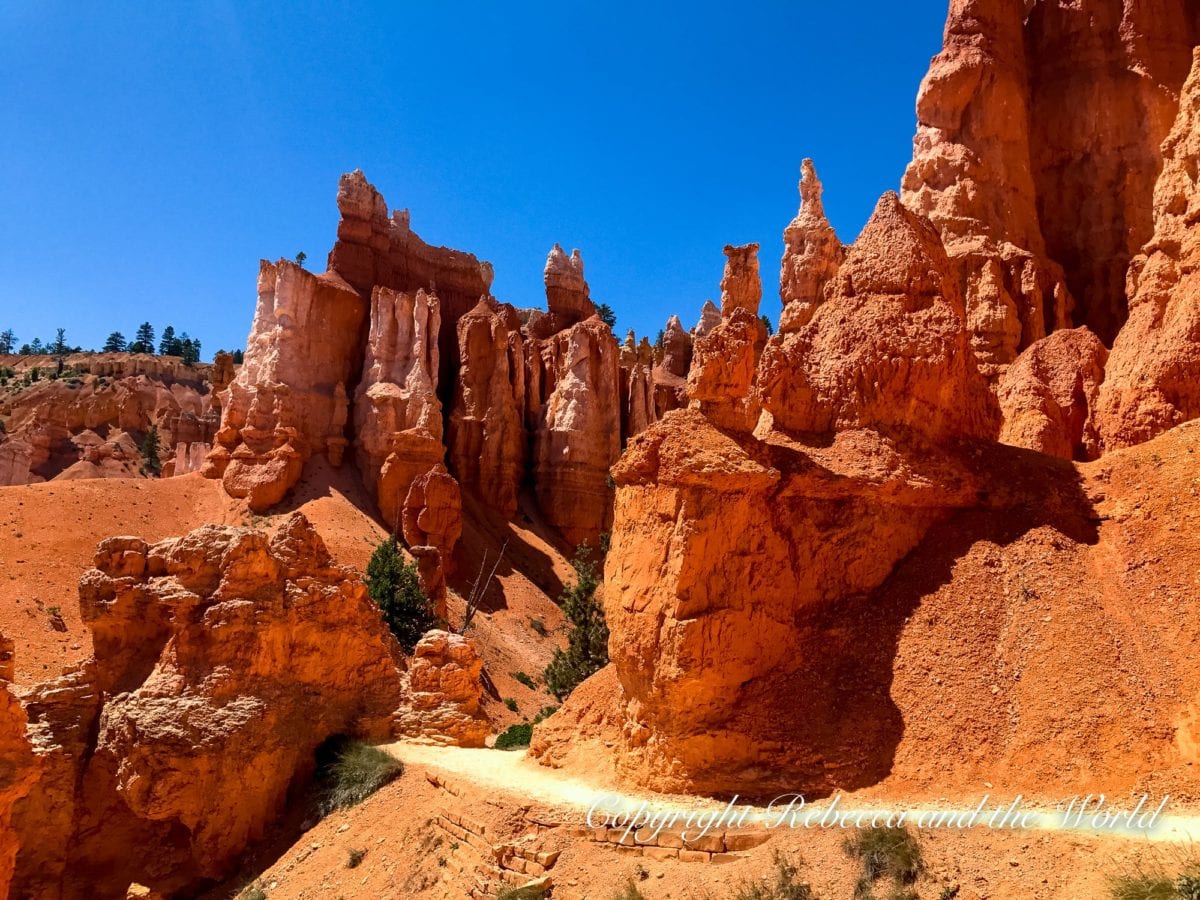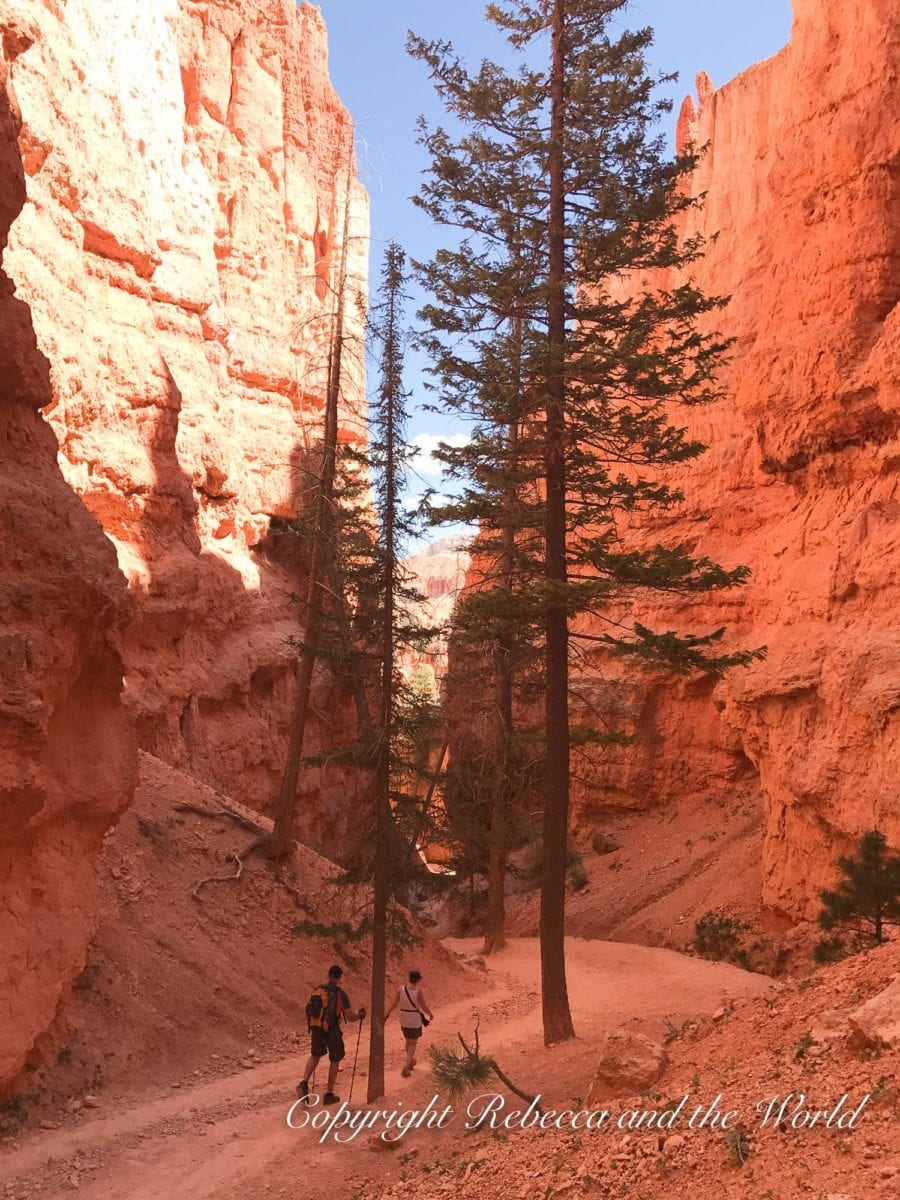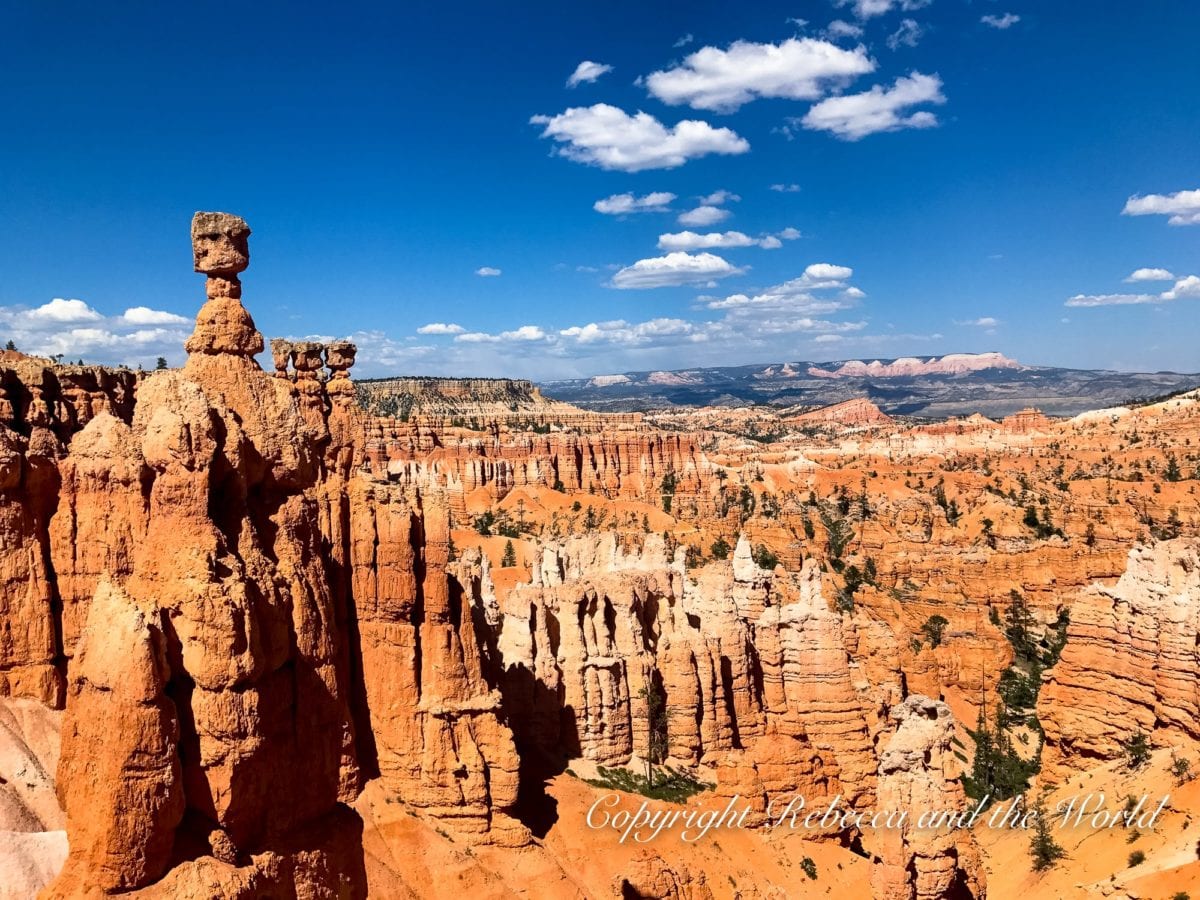 Sunset at Inspiration Point is a must, watching the colours of the hoodoos change as the sun goes down.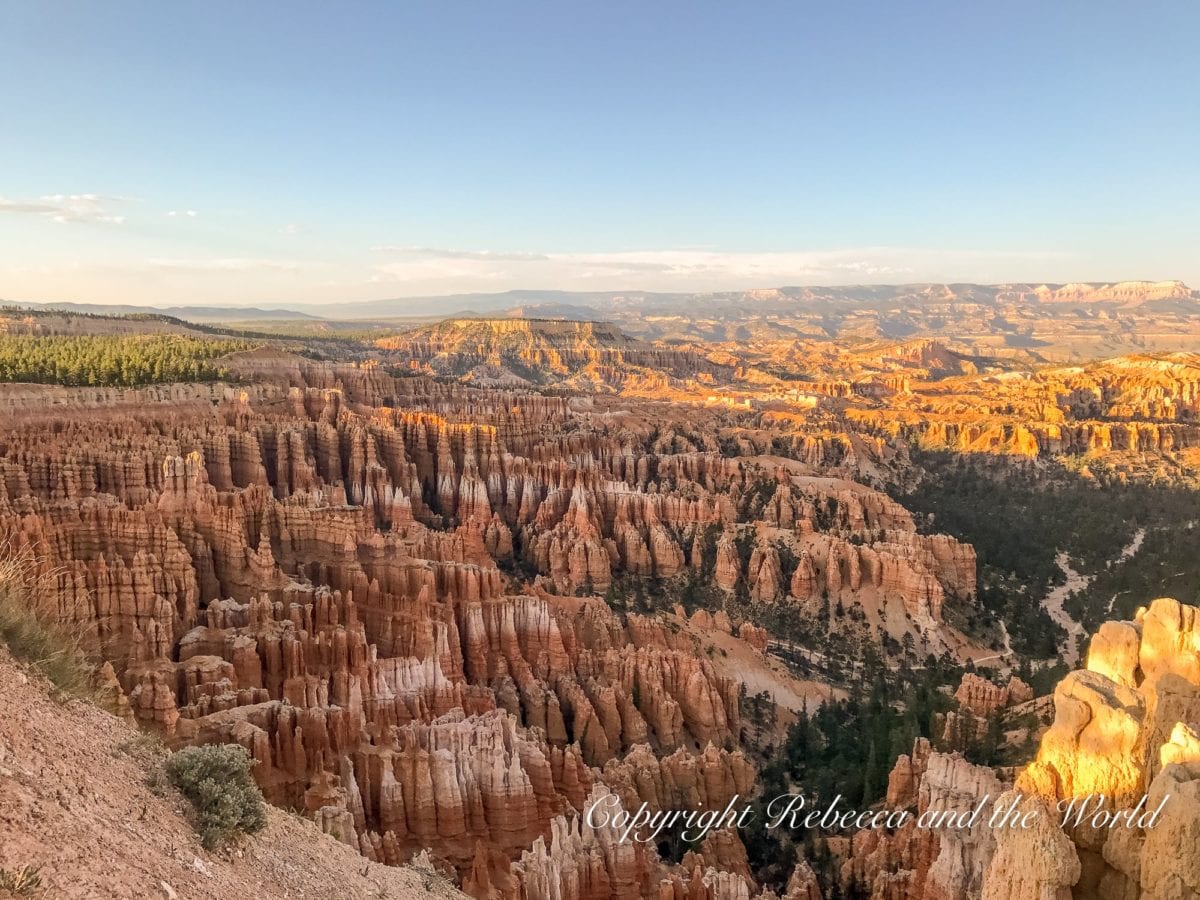 Best hikes in Bryce Canyon National Park
Navajo Loop / Queen's Garden (2.9 miles combined, moderate)
Rim Trail (up to 11 miles, easy; paved from Sunset to Sunrise Points)
Fairyland Loop (8 miles, strenuous)
Hotels near Bryce Canyon National Park
If you're not camping, try one of the hotels near Bryce Canyon National Park.
Airbnbs near Bryce Canyon National Park
For Airbnbs near Bryce Canyon National Park, I'd choose any of these ones:
Day 4: Monument Valley
On day four of the Utah national parks road trip, we're heading into another state: Arizona!
It's a long day of driving from Bryce Canyon south into Arizona. Stop for pie at the retro Thunderbird Restaurant at Mt Carmel Junction. This place is exactly how I always pictured American diners to be!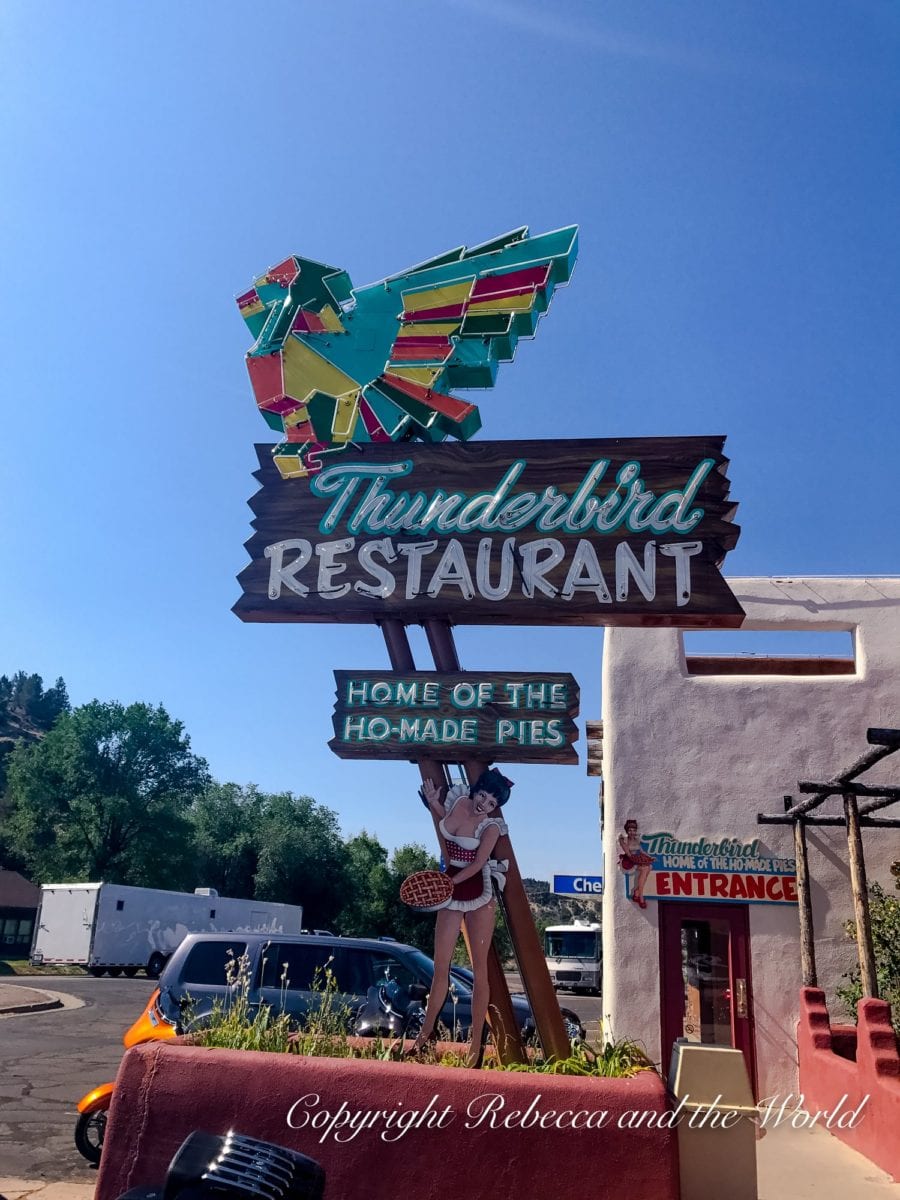 Stop at Page (153 miles, 2.5 hours), home to the highly Instagrammed Horseshoe Bend, and nervously watch everyone as they perch on the edge to get the perfect selfie.
It's a hot and dusty walk to the viewpoint, so bring adequate shoes and lots of water and sunscreen. To manage the huge influx of visitors that Horseshoe Bend has recently experienced, you'll now need to pay an entrance fee of $10 per passenger vehicle.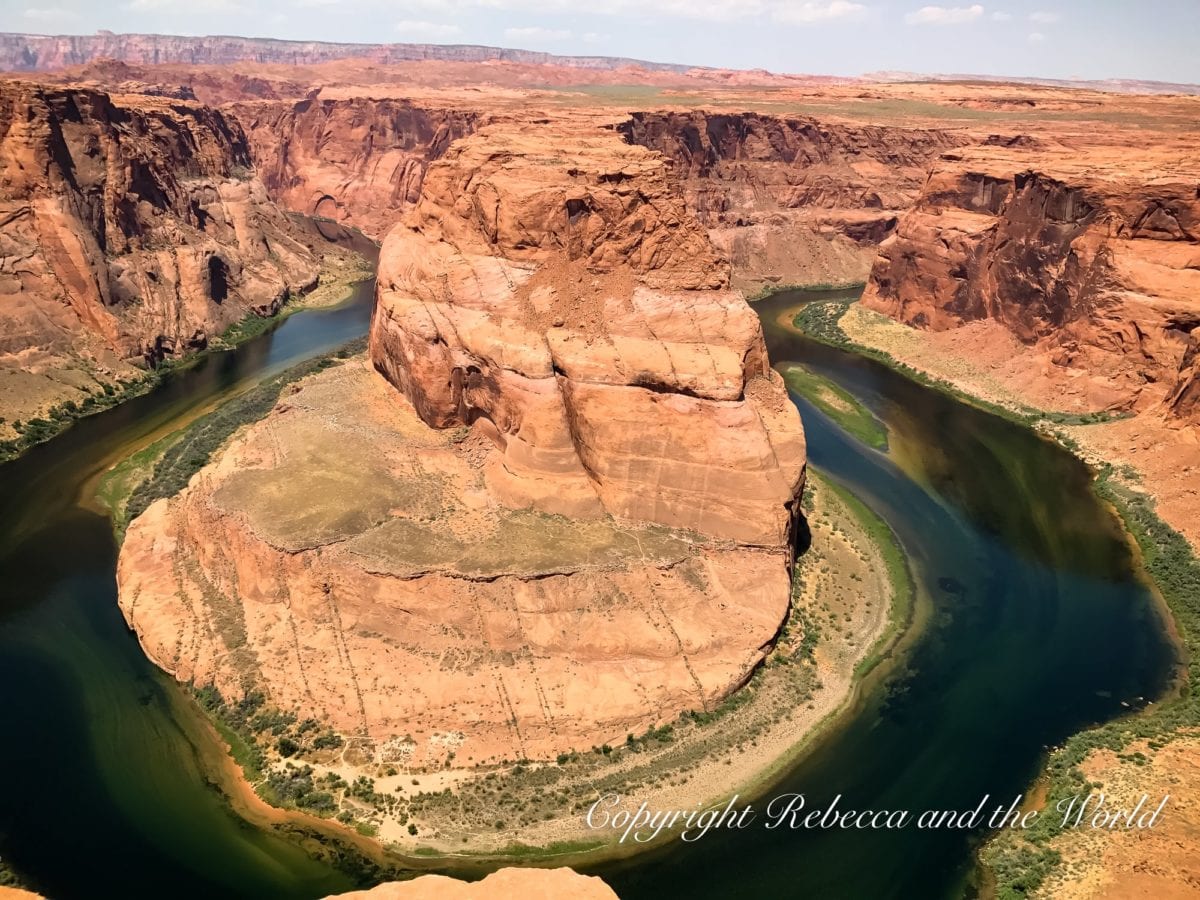 Another popular site in Page is Antelope Canyon. Here you can visit Upper Antelope Canyon, an incredible slot canyon. Reservations are a must. We unfortunately didn't have time, but photos I have seen are spectacular. If you can make the time, here are tours of the Lower Antelope Canyon and Upper Canyon.
If you have even more time, many people add on a trip to the Grand Canyon to their Utah national parks road trip itinerary. You'll need at least two days, though, to see the park properly.
Continue on to Monument Valley (122 miles from Page, 2 hours), famous from oh-so-many movies. Drive through the valley ($25 per vehicle, note that Monument Valley is not covered under the America the Beautiful national parks annual pass) in the late afternoon as the sun is going down for some spectacular silhouettes of the buttes. Early morning is another option for nice light.
You need two to three hours to do the 17-mile self-guided driving tour through Monument Valley (maps available at the Information Center). Stop at John Ford's Point for a great view over the valley or for $5 you can channel your inner cowboy or cowgirl and have your photo taken on a horse.
There are a few hiking trails (permit required) or you can take an organised tour which will allow you access to a traditional Navajo "hogan", a small house. Here's a good option for a sunset tour, or a 2-5-hour trip with backcountry access where you'll learn more about Navajo culture.
Be respectful of the land at all times and stick to the trails – this is Navajo land.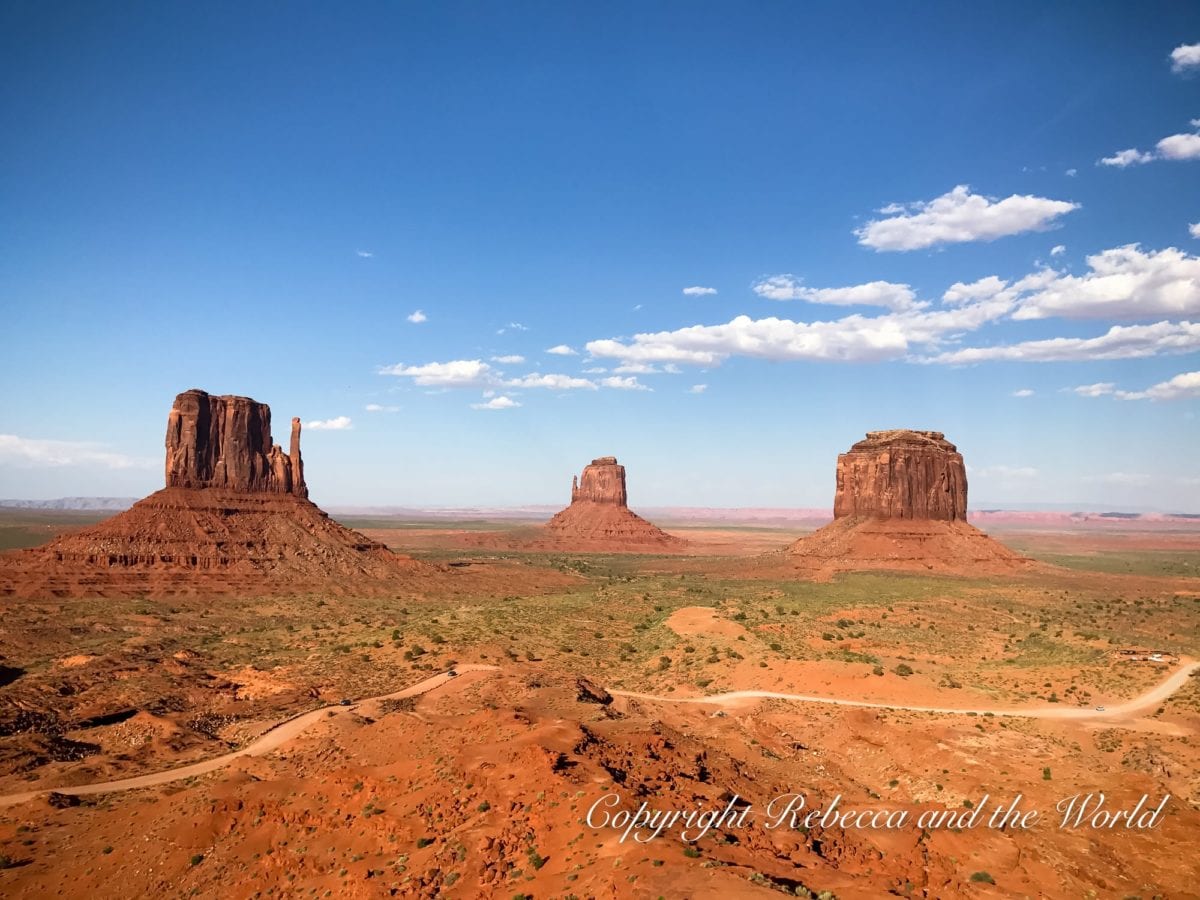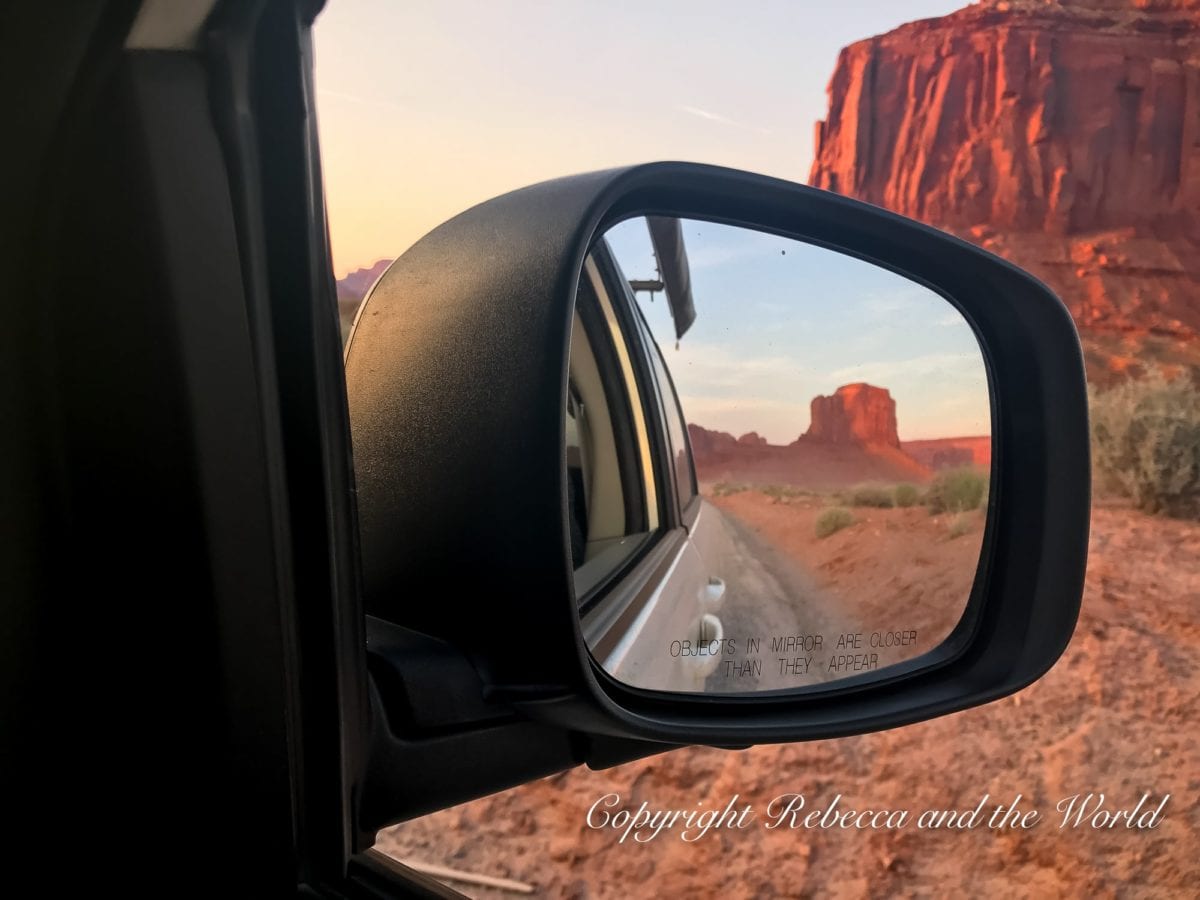 Hotels near Monument Valley
There are a couple of hotels near Monument Valley:
We parked our campervan at Goulding's Lodge, which has both a hotel and campground. It's also got a restaurant, gas station, laundry, trading post and a museum highlighting the history of the area, including about the films that have been shot there. The theatre shows John Wayne movies nightly. Check availability online at Booking.com | Read reviews online
The View Hotel is located within Monument Valley Navajo Tribal Park. As the name suggests, it has great views over the valley. Check prices and read reviews online
Airbnbs near Monument Valley
There are Airbnbs near Monument Valley. My picks would be:
Day 5: The Needles, Canyonlands National Park
Day five will see you heading back into Utah on your way to Moab (146 miles, 2.5 hours). Before you get too far, stop at mile marker 13 on highway 163 for the classic road jumping shot with Monument Valley in the background. This is where Forrest Gump decided he'd had enough of running.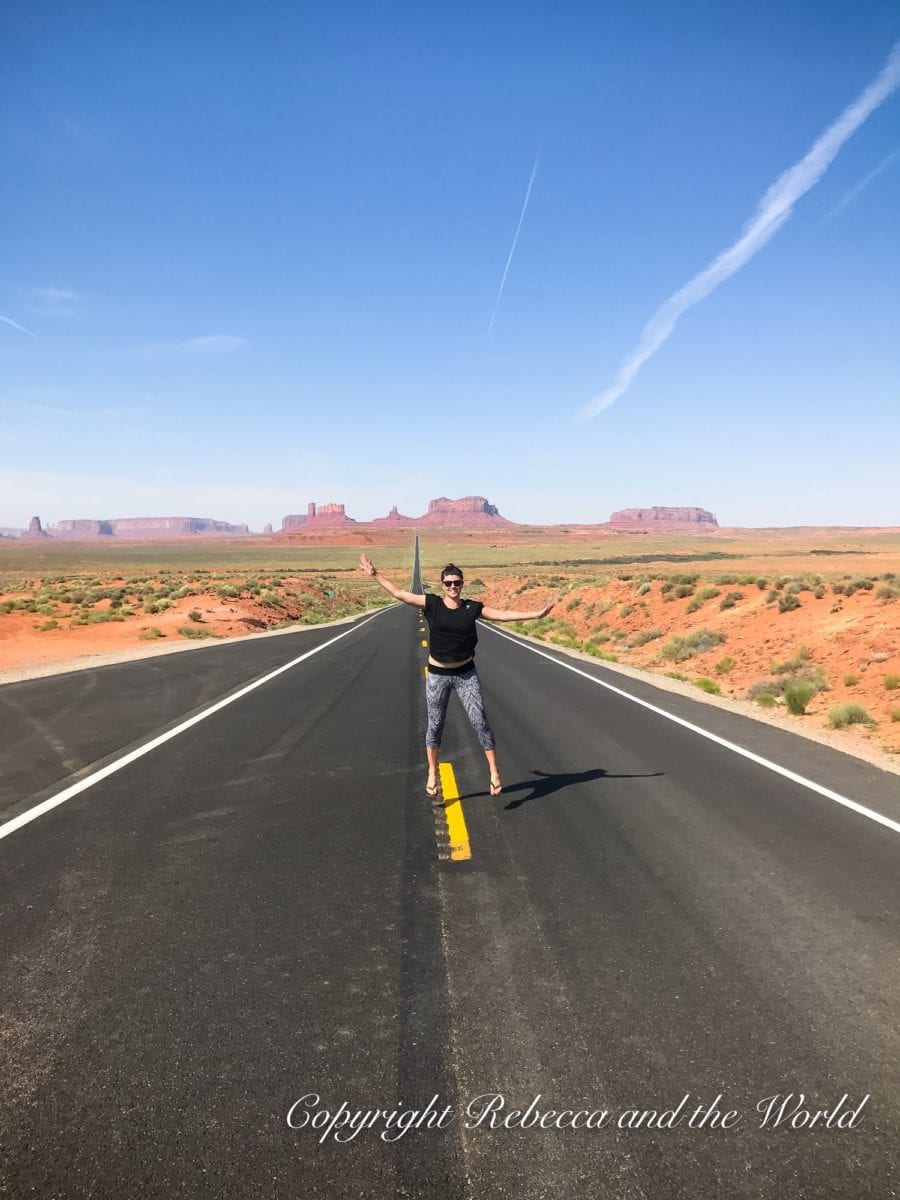 Before getting to Moab, take the long detour to The Needles area of Canyonlands National Park. It adds extra time to this Utah road trip, but it's worth it.
Canyonlands National Park is actually split into three distinct areas: The Needles, Island in the Sky and the Maze. The Maze is only accessible by 4WD and is very remote. I haven't included it in this Utah national parks itinerary because we didn't visit it.
The Needles is far less touristy than the other national parks in Utah. To get a taste of the park, hike the Slickrock trail, which will take you over smooth, mustard-coloured rocks as you follow the cairns-marked trail.
After that, hit up another hike like the Cave Spring trail. This one winds through old cowboy hangouts and up ladders. Again, you'll be marvelling at just how different the landscape is compared to the other national parks visited on this trip. We only wish we'd had more time to do some of the longer, more challenging hikes. Unfortunately, there was a spectacular lightning storm starting up as we began hiking, and we didn't want to be out and exposed.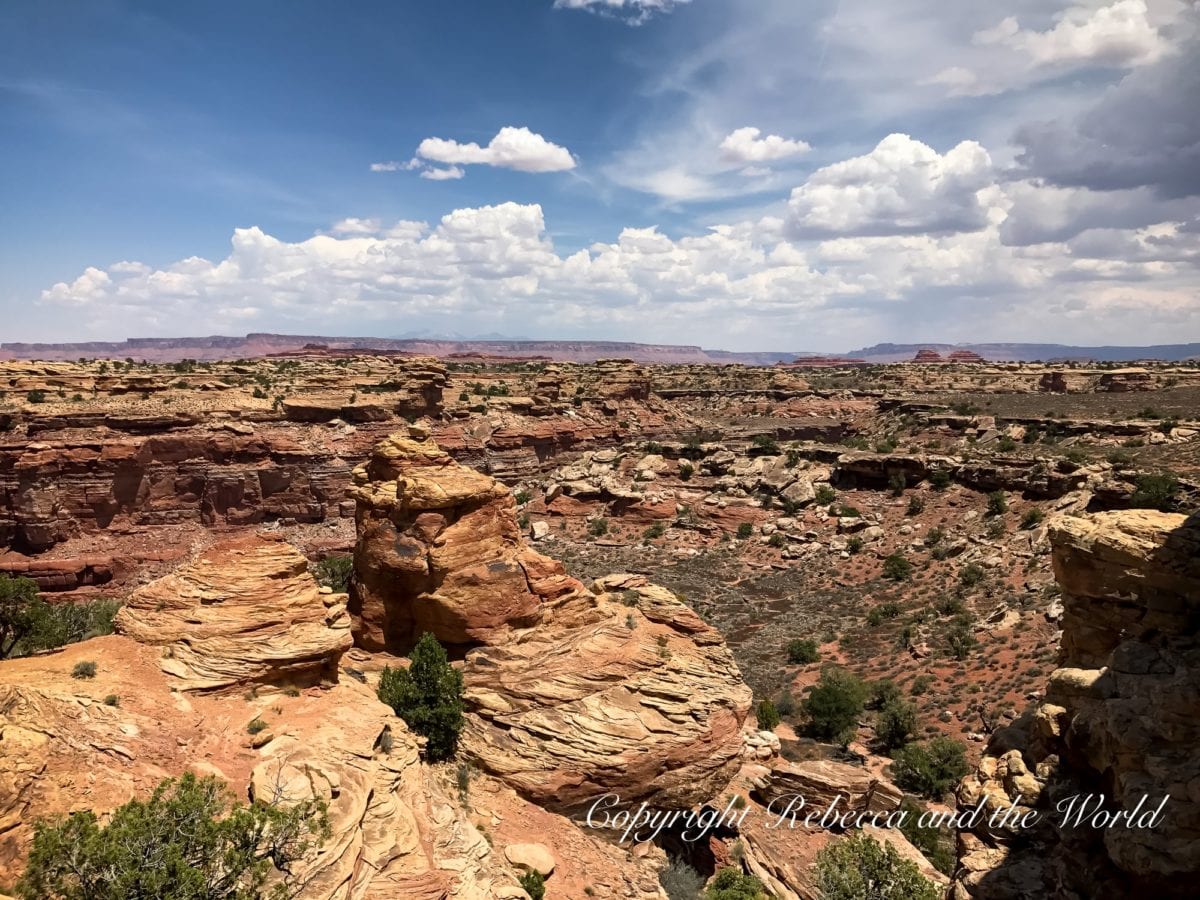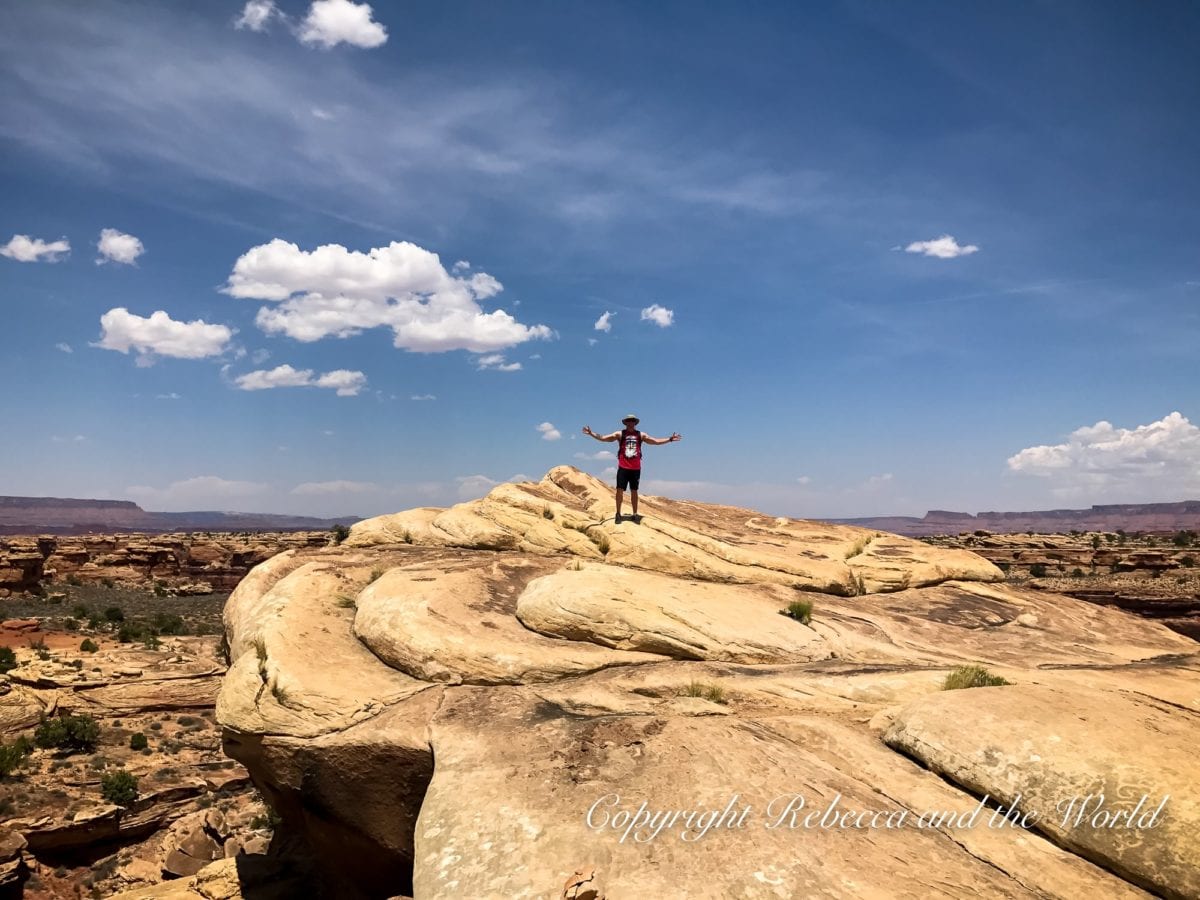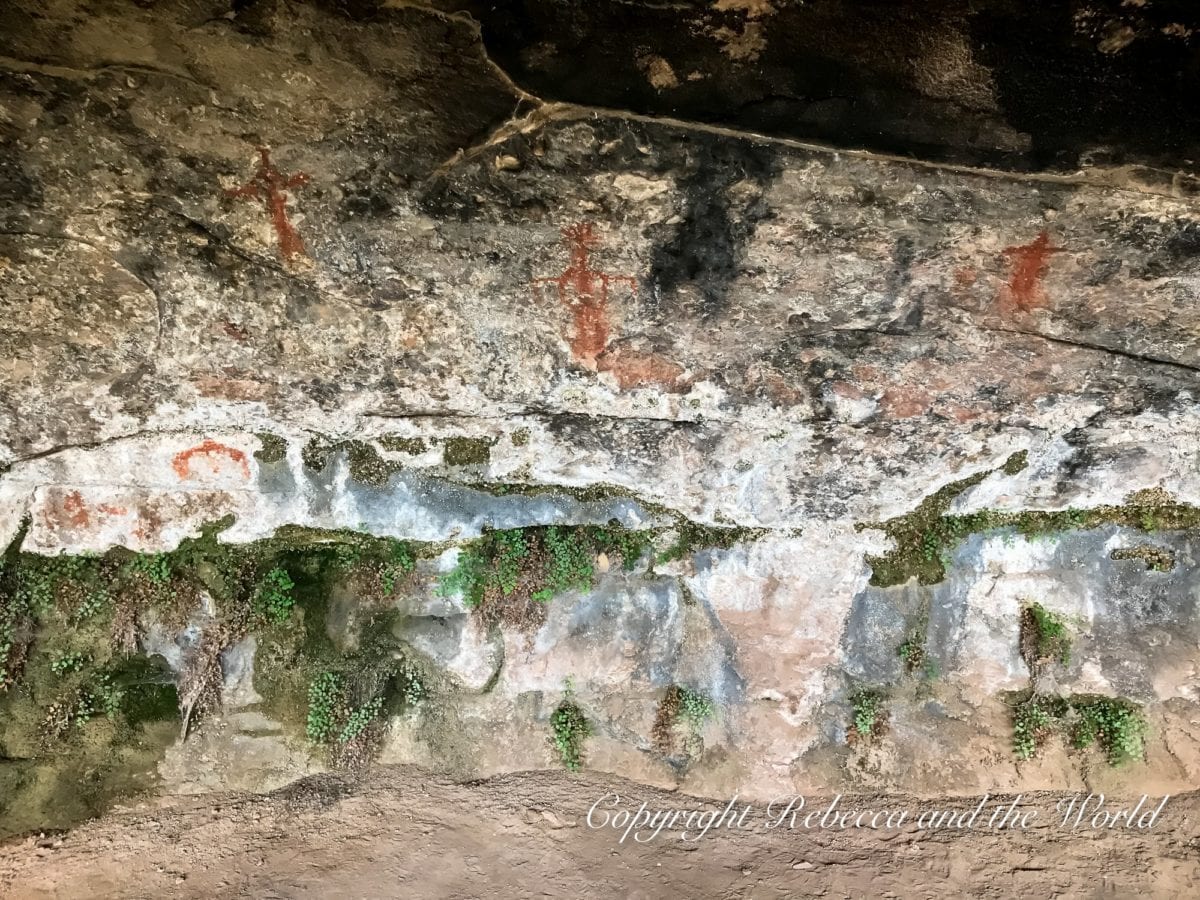 Continue on to Moab and have a late lunch of burgers and peanut butter milkshakes at Milt's Stop and Eat. Next, find a campground – preferably one with a pool and bathrooms. This could be your first shower of the week – it was for us! We stayed at the KOA campground in Moab. Staff were friendly and they have a pool and shop onsite.
Best hikes in The Needles, Canyonlands National Park
Chesler Park Viewpoint (6 miles, strenuous)
Slickrock Trail (2.4 miles, short)
Big Spring Canyon to Squaw Canyon (7.5 miles, strenuous)
Cave Spring (0.6 miles, short)
Hotels in Moab
Moab is a small town, but its reputation as an action hub means that it's full of hotels and campgrounds.
Airbnbs in Moab
There are plenty of Airbnbs in Moab, so you'll have lots of choices. I like the look of:
Day 6: Arches National Park and Island in the Sky
Arches National Park is just outside of Moab, and is famous for its variety of sandstone arches. We weren't able to do a lot of the hikes I had on my list, because the Devil's Garden section of the park was closed for construction. Instead, we tackled some of the shorter hikes to Broken Arch and Sand Dune Arch.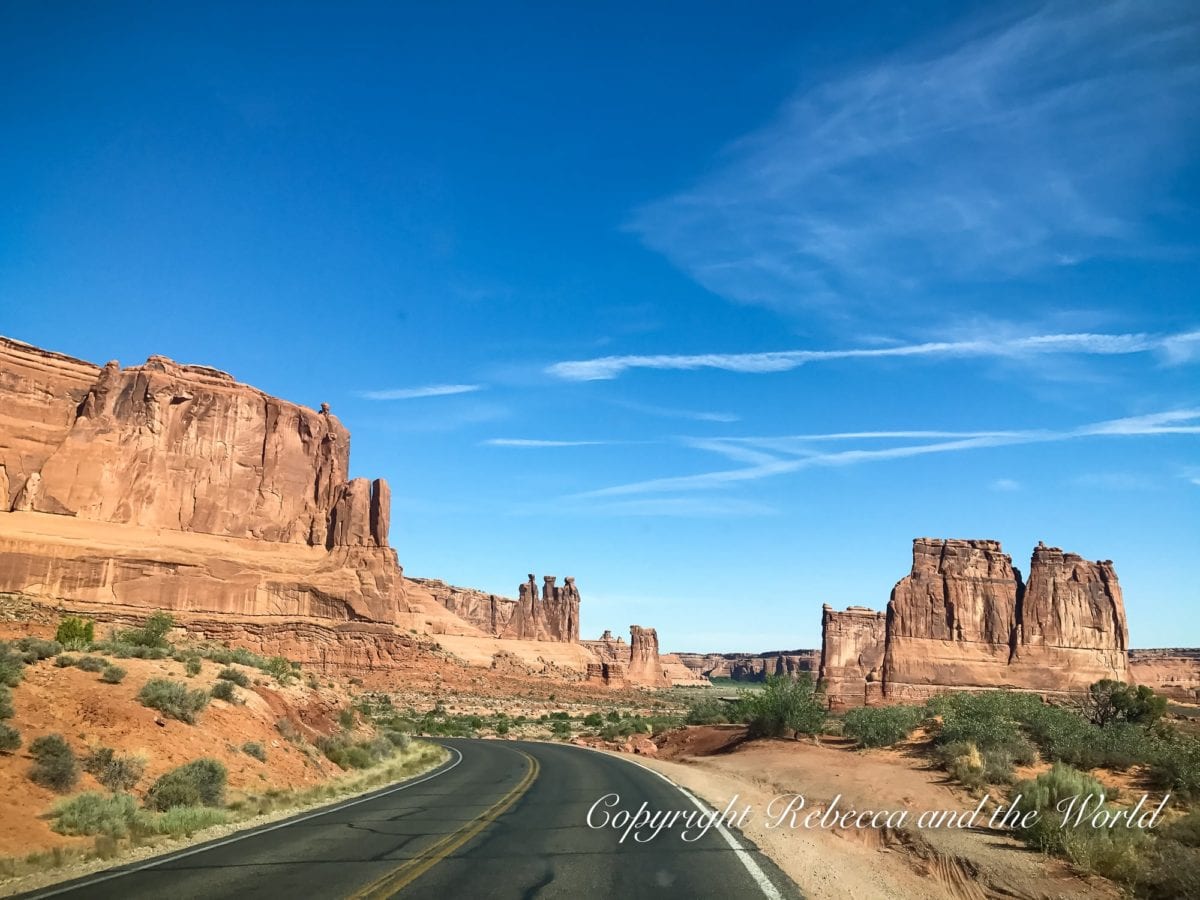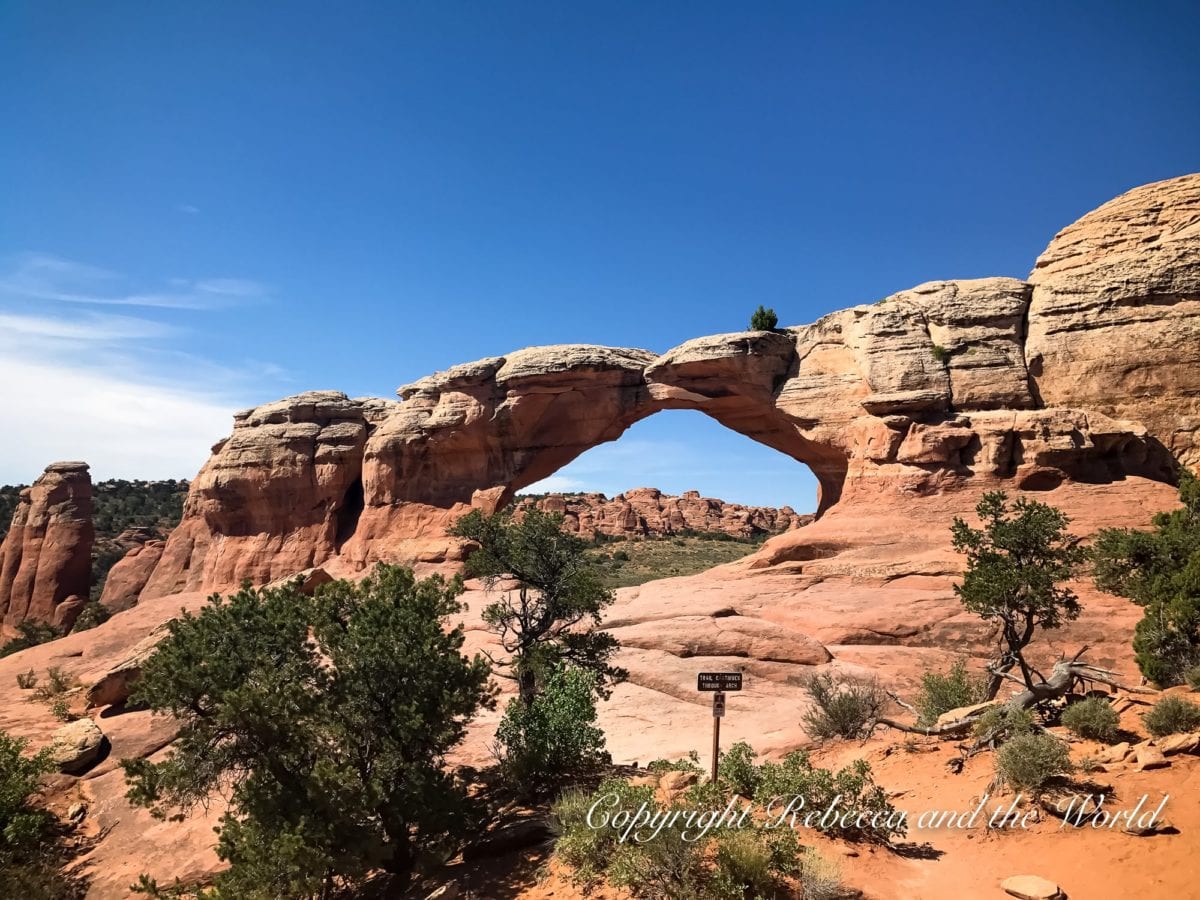 In the afternoon, hike to Delicate Arch. This is a must-do on your visit to Arches National Park. Be aware that this hike has no shade, and the last part is around a cliff face with a sharp drop off. It's one of the most photographed spots on any trip to Utah.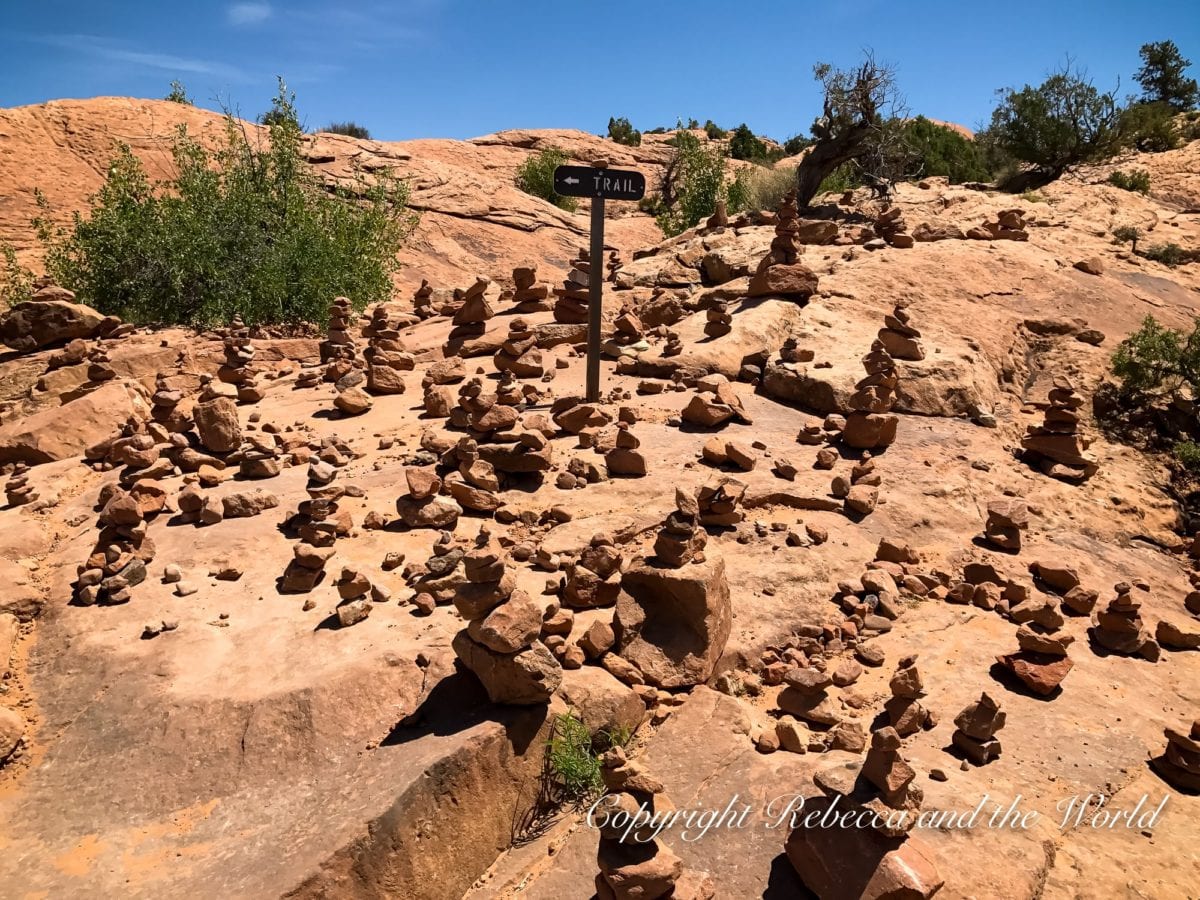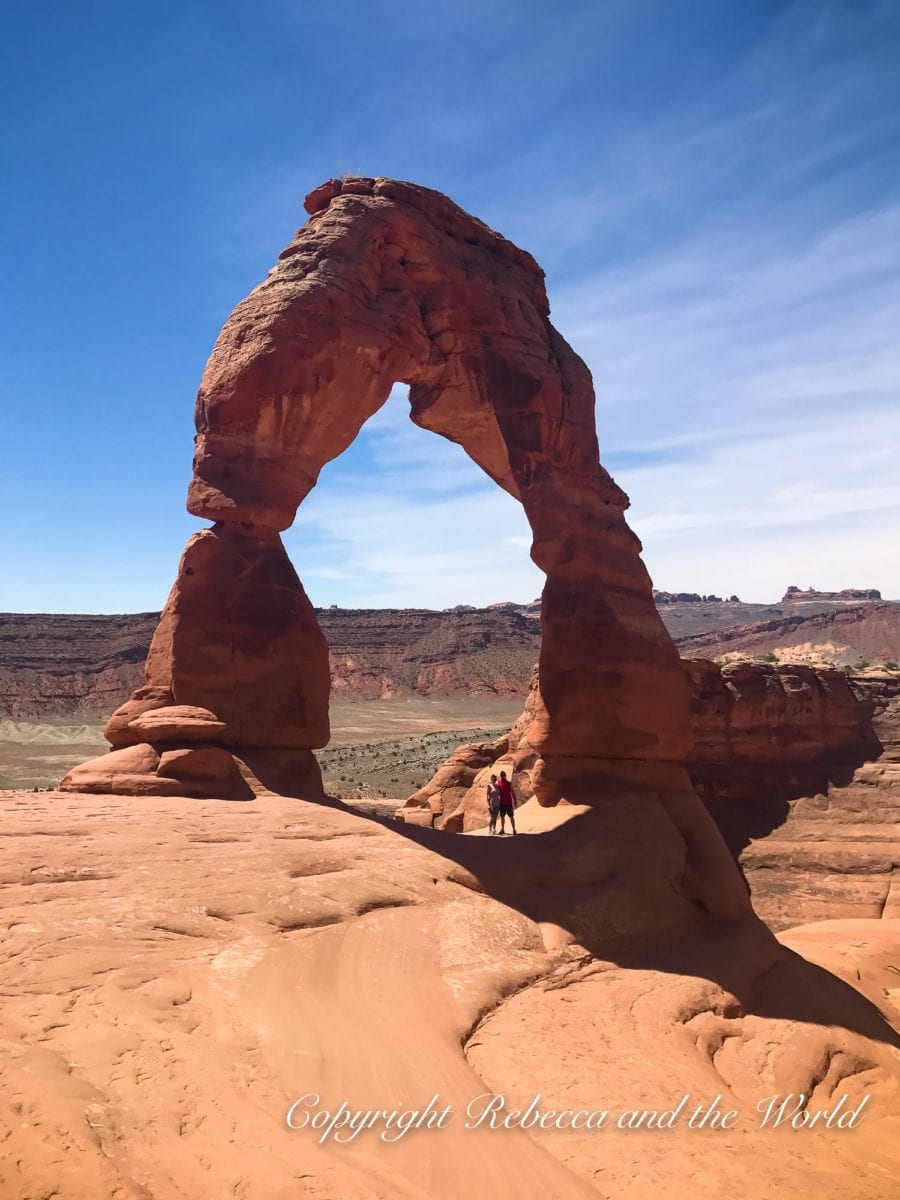 Best hikes in Arches National Park
Delicate Arch (3 miles, strenuous)
Double O Arch Trail (4.2 miles, strenuous)
Park Avenue Trail (1 mile one-way, moderate)
Devil's Garden (7.2 miles, strenuous)
Windows Trail (1 mile, easy)
Fiery Furnace (reservation necessary, guided by Park Ranger)
Before sunset, drive out to the other section of Canyonlands National Park, the Island in the Sky. From the viewpoint, gaze out over the land, which looks like a giant dinosaur has left its footprint behind.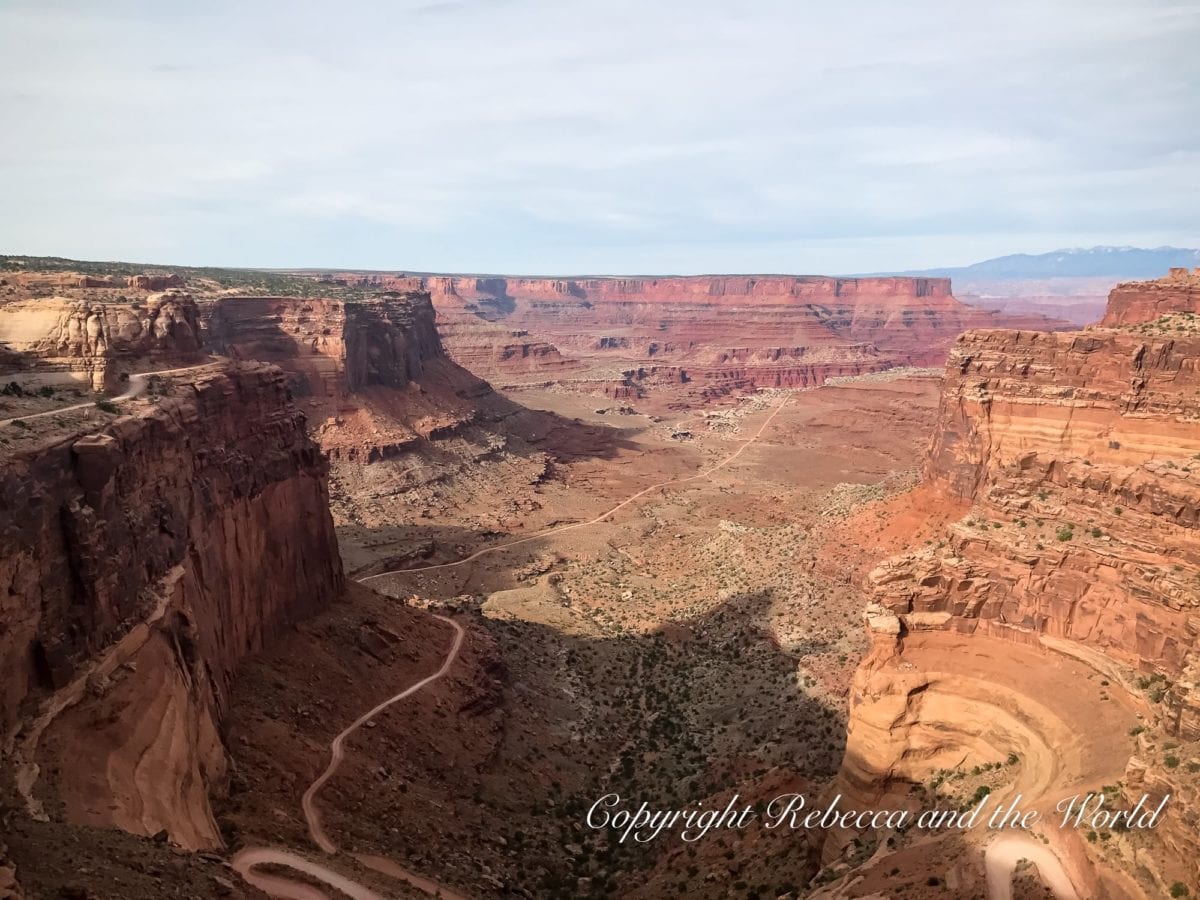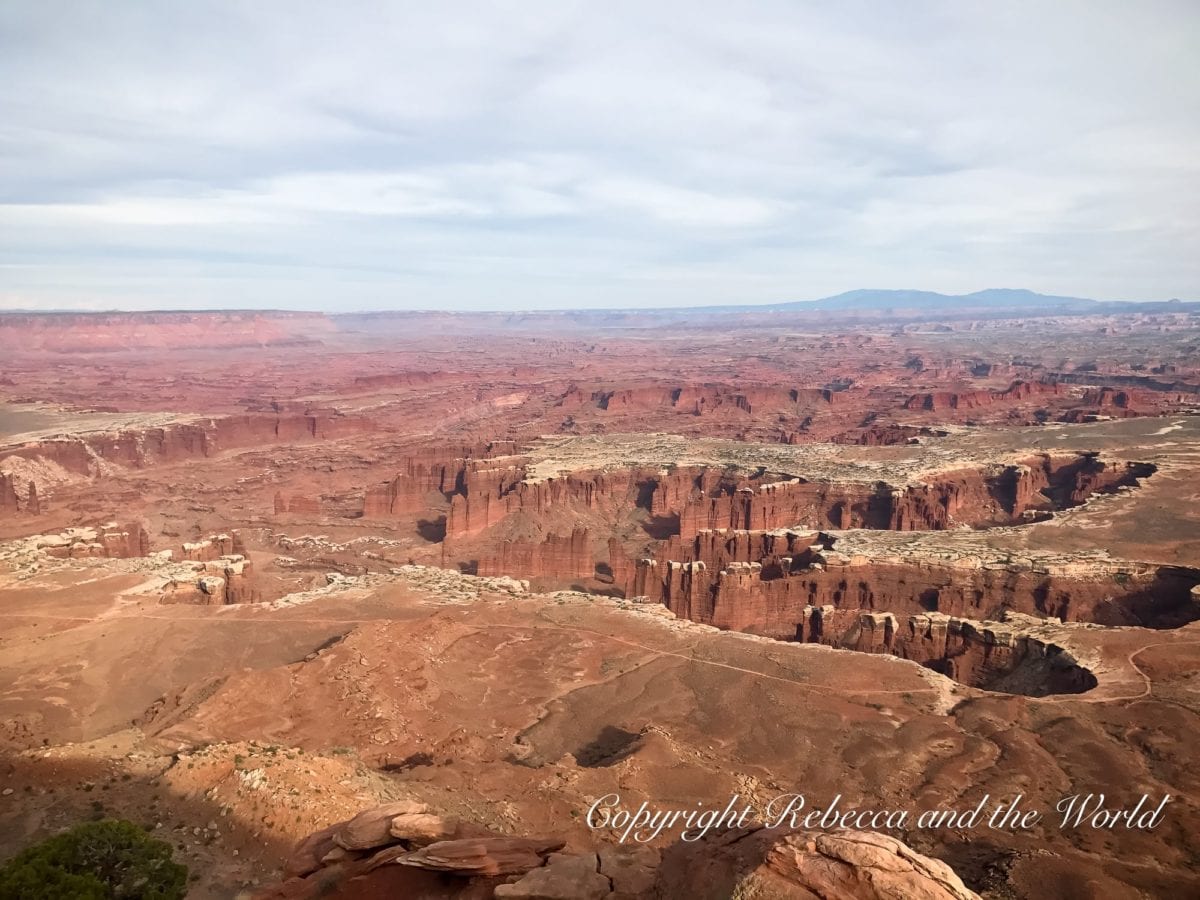 If you're in luck, you might even have Mesa Arch all to yourselves for a few minutes. Most people recommend to visit Mesa Arch at dawn, but we found it to be just as beautiful at sunset.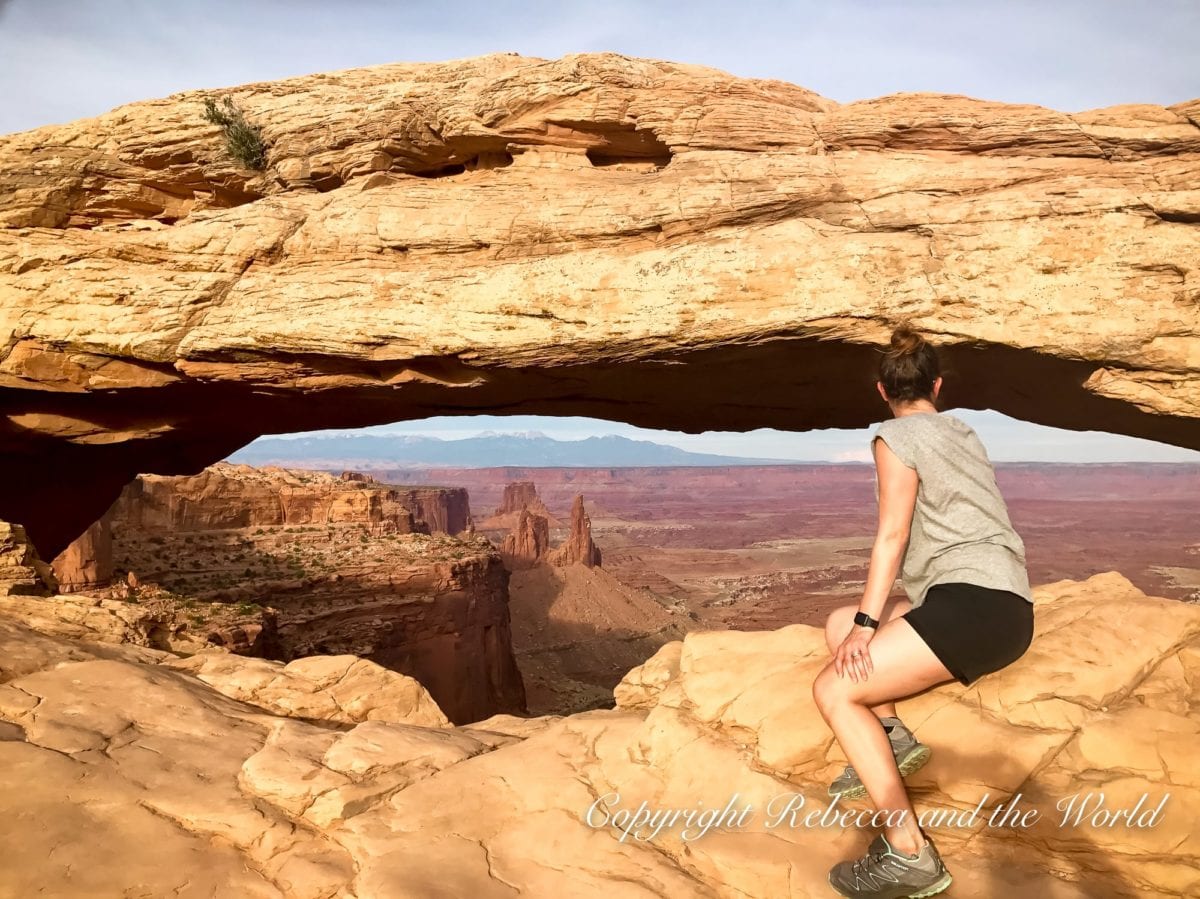 Moab is one of the best places to visit in Utah for adventure lovers, so if you've had enough of hiking, you can try mountain bike riding, offroading, canyoneering or rafting on the Colorado River. There are companies throughout Moab that offer all sorts of outdoor adventures. This jetboat tour looks fun, as does this dinner cruise.
Best hikes in Island in the Sky, Canyonlands National Park
Mesa Arch (0.5 miles, easy)
Grand View Point Trail (2 miles, easy)
Neck Spring (5.8 miles, moderate)
Gooseberry Trail (5.4 miles, strenuous)
Day 7: Capitol Reef National Park and back to Salt Lake City
On the last day of this Utah national parks road trip, return to Salt Lake City (234 miles, 3.5 hours) via Capitol Reef National Park (146 miles from Moab, 2.5 hours). As the smallest of the five Utah national parks, you can easily drive through it via the 9-mile scenic drive and stop off to do shorter hikes. We only spent a few hours here, the shortest visit of our trip.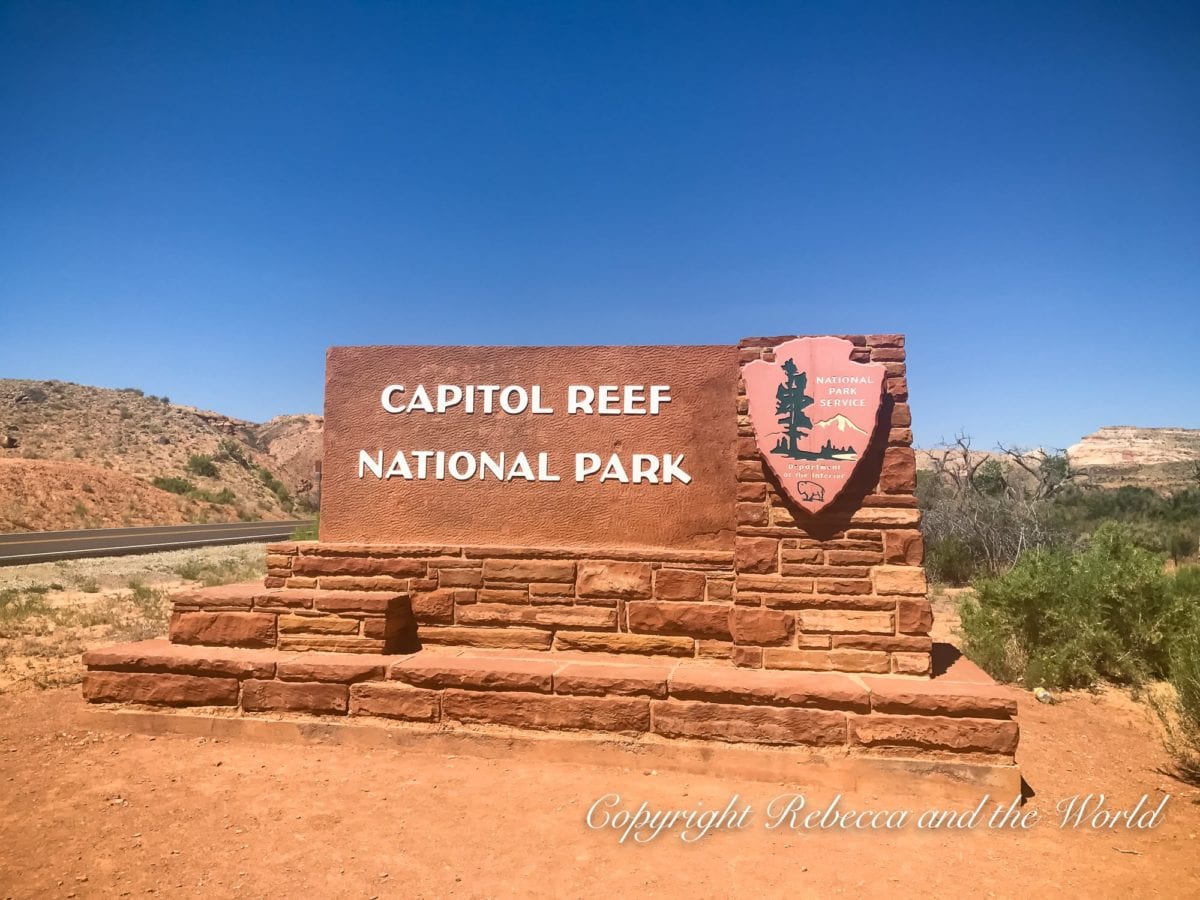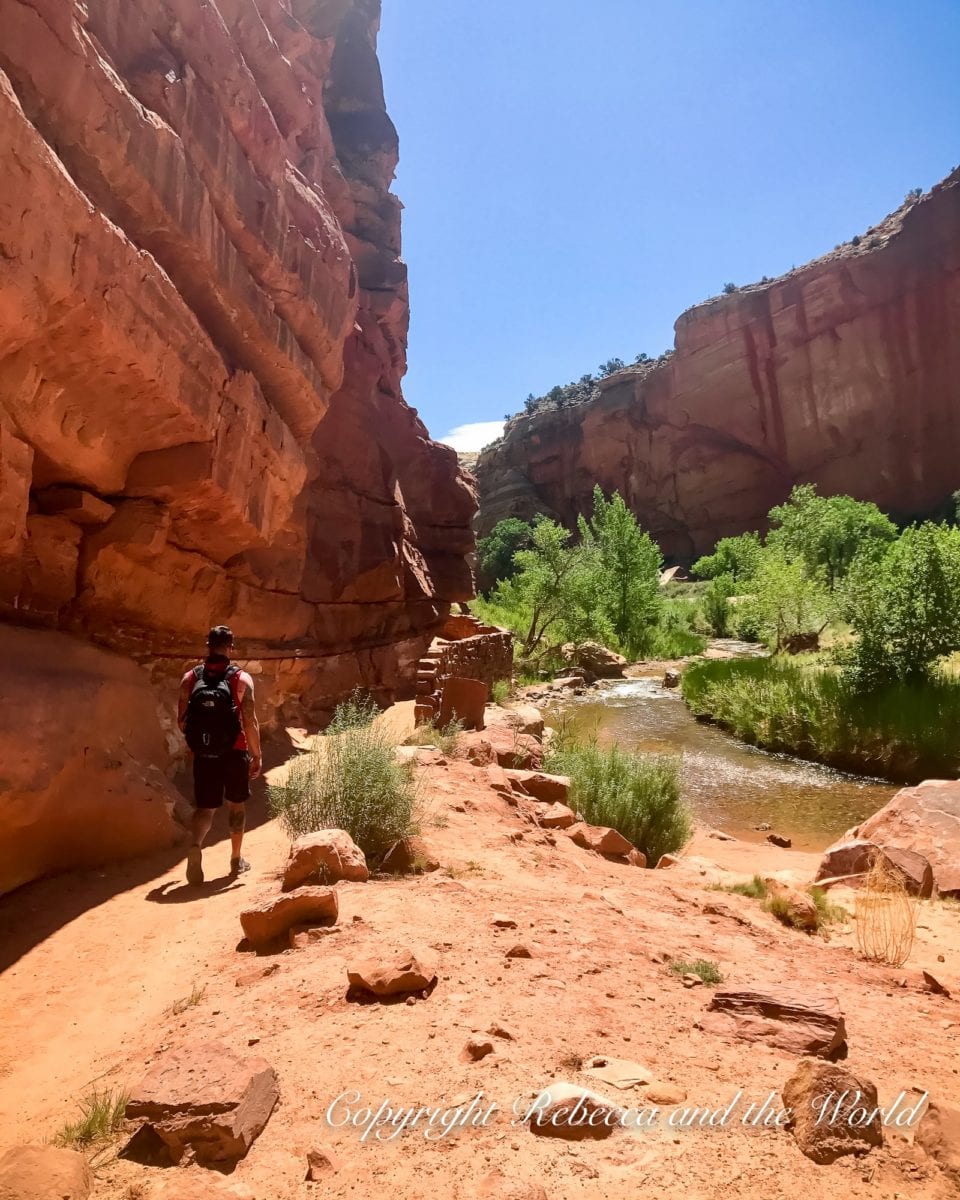 The park also has an old Mormon mission and you can stop by the historic Gifford Homestead to enjoy a fruit pie in the shaded grounds.
Best hikes in Capitol Reef National Park
Sunset Point Trail (0.4 miles one-way, easy)
Hickman Bridge Trail (0.9 miles one-way, moderate)
Chimney Rock Trail (3.6 miles, strenuous)
Rim Overlook Trail (2.3 miles, strenuous)
Hotels near Capitol Reef National Park
If you do decide to stay longer than a few hours or one day, there are a few hotels near Capitol Reef National Park.
Airbnbs near Capitol Reef National Park
There are Airbnbs near Capitol Reef, including:
Return your campervan in Salt Lake City – 7 days in Utah goes by quickly! Now, go make your friends jealous with all your stunning photos of your Utah national parks road trip!
VISITING UTAH'S NATIONAL PARKS – YOUR TRIP ESSENTIALS
These are the tools I use to plan and book my trips: