I'm going to hazard a guess that there aren't that many people around the world who haven't heard of the Grand Canyon. And even with more than 5.5 million visitors a year, there are still plenty of people yet to experience this incredible natural wonder. If you're planning a first-time visit, I've pulled together some Grand Canyon tips.
These are all tips I picked up from our visit and am sharing them so you can make the most of your time there.
An America the Beautiful pass will save you money
If you're planning to visit more than one or two of the United States' beautiful national parks in a year, then do yourself a favour and buy an America the Beautiful Pass. For $80 you get access to every single national park in the country for a year. That's a carload of people, visiting every national park in the country as many times as you want. It's a crazy deal
If you're planning on only visiting the Grand Canyon, then you'll pay $35 to visit. This covers one private, non-commercial vehicle and all its passengers, up to a 15-person passenger van (ie. it's not a per-person charge). The permit is valid for seven days and allows access to both the South Rim and the North Rim.
If you're coming in on a motorbike, the cost is $30, and if you come in on foot, bike or the park's shuttle bus, you'll pay $20 per person.
Tickets can be bought online in advance or at any of the entrance stations (which all accept credit card).
Looking to save even more money? There are five days of the year when you can enter the Grand Canyon National Park – and all national parks! – for free. In 2023, those dates are:
January 16 (Birthday of Martin Luther King, Jr.)
April 22 (First day of National Park Week)
August 4 (Anniversary of the Great American Outdoors Act)
September 23 (National Public Lands Day)
November 11 (Veterans Day)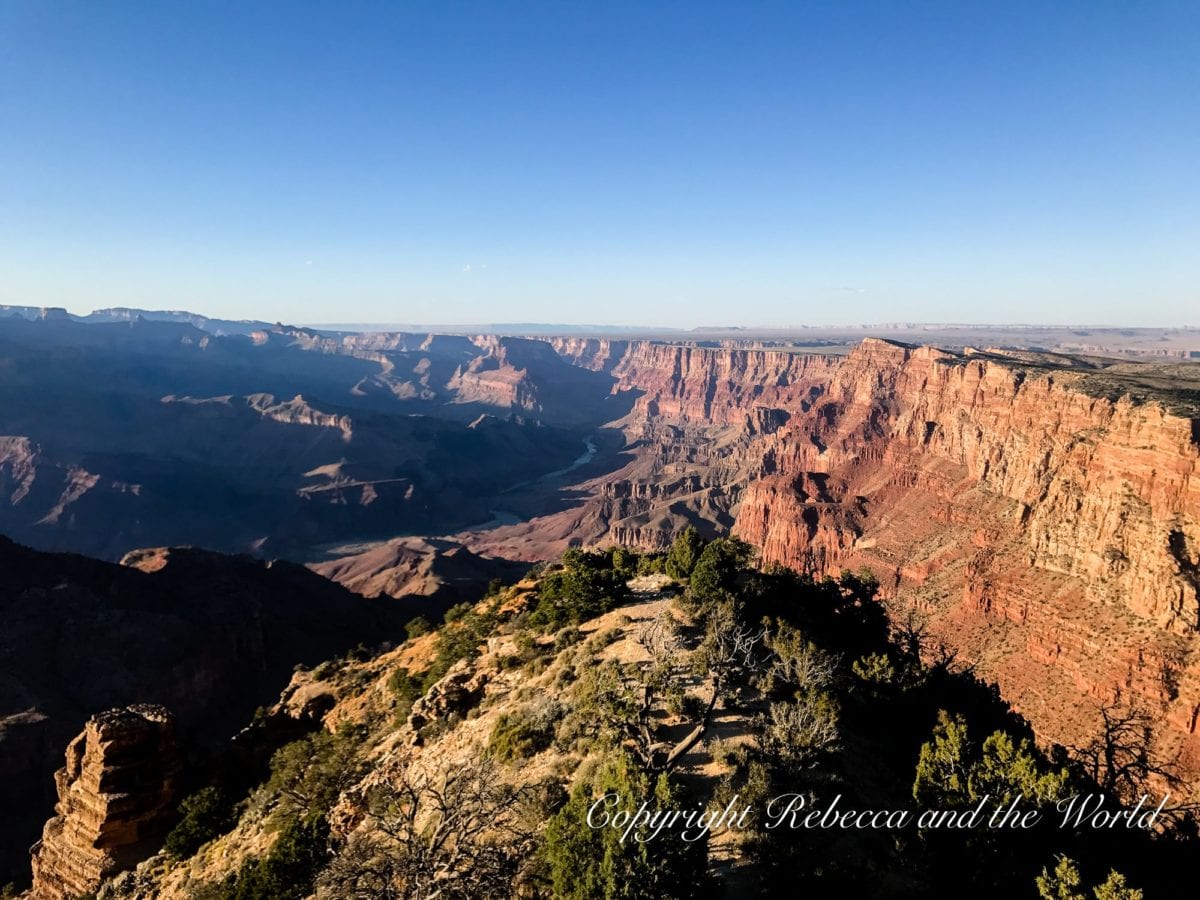 The Grand Canyon is huge
The name sort of gives it away: the Grand Canyon is jaw-droppingly enormous. The national park coves more than 1.2 million acres. The canyon itself is 1 mile deep (1.6 km), 18 miles (29 km) wide at its widest point and 277 river miles (446 km) long!
If you google "Where is the Grand Canyon?" you may be left confused. The Grand Canyon is in fact split up into three different sections. Growing up, I thought it was just one giant place, but you actually need to be quite specific when you're planning to visit the Grand Canyon about which part you want to go to.
The South Rim is the most popular section of the park, with 90 percent of visitors heading here. This area is open year-round (24 hours a day!) and has the most infrastructure and viewing points. This guide has more information about how to visit the Grand Canyon South Rim.
The other 10 percent head to the North Rim. The North Rim is closed over the winter months because of snow so you can only visit between mid-May and mid-October (but check conditions before visiting).
Grand Canyon West is the third section of the Grand Canyon, but it's technically outside the Grand Canyon National Park. This highlight of this part of the Grand Canyon is the glass walkway, the Skywalk, which juts out about 70 feet (21 metres) from the canyon rim, providing a birds-eye view down 4,000 feet into the canyon for those brave enough!
Grand Canyon West in on Hualapai Tribe land and is managed by the group. Fees paid to enter the North or South Rim don't cover access to Grand Canyon West (check fees online here).
Grand Canyon North or South Rim? 
The South Rim is the most visited because it's the most accessible section of the national park. You can get here within 2 hours driving from Flagstaff and Sedona, or 3.5 hours driving from Phoenix (which is what we did). It's also open all year and has more amenities.
The North Rim, however, is more challenging to get to. Even though there's only about 17 miles (as the crow flies) separating the North and South Rims, the drive between the two is 220 miles (354 km) which will take you around 5 hours! The closest town to the North Rim is Jacob Lake. Page in northern Arizona is about 124 miles / 2.5 hours' drive.
Choosing whether to visit the Grand Canyon North or South Rim depends on how much time you have. While it is possible to visit both the North Rim and the South Rim in one long, long day, it doesn't leave you much time at either section beyond a few peeks over the rim walks. If you've only got a day or two, I'd stick with the South Rim.
Regardless of which side you choose, from either rim you're guaranteed spectacular views of one of the most incredible places to visit in the USA.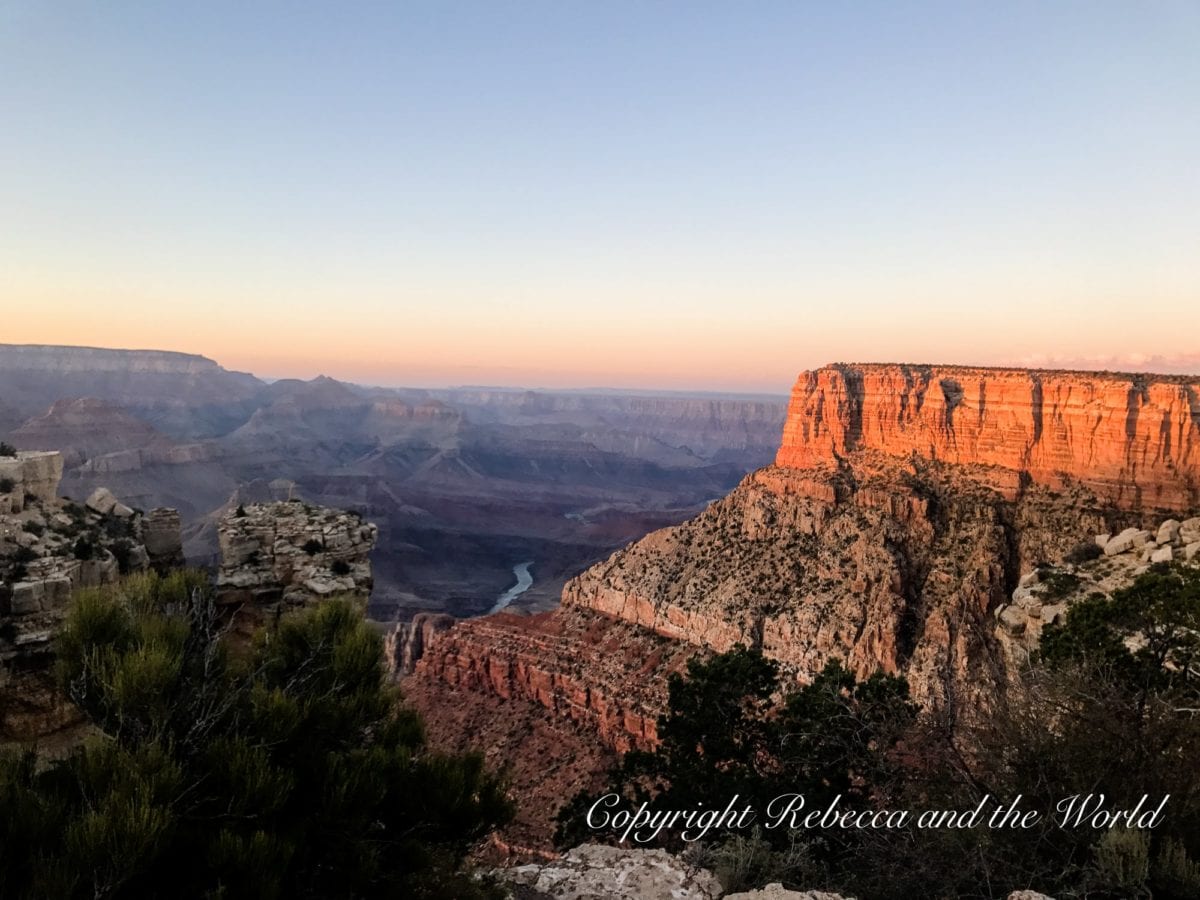 The best time to visit the Grand Canyon is spring and autumn
During the summer months, temperatures can hit more than 100 degrees (37 degrees Celsius) inside the canyon. Avoid this time of year unless you're a very experienced hiker and have the right gear. People do die from the heat at Grand Canyon National Park.
The weather in spring and autumn is much milder (but do be mindful around April/May and September/October when temperatures can still be high). This is a far more pleasant time to visit the Grand Canyon. The months at the start of spring and end of autumn also see fewer visitors.
In winter, the North Rim is closed because of snow. The South Rim also experiences very cold conditions, but rarely snow because it's not as high in elevation as the North Rim.
Even though it's the desert, at any time of the year the nights can be bitterly cold!
You'll need a car to get to the Grand Canyon
The easiest way to get to the Grand Canyon is by car. While there are shuttles within the park (see below), a car gives you more freedom to get around and means you can venture into some of the less-visited sections of the park, too. Rent a car today through Discover Cars.
The closest major airports to the Grand Canyon are in Phoenix, Flagstaff, Las Vegas and Salt Lake City. Check airline tickets and availability at Skyscanner.
How to get to the Grand Canyon South Rim
Here are the driving distances from major cities to the Grand Canyon South Rim.
How to get from Flagstaff to Grand Canyon: 79 miles / 130 kilometres / 1.5 hours
Phoenix to the Grand Canyon: 231 miles / 372 kilometres / 3.5 hours
From Williams: 63 miles / 101 kilometres / 1 hour
From Sedona: 119 miles / 192 kilometres / 2 hours
How to get from Las Vegas to the Grand Canyon South Rim: 278 miles / 447 kilometrs / 4.5 hours
Los Angeles: 494 miles / 795 kilometres / 8 hours
If you don't have a car, there are several shuttle services including Grand Canyon Shuttles and Groome Transportation (from Flagstaff).
Or try the train! This looks like a fun way to visit the Grand Canyon.
There's even a shuttle between the South and North Rims, the Trans-Canyon Shuttle, which runs daily when the North Rim is open.
Alternatively, there are plenty of companies that organise day tours to the South Rim. The best Grand Canyon tours include a stop at other key sites nearby. This tour departs from Las Vegas and visits the Hoover Dam as well as the Grand Canyon. This day trip from Las Vegas to the Grand Canyon also stops at Hoover Dam.
How to get to the Grand Canyon North Rim
To help you plan your trip to the Grand Canyon North Rim, here are driving distances from major cities and towns:
From Jacob Lake to the North Rim: 30 miles / 48 kilometres / 1 hour
How to get from Page to Grand Canyon North Rim: 105 miles / 168 kilometres / 3.5 hours
From Flagstaff to the Grand Canyon North Rim: 207 miles / 333 kilometres / 5 hours
Phoenix to North Rim: 351 miles / 565 kilometres / 7 hours
From Sedona: 236 miles / 380 kilometres / 5.5 hours
Las Vegas to the Grand Canyon North Rim: 275 miles / 443 kilometres / 5.5 hours
From Salt Lake City: 392 miles / 631 kilometres / 7.5 hours
To get to Grand Canyon West
From Las Vegas to Grand Canyon West: 126 miles / 202 kilometres / 2 hours
Via Kingman from other cities in Arizona: 71 miles / 114 kilometres / 1.5 hours
There are also day tours from Las Vegas to Grand Canyon West, including this bus tour and this day trip which stops at the quirky Seven Magic Mountains.
Chat to the park rangers first
The size of the Grand Canyon is overwhelming, as is the number of things to do once you get there. Which hikes should you do based on your group's fitness level and interests? Where should you eat? Are there any areas of the park closed today? Are there any hidden gems you should explore?
The answers to these questions and more can be found by talking with the friendly park rangers at the visitor centres.
Stopping in at the visitor centre is the first thing we always do in any national park. You can spend some time chatting with a ranger who can mark up a few points of interest on a map, and they'll recommend the best itinerary whether you have one day at the Grand Canyon or a whole week to explore.
There are visitor centres close to entrances at both the North and South Rims, and rangers are found in other buildings around the national park, as well as spotted out on hiking trails. Stop them for a chat!
Parking is difficult, so use the free shuttles to get around the park
To reduce the impact of the thousands and thousands of people that visit Grand Canyon National Park each and every day, there are free shuttle buses that traverse routes around the South Rim, stopping at major sights along the way, including the campsites.
There are three main shuttle routes at Grand Canyon South Rim:
Village Route (Blue) – connects the main visitor centre to the lodges, campground and other facilities
Kaibab Rim Route (Orange) – the route you need to get to the start of the Rim Trail and the Yavapai Geology Museum
Hermit Road Route (Red) – this route takes visitors to the Bright Angel Trailhead and the end of the Rim Trail. This route is only in service between March and November
There's also a fourth route which connects the park to the nearby village of Tusayan. You can park there to avoid the long park entrance lines and full carparks during peak season and then catch the shuttle into the national park. The route operates only March to mid-September.
The shuttles come every 15-30 minutes. Simply park your car at the visitor centre and jump on. As well as being more environmentally friendly, the shuttles are a much better way to visit rather than having to battle to find a car park at each lookout point or trailhead!
Plus, during the March to September busy season, some roads (like the Hermit Road) are closed to cars entirely.
Arrive early to avoid the crowds
This is one of my top Grand Canyon tips. More than 5 million people visit Grand Canyon each year, so the saying "the early bird catches the worm" definitely applies here.
I highly recommend getting up early to make your Grand Canyon trip as crowd-free as possible. Ideally, you'd enter Grand Canyon no later than 7 or 8 a.m. to see parts of the national park without huge crowds. People start to really trickle in later in the morning and that's when the entrance stations are backed up, car parks are full and the hiking trails are lines of people.
In the warmer months, you can take advantage of the cooler mornings when you start your hikes.
If you're not an early bird, then aim to visit after 4 p.m. when people start to leave the park.
The east section of Grand Canyon is quieter
We entered Grand Canyon National Park via the east entrance and drove toward Grand Canyon Village (the area around the main visitor centre) along the 22-mile (35 km) Desert View Drive. All the viewpoints were far quieter along this route but the views were no less spectacular as on the west side of the park.
You'll need a car for this part of the park as the shuttles do not travel out this way.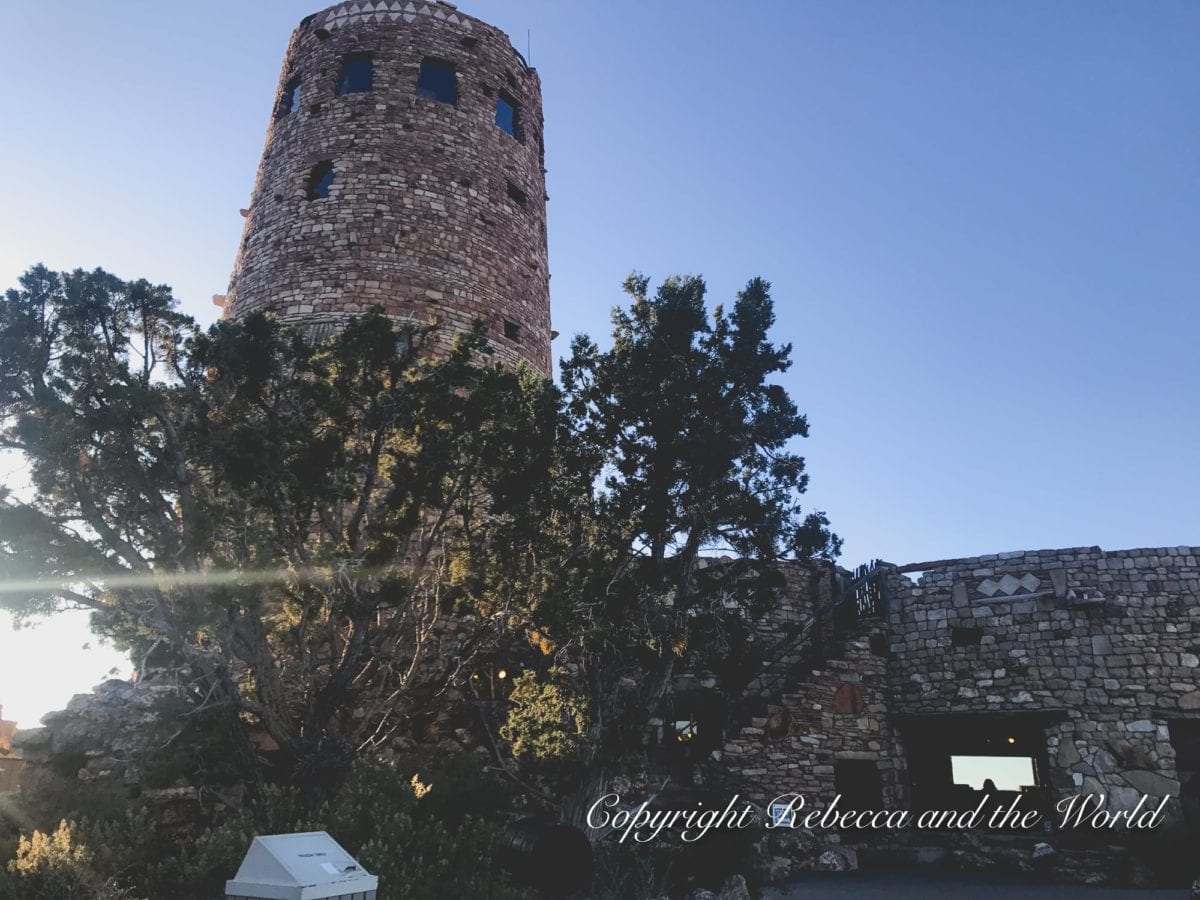 You need at least two days at the Grand Canyon
Some people only come to the Grand Canyon for a day, but I think you need at least two or three days – even if you're just visiting the South Rim.
Two days gives you a day for a hike into the canyon, and then another day for hiking along the Rim Trail. It also means you can fit a sunrise or a sunset in to your Grand Canyon itinerary – the best times of day for views over the canyon.
You can hike from the South to North Rims
On our hikes in the Grand Canyon, we met several groups of people hiking from the South Rim to the North Rim, a 21-mile (34 km) trip. There are campsites along the way. It usually takes people two days, but one group we met was doing it in 24 hours! It's a hike that's now on my personal bucket list.
But if that's a bit too much, here are some shorter day hikes in the Grand Canyon. Be warned, none of these hikes are easy, so don't attempt them if you're not fit or prepared with water, food and the right hiking gear.
Grand Canyon South Rim hikes
The Bright Angel Trail is one of the most popular hikes in the Grand Canyon. You can hike up to 12 miles (round trip) but there are points along the way where you can turn back. There's some shade along the route. It's steep, which is punishing on your legs when you hike back! We went as far as Indian Garden.
The South Kaibab Trail is accessed via shuttle to the trailhead of the same name. The full hike is 6 miles (9.5 km) round trip. There's no water along the route and little shade.
The Hermit Trail is harder than the Bright Angel and South Kaibab Trails. The path is steep, especially the first 2.5 miles (4 km). The furthest point is Dripping Springs, a 7-mile roundtrip. There are no bathrooms along the way, and if you collect any water from the springs you need to treat it first.
The Grandview Trail is accessed via Desert View Drive, which doesn't have shuttle services, so you'll need a car to get here. This is a very steep trail, leading to Horseshoe Mesa (6.4 mile / 9.6 km roundtrip). There are some offshoot paths to Cottonwood Creek and Page Spring, but these are recommended for experienced desert hikers only.
Grand Canyon North Rim day hikes
While the North Rim isn't as visited, there are plenty of day hikes, many shorter than those at the South Rim.
Given I haven't visited the North Rim, it's best to check out the Grand Canyon National Park website for more information about the best day hikes in the Grand Canyon North Rim.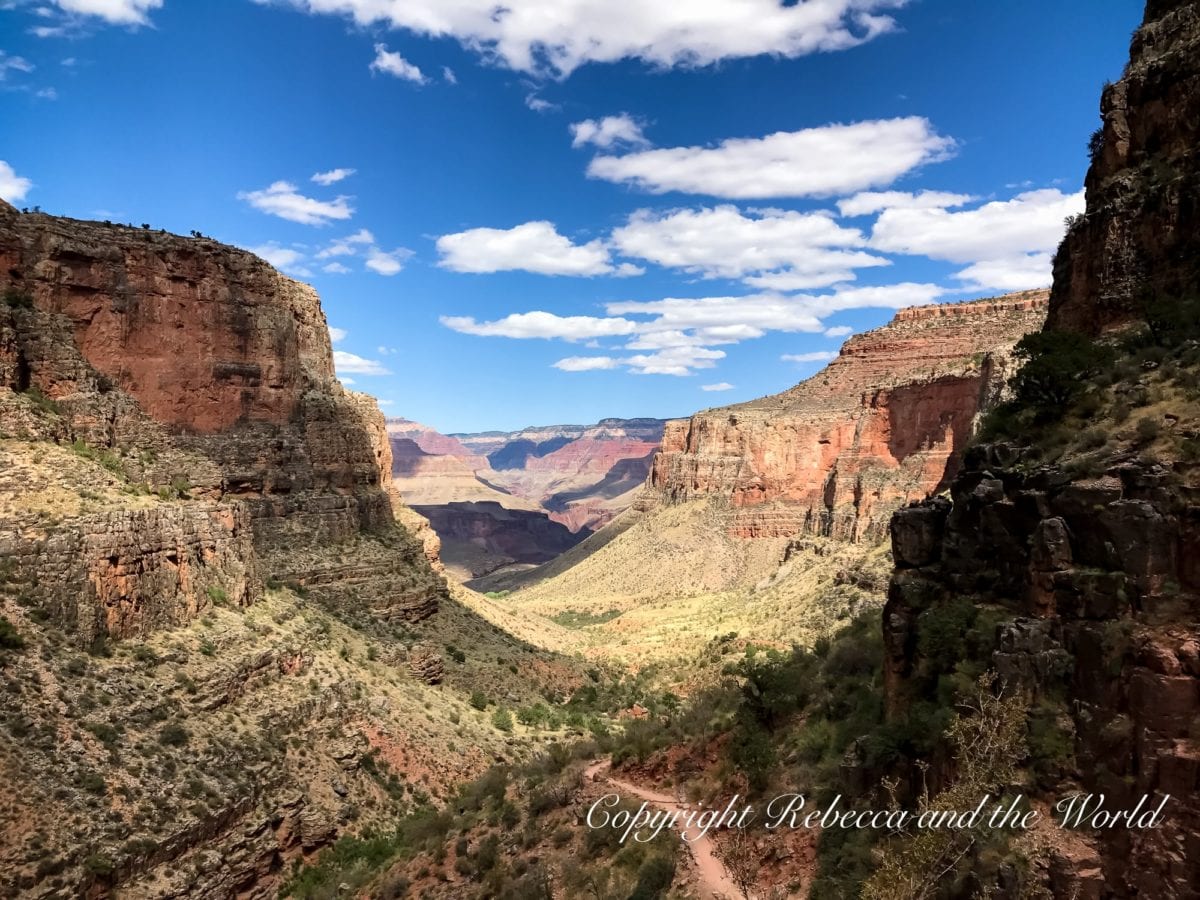 Or stick to the paved Rim Trail
If you're not a confident hiker or you're travelling with people who don't have the ability to hike, then the Rim Trail at the Grand Canyon South Rim is for you. This fantastic route stretches 13 miles (21 kilometres) along the top of the canyon. But don't worry, you don't have to walk the entire route. Shuttle buses stop along the trail so you can pick a few sections to walk between, then catch the shuttle back.
Most of the Rim Trail is paved. It's also wheelchair accessible from Lookout Studio to the South Kaibab Trailhead.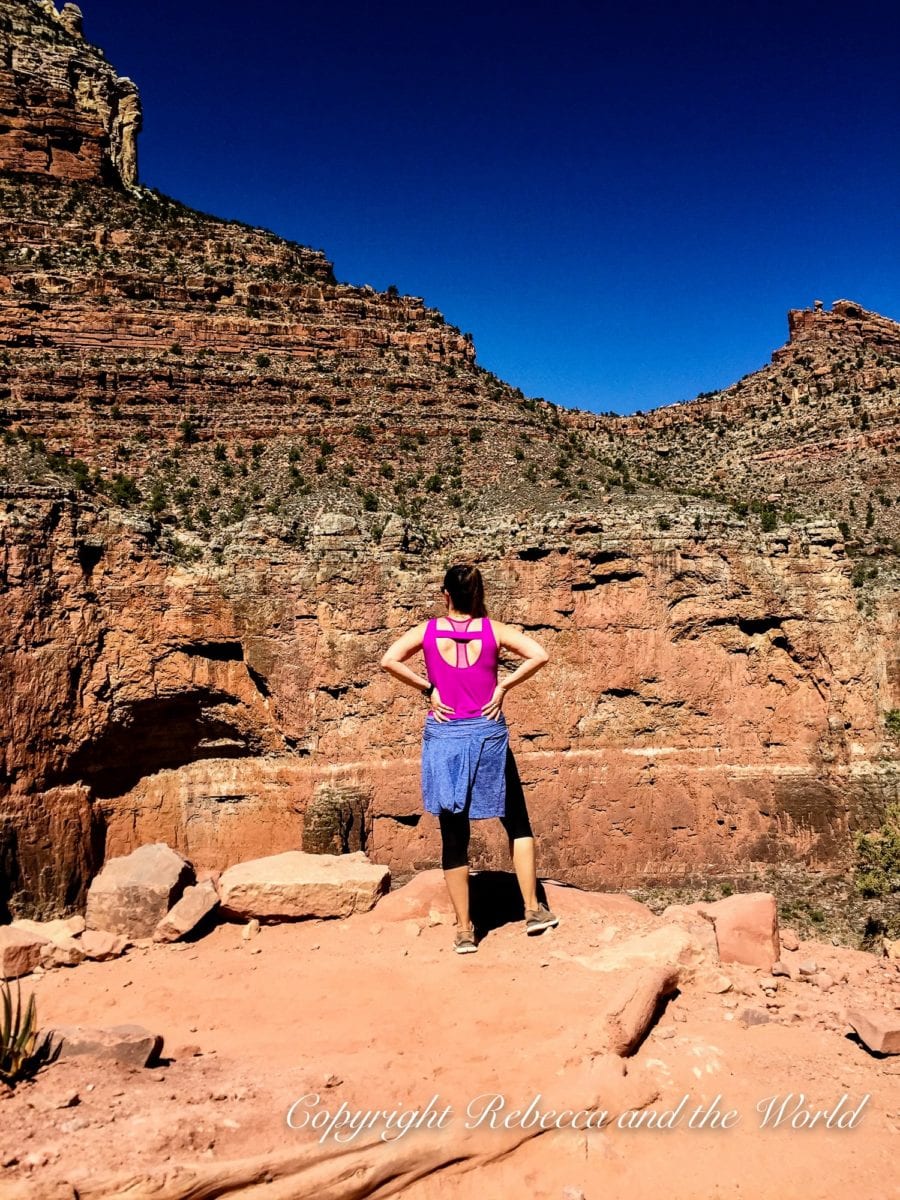 Not a hiker? There are plenty more things to do in the Grand Canyon
Even if you're not into hiking, there are plenty of other things to do at the Grand Canyon, from exhibitions to rafting to museums.
Visit the Kolb Studio to learn about Emery and Ellsworth Kolb, pioneer photographers and filmmakers at Grand Canyon
Learn about geology at the Yavapai Geology Museum
Check out one of the Ranger programs and learn about the geology of the Grand Canyon or the animals that live inside the park
Photograph the Grand Canyon (here are some great tips) – or hire a photographer to get snaps of you!
Go rafting in the Grand Canyon on the Colorado River
Take a helicopter ride over the Grand Canyon to take in its scale and beauty
Come prepared
I'm always surprised when I visit a national park to see so many people unprepared. No water bottle, inadequate sun protection, I've even seen people wearing high heels!
Even if you're sticking to the paved Rim Trail when you visit the Grand Canyon, there are some basics you should add to your Grand Canyon packing list. If you're hiking, you need to pack more so you have a safe visit.
Daypack
Water bottle
Plenty of water
Electrolyte replacement if you're hiking
Food, especially salty foods to replace the salts you'll lose while hiking
Hiking boots (or flat shoes at least!)
Jacket – something for warmth but that's also waterproof and windproof
Clothing layers, as it can get cold in the mornings and evenings
Hat
Sunglasses
Sunscreen
Basic first aid kit
Map from the visitor centre
Whistle for emergency use
Binoculars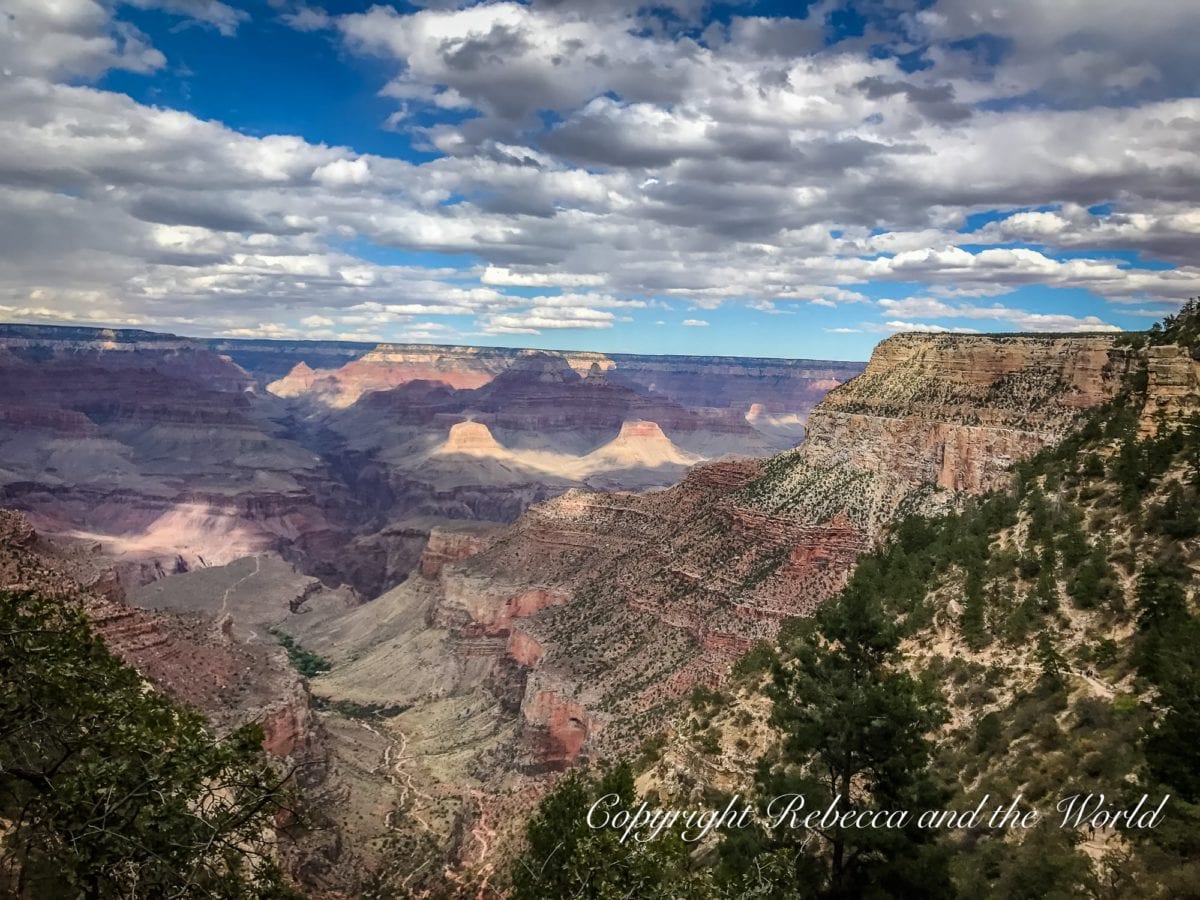 Bring some food
Pack some snacks with you. While there are restaurants and grocery stores inside the park, the food can be expensive and disappointing.
We packed sandwiches, bananas and salty trail mix for our Grand Canyon trip.
Don't go too close to the edge!
Oh, I still remember the mild heart flutters I had when I saw people taking photos right on the edge of the canyon!
There are many parts throughout the park that don't have barriers or guardrails. Be very, very careful when taking photos close to the edge – one small step backwards could end up with you on the bottom of the canyon!! People have slipped and died at the Grand Canyon.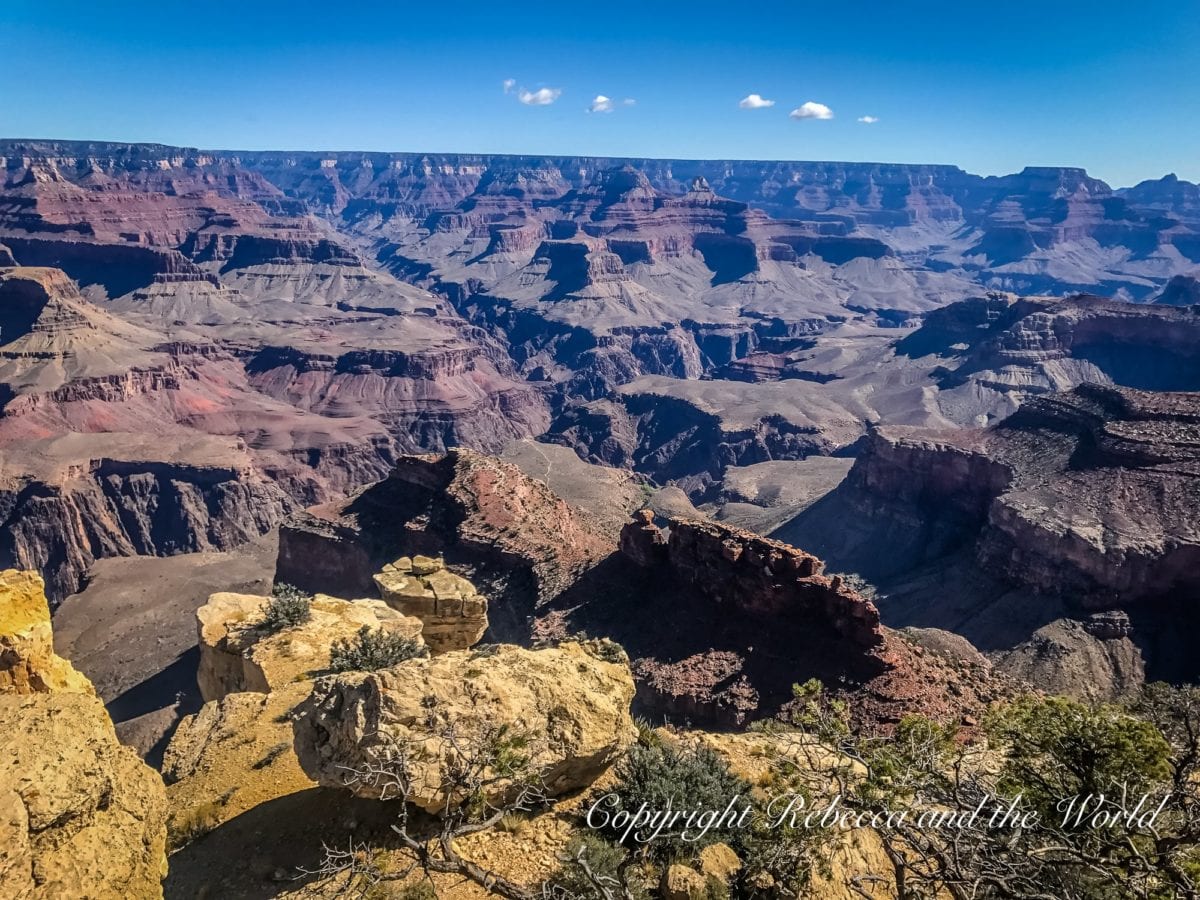 You can sleep inside the park
If you really want to be on the hiking trails before the crowds descend, then consider sleeping inside Grand Canyon national park. There are plenty of accommodation options inside the park, including camping and hotels.
During peak periods, you'll need to book well in advance, sometimes up to a year ahead.
If you can't get a bed inside the park, then there are plenty of hotels and campgrounds/RV parks near the Grand Canyon.
Accommodation in Grand Canyon South Rim
Xanterra Parks and Resorts manages five lodges within Grand Canyon National Park. They can all be booked online. The Yavapai Lodge and RV Trailer Park can also be booked online.
There are two campsites at South Rim. The Mather Campground is close to Grand Canyon Village. You can book online here, up to 6 months in advance. The Desert View Campground is only by reservation and it's only open mid-April to mid-October. There are no RV hookups here.
If you can't get a reservation inside the national park, there are several hotels in Tusayan. During peak season there's a shuttle from Tusayan to Grand Canyon National Park.
Tusayan is a small town but has a few restaurants and bars to fuel up after a day of hiking.
Accommodation at Grand Canyon North Rim
Lodging at the North Rim is only open from mid-May to the middle of October. There is one lodge and one campground.
The Grand Canyon Lodge can be booked online.
The North Rim Campground is only open between May and October, and can be reserved online. There are no hook-ups, but there is a dump station and a coin-operated laundry and showers.
Outside of the North Rim, the nearest hotels are the Kaibab Lodge (18 miles north of North Rim) and the Jacob Lake Inn (45 miles north).
Accommodation near Grand Canyon West
The nearest accommodation to Grand Canyon West is the Hualapai Lodge, which actually sits on the original historic Route 66.
Be safe around the animals in the park
It shouldn't surprise anyone that it's not just humans wandering through the Grand Canyon National Park – there are plenty of critters, too!
We spotted a Grand Canyon pink rattlesnake slithering under a rock when we were hiking the Bright Angel Trail. It was a baby one, but a rattlesnake nonetheless!
There are six rattlesnake species in the park, all of them venomous. There are a few other snake species that are mildly venomous, as well as the Gila Monster, a venomous lizard.
My advice: avoid them all.
The other dangerous animal in the park is the elk. Park rangers advise you keep 100 feet / 30 metres away from these seemingly peaceful animals that have been known to charge people!
Mountain lions also live in Grand Canyon National Park, but you're unlikely to meet one. These beautiful animals unfortunately are often hit by cars, so be careful when driving at night.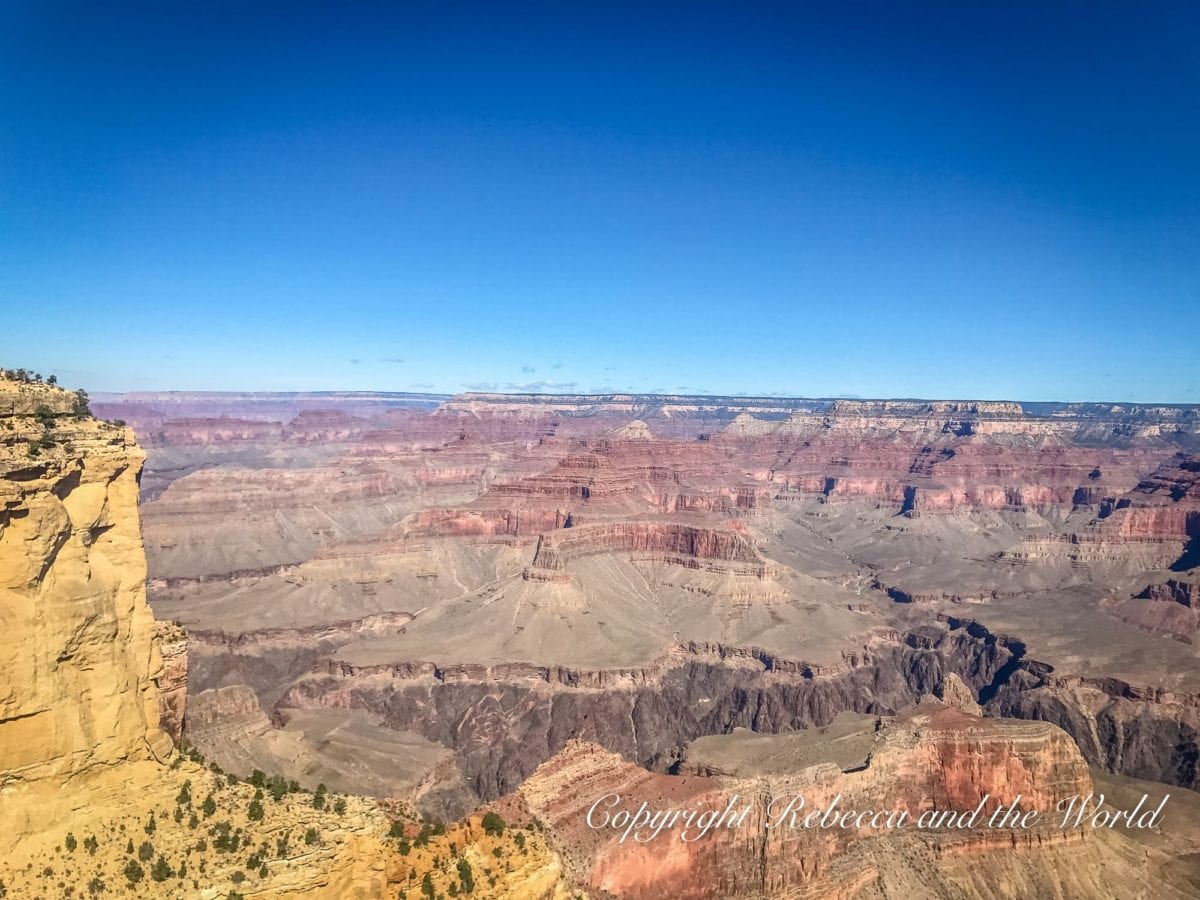 Leave your pets at home
I'd recommend leaving your own furry animal at home. There are limited places pets can go, and they must be leashed at all times.
On the South Rim, leashed pets are allowed on trails above the rim, at Mather Campground, Desert View Campground, Trailer Village and throughout developed areas. There's only one lodge (Yavapai Lodge) that has pet-friendly rooms.
There is a kennel at the South Rim where pets can be boarded.
On the North Rim, there are similarly limited places that pets can go. This includes the Bridle Trail and the portion of the Arizona Trail north of the park entrance station.
Leave no trace
As with any national park, practice leave no trace principles.
Take a spare bag so you can pack out any food scraps, as not all hiking trails have rubbish bins. Don't drop scraps on the ground – even food – and especially do not leave plastic or other waste behind.
Leave nature behind, too. That means rocks, sticks, roots… whatever's found in the Grand Canyon National Park naturally.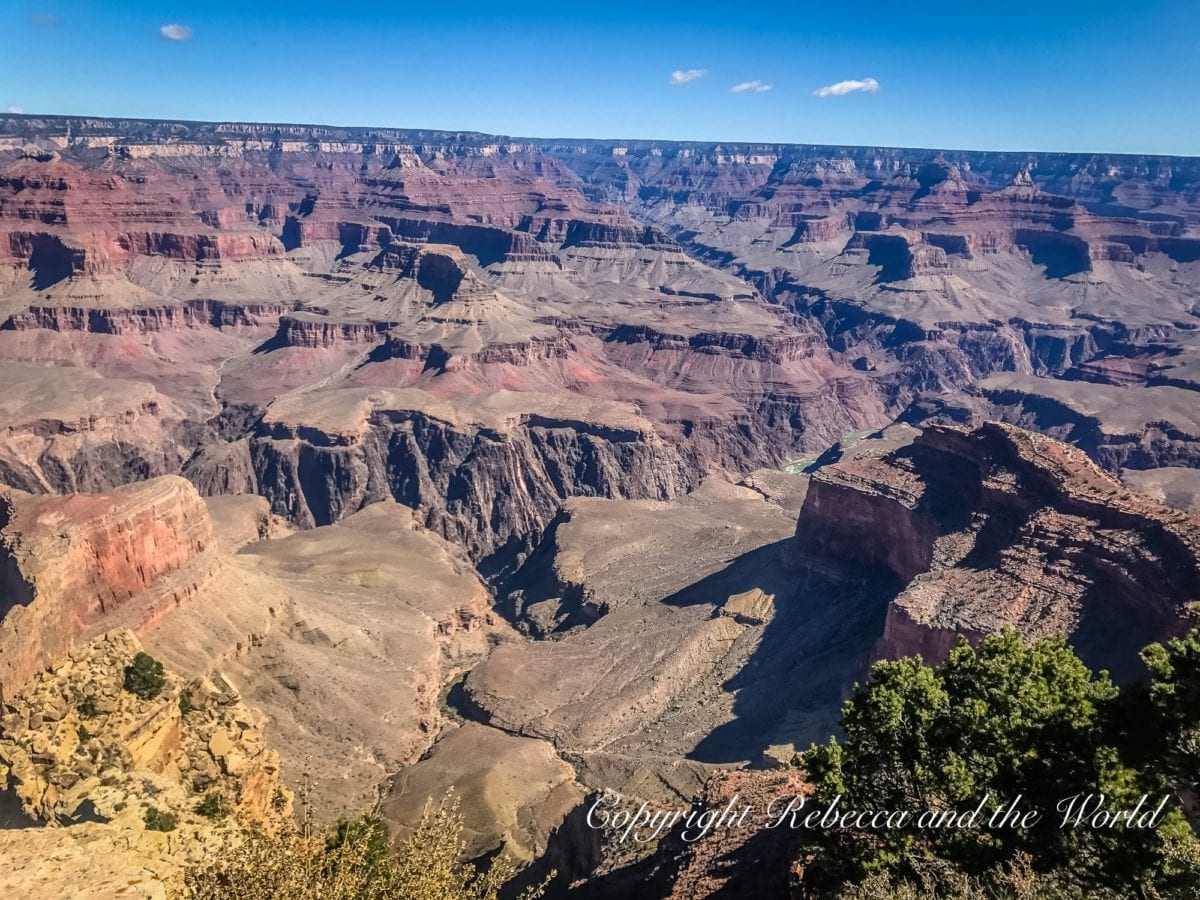 You can see the Grand Canyon from the air
If you really want to get some perspective on the size of the Grand Canyon, then one of the best Grand Canyon activities is to book a helicopter or plane ride.
Have you got any more Grand Canyon tips to add to this list? Got questions about visiting the Grand Canyon? Leave your comments below!
PIN IT FOR LATER:
Save these Grand Canyon tips for later so you can plan your trip to this incredible national park!