As the second-largest state in the United States, you can bet that there are some fantastic road trips in Texas. One of my personal favourites is a West Texas road trip, a journey that takes you far, far away from the bright lights of Texas's big cities, but is definitely worth the miles.
There are so, so many incredible and interesting things to do in West Texas. In this blog post I'm highlighting my recommendations.
We spent about five days road tripping this part of Texas. But if you want to see everything I've included on this list, I'd recommend at least a week to explore the wide, open spaces of this beautiful part of Texas.
West Texas is truly beautiful, in a stark, desolate way, and I hope you love it as much as I do.
Map of West Texas
Here's a map showing everything listed in this blog post, so you can sketch out your West Texas itinerary. Also check out my road trip packing list for my personal recs.
Things to do in West Texas
A road trip is on most people's travel USA bucket list, and a road trip through West Texas is up there with the best of them. Plan your own West Texas road trip using this list of recommended things to see and do in West Texas. I've personally done most of these things (and I'll tell you which ones I haven't).
Remember, however, that you want to plan a trip to this region on a weekend to get the most out of it. Many places are closed during the week, especially on Mondays and Tuesdays.
Hang out in front of a Prada store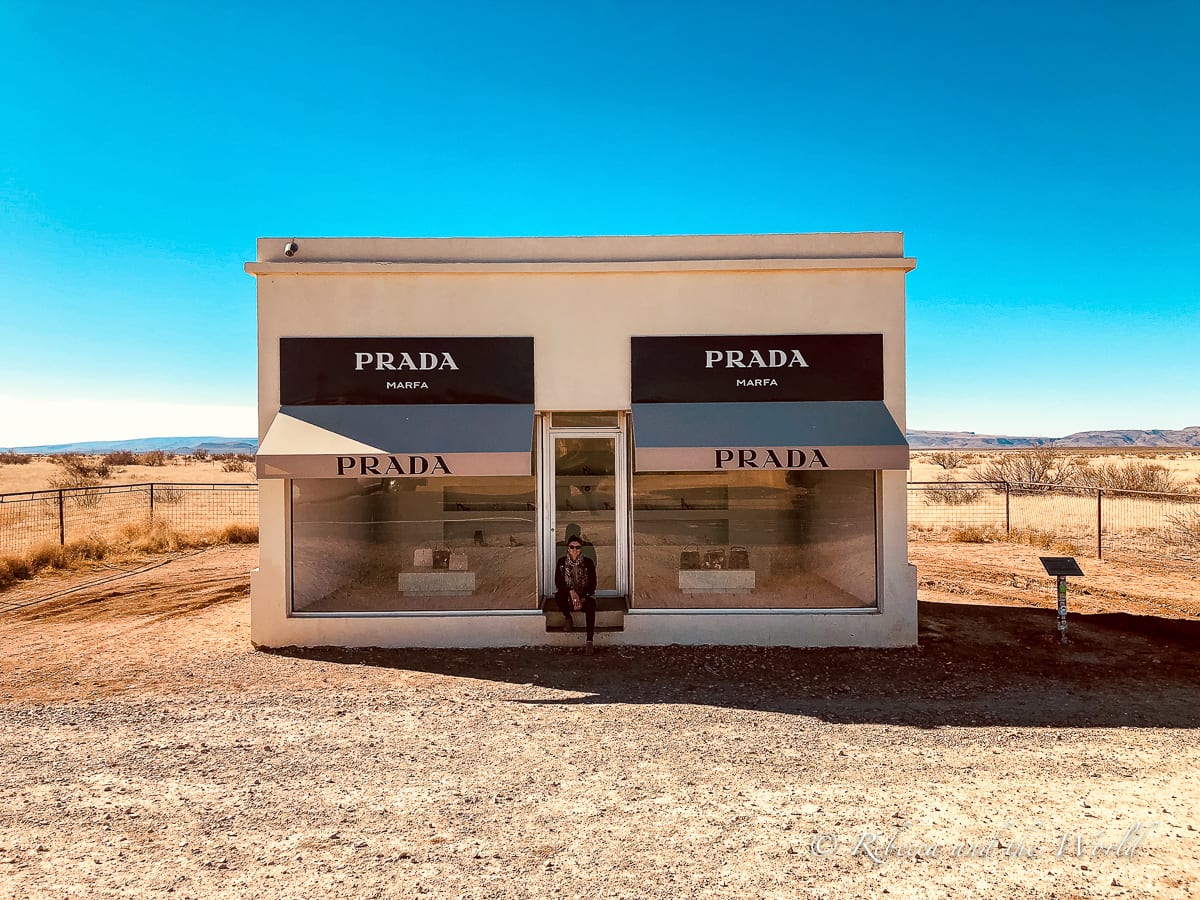 People are drawn to the quirky town of Marfa in far West Texas for many reasons. One of the most popular has to be the Prada store.
Alongside a long stretch of road with nothing but the sprawling landscape for miles, this art installation resembles a Prada store. In the window, shoes and handbags are displayed – but, of course, nothing is for sale.
This is a popular spot for some selfie snapping, and it's one of the essential things to do in Marfa. Note that it's actually a about 40-minute drive from Marfa, in the small town of Valentine.
See the Marfa Mystery Lights
Marfa has an aura of mystery. The wide, open spaces. The quiet nature of the town.
And there's nothing more mysterious than the Marfa Mystery Lights. When it's dark, these lights often flash in the distance, causing people to wonder what they are.
Some believe they're just car headlights. Or maybe campfires burning. Others are sure they're UFOs.
You'll need to go there for yourself to decide.
Explore Marfa's art scene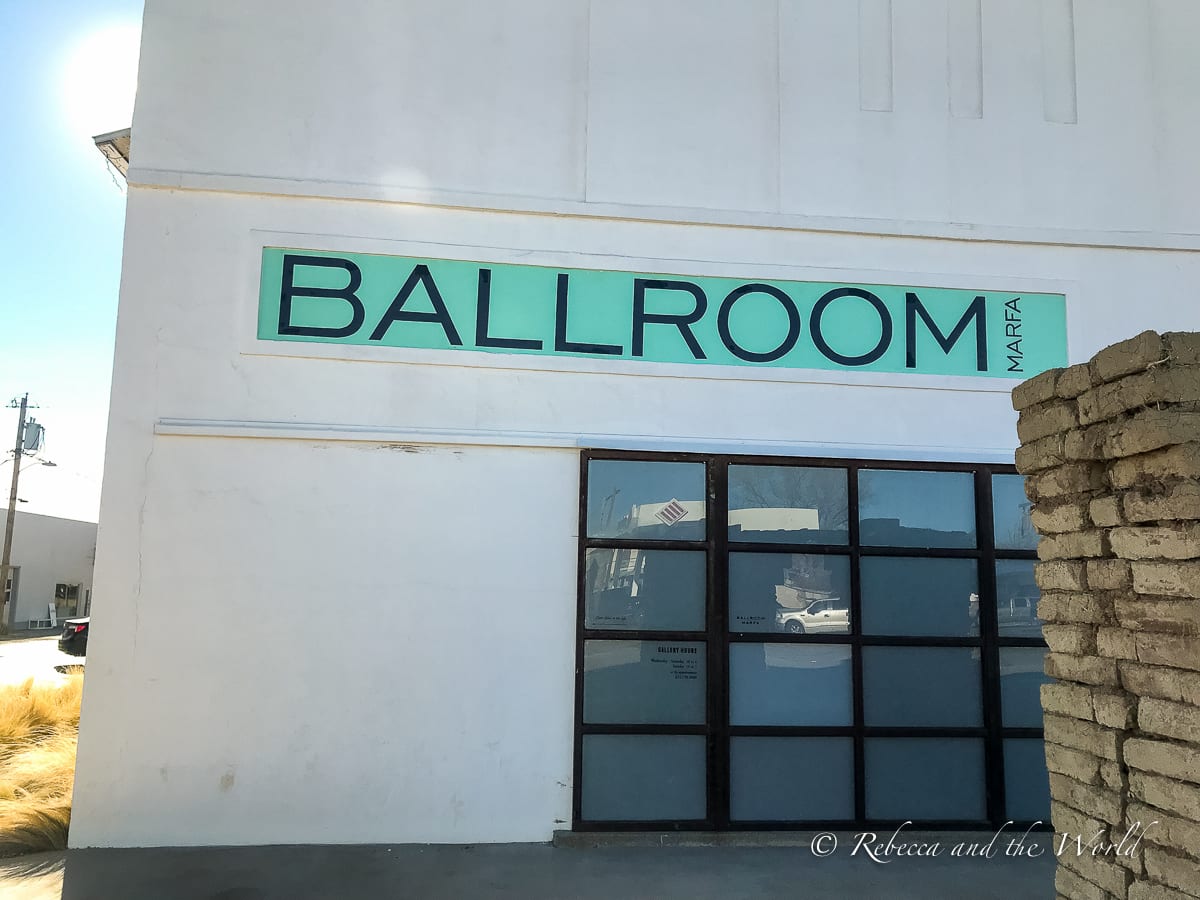 The man who really put Marfa on the map and helped develop its reputation as a hub for artists is the minimalist artist Donald Judd.
You can check out his own collection of works at the Chinati Foundation. This contemporary art museum features permanent exhibitions from some 13 artists, most of which draw on a connection to the surrounding land.
Ballroom Marfa is in a converted dancehall and features regularly changing visual art, film and music exhibitions. It's also free!
There are dozens of other galleries dotted throughout Marfa that showcase the town's cultural standing.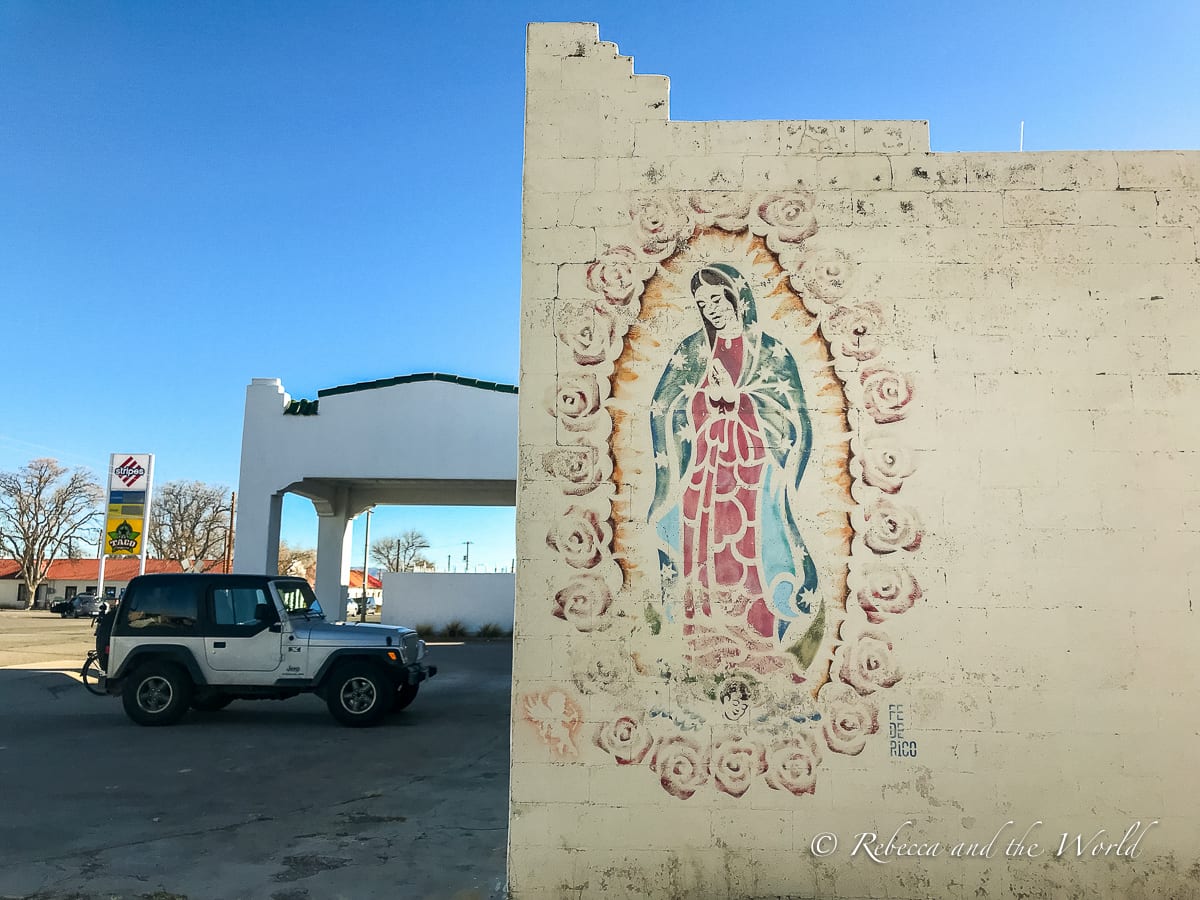 Enjoy a star party
This part of West Texas is one of the darkest places to visit in the United States, which means you can spend the evening gazing up the sky and easily spot constellations.
About 40 minutes from Marfa is the McDonald Observatory, and every Tuesday, Friday and Saturday evening the facility hosts "Star Parties". These parties involve night sky "tours" and an opportunity to take a peek through the huge telescopes with staff guiding you on what to look for.
You're not always guaranteed a clear view of the sky, but the observatory will find other things to do if it's overcast. Unfortunately, this happened when we visited, but we still wandered around the facility, looking through telescopes and heading indoors to learn from experts through virtual sky tours. It's fascinating to learn about the huge stellar world above us.
Go glamping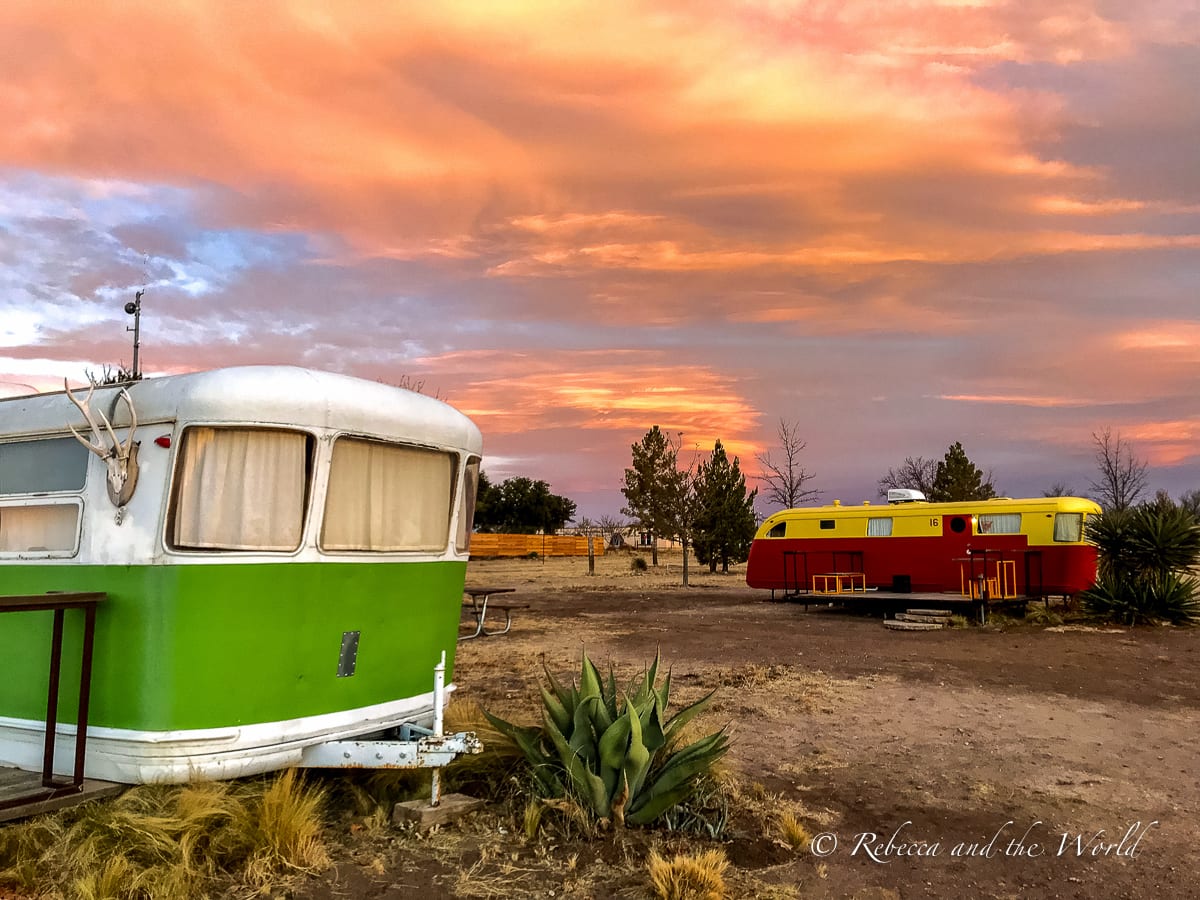 West Texas is full of unique places to stay. One of the reasons Marfa actually got on my radar was because of El Cosmico, a chic Marfa glamping spot. Here, you'll find a mix of teepees, safari tents, yurts and restored trailers. You can also bring your own tent, or have a snooze in the limited-edition Cosmic Kasita.
On our visit to Marfa, we stayed in the Royal Mansion trailer (which I think is now simply called "Large Trailer"). It had a comfy bed, a heater, and a stove and fridge so we could cook up our own breakfasts. We visited in winter and the outdoor shower was definitely only for the brave!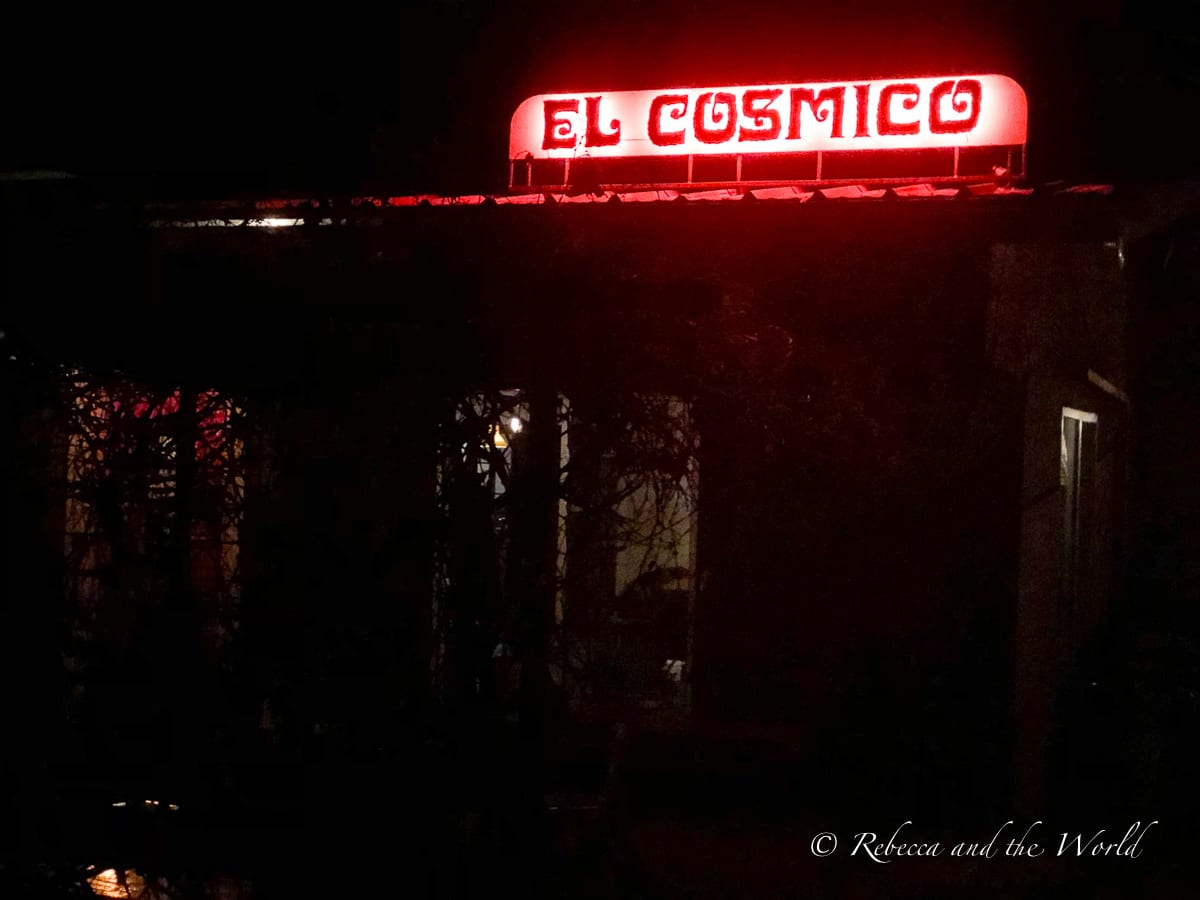 Marfa isn't the only place in West Texas with glamping accommodation. Terlingua (which I'll talk about later) also has some unique places to stay, including tipis and Airstreams.
Drive the River Road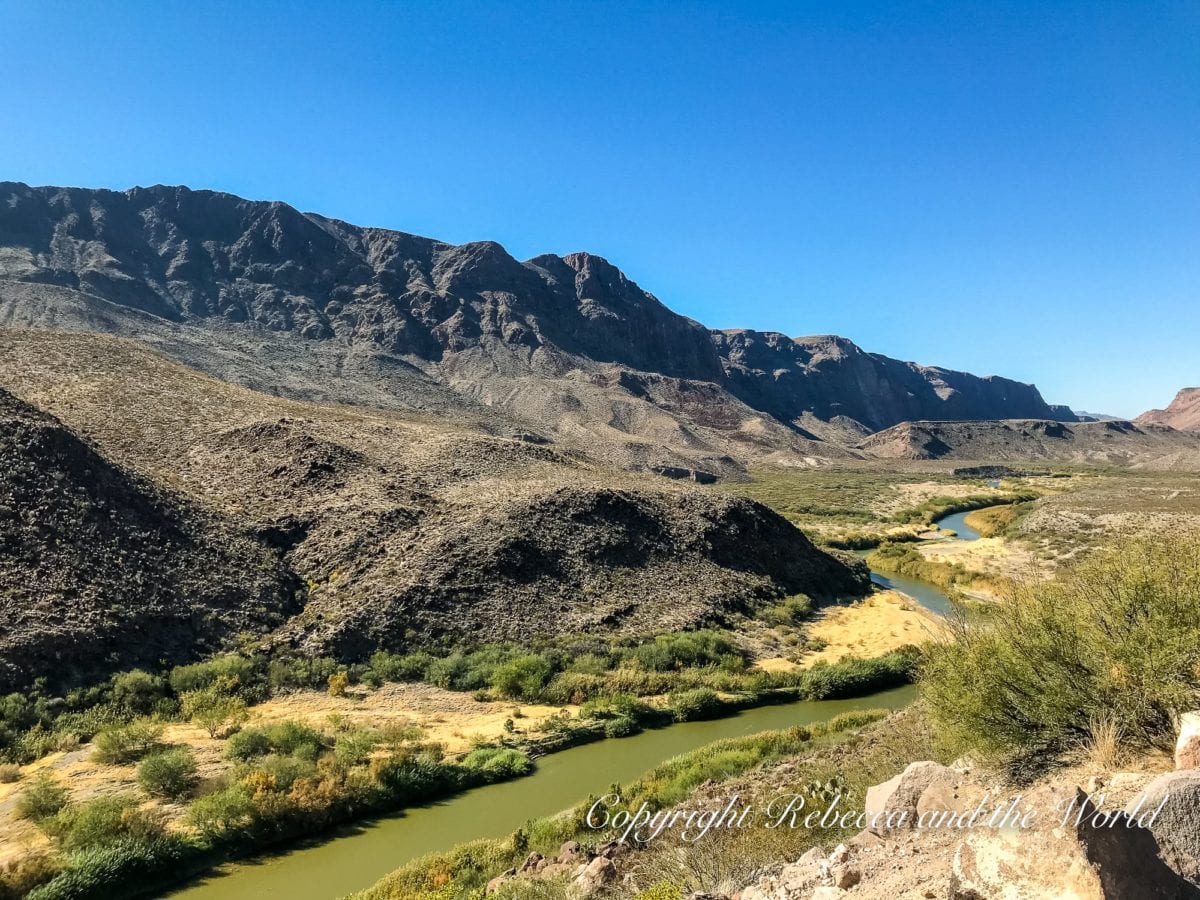 There are two options for the drive between the remote, artsy town of Marfa and the expanses of Big Bend National Park: the US-90/SH-118 via Alpine, or the far more scenic Texas River Road (FM-170).
Make sure you choose the latter.
Leaving Marfa, you'll drive through several blink-and-you'll-miss-them towns. Many have crumbling, abandoned buildings, and some are former mining settlements that are now largely deserted.
The River Road starts after reaching Presidio, a border town, and ends in Study Butte. This 120-mile scenic route winds alongside the Rio Grande (surprisingly, actually not so grande – it's quite narrow in many parts), which in this part of Texas serves as the border between the United States and Mexico. The road has several viewpoints which offer stunning views of the surrounding mountains, and, in one place, a picnic area with large teepees providing shade.
It's a beautiful drive and worth the detour, which is only an extra 45 minutes compared to the US-90.
Meet a beer-guzzling goat who's also the mayor
I told you that this part of Texas is quite quirky, and there's nothing more so than Clay Henry.
Who's Clay Henry? He was the town's beer-guzzling mayor. He was also a goat. Yes, you read that right, the town elected a goat as mayor.
The original Mayor Clay Henry has long since passed and is now stuffed and on display in a nearby town following an altercation with his own son. The Clay Henry you'll now meet in a cage next to the Lajitas General Store is another relative (Grandson? Son? Great-grandson? I couldn't quite figure it out.).
While we didn't see this goat drink beer (and nor would I want to feed a goat beer), the love of cerveza apparently still runs in the family.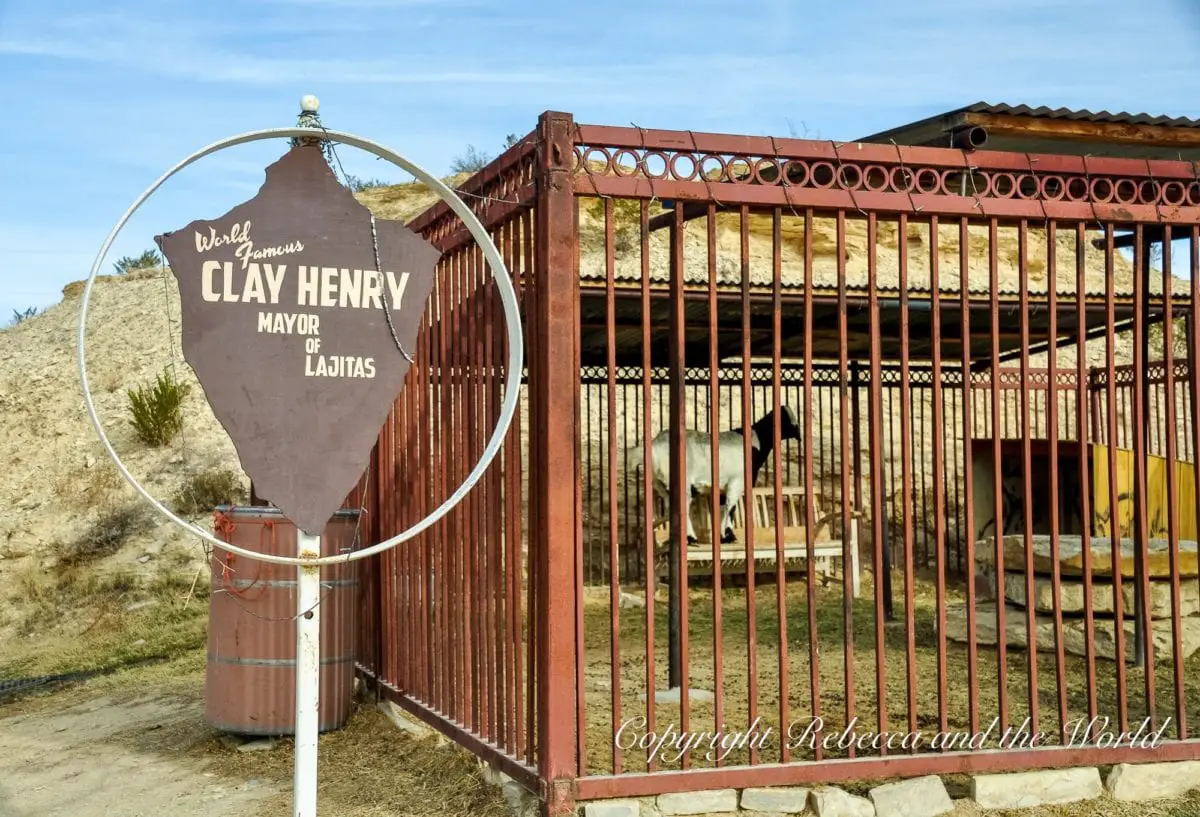 Go golfing in the desert
It's quite a sight to be driving through dusty, brown landscape and then come upon the manicured green lawns of a golf course in the desert.
Named as one of Texas's best golf courses, Black Jack Crossing at Lajitas Golf Resort is set among the dramatic mountains.
I'm no golfer and nor did I play when we visited, but this would be a stunning place to hit a few rounds.
You can also stay here at Lajitas Golf Resort. We based ourselves here for day trips to Terlingua and Big Bend National Park because much of the accommodation was already booked up. It's a huge resort with plenty of activities, a pool and onsite restaurants and bars. Check prices and make a booking online here with Booking.com.
Wander around a ghost town
Along the River Road is the town of Terlingua, with a population of 58 people at the last census.
At the end of the 19th century, the town was a thriving mercury mining town of 2,000 people. It was abandoned in the 40s and you can now wander through the famous Terlingua Ghost Town. You can pick up a brochure at the Terlingua Trading Company which outlines the main sites to see, including the former jail, church, school and cemetery, all within walking distance.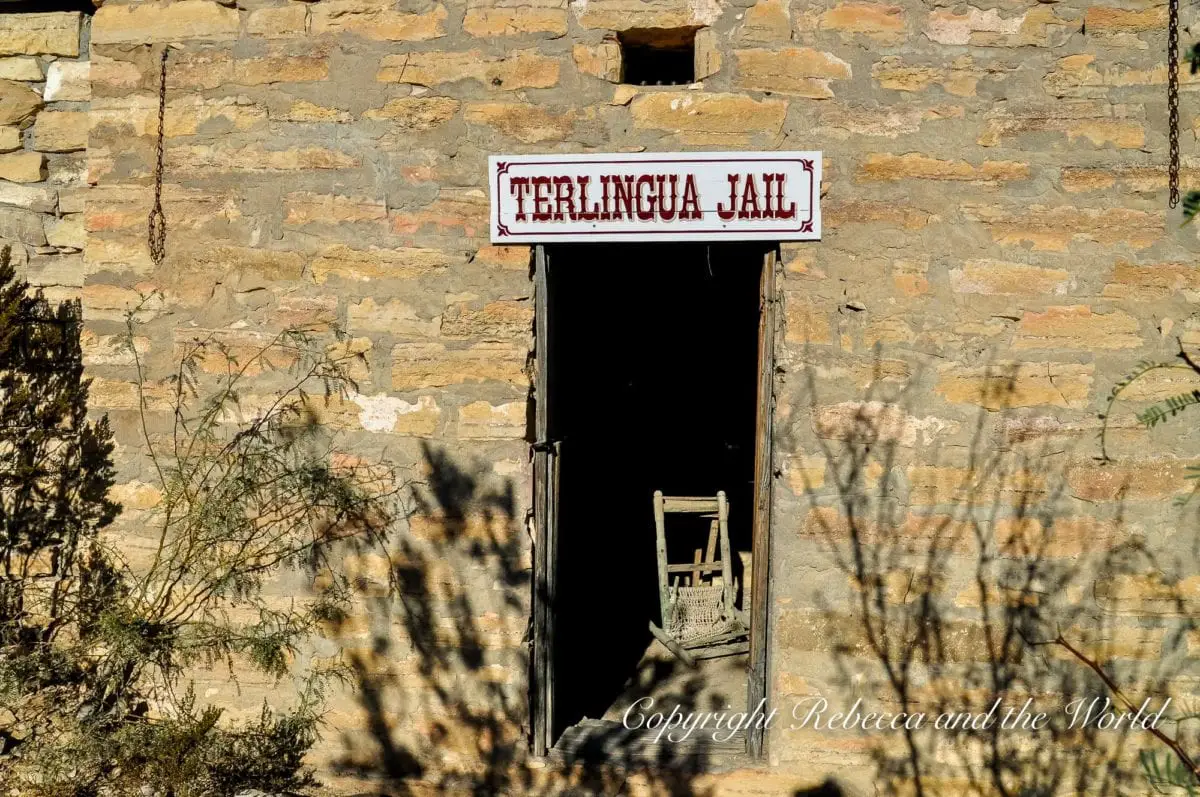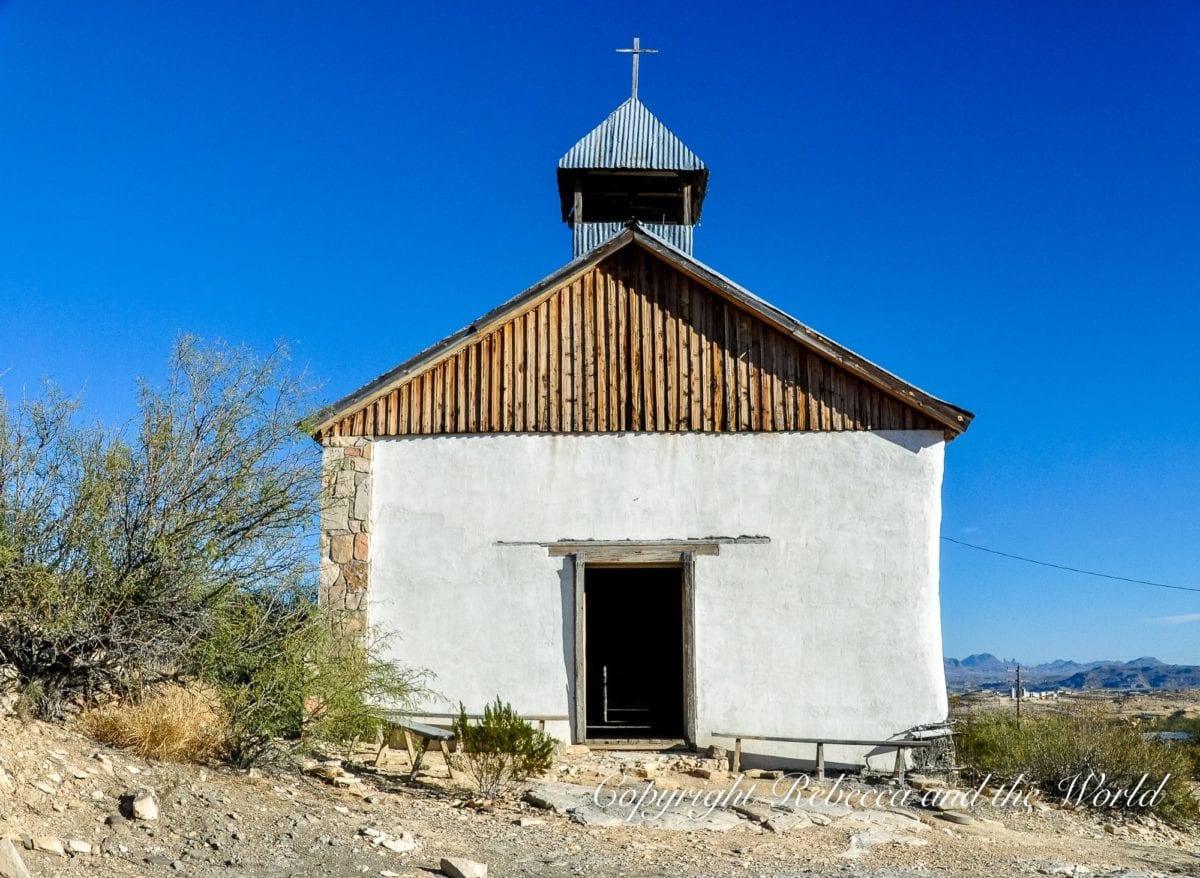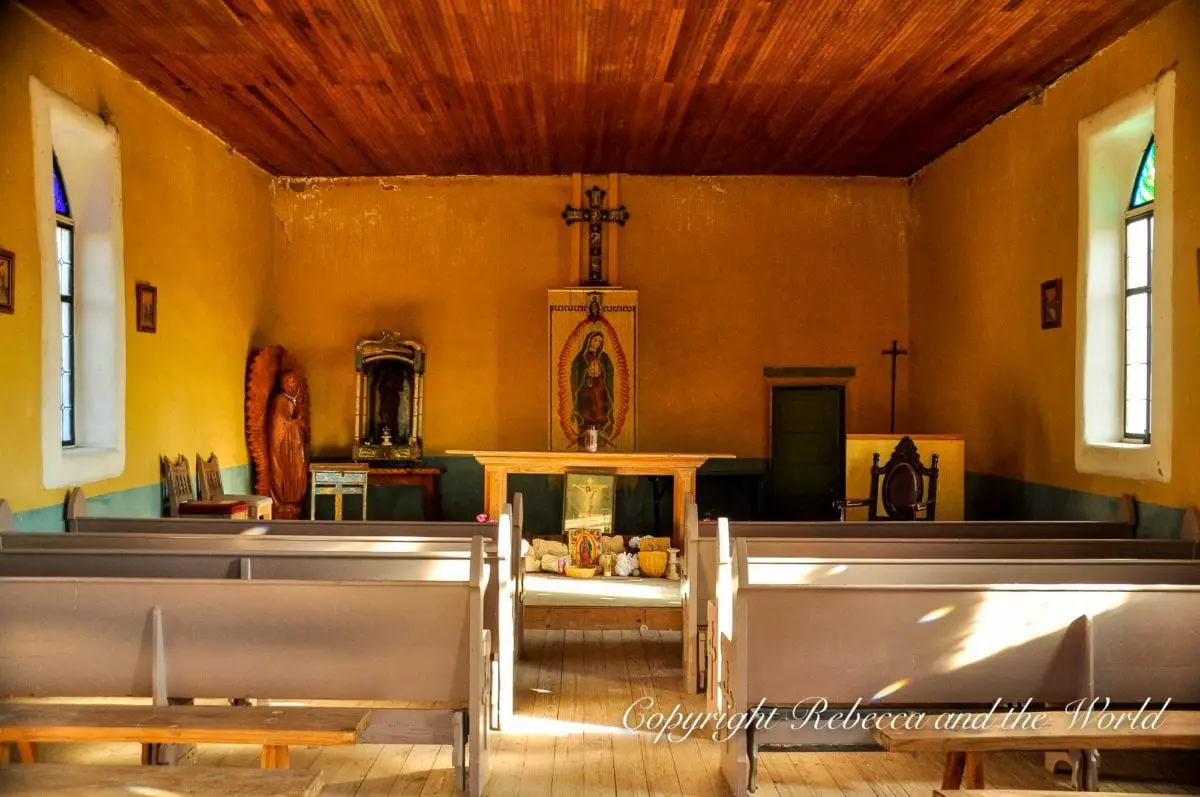 Check out an old theatre
The Starlight Theatre is a former movie theatre that's now a bar and restaurant. It sits next to the Terlinga Trading Company so you can't miss it.
There's often live music on the weekends, and it's a great spot to grab lunch or dinner, or just have a beer.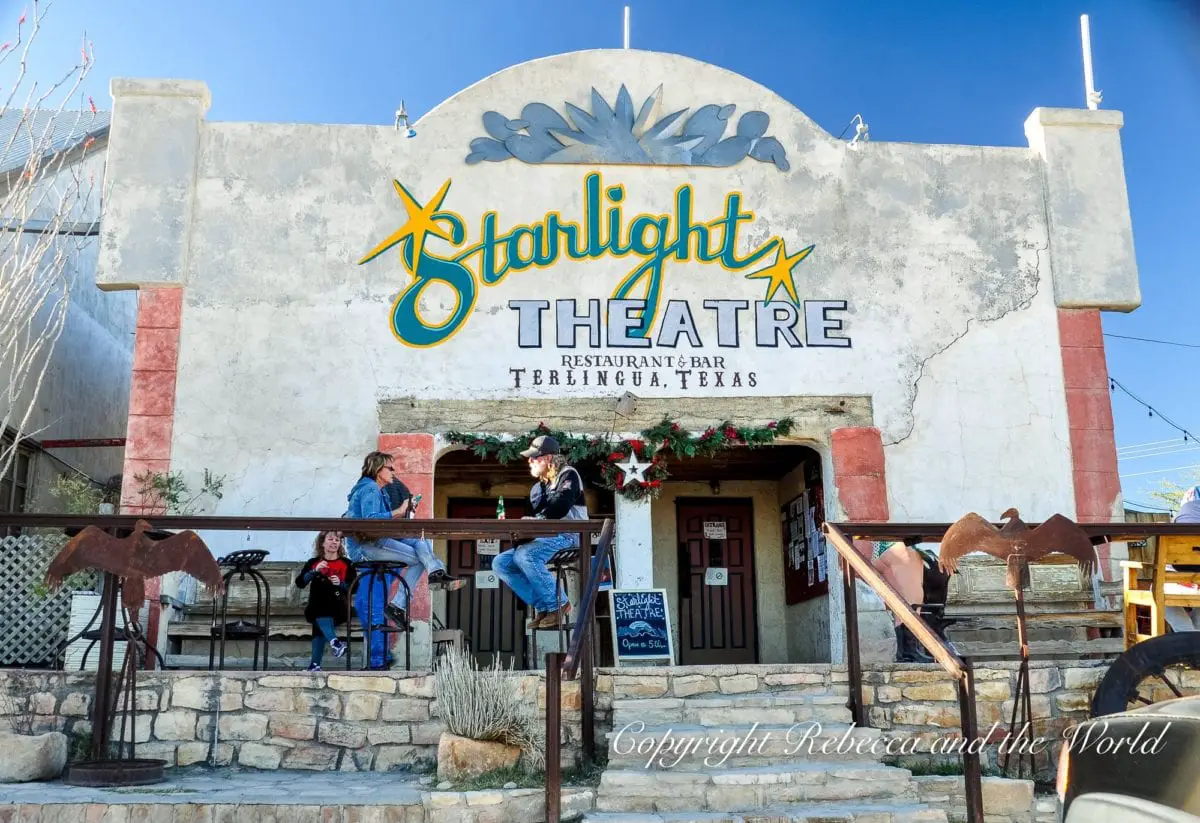 See the great chili cook-off
As well as the ghost town, Terlingua is famous for its annual chili cook-offs. Yes, in a town of fewer than 60 people, there are actually two chili festivals.
These annual events attracts thousands ready to dip into big bowls of chili. The Original Terlingua International Championship Chili Cookoff (often referred to as Tolbert's Chili) and the Chili Appreciation Society International Terlingua ​International Chili Championship are both held the first weekend of November.
Unfortunately, I've never been to either event, but it'd definitely be worth scheduling a West Texas road trip around.
Dine in an underground cave
A short drive from Terlingua is the cave bar and restaurant, La Kiva. There are dinosaur bones embedded into the rock walls and there's always an intriguing crowd of locals and visitors.
Pizza, barbecue and cold beers are served up with a backdrop of live music. Come early as the place fills up quickly – we had to sit at the bar on our visit (which meant chatting to the interesting bartender!).
Note that La Kiva is currently temporarily closed. I'll update this post with more information!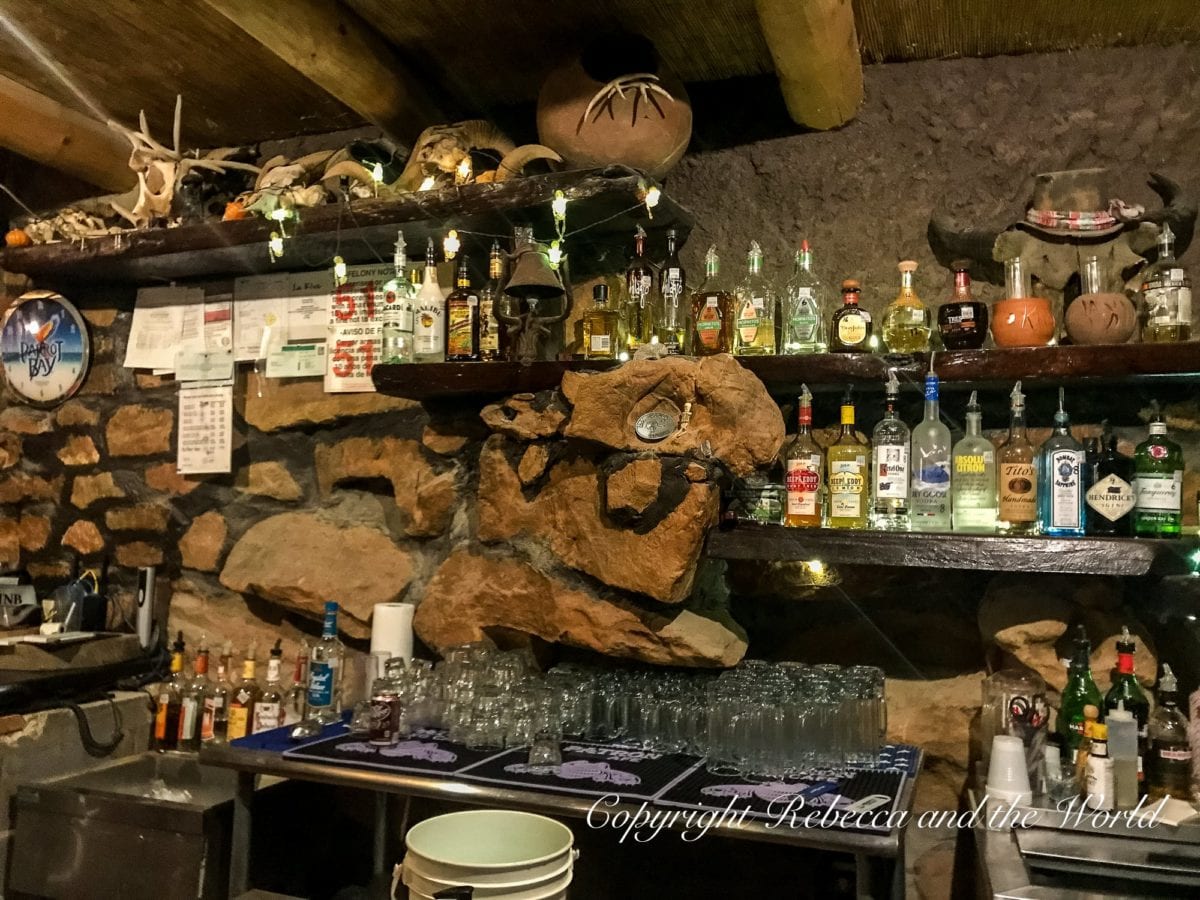 Go hiking in Big Bend National Park
Spread over 801,000 acres, it would take weeks to properly explore Big Bend National Park.
But you can still stop by for a day to explore.
This is one of only two national parks in Texas, and the grandeur here is often overwhelming. The huge, open spaces that seemingly go on forever were so different to what I've seen in Utah's national parks and even the Grand Canyon. It's without a doubt one of the best places to visit in Texas.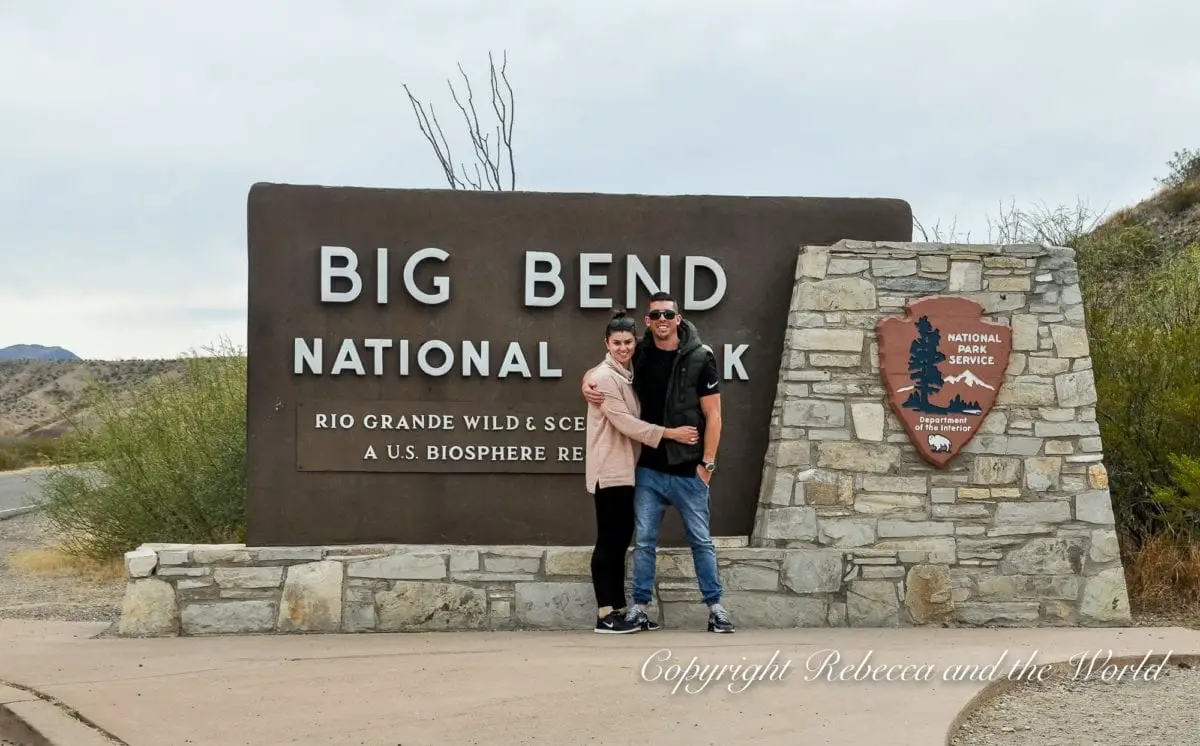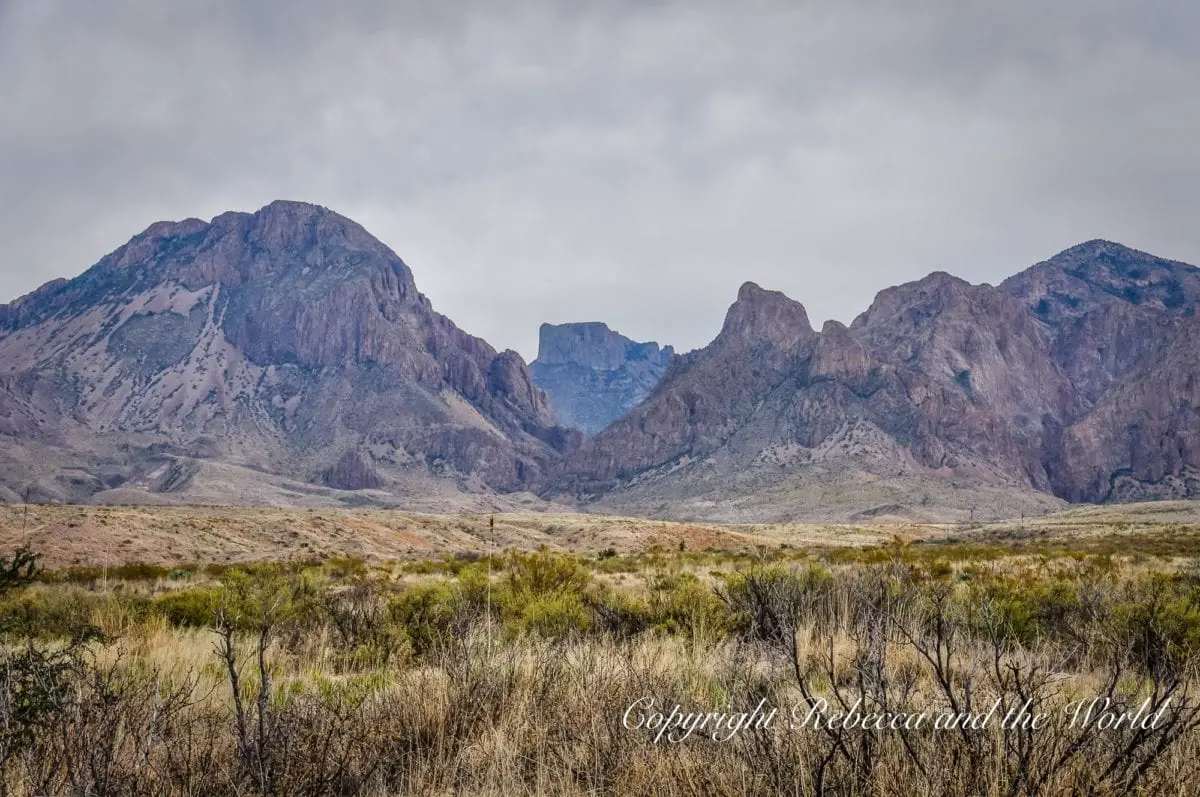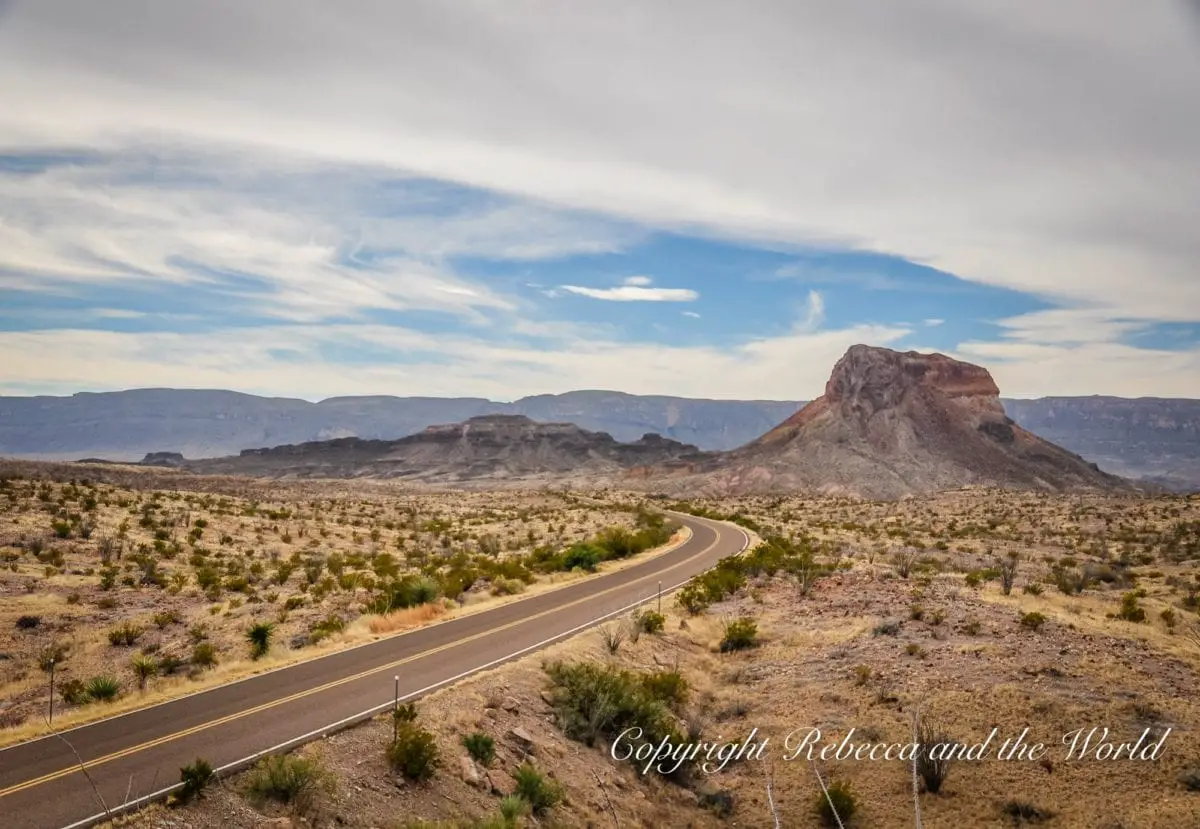 Grab a map and the rangers' recommendations at the visitor centre. If you only have a short time in the park, drive the Ross Maxwell Scenic Drive, stopping at various viewpoints.
The Santa Elena Canyon trail (1.7 miles roundtrip) is a short, easy hike that ends at the huge canyon. Depending on the time of year, the Rio Grande may be calm and it's hard to believe that this river carved these massive rock walls over millions of years.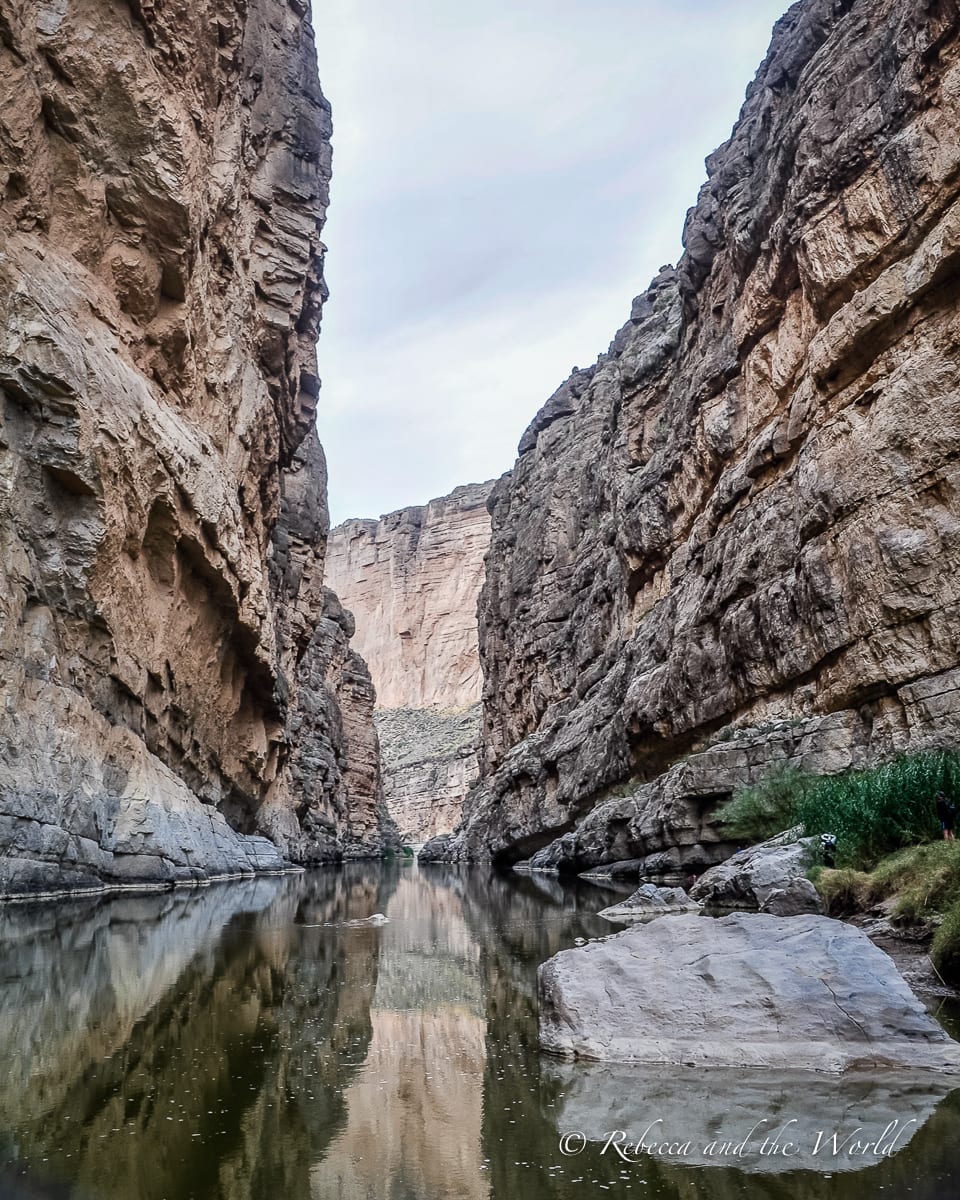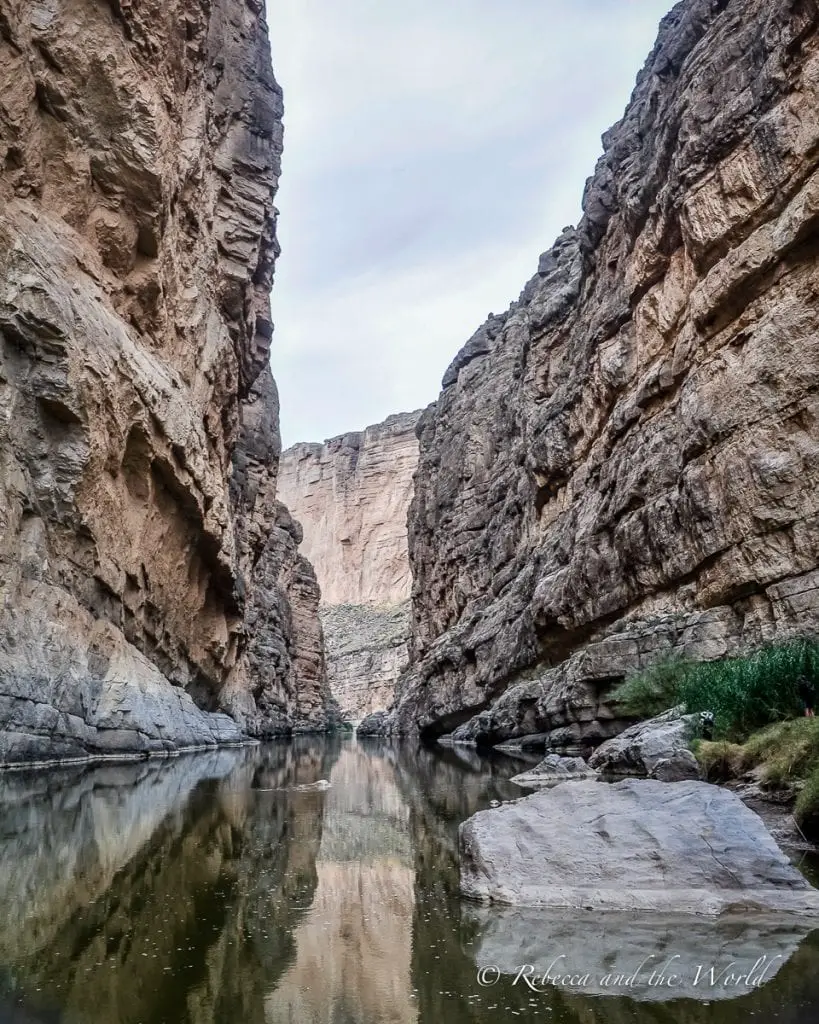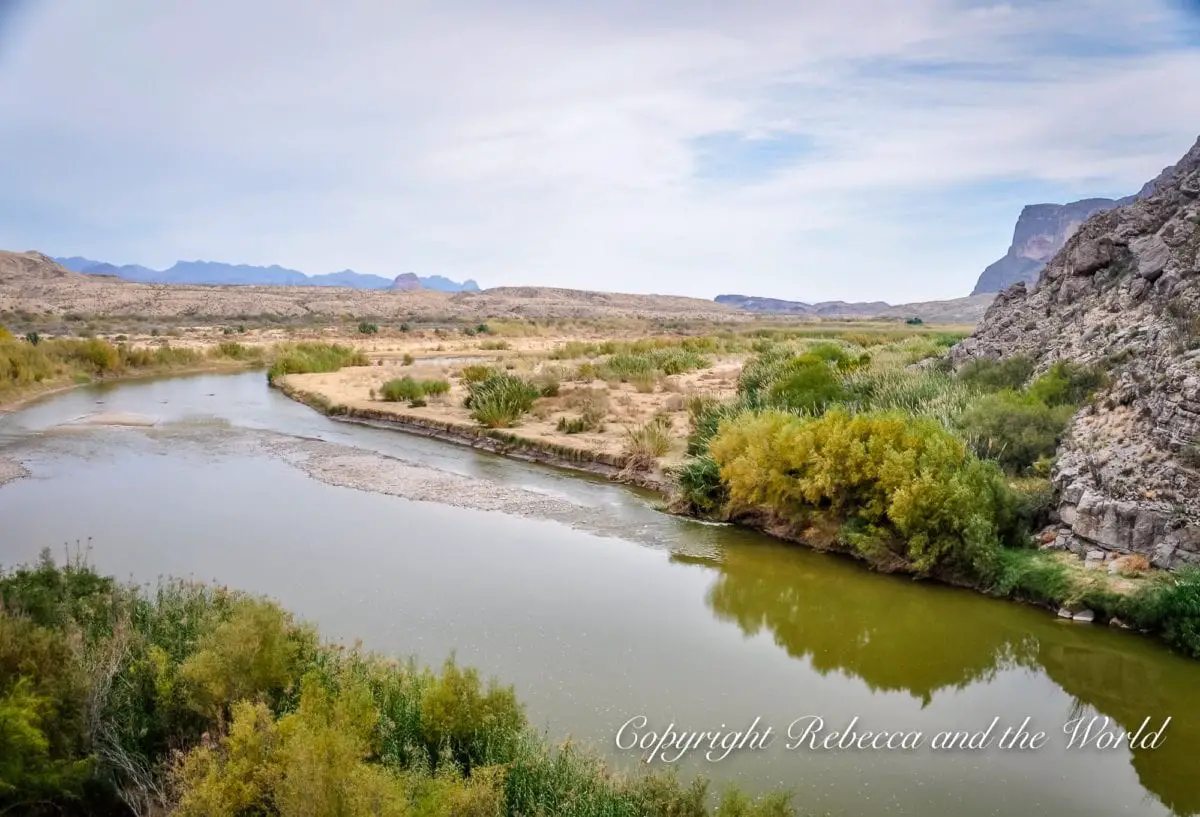 Other popular hiking trails in Big Bend National Park are:
Hot Springs Historic Trail (1 mile roundtrip, easy)
Lost Mine Trail (4.8 miles, moderate)
South Rim Trail (12-14.5 miles, strenuous)
Window View Trail (0.3 miles, easy)
Mule Ears Spring Trail (3.8 miles, moderate)
You can stay inside the park. Book ahead for the Chisos Mountain Lodge, or park your tent or RV at one of the camping grounds.
If you can't stay inside the park, find accommodation at one of the towns around Big Bend including Lajitas, Terlingua or Alpine.
Come prepared with food, or stop for a meal at the Chisos Mountain Lodge, the only full-service dining option in the park. For snacks and packaged food, there are a number of convenience stores throughout the park.
To enter Big Bend National Park, a vehicle pass costs $30 and is valid for 7 days. If you visit several national parks in a year, I'd recommend getting the America the Beautiful pass which will save you a lot of money.
Cross the border
If you time your trip to Big Bend National Park right, you can even slip over the border and spend an afternoon in the small Mexican town of Boquillas. It's one of those unique things to do in Texas.
The crossing is by river ($5 return trip in a small boat) and is open Wednesday through Sunday (winter) or Friday to Monday (summer) from 9 a.m. to 4 p.m.
Once you arrive on the other side of the river, it's about a mile to Boquillas. You can either walk there or take a burro or a car for a small fee. Local guides are available.
You'll have to pay the small $3 entry fee, as Boquillas is in a protected area.
In Boquillas, have lunch at one of the family-owned restaurants, or pick up some souvenirs. Many families depend heavily on the tourists that visit Boquillas so make sure to tip fairly.
You will need your passport. Unfortunately, we didn't bring ours with us so we weren't able to do this border crossing, something I still kick myself over. This blog post has more information about the Boquillas crossing and what to expect.
Have a meal at the Gage Hotel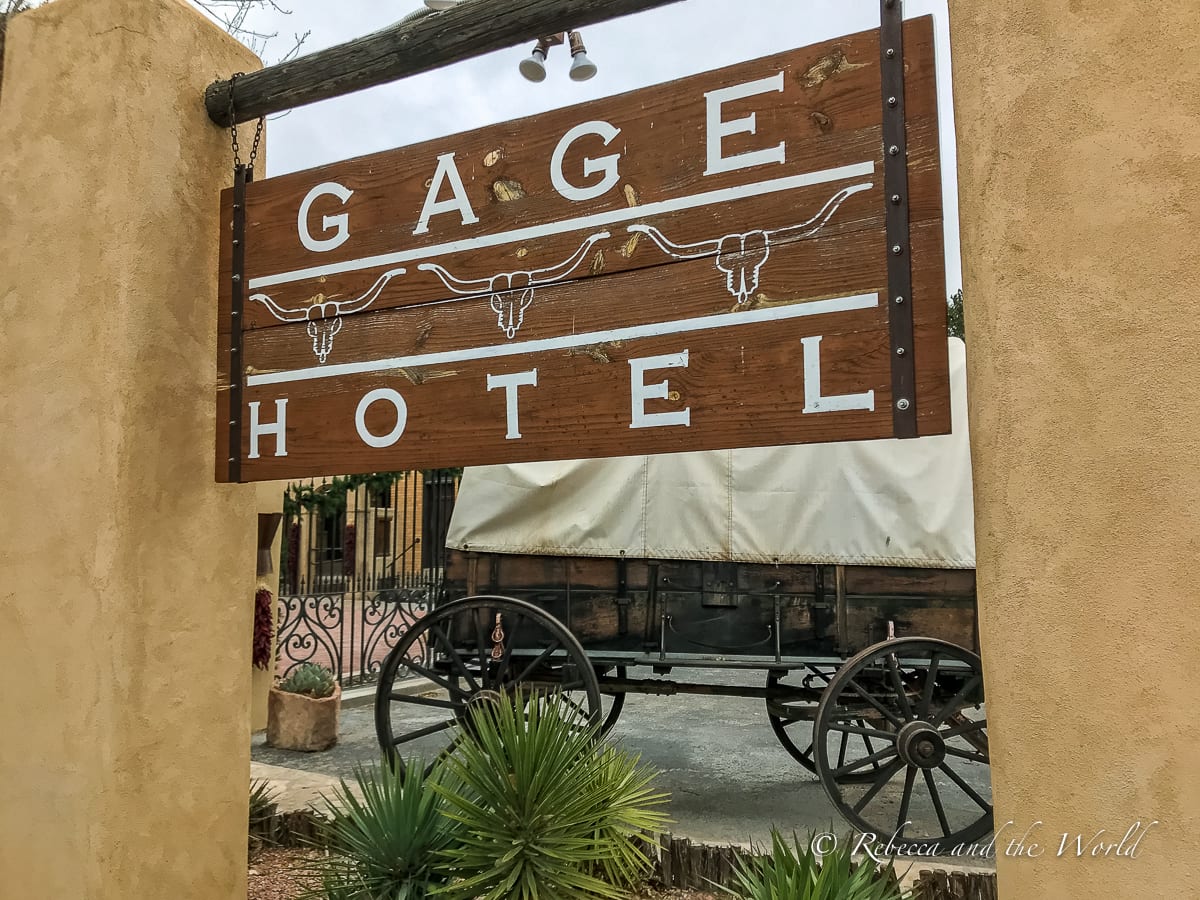 The Gage Hotel in the small town of Marathon is legendary, and worth stopping for lunch on your trip (or even stay the night). In fact, this hotel is one of the popular weekend getaways in Texas.
The hotel was built in 1927 and screams old western vibes and history. The hotel's 12 Gage Restaurant is known for its Texan specialties.
If you do stay longer than just a meal, you can book one of the hotel's 40+ rooms online here in the Historic Hotel or other accommodations.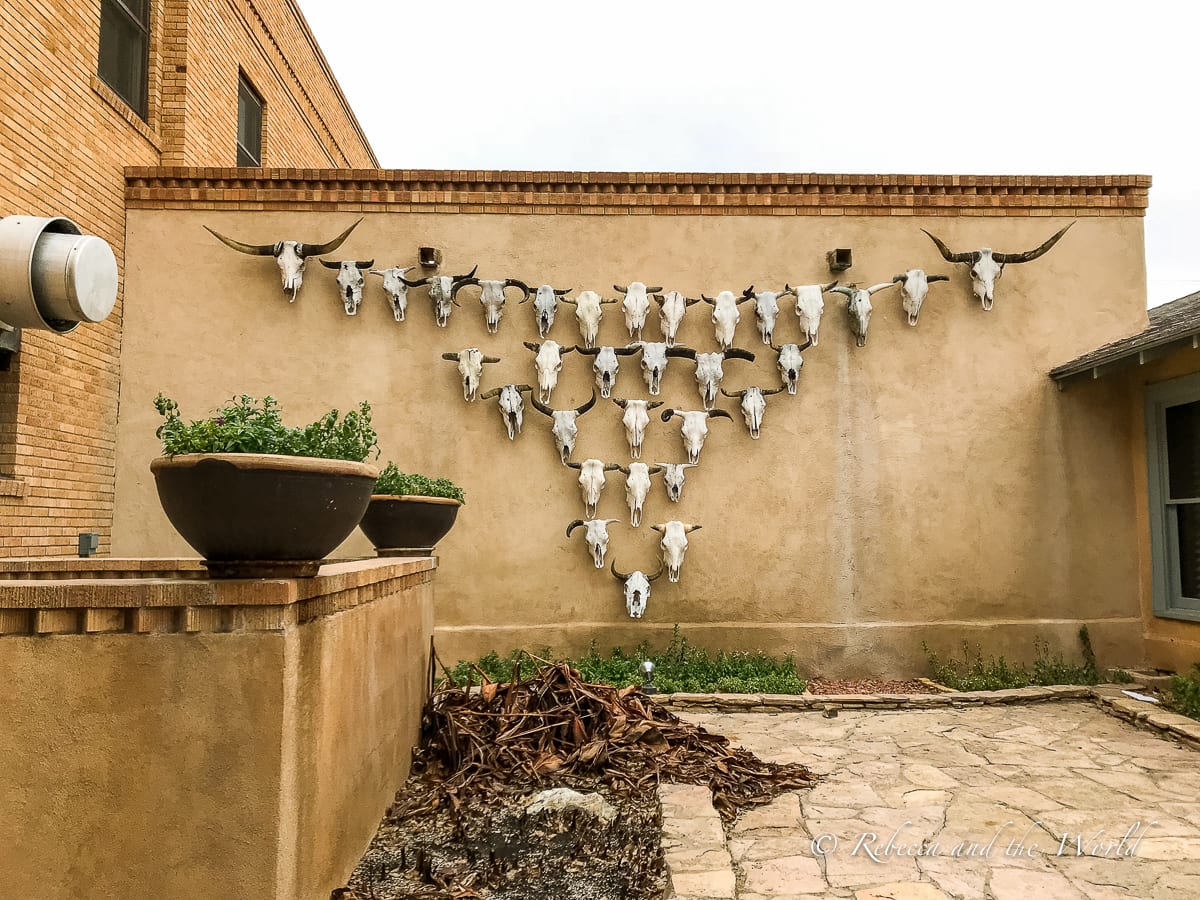 Soak up the views
One of my favourite things about this West Texas road trip is the views.
I'd expected boring scenery but I was so very wrong. Depending where you are in West Texas, you might be faced with expansive desert, or the winding green Rio Grande, or the rocky peaks of the Chisos Mountains breaking up the flat landscape.
It's also so quiet. At night, the silence is incredibly peaceful and it's a chance to escape city life and slip into the wonders of nature.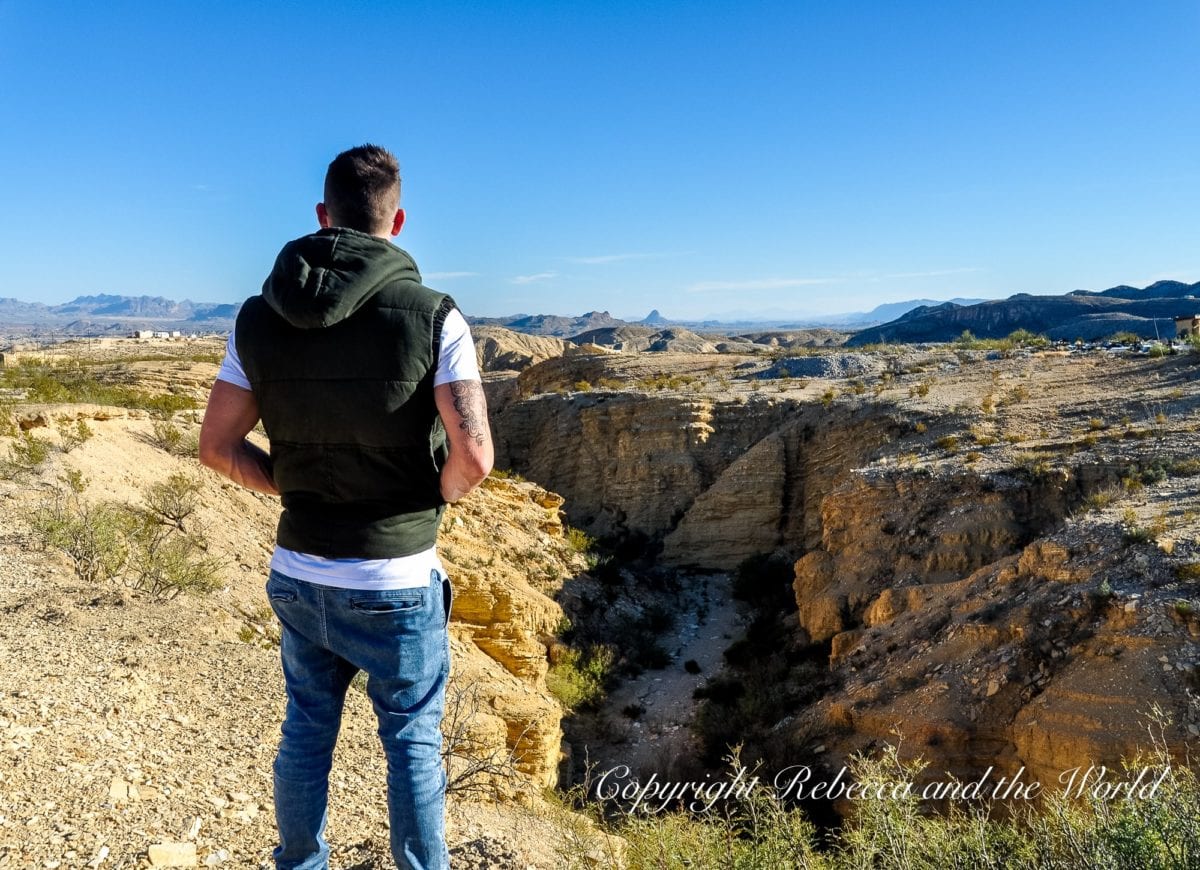 Shop for unique souvenirs
Don't leave West Texas without a souvenir to remember your trip by.
Marfa is full of funky shops selling bespoke boots, books and homemade soaps. Check out stores like Cobra Rock, Marfa Book Company, Marfa Thrift Store and Marfa Brands.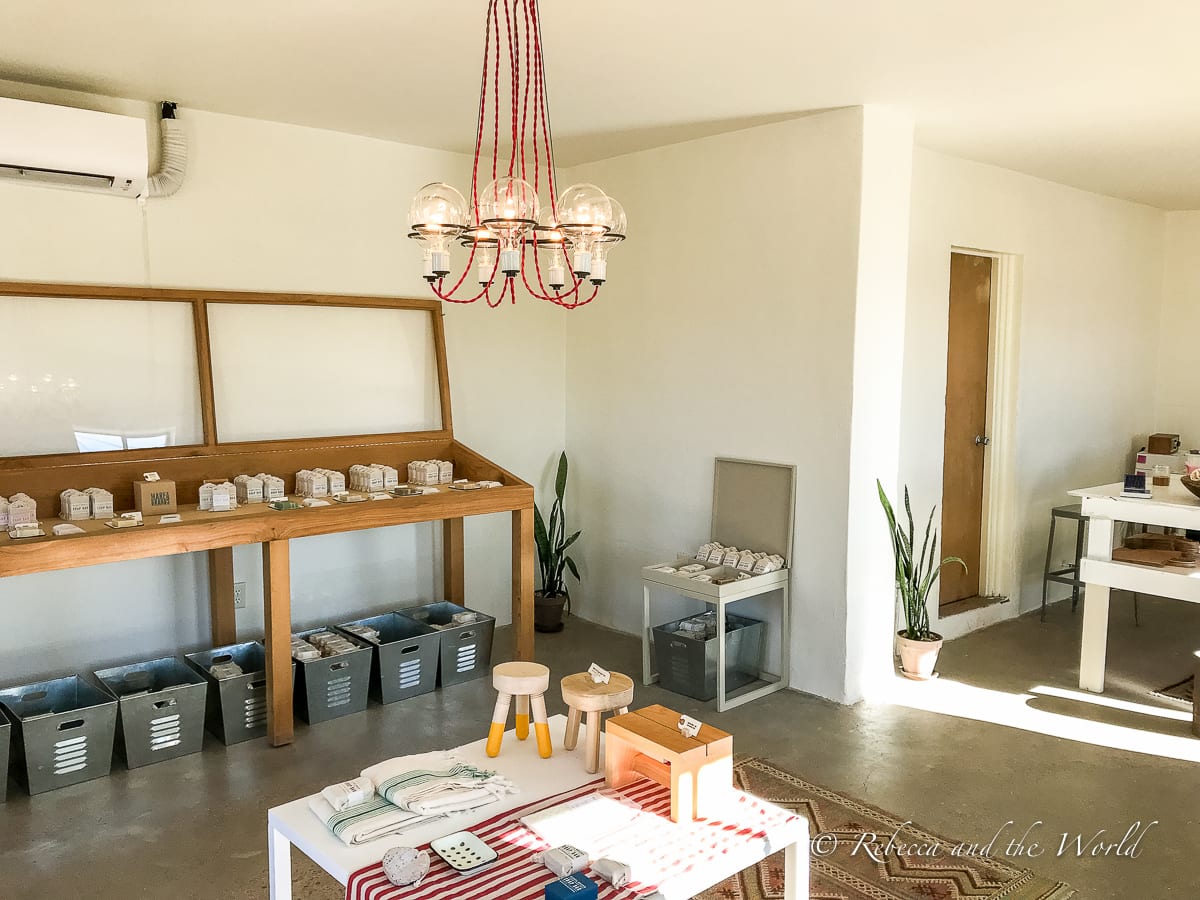 The store at El Cosmico sells some fun branded goods, and my husband picked up a koozie (stubby holder) and some stickers. There are also t-shirts, books, camping gear, patches and posters for sale in the store.
The Terlingua Trading Store is packed with quirky items that'll make you giggle out loud.
West Texas road trip info
Here are my tips and some extra info so that you can make the most of your West Texas road trip.
How to get to West Texas
You can start your road trip from one of Texas's major cities – but be warned that you'll be on the road a long time before you actually arrive. We started our trip from our home of Dallas and headed for Marfa first, a 9-hour drive.
From Austin to Marfa, it's about 6.5 hours (429 miles), 8.5 hours from Houston to Marfa (597 miles) and 6 hours from San Antonio (404 miles).
Alternatively, if you're coming from interstate, you can fly into El Paso, rent a car and then make the 4-hour drive to Marfa.
Best time to visit West Texas
The Texas summer can be felt even more strongly here, so I'd recommend visiting West Texas between April and June or August to October for more temperate weather. No matter the time of year, the desert surroundings means that it can still get chilly at night.
On our West Texas road trip, we visited in December and spent Christmas day in Marfa. The days were lovely and sunny (we got lucky) but just a few days after we left, it snowed, so that shows just how quickly it can change!
There are several cool festivals in West Texas, so plan your trip around one of them: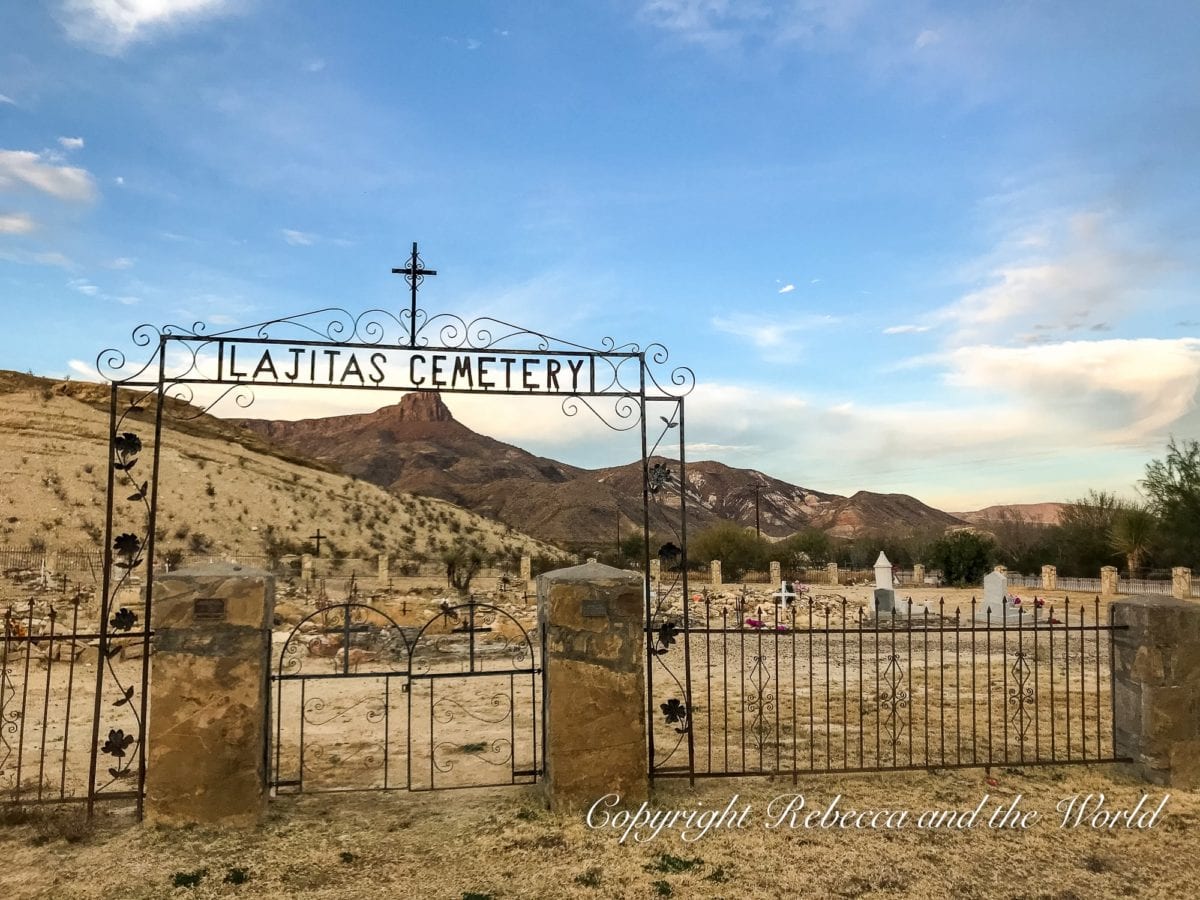 Where to stay in West Texas
I've suggested a few places to stay in West Texas already throughout this post, but there are plenty of options also on Booking.com.
VRBO has many unique accommodation options, like casitas, trailers and other quirky places to stay. Check out some of these online here.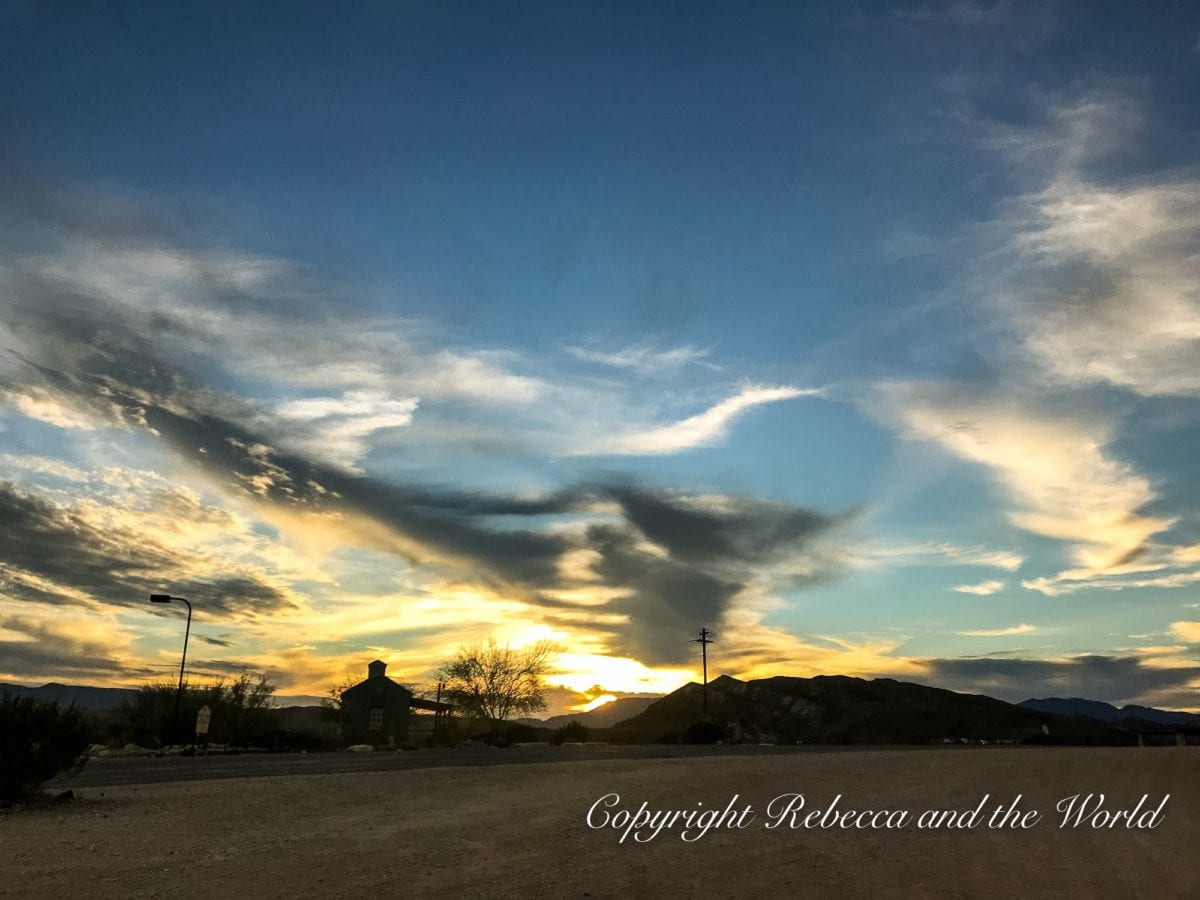 Travel tips
Fuel stations are few and far between, so make sure you fill up when you can.
Bring plenty of snacks to keep your energy up on the long drives. Fuel stations sell snacks, but it's only in the towns that you'll be able to get meals.
Check opening hours. In some of the smaller towns (especially Marfa), hours can be erratic.
Bring a bit of cash, as we found that some restaurants and shops don't accept credit cards.
Bring your passport with you if you want to visit Boquillas. If you're a non-U.S. citizen (like us), you must have your passport on you at all times when you're within 100 miles of the border. We learned this when passing through a checkpoint. We didn't have our passports with us, but luckily the border patrol guard was a decent guy who let us go with a warning.
Stay hydrated; West Texas is largely desert which can suck the moisture from your skin and hair, and you'll probably feel thirstier than usual.
Enjoy getting off the grid, because mobile phone coverage is spotty out this way.
Enjoy your trip to West Texas!
Any other things to do in West Texas that you'd add to this list? Would you like to do your own West Texas road trip? Drop me a comment below.
PIN IT FOR LATER: