The United States is made for road tripping. Route 66, the Pacific Coast Highway, the Blue Ridge Parkway are all adventures that travellers crave. But if you want to do something a little unusual, something I bet most of your friends haven't done, then head to the Deep South for a Mississippi road trip.
Mississippi was where we started our 4-month USA road trip, and before we embarked on the journey, every single American friend and colleague told me that they'd never even been to Mississippi.
The only things I knew about Mississippi before we visited were that it's hard to spell and that we used it as kids when counting in games of hide-and-seek (one-Mississippi, two-Mississippi). After spending almost two weeks road tripping through Mississippi, we saw a state that is full of contrasts and is still struggling with a raw, complex history. Opulent wealth lies next to abject poverty. We heard stories and whispered words that were hard to stomach.
But we left this state with the blues streaming through our souls, our eyes full of the sight of the mighty Mississippi River and the warmth of Southern people filling our hearts.
So, if you're looking for one of the most soulful USA road trips, here are a few places to visit in Mississippi. Hopefully I can encourage you to visit a part of the U.S. you may not have considered before.
This blog post may contain affiliate links, meaning if you book or buy something through one of these links, I may earn a small commission (at no extra cost to you).
Mississippi road trip itinerary
This itinerary has you flying into Memphis, Tennessee. It might sound odd for me to tell you to start a Mississippi road trip in Tennessee, but the Home of the Blues sits right on the border of Mississippi and it's an easy city to fly to from most parts of the United States.
Head south to blues country and immerse yourself in the soulful music that defines this part of the country and that greatly influenced other musical genres including country and rock 'n' roll. Tunica, Clarksdale and Cleveland all have homages to this great music form – and plenty of bars to see it live.
Next up is Vicksburg, a key location during the American Civil War. The Vicksburg National Military Park is a must-visit for anyone interested in learning more about the civil war.
Right on the mighty Mississippi River sits pretty Natchez, home to grand old houses and a horrific slave-trading history. From here, you can add a few days on the beautiful Natchez Trace Parkway.
End your trip in Jackson, home to two fantastic museums that recognise civil rights struggles and the state's origins.
We didn't make it as far south as the beaches, but you could easily add a few days on after Jackson to explore the Gulf Coast and beach towns like Biloxi.
I've also got a road trip packing list to help you plan for your visit to Mississippi.
Mississippi travel guide
To follow this bucket list USA Mississippi road trip, fly into Memphis, Tennessee, and out of Jackson, Mississippi.
In Memphis, rent a car. This road trip follows highways, so you'll just need something simple, no 4WD required. I like to compare prices, cars and availability online with RentalCars and Discover Cars.
Along the way, there are plenty of unique and beautiful accommodations to stay in when you visit Mississippi. I've recommended lodgings throughout this article. You can use Booking.com to book most of them or look for vacation rentals if you'd like the comforts of home.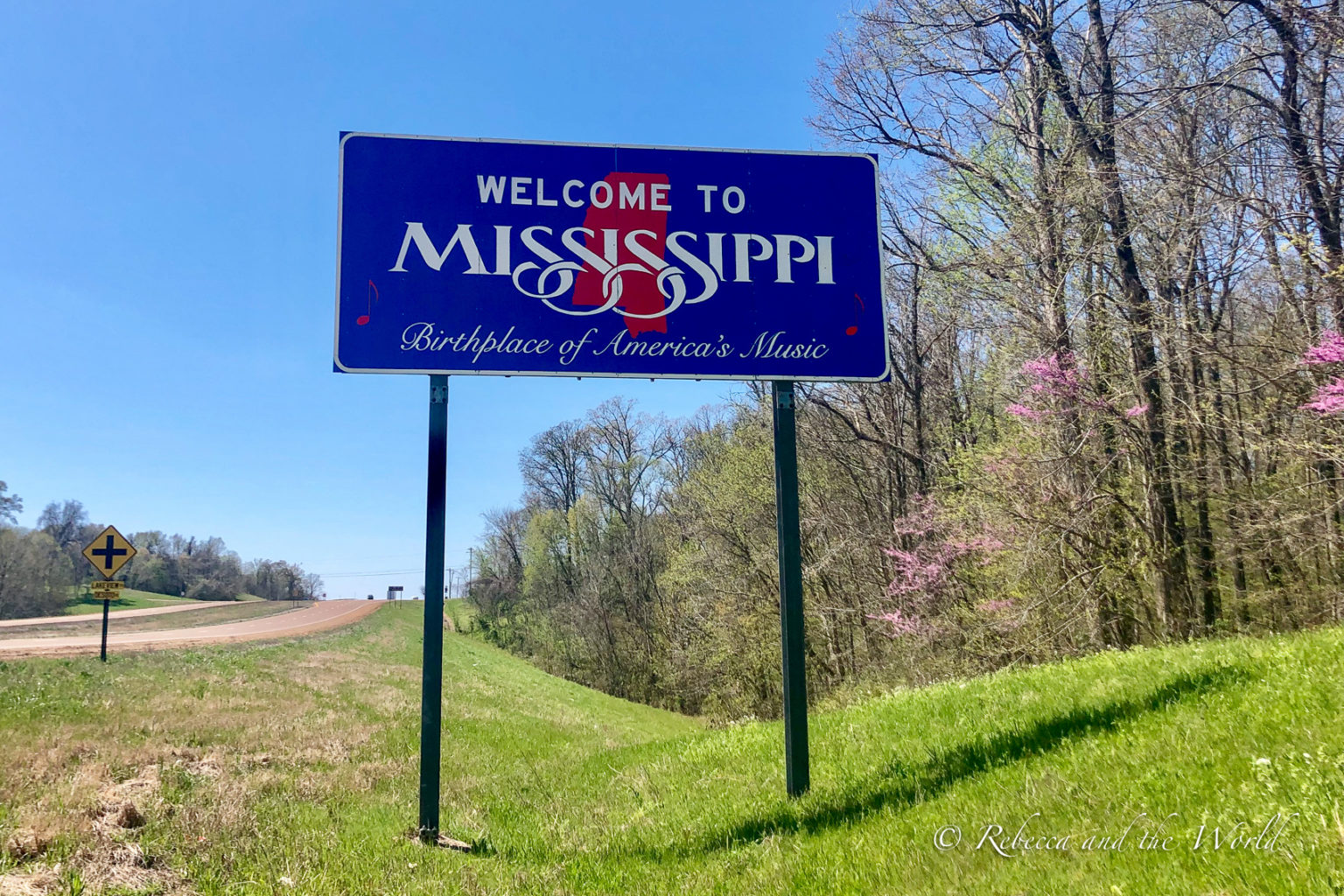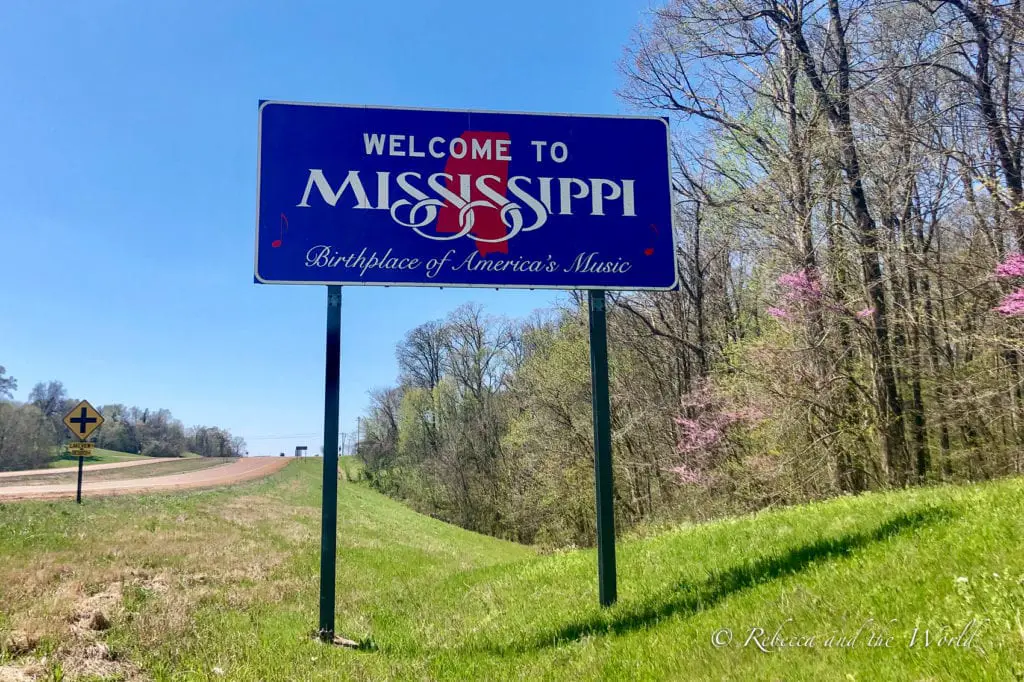 1. Memphis, TN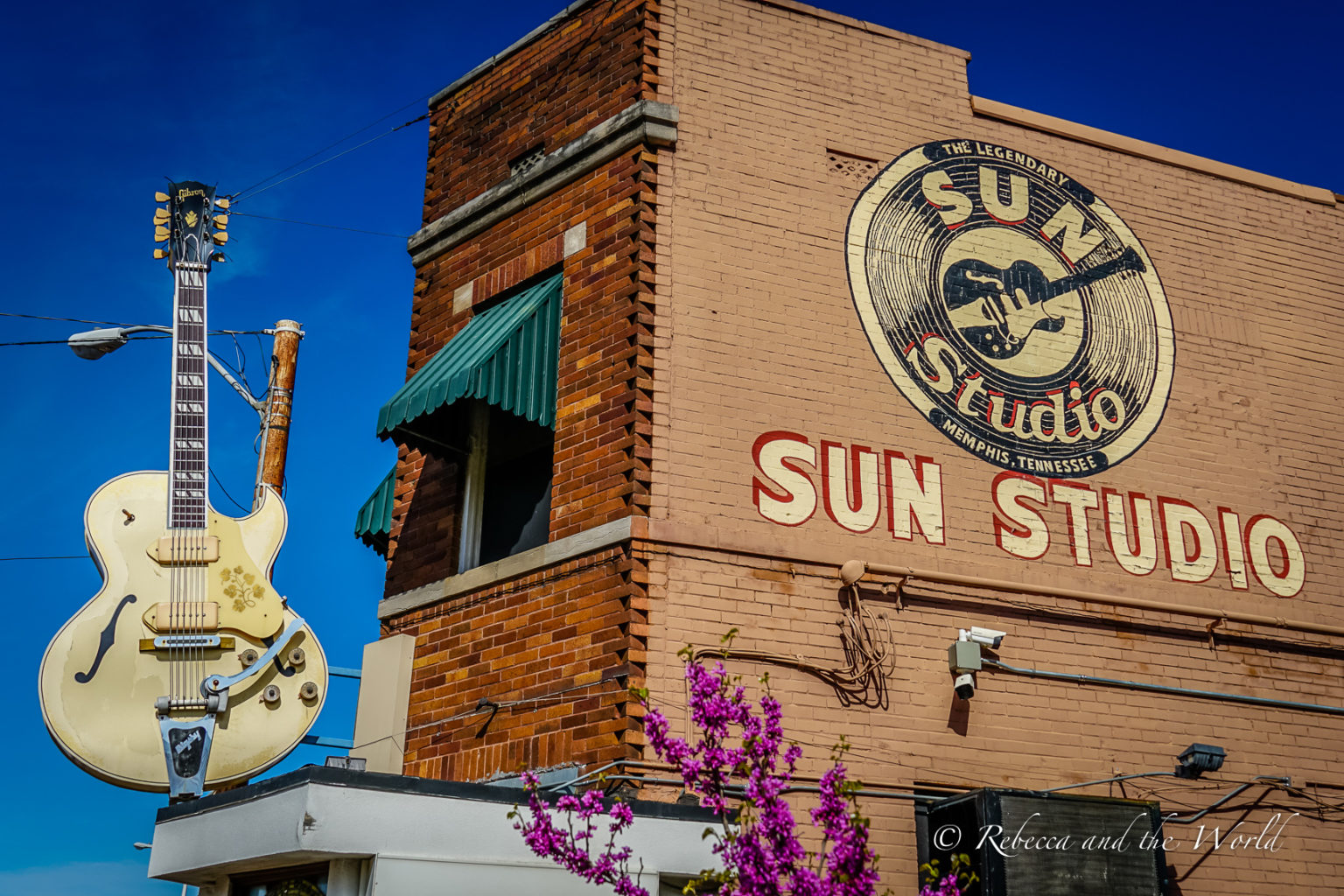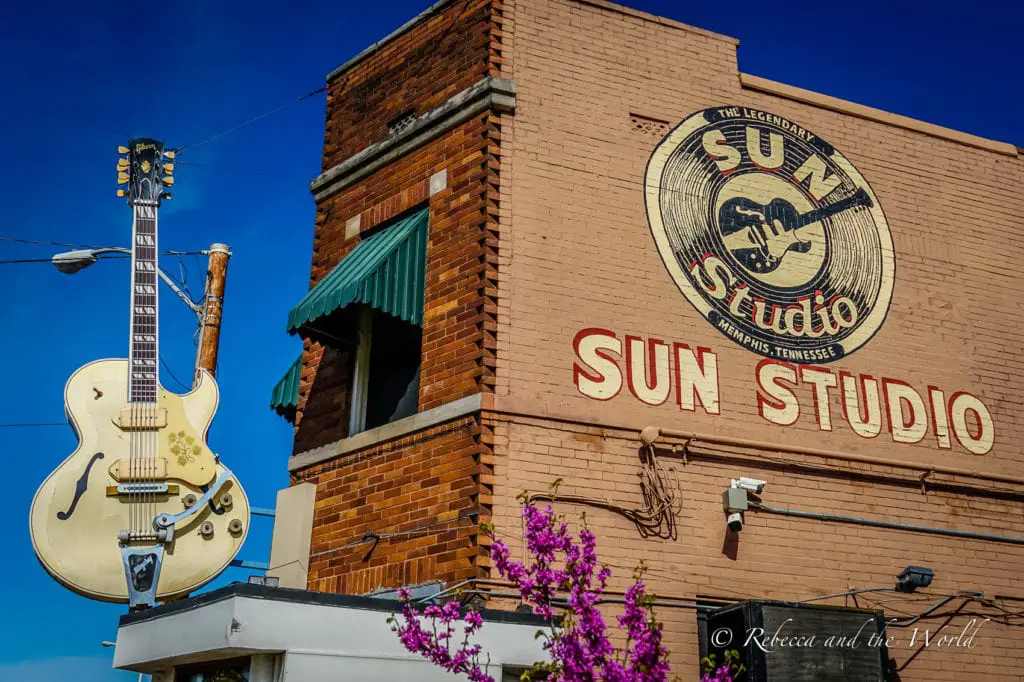 Rent a car in Memphis and start your road trip straight away, or – better yet – spend a few days to discover the many Memphis museums that cover history, culture and music. Hit up a few blues bars along Beale Street – get your ears and soul ready for all the blues music you'll be hearing in Mississippi – and fill your belly with barbecue.
A few of the famous blues bars to add to your Memphis itinerary are Blues City Café, Blind Bear Speakeasy (downtown) and Rum Boogie Café Blues Hall.
Learn more about music at Sun Studio, the Stax Museum of American Soul Music and the Blues Hall of Fame. Enter the hallowed grounds of Graceland, the former home of Elvis Presley. It's now a very commercial space that's always buzzing with Elvis fans but it has plenty of memorabilia including his records, clothes and planes.
The Civil Rights Museum is a must. Housed at the Lorraine Motel where Martin Luther King Jr. was fatally shot on 4 April 1968, it's a sobering and inspirational insight into civil rights struggles in the United States.
Consider these Memphis tours
How long to stay in Memphis, Tennessee
Plan to spend two to three days in Memphis – it's a big city and there's plenty to fill your days here.
Where to eat in Memphis
Where to stay in Memphis
2. Tunica, MS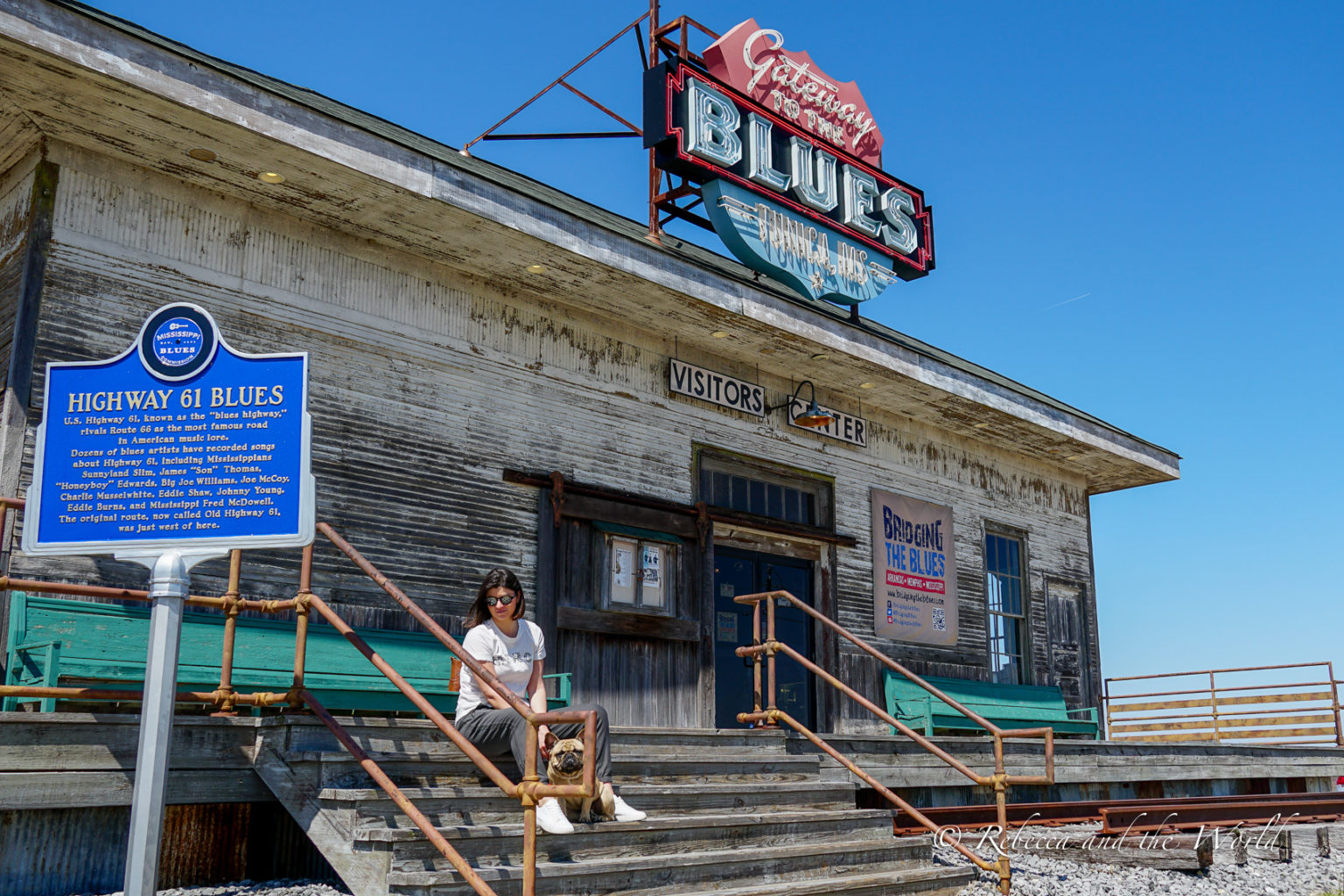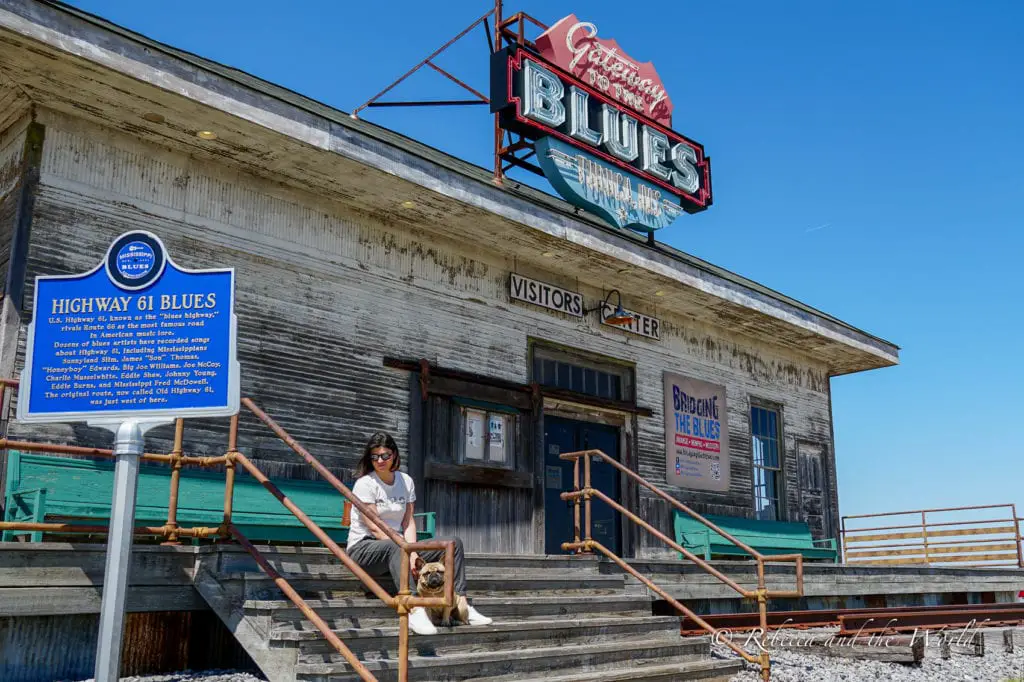 After a few days exploring and eating your way through Memphis, jump on Highway 61 – also known as the Blues Highway – and head south for the 1-hour drive to Tunica.
Blues music is a uniquely American art form that was birthed in the Mississippi Delta, and the Mississippi Blues Trail is a journey through some of the most important people and points of interest in blues music. There are more than 200 markers throughout the state, including the birthplace of B.B. King, Muddy Waters's house and plenty of original juke joints.
If you're not familiar with Mississippi Delta blues music, start at the Gateway to the Blues Museum in Robinsonville. From the outside, this museum looks small, but it's jam packed with memorabilia and information about the history and evolution of blues music. You can even step into a booth and record a blues song yourself – one of the most fun things to do in Mississippi for music-lovers!
How long to stay in Tunica, Mississippi
We only stopped in Tunica for a few hours on our way from Memphis to Clarksdale. You could do the same, spending a few hours here, exploring the museum and having lunch, or stay overnight.
Where to eat in Tunica
Hollywood Café | This small café is the home of deep-fried dill pickles (they're yum!) and was the filming location for Marc Cohn's "Walking in Memphis" video clip
Blue and White Restaurant | Dine on traditional Southern dishes like Mississippi Catfish hoagie in this former gas station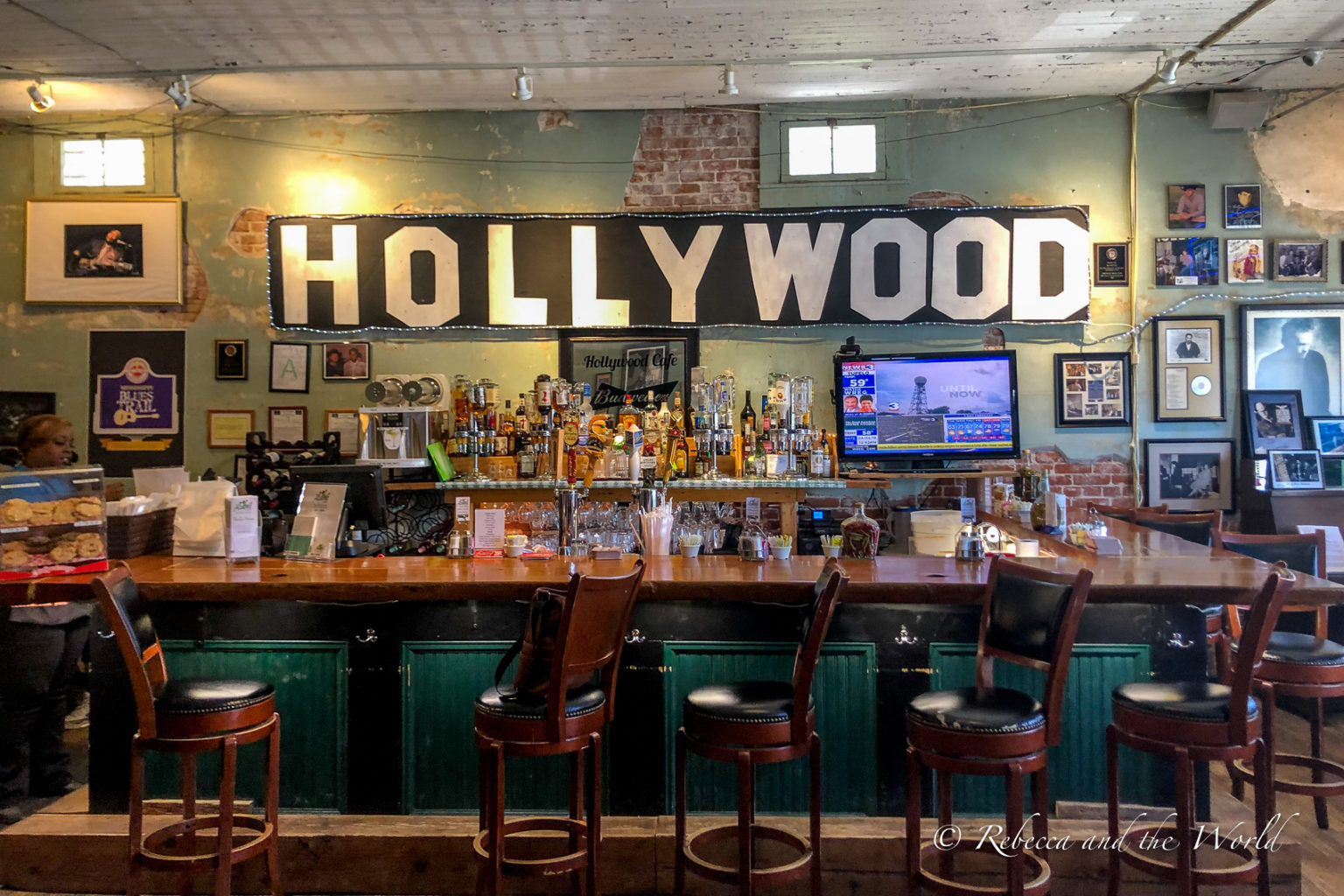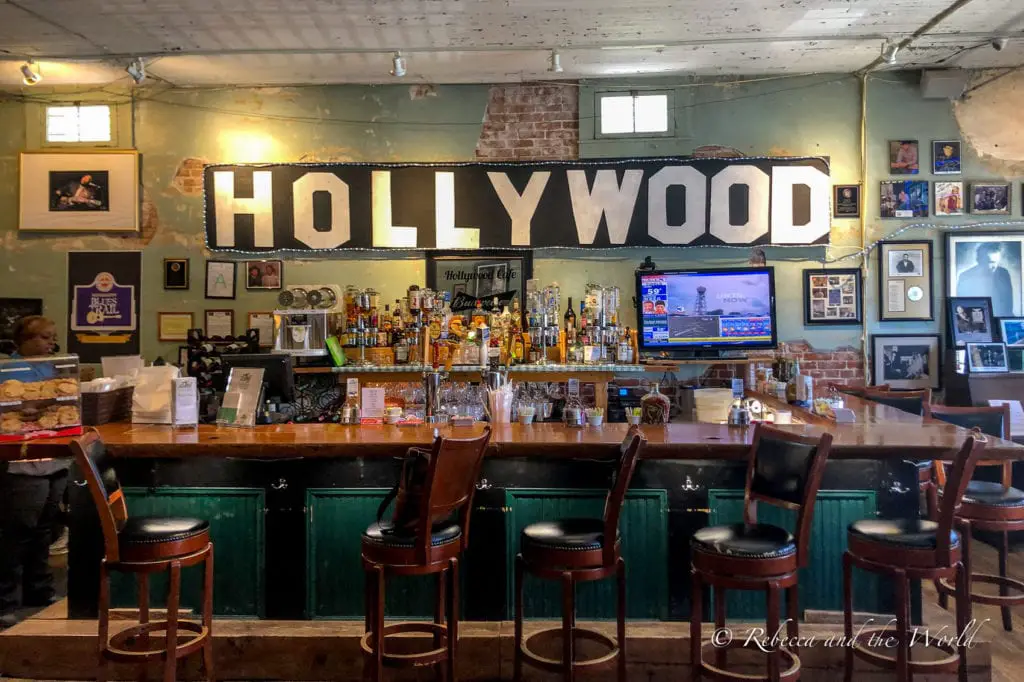 Where to stay in Tunica
We didn't stay overnight in Tunica, but the small town is known for its casino resorts. Two popular choices are the Horseshoe Tunica Casino & Hotel and the Gold Strike Casino Resort. You'll be close to the action and there's a spa at the Horseshoe.
3. Clarksdale, MS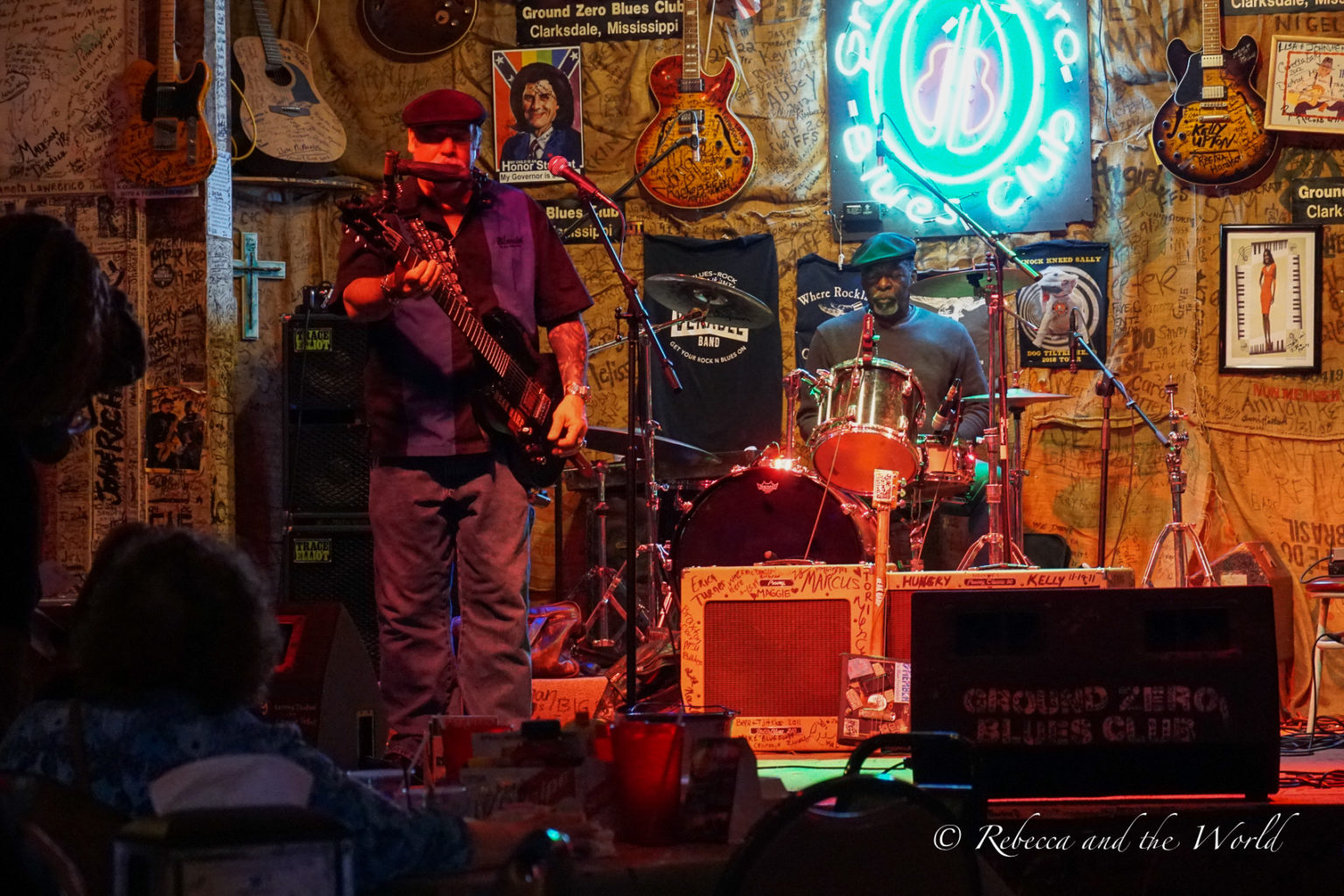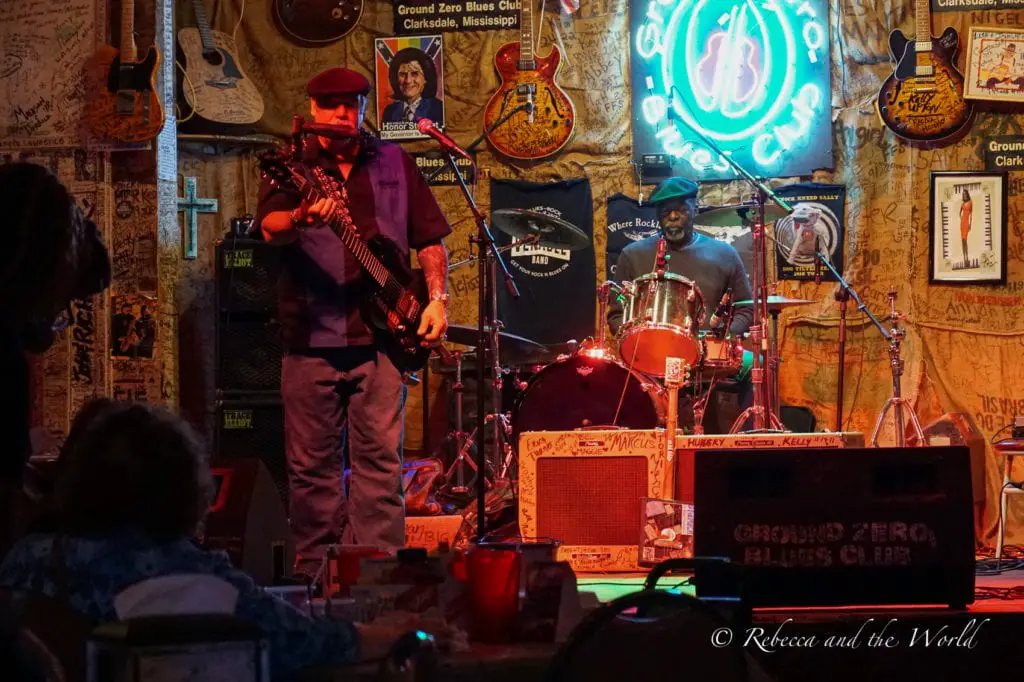 Clarksdale is one of the key stops on the Mississippi Blues Trail, and one of the coolest places to visit in Mississippi in my opinion. Many blues musicians, including Charley Patton and Ike Turner, have called Clarksdale home at one point or another, and there are flags on the street lamps highlighting famous current and former residents.
Clarksdale is small and friendly; on our first day there, in search of something to eat, the City Commissioner stopped us in the street and asked my husband and I where we were from (our Aussie accents must have given away that we weren't locals!), even giving us each a Clarksdale pin.
In Clarksdale, plan to stop by the blues clubs to check out the local music scene. Ground Zero (co-owned by Morgan Freeman) and Red's are great spots. The Shack Up Inn also has live music a few nights a week. The Delta Blues Alley Café can tell you who's playing where on what night – and also has live music.
Visit the Delta Blues Museum to learn more about the history of blues. The museum is old and in need of some updating but it's packed with information, blues musicians' guitars, handwritten lyrics and plenty of other gems.
Also stop for a photo at the Crossroads, where legendary guitarist Robert Johnson allegedly sold his soul to the devil in return for musical success. The sign can be found at the junction of U.S. 61 and 49 – in the middle of two very busy roads, so be careful!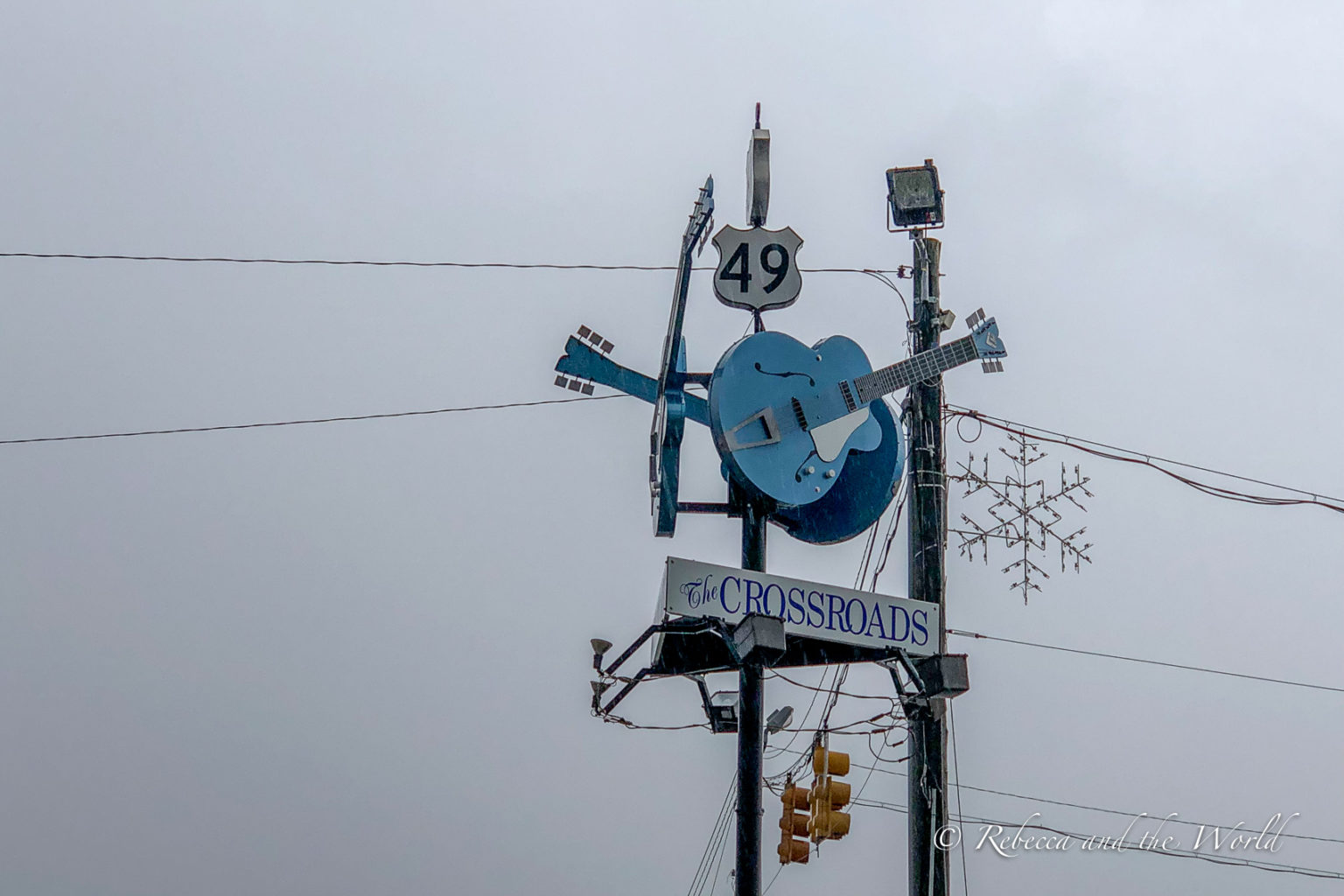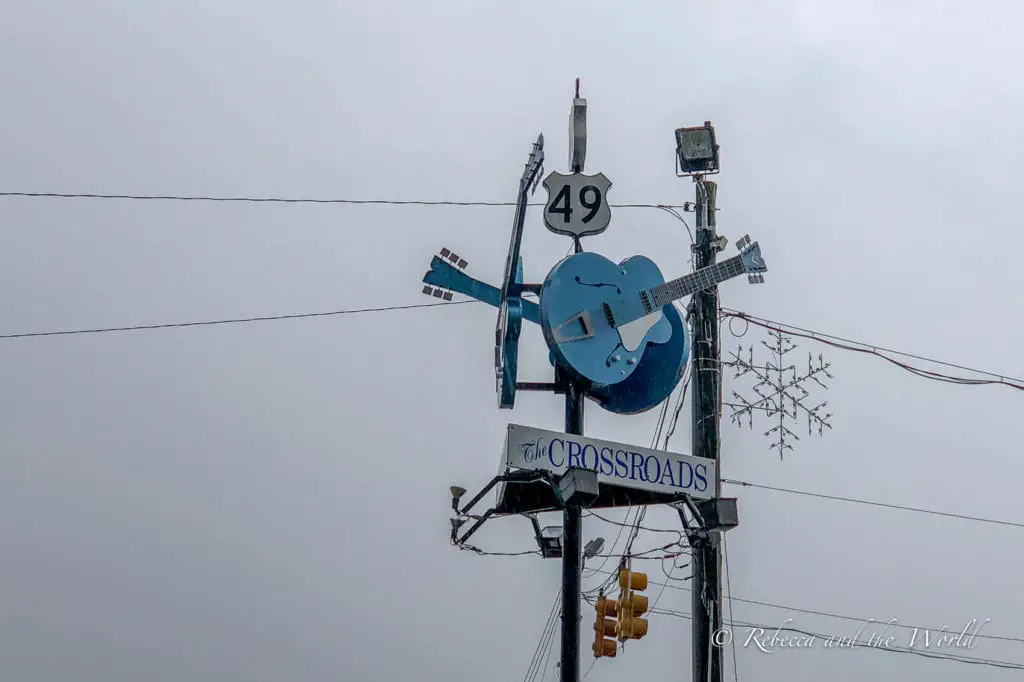 Consider taking a day trip to visit some nearby historical sites:
Indianola – home to the B.B. King Museum
Money – infamous as the small town where 14-year-old Emmett Till was brutally lynched. There's a marker (part of the Mississippi Freedom Trail) at the location of Bryant's Grocery. The Emmett Till Interpretive Center in nearby Sumner is located in the courthouse where his murderers stood trial (and were subsequently acquitted despite mounds of evidence)
Tupelo – the birthplace of Elvis Presley, here you can see the humble shotgun home he grew up in and visit the Elvis Presley Museum, one of the top Mississippi attractions
How long to stay in Clarksdale, Mississippi
If you're into blues music, you need to plan to stay in Clarksdale for at least two to three nights. This will give you a chance to check out all the different clubs. Make sure to time your trip around the middle of the week to the weekend to catch the best shows (the clubs are usually closed Monday and Tuesday nights).
Where to eat in Clarksdale
Stone Pony | Modern restaurant where we ate great pizzas
Abe's Bar-B-Q | Great BBQ in a small diner that's been open since 1949
Hick's BBQ and Tamales | As the name says, this place serves up BBQ and tamales
Hooker Grocer + Eatery | Serves breakfast and lunch along with a range of groceries
Where to stay in Clarksdale
The Shack Up Inn | For something really unique, book a few nights at the Shack Up Inn. Located on an old plantation, you can stay in refurbished grain bins or shotgun shacks. The whole place has a casual, homely vibe. We stayed here and loved it. For our first two nights we stayed in Grain Bin C, which had a small kitchenette, two bedrooms, separate lounge room and bathroom. On our last night we moved to the Robert Clay shack, which was larger and had a full kitchen. You don't have to go far to hear music, as blues music is played here many nights throughout the week. There's no food served here but you can order delivery from a few places in town. It's dog friendly. Check availability and book online | Read reviews
The Clark House Inn | This is a beautiful old homestead that's been in the one family for generations. In fact, my friend's husband is a Clark! The house is set on two acres and each of the 8 rooms have a private bathroom. This is the ideal accommodation for those seeking a B&B stay while in Clarksdale. Check availability and book online | Read reviews
The Lofts at the Five & Dime | For something more modern, these stylish lofts have kitchens and laundries. The building that the 6 lofts are located in is listed on the National Register of Historic Places. Check availability and read reviews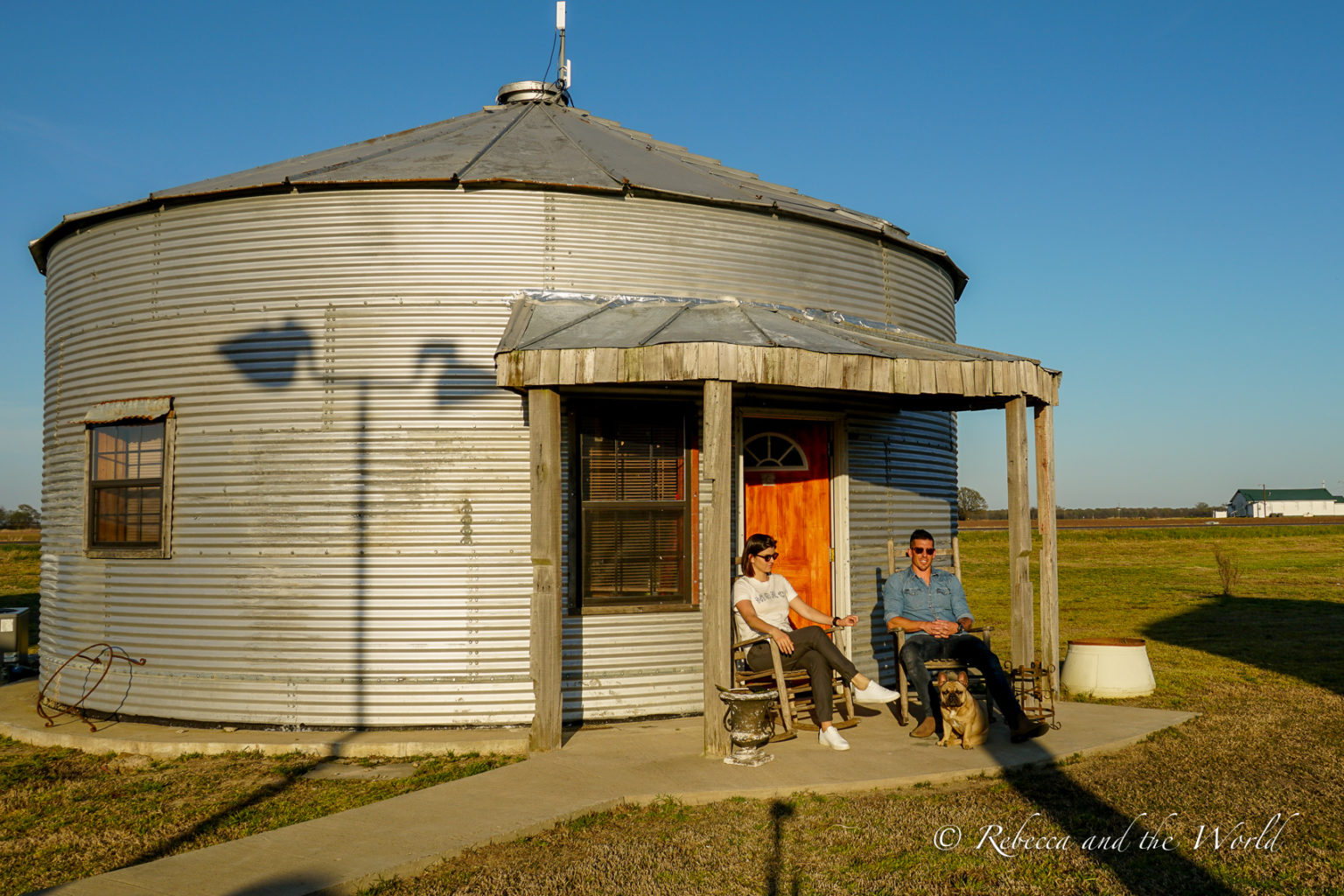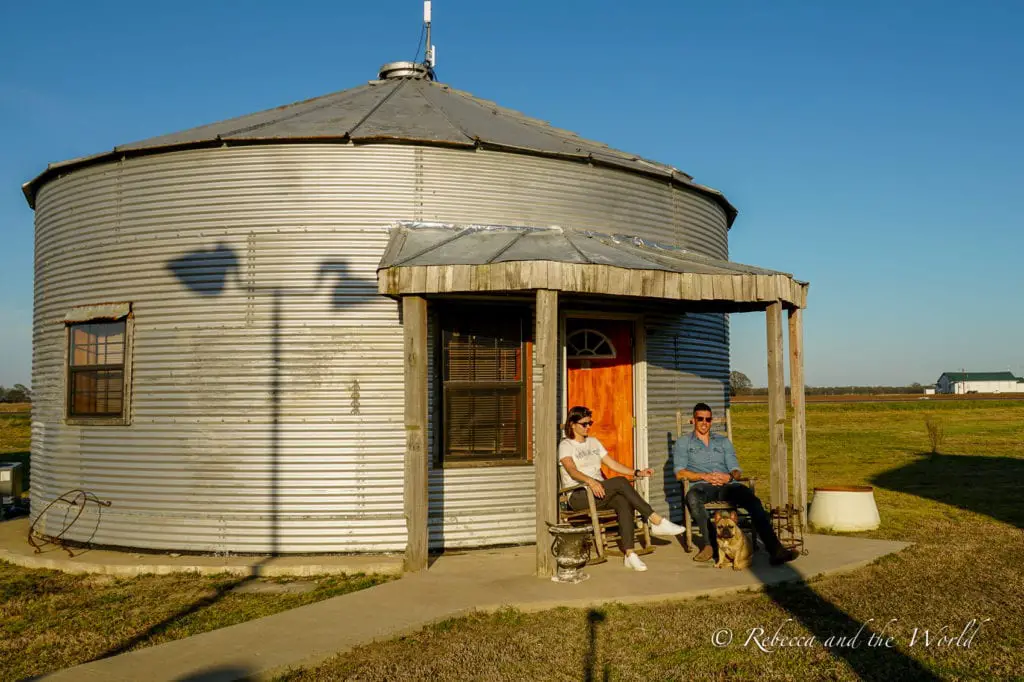 4. Cleveland, MS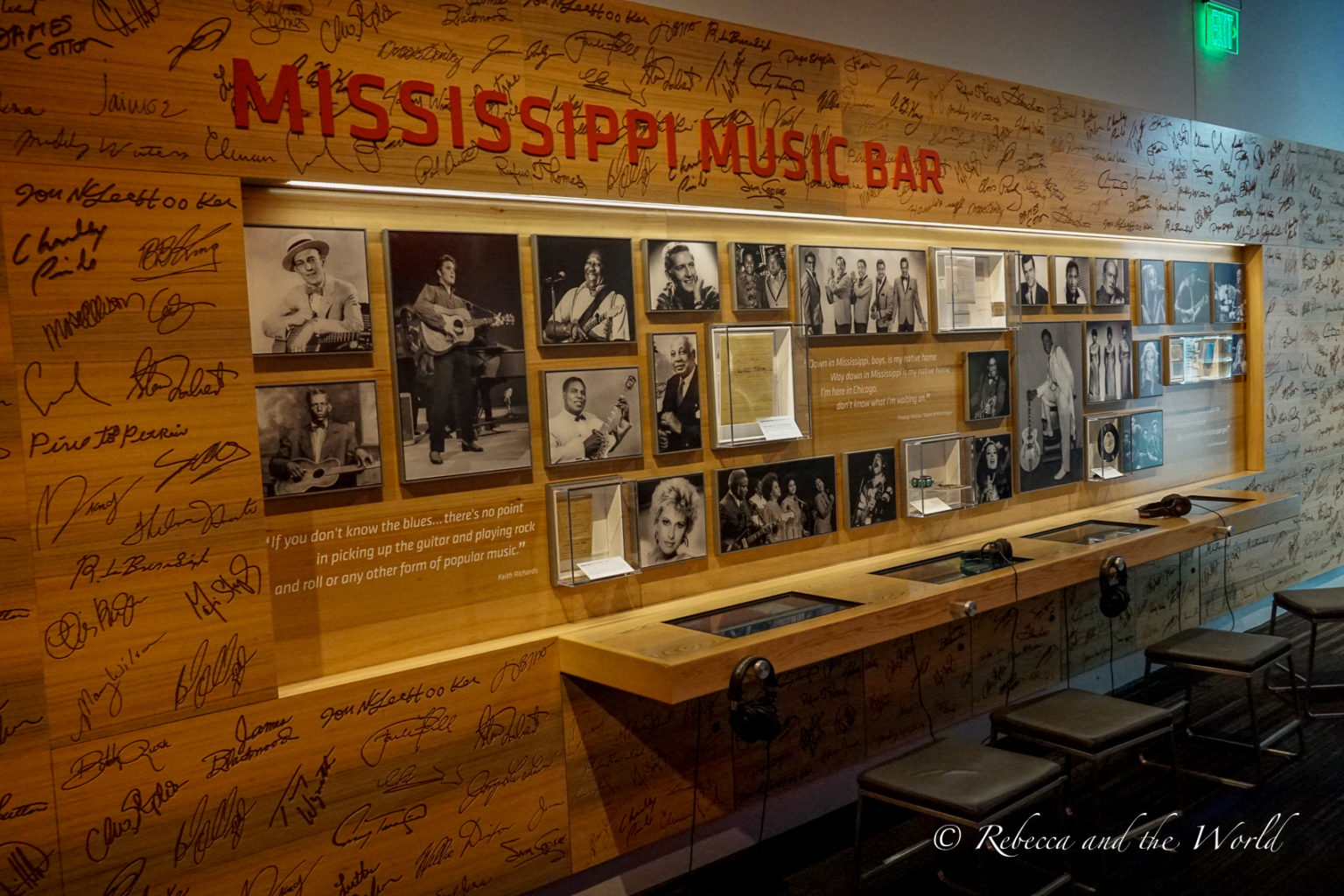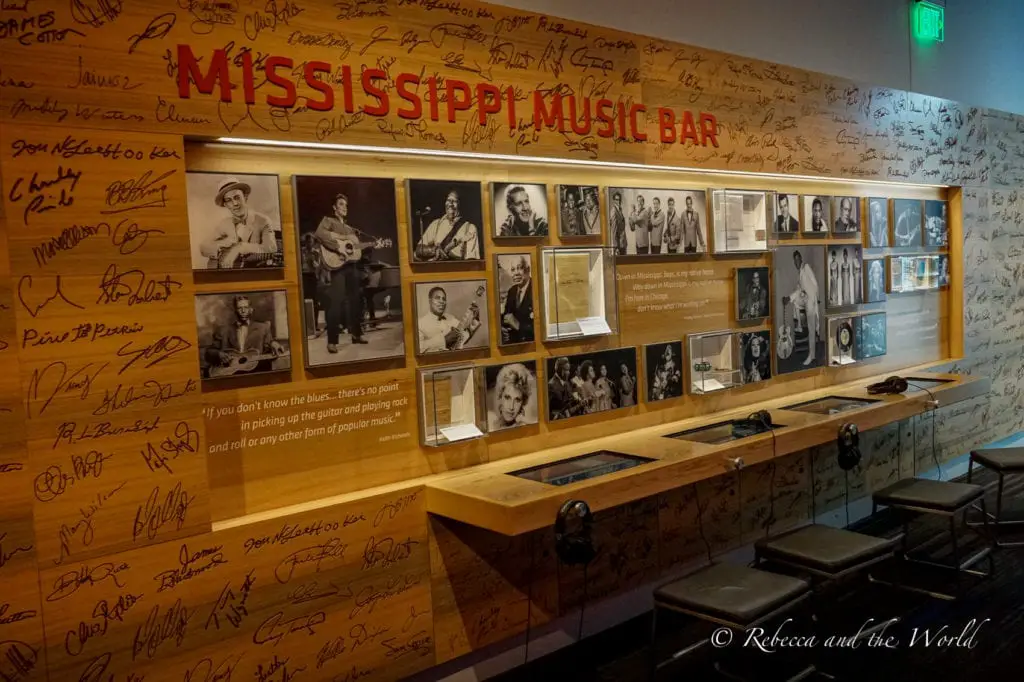 Mississippi is the home state of a ridiculous number of musicians. Britney Spears, Brandy, Diplo, Nate Dogg and LeAnn Rimes all hail from the Magnolia State, along with musical greats B.B. King, Sam Cooke, John Lee Hooker and Howlin' Wolf.
We took a day trip from Clarksdale to Cleveland where we spent several hours exploring the GRAMMY Museum Mississippi. We loved this huge museum, which started with a video showing some of the most memorable Grammy Awards performances. The museum is really interactive, with instruments to play, dance floors to bust some moves and plenty of touch screens that share even more information than what's on the walls.
Also head out to Dockery Farms, believed to be the birthplace of blues music. Drop a donation into the box and then wander around the old cotton farm and gas station.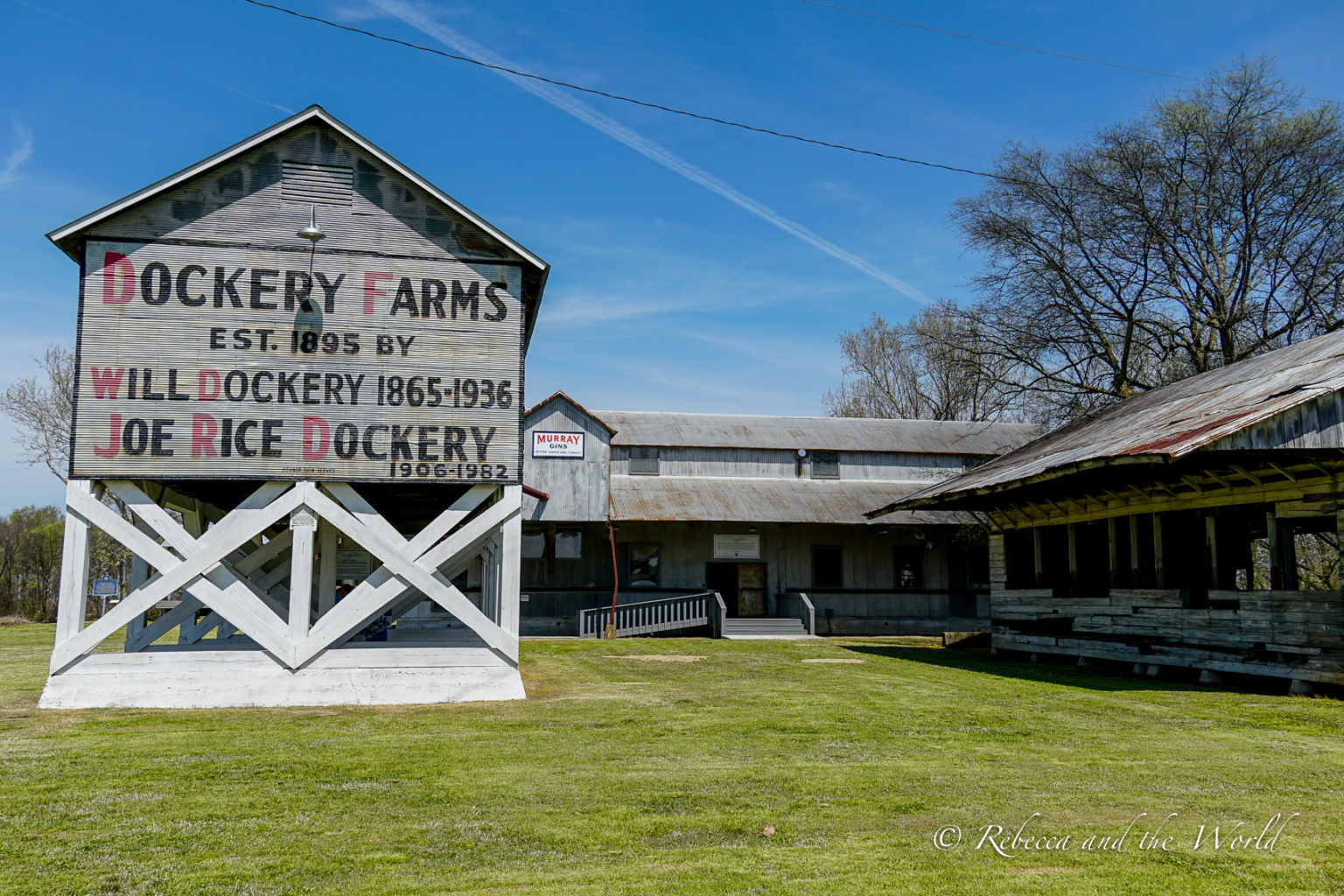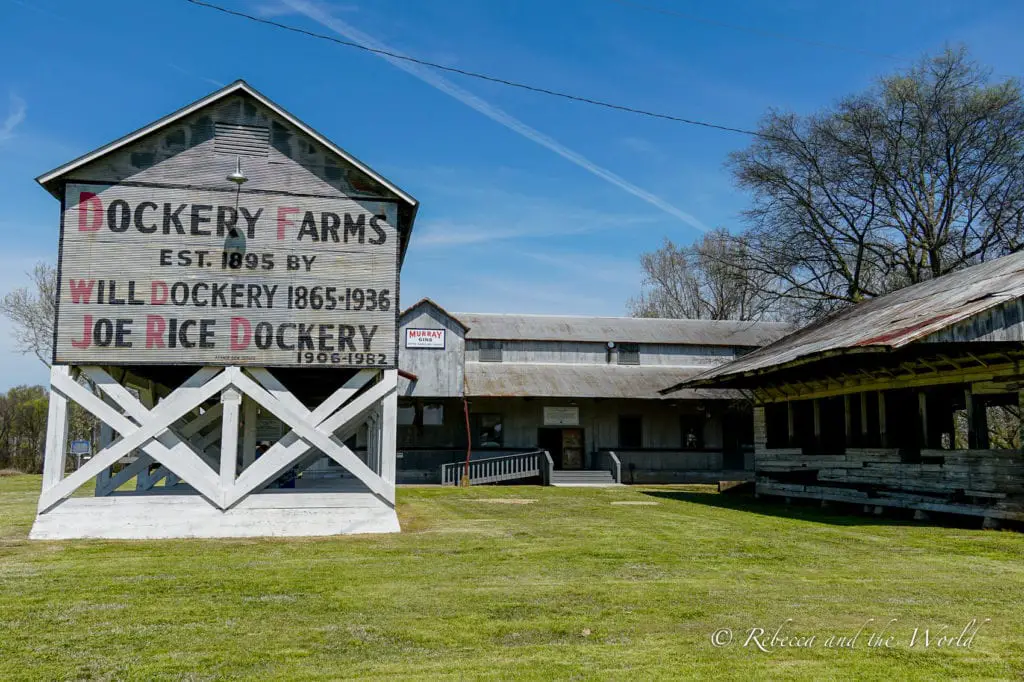 How long to stay in Cleveland, Mississippi
I think a day would be plenty to explore this lovely little university town while on your Mississippi road trip. Alternatively, you can do what we did and visit it on a day trip from Clarksdale so you don't have to pack up again.
Where to eat in Cleveland
The Warehouse | We grabbed lunch here, in a repurposed warehouse that serves sandwiches and Southern food
Hey Joe's | Popular place dishing up American food
Where to stay in Cleveland
5. Vicksburg, MS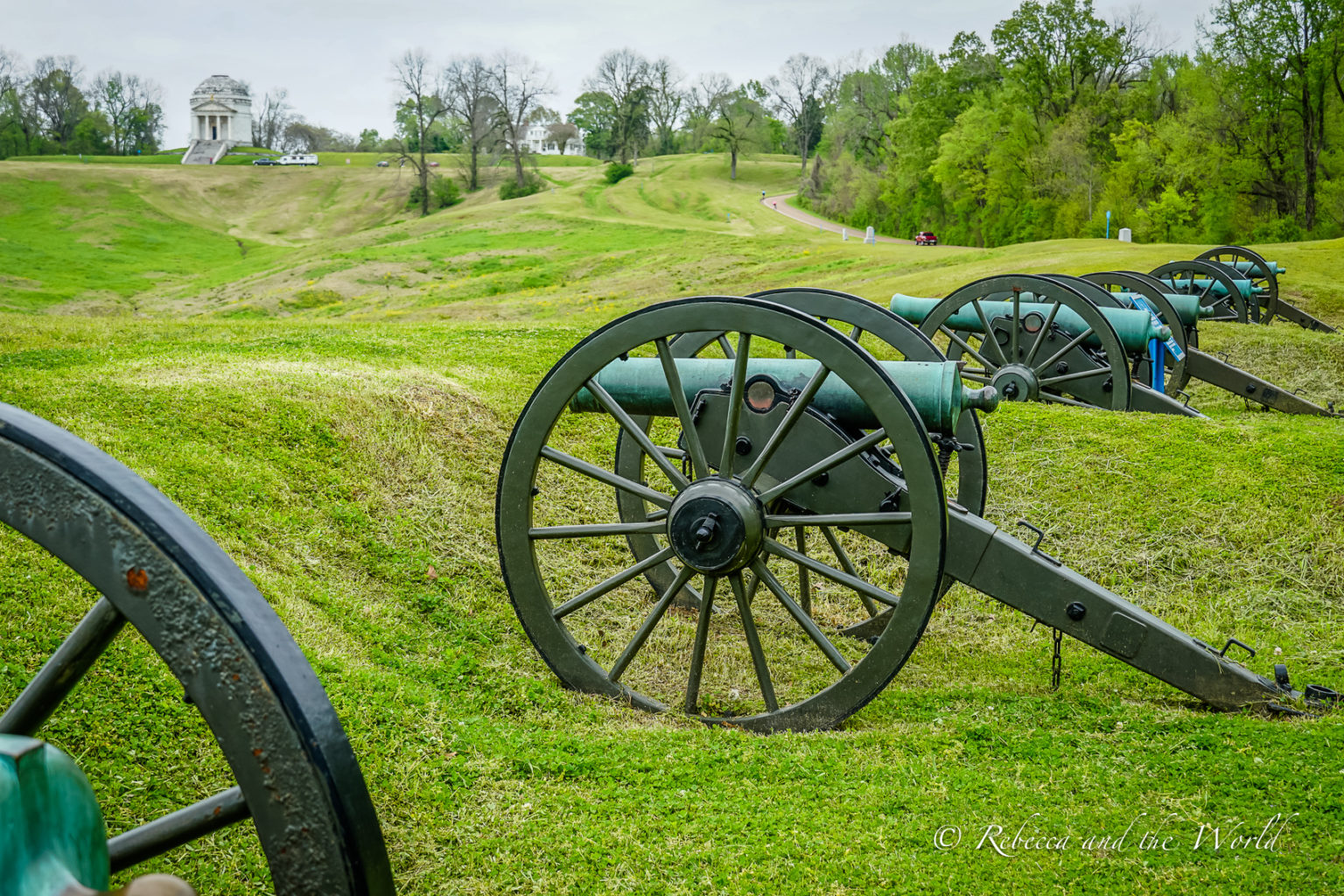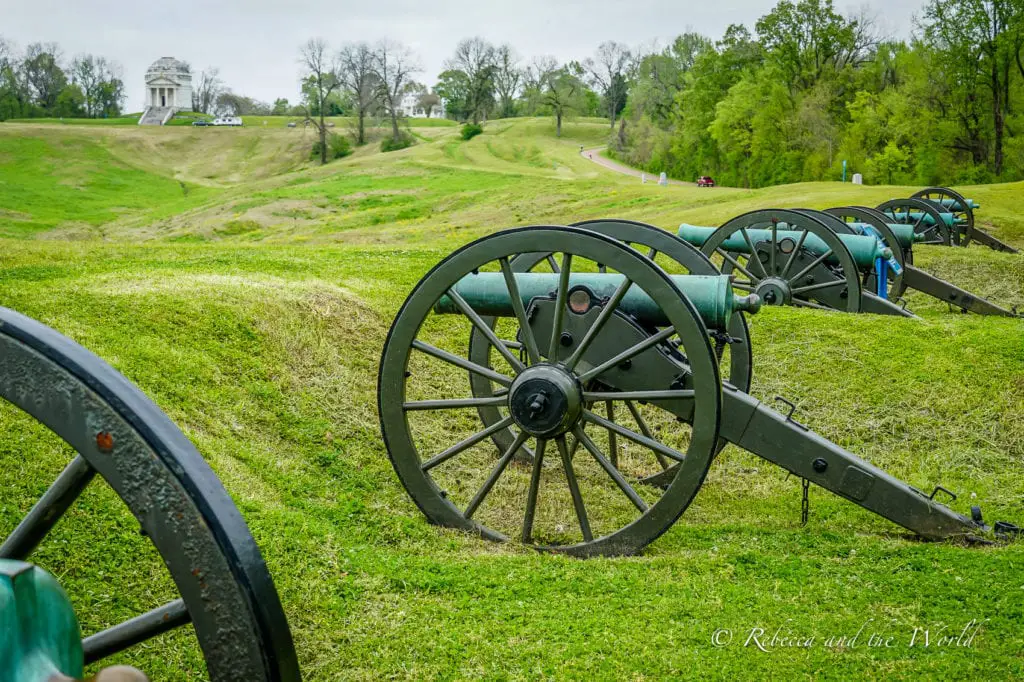 On our way through to Natchez, we stopped in Vicksburg to drive through the Vicksburg National Military Park. As Australians, we're not too familiar with the details of the American Civil War, and we learned a lot during our short time here.
The Vicksburg National Military Park preserves the site of the Battle of Vicksburg, a key clash during the Civil War. After a 47-day siege, the Union Army took control of more of the Mississippi River and cut off the Confederacy's supply routes.
There's a 16-mile self-driving tour through the park that stops at various battery locations, the Vicksburg National Cemetery and the USS Cairo Gunboat. This is one of the most popular things to do in Vicksburg.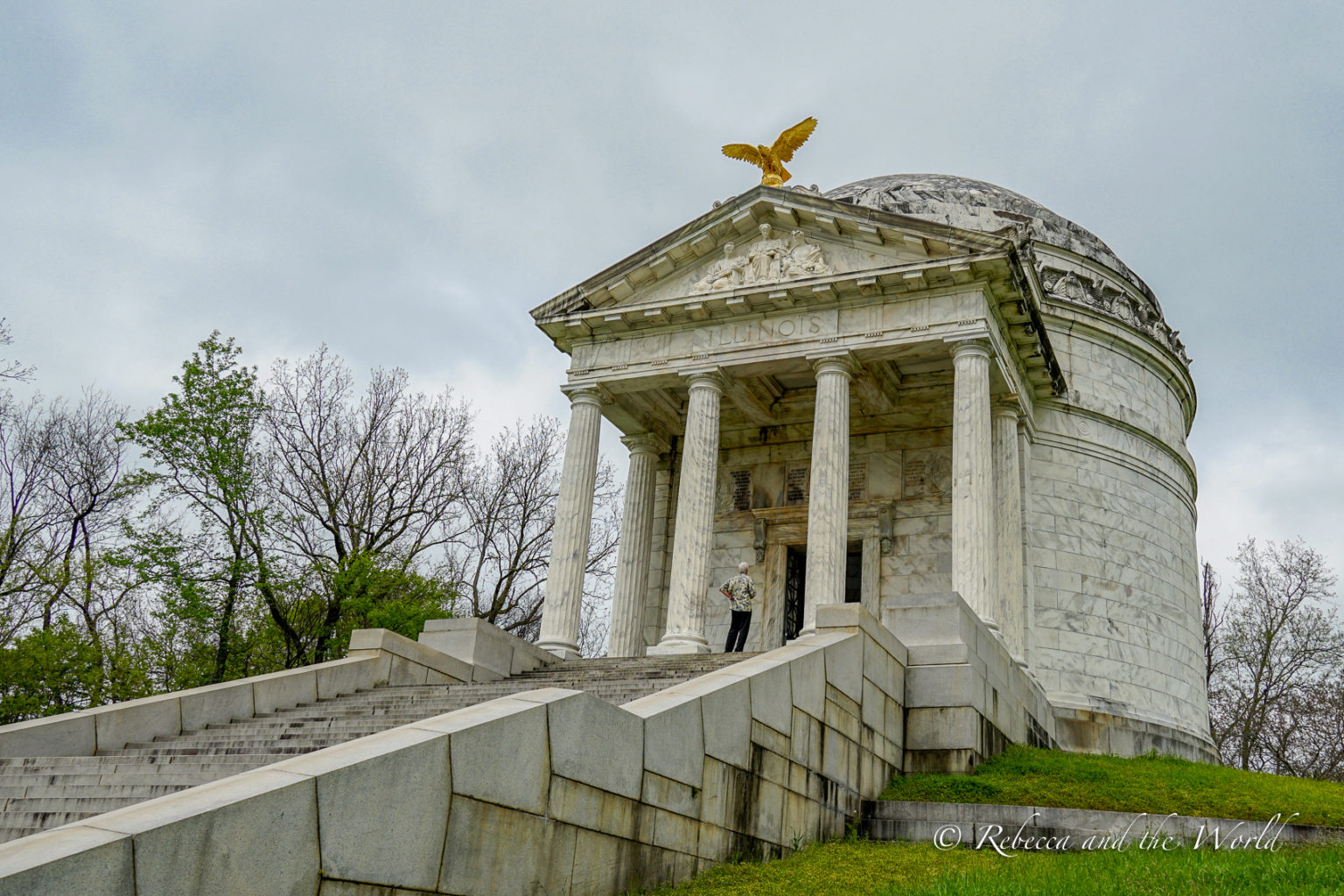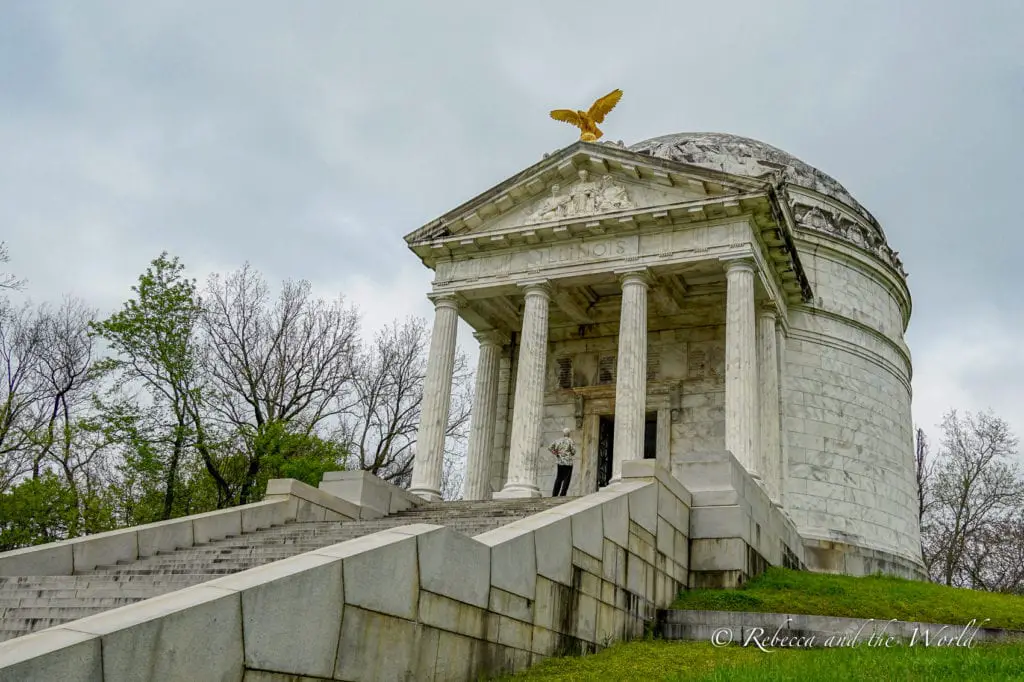 Vicksburg is also home to the Biedenharn Coca-Cola Museum, where Coke was first bottled (thus getting into the hands of more people), and the Lower Mississippi River Museum. Both are worthwhile Mississippi tourist attractions to visit.
The Mississippi Blues Trail extends to Vicksburg as well, with the Blue Room, one of the South's most storied night spots, along with other markers.
How long to stay in Vicksburg, Mississippi
I think a day is plenty to stay in Vicksburg, but if you're interested in American Civil War history, I'm sure you could spend a whole day just touring the military park.
Where to eat in Vicksburg
We didn't eat in Vicksburg, but here are some places that I had on my wishlist.
Where to stay in Vicksburg
We drove through Vicksburg on our way to Natchez, so I can't offer personal recommendations. These hotels in Vicksburg get good ratings online:
6. Natchez, MS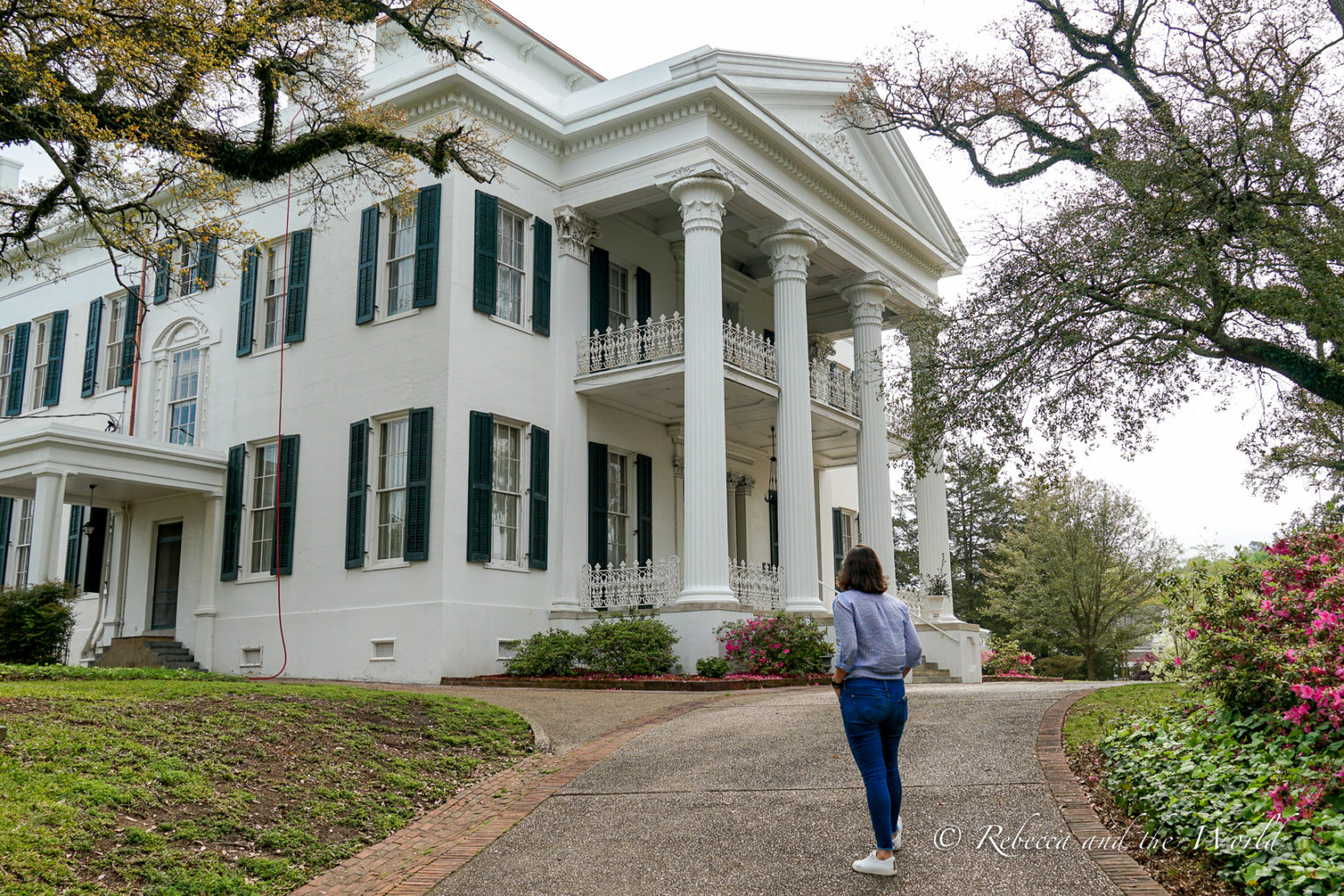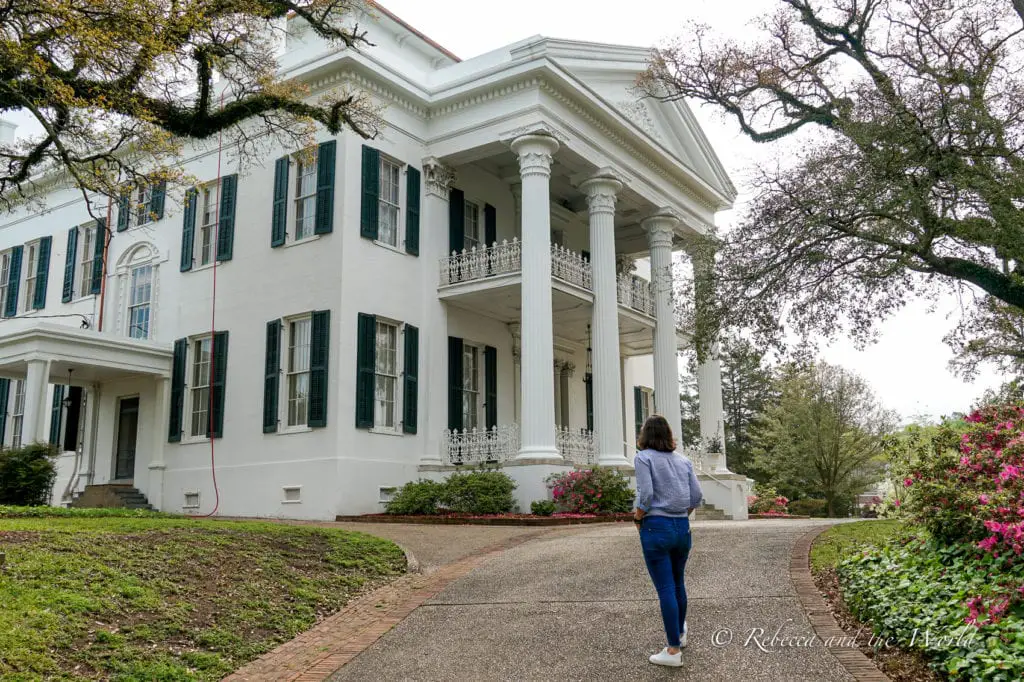 From Vicksburg, continue south to Natchez. You can either make the journey on Highway 61, or veer off to join a small portion of the Natchez Trace Parkway, which runs almost parallel with Highway 61 down to Natchez. This will give you a taste for the gorgeous drive, which runs around 440 miles between Natchez to Nashville, Tennessee. It's particularly beautiful in the fall, when the leaves turn red and gold.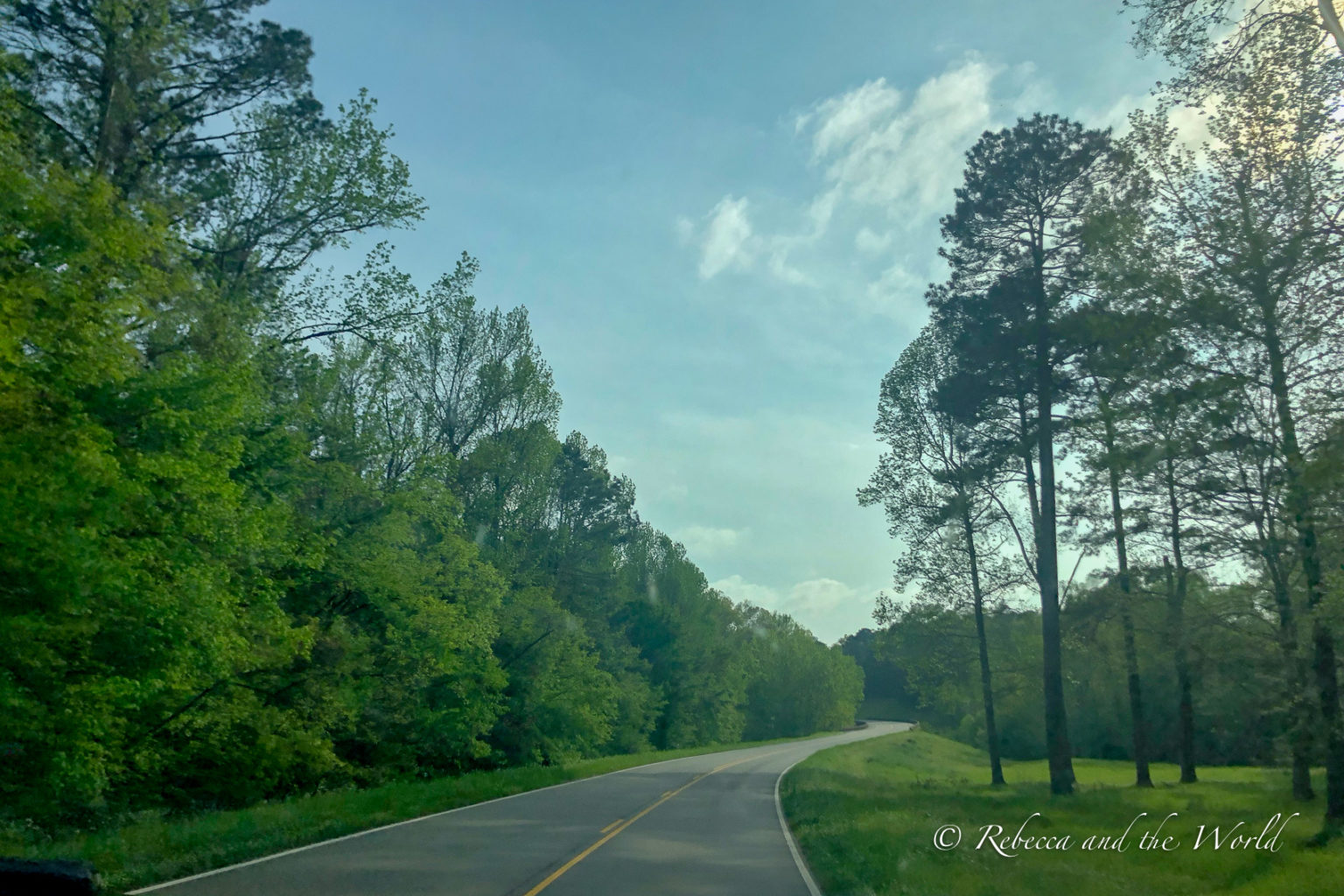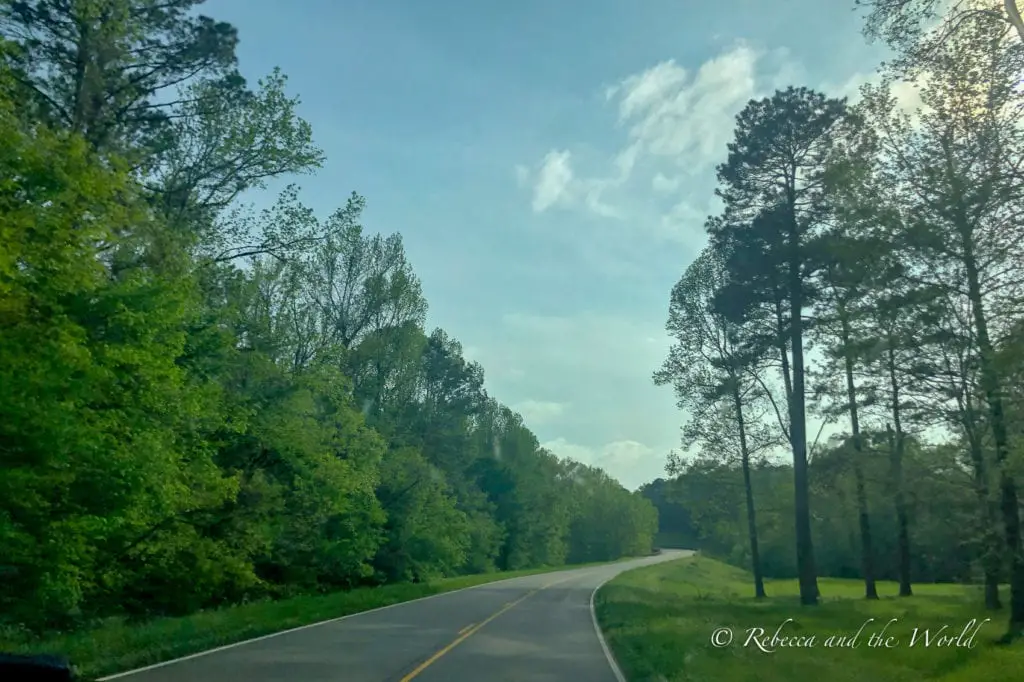 Natchez, with its strategic location on the Mississippi River, was once the capital of Mississippi. It was also home to the second largest slave market. There's a marker at the former Forks of the Road Slave Market that commemorates the atrocities of this time.
Now, Natchez draws people for its well-preserved antebellum houses, with more than 600 homes dotted around the city. You can visit several of the homes which are open to the public, including Stanton Hall, Choctaw Hall Historic Home and Longwood Historic Home.
During the Natchez Pilgrimage, held for a few weeks each spring and fall, more private homes are opened to the public.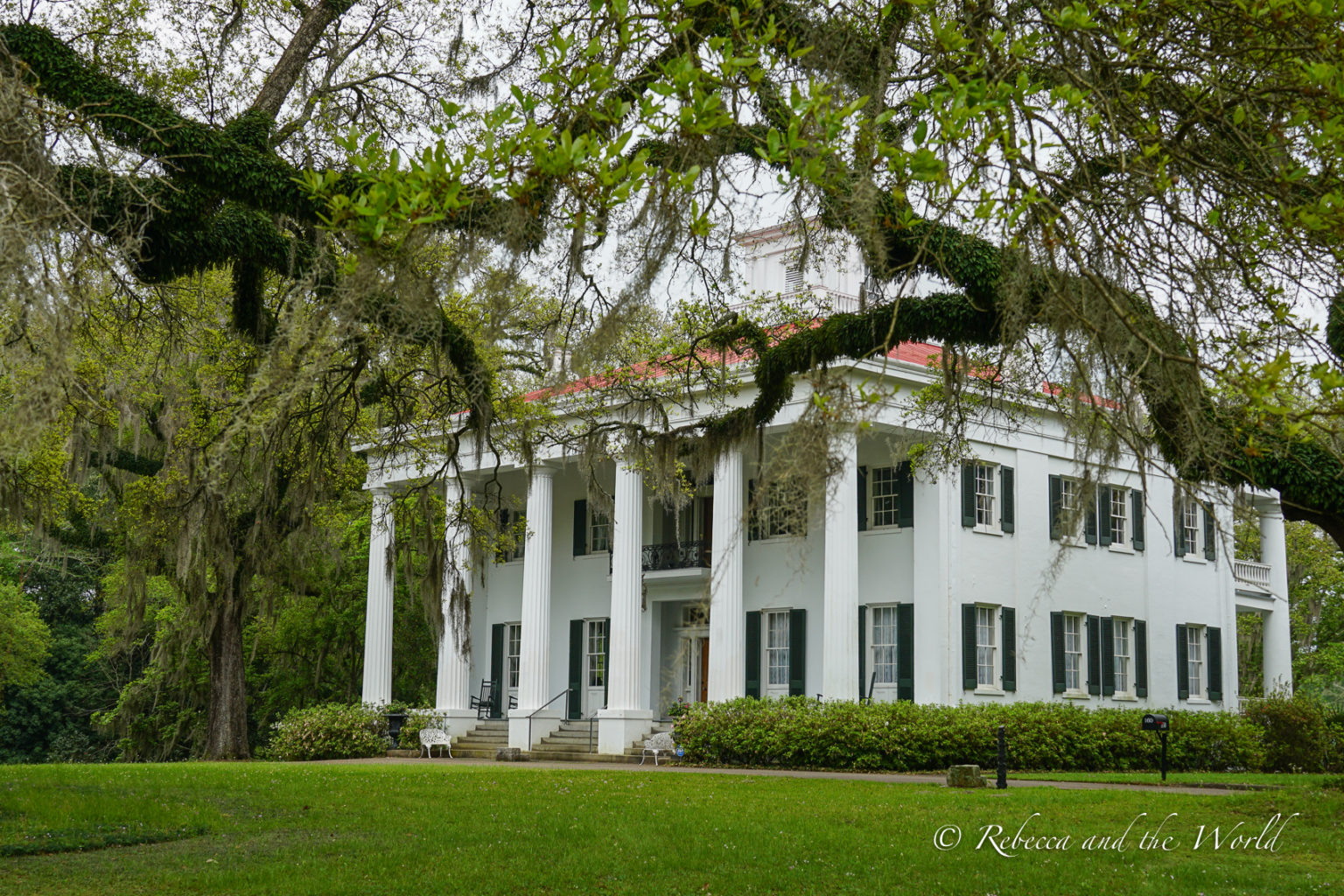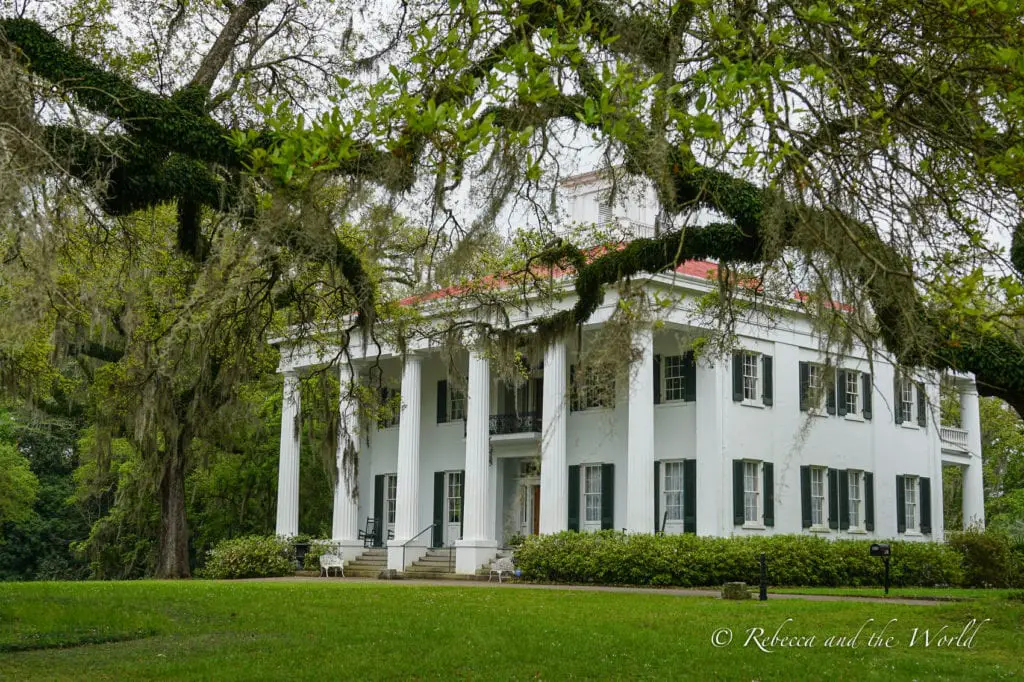 The Natchez National Historical Park consists of three buildings: Melrose, the William Johnson House and Fort Rosalie. The park preserves Natchez history and highlights the fact that, as the brochure says, "the Mississippi River brought success and prosperity to some, and enslavement and despair to others."
You can visit Melrose and the William Johnson House, or have a picnic at Fort Rosalie. At Melrose, you can do a self-guided tour of the grounds and gardens. Unlike many other estates throughout the Deep South, the Natchez National Historical Park openly talks about the slave trade and the shocking conditions enslaved people lived in.
One of the highlights of a visit to Natchez is of course watching the sunset over the Mississippi River. Wander along Bluff Park to find the best view across the river.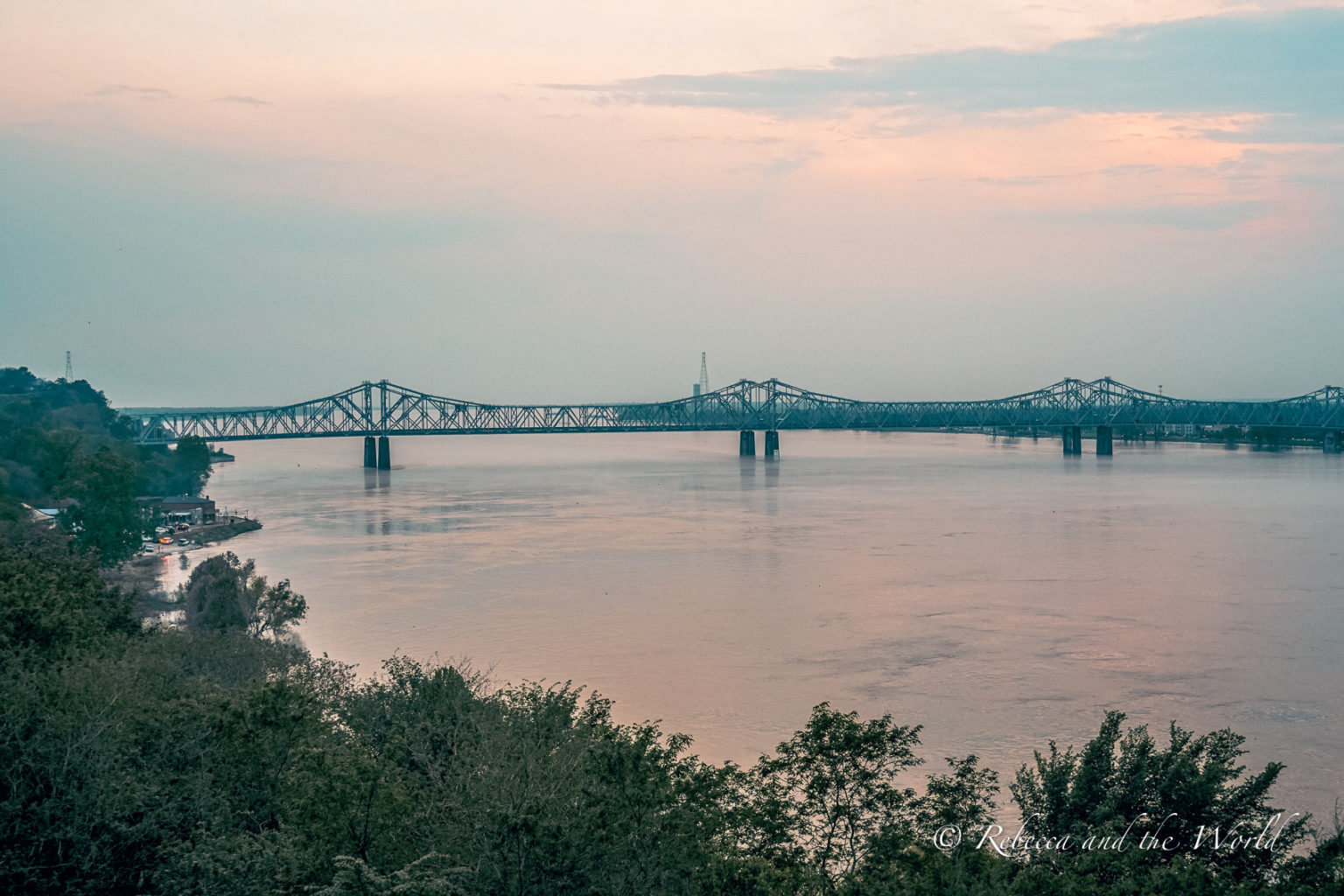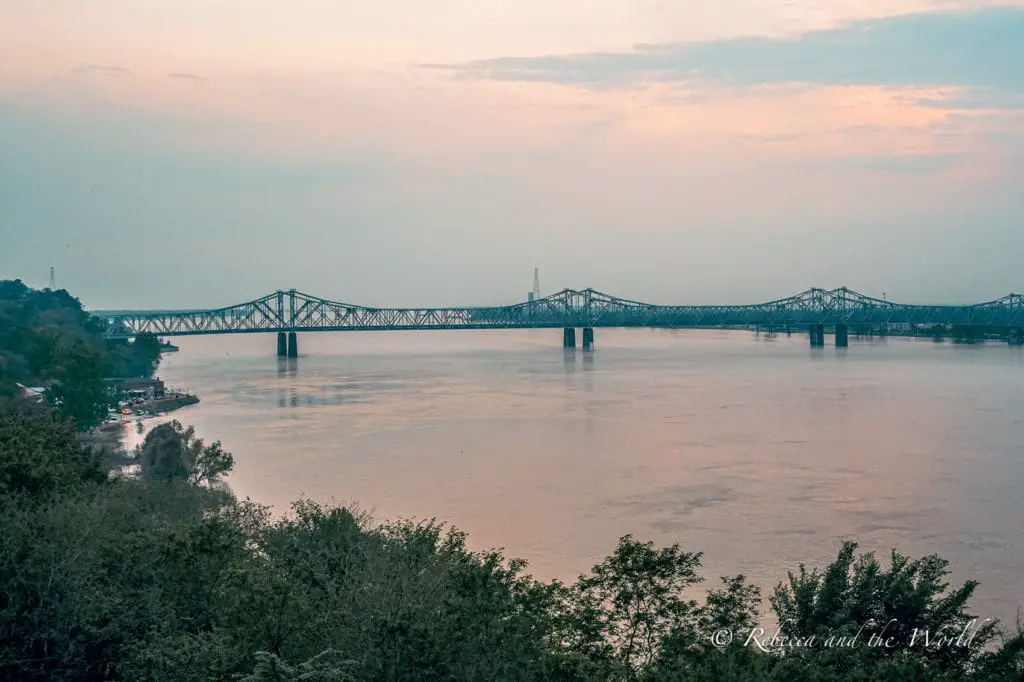 How long to stay in Natchez, Mississippi
Depending on your interests, one to two days is enough time to explore Natchez.
Where to eat in Natchez
Where to stay in Natchez
7. Jackson, MS
Jackson was our last stop before we headed east into Alabama on our extended USA road trip.
The capital of the state is home to the Museum of Mississippi History and the Mississippi Civil Rights Museum. On our visit, we only had time for the Civil Rights Museum. Once again, similar to when we visited the National Civil Rights Museum in Memphis, I was shocked by what I read and saw, and I left feeling very emotional.
The museum hosts eight exhibits, the first being the Civil Rights movement in Mississippi. You wind their way through the exhibits, passing through the central This Little Light of Mine exhibit, from where strains of the song filter throughout the whole museum.
This museum doesn't shy away from the brutality of the treatment of African Americans. Some of the exhibits are graphic, like the story of Emmett Till and films of lynchings – but there are warnings so that you can choose whether to view them or not. This museum is one of the most important things to see in Mississippi.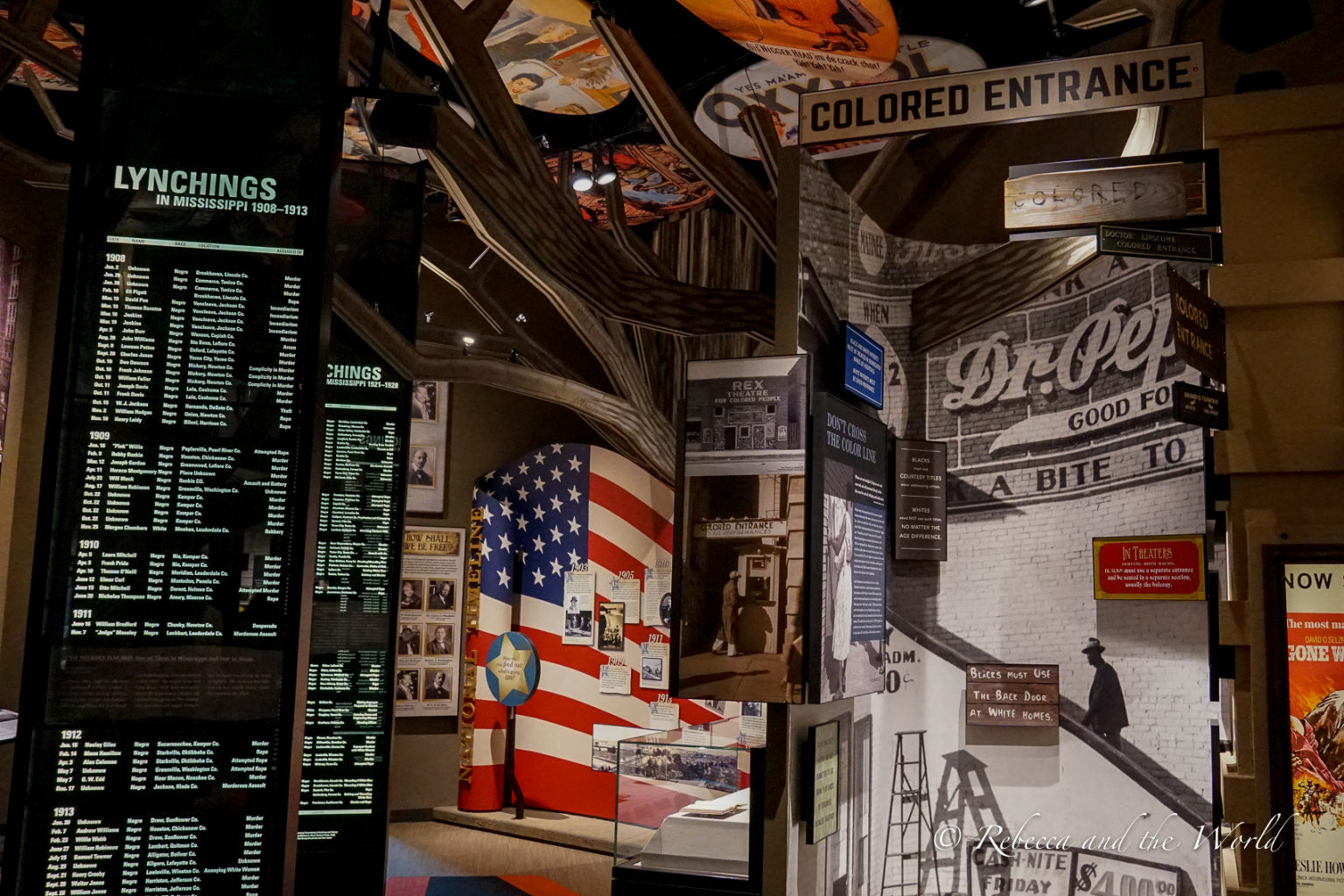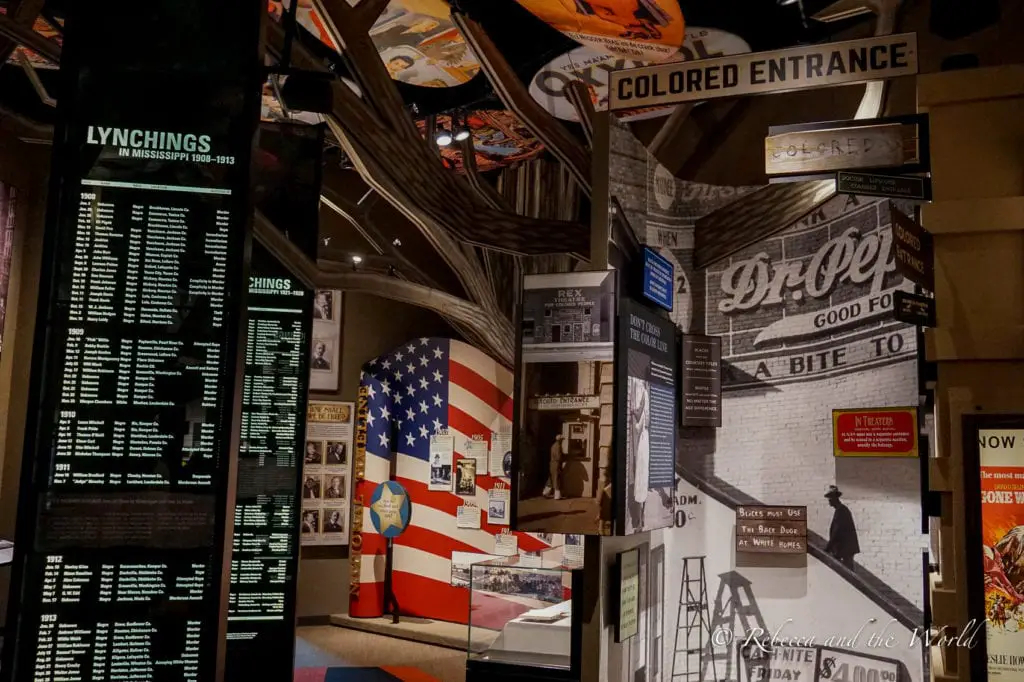 Next door is the Museum of Mississippi History. While we didn't have time to visit this museum, it's apparently just as good as the Civil Rights Museum. It traces the history of the first people to live on what's now known as Mississippi – including the Choctaw and Chickasaw peoples – to the present day.
Besides these two museums, there are plenty of things to do in Jackson. You can also tour the home (by appointment only) of murdered Civil Rights activist Medgar Evers, now a National Historic Landmark. Evers was assassinated standing out the front of his home, and you can still see some of the bullet holes in the wall.
Finally, take a gander at the Mississippi State Capitol building. Designed in the Beaux Arts style, it has a 180-foot-high dome. There are guided tours each weekday. While a beautiful building, it was of course here that many of the Jim Crow laws were enshrined in the 50s and 60s.
End your Mississippi road trip here in Jackson. The Jackson–Medgar Wiley Evers International Airport (JAN) is 6 miles from downtown Jackson. You'll return home with your head full of stories and history, your stomach full of Southern food, and your heart filled with soulful music.
How long to stay in Jackson, Mississippi
If you only have a week to do this Mississippi road trip, one to two days is enough time to explore Jackson.
Where to eat in Jackson
Barrelhouse | A gastropub with a Southern twist
Crazy Cat Eat Up | I hear the Bis-Cat – a biscuit with fried catfish and slaw – is worth the calories
Pig & Pint | Fun and delicious elevated BBQ food
Where to stay in Jackson
If you do want to stay longer than a day in Jackson, some recommendation hotels in Jackson are:
Mississippi really surprised me. It turned out to be one of the most interesting states we visited on our 4.5-month USA road trip. Beautiful architecture, welcoming people, the musical soul of the state, absorbing museums – but also the atrocious history of this state make it a fascinating state that you need to visit to understand. So, go road trip Mississippi to see it for yourself.
Ready to plan your own Mississippi road trip? Let me know if you have any questions via the comments section below.
Looking for more USA road trip ideas? You might like these articles!
USA TRIP ESSENTIALS
Book flights to and around the USA online with Skyscanner or Kayak. I usually compare flights on the two sites to find the best deals.
Find a great hotel in the USA. Check prices on Booking.com and HotelsCombined online.
Check out the huge range of day tours throughout the USA on GetYourGuide or Viator. There's something for everyone.
A copy of the Lonely Planet guide to the USA will be handy.
One thing I always purchase is travel insurance. World Nomads offers simple and flexible travel insurance. Buy at home or while traveling and claim online from anywhere in the world.
PIN IT FOR LATER
Want to save this guide to the best places to visit in Mississippi so you can plan your road trip later? Simply click the "Save" button on any of the images below to save this article to Pinterest.