Looking for a New Mexico road trip itinerary that hits the state's best sights? Read on!
After visiting more than half the states in the United States, New Mexico is certainly up there in my top 5 favourites. The so-called Land of Enchantment certainly bewitched me, with its diverse landscapes, rich history and culture, and touch of quirkiness.
If you're ready to find out what makes this state so special, then I've pulled together a New Mexico road trip itinerary that's a hit list of all the places you need to see and all the best things to do in New Mexico.
In this post, I'm sharing my tips on where to go and what to see in Mew Mexico, hitting what I think are the state's highlights, including:
Albuquerque
Taos
Santa Fe
White Sands National Park
Roswell and more!
If you want a downloadable and printable New Mexico road trip planner, then click here to get your copy.
This blog post may contain affiliate links, meaning if you book or buy something through one of these links, I may earn a small commission (at no extra cost to you).
Suggested New Mexico itinerary
So, how many days do you need in New Mexico? For the road trip itinerary I'm suggesting here, 10 days or 2 weeks in New Mexico would be ideal, but I've also provided options for 7 days in New Mexico.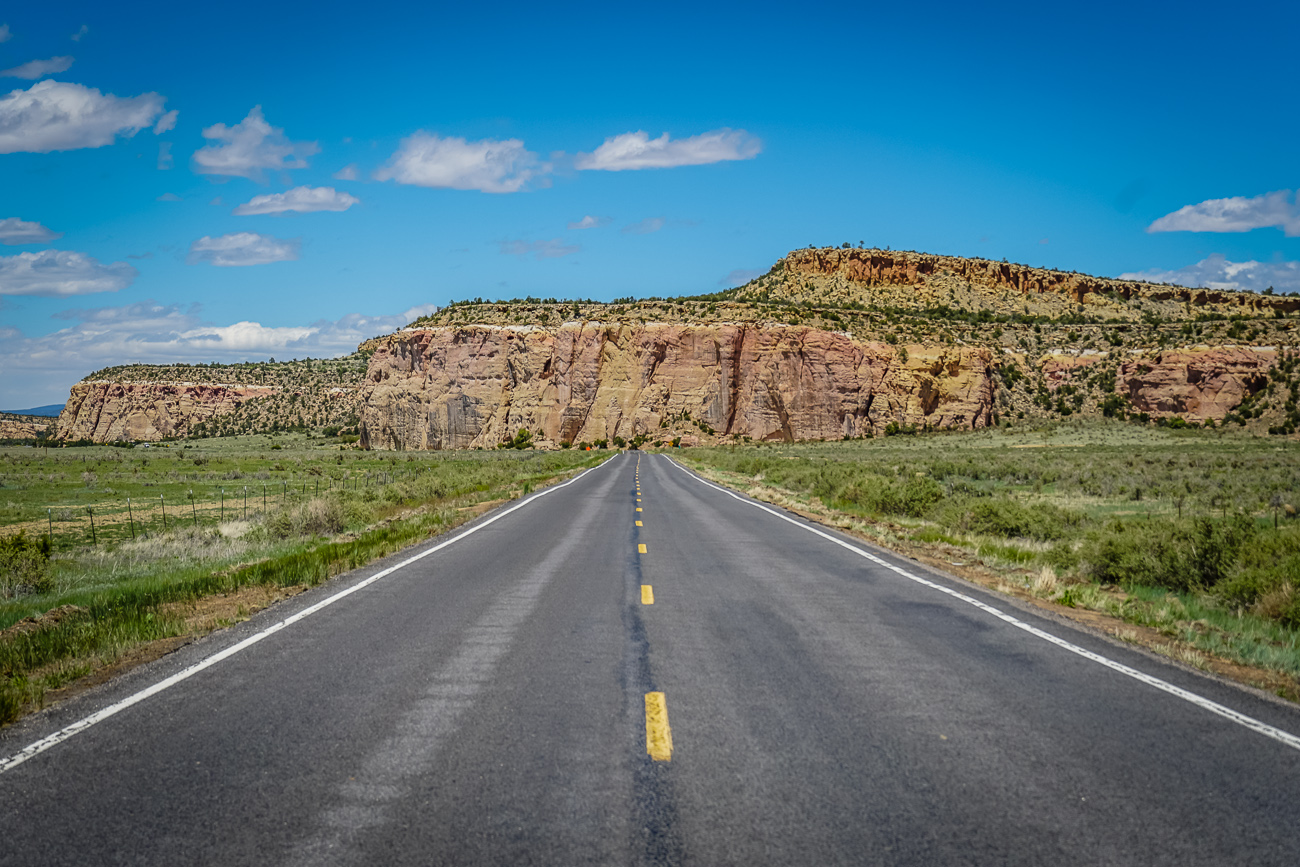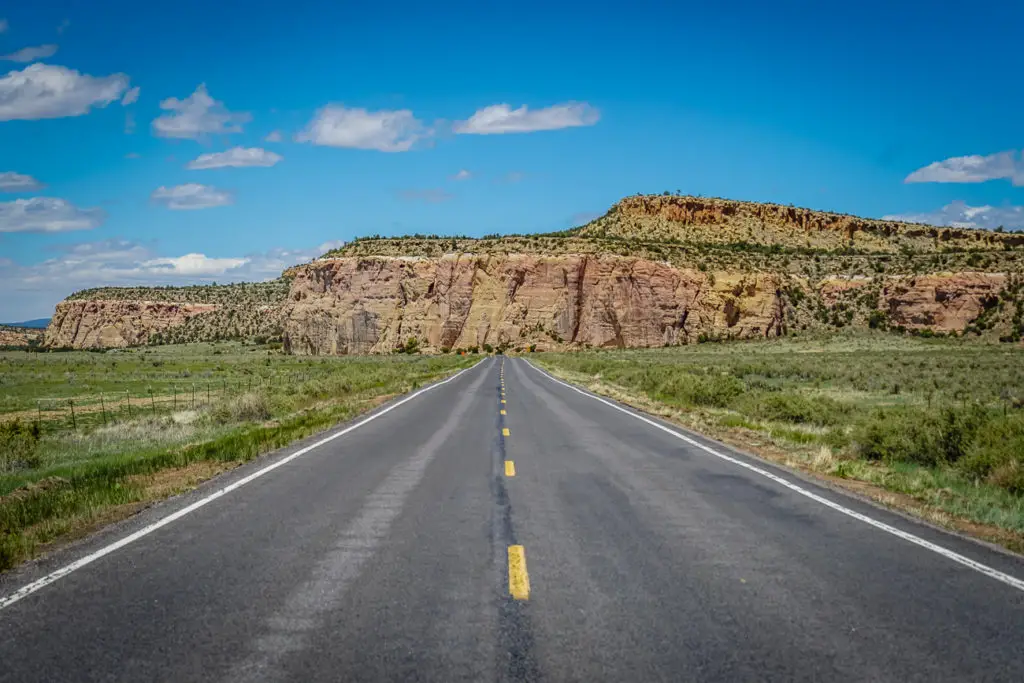 Below is how I'd recommend you plan your itinerary to see the best of New Mexico, and then the rest of the post gives you ideas of what to see and do in each location.
If you wish to mix up this itinerary, I've included options on where to stay and how long I think you need to spend in each place to make the visit worthwhile. Make this a choose-your-own-adventure itinerary, add or remove destinations – make it your own!
10-day New Mexico itinerary and New Mexico road trip map
Ten days is a great amount of time to see the state's highlights. Here's a suggested itinerary for 10 days in New Mexico:
Day 1: Arrive in Albuquerque and spend the day exploring
Day 2: Head to Taos and book a guided tour at Taos Pueblo for the afternoon
Day 3: Spend a full day enjoying Taos
Day 4: Drive to Santa Fe along the High Road
Day 5: Explore everything that Santa Fe has to offer
Day 6: Drag yourself away from Santa Fe for the drive to Ruidoso, where you'll spend a night
Day 7: Drive to Carlsbad, stopping in Roswell along the way, and explore Carlsbad Caverns National Park in the afternoon
Day 8: Get on the road early to head to White Sands National Park, before continuing on to Truth or Consequences
Day 9: Drive to Farmington, with stops at the Very Large Array and Pie Town
Day 10: Spend the morning hiking in Bisti Badlands before heading back to Albuquerque
I'll admit, this is a pretty packed itinerary, but if you plan your trip well you'll be able to fit everything in.
7-day New Mexico itinerary
For one week in New Mexico, I'd suggest either of the following routes:
| | | |
| --- | --- | --- |
| Day | Option 1 | Option 2 |
| 1 | Arrive in Albuquerque and hit the road for Taos | Arrive in Albuquerque, pick up your car and head to Taos |
| 2 | Spend the day in Taos before leaving for Santa Fe in the late afternoon | Spend the day in Taos before leaving for Santa Fe in the late afternoon |
| 3 | Full day in Santa Fe | Full day in Santa Fe |
| 4 | Leave Santa Fe and drive to White Sands National Park, stopping at Roswell along the way | Leave Santa Fe and drive to Carlsbad, stopping at Roswell along the way |
| 5 | Spend the morning having fun at White Sands National Park, before continuing on to Truth or Consequences for a soak that evening | Explore Carlsbad Caverns National Park in the morning and then drive to White Sands National Park in the afternoon |
| 6 | Drive to Farmington, with stops at the Very Large Array and Pie Town | Hang out in White Sands National Park in the morning and then drive to Truth or Consequences to end the day with a soak in the hot springs |
| 7 | Spend the morning hiking in Bisti Badlands before heading back to Albuquerque | Head back to Albuquerque and enjoy a day exploring the city |
Alright, let's hit the road!
Not bringing your own wheels? You can easily rent a car in New Mexico. I prefer booking on Rentalcars or Discover Cars because I can easily compare and choose the best price and vehicle.
New Mexico itinerary stop 1: Albuquerque
New Mexico's largest city is the easiest place to start and end your New Mexico itinerary. It's got the largest airport in the state, Albuquerque International Sunport, and all the major airlines fly in here.
Pick up your rental car here and start exploring the city. 
Top things to do in Albuquerque
While we didn't actually stop in Albuquerque during the almost three weeks we spent in New Mexico, I have researched some of the best things to do in Albuquerque:
Go sightseeing in Old Town, where'll you spot gorgeous architecture, including the San Felipe de Neri church, which dates back to 1793.
Check out ABQ BioPark, which conveniently houses a botanic garden, zoo and aquarium all in one place.
Sip some local wines at gorgeous Casa Rondeña Winery, a highlight of any Albuquerque itinerary.
Watch the sunset from atop Sandia Peak, accessible by car or the Sandia Peak Aerial Tramway.
If you can, time your trip to New Mexico with the world's largest hot air balloon festival, the Albuquerque International Balloon Fiesta, held each October. During the festival, the sky is filled with hundreds of colourful balloons, and there's a lot going on around the city to keep visitors entertained.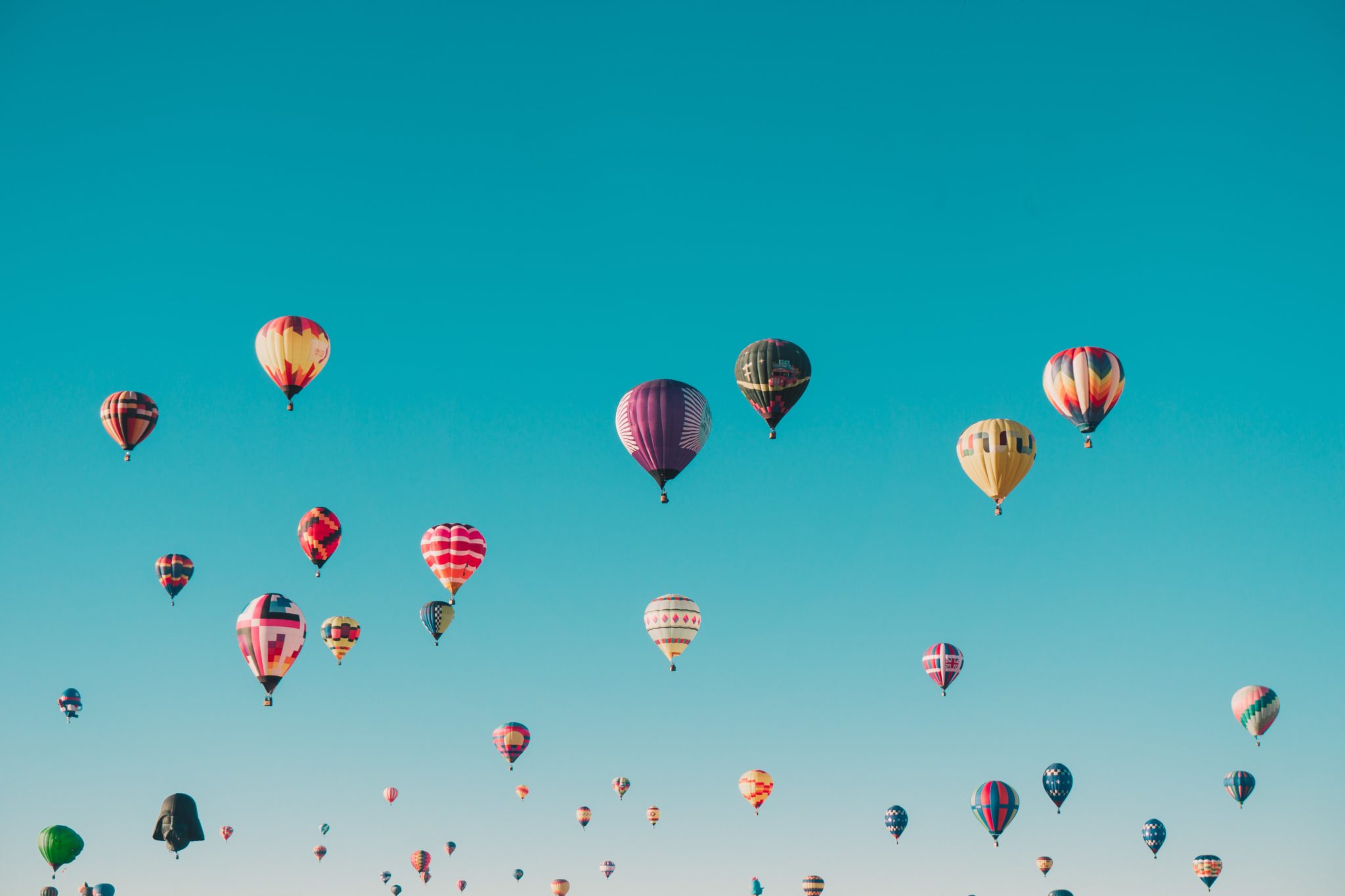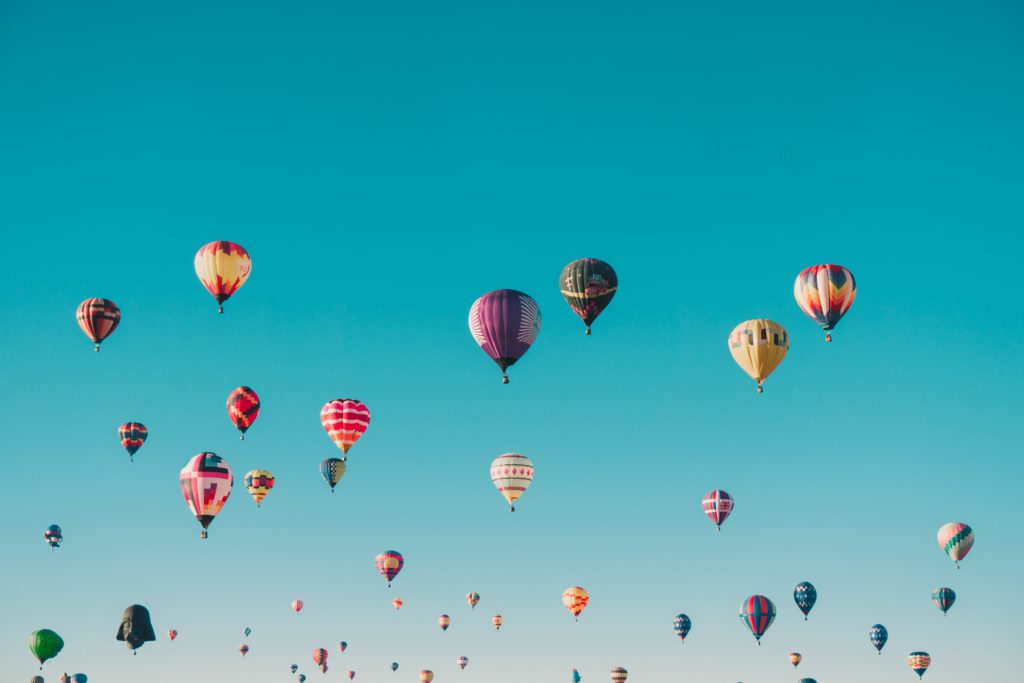 If you're not here during the festival, the Albuquerque Balloon Museum shares some of the history of this mode of transport.
Where to stay in Albuquerque 
Hotel Chaco, in the heart of the historic Old Town, is a boutique hotel with Native American New Mexican artworks on display in the rooms.
Rooms at Los Poblanos Historic Inn and Organic Farm are comfortable and gorgeous – start the day with breakfast at the on-site restaurant and then bike through the lavender fields in the afternoon.
Sandia Peak Inn is a colourful motel great for those on a budget.
"Well! Well! Well! This is wonderful! No one told me it was like this."
– Artist Georgia O'Keeffe on arriving in New Mexico
New Mexico itinerary stop 2: Taos
Driving time: 134 miles / 2.5 hours
Taos is where we actually started our New Mexico road trip and what a place to begin!
This gorgeous little town is home to many artists, which gives it a relaxed, creative vibe. It's also where you'll find Taos Pueblo, an ancient Native American community that's been around for around 1,000 years.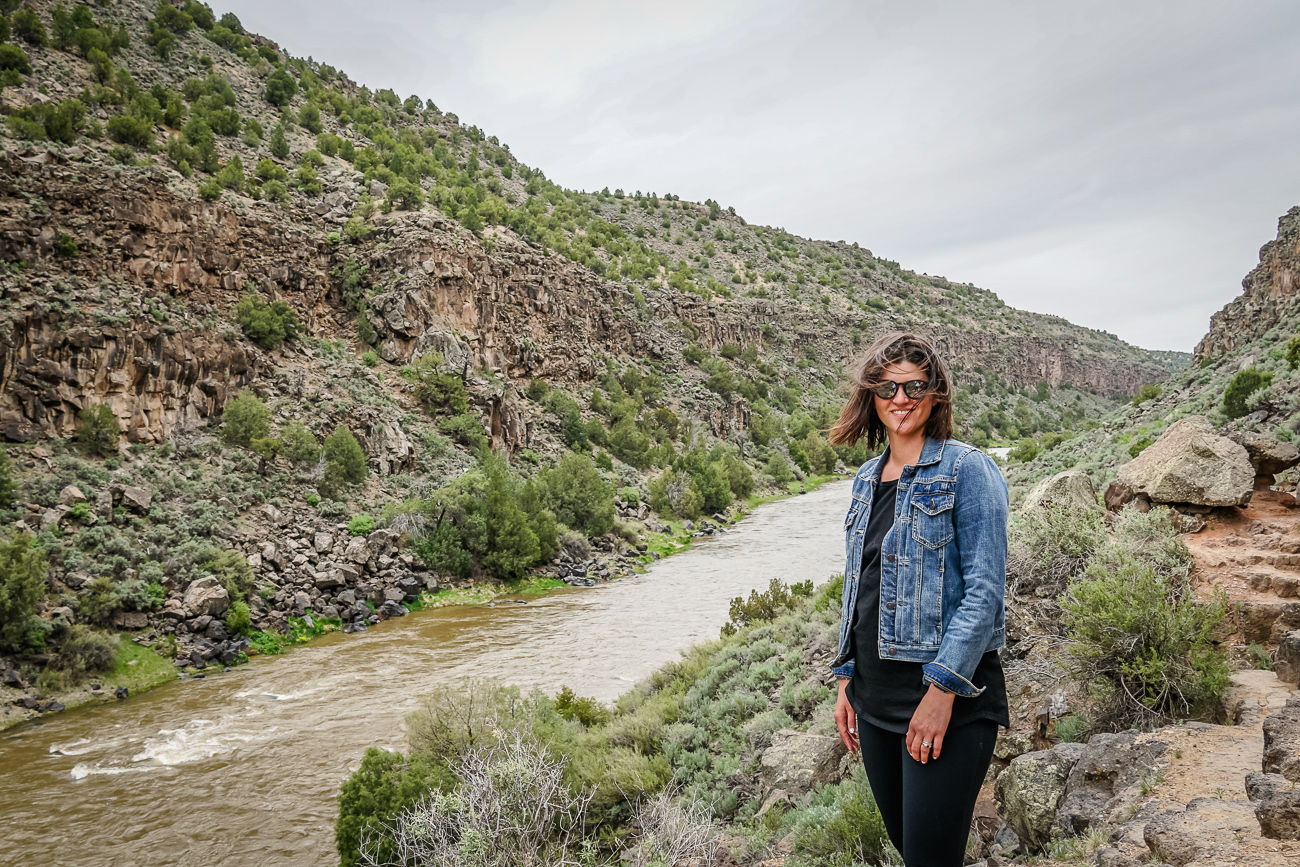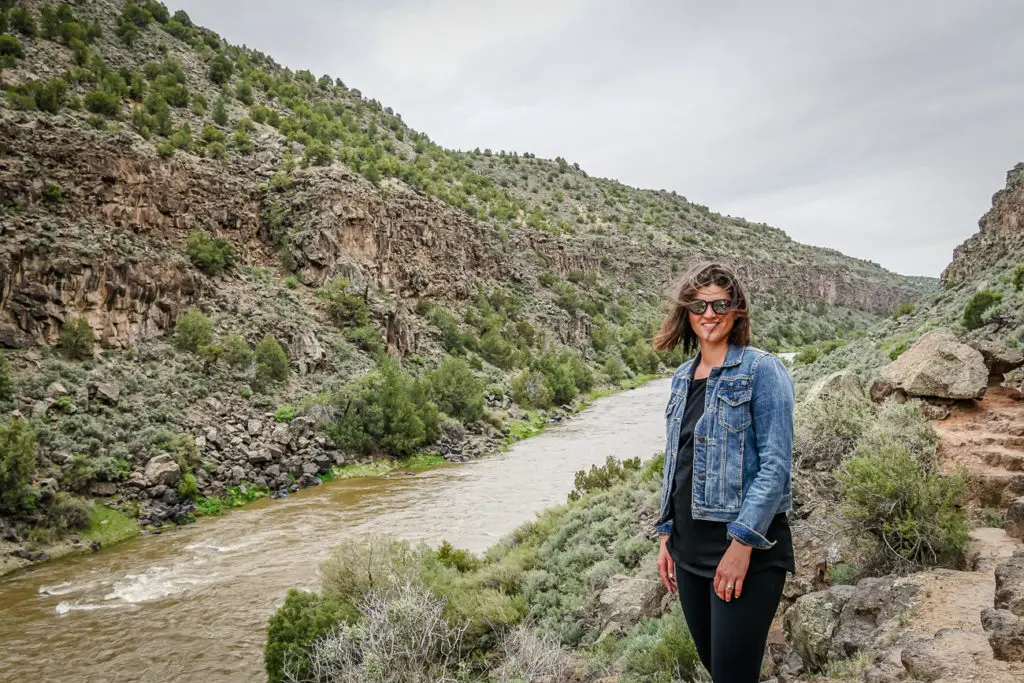 How many days needed?
You need at least two days in Taos to see everything.
Top things to do in Taos
Check out the amazing views over the Taos Gorge. The sunrises and sunsets here are a must see in New Mexico, when the soft light hits the all the right spots.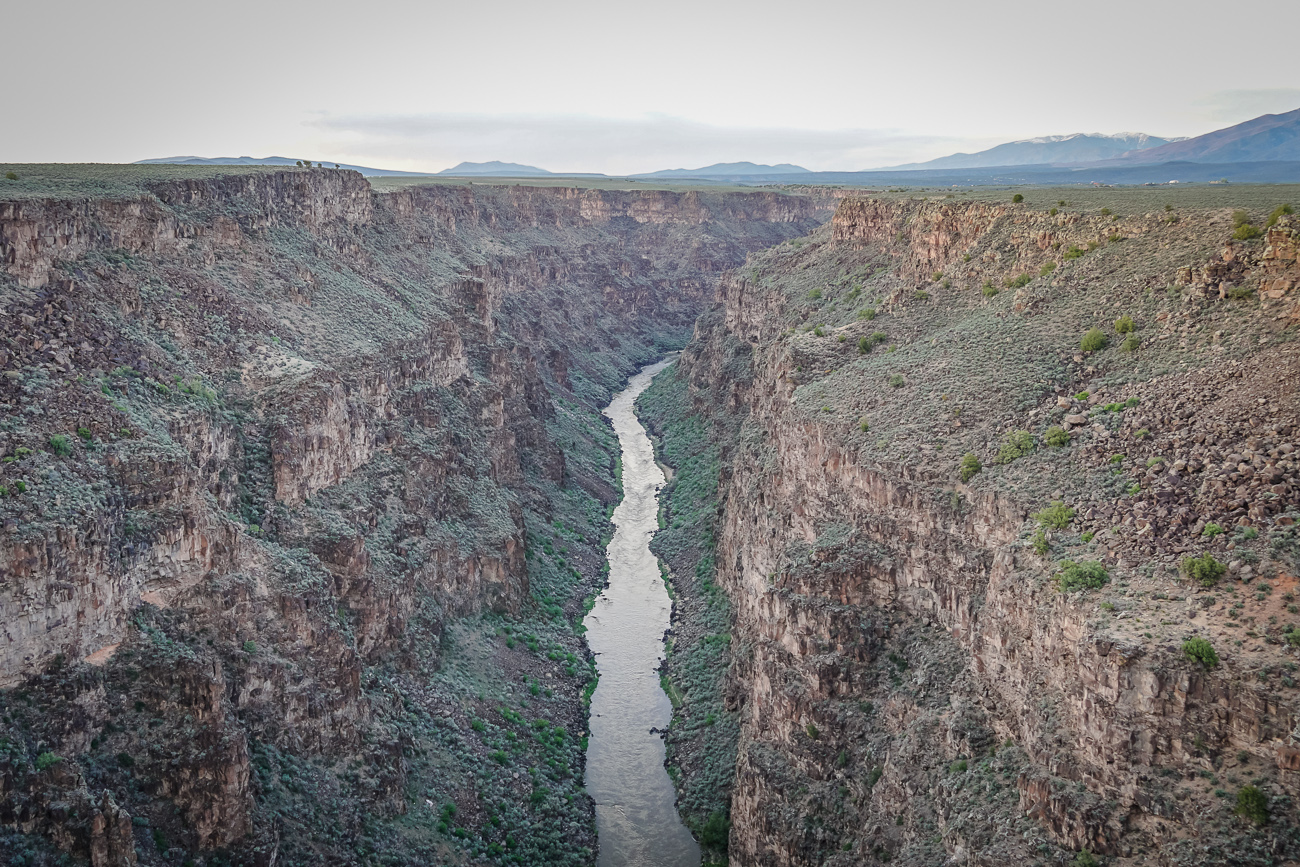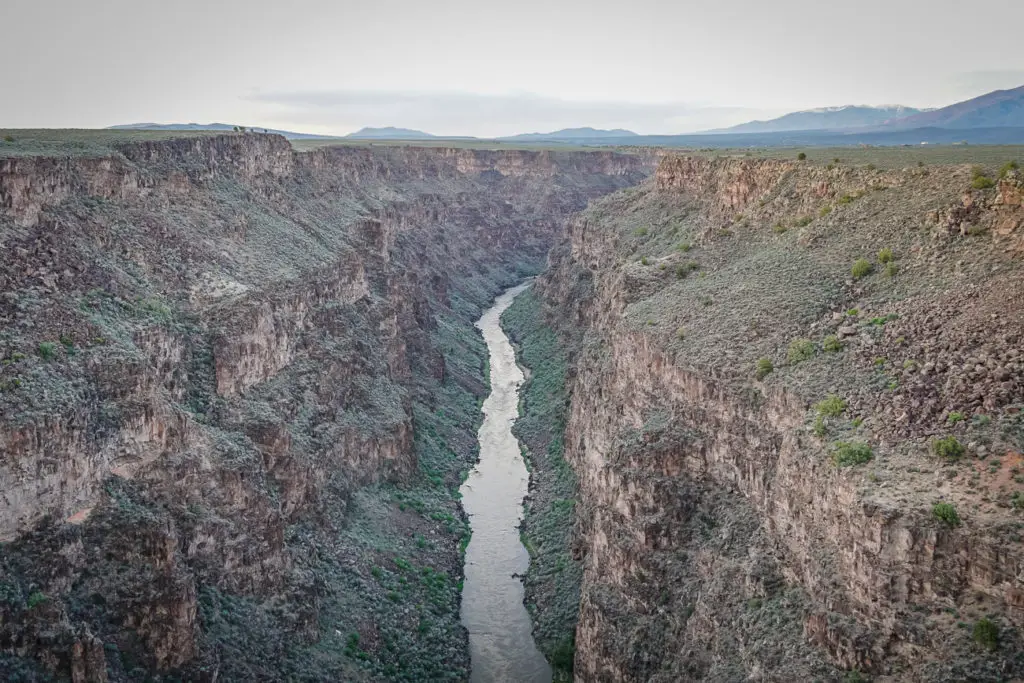 Go hunting for hot springs – Black Rock Hot Springs is right on the river (and river flow determines whether you can access it and the temperature of the springs) or you can experience the commercial springs at Ojo Caliente.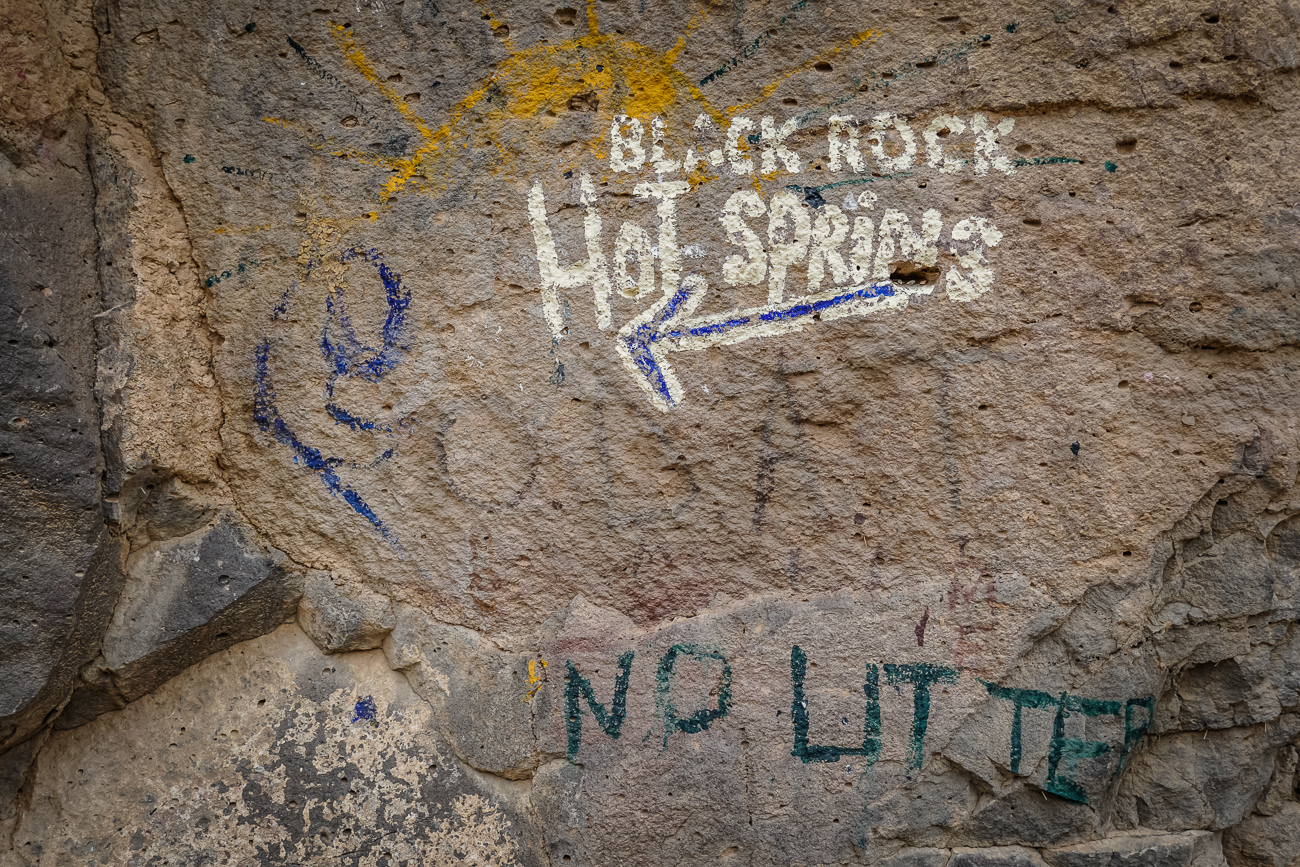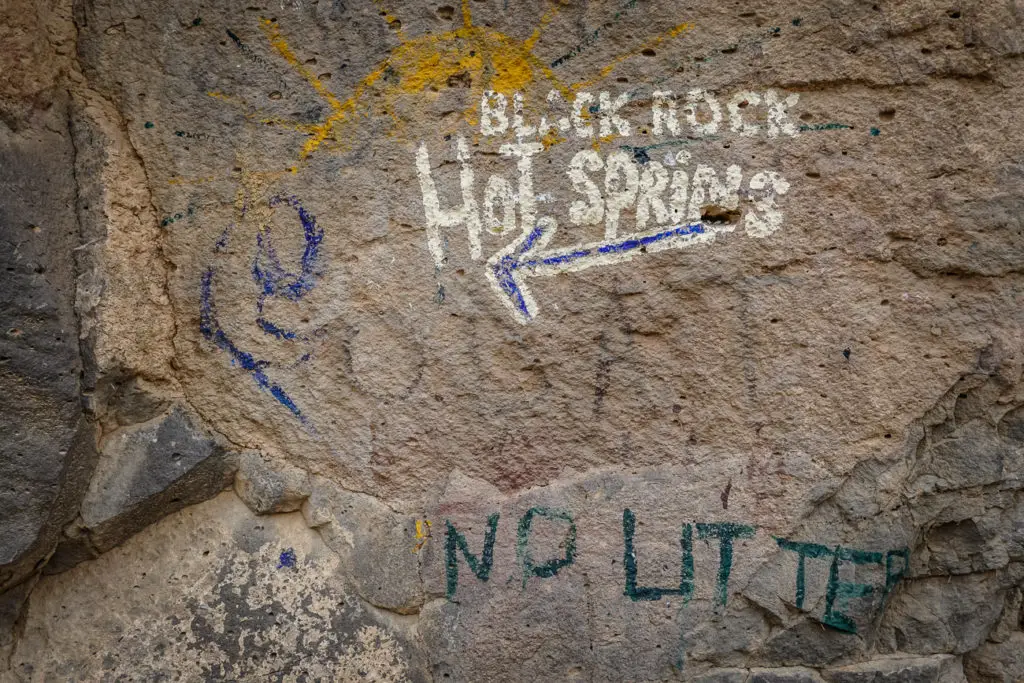 Visit the Taos Earthship, a fascinating facility with homes made of natural and recycled materials like tyres and bottles, and learn about this global sustainable architecture movement.
Spend a few hours learning about Native American history at Taos Pueblo, the only living Native American community designated both a World Heritage Site by UNESCO and a National Historic Landmark. Tours are led by a guide who lives in the Pueblo. There are also many talented artisans selling gorgeous jewelry and homewares from their houses – I bought a delicately engrave bracelet that I adore.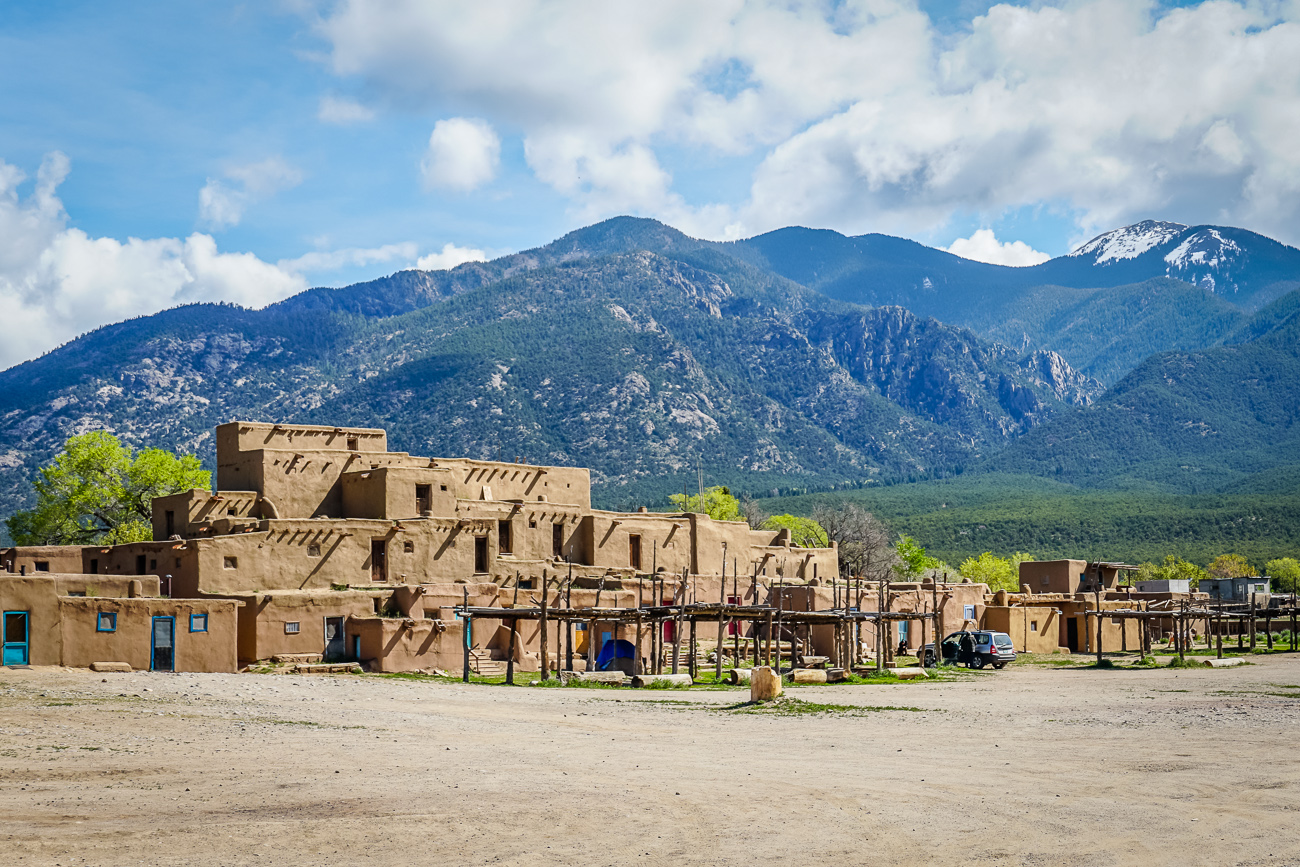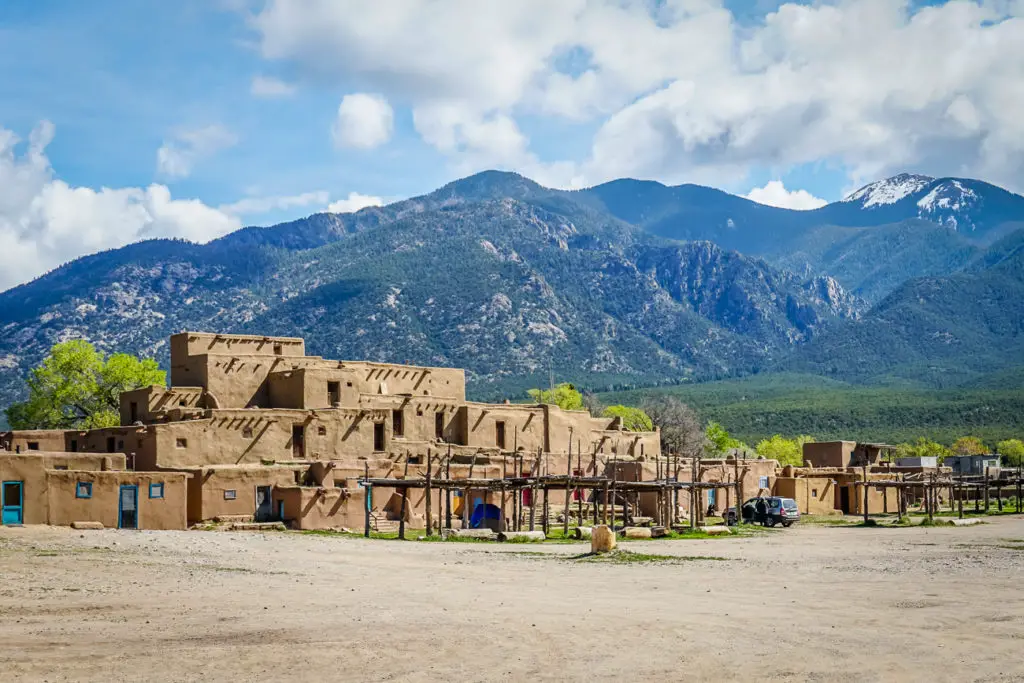 Head up to Taos Ski Valley. In winter this ski village is pumping with avid skiers and snowboarders, while in summer you can hike and fish up here. 
Grab a drink and a meal at Adobe Bar at Taos Inn or Alley Cantina, both in the centre of the town. Or check out the beers on offer at Taos Mesa Brewing.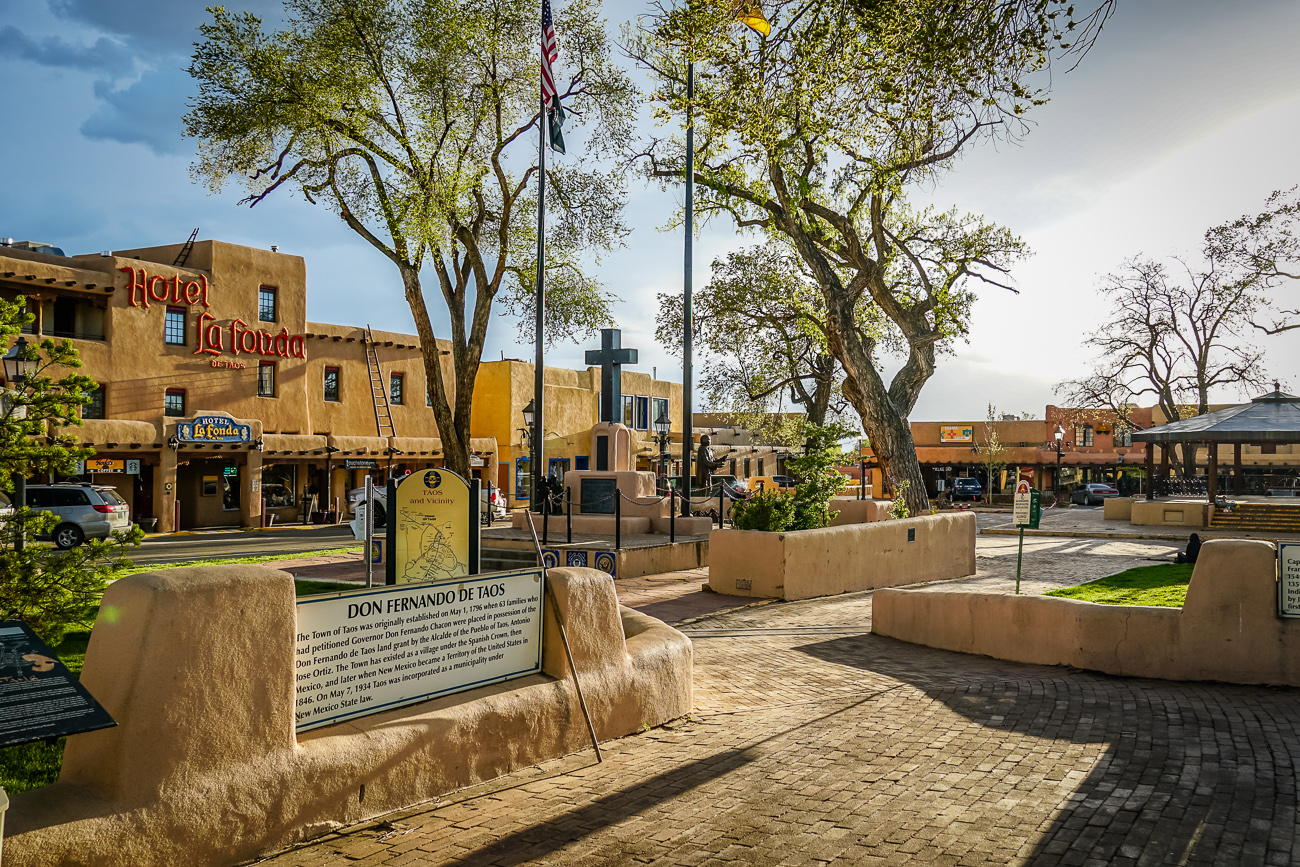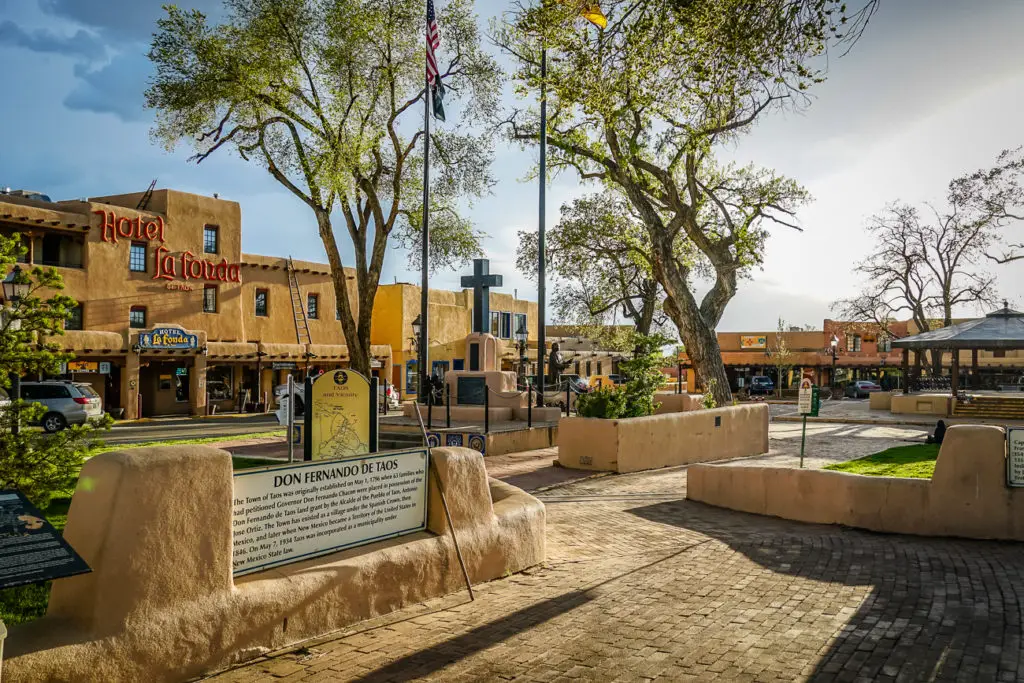 Where to stay in Taos
We stayed at this gorgeous little casita in Arroyo Seco, just a short drive out of Taos. It was cosy and warm and we loved sitting in the hot tub in the snow!
If that property isn't available, there are many more gorgeous homes to rent in Taos, many in adobe style and with hot tubs.
Close to Taos Plaza, Casa Benavides Inn has rooms with colourful blankets and a fantastic breakfast.
New Mexico itinerary stop 3: Santa Fe
Driving time: 1.5 hours / 70 miles
You can take the High Road between Taos and Santa Fe, stopping at interesting towns and churches along the way. This route does take a little longer but won't add too much extra time to your New Mexico road trip.
If I thought Taos was my love, then Santa Fe comes a very, very close second.
The country's oldest state capital city is arty and historic and unpretentiously cool. Santa Fe is one of the best places to visit in New Mexico, so make sure this small city is on your itinerary.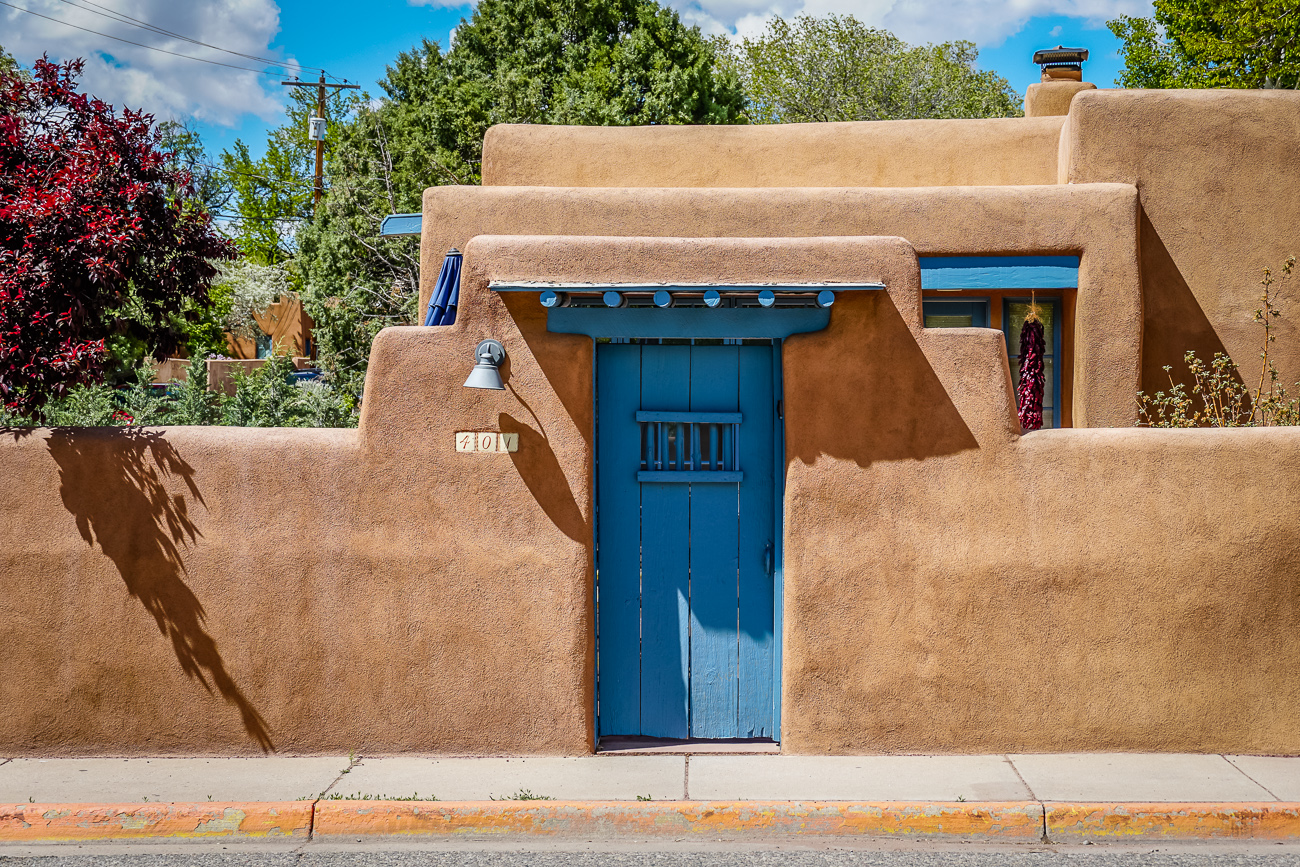 How many days needed?
To really experience the best of Santa Fe and its surrounds, plan to stay here for at least 2 days.
Top things to do in Santa Fe
Amble around 400-year-old Santa Fe Plaza, admiring the historic architecture. This should be one of the first Santa Fe attractions you visit.
Shop for unique, Native American-made silver and turquoise jewelry out the front of the Palace of the Governors. There's also pottery, blankets and other artisan goods on sale.
Try a few of the specialties on the Santa Fe Margarita Trail – Santa Fe takes its margaritas seriously. In fact, Santa Fe was the first city in the new world to import tequila from Mexico. 
Take a peek inside Loretto Chapel and puzzle over its mysterious spiral staircase.
Experience the surreal, immersive brilliance of Meow Wolf. Climb through a washing machine or refrigerator door to enter fantastical worlds.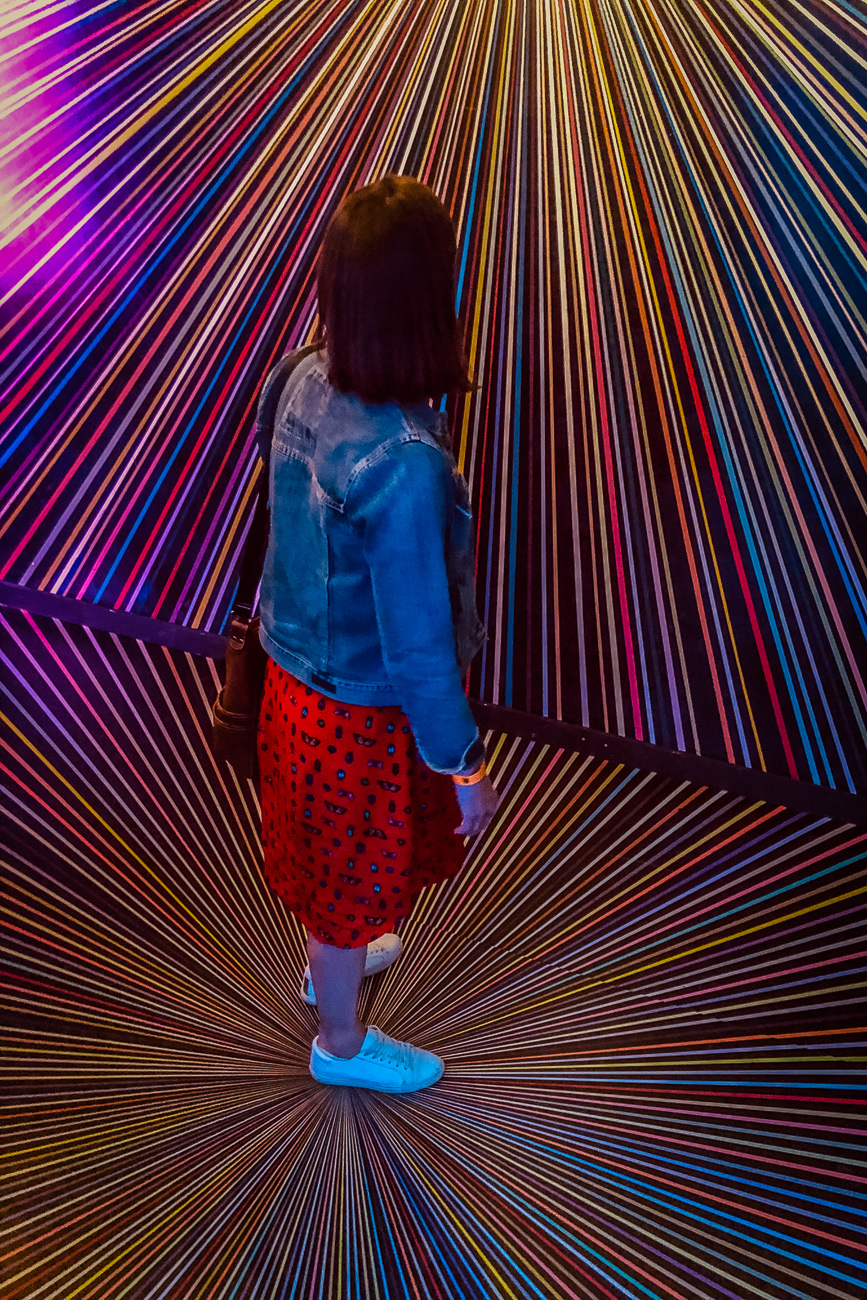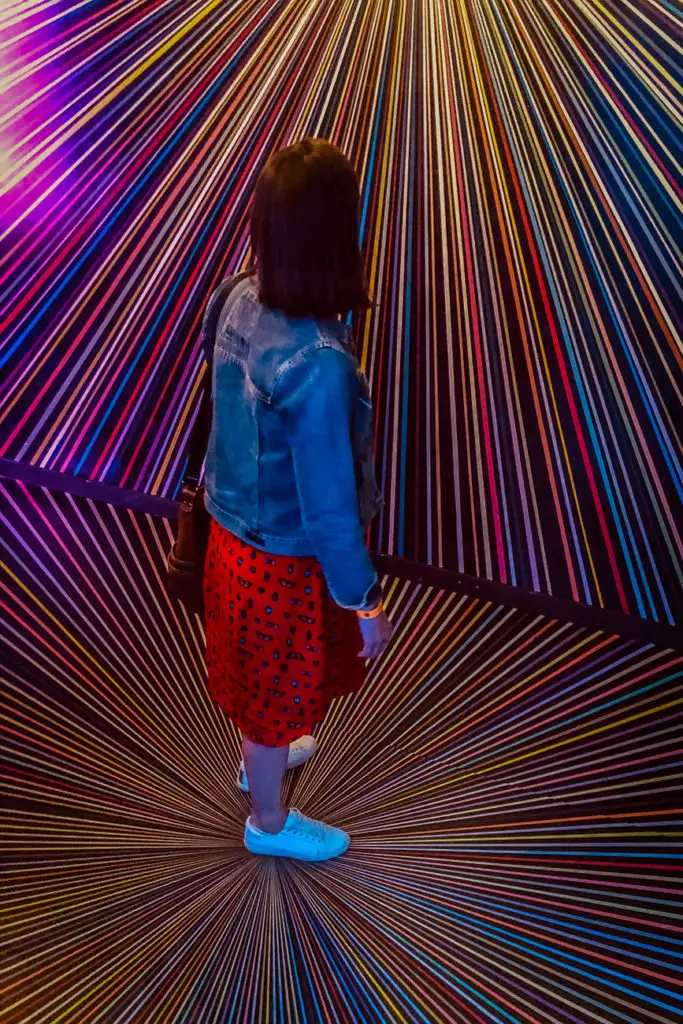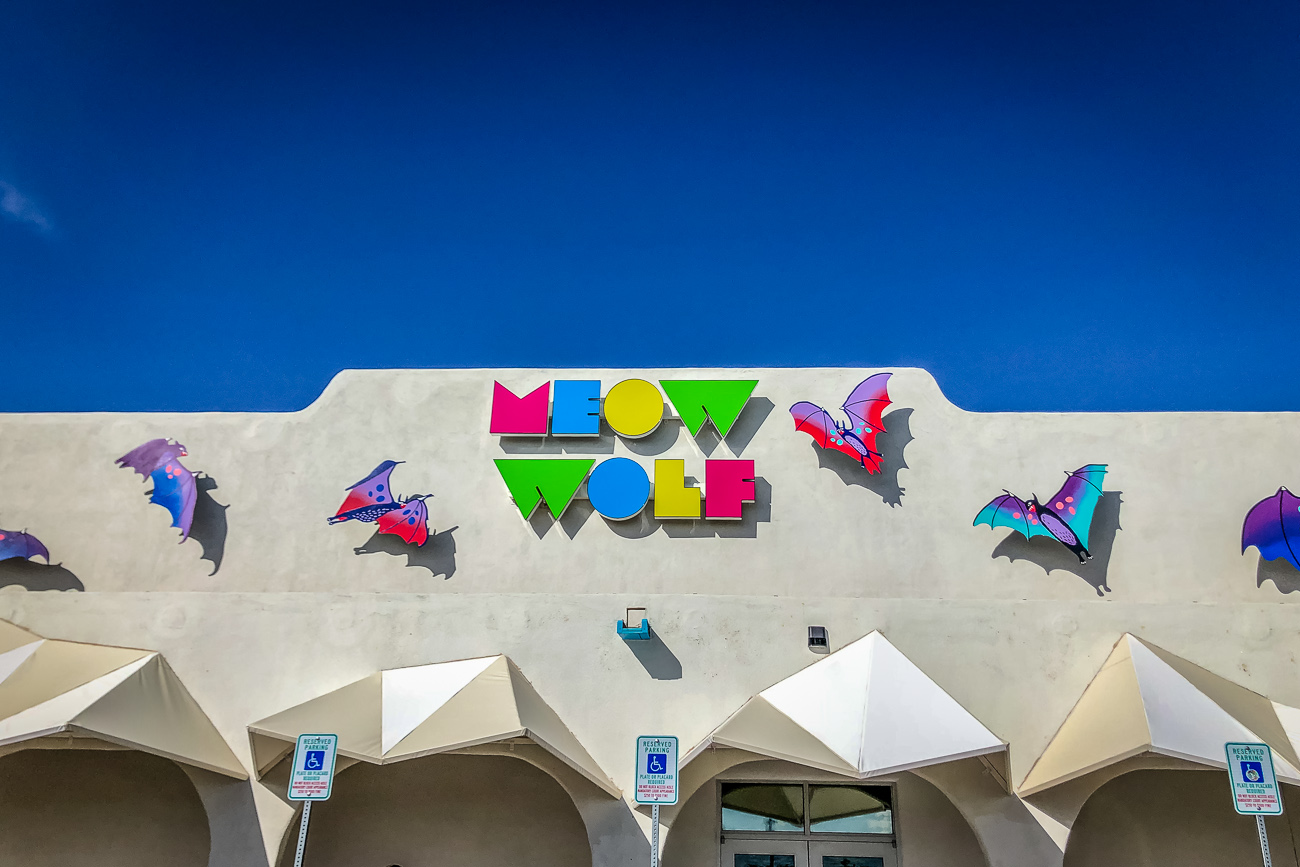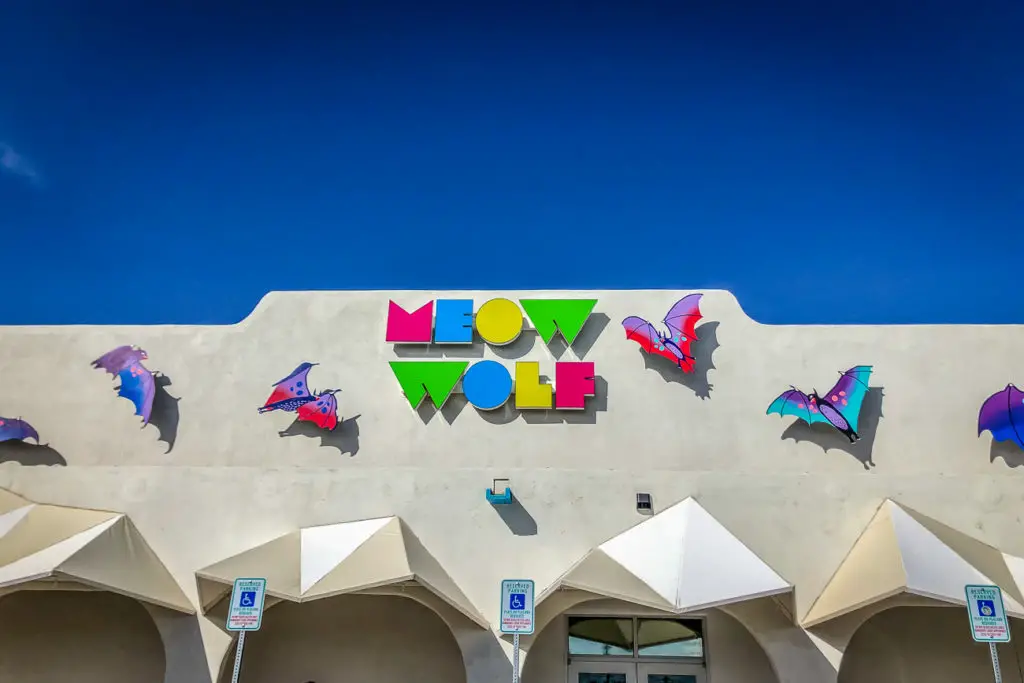 Wander around the Railyard District, a completely revamped area that's now home to restaurants, a brewery, galleries and more. On Saturdays, vendors convene here for the Santa Fe Farmers Market.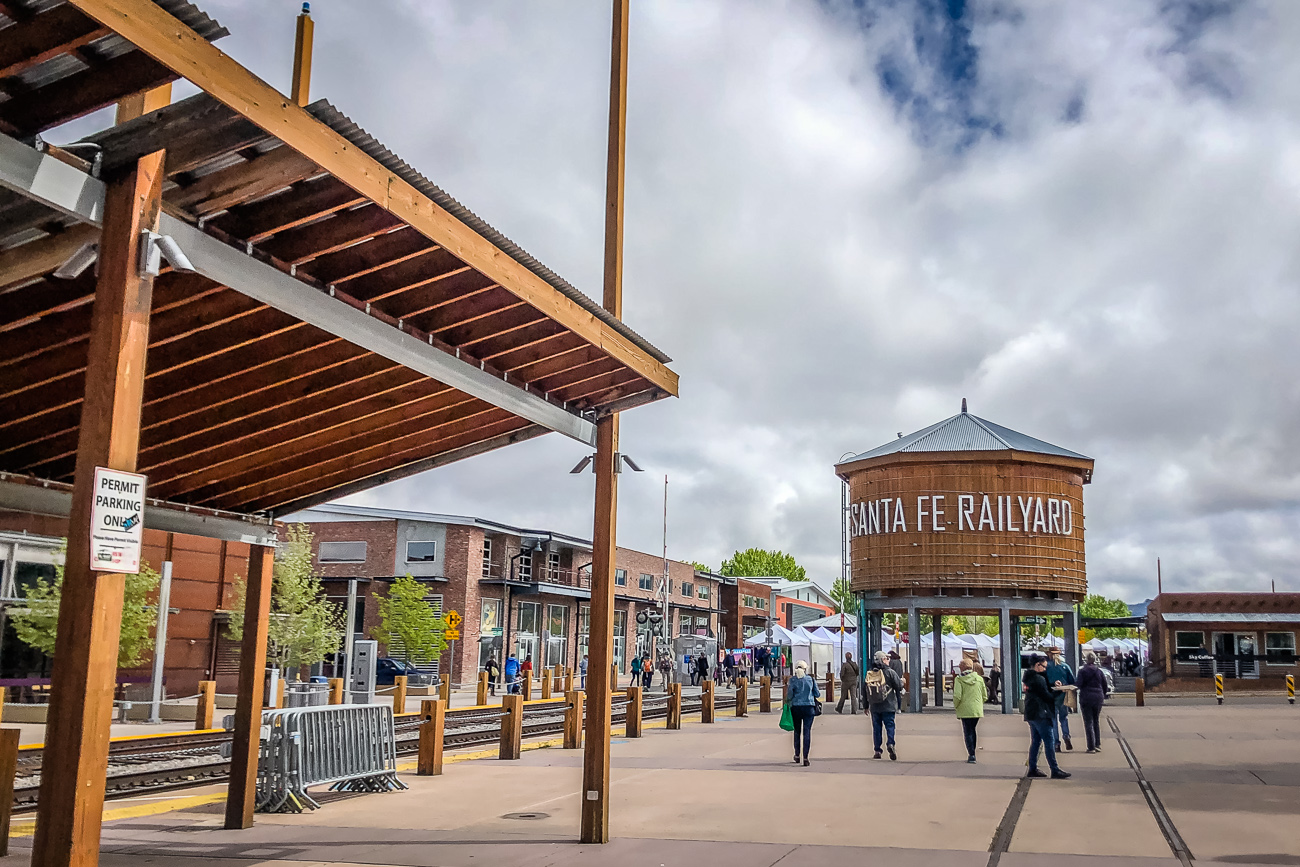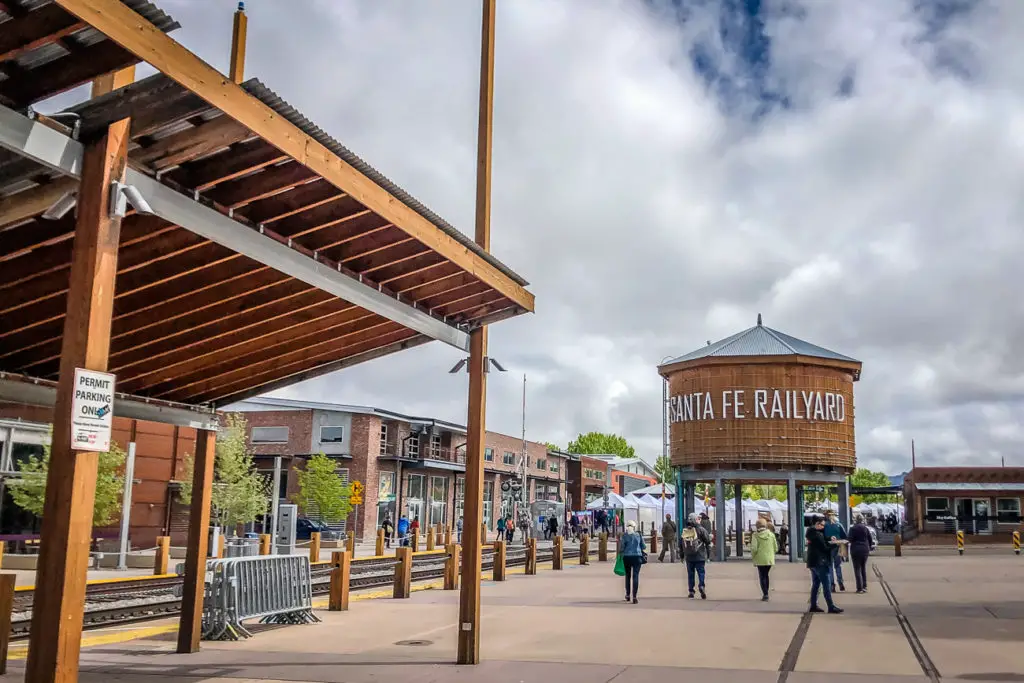 Duck in to the many galleries and studios along Canyon Road. Grab tapas at El Farol (they have a great happy hour daily from 3-5pm!).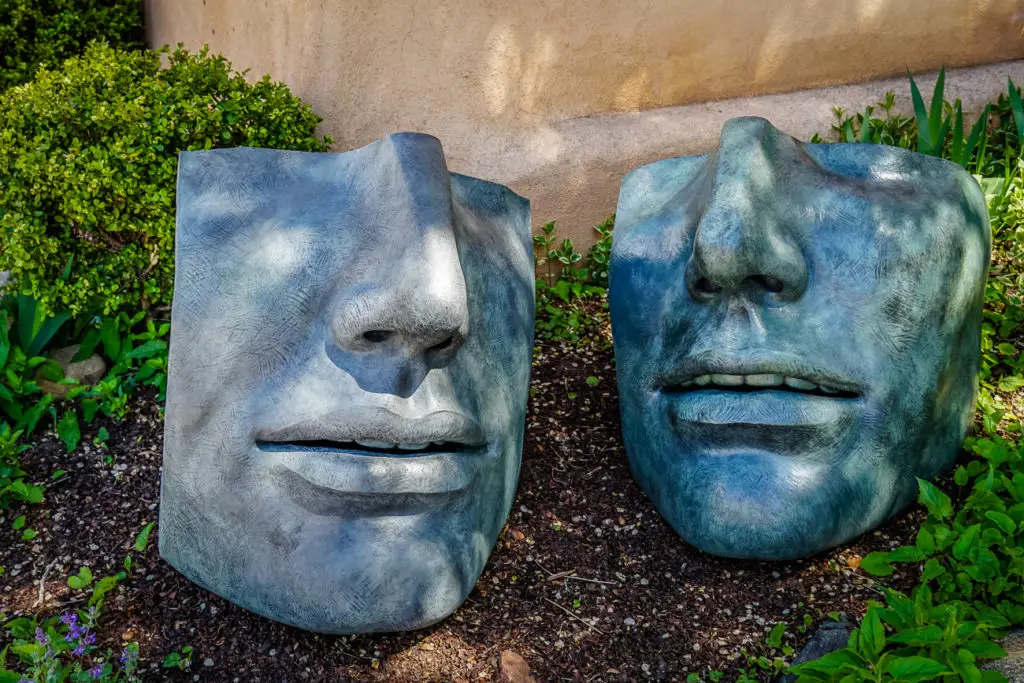 Take your pick of the museums on Museum Hill: the Wheelwright Museum of the American Indian, the Museum of Indian Arts and Culture, the Museum of International Folk Art and the Museum of Spanish Colonial Art are all great additions to a Santa Fe itinerary.
Eat! Santa Fe has some great restaurants. Our faves were dinner at Paloma, a Mexican kitchen and bar, the casual and friendly Tune Up Café, and the James Beard Award-winning restaurant The Shed.
For an afternoon pick-me-up, try the thick, velvety hot chocolate from Kakawa Chocolate House.
Day trips from Santa Fe
One of the highlights of our time in Santa Fe was hiking in the incredible landscapes nearby. As well as the things to do in Santa Fe that I've listed above, I highly recommend taking a day trip or two out of the city.
Bandelier National Monument: There is human presence in this area going back over 11,000 years. See ancient petroglyphs and take a peek inside the dwellings that are carved into the rock face. Website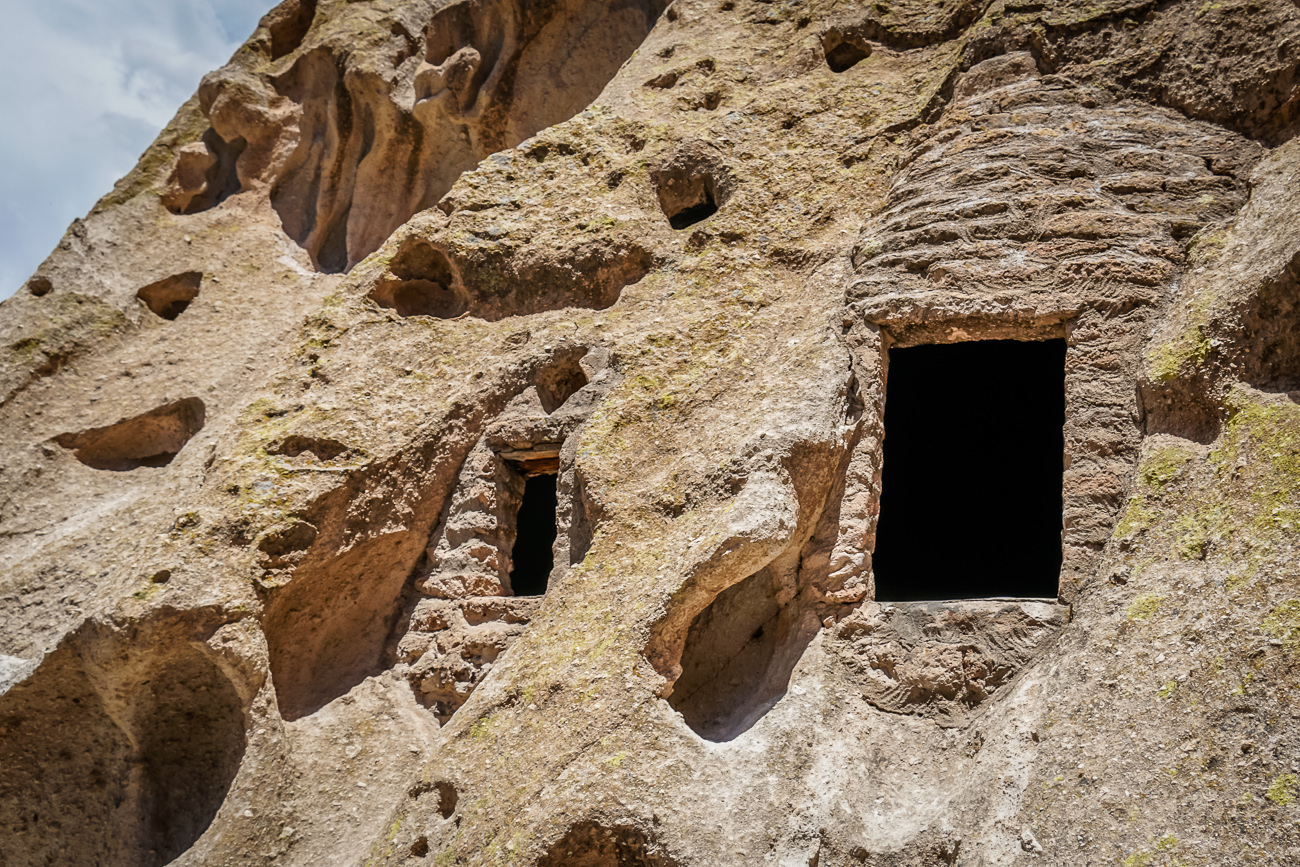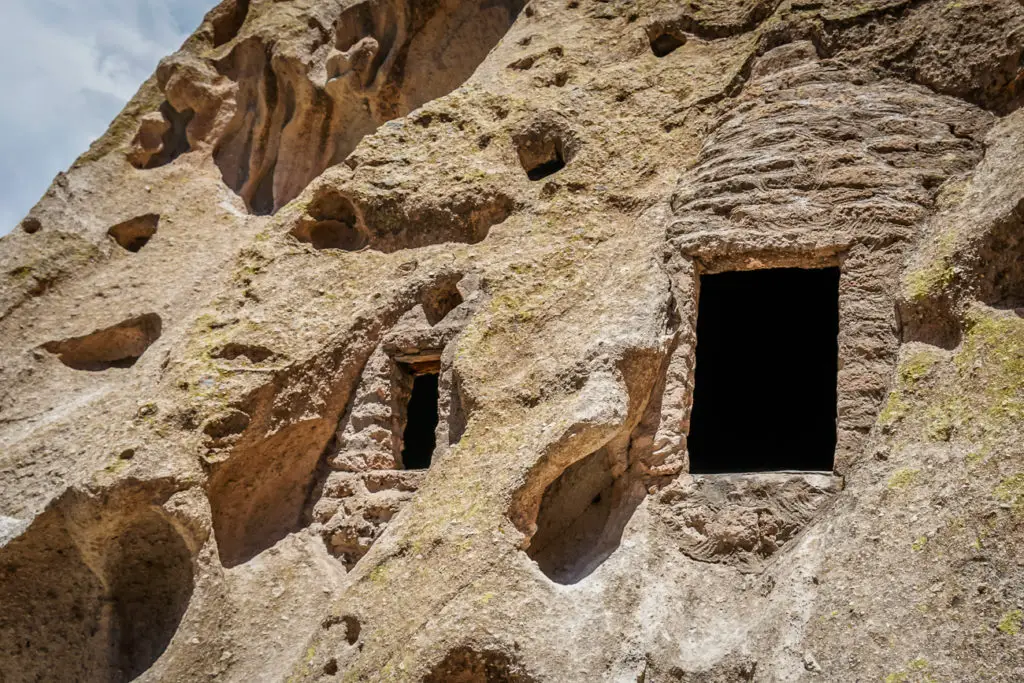 Tsankawi: This is actually a section of Bandelier but it's completely separate and so very different (and a bit tricky to find! Instructions are here, even though we still had to drive back and forth a few times).
This trail cuts along a mesa, where at times you'll be walking on a narrow, winding path that has been carved out by water and footsteps over thousands of year. There are cavates, petroglyphs and ladders to climb. It was one of our favourite walks – and because it's harder to find, there were fewer people.
Warning: don't do this walk if there's the chance of thunderstorms or rain.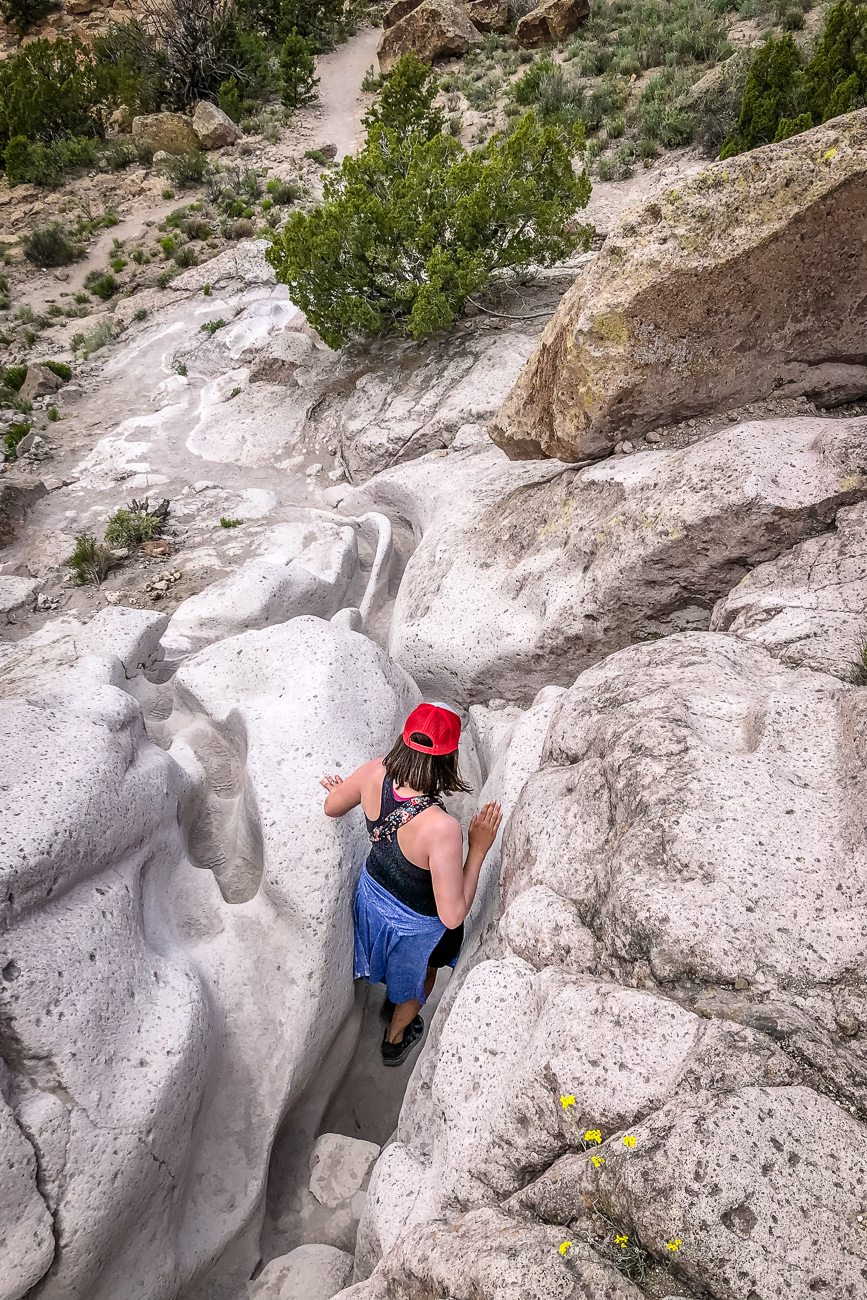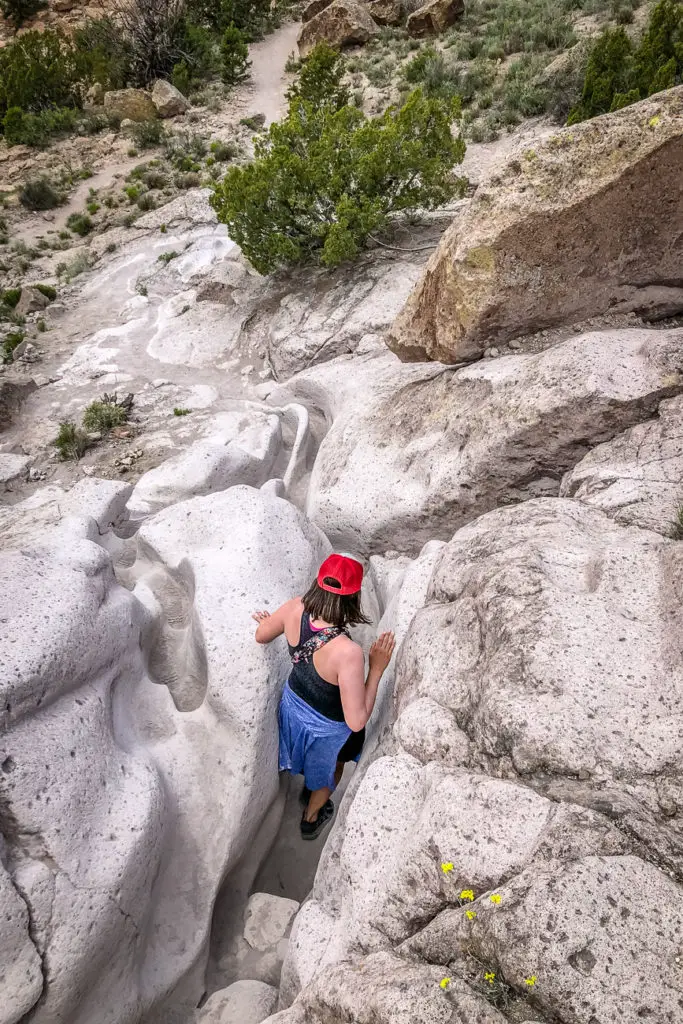 Kasha-Katuwe Tent Rocks National Monument: One of the most incredible places I have ever visited, it's easy to see how this place gets its name (Kasha-Katuwe means "white cliffs" in the Keresan language of the pueblo). Cone-shaped formations that resemble tents jut up from the earth, the result of millions-of-years-old volcanic eruptions. You'll also walk through canyons that have been carved out over millions of years. It's a reminder of just how mind-blowing nature is. Please note that Kasha-Katuwe is currently closed to the public.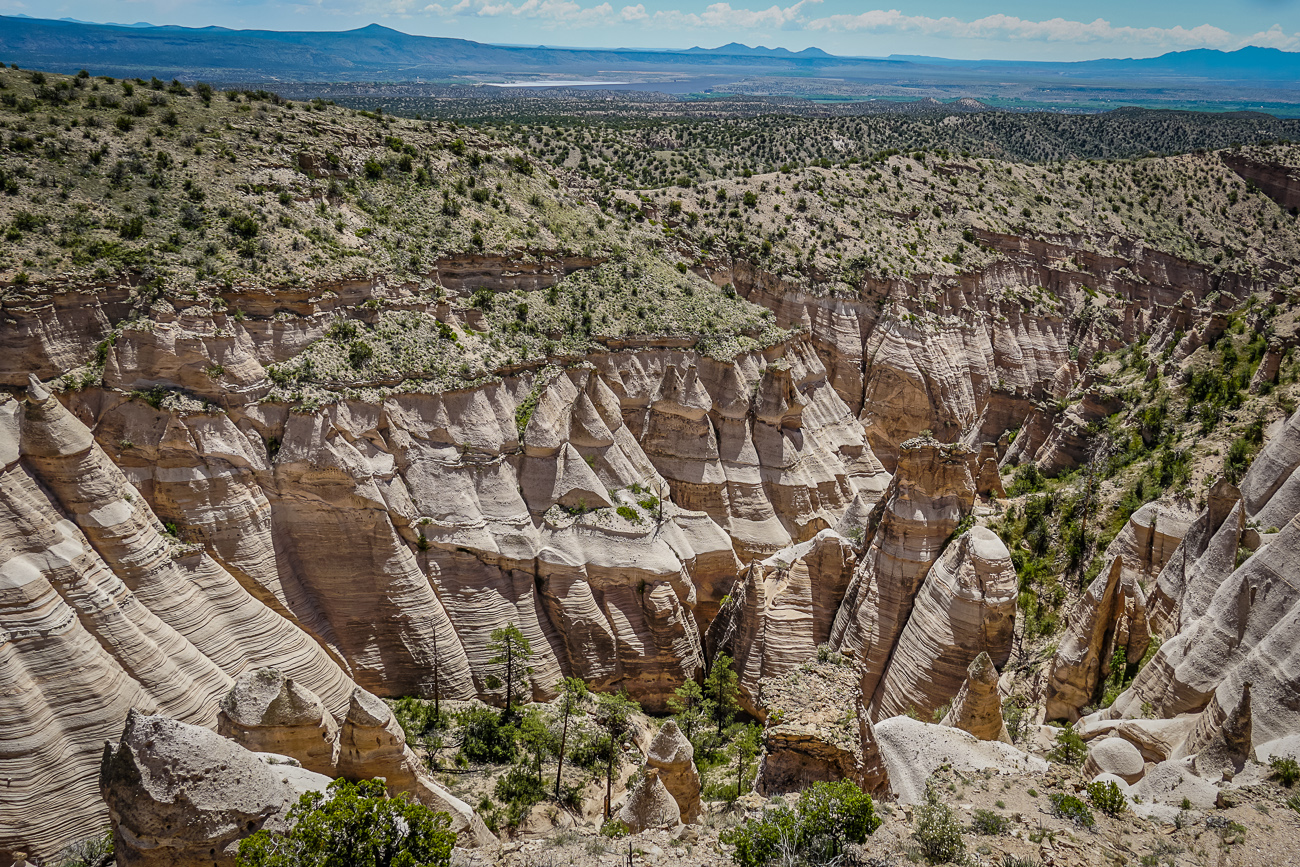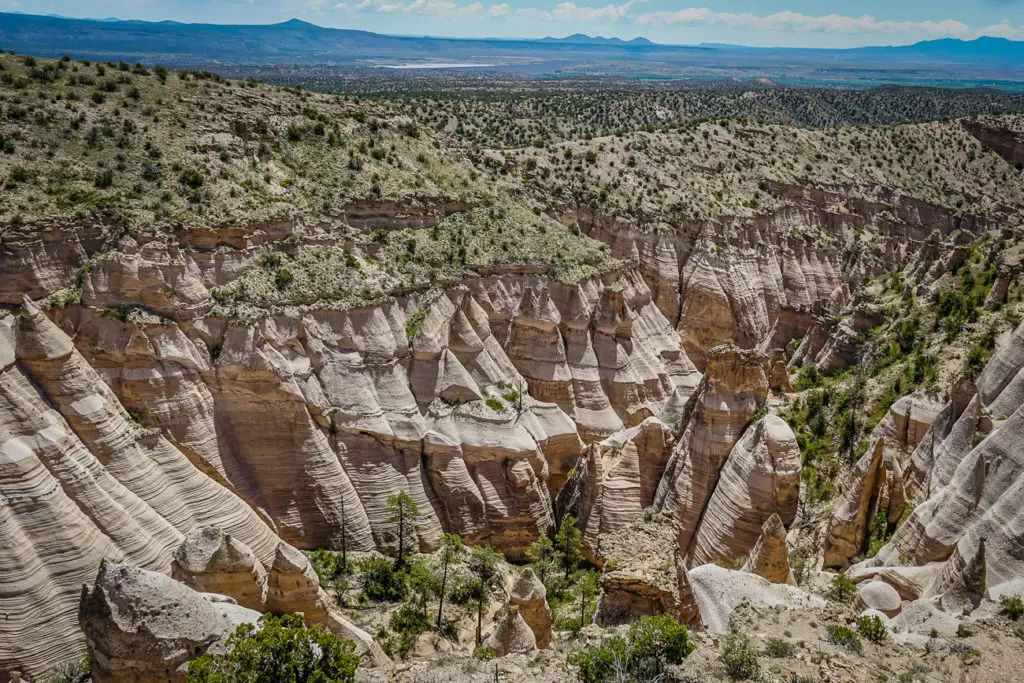 If you leave early and are efficient with your day, it is possible to visit all three sites in one (long) day.
Where to stay in Santa Fe
The rooms at the Inn of Five Graces are New Mexico luxe: colourful furnishings, adobe fireplaces, mosaic bathrooms.
The king rooms at the Casa de Tres Lunas each have fireplaces and warm furnishings.
New Mexico itinerary stop 4: Ruidoso
Driving distance: 3.5 hours / 190 miles
On the way to Ruidoso, stop in Madrid, a former ghost town that's been revitalised as an artistic hub.
Leave the desert behind and head into the mountain resort town of Ruidoso. Set in the Sierra Blanca mountain range, Ruidoso is a little off the beaten track – although it's well known by the skiers who flock here in winter.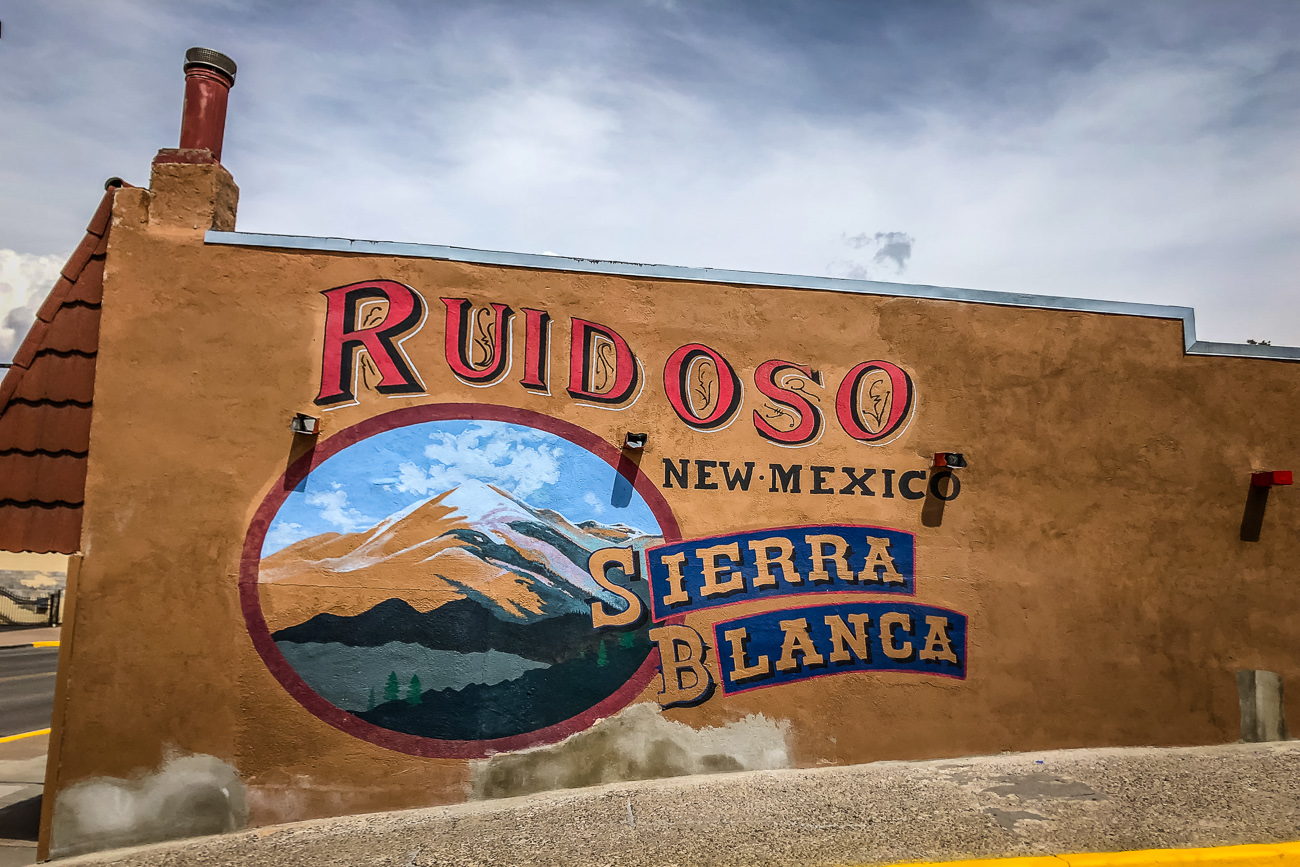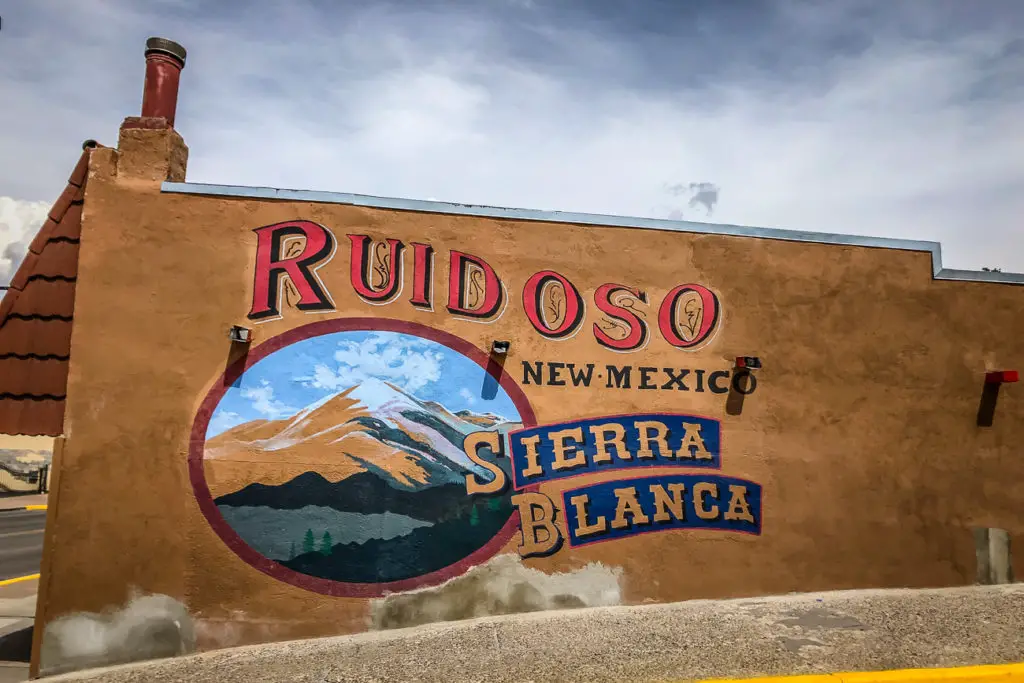 How many days needed?
One day is plenty to spend in Ruidoso – more if you want to get out and go hiking or skiing.
Top things to do in Ruidoso
Hike around Grindstone Lake for views of the Sierra Blancas. It's especially nice at sunset – expect to see a few deer out enjoying dinner.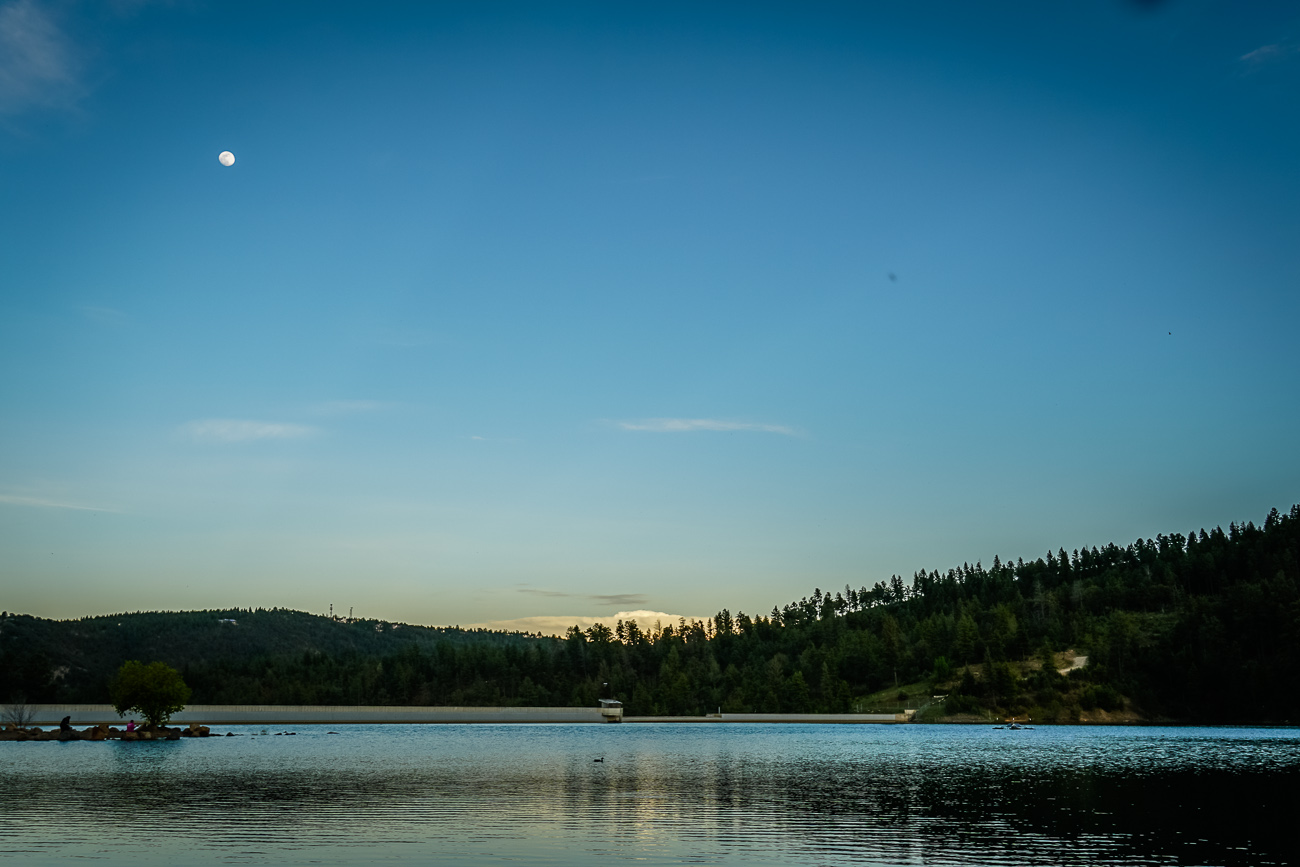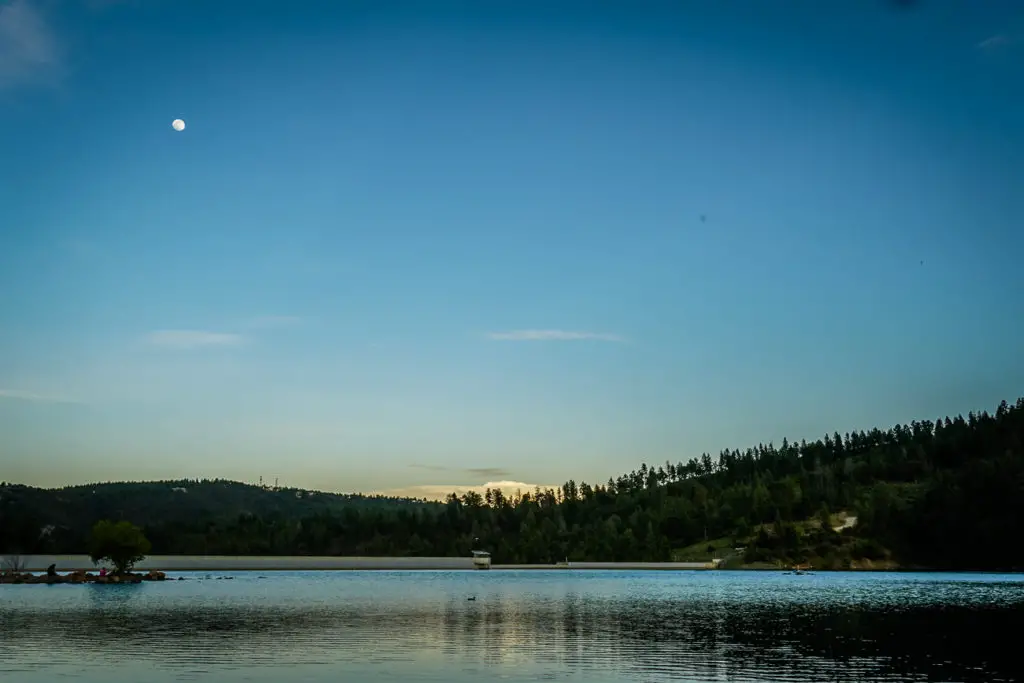 Where to stay in Ruidoso
We stayed at Shadow Mountain Lodge and Cabins so we could have a kitchen and laundry facilities. Deer would often wander through the property in the evening.
The rooms at West Winds Lodge & Condos look cosy.
New Mexico itinerary stop 5: Roswell
Driving distance: 1.5 hours / 75 miles
If there's one thing that comes to mind for most people when they hear Roswell, it's aliens.
This kitschy town has capitalised on being the location of an alleged alien spacecraft crash landing in 1947 and turned that interest into a booming tourist attraction. It's a fun stop on this New Mexico road trip.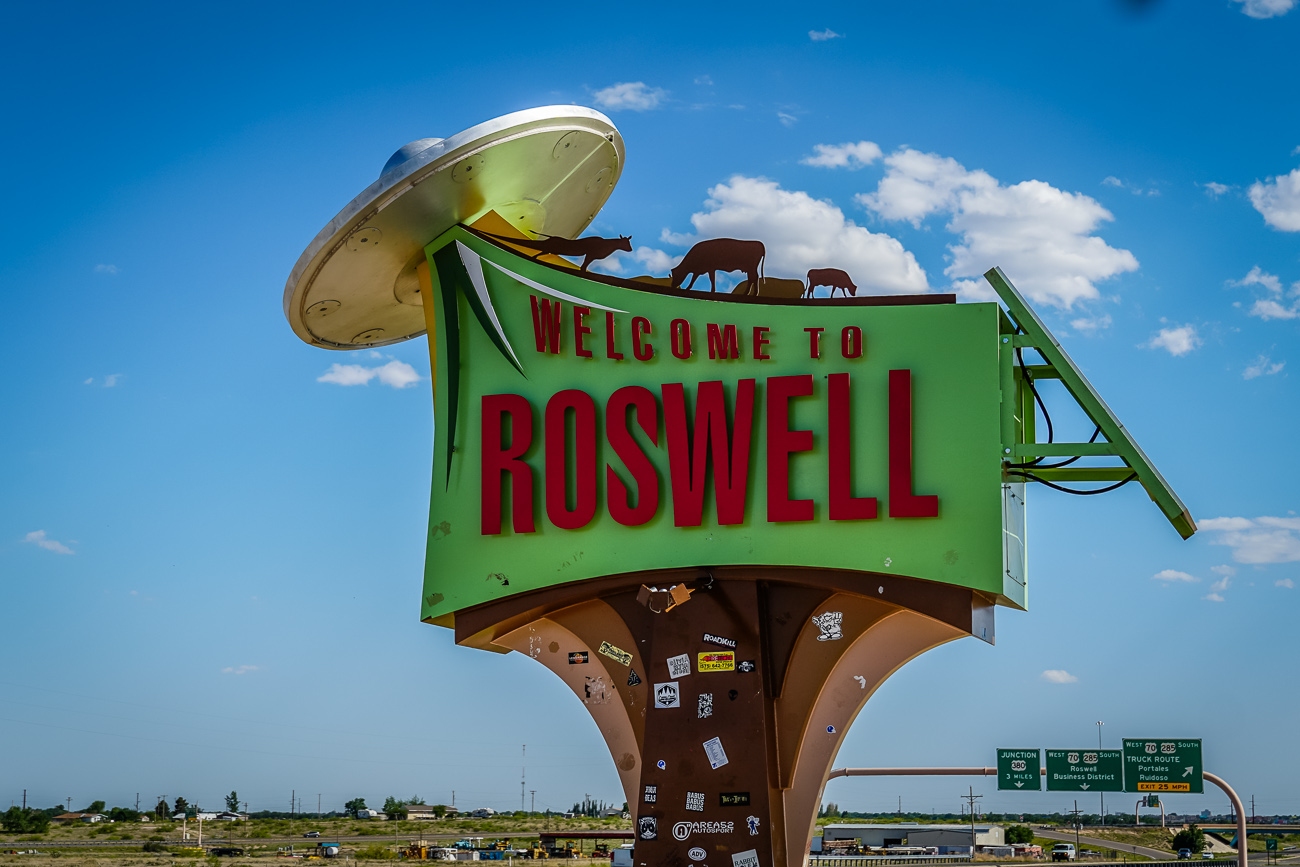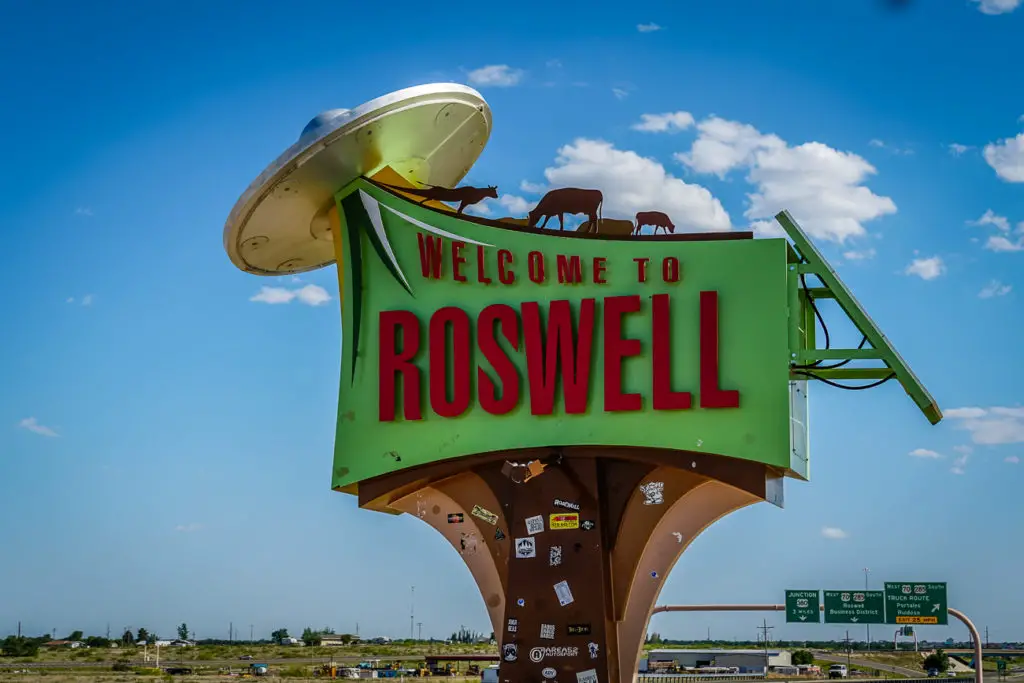 How many days needed?
Unless you're a hardcore UFO fanatic, then a few hours in Roswell is plenty. Roswell is one of the quirkiest places to visit in New Mexico.
Top Roswell New Mexico attractions
Have a look at the International UFO Museum and Research Center (more a museum than "research centre"), dedicated to informing people about the 1947 "Roswell Incident". There's kitschy alien surgery displays and an alien ship take off and landing and it's all a lot of fun.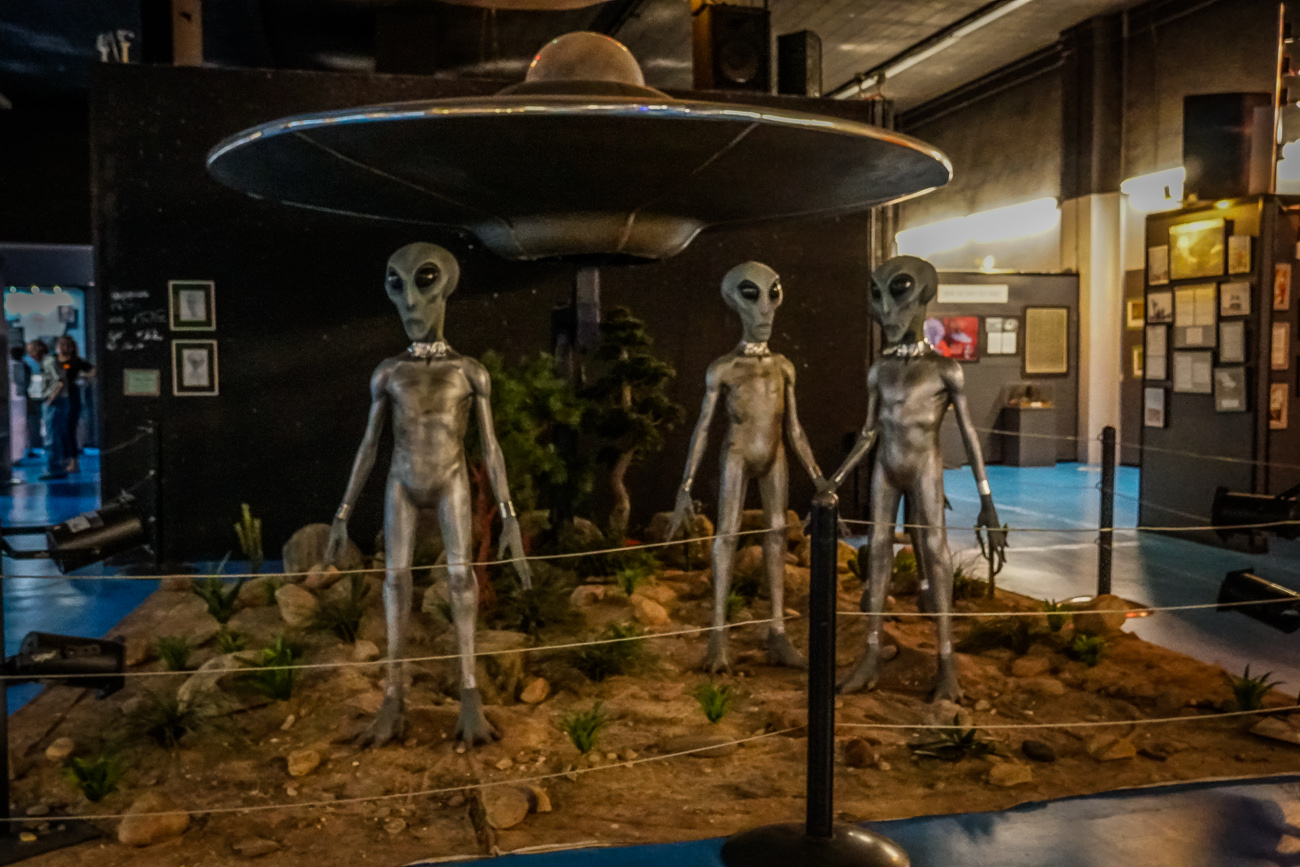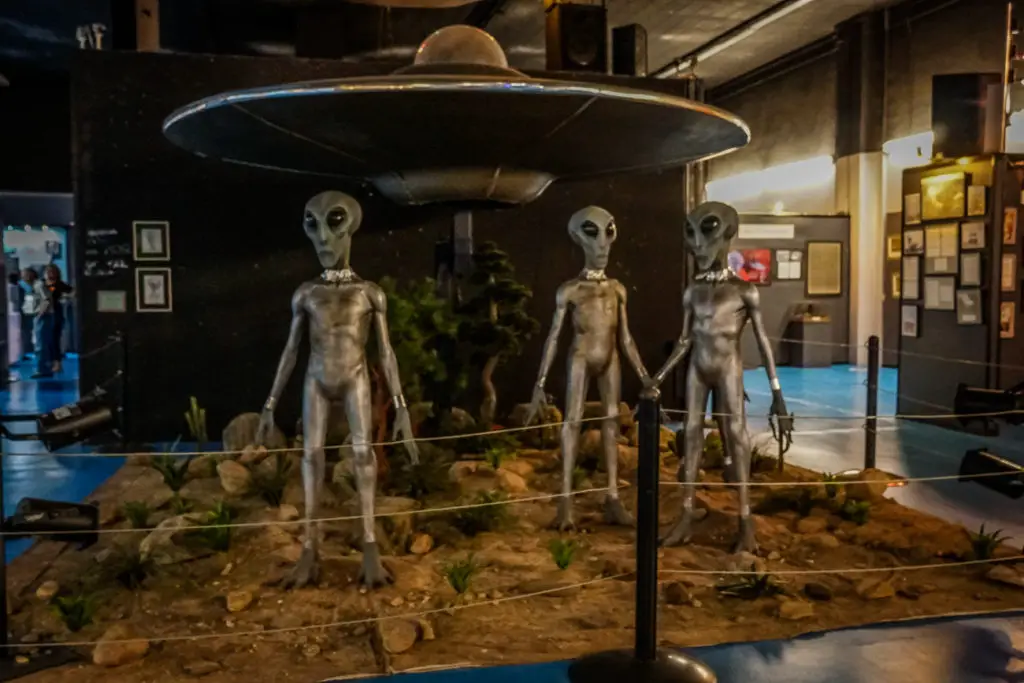 Snap a few funny photos at Alien Zone.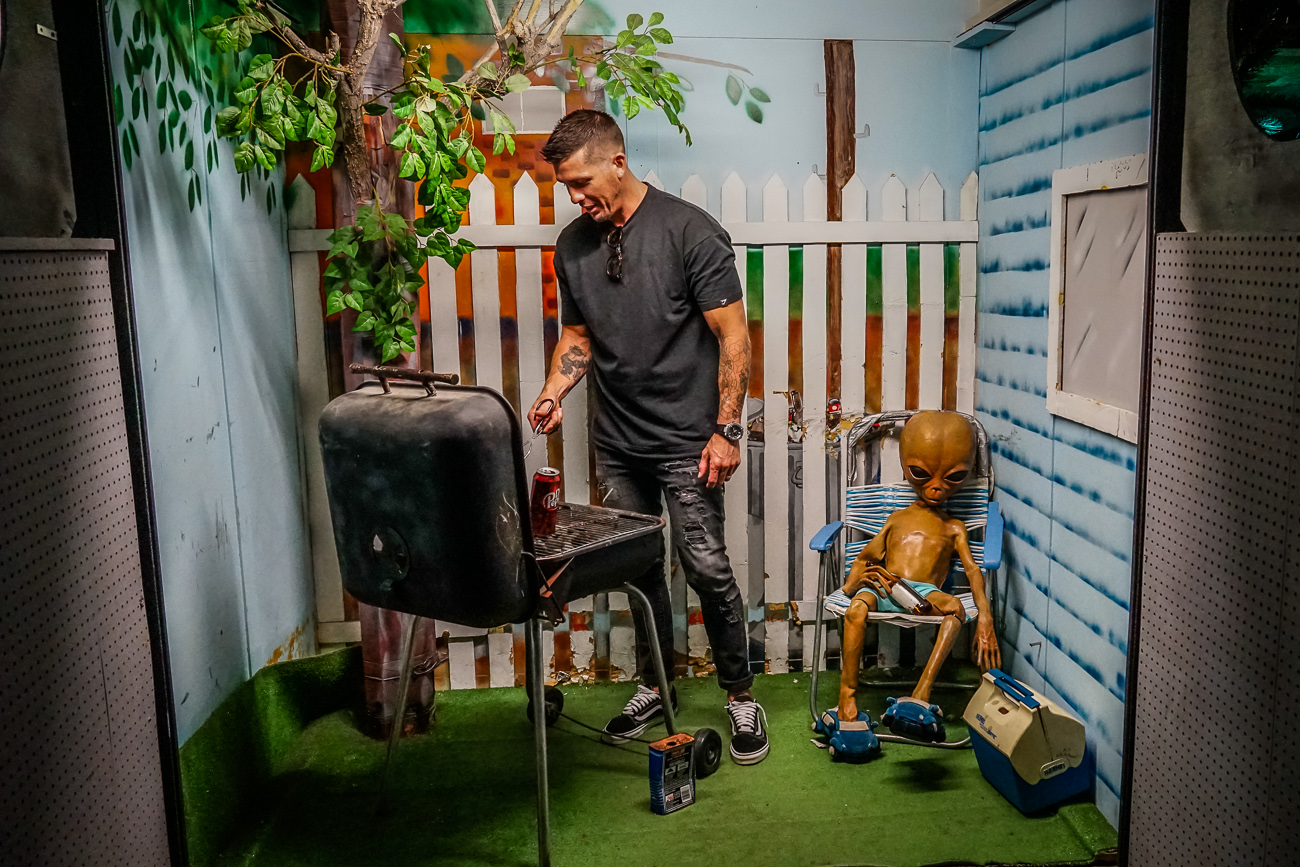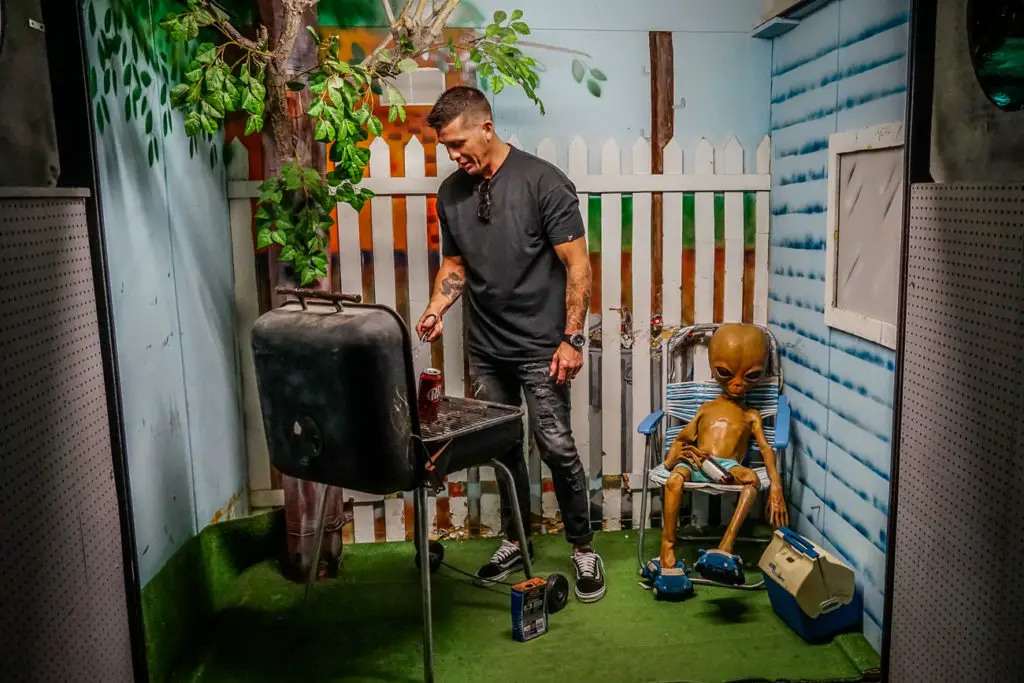 Where to stay in Roswell
I recommend keeping on the road and staying the night in Carlsbad instead of Roswell (or overnighting near White Sands National Park if you're doing the 7-day New Mexico itinerary).
However, if you do want to stay overnight in Roswell, we found Baymont by Wyndham Roswell to be clean, comfortable and friendly. You'll find that most of the hotels here are chain names.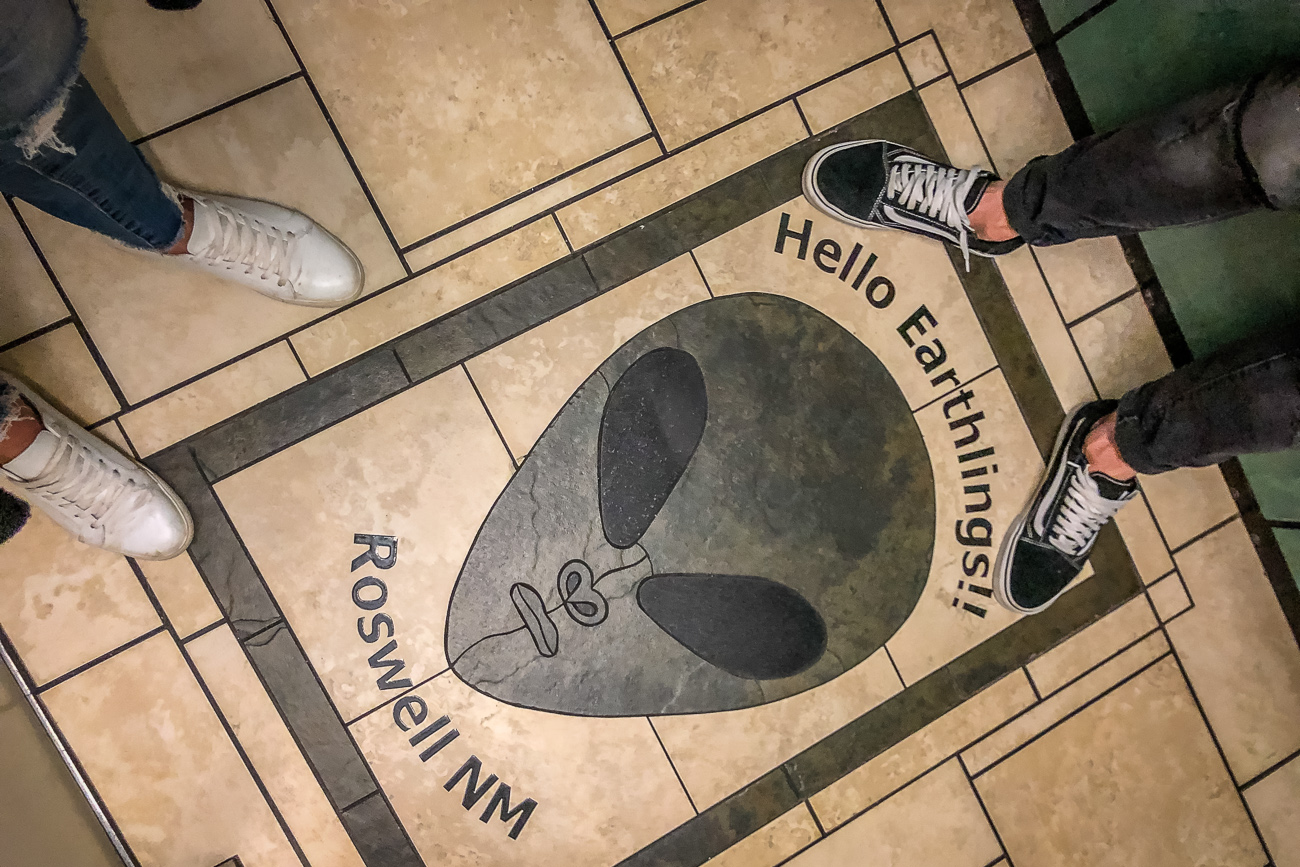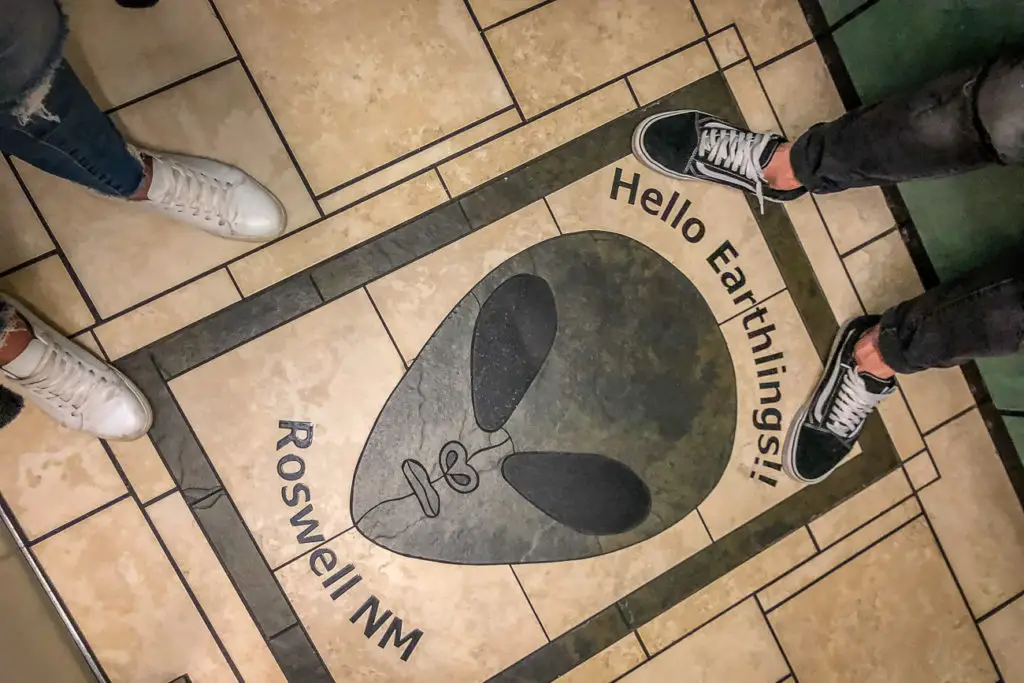 While visiting New Mexico you'll hear a common question: "red or green?" The waiter is asking if you'd like red chiles or green chiles. To try both – highly recommended! – just reply, "Christmas", which means you'll get a mix of both red and green.
New Mexico road trip itinerary stop 6: Carlsbad
Driving distance: 1.25 hours / 76 miles
The "Pride of the Pecos" is most famous for the network of ancient caves that runs beneath the earth's surface. But Carlsbad is also a historic city worth the trip.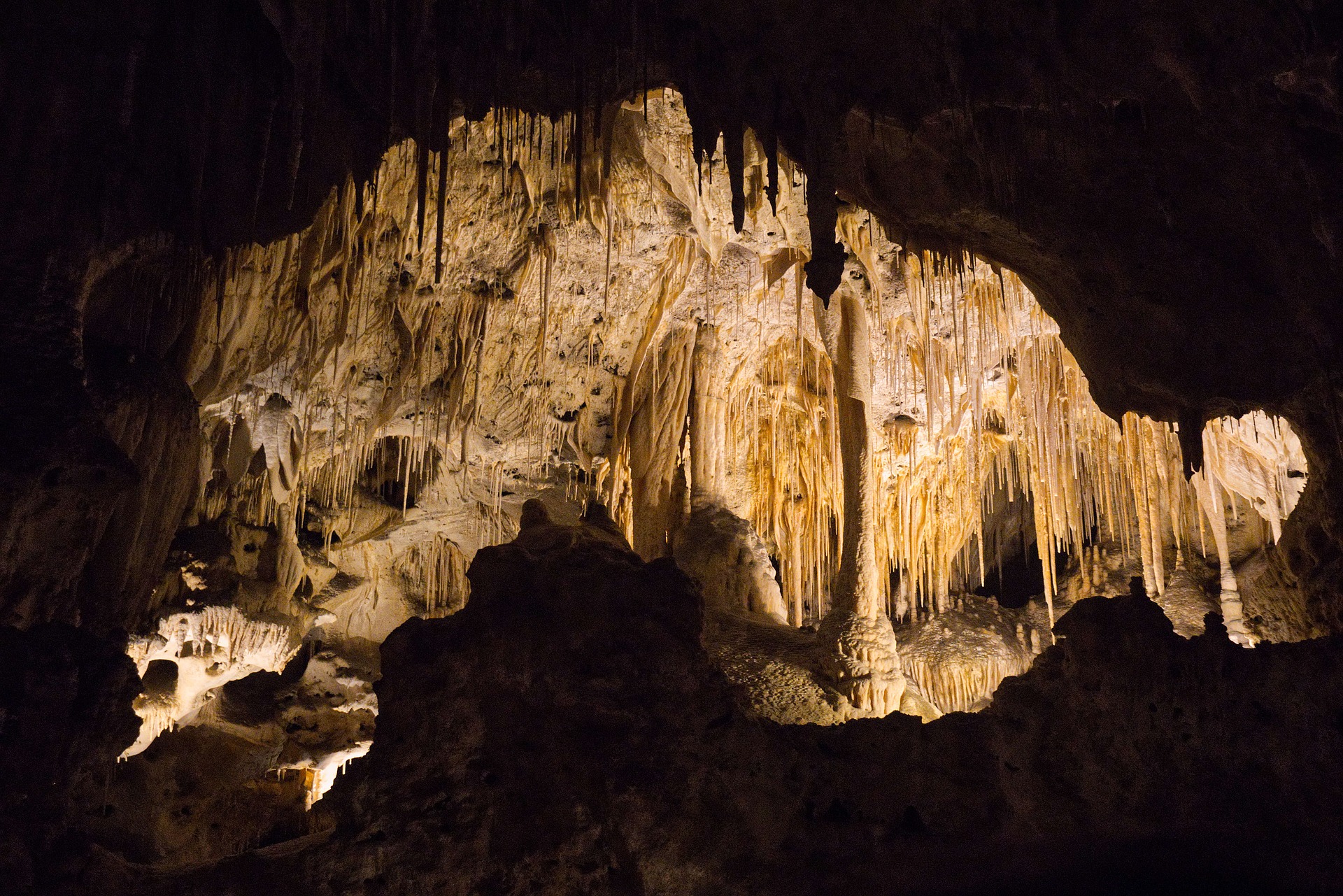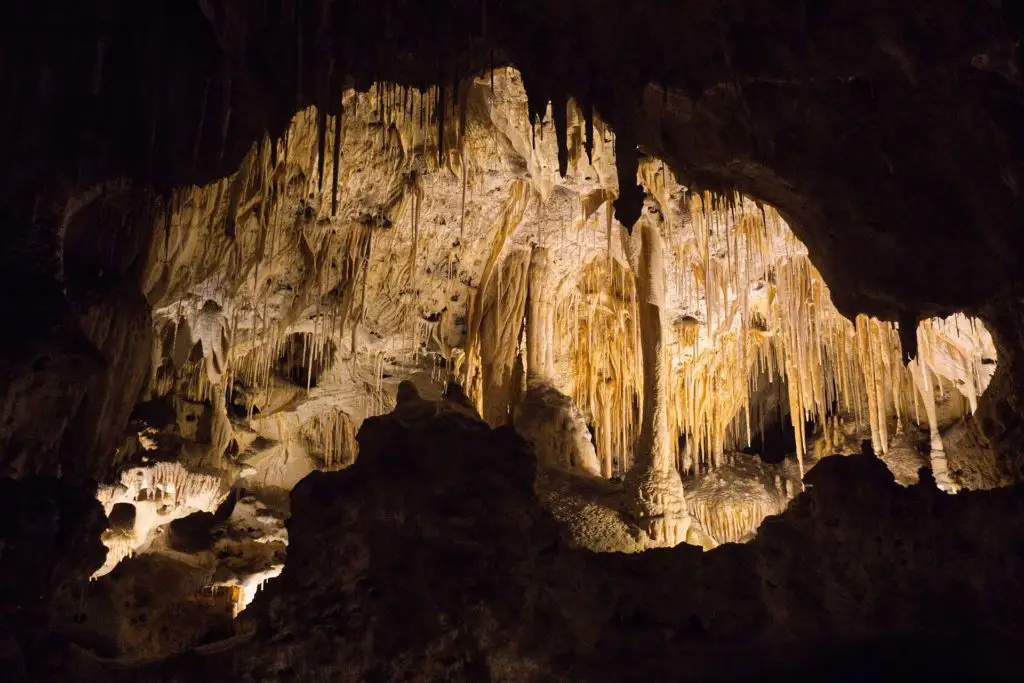 How many days needed?
Plan to spend one day in Carlsbad.
Top things to do in Carlsbad
Explore magnificent Carlsbad Caverns National Park in the Chihuahua Desert – hit the hiking trails above ground or delve underground to see some of the more than 119 caves that make up the national park. It's one of the top New Mexico tourist attractions. Note that reservations are currently required to enter the cavern, see the website for more information.
See prairie dogs, roadrunners, mountain lions and more at the Living Desert Zoo and Gardens State Park.
Stroll along the Pecos Riverwalk.
Where to stay
I've previously stayed at The Trinity, which has a lot of character and stylish rooms.
Other options in Carlsbad are chain hotel brands like the Home2Suites by Hilton Carlsbad or TownePlace Suites by Marriott.
New Mexico itinerary stop 7: White Sands National Park
Driving distance: 3 hours / 161 miles
One of the most unique national parks in the United States is White Sands National Park. Designated a national park in 2019, this is the world's largest gypsum dune field. I was blown away by the stark beauty of this place. It's definitely one of the best places to visit in New Mexico to experience nature at its most surreal.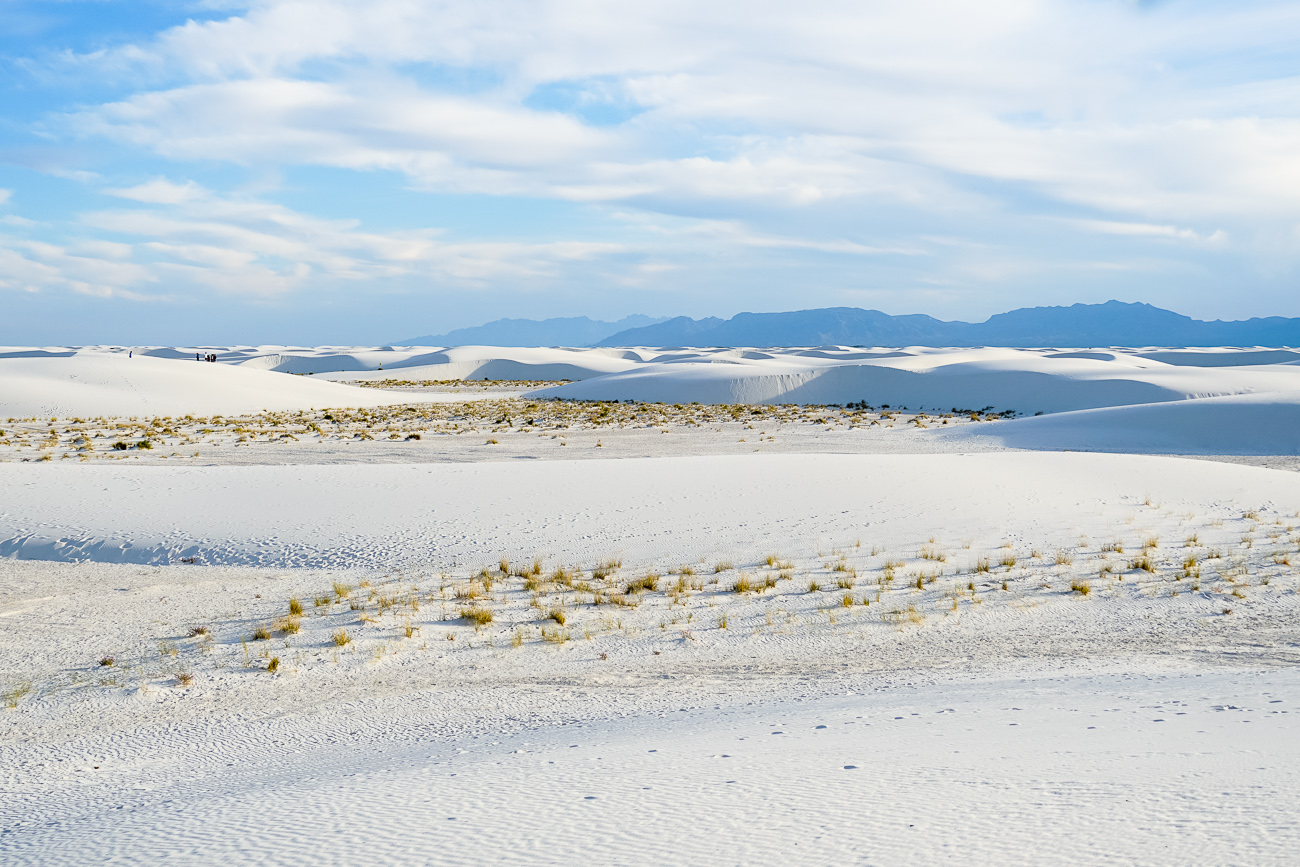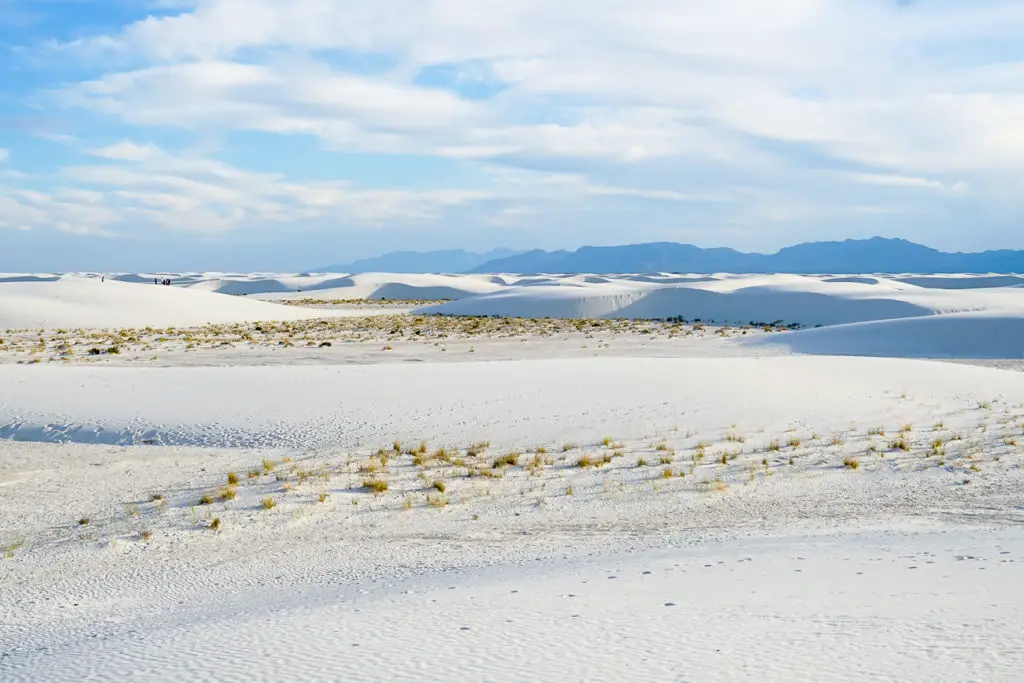 On the way to White Sands, the drive takes you through the gorgeous Lincoln State Forest. You can also stop in for a cheesy photo in front of the giant pistachio at Pistachio Land and pick up some pistachios, brittle and fudge.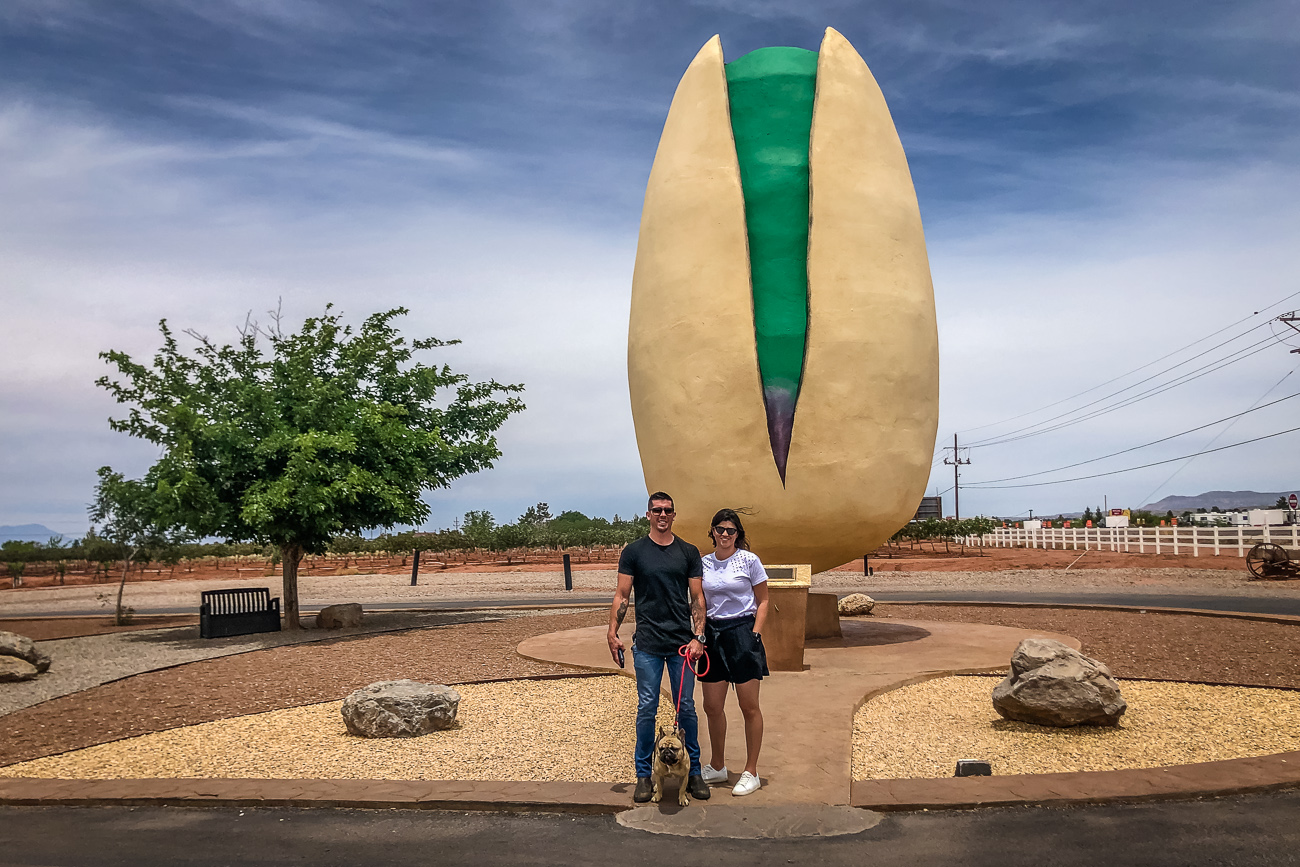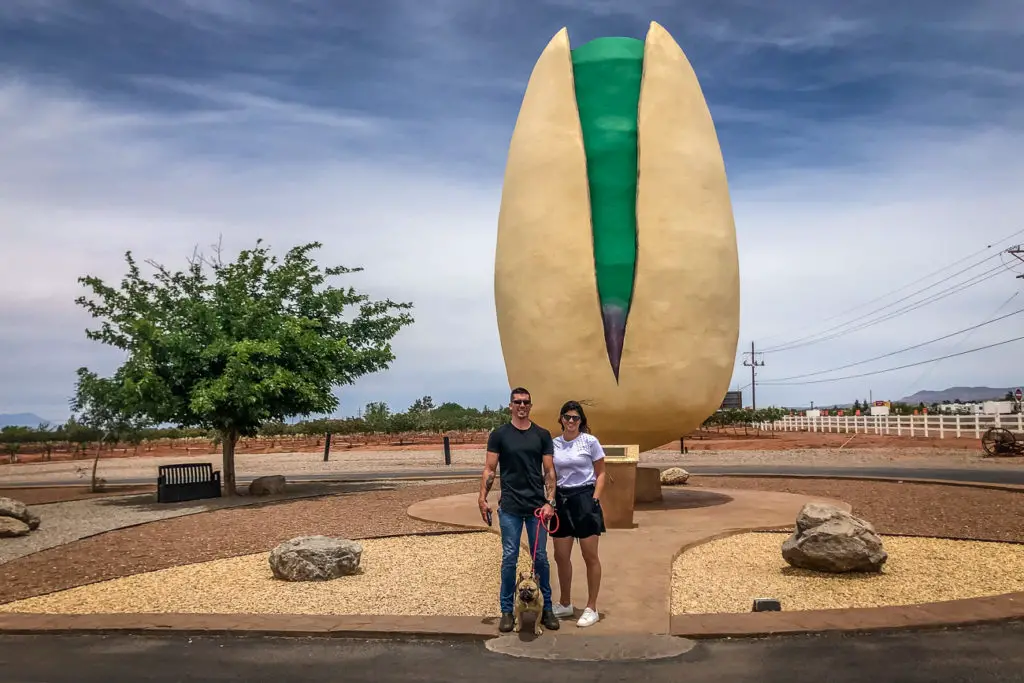 How many days needed?
Dedicate at least half a day at White Sands before moving on to the next stop (we stayed overnight in nearby Alamogordo because of the time we arrived).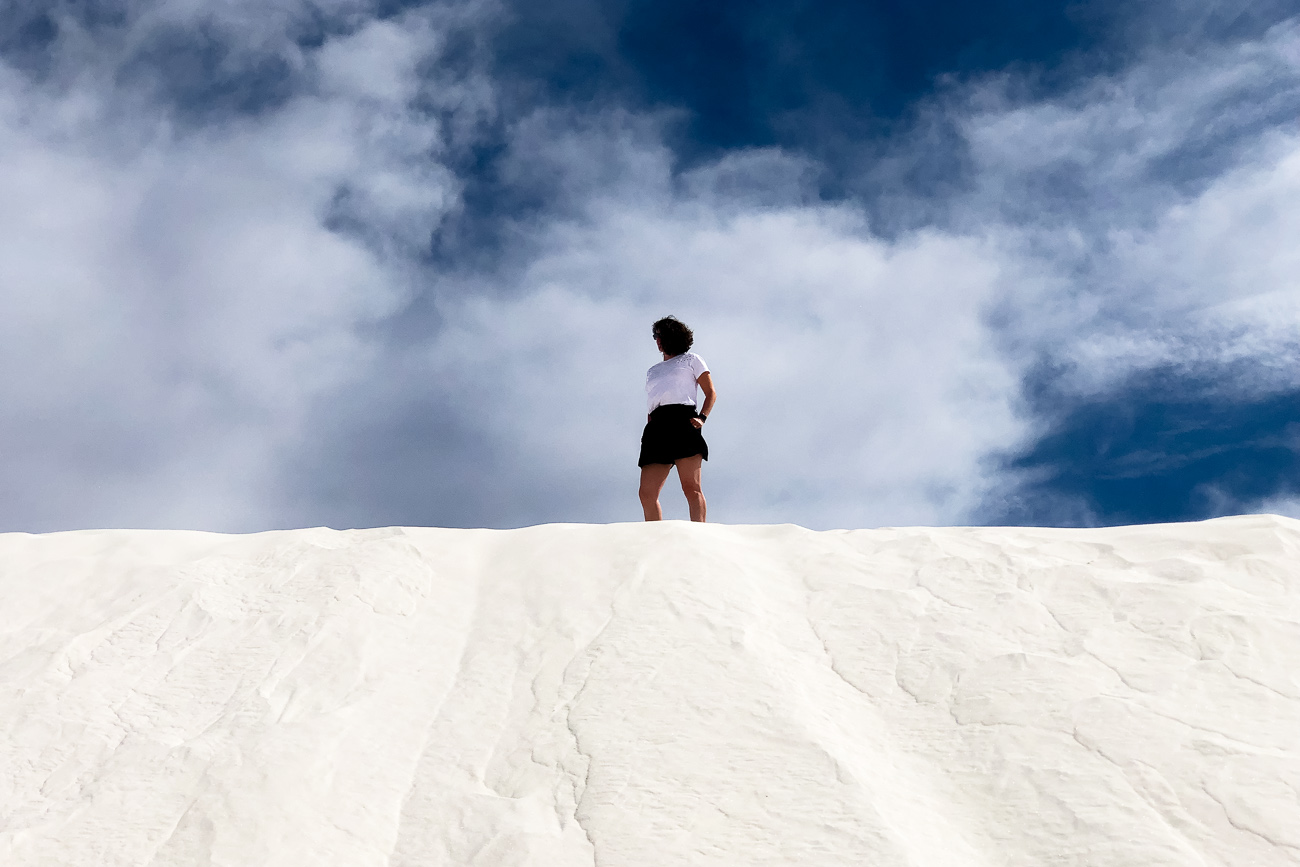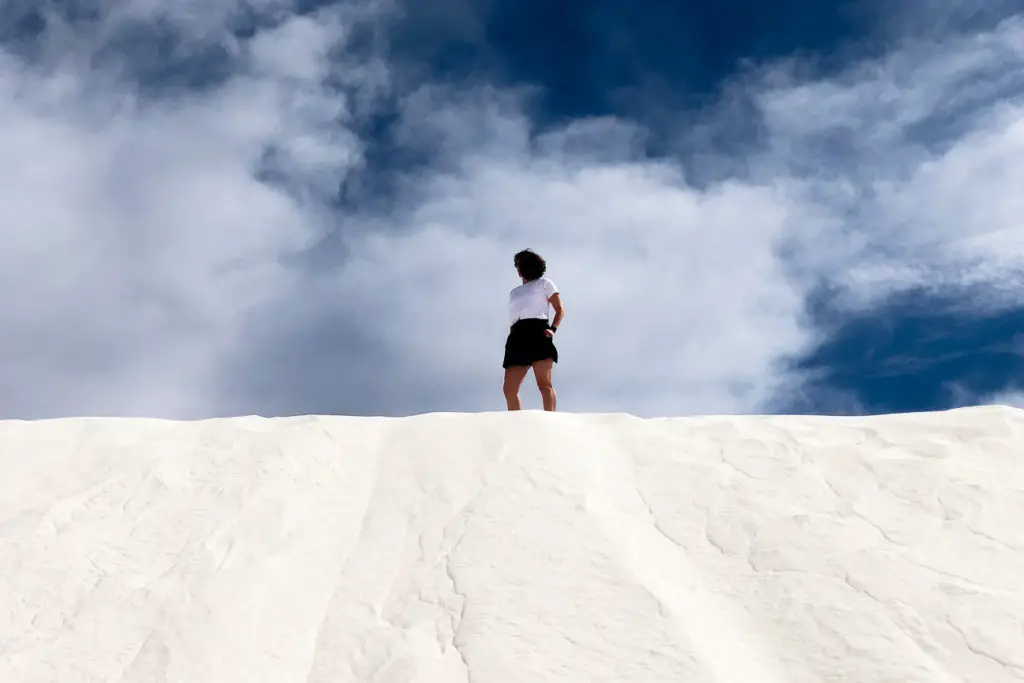 Tips for visiting White Sands National Monument
Entry fees: $25 per vehicle, valid for 7 days (get an America the Beautiful Pass if you're planning to visit three or more national parks in a year).
If you can, plan to be in White Sands for sunset – the views across the white sand are amazing.
You can hire sledding boards to go sledding down the dunes – it's a LOT of fun for young and old!
Make sure you put on plenty of sunscreen – you'll easily get burnt from the sun bouncing off the white sand dunes, even on cloudy or cold days.
There are barbecues and shaded tables around the park, so bring some food or snacks to take a break.
The road to White Sands is sometimes closed because of missile testing (yes really!), which may delay your entry into the park.
Travelling New Mexico with your pet? White Sands NP is pet-friendly!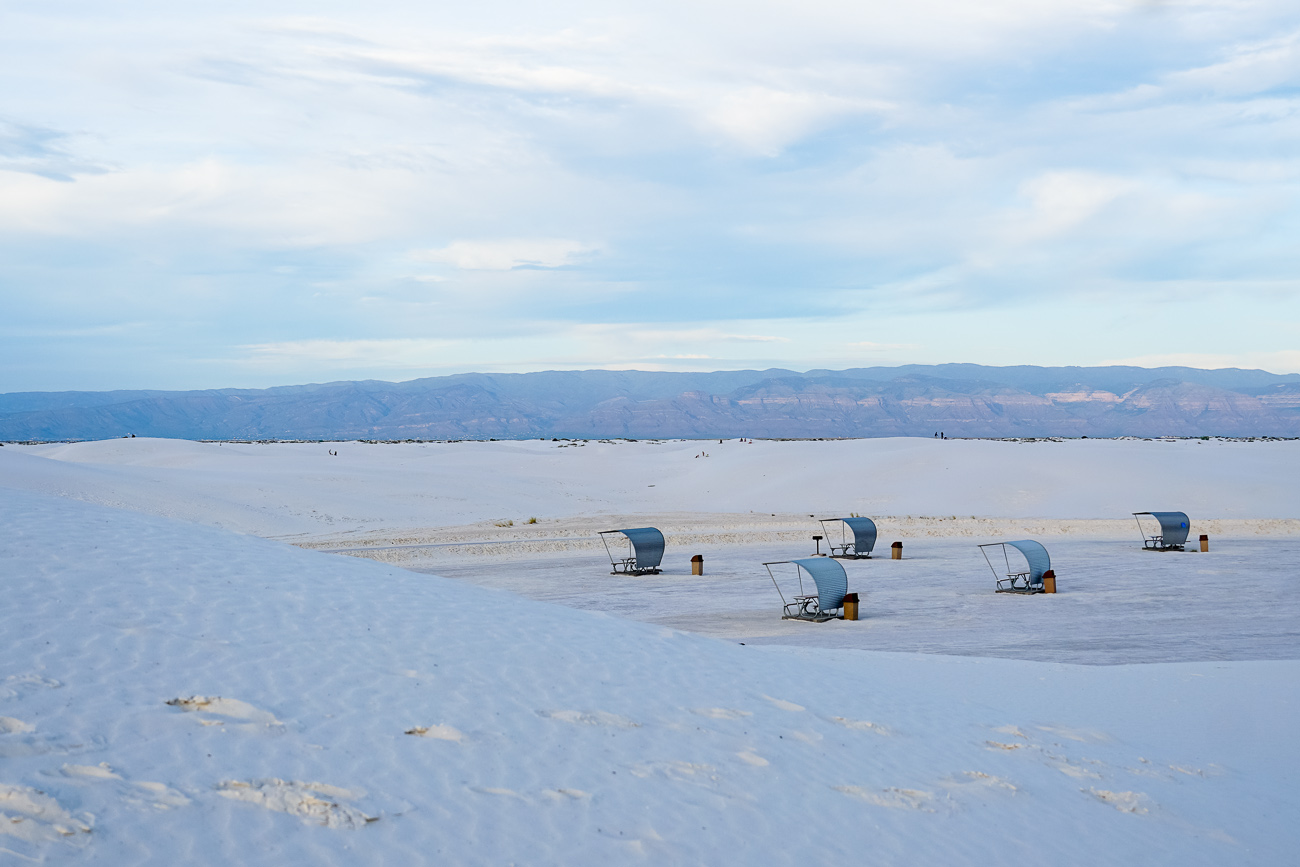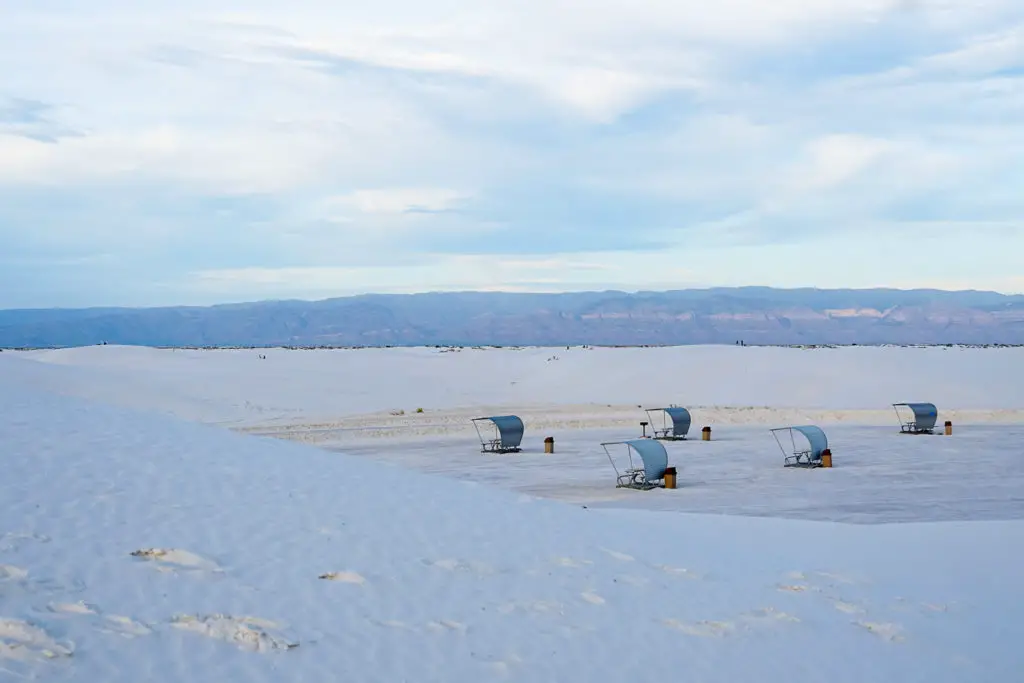 If you do stay in the area for a night, then there are plenty of things to do in Alamogordo:
Check out the New Mexico Museum of Space History has a museum and planetarium – it's affiliated with the Smithsonian.
Train aficionados will love the Toy Train Depot, a model train museum.
Learn about America's missile and space activity at the White Sands Missile Range Museum.
Get outdoors at Desert Foothills Park or Oliver Lee Memorial State Park.
Grab dessert from Caliche's Frozen Custard, a friendly, neon-lit ice cream store on N White Sands Boulevard.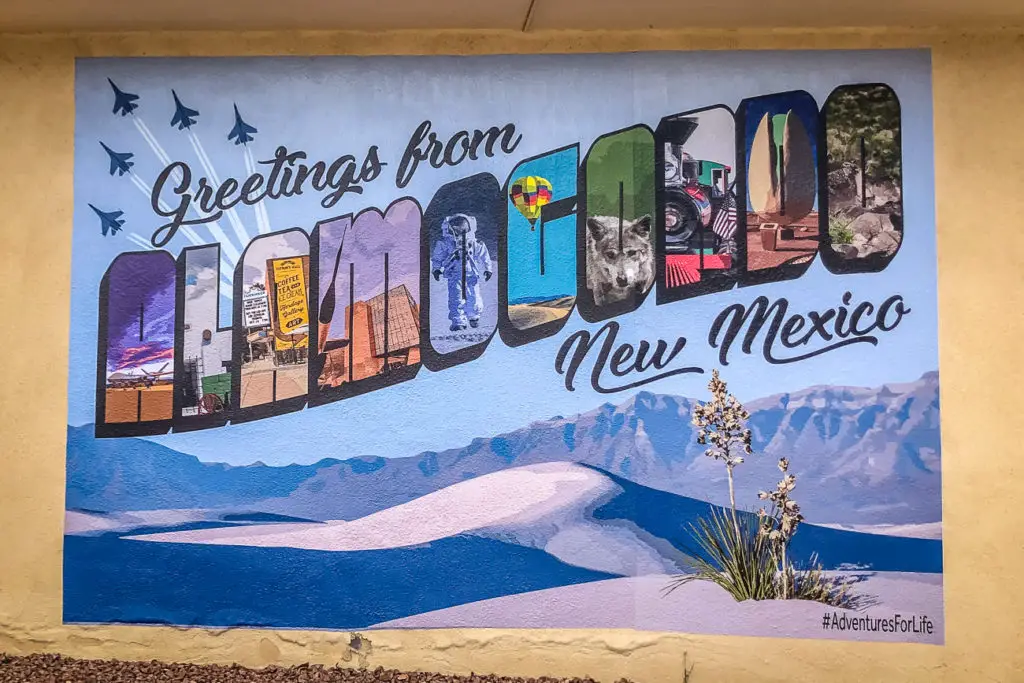 Where to stay near White Sands National Monument
You can plan your itinerary so you stop here on your way from Carlsbad to Truth or Consequences, but if you do stay overnight, there are several options in Alamogordo, a 20-minute drive from White Sands. Most of the hotels here are basic motels or chain hotels. You can't miss the huge neon sign of the White Sands Motel, while we stayed at The Classic Desert Aire Hotel, which was a basic, comfortable motel.
New Mexico itinerary stop 8: Truth or Consequences
Driving distance: 2 hours / 121 miles
Truth or Consequences has to be one of the quirkiest places in the USA. I mean, a town that renamed itself after a TV show just to win a competition? You know this is going to be an interesting place. Couple that with a friendly, small-town vibe, soothing hot springs and lovely adobe buildings, and T or C (as the locals call it) is a must-visit.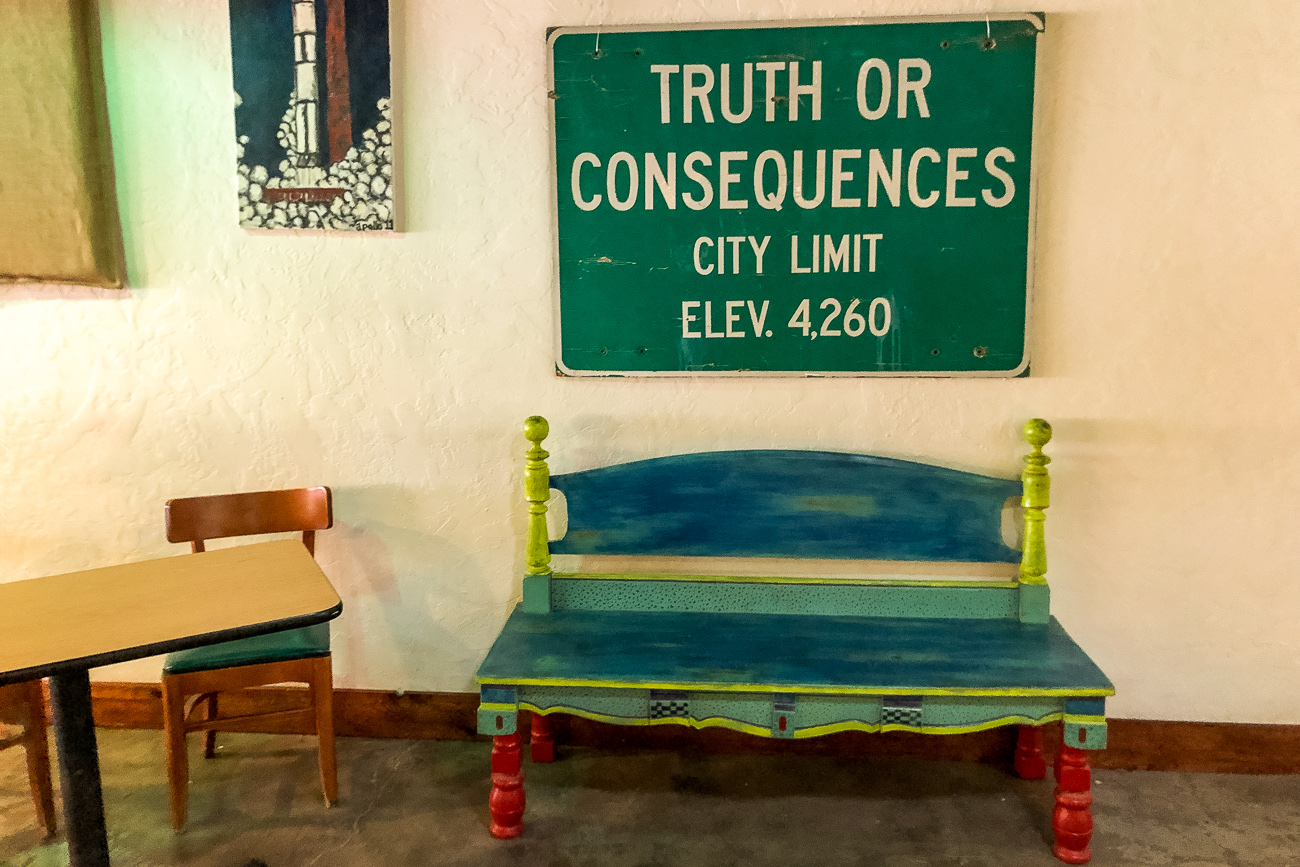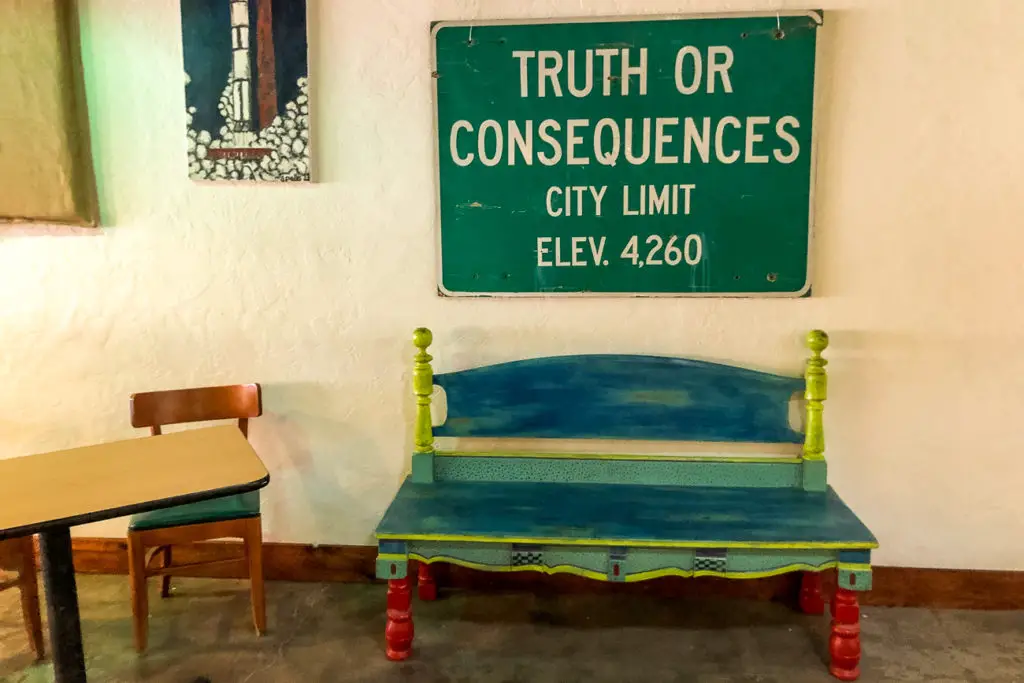 A must-stop on the way to Truth or Consequences is the town of Hatch, also known as the "chile capital of the world". Stop for a green chile cheeseburger (the ultimate New Mexico road trip food) at Sparky's or chile at the Pepper Pot.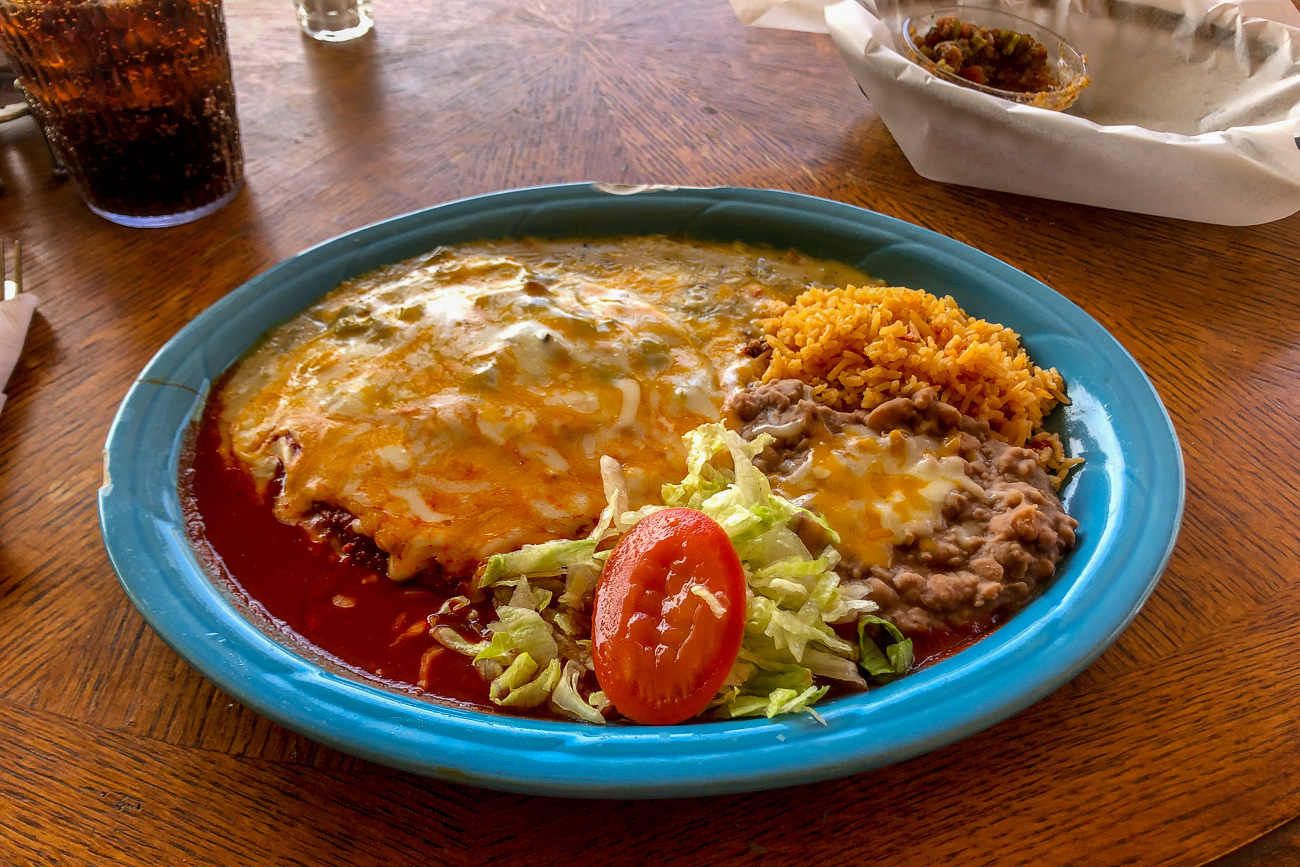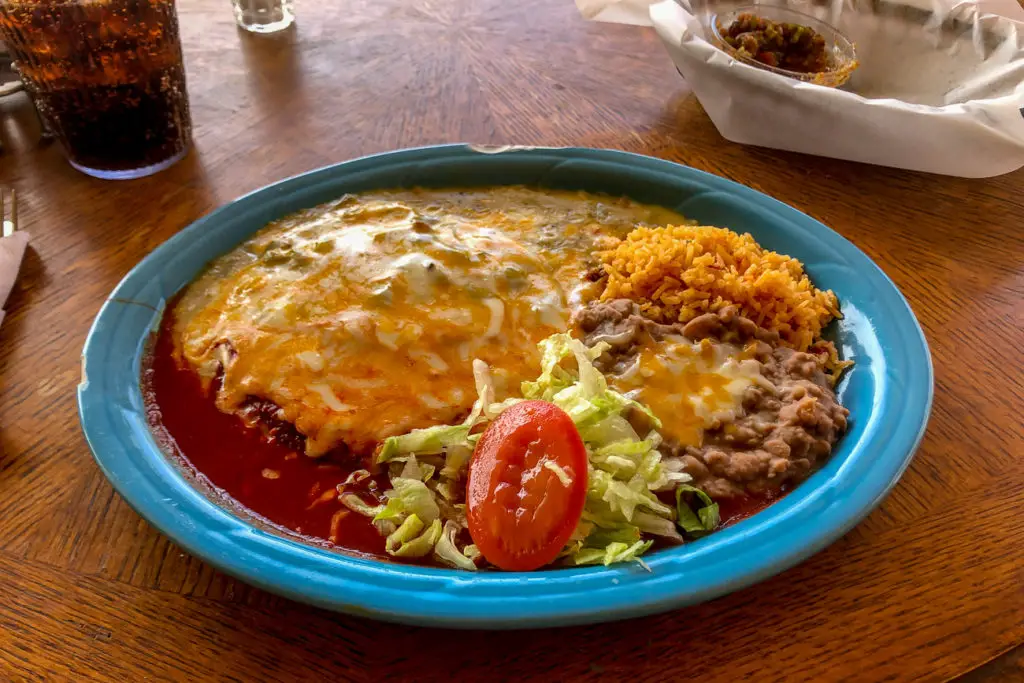 How many days needed?
You could spend several days in Truth or Consequences soaking your worries away, but for this itinerary, one day is enough.
Top things to do in Truth or Consequences
You'll need some downtime on your New Mexico road trip. Soak in the hot springs that the town is famous for. We loved the huge tubs at Pelican Spa and the riverside tranquility of the private spas at Riverbend Hot Springs overlooking the Rio Grande (book for sunset if you can). La Paloma Hot Springs and Spa is also popular. These are some of the best places to visit in New Mexico for true relaxation.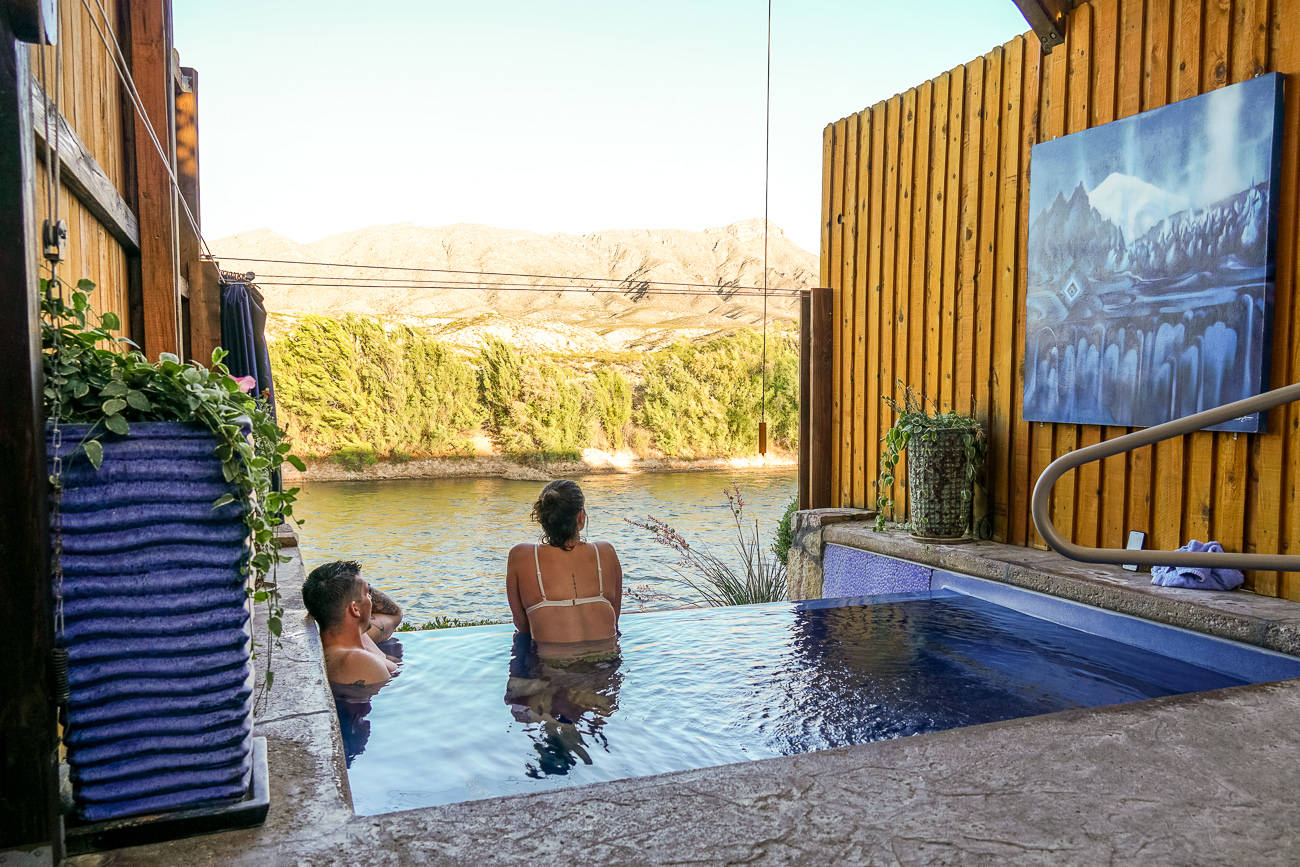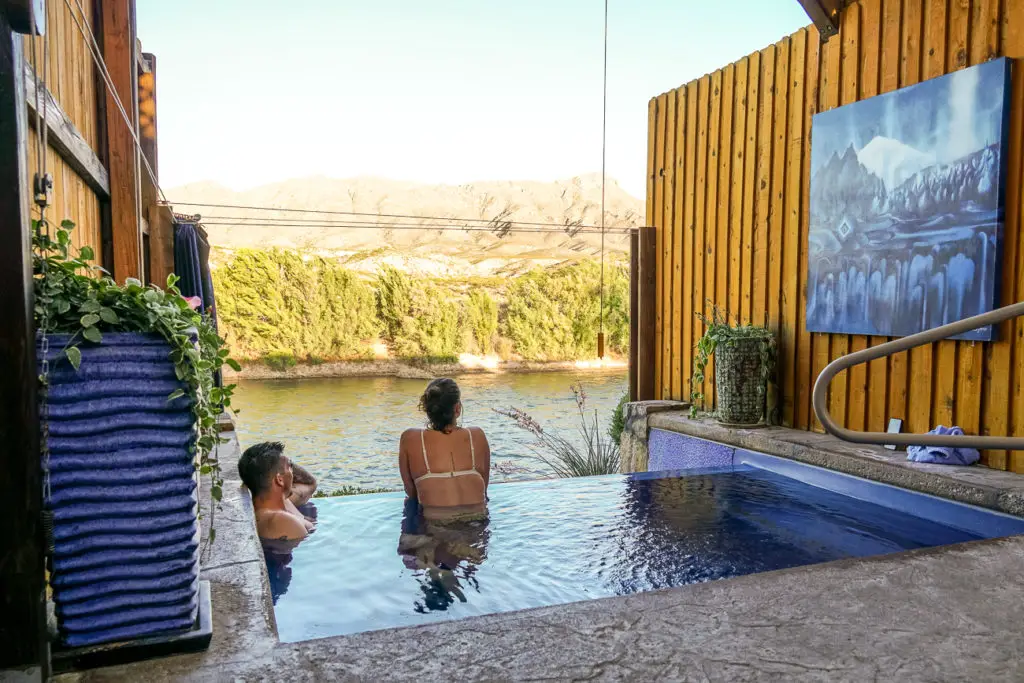 Take a tour of Spaceport America – and see where Richard Branson recently took off from on the inaugural Virgin Galactic spaceflight.
Go hiking in Elephant Butte Lake State Park or Caballo Lake State Park.
Grab a drink at the friendly Truth or Consequences Brewing Co.
Pull up to A&B Drive In for a burger and a shake in your car.
Where to stay in Truth or Consequences
We stayed in one of the huge, colourful rooms at Pelican Spa – which meant we could use the hot springs tubs whenever we liked.
Sierra Grande Lodge & Spa also has on-site natural springs spas.
New Mexico itinerary stop 9: Very Large Array
Driving distance: 2 hours / 122 miles
Stop by the historic town of Socorro to see the San Miguel Mission and even explore some nearby ghost towns.
Take a drive by the Very Large Array, a radio astronomy observatory that you might recognise from the Jodie Foster film Contact.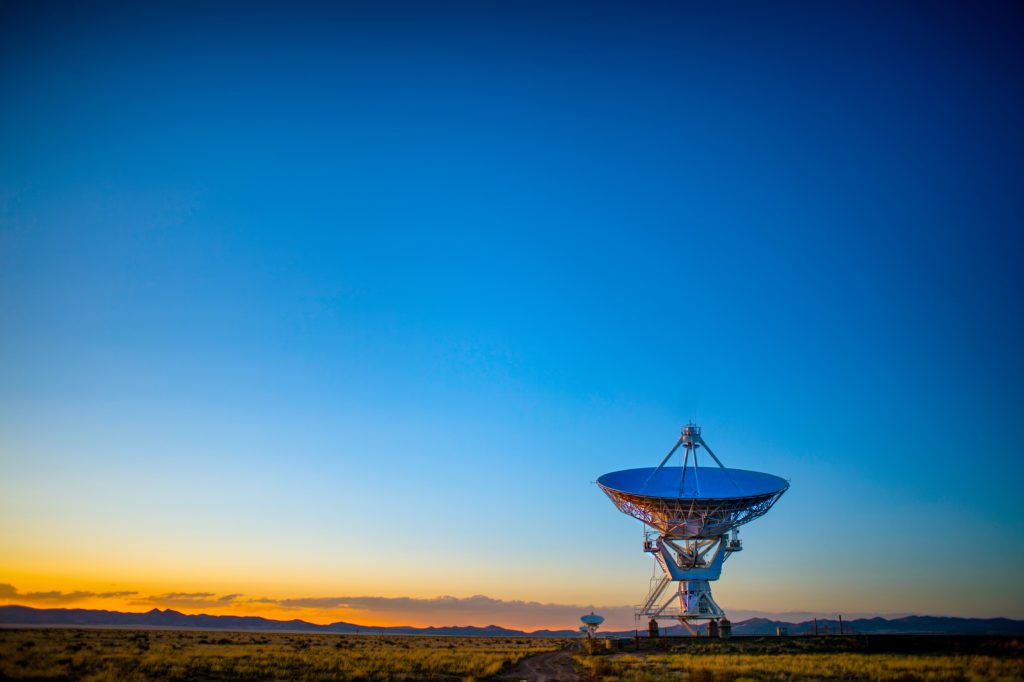 One of the top New Mexico tourist attractions, you can tour the facility, which includes a documentary narrated by Jodie Foster herself and the opportunity to get up close to these very large objects. You need to pre-book tickets, which have timed entry.
You'll need about an hour here. If you're short on time or radio telescopes just aren't your thing, you can just drive by and take a peek from the road (which is what we did).
New Mexico road trip itinerary stop 10: Pie Town 
Driving distance: 40 mins / 40 miles
When I found out there was a town in New Mexico called Pie Town and that it indeed is famous for its pies, you better believe I planned our New Mexico itinerary around a stop here.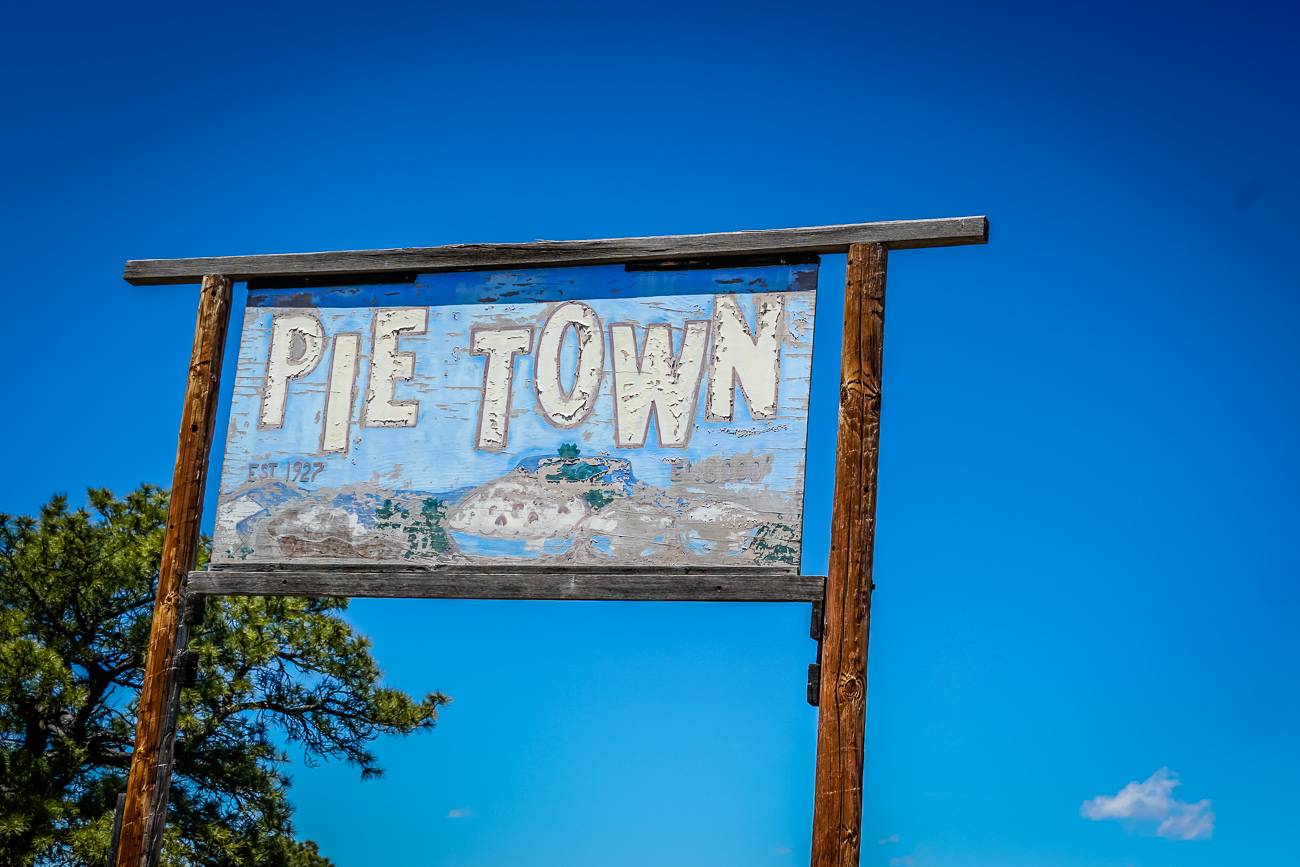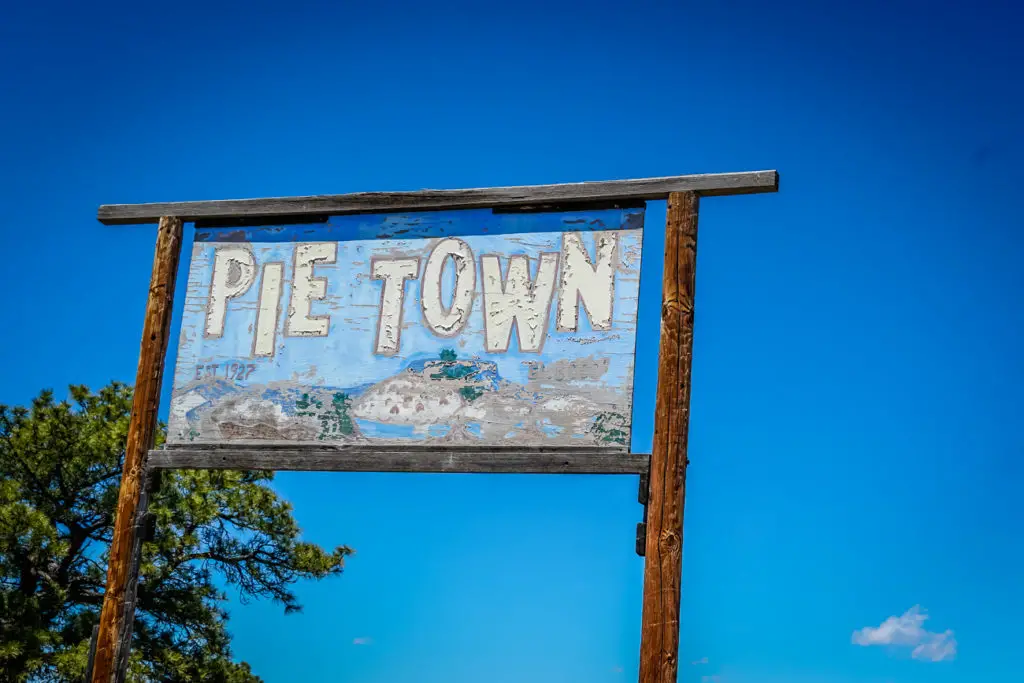 This blink-and-you'll-miss-it town has three main pie shops that draw tourists in from all around. Plan your trip so you can be here for a morning or afternoon tea of flaky pastry goodness at Pie-O-Neer Pies, Pie Town Pies or Pie Town Café. There's little competition between the three businesses, and they actually open on different days. I'm not sure if this is to share around the business, but you'll find at least one shop open when you drive through. 
The stores also serve burgers, sandwiches and the like if you arrive around lunchtime.
Pie Town is one of my favourite places to see in New Mexico.
New Mexico itinerary stop 11: Bisti Badlands
Driving distance: 3.5 hours / 175 miles
It's hard to describe the landscape of the Bisti Badlands – also known as Bisti/De-Na-Zin Wilderness. The stark, lunar-like landscape sprouts mushroom-shaped rock formations, while other rocks look like giant dinosaur eggs. This landscape is spectacular and makes the long trip here worthwhile.
How many days needed?
Getting to Bisti Badlands is a bit of a trek, so plan on being here for a full day to get in some hiking. It's one of the most beautiful places in New Mexico if you can make the effort to get here.
Top things to do in the area
Go hiking in the 45,000-acre Bisti Badlands. The tricky thing is that the trails in Bisti aren't marked. It is easy to get disoriented in this remote area (trust me – there are few signs and there were several times my husband and I had to look around to figure out where we were) so come prepared with a GPS (or have a trail saved to your phone), plenty of water and food. There's no phone service out here, nor are there toilets.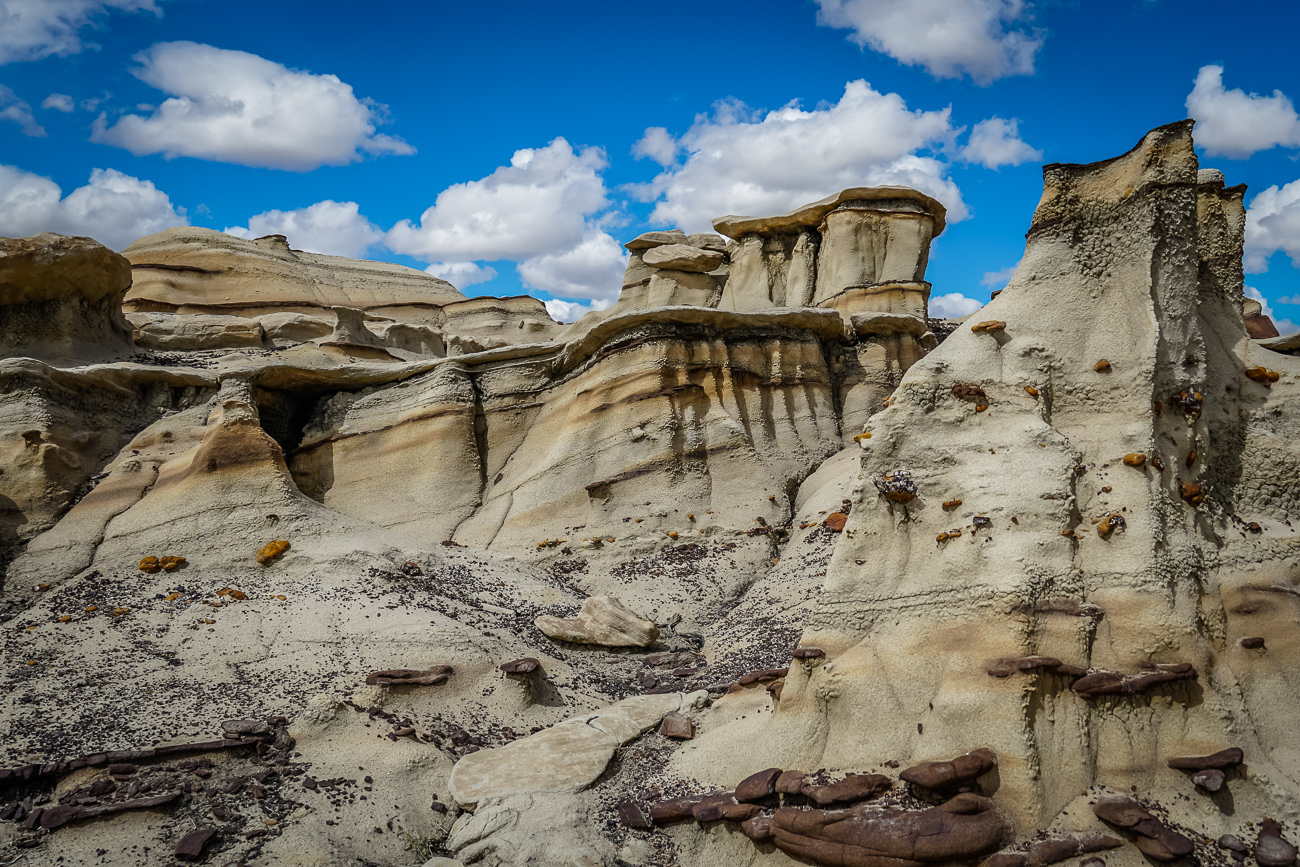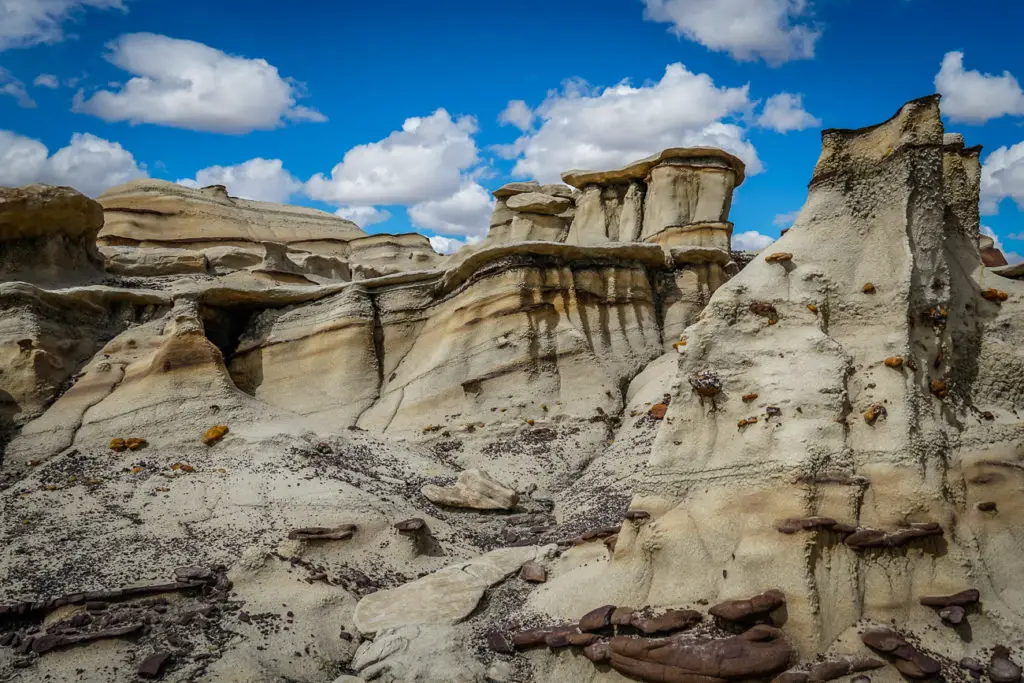 Take a guided hike, which may save you from getting lost! Navajo Tours USA runs guided tours of Bisti Badlands which come with the added benefit of a knowledgeable guide who'll teach you about the geology and Navajo history as well.
Learn about the Ancestral Puebloan people at Chaco Culture National Historical Park. Ranger-guided tours are offered from May to October. The park is also an International Dark Sky Park and has night sky programs. It is remote out here and the road is rough, so come prepared with a full tank for the car and water and snacks for you. If visiting in summer, come out here in the morning to avoid the heat of the day.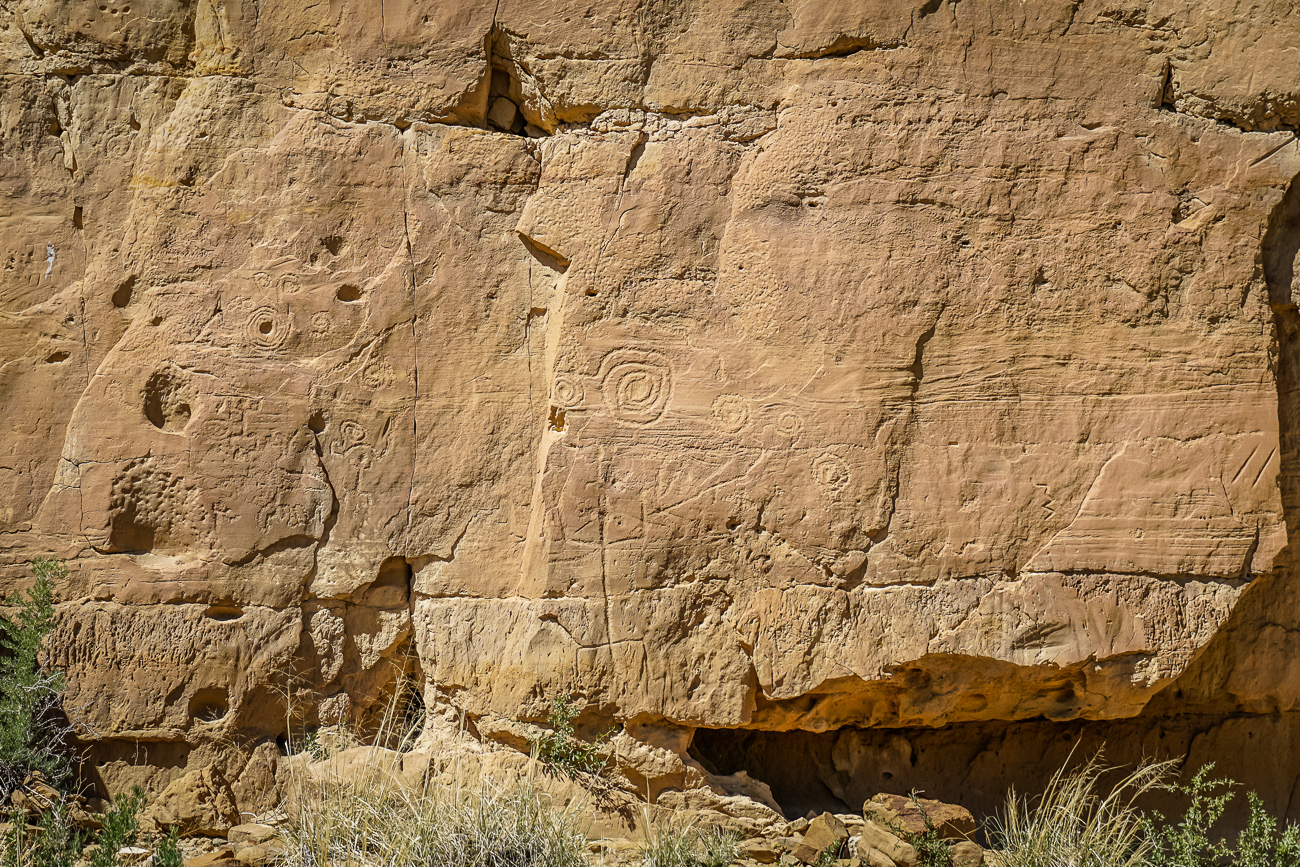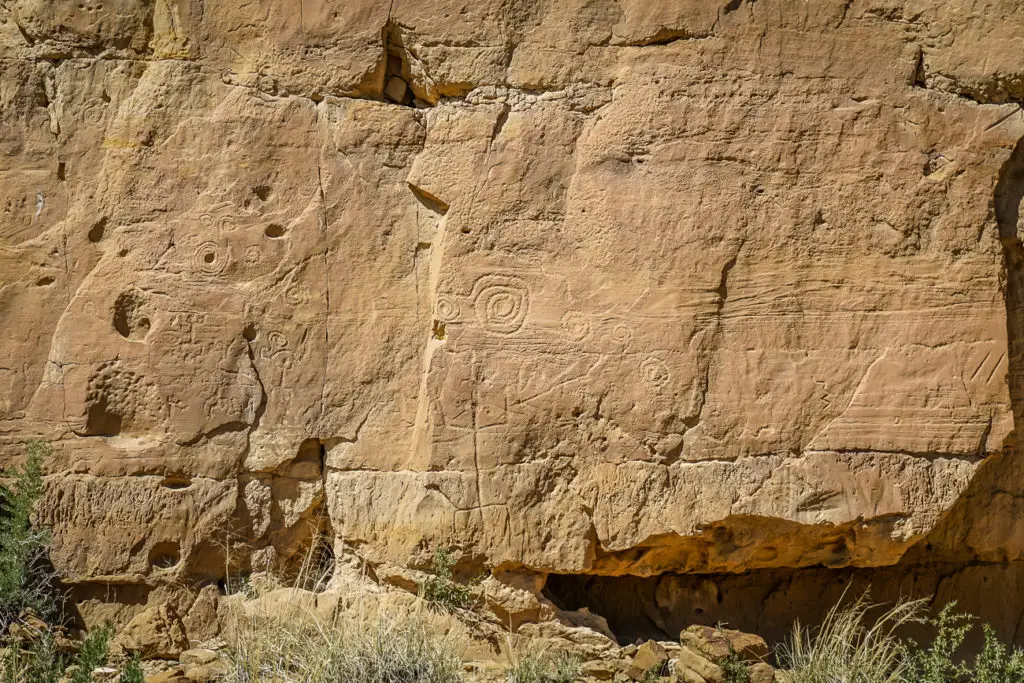 See ancient ruins at Aztec Ruins National Monument, where you can see a ceremonial Great Kiva.
Head to Shiprock Pinnacle at sunset for views of this giant rock formation. Shiprock – known to the Navajo as "Tsé Bit' a'í", meaning "rock with wings" – resembles a ship and rises nearly 1,583 feet (482 metres) above the ground. Note that the area is sacred, so you can only view and photograph the pinnacle from the paved roadway.
Check out Three Rivers Brewery in nearby Farmington, the best town to base yourself in near to the Bisti Badlands.
Where to stay
Base yourself in nearby Farmington, about an hour away from the Bisti Badlands. We stayed at Home2Suites by Hilton Farmington.
Casa Blanca Inn and Suites is a B&B in lovely gardens.
End point of the New Mexico road trip: Albuquerque
Driving distance: 3 hours / 184 miles
On your final day, head back to Albuquerque and finish up your trip. Spend a few hours here ticking off anything you didn't get to do when you first arrived, then return your rental car and head home.
---
Tips for a New Mexico itinerary
This is one of the coolest USA road trips and now one of my favourite states. Travel in New Mexico is pretty easy. Most of the places I've listed in this itinerary are on paved highways, with some of the more remote areas on fairly well maintained dirt roads.
How to get to New Mexico 
We came to New Mexico from Texas so we did a bit of a different loop to what I've suggested in this New Mexico itinerary. 
However, the best way to arrive in New Mexico is via Albuquerque, which has the largest airport in the state. 
Santa Fe has an airport, but the only direct flights are to Dallas (American Airlines), Denver (United) and Phoenix (American Airlines), so you'll need to connect through one of these cities.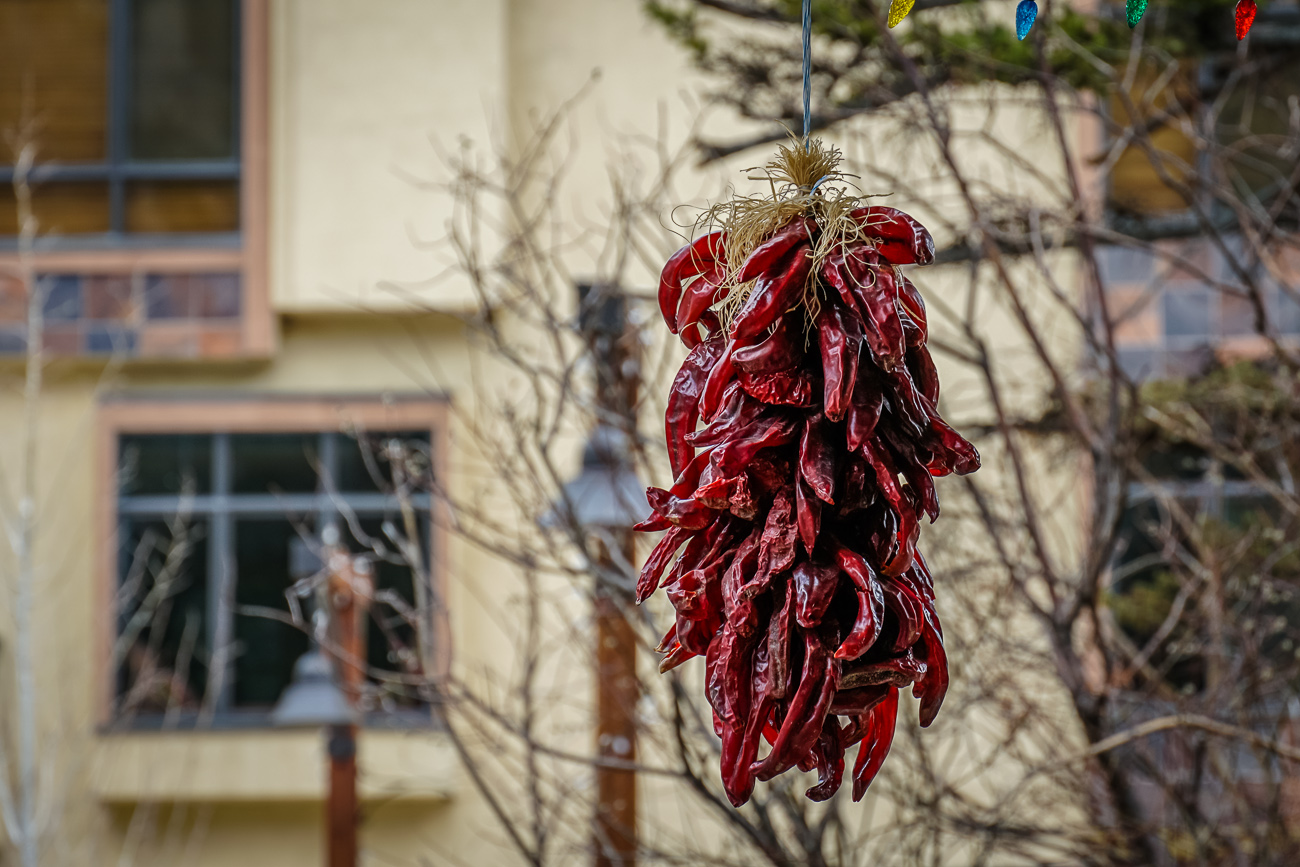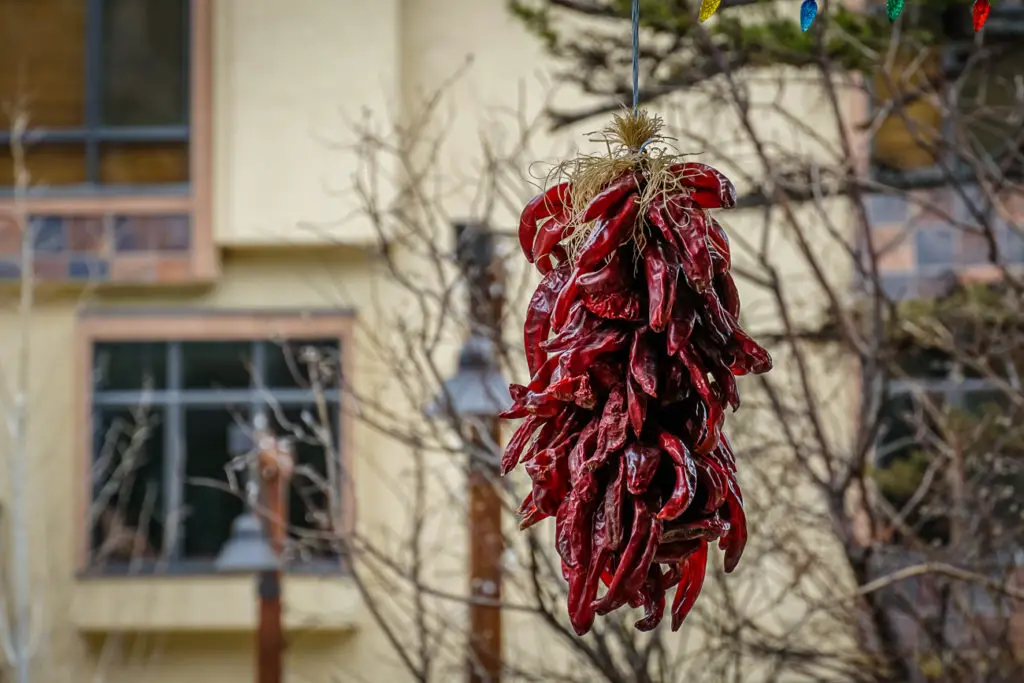 How to do this New Mexico road trip
The best way to experience this New Mexico itinerary is to with your own car. Having your own wheels gives you the flexibility to go at your own pace and explore more of the state.
When we drove this route we were in my husband's beloved F150. Depending where you're coming from, you can either bring your own car or there are rentals available to pick up in Albuquerque or Santa Fe. Check Rentalcars or Discover Cars to compare vehicles and pricing.
You could also rent an RV or a campervan to get around New Mexico. This means you only need to pay once for your transport and accommodation. I like RVShare for RV rentals (it's sort of like an Airbnb for RVs, where people rent out their campervans, RVs and motorhomes when they're not using them themselves).
Best time to visit New Mexico
Mexico is a great state to visit year-round, but it's important to know that the state has very different climates in the north and south. With mountains and deserts and high altitudes, it definitely pays to check the weather forecast for your trip, because you may have to pack for vastly different temperatures in just a week!
The best time to visit New Mexico is between September and November, when you'll get milder weather that's not freezing but not scorching either. On the other hand, it's also the busiest time of year to visit – especially when some of the popular festivals, like the Albuquerque International Balloon Fiesta, are on.
We visited New Mexico in early May and had lovely sunny blue skies for most days – but it snowed in Taos which we hadn't expected or planned for! The rest of our trip was pleasant, with mostly warm (and some hot) days and usually brisk evenings.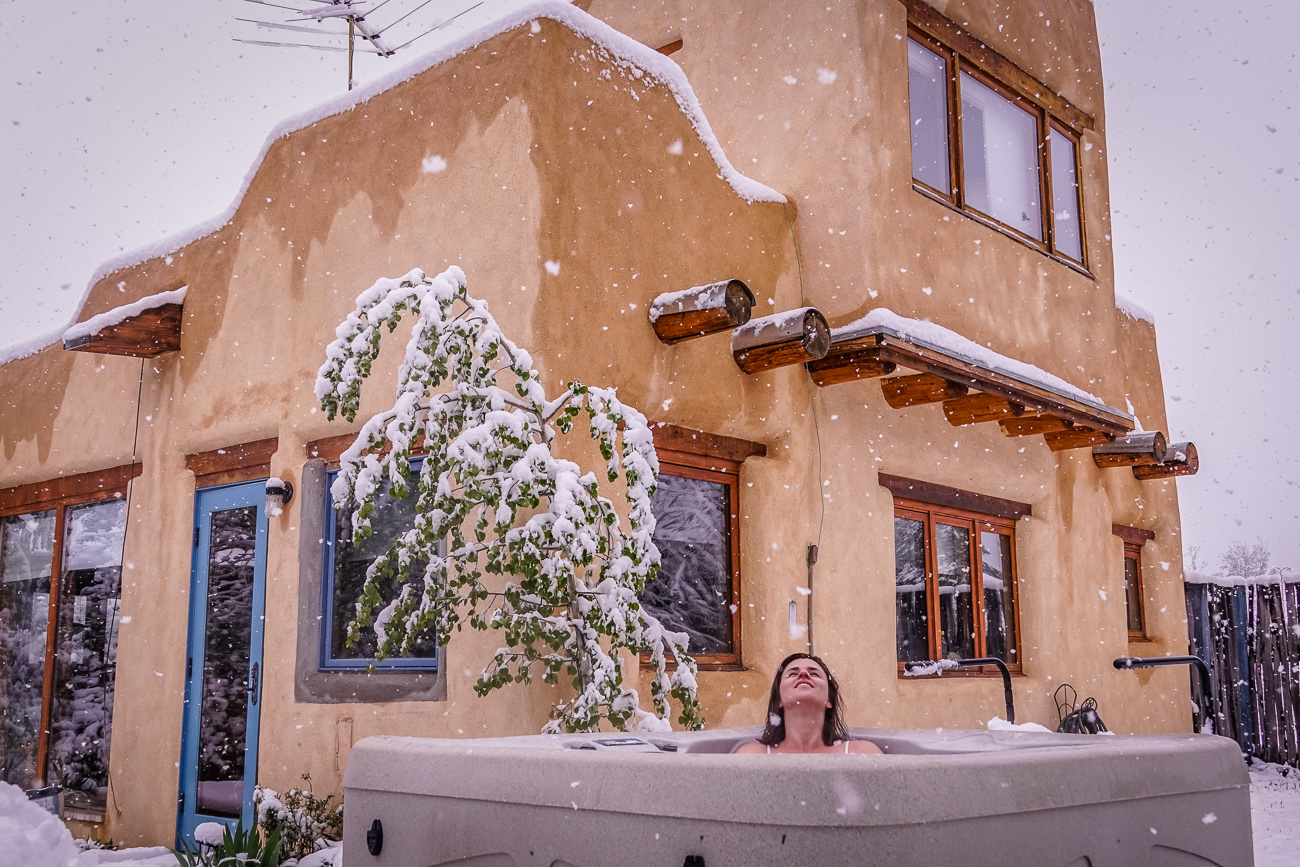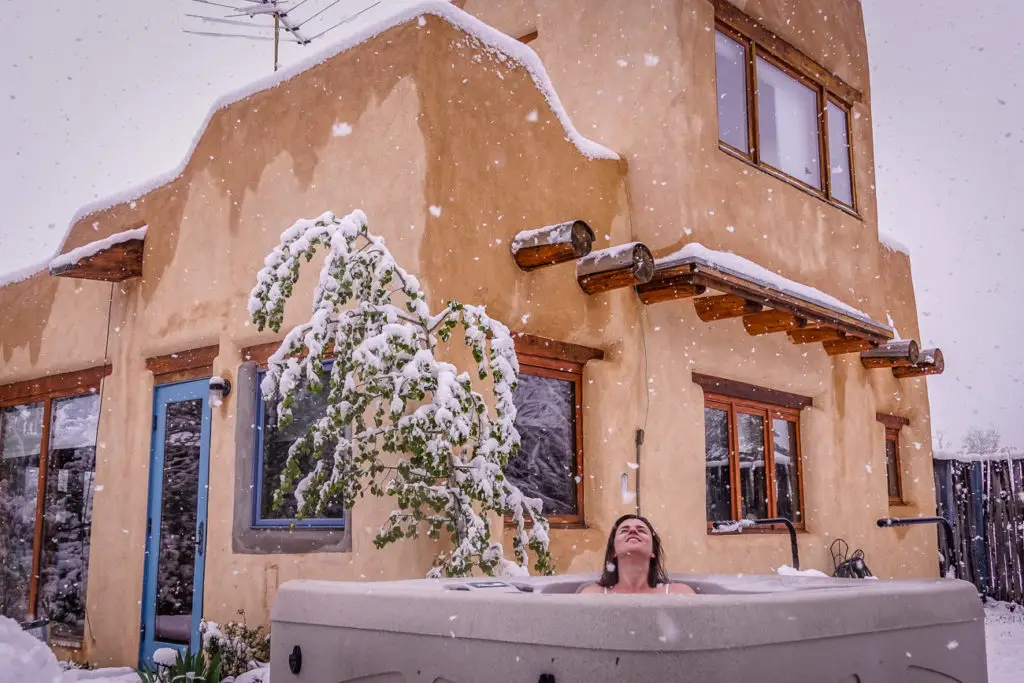 What to pack for a visit to New Mexico
Here are a few items I recommend you pack for a visit to New Mexico. I also have a full road trip packing list guide.
Final thoughts on a New Mexico road trip
New Mexico is one of my favourite USA states. With an intriguing mix of landscapes, Native American history and under-the-radar experiences, it's easy to see why this state is called the Land of Enchantment. Plan your own New Mexico road trip itinerary to see it for yourself – and don't be surprised if you fall prey to its magic.
BOOKING A TRIP SOON? HERE ARE SOME HELPFUL LINKS
Book your flight online with Skyscanner or Kayak. I usually compare flights on both sites to find the best deals and schedules.
Find a great hotel on Booking.com.
Need a rental car? Compare prices and vehicles on Discover Cars and RentalCars.
Omio is a great site for booking buses, trains and ferries.
Check out the huge range of day tours throughout major cities and countries on GetYourGuide, Klook or Viator. There's something for everyone.
One thing I always purchase is travel insurance. World Nomads offers simple and flexible travel insurance. Buy at home or while traveling and claim online from anywhere in the world.
Stuff I always pack? A reusable water bottle, packing cubes and a handy electronics organiser.
PIN IT FOR LATER
Don't forget to save this New Mexico road trip itinerary to Pinterest!