Rio de Janeiro. The "Cidade Maravilhosa" (marvellous city) is famous for its beaches, music, seemingly always-perfect weather, parties and beautiful people. With a combination like this, it was no surprise that before my visit I could feel the excitement bubbling inside me – so much so that I was nervous that my expectations of the city were too high. I needn't have worried: I fell in love with the city on first sight.
But this is one big city – and a pretty intimidating city to visit. During our 3 days in this enormous, lively city I learned a few things, including a few tips for how I'd visit the city differently next time I visit. So, to help you plan your trip to Rio de Janeiro, I've pulled together a 3-day Rio de Janeiro itinerary. It includes everything you need to know before you go, an overview of the best things to do in Rio de Janeiro and then neatly ties it all up into an itinerary that will help you maximise your short time here.
Want to keep this Rio de Janeiro itinerary for later? Simply click the "Save" button on the images below to save it to Pinterest.
This blog post may contain affiliate links, meaning if you book or buy something through one of these links, I may earn a small commission (at no extra cost to you).
Rio de Janeiro travel guide
How to get to Rio de Janeiro
Most major international airlines fly into Rio's Tom Jobim International Airport (also known as Galeão, airport code GIG), or via a nearby major city. (Make sure you pack these long-haul flight essentials to make the journey more comfortable.)
The airport is about 30 minutes from Ipanema by car, but if you arrive during rush hour, expect the drive to take an hour or more. You can make the drive into downtown from the airport via taxi (check the driver has turned on the meter first or book a pre-paid taxi) or book a private transfer.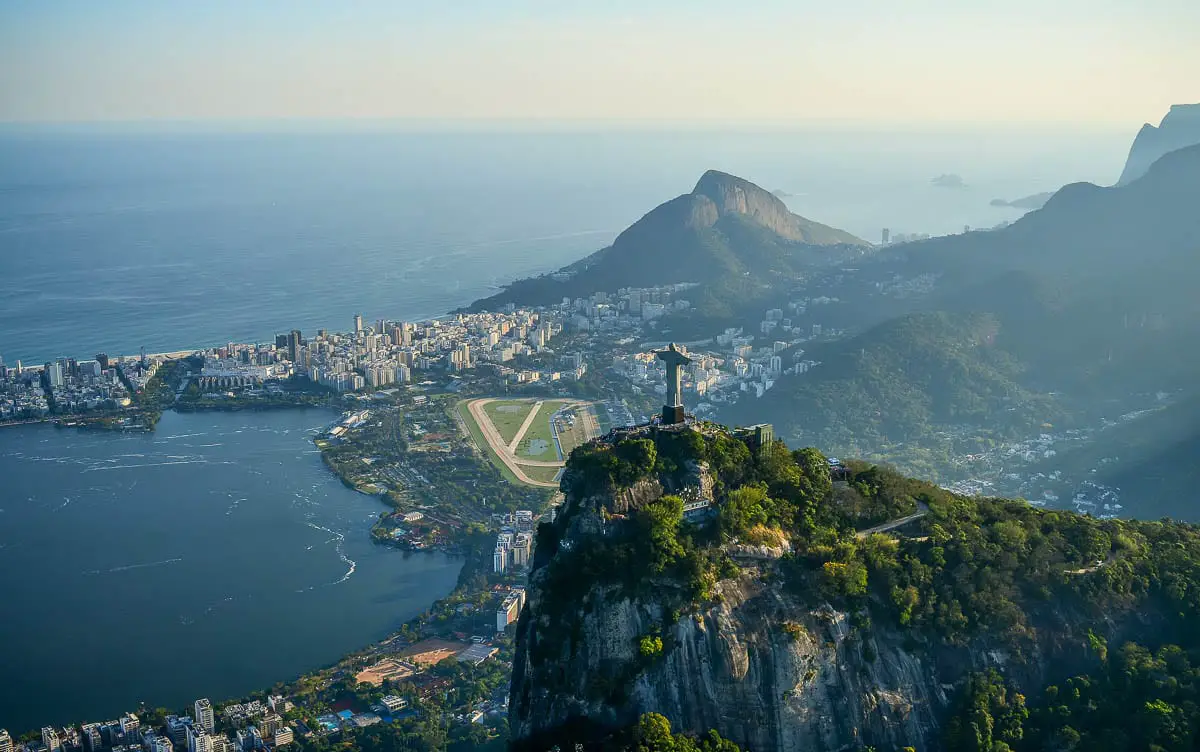 The best time to visit Rio de Janeiro
Is there really any bad time to visit Rio de Janeiro? This city always seems to have near-perfect weather, with blue skies and a tropical climate that's conducive to bikini-wearing year-round. For those that hail from the Northern Hemisphere, keep in mind that the seasons are the opposite, so when it's summer for you, it's winter in Rio and vice versa.
I visited at the tail end of winter and we spent our days in short sleeves and shorts, only needing to pop on a light cardigan in the evening. The temperature during the day was around 25 degrees Celsius. Who doesn't love a winter like that?! I didn't dare go in the water, though! While it was balmy outside, water temperatures drop during winter and are only for the brave.
From December to March is when it's the hottest, with temperatures hovering around 30 degrees Celsius. It's also the busiest time of the year, so expect plenty of crowds (both Brazilians and foreigners) and sky-high hotel rates.
Of course, the one thing to always keep in mind when planning when to visit Rio de Janeiro is the world-famous Carnaval. This days-long, city-wide party held in February will either be the reason you visit Rio de Janeiro, or your reason to avoid it. Going to Carnaval in Rio is still on my bucket list!
Do I need a visa for Brazil?
Brazil recently updated its requirements and exempted many countries from requiring a visa to enter Brazil as a tourist. Check with your local embassy or consulate to see what you need for your Rio de Janeiro vacation.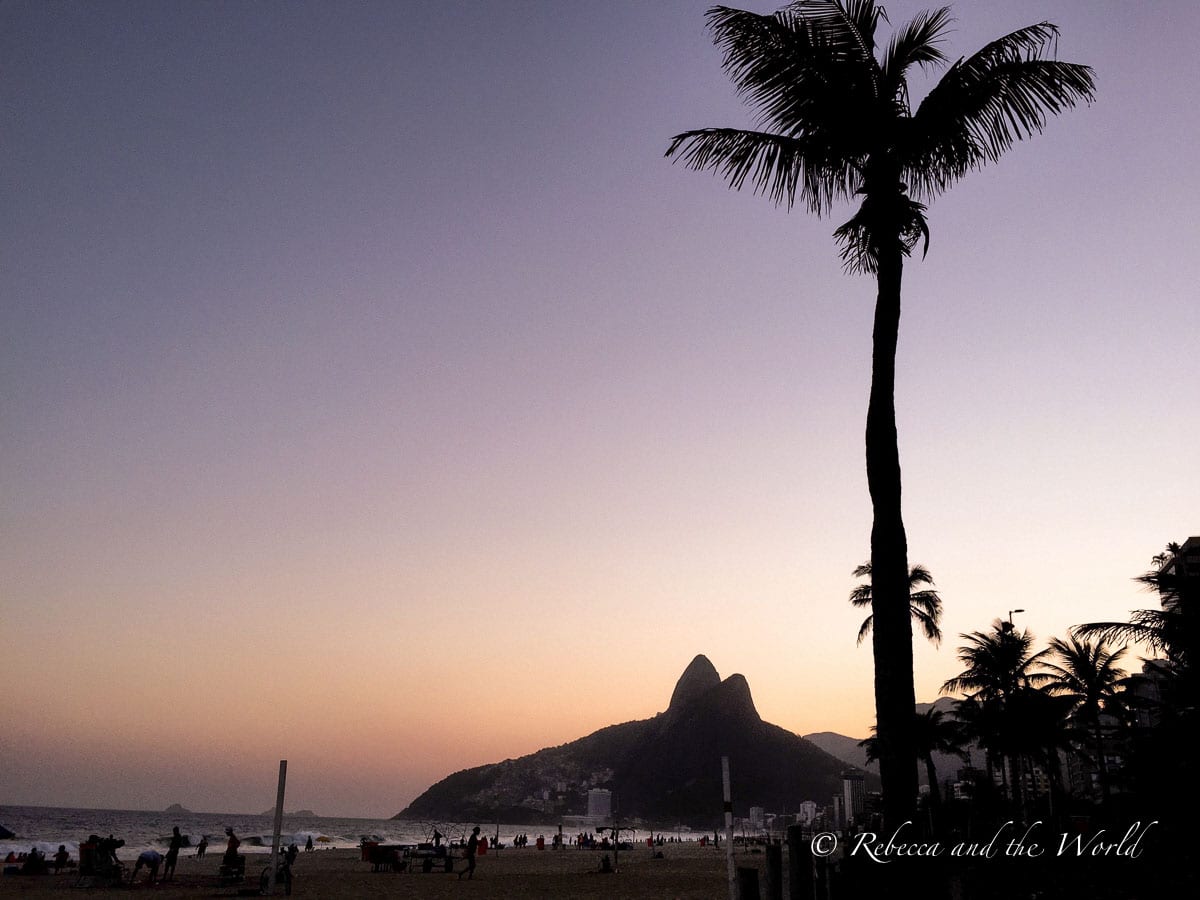 Where to stay in Rio de Janeiro
If you're spending a weekend in Rio de Janeiro, my top three neighbourhoods to stay in are Copacabana, Ipanema and Leblon. Here are some recommended hotels:
If you want to stay somewhere a little different, bohemian Santa Teresa is also a lovely neighbourhood.
Vila Santa Teresa – This former mansion is now a boutique hotel with five bedrooms. With an outdoor pool and stunning views across the city, you've got yourself a gorgeous place to stay. Compare rates online at Booking.com and HotelsCombined.
Santa Teresa Hotel – If you want an incredible place stay to stay in Rio, this is it. It looks so beautiful you may just never leave. Check rates online at Booking.com.
How to get around Rio de Janeiro
The best way to get around Rio is on foot or by taxi. Many areas I outline in this article – Copacabana, Ipanema, Santa Teresa – are very easily walkable. To get between neighbourhoods, take a taxi, because this city is BIG (and safer to travel between areas). When you get in a taxi, always make sure the metre is on.
If you've got wifi on your phone, there are plenty of Uber drivers around – and this may be easier if you're not familiar with Portuguese.
Another alternative is to hire a private driver to get you around. You'll have the added bonus of a local perspective and some context on places you're visiting.
Helpful phrases
Surprise, surprise, Brazilians don't speak Spanish – I've come across many people who think that. Nope, Portuguese is the language spoken in Brazil, and here are a few phrases to get you through your 3 days in Rio.
Hello – Olá
Good morning/afternoon/evening – Bom dia/Boa tarde/Boa noite
Thank you – Obrigado(males) or obrigada (females)
Do you speak English? – Você fala inglês?
I don't understand – Não compreendo
Where's the bathroom? – Onde fica o banheiro?
Can I have…? – Posso ter…?
How much is this? – Quanto é este?
Download the Google Translate app to help you with pronunciation and for more phrases.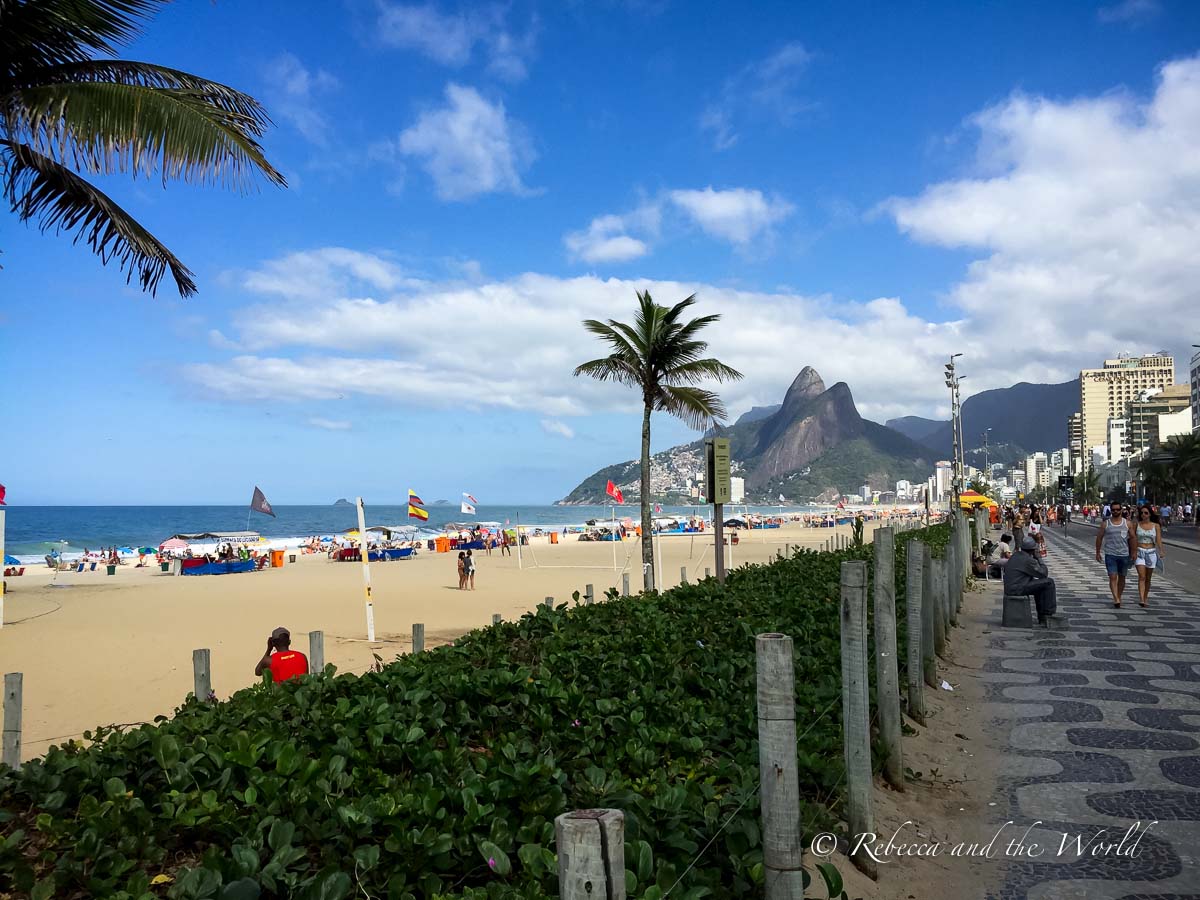 Is Rio de Janeiro safe to visit?
Ok, before we get stuck into this Rio de Janeiro itinerary we need to discuss the elephant in the room: is it safe to visit Rio?
Like any big city, crime does exist – unfortunately probably more so in Rio than in many other cities. Violent crime in particular is an issue, as is opportunistic crime.
Having said that, I never felt unsafe during our time in Rio de Janeiro, even though I was a bit nervous before we went. It's important not to get too caught up in what the media says about Rio, and instead be aware of your surroundings and careful in everything you do. Here are a few safeguards I always recommend:
Don't walk around at nighttime, and if you do go out at night, go out in a group
Don't go into favelas or other areas you don't know by yourself, especially at nighttime
Be careful with your cash and only carry with you what you need. Take small denomination notes. Also, put money in different spots – some could go in your wallet, some in another pocket, some (for the ladies) inside your bra
Don't flash around your pricey camera and phones, and don't wear expensive-looking clothes
Try to blend in: don't walk around with a map in your hand and camera slung around your neck, don't speak loudly in English
Don't carry your passport around with you, take a copy instead
If something does happen, don't fight back! Valuables can be replaced, your life cannot
If you follow these tips for staying safe in Rio de Janeiro, you'll decrease the chances of becoming a victim of crime. Above all, stay alert and have a great time – Rio is a fantastic city with warm people and such a fun vibe!
Things to do in Rio de Janeiro
Relax on Ipanema beach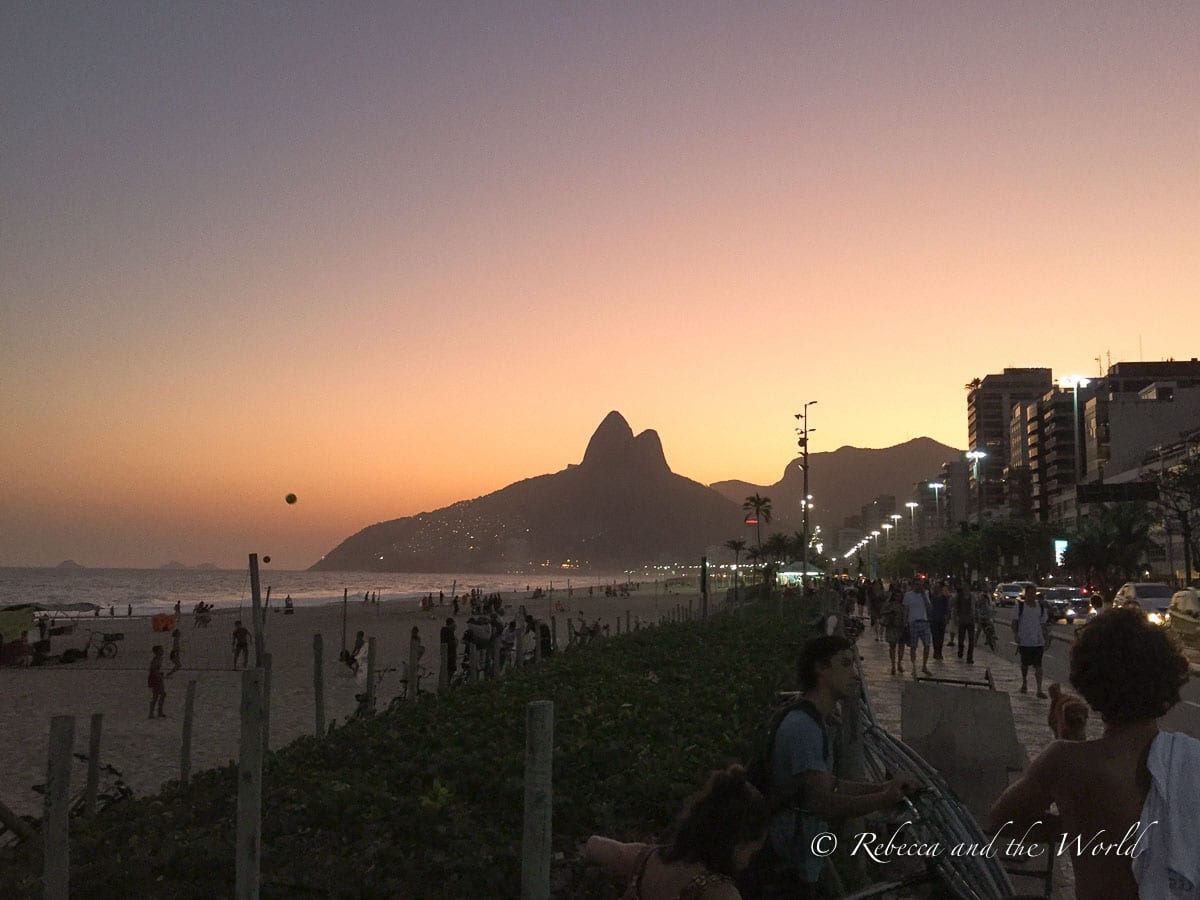 If there's one thing that I associate with Rio de Janeiro, it's the beaches. The two most famous beaches in Rio are Ipanema and Copacabana.
Definitely plan to spend some time at Ipanema. The beaches are divided into sections marked by postos (lifeguard towers) and each section attracts a different crowd: posto 7 is filled with surfers, postos 8 and 9 are for the younger crowd and the gay crowd, and posto 10 is where you'll find the rich Cariocas (people from Rio) sunning themselves.
You can rent a sunbed and have beers, caipirinhas, fresh coconuts and snacks delivered directly to you. Or you can even do your souvenir shopping from here! We bought some great sarongs right on the beach.
Make sure to keep an eye on your stuff while you're on the beach and don't bring any valuable items on your beach outing. If you're travelling with someone, have one person stay with your stuff while the other takes a dip in the ocean.
After you're done in the sun, take a stroll through the Ipanema neighbourhood, just back from the beach. This upper-class neighbourhood is teeming with restaurants, bars and shopping. There's a great Hippie Fair (actual name: Feira de Arte de Ipanema) on Sundays where you can buy jewelry, clothing and artwork, and try some Brazilian food.
Stroll along Copacabana beach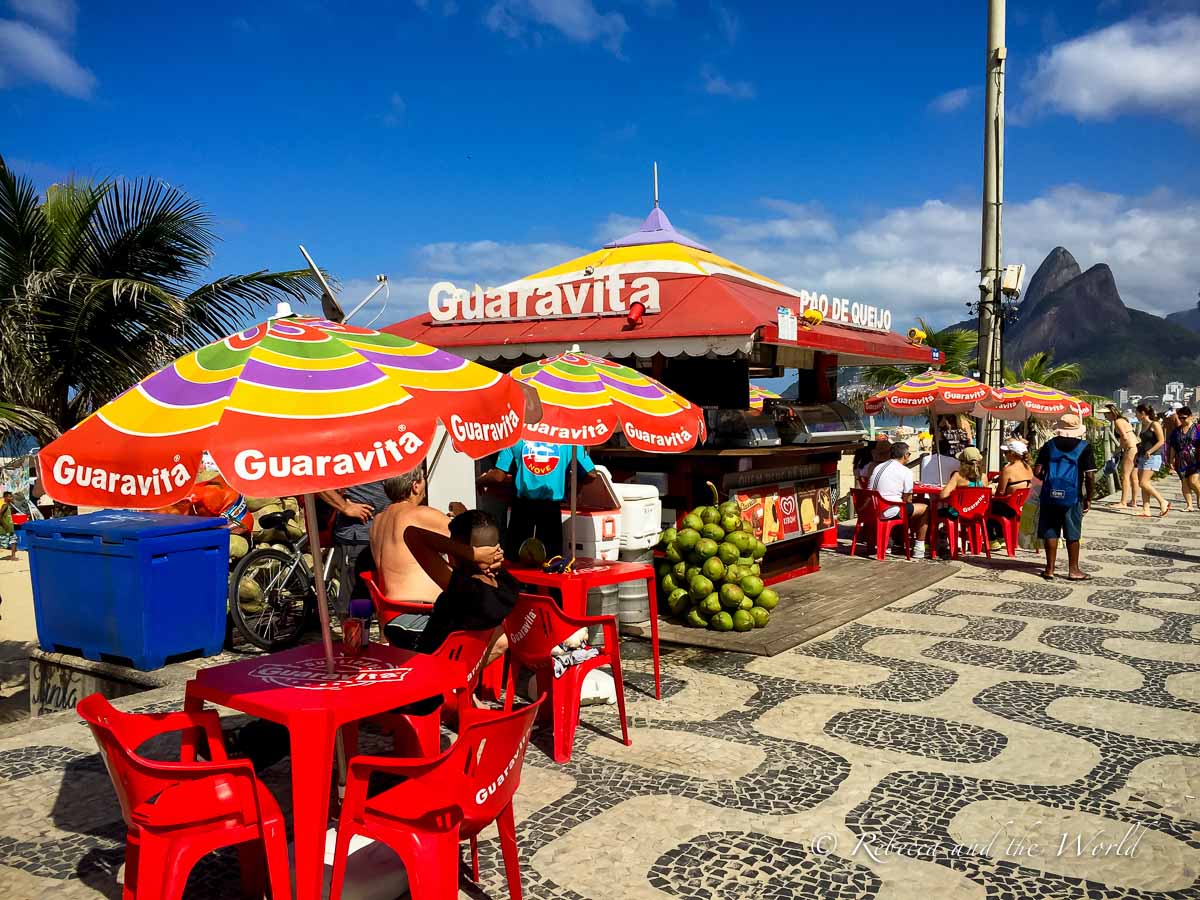 The other famous beach in Rio is Copacabana – just saying the word makes me want to sing Barry Manilow's eponymous song.
It's beautiful here, too, but I think the water at Ipanema is cleaner. So, take a stroll along the black-and-white-patterned promenade underneath the towering palm trees and grab a snack or drink from the street vendors.
On Sundays, the street alongside Copacabana shuts down to cars. It's a fun place to be, watching the beautiful Cariocas strut or jog down the street. Regardless of size or body shape, everyone's out on the street, most wearing the tiniest bikinis and swimming shorts you've ever seen!
The same advice for Ipanema goes for Copa: keep an eye on your stuff.
Gaze up at Christ the Redeemer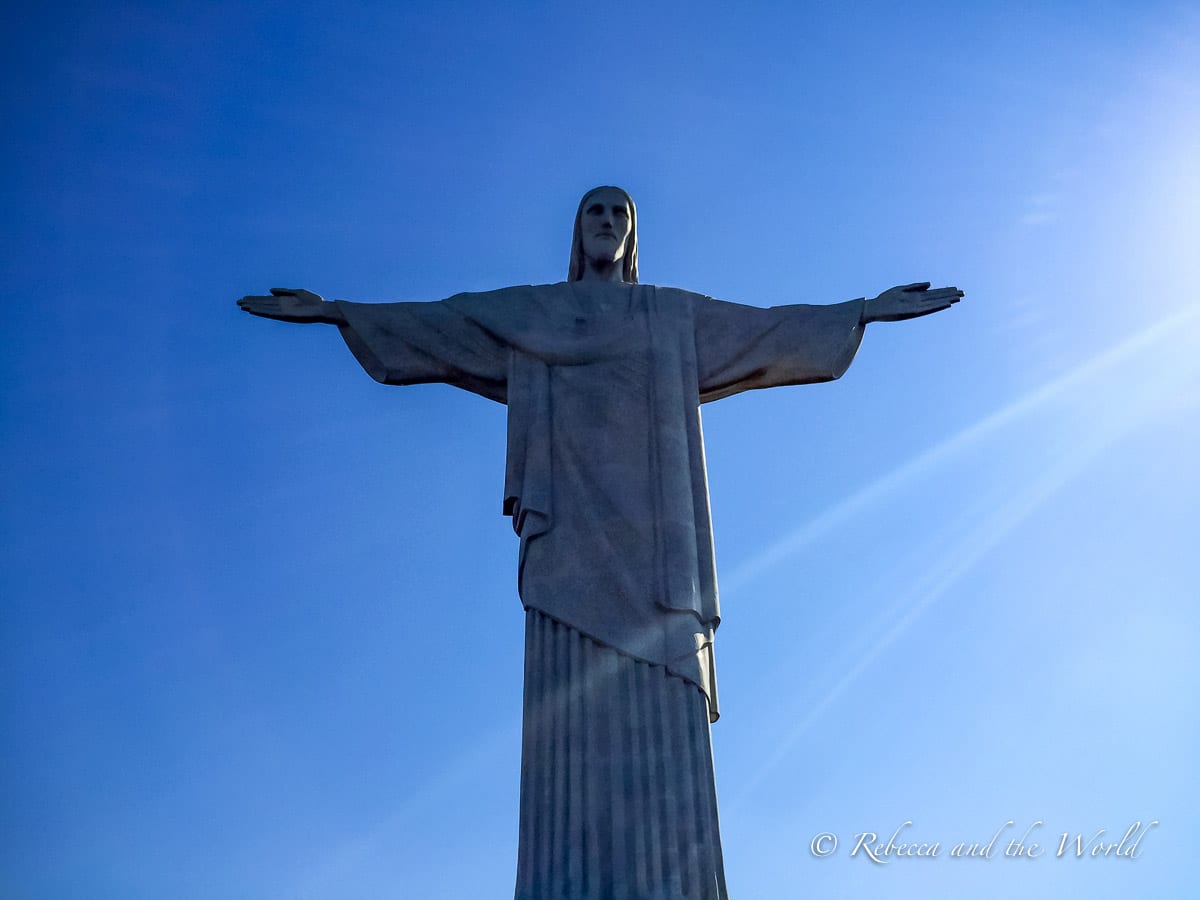 One of the most iconic – and popular – things to do in Rio de Janeiro is visit the world-famous Christo Redentor (Christ the Redeemer) statue.
One of the New Seven Wonders of the World, this 30-metre, 630-tonne statue sits high above Rio, watching over the city. It was built by a French sculptor and a Brazilian engineer and is atop the summit of Mount Corcovado.
It's best to visit on a clear day so that you can take advantage of the striking vistas of Rio.
As one of the most popular Rio de Janeiro tourist attractions, unless you go very early or you get lucky, you'll be sharing the space with dozens if not hundreds of other people.
Regardless, it's thrilling to stand below his outstretched arms and gaze out over Rio de Janeiro.
See the sunset from Sugarloaf Mountain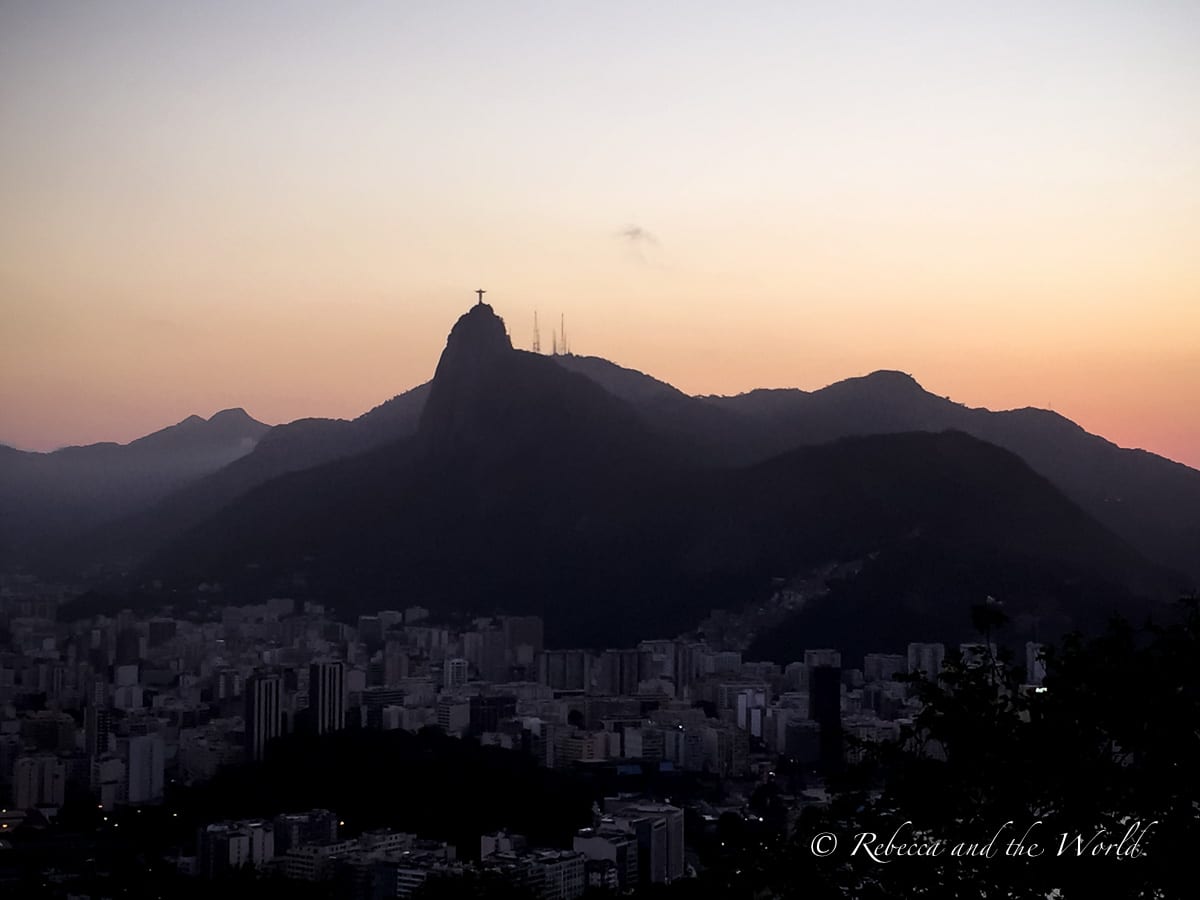 There are plenty of places to see a Rio de Janeiro sunset (which are, not surprisingly, absolutely stunning), but my pick is from the top of Pão de Açúcar (Sugarloaf Mountain). The panoramic views of Rio de Janeiro from up here are unbeatable.
Take a cable car (well, two cable cars actually) to the top of the mountain. Make sure you get there well in advance, as the lines just before sunset can be pretty long (and the traffic in Rio is horrendous). Plan to spend a bit of time up here, as you'll see different parts of the city as you wander around the top.
If you've got some cash to burn, take a helicopter ride around Sugarloaf and Christ the Redeemer.
Wander through Parque Nacional da Tijuca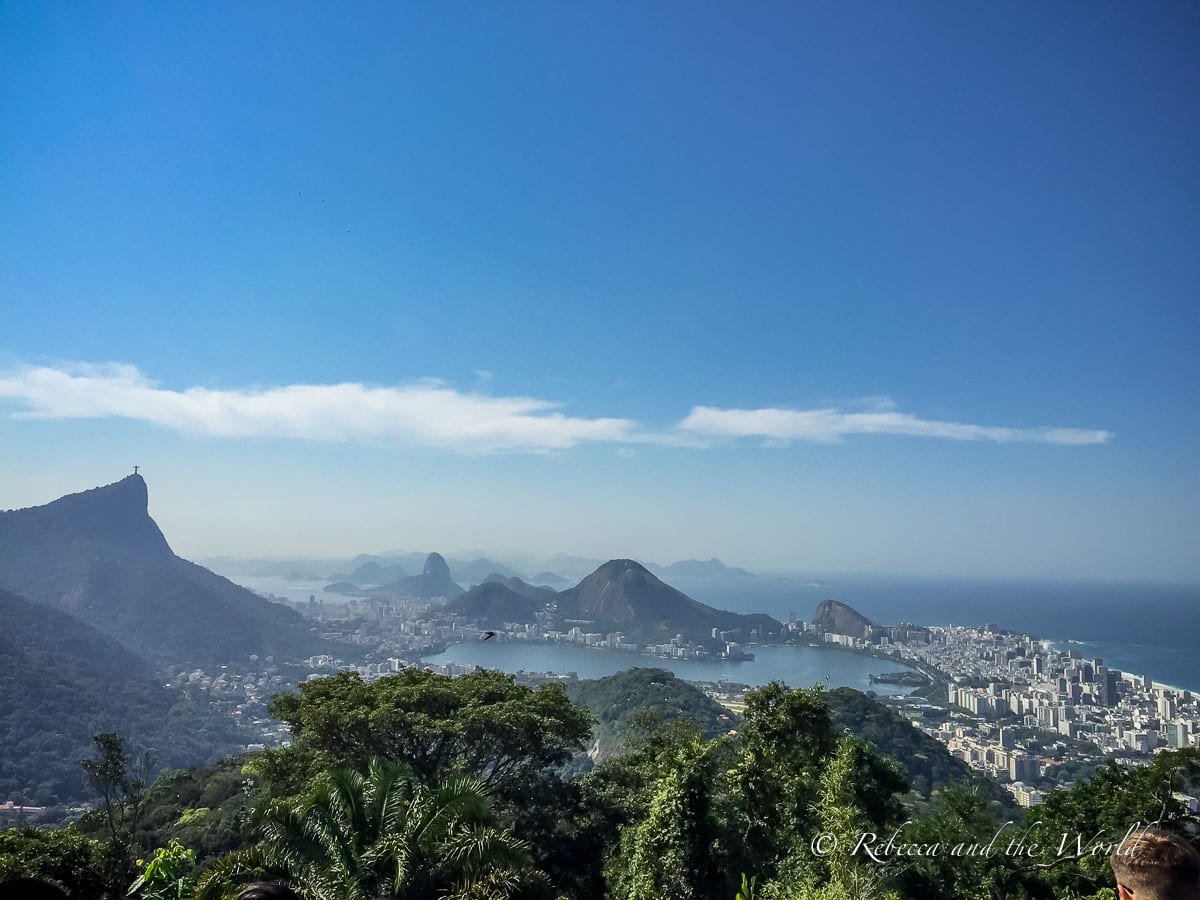 I love cities that have green spaces, but there's none more spacious than Rio's Parque Nacional da Tijuca – it's the largest urban rainforest in the world.
This tropical rainforest covers 39 square kilometres, where you'll find a variety of tree life, animals (monkeys!) and birdlife, waterfalls and creeks. There are plenty of walking trails and picnic areas.
The secret here is also the views of Rio – well, perhaps not so secret as tour buses and vans flood in here daily on their way up to Christ the Redeemer.
Climb Escaderia Selarón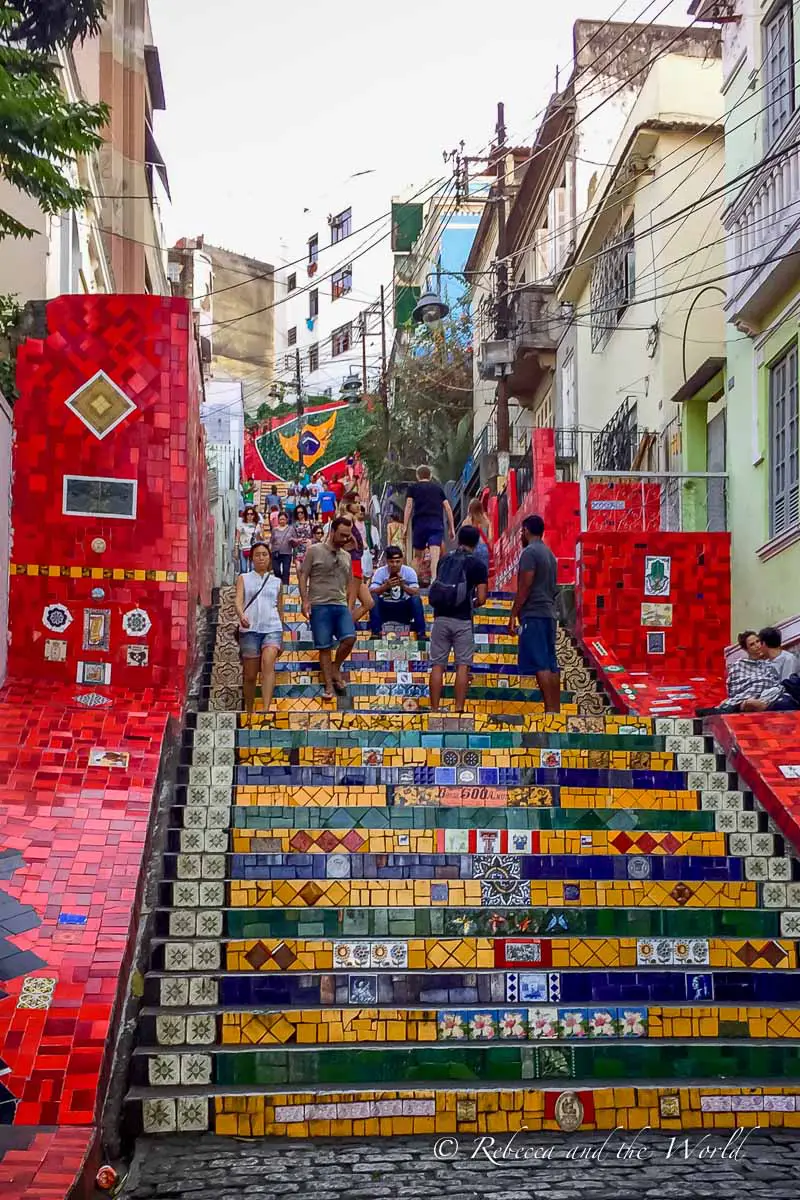 A great spot for photos in Rio is Escaderia Selarón, also known as the Lapa steps or Selarón steps. In a city that's packed with beautiful things, these steps are one of the most gorgeous things to see in Rio de Janeiro.
These famous steps are made up of more than 2,000 mosaic tiles, and is the work of Chilean artist Jorge Selarón. This was a passion project for Selarón, who was constantly selling artworks to fund the renovation of formerly dilapidated steps. Visitors have even brought tiles from their own countries to include in the giant artwork.
You may recognise the steps from Snoop Dogg's Beautiful film clip, as well as U2's Walk On.
Check out the Mural Etnias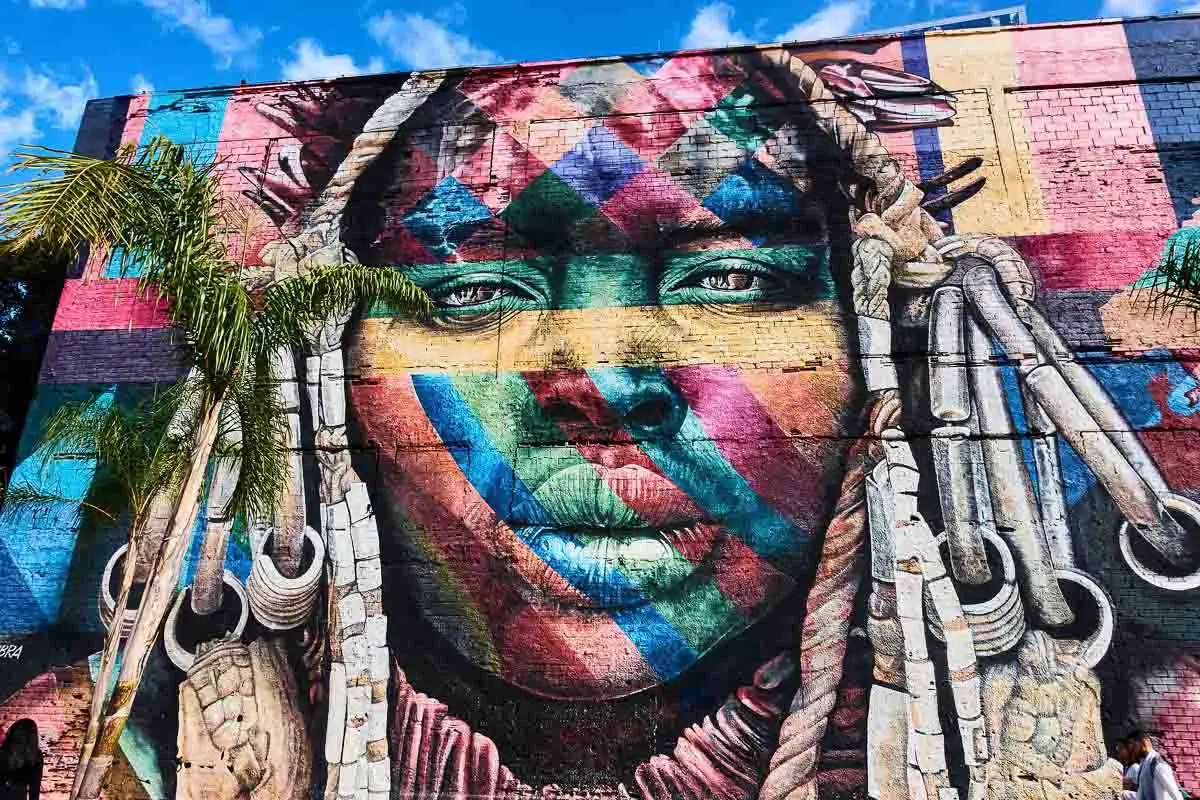 Of course a big city like Rio also has street art, and the most impressive mural in the city is the Mural Etnias.
The 30,000-square-foot mural was completed to coincide with the 2016 Rio Olympic Games, and is a series of five portraits of indigenous people from around the world. The mural represents the cultural diversity of the Games, and the artist's message that "everyone is united, we are all connected". Stunning art, beautiful message.
Spend an afternoon in Santa Teresa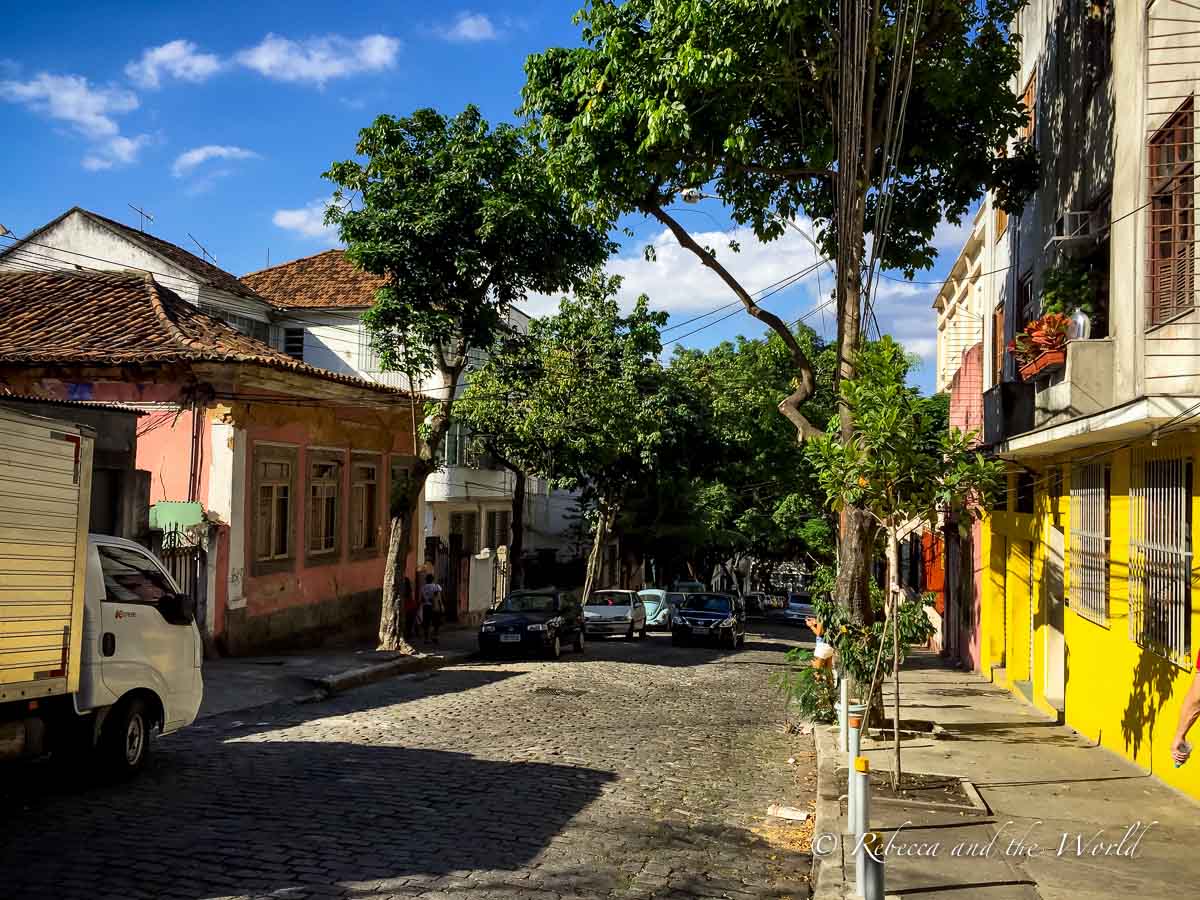 From the beaches of Rio, head into bohemian Santa Teresa, a neighbourhood perched in the hills above Lapa, with cobblestoned streets and an artist vibe.
Browse the shops and grab a beer from Bar do Mineiro, a local bar where you'll most likely have to stand outside with your drink – it's that tiny and usually that busy. Make sure to try the food there, too. The pastéis were my favourite, small, fried, thin crust snacks filled with meat or veggies.
Take a wander through Parque das Ruinas, built around an old mansion once owned by an heiress. The centre is now used for outdoor concerts and as an art gallery. And yep – there are more incredible views of the city (seriously, this hilly city has endless vistas).
To get to Santa Teresa, you can either walk up or take the bonde (the historic yellow trams). Unfortunately the tram lines were undergoing construction when we visited so we got up there on our two feet.
Take a favela tour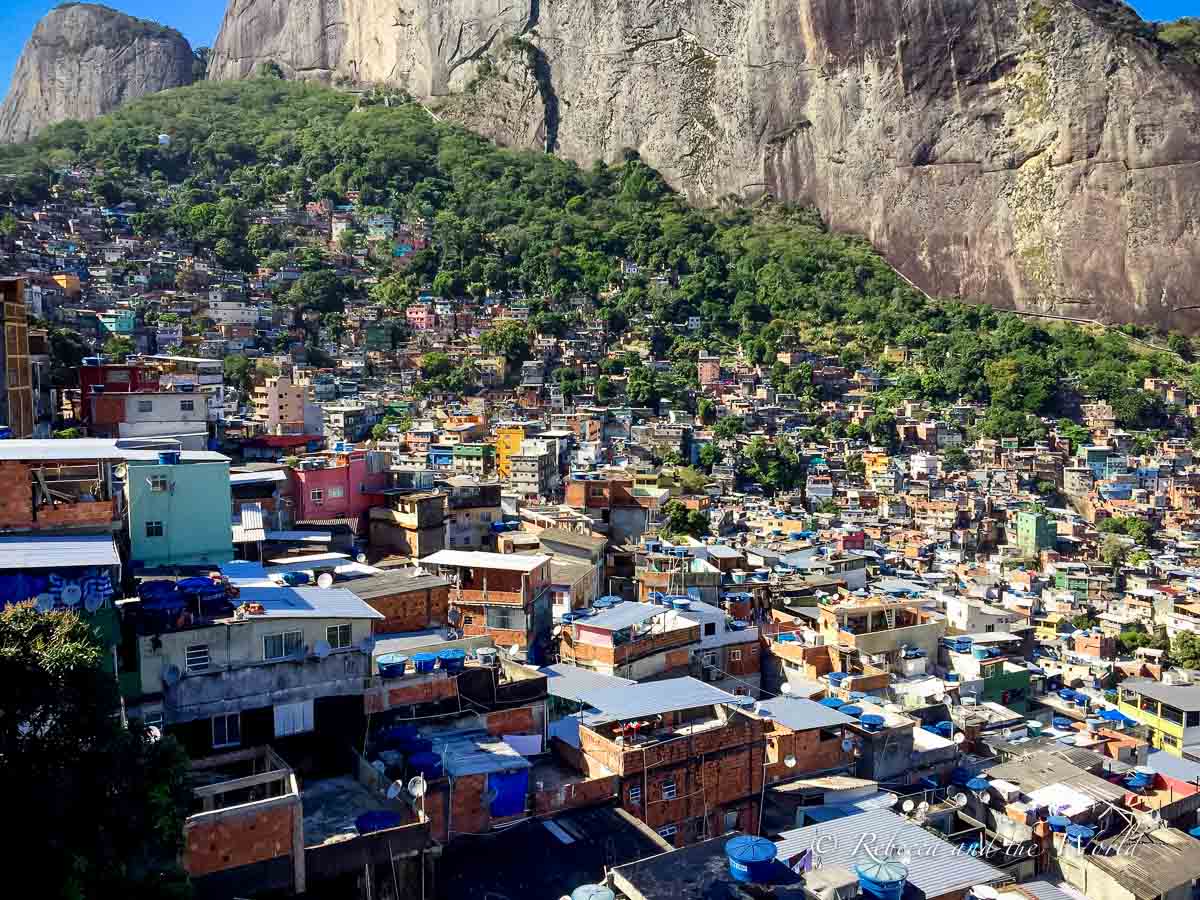 While there's much debate about "slum tourism", the fact remains that one of the most popular things to do in Rio de Janeiro is to visit a favela. Fortunately, there are plenty of tour companies that lead groups in ways that respect people rather than exploit them.
A favela is a shanty town or slum, informal areas that have been built up on land that developers considered uninhabitable. Favelas in Rio have a history that stretch back to the emancipation of slaves in Brazil. Typically, they're associated with poverty, violence and drugs, but for many Brazilians, they're just simply home.
The two most visited favelas in Rio de Janeiro are Vidigal and Santa Marta (recognisable from Michael Jackson's "They Don't Care About Us" film clip).
The decision to visit a favela is yours and yours alone. If you do decide to learn more about these communities, then first do your research. Find a tour company that's run by people who are actually from the favela and that gives back to the people living there, whether that's through employment, community programs or business opportunities.
Stop for brunch in Parque Lage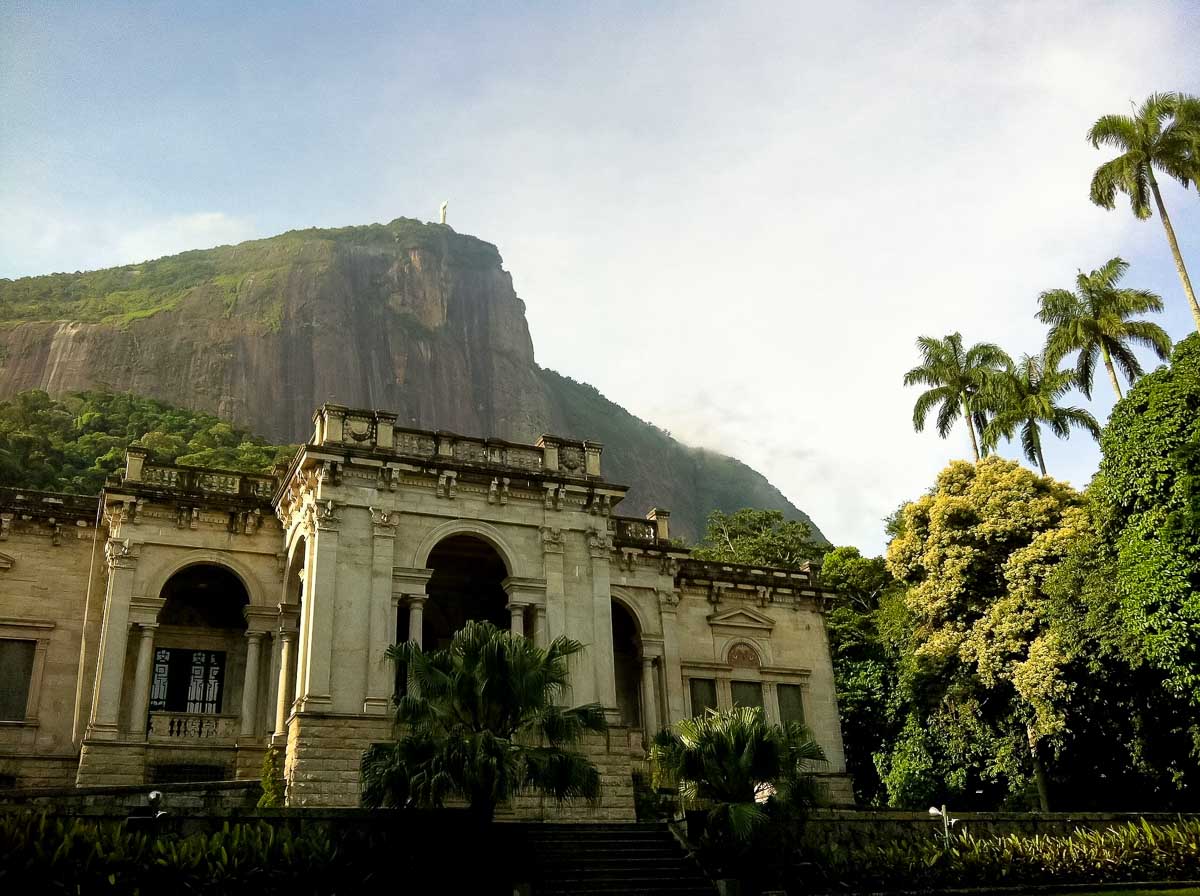 This public park at the base of Mount Corcovado was once a private residence. It's incredibly photogenic, with its old mansion and forest canopy.
It's also the location of Café du Lage, known for its delicious breakfasts. After a day of sightseeing, stop here to refuel.
Behind Parque Lage is a track that leads up to Cristo Redentor; check the safety situation before you head off as I have heard that it's a bit sketchy.
Explore nature at the Jardim Botânico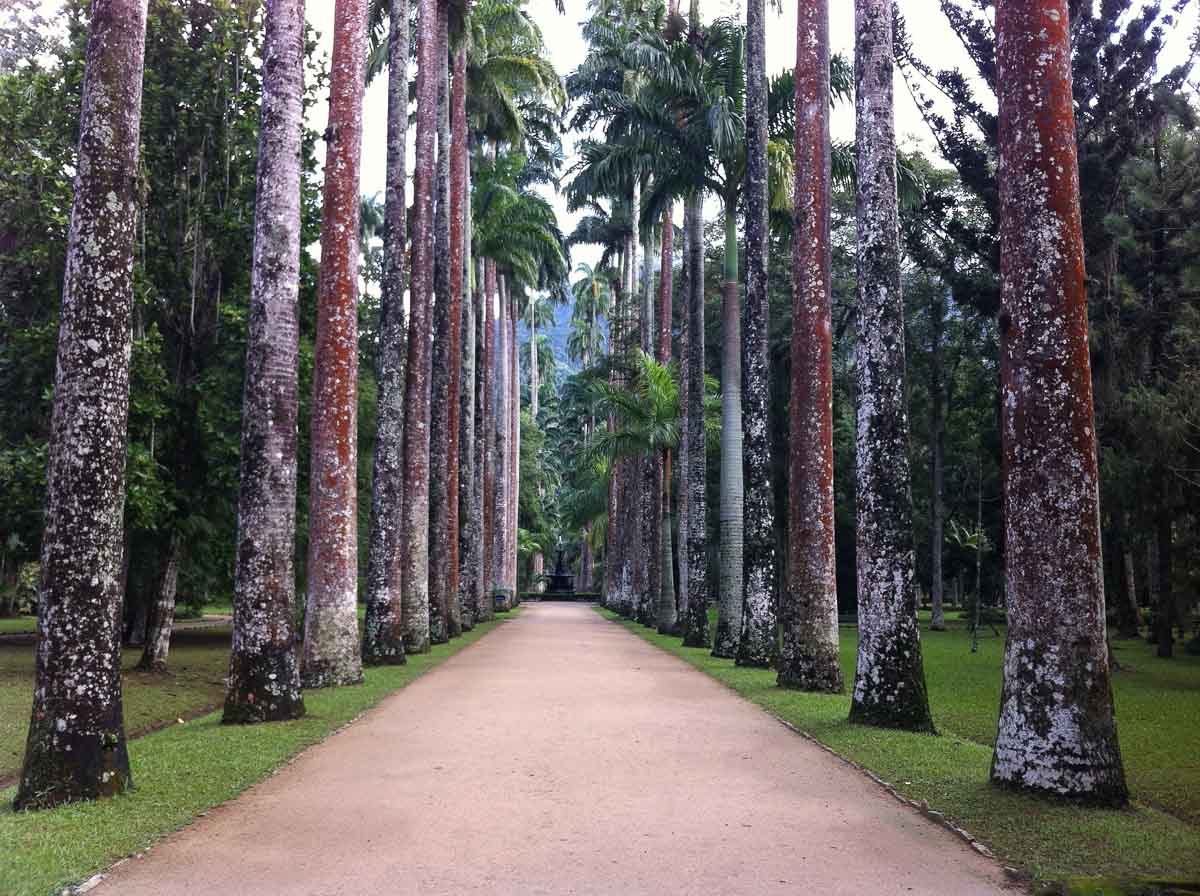 The 140-hectare Botanical Gardens is right next door to Parque Lage and is home to more than 6,500 species of plants and trees.
Here, you'll find a orchids, a rose garden, a Japanese garden, waterfalls, more than 100 species of birds and lots of monkeys!
People come here to snap a photo along the 750-metre-long Avenue of Royal Palms. The more than one hundred palms are all the baby palm trees of one single mama palm tree.
Eat at a churrascaria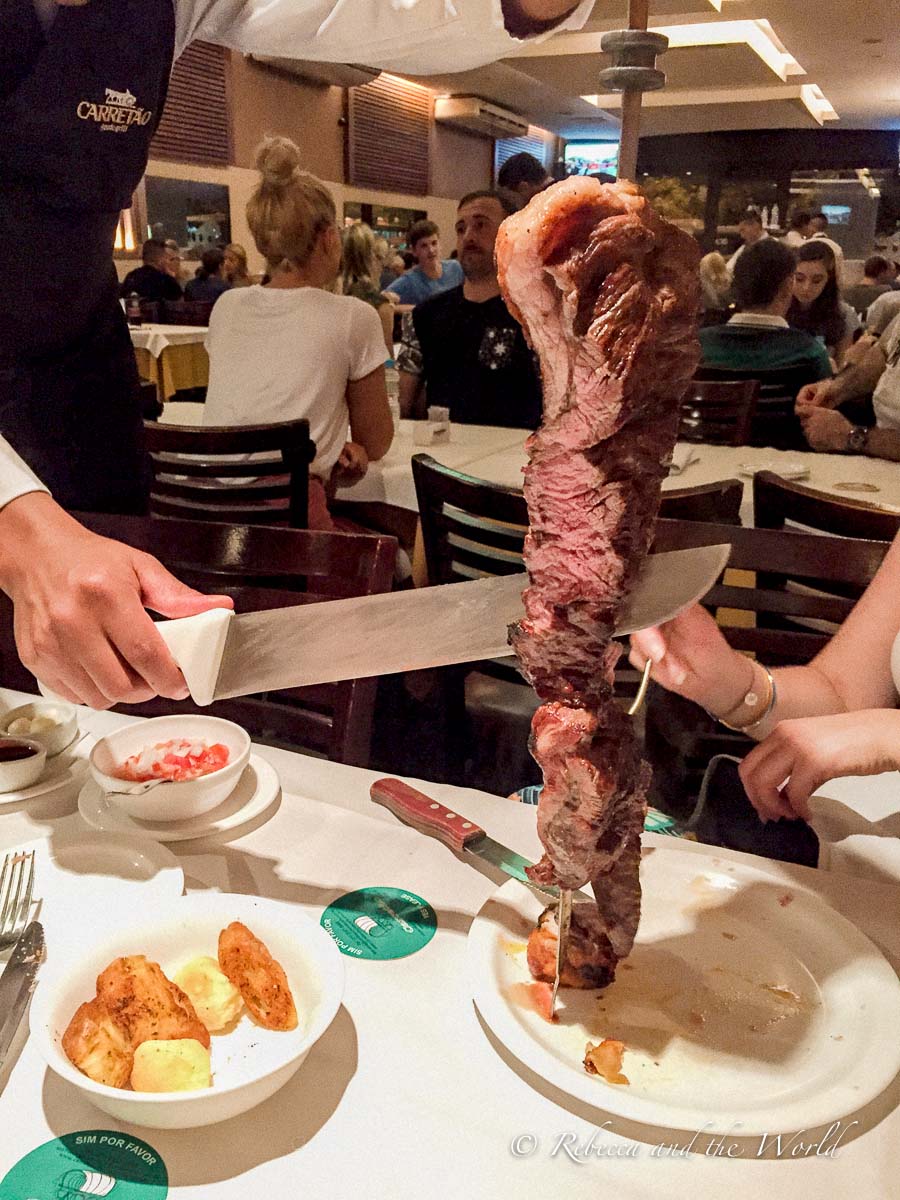 The Argentines have some competition when it comes to meat consumption! One of the best things to do in Rio is eat at a churrascaria, a restaurant where you can eat all the churrasco you want. Churrasco is the Brazilian version of barbecue and it is delicious.
Start off at the extensive salad buffet before servers swarm your table with all different cuts of meat. To let them know if you want some cut off for you, simply turn a card over – on one side the card says "no", the other says "yes".
Bring on the meat sweats!
One of the most popular churrascarias in Rio is Fogo de Chão in Botafogo.
Party all night long
It's no secret: Brazilians love to party and man can they party! If you want to join in, Lapa is a great place to go. This neighbourhood is filled with bars thumping with live music, but you'll also stumble upon people impromptu concerts in the streets or near the Lapa Arches. If you're nervous to head out at night by yourself or you're travelling solo, join a small group pub crawl like this one.
On Monday and Friday nights, join the heaving street party in Pedra do Sal, which attracts samba lovers of all kinds. (Take a taxi there at night.)
Rio de Janeiro itinerary
So, now that you know what to do in Rio de Janeiro, how should you plan out your itinerary? I've laid out 3 days in Rio – where to eat, what to do each day and where to end each night.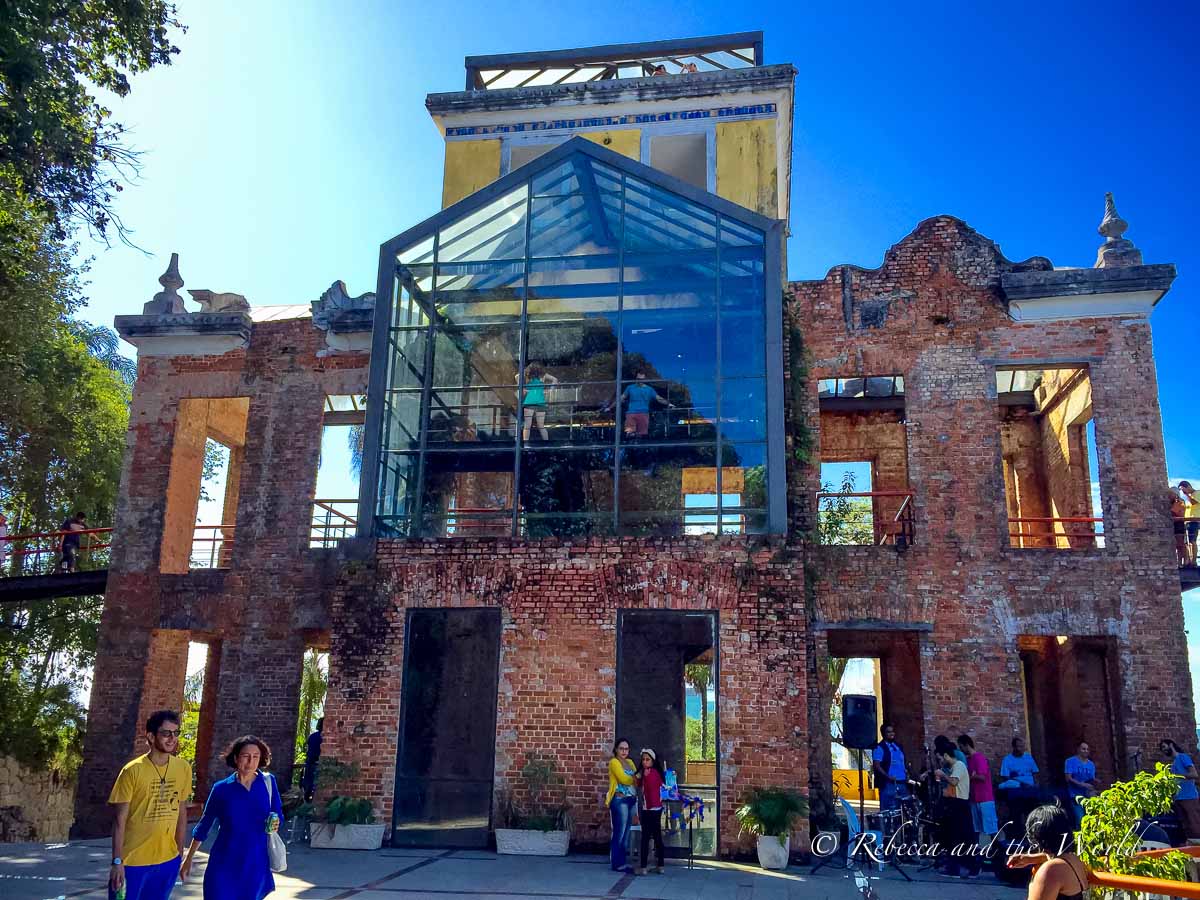 Map of what to do in Rio de Janeiro
3 days in Rio – Day 1
If you've only got three days in Rio, then I recommend booking a seat on a full-day Rio de Janeiro city tour.
Even if tours aren't your thing (it's taken me a while to come around to them, but now when I've only got a few days in a city I think they're fantastic), because of the size of the city, it'll really help you take full advantage of the time you have in Rio de Janeiro. A Rio city tour is also usually great value. You'll be in an air-conditioned bus and avoid the challenges of figuring out public transport or ending up in an area that you shouldn't really go to.
The tours will usually hit up many of the Rio de Janeiro attractions I've mentioned here, including Christ the Redeemer, Parque Nacional da Tijuca, Escaderia Selarón and Sugarloaf Mountain. Lunch is usually included.
Here are some recommended tours:
This full-day tour takes you to most of the above mentioned sites, plus the Sambadrome and Maracaña Stadium.
This day tour ends with sunset on top of Sugarloaf Mountain – the best place to see a sunset in Rio!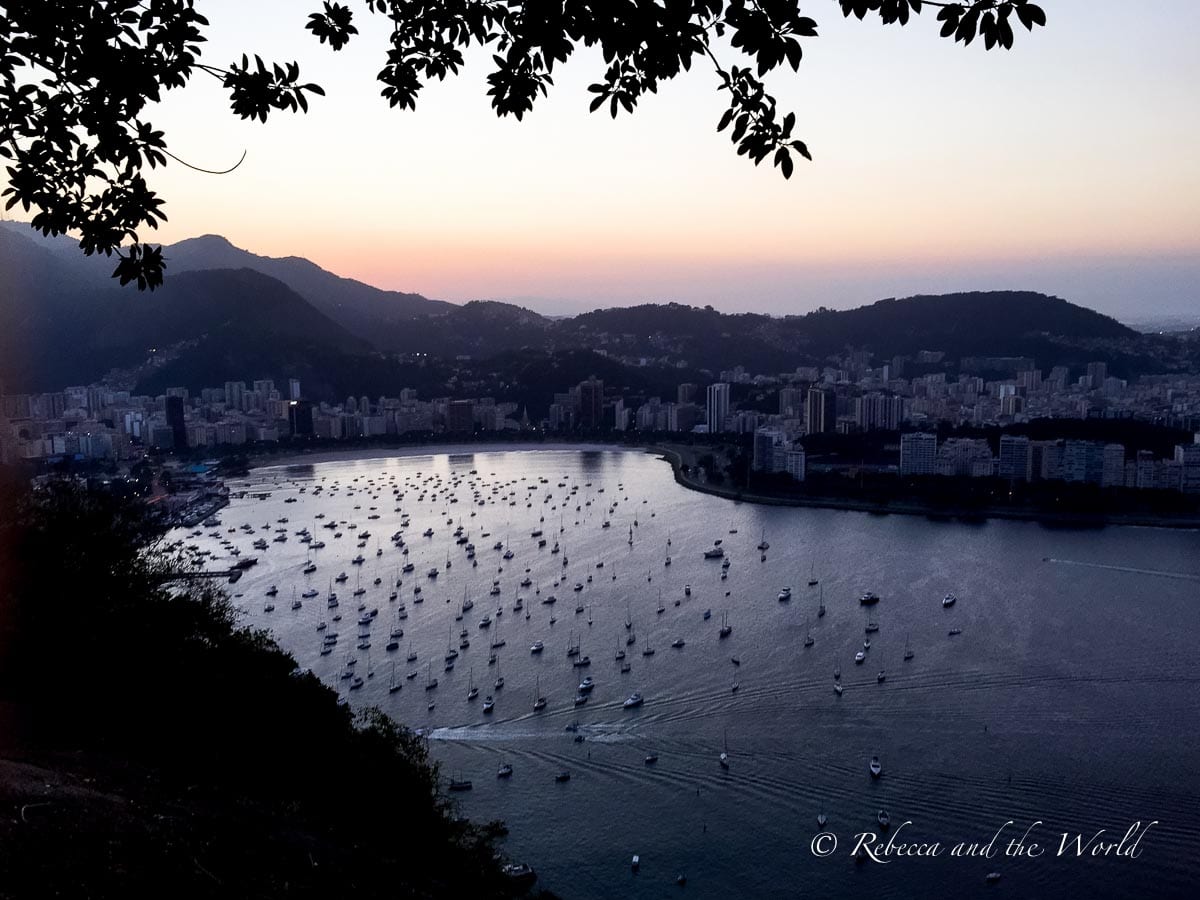 If you don't want to do an organised tour, then I'd still recommend spending the day seeing these same sights. Get around the city on public transport or hire your own driver (most hotels should be able to arrange this).
After your day has ended near Sugarloaf, don't worry about having the tour company drop you off at your hotel. Instead, ask them to leave you at Bar Urca near the waterfront for dinner and drinks.
If it's Friday or Monday night, head to Pedra do Sal for a night of samba with Cariocas and foreigners alike. This tour also looks like a similarly fun night, but in the neighbourhood of Lapa.
Day 2 of the Rio de Janeiro itinerary
Start your day off with açai and a juice at one of the many juice bars around the city. There's bound to be several within a few blocks of your hotel.
Grab your swimming things and stroll along the beachfront. The main stretch of beach is around 9 kilometres, so it's a nice walk. Start at Copacabana beach before parking yourself somewhere along Ipanema beach, preferably around posto 8 or 9. Spend a few hours soaking up the sun with some snacks and drinks. If it's Sunday, browse the Hippie Fair in Ipanema.
In the early afternoon, head up to discover the many things to do in Santa Teresa. Spend a lazy afternoon wandering the cobblestoned streets and make sure to stop in for snacks and a drink at Bar do Mineiro.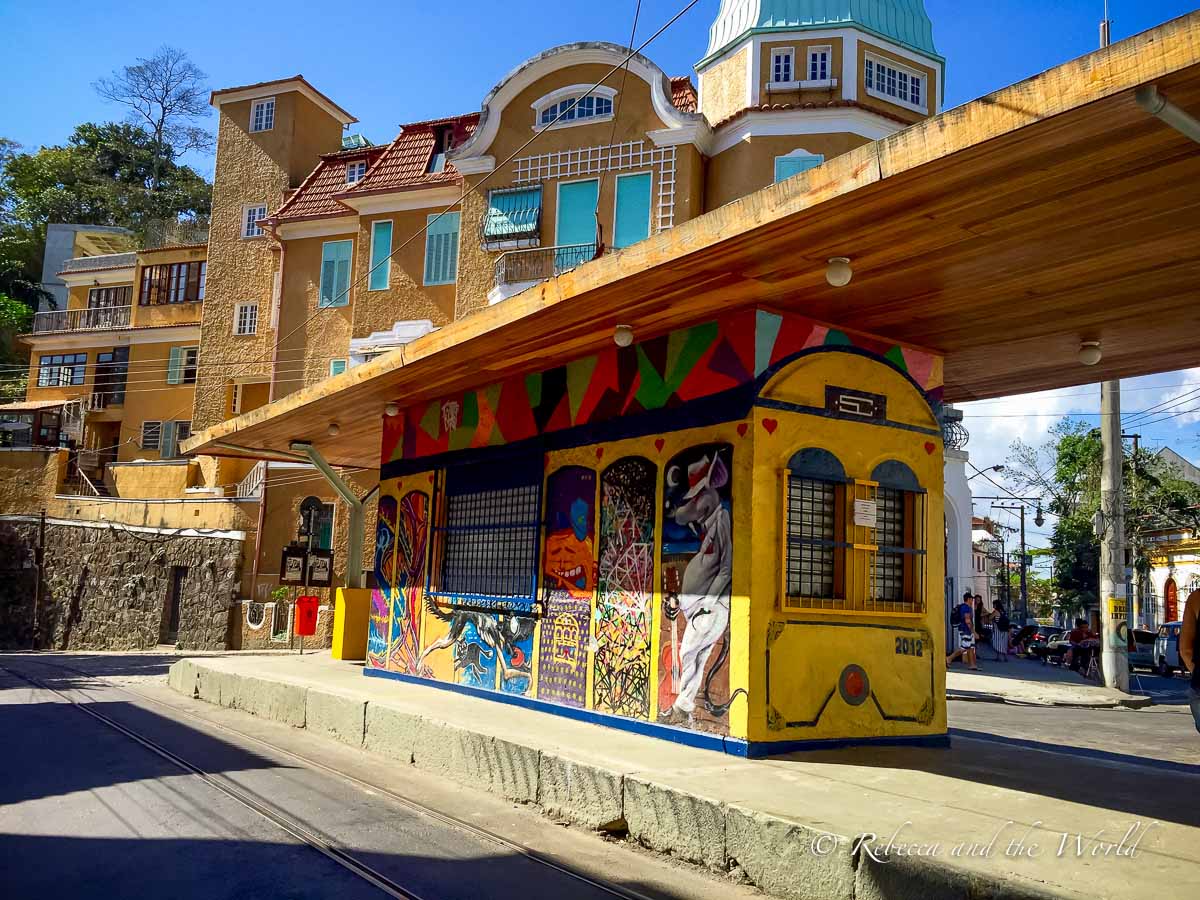 Wander over to check out the Mural Etnias before dancing the night away in Lapa.
3 days in Rio – Day 3
On your final day, learn more about life in a favela on a reputable tour.
If you decide not to visit a favela, I've got some more suggestions below which will fill your day.
If your tour is only half a day, grab a late lunch at Café du Lage in Parque Lage before wandering through the Botanical Gardens.
At night, head out to a churrascaria to end your 3 days in Rio with plenty of meat.
Even more things to do in Rio de Janeiro
If you're lucky enough to have more than 3 days in Rio de Janeiro, then there are plenty more things to do:
Hike Dois Irmãos – The "two brothers" peaks are easily seen from Ipanema, and you can hike to the top for – yep, you guessed it – amazing views of Rio
Helicopter tour – While you can see plenty of Rio from the many vista points I've mentioned in this article, why not see it all from a helicopter?
Paragliding – Rio is known as a paragliding hotspot, and for those without a fear of heights, it's a beautiful city to explore from the air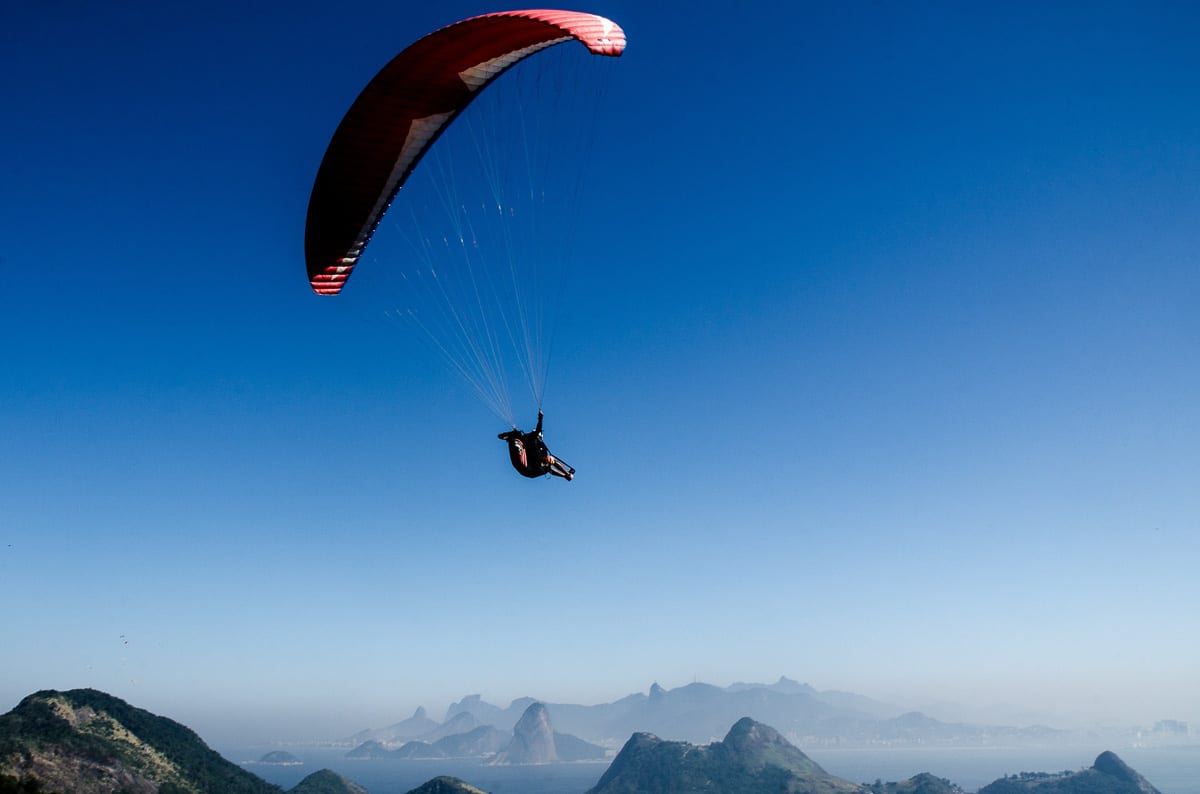 Samba class – If you love samba music, consider taking a class to learn a few dance steps as well
Cooking class – Brazilian food is influenced by European, African and Amerindian ingredients and traditions, making it rich with history and flavours. Try your hand at making feijoada or moqueca and take the recipes home to make your own Brazilian feast on this four-hour cooking class (which includes a lesson on mixing caipirinhas!)
Futbol – Brazilians are mad for futbol (soccer) and you can experience the energy for yourself at Maracaña stadium if there's a match on when you visit. If you find it intimidating to go to a match by yourself, you can book a trip to go with a local
Pedra do Telégrafo – You may have seen the cliff-hanging photos on Instagram – now you can snap your own. In all truth, there's actually a walkway underneath the "cliff" so it really is quite safe. It's about 90 minutes from Rio and then you'll need to hike for almost an hour. Go early! The lines for photos are long. Because it's a long trip from Rio, book a day trip like this one, which also visits some of the lesser-known beaches in Rio de Janeiro
Nearby islands – Spend a day or two in Ilha Grande or Paraty, a short bus ride from Rio de Janeiro
VISITING RIO DE JANEIRO – YOUR TRIP ESSENTIALS
Ready to start planning your own trip with this Rio de Janeiro itinerary? Let me know if you have any questions in the comments below!
This post was published in August 2015, and was updated in October 2019.
PIN IT FOR LATER: