The 5th largest country in the world, you could easily spend months and months exploring the beaches, cities and forests of Brazil. So where should you even begin? How do you plan the perfect Brazil itinerary? This list of the best places to visit in Brazil will give you a starting point – and prompt you to book a flight as soon as possible!
This blog post may contain affiliate links, meaning if you book or buy something through one of these links, I may earn a small commission (at no extra cost to you!).
Bonito
An ecotourism hub in southern Brazil's Mato Grosso do Sul state, Bonito is one of the more off-the-beaten-path places to visit in Brail. But if you do make it there, you'll find one of the coolest things to do in Brazil: snorkelling at Rio De Prata, an easy day trip from Bonito.
Rio De Prata is well known for being one of the world's best places to freshwater snorkel, with water so sparkling clear that visibility can be as high as 50 metres. A gentle current will float you downstream while you enjoy a magical underwater garden experience.
Along the way, you'll see many colourful fish, but there's also a chance you'll spot an anaconda snake or a freshwater crocodile! It's one of the more adventurous things to do in Brazil. Whilst our guide assured us we were safe, our group still felt apprehensive beforehand. But our fears dissipated once in the water and I was even a little disappointed not to spot an anaconda!
Pro tip: Prior to your snorkel trip, you'll walk for 20 minutes through the rainforest. Make sure you wear your wetsuit to avoid mozzie bites as you're not allowed to use mozzie repellant before getting in the water!
Recommended by Leanne of The Globetrotter GP
Buzios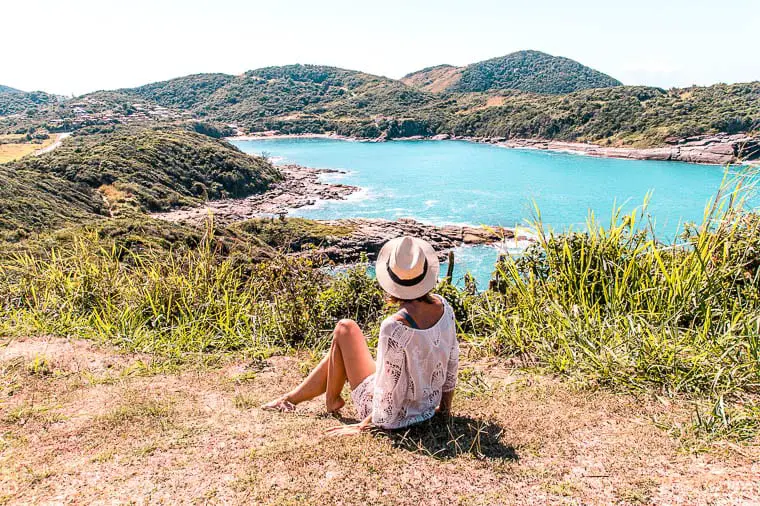 If you're looking for one of the most beautiful places to visit in Brazil – actually, in the whole of South America – Buzios just might be that place. Just 3-4 hours by bus from busy Rio de Janeiro, you'll find this cute paradise with beautiful beaches and plenty of scenic views.
Once a small fishing village, Buzios became famous when French actress Brigitte Bardot visited in 1964. Buzios quickly went from sleepy town to one of the most popular places in Brazil, not just with Brazilians but also with international tourists.
Buzios has a lot to offer, from scuba diving, windsurfing and sailing to simply enjoying the relaxed vibe of this pretty town. However, the main activity is beach-hopping. Around Buzios you can enjoy 23 beautiful beaches, many of which can be reached by foot. Water taxis run between beaches as well, costing from R$5 to R$10 per ride, depending on how far you go.
While the beaches in the south are harder to get to, they're very pretty and perfect for surfing. Beaches facing westwards tend to be less busy but also rockier.
Buzios has something for every traveller and it definitely needs to be on your Brazil itinerary.
Recommended by Gretka of Beach Addicted
Fernando de Noronha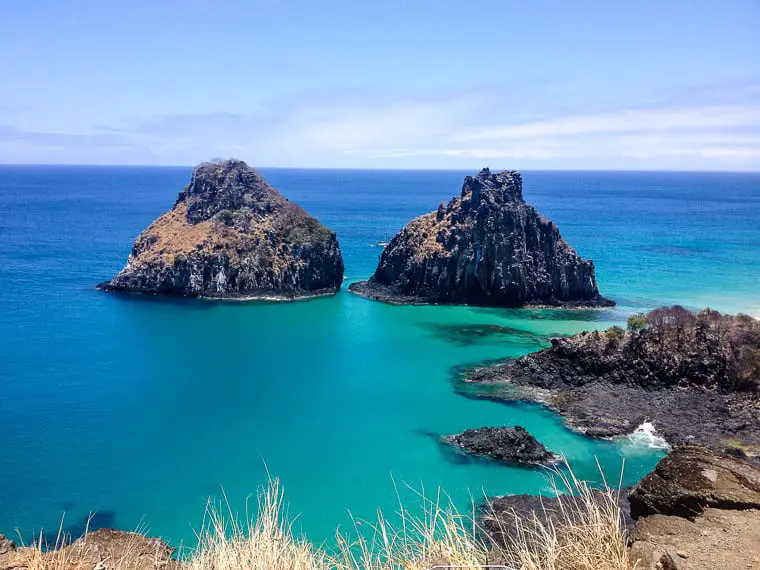 If you were to ask a Brazilian to give just one piece of Brazil travel advice, it's highly likely that it would be to visit Fernando de Noronha.
Fernando de Noronha is a unique archipelago on the coast of the state of Pernambuco in the country's northeast. This paradise is a UNESCO Heritage Site with a fragile ecosystem, and tourism is severely controlled to protect it. The government controls the influx of tourists by charging a daily environment tax that increases the longer people stay on the main island.
Further out, visitors can't even wear shoes or sunscreen in certain areas and on some beaches. So much care is taken so that the rare local fauna and flora can survive the modern world. That's because the water surrounding the island is jam-packed with fish, dolphins, coral, and even sea turtles, which lay their eggs on the island.
Besides the fantastic wildlife, Fernando de Noronha has jaw-dropping beaches where tourists can dive, accompanied by a certified instructor, of course.
For the more active visitors, breathtaking trails are to be found either in the reserve area or in the protected area. This is one of the few marine national parks of Brazil and certainly one of the world's prettiest ones.
Recommended by Bruna of I Heart Brazil
Florianopolis
Affectionately known as Floripa, Florianopolis is the capital of Santa Catarina state in the south of Brazil. The city encompasses all of Santa Catarina Island as well as part of the mainland.
Due to its natural beauty, high quality of life, and low crime rate, Floripa has become a popular place in Brazil as a second-home destination for foreigners and affluent Brazilians, as well as a hub for digital nomads and backpackers.
The island boasts 42 varied beaches, ranging from peaceful shorelines with calm water perfect for families, to top surf spots with impressive waves, to pristine, deserted coastlines accessible only via boat or hiking trails.
This beach mecca is packed with vacationers in summer, when it can suffer from traffic congestion. It's much quieter in winter, when the weather is cool and cloudy. Spring and fall provide the best conditions for surfing and kitesurfing, popular sports on the island.
The hippie-chic village of Lagoa da Conceição, located next to the large saltwater lagoon by the same name, forms the heart of the island. Lagoa offers the highest concentration of shops, restaurants and bars on Floripa. Its laid-back vibe attracts many international residents, as well as Brazilian transplants from other regions.
Florianopolis's charming historic centre, directly across the bay from the mainland, makes a good transportation base. From there, buses depart for all the island's beaches, although it's often faster and more convenient to take Uber.
Floripa's centre features some picturesque colonial architecture. Recommended things to see include the history museum, housed in the spectacular Palace Cruz e Souza; the public market, which sells food and local handicrafts; and the lively main plaza shaded by an enormous 140-year-old fig tree.
Recommended by Ingrid of Second-Half Travels 
Fortaleza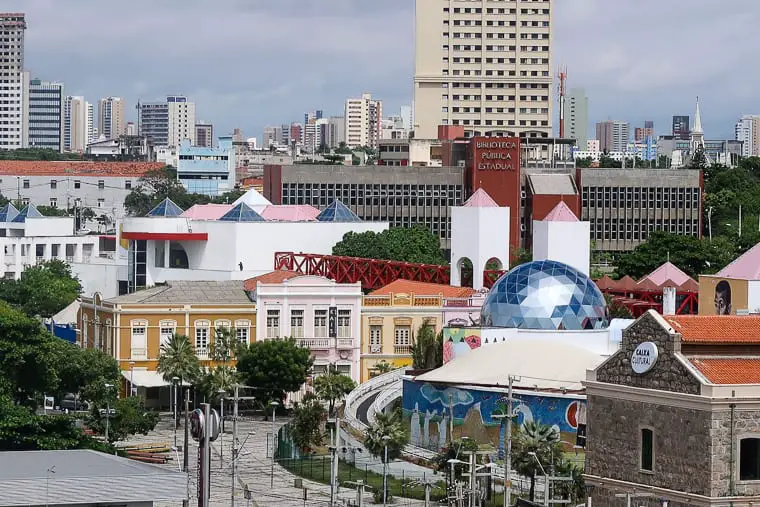 Fortaleza regularly tops the list of the best places to visit in Brazil. And for good reason: it has a tropical climate with an average temperature of almost 27°C year round, and an abundance of coconuts and açaí.
Fortaleza is popular with both Brazilian tourists and foreign beach lovers alike. To get in on the action, head down to Iracema Beach, the perfect place to relax and take in the sun.
Away from the beach, get an insight into Brazilian culture in the Mercado Central. Here, there are five levels of shopping heaven. Although mostly catered to tourists, it's still a great place to find gifts and souvenirs. Expect to find leather goods, beachwear, ceramics and much more.
Finally, there's no shortage of food in Fortaleza. Look out for one of the many kilo restaurants that literally have no limits. People fill their plates to the brim and don't look back. However, be prepared to pay the price. Food is slightly more expensive than in the south of Brazil.
So, now that Fortaleza is on your radar, keep it in mind when deciding where to go in Brazil.
Recommended by Daniel of Layer Culture
Foz de Iguaçu
Straddling the border between Brazil and Argentina, Foz de Iguaçu is one of the most popular places to visit in Brazil – and in Argentina. And it's not hard to see why.
This chain of more than 200 waterfalls is dazzling from above, alongside and below. You can easily spend a day or two here, exploring the waterfalls and the lush forest that surrounds the falls. This forest is teeming with wildlife, including toucans, macaws, coatis and butterflies.
On the Brazilian side of the falls, you can walk the many trails throughout the park, take a boat ride to get up close to the water, and get soaked by the thunderous falls. You can – and should – also venture into Argentina to see the falls from the other side of the border.
Outside of the park, the Parque de Aves will introduce you to the many bird species of the area. Visit the Itaipu Dam, a hydroelectric dam sandwiched between Brazil and Paraguay.
Foz de Iguaçu is also the name of the town that is the gateway to the falls.
Ilha Grande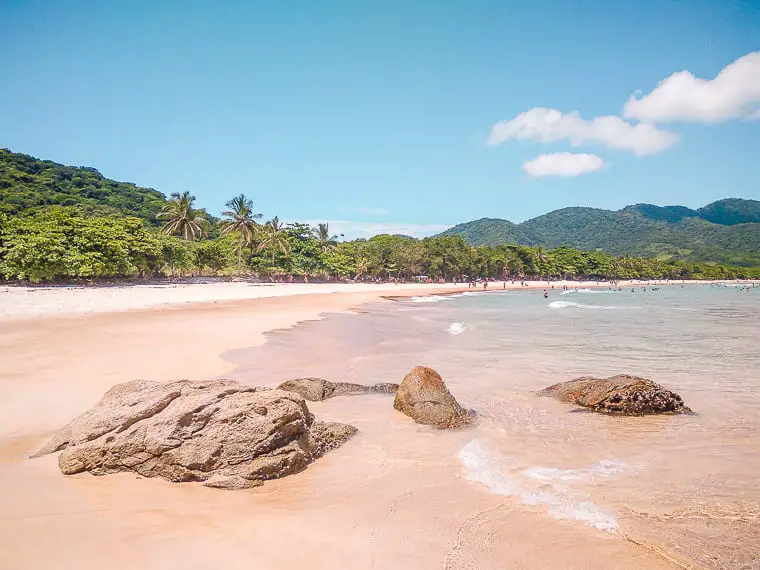 Located only 150 kilometres (about 93 miles) away from Rio de Janeiro, the island of Ilha Grande is a must-visit exotic paradise. The tropical weather of Ilha Grande, Brazil's third-largest island, means you can visit and enjoy everything it has to offer almost all year round. And there's no doubt that beach life is one of the best things to do in Brazil.
Those who seek utter relaxation will fall in love with the island's dreamy beaches in a heartbeat. Lopes Mendes, Aventureiro and Caxadaço are only some of Ilha Grande's beautiful beaches, each with white sands and crystal-clear water.
All the beaches are reachable by boat, and there are plenty of tour companies offering boat rides to the beaches and small islands around Ilha Grande.
For a more active vacation, the island also offers outdoor activities like hiking. A classic hike is the Pico do Papagaio (Parrot's Peak), which offers some of the most scenic views over the island. Some people even take this hike in the middle of the night to get to the top by sunrise. Other popular activities include waterfall rappelling, snorkeling and scuba diving.
To get to Ilha Grande from Rio de Janeiro, take a bus from Rio to Angra dos Reis and then a ferry to Ilha Grande. Many companies can coordinate the entire trip for you, including pick up from your hotel in Rio de Janeiro.
Recommended by Or of My Path in the World
Manaus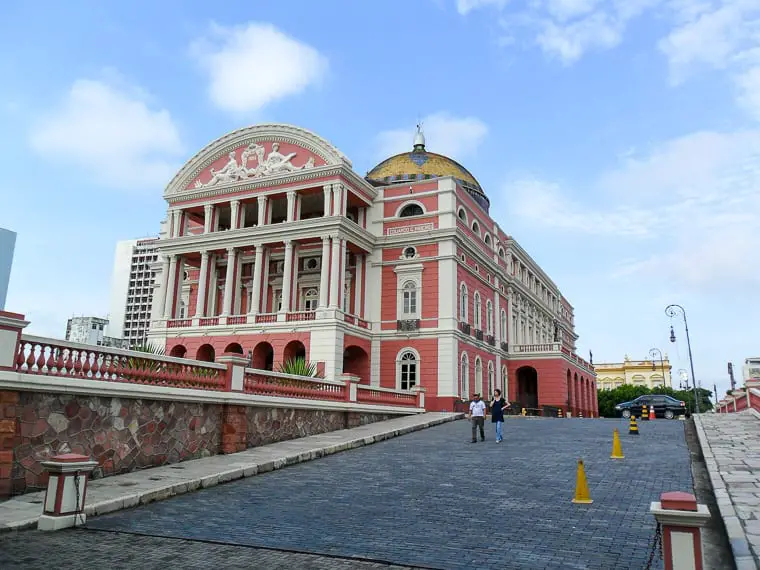 The gateway to the Amazon rainforest, Manaus came about because of the booming rubber industry in the early 20th century. These days, it's a hub for trips down the great Amazon River, either as a stopover on a multi-day journey, or the starting point for an incredible voyage into the heart of the largest rainforest in the world.
It's also the location of the "Meeting of the Waters", where the Negro and Solimões (the name given to the upper reaches of the Amazon River) rivers run side by side for more than three miles – without mixing. Imagine a dark river running alongside lighter-coloured waters for miles and you'll have an idea of what this Brazil tourist attraction is like.
The rubber  industry brought wealth to the area, and it may be a surprise to many to find a beautiful opera house in the heart of the jungle. The Amazonas Opera House still draws crowds today and is one of the more unique things to see in Brazil.
The opera house is not Manaus's only distinguished building. Visit the Palácio Rio Negro, formerly the governor's residence, and discover beautiful antiques and architecture.
It may not be on the top of the list for most visitors to Brazil, but it's certainly one of the more intriguing places to visit in Brazil.
The Pantanal
While the Amazon gets all the attention when it comes to wildlife viewing and ecotourism in Brazil, it's actually not the best place in the country to see wildlife. You have a much better chance of spotting animals in another Brazil destination: the Pantanal, which is at the opposite end of the country, in the south near the Bolivian border.
In fact, the Pantanal also reaches across the border into Bolivia, but all of the tourism infrastructure for exploring the area is in Brazil. It's the largest wetland in the world and provides habitat for ant-eaters, caimans, capybaras and, most famously, jaguars. Many other species of animals also call the Pantanal home.
Sure, there are also plenty of animals living in the Amazon jungle, but the problem is that it's much harder to see them. It's pretty easy for them to hide among all the trees and undergrowth of the jungle, whereas in the Pantanal there are lots of open spaces and grassy plains.
In addition to the mammals found in the Pantanal, it's also a paradise for birds… which means it's one of the best places to travel in Brazil for birdwatchers, of course! The best time of year for birding is the dry season, because this is when the birds nest and breed. But even if you come during the wet season, you'll still see dozens of different bird species. Toucans and macaws are some of the most colourful ones, and keep an eye out for the jabiru stork, which is the largest flying bird in the Pantanal and has become the symbol of the region.
While the dry season is certainly the best time overall to embark on a Pantanal tour, with climate change the seasons are becoming less predictable, so it can be hard to know exactly when to time your trip. Historically, the dry season was from July to October, but the rains have arrived much earlier in the past couple of years.
If you can manage to visit in September, that's your safest bet, as you'll avoid both the rains and the Brazilian tourists who head to the Pantanal en masse in July.
Recommended by Wendy of The Nomadic Vegan
Paraty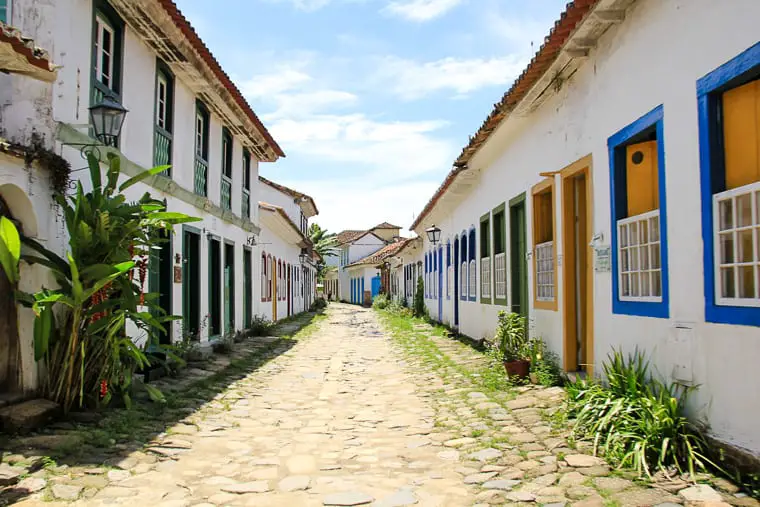 Paraty is a colourful colonial town on the Costa Verde, about four hours by car south of Rio de Janeiro. Nestled between the turquoise ocean and the rainforest-clad mountains, Paraty is one of those places in Brazil where you plan to stay for a couple of days, but end up lingering for a week or more.
The cobbled streets, horses and carts, and painted building facades take you back in time, and the slow pace of life is just what you need after touring around Brazil.
Fishing boats bob up and down in the harbour and jazz fills the streets come dusk, enticing you to head out to discover just what's going on. It's a wonderful place to just kick back and relax, whilst taking in a bit of culture, indulging in the huge array of restaurants, and poking your nose into all the boutique shops and galleries.
By night, stay in an historical posada, and check out the guest book to see which celebrities have also stayed.
If you want to head out on a day trip there's plenty to see and do, from visiting waterfalls and trekking in the forest, to climbing the hill to the fort that overlooks the town.
One of the best things to do in Paraty is take a boat trip around the emerald coastline, stopping at secluded beaches (including one that was used in the famous Twilight series), snorkelling, meeting monkeys and eating lunch at creekside fishing spots.
If you're looking for a few days combining history, beaches, amazing food and a sultry evening vibe, then this is the place in Brazil to do it!
Recommended by Heather of Conversant Traveller
Rio de Janeiro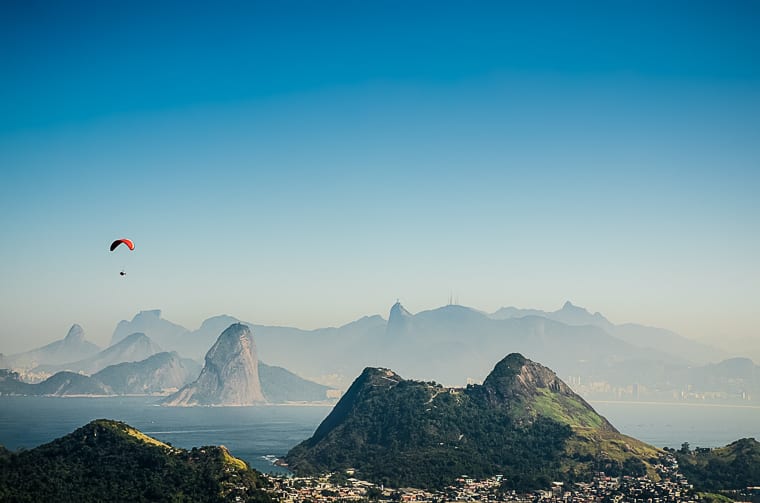 One of the most exciting places to visit in Brazil – and probably the city that most people will step foot in on any Brazil itinerary – Rio de Janeiro has so many things to do that you could easily stay here for a week.
The most obvious attraction – for its size and its astonishing construction – is the enormous Christ the Redeemer statue. One of the most iconic things to do in Brazil is to stand below the outstretched arms of this 30-metre, 630-tonne statue.
Rio's beaches are also famous. Ipanema and Copacabana are always packed, even in winter. They're both great places to get a glimpse into Brazilian culture and catch some sun. Don't forget to try some of the street food and drinks from the carts that line the beaches.
End any visit to Rio de Janeiro with a trip to the top of Sugarloaf, best done at sunset. The views from the top are incredible.
Finally, try to plan your trip to Rio de Janeiro to catch one of the world's largest festivals: Carnival. Drumbeats, skimpy, colourful costumes, parades and fireworks fill the streets for days and it's bound to be one party you won't forget. It's one of the classic things to see in Brazil.
Salvador de Bahia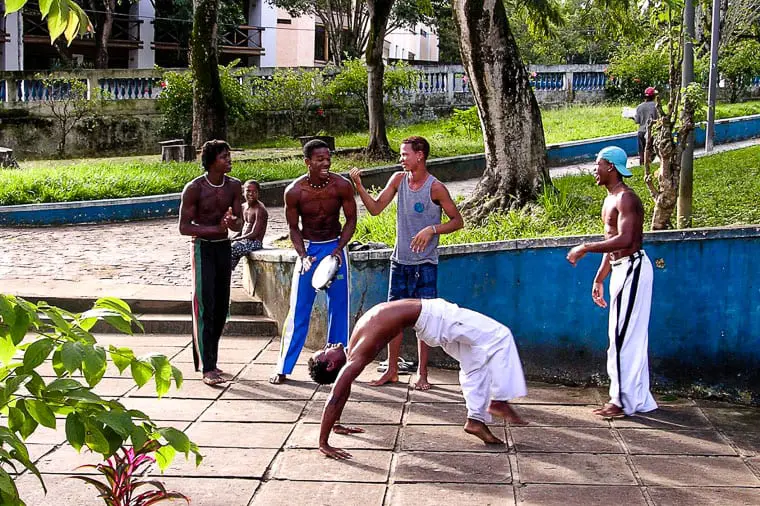 If you're looking for a place with great beaches, but you also want to add history, architecture and wildlife to your trip, Salvador da Bahia is perfect.
Its UNESCO Heritage Site Old Town, Pelourinho, is full of picturesque streets, featuring an eclectic mix of cultures that represents the city and its inhabitants, a blend of Amerindians, Africans and Europeans. You can immerse yourself in the culture, take in the views, dance to capoeira and drink caipirinha from a coconut before you even set foot on a beach. What's not to like?
Salvador is also the ideal place to base yourself and explore its surroundings. If you only have a couple of hours, head to Praia de Itapuã, where composer Vinícius de Moraes wrote 'Garota de Ipanema' ("The girl from Ipanema"). This quick getaway from Salvador is a great place to swim in calm seas and sunbathe next to palm trees.
There are also tonnes of choices for a day trip. In less than an hour you'll arrive in Guarajuba, a former fishermen's village with great sandy beaches and nice restaurants. An extra half an hour will get you to Praia de Forte, home of the Tamar project, a sanctuary that protects sea turtles from extinction. If you visit in January or February, you can see the turtles hatching! Another great day trip is to combine a stop in peaceful Ilha dos Frades and buzzing Itaparica. On this bigger island you'll encounter people dancing and drinking all over the place – everyone is always ready to party.
If you want to see paradise, a boat ride of about 2-3 hours will leave you in Morro de São Paulo. With five long beaches, you'll get to pick how lively or peaceful you want your stay to be. Play around the bright-coloured fish, take a long walk with your feet in the warm Atlantic, have a drink or three, and fall in love with Bahia!
Recommended by Coni of Experiencing the Globe
ESSENTIALS TO BRING ON YOUR TRIP TO BRAZIL
Where are your favourite places to visit in Brazil? Drop your Brazil travel tips in the comments below.
PIN IT FOR LATER: