When I told people I was visiting Amarillo, Texas, many of them stopped, cocked their heads and looked at me quizzically. "Why?"
My response: "why not?" As Australian expats living in Texas, my husband and I have been trying to make the most of our time here. Texas has a culture all of its own and between the cities of Dallas and Austin, the small towns that dot the Texas Hill Country, quirky Marfa and iconic road trips, there is so much to explore.
Amarillo attracted me because it's a slice of old Texas – but with the trappings of a big city. I wanted the history and the stereotypical Texan cowboy town, but with the safety of good restaurants, bars and plenty of things to keep us busy for a weekend. So, if you've ever wondered why anyone would visit Amarillo, here are a few reasons! We discovered a lot of fun things to do in Amarillo!
Don't forget to check out my road trip packing list for 75+ things to take on a road trip.
If you want to save this guide to the most fun things to do in Amarillo, click on one of the images below to save it to Pinterest.
This blog post may contain affiliate links, meaning if you book or buy something through one of these links, I may earn a small commission (at no extra cost to you).
Route 66 ran through Amarillo
You may recognise Amarillo from the famous song "(Get your kicks on) Route 66". Amarillo was the most important town along the Texas section of historic Route 66. While Route 66 no longer exists (it was decommissioned in 1985), it lives on in Amarillo.
You can take photos of the Route 66 signs that dot the 1-mile stretch of 6th Avenue between George and Western streets, as well as explore the antique stores that also line the street. Pick up your own Route 66 memorabilia in one of the many antique stores or find a quirky souvenir in one of the newer shops that have popped up.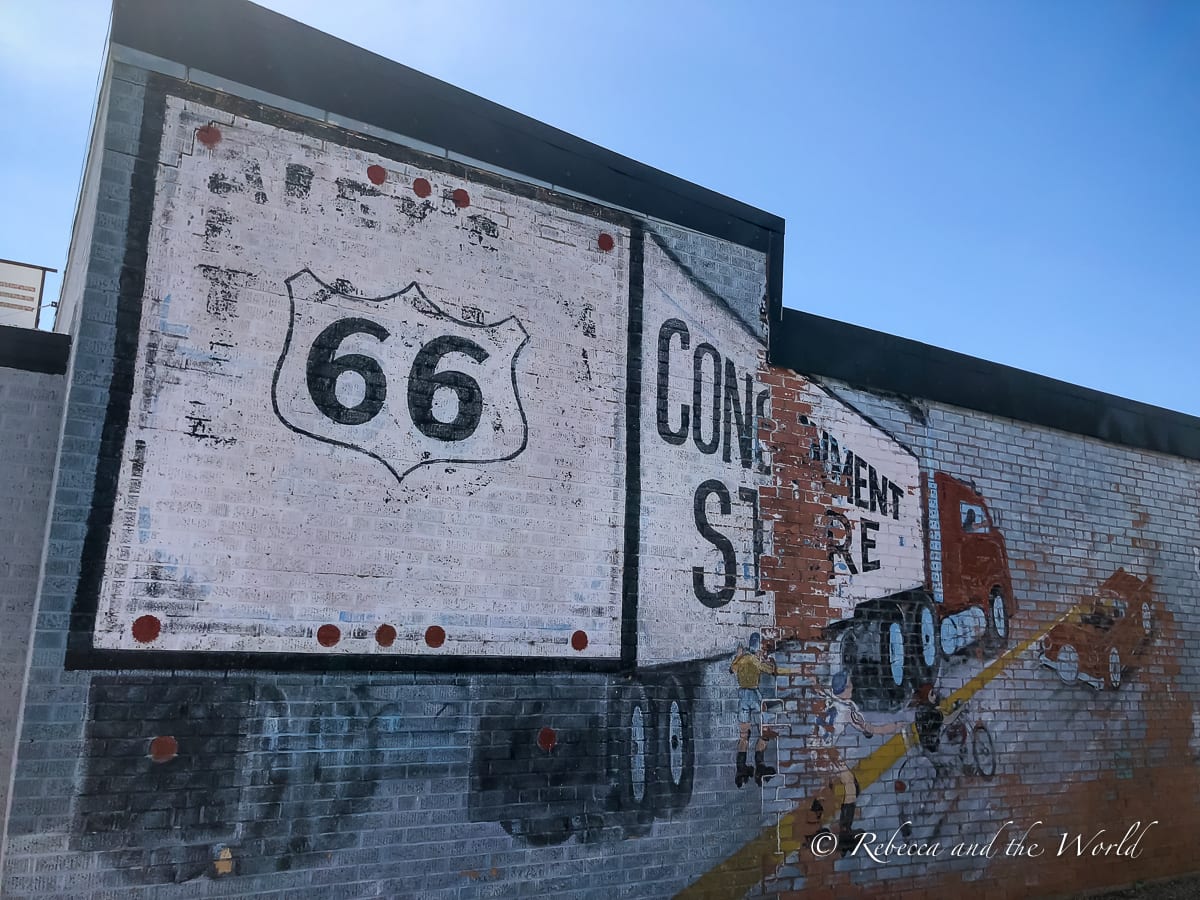 Get lost in the maze that is Alley Katz Antique Emporium (2807 SW 6th Ave) as you sift through the vintage toys, kitchenware, signage and sports memorabilia.
Or for something more modern, The Roseberry (2816 SW 6th Ave) has a range of luxurious candles, locally made condiments and Native American blankets for sale.
It has a good food scene
If you've been following this blog for any period of time, you know I like food. Most of my trips are planned around finding the best eats, and it was no different this time. A quick search for the best restaurants in Amarillo yielded some great options.
We started our Amarillo food adventure at Yellow City Street Food (2916 Wolflin Ave). What started out as a small shack is now a hipster space selling fun street food that's even been featured on the Travel Channel.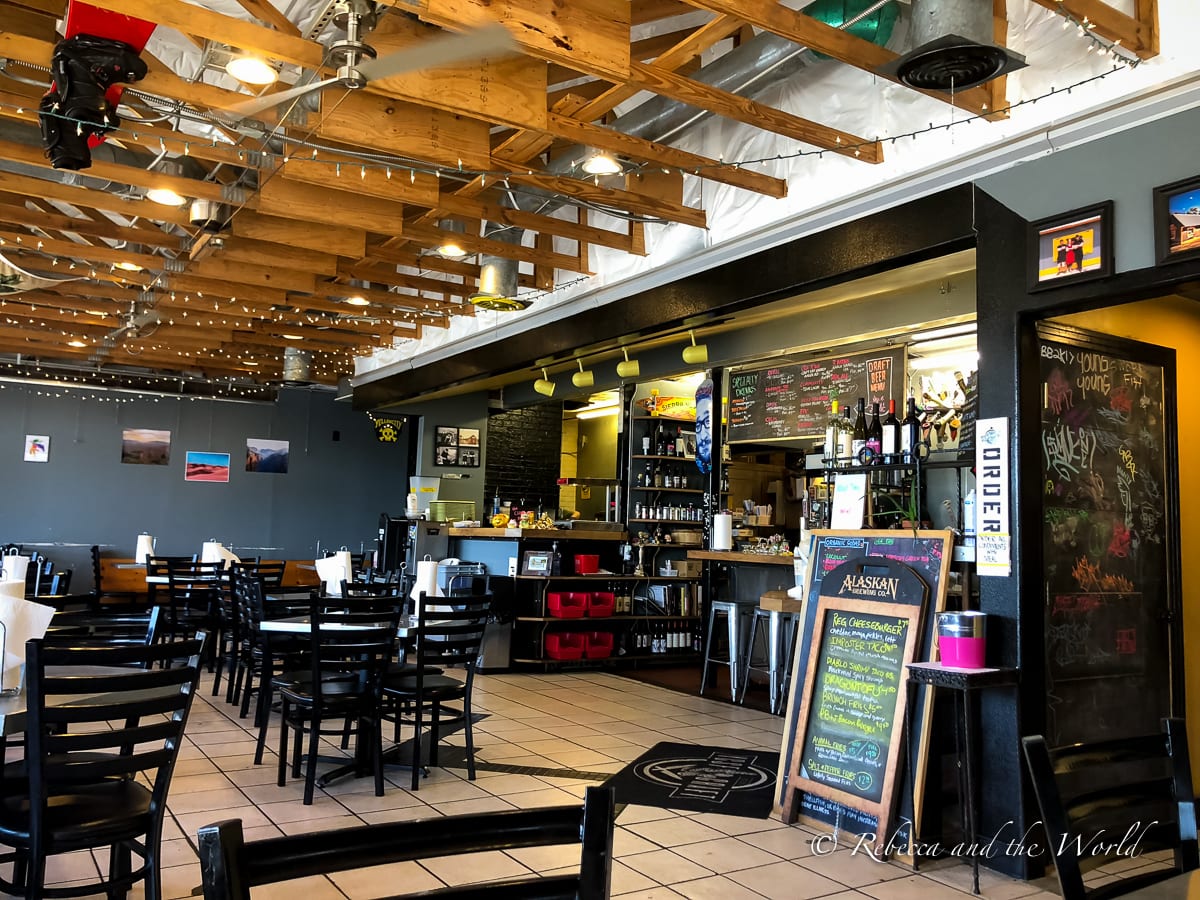 Dinner was at Crush Wine Bar and Deli (627 S Polk St). Housed in an industrial-style space, this is more wine bar than deli. Great service and a modern menu that stretches far beyond the steak and fried food you'll find in most Texas towns.
The Sunday brunch menu at The 806 Coffee + Lounge (2812 SW 6th Ave) rotates regularly, and I had the most delicious migas I've ever tasted. Plenty of egg, cheese and potato in a tortilla, but the pièce de résistance was the crushed blue corn tortilla chips inside. And $4 mimosas. 'Nuff said. It's a cool space that hosts live music and Amarillo's longest-running open mic night.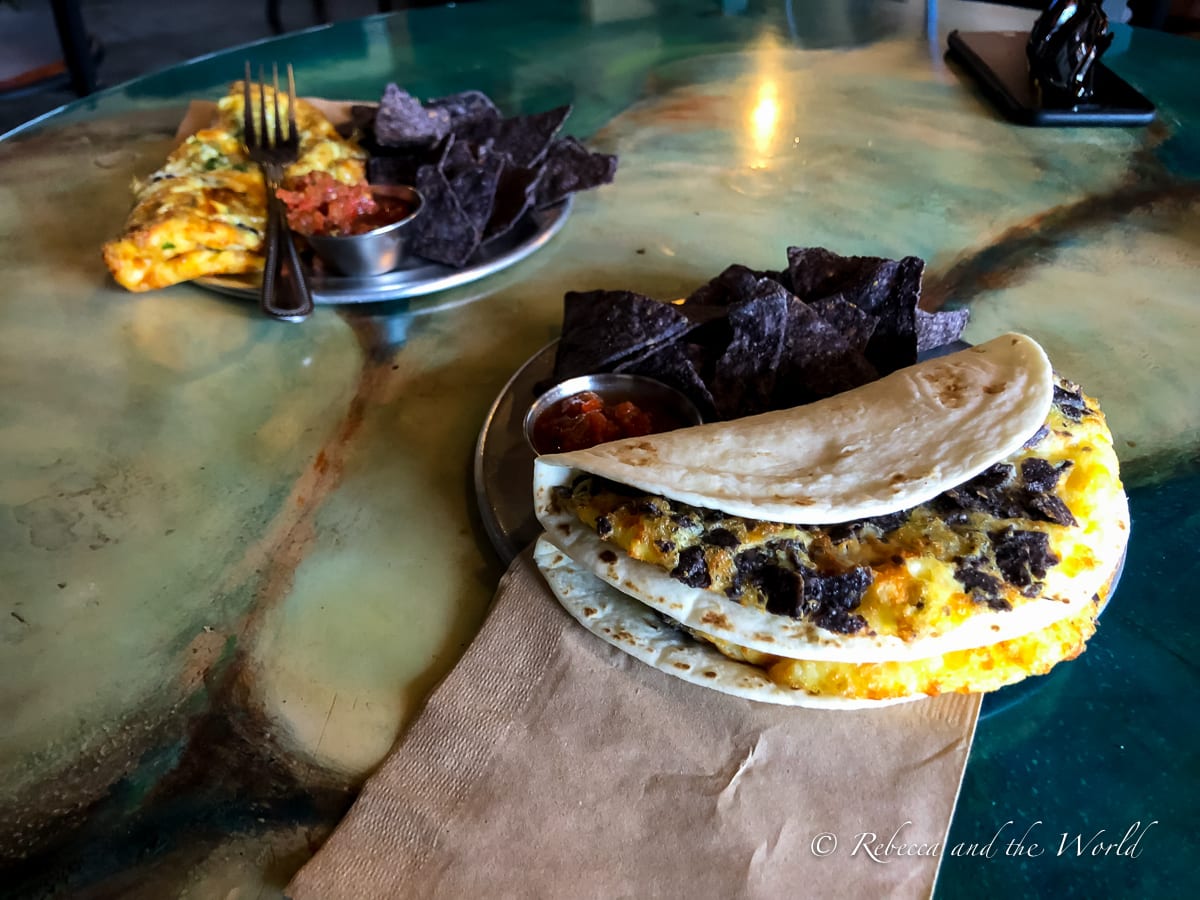 There are cars buried in the sand
Hello, Instagram. One of the most popular Amarillo attractions is the perfect place for your next 'Gram-worthy photo.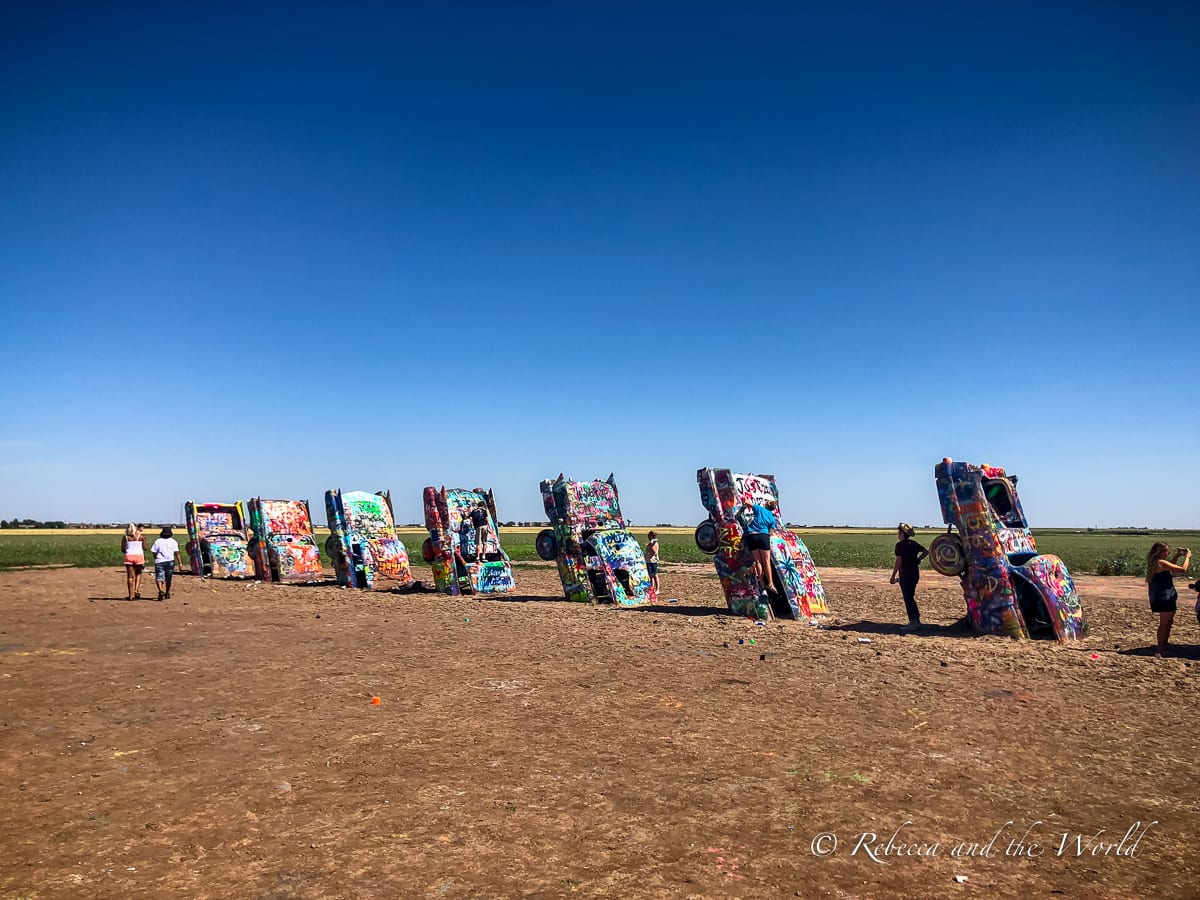 Located on the outskirts of Amarillo, this art installation (free entrance) features almost a dozen old Cadillacs that are half-buried nose-first in the dirt. It was created in the mid-70s by artists who were part of an art group called the Ant Farm, and funded by local millionaire Stanley Marsh 3 (who later was allegedly involved in some shady stuff involving young children, yuck).
You can pick up one of the spray cans on the ground (or bring your own) and leave your own mark on the cars, now thick with decades of graffiti.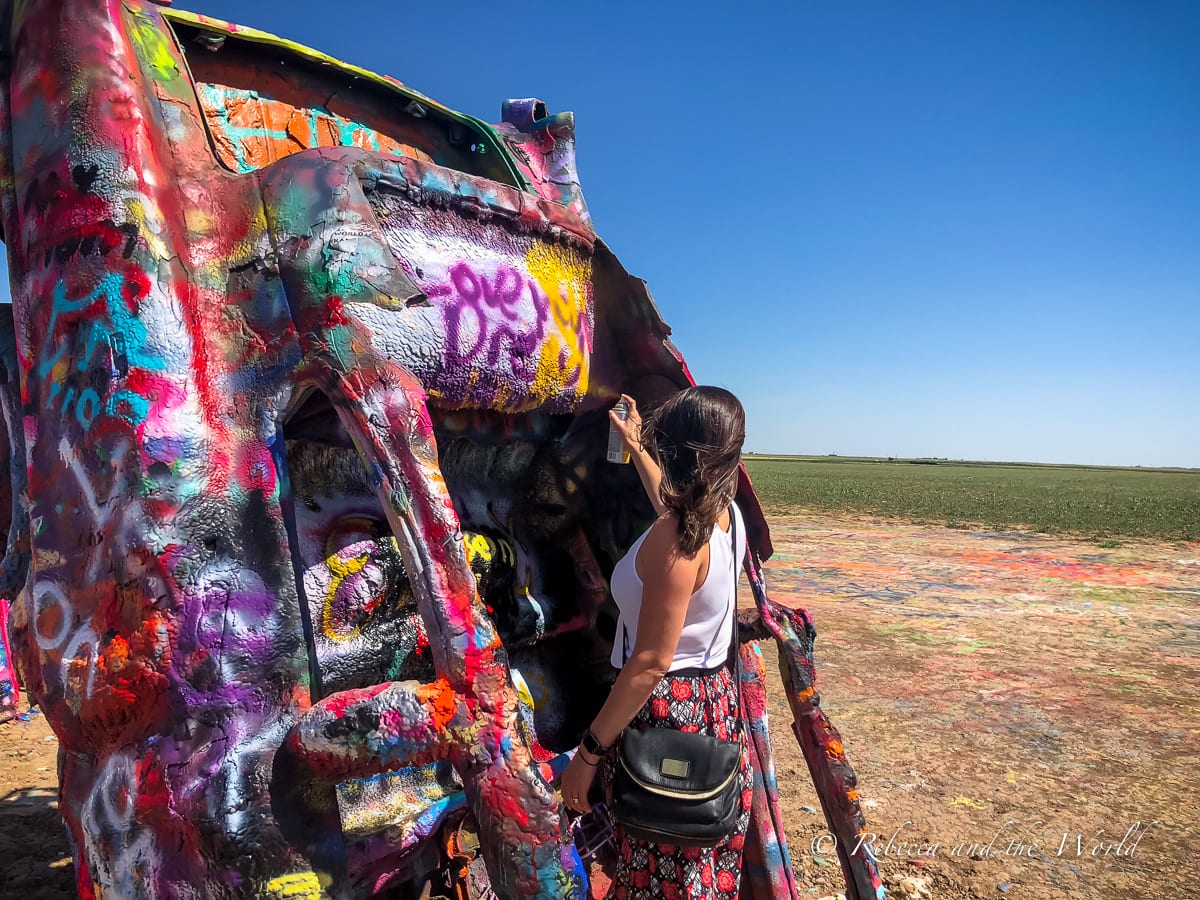 And beautiful art deco buildings
Wandering down Polk Street after dinner, I was surprised to see so many gorgeous art deco buildings. The Santa Fe building, an old theatre (a gorgeous building that's now a Marriott hotel), the local courthouse and many more are all beautifully maintained.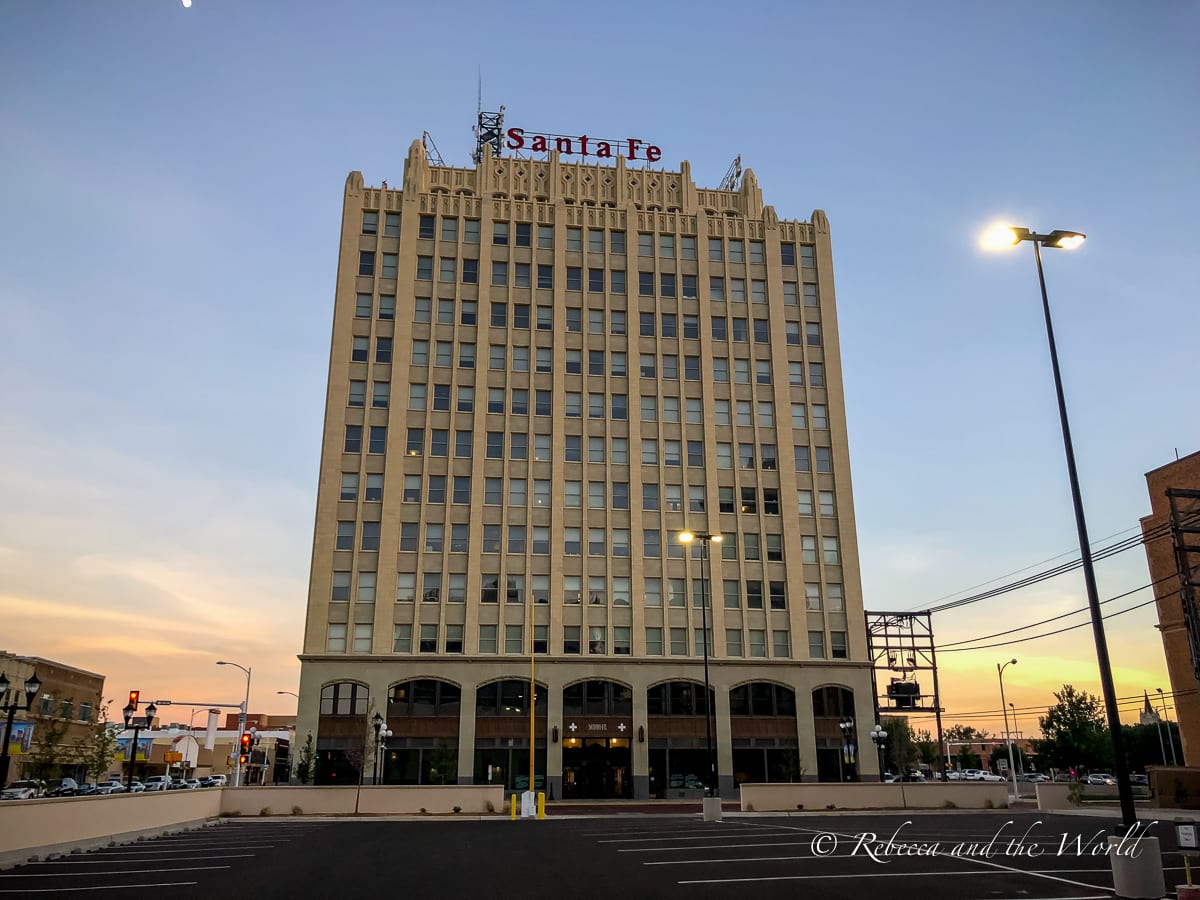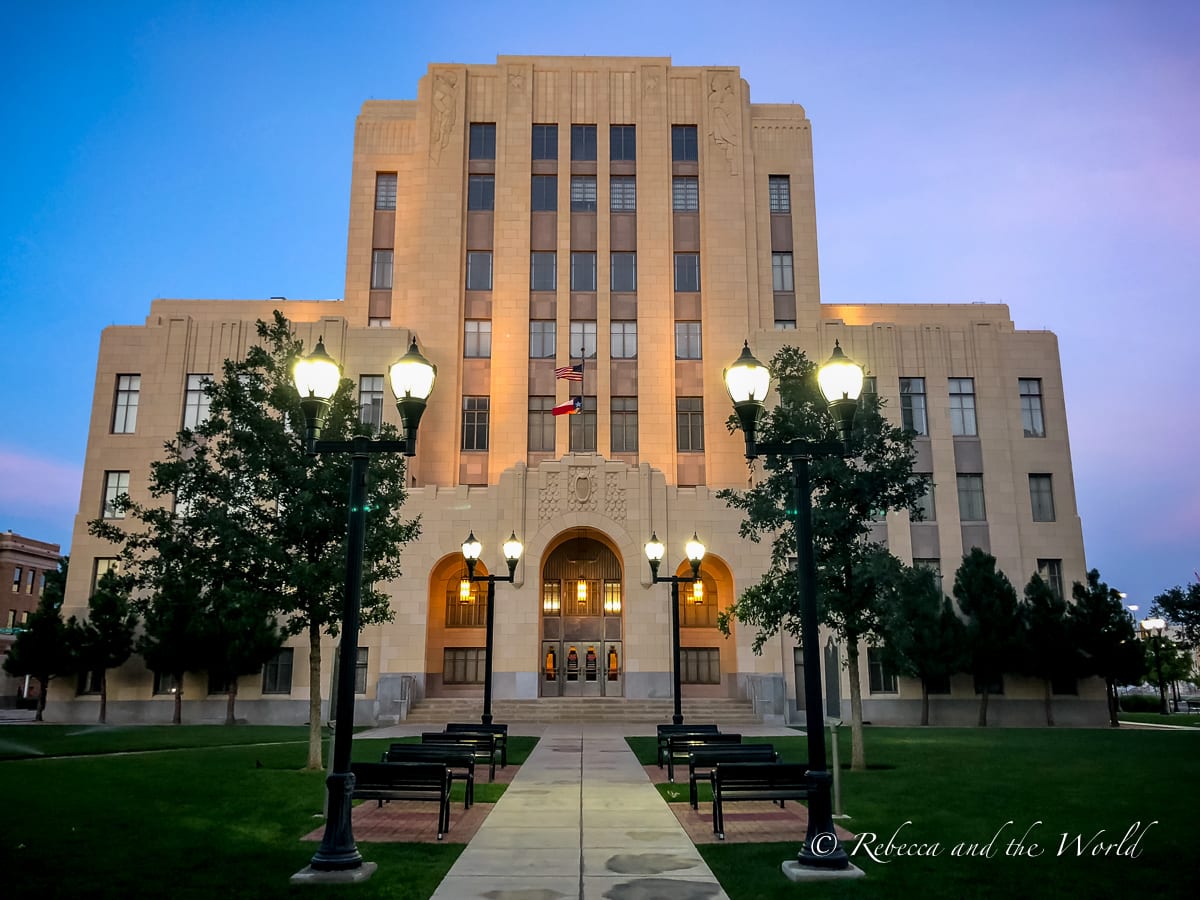 It has an awesome state park
We've visited quite a few national parks now, but Palo Duro Canyon State Park was our first state park. It's only a 30-minute drive outside of Amarillo. ($8 entry fee per person.)
Nicknamed Texas's Grand Canyon, it's 120 miles long, 6 to 20 miles wide and more than 800 feet deep. That compares to the Grand Canyon's 277 miles long, 8 to 18 miles wide and a mile deep.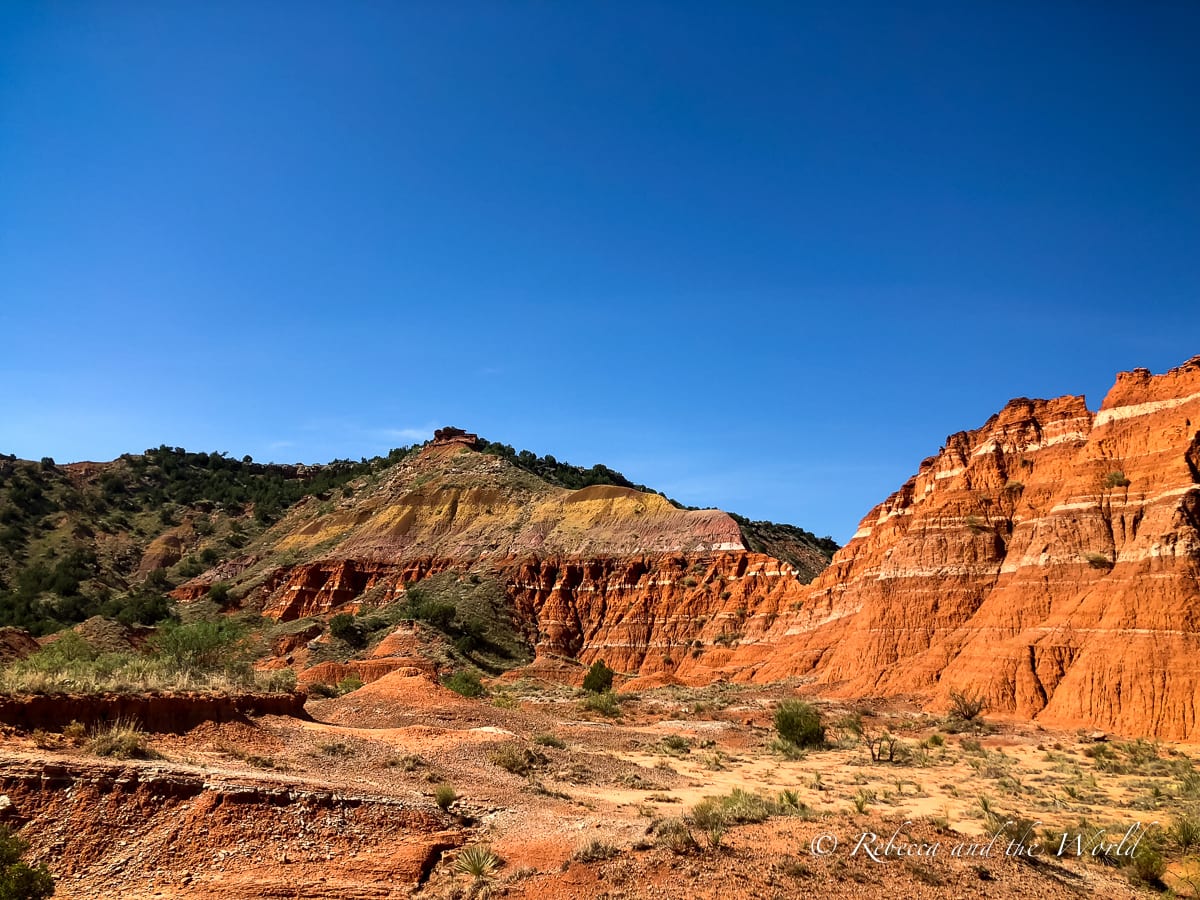 We set out early one morning so we could attempt to avoid the hottest part of the day. Because we visited in summer, it was freaking hot. I wouldn't recommend going hiking at this time of year. It would be way better to explore the park in spring or autumn. And while it was cooler in the morning, we were still dripping in sweat as the temperature hovered at around 30°C by 9 a.m.
We hiked the Lighthouse trail (2.72 miles one way, moderate hike), the park's most popular trail that leads to the Lighthouse rock formation.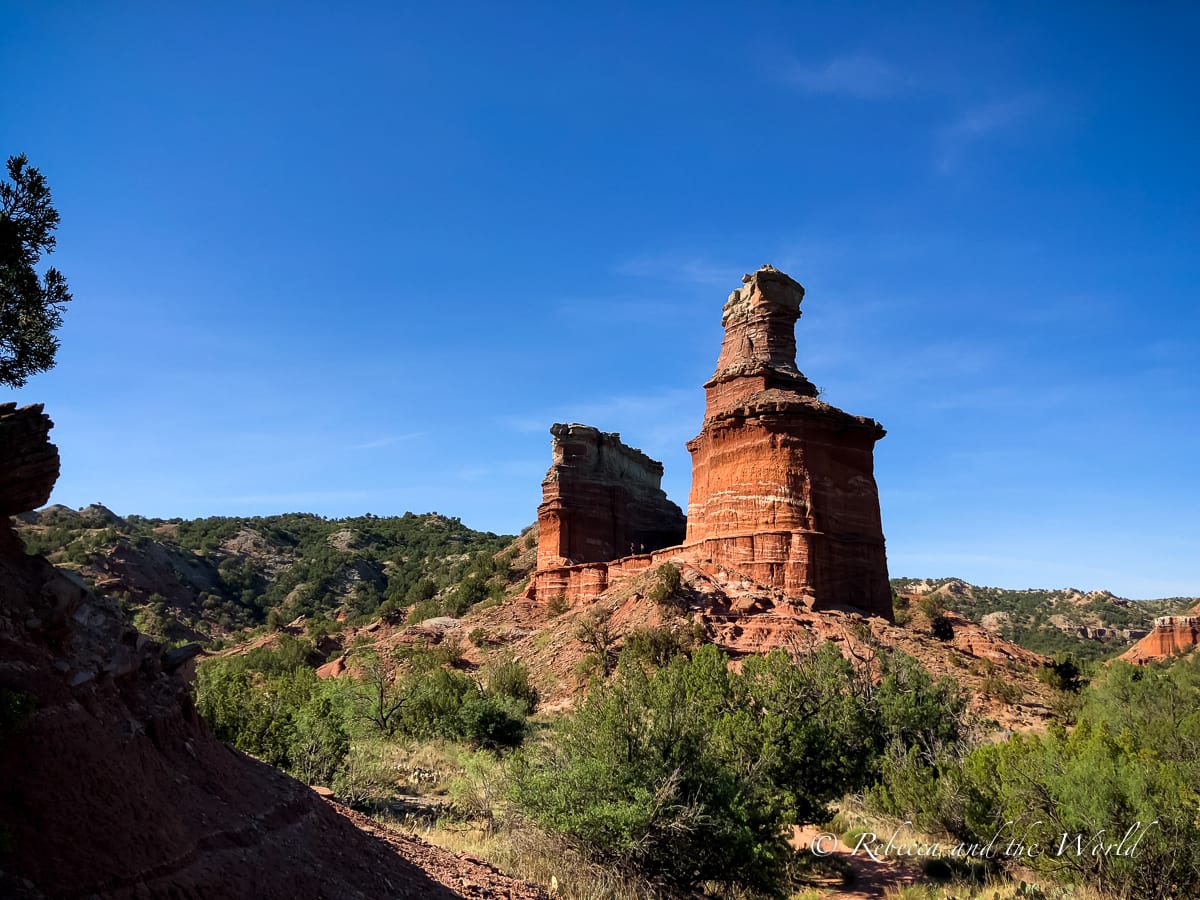 The rich, red dust along the way reminded me of the earth in the Australian outback.
We saw mountain bikers and horse riders along the way, as well as people walking their dogs. When we reached Lighthouse rock, we could climb up to a flat part for spectacular views out. The 94-metre-high rock is a National Natural Landmark.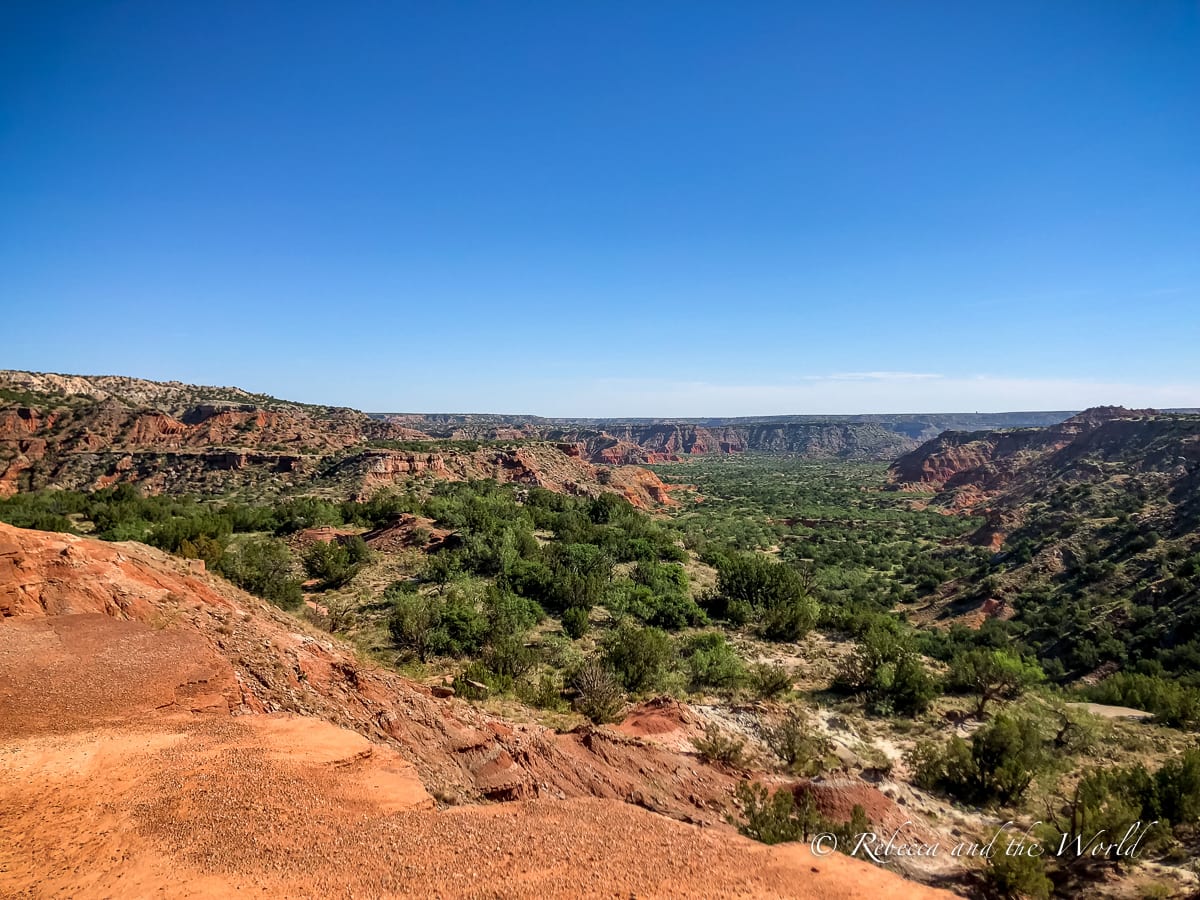 Other than the draining heat and the nasty march flies that nipped at us as the sun rose higher, it was a great walk. When we returned to our car after our hike, there were rangers handing out cold bottles of water – so it's also possibly the friendliest state park in the country!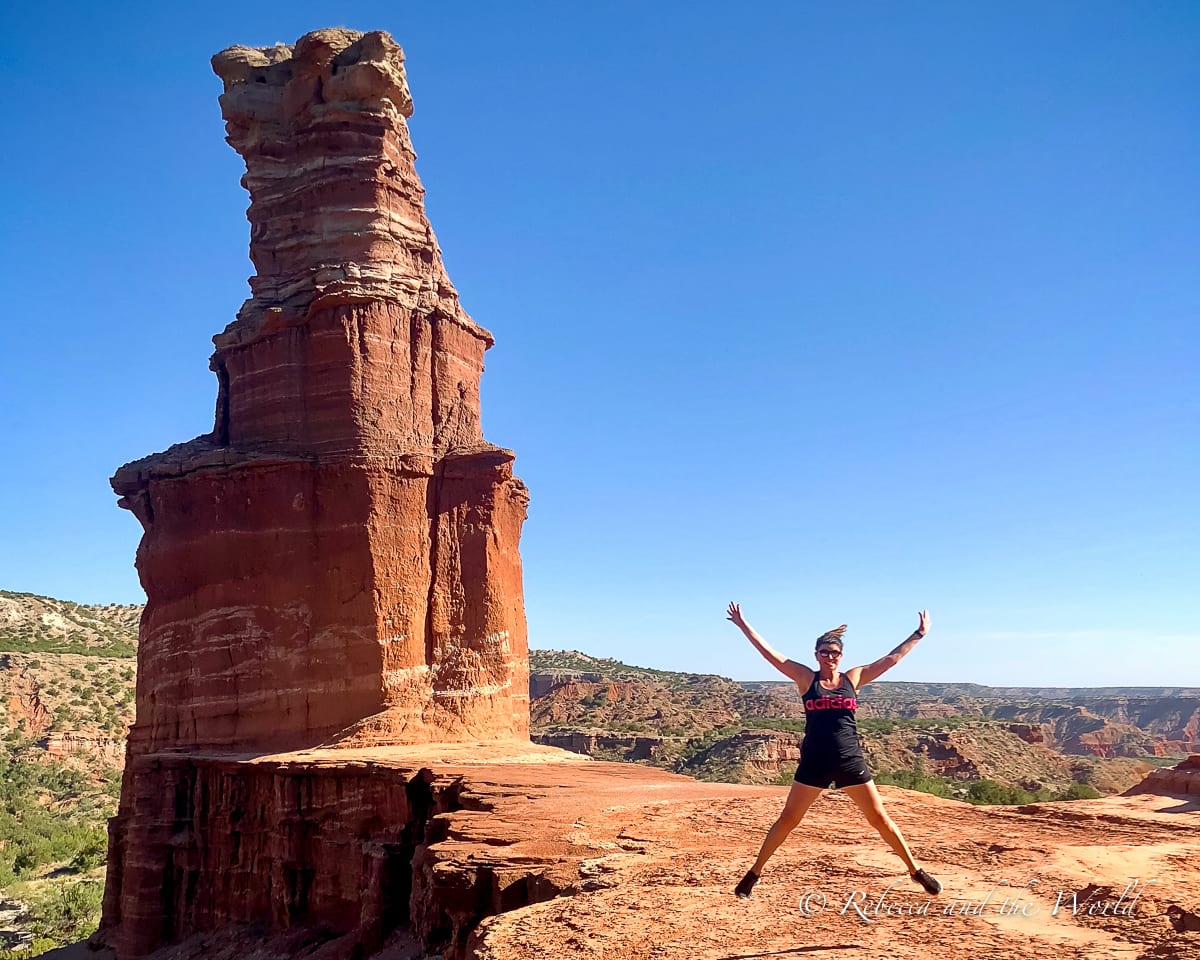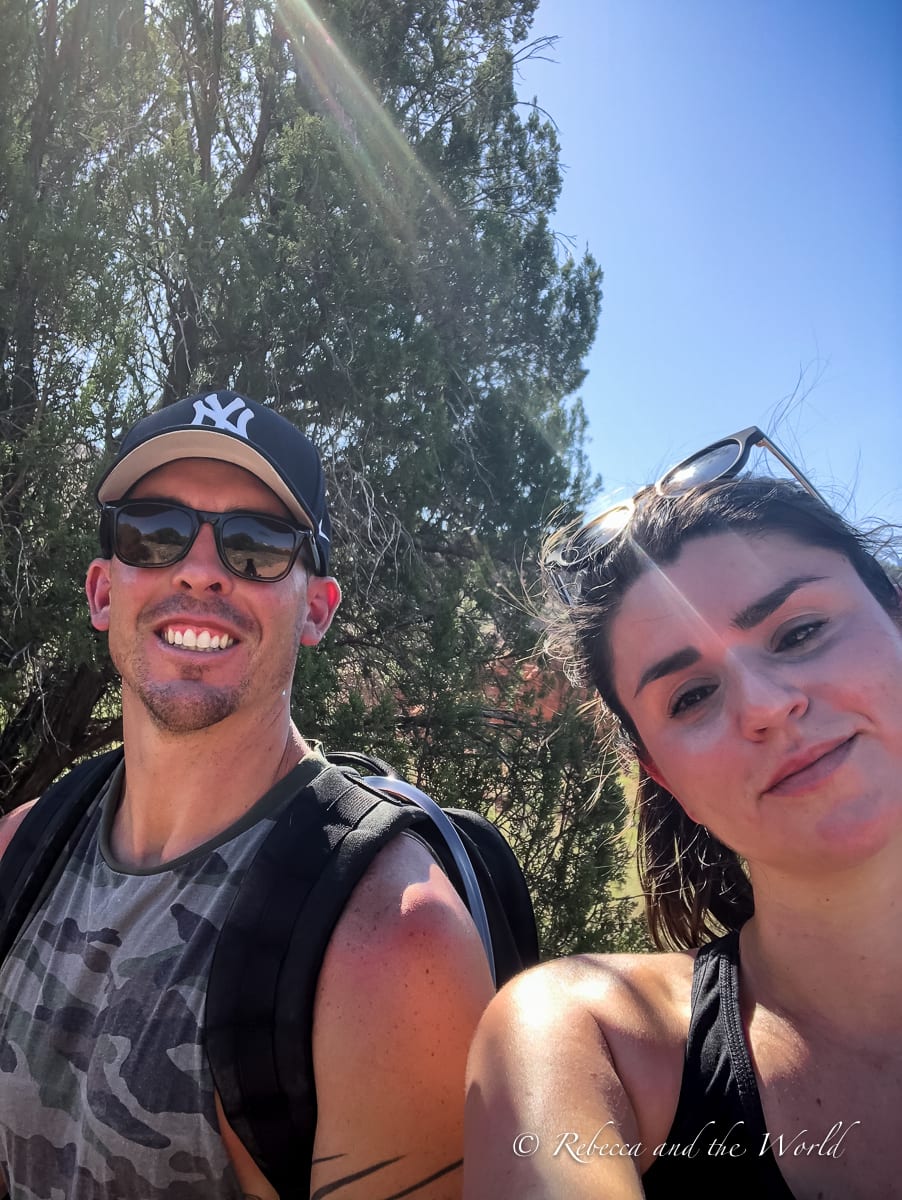 If it hadn't been so hot, I would have loved to do a few other Palo Duro Canyon hikes:
CCC trail, 1.43 miles one way, difficult – descends to the floor of the canyon
Rock Garden, 2.39 miles one way, difficult – climbs 200 metres from the bottom of the canyon to the rim
Juniper / Riverside, 1.07 miles one way, moderate – has colourful rock formations and is a flat trail
Paseo del Rio, 1.03 miles one way, easy – follows the river and has a cowboy dugout you can visit
Rojo Grande, 1.17 miles one way, moderate – one of the few shady trails in the park
I'd love to come back and stay at Dove's Rest Cabins, which sit above Palo Duro Canyon. Would be a beautiful view to wake up to!
You can eat a 72-ounce steak – for free!
The one thing people did mention when I said I was going to Amarillo: the steak at the Big Texan. This steak-eating challenge is legendary throughout Texas.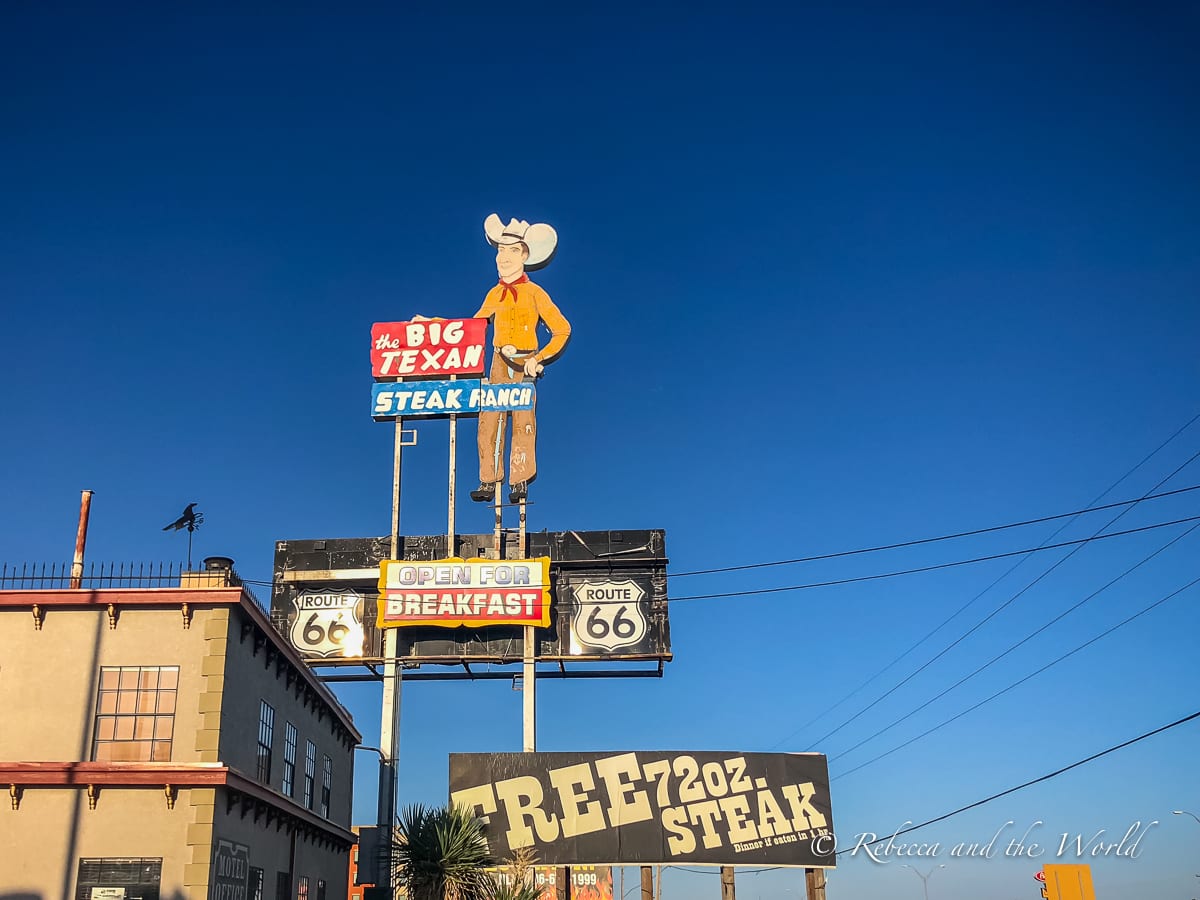 Challengers sit at a table on a small stage in the front and centre of the restaurant. The challenger must eat 72 ounces of steak, a baked potato, shrimp cocktail, salad and bread roll with butter in under an hour. If you can do it, the meal is on the house, if not, you have to cough up $72.
Do it if you dare!
There was one challenger the night we ate there. We left before he finished, so we don't know if he was successful, but he looked like he was struggling, with 40 minutes still to go!
Bonus reasons to visit Amarillo!
With only a weekend in Amarillo, we didn't get through everything I had on my to-do list. There are of course a few more reasons to visit Amarillo if you have more time.
Another bonus tip: if you're driving from Dallas to Amarillo, you HAVE to stop at the Pecan Shed at the Exxon station just outside of Wichita Falls. As well as somewhere handy if you're running low on petrol, this place has the best fudge I have ever tasted in my entire life. Seriously. Thanks Ashley for the tip!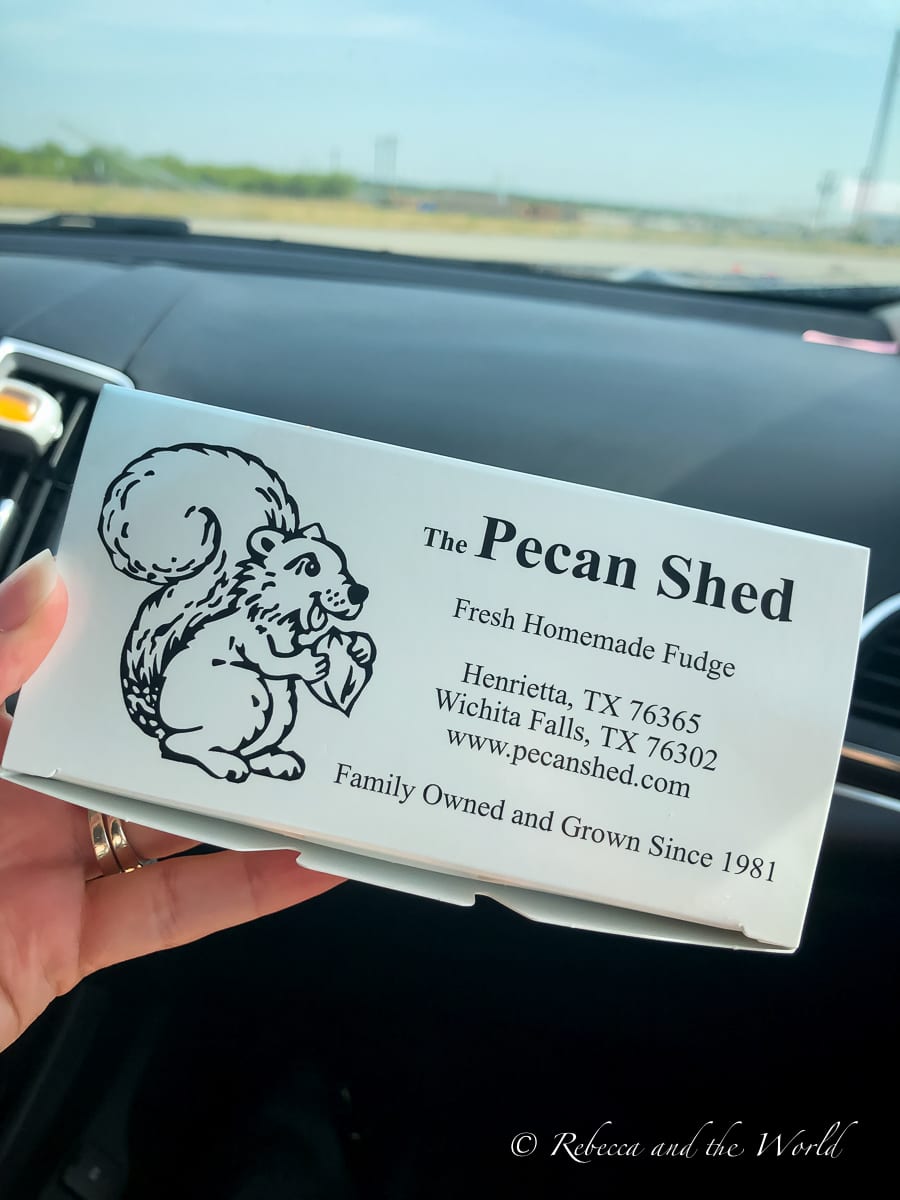 Tips for visiting Amarillo
After visiting Amarillo, I'll impart some wisdom about how to visit the city right. Here are a few of my tips:
If you're coming for the weekend, stay Friday and Saturday night (rather than Saturday and Sunday nights). Places close early on Saturdays, so you want to make the most of the day. And Sundays are pretty quiet – a lot of restaurants are closed as well as shops and museums.
Avoid summer if you can. Amarillo is in the centre of the Texas Panhandle, where the Great Plains meet the desert. Stepping outside in Amarillo in the height of summer is like stepping into an oven.
A car is a must! Like the rest of Texas, there's just no way to get around Amarillo without your own car. We drove up from Dallas so had the comfort of our own vehicle.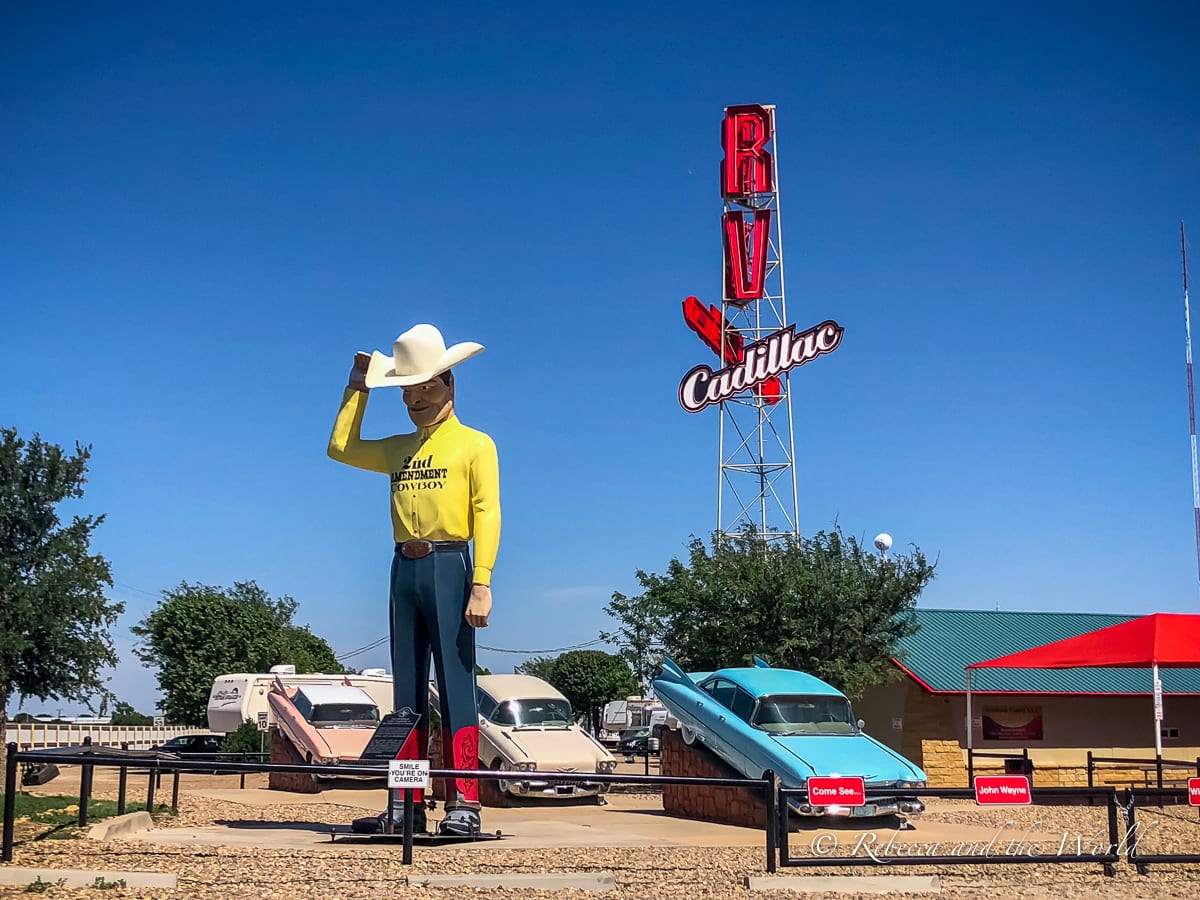 Where to stay in Amarillo
The Airbnb we stayed in unfortunately isn't available to rent online any longer, which is such a shame! But I've found a few other alternative options:
If you'd prefer one of the many hotels in Amarillo, you can see options and book online here.
How to get to Amarillo
By road, Amarillo is located on the I-40, and is 362 miles from Dallas, 596 miles from Houston, 284 miles from Albuquerque and a whopping 1,530 miles from New York City. It took us around 6 hours to drive from Dallas to Amarillo with stops along the way.
You can fly into Amarillo International Airport, which is serviced by the major airlines. Fun fact: the Space Shuttle landed at Amarillo's airport twice! You'll want to rent a car while you're here to get around easily.
VISITING AMARILLO – YOUR TRIP ESSENTIALS
If you've visited before, what are you favourite things to do in Amarillo? Leave your tips and comments below!
This post was published in August 2018, and was updated in June 2020.
PIN IT FOR LATER: