Whether it's for Valentine's Day or a milestone anniversary, or you're trying to impress a first date, there are plenty of romantic restaurants in Dallas for all occasions.
My husband and I always make an effort to plan a date night at least once a fortnight, and we like to mix it up between casual spots and fancier dining throughout Dallas.
Luckily, there's no shortage of date night restaurants in Dallas to keep the romance alive! Read on for this list of my favourite Dallas date night options.
Lucia
Lucia is my absolute favourite restaurant in Dallas. The cacio e pepe here blew my tastebuds. The menu changes regularly which makes each visit different and exciting.
It's a cozy little place with memorabilia on the walls. For a restaurant where you need to book two or three months in advance, the staff are ridiculously friendly and welcoming. This is one of the best places to eat in Dallas if your date is a foodie.
Visit the Lucia website to make a reservation online
Sassetta
The retro-glam dining room in the Design District will impress any design lover. The menu features a range of inventive cocktails and modern Italian dishes. Pizzas, pastas, fresh Mediterranean flavours and rotating specials – think red wine-braised beef cheeks with polenta – will have you struggling to make a decision.
St Martin's Wine Bistro
A little old-fashioned? Maybe. But if you ignore the rundown strip mall this wine bar and restaurant is tucked into and look past the old-world decor you'll find sublime food and service.
Slide into one of the intimate booths and sway along to the pianist tapping away in the corner. The cuisine here is French, with a lean toward seafood, and the staff know their wines.
You must order the signature champagne brie soup to start.
Gemma
Gemma is known for its great cocktails and simple, sophisticated food. While you're perusing the menu, the waiters will bring over a basket of delicious homemade breads, which is something I don't see a lot of in Dallas restaurants.
Service is on point, enthusiastic but not in that in-your-face kind of way.
Town Hearth
This has to be one of the swankiest restaurants in Dallas, with the decor to match. Dozens of chandeliers hang from the ceiling, and a tank in the centre of the dining room holds a real minesweeping submersible.
You can order pretty much anything from the extensive menu, including the "tots du jour", which was the real reason I went there. Tater tots covered with Alaskan King Crab and then smothered with hollandaise? Yes please.
Sachet
There are plenty of good restaurants in Dallas, but Sachet takes it further with its exceptional food.
From the team behind Gemma (see above), this restaurant can only be described as stunning. High ceilings and understated neutrals draw the eye toward the floor-to-ceiling glass wine cellar.
The menu is Mediterranean with dozens of dishes – most featuring tonnes of fresh vegetables – all designed to be shared. A gorgeous spot for a romantic dinner.
Uchi
This sleek restaurant attracts Dallas's elite, but the service remains friendly and approachable.
The modern Japanese menu features fresh produce, and Uchi prides themselves on sourcing products that are traceable. If you can't make decide what to eat (like us), opt for the omakase menu and leave it up to the chef.
Sixty Vines
It's big, it's usually loud, but it's a great place for a first date or an anniversary when you're not keen on a fine dining restaurant in Dallas.
Sixty Vines made a great decision when they brought their fresh, modern food to Uptown Dallas with their second restaurant. This comfortable restaurant is always packed with people gorging on the delicious food (I could eat one of the whole roasted cauliflower heads all to myself) and slurping down the wines on tap.
Make a reservation at SixtyVines online
Mot Hai Ba
This small, unassuming restaurant in Lakewood is one of Dallas's secret gems. Serving up the best Vietnamese food across the city in an intimate, no-fuss setting, it's a great restaurant to book if your other half is a foodie.
Top tip: If it's on the menu, make sure to order the stuffed, deep-fried zucchini flowers.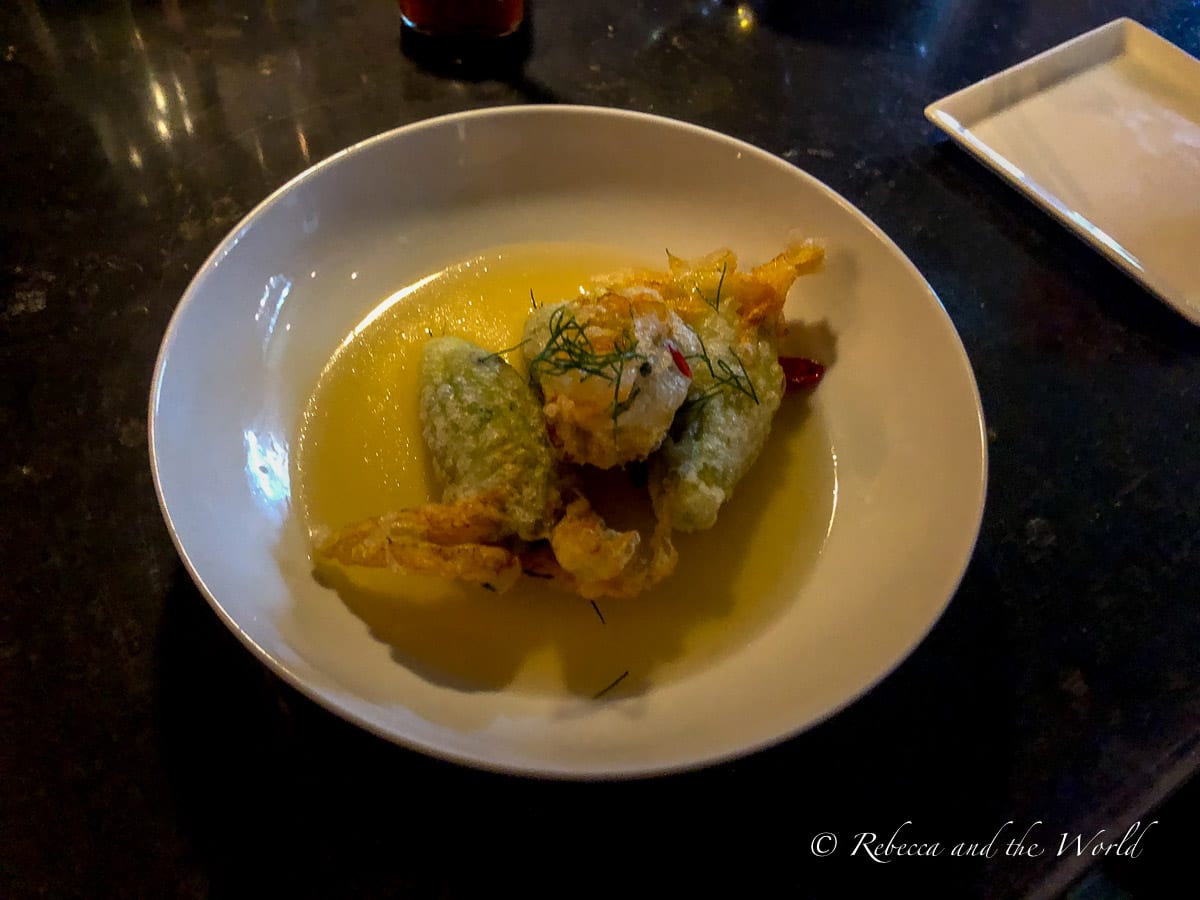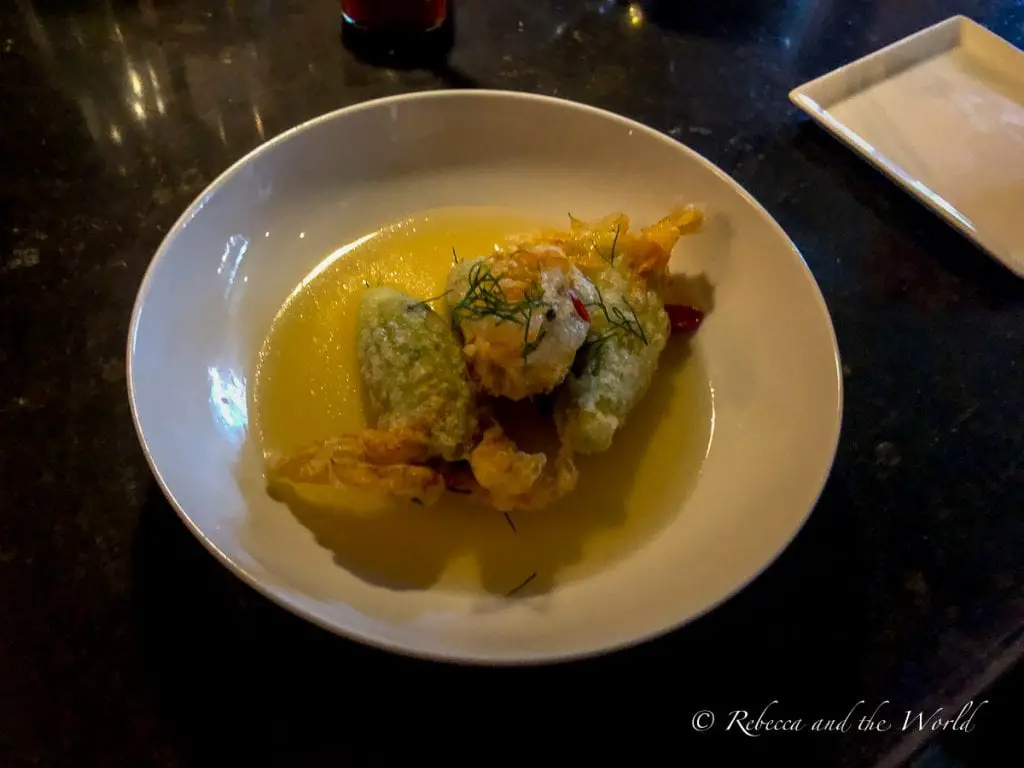 The French Room
The French Room screams elegance and sophistication, and is regularly labelled as one of the most romantic restaurants in Dallas.
As the name suggests, the menu at this fine dining restaurant in Dallas is French with a touch of Texan. Save this one for a super special occasion or if you really want to wow your date.
Make a reservation at The French Room | View the menu
Jalisco Norte
If you're in the mood for modern Mexican, schedule a date night at Jalisco Norte. Executive chef José Meza has worked at some of the best restaurants in the world, and he brings his love for his homeland's food to this stylish Oak Lawn space. The menu is extensive so grab a few dishes to share with your sweetheart.
City Hall Bistro
This sophisticated bistro in The Adolphus Hotel is not your usual hotel restaurant. The gorgeous interior catches your eye the moment you step in, and then the menu will have you salivating.
Share from the range of Mediterranean-style tapas, or go large and grab something from the main menu. It's a lovely choice for date night in Dallas.
Tei-An
There's no shortage of fancy restaurants in Dallas, and Tei-An is up there with the best.
Step inside this hushed, muted space for Japanese food that will blow your tastebuds. Grab a seat at the bar area and let the rock garden and fountain soothe you. Tei-An is one of the few places in the United States that makes fresh soba noodles on site.
Leela's Wine Bar
Looking for something casual? Not sure if you want the date to turn into dinner? Pop into Leela's in Lower Greenville and grab a few glasses of wine and see where the evening takes you. The wine selection is great, there's a cocktail bar upstairs, and there's a range of light tapas to nibble on.
The Lounge Here
This cosy bar styled as a retro airline lounge is perfect for a relaxed date. The Lounge Here is a chilled space that's always playing great music.
The menu features Southern favourites like shrimp and grits, fried chicken and deviled eggs.
What are your favourite romantic restaurants in Dallas? Share your Dallas date night ideas in the comments below.
PIN IT FOR LATER:
If you want to save this guide to Dallas's most romantic restaurants so you can read it later, click on the below images to pin it to Pinterest!