Looking for a guide on how to go tubing in New Braunfels, Texas? I got ya covered!
Can you think of anything more fun than floating down a crystal-clear river on a hot summer's day, a drink in your hand, with your besties by your side?
Nope? Didn't think so.
River tubing is one of the most fun things to do in Texas, and the town that takes the crown for tubing in Texas has to be New Braunfels. It has not one but TWO rivers to relax on.
We had an absolute ball tubing down the river in New Braunfels, and I highly recommend it for everyone, regardless of age.
This guide to everything you need to know about tubing in New Braunfels will set you up for a day of fun. It includes everything I learned along the way – and I'm sharing it so you can be as prepared as possible for your tubing experience!
This blog post may contain affiliate links, meaning if you book or buy something through one of these links, I may earn a small commission (at no extra cost to you).
Where to go tubing in New Braunfels
There are many places to go river tubing in Texas, but we love New Braunfels because, as I mentioned earlier, it has TWO rivers! It's also a lovely little town that's great for a weekend trip away, as there are plenty of other things to do in New Braunfels when you're not having fun in the water.
New Braunfels is a town of around 85,000 people located in the gorgeous Texas Hill Country. It's about 4 hours drive from Dallas and only 50 minutes from Austin.
There are two rivers in New Braunfels: the Comal and the Guadalupe. Both are spring-fed, so they are deliciously cool on a hot summer day. You can float on tubes down either river to tick off this USA bucket list activity.
The Comal River winds through New Braunfels and around Schlitterbahn waterpark. Locals bill it as the "longest shortest river in the world" because it's the shortest river in the country. It's only 2.5 miles (4kms) long and floating down here will take you 2-3 hours. The best part about Comal River tubing is the fun chutes that divert around the dams – they're like mini waterslides! The Comal River is super easy to get to, and there are a couple of bars and restaurants on the river bank that you can stop at along the way.
The Guadalupe River is known as the party river – here you'll find college students and people looking for a good time. Trip lengths vary from 2 hours to 5-6 hours for the longest route. There are some rapids along the river to keep the excitement levels up.
We prefer to float the Comal River because the chutes are so fun. 
Whichever river you choose, you're going to have a great time.
One thing to note is that it can get very crowded – as you can see from my photos. Floating during the week is far quieter, as is floating at the start and end of the season. We were there on the 4th of July long weekend which meant hectic crowds!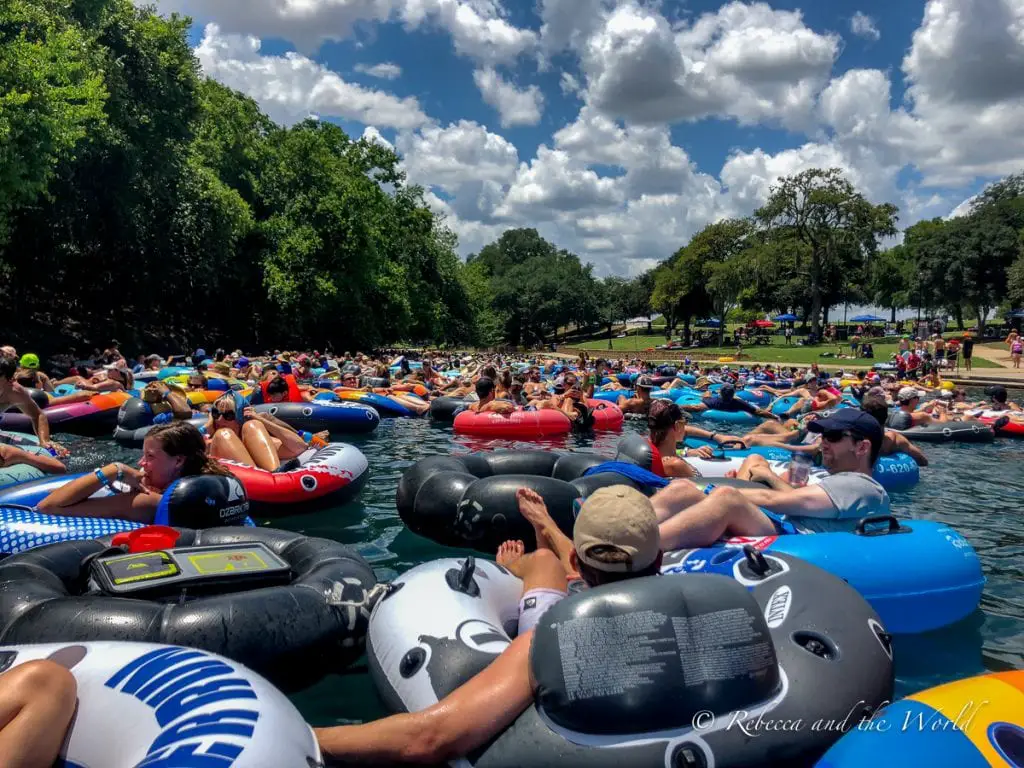 Choosing a company for floating the river in New Braunfels
You can either go with a tubing company or float the river by yourself. Unless you're a resident or you've been floating the river in New Braunfels for years, I'd recommend finding an outfitter to organise everything for you. It makes the trip so much easier and means you won't have to bring a whole lot of stuff with you.
Tubing companies will provide tube rentals and shuttle you to and from the river access points. Some hire out coolers, life vests and other essential equipment as well. You'll pay $20 to $30 per person so it's also a pretty cheap day out.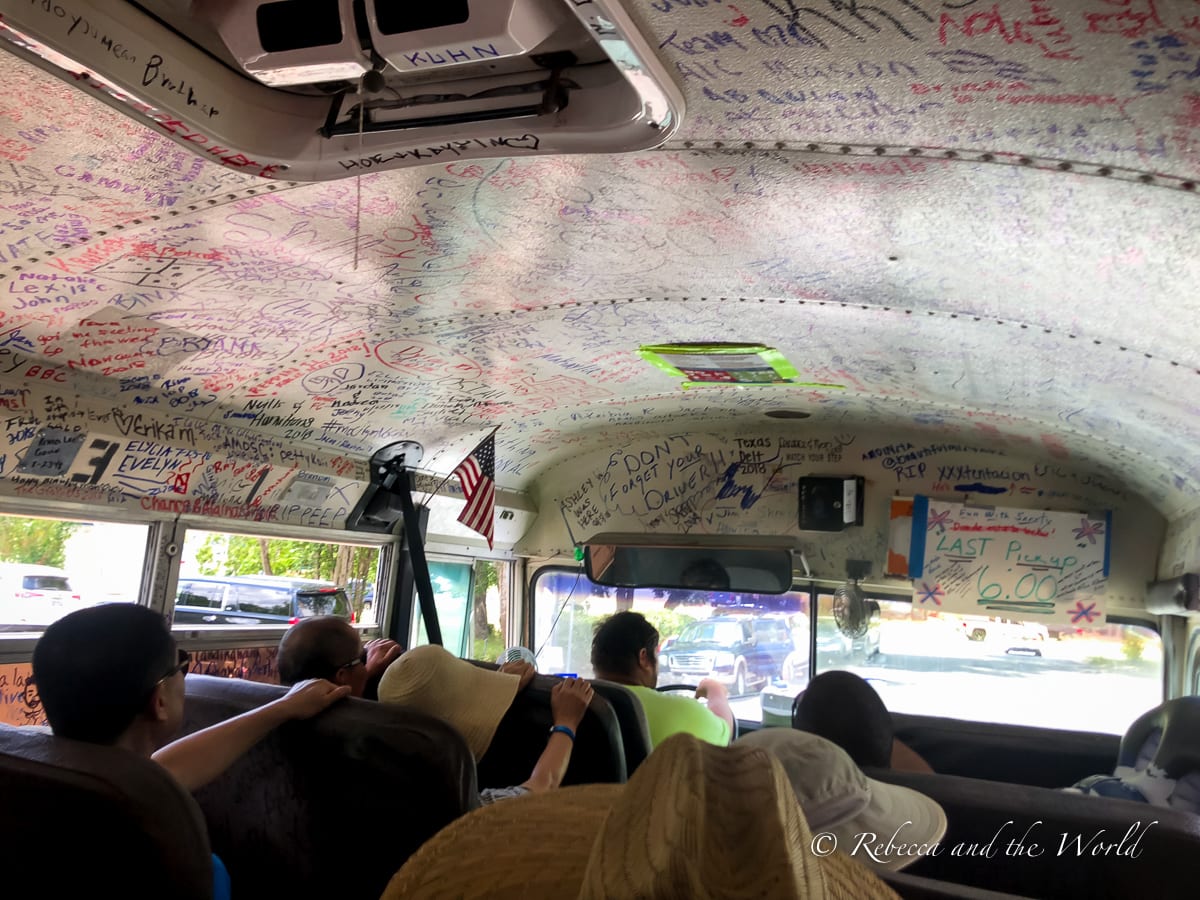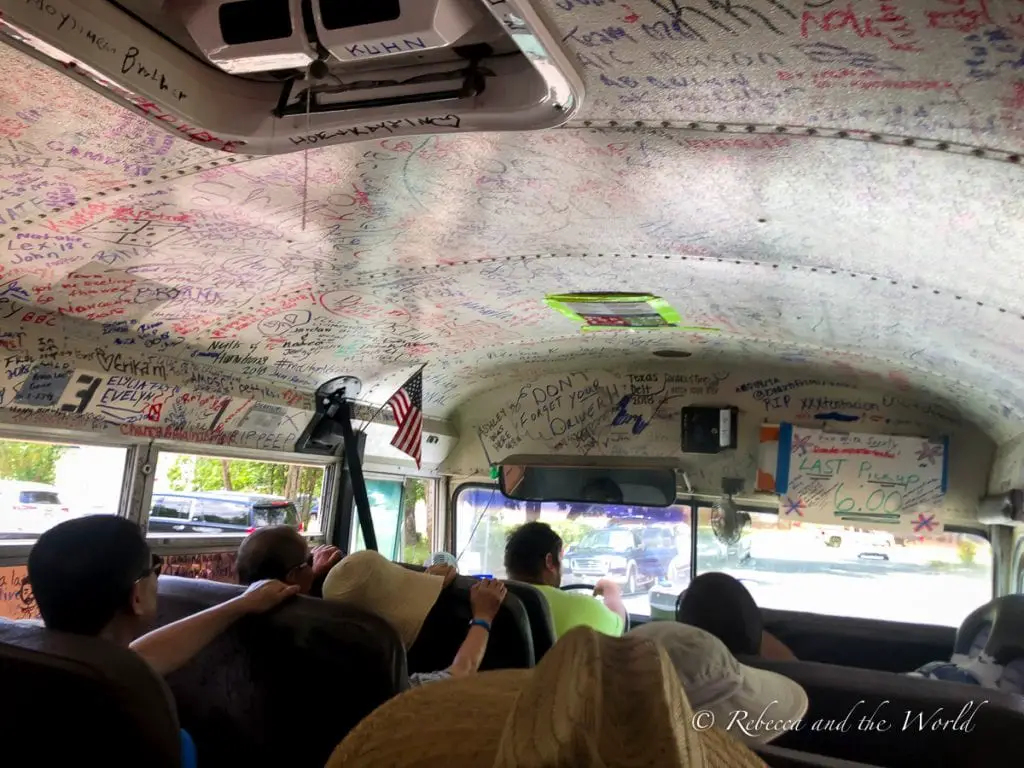 Reserve ahead if you can, to save time and to make sure you do actually get a tube during the busy weekends. Most of the tubes were gone by the time we arrived to pick up our tubes from the company we'd booked with. I'd recommend hiring river floats with a bottom if you can, as they do provide a bit more comfort.
Pick your company carefully. We had a sort-of-bad Comal River tubing experience with a disorganised company with staff that weren't very helpful, even though we'd booked ahead online. Read the online reviews carefully.
Some of the recommended tubing companies in New Braunfels include (I haven't listed the company we used here):
These are just a few of the companies in operation. River outfitters organise trips on both rivers or they're experts on either the Comal or Guadalupe River, so check this out as well when you're making your choice.
If you want to go it alone, you'll need to do a lot more planning: buy a tube, figure out parking, know where to find the river access points and then get back to your car when you're done floating. In my opinion, it's far easier to have someone do all the organising for you.
New Braunfels river float: Rules of the river
Your New Braunfels river tubing experience will be so much more fun if you follow a few rules. The rules change regularly, so make sure to do you research beforehand. This is a good site to stay up to date. The company we used did not have the latest information on its website, so we broke a few rules (ahem, don't tell!) about the containers we brought with us.
Yes, you can drink alcohol on the river (woo hoo!) but you cannot bring your food and drinks in disposable containers. You must pack everything in non-disposable containers.
What's allowed:
Hydration packs
Reusable jugs
Sports bottles, insulated bottles and cups
What's not allowed:
Anything that's made from a disposable material. Think plastic, glass or Styrofoam – that includes foam coolers, Ziploc bags and so on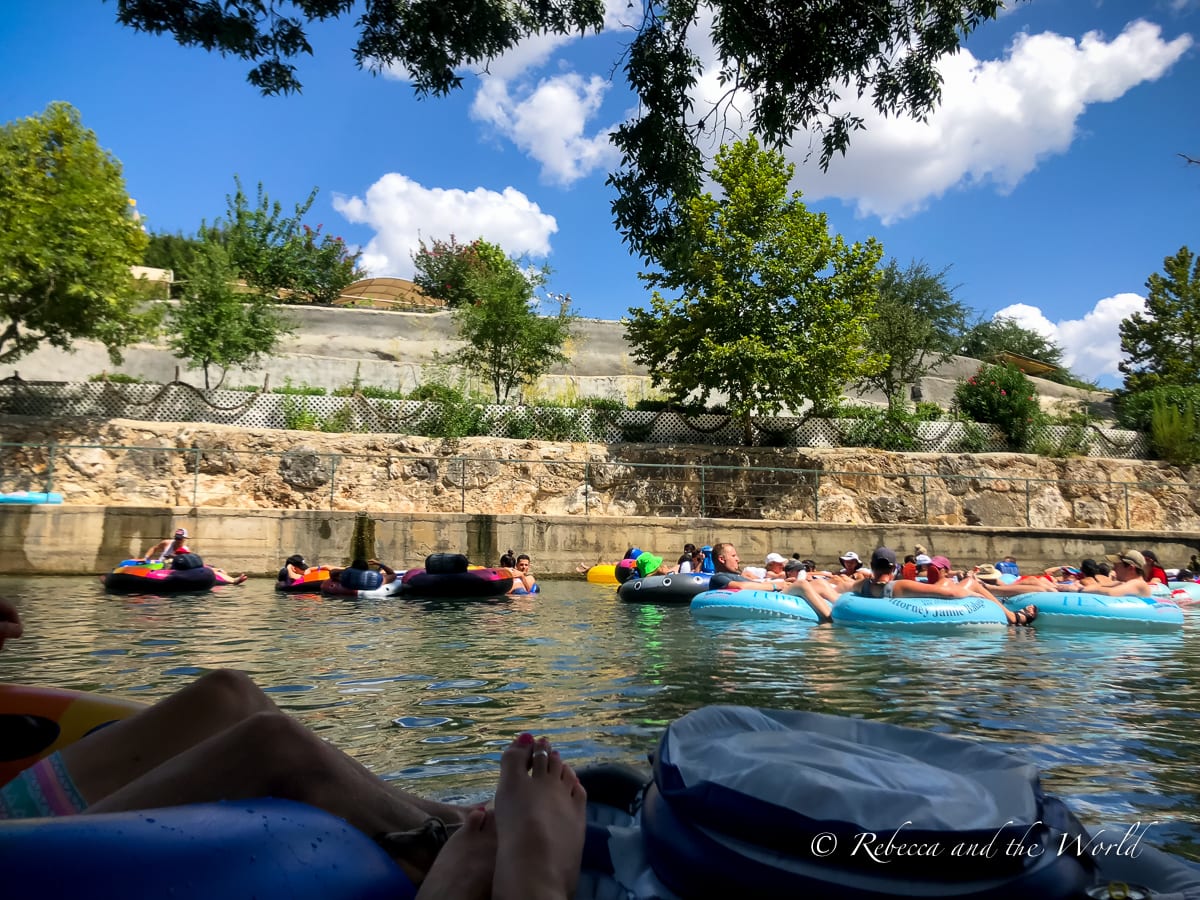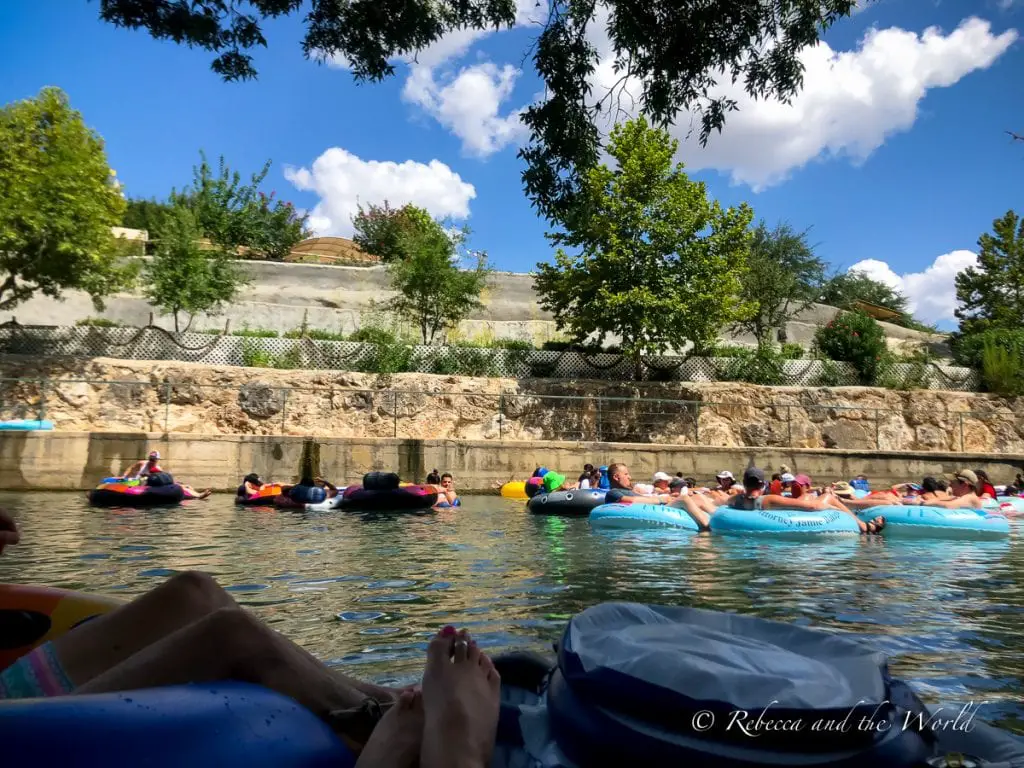 You can bring one cooler per person on the New Braunfels river float and it needs to have a locking mechanism and 30 quarts or less. That locking mechanism can be as simple as a zip or a Velcro patch – anything that means the contents won't spill out if the cooler tips over.
Bring your music, but you can't blast sound beyond 50 feet.
Your tube can't be bigger than five feet in length or width (so unfortunately something like this is out of the question!).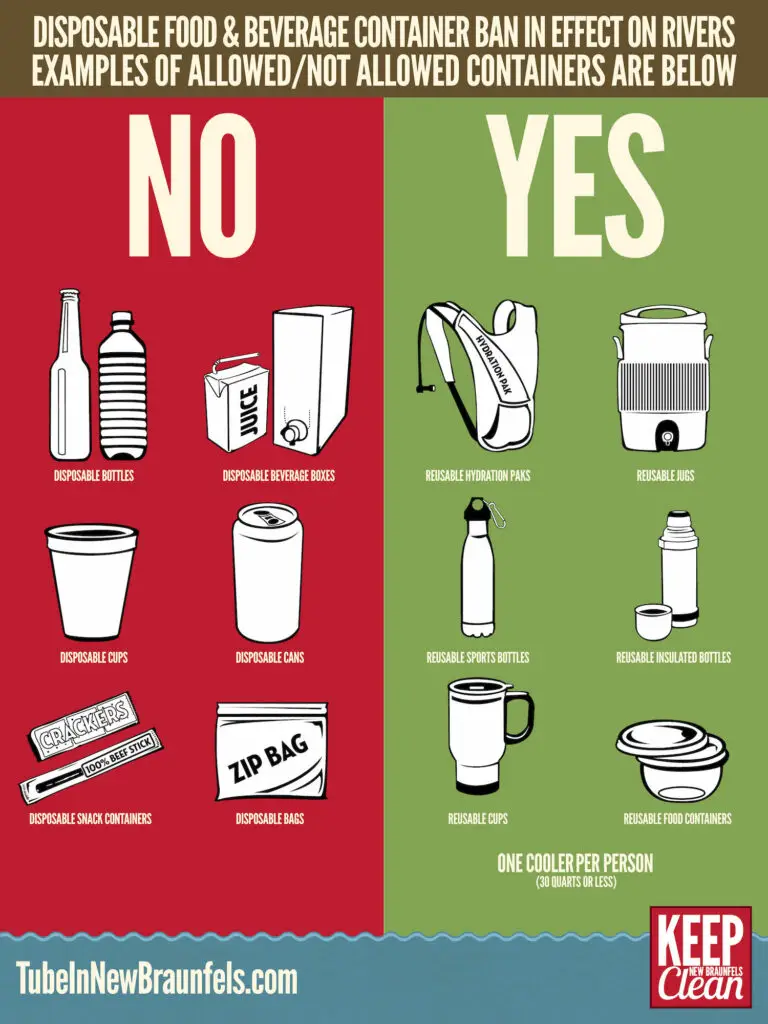 Most importantly: DON'T LITTER and take your rubbish out with you. If everybody did this, there wouldn't be a need for so many rules!
Finally, there are no lifeguards along the way, so stay safe and keep an eye on your friends, especially if y'all are drinking. Pack life jackets for weak swimmers and kids.
If the water is flowing at more than 1000cfs, tubing isn't allowed, so check first with your tubing company (most companies also list the daily flow on their websites).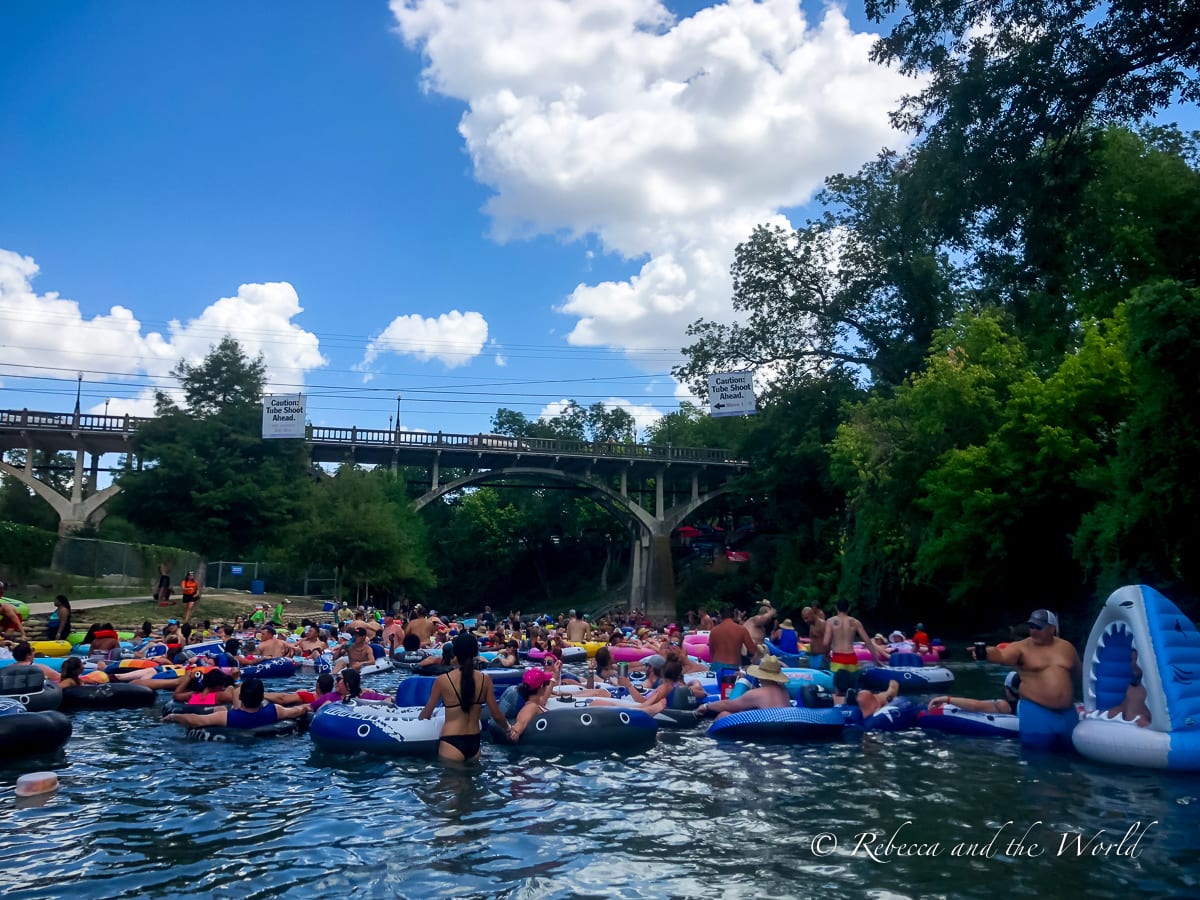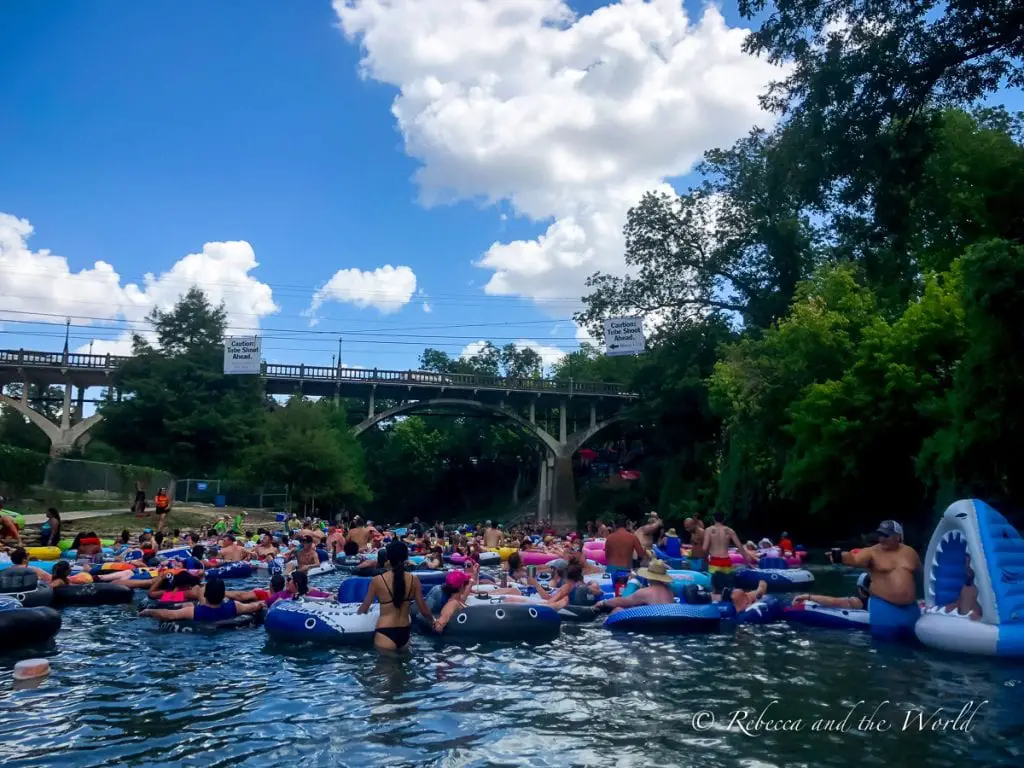 What to pack for floating the river in New Braunfels
Alright, so now you know the river rules. What do you need to take with you when tubing in New Braunfels?
Sunscreen – there are some shady parts but for most of the time you're going to be out in the open, so take plenty of sunscreen
Rash guard – if you're prone to burning easily, a rash guard could be a good idea. Here are some ideas for women's and men's rashies
Cover up – slip a cover up on once you're done tubing (you can keep it dry in a dry sac)
Shoes – I wore flip flops and was constantly worried about them slipping off, so I'd suggest packing river sandals with straps. There are times when you may need to get out of your tube and walk over the rocky bottom of the river. Nothing expensive though, as you might end up losing them!
Sunglass straps – don't lose your sunglasses, pack some sunglasses straps like these ones (which come in a pack of 6) or this pack of 10 colourful straps
Waterproof phone case – this was the best thing I packed! You'll have plenty of fun taking photos and sharing Instagram Stories from your river float. Just make sure you keep your phone dry with this waterproof case
Insulated cup – tubing in Texas gets hot! We found that our ice melted pretty quickly, so you might want to mix up some drinks and sip them out of this insulated cup or a hydration pack. If you've got a group, consider something a little larger like this
Dry sac – this bag was a great item for us as we could keep our sundresses, sunscreen, car keys and a small amount of cash dry
Drinks – beer, wine and liquor is all allowed on the river. Take plenty of water, too – stay hydrated people!
Hat and sunglasses – it's bright out there!
Cash – take a small amount of cash or a credit card if you want to pull up to one of the bars alongside the river. Again, make sure you put it in a waterproof bag
Rope – this is one thing I wish I'd known about beforehand! Bring some thin rope so you can tie your group together, tie your cooler to your tube or your shoes to your tube. It's easy to get separated from your gang, especially after going down the chutes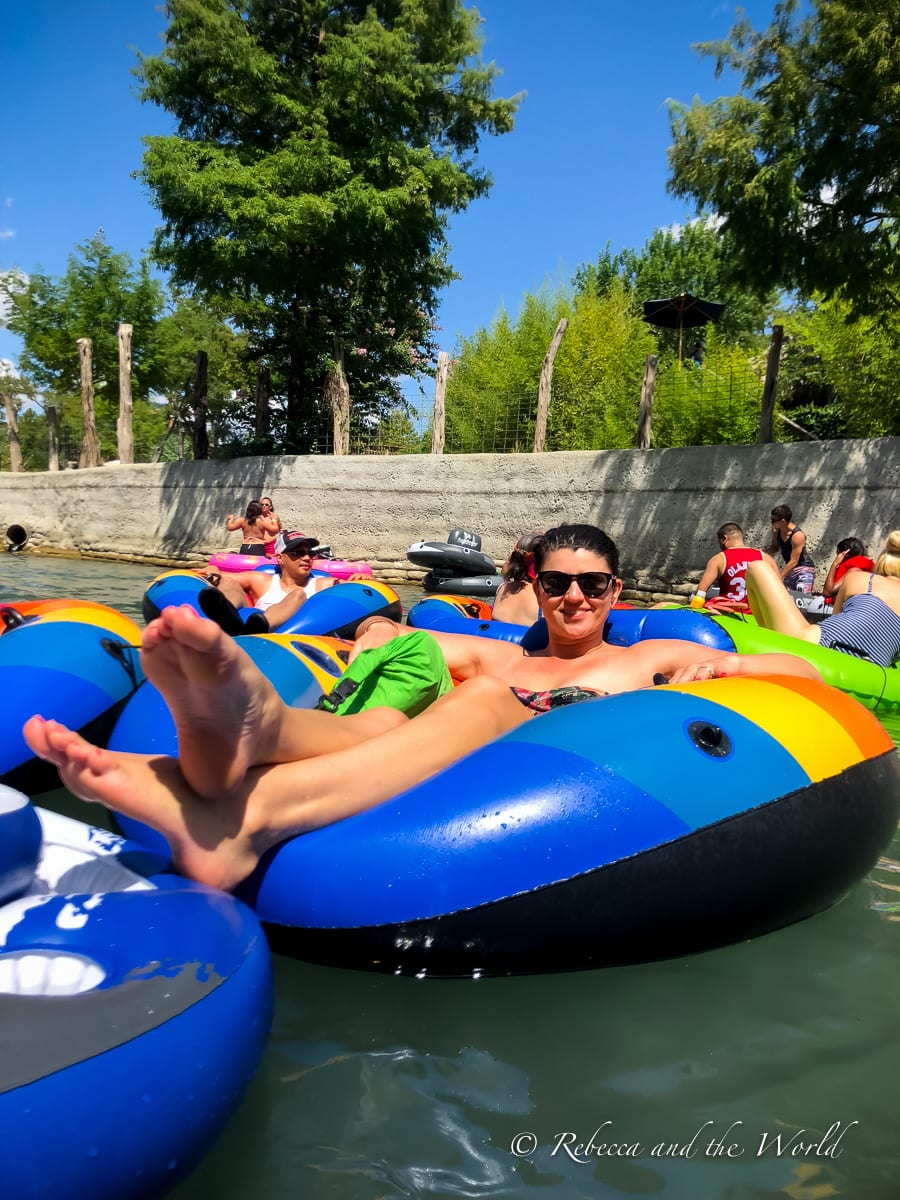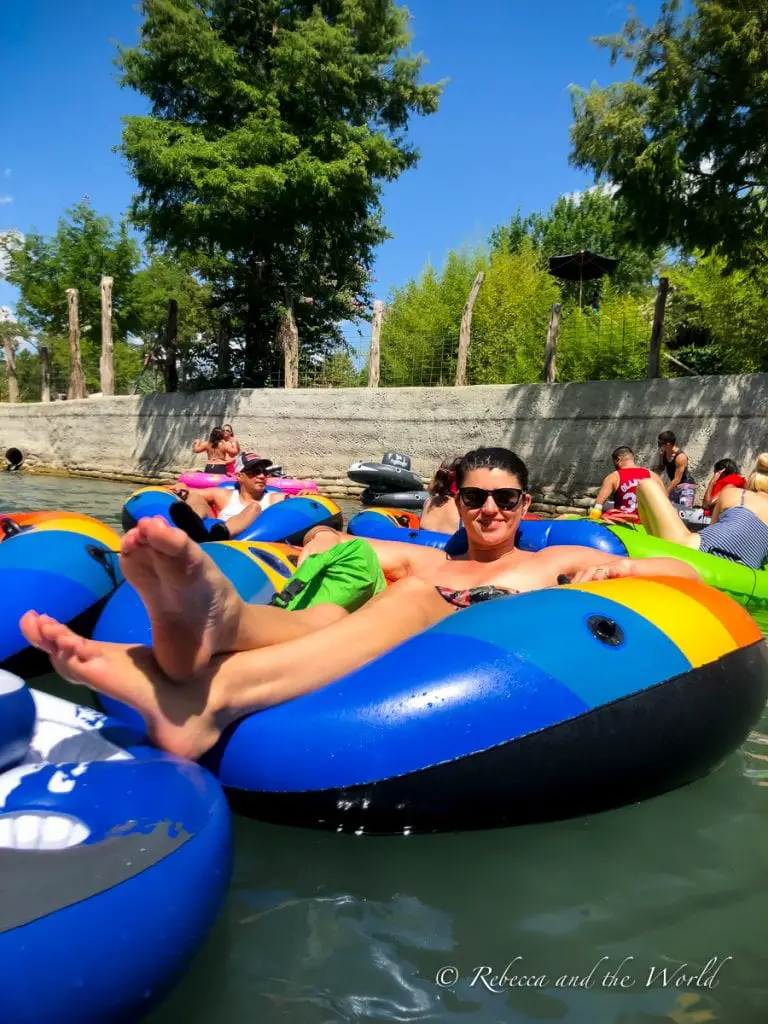 What else is there to do in New Braunfels?
When you're not out having fun on the river, what is there to do in New Braunfels? I wrote a post about the best things to do in New Braunfels, and below are some highlights.
Where to stay in New Braunfels
We really liked our stay at Zink Haus. This renovated property is made up of three separate cottages. You can rent one cottage or larger groups can book all three.
We booked Chardonnay Cottage, the smallest of the three, and it was perfect for our stay. The two bedrooms had their own bathrooms (one with a huge bathtub). The kitchen and lounge room were small but cosy and had everything we needed for the weekend. There's a decent-sized private garden with a fountain.
There are also many other bed and breakfast properties and hotels in New Braunfels. Check out options here to get the best rates.
Alternatively, there are so many gorgeous VRBO properties you can book (my preferred choice of booking site over Airbnb).
I hope this guide to tubing in New Braunfels was helpful for planning your next Texas summer adventure!
Have you ever been tubing in New Braunfels? Let me know in the comments below.
USA TRIP ESSENTIALS
Book flights to and around the USA online with Skyscanner or Kayak. I usually compare flights on the two sites to find the best deals.
Find a great hotel in the USA. Check prices on Booking.com and HotelsCombined online.
Check out the huge range of day tours throughout the USA on GetYourGuide or Viator. There's something for everyone.
A copy of the Lonely Planet guide to the USA will be handy.
One thing I always purchase is travel insurance. World Nomads offers simple and flexible travel insurance. Buy at home or while traveling and claim online from anywhere in the world.
PIN IT FOR LATER
Save this guide to tubing in New Braunfels so you can plan your Texas tubing fun!