After living in Texas for more than two years, I think I've seen a lot of Texas. But then I glance at a map and realise I've barely even touched the surface. This state is huge. There are so many places to visit in Texas, so if you're considering a trip to the Lone Star State, where do you even begin?
From the lush green of the Hill Country, to the bustling metropolises of Dallas and Houston to quirky West Texas, here are some of my favourite places in Texas. It's a state I think should definitely be on your USA bucket list.
Read on for my Texas travel guide!
Texas map
Here's a map of Texas so you can see where all my favourite places are located.
Dallas
As a former resident of Dallas, of course I'm going to recommend Dallas as one of the best places to visit in Texas. This surprisingly culture-filled city has great food and a friendly vibe and is worth at least a weekend trip.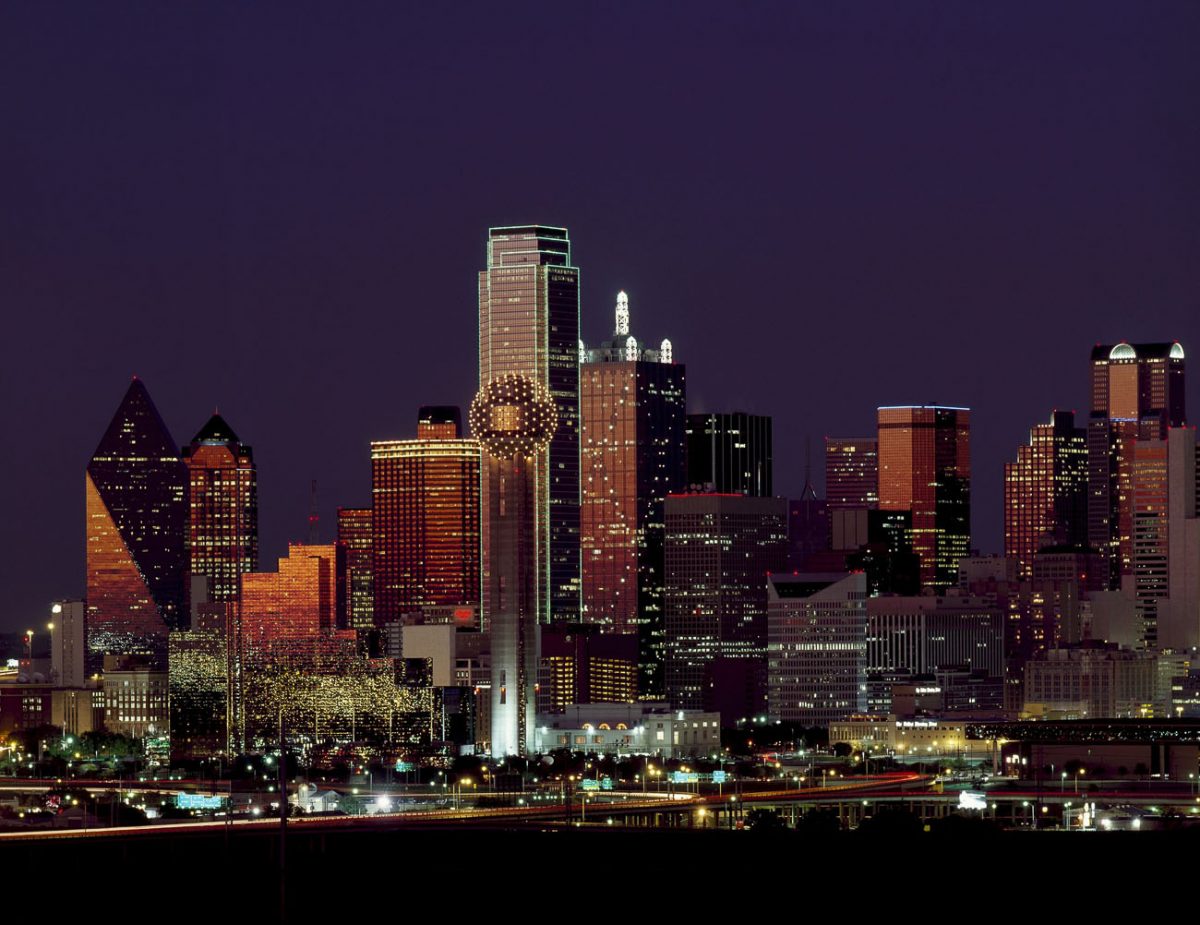 What to do and see in Dallas
Downtown Dallas is where you'll find the city's main tourist attractions – but even though they're touristy, they're worth it. Start at the Grassy Knoll, most famous for being the location of one of the most shocking moments in U.S. history: the assassination of John F. Kennedy. Visit the Sixth Floor Museum to learn more about the murder and the many conspiracy theories that surround his shocking death. Book this guided tour for even more insights.
Explore the nearby Dallas Arts District, a 70-acre area that's filled with museums and concert venues. The Nasher Sculpture Center is worth a few hours, as is the Dallas Museum of Art.
Wander through Klyde Warren Park, a grassy area that's been built over a freeway. It's a fun place for kids (and adults) to run free, followed by lunch from the surrounding food trucks. Kids will also love the Perot Museum of Nature and Science, with its exhibits of huge dinosaurs, wild weather, robots and the marvels of space.
The George W. Bush Presidential Library and Museum has a replica of the Oval Office and exhibits that commemorate the tragic events of September 11. Check out the Dallas Arboretum for some nature exploration. It's a short drive from downtown Dallas and has seasonal exhibits, concerts, and wine and food events throughout the year. Head up Reunion Tower for views across the city from the observation deck.
If you're planning to visit a few of these Dallas attractions, consider purchasing a Dallas CityPASS to save tonnes of money on entry fees.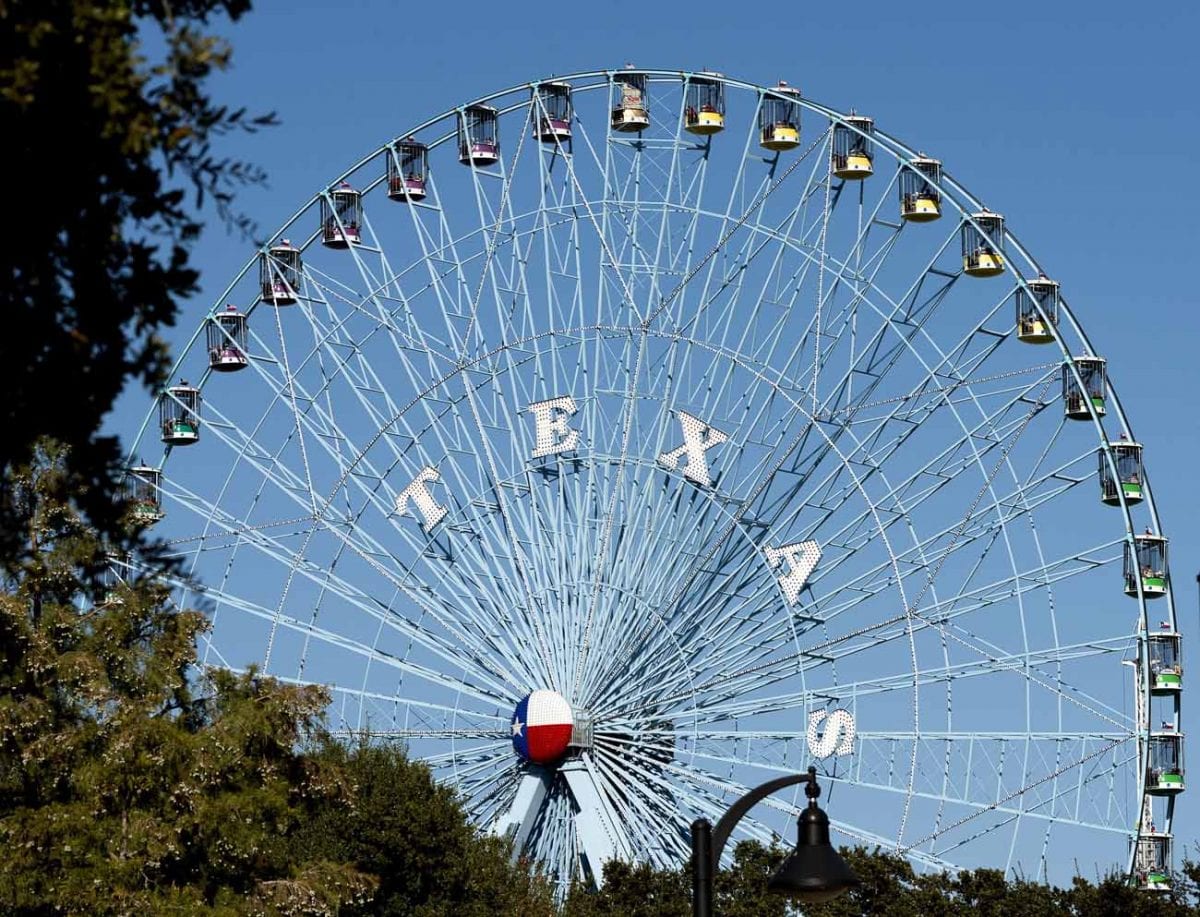 Wander around the Dallas Farmers Market before heading over to the Bishop Arts District, a gentrified neighbourhood that's now brimming with cute boutique shops and fine dining and casual eateries alike.
Deep Ellum is the trendy 'hood and it's here that you can check out the city's funky street art scene. Try your hand at two-stepping at Adair's Saloon, a honky tonk bar with live music most weekends.
Where to eat in Dallas
A visit to Dallas isn't complete without brunch. Dallasites take their brunch seriously, and I've put together a guide to the best brunch in Dallas so take your pick of all the mimosas and chicken and waffles you can eat.
You can't visit Texas without trying barbecue. For delicious Texas barbecue, line up early to squeeze onto the end of an indoor picnic table at Cattleack (only open Thursday and Friday morning and the first Saturday of each month), or head to the tried-and-true Pecan Lodge or Lockhart Smokehouse.
For American and Southern food, book a table at Billy Can Can. If Mexican's what you're hankering for, Jalisco Norte or Meso Maya serve up authentic cuisine, or Mia's Tex-Mex is great (with potent margaritas!).
For something more upscale, Town Hearth's interior will blow you away, while the simple but elegant menu at Lucia will always please. Check out my guide to the most romantic restaurants in Dallas for even more delicious options.
Where to stay in Dallas
Within walking distance of the JFK Museum, the Fairfield Inn & Suites by Marriott Dallas Downtown is in a great location. Check prices and make a booking with Booking.com
A hotel with a lazy river? And one of the world's largest Asian art collections? That's what you'll find at the Hilton Anatole. Check rates online with Booking.com
Houston
Houston, we have a problem. The problem is that there's so much to do in the U.S.'s fourth largest city! I think people are always surprised to find so much culture and an incredible diversity of food in Houston.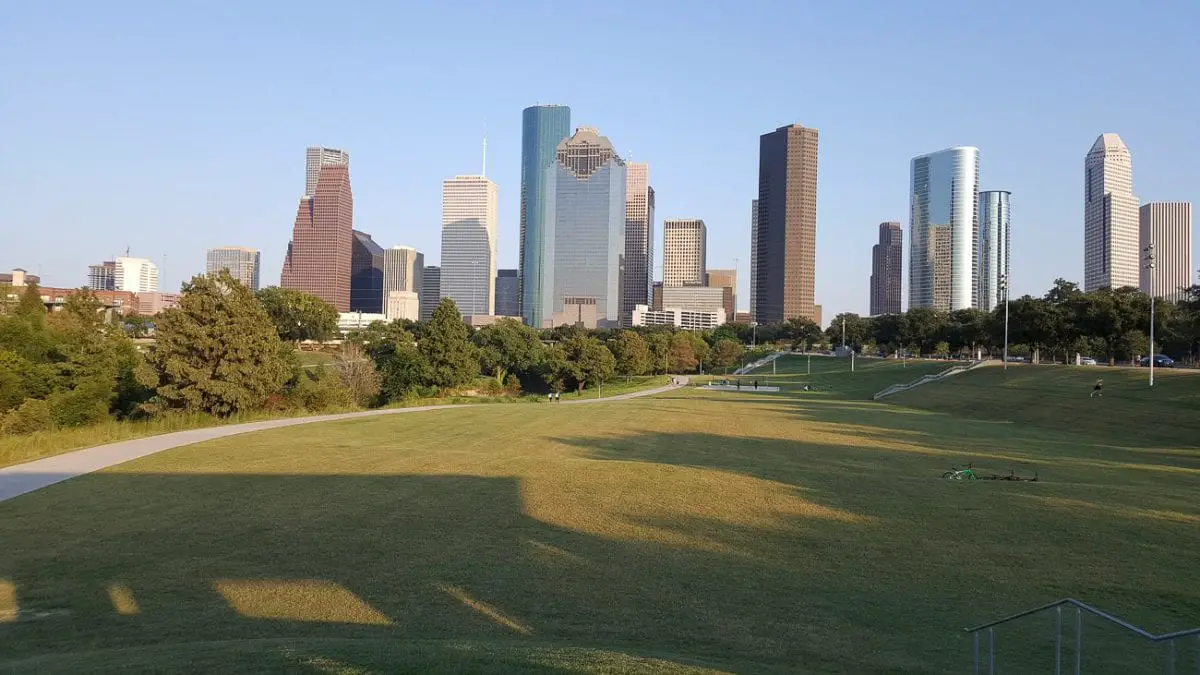 What to do and see in Houston
We love wandering through the Heights District whenever we're in Houston. Historic 19th Street is filled with great boutique stores, restaurants and coffee shops. You can even take a food tour through the area.
Ever dreamed of being an astronaut or adventuring in to space? This could be the closest you'll get. The incredible NASA Johnson Space Center is one of the most popular things to do in Texas. Learn more about the moon landing with tonnes of interactive exhibits to keep young and old busy for many hours. Simulation experiences will have you walking aboard the International Space Station or feeling what space travel is like.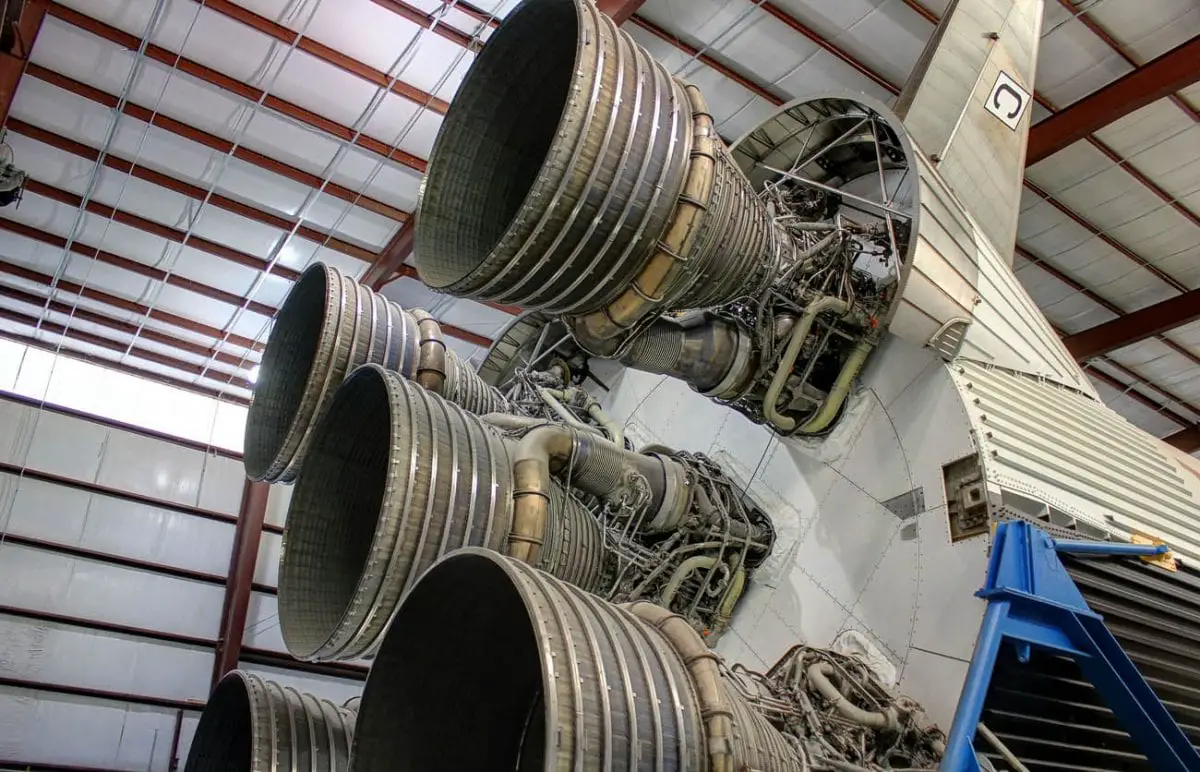 For those who still want to continue the learning experience, head over to the Houston Museum of Natural Science to explore exhibits on dinosaurs, energy, gems and minerals, space science and astronomy. There are a range of permanent exhibits along with special temporary exhibits.
If you're more into surreal art, check out James Turrell's Twilight Epiphany Skyspace, a light and sound installation that will astound you. Having seen James Turrell's work in Argentina, I know that you'll be blown away. Bonus, it's free!
Green outdoor spaces may not be the first thing that comes to mind when you think of Houston, but you'll be surprised to find some really great outdoor areas that are perfect for hanging out in (when the weather's not so hot, of course!). I love Discovery Green which has heaps of grassy areas, trails, playgrounds and dog runs. There's often art displays, concerts and other events so it's a great place to bring the family.
For something even bigger to get active in, there are miles of bike and hiking trails at Buffalo Bayou Park. You can rent kayaks and canoes to get onto the bayou.
Especially great for those with kids, the Houston CityPASS will save you almost 50% off entry fees to Houston's top attractions.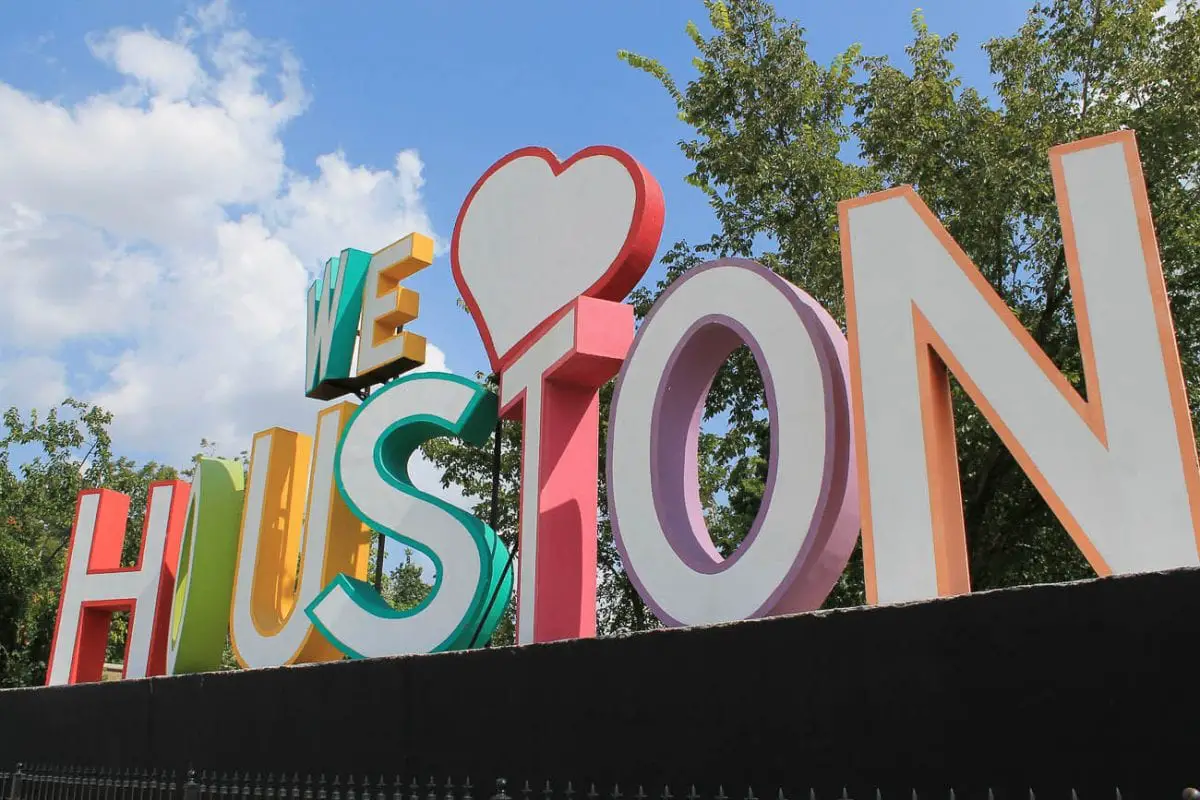 Where to eat in Houston
Houston's food scene is diverse and ever-changing. You'll find Burmese and Ethiopian food and everything in between. For the latest in the hottest Houston restaurants, check out Thrillist or Eater's guides to the city. I've eaten a lot around the city but I can't keep up with all the new recommended Houston restaurants!
Where to stay in Houston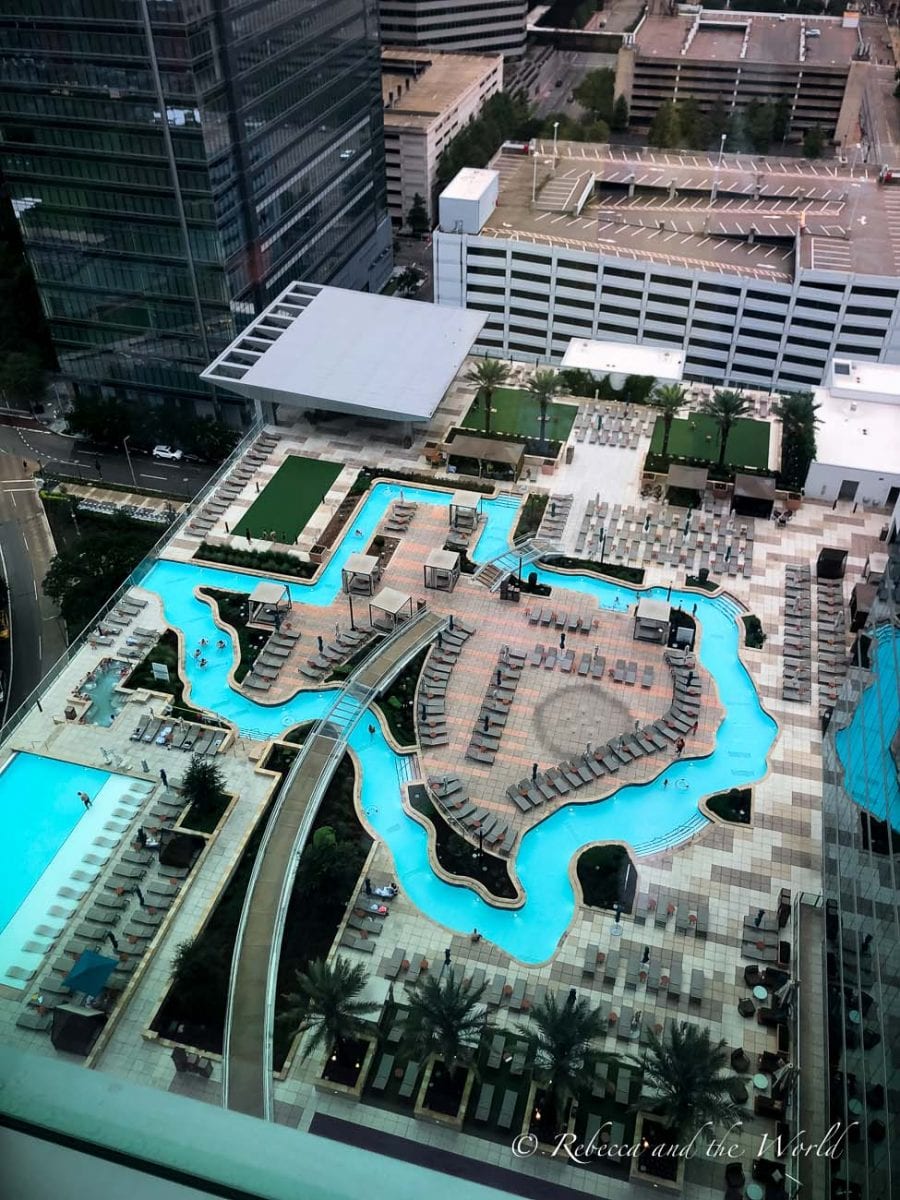 San Antonio
Most famous for being home to The Alamo, there's more to see in San Antonio, a big city that feels smaller and more intimate than its size suggests.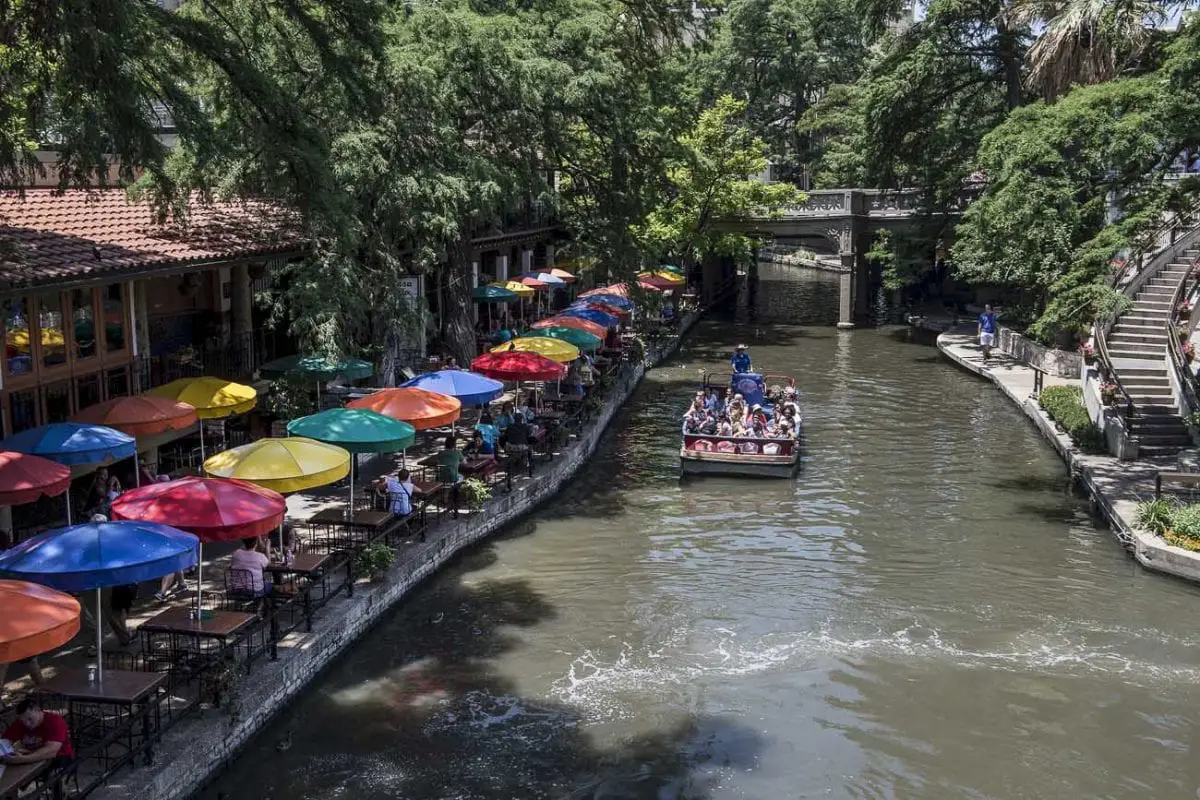 What to do and see in San Antonio
Start out along the San Antonio Riverwalk, a network of walkways that line the San Antonio River. The paved riverside is lined with restaurants and bars and is particularly pretty at night.
Close by is the most famous Texas attraction: The Alamo. This historic mission and fortress is where the Battle of the Alamo took place during Texas's war for independence from Mexico. Today, you can wander through the compound and "remember the Alamo!"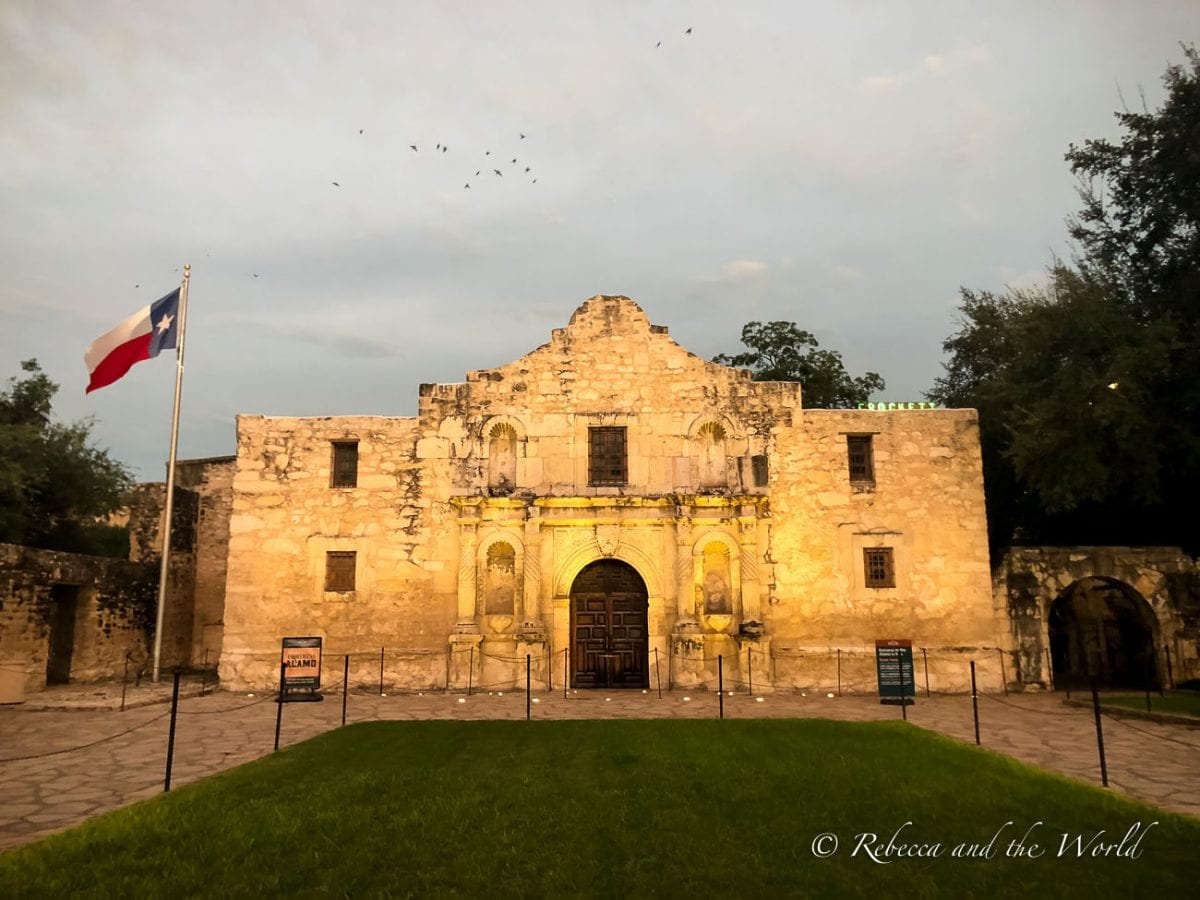 But the Alamo is not San Antonio's only mission. There's actually a whole park in San Antonio with four missions: the San Antonio Missions National Historical Park. The Concepción, San José, San Juan and Espada missions were built in the 1700s as the Spanish worked to expand their influence in the area. You can visit all of them in a day but you'll need a car – or prepare to do some serious miles on a bike (it's hard work, trust me!). You can hire bikes through the city's BCycle program.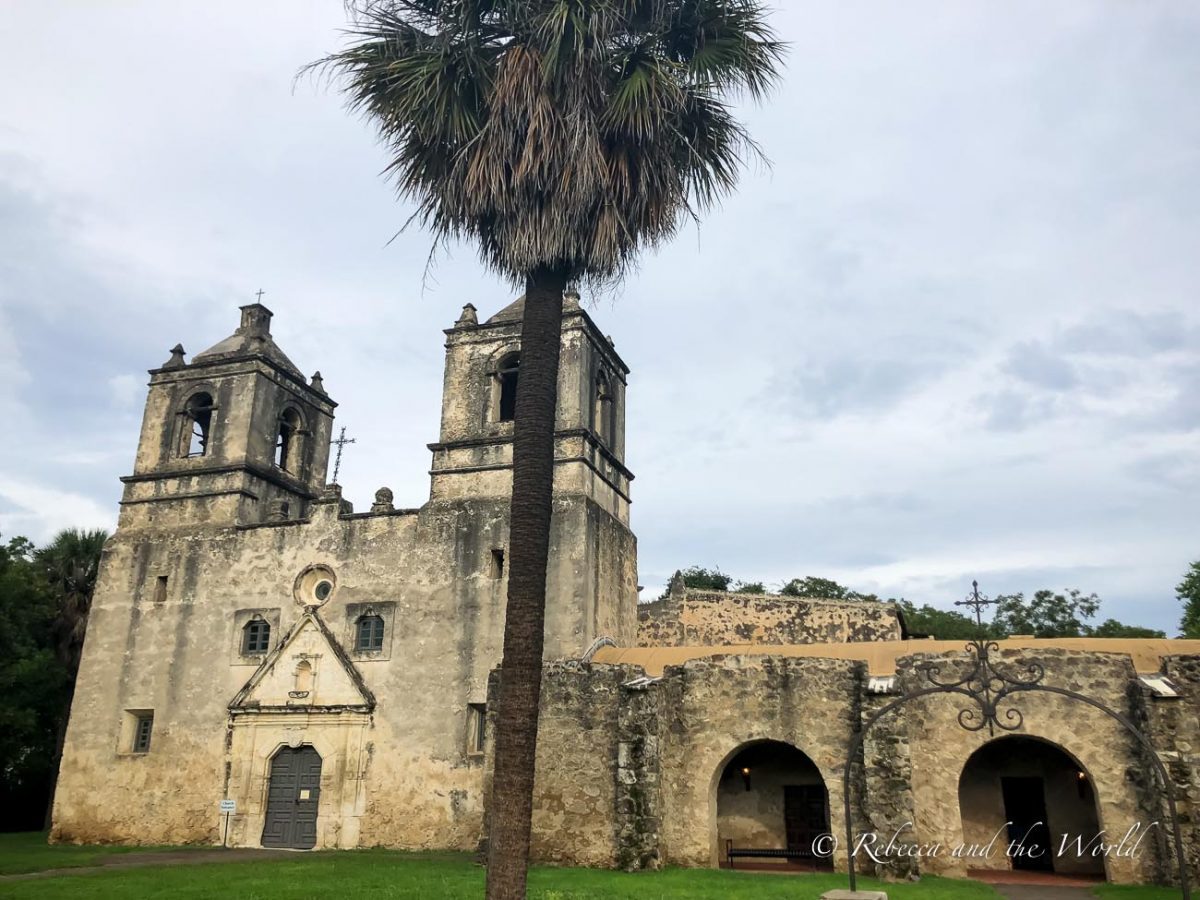 The San Antonio Museum of Art is housed in an incredible building that was once the Lone Star Brewery. Check out the museum's huge collection of Latin American, Mediterranean and Asian art.
Another transformed brewery, Pearl is now a mixed-use space filled with restaurants and boutique shops and a great farmer's market on the weekends.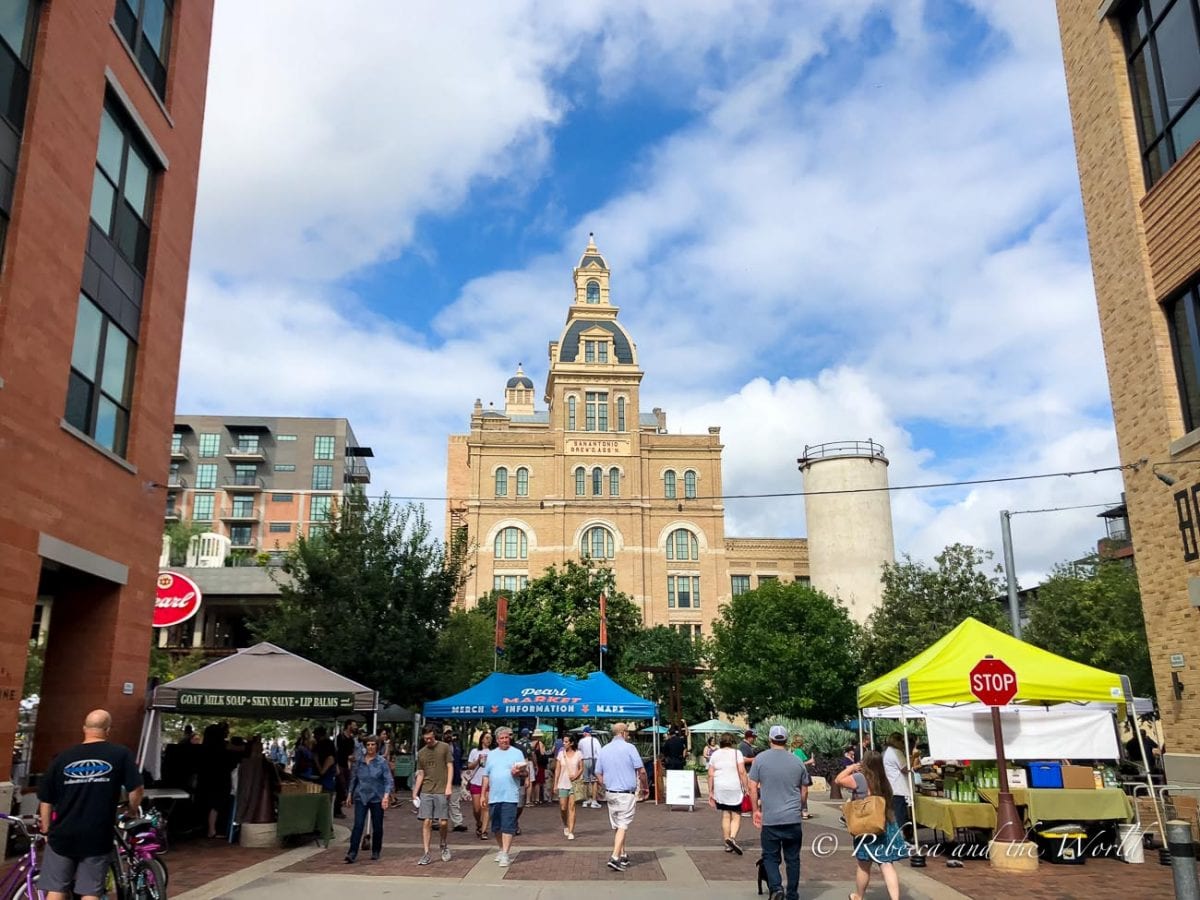 Where to eat in San Antonio
This list of 50 things to eat in San Antonio before you die should be enough to whet your appetite. For a cocktail, check out Downstairs, a cool speakeasy inside the Esquire Tavern.
Where to stay in San Antonio
Austin
Keep Austin Weird. That's the city's unofficial slogan, and you certainly can find a lot of quirky things here. Visit Austin for live music and great eats – and one of the U.S.'s coolest cities.
What to do and see in Austin
There's so much to do in Austin that you could easily spend a week in this fun city. But here's a great Austin itinerary from my friend Erin if you only have one day in Austin.
Start with a stroll down South Congress Avenue to check out food trucks, boutiques, restaurants and antique stores. You could easily pass a few hours (or a night out) here checking out everything on offer.
If museums and historical buildings are more your thing, check out the Texas State Capitol building. At 308 feet tall, it's actually taller than the United States Capitol in Washington, D.C. You can join a free tour of the building daily.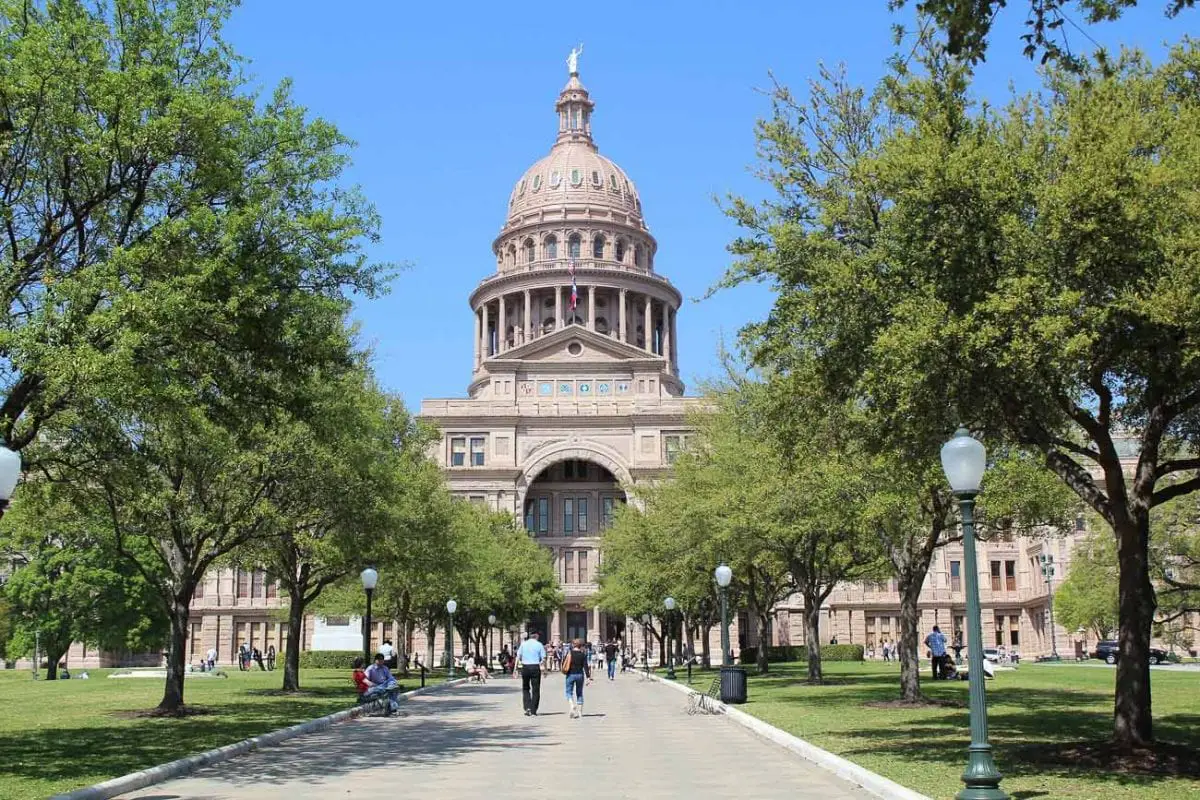 For history lovers, the Bullock Texas State History Museum will give you an insight into the interesting and gutsy story of Texas and how it was founded.
Austin lives up to its "Keep Austin Weird" moniker at the Cathedral of Junk, a museum of sorts built from all kinds of used objects: toys, signs, toilets, chairs, car parts and bicycles. Some describe it as quite a spiritual place to visit in Texas – you might just find it interesting or strange.
For those who like to stay active, there are acres and acres of parks and bike and hiking trails throughout Austin. Go for a jog around Lady Bird Lake which sits right in the heart of Austin city – although be warned, the trail around the lake is 10 miles long! Alternatively, get on the water for some paddle boarding or kayaking.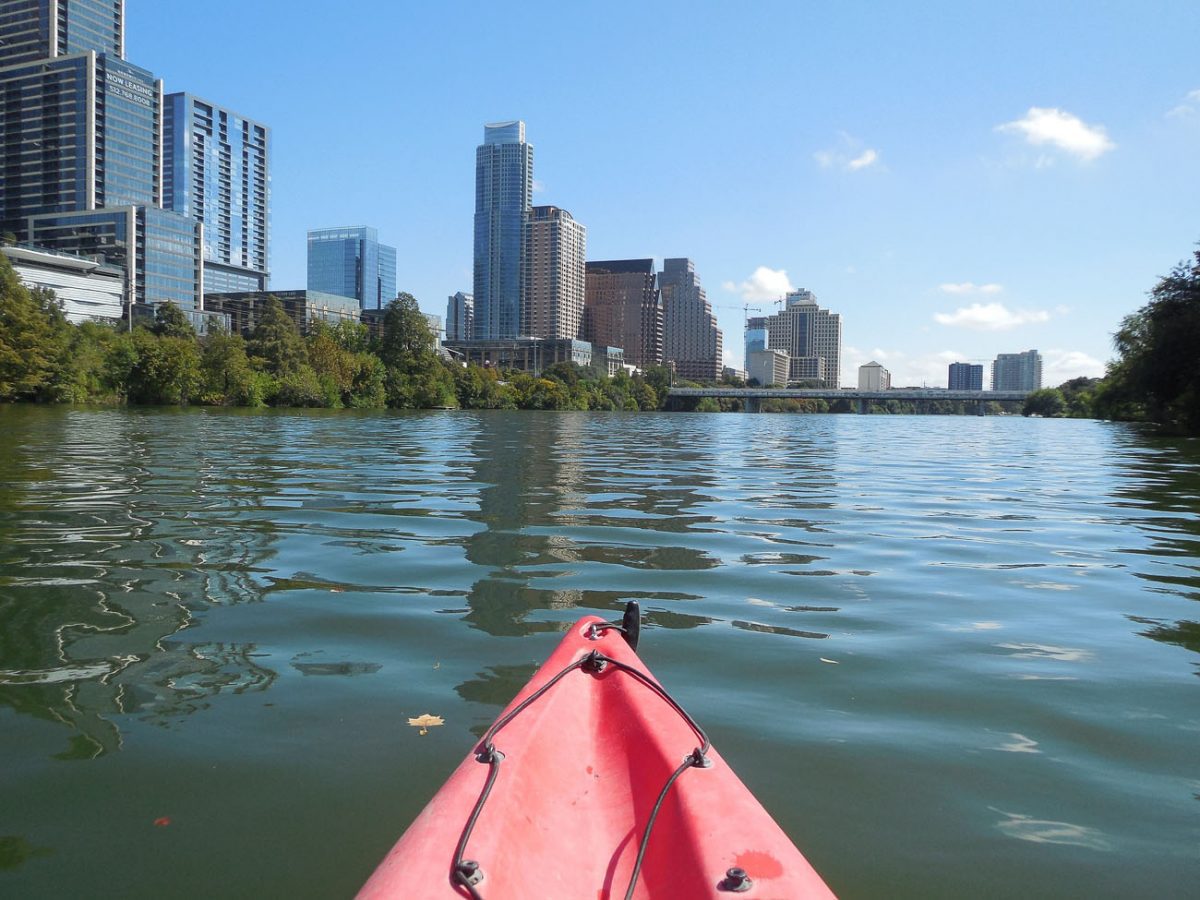 Another option is Zilker Park, a 351-acre area that is also home to the botanical gardens, museums and a theatre. During the hot summer months (which, let's face it, is pretty much half the year in Texas!), a dip in Barton Springs Pool is a must. It's spring-fed and gets super busy during weekends.
Grab a spot at the Statesman Observation Center next to the Congress Avenue Bridge to watch the famous Austin bat colony leave their nests each night. More than 1.5 million bats live under the bridge – the largest urban bat colony in the world – and it's one of the interesting things to see in Texas.
Can you say you've been to Austin if you didn't listen to music? The so-called Live Music Capital of the World is home to hundreds of live music venues, including The White Horse (also fun for some two-stepping!), C-Boys Heart & Soul and The Continental Club. I've even seen a band playing in the airport! You can explore the live music scene with a small group tour.
For a fun night out, head straight to Sixth St – warning, it's often a madhouse on a weekend. The street closes to traffic Thursday through Saturday night. Rainey Street is equally as fun but usually a little tamer, and you can barhop between different bars, most now in refurbished bungalow-style houses.
Where to eat in Austin
Austin is one of the best cities in Texas for foodies. The city is known for its food trucks that serve up everything from tacos to grilled cheese to amazing doughnuts.
Tacos have to be one of Austin's most famous outputs. My friend Alicia has a great guide to her favourite tacos in Austin.
For barbecue, prepare for a long wait before you tuck into brisket at Franklin's. People line up from 5 a.m. to get into this institution. Just as popular is La Barbecue.
If you've got a car, take a drive out to Salt Lick. It's one of the best places to go in Texas for barbecue, and indeed is the first place I ever tried Texas barbecue. I've been back many times since!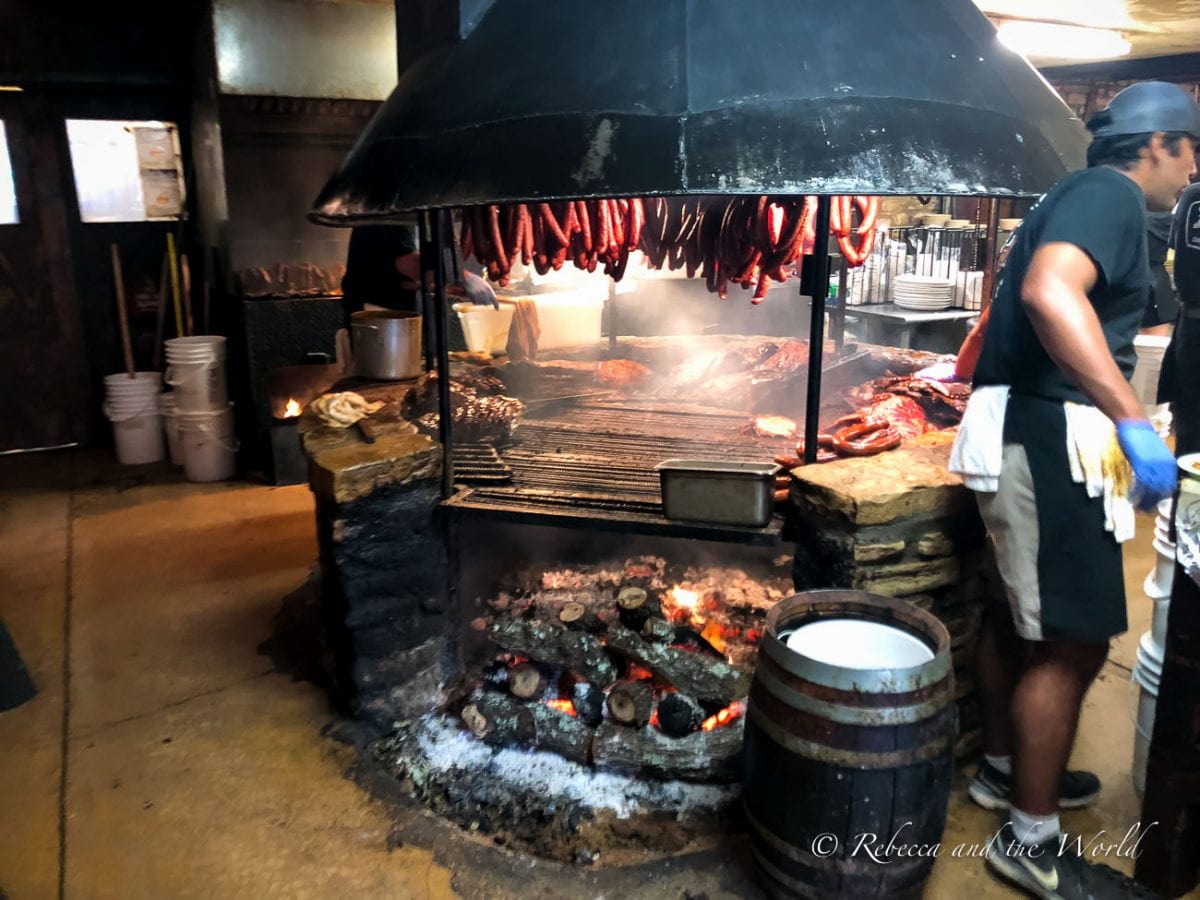 End your trip with one of the often curiously flavoured doughnuts from Gourdough's. Peanut butter and jelly doughnut? What about a bacon-topped doughnut? You won't be disappointed.
Where to stay in Austin
Marfa
Marfa has to be the most un-Texas-like place in Texas. Located deep in southwest Texas, it draws artsy types, people looking to get off the grid, and cool-seekers.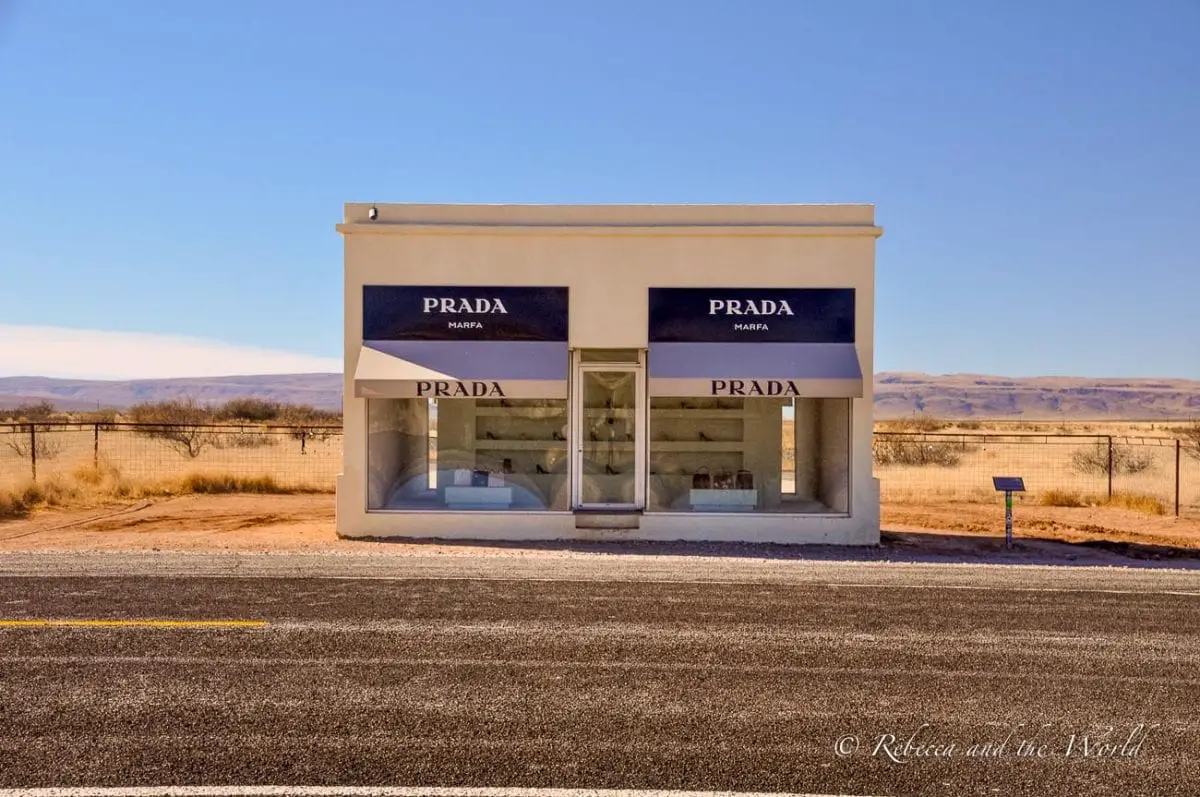 What to do and see in Marfa
Make sure you visit Marfa on a weekend – that's when the town of almost 2,000 people is at its best. Having said that, shops and restaurants here operate on their own time, so don't be surprised to turn up somewhere during its alleged opening hours only to find it closed.
One place that's always open is Prada Marfa. No, it's not a real Prada store, it's actually an art installation dropped into the middle of the desert. About 40 minutes from Marfa, it's the top spot for selfie-snapping. It's one of the more unusual places to visit in Texas!
For a small town, Marfa has a lot of art galleries. Book a tour of the Chinati Foundation, a collection of artwork curated by Donald Judd, the man who made Marfa "famous". Ballroom Marfa is another celebrated gallery.
For something a little more curious, head to the Marfa Mystery Lights and try to figure out what the lights on the horizon are. UFOs? Car headlights? Or just someone's campfire? You be the judge.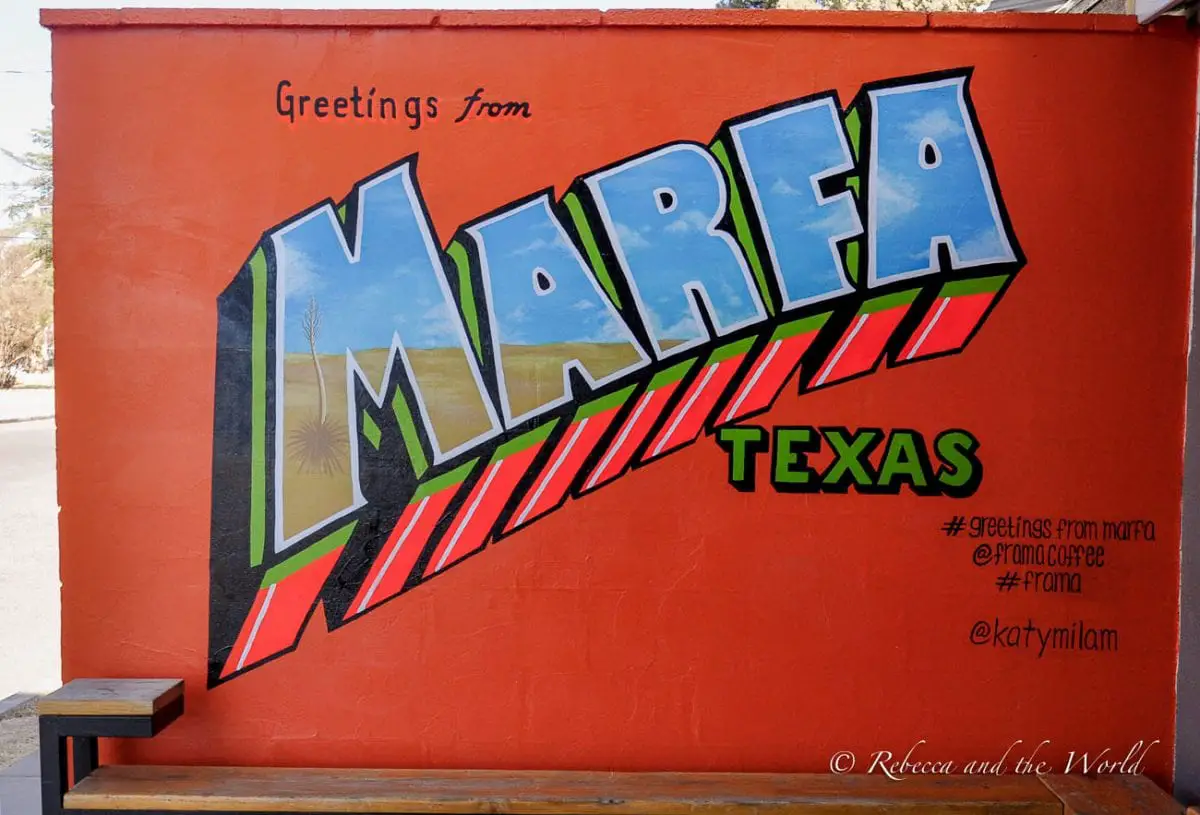 Where to eat in Marfa
Grab breakfast from Do Your Thing and savour the delicious sweet and savoury toasts this cool little coffee shop whips up. Also check out Frama, another popular coffee and breakfast spot.
For lunch, venture into Ramona's kitchen at Marfa Burrito for a burrito the size of your face. Or dine at Beyoncé's lunch choice: Food Shark, a food truck that serves up Mediterranean bites and daily specials.
Where to stay in Marfa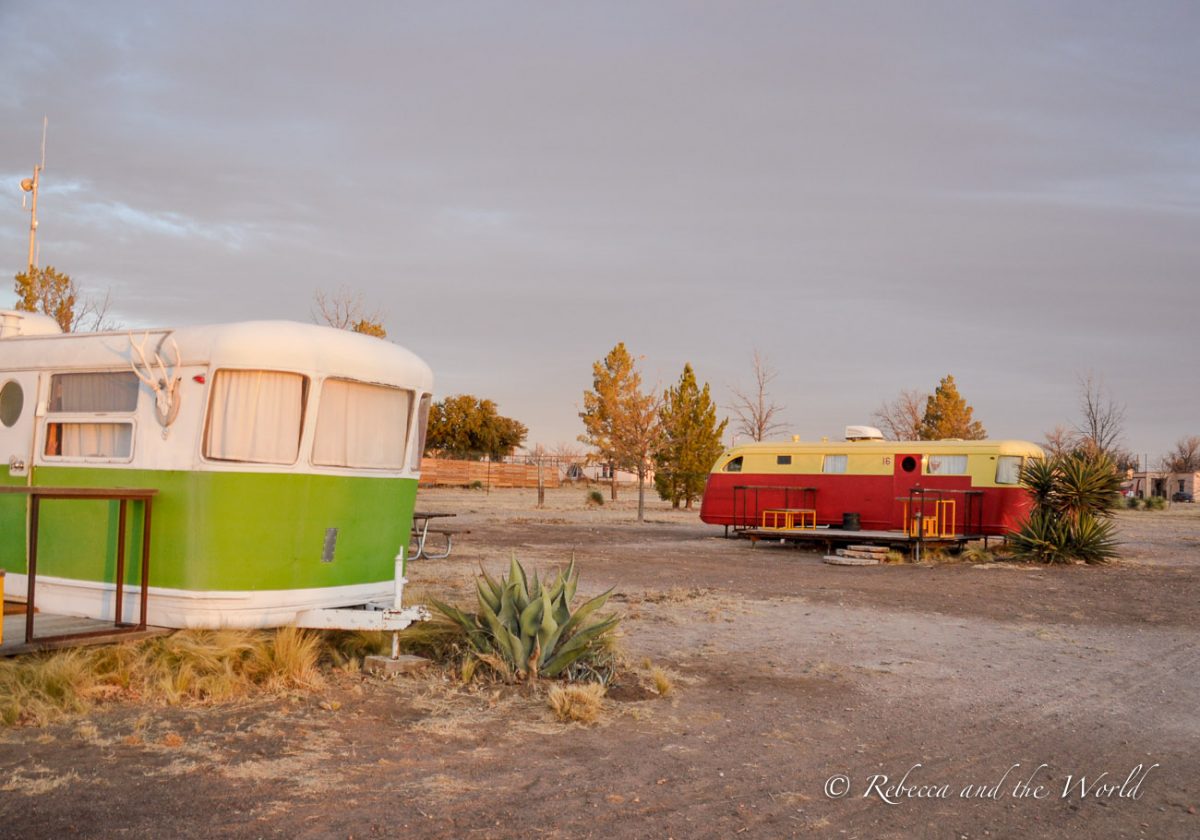 Fredericksburg
A little slice of Germany in the middle of Texas, don't be surprised to find yourself turning into streets or eating at restaurants with distinctly German names. Fredericksburg is a great stop on any tour of the Texas Hill Country.
What to do and see in Fredericksburg
Texas is one of the top five wine-producing states in the United States, and much of the production comes out of wineries based in or around Fredericksburg. You can visit the wineries by yourself, or hop on the weekend 290 Wine Shuttle. The shuttle stops off at various wineries and you're free to jump on and off as you like. If you'd prefer something more structured, book a wine tour.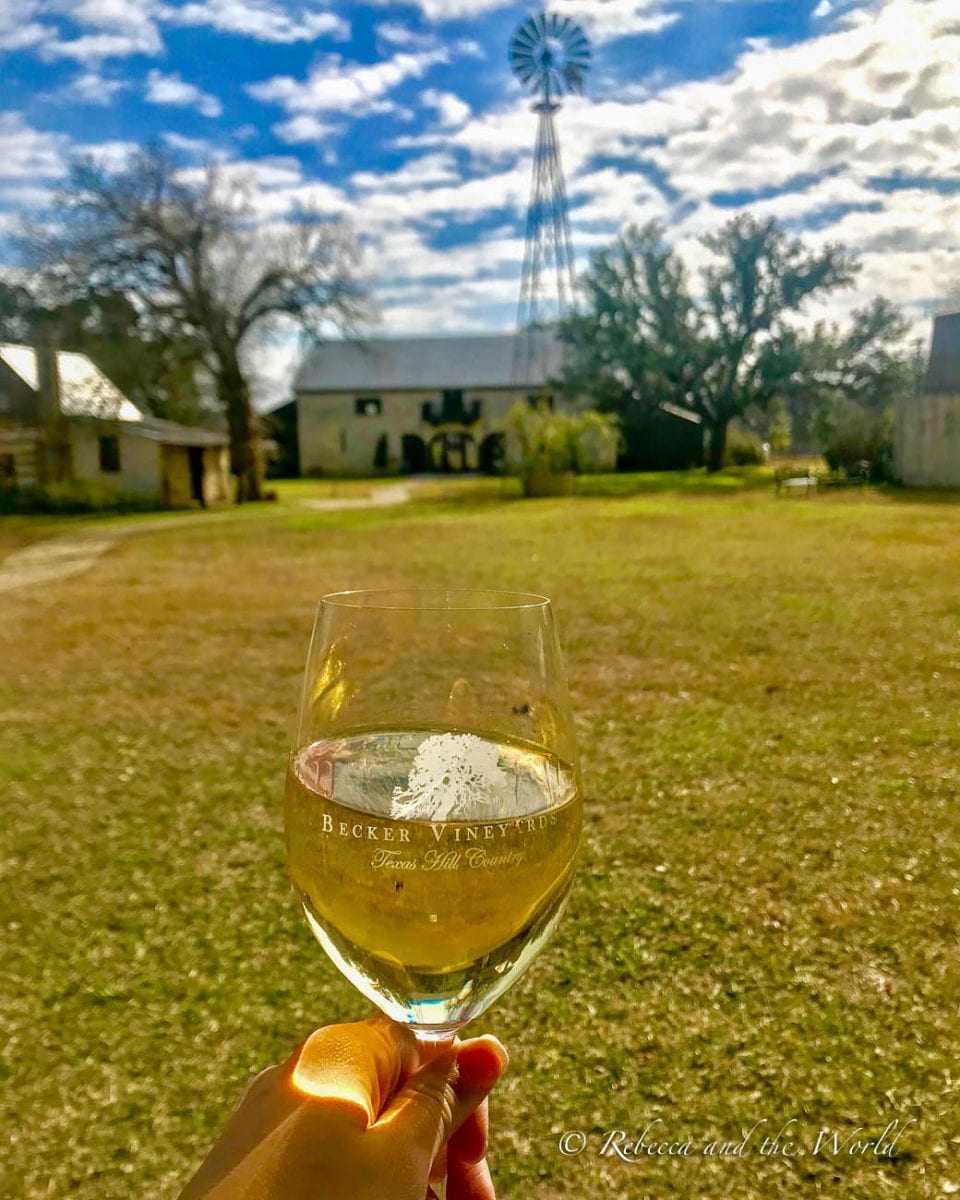 Drive the Willow City Loop, which is awash with colour when the bluebonnets bloom in spring. It's one of the prettiest things to see in Texas. Stop in at one of the many farms to pick up fresh peaches, or pick up some seeds at Wildseed Farms.
For a history lesson, the National Museum of the Pacific War is a naval history museum set across six acres. There's a living history program that puts visitors on the front line to experience the horrors of war.
Outside of Fredericksburg, visit Luckenbach, a trading post established in the mid-1800s. On weekends (and sometimes during the week) live music fills the old dance hall or you might be lucky to catch a spontaneous jam session.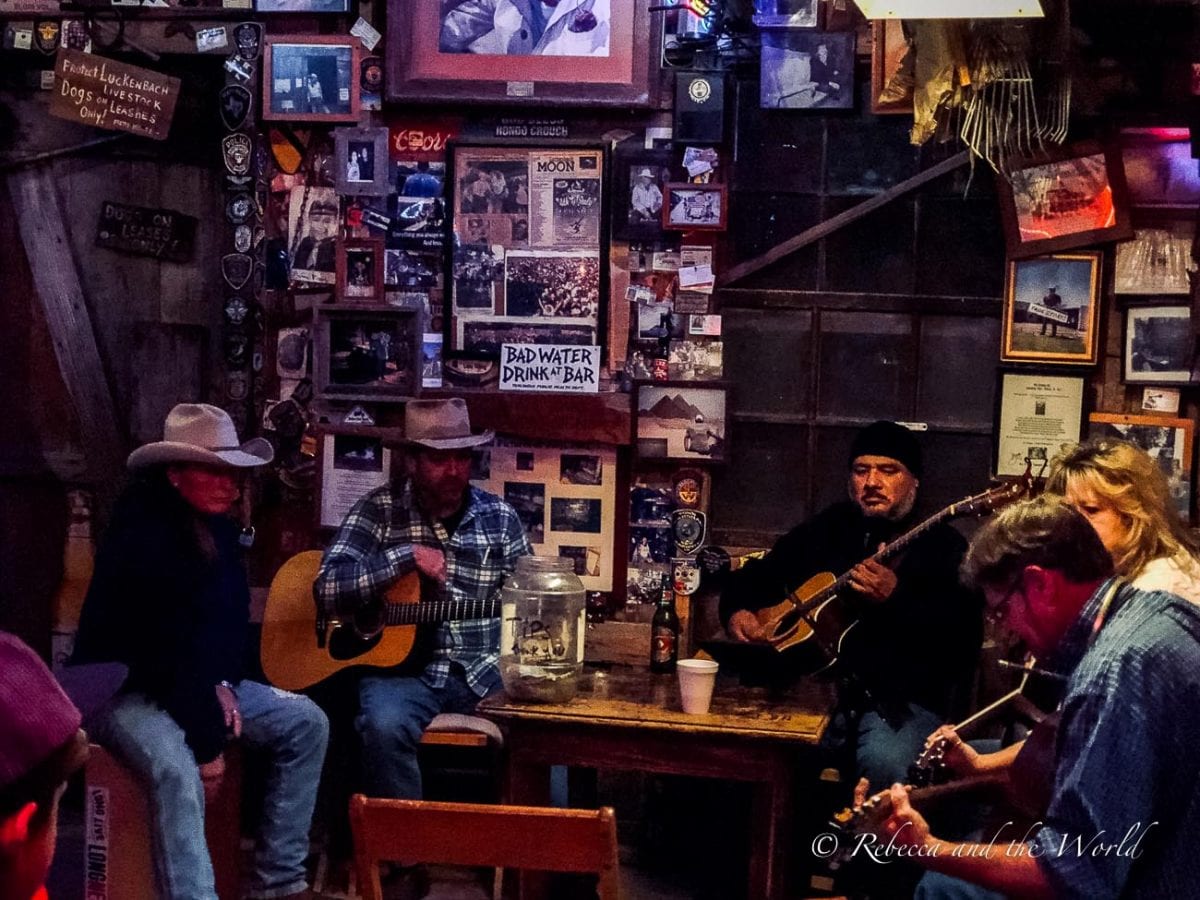 If you want to get some exercise in, head to Enchanted Rock State Park, famous for its pink granite dome. There are 11 miles of hiking trails of varying difficulty levels.
Where to eat in Fredericksburg
Head below ground level to Vaudeville, a bistro featuring American comfort food. There are also plenty of wines, cheeses, meats and sweet treats perfect for a picnic spread.
With its German heritage, it's not surprising that many restaurants in town feature schnitzels and Wurst. Otto's is one of the most popular restaurants in town – get here early to nab a table as they don't accept reservations (we tried twice but had no luck!).
Where to stay in Fredericksburg
The All Seasons Downtown Retreat has only six rooms, so you're guaranteed wonderful service from the onsite concierge and staff. Check availability online with TripAdvisor
A historic Victorian bed and breakfast, Carriage House Fredericksburg is within walking distance of Main Street. Check rates on TripAdvisor
Big Bend National Park
One of only two national parks in Texas, Big Bend National Park straddles the U.S.-Mexico border and is a vast space of rocky mountains and stunning views.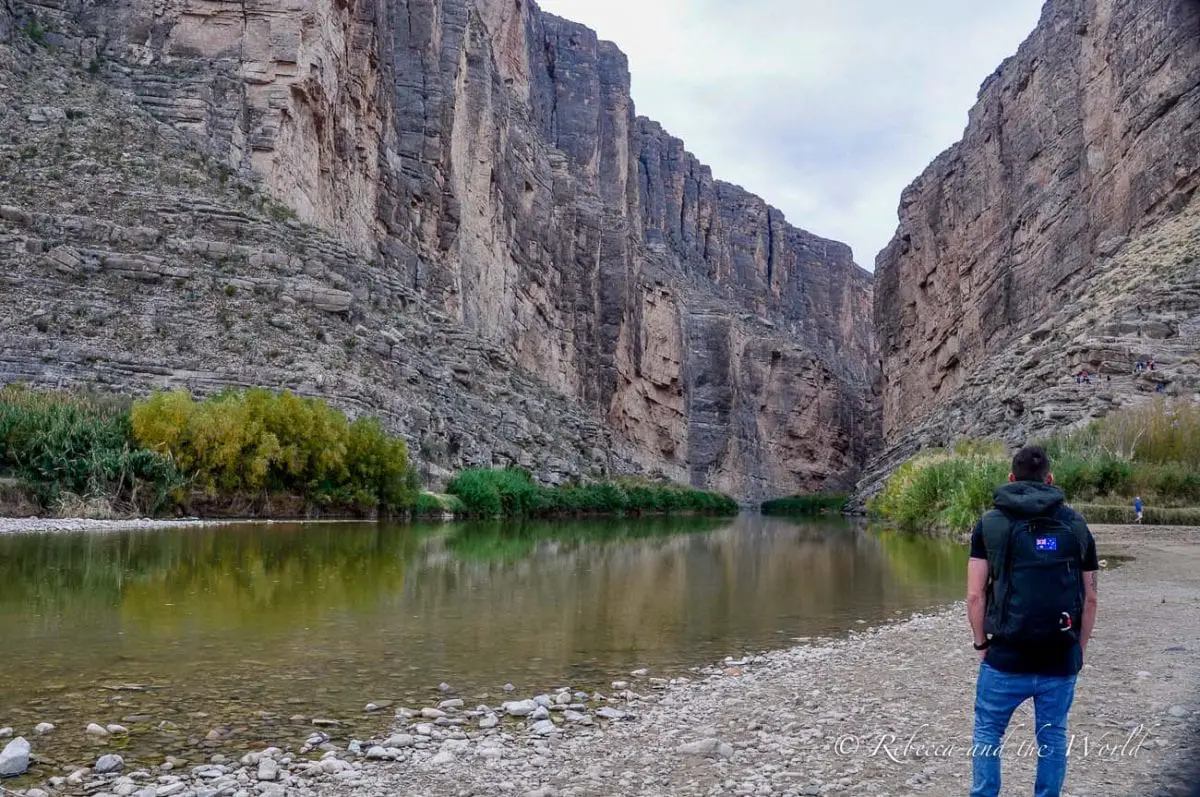 What to do and see in Big Bend National Park
The main draw to Big Bend National Park is of course the hiking opportunities. The landscape is stark and striking and you can find hikes of varying difficulties across the 200 miles of trails. You'll need a couple of days to see Big Bend if you want to get out of your car (as the name suggests, it's a big park!).
The park is divided into three main sections: the Chisos Mountains, Eastside (Panther Junction and Rio Grande Village) and Westside (Ross Maxwell Scenic Drive). Some great hikes include:
Santa Elena Canyon (1.7 miles round trip, easy)
Hot Springs Historic Trail (1 mile roundtrip, easy)
Lost Mine Trail (4.8 miles, moderate)
South Rim Trail (12-14.5 miles, strenuous)
Window View Trail (0.3 miles, easy)
Mule Ears Spring Trail (3.8 miles, moderate)
Make sure to hike the Hot Springs Trail which ends with a soak in the 105-degree hot springs!
There are also great backcountry trails where I imagine you won't see another person for days.
If you prefer to stay in your car there are a number of scenic drives, including the Ross Maxwell Scenic Drive. Along the way you can stop off at viewpoints or shorter trails.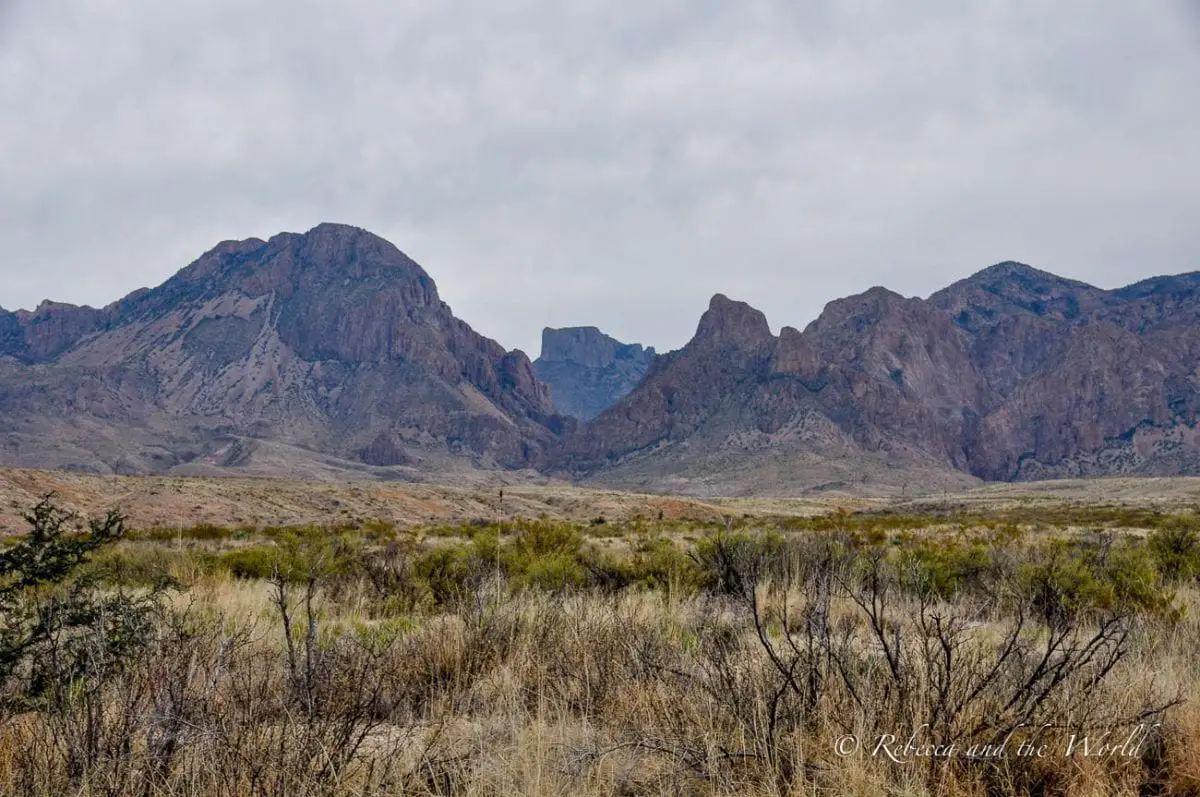 If you time your trip right, you can even take a day trip to Mexico. Cross the river to the small village of Boquillas via boat ($5 round trip) or wade over when the river is low. Boquillas is about a mile from the border crossing so you can either walk into town or take a horse or burro. Local guides are available for a small fee to show you around the town.
In Boquillas, wander through town and pick up souvenirs made by local artisans or grab lunch at one of the family-owned restaurants in town. This is an international border crossing so you will need your passport and visas for Mexico and / or the United States as appropriate. The border crossing is only open a few days a week (depending on the season) from 9 a.m. to 4 p.m.
Where to eat in Big Bend National Park
Stock up on food before you arrive in Big Bend, or try the Mountain View Restaurant in the Chisos Mountains Lodge. It's the only full-service dining inside Big Bend. There are also convenience stores located around the park which sell snacks and drinks.
Where to stay in Big Bend National Park
Big Bend has four different campgrounds, including one dedicated RV park. Some can be reserved in advanced. If you're not camping, stay in one of the nearby towns instead – Lajitas, Terlingua and Study Butte are all close by.
Terlingua
If you're visiting Big Bend, it's worth a short detour to check out one of the quirkiest places in Texas: Terlingua.
A town of only 110 people (at the last census), Terlingua was once a thriving mercury mining town of 2,000 people. It was abandoned in the 40s but is now a liberal town with a chilled vibe – and home to not one but two annual chili cook-offs that attracts thousands. Head here for some offbeat Texas tourism.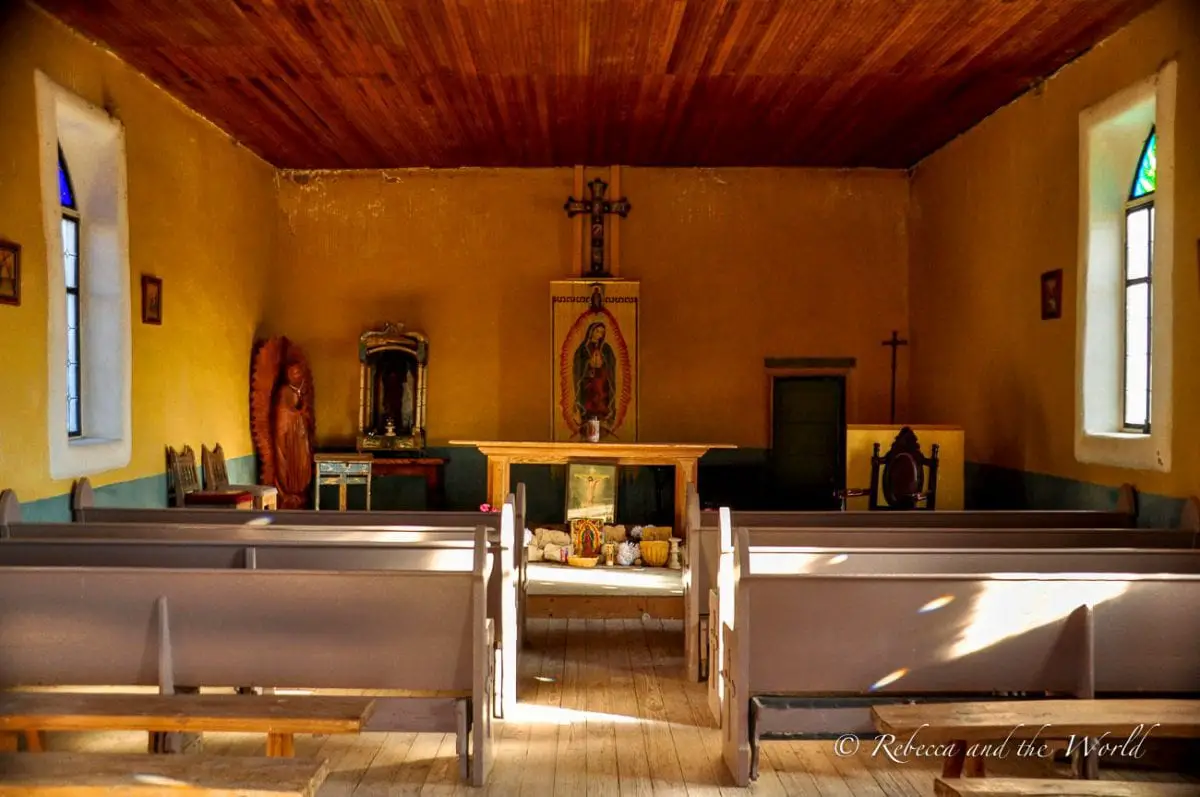 What to do and see in Terlingua
Wander around the Terlingua Ghost Town to see remains of the houses that were once home to the miners and look through the old cemetery. End with a beer and a bowl of chilli at the Starlight Theatre (and take some pics in the "cheeky" barstools on the balcony).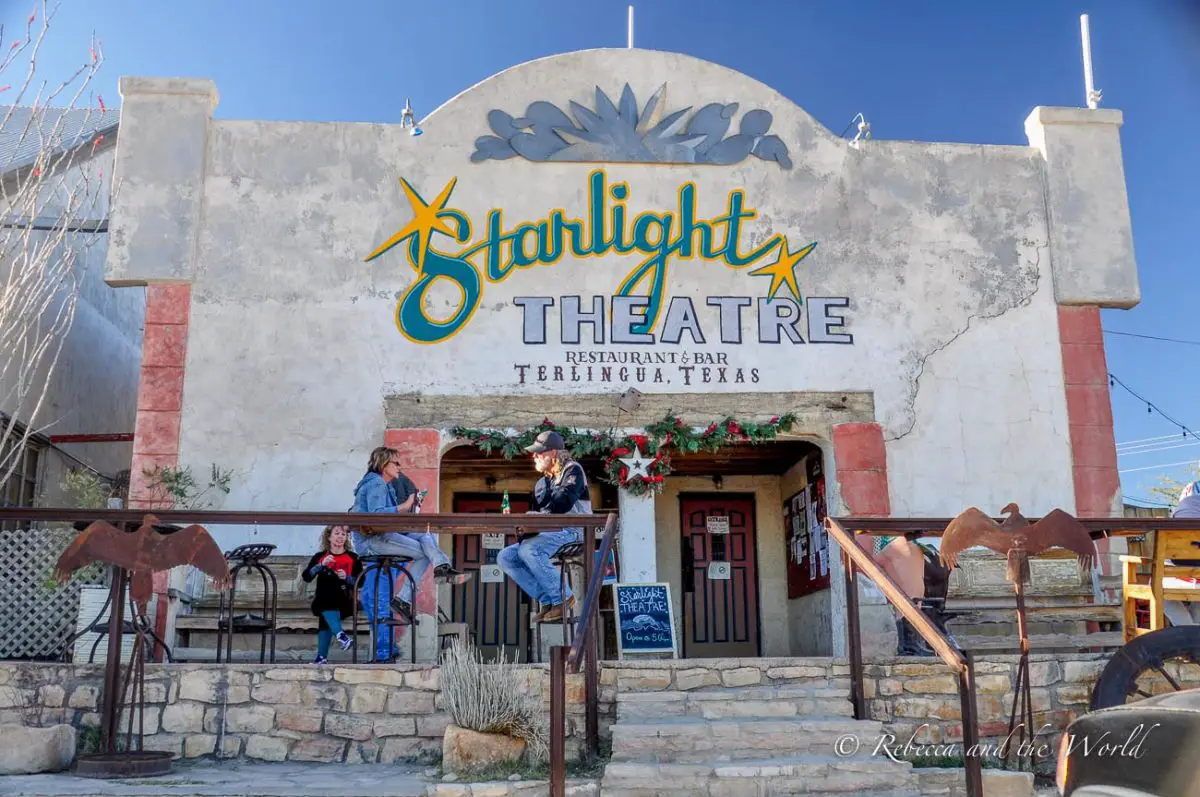 Head over to the Terlingua Trading Co to pick up some souvenirs or snacks (they also stock a free map for the Ghost Town). Don't forget to hang around on the porch of the store for a bit – you never know who'll turn up or what'll be happening there. There's often an impromptu jam session or just a few locals sipping beer.
Where to eat in Terlingua
Along with Starlight Theatre, there are a handful of places to eat in Terlingua. We haven't tried all these places in Terlingua, but they come recommended from trusted bloggers. La Posada Milagro is a good breakfast option. DB's Rustic Iron BBQ is a roadside spot that's definitely no frills (like most places in Terlingua), while High Sierra Bar & Grill is all about steak, Tex-Mex and live music.
Where to stay in Terlingua
All the places in Terlingua were booked when we visited, so we actually stayed in Lajitas, a 20-minute drive from Terlingua. The Lajitas Golf Resort is a big property with comfy rooms.
If you can plan ahead, try to book a tipi or bubble at Basecamp Terlingua.
New Braunfels
Another city in the Texas Hill Country with German influences, there's plenty to do in New Braunfels for a lovely long weekend, from music in a historic venue to a day of fun floating the river.
What to do and see in New Braunfels
Wander the township of Gruene, a historic area that has been absorbed into the city limits of New Braunfels. Here you can explore several notable buildings and shop for antiques.
A must-do when in Gruene is Gruene Hall, the oldest continually run dance hall in Texas. This hall has seen BB King, Willie Nelson, Garth Brooks and the Dixie Chicks play to audiences. Plan a trip to New Braunfels around a concert or pop in during the day for a drink and a look around.
Just across the road from Gruene Hall is the Grapevine, a great little wine bar. On Friday nights they usually have live music playing outside.
Beer-lovers will enjoy the Hill Country Craft Beer Trail. A shuttle bus stops at a number of different breweries around the area.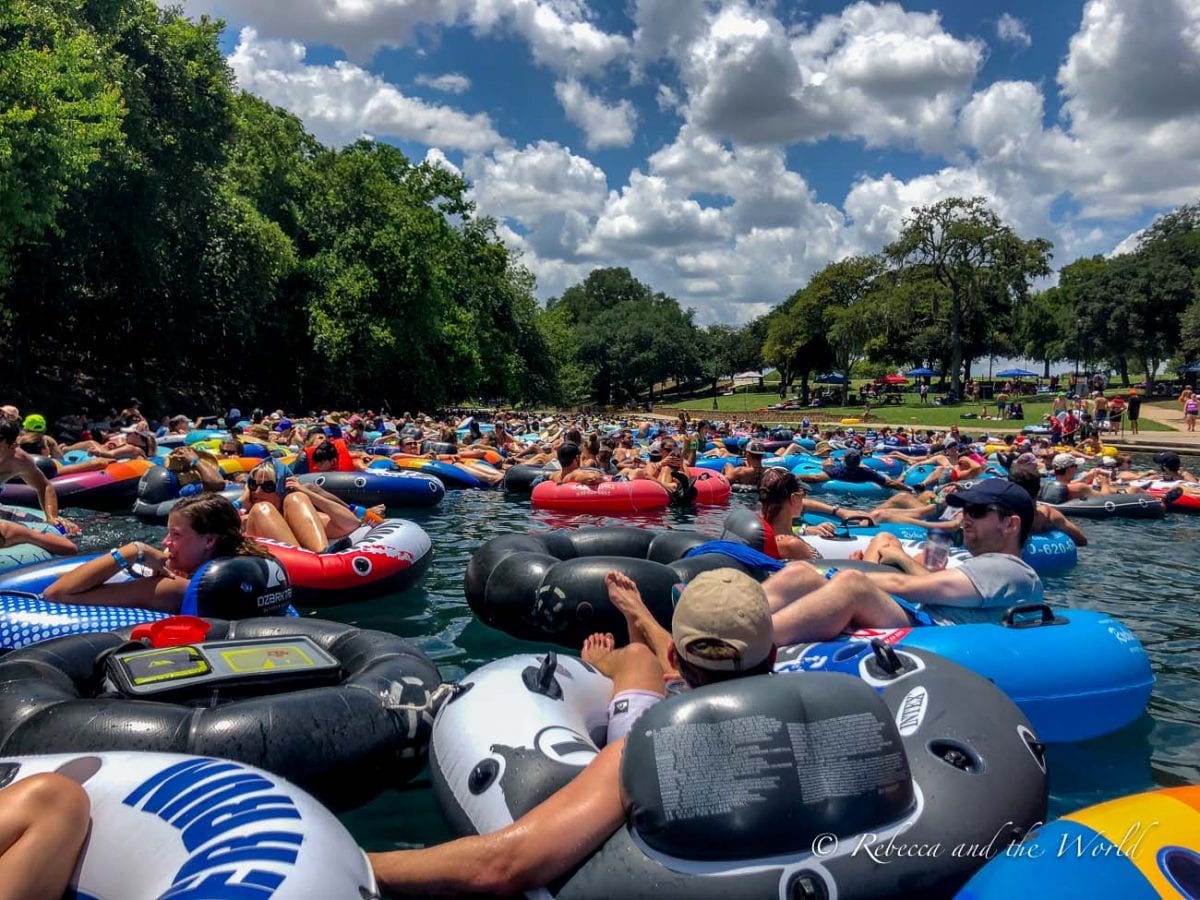 In summer, stay cool by floating the river in New Braunfels. There are two rivers to choose from: the Guadalupe River is known for its parties, while the Comal River is a little calmer – except for the fun chutes that are like mini waterslides! This is without a doubt one of the most fun things to do in Texas, it's worth planning a trip just around this!
If you're still craving water activities, spend a day at the original Schlitterbahn waterpark. There are waterslides, lazy rivers and tube chutes over 70 acres.
Before you leave New Braunfels, snap a photo at the Faust Street Bridge, one of the city's most famous landmarks. It's one of the few Whipple truss bridges left in Texas.
Where to eat in New Braunfels
Start the day off with some strudels, kolaches and other baked goods from Naegelin's Bakery, the oldest bakery in Texas.
The Gristmill is one of the most popular restaurants in New Braunfels. It's right in the heart of Gruene and serves up American comfort food like chicken fried steak and burgers, as well as traditional German dishes. The Downtowner is another good option for dinner, with plenty of Southern cuisine on the menu.
Get your barbecue fix from Black's Barbecue, an outpost of the original in Lockhart, Texas.
Where to stay in New Braunfels
If you're looking for a lovely bed and breakfast, the cottages at Zink Haus are a great choice. There are three cottages and you can rent one or if you have a larger group, book all three. We had a really comfy stay here.
Amarillo
Located in the Texas Panhandle, Amarillo normally isn't on the radar of visitors, but it's worth a stop for historic Route 66, quirky artwork and a spectacular state park.
What to do and see in Amarillo
Once the most important towns along the Texas section of historic Route 66, Amarillo has plenty of Route 66 memorabilia for history buffs to explore. The 1-mile stretch of 6th Avenue between George and Western streets is filled with signs and antique shops.
If you're looking for your next Instagram profile picture, head to Cadillac Ranch on the outskirts of town. This art installation has almost a dozen old Cadillacs that are half buried nose-first in the dirt. You can get creative and leave your mark on the cars – pick up one of the used spray cans on the ground or bring your own. Ozymandias is a Cadillac Ranch-like art installation with a collection of combine tractors instead of Cadillacs.
Take a look through some of the town's quirky museums, like the Jack Sisemore Traveland RV Museum, American Quarter Horse Hall of Fame and Museum, and Bill's Backyard Classics, which has nearly 100 classic cars and hot rods on display.
For a classy night out, see what's on at the Amarillo Opera, which has been running since 1988.
Just 30 minutes outside of Amarillo is Palo Duro Canyon State Park, nicknamed Texas's Grand Canyon. There are plenty of hikes to occupy a day or two exploring the park.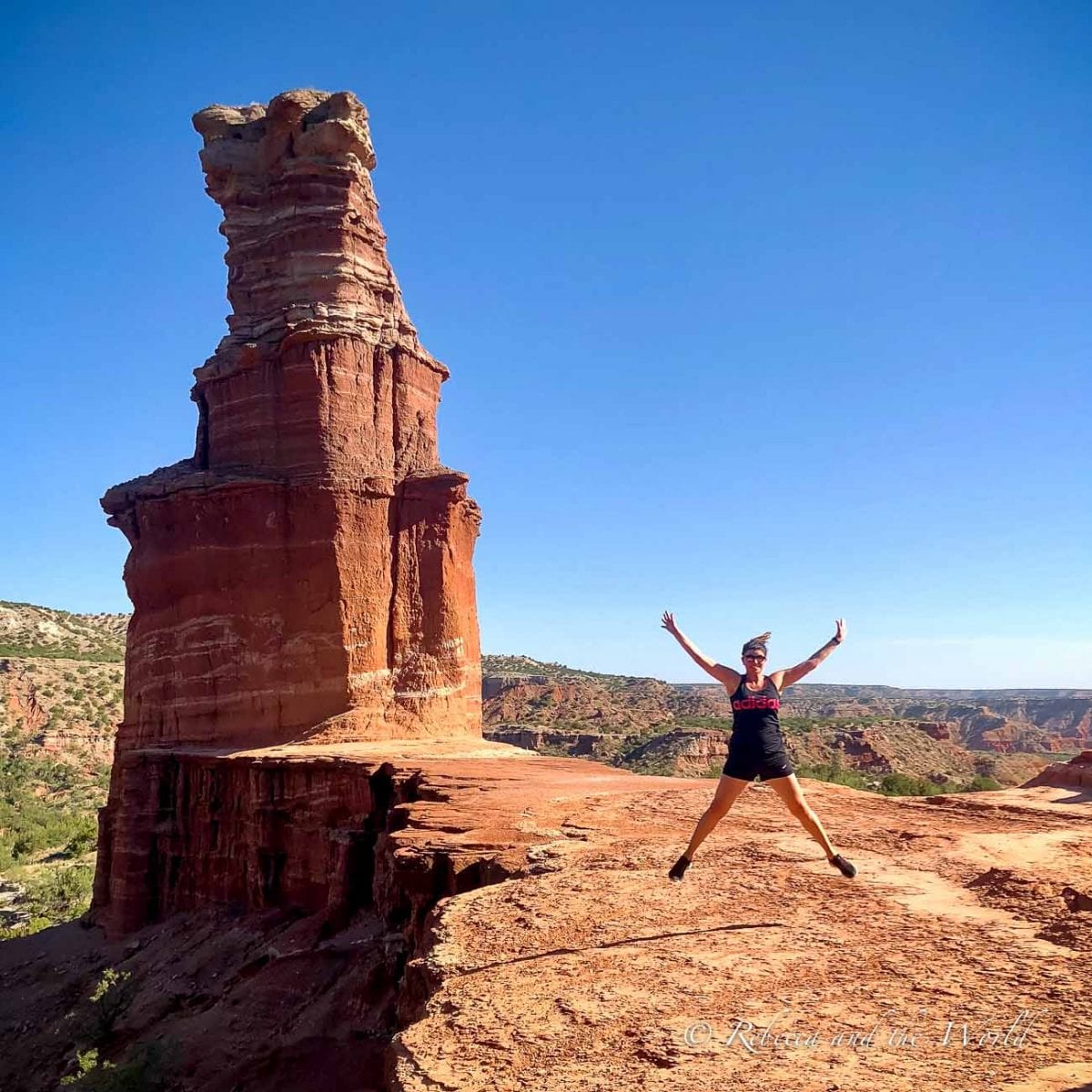 Where to eat in Amarillo
Check out the food at Yellow City Street Food, a hipster spot selling street food-style eats. The 806 Coffee + Lounge has a delicious Sunday brunch and hosts live music and an open mic night during the week.
Crush has plenty of healthy and delicious options on the menu beyond the steak and fried food Texas is known for.
But if you're really craving steak, there's only one place to go: the Big Texan. The steak-eating challenge here is legendary throughout Texas. The meal is on the house if you can make your way through a 72-ounce steak, baked potato, shrimp cocktail, salad and bread roll with butter in under 60 minutes. If you can't do it, you have to cough up $72.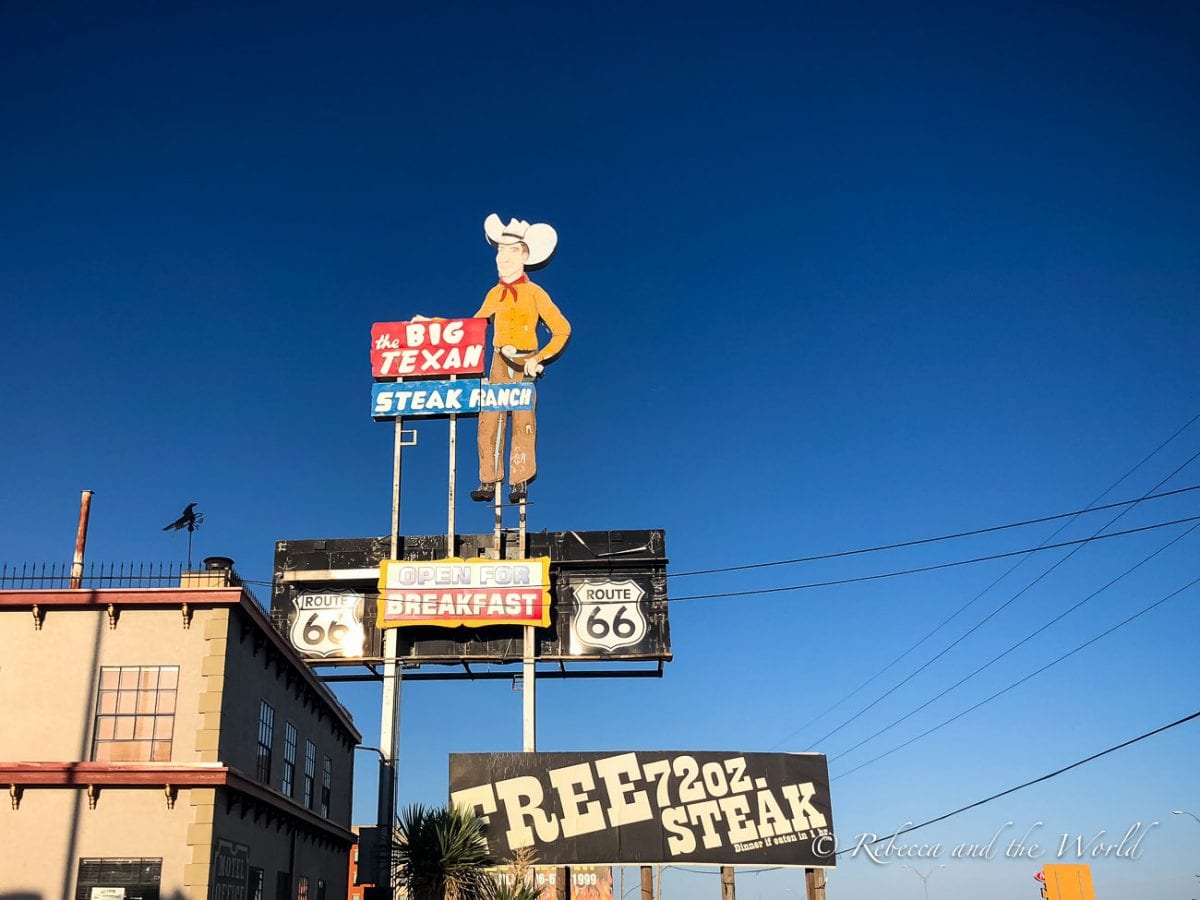 Where to stay in Amarillo
Book a remote and tranquil stay at Doves Rest Cabins, which sits above Palo Duro Canyon.
Waco
A couple of charismatic fixer-upperers have put Waco back on the map in a big way. Come check out for yourself how the city has been transformed.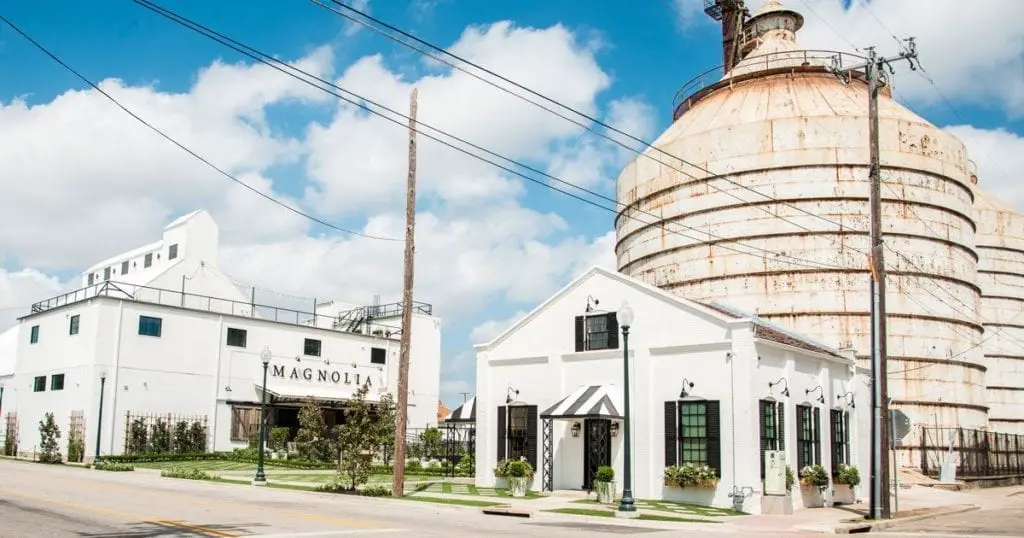 What to do and see in Waco
The main draw of Waco is the Magnolia Market at the Silos. Bus-loads of Fixer Upper fans pull up here each weekend in search of cupcakes and shiplap. The space itself is really nice and it's lovely to see families hanging out and playing games on the huge lawn beneath the silos. Get here early or prepare to line up if you want something from the bakery.
If you didn't know, Dr Pepper was created in Waco in the late 1800s, and there's a museum dedicated to the soft drink.
For sport lovers, the Texas Sports Hall of Fame honours Texan athletes in a range of different interactive activities and displays.
For those who prefer the outdoors, the Lake Waco Wetlands has a series of walking paths and educational programs.
Where to eat in Waco
Check out Eater's guide to the best places to eat in Waco (including Health Camp, which does not serve anything remotely healthy – but it's all delicious!).
Where to stay in Waco
Die-hard Fixer Upper fans will want to nab a room at Chip and Joanna Gaines' bed and breakfast, Magnolia House. Book ahead though – as you can imagine, it books up quickly!
Close to Waco's attractions, Hotel Indigo Waco has spacious, modern rooms and an onsite restaurants. Check rates online at Booking.com | Read reviews online
Fort Worth
Fort Worth has more of a cowboy town feel than its sister city of Dallas, even though the two are only 35 miles apart. It's a fun place to visit in Texas – especially for kids.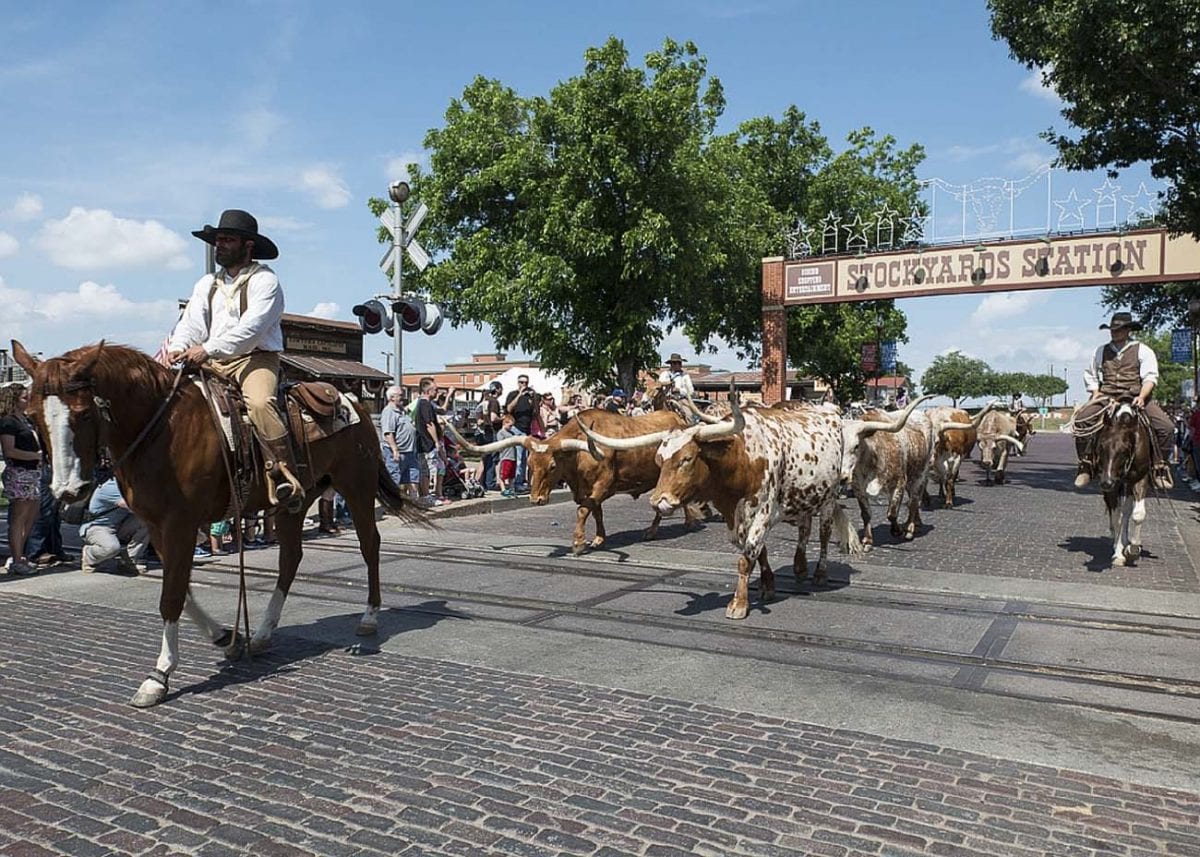 What to do and see in Fort Worth
Most visitors start off at the Stockyards National Historic District to take a step back in time and learn about the history of this so-called "cow town". Twice a day, a herd of Longhorn cattle is paraded through the street. This has to be one of the most Texas-y things to do in Texas!
Another great stop in Fort Worth is Sundance Square, a pedestrian-friendly area filled with restaurants, shops, bars and plenty of entertainment most weekends.
If it's museums you're after, then Fort Worth has some of the best in the state. The Kimbell Art Museum and the Modern Art Museum of Fort Worth are high on art lovers' lists.
Fort Worth also boasts plenty of outdoor space, with the 109-acre Botanic Garden, the oldest botanic gardens in Texas. The Fort Worth Nature Center and Refuge is a great space for relaxing or hiking or mountain biking.
For a fun night out in Texas, head to Billy Bob's for some two-stepping under the saddle-shaped disco ball or see if you can hold on to the bucking bull. If it's your first time in Texas, I highly recommend heading here! It's where I learned to two-step!
Where to eat in Fort Worth
From doughnuts to burgers to Tex-Mex, here are 50 things you need to eat in Fort Worth.
Where to stay in Fort Worth
So, hopefully you've now got some ideas of where to go when you visit Texas!
Have you been to the Lone Star State? What are your favourite places to visit in Texas? Drop me a comment below!
This post was originally published in February 2019, and was updated in May 2020 and January 2023.
PIN IT FOR LATER:
Save this guide to Pinterest so you can plan your own trips to the best places to visit in Texas!