Looking for a guide to fun things to do in New Braunfels, Texas, over a weekend? Read on for my best tips!
The summer months, although scorchingly hot, have been perfect for planning weekends away to explore Texas. After our weekend trip to Amarillo, we decided to go south and headed to New Braunfels for a quick weekend trip.
Located in the Texas Hill Country, this city of almost 100,000 people is steeped in German history. Like Fredericksburg, New Braunfels was one of the places settled by Germans, and today you can still see the German influences that remain in the restaurants, cafés and street names.
We came in on a Friday afternoon and left Sunday. While we packed a lot in to our weekend in New Braunfels, the relaxed atmosphere of the city left us feeling refreshed. Here are the best things in to do in New Braunfels over a long weekend so you can plan your own Texas Hill Country getaway.
This blog post may contain affiliate links, meaning if you book or buy something through one of these links, I may earn a small commission (at no extra cost to you).
Things to do in New Braunfels
Wander historic Gruene
Gruene (pronounced green) is a historic area located within the city limits of New Braunfels. German farmers settled here in the 1840s, including a man named Ernst Gruene. He found it hard to find land in New Braunfels, so he bought up acreage downriver instead. He and his sons built several buildings and planted cotton, which attracted further families and the town grew quickly. Many of his original buildings still stand today.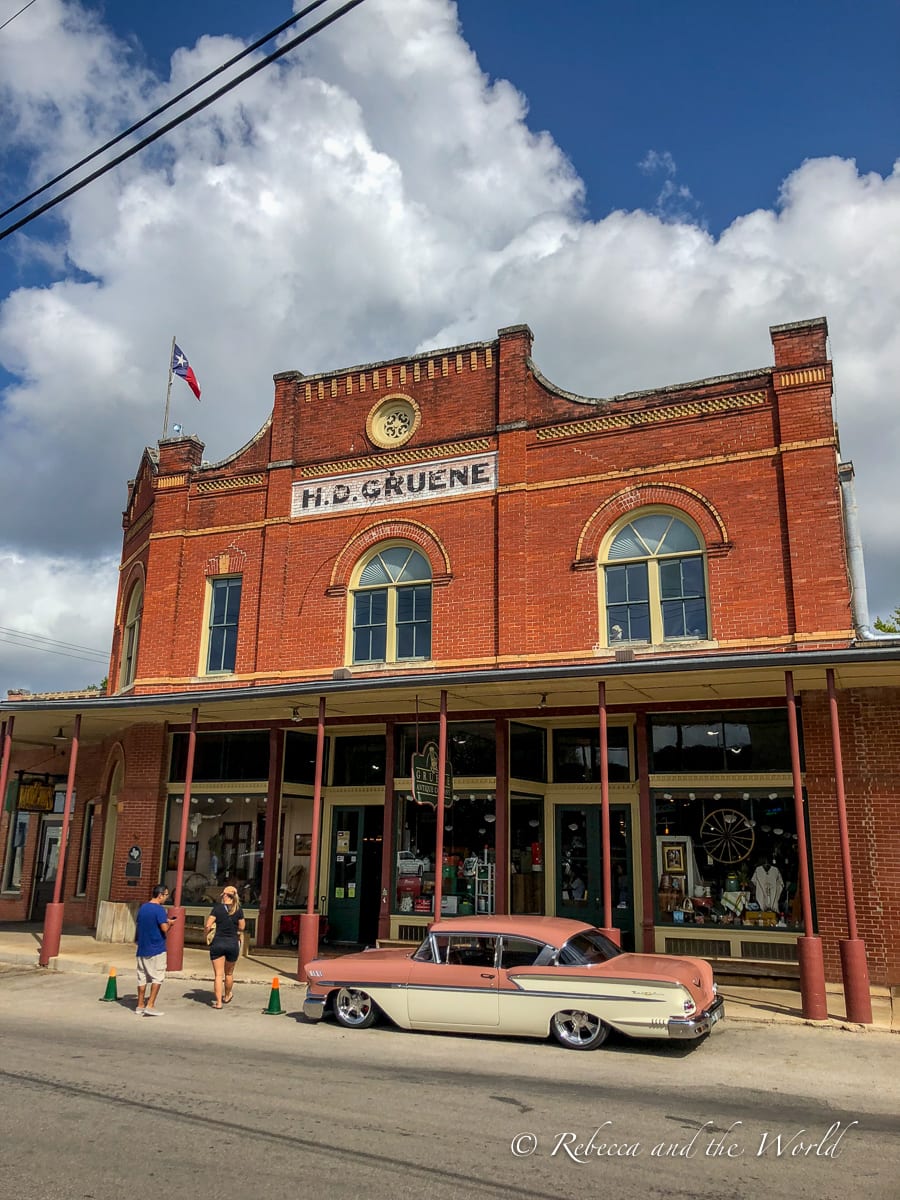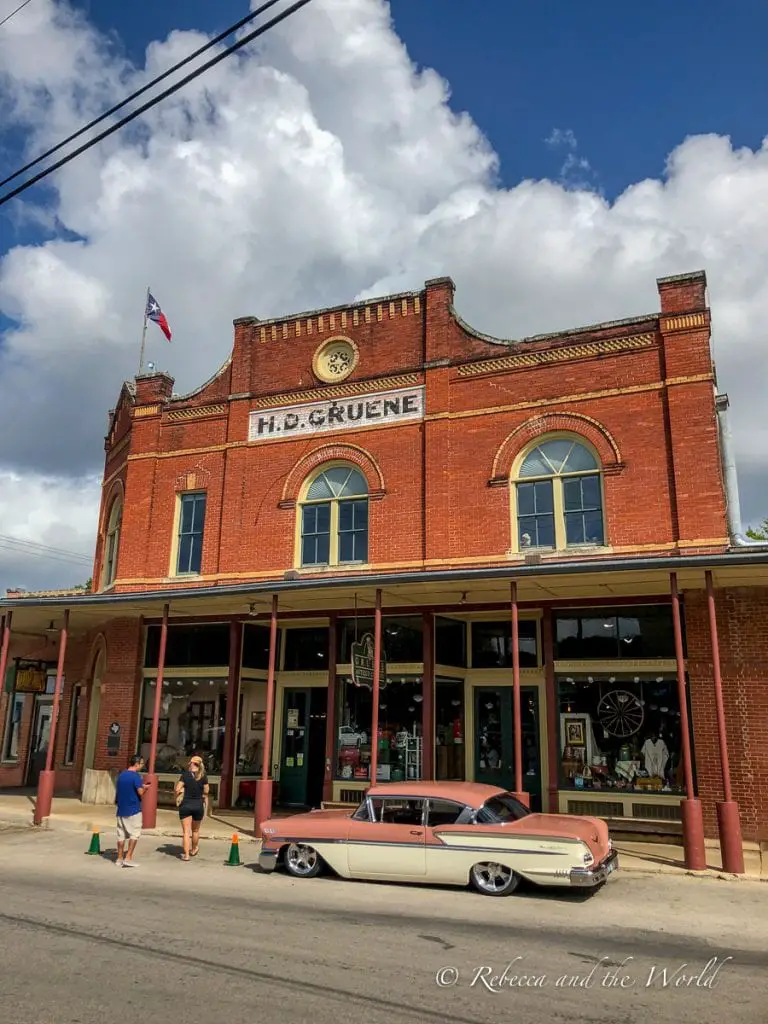 You can spend a morning or afternoon wandering through the historic district of Gruene. One of the popular New Braunfels attractions is the Gruene General Store, which has kept its old-world interior. The store sells homemade fudge, ice cream, sweets and locally made condiments as well as unique souvenirs.
Across the road is the Gruene Antique Company, selling all sorts of neon signs, cowboy boots, antique homewares and toys. It's well organised and there was not a speck of dust to be seen. Rather unusual for an antique store!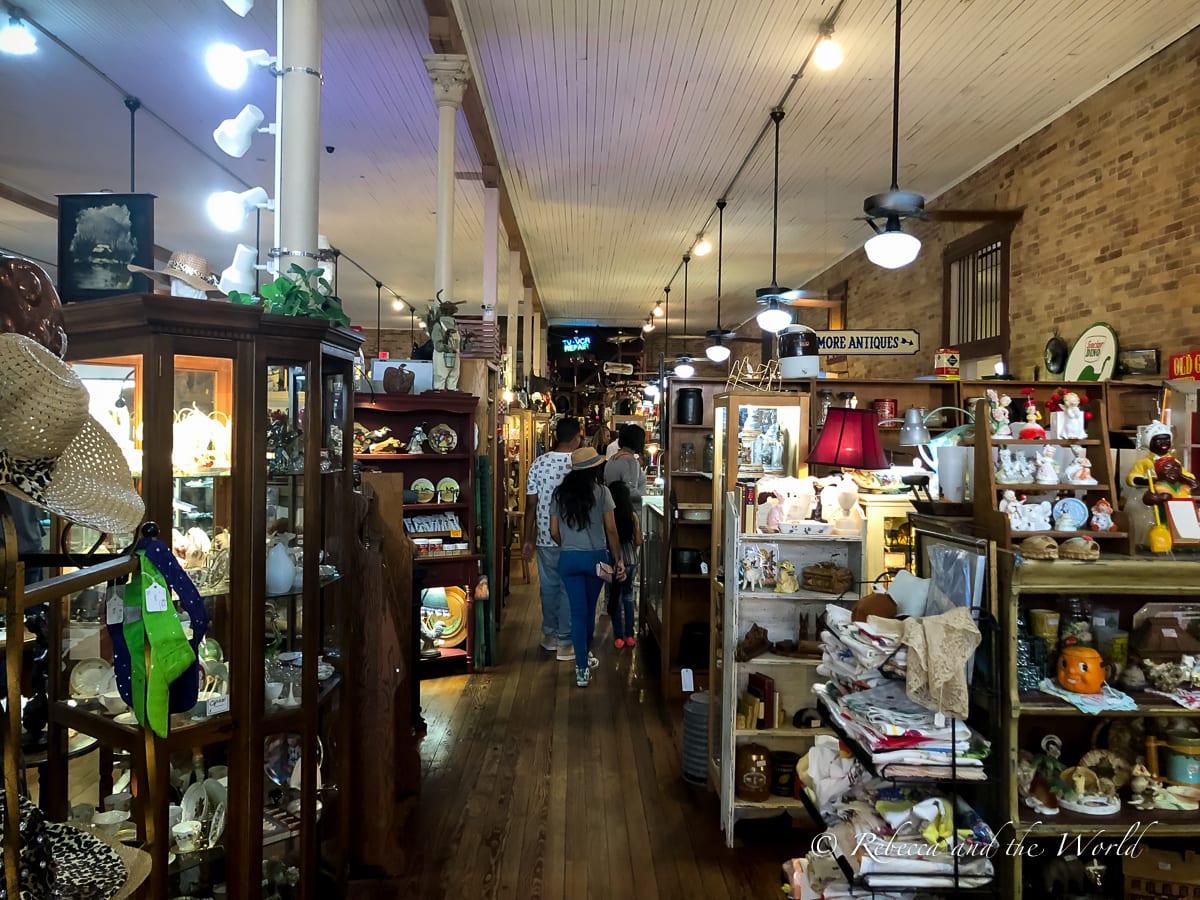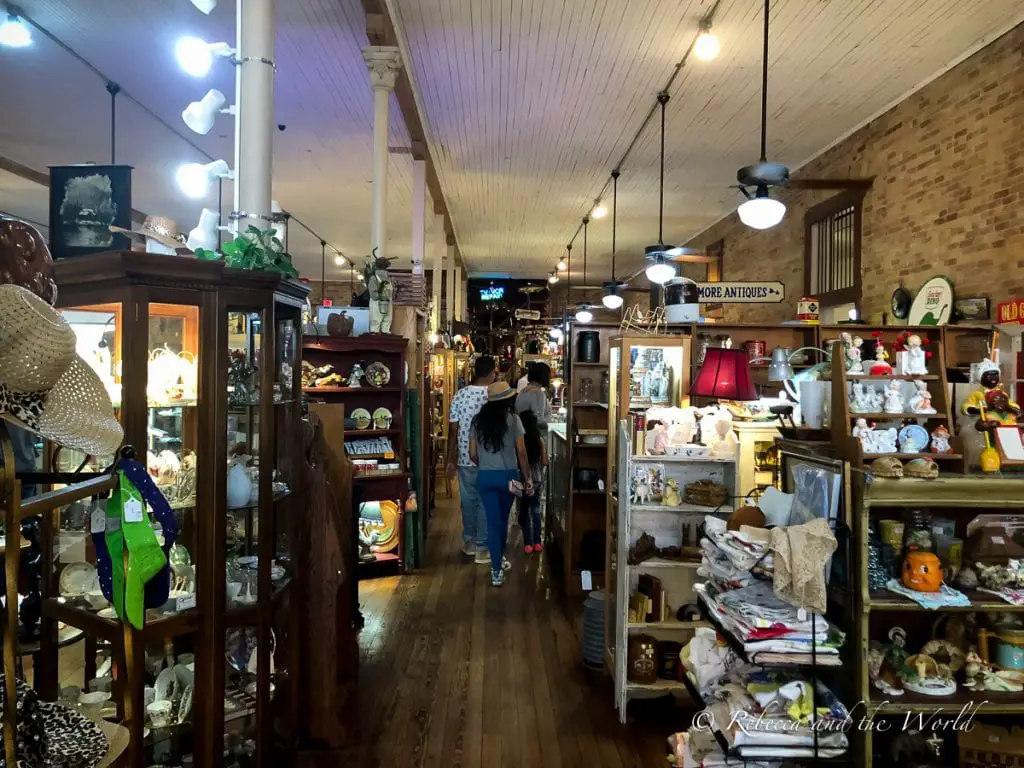 Make sure to pick up a jar of pickles from Fickle Pickles. Not only is does it have the cutest name ever, the pickles are perfectly tangy and crunchy.
See a show at Gruene Hall
Gruene Hall is an iconic Texas music venue. The oldest continually run dance hall in Texas, it was built in 1878 and is located in the heart of the Gruene historic district. It's an incredible historic place to visit in the United States.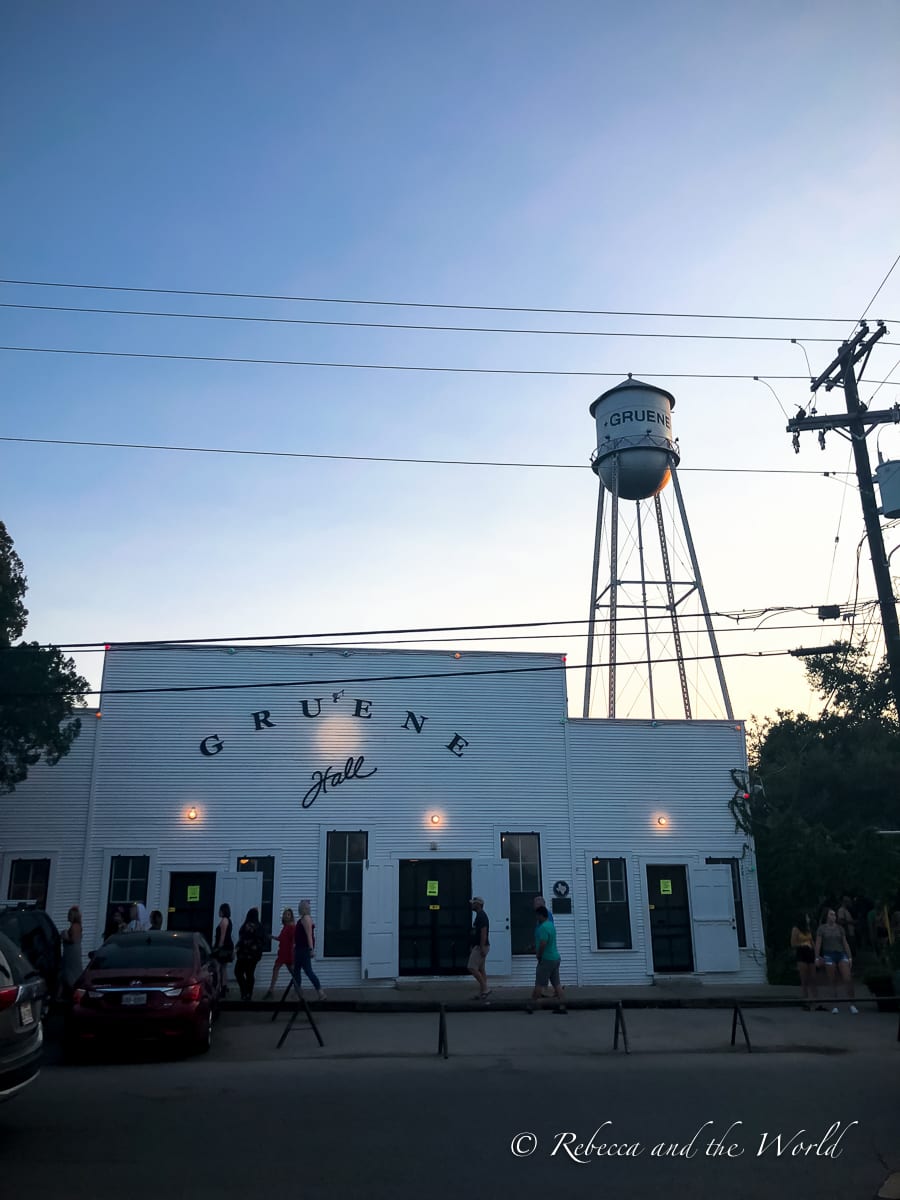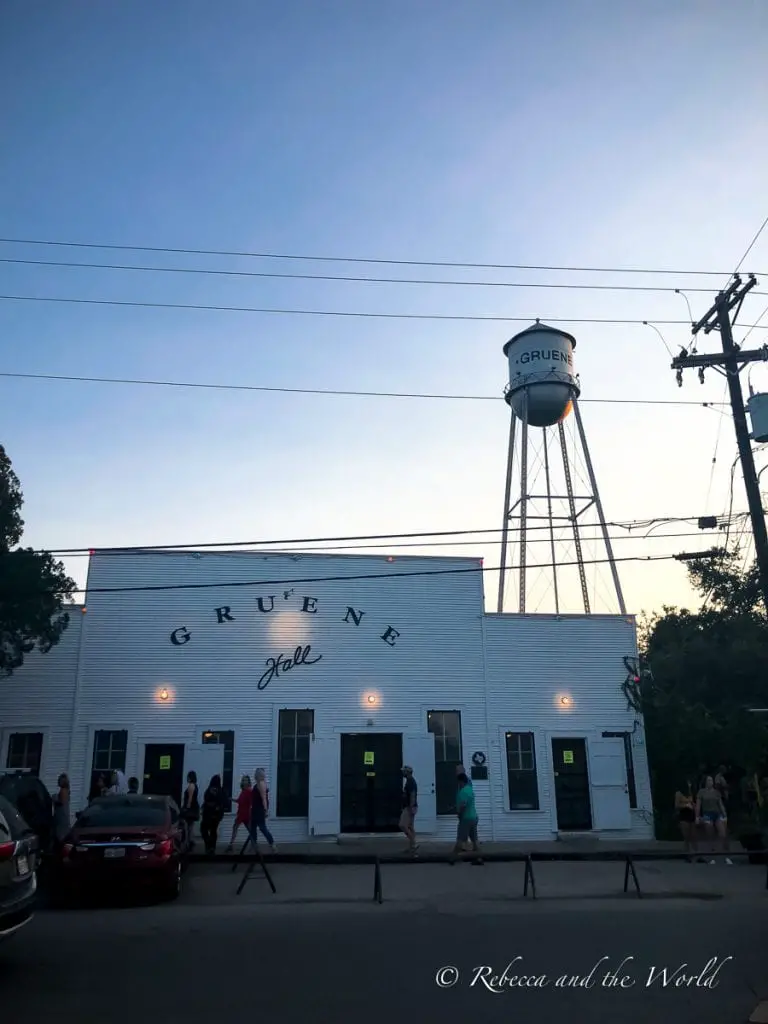 The hall has a huge outdoor area and the inside walls are covered with memorabilia dating back to the 30s. There's some pretty cool stuff to see here.
The 6,000-square-foot hall has not changed much since it was first built. BB King, Willie Nelson, The Dixie Chicks and Garth Brooks have all played on the venue's small stage. We saw Jackie Venson the night we went and loved her bluesy rock style. The girl can wail on a guitar!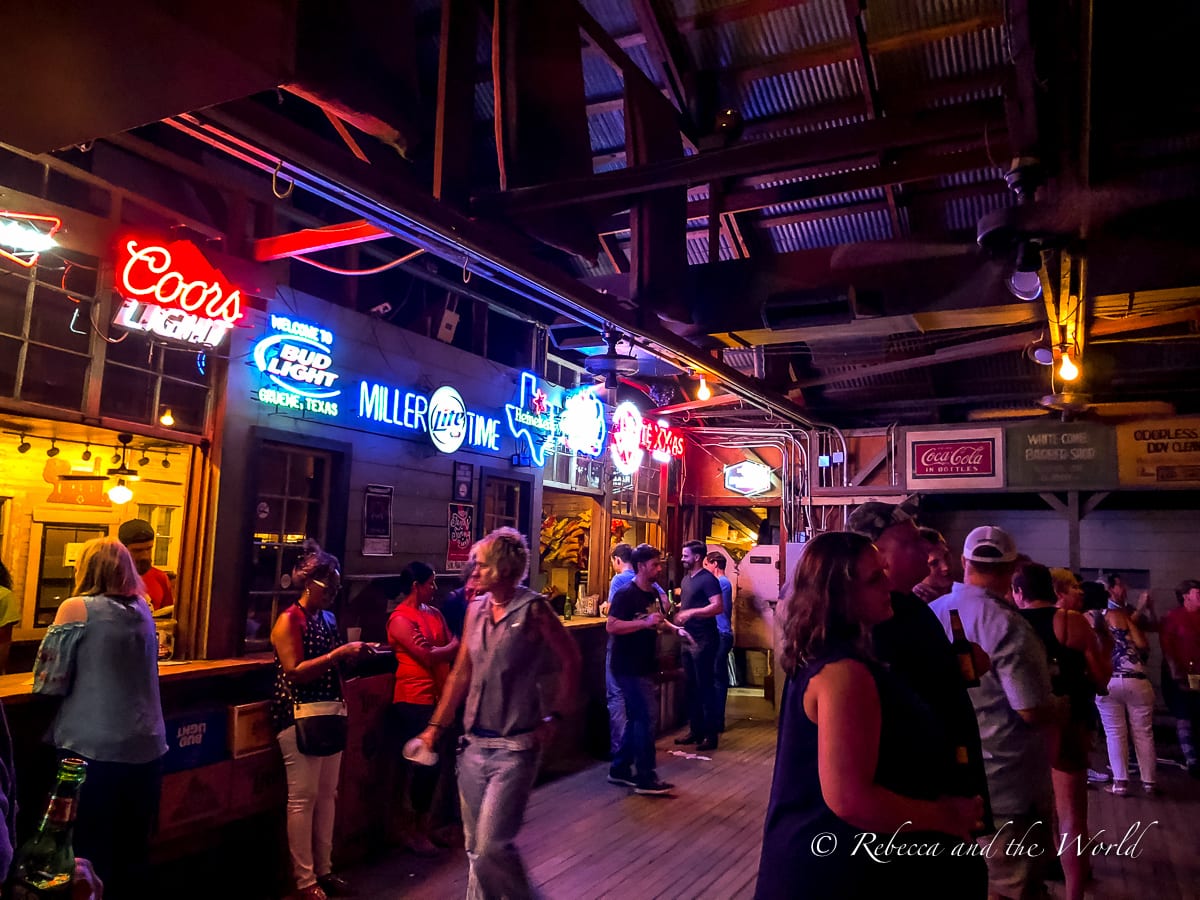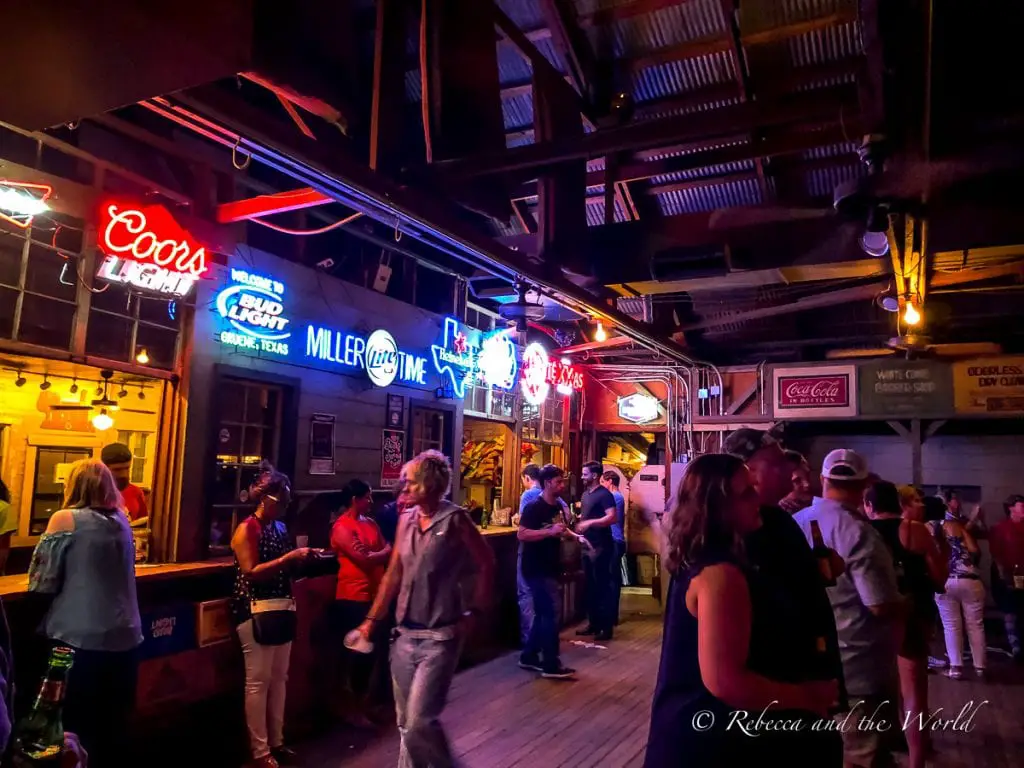 Don't even bother trying to avoid paying for a ticket and trying to catch the show through the windows – the security guard outside will run you along pretty quickly. And you're a cheapskate if you do try to do that – tickets are usually only $15 to $25 for a show (and often free during the week)!
1281 Gruene Rd
Photograph the water tower
Just behind Gruene Hall, the water tower is one of the town's most-photographed landmarks.
Legend has it that it has a grisly past. During the 1920s, a boil weevil infestation hit the town causing widespread economic turmoil. The town manager was so upset at massive loss of money it's said that he climbed to the top of the water tower and hung himself.
Ignore that dreadful history and snap a few photos – the early morning and evening hours are best.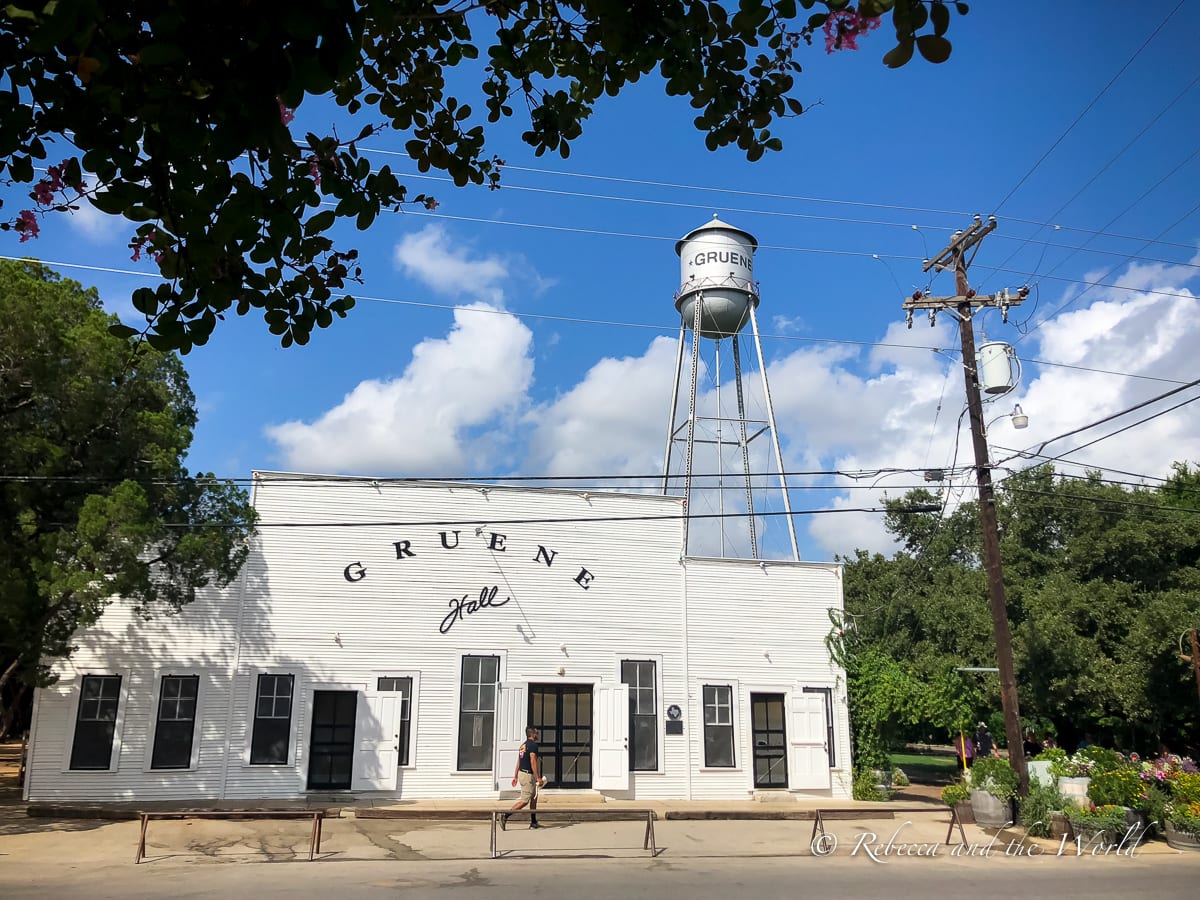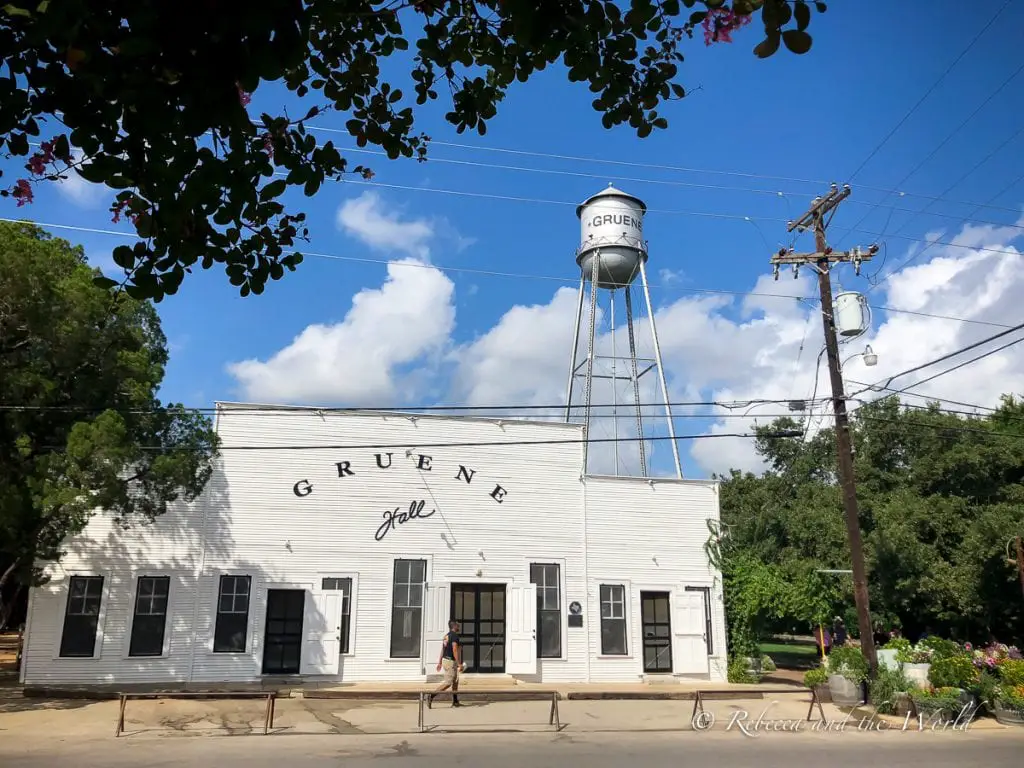 Go tubing on the river
Floating the river in New Braunfels has to be one of the best summer activities. New Braunfels has not one but two rivers that you can choose from. The Guadalupe River is known for its parties, while the Comal River has fun chutes that are like mini waterslides. I have a whole guide on tubing in New Braunfels so you can plan your own fun day!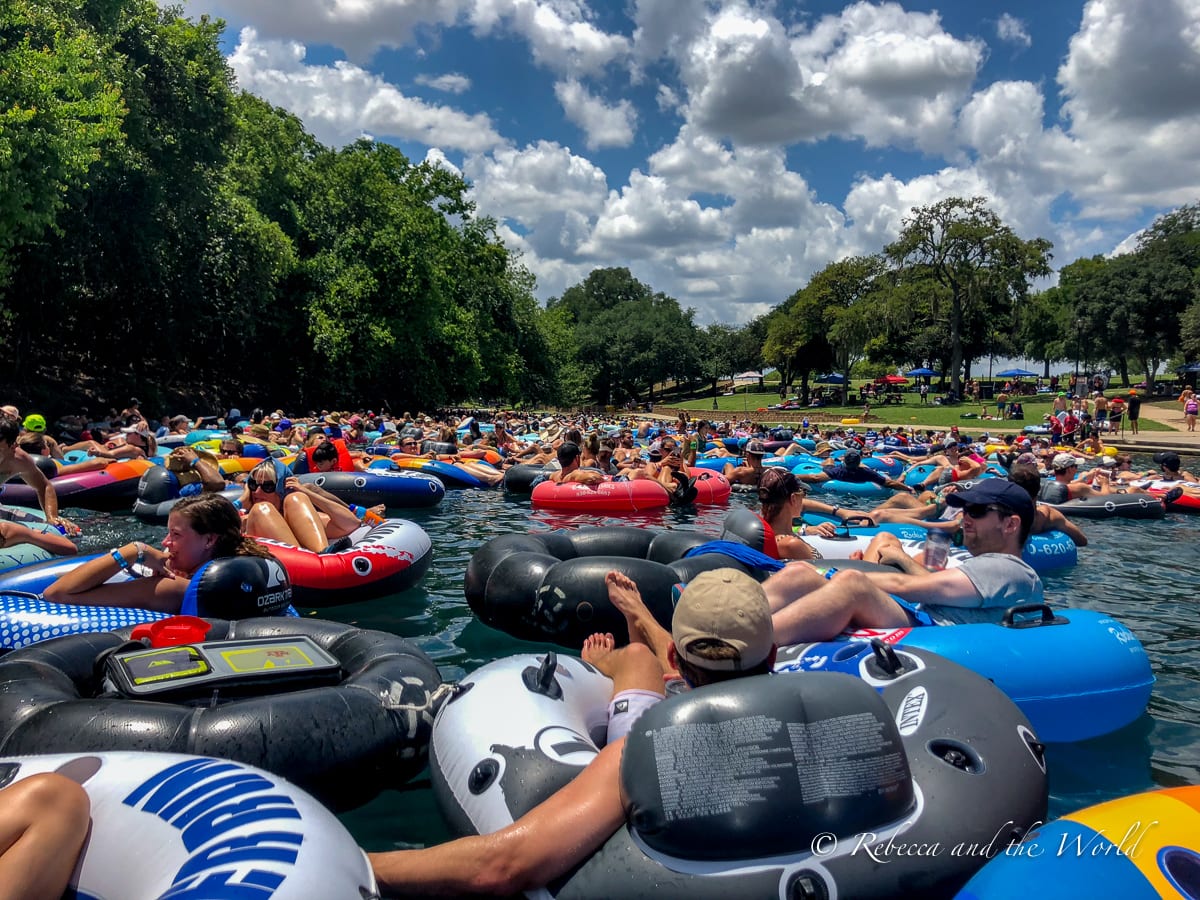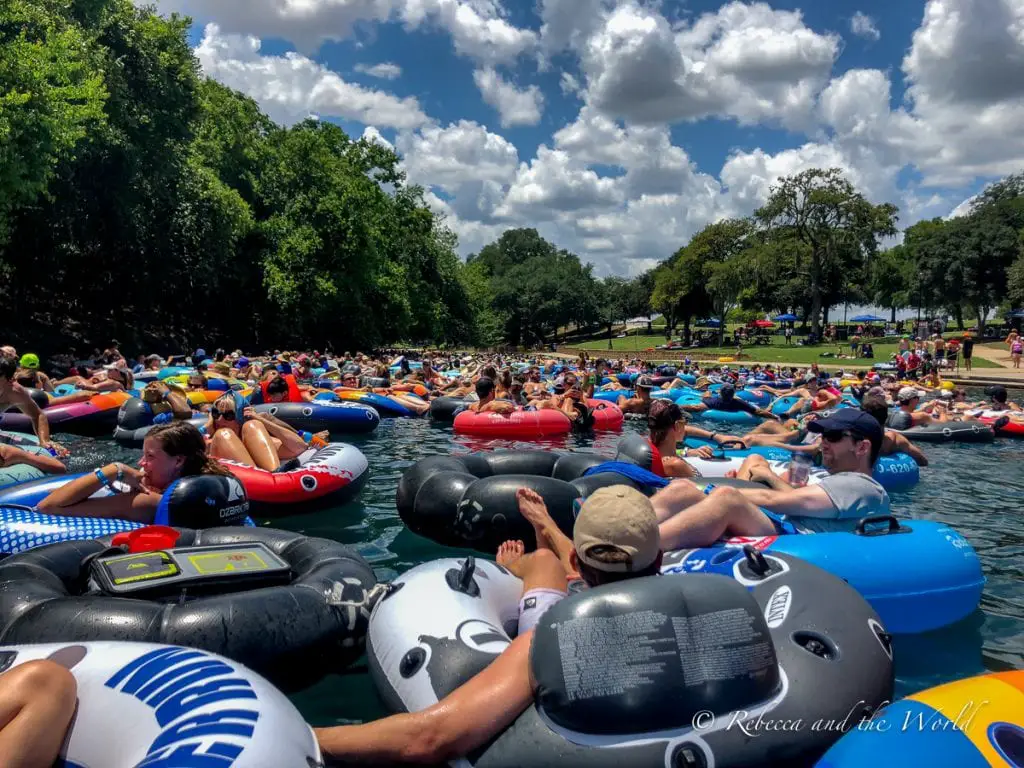 Whichever river you choose, you're going to have a great time tubing in New Braunfels. There are a number of tubing outfitters to choose from, and they'll provide the tube and shuttle you to and from the access points. All you need to do is show up with some drinks.
Make sure to check the latest river rules as they change frequently. Disposable containers like glass, plastic and Styrofoam aren't allowed on the water. Don't litter and do take all your rubbish out with you – it's because people haven't behaved responsibly that there are all these rules in place!
Sip local wine at The Grapevine
Texas probably isn't the first state you think about when it comes to wine, but it's actually number five in the top wine-producing states in the U.S.
You can try a few of them at The Grapevine, which has a huge list of local, interstate and international wines available by the glass or bottle.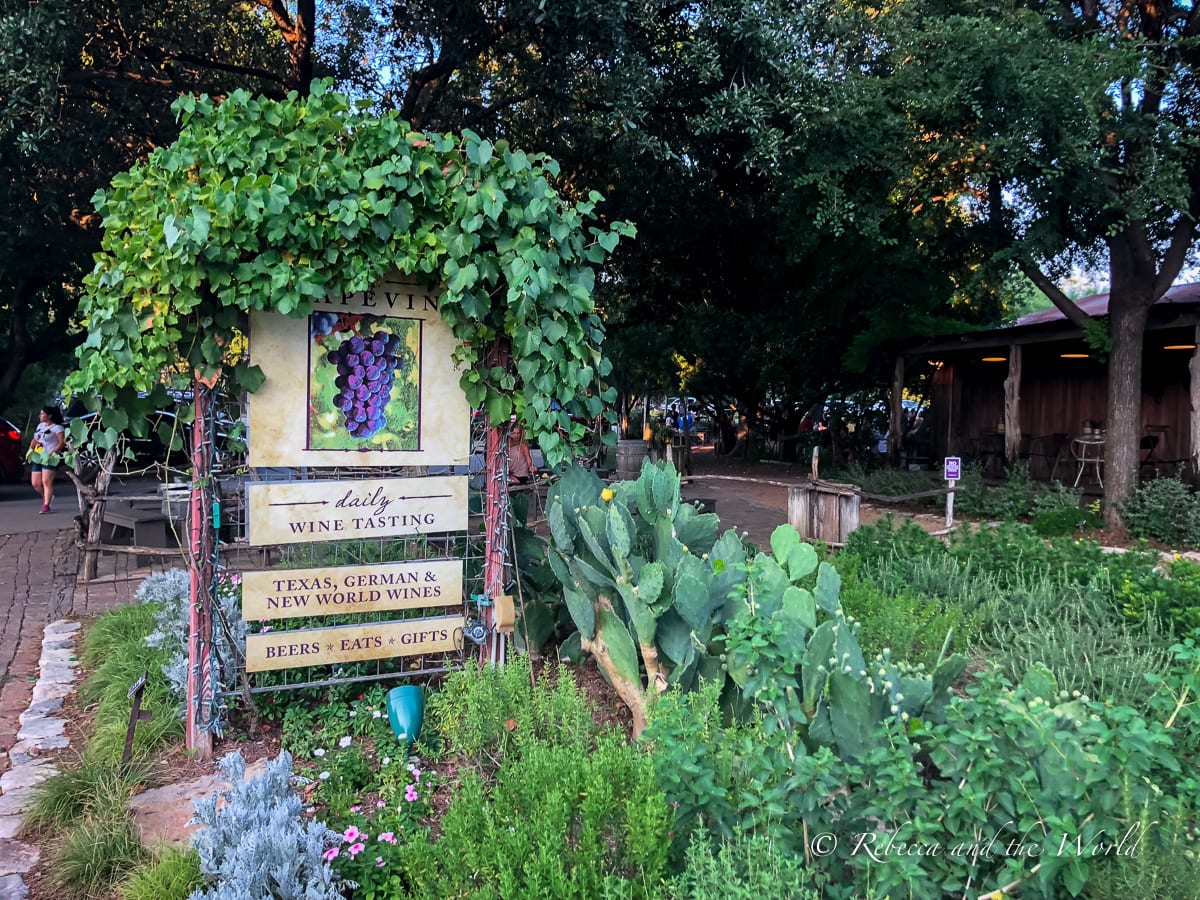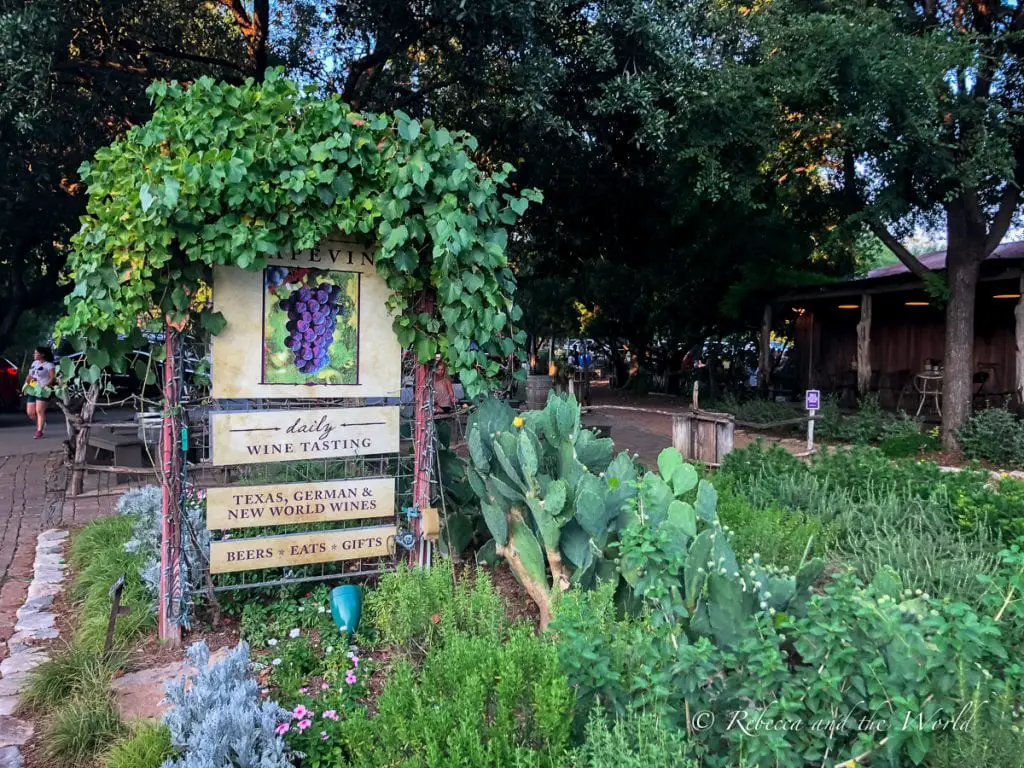 On Friday nights, sit outside under the fairy light-bedecked trees and listen to live music.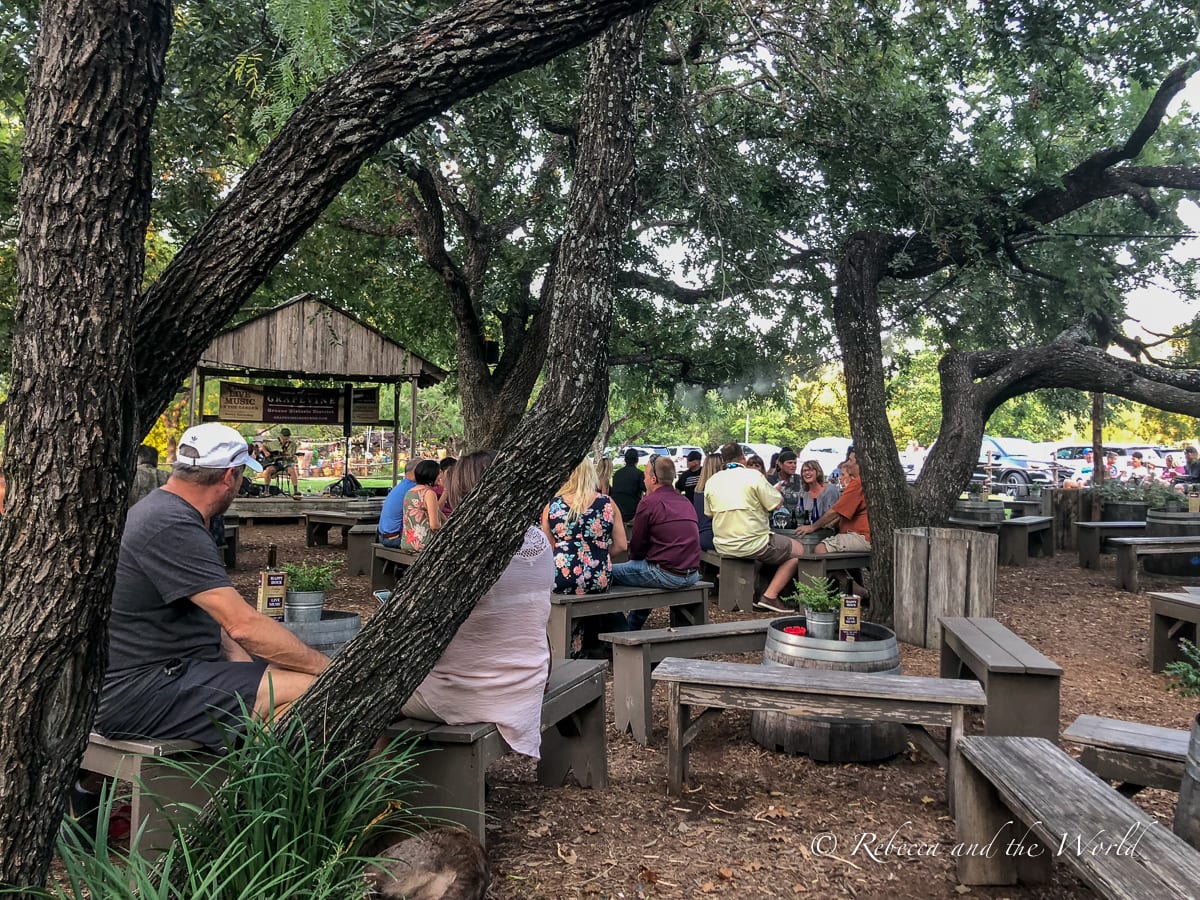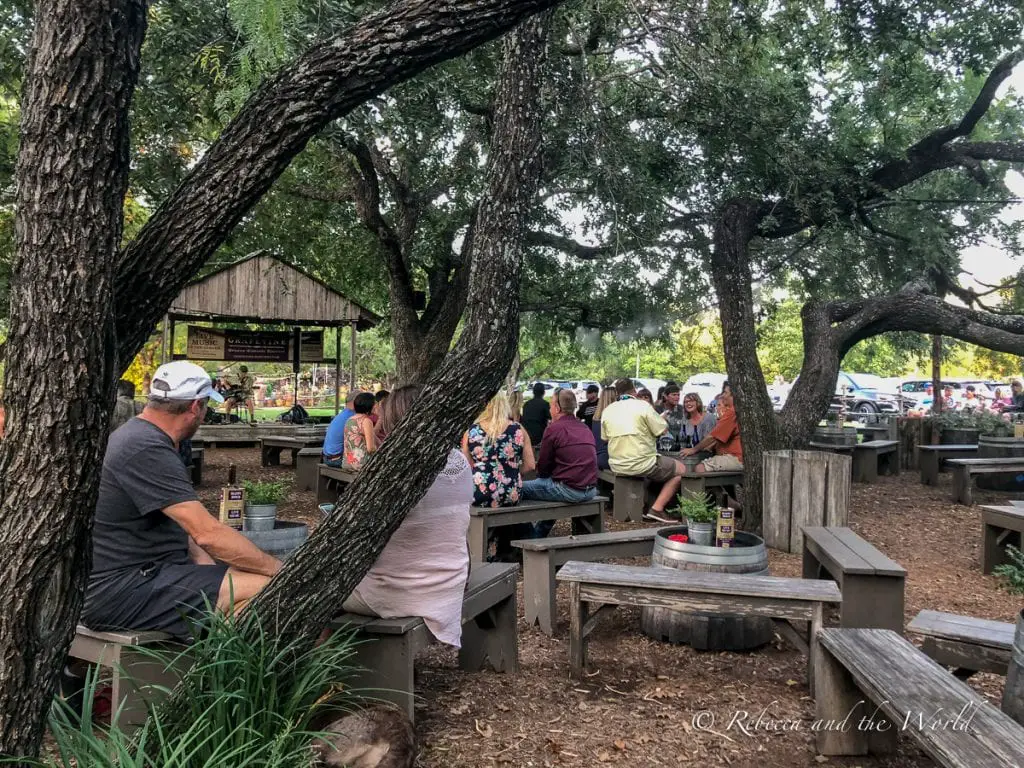 On the third Thursday of every month from February to December, meet some of Texas's finest winemakers at the weekly "Come and Taste It" event. There's music, complimentary wine tastings and food for purchase.
1612 Hunter Rd
Shop at the New Braunfels Farmers Market
Every Saturday morning from 9 a.m. to 1 p.m. downtown New Braunfels comes alive with the town's farmers market.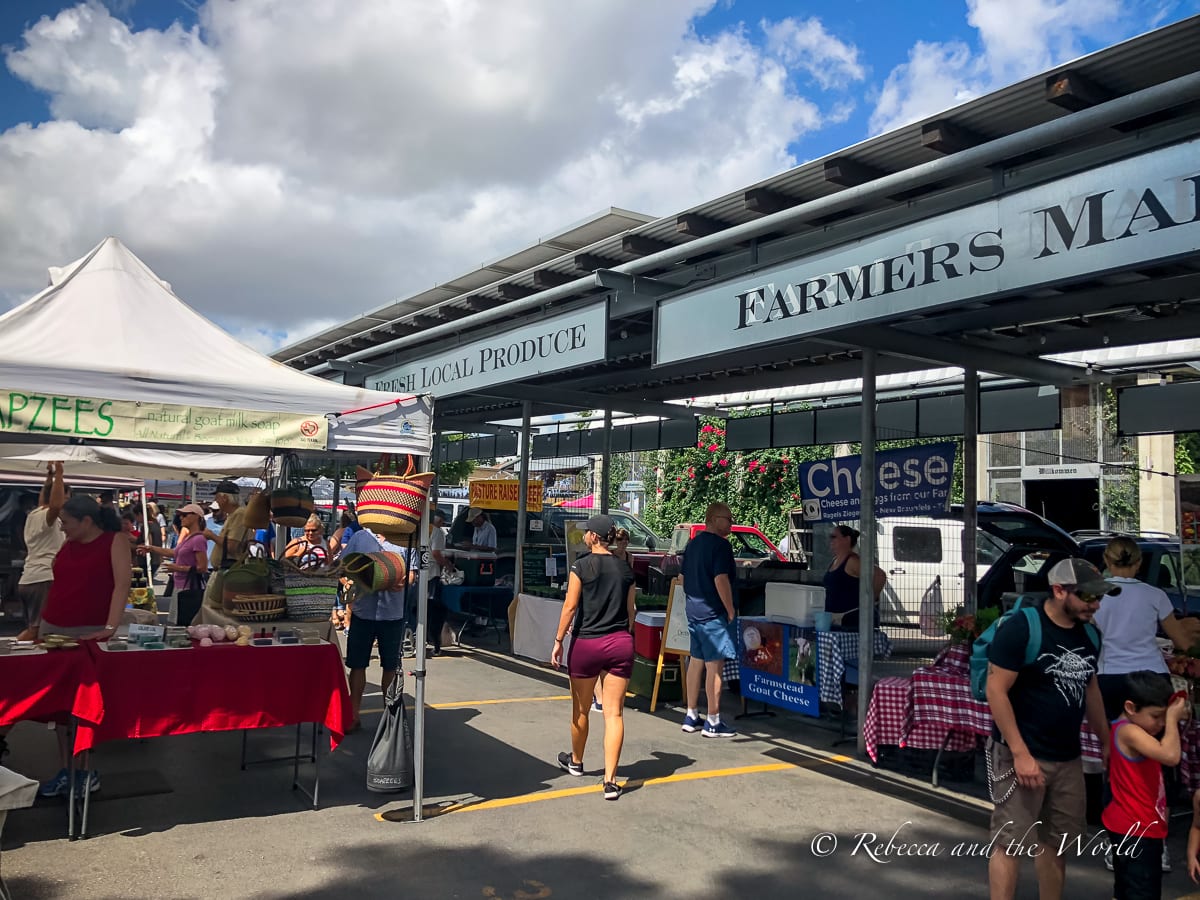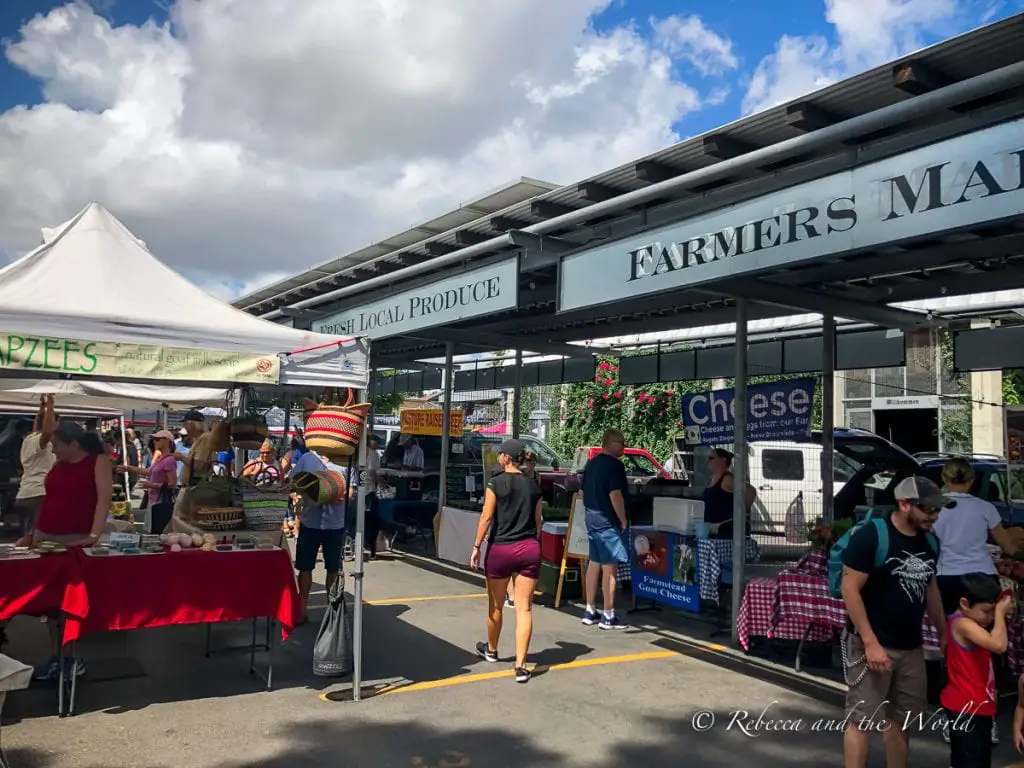 There's locally grown fresh produce, handmade crafts and jewelry, homemade lemonade, food, and soaps and skincare goods. Live music is always playing.
If you get tired of walking around, you can stop by Krause's Café for a beer. This huge restaurant and beer garden serves dozens of German and Texan craft beers to wash down plates of schnitzel and bratwurst.
186 S Castell Ave
Have fun at Schlitterbahn waterpark
If floating on the river in New Braunfels isn't enough, you can stay wet at the original Schlitterbahn waterpark. On 70 acres, the waterpark has enormous waterslides, lazy rivers and tube chutes. While we didn't visit during our weekend in New Braunfels, we did float past Schlitterbahn as we tubed down the Comal River and watched as people bungee jumped!
You could easily spend a whole day in the park.
400 N Liberty Ave
Open weekends in the early spring and autumn. Open daily during summer (June, July and most of August). The Resort at Schlitterbahn New Braunfels is open year round.
Check ticket pricing and availability online here.
Catch a flick at the Stars and Stripes Drive-in Theater
I love a drive-in theater – there's so much nostalgia! Pull up your car in front of the big screen at the Stars and Stripes Drive-in Theater at New Braunfels to catch one of their nightly flicks. There are three screens, so there's bound to be a film that takes your fancy.
Adults tickets are $9+tax, so it's a cheap night out as well. So cheap you can lash out on a burger and milkshake as well as your popcorn!
Looking for more Texas travel ideas? Check out these other articles:
Where to eat in New Braunfels
The Gristmill River Restaurant and Bar
The Gristmill is one of the most popular restaurants in New Braunfels. Located in Gruene, right on the Guadalupe River, the enormous space includes a tree-covered patio overlooking the water.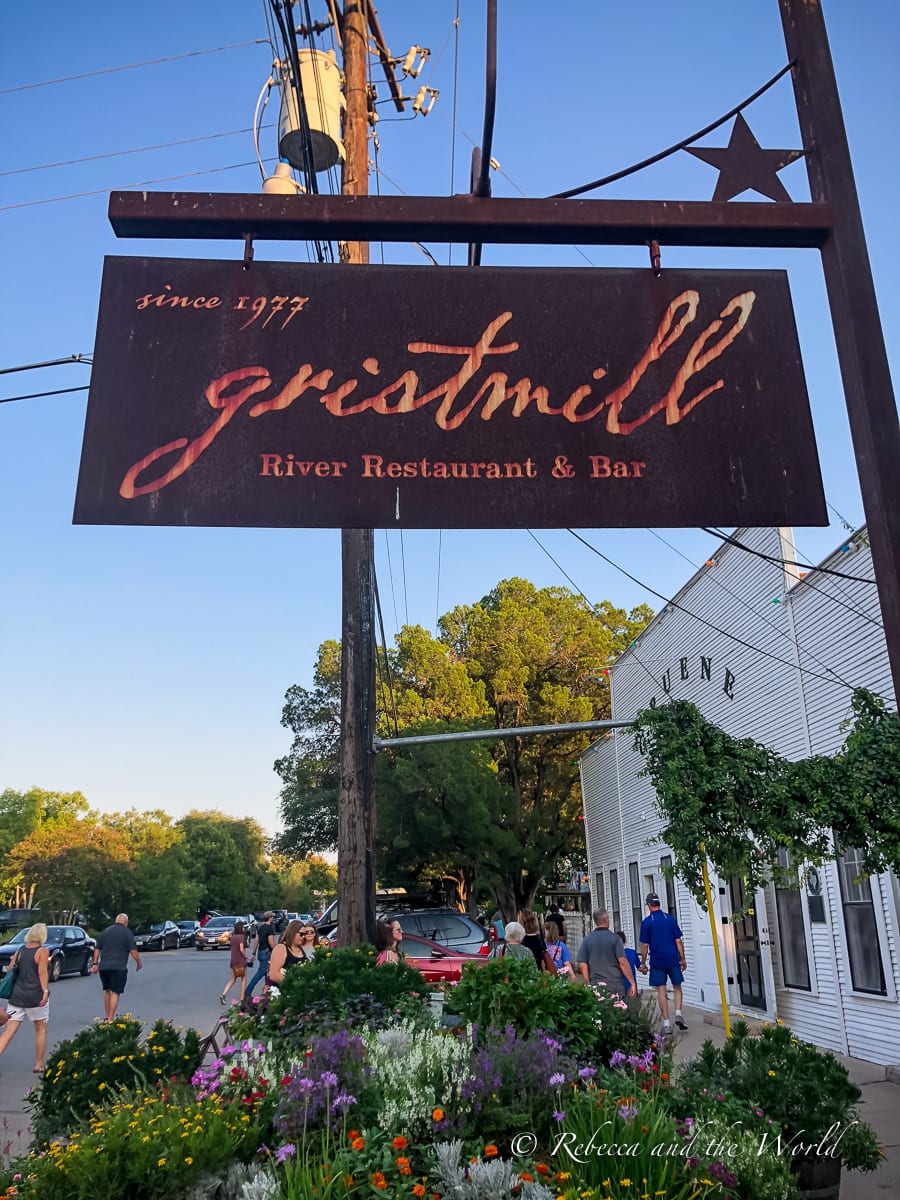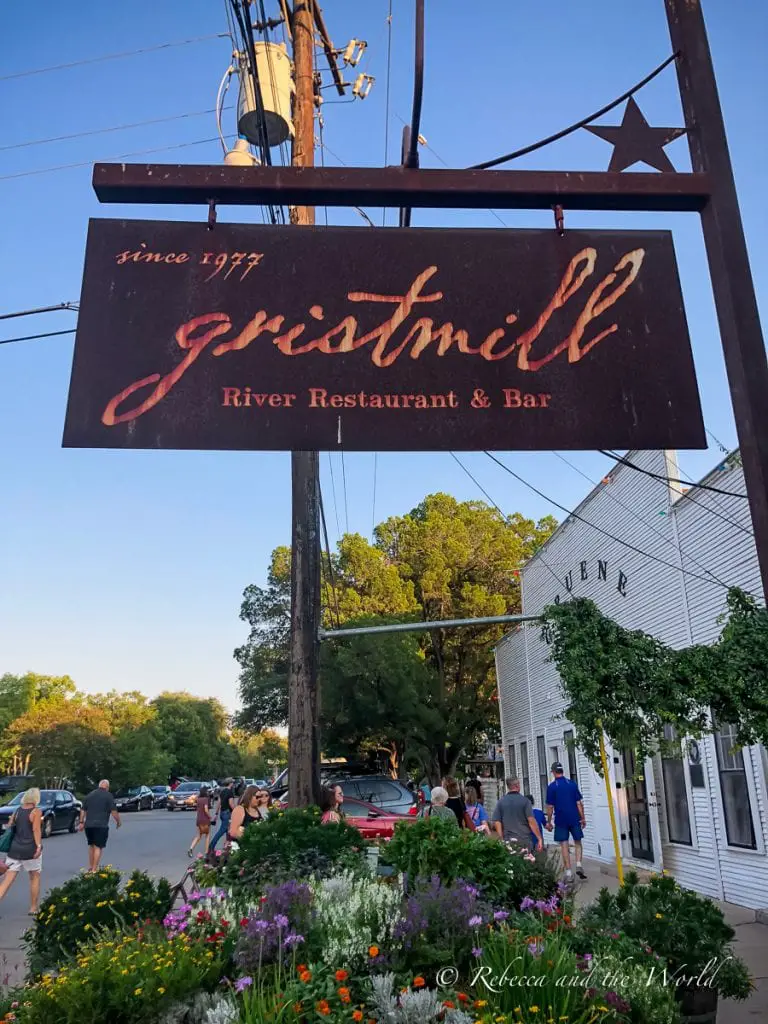 The restaurant is in the ruins of an old cotton gin that was built in 1878. The gin was destroyed by a fire in 1922 and only part of the old boiler room remains.
This is Texas, so on the menu you'll find American comfort food like chicken fried steak and burgers, as well as a few traditional German dishes. Bring your stretchy pants.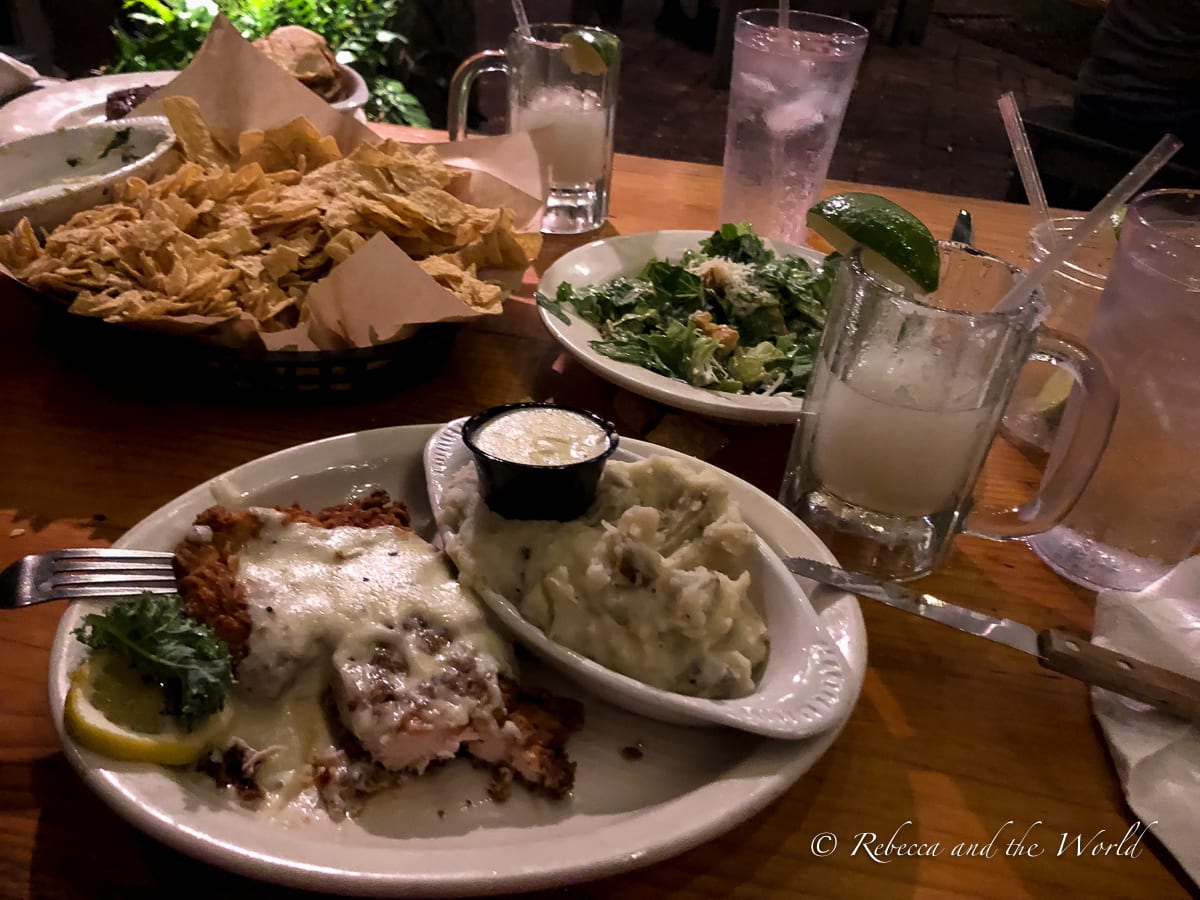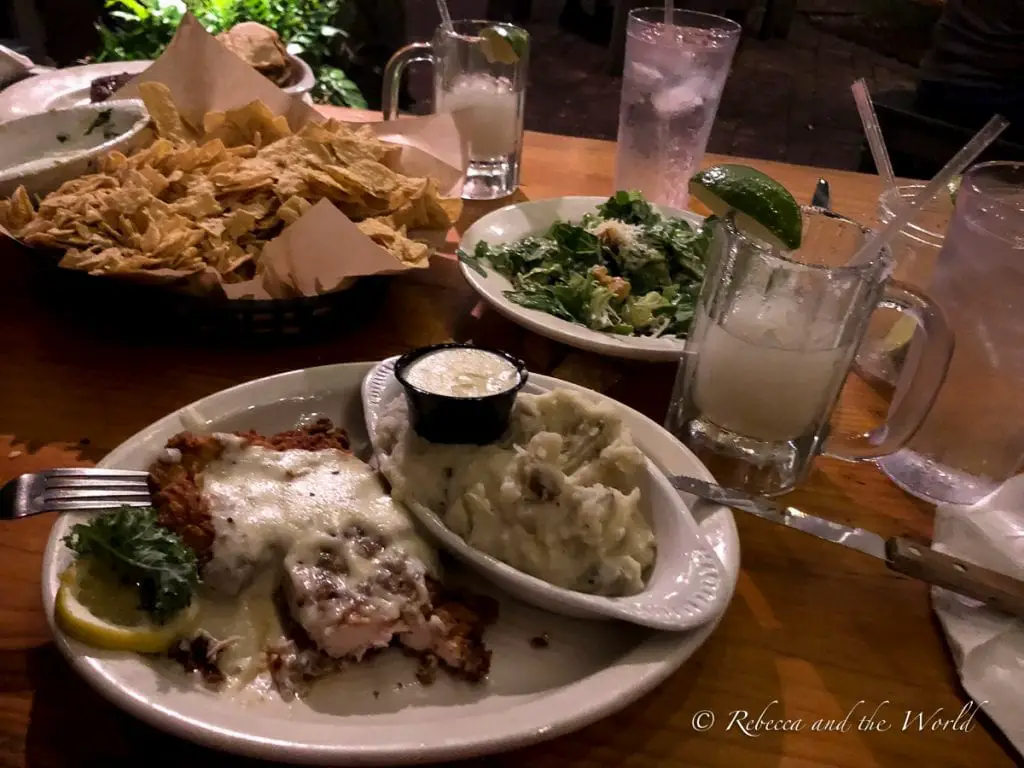 1287 Gruene Road
Open daily at 11 a.m.
The Downtowner
We dropped into The Downtowner for dinner after a day of tubing on the river. A friend had described New Braunfels as having an inordinate number of sophisticated restaurants for such a small town, and The Downtowner is one of them.
Start off with one of the cocktails at the bar, where the bartenders know how to make a good drink. Then move on for Southern cuisine in the restaurant.
208 S Castell Ave
Closed Monday, Tuesday
Wednesday: 3 p.m. to 10 p.m.
Thursday: 10 a.m. to 10 p.m.
Friday: 10 a.m. to 10 p.m.
Saturday: 9 a.m. to 10 p.m.
Sunday: 9 a.m. to 3 p.m.
Naegelin's Bakery
Pick up some pastries at Naegelin's Bakery, the oldest bakery in Texas. New Braunfels' German influence is seen in the kolaches, strudels and other baked goods stuffed in to the glass-fronted cabinets.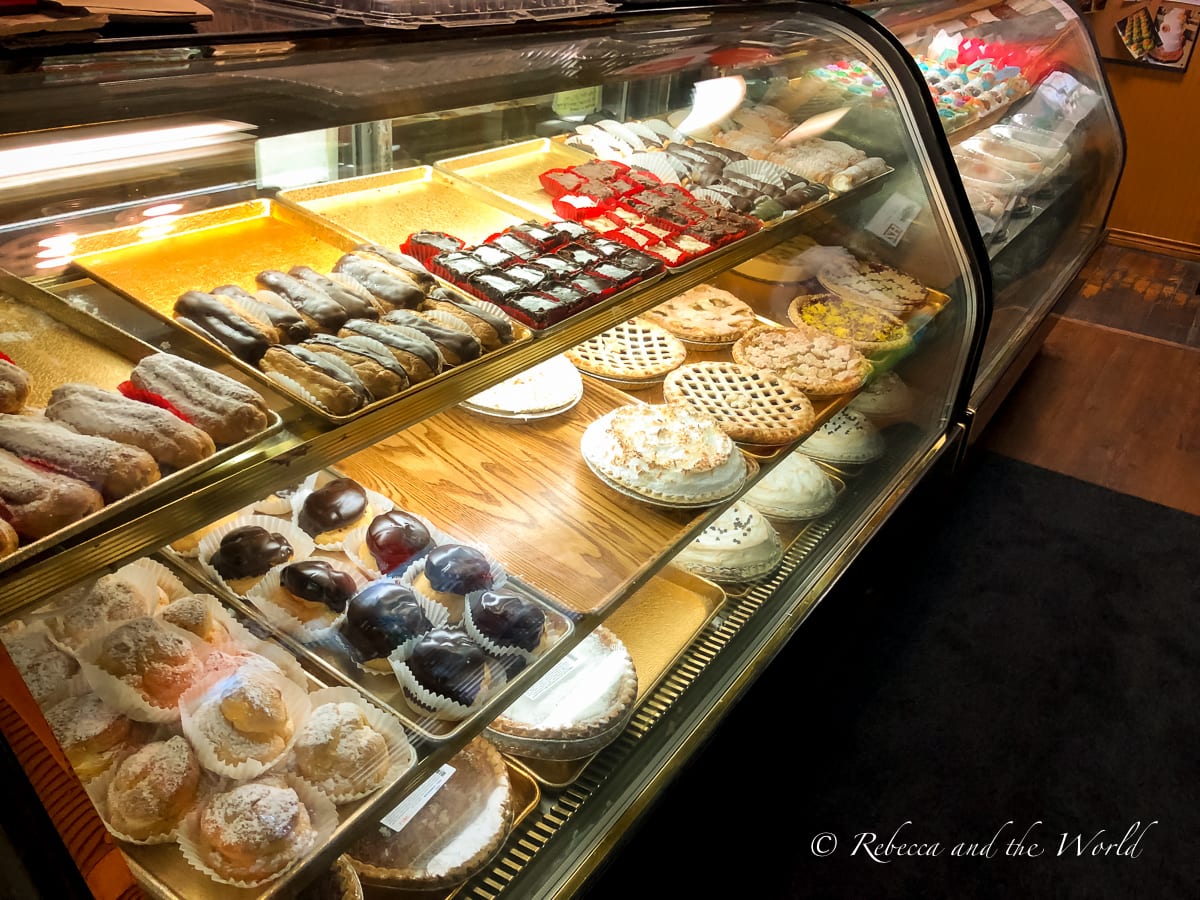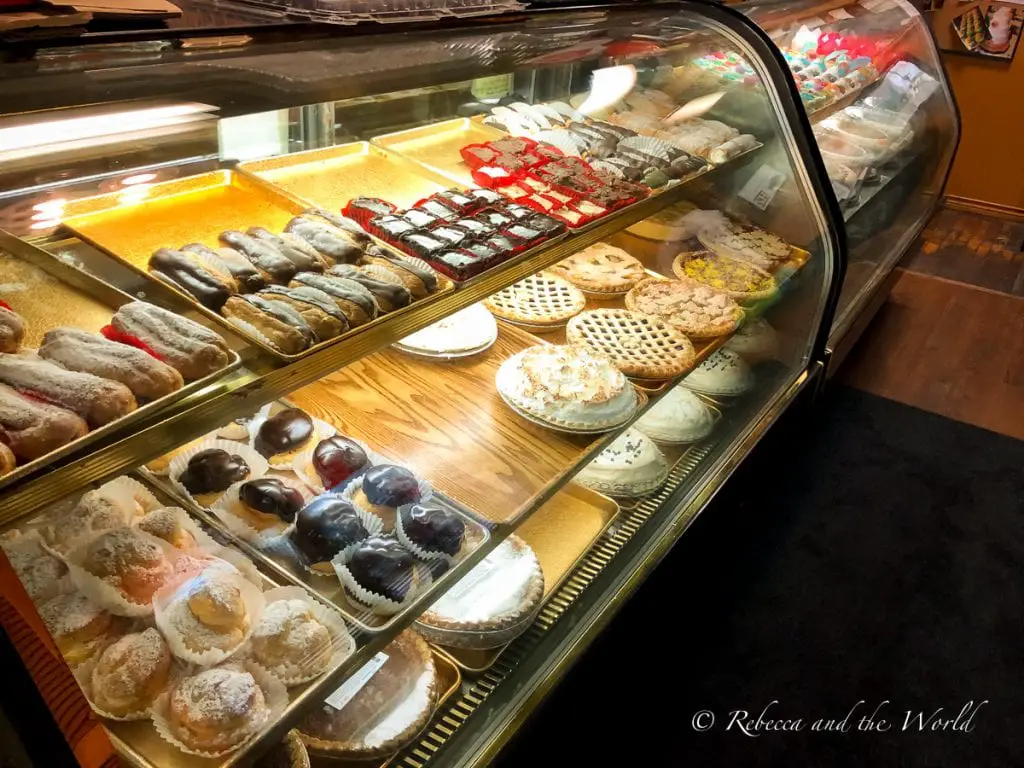 129 S Seguin Ave
Monday to Friday: 6.30 a.m. to 5.30 p.m.
Saturday: 6.30 a.m. to 5 p.m.
Sunday: 8 a.m.to 2 p.m.
Black's Barbecue
We were excited when we drove into New Braunfels and spotted a branch of Black's Barbecue. This famous BBQ joint has its origins in Lockhart, Texas, but has recently opened locations in Austin and New Braunfels.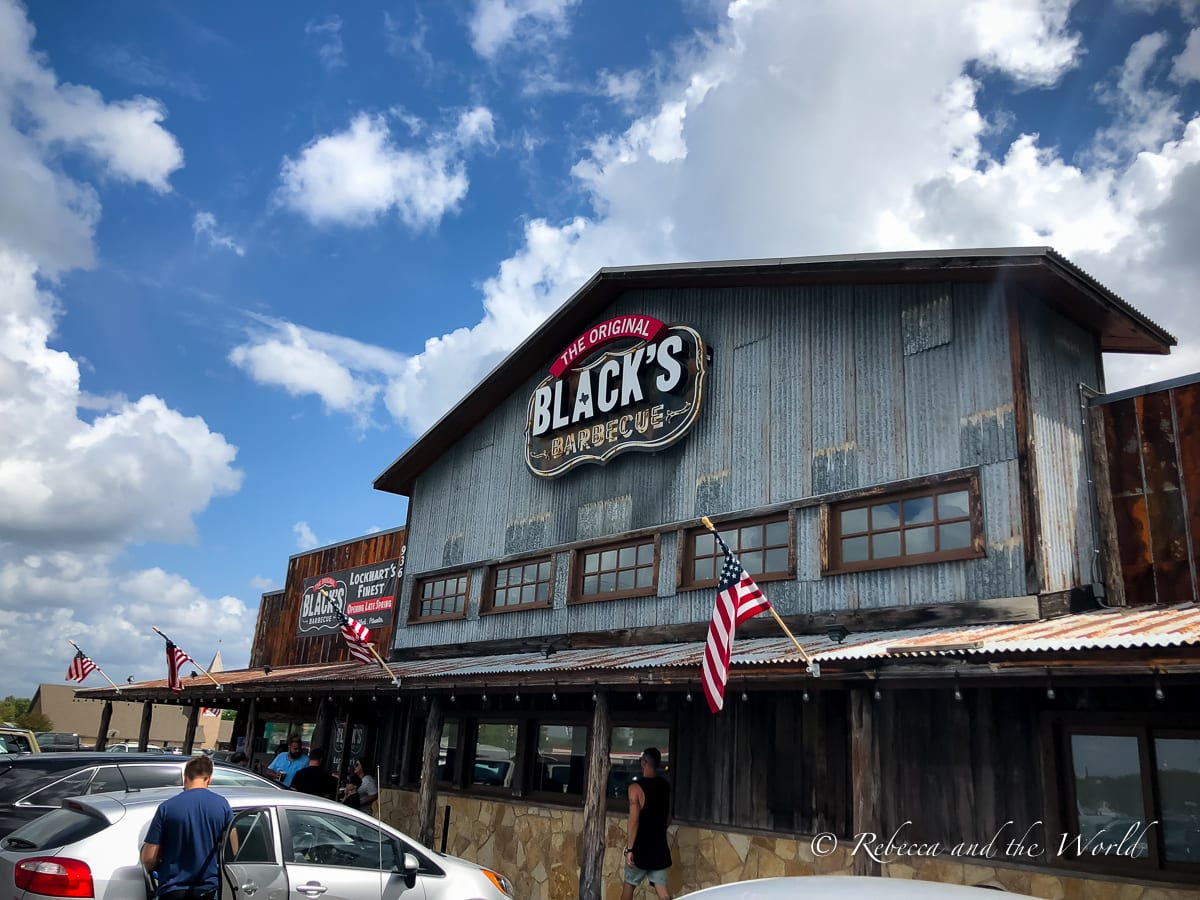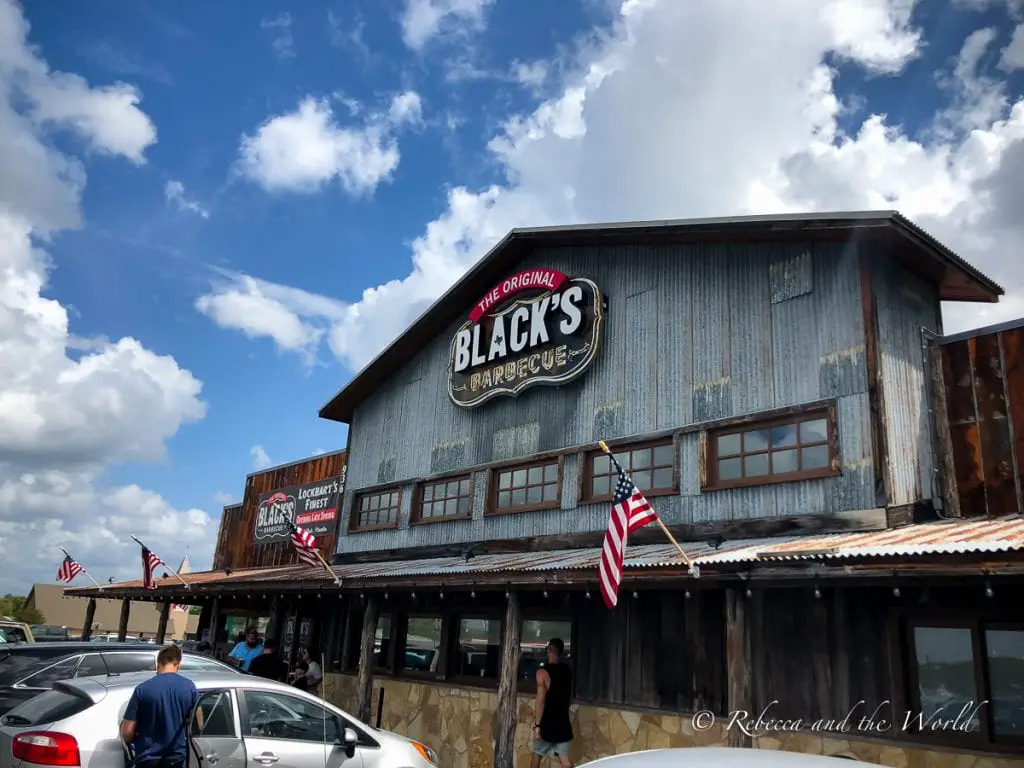 Grab lunch here and take it to one of the nearby parks for an impromptu picnic. The beef ribs are the size of your head and the brisket goes great with some of the Fickle Pickles you've bought.
936 TX-337 Loop
Sunday to Thursday: 10 a.m. to 9 p.m.
Friday to Saturday: 10 a.m. to 10 p.m.
Where to stay in New Braunfels
There were three of us on this trip so we booked Zink Haus. This renovated property is made up of three separate cottages. You can rent one cottage or larger groups can book all three.
We booked Chardonnay Cottage, the smallest of the three, and it was perfect for our stay. The two bedrooms had their own bathrooms (one with a huge bathtub). The kitchen and lounge room were small but cosy and had everything we needed for the weekend.
It also had a surprisingly large private garden with a fountain. Do bring bug spray though as the mosquitos came out in full force in the evening!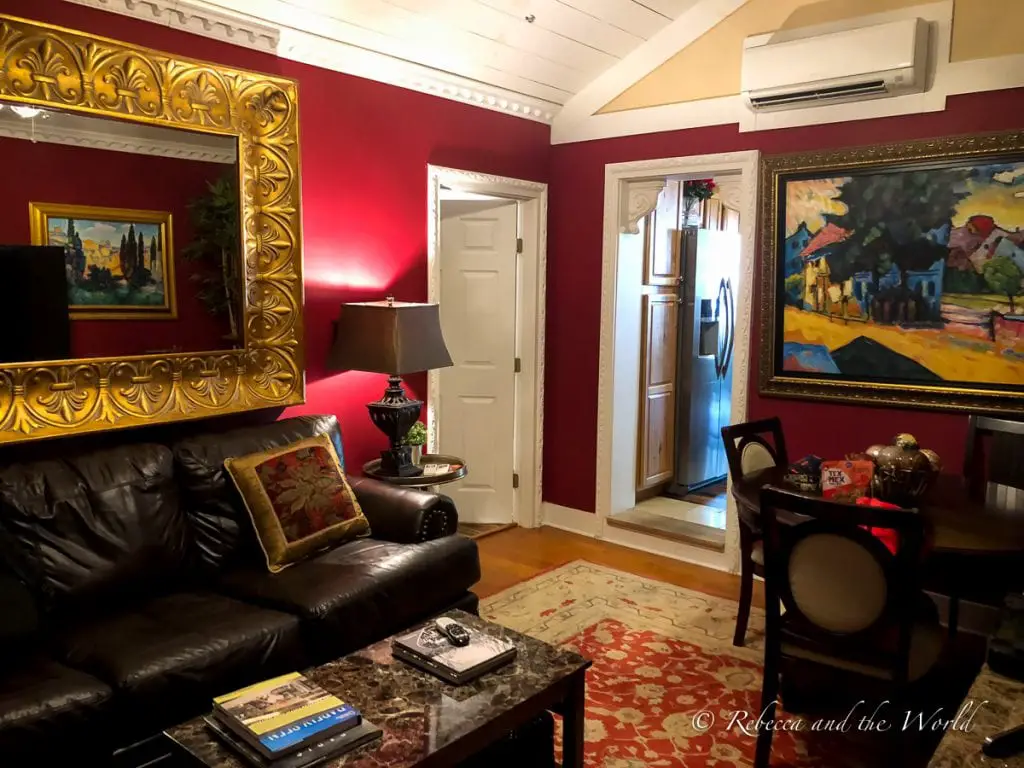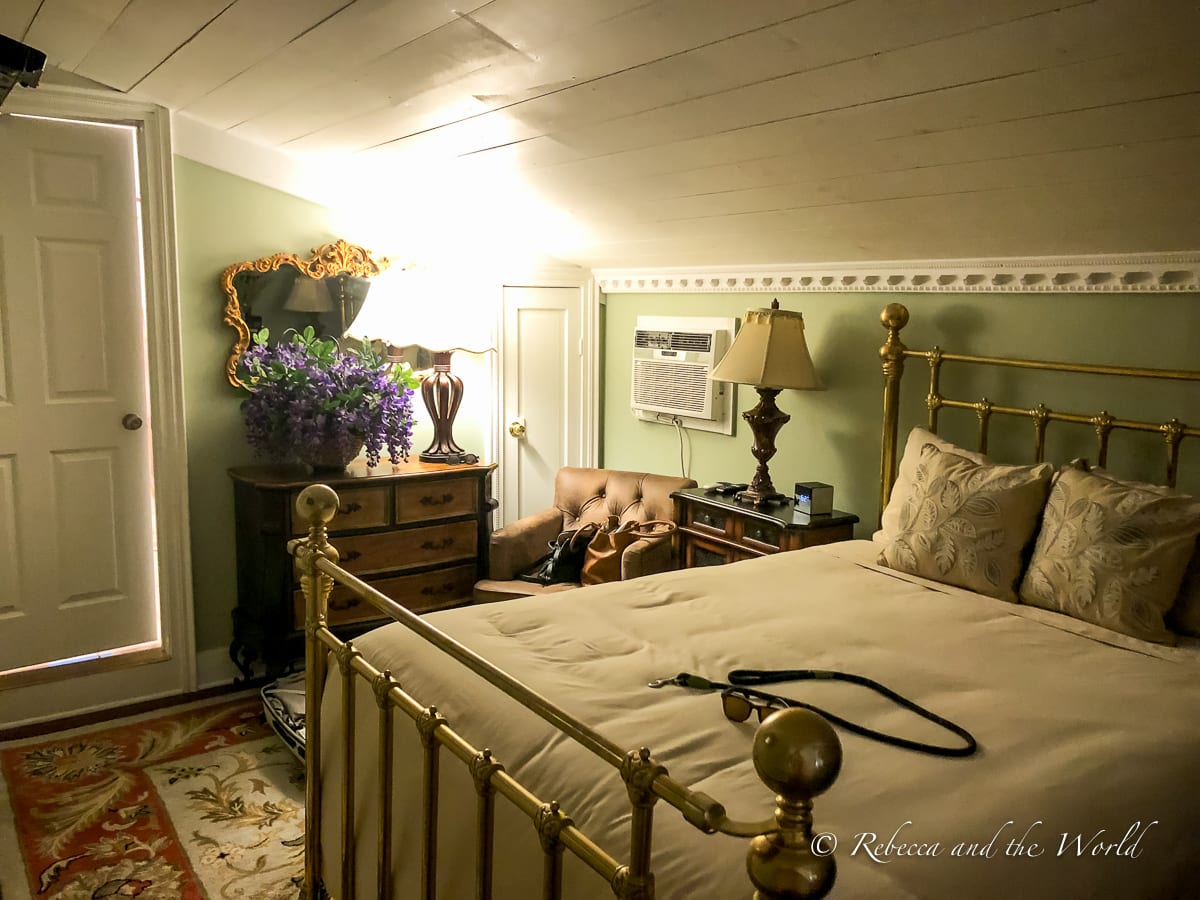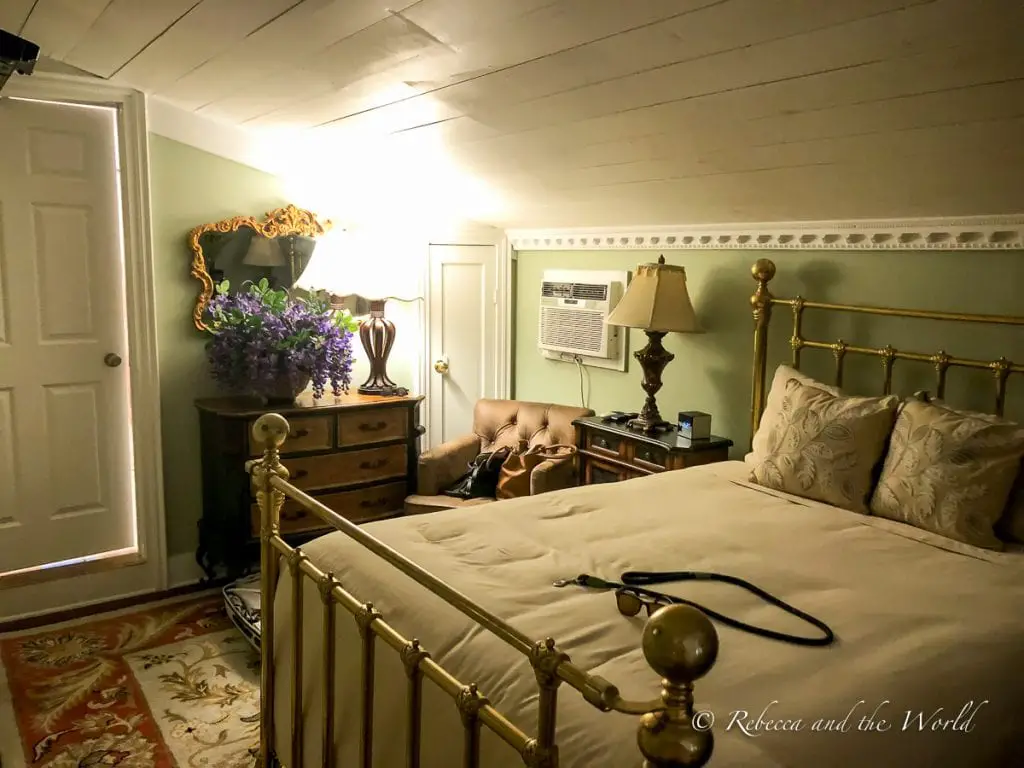 A bonus of the property is that it also has a spacious communal area with a BBQ and sitting area. We didn't use it during the weekend, but if you were a large group that had booked out the entire property, you could cook your meals out each here night in comfort.
There are also many other bed and breakfast properties and hotels in New Braunfels. Check out options here to get the best rates.
Alternatively, there are so many gorgeous VRBO properties you can book (my preferred choice of booking site over Airbnb).
When to visit New Braunfels
The best time to visit New Braunfels is typically during the spring or fall when the weather is pleasant and outdoor activities are more enjoyable.
Summers can be hot and crowded because of the popularity of the rivers and water parks. We went in the height of summer – which was the perfect time for tubing in New Braunfels! It's Texas, so summer is of course hot. For summer holidays like the July 4th weekend and Labor Day weekend you'll need to book well ahead to guarantee accommodation.
Winters are mild, but some attractions may have limited operating hours. Over Christmas, the town is decorated and there are celebrations.
How to get to New Braunfels
The closest airport to New Braunfels is San Antonio. From here, you can rent a car through Rentalcars or Discover Cars.
The drive from San Antonio will take you only 35 minutes, and only 50 minutes from Austin. While I think New Braunfels deserves a weekend, you could easily take a day trip to New Braunfels from either of these cities.
From Dallas to New Braunfels it's 255 miles, which takes around 4.5 hours straight down the I-35.
From Houston, New Braunfels is 175 miles pretty much directly west. The drive will take around 3 hours on the I-10.
Things to do in New Braunfels TX: Final thoughts
New Braunfels is one of the best places to visit in Texas and a great destination for a weekend away. There's plenty of things to do here. While this post has focused on summer New Braunfels activities, it's a city you can visit year round.
What are your favourite things to do in New Braunfels? Leave your tips below in the comments so I can check them out when I go back!
NEW BRAUNFELS WEEKEND GETAWAY: PIN IT FOR LATER
If you're planning a weekend in New Braunfels, save this guide to Pinterest so you start thinking about what to do in New Braunfels on your trip.