When you're considering the best places to visit in the United States, what comes to mind? Do you head for the heady lights of New York or Los Angeles, or get outdoors in one of the country's 63 national parks? Or hit up some of the more underrated cities or charming smaller towns? Do you plan a trip to the coast or find solace in the interior?
As the world's fourth largest country by size, it can be challenging to figure out where you should even begin when planning a visit. Across this great nation there's a diversity that's difficult to find elsewhere – in the landscapes, in the culture, in the food. So, I'm here to help you!
Whether it's your first visit to the USA or you already live here and you're looking for somewhere new to add to your USA travel bucket list, this list of amazing places to visit in the United States will give you some serious inspiration! It's a compilation of recommendations from my own travels across the USA as well as from experienced travellers, so you know that you're getting expert advice.
This blog post may contain affiliate links, meaning if you book or buy something through one of these links, I may earn a small commission (at no extra cost to you).
Map of the best places to visit in the United States
Here's a map of all the locations mentioned in this post.
Best places to visit in West USA
O'ahu, Hawaii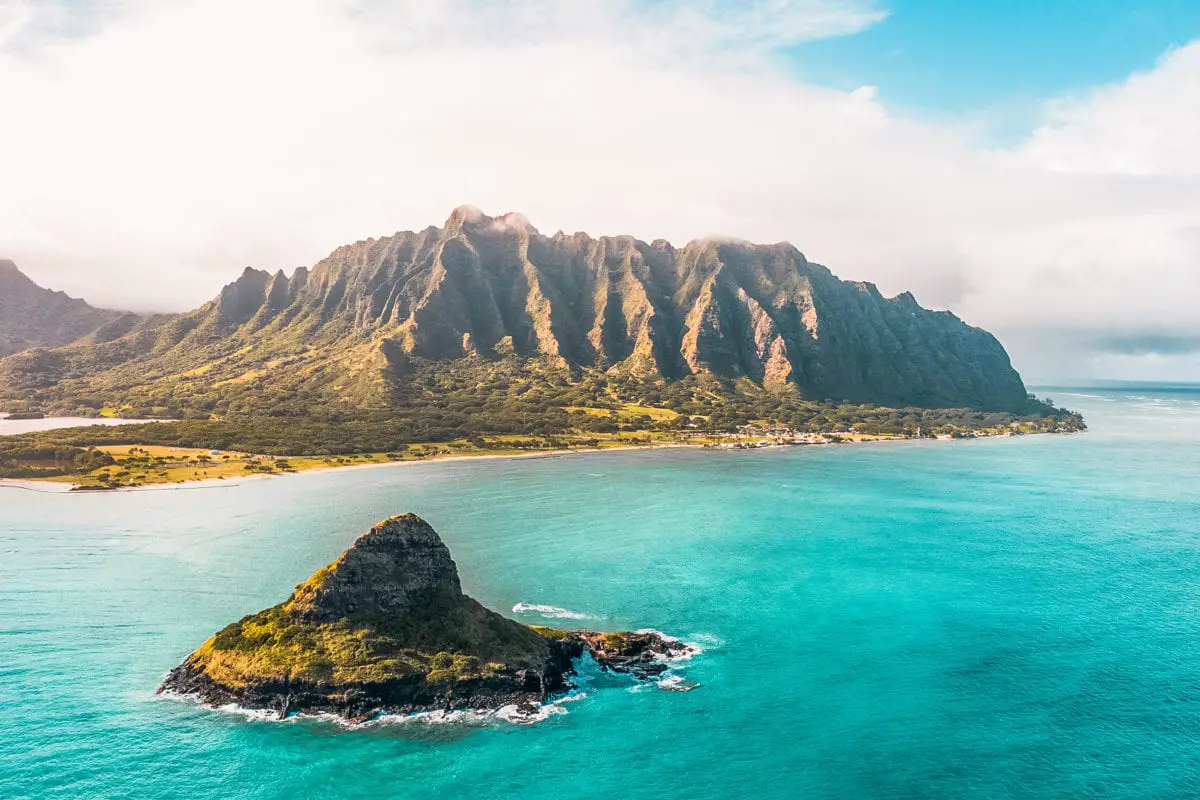 Hawaii is one of the coolest places to visit in the USA. While all of the islands have their own appeal, the island of O'ahu is the pick of the bunch. It's full of beautiful beaches, rugged mountains and has a laid-back surf vibe that makes a visit here so enjoyable. The North Shore in particular embodies this culture, as it's home to some of the best waves in the world and quite a few pro surfers live here full time.
One of the coolest things to do here is to visit Kualoa Regional Park, which is where the original Jurassic Park was filmed. You can take a tour on quad bikes through the regional park or you can enjoy the view from a distance on the beach at the north end of Kaneohe Bay. From here you'll also get great views of Mokoli'i island.
If you are searching for the best beach on O'ahu, then head to Lanikai Beach. It's a beautiful stretch of palm tree-lined white sand and crystal-clear blue water. This beach is well protected from the wind and waves making it a great spot to swim, kayak and paddle board, plus the view out to the Mokalua Islands is epic. You can also enjoy this view from above by hiking to the Lanikai Pillbox.
By Luke of Wild About BC
Want to explore more of Oahu? You might like these tours!
Death Valley National Park, California/Nevada
Death Valley is the hottest, lowest, and driest place in North America, with temperatures in the triple digits temperatures sticking around for months. It's also the largest national park in the lower 48 by size, only behind Denali in Alaska.
Tourists come here to explore the enigmatic landscapes of Death Valley, including Devil's Golf Course, Racetrack Playa and the Bad Water Basin (the lowest point in North America), and see how animals that live here have adapted to the harsh environment.
When visiting Death Valley, make sure to bring sunscreen, a hat and plenty of water and snacks. The air is really dry here, especially during summer, and if you don't drink enough water, you can quickly get dehydrated. (Tip: Pack something bigger than a water bottle; if you're hiking, a water bladder like this one – which I own – is better!)
One of the prettiest hikes in Death Valley is Golden Canyon. However, it's not the only trail that is worth exploring in this national park, which is why you should spend more than just a day at Death Valley National Park.
Death Valley is about 4 hours away from LA and under 2 hours from Las Vegas, which makes it a great spot if you plan a bigger West Coast road trip.
TOP TIP: If you don't want to bake in the heat and want to explore some hikes and scenery in Death Valley, visit this national park from late fall through March, when temperatures are more suitable for hiking.
By Daria of The Discovery Nut
Yosemite National Park, California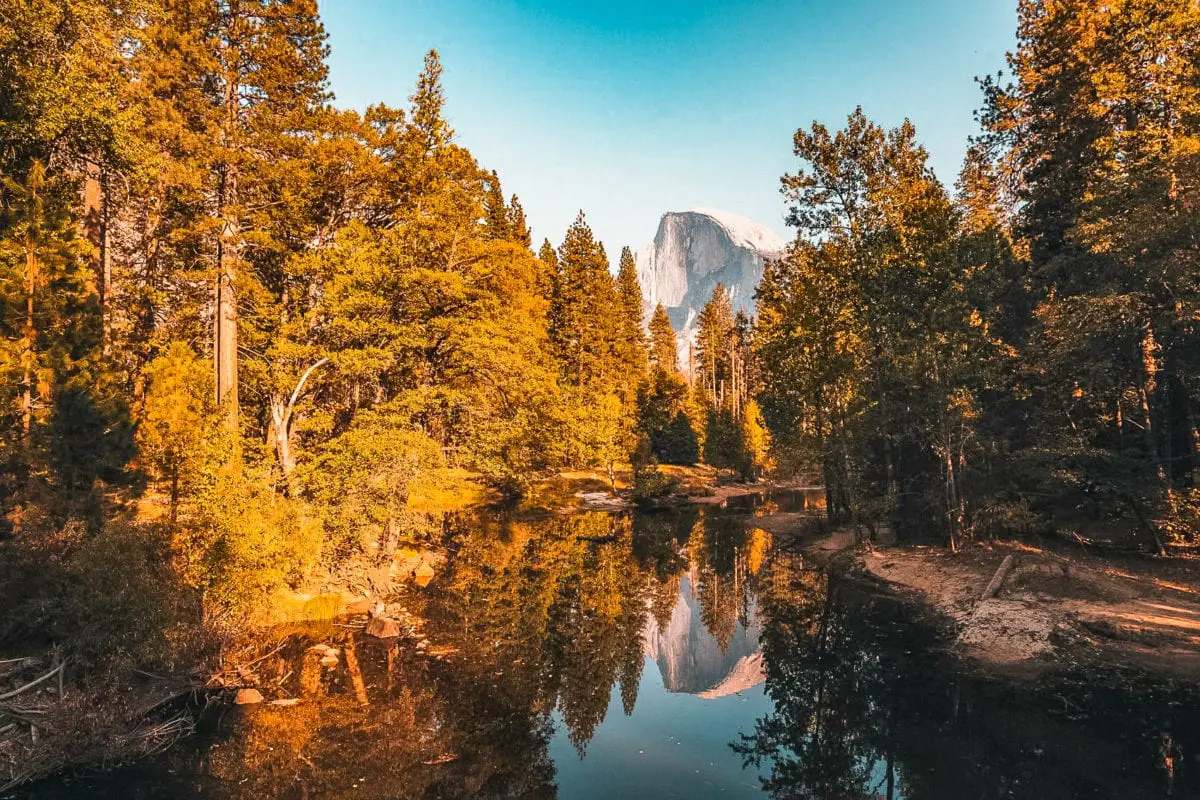 California is full of impressive landscapes and parks, but none are as beautiful as Yosemite National Park. It's easy to see why Yosemite is one of the most popular national parks in the United States. From hikes to scenic drives, there's something for everyone in Yosemite National Park.
The most visited area of Yosemite is Yosemite Valley, commonly called 'the valley'. Here you can take a self-guided walking tour from the visitor centre. Don't miss hikes like Yosemite Falls and Mirror Lake, and views of Half Dome from Cook's Meadow. A few miles away is one of the best destinations in the USA for rock climbers: El Capitan. Don't forget your binoculars so you can spot them!
As you head out of the valley towards Glacier Point, you'll pass one of the best views in the park, Tunnel View. Here you can see El Capitan, Half Dome, and Bridalveil Falls from one spectacular viewpoint.
After a long day exploring Yosemite, there's no better place to watch the sunset than Taft Point. The Sentinel Dome and Taft Point Loop trail provides 360-degree views of the entire park and Sierra Mountains.
TOP TIP: Be sure to book your trip to Yosemite well in advance. In-park accommodations fill up 6 months to 1 year out.
By Julia of Well Planned Journey
Bryce Canyon National Park, Utah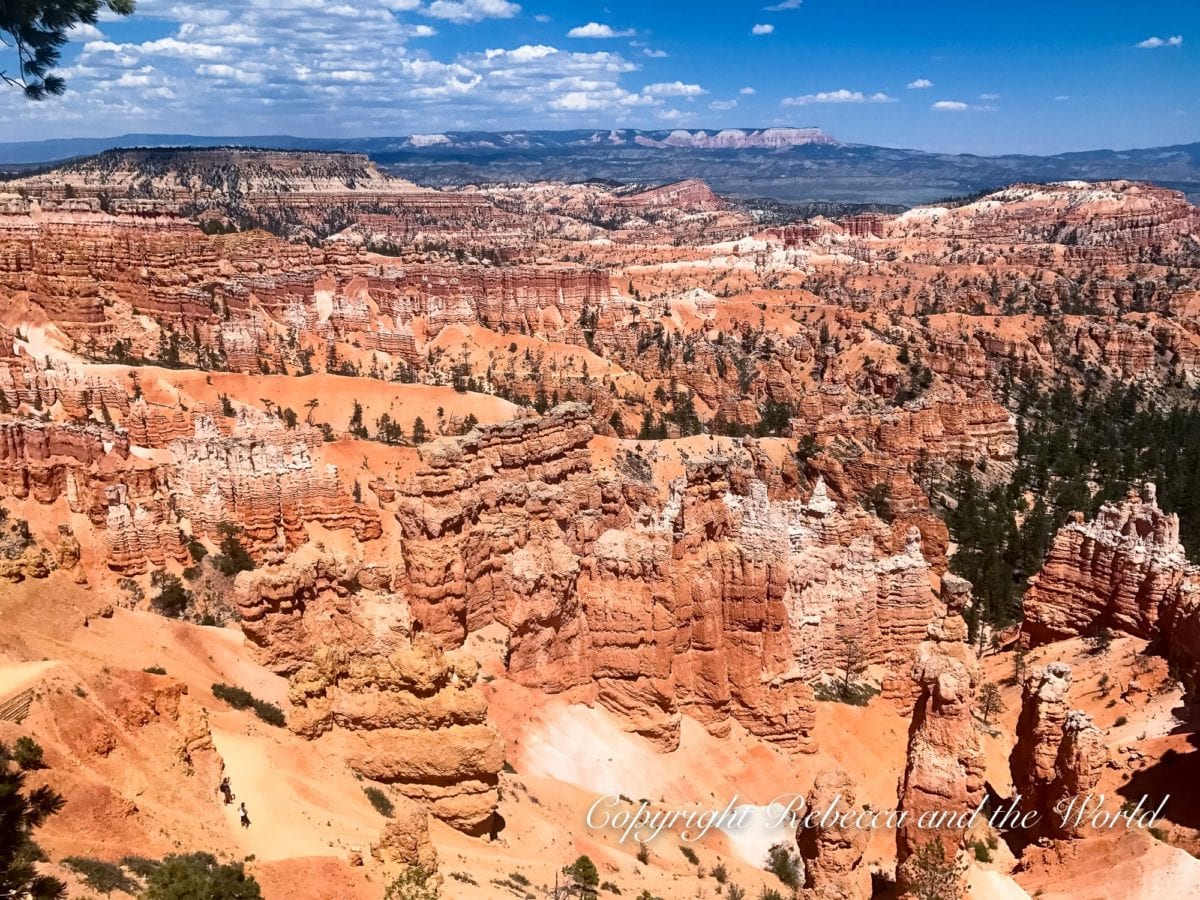 Famed for its towering hoodoos – the largest concentration found on Earth – Bryce Canyon National Park is one of the top spots on a Utah national parks road trip.
Weave your way through the orange and white hoodoos on the Navajo Loop / Queen's Gardens trails, which take you down into the canyon. Or, see the spires from above by hiking a section of the Rim Trail. From above, you'll get an idea of what Mars must surely look like.
Sunset at Inspiration Point is a must, watching the colours of the hoodoos change as the sun goes down.
When visiting Bryce Canyon, make sure you book accommodation well in advance, especially during the peak seasons.
TOP TIP: If you're visiting Bryce Canyon and have a few days, you can easily add on a side trip to Zion National Park.
Want to explore more of Bryce Canyon National Park? You might like these tours!
The Oregon Coast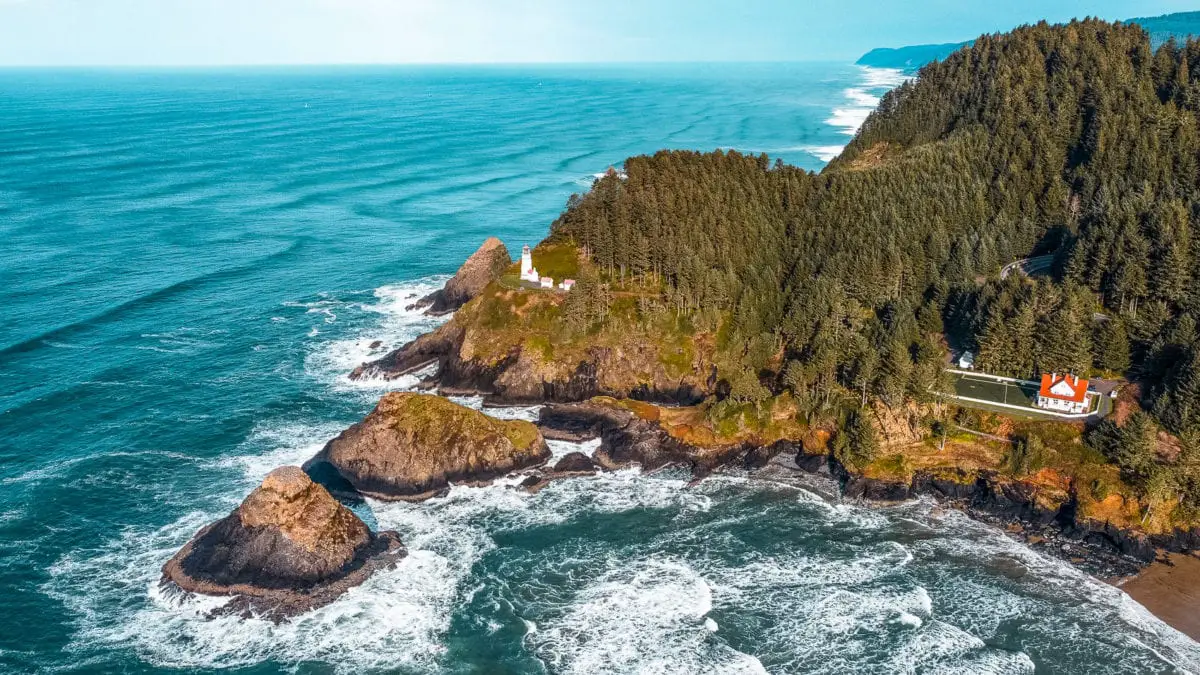 The Oregon Coast features windswept dunes, towering cliffs, photogenic offshore islands and sandy beaches. It's a photographer's paradise and a nature-lover's dream.
Along the northern Oregon coast, you'll find quaint seaside villages and iconic natural areas. The northern coast is home to some of the state's most beloved landmarks, including Ecola State Park, Cannon Beach, the Tillamook Cheese Factory and Astoria.
As you make your way down to the central coast, long sandy beaches give way to undulating sand dunes and wildlife-rich marine gardens. The central coast boasts postcard-worthy lighthouses, freshwater lakes and verdant spruce forests.
While the entire 300+ mile coastline is an example of nature at its finest, the southern portion of the coastline is perhaps its most wild and dramatic. Along the undeveloped southern Oregon coast, spectacular vistas accompany every bend in the road. The area brims with secluded trails, hidden alcoves, wildflower-speckled hillsides and secret beaches.
There are hundreds of places to stop along the Oregon Coast. Road trip highlights include Cape Perpetual, Shore Acres State Park, and the Samuel H Boardman State Scenic Corridor.
Though the Oregon Coast is spectacular year-round, September is the most beautiful month to visit. By the end of summer, you'll enjoy warmer water, sunny skies, and temperatures that are perfect for kite-flying, sand-boarding, sightseeing, and hiking.
By Erika of Erika's Travels
Las Vegas, Nevada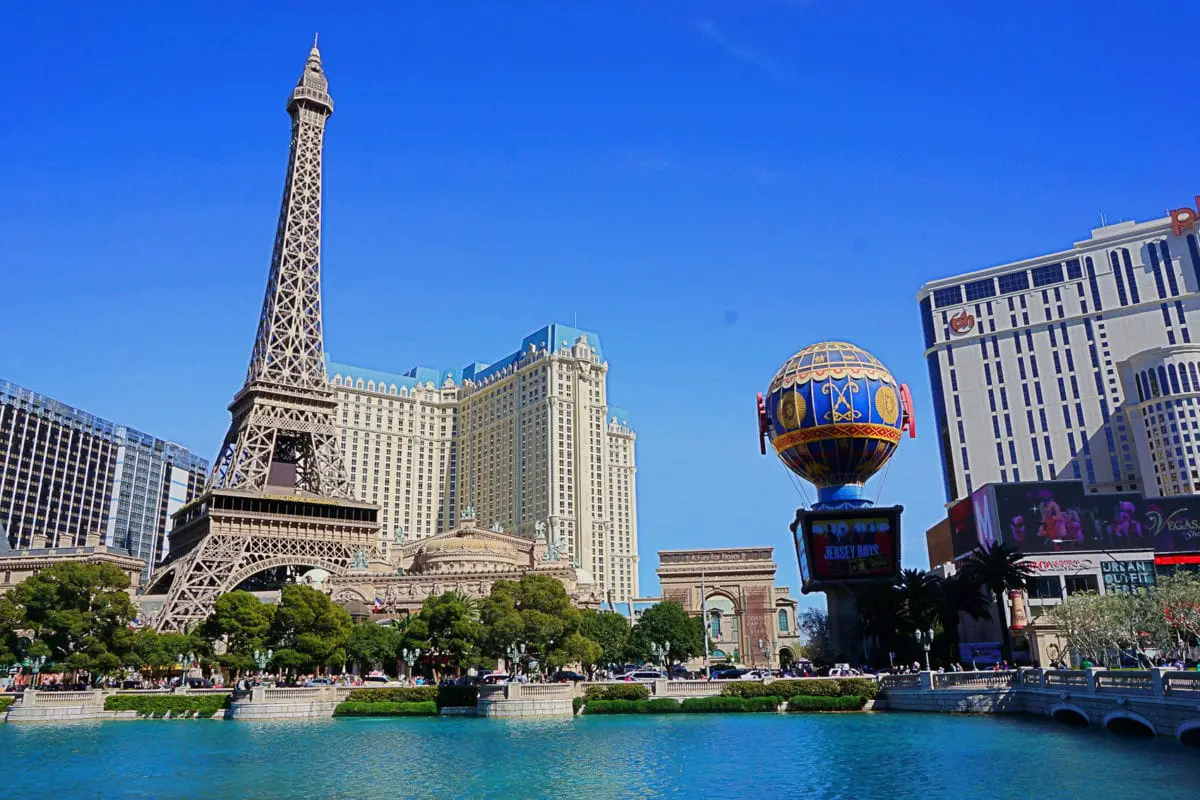 Las Vegas is one of the most fun places to travel in the United States. All year long, people flock to Sin City for a taste of the glitz and glamour and to play among the vibrant neon lights. With extravagant hotels, some designed to resemble different places around the world, Vegas really can transport you to another reality.
An entertainment paradise, you'll find a myriad of shows, activities and hotels to explore. Even if you do not gamble, you'll find more entertainment than you have time for; it is what will make you return to Vegas for more.
If it's your first visit to Las Vegas, don't miss the chance to have your photo with the famous Welcome To Las Vegas sign, and spend a day wandering the fancy hotels. You'll love the flower sculptures at the Bellagio that change with each season, or the Bellagio water show.
However, there is so much more to Vegas than gambling and casinos. There is even plenty to do beyond the Vegas Strip. Ride along in a race car, drive an exotic car, free-fall from the sky, take a helicopter ride or explore the several unique and quirky museums.
The best thing about Vegas is there is fun for every budget. Spend as much, or as little, as you like.  A great way to save some money on activities is to get a Go Las Vegas card.
By Debbie of WorldAdventurists
Want to explore more of Bryce Canyon National Park? You might like these tours!
San Francisco, California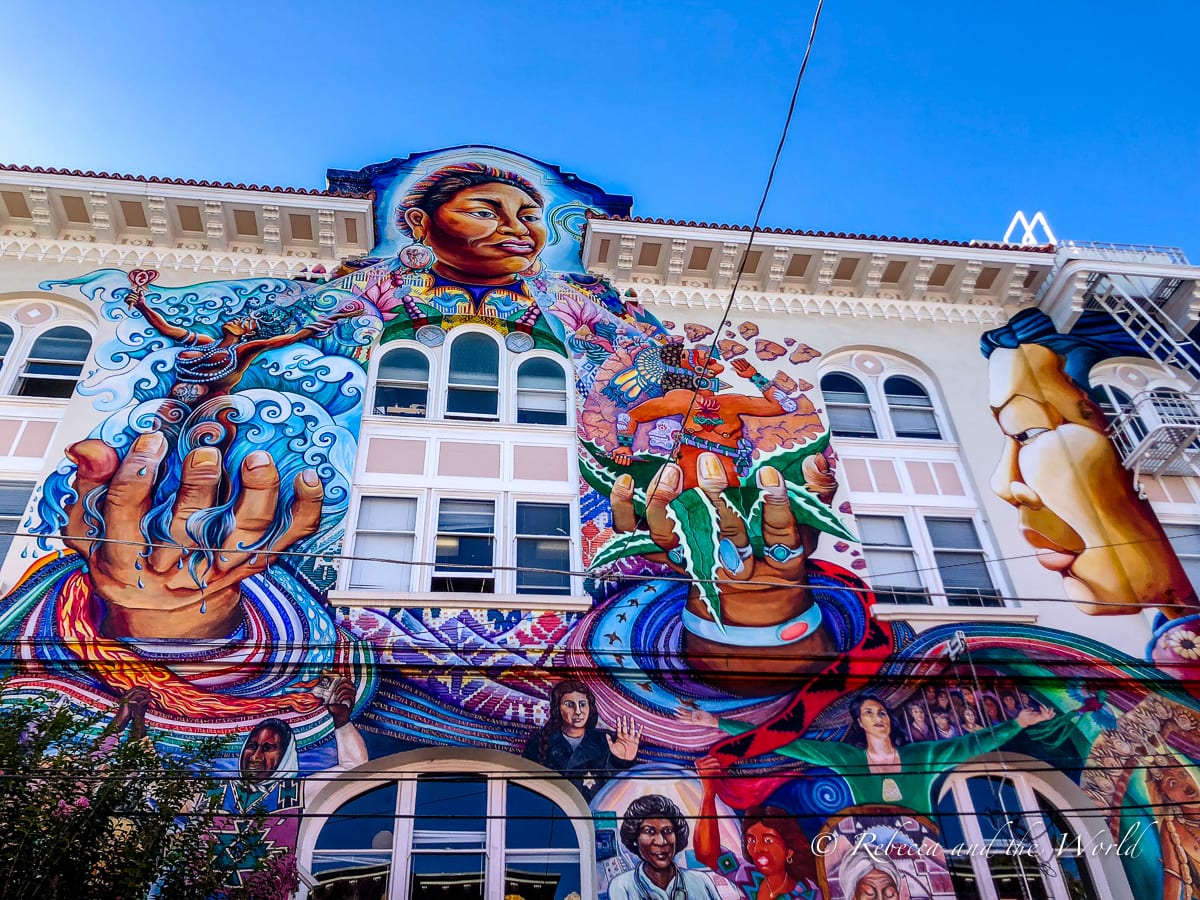 Despite San Francisco's small size (it's only 7 miles wide and 7 miles long!), there's plenty to pack in to a San Francisco itinerary. When you visit one of the best US travel destinations, you'll find a liberal city that's filled with art, friendly communities, and great (and diverse) food.
Plan a walking tour along The Embarcadero and discover the many waterfront attractions along this roadway. Start at the Ferry Building before wandering along the different piers. While touristy, Pier 39 is home to a colony of seals that spend their day basking in the sun.
At Fisherman's Wharf you can visit the Musée Mécanique, a museum filled with more than 300 old penny arcade games, some of which still work.
Meander down Lombard Street, the "most crooked street" in San Francisco and take a look at the pretty pastel houses. Spend an afternoon soaking up the vibes in Mission Dolores Park, and explore hip Haight-Ashbury and Mission District.
Finally, take a drive or walk across one of the most famous places in the USA: the Golden Gate Bridge.
TOP TIP: Accommodation in San Francisco can be very expensive. Make sure to book ahead.
Yellowstone National Park, Wyoming
Yellowstone National Park belongs among the most fascinating national parks in the USA. A geothermal wonderland, more than 60% of all the world's geysers can be found here, along with about 10,000 other geothermal features. The whole park sits on top of a giant supervolcano.
You'll be amazed to see all these colourful hot springs, erupting geysers, bubbling mud pots, fumaroles and steam coming out of the earth.
If you want to see the best of Yellowstone, you shouldn't miss Grand Prismatic, which is the most famous (and third largest) hot spring in the world. Other highlights are the monumental Grand Canyon of Yellowstone, as well as the Old Faithful geyser, which erupts every 90 minutes. There are many more beautiful things to see in Yellowstone, so you should plan at least 3 to 5 days for your visit.
With nearly 4,000 square miles of wilderness, Yellowstone is also home to bears, coyotes, bison, wolves and elks.
Yellowstone is also a great place for hiking and backcountry adventures – there are more than 900 miles of hiking trails. If you plan to some hiking or camping, always remember that you are in the bear country and follow bear-safety rules!
By Adriana Plotzerová from Svatbeni.cz
Sequoia National Park, California
One of the best places to visit in the USA is Sequoia National Park, home to the largest trees in the world and the highest mountain in the contiguous United States, Mount Whitney.
Seeing these enormous trees up close is truly awe-inspiring. Many of the largest trees have been named, including the General Sherman Tree, the biggest tree on earth. This is reached along an easy trail that goes through a tunnel cut through the trunk of another sequoia that fell across the path!
From there, the Congress Trail is a great introduction to the sequoias. It's an easy 2-mile loop past many other named trees as well as two small groves. The Room Tree is hollow inside and you can actually walk into the room inside the tree.
For an overview of the park and to learn all about these fascinating trees, visit the Giant Forest Museum.
To see wildlife, the Big Tree Trail circles a meadow that is a common place for animals to wander early in the morning and late in the afternoon.
You can stay in a lodge or campground inside the park, or an Airbnb in Three Rivers just outside Sequoia National Park. The road through the park is narrow and winding and the section near the south gate is not suitable for large vehicles such as RVs, so check your vehicle size and use the main Kings Canyon entrance if in doubt.
By James of Parks Collecting
Big Sur, California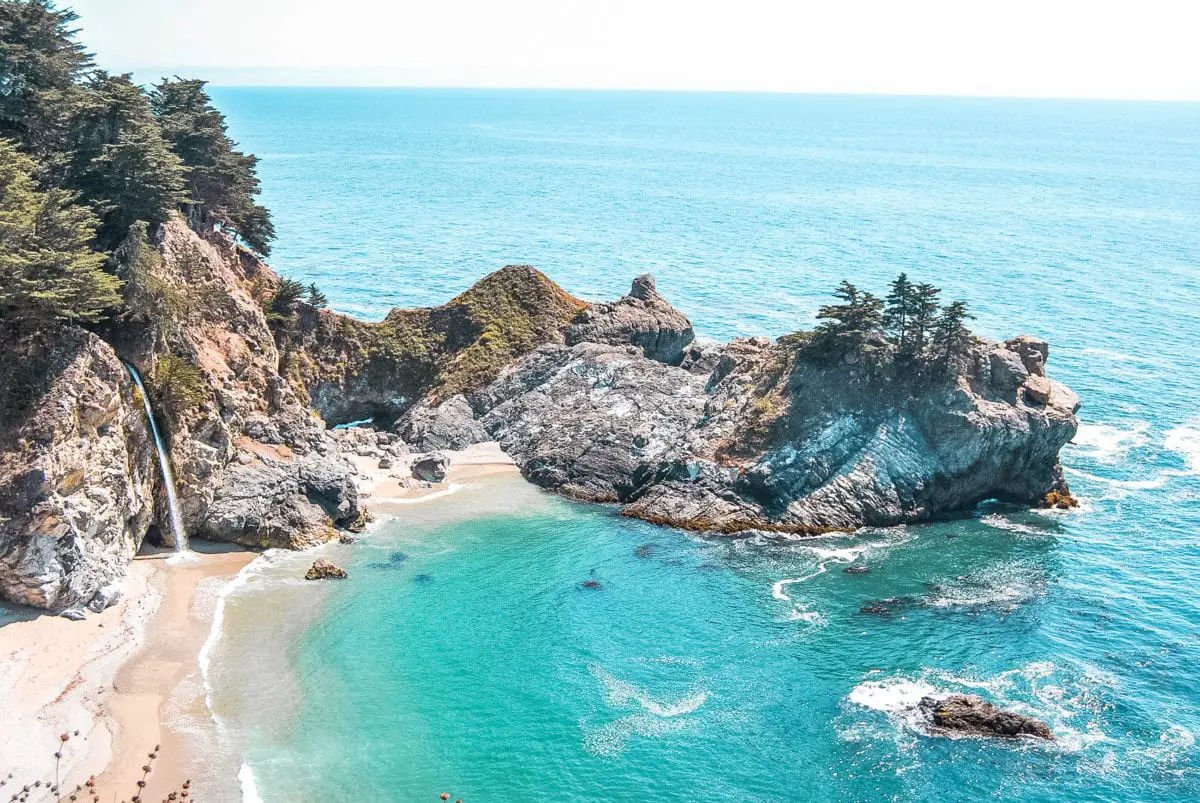 Big Sur is one of the most iconic travel destinations to visit, not just in California, but in all of the United States. The spectacularly scenic coastline routinely makes lists of the most scenic drives on the planet.
The 90-mile stretch of Big Sur coastline offers numerous scenic overlooks and photo spots: Bixby Creek Bridge is a must-stop spot! But to truly experience the magic of the place, plan a 2-day Big Sur road trip. Two days will allow you to explore the parks that make up Big Sur in greater depth, and also allow you to have a sunset here.
There are any number of hikes you can do in Big Sur. While some hikes are challenging, others are easy strolls to take in the beauty all around you. The coastal trails at Point Lobos are particularly scenic.
Big Sur also has many beautiful waterfalls. While McWay Falls, which can be viewed from California Highway 1, is undoubtedly the most picturesque, other falls like Pfeiffer Falls and Limekiln Falls can be stunning when they are flowing well, in spring and early summer.
Visit in the spring for wildflowers. Bring layers, because it can be cool by the water even on sunny days.
TOP TIP: Before you visit Big Sur, be sure to check for road and trail closures: the area has sadly been particularly prone to damage from weather and wildfires.
By Dhara of Roadtripping California
Alabama Hills, California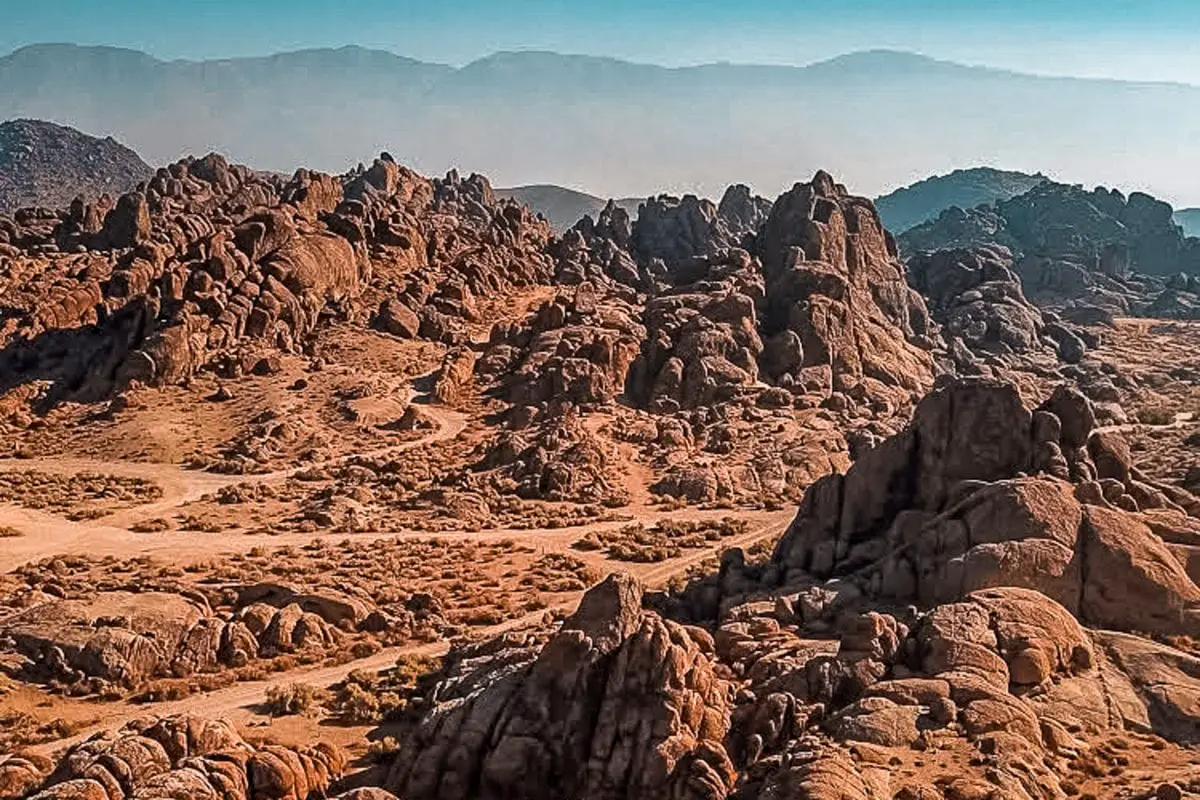 Alabama Hills is a public land in California managed by the Bureau of Land Management.
The "hills" refers to the bizarre landscape of mounds of rounded rocks. They pile up high enough to be considered hills and are a beautiful contrast to the sharp Sierra Nevada mountains behind them. Meanwhile the misnomer "Alabama" refers to the CSS Alabama of the Civil War, which was sunk during battle. As an ode to the ship, prospectors who sympathised with the South named the area Alabama Hills.
Given its unique landscape, many commercials and movies have utilised the area for filming. Countless western cowboy films used the nearest town of Lone Pine and Alabama Hills as their setting. Other notable films that have filmed here include Iron Man, Gladiator and Django Unchained. Because of this film history, the area is sometimes called Movie Flats.
The area itself is the main attraction, but some cool spots to see are the Mobius Arch and the Heart Arch. Additionally, one of the historic Japanese and Japanese-American internment camps, Manzanar, is located 10 minutes north of Lone Pine. You can do all of this in the shadow of the famous Mt. Whitney.
Most people usually camp when visiting, as it is a public land and dispersed, free camping is widely available here. You can reach Alabama Hills in about 3 hours from Los Angeles.
By Taylor of Taytrum Travels
Seattle, Washington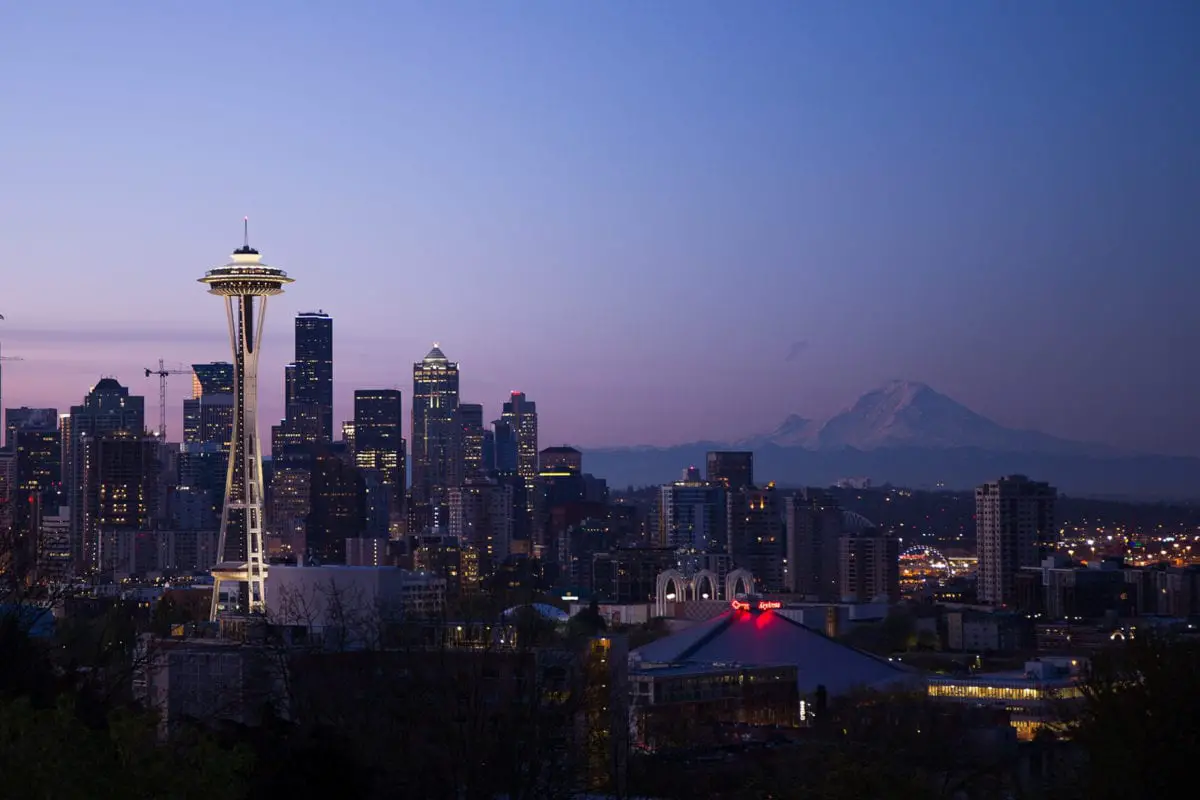 Seattle is a destination known for Pike Place Market, delicious coffee and, of course, very wet weather. People come from all over the world to visit the city, the birthplace of grunge music.
Learn about the grunge scene and more at the popular Museum of Pop Culture. It's massive, so be prepared to stay for at least half a day.
Make sure to explore neighbourhoods like Capitol Hill. This trendy area is teeming with fantastic restaurants and bars. Check out The Unicorn Bar (a unicorn-themed bar), visit Molly Moon's Ice Cream for some yummy homemade ice cream, or try the excellent Italian food at Machiavelli.
Despite being a huge city, there's no shortage of beautiful hiking trails around Seattle. There are hikes for all skill levels. North Bend is a great hiking area. It's a cute historic western town where Twin Peaks was filmed. A bit further out of the city are places like Olympic National Park and the Cascade Mountains. These can be reached in a day if you leave early, or opt to stay overnight.
Don't forget to explore the islands. Seattle is home to the San Juan Islands, just a ferry ride away from the city. There's Orcas Island where you can see whales, Lopez Island and the main island of San Juan.
By Marika of Clumsy Girl Travels
Want to explore more of Seattle? You might like these tours!
Big Island, Hawaii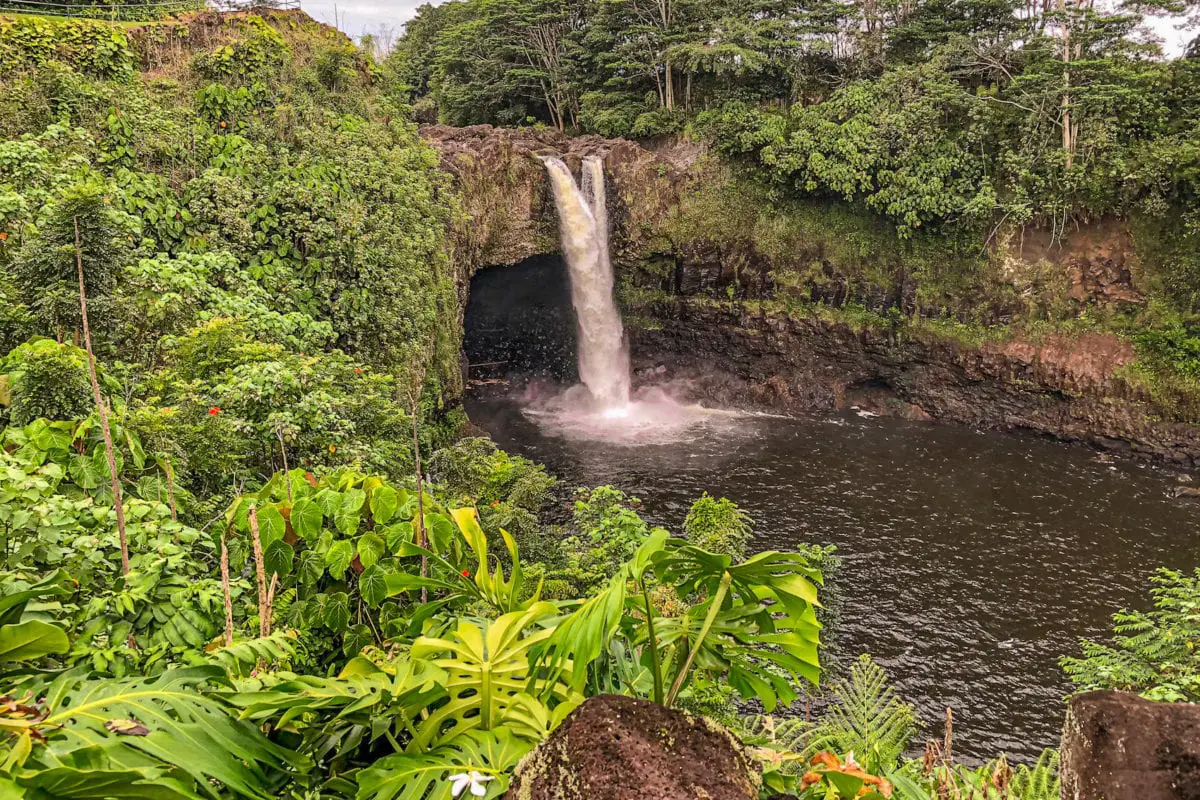 If you're looking for unique scenery and exciting adventures, then the Big Island of Hawaii is the destination you're looking for. From mesmerising waterfalls to distinctively coloured beaches, from mighty volcanoes to spectacular snorkelling spots, from thrilling zipline experiences to nightly stargazing events, every day is a new adventure.
The island's magnificent landscape is also dotted with intriguing cultural sites and countless colourful fruit stands so, even if you're not the most active traveller, there's no lack of things to do on Big Island.
As the name suggests, the island is vast. So, in order to make the most of your stay, divide your time over the east (windward) and the west (leeward) coasts.
The rainy Hilo area in the east is known for its lush nature, botanical gardens and waterfalls, while the wider Kailua-Kona area is a sunny beach destination with resorts and nightlife. Hawaii Volcanoes National Park and some of the island's most intriguing beaches, Papakōlea and Punalu'u, are located right in between.
The Big Island offers a truly authentic Hawaiian experience in the most captivating setting.
By Sarah of CosmopoliClan
Maui, Hawaii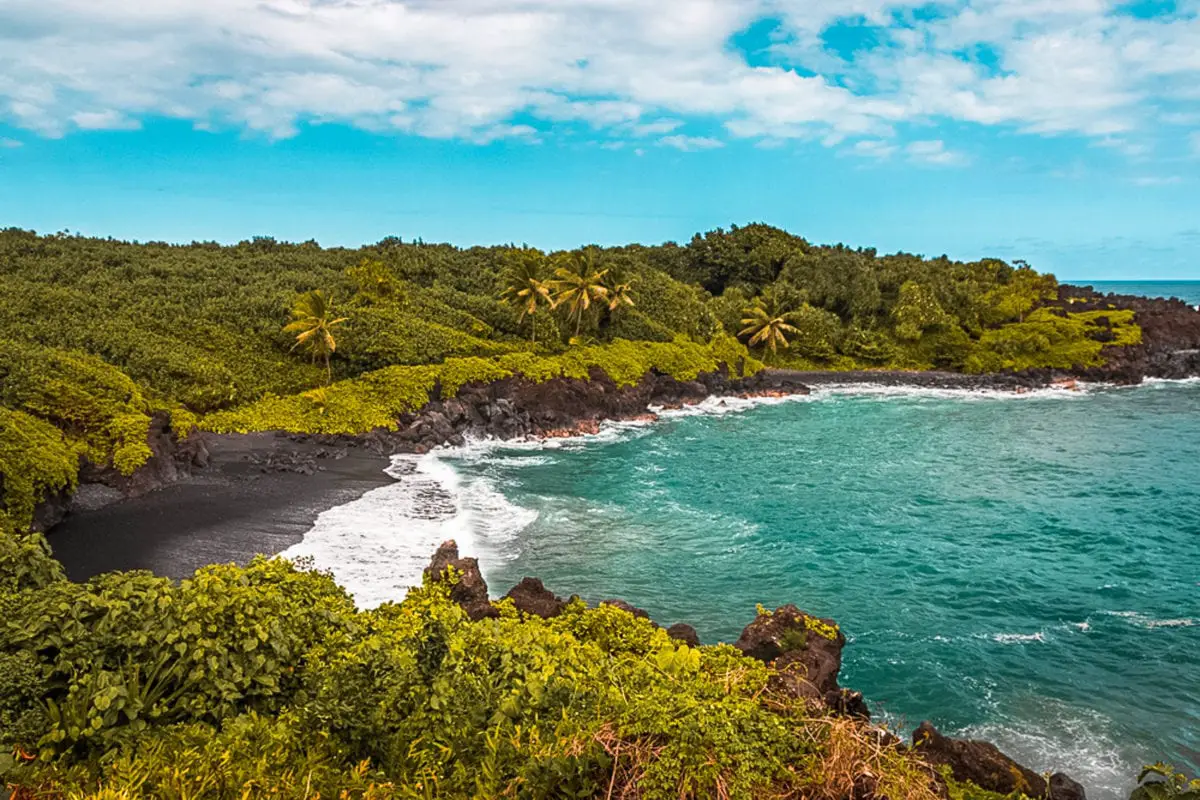 One of the prettiest and most relaxing places to visit in the United States is the Hawaiian island of Maui.
While it's a popular honeymoon destination, it's also perfect for families and solo travellers. The biggest resort towns on Maui are Wailea, Lahaina, and Ka'anapali, but Kihei and Paia are cool spots for vacation rentals.
There are tonnes of activities and tourist attractions on Maui. Some of the most popular Maui activities include driving the Road to Hana, watching the sunrise at Haleakala National Park, snorkelling at Molokini Crater and whale watching in the winter. It's also a great place to go hiking, try surfing, experience a luau and taste all kinds of yummy Hawaiian food.
If this is your first time planning a trip to Maui, you'll want to make sure to rent a car. It's the easiest and most efficient way to get around the island. And you'll want to pre-book your activities for early in your trip, in case you need to reschedule due to weather.
No matter what you add to your Maui itinerary, you won't be disappointed because this is one of the best places to vacation in the US!
By Marcie of Hawaii Travel with Kids
Want to explore more of Maui? You might like these tours!
Los Angeles, California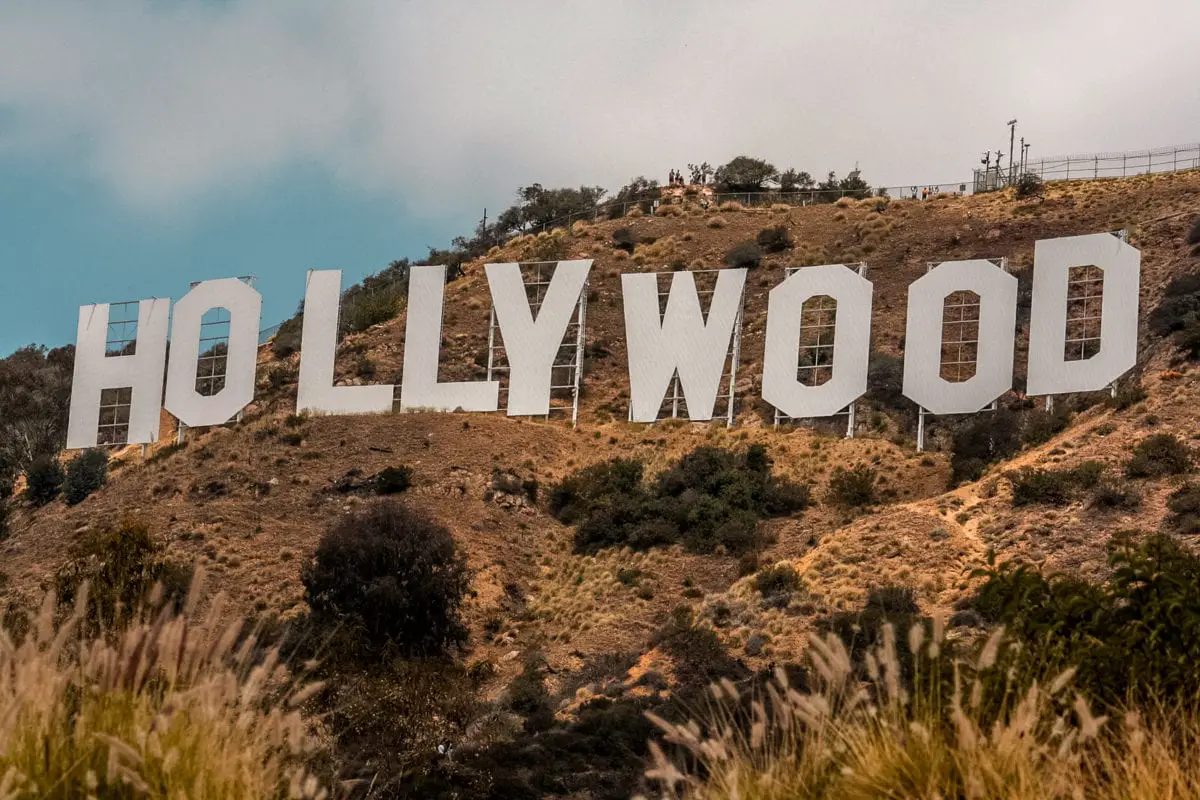 Los Angeles is one of the most famous cities and best places to visit in the US. The city is home to renowned movie studios that offer tours, including Paramount Studio and Universal Studios.
The Hollywood district is famous among tourists and you'll find people taking pictures at the Walk of Fame.
The Griffith Observatory is a fine museum for those interested in physics and astronomy. They have a live Tesla Coil that is turned on every hour.
Los Angeles is also within road trip distance to Malibu wine farms, glamping within Joshua Tree and spending Christmas in the snow at Big Bear. Some of the most gorgeous national parks in the US are within driving distance of LA which makes it really easy to have road trips every weekend.
Los Angeles has everything that you could want to explore in one single city and that is what makes it so special. For first time visitors this can be a little overwhelming so try to explore one section before moving on to the next. Since traffic is a big problem in LA, sticking to one neighbourhood really lets you explore it properly. All in all, LA is one of the most amazing cities in the US.
By Kanupriyaa of My Lost Camel
Want to explore more of Los Angeles? You might like these tours!
Lake Tahoe, California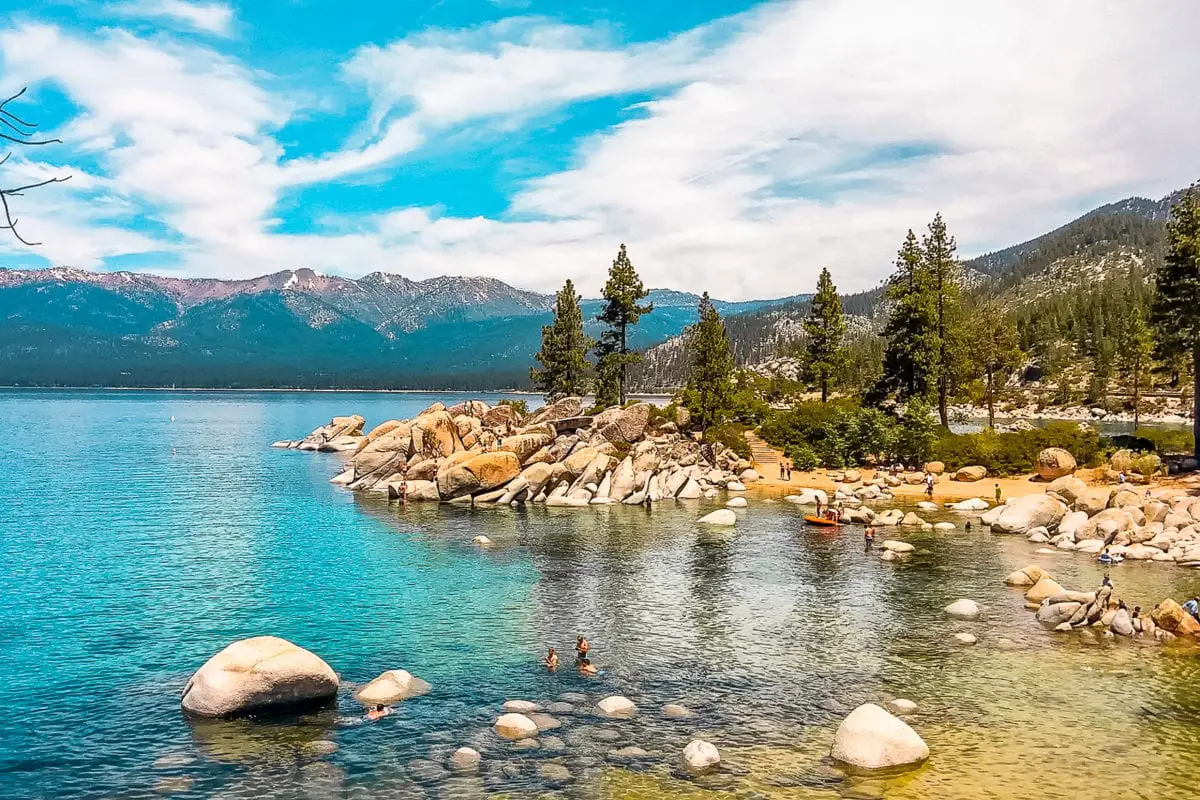 Lake Tahoe is a special place to visit in the United States, whether you visit in the winter for skiing and snow or in the summer for hiking and water sports.
It is also one of the best locations in the world for dogs! Lake Tahoe has many dog-friendly spots and trails so you can bring Fido on your trip.
To take in the beauty of the area you should take an easy hike such as Eagle Falls Vista Point Loop. This trail is less than a mile long, with a fantastic forest setting and is suitable for all ability levels. The trail is mostly used for hiking and bird watching, plus there are some beautiful views. There are so many hikes in this area you will be spoiled for choice.
The best place to stay is in Lake Tahoe South. Here you'll find plenty of shops, cafés, and places to eat. It's a great place to walk along the lakefront and enjoy the water.
By Nicole of American SW Obsessed 
Glacier National Park, Montana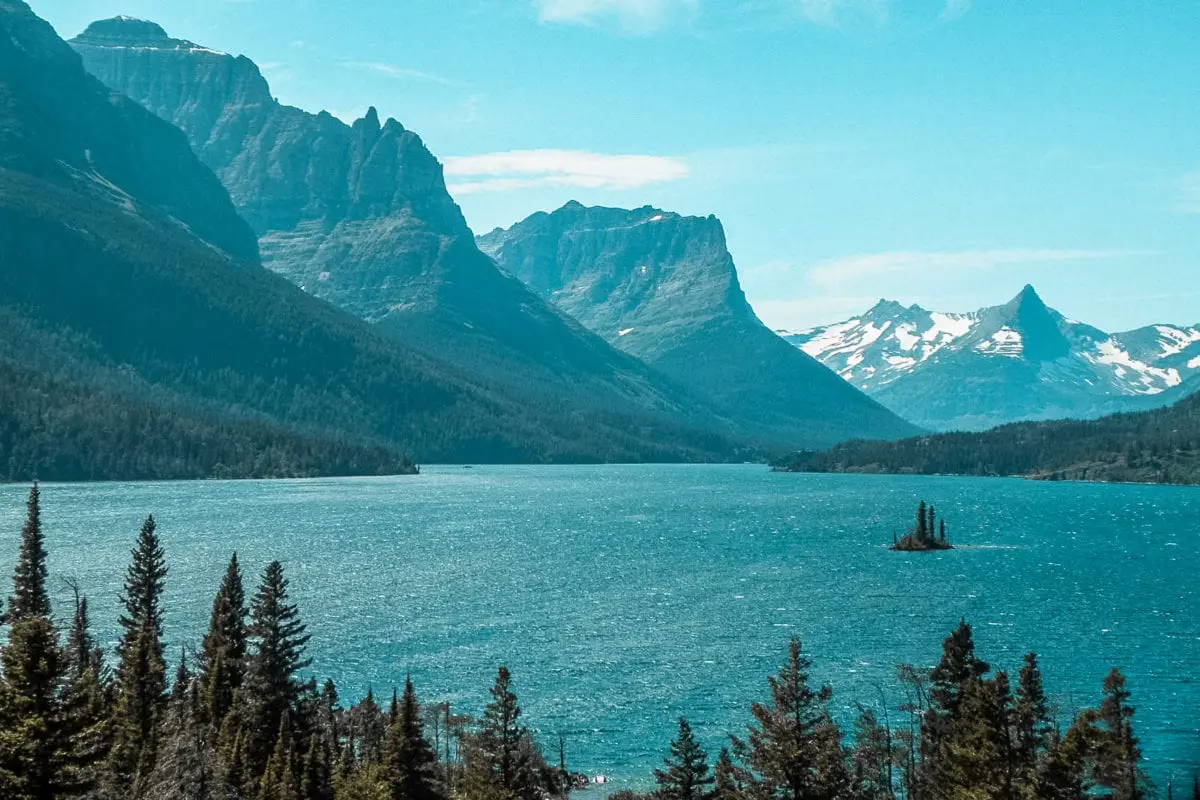 As one of the only dream destinations in the continental United States where you can spot one of Earth's endangered glaciers, Glacier National Park in Montana is truly a national treasure.
With more than 35 significant glaciers in the park, the natural landscape is home to incredible wildlife, ranging from grizzly bears and wolves to elk and lynx. Glacier National Park in Montana is one of the most jaw-droppingly beautiful places in the US.
Start by driving through the park over the famed Going-to-the-Sun Road. Make sure to keep your eye out for the breathtaking rugged landscape and roaming wildlife as you traverse this winding road. There are three main visitor centres in the park to help you plan your trip to the area's top natural wonders.
Both biking and hiking are fantastic ways to further experience what this park has to offer. With over 700 miles of hiking trails, you are bound to find hidden turquoise lakes, lush forests, and at least a couple of the park's animals.
When it comes to lodging, there are plenty of spots to stay in the surrounding area. The nearby towns of Whitefish, Columbia Falls, and Kalispell are your safest bet to finding affordable accommodation during your Glacier National Park adventure.
By Ellie of Ellie's Travel Tips
Joshua Tree National Park, California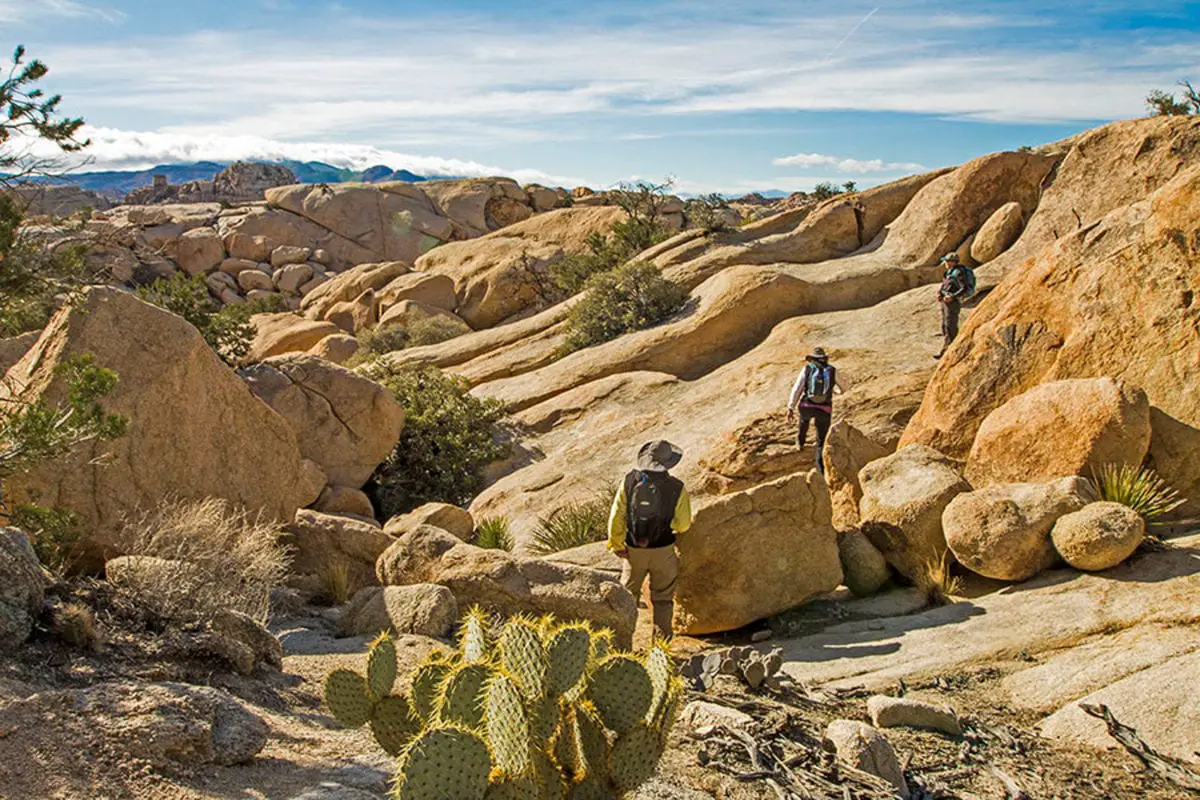 Joshua Tree National Park is one of the most popular parks in California, known for its peculiar trees, rock formations and magic vibes.
The name Joshua tree comes from the bible. It's said that Mormon immigrants, who made their way across the Colorado River in the 19th century, named the tree after the biblical figure, Joshua. In the Bible, Joshua keeps his hands stretched out for an extended period of time to guide the Israelites in their conquest of Canaan. The now so-called Joshua trees mimic Joshua's arm position. However, the scientific name of the Joshua tree is actually, Yucca brevifolia.
To visit the park you can either take a day trip from the neighbouring cities or towns, including fancy Palms Springs, or you can camp inside the park or stay in one of the glamping spots just outside the gate.
Joshua Tree Park glamping is actually the best way to enjoy it to the fullest. After great walks amongst the majestic boulders and the desert homonym trees, you can continue to enjoy the desert magic, stargazing at night and sipping your morning coffee from your glamorous tent in the morning.
Remember, winters can be quite cold, ranging from the 30s to the 60s during the day and dropping below freezing at night. It can snow, but it's still worth visiting. Summers can be quite warm during the day, up to 100 degrees and dropping to 70s at night. It's always a good time to visit Joshua Tree NP, just make sure you know what temperature to expect.
By Isabella of Boundless Roads
Best places to visit in Southwest USA
Texas Hill Country, Texas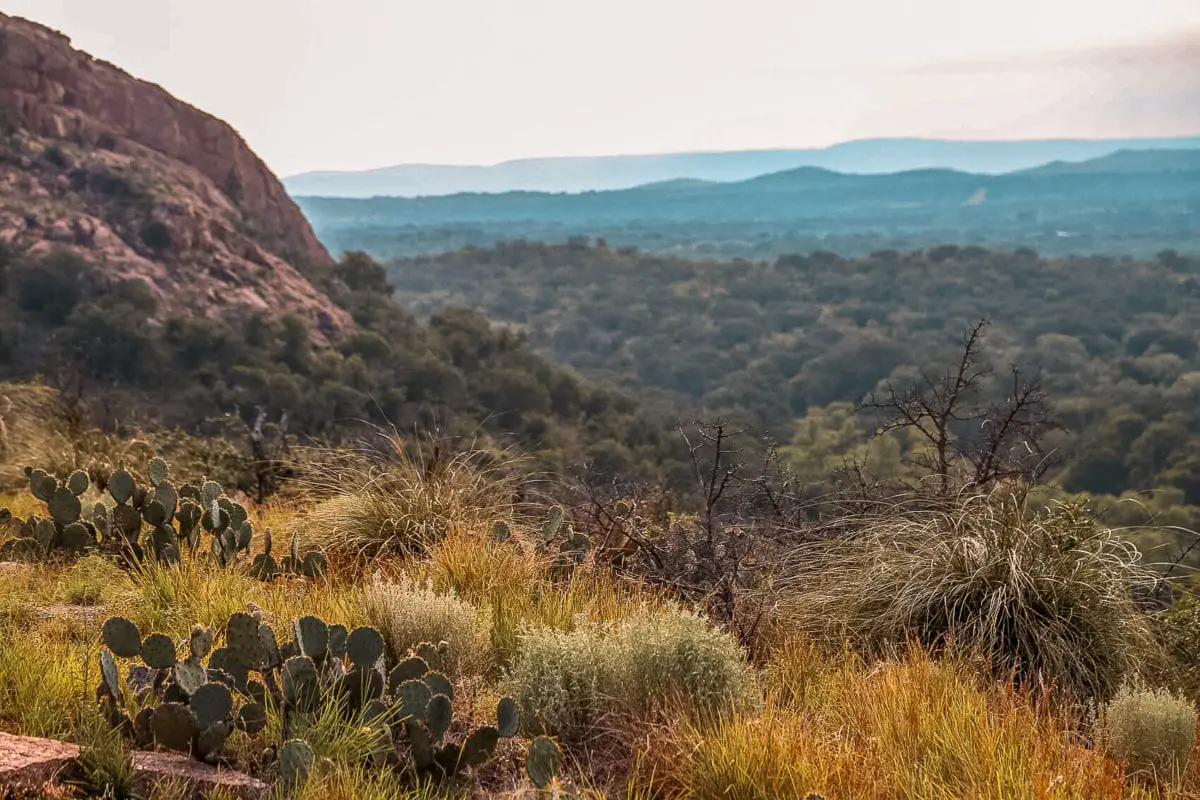 The Texas Hill Country is one of the most beautiful places in Texas. You can visit from Austin on a day trip or for the weekend. Rent a car to get around. A few destinations can be conquered in a day trip from Austin, like Salt Lick and the wineries of Driftwood or Hamilton Pool and distilleries of Dripping Springs.
Dedicate more time for towns like Fredericksburg, home to Texas's wine region. You can also hike Enchanted Rock, eat authentic German food (this region was settled by German immigrants in the 1800s), and catch live music at nearby Luckenbach.
Gruene is another great weekend destination. Tube the river, eat at The Gristmill, and go dancing at Gruene Hall.
Spend a day in tiny Lockhart. It's the BBQ capital of Texas and home to four barbecue restaurants. Go hungry and spend the day trying them all!
While it's a beautiful destination year-round, I recommend visiting the Texas Hill Country in spring. From mid-March through April the bluebonnets bloom and the Hill Country's rolling meadows are blanketed in blue. It's a sight to see. Drive the Highland Lakes Bluebonnet Trail or go for a hike in the Muleshoe Bend Recreation Area to see some of the best bluebonnet views in the Hill Country.
By Erin of Sol Salute
Havasupai, Arizona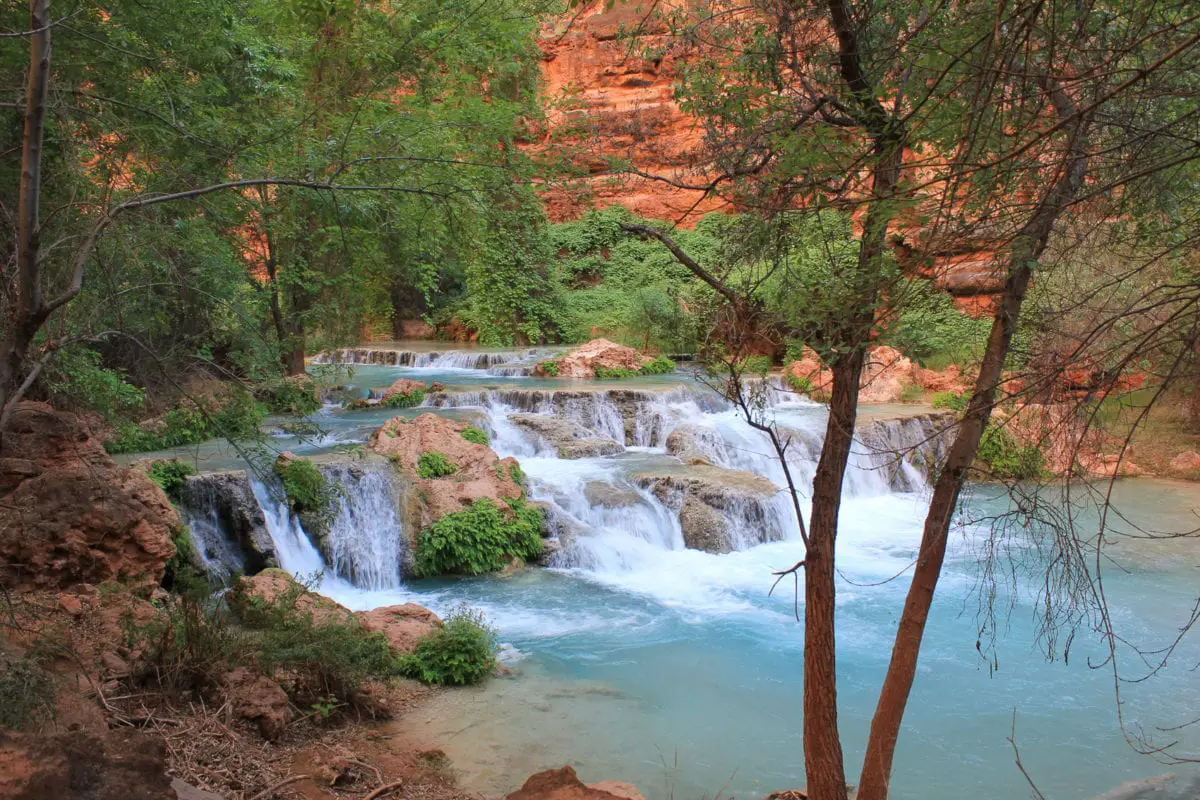 If Havasupai in Arizona is not on your bucket list yet, it should be! Turquoise waterfalls flowing against the bright red rocks of Arizona make this one of the most stunning places in the United States.
The only way to get to Havasupai is by backpacking in 10 miles one way. Camping is required and you can't do this as a day hike. And why would you want to? There are several different waterfalls you can explore once you're at camp. The spring, summer, and fall months are perfect for hanging around in the turquoise waters.
The campground sits next to the beautiful turquoise river so you can play in the water right in camp. It also sits between Havasu Falls and Mooney Falls. Once you're down to Mooney Falls, you can keep going further down the canyon to Beaver Falls, a 6-mile round trip from the campground. If you're feeling adventurous, you can also keep hiking to the Confluence, which is where Havasu Creek meets the Colorado River, a 16-mile round trip hike.
Advanced permits for Havasupai are required and usually open up on February 1 each year.
By Jenny of Limitless Hiker
Sedona, Arizona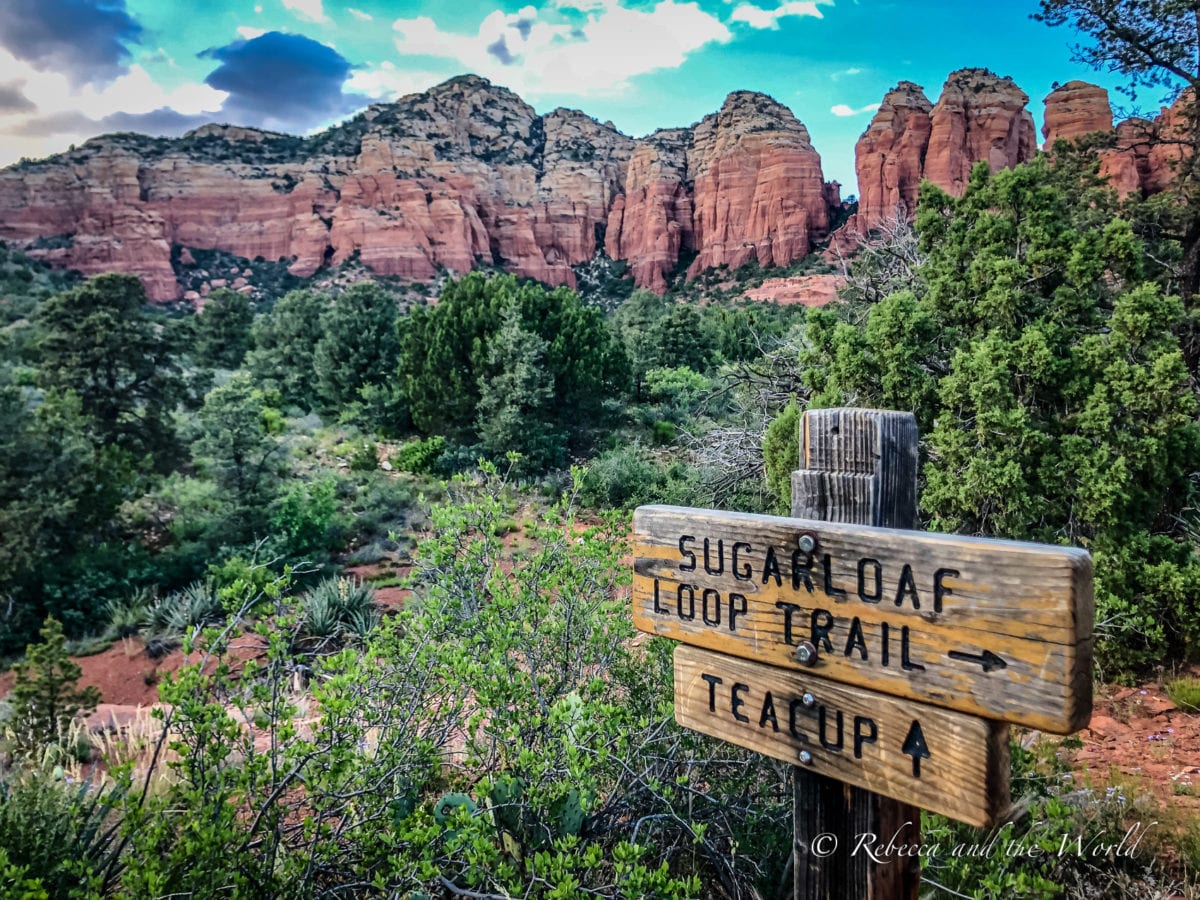 The red rocks of Sedona will make anyone's jaw drop. This small Arizona city is surrounded by them, and from almost all locations you'll have a stunning view to enjoy.
Plan a weekend in Sedona around a few hikes. The Devil's Bridge Trail is popular but worth the crowds. The Bell Rock and Cathedral Rock Trails are equally stunning. Whichever hikes you choose, plan to go early if you're visiting in the warmer months.
Wander Main Street and search out unique souvenirs at the Tlaquepaque Arts and Crafts Village, home to dozens of art galleries and jewelry stores as well as restaurants and bars.
In summer, cool off at Slide Rock State Park, where strong, natural currents and algae on rocks make a fun natural waterslide. This is one of the most fun places in the US to visit during summer!
Once you've explored the city, head out on the Red Rock Scenic Byway, one of the most beautiful things to do in Sedona – and there's a lot of competition for that title. Taste some Arizonan wine at the wineries just outside of town.
Broken Bow, Oklahoma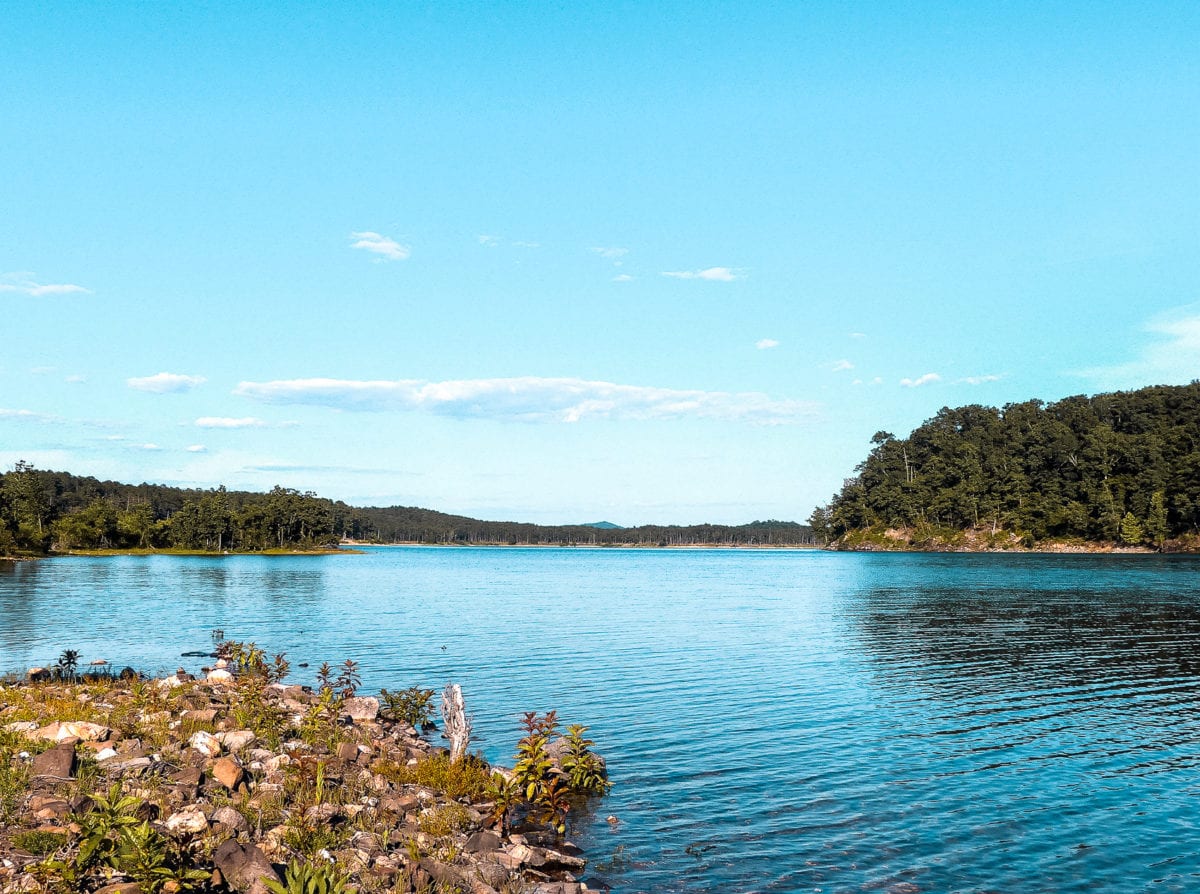 America's hottest glamping destination is the small town of Broken Bow, Oklahoma.
This up and coming destination is located in southeast Oklahoma, around three hours from either Dallas and Tulsa. Broken Bow is nestled in the tree-covered hills near the confluence of Mountain Fork River and Broken Bow Lake. It's the gateway to Beaver Bend State Park and loaded with stunning wilderness and plenty of outdoor activities for all types of travellers.
As you'd imagine, the region is ideal for camping and wilderness living. Many visitors stay at local campgrounds and others book a Broken Bow Airbnb cabin rental – some of which are sometimes as nice as five-star resorts.
One of the best things to do in Broken Bow is to enjoy boating, fishing and swimming  on the lake of the same name.
The area is also home to wineries like Girls Gone Wine on Route 259 where you can stop in for a tasting. If you prefer a cold beer, Beavers Bend Brewery is a great alternative in Broken Bow.
The area is also rich in history, so a perfect indoor activity is the Gardner Mansion. It's a two-story farmhouse that was built in 1884 for the chief of the Choctaw tribe. When you visit today you'll find a fascinating museum that includes Pioneer and Native American artifacts.
By Derek and Mike of Robe Trotting
White Sands National Park, New Mexico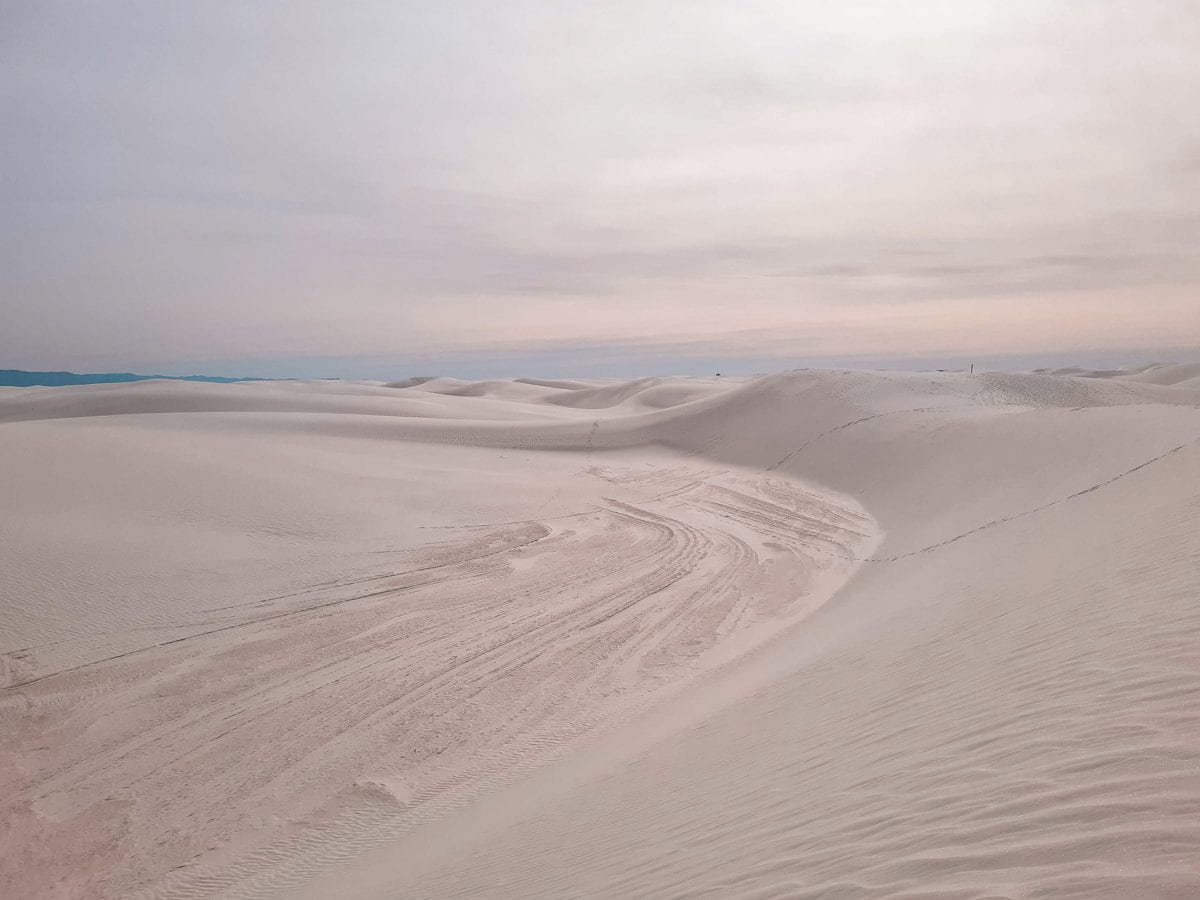 One of the most unique and mesmerising destinations in the US is New Mexico's White Sands National Park. Miles of ivory dunes, with a backdrop of the purple San Andres Mountains, appeals to the imaginations of both children and adults alike. This starkly beautiful landscape not only harbours breathtaking scenery, but is also home to a wealth of unique outdoor opportunities that can only be found at White Sands.
An easy favourite among visitors is sand sledding. You can rent a sled from the Visitor's Center or bring your own for countless hours of fun sliding on the dunes. There are also a handful of hiking trails at White Sands, from half-mile long nature trails, to the 5-mile-long backcountry trek that is the Alkali Flat Trail, for the experienced hiker looking for a true challenge!
White Sands also offers specialties like ranger-guided "sunset strolls", full moon hikes, and meteor shower watching parties, as well as backcountry camping among the dunes.
For a quicker tour of White Sands, hop on the 16-mile-long Dunes Drive scenic loop, the main road that goes through the park, and contains multiple panoramic lookouts, picnic areas and prime sand sledding spots.
By Kristen of Yonderlust Ramblings
Best places to visit in Midwest USA
South Dakota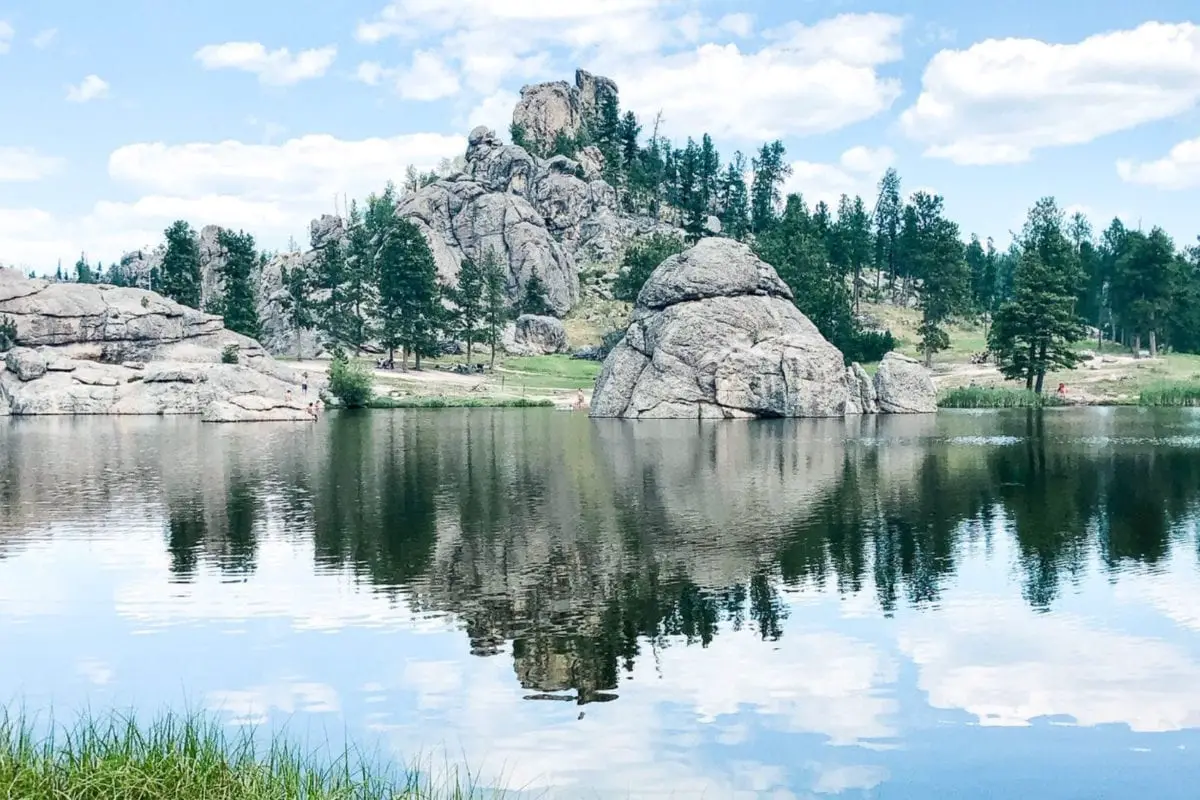 You've probably heard of the awe-inspiring Mount Rushmore, and it's certainly a top drawcard for South Dakota. But, there are a lot of other fun things to see and do in South Dakota.
Badlands National Park offers a striking landscape. Tour the Titan Millile Museum, home to nuclear warheads from the Cold War. Visit Deadwood, the infamously lawless town where "Wild Bill" met his end. Stop in Rapid City to see statues of historic American figures and impressive art murals. If you're a fan of history, you can visit DeSmet where Laura Ingalls Wilder, writer of Little House on the Prairie, once lived.
For places that are uniquely South Dakotan, visit Wall Drug, the locally famous megaplex that is so much more than just a drugstore! Or check out the Corn Palace, adorned with impressive murals made of dried corn. 1880 Town is a replica of a town from the late 1800s you can explore. Or, visit the Mammoth Site, a partially-excavated pit where over twenty mammoths were found.
Of course, visit the highlights of this state including the beautiful Black Hills and Mount Rushmore. And, create your own safari in the stunning Custer State Park, filled with beautiful landscapes and wildlife. There's something for everyone in this incredibly diverse state.
From Sam at My Flying Leap
Chicago, Illinois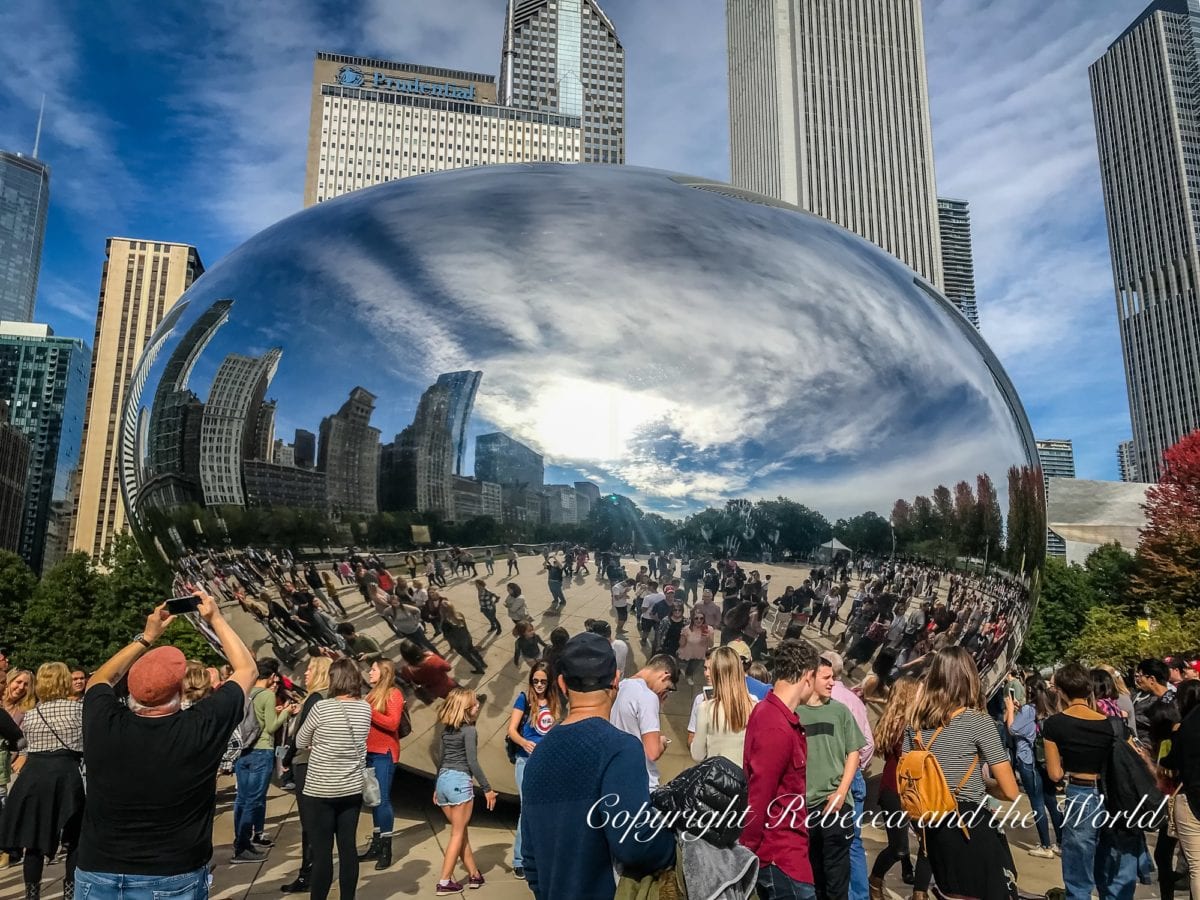 The third largest city in the USA, Chicago has the culture and sophistication of New York – but it's cleaner and friendlier.
Chicago is one of the best cities to visit in the USA, with a huge range of activities to choose from and food to delight the senses.
On a weekend in Chicago, make sure you book an architecture river cruise to see the city's magnificent buildings from the water. The 90-minute cruises are led by volunteers who provide entertaining and informative commentary.
Back on land, explore the restaurants, cocktail and wine bars, and brewhouses of the pedestrian Riverwalk, a paved, 1.25 mile stretch. It's even home to a floating garden. Millennium Park is another must-visit. This huge public space has picnic spots, public art, fountains, gardens and even rock climbing. Take a selfie at Cloud Gate – go early in the morning to avoid the crowds!
In the evening, laugh yourself silly at The Second City, an improv comedy club that has launched the careers of the likes of Tina Fey, Mike Myers and Martin Short.
Chicago is one of the best places to travel in the USA for foodies. Try deep dish pizza, Chicago hot dogs and the famous burgers at Au Cheval.
Want to explore more of Chicago? You might like these tours!
Best places to visit in Southeast USA
Huntsville, Alabama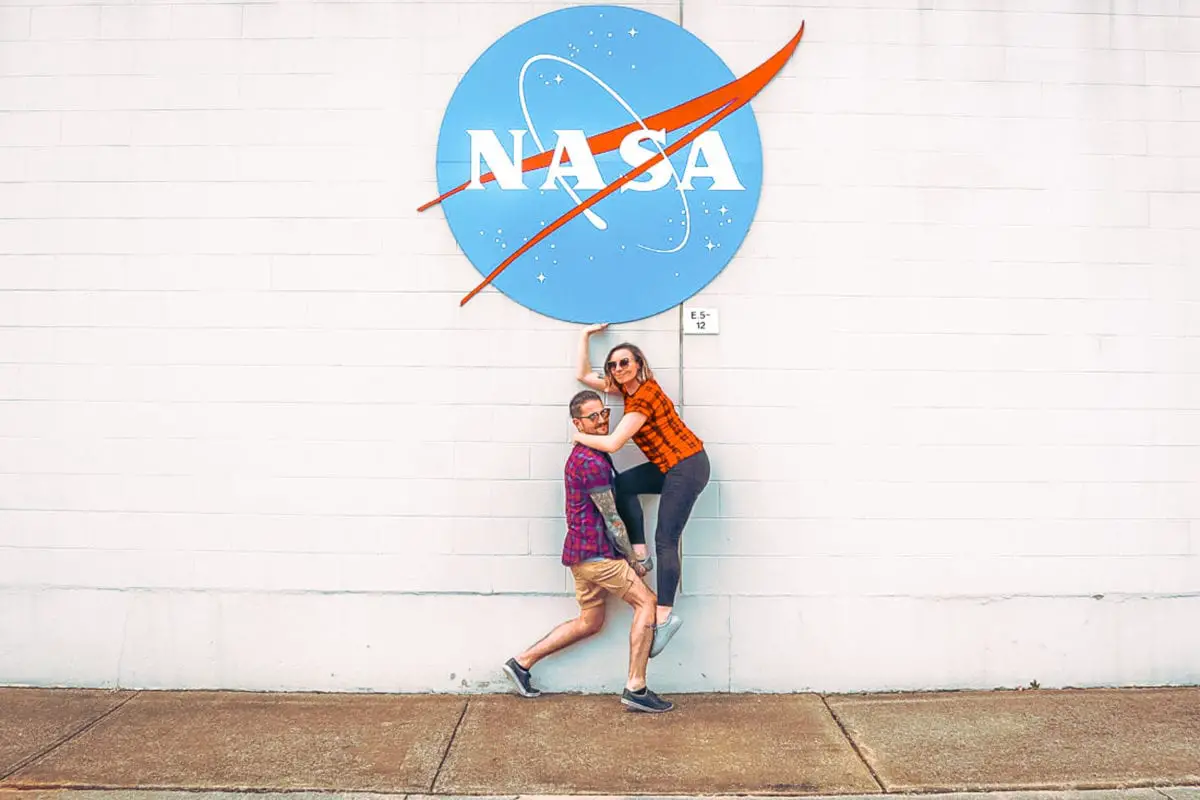 Do you have out-of-this-world travel ambitions? Well, Rocket City might just have "the right stuff" to help you reach for the stars.
Huntsville, Alabama is home to NASA Space Camp where you can train like an astronaut. Yes, wannabe astronauts and thrill-seekers can ride the vomit comet better than Ryan Gosling in First Man, land the Orion Spacecraft safely and experience what it feels like to walk on the moon.
If that's not enough reason to visit Rocket City here's another lesser-known fact: Huntsville is super hip! This young city is packed with engineers and is primed for startups, so it's only going to get cooler.
Drink craft beer and eat pizza at Campus No. 805, the converted high school complex. You can even throw an axe with friends and then get a tattoo at this stylish lifestyle complex. Can you find the speakeasy?
Vintage shop and art gallery hop at Lowe Mill Arts and Entertainment, then lunch at Happy Tummy.
Foodies! Huntsville restaurants come highly recommended. Start the day with açaí and coffee at Honest Coffee Roasters, play vintage games, have a casual drink at Pints and Pixels, and then hop aboard the dining experience on an old train, Blue Bayou.
By Gemma of Two Scots Abroad
Memphis, Tennessee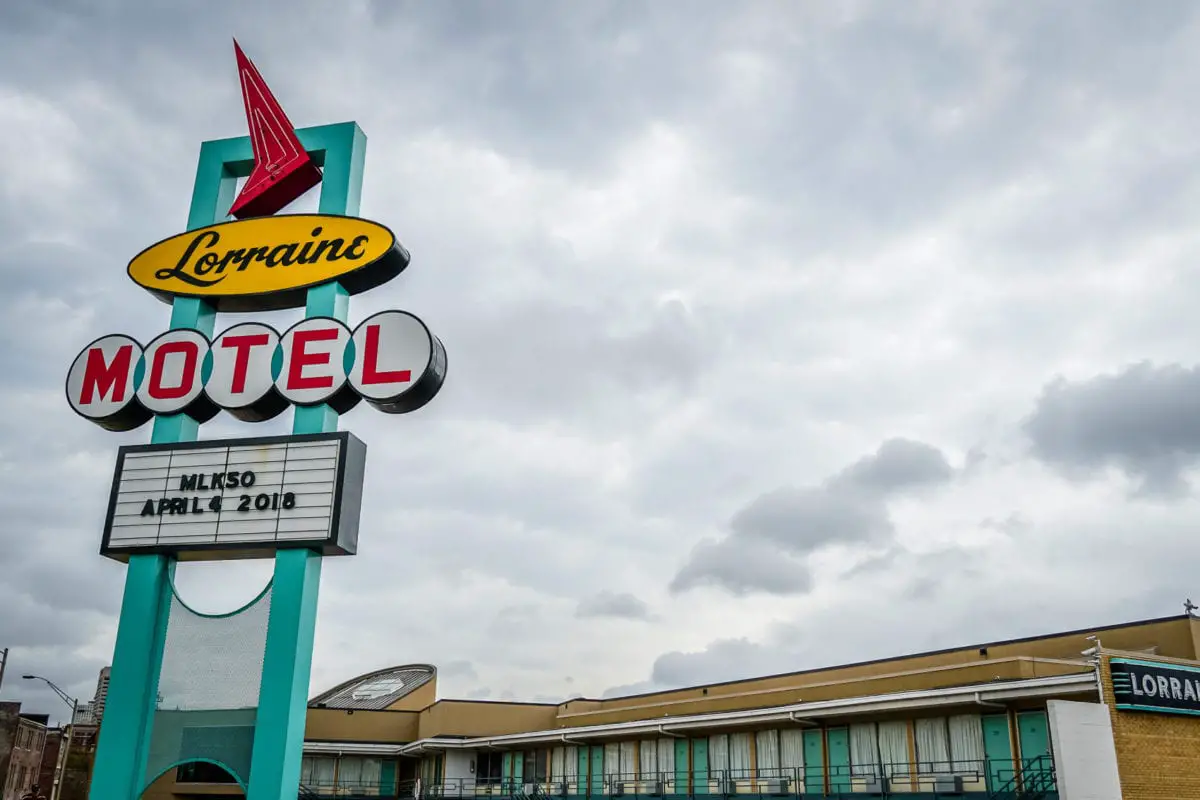 The home of blues, soul and rock 'n' roll, Memphis is a city that will capture your soul. Along with deep musical roots, there's a rich African-American history, an exploding food scene and that Southern hospitality you expect.
Start your visit to Memphis by exploring the city's role in the civil rights movement. The Civil Rights Museum is a must, housed at the Lorraine Motel where Martin Luther King Jr. was fatally shot on 4 April 1968. The Slave Haven Underground Museum is another of the important Memphis museums, and will take you back to the underground railroad.
Music lovers will rejoice at Sun Studios, the Stax Museum of American Soul Music and the Blues Hall of Fame. Enter the hallowed grounds of Graceland, the former home of Elvis Presley.
Listen to live music when you hit up a few blues bars along Beale Street.
Finally, don't forget to try as much Memphis barbecue as you can!
Consider making your trip to Memphis part of a Deep South road trip.
Miami, Florida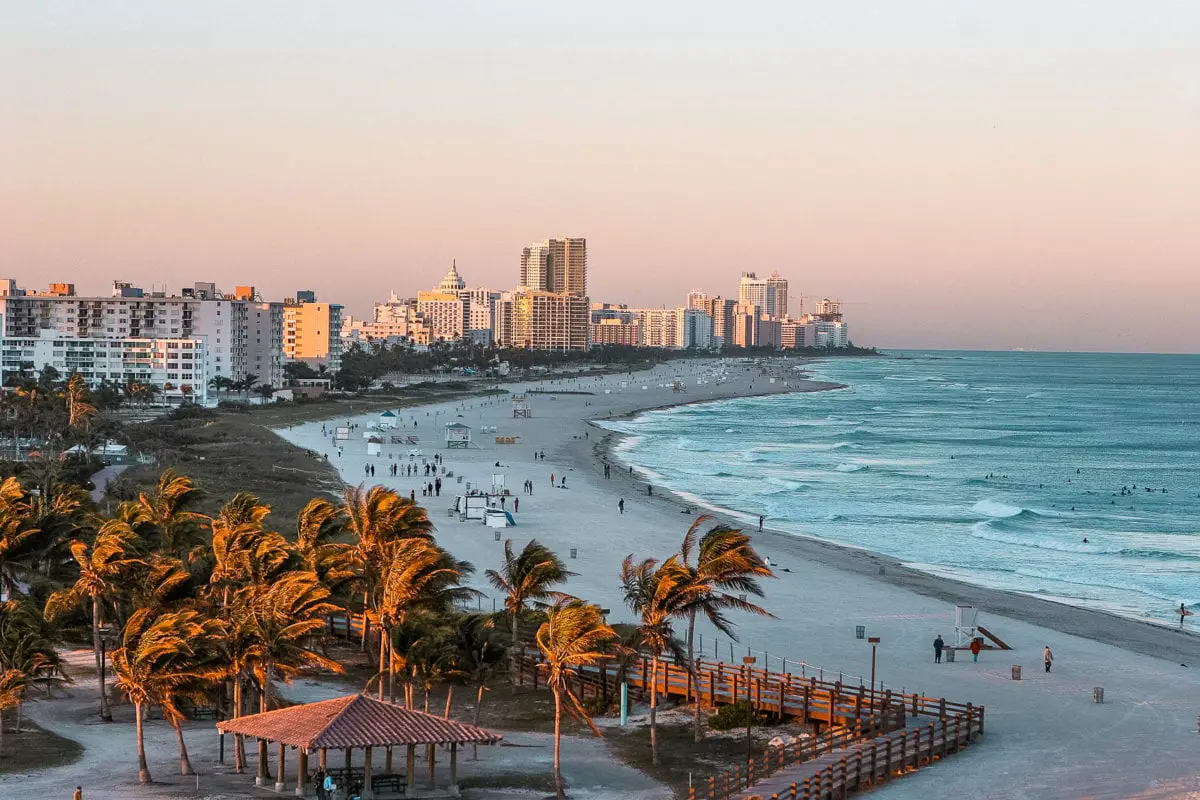 The city of Miami is a large metropolis – the 7th largest in the US, in fact. The Downtown is a busy business district, but you can also find street art murals and amazing restaurants. Miami's neighbourhoods are often culturally diverse and lively. Little Havana has a Cuban heart and it shows in packed restaurants and cigar-smoking locals. The Coconut Grove neighbourhood stretches along the coast, offering plenty of shopping opportunities as well as a number of chic cafés.
Miami Beach is the ultimate tropical escape in the USA. Located on a barrier island protecting Miami City, it features miles of beautiful beaches, making it one of the best places in the US to visit for beach lovers.
The southern part of it (simply called South Beach) is one of the most popular areas, marrying beach time with culture and fine dining. Ocean Drive along the beach is lined with pastel-coloured houses including Versace's mansion. Strolling around Collins Avenue reveals some street art. And then it's about partying. South Beach has quite a few legendary nightclubs to satisfy even the most demanding partygoers.
Miami City and Miami Beach in the Sunshine State are a perfect year-round getaway – especially if you like it warm.
It's extremely easy to get around Miami without a car – the public transport network works well and connects all parts of the city including the beaches.
By Veronika of Travel Geekery
Blue Ridge Parkway, North Carolina/Virginia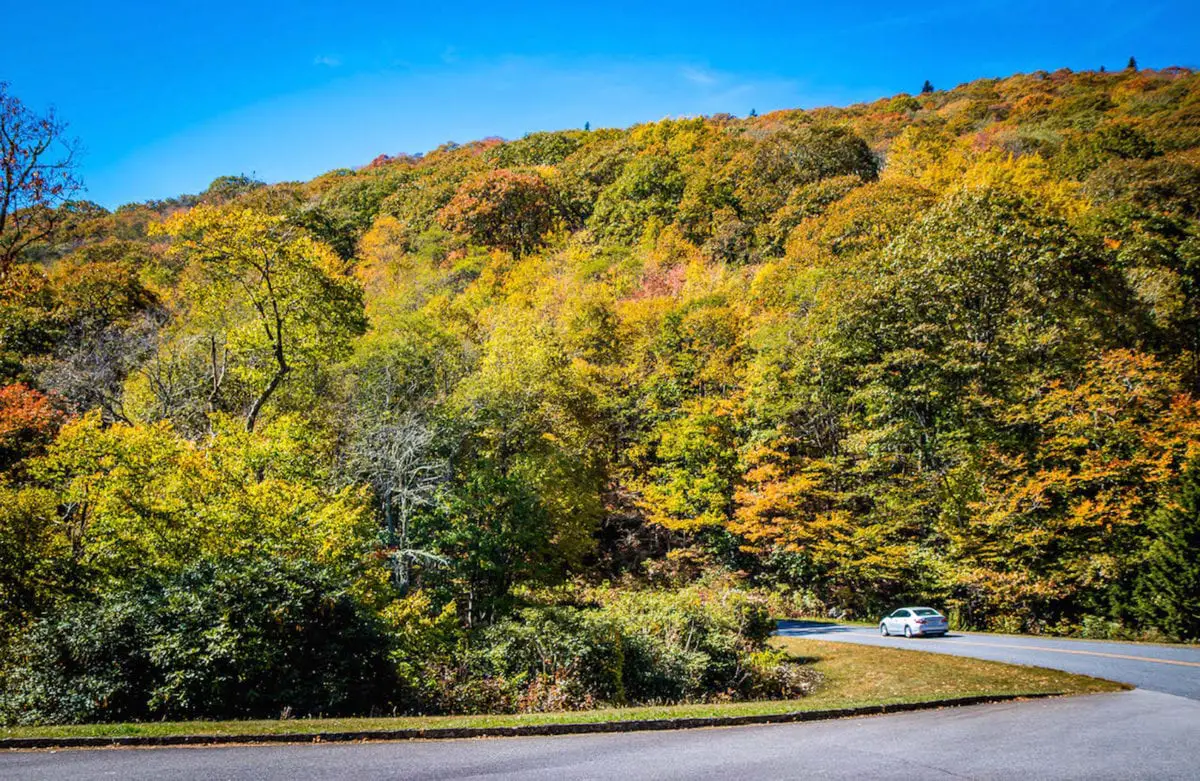 Stretching 469 miles from the North Carolina entrance to Great Smoky Mountains National Park to Virginia's Shenandoah National Park, the Blue Ridge Parkway is inarguably among the best scenic routes for US road trips.
It's got loads of historical importance: FDR concocted the concept back in 1935 as part of his "New Deal" plan to create jobs and improve the nation's infrastructure to speed economic recovery after the Great Depression. It took 31 years to construct the majority of the road, and another 21 years to finish the gloriously picturesque stretch between the Linn Cove Viaduct and Grandfather Mountain in North Carolina.
The Blue Ridge Parkway has some of the most significant wilderness conservation lands in the eastern US, including the aforementioned national parks, four national forests (Jefferson, George Washington, Nantahala and Pisgah), numerous state parks, the majestic Blue Ridge Mountains, and countless hiking trails, waterfalls, rivers, lakes and streams. All of which are home to wildlife such as black bears, white-tailed deer, wild turkeys and countless other birds.
And in terms of popularity, the Blue Ridge Parkway is second to none. Despite being closed due to weather for much of autumn and winter, the scenic route attracts more than 15 million visitors each year, making it the number 1 most visited unit of the US National Park system!
The BRP is perfect for brief getaways or longer, more in-depth exploration. With a speed limit of 45mph, you could conceivably drive the entire length in 15 hours if you didn't stop. But that would REALLY defeat the point. There are 200 stunning scenic overlooks along the route, not to mention great Blue Ridge Mountain towns such as Boone, Blowing Rock and Little Switzerland NC.
The best overlooks – including Grandfather Mountain State Park, the Linville Gorge Wilderness, the Linn Cove Viaduct, Looking Glass Rock, Mount Mitchell (North Carolina's tallest), Pisgah National Forest and Julian Price Memorial Park – offer an incredible opportunity to slow down and savour the majestic beauty of one of America's largest remaining stretches of wilderness. 
By Bret and Mary of Blue Ridge Mountains Travel Guide
Asheville, North Carolina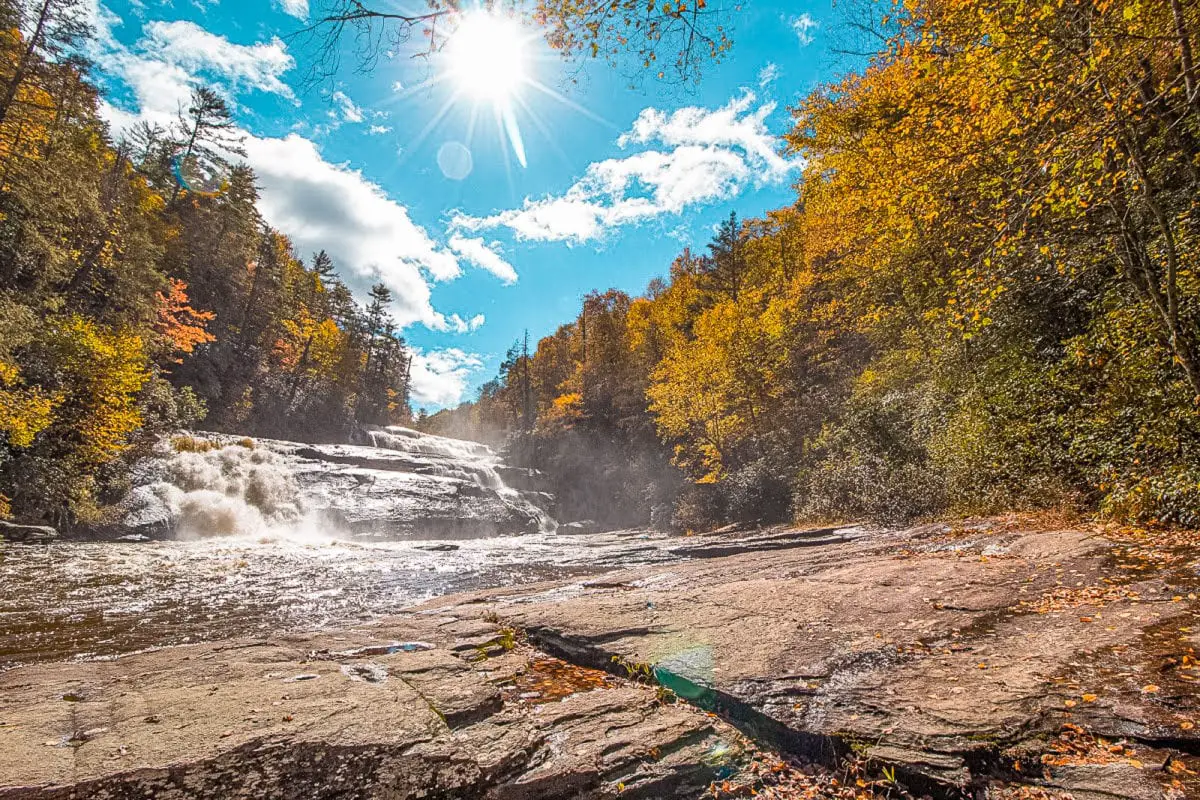 If you're looking for somewhere to visit in the US that's big on delicious local food, sublime nature and funky culture, there's no better place than the mountain town of Asheville, NC. This is undoubtedly one of the coolest cities in the US.
Renowned for its superb food scene, no Asheville itinerary is complete without trying out some of Asheville's Appalachian and farm-to-table cuisine. Local favourites are hipster haven White Duck Taco, Caribbean-inspired 9 Mile and upscale Rhubarb.
If stunning nature is what you're looking for, take some time to drive the iconic Blue Ridge Parkway or hike through Pisgah National Forest. Favourite hikes include the moderately difficult Looking Glass Rock Hike, which leads you to picturesque views of the Blue Ridge Mountains, and the easy hike to Moore Cove Falls, a spectacular waterfall you can walk behind.
Take some time to explore Downtown Asheville for shops selling local goods. Check out the Urban Trail, a 1.7-mile trail with unique landmarks and shops that explain downtown Asheville's history and its Art Deco architecture. If you appreciate fine art, walk through the River Art's District, a revitalised section of Asheville that houses 200 artists and multiple galleries. You can browse the galleries, watch the artists at work or take a fun class.
The busiest time of year is summer and fall when Asheville is awash in a technicolour display of autumn hues. If you're visiting in those times, be sure to secure booking well in advance as many hotels and Asheville Airbnbs book out months in advance.
By Christina of Live A Wilder Life
Shenandoah National Park, Virginia
Located just hours from some of the country's busiest population centres is one of the best places to escape into nature in the USA.
Virginia's Shenandoah National Park is the East Coast's playground and one of the best places to visit in the USA. It's only 50 miles from Washington D.C., and an easy weekend trip from New York and Philadelphia. With over 200,000 acres of protected wilderness, it's the perfect escape for families, couples and solo travellers.
While Shenandoah is beautiful year-round, it's most famous for the bright hues of orange, red, and yellow during peak leaf-changing season in the Fall. In October and November, the mountain slopes transform from their usual green to every shade of autumn foliage. The air is crisp, and the normal Virginia humidity levels are low.
Hikers can enjoy Shenandoah's natural splendour from any of the park's 500+ miles of trails. Be sure to hike up Bearfence Mountain, which offers one of the only 360-degree views in the park. Or head down White Oak Canyon, which takes hikers past seven tumbling waterfalls. If you're interested in a longer hike, 100+ miles of the famous Appalachian Trail runs through Shenandoah – take a week to check at least that portion off your bucket list!
Visitors can also cruise along the famous Skyline Drive, which travels along the ridgeline of the Blue Ridge Mountains, and take in the park's beauty from the comfort of their car. No matter what you do, though, Shenandoah is a must-visit place.
By Maggie of Pink Caddy Travelogue
Washington, D.C.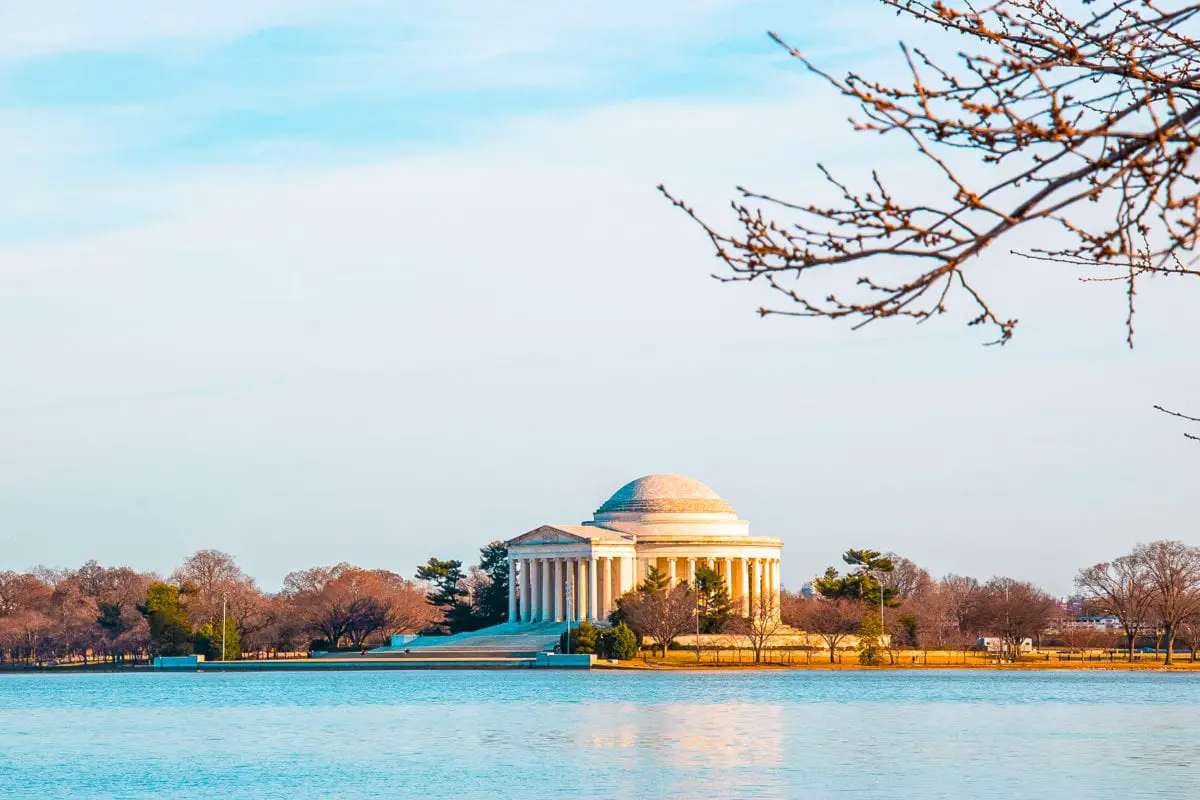 Washington DC is hard to go past on a visit to the United States. Quite literally, it is the engine room of the USA – the centre of policy, where government sits and where the president lives. But if that doesn't grab you, then the beauty of Washington surely will.
The city is surrounded by monuments and memorials to significant Americans and events that have impacted the country, each of them meticulously planned and breathtakingly beautiful. The imposing Lincoln Memorial absolutely must be experienced, as must the Thomas Jefferson Memorial. The Korean War Memorial is haunting, featuring a patrol of soldiers making their way through the foliage, and the World War II Memorial is about as grandiose as it gets.
If the memorials are not your thing, then the number of free museums in Washington DC might impress. The Air and Space Museum is utterly awe inspiring, charting humankind's journey into flight. Another must-see museum is the African American History and Culture Museum, one of Washington DC's newest and most popular additions.
Finally, a visit to the Capitol Building is absolutely worth the effort. This magnificent building that's featured in so many TV shows and films is just as impressive in person. Tours of the Capitol are free (but must be booked in advance), and once the tour is finished, you can even head in to watch Congress in action.
TOP TIP: Washington, D.C. is one of the best places in the USA to spot cherry blossoms. They bloom in mid to late March for a few weeks.
By Emma of Emma Jane Explores
The Outer Banks, North Carolina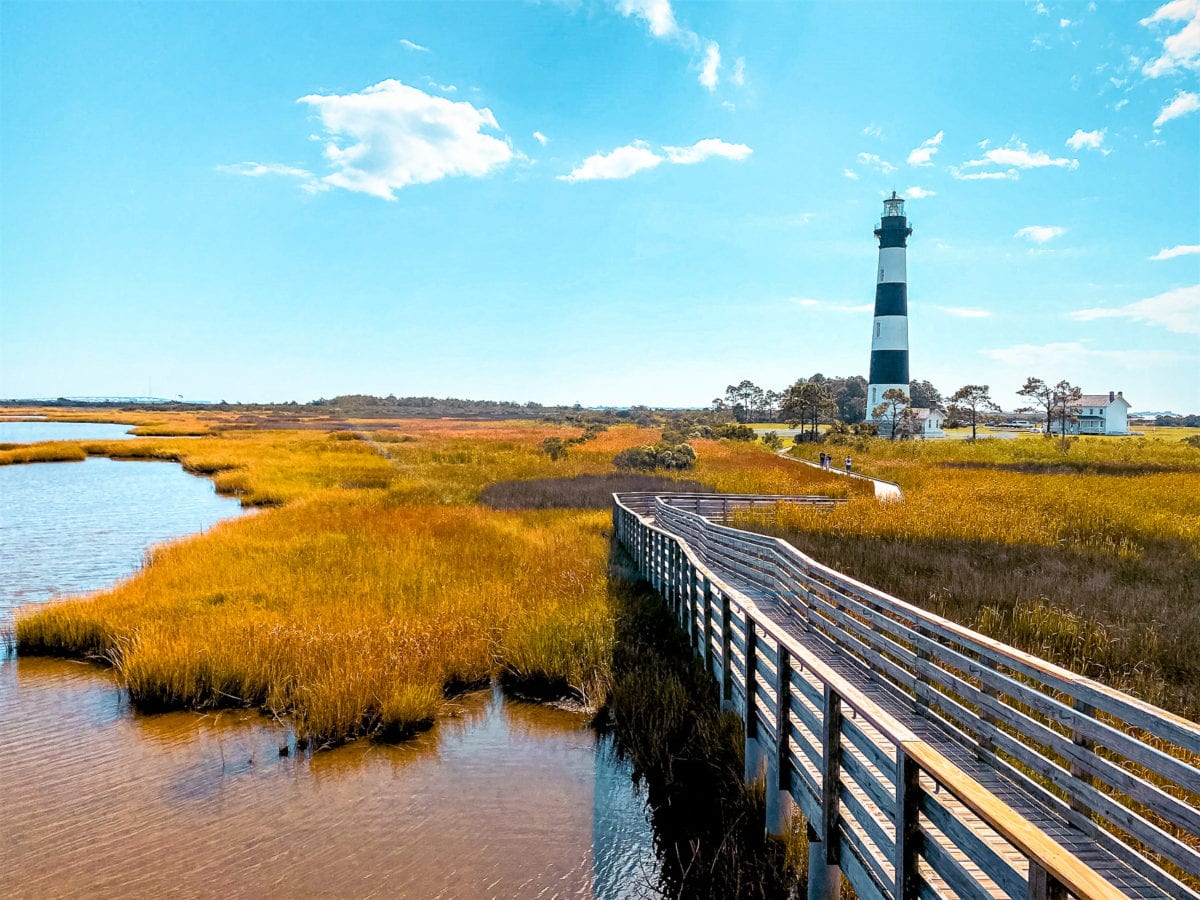 Best known for their expansive beaches and the gorgeous Cape Hatteras National Seashore, the Outer Banks are a string of long, thin, barrier islands that run down the coast of North Carolina. Their sheer beauty and slower pace of life have made them a slightly off-the-radar vacation destination.
While you could easily spend your days lounging on the beautiful beaches, you won't want to miss the top things to do in the Outer Banks. These include some unique opportunities in the area like spotting the wild horses that roam the beach in Currituck National Wildlife Refuge, visiting the Wright Brothers National Memorial which commemorates the first flight in the world, or climbing up the many lighthouses that dot the shoreline.
Continue exploring all that the Outer Banks offer by hiking up the sand dunes of Jockey's Ridge State Park or wandering along the mile-long boardwalk through the town of Duck. Along the boardwalk you'll find plenty of quaint boutiques and tasty restaurants that offer stunning views of the sunset.
While there are plenty of things to keep you busy in the Outer Banks, note that it is not a party destination like you might find along South Beach in Miami or Panama City Beach. Expect natural beauty and small-town charm spread out over multiple islands connected by one main road, and you will love it!
By Julia of The Cure for Curiosity
Everglades National Park, Florida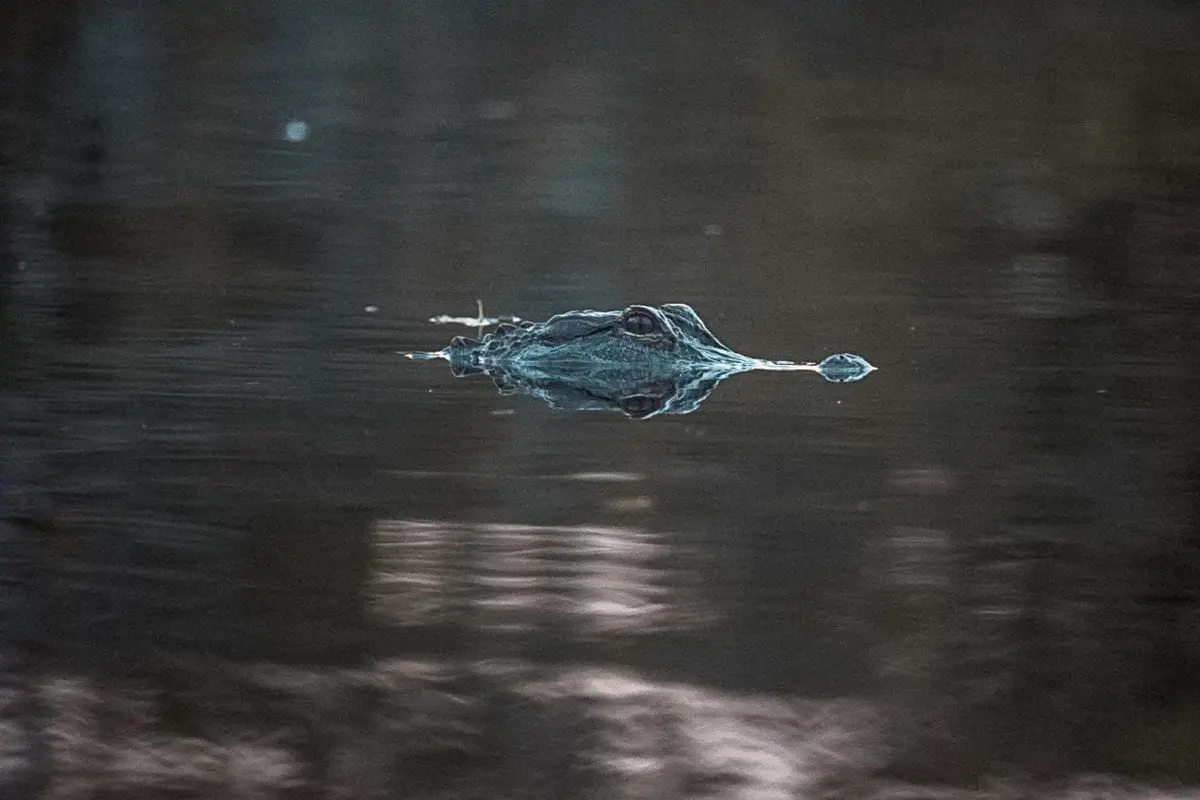 The Everglades National Park is a huge wetlands area in southern Florida, well known for its incredible scenery and diverse wildlife.
The best way to experience the Everglades is on a boat tour. Airboats are popular here and a great way to explore the large national park. You'll be able to spot rare bird species, admire the incredible mangrove forests and maybe even (safely!) encounter an alligator along the way.
Another fantastic way to explore the Everglades is by kayak. Join a guided kayak tour and go deep into the mangroves to learn about the unique natural environment on the way. Make sure you bring mosquito spray and sunscreen.
The Everglades are also great for hiking, biking or camping. Don't leave the designated trails, though, and always carry appropriate weather-proof gear. Packing a camera is highly recommended for capturing those stunning nature photographs.
By Victoria of Guide Your Travel
Want to explore more of Everglades National Park? You might like these tours!
Key West, Florida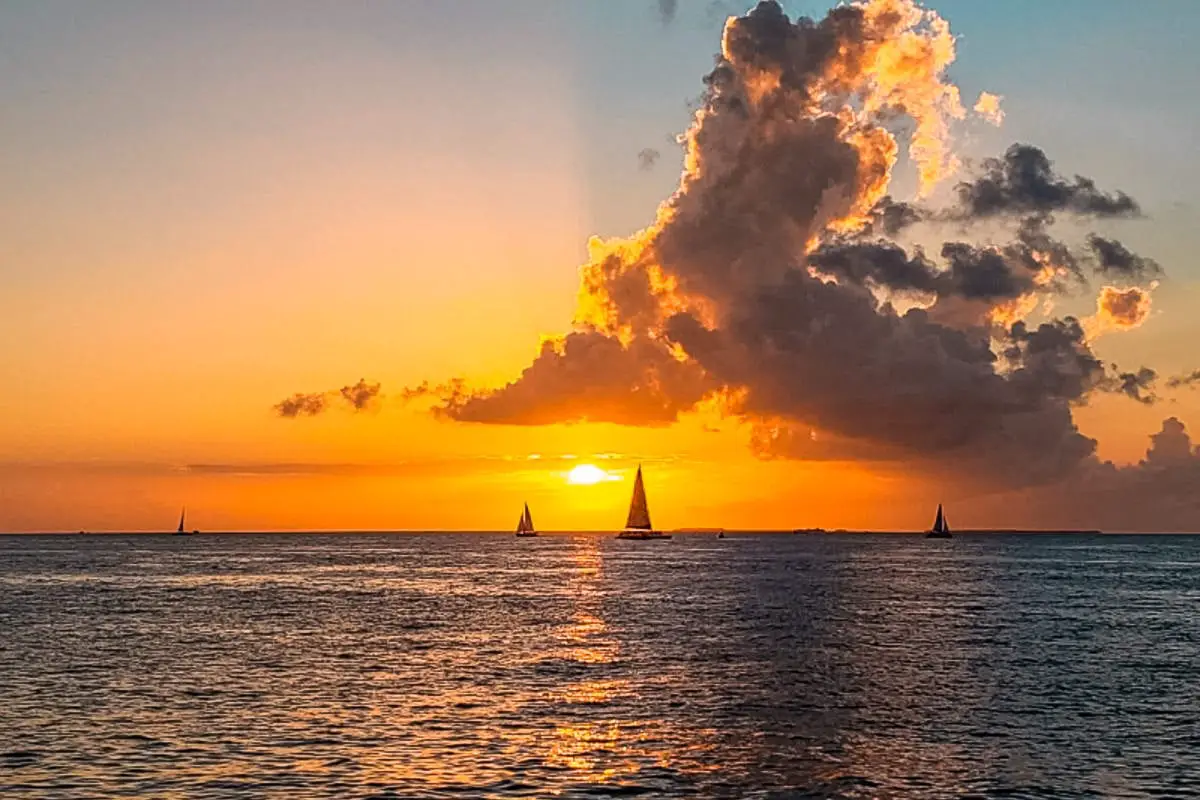 One of the best places to visit in the USA is definitely Key West, Florida. One of the best things about Key West is that you can do as much or as little as you want – there are so many options! You can spend the day relaxing on the beach at Fort Zachary Taylor Historic State Park or taking a leisurely stroll along Duval Street.
If you're a history buff, there are also great museums in town. There's the Key West Shipwreck Museum, the Mel Fisher Maritime Museum, Ernest Hemingway's home and more! Foodies will enjoy the many restaurants, cafés and bars in Key West.
Last but not least, Key West has some of the best sunsets in the world so you should definitely watch the sunset from Mallory Square.
TOP TIP: If you're visiting Key West for the first time, keep in mind that it is a walking town so wear comfortable shoes. The sun can also be brutal, so wear plenty of sunblock and stay hydrated.
By Vicky of Buddy The Traveling Monkey
Williamsburg, Virginia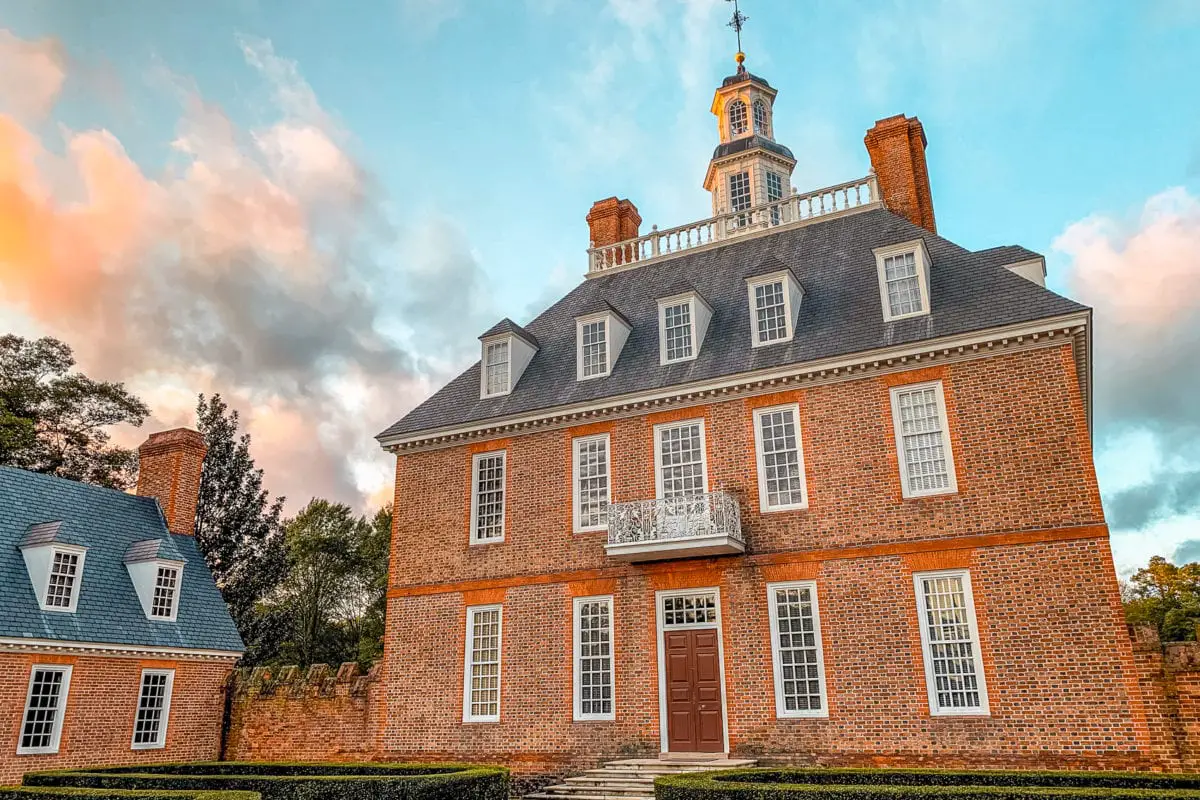 Williamsburg, Virginia, is one of the best places to visit in the USA for its history. It's less than an hour's drive from Virginia Beach and one of the three cities in the Historic Triangle of Virginia.
There are so many things to do in Williamsburg. Known as the United States's biggest living history museum, Colonial Williamsburg is at the city's heart. Learn about the traditions and history of Virginia's former capital as actors interact authentically with the town. While you walk the grounds, you can visit many of the buildings constructed when Williamsburg was at its height.
Colonial Williamsburg also provides many guided tours around its more than 300-acre premises, emphasising multiple elements of its history, including several ghost tours.
Next door to the museum's campus, stroll around the grounds of the second-oldest college in the United States, the College of William & Mary. You can also make short drives to visit the two other towns in the Historic Triangle of Virginia, Jamestown and Yorktown.
There are also three main theme parks in the area: Busch Gardens Williamsburg, Water Country USA and the Great Wolf Lodge, which can make for an exciting day out.
By Lyndsay of The Purposely Lost
New Orleans, Louisiana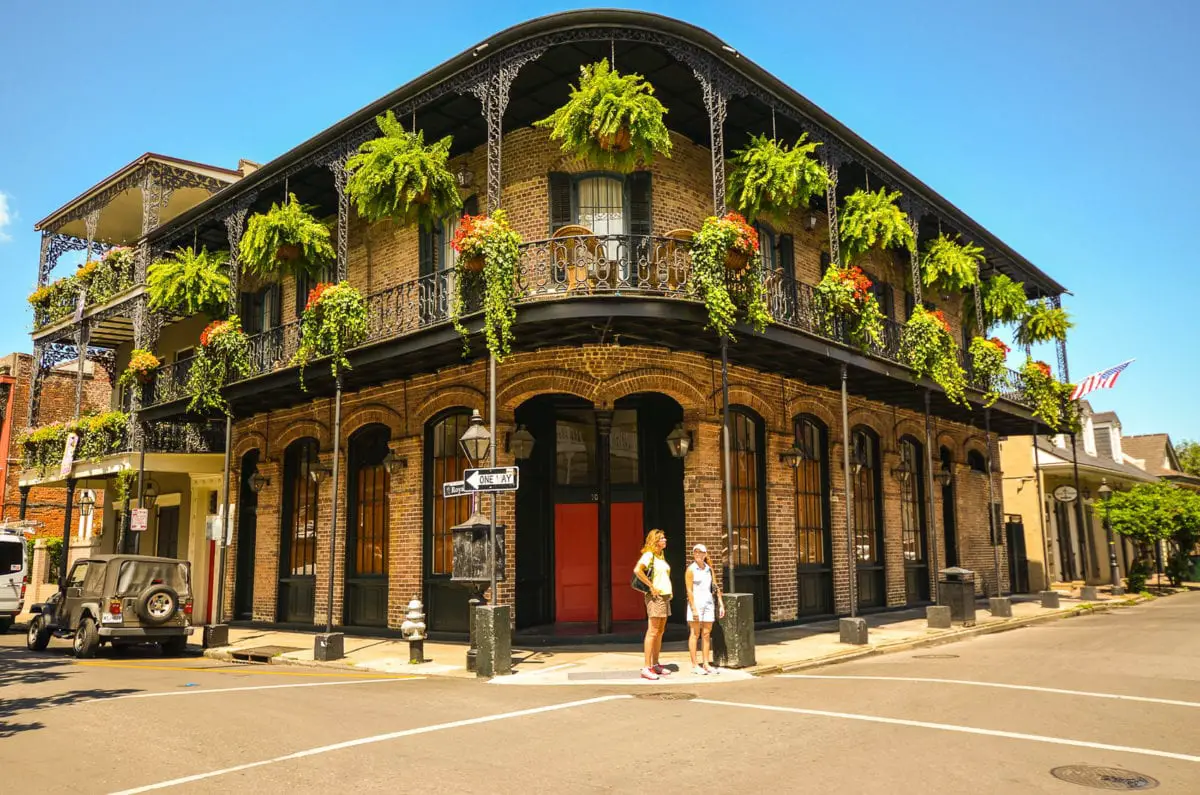 New Orleans is famous for the yearly Mardi Gras, an event that attracts thousands of visitors to the city each year.
The most popular area to stay and visit in New Orleans is the French Quarter. While it's more expensive to stay in the French Quarter, it's worth considering given that it's the oldest area of the city and has the most character. The French Quarter has all the atmosphere, and during the evening the area really comes alive.
Bourbon St in the French Quarter is party central and is full of pubs and clubs and pumping music. Bourbon St oozes atmosphere and is electric, especially on a weekend. Royal St runs parallel to Bourbon St and has many restaurants, boutique shops and cafés. You can't go to New Orleans and not visit a pub with blues music, and there's plenty of them to choose from.
Jackson Square is located in the centre of the French Quarter and is dominated by St Louis Cathedral (circa 1720). The cathedral was declared a world heritage site in 1960. The surrounding square is alive with activity including street performers, fortune tellers, street artists and street brass bands that you can enjoy for a small donation.
Make sure you visit the French Market, divided into two sections: an upriver side collection of artist stalls and food stands to showcase excellent local crafts and cuisine, and a downriver side flea market, where you can find all kinds of souvenirs and trinkets ranging from cheap sunglasses to giant belt buckles to African wood carvings.
Make sure you stop in at the famous Cafe du Monde for their famous beignet, a sweet pastry you should enjoy with a coffee. You can expect to queue in the afternoon and on weekends.
By Sally of our3kidsvtheworld
Want to explore more of New Orleans? You might like these tours!
Best places to visit in Northeast USA
New York City, New York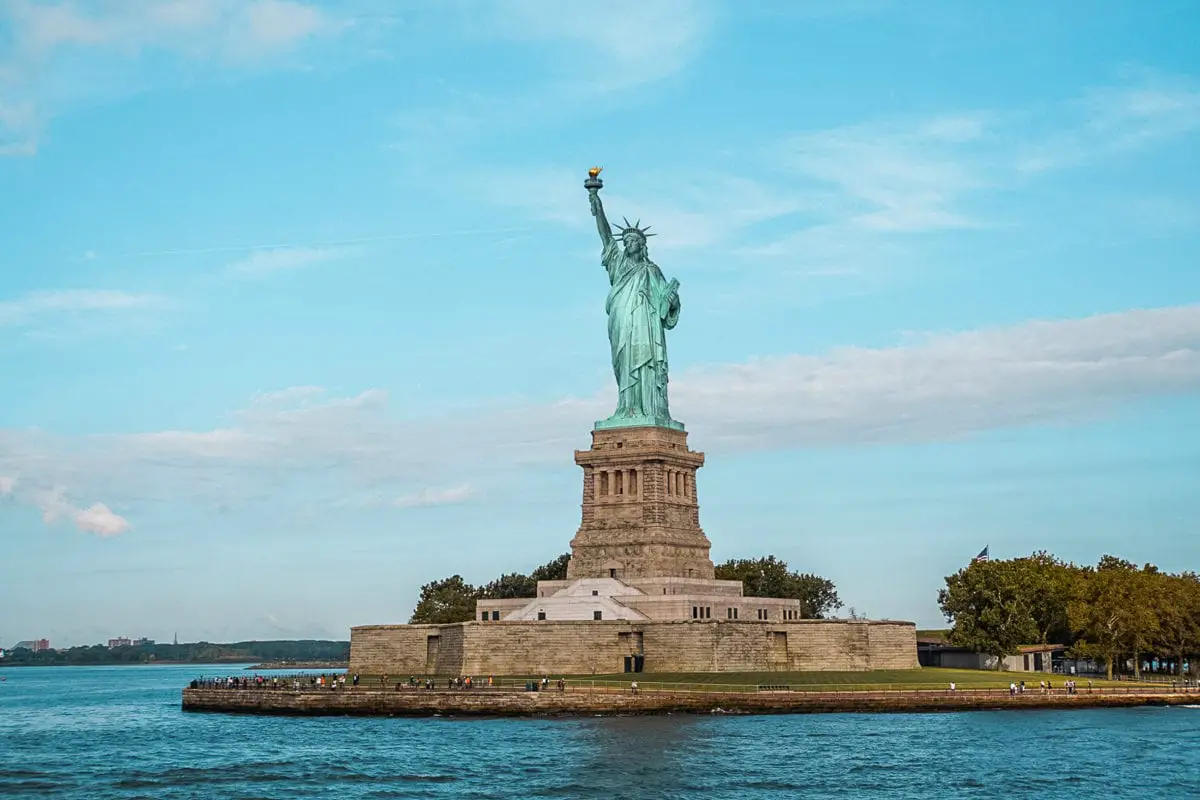 New York is one of the most popular places to visit in the USA and one of the most famous cities in the world. To really experience the city that never sleeps, you'll need at least 5 days in New York to cover the basics as a first-time visitor.
Museum lovers will enjoy the Metropolitan Museum of Art, the Museum of Modern Art (MoMA) and the Guggenheim. Children will love the Natural History Museum.
Other attractions include a walk in Central Park, a perfect place for a picnic between sightseeing, and Fifth Avenue for window shopping. Top of the Rock, the Empire State Building or the One World Observatory all offer views of New York City from above.
Another must-do in New York is a cruise to Ellis Island and the Statue of Liberty. If you want to climb at the top of the statue you should buy your tickets in advance as they sell out quickly.
By Chrysoula of Travel Passionate
Niagara Falls, New York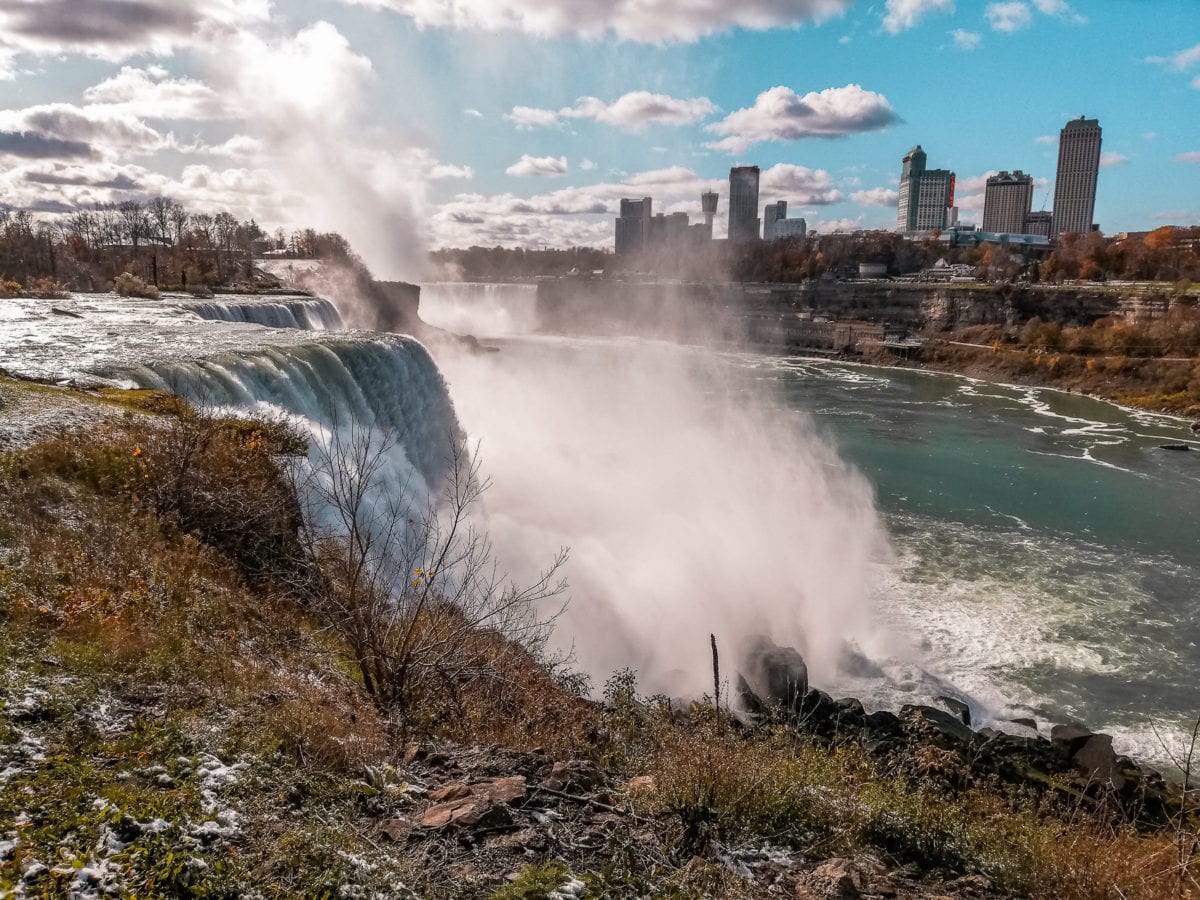 Niagara Falls are the most famous waterfalls in North America. Yearly, there are more than 30 million visitors.
The Falls are located between Lake Erie and Lake Ontario on the Niagara River, bordering Canada and the USA. Niagara Falls is made up of three waterfalls: 57-metre-high Horseshoe Falls, the largest of the falls, American Falls and Bridal Veil Falls.
During the night there is a gorgeous light show. From the U.S. side of the Falls, make sure to book the Cave of the Winds experience and the Maid of the Mist, or just enjoy the free views from the various observation decks.
In wintertime, the falls partially freeze. In fact, in 1844 they froze completely! So, if you're visiting Niagara Falls in the winter, make sure you pack shoes and jackets that are warm and watertight.
To squeeze in another country on your visit to Niagara Falls, you can cross the Rainbow Bridge by foot into Ontario, Canada (bring your passport!).
By Dzangir of Dr Jam Travels
Want to explore more of Niagara Falls? You might like these tours!
Philadelphia, Pennsylvania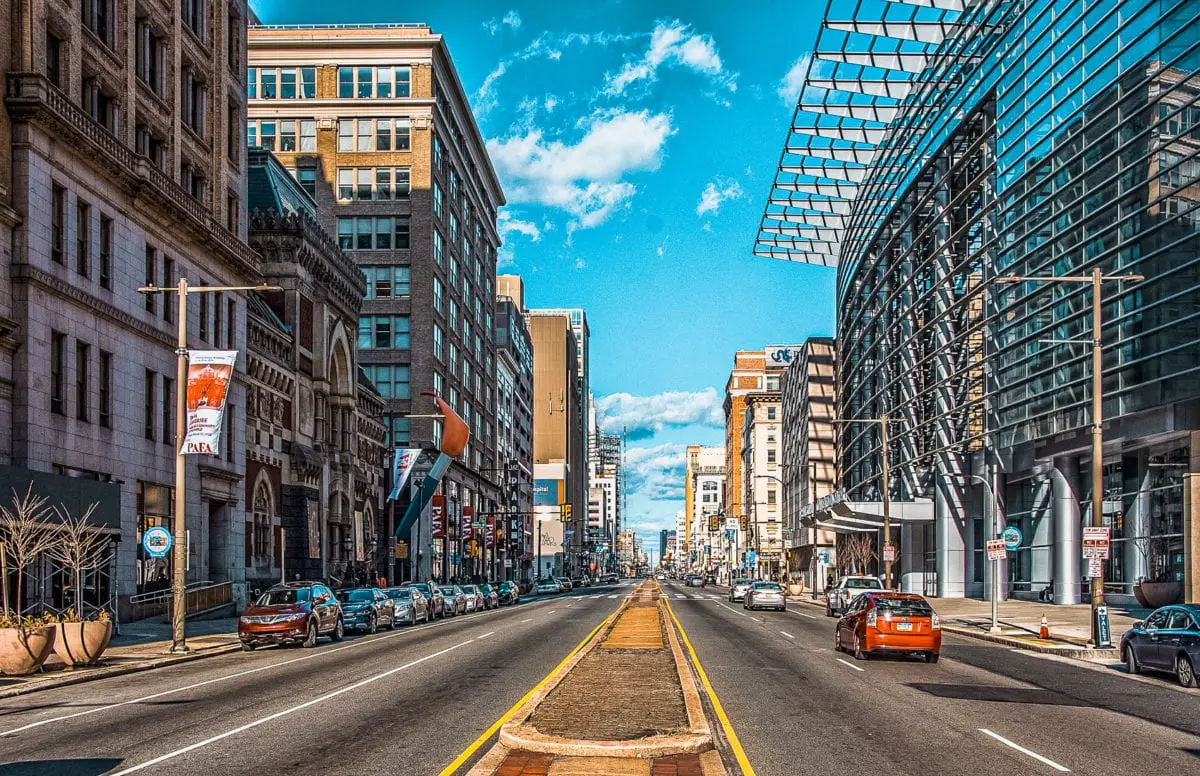 Philadelphia is one of the best cities in the US, having a little bit of everything. There's so much to do in Philly, from climbing the iconic steps of the Philadelphia Museum of Art Rocky style, to taking a trip to the oldest zoo in America.
It's a city with a wonderful old town at its heart where you can see art installations including the famous "Love" piece. Don't miss Reading Terminal Market in the centre of the city, a collection of food stalls where you'll get a chance to try the legendary Philly cheesesteak or a hoagie.
There's plenty of history in this great city and a trip to the Liberty Bell and Independence Hall should be high up your list.
When deciding where to stay, there are some great family hotels in Philadelphia, many right in the centre, so you can easily walk to some of the top sights in Philadelphia.
By Nichola of Globalmouse Travels
So, there we have it: a handful of some of the most amazing places to visit in the United States. Where have you been and what are you adding to your list?
USA TRIP ESSENTIALS
Book flights to and around the USA online with Skyscanner or Kayak. I usually compare flights on the two sites to find the best deals.
Find a great hotel in the USA. Check prices on Booking.com and HotelsCombined online.
Check out the huge range of day tours throughout the USA on GetYourGuide or Viator. There's something for everyone.
A copy of the Lonely Planet guide to the USA will be handy.
One thing I always purchase is travel insurance. World Nomads offers simple and flexible travel insurance. Buy at home or while traveling and claim online from anywhere in the world.
Featured image by Ferdinand Stöhr on Unsplash
PIN IT FOR LATER:
Save this guide to the best places to visit in the USA so you can plan your trip later.