One of the most alluring regions in the United States, southern USA is an area of great natural beauty, friendly folks, sweet accents, rich cultures and traditions, and a love of fried food that speaks to me. It's also an enormous area, so when we were planning our Deep South road trip it was tricky to figure out where to go – I can tell you, there was a lot of FOMO involved.
So, if you're planning a southern USA road trip and need some help, here's my guide to planning an incredible Deep South USA itinerary that will take you from cities to countryside, picking up history, food, music and culture along the way.
And if the Deep South isn't even on your radar yet, hopefully this post will get you planning your own road trip to southern USA! This is definitely one of the best road trips in America.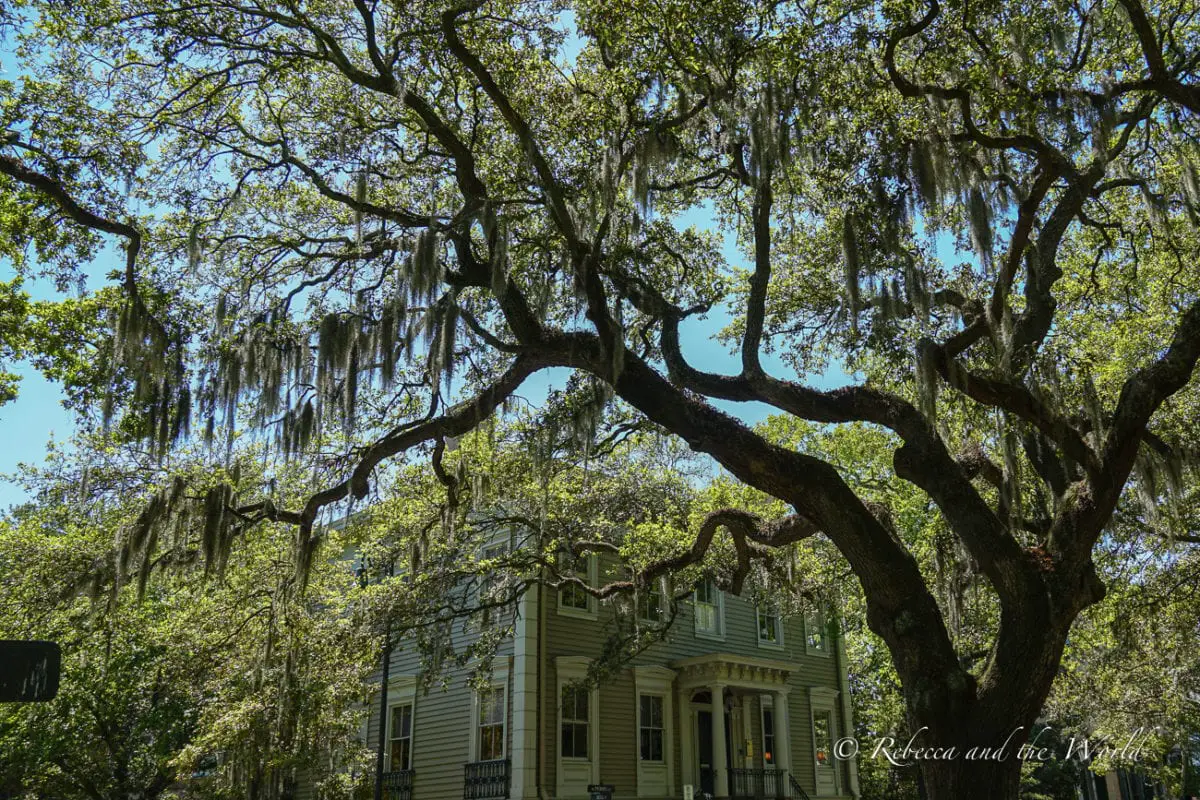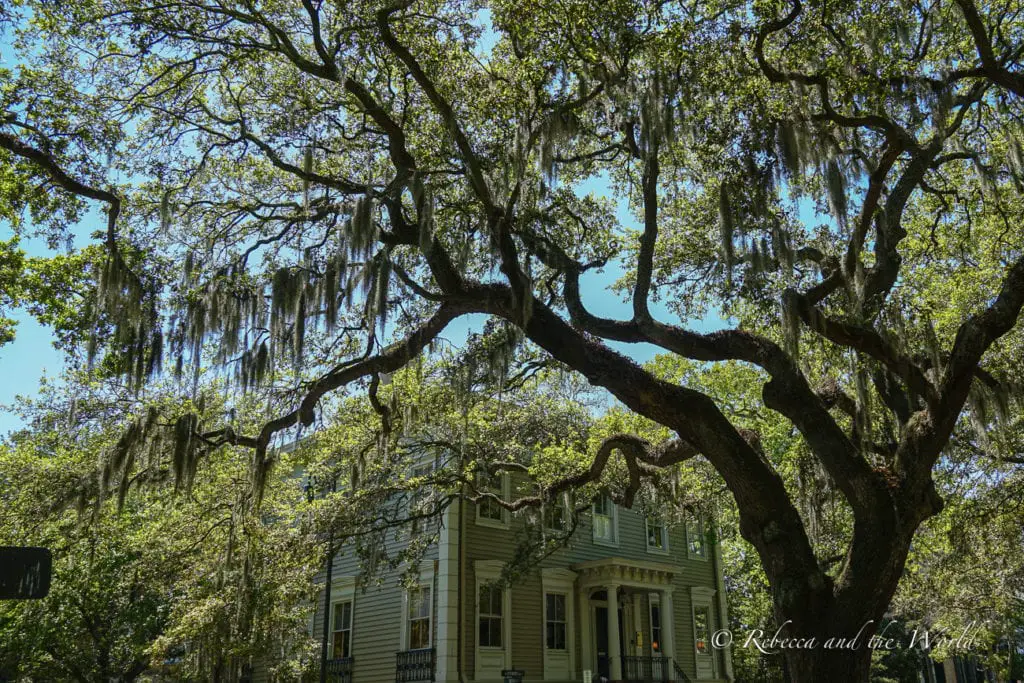 This blog post may contain affiliate links, meaning if you book or buy something through one of these links, I may earn a small commission (at no extra cost to you).
Where is the Deep South?
Before we get into this Deep South road trip itinerary, where exactly is the Deep South of America?
The Deep South is generally considered to be the states of Louisiana, Mississippi, Alabama, Georgia and South Carolina. Other states are often included (hey, Texas and Florida), but they're not technically part of the definition that has developed over time.
I've been a bit sneaky with this Deep South USA road trip because I've thrown in stops in Tennessee and North Carolina – but I think they're worth it, and they provide a nice loop for the road trip.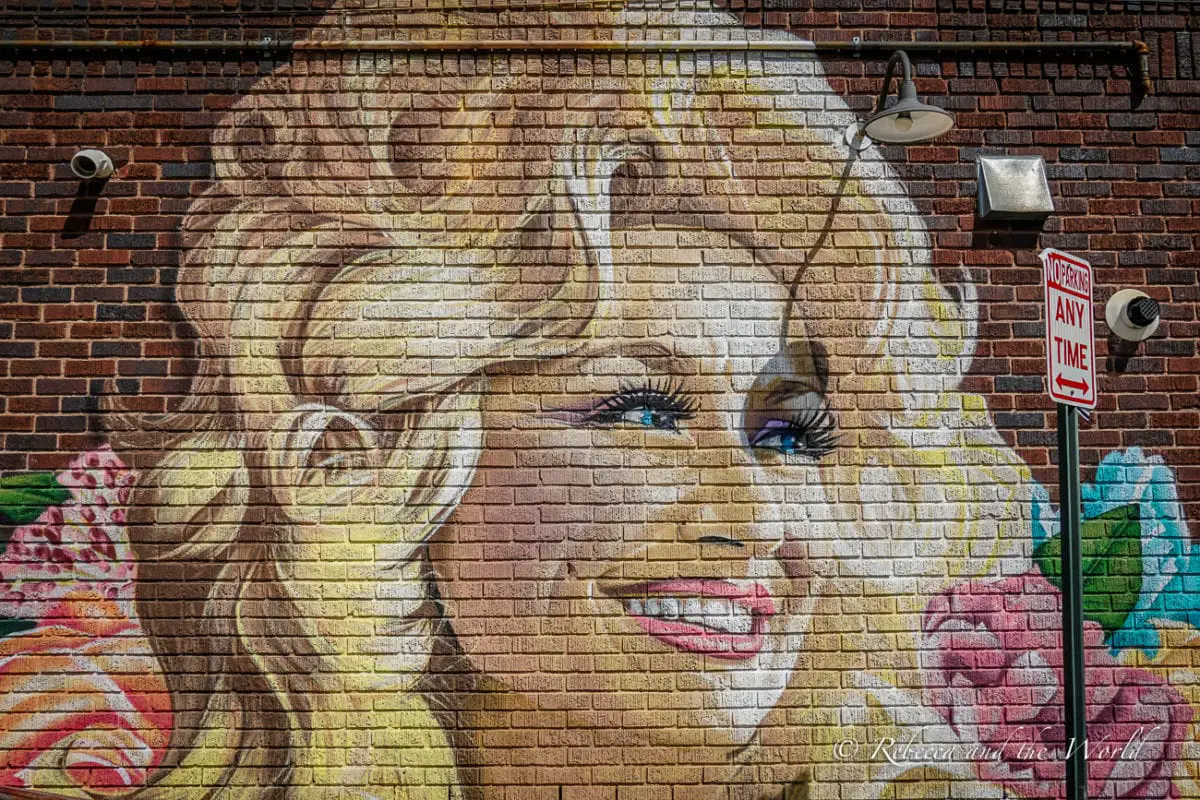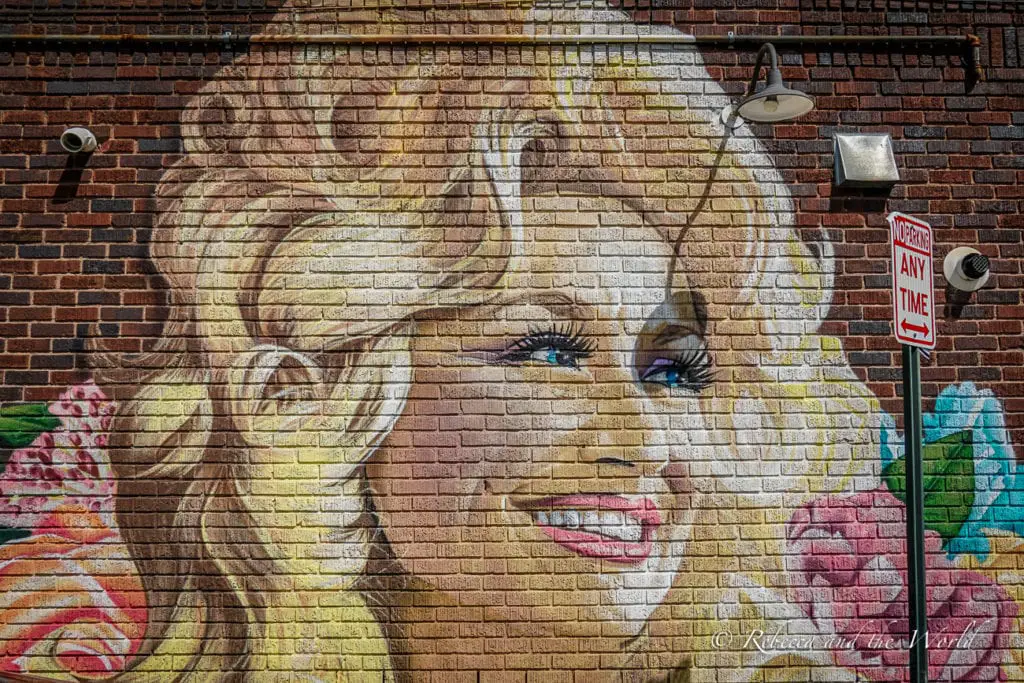 How to do this Deep South road trip
To do this road trip and see the Deep South properly, you're going to need a car. It is a road trip, after all!
While you can get around the region via public transport if you really have to or want to, having your own wheels gives you the flexibility to go at your own place and explore more.
When we drove this route, we had our own car (my husband's beloved F150 – he was devastated when he had to sell it when we moved home to Australia!). But you can easily rent a vehicle in any major city. I like to check both Rentalcars and Discover Cars to compare and choose the best price and vehicle. 
Another idea is to rent an RV or a campervan to get around the Deep South, which ticks your transport and accommodation costs off in one go. I like RVShare for RV rentals (it's sort of like an Airbnb for RVs, where people rent out their campervans, RVs and motorhomes when they're not using them themselves).
Suggested Deep South road trip itinerary
We were on a longer USA road trip, so we didn't follow this itinerary exactly – we actually stopped in quite a few more places throughout the South on our southern states road trip itinerary. But after spending time in all of these states, this article curates my personal highlights.
This itinerary will give you a taster of the South's best big cities and small towns, history and culture, and food and the outdoors. 
This is definitely a choose-your-own-adventure itinerary that you can piece together based on your own personal interests. Start and end where you like, add or remove destinations. Make it your own!
It can be overwhelming, so feel free to get in touch if you've got any questions about planning your trip to the Deep South.
To do this itinerary, I think you need at least 3 weeks, but you could squeeze a Deep South road trip like this into 2 weeks if you only spend one or two days max in each location and cut out a couple of these suggested cities. 
If you follow the itinerary I've outlined below, it'll look like this:
Memphis, Tennessee – 2-3 days 
Clarksdale, Mississippi – 2 days 
Natchez, Mississippi – 2 days 
New Orleans, Louisiana – 2-3 days
Montgomery, Alabama – 1 day
Atlanta, Georgia – 2-3 days
Savannah, Georgia – 2 days
Charleston, South Carolina – 2 days
Asheville, North Carolina – 2 days
Nashville, Tennessee – 2-3 days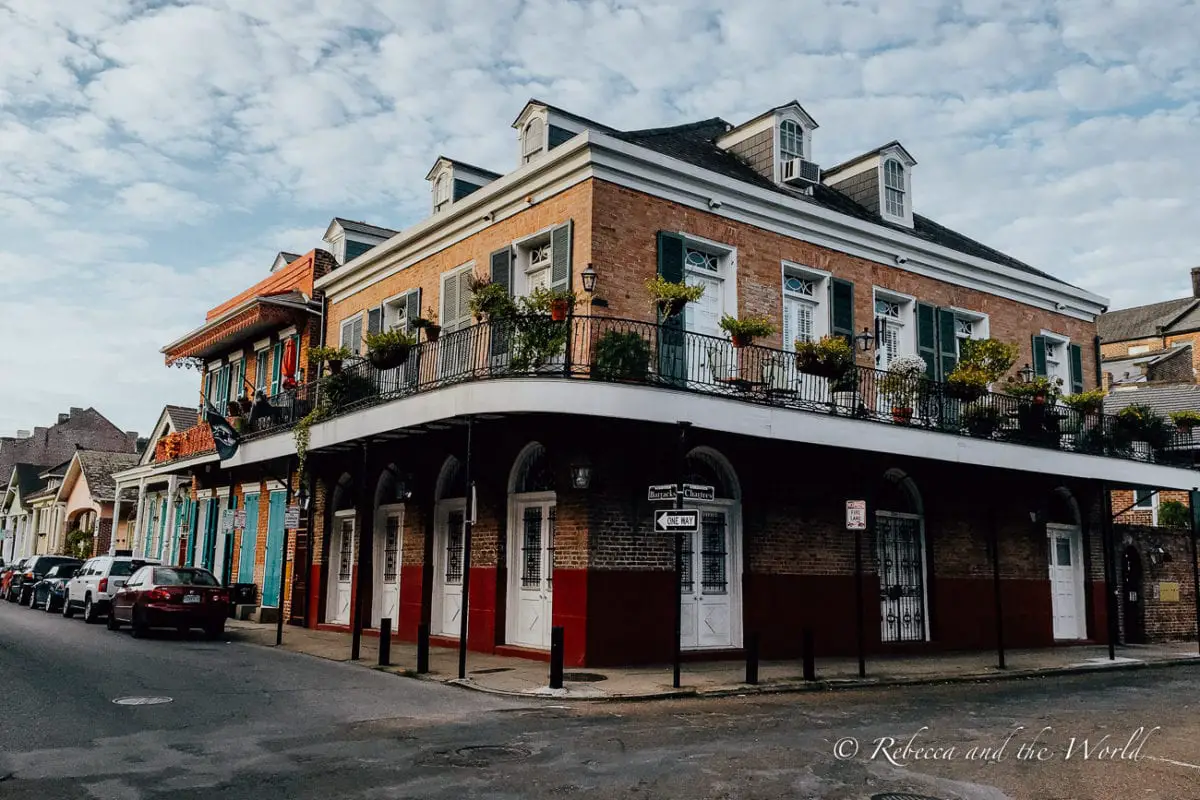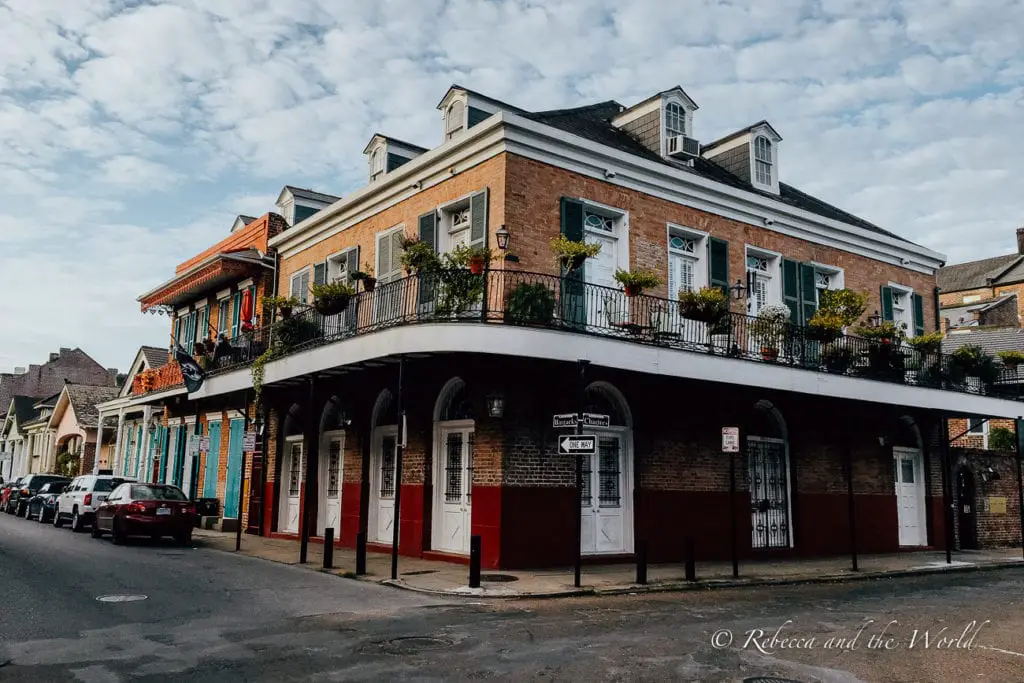 Map of Deep South road trip itinerary
And this is how this Deep South road trip 3 weeks itinerary looks on a map.
Let's hit the road!
Deep South Road Trip Stop 1: Memphis, TN
Start your adventure through the American Deep South in Memphis. The Home of the Blues and the Birthplace of Rock 'n' Roll is one of the coolest places to visit in the United States, full of food, music, history and friendly people.
It's also an easily accessible city from most parts of the United States, with all major airlines flying into Memphis International Airport. Compare prices and book your flight with Skyscanner.
If you're flying into Memphis, you can rent a car easily at the airport – check prices, vehicles and availability online at RentalCars or Discover Cars. If you've already got your own car, then let's go explore Memphis.
You could easily spend a week in Memphis, but there are plenty more bucket list places to see in the USA Deep South, so try to stick to 2-3 days here. 
Hit the highlights of the city, including:
The many Memphis museums that cover history, culture and music
Listen to music at the blues bars along famous Beale Street – Blues City Café, Blind Bear Speakeasy (a short stroll from Beale Street) and Rum Boogie Café Blues Hall are a few great choices
You can't visit Memphis without a stop at Sun Studio and the Stax Museum of American Soul Music
Graceland is the former home of Elvis Presley, and here you can check out plenty of memorabilia like his clothes, records and planes (that's planes, plural!)
Of course, the Civil Rights Museum is a must – it's housed in the Lorraine Motel where Martin Luther King Jr. was assassinated on 4 April 1968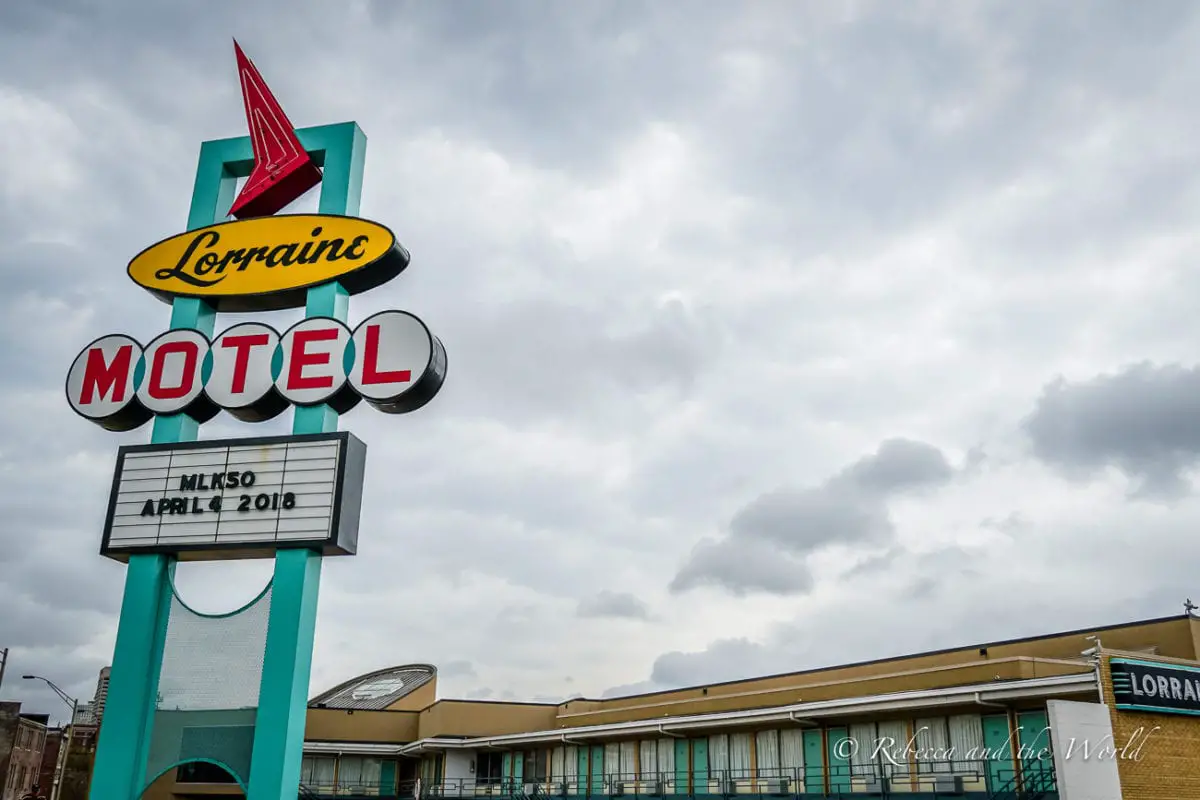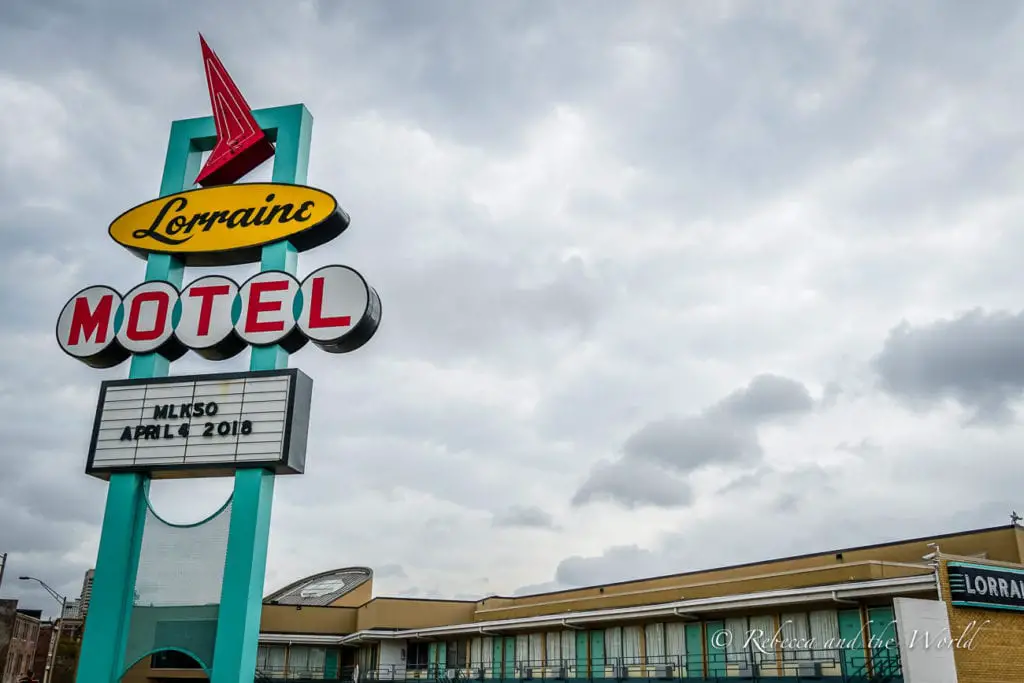 Where to eat in Memphis
One of the other highlights of a trip to Memphis is the food. Some of my favourite spots are:
Gus's World Famous Fried Chicken | Join the queues itching to munch on perfectly fried chicken
The Gray Canary | Lovely restaurant in an old refurbished distillery with great cocktails and an extensive food menu
Central BBQ | One of the city's most well-known BBQ joints
The Beauty Shop | New American restaurant in a former beauty parlour
Where to stay in Memphis
We stayed in an Airbnb (that I don't really recommend), but if you're in Memphis for only a few days it's better to stay central. Options include the famous The Peabody Hotel (where Elvis signed his first contract) or Hotel Napoleon. 
Deep South Road Trip Stop 2: Clarksdale, MS
Driving distance from Memphis to Clarksdale: 76 miles / 1.5 hours
Stops along the way: Gateway to the Blues Museum, a modern, fun and interactive museum in Tunica
Head south into Mississippi to Clarksdale, one of the key stops on the Mississippi Blues Trail. 
We had only planned to stay here two nights, but it's such a cool town that we booked a few extra nights. To stick to this Deep South road trip itinerary, plan on 2-3 nights (fewer days if you're not that into blues music).
Clarksdale has been called home by many famous musicians, including Charley Patton and Ike Turner. Music is the reason to visit this small, friendly town, and there are several must-visit joints: Ground Zero (co-owned by none other than Morgan Freeman), Red's, The Shack Up Inn and the Delta Blues Alley Café. This is one of the best places to visit in southern USA for music lovers.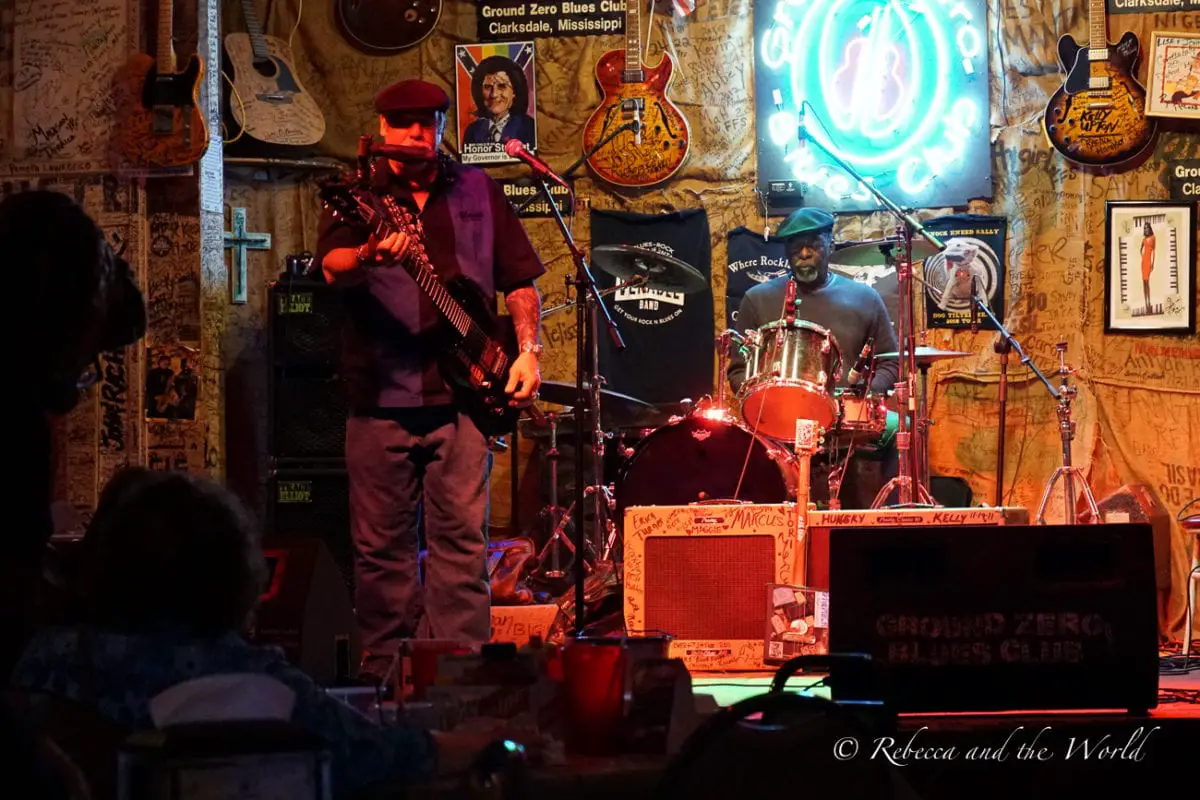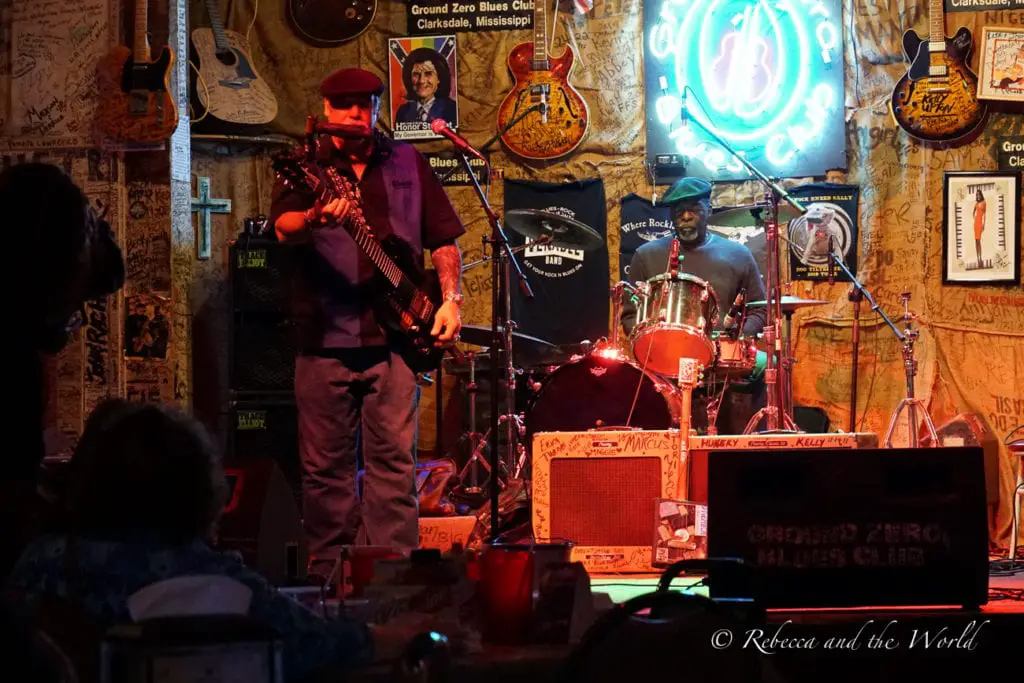 Outside of Clarksdale, there are several sites of interest:
Indianola – home to the B.B. King Museum
Money – infamous as the small town where 14-year-old Emmett Till was brutally lynched. There's a marker (part of the Mississippi Freedom Trail) at the location of Bryant's Grocery. The Emmett Till Interpretive Center in nearby Sumner is located in the courthouse where his murderers stood trial (and were subsequently acquitted despite mounds of evidence)
Tupelo – in the birthplace of Elvis Presley, you can see the humble shotgun home he grew up in and visit the Elvis Presley Museum
Where to eat in Clarksdale
Abe's Bar-B-Q | Great BBQ in a small diner that's been open since 1949
Hick's BBQ and Tamales | As the name says, this place serves up BBQ and tamales
Hooker Grocer + Eatery | Serves breakfast and lunch along with a range of groceries
Where to stay in Clarksdale
I highly, highly recommend the very unique Shack Up Inn. We stayed here in both the refurbished grain bins and the shotgun shacks. The whole place has a casual, homely vibe. Blues music is played here many nights throughout the week.
Other options in Clarksdale are The Clark House Inn, a beautiful old homestead, or the modern Lofts at the Five & Dime.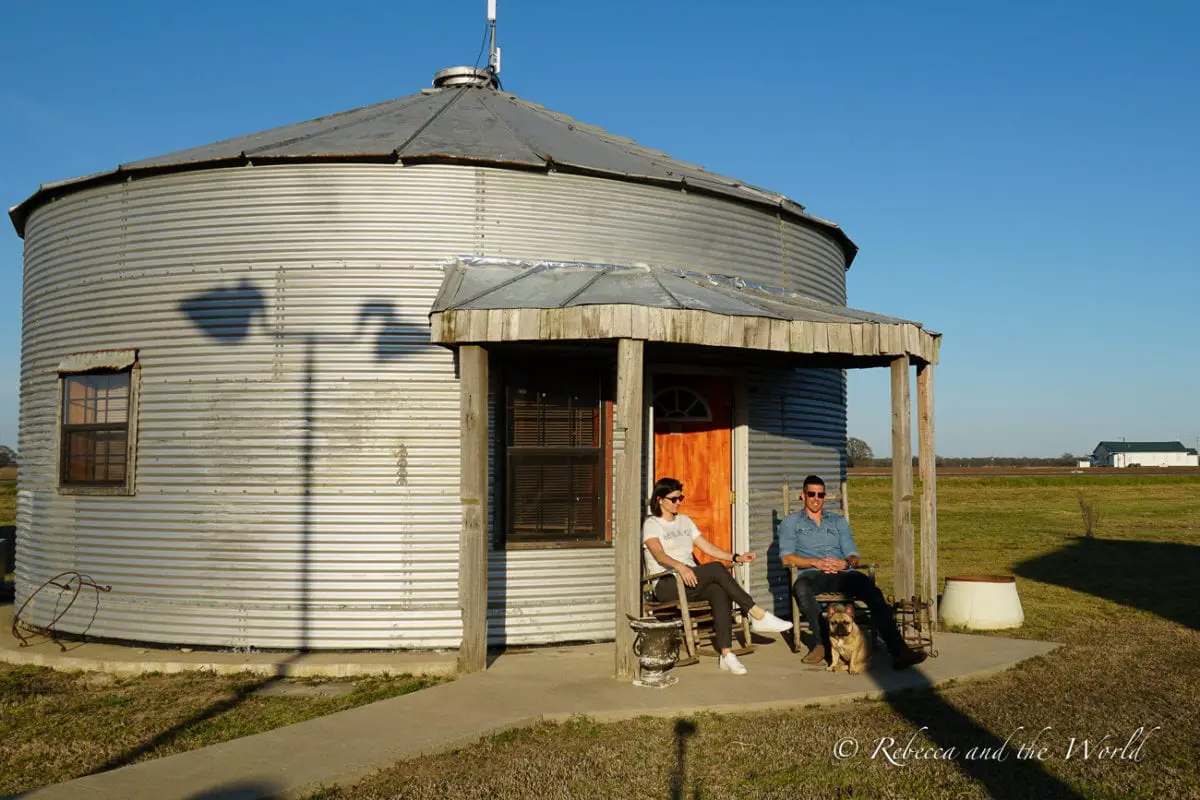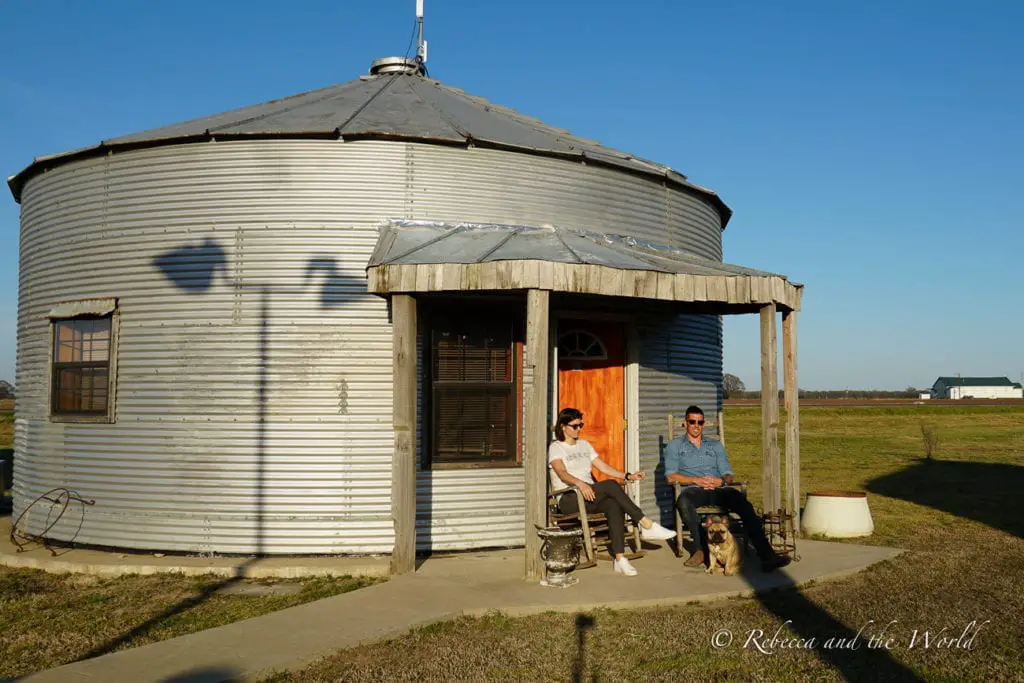 If you want to spend more time in Mississippi (a totally underrated state, in my opinion), I have a whole separate Mississippi road trip itinerary that's a lot of fun.
Deep South Road Trip Stop 3: Natchez, MS
Driving distance from Clarksdale to Natchez: 216 miles / 4 hours
Stops along the way:
Continue south to Natchez. To get here, you can join a section of the Natchez Trace Parkway, the 440-mile road that runs between Natchez and Nashville. It's a stunning drive, especially in the fall, when the leaves turn red and gold.
Natchez sits on the Mississippi River, which means some gorgeous sunsets. Head down to Bluff Park for a stroll along the grassy waterfront area and the best sunset views.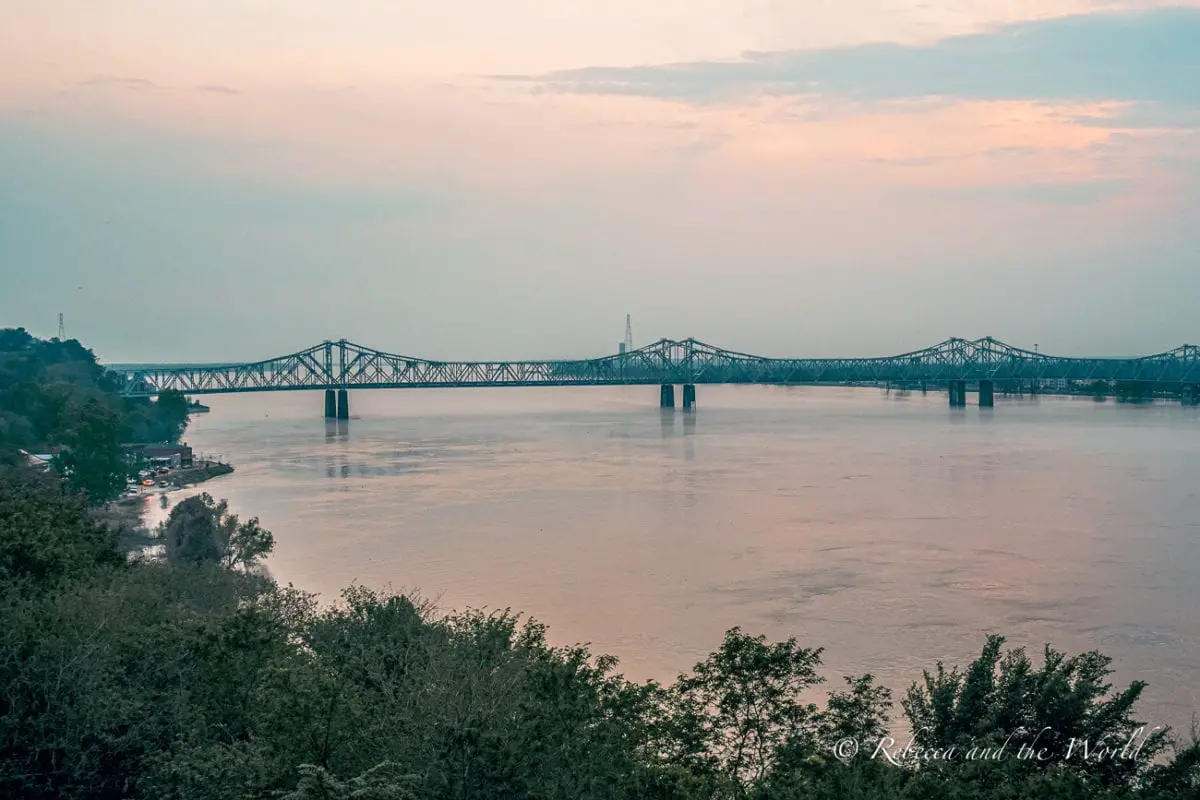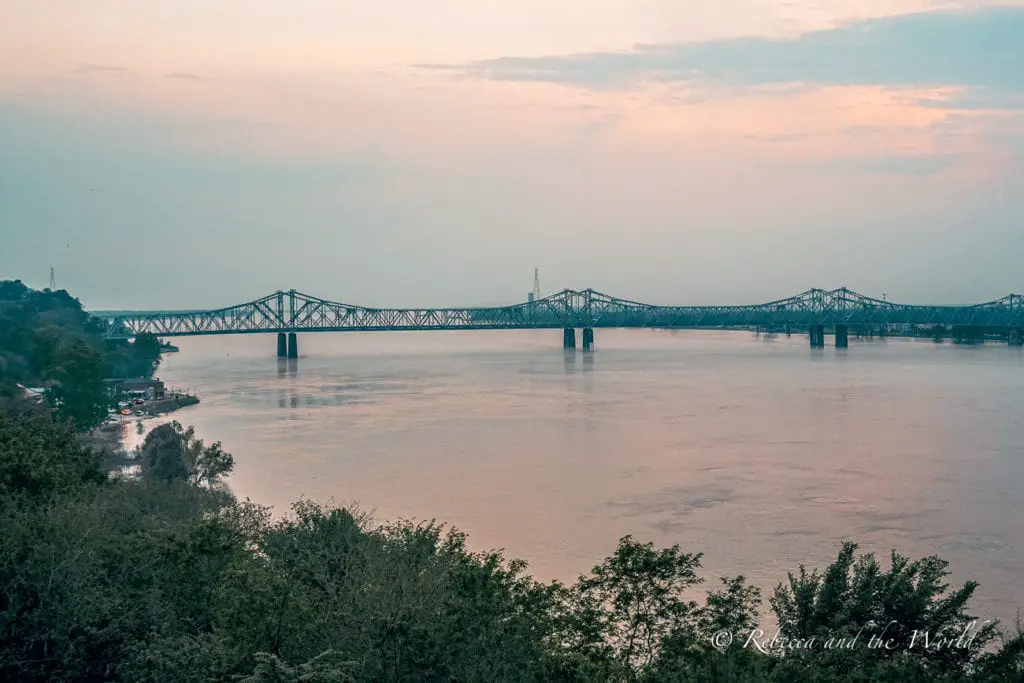 It's a city famous for its antebellum houses. Natchez surrendered quite quickly during the Civil War, which means that these homes weren't burned or ransacked. There are more than 600 homes around the city, several of which are open to the public. Stanton Hall, Longwood Historic Home and Choctaw Hall Historic Home are some of the most popular to visit. 
During the Natchez Pilgrimage (held each spring and fall), even more private homes are opened to the public.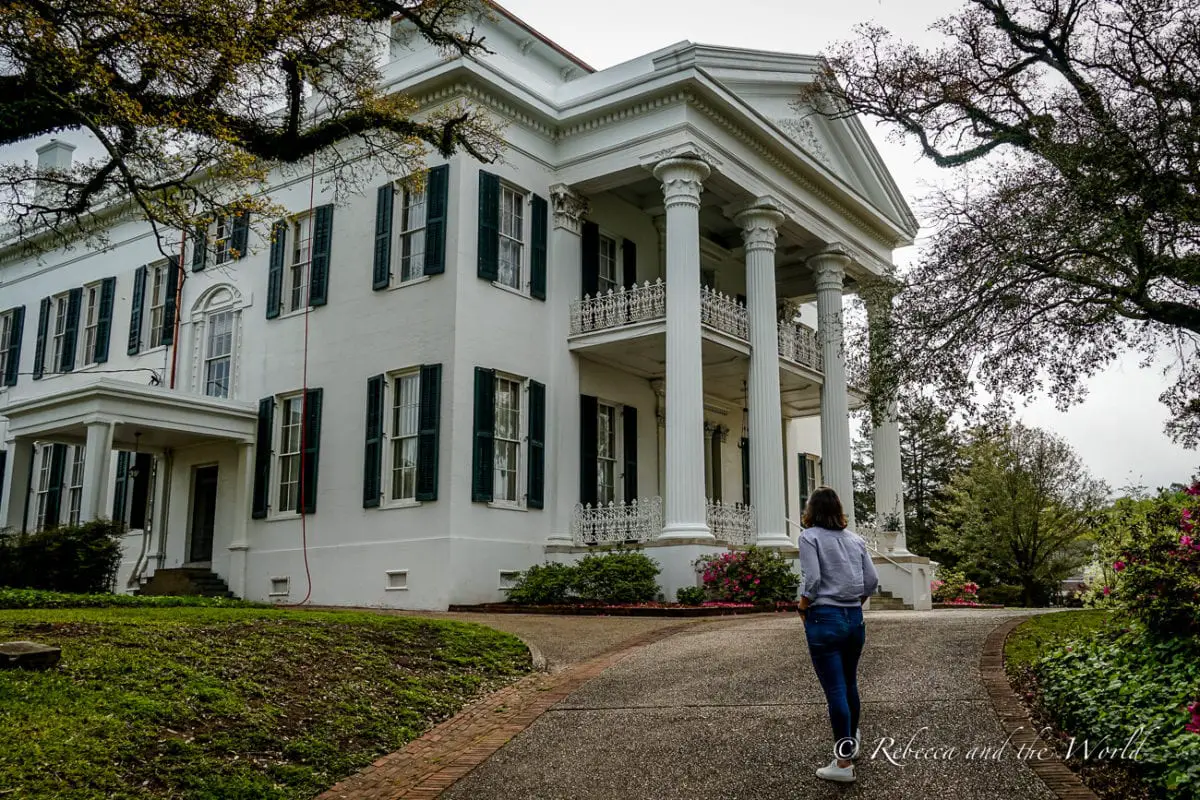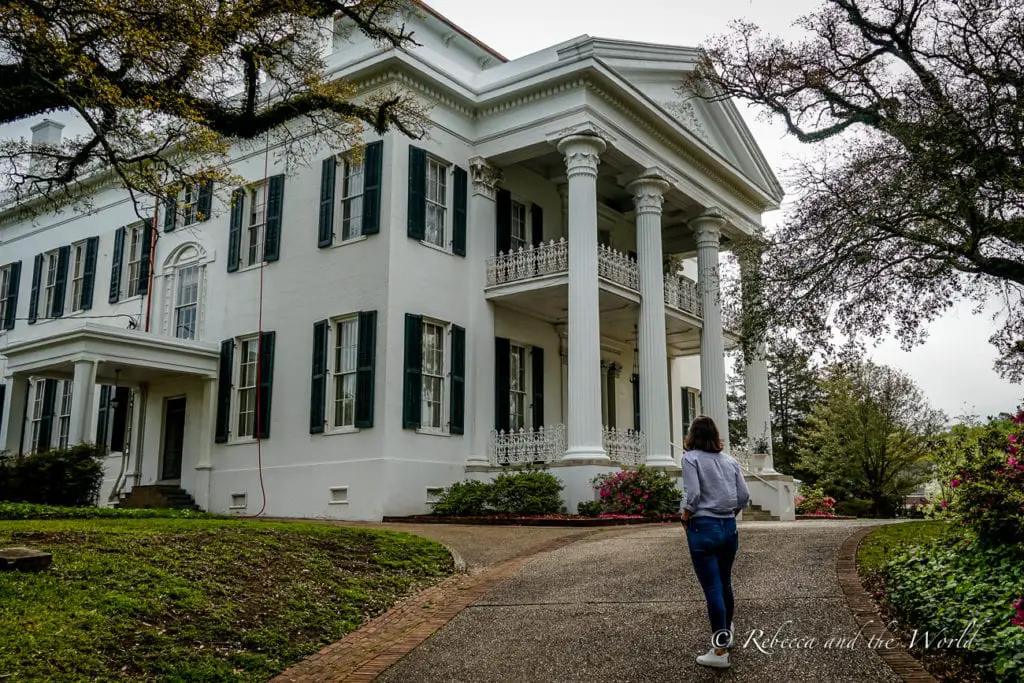 While there's a lot of beauty in the city, you can't visit Natchez without learning about its tragic and terrible past. Natchez was once home to the second-largest slave market in the South. There's a marker at the former Forks of the Road Slave Market that commemorates the atrocities of this time.
The African American Museum of History and Culture shares more stories and information about the role of African Americans in the development of Natchez. Miss Lou Heritage Tours has a variety of tours focused on history, music and important areas in the city.
For insights into even older history, visit the Grand Village of the Natchez Indians. The city is named after the Natchez, who inhabited this area for hundreds and hundreds of years. 
The Grand Village – now a museum and 128-acre park – is believed to have been their main ceremonial centre between 1682 and 1730. At the Grand Village you'll find three historic mounds and a reconstructed house, as well as a nature trail.
Where to eat in Natchez
Where to stay in Natchez
The Monmouth Historic Inn is a beautiful old home on a huge block of land, or the Guest House Historic Mansion  is in downtown Natchez.
Deep South Road Trip Stop 4: New Orleans, LA
Driving distance from Natchez to New Orleans: 176 miles / 2.75 hours
New Orleans is a must-visit on any Deep South road trip. The Big Easy is where you'll find music spilling out of bars into the streets, gorgeous architecture, unique festivals and traditions, great comfort food, a melting pot of cultures and history, and even some spooky ghost stories and voodoo mysticism. 
Some of the best things to do in New Orleans are: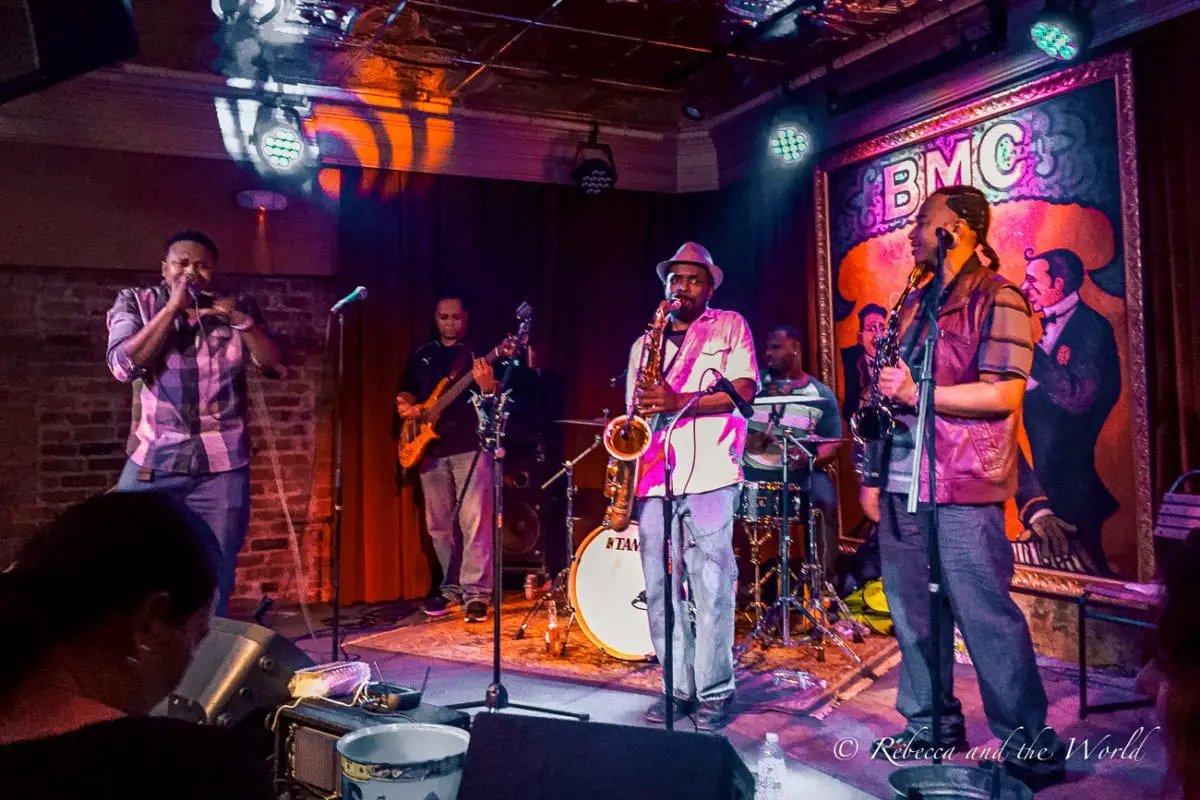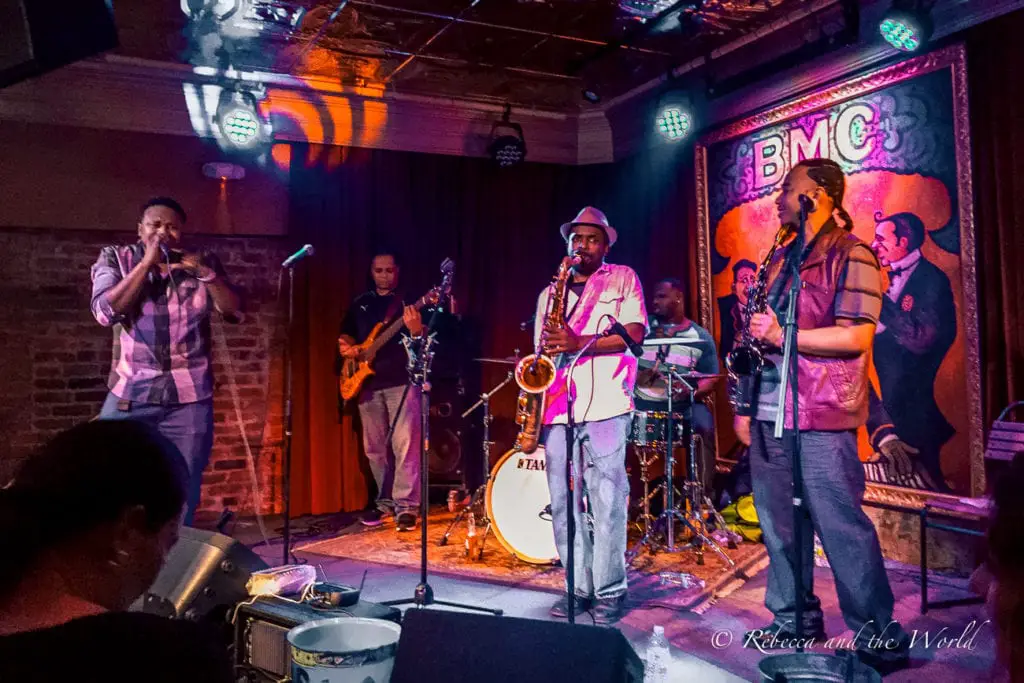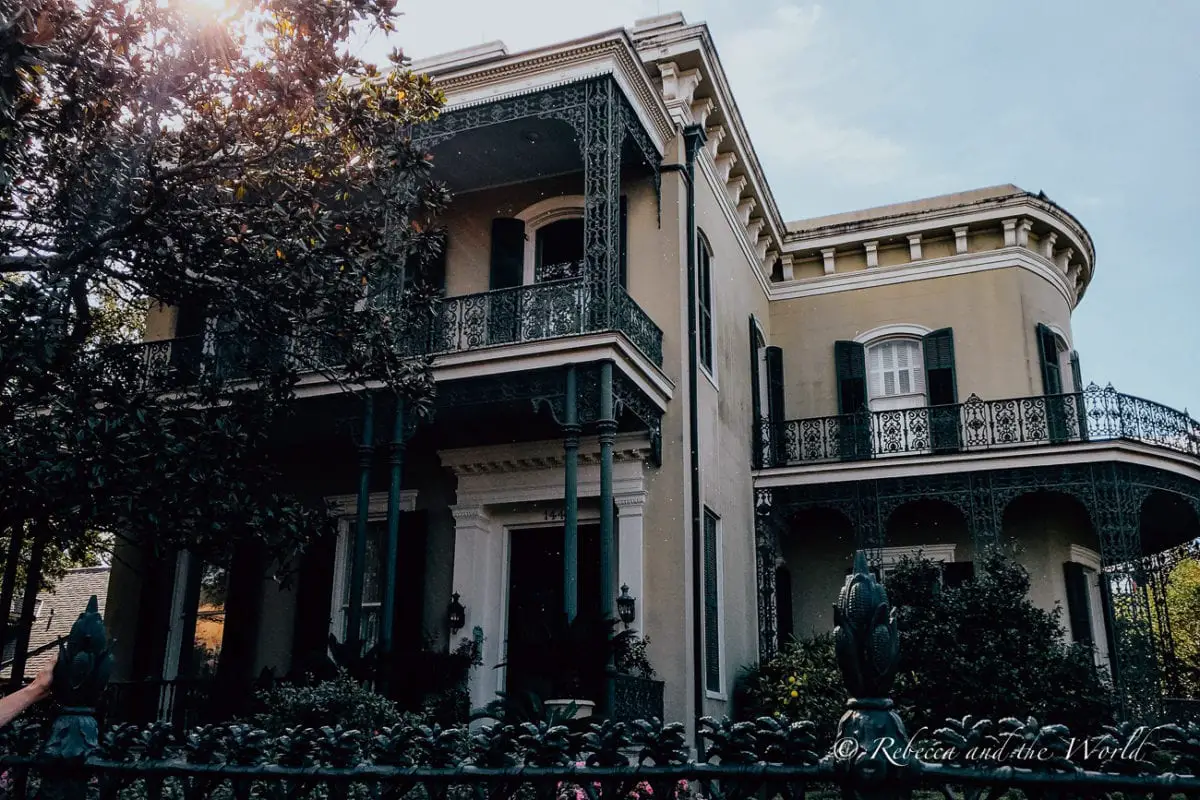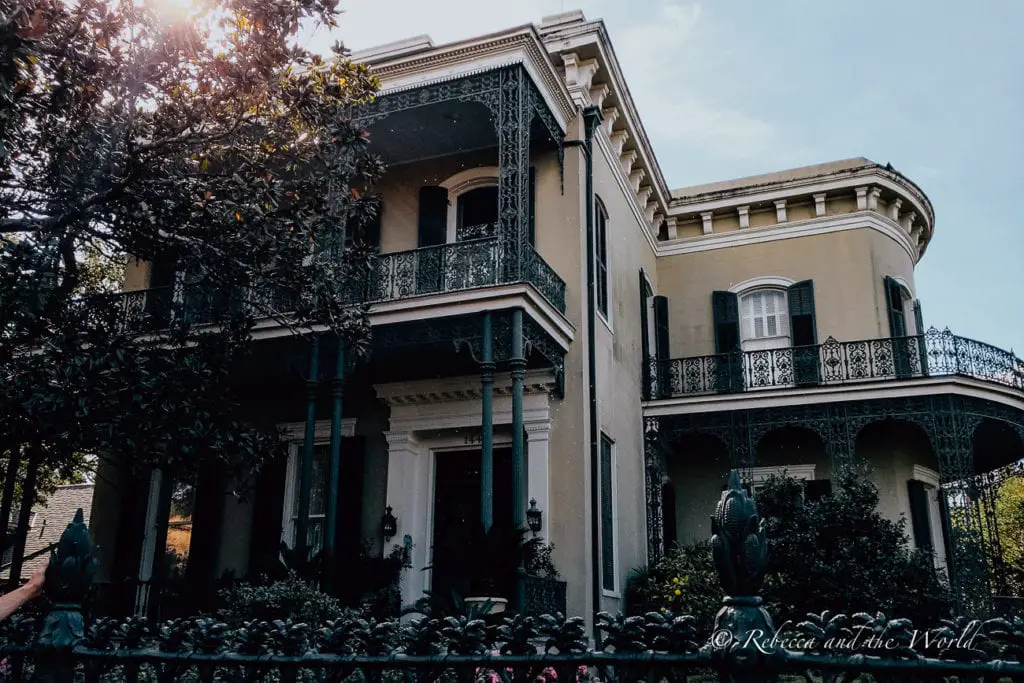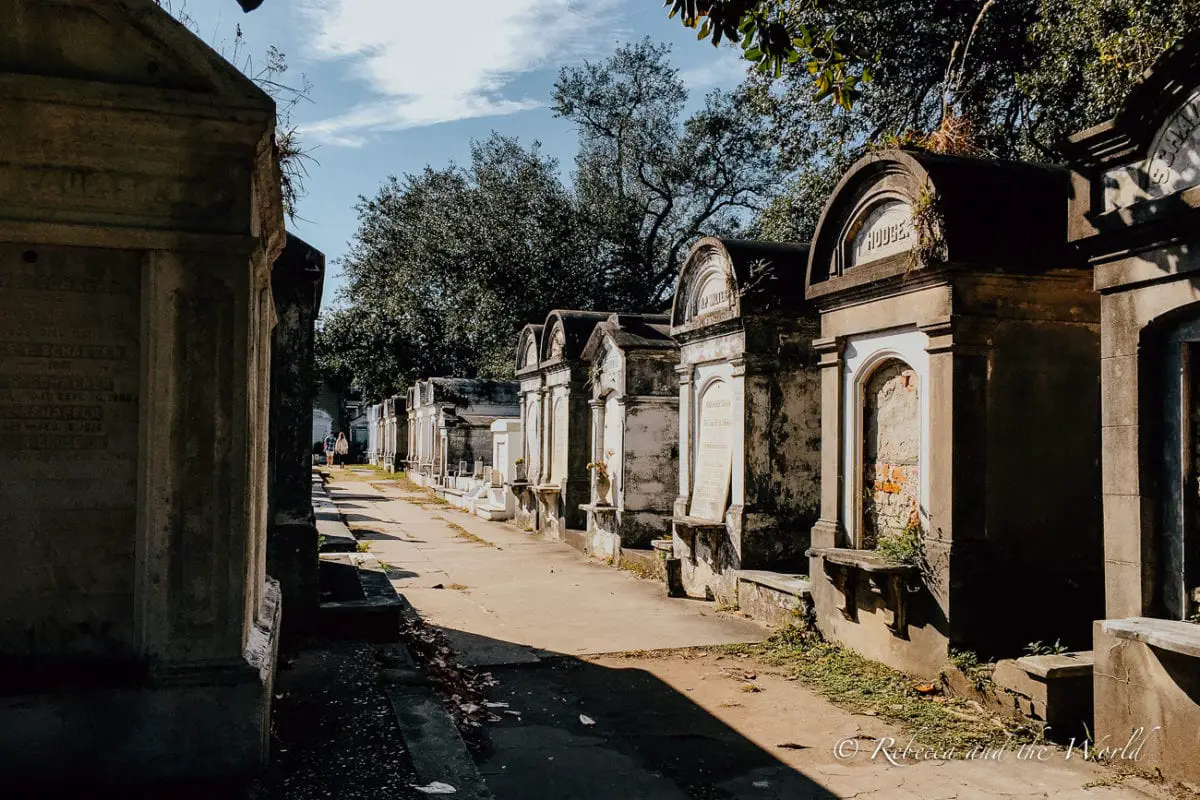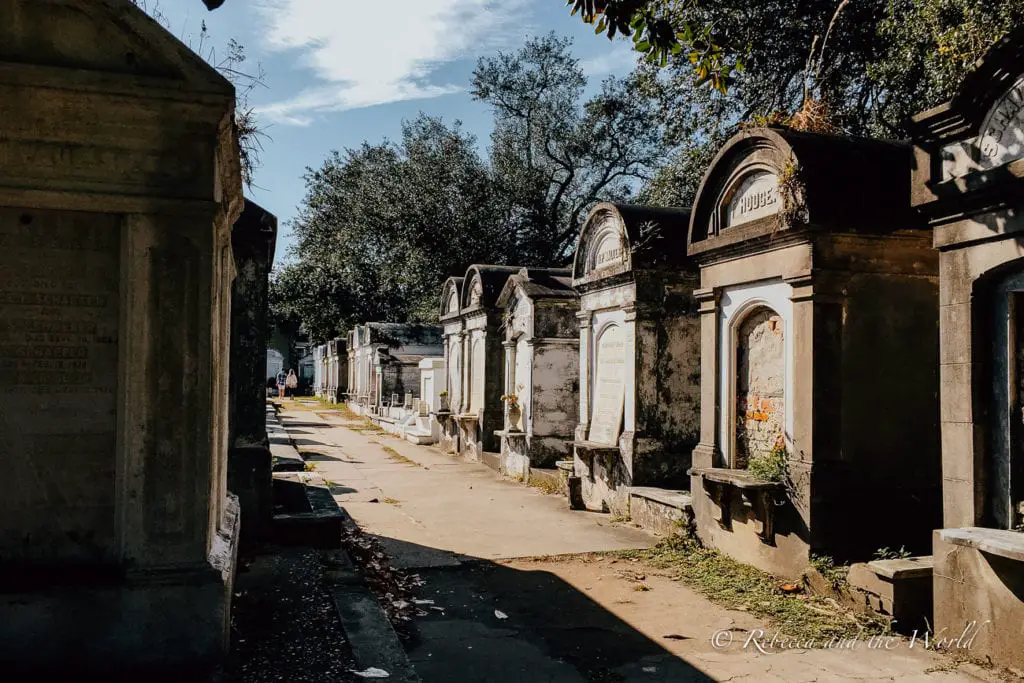 Where to eat in New Orleans
New Orleans is known for its food. From chargrilled oysters to Po'Boys to beignets to boudin, eating the city's classic dishes should be the centre point of your visit.
Johnny's Po'Boys | For the Po'Boys of course (I like mine with fried shrimp)
Café Du Monde | This place is always packed, but the wait is worth it for the delicious beignets
Central Grocery | Try a Muffuletta, a sandwich loaded with cheese and cold cuts like salami and ham, topped off with an olive salad
Commander's Palace | You'll probably recognise the blue-and-white-striped front from Instagram. This upscale restaurant is popular so book well in advance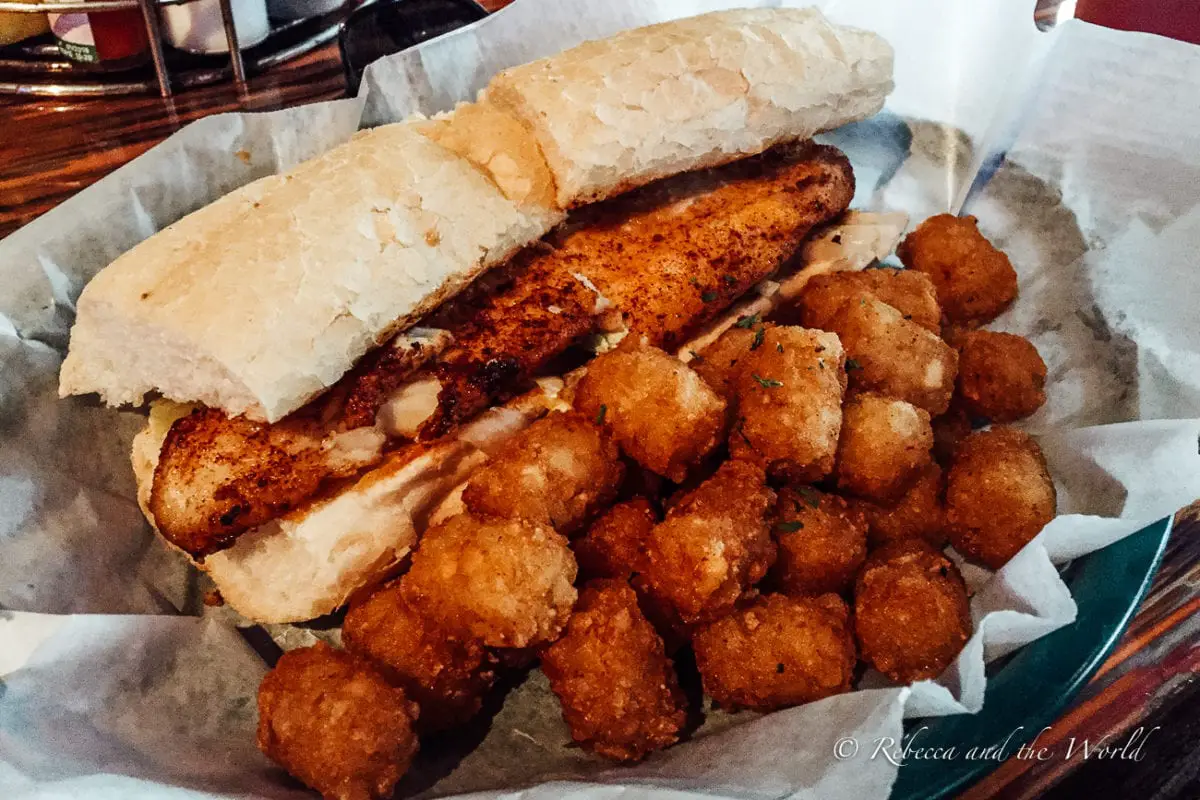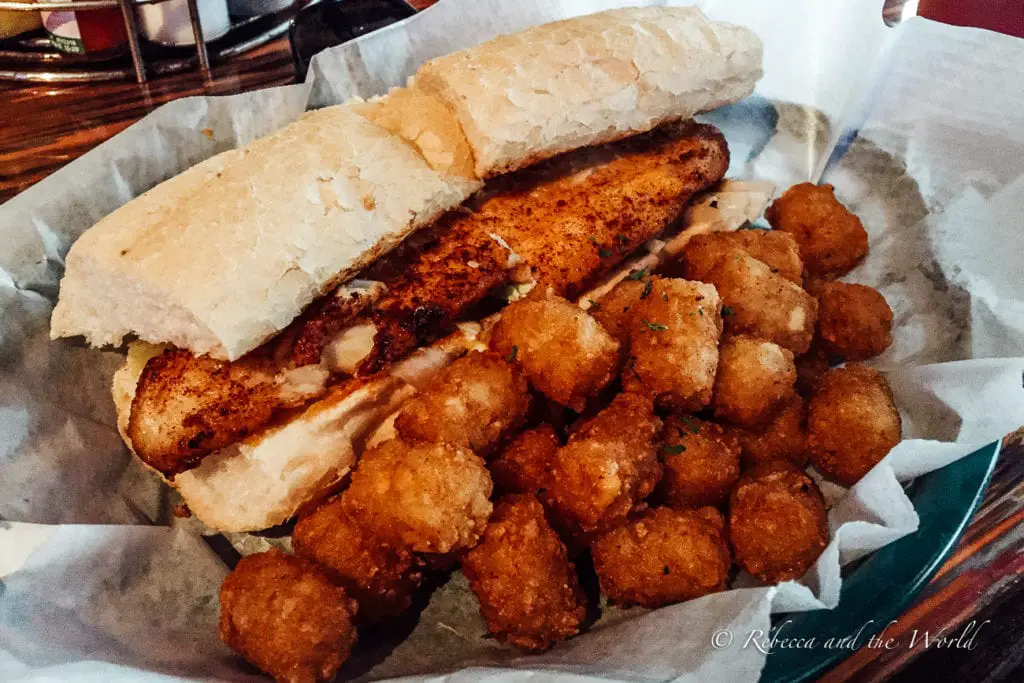 If you want to learn how to make some of New Orleans' popular dishes, this Cajun and Creole Cooking Class gets great reviews.
Where to stay in New Orleans
The St James Hotel in the French Quarter has rooms with balconies, while the Hotel Indigo is in a great location in the Garden District.
Deep South Road Trip Stop 5: Montgomery, AL
Driving distance from New Orleans to Montgomery: 309 miles / 4.5 hours
Stops along the way:
Take a driving break in Biloxi and grab some sea air from the Biloxi Lighthouse
Mobile, home to the USS Alabama Battleship Memorial Park
Selma, to cross the Edmund Pettus Bridge and reflect on the Civil Rights Movement
It's time to continue further east and into "Sweet Home Alabama", state number 4 on this trip.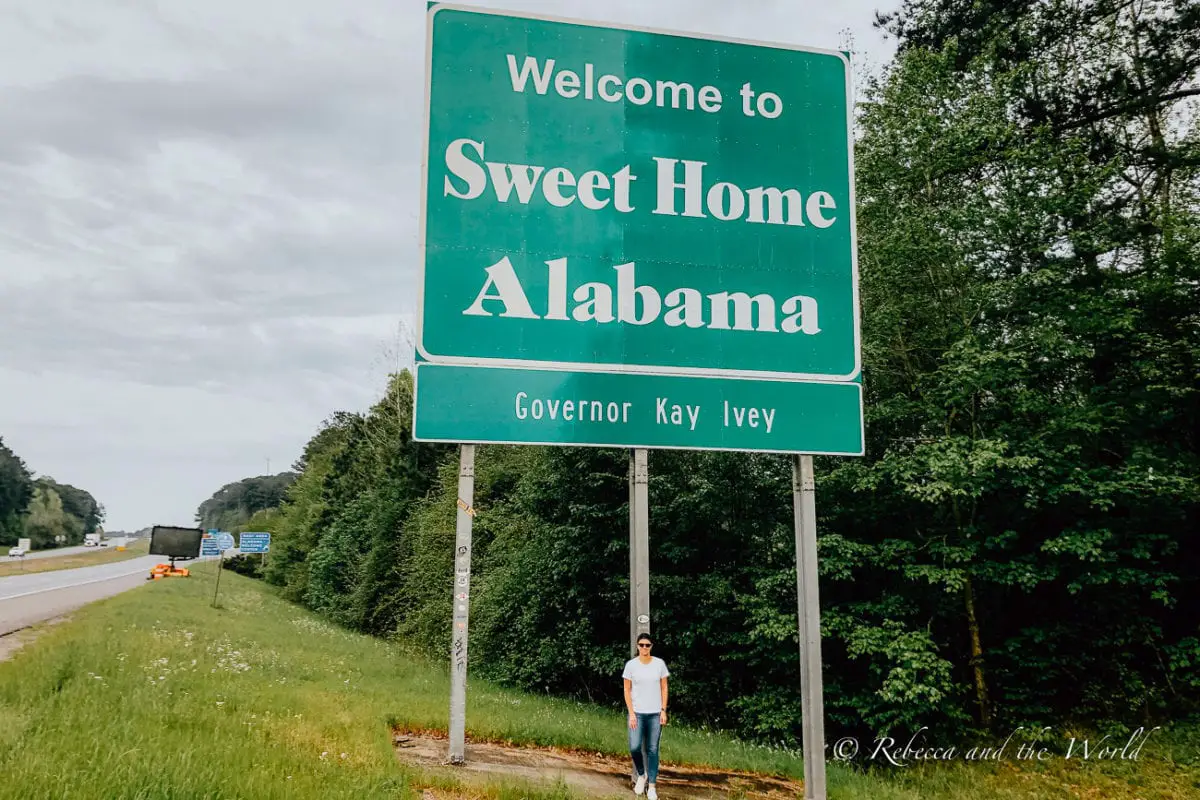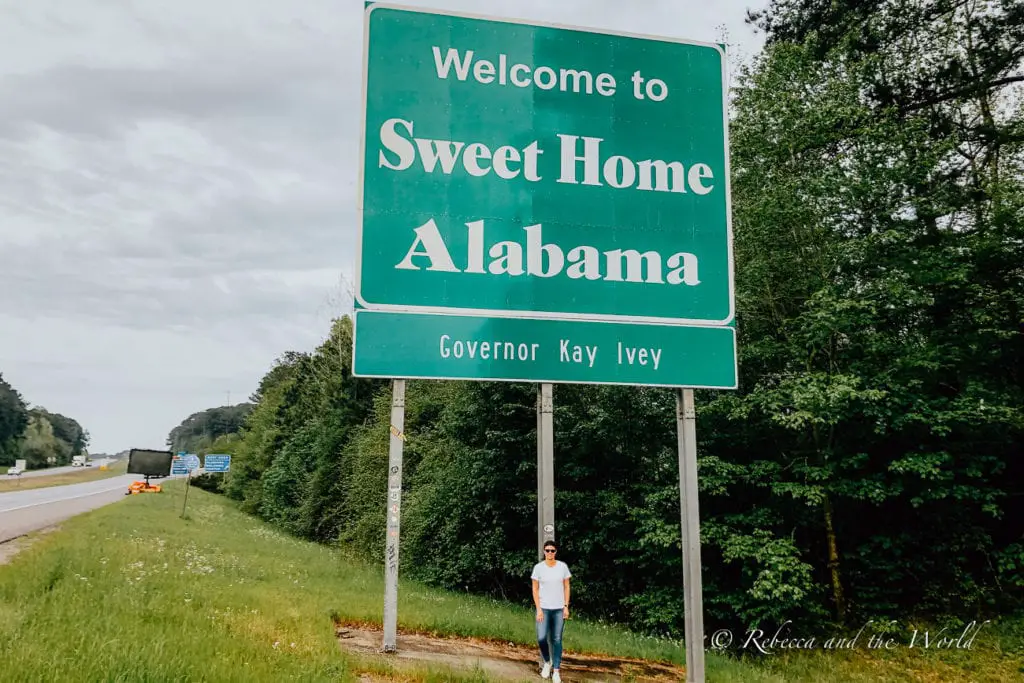 Montgomery isn't always on the list of must-visit places in the Deep South, but I highly recommend it for anyone with an interest in history. 
A major reason to visit Montgomery to is experience the Legacy Museum and National Memorial for Peace and Justice, managed by the Equal Justice Initiative. These two separate sites trace a long history of racial injustice in the United States, from slavery to today.
You'll need to plan ahead to book your ticket to the Legacy Museum because they are timed. I'd recommend visiting here first, and then catching the complimentary shuttle to the memorial site.
I'm not going to sugarcoat it – this is a tough place to visit. It's one of the most harrowing places I've ever been to. Don't let the tragedy put you off visiting here – it should be essential for every American to visit.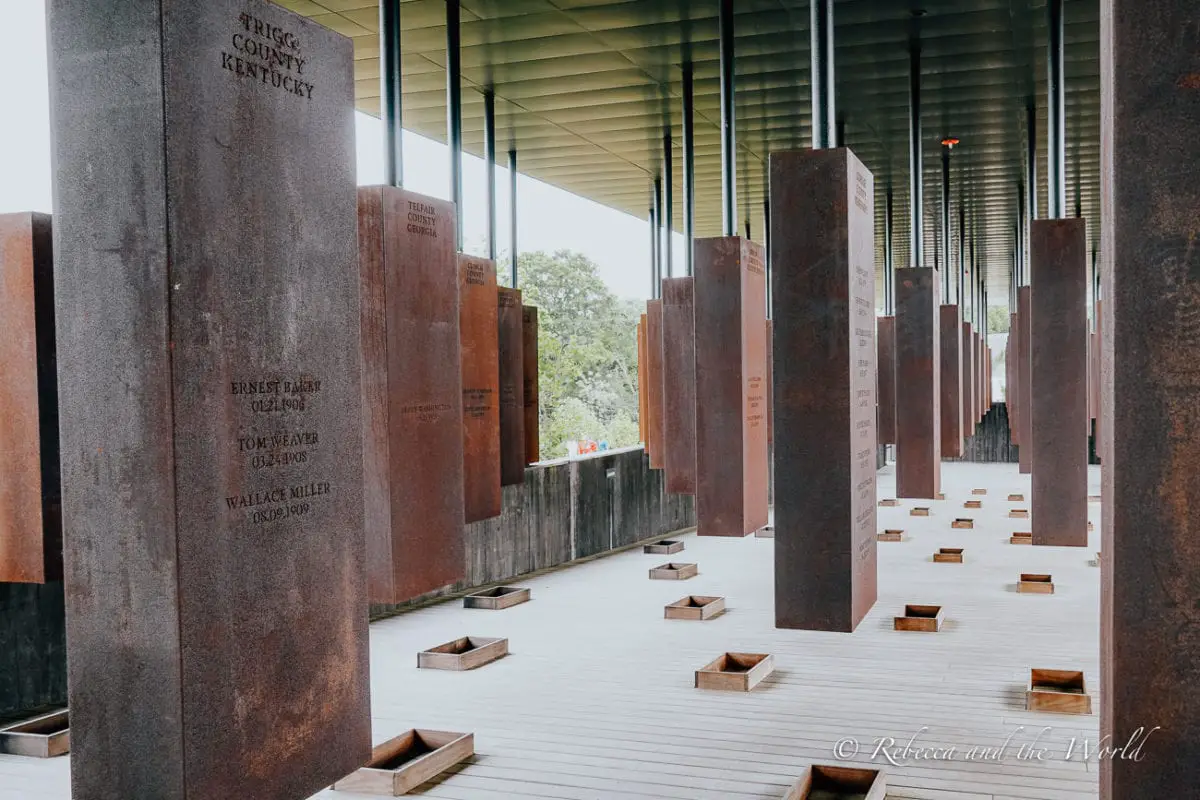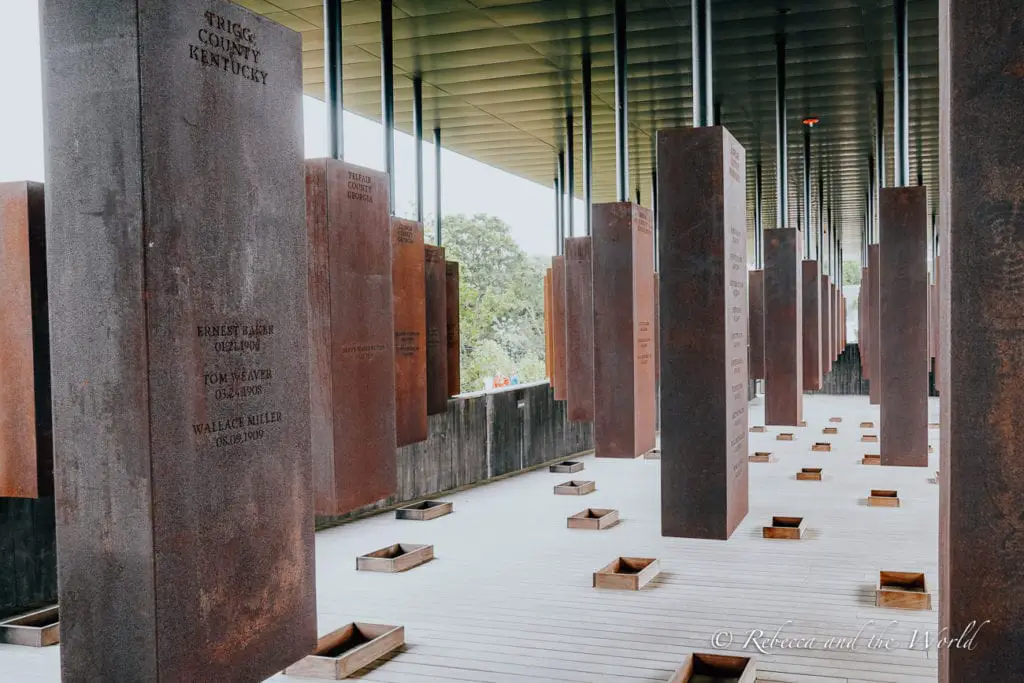 One of the best things I did in Montgomery was visit the Dexter Avenue King Memorial Baptist Church, the church where Martin Luther King Jr. preached for six years. It's not often you get to sit in the office of a legend who changed the world!
Our guide Wanda had such incredible spirit and energy and left me on such a high all day. Tours have resumed and are running Friday and Saturday only, by appointment only.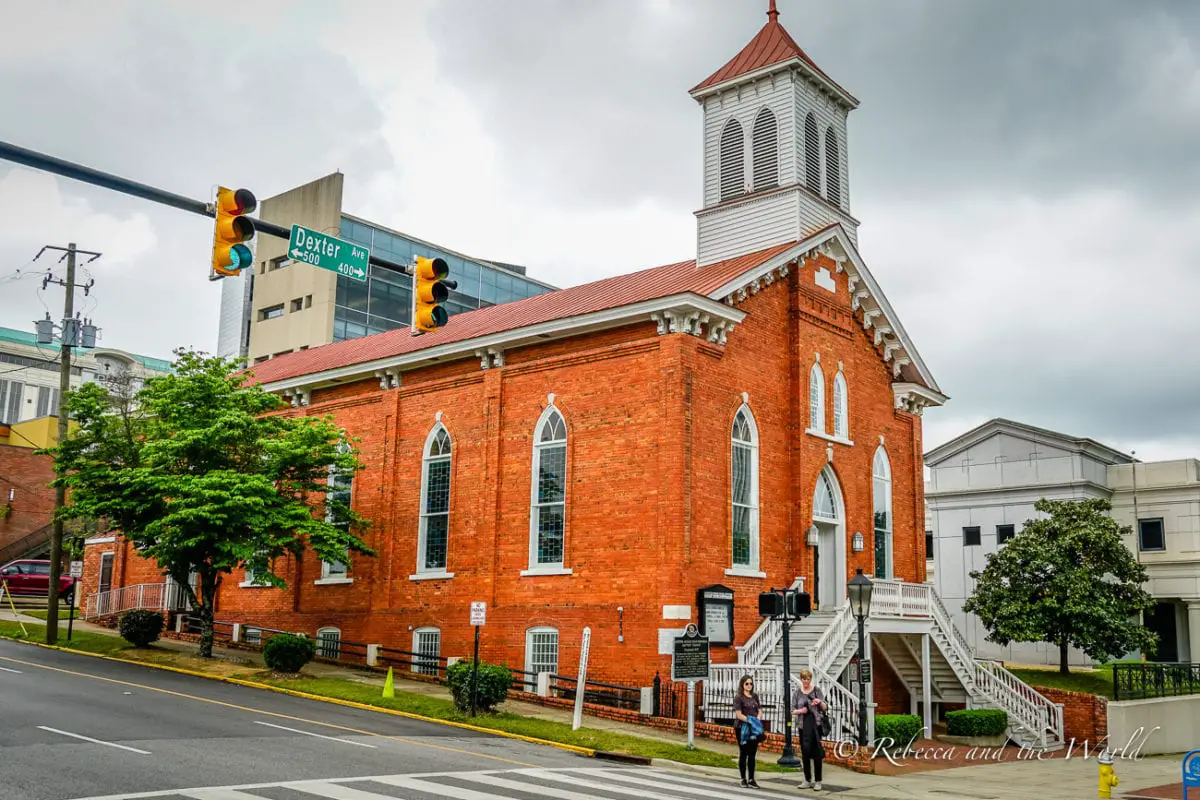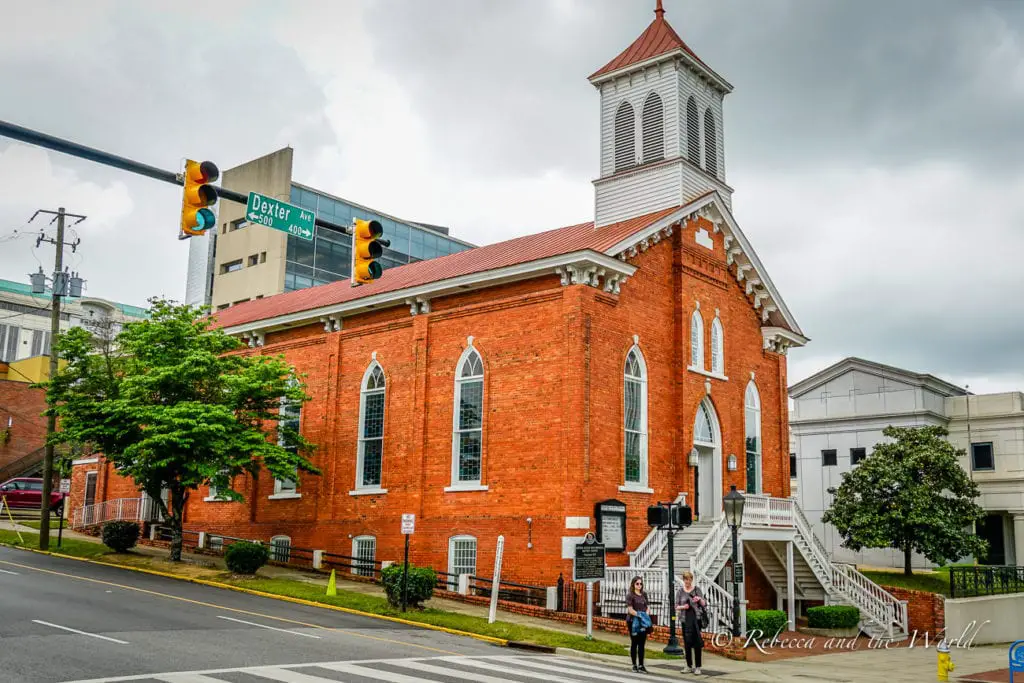 Montgomery is also home to the Rosa Parks Library and Museum. Rosa lived in Montgomery from the age of 11, and the museum is an in-depth insight into how her actions sparked the Montgomery Bus Boycott.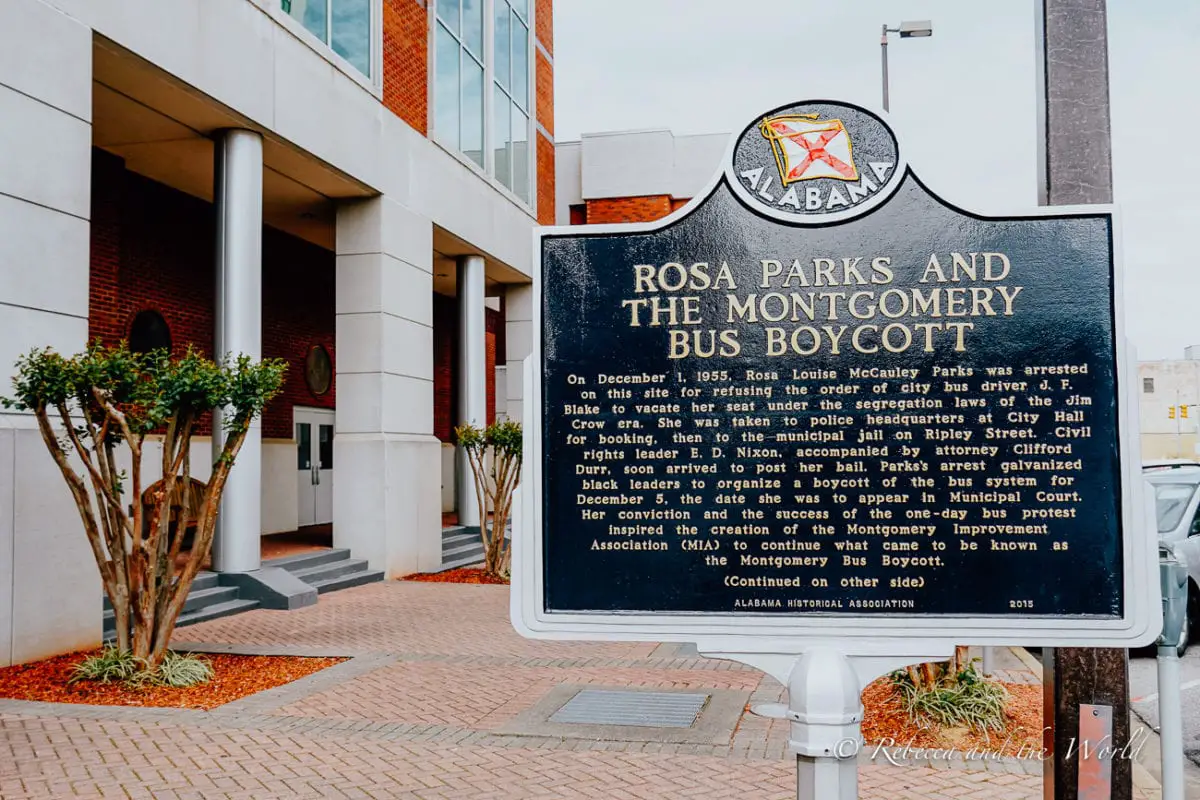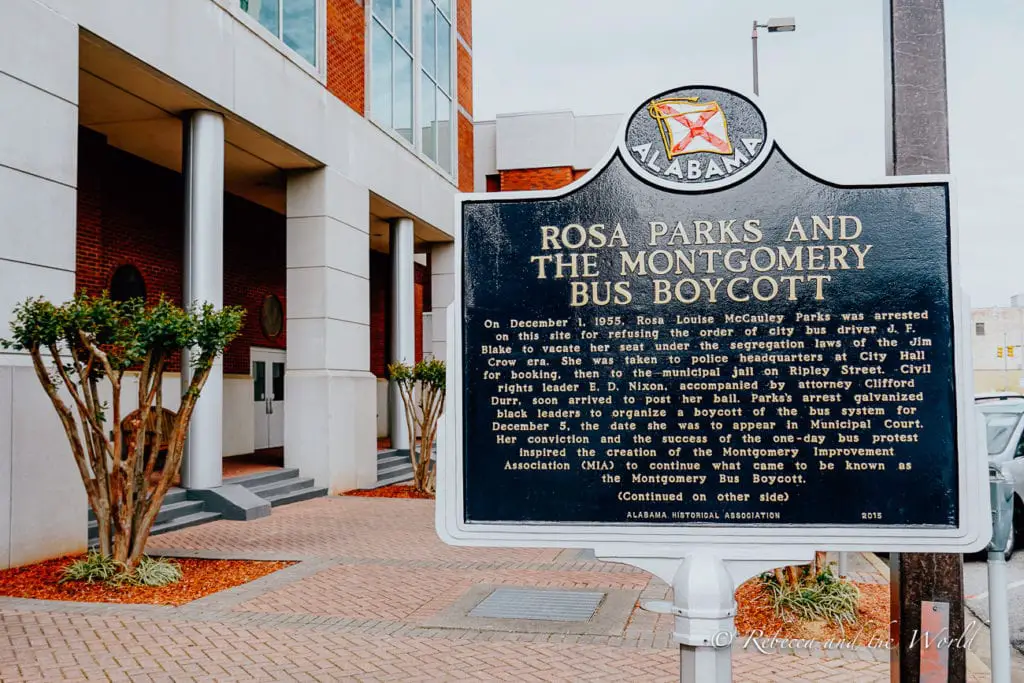 Where to eat in Montgomery
Central | One of the best places to eat in Montgomery, we had a delicious lunch here and thought the service was outstanding
Capitol Oyster Bar | Busy spot overlooking the river
Where to stay in Montgomery
Montgomery's accommodation options are mostly big-name hotel chains. We stayed at the DoubleTree in Downtown Montgomery which was centrally located (and I can never say no to those warm cookies!). There was a Spike Lee movie filming outside the window while we ate breakfast!
Another option that gets good ratings from guests is the Renaissance Montgomery Hotel & Spa at the Convention Center.
Deep South Road Trip Stop 6: Atlanta, GA
Driving distance from Montgomery to Atlanta: 161 miles / 2.5 hours
Stops along the way: Birmingham, to continue your history lesson at the Birmingham Civil Rights Institute
Home to a population of almost 6 million, Atlanta is a hub for food and culture – and a rapidly growing film industry. 
Plan to spend a day or two in Atlanta, hitting a few of the highlights of the city (I've got more details in my guide to spending a weekend in Atlanta):
Visit the World of Coke, a museum dedicated to everyone's favourite sugary beverage
Sports lovers will go mad at the College Football Hall of Fame
The Walking Dead fans should plan to take a walking tour through some of the filming locations
Check out the live music scene – Atlanta's contribution to the music scene has included Outkast, TLC, Ray Charles, Usher and John Mayer
Top tip: Consider purchasing an Atlanta CityPASS because you'll save a tonne of money on some of these and other Atlanta attractions.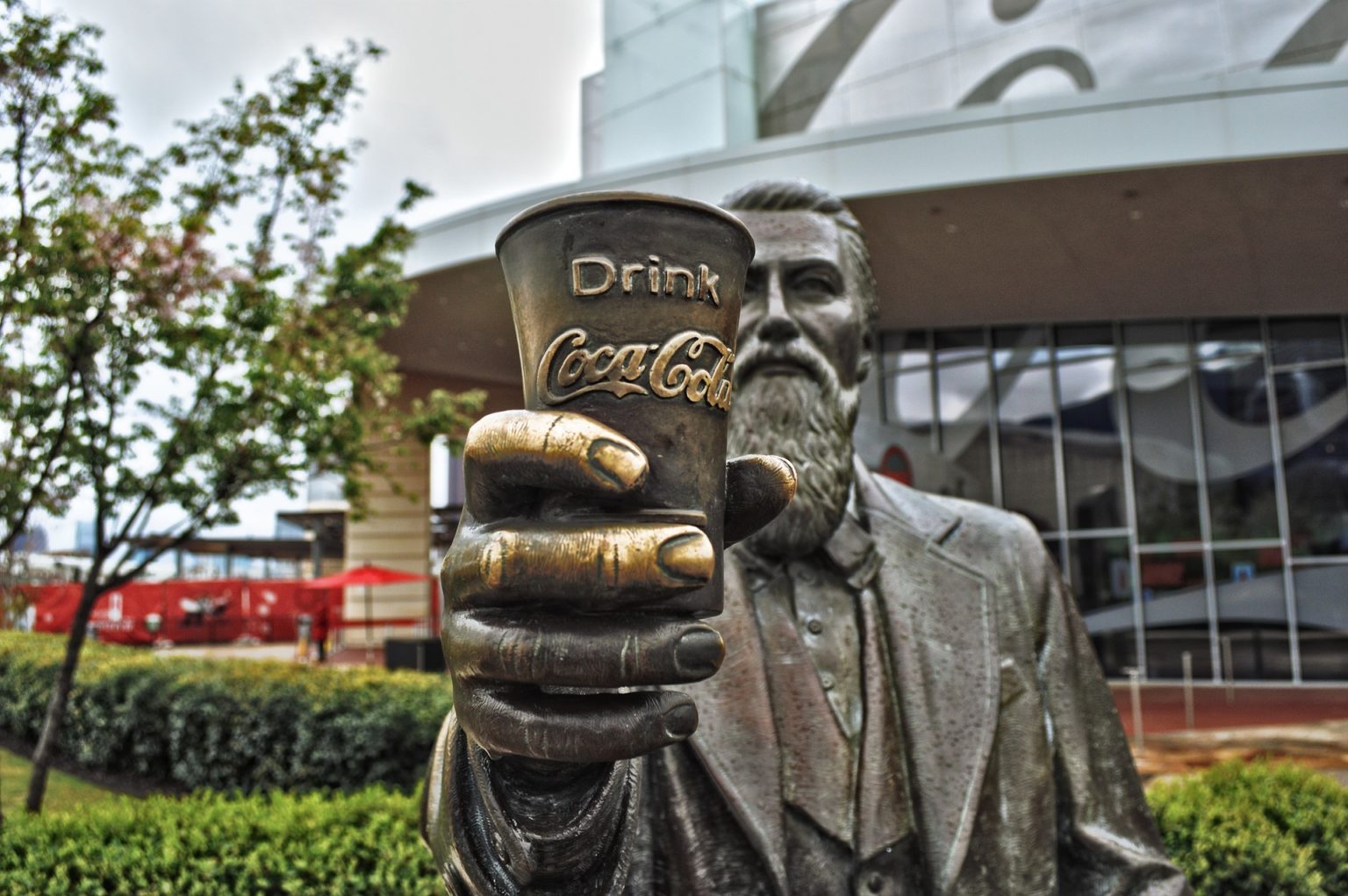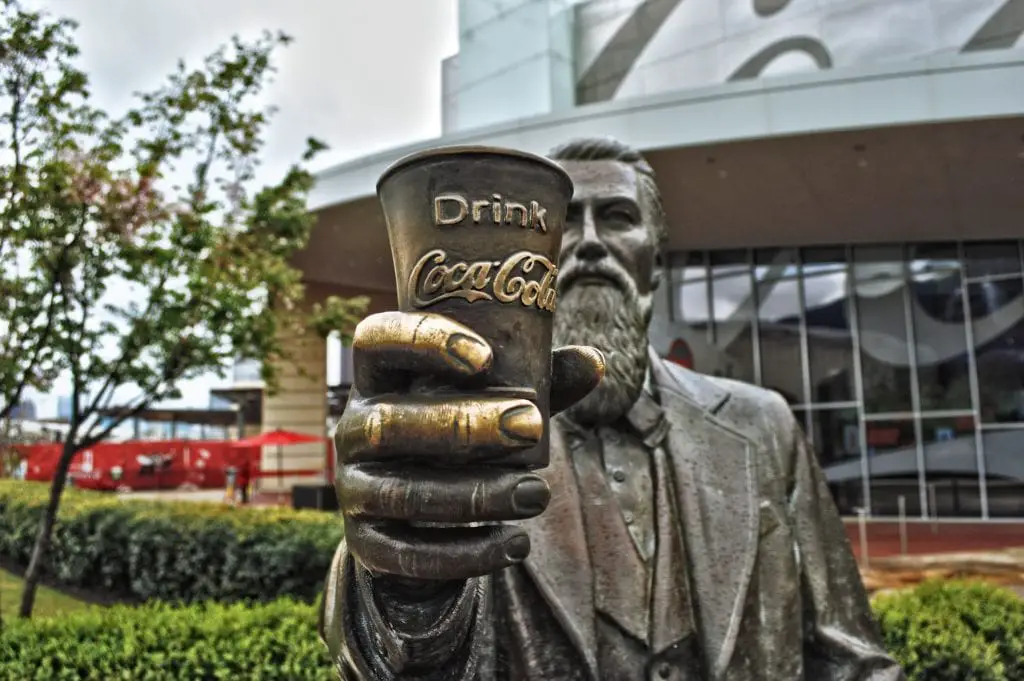 Where to eat in Atlanta
Oooh, prepare to eat your way through this city!
Where to stay in Atlanta
We didn't stop overnight in Atlanta, so I don't have a personal hotel recommendation. But you can never go wrong with a W Hotel and the W Atlanta is located in Downtown. A fabulous historic hotel is The Candler Hotel Atlanta, built by the Coca-Cola founder.
Deep South Road Trip Stop 7: Savannah, GA
Driving distance from Atlanta to Savannah: 248 miles / 3.5 hours
One of the most beautiful cities in the South, Savannah's Spanish moss-lined streets are filled with well-preserved architecture, rich history – and a ghost or two.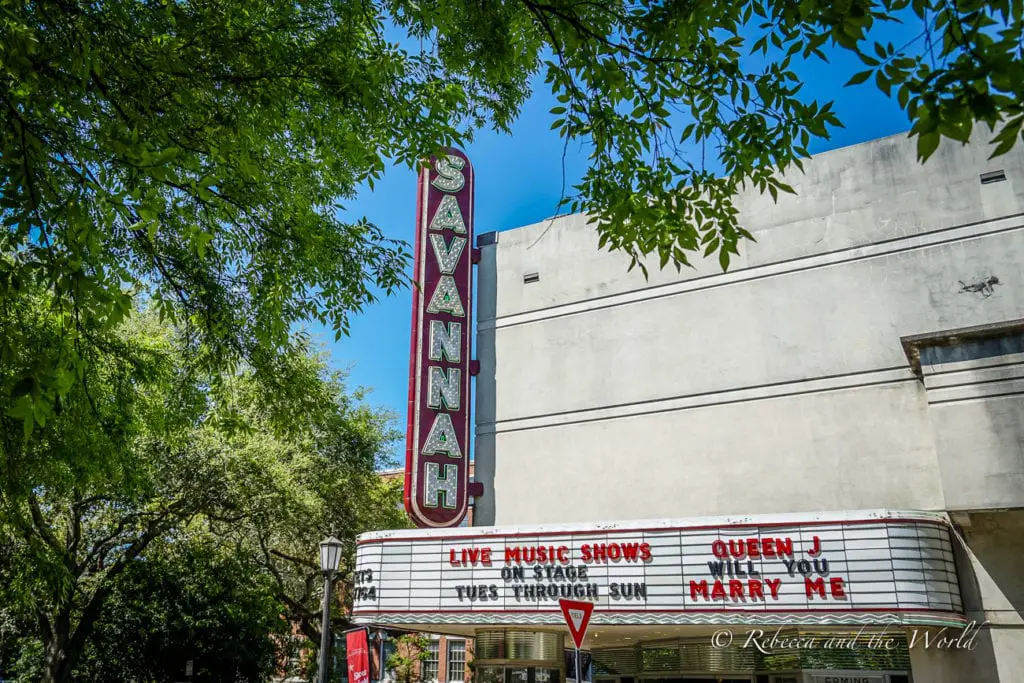 Start your visit to Savannah with a walking tour. There are plenty of walking tours on offer – we chose to go with Old City Tours. The tour took us around the city, starting at Chippewa Square – you may recognise it from Forrest Gump. We were guided through several of the 22 town squares dotted around Savannah, with stops in front of the famous Mercer Williams House and other spots. It was a great way to learn about the fascinating history of this city.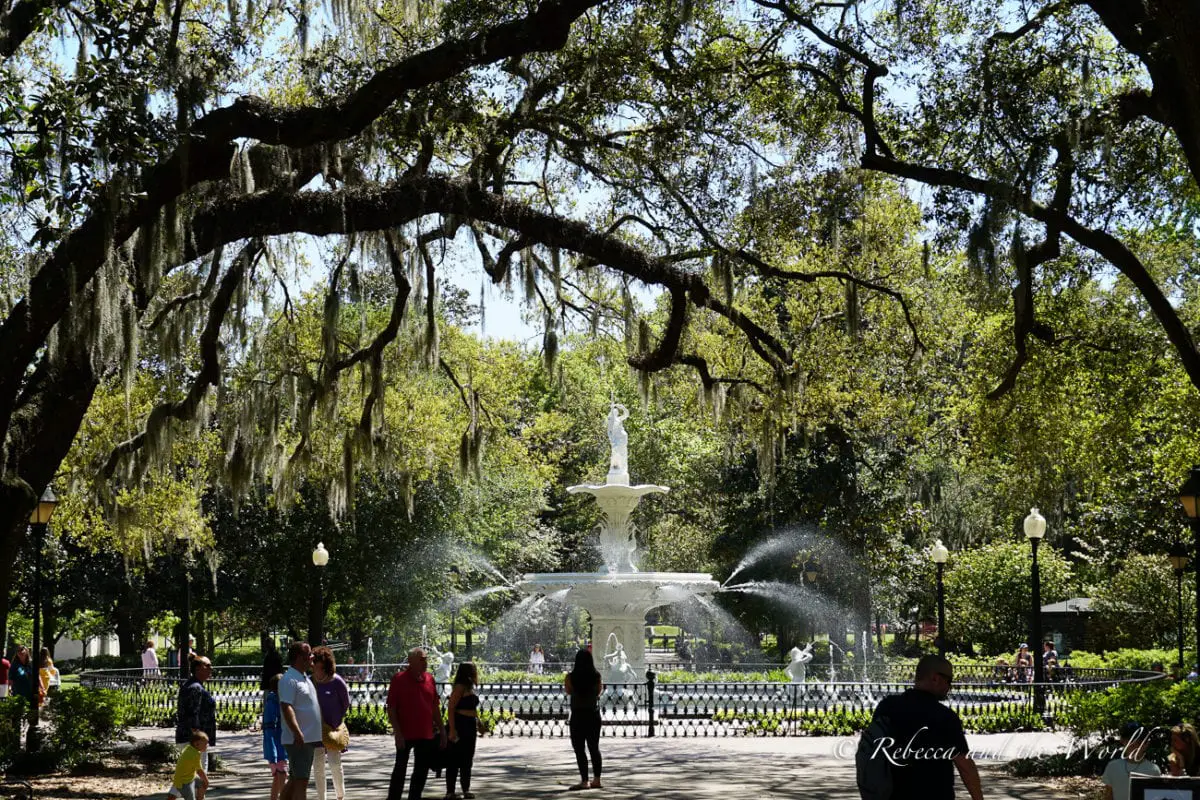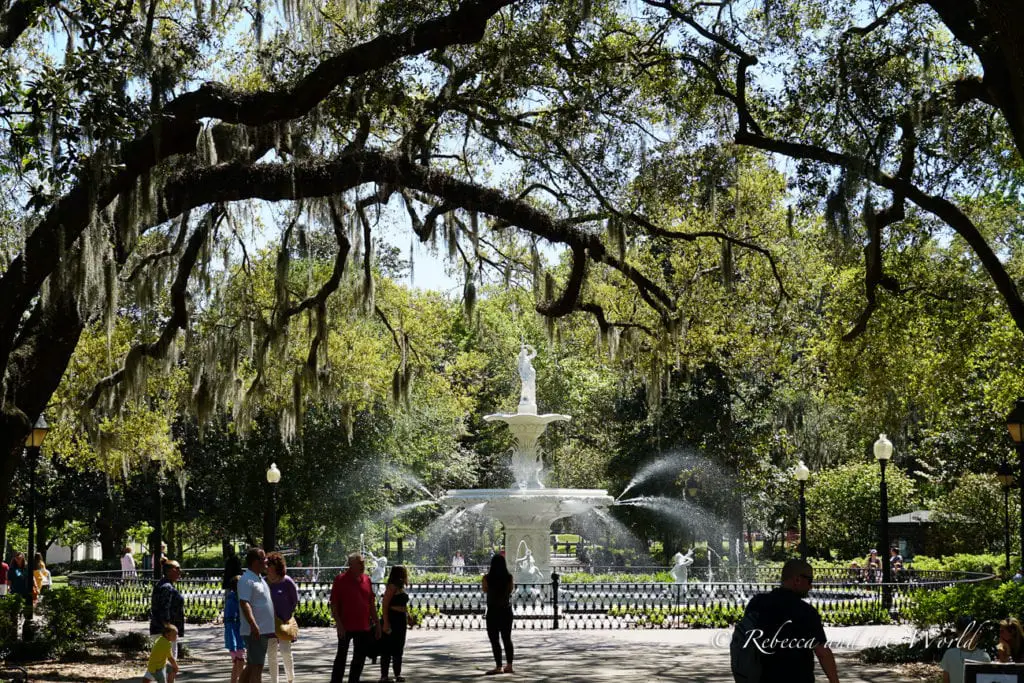 Although a bit creepy, one of the popular things to do in Savannah is visit the cemeteries in the area. Military generals, poets and politicians are all buried at Bonaventure Cemetery. You can pick up a free map to explore by yourself or join a tour.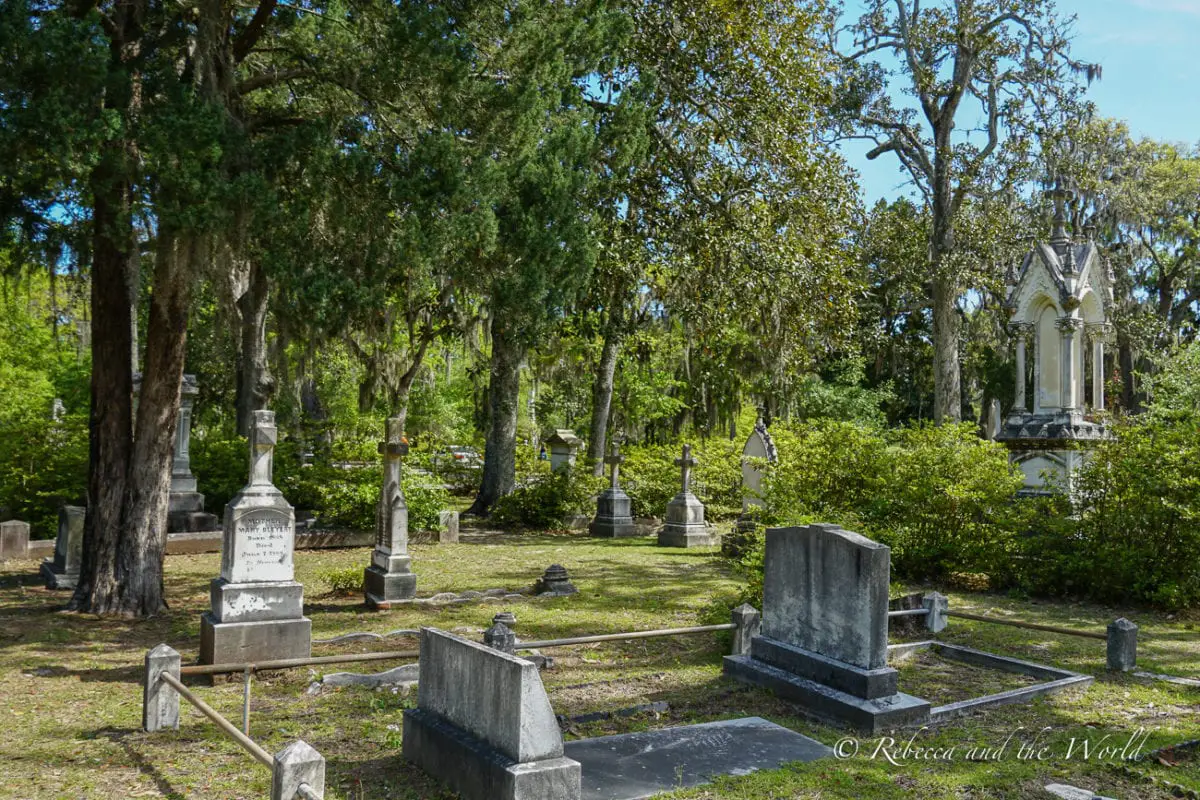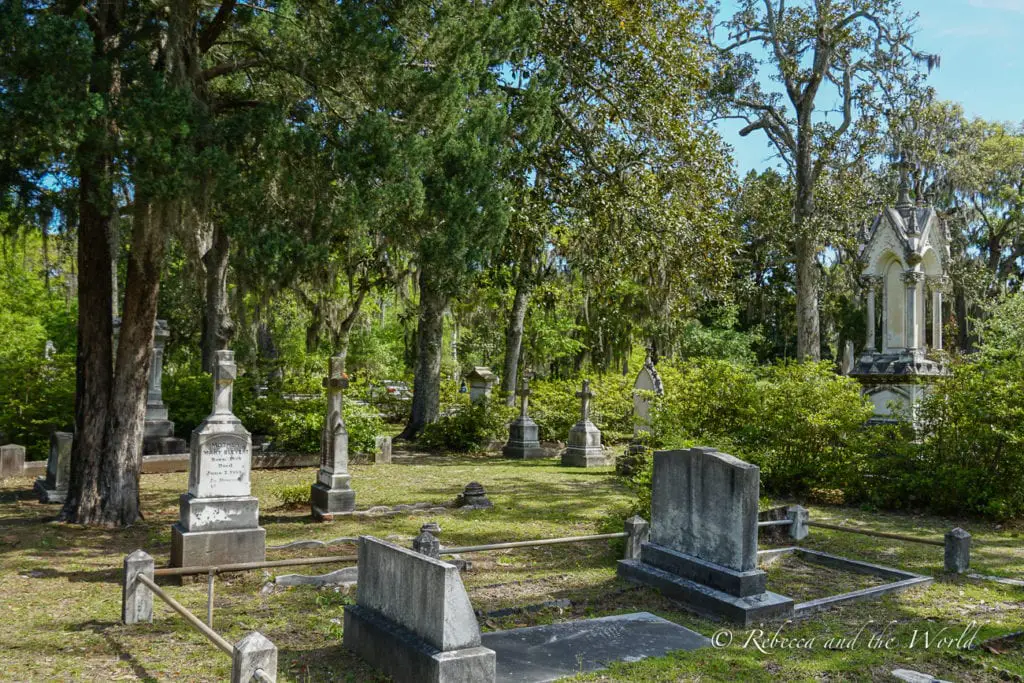 If you want to get even creepier, join a ghost tour. Savannah is considered one of the most haunted cities in the entire United States. I jumped and almost screamed several times on our tour! I swear I saw someone looking at us from a window of an abandoned house…
Get out of the city and head to Tybee Island, just 20 minutes' drive from Savannah. This lovely beach enclave is packed with holiday-makers in summer, but you can still find space to park a beach towel on the sand. There are also great seafood restaurants.
Where to eat in Savannah
Little Duck Diner | This "vintage chic diner" serves up Southern classics with a modern twist
The Grey | Book well in advance to get a seat at Mashama Bailey's restaurant inside a restored 1938 Greyhound bus station
Because you've only got a few days in Savannah, you could even start your trip off with one of Savannah Taste Experience's food tours to get a quick insight into the foodie scene.
Where to stay in Savannah
We struggled to find an affordable, pet-friendly option in Savannah so we had our first experience of an Extended Stay America motel. It was surprisingly fine, friendly and comfortable!
But I'd recommend something a little nicer for your stay in Savannah, like the Hamilton Turner Inn, a charming B&B, or the Broughton Corner Loft, which would be good for families.
Deep South Road Trip Stop 8: Charleston, SC
Driving distance from Savannah to Charleston: 107 miles / 2 hours
Stops along the way:
Driftwood Beach, a beach on Jekyll Island that's filled with, well, driftwood – particularly spectacular for photographers at sunrise and sunset
Angel Oak Tree to gaze in awe at this tree that's estimated to be between 400 and 500 years old
Another stunning city in the Deep South, Charleston is a must-stop on this Southern USA road trip itinerary.
Charleston's a very walkable city, so lace up your sneakers and hit the pavement. This is a great self-guided Charleston walking itinerary, which stops by some of the city's highlights including Waterfront Park and the famous Pineapple Fountain, the French Huguenot Church, the Dock Street Theatre, the Pink House, the Old Slave Mart Museum and Rainbow Row.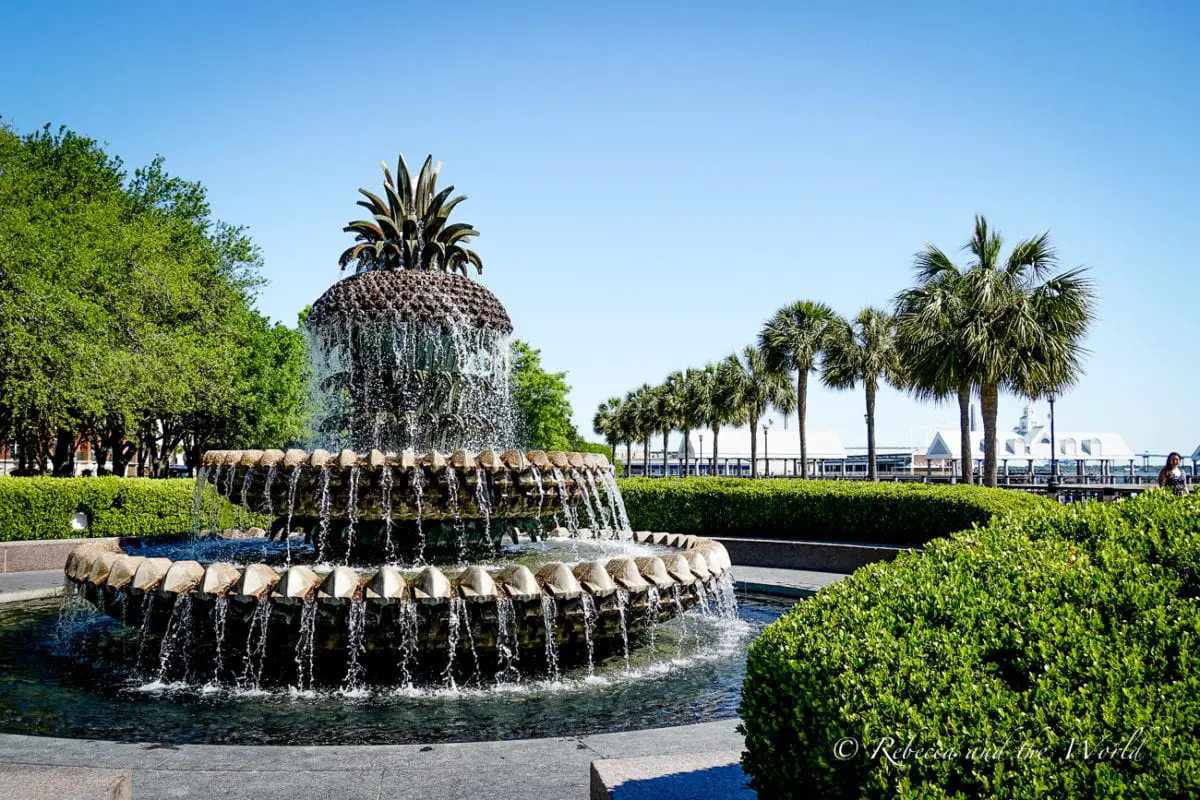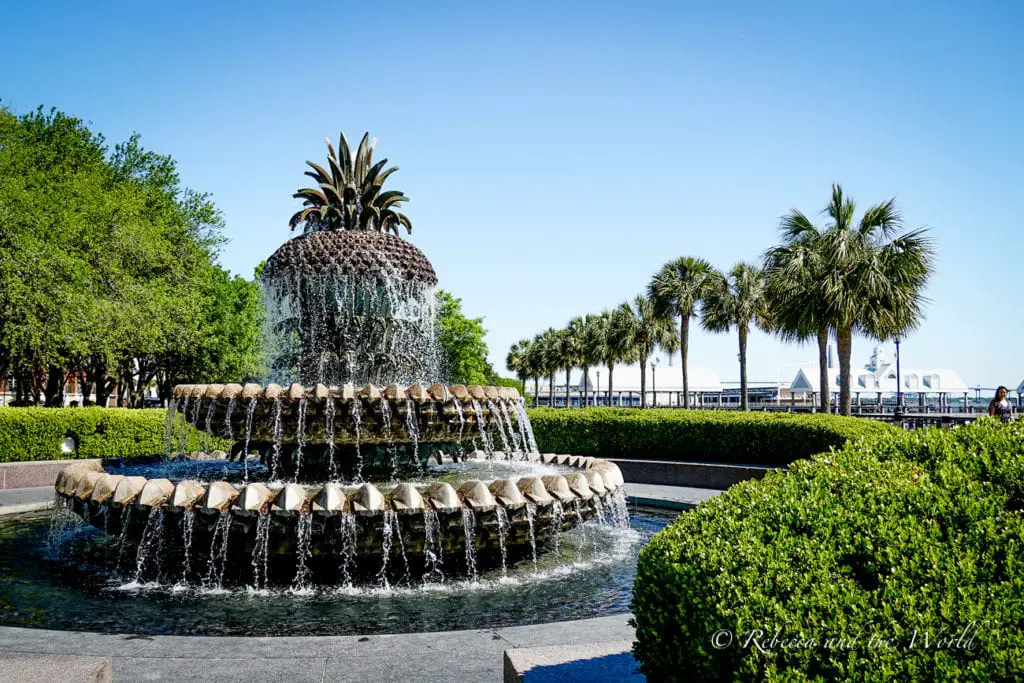 When we visited Charleston, we took this intriguing Tragical Hystery tour. Its description – "stories of drunken founders, pirates, murderers and houses of ill repute" – gives you a good idea of the stories you'll hear and characters you'll meet along the way!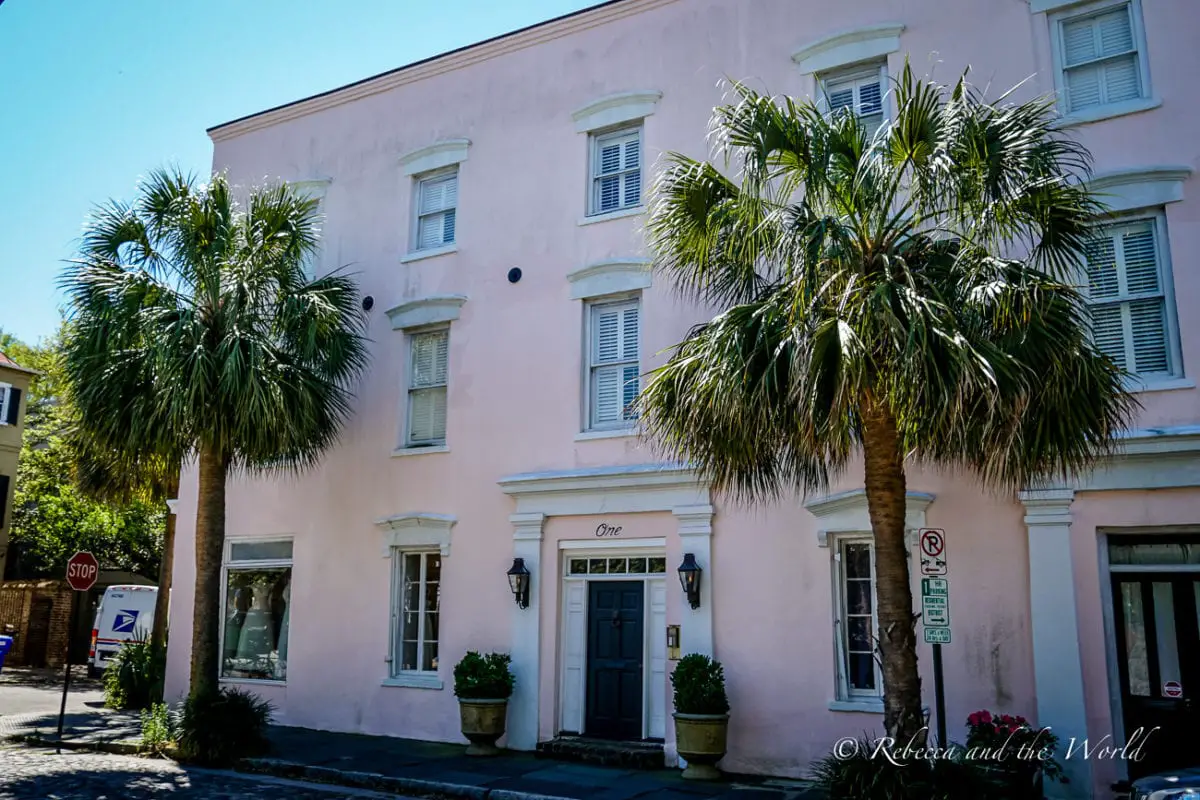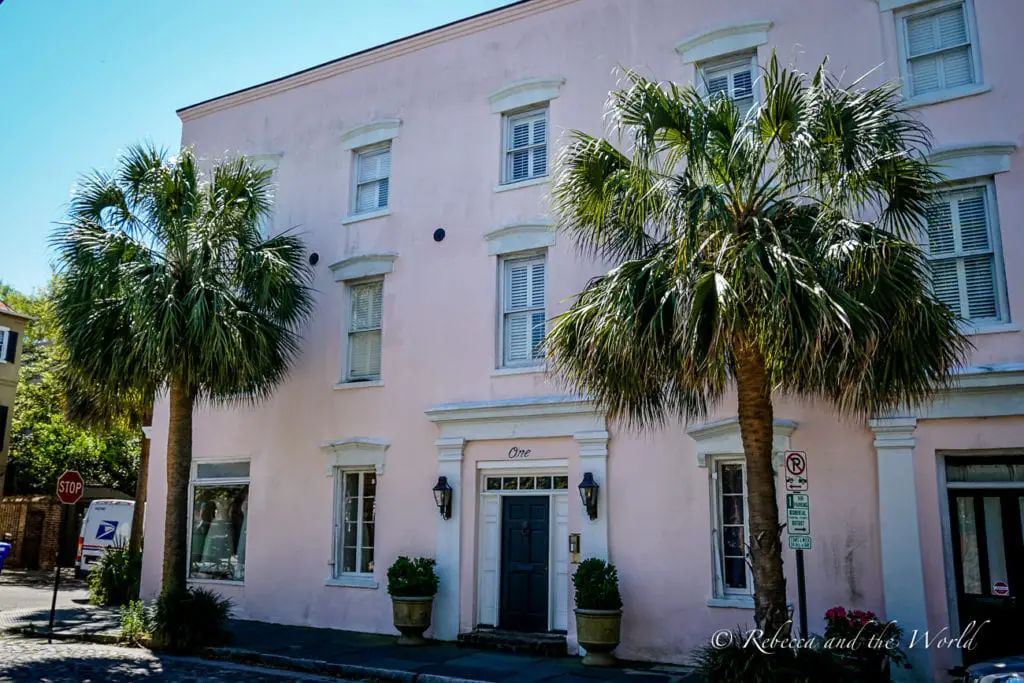 For a fascinating insight into the Gullah people of the area, book a spot on a Gullah Gullah tour. This tour deep dives into the history and culture of the Gullah Geechee people, descendants of West and Central Africans who were enslaved. These enslaved people were brought to coastal plantations and barrier islands, where they were able to retain many of their traditions – and even created a new Creole language, Gullah.
We didn't visit Magnolia Plantation, but I hear that the Slavery to Freedom tour is very good. Many plantation tours gloss over their slave pasts, but Magnolia Plantation doesn't, guiding visitors through the lives of some of the enslaved people who lived there.
Outside of the city, take a drive to Cypress Gardens to enjoy the walking trails and imagine yourself as an extra in The Notebook, which was filmed here. Beware the (fairly small) alligators you'll see everywhere!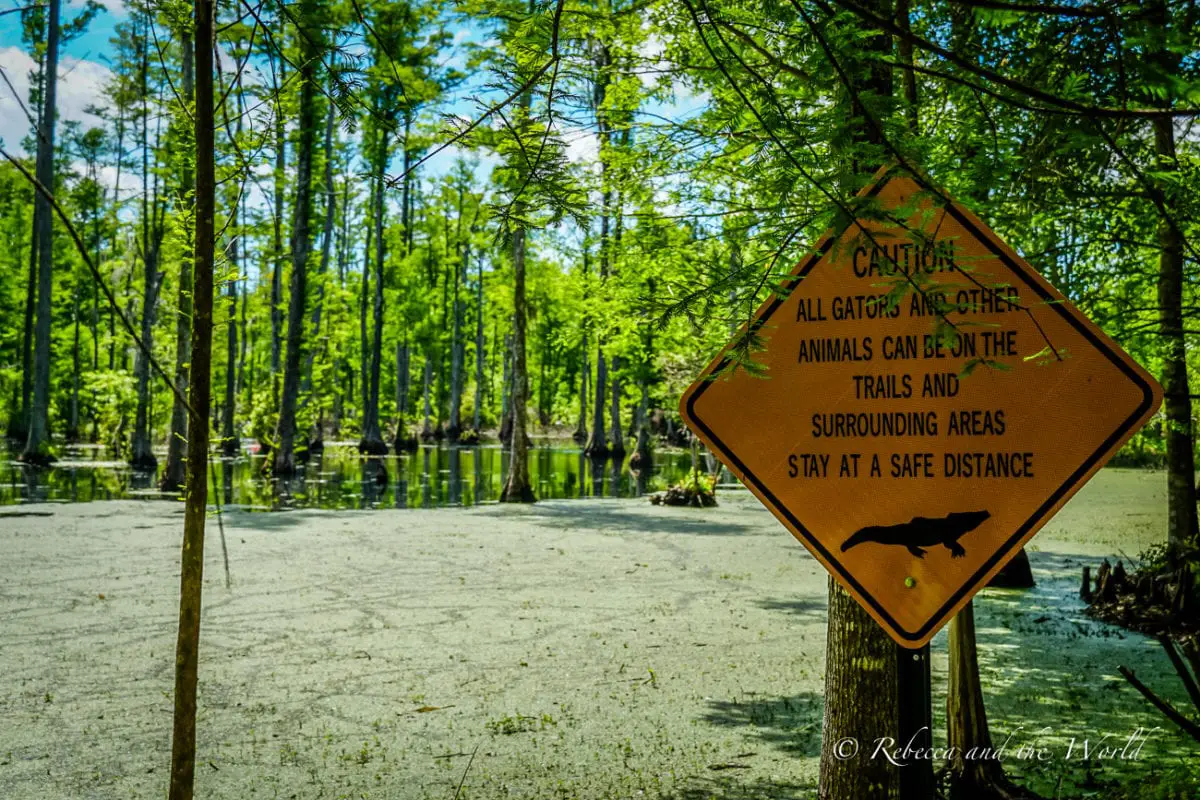 Where to eat in Charleston
Harold's Cabin | One of the most delightful places we ate at during our entire trip. This restaurant (co-owned by Bill Murray) serves up farm-to-table, home-style comfort food
Bertha's Kitchen | No-frills soul food in a family-run restaurant. Go early to make sure you get a taste of everything
Chez Nous | Lovely, pint-sized spot with a rotating set menu. We loved sitting at the bar and chatting with staff and other diners
Zero Restaurant + Bar | For a special night out, book a table at this fine-dining establishment inside the gorgeous Zero George Street Hotel
Where to stay in Charleston
The Little Pink House on the Peninsula is a very cute home in Charleston. The rooms at the 86 Cannon Historic Inn (adults only) are gorgeous.
Deep South Road Trip Stop 9: Asheville, NC
Driving distance from Charleston to Asheville: 268 miles / 4 hours
Asheville is undoubtedly one of the coolest cities in the Deep South, with a chilled-out population, plenty of breweries and great places to eat, and access to some beautiful outdoor locations.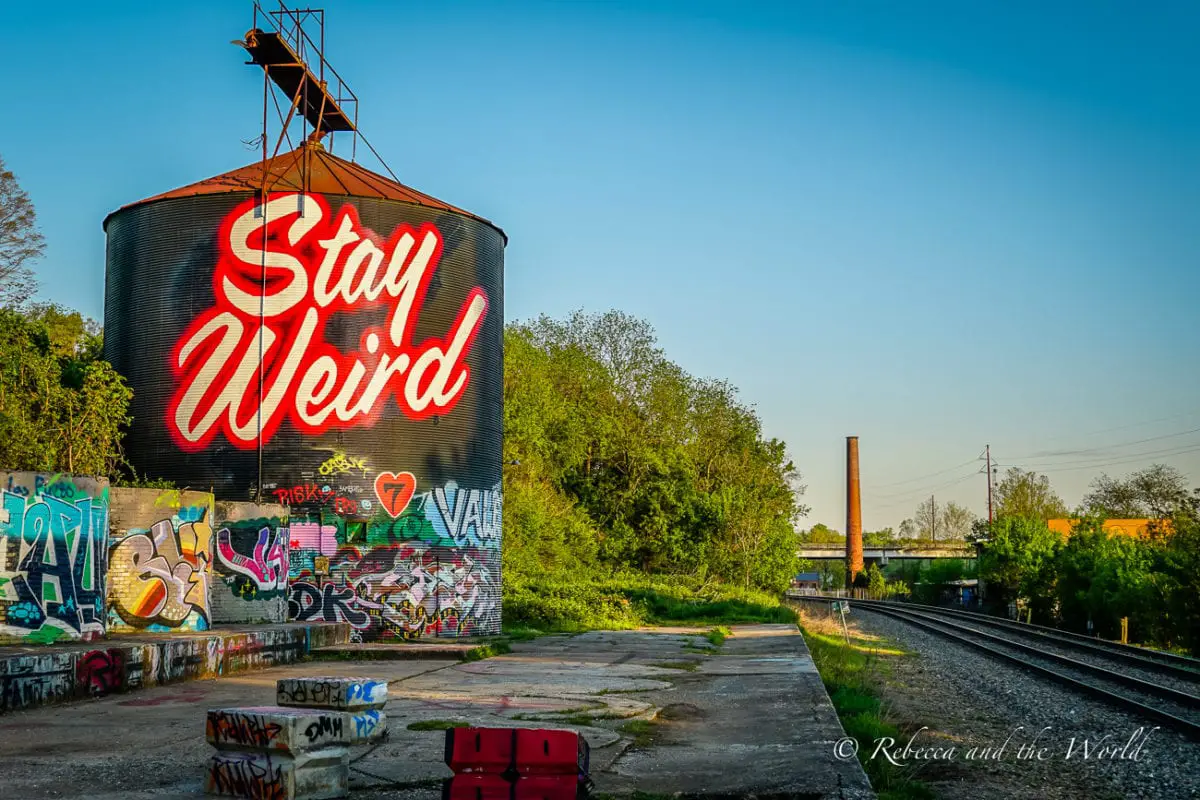 There's loads to keep you occupied here:
Visit the sprawling Biltmore Estate. Take a self-guided tour of just some of the hundreds of rooms built by George Washington Vanderbilt – you can even stay overnight
Explore the working studios and galleries of dozens of artists around the River Arts District
Check out Downtown Asheville to see well-preserved Art Deco buildings – don't forget to stop in and browse a few titles with a glass of Champagne in hand at the cosy Battery Park Book Exchange and Champagne Bar, combining two of my favourite things!
Sip a few of the local brews in "Beer City USA". Asheville has more breweries per capita than any other U.S. city. Our favourites were Burial Beer Co and Wedge Brewing 
Get out of the city for some hiking at Chimney Rock State Park or Grandfather Mountain.
Or stay behind the wheel and enjoy a few hours exploring the Blue Ridge Parkway – the visitor centre is just outside of Asheville
Try out your dance moves at Lake Lure, filming location of 80s classic Dirty Dancing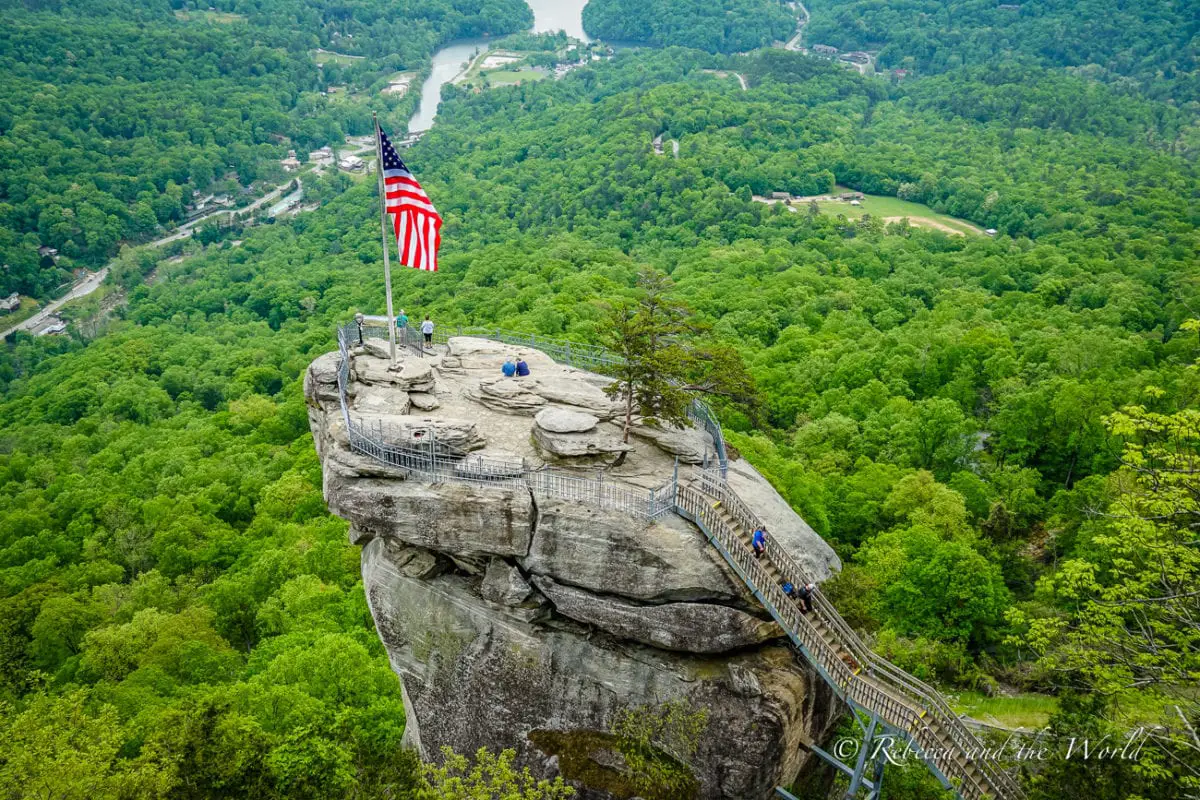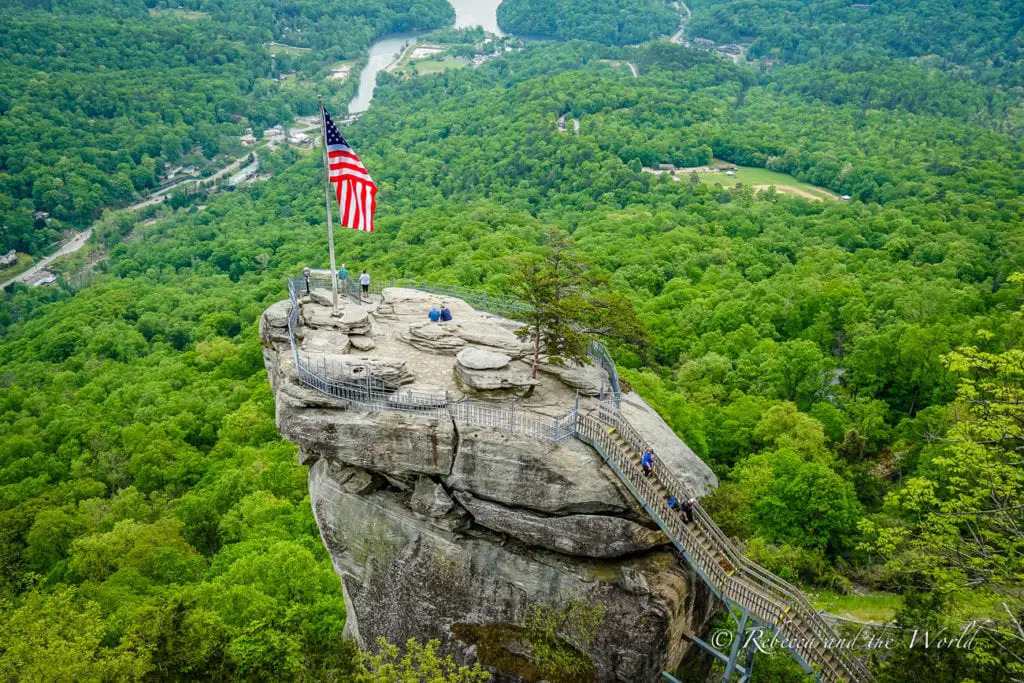 Where to eat in Asheville
Where to stay in Asheville
We stayed at an awesome Airbnb in Asheville but sadly it's no longer listed. Instead, take a look at The Sinclair, three modern apartments in Downtown Asheville. Or, just 6 miles out of Asheville is Bittersweet Cabin, the perfect location for a romantic stay.
Deep South Road Trip Stop 10: Nashville, TN
Driving distance from Asheville to Nashville: 294 miles / 4.5 hours
Stops along the way:
Knoxville, the first capital of Tennessee and home to some Civil War sites
Gatlinburg, the "Gateway to the Smoky Mountains", provides easy access to the most-visited national park in the United States
Pigeon Forge, to hit up the rides at Dollywood, Dolly Parton's own amusement park!
Chattanooga, to see the incredible Rock City, Ruby Falls and Lookout Mountain (you can't miss the signs for Rock City – you'll see the billboards along the highway for miles)
Lynchburg, to tour the Jack Daniel's Distillery (only if you've got a designated driver, of course – or you can take a day tour from Nashville)
Huntsville, to see the U.S. Space & Rocket Center
Head back into Tennessee, where we'll end this Deep South road trip in Music City, USA – also known as Nashville, the capital of the state.
But the trip isn't over yet – make sure you plan to have at least two days to enjoy the city.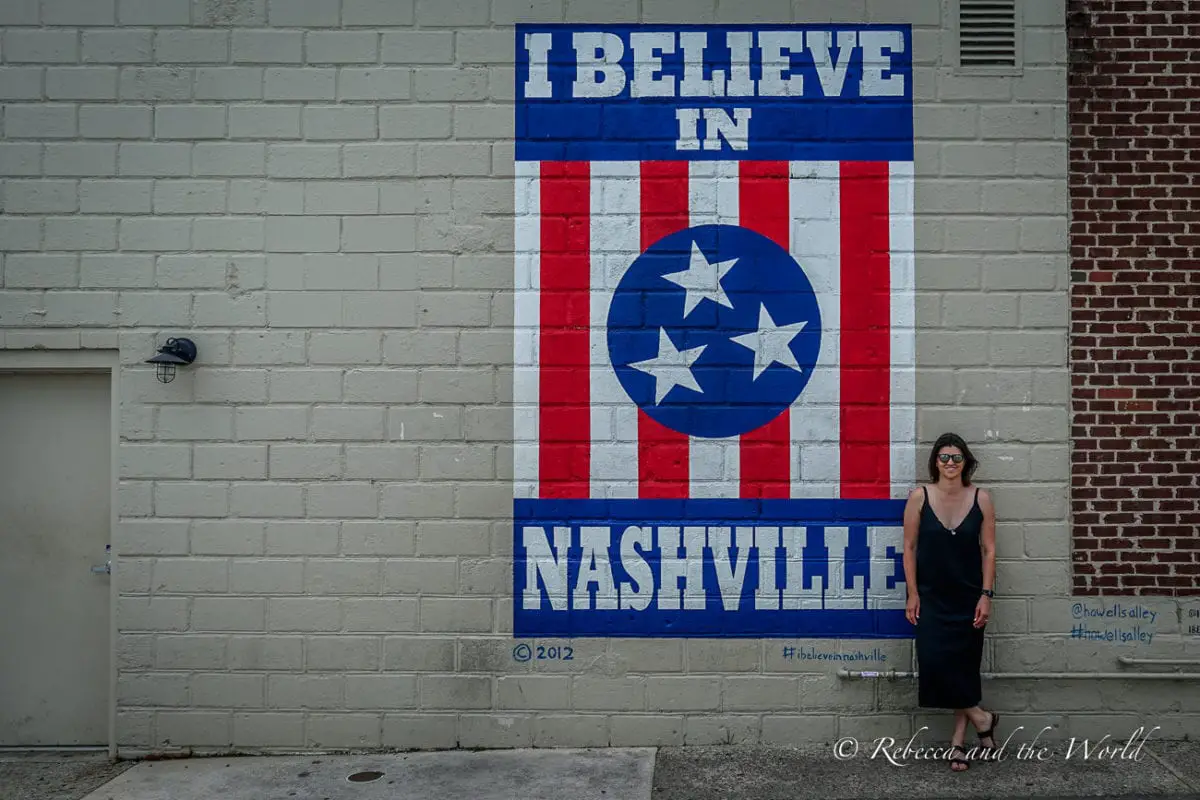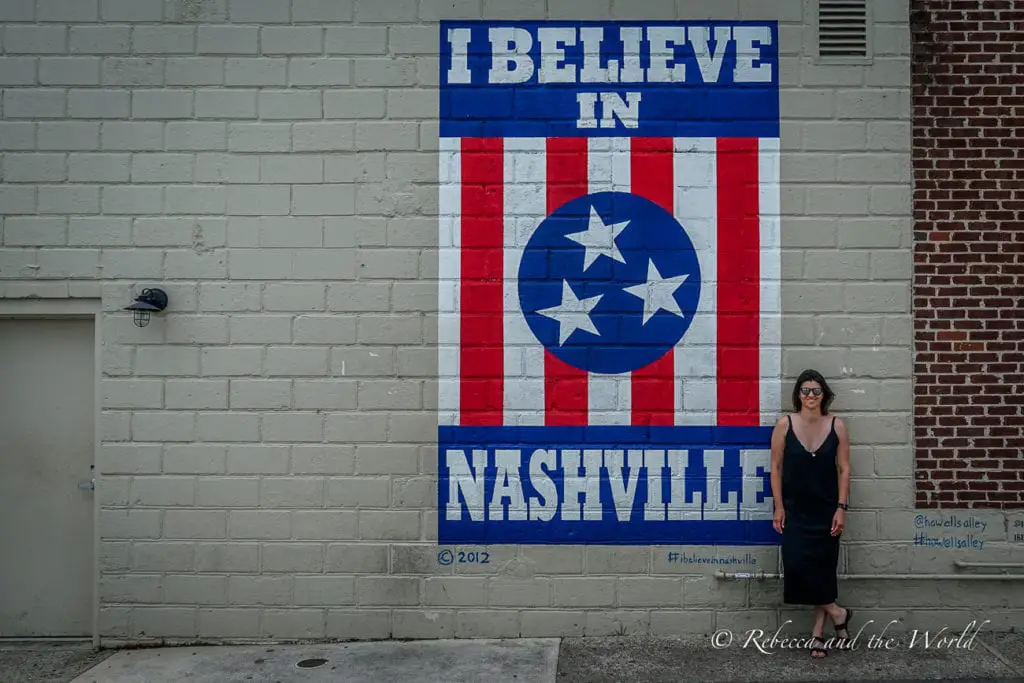 Nashville is one of the most popular cities in the USA to visit, and there's plenty to do here. I have a whole post dedicated to things to do in Nashville, and a few of the must-dos are: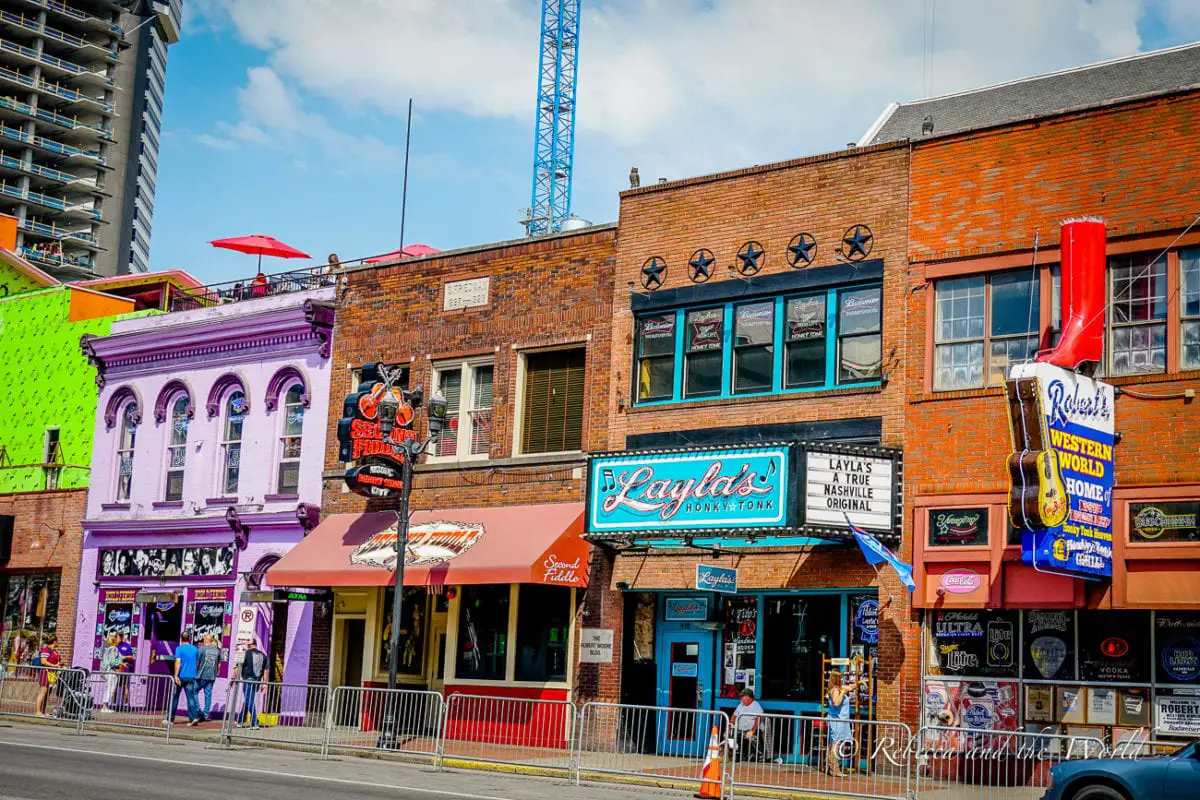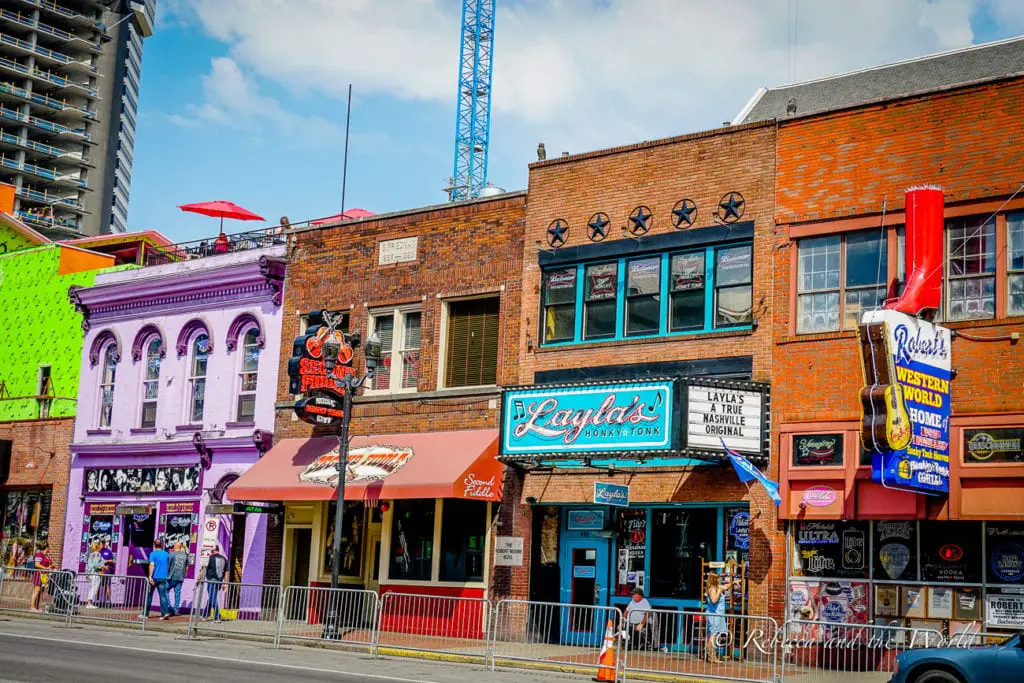 Where to eat in Nashville
Nashville is a foodie's dream. There are so many places to eat that it can be hard to decide where to begin, so perhaps book a spot on a food tour. You'll get to eat classic Nashville dishes while also picking up a few historical facts along the way.
Other popular places to eat in Nashville include:
Biscuit Love | Prepare to queue to get your hands on these famous biscuits
Five Daughters Bakery | Incredible, melt-in-the-mouth donuts and pastries (I had to go twice!)
Martin's Bar-B-Que Joint | Don't even bother eating before you come here – save space for the mouthwatering BBQ at this joint with several locations around the city 
Hattie B's Hot Chicken | Dare you to try the "Shut the cluck up!" heat level!!
The Treehouse | Yummy food in a lovely setting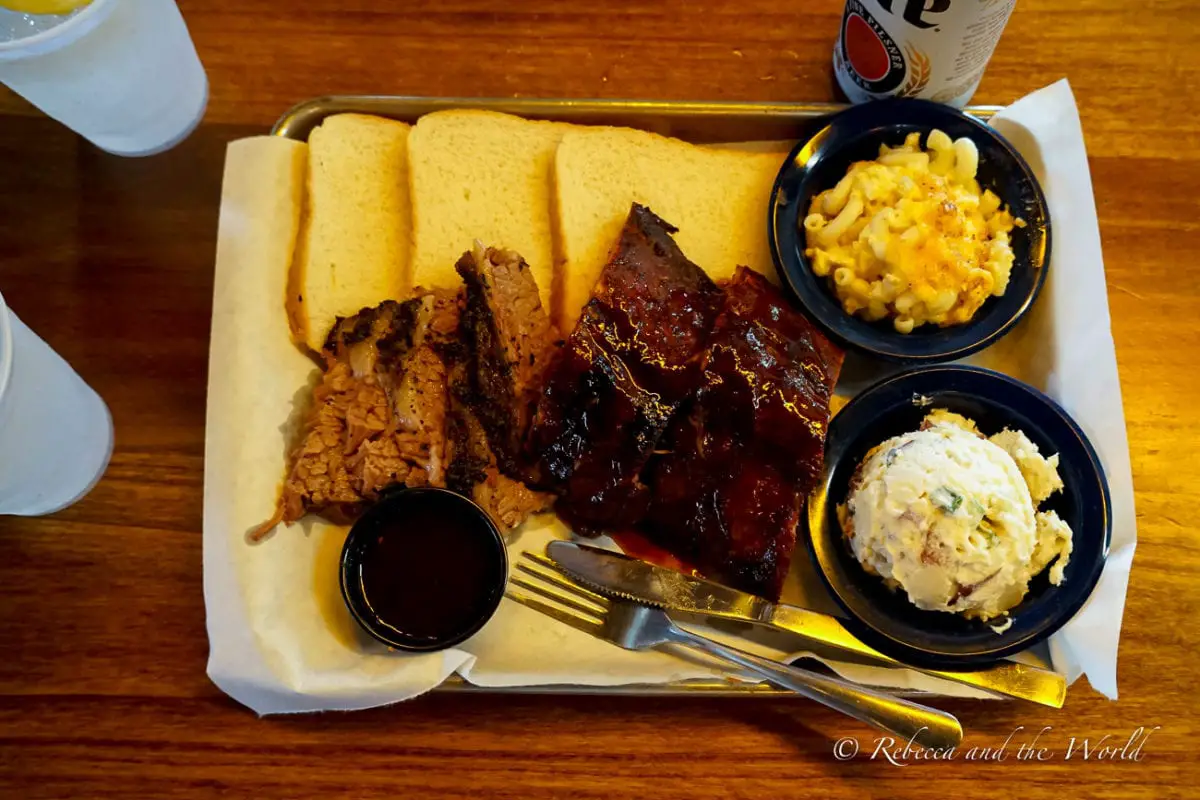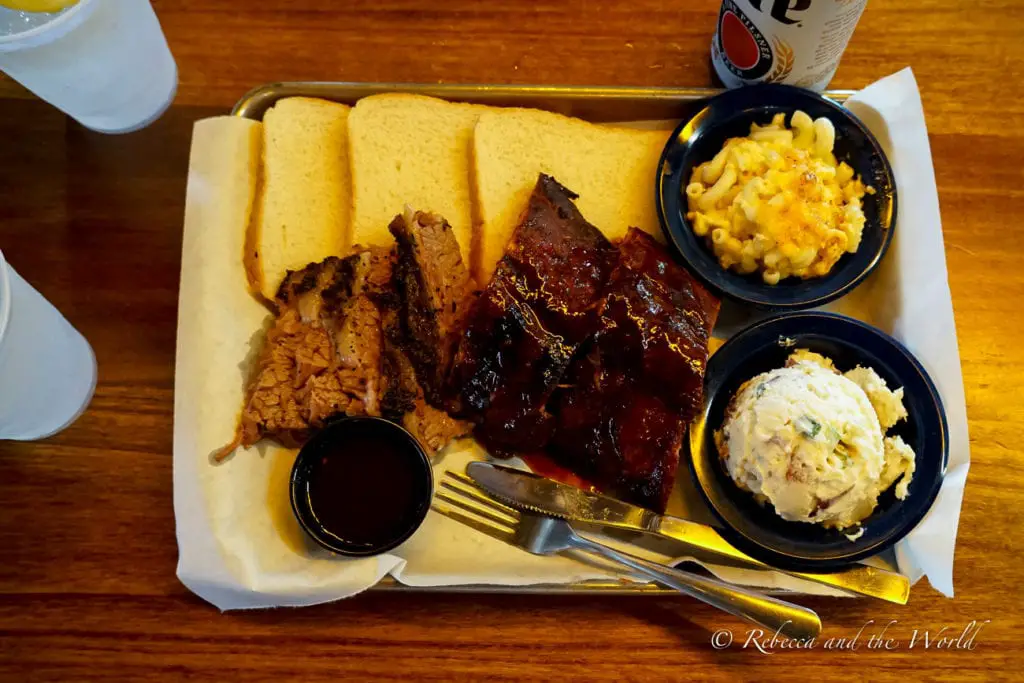 Where to stay in Nashville
We stayed in an Airbnb similar to this one during our trip to Nashville. The Bobby Hotel is an über cool boutique hotel with a rooftop pool and a central location, while the Thompson Nashville is in the Gulch neighbourhood.
---
You can drop your car back in Nashville (make sure you arranged a one-way trip when you booked your rental) and fly out of Nashville International Airport. This airport services cities across the country, with all the major airlines flying in here.
While your Deep South Road trip is over, you definitely won't forget this trip for a long time!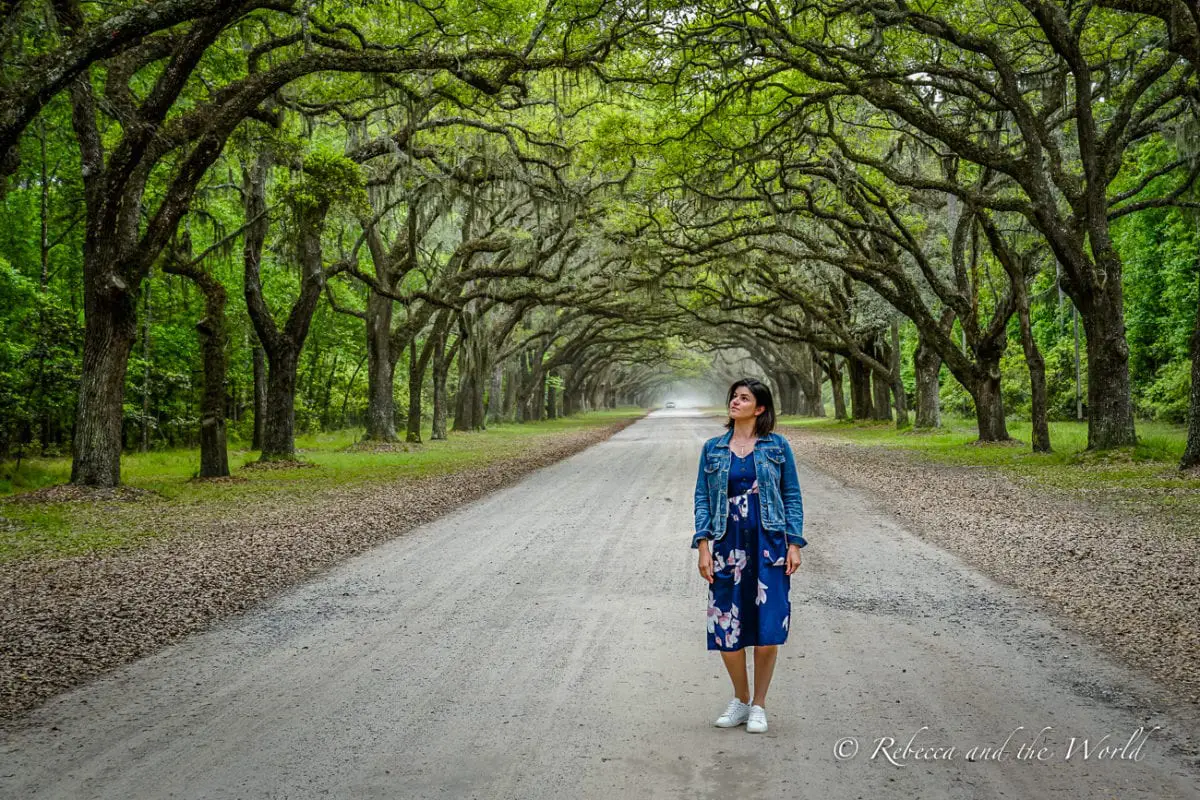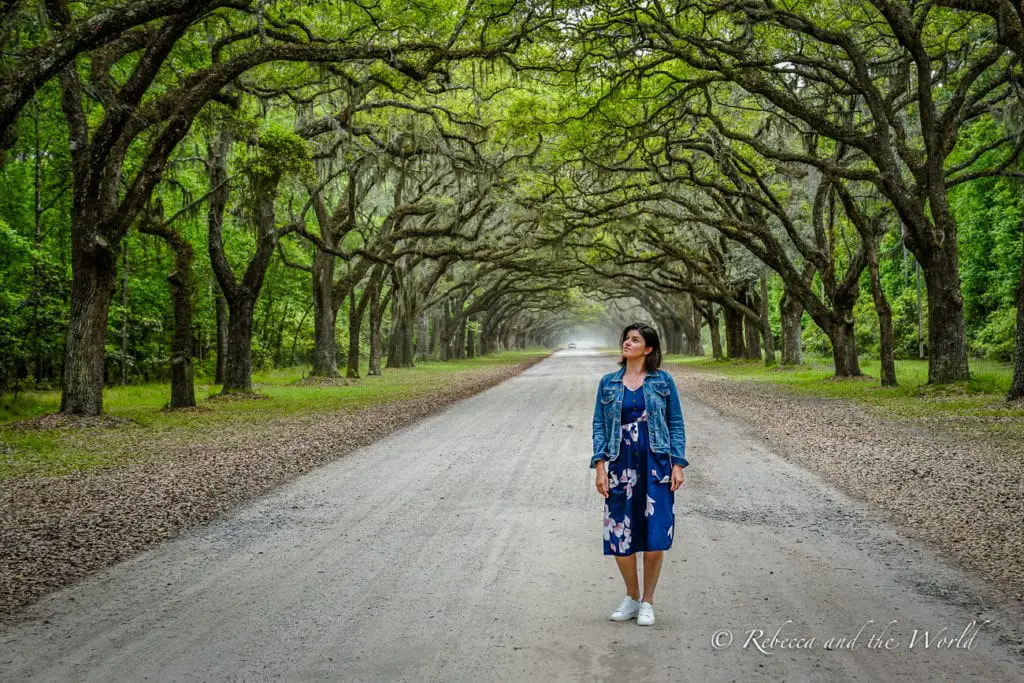 Travel tips for a Deep South road trip
Now that you know where you're planning to go on your Southern USA road trip, here are a few more travel tips to help you get the most out of your trip.
When to visit the Deep South
You can take this road trip through the South most of the year, but the best months are March to June, and September and October. July and August bring sticky heat, and January can be downright freezing in some parts of the region.
We did our drive through the Deep South between mid-March and early May, and had great sunshine, although we did have to wear jackets earlier in the trip.
You could also time your trip with some of the awesome festivals the Deep South throws on:
Mardi Gras in New Orleans (there are also Mardi Gras celebrations in Baton Rouge and Lafayette) – book ahead for this as accommodation is usually limited and pretty expensive
Jazz and Heritage Festival or French Quarter Festival in New Orleans
St Patrick's Day in Savannah – one of the U.S.'s largest St Paddy's Day celebrations
The Dirty Dancing Festival in Lake Lure, NC
Tupelo Elvis Festival – watch Elvis Presley impersonators vie for the prize
This is just a handful of some of them… there are so many more food, music and culture festivals to check out.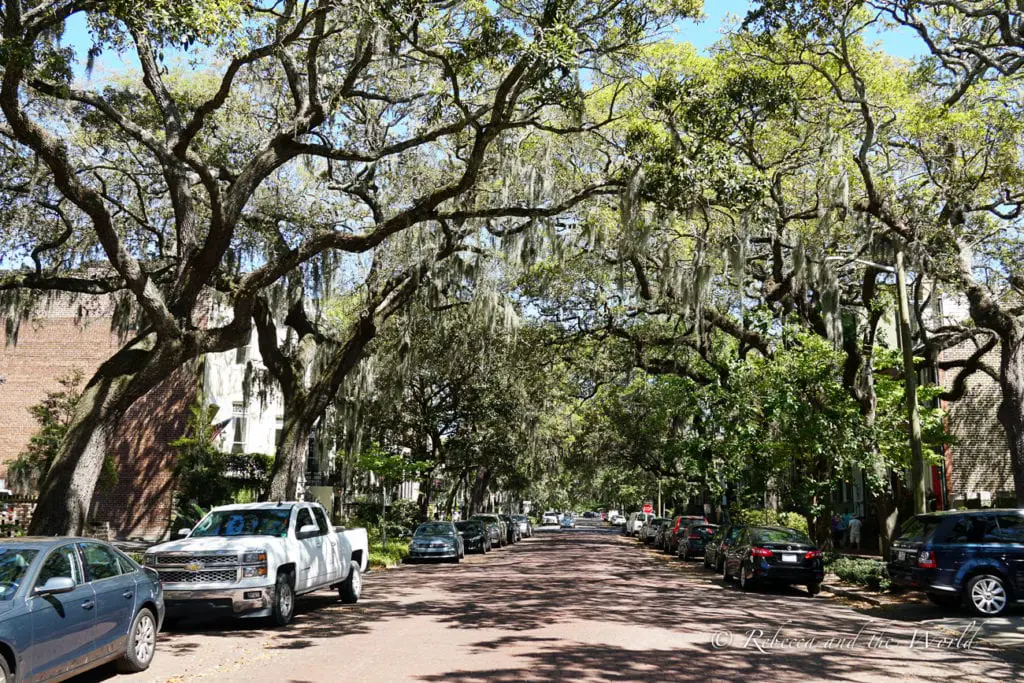 Pick up some handy travel guides
A few of the books we had close to hand on our Deep South road trip were:
This is My South by Caroline Eubanks
Lonely Planet's Florida and the South's Best Trips which highlights some of the best southern road trips
Deep South by Paul Theroux (a narrative of his journey through the Deep South, which gave me some interesting background into history, culture and social issues)
Travel insurance
I always purchase travel insurance. World Nomads offers simple and flexible travel insurance. Buy at home or while traveling and claim online from anywhere in the world.
Want to create your own Deep South road trip itinerary?
The itinerary I've outlined here is what I'd recommend based on the places I loved – but with this road trip, you get to choose your own adventure. 
Follow the itinerary I've outlined above, or adapt it to suit your start and end points. Or, plan your road trip around a theme. Here are some ideas for more Deep South road trips based on themes like music and history so you can really curate an itinerary that's perfect for you.
If you like…
Music
The Deep South is the birthplace of blues music in the United States. This region has bred some of the country's most famous musicians, from blues to rock 'n' roll, country to pop. Plan a trip around some of these musical cities and regions:
There are more than 200 markers on the Mississippi Blues Trail, highlighting key sites including the supposed "birthplace of the blues" (Dockery Farms), important juke joints and the homes of musicians
Memphis, home to studios where some of the world's most well-known music was made
Nashville is the home of country music, but there's a whole lot more to explore
New Orleans, where you can while away the night listening to jazz in dark bars
Tupelo, Elvis Presley's birthplace
Dollywood, Dolly Parton's own amusement park where you can listen to live bluegrass and country music before stepping on to a rollercoaster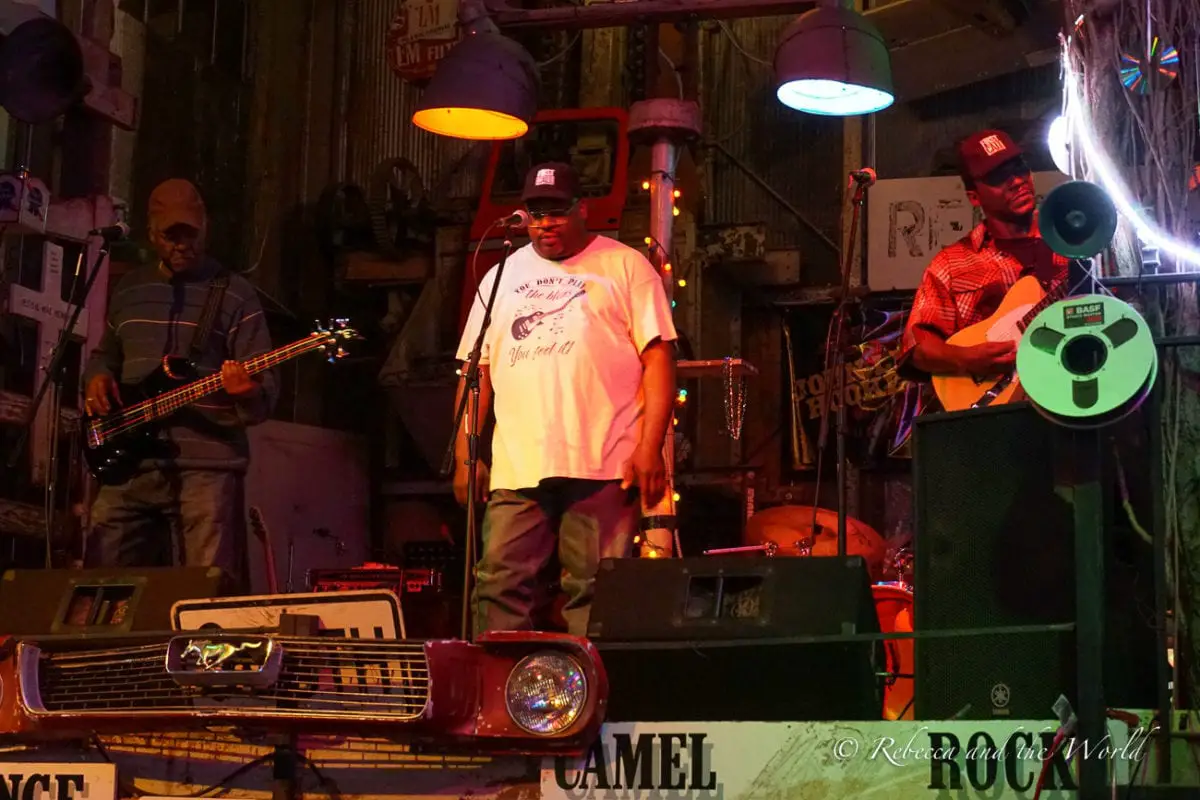 Good food
If there's one thing you can plan on when you're road tripping the Deep South, it's that you'll rarely have a bad meal. The South is known for its cuisine, full of rich flavours and steeped in history and tradition.
Every state has its regional dishes and must-stop-for foods. A few highlights to plan a road trip around:
Barbecue – every state has its own way of barbecuing and some states even have multiple ways. Dry, wet, slathered in sauce – try them all
White barbecue sauce – best served on pulled pork and found in Alabama
Gumbo – a seafood stew best tried in Louisiana
Crawfish – slap down some newspaper on a table and pick apart these shellfish, or try them in the classic crawfish étouffée, a spicy Cajun stew
Fried chicken – a delicious staple found everywhere, including the hot, hot chicken Nashville is famous for
Shrimp and grits – my preferred way to eat grits, but not the only way you can try grits
Po'Boys – crusty rolls filled with meat, salad and sauce (I like mine with shrimp)
Catfish – always fried or deep fried
Fried okra and collard greens – get your veggies in
Fried pickles – the snack I never knew I needed
Tamales – try a few on the Mississippi Delta Hot Tamale Trail
Pie – peach, apple, lemon meringue, banana cream, pecan, Mississippi mud, pumpkin, you name it, these pies are always a deliciously sweet way to finish off a meal.
This list is by no means exhaustive! There are so many dishes that are central to life in the Deep South, and it's fun (although calorific) to try as many as you can on an American road trip.
Getting outdoors
The Deep South is home to many national and state parks, forests, lakes and other natural features. There are excellent hiking, biking, kayaking and rock climbing adventures. Create your own Deep South road trips by planning journeys through some of these natural beauties.
Smoky Mountains National Park may be the country's busiest national park, but it covers 816 square miles, so you're bound to find a few quieter spots
Asheville is a great place to base yourself for hiking to Grandfather Mountain, Chimney Rock State Park and for accessing the stunning Blueridge Parkway 
Chattanooga is surrounded by mountains and forests, so it's a great spot for rock climbers and people into bouldering, mountain biking and hiking. It's been named "best town in the USA" multiple times
We enjoyed the hikes around Boone, and it's also known for fishing, tubing on the river in summer and kayaking
The Natchez Trace Parkway is a gorgeous 444-mile (715km) road from Natchez, MS, to Nashville, TN. It's a great option for those who love the outdoors but want to be behind the wheel
Same goes for the Blue Ridge Parkway – this is a fantastic drive during fall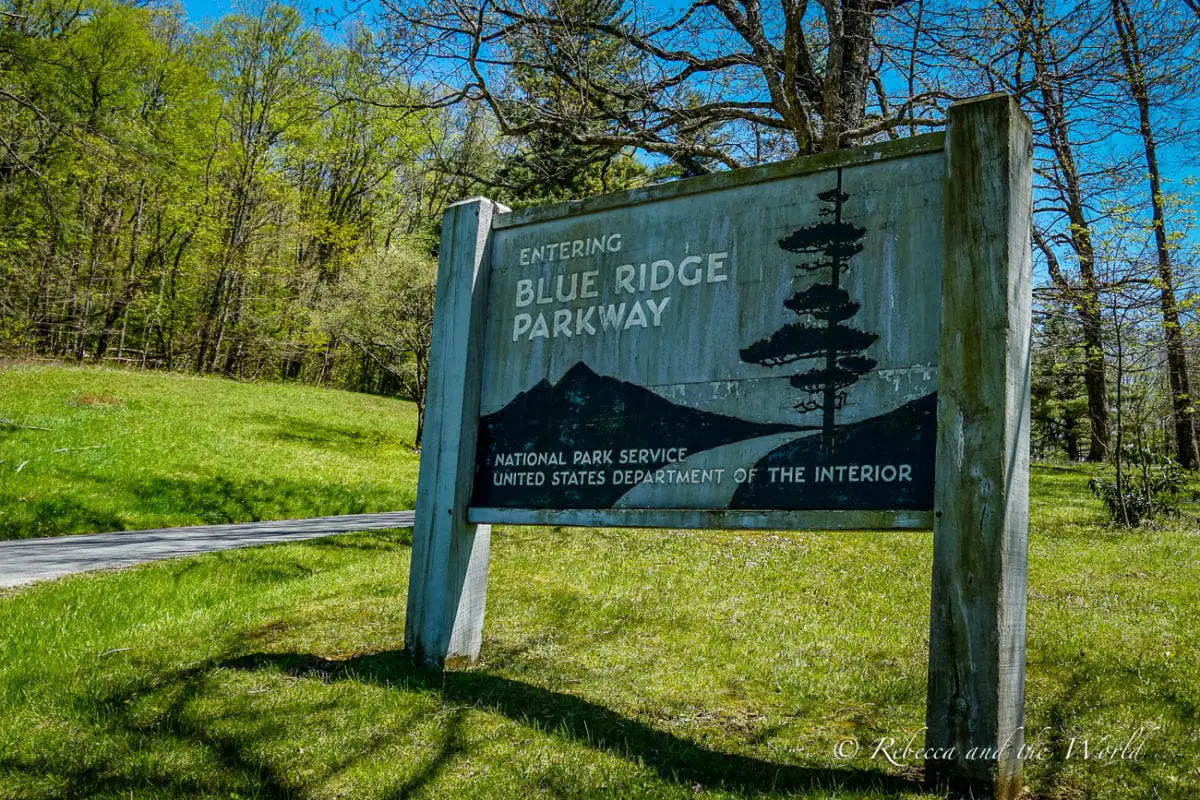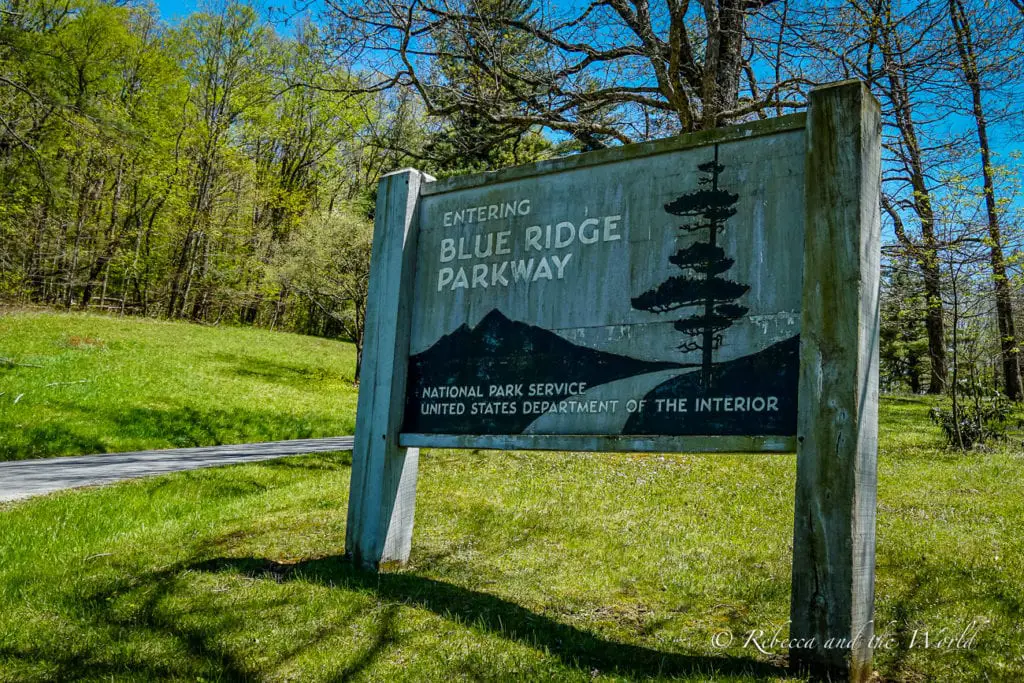 Civil Rights history
The fight for civil rights took place across the entirety of the United States, but the most important locations, decisions and events were in the states in the Deep South.
The best place to start researching a Civil Rights-themed Deep South road trip is on the U.S. Civil Rights Trail website. This trail was announced in 2018. It highlights "places where activists successfully sought equal access to public education, public transportation and voting rights"
Birmingham, Alabama, has the Birmingham Civil Rights Institute, and the 16th Street Baptist Church is where a bombing killed four young Black girls in 1963
In Selma, Alabama, the Edmund Pettus Bridge is the location of the brutal Bloody Sunday beatings. The city also has the National Voting Rights Museum and Institute
Jackson, Mississippi, has the insightful and moving Mississippi Civil Rights Museum (well worth a visit) and the Medgar Evers Home Museum
In Greensboro, North Carolina, you can see the seats where students began their sit-in in 1960 at the F.W. Woolworths Building, which is now the International Civil Rights Center and Museum
Civil War history
The American Civil War, fought between 1861 and 1865, was the bloodiest battle fought on U.S. soil. The northern Union states defeated the southern Confederate states, resulting in the 13th Amendment to the U.S. Constitution.
As an Australian, the Civil War is a topic I'm not familiar with at all, so it was fascinating to visit this part of the U.S. to learn more. If you're a history buff or you want to get your kids out of the classroom to see history first hand, there are plenty of places to revisit this important part of the country's story:
Vicksburg National Military Park in Vicksburg, Mississippi
Fort Sumter National Monument in Charleston, South Carolina
Shiloh National Military Park in Shiloh, Tennessee
Virginia is also a state you should put on your Deep South road trip route if Civil War history is an interest of yours. It's littered with Civil War sites, including the Fredericksburg Battlefield, the Manassas National Battlefield Park and of course the Appomattox Courthouse, which is where General Robert E. Lee surrendered to General Ulysses S. Grant on 9 April, 1865.
Literature
The Deep South has produced several important literary figures including William Faulkner, Alice Walker, Zora Neal Hurston, Harper Lee, Anne Rice and John Grisham.
There are several literary sites you can visit throughout the South to see authors' homes or locations that inspired their novels and poems.
Rowan Oak in Oxford, Mississippi, was the home of William Faulkner. His grave is also nearby in the Oxford Memorial Cemetery 
The Tennessee Williams Home is in Columbus, Mississippi, while the Tennessee Williams Rectory Museum is in Clarksdale, Mississippi
The Scott and Zelda Fitzgerald Museum is in Montgomery, Alabama
For a modern-day writer, you'll find the John Grisham Room in the Mitchell Library at Mississippi State University in Starkville 
---
You could easily spend months travelling through the Deep South and still not see (or eat) everything. But hopefully this post has helped you to start planning the perfect Deep South road trip itinerary!
What are the places you're hoping to visit on a Deep South road trip?
Looking for more USA road trip ideas? You might like these articles!
USA TRIP ESSENTIALS
Book flights to and around the USA online with Skyscanner or Kayak. I usually compare flights on the two sites to find the best deals.
Find a great hotel in the USA. Check prices on Booking.com and HotelsCombined online.
Check out the huge range of day tours throughout the USA on GetYourGuide or Viator. There's something for everyone.
A copy of the Lonely Planet guide to the USA will be handy.
One thing I always purchase is travel insurance. World Nomads offers simple and flexible travel insurance. Buy at home or while traveling and claim online from anywhere in the world.
PIN IT FOR LATER:
Plan your own Deep South road trip by saving this guide to Pinterest.