I'm getting hungry just writing this post. It's bringing back memories of hunting down the best tapas in Seville. Of joining boisterous gatherings of Spaniards crowded around bar tables, sipping a caña on their lunch break. Poring over menus filled with authentic Spanish tapas, trying to decide what to eat. Sampling mouth-watering flavours that meld together perfectly, the result of centuries-old recipes still being prepared in Seville restaurants.
With only two days in Seville on our Spain road trip through Andalucía, there wasn't enough time to try every one of the tapas bars in Seville, but we sure did try! Luckily, the tapas scene is conducive to bar-hopping, so you can easily visit two or three tapas bars in Seville in a night.
Read on for my tried-and-tested list of where to eat in Seville.
This blog post may contain affiliate links, meaning if you book or buy something through one of these links, I may earn a small commission (at no extra cost to you).
What are tapas?
Before we get into the list of the best tapas bars in Seville, what exactly are tapas? Basically, they're small plates of food, usually served in bars as a snack to accompany a drink.
In Spanish, tapa means "lid" or "cover". Legend has it that many, many years ago, King Alfonso X was in a small inn, sipping on a glass of sherry. It was windy, so the innkeeper put a slice of ham on top of his glass to keep the dust out of his sherry. The king liked it so much he asked for another – and tapas were born!
Tapas used to be served for free alongside drinks, but times have changed and now you're more likely to pay for tapas (although in Granada you'll still find some bars giving them away for free).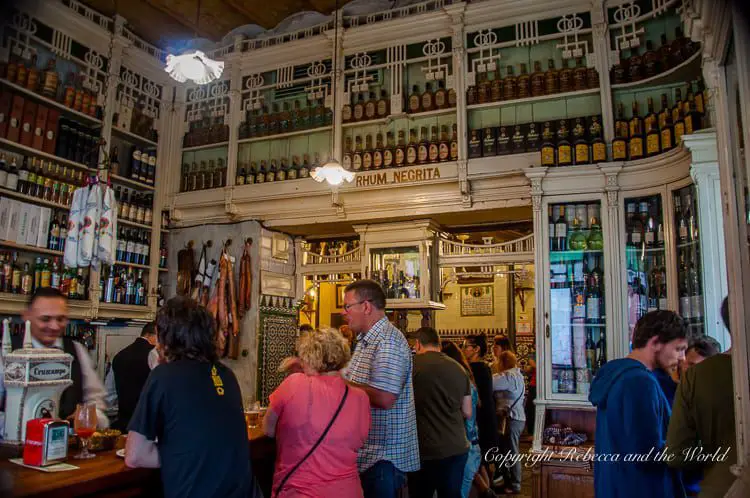 The best tapas bars in Seville
Map of my favourite Seville tapas bars
Restaurants on the map in blue are the ones that I visited, while the Seville tapas bars in orange are ones that I had on my thoroughly researched list but didn't get a chance to visit!
1. La Brunilda
Yes, you'll see La Brunilda on every list of must-eat tapas bars in Seville. But this place – regarded by many as the best tapas bar in Seville – really is worth your time. Located down a narrow, one-way side street, you'll be drawn to the huge royal blue door. Matching window frames allow tonnes of natural light to enter the dining room, creating a bright space.
Inside, try the papas bravas (I think the best I had on my trip to Andalucía) and other tapas dishes that cleverly fuse traditional recipes with a creative modern twist. Everything is beautifully plated.
Of course, because it's considered one of the best restaurants in Seville, it's popular. You need to be at the door well before opening time, as the queue starts forming half an hour before opening. As far as I can tell, they don't take reservations, so prepare for a wait!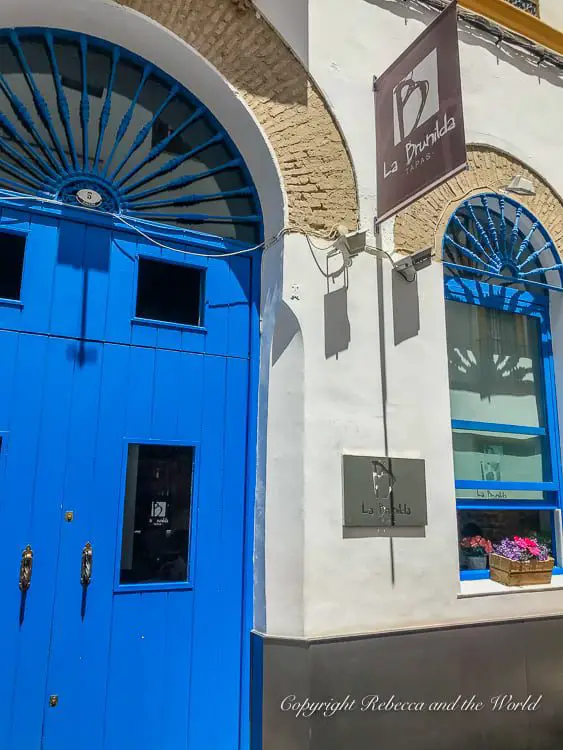 Calle Galera, 5
Daily 1.30 p.m. to 4.30 p.m. then 8.30 p.m. to 11.30 p.m.
2. Bartolomea
On our first night in Seville, we'd originally planned to eat at La Brunilda, but didn't realise just how popular it is. As we walked down the alleyway, my jaw dropped as I saw the growing queue. Ever optimistic, we joined the line, moving fairly quickly to the front. Alas, at the door we were stopped by the hostess who informed us there were no more tables and the wait time would be an hour or more.
Luckily, she was super friendly and directed us down the road to La Brunilda's sister restaurant, Bartolomea.
As luck would have it, Bartolomea is somewhat of a hidden gem, overshadowed by its more famous sister. We easily got a seat and were followed by a stream of people we recognised from the queue at La Brunilda.
With a great wine list and a menu full of modern tapas, we settled in. Must-eats include the lobster burger, ceviche, whatever croquetas they have on the menu (lamb on the night we were there) and any of the desserts. I think it's a great inclusion on this Seville tapas guide as it wasn't originally on our plan, but turned out to be one of our favourite restaurants in Seville.
Update: Sadly, Bartolomea has closed. I'm hoping it's just temporary so I'm leaving the restaurant here in this guide as a suggestion and hope that it re-opens soon!
3. Bodeguita Romero
A favourite of ours, we visited Bodeguita Romero three times on our trip to Seville. We were obviously not the only ones enamoured by this family-owned Seville tapas bar, judging by the people squeezed in like sardines all day long.
It's located in the heart of the city, just a few minutes' walk from the cathedral.
The menu features typical Andalucían tapas: solomillo ibérico, albondigas (meatballs), berenjena con miel (eggplant covered in honey) and a tortillita de camarones (like a fried prawn patty) were our choices, washed down with a local beer or tinto de verano (red wine mixed with lemonade – order this, not sangria!).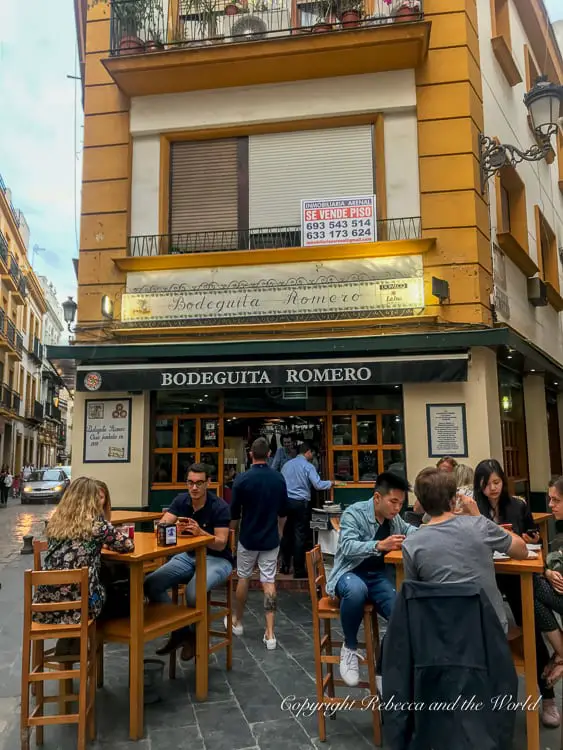 Calle Harinas, 10
Monday and Sunday closed
Tuesday to Saturday 1 p.m. to 5 p.m. then 8.30 p.m. to 12 a.m.
4. Bodega Santa Cruz
Boisterous crowds fill Bodega Santa Cruz throughout the day and into the evening, even spilling out on to the street. It's one of the historic bars in Seville. Here, the staff write your bill on the countertop in chalk. There's no menu, save for the huge chalk board on the wall. Grab a seat wherever you can or push your way to stand at the bar.
We would always come here at the end of the night for one final drink, accompanied by a small plate of jamón.
It's right in the heart of where most tourists stay, but locals fill this bar as well. We met two guys from Seville who were just starting their night as we were planning to end ours. Ah, the nightlife in Seville is supposedly fantastic but we're just too old, haha!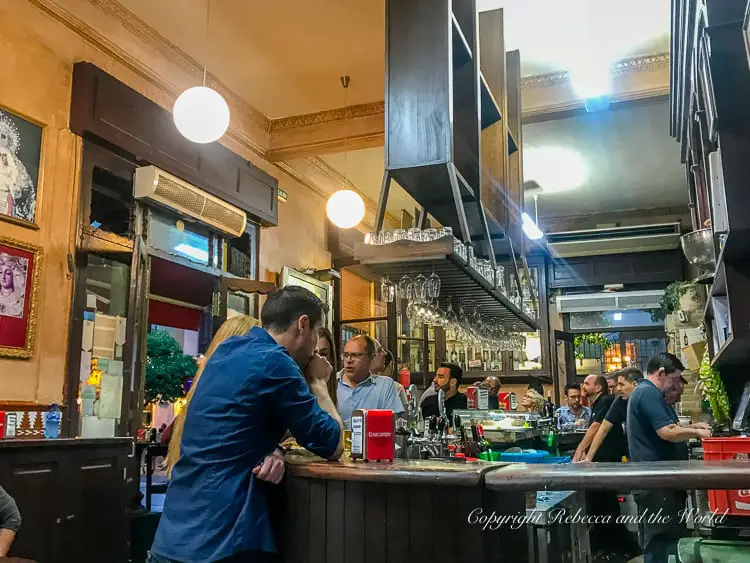 Calle Rodrigo Caro, 1A
Monday to Wednesday, Sunday 8.30 a.m. to 12 a.m.
Thursday 8.30 a.m. to 5 p.m.
Friday 8 a.m. to 12 a.m.
Saturday 8 a.m. to 1 a.m.
5. El Rinconcillo
El Rinconcillo Seville is the oldest bar in the city. Opened in 1670, it doesn't appear to have changed much since then. Cured hams hang above the dark wooden counter tops, and old wine barrels stand in for tables in the downstairs bar area.
Its historical value has made it a tourist attraction, so it's always busy, but don't let that put you off visiting.
Try the jamón bellota – it's pricey but totally worth it. This type of jamón comes from acorn-fed pigs who wander through the forest and it's one of the most expensive (and most delicious) types of ham you can buy. Finish with a glass of sherry from the bar's extensive list.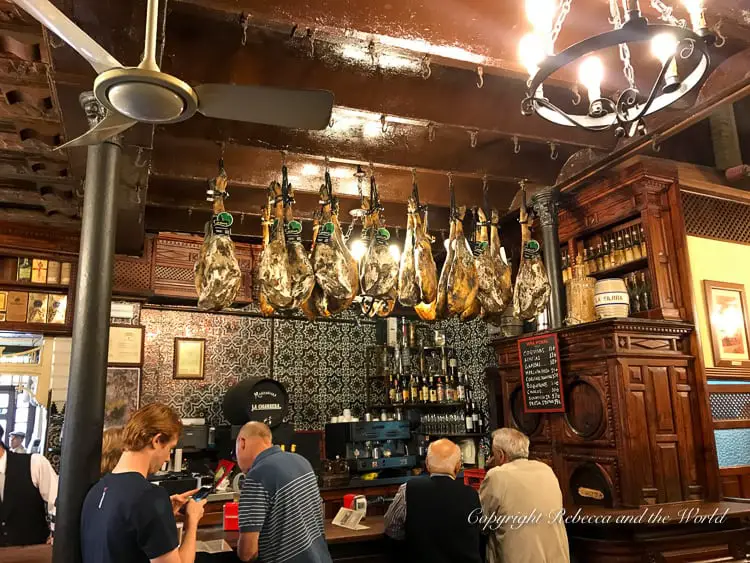 Calle Gerona, 40
Open daily 1 p.m. to 1.30 a.m.
6. Bar El Comercio
We went to Bar El Comercio for one thing only: the churros. Light and airy, dipped in chocolate caliente, they were the perfect afternoon pick-me-up. Many consider these to be the best churros in Seville and I have to say I may just agree!
The space is cramped, and your table will likely be bumped right up against another table, but that's just a great way to meet other people, right?
While it's one of the best places to eat in Seville for their specialty churros, the bar also offers traditional tapas like cheeses, jams and tortillas.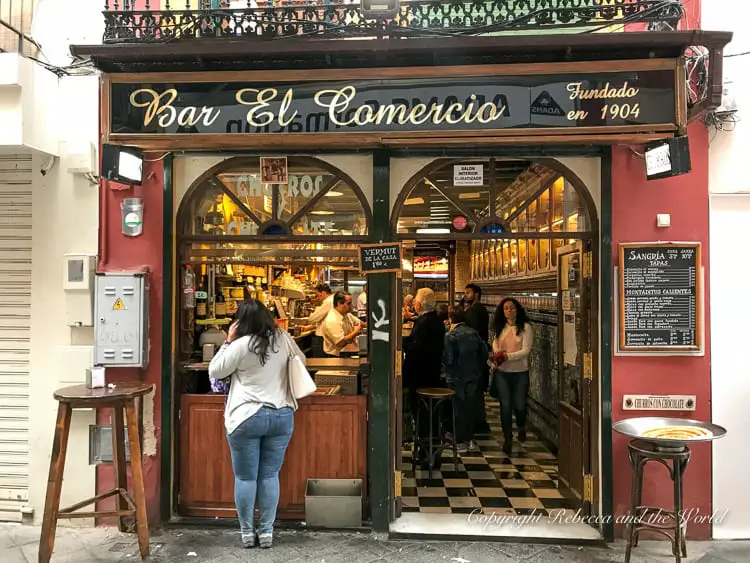 Calle Lineros, 9
Monday to Friday 7.30 a.m. to 9 p.m.
Saturday 8 a.m. to 9 p.m.
Sunday closed
7. La Azotea
Without meaning to, we arrived at La Azotea just as they'd opened up. It was lucky we did – within half an hour there were people milling about outside in the hope of snagging a table.
This trendy Seville tapas restaurant has four locations (although the Santa Cruz branch is currently closed), each with a different menu. We ended up in the restaurant that focuses on seafood.
We had dinner here with a couple we met in Ronda, and between the four of us shared quite a few different dishes. The menu changes regularly, but must-eats are the razor clams and braised beef cheeks. All the dishes are made with local ingredients.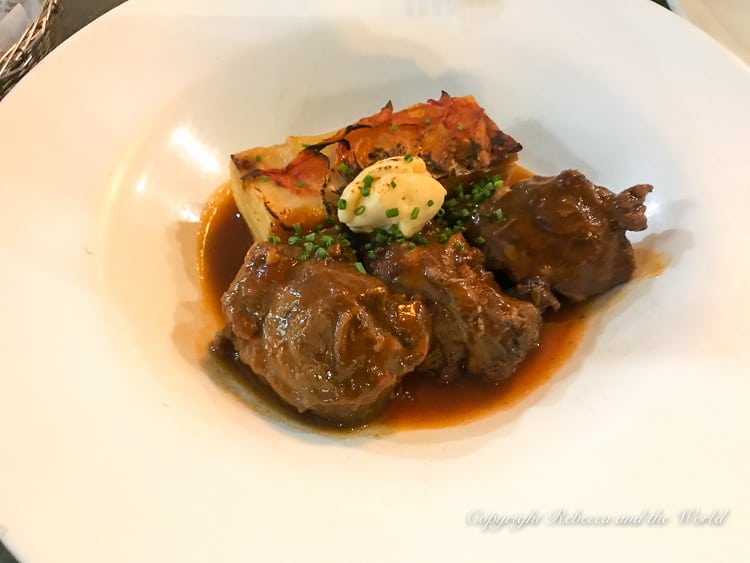 Calle Conde de Barajas, 13 (also listed as Calle Jesus del Gran Poder, 31)
Open daily 1.30 p.m. to 4.30 p.m. then 8 p.m. to 11.30 p.m.
Looking for the best way to travel from Madrid to Seville so you can try all these tasty tapas? Omio is the best online tool for checking and booking flights, buses, ferries and trains across Europe.
Even more Seville tapas bars
As I've already said, there are only so many meals in a day, and I just couldn't get the whole way through our list of tapas restaurants in Seville with only two days there. Here are some more to consider adding to your list of where to eat the best tapas in Seville!
Las Teresas – this cosy tapas bar has been around since the late 1800s Calle Santa Teresa, 2
Casa Ricardo – famous for their croquetas, this is the one Seville tapas bar I'm so disappointed I didn't get to (I'm a fiend for croquetas!!) Calle Hernán Cortés, 2
La Fresquita – while this bar serves up great tapas, its drawcard is the incredible array of Semana Santa decor covering the walls Calle Mateos Gago, 29
Bar Santa Marta – word on the street is that this bar serves the best Spanish tortilla in Seville Calle Angostillo, 2
Bodega Siglo XVIII – try to grab a seat close to the bar so you can get the staff's attention, because this place is always busy Calle Pelay Correa, 32
Bodega Dos De Mayo – this 20th century tavern attracts a rowdy crowd who are looking for great Seville tapas Plaza de la Gavidia, 6
Sol y Sombra – tradition here extends from the old building and into the tapas that the kitchen serves up Calle Castilla, 147
Bar Blanco Cerrillo – another great bar that's always packed with locals Calle Dr. Jiménez Díaz, 8
Las Golondrinas – you'll find yourself asking for seconds in this fun tapas bar in Triana Calle Antillano Campos, 26
Bar Alfalfa – come here for tapas in a fun, friendly environment where you'll end up chatting the night away with some locals or other tourists Calle Candilejo, 1
Seville tapas tours
If you're anything like me, you always want to find out the best places to eat in a new city, and I think a food tour is a great way to do this. While we didn't do a tapas tour in Seville (we did one on our first night in Granada), here are a few Seville food tours I've found that look fantastic:
And if you love Spanish food so much that you want to keep eating it when you get home, why not try a cooking class or market tour and cooking class and learn how to make a few specialties yourself?
Tips for how to order tapas in Seville
Don't be intimidated to order tapas! Here are a few tips that I picked up along the way. After a while, I became much more confident to step into a tapas bar.
In many tapas bars in Seville, you're going to be squeezed in like sardines, but don't let this deter you! Stake your claim at a table or at the bar, and don't be afraid to be (politely) pushy!
You may need to yell your order to the bartender – don't be shy!
Look around and see what the locals are ordering. You can usually bet these are the best tapas in Sevilla and therefore a good choice.
Don't go too wild to begin with – order one or two tapas to start and then order more as you need.
You pay at the end, not as you go. The bartender will keep a running tab of everything you've ordered.
Tipping is not obligatory as it is in countries like the United States. It's fine to round up to the nearest Euro, or leave your small change.
Go bar-hopping to taste as many tapas as you can in one night. It's the best way to check out a few of Seville's tapas bars.
The Spanish eat late. Head out for dinner at 9 or 10 p.m. if you want to be among locals. If you want to avoid the crowds, go at 7 or 8 p.m.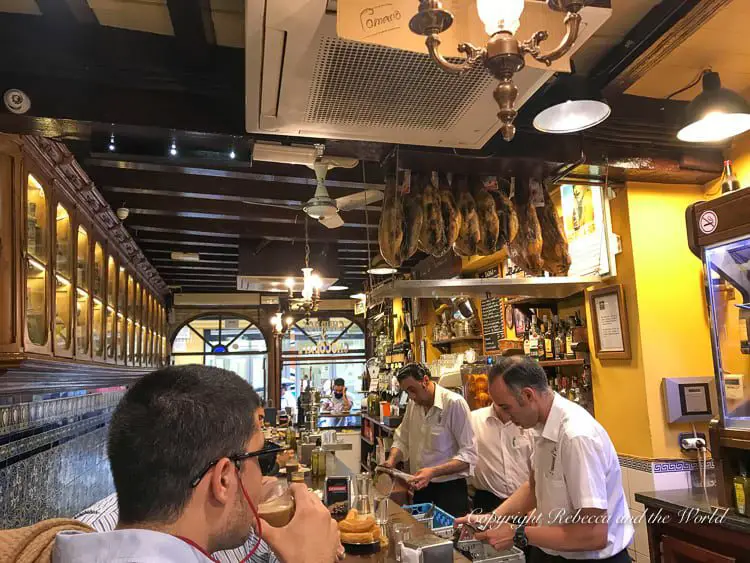 How to order food in Spanish
If you don't speak Spanish, never fear, here are a few sentences to get you going when you enter a tapas bar in Seville.
Get a table
When you enter a bar with seating, ask for a table for two: "Una mesa para dos, por favor." Change the number depending on how many people are with you (uno, dos, tres, quatro etc).
Ordering drinks
The server will ask you something like "Qué van a tomar?" which means what would you like to drink. Depending on what you like, you may ask for:
"Un vaso de agua" – a glass of water
"Un zumo de naranja" – an orange juice
"Un café" – a coffee
"Una cerveza" – a beer
"Un vaso de vino blanco / vino tinto" – a glass of white wine / red wine
"Un tinto de verano" – a local favourite, order this instead of sangria!
Ordering food
After you've taken a look at the menu and figured out what you want, you can order by starting with one of the following phrases and finishing it with the name of the dish you want:
"Quiero…" – I want…
"Me gustaría…" – I would like…
"¿Me trae…?" – Could you bring me…?
Getting the bill
When you've finished your meal and are ready to pay, ask: "La cuenta, por favor". To check if the restaurant or bar takes credit card, ask: "Acepta tarjeta?"
Are you hungry yet??!!
What do you think are the best tapas in Seville Spain? Share your tips in the comments below!
PIN IT FOR LATER: