Long considered a city convenient only as a jumping-off point for exploring Patagonia in the south or Atacama in the north, Santiago is coming into its own, offering visitors a cosmopolitan experience. If you're planning 2 days in Santiago – or more! – I'm here to help guide you toward some of the best things to do in Santiago, the capital city of Chile.
While living in Buenos Aires, my husband and I hopped over to enjoy a weekend in Santiago, and found the city of almost 6 million people filled with things to do. Here are my tips to help you plan your visit to Santiago.
This blog post may contain affiliate links, meaning if you book or buy something through one of these links, I may earn a small commission (at no extra cost to you!).
La Chascona
Pablo Neruda's house is fascinating for its quirky creativity. Originally built in the 50s for the poet's secret mistress, Matilde Urrutia, La Chascona (his nickname for Matilde) is now open to the public on a self-guided audio tour.
On the tour, you'll learn about Neruda and Urrutia's relationship, and how the house was designed and built. La Chascona contains a number of remarkable artworks, photos and knick-knacks, and we loved wandering through, wondering what would be around the next corner or hidden in each nook.
If you're a Neruda fan, you can also visit his other houses, La Sebastiana in Valparaíso, and Isla Negra in El Quisco.
Address: Fernando Márquez de la Plata 0192
Cost: Ch$7,000 per person
Opening hours: 10 a.m. to 6 p.m., Tuesday to Sunday (March to December); 10 a.m. to 7 p.m., Tuesday to Sunday (January and February); closed Monday.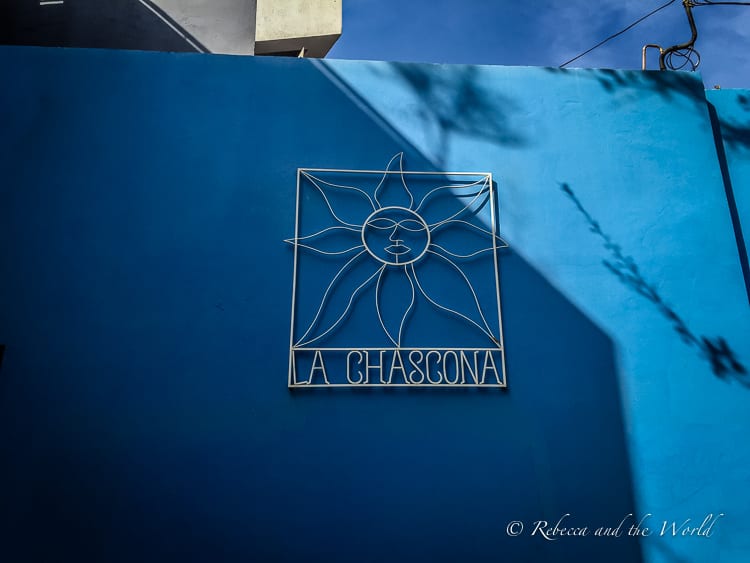 Wander through Bellavista barrio
You can't visit Santiago without checking out one of the city's hippest neighbourhoods, Bellavista. Most famous for its nightlife, we actually wandered through here during the day, exploring the many cool shops, restaurants and bars. The neighbourhood is well known for its fantastic street art. It's a great place to sit and people watch.
La Chascona is located in this barrio.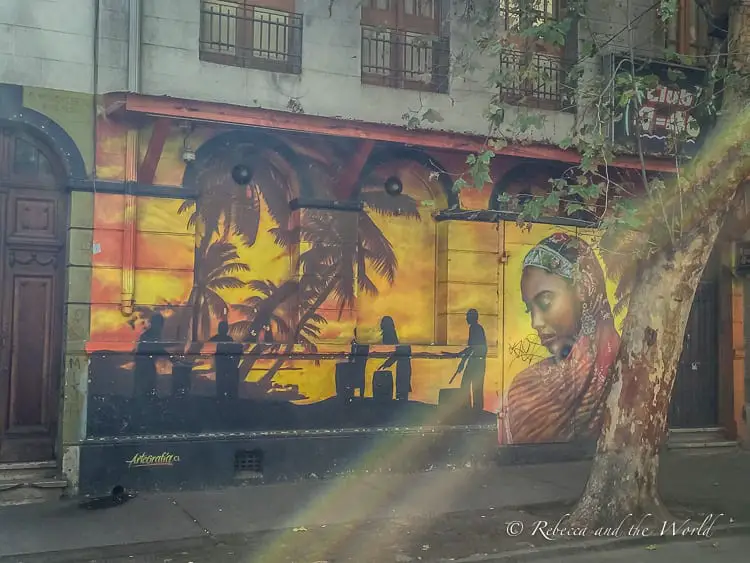 Cerro Santa Lucía
Escape the hustle and bustle of big city life in Cerro Santa Lucía, a small hill – the remnants of a 15-million-year-old volcano! – surrounded by lovely gardens. The area also houses a fortress from the 19th century.
Santiago sits in a valley below the Andes, so from the top of the hill there's a great view over the city and across to the peaks of the Andes in the distance (when the smog isn't obscuring the view).
Address: Cerro Santa Lucía is located along Libertador Bernado O'Higgins. To get there, take the metro to the stop of the same name
Cost: Free
Opening hours: 9 a.m. to 7 p.m. every day of the year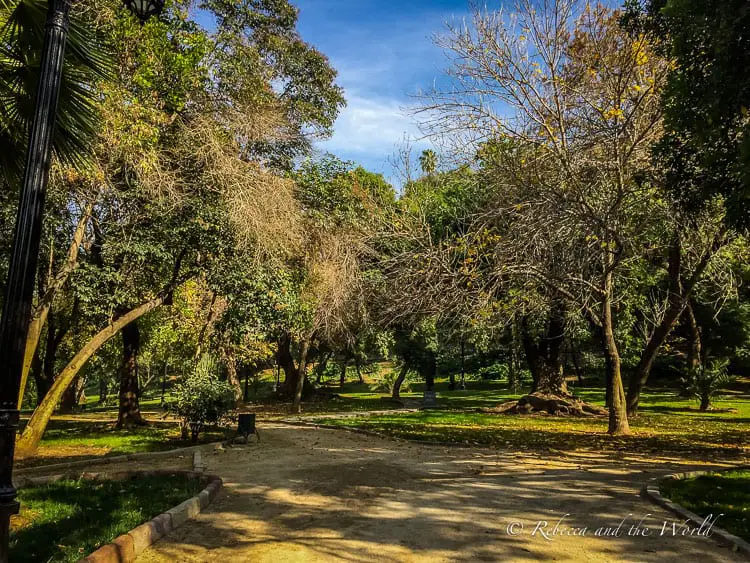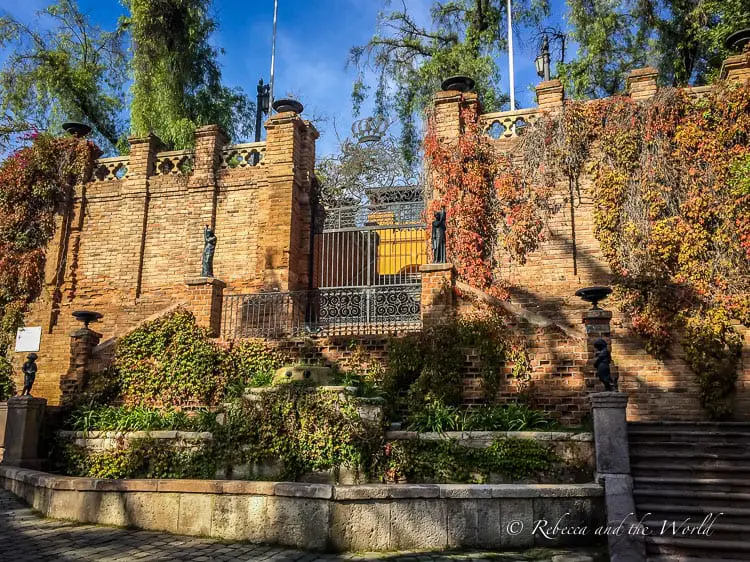 Cerro San Cristóbal
If you're looking for a higher hill, head to Cerro San Cristóbal, the biggest hill in Santiago, which rises around 300 metres above the city. But don't worry, you don't have to walk up here – there's a funicular (Ch$2,000 return trip; price goes up on weekends and public holidays) that takes visitors up and down the hill.
We actually didn't visit here on our 2 days in Santiago, but it's one of the most popular things to do in Santiago. Cerro San Cristóbal (the official name is actually Parque Metropolitano de Santiago, so don't be confused if you see both names) is home to a 14-metre-high statue of the Virgen de la Inmaculada Concepción (Virgin Mary), the national zoo, a botanical garden, an adventure park, swimming pools and a Japanese garden, so you could easily spend a whole day exploring the park.
Address: Pío Nono 450
Cost: Free to enter the park, but some attractions (for example, the zoo) have an entrance fee
Opening hours: 8.30 a.m. to 7 p.m. every day of the week; longer opening hours in summer
Museo de la Memoria y los Derechos Humanos
This sombre museum should be on any Santiago itinerary, even if you only have one day in Santiago.
This carefully put together museum recognises the thousands of people who were killed or disappeared during the brutal rule of General Augusto Pinochet. It is located in a contemporary building in Barrio Brasil. It's a heart-wrenching place but crucial for anyone trying to understand a devastating period of Chile's history.
Address: Avenida Matucana 501. Quinta Normal is the closest metro station
Cost: Free. Note that most of the exhibits are in Spanish, but there are audio guides in other languages available for rent (Ch$2,000). You can organise a guided tour in advance (available to book online)
Opening hours: 10 a.m. to 6 p.m., Tuesday to Sunday
Centro Cultural Palacio La Moneda
This underground cultural centre hosts a variety of exhibitions and art displays which change regularly. While we were there, we saw an Ancient Egypt exhibition, but check the website to see what's on during your 2 days in Santiago.
Time your visit to coincide with the changing of the guard at La Moneda. It occurs in Constitución Square every day at 10 a.m. (11 a.m. on weekends) on even days in February, March, June, July, September and October, and on odd days in January, April, May, August, November and December.
Address: Avenida Libertador Bernardo O'Higgins. The closest metro station is La Moneda
Cost: Entry to the cultural centre is free, but it costs Ch$3,000 to visit the exhibitions. Tip: visit between 3 p.m. and 7.30 p.m. for free entry
Opening hours: 9 a.m. to 9 p.m. The exhibition halls are open daily from 9.30 a.m. to 7.30 p.m. (last tickets sold at 7 p.m.)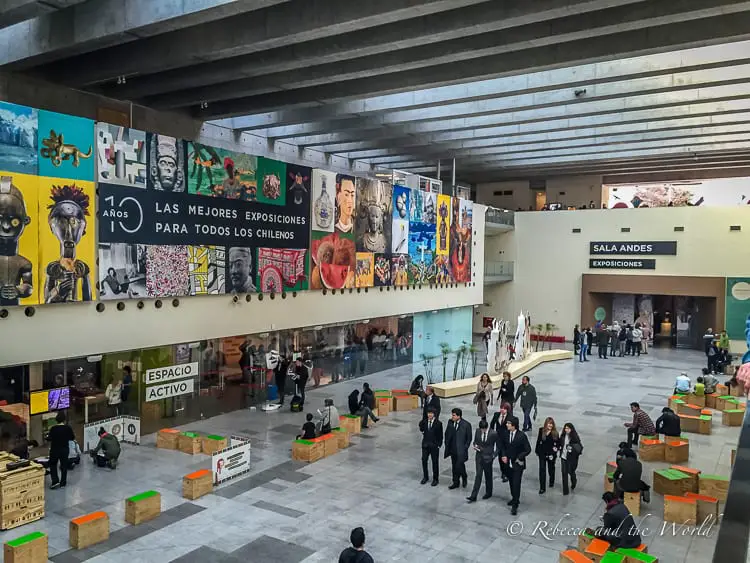 Museo Nacional de Bellas Artes
Visiting the Museo Nacional de Bellas Artes (the National Museum of Fine Arts) wasn't on my original plan, but on our way to somewhere else we walked past it and couldn't help but go inside to see more of the beautiful building. The building itself was completed in 1910.
Inside, you'll find permanent collections of Chilean art, as well as temporary exhibitions (check the website to see what's on when you visit Santiago). Add it to your list of things to do in Santiago.
Address: José Miguel de la Barra 650. The closest metro station is Metro Estación Bellas Artes
Cost: Free
Opening hours: 10 a.m. to 6.45 p.m., Tuesday to Sunday. Closed Monday and key public holidays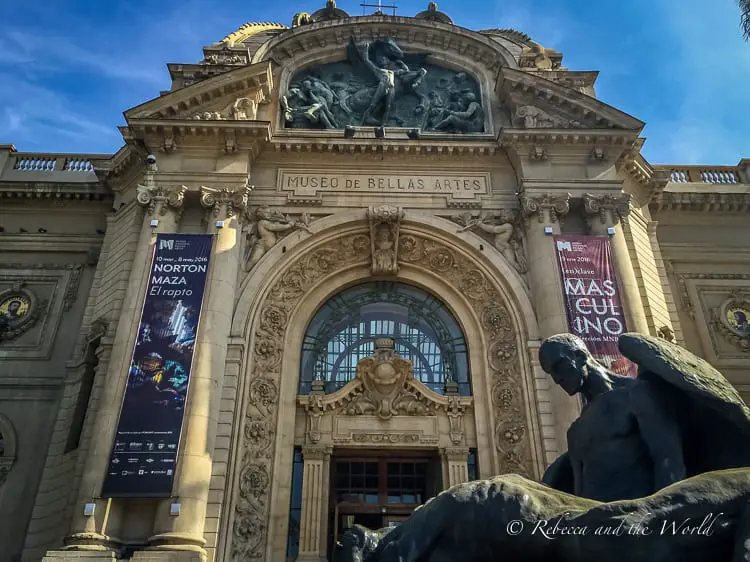 Plaza de Armas
Like most cities in South America, Santiago has a main square. In Santiago, it's the Plaza de Armas. The plaza is a great spot to relax, take photos and people watch when you visit Santiago.
You can also visit many of the buildings that surround the plaza, including the Metropolitan Cathedral of Santiago, Central Post Office Building and the Palacio de la Real Audiencia de Santiago.
Address: Plaza de Armas
Cost: Free, but some of the buildings around the plaza have an entrance fee
Opening hours: Open daily
Mercado Central and La Vega Central markets
If there's a way to see the inner workings of a city, it must be in its markets. Santiago has two markets to explore: Mercado Central and La Vega. They're located close to each other, so you can visit both on the same day. Mercado Central is famous for its seafood, while La Vega Central covers four square blocks.
Wander through the stalls and don't forget to stop for a bite to eat – avoid the touristy restaurants and find one frequented by locals.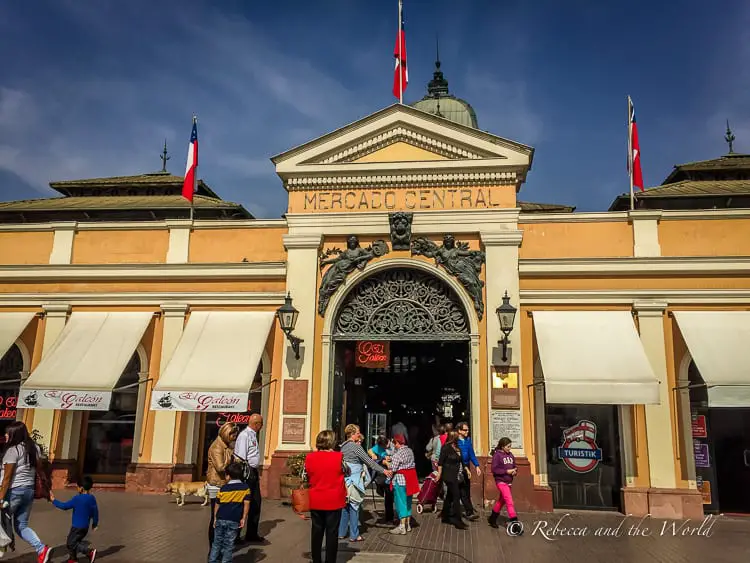 Mercado Central
Address: San Pablo 967
Cost: Free to enter
Opening hours: Open daily: Monday to Thursday, 6 a.m. to 5 p.m.; Friday, 6 a.m. to 8 p.m.; Saturday, 6 a.m. to 6 p.m.; Sunday, 6 a.m. to 5 p.m.
La Vega Central
Address: Dávila Baeza 700
Cost: Free to enter
Opening hours: Open daily: Monday to Saturday, 4 a.m. to 7 p.m.; Sunday and public holidays, 9 a.m. to 3 p.m.
Pisco sour and wine tasting
There's plenty of controversy between Peru and Chile about which country invented the Pisco Sour. I'm certainly not going to insert myself into that discussion, but I am going to drink the cocktail, which became a firm favourite of mine after living in South America. You should try one, too, when you visit Santiago.
A great place to try a pisco sour is at República Independente del Pisco, but do be prepared to be overwhelmed by the choices on offer. Talk to the bartender about your preferred tastes and they'll point you in the right direction.
Chile is also well known for its wine, and one of the best places to try wine in Santiago is Bocanáriz. All the servers are trained sommeliers and can guide you in a tasting.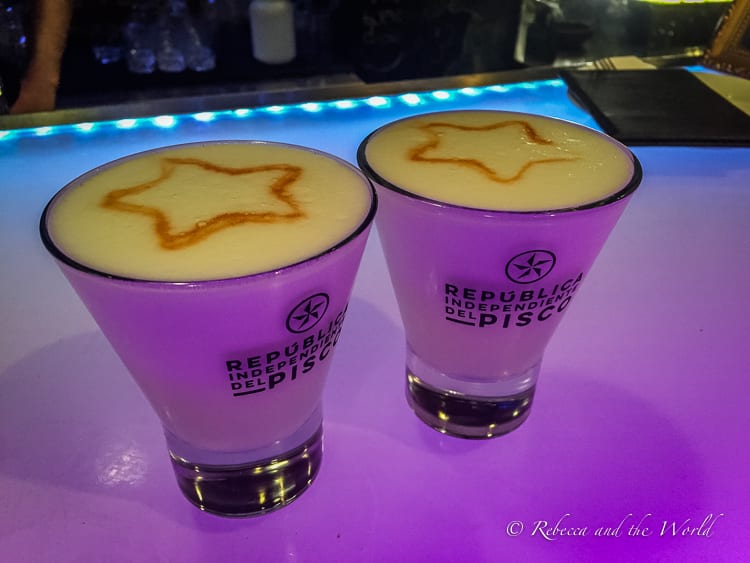 Chilean cooking class
If you like food, then learning how to cook the food of whichever country you're in is always an interesting way to understand the culture and people.
While Chile doesn't have a reputation as a culinary destination, we ate a lot of great food over our 2 days in Santiago. We also learned how to prepare a few classics ourselves. With the wonderful team from Savoring Chile, we whipped up empanadas, sopapillas con pebre, ceviche (which we actually made with mushrooms instead of seafood, a great vegetarian alternative), leche asada (flan) and, of course, pisco sours.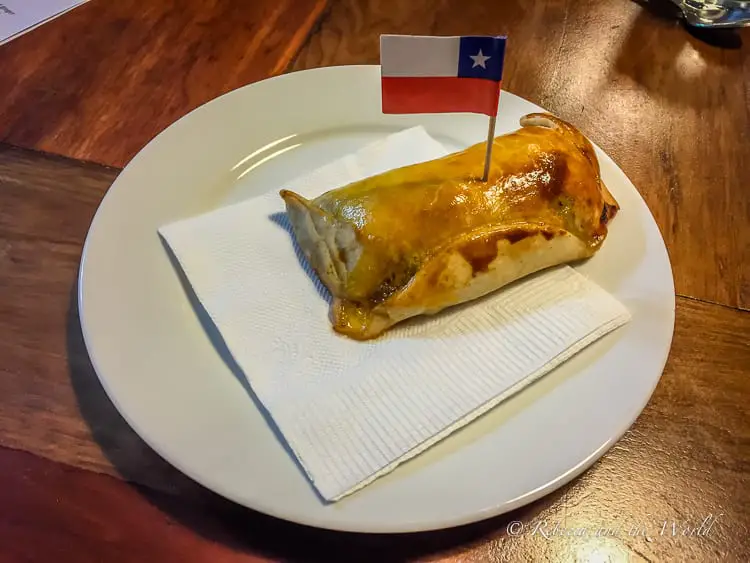 Map of the best things to do with 2 days in Santiago
If you have more than 2 days in Santiago:
If you've got 3 days in Santiago, or longer, tack on a few day trips around the area. Some recommended tour options and other places to visit in Chile include:
Take a day trip to the Maipú Valley, one of Chile's wine regions. If you don't have a car – or want to be a responsible person and not drink and drive! – this full-day tour will pick you up from your hotel in Santiago and transport you to the valley to taste the best drops.
Catch a bus to Valparaíso to explore this oceanside city known for its street art and steep streets. While you can visit Valparaíso from Santiago in a day, it's better to plan for two days to really enjoy your visit. If you like La Chascona in Santiago, make sure to visit Pablo Neruda's house, La Sebastiana, while you're there.
Spend a day in Viña del Mar, a classic beach town with beautiful manicured gardens.
If you'd like to combine Viña del Mar and Valparaíso in a day, this tour is a great option for a day trip, sans the hassle of figuring out your own transport on local buses.
Where to eat in Santiago
Santiago doesn't usually top the list of the best cities to eat. But it does have one restaurant on the World's 50 Best Restaurants list, and four more on Latin America's 50 Best Restaurants, so it can't be doing too badly.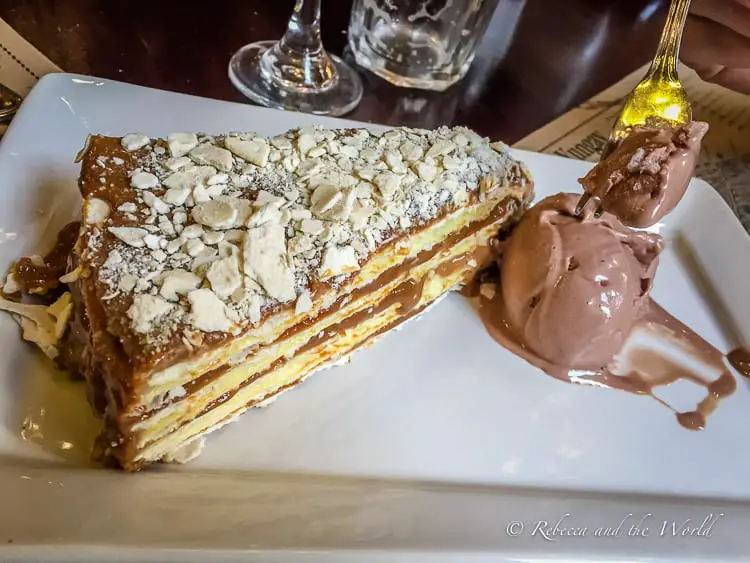 If you'd like to try one of those restaurants during your 2 days in Santiago, they are:
Boragó, Avenida Nueva Costanera 3467
99, Andrés De Fuenzalida 99
Restaurante 040, Calle Antonia López de Bello 040
Osaka, Isidora Goyenechea 3000
Ambrosia, Pamplona 78
Other highly recommended restaurants in Santiago to add to your Santiago itinerary include:
Bocanáriz, Jose Victorino Lastarria 276
El Hoyo Restaurant, San Vicente 375
Bar Liguria, Avenida Providencia 1373
Restaurante Peumayén, Constitución 136
Chipe Libre (at República Independiente del Pisco), José Victorino Lastarria 282
Ana María Restaurante, Club Hípico 476
Confitería Torres, Avenida Libertador Bernardo O'Higgins 1570
Las Cabras, Luis Thayer Ojeda 0116
Il Maestrale, Constitución 409
Where to stay in Santiago
As a growing city with a big international tourism market, there's no shortage of hotels in Santiago.
How to get to Santiago
There are direct connections to Santiago's Aeropuerto Internacional Arturo Merino Benítez airport from Australia, the U.K., Europe, New Zealand and North America.
Unlucky Australians need to pay a hefty, one-time reciprocity fee when arriving via Santiago's international airport. It's currently US$117 and can be paid by credit card, EFTPOS or in U.S. dollars.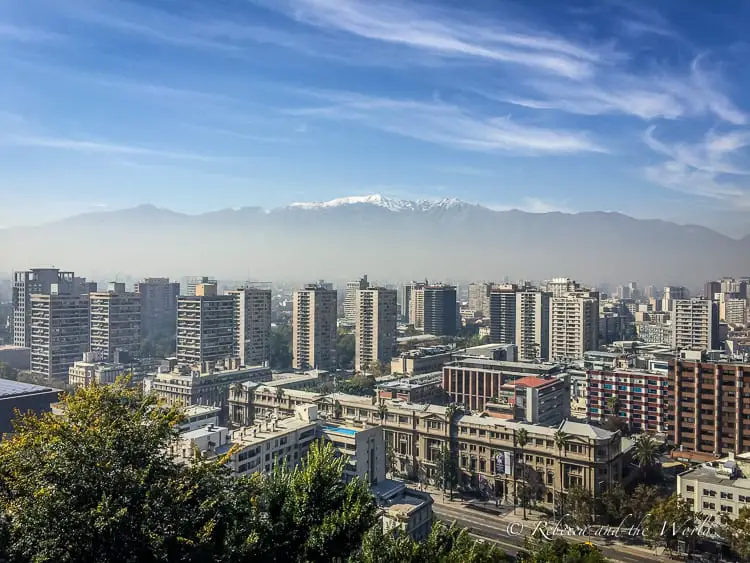 How to get around Santiago
The easiest way to get around to see the best things to do in Santiago is on foot! Santiago is a very walkable city, and that's how we did most of our exploring.
Santiago has an easy-to-use metro system, with seven colour-coded lines. You'll need to buy a Bipl card to use the metro, which can be purchased at any station. The Bipl card also works on the bus system.
Taxis are also everywhere. Make sure the taxi driver turns on the meter when you get in to avoid an expensive surprise at the end of your trip!
VISIT SANTIAGO – YOUR TRIP ESSENTIALS