After stepping out on to the DuSable Bridge and looking over the Chicago River, Chicago quickly became one of my favourite cities in the United States. From stunning architecture to drool-inducing food, this city should be on everyone's list of places to visit in the United States.
There are plenty of touristy things to do in Chicago, but many of us like to forgo the touristy spots and experience cities like a local. I've asked travel blogger Valentina of to share her insider tips about how to experience Chicago the way the locals do! Whether you've visited Chicago a thousand times or are visiting for the first time and only have a weekend in Chicago, you'll find some truly local tips here.
And if you're travelling to Chicago with a special someone, don't forget to check out these 10 romantic Chicago date ideas.
Over to you, Valentina!
Navy Pier
Most know of Navy Pier as one of the most popular Chicago attractions. Navy Pier is home to Chicago's famous Centennial Ferris Wheel, the Chicago Children's Museum, the Shakespeare theatre and the impressive Crystal Gardens. While this sounds like a lot of family-friendly fun, Navy Pier actually has so much more to offer!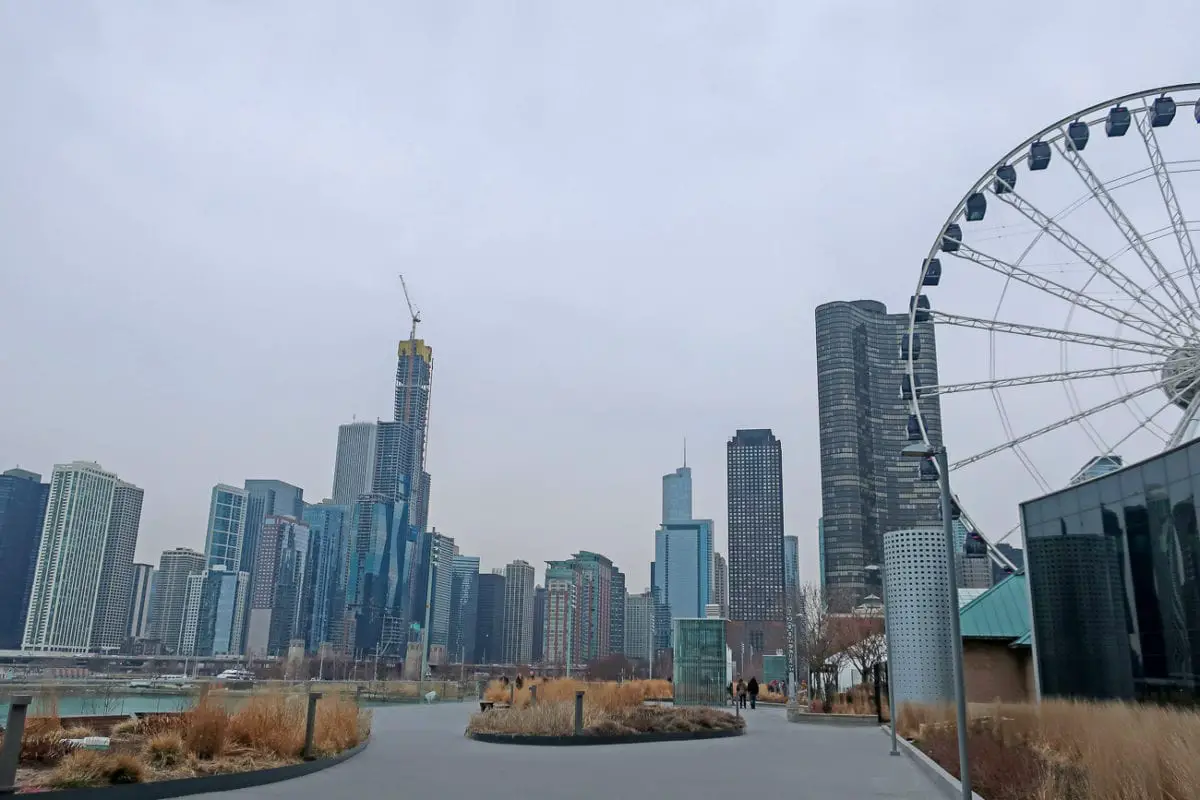 The most popular tourist activity at Navy Pier is riding the Centennial Wheel. From the top of the Centennial Wheel, you'll get beautiful views of Chicago's skyline.
But what if you don't want to pay the big bucks to ride around in a few slow circles? I have the perfect alternative for you. Make your way to the top floor of Navy Pier's parking garage for equally as impressive – and completely free! – views. The parking garage can be accessed from inside Navy Pier. It's at the furthest east end of the structure, and you'll know you're on the right floor when you exit the elevators to outside.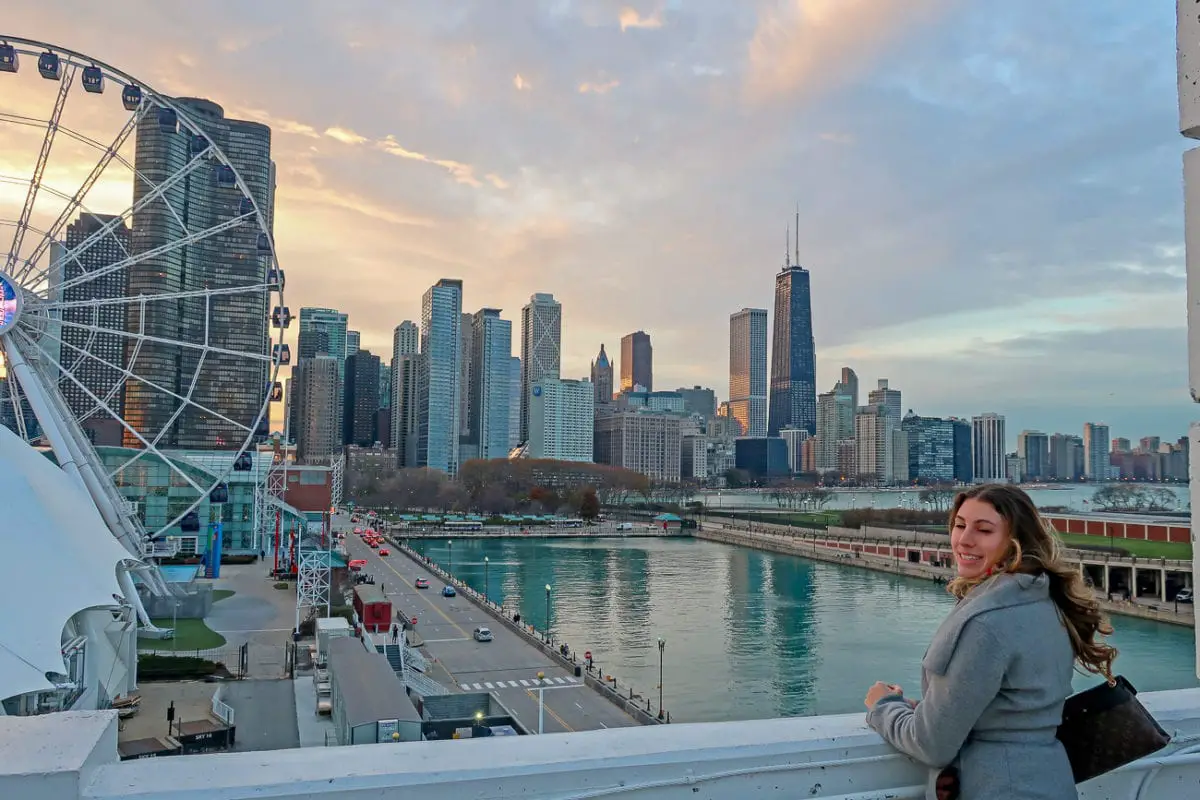 If you're looking for more than an Instagram-worthy experience, Navy Pier is one of Chicago's great cultural hubs. Year round, you'll find free or paid events, activities and expos. This is how locals experience Navy Pier! Every year, Navy Pier hosts EXPO Chicago, a massive international contemporary art exhibition. Navy Pier is also home to Chicago's branch of the Great American Lobster Fest.
In the fall, you can see movies from the International Film Festival at Navy Pier's movie theatre. During summer, Navy Pier has firework shows every Wednesday and Saturday, and the Navy Pier Beer Garden is a great place to catch the show. Every weekend during the warmer months there's a host of different free concerts, dance performances and events at Chicago's Navy Pier.
So, check the events calendar and experience Chicago's Navy Pier like a local!
The Lakefront
Chicago's lakefront is a favourite meeting place of locals. Chicagoans flock to the lakefront to bask in the sun, exercise and even to party!
North Avenue beach is where you'll find high energy, dance music and a younger crowd. It's illegal to bring alcoholic beverages to Chicago beaches, but you'll find all the drinks you need at North Avenue Beach's Castaways bar. The new and exciting pop-up bar on North Avenue Beach is Shore Club. Shore Club is a cute, coastal, lounge on the beach between North Avenue and Fullerton Avenue.
Oak Street Beach is in Chicago's ritzy Gold Coast neighbourhood. It offers a more mature, relaxed vibe.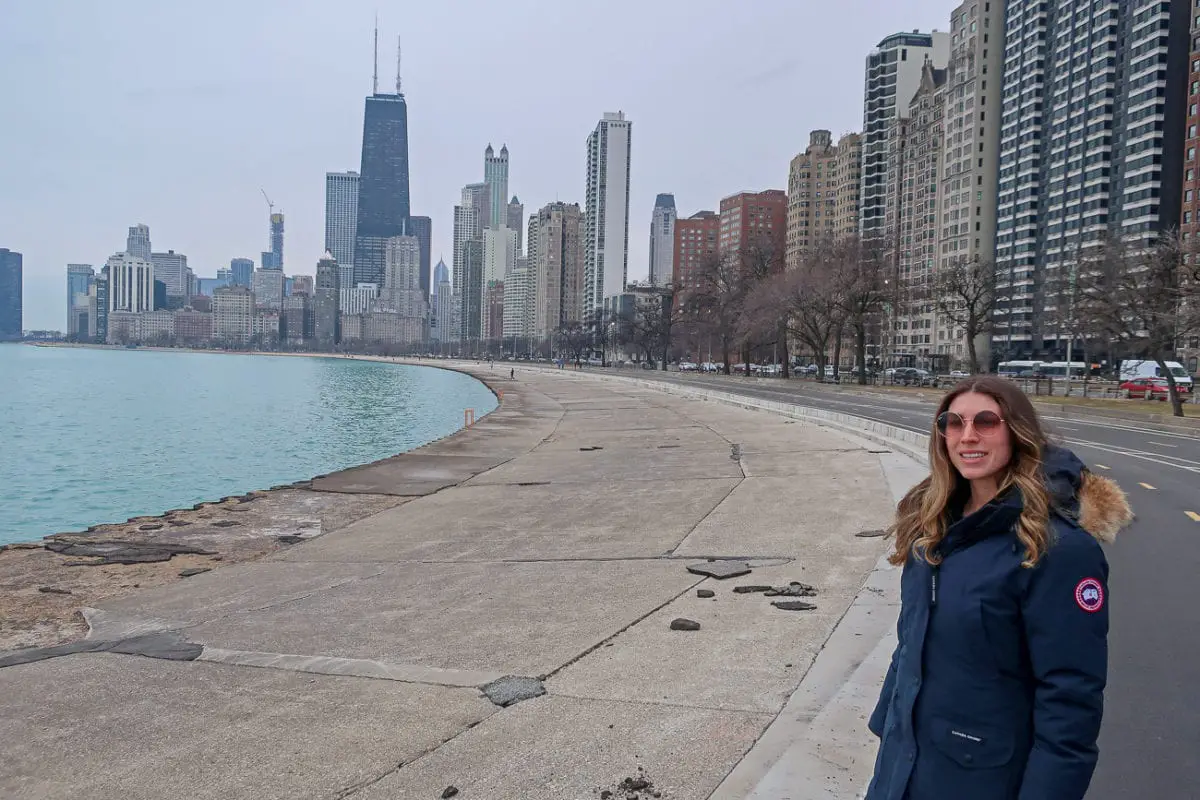 The best way to experience the Chicago lakefront like a local is to join in the action. Weather permitting, the lakefront trail is busy, overwhelming and fun! You can run, walk, rollerblade, bike or whatever it is that you do. The action is especially high between Oak Street and North Avenue Beach. This is also the best area to catch cool views of Chicago's skyline.
For tourists, I recommend renting Divvy Bikes, and casually riding the lakefront trail. If you're athletically inclined and looking for a challenge, you can even ride all the way south to Chicago's Museum Campus. Visit a museum and get even more great skyline views!
Festivals and street markets
Chicago has unique festivals and street markets throughout the year, but particularly during the summer. The most famous festivals in Chicago are Taste of Chicago and Lollapalooza. Taste of Chicago brings together the best flavours and dishes from local restaurants. Lollapalooza is Chicago's famous music festival that never fails to deliver an impressive lineup.
Aside from these big events, Chicagoans love their local festivals and markets. Favourites include the yearly Lincoln Park Wine festival, the Old Town Art Fair and West Fest (in the West Loop). While you may not be able to align your visit to Chicago with a specific festival, you should at least check out which festivals and events are going on during the time of your visit. You'll certainly find something!
One final note about a recurrent Chicago street market: the Maxwell Street Market is held every Sunday year-round. While the market is more of a flea market, it's the best place to find authentic and delicious homemade Mexican food in Chicago.
Millennium Park
The most touristy Millennium Park attractions are the Bean and Crown Fountain. The Bean is the unofficial name for Cloud Gate, the enormous bean-shaped outdoor sculpture. Crown Fountain is a set of two 50-foot LED towers joined by a reflecting pool.
While these attractions are certainly worth a visit, locals know that there's so much more to Millennium Park.
In the winter months, Millennium Park is a scenic place to ice skate. In the summer, the city organises many free events. You can take workout classes, watch movies and listen to free concerts in Millennium Park. So, be sure to check out what events are going on during your visit.
Photo tip: Make your way to the BP Pedestrian bridge (the bridge that links Millennium Park to Maggie Daley Park). Towards the east end of this bridge, the city opens up, and you'll have fantastic photo opportunities!
The Magnificent Mile and Chicago Riverwalk
The south section of the DuSable Bridge is a great place to access the Chicago Riverwalk. You should start your walk near the 900 N Michigan Avenue shops. Enjoy the famous Magnificent Mile of North Michigan Avenue as you walk south towards the DuSable Bridge. This is where Chicagoans shop! All the best stores are on Michigan Avenue. From favourites like TopShop, to high-end jewelers like Tiffany & Co, it's all on Michigan Avenue.
When you reach the DuSable Bridge, make sure to snap a few pics of the view. You'll see fantastic views of the skyscrapers that frame the Chicago River. At the southern end of the bridge, take the stairs down to the Riverwalk. If you choose to continue your journey west, you'll hit the always-busy City Winery. This is a great place to experience Chicago and relax outside with friends to enjoy a fancy drink or two.
If you headed east from the bridge, you'd happen upon the Island Party Hut. The Island Party Hut is a more relaxed place to grab beers, play cornhole or rent a pontoon boat.
Continue east, past Island Party Hut, and you'll hit the lakefront just south of Navy Pier.
Hottest restaurants in Chicago
Yes, Chicagoans love their deep dish pizza, but I promise you there are cooler places to dine than Giordano's.
Chicagoans have been obsessed with a few particular restaurants for a long time now. Particularly, Girl & the Goat in Fulton Market. Since opening in 2010, Girl & the Goat has filled almost every reservation! You'll need to book a table here weeks to months in advance. Girl & the Goat offers a family style menu of global influence. It's operated by the extremely influential Boka restaurant group, who also brought us Duck Duck Goat and Little Goat. Duck Duck Goat is Chinese and Little Goat is more casual.
Another Chicago restaurant that everyone is obsessed with is Aba. A trendy Mediterranean spot with a stunning outdoor garden terrace, Aba is owned by the Lettuce Entertain You group, another big conglomerate in Chicago. They're also famous for bringing us RPM Steak and RPM Italian (two more upscale dining favorites). Make your reservations far in advance.
One final favorite that I'll mention is Gilt Bar. Gilt Bar serves decadent American favourites in a romantic yet non-fussy setting. You must try their orecchiette dish. On the weekends, ask to be seated in the Library. Downstairs at Gilt Bar, you'll find a photo booth. Take advantage of it! You'll look back on those photos and remember your dining experience in Chicago.
Chicago rooftop bar scene
With such a stunning skyline, you can't blame Chicagoans for loving their rooftop bars. The rooftop scene is as hot as the summers! Skip the crowds and long lines at the Signature Room, and instead go where the locals go.
The most low-key rooftop bars include NoMI Garden and the J Parker. The best rooftops for partying include London House, ROOF at theWit and IO at Godfrey's. Be prepared to tip the bouncer at London House if you're not willing to wait in line. London House has certainly been the hottest rooftop bar since it opened a few years ago. All of these places have indoor seating and outdoor patios with fantastic views.
Find a way to fit in a few of these must-dos on your visit to Chicago, and you'll be sure to experience Chicago like a local!
Where to stay in Chicago
There are a tonne of places to stay in Chicago, with hotels to suit every budget.
Luxury
A new-ish hotel in Chicago, the five-star Langham Hotel has stunning decor and the classy service that you'd expect of the Langham brand. (330 N Wabash Ave) Check availability and pricing online with Booking.com or HotelsCombined | Read guest reviews
The boutique hotel Thompson Chicago is located in the heart of downtown. (21 E Bellevue Pl) Check availability and pricing online with Booking.com or HotelsCombined | Read guest reviews
Moderate
During our weekend in Chicago, we stayed at theWit. It's stylish, close to both Millenium Park and the river, and the staff organised cupcakes and glasses of bubbles for my husband's birthday. What more could we ask for? (201 N State St) Check availability and pricing online with Booking.com or HotelsCombined | Read guest reviews
Budget
Hotel Felix has been recognised for its eco-friendly activities. It even has a spa on site – unusual for a hotel in this price point. (111 W Huron St) Check availability and pricing online with Booking.com | Read guest reviews
The Hotel Versey is comfortable with fun pops of colours and prints adorning the walls of the rooms. (644 W Diversey Pkwy) Check availability and pricing online with Booking.com or HotelsCombined | Read guest reviews
About the author
Valentina is the blogger behind Valentina's Destinations. The site was born from her obsession with meticulously researching, organising and planning travel itineraries. Valentina is originally from Nis, Serbia. Her passion is travelling the world. When she's not travelling, she works as a physician's assistant in the psychiatry field. She finds the mental health field to be as rewarding as travelling can be. Follow Valentina on Pinterest, Facebook and Instagram.
Have you been to Chicago? What tips do you have to experience Chicago like a local? Leave them in the comments below!
This post was published in April 2019, and updated in July 2020 and January 2023.
PIN IT FOR LATER:
Save this guide to Pinterest and experience Chicago like a local when you visit!