Here's everything you need to know to plan a one-week Central Australia road trip by 2WD or 4WD – an unforgettable journey into the heart of Australia.
Central Australia is, as its name suggests, the heart of the country, both geographically and spiritually. Home to one of Australia's most iconic landmarks, Uluru, it's also where you'll find plenty of adventure, nature and culture.
The stunning, often barren landscapes capture the imagination, and at night the inky black sky reveals a thick sprinkling of stars not seen in cities.
Here in this blog post, I'm sharing a one-week Central Australia road trip that hits the highlights of this region but – fair warning – will leave you itching for more. 
Having just done this Northern Territory road trip, I'll be the first to admit that while one week is jusssstttt enough to see some great beauty, squeeze in plenty of hikes and spend time relaxing in nature, it's not enough time to truly get the feel for this part of the country. I can guarantee you'll be dragging yourself away from this part of Australia and planning your return visit.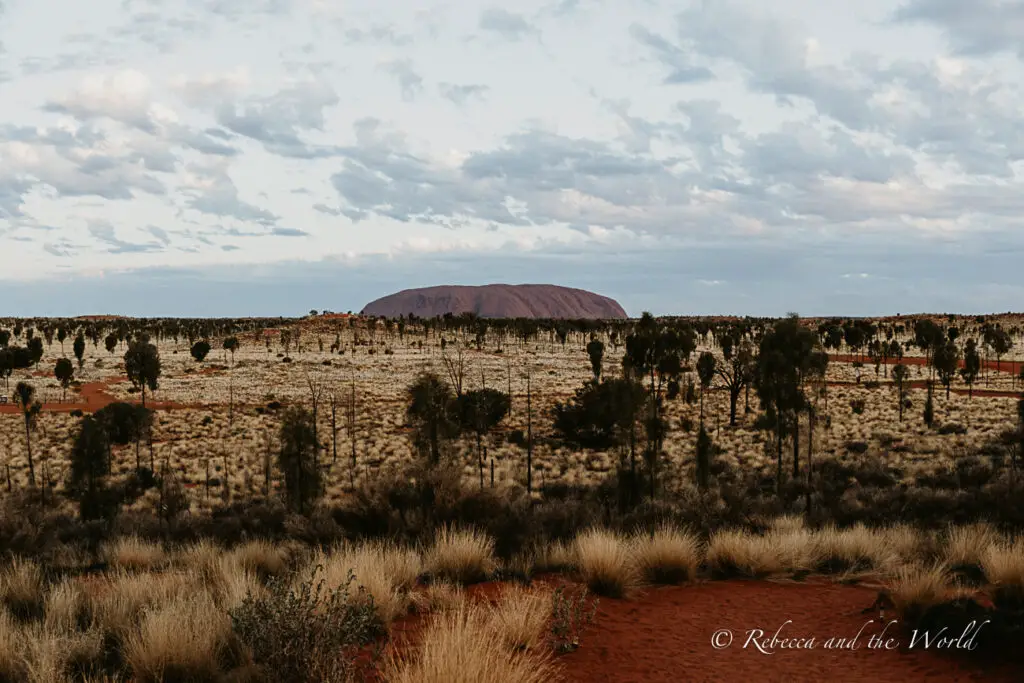 This blog post may contain affiliate links, meaning if you book or buy something through one of these links, I may earn a small commission (at no extra cost to you).
When to visit Uluru and Central Australia
The time of year will have a huge impact on your visit to Central Australia. While you can visit at any time of year, the winter months (between May and October) are milder and more pleasant. Days are usually sunny but remember to pack plenty of layers for the freezing desert nights!
Summer months bring high temperatures (up to 45 degrees) and lots of flies in Red Centre Australia. It's also the wet season and storms can wash out parts of roads.
We visited in July and had sunny days ranging from 14 degrees to 27 degrees, but nights that got down to a brisk 3 degrees.
How to get around Central Australia
One of the questions many people ask is whether you need a 4WD to get around Central Australia.
While it's certainly going to give you more flexibility and allow you to get off the beaten path and, in this itinerary, will save some driving time and doubling back, it's entirely possible to drive around Central Australia in a 2WD. The major roads are paved and are in pretty decent condition.
In fact, we had a 2WD campervan for our Central Australia road trip and we were able to do plenty.
In this Central Australia road trip itinerary, I'll give you two options: one for 2WD and another for a 4WD itinerary. Both itineraries have you starting and ending in Alice Springs.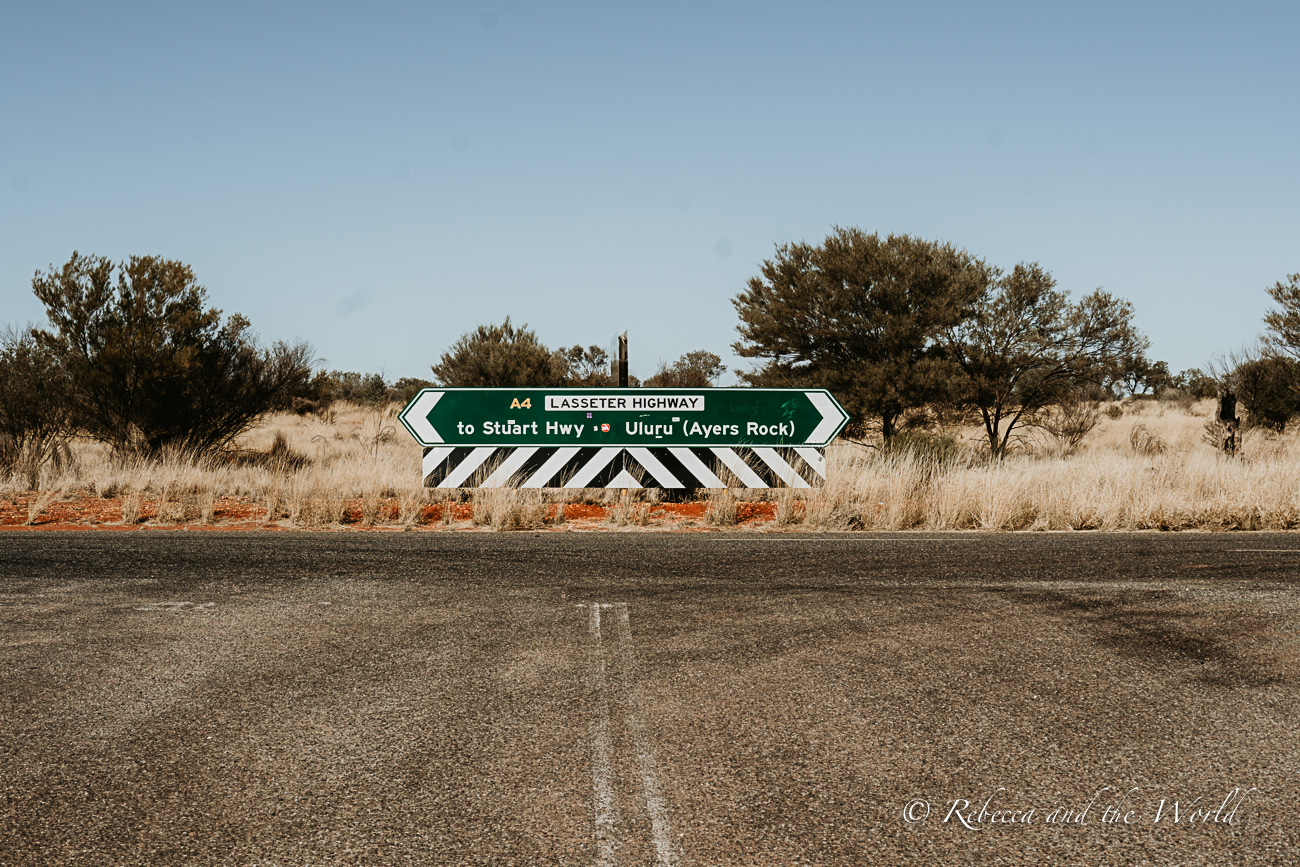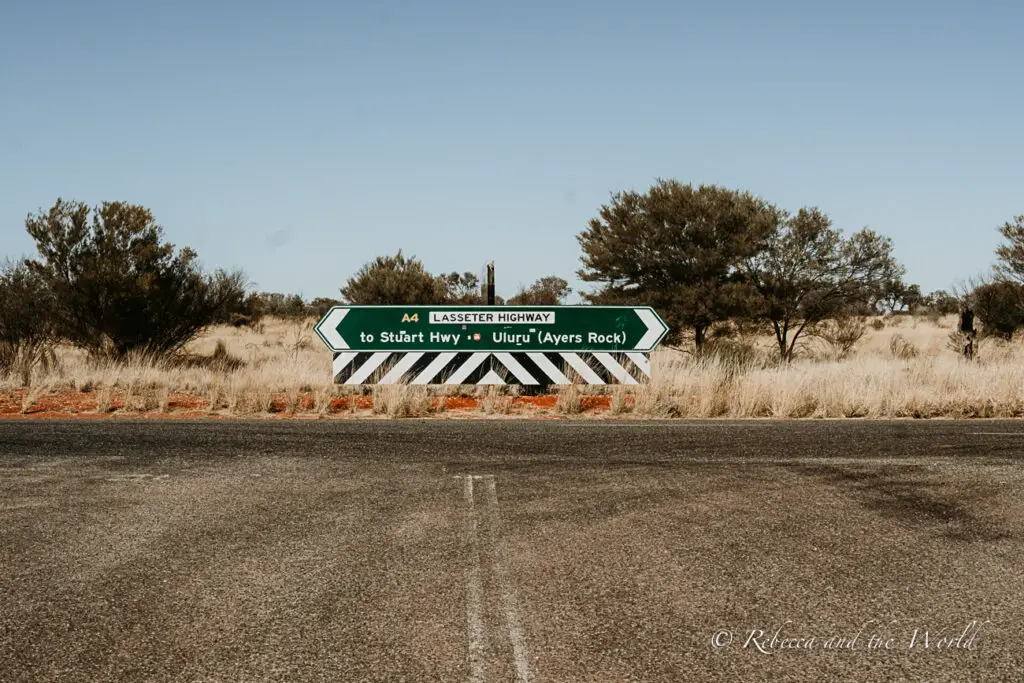 We rented our campervan – a Toyota Hiace 2-berth Highball – through Mighty Campers. 
We loved having our campervan and the freedom it provided: we could cook up breakfast in the Uluru sunrise viewing car park after everyone had left and nap in the car park after a big hike.
Our campervan was fully stocked with bedding, towels and more kitchen equipment than we needed. The Mighty Campers team was really friendly and responsive (including quickly answering my million questions via the online chat!). I'd highly recommend renting through them for this Uluru self drive itinerary.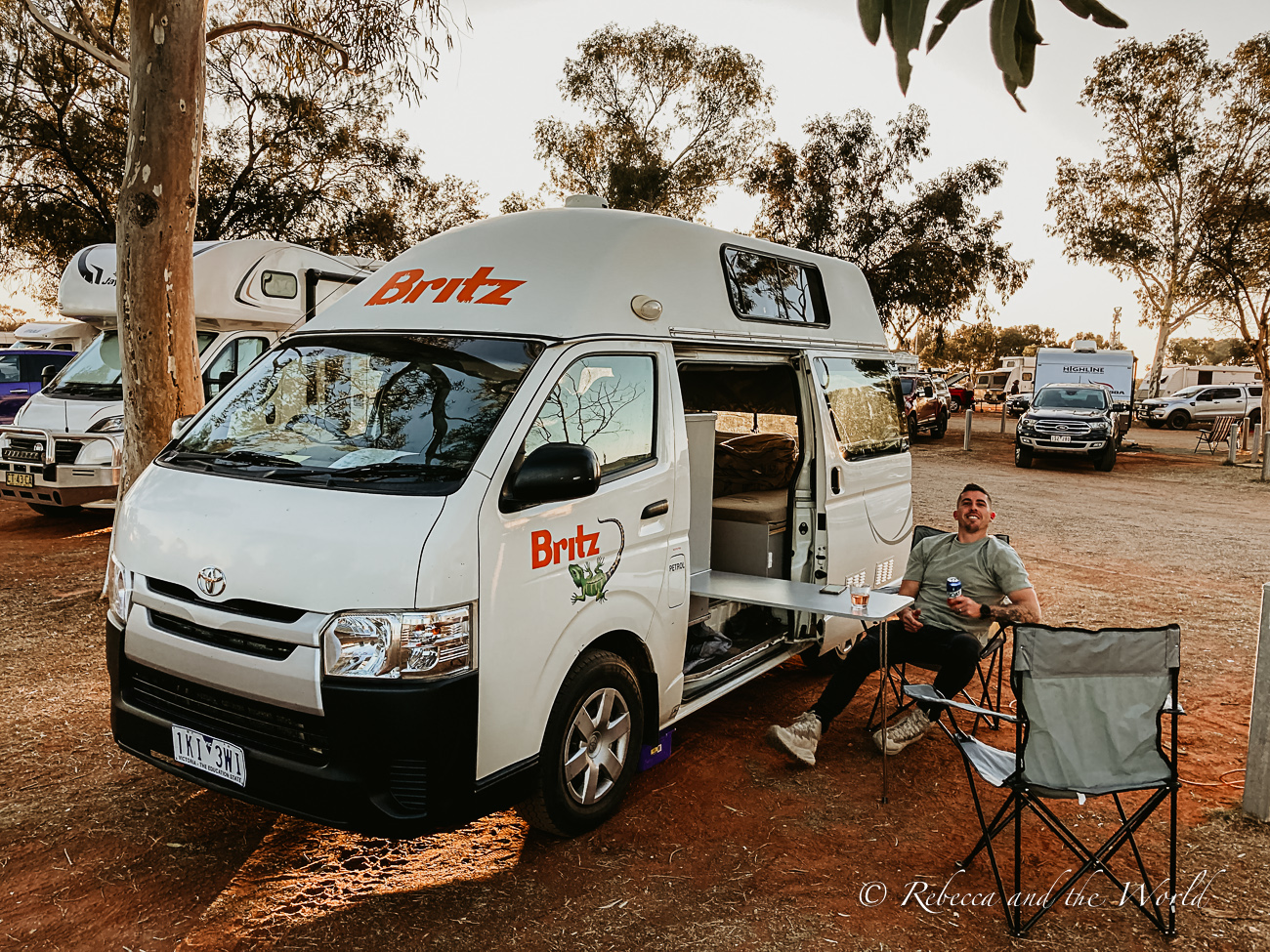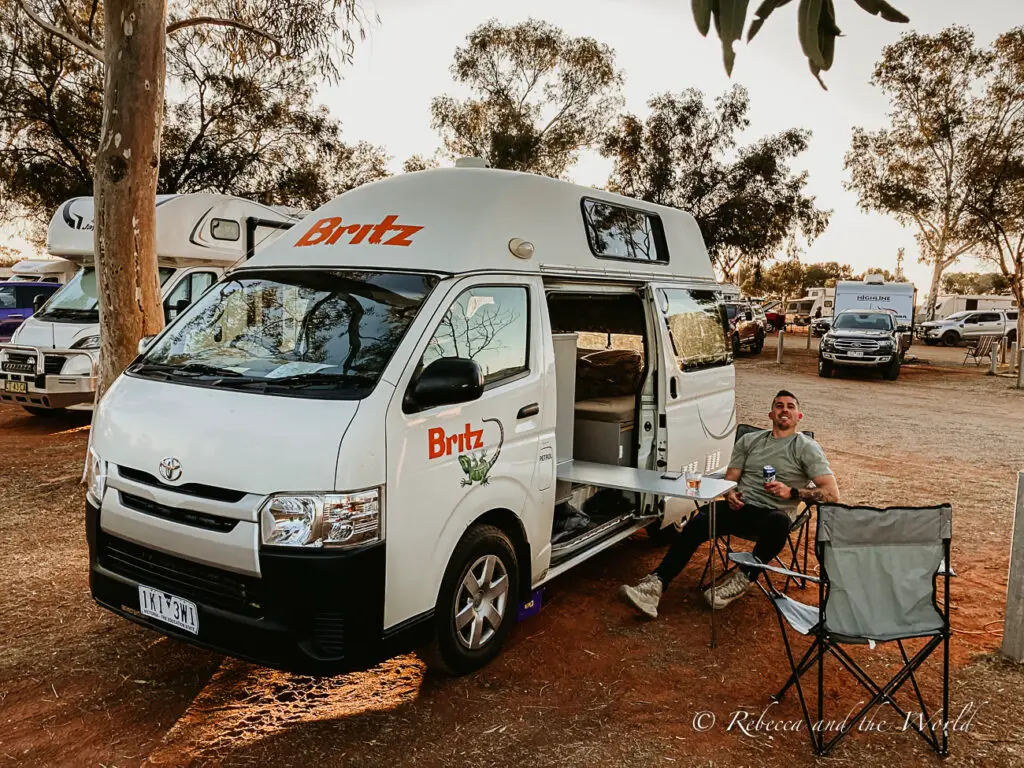 Mighty Campers also has larger motorhomes that can sleep up to six adults.
They're located about a 20-minute drive from the airport (which was roughly a $50 taxi fare when we visited).
Of course, our campervan was 2WD and it was perfectly fine for the major roads (we weren't allowed to take it on dirt roads). But if you want to rent a 4WD instead, there are rental companies in Alice Springs, including:
Just remember, you don't need a 4WD, unless you're planning to go offroad and take the itinerary outlined below. 
Whichever company or car type you go with, make sure you book well in advance during the winter months to avoid disappointment!
Also, I recommend reading the fine print to know exactly where you can and can't drive, and if you're allowed to drive the vehicle after dusk.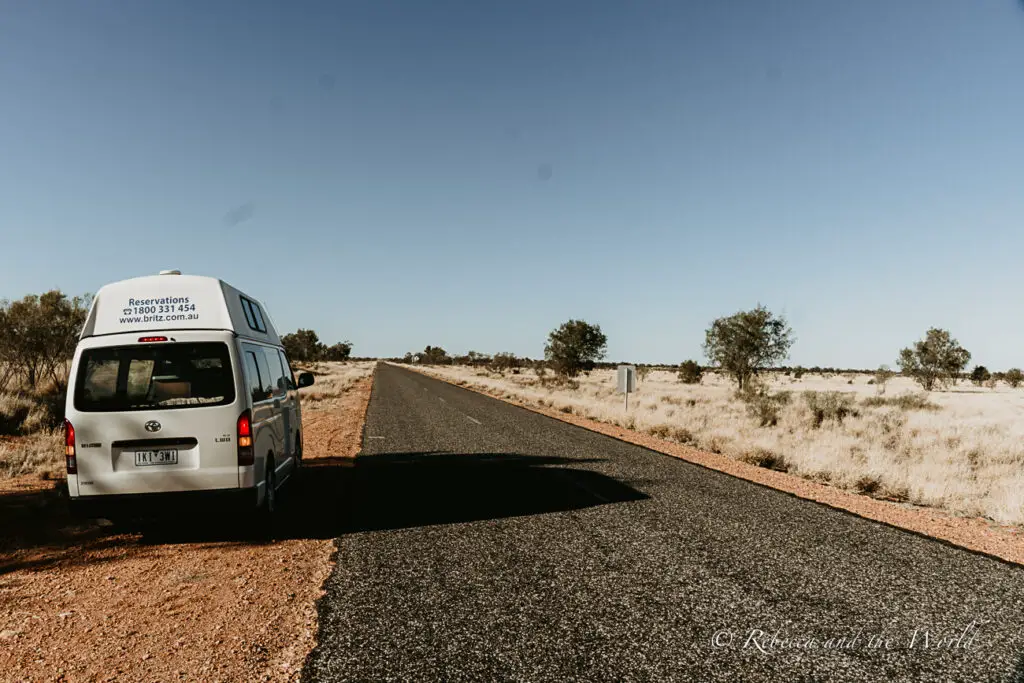 You could also start this Red Centre itinerary in Yulara (the township near Uluru) but I couldn't find any companies that rented campervans from Ayers Rock Airport, only regular car hire. But check car rentals here just in case that changes!
Central Australia itinerary
Alright, let's get on the road and discover this bucket list part of Australia! The below itinerary is what we did. Although, as mentioned, I'm also including a second 4WD option.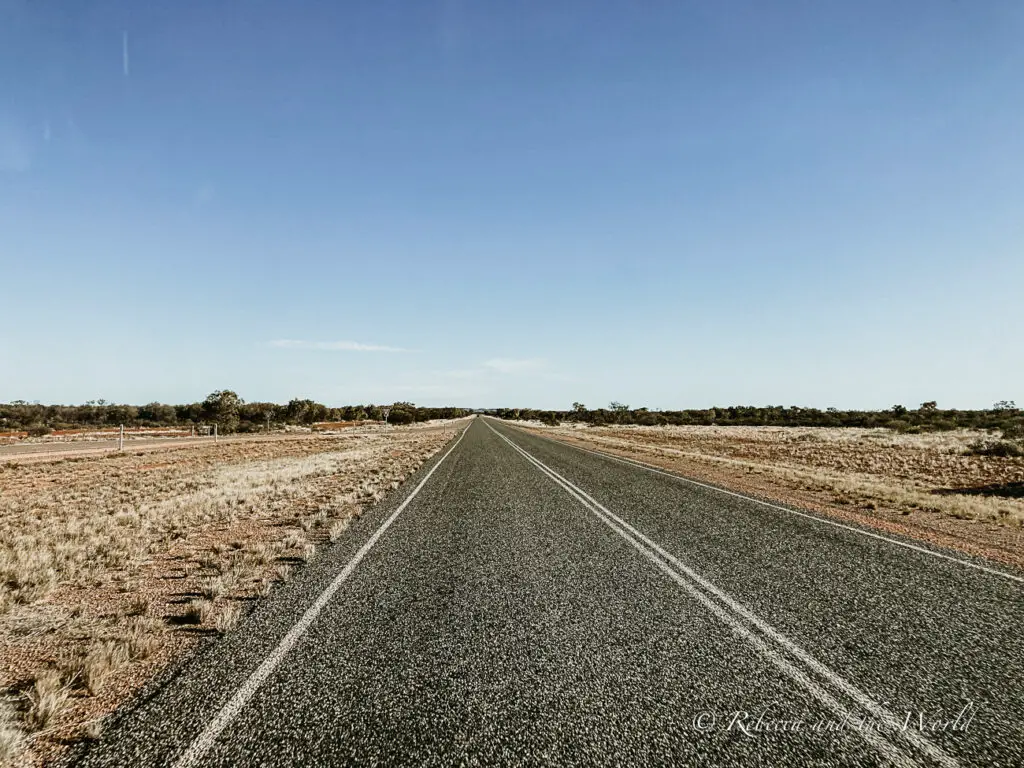 Option 1: 2WD
Starting in Alice Springs, pick up your wheels. Depending on what time your flight lands and when you're able to hit the road, you could head straight to Uluru or you might need to stay the night along the way. Uluru from Alice Springs is a big drive, so plan accordingly so you're not driving at night.
Alice Springs – Uluru: 470km/5 hours (alternative is to stop for the night at the Erldunda Roadhouse: 200km/2.25 hours)
Uluru – Watarrka National Park/Kings Canyon: 330km/3.5 hours
Watarrka National Park – Alice Springs: 475km/5 hours
Alice Springs – Tjorita/West MacDonnell Ranges (Ormiston Gorge): 135km/1.5 hours (plus return travel to Alice Springs)
Option 2: 4WD
With a 4WD, you'll be able to take the Red Centre Way (formerly the Mereenie Loop), which will save you time and avoid doubling back between Kings Canyon and Alice Springs.
You will need a permit (at a cost of $5) to drive the Mereenie Loop Road section, as it passes through Aboriginal land. Information about where to buy a permit can be found online here.
The Red Centre Way itinerary looks like this:
Alice Springs – Uluru: 470km/5 hours
Uluru – Watarrka National Park/Kings Canyon: 330km/3.5 hours
Watarrka National Park/Kings Canyon – Tjorita/West MacDonnell Ranges (Glen Helen Gorge): 226km/2.5 hours
Tjorita/West MacDonnell Ranges – Alice Springs: 133km/1.5 hours
This Red Centre Way Map shows this route.
What to do in Central Australia
Now that you have an idea of how you should plan your Central Australia itinerary, I'll give you some ideas for how long you should stay in each location and what to see and do there.
Alice Springs
To make the most of this central Australia road trip itinerary, I recommend getting on the road from Alice Springs straight away. You'll come back to Alice Springs at the end of the trip.
However, this is the best place to stock up on food and water, so make sure you do your shopping before you leave the city – it'll save you a lot of money and provide more variety.
You can head straight to Uluru or stop the night to break up the trip. I recommend the Erldunda Roadhouse which has decent-sized pull-through sites (powered and unpowered) as well as motel rooms. It also has a tavern with really good pub food and a convenience store that sells decent coffee to get you caffeinated for the next day's drive.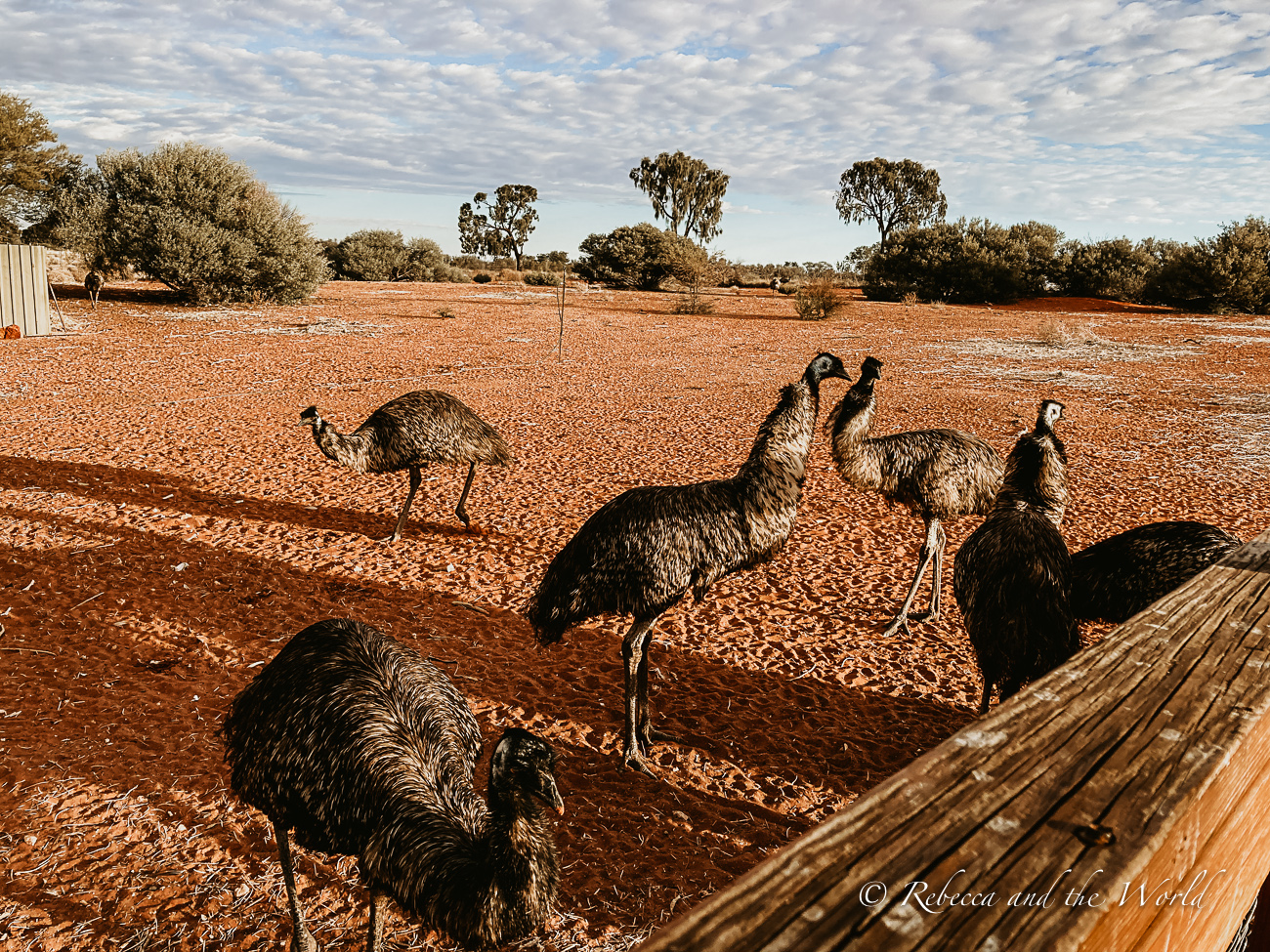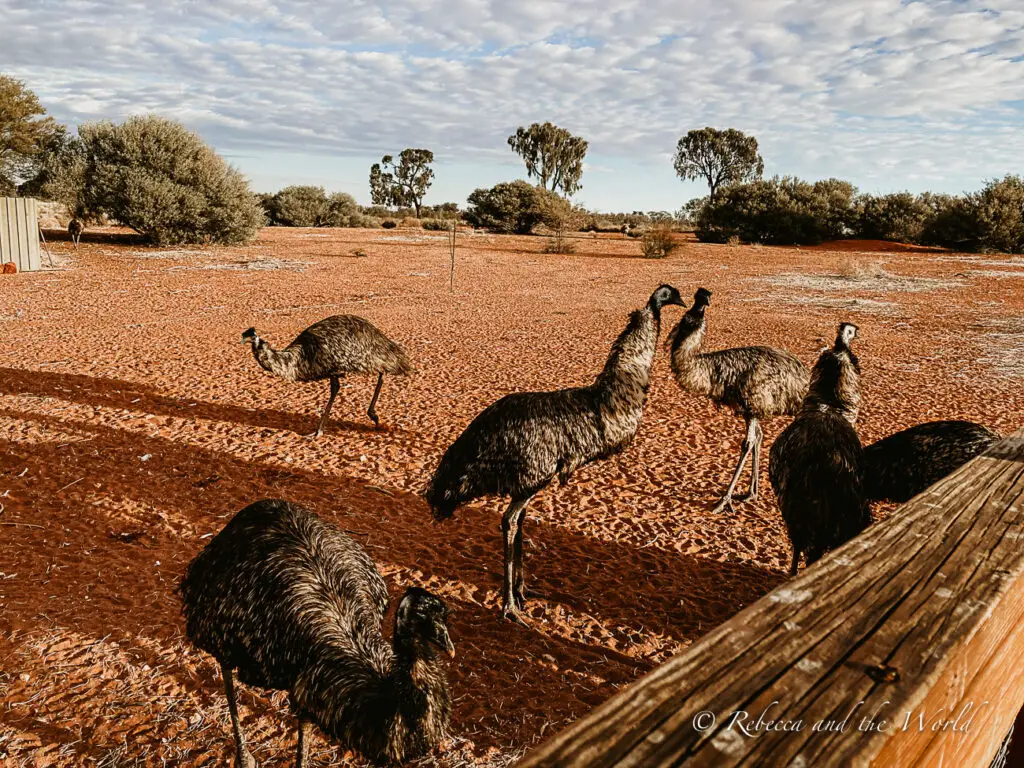 On the Alice Springs to Uluru drive you'll spot Atila/Mt Conner – also called Fooluru because it looks remarkably like Uluru! Its flat top distinguishes it from Uluru.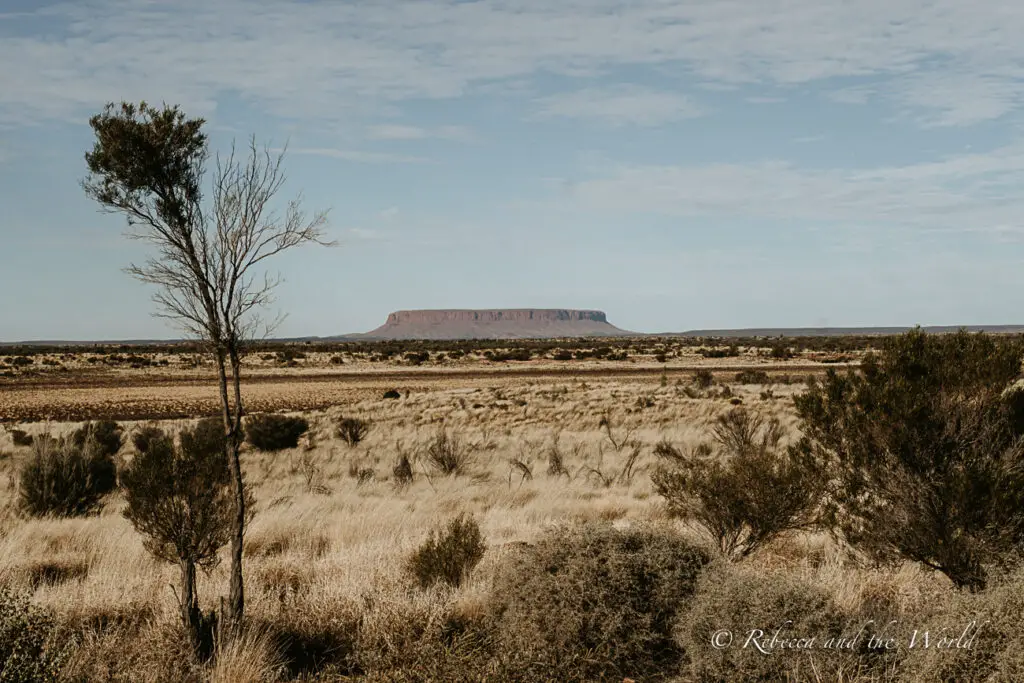 Uluru-Kata Tjuta National Park
One of the highlights of this trip, UNESCO World Heritage Listed Uluru-Kata Tjuta National Park deserves at least two to three nights of your itinerary. 
One of the most recognisable natural attractions in the world, Uluru is remarkable, towering 348 metres above the Earth's surface. What's fascinating is that there's more than 2.5 kilometres of Uluru actually beneath the surface! This stunning monolith changes colour throughout the day, and you'll never forget your first time seeing Uluru.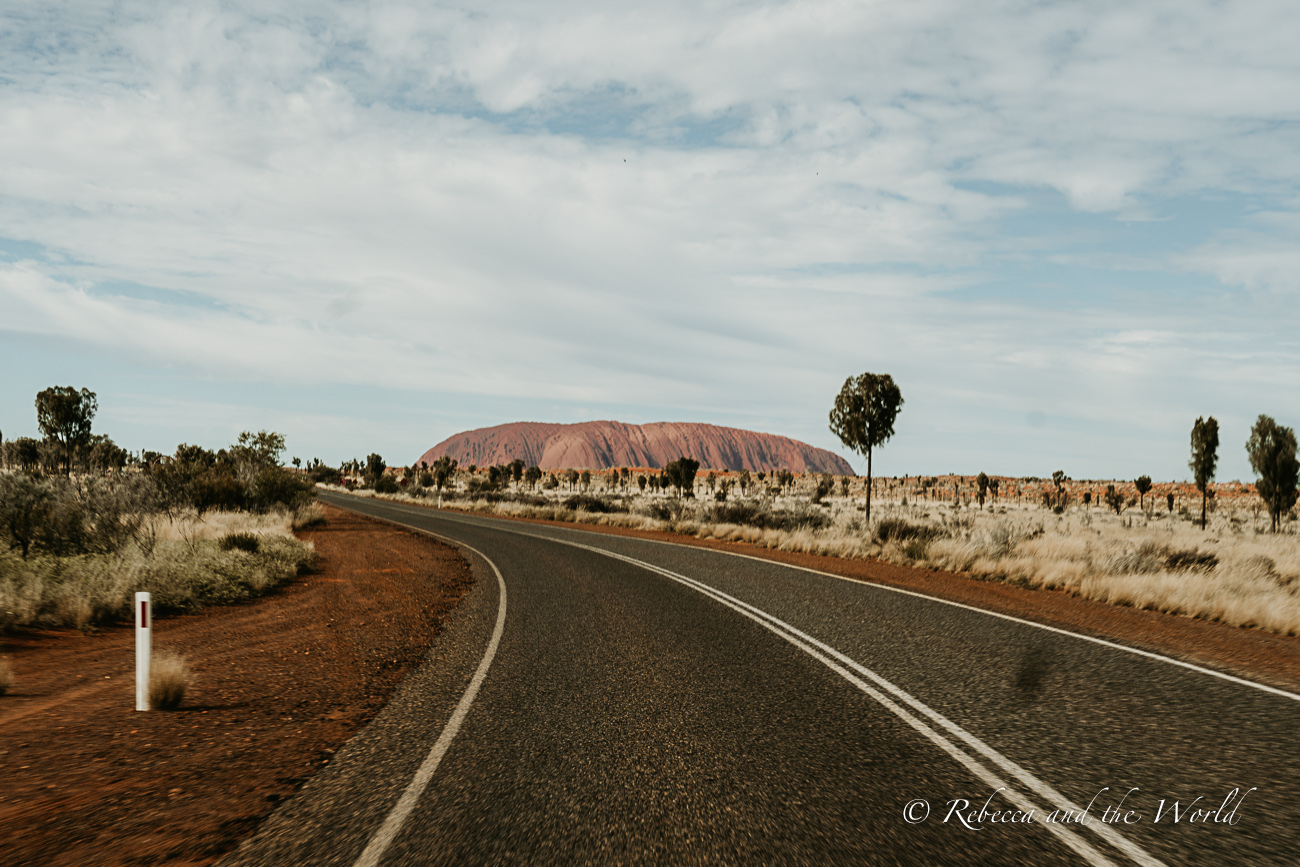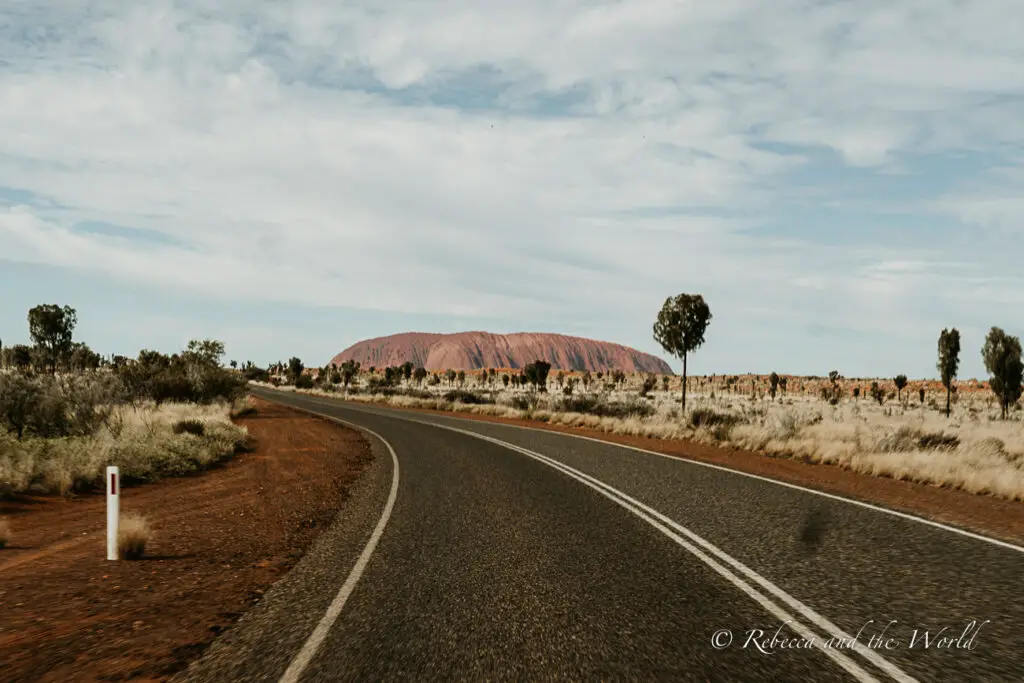 Uluru has been home to Aboriginal people for thousands of years – there's evidence dating back some 30,000 years – and the Anangu people are recognised as the traditional owners. Uluru is a sacred site for the Anangu and you will see signs showing where you can't take photos to avoid revealing special sites.
While Uluru gets a lot of the attention, nearby Kata Tjuta is just as spectacular. In fact, many people we met on our trip said that Kata Tjuta was actually their favourite site. I'm still in two minds – both sites are jaw-droppingly magical and I really couldn't choose a favourite. Which is why you should visit both. 
To visit Uluru-Kata Tjuta National Park, you need to purchase a park pass. These can also be purchased at the gate, but if you're travelling during peak seasons, I recommend buying it online in advance. The passes are valid for three days. You do need to specify your dates when you buy online, although you can change dates if needed (but only once). Passes cost $38 for adults and are free for children 17 and under.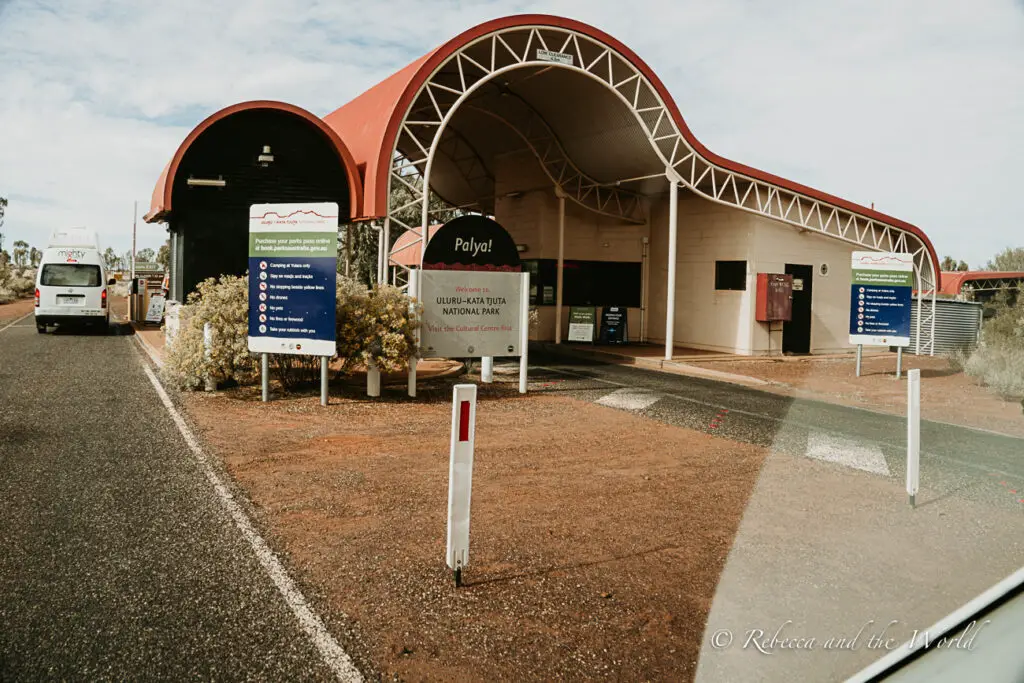 There is so much to do at Kata-Tjuta National Park, making it very easy to fill your days. The top five things for your Uluru itinerary that I'd recommend are:
1. Walk or bike around the base of Uluru
The Uluru Base Walk is a great way to see Uluru up close from all angles. Start the walk from the Mala carpark and take the loop clockwise. The walk is a 10.6km loop, which will take you around 3.5 hours. There's interpretive signage at various points to explain interesting and important aspects of Anangu culture and life. Do be mindful of the signage showing where you can and can't take photos.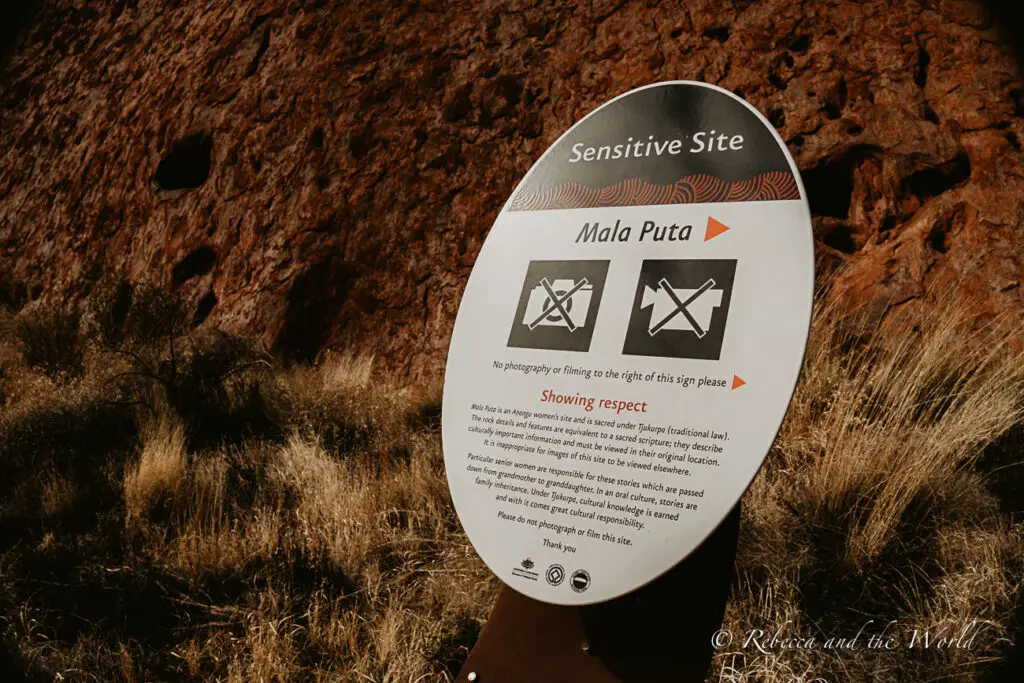 It's a flat walk all the way around but be warned that there's not a lot of shade, so slather on sunscreen and make sure you have a good hat to keep you protected.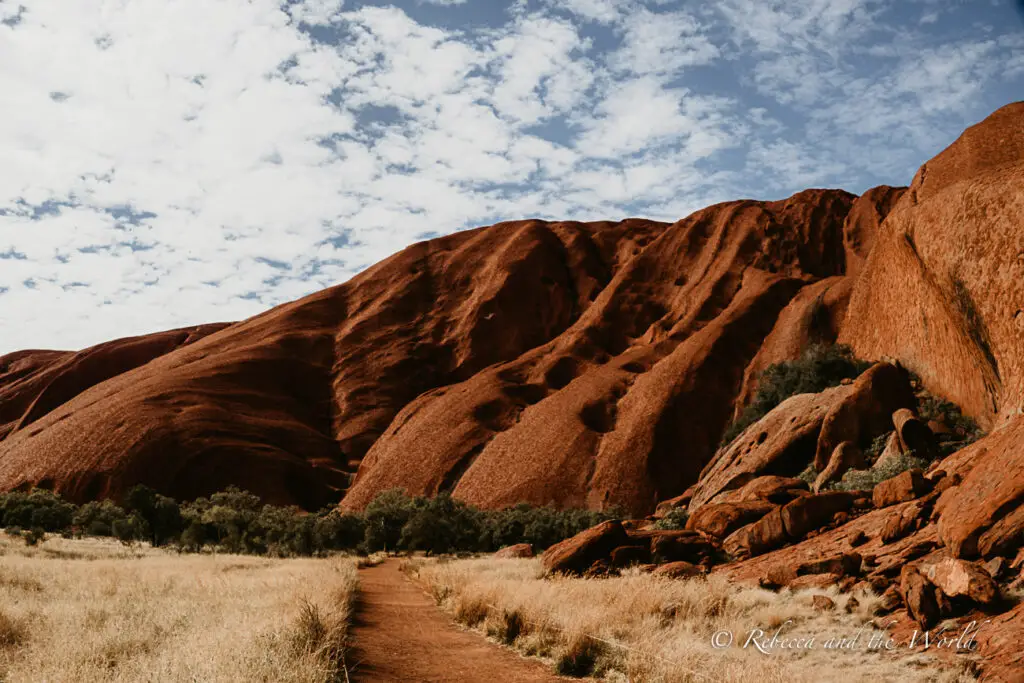 If the idea of the walk doesn't appeal, you can rent bikes from Outback Cycling. Look for them at the Uluru-Kata Tjuta Cultural Centre. Bike rental costs $60 for ages 11 and up.
2. Enjoy dinner under the stars 
City dwellers will be amazed by the clarity of brightness of the stars out this way, and one of the best ways to see them is to dine under the stars. 
Ayers Rock Resort has two dining experiences: Tali Wiru and Sounds of Silence. Both aren't cheap but they are incredible experiences. 
We splashed out for the Tali Wiru dinner and were driven to a private deck with a view of Uluru. Dinner started with champagne, canapés and a yidaki (didgeridoo) performance, followed by a four-course menu featuring delicious takes on native ingredients paired with Australian wines. The night ended with an astronomy lesson and hot chocolate and cognac around the campfire. Expensive but so worth it.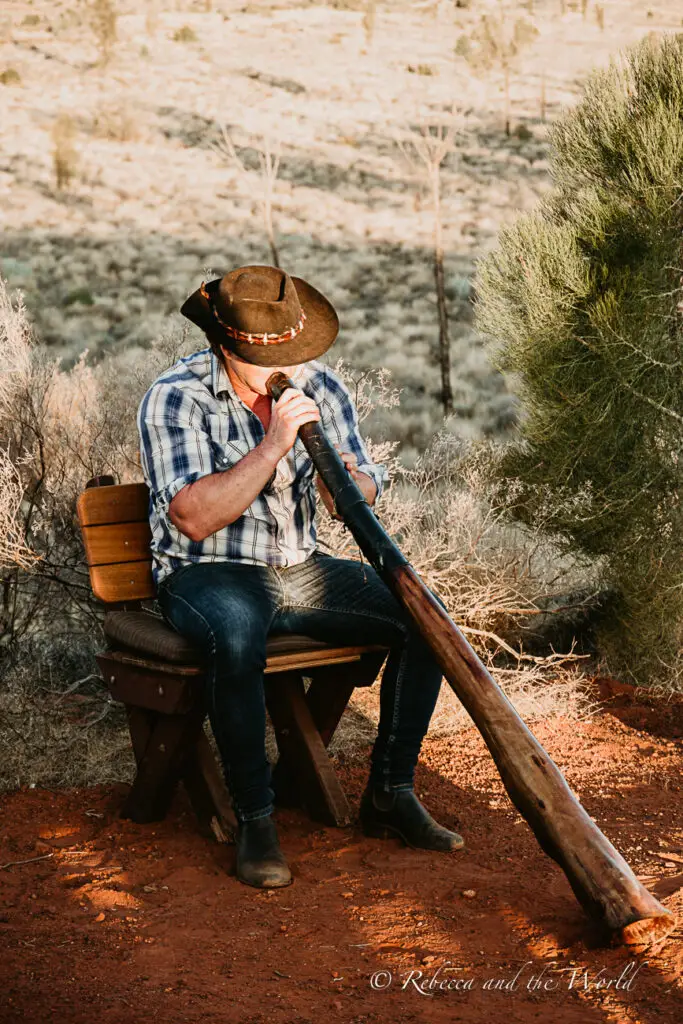 3. See Uluru at sunrise and sunset 
Throughout the day, Uluru changes colour, and sunrise and sunset bring the richest, deepest reds and ochres.
There are a couple of places to watch the sunrise. The Talinguru Nyakunytjaku sunrise viewing area has several shelters, viewing platforms and some walking tracks so you can stand with the crowds or find a quieter spot to marvel at the sunrise. 
For sunset, head to the clearly marked Car Sunset Viewing area to see (and capture on camera) the rich reds of Uluru as the sun sinks down over the horizon.
If you'd like to see the sunrise or sunset with fewer people, then head to the opposite viewing platform, where you're likely to have the viewing area all to yourself. So at sunrise, go to the sunset viewing platform and vice versa for sunset.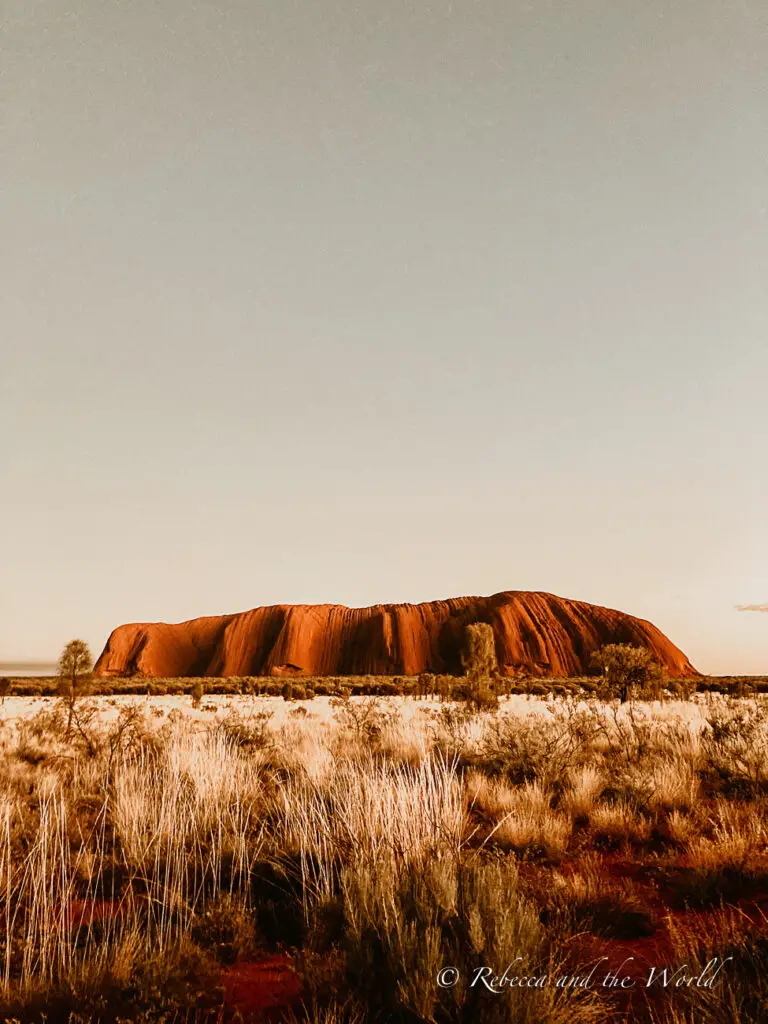 4. Head out to Kata Tjuta 
Kata Tjuta (previously known as The Olgas) is Uluru's somewhat lesser-known brother, but equally as mind-blowing. They're both located in the same national park, so it's easy to spend a day at one and a day at the other, if you have the time on your Uluru road trip.
Kata Tjuta is a series of 36 domes pushing their way out of the flat surrounding land. The tallest dome rises almost 550 metres high and, just like when approaching Uluru, it's incredible to see this natural beauty towering before your eyes. Kata Tjuta means "many heads" in Pitjantjatjara language, and it's easy to understand where this name comes from.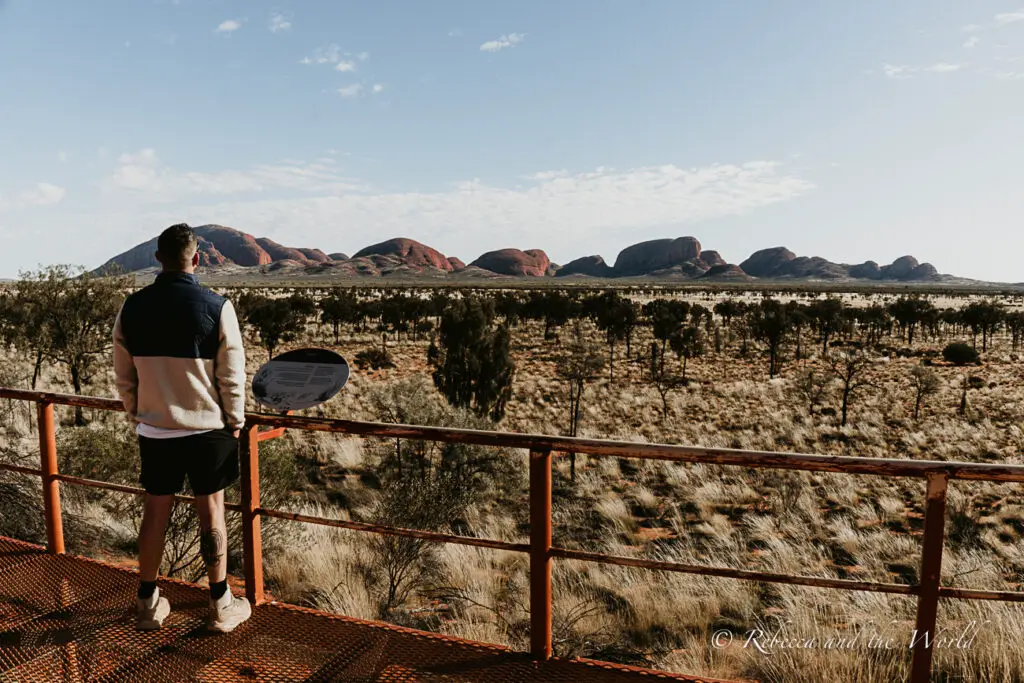 There are two fantastic hikes here: the Valley of the Winds and the Walpa Gorge walk. Kata Tjuta is a place of great significance to the Anangu, so make sure you stick to the trails and follow any guidance. 
The Valley of the Winds hike is a 7.4km loop that will take you anywhere between two to four hours. There are shorter in and out sections if you don't have the time or energy to do the whole hike. The hike is closed if the weather hits 36 degrees.
The first part is really rocky and there are some steep parts and rock scrambling up flat boulders. My favourite part of this hike is the Karingana Lookout, where you can gaze out between the boulders. Even with other people there, it feels incredibly tranquil.
The Walpa Gorge walk is a relatively flat, 3km track that leads into the domes, ending with a viewing platform that overlooks a lush green space.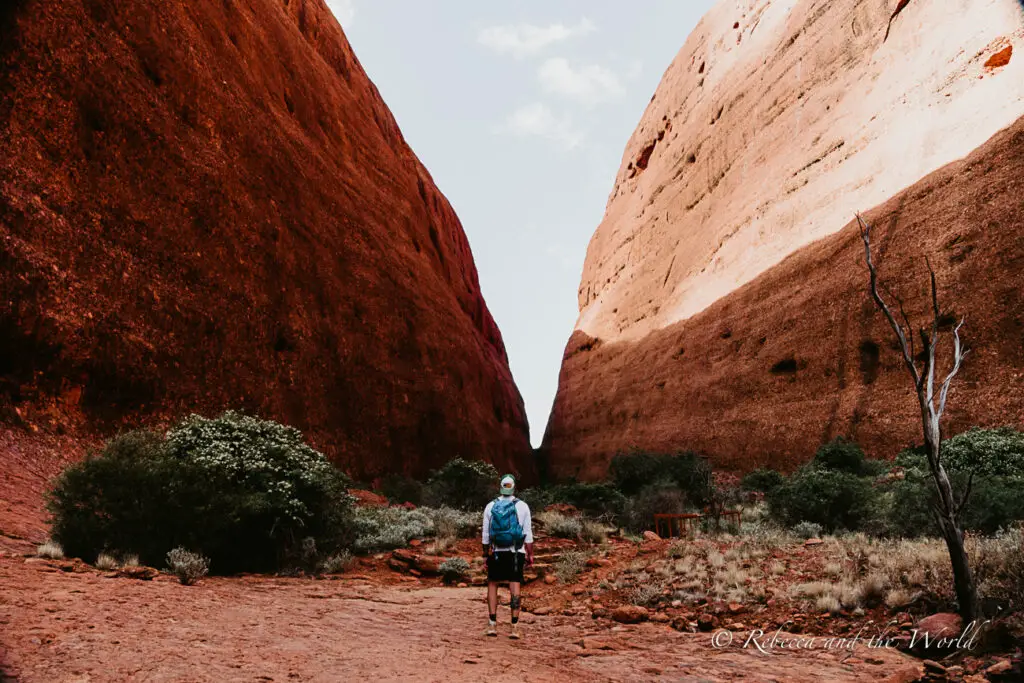 Given the cultural sensitivity of the area, be mindful of how you photograph Kata Tjuta. Anangu ask that you don't take any photos or video of Kata Tjuta throughout the Valley of the Winds walk, and that you keep both sides of Walpa Gorge in frame when you photograph it. 
Kata Tjuta is also a spectacular place for sunrise and sunset. We didn't have time to do this (our cosy bed was far too hard to get out of on the chilly mornings!) but the photos I have seen show the domes drenched in blood-red shadows.
5. Wander through the Field of Light
Bruce Munro's spectacular light installation was only supposed to be at Uluru for a short while but has now been extended – indefinitely.  
The art installation features 50,000 light stems in various shades of red, purple, blue, green and white, laid out over a huge area with Uluru looming above. 
There are a few different ways to see the Field of Light on your Uluru trip. Passes start from $44 for adults, but you can upgrade the experience to a Star Pass (with canapés and beverages) or a dinner under the stars.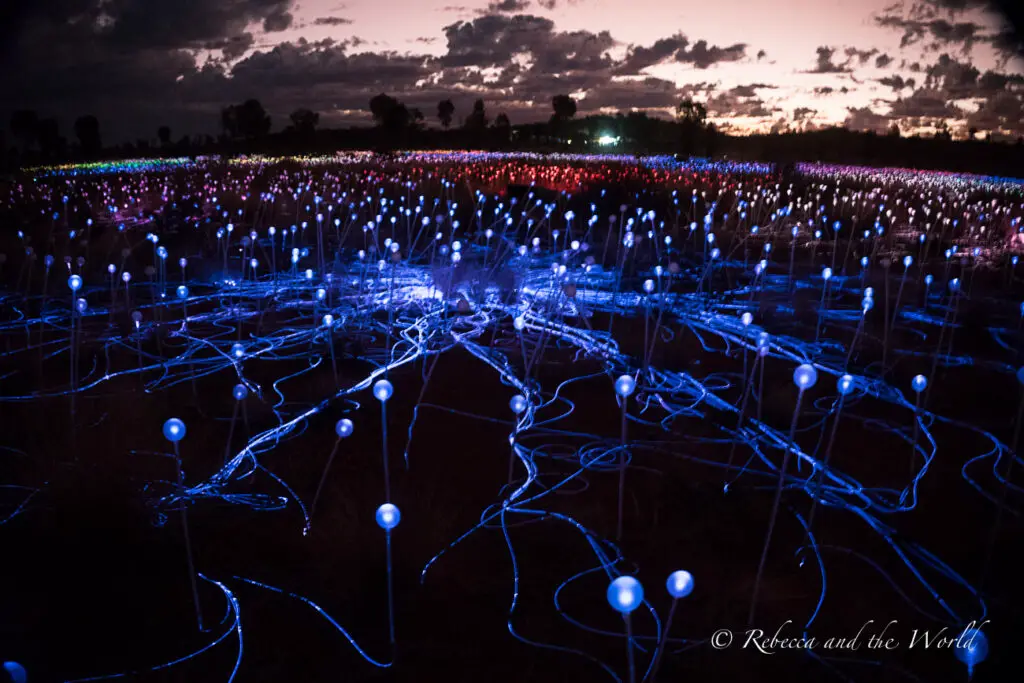 Check out more things to do at Uluru in my other blog post about this spectacular wonder.
Where to stay at Uluru
We stayed at Ayers Rock Campground, which is well-equipped with showers, washing machines and drinking water. Plus you have access to all the other facilities on offer at Ayers Rock Resort (IGA, petrol station, cafés and restaurants). Sites here book out months in advance so book ahead!
If you can't get a spot here, Curtin Springs Station is the next nearest option (100km away from the park).
There is no camping allowed elsewhere in the park, so these are your only two options.
Ayers Rock Resort also has several hotels, including (in order of affordability): the Outback Pioneer Hotel & Lodge, The Lost Camel Hotel, Emu Walk Apartments, Desert Gardens Hotel and Sails in the Desert. If you really want to splash out, Longitude 131° is the ultimate in luxury. You can read my full guide to where to stay near Uluru for more info.
Watarrka National Park/Kings Canyon
Watarrka National Park – specifically Kings Canyon – turned out to be my favourite part of this trip. Two nights is the minimum amount of time you should plan to stay here.
The Luritja people are the traditional owners of Watarrka National Park.
My absolute favourite hike of the trip was the Kings Canyon Rim Walk. This 6.4km loop is classed as moderate, and has magnificent views across the canyon rim. The first part of the hike is tough, involving hundreds of steep steps. Take a breather every now and then and spin around to enjoy the views before you trudge on up the steps. 
Once you get through those steps, the rest of the hike is fairly moderate. You'll pass orange sandstone domes, through the lush Garden of Eden, into a shady pool surrounded by towering walls and around the weathered "Lost City" beehive domes. We saw several families with young kids as well as older people, so it really is a hike for all ages.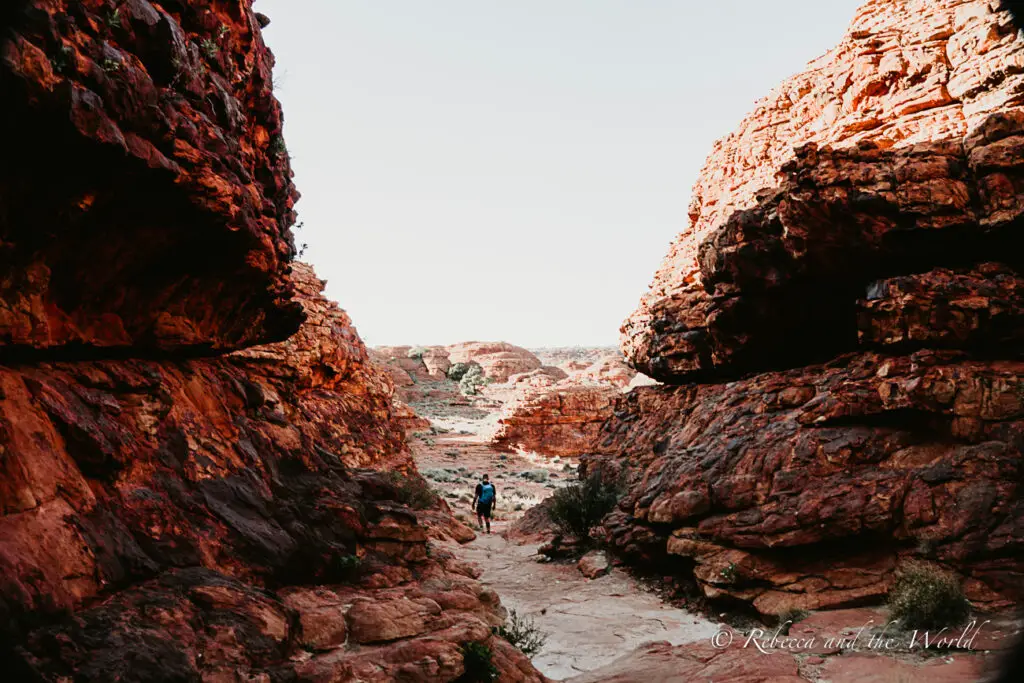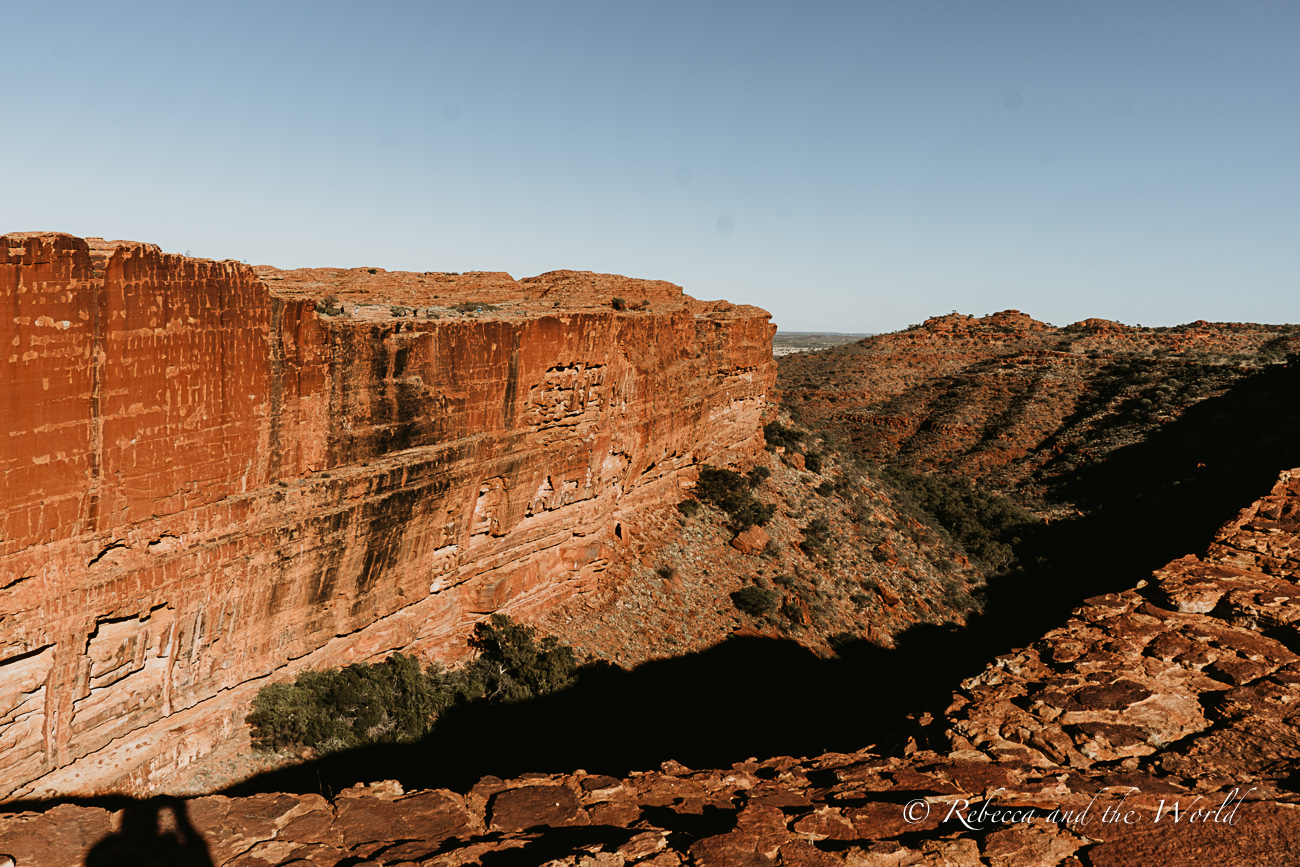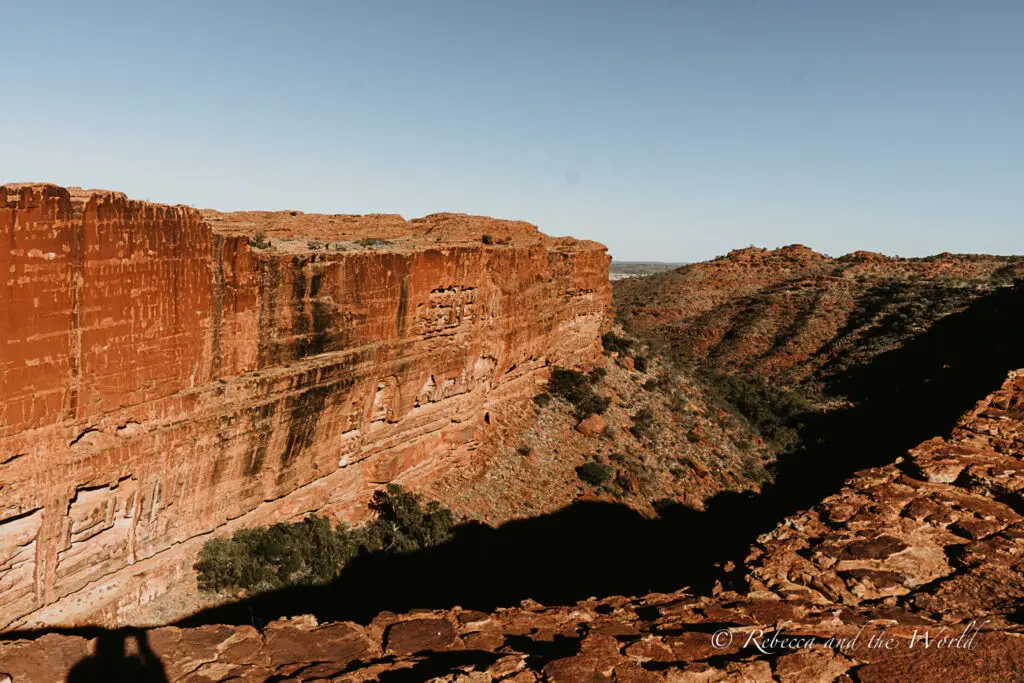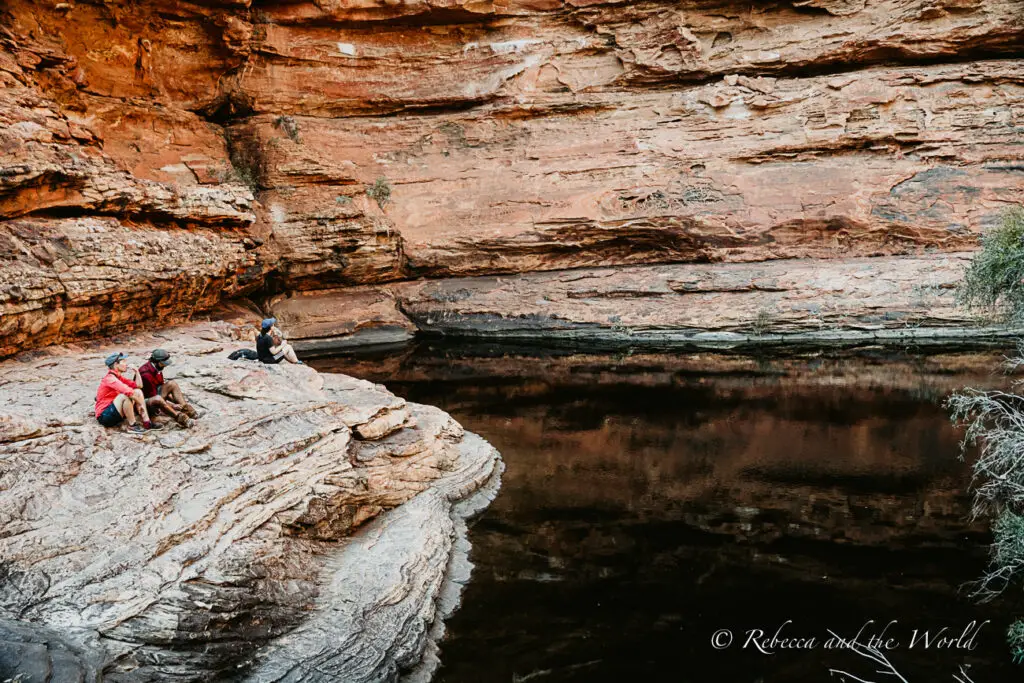 If you want to see Kings Canyon from above – which would be amazing – you can also book a 15-minute helicopter ride.
There are other shorter walks that depart from the same carpark, including the Kings Creek Walk (2km return, 1 hour) and South Wall Walk (4.8km return, 2 hours – this is actually a section of the Kings Canyon Rim Walk). If you've got a lot more time, tackle the 22km Giles Track, which will take you 1-2 days one way!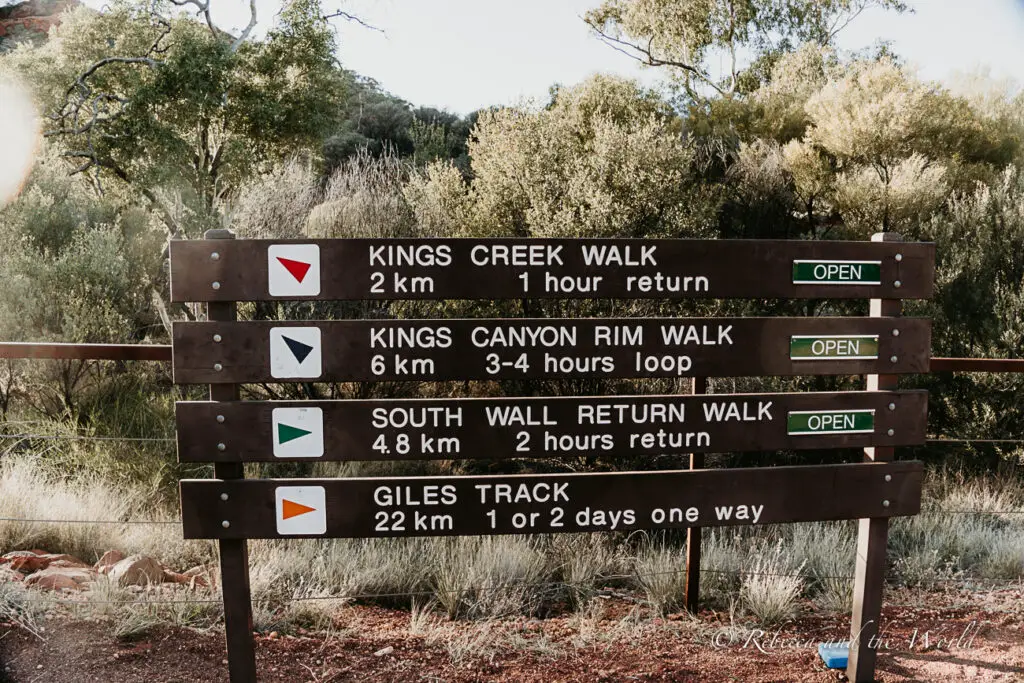 Another short walk nearby is the Kathleen Springs Walk, a flat 2.5km return trip. There's a lot of interesting information along the way, including about local Aboriginal culture and the colonial cattle industry. It ends at a shady spring-fed pool which is lovely to sit by if you have it to yourself.
Once you've done with hiking, learn about local Aboriginal culture at Karrke. The one hour Aboriginal Cultural Tour is an immersive lesson in bush tucker, natural medicine and traditional art. Tours are just a 30-minute drive from Kings Canyon Resort, and you can book online here.
Where to stay at Watarrka National Park/Kings Canyon
You have a couple of options for resting your head in this area.
We stayed at Kings Canyon Resort and loved it. The powered van sites were generous in size and most are fairly shaded. There's a deck (the Luritja Lookout) that's perfect for watching the sunrise over Kings Canyon. Most nights there's live music there as well as the cutest little caravan serving up drinks (cash only!). Kings Canyon Resort also has rooms and glamping tents.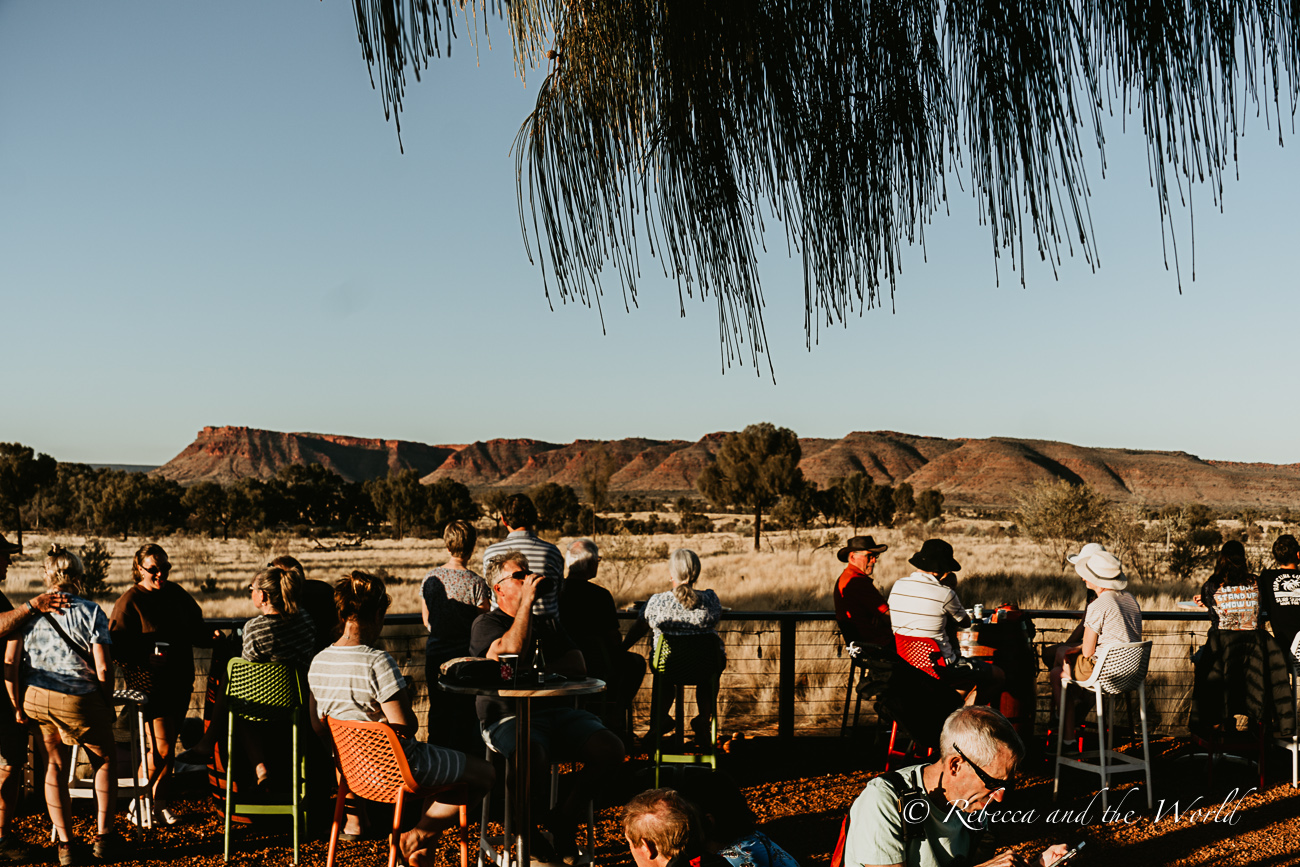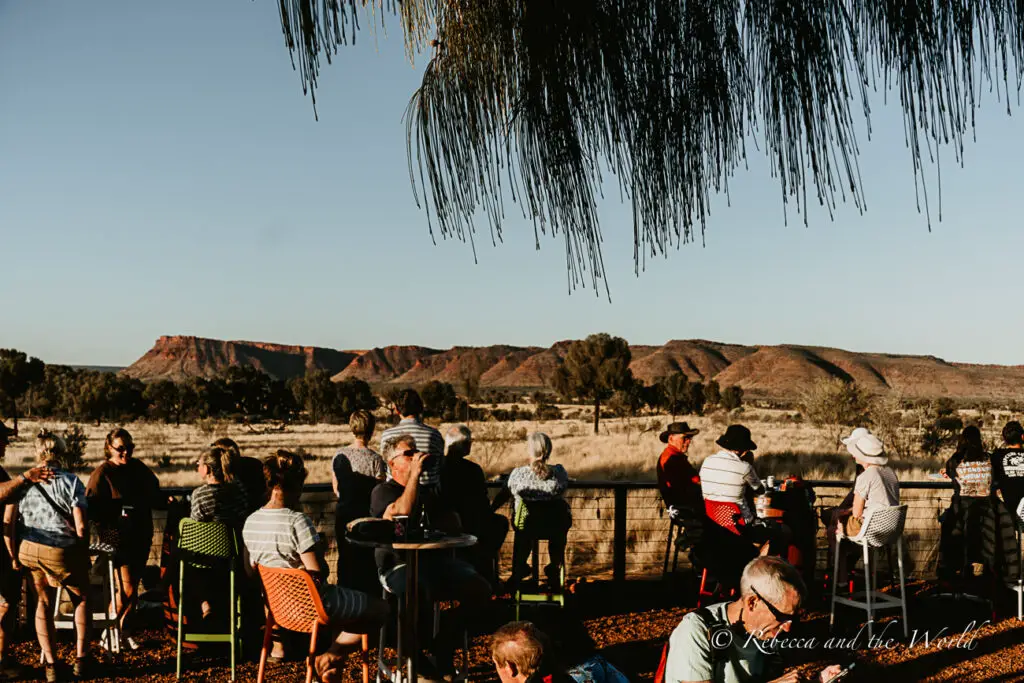 Kings Canyon Resort has a service station with a convenience store – but be warned that it's really expensive and meat/fruit/veggies variety is limited.
Kings Creek Station is about a 25-minute drive from Kings Canyon carpark. This working cattle and camel station has camping, glamping and rooms available. It also has a great café onsite – where I tried their famous camel burger! (Spoiler: it tastes just like beef.) | Book Kings Creek Station online here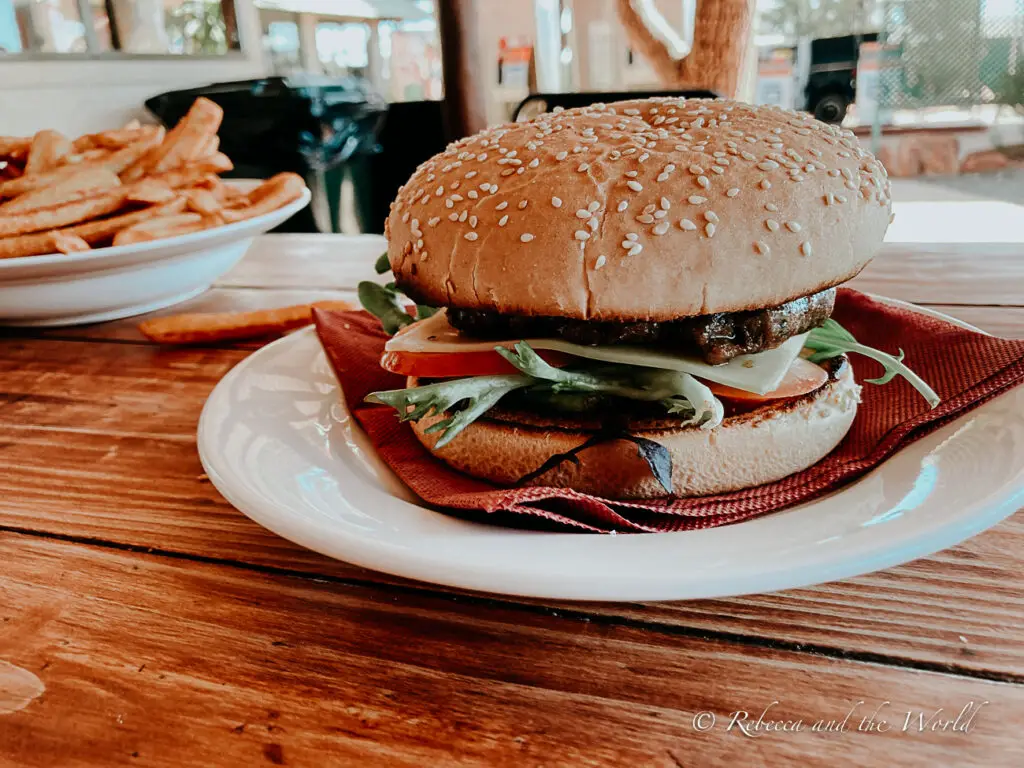 Alice Springs
The trip ends back in Alice Springs, where you can either explore the city or get back on the road and do a few more hikes through Tjorita/West MacDonnell Ranges.
We chose the latter, driving out to Ormiston Gorge and then making our way back to town via Ellery Creek Big Hole and Standley Chasm. There were several stops we didn't have time for, but if you plan a big day (and have a 4WD for some of them) you can do it.
Ormiston Gorge is accessible by sealed road and is a great camping spot if you're doing this Central Australia road trip via the 4WD option. There are several hikes here around the gorge. We did the Ghost Gum Walk (2.5km loop) which tools us above and down into the gorge. The walk required a bit of rock scrambling!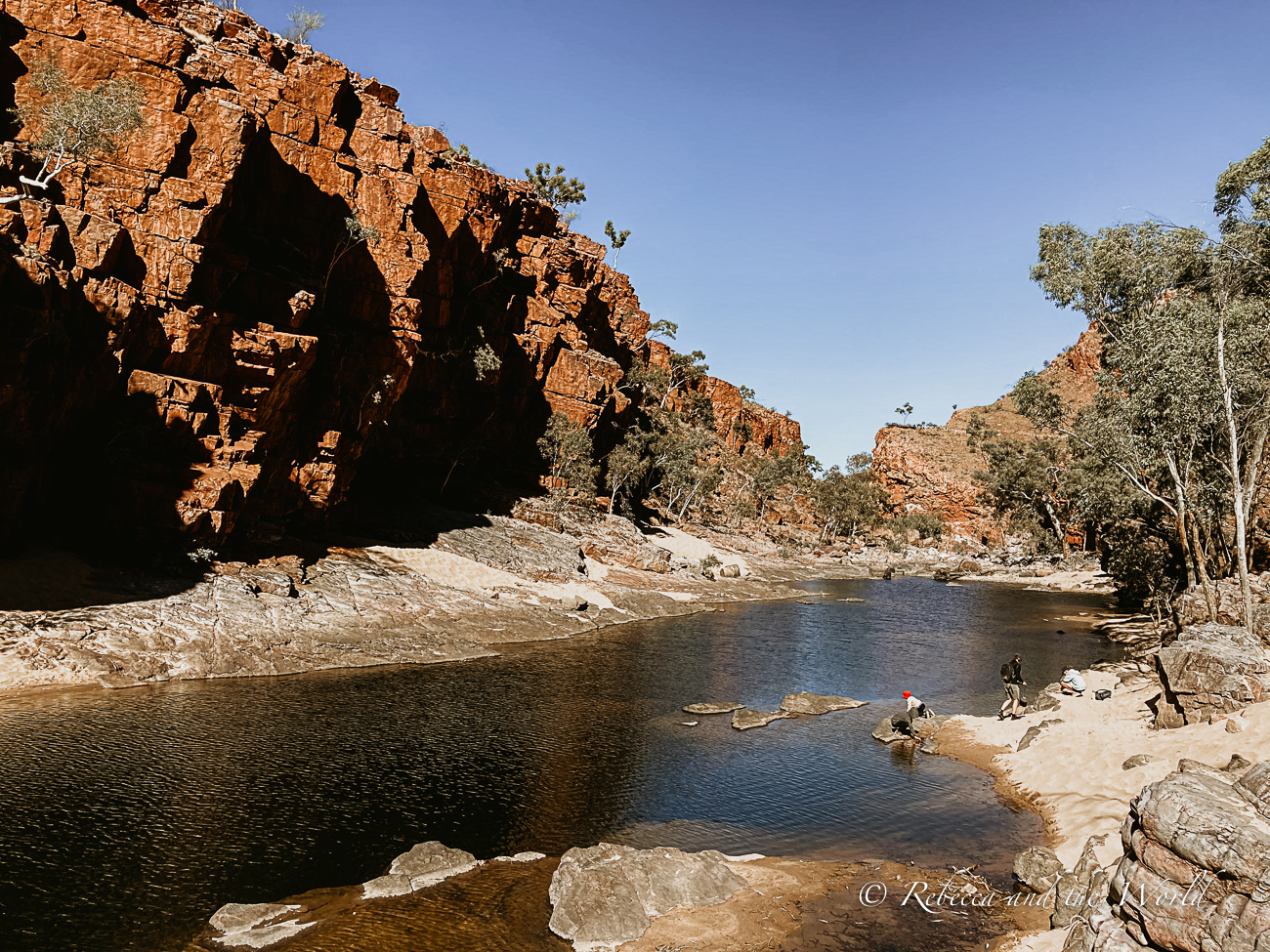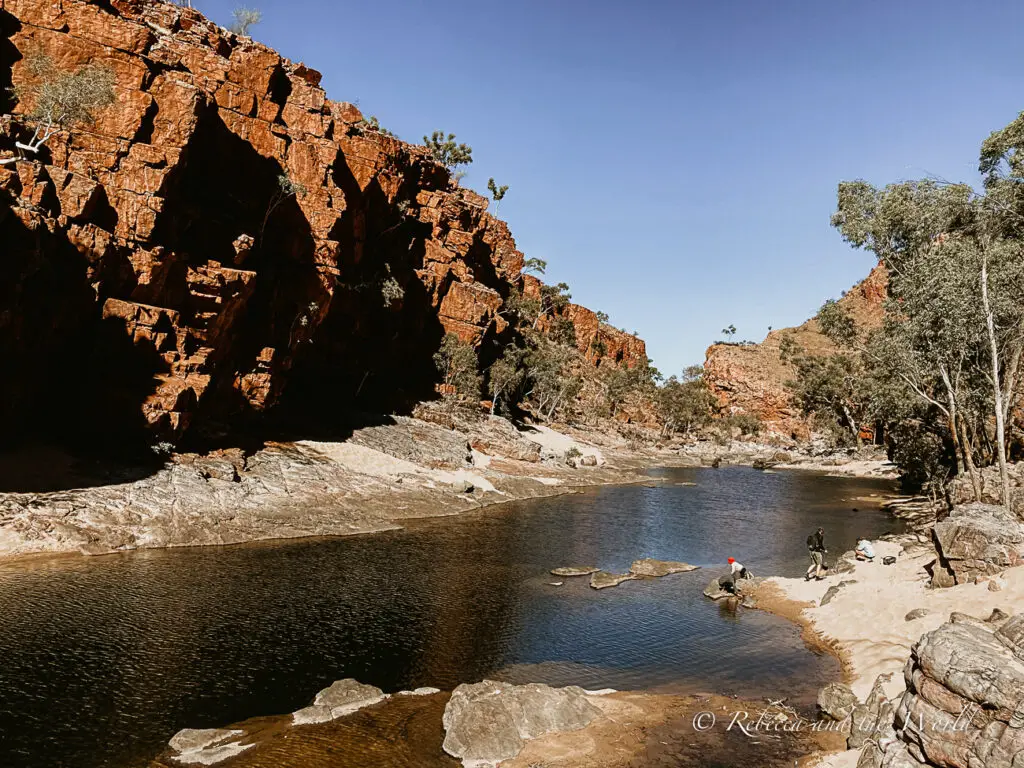 Ellery Creek Big Hole – another water-filled gorge that's easily accessible via a short walk from the carpark. The drive in is fine for 2WDs but is a bit bumpy so expect to rattle around a bit! It's a great swimming hole, but was a little too chilly for us when we visited.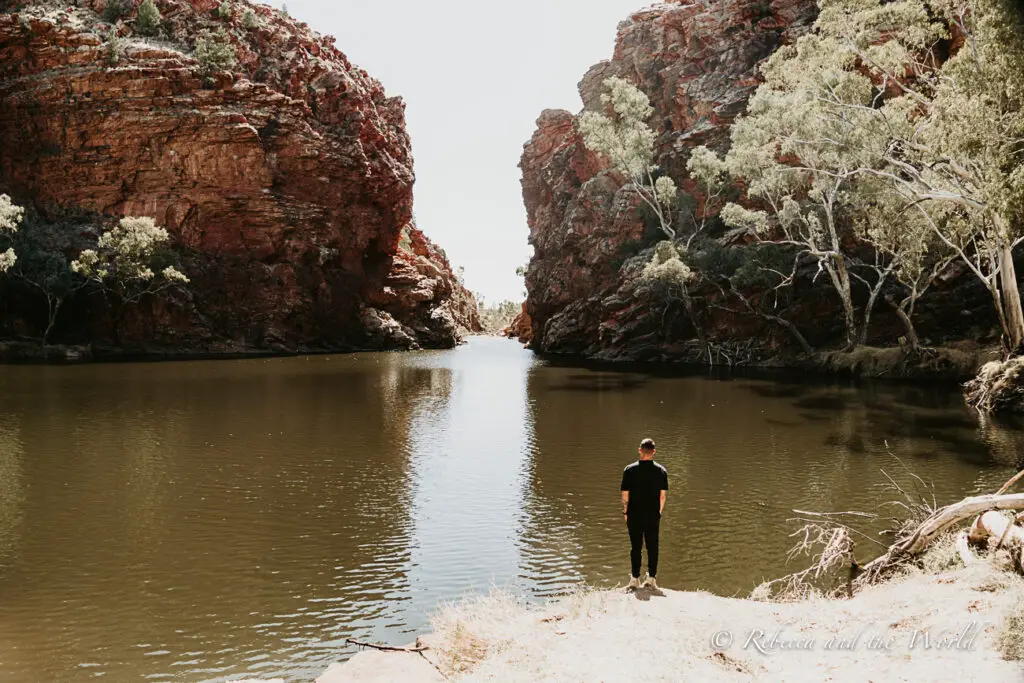 Angkerle Atwatye (Standley Chasm) – this chasm is amazing to wander through; you will truly feel small and get some understanding of just how long this country has been forming.
The walk to the chasm is easy, on a flat surface and should take around 15 minutes each way. Midday is the best time to visit to capture the sun glowing on the rock face.
There is an entry fee ($12 for adults) and a great café and souvenir shop. This is one of the stops along the famous Larapinta Trail and I can just imagine hungry hikers would enjoy tucking into a burger here!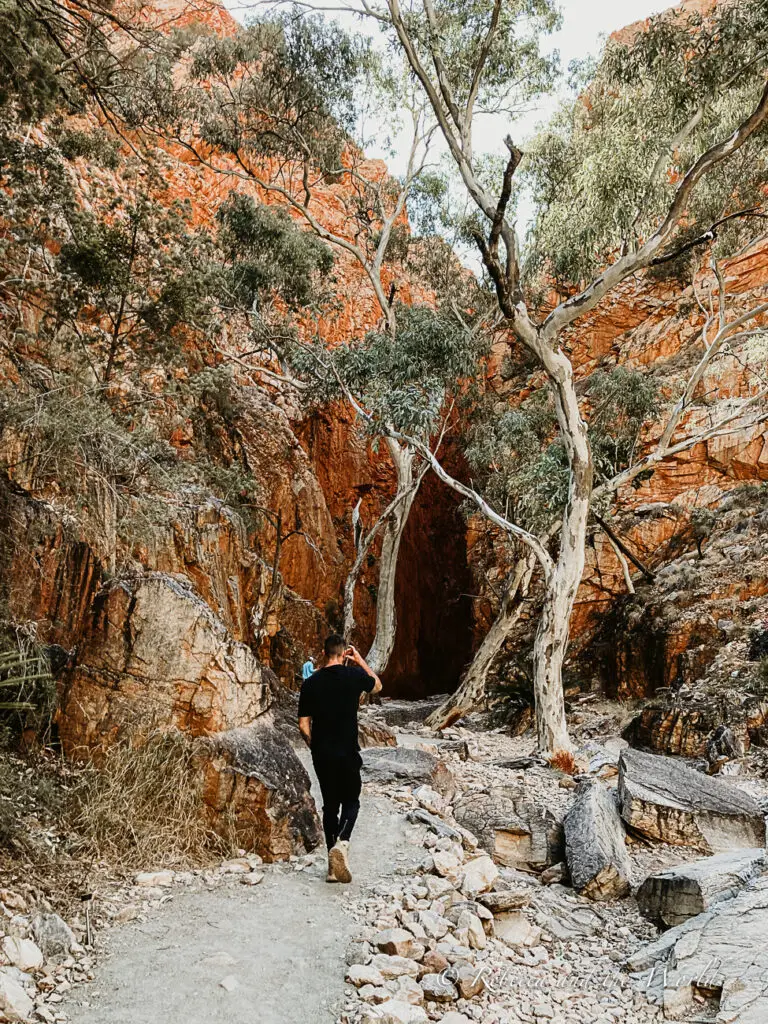 If you stick around Alice Springs, you can easily fill a day or two. Here are some of the things I plan to do when we have more time in Alice Springs:
Where to stay in Alice Springs
We booked two nights at Alice Springs Tourist Park. It was conveniently located near to town and had great amenities including a shared outdoor kitchen with toaster, kettle and washing up stuff.
Other well-regarded caravan parks are G'day Mate Tourist Park and Heritage Caravan Park.
If you'd prefer a hotel, check out Mercure Alice Springs Resort, Lasseters Hotel and Casino (recognisable from the movie Priscilla: Queen of the Desert) or DoubleTree by Hilton.
Don't want this journey to end? Why not continue on and discover the best things to do in Coober Pedy, South Australia!
What to take on a Central Australia road trip
Here are a few things you must pack for your Red Centre trip, and I also have a full guide to what to pack for Uluru:
Good hiking boots/sneakers that can withstand sharp rocks | I have these Columbia Newton Ridge hiking boots
Plenty of water (buy the boxed "goon bags" of water from the supermarket) and a refillable water bottle | This is a great collapsible water bottle
Breathable clothes that are easy to wash and dry. Avoid white clothing as the red dust gets everywhere!
Plenty of sunscreen, a wide-brimmed hat, sunglasses
Layers or thermals for the chilly nights | I like Uniqlo's HeatTech range
Bathers for a swim in one of the gorges or resort swimming pools
A fly net – they look silly but will keep the flies out of your eyes and mouth! You can buy these in most service stations and roadhouse convenience stores in Central Australia for about $10 | Buy fly head net here
Lip balm and moisturiser to combat the dry air
Road atlas – while it's hard to get lost out here on the main roads, a road atlas like this one from Hema Maps is handy to have!
Camera to capture every single amazing moment of your trip | I love my Sony A6300
Central Australia road trip travel tips
Driving in Central Australia – especially on the paved roads – is generally pretty easy but there are a few things to keep in mind.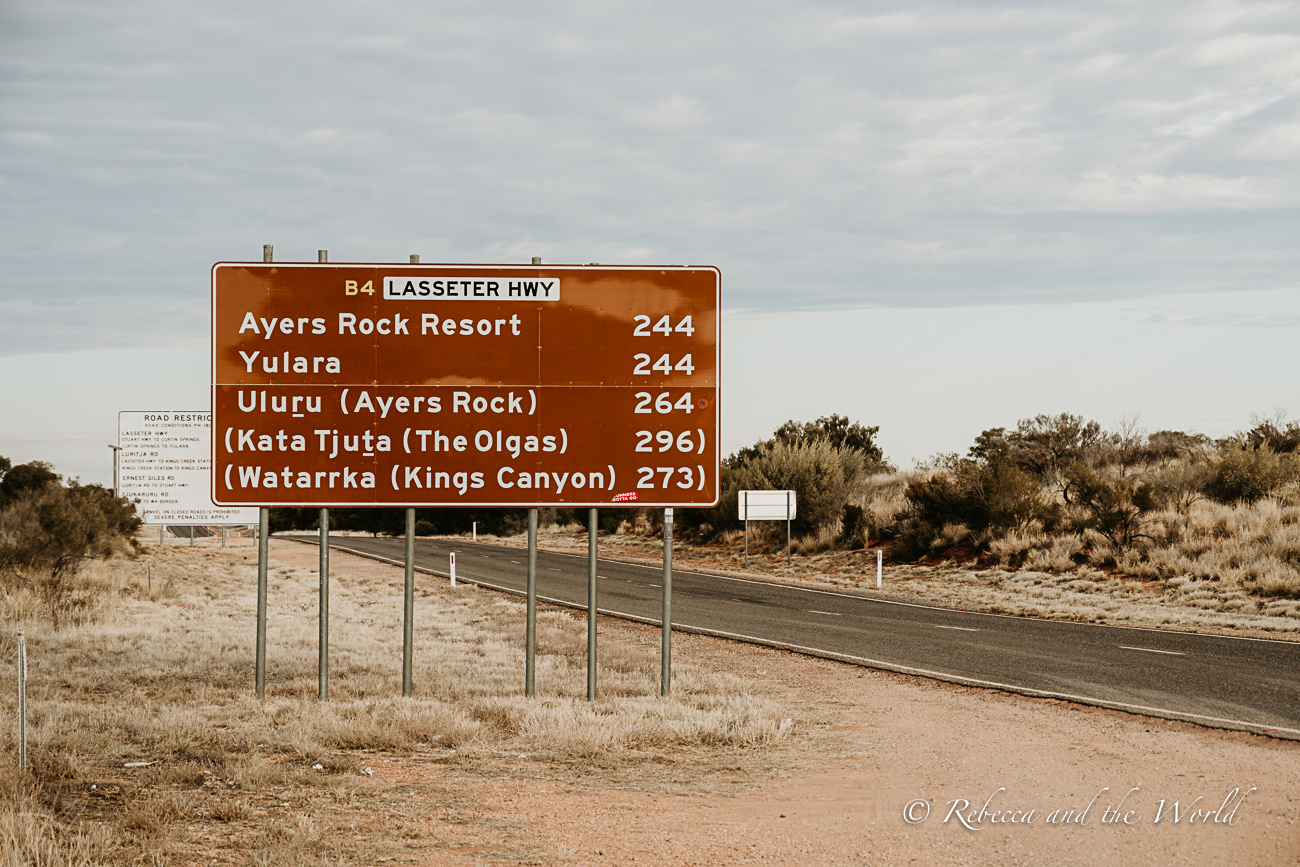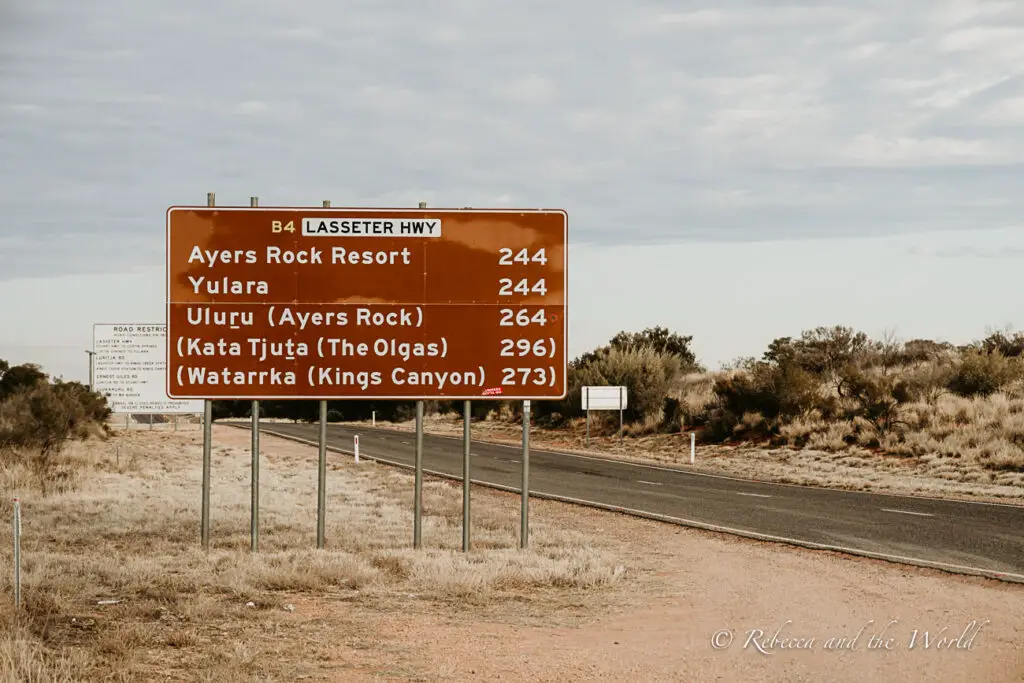 Avoid driving at dusk/night in the Red Centre. Camels, kangaroos, cattle and dingoes roam the roads when darkness descends.
Obey the road rules. In some parts of the Northern Territory the speed limit is 130 kilometres an hour, so it can be easy to speed! But there are plenty of traffic police and surveillance so stay within the limit.
Get fuel whenever you can. Even if you've only used a quarter of a tank and you're approaching a servo, stop and fill up. While there are plenty of service stations along this popular route, not all of them are stocked all the time. We saw a couple of servos that were out of diesel when we were there (and thus a lot of frustrated/anxious drivers!).
Drive slower (around 90km/hr) to conserve fuel – this was a tip from someone else driving a similar van to ours. With fuel at almost $2.70 a litre when we visited, it was good advice!
Book campsites in advance, especially during peak seasons like school holidays. Ayers Rock Resort in particular books out months in advance at times. 
Similarly, book Uluru activities like the Field of Light and dinners well in advance. We met many disappointed people who had left their bookings too late.
Buy food in Alice Springs if you can. Stocking up at the campgrounds can get expensive and there's often limited variety in terms of fruits, vegetables and meat.
Be aware of alcohol restrictions in parts of the Northern Territory. You can only buy takeaway alcohol during the following hours: from Monday to Friday, 2pm to 9pm; on Saturday, 10am to 9pm, and on Sunday from pubs with drive-through bottle shops and clubs for members only from 12 noon to 9pm. Some communities are completely dry and you cannot take alcohol through.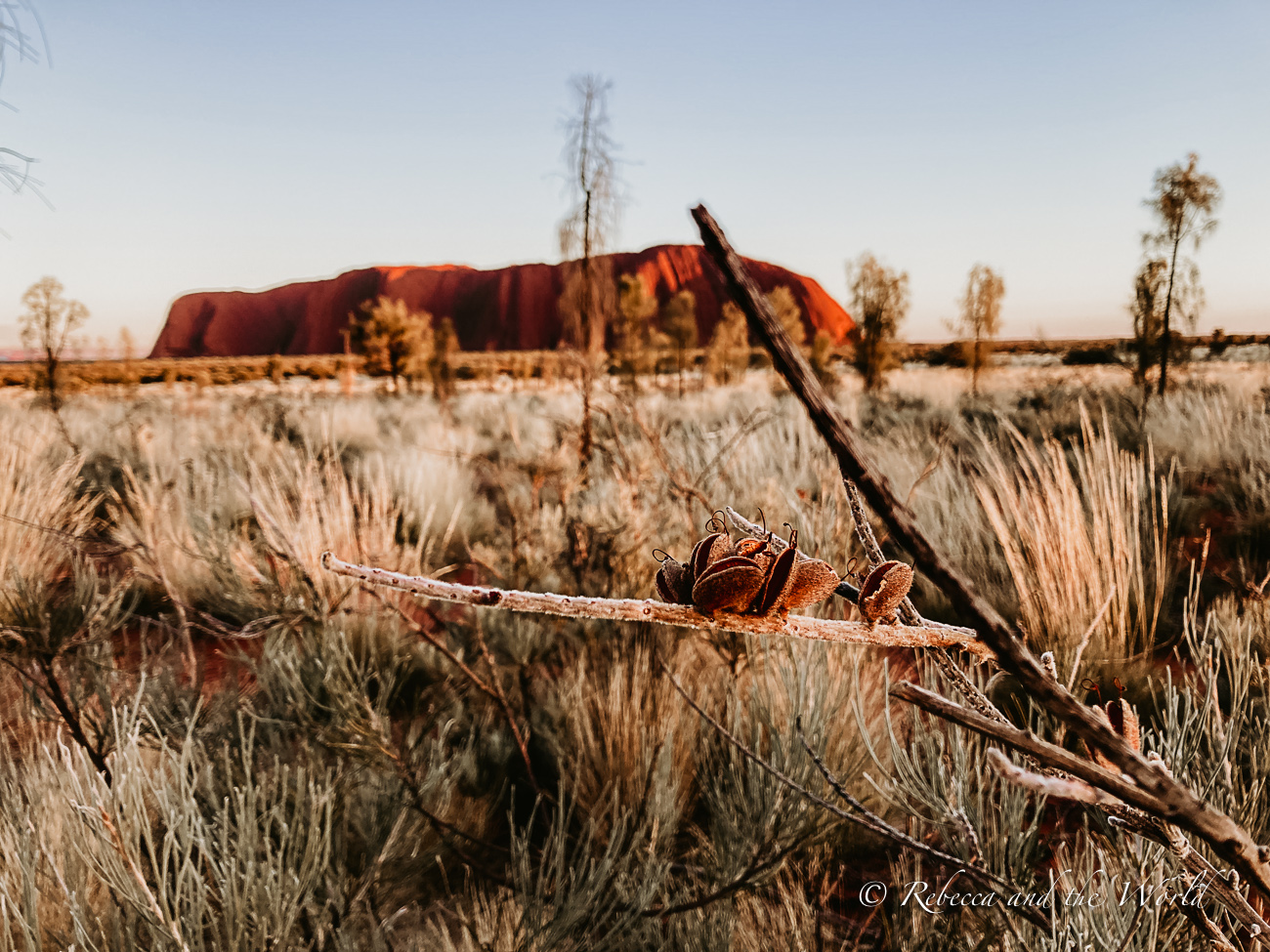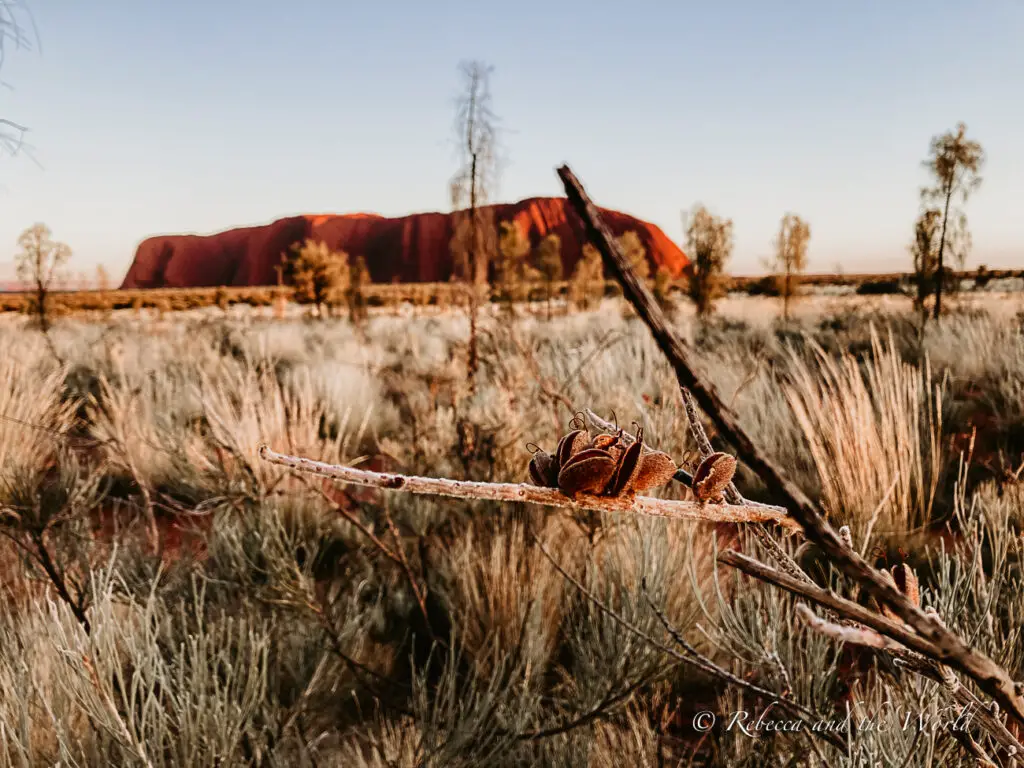 Are you now dreaming about a Central Australia road trip? Leave a comment if you have any questions about planning your trip.
AUSTRALIA TRIP ESSENTIALS
Book your flight to Australia online with Skyscanner or Kayak. I usually compare flights on the two sites to find the best deals.
Find a great hotel in Australia. Check prices on Booking.com and HotelsCombined online.
Check out the huge range of day tours throughout Australia on GetYourGuide or Viator. There's something for everyone.
A copy of the Lonely Planet guide to Australia will be handy.
One thing I always purchase is travel insurance! World Nomads offers simple and flexible travel insurance. Buy at home or while traveling and claim online from anywhere in the world.
Central Australia road trip: Pin it for later
Save this Central Australia road trip itinerary so you can plan your Uluru itinerary later.