Looking for Uluru accommodation as you prepare for the trip of a lifetime? This guide highlights where to stay near Uluru, with everything from basic camping to luxe resorts.
A bucket list destination in Australia, Uluru is one of the most incredible natural wonders. The beauty, the tranquility, the history and culture all combine to create an awe-inspiring visit, and you'll never forget the first time you see this colour-changing monolith up close.
Smack bang in the middle of Australia, though, it is remote, so you might be wondering where to stay at Uluru (also known as Ayers Rock). But, as one of Australia's top tourist attractions, even though it's remote there are plenty of accommodation options. We were camping as part of a Central Australia road trip in the Northern Territory when we visited, but if that's not your scene, then luckily you'll find everything from luxury 5-star accommodation to budget digs. All accommodation is located within the township of Yulara, the closest town to Uluru. 
In this guide, I'll share an overview of Uluru accommodation as well as some useful tips for getting there and getting around the Red Centre and the best things to do while you're there.
Where to stay near Uluru
What you need to know about staying at Uluru is that all of the accommodation listed here (bar two places) is owned by one company – Voyages. All are part of Ayers Rock Resort but have individually branded properties. This monopoly, and the fact that Yulara is remote, means that staying near Uluru can be expensive, so plan your trip with that in mind.
Here are all the accommodation options for Uluru, from luxury hotels to basic campsites.
Uluru hotels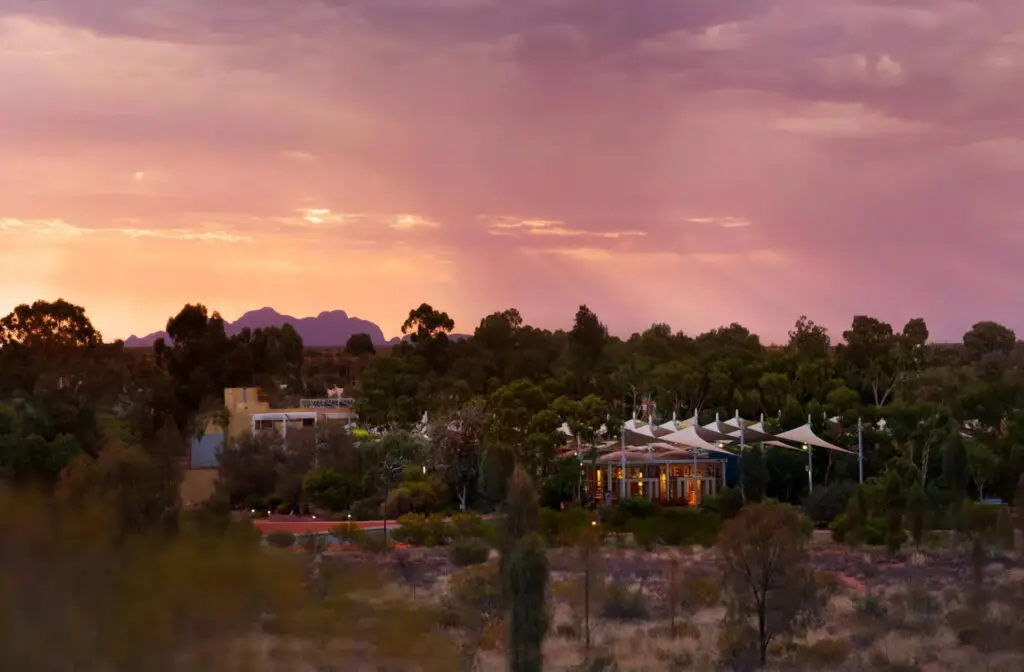 Guest rating 8.3 | View on Booking.com
If a luxurious experience is what you're after when you visit Uluru, then Sails in the Desert Hotel is the Uluru accommodation you want. 
There are three types of rooms on offer:
Superior room – sleeps up to 4 people, 42sqm, minimum 2 nights
Terrace room – sleeps up to 4 people, 42sqm, minimum 2 nights
Deluxe room – sleeps 2, 72sqm, spa bath
All rooms have a balcony or some sort of outdoor space for fresh air.
You do need keep in mind that what you get here isn't the same level of luxury as you'd get for the same price in a city like Melbourne or Sydney.
When you're not out exploring the area, this award-winning hotel has plenty of amenities: a pool (with a poolside bar serving up food and drinks throughout the day), a day spa and two onsite restaurants. Ilkari Restaurant is brasserie-style, with buffet breakfast and dinner, while Walpa Lobby Bar serves more casual meals as well as cocktails and drinks.
The hotel also has a gallery, Mulgara Gallery, which features original dot paintings, artworks, handcrafted glassware, jewellery, pottery, textiles, metal and leather-work. 
Parking is complimentary on site.
Rooms from $475 per night, some have a minimum 2-night stay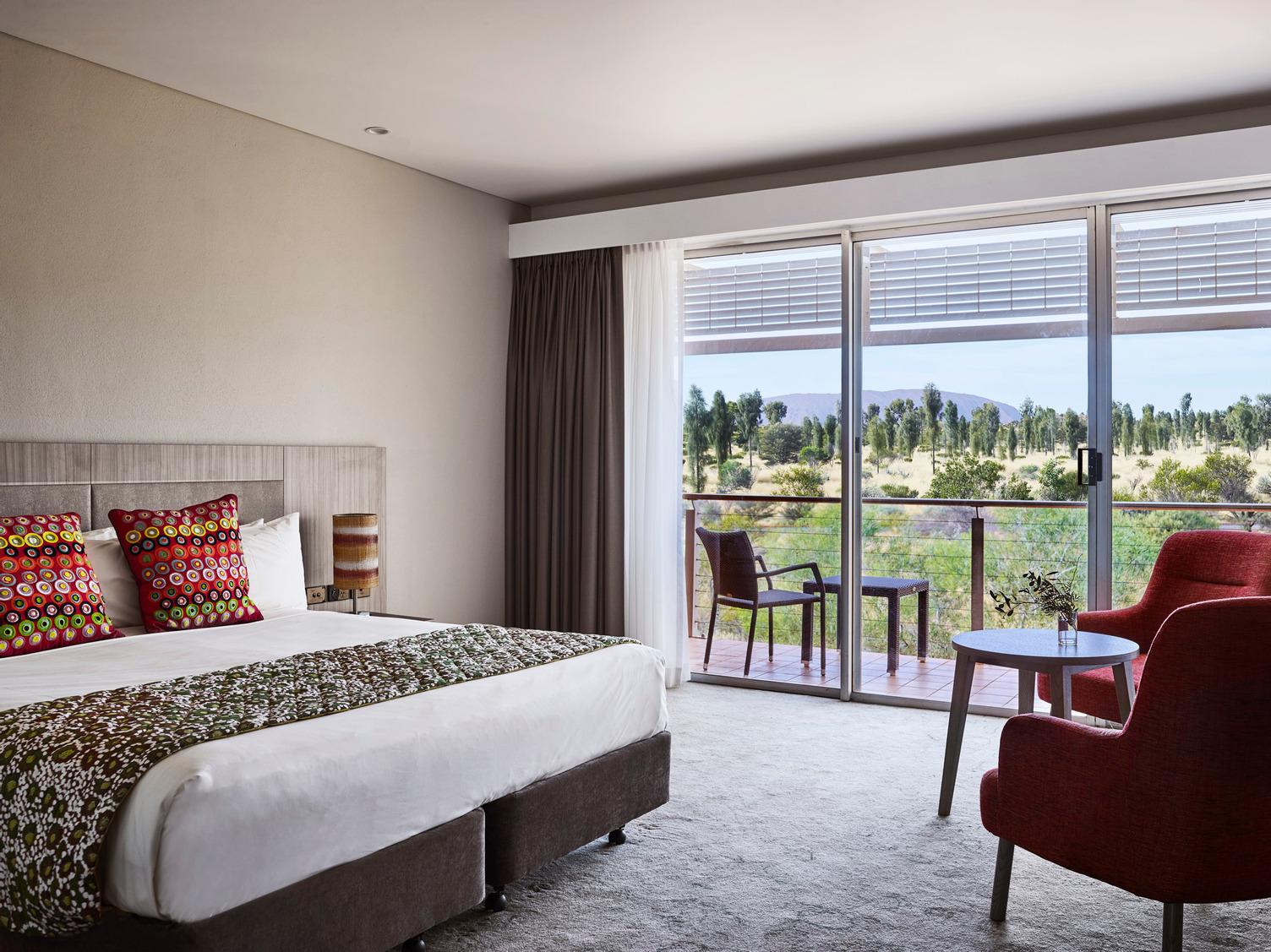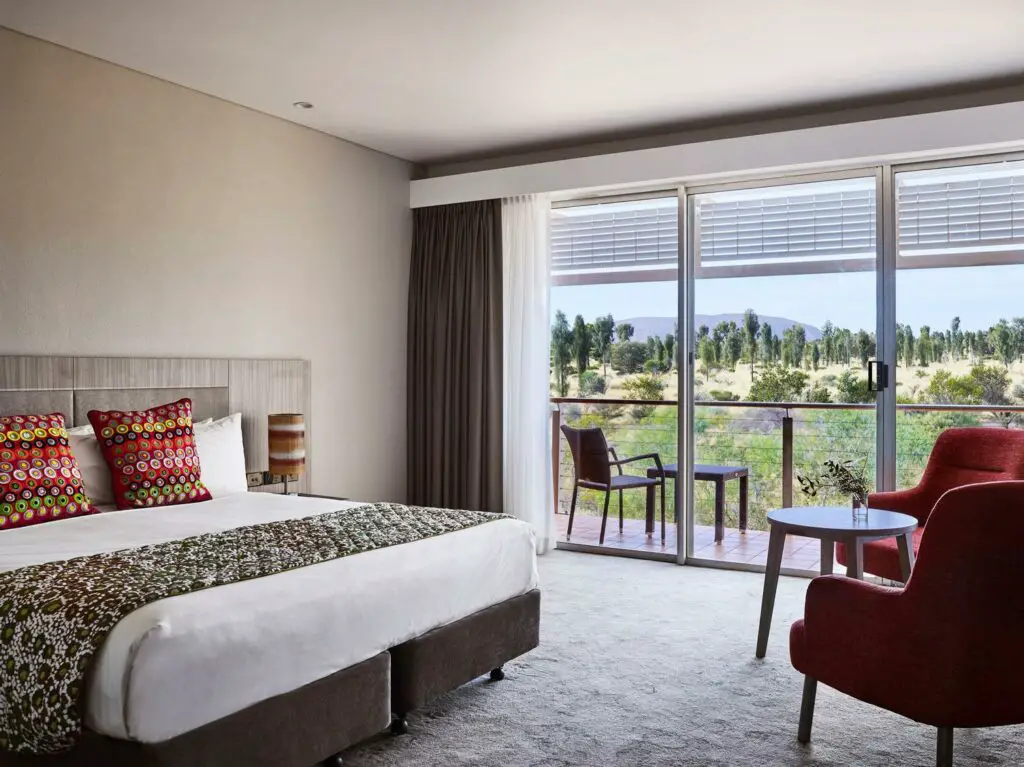 Guest rating 8.2 | View on Booking.com
The highlight of the 4.5-star Desert Gardens Hotel are the vistas: wake up to views of Uluru, the only Voyages property with such a spectacular sight. This is the best place to stay at Uluru to get those Insta-worthy views.
There are three room types to choose from:
Garden View Room – sleeps up to 4 people, 24sqm, minimum 2-night stay
Desert Deluxe Room – sleeps up to 4, 33sqm, minimum 2 nights
Deluxe Rock View Room – sleeps up to 4 people, 33sqm, minimum 2 nights
All rooms have a balcony. If you've got the cash, the Deluxe Rock View Rooms are the best choice, as these are the rooms with the views of Uluru.
Onsite, there's a gum tree-shaded pool, as well as two restaurants. Mangata Bistro & Bar is all about Aussie produce, while Arnguli Grill's a la carte menu is enlivened by local Indigenous native spices, grains and seeds. It's just a short walk to the Town Square – or take the courtesy shuttle bus.
One of the standout features of Desert Gardens Hotel is its stunning botanical gardens, a beautifully landscaped oasis that is home to over 60 species of native plants and wildlife. 
From $400 per night, minimum 2-night stay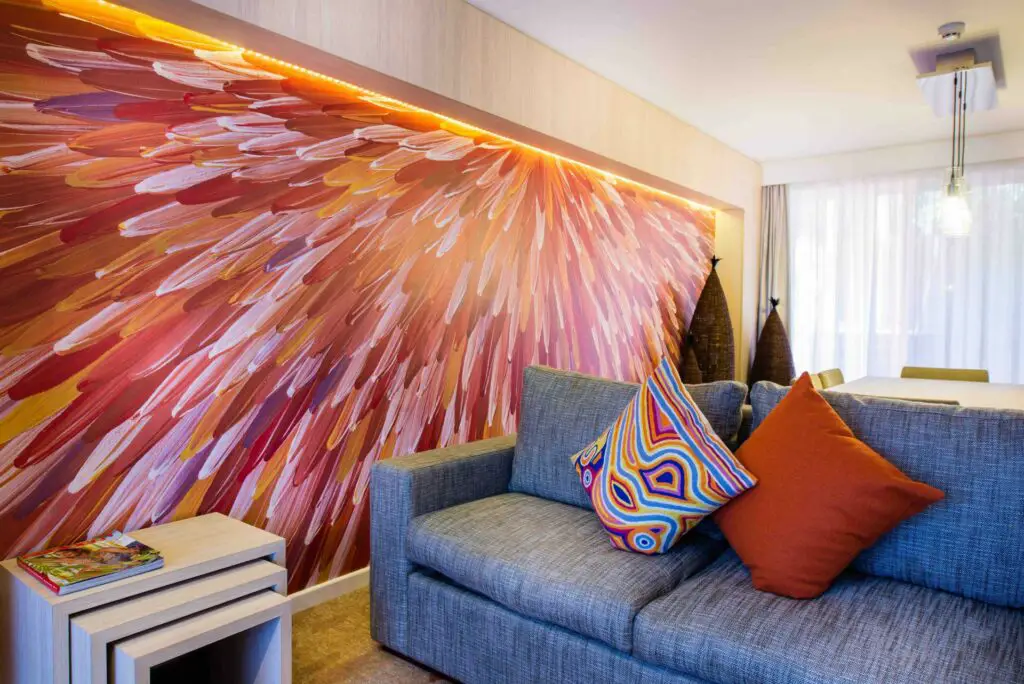 Guest rating 4/5 | View on Tripadvisor
Looking for a comfortable and convenient place to stay near Uluru? Emu Walk Apartments might just be what you're looking for, especially if you're travelling with friends or family. 
This 4-star hotel offers 1- or 2-bedroom apartments:
1 bedroom apartment – sleeps up to 4 people, 47sqm of space
2 bedroom apartment – accommodates up to 6 people, 56sqm 
One thing you'll notice at Emu Walk Apartments are the beautiful Indigenous artworks that decorate each room, all created by local artists. 
There's a swimming pool, so you can take a refreshing dip after a long day of sightseeing. 
While Emu Walk Apartments doesn't have its own restaurant or bar, each room does have a fully equipped kitchen. But, if you can't be bothered cooking for yourself, there are plenty of dining options in the nearby area, all within walking distance (or take advantage of the courtesy bus). 
Apartments start from $420, with a minimum 2-night stay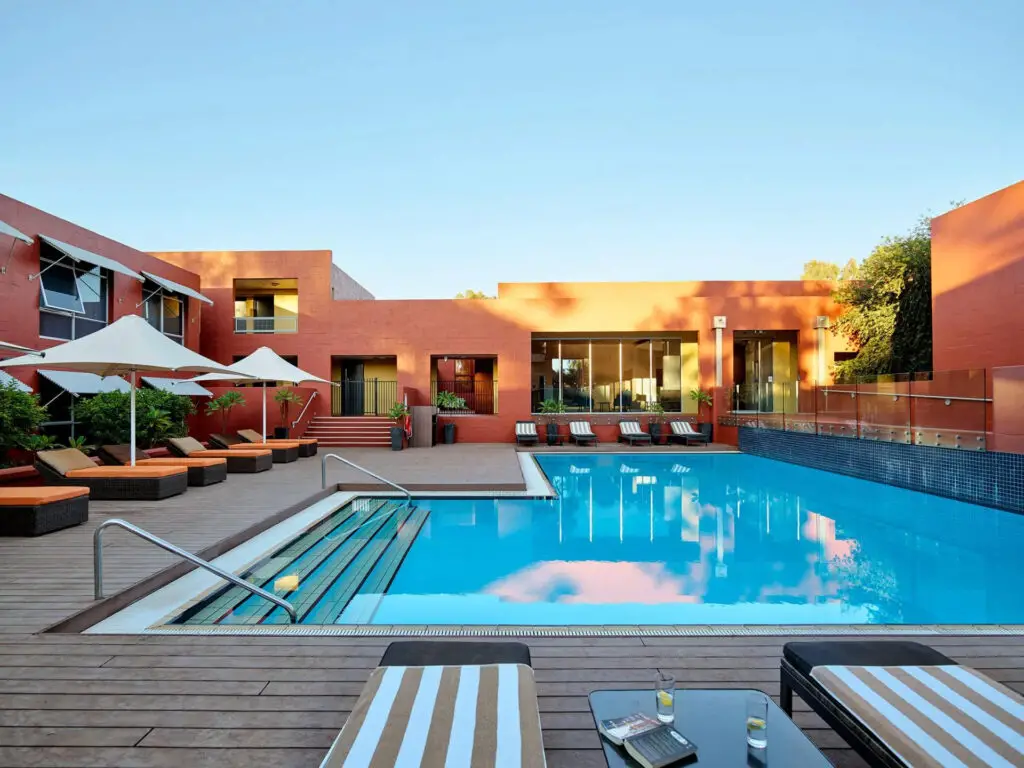 Guest rating 8.2 | View on HotelsCombined
If you're looking for accommodation near Uluru that's got a little more personality, The Lost Camel Hotel would be my personal pick. This 3.5-star boutique-style hotel boasts colourful decor that's sure to brighten your stay. 
The pool is perfect for lounging on day beds and soaking up the sun, and the staff are friendly and attentive. 
While there isn't an onsite restaurant, that's no problem – it's right next to the Town Square and the cafes there, as well as within walking distance to the other hotel restaurants. 
It might not have all the flashy features of some of the more luxurious Uluru hotels and the rooms might be on the smaller side (22 square metres each), but if you're after a comfortable, convenient and personality-packed option, The Lost Camel Hotel is definitely worth considering. 
Rooms from $330 a night, minimum 2-night stay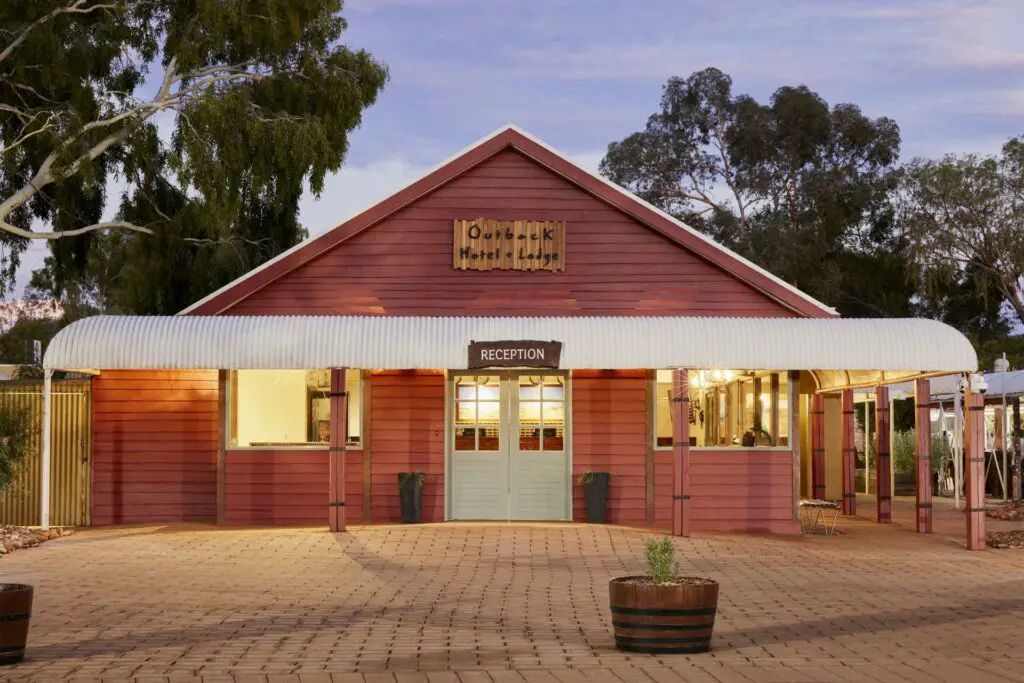 Guest rating 4.5 | View on Booking.com
For cost-conscious travelers, Outback Hotel & Lodge is the cheapest accommodation option at Ayers Rock Resort. Newly refurbished, this 3.5-star joint provides a range of private rooms, as well as dorms for those on a tighter budget. 
The Outback Hotel has 125 guest rooms with air-conditioning and walk-in rain showers. These rooms are ideal for families and groups, with interconnecting rooms also available.
The dorms in the Outback Lodge are mixed or male- and female-only, providing an affordable option for solo travellers or groups.
While it's the furthest hotel from the Town Square, you can use the complimentary shuttle bus service or it's only a 15-minute walk. Onsite, there are several dining options including Bough House (buffet-style breakfast and dinner) and the Outback Kiosk (think pizzas, fish and chips, and burgers), as well as the Outback BBQ and Bar, a DIY barbecue experience where all the necessary ingredients are provided. There's also a bottle shop.
Outback Hotel & Lodge also has its own pool, so you can cool off after a long day out exploring Uluru. 
There's no doubt that this place is the more basic of the Uluru hotel options, but it's a comfortable and convenient choice for anyone looking for the cheapest accommodation at Uluru. The reviews aren't great – but I'm sure that'll pick up following the recent multi-million-dollar renovation.
Rooms start from $184 per night, Dorm beds start from $38 per bed, some rooms have a minimum 2-night stay, but most have no minimum stay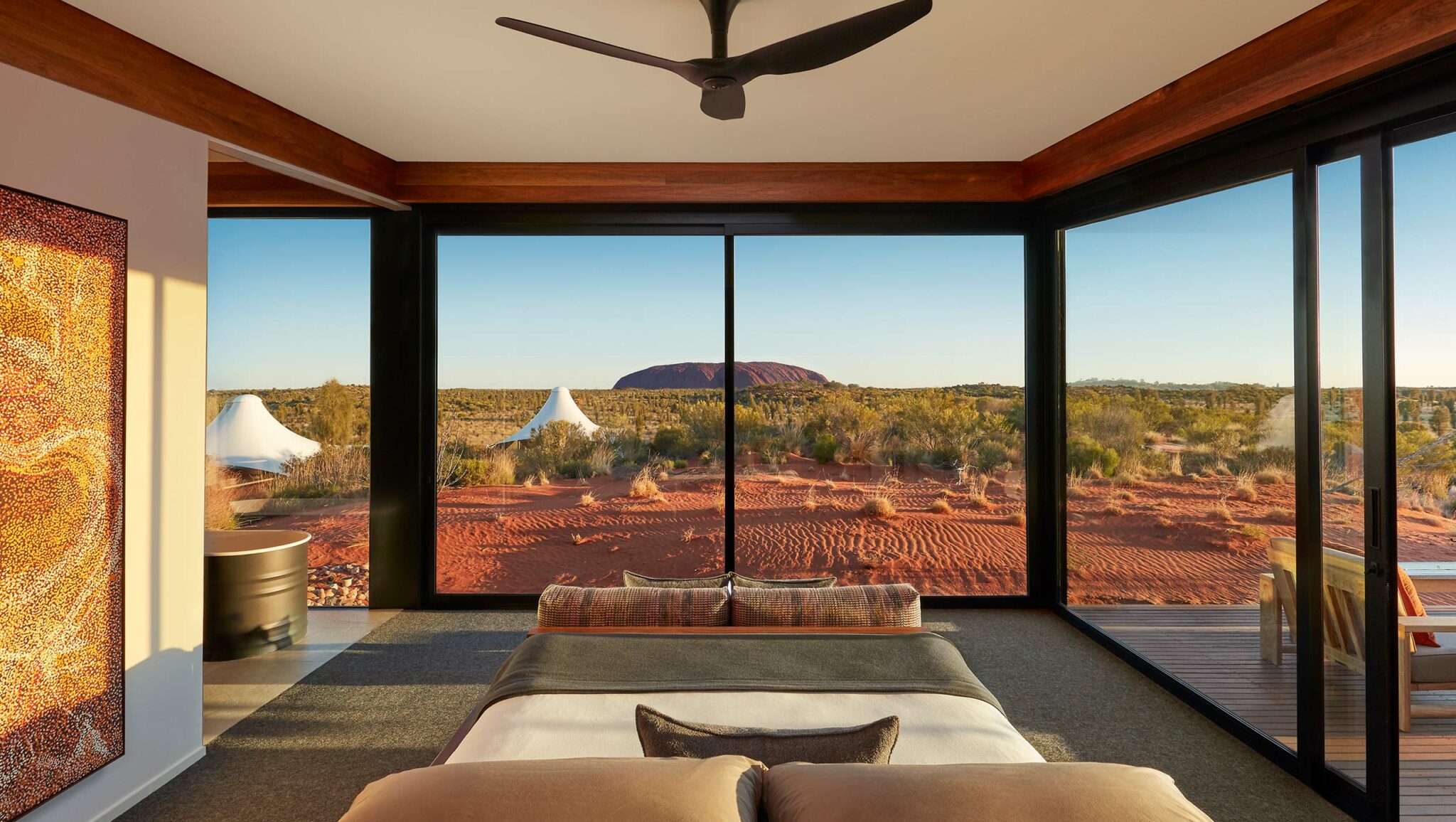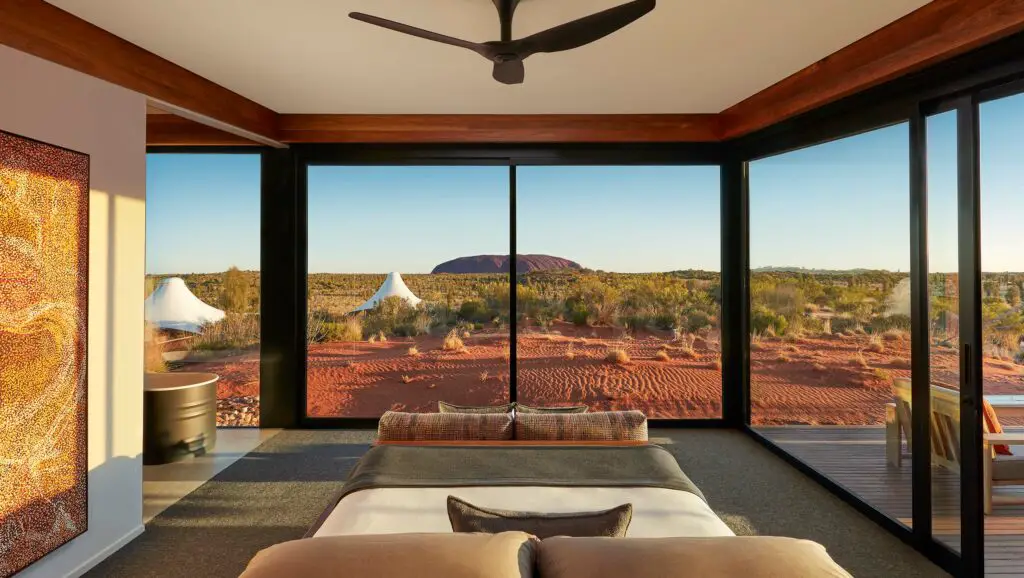 Guest rating 5/5 | View on Tripadvisor
If you're someone who loves the finer things in life, or if your trip to Uluru is part of a special occasion and you want to splurge, then Longitude 131° should definitely be on your radar. 
This 5-star luxury camp offers a truly unforgettable, truly luxurious experience, with 16 tented pavilions that feature breathtaking views of Uluru. 
There are two types of tents available: the Luxury Tent and the Dune Pavilion, both of which are lavishly appointed with beautiful linens, comfortable beds, eye-catching artworks and a modern ensuite. The Dune Pavilion tents have a private plunge pool and a bathtub, both of which look out to Uluru.
When you're paying this much per night, you can expect only the best in dining. Three meals are included, each using only the freshest local produce and paired with the best Australian wines. And for those looking to relax with a drink after a long day of exploring, the "watering holes" around the hotel are perfect spots to unwind and socialise with other travellers or simply soak in the views alone.
This is the only hotel near Uluru that isn't owned by Voyages. It's part of the Baillie Lodges luxury accommodation group, so you can expect amazing facilities and service. Definitely one to splurge on!
All-inclusive stays in a Luxury Tent start from $3,780 per night (for two people), Dune Pavillion from $7,380 per night, with minimum stays
Uluru camping
Ayers Rock Campground
Now we've got the Uluru hotels covered, let's look at campgrounds near Uluru. You can't camp in Uluru-Kata Tjuta National Park itself, so Ayers Rock Campground is your closest camping option.
There are both powered and unpowered campsites at this Uluru campground, as well as cabins for those who prefer a roof over their heads or don't have their own portable sleeping arrangements. Campsites are suitable for everything from tents to campervans to camper trailers and caravans.
We found the sites to be pretty spacious – we had a powered site right by the bathrooms and had at least 3 metres between us and the campervans on either side of ours. 
In terms of amenities, there are plenty of communal bathrooms that we found were clean and well-maintained along with self-service laundry facilities if you need to do some washing. There's also a swimming pool, playground, BBQ facilities and camp kitchen. If you need to pick up basic food or camping supplies, there's a small onsite shop (where you check-in), or head into the Town Square to the IGA store. 
It's a dog-friendly campground, so you can bring your furry friend along for the adventure (although they'll have to stay there during the day as no pets are allowed in the national park).
It's worth noting that this is a large campground, and during busy periods there is an overflow area, so don't stress out too much if you see that it's booked online. I highly recommend booking well in advance, especially if you're visiting during the winter months or school holiday periods, because it is such a popular spot. 
Unpowered sites from $43, powered sites from $52, cabins from $185 per night, no minimum stay. More information online here.
Curtin Springs Station
If you can't get into Ayers Rock Resort Campground, then your next closest camping option is Curtin Springs Station – an hour's drive away. It's on a working cattle station with stunning views of the MacDonnell Ranges in the distance. 
The camping area is spacious, with only a handful of powered sites but plenty of FREE unpowered campsites. Facilities include a BBQ area, hot showers ($4 per shower), flushing toilets and a laundry area. There's also a basic shop stocked with food, drinks and camping supplies, as well as an on-site restaurant serving up tasty meals. 
While it may not be as close to Uluru as Ayers Rock Resort Campground, Curtin Springs Station is a good back up option that's friendly and quieter. 
Unpowered sites free, powered sites from $55 per night, cabins from $130. More information online here.
Where to stay at Uluru: FAQ
What is the best time of year to visit Uluru?
The best time to visit Uluru is during the winter months (April to September) when the temperatures are milder and more comfortable. Summer is HOT and unbearable for most people.
If you're planning to visit during winter, I highly recommend booking well in advance, because this campground does fill up quickly – and even earlier if you're going to be here during school holiday periods. Same goes for booking Uluru activities – we booked some of our dinners and activities months in advance to avoid missing out.
How to get to Uluru
Your two options for getting to Uluru are to drive or to fly. 
The easiest way to get to Uluru is to fly into Yulara. Given the limited number of flights, they can be pricey. 
Ayers Rock/Connellan Airport (code AYQ) is the closest airport to Uluru. Jetstar flies direct daily from Sydney, while Qantas has around 5 flights per week. Qantas has daily flights from Cairns, while Jetstar has seasonal flights (June to October) from Brisbane, three times a week. From Melbourne, there are daily flights with Jetstar.
When you arrive, you can rent a car at the airport. 
The other option is to fly into Alice Springs, rent a car there and drive to Uluru. The drive from Alice Springs to Uluru is 470 kilometres, or around 5 hours. Avoid driving in the dark because of wildlife.
Coming from further away? Uluru is 1,941km from Darwin (roughly a 20-hour drive), or 1,579km from Adelaide (17 hours).
How far is it from Alice Springs to Uluru?
The distance from Alice Springs to Uluru is around 460 kilometers, which takes approximately 5 hours to drive. There is no public transportation available between the two locations, so driving or joining a guided tour is your best option.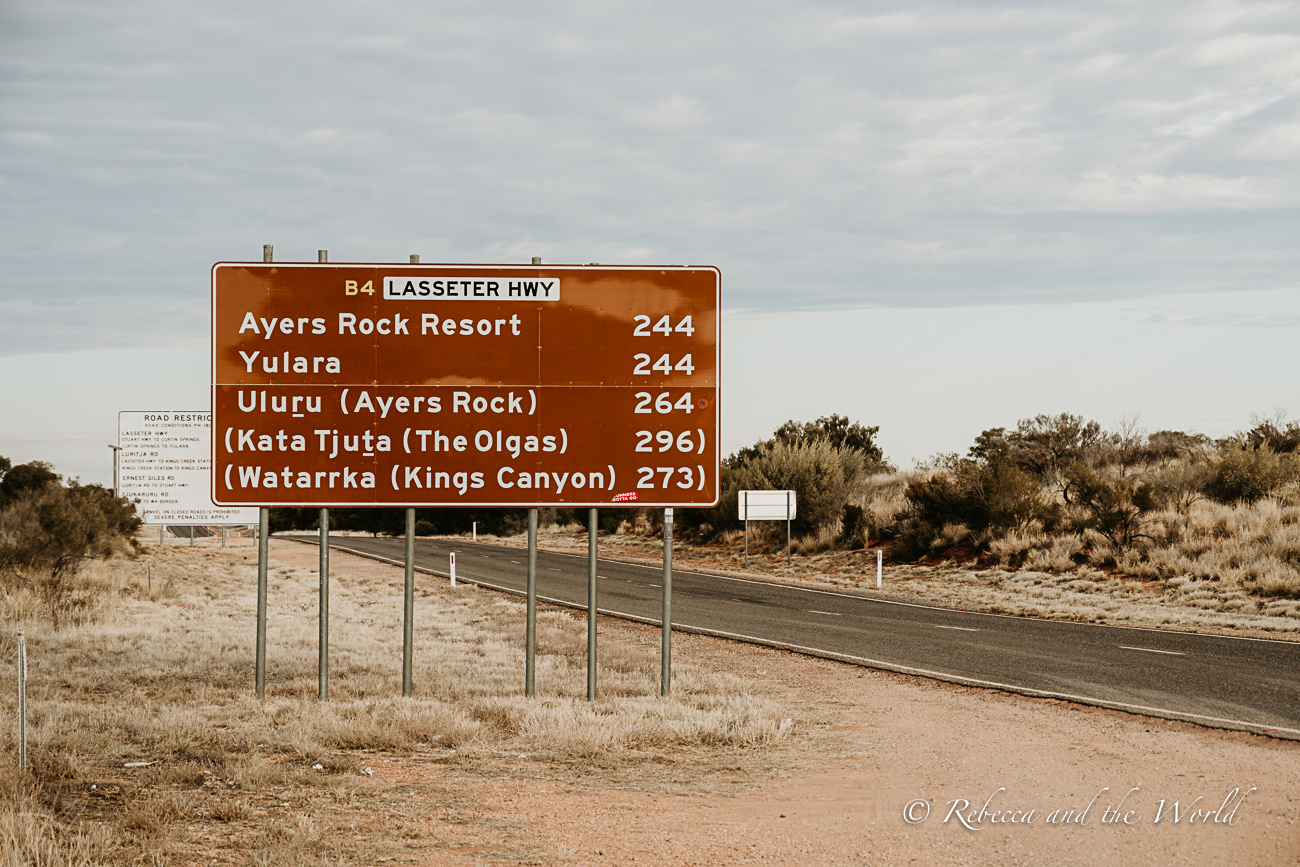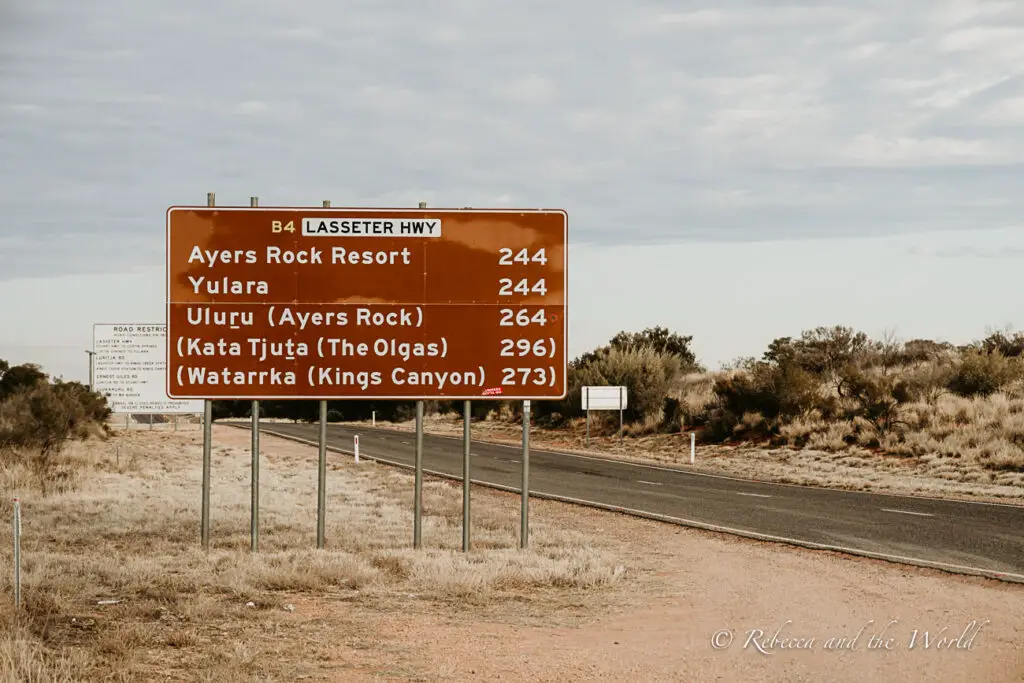 Is it possible to camp in Uluru-Kata Tjuta National Park?
No camping is allowed within the national park itself, but there are the two campgrounds located outside the park – as mentioned earlier in this article.
Are there any pet-friendly accommodation options near Uluru?
Yes, Ayers Rock Campground is dog-friendly. Pets aren't allowed in the national park itself.
Can I walk to Uluru from the accommodation options listed in this guide?
No. It's roughly 18km from Ayers Rock Resort to Uluru, and there aren't any footpaths. It's best to drive or take the Uluru Hop On Hop Off bus (which has a charge). You can ride a bike there, though!
Is there public transportation from Yulara to Uluru?
No, there's no public transport, but Ayers Rock Resort does have the Uluru Hop On Hop Off bus, a scheduled transfer service between the resort and Uluru. It costs $49 per adult per day.
Do I need a car at Uluru?
I think a car is handy, as it means you can be completely flexible with your day. However, Ayers Rock Resort does operate a complimentary shuttle bus around the resort, as well as the Uluru Hop On Hop Off bus between the resort and Uluru. You'll need a car to get to Kata Tjuta. You can rent a car at Ayers Rock Airport.
Are there any cultural considerations to be aware of when visiting Uluru?
Yes, Uluru is a sacred site to the Anangu people, the traditional owners of the land. Visitors are asked to respect their culture and customs by not climbing Uluru (which is now illegal), sticking to designated paths and areas, and not touching or removing any rocks or other natural features.
How long do you need at Uluru?
The amount of time you need at Uluru really depends on what you want to do and see. I recommend spending at least 2-3 days in the area to fully explore Uluru-Kata Tjuta National Park and learn about the local culture. 
What is there to do at Uluru?
There are so many things to do at Uluru – this is truly such a magical place. Some of the must-do activities include watching the sunrise or sunset over Uluru, taking a guided tour of the base, visiting the Cultural Centre, hiking the many trails around Uluru and Kata Tjuta, and taking part in one of the incredible dining or Field of Lights experiences.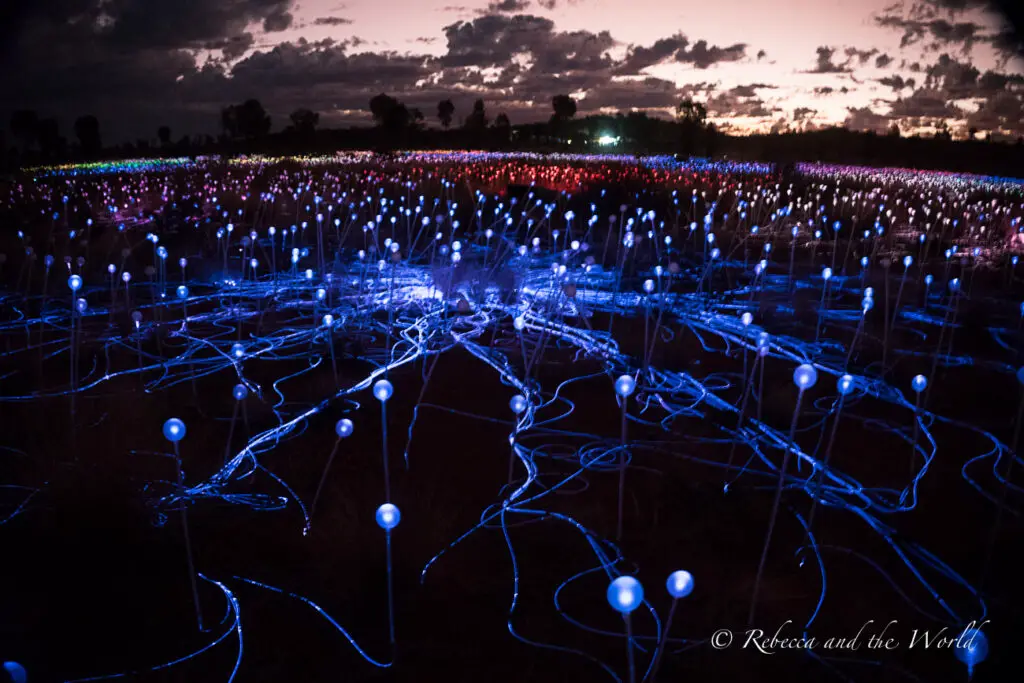 Uluru accommodation: Final thoughts
Uluru is an unforgettable bucket list destination in Australia and I think everyone should visit it at least once in their life. As you'll have realised from this article, there are a number of hotels and campgrounds, ranging from absolutely luxury to basic, depending on your budget and your preferences.
My number one tip is to book well in advance if you're planning to visit during the peak periods. And to recognise that this place is remote, so things are going to cost a bit more – but it's totally worth it, I guarantee!
Uluru accommodation guide: Pin it for later
Save this Uluru accommodation guide to Pinterest so you can plan your Uluru itinerary later.