Wondering what to do when you visit Uluru? In this guide, I share my recommendations for the best things to do at Uluru, a truly unforgettable place to visit.
If there's one place that epitomises Australia, it must be Uluru. This iconic red rock, smack bang in the middle of the country, is a must-visit for any trip to Australia.
Towering 348 metres above the Earth's surface, what's even more mind-boggling is that there's more than 2.5 kilometres of Uluru actually beneath the surface!
While today it's one of the most recognisable natural attractions in the world, Aboriginal people have known about it for thousands and thousands of years. This sacred site has evidence of human life dating back some 30,000 years. It's still a sacred site for the Anangu people and I've no doubt that you'll feel a deep sense of spirituality when you're here.
You'll never forget your first time seeing Uluru, and in this guide, I'll share even more unforgettable things to do at Uluru.
This blog post may contain affiliate links, meaning if you book or buy something through one of these links, I may earn a small commission (at no extra cost to you).
Tips for visiting Uluru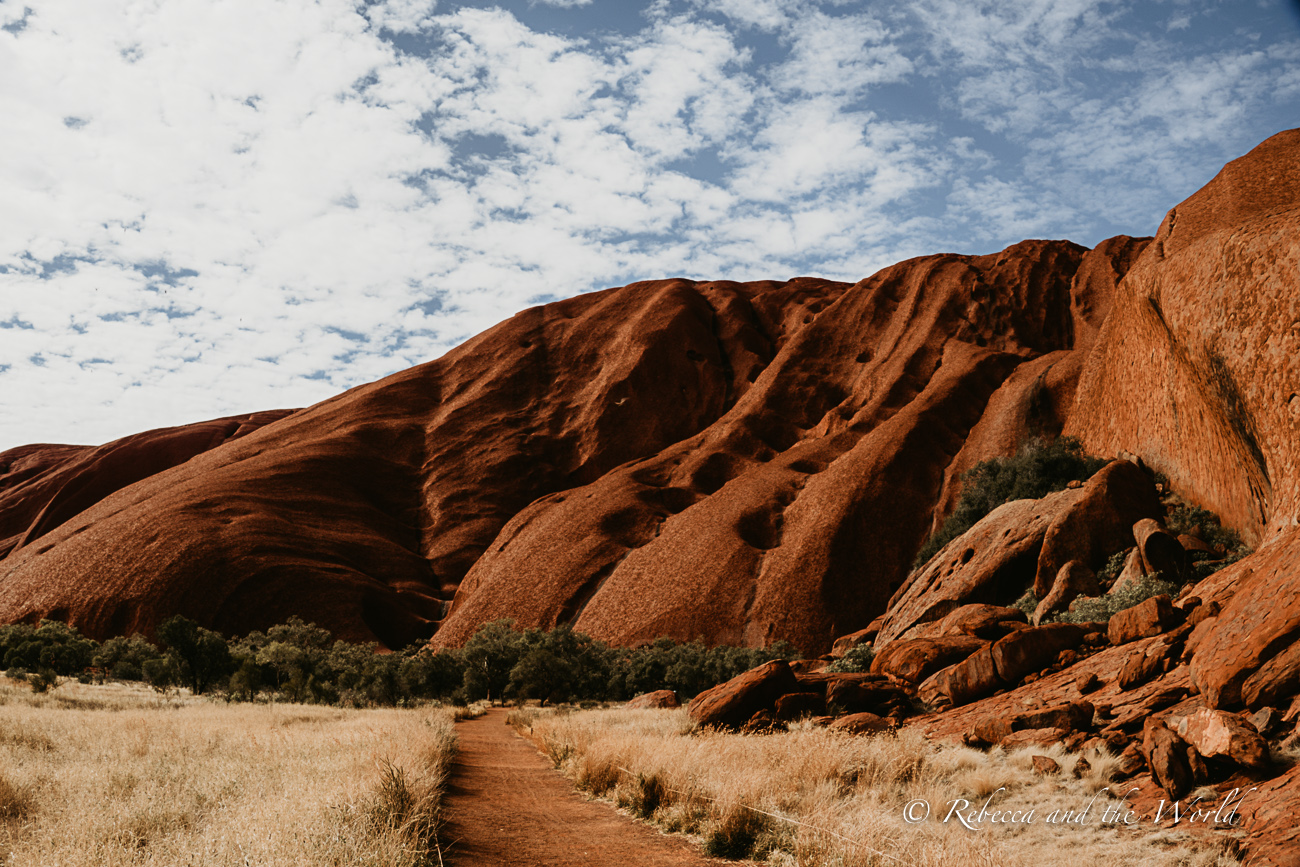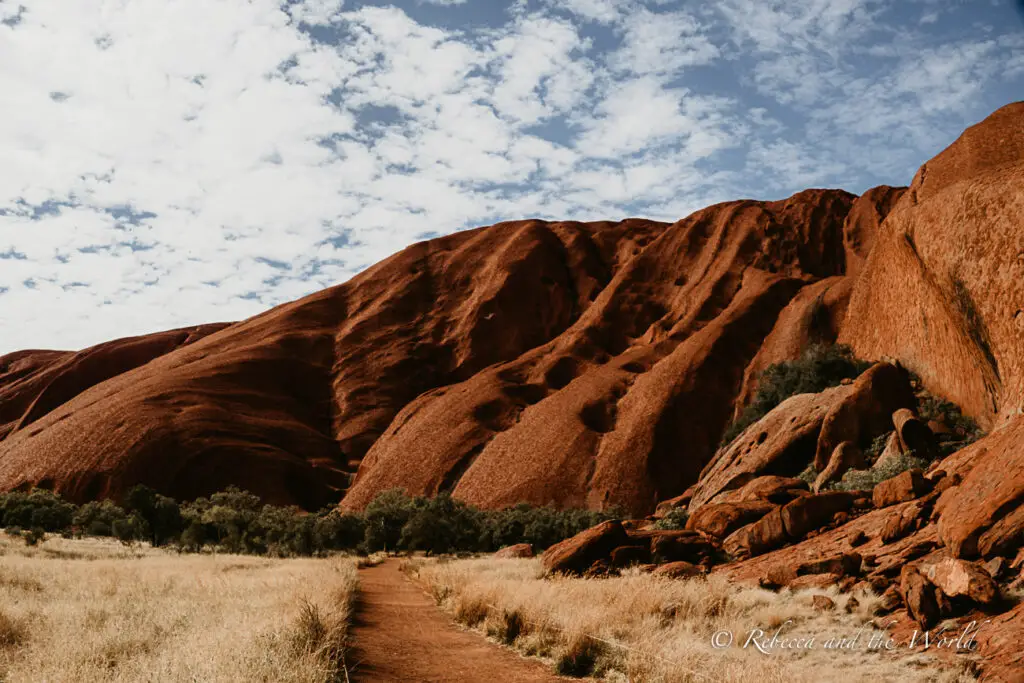 Uluru or Ayers Rock?
The explorer William Gosse named the monolith Ayers Rock in 1873, named so after Sir Henry Ayers, the Chief Secretary of South Australia at that time. It's believed Gosse was the first non-Aboriginal person to spot Uluru.
But it's been Uluru long before Europeans saw it and, thankfully, in 1993 the name was recognised in dual naming. While you can call it Ayers Rock, the better name is Uluru – one that recognises the sacredness of this natural wonder.
How long to spend at Uluru
Because there's so much to do at Uluru – and because it's pretty remote! – I recommend at least two to three nights. This will give you enough time to do activities at Uluru and spend a bit of time relaxing and taking in the majesty of Uluru-Kata Tjuta National Park. It's one of the most amazing things to do in Australia, so don't just speed through a visit to Uluru!
Buy a park pass
To visit Uluru-Kata Tjuta National Park, you need to purchase a park pass. These can be purchased at the gate, but if you're travelling during peak seasons, I recommend buying it online in advance. Passes are valid for three days. You do need to specify your dates when you buy online, although you can change dates if needed (but only once). Passes cost $38 for adults and are free for children 17 and under.
You can't take photos at some places
Uluru is a sacred site for the Anangu people and you will see signs showing where you can't take photos or video to avoid revealing special sites. Make sure you respect these signs.
And on the topic of photos and video, it's forbidden to fly a drone in Uluru-Kata Tjuta National Park.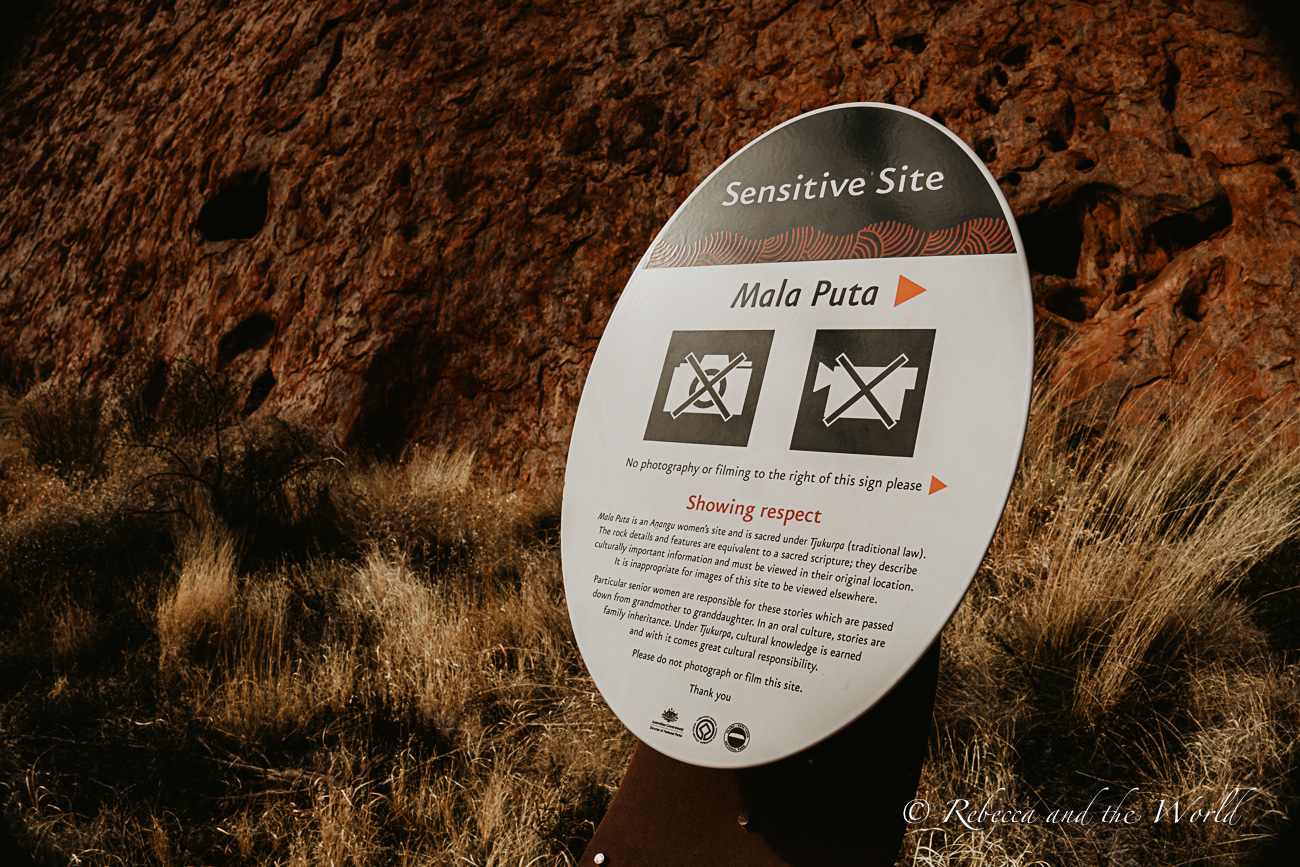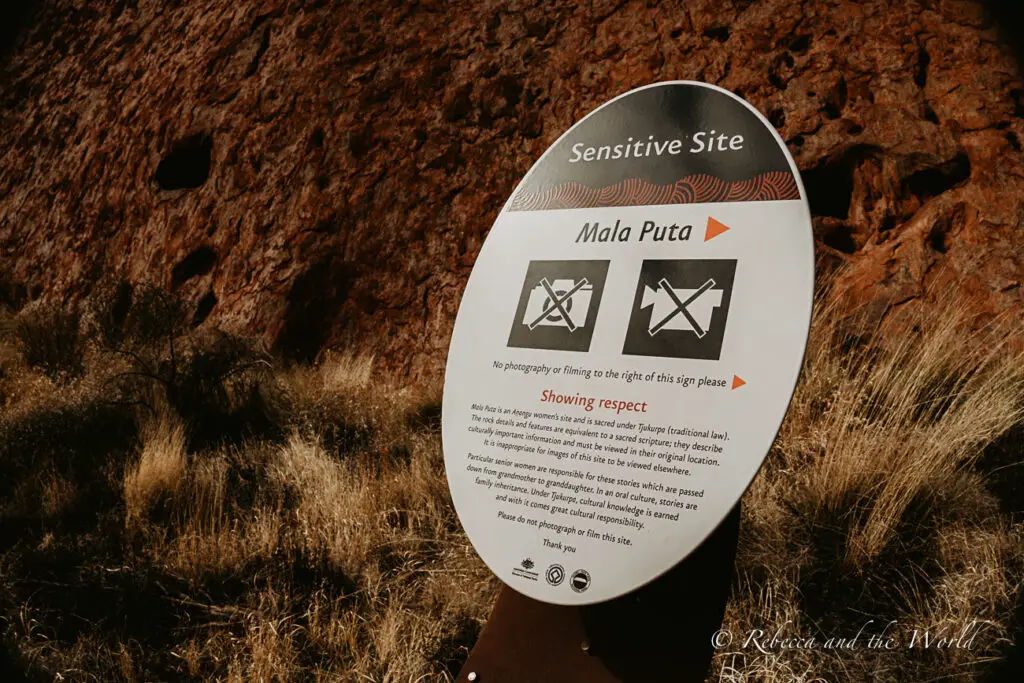 You can't climb Uluru anymore
Despite the Anangu asking people not to climb Uluru for many, many years – for both sacred and safety reasons – visitors continued to climb. Thankfully, their requests are now respected, and as of 26 October 2019 you can no longer climb Uluru.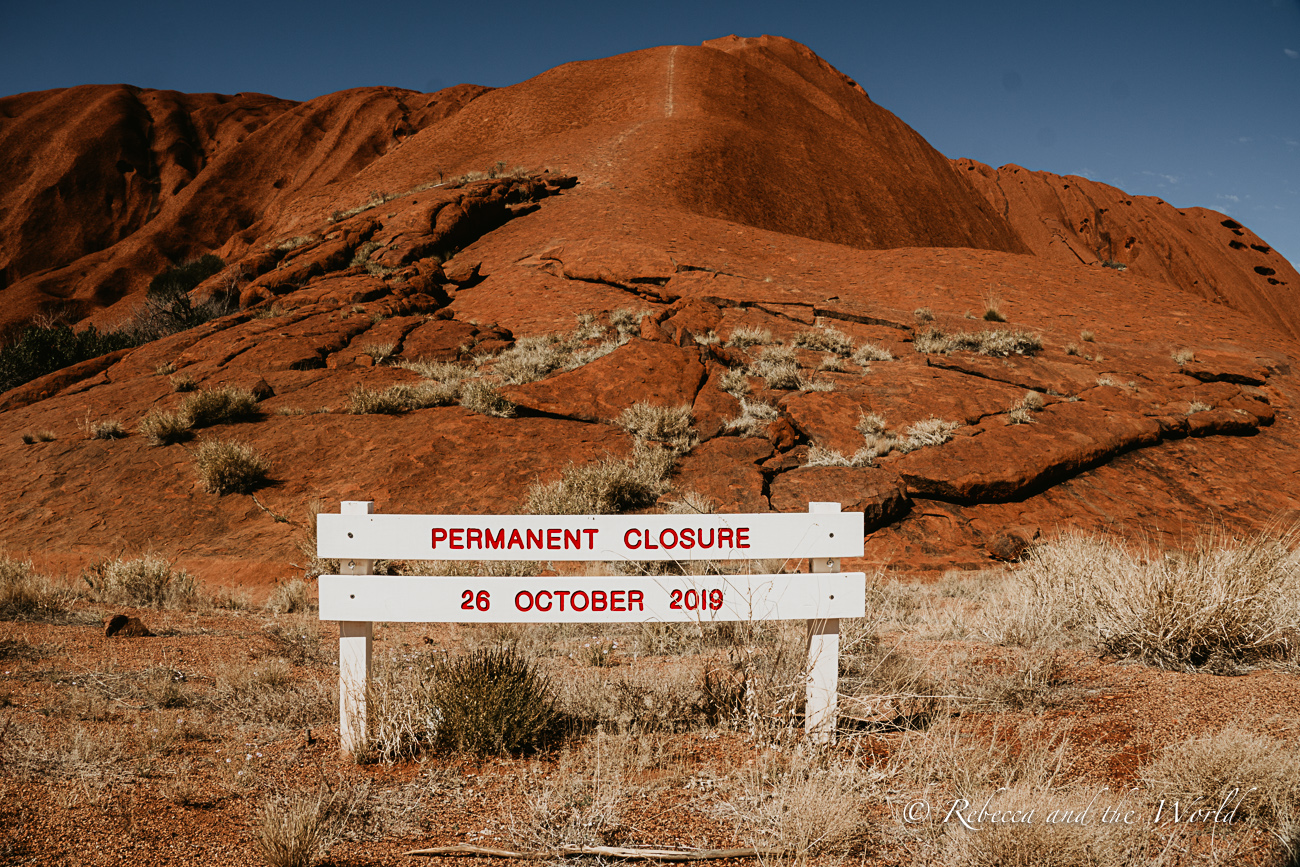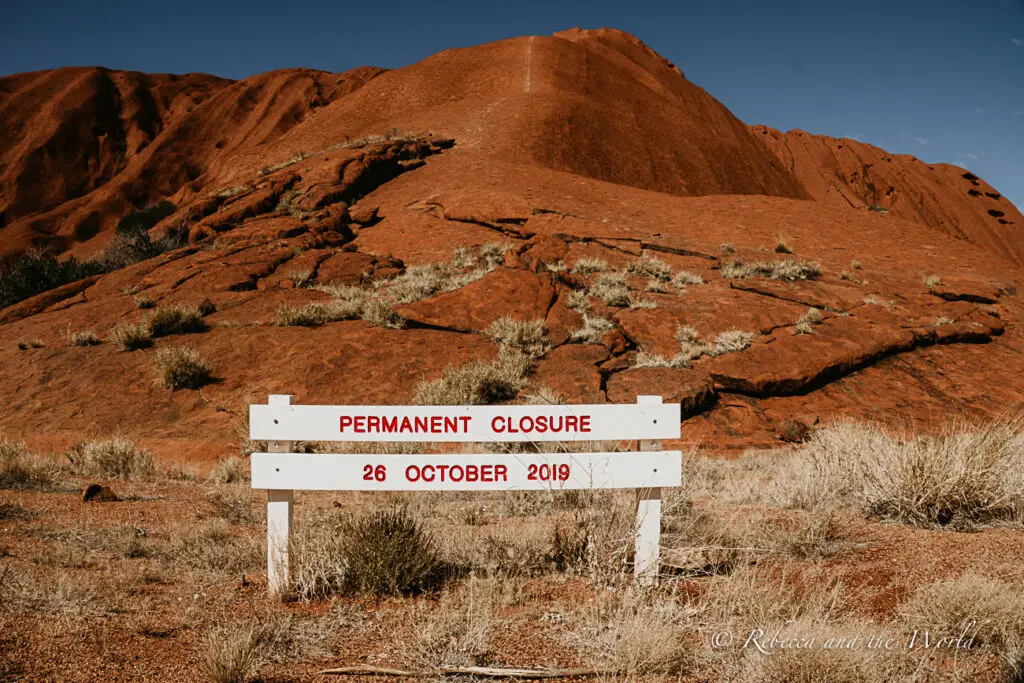 Avoid the heat of day
It can get very hot at Uluru, especially if you're travelling outside of the winter months. Even in winter, day time temperatures can hit 30 degrees and above. When planning hikes, try to do them in the morning or afternoon to avoid the highest temperatures.
Book accommodation and Uluru activities in advance
Uluru is a popular place. Even in the off-peak seasons it's not uncommon to find accommodation booked out and limited spaces on activities. So, make sure you plan ahead to avoid disappointment.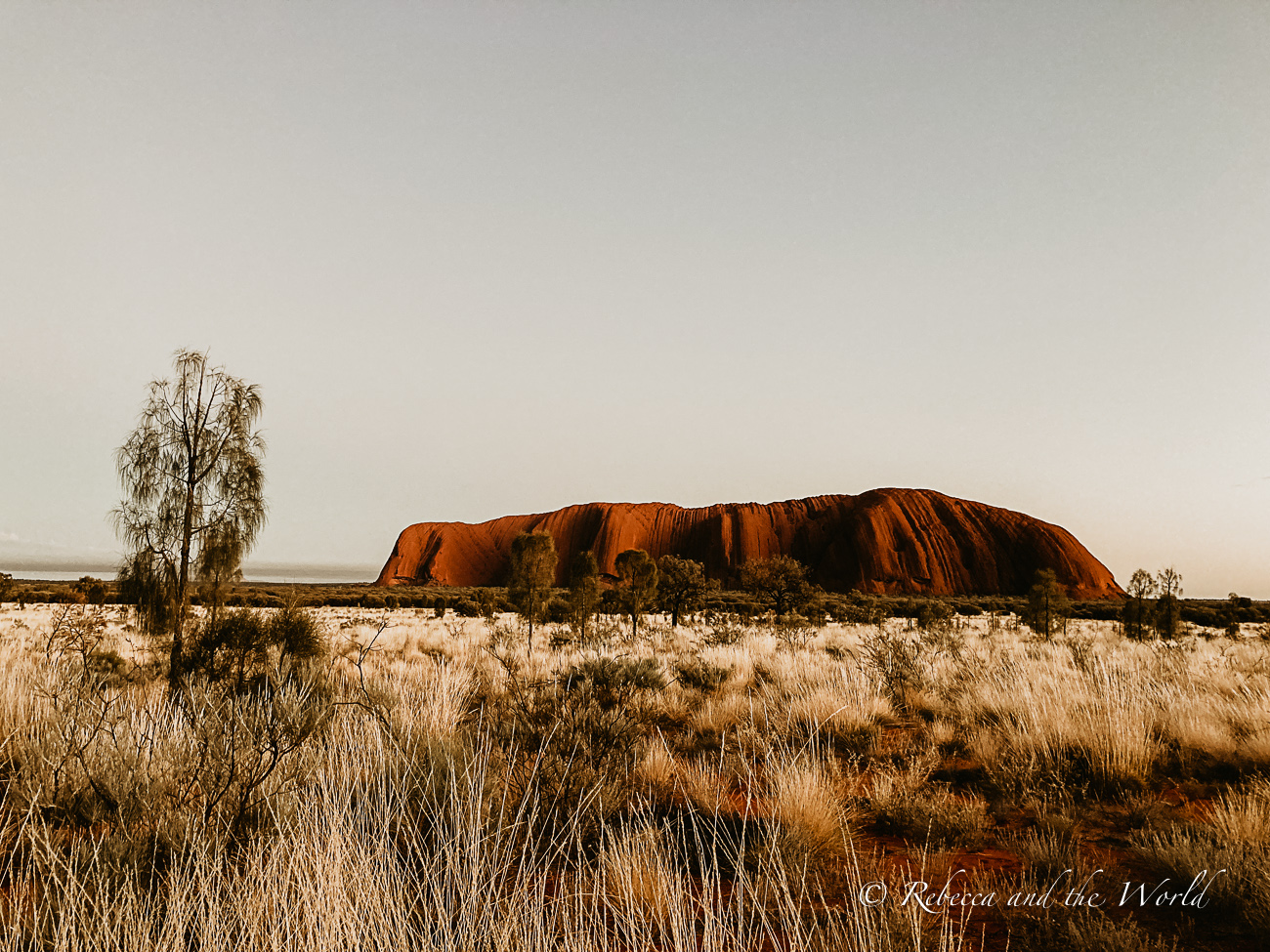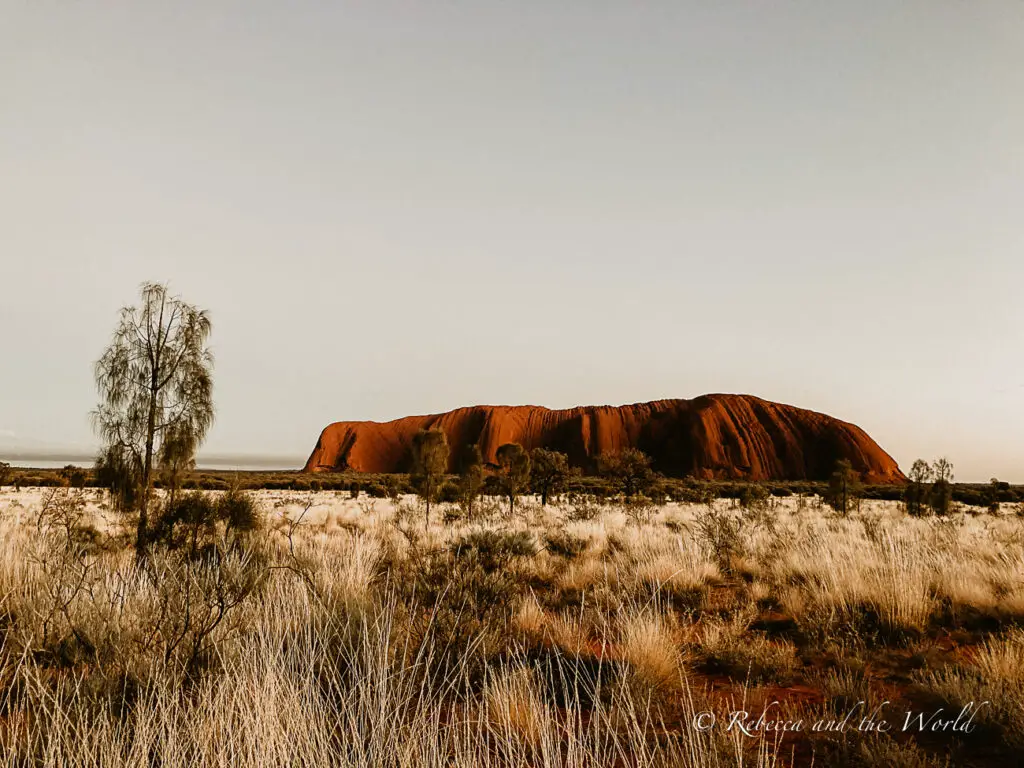 The best things to do at Uluru
Here are my recommendations for the best things to do in Uluru on your visit.
Uluru base walk
The Uluru Base Walk is a great way to see Uluru up close from all angles. The colour of the rock, its shapes and the patterns in the rockface change as you walk around.
Start the walk from the Mala carpark and take the loop clockwise. The walk is a 10.6km loop, which will take you around 3.5 hours. There's interpretive signage at various points to explain interesting and important aspects of Anangu culture and life.
It's a flat walk all the way around but be warned that there's not a lot of shade. So, slather on sunscreen and make sure you have plenty of water a good hat for protection. There are a couple of seats along the path, but not many.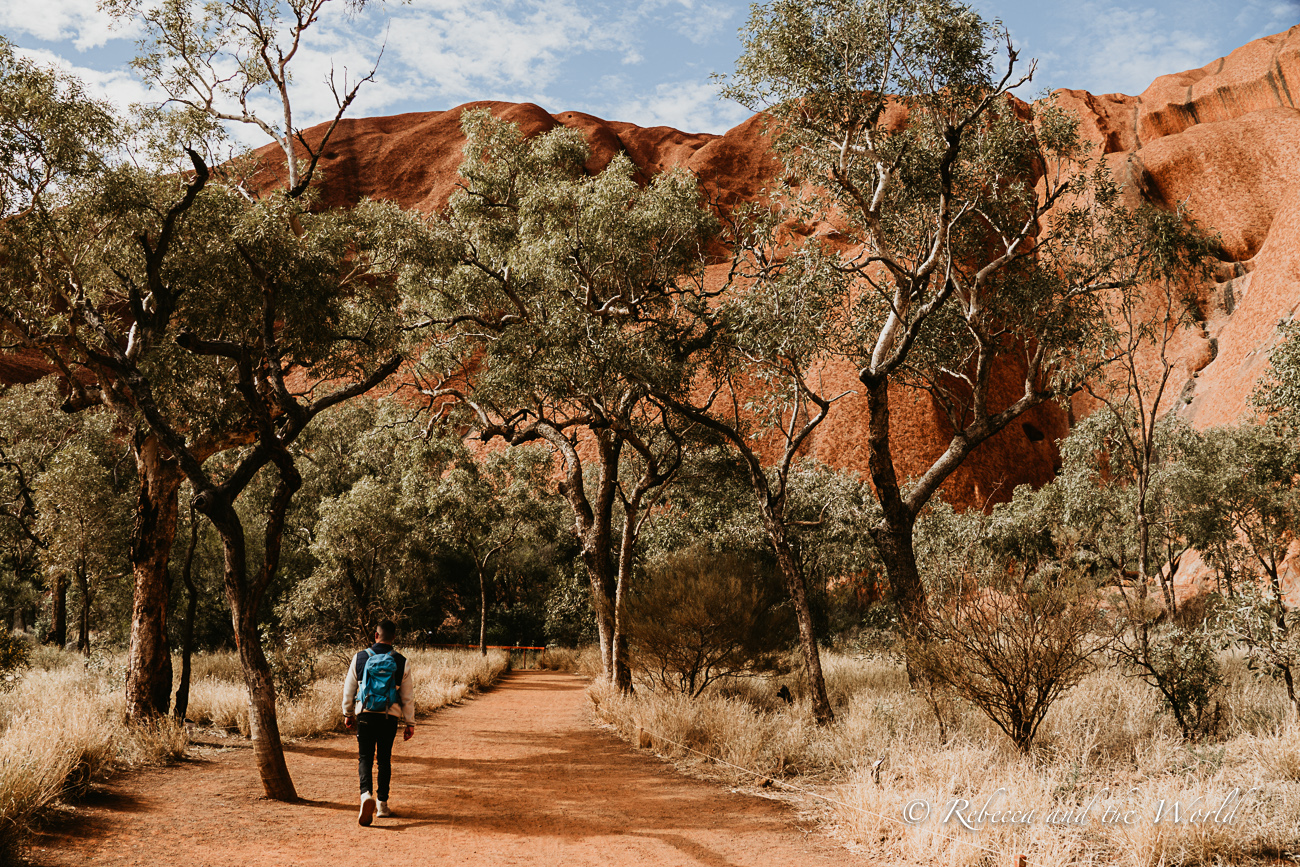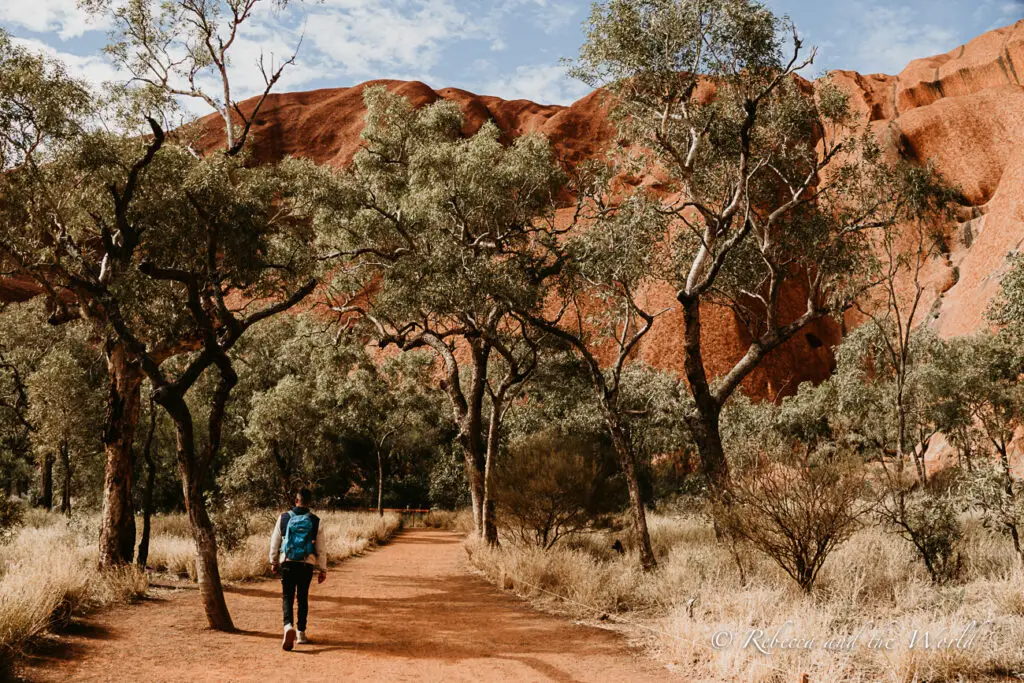 Hire a bike
If the idea of a 10.6km walk sounds daunting or you just don't have the time, you can rent bikes and do the Uluru base loop on two wheels instead.
Outback Cycling has trailers full of bikes to hire at the Uluru-Kata Tjuta Cultural Centre. Bike rental costs $60 for ages 11 and up.
Or take a segway
And if you really don't want to get active, then one of the easiest things to do at Uluru is take a segway around the base.
Personally, I'm not a fan of segways – they seem to take away from the sacredness of the site. But it is possible and you can book online from a variety of sunrise and sunset guided tours. Transfers can also be included.
Dine under the stars
Eating out under the inky black sky with a blanket of stars stretching above you is an amazing way to experience Uluru.
Ayers Rock Resort has two outdoor dining experiences: Tali Wiru and Sounds of Silence. Both aren't cheap but they are incredible. 
On our trip to Uluru, we splashed out for the Tali Wiru dinner. We were driven to a private deck with a view of Uluru. Dinner started with champagne, canapés and a yidaki (didgeridoo) performance, followed by a four-course menu. Each dish featured native ingredients and was paired with Australian wines. The night ended with a fascinating astronomy lesson and hot chocolate and cognac around the campfire. Definitely not one of the cheapest things to do at Uluru, but so worth it!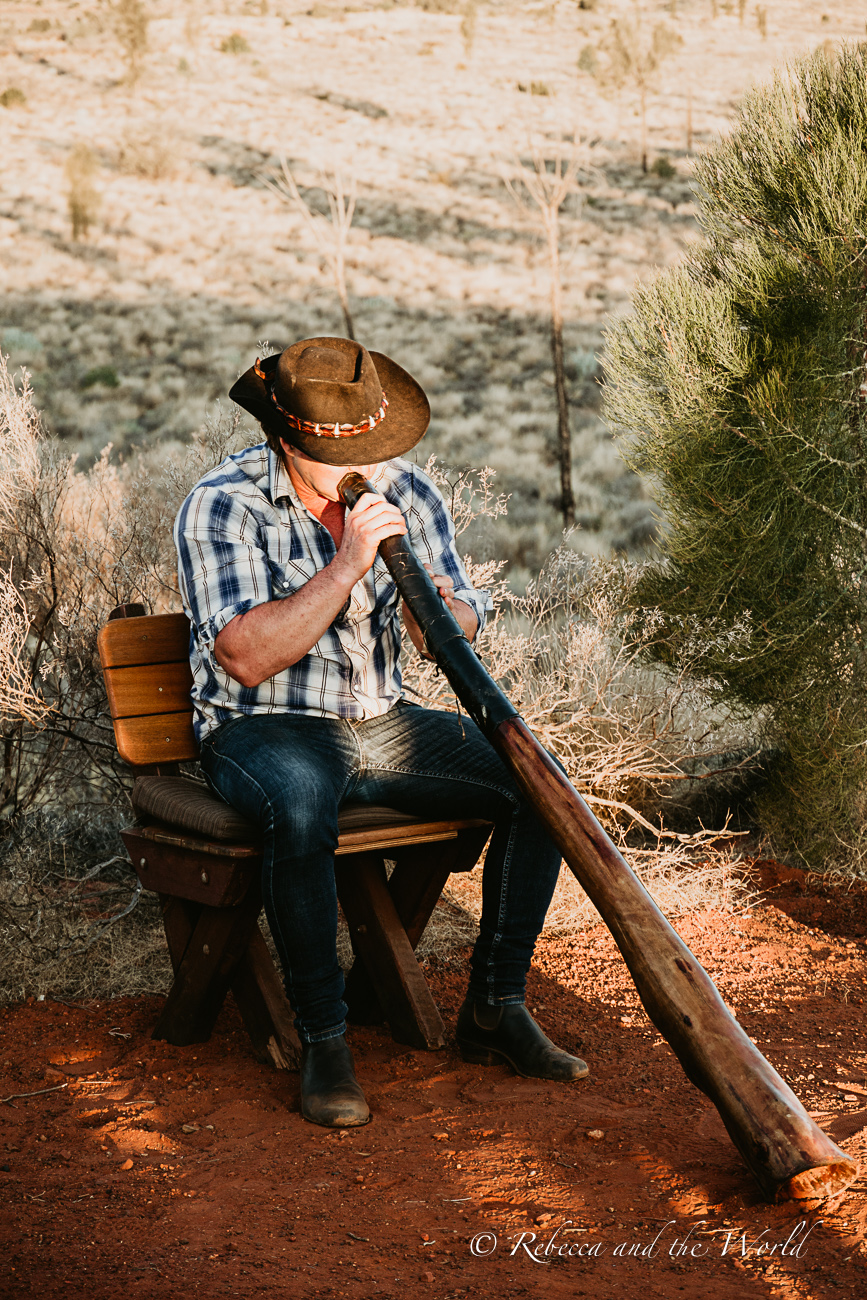 The Sounds of Silence dinner is a similar experience to Tali Wiru, but you'll sit at shared tables (rather than just with your group). There's an in-depth stargazing lesson and delicious food.
Reputable tour company AAT Kings also runs a BBQ dinner under the stars. Their tours include a multi-course meal, drinks and an astronomy lesson.
Watch the sky light up
The newest experience at Uluru is mind-blowing: more than 1,100 drones light up the sky to share an ancient story using modern-day technology.
Wintjiri Wiru tells the ancient Mala story from Kaltukatjara to Uluru. It's the first time an Indigenous story has been told through the medium of lights, lasers, projection and drone technology at this scale and frequency.
Created in careful consultation with the Anangu people, the experience includes light refreshments or dinner, depending on the package you choose.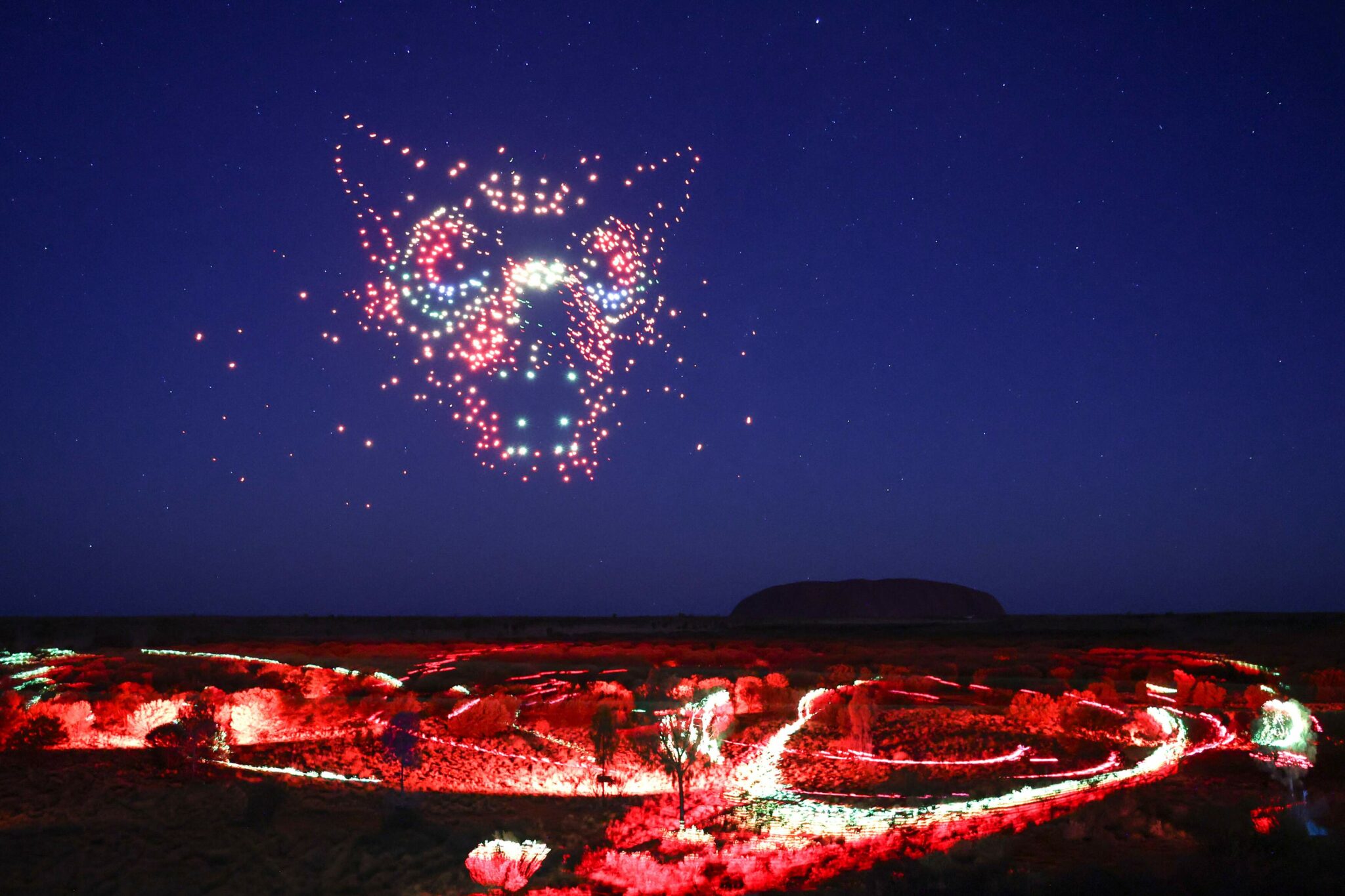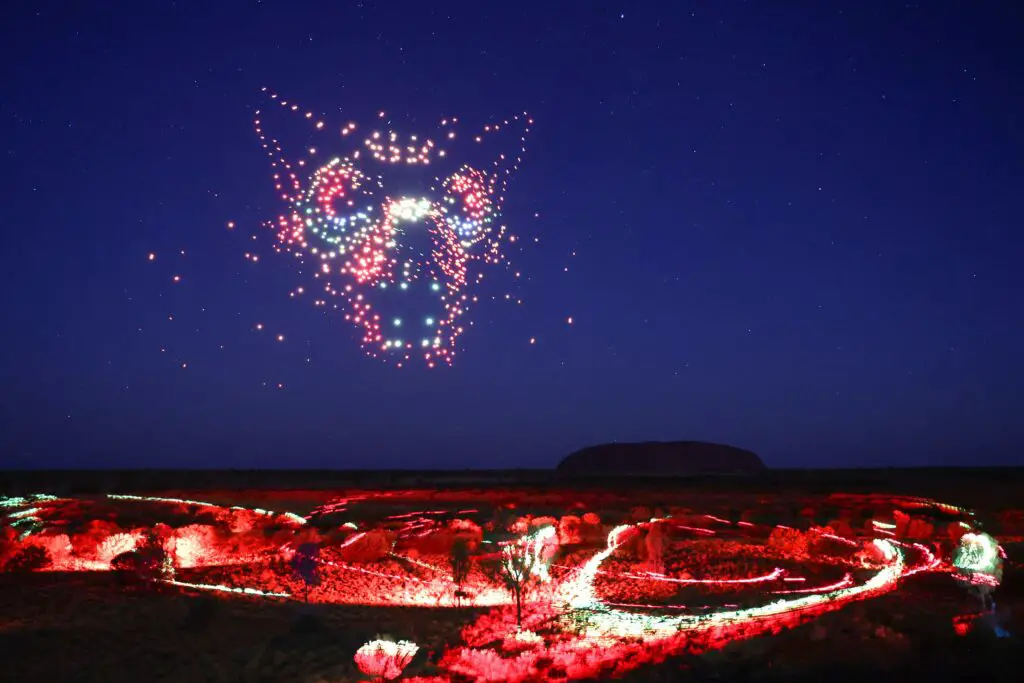 See Uluru at sunrise and sunset
Throughout the day, Uluru changes colour, and sunrise and sunset bring the richest, deepest reds and ochres.
There are a couple of places to watch the sunrise. The Talinguru Nyakunytjaku sunrise viewing area has several shelters, viewing platforms and some walking tracks so you can stand with the crowds or find a quieter spot to marvel at the sunrise. 
For sunset, head to the clearly marked Car Sunset Viewing area to see the rich reds of Uluru as the sun sinks down over the horizon.
Hot tip: The sunrise and sunset viewing areas can get busy. But if you'd like to see the sunrise or sunset with fewer people, then head to the opposite viewing platform, where you're likely to have the viewing area all to yourself. So, at sunrise, go to the sunset viewing platform and vice versa for sunset.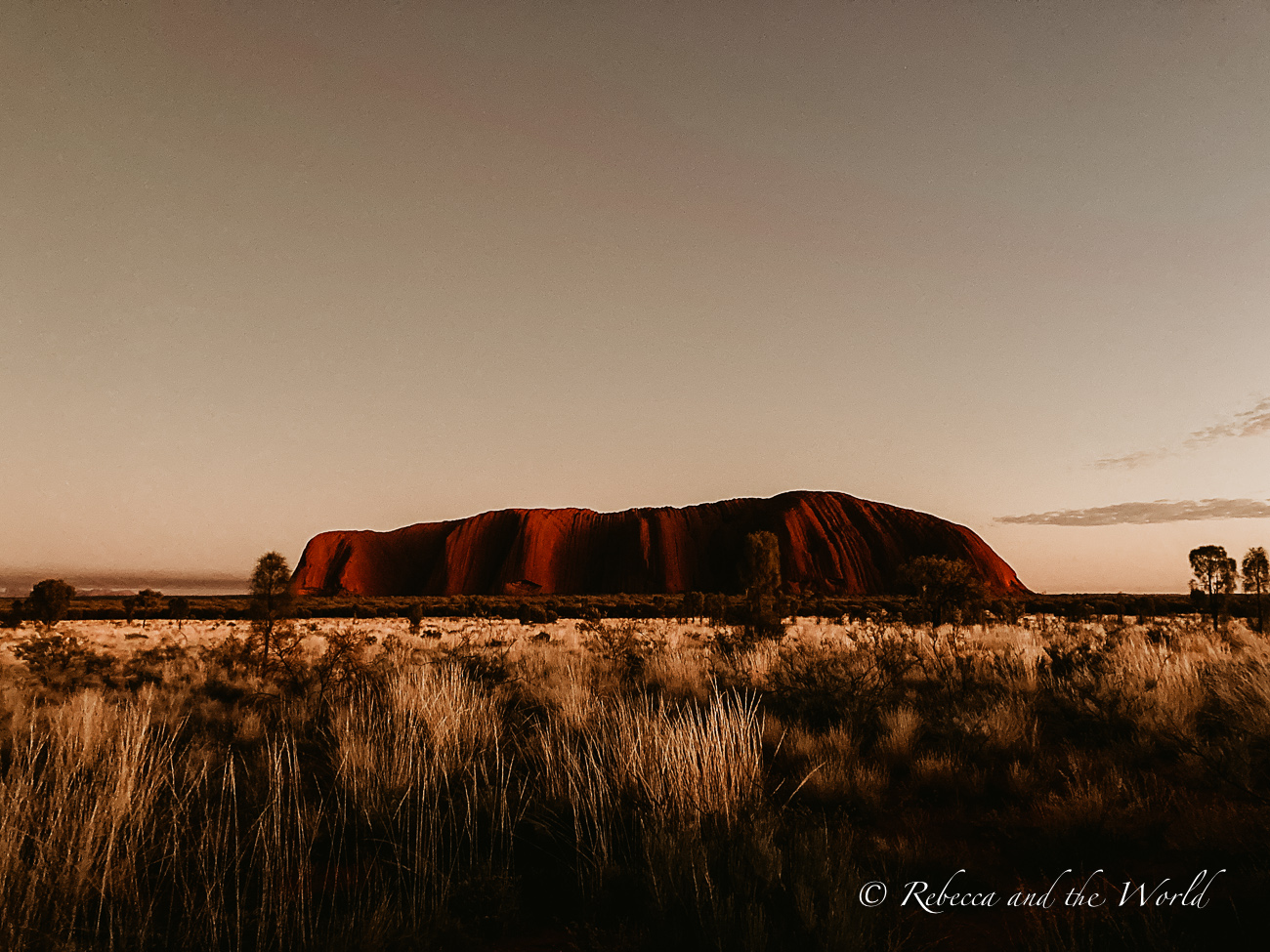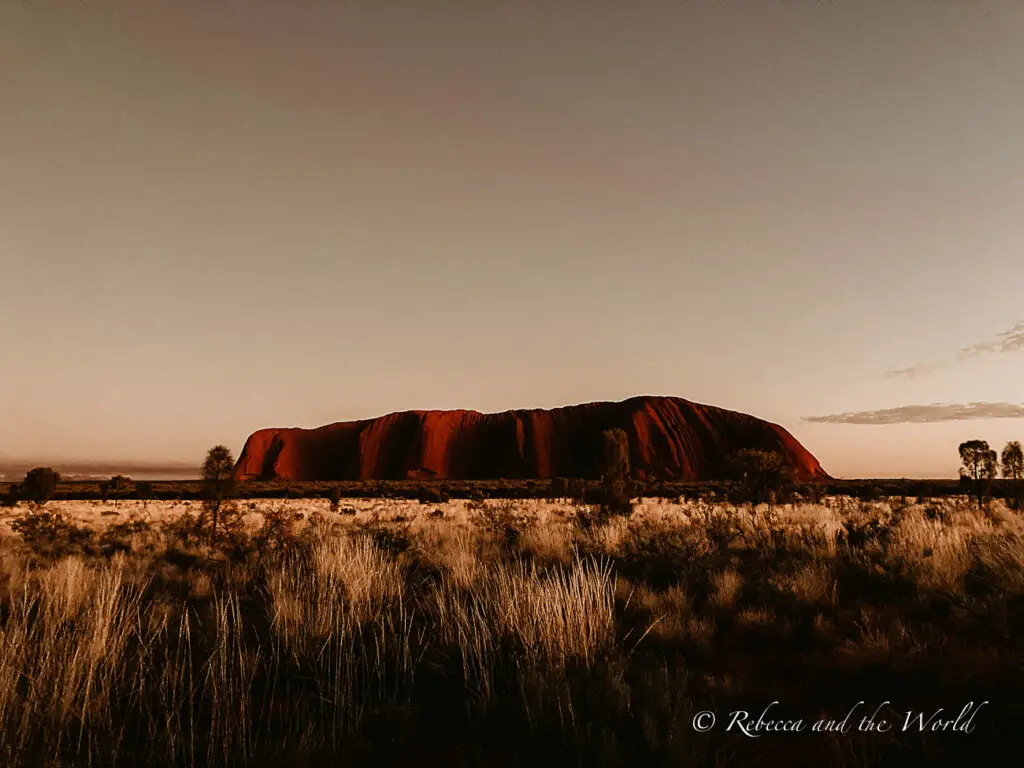 Head to Kata Tjuta
Kata Tjuta (the traditional name for the area previously known as The Olgas) is Uluru's somewhat lesser-known brother, but it is equally as mind-blowing. This stunning rock formation is located in the same national park as Uluru, so it's easy to spend a day at one and a day at the other, if you have the time on your Uluru road trip.
Kata Tjuta is a series of 36 domes pushing their way out of the flat surrounding land. The tallest dome rises almost 550 metres high. Kata Tjuta means "many heads" in Pitjantjatjara language, and it's easy to understand where this name comes from.
On your way out here, stop at the viewing platform to get the full panoramic view of Kata Tjuta.
Kata Tjuta is also a spectacular place for sunrise and sunset. We didn't have time to do this (our cosy bed was far too hard to get out of on the chilly mornings!) but the photos I have seen show the domes drenched in blood-red shadows.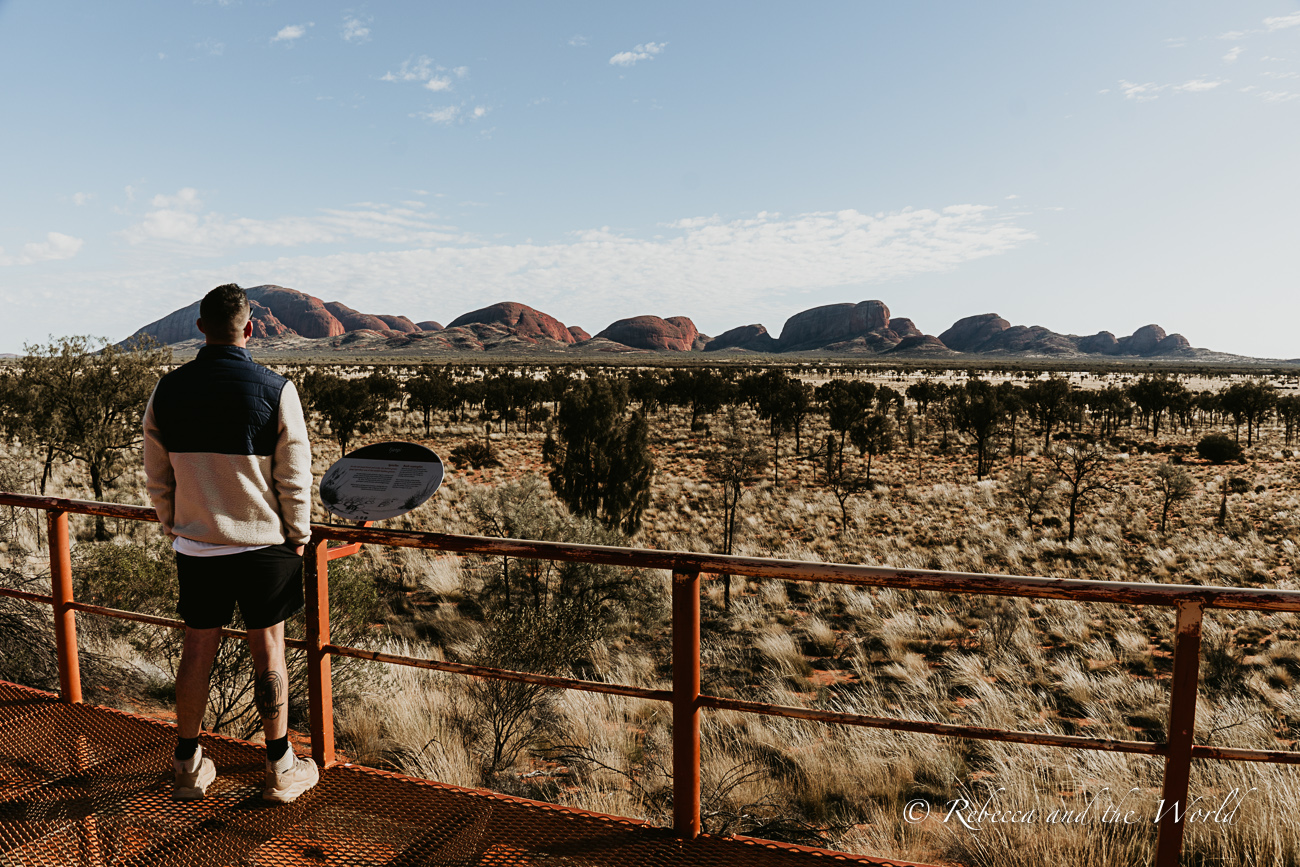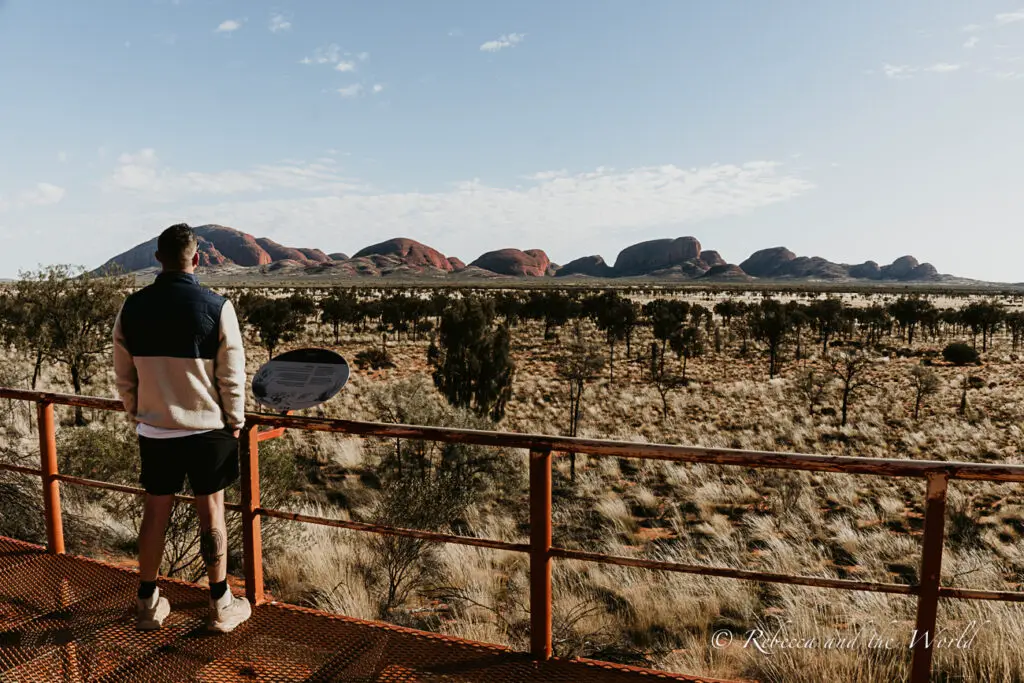 Hike the Valley of the Winds trail
One of my favourite hikes at Kata Tjuta is the Valley of the Winds trail. It's a 7.4km loop that takes anywhere between two to four hours. There are shorter in and out sections if you don't have the time or energy to do the whole hike.
The first part of the trail is really rocky – but don't let that put you off. There are also some steep parts and rock scrambling up flat boulders. My favourite part of this hike is the Karingana Lookout, where you can gaze out between the boulders. Even with other people there, it feels incredibly tranquil.
Keep in mind that the hike is closed if the weather hits 36 degrees.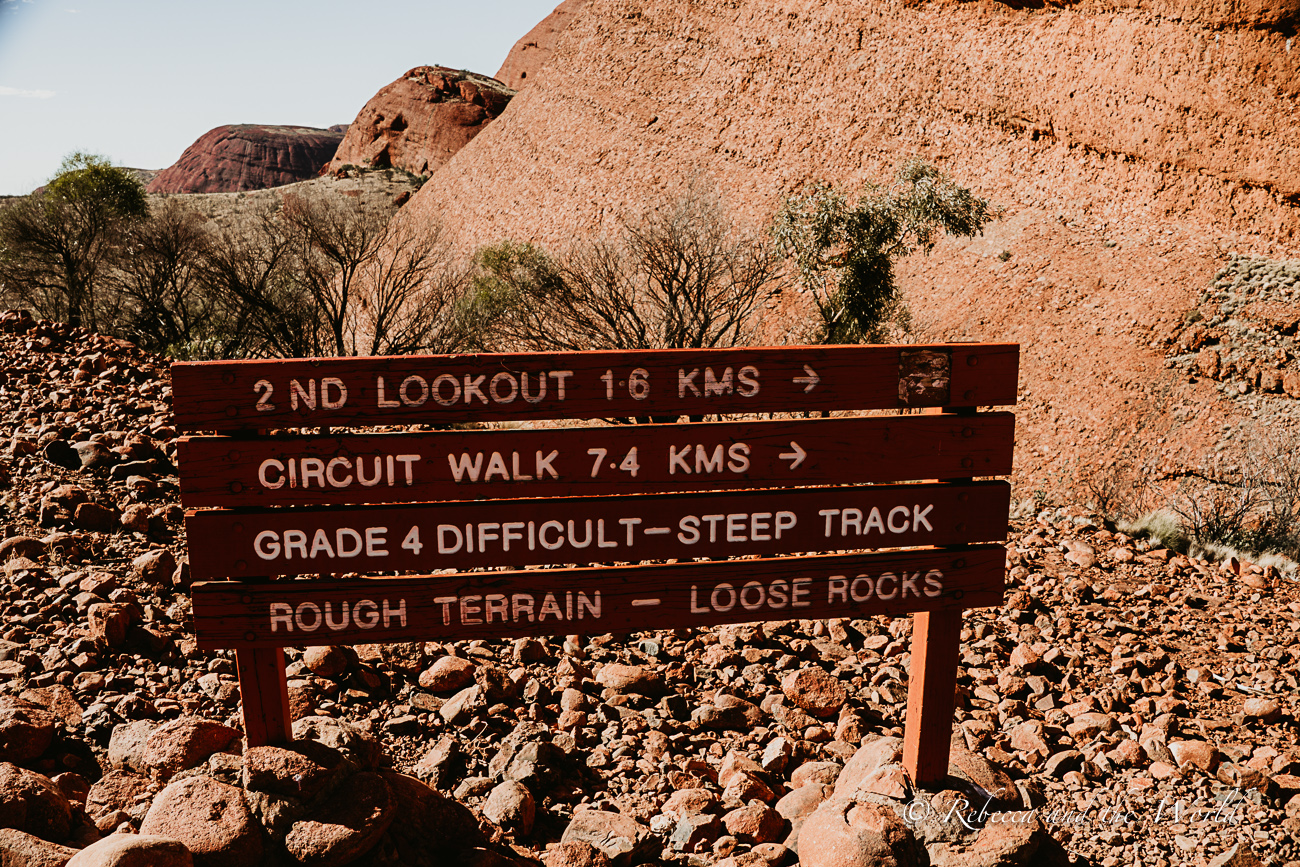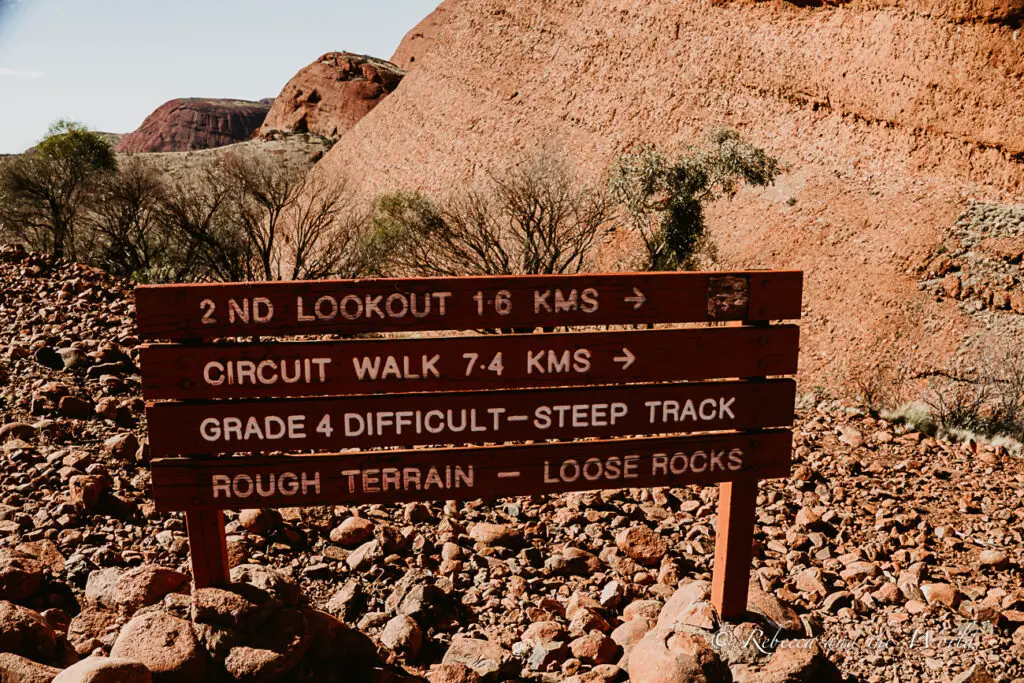 Check out Walpa Gorge
The other great hike at Kata Tjuta is the Walpa Gorge trail. At only 3 kilometres and relatively flat, it's an easy in and out trail for the whole family.
The trail leads into the domes, and ends with a viewing platform that overlooks a lush green space. Standing at the base of the gorge, you have an acute sense of how these rock walls have formed over millions of years.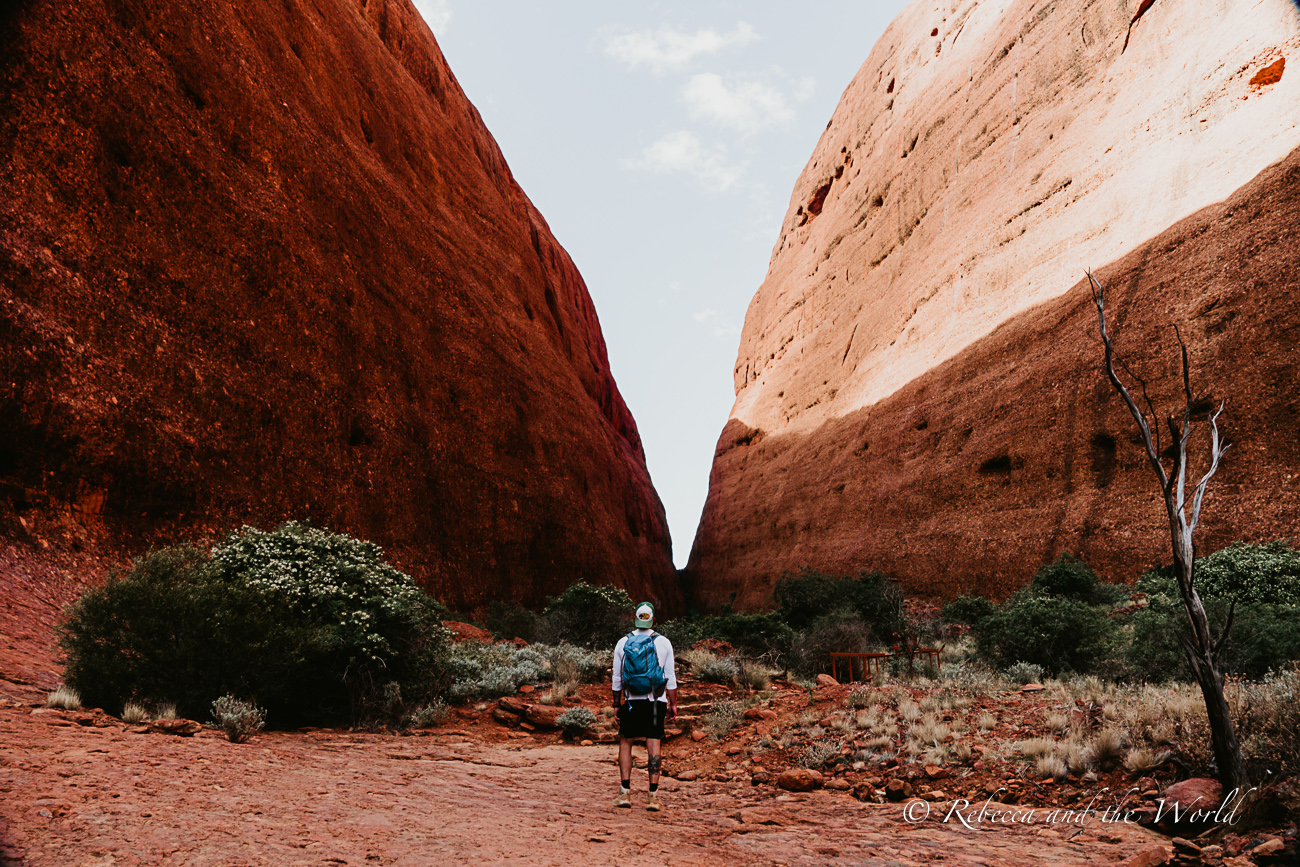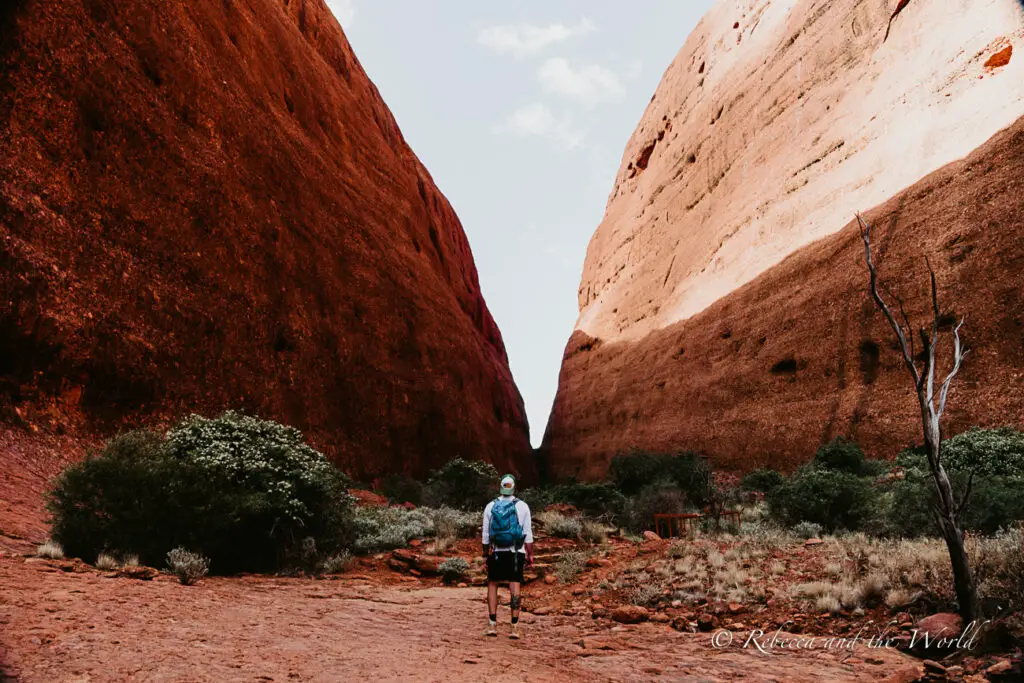 Take the guided Mala walk
The start of the Uluru base walk includes the Mala walk, a 2-kilometre trail. You can easily do this walk yourself and read the interpretive signage, but even better is that there are guided tours. Park rangers can tell you all about Anangu culture, the rock art and how the park is managed.
Guided tours operate at 10am daily from May to September, and at 8am from October to April.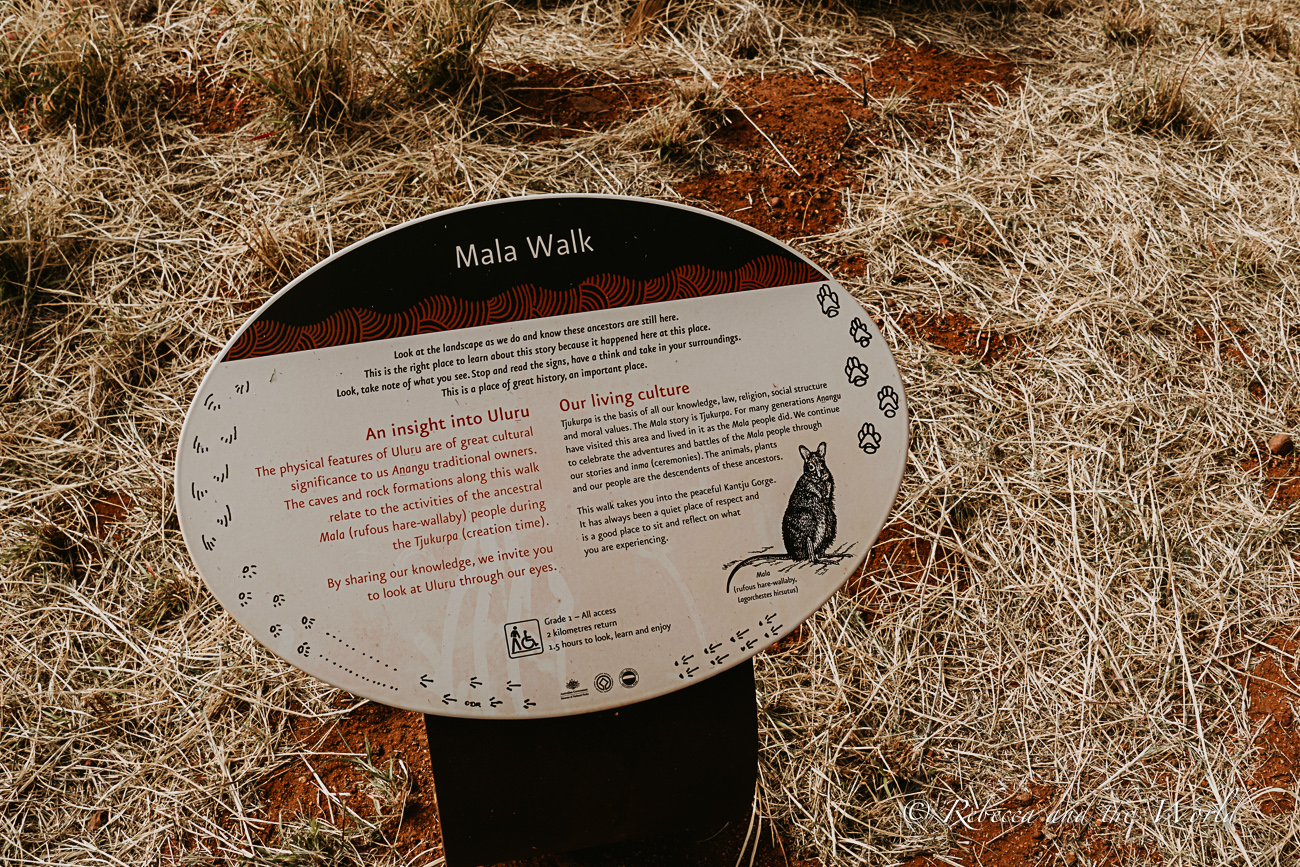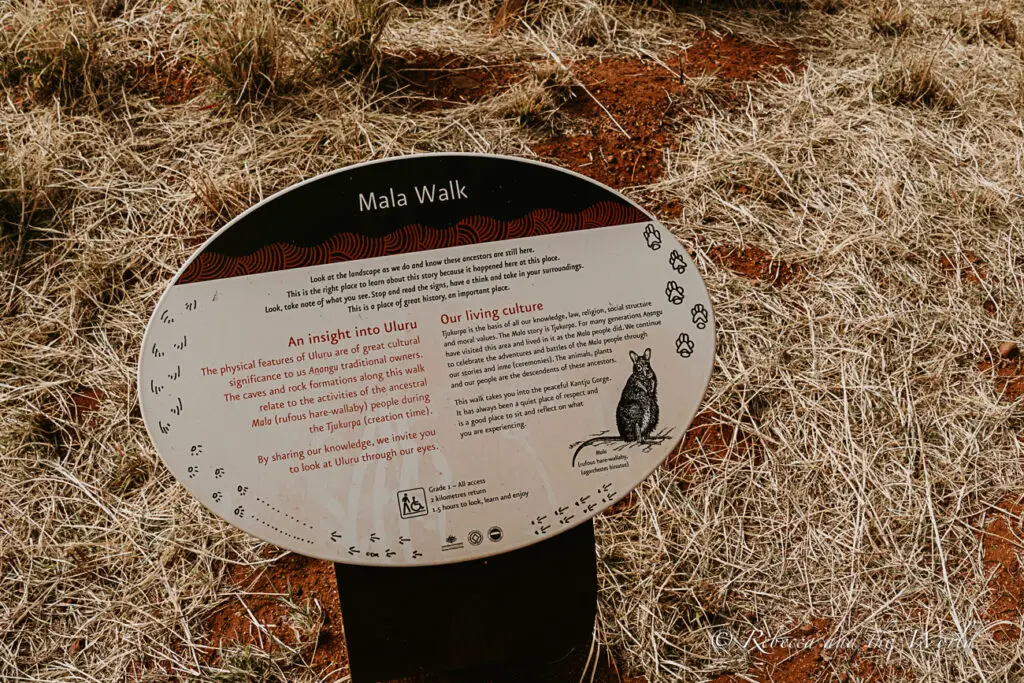 Go for a walk after sunrise
As well as being a great spot to watch sunrise each day, Talinguru Nyakunytjaku has two walks that you can take after you've finished enjoying the sun rise.
The Minymaku Walk is a 1-kilometre return trail, and is where you can learn all about women's business.
The Watiku Walk is a little longer at 1.5 kilometres, and this trail teaches visitors about men's business.
Both trails have useful interpretive signage.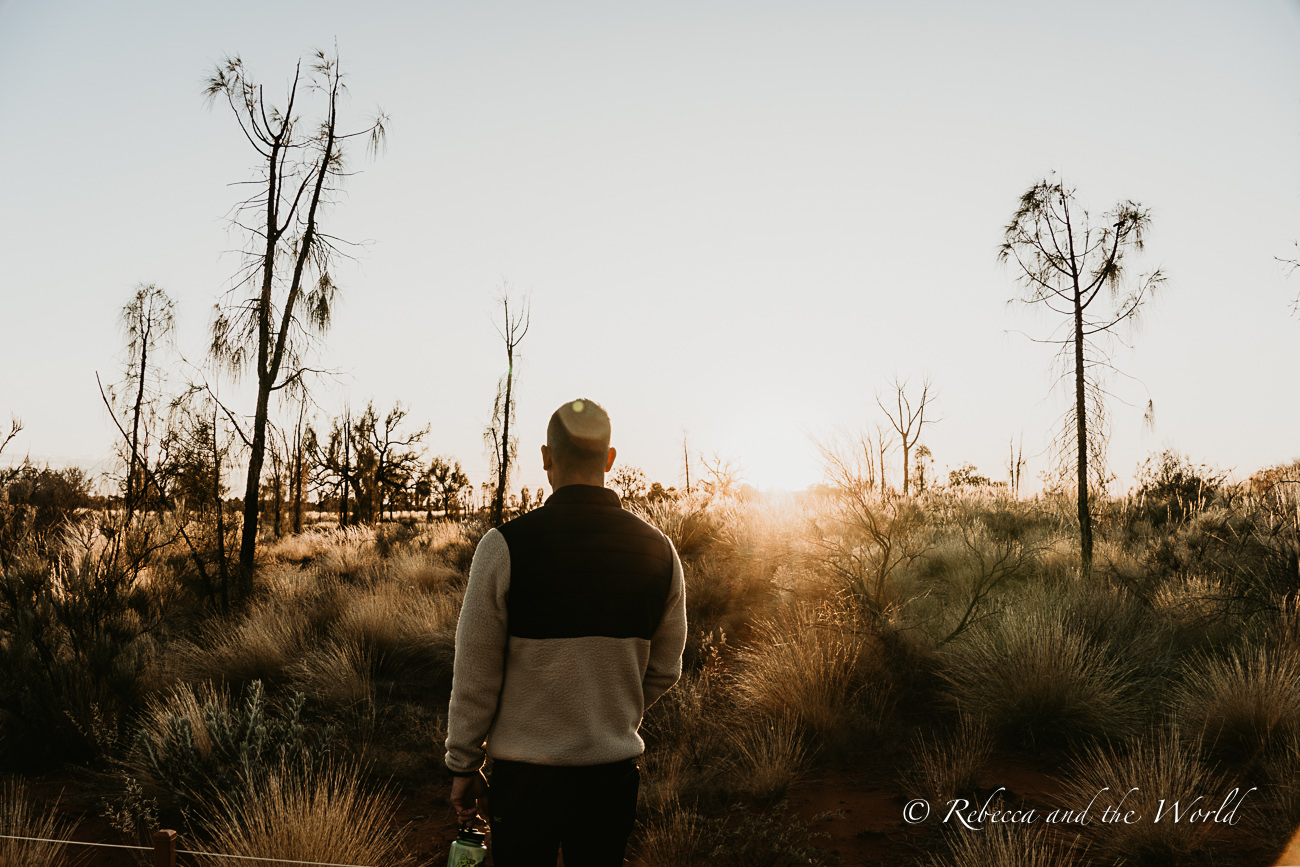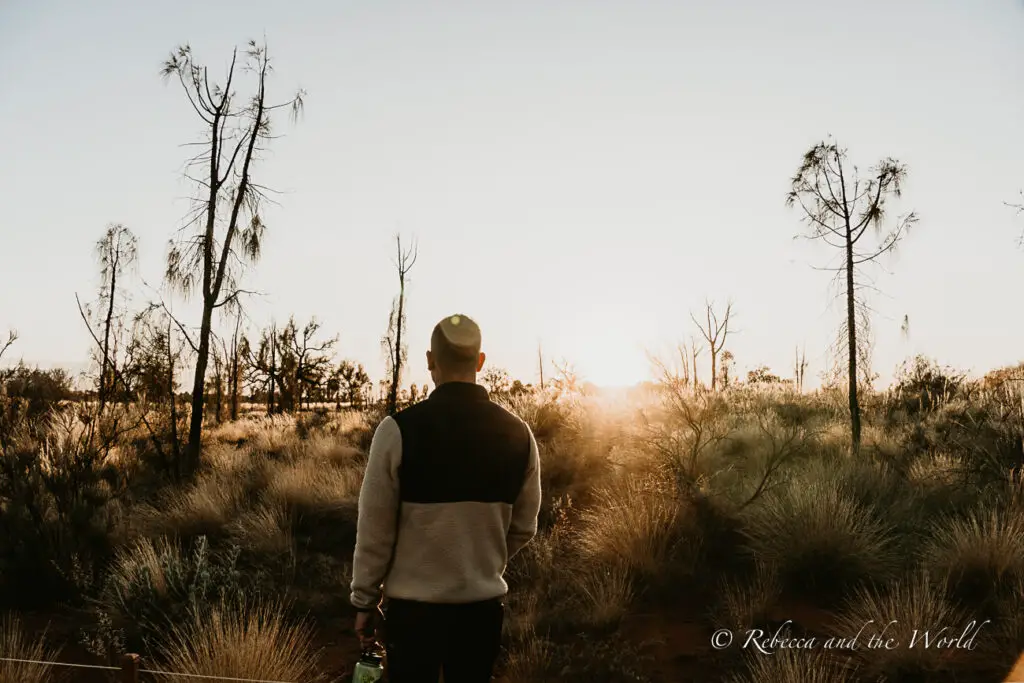 Wander through the Field of Light
Bruce Munro's spectacular light installation was only supposed to be at Uluru for a short while but has now been extended – indefinitely. This is one of the most popular Uluru attractions. 
The art installation features 50,000 light stems in various shades of red, purple, blue, green and white, laid out over a huge area with Uluru looming above. 
There are a few different ways to see the Field of Light on your Uluru trip. Passes start from $45 for adults, but you can upgrade the experience to a Star Pass (with canapés and beverages) or even a dinner under the stars.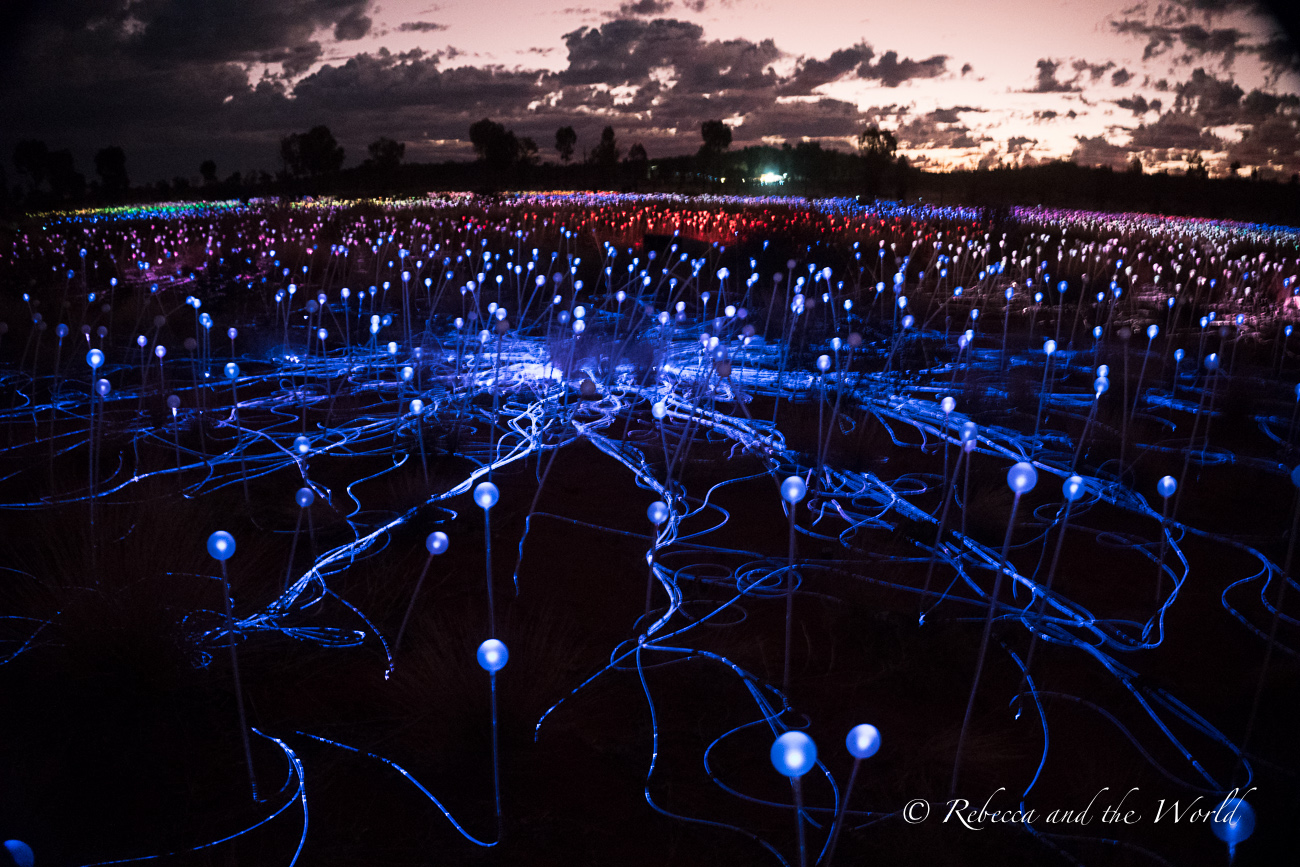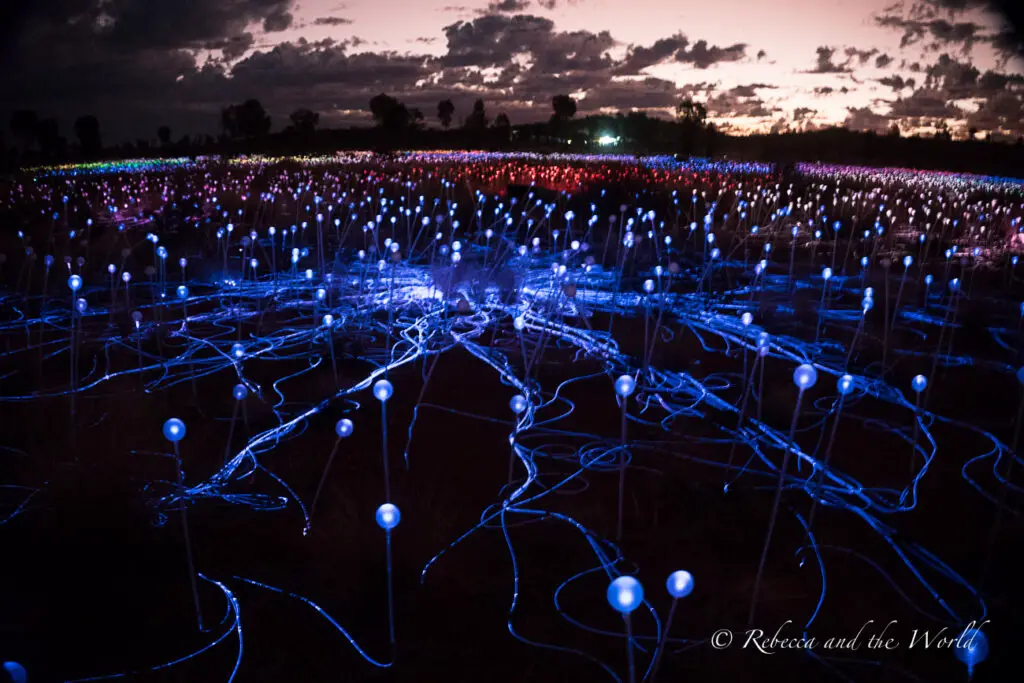 Enjoy free activities at Ayers Rock Resort
There's no denying that a trip to Uluru isn't going to be cheap. But Ayers Rock Resort does throw on a few free activities that are kind to your wallet.
Check out the latest free activities, which can include everything from bush tucker talks to guided garden walks and painting workshops. These things to do in Uluru for free are great activities for families and adults alike.
Take a dot painting workshop
Art plays an important role in the passing on of Aboriginal culture, and Maruku Arts teaches visitors about this through a hands-on dot painting workshop.
During the class, you'll learn about the various symbols and painting styles, and then get stuck into making an artwork of your own.
Workshops are 1.5 hours and are held twice a day throughout the year. Book online here.
Interestingly, dot painting isn't a long-held tradition – it actually emerged in the 1970s as a way to hide traditional and sacred meanings in artworks.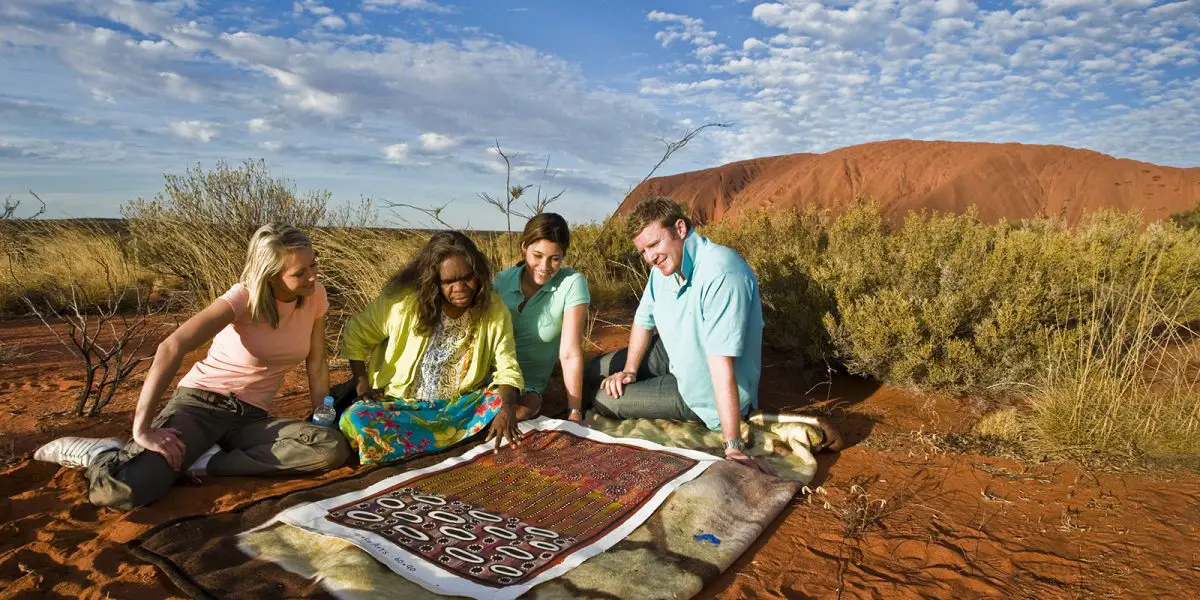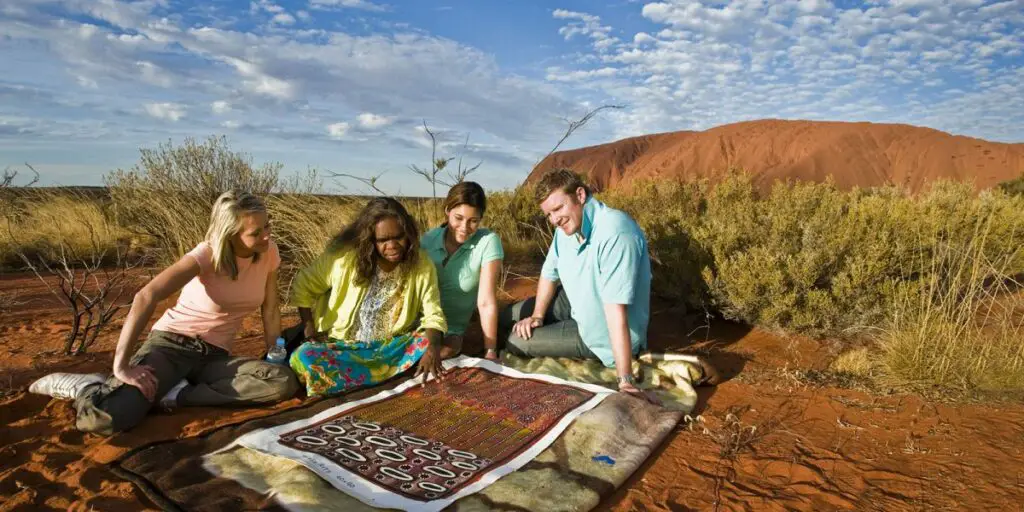 Visit the Cultural Centre
The Uluru-Kata Tjuta Cultural Centre is one of the best places to visit in Uluru to learn about culture. While it's not fancy inside, it does have a tonne of information about local culture, traditions and stories. Spend a bit of time wandering inside before you head out on your hikes.
There are also some shops and galleries selling art and souvenirs, and the Ininti Café for a drink or snack (although it was closed when we visited).
Take a camel ride
A sunrise camel ride is one of the more unique ways to see Uluru. You will need to rise early and climb aboard a "ship of the desert" for a lumbering ride through the desert as the sun emerges.
Camel rides include damper and billy tea. Book online here.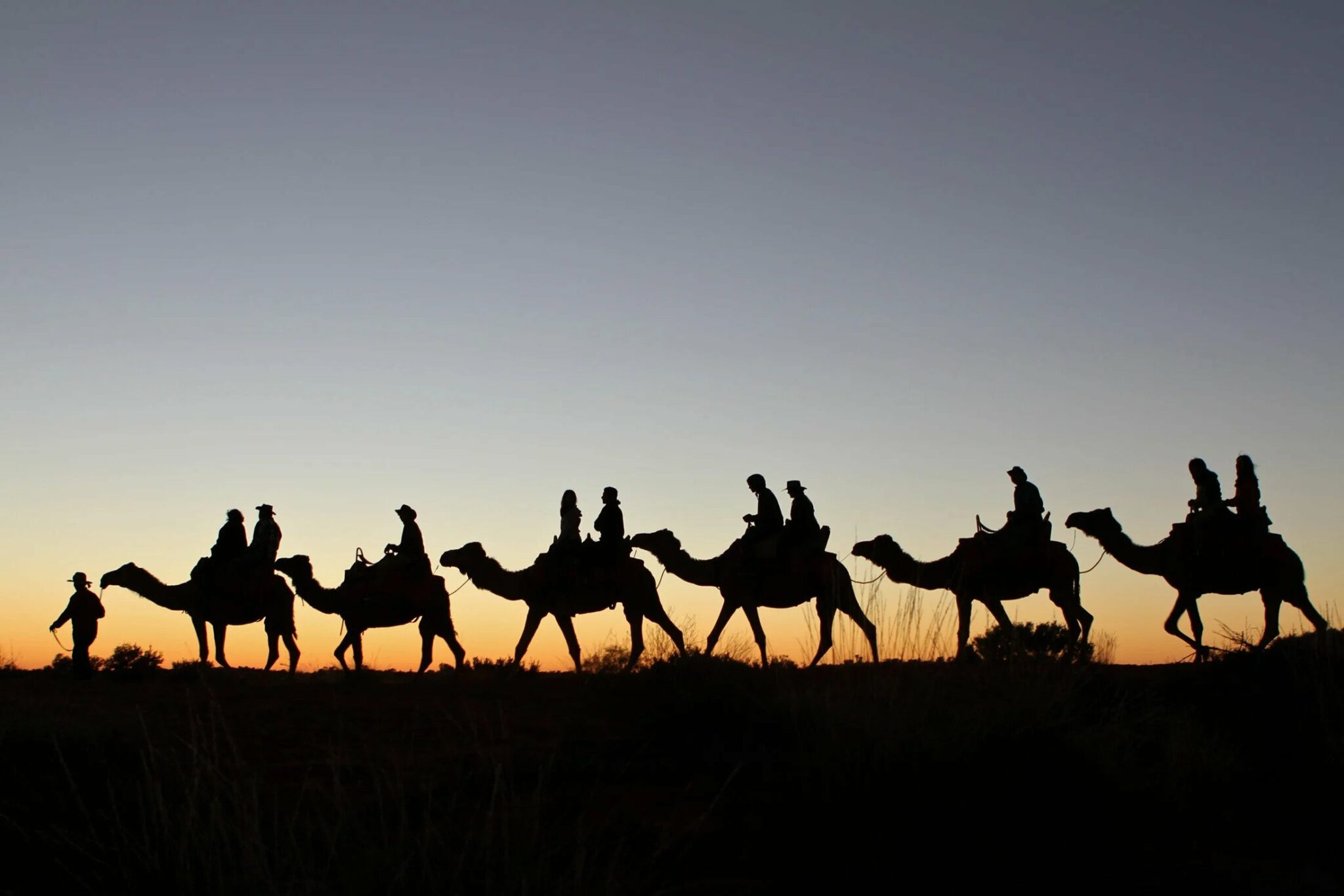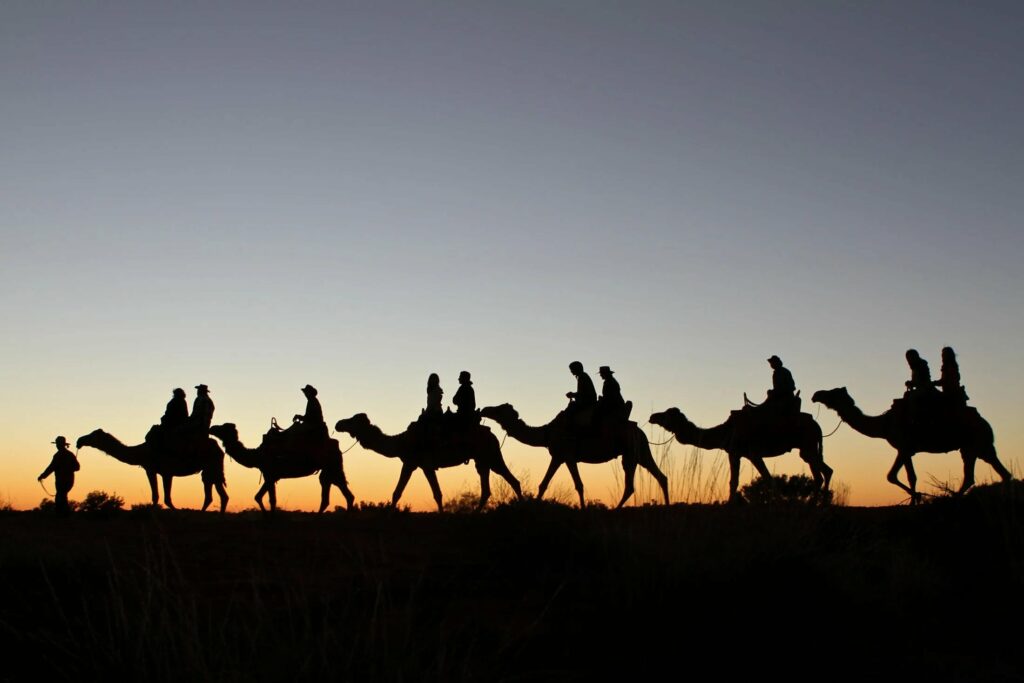 See Uluru and Kata Tjuta from above
Uluru and Kata Tjuta are incredible from the ground – but to truly get a sense of their size, jump in a helicopter or plane for a quick tour above.
Rides last 25 minutes but will give you an incredible view over both Uluru and Kata Tjuta.
Scenic plane rides cost from $295, while helicopter rides are around $260.
Simply sit and watch
Visiting Uluru can be overwhelming. Not only is there so much to do in Uluru, but there's always an inescapable sense of being somewhere truly important and sacred.
So, make sure you take some time to just sit and contemplate. After the crowds have dispersed after sunrise, stay a little while longer and take in the majesty of this site. Or go outside at nighttime and take a moment to look up at the stars.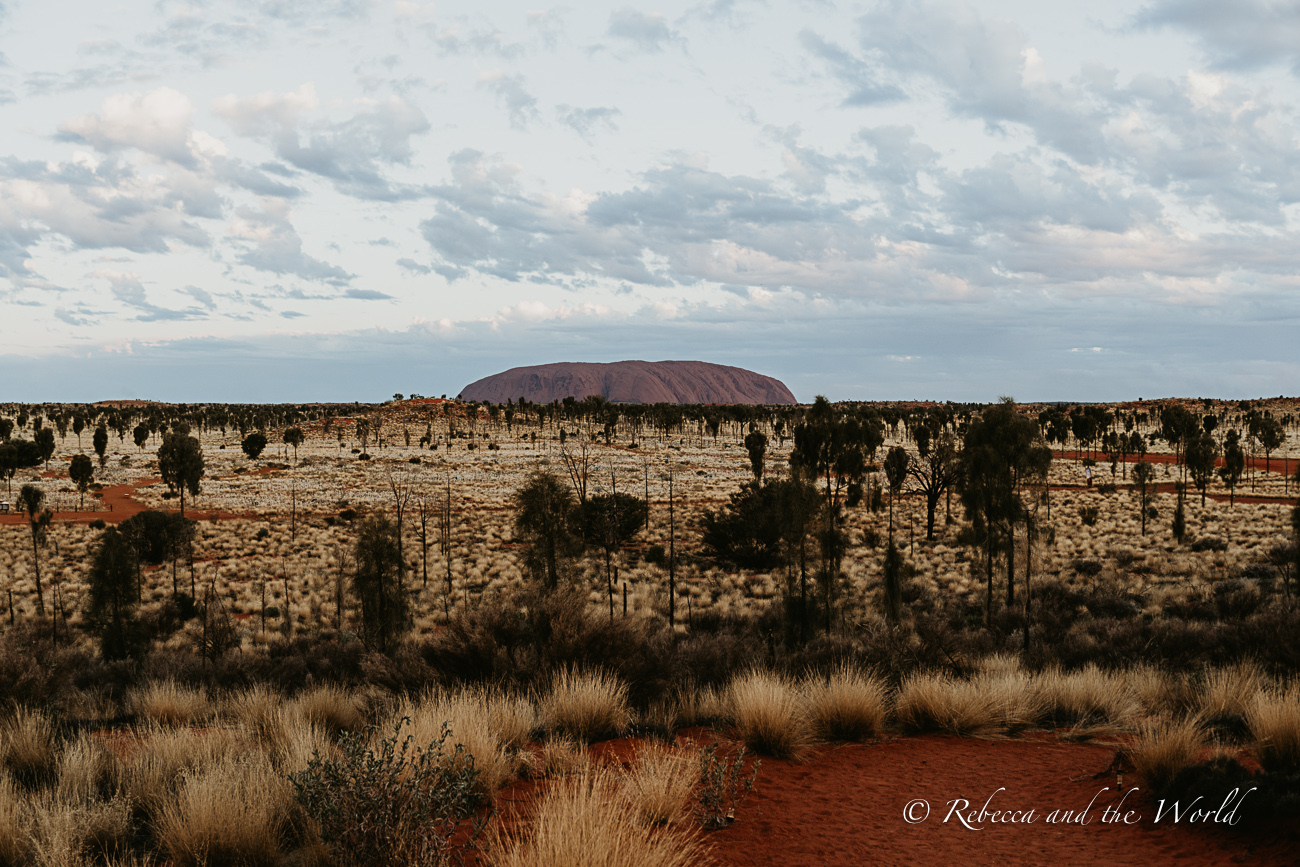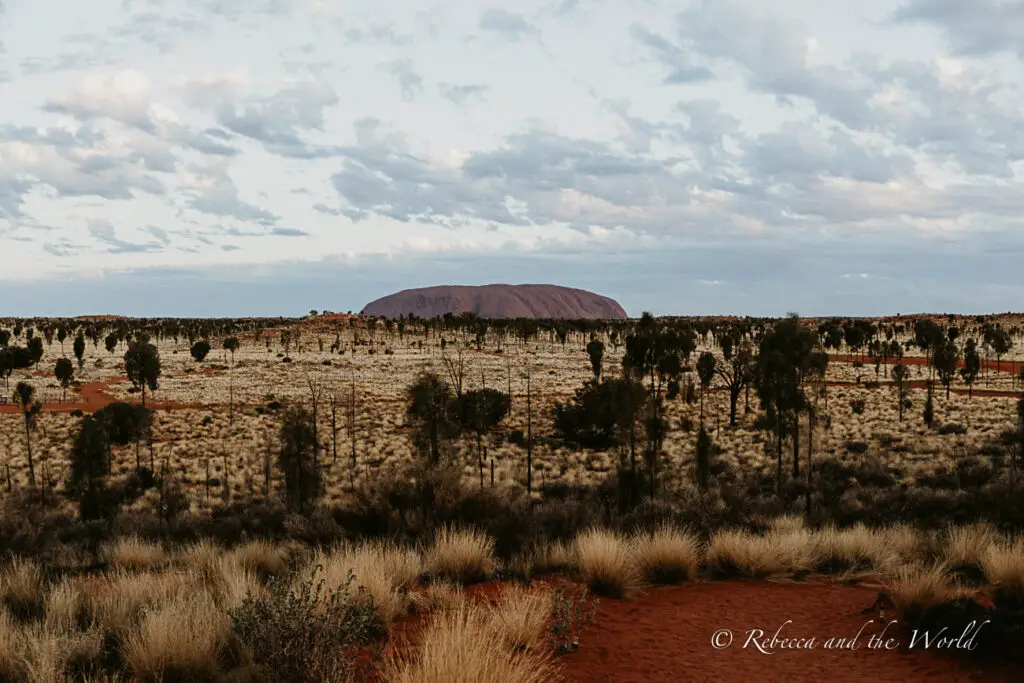 Take the Red Centre Way
You can visit Uluru for just a few days – but why not make it part of a bigger trip around Central Australia?
Hire a campervan or 4WD and take the Red Centre Way, a loop that takes in Uluru, Kata Tjuta, Watarrka National Park and Kings Canyon, and the West MacDonnell Ranges.
Check out my Red Centre Way itinerary for more information.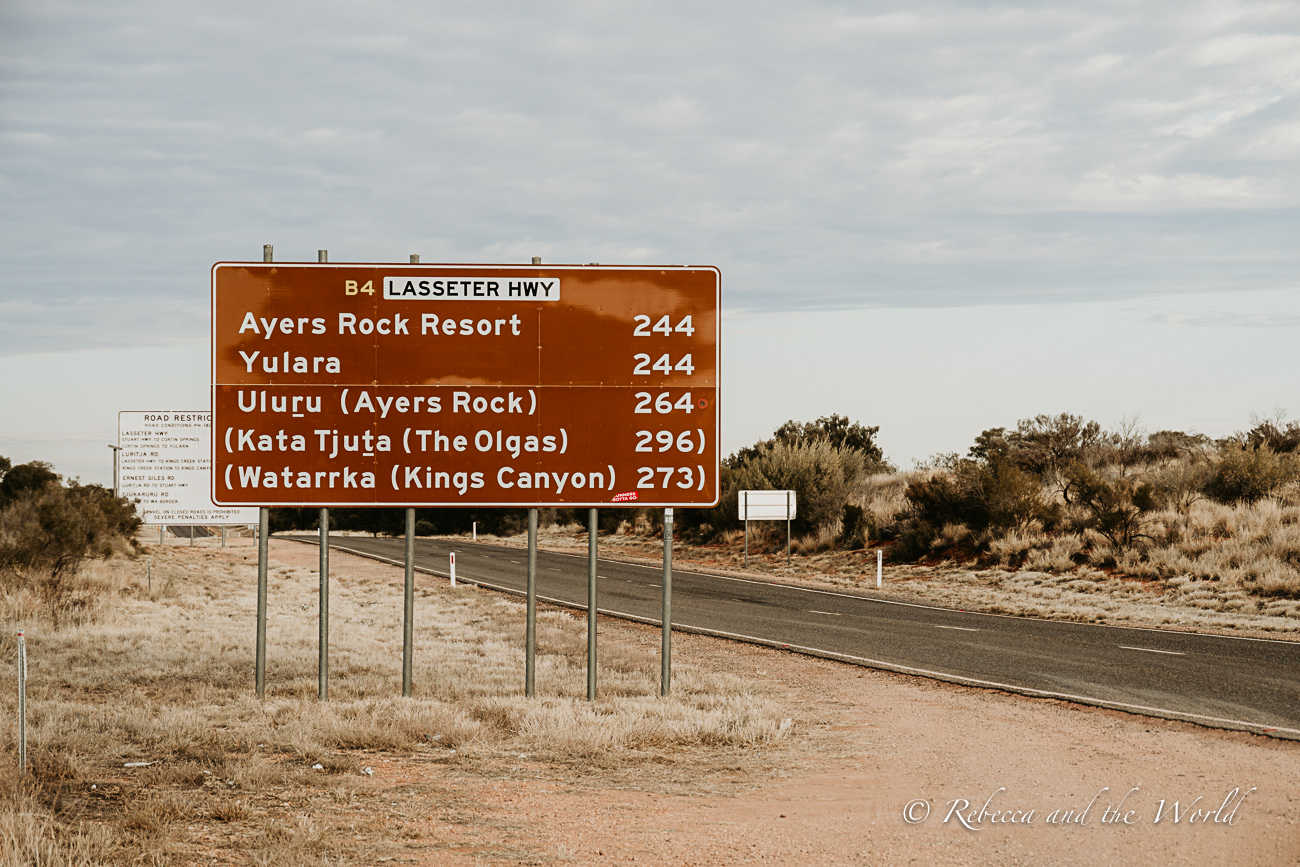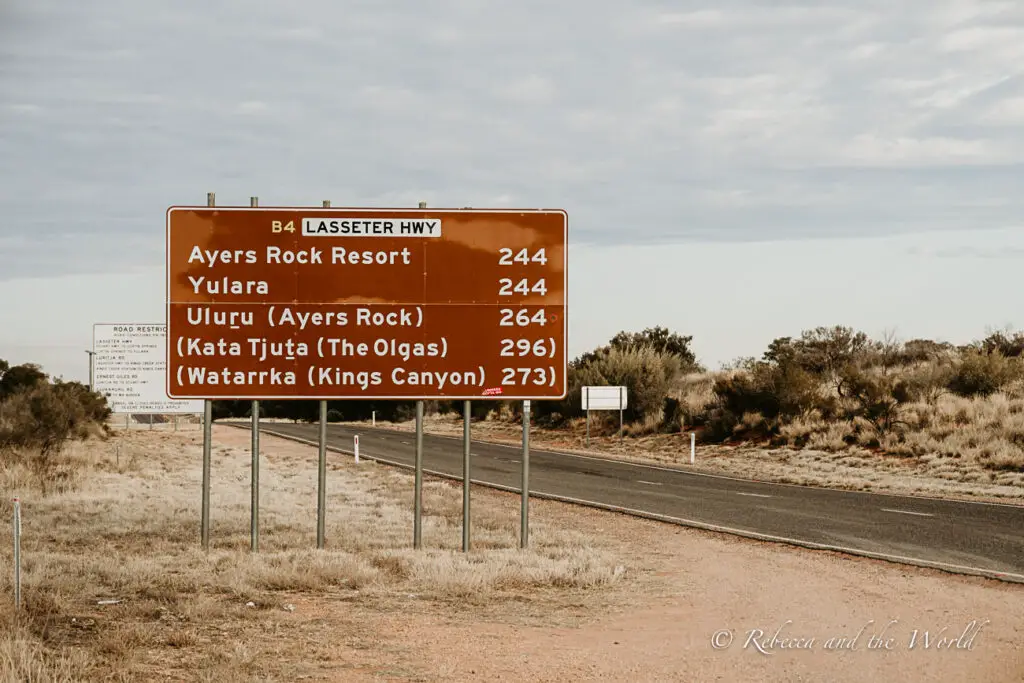 Best time to visit Uluru
The time of year will have a huge impact on your visit to Central Australia. While you can visit at any time of year, the winter months (between May and October) are milder and more pleasant. Days are usually sunny but remember to pack plenty of layers for the freezing desert nights!
Summer months bring high temperatures (up to 45 degrees) and lots of flies in Red Centre Australia. It's also the wet season and storms can wash out parts of roads.
We visited in July and had sunny days ranging from 14 degrees to 27 degrees, but nights that got down to a brisk 3 degrees.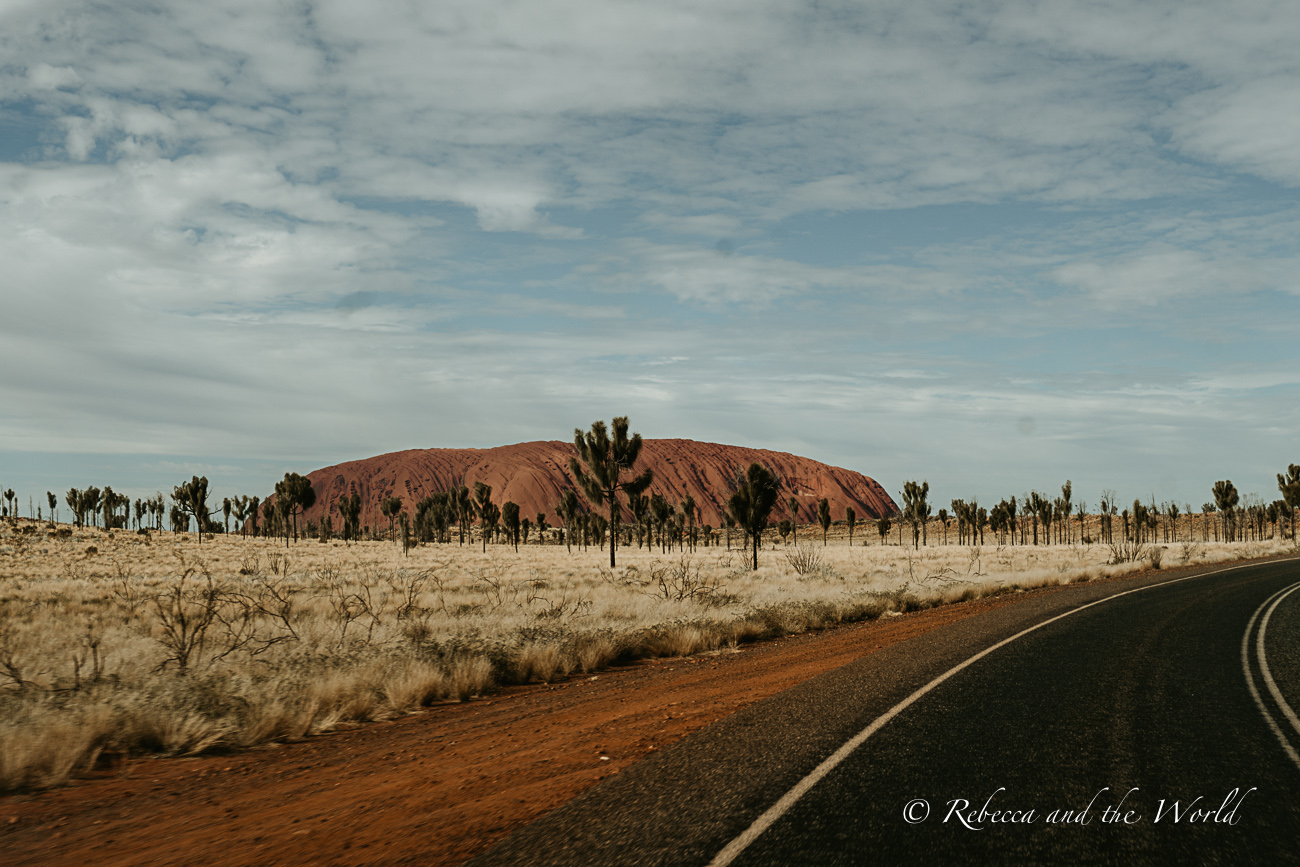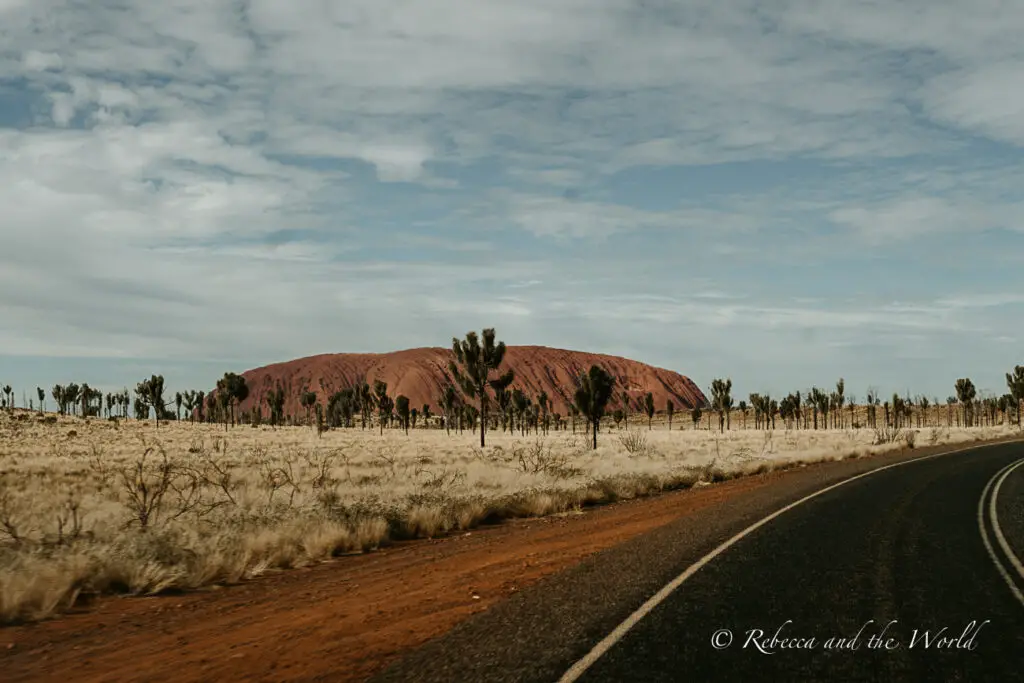 How to get to Uluru
In the heart of Australia, Uluru is remote and not always easy or cheap to get to.
The easiest way to get to Uluru is to fly into Yulara. Ayers Rock/Connellan Airport (code AYQ) is the closest airport to Uluru. Jetstar and Virgin Australia fly direct daily from Sydney.
When you arrive, you can rent a car at the airport. While there's a shuttle bus that runs every 20 minutes around Ayers Rock Resort, it doesn't go to Uluru-Kata Tjuta National Park, so you'll need your own wheels or to join tours to get to the main attractions.
The other option is to fly into Alice Springs, rent a car there and drive to Uluru.
The drive from Alice Springs to Uluru is 470 kilometres, or around 5 hours. Avoid driving in the dark. In my Central Australia road trip itinerary I have links to campervan and car rental.
If you don't want to drive at all, there are also bus transfers from Alice Springs to Uluru, as well as several multi-day tours to Uluru.
Where to stay in Uluru
Campers and caravanners have two options: Ayers Rock Campground, the closest to Uluru, and Curtin Springs Station (100km away from the park).
There is no camping allowed elsewhere in Uluru-Kata Tjuta National Park.
We stayed at Ayers Rock Campground, which is well-equipped with showers, washing machines and drinking water. Plus, you have access to all the other facilities on offer at Ayers Rock Resort (IGA supermarket, petrol station, cafés and restaurants). Sites here book out months in advance so book ahead!
Ayers Rock Resort also has several hotels, including (in order of affordability): the Outback Hotel & Lodge, The Lost Camel Hotel, Emu Walk Apartments, Desert Gardens Hotel and Sails in the Desert. If you really want to splash out, Longitude 131° is the ultimate in luxury. You can read my full Uluru accommodation guide to help decide where to stay.
You might also like these other Australia articles:
Final thoughts on things to do at Uluru
Uluru is one of those unforgettable places that should be on your bucket list – if it isn't already. There are so many things to do at Uluru, so your trip can be luxury, adventure, relaxation or learning.
Are you planning a trip to Uluru? Feel free to drop a comment below if you'd like some help planning your Uluru itinerary.
Things to do at Uluru: Pin it for later
Save this guide to things to do at Uluru to Pinterest so you can plan your Uluru itinerary later.