Wondering what to pack for Uluru? I've got you covered with this handy packing list that covers all seasons.
So, you're heading to Uluru. Excellent decision! But deciding what to pack for Uluru can be tricky. With at-times harsh weather conditions, red dust that can get in to absolutely everywhere, and a range of activities on offer, figuring out what to wear and take with you can be overwhelming.
To make it easier, in this guide, I'm providing tips and essentials to pack for your visit to the Red Centre of Australia. It's not only what you need for Uluru, but also will be handy if you're travelling around Central Australia.
This blog post may contain affiliate links, meaning if you book or buy something through one of these links, I may earn a small commission (at no extra cost to you).
Uluru seasons
Located in a semi-arid desert, the Red Centre of Australia has four seasons, but most people will focus on the most extreme seasons: summer and winter.
The good news is that Uluru can be visited year-round. But it's really important you understand the weather conditions when you're visiting Uluru, as it will dictate what you wear, what do you while you're there, and what time of day you do it.
Summer (December to February) weather in Uluru can be brutal. Temperatures range from 20°C to 35°C, but can go as high as 45°C. If you're visiting during this time of the year, you want to wear loose clothing to keep cool, but also long sleeves to stay protected from the sun. Plan to do all your outdoor activities in the early morning or late afternoon. There can be some pretty decent rainfall (well, decent for the desert!) in January and February.
August (March to May) in Uluru is pleasant, with temperatures ranging from 12°C to 27°C. March can bring some rains, but this can also be pretty spectacular based off the images I've seen of Uluru during this time! Think waterfalls cascading down the sides of Uluru.
Winter (June to August) at Uluru is one of the most popular times to visit. Daytime temperatures hover around 20°C but at night time can plunge to a chilly 3°C.
Spring (September to November) at Uluru is another great time to visit, as the weather continues to warm up. Temperatures average 13°C to 31°C.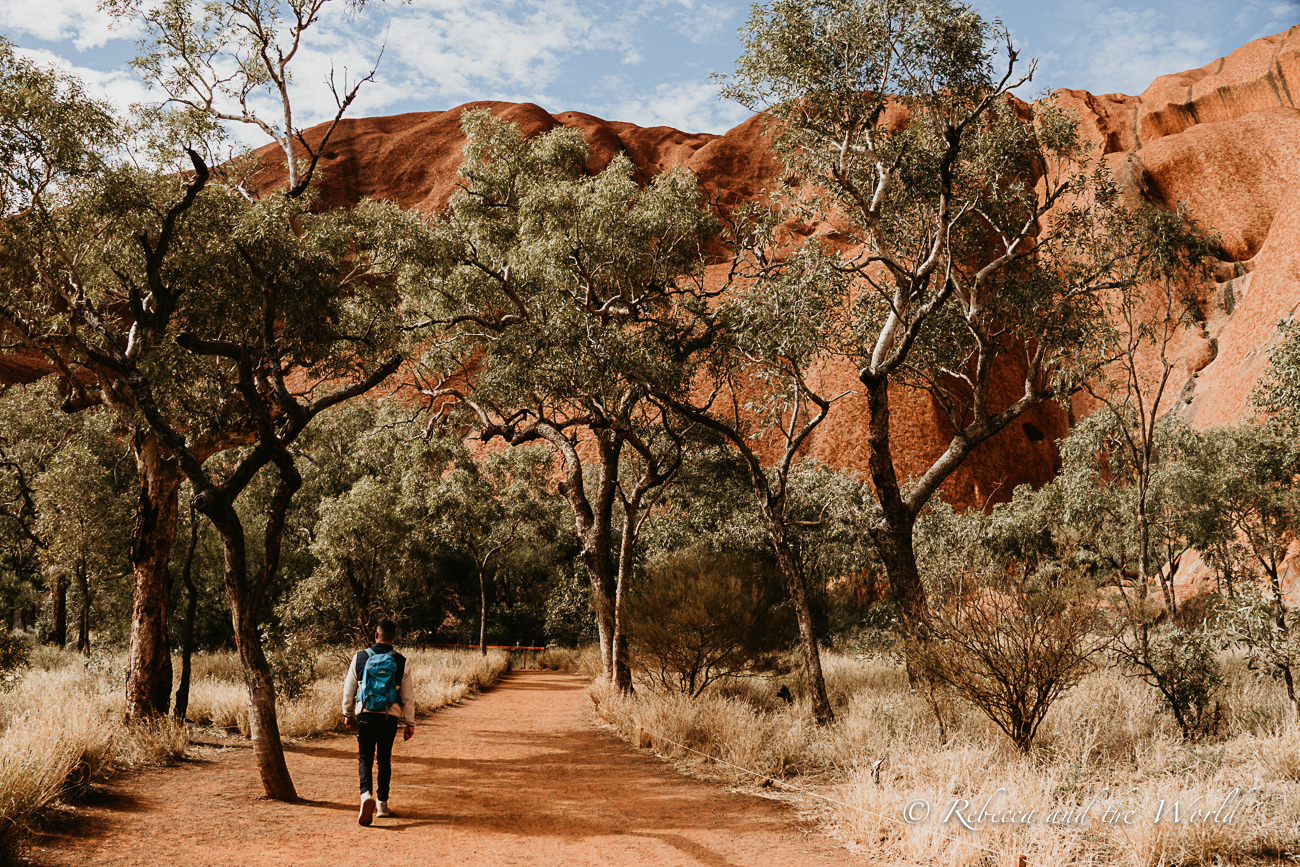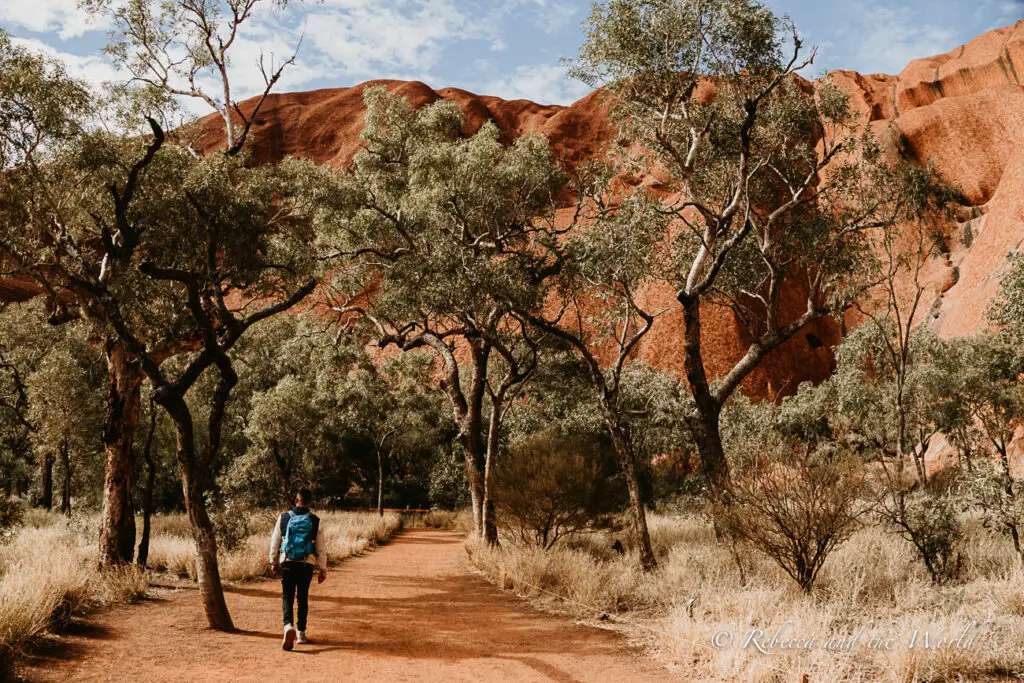 Uluru packing list
Now that you've got a good handle on what time of year you should visit, let's go through what you should pack for Uluru. I've included notes for things to keep in mind based on the season.
1. Good walking shoes
Some of the best things to do at Uluru can be done on foot, so make sure you pack good walking shoes, whether that be hiking boots or sneakers. There are some rocky areas on some hikes, so good soles will be useful for your Australian Outback adventure.
Other shoes you should consider packing:
Flip flops – always useful for any kind of trip!
Another pair of light enclosed shoes for night time – Ayers Rock Resort encourages you to wear enclosed shoes on most of the evening activities because of dust, grassy areas, ants, and the burrs that will go straight through any thin-soled shoes (ouch)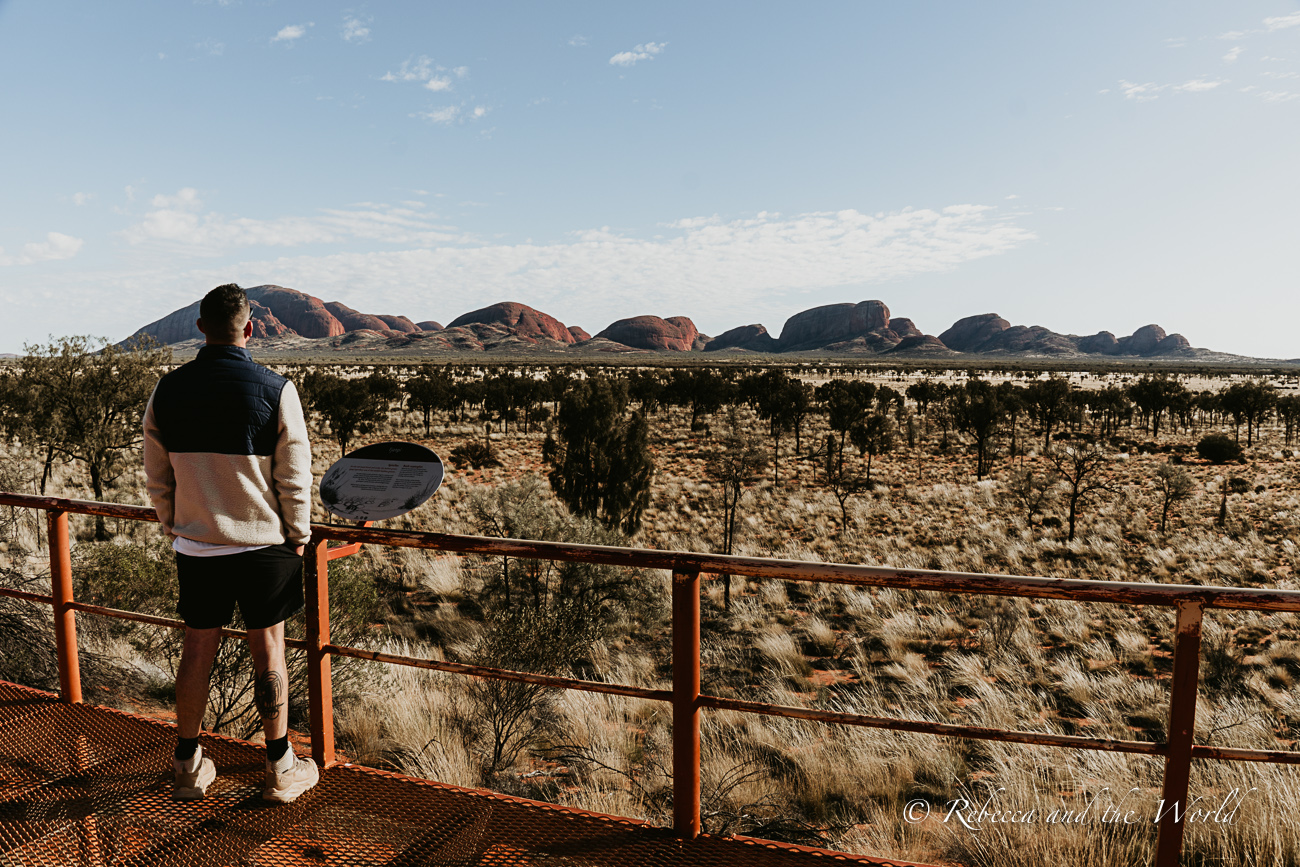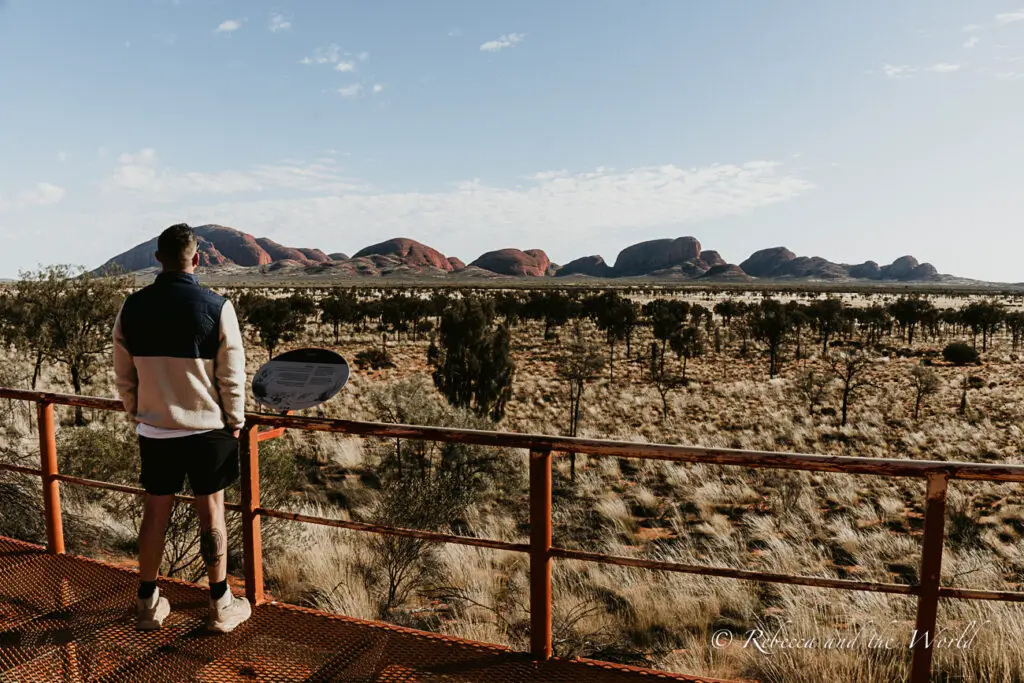 2. Clothing you can layer
In winter, you want to bring clothes that can be easily layered, while in summer plan to pack loose, breathable clothing.
Avoid white! That beautiful red dust will quickly change your white clothes to dusty pink.
One thing I did before our trip was to take a look through Instagram to see what other people are wearing while visiting Uluru. Just search hashtags like #uluru or #seeuluru for some inspiration.
Here are a few items to consider packing:
Long-sleeved top – useful for both warmth in winter and sun protection during the hotter months
Bottoms for hiking – shorts, leggings or hiking pants depending on your preference
Tank tops and/or t-shirts
Warm jumper + tracksuit bottoms – essential for the cool winter nights!
Jeans – handy for the nice dinners in winter (see next item)
Dresses for day time – a loose, comfy dress for driving days was my preference
Hiking socks – enough for a pair every two days or so, unless you can wash more frequently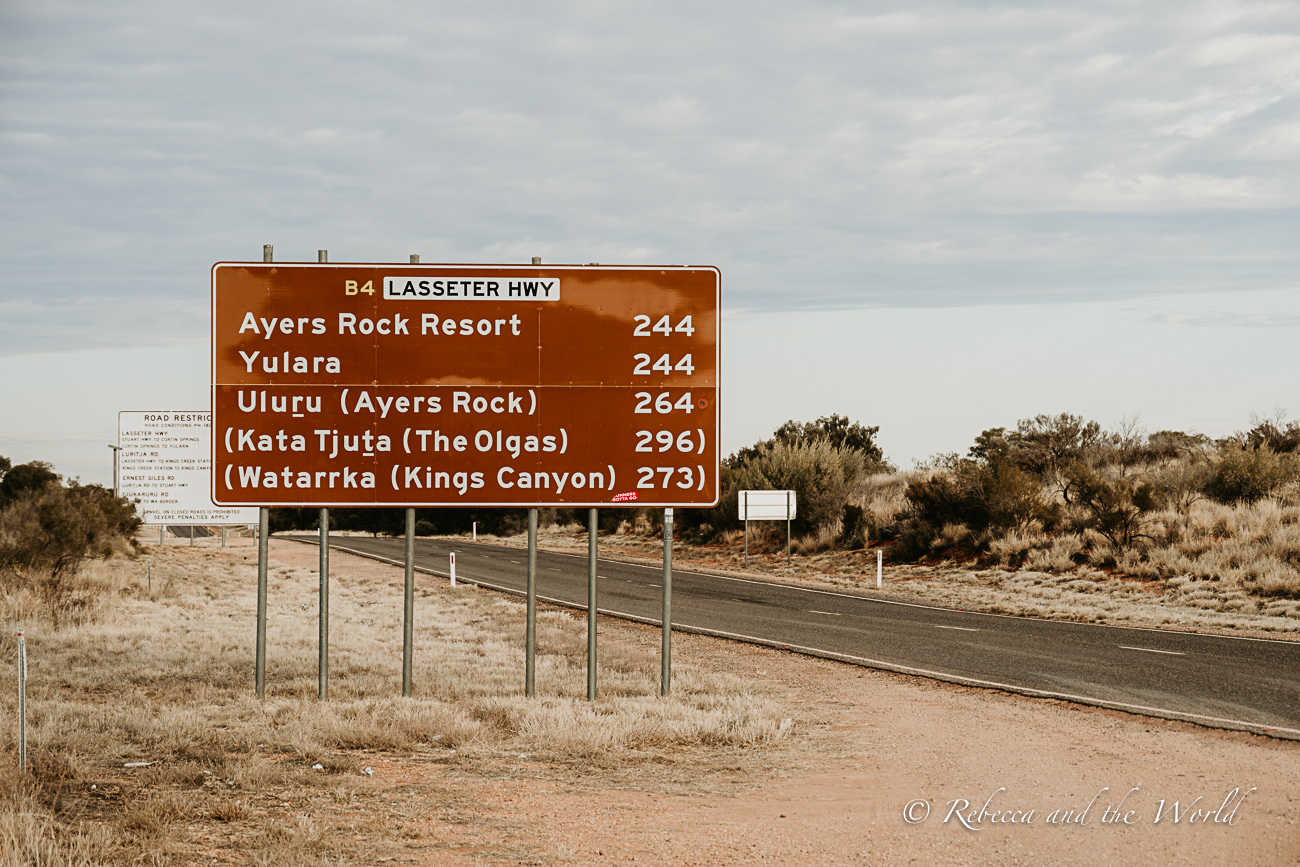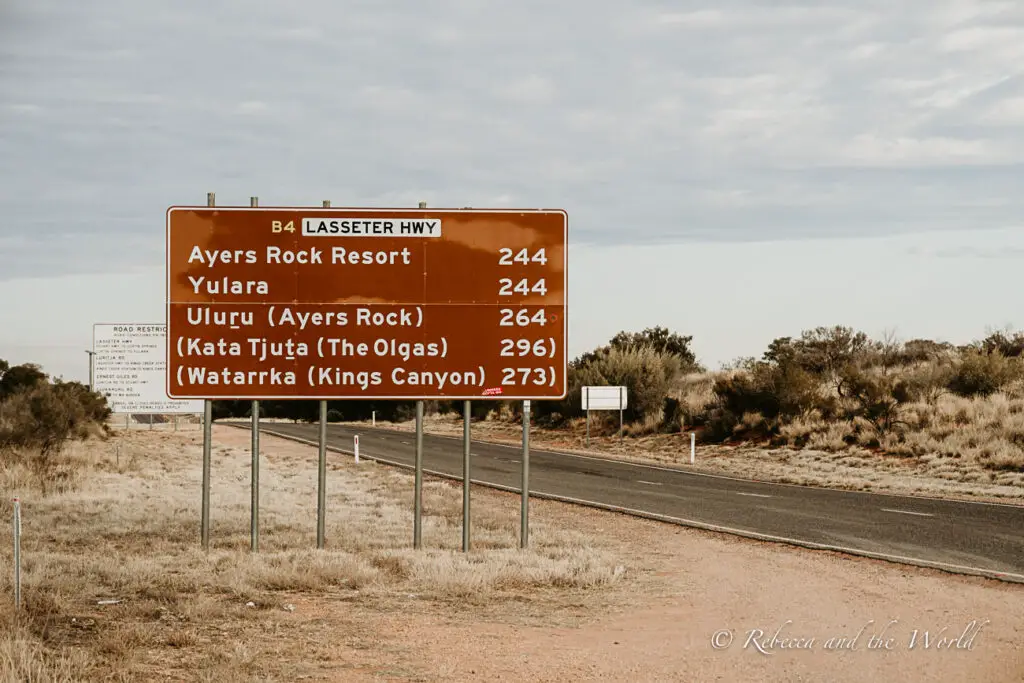 3. Nice outfit
There are so many incredible, once-in-a-lifetime things to do at Uluru, including the dinners under the stars.
We splashed out for the Tali Wiru dinner during our trip, so we made sure to pack something nicer than just hiking gear.
To be honest, though, we didn't go super fancy – and nor did any of the other guests. The priority for everyone was definitely warmth. The hubs and I both wore jeans and jumpers for the chilly evening. We also took jackets for extra warmth and were very happy we had them.
A tip for what to pack for Uluru: Ayers Rock Resort encourages visitors to wear long sleeves and long pants for the dinners, but I think you could get away with a long dress.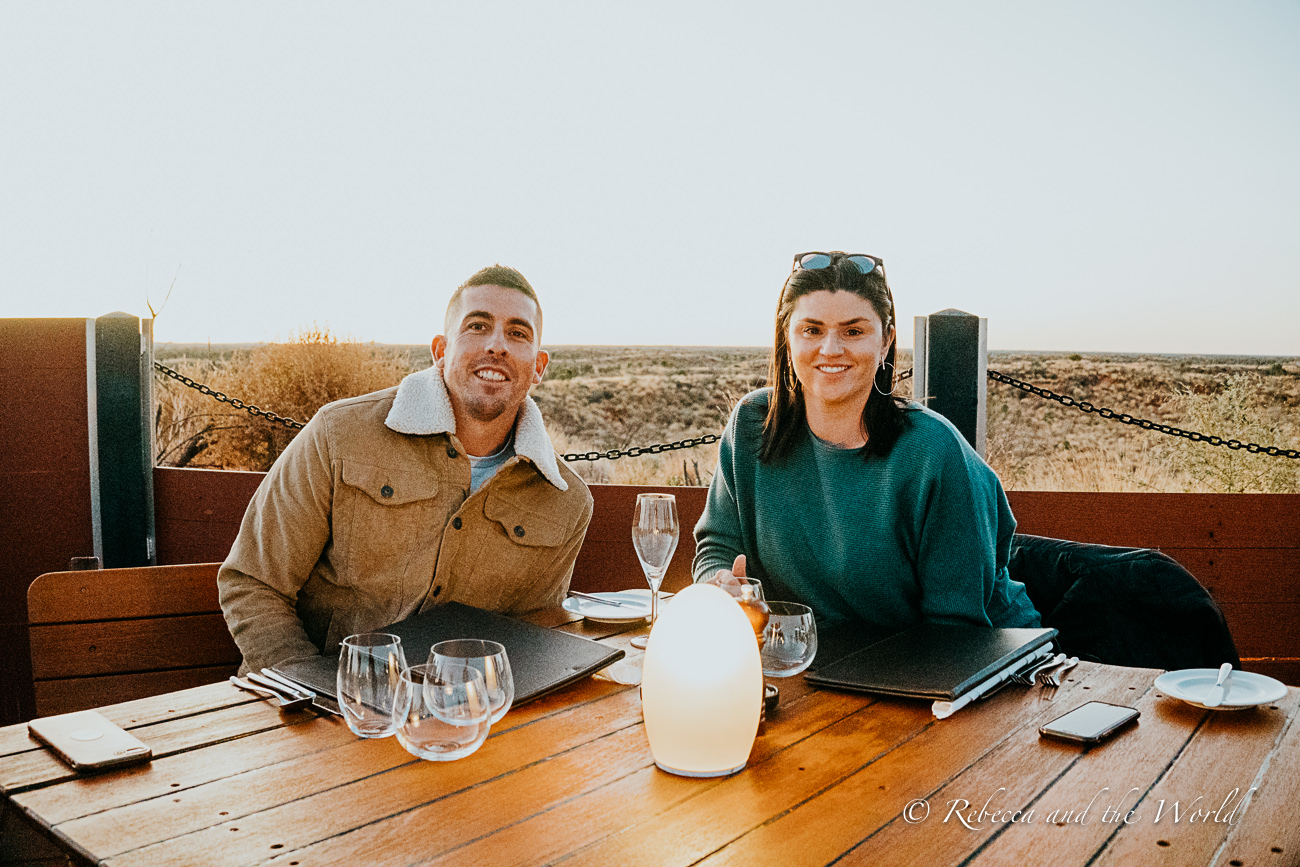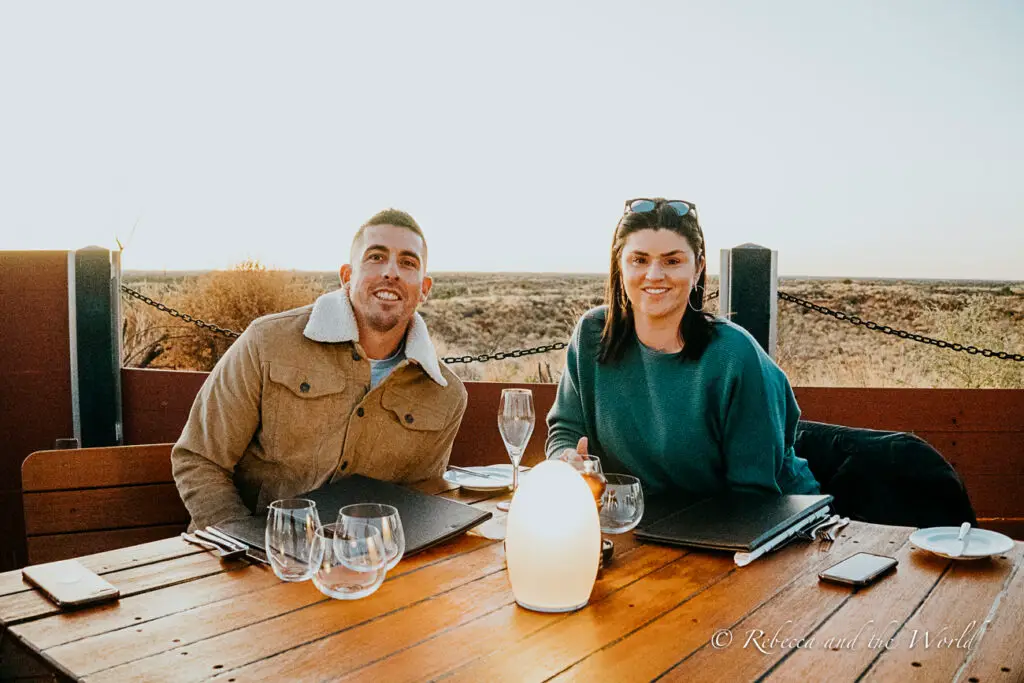 4. Thermals
We both packed thermal long sleeves and I also took some leggings – but we actually didn't end up using them. At nights, snuggled up in our campervan, we were actually pretty cosy.
But if you get cold easily, they're an absolute must if you're visiting Uluru during the winter months.
Thick socks are also a must for a packing list for the Outback. And if I'd had room, I would have packed my Ugg boots!
Gloves were also something I was happy to have in the chilly mornings.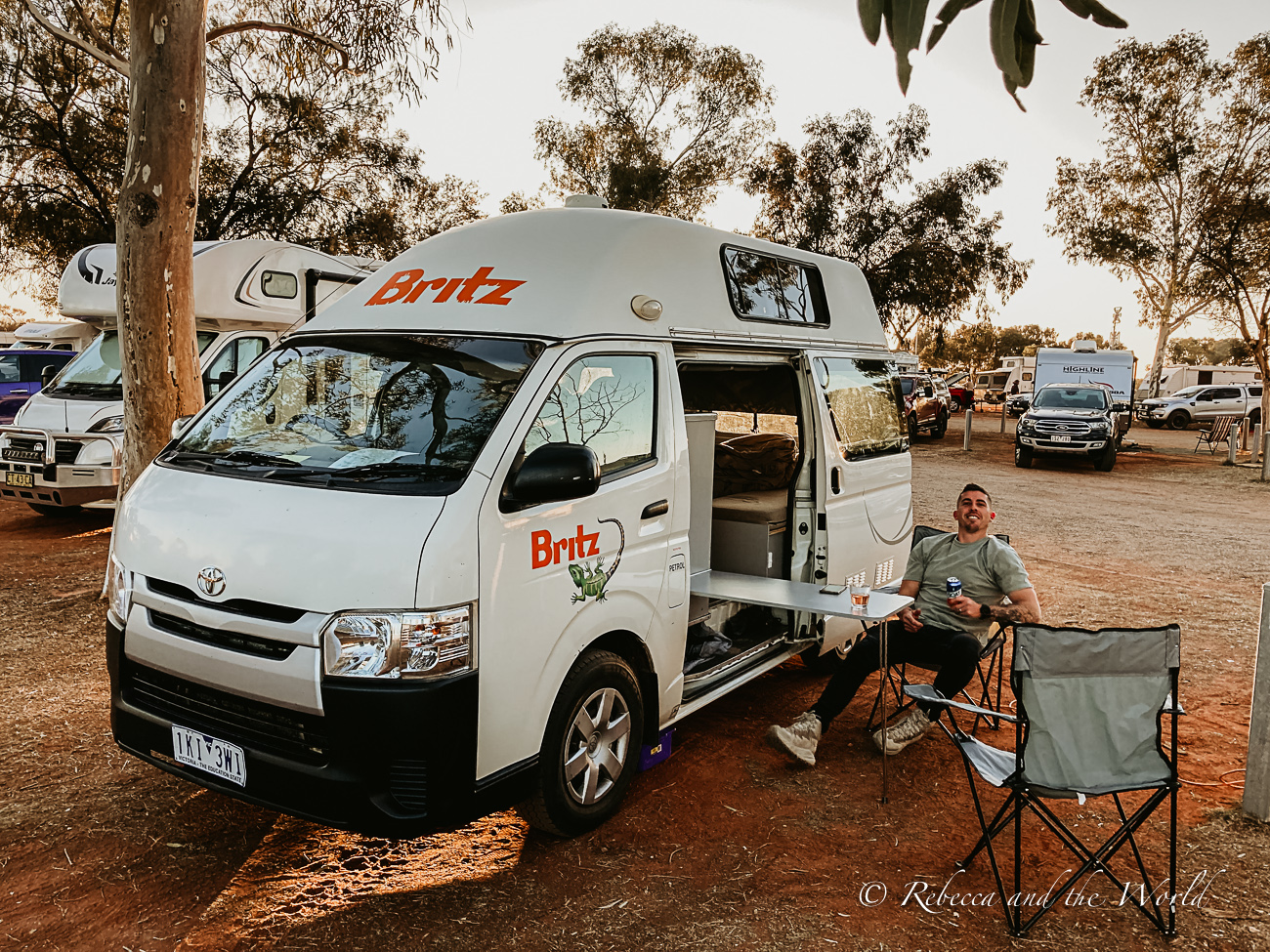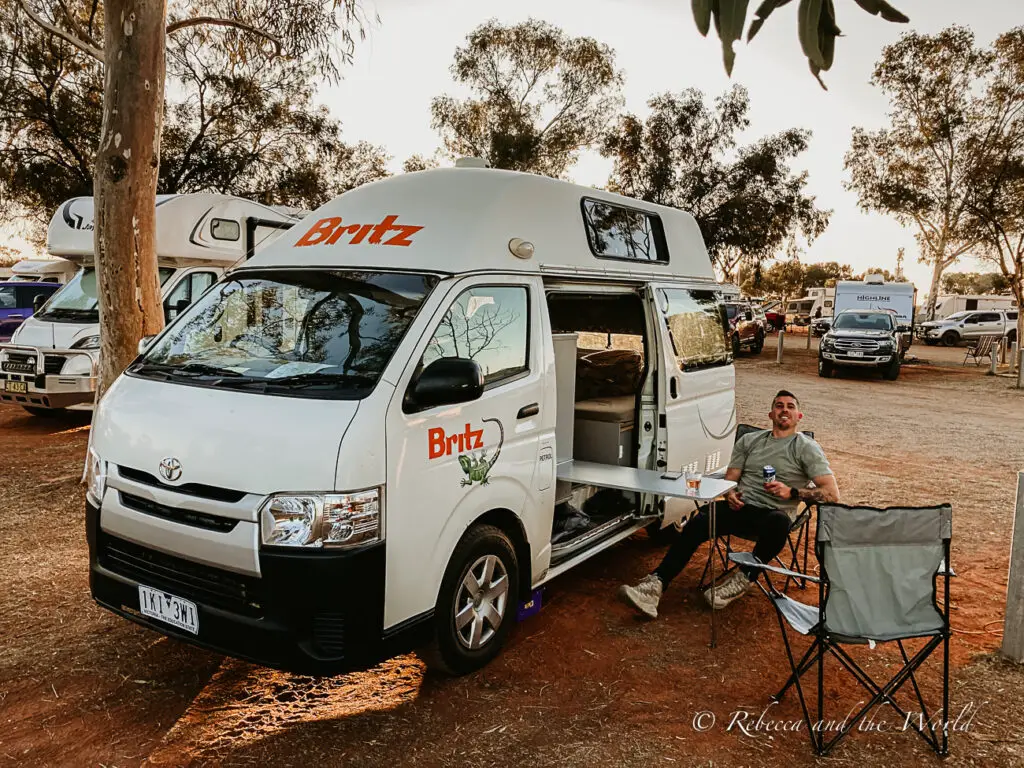 5. Bathing suit
While you can't swim in any of the sacred waterholes around Uluru-Kata Tjuta National Park, there are some great swimming pools at the hotels and campgrounds around the area. If you decided to do a longer road trip, there are also swimming holes where you are allowed to swim, including Ellery Creek Big Hole, Redbank Gorge and Ormiston Gorge.
It was too cold to swim while we were there, but wow, these are some beautiful spots to take a dip!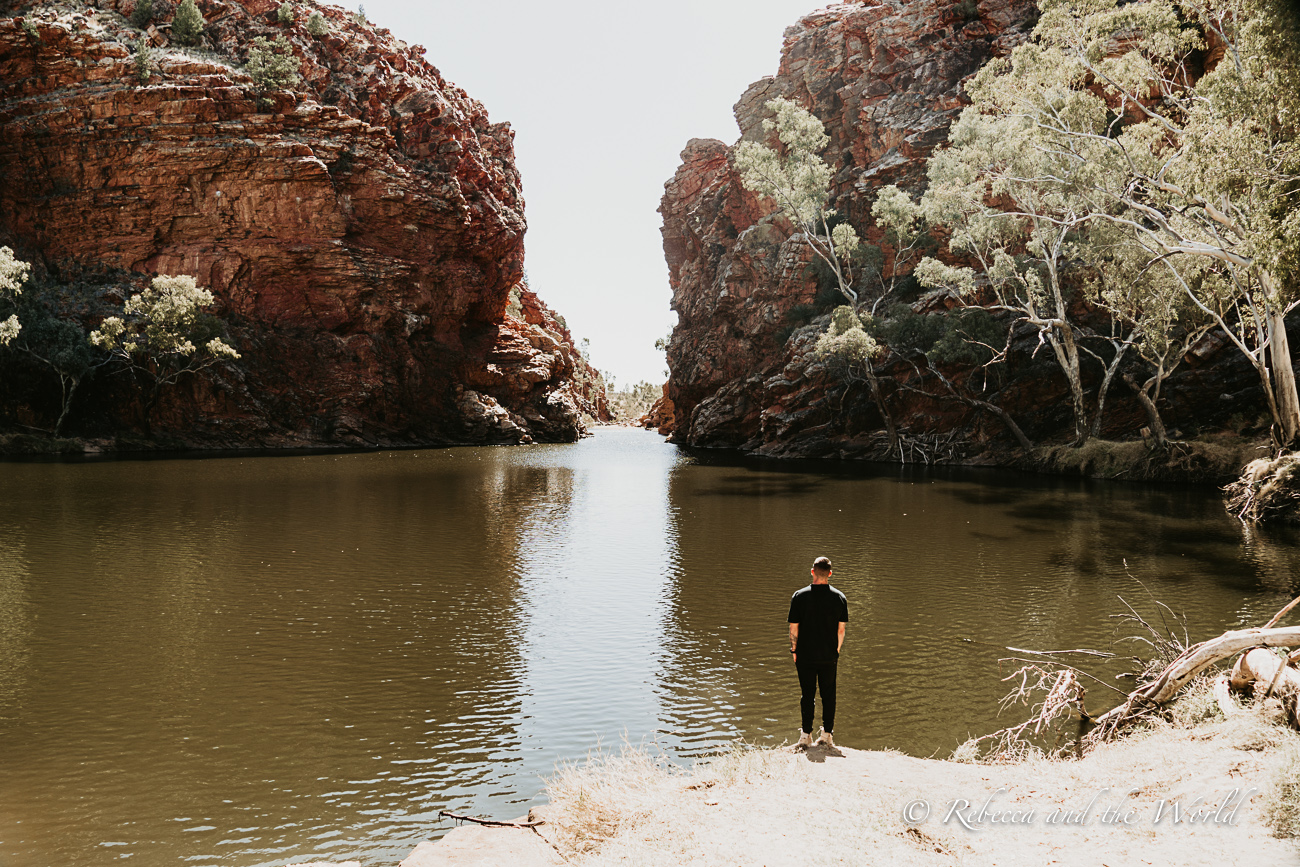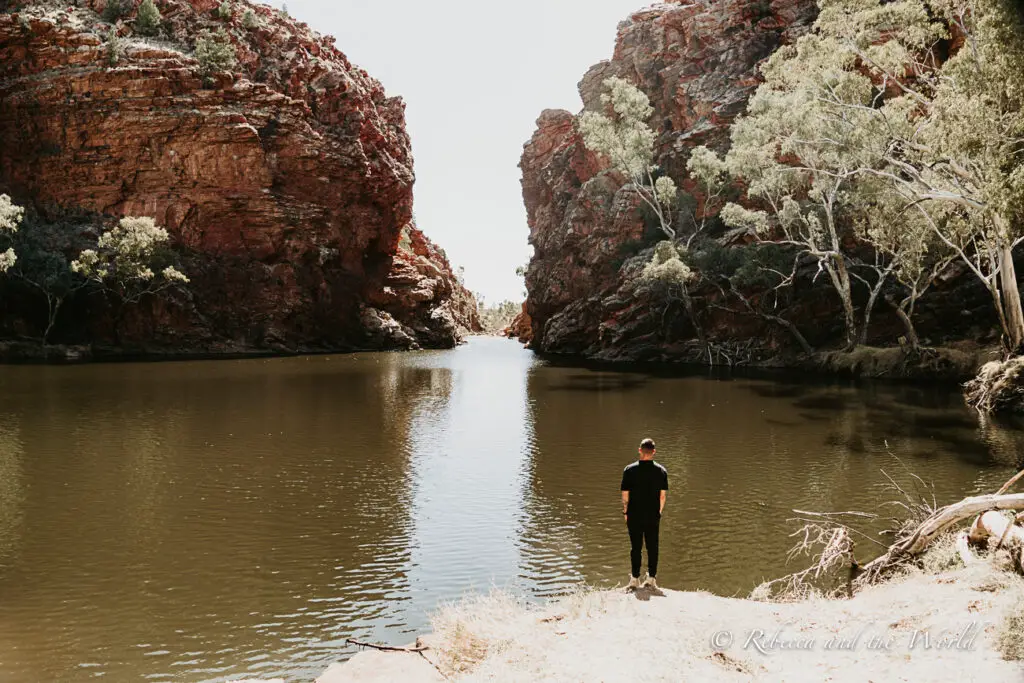 6. Sunscreen
The Australian sun is brutal, so make sure you pack at least SPF50 for your visit. | Buy sunscreen
7. Hat
As above, you definitely want some headwear for sun protection. A wide-brimmed hat is a good (and stylish) idea and one of the top Outback travel essentials. Alternatively, a baseball cap will protect your face – just make sure to slather your neck and ears in sunscreen.
And in winter a beanie will be very welcome.
8. Reusable water bottle
I always pack a reusable water bottle when we travel. I hate paying for water and I hate the waste created. This a must-pack, especially since Uluru is in a remote area and waste removal is complicated and costly.
I love this Nomader reusable water bottle which also collapses when it's empty, so it takes up little space.
For hiking, I take both a water bottle and a water bladder, as I find it so much easier to drink out of – no need to stop and pull out a water bottle, I can just whip around the hose and drink away.
Pro tip: Parks Australia recommends you drink one litre of water every hour while walking through Uluru-Kata Tjuta National Park.
9. Day pack
Take a decent day pack that will fit a water bladder (see previous item). You don't need a huge one, just something lightweight for your water, snacks, camera and first aid kit.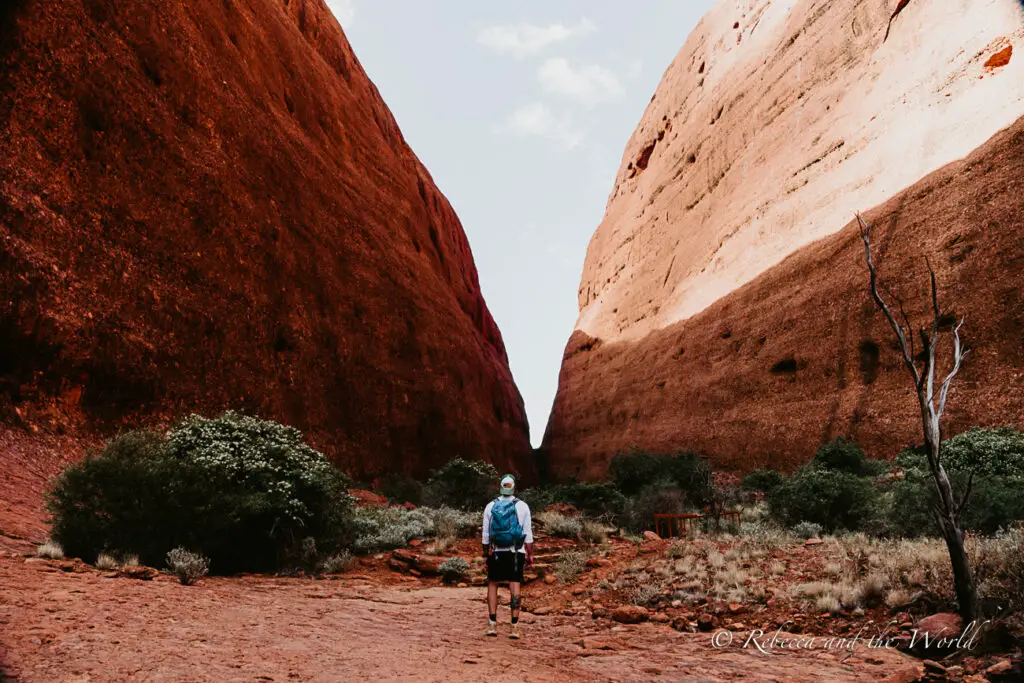 10. Lip balm and moisturiser
Uluru is in a semi-arid desert, so you'll quickly find that the moisture gets sucked from your skin.
Pack fast-absorbing moisturiser to keep your skin hydrated, and plenty of sticks of lip balm to keep your pout protected. | This lip balm has SPF protection as well
11. Fly net
Yes, these look pretty stupid but you'll be happy when flies aren't crawling directly into your mouth and eyes. Plus, everyone else is wearing them, so who cares how you look? | Buy fly net
You can easily pick these up in petrol stations and shops in the area, usually for around $10.
If you don't want to wear one, bring some fly repellent to keep the little buggers away.
A fly net will be most useful during the summer months, but we still found it helpful when we were there in July (winter).
12. Road atlas
If you're taking a Central Australia road trip like we did, then you might like to pack some paper maps.
For the most part, you'll be able to access Google Maps, and let's be fair – there are only a few main roads so it's hard to get lost! But if you want to get off the beaten track, then a map book is a great item to pack for Uluru.
Plus, if you're anything like me, I love poring over maps and marking up our route! #mapnerd
13. Camera
Do NOT leave your camera at home. Whether you pack a phone camera or you carry a tonne of camera gear, you'll be hard pressed to take a bad photo around Uluru.
Parks Australia's page for Uluru-Kata Tjuta National Park has some great tips on where to take the best photos.
14. Snacks
Snacks are a must-pack for any trip. You can easily pick up snacks at the supermarkets in Alice Springs, but if you're flying directly into Yulara (the closest airport to Uluru), keep in mind that the supermarkets are a bit pricier there and the range more limited.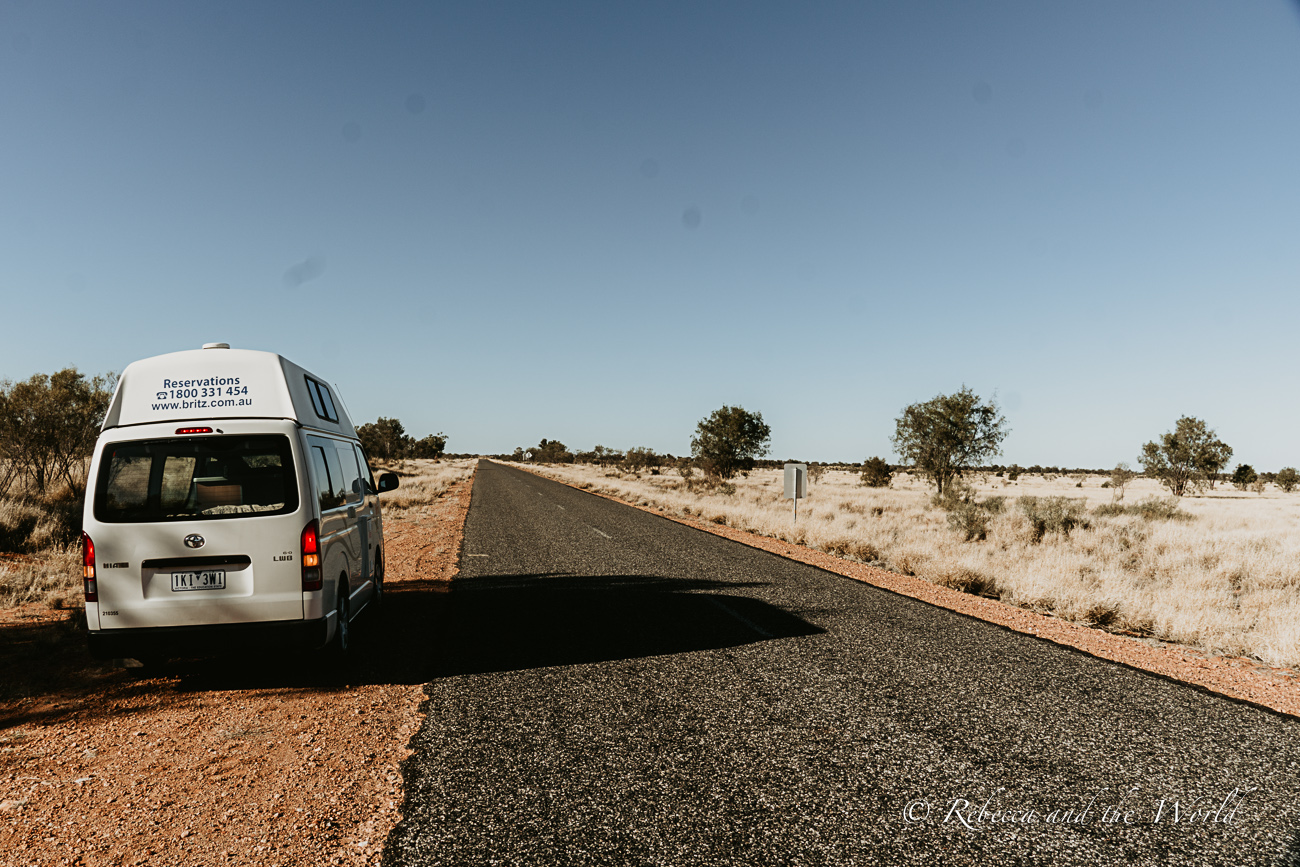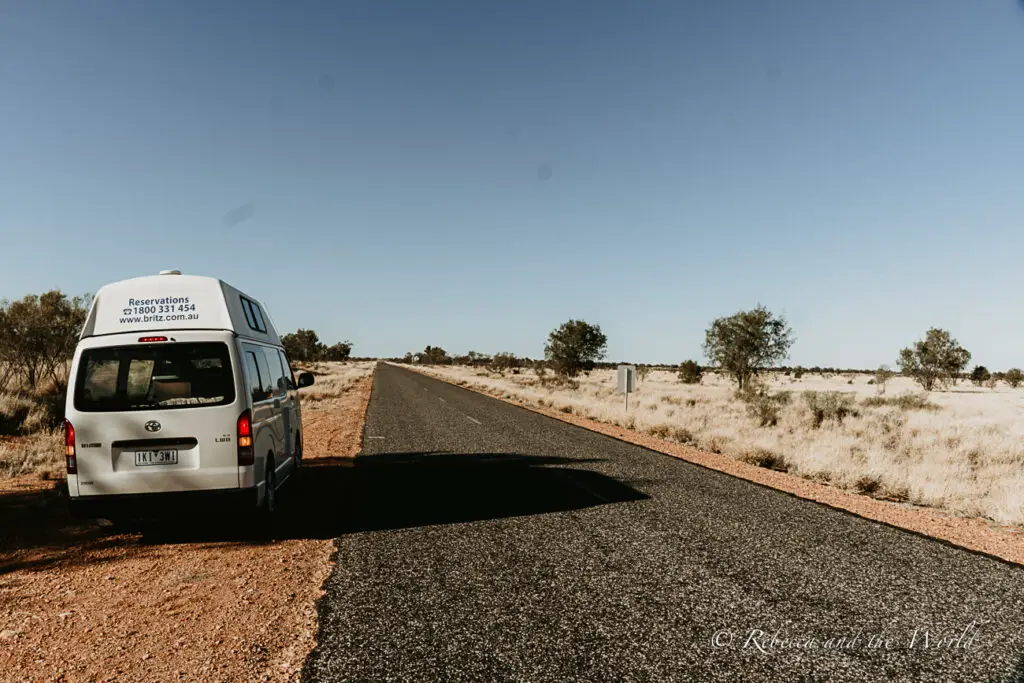 15. Wet wipes
I always take wet wipes on any trip that's going to involve hiking. You can buy special wet wipes for hiking (I like the ones that are biodegradable) or just plain old baby wipes from the supermarket.
They're super handy while hiking but also for a quick "shower" if you don't have access to a bathroom.
16. First aid kit
This is the Outback, so there are going to be scratchy branches, biting insects and perhaps some creatures a little more dangerous.
A small travel first aid kit will be great for soothing scratches, easing bites and patching blisters.
17. Power bank
When you're out exploring all day, you don't want your camera and phone dying on you. Add a portable power bank to your Uluru packing list to keep everything charged so you can keep taking pics.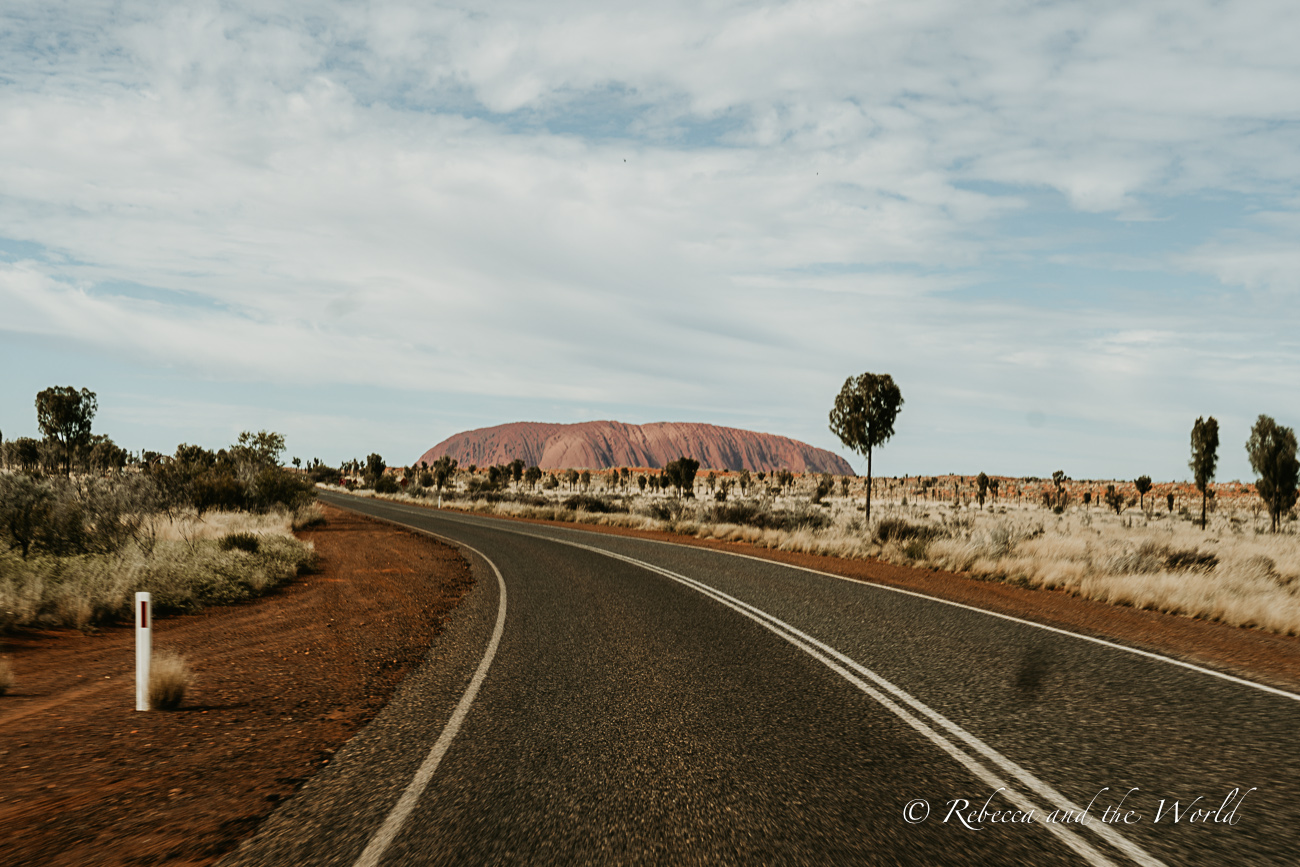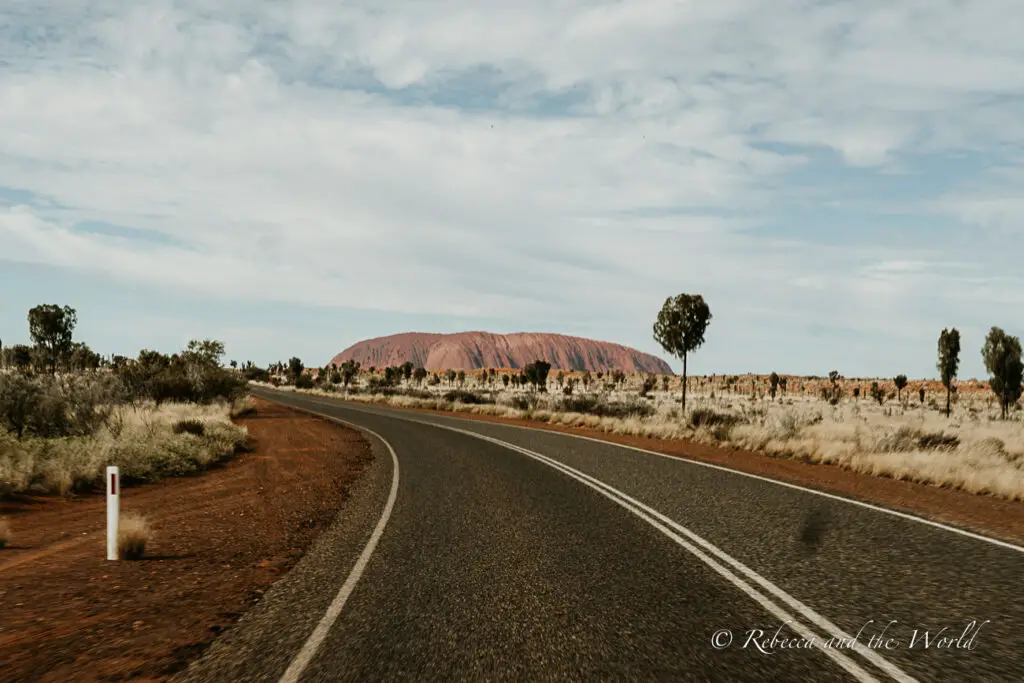 18. Head lamp
Even if you're staying in hotels, a head lamp is a handy item to pack for Uluru.
We took them with us on our trip because we were in a campervan, but we also brought them along with us for the evening activities. They were helpful when we returned to the vehicles after the dinners or Field of Light Star Pass was over (perhaps with a few drinks under our belts!).
19. Travel insurance
For this trip we actually booked domestic travel insurance because of the current wave of cancellations across the aviation industry.
World Nomads offers simple and flexible travel insurance. Buy at home or while traveling and claim online from anywhere in the world.
You might also like these other Australia articles:
Final thoughts on what to pack for Uluru
Hopefully this guide to what to pack for Uluru has given you a bit more confidence about what you'll need to take for a trip to the Red Centre.
Let me know in the comments if you have any questions or other items to suggest!
AUSTRALIA TRIP ESSENTIALS
Book your flight to Australia online with Skyscanner or Kayak. I usually compare flights on the two sites to find the best deals.
Find a great hotel in Australia. Check prices on Booking.com and HotelsCombined online.
Check out the huge range of day tours throughout Australia on GetYourGuide or Viator. There's something for everyone.
A copy of the Lonely Planet guide to Australia will be handy.
One thing I always purchase is travel insurance! World Nomads offers simple and flexible travel insurance. Buy at home or while traveling and claim online from anywhere in the world.
Ultimate Uluru packing list: Pin it for later
If you enjoyed reading this Uluru packing list, save it to Pinterest for later!