Short on time and looking for a one-week Uganda itinerary that hits the highlights of this compact but gorgeous country? You've come to the right place!
Wild mountain gorillas, tree-climbing lions, human-like chimpanzees, the historic source of the Nile, dazzling birdlife. Add to this lush forests, thundering waterfalls and savannahs teeming with wildlife – how do you possibly fit all of these gems into a Uganda itinerary?
That's the challenge I faced when planning my recent Uganda trip, so I'm here to help you decide where to go if you only have one week for Uganda.
Regardless of what you decide to do when you visit the Pearl of Africa, you'll find the country astonishing – and with far fewer tourists than neighbouring Kenya and Tanzania. (Although I do have both a Kenya itinerary and Tanzania itinerary!)
This one-week itinerary is focused around gorilla trekking in Uganda, as that was my main reason for visiting. So, you'll notice that the week is focused on the southwest of the country. While it looks like a small country on a map, Uganda travel distances are actually quite long, so to maximise my time, I focused my travel around Bwindi Impenetrable Forest where the gorilla tracking magic happens.
Let's get into the itinerary and help you plan a week in Uganda!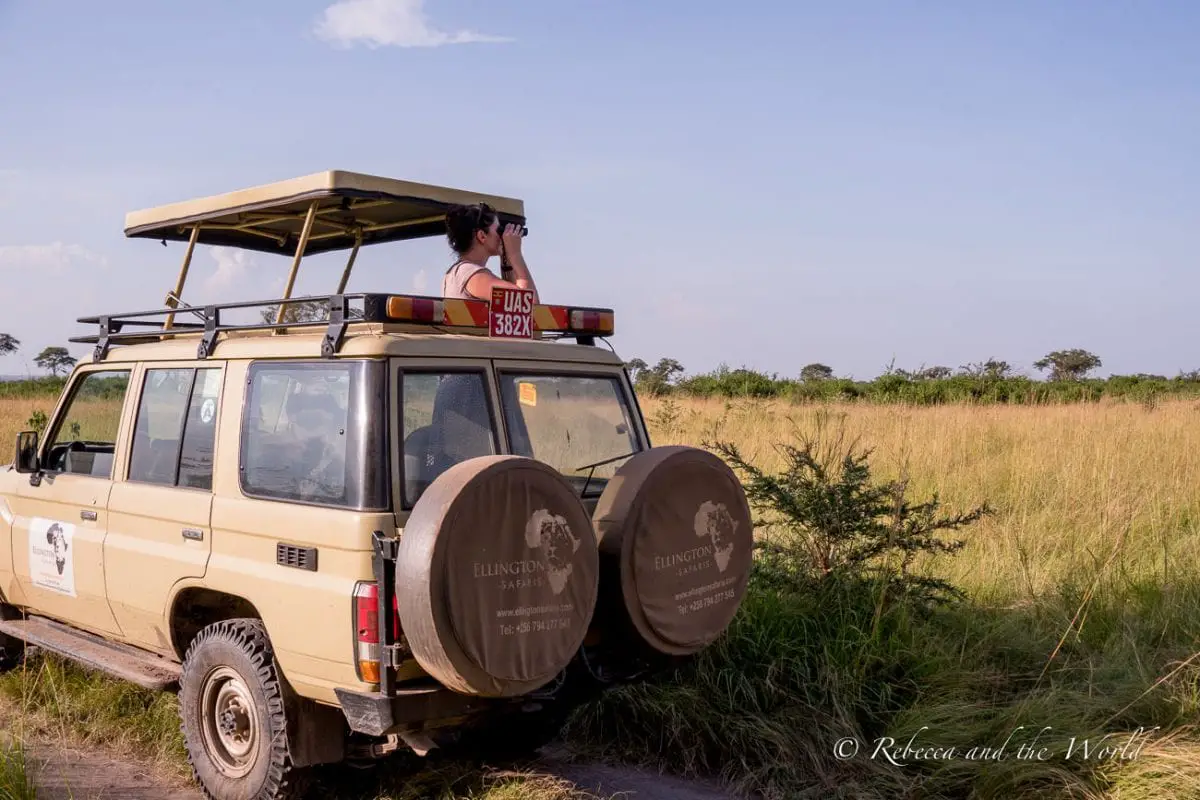 This blog post may contain affiliate links, meaning if you book or buy something through one of these links, I may earn a small commission (at no extra cost to you).
How to get to Uganda
Kampala is the capital city of Uganda, but international flights land in nearby Entebbe, the former capital. Major airlines including Emirates, Qatar Airways, South African Airways, British Airways, Ethiopian Airlines, Turkish Airlines and Kenya Airways all fly here, with connections via Europe, Asia and the Middle East. (Make sure you pack these long haul flight essentials to make the trip more comfortable.)
I flew from Melbourne to Entebbe via Dubai with Emirates, a long 24-hour journey.
Entebbe is around 40 kilometres from Kampala. I've only listed the distance here, because the time it takes to get to Kampala from the airport could vary – the traffic is insane!
SEARCH FOR AND COMPARE FLIGHTS TO UGANDA
Best time to visit Uganda
The best time to travel to Uganda is during the dry seasons. There are two dry seasons, from December to February and then from June to August. This is when you'll find the weather most suitable for all the best things to do in Uganda.
June to August is the peak travel season. So, most importantly, make sure to book well in advance! This applies to both gorilla tracking permits and to accommodation, as some safari companies will often book out entire lodges.
During the wet season, which lasts from around March to May, you'll find far fewer tourists, but the rains can also damage roads, making Uganda travel more difficult. It also means quite a muddy gorilla tracking experience (I had a muddy hike in February, so I can only image what the trail is like during the rainy season!).
From October to November you may encounter rain, but you'll also bump into far fewer tourists.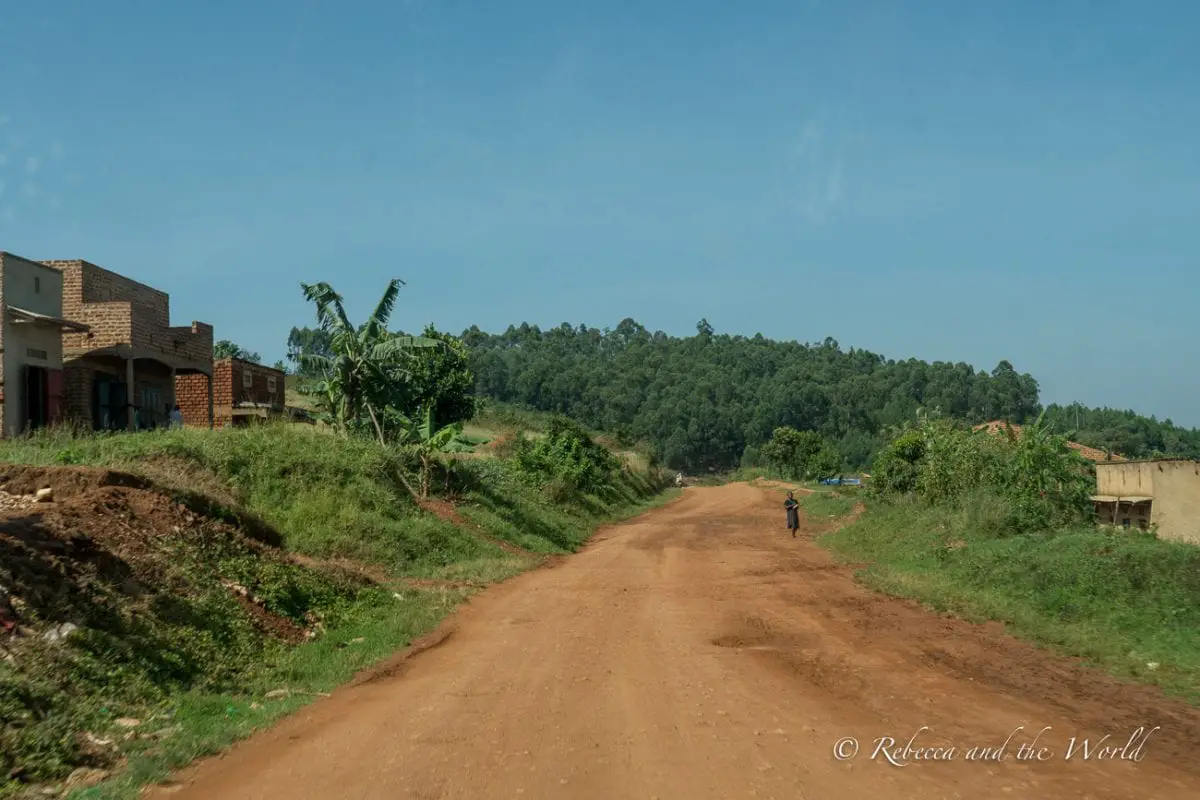 How to get around Uganda
There are a few options for getting around when you visit Uganda: independently either using public transport or self driving, or with a guided tour, either on a group tour or with a private driver.
Private driver / guide
Before my Uganda trip I spent a lot of time researching costs and transport options. I finally landed on hiring a private driver and guide through a safari company. I travelled to Uganda solo so I felt that this was the easiest way for me to get around – and it turned out to be the best way to take a safari in East Africa, in my opinion.
After doing all that research, I then had to choose a safari company from the hundreds that operate within Uganda. Luckily, a friend of a friend (who ended up helping to organise my Tanzania itinerary) pointed me in the direction of the company I eventually landed on, Ellington Safaris.
I was thrilled with my experience with Ellington Safaris. Owner Shaun Sendyowa started the company about a decade ago, inspired by the safaris he would take with his grandfather, George, and his grandfather's friend, John Ellington, a Brit. The two friends served together during World War II, and later John Ellington would come to Uganda where he would go on safari with his old friend George.
Shaun would join George and John on these safaris and that's where his love of the African safari adventure came about. His wife Jenny also runs the business.
What I loved most about travelling with Ellington Safaris – other than Shaun's encyclopedic knowledge about Ugandan wildlife, history and culture – was the fact that I didn't have to organise anything.
I simply talked with Shaun and Jenny about what I wanted out of the trip and they arranged everything: the itinerary, transport, accommodation, gorilla permits, everything. It was perfect, because when I started researching, I was completely overwhelmed. With Ellington Safaris, I simply turned up and hopped in the car.
If you're travelling in a group, hiring a private driver/guide can be an affordable and easy way to travel around Uganda.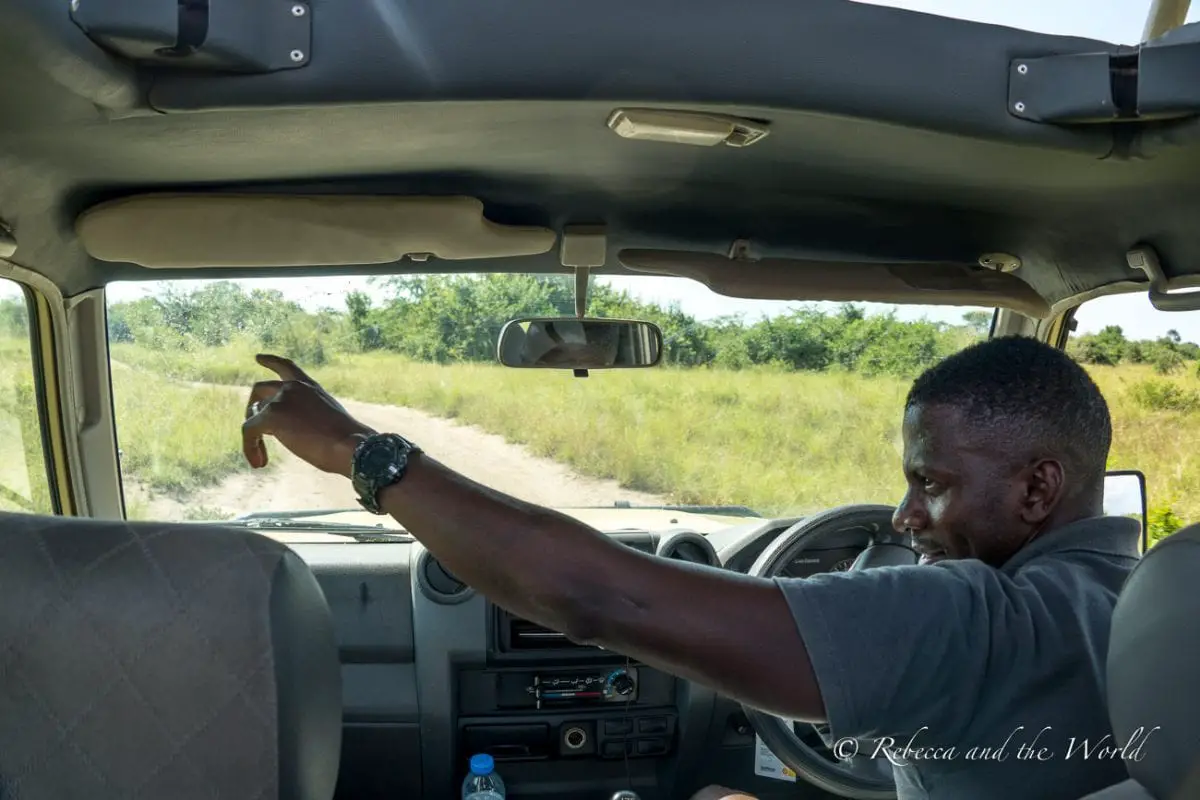 Group tour
A group tour is a great way to meet other people and save money, especially if you're travelling solo.
The major tour companies run regular group tours throughout East Africa, including Uganda tours, as do many other international and local companies. Check TourRadar to compare options.
Self drive Uganda
Self-drive holidays in Uganda are also an option. While I was in Uganda I saw a few cars from Self Drive Uganda and Road Trip Uganda. Car hire starts from US$40 a day and some cars come with rooftop tents.
The self-drive companies can usually book accommodation and gorilla permits as well.
One of the downsides of self driving is that you don't have the benefit of an experienced guide who can find and point out wildlife in the national parks. However, you can hire a driver guide, or often a ranger from the national park to show you around.
Public transport
If you're backpacking Uganda, then public transport is an option. Buses are plentiful and tickets are affordable.
Keep in mind, however, that road conditions outside the major highways are generally poor, buses break down regularly and it's impossible to get to and into the national parks on regular public transport. You can however, use public transport to get to your destination and then have your accommodation arrange tours around national parks.
If you were to travel around Uganda for longer than a week or two, this could be an option for those on a budget, but make sure you create a flexible schedule.
With only a week in Uganda, I didn't want to risk relying on public transport to get around.
One week in Uganda
Uganda itinerary in a nutshell
This is my entire Uganda itinerary, laid out day-by-day. I have, however, made a few suggested amendments to make this itinerary even better, which I'll point out.
Later on in this post, I've also made some recommendations for other places to visit in Uganda, because honestly, a week in Uganda was just not enough!
Here's what to do in Uganda in a week:
Day 1: Arrive in Entebbe
Day 2: Drive to Queen Elizabeth National Park
Day 3: Game drives in Queen Elizabeth National Park
Day 4: Drive to Ishasha sector of Queen Elizabeth National Park
Day 5: Transfer to Kisoro
Day 6: Gorilla tracking
Day 7: Rest day by Lake Mutanda
Day 8: Return to Entebbe and depart Uganda
This map shows all the places to visit on this Uganda travel itinerary.
Detailed Uganda itinerary
Day 1: Arrive in Uganda
If you're flying into Uganda, you'll arrive at Entebbe International Airport. Depending on what time you land and whether you want to stay in Entebbe or go to Kampala, you can schedule a few activities for the day.
Entebbe is incredibly relaxed. A few things to do in Entebbe:
Relax by Lake Victoria at one of the many bars and restaurants
Visit the Entebbe Botanical Gardens, filled with monkeys and birds
Take a sunset boat trip on Lake Victoria
Watch chimpanzee feedings at Ngamba Island Chimpanzee Sanctuary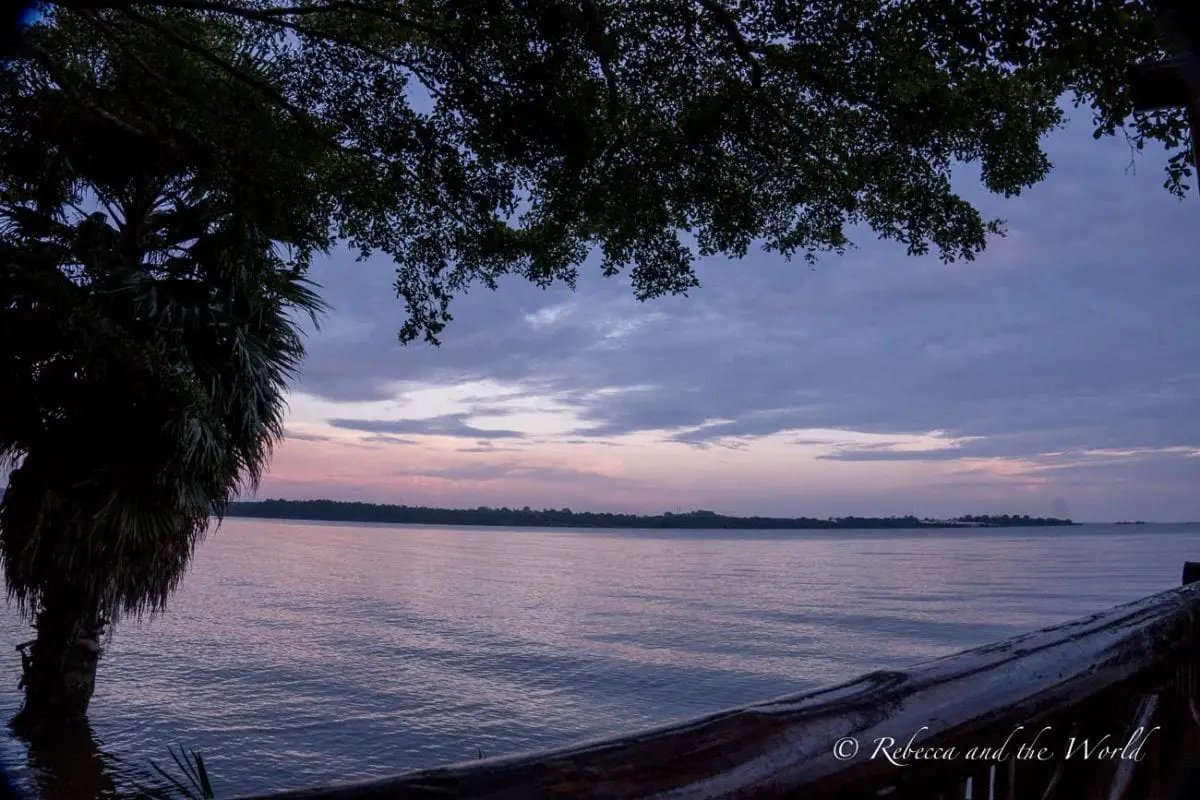 If you want to go into Kampala, there are even more things to do:
Take a city walking tour to cover off the most interesting places to visit in Kampala or enjoy a food tour
Visit Mengo Palace, the former home of the king of Buganda
Visit Parliament House
Tour the National Mosque (also known as the Gaddafi Mosque because he donated money for its completion)
Get a view of the city from the Namirembe Cathedral
Visit the UNESCO World Heritage-listed Kasubi Tombs
Discover Kampala's nightlife, which I hear is a lot of fun! (Read why Kampala is one of the best cities for expats to live in.)
Where to stay in Entebbe
I spent a night at 2 Friends Beach Hotel, a short drive from the airport. The hotel is on Lake Victoria and it's one of the few hotels in the area that has its own private beach.
Rooms are spacious and tiled, so they're cool even without AC. All rooms have a mini bar and tea and coffee facilities. Some rooms have lake views (the upstairs rooms also have air-conditioning). The reception is in a tall hut overlooking the swimming pool which is the perfect spot for a cocktail or a beer.
Across the road, right on the lake, is the hotel's beach restaurant. Grab a drink or dinner here at sunset – the views are spectacular. I had a delicious tilapia dish, steamed in banana leaf with lemongrass and served with rice and vegetables.
Check rates online for 2 Friends Beach Hotel at Expedia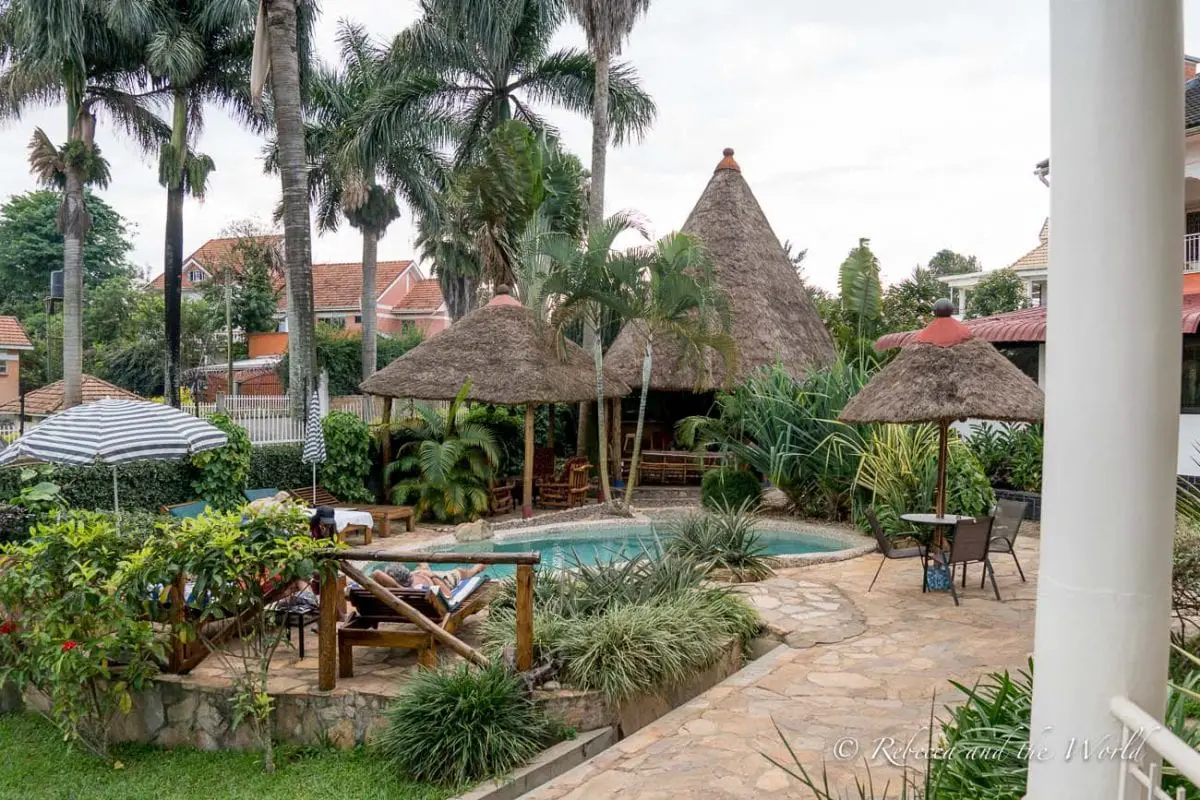 Where to stay in Kampala
Ellington Safaris has a self-catering, three-bedroom apartment in Kampala. The apartment is in the Kansanga neighbourhood, which has a wide range of international and local restaurants. You can book online by enquiring directly with Shaun and Jenny at Ellington Safaris.
If you'd prefer to stay in a hotel, then try the chic boutique Villa Kololo. It's located in a great neighbourhood known for its restaurants and nightlife. Check rates for Villa Kololo online with Booking.com
Days 2 and 3: Queen Elizabeth National Park
It's a long drive from Entebbe to Queen Elizabeth National Park in Uganda's south, so stay here for two nights to make the most of your time.
There are a few routes from Kampala to Queen Elizabeth National Park. We took the Fort Portal road (highway A109) which heads west from Kampala and then south from Fort Portal. The other option is the Mbarara-Kasese road heading directly southwest.
The picturesque 6- to 8-hour journey to Queen Elizabeth National Park winds through tea plantations, villages and the outskirts of the Kibale Forest National Park, which is famous for its primates.
Even though you won't venture inside the forest on this trip, you'll likely see a few colobus monkeys in the treetops beside the road, along with plenty of colourful birds. Along the drive you'll definitely see how lush and green the country is – even when it's not the rainy season.
The highway we took also passes a small sign marking the Equator. This isn't the big monument that's close to Kampala, but it's still fun to jump from the northern to the southern hemisphere.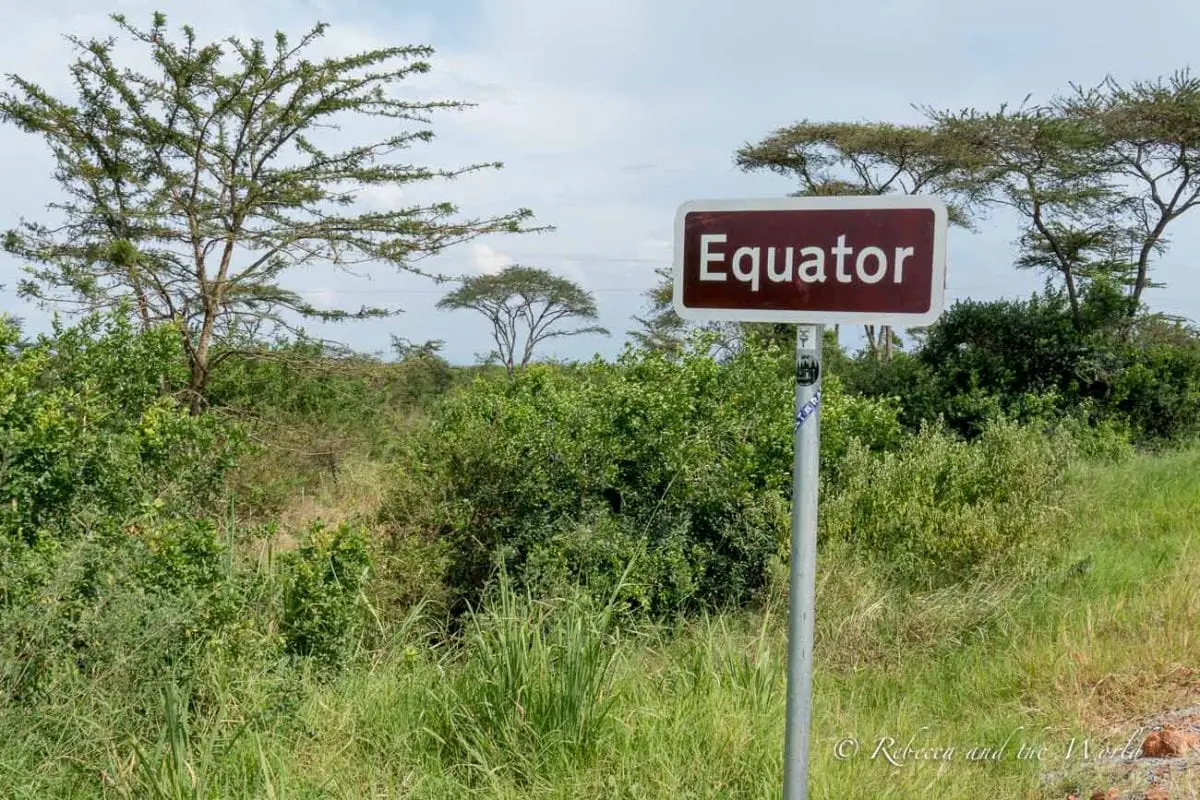 Game drives in Queen Elizabeth National Park
Queen Elizabeth National Park was renamed in 1954 after a visit from the newly inaugurated Queen Elizabeth.
It's Uganda's most visited national park and the top destination for Uganda safaris. Across its 1,978 square kilometres there are more than 90 species of mammals, five primate species, the Big Five (except for rhinos), and around 500 species of birds.
When you arrive in Queen Elizabeth National Park, the animal sightings come quickly; in my first half hour in the park I saw hippos, warthogs, Ugandan kobs, buffaloes and waterbucks. The landscape here also changes dramatically, from thick, lush forests to dry savannah.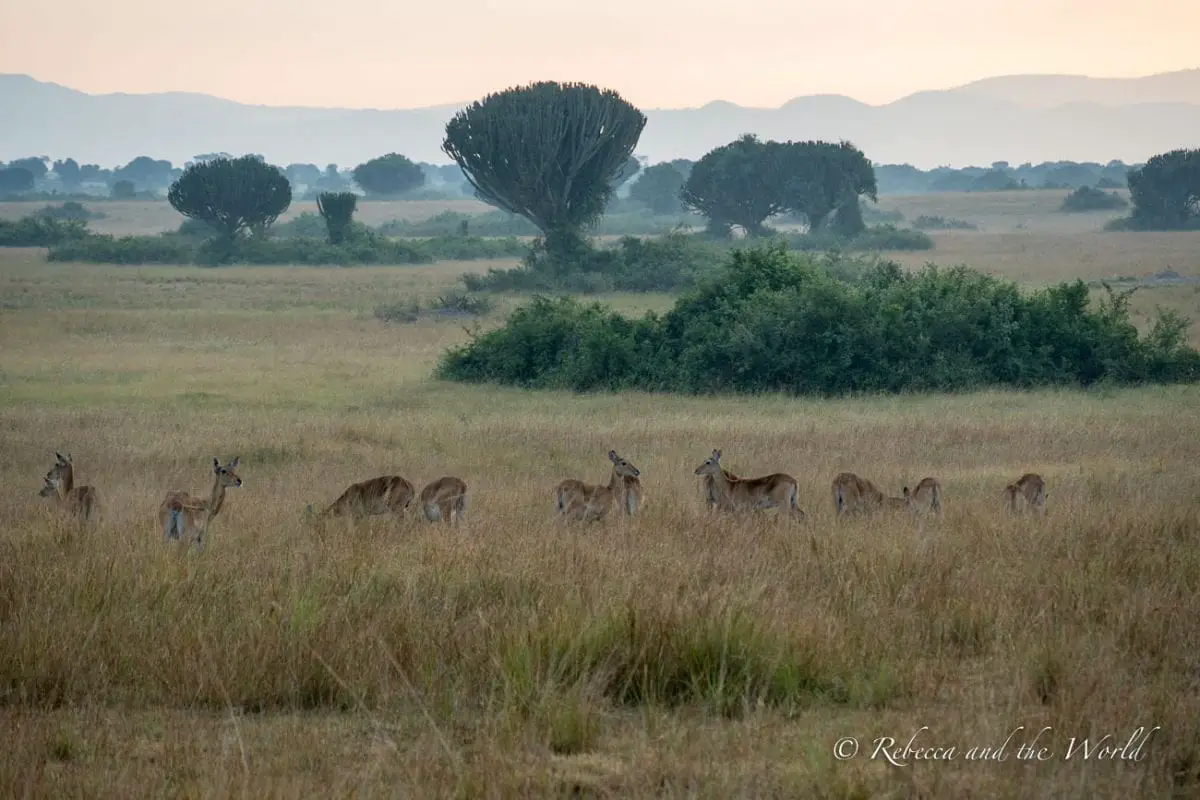 An evening game drive is a great way to spot the big cats who may emerge as the sun and the temperature go down. We were lucky to see three lions sleeping near a thicket. We waited for a long time, but they barely moved except to roll over now and then. They looked quite full, perhaps from a big lunch!
Early morning game drives are when you'll see hyenas heading back to their dens, warthogs rooting about for food, hippos wallowing about in waterholes and a lot of colourful birds. I'm not a birdwatcher but I was dazzled by the birds in Uganda! If you're a twitcher, Ellington Safaris can arrange a driver guide with specialist bird knowledge.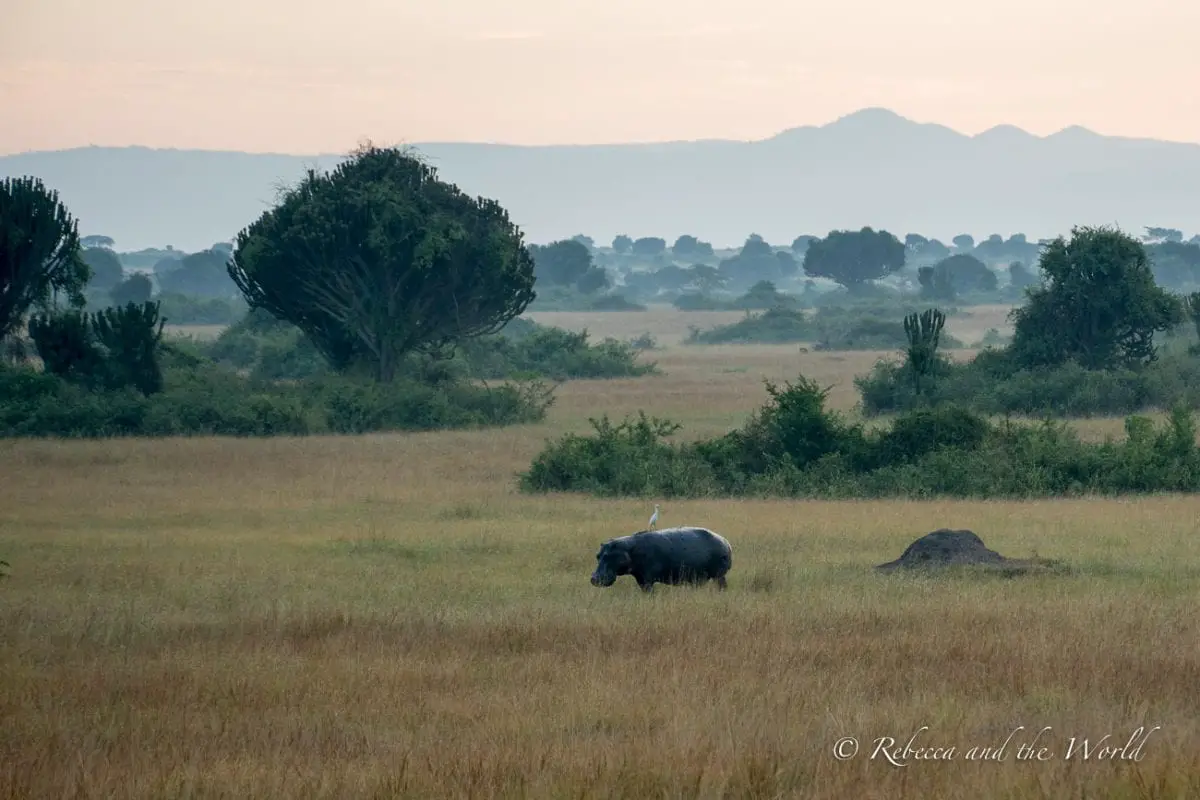 Kazinga Channel boat tour
The Kazinga Channel is a 32-kilometre waterway that connects Lake Edward and Lake George. Boat trips along the channel are popular with visitors to Queen Elizabeth National Park.
I have never seen so many elephants and hippos in one place! Not to mention the buffalo, waterbuck, Nile crocodiles, baboons and warthogs, and the thousands of birds flying overhead and nesting in and around.
Top tip for this Uganda travel guide: Get a seat on the left-hand side of the boat on the top deck for the best wildlife viewing!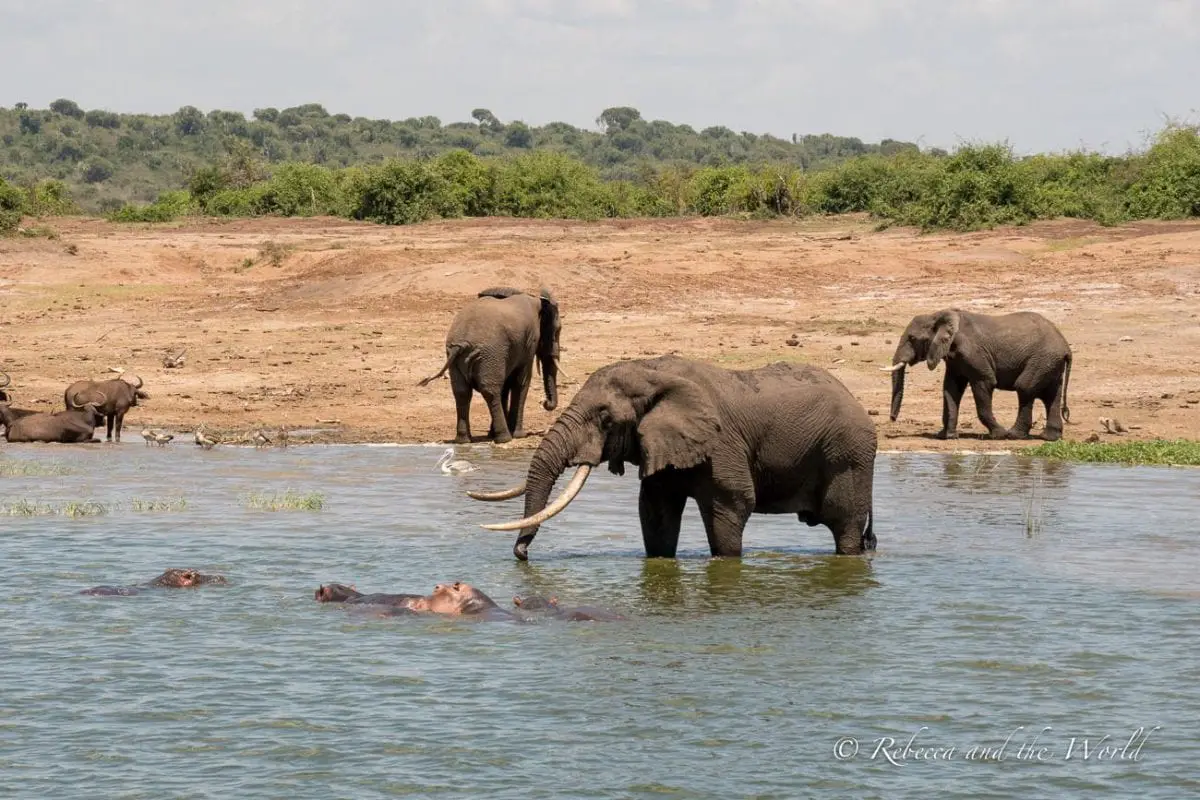 Uganda Carnivore Program
Predators like lions and leopards are what draw visitors to Queen Elizabeth National Park. But over the years their populations have been declining rapidly. As humans and wildlife increasingly come into contact, habitats have been lost and the big cats poisoned after livestock attacks.
The Uganda Carnivore Program is a nonprofit that focuses on monitoring, research and conservation of predators in Uganda, primarily in the northern sector of Queen Elizabeth National Park.
One of their fundraising activities is a lion-tracking program. Visitors can join researchers on daily research expeditions. Trackers use radio collars that have been affixed to some lions within the park. During the lion tracking experience, drivers are allowed to go off-road, which means more chance of getting up close to the lions.
Bookings can be made through the Mweya Visitor Information Centre or through a tour operator.
This was something Shaun told me about but I didn't have a chance to join – it sounds like a fantastic opportunity to see predators up close and to support their ongoing protection.
Explosion Crater Drive
A series of violent volcano explosions led to the formation of a number of craters in Queen Elizabeth National Park, which now form a stunning drive. The Explosion Crater Drive passes over the ridges of various craters, some filled with water, some dry.
There's not a lot of wildlife along the bumpy drive, but you may see herds of elephants and single male buffaloes.
After leaving the Kazinga Channel, Shaun and I took a drive through the crater drive and stumbled upon a herd of elephants, including a few babies. Watching them break off branches with their strong trunks was absolutely mesmerising.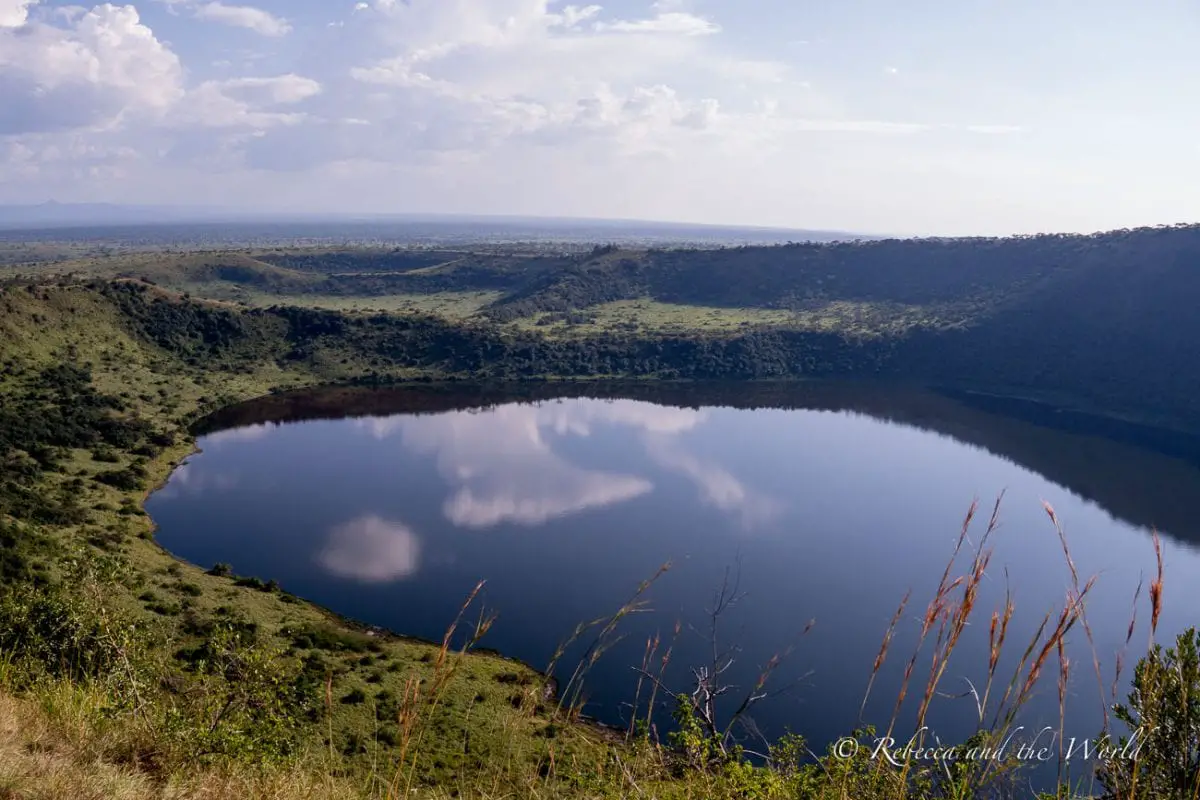 Where to stay in Queen Elizabeth National Park
Kasenyi Safari Camp was my first experience of the classic African safari lodge. My room was an enormous tent with a huge four-poster bed and a bathroom big enough for a dance party. The back door led out to a massive balcony overlooking Lake Bunyampaka.
The eight tents at this luxury lodge are made from locally-sourced materials. Tents are named after porters or other people known to the lodge.
The lodge runs on solar power, with a back-up generator. Because of this, there are no outlets in the rooms, and electronics can only be charged in the main room. Wifi is available in the main room.
There's complimentary laundry if you're staying for more than one night.
Meals are served in the large, open main room. The high thatched roof makes this room cool, even when it's blistering hot outside. Dinner is a five-course affair using mostly locally-sourced ingredients from the nearby communities.
The lodge has no fences, so it's not uncommon for staff to see the odd lion, leopard or buffalo on the grounds. For this reason, all guests need a guard to escort them to and from their room between 6pm and 7am.
Kasenyi Safari Camp puts a lot of effort into relationships with the local communities, including paying for school tuition, supporting a community boat to help with marketing of locally-grown products, and employing and training people.
The lodge can arrange guided nature walks and visits to the nearby salt lake, or set up a gorgeous bush breakfast or bush dinner across the other side of Lake Bunyampaka.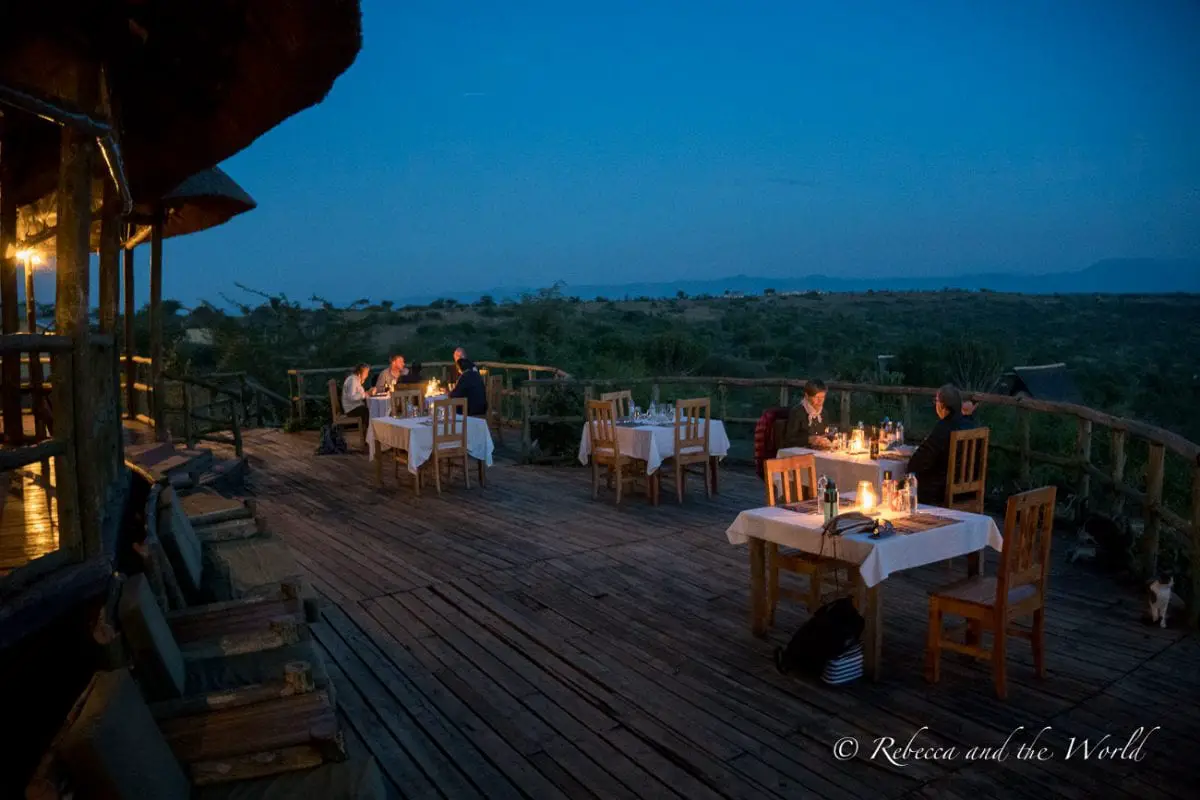 Day 4: Drive to Ishasha sector of Queen Elizabeth National Park
On day 4, drive to the southern sector of Queen Elizabeth National Park. Ishasha is one of the more remote places to visit in Uganda, but here you'll see a slightly different landscape and other wildlife.
The drive is only around two hours, but it's bumpy, so be prepared for an "African massage"!
Game drive looking for famous tree-climbing lions
The Ishasha sector of Queen Elizabeth National Park is most famous for its tree-climbing lions. While it's not exactly clear why these lions like getting up into the branches, some guess that it's to escape the heat of the day and avoid biting insects.
There are, however, only a few dozen lions remaining in Ishasha, so spotting these tree-climbing cats can be tricky. Check with the rangers first whether they've been spotted recently.
Unfortunately, I didn't spot these lions while we were in Ishasha; they hadn't actually been seen for the past three days. But you never know your luck!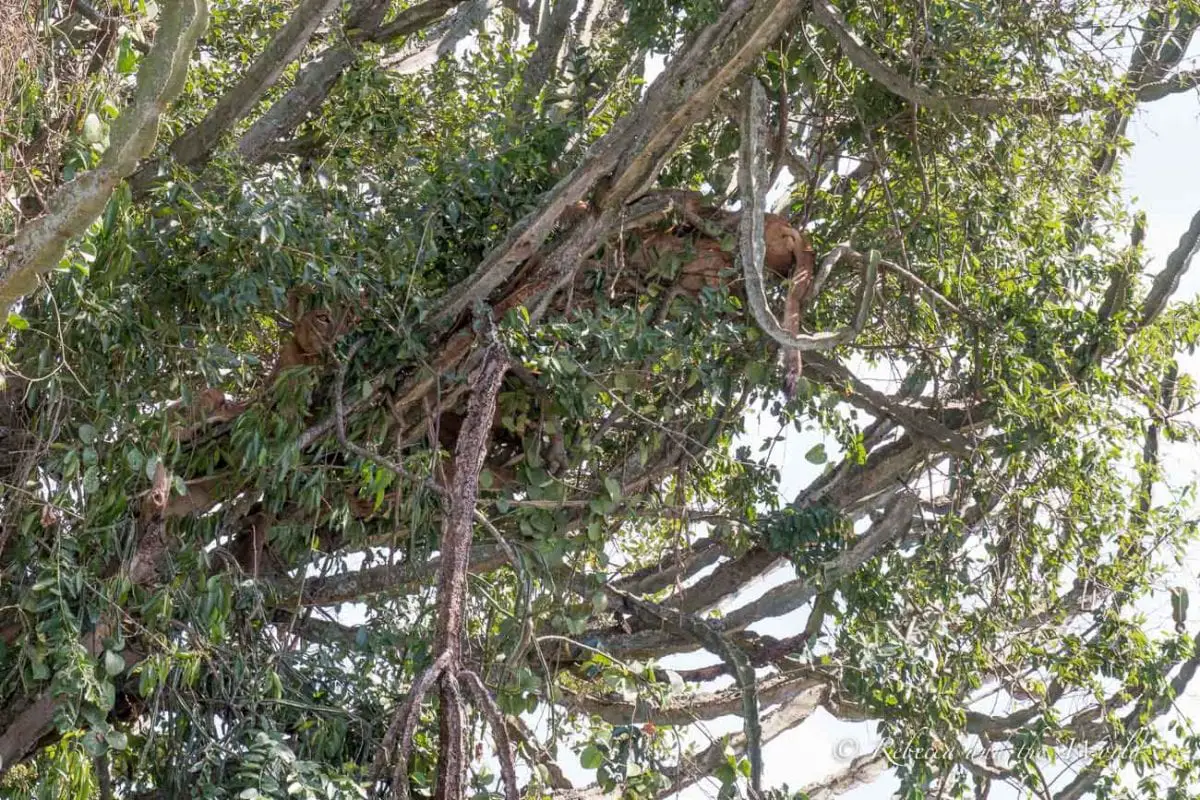 What you will definitely spot here are plenty of elephants, the beautiful reddish-brown topi (a type of antelope) and, if you're very lucky (like I was!), leopards.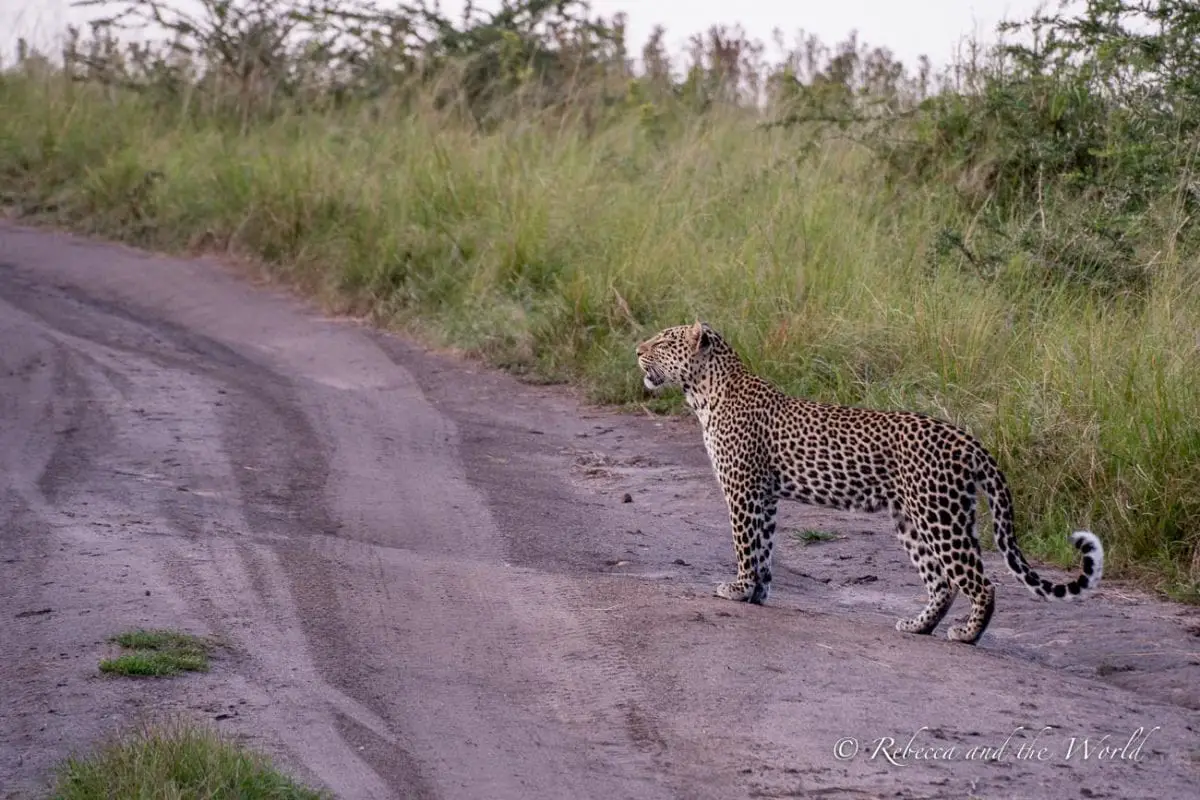 Drive to the DRC border
The Ishasha River divides the Democratic Republic of the Congo and Uganda in this part of the country. You can drive to the river and see just how close the DRC is, only a few metres across the muddy waters. But be warned, if you try to cross, there are plenty of hippos standing in for border security!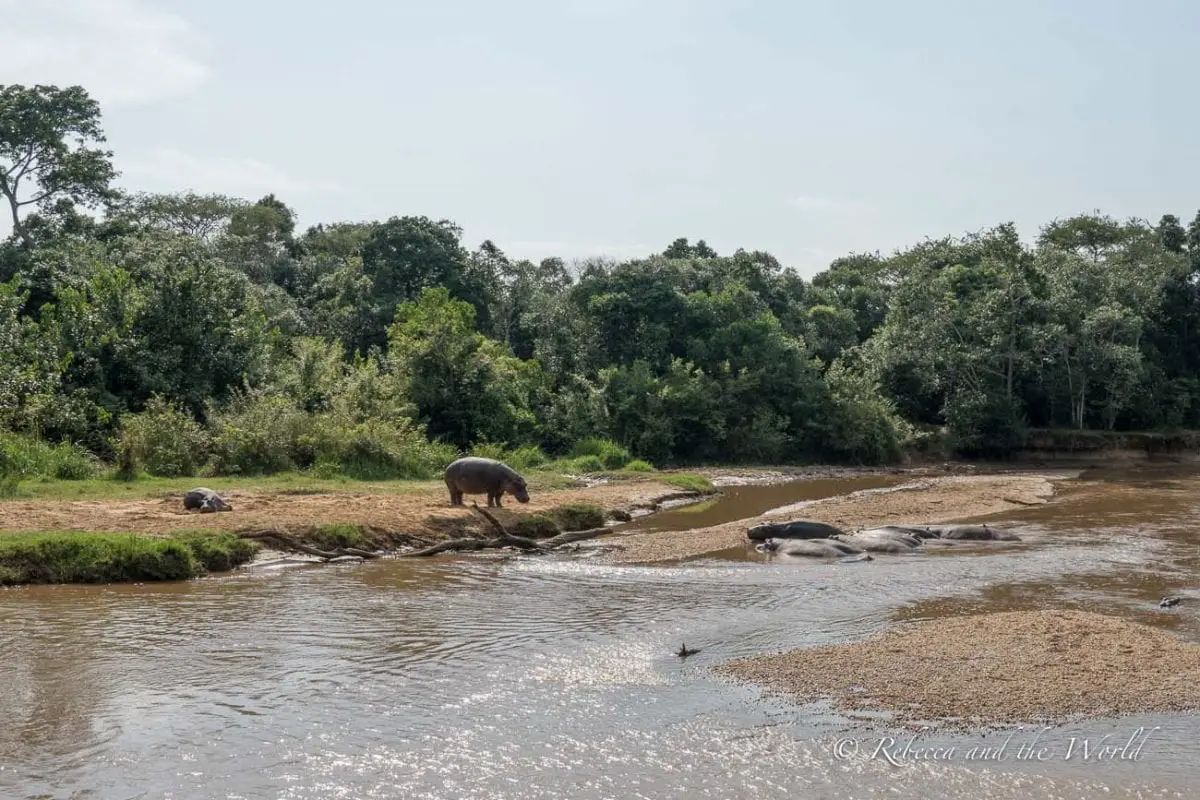 Enjoy a sundowner
There's nothing quite like sipping a gin and tonic overlooking the Ugandan savannah as the sun sinks below the horizon. Many lodges will set up a small bar and seats in a private spot for the evening show. These are sundowners and they're the perfect way to end the day.
For my final night in Queen Elizabeth National Park, Ishasha Wilderness Camp set up a gorgeous spot on an escarpment. After an incredible afternoon where I spotted a leopard, Shaun and I pulled up and I was greeted with a refreshing towel. The staff served me gin and tonics and a range of delicious snacks, including freshly made samosas. I then simply sat as the sun went down, watching warthogs and hyena down below, as the staff brought me another drink.
Ishasha Wilderness Camp's sundowner even included a washroom – with a fabulous view!
Community tour
Ishasha Wilderness Camp can also arrange a visit to a local village, led by Agartha, a leader in the community. Agartha shares stories of her tribe, the Bakiga, as well as helps visitors prepare and taste a local dish.
The tour is a fantastic way to learn more about and support the local community.
Where to stay in Ishasha
The only lodge inside of the southern sector of Queen Elizabeth National Park, Ishasha Wilderness Camp has been careful to respect and co-exist with its unique surroundings.
The ten safari tents overlook the Ntungwe River, home to hippos, and the drinking ground of elephants and buffaloes. Like other safari lodges in Uganda, wild animals may roam through the grounds, so an escort is required after daylight if you move around the camp.
Each tent has an enormous bed (you could fit four people in it!) with a comfortable, firm mattress, a mosquito net, an open wardrobe with colourful dressing gowns, and a desk. Here, you can charge your electronics in the room. A nice touch is the universal charging station, which means you don't need to pull out your travel adapter to charge your tech gear (I wish more hotels would do this!).
Wifi is only available in the rooms, not in the main area. Given the remote surroundings, the wifi unsurprisingly isn't very strong – but you're not here to check your Instagram, are you?
Bathrooms are spacious, with a flushable toilet and running water in the sink. A "bush shower" provides hot water on demand – someone will bring a bucket of hot water to your room on request which is hooked up to the shower. Despite the fact that the shower doesn't have modern plumbing, the shower pressure is strong and I had a lovely shower to wash off the dust of the day.
There's a complimentary laundry service, and even though I was staying only one night, the staff managed to wash a few items of mine and leave them smelling wonderful.
Drums call people to dinner. If the weather's nice, tables are set up on the grass outside the main building. Lamps dot the ground between tables, providing lovely ambient light.
At night, there is a turndown service and on my bed was a cute, quirky story about Henry the Hippo, the resident hippo. I didn't see him on my visit, but apparently he likes to hang out around near tent number 10.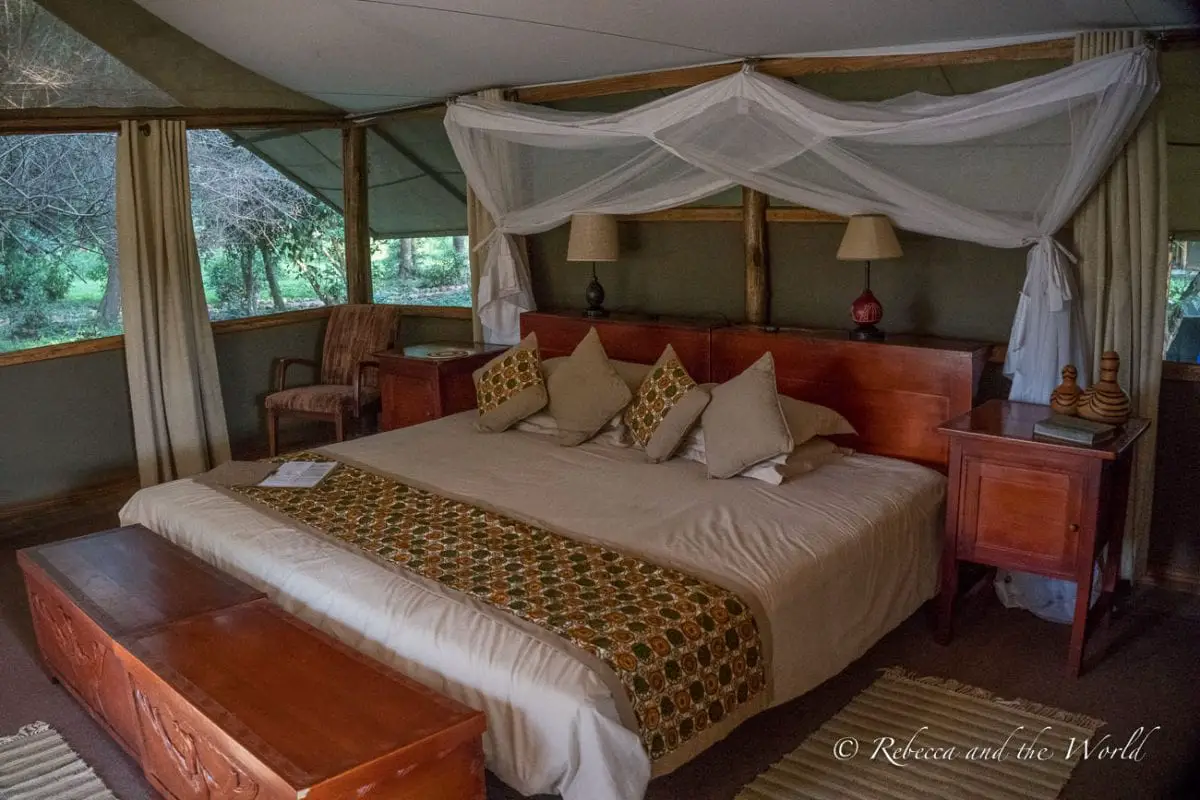 Day 5: Drive to Kisoro
Day 5 is another big day of driving. It's about a 5-hour drive from Ishasha to the town of Kisoro in southwestern Uganda.
The drive winds through Bwindi Impenetrable Forest and this is the first chance to see just why it's called that. Thick forest blankets the hills, broken here and there by villages, tea plantations and small plots of farmland.
Kisoro is a base for gorilla tracking for those who are trekking in the southern section of Bwindi Impenetrable Forest National Park or Mgahinga Gorilla National Park.
The main focus for the rest of today is to prepare for tomorrow's exciting adventure!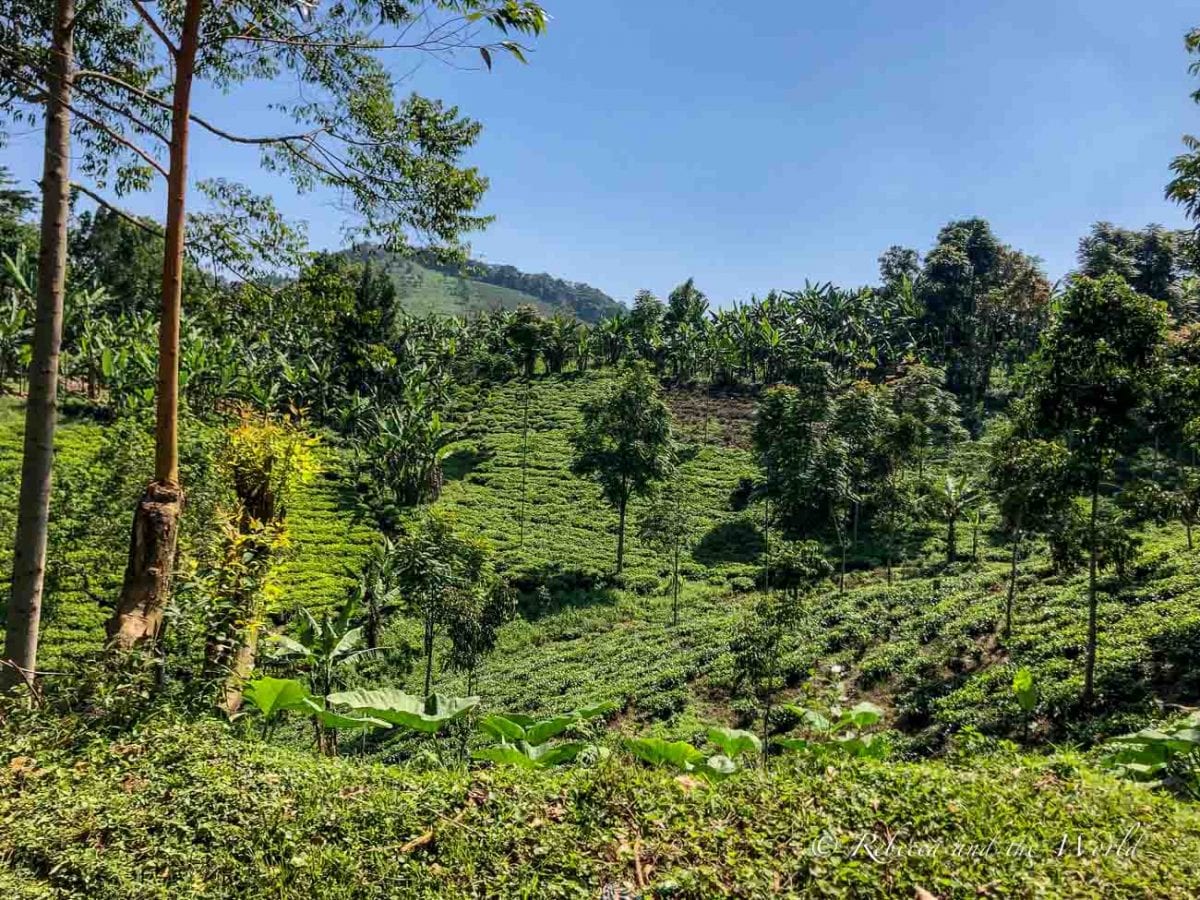 Where to stay in Kisoro
Travellers Rest Hotel has a few famous past guests: Dian Fossey used to stay here frequently on her research trips.
The rooms are simple but comfortable and clean. The gardens are a little oasis. Make sure you step through the gate at the back for a stunning view of the Virunga Mountains at sunset.
Dinner is served each night buffet-style for the bargain price of US$15. Order a generous packed breakfast for the early morning the next day (the banana pancakes are really good!).
Check the latest rates for Travellers Rest Hotel on Expedia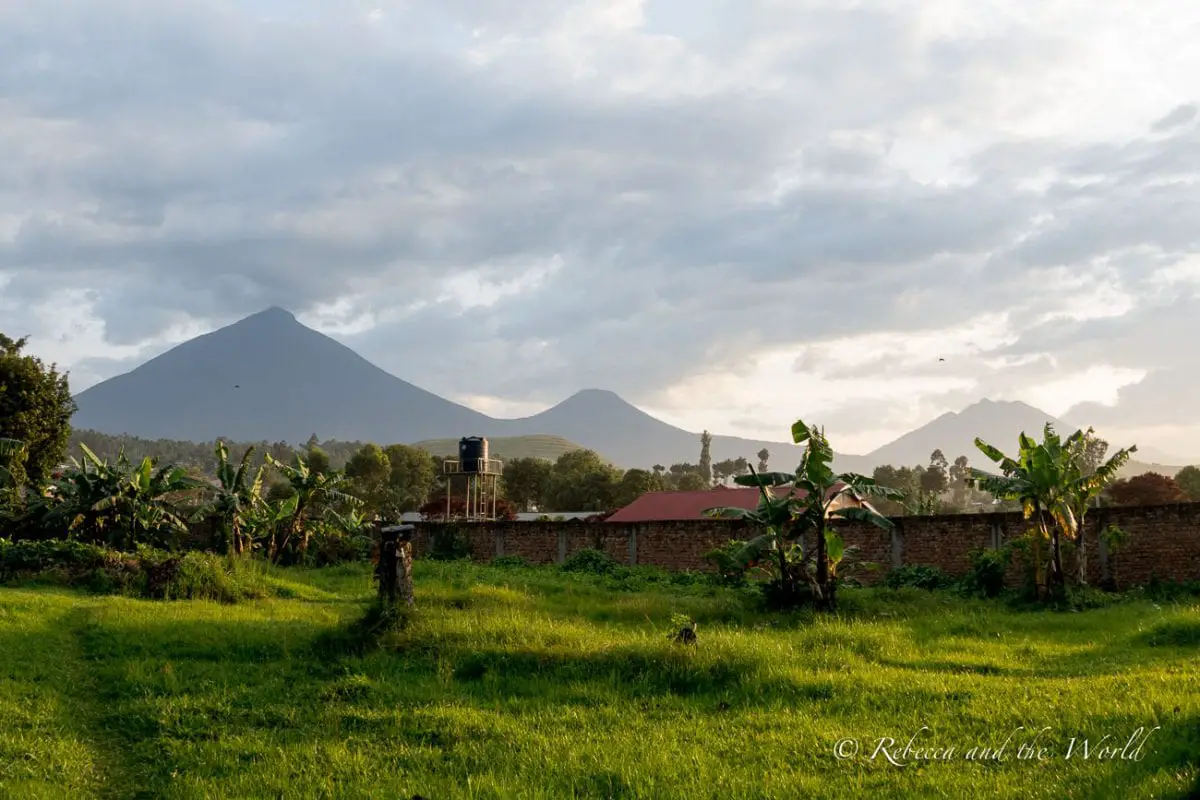 Day 6: Gorilla trekking in Uganda
Today is the day you've been waiting for: the chance to see mountain gorillas in the wild.
There are only three countries where you can see wild mountain gorillas: Uganda, Rwanda and the Democratic Republic of the Congo. Uganda is the ideal place to see gorillas, as it's home to more than half of the remaining population.
I have a full guide to gorilla trekking in Uganda, but here's some information about the amazing experience:
Book your permits for gorilla trekking in Uganda well in advance. This is one of the major Uganda tourism attractions, and there are limited permits. This will be done through your tour operator, but if you're travelling independently, you'll need to visit the Uganda Wildlife Authority office in Kampala to arrange permits.
The day starts early. We set off at 6am and were the first to arrive at the park entrance to sign in.
Only 8 people can visit each family each day, and only for 60 minutes.
The hike to reach your gorilla family could be 10 minutes or it could be 8 hours.
During the hike, you won't be on flat ground. You could be trekking through mud, up and down hills, and through dense forest. There are flies, biting ants and stinging plants. I'm not saying this to discourage you, just to prepare you for what you may face! (But the reward is worth it!)
If you're sick, you cannot go on the trek. Gorillas are highly susceptible to human diseases and one sneeze could wipe out a family. Be responsible and tell your guide if you're not feeling well.
You can hire a porter to carry your backpack. This is a great way not only to save your energy but to provide local employment. The minimum payment for a porter is US$15 and they work hard. They'll carry your backpack and help you through tricky areas of the hike.
Armed guards accompany every gorilla trekking group to protect people against elephants or buffaloes (which are surprisingly aggressive animals).
Don't forget to tip your guide and the guards, too!
Here's also a handy gorilla trekking packing list so you know what to wear and what to put in your backpack on the big day!
I was assigned to the Mucunguzi family, a family of one silverback, five females (one pregnant at the time) and three babies. Mucunguzi means "peace", and the silverback that now heads the family was named this after the previous silverback fell from a tree and died.
Our group of 8 people had to drive to our starting point, and from there it was a 2.5-hour hike to the gorilla family. The hike was steep at the beginning, before we cut through forest where I could barely see a path.
When we came across our trackers, I expected that we'd need to hike a bit further to the family. But one of the trackers motioned with his head. When I turned to the right, there was the huge silverback gorilla, lying on his back under a tree, looking at me nonchalantly.
After only 10 minutes, the silverback scaled a tree, followed quickly by two of the babies. When they finally came down, we followed the silverback through and over dense forest as he searched for his females. This was a tough climb that left us standing at times in ants' nests and tripping over low branches.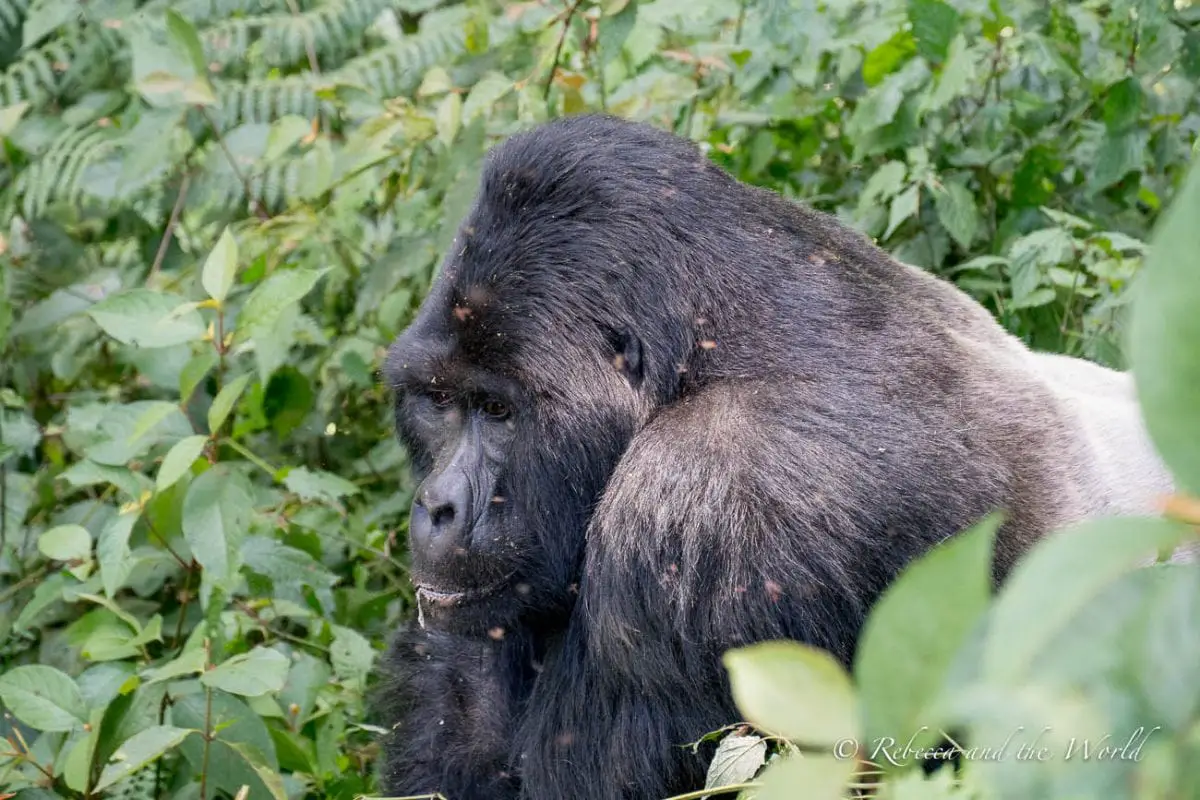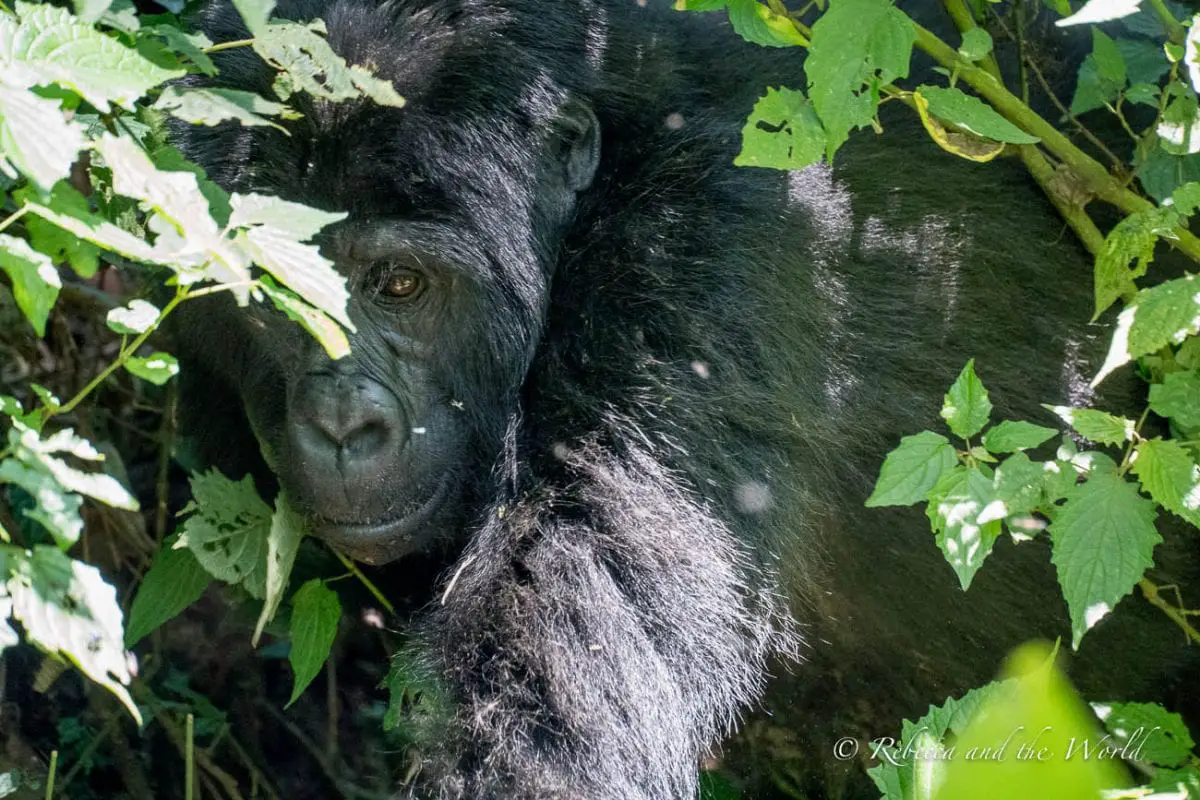 All the photos I've seen of other peoples' gorilla trekking experiences, it seems that the gorillas sit on a flat surface, happily having their photo taken, but from my experience that it's not always that simple!
Regardless, the effort is worth it.
Where to stay near Bwindi Impenetrable Forest
As one of the most popular places to visit in Uganda, it's not surprising that there are plenty of accommodation options near Bwindi Impenetrable Forest.
I stayed at Mutanda Lake Resort, and instantly fell in love. The deluxe rooms are fresh and modern, with cushioned seats on a spacious balcony that overlooks the lake. The bed is huge, with a firm mattress.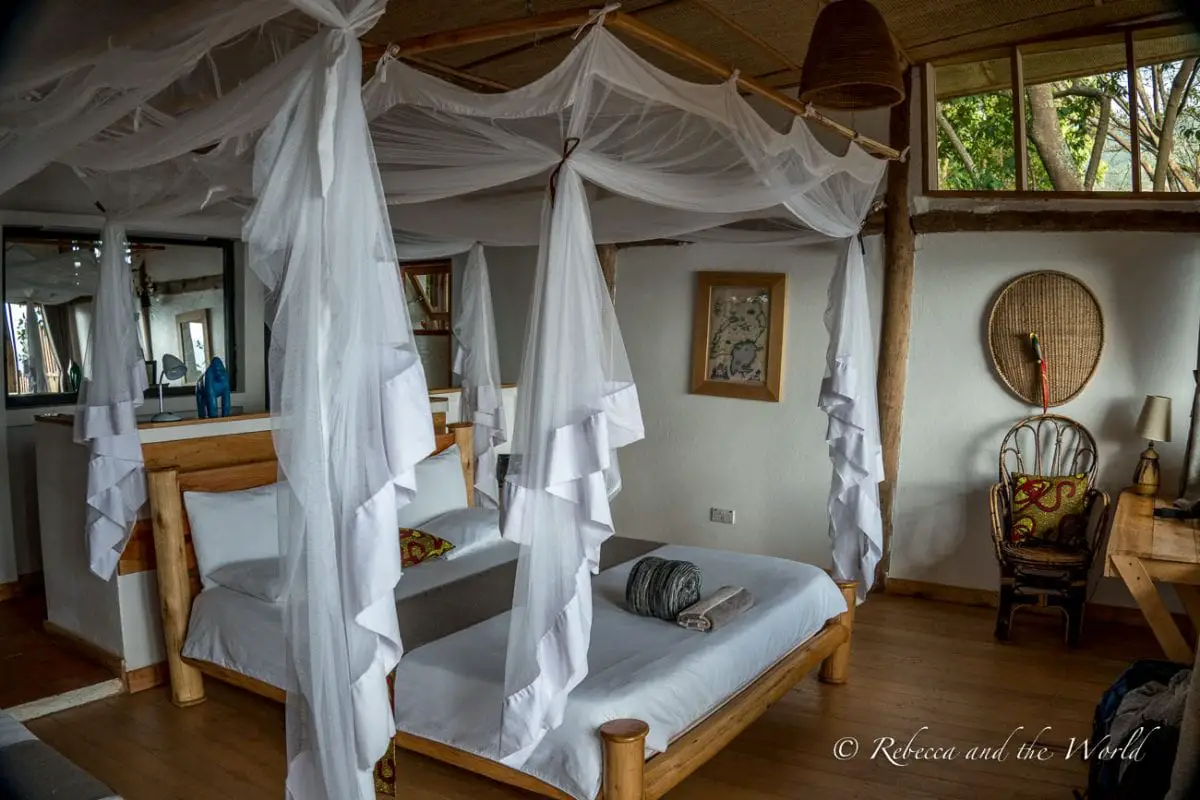 With a maximum of 36 guests at any one time, the resort is intimate and the staff remember your name.
The restaurant and bar overlook the lake, which turns pink, purple and orange as the sun sets.
Mutanda Lake Resort is conscious about its impact, and provide fresh drinking water in glass jugs rather than plastic bottles. The resort works with the local community, providing employment, purchasing produce and installing a water tank that reduces the amount of time people need to walk to collect water.
Bonus: you can actually swim in Lake Mutanda (there's no bilharzia). Mutanda Lake Resort has a lovely dock you can swim from or laze about on.
Depending where your gorilla tracking starting point is, you could even stay here for two nights, before and after the gorilla track. But book well in advance – this place fills up quickly.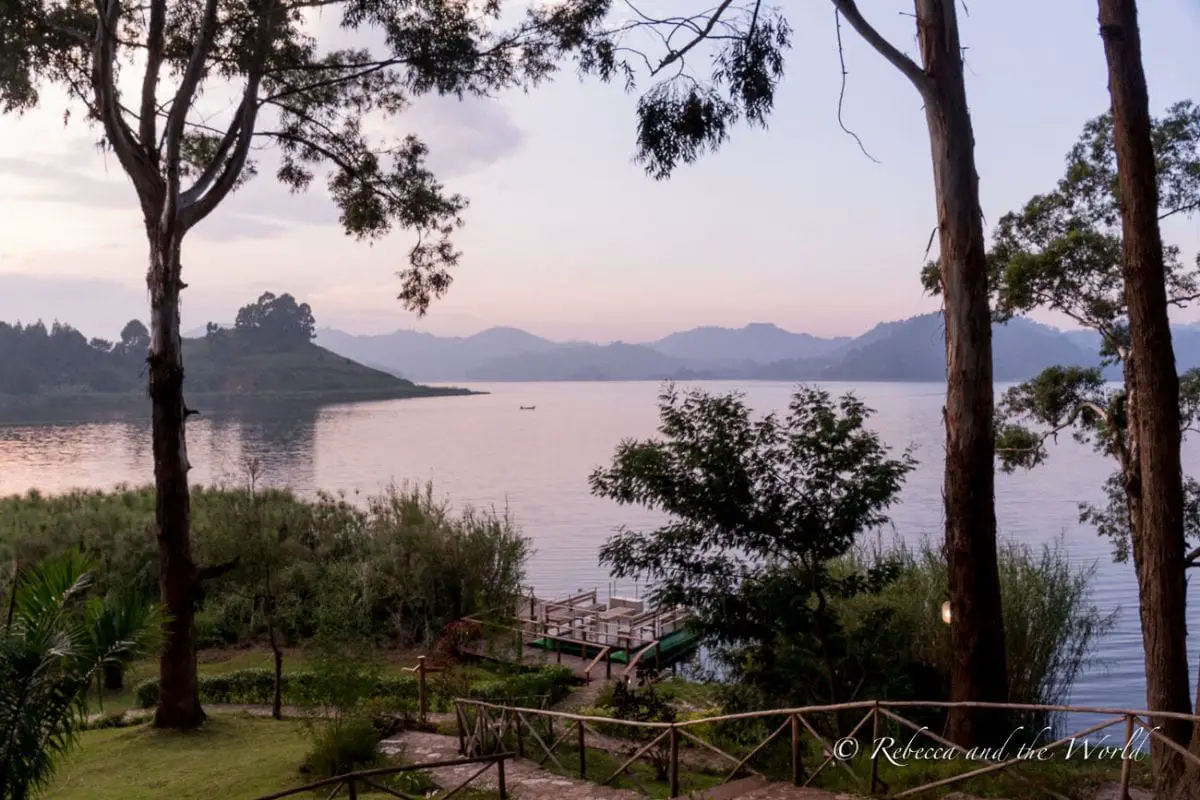 Day 7: Rest by Lake Mutanda
Day 7 is about resting. This isn't actually what I did on my Uganda trip, but I would recommend adding a day if you have it. The past week has been full of busy days, and Lake Mutanda is wonderfully peaceful.
Mutanda Lake Resort can arrange plenty of activities, including hiking, boat and canoe tours, Virunga Mountains climbs, trips to visit the golden monkeys, bird watching, mountain biking and community visits.
Or, you could just chill out and enjoy the beautiful view.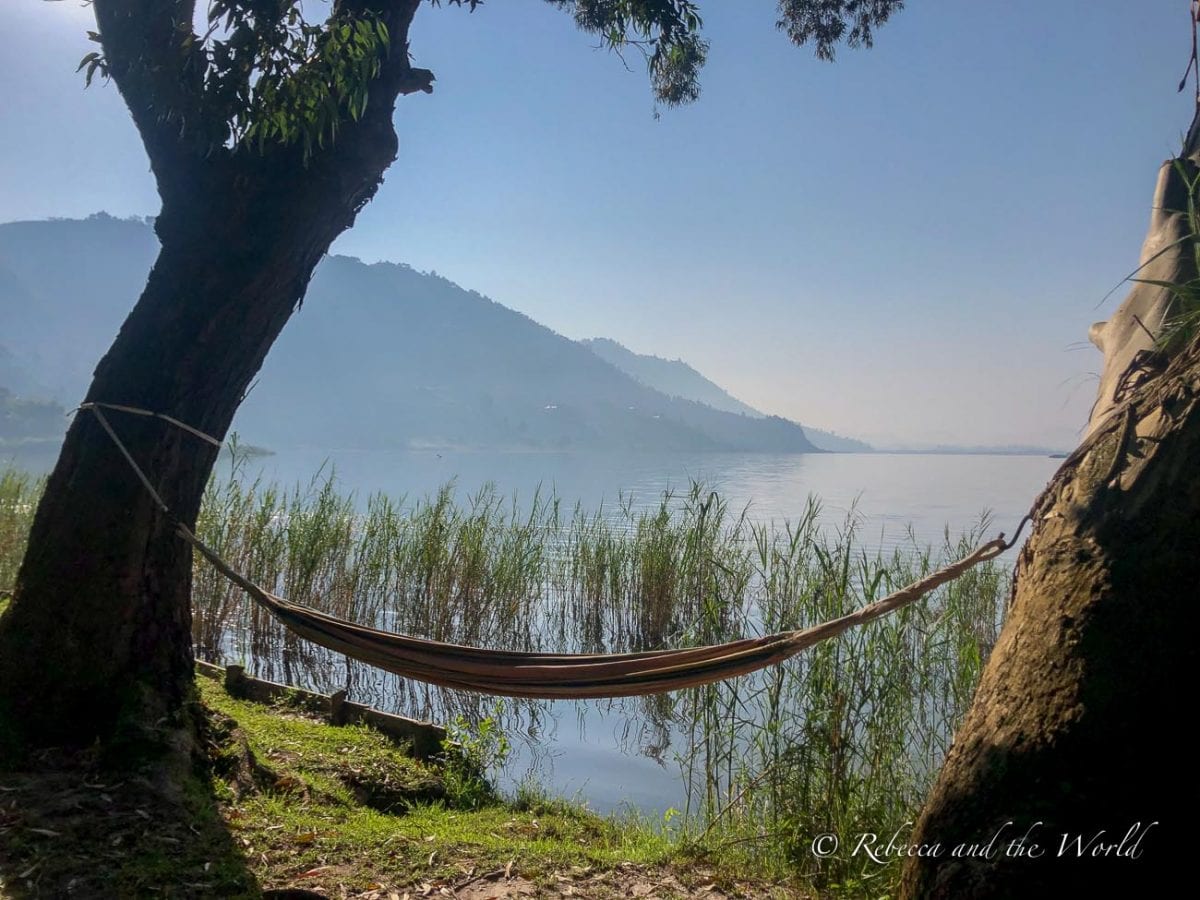 Day 8: Return to Entebbe and end your Uganda trip
The trip is over! If you're like me, you'll have realised a few days ago that a week in Uganda isn't long enough, so you'll already be planning your return trip.
On your final day, return to Entebbe. This is an 8+ hour drive, so plan your international flight home accordingly.
More Uganda itinerary ideas
I highly recommend spending more time in Uganda – one week wasn't enough for me! Especially when Shaun told me about all the other amazing tourist attractions in Uganda. I plan to go back and see more of the country.
If you have more time – say, 10 days or 2 weeks in Uganda – here are some other places to visit in Uganda to extend your trip:
Murchison Falls National Park – see Uganda's largest national park and Murchison Falls where the Victoria Nile River thunders through a rock opening
Kibale Forest National Park – home to primates, this is the place for chimpanzee tracking
Jinja – the adventure capital of Africa, come here for white-water rafting at the source of the Nile
Kidepo Valley National Park – this park is remote, but worth the effort if you have the time. The reward is a stunning array of wildlife and astonishing landscapes
Rwenzori Mountains – one of the most beautiful mountain ranges on the entire African continent, you can spend days hiking through the uncrowded national park
Whatever you do choose to do if you extend your Uganda itinerary, try to mix up your days. People think they want to do game drives every day while they're on safari holidays, but it can become tiring being in a car all day.
For me, two days of game drives in a row is enough, and then I need to break it up with something else like a hike or a boat trip or a relax day. If you book with a private tour operator like Ellington Safaris they'll advise how to create the perfect itinerary.
Uganda itinerary logistics
To help with planning a trip to Uganda, here's some additional information and tips.
Costs of travelling in Uganda
Travelling in East Africa generally isn't cheap, and Uganda is no exception. For a Uganda safari itinerary like the one I've outlined here, you'll need to budget around US$300 per person, per day based on 2 people sharing (plus gorilla tracking permits).
The most expensive item of a trip to Uganda is the gorilla trekking permit. Permits are currently US$700.
Uganda's currency is the shilling and you can check the latest exchange rate online at XE. U.S. dollars are widely accepted and most hotels and tour operators quote in dollars. However, when you're on the ground, it's worth having some small shilling notes for shops and restaurants.
If you bring U.S. dollars, make sure they are from 2006 or later, and have no tears, marks or stains. If you want to change U.S. dollars when you arrive in Uganda, bring larger denominations ($100 bills) to get a better exchange rate.
Tipping isn't quite clear – and it's not usually expected – but from what I gather, the rate for drivers/guides is around US$20 per day (split between your group). Make sure to tip staff at hotels. There are usually tip boxes in the reception area and management shares tips among all the staff. I tipped about US$20 per night.
For other people you meet along the way, for example, the tour guide on the Kazinga Channel and the porters, guides and rangers on the gorilla tracking hike, use your judgement and tip based on what you think is appropriate (again, use the US$20 per day as an example).
Wages are low in Uganda and people in the tourism industry work very hard, so tip when appropriate.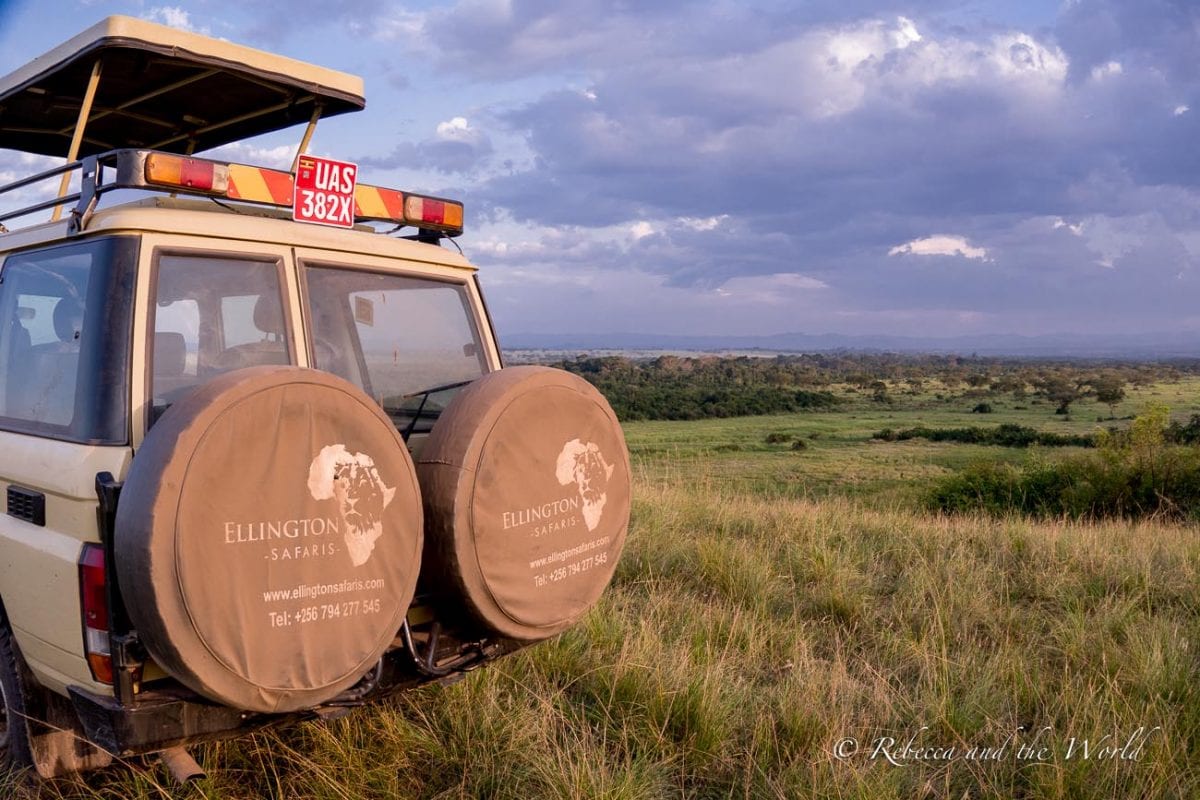 Uganda visa requirements
Uganda has a very easy online system for obtaining a tourist visa. Visit their website and apply; it costs US$50. You'll need a copy of a passport photo, a return ticket and proof of yellow fever vaccination.
Print out the letter and bring it with you for immigration to finalise on arrival, along with your passport photo and vaccination records.
If you're also visiting Rwanda and/or Kenya on your trip, consider applying for an East Africa Tourist visa which costs US$100. Just make sure that you apply for this visa via the country that you're visiting first on your trip.
You cannot obtain a Uganda visa on arrival without prior approval, so make sure you plan in advance.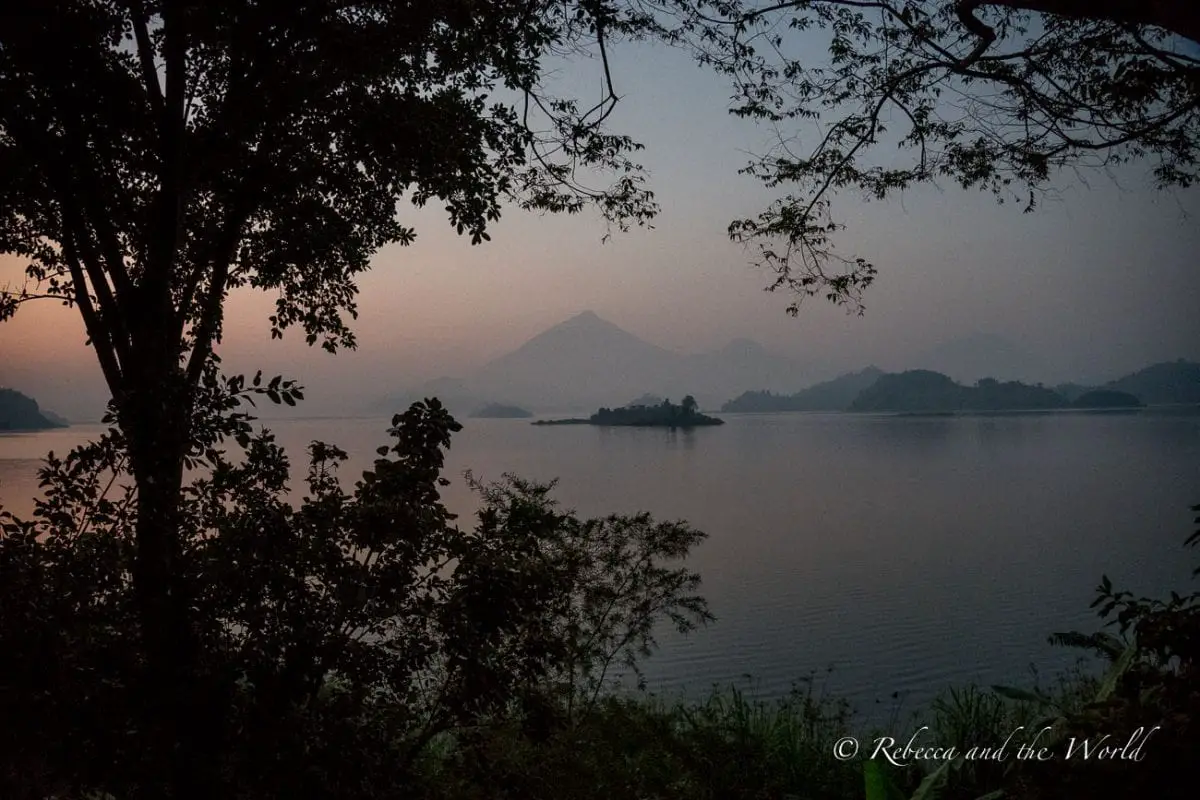 Health and vaccinations
I'm no doctor so make sure you visit your own before you travel to Uganda. They can advise any required vaccinations and advice specific to you.
You need proof of yellow fever vaccination to obtain a visa for Uganda.
Uganda has some malaria areas, so ask your doctor whether you need to take medication. Full disclosure: I did not take any malaria medication on my trip to East Africa. But I lived in a malaria-risk country for four years, so I'm very aware of the risks and took steps to prevent bites during my time in Uganda. Pack plenty of repellent, sleep under mosquito nets (all hotels and lodges provide these) and cover up in the evening.
I always purchase travel insurance. World Nomads offers simple and flexible travel insurance. Luckily, I had no issues on this trip and didn't need to use my insurance.
I ALWAYS buy travel insurance. Travel Insurance Master is a good one-stop-shop to compare policies across various providers.
GET A QUOTE WITH TRAVEL INSURANCE MASTER
Pack a good first-aid kit with any medications you need while travelling. I always pack pain-relief medication (like Nurofen or Ibuprofen), Pepto-Bismol or peptosyl for tummy troubles, Imodium, antiseptic cream, antibiotics (prescribed by a doctor) and Band-Aids.
Is Uganda safe to travel?
This is not an unreasonable question to ask, especially when you consider most peoples' (unfounded) opinions about Africa and the way the media portrays the continent. When I told people I was travelling to East Africa by myself, a few were quite concerned.
I felt incredibly safe the entire time I was in Uganda. Everyone was so friendly and helpful. I had no safety concerns or anything that made me nervous. Of course, I took all the usual safety precautions that I'd take anywhere in the world: I didn't wear expensive jewellery, kept my valuables out of sight, and tucked my money into various bags and pockets.
Check your country's government warnings before travelling and make sure you notify your government of your travels. Here's a link to Australia's advice on travelling to Uganda, as well as the United Kingdom and the United States.
Wildlife can obviously be an issue, so listen to your guide to stay safe. Maintain a safe distance from animals if you're outside, ask hotel staff if there's anything to be aware of, and stay in your car when wildlife is around.
Having said that, animals are usually far more scared of you! They'll generally keep their distance.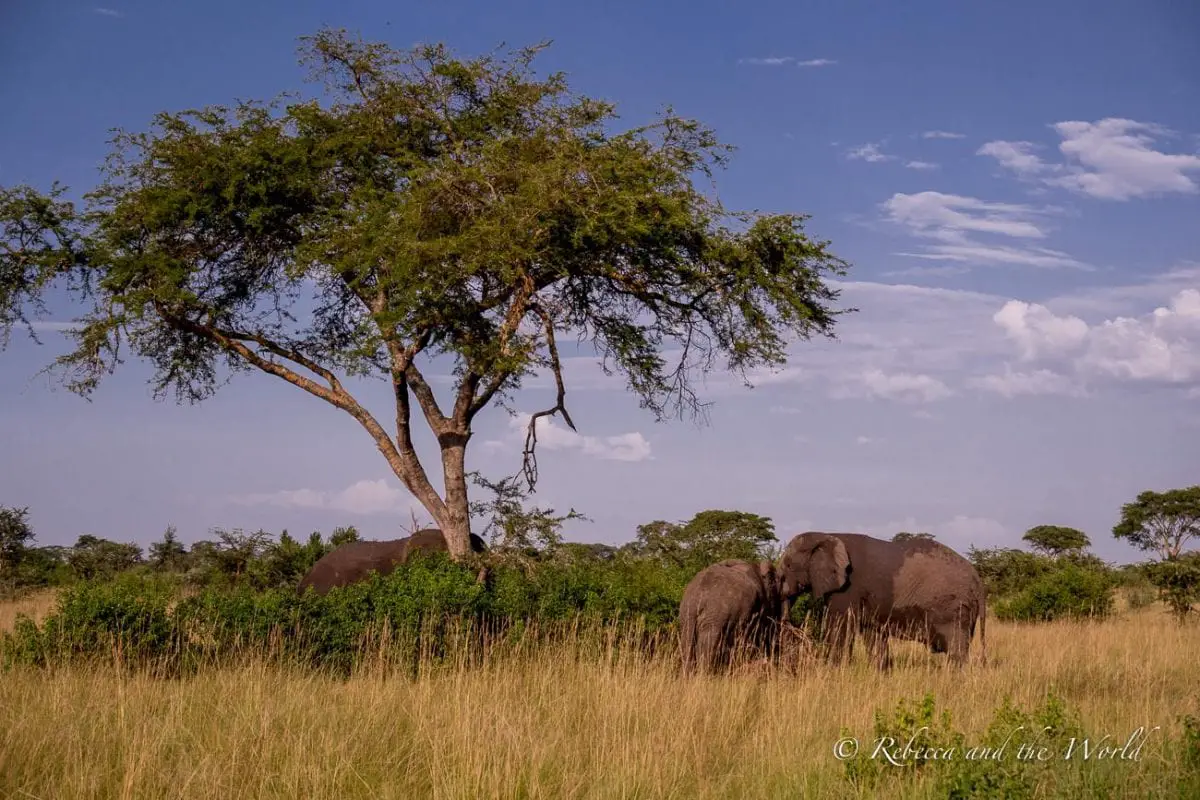 Final thoughts: Uganda itinerary
Uganda is a special country and a must-visit if you're planning a trip to East Africa. I loved that it wasn't as touristy as other East African countries – but there's still so much wildlife, natural wonders and warm hospitality to experience.
While one week in Uganda is never enough, it is enough time to get a feel for the country and see some of the highlights. Just be ready to plan a trip back!
1 week in Uganda: FAQs
Is one week in Uganda enough?
Yes, 1 week in Uganda can be enough to experience the vibrant culture and stunning landscapes of the country. You can visit some of the most popular attractions like gorilla trekking, a boat safari on the Kazinga Channel,or explore some of Uganda's most beautiful national parks. All of this is possible within a week in Uganda if you plan your trip right.
What animals can I expect to see on safari in Uganda?
Uganda is home to some of Africa's most iconic animals, including lions, elephants, leopards, buffalo and hippos. You'll also find giraffes, zebras, monkeys, chimps and antelopes in the country's national parks and game reserves. Uganda is also home to plenty of bird species.
Is Uganda safe to visit for solo female travellers?
Uganda is a safe and friendly destination for solo female travellers. Women are respected in the country, and due to the strong security forces and lack of civil unrest, it's a great choice if you're looking for a place to travel alone. In general, women are unlikely to experience any form of harassment while in Uganda – I certainly felt very safe on my solo visit.
Is English widely spoken in Uganda?
English is the official language of Uganda. There are also more than 40 additional languages and dialects spoken throughout the country.
Need help planning your own Uganda itinerary? Drop your questions in the comments below or shoot me an email. 
Disclaimer: Ellington Safaris worked with some of the accommodations I stayed at during my visit to Uganda to obtain complimentary or discounted rates. Regardless, all opinions remain my own.
---
Related posts
Before you go… you might like these East Africa travel blogs:
PIN IT FOR LATER:
Save this one week in Uganda itinerary to Pinterest for your trip planning!