Looking for an epic 2 week Tanzania itinerary that combines adventure, safaris and beach time? I've got you covered!
Tanzania has to be one of the most diverse countries in East Africa. From the lofty peaks of Mount Kilimanjaro, to the wildlife-packed national parks, and the alluring beaches of Zanzibar, there's plenty of choices for a Tanzania itinerary.
And I think I have the perfect itinerary for you. This is what I did in my 2 weeks in Tanzania, and it's a fantastic mix of adventure, safaris, culture, history and beach time.
So, if you're planning to visit Tanzania, take a look at this unique itinerary which goes beyond the usual day-after-day of game drives. It focuses on what's known as the northern circuit, which is a great place for first-time visitors to begin their Tanzania adventure. But it also includes a multi-day hike, authentic engagements with Maasai culture and, of course, an obligatory beach stop.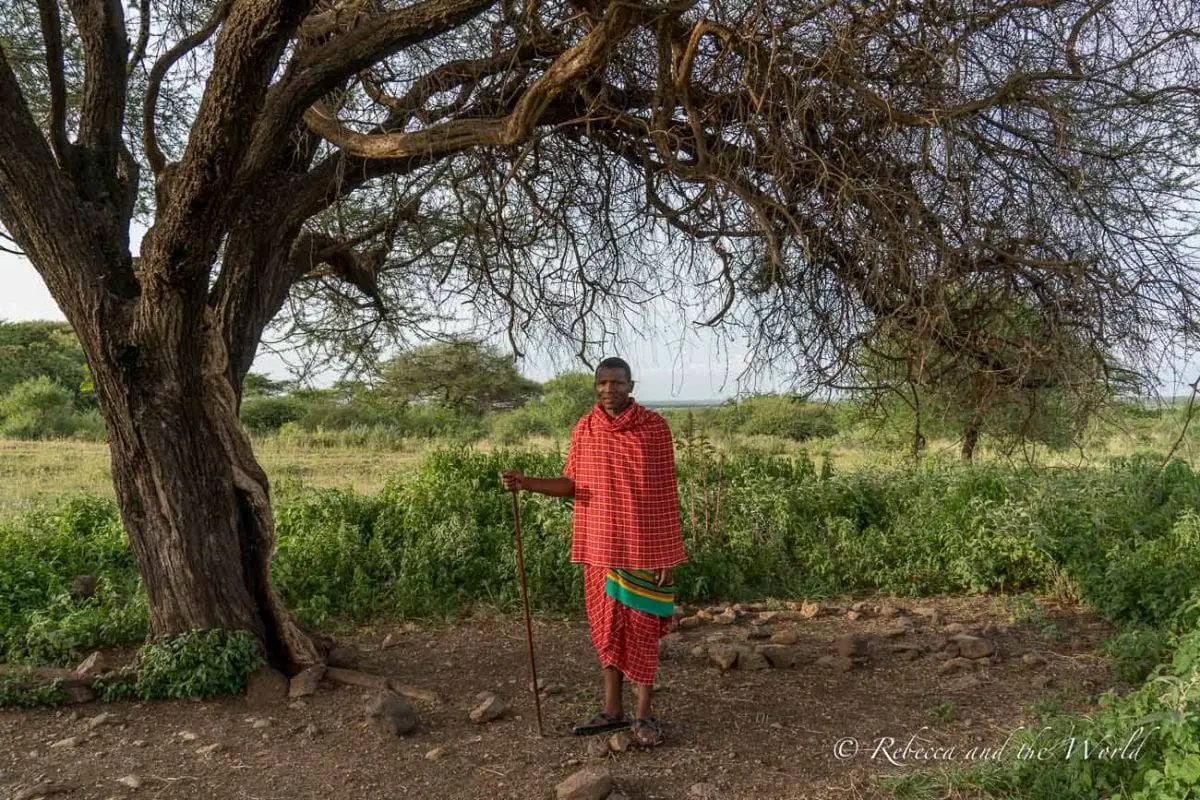 How to get to Tanzania
With a long-established tourism industry and reputation as one of the best places for an African safari, Tanzania has several international airports with direct or connecting flights from countries around the world.
The three international airports are in Dar es Salaam (Julius Nyerere International Airport), Arusha (Kilimanjaro International Airport) and Zanzibar (Abeid Amani Karume International Airport). Major airlines from around the world fly into each of these airports. (Make sure you pack these long haul flight essentials to make the trip more comfortable.)
There are also plenty of land border crossings if you're overlanding.
This travel itinerary recommends flying into Arusha, as that's the main airport for people starting out on the northern safari circuit, the most popular route for visitors to Tanzania.
SEARCH FOR AND COMPARE FLIGHTS TO TANZANIA
Best time to visit Tanzania
Tanzania can be visited year-round, but the best time to visit is during the dry season, from June to October. This is usually the best time for wildlife spotting across all national parks.
The Serengeti is one of Tanzania's most popular parks – and one of the most famous in the world. There are several good times to visit throughout the year: go during June and July for the wildebeest migration, or January to February for calving season (where you may even see predators stalking the poor babies as they take their first wobbly steps after being born).
During the dry season, animals congregate around watering holes, so the chances of seeing them are high.
Late May to early July is when herds will attempt the crossing of the Grumeti River, while August is usually when they cross back north and over the Mara River.
However, some months of the wet season (November to May) are perfectly fine to travel. I visited in late February and saw plenty of animals. While it's low season, expect to still see many other tourists!
April and May bring the heaviest rains, and some lodges shut down during this time. I can't even imagine how much mud there is during this time and how many cars get bogged!
While I haven't touched on the southern and western circuits in this itinerary, the best time to visit these is during the dry season (June to October). The national parks in these circuits receive fewer visitors, and they're on my list for when I return to Tanzania.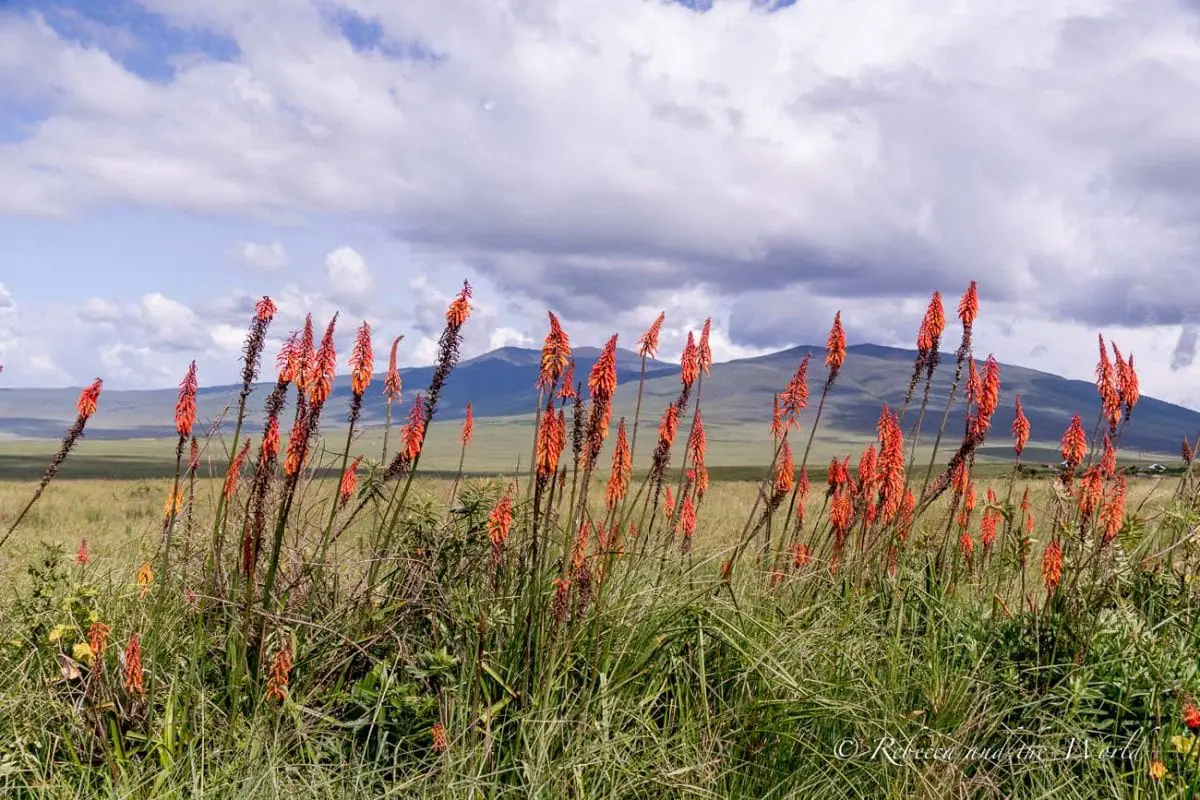 How to get around Tanzania
There are several ways to get around when you visit Tanzania. I'll go through each of the pros and cons of the main transportation methods so you can decide which is best for you.
Private driver / guide
I spent a lot of time researching how to get around Tanzania, and because I was travelling solo, I landed on hiring a private driver and guide.
Which then turned into a lot of time researching safari companies in Tanzania – and there are a lot! Finally, a friend who had previously lived in Tanzania recommended Safari Republic. I got in touch with the owner, Jackie, and after chatting over email I decided to book with them. (And they in turn actually directed me to Ellington Safaris, the company I used for my Uganda itinerary.)
It was the best decision for me. They arranged everything – the vehicle, the driver guide, the accommodation, the support crew for my multi-day hike. I didn't have to think about anything, which was exactly what I wanted.
Importantly, they also arranged all the park fees, which can be a huge challenge to organise independently. Not all booking systems are online, some fees can only be paid at certain banks… it's quite the logistical challenge, so I'm glad I didn't have to think about any of that.
If you're travelling in a group while on safari in East Africa, hiring a private driver through a safari operator like Safari Republic is the best way to go. You can customise an itinerary that suits your interests and your budget. Of course, travelling solo with a private driver meant the individual cost was higher for me, but for a group (of family or friends), I think this is the most affordable way to travel.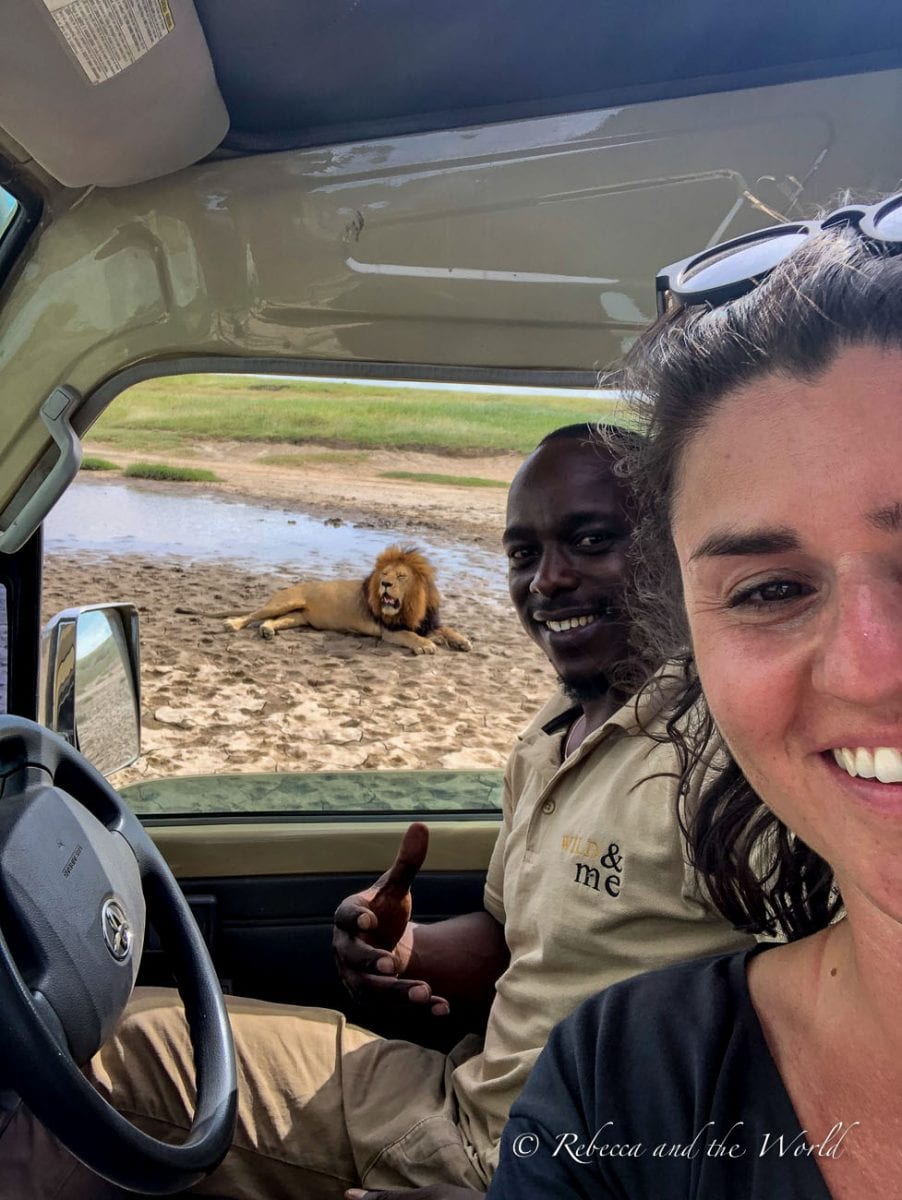 Group tour
There are plenty of companies offering group tours for all budgets.
A group tour is a great way to meet other people, especially if you're travelling solo. And, if you know that you want to visit a country but don't want to do have to do all the research that comes with planning an international trip, a group tour means everything is planned for you.
If a Tanzania group tour is what you're after, check out the options available on TourRadar.
Self drive Tanzania
Self drive isn't actually very common within Tanzania. I saw only a few people doing it while I was there.
I tried to find information online but there isn't a whole lot available. I believe that you can hire cars through safari companies – some companies do allow this, or they know people who do. Surprisingly though, it actually doesn't work out to be that much cheaper than booking a private driver guide.
If you do want to explore Tanzania by car by yourself, I'd recommend it only for people who are familiar with driving in East Africa, who can navigate without digital maps (limited mobile coverage in some areas means Google Maps isn't available everywhere) and have experience driving in a variety of conditions in a 4WD. You need to bring along plenty of water and extra fuel. Also be aware of police stops and the "fines" you might be asked to pay.
You'll also need to research in advance national park fees and booking requirements. Many national parks need advance bookings – you can't just roll up to the gate, pay a fee and enter.
And once you're inside the national park, you need to figure out how to get around. I saw very few signs for trails or hotels – I have no idea how my driver Baraka knew where he was going each day!
One of the other downsides of self driving is that you won't have the benefit of an experienced guide who can find and point out wildlife in the national parks. Baraka knew exactly where to go to find wildlife – and he was a walking encyclopedia full of interesting facts and information.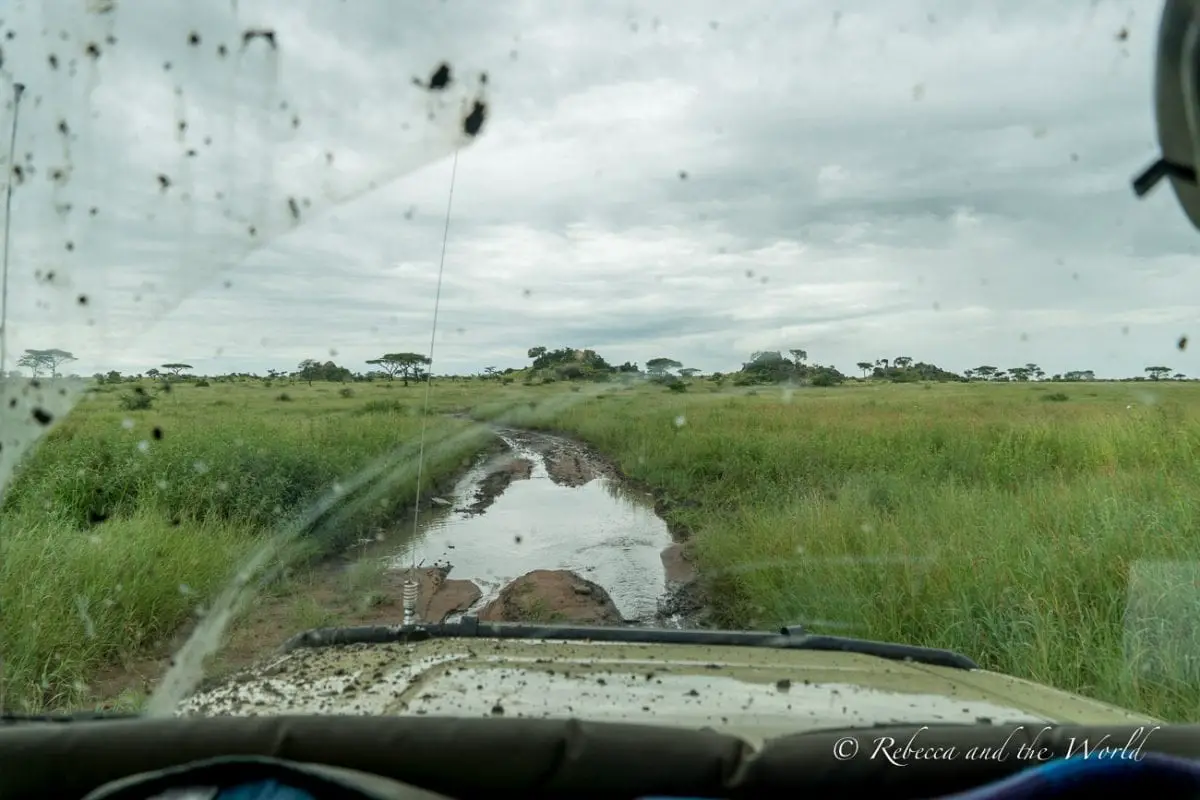 Public transport
If you're backpacking Tanzania, then you can use the country's extensive public transport system. However, you need to keep in mind that roads can be quite poor in some parts, buses break down regularly and will often only depart once they're filled with people.
There are plenty of buses in Tanzania and tickets are affordable. You'd want to have plenty of time on your Tanzania itinerary to factor in the extra time that you'll need to get around on public transport.
How to spend 2 weeks in Tanzania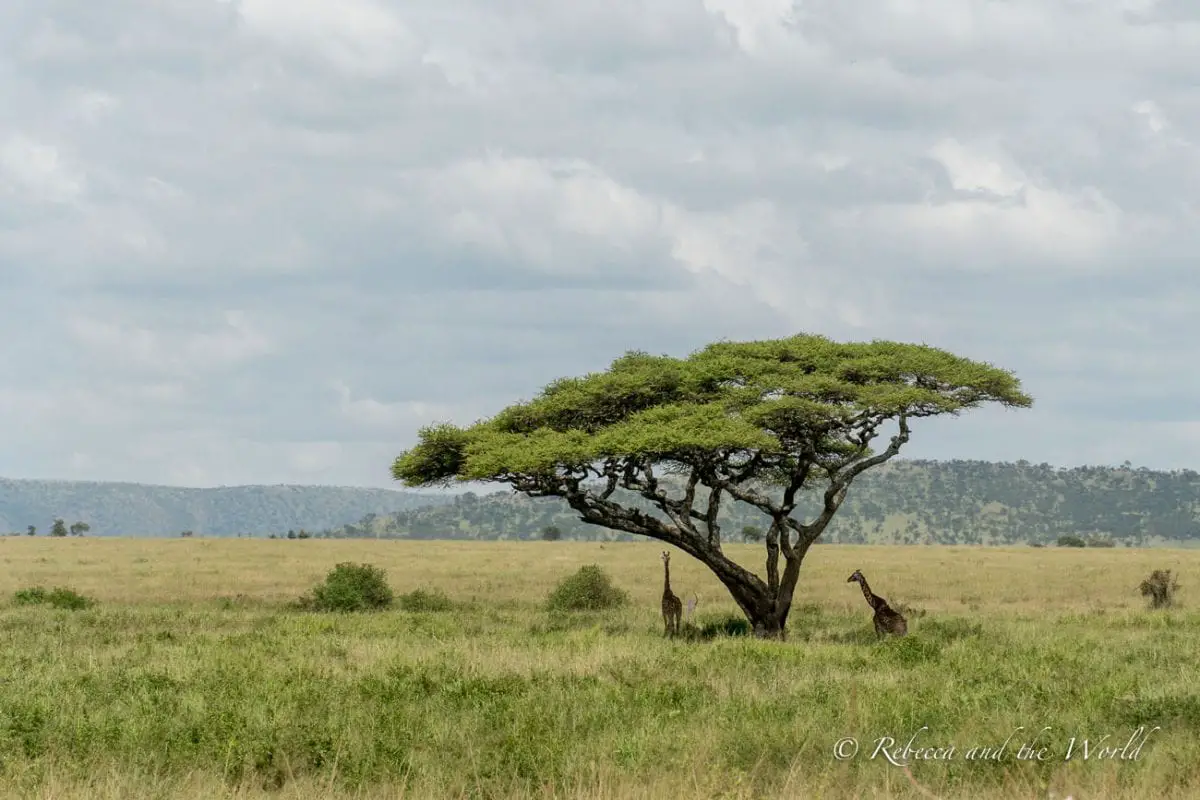 Summary of my Tanzania itinerary
Here's how I spent my two weeks in Tanzania, although for the purposes of this blog post, I have made a few small adjustments to avoid some backtracking and add in a few extra days of downtime.
Day 1: Arrive in Arusha
Day 2: Ngorongoro Conservation Area and Empakai Crater
Day 3: Hike through the Ngorongoro Highlands
Day 4: Hike to Lake Natron
Day 5: Lake Natron
Day 6: Isoitok Camp Manyara
Days 7-8: Serengeti
Day 9: Fly to Zanzibar
Day 10: Stone Town
Days 11-13: Zanzibar beach
Day 14: Fly home
This map shows the key places to visit and stay during this trip.
Got more time? Consider adding on this Kenya itinerary to your time in Tanzania!
Detailed Tanzania itinerary
Day 1: Arrive in Arusha
Arusha is considered the tourism capital of northern Tanzania and is the hub for people heading to the Serengeti and other national parks on the northern circuit. Many people climbing Kilimanjaro also base themselves here.
I didn't explore much of Arusha while I was there, but there are plenty of things to do in Arusha if you have the time:
Note that Kilimanjaro International Airport is an hour's drive from Arusha, so factor this time into your plans.
Where to stay in Arusha
I stayed at the Outpost Lodge, a mid-range hotel in a leafy street in Arusha. It's well located, has a swimming pool and the restaurant serves up delicious food (try the butter chicken). The grounds are covered in trees so it feels like an oasis in the middle of what is a bustling city. Check prices and read reviews of the Outpost Lodge online here
If you're looking for something more upscale, try the Gran Meliá Arusha. One of the best luxury hotels in Arusha, it has an on-site restaurant, gym and spa, and is on a huge property dotted with coffee and tea plantations. Some rooms have views of Mount Meru. Check rates and availability online | Read reviews of Gran Meliá Arusha
Day 2: Ngorongoro Conservation Area and Empakai Crater
Head out of Arusha toward the mind-blowing Ngorongoro Conservation Area, a 3-hour drive from the city.
The Ngorongoro Conservation Area is commonly referred to as the Ngorongoro Crater and this is one huge crater. The caldera was formed when a huge volcano – estimated to be as high as Mount Kilimanjaro – erupted and collapsed in on itself around 2.5 million years ago.
This UNESCO World Heritage Site is Tanzania's most visited national park. There's a viewpoint a short drive past the entrance gate where you can take in the enormity of the caldera from above.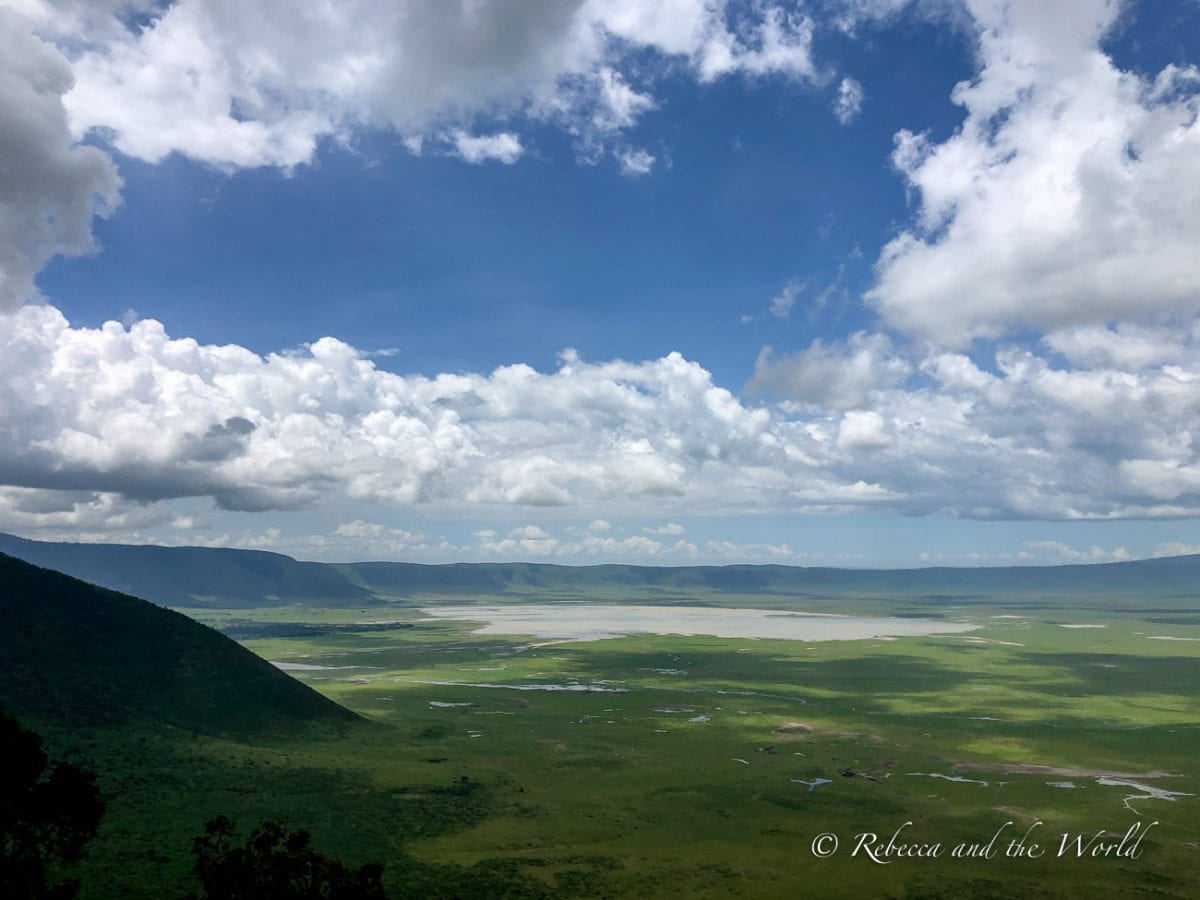 Down below, a game drive reveals cheetahs, leopards, elephants, black rhino, lions, buffalos and impala. It's a great place for your first safari in Tanzania.
Continue along the rutted road to Empakai Crater, which is the start of the hike that over the next few days will take you through the Ngorongoro Highlands, past Ol Doinyo Lengai (Tanzania's only active volcano) and down to Lake Natron.
End the day with a hike down into Empakai Crater. This caldera has a lake with alkaline waters that reach depths of up to 85 metres.
With an armed ranger (to protect you from overly aggressive lone male buffalos) and a Maasai guide, you'll descend into the verdant forest filled with centuries-old trees that at times provide a canopy. At the bottom, flamingos flock together in the lake, and timid bushbucks keep their distance.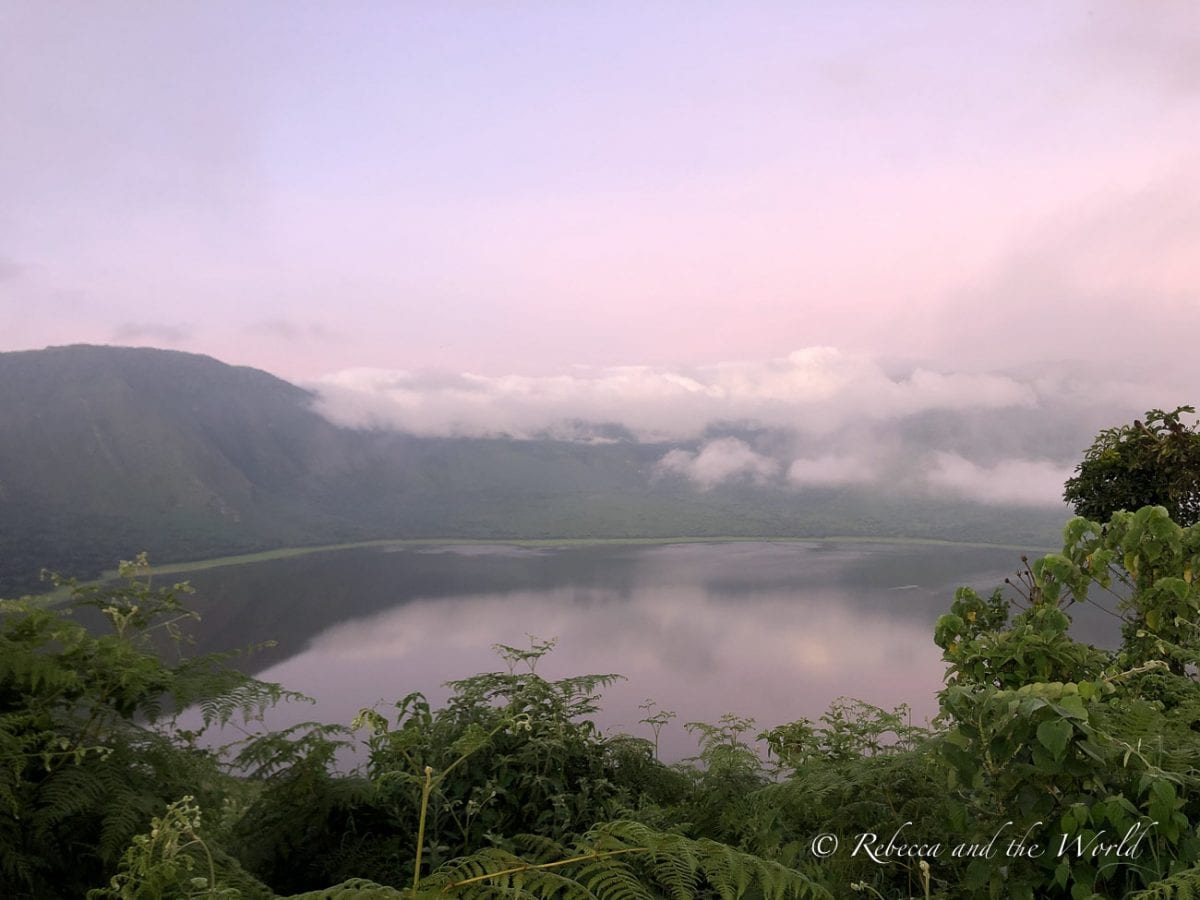 Where to stay
Tonight, you're camping! There are several campgrounds throughout the Ngorongoro Conservation Area, and the Empakai Special Campsite must be booked in advance. Safari Republic of course arranged all of this for my trip, along with the tents, a cook and even an outdoor toilet.
The ranger who escorted us down into Empakai Crater also stayed overnight with us as protection against wild animals.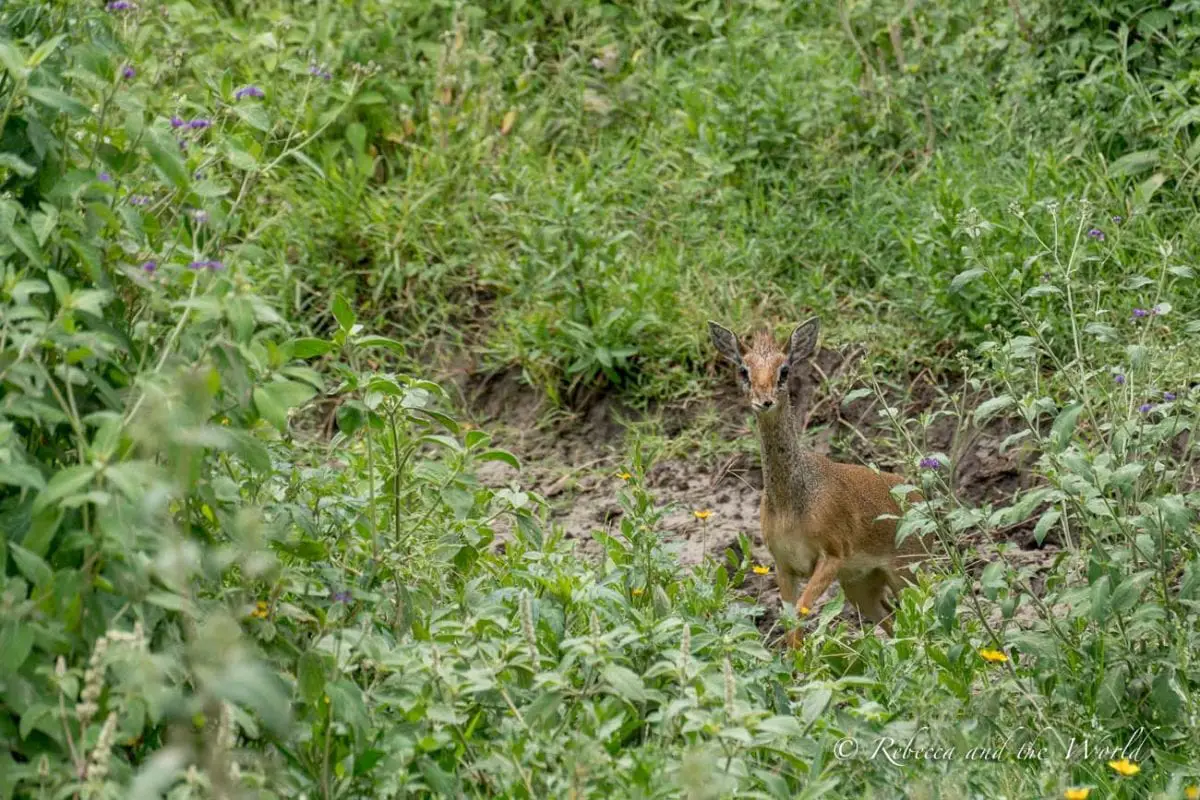 Day 3: Hike through the Ngorongoro Highlands
One of my favourite parts of this entire Tanzania itinerary was the hike down to Lake Natron from Empakai Crater. As soon as I saw this hike on Safari Republic's Instagram account, I asked Jackie to add it to my tour.
For this hike, Safari Republic always arranges a Maasai guide to accompany guests. My guide was Amani, and having him on the hike made it a richer experience.
Amani's name in Maasai means "peace" and "someone who can be depended upon", and I relied on him for two days to guide me safely through the hike and share his culture with me.
On the first full day of hiking, you'll walk along the rim of Empakai Crater, before making your way past Maasai villages and out of the Ngorongoro Conservation Area.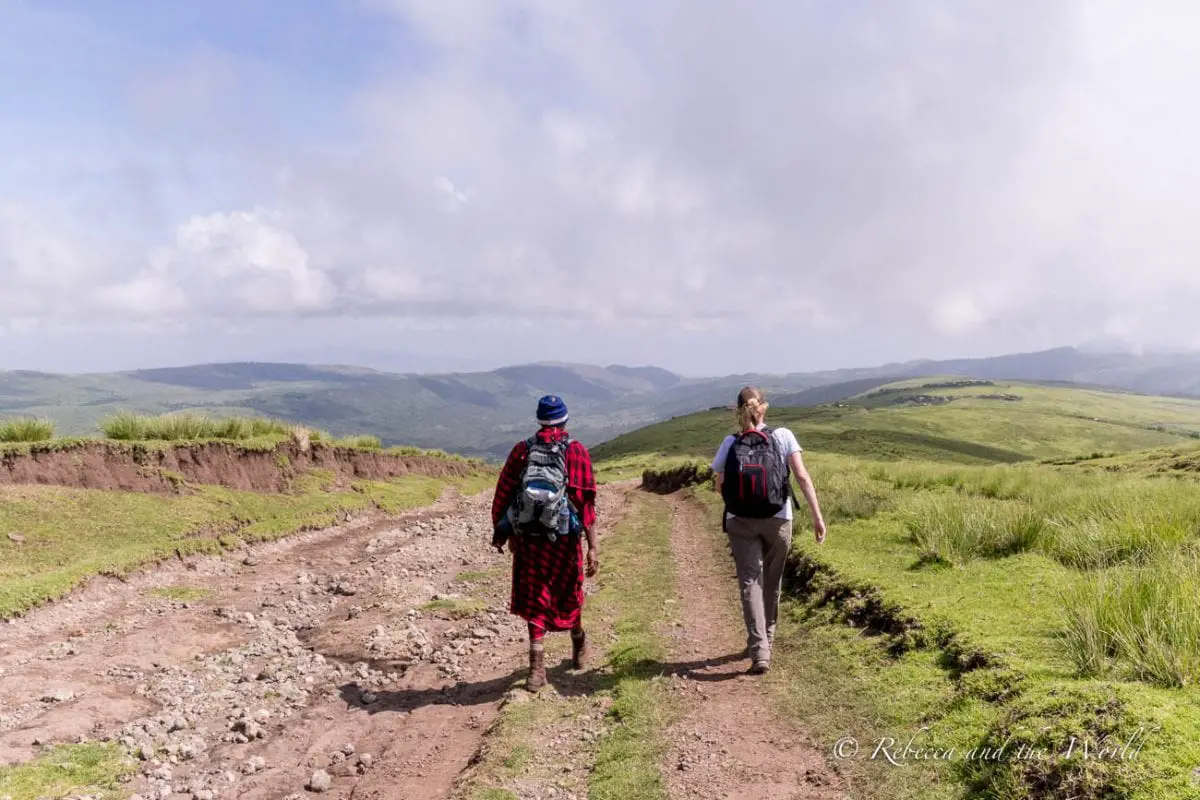 You'll stop for lunch in Nayobi, a small Maasai village alive with the sounds of cowbells jangling as young shepherds tend their herds of goats, sheep and cows.
This village is the last that can be reached by car, and before you arrive, all your stuff – the tents, the cooking gear, your own bags – will be transferred onto donkeys that are already trotting ahead of you to the next campsite.
Continuing on, you'll come to the edge of the Ngorongoro Conservation Area and walk through a yellow acacia tree forest which shields you from the hot sun.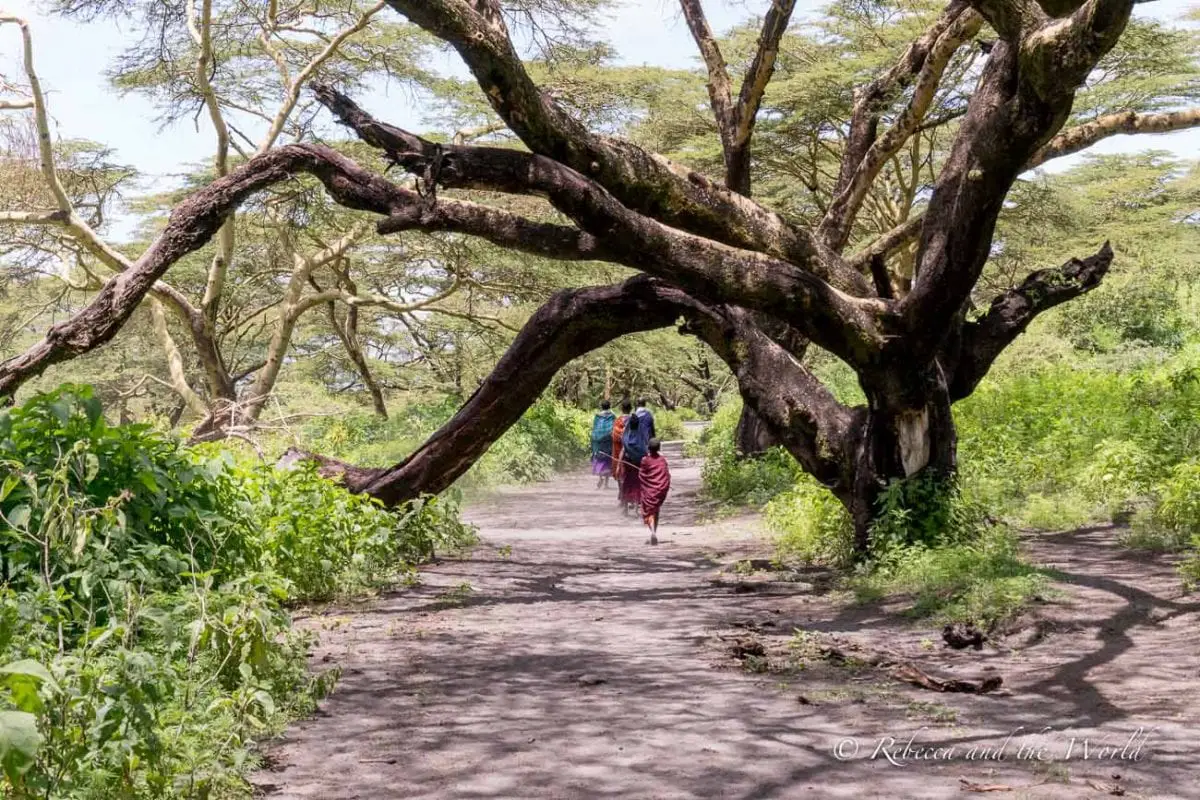 One of the best things about the hike is that phone coverage is patchy, so you're completely disconnected from the world and can focus on observing what's around you on the hike.
Before dinner, take a short stroll up to a viewpoint which offers your first view of Old Doinyo Lengai, Tanzania's only active volcano. The name means "Mountain of God" in the Maasai language.
From the viewpoint, you'll see Ol Doinyo Lengai on one side, and the rippling green hills of the Ngorongoro Highlands on the other. Just beyond the highlands lies the Rift Valley.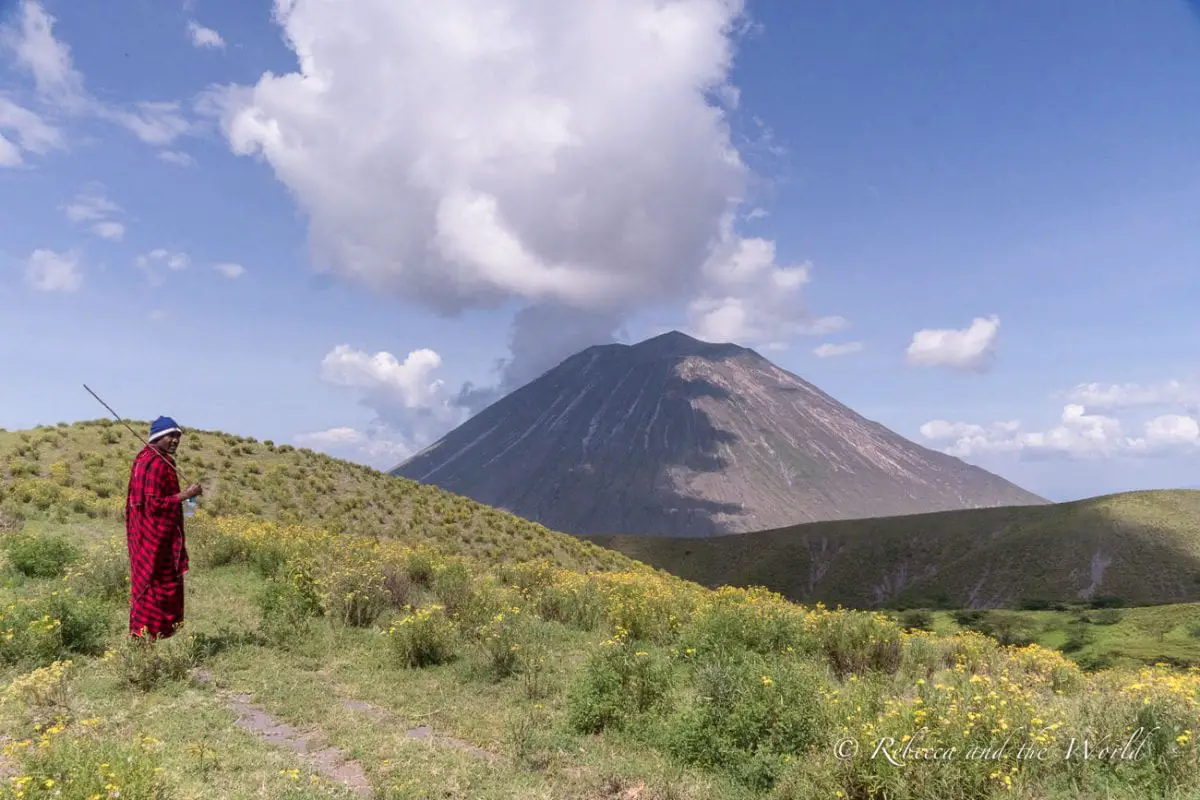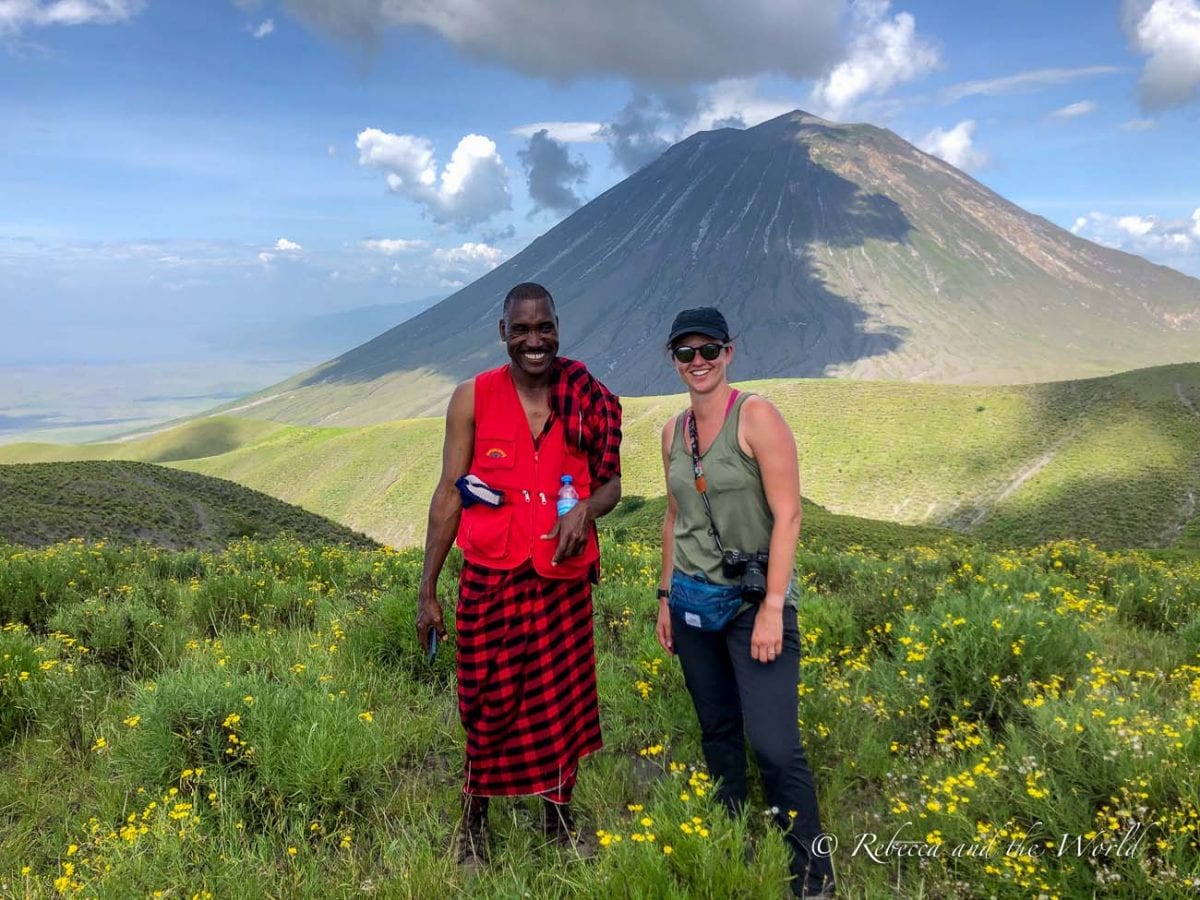 Where to stay
There's no accommodation out here, so you'll be camping again. We stayed the night at Acacia Forest Camp and it was such a beautiful spot. We set up our tents underneath the acacia trees and had expansive views of the surrounding mountains and forest. At dusk, shards of lighting lit up the distant sky like fire.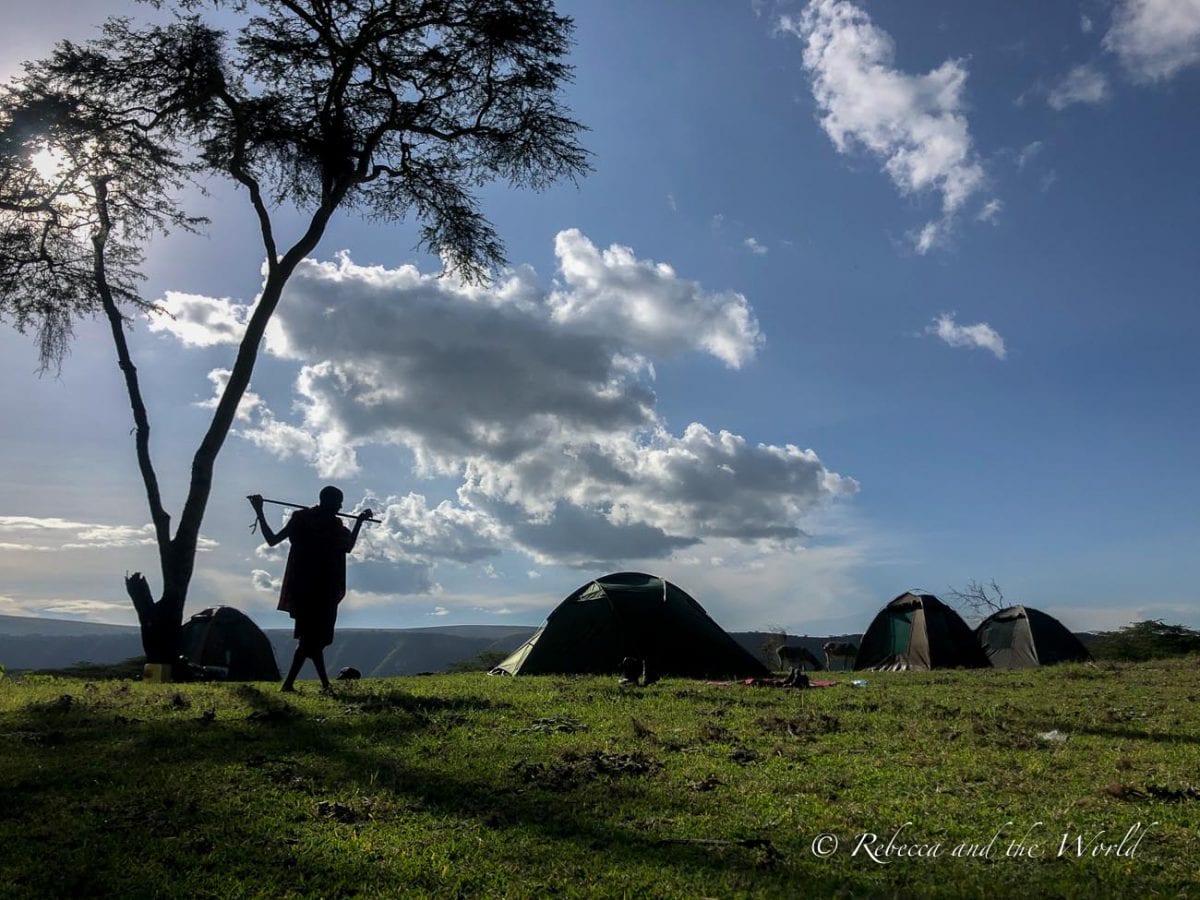 Day 4: Hike to Lake Natron
The second – and final – full day of the hike winds around the edge of a mountain and across a ridge, Ol Doinyo Lengai standing silently on the right side. The grassy ridge gives way to volcanic grounds, where you'll alternate between stepping carefully along rocks formed by lava flows and sinking into charcoal-grey soft volcanic sand.
This part of the hike is down, down, down, so bring trekking poles to reduce the stress on your knees. If you don't have any, your Maasai guide will fashion a walking stick from an old branch.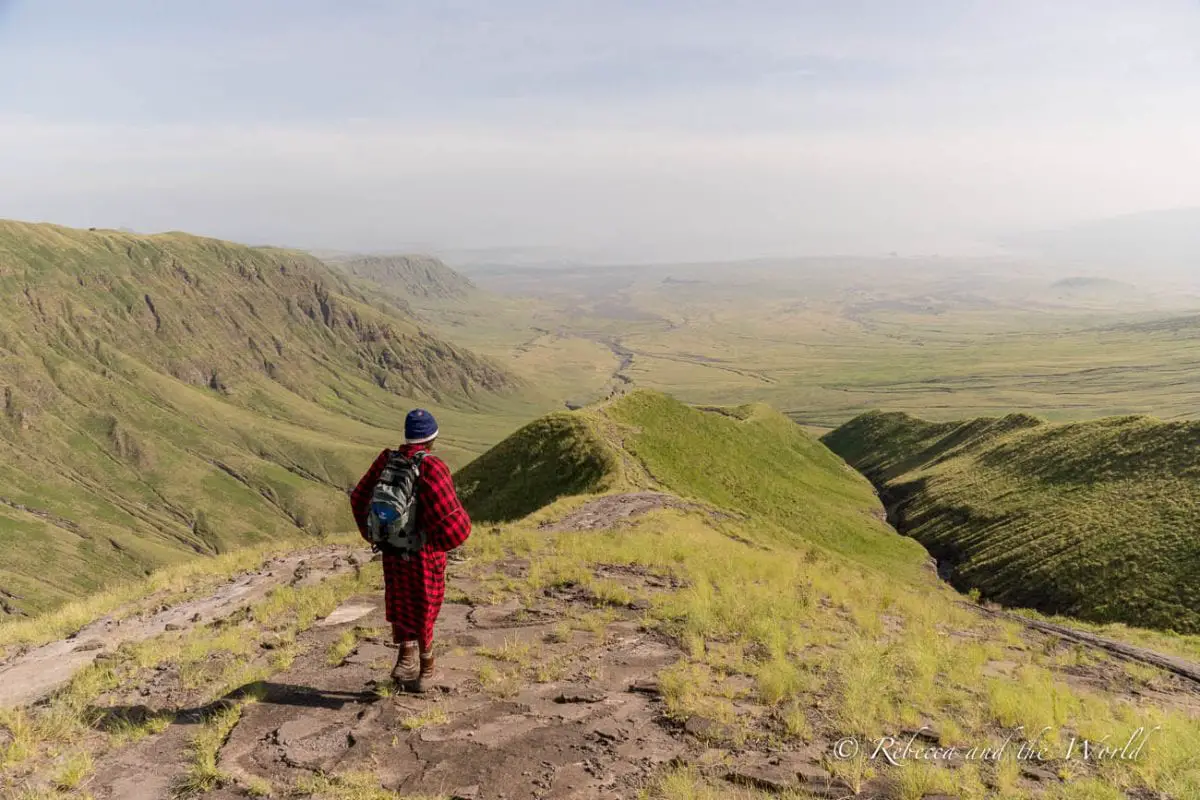 The path crosses a river, which is more like a mini gorge cut into the rock. We picked our way across, occasionally stepping directly into the small amount of water still trickling along the river bed.
It then leads through waist-high grasses that leave tiny green spikes in your pants – so wear pants and not shorts.
Finally, you'll reach your waiting car, where you'll be greeted with icy hand towels and chilled beer, water and soft drinks. These are courtesy of the staff at Lake Natron Camp, your accommodation for the night.
Cooled down and hopefully elated after completing the hike, you'll head to Lake Natron Camp, which is set up right alongside Lake Natron.
Lake Natron is a salt lake that is the breeding ground for 75 percent of the world's lesser flamingos. Because of the highly alkaline waters, you can't swim in Lake Natron, and indeed only flamingos and a few hardy fish species can survive. The lake is also famous for its red waters (which can only be seen from above), caused by algae.
Where to stay in Lake Natron
For such a remote area, there are a surprising number of places to stay near Lake Natron. But the one I'd recommend is Lake Natron Camp.
The 10 tents at this luxury eco camp are dotted throughout the property, each one blending into the surroundings. Tents have enclosed sitting areas, roomy bedrooms and fully-functioning bathrooms with a shower and eco toilet.
The food is exquisite, especially when you consider the effort that it takes to get food here. Some produce is purchased from the local communities surrounding the camp, while other produce needs to be brought in from other towns.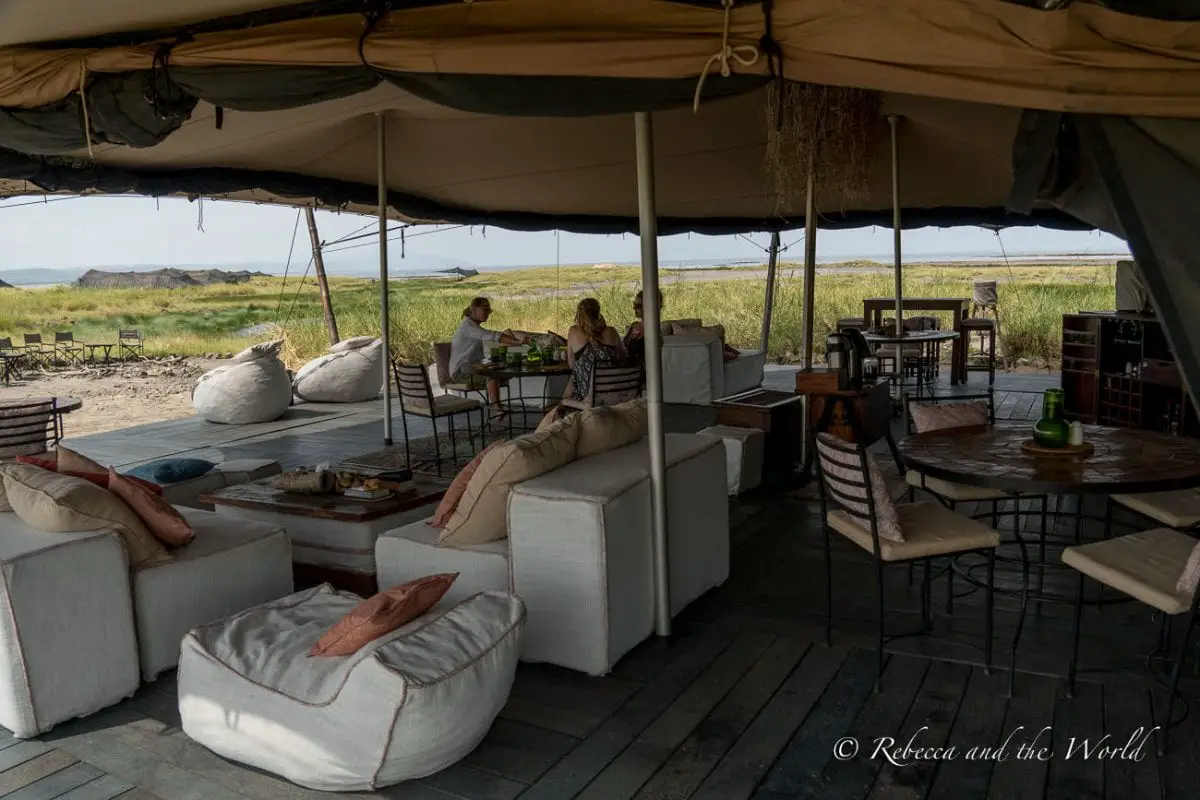 Lake Natron Camp has been working with the local school on a permaculture project that both supports the school with free meals for kids and provides some of the fresh food needed at the camp. During my stay, I ate pumpkin soup, roasted lamb and a delicious cake with homemade custard for dinner.
Every effort is taken to be sustainable: electricity is solar powered, the toilet near the main area is compostable using zebra poop, and furniture is made from recycled plastic. The camp's footprint is such that, if they had to pack up and leave, the site can go back to its natural state in a matter of months.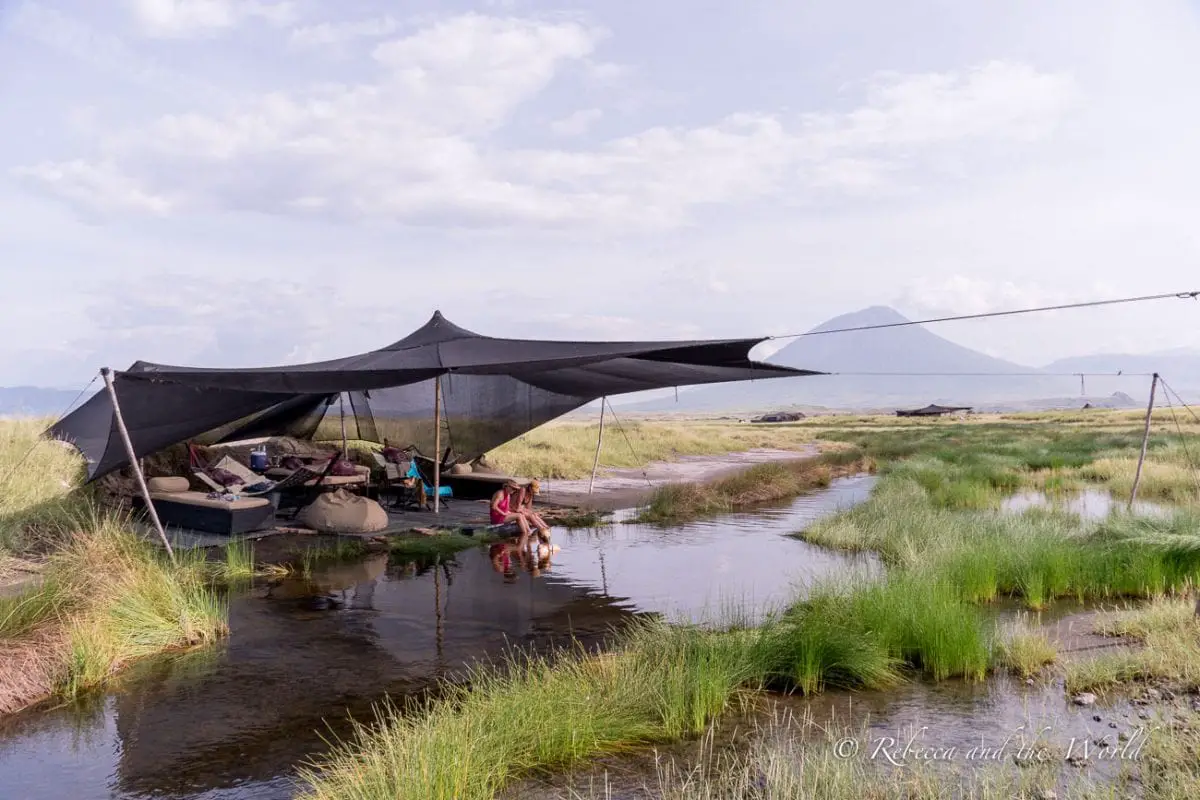 Day 5: Lake Natron
If I could do this itinerary again, I'd add in another day at Lake Natron. After two full days of hiking, this is a great spot to relax. Especially since there's another big day of driving ahead.
Lake Natron Camp can arrange several different activities in the area:
A sunrise or sunset birdwatching and flamingo walk around Lake Natron to appreciate the birdlife that lives in the area
Hike through the Ngare Sero gorge to take a dip in the waterfalls
Discover the hominid footprints nearby, believed to date between 5,000 and 19,000 years ago
Do something far more adventurous and take a Rift Valley day hike – or even ascend imposing Ol Doinyo Lengai
Evening sundowners as the sky lights up with orange, pink and purple
Relax in the mineral-rich waters of the property's natural swimming pool, sipping a G&T or glass of wine (don't be alarmed by the small fish that will nibble at your toes!)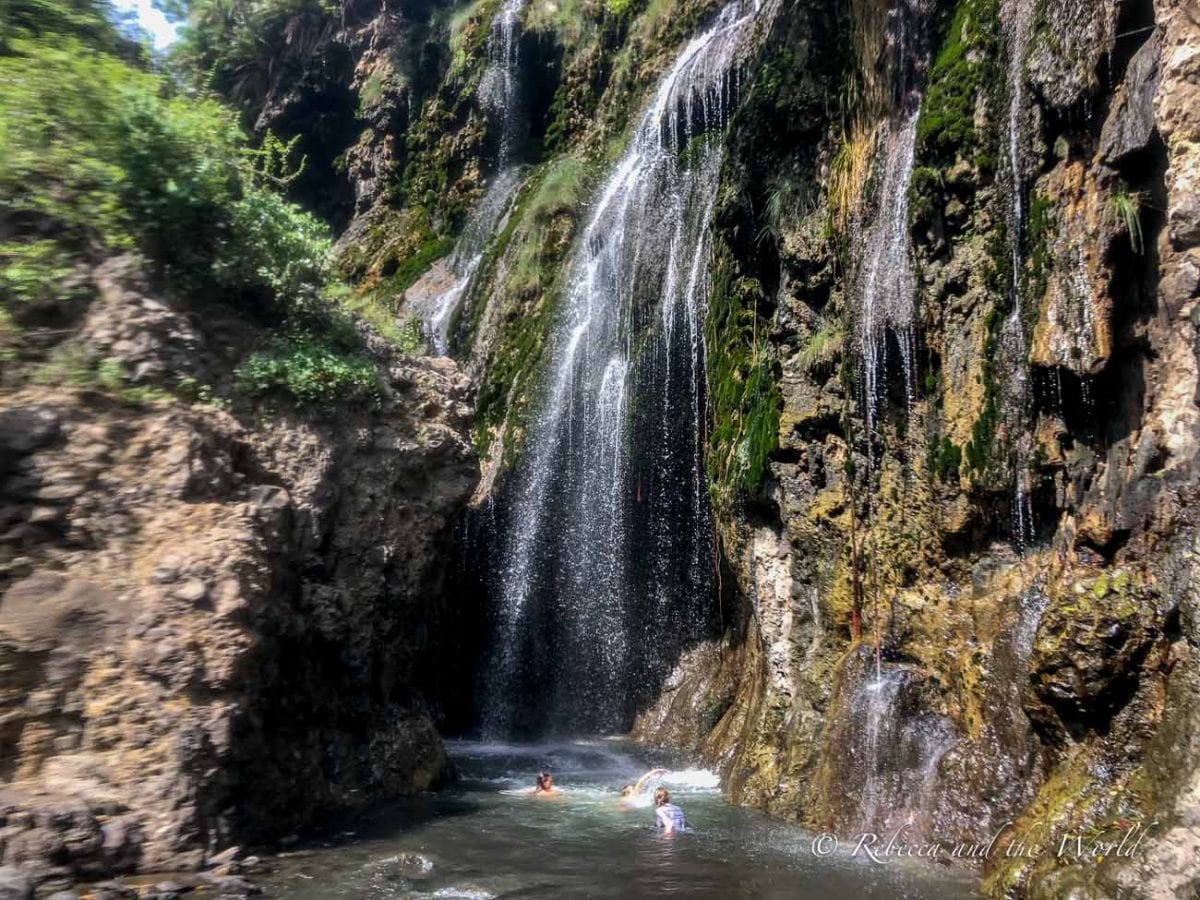 Day 6: Loop back through Mto Wa Mbu
After a day of relaxing, it's time to get back on the road – and this is a bumpy road. From Lake Natron you'll get a "free African massage" as you bump and jolt your way back to the town of Mto Wa Mbu.
Now, on a map this doesn't look right, as you're looping your way back to one of the major towns you drove through on your way to Ngorongoro Conservation Area.
But the loop is worth it as you stop for the night at Isoitok Camp Manyara. Isoitok can arrange several activities, and you may even want to consider two nights here. Some of the activities on offer include:
Take a medicine walk with a Maasai guide to learn more about how Maasai use trees and plants for medicines, food, weapons and tools
Climb the nearby hill for evening sundowners overlooking Lake Manyara in the distance
Visit a nearby Maasai boma where you can meet the elders, learn about their animals and head inside a traditional mud home to talk with the residents
Take a trip to Lake Manyara National Park to spot tree-climbing lions and a dazzling array of birdlife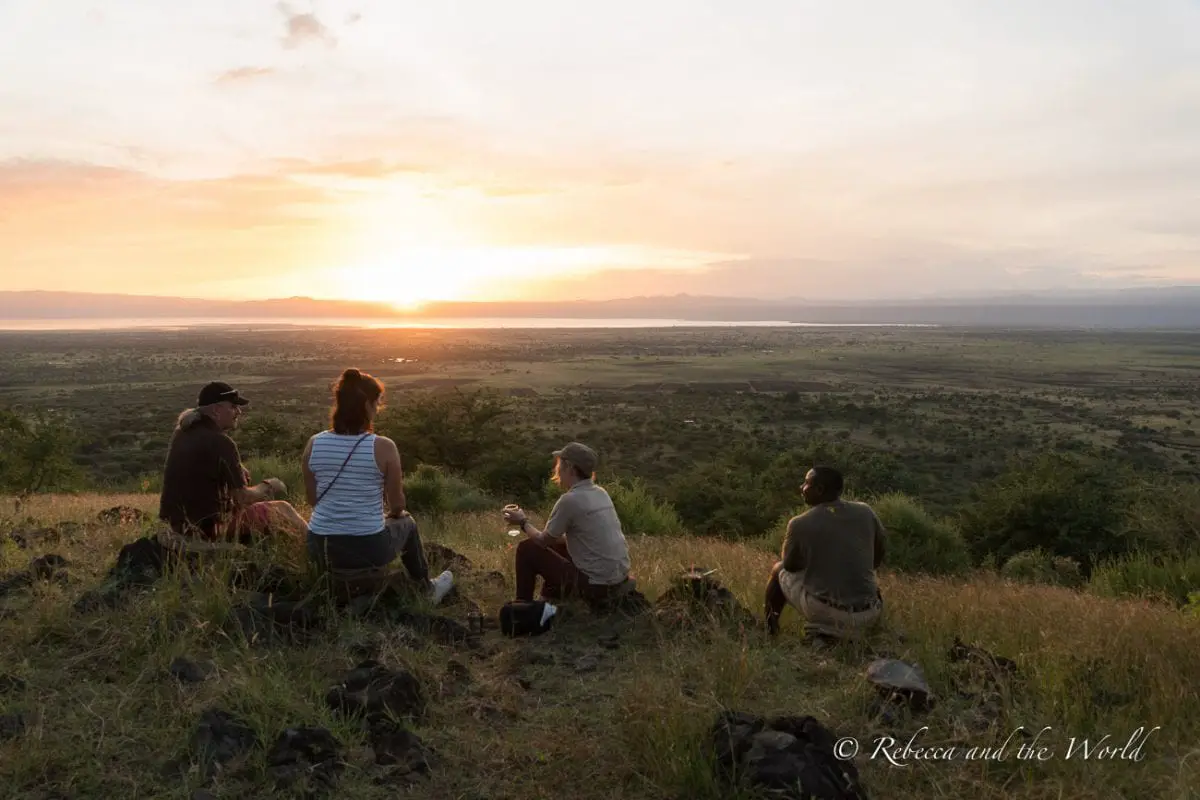 Where to stay
Isoitok Camp Manyara was one of my favourite places to stay in Tanzania. While their in-room information says that the camp doesn't offer 5-star facilities, the service they offer each guest is definitely 5-star.
The award-winning, eco-friendly tented camp encourages people to put down their phones and talk with each other. One of my favourite spots was the reading nook with its comfortable cushions. Wifi is limited to a small area and only for a few hours each day.
The tented rooms are private, with fully-functioning bathrooms. I was lucky enough to get the family room which had an enormous bed.
A stay at Isoitok is about the culture, not the game drives. Isoitok works closely with the surrounding Maasai communities through education, sanitation and water projects as part of its African Roots Foundation.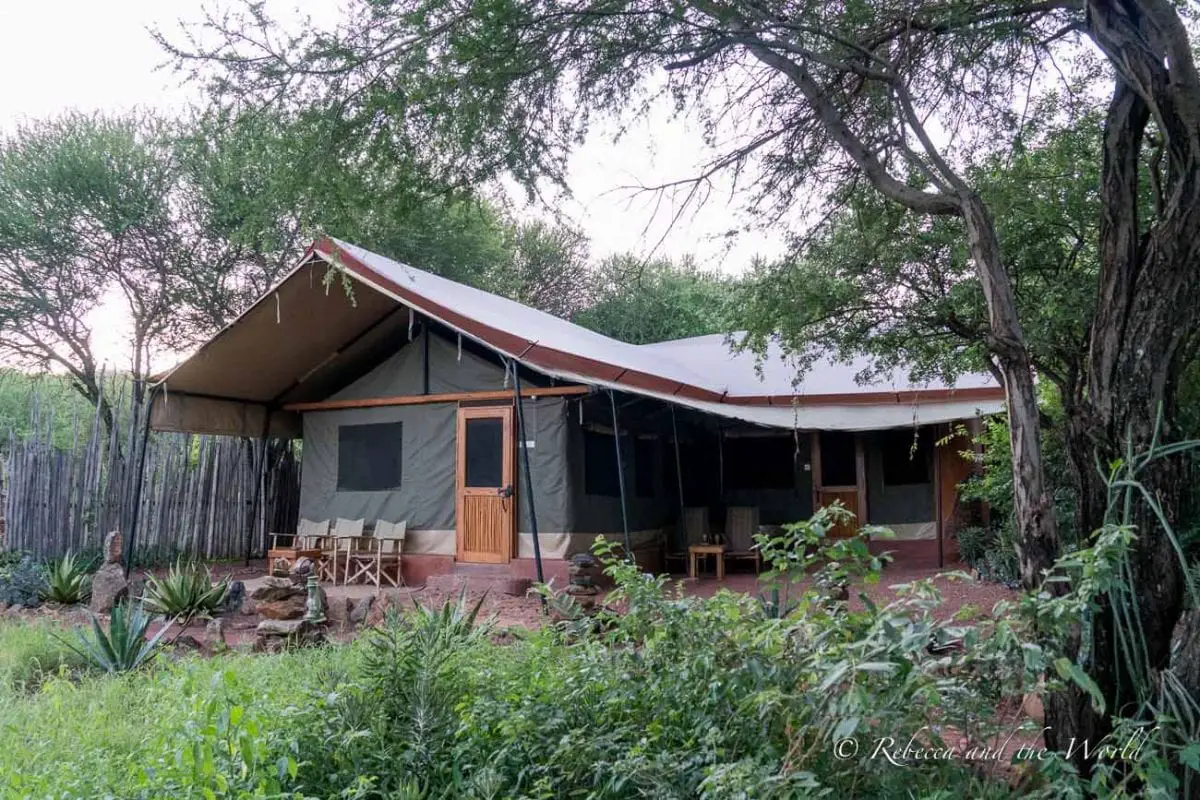 Days 7 and 8: Serengeti National Park
Spend the next two days of this Tanzania itinerary exploring the famous Serengeti National Park.
The gates of Serengeti are reached after a 6-hour drive from Isoitok Camp.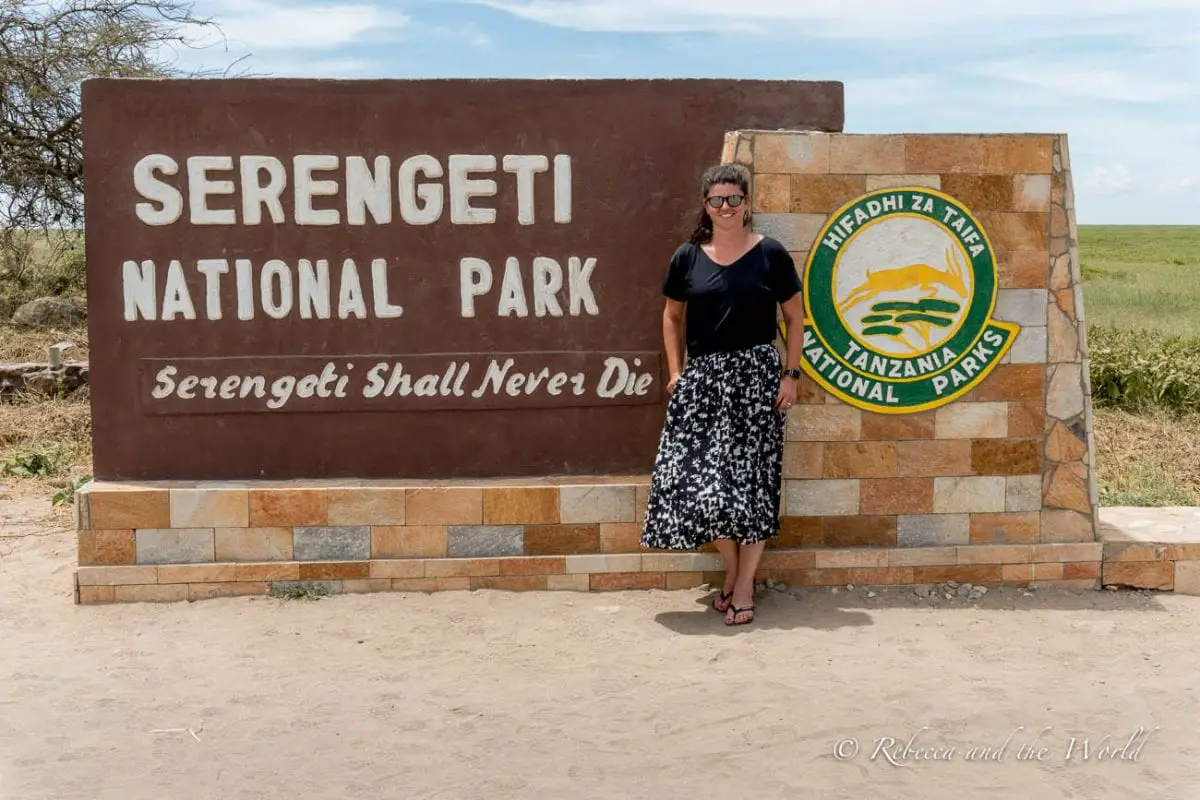 The Seregenti is arguably one of the most famous game reserves in the world and one of the most popular for a Tanzania safari.
In Maasai language, Serengeti means "endless plains" and it's easy to see how the park got this name. Over 30,000 square kilometres, the grasslands and savannah provide a home for hundreds of thousands of animals – a number that swells during the great migrations each year.
As soon as you enter the gates, the game drive begins. In the first few kilometres, I spotted hyenas, wildebeest (and their days-old calves) and giraffe, and over the next two days I added elephants, zebra, jackals, dik diks, rock hyraxes, baboons, hippos, a leopard, a cheetah, lions, topi, impala, crocodiles and hippos to my viewing list. Amazing!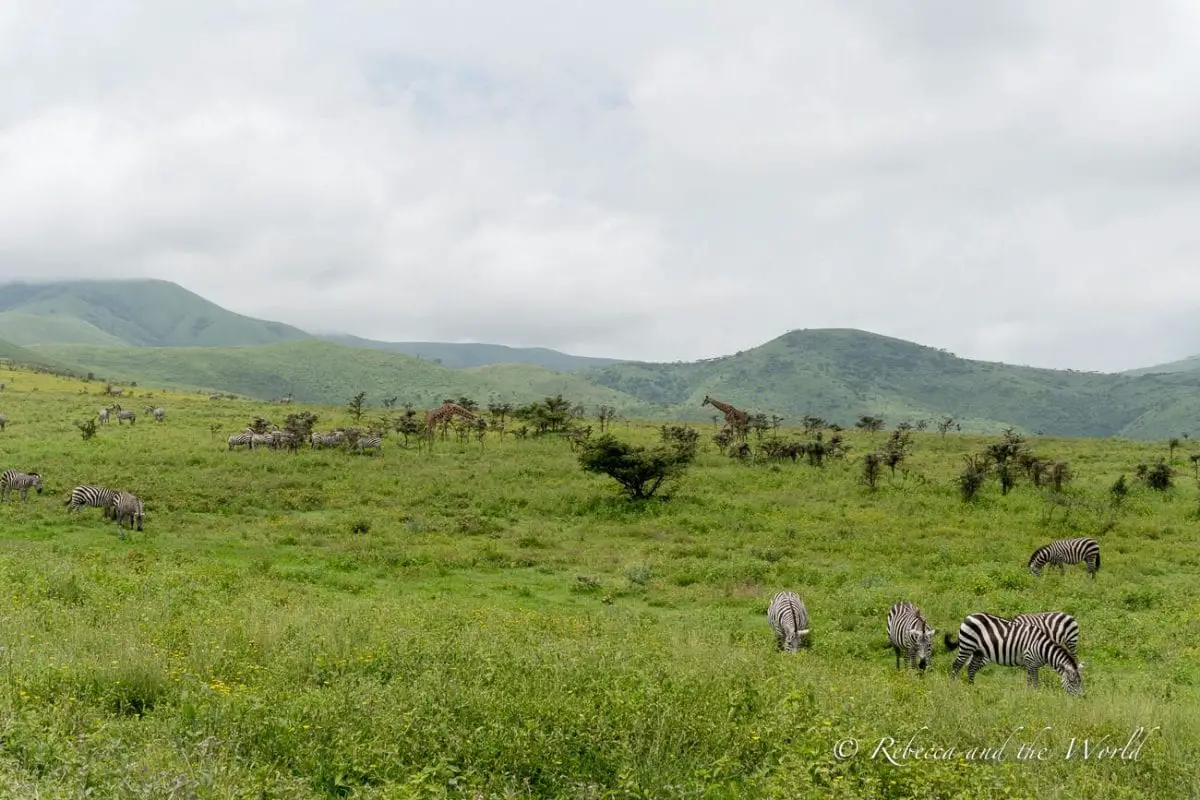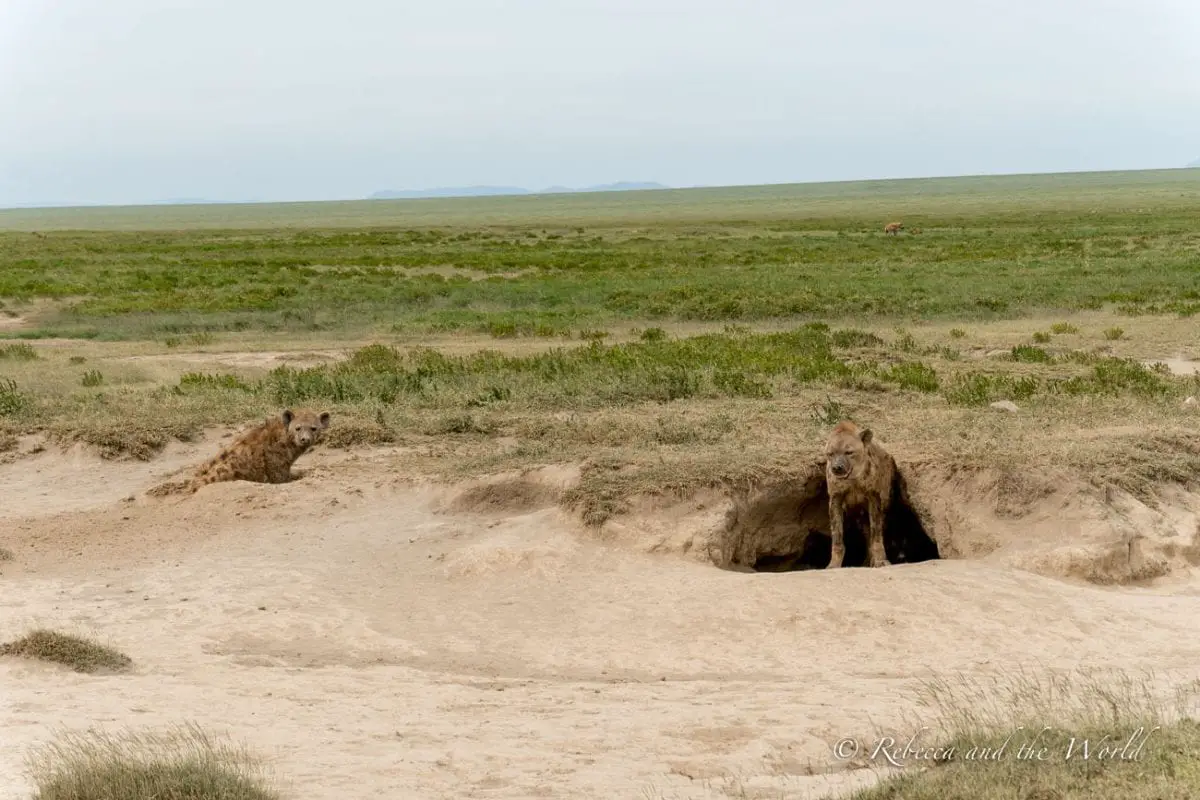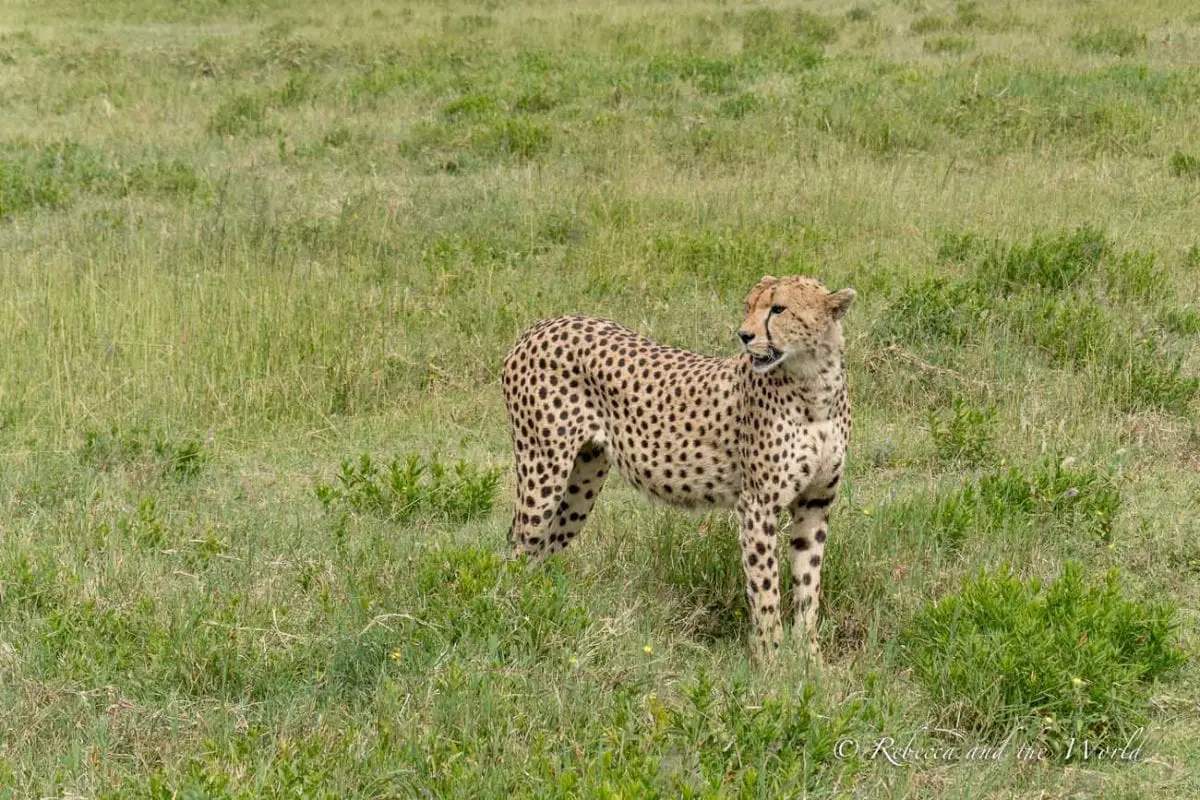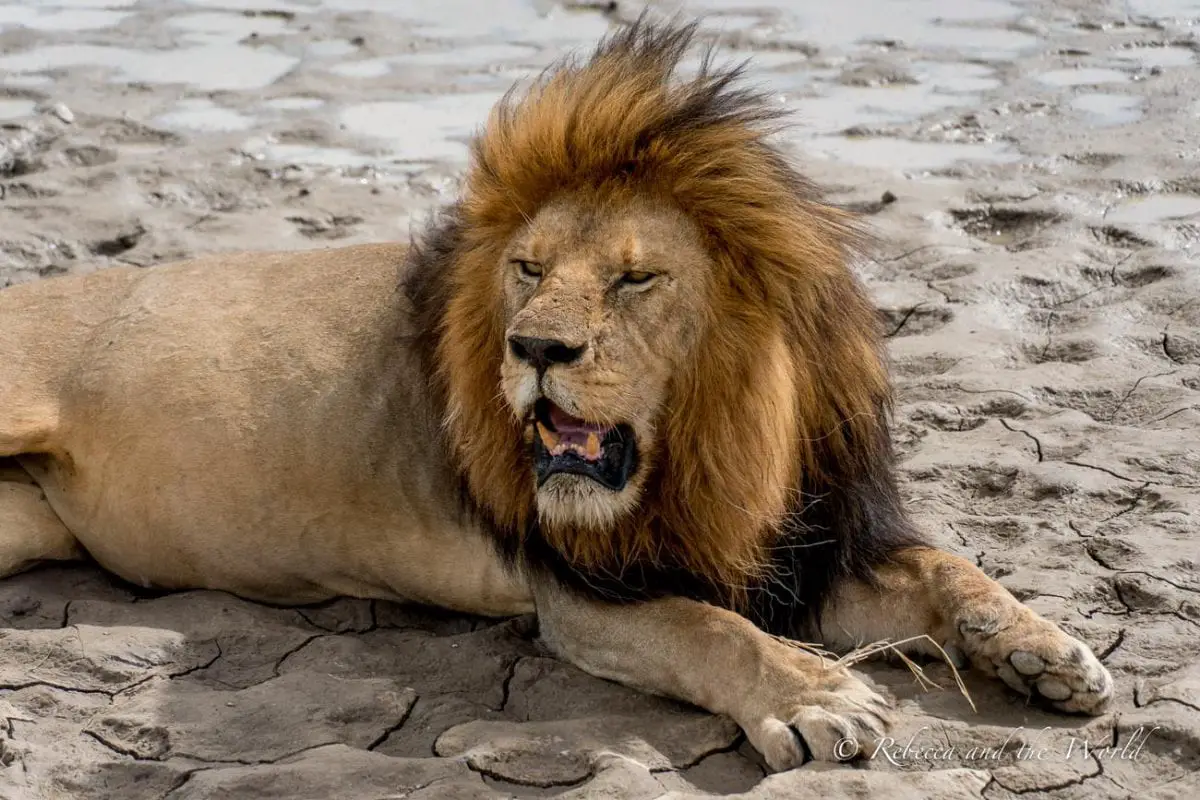 Where to stay in the Serengeti
I still cannot believe that I had the chance to stay at Lemala Nanyukie for two nights. Nanyukie was by far the most luxurious lodge I stayed at during my time in Tanzania.
Nanyukie is pure luxury. The rooms are enormous, with separate lounge and bedroom, and a bathroom big enough to dance in. The bathtub overlooks the grasslands outside, and an indoor shower gives way to an outdoor shower, so there are plenty of options for washing off the dust of the Serengeti.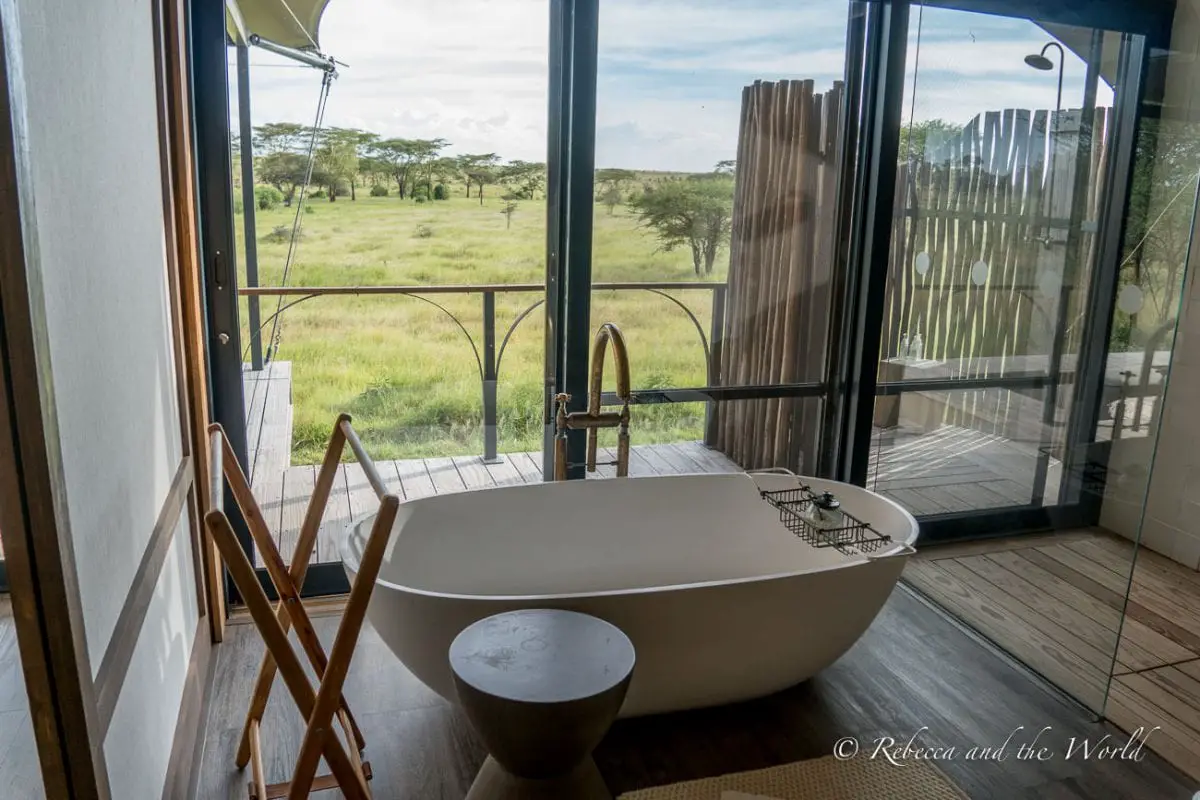 Outdoors, each room boasts a huge deck with a sunken sofa and private plunge pool. I can tell you, that pool was perfect at the end of a hot day.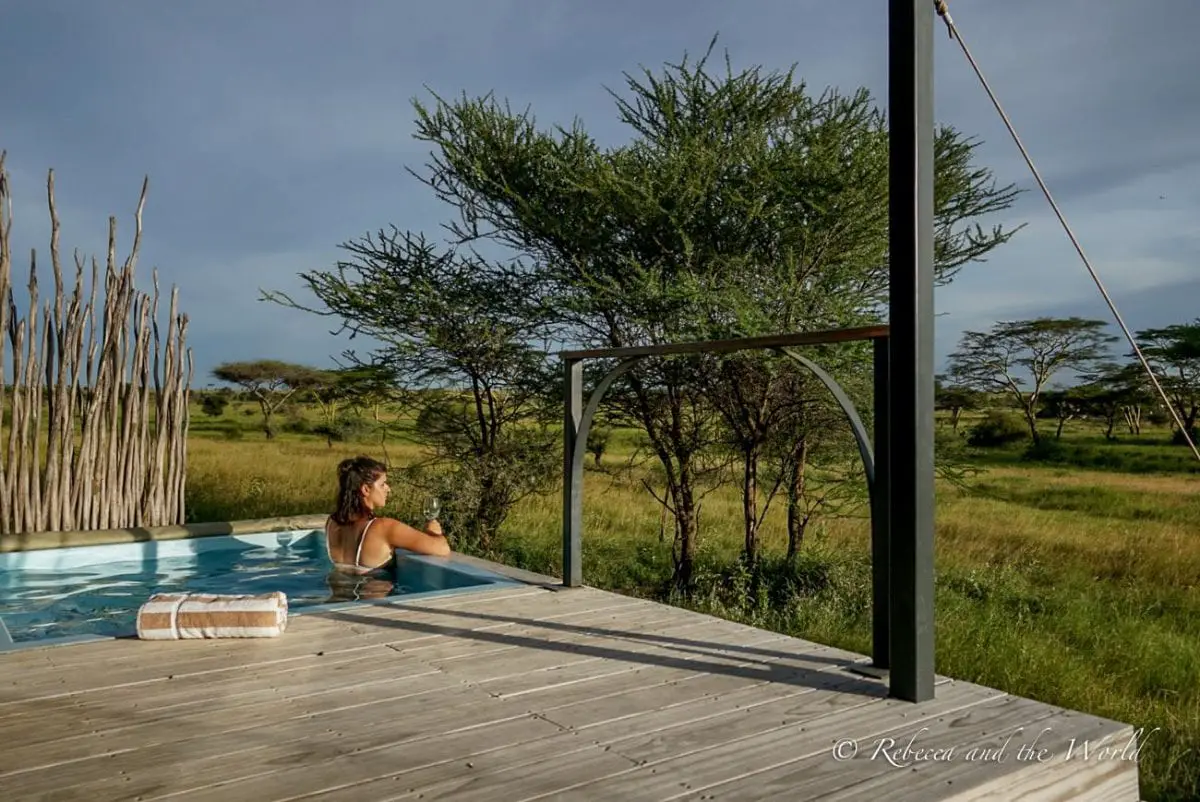 Every night, a fire is lit near the bar area to enjoy a drink before dinner. The food is carefully prepared using fresh ingredients.
The hotel is also right in the heart of nature – I woke at 4 a.m. one morning to the roar of lions and saw a lion footprint on the footpath another morning. But don't worry about bumping into a big cat on your way to breakfast: a guard escorts guests to their rooms at all times of the day.
I was also impressed by Lemala's community relations programs. I was lucky enough to visit one of the initiatives they support, the Sunday Group in Mto Wa Mbu. This project empowers women to earn incomes through making lunch boxes from banana leaves. They then sell these boxes to Lemala properties so that lunches can be packed more sustainably (you'll see other companies with plastic containers that usually get tossed at the end of the day). Through this program, some women have made enough money to buy homes for their families.
The Sunday Group is also training women as driver guides, and runs tours through Mto Wa Mbu and to Lake Manyara.
During my visit to the Sunday Group, I visited a school that Lemala is also supporting, and saw the enormous investment that has been made in improving sanitation, water filtration systems, play equipment, and desks and chairs.
Of course, Lemala Nanyukie is not for everyone's budget, and a tour operator like Safari Republic can find accommodation that suits your budget.
Optional add-on: Visit the Ndutu Region
If you're visiting Tanzania between December and April, consider adding to your itinerary a day or two exploring the Ndutu region.
This region is part of the Ngorongoro Conservation Area and borders Serengeti National Park.
It's here where the wildebeest and zebra herds end their great migration, and in January and February, tens of thousands of babies are born. This of course attracts predators like lions, cheetahs and hyenas hopeful of catching an easy target.
While I didn't see any babies being born, I did see plenty of days-old calves still wobbly on their skinny legs. One highlight was seeing a pair of lions mating – about four times in 40 minutes!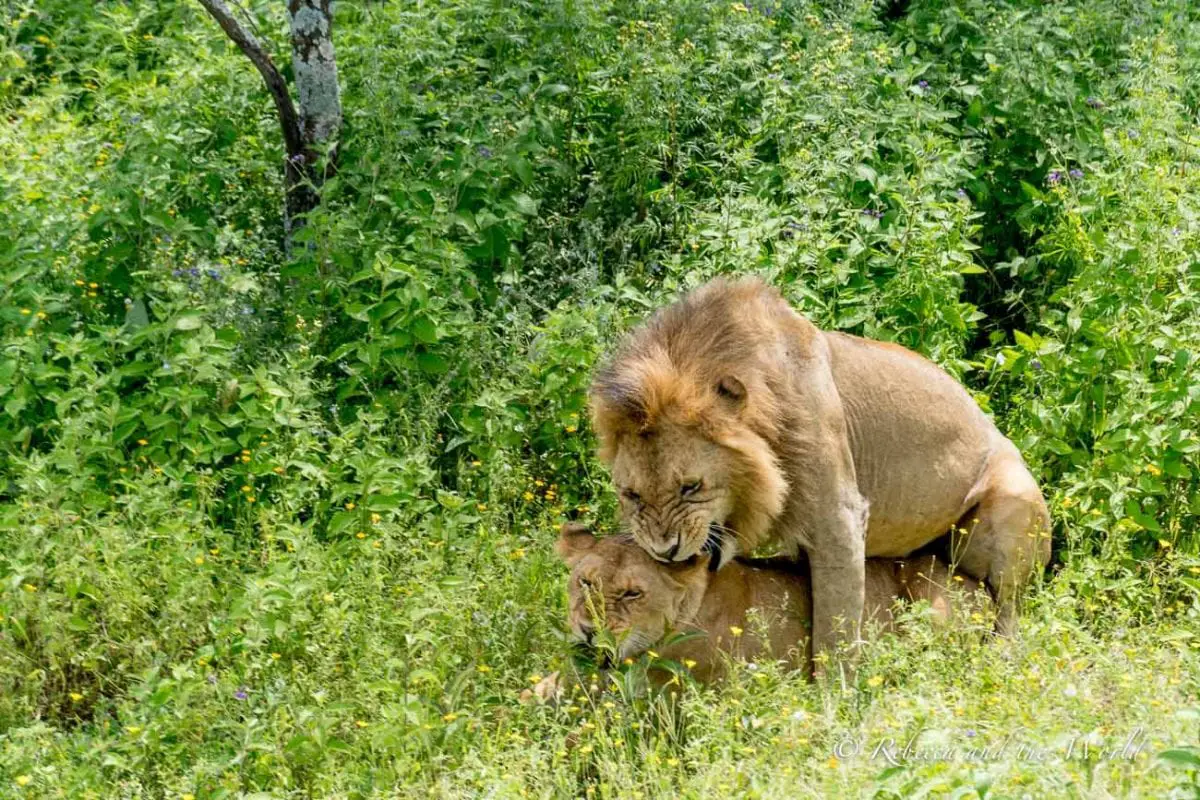 If you do visit Ndutu, you'll discover that many of the camps are actually mobile camps: they set up in Ndutu for a few months during the calving season, then follow the migration north later in the year. It's amazing how quickly they can pack up and move – and the quality of the accommodation given the logistical challenges.
I stayed at Lemala Ndutu Tented Camp and loved the authentic bush vibe. My tent was equipped with two double beds and a bathroom with hot shower water delivered by a tent attendant.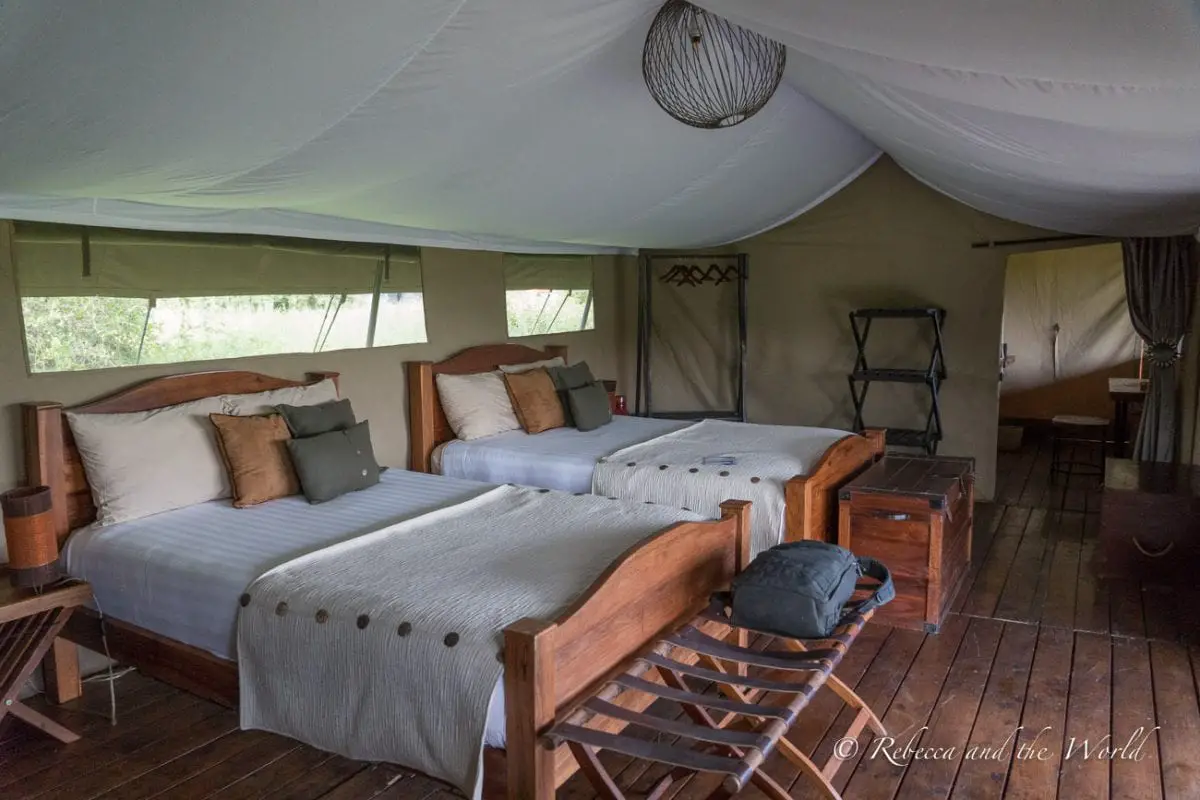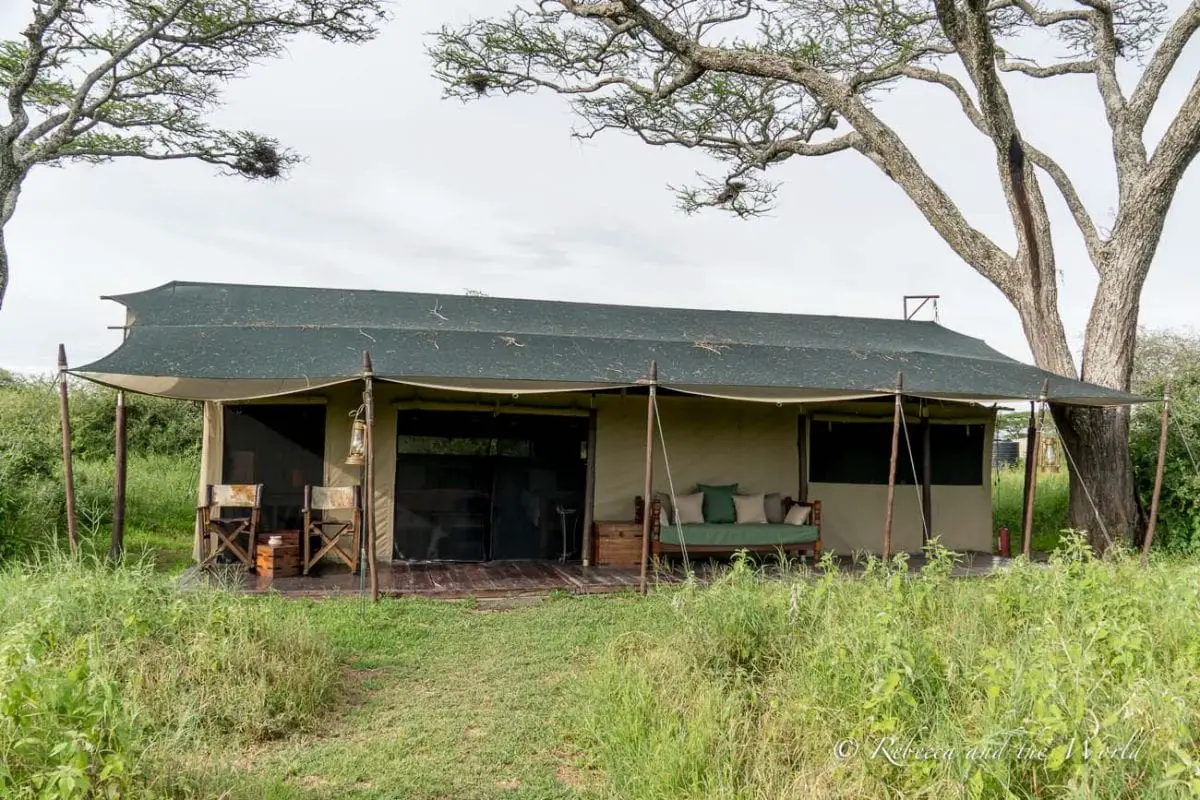 Before dinner, I gathered around the fire with other guests and sipped a G&T as the sun went down. For dinner, I had the most delicious fish dish. The quality of the food was especially impressive given how remote the camp is. I'd definitely recommend staying at Lemala Ndutu if the season is right for your visit.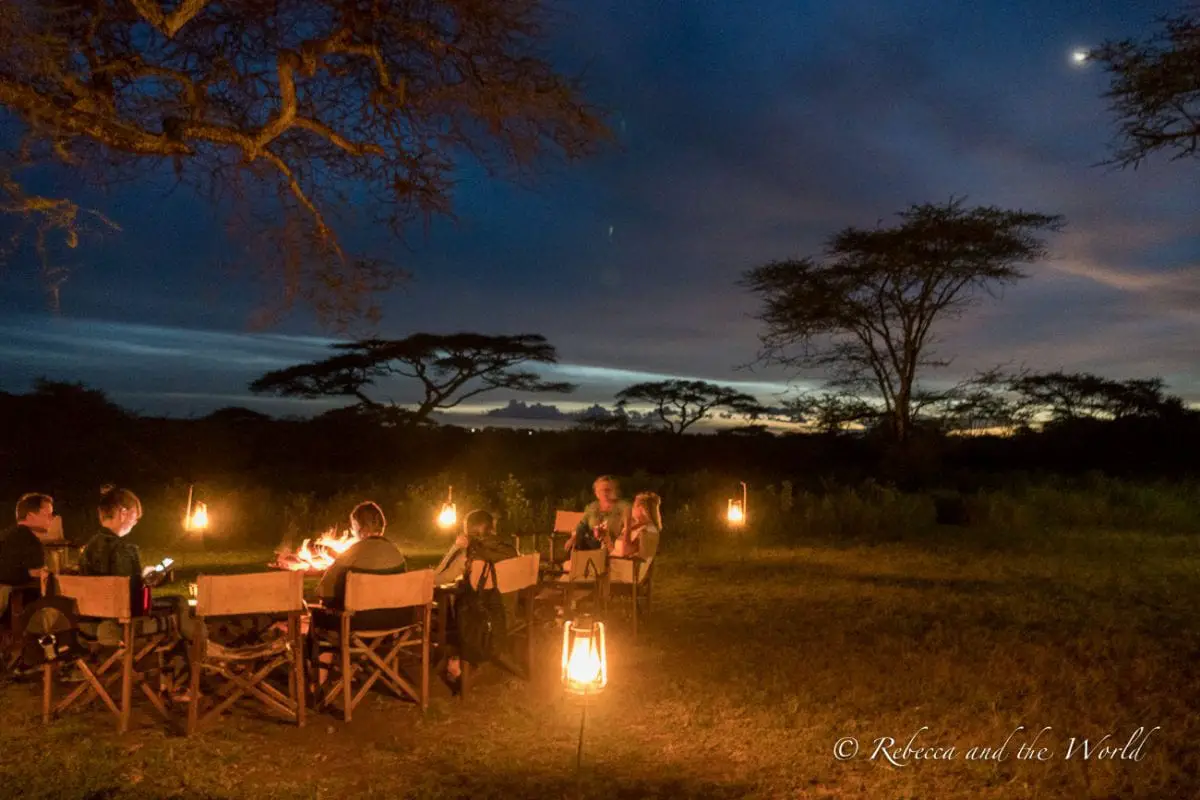 Days 9-10: Stone Town, Zanzibar
After satisfying your safari dreams, it's time to head east to the island of Zanzibar.
Ever since I was a little girl, cutting out travel stories from my mum's women's magazines to stick in a scrapbook, I've had a fascination with Zanzibar. I'm not sure why, as a young girl, I felt the lure of this far-away, exotic island with its mix of religions and cultures, maze of alleyways, spices wafting through the air, sparkling waters and white beaches, but it's been on my bucket list for a long time.
You can fly to Zanzibar direct from Serengeti airport. The planes are small and tickets aren't cheap, but it will save you time backtracking by road to Arusha and flying to Zanzibar from there (which is what I did). The flight from Serengeti to Zanzibar is around 2 hours.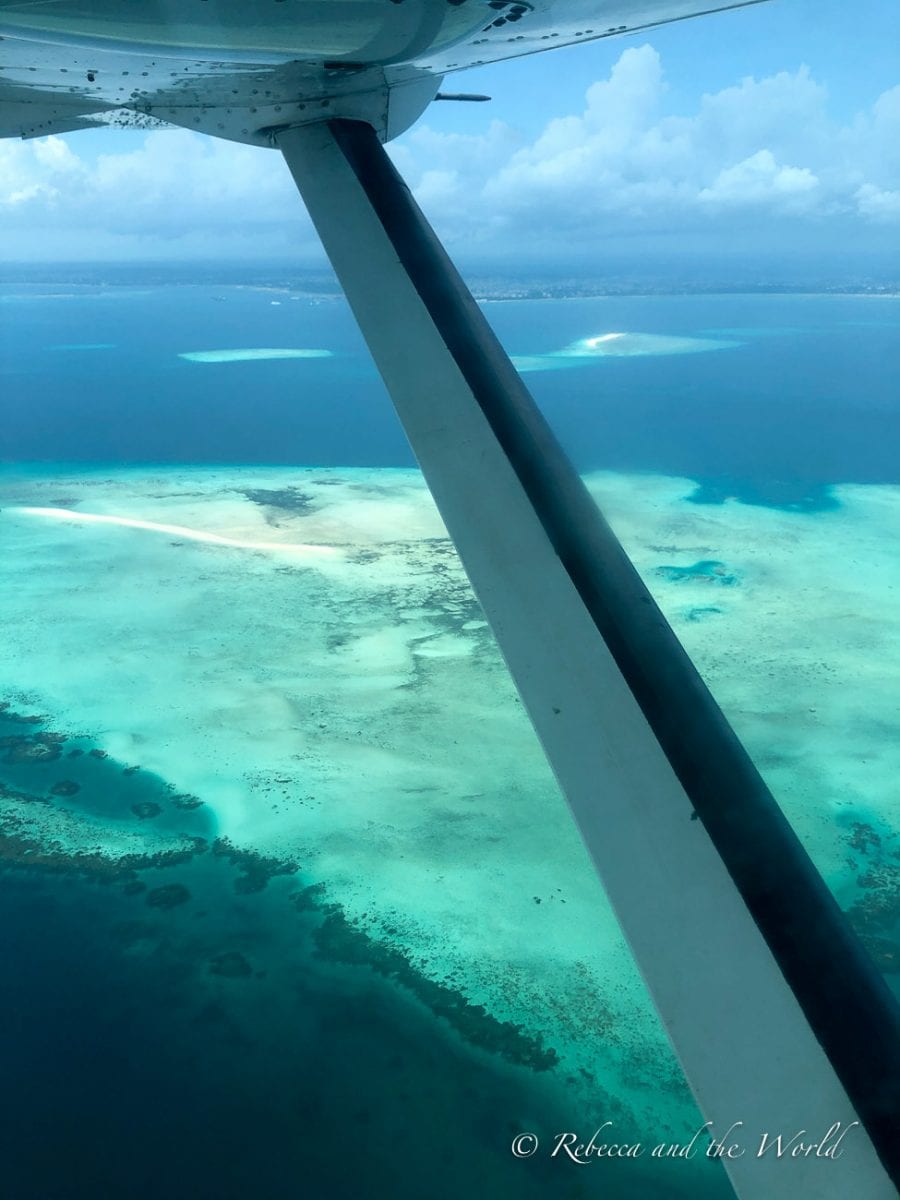 Zanzibar is actually made up of two islands, Unguja and Pemba. Unguja is what people are usually referring to when they say Zanzibar, and it's on this island that you'll find Stone Town. Pemba is smaller and less visited – but no less stunning.
Given that you'll spend this first day in transit, I recommend booking two nights in Stone Town to give you time to explore the twisting alleyways and include some downtime to escape the island's heat.
Top tip: Make sure you have plenty of cash before you come to Zanzibar. There are only a handful of ATMs in Stone Town but they can run out of money on Friday and Saturday.
There's no shortage of things to do in Stone Town.
Take a walking tour
Take a walking tour to learn more about the tangled history of this island.
A guide will take you to the highlights around Stone Town, including the Old Dispensary, the House of Wonders, the Old Fort, the former slave market, the Dhajarani Market and Freddie Mercury's (purported) home. Learn how religions have lived together fairly peacefully for centuries.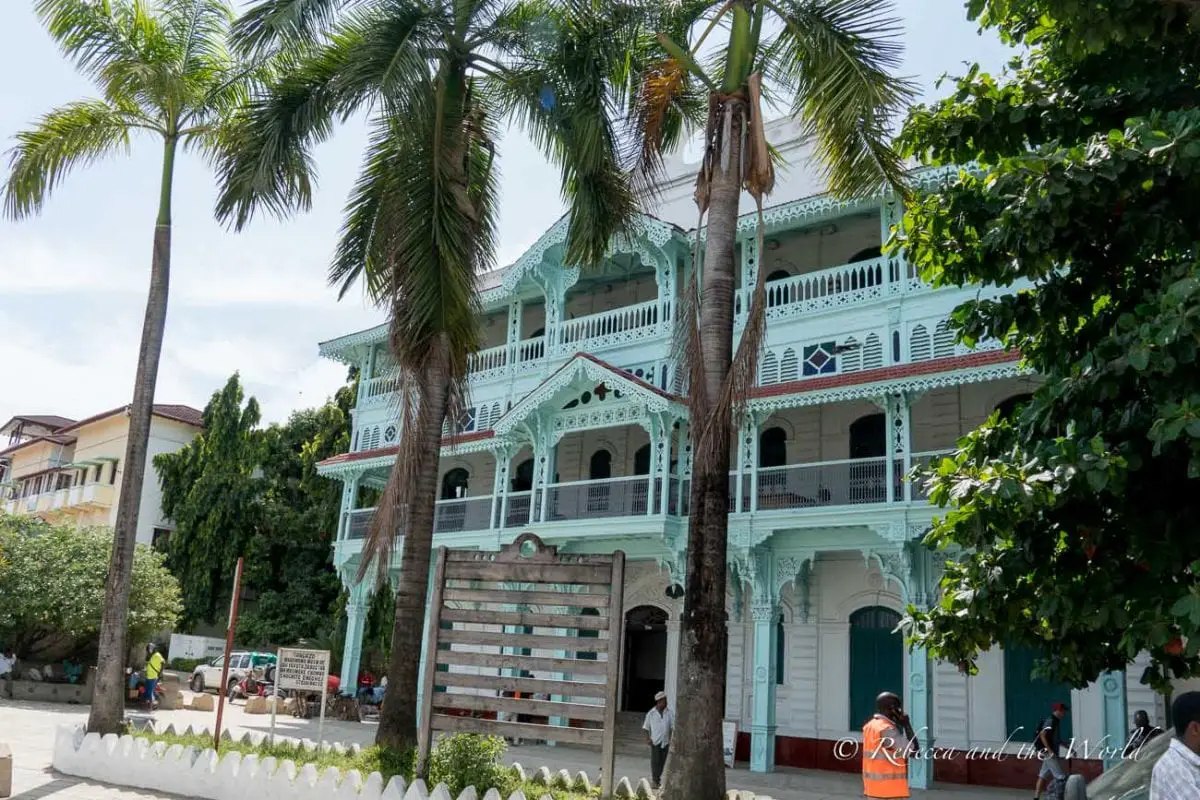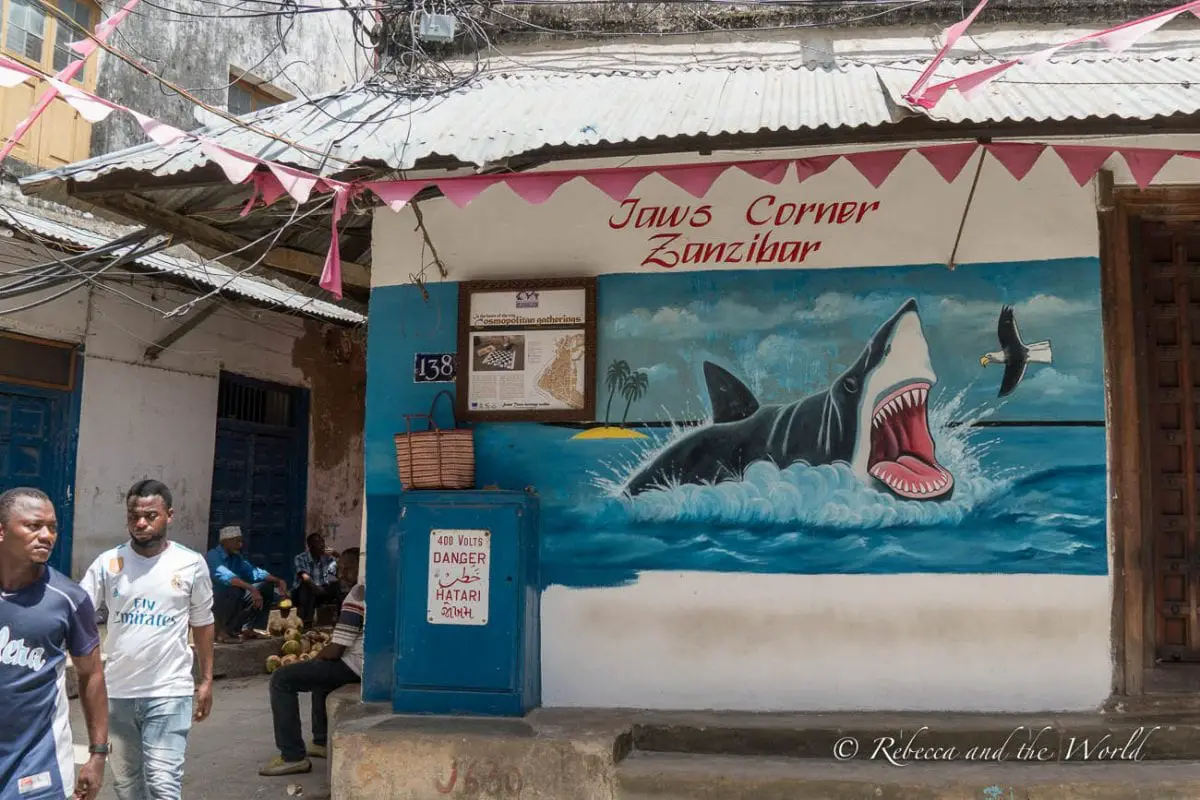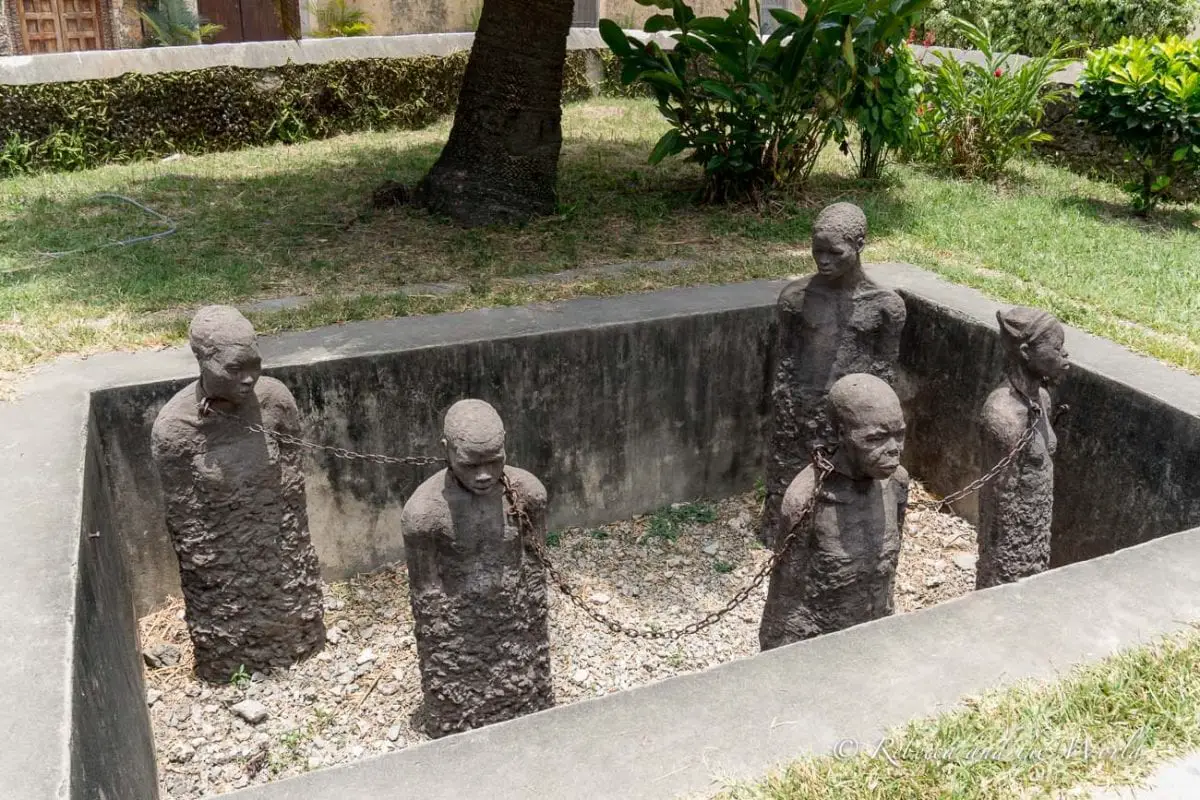 Take this tour in the morning or evening to avoid the heat of the day.
I arranged my tour through my driver, Daudi – contact me or comment below and I can give you his details.
Alternatively, try a walking tour that incorporates the flavour-packed food of Zanzibar on this food markets and street food walking tour.
Hang out in the Forodhani Gardens
Head to the Forodhani Gardens each evening when they come alive with food stalls, families eating together and teenage boys swaggering about and jumping off the pier into the sea below.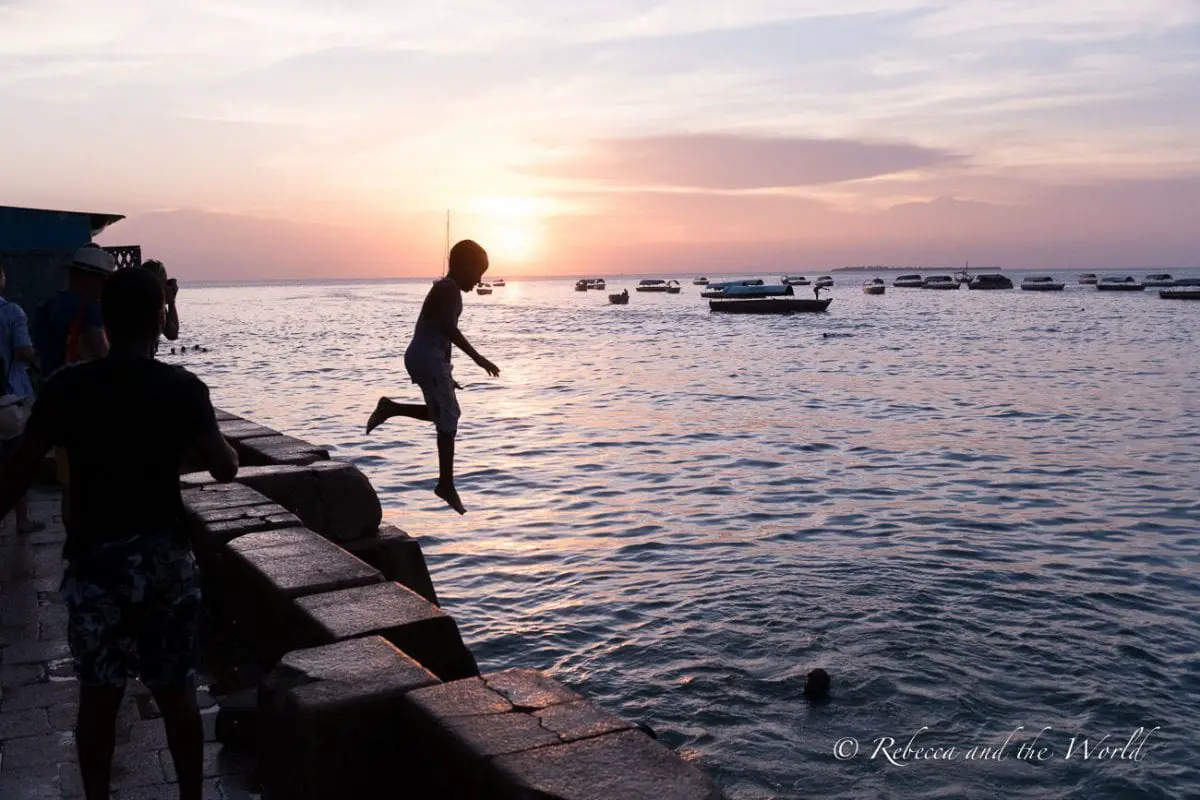 A must-try is a "Zanzibar pizza", a piece of dough wrapped around sweet or savoury fillings and fried.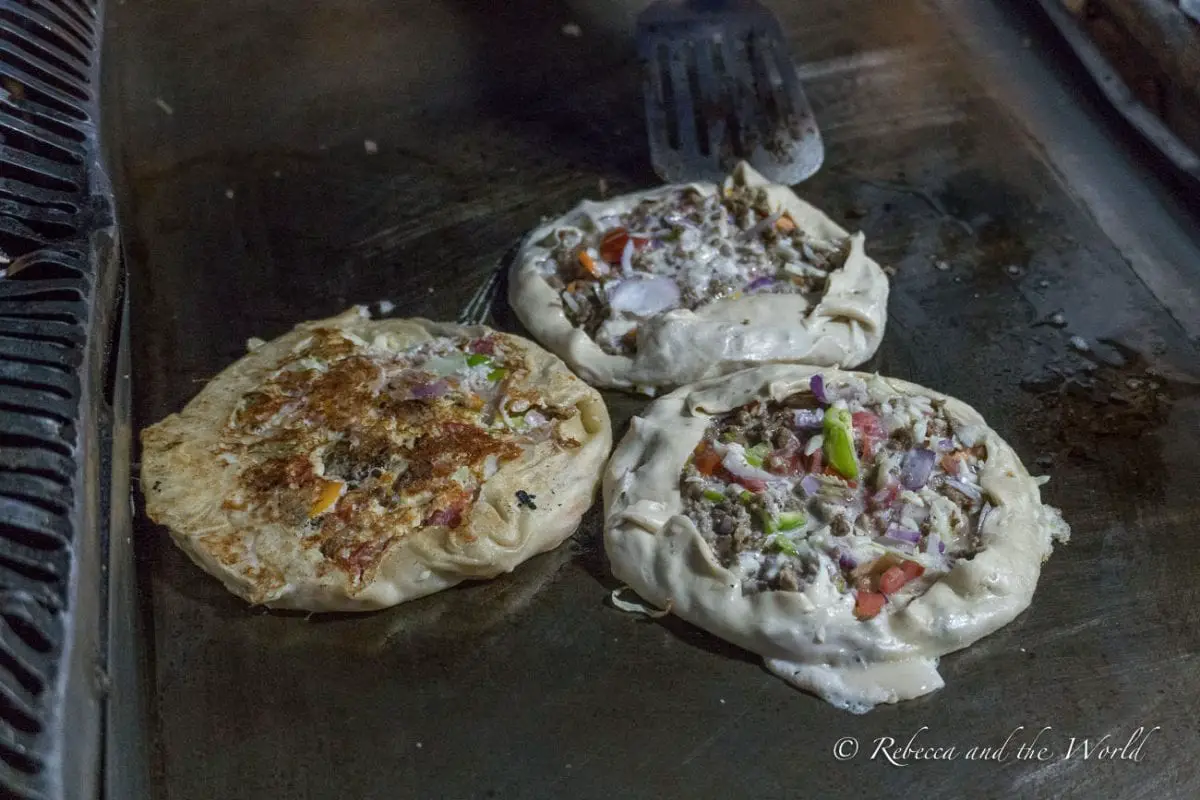 Eat at Emerson Spice's Tea House Restaurant
Book dinner at Emerson Spice's Tea House Restaurant. Sitting atop the hotel, the restaurant offers views over Stone Town. Each dish of the 5-course, set menu features seafood paired with other local ingredients. The set menu is US$40 per person. I highly recommend having a night out here – the staff are lovely and the food was incredible.
The Emerson Spice's sister hotel, Emerson on Hurumzi, has a similar 3-course set menu (US$40 excluding drinks).
Reservations required at both hotels.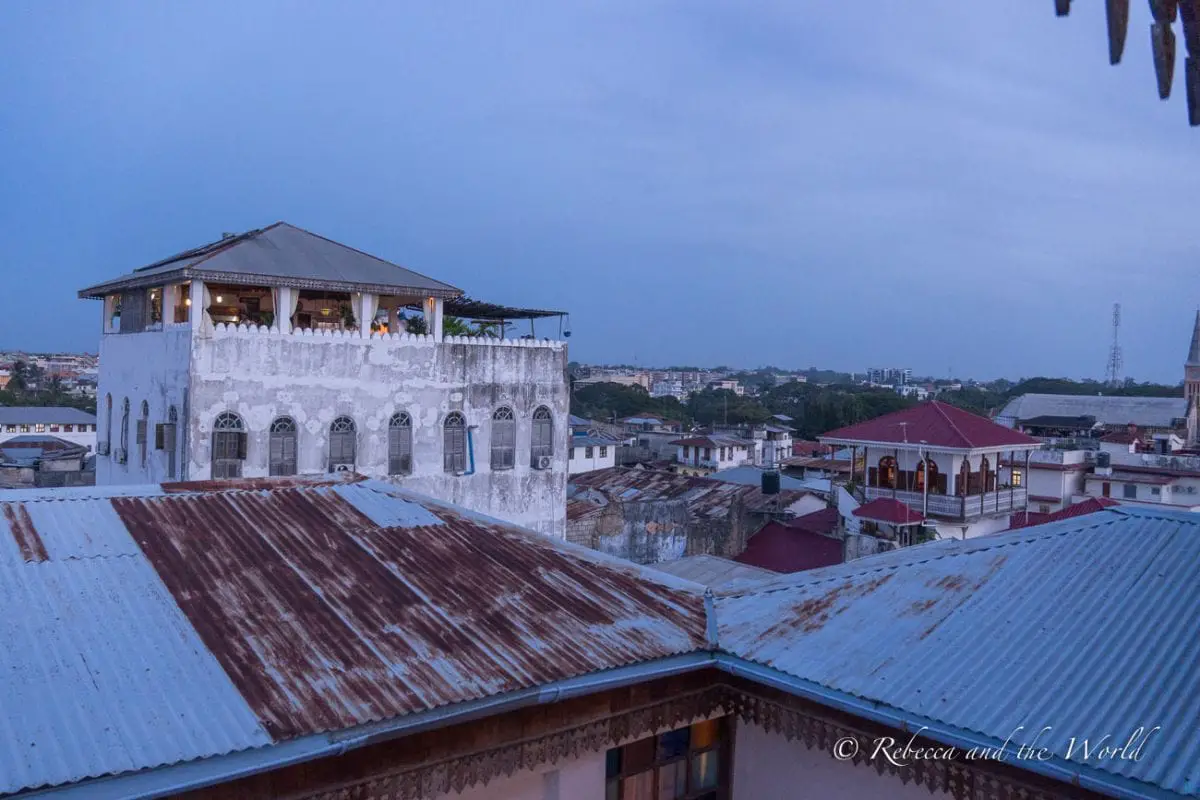 Get out on the water
Surrounded by the dazzling azure waters of the Indian Ocean, you can't help but be drawn out to sea. One of the most popular tours is a Safari Blue tour. This tour includes a day out on a dhow with visits to islands and sandbank beaches, snorkelling and the chance of seeing dolphins. There are many copycat tours now, but Safari Blue is the original.
Or, take a private tour out to Prison Island. The prison was originally built in the late 1800s and housed violent prisoners and sick people. On the full-day tour, you'll snorkel, sunbathe or see giant tortoises. The tour includes a tour of Stone Town and a trip to a spice farm.
Have a spa treatment
It gets really, really hot in Stone Town, so do what I did and swap the heat for pampering at Mrembo Spa.
Book a massage or body treatment, or take a workshop to learn how to make your own beauty products using natural ingredients grown on the spa's plantation.
Learn about Zanzibar's spices
Zanzibar is of course known as the Spice Island, and you can learn more about the cinnamon, pepper, turmeric, cloves and other spices that are grown and exported.
There are several spice plantations, and you can organise a tour. The tours are quite touristy but entertaining. Bring extra small notes to pay the various people who scale trees to collect coconuts and serve up fresh fruit on the tour.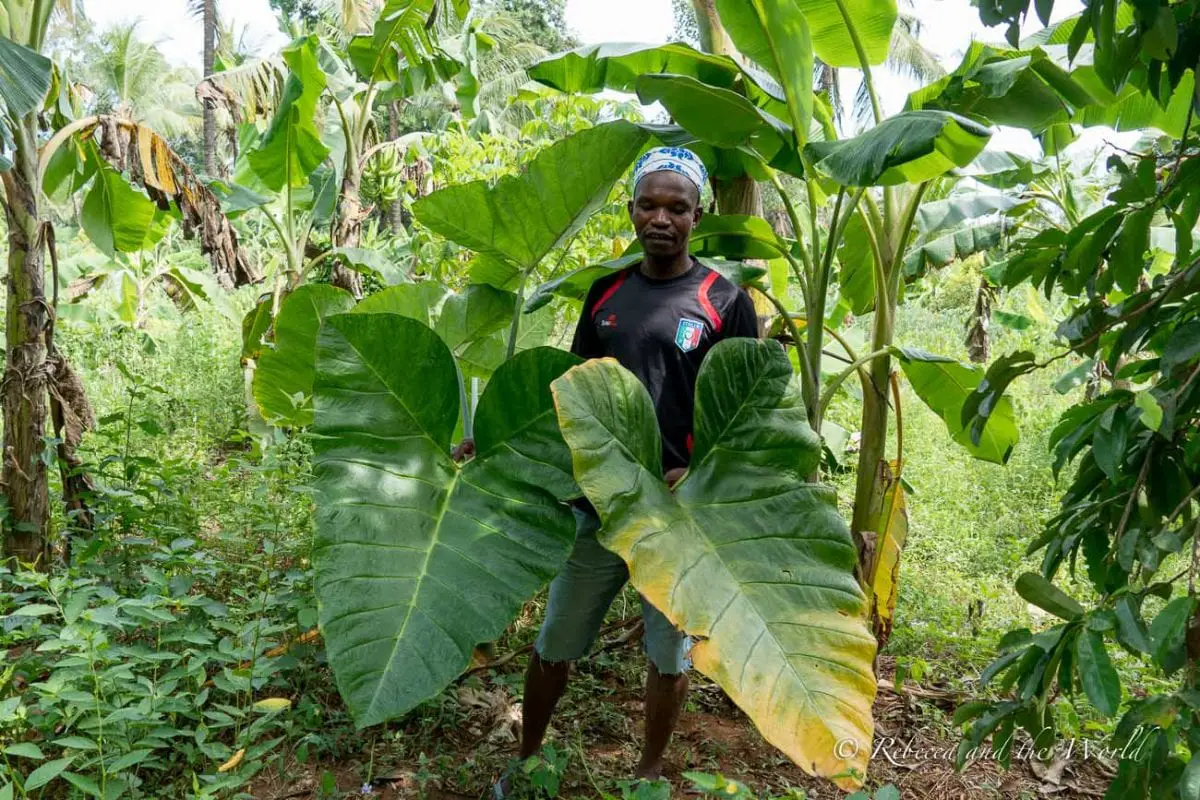 Get lost in the maze-like alleyways
Spend some time wandering without a plan through the twisting, turning laneways of Stone Town. You'll come across curio stores, kids heading home from school for lunch, churches and mosques, and Zanzibaris going about their day.
Top tip: Please cover up when you're walking around Stone Town. That goes for both men and women. Be respectful of the majority Muslim population and cover your shoulders and knees. Don't wander around Stone Town in your bikini and short shorts. The locals are generally pretty tolerant, but please show respect and appreciation for their religion and culture.
Where to stay in Stone Town
I stayed at the magnificent Emerson Spice Hotel. The building was originally owned by the last Swahili ruler of Zanzibar, and over the years has changed hands multiple times. It's now a hotel that screams old-world glamour.
Each room is uniquely designed, inspired by a character or an actress. I slept in the Belle room, a dedication "to all the Southern Belles of the world". The room was enormous, with a high canopy bed, concrete floors and stone bath tub in the corner. A veranda runs the length of the room, and every morning and evening I would sit out there and watch Zanzibaris go about their days.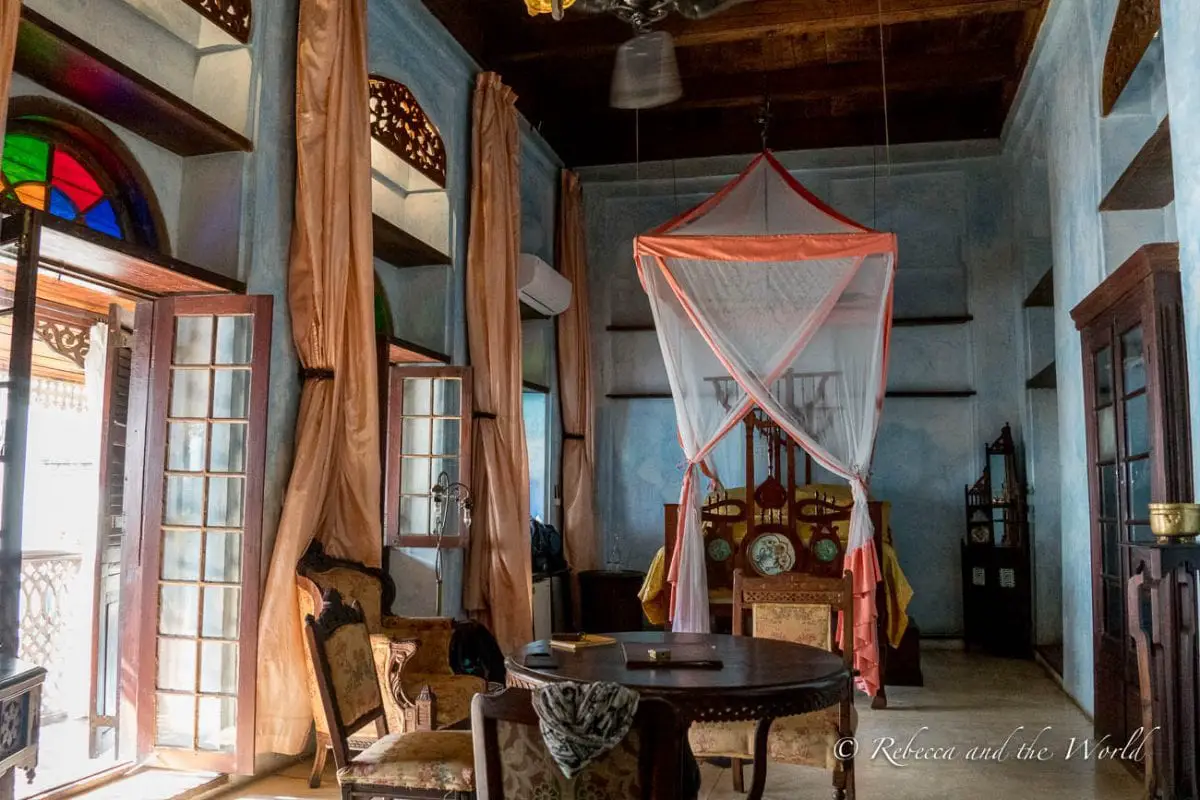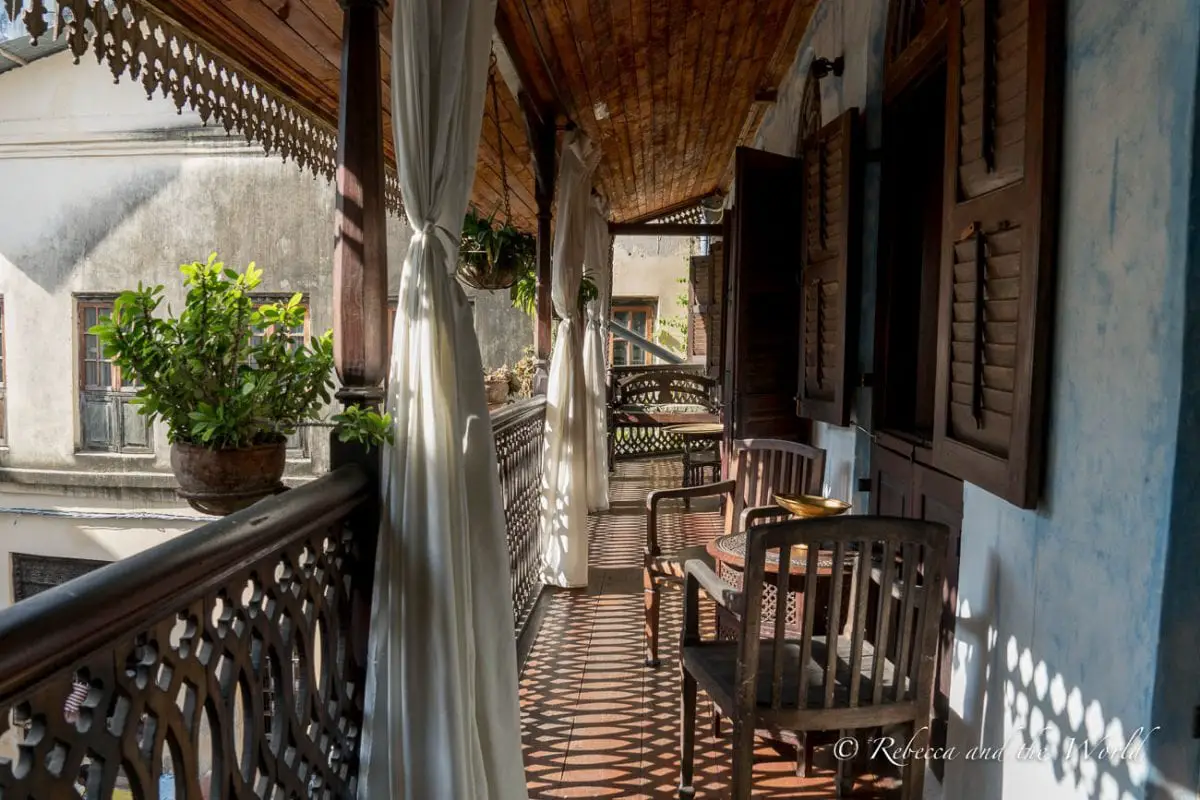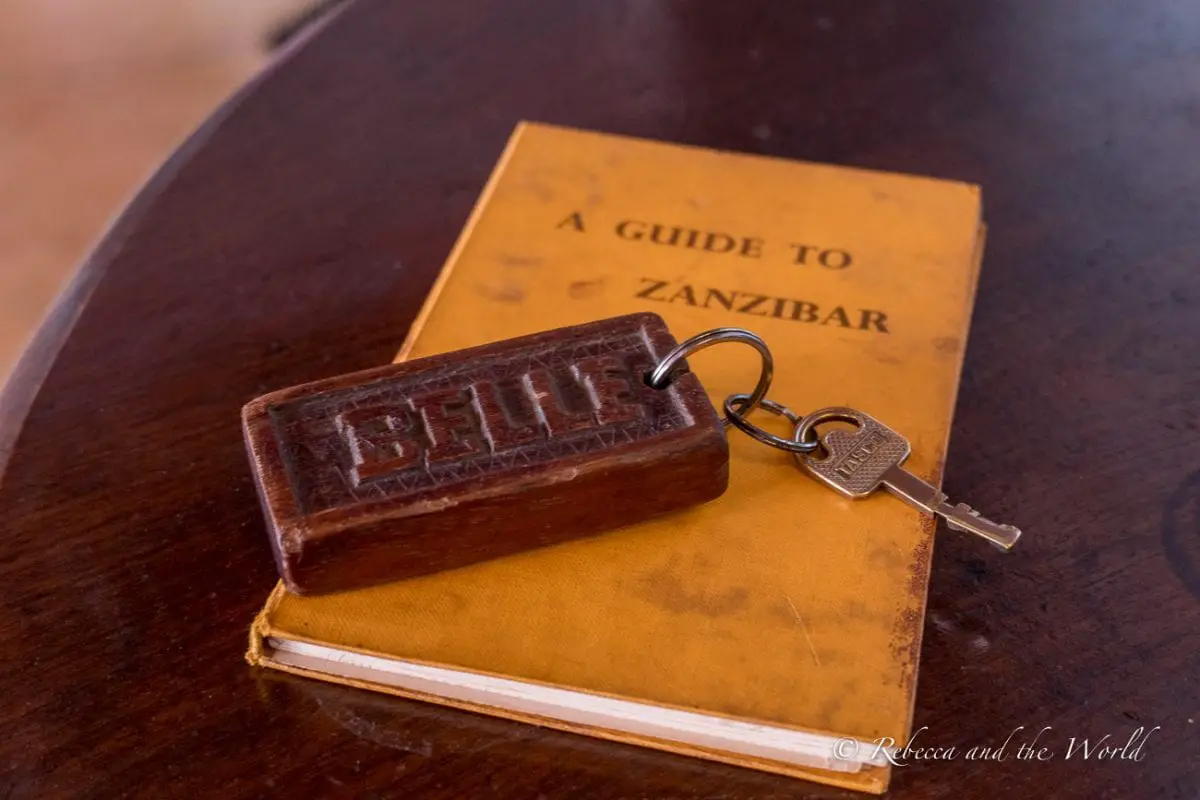 Days 11-13: Zanzibar beach
There's only one way to end this epic Tanzania trip, and that's on the beach. I've got two days for beach time on this itinerary, but to be honest, you could easily spend a week on Zanzibar's beaches.
Zanzibar boasts the powdery white sand beaches and azure waters that dreams are made of. While travel writers are usually horrified to write words like these, it's hard to avoid when faced with such beauty.
There are plenty of beaches to choose from, from party hubs to romantic hideaways to laidback villages. I headed to Jambiani, known for its chilled, friendly vibe. Jambiani is on the southeast coast of the island.
After a month of travelling around East Africa, I was ready for a break, so I whiled away a couple of days reading books on the hotel's lounge beds, taking a dip in the pool, strolling along the beach and eating a tonne of seafood.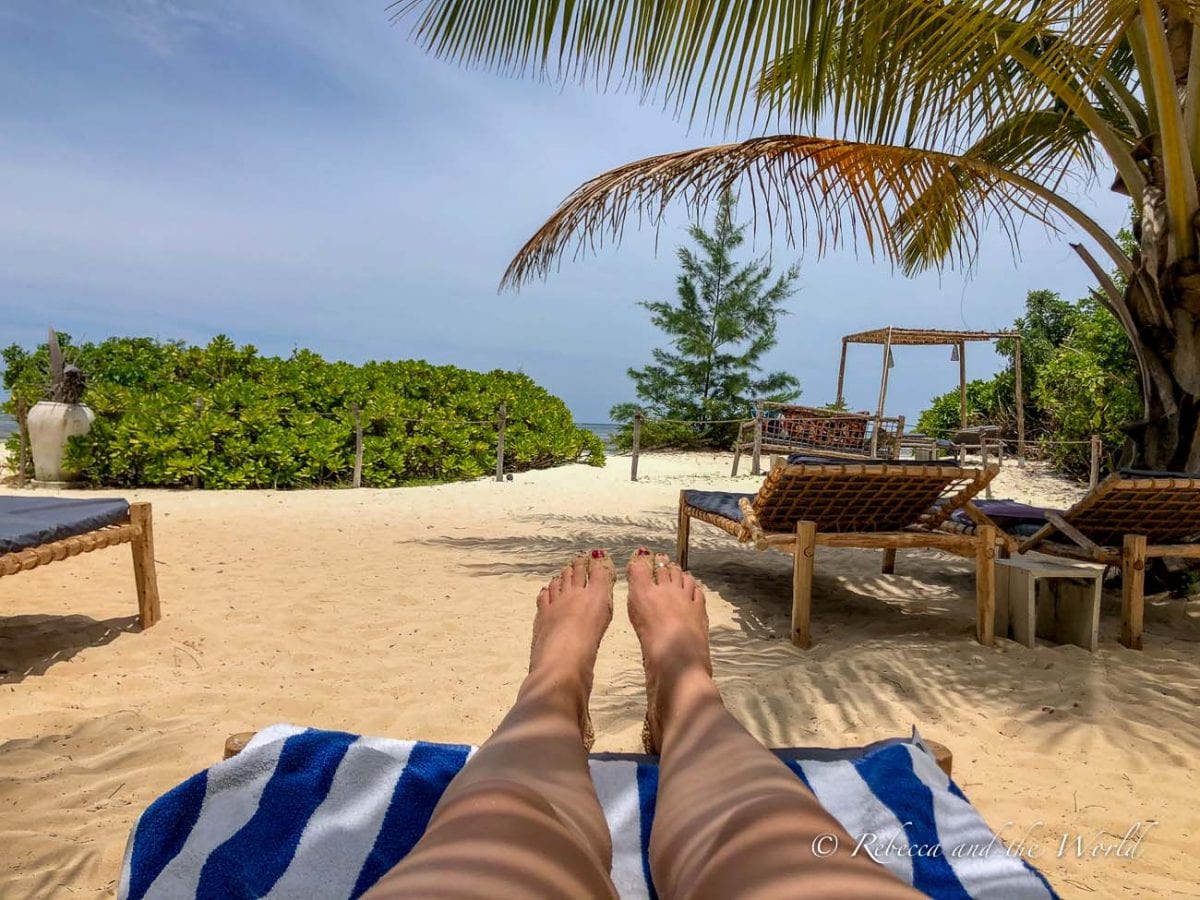 If you want to get out of the hotel, book lunch or dinner at The Rock. It's located a short drive away in Paje. This Insta-famous restaurant sits atop a small rock in the ocean and can be reached by walking at low tide or by boat when it's high tide. Book this tour which includes transportation to the restaurants.
To get to Jambiani, contact me for details of my driver, Daudi. It's about an hour from Stone Town.
Where to stay in Jambiani
I stayed at the beachfront Sharazad Boutique Hotel and highly recommend it. The bungalow rooms are airy and bright, with either an ocean or garden view.
There are two pools, a spa and a sandy area dotted with beach lounges for sunbathing under the palm trees.
The food at the restaurant is divine – I had more than my fair share of delicious seafood, coupled with a glass of wine each night.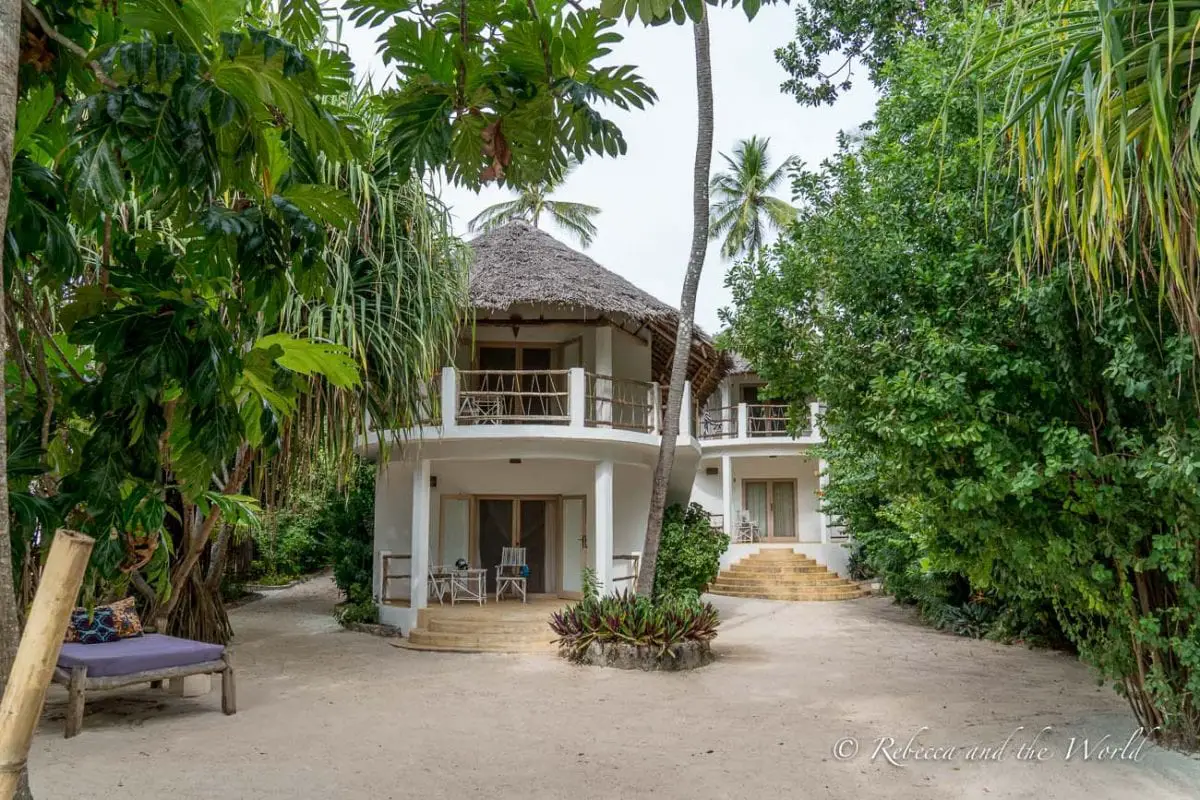 Day 14: Fly home
The worst part about this Tanzania itinerary is that it has to end.
There are several international flights directly from Zanzibar, so look for these to avoid backtracking to Dar es Salaam or Arusha to return home. I flew out from Zanzibar direct to Dubai which saved me a lot of travel time.
If you're anything like me, you'll be planning your return trip to Tanzania while you're still in the airport.
Tanzania itinerary logistics
To help you plan your Tanzania 2 weeks trip, here's some additional information and tips.
Cost of travelling in Tanzania
A trip to East Africa generally isn't going to be cheap, and Tanzania is no exception. For a Tanzania and Zanzibar itinerary like the one I've outlined here, you'll need to budget around US$500 per person, per day based on two people sharing. You could save money by opting for mid-range accommodation throughout the entire itinerary.
National parks are fairly expensive to visit, and even mid-range hotels and lodges are more expensive than you might expect elsewhere in the world. This is because – especially in and near the national parks – food and supplies need to be brought in from big cities and there's usually a high staff-to-guest ratio.
Tanzania's currency is the shilling; you can check the latest exchange rate online at XE. U.S. dollars are widely accepted and most hotels and tour operators actually quote in dollars. However, when you're on the ground, it's worth having some small shilling notes for shops and restaurants, and for tipping.
If you bring U.S. dollars, make sure they are from 2006 or later, and have no tears, marks or stains. I had to pay some excess weight on my flight to Zanzibar and they refused one U.S. dollar note because it had a teeny tiny tear in it.
If you want to change U.S. dollars when you arrive in Tanzania, bring larger denominations ($50 or $100 bills) to get a better exchange rate.
If you bring a credit card, Visa or Mastercard cards are best.
Tipping is expected in Tanzania. The rate for drivers/guides is around US$20 per day (split between your group). Make sure to tip staff at hotels. There are usually tip boxes in the reception area and management shares tips among all the staff at the end of the month. I tipped about US$20 per night at each hotel.
Tanzania visa requirements
Most travellers to Tanzania require a visa to enter. Getting a tourist visa for Tanzania is simple with the government's online system. A single-entry visa is valid for 90 days. At the time of writing, this visa costs US$50. You may need proof of a return ticket.
U.S. citizens need to obtain a multiple-entry visa, which is valid for 12 months (but you can only stay in the country for 90 days at a time). Americans cannot get the ordinary single-entry visa. At the time of writing, the multiple-entry visa costs US$100.
While the government says that it is possible to get a Tanzania visa on arrival, they much encourage – and I'd recommend – visitors to get a visa in advance. It's such an easy online process and it will reduce the risk of running into issues at the border or airport.
As always, check with your local embassy to make sure that you have the most up-to-date information on getting a visa for Tanzania. A company like iVisa can also provide advice.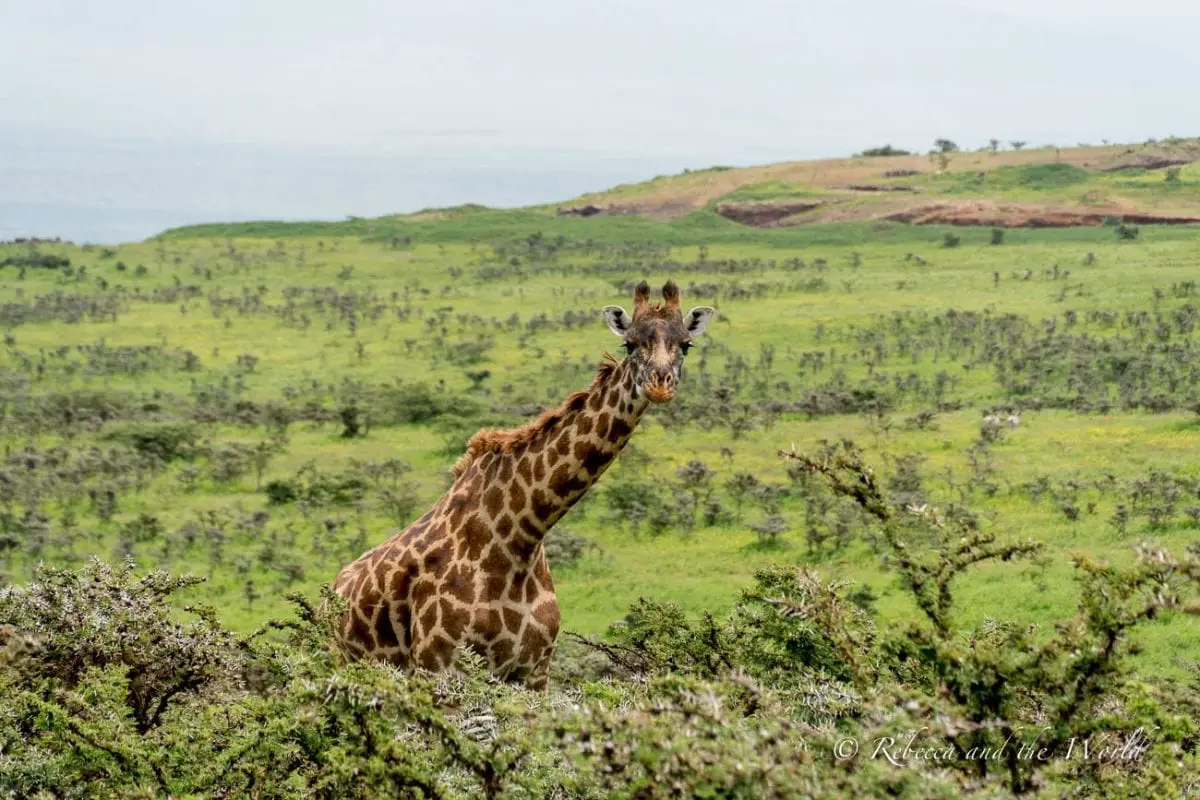 Health and vaccinations
Visit a doctor before you travel to Tanzania so they can advise any required vaccinations or recommended medications. Before a big trip, I visit a specialist travel doctor rather than a regular GP.
Tanzania has some malaria areas, so ask your doctor whether you need to take medication. Full disclosure: I did not take any malaria medication on my trip to East Africa. However, I used to live in a malaria-risk country, so I'm very aware of the risks. I took steps to prevent bites during my time in Tanzania. Pack plenty of repellent, sleep under mosquito nets (all hotels and lodges provide these) and cover up in the evening.
I ALWAYS buy travel insurance. Luckily, I had no issues on my trip to East Africa and didn't need to use my insurance. Travel Insurance Master is a good one-stop-shop to compare policies across various providers.
GET A QUOTE WITH TRAVEL INSURANCE MASTER
Pack a good first-aid kit with any medications you need while travelling. I always pack pain-relief medication (like Nurofen or Ibuprofen), Pepto-Bismol or peptosyl for tummy troubles, Imodium, antiseptic cream, antibiotics (prescribed by a doctor) and Band-Aids.
Is Tanzania safe to travel?
I felt very safe the entire time I was in Tanzania – my biggest worry was wildlife! There were times when I woke up to lions roaring near our lodge, or hyenas barking when I was camping, and let me tell you, that's exciting but also scary!
When you're around wildlife, listen to your guide to stay safe. Maintain a safe distance from animals, ask hotel staff if there's anything to be aware of before you go wandering around, and stay in your car when wildlife is nearby. Many of the lodges I stayed at required an armed guard to walk me to and from my room. When camping in some areas, you'll need to have an armed park ranger stay with you overnight.
The itinerary I've laid out here focuses on areas popular with tourists, so you can expect plenty of other people around. All the lodges I stayed at had security (although that was mostly for protecting guests against wildlife!). The parks are remote, so the risk of petty crime is low.
Big cities are of course where you will find more crime. Take the usual safety precautions: don't wear expensive jewellery or flash your expensive phones and cameras around, tuck your money into various bags and pockets (and, for the ladies, into your bra), and take extra care when going out at night.
In Stone Town, as a solo female traveller I had a lot of men trying to talk to me, but again I never felt threatened. There are always people about, and the city has installed security cameras in some areas as well. My only safety concern in Stone Town was getting lost in the maze of alleyways!
Check your country's government warnings before travelling. Also make sure you notify your government of your travels, if the option is available. Here's a link to Australia's advice on travelling to Tanzania, as well as the United Kingdom and the United States.
Final thoughts: Tanzania in 2 weeks
If an African safari is on your bucket list, then Tanzania is one of the best countries to visit. Not only can you experience safari life, you can also have as much adventure as you like as well as chill out on some of the world's most beautiful beaches.
If you've got 2 weeks in Tanzania, then the itinerary I've just laid out has a unique mix of all three of these elements. Have an amazing time!
Tanzania 2 weeks itinerary: FAQs
Is two weeks in Tanzania enough?
Yes, two weeks in Tanzania is enough to get an experience of the country – but you'll want to come back for more! In 2 weeks, you can explore the vast Serengeti National Park, visit the Ngorongoro Crater and see Lake Manyara, as well as relax in Zanzibar.
What animals can I see on a Tanzania safari?
A Tanzania safari offers a chance to experience Africa's iconic wildlife up close. You can see elephants, zebras, lions, cheetahs, giraffes and more – not forgetting the hundreds of beautiful birds. Of course, it all depends on the time of year and what species are in the area at that moment.
Is Tanzania safe to visit for solo female travellers?
Tanzania is a very safe place for solo female travellers. Tanzanians are friendly and welcoming, making it easy to explore the country in peace. It's important to take normal safety precautions when travelling anywhere, but Tanzania is a safe destination for women who want to travel solo.
Is English widely spoken in Tanzania?
English is widely spoken in Tanzania, often as a second language after Swahili. In more urban areas, such as the capital city of Dodoma and larger cities like Dar es Salaam, English is more commonly spoken than in rural areas where Swahili dominates. English is the official language of instruction in all secondary schools and many primary schools.
Disclaimer: Safari Republic worked with some of the accommodations I stayed at during my visit to Tanzania to obtain complimentary or discounted rates. Regardless, all opinions remain my own.
Need help planning your own Tanzania itinerary? Drop your questions in the comments below or shoot me an email.
---
Related posts
Before you go… you might like some of these East Africa travel posts:
PIN IT FOR LATER: