Ever wondered what it's like to go gorilla trekking in Uganda or Rwanda? This guide will share with you my experience of gorilla trekking in Uganda, plus what you need to know before you go.
There are few experiences in life that come close to the first time you see a mountain gorilla in the wild. The first time that you emerge from the forest to see these magnificent creatures eating or sleeping or climbing trees. The first time you gaze into eyes that are so similar to your own.
Those first times are worth the hours spent slipping through the mud and scrambling up steep hills to reach the gorillas. Worth the sweat. Worth the bumpy car rides. Worth the money.
Gorilla trekking is a bucket list item for many people – it certainly was for me. Spending time in the presence of mountain gorillas was one of the best hours of my life. 
If it's on your bucket list, then in this guide, I'll share with you what you can expect on the trip. Plus, I'll go through the nitty gritty logistical information you need to know about booking permits, if you need a tour and what to pack on the day.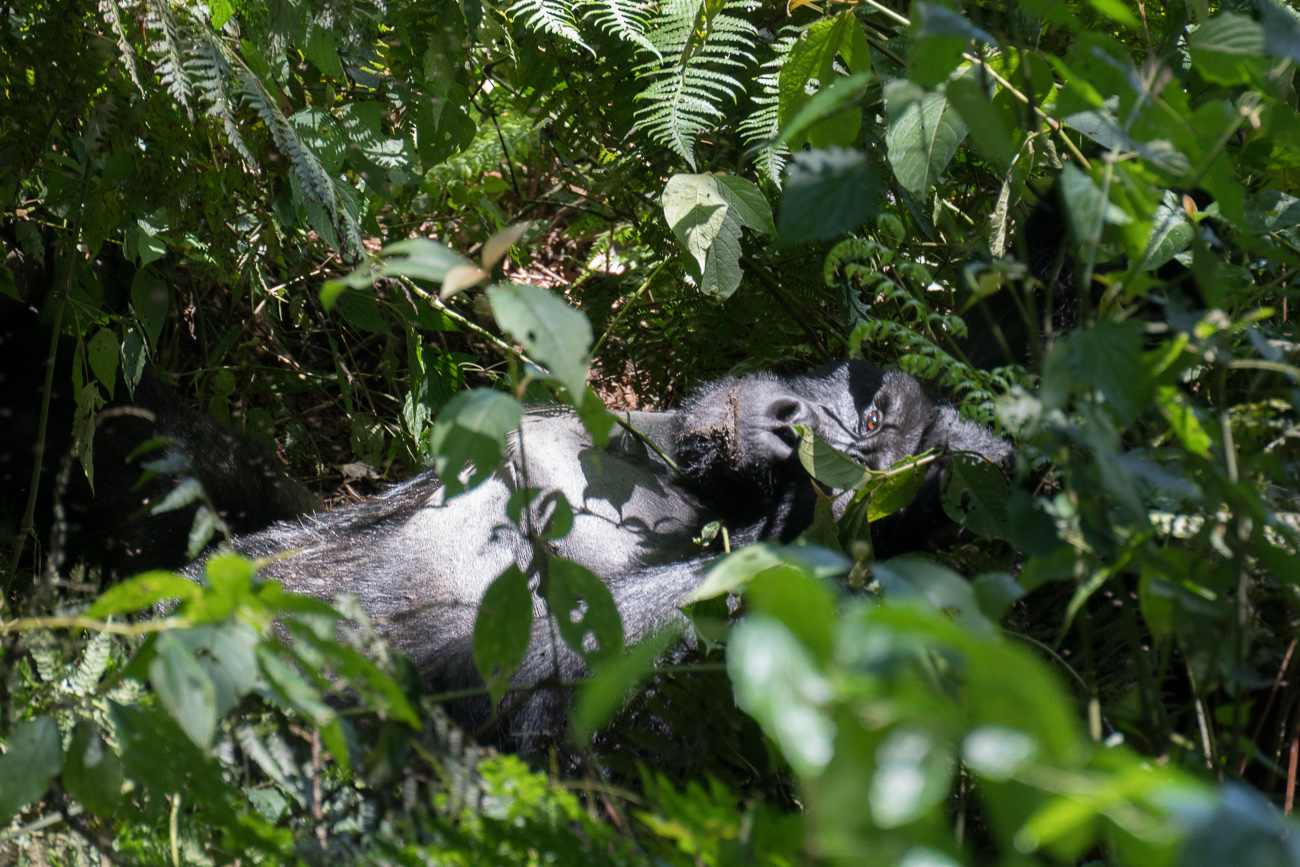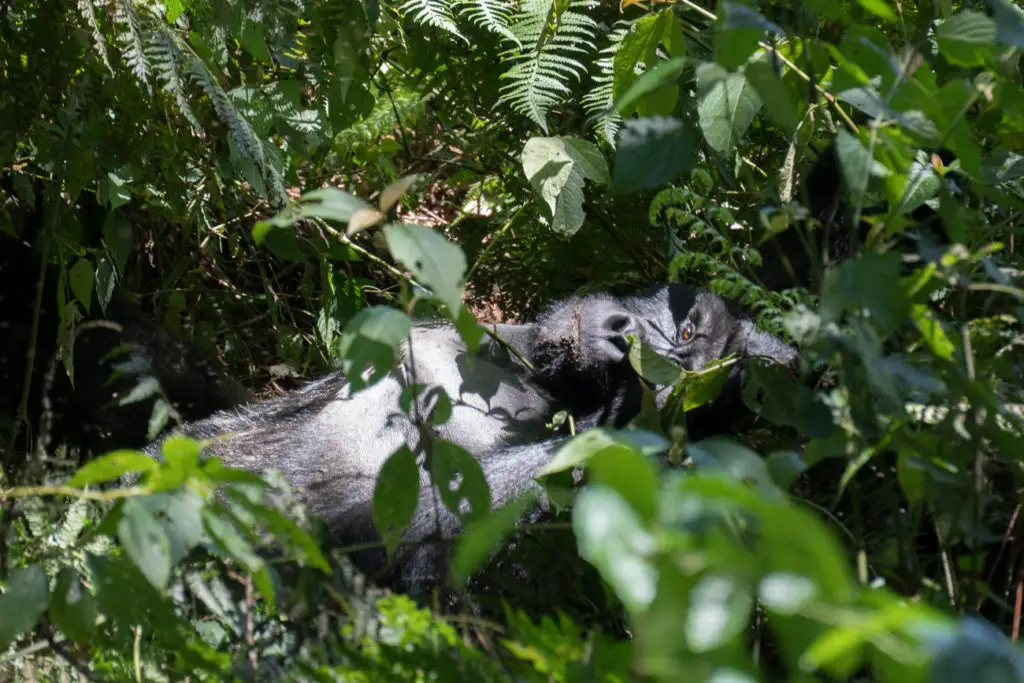 This blog post may contain affiliate links, meaning if you book or buy something through one of these links, I may earn a small commission (at no extra cost to you).
Where can you see mountain gorillas?
It's estimated that there are just over 1,000 mountain gorillas left in the world. This does sound like a low number, but it has been increasing over the years thanks to conservation efforts. In the mid-80s, zoologist Dian Fossey estimated that only 250 were alive. 
Mountain gorillas can't survive in captivity, so you won't find them in zoos or wildlife enclosures around the world. The only way to see these magnificent animals in the flesh is in the wild.
Mountain gorillas (scientific name: Gorilla beringei beringei) live in forests high in the mountains, at elevations of 2,400 to 4,000 metres (8,000 to 13,000 feet). They can be found in the dense vegetation of Uganda's Bwindi Impenetrable Forest National Park and Mgahinga Gorilla National Park, in Rwanda in Volcanoes National Park, and in the Democratic Republic of the Congo (DRC).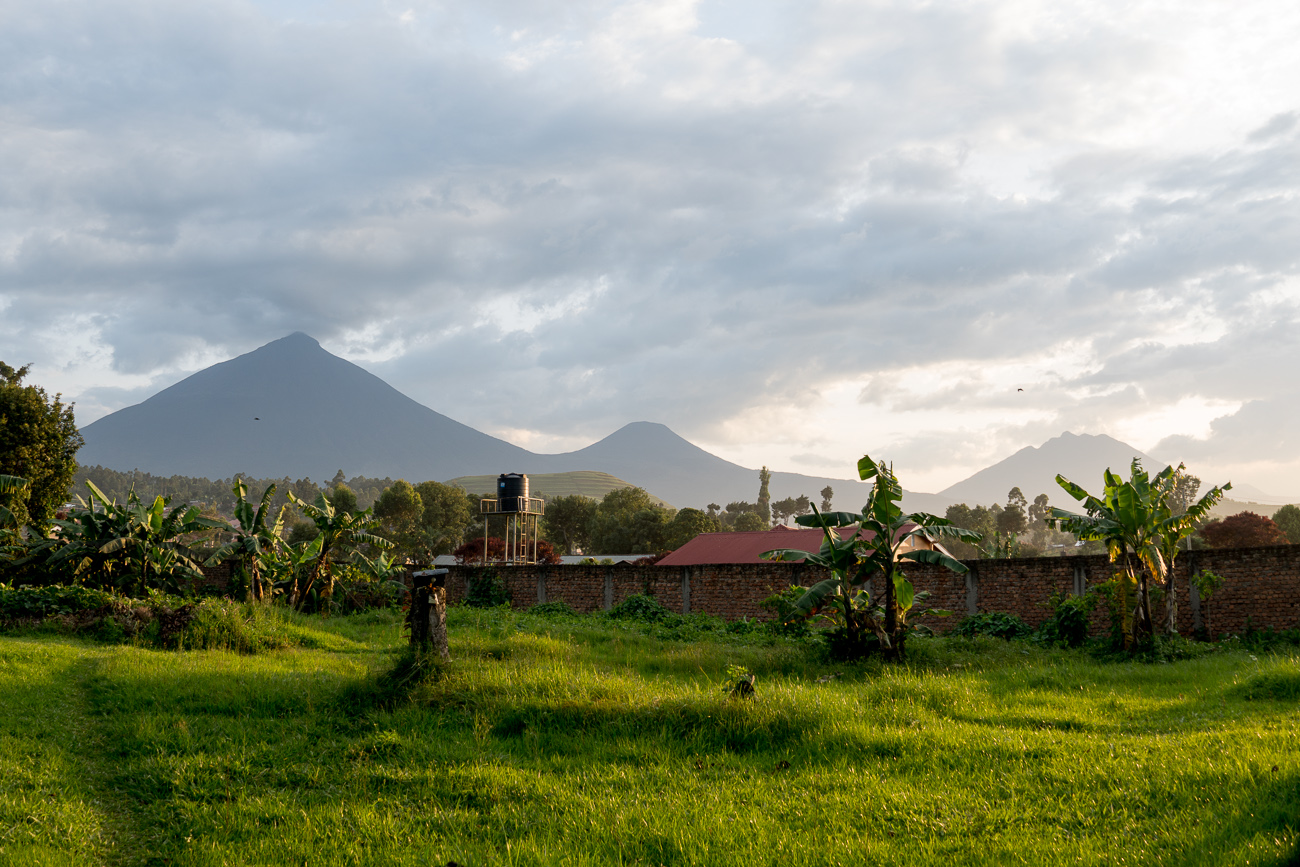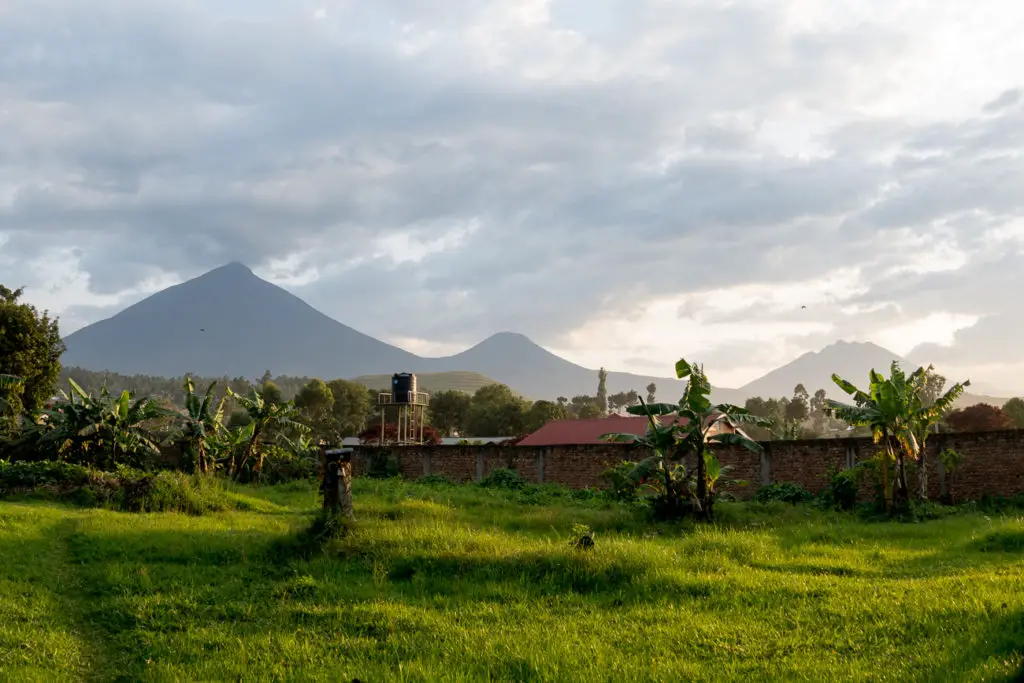 Tourists aren't just going to stumble across mountain gorillas. Instead, you'll trek to a family that's been habituated. Habituation takes years, with the same trackers visiting a family day after day until the gorillas become comfortable around humans. New families are added to gorilla trekking only when the trackers are confident that it is safe. 
You can only visit mountain gorillas with a permit and with experienced guides. This is not an experience you can do by yourself, no matter how adventurous you think you are.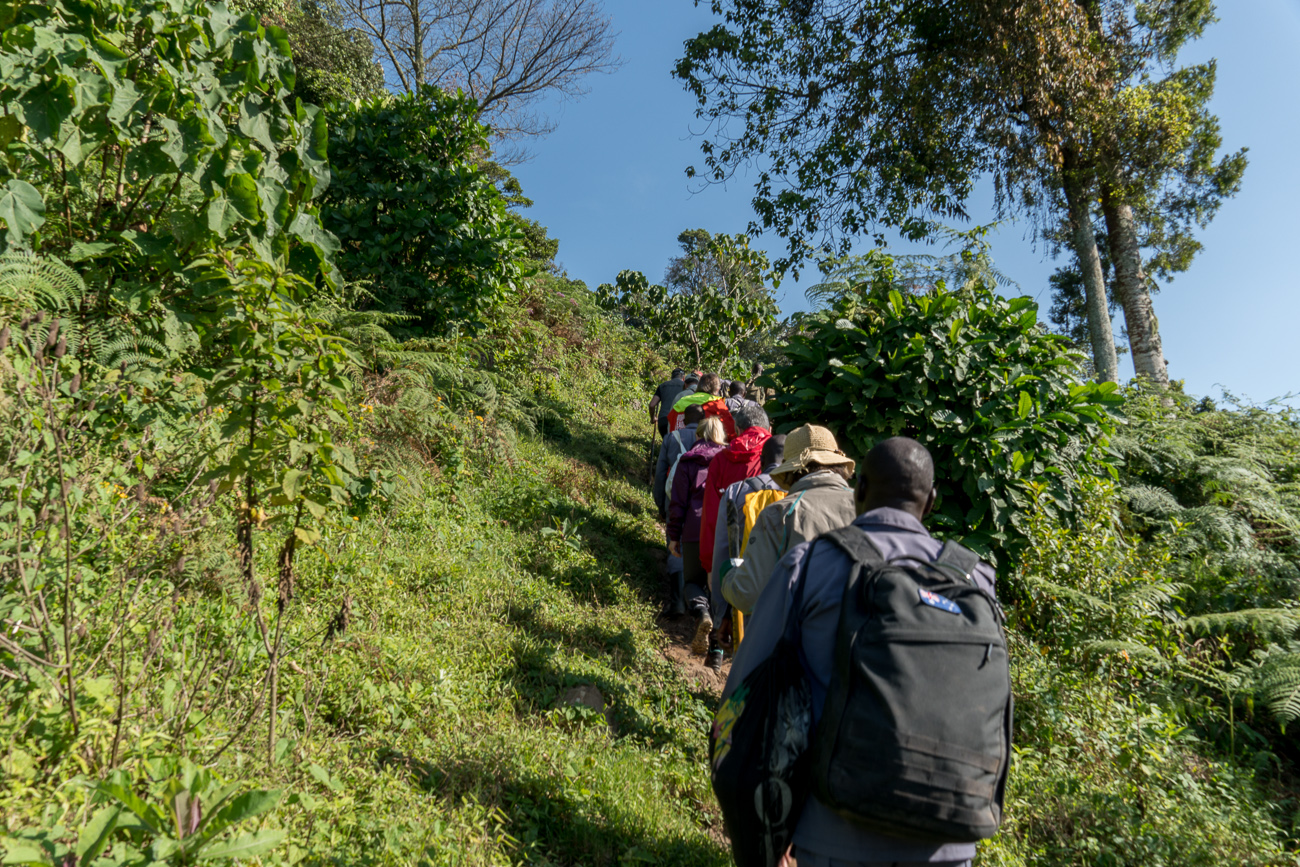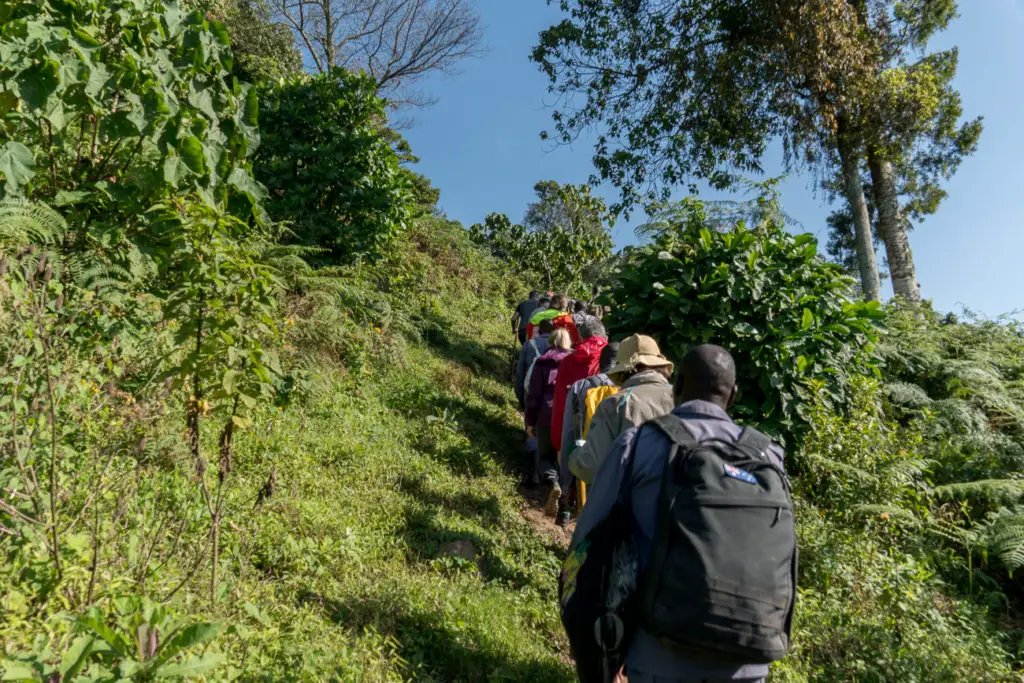 The importance of gorilla trekking in conservation
Because of regional wars and civil unrest over the years, gorilla trekking is a fairly new mainstream tourism venture. In Uganda it began in around 1993, and in Rwanda tourists started flocking to see them in 1999. Tourism has been important both in terms of bringing in tourism dollars for these economies and in helping with conservation for these endangered animals.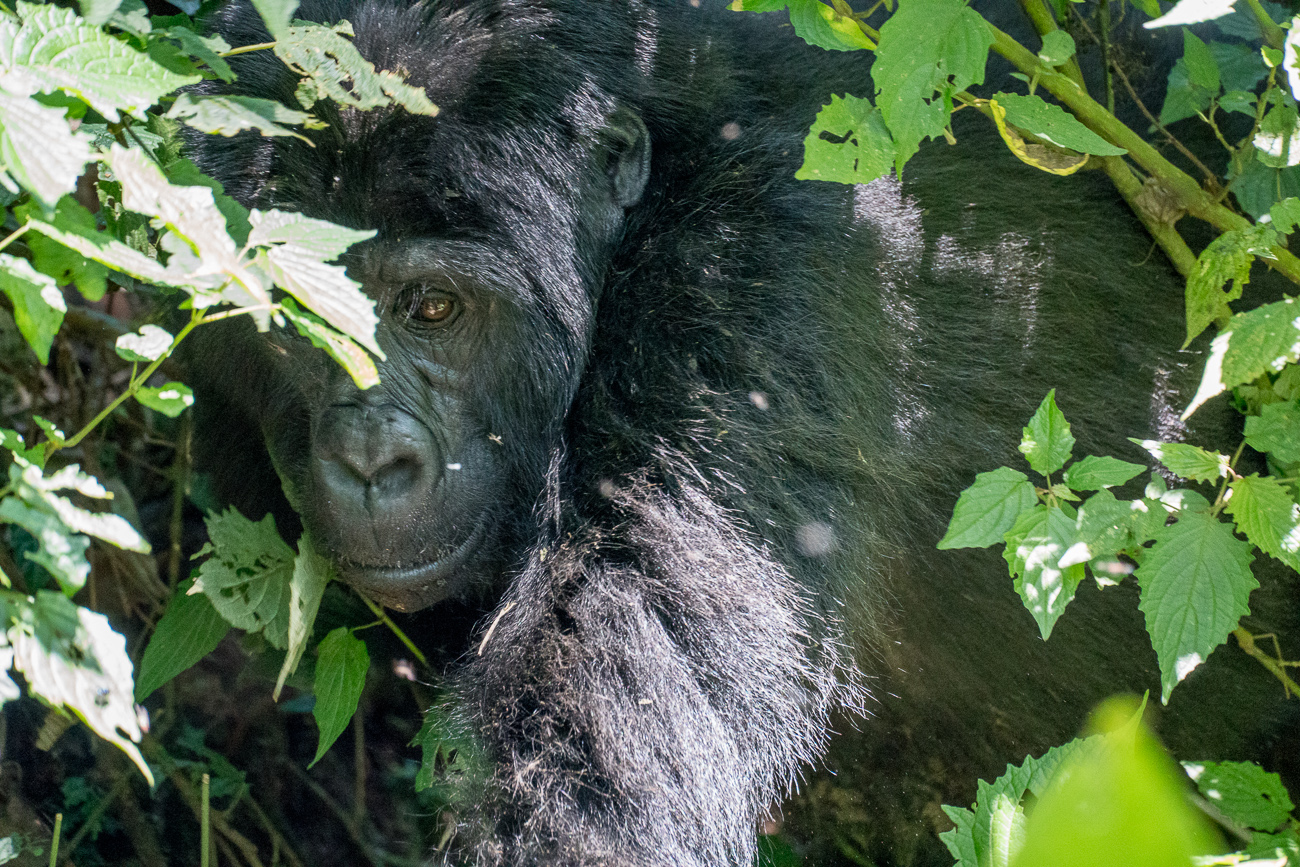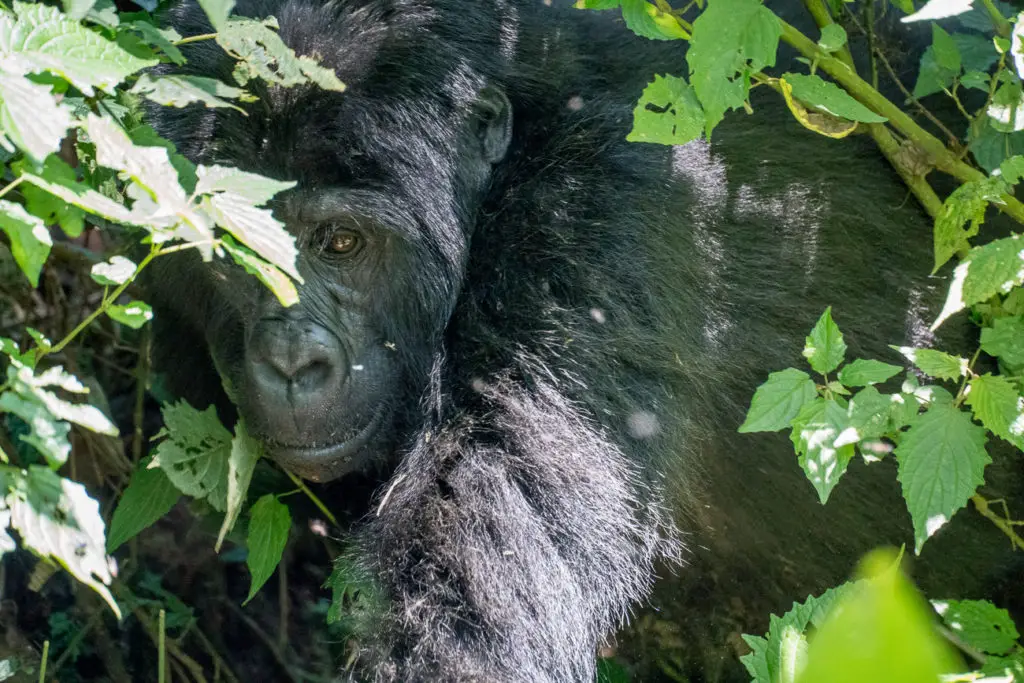 Prior to gorilla trekking tourism, farmers were increasingly clearing land to develop farming plots. This ultimately resulted in a conflict with the mountain gorillas, with their forest areas – the only places they can live – increasingly diminished. Traps would be set for gorillas to kill them. Body parts have also been sold for so-called traditional medicine, a lucrative business. Many gorillas were also killed during the conflicts in Rwanda, Uganda and the DRC.
Now, communities receive a share of the gorilla trekking permit price and have an incentive to help conserve these creatures.
Gorilla trekking in Uganda 
There are two gorilla trekking spots in Uganda: Bwindi Impenetrable Forest National Park and Mgahinga Gorilla National Park.
The unique ecology of Bwindi Impenetrable Forest National Park has resulted in its designation as a UNESCO World Heritage Site. It's home to around half the world's remaining mountain gorilla population, making it a popular spot for trekkers eager to spot a gorilla in the wild.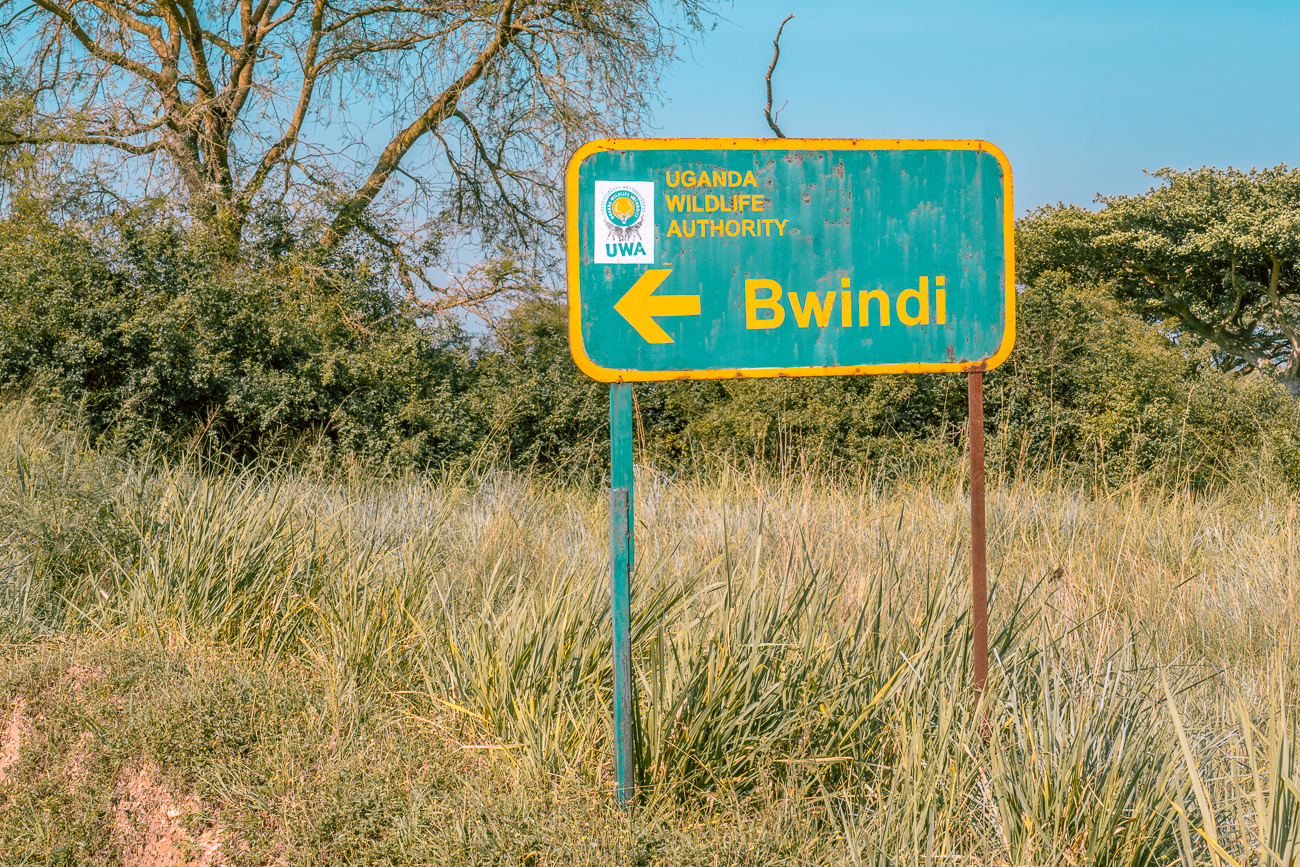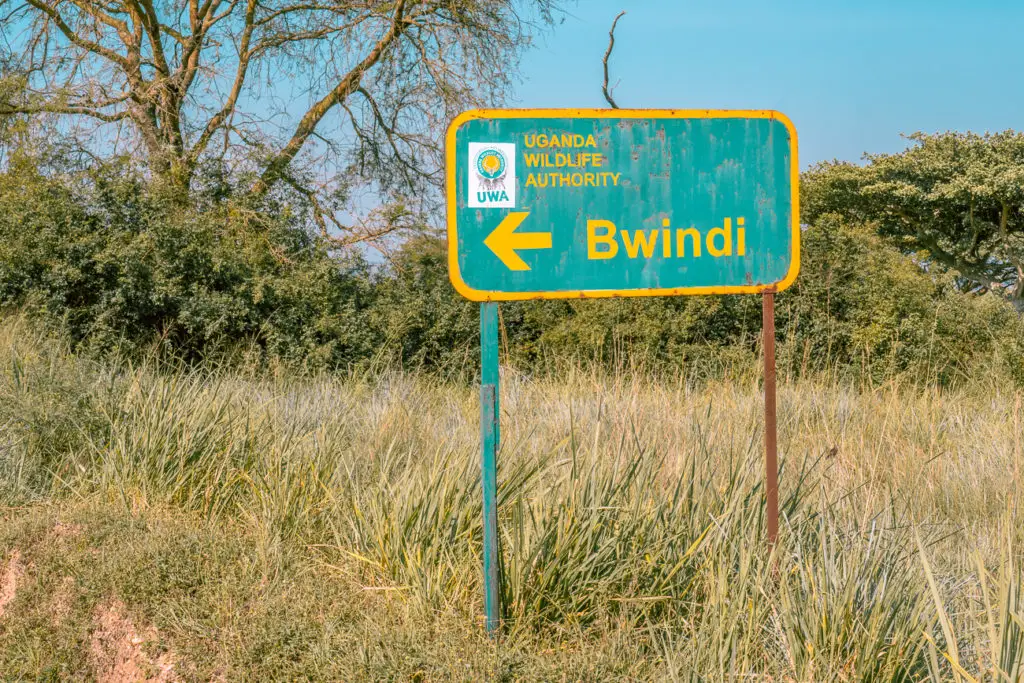 There are 19 habituated gorilla families here that live across four different trekking areas: Buhoma, Rushaga, Ruhija and Nkuringo. These areas are separate parts of the forest, and, depending on which permit you get, your tour company will book accommodation close to this area.
Mgahinga is home to one habituated gorilla family. Mgahinga is right on the border of Uganda, the DRC and Rwanda. The downside of trekking here is that you may not see this family. That's because the family unfortunately doesn't respect country borders and will often slip between countries! 
Uganda gorilla trekking regulations allow only 8 people to visit each gorilla family each day – and for one hour only. This is in addition to the trackers, guides, porters and rangers that accompany each group.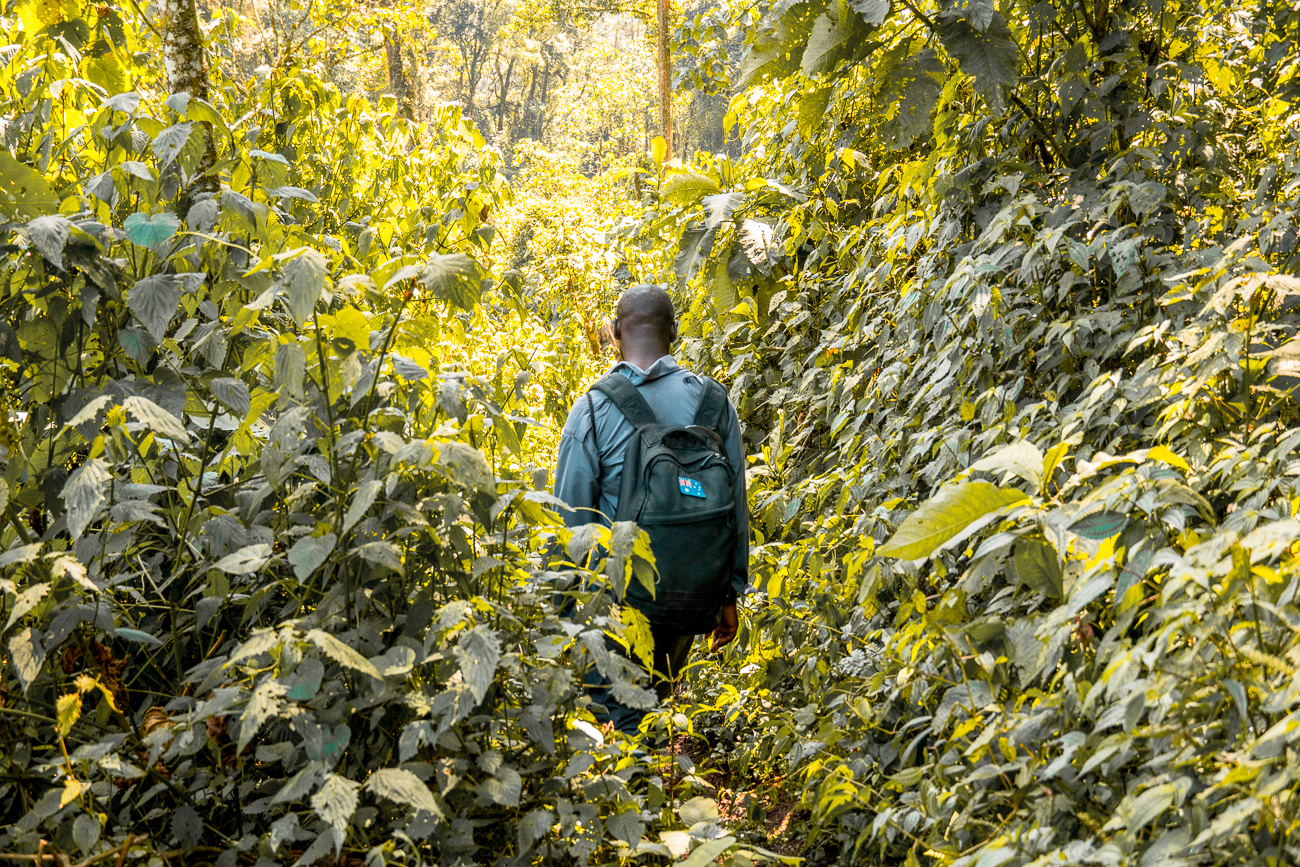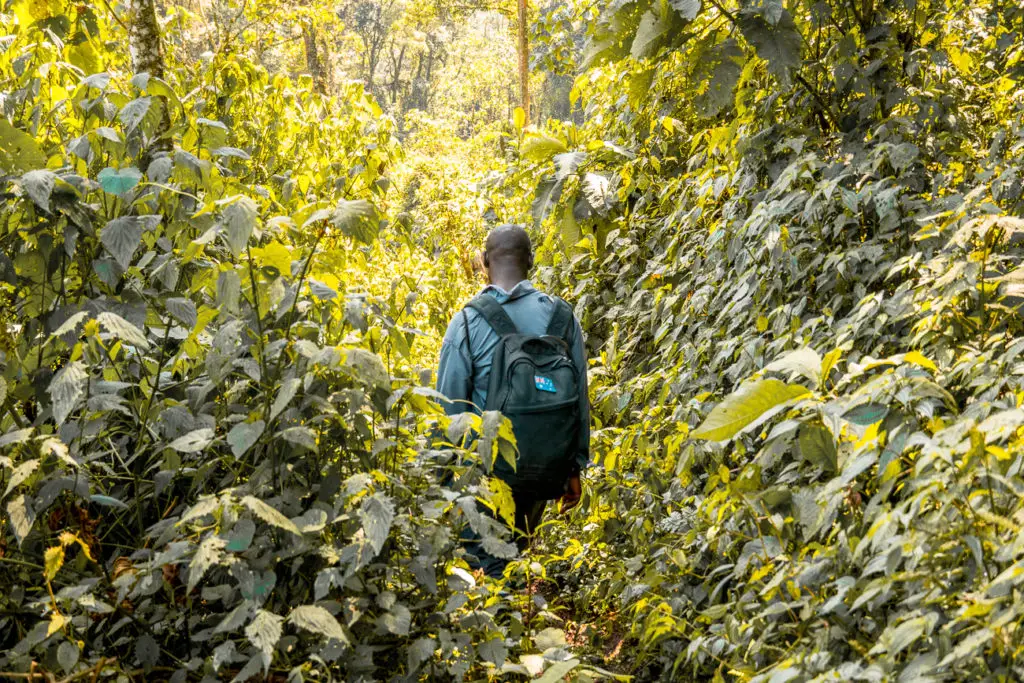 Uganda has a special trekking option called the Gorilla Habituation Experience. On this experience, you'll join trackers as they build their relationship with a semi-habituated family. The trek can be tough. These families still aren't entirely used to humans, so they're not just going to sit they're placidly for you. You may have to follow them through the forest, at times crouching down and mimicking their movements as part of the habitation process and helping them become more comfortable with humans.
Tour companies can help arrange permits for the Gorilla Habituation Experience, which cost US$1,500.
Gorilla trekking in Rwanda
In Rwanda, mountain gorillas are found in Volcanoes National Park in the country's north west. 
There are 12 habituated gorilla families in Rwanda: the Susa, Igisha, Karisimbi, Sabyinyo, Amahoro, Agashya, Kwitonda, Umubano, Hirwa, Bwenge, Ugyenda and Muhoza troops. 
As in Uganda, permits are only issued for 8 people to visit each family per day. That means only 96 tourists can go gorilla trekking in Rwanda each day. Visits last only an hour.
Trekking gorillas in Rwanda is quite accessible, with Volcanoes National Park only a few hours' drive from the capital of Kigali. 
In Volcanoes National Park, you can visit the tomb of Dian Fossey. It's a 30-minute drive from the park headquarters and then a hike of 2-3 hours through the forest.
Gorilla trekking in the Democratic Republic of the Congo
It's possible to go gorilla trekking in the Congo (as the Democratic Republic of the Congo, or the DRC, is often called). Gorillas are found in Virunga National Park in the east of the country. 
However, the Democratic Republic of the Congo (the DRC) is a country facing many challenges, and it's often not safe to visit. Do your research before booking a gorilla tracking safari so that you're aware of the risks of travelling here.
Other than details about pricing, in this article I won't be sharing information about gorilla trekking in the DRC. If you're interested, do a Google search and reach out to one of the gorilla safari companies that pops up.
Gorilla trekking and coronavirus
Because gorillas and humans share almost 98% of the same DNA, gorillas are susceptible to our human diseases.
Wear a mask when gorilla trekking, preferably a N95 mask. If you are wearing a cloth or disposable mask, bring two or more and change them regularly.
If you need to sneeze or cough, turn away from the gorillas and do it into your elbow or tissue.
Wash your hands and sanitise regularly.
Rwanda has introduced mandatory PCR tests and requires a negative Covid-19 result within 72 hours before trekking.
As of publication, to enter or depart Uganda you must present evidence of a negative PCR test taken within 120 hours of arrival/departure.
Check the latest requirements with your tour company before booking any travel.
Gorilla trekking costs
The cost of gorilla trekking differs by country.
In Uganda, a gorilla trekking permit costs US$700 for foreign non-residents. The Gorilla Habituation Experience is US$1,500.
The cost of a gorilla trekking permit in Rwanda is double that of Uganda, at US$1,500 per person. 
In the DRC, permits cost US$400 per person.
Costs are as of 2021. They don't include the other costs associated with gorilla trekking such as a tour guide, food and accommodation.
This may seem a pretty steep price to pay, but these endangered primates need to be protected. Permit prices help pay for conservation efforts, as well as support the local communities surrounding the national parks. It also helps authorities limit the number of people who interact with gorillas, and therefore lessen the chance of diseases being transmitted. (Another benefit is that this isn't an experience that's completely overrun with tourists – yet.)
So, is gorilla trekking worth the money?
In my opinion, yes. If you have the money and seeing wild mountain gorillas is something you've always dreamed about, then this is money very well spent. This is a once-in-a-lifetime experience that you'll never forget.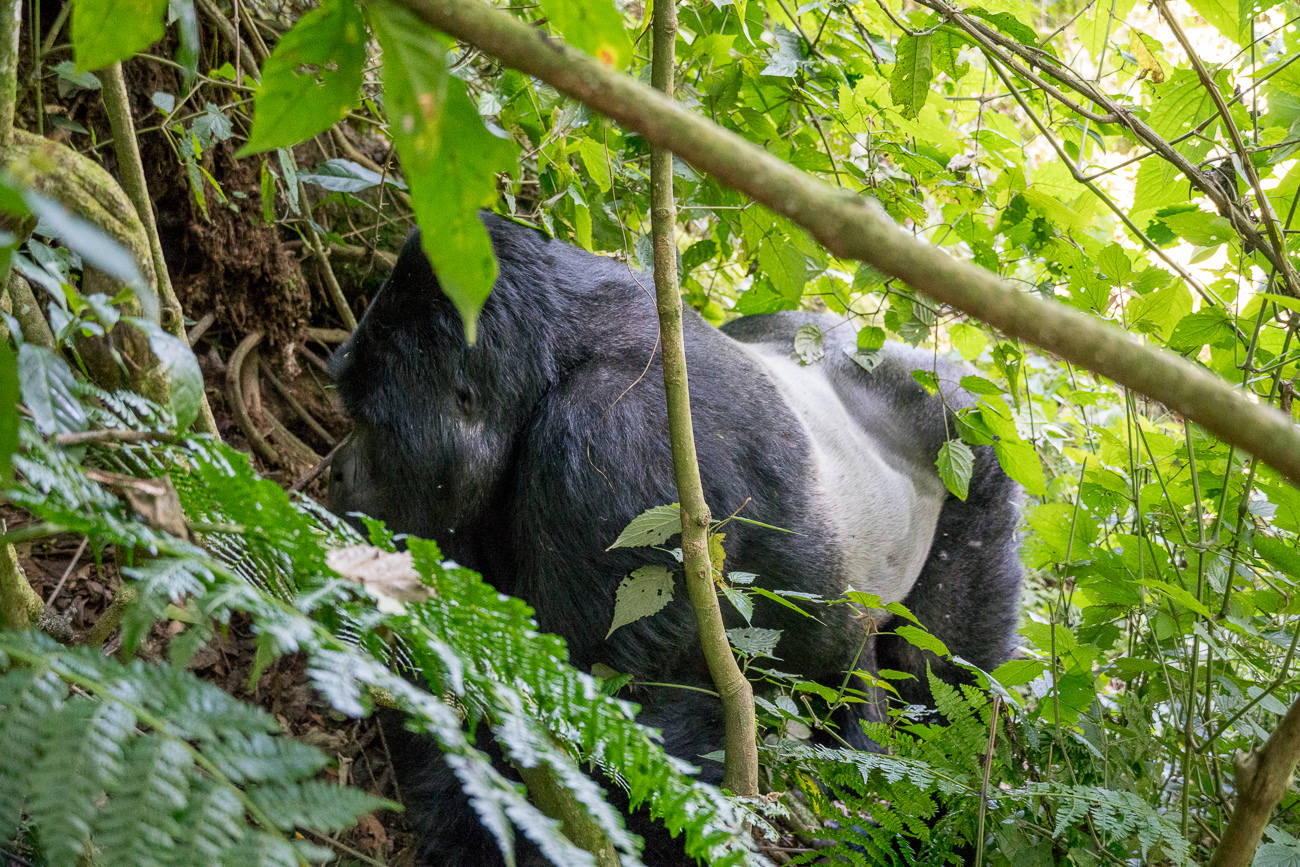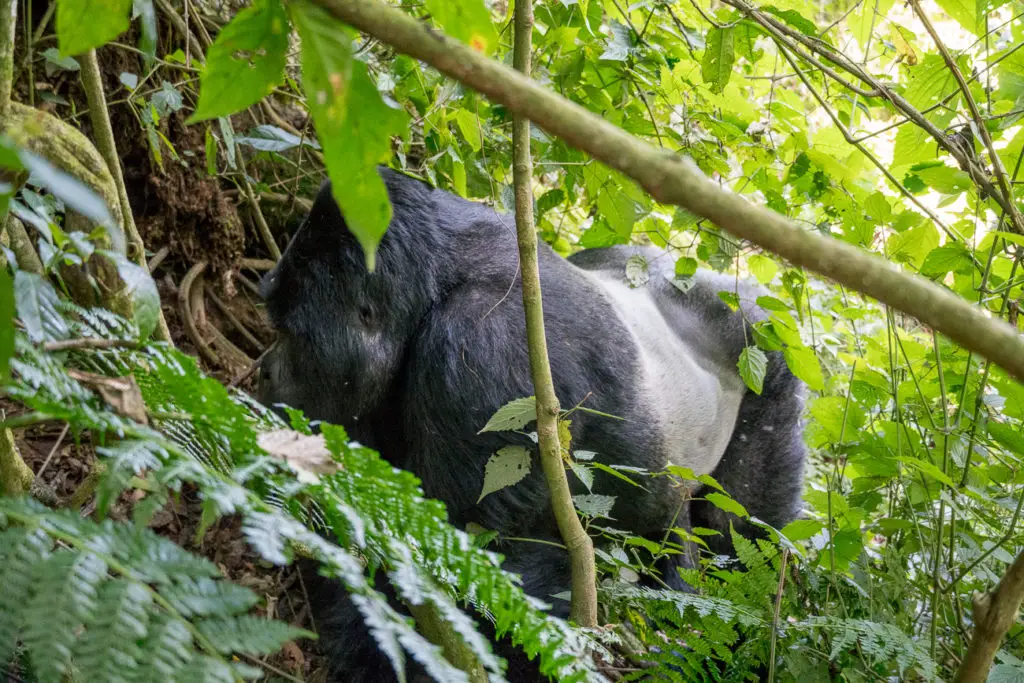 Gorilla trekking Rwanda vs Uganda?
The mountain gorillas in Uganda and Rwanda are the same species. The animals are incredible in both countries and you'll have similar jaw-dropping, potentially life-changing experiences on the trek, regardless of which country you choose.
The likelihood of seeing gorillas in both countries is high. 
If cost is a major factor in your decision on where to go gorilla trekking, then Uganda is the obvious choice. With the cost of a permit less than half the price of that of Rwanda, it'll definitely save you some money.
From what I have heard, Rwanda gorilla trekking can be slightly less strenuous than in Uganda because of the gentler slopes of the climb. But you should still be prepared for a physically demanding hike.
One thing to consider when deciding whether to go gorilla trekking in Uganda or Rwanda is to look at what else there is to do in both countries. One country's tourist attractions might be more of interest to you and that might drive your final decision. 
For inspiration, you can read my Uganda itinerary to find out about some of the other incredible things to do there. 
Rwanda is also a wonderful country, with the cosmopolitan capital of Kigali and many lesser-touristed national parks. I've also done a three-day bike ride along the Congo Nile Trail in Rwanda, which was quite an adventure!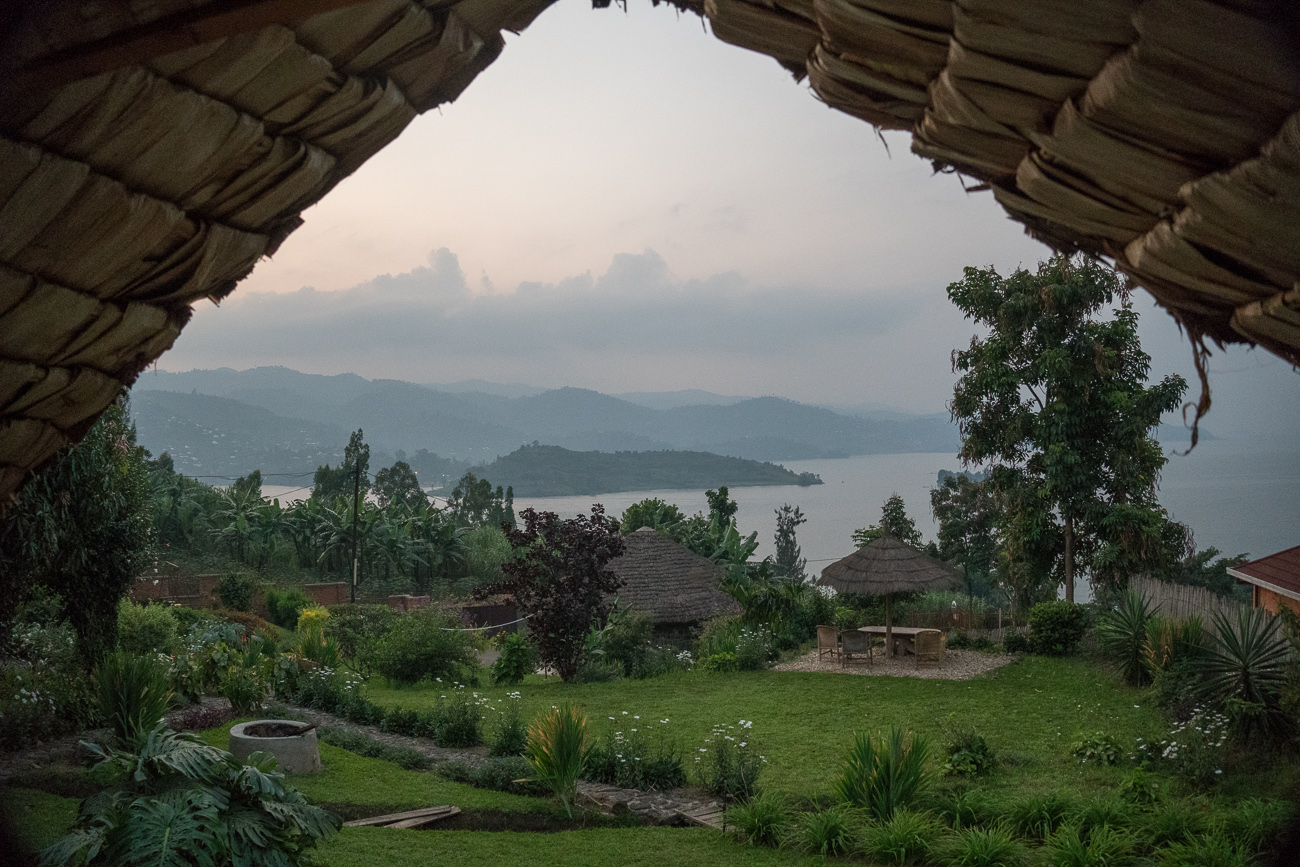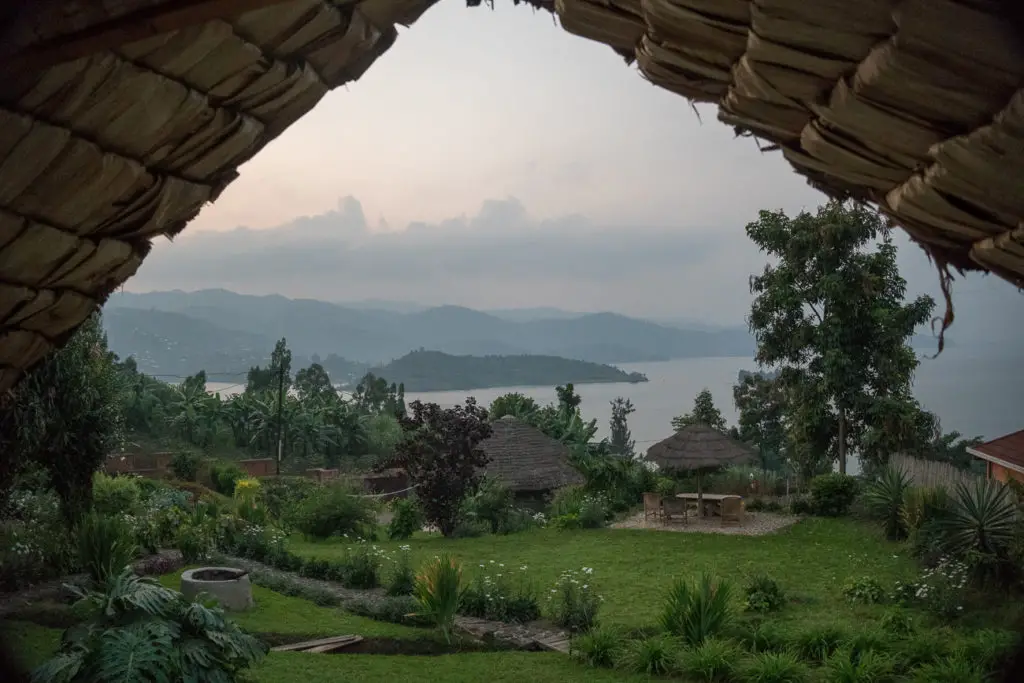 Whichever country you choose, you're not going to be disappointed.
What to expect on the day
Now that you know the basic information about gorilla trekking in Uganda and Rwanda, what's the actual experience like?
I'll share a bit about my experience trekking with gorillas in Uganda.
Waking up at 5am, I showered, dressed and wolfed down breakfast at my hotel before climbing in the car with my guide Shaun, owner of Ellington Safaris. The drive to Bwindi Impenetrable Forest was peaceful, the mist hanging over the valley like a thick blanket as people began to rise.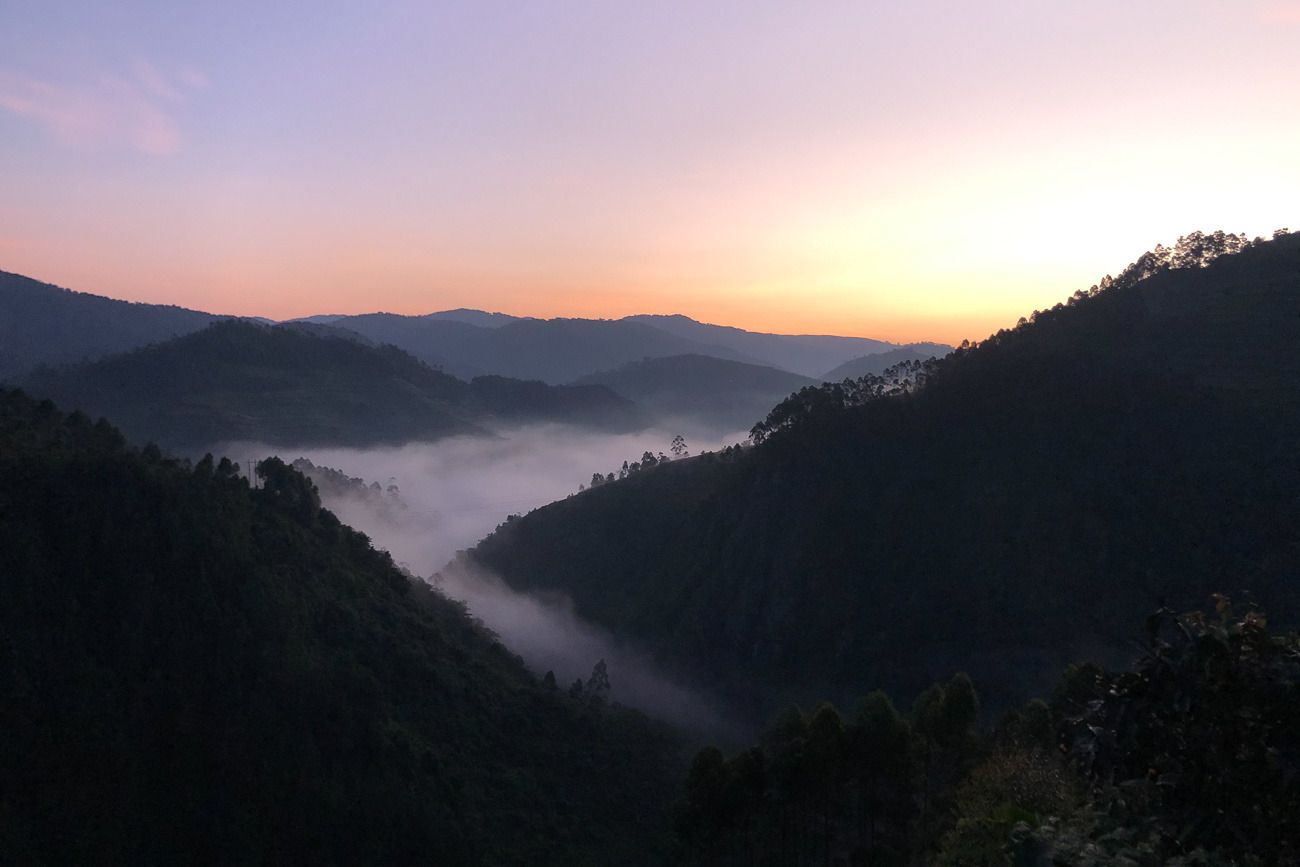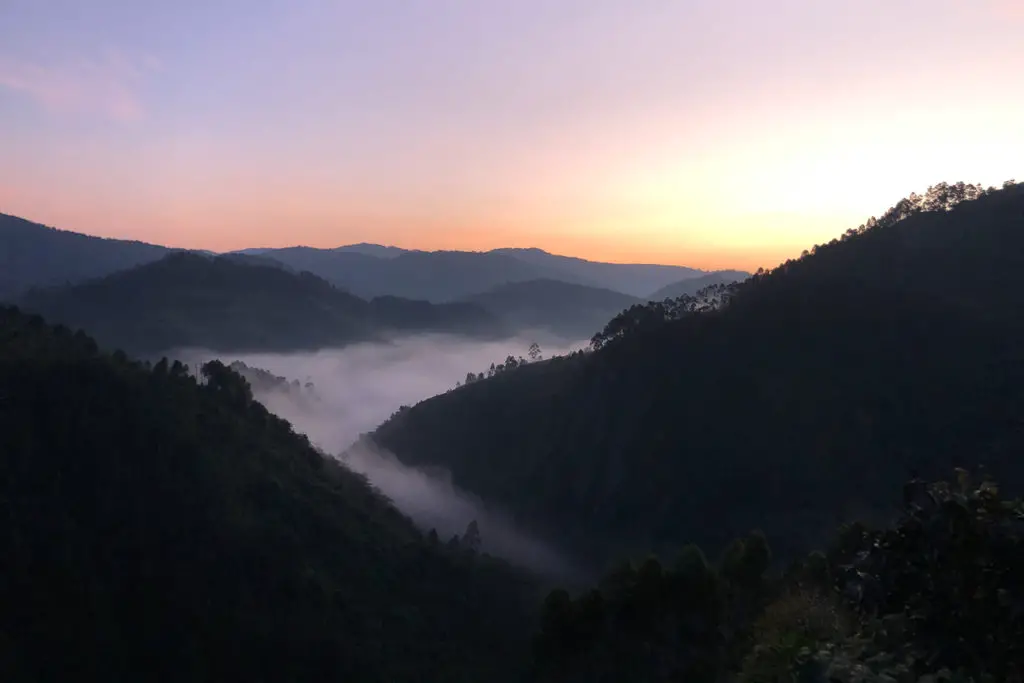 We arrived at the Rushaga section of Bwindi by around 7am, the first in line to enter the park. Shaun knew how eager I was to go gorilla trekking!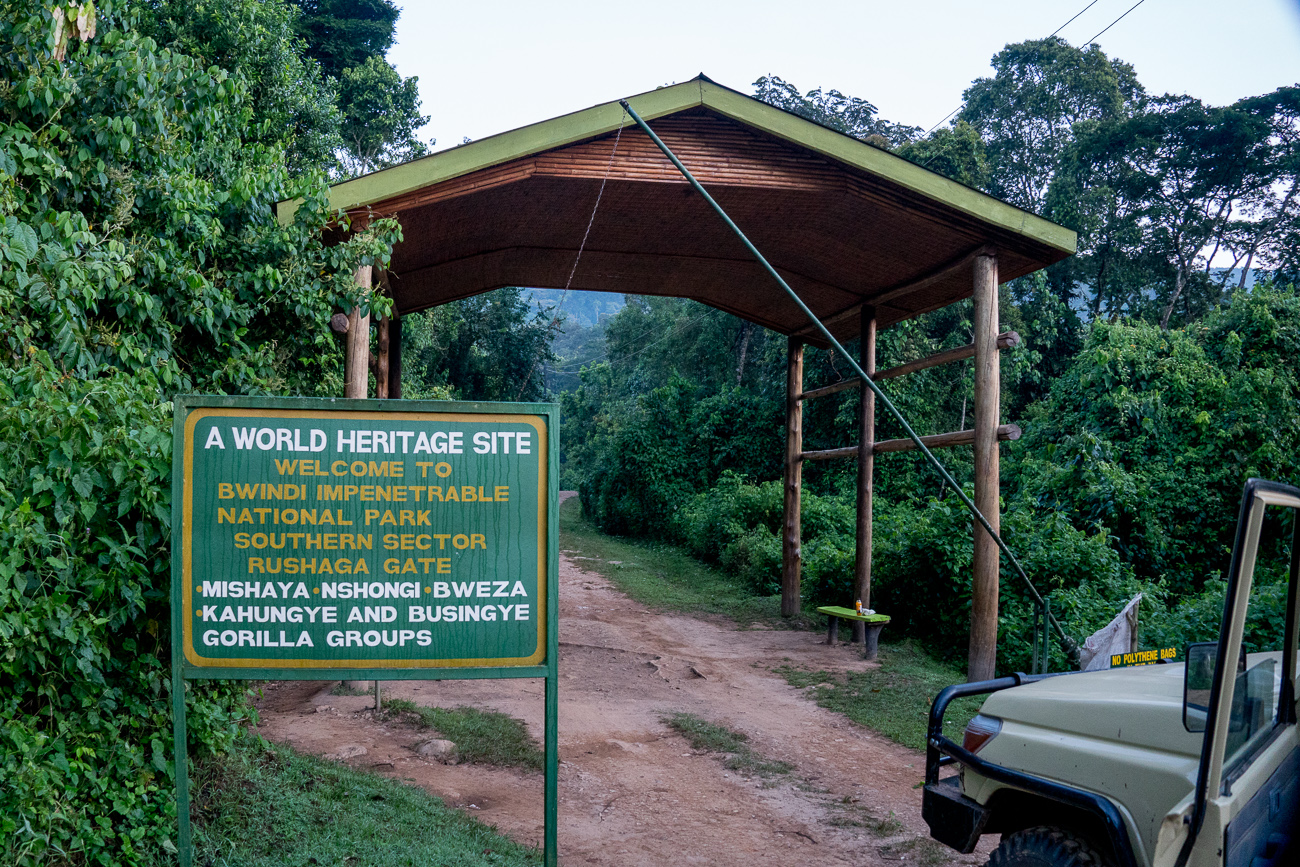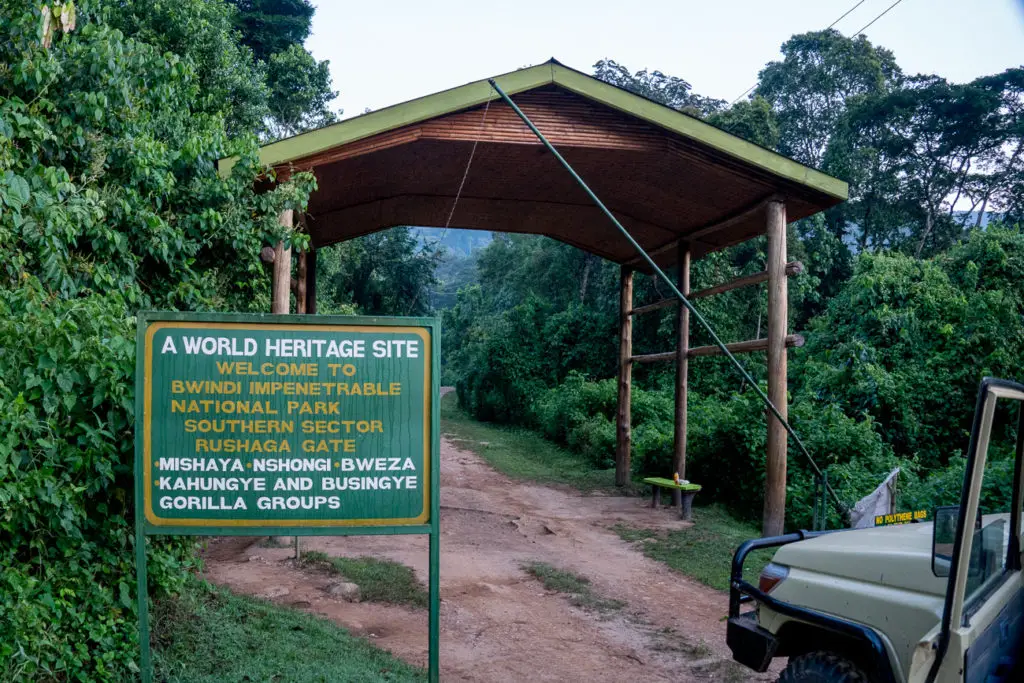 I'd originally been booked in to see the gorillas in Mgahinga, but a tragic accident a few days into my trip had killed several of the family members, so all treks to the family were cancelled. So, my permit had been reassigned. 
After checking in, we trekkers milled about, an excited buzz in the air. Passports were handed over to authorities, before a thunderous drumming and singing performance woke up anyone who was still slumbering at the early hour.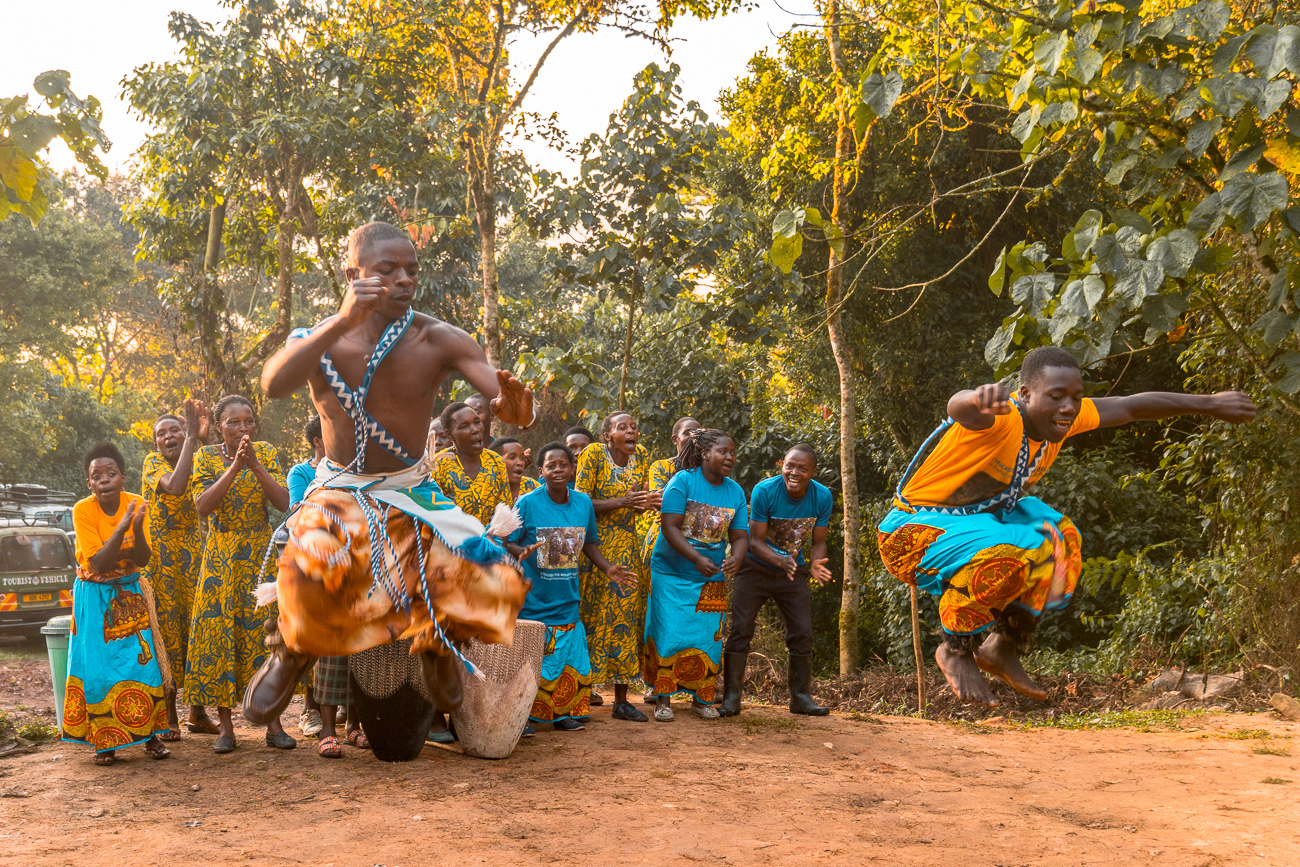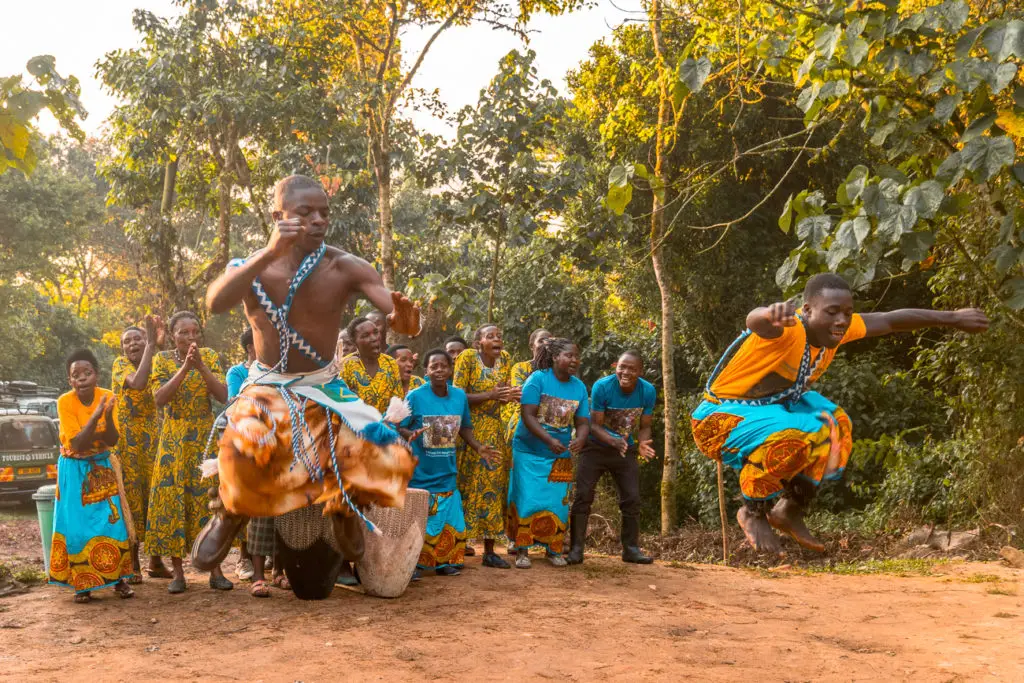 The entire group received a briefing about the rules of the trek, with an important focus on what not to do when we reached the gorillas. Then, each of us were assigned to our families.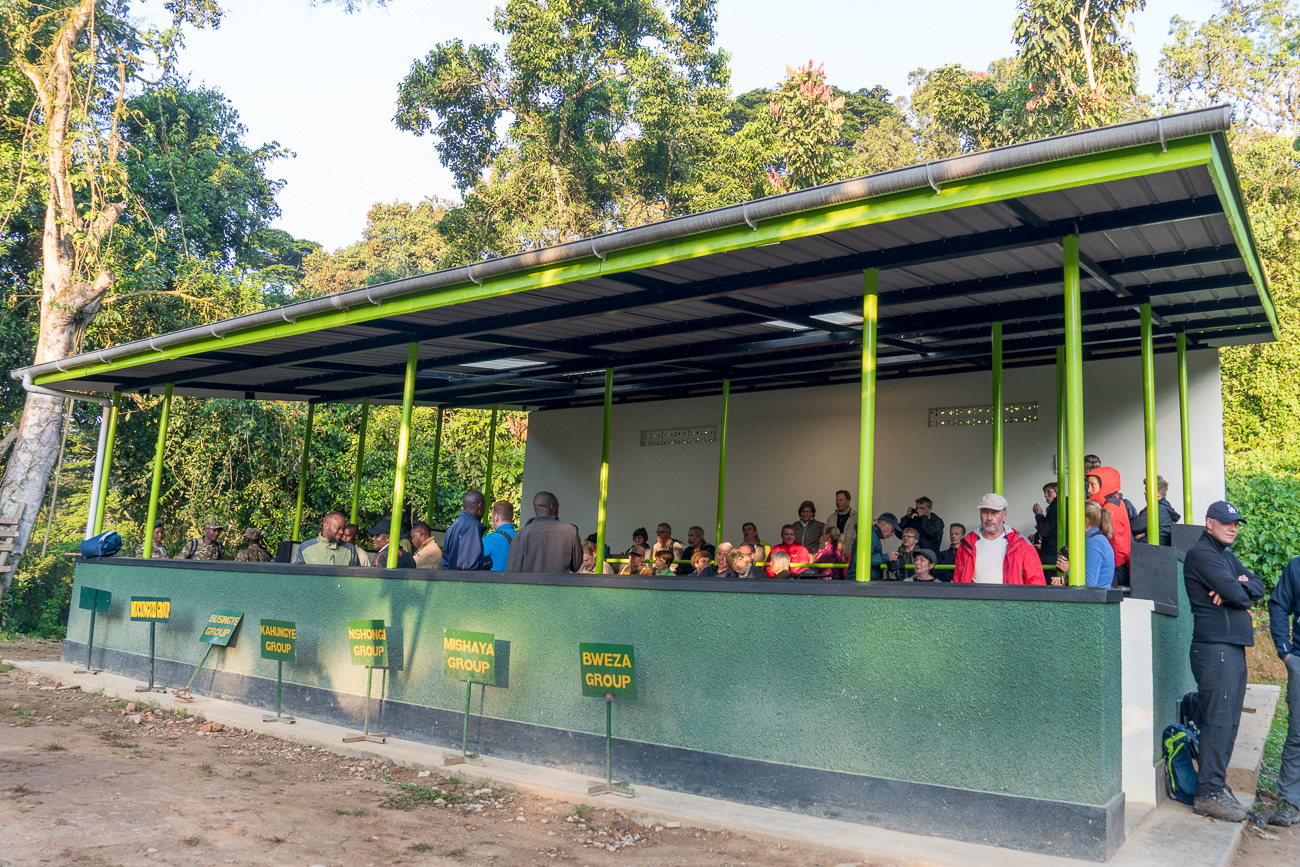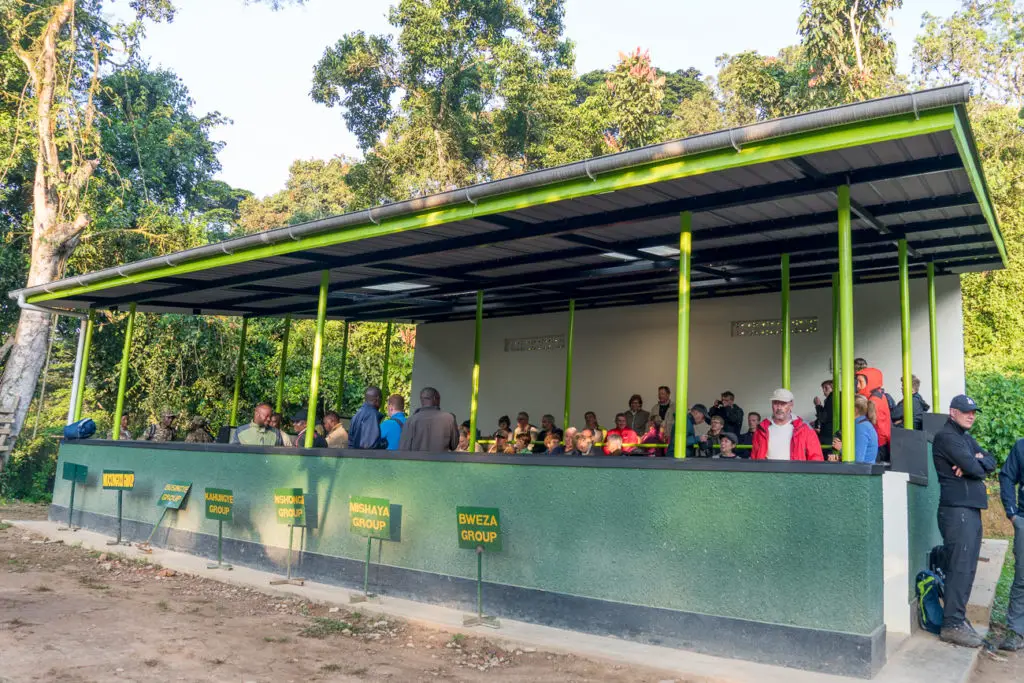 Because I was travelling alone, I joined a group of 7 visitors from Austria. We met our lead guide, Felix, and two guards who would take us to see the Mucunguzi family. This is a family of one silverback, five females (one pregnant at the time) and three babies. Mucunguzi means "peace", and the silverback that now heads the family was named this after the previous silverback fell from a tree and died.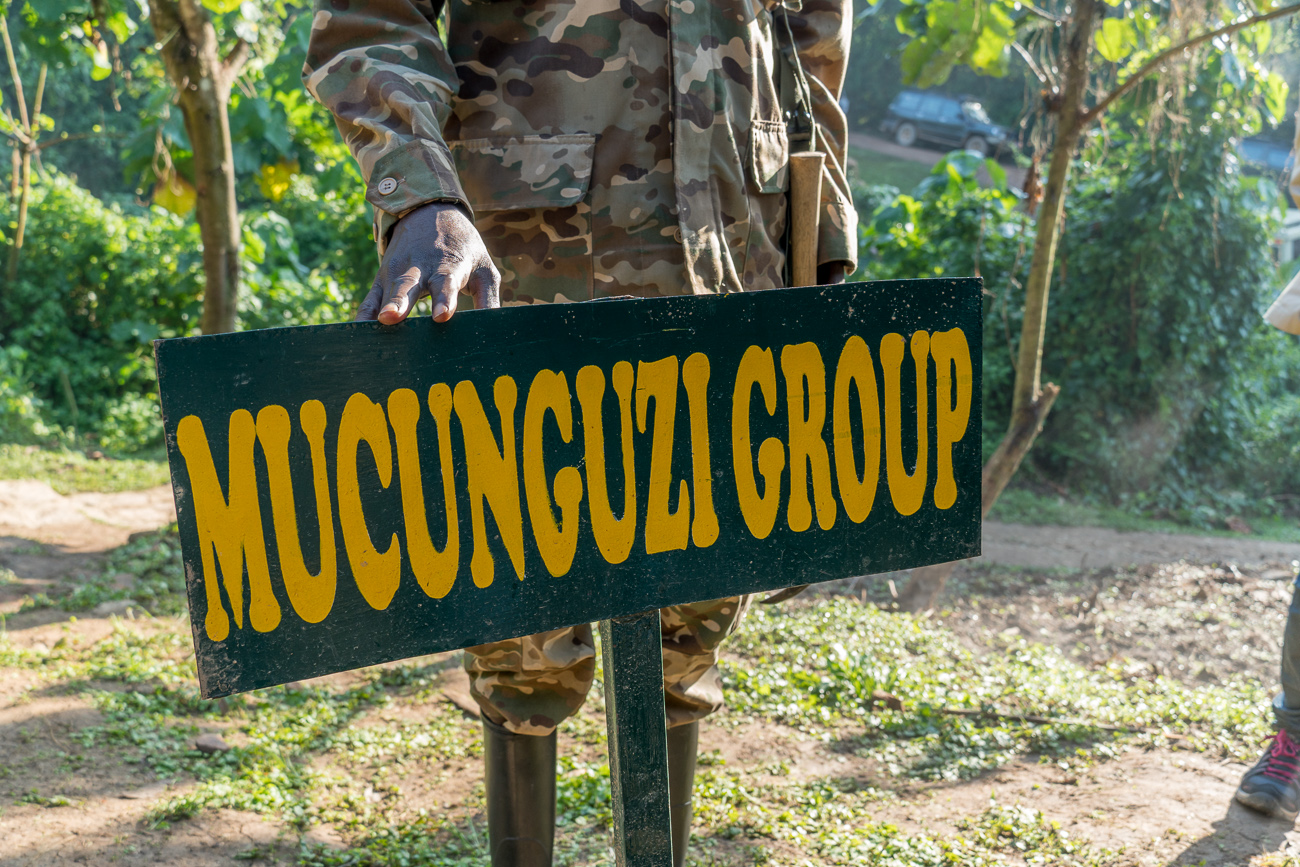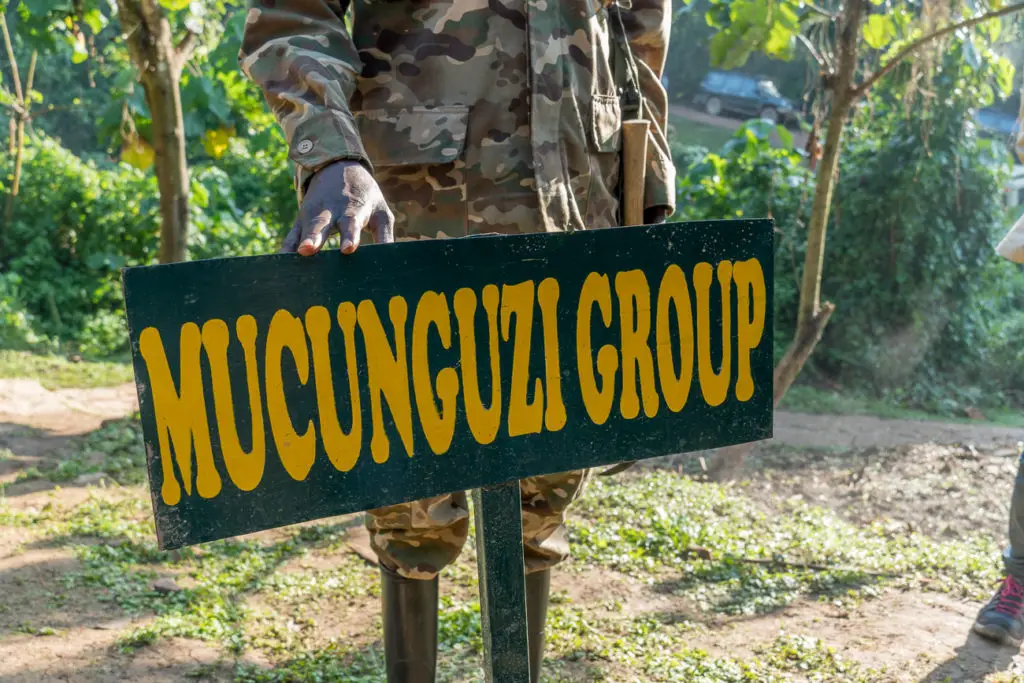 People rushed for a last-minute toilet break before our group climbed into our vehicles. Some treks begin directly from the briefing areas, while others require a short drive to the starting point. 
When we arrived at the entrance to the hike, we met our porters who shouldered our backpacks. The porters are from the local communities and they are rotated to ensure that everyone gets a chance to work. The fee for a porter is US$15, which is money well spent. 
The porters are fit and can easily carry your backpack if you wish. Otherwise, they'll be by your side the entire trek and be there to grab you when you inevitably slip in the mud. Valentin, the porter who was assigned to me, was always one step ahead of me and had a sixth sense about when I was about to slip or slide.
You're also supporting local employment. Plus, you've paid a tonne of money to be here in the first place, what's an extra $15 to hire a young person?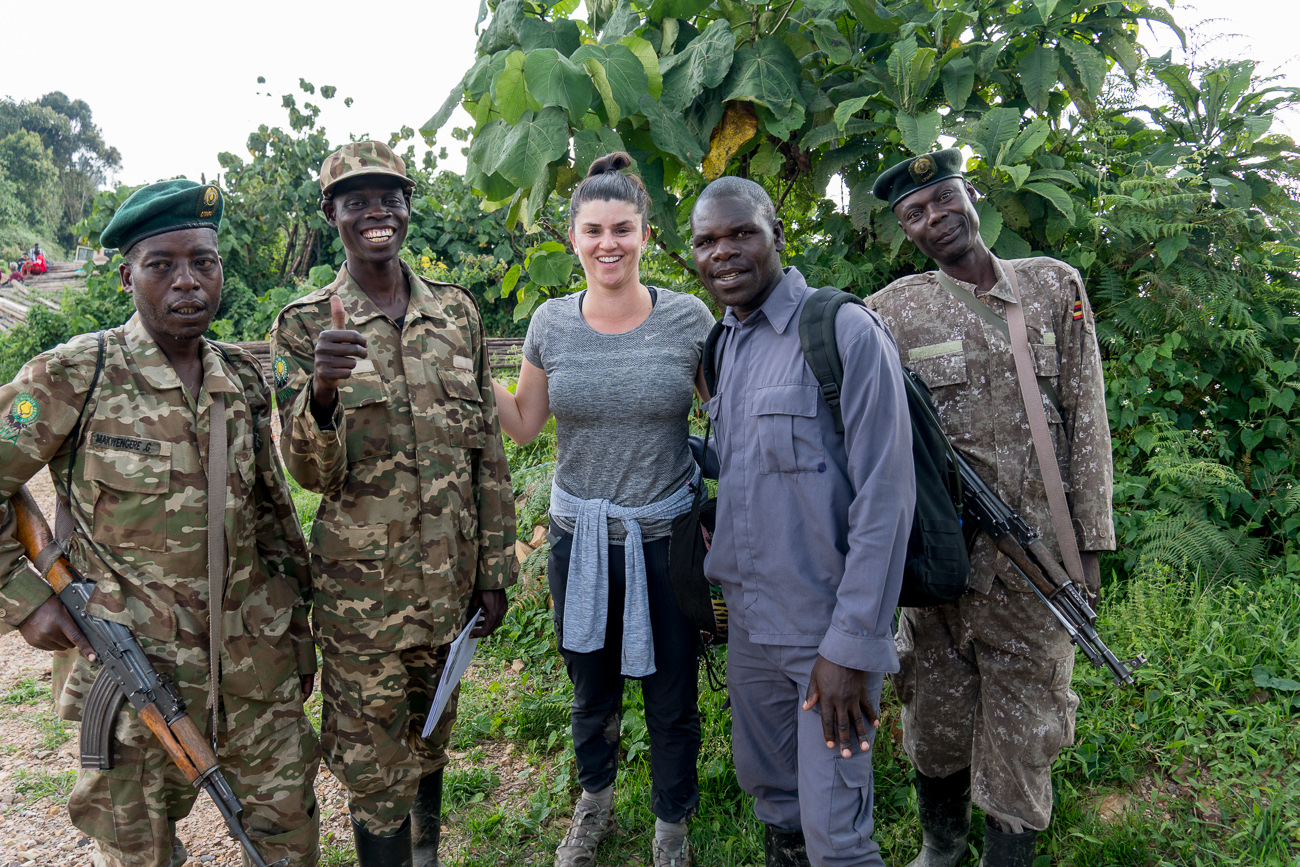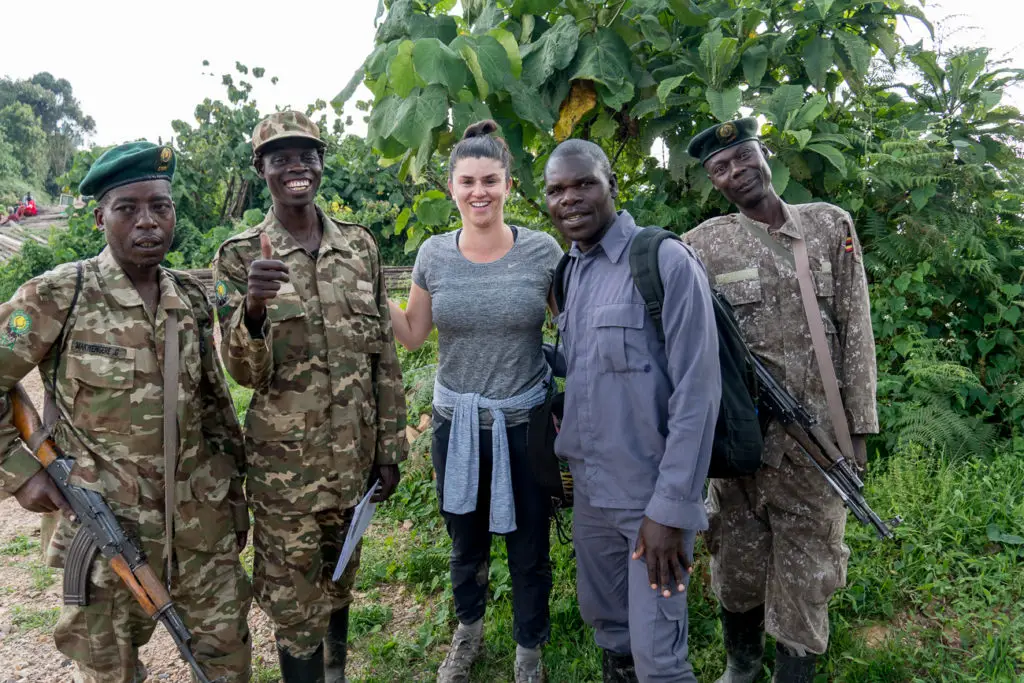 For our group, it was a 2.5-hour hike to the gorilla family. It's important to know that some families can be reached in as little as half an hour, while other groups may require a much longer hike, with a tiring 5- to 8-hour return hike. 
When people are assigned to families after the briefing, the guides do a good job to assign people to an appropriate group. For example, they'll try to assign older people to families that are known to be closer – but it's not always a guarantee that the family will be close that day!
The hike to the Mucunguzi family was steep at the beginning, before we cut through forest where I could barely see a path. Our guide used a machete at times to slice our way through the trees, always in contact with the trackers who had gone ahead hours beforehand to locate the family.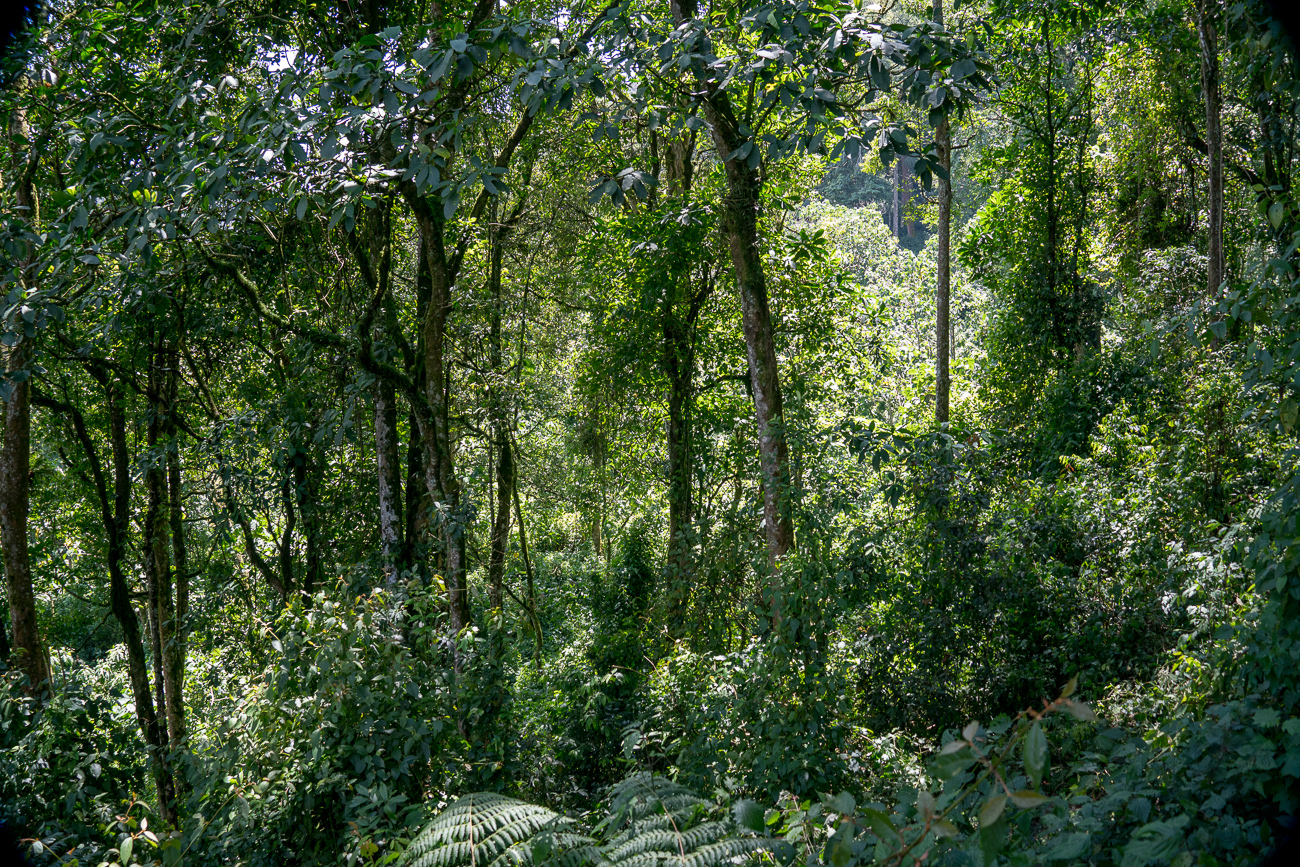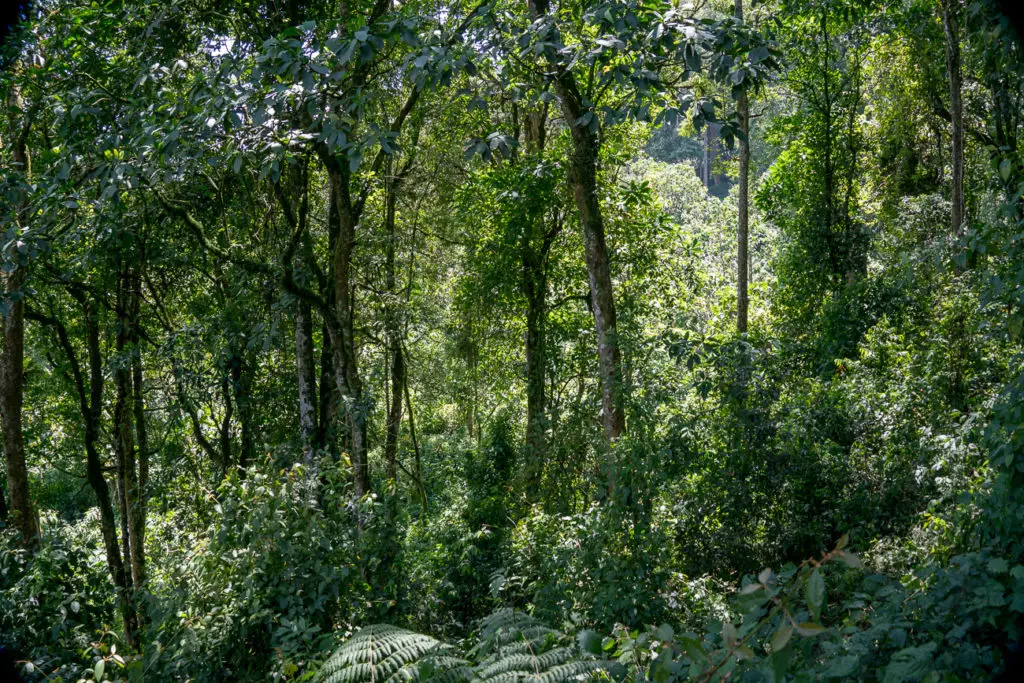 Soon, the guides told us that the trackers were nearby. We left our backpacks with our porters to avoid the gorillas smelling any food and to make it easier to move, and headed to meet the trackers.
When we came across our trackers, I expected that we'd need to hike a bit further to the family. But one of the trackers motioned slightly with his head. When I turned to the right, there was the huge silverback gorilla, lying on his back under a tree only 5 metres away, looking at me nonchalantly.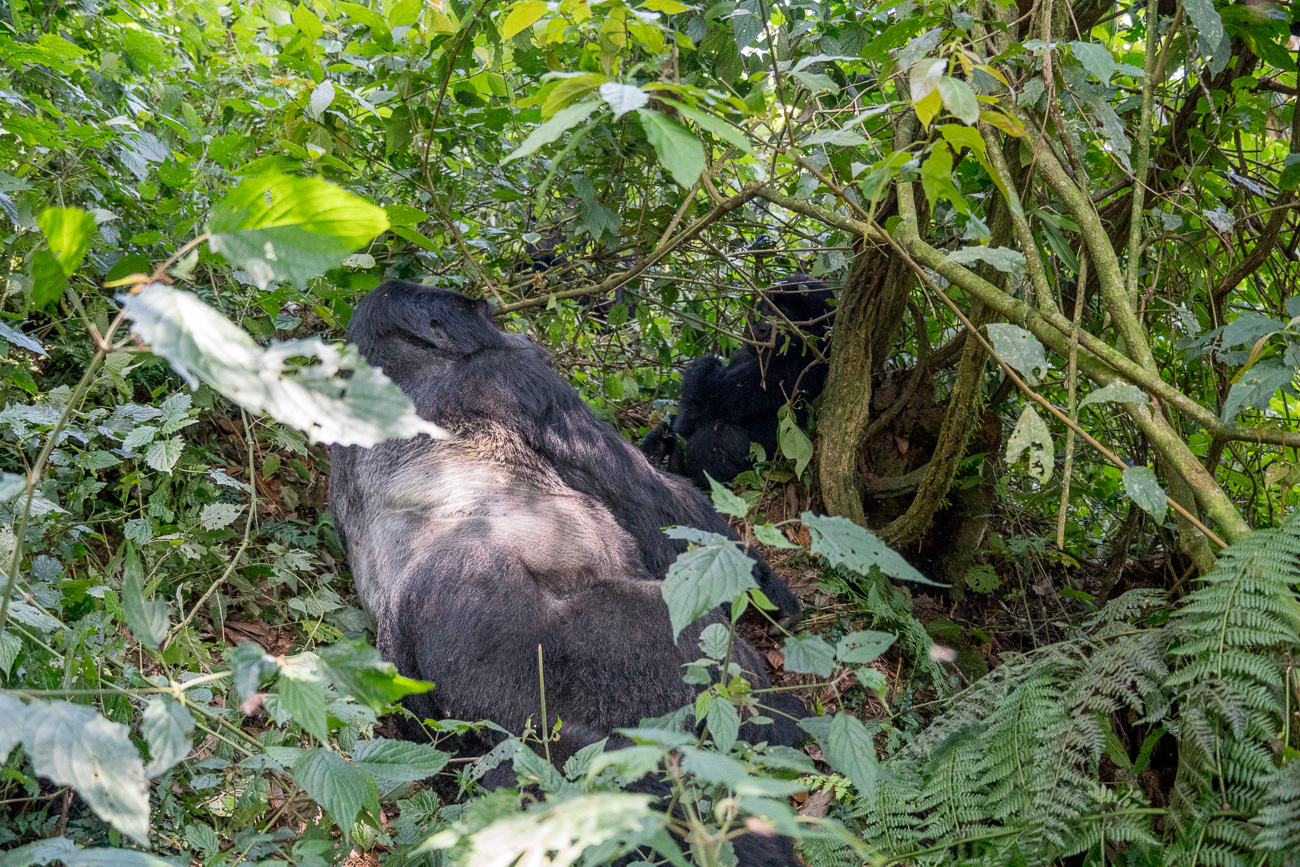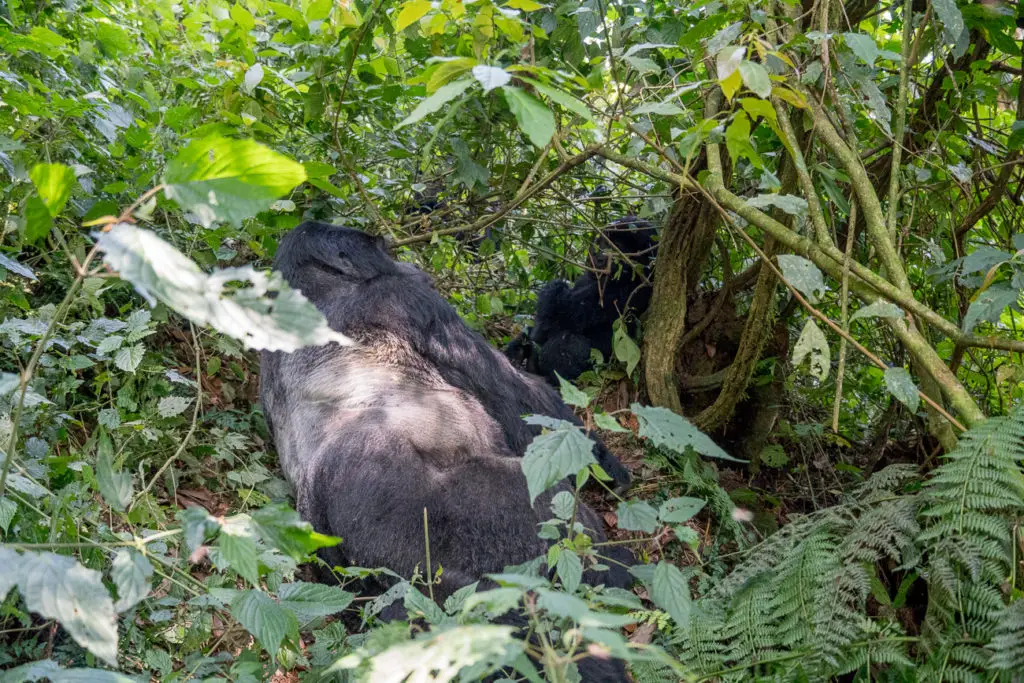 We stared in amazement, snapping photo after photo. After 10 minutes, the silverback scaled a tree, followed quickly by two of the babies. They sat up there for seemingly ages, teasingly looking down at us.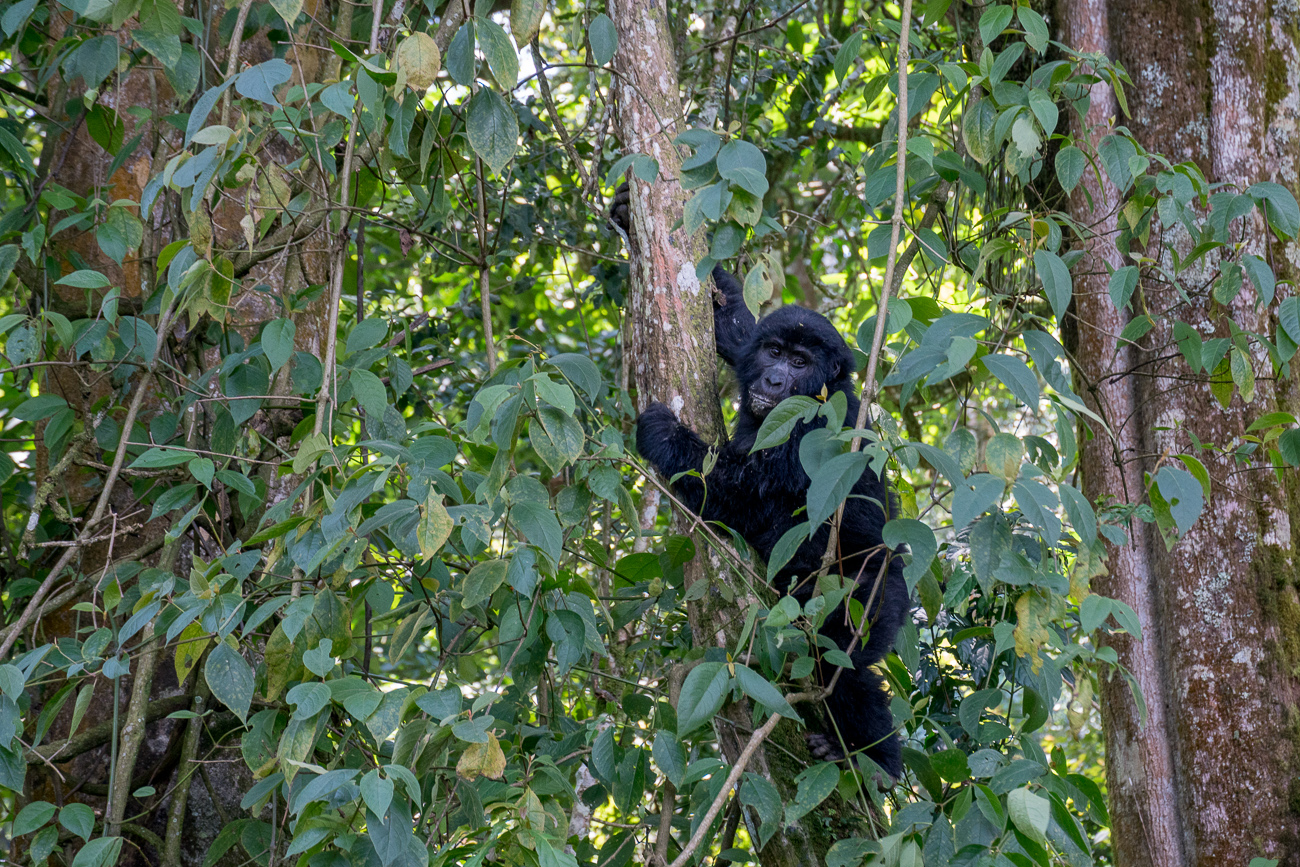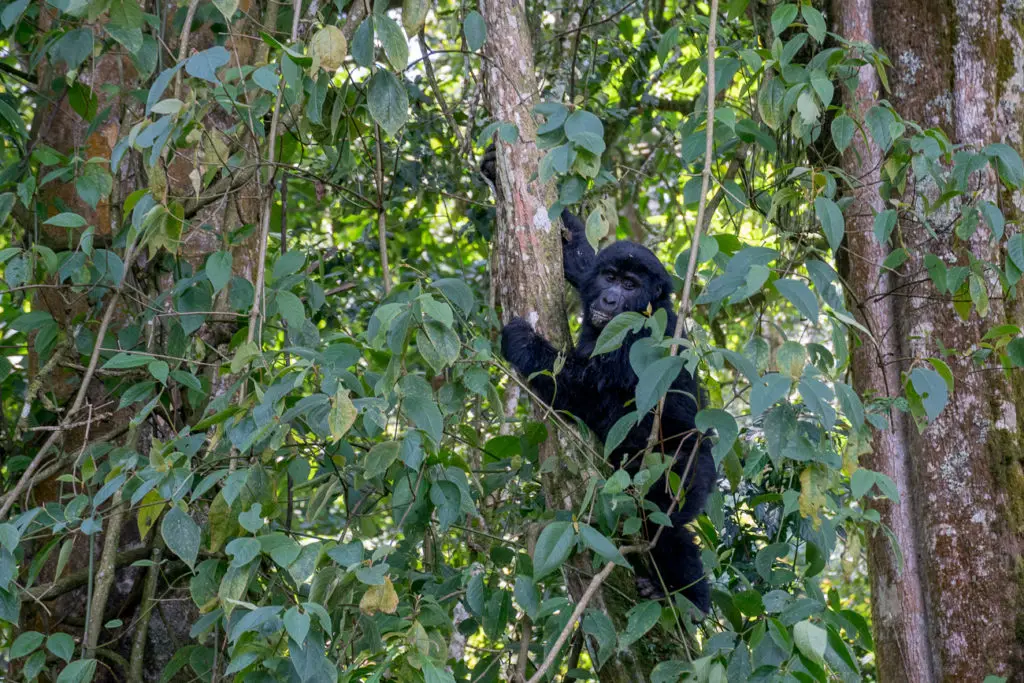 When they finally came down, we followed the silverback through dense forest as he searched for his females. 
From the photos I've seen of other peoples' gorilla trekking experiences, I was under the impression that the gorillas sit on a flat surface, happily having their photo taken, but from my experience that was not the case!
We scrambled after our silverback, a tough climb that left us standing at times in ants' nests and tripping over low branches. At one point, he roared to locate his females and dashed past us, quite an exhilarating and nerve-wracking sensation!
After what felt like only a few minutes in the presence of these amazing creatures, our guides said our time was up and, reluctantly, we made the hike back to our vehicles.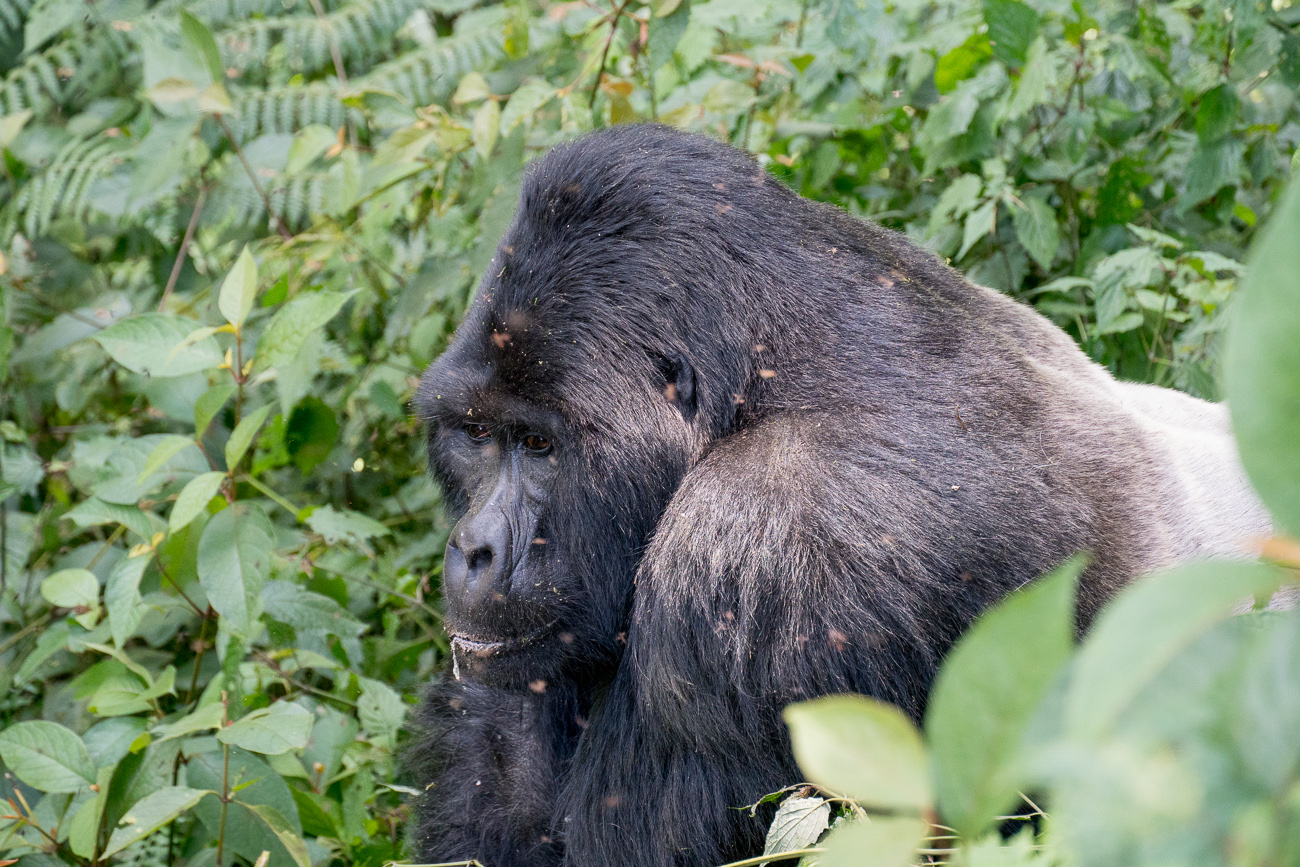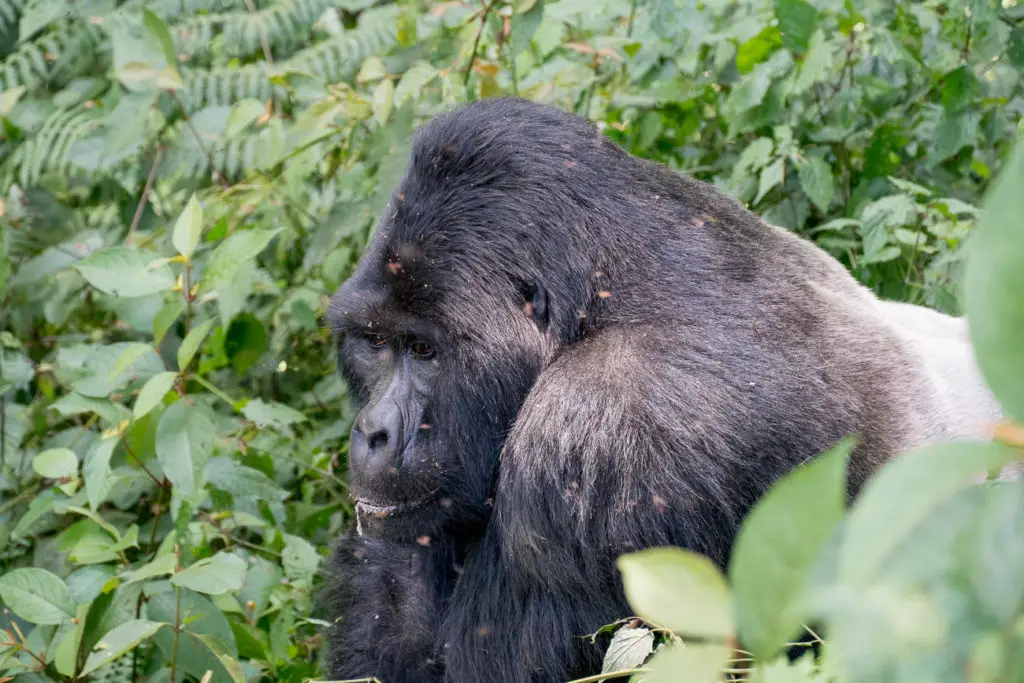 More FAQs about gorilla trekking in Uganda and Rwanda
Tips / need to know info 
There are a few important things to know about trekking to see gorillas.
Once you decide you're visiting Uganda or Rwanda, organising your permit should be one of the first things you do. Ideally, you should be talking to your tour company about booking your permit 4-6 months in advance of your trip. This is especially important if you're travelling during the high season or if you're travelling with a large group of family or friends and therefore need several permits. I recommend doing this before you even book your flights. You don't want to have your flight set and then find out that all the permits have been snapped up during the time you'll be visiting.
Visitors must be 15 and older to get a permit and go gorilla trekking in Rwanda or Uganda.
You should be fit and spend a few weeks (at least) preparing for the hike. Treks can be physically demanding – especially at altitude. Be prepared to hike for 5-8 hours.
Got the sniffles or diarrhoea? If you're sick, you can't go on the trek. Gorillas are highly susceptible to human diseases and one sneeze could wipe out a family. Be responsible and tell your guide if you're not feeling well – especially now in the time of COVID-19. If you are ill, you can reschedule your permit date (if there are other dates available) or you'll get a 50% refund.
It's very unlikely that you won't see gorillas on your trek, but if that happens, you'll get a 50% refund. The guides will work hard to locate another family for you to visit, if it's possible to get to them before it gets dark.
Only 8 people can visit each family each day, and only for 60 minutes.
Flash photography isn't permitted, so have your camera ready to photograph in low-light conditions.
Stay at least 7 metres from the gorillas at all times – this has now increased to 10 metres because of coronavirus. However, gorillas don't like rules, and sometimes they might be curious and approach you! If this happens, stay still and listen to what the guides tell you to do. Don't run away if they come near you.
Keep your voice low and don't yell or scream.
Take everything out with you – rubbish, food scraps, everything. You shouldn't even spit on the ground, because gorillas can catch diseases that way.
Bring cash with you. The fee for porters is US$15, but bring along extra money to tip them at the end. While the cost of guides and guards is included in your permit, don't forget to tip them, too. The lead guide will collect the tip money from your group and distribute it among the guides, trackers and guards.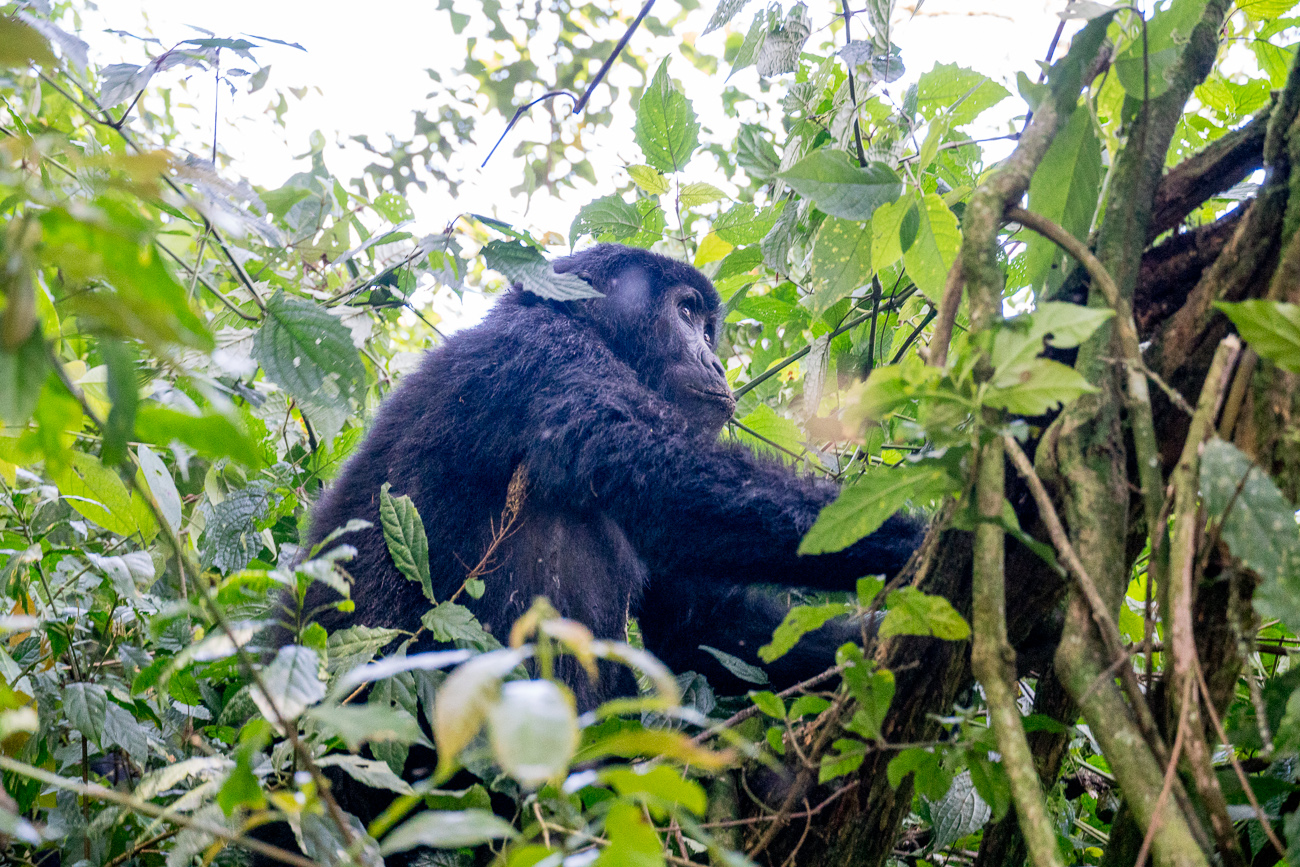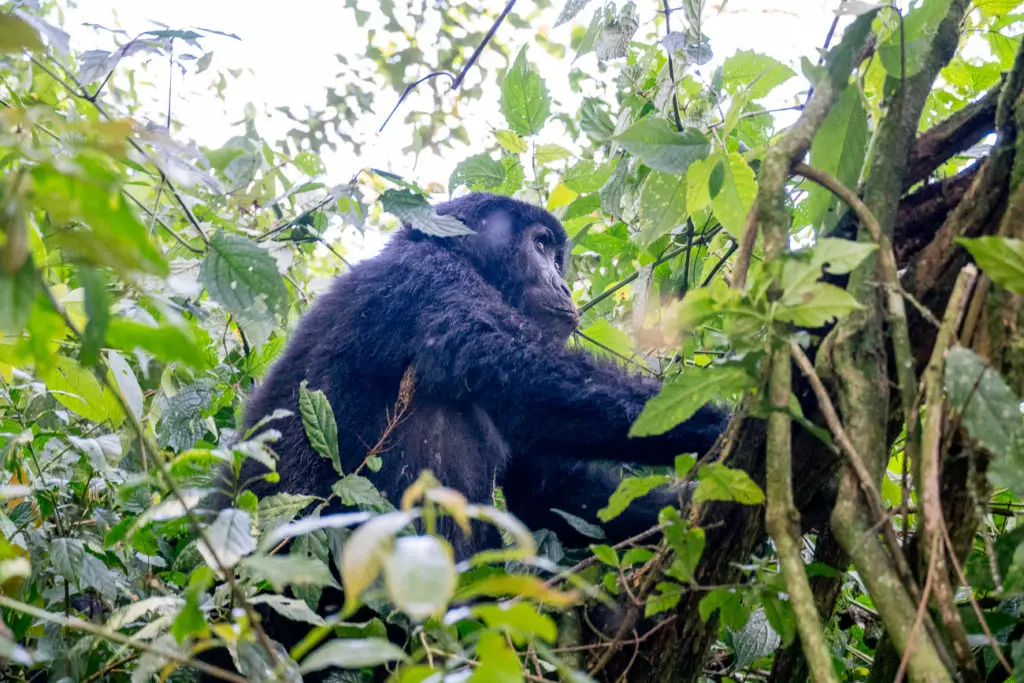 Best time of year for gorilla tracking
Gorillas are hanging out in the forest all year-round. But for visitors, the rain at certain times of the year may be a deterrent. The dry seasons are usually more comfortable for trekking, but that's not to say that you won't see rain at all.
In Rwanda, the dry season is from mid-December to early February and then in June to September.
Uganda's dry season is similar, from January to February and then from June to September.
If you do decide to visit in the rainy seasons, then you'll have less competition for permits and there'll be fewer travellers. You may not have to hike as far, either, as mountain gorillas tend to go to lower altitudes during the rains. Plan to battle steep, muddy paths and at times heavy rain.
Do I need a tour?
The best way to have your own experience with mountain gorillas is to book with a licensed guide. This will save you a lot of hassle and organisation, as you'll have someone coordinate your booking permits, accommodation and transport. 
I'm so glad I did it this way. I highly recommend Ellington Safaris to coordinate a gorilla safari in Uganda. And Shaun can create Uganda tours that cover more of the country. Shaun can also organise gorilla tours in Rwanda. You could even ask him to plan an itinerary that covers both countries!
You can read more about why I think you should hire a private guide for a safari in East Africa.
But of course tours can be expensive. If you're travelling on a budget and are resourceful and can plan ahead, then you can organise your own permits ahead of time. You will of course have to join the guided tours within the national park per your permit (you can't visit the gorillas on your own).
You'll also need to arrange your own transport to and from the park and accommodation. Check Rentalcars if you're happy to drive yourself. Otherwise ask around for a reliable driver – online forums are a good place to start. Public transport is also available.
Booking.com lists several accommodation options for both Uganda and Rwanda. Note that many tour companies pre-book rooms for their guests, so you may need to call hotels and lodges directly. Remember that you'll need to figure out which hotel is closest to your park section entrance so that you don't need to drive for hours in the morning to get to your trek.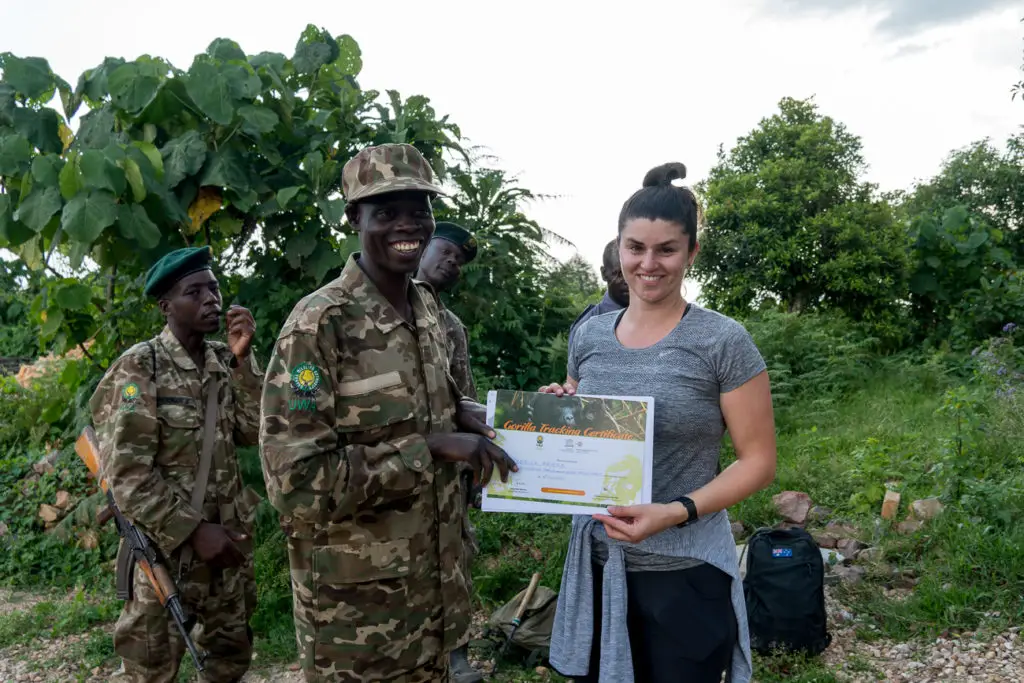 How to get permits independently
As soon as you know you are gorilla trekking, book your permits. Most tour companies will recommend you book at least 4-6 months in advance during high season. In low season, you may be able to book two months ahead – or sometimes you can even get a permit on the day.
In Uganda, contact the Uganda Wildlife Authority to obtain your Uganda gorilla permit. It can be notoriously difficult to apply and pay for the permit, so patience will be required. 
To get a Rwanda gorilla permit, book through the Rwanda Development Board.
What to pack for a gorilla trekking safari
I have a full guide to what to pack for gorilla trekking, but here's a brief list of the items that you must take with you on the day.
Passport
Good hiking boots that are worn in and waterproof
Long pants and long-sleeved top – choose moisture-wicking fibres and layer up
Rain jacket or poncho
Face mask
Gardening gloves (to protect your hands from bushes and plants)
Plenty of water
Lunch and snacks
Sunscreen and insect repellant 
Camera (with the flash turned off)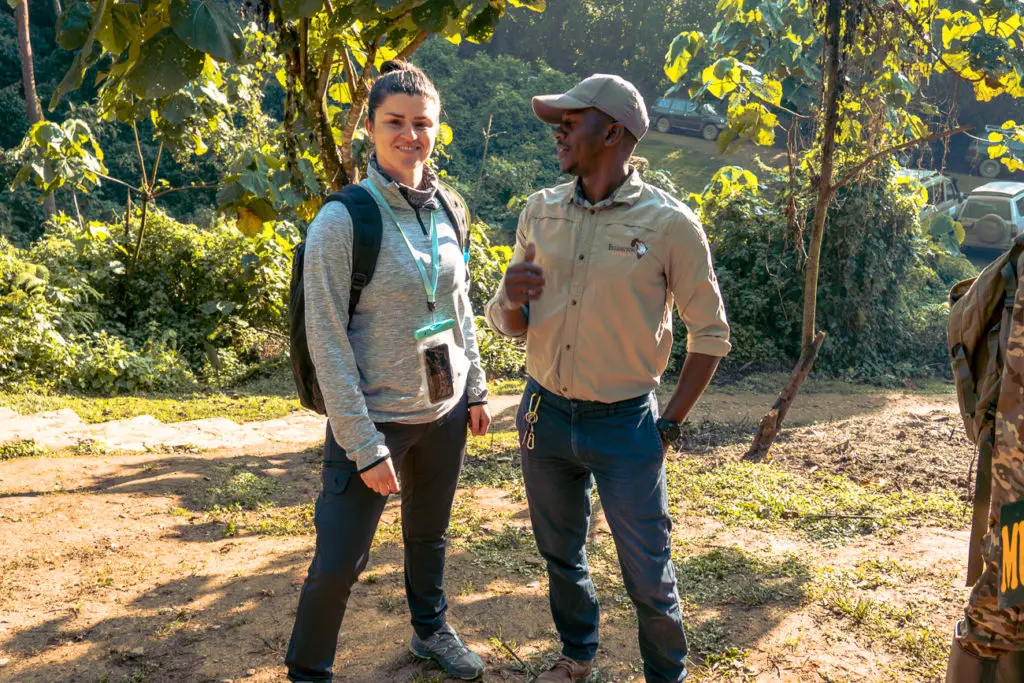 I also have a full East Africa packing list so you can plan what to pack beyond the gorilla trek experience.
Is gorilla trekking safe?
It's definitely nerve-wracking to stand so close to such a powerful animal, but yes, gorilla trekking is safe.
Gorillas are habituated to humans over many years and humans aren't introduced to them until experienced trackers are confident that it's safe to do so.
Armed guards accompany every gorilla trekking group. But this is actually to protect people against elephants or buffaloes (which are surprisingly aggressive animals) rather than against gorillas.
The important thing is to listen to every instruction your guides and trackers give you. Don't move suddenly, don't yell or scream or frighten the gorillas and don't run away if a gorilla approaches you.
During my time, it seemed as if the gorillas were ambivalent to our presence, regarding us as merely nuisances to their sleeping time.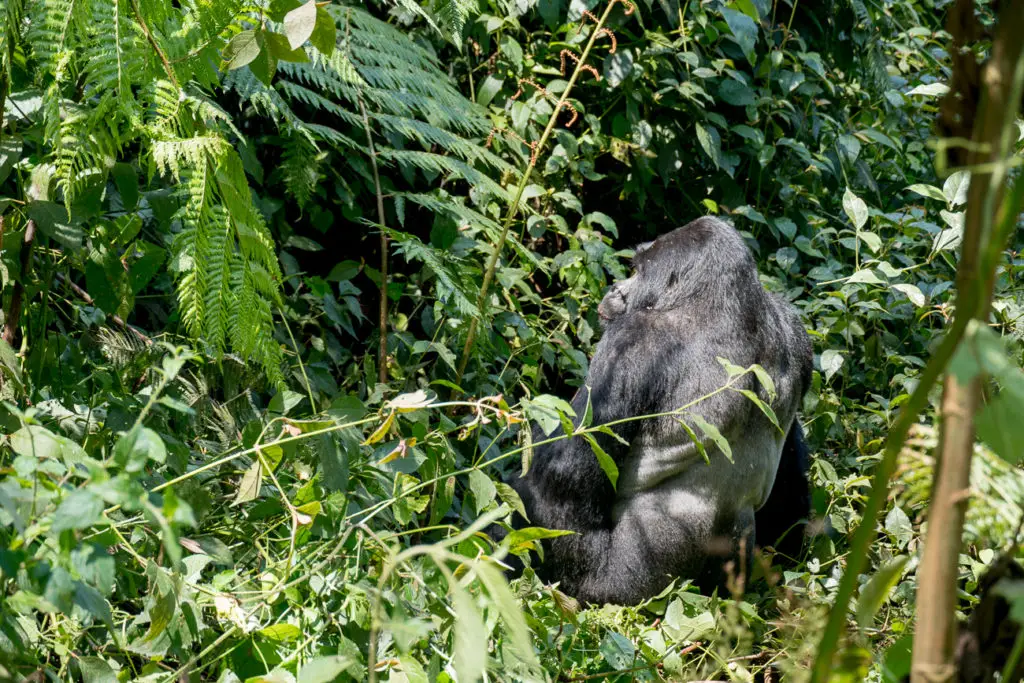 Final thoughts on gorilla trekking in Uganda and Rwanda
Trekking to see wild mountain gorillas is one of the highlights of my life. These incredible creatures – that share almost 98% of the same DNA as humans – are stunning to observe in their natural habitat. This is a once-in-a-lifetime experience, and if you have the money and time you should definitely go for it.
PIN IT FOR LATER
Save this guide to gorilla trekking in Uganda and Rwanda so you can plan this incredible bucket list item for yourself.