East Africa is a spectacular part of the world. There's so much diversity, from mountains to wildlife-filled savannahs, to forests and beaches. But if you think about East Africa, I bet that the first thing that pops into your head is going on a bucket-list safari. Which can then lead to thinking about what to wear on safari. Khaki outfits, pith helmets, vests with a million pockets…? Creating the perfect East Africa packing list doesn't mean kitting yourself out like an adventurer or a 17th century explorer, but it does require some careful planning to ensure you're you've got a few essentials and you're respectful of local cultures and religions.
After spending a month travelling around East Africa, here are my tips for what to wear in Tanzania, Uganda, Rwanda and Kenya (although Kenya wasn't on my recent East Africa itinerary).
If you want to save this East Africa packing list for later, simply click the "Save" button on any one of the images below.
This blog post may contain affiliate links, meaning if you book or buy something through one of these links, I may earn a small commission (at no extra cost to you).
Tips for packing for East Africa
Before we get into the details of what was on my ultimate Africa packing list, here are a few tips:
If you're wondering what to wear on safari, it's simple – comfortable clothes. You're going to spend a lot of time sitting in a car, so everything you pack needs to be super comfy.
But that doesn't mean sacrificing style! You can still wear fashionable clothes and be comfortable – and avoid looking like Dora the Explorer.
Most East Africa packing list posts will tell you to avoid black clothing because they attract tsetse flies and mosquitoes. I'm not quite sure if that's actually true, but the reason I was glad I didn't bring dark clothing was because of the heat. It gets hot sitting in a car on an African safari all day, and we all know that black clothes draw heat. Pack light colours as well as fabrics that breathe and dry quickly.
Be respectful with your clothing. I can't tell you how many women I saw wandering around Stone Town in Zanzibar in tight tops and cut-off jean shorts. The majority of the population in Zanzibar is Muslim, so keep this in mind when packing and make sure you always have something you can throw around your shoulders and bare legs. On the beaches it's ok, but not in Stone Town.
Don't pack too much. This is advice I wish I'd taken myself! I ended up packing too much stuff and it was exhausting carting my suitcase in and out of the vehicle every day (even though that job was usually done by the exceptional staff at the lodges I stayed at). Packing light will make your trip so much easier. Even with dusty Africa travel days, you can still get away with taking only a few clothes. Many lodges can do laundry overnight – check this in advance so you can really plan how many outfits you actually need to pack.
Bonus: if you want to download this packing list as a PDF guide that you can print, simply click here.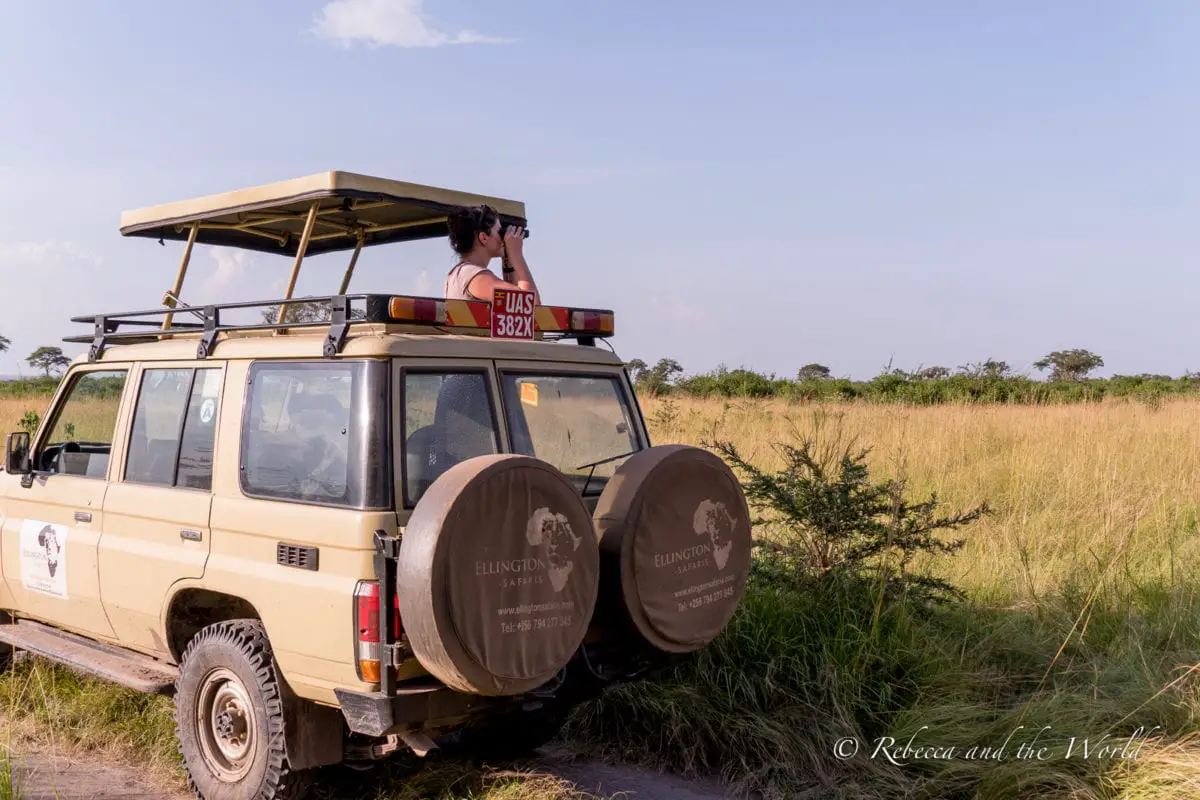 East Africa packing list
Here's everything that was on my East Africa packing list – along with some extra thoughts on things I wish I'd brought with me, and stuff I should have left at home!
Keep in mind that my trip was a month long, so you may not need as many changes of clothing as I packed (I didn't even need this many!).
I also have a guide specifically for what to pack for gorilla trekking, which outlines all the stuff you need to take on the day.
Luggage
Big bag – I ummed and ahhed over what type of bag to bring with me. I didn't want to bring a hardshell suitcase because I'd read that some small airlines won't accept them. Nor did I want to bring a backpack because I preferred to have something I could wheel.
In the end, I settled on a soft-sided suitcase with wheels (similar to this one) that was perfect. The top unzips all the way around so I could easily access everything inside, and it has a separate zippered compartment on the bottom which was perfect for dirty shoes and stuff I didn't access a lot.
Daypack – Bring a separate daypack that you can carry on the plane and also toss into your safari vehicle. I brought my husband's GORUCK backpack with me because I had hiking (gorilla trekking as well as a 3-day hike through Tanzania) and biking (a 3-day bike ride along the Congo Nile Trail in Rwanda) planned during my trip. I wanted to be able to use my water bladder and this backpack has a compartment for that.
If you're not planning any hiking or major outdoor activities, a normal backpack will be fine. I'm a fan of the stylish Herschel backpacks. I also like this backpack because it has a separate section and case for camera equipment.
Small handbag – I also brought along a small handbag that could fit my camera, notebook and money when I was in cities or going to dinner each night at the lodge.
Packing cubes – If you don't know about packing cubes by now, you're missing out! These essential travel items help keep your bag organised. I took several Bagail packing cubes and had one for bottoms, one for tops, one for underwear/socks/bikini, and then another one for random odds and ends. It saves so much time rustling through your bag trying to find a specific item.
Reusable shopping bag – I always pack a reusable shopping bag. I have one that folds up into a small pocket so I can easily put it in my backpack or handbag if I need it. I didn't use it much on this trip because I didn't buy a whole lot of souvenirs, but it's great if you need to stop in at the supermarket for a few supplies. This is extra important, because plastic bags are banned in Tanzania.
Bumbag – I packed a bumbag (that's a fanny pack to Americans!) for my hikes and biking trip, so that I could easily access lip balm, hand sanitiser, my phone and other small items.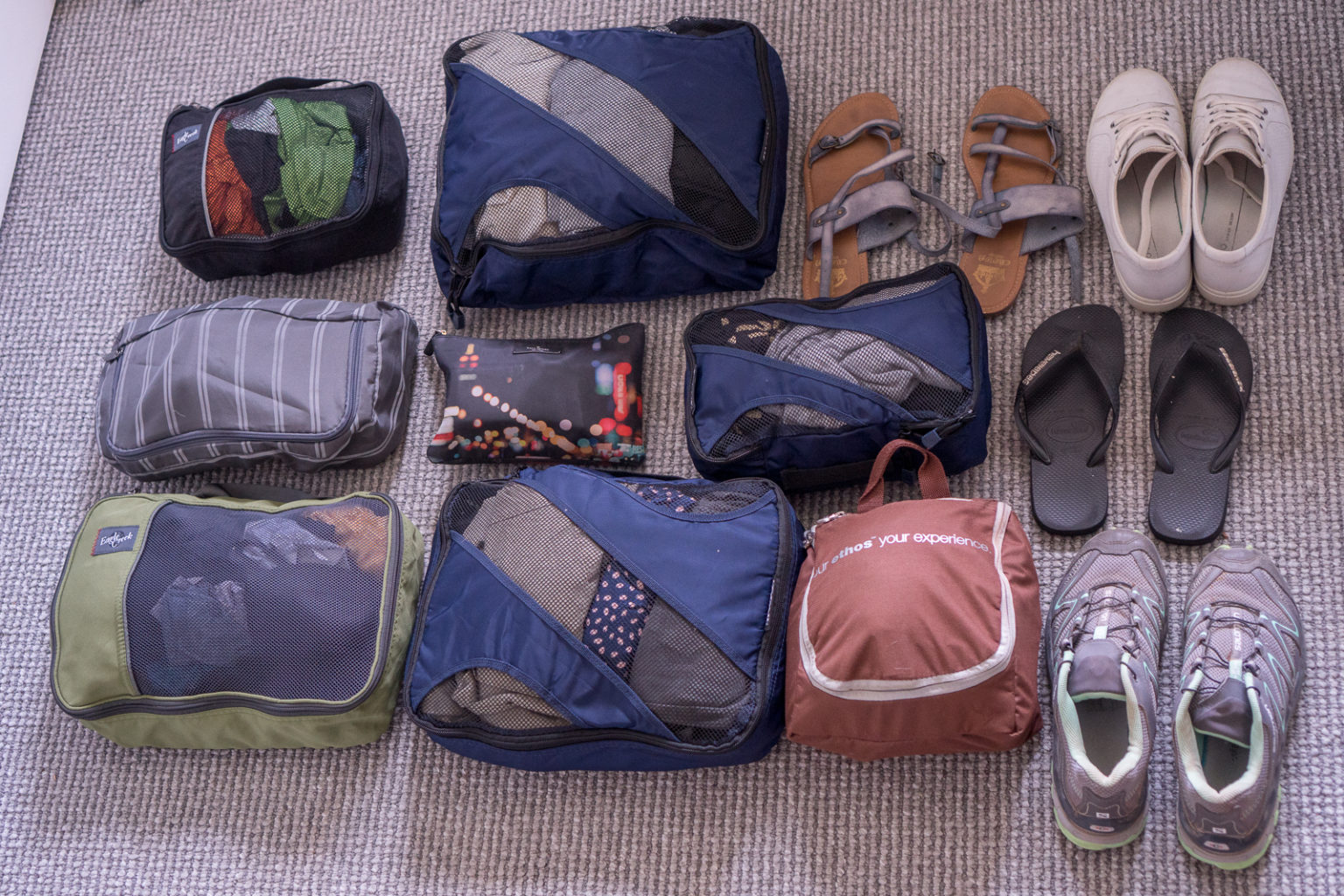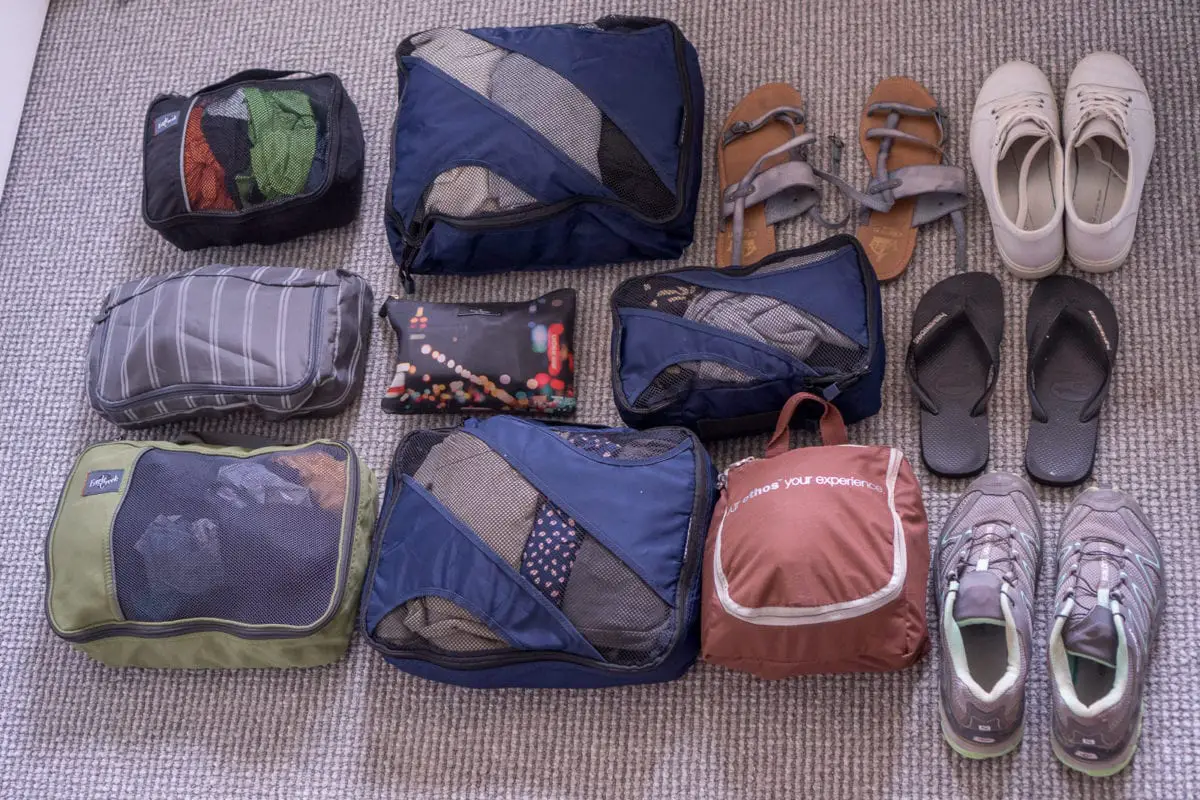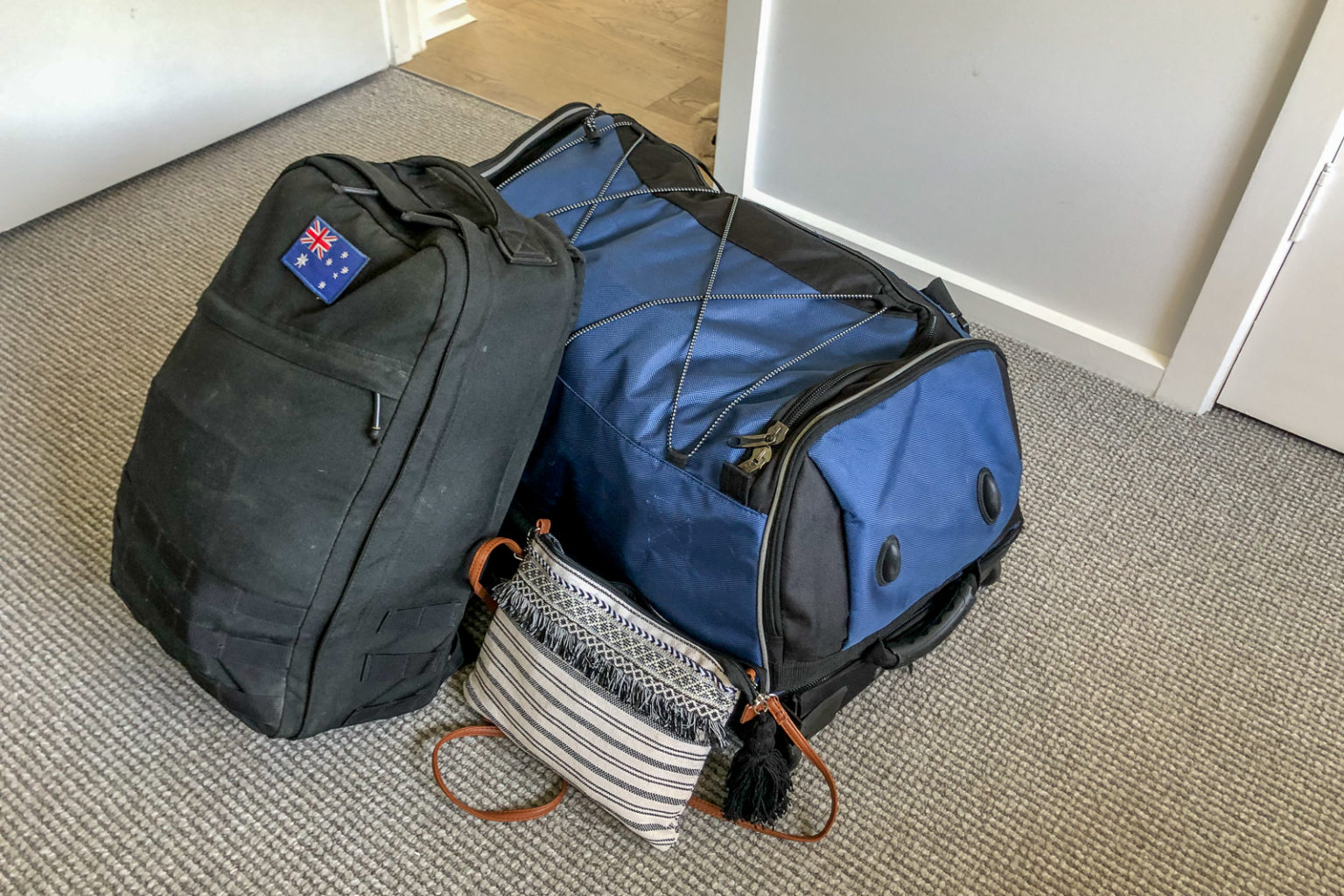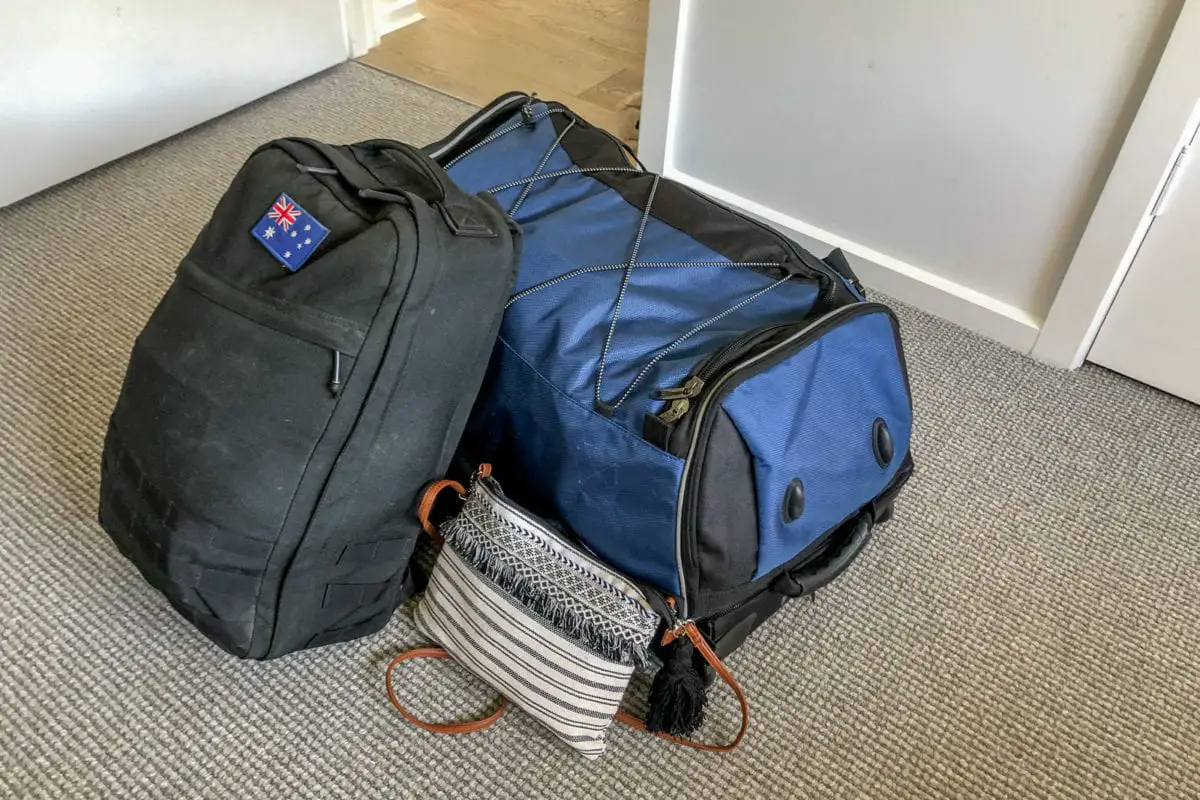 Pants
I packed four pairs of pants. The ones I wore the most were some paperbag-style, lightweight pants and a pair of joggers (these joggers are my faves!). I considered packing jeans but am glad I didn't – it was so hot each day I don't think I ever would have worn them.
I also packed a pair of black leggings that I wore on the plane and during my biking trip in Rwanda. (My favourite leggings that sadly got torn when I fell off the bike on day 1 of my bike ride!)
Finally, I packed hiking pants for the gorilla tracking adventure and for my 3-day hike in Tanzania. I could have just worn my black leggings for these activities, in hindsight.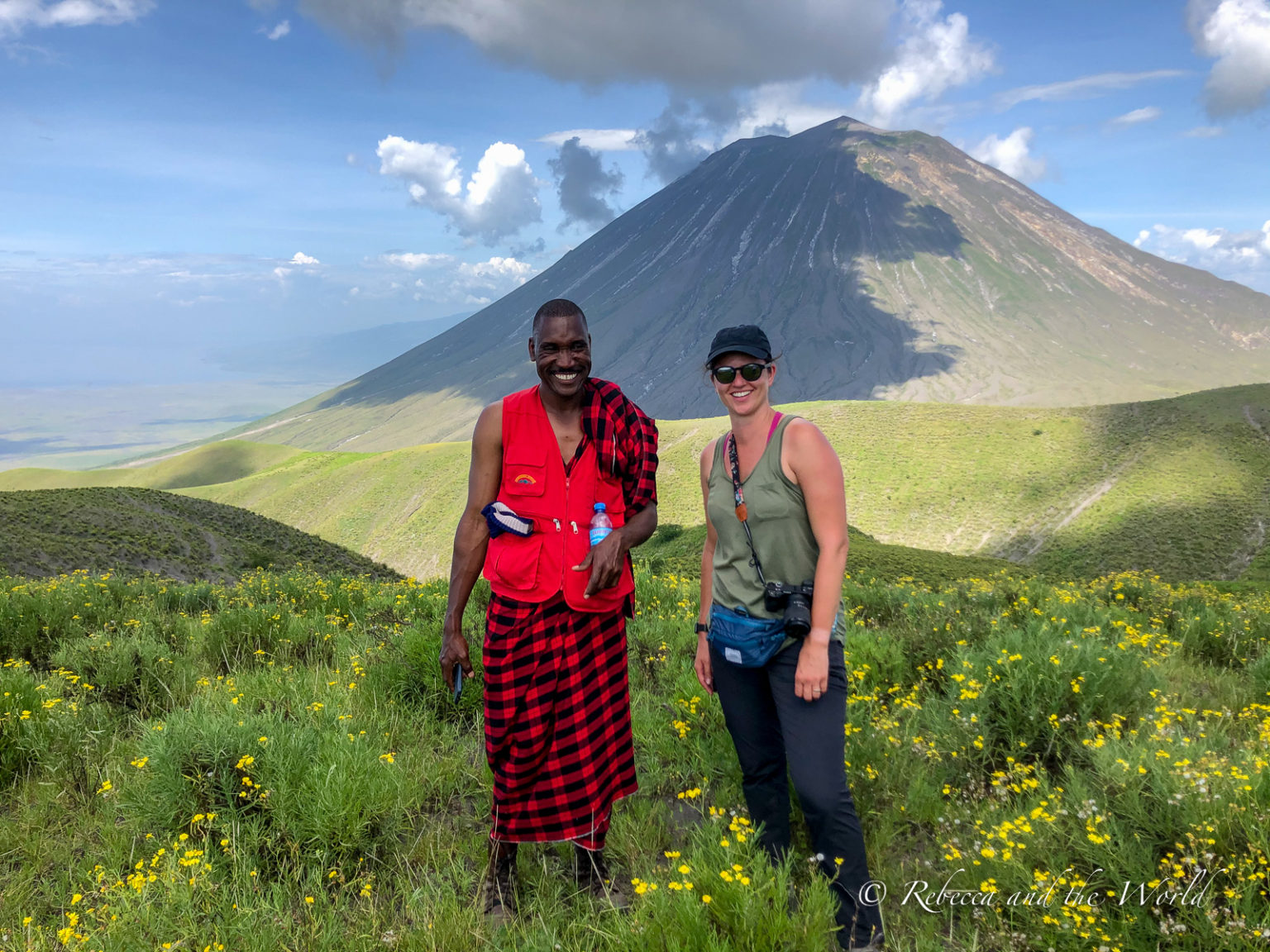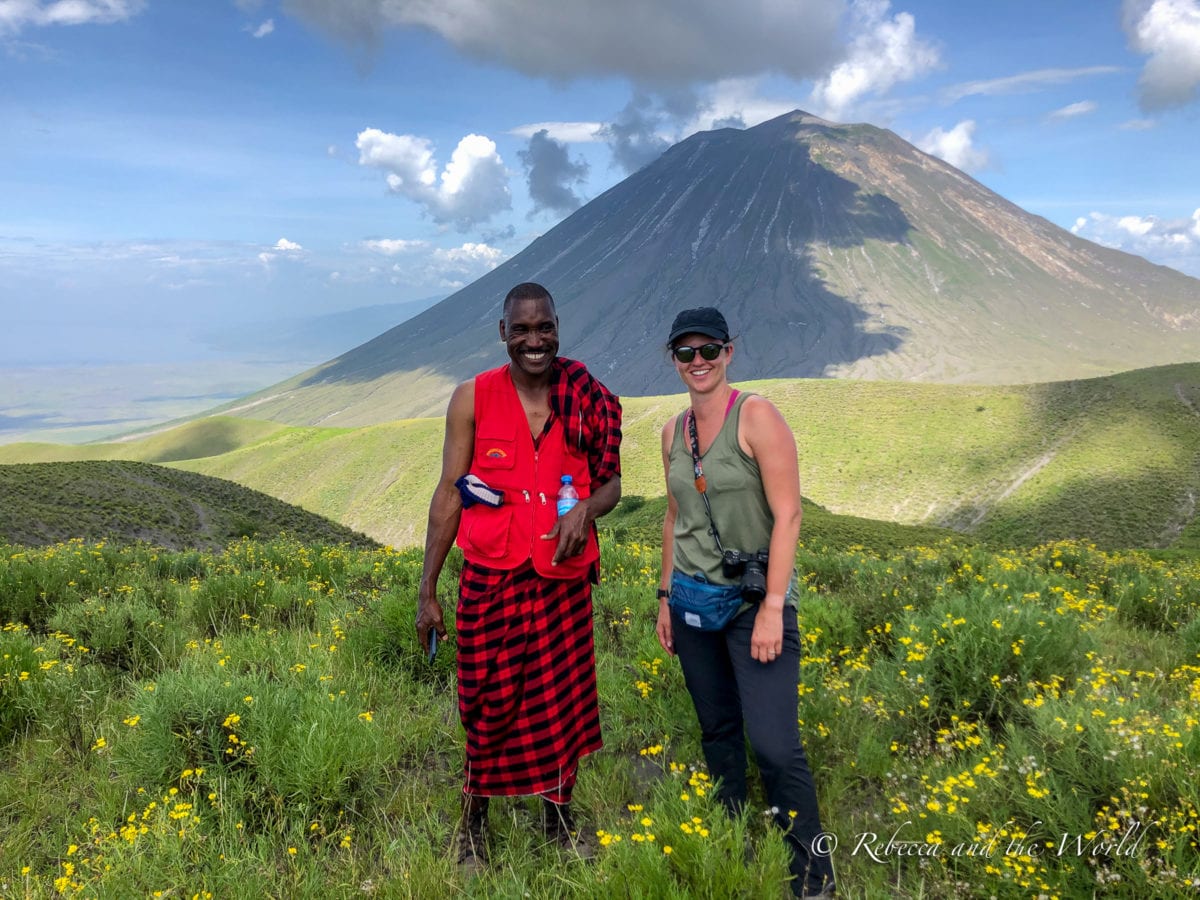 Skirts
When I started planning what I'd pack for East Africa, at first I didn't think about adding skirts to my safari packing list, but I saw some other travellers wearing them. They turned out to be the best things I packed!
I took two midi skirts with me and found them to be so much more comfortable than wearing pants when I was sitting in a car all day. Skirts also proved far easier than pants when I needed to take a "bush wee"!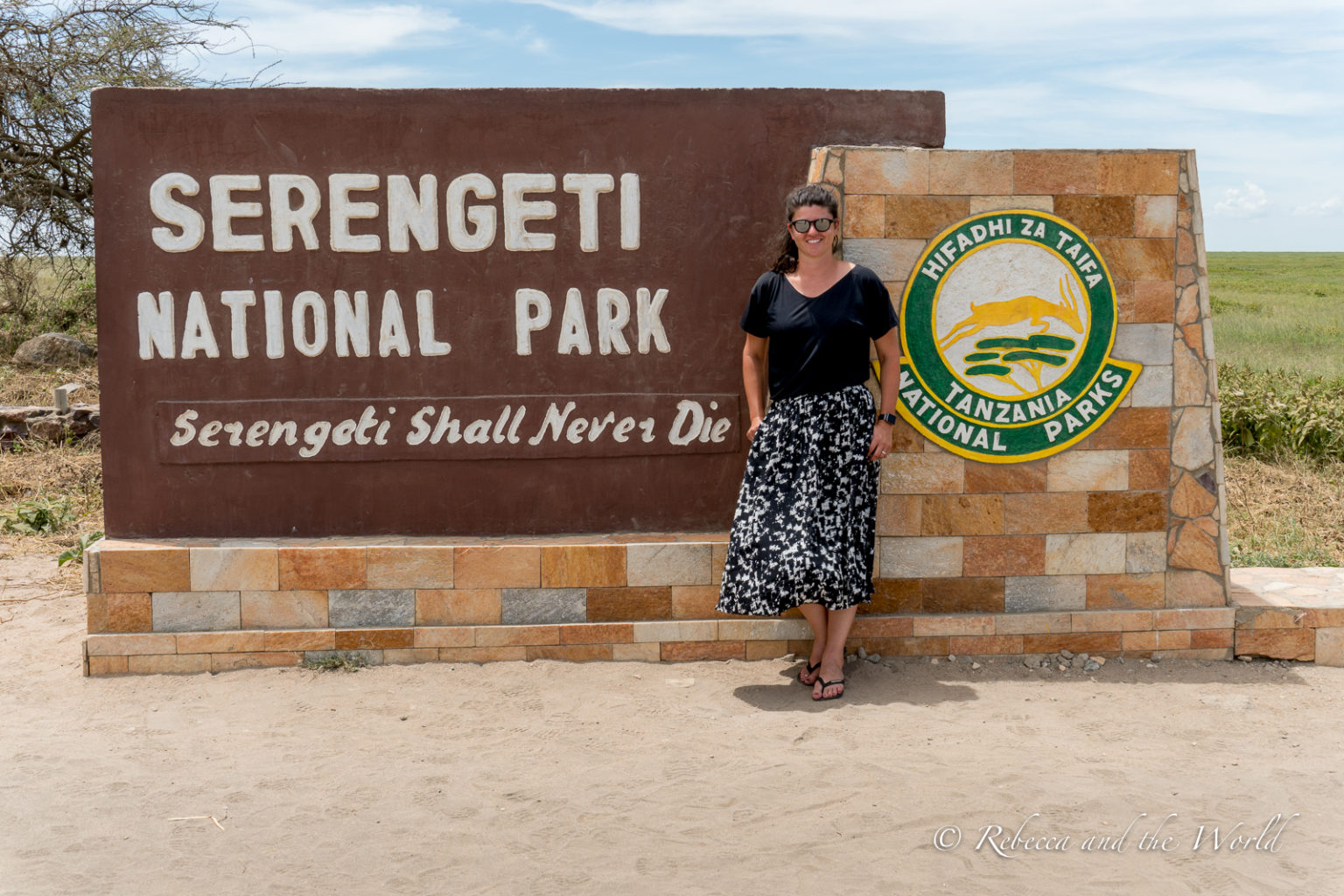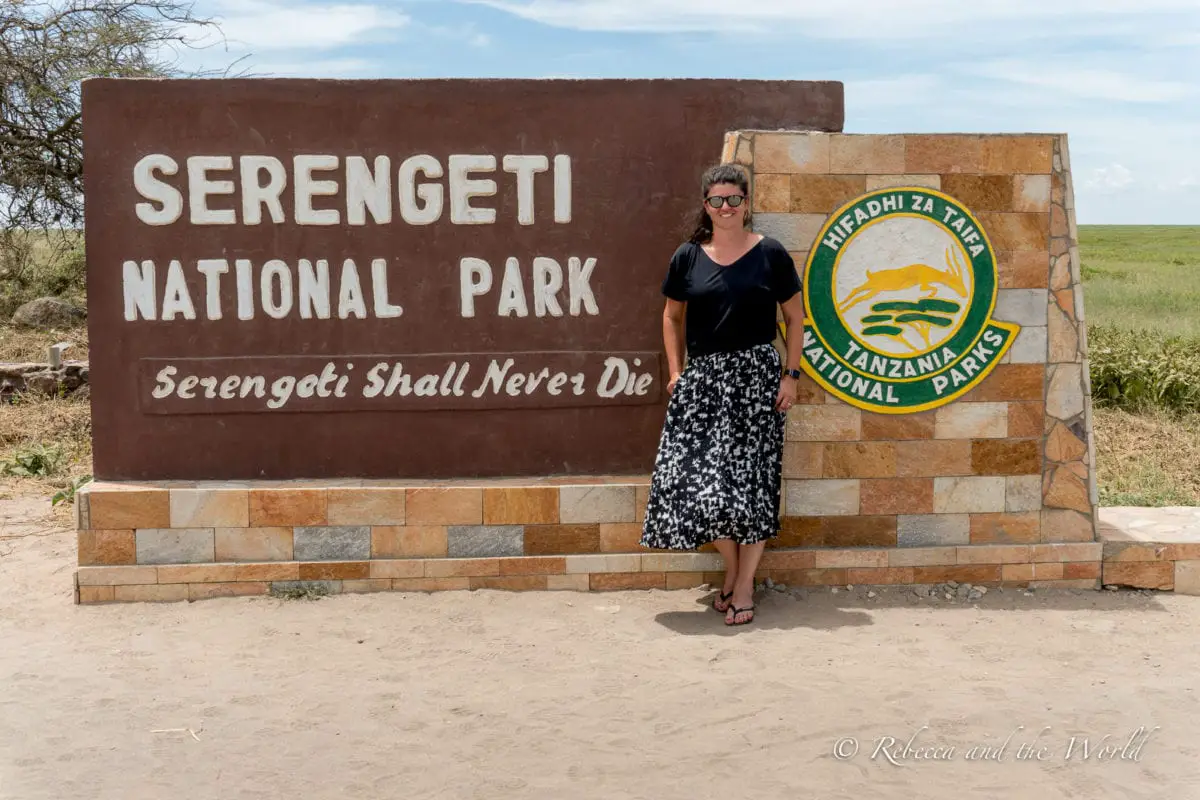 Shorts
I packed one pair of shorts for my trip, and only wore them when I was at the beach in Zanzibar. During my trip, I was conscious of displaying too much flesh – but this wasn't really a problem while on safari. I didn't see anyone offended by foreign women wearing shorts and tank tops on safari – but avoid these when in areas like Stone Town in Zanzibar or big cities.
I also packed a pair of bike shorts to wear under my skirts. They were handy to stop chafing (aka the dreaded chub rub!).
T-shirts and tops
I recommend packing a mix of t-shirts, tank tops (singlets) and sleeveless shirts, in a variety of colours (preferably lighter colours). In my bag went:
4 t-shirts
4 tank tops
2 white sleeveless shirts
1 long-sleeved knit top to wear in the evening
1 long-sleeved top that I could use for layering on cold mornings or while hiking
I was travelling for a month, but I really didn't need that many tops.
I should have swapped out the long-sleeve top for layering with a lightweight, button-up, collared shirt that I could easily wear over t-shirts or tank tops. This would have been far better during my Rwanda bike ride when it was really hot but I needed something lightweight over my tank top to protect me from the sun.
The knit top was another piece of clothing I could have left at home. I originally packed this so I would look nice in the evening at the lodges I stayed at, but it really wasn't necessary. Despite the glamourous lodges I was lucky enough to stay at, they were very casual.
It also didn't take me too long to remember that white clothes are not good for me! I manage to get white clothes dirty on a day at the office – so you can just imagine what my white sleeveless tops looked like after a few sweaty days on safari.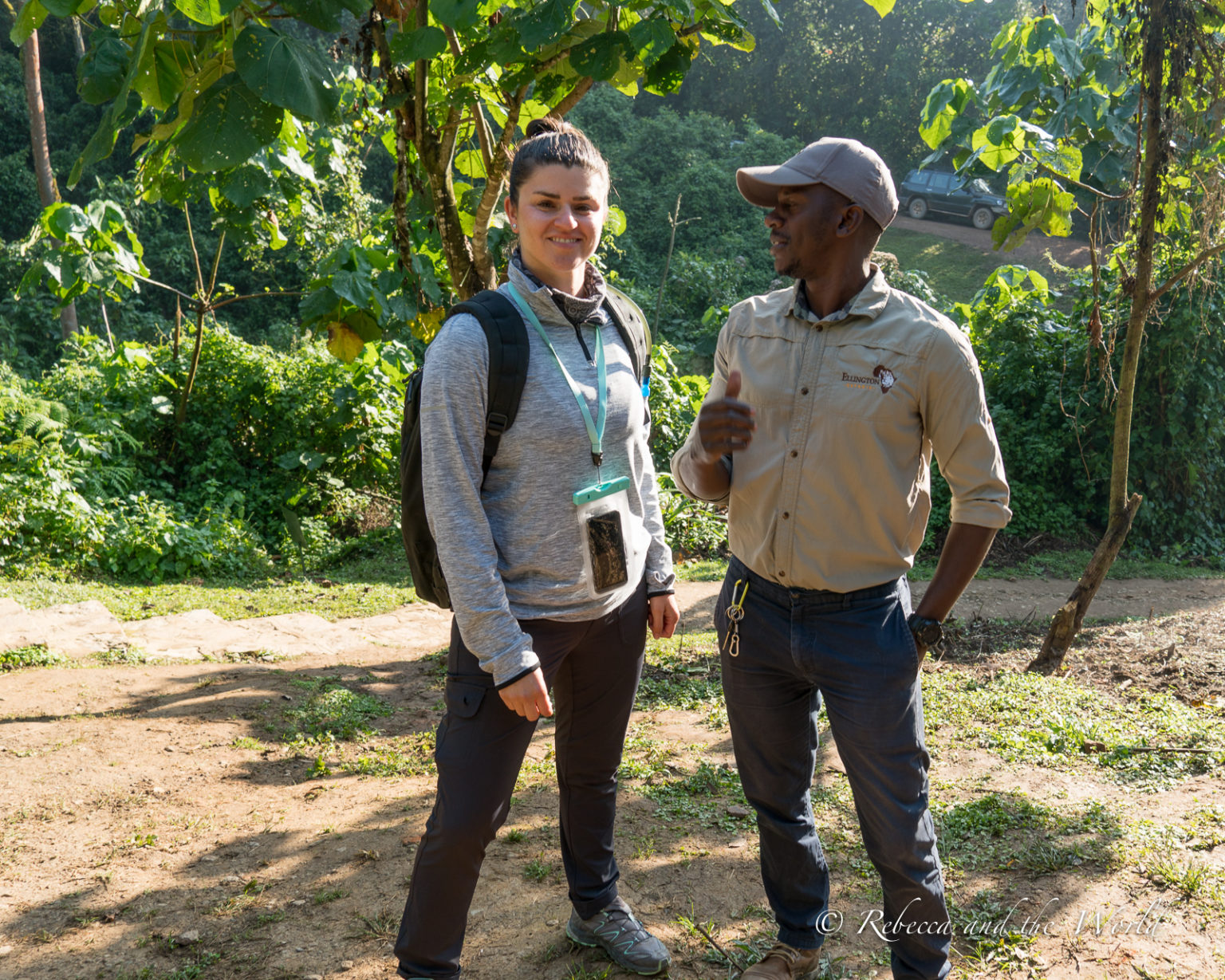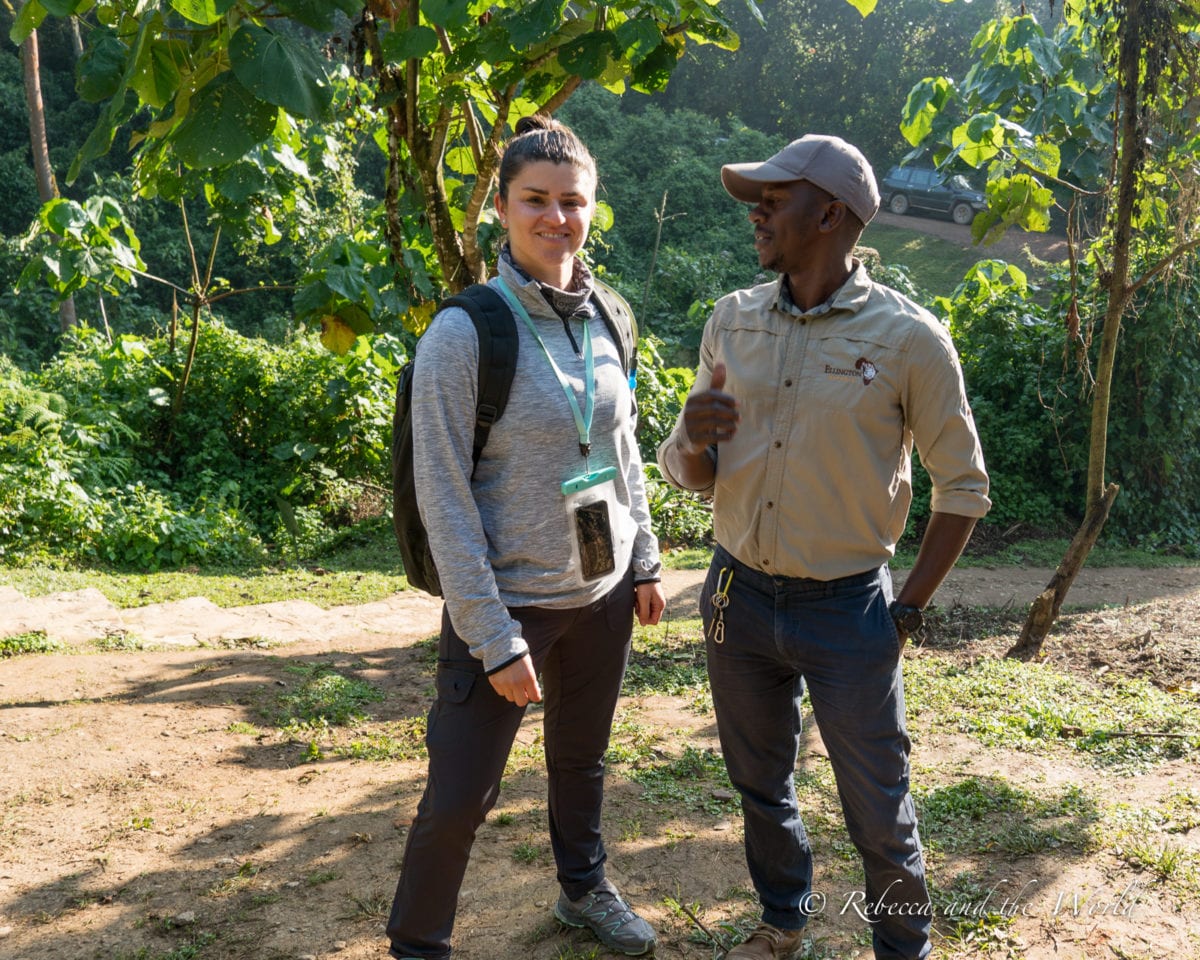 Jackets
I packed three jackets:
A denim jacket
A grey hoodie
A rain and windproof jacket that folded up into its pocket
The denim jacket made me feel a bit more stylish when I was in cities. But because I rarely wore a jacket because it was so hot, if I organised this East Africa packing list again, I would just bring either the denim jacket or the hoodie for warmth – I didn't need both.
However, despite what you may think, Africa does get cold, so pack the right number of jackets for the season and region you're visiting.
Whatever the season, a lightweight rain jacket is essential all year round.
Shoes
I thought really hard about the shoes I brought with me – I wanted to minimise the number because they're usually the heaviest things to carry.
In the end, I packed:
Hiking boots that I wore on the gorilla trekking and during my 3-day Tanzania hike. If you're not doing much hiking, you could swap these out for something more stylish that you could also wear during the day.
Sneakers – I brought a pair of white leather sneakers. These may not seem to be the most appropriate colour to pack, but because they were leather I could wipe them down each night and keep them (relatively) clean.
Sandals – great to wear at night time and around beach areas.
Flip flops (thongs) – I usually ended up slipping these on every day in the car so I didn't get so hot (again, I'd suggest bringing either flip flops or sandals, not both).
Other clothes on my East Africa packing list
Once you've got your bottoms, tops and shoes sorted on your Africa safari packing list, make sure you pack:
Pajama pants and 1-2 tops
Bra x 2 (black and nude – or whatever colours work best with the tops you've packed)
Sports bra if you're doing any active stuff – and to keep your ladies happy on bumpy African roads!
Underwear – I usually pack enough for a week and then wash every couple of days
Ankle socks x 3 (for wearing with sneakers)
Hiking socks x 2 – If you're not doing much hiking, perhaps only the gorilla trekking experience, you'll probably only need one pair
Bikini
Swimming cover up and/or sarong
Scarf – Bring a couple to mix up your outfits. They're also great for covering up in more modest places like Stone Town
Bandana or a cute head scarf to keep your flyaways in place while you're speeding along rutted roads
Sunglasses
Hat – a must to keep your face protected from the sun
Buff or something to put over your mouth for dusty roads (a scarf could also do double duty for this)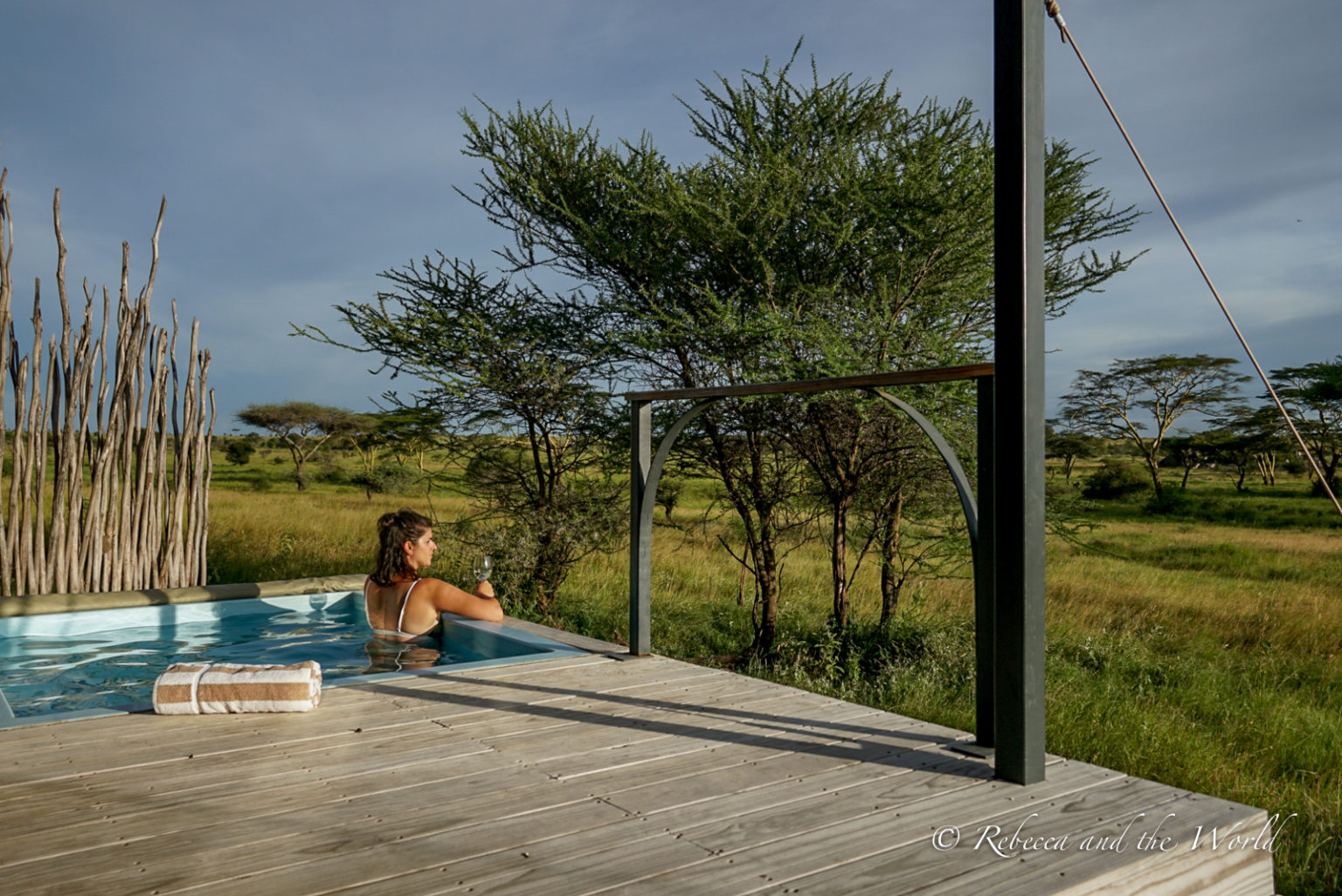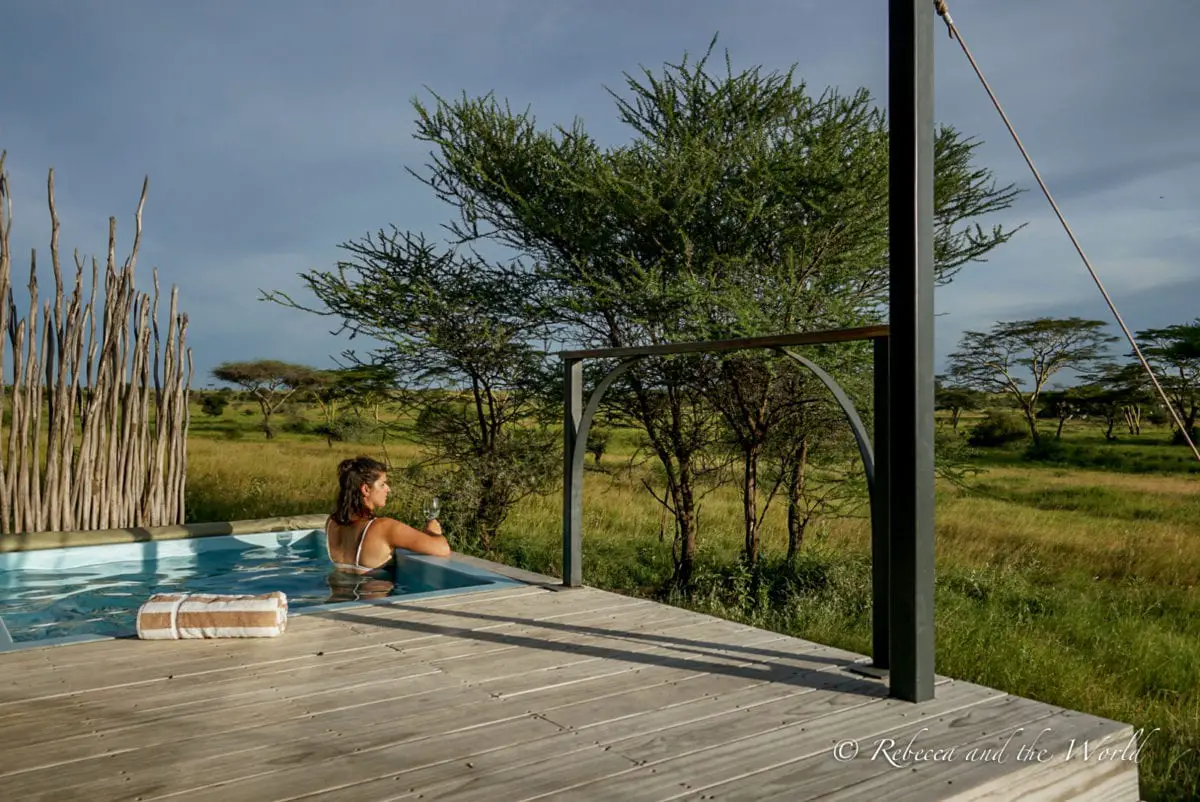 Gear
Now we've gone through what to wear on safari (and beyond), here's the other gear I packed to make my trip to East Africa comfortable.
Reusable water bottle – I always pack my Nomader water bottle which handily compresses down when it's not full. I was horrified by the number of people I saw drinking out of single-use plastic bottles. Instead, with my bottle I could fill up at hotels (many have filtration systems to treat water or buy bottled water in large bottles) or from the large, 10-litre water bottles that I asked my safari company in Uganda to buy.
I've been thinking of investing in a Grayl water bottle, which also filters the water so you can fill up from taps.
Binoculars – I didn't bring my own binoculars, because the safari companies I worked with carried a pair in their vehicles. However, serious birdwatchers and wildlife lovers should pack their own.
Quick dry towel – I packed a quick dry towel but didn't end up using it at all on the trip. All the lodges and camps I stayed at provided towels. If you're backpacking in East Africa, however, this would be an essential item.
Head torch – An essential item for dark African nights! I used this when I was camping in Tanzania, but also had it next to my bed when I stayed in lodges and safari camps just in case the power went out.
Eye mask and ear plugs – Necessary for the long plane ride to East Africa (check out my other essential items in my long-haul flight packing list), and also handy for sleeping in places that may not have great curtains. I also downloaded a white noise app in Rwanda when a party across the lake kept going until 3 a.m.
Drybag – I packed a drybag to keep my camera safe while hiking. Luckily, I didn't have to use it, but I was glad to have it just in case.
iPhone waterproof case – My iPhone waterproof case is great because it hangs around my neck. This means my phone is easily accessible while hiking. And it stays dry if there's a sudden downpour.
Pocket knife – When I was young, I was a Girl Guide for a few years, and I guess they drilled something in to me! I packed my Swiss Army pocket knife… just in case. I didn't use it though.
Combination padlock – A combination padlock is handy if you need to leave your bags somewhere for a few days (like I did when I biked the Congo Nile Trail in Rwanda). Don't pack a padlock that needs a key just in case you lose the key.
Bamboo cutlery set and metal straw – Another small item I always pack is my bamboo cutlery set and a metal straw. Although East Africa is quite progressive when it comes to single-use plastics, this is still a handy item to have.
Water bladder – While hiking, I much prefer to have a water bladder than a water bottle. I can easily slip the tube over my shoulder and drink to my heart's content rather than having to stop, pull a bottle out of my backpack, drink and then put it back.
Travel pillow – A travel pillow is handy on a plane, and you're also going to have some long days of driving. Avoid drooling all over your shoulder and waking up with neck cramps by packing a travel pillow like the TRTL pillow, which keeps your head upright as you nap in a seat.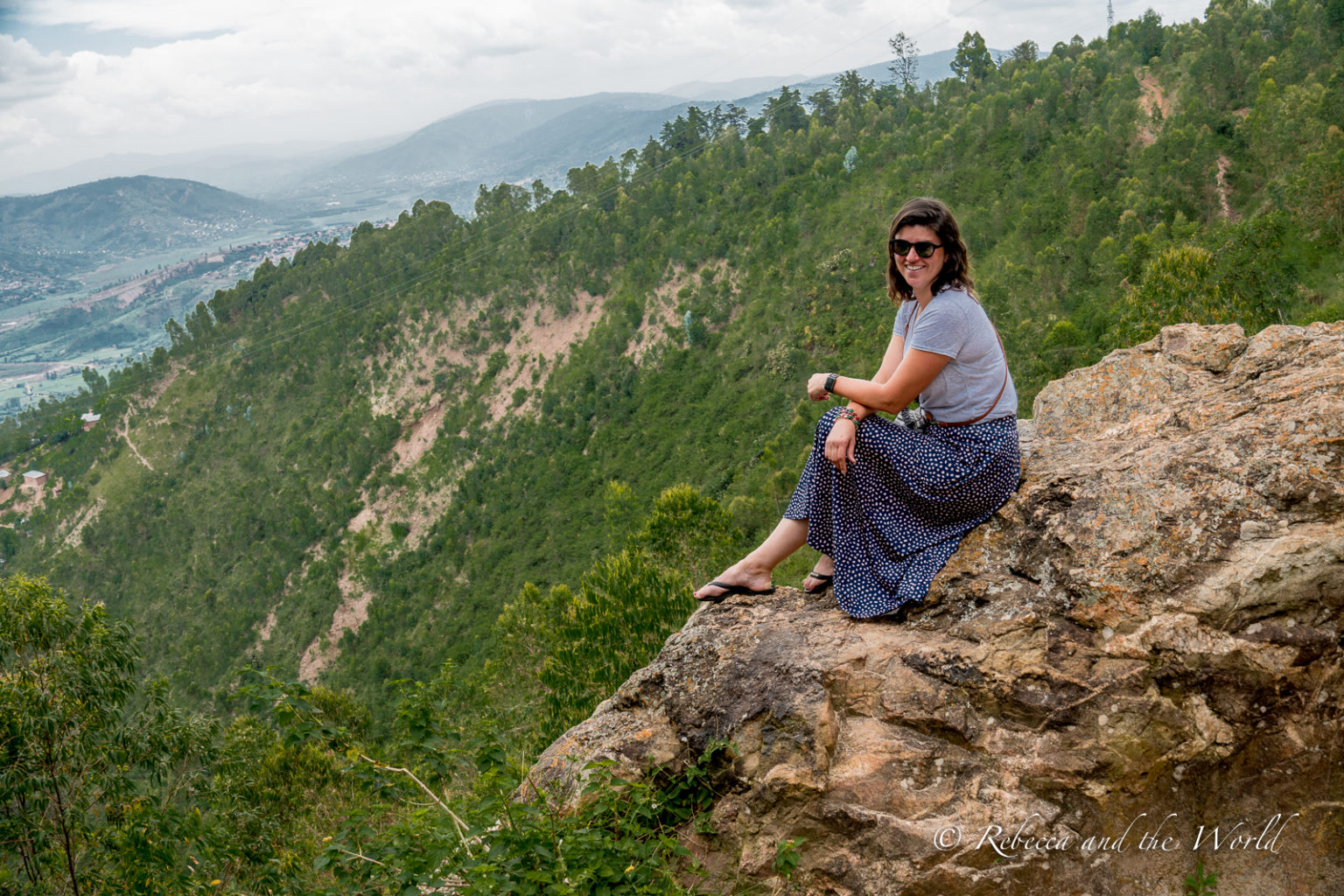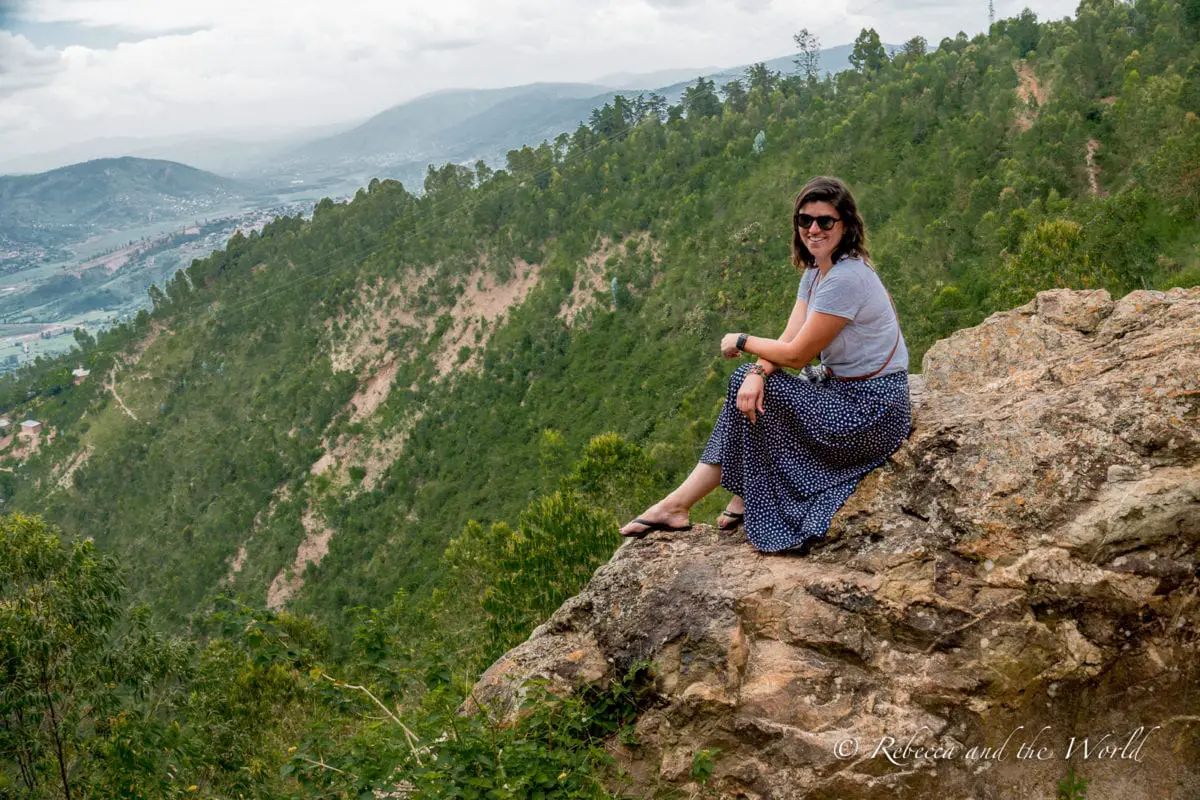 Technology
The technology you include in your East Africa packing list will likely be different to mine, but there are a few things I recommend packing even if you aren't blogging along the way.
Power bank – I packed a power bank just in case my phone or camera ran out of juice while I was on the road. I was glad I did, because many of the camps and lodges I stayed in didn't have charging stations in the room (because they're on solar power). However, the safari vehicles did have charging ports which was also handy as a backup!
Adapter with multiple ports – The countries in East Africa have different plugs, so pack a multi-port adapter like this one to cover all bases.
Kindle – I took my Kindle because I didn't want to have to lug a handful of books with me on my trip. I had some books already downloaded, along with the Lonely Planet East Africa guidebook. Consider downloading some books that are about the countries you're visiting. These are some of my favourites:
If you're a photographer (or a blogger like me!), you'll also be packing:
A good camera (I took my Sony A6300 which I love because it's so light)
Lenses (I took two lenses, a 18-135mm and a 35mm, but I wish I'd also bought and packed something longer)
Camera charger and extra batteries
Lens cleaning kit because it gets dusty on the African roads
A Gorillapod or a full tripod
A gimbal if you're planning to do some video
Microphone for video
Plenty of memory cards
External hard drive so you can download your photos each night
Laptop
Toiletries
I know everyone's different when it comes to toiletries, so use this as a guide. I tried to pack the minimum (but despite my efforts my bag was still so heavy!).
Shampoo and conditioner – I squeezed what I'd need for the month into these small silicone bottles
Moisturiser (with SPF) – Make sure your face moisturiser also has sunscreen
Sunscreen – Pack more sunscreen – at least SPF50+ – to cover your exposed areas when travelling
Face wipes – It's nice to wipe off the dust at the end of each day
Cleanser – I put some of my favourite Clinique face cleanser into a silicone tube
Face scrub – Because I was travelling for a month, I wanted to make sure I kept up my skincare routine, and squeezed a small amount of face scrub into a silicone tube
Cotton buds
Makeup – I took minimal makeup, just some eyebrow powder, mascara and highlighter
Brush
Hair ties and bobby pins
Toothpaste, toothbrush, floss
Deodorant
Manicure kit
Razor
Body wipes – Only really necessary if you're hiking, camping or doing active outdoor activities where you'll be sweating a lot
Toilet paper – Snaffle some toilet paper when you arrive, or bring some travel tissues. It'll come in handy when you're stopping at public toilets (although I found most of them to be quite clean and well stocked)
Tampons or Diva Cup – If it's that time of the month
Toiletry bag – Pack everything in a toiletry bag, and don't forget a clear case for your liquids when you're flying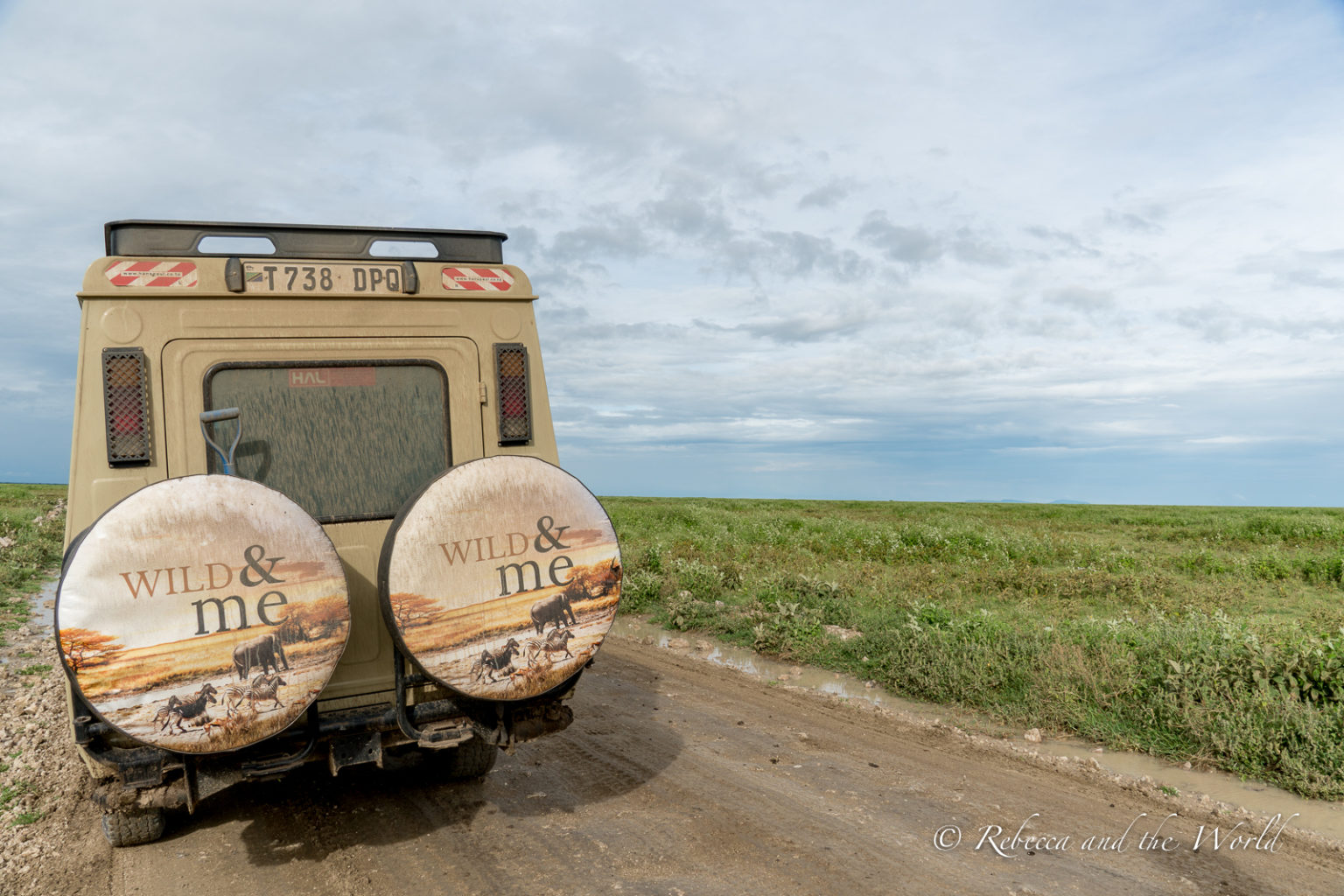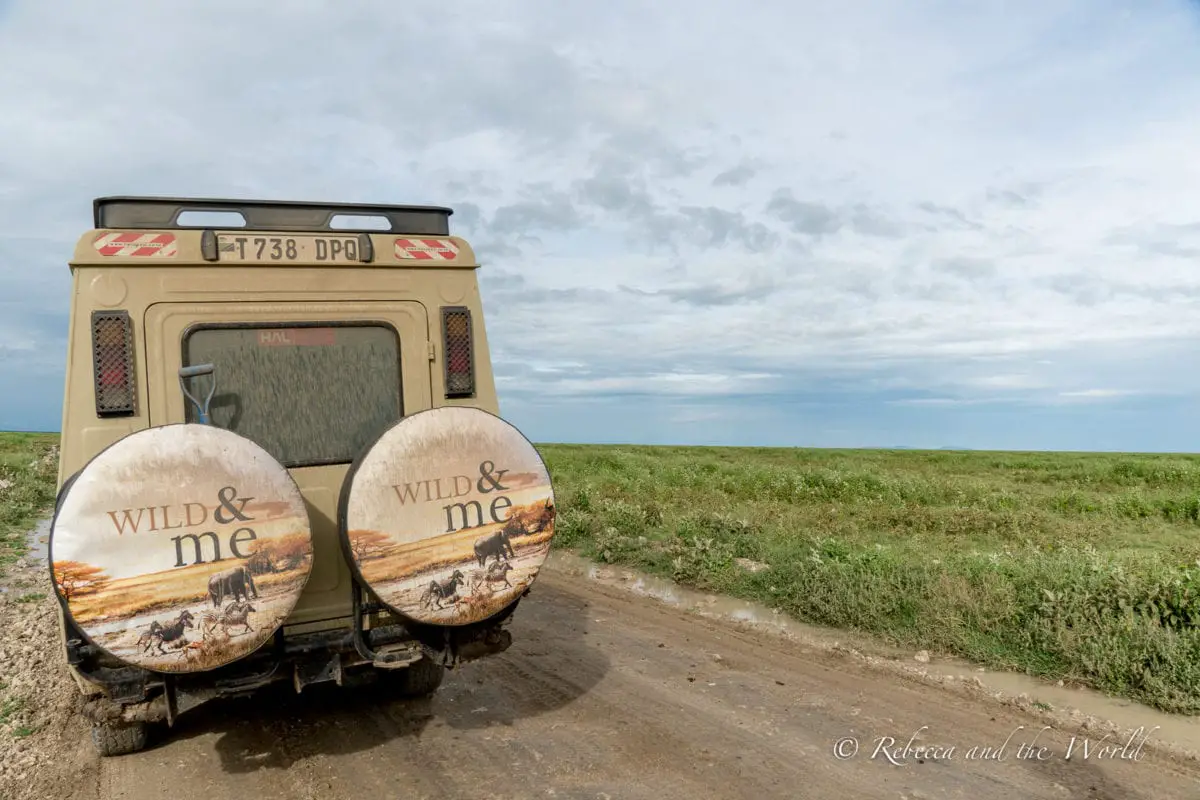 Medications and health items
You may find it harder to get medications while you're in East Africa, especially outside of major cities. So, pack a good first aid kit with:
Bandaids
Imodium
Pepto Bismal or activated charcoal
Ibuprofen
Hayfever tablets
Antiseptic cream
Antibiotics (get a prescription from your doctor)
Eye drops
Rehydration sachets if you're hiking or doing activities that will exert you
Antiseptic hand gel
Mosquito repellent
Aquatabs (or a water filter bottle)
Cold prevention tables / vitamin C – I was particularly petrified of getting a cold before I visited the gorillas, because if you're sick you can't go!
Antibacterial wipes – Handy for wiping down seat and tray tables on planes
Other medications you take on a regular basis (bring the prescription with you)
Documents and other items
Finally, here are the important documents you'll need, along with a few miscellaneous items.
Travel organiser – Great for keeping your passport and documents together in one place.
Passport and extra passport photos for visas
Visa documents – Print out and keep safe any visa documents, including approval letters from governments.
Covid-19 international certificate – check what's needed when you travel, but you'll need a certificate that is accepted internationally
Yellow fever / vaccination records – Some countries in East Africa require you to have a yellow fever vaccination, so don't forget to bring the record along with you.
Travel insurance documents – Print out a copy of your policy certificate so you have the details easily at hand. World Nomads offers simple and flexible travel insurance.
U.S. dollars – All countries in East Africa accept U.S. dollars. Indeed many hotels, airlines and other tourism businesses will quote you in USD.
Notebook and pens – If you're like me, you'll want to record every aspect of your East Africa trip.
Snacks – I brought along a variety of small snacks like nuts and bars. To be honest, though, the lodges and camps I stayed at fed me so much that I usually just ended up sharing my snacks with other people.
Priority Pass membership – A random one to include, I know, but it's so nice to be able to escape to a lounge while you're waiting for your flight. Priority Pass even allows access to small lounges in airports like Zanzibar International Airport.
So, that's everything I packed for East Africa!
What else would you add to this East Africa packing list? Help other travellers by leaving a comment below.
PIN IT FOR LATER: