As someone who has travelled to almost 40 countries and who currently lives far, far away from everywhere in Australia, I've been on more than my fair share of long-haul flights. They're often uncomfortable, boring and seemingly never-ending.
And there's nothing worse than getting an hour into a 15-hour flight and realising that you left something important behind or packed it into your checked-in luggage. Which is why I've created my own long haul flight essentials checklist so that I never leave anything I need behind.
My most recent flight was a mammoth 24-hour trip from Melbourne, Australia, to Entebbe, Uganda, via Dubai. I got lucky with a whole row of three seats to myself, but having these items also helped make the flight more bearable.
If you're planning a trip that involves a long-haul flight, make sure to pack these carry on essentials to make the trip more comfortable.
Want to save this long haul flight essentials packing guide so you can read it later? Simply click on the below images to pin it to Pinterest!
This blog post may contain affiliate links, meaning if you book or buy something through one of these links, I may earn a small commission (at no extra cost to you!).
A good bag
The foundation of any carry on packing list is a good bag that can hold all your stuff. Depending on where I'm travelling to and what I'm doing when I get there, I alternate between a tote bag, a wheelie suitcase and a backpack.
I'm a huge fan of the enormous tote bag that Experience Scottsdale gifted me when I visited Scottsdale recently. It's roomy and has tonnes of different pockets and dividers that help this A-type personality stay organised. If I didn't use this (free!) tote to pack all my travel essentials, I'd get my hands on one of these elegant Everlane leather totes.
On my recent trip to East Africa, I borrowed my husband's GORUCK backpack because I knew I'd be hiking and biking. I bought this backpack for my husband's birthday a few years ago and it's hardcore. It's tough and can withstand any beating, has a padded pocket for a laptop and an inside pocket for a water bladder. The backpack isn't as roomy as I like for a carry-on bag, but it was perfect for the trip I took.
Whichever bag I take with me, if you peek inside you'll likely find several smaller bags and pouches where I store other essential travel items like lip balm, hand sanitiser, tissues and so on. These are usually bags I've picked up from airlines (I've now started saying no to the amenity bags they hand out because I have too many!) but there are so many cute ones you can find online as well. These ones have so many fun prints.
As well as my larger carry-on bag, I also often carry a smaller purse/handbag with me for my passport and important documents, phone and wallet. This is easier than fishing around in a bigger bag.
If you'd prefer to have this long-haul flight essentials packing list in a PDF document you can download and print for your travels, enter your details below!
Travel organiser
I'm not a fan of passport covers because you often have to take the passport out of the holder and that gets annoying. But what I do love is a travel organiser that keeps all my important documents together in one place.
I have this fairly boring but very practical grey travel organiser, and inside you'll find these international travel essentials:
My passport
Any relevant travel documents like flight itineraries or a copy of my own trip itinerary
Visa if needed
Health documents if they're required (for example, I needed to show that I had the yellow fever vaccination for my trip to East Africa)
Boarding pass (although usually I'll have this on my iPhone)
Spare passport photos
Pen
Usually some U.S. dollars (tip: get a travel organiser that has a zip-up pocket for coins)
I've had this travel organiser for a while now and it's held up through years of travel.
Entertainment
It used to be a given that you'd get some sort of entertainment on a plane, especially on a long-haul flight. But the number of airlines removing the seat-back televisions from planes means you need to prepare ahead.
Make sure you've downloaded movies and television programs to your phone or tablet – and check that they have actually downloaded properly.
I always bring along a book or two, as well, just in case I get sick of watching movies (trust me, on a 16-hour flight, it happens). I often bring a physical book, but most of the time I have several books downloaded to my Kindle so I can pick and choose without the extra weight.
Whatever you do, don't buy books at the airport – they're usually far more expensive.
A few of my favourite / recommended reads of the moment are:
I'll usually also have a copy of the Lonely Planet guidebook for the country I'm travelling to, either in hard copy or on my Kindle or iPhone.
Cables and charging equipment
Ever boarded a plane only to realise that your phone is at 9%? Disaster.
Make sure you bring chargers and cables with you on the plane – don't pack them in your check-in luggage.
You may discover that not all planes are equipped with in-seat power, so I also pack a portable charger (make sure it's fully charged before you board!) like this Anker portable charger.
I also always pack my travel adapter in my carry on, just in case my checked bag gets lost. I have this universal adapter which also has an in-built surge protector and two USB outlets. It's very lightweight.
I also usually bring my own headphones. Nothing fancy, just my iPhone headphones with a splitter so that I can plug it into the entertainment system. The over-ear ones that planes provide usually just hurt my ears so I prefer to use my own.
If you're really into headphones, pack some fancy noise cancelling headphones like these Bose headphones.
Electronics case
Organisation is my goal when I'm flying; I hate having to dig through my bag trying to find things. One of the best things I've ever purchased is this electronics case which has so much room for cables, my Kindle (or an iPad or tablet), memory cards for my camera, portable charger, laptop charger and whatever other electronics I'm carting around with me.
If you're travelling light with electronics, then a few of these cord "tacos" should be enough to keep your cords from tangling up.
Laptop
I rarely use my laptop on a plane but it's something I'd never check in.
Camera
Same as my laptop, my camera is far too valuable (both monetarily and personally) to put in my check-in luggage.
Travel pillow
The thin, lumpy pillows they hand out on a plane rarely do the job. They usually slip down your back or you still wake up with a crick in your neck because your head has fallen forward and you're drooling everywhere.
I have this awesome TRTL pillow which wraps around your neck and keeps your head up, so no more sore neck! This is the best travel pillow for long haul flights. You can move it around depending on how you like to sleep. You're still not going to get the best sleep of your life, but it will make it much more comfortable.
Comfy clothes
I remember the first few times I travelled on a plane, I dressed up. I may have even worn heels.
Well, those days are long gone and today it's all about comfort. I usually wear leggings or my favourite Athleta joggers or a long skirt with a loose top. I pair them with a pair of sneakers that are easy to slip on and off (I love these white leather sneakers). No jeans, no uncomfortable tops that don't move or breathe well. And no heels.
If you've got a long flight, consider bringing a spare change of clothes that you can change into halfway through your trip (or as back up in case your luggage goes missing).
Spare undies
I still remember the first time I flew to the U.S. on a business trip. I landed in Washington D.C., but my bag didn't. I spent the next two days wearing the same clothes and washing my knickers in the hotel bathroom sink every night.
I learned my lesson that trip and it's something I'll never forget: always pack a spare pair of undies. It's one of my best travel tips. This must be top of your travel essentials list.
Scarf or cardigan
In addition to comfy clothes, a scarf or a cardigan is also one of my long haul flight essentials. Planes can get incredibly cold.
A scarf is also a great addition to your travel wardrobe, whether it's using it as an actual scarf to accessorise your outfit or to cover your shoulders when you visit a religious site.
Socks
Like I said, planes can get cold. Sometimes I don't want to slip on my shoes, so I like to have a pair of socks to keep my tootsies warm.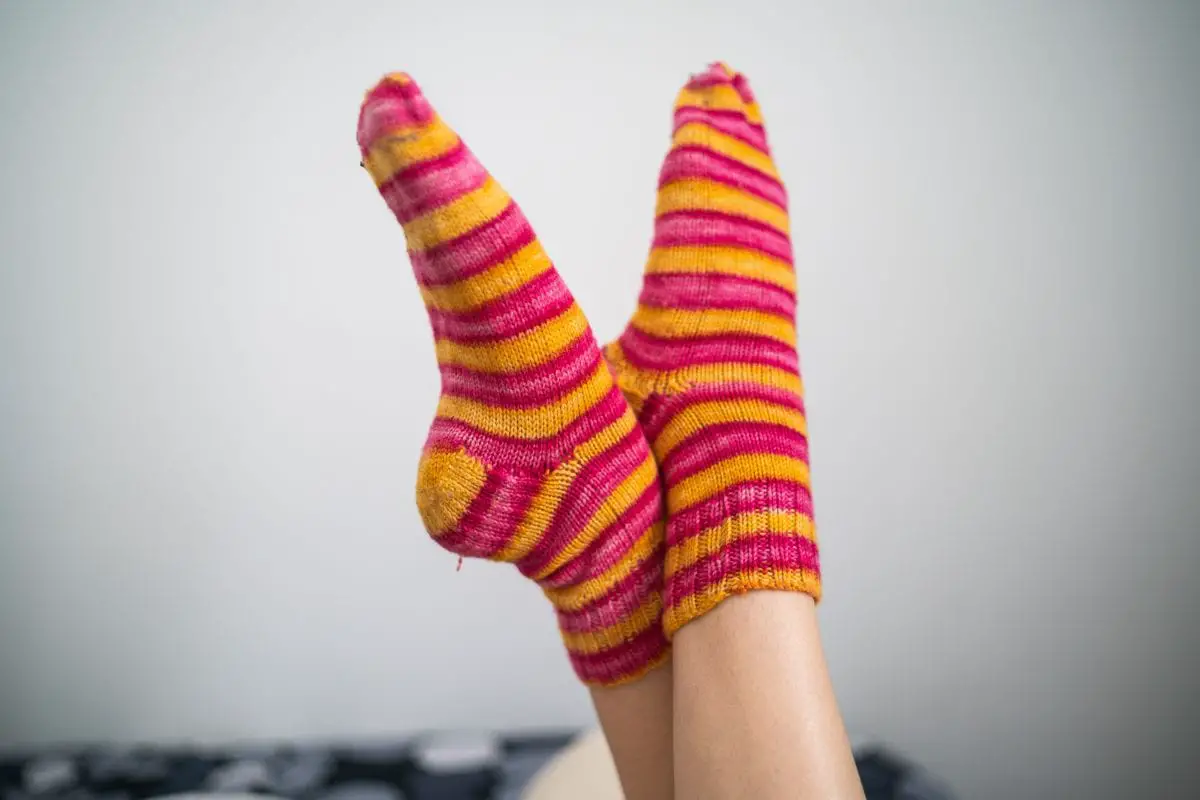 They're also handy for when you go to the bathroom. Do not go to a plane toilet in bare feet!! I sometimes also pack a pair of flip flops that I can slip on when I go to the bathroom.
Consider compression socks to prevent deep vein thrombosis when flying long haul.
Toiletries
Air travel can dry out your skin, so I always pack these long haul flight essentials to keep me hydrated and fresh.
What you'll always find in my toiletries bag are:
Moisturiser
Lip balm (I love Burt's Bees)
Deodorant
Make-up remover wipes (which also double as body wipes)
A small amount of make-up that I apply before I disembark (eyebrow powder, mascara)
Tissues
Eye drops
Hand sanitiser
Antibacterial wipes to wipe down my tray table and arm rests
Toothbrush and toothpaste
Vitamin C tablets
Nose spray
Plus anything I absolutely couldn't lose – medications, contact lenses and solution (before I had Lasik surgery)
And, you guessed it, all of this goes into a separate small bag that I pop into the seat back for easy access.
Clear case for liquids
I used to use a Ziploc bag to transport my liquids, but now I travel with one of these clear, TSA-approved cases. It's big enough for all my liquids and it has structure so that I can really pack everything in.
I have all my liquids in this case for security, and then when I get on the plane I transfer everything into another pouch with my other toiletries.
Eye mask and ear plugs
On long-haul flights, most airlines hand out an amenity kit with an eye mask and ear plugs, but I like to bring my own as well. I have an eye mask that I got when I travelled in business class and it's contoured for a face so it actually blocks out light.
Still waiting for someone to buy me this cashmere set which includes a soft eye mask (hint, hint, husband!).
Reusable water bottle
I rarely travel without my Nomader reusable water bottle. It's great because it can be rolled up when it's empty, saving space in my bag. Then, before I get on the plane I fill it up, and ask the flight attendants to top it up during the flight. This means I don't need to use the plastic cups they hand out for water on the plane.
Chewing gum
I normally never chew gum, but on a plane it can be really helpful. Both for keeping your breath fresh, and for relieving ear pressure.
Notebook and pen
I've always got a notebook with me so I can jot down the random ideas that pop into my head during my long-haul flights.
Similarly, I'll usually have two or three pens on me. I always see so many people on planes asking the flight attendants for a pen so that they can fill out their immigration cards.
Snacks
Controversial opinion: I actually don't mind plane food. I've always been surprised by how passionately some people hate plane food. It's not gourmet but it's not that terrible.
But, it never hurts to pack some snacks for a long-haul flight. Pack stuff that will actually keep you full but that's light and healthy. Some good plane snacks are:
Nuts – but avoid salted nuts because you'll get dehydrated
Trail mix
Protein bars
Fruit – but remember to eat it before you land at your destination
Priority Pass
There is nothing like getting off your first long-haul flight and heading to the airport lounge for a shower. Which is why you also need to add a Priority Pass membership to your long haul flight essentials.
I have a Priority Pass membership through my American Express credit card and it has been a lifesaver. On my recent trip to East Africa, I showered in the lounge in Dubai after my first 14-hour flight and stepped out feeling like a new woman.
Airport lounges are fantastic for something to eat (and a glass of bubbles), WiFi, a comfy seat and a bit of quiet time away from the airport crowds.
If you don't have access to lounges through your credit card, you can get a Priority Pass membership online.
Travel insurance
Boring, yes, I know, but if I'm travelling overseas I always have travel insurance. World Nomads offers simple and flexible travel insurance. Buy at home or while traveling and claim online from anywhere in the world.
That's everything I travel with. What about you? What are the long haul flight essentials you can't travel without? Let me know in the comments below.
If you'd prefer to have this long-haul flight essentials packing list in a PDF document you can download and print for your travels, enter your details below!
PIN IT FOR LATER: